2014 Green News Archive
2014 Green News Archive
Final COP20 Report
31 December 2014
We are reaching the end of COP 20 and the end of the many programs in Lima. Approximately 25 programs were arranged over the two weeks between the local center and the international team in Lima.
Brahma Kumaris final program contributed towards a 3 daylong seminar called "International encounter - Paths towards Sustainability to face climate change" arranged by the University Ricardo Palma in co-operation with other organizations.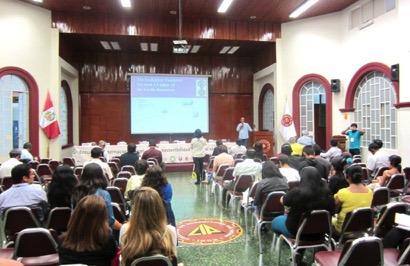 The program is called "Alternative technology in the context of climate change and civilization". Golo Pilz presented "Experiences of using Solar Panels in India". The panel drew approx. 60 students and professors to the event. Another panelist, Mr. Nelthon Friederich, from ITAIPU in Brazil, had shared a panel with Golo before, back in 2012 during Rio + 20. Mr. Friederich also talked about changing minds and touching hearts.

Full Day for BKs at COP20 on December 10th
23 December 2014
The International day of Human Rights stated at COP20 with some morning events- meetings.
In the afternoon our main programs at COP took place, a press conference and a side event called "Ethics at the Heart of Climate Change". Interfaith initiatives
Brief descriptions of several interfaith initiatives were discussed in this meeting.
"Fast For The Climate", an initiative that includes a wide diversity of faith and secular participants, continues to grow. "Fasting on the first of the month" continues, with a growing number of participants and groups worldwide. Also, on each day, between now and COP 21, at least one person will fast, with people fasting from different regions of the world at different times of the year.
Read the full report of December 10th & 11th

Season's Greetings from the India One

Team
22 December 2014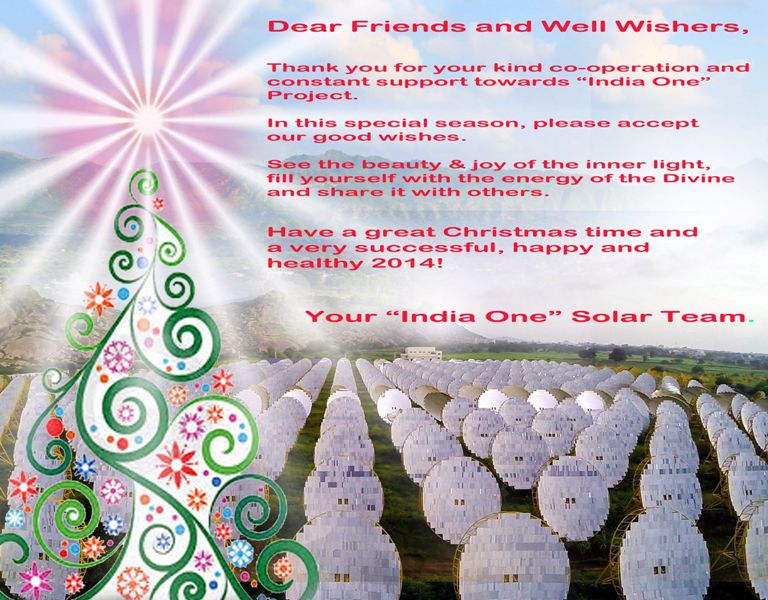 BK Youth at Climate Change Conference in Peru (COY10)
19 December 2014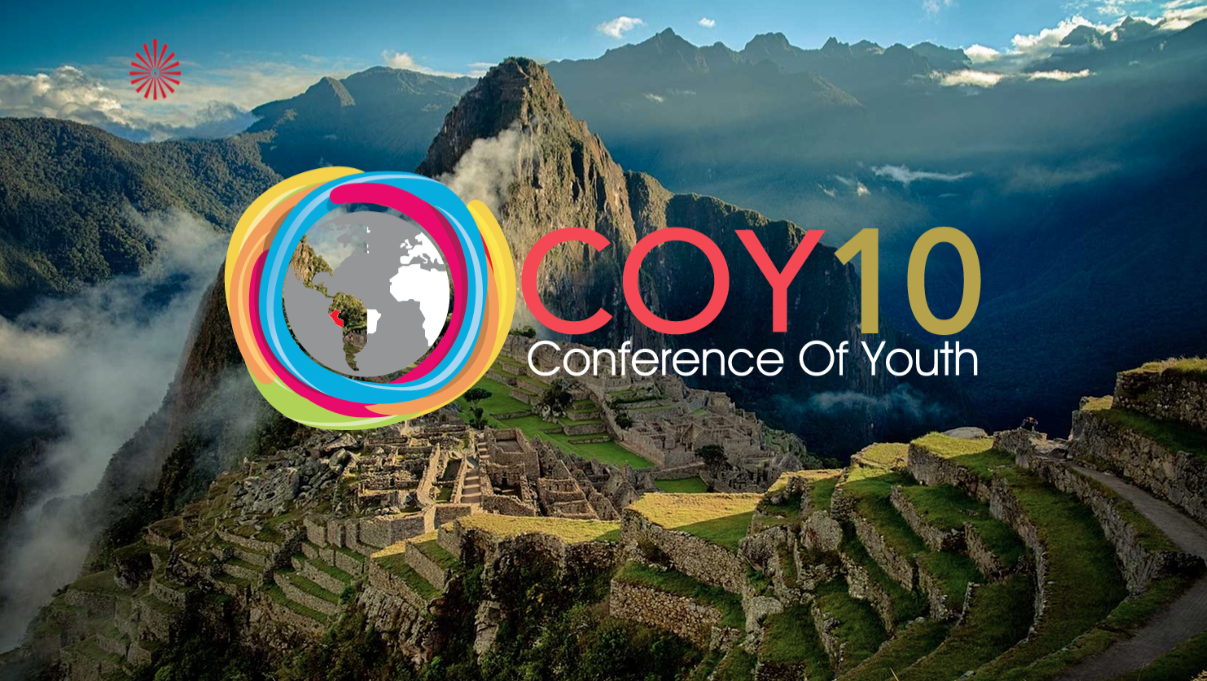 The Conference Of Youth on Climate Change - COY brings together young people from around the world, interested in actions against climate change and sustainable lifestyles. It is a space promoted by YOUNGO to promote the exchange of experiences, lessons learned and good practices in order to strengthen the global youth climate movement and engage the next generation in the development of action on climate change within the framework of international cooperation.
Brahma Kumaris worked with organizers since COY9 in Warsaw Poland and became an official parter for this event. The Organizing COY10 Group is a team of youth organizations and volunteers who worked with enthusiasm and responsibility in the realization of COY that strengthened the Youth Climate Movement and engaged the next generation in the development of actions to combat climate change within the framework of international cooperation.

Highlights from the Second Week of COP20
16 December 2014
Pictured: Sister Gayatri, Julia Grindon- Welch and Angelica Castro.
This second week of COP20 started on Monday, 8th December, with the registration of Sister Gayatri, Golo Pilz, Sonja Ohlsson and Angelica Castro. They had a guided tour around the Pentagonito (Ministry of Defence of Peru). They were able to spend time in the plenary halls, the country pavilions and the exhibition area.

The Role of the Family in Climate Change - Conference Report from COP20 in Lima for Friday, 5th December through Sunday, 7th December
11th December 2014
Sister Gayatri Naraine, UN representative for the Brahma Kumaris in New York, arrived Thursday the 4th Dec. Her first day in Lima started with a roundtable at the congress of Peru.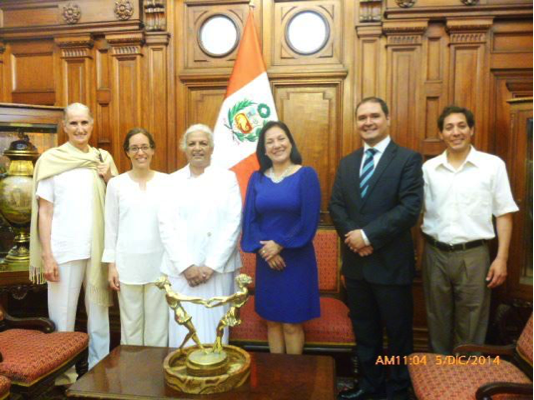 Roundtable – The role of the family and the Andean communities in caring for the environment at the Congress of the Republic of Peru
Sister Gayatri and the local BK group met three representatives of the Congress of Peru to discuss the role of the family in the protection of the environment. The focus of this meeting was the elimination of violence against women and re- learning peace to protect the environment.
Read full report here.


Youth Programs at Climate Change Conference COP20 in Lima on Thursday 4th December
10 December 2014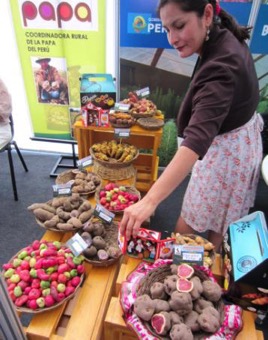 This day started with the participation of Christophe Richon and Joan Vasquez Milling in two events for youths about Climate Change: "On the road to COP21 and Beyond" and "Intergenerational Inquiry - Youths as agents of change". Note: Image at the right is a display of some of Peru's 3000 types of potatoes.

Youth program: On the road to COP21 and beyond. Discover the Youth Climate Action project
Representatives of different organizations such as P3 Foundation project from New Zealand, Youth Climate Action, My World, Think big from China, among others, shared with the audience ways in which they, (the youth) promote climate change action to help other youths i.e. developing training sessions in schools (capacity building), leading campaigns, sharing knowledge about extreme poverty and internet platforms for sharing information. An interesting question was posed to the assembly: How can we inspire youth to change? An answer given was: "In giving them the opportunity to be visible, in showing their skills, their idea to change the world". Another was "By giving them an income!"
To read the full report, please click here.


Interfaith Focus on Day 3 of Climate Change Conference COP20 in Lima (Wednesday 3rd December)
9 December 2014
Focus on Interfaith & Indigenous Communities Press conference:
"Faith and Science: Climate Unity"
Wednesday started with a press conference arranged by our old friend and partner in climate changes conference since 2009, Stuart Scott. As moderator of the press conference, he set the context by saying, "Religion and Science are often considered divergent areas of the human experience… immediate and decisive climate change action is required of nations, corporations, banks and financial institutions, NGOs, all stakeholders and the public. The voices of Faith and Science affirm that no amount of money is worth risking the human suffering we face and our very survival".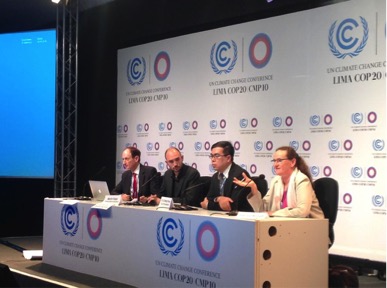 Participants included: Martin Kopp, from the Lutherans; Dr. Chi-Ming Peng from the Tzu Chi Foundation (Buddhist); Paul Bockwith, Scientific of University of Ottawa; Valeriane Bernard from the Brahma Kumaris and a representative of the Executive Secretary of UNFCCC, Christina Figueres.
Read full report here.

Amazing Start of COP20 on 1st & 2nd December
8 December 2014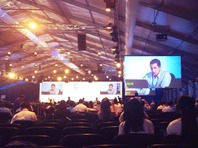 Open ceremony of the UNFCCC - COP20 Juan J. Vazquez Milling, COP20 youth coordinator of BK Environment Initiative, was elected to be the voice Youth around the world andrepresent – YOUNGO, the civilsociety youthconstituency of the UNFCCC, - to pronounce their opening ceremony statement of the Twentieth World Conference of the Parties on Climate Change - COP 20 in Lima, Peru. "It was such an amazing experience and also an honor to have represented all the youth around the world" said Juan.
Read rest of report here

BKs Preparing for COP20 Climate Change Conference in Lima Peru
4 December 2014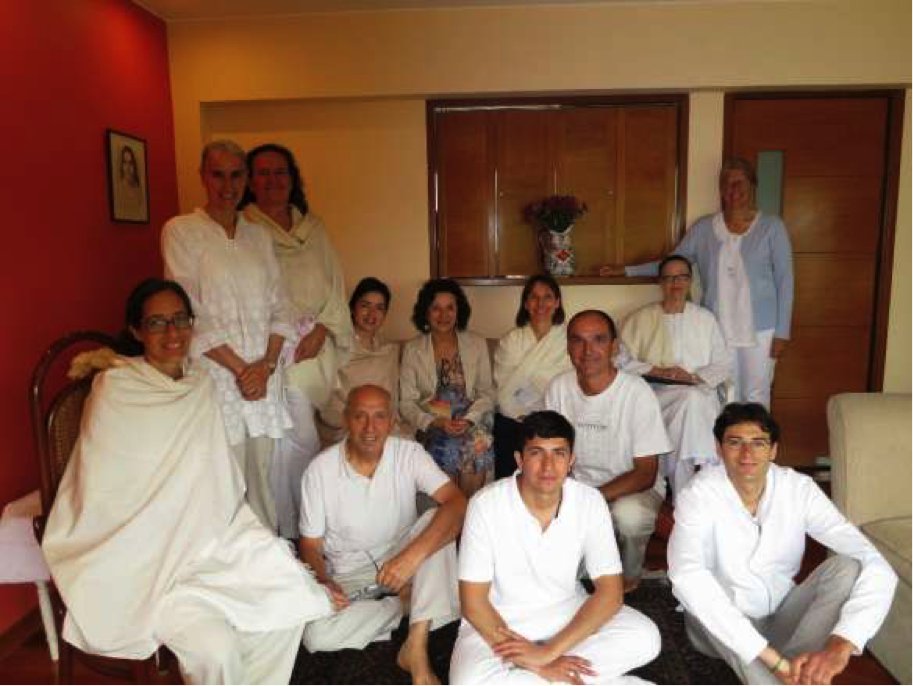 The Brahma Kumaris delegation has arrived in Lima. They have flown in from all over the whole world to participate in the climate change conference 2014. Some have been to other countries in South America for programs on Living in harmony with the self, others and the environment. The official delegation is:
François Becher, Director of Brahma Kumaris, France
Valerian Bernard, Brahma Kumaris' Representative to the United Nations, Geneva
Julia Grindon-Welch, Brahma Kumaris' Representative to the United Nations, New York
Juan Vázquez Milling, Brahma Kumaris' Youth Representative
Gayatri Naraine, Brahma Kumaris' Representative to the UN, New York
Sonja Ohlsson, Co-ordinator Environment Initiative
Rocio Olaya, Brahma Kumaris' Youth Representative
Golo Pilz, Adviser, Renewable Energy, Brahma Kumaris
Tamasin Ramsay, Anthropologist, Brahma Kumaris' Representative to the United Nations, New York
Nonie Reaño, Organizational Psychologist and Consultant for Corporate Universities, Peru
Christope Richon, Brahma Kumaris' Youth Representative
A total of 22 programs are lined up for the coming 2 weeks! Some of them are taking place at the UN event, but most of them are happening in venues outside the COP. This is the result of an incredible wave of service that the Brahma Kumaris center in Lima has created. They have been part of the planning committee for the youth, interfaith and civil society.
The center in Lima has been preparing for this event for one year, with lots of help and co-operation from the centers in the region and the international environment team. Sisters from Argentina, Colombia and Ecuador have flown in to help with translation and cooking.
The Youth Conference on Climate Change took place from 28th-20th Nov. and a separate report will be sent about that.
Saturday 29th Nov.
On Saturday evening the BK International Delegation met with the Peruvian family. BK Nonie Reano, the Coordinator of the Brahma Kumaris in Peru welcomed everyone and BK Julia Grindon-Welch, BK UN Representative in New York, shared about our environmental work at the UN and some history of how we have been working with the Climate Change issues since 2009.
We also had the opportunity to hear from BK Patricia Iturregui, who presently works with the UK government in Peru on the issue of Climate Change and is a former climate change negotiator. She gave us a very clear picture of where the present negotiations stand and the hopes for this COP and also the meeting that is taking place in Paris next year, which is an important benchmark in the Climate Change process. BK Tamasin Ramsay, then gave a short over-view of our BK perspective and statement which speakers to the Ethical Heart of Climate Change.
Each one in the gathering then answered the question: "When someone walks into our Exhibition Stand at the UN conference what would we like people to take with them? Some of the responses included:
"I would like the person to take away a sense of empowerment. They are the creator of their future, and so there is hope."
"I think that there is a disconnect between people being aware that they are a link in the chain of events of the things that are happening in the world, and that by becoming aware of this they can be part of the solution".
"I would like people to be aware of how the spiritual trajectory of awareness, attitude, vision, action, and world works, and that this trajectory can support a real change in behavior. Also, that the living system of the mind and consciousness has a direct effect on the living system of matter".
"I would like people to become aware that the work we are doing in the world, such as Yogic Agriculture and Solar energy are a direct result of our spiritual consciousness of living in harmony with nature."
We all felt that this gathering was very beneficial for all of us and was a good start to the service we were about to embark on. We then did meditation together and shared blessings.
Sunday 30th Nov.
Faith Based Organizations - First meeting
The international faith based movement met with Interreligious council of Peru, in the Alianza Cristiana church. The Interreligious council of Peru are comprised of the Jewish faith, the Muslims, Religions for Peace, Brahma Kumaris and many others that all participated in organizing awareness raising events prior to the COP. And about 25 people came, many dressed in their religious attire, all went for the Parque La Floresta where the Vigil for the climate happened.
"The life of the Planet is in Our Hands" - Vigil and concert
At the start of the vigil, UNFCCC Executive Secretary Christiana Figueres, and the minister of environment Mr Pulgar who is the president of the COP in Lima joined us. As a welcome gesture they were offered green candles to symbolically enlighten the COP 20 negotiations. The following day at the start of the COP both, the minister and Chistiana Figueres had to argue with security to get the candle in the room of the negotiations.
Following the official speeches, a peaceful march took place with about 500 people.
Afterwards, we gathered at a local park in the twilight for a concert with "Desert Rose" from South Africa, remarkable sacred musicians who - through song - have the capacity to bring the audience to an experience of God. Desert Rose has also represented interfaith and music in Poland and are good friends of the BKs. Pochi, a famous reggae musician from Lima also sang some very inspiring songs. It was a blessed experience all around.
Report with additional photos available here.
Read more: www.environment.brahmakumaris.org

Green Inspirations For The Rest Of the Year
18 November 2014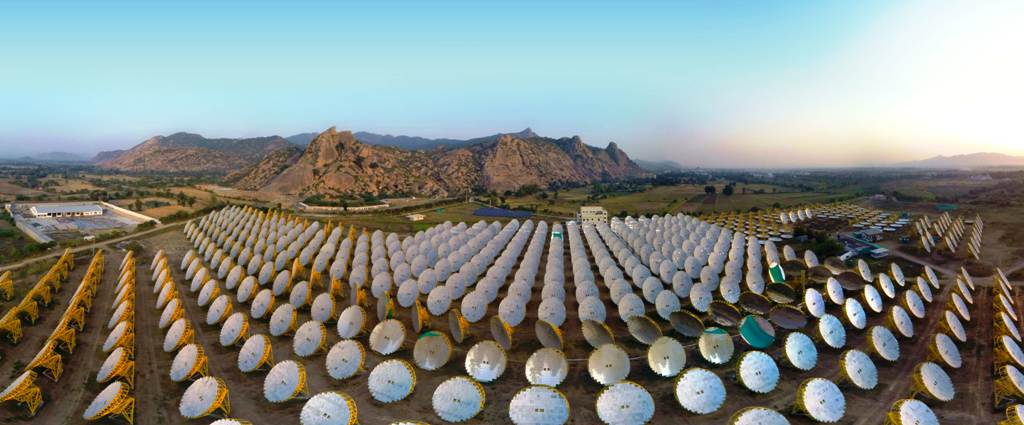 Green Angels Across the World, who operates in the energy field between the physical and non-physical world.
Please find below mail with inspiration, inspiration, and news and news from our generous BK family:
12 green angels are now on the way to spread their wings over South America. Sending this mail just before so they we all can fly together! COP 20 will take place in Peru in December 2014. Before that Argentina, Uruguay, Brazil, Paraguay, Bolivia and Colombia will receive the green angels for programs and retreats.
It is time to say Merry Christmas to you! And if you feel like dancing, here is an invitation from Sister Claire in Hong Kong: Happy People Dancing on Planet Earth
Om Shanti. Thanks to Peter in Oslo for maintaining our webpage so nicely
Arnold & Sonja
Presentations and News from the NC meeting in Oct. 2014:
Green News from Mexico - Video
Spirituality and Sustainability from Leura and Baxter retreat center
India- One - latest Newsletter -
Vila Serra Serena Retreat Center, Brazil
Yogic farming - report from Goa and Maharashtra
Degrowth
Brahma Kumaris attended the Fourth Conference on Degrowth for Ecological Sustainability and Social Equity held in Leipzig, Germany, 3rd - 6th September. Read more about when greed started and about dragon dreaming.
Reports from Conferences:
UN Climate Summit in New York Sept.
- other news from US Climate Summit, see News Section, 2nd and 3rd item - OurVoices launch and Religions for the Earth
Biodiversity in Korea October
World Vegan Day has already passed on the 1st Nov., but as there are many Happy Vegans out there, you might want to see:
Want to fast for the climate? br. Gordan in the USA is inviting you to join:
http://fastfortheclimate.org/en/#tab5-tab
News from Gibraltar: Sr Jayanti came to Gibraltar for a very short visit (24-25 September 2014).
One of the interviews focused on Climate Change, since she had just returned from an interfaith event in NY related to UN and Climate change.Please find the coverage of a compilation of the activities on the Rock at NewsWatch of Friday 26th of September 2014.
It is a mix of an interview with Davina Barbara and some videoshots of a presentation at a celebration of 80 year anniversary of the Alwani Group of Companies and some shots of an interview with Stephen Cumming 'Questions of Faith'.
It is only 3 minutes, but very much worth a view. See below.Track minutes 23:28 - 26:30.
http://www.gbc.gi/news/news-player.php?programme=475&episode=7196
And finally Lima in Peru:
A new BK Climate Change Statement is born
The Heart of and Ethical Framework,
Calendars, flyers, delegation description is one the way, keep an eye out of the webpage.


News from the Biodiversity Conference Korea Week 2
20 October 2014
The 12th Conference of the Parties to the Convention on Biological Diversity, Pyeongchang, Korea
Report week 2, 12th -17th October 2014
Read more: www.environment.brahmakumaris.org
Pdf report with Pictures, see this link: Click Here
Over the weekend the conference closed, so after a busy first week the Brahma Kumaris delegation had a day by the beach, including some meditation for the elements.
Sonja Ohlsson, Denmark and Piero Musini, Italy joined the team for the second week. They had particularly come to do the Brahma Kumaris presentations at the CEPA fair and an UN side event.
Two presentations: presentations by the Brahma Kumaris and Lotus World:
Living in Harmony with Nature – CEPA Fair
The Power of Human Awareness in Safeguarding Biodiversity -UN side event
These presentations were by Sonja Ohlsson, the international coordinator of Brahma Kumaris Environment Initiative, Piero Musini, a Brahma Kumaris farmer practising sustainable yogic agriculture in Italy and Min Junghee, the director of general affairs of Lotus World, a Korean NGO doing international conservation work. Dr Andrea Gutierrez, senior researcher in Biofuels in Finland moderated the discussion.

BK Green Service reaches Korea
17 October 2014
The 12th Conference of the Parties to the Convention on Biological Diversity is being held in Pyeongchang, Korea from 6th -17th October 2014
Read more: www.environment.brahmakumaris.org
With Pictures: see link to PDF file here
Living in Harmony is the theme the Brahma Kumaris brought to the Convention on Biological Diversity (CBD) in Korea. The main aim of the convention is to reach the Aichi Biodiversity Targets which starts with: By 2020, at the latest, people are aware of the values of biodiversity and the steps they can take to conserve and use it sustainably.
A total of 11 delegates from Brahma Kumaris registered: Meera Ryu (South Korean), Heera, Shivani, Raksha, Bhavana and Jugnu from Korea, Sonja Ohlsson (Denmark), Piero Senatore Musini (Italy), Andrea Gutierrez (Finland), Soon Bee Eam (Malaysia) and Jessica Yuille (Australia). We hosted an exhibition, a display kiosk and two panel discussions. To help awaken biodiversity consciousness we prepared a BK position Statement, two booklets, a small poster and a set of Living in Harmony cards in both Korean and English.
Hand-over from Letchumanan Ramatha
Letchumanan Ramatha (Malaysian) was attending the earlier part of the conference. He spent one night with the team before leaving, and handed over some insights into the conference and service tips: visitors should be attracted to our message about change of human awareness, as it is something new. We shouldn't underestimate the supporting energy of being positive and sharing a message of hope.
Conference Exhibition
The exhibition was open to the public as well as conference participants. Large display posters on the India-One solar power plant, yogic agriculture and human awareness attracted passers-by to look closer. They enjoyed picking a Living in Harmony card which gives an awareness and action to practise to bring positive change. The exhibition was relatively quiet, perhaps because the conference venue was three hours from Seoul in a quiet mountain area. There were also many parallel events offered which delegates were busy attending. Around 50 visitors came to the stand a day: delegates, police, fellow exhibitors, government officials and school groups. Most visitors were from Korea, but we also connected with international representatives who were interested to connect with us in their country.
We had a small display kiosk within the Communication, Education & Public Awareness (CEPA) area, which showed a video on yogic agriculture and held our brochures.
Visit to Woljeong Temple
During the week monks from nearby Woljeong Temple, Buddhist oriented environmental activists and scholars were meeting to prepare a declaration to be submitted to the CBD. One of our contacts at Seoul centre invited us to attend, so we went and wished them success. Meera visited them again the following day to meet some of the participants in the program at the temple. Then we all went back on the weekend to take part in a program the monks prepared for interested CBD participants. There was a Buddhist ceremony, traditional tea drinking and the Chief Priest offered their declaration on Biodiversity to the conference. Meera translated his speech into English for the audience.
Side Events
Side events are organized at the margin of the major official meetings with a view to sharing experiences and increasing opportunities for informal dialogue among the meetings' participants. The BK team attended side events each day and made connections. Interesting side events were:
· social marketing and behaviour change by RARE,
· biological diversity and radiation hosted by Japan Civil Network for the UN,
· biodiversity and social ecological resilience by Stockholm Resilience Centre, and
· the role of indigenous women by the Network of Indigenous Women of Latin America and Caribbean.

Invitation to the 2nd Issue of "India One" Newsletter
03 October 2014
Dear Friends and Well-Wishers of "India One", Om Shanti.
Please accept hearty greetings from sunny Rajasthan,
Hereby, we would like to invite you to the 2nd issue of "India One" Newsletter, where we share the latest news from this innovative Solar Thermal Power Project. We warmly welcome your feedback and suggestions. If you wish to be removed from this mailing list, please send us an e-mail with the subject: unsubscribe.
Please accept our deep gratitude for all your support and co-operation.
Thank you very much!
With best wishes,
Yours
India One Team
Click here for detailed report.

Visit of Mr. Klein and GIZ Delegation to BK Gyan Sarovan, "India One" and Shantivan, 17-18 September, 2014
22 September 2014
On the 17th and 18th of September, 2014 WRST and BK solar team was honoured to host a GIZ Delegation in Abu.
GIZ, the Deutsche Gesellschaft für Internationale Zusammenarbeit (GIZ) GmbH is a federal enterprise that supports the German Government in achieving its objectives in the field of international cooperation for sustainable development.
For WRST "India One" Solar Thermal Power Plant Project, GIZ has been an execution and development agency of the German government, the Federal Ministry for the Environment, Nature Conservation, Building and Nuclear Safety (BMUB), that provided significant part of the project funds within the "ComSolar" Indo-German Energy Programme (IGEN).
There were following members of the delegation that visited WRST and Brahma Kumaris in Abu: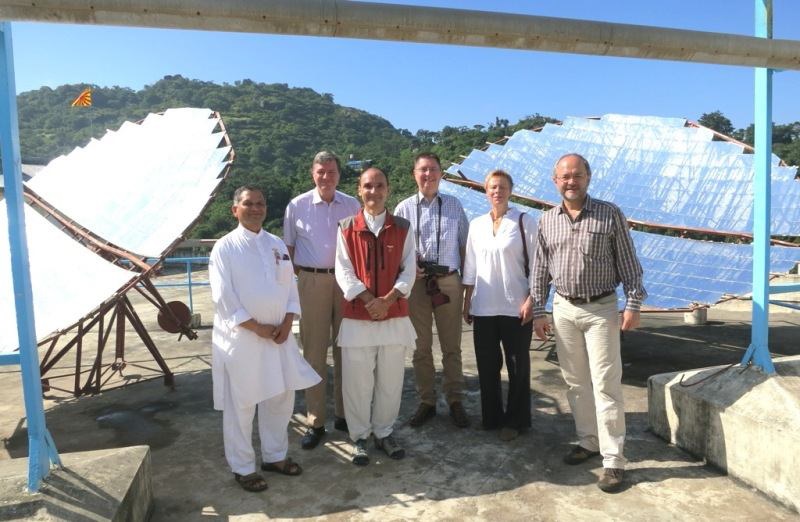 1. Volkmar Klein, Member of Parliament, Board Member GIZ 2. Sandra Schenke, GIZ, Director South Asia 3. Stefan Helming, GIZ, Country Director India 4. Jens Burgtorf, GIZ, Director IGEN
The first destination of the delegation was Brahma Kumaris Gyan Sarovar campus in Mt Abu. They arrived safely from Ahmedabad in the evening of the 17th of September. After freshening up in the Peace Cottage, all enjoyed a delicious dinner that was interwoven with introduction to Brahma Kumaris and WRST philosophy and activities.
On Thursday, the 18th of September, the program started with visiting the solar cooker installed in Gyan Sarovar. This solar steam cooker has been the first solar cooker ever installed in India and it was sponsored by German Government via GTZ (today GIZ). Thanks to the weather conditions, the day of the visit, was the first day, when the system got back to operation after the monsoon break.
The respected guests were able to see the whole installation, the tracking mechanism and steam generation. They also had a quick look at another application of the same solar system that is the drinking water pasteurization.
Read the rest of the report here.

Latest Green News - Agents of care and more
14 September 2014
Om shanti and good afternoon to the BK green network
Looking forward meeting many of you in Madhuban next season. Today on the green website here was a nice:
GREEN THOUGHT FOR TODAY How to be green? Consume less. Share more. Enjoy life.
Here is a mail with the latest updates.
Become an Agent of Care - New Practical Guidelines for the centres
Sisters Romina and Joanna from the UK have developed a practical online-booklet with guidelines for the environment consideration of the centre. Please have a look and enjoy and give us feedback on how to develop this further(last link on the page).http://environment.brahmakumaris.org/news/articles/176-bk-environmental-commitment
Madhuban NC/CC meeting in October:
The environment initiative has the opportunity to present a few presentations of 20 slides each. Yogic farming and India-One will have one each, and the last one we thought of presenting the guidelines.
Is there anything else you would like us to include?
Deadline for sending this is already 15th September. I am sorry for short notice, but if you have ideas, maybe you can send them in the weekend? If you yourself have inspirational news, then consult your NC.
Bringing faith to the climate talks:
Do you want to add your voice and urge your global leaders? Sign in to OurVoices: http://ourvoices.net/
Sister Jayanti is an Ambassador for this initiative, and you can see her picture on the webpage. Sister Gayatri will represent the BK's at the North American Launch of Our Voices in New York 17th Sept.
LOOKING AHEAD:
There is a the UN Climate Summit in New York 23rd Sept. Link:
http://www.un.org/climatechange/summit/
Prior to that there will be an Interfaith Summit and Sister Maureen will represent the Brahma Kumaris together with the UN team of Valeriane, Julia, Tamasin and others. We wish you all the best! Link: http://interfaithclimate.org/
Valeriane has done an interview for the Summit, it can be heard here: http://interfaithclimate.org/reflections
Biodiversity in Korea:
6th-17th October the next UN conference on Biodiversity is happening. The Korean team is doing wonderful work preparing for a smaller BK delegation of 5 people from the BK Green network. Tamasin has written a new statement on Biodiversity Consciousness, interesting piece of writing on resistance to change and "the ecology of homeostasis". It can be read here:
http://environment.brahmakumaris.org/images/resources/UN/Awakening_Biodiversity_Consciousness_II.pdf
Field trip during Peace of Mind: Are any of your Peace of Mind guest joining the field trip to India One and the farm? Then remember to let us know.
LOOKING BACK
Strong Woman Strong World: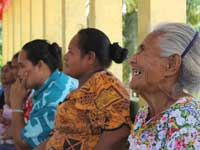 at the beginning of September there was a UN Conference on the island Samoa about the climate change and the Small Island States. The Australian team was present and you will hear news soon. In that connection sister Tamasin wrote an article on Strong Women Strong World:
http://www.stakeholderforum.org/sf/outreach/index.php/component/content/article/202-sids-day-1/11664-day1article4-strong-women-strong-world-looking-at-inner-resources
Walking Retreat – Mobile Retreat:
Last weekend a group of 14 Bk from Germany went on a green walking retreat instead for a "sitting inside" green retreat. Wonderful opportunities to churn, meditate, and just BE with oneself and the others.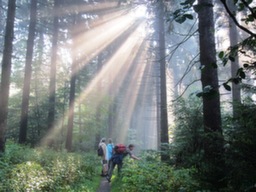 Green Retreat in USA: Inner transition for a Greener World. A wonderful report has been written:N-USA
Green Retreat 2014-7 http://environment.brahmakumaris.org/images/News-Events/BK-Green-Retreats/NA_GrnRTrt2014.pdf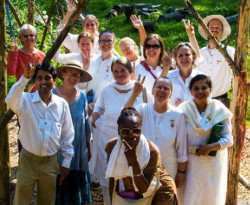 LOOKING INSIDE
During the European Teachers Meeting in Oxford in August we had some very nice small green network get-togethers. Sister Sudesh also shared her churnings on what conquering the elements mean. She shared that each element represent on of the famous five vices, and it is those famous vices we have to conquer! Thanks for that sharing.
Earth - lust, gravitation, gross
Fire - jealousy, anger, it burns all happiness
Water - attachment, emotions, it takes you away, tsunami, flushes all out
Air - greed, emptiness, to fill the emptiness of empty spaces, it never gets satisfied
Ether - ego tries to dominate everything, ether is present everywhere, you can't see it
In sweet remembrance of the ONE
Sonja & Arnold on behalf of everyone out there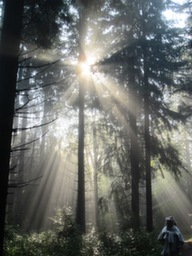 New Video available on "Creating the Future" environment event for youth held at Global Cooperation House
8 September 2014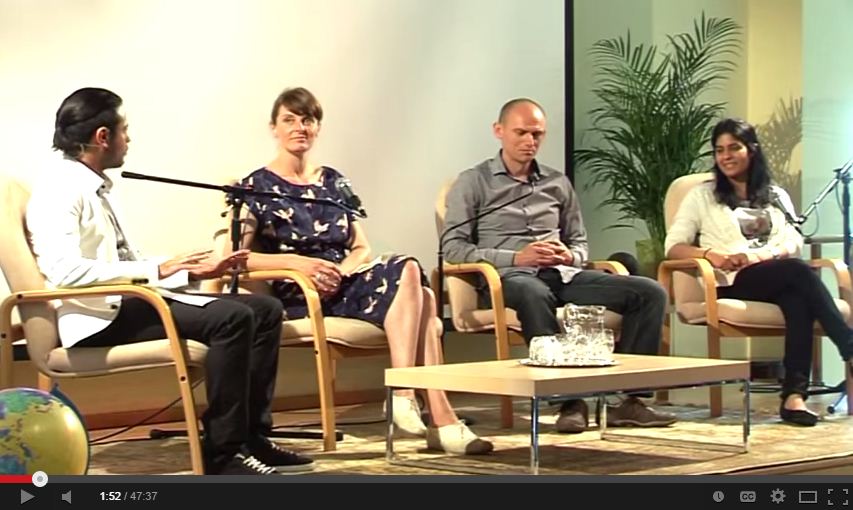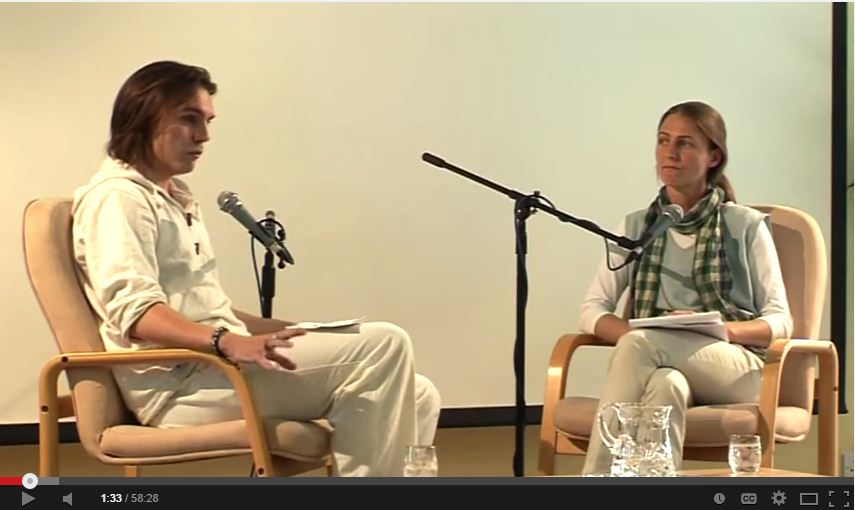 BK Green News and our Green Angel
28 July 2014
Dear BK Greens and Whites

Our very special Green Angel from Greece has left this confluence aged garden to enter a new adventure. We all remember brother Anthony for his many good qualities, beautifully described in letters and mails from our seniors. He also had a lot of love for nature and flowers, and supported our green service right from the beginning. The Green Angel started in Greece with Anthony and the team. Greece was also the first country that invited the Green team for an environment lecture series around the country. You can read the Green Angel interview with Anthony here:
http://greenangelofthemonth.blogspot.dk/2012_09_01_archive.html
He also did a great blog on Homage to Trees at Huffington Post, you can read here:
http://www.huffingtonpost.com/anthony-strano/trees_b_1426716.html

All the best Anthony for your next chapter, your kind presence here will be missed.
Love and light from your flower friends

The rest of the newsletter is just that, lots of news, and more news. The seeds are sprouting!

Upcoming events:
Link: Create The Future We Want- Panel Discussion - London 3rd August

New Video Links
Bhutan - Balancing Spiritual and Material Development, Sister Jayanti amongst others

London Event for World Environment Day: 'Values, Conscience and Climate Change
Featuring Sister Jayanti and Rev Canon Dr Alan Race, interviewed by Romina Melwani.

Inspirations from past interesting events from across the world:

Link to: EU Energy Week June 2014
Through a series of 9 different programs, in 8 different Cities, across 5 countries – Denmark, Germany, Poland, Scotland (UK), and Belgium - Brahma Kumaris Centre's contributed to EU Sustainable Energy

Link to: Climate Change Conference Bonn with Sister Jayanti, June

Link to: Ecological Retreat, Casa Sangam, Italy - Now is the Time, June

Link to: BK's first participation in UNEP's General Assembly, Nairobi, June

Link to "From the Ecology of Soul to the Ecology of Nature" Moldova

Link to: World Environment Day in Sao Paolo, Brazil

Link to: Power Shift in UK, workshop Creating Inner Resilience in Challenging Times

Link to: Human Rights and Climate Change: An Ethics Perspective with Sister Jayanti and others, Geneve
Link to what The World Council of Churches writes in their news

And Finally New Green Website in Portugese!
http://www.brahmakumaris.org/brazil/audio_e_textos/ambiente?set_language=pt

And a website to an organic farm of a Portugese brother and sister:
http://organicaquintashanti.weebly.com/

From all of us to all of you

EXPO MILANO 2015 - Food for the Planet - Energy for Life
26 July 2014
Dear Centre Co-ordinators and Brothers and Sisters around the globe,

A wonderful service opportunity in Baba's unlimited task, EXPO 2015 starting 1st May and running through to 31st October 2015 in Milan, Italy, expects some 20-25 million visitors. It is not a trade fair but occurs every five years (the first one was in London in 1851). It is designed to be a platform for sharing knowledge and experience with everyone worldwide on new and innovative ideas from the 130 countries registered (to date), under the theme -

"FOOD FOR THE PLANET – ENERGY FOR LIFE"
http://www.expo2015.org/en/index.html

We would like you all to participate in this EXPO with your good wishes and to send us your experiences in any projects or practices relating to the theme, which you have been doing in your service areas... Download or read full pdf here.

Thanking you for your divine support.
BK Monica and the Italian Family
bkenvironmentmilan@gmail.com milano@it.brahmakumaris.org

From the ecology of soul to the ecology of nature - The International Conference in Chisinau, Moldova (CIS)
27 July 2014
http://onelink.brahmakumaris.org/russiacisnews

New video out: Values, Conscience & Climate Change
21 July 2014
This one-hour and seven-minute video features Sr Jayanti and Rev Canon, Dr Alan Race, interviewed by Romina Melwani.
Direct URL: http://youtu.be/eB5VAvuUFro?list=UUmTemi7HxrcFg91JRAhWePA

Talk, Sharing & Meditation for EU Sustainable Energy Week - Glasgow, Scotland
16 July 2014
Please see article and videos in the European News Page

Sunshine News from BK Green Network
10 July 2014
Om shanti and hello to all green net workers, many sunshine greetings.
The green activities are growing and growing, and it is wonderful to watch.


India-One
First of all, please find latest newsletter from India-One. They are continuing to build Baba's solar power plant in the heat of the desert and now 45o reflectors are up! Hopefully you will be able to see it for yourself next Madhuban season.www.india-one.net




Peace of Mind
There will be the opportunity for Peace of Mind guests with interest/work in environment to stay on an extra Environment Practitioners Day, including a field trip to India-One and to the yogic farm in Shantivan. That will happen on 14th Nov., with departure on 15th Nov. If any one of you wants to invite your POM guests for that, please contact your CC, as they have all Peace of Mind info.



BK Green Network contact list
In a recent mail we described how the Green team has grown into a BK Green Network. Many ask what is happening. There are plenty of activities happening within each country - green angels to help greening the centres in many countries, workshops, meditations for the environment, reaching out to local community, collaboration with other organisations, farms, gardens etc.

We have now started to map all international activities, and below you find the first draft. If there is anything you wonder about, or if any name is missing, or wrongly placed, etc, please get back to us. The idea was that it would be useful for all to know whom to contact for various activities. And please bear in mind it is the first draft.



EXPO 2015 in Milano
Monica in Milano and Italian green team has for a long time been in touch with EXPO 2015 happening in Milano 2015. The team needs some info and help from you in order to make BK presence there a reality, please see attached letter.

Next time we will send links to all news that happened in the spring - EU Energy week, green retreats, panels etc. Peter in Oslo is working on uploading all the news. if you have anything you want to share, then please send.



From Dadi: When knowledge sits well in the intellect, then the environment becomes pure, the atmosphere becomes magnetic and pulls you into introversion, and vibrations spread far and wide. The intellect is very sensitive to all three so ensure that they are elevated.

Enjoy summer or winter, yoga and gyan
In remembrance

Sonja & Arnold

PS. The new blessings "10 ways to change the world" can be seen here. If you want printing file in English, please write.
http://environment.brahmakumaris.org/images/resources/10%20ways%20to%20change%20the%20world%20blessings.pdf

First draft - BK Green Network Contact list - Mapping International BK Green Activities

National activities: Contact NC and CC's
Head of the BK Green network: Sister Jayanti, Trustee to the RC's: Sister Gayatri
1. Co-ordination – Sonja, Arnold and many others
2. Strategy – Julia, Valeraine, Golo, Arnold, Sonja
3. Partnerships, Pachamama, facebook – Arnold
4. Climate Change COP Core team– Sonja UNFCCC designated contact person, Valeriane, Julia, Golo
5. Climate Change half-way conference Bonn – Gopi, Heidi
6. Climate Change and Interfaith - Valeriane
7. Web updating – Peter, Sotiris
8. Yogic farming – Tamasin, Piero, Sumanth
9. Solar – Golo, Aneta, Jayasimha
10. COP20 – Nonie
11. COP21 – Francois, Renaud
12. EU Energy Week – Kathryn, Brussels, Carolin Hamburg
13. Expo 2015 – Monica, Teresa
14. UN Climate Summit – Julia, Erik, Sonja, Valeriane
15. Youth – Juan, Teresa, Ash, Romina, Myriam, Shashank
16. Green Angel – Vasia, Sotiris, Maria
17. Peace in the Park - Wendy
18. Green retreat Gubbio – Valeriane, Francois
19. Pachamama Workshops – Linda, Gopi, Patrizia Germany, Arnold, many other countries
20. Policy, center guidelines – Wendy, Joanna, Romina
21. Developing materials, workshops, commentaries – John, UK, Valeriane
22. Green installations- Arjen
23. UNEP – Pratibha, Dorcas, Julia, Sonja, Tamasin, Urvashi.
24. Biodiversity - Meera, Heera, Tamasin, Letchu, Sonja, Andrea
25. Education – Francois
26. Vegan food – Robin, Giorgio, Didier
27. Editing, proofreading, Green CV's – Helen
28. FAO accreditation – Teresa, Italy, Piero
29. News Mailing list – Sonja, ( at present 460 BK's part of that)
30. Design – Nikunj, Lilly, Akash.

Regional co-ordinators:
Asia – Greg and Jessica
South America – Luciana
Central America – Yolanda, Carmen
North America – Julia, Elizabeth, Gordan, Shubi
Europe – Valeriane
Africa – Pratibha, Usha
Russia & CIS – Irina

Madhuban – Wings, Departments and Initiatives serving in the area of Environment:
1. Solar Energy Department - Golo bhai & team (18 years)
2. Rural Development Wing – Raju bhai, Sumant bhai – Yogic farming
3. Scientist and Engineers Wing – BK Mohan Singal ("Green Idol Award")
Education Wing – BK Mruthjunjaya & Hyderabad Retreat center – Clean the Mind, Green the Earth
4. Water & Waste Management – Selvum bhai
5. New: Sustainability Initiative & Energy Conservation Team, Shantivan – Yaswanth bhai and Kedar bhai

Philippines newspaper publishes a BK sister's conference speech linking meat consumption to climate change
26 June 2014 - article by Giovani Joy Fontanilla, published i the Sun Star Baguio newspaper
Expert: Let's go vegan OR AT least go easy on the meat
Mona Reyes of Brahma Kumaris International Baguio City Chapter shared this in a conference held recently: meat consumption contributes to climate change.

She said meat consumption is contributing to climate change, particularly animal raising and livestock.

She explained when raising livestock animals in farms, one has to feed them with a lot of grass, which in a way causes destruction to the environment.

She added these animals, too, compete with us humans in breathing in oxygen as we both need it.

They also give off carbon dioxide, which is necessary for plants as energy but at the same time is one of the pollutants in the air.

Aside from the carbon dioxide, the decaying manure of animals also give off methane, a gas which can also be produced when carbonizing a coal.

Reyes claimed methane is even more dangerous as a greenhouse gas. She added, "It has more global warming effect than carbon dioxide."

She pointed out the cleaning of the animals' manure especially when bathing them in the rivers pollutes the small bodies of water which serves as sources for most of us humans.

In these ways she believes raising animals and slaughtering them for consumption contributes to climate change.

She suggested there must be less meat consumption among consumers so the lack of demand for meat will force producers to find alternative products.

She reminded people to take in the ideal balanced meal which aside from meat, includes fruits, vegetables, fish, and other nutritional products.

"It is your choice. It is your option to eat less meat or go full vegetarian. Aside from health, it is also helping the environment and climate," she noted ending a little transition in food consumption is one of the behavioral changes one person can do to contribute in mitigating climate change.

BK Ecological Retreat report for Europe and the Middle East
26 June 2014 - Casa Sangam
BK Ecological Retreat for Europe & the Middle East
Casa Sangam 5 to 9 June 2014
Now is the time


On the Thursday 5th June all the participants to the retreat arrived and were welcome to Casa Sangam . Participants discussed in which way they had contributed towards sustainable lifestyle in their personal lives . And Afterwards they talked about hat motivated them to come.
On the Friday morning as well as during the other days of the retreat after breakfast they went for a meditative walk to serve the elements- air, fire, earth, water, ether.
In the morning session, François Becher shared a presentation. Hhis presentation was on matter, money & production – an overview of how human beings live, relate and vibrate in the world. Some key points:
The environment is not only green – it's like a rainbow (the white of the ice caps, the blue of the oceans, the pink of the people, the black of oil, the green of the forests…) Population: from 3 Bln in 1969 to 7 Bln now, in one generation. New souls have no sense of "history", the come down and enjoy life on Earth – mostly through consumption. The Crisis created by us human beings, starting from WW2 onwards – we are now predating Ecology. Five areas are worth exploring: Earth, history, money, growth, spiritual approach

The earth is a living organism with different organs, just like a body with sea, ice caps, volcanoes, mountains, winds etc. There is a need for a natural, organic balance, the sustainability of life and death

In its history the human beings went through three phases:
The magic phase, before Galileo where everything one does is for the upcoming generation – Earth is then sacred, it is a gift from God. Humanity then went Through the machine phase with the exploitation of Earth and then a systemic phase
So these phases also correspond to four levels: Harmony – respect, love, divorce – selfishness, greed, lack of awareness, lifestyle – man is predator, Entropy – Exponential curve of population.
Spiritual approach:
The current scenario is, on the other hand, perfectly understandable from a spiritual perspective: the drama is accurate, allowing billions od souls (the last wave(s), probably) to descend on Earth and enjoy their moment of happiness. Gandhi: "There is enough for human need, but not for human greed". Gandhi: "Simple living, high thinking:
Gandhi: "Be the change that you want to see"
In the afternoon, Giorgio took us to visit the farm

We visited the farm and had a good meditation from the walls of Mirabella, the up part of the property whre Piero has his residence.
In the evening we had an informal Conversation in which the participants all shared what they are doing in the field of environment and sustainability.
On the Saturday Valériane ran a workshop on sustainability where she ask the participants to reflect and share around these 5 questions:
Why is sustainability important for you? What specifically, in sustainability, is important for you? How would you explain it to a six-year old kid? Is there a relationship between Gyan and sustainability, and if so which parts of Gyan are important sustainability-wise?What does Baba want me to do (for myself, for the people of the world, for nature)?
She then presented by a drawing how the Knowledge of the Brahma Kumaris is conducive to a very unique way of understanding sustainability, taking its roots in a way of life that is completely conducive to sustainability by giving us the aim of constant connection with the divine and achieve total purity is allowing us to contribute to the creation of a future sustainable world.

In the afternoon Giorgio conducted a session on healthy food. Some of the points that were shared or recommended to study fearther:
• The China Study – book
• Milk and dairy are "the greatest killer"
• "Raw till 4"
• Fat is another "great killer"
• 80/10/10 – book: 80% carbohydrates, 10% fats, 10% proteins
• Carbohydrates are not only grains, cereals, but also fruit and vegetables
In the evening we had a get together where Valeriane explained the work of Brahma Kumaris at the UN in the Climate Change context as well as in Geneva.
On the Sunday 8th June, n the morning we explored How would the participants want to engage in this work. Through group reflection: How best to communicate the link between spirituality and the environment to BKs and others? Small group discussion

Walk to the lake with the last meditations for the service of the elements.
In the evening, there were feedbacks and the sharing of experiences:
People shared how they enjoyed Francois's overview and Valeriane's walking meditations on serving the elements and the sustainability reflexion; Giorgio's food insights.
All enjoyed also the smaller group and Sharing with family, friends, colleagues; research; contribute to making sustainability more part of the BK conversation;
Souls were also interested by the idea of exploring:
a. A Factsheet about sustainability
b. Agree on a BK charter (recommended practices)
c. Maintain a dashboard
d. Balance between the need to be economical and the need to help the planet.

BKWSU organizes seminar on World Environment Day
9 June 2014

Upcoming BK Green Angels Retreat in North America, July 2014
9 June 2014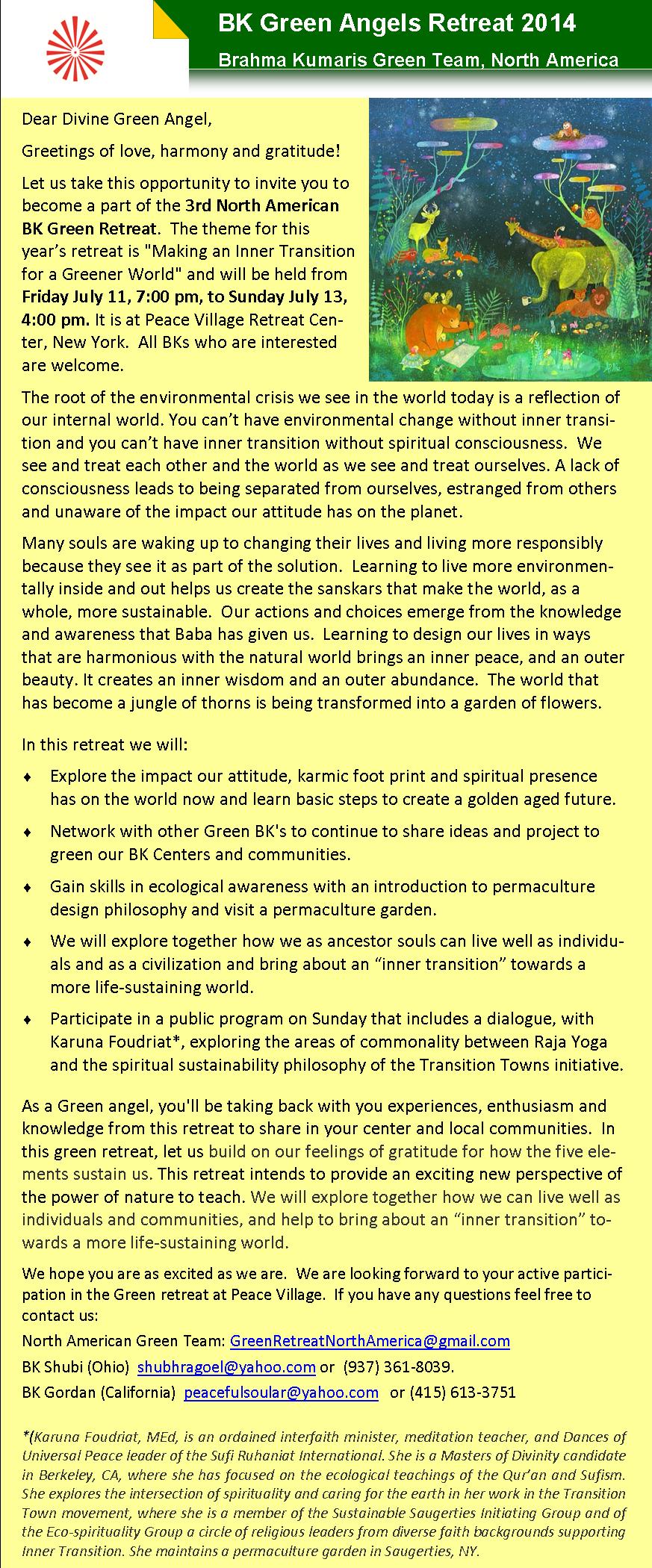 Dear Divine Green Angel,

Greetings of Love, Harmony and Gratitude!

Let us take this opportunity to invite you to become a part of the 3rd North American BK Green Retreat. The theme for this year's retreat is "Making an Inner Transition for a Greener World" and will be held from Friday July 11, 7:00 pm, to Sunday July 13, 4:00 pm. at the Peace Village Retreat Center, New York. All BKs who are interested are welcome.

The root of the environmental crisis that we see in the world today is a reflection of our internal world. You can't have environmental change without inner transition and you can't have inner transition without spiritual consciousness. We see and treat each other and the world as we see and treat ourselves. A lack of consciousness leads to being separated from ourselves, estranged from others and unaware of the impact our attitude has on the planet.

Many souls are waking up to changing their lives and living more responsibly because they see it as part of the solution. Learning to live more environmentally inside and out helps us create the sanskars that make the world, as a whole, more sustainable. Our actions and choices emerge from the knowledge and awareness that Baba has given us. Learning to design our lives in ways that are harmonious with the natural world brings an inner peace, and an outer beauty. It creates an inner wisdom and an outer abundance. The world that has become a jungle of thorns is being transformed into a garden of flowers.

In this retreat we will:
Explore the impact our attitude, karmic foot print and spiritual presence has on the world now and learn basic steps to create a golden aged future.
Network with other Green BK's to continue to share ideas and project to green our BK Centers and communities.
Gain skills in ecological awareness with an introduction to permaculture design philosophy and visit a permaculture garden.
We will explore together how we as ancestor souls can live well as individuals and as a civilization and bring about an "inner transition" towards a more life-sustaining world.
Participate in a public program on Sunday that includes a dialogue, with Karuna Foudriat*, exploring the areas of commonality between Raja Yoga and the spiritual sustainability philosophy of the Transition Towns initiative.
As a Green angel, you'll be taking back with you from this retreat experiences, enthusiasm and knowledge to share in your center and local communities. In this green retreat, let us build on our feelings of gratitude for how the five elements sustain us. This retreat intends to provide an exciting new perspective of the power of nature to teach. We will explore together how we can live well as individuals and communities, and help to bring about an "inner transition" towards a more life-sustaining world.

We hope you are as excited as we are. We are looking forward to your active participation in the Green retreat at Peace Village. If you have any questions feel free to contact us:
North American Green Team: GreenRetreatNorthAmerica@gmail.com
BK Shubi (Ohio) shubhragoel@yahoo.com
BK Gordan (California) peacefulsoular@yahoo.com

Greetings for World Environment Day

(5th June)
4 June 2014

Dear Green Angels across the world

Many peaceful greetings for World Environment Day on 5th June. A day to dive into the depth of the Ocean for Pearls, to cultivate peaceful vibrations, to be with the Seed and shower the Rain of Knowledge.

Here is an example of a program dedicated to World Environment Day in London - Values, Conscience and Climate Change with Sister Jayanti and Revd. Alan Rice.
http://environment.brahmakumaris.org/news/worldwide-news-a-events.
View the webcast:http://webcast.bkwsu.eu/world/streams.php?public=

The EU Energy Week has started under the themes A sustainable transition needs a new Mindset and New thoughts creates New Realities.There will be 9 different programs in 8 different cities, full program can be seen here:
http://environment.brahmakumaris.org/news/eu-energy-week-2014

Please find the latest Newsletter from Australia's green team here. They write about their themes: "I can make a difference" and "Sense of Wonder".
http://environment.brahmakumaris.org/images/News-Events/Worldwide-news/APRIL%202014%20%20NEWS.pdf

Want to learn more? There is a new open online course about climate change starting:
https://www.coursera.org/course/climatechange (Start Aug 14th).

Many have asked for an e-mail version of the poster 10 ways to change the world, please access it by clicking here.

Brother Maciek from Poland sent a link to a beautiful video clip of a relationship between a dog and a child with Downs syndrom, it is 2 min, enjoy:
http://www.videogalley.com/videogallery/beautiful-love-between-a-dog-and-a-down-syndrome-child/#_

Best wishes and om shanti
Sonja & Arnold

World Environment Day
http://www.unep.org/wed/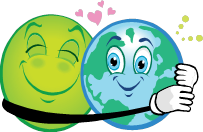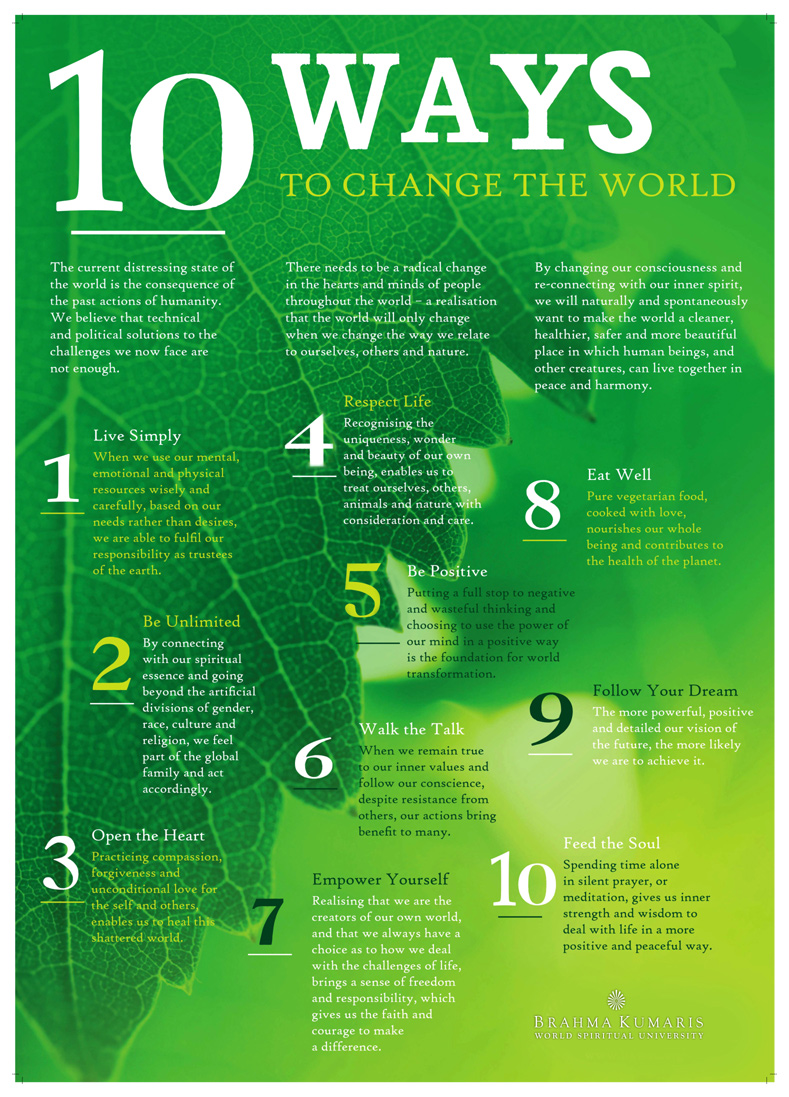 Invitation to Green Retreat in Italy
12 May 2014
INVITATION - EUROPEAN AND MIDDLE EAST REGION
(Participants from other regions are welcome)
"Now is the Time"
Casa Sangam, Gubbio, Italy
Thursday 5th June to Monday 9th June 2014

This year, Baba is reminding us to review our tasks and our responsibilities. He wants us to give the message to every single corner of the world. No one should come at the end complaining that they did not know Baba was here, teaching us what to do.

Just as Baba is asking us to pay full attention to the quality of our thoughts and actions, Mother Earth is also sending the same message in her own language.

For the first time in human history, we are all part of a global village. We are all facing the same issues; we must think locally and globally now. Each person shares the same water, the same air, the same soil, the same resources, the same planetary disequilibrium and the same threats. Environmental concerns do not concern only specialists or Green groups; the issues of environment have an impact on everyone and everything today—our economy, our politics, our sociology, and our future. Every BK is urged to be aware of this global connection and make positive changes in their lifestyle.

During this year's Gubbio retreat, we will:

create a platform to share studies into environmental issues.

serve the elements in a deeper way through meditation walks.

visit to the ecological farm in Gubbio to observe yogic farming.

study the spiritual aspects of sustainability.
This retreat is for all BKs interested in the environment. You are welcome to participate even if you've participated in a green retreat before now, because we explore new topics every year.


REGISTRATION: To register or for more information
please write to Casa Sangam (info@casasangam.it)
http://www.environment.brahmakumaris.org

Upcoming Green Retreats
9 May 2014
Dear BK Green Network, many spring greetings from Copenhagen. It is great to be able to invite you all to two green retreats this summer. Summertime to relax, learn, inspire and serve and...
Some of you didn't receive recent newsletters, maybe because I am using a new server to send mails from. Please add sender mail address to your e-mail address book, it might help. If you want me to resend the news from February or April, pl. let me know.
Most welcome to meet other BK Greens on the Facebook page. Sign up by making friends with Dina Bhakta and/or Arnold Beekes. They will approve your enrolment.

Green Retreat "Now is the Time", Casa Sangam, Gubbio, Italy
Thursday 5th June to Monday 9th June 2014
Facilitators: Francois Becher, France and Valeriane Bernard, Switzerland. During this year's Gubbio retreat, we will:
create a platform to share studies into environmental issues.
serve the elements in a deeper way through meditation walks.
visit to the ecological farm in Gubbio to observe yogic farming.
study the spiritual aspects of sustainability.
This retreat is for all BKs interested in the environment. You are welcome to participate even if you've participated in a green retreat before now, because we explore new topics every year.Full description in attached document.
To register or for more information, please write to Casa Sangam (info@casasangam.it)

Green Retreat "Inner Transition for a Greener World", Peace Village, US
Friday July 11th evening, to Sunday July 13 afternoon
The theme for the BK North American Green Retreat is Inner transition for a Greener World
In this retreat we will :
- Gain skills in ecological awareness with an introduction to permaculture design philosophy.
- Increase our understanding of nature and how to work with it to create harmonious lives for ourselves and the world.
- Have time in nature to appreciate living simply and respecting life.
- Network with other Green BK's to continue to green our centers.

Registration peace-village@brahmakumaris.org. Full description in attached document.

Om shanti and all the best, for now
Sonja & Green Retreat Teams
http://environment.brahmakumaris.org/
BK Green Network News
13 April 2014
Om Shanti and hello [from] the BK Green Network
First of all a warm welcome to approx 60 more BK's to this green newsletter.

We piloted new workshops in Madhuban and all of you filled out the form of the mailing list. We send the green update mail out approx every 2-3 months. If anyone of you don't want to receive it, please don't hesitate to let us know. Thanks to all for sending your good and green news!

So many times it has been noticed that many people who are engaged in sustainability are looking for the new world, for golden age, more than looking for God. Here are the lyrics of a very nice song, that describes that, and if you like music, then please enjoy and dance to this song called Paradise, by City and the Colour: http://www.youtube.com/watch?v=PqLj-TJDwoE

I'm looking for a way out, For a place that no one knows
Please take me away now, Somewhere it don't feel so cold…
I'm searching for a paradise, That I just can't seem to find
I'm searching for a paradise, For the time of my life…
I'm searching for a paradise, Gonna go where the spirit guides…

Brahma Kumaris receives another UN affiliation
In February 2014 the Brahma Kumaris became accredited observer organisation to United Nations Environment Program, UNEP! Congratulations. The headquarters is in Nairobi and Sisters Pratibha & Dorcas are our UNEP representatives. Read more about UNEP here: http://unep.org/

Next green retreats (2014), most welcome to all BK's with interest in the environment:


News and greetings from Luciana in Brazil: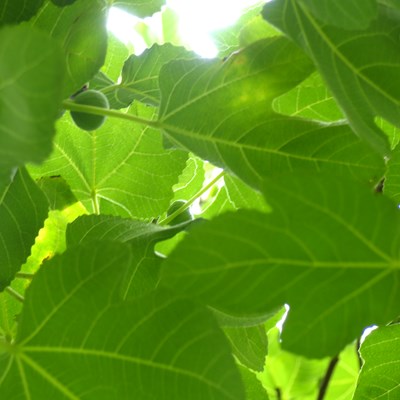 Dear International Green team. Greetings of love from Brazil. On the 8th and 9th of February 2014 I conducted a retreat for 30 BKs, students and teachers of 11 different cities where we have centers, with the aim of creating more sustainable BK centers in Brazil. Brother Ken was with us and gave special input in our retreat conducting a Public lecture on the topic "Sustainability: to be, to do, to have" and conducted morning class to the group.
Four pillars were chosen for our Brazilian team to work with:
• Consciousness • Life Style • Resilience• Alternative energy:
Resilience is based on four main qualities: tolerance, flexibility, courage and inner strength. As part of this topic, the team was divided in 5 sub-groups, to reflect and to come up with practical requirements for individuals and BK centers to prepare in advance. Group ether – preparing our spiritual stage. Read more in attached report.

Copenhagen Green Capital 2014: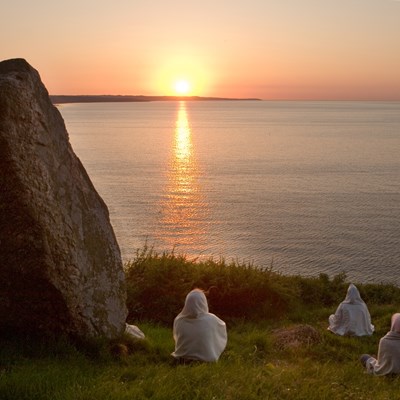 Copenhagen was rewarded European Green Capital 2014, and their theme is Sharing Copenhagen. Here you can read more about how the BK's participate with Outdoor Meditation for the Environment and a series of lectures on the 10 ways to change the world. The COP15 atmosphere is back in wonderful Copenhagen now!
http://www.sharingcopenhagen.dk/english/calendar/?s=brahma

Bristol will be the Green Capital in 2015! So, maybe the Green BK's from the UK can start thinking about our contribution, already.

Oz Enviro Wingers has found this for us: UN International observances
(http://www.un.org/en/events/observances/days.shtml)

22/4 International Mother Earth Day,

5/6 World Environment [UNEP]

8/6 World Ocean Day

16/10 World Food Day [FAO]

11/12 International Mountains Day

Belgium: EU Energy week is gaining momentum: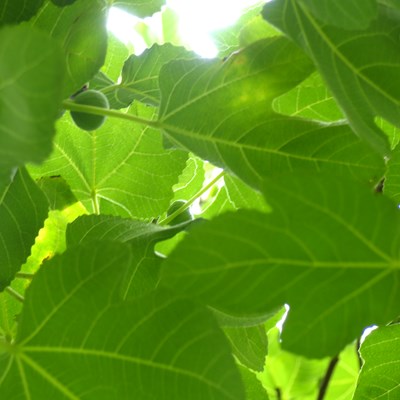 Apart from Belgium being engaged, there will be EU Energy programs in the month of June in Hamburg, Freiburg, Glasgow, Copenhagen and Warsaw. Read more here: http://www.eusew.eu/about/about-eusew.
For more information write to Kathryn in Brussels at Brussels@be.brahmakumaris.org

Practical Living Food Booklet from Jan and Veeke in Antwerpen:
…Last week Jan and I organised a raw vegan potluck in the eco house of a friend artist. It was very nice and a very peaceful and natural atmosphere ... with 75 raw tolis. We also made a little booklet that we use for some workshops….See potluck invitation below.... The booklet is called "Healthy Lifestyles - Tips and Recipes. Restoring Balance & Health with Raw & Living Food" and can be ordered with mail
(5MB) from Jan and Veeke at veeke.v@scarlet.be or at their facebook: J and V Yoga and Living Food Studio.

News from Madhuban: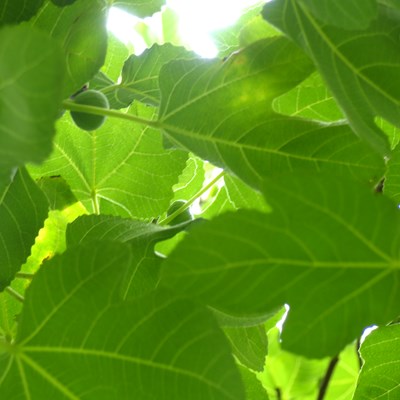 The BK Green Network had 30 min with the RC group. We shared about UN conferences and its budgets, India One (www.india-one.net) and many other things. The RC group is very appreciative of the work of all of you. We now have more than international 30 active projects going on. Congratulations to all.
Brother John in London is working on creating workshops for each of the 10 ways to change the world. 4 of those workshops were piloted in Madhuban. Thanks to all of you. If you want to be part of the testing group, then write to John at john.mcconnel@uk.brahmakumaris.org.

Link between climate change and peace sent from Jyotika in Dubai:
Climate change may lead India to war, UN report indicates – Times of India:
http://toi.in/kJDWeZ. Finally, Helen in Australia sends us a greeting to us to wonder and ponder about, see below.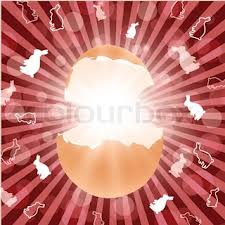 Best wishes and sweet remembrance
Sonja & Arnold
http://environment.brahmakumaris.org/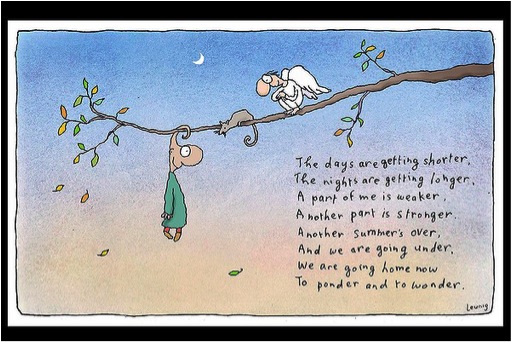 Green News: Nairobi Sisters attend Open-ended Committee of Permanent Representatives UNEP
9 April 2014
Please see the Africa News page

BK Green Network News
28 January 2014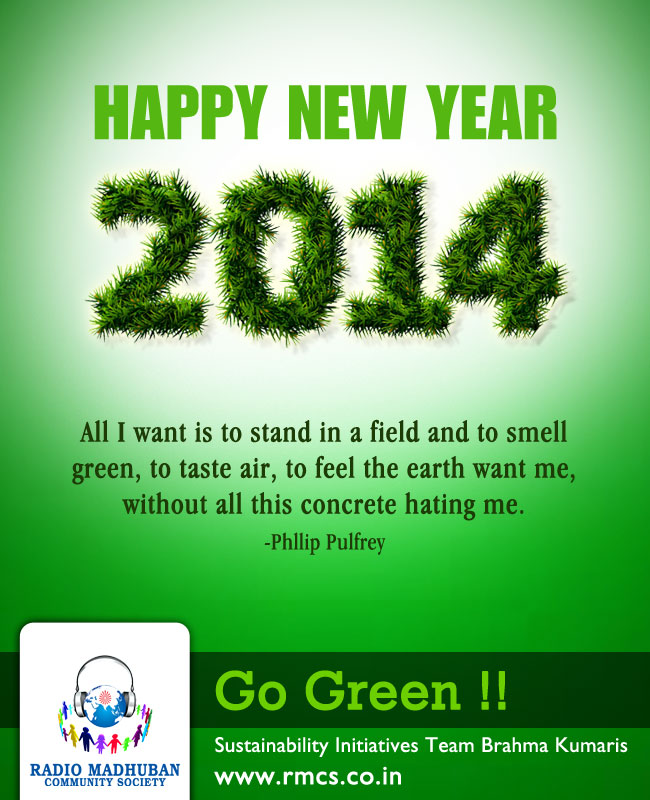 To the BK Green network, greetings and om shanti
The Green Team is growing and it is growing so much that it has become a Network! As the activities increase many BK's around the world have taken responsibility on for conferences, co-ordination of local and national activities and retreats, articles, meditation commentaries, green angels, policies, website, talks, green CV's, workshop and collaboration with various other organizations. It is fantastic.
It also means that the word team sometimes has created questions of who is in the team and who is not. It has always been a very open forum for BK's interested in environment related service and to do a little or do a lot and have various level of engagement. In order to meet the growing need there has been the thoughts to start calling this service the BK Green Network, which would be a more accurate description of what is happening.
Hjerte.jpg Every BK with a "green heart' is most welcome to the network.
If you know anyone who like to be added to BK Green Network e-mail list, please send their e-mail and name . If you have any other thoughts or comments please send as well. And if anyone of you would like to write next newsletter or send a piece of news, most welcome.

Here are some tips for Networking.
1. Prepare upfront (who are we, why are we here, read our docs and flyers, read our website).
2. Have a clear goal (what do we want to achieve).
3. Always remain in your self-respect (be the example of who you really are).
4. Start the conversation by asking questions (who are you, what is your organization doing, what do you need).
5. Respond by indicating how we could be of service to them (relate it to their needs). NB. Only when you think that their purpose matches our values and interests.
6. Ask for support from a senior if you don't know how to proceed.
7. Have good wishes and pure feelings for all participants.
(points prepared by Arnold)

The Bhumi Project and Dadi Janki - http://www.bhumiproject.org/
Message from Dadi Janki
Dadi Janki is addressing the The Bhumi Project – an international Hindu response to the environmental challenges facing our planet. Please see Dadi and her message on the front page of the Bhumi Project. http://www.bhumiproject.org/
If you click into their 10 year plan you can read very interesting news of CRUELTY FREE MILK; SACRED WASTE and other things. Rural wing in co-operation with Scientist Wing and Solar Energy are now arranging a program in Gyan Sarovar dedicate to the Bhumi Project.
Sri Lanka has sent a very inspiring piece of news – most welcome to the green co-ordinator Sister Jeewa Rajan and Sri Lanka into the network and news is attached.
Sister Jayantis contribution to the UN conference COP19 panel "Global Justice, Equity and Sustainability" is now online, and can be read here.

News from Italy – Sister Jayanti was The "Fifth International Forum on Food and Nutrition" in Nov. 2013 organized by the famous Barilla Company, Italy. News and photos can be seen here:

Copenhagen is the European Green capital 2014. Copenhagen Municipality has invited the BK's to participate and the BK's are arranging an Outdoor Meditation for the Environment in the summer and a series of talks based on the 10 Ways to Change the World – Living Simply and Being Unlimited - Opening the Heart and Respecting Life - Being Positive and Walking the talk – Empowerment and Following Your dream. The theme of Copenhagen Green Capital is "Sharing Copenhagen," and the BK theme is "Sharing Values for Sharing Copenhagen "– www.sharingcopenhagen.dk .

It would be great if we know who is involved in activities to make their own cities more green/sustainable .Can you please connect with Arnold (who is also a Green coordinator for Amersfoort, The Netherlands) at environmentblog@brahmakumaris.org
Last but not least, long-lost and now-found Environment Team of Shantivan has convened! They have great plans to let Shantivan run on solar-powered silent buses! And waste sorting garbage. They started with an Environment Day on --- New is attached. So a happy New year from Sustainability Initiative Team – Yaswanth bhai and Kedar bhai and others. A big applaud to them from the double foreigners. The Energy Conservation team had a program in Shantivan 14th Dec. It can be viewed here. They have also discussed:
1. To launch 'Save a Million units' campaign in the BK establishments which will help to promote the energy conservation and efficiency in the Baba's Home / Centre's
2. Home Energy Audit

Co-ordinators can be contacted: Yashwant Kedar bhai at yash108@gmail.com and Kedarbhai at: bkkedar@gmail.com

best of all and lots of om shanti
Sonja & Arnold