Europe News (Europe)
Europe News (Europe)
Event Honouring the Life of Mahatma Gandhiji on Sunday, 30th January, 2022 at 4 pm GMT: - Truth and Non Violence... People, Planet, & Peace
27 January 2022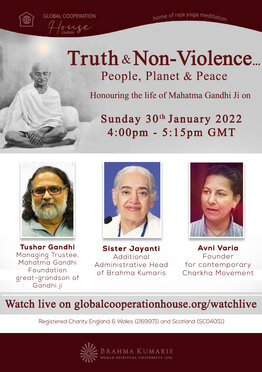 Signals for the Present time - Q & A Session HINDI - Suryabhai and Rupeshbhai - Saturday 29th January, 2022
26 January 2022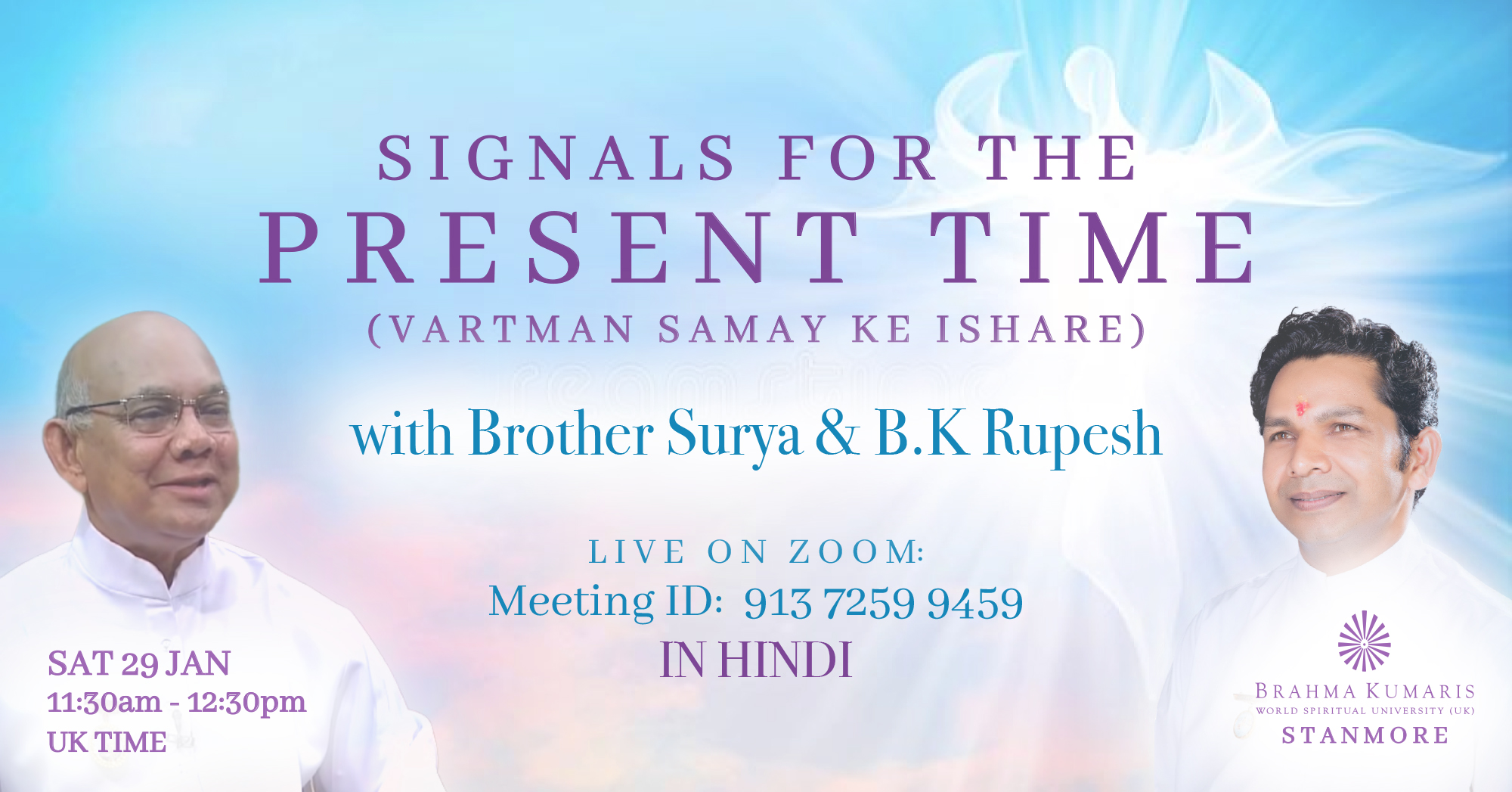 GCH Presents Talk in Hindi: Republic Day - A Golden Bharat through Self-sovereignty - गणतंत्र दिवस - स्वराज्य से स्वर्णिम भारत by Santosh Didi Russia - Wednesday, 26th January 7 to 8pm GMT
26 January 2022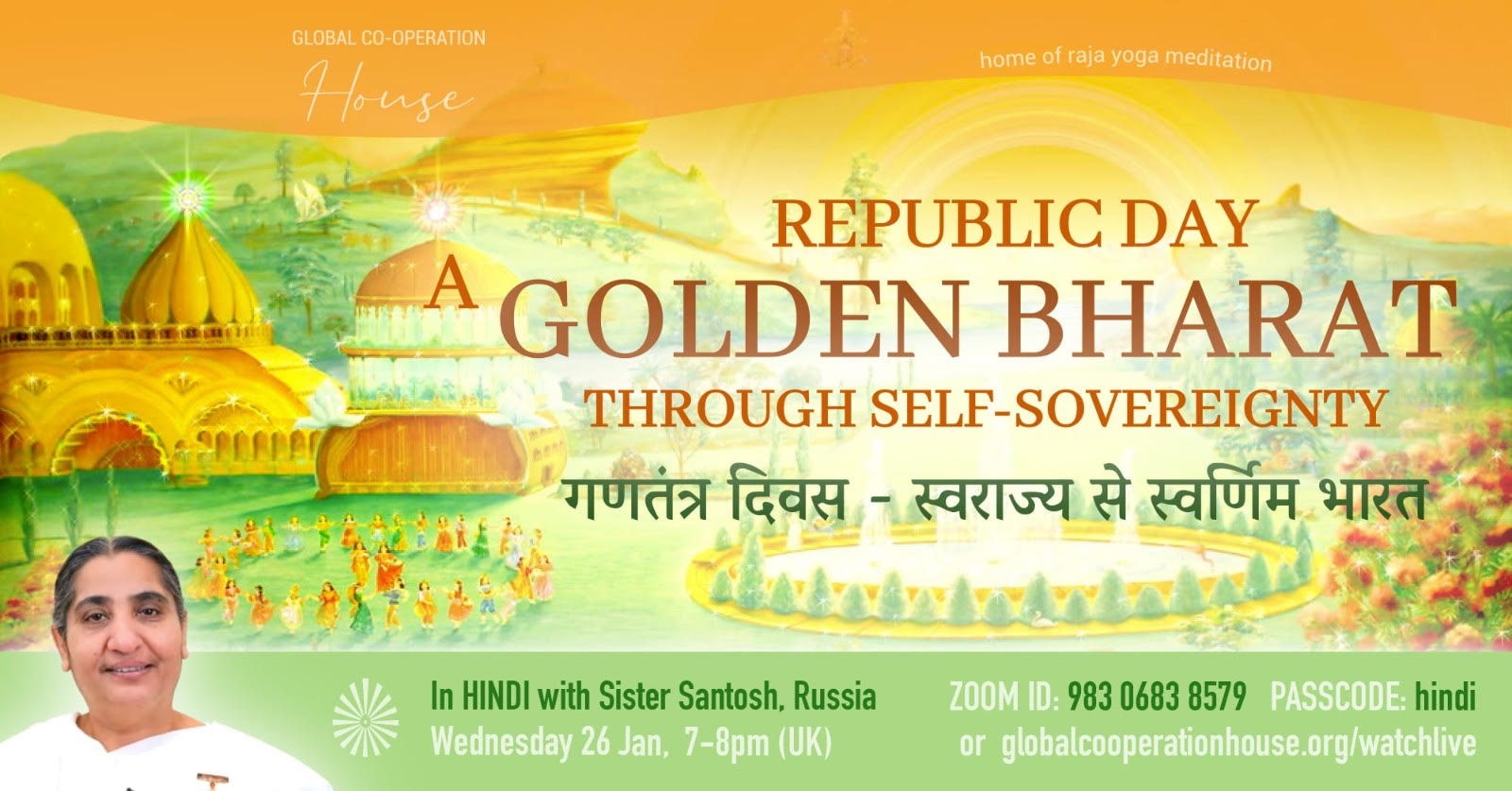 WEDNESDAY EVENING HINDI SERIES
Happy Republic Day 2022 from the Brahma Kumaris!
गणतंत्र दिवस - स्वराज्य से स्वर्णिम भारत
Republic Day - A Golden Bharat through Self-sovereignty
Speaker: Santosh Didi, Russia
=============================
Wednesday, 26th January
7 to 8pm GMT
=============================
Join ZOOM
https://brahmakumaris-uk.zoom.us/j/98306838579?pwd=Nkljc1lDbllUb1kyUFhuVzdHRDRLQT09
Meeting ID: 983 0683 8579
Passcode: hindi
OR Watch *ONLINE*
www.globalcooperationhouse.org/watchlive
For more info:
https://globalcooperationhouse.org/whatson-full/singleevent/3936762
Brahma Kumaris World Spiritual University, UK
Global Co-operation House
Ruhani Dil Ki Baatein - Brahma Kumaris UK - YouTube

The Lighthouse Dialogues II: Live Interview of Sr Jayanti on January 29
24 January 2022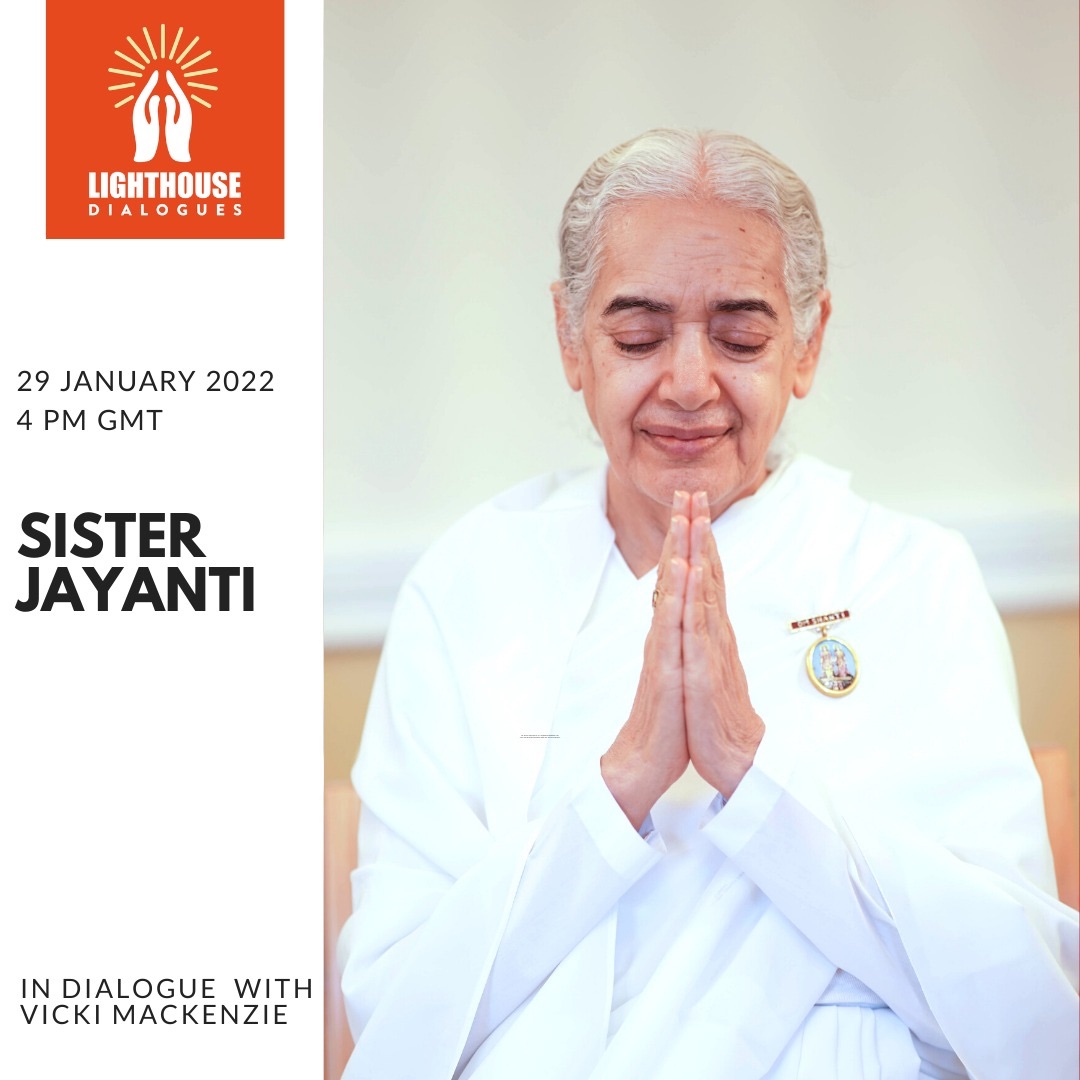 London (UK): Science & Wisdom LIVE presents: Lighthouse Dialogues II – An Interview with Sister Jayanti Kirpalani by Vicki Mackenzie on January 29, 2022, 11 am to 1 pm EST or 4 pm GMT
About this event
In this second interview of the Lighthouse Dialogues, author Vicki Mackenzie will talk with Sister Jayanti Kirpalani: a spiritual teacher for over 50 years, who has dedicated her life to self-transformation and service to humanity. Sister Jayanti continues to champion the co-operative role of spiritual organisations in creating a just and peaceful world, bringing spiritual principles to the discussion tables of politicians, economists, business leaders, scientists and nearly every stakeholder of our times. Sister Jayanti sees the erosion of spiritual values as the underlying cause of the crises the world is facing today.
The Lighthouse Dialogues is a series of new events, organised in collaboration with Jamyang Buddhist Centre London and Science & Wisdom LIVE. Twice or thrice a year, author Vicki MacKenzie will interview spiritual 'lighthouses', i.e. inspiring and profoundly wise contemplative practitioners, who could function as a lighthouse – a beacon of light and understanding – for others. The interviews are accessible to the general public via LiveStream, and will also be recorded and made freely available on our Podcast and YouTube channels.
Join the conversation via LiveStream on YouTube! You will receive a link via email after registering for the event.
About Our Speakers:
Sister Jayanti Kirpalani: is Additional Administrative Head of the Brahma Kumaris. She is also the Director of Brahma Kumaris activities in Europe and the Middle East. The Brahma Kumaris is an international non-governmental organisation (NGO) of the United Nations, accredited with General Consultative Status with the Economic and Social Council (ECOSOC) and Sister Jayanti is its representative to the UN in Geneva. Since 2009, she has led the Brahma Kumaris delegation to the UN Climate Change Conferences and spoken on many international platforms about spiritual perspectives on the environmental crisis.
Vicki Mackenzie: is a British national journalist and author. In 1976, while working on The Daily Mail, she stumbled into her first Buddhist meditation course at Kopan, Nepal. This led to an ongoing journey into Buddhism resulting in many articles for The Sunday Times, The Observer, Sunday Telegraph and many national magazines. She has written six internationally best-selling books including Cave in the Snow (Bloomsbury), featuring Tenzin Palmo; Reincarnation – the Boy Lama (Bloomsbury), featuring Lama Thubten Yeshe and Osel Hita Torres; and recently, The Revolutionary Life of Freda Bedi – British Feminist, Indian Nationalist, Buddhist Nun (Shambhala).
About Science & Wisdom LIVE:
Science & Wisdom LIVE is a project of Jamyang London Buddhist Centre.
Each dialogue explores the middle ground between science and contemplative wisdom, focusing on themes such as the ethics of artificial intelligence, gender equality, climate change, and the benefits of mindfulness and meditation for mental health.
Find out more: www.sciwizlive.com

What's ONLINE this week of January 24th at globalcooperationhouse.org
24 January 2022

GCH Webcast: Daily Webcasts for the BK family - 24th Jan - 30th Jan
24 January 2022
Om Shanti
Webcast Link: https://webcast.bkwsu.eu/livelist/
Welcome to the evening webcasts for this week 24th Jan - 30th Jan.
Since it is still the Avyakt month January, we shall continue with one hour yoga bhatthi every evening till the month end, Sunday 30th.
7.00 - 8.00 pm Meditation in the Conference hall every evening
We shall then begin with the regular evening webcast from Monday 31st.
Please also check out the events for the public on line at https://globalcooperationhouse.org
Best wishes
Webcast Team

Online Talk for I S Wembley for Tuesday - 25th January - Turn Setbacks into Comebacks With Sister Jayanti (6:45 pm BST)
21 January 2022

Time: Tuesday 25th January 2022, 6:45 pm - 7:45 pm
FYI: The talks are webcasted from 6.45pm to 7.45pm (UK time), live link is wembley.innerspace.org/live
We will be uploading the talk on our YouTube channel.

Report on 18th January, 2022, GCH London
21 January 2022
On this special 53rd anniversary of Pita Sri's ascension as the angel to the subtle regions, yoga started at 3am in Baba's room, transformed into the realm of angels, and then Amrit Vela moved to the Auditorium, conducted by Sudesh Didi, Jayanti Didi and Brother Balwant, with many present. Toli and blessings were shared.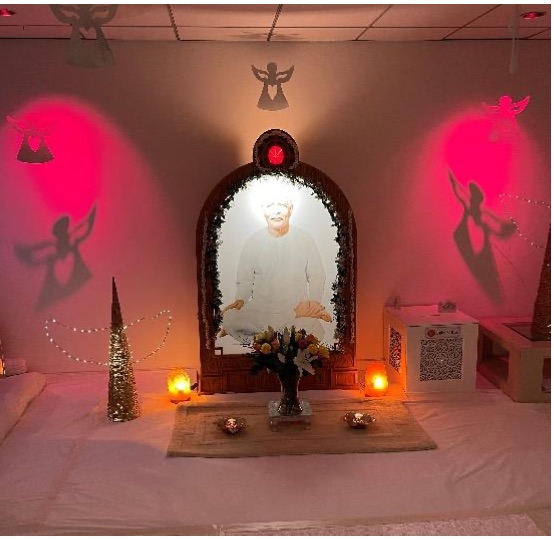 The Sakar and Avyakt versions for this auspicious day, were read in separate classes, in separate rooms with over 400 present, and many more joining online. Specially prepared bhog was offered by Sudesh Didi, Jayanti Didi and Sister Jaymini....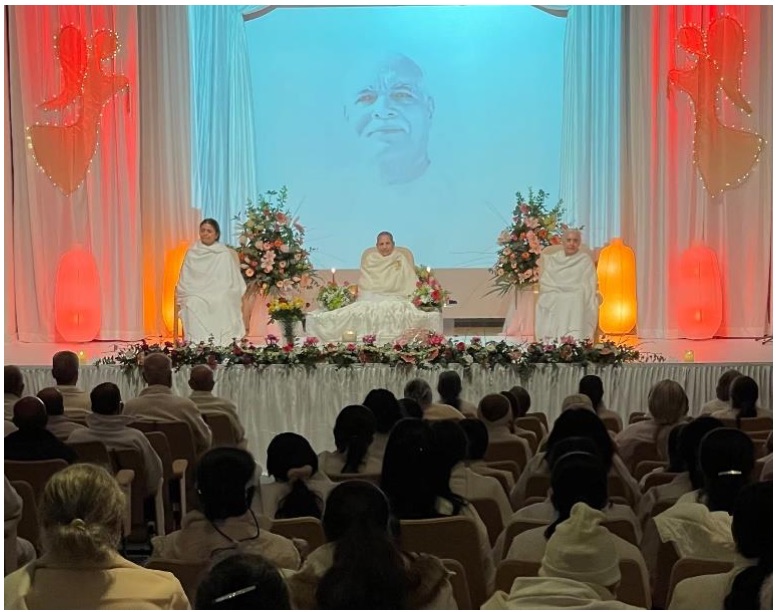 All three then shared their thoughts and experiences from the heart (full versions have been sent separately). A few excepts:
Sister Jaymini
All of us are thinking of Baba. This thinking is like thanking Baba, for giving us this life. And this is what I have been doing, which is thanking Baba for everything that Baba has given me, and the life that Baba has given me. There are no words to it.

what a great fortune Baba is Bhaagya Vidhata, the one who creates the fortune, the Fortune Maker, but we also are the ones who enables others, our brothers and sisters, to create their fortune.
Thanks to Baba is something that emerges practically with an experience of great great feeling of what Baba said today in the Murli today, prasannata (happiness) and santushtata (contentment), these two words are echoing in my ears. Prasannata, I, the soul, am content, prasannchit (embodiment of contentment). It is something very deep, and it's an experiential word of giving thanks to Baba, and experiencing contentment. So that gives me great great feeling of belonging to Baba and belonging to the family.
Click HERE for full report with photos.

What's ONLINE this week of January 17th at globalcooperationhouse.org
17 January 2022

A Confluence of the Great Awakening with Sister Jayanti and Sister Jenna Thursday 13th January, 2022
12 January 2022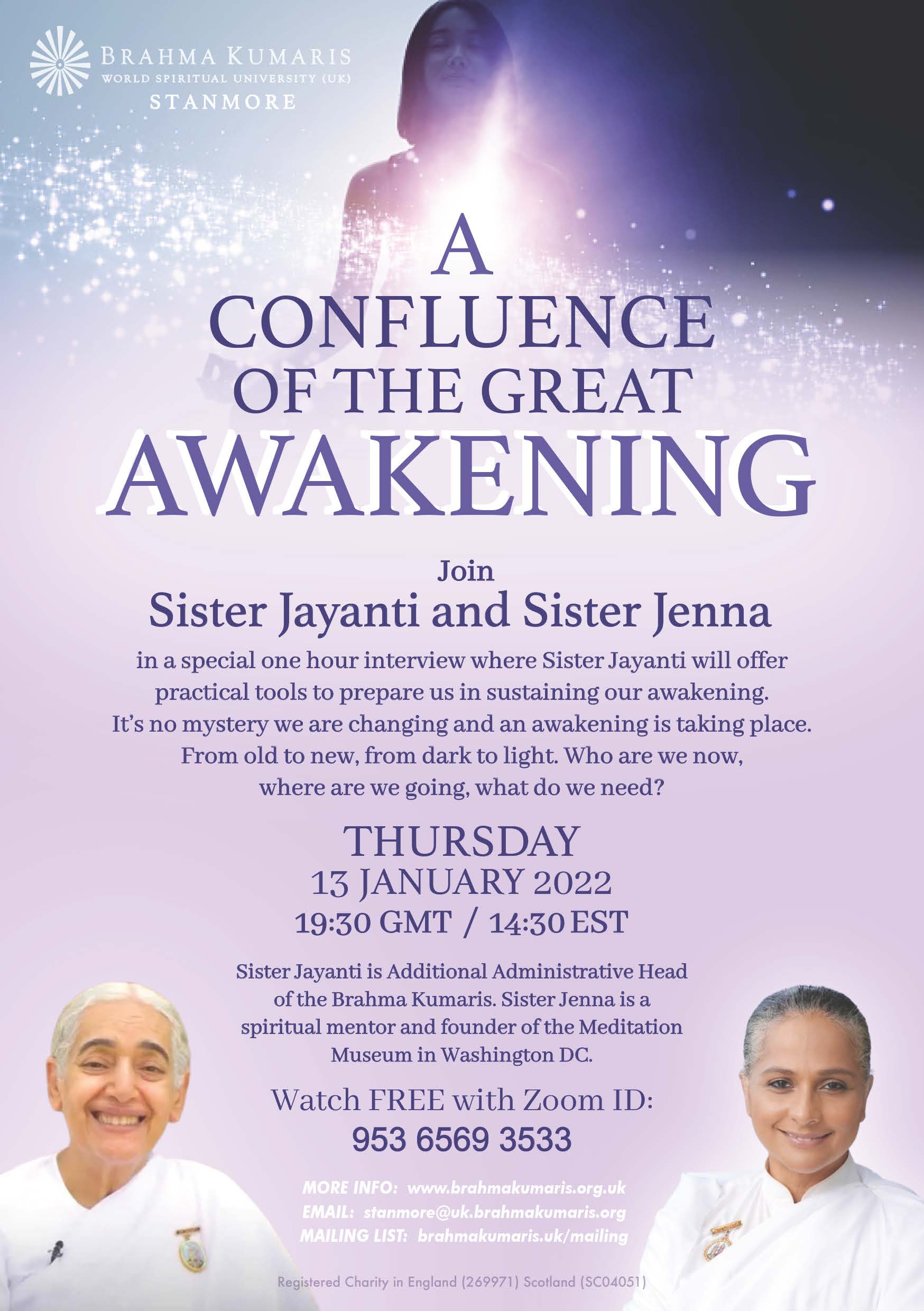 Sudesh Didi – 9th January 2022 Family Greetings - GCH, London
10 January 2022
Om shanti. Om shanti. Om shanti.
Good morning, golden morning, diamond morning to the sparkling diamonds. I know all of you are happy, as much as I am happy to meet my family after quite a long time. It feels a very long time though it is not very long time because about five days before the operation was final. At Amrit Vela time, in Baba's room, Baba told me, "Child, there is going to be a bhatti for 40 days. I told Sucharita, "Today Baba told me that I am going to have a 40 days' bhatti, but which bhatti. So that was the bhatti. That became very clear then. Then 10 days isolation before, and then 21 days - 22 days already in the hospital. And then then 10 days isolation again. And I know that everyone is so eager to say hello, to say om shanti, as I am eager also Somebody comes, I said yes, yes come in. And then sister said no. Mary especially, "No. Not allowed." So it's important. And I thought I will. I'm fine. It's okay. All right. So, from a distance it's okay. Because it is laws of the government as well for safety as well. So I said I can meet the family from the stage, with each other.
It was with everyone, those who have sent so many greetings from all over the world, not only just from the UK, Europe, London. Everyone's good wishes were gift-like. And Baba did His work, magical work, using doctor's hands, touching the instruments. How it became, I don't remember. I don't know that there is an any kind of procedure done to this body. I slept. I know that time when the doctor himself, brother Prakash came the morning, eight o'clock. I said, "What, it is one o'clock." He said, "No. We would like to have (the procedure) in the morning, the first one." So, within five minutes, I had to get ready. And I only remember leaving the room. I was there and went to him and came back. So slept and woke up, feeling nothing. I only know because I had gone especially for the special repair institute, very very practical one. And they would definitely have repaired something. And only after the third day, when they were dressing me, then I understood that the work was done, and this patchwork is done. Otherwise, there is no sign of anything because it's Baba.
The thought that I am going to Dilaram's House, heart, man ka dil, Dilaram, the One who gives comfort to everyone's heart. And so, I'm going to Dilaram's. And He is the Remover of all kinds of blockages, bondages, and it was in the murli as well. After the second day, was a very special Murli. Baba has come to give liberation of every kind. And this is a new birth, new consciousness.
Actually, I became happy when doctor came the last meeting before the operation, in the hospital itself, they gave the date, 13th. I say, Oh, nice new life, whatever it is date is fine. I told them my physical birthday is 14th. So Baba had to give the new birthday on14 December. And 14th December is a new life for Godly service. And I felt that it is Dilaram Baba, where I am getting Baba's blessings and everyone's blessing. But it was a service place, actually, because the doctor himself would come every day morning and, with him, two to three other doctors. One or two nurses also, and every time, I gave blessings. It became a system. Good morning, the nurse would come, "I am on duty, this is my name." So good morning, and I say, "I give you good thought for today." So every time, as many nurses, came on duty, they all got Baba's blessings.
So for a few days, it was a very good chance, but a good experience as well. How much tension is there. So much tension in the ward for after-operation, the emergency. I think because I had to do these, I also had to stay there. People, not only the patients, but even the doctors are in a panic. Every moment when lights were on, I was just watching, watching the drama. Why Baba has come? He has come to give power and happiness to the souls, and take away the tension and fear. And so, then, really good connection and service for the doctors and nurses; friendly relationships.
It was also the suggestion from the doctor that it was better to stay longer in a separate room, a separate place, for safety because of Corona, COVID. It's good, that I stayed longer in hospital care. But home is home, no matter how I stayed longer, according to drama, but when you come back home, you feel home is heaven. Home is happiness. And so, I am very happy to come back home. And that was a temporary place for service, but it was actually doing a service or being in Dilwara temple so that the service can be given happiness to everyone.
So, Baba has given a new life, and certainly, one message (advice) again and again, that is to give rest to the voice, vani ko araam den. Give rest to the speech and Baba says, "Now, do service through sweetness, through smile, through drishti, the power of silence." The drama has forced me to speak less… (Sudesh Didi laughed).
And so, this is why, it is good Baba is giving us so, much already in the Murlis, The Bestower of blessings. Baba, the Giver, the Donor, Daata, Vidhata, Vardata (Bestower, Bestower of Fortune, Bestower of Blessings). What else do we need? All His wealth, treasures, powers, inheritance as being the children of the One. So, we are children of Daata. Vidhata, He gives a method how to use, how to become capable, to be sensible to use the treasures and to follow Satguru's Shrimat, so that you can get the blessings. And so, Daata, Vidhata and Vardata is giving very powerful signal of what our state of mind should be, preparing the self and also preparing others, empowering others.
When we are powerful, only then we can give power to others. When we are strong, we can become an inspiration for others, but with no fear of anything. Today Baba says, the whole world as, in the Gita, the whole world is dead, no fear of what is going to happen, but immortality is our birthright. We are eternal images of Baba.
So, Baba is giving power, Baba is giving love, Baba is giving happiness. And thanks to everyone, to the whole world, to all the families, those who have actually empowered the atmosphere. The doctors would also have got this vibration and Baba worked through them. Also, very lovely, very special souls because of the telephone, Banarsi bhai, and Banarsi bhai said, "According to Drama, the 'car' has to be London. Otherwise, we offer in India. And then Dr Prakash said, "It's my fortune. It's my fortune that I could serve you." And this is what how Baba practically does His service and gives the feeling of Karankaranvanhar doing His work.
So past is cleared. Now it's time to do different level of service. This is what Baba wants to do. Let us see in the Drama. Every day is a new scene. Thank you. Thank you, Jayanti bhen, for giving all the information to everyone. The whole family got news from time to time. Very clear news. And I get so many emails saying, we got this news from Jayanti bhen. We get this news. So thank you for everything. Okay. We are offering bhog together.
(Sister Jayanti:) Thank you to Sudesh Didi, for her courage, her faith, her love, and also, her enthusiasm, which as you can see, has multiplied. It hasn't been reduced in any way.
Click HERE to download class in PDF format.

What's ONLINE this week of 10th January at globalcooperationhouse.org
9 January 2022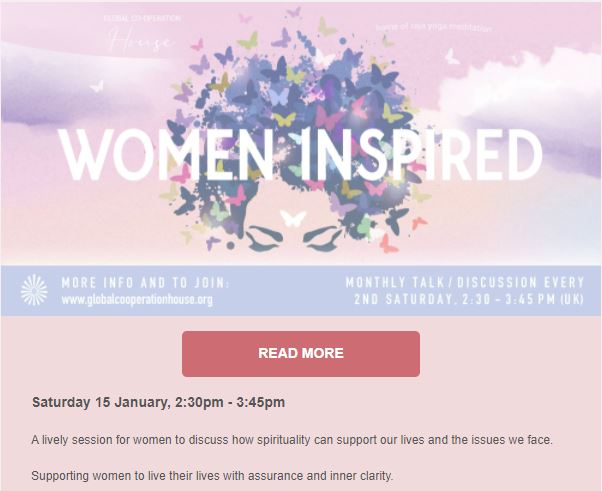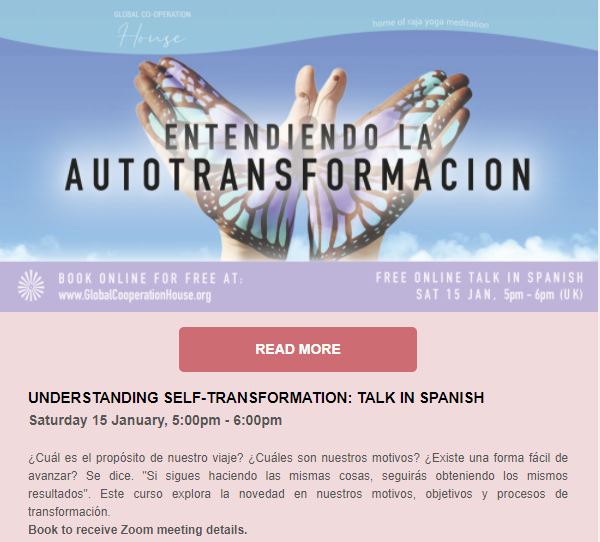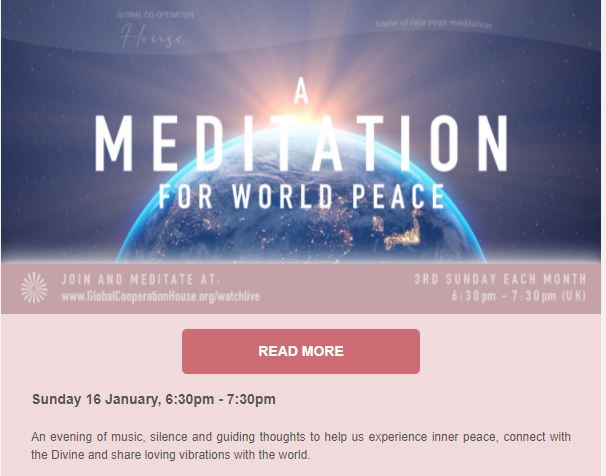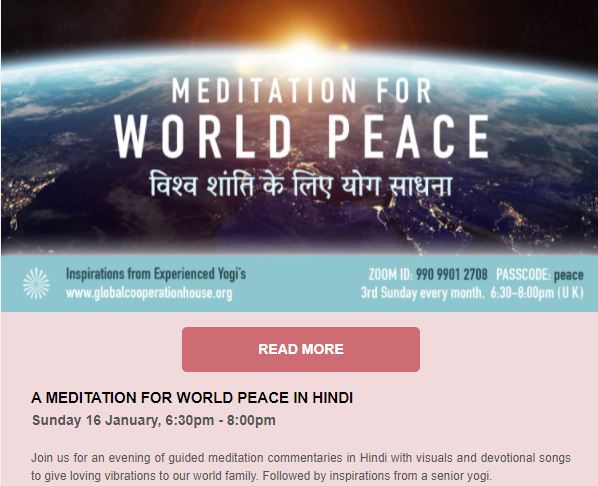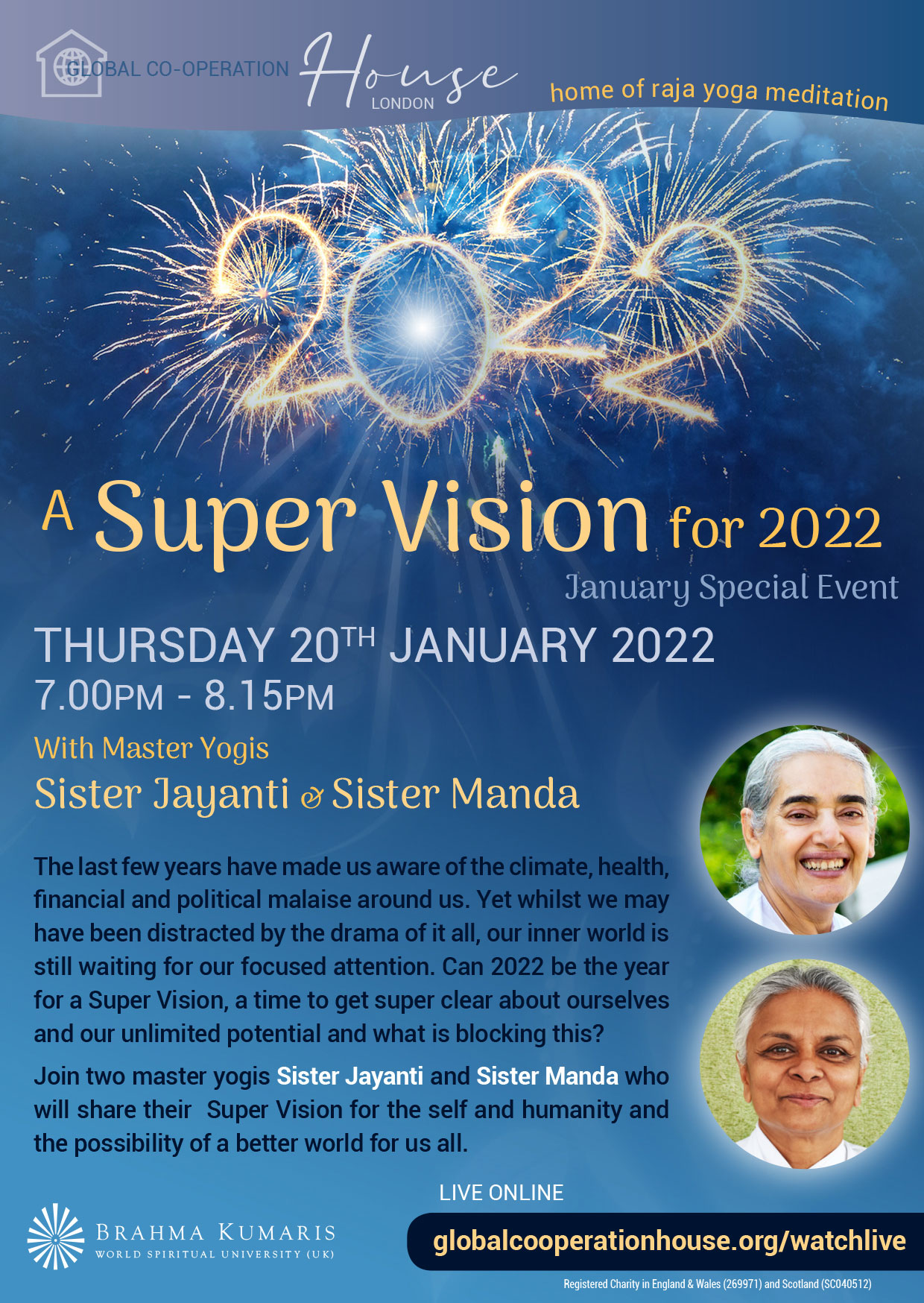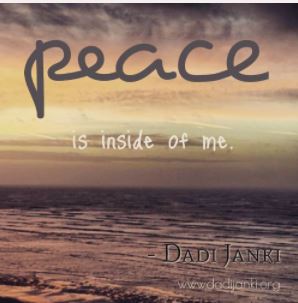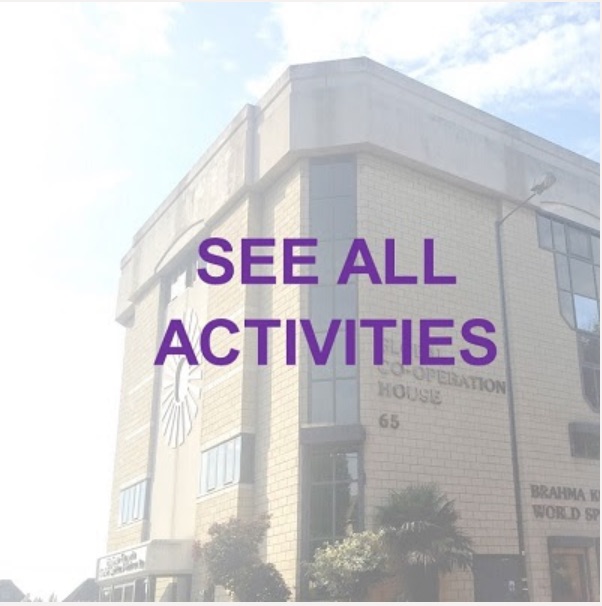 2022 January Europe News Archive
2021 December Europe News Archive
2021 November Europe News Archive
2021 October Europe News Archive
2021 September Europe News Archive
2021 August Europe News Archive
2021 April through May Europe News Archive
2021 March Europe News Archive
2021 February Europe News Archive
2021 January Europe News Archive
2020 December 16 through 31 Europe News Archive
2020 December 1 through 15 Europe News Archive
2020 November 20 through 30 Europe News Archive
2020 November 1 through 19 Europe News Archive
2020 October 19 through 31 Europe News Archive
2020 October 1 through 18 Europe News Archive
2020 September Europe News Archive
2020 August 19 through 30 Europe News Archive
2020 August 1 through 18 Europe News Archive
2020 Jan through Apr Europe News Archive
2019 Nov through Dec Europe News Archive
2019 Jan through Oct Europe News Archive
2018 Aug-Dec Europe News Archive
2018 Jan-Jly Europe News Archive