Russia, CIS & Balkans News
Russia, CIS & Balkans News
New video produced by Russian BKs "Music of Silence": Pure Angel Flying Above The Earth - Dedicated to Brahma Baba's Remembrance Day
20 January 2021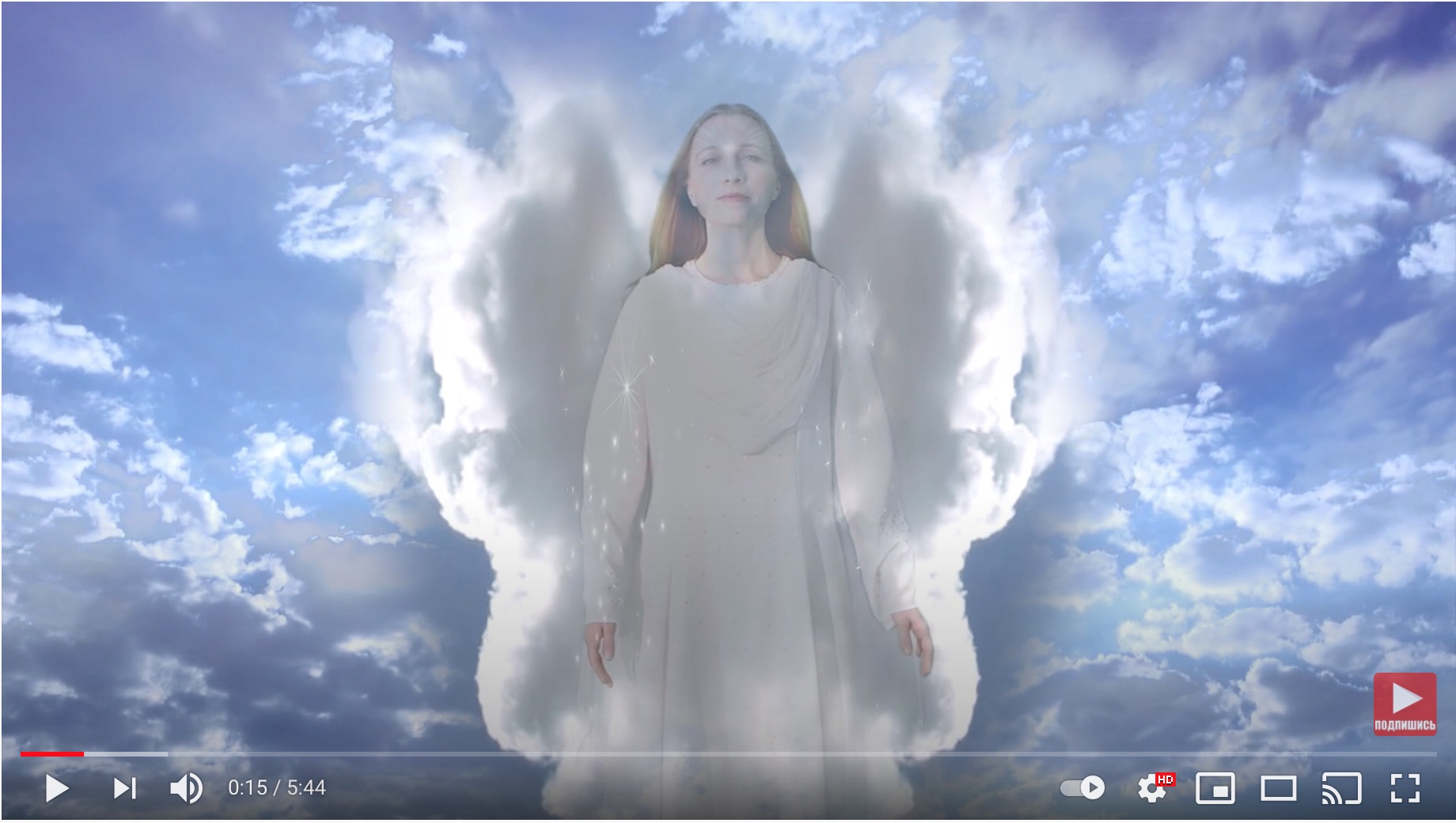 Dear divine family, Om Shanti,
Greetings from freezing Rusland!
Here is a beautiful song 'Pure Angel' in Russian with subtitles in Hindi. The song is created by BK's "Music of Silence", Moscow and is dedicated to Brahma Baba's Smriti Diwas (Remembrance Day). Watch, listen, and feel the unearthly joy... of our beloved Prajapita Brahma Baba ascending to an Angel.
Music of Silence - Pure Angel Flying Above The Earth
Link: https://youtu.be/-yLOA2yTSEc
With best wishes and divine love
In Baba's yad
BK Elena
Multi-media department
Moscow

New Year Greetings from Centres in Russia, Baltic countries, CIS and Mongolia - YouTube Video
15 January 2021
Dear divine family,
Please accept Happy New Year's greetings and a short video of the holiday from Moscow and the performance of BK brothers and sisters from different centers of Russia, the Baltic countries, Mongolia, and the CIS with explanations in Hindi. This video can be shown in class or sent to BKs. Not for posting on social media.
In Baba's yad
BK Sudha
Link to video is here. Duration is 5 minutes.
IN HINDI:
प्रिय दैवी परिवार, आप सभी नव वर्ष की शुभकामनाएँ स्वीकार करें | एक छोटा वीडियो जो की मास्को में छुट्टी और रूस के विभिन्न केंद्रों, बाल्टिक देशों, मंगोलिया और सी.आई. एस के बी. के. भाई- बहनों की सेवाओं को प्रदर्शित करता है, लिंक समेत भेज रहे हैं, हिंदी में स्पष्टीकरण के साथ| यह वीडियो क्लास में दिखाया जा सकता है या बी.के. भाई- बहनों को भेजा जा सकता है। सोशल मीडिया पर पोस्ट करने के लिए नहीं है|
वीडियो का लिंक यहाँ है। इसकी अवधि 5 मिनट है।

New Year Celebrations in Brahma Kumaris Moscow
9 January 2021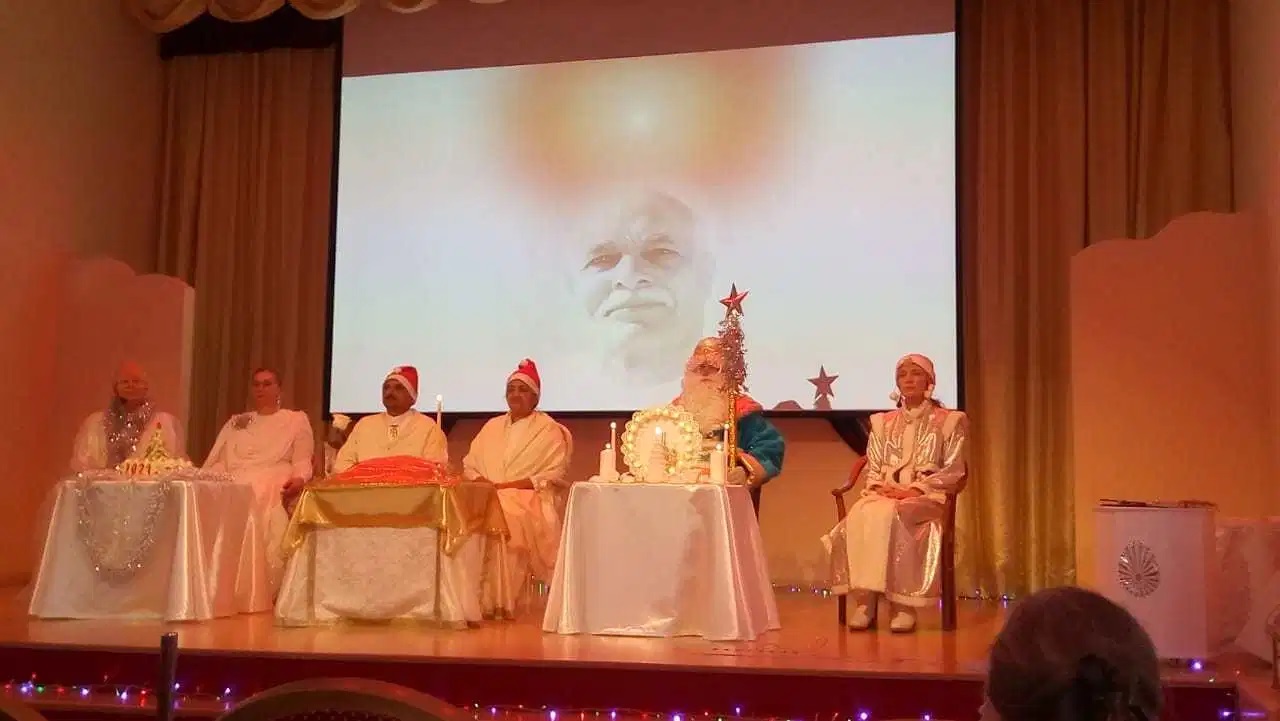 Moscow (Russia): The New Year program by Brahma Kumaris Moscow started with a small performance "The Magic Mirror or Garland of Virtues". Parts from popular films were shown where some kind of virtue was presented. Everyone gathered in a garland to decorate the Christmas tree.
Senior BK teachers Didi Sudha and BK Vijay were invited to the stage,
along with the rest of the heroes of the performance for lighting candles, offering bhog to the main Dedushka Moroz (Grandfather Frost)-Baba and cutting the cake.
The program ended with the song "A davaite mye budem schastlivyemi" (Let us be happy).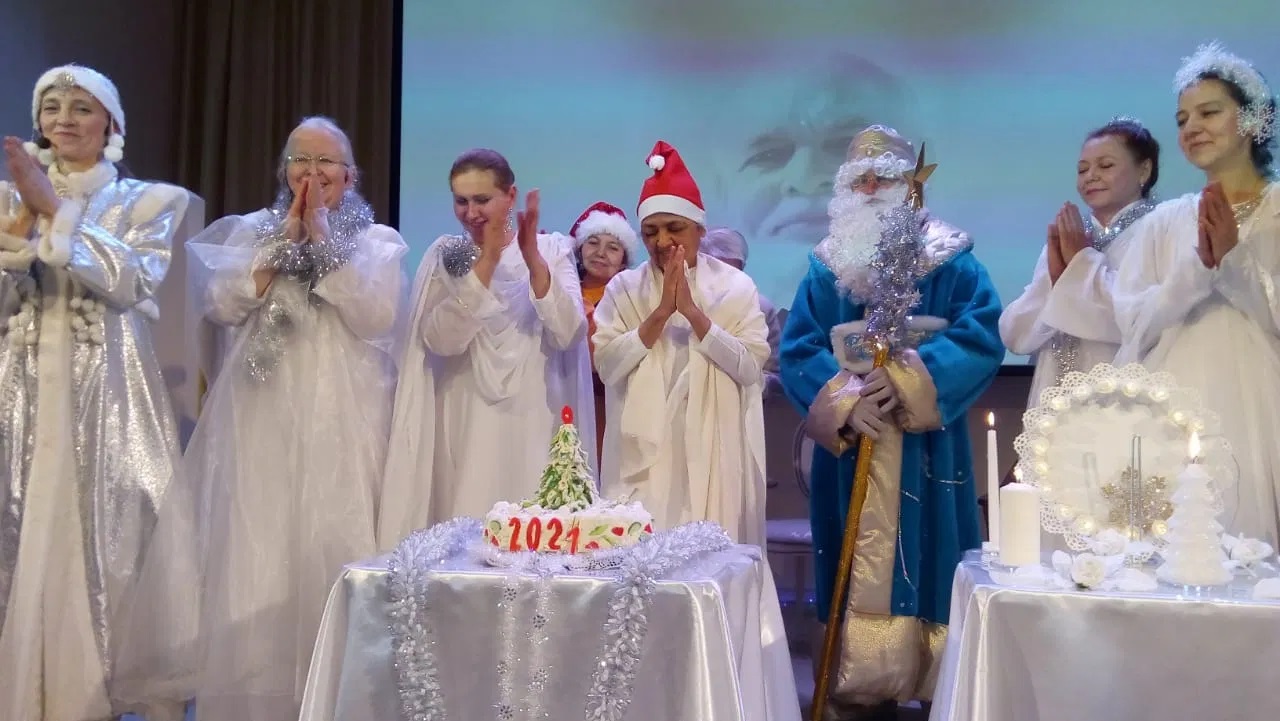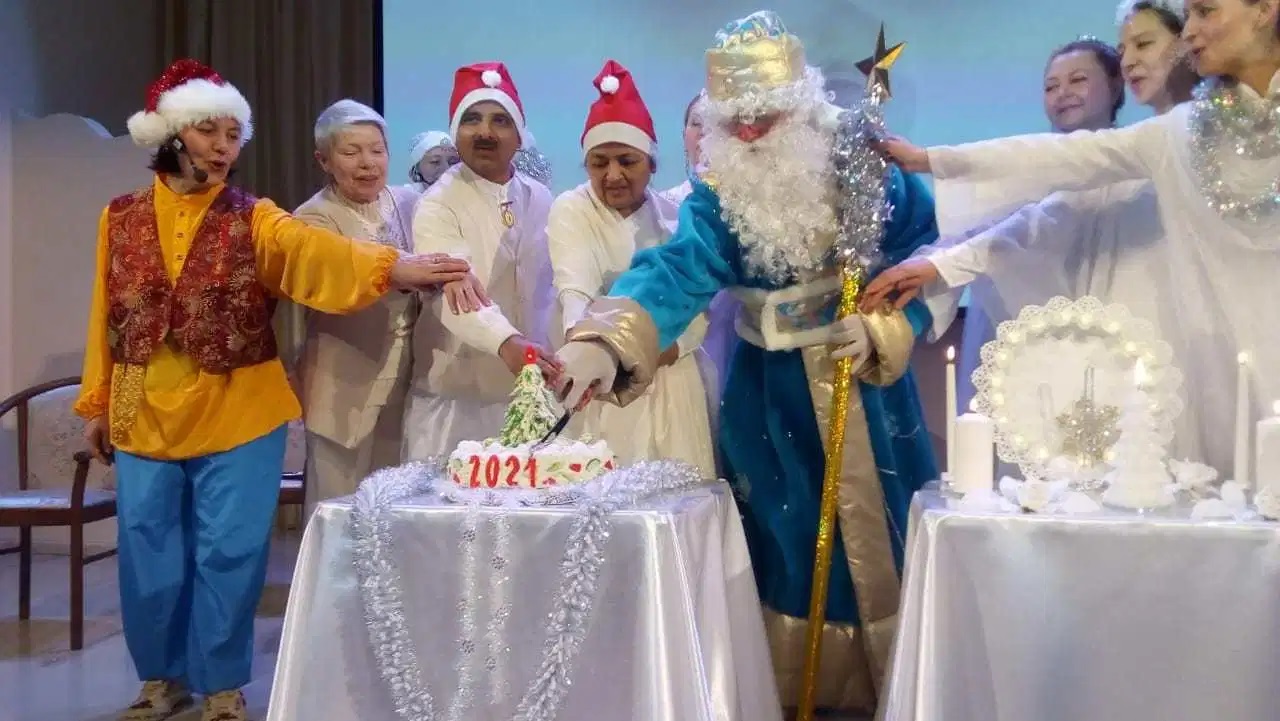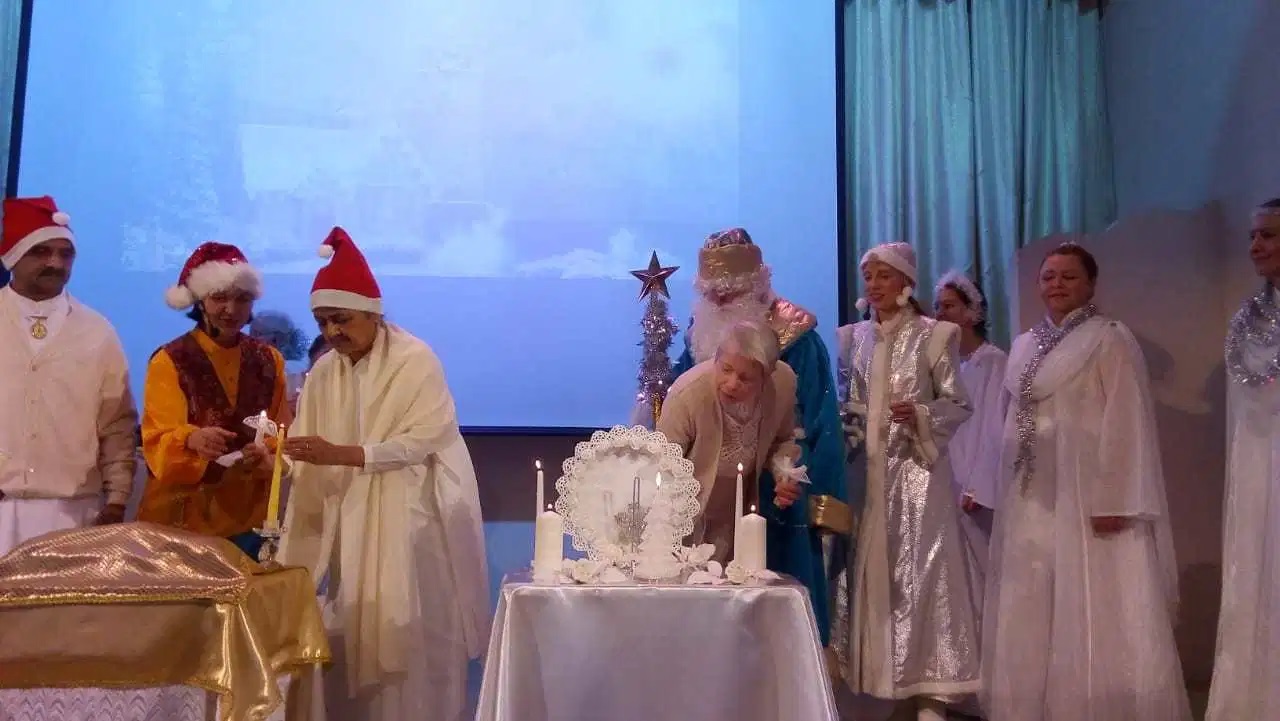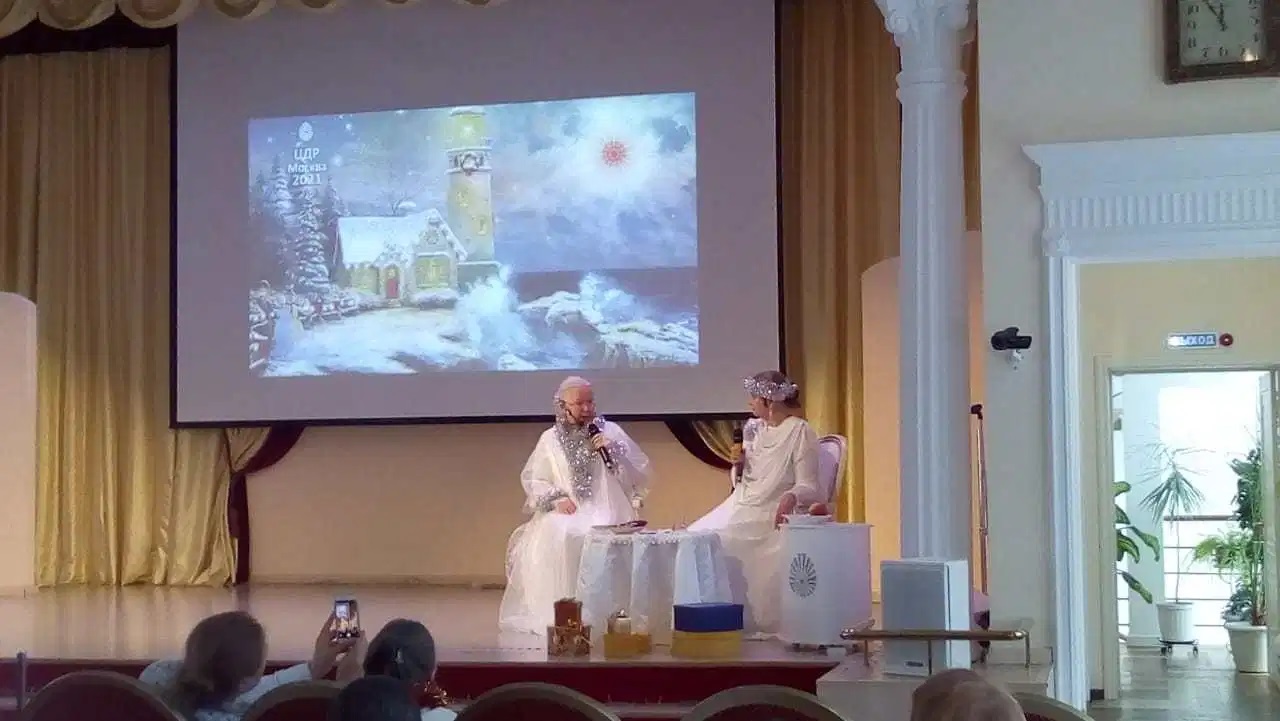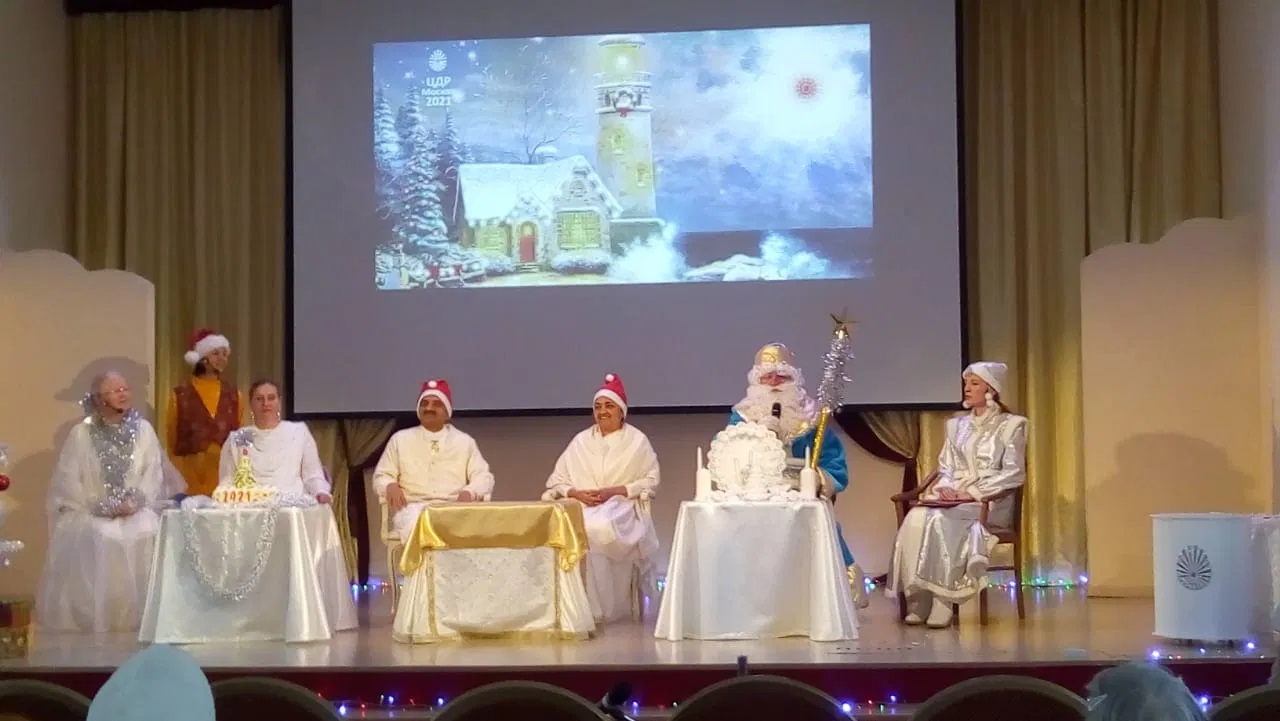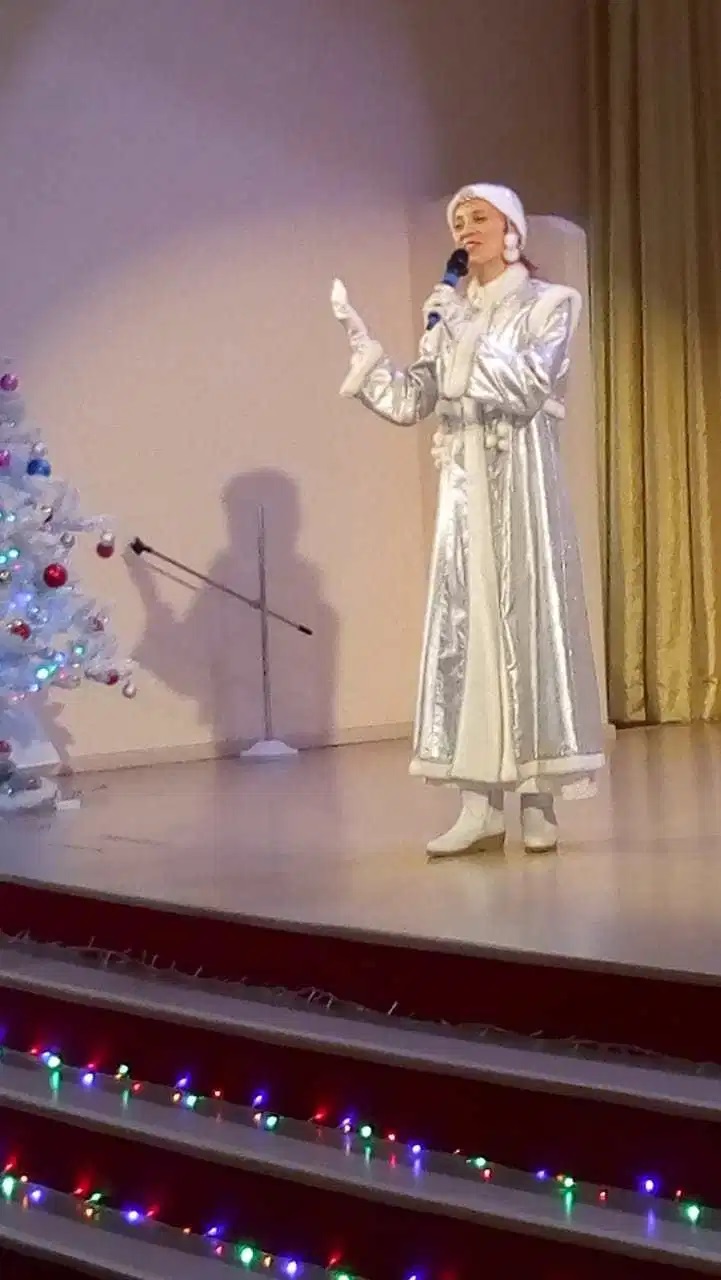 Center for Spiritual Development in Tyumen Awarded with Letter of Gratitude for Selfless Work
1st January 2021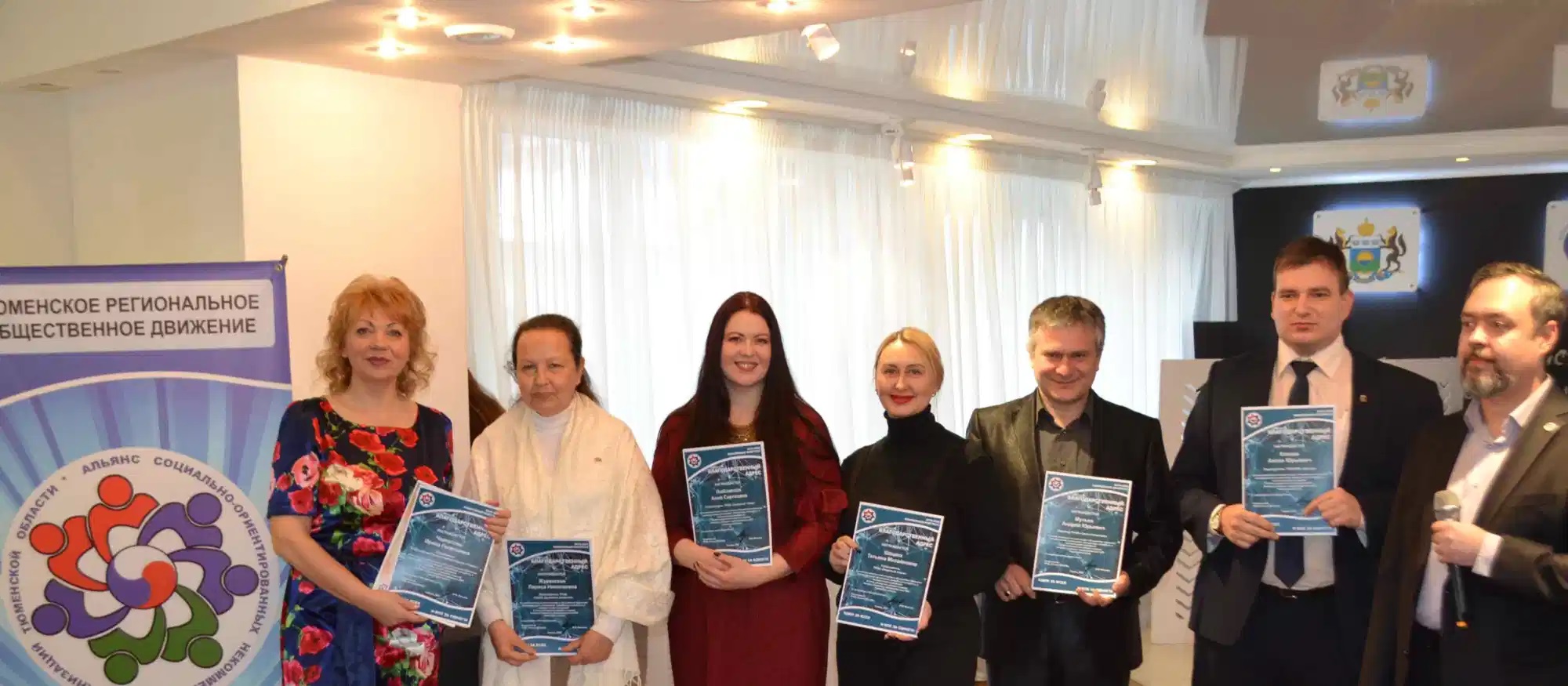 Serving the Leaders of Non-profit Public Organizations
Tyumen (Russia): In honor of the five-year anniversary alliance of socially oriented NGOs of the Tyumen region, there was a presentation of certificates and words of gratitude. The collective of the Center for Spiritual Development was awarded a letter of gratitude for the contribution to the development of public initiatives, civic activity, and selfless work for the benefit of people. BK Larisa Juravskaya received the award.
The event was held at the Semya regional center with the support of the Trajectory of Hope Charitable Foundation. A business game was organized, meeting the leaders; many personal meetings and individual negotiations took place.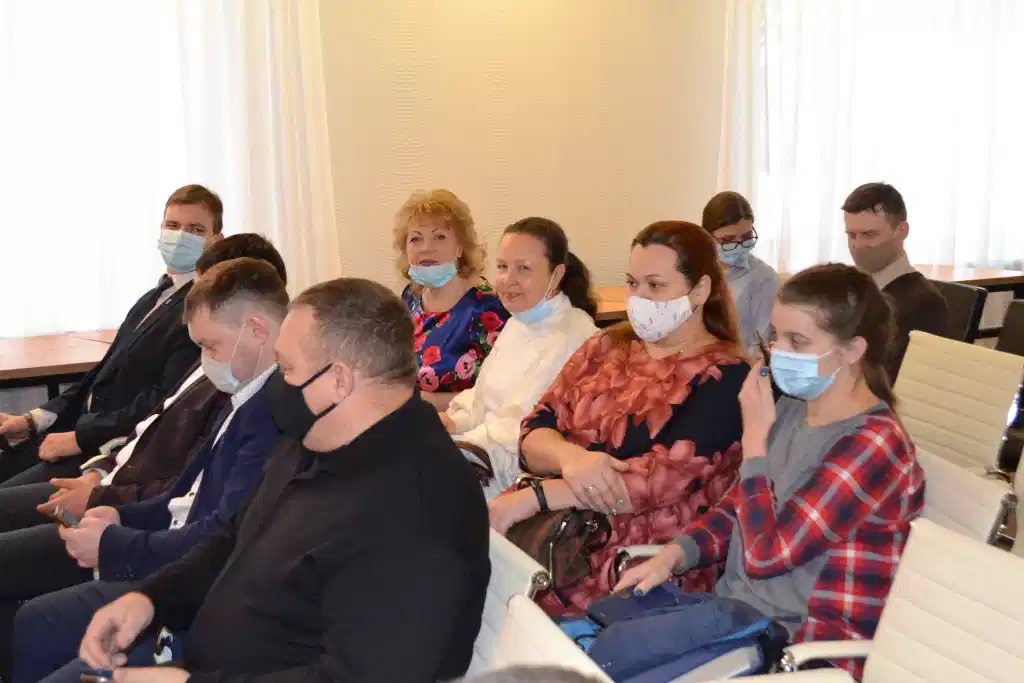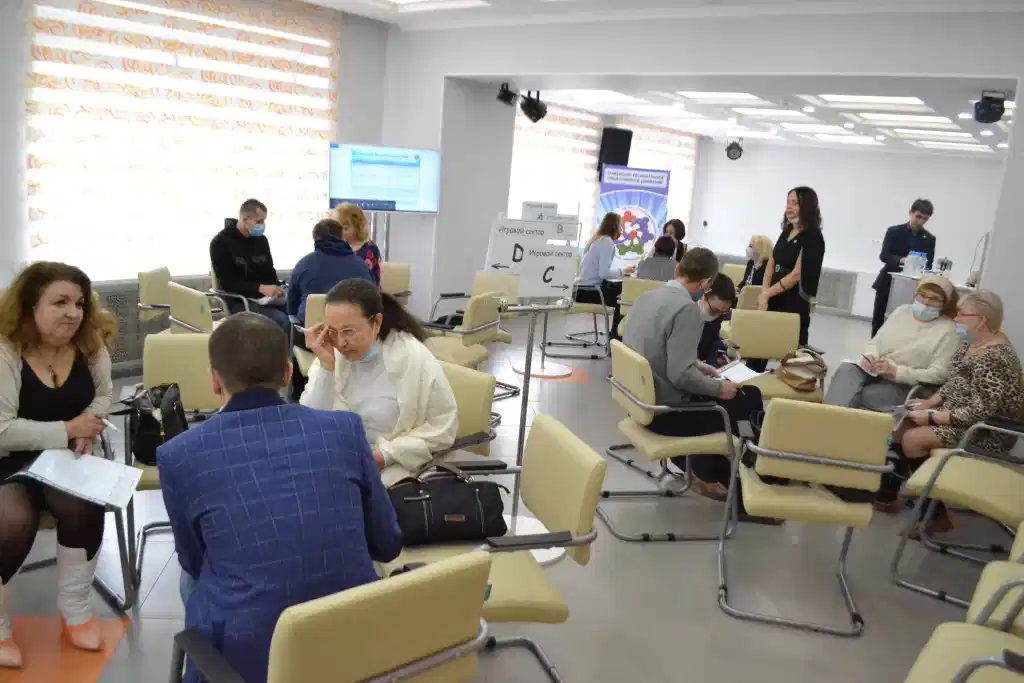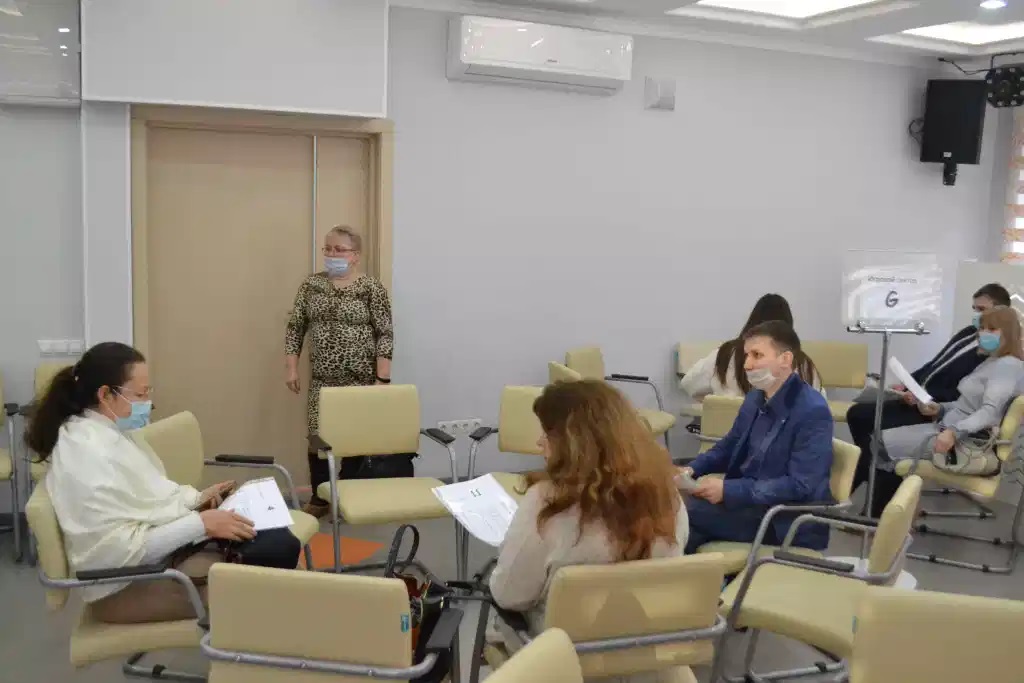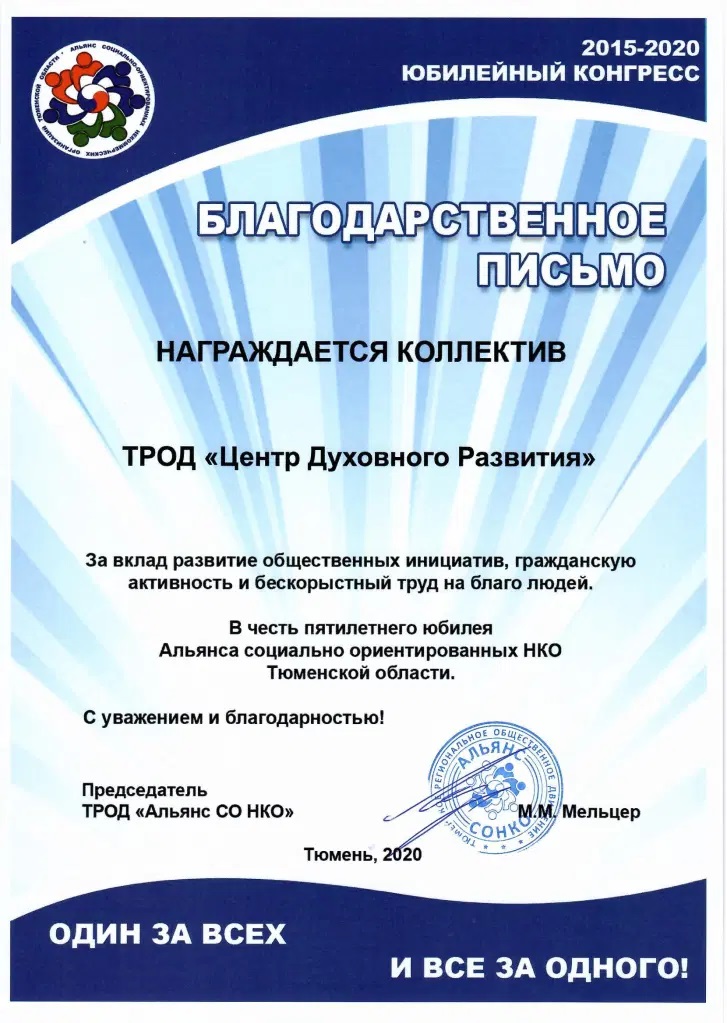 Moscow: Happy New Year Gift! Sudha Didi's Sharing on the Topic - The Habit of Seeing Goodness
30 December 2020
Dear friends, seekers of spiritual wisdom, Om Shanti,
As the whole world is making preparations to celebrate the New Year of 2021, our hearts tell us to greet each other with the new light of love, peace, happiness, health, and wealth to every member of your family - children and parents, friends, and colleagues.
Please accept a New Year's gift from Sudha Didi - sharing on the topic: "The Habit of Seeing Goodness". Didi is sharing about our inner eye of seeing the best within and how goodness is actually a Godly gift of life. Enjoy!
Here is the link: The Habit of Seeing the Goodness: a Talk by Sudha Didi, Moscow, Russia [16:09] https://youtu.be/vI4OKafWR4Y
With best wishes
BK Elena Slavnova
Multi-media department
Moscow

Celebrating the 31st Anniversary of Brahma Kumaris in Moscow
16 November 2020
Moscow (Russia): Brahma Kumaris in Moscow celebrated the 31st Anniversary with invited guests who shared their words of congratulations.
Alexander Semeniy (Doctor, Head of the "Health" center) talked about the feelings that arose when he came to the house of Baba: high spirits, joy, auspiciousness, a feeling of happiness, a benevolent atmosphere, peace. He also noted the importance of the forces of maintaining the atmosphere with good and light, and wished to continue to shine for the whole world.
Konstantin Uzhva (Artist, Soloist of the Theater Operetta) said that due to Brahma Kumaris, he understood that the soul is light, and kindness is all-embracing, it does not destroy, it only creates. He wished to ignite the light in his own soul and sing above the stars.
Many Online programs were organized through the 4 spirituality Youtube channels below, including:
Gaining the power of peace from the Ocean of Peace. Deep meditation
Speaker: Shakhnovskaya Tatiana
Finding harmony through the purity of relationships. Deep meditation
Speaker: Igor and Galina Milekhin
How to find lightness and inner freedom. Deep meditation
Speaker: Leyla Aliyeva
Program from the cycle "Deep meditation" "Pure thoughts solve inner conflicts"
Speaker: Olga Streltsova
A series of programs "Conversation with Sudha Didi":

What is birth and death? Conversation with Sudha Didi

How to maintain self-esteem. Conversation with Sudha Didi

Anatomy of the soul. Conversation with Sudha Didi

Diwali Greetings with Video Clips from Moscow, Russia
10 November 2020
Dear Divine family, Om Shanti
Hearty greetings on this beautiful festival of lights.
Please also find enclosed a video clip on a BK song in Hindi.
Suvarna Prabhat...... (song)
In Baba's yaad
Sister BK Sudha
Moscow

Moscow (Russia) : Diwali and Welcoming Sri Lakshmi
31 October 2020
Deepawali - the festival, most loved by every Indian. Children, youth, and the aged celebrate Diwali with love, dedication, and joy. Divinity is felt in every home.
Diwali reminds us of the Kingdom of God on Earth and the beginning of New Age, New World - Heaven. Let's celebrate Diwali with the faith that such time soon returning to us.
My heartiest greetings to you all the dearest and nearest friends.
Let's celebrate Diwali with a new spirit!
Please watch [23:34 minutes]:
Link: https://youtu.be/eXlGlVOCR0E
With regards
In Godly service to humanity
Sisterly yours
Sudha Didi, Moscow (Russia)
Click on image to play.

Brahma Kumaris, Moscow Celebrate Navratri Online (Hindi only)
19 October 2020
Moscow (Russia): Brahma Kumaris, Moscow extends Multi-million greetings of peace, love, and happiness to you all on the occasion of Sacred Navratri Celebrations.
We are happy to inform you that Raj Yogini BK Sudha will be sharing with you the touching significance of Navratri and would give you hints for the best use of the coming nine special days filled with godly blessings.
Please watch:
NAVRATRI "INVOKING THE GODESSES"
In the present time when the world is changing fast,

it is essential for us all

to maintain our spiritual values at every step!

Let's mark Navratri celebrations with full dedication

to bring benefit

to the self and the world.
Below is an inspirational talk by

RajYogini BK Sudha.
Please watch:

"

Navratri: Bhagwati Jagaran" Part-2 Hindi version
Link:

Moscow (Russia): The Flame of Yoga Initiative, a Non-stop 108-hour Relay-Bhatti
7 September 2020
Click on image to play.
From 27 to 31 August 2020, in our region (from the Far East to Baltics), a 108-hour relay-bhatti the Flame of Yoga was held for the coordinators of the centers in order to strengthen our overall yoga and accumulate additional hours of remembrance.
The program was open to all interested BKs. We were all united by one thought to get closer to our sweet Bap Dada.
To keep the yoga flame burning continuously for 108 hours, we passed on the 'baton' of yoga from center to center throughout eight time zones, from Vladivostok city on the shores of the Sea of Japan to Kaliningrad which is situated on the Baltic coast. All the centers in each time zone conducted deep yoga programs three times a day during 45 days to ensure continuity of the bhatti. Every day there was an online combined meditation hour with Sudha Didi.
To create an atmosphere of the flame of yoga each center lit a candle as a symbol of taking the baton of yoga during their hours of meditation.
We used this time to intensify our personal effort, and each participant could accumulate as many hours of remembrance during the relay-bhatti as they wished.
At the end of the relay, we calculated our results:
Moscow and Moscow region – 497 hours (46 BKs)
The Far East, Siberia, and the Urals – 669 hours (40 BKs)
Volga region and other cities - 463 hours (29 BKs)
Baltic States – 360 hours (27 BKs)
Ukraine – 242 hours (17 BKs)
Belarus – 135 hours (8 BKs)
Moldova – 20 hours (2 BK)
Kazakhstan and Kyrgyzstan - 410 hours (30 BKs)
Tajikistan and Uzbekistan - 30 hours (2 BKs)
Mongolia – 48 hours (2 BKs)
The Flame of Yoga Initiative was attended by:
12 countries,
49 cities,
2 retreat centers,
45 centers,
203 BKs
During 108 hours of the bhatti, together, we have accumulated 2848 hours of yoga.
With love, coordinating team
Om Shanti

2020 Russia & the CIS News Archive
2019 Russia & the CIS News Archive
2018 Russia & the CIS News Archive
2015 Russia & the CIS News Archive
2014 Russia & the CIS News Archive
2013 (and end of 2012) Russia & the CIS News Archive