Russia, CIS & Balkans News
Russia, CIS & Balkans News
A Space Without Barriers and Fences - Service News from St. Petersburg, Russia
21 May 2019

May 1945 saw the end of the most cruel warfare in the history of mankind. A special commemorative event dedicated to the Day of Victory in World War II took place in Lighthouse, the Brahma Kumaris Centre in St. Petersburg.
LOVE AND KINDNESS
Mr Nikita Blagovo, educationist, author, winner of Nicholas Roerich International Prize, who is in his 80s now, belongs to the generation of "children of the war". Sharing his impressions after the event, he said, "Today we had a dialogue about factors that separate people and ones that unite them. There should be no walls or fences between us, and the way to overcome the barriers is love and kindness. Today I am especially happy to see that the auditorium of Lighthouse is fully packed. It is wonderful that so many people have come here to listen to words of spiritual wisdom. This is of utmost importance in our challenging time of controversies and senseless bloodshed."
Insightful presentations of the speakers inspired the audience to think deeper about inner roots of conflicts that create fences between people, communities, and nations. Timeless lyrical retro songs, a lively dance "Sword of Goodness" and the moments spent in silent contemplation contributed to creating an atmosphere of unity, peace and power.
POWER OF SILENCE
"Silence is natural for a human soul", said BK Vijay Kumar. "The world around us is filled with sound. During wars, sounds and noise reach their extreme. However, if I am able to maintain inner silence even amidst this outer havoc, this is a true victory. The victory lies in realising and remembering the truth about the self. I am a peaceful soul. This awareness enables us to finish chaos in our own mind, in the first place. By becoming victorious in this way, we bring benefit to the world in general. As an old saying goes, in your stage of ascent there is benefit for everyone."
FREE FROM DESIRES
"Quarrels, conflicts and fights cannot be part of our original history", said Didi Santosh, Brahma Kumaris director in St. Petersburg. "When did the degree of our love drop to the extent that we developed suspicion, anger, and an aggressive attitude? When did we start to construct fences and fortress walls? If we watch closely, we can see that the root cause of a conflict lies in our having desires of any kind. Desires prevent us from accommodating other people's nature and accepting our own faults. This leads to creating a space of miscommunication between individuals and communities. In this space, mutual understanding and dialogue prove to be impossible, and consequently, walls and fences appear."
FAITH
Mr. Albert Asadullin, famous Russian singer, is convinced that faith leads to victory. "We should have faith in the self and the Supreme. At the time of trials, even a non-believer would cry out, "Oh my God!" Attaining victory over the self is perhaps the most important feat. One can renovate their flat, or even construct a new house, but self-transformation is a much tougher task. I would say that the Brahma Kumaris is a spiritual hospital where they help you to overcome your old internal maladies."
PATIENCE AND UNDERSTANDING
Ms. Heiransa Mirzoyeva, university professor, art director of "Chinar" dance group, thinks that we require two main virtues for preventing conflicts. "Patience and understanding are something we need the most. One has to learn to curb their anger and try to understand the feelings of those around them. This is an internal war that continues on a daily basis. To succeed in this means to attain a true victory."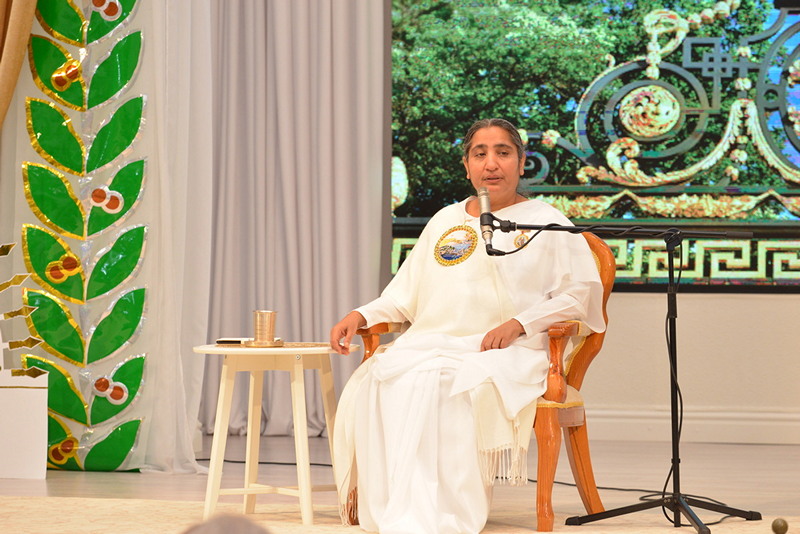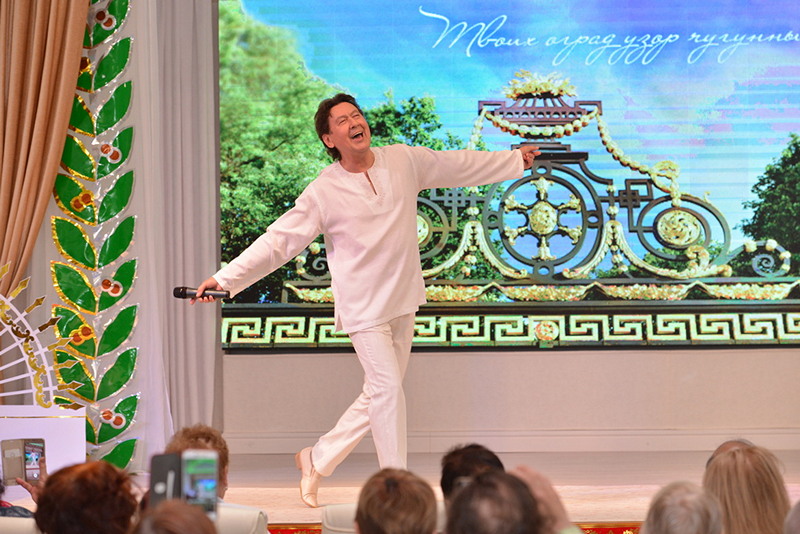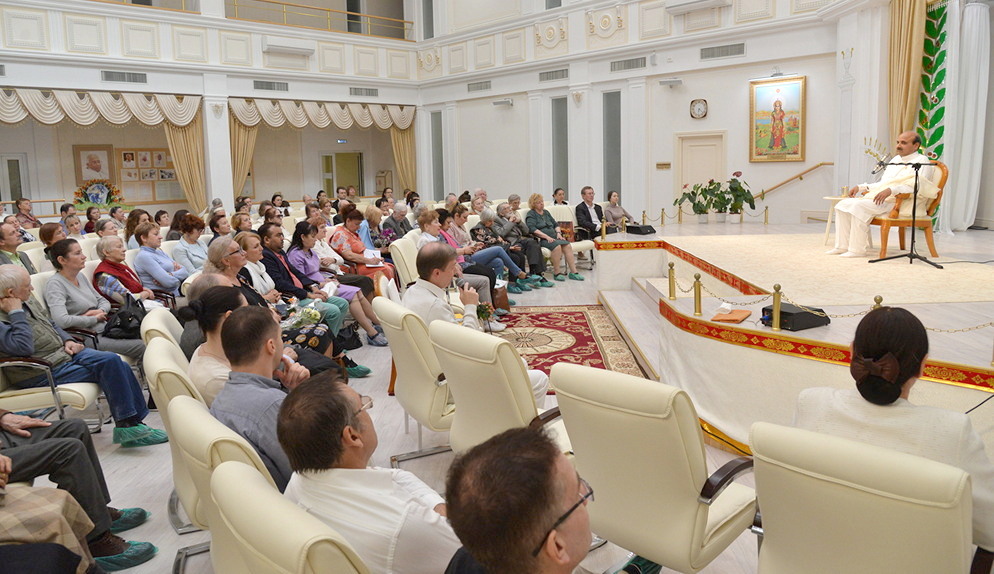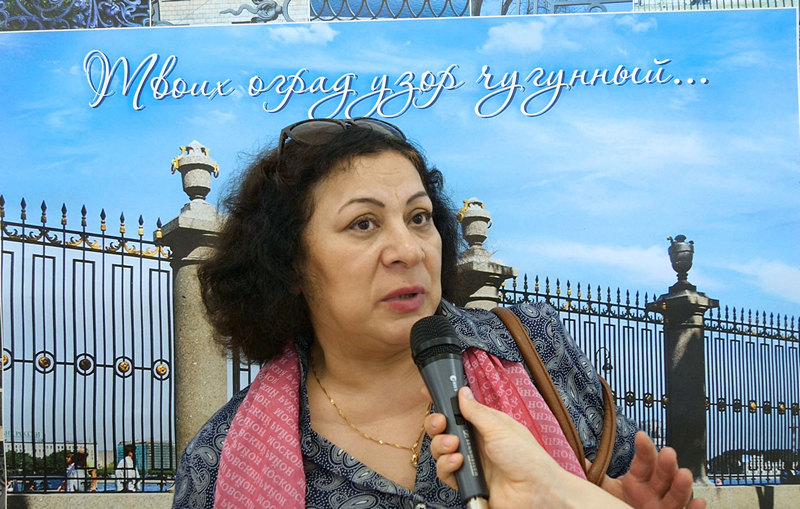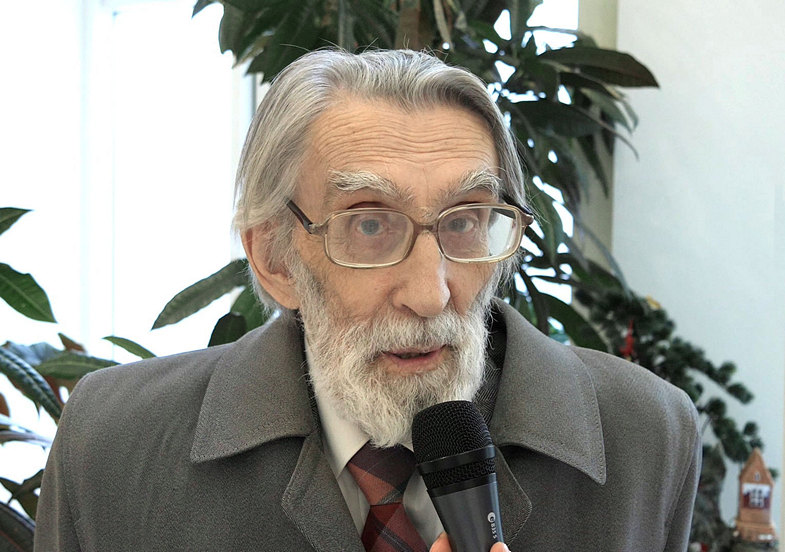 Moscow Presents a Video (in both Russian and English) In Honour of Brahma Baba's Ascension to the Avyakt Angel and 50th Anniversary of the Day of Remembrance
17 January 2019
Om Shanti,
Please find enclosed the Russian and English YouTube links to a video clip"Pure Angel beyond the Earth" created in honour of Brahma Baba's 50th Avyakt Day.
Thank you,
In Baba's yaad
BK Sudha
1) Музыка Тишины - Чистый Ангел Над Землей. Официальное видео.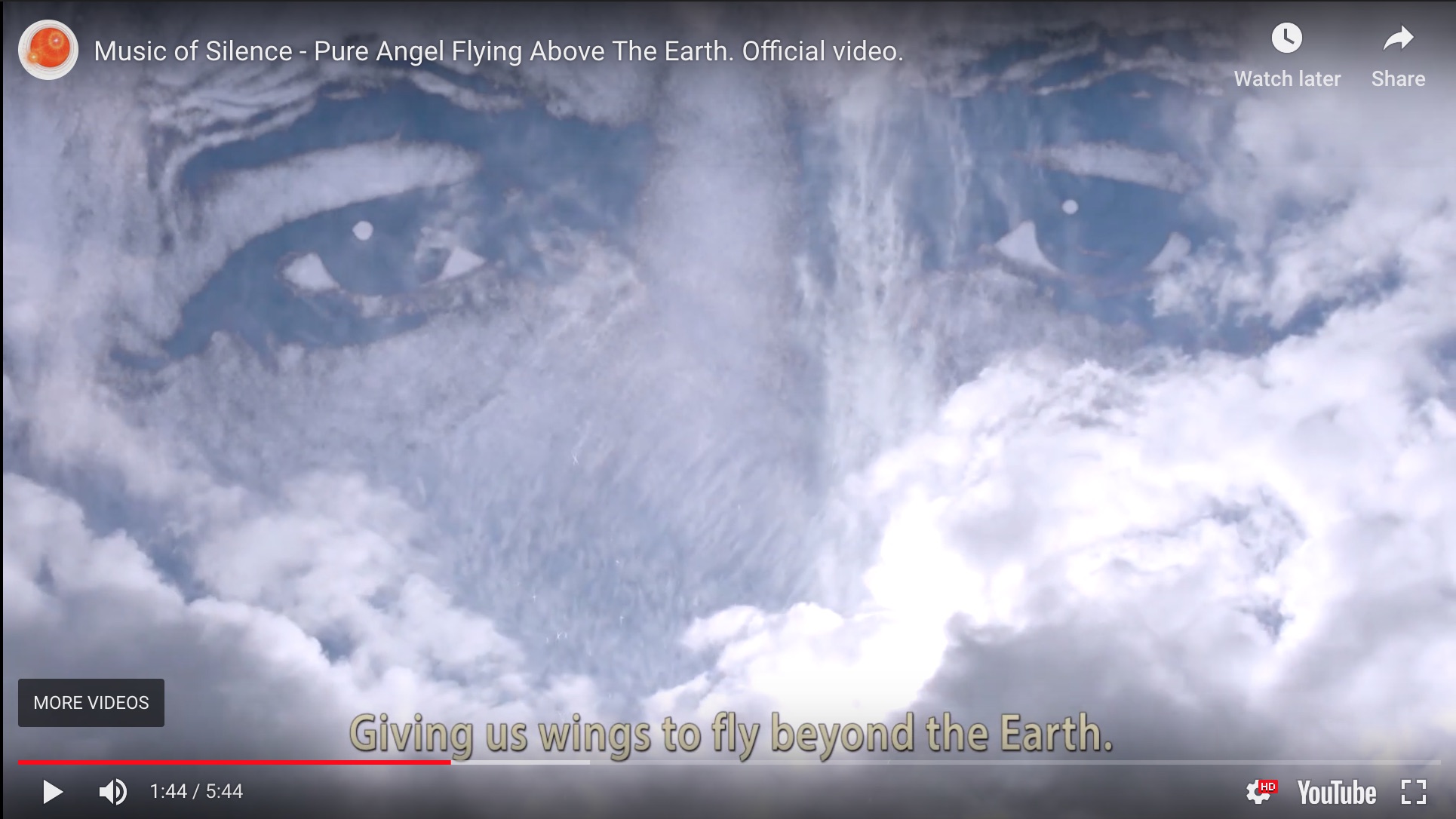 2) Music of Silence - Pure Angel Flying Above The Earth. Official video.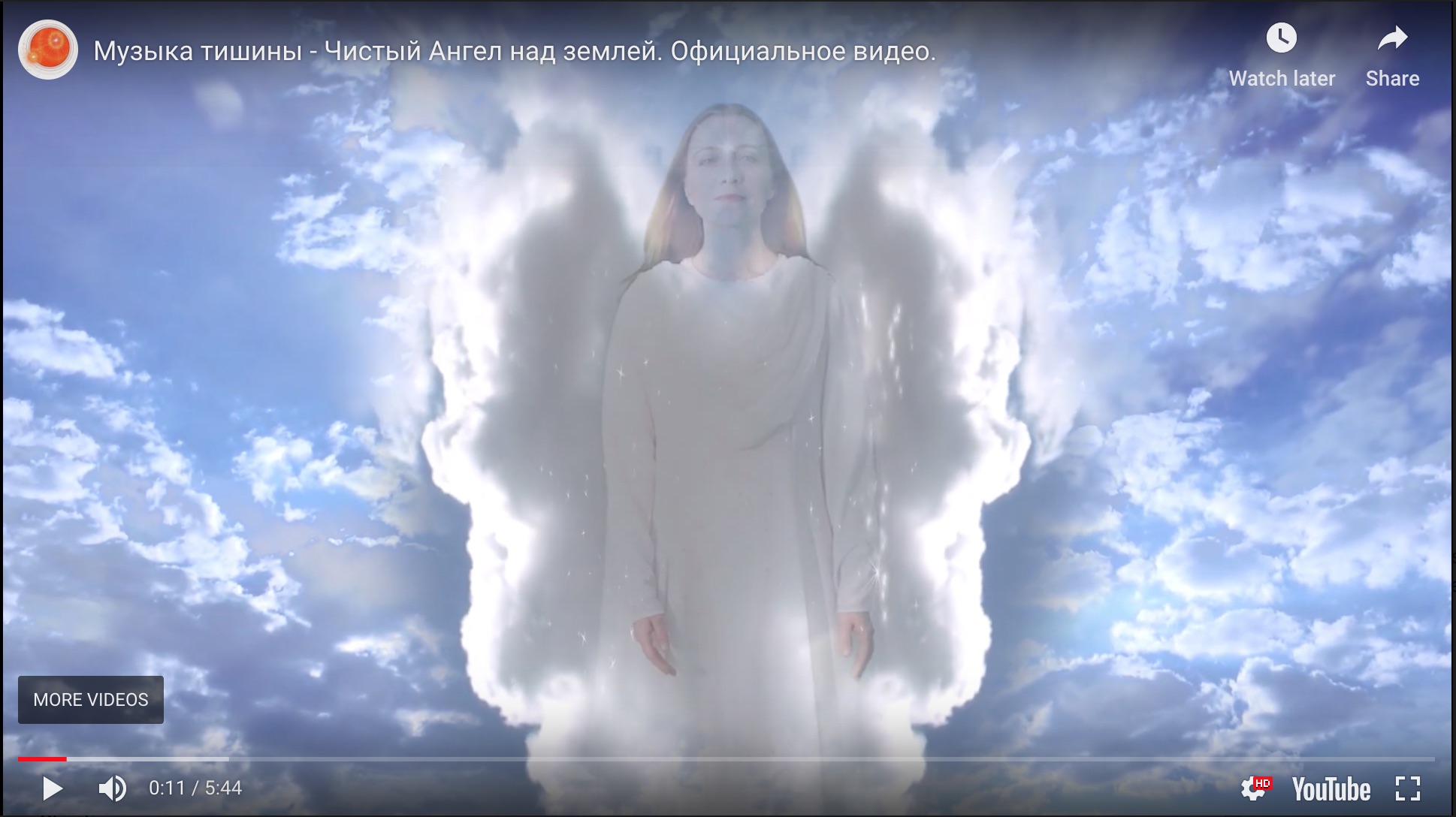 Brahma Kumaris Participates in the Second Eurasian Women's Forum, 19-21 September
8 October 2018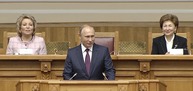 For three days in September, St. Petersburg hosted the Second Eurasian Women's Forum that became a platform for women leaders from 120 countries to discuss the issues of overcoming gender discrimination, increasing the role of women in society, and providing more opportunities for women to fulfill their intellectual, professional, and spiritual potential. Mr Vladimir Putin, president of Russia, addressed the plenary session of the Forum on September, 20, highlighting the increasingly important role of women in today's rapidly changing world. He said that strengthening peace and security is a "natural role" of women. At the end of his welcome address, Vladimir Putin quoted Indira Gandhi, former Prime Minister of India, "As Indira Gandhi, a very good friend of our country, once said, "Actions today mould our tomorrows."
The plenary session was chaired by Ms. Valentina Matvienko, Speaker of the Federation Council (Upper House) of the Federal Assembly of Russia. Ms. Sonia Gandhi, chairperson of the United Progressive Alliance (India), Ms. Sarah Harder, president of the National Peace Foundation (USA), and other dignitaries gave speeches at plenary sessions and workshops.
The Brahma Kumaris delegates took part in several plenary meetings, seminars and workshops. The event was widely covered by Russian and international media. On the sidelines of the Forum, many reporters representing both federal and local TV channels approached Santosh Didi, the Brahma Kumaris director in St. Petersburg, with questions regarding the mission of women that could make a difference during these volatile times.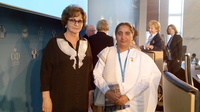 Didi Santosh and Ekaterina Lakhova, Deputy Chairman of the State Duma (Russian Parliament) Committee for Public Associations and Religious Organizations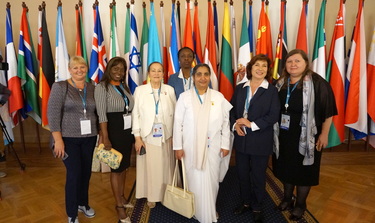 Participants of Second Eurasian Womens Forum. Didi Santosh and BK Alla is in center.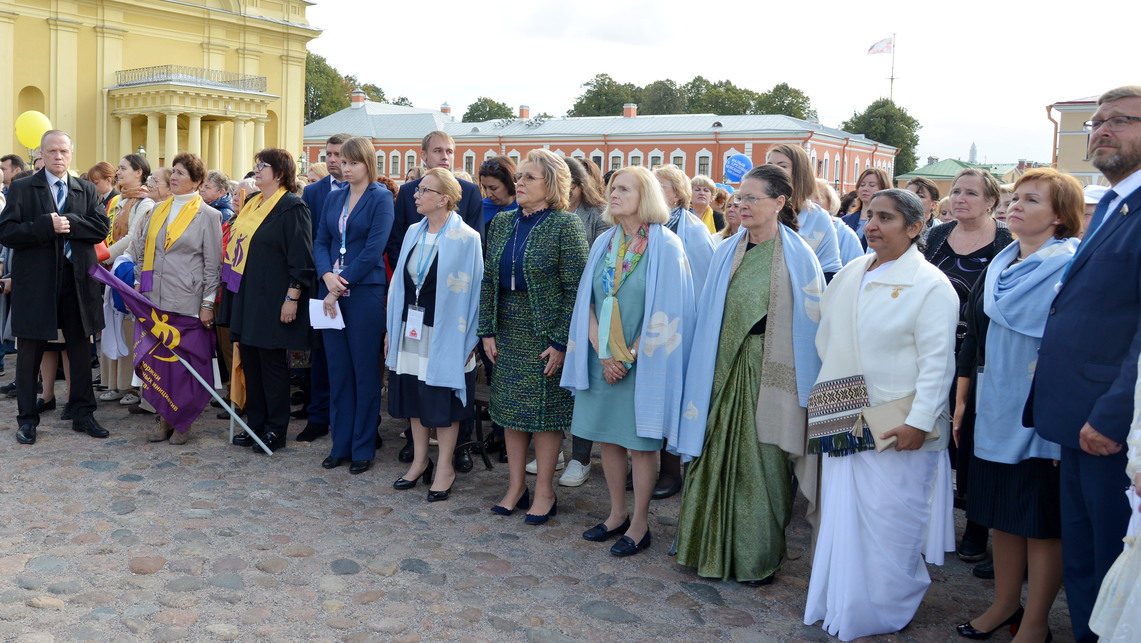 Conducting the Minute of Peace (R to L): Ms. Valentina Matvienko, Speaker of the Federation Council of the Federal Assembly of Russia, Ms. Sarah Harder, president of the National Peace Foundation (USA), Ms. Sonya Gandhi, chairperson of the United Progressive Alliance (India), Didi Santosh, director of the Brahma Kumaris in St. Petersburg.
We also took part in a large-scale action for the UN International Peace Day on September, 21. The event was held within the framework of the Women's Forum. At noon, September, 21, women leaders of Russia and other countries gathered at the Cathedral Square of the Peter and Paul Fortress to symbolically release hundreds of doves of peace. The Brahma Kumaris officially participated in the event as a member organization of St. Petersburg Women's Alliance, a prominent organization that aims at raising the economic and social status of women in the Russian Federation.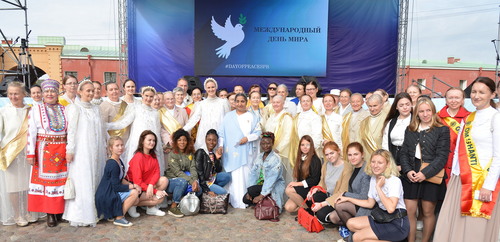 During the concluding moments of the event, heads and representatives of about 40 women organisations stood in a circle for taking a pledge of peace to the tune of a famous Russian song "May There Always Be Sunshine". When the event finished, lots of participants would come up to Santosh Didi and BK students dressed in white angelic costumes, to get blessings of peace and power, and, yes, to get authographs as well!

Enthusiastic BKs from Mumbai, accompanied by Kamlesh Didi, visit Baba's Mayak Mira in Moscow
12 August 2018
The visitors especially arrived for three weeks to extend their helping hands in arranging an RC meeting that took place in "Mayak Meera", the new Retreat Center in Moscow. They did Baba's service with a lot of zeal and enthusiasm.
Together with service, the whole group participated in all the other activities such as: BK classes and a Teachers Retreat on the theme "Nimit", a public program with the topic "Global Scenario", a trip by boat on the Moscow River, and picnics and excursions around the city. They have become very near and dear to all BKs in Baba's family in Moscow. Everyone says thank you for such all-round service and unconditional love!
Links to Photos
https://drive.google.com/open?id=12xadKn1Va6oC5GIPBSjHEy9-TWR0geC8
https://drive.google.com/open?id=1u9qiqBUoJ-wdsNQzdddrRAK1iXoDkTv0
https://drive.google.com/open?id=19Lt0yY1Tit0gUizRVLlr4xoBc-lilL2I
In Baba's Yaad
BK Sudha

Smile! It's a Renewable Resource! Br Golo and Sr Sonja in St Petersburg Russia, 4-9 July
4 August 2018
"We have tons of information about how human activity threatens the ecological equilibrium of the planet Earth. We have tons of information about technologies that can prevent further pollution of nature. However, in order to make all of that knowledge work we require the values of trust, love and care." This was the key point of a series of insightful motivational sessions held here in July with the participation of BK Golo from Germany and BK Sonja from Denmark.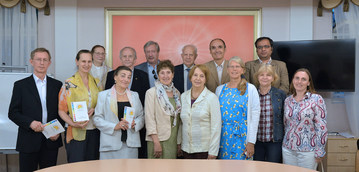 Neither summer vacations, nor the attraction of the FIFA World Cup taking place in Russia these days, could prevent lots of people, both experts and public, from coming to Lighthouse on 5 July for the session on "Life in Harmony: the Confluence of High Values and Clean Energy". Brother Golo and sister Sonja shared the success stories of using clean energies at the Brahma Kumaris headquarters and retreat centres and developing the international Environmental Initiative.
The audience was greeted by Mr. Yuri Shevchuk, environmental adviser to the governor of Leningrad region, chairperson of the Green Cross organization. "The event we are taking part in today is both beautiful and informative. We have met people who are doing their best to make our planet clean, light and free from both physical and moral, or spiritual, pollution."
A get-together for special guests after the main event became a friendly tea-table discussion of environmental and spiritual issues by experienced and passionate scientists, environmentalists, university professors and entrepreneurs.
Prof. Mikhail Ignatiev, chairperson of St. Petersburg branch of the international organization "Pugwash Conferences on Science and World Affairs", expressed his concerns about the volatile situation in the world saying, "By 1995 the humanity had succeeded in considerably reducing the risk of a nuclear conflict.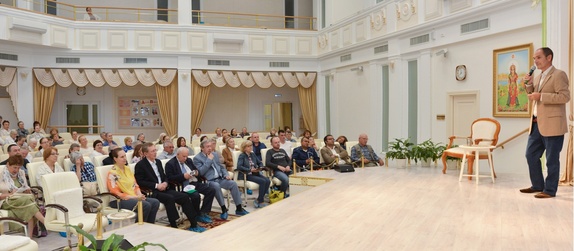 The Pugwash movement that brings together scholars and public figures across the world to prevent the nuclear threat even received the Nobel Peace Prize for that achievement. However, the situation has deteriorated dramatically since then. The level of mutual trust between countries and political leaders has plummeted to a new low. When nation states and their leaders mistrust one another, the role of grass-roots is fundamentally important."
Mr. Oleg Mukhin, vice-president of the Astronautics Federation of Russia, shared his vision of the relationship between man and the Earth, "Humans are unique among all the living beings, as they possess the ability to know the self. I feel that the Earth is also a living entity that responds to human aggressive behaviour with tsunamis, earthquakes and other calamities. We have to realise the existence of a deep connection between human beings and the material world."
Ms. Olga Madison, co-chair of the NGO "Keep St. Petersburg Tidy", coordinator of numerous large-scale international projects, underlined the importance of environmental education for kids. "Consider our project "The Green Flag". It unites about 18 million children worldwide. However, the actual number of project participants is much bigger because every child is related to at least two adults, be it their parents, grandparents or teachers. In this way, so many millions people have been working hand in hand to make our planet green, blue and beautiful!"
Ms. Elena Golovina, head of the laboratory "Weather and Man" (St. Petersburg State Hydrometeorological University), suggested the experts discuss the issue of motivating college and university students. "Inspiring young people to realise their true inner self amidst the negative environment they are exposed to, is a very challenging but important task."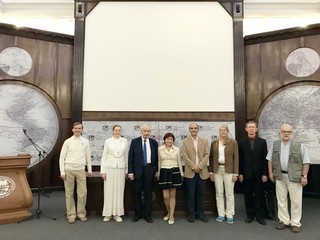 On 6 July, bro. Golo and sis. Sonja visited the Ecological Union of St. Petersburg and met its chairperson and staff members. Mr. Semyon Gordyshevsky, founder and chairperson of the Ecological Union, said at their meeting, "It is interesting that both the BK Environmental Initiative statement and the Charter of our Ecological Union have the same article about individual responsibility. Normally, people expect someone else should do everything for them. Very few start with the self. Your organization, essentially spiritual, has now come to carrying out environmental projects, and I feel that this is a very reasonable and appropriate development."
The same day another meeting took place at the headquarters of the Russian Geographical Society, a unique museum-like art-nouveau building hosting the largest geographical library in Europe. Prof. Vladimir Razumovsky, vice-president of the Russian Geographical Society, personally conducted a guided tour of the headquarters for his guests. Then a friendly dialogue took place about the importance of combining technological, intellectual and spiritual resources of humanity for addressing the most pressing issues in today's world.
Click here for full report in PDF format.

Cesar Villalobos, Famous Musician of Peru, Visits Lighthouse, St Petersburg, Russia
2 August 2018
Cesar Villalobos, winner of many prestigious national and international musical awards, has come to Russia to show his brilliant art during the 2018 FIFA World Cup. On June, 14 he visited Lighthouse, the Brahma Kumaris Centre in St. Petersburg, and met Dr. Satish Gupta, an experienced raja yogi, chief doctor of the Global Hospital (Abu Road), who is on his visit to Russia right now.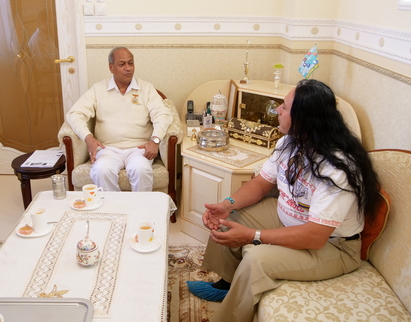 Their conversation about spiritual sources of arts and health became a deep and friendly exchange of ideas and experiences.
Dr. Satish Gupta explained the essence of the raja yoga meditation: "As we become conscious of our eternal spiritual self, we experience peace, love, happiness and bliss, the energies that feed all the cells of our body. Meditation means to be aware of the truth about the self and the Supreme, and to live up to that truth. As we become instruments of the Supreme, He can play His wonderful music through us, human flutes!" Cesar Villalobos shared his idea of the mission of a true artiste: "We should just act like a bridge between God and people, without ego and selfish motives. I have always believed that our success is about the values we practice in our life. It is not all about our professional knowledge and skills! It is a different energy that works here. I have felt energized, as I was sitting in your Meditation Room today. I truly feel that today is my spiritual birthday!"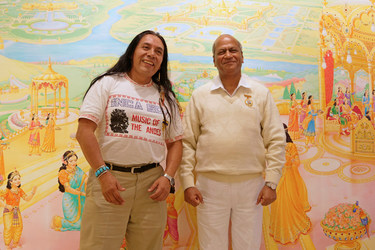 2018 Russia & the CIS News Archive
2015 Russia & the CIS News Archive
2014 Russia & the CIS News Archive
2013 (and end of 2012) Russia & the CIS News Archive