Russia, CIS, Ukraine, & Balkans News
Russia, CIS, Ukraine, & Balkans News
Moscow (Russia) - The Festive Program "THE POWER OF TRANSFORMATION"
30 November 2022
RUSSIA - INDIA: THE BINDING THREADS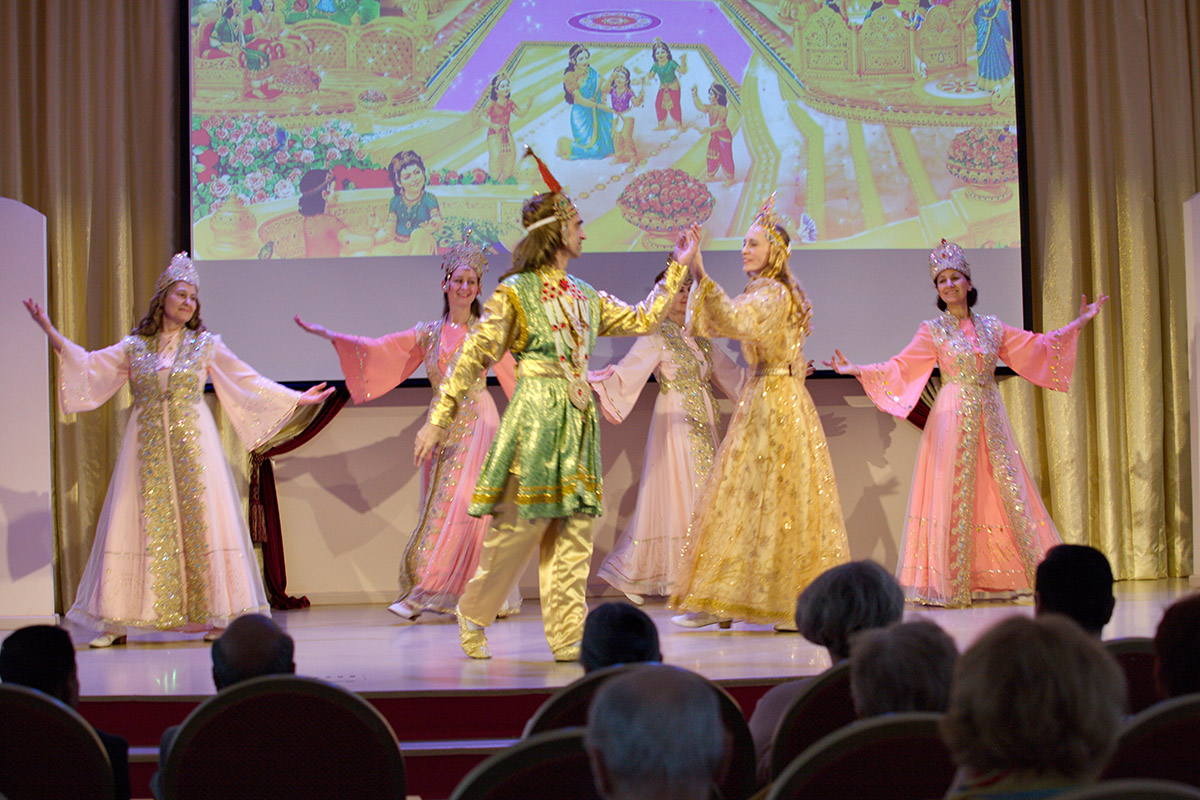 The festive program "THE POWER OF TRANSFORMATION" took place at the Brahma Kumaris Centre in Moscow on 27th November and was dedicated to Diwali and New Year. This program completed the cycle "Russia – India: Binding Threads" dedicated to the 75th anniversary of the independence of fraternal India.
To mark the victory of light and goodness, the senior teachers of Brahma Kumaris Didi Sudha and Brother Vijay as well as the honoured guests lit the candles and extended their hearty greetings. Among the honorable guests there were Mr. Rakesh Kumar, Programne Officer at Jawaharlal Nehru Cultural Centre, Mrs. Galina Pacheko-Reynaga, Director of the Centre of social help to family and children "Vostochnoye Degounino", and Mrs. Lyubov Gordina, the Doctor of Philosophy, the honoured cultural worker of Russia.
The artists from the JNCC Centre performed beautiful songs and dances about the "Return of Prosperous Golden Bharat" which became a wonderful decoration and created a magical atmosphere.
India and Russia have a lot in common. This time, the program featured characters from Russian fairy tales and Indian epics. The Indian goddess Kali and the Russian Baba Yaga met on the stage to discuss important issues on how to transform the world. They realized that all the magic objects lost their power. They want to help the world which is under the influence of evil symbolized by Ravan in India and ugly Koshey in Russia, but they don't know how.
And the White Fairy, represented by Didi Sudha, the Director of the BK Centre, explained that all transformation begins from within and the Only One who can help us to restore our inner power is God the Supreme. He transforms the souls making them from ugly to beautiful.
PHOTO:
https://drive.google.com/drive/folders/1636cJ_L8B9QCAK8Yvyu9KxcDVJMW3VwE?usp=sharing
Video:
https://drive.google.com/file/d/1RcZffPJ1e1r1T7YhPTiHK5FgQ1O1V-6o/view?usp=sharing
For download click - "скачать".
With best wishes and divine love
In Baba's yaad,
Multi-media department, Moscow
https://www.youtube.com/user/4spirituality

Murom (Russia): Russia-India: The Binding Threads
31 October 2022
On the bank of the Oka River stands the ancient Russian city of Murom, name of which contains two words in Hindi that have a deep meaning. One of them is the sacred word "Om", which means "I am", and the other is "Murli", which is translated from Hindi as "flute". Surprisingly, the names of many rivers in Russia have Indian roots: the Moksha River, the Pra River... And the word "Oka" in Sanskrit means "the union of heavenly bodies."
All the participants of the program in Murom, dedicated to the 75th anniversary of India's independence and the establishment of diplomatic relations with Russia, had a feeling that "the stars came together", namely, there was a meeting of living conscious stars. And the light of each soul-star shone brighter thanks to the rays of ancient spiritual wisdom, the need for which is felt more and more in today's difficult time.
The Russian folk dance "Kalinka", accompanied by the flute part, filled the atmosphere with joy and inspiration. It was told about the similarity of many traditions and cultural customs of the two countries, the kinship of languages was shown. For example, the names of traditional women's clothing SARI and SARAFAN have a common root "SAR", which means "whole".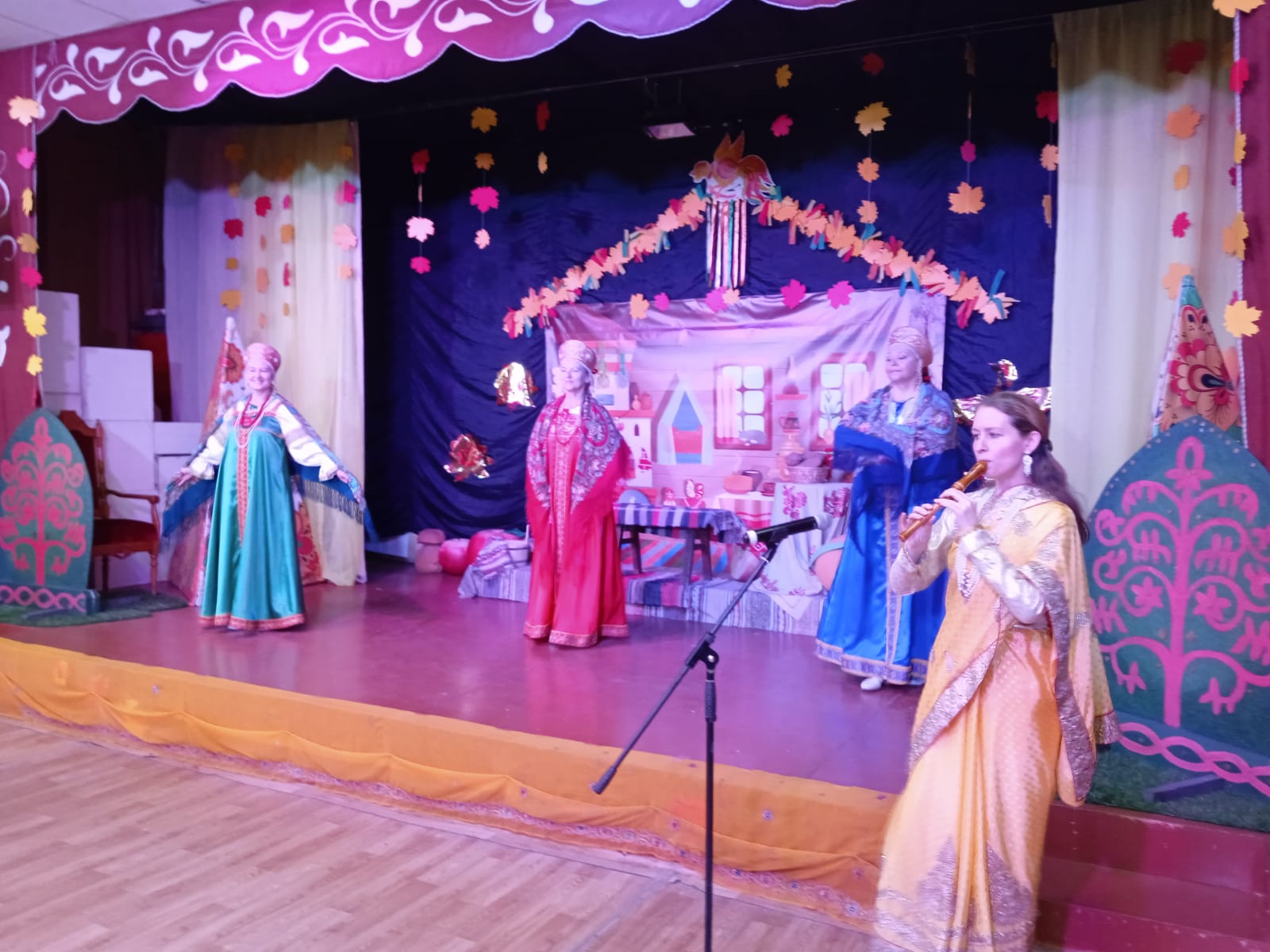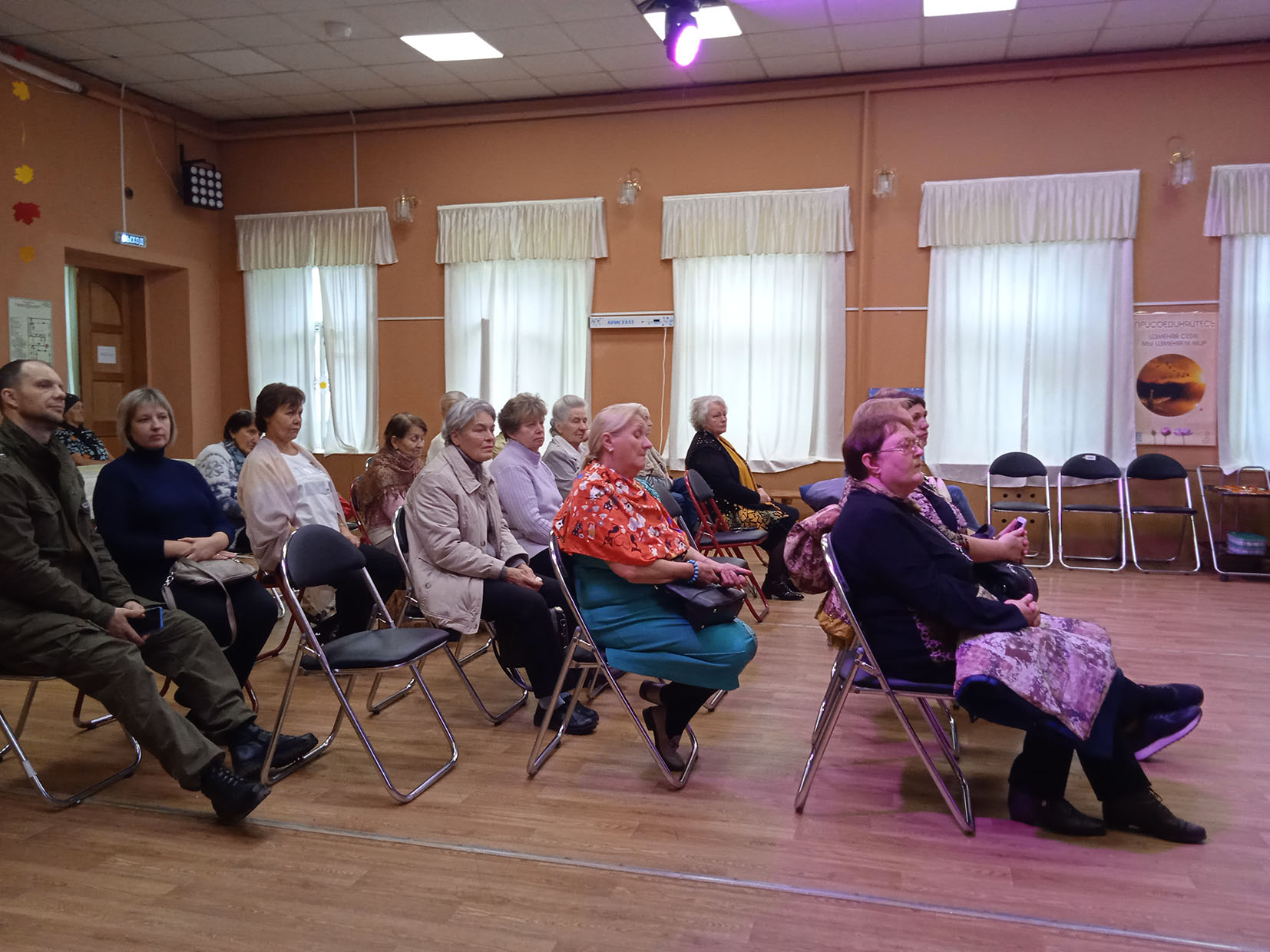 Mrs. Olga Smirnova, artistic director of the music and poetry lounge "Lyra" of the Center for Spiritual Development, revealed the depth and strength of the principle of non-violence in the worldview of Indians who defended their right to independence without weapons thanks to the wisdom and strength of the spirit of the national leader Mahatma Gandhi.
Elena Titova and Larisa Gridina performed songs in Russian and Hindi: "The Ancient country of the East", "Tu Pyar ka Sagar he" (You are the Ocean of Love), "Sada khush raho" (Be always happy).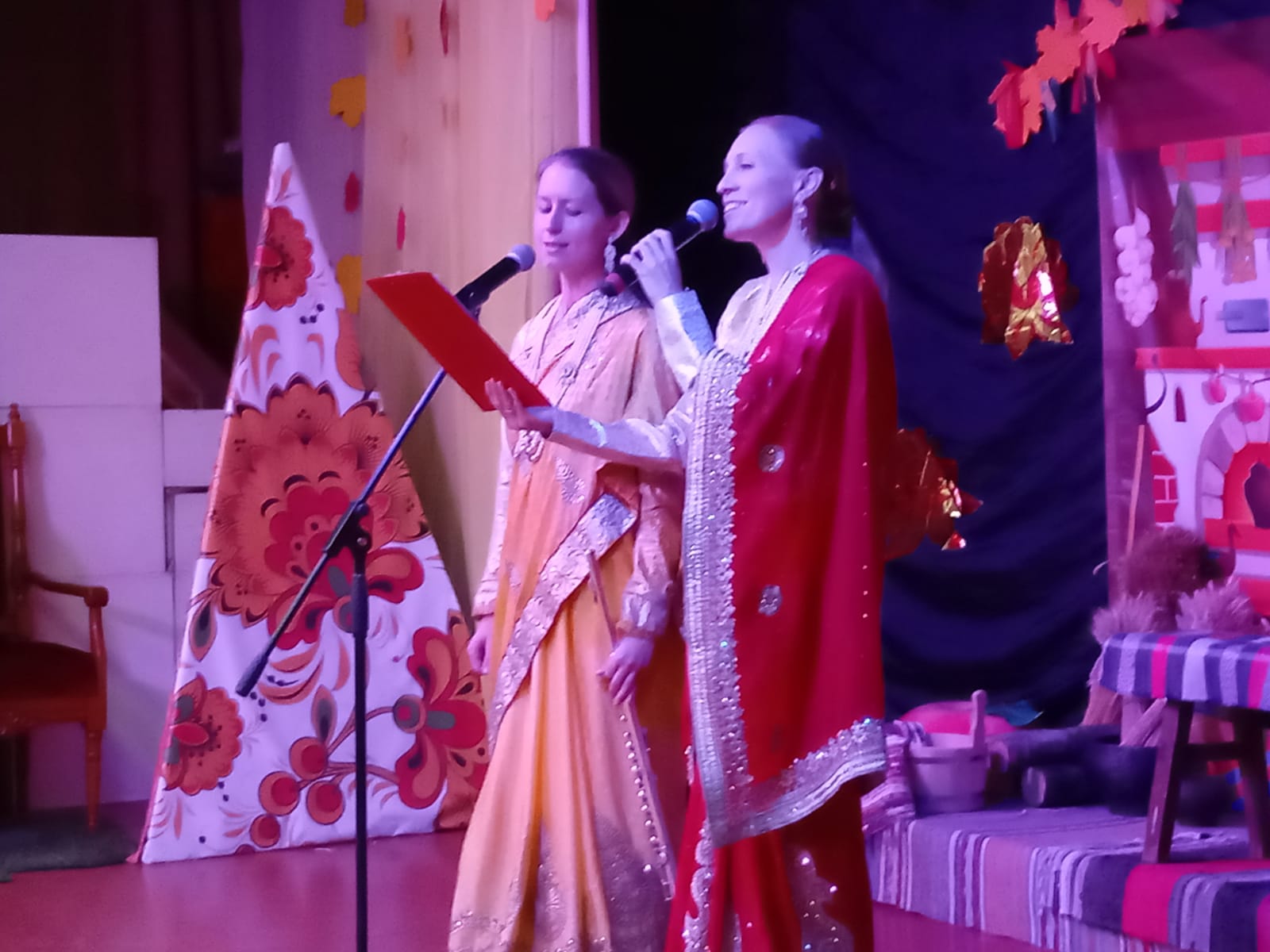 True happiness is when the soul is free from negative influences, when there is inner harmony and the struggle in the soul ends. But how to protect the soul from evil, contradictions and negative thoughts that may arise without our conscious will as a result of external provocations? This was explained in the second part of the program - at the celebration of Raksha Bandhan, an ancient Indian holiday. Mrs. Natalia Volkova, the coordinator of programs, revealed the true meaning of tying a rakhi - thread-amulet.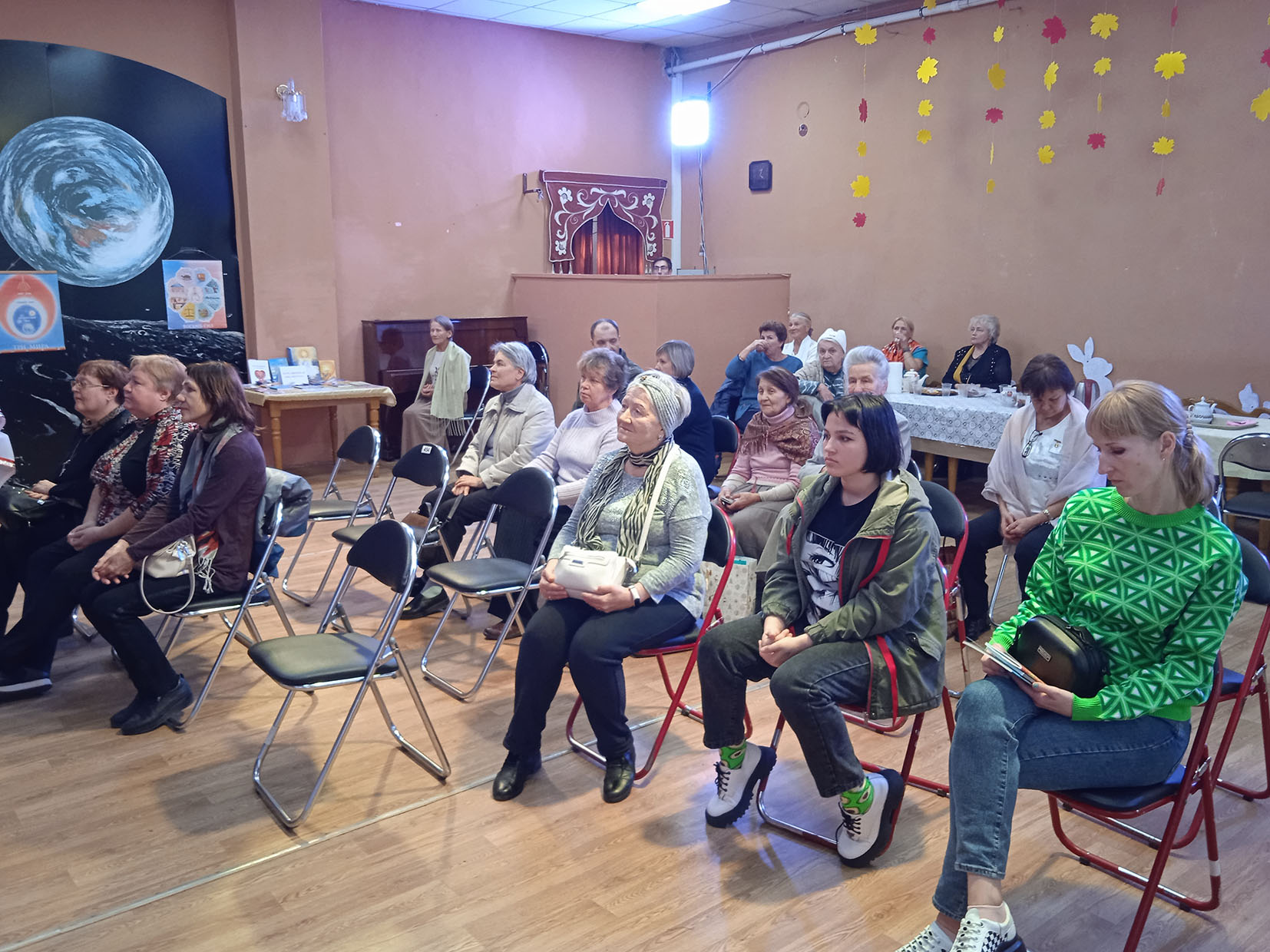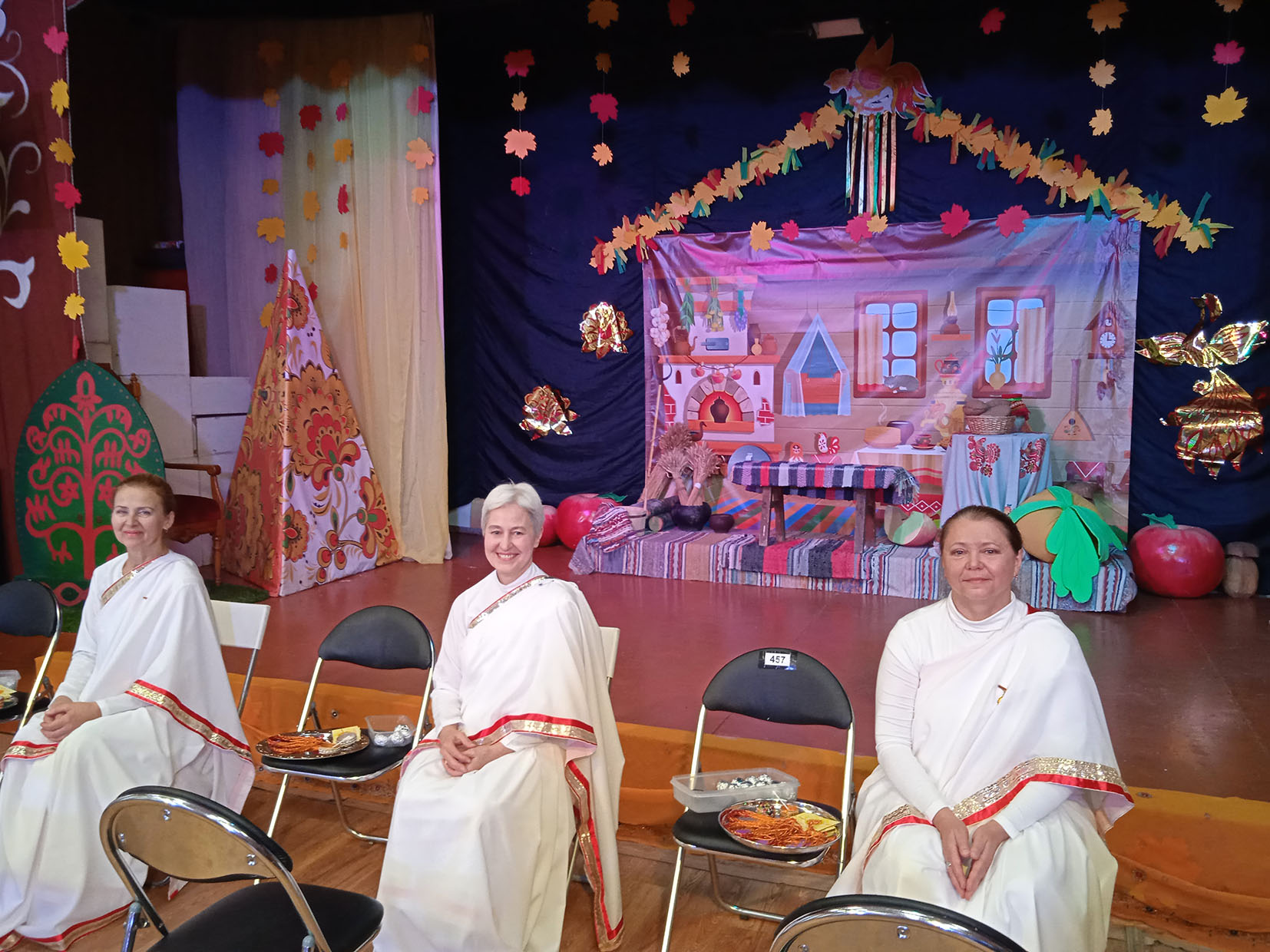 Each participant of the program had a colorful rakhi thread tied on his wrist as a symbol of protection. Everyone received a sweet treat and a card with good wishes. Feelings of love, bright joy and gratitude filled the atmosphere of the old building, known in Murom as the House of Folk Art, which regularly hosts interesting and significant events for residents of the city. (Photo 7, 8)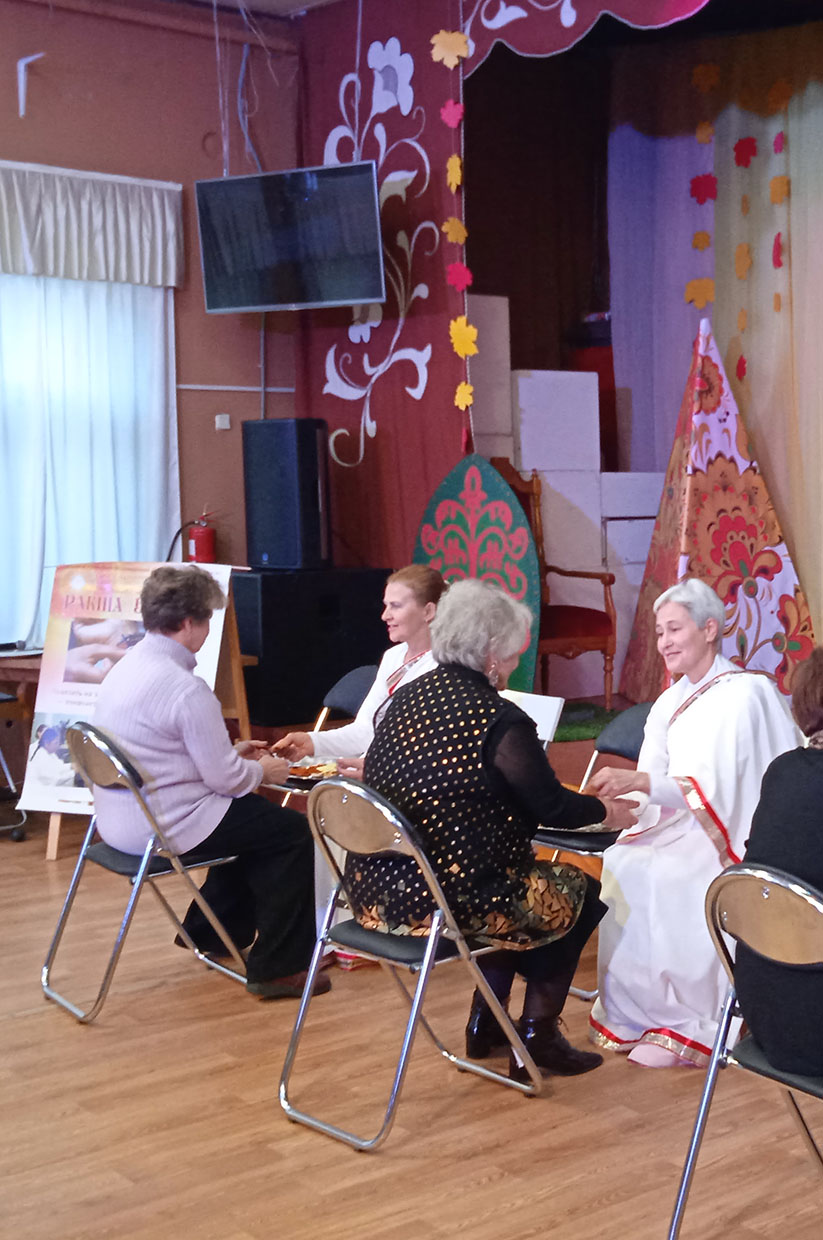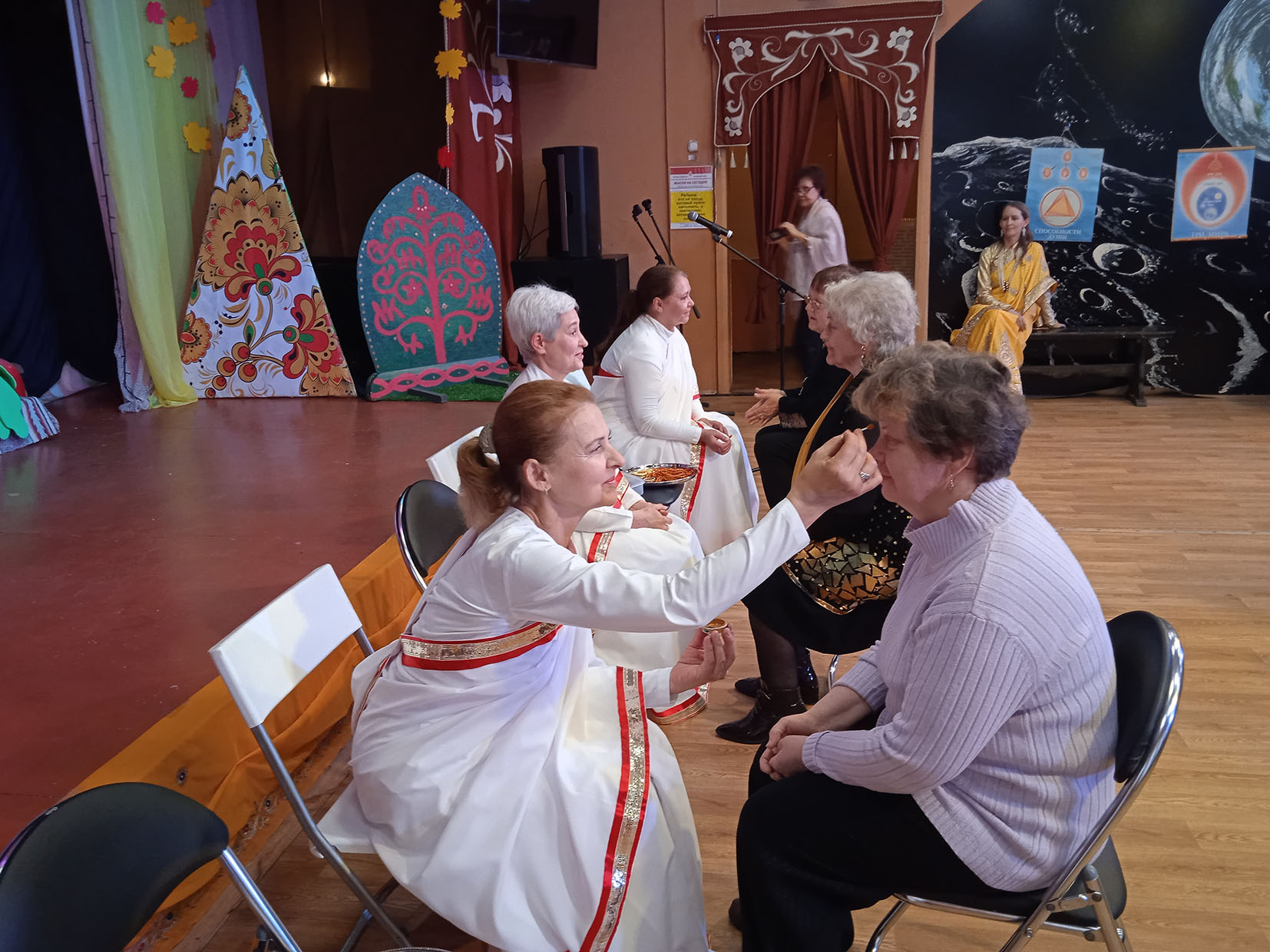 Mrs. Antonina Kazakova, head of the Center of Spiritual Development in Murom, sincerely thanked everyone for participating in the program: a group of listeners from Moscow, residents of Murom, craftsmen participating in the handmade products fair, as well as the management of the Directorate of mass and festive events in the person of Mrs. Victoria Kostakova, the artistic director of the organization.
Every soul has an eternal connection with the One Who is always filled with Love and Strength and can support the soul at any moment - no matter what happens. The connection with the Highest Source is the most reliable protection against any evil and negative influence. If we remember Him, it gives us the courage to keep our inner light, love and strength even in the midst of an atmosphere of hostility and misunderstanding.
When the inner light is lit, we do not fear the outer darkness. Let's remember this and take care of the light in the soul.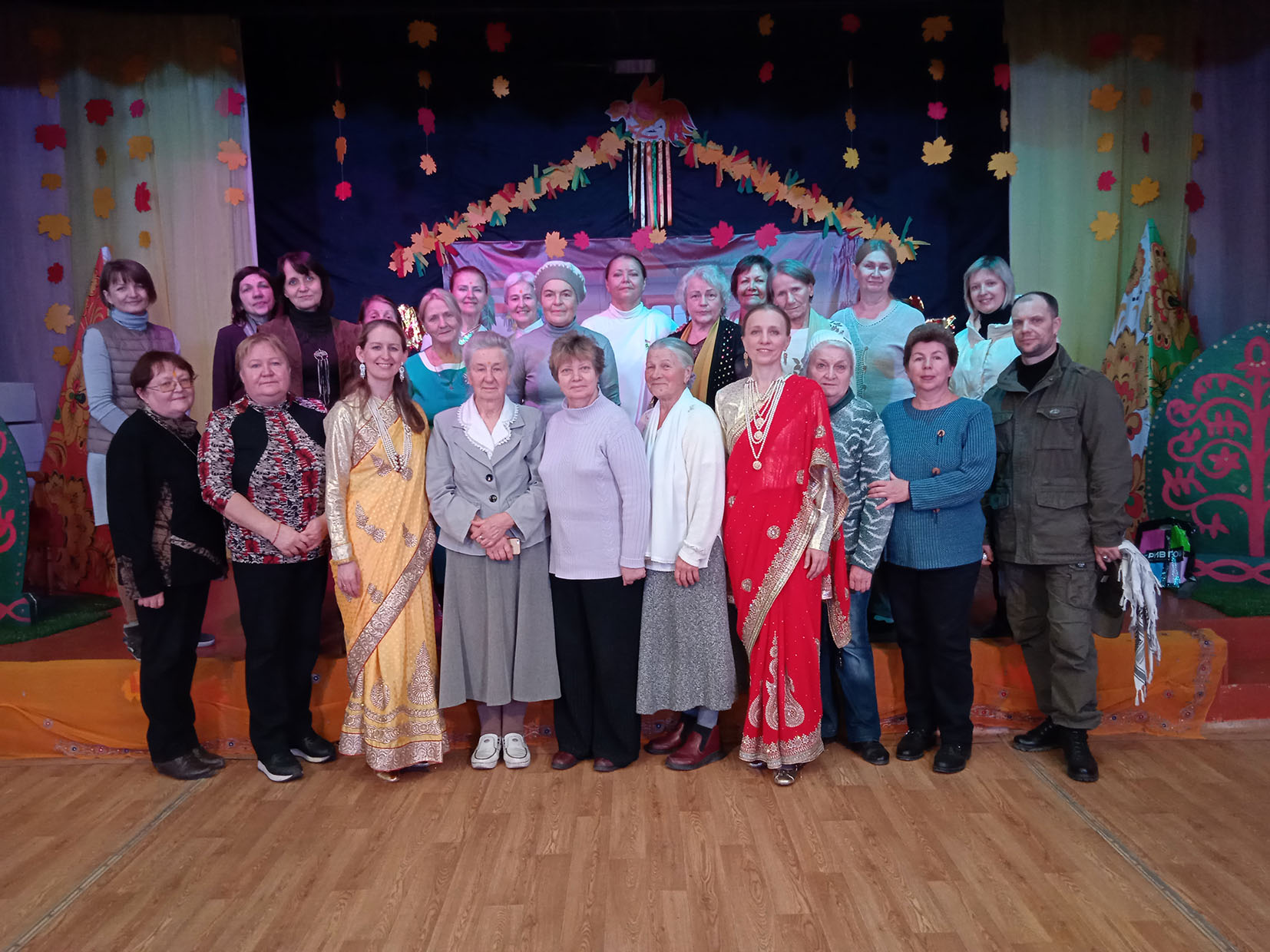 With best wishes and divine love
In Baba's yad
Multi-media department
Moscow
https://www.youtube.com/user/4spirituality

Diwali Greetings from Sudha Didi and Moscow Family
27 October 2022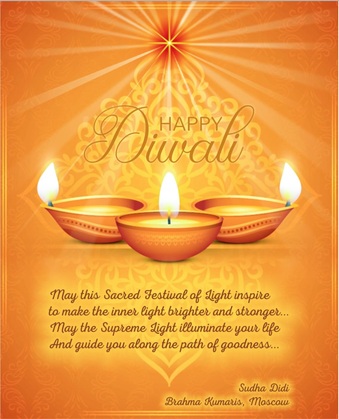 Moscow (Russia) - Lyubov Kazarnovskaya, Famous Opera Singer, Bolshoi Theatre, Visits Brahma Kumaris
21 October 2022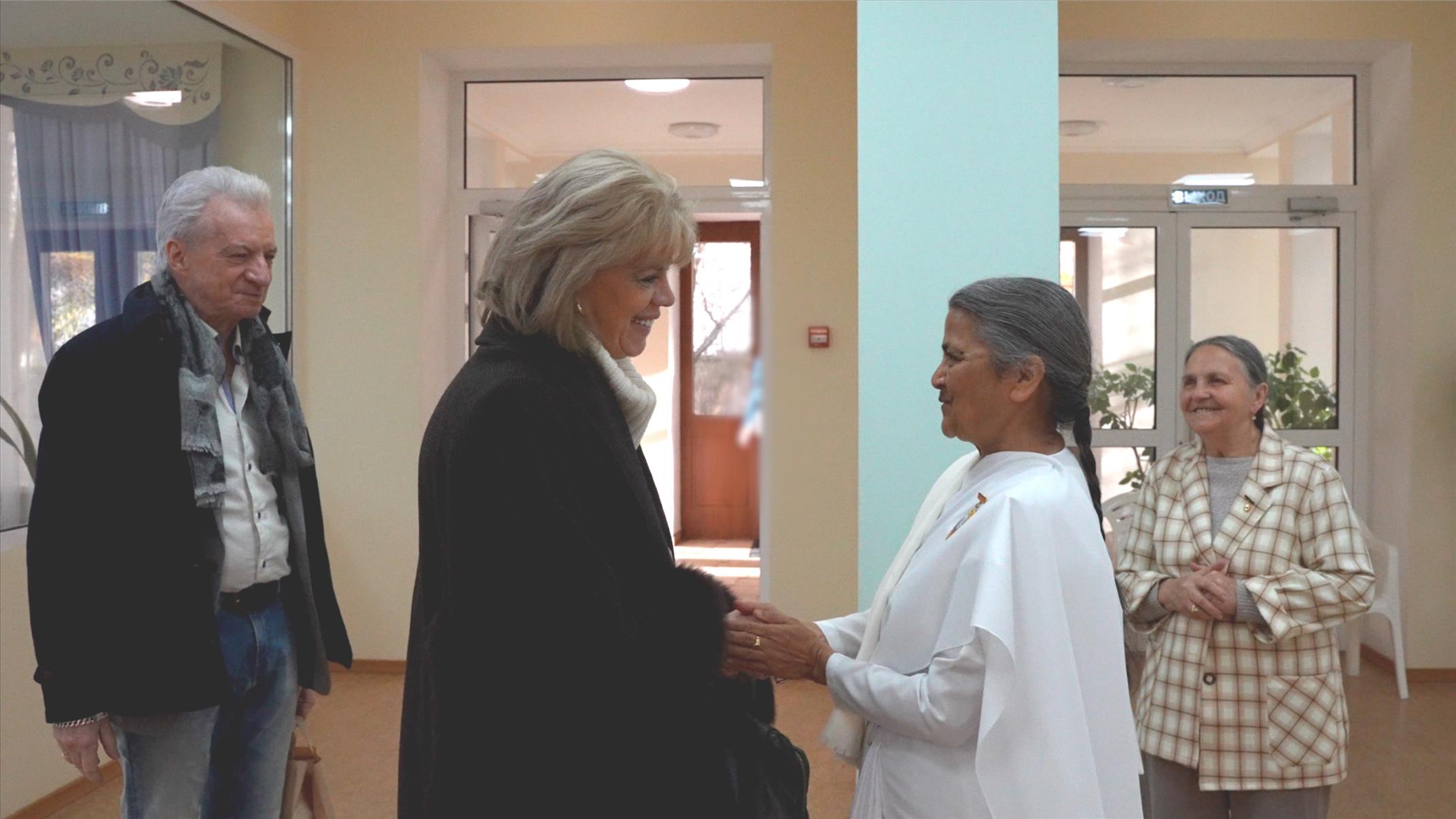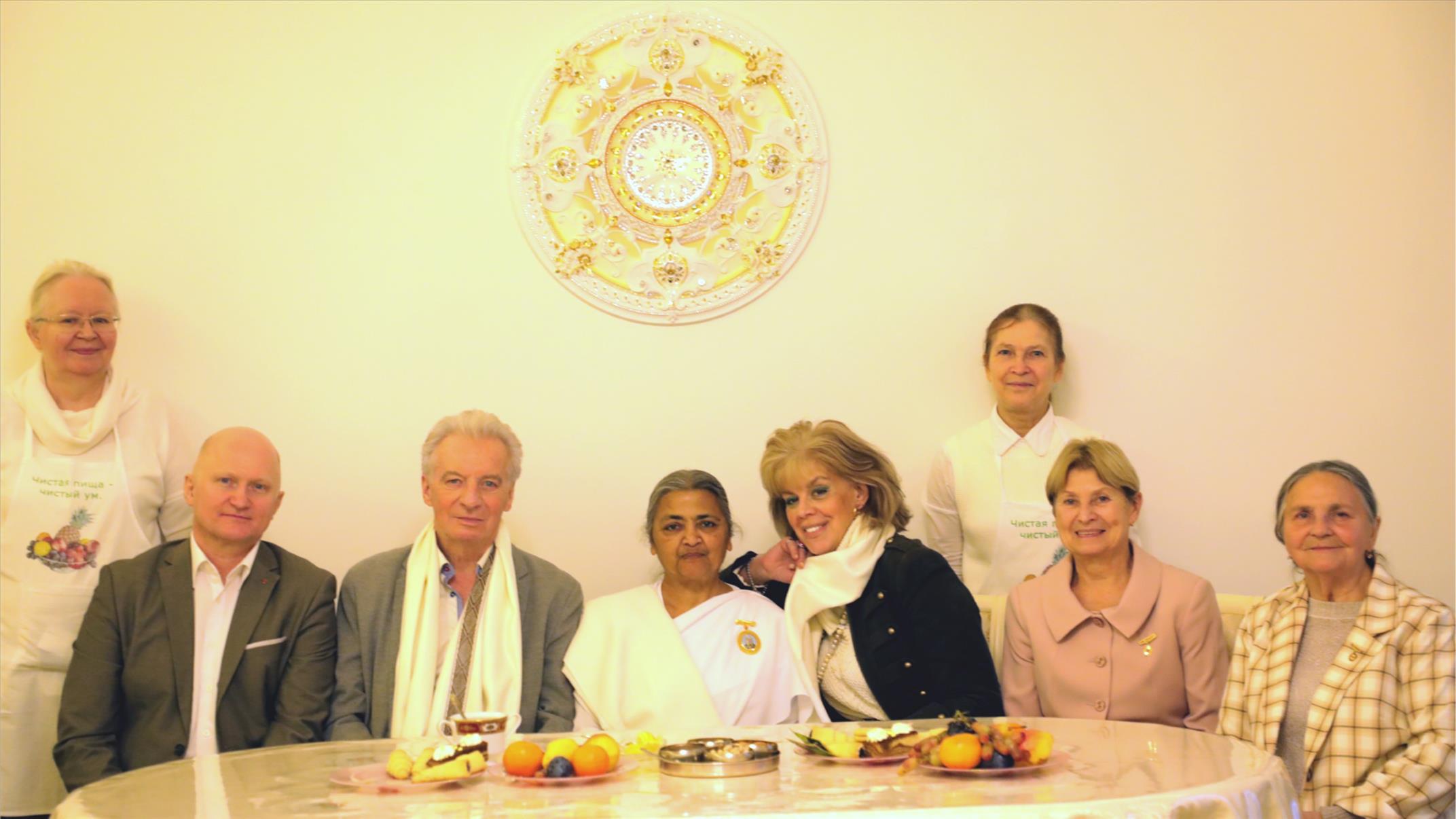 "All the arts serve one thing – the most important of the arts – the art of living." - Bertold Brecht
The worldwide organisation Brahma Kumaris World Spiritual University is open to people of all ages, nationalities, religions, and professions. Spiritual wisdom is as necessary as air for absolutely everyone - especially now when the world is in a state of extreme contradictions.
On a sunny October day, the doors of the Center opened for two amazing guests, known all over the world for their unique talents. Mrs. Lyubov Yurievna Kazarnovskaya, an opera singer who performed on the most famous stages of the world, visited the Center together with her husband Mr. Robert Roszik, a famous music producer.
The creative potential soul of the famous singer has been looking for a way out since childhood. Even as a small child, she was constantly singing, and everyone said: "Lyubka (nick name) is an actress."
After school, she was going to enter the Faculty of Journalism, but became a student of the famous Gnessin State Musical College, Moscow. One cannot escape from destiny.
Probably, the meeting at the Center of Spiritual Development was also predestined. Everyone had a feeling that they met very close soul-mates who have known each other for a long time, just haven't seen each other for ages. As a sign of greeting, the dear guests were presented with white Indian shawls, which, with their softness and warmth, reminded them of motherly love and care.
Sudha Didi, Director, Brahma Kumaris, Moscow and several listeners showed the building of the Center, which has the symbolic name "Lighthouse of the World".
The guests watched with great attention a short film about the activities, about those programs and socially significant projects that are carried out by the Centre. They also had the chance for a deep conversation with Didi about spiritual Knowledge and Raja Yoga, about how spiritual wisdom helps a person to transform life for the better, and such like topics. "How accurate and logical everything is..." Lyubov Yurievna sincerely said.
During a friendly conversation over tea and pastries, the ideas about joint cooperation began to emerge.
Lyubov Yurievna has not only a unique soprano tembre and bright charisma, but also a natural gift to talk openly with people about the most important and intimate things. In numerous interviews, on her YouTube channel, at creative evenings, she shares her thoughts and feelings with the public, touching upon actual issues and topics.
The couple spent a few minutes in the meditation room "The Point" and gained special experience of Raja Yoga meditation. Lyubov Yurievna wrote a few lines in the Book of reviews: "It is an absolute delight and happiness to be at the Spiritual University among those who understand and know that originally each one of us is a 'light, immortal soul' and that we create this world with our good wishes and Brotherly-Sisterly Love! Yours, L. Kazarnovskaya".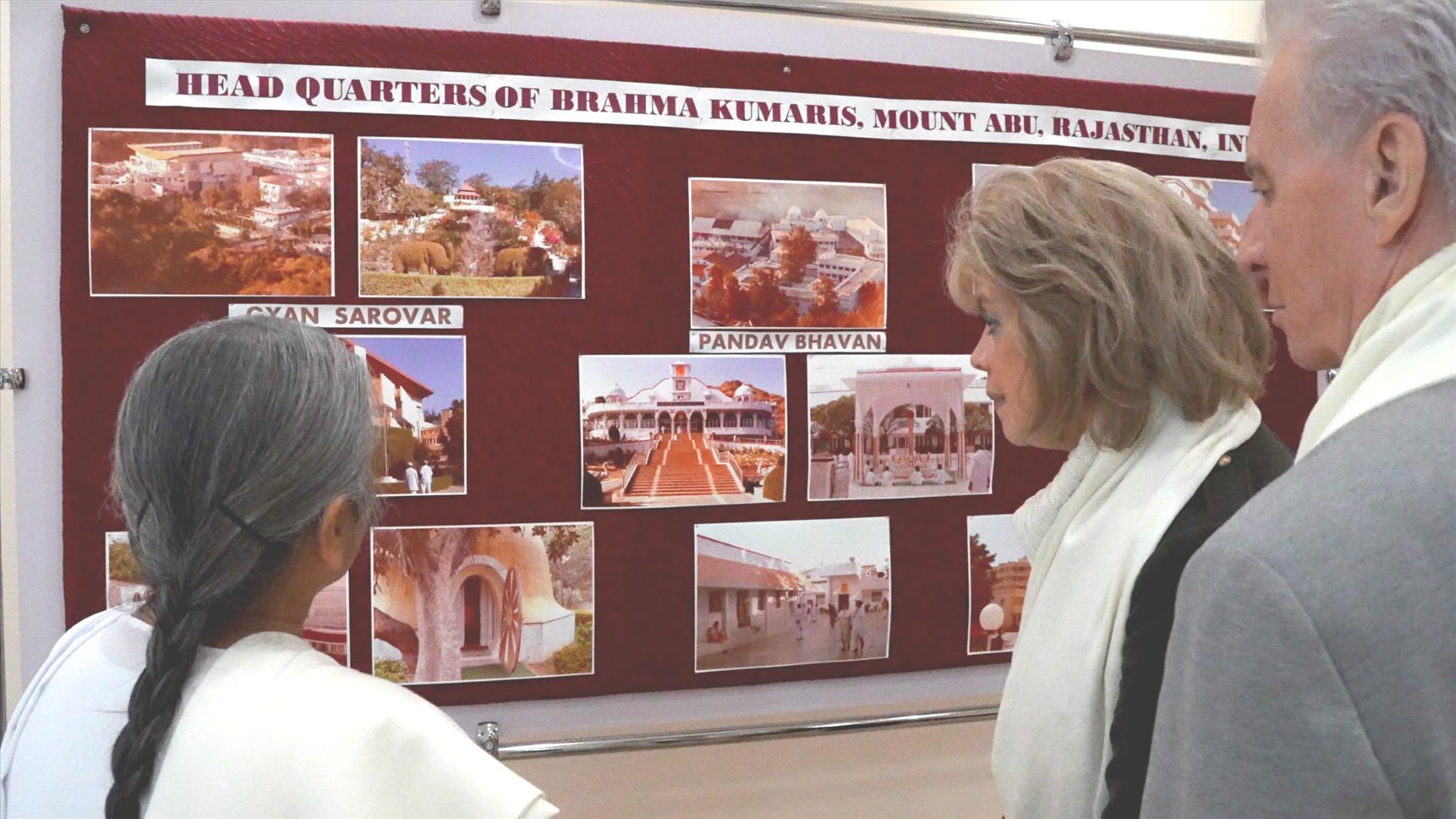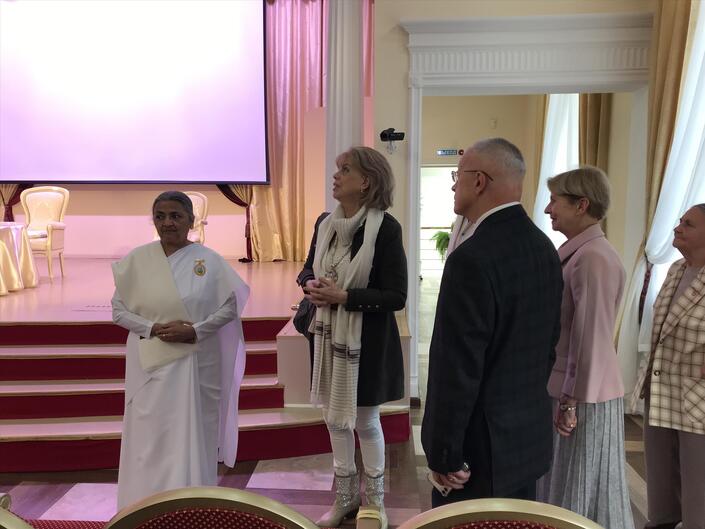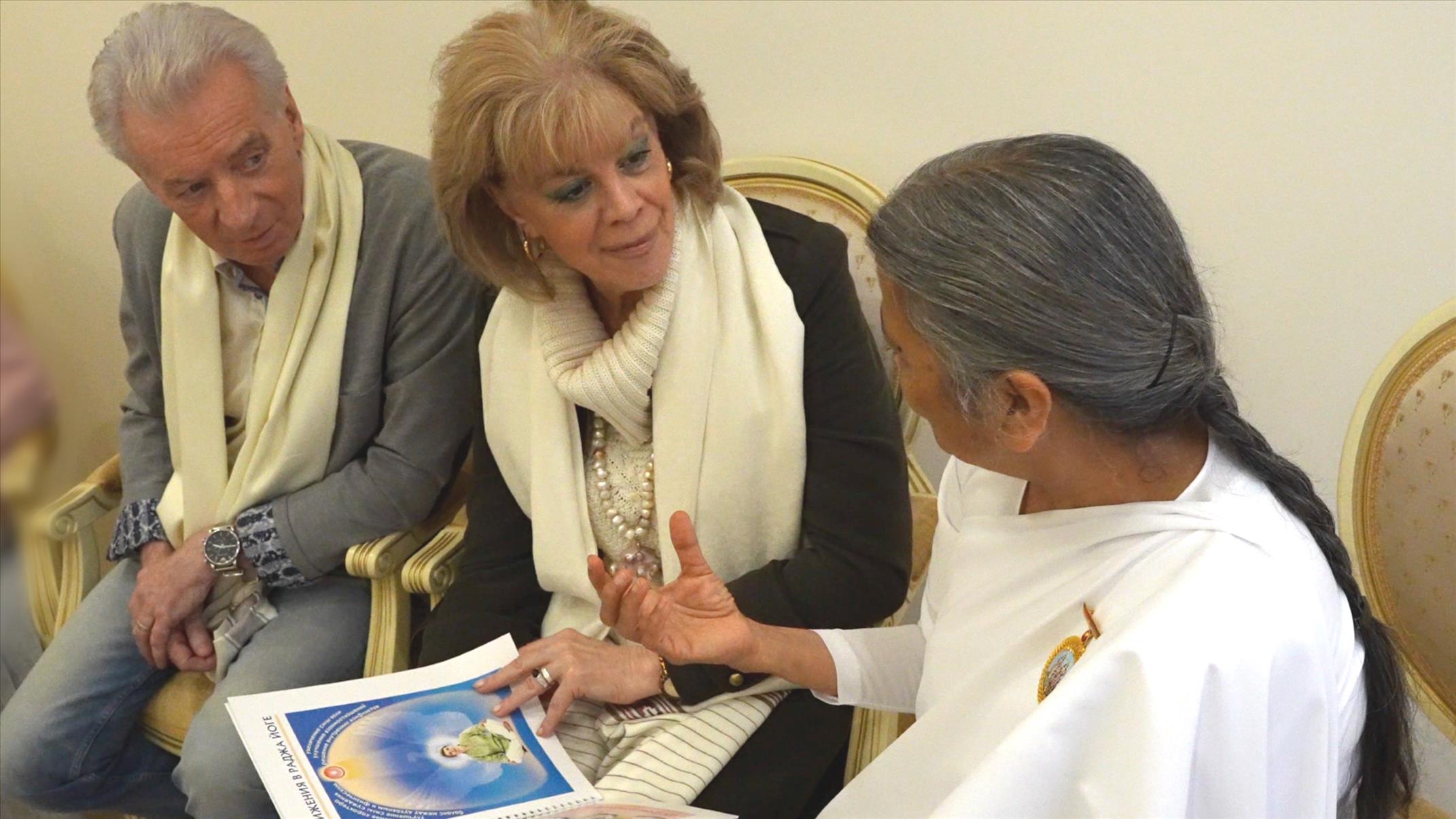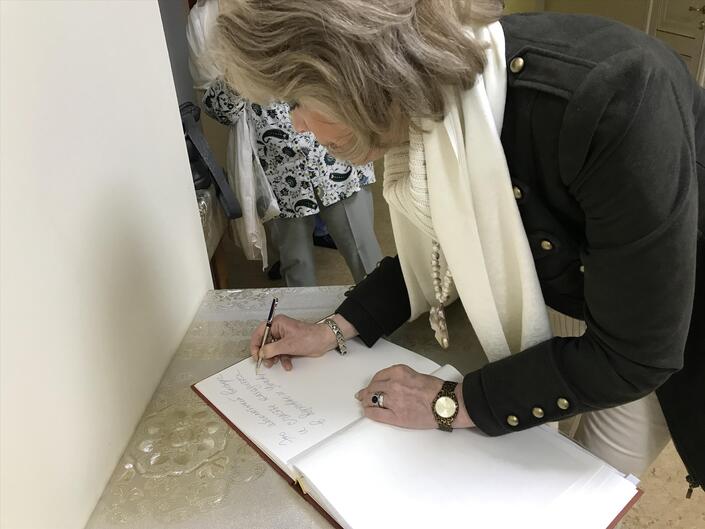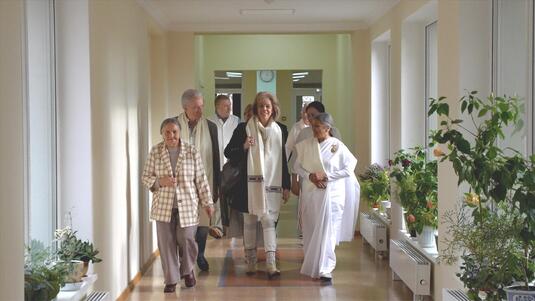 SPIRITUAL SUNRISE OVER THE FAR EAST OF RUSSIA - Visit of Sudha Didi to Vladivostok, the Far Eastern Capital of Russia, and the Opening of a New Center
12 October 2022
Vladivostok (Russia): The Brahma Kumaris Centre is officially registered in the Russian Ministry of Justice in the beautiful city Vladivostok located around the Golden Horn on the Sea of Japan.
Services of Brahma Kumaris began in Russia 33 years ago in 1989. Sudha Didi, Senior Faculty Member and Raja Yoga Teacher of Brahma Kumaris, Trustee and Co-Incharge of services in Russia and neighbouring countries, has for the first time visited Vladivostok, the far eastern Capital City of Russia. A variety of programmes were organised during her 10-day visit to serve the society in this city of 700,000 population.
The Consulate General of India, Vladivostok too kindly extended cooperation to its capacity in accomplishing the aim. (Photo 04)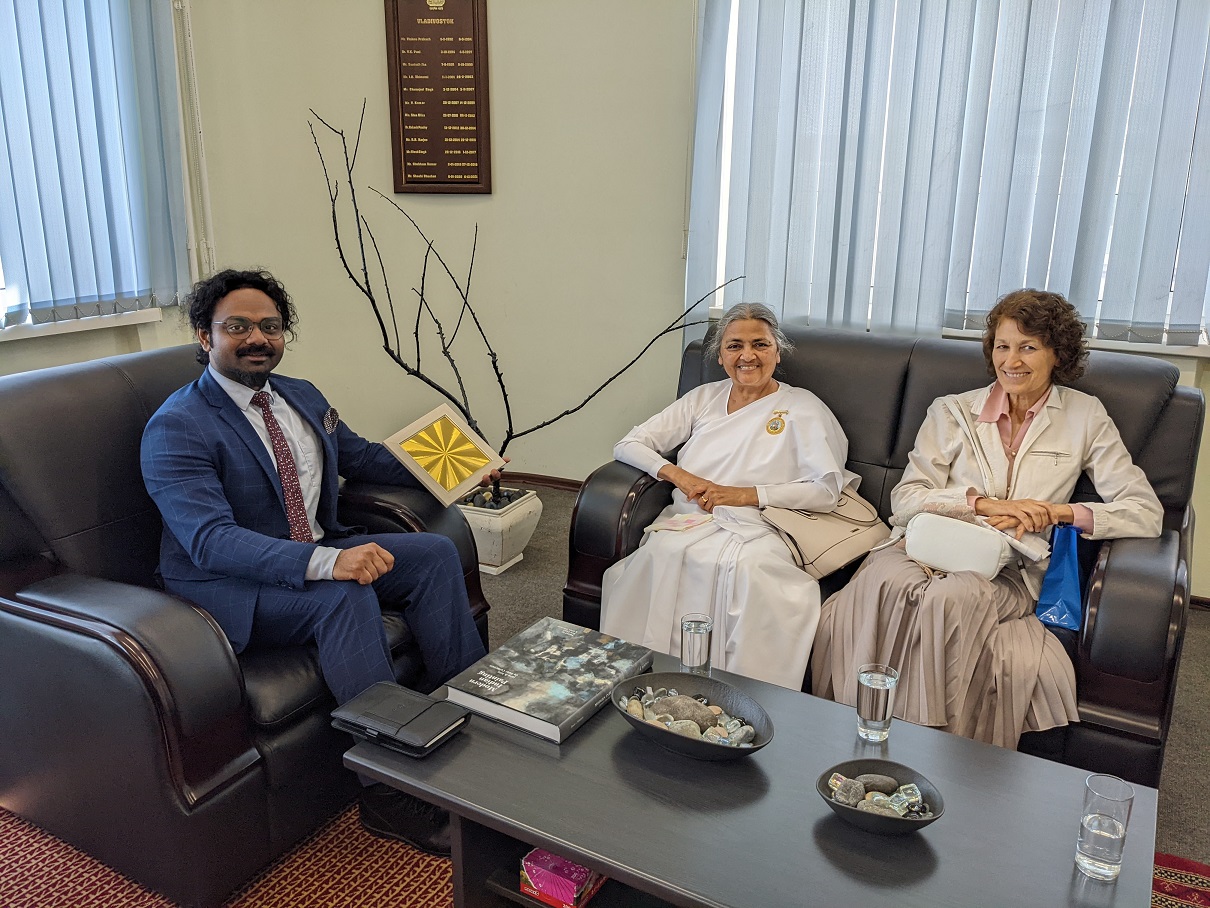 Didi shared her more than 50 years' experience of practicing Raja Yoga and Spiritual Knowledge at the Public event «Subtle Secrets of Karma» https://youtu.be/DFres_KZPXQ and conducted the practical lessons on Raja Yoga meditation. These programs were held for three evenings in the hospitable halls of the «Equator» Art Congress Hotel, located on the picturesque embankment of the Amur Bay. (Photo 02, 05) More than100 people took part with keen interest to the subject. As a token of friendship Didi gifted them her book titled "Never Ending Wealth" with a personal wish to each one. Of course every one expressed desire for the autograph (Photo 10, 23).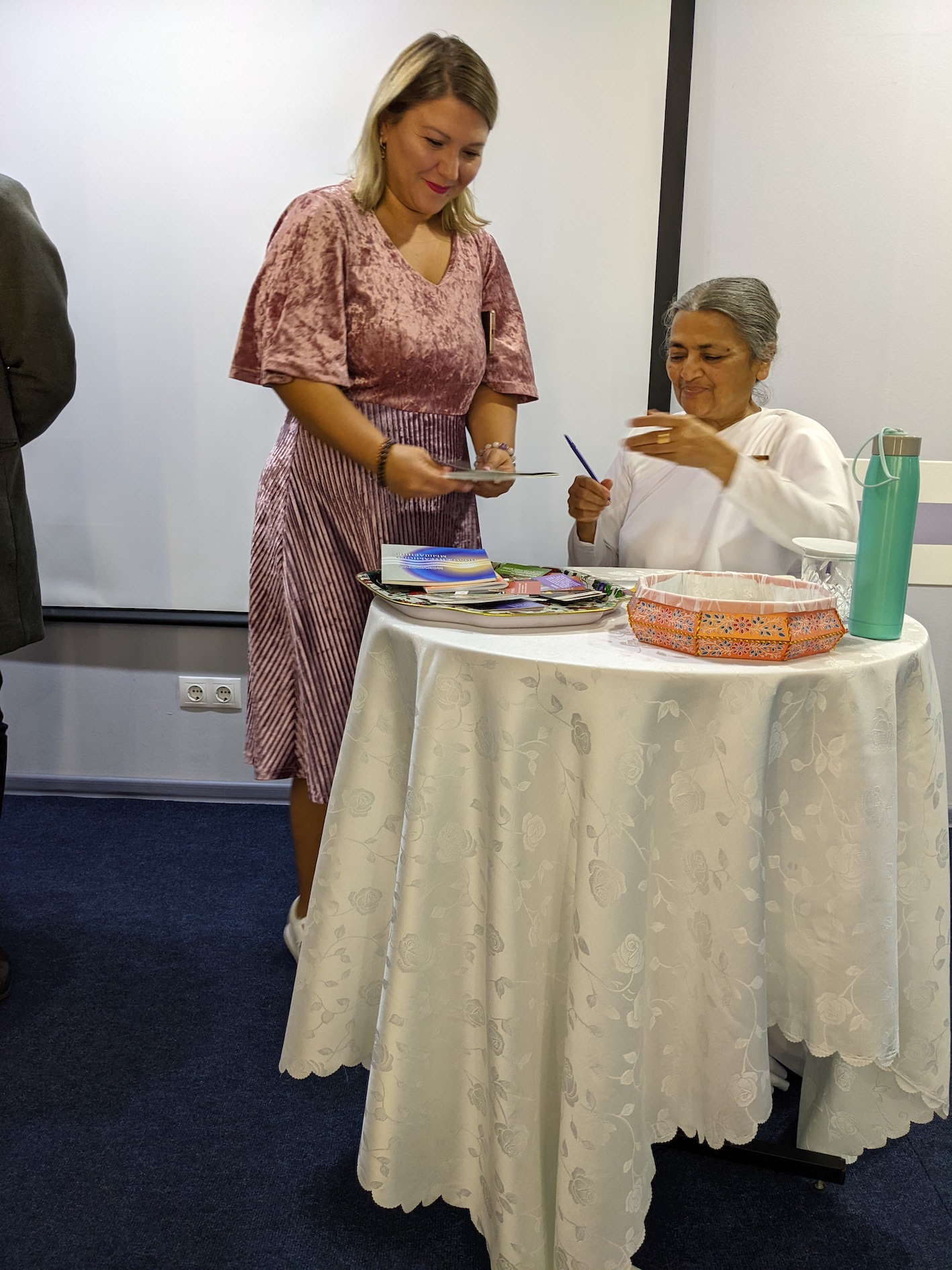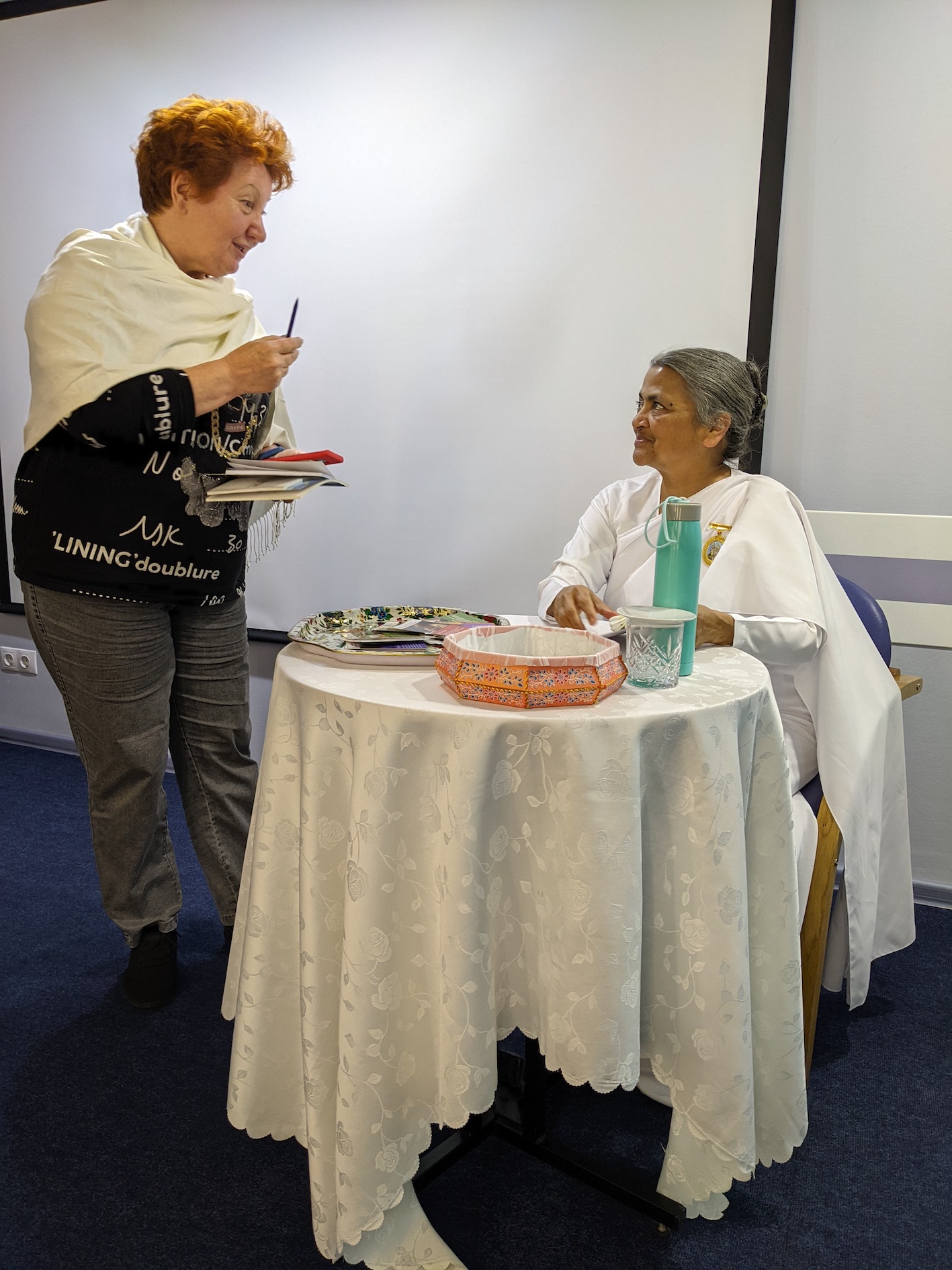 Among the other program guests there were members of the Consulate General of India in Vladivostok with their families.
The Consul General (CG) of India, Mr. Sai Murali, greeted Didi with sincere words of welcome saying, "the opening of the Brahma Kumaris Center in Vladivostok is a blessing for the city".
Didi presented him a diploma of public recognition "Diamond of Benevolence" for his activities in popularizing yoga and his personal dignity of character. (Photo 01, 03, 21, 22).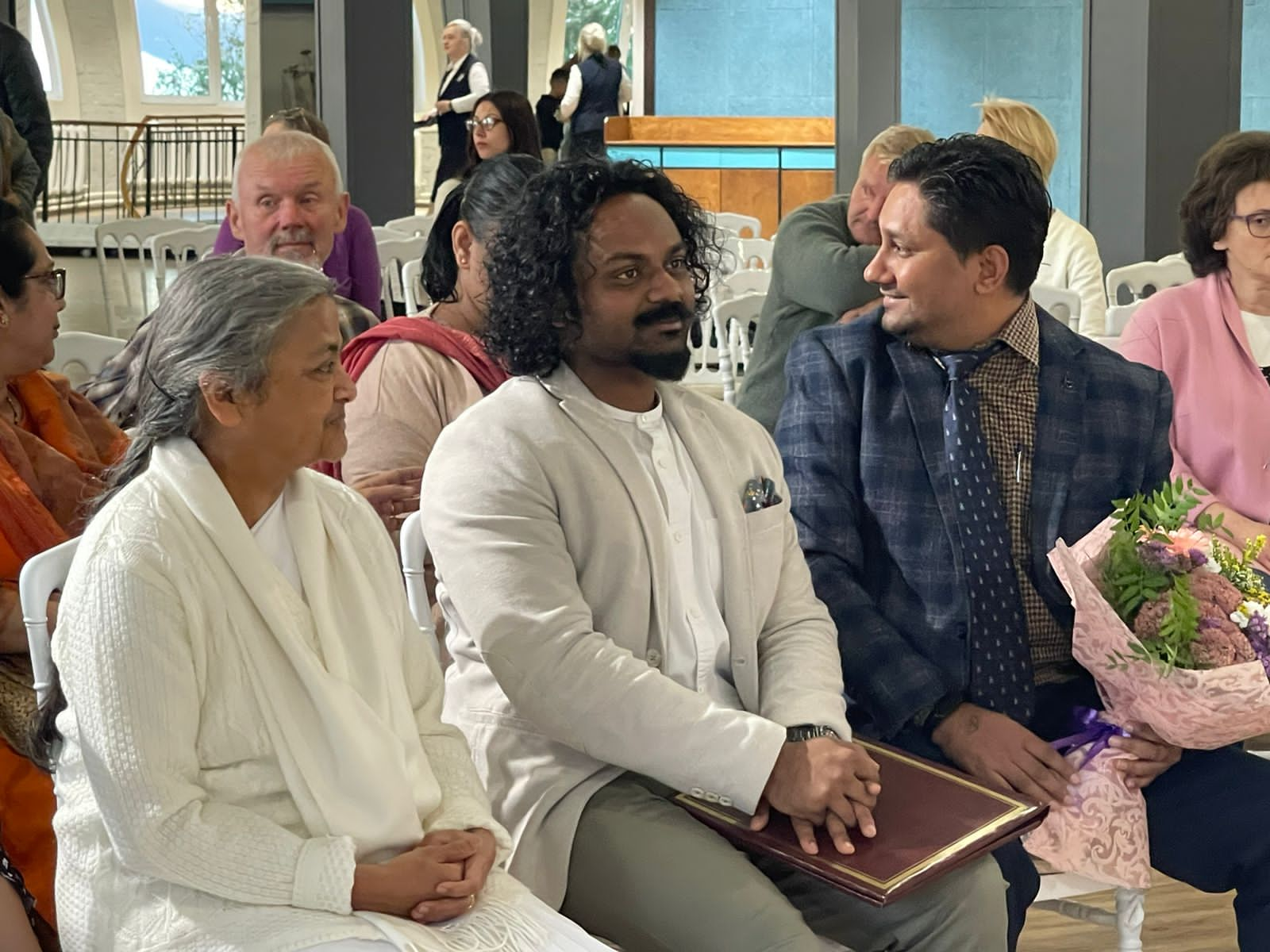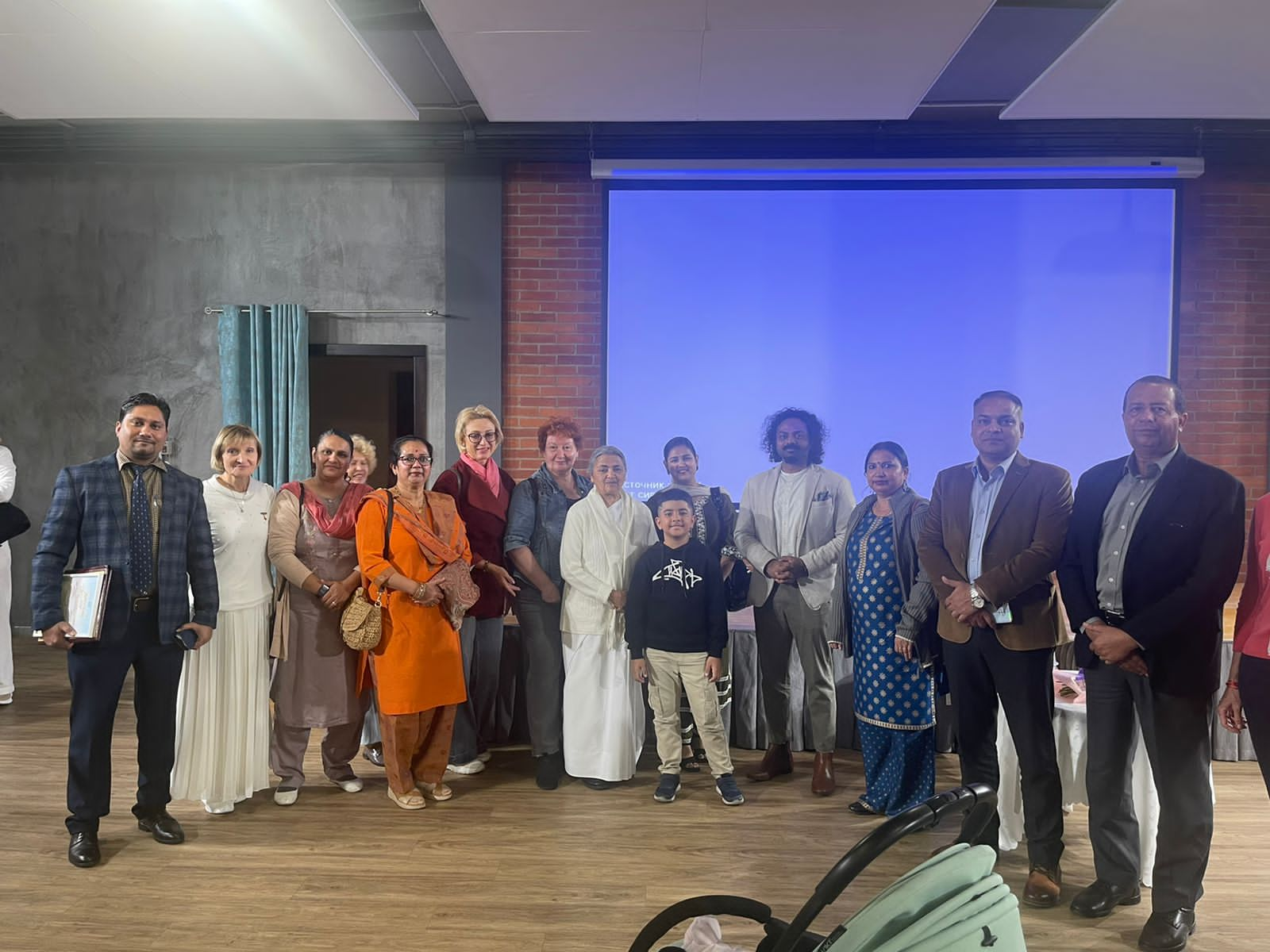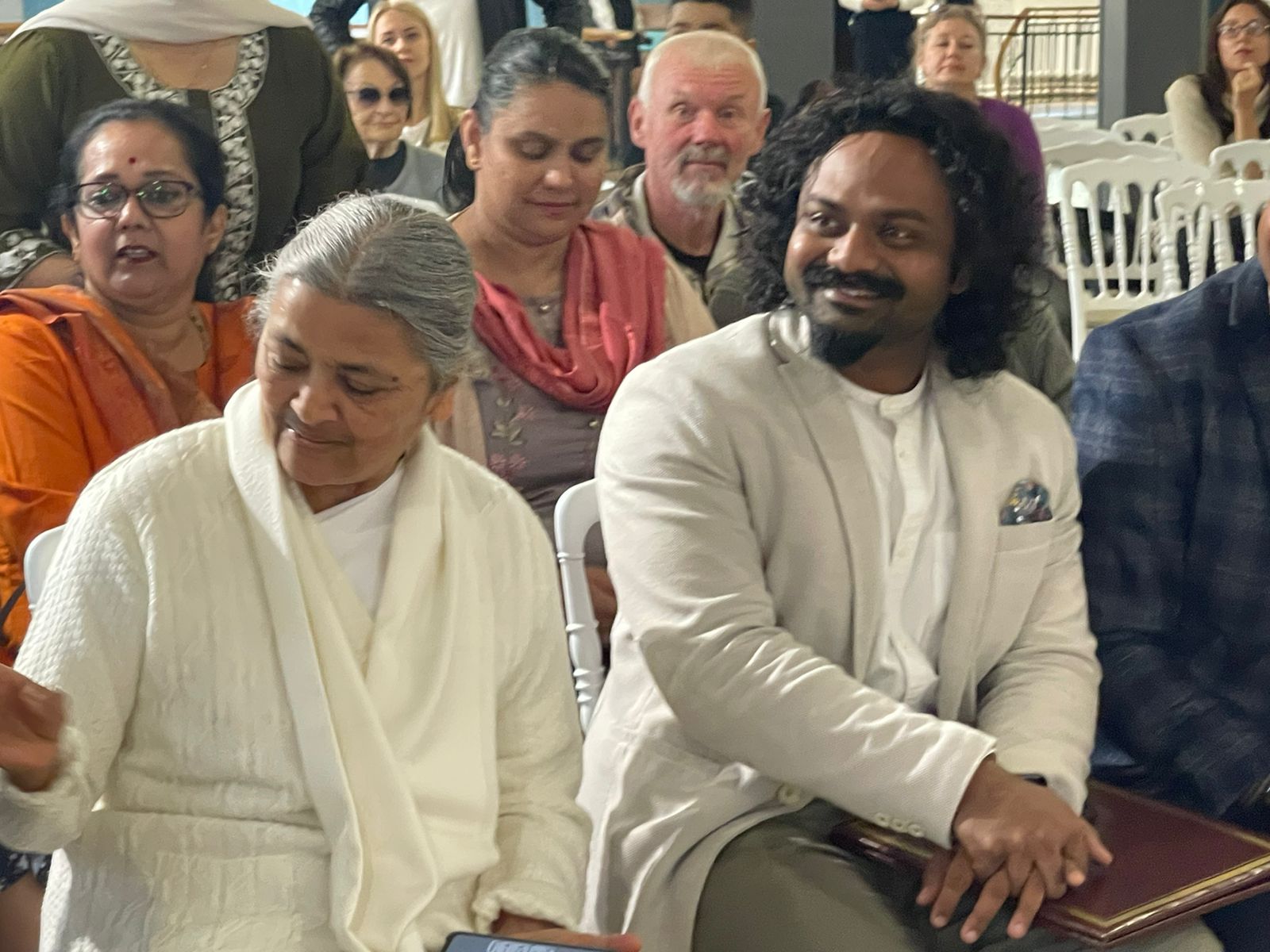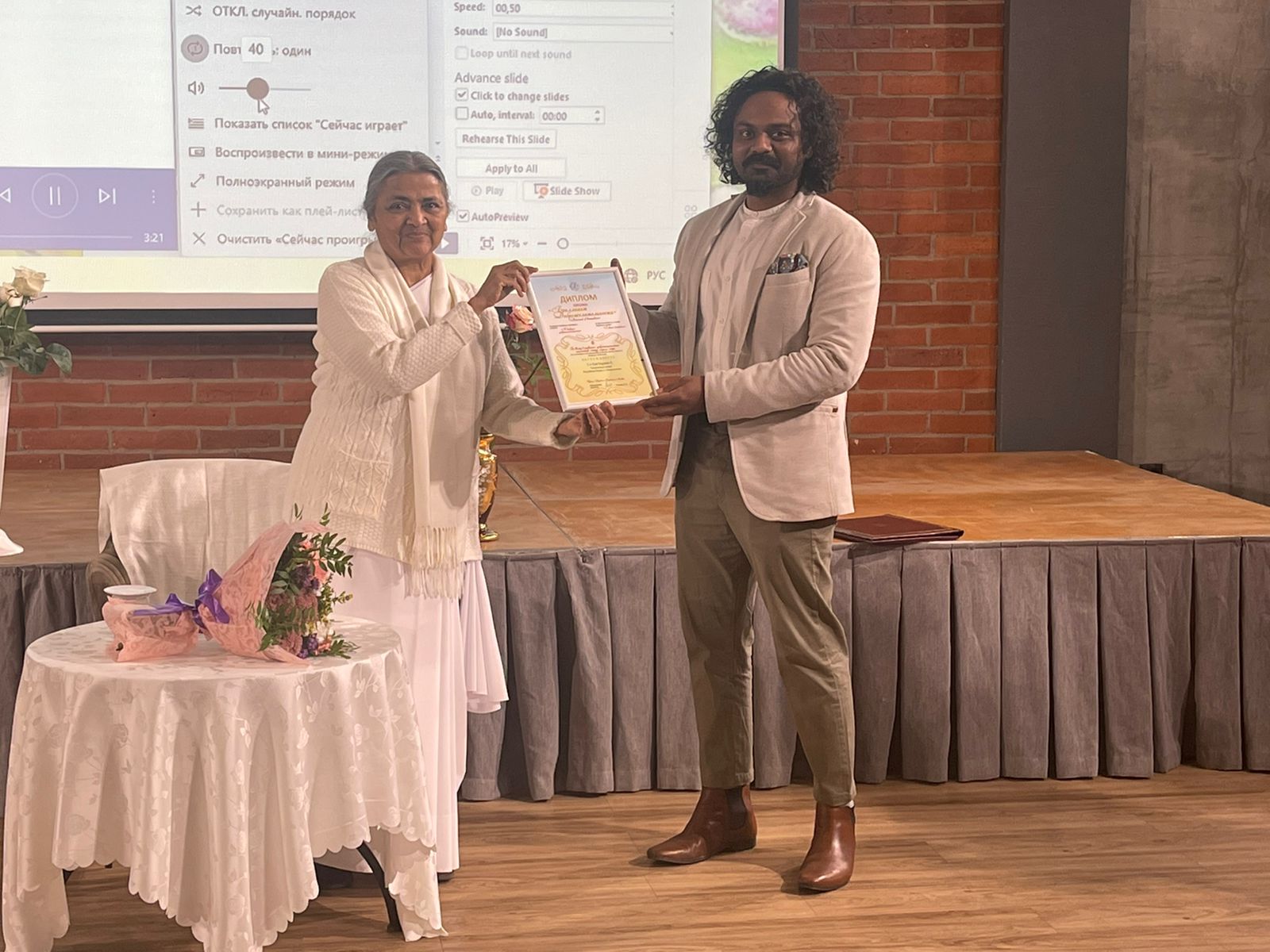 A friendly get-together was held for the representatives of the Indian diaspora of the city. It was held in a friendly atmosphere of communication, where the guests sang songs (including Didi and CG), shared their stories, had refreshments, and were offered Indian and Russian sweets prepared with love. (Photo 11, 24)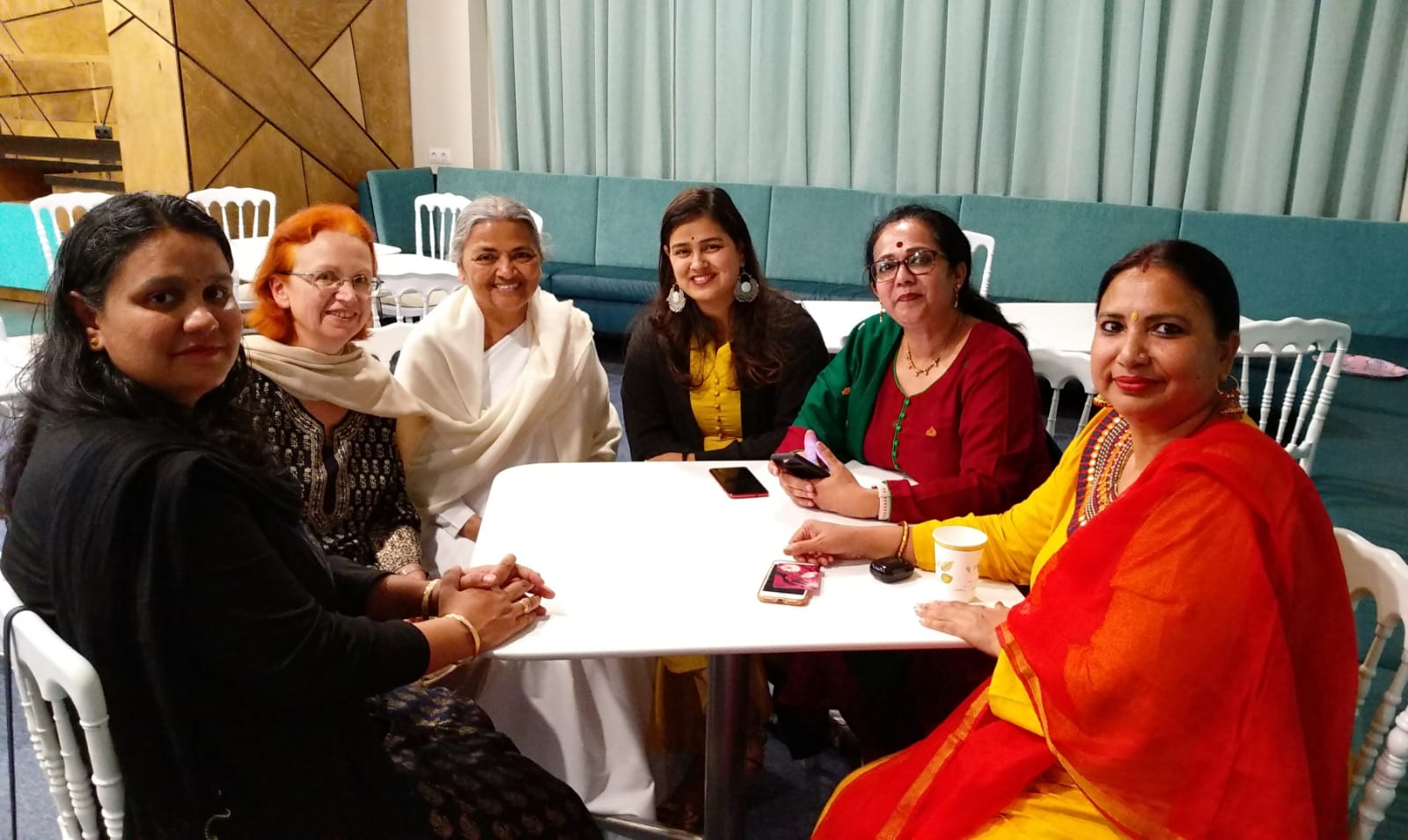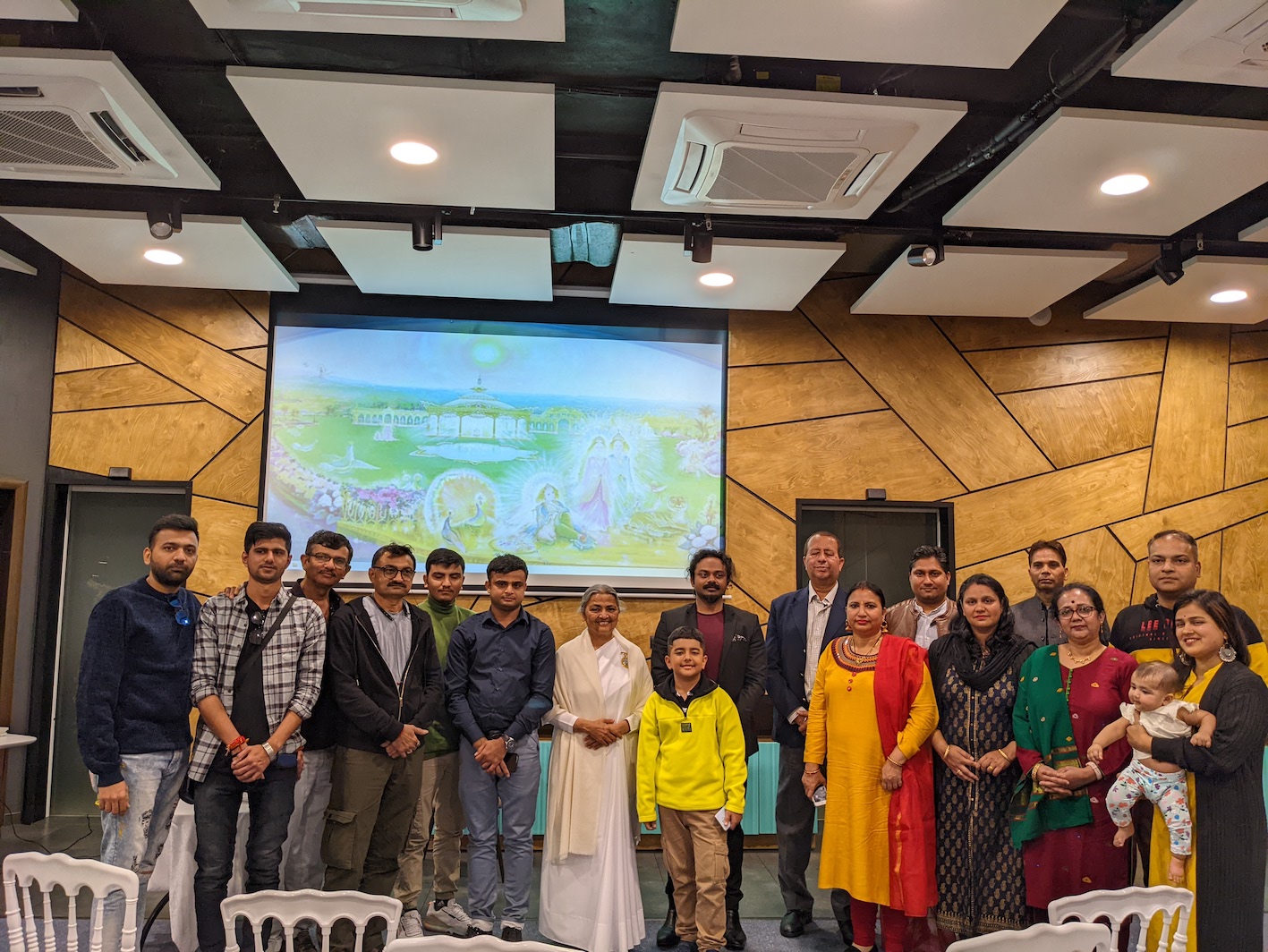 During Didi's visit, another memorable event took place: the opening ceremony of renovated premises for the Brahma Kumaris Raja Yoga Center in Vladivostok.
Sis. Alla Sadovnikova from Moscow has been appointed as the Centre Coordinator. BK students from Moscow, Irkutsk, Chita and Vladivostok were present.
The opening Ceremony was traditionally celebrated by candle lighting, cake cutting, exchanging of gifts and recalling the memories of how it all began. The event was broadcast online and was attended by those who put their finger on cooperation in this noble task at various times. (Photo 07, 08).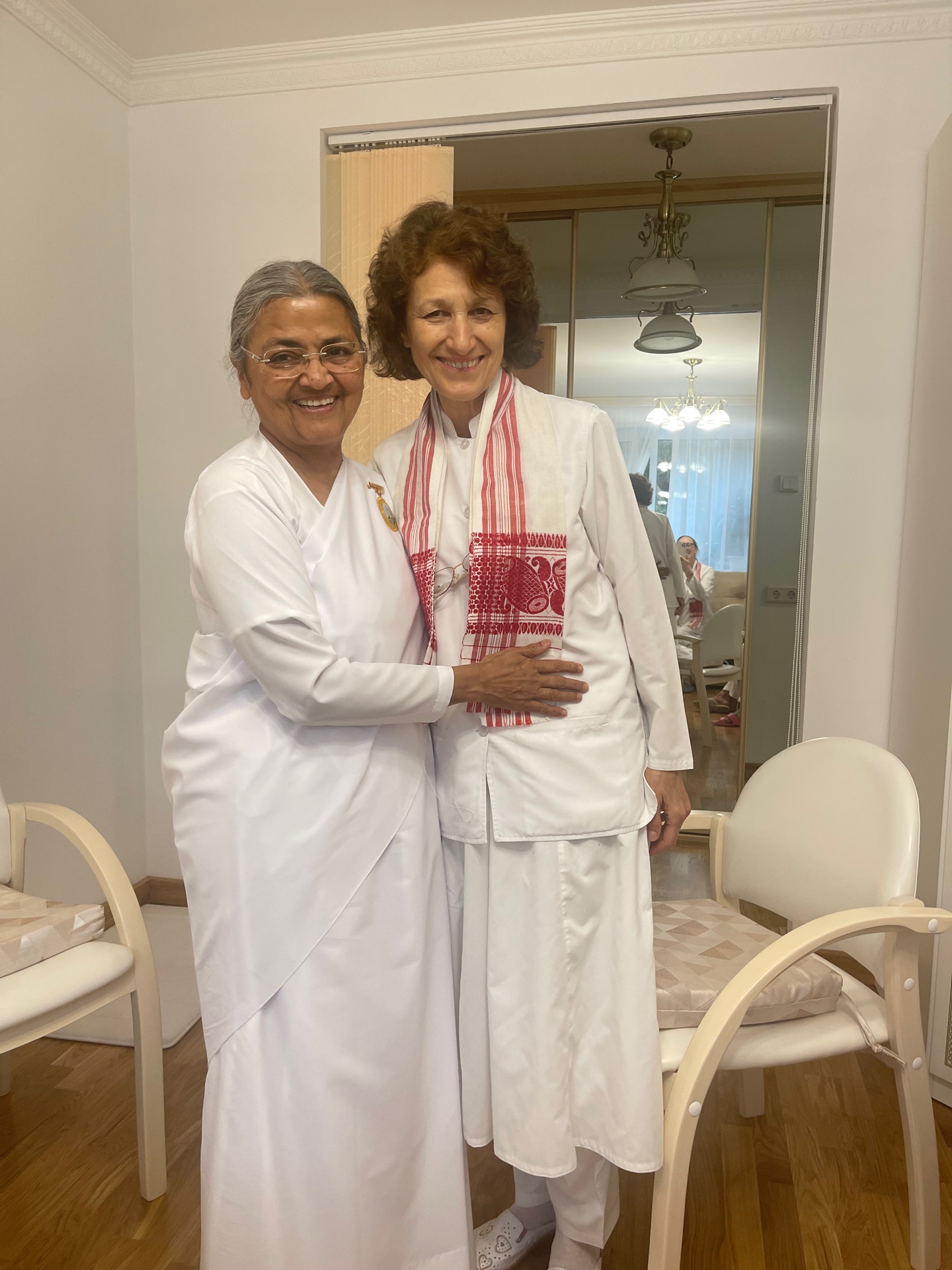 The sacred Raksha Bandhan festival was also celebrated at the Centre with Russian and Indian friends in an atmosphere of brotherly love, trust, and purity.
Mr. Alexander Markitanov, Author, Psychologist, Coach, a person who always responded to requests and cooperated a lot for the development of the BK Center in Vladivostok was present at Rakhi Celebration. He also received from Didi "the Diamond of Benevolence". (Photo 09, 12, 13)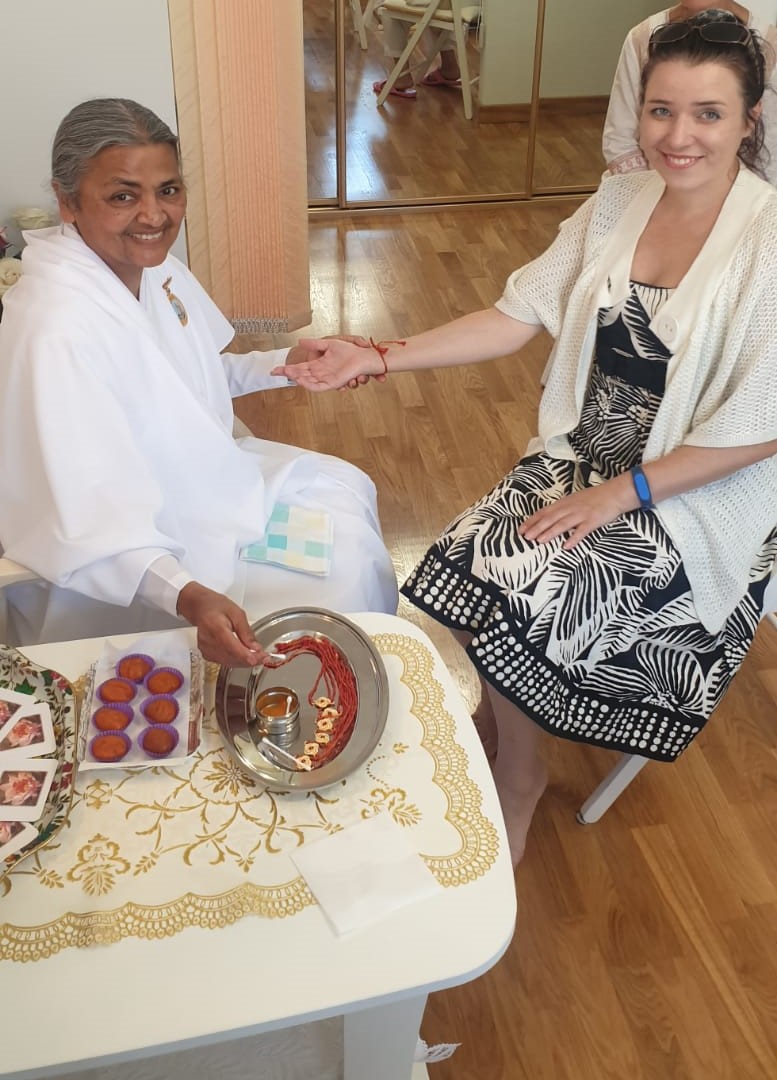 Another important meeting took place with famous scientist Professor Alexander Sokolovsky, Head, the Faculty of Oriental Studies of the Far Eastern Federal University. Discussions were fruitful. He invited Didi to visit the House of Children's Creativity "Quantorium", where children and young people learn the basics of science, artificial intelligence and creativity, study literature and foreign languages. (Photo 15, 16, 17, 19)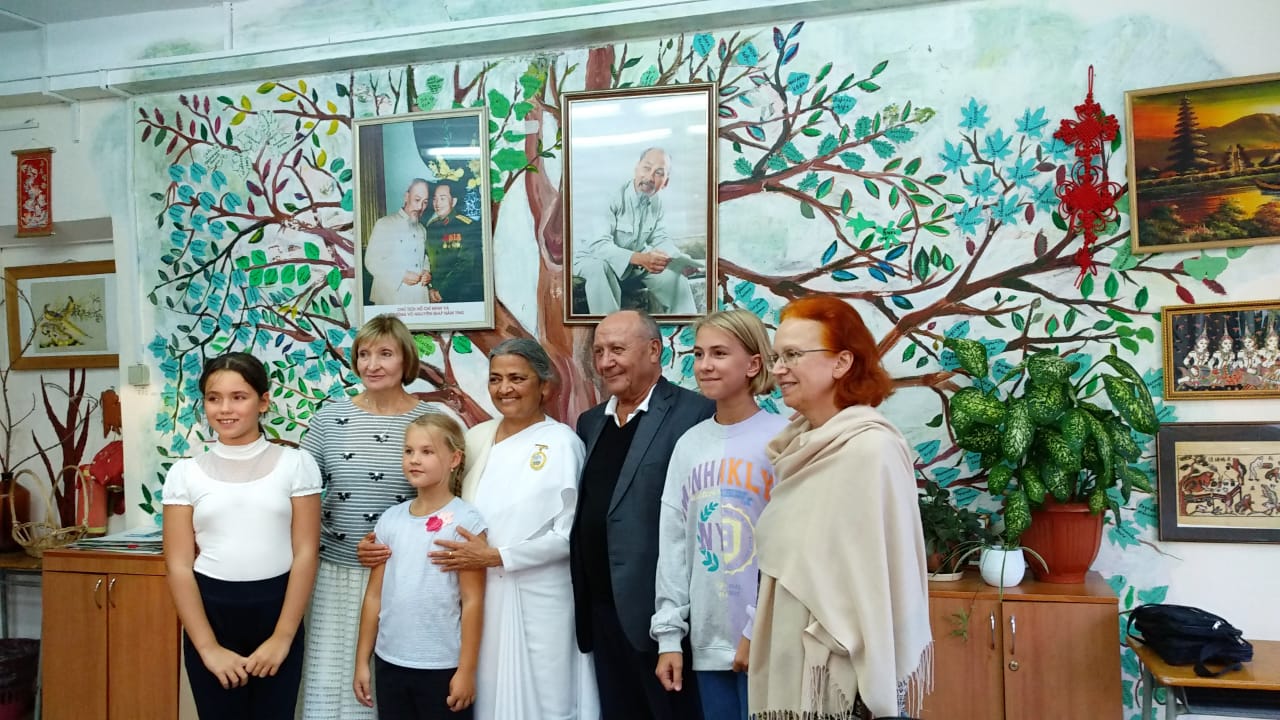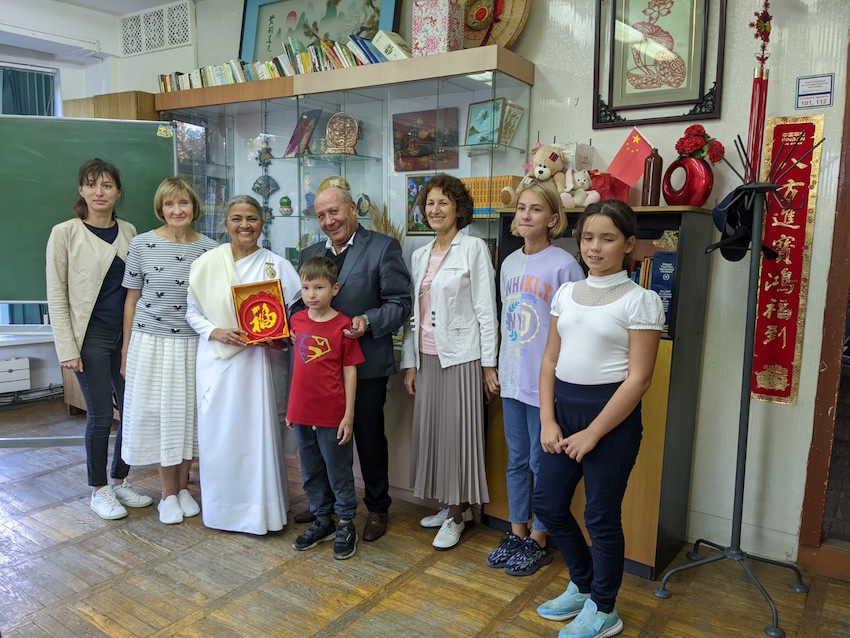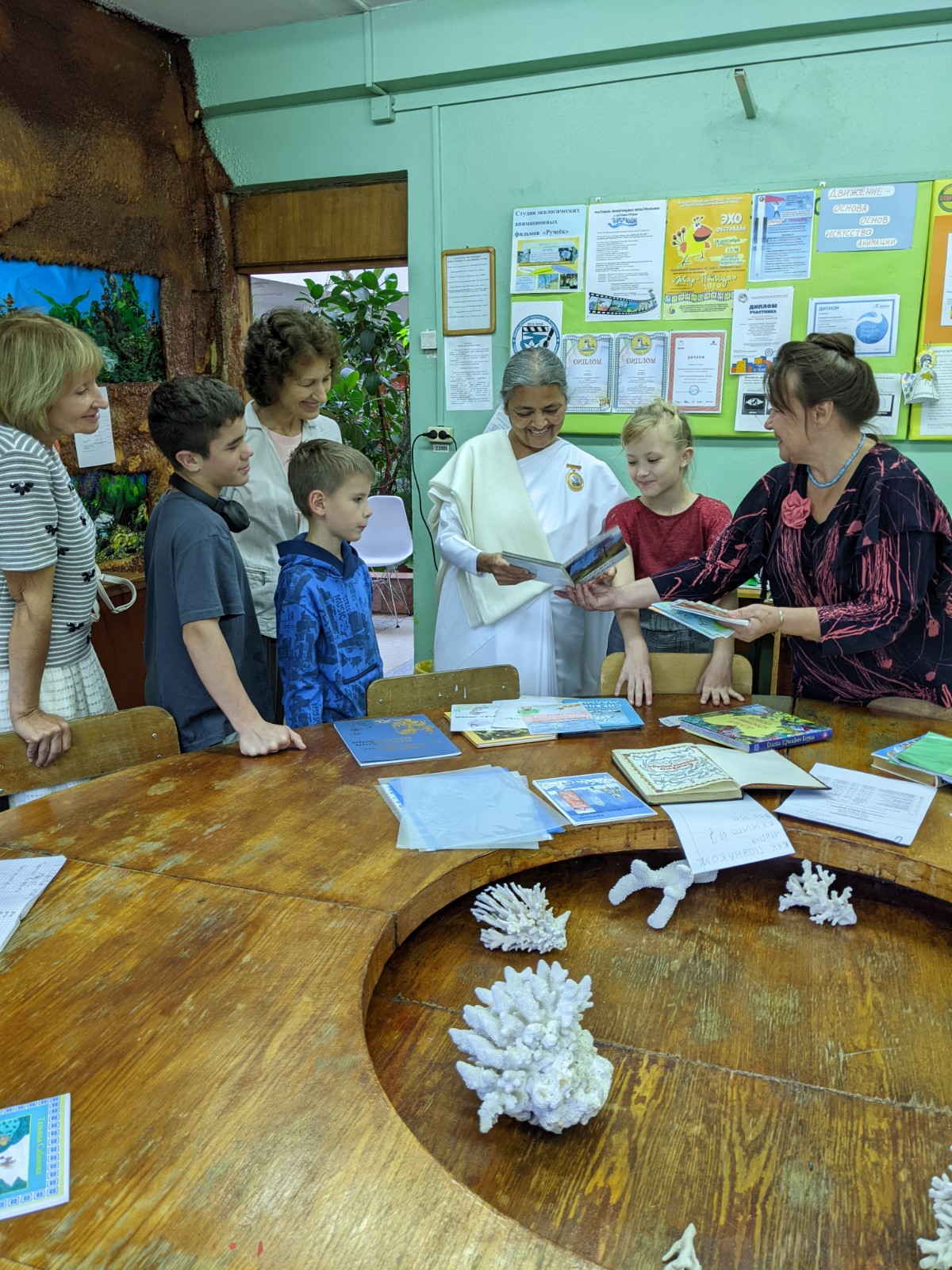 The professor has been leading classes in Chinese and Vietnamese languages during the last 15 years. The graduates from this educational institution followed the footsteps of their teacher and also became well-known orientalists. The Diamond of Benevolence was a worthy reward for his selfless efforts. (Photo 14, 18)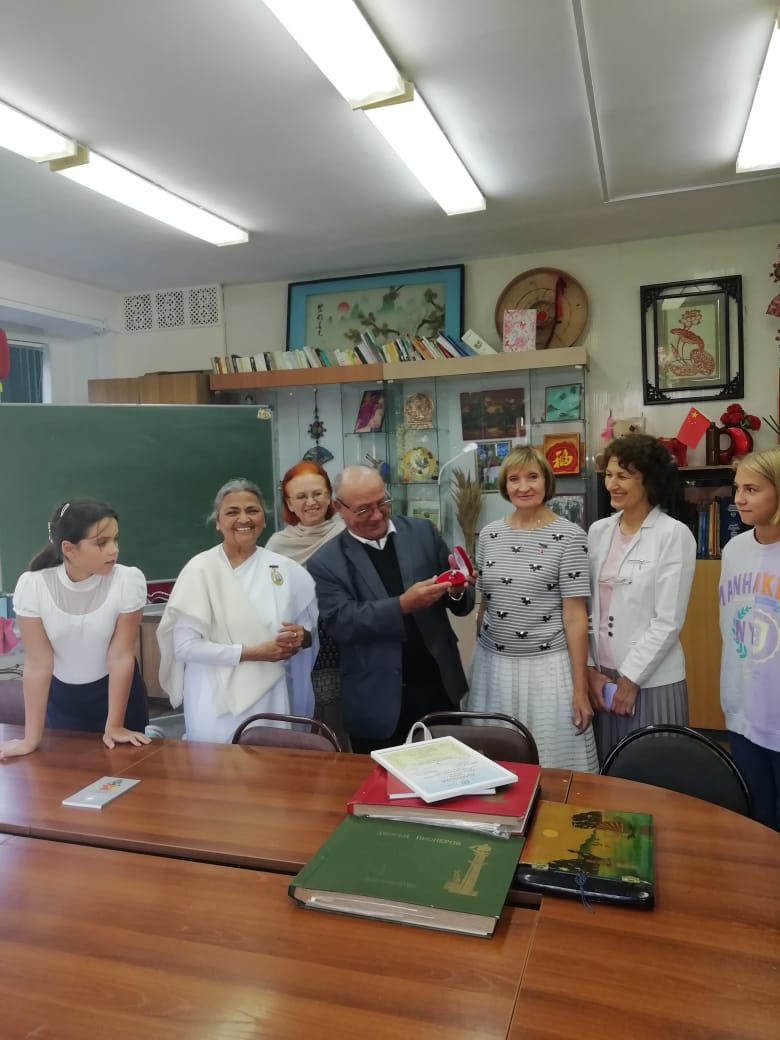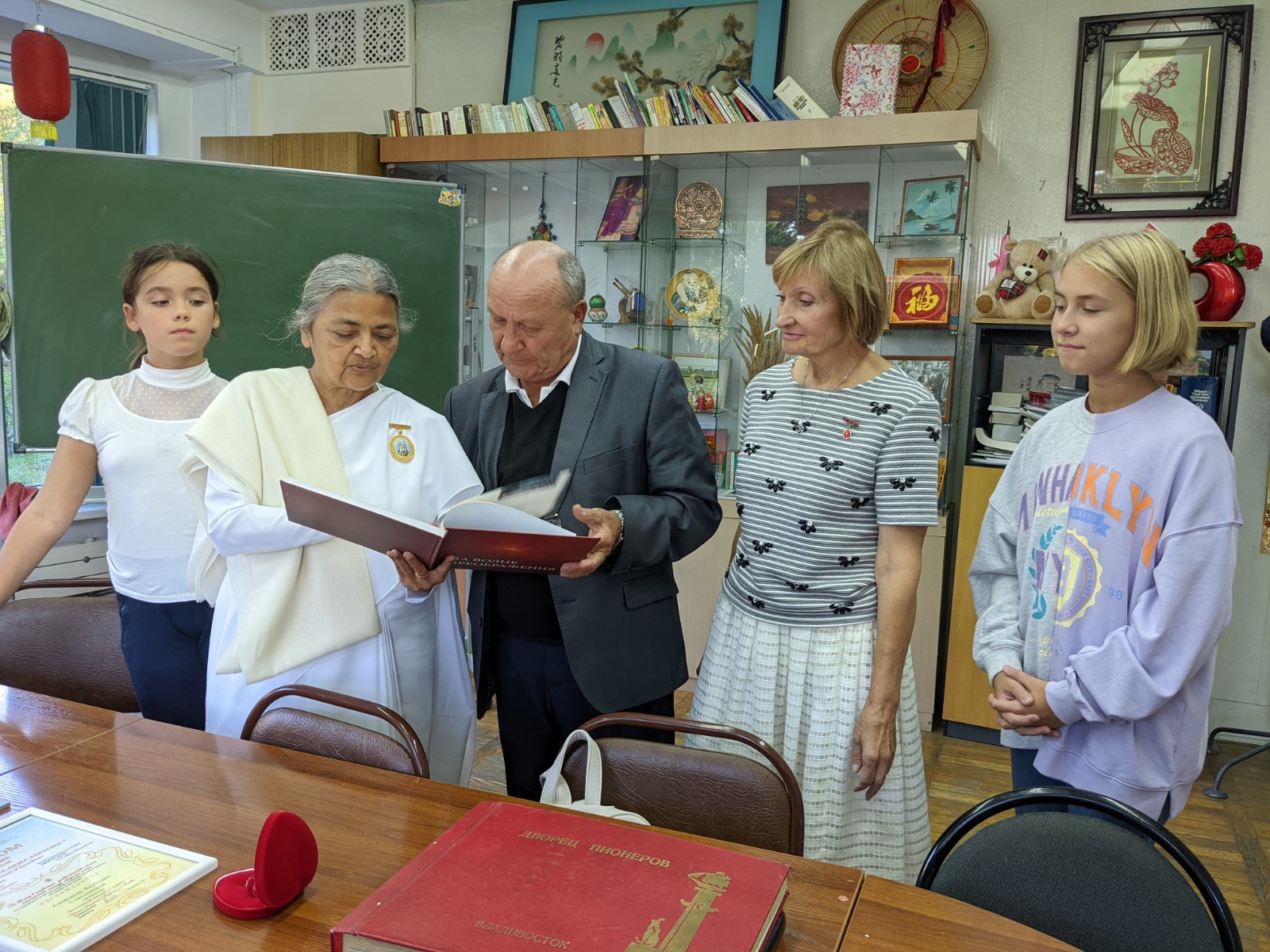 There was very little time left for walks and touring the city, but Didi managed to breathe in the fresh sea air on the Russian Island and the city's embankments, admire the sunrise over the Golden Horn Bay, which inspired her to name the new BK Cente "Sunrise" (Photo 06, 01).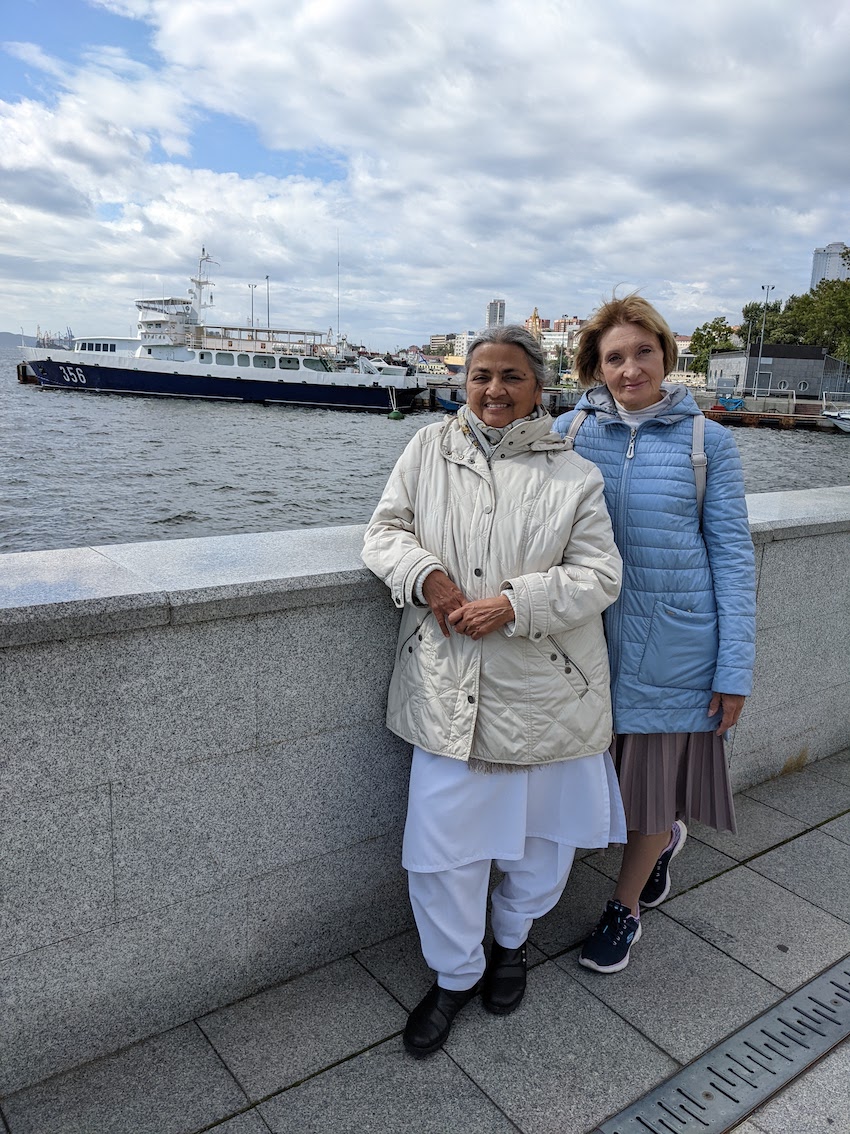 The time arrived to give a sweet farewell to Didi. She returned to Moscow to continue her tireless service to the Russia Region. (Photo 25)


We express: "Didi, thank you so much from the bottom of our hearts" and "A sweet Go soon — Come soon to you", and the city Vladivostok is waiting for its new enthusiastic servers and says "Welcome to you again", and everyone!

With love
In Baba's sweet remembrance
Sisters
Alla Sadovnikova
Irina Lemberg
Olga Mamulina
Ludmila Khoroshutina
Om Shanti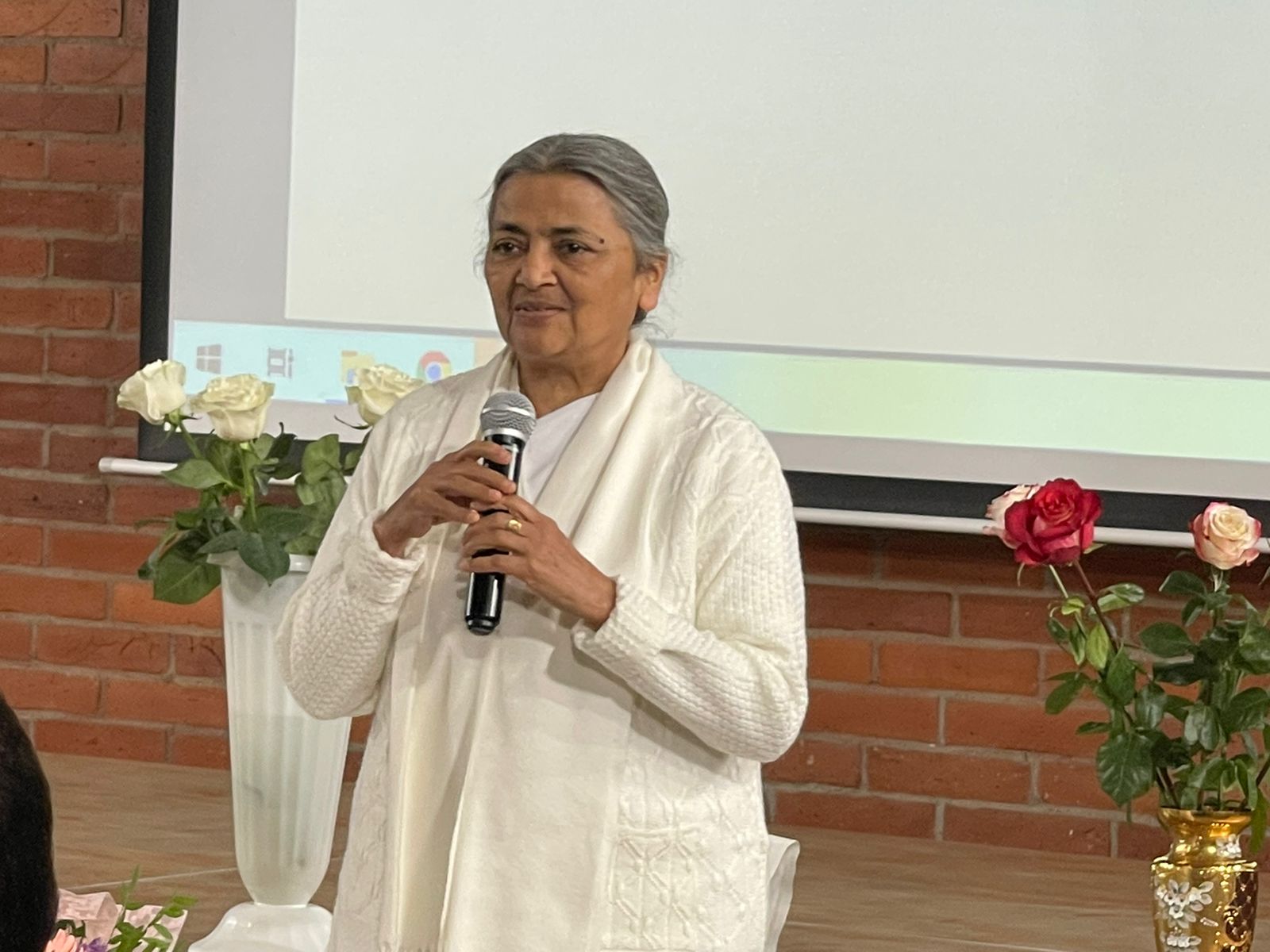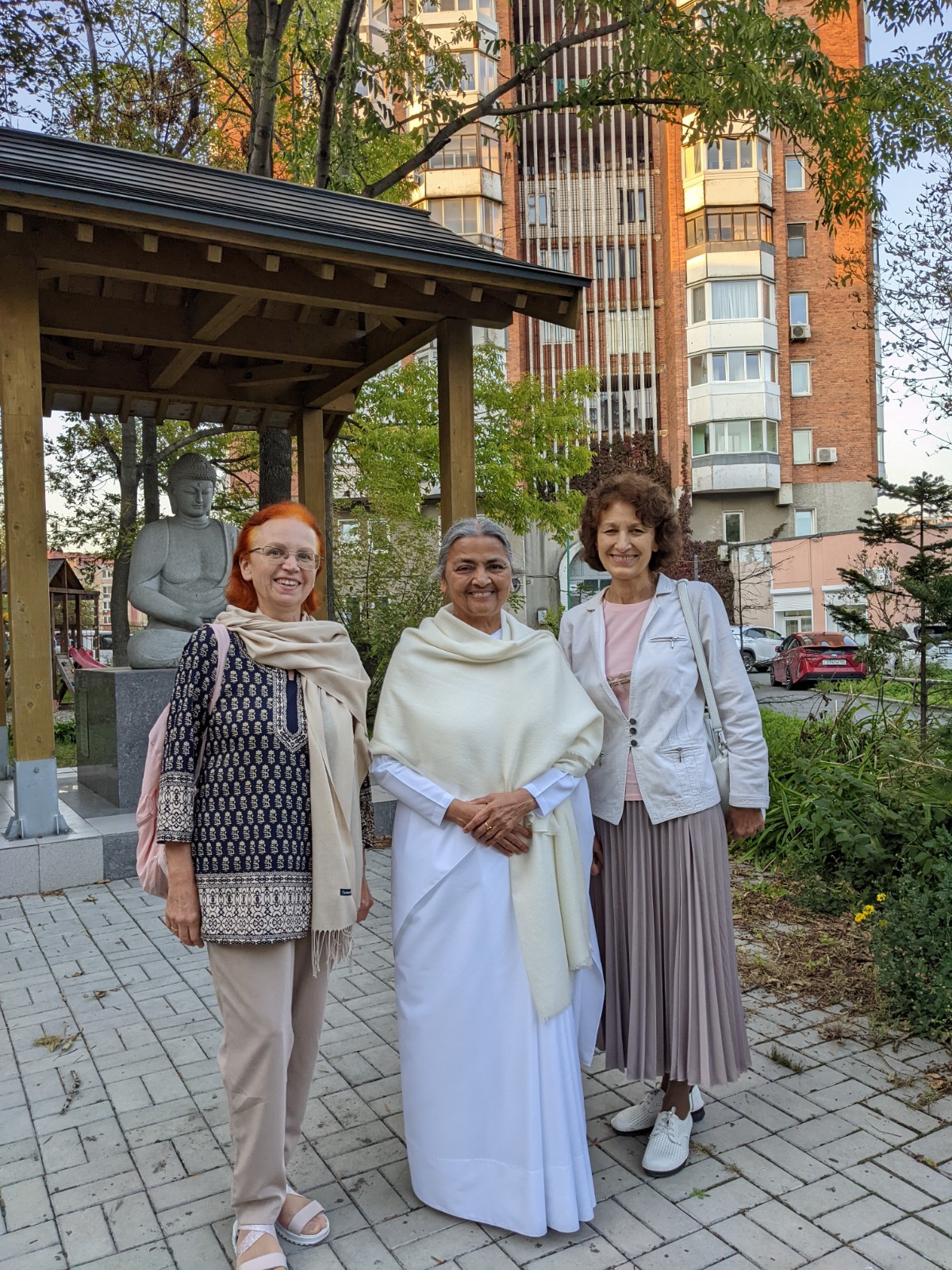 An Amazing Confluence of 50 Rivers of Knowledge in St. Petersburg, Russia from August, 31–September, 5, 2022
12 September 2022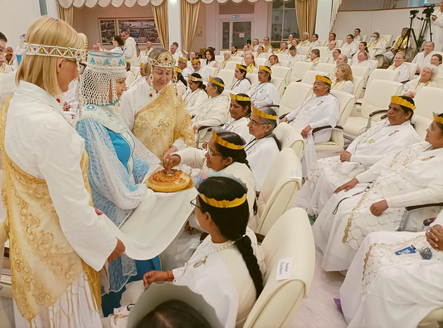 In September, Lighthouse, St. Petersburg Brahma Kumaris centre, was graced with an invaluable presence of about 50 respected senior teachers and world servers from various states of India. According to a unique Drama plan, their visit took place at the confluence of two great festivals. On September, 1st, Russia celebrates the Day of Knowledge. This is the day when a new academic year starts in most schools and universities here. And September, 5th, is the Teacher's Day in India! So during those days, in the atmosphere filled with vibrations of study, we were extremely lucky to welcome a powerful group of the Ganges of Knowledge who had emerged from the Ocean of Knowledge 30, 40, 50 or even more years ago! Their visit was due 2 years ago but was postponed because of the Covid travel restrictions. And finally that day has come!
Well, not even one day! For 5 days the Brahmin family of St. Petersburg and connected cities and countries could continually take a dip or rather dive into the depth of wisdom and love shared by Didi Sharda (Ahmadabad), Didi Chakradhari (Delhi), sister Savita (Madhuban) and all the experienced senior instruments who were part of this team.
They say that the places where two rivers meet are special and sacred. You can imagine then how special the Lighthouse became when 50 great rivers gathered together to give us an experience of coolness and power! Even the morning murli classes were magically transformed, as they were conducted by two, three or even four Didis at once, each of them reading a part and then forwarding the murli to another one!
Let alone 5 days, even 500 days would not be enough to listen to never-ending stories of every Baba's loving Gopi and courageous Shiv Shakti. Yet the effort was made to give each and everyone of them a chance to meet the Brahmin family here, either during morning classes, or welcome and vidhai-badhai ceremonies, or even on board a river boat!
A public event "Light and Might of Mothers"
A public event "Light and Might of Mothers. Self-awareness and mission of women in the changing social, cultural and spiritual context" (September, 3) became an international forum demonstrating the huge soft power of mothers, sisters in today's world of turmoil.
Welcoming the audience that included many IP guests, close contacts of the Brahma Kumaris, Didi Santosh, the Brahma Kumaris director in St. Petersburg, spoke on the importance of knowledge for our life. She said, "Knowledge is light. Knowledge is fresh air to breathe. Knowledge is water to quench our thirst. Who would like to live in a house without light, windows or water? Today we are lucky to have with us so many knowledgeable souls from the BK Headquarters and various states of India."
Addressing the guests, Ms Rashema Arora, Consul and HOC (Consulate General of India in St. Petersburg) said, "The Brahma Kumaris centre here not only provides the spirit of India to the Indian diaspora so far from their homeland but has also done a lot in helping to inculcate the values of Indian cultural heritage and spirituality in the hearts of our Russian brothers and sisters. Your endeavour to spread compassion, harmony and peaceful co-existence truly reflects the soft power of India. I am blessed to have an opportunity to thank BK teachers in India and other parts of the world for their incredible work that not only helps the society at large but also brings laurels to our country. We are proud of your work, your journey and your mission of bringing people of every nation closer to one another."
A colourful and inspiring cultural program gave the audience a message of unity in diversity. Three Azerbaijani folk dances performed by members of "Chinar" dance group became a special decoration of the event. They were followed by a deep dialogue about strengths and responsibility of women leaders and the challenges that they have to face.
Sister Savita of the BK Headquarters (Mount Abu) spoke on the benefits of daily spiritual study and Raja Yoga meditation for general well-being and better performance. She said, "Yoga, or meditation that we practice, ensures peace of mind, boosts our will power, as well as the power of discrimination and decision making. It helps us in resolving conflicts in relationships and improves one's physical health. Shantivan, the Brahma Kumaris largest campus, hosts programs for many thousands people on a daily basis. So you can understand that lots of work has to be done, and lots of situations arise as well. But the spiritual knowledge and yoga power help us to stay balanced, stable and tireless."
Didi Sharda, Brahma Kumaris director, Ahmadabad, shared her secret of staying "zero affected" by insults or criticism that are almost inevitable in the field of management and administration. "When we dedicate our mind and intellect to God, He is responsible. Then He takes over and takes care of you. Secondly, I always remember that the task I am doing is not my task. It is His task, and He is getting it done through me. These are not my powers, specialities or talents. It is He who has filled me with those qualities. The practice of soul consciousness makes us detached from bodies and bodily roles, finishing anger, envy, arrogance of our position, education etc. It changes our attitude. We learn to see everyone as a soul whose original nature is peace. We are aware that even if they say or do something wrong today, it is not their true stage. If we maintain our enthusiasm and good wishes, this wave will spread and ultimately transform those souls."
Didi Chakradhari, president of the BK Women's Wing, suggested we should develop an unlimited attitude of world servers. "Every day assess what you have done for the sake of peace and happiness of the society where you live. We should not remain self-centered. Even sparrows and pigeons do something for their little families. So what's the big deal if we, human beings, live in the same way? How much have I done today for my bigger family? And for that, one has to learn staying on the seat of a detached observer. Then you will not get affected with the negativity of the surroundings. Do whatever you are able to do. And if a task exceeds your powers, then just keep sending good wishes and think in a positive way. This positivity of yours will surely transform something negative into positive."
* * *
Warm hearty love and gratitude to our respected seniors took a physical shape as well when everyone of them received a warm gift in the form of a portable infrared heater. A lokik item was magically transformed into an alokik one, as it carried a printed image of Shri Lakshmi and Shri Narayan and was dedicated to "Azadi ke Amrit Mahotsav se Swarnim Bharat ke Aur" project ("From the Festival of Independence towards Golden Bharat").
5 days passed so quickly, and the moments of departure came. However, the word "departure" is absent in the dictionary of this unique Brahmin family. We will always stay together because each and everyone of us, whether a small or big river of knowledge, is always connected to the unlimited Ocean of Knowledge and Love.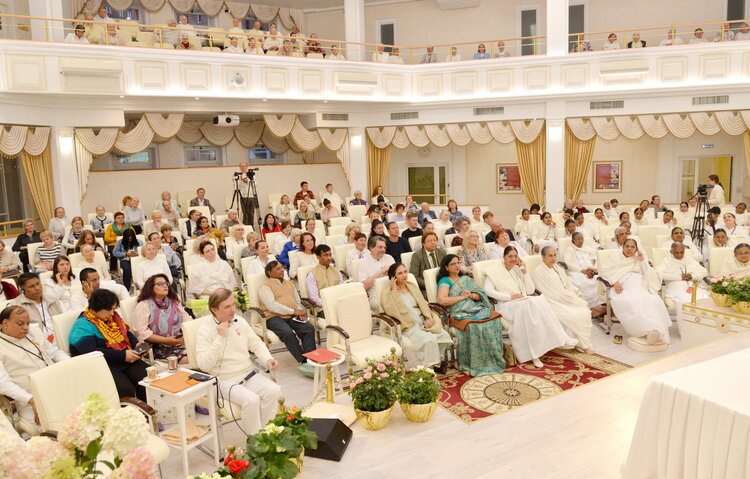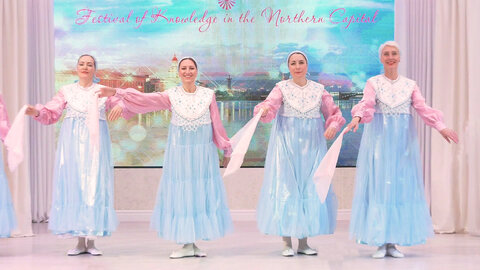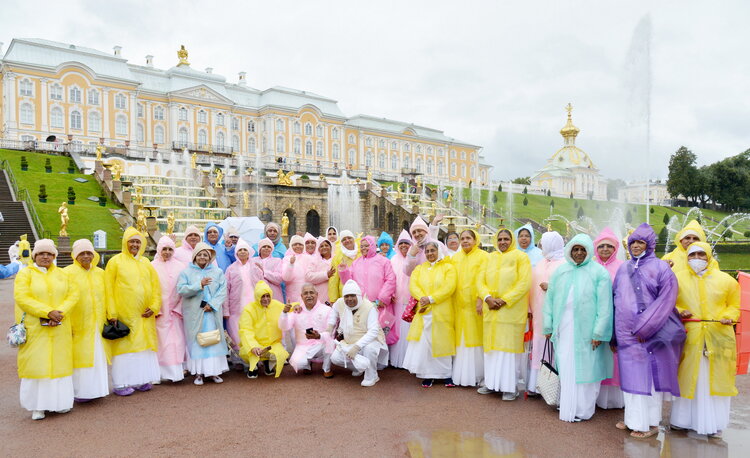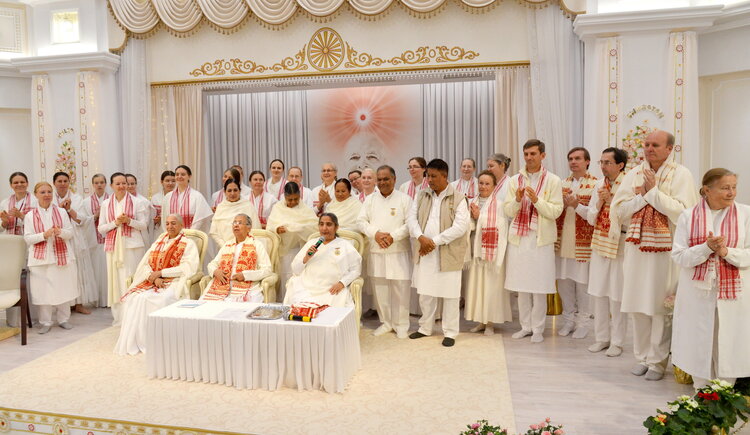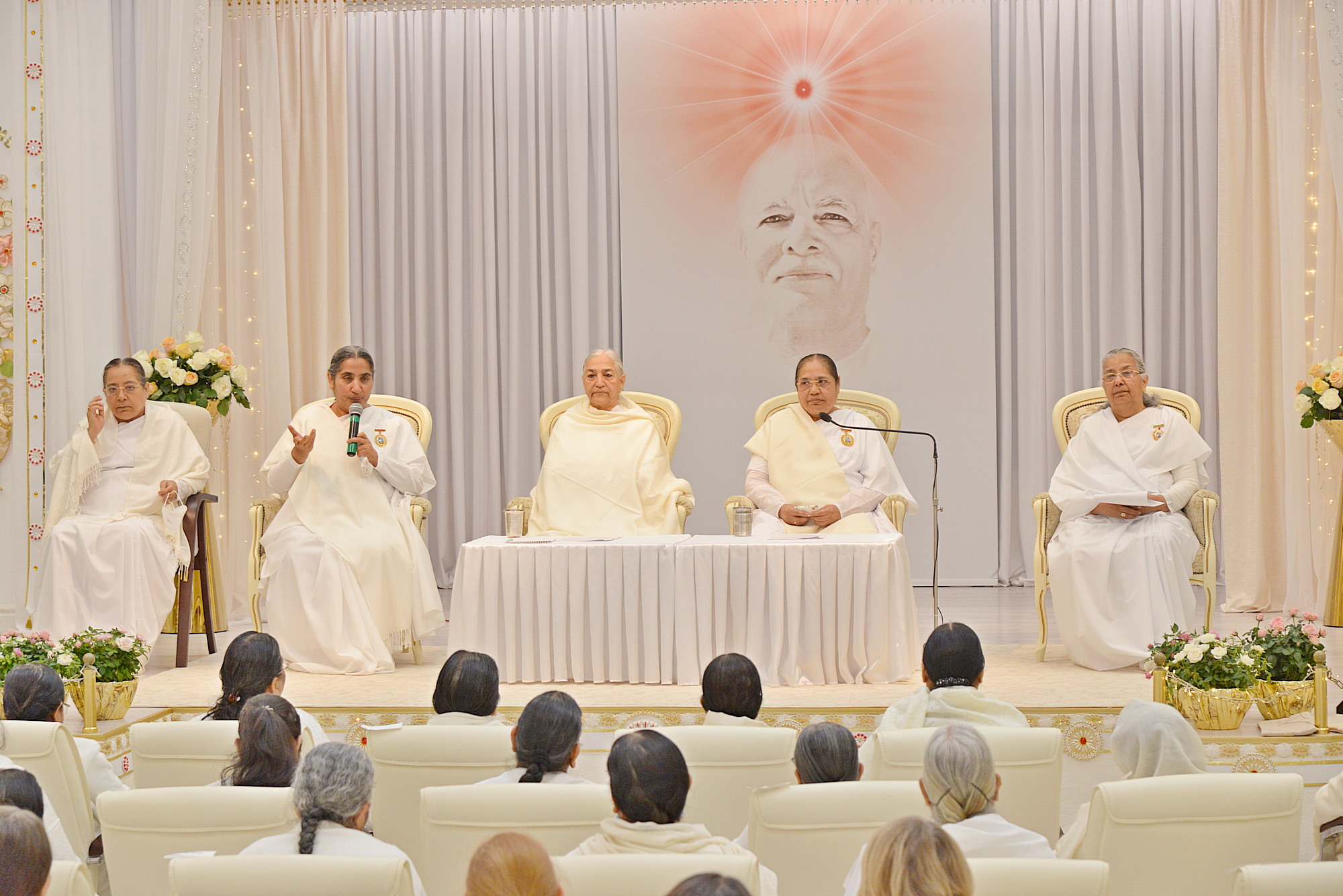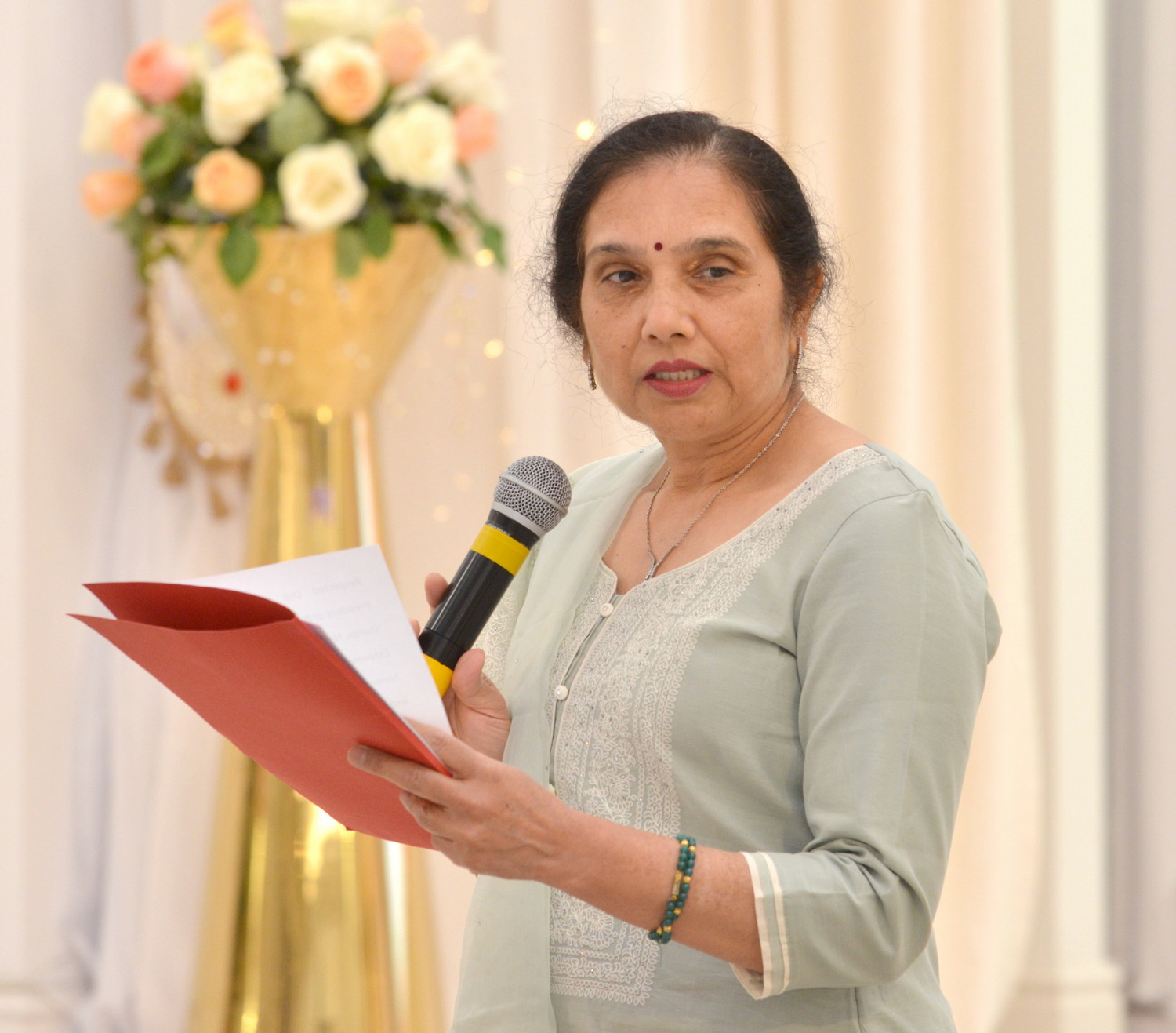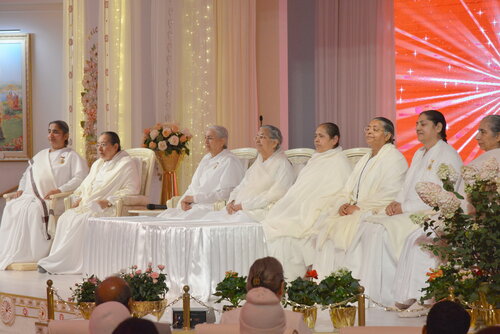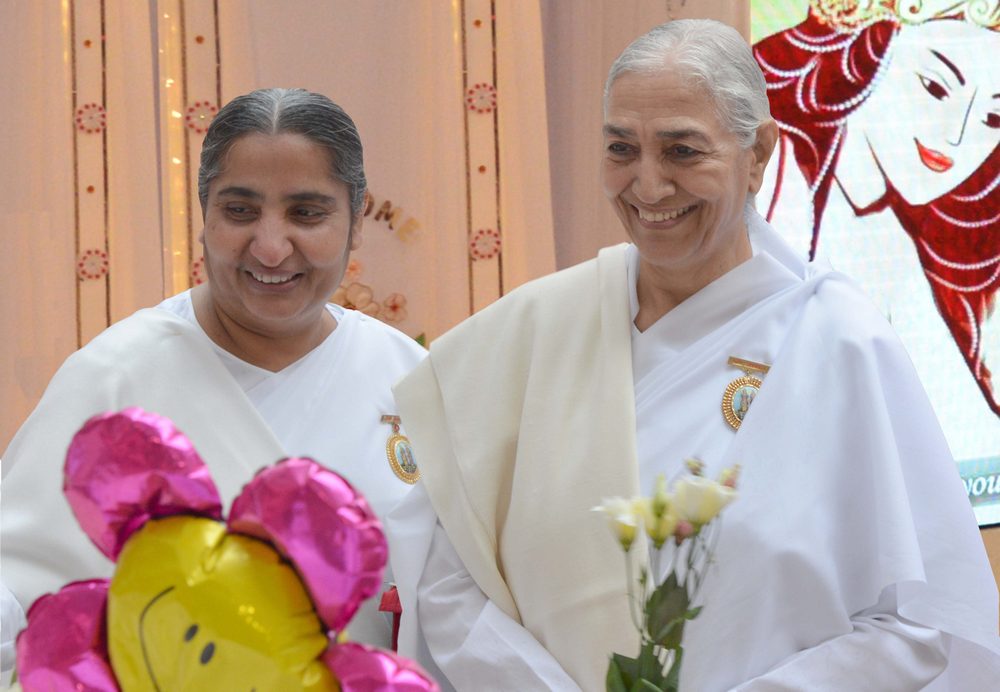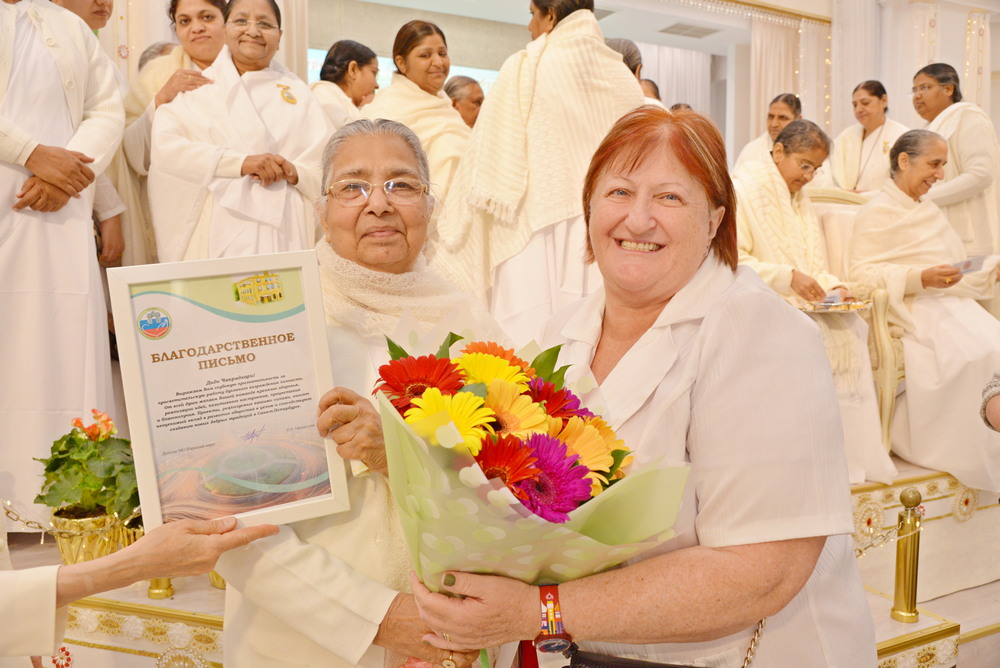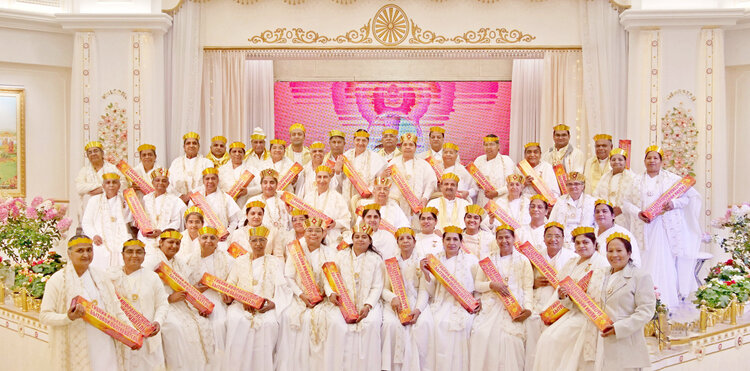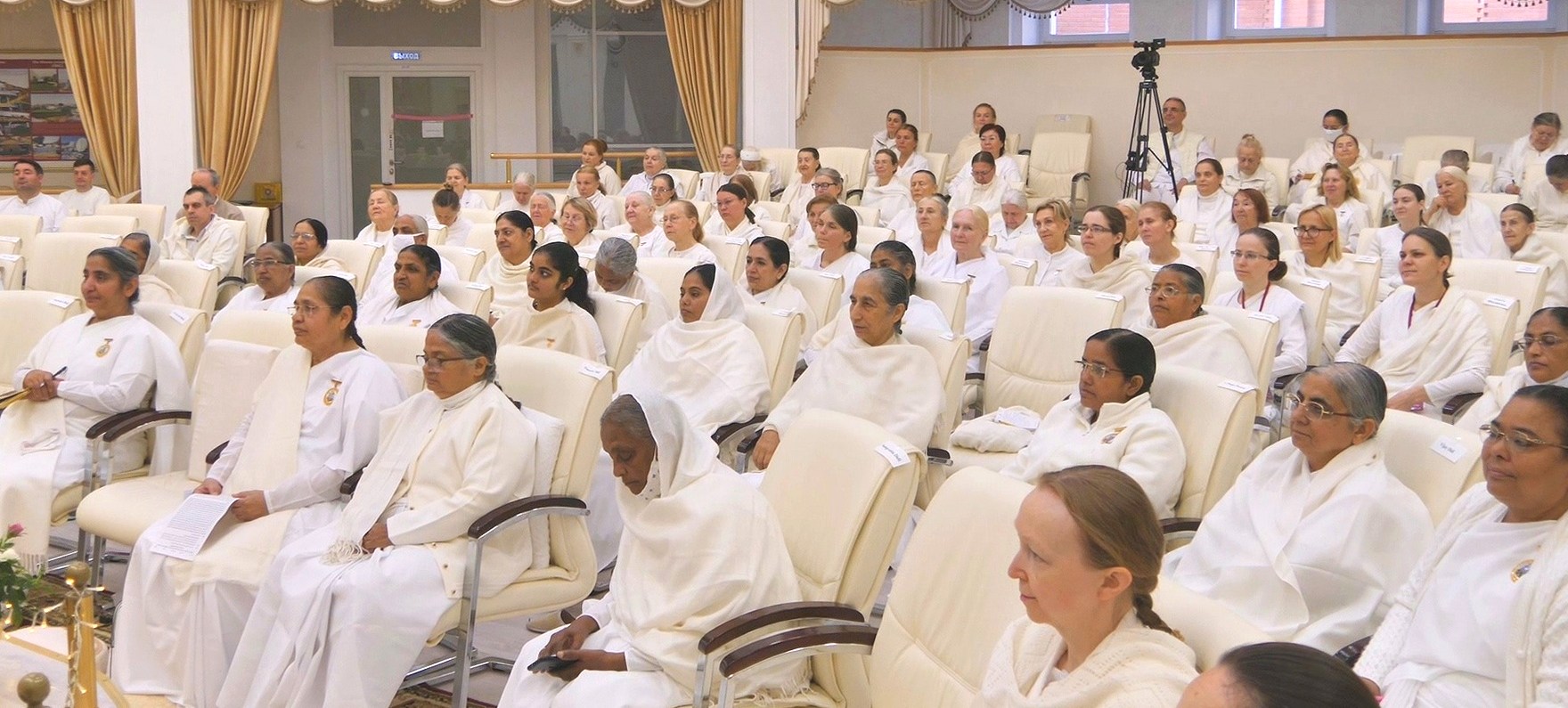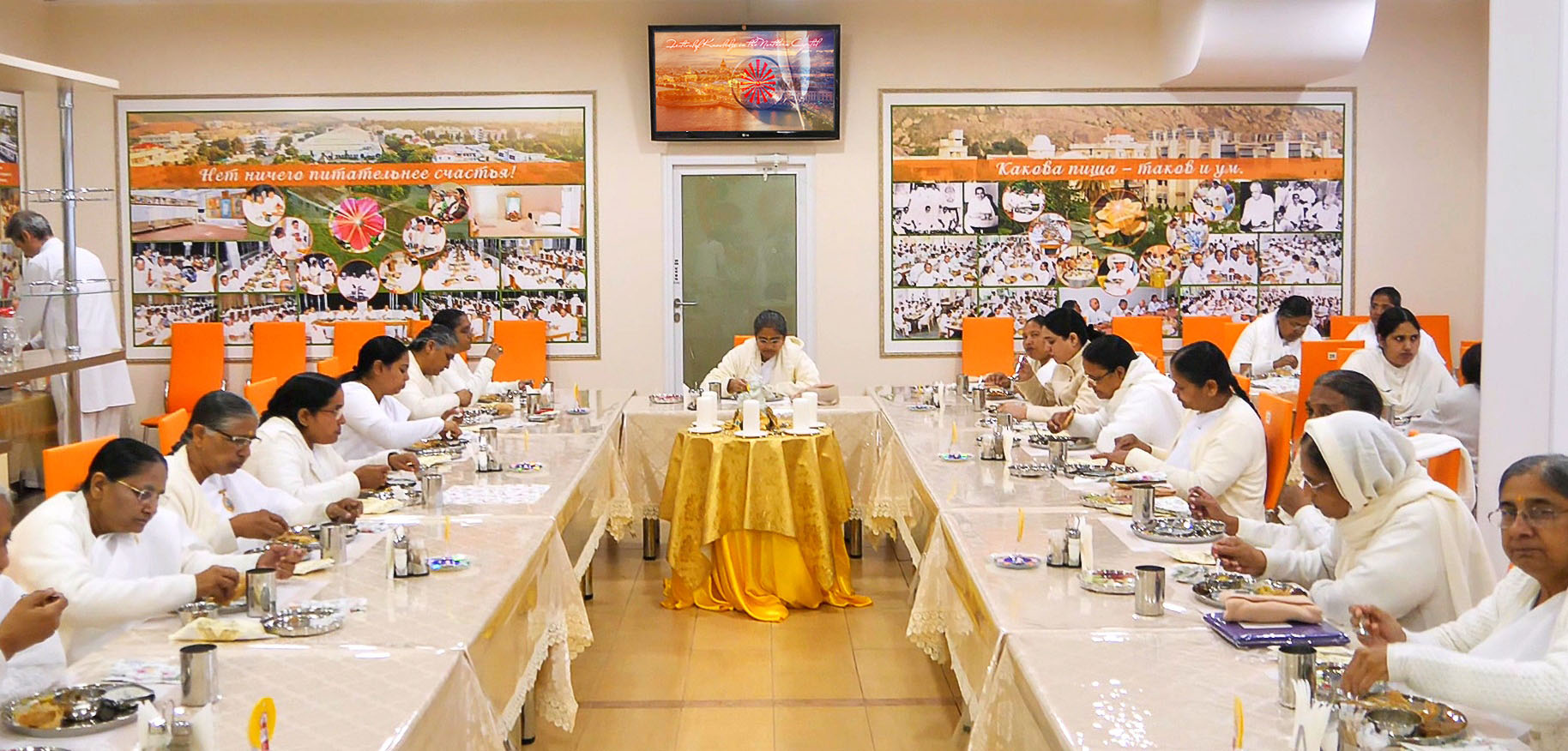 An Amazing Confluence of 50 Rivers of Knowledge in St. Petersburg, Russia, Sep 2022.pdf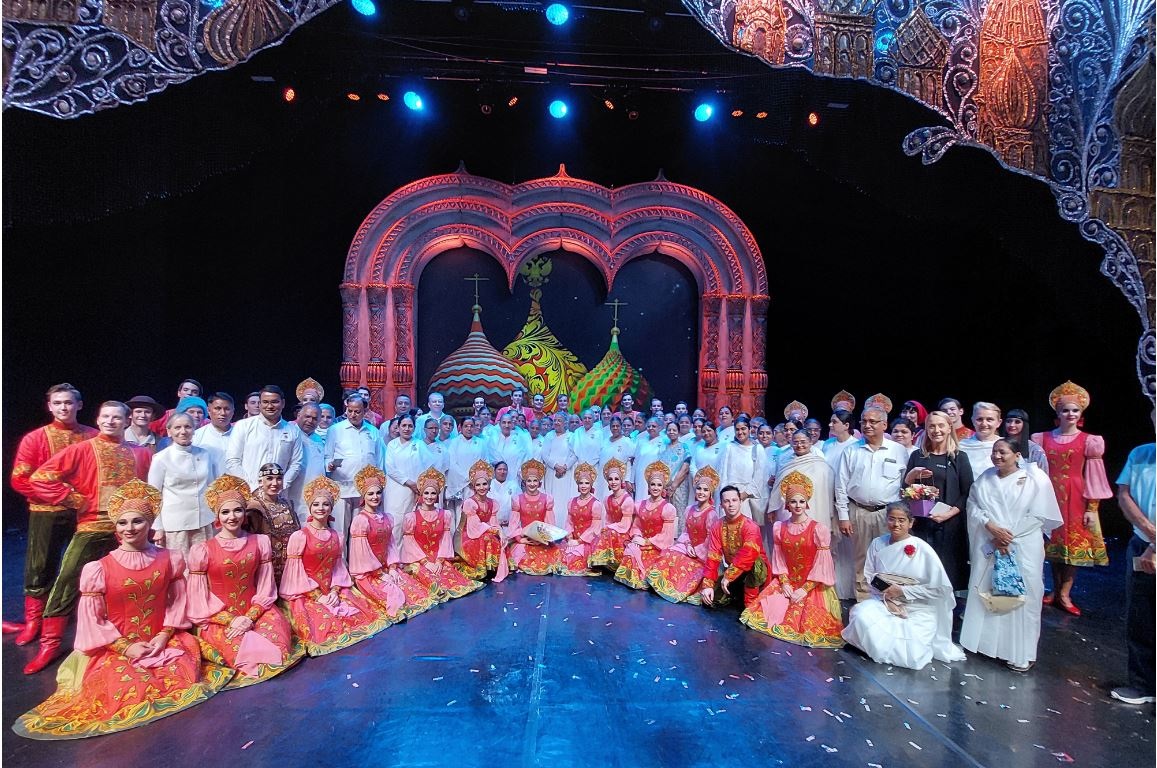 Moscow (Russia): Brahma Kumaris Moscow welcomed 50 senior BK teachers from 12 States of Bharat .
BK teachers from India, representatives of the Women's Wing, headed by Didi Chakradhari came together at the Brahma Kumaris Centre in Moscow. The Russian family prepared a beautiful welcome programme.
The festival started with the words of greetings by Didi Sudha. The divine souls were decorated with a tilak of victory and beautiful scarves after which they came onto the stage giving the vision of purity and divinity to the whole world.
There was a special cultural programme prepared by BK students from Moscow, Russia. The dance "Vandey, Materam!" showered the beauty of God's Yagya when souls dedicate themselves to the Supreme Flame and make spiritual efforts that lead them towards perfection.
The divine guests could also enjoy both Indian and Russian dances. The Russian traditional dance was accompanied by the flute live music reminding of the Supreme Murlidhar whose enchanting Music of Spiritual Knowledge creates the Golden Age where each and every soul dances with happiness.
Between the items the main presenters BK Alexey and BK Mayajeet talked about the specialties of some Indian states as the BK teachers came from 12 different states which was very interesting for Russians.
When ashed about the uniqueness of Russia, the Women's Wing unitedly replied: "the main speciality of Russia is the wonderful BK Centre in Moscow called "The Light House of the World" – "MAYAK MIRA"'.
The programme ended with the touching Hindi song "Jeevan ke Data"(The donor of life) performed by Russian sisters Elena and Larissa. The beautiful words praising the Love of the Supreme Father reminded everyone that we all belong to Him and our lives are in His hands. He is the Unlimited Bestower and the Best Protector.
A very beautiful program was organized – "A Divine Evening". During this programme everyone felt to be in the golden Age. Drishti(Vision), Vrithi(Attitude), Movements, everything was divine, golden aged.
The guests visited the very famous Moscow Academic Theater "Russian Song". Traditional Russian dances of different nationalities of Russia and different historical periods were shown. They met the Director of the theater, and Didi Chakradhari invited the artists to India.
Well organized services under the guidance of Sudha Didi were highly appreciated.
Kindly have glimpses of the 5 day trip to Moscow.
1. Welcome program: (Link to the photos)
https://drive.google.com/drive/folders/1jyJ75v0Vx2vRgRHJFRkF1F5P07ooYb7u
2. Welcome Program: (Link to the video)
https://drive.google.com/file/d/1xXdTxkKxVc8dJrCDYClj95GF26YiAg40/view?usp=sharing
3. Excursion to some important places in Moscow: (Link to the photos)
Guests from Bharat visited the most famous places in Moscow - VDNKH, Red Square, modern Zaryadye Park, Victory Park and saw the Victory Museum.
Artists of the famous Moscow Academic Theater "Russian Song" with the guests.
https://drive.google.com/drive/folders/1m8eGT-70xuzkfERU8m7v1O5Huvea7xMK
4. Excursion (on river Moscow)
https://drive.google.com/drive/folders/1x1kWK5sJIsB-aCnzKF1fvcBt5GQ6bieY?usp=sharing
With best wishes and divine love
In Baba's yaad
BK Elena Slavnova
Multi-media department
Moscow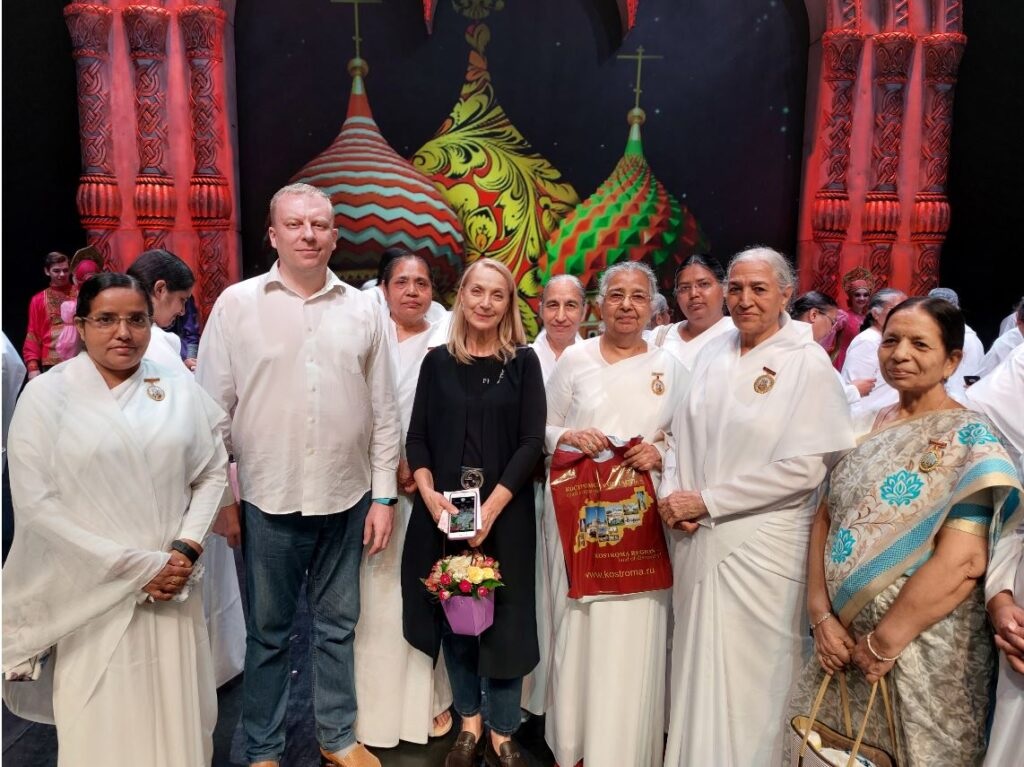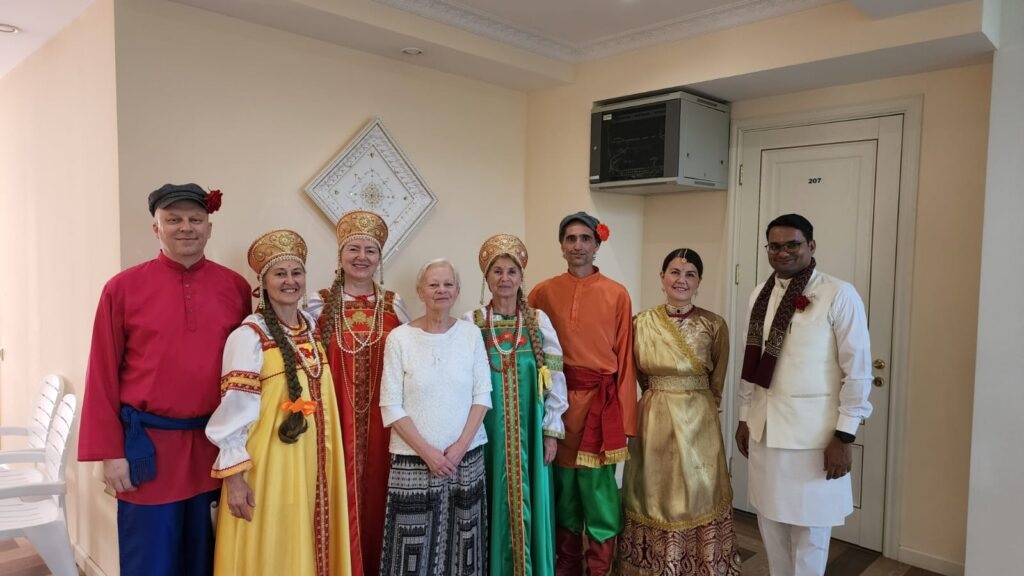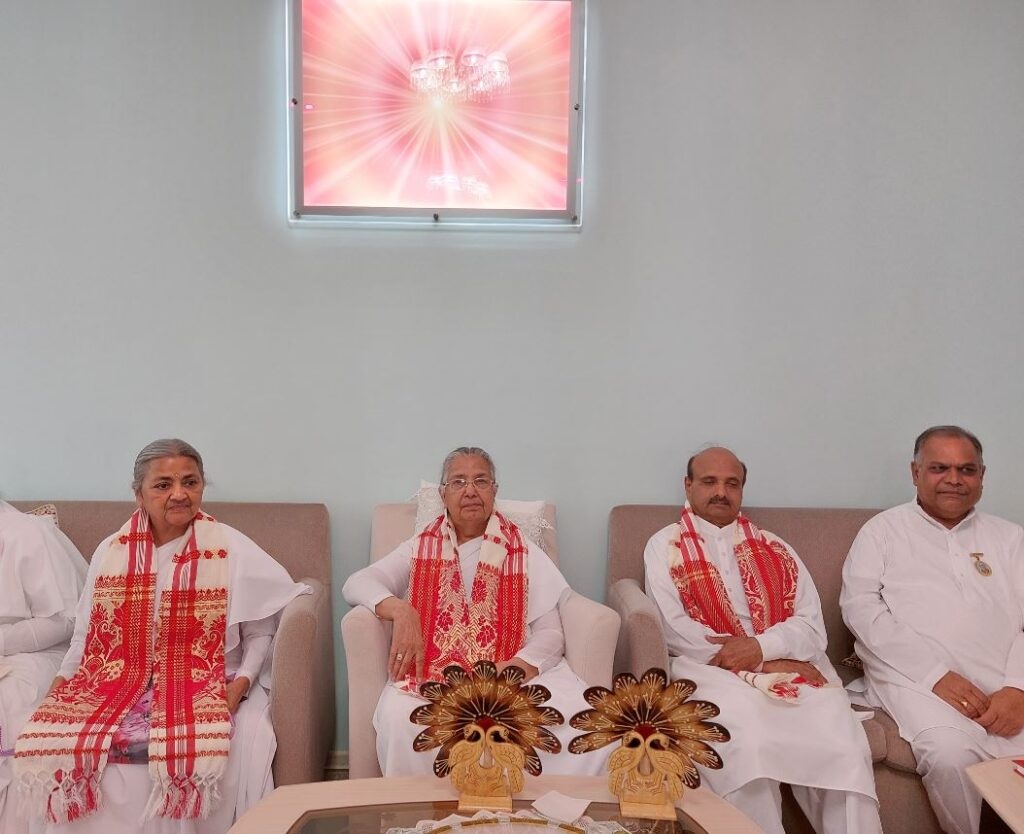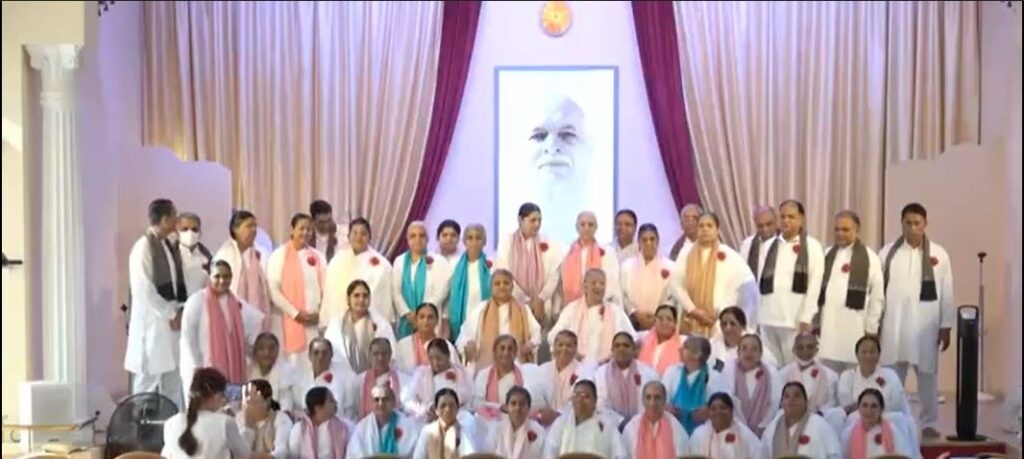 Ambassador of India to the Russian Federation highly praises the sacred task of Brahma Kumaris when Brahma Kumaris tied Rakhis at the India Day Festival 2022 held at "Dream Island" in Moscow
29 August 2022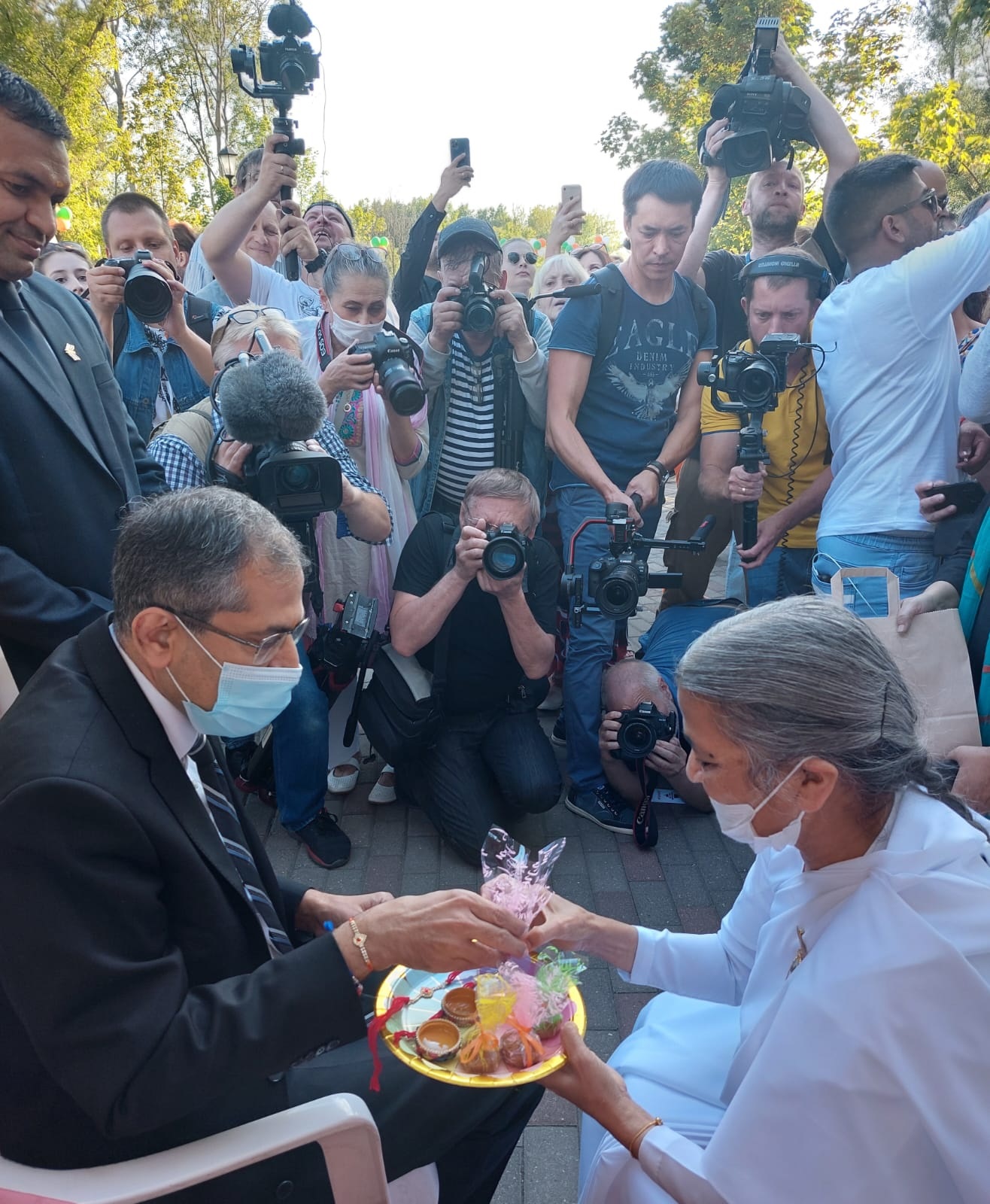 Moscow (Russia): Brahma Kumaris in partnership with the National Indian Cultural Centre "Sita," Moscow, headed by Manoj Kotwani joined the grand event "India Day" supported by the Department of Culture of the Russian Federation and the Government of Moscow.
Brahma Kumaris, Moscow offered lectures, meditations, an exhibition of Raja Yoga, the Raksha Bandhan Festival, the game "Virtuescope" that is popular both with adults and children, and also many educational and creative activities with children.
The event was inaugurated by the Ambassador of India to the Russian Federation H.E. Mr. Pavan Kapoor.
Before the official inauguration, Mr. Pavan Kapoor visited the stall of Brahma Kumaris. Didi Sudha tied a rakhi to him as it was the day of Raksha Bandhan.
The ambassador highly praised the sacred task being carried out by Brahma Kumaris. While inaugurating the Festival, the Ambassador began his speech with the words of glory of a variety of traditions of Bharat and added, "I express my deep respect to Sudha Didi who has tied me Rakhi and the festival Raksha Bandhan is being celebrated so well on the India Day Festival to spread the message of pure love to humanity."
Mr. Pavan Kapoor, Sudha Didi, and other guests took part in a beautiful ceremony of planting 75 apple trees to mark the 75th Anniversary of the Independence of India. The ambassador addressed the audience with an inspiring speech congratulating all on the Independence Day of India and especially on Raksha Bandhan that was officially celebrated on August 11 and gave an interview to the press.
This grand event, dedicated to mark the 75th anniversary of Independence of India, continued for 4 days from 11th to 14th August, in a modern park of Moscow called "The Dream Island."
Every day, the guests could become acquainted with the Indian culture, including food, clothes, traditions, music, and spiritual wisdom.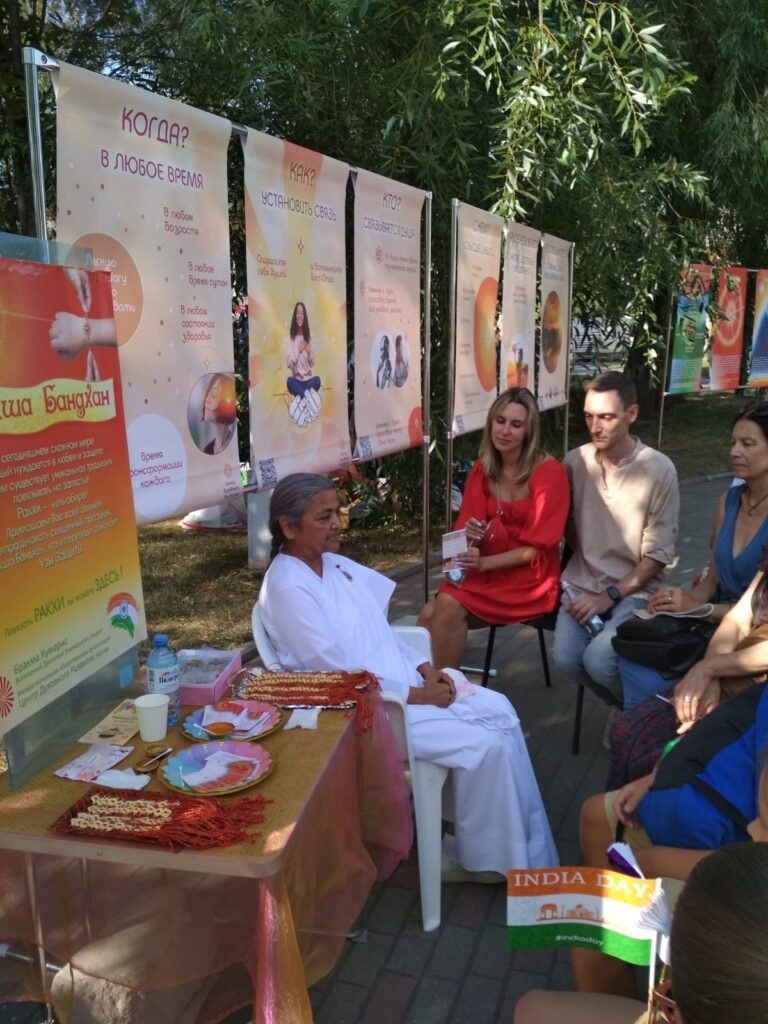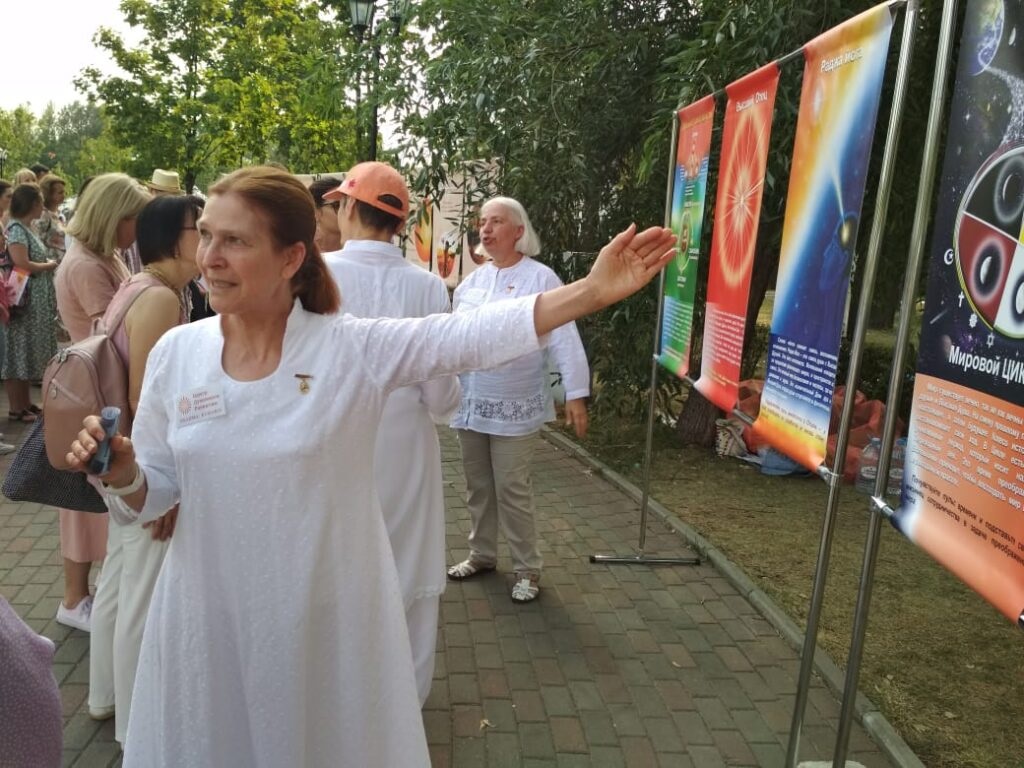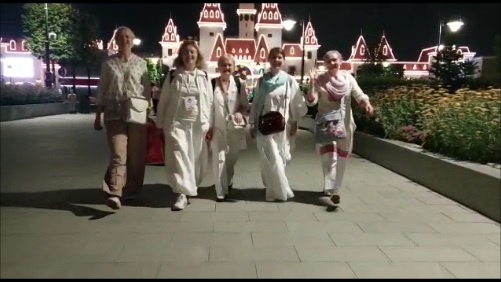 Tashkent (Uzbekistan): Raksha Bandhan Celebration at the Embassy of India
17 August 2022
In a friendly atmosphere Sis. BK Zhanna seen tying the sacred Rakhi to H E. Manish Prabhat, Ambassador of India to Uzbekistan, to his spouse Mrs. Ruchi Narain, and to Shri Chander Shekhar, Director, Lal Bahadur Shastri Cultural Centre of the Embassy.
BK Meera and Mrs. Iroda, PS to the Ambassador are also seen in the pictures.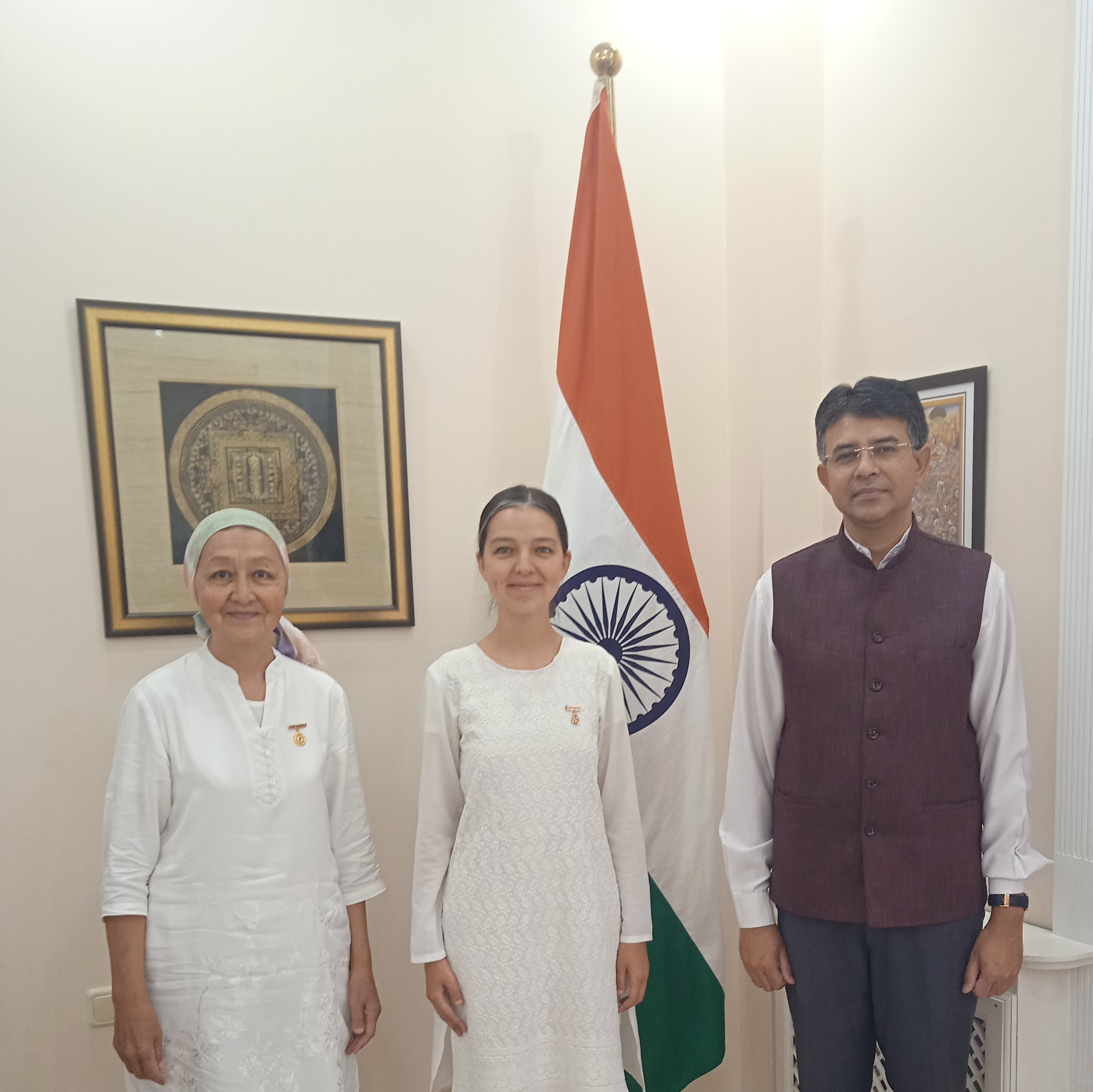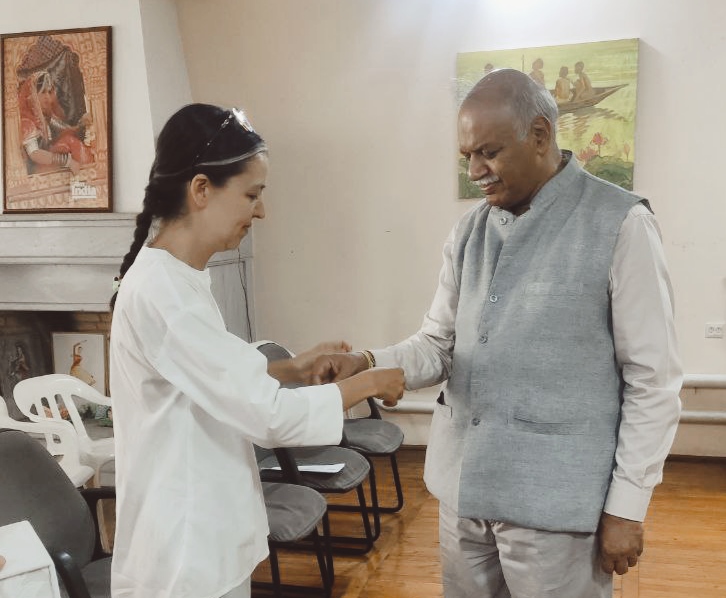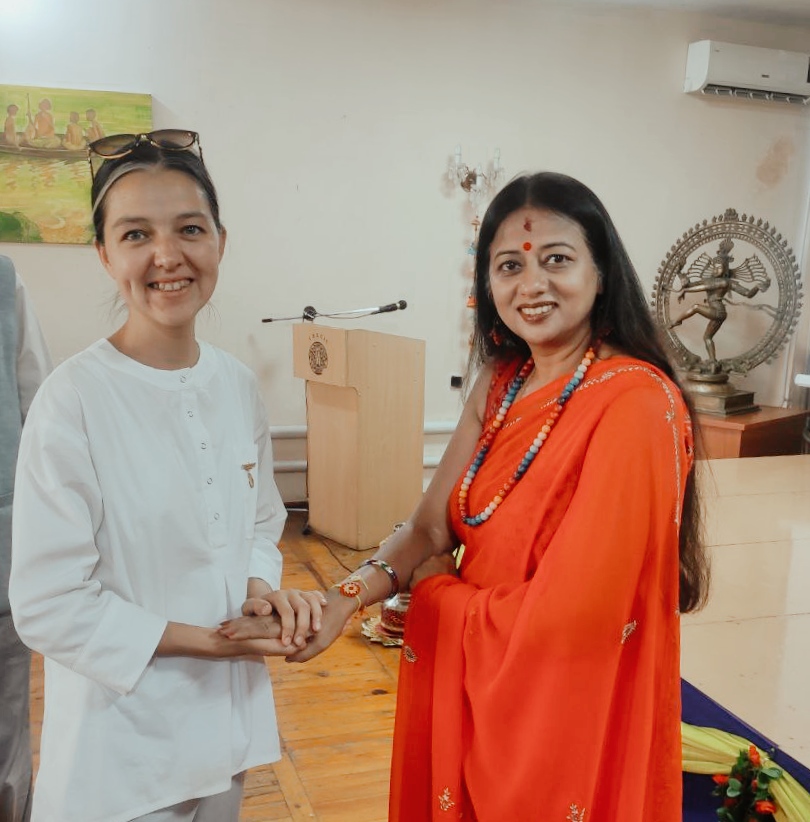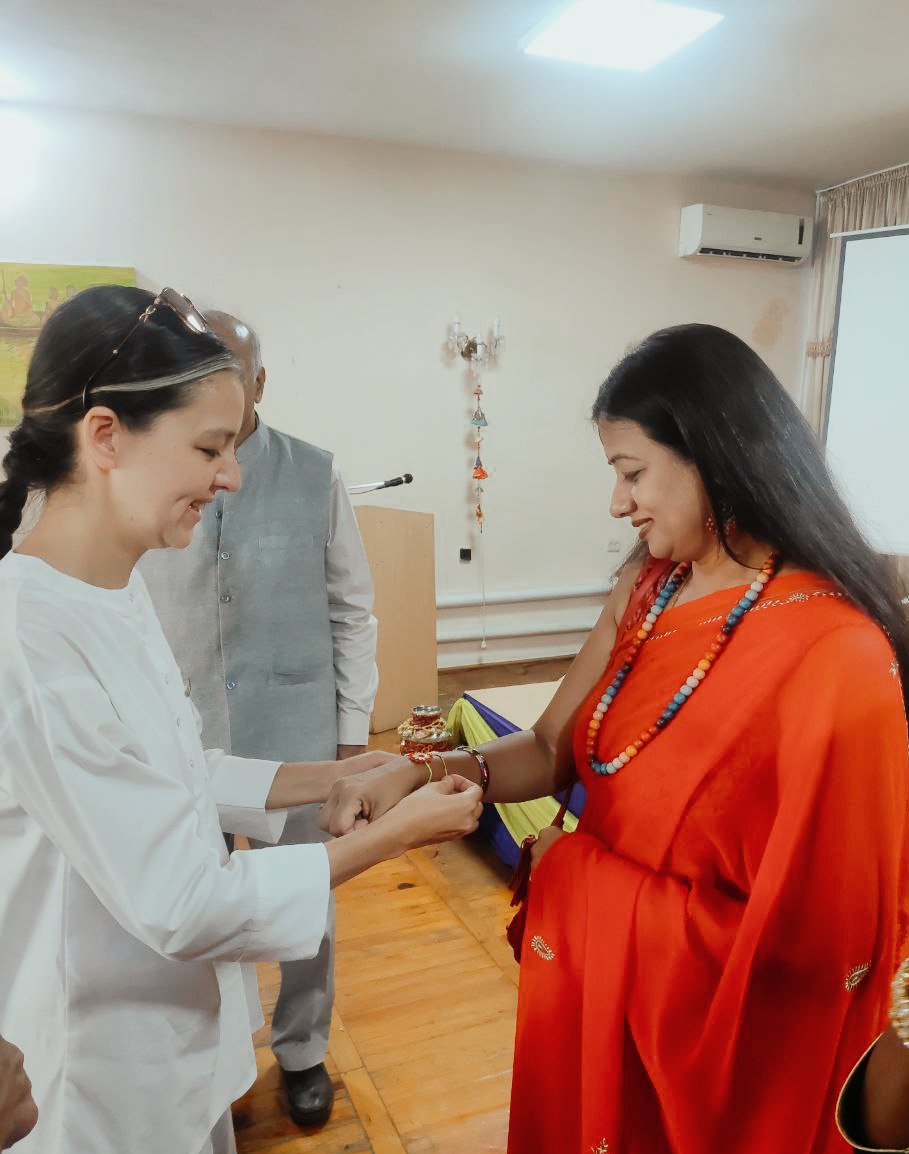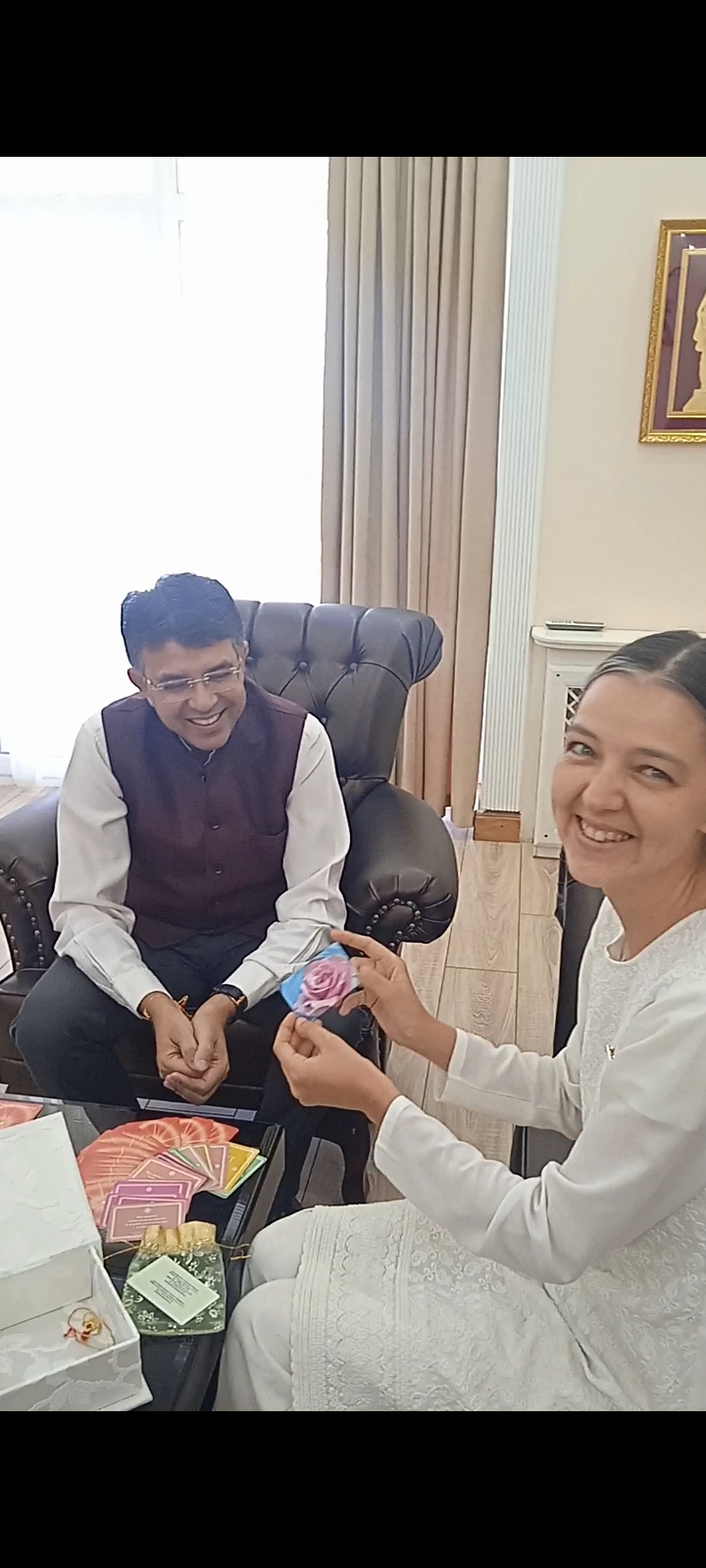 Great Celebration of the Great Festival of Purity in Lighthouse and the Indian Consulate - Raksha Bandhan in St.Petersburg, Russia
16 August 2022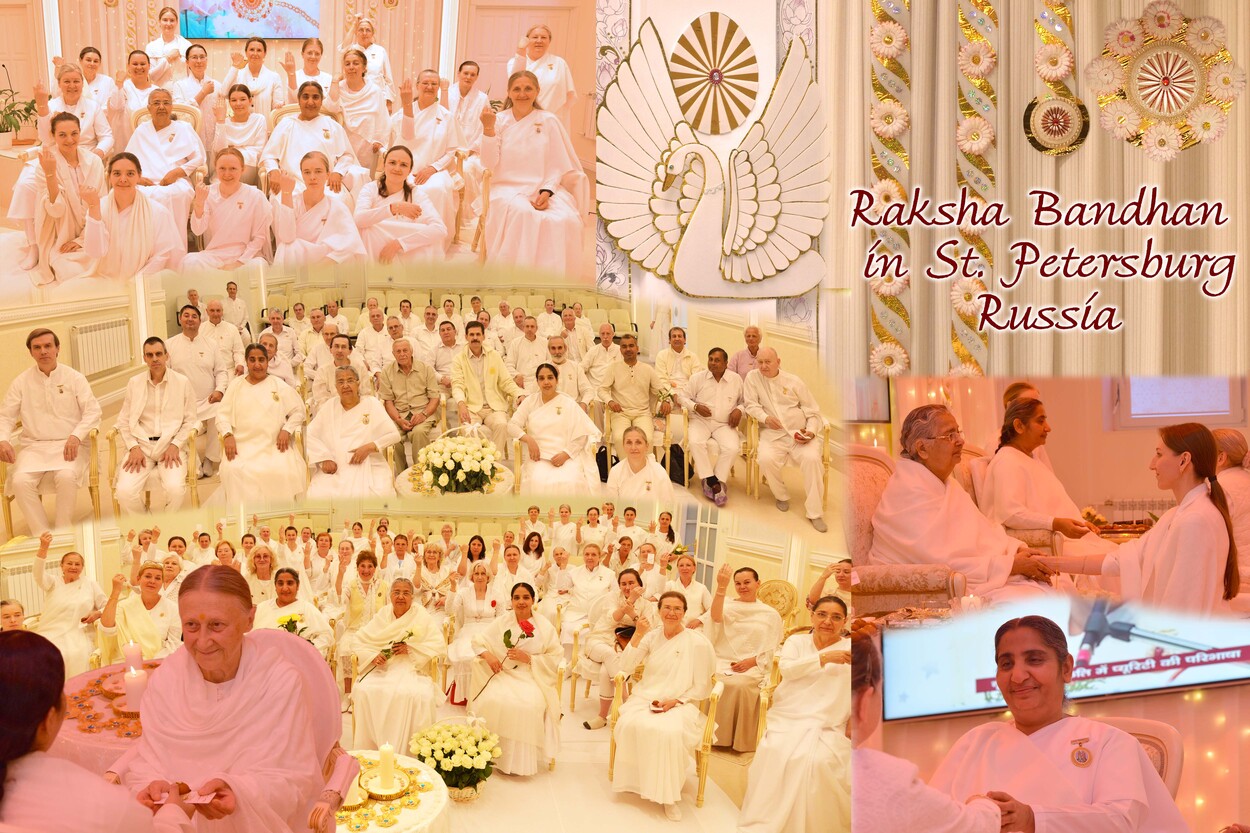 The month of August brings about a message of purity as the basis of true love and real protection in life. In the presence of our respected seniors Didi Charkradhari, Didi Santosh the celebration of Raksha Bandhan became a Maha Celebration that went on for 3 days, from August 4 to 6, and was divided into 5 parts, starting with a Rakhi ceremony for the kumaris, then for working mothers (a group of Shiva Shaktis), co-operative souls, senior citizens (a group of Vanprasthis), and last but not the least, a wonderful program for BK brothers!
For 3 days a powerful atmosphere of silence and Yog Tapasya prevailed in the Lighthouse. Every session would start with a short video film disclosing subtle secrets of the Bond of Protection. Then the participants enjoyed the fragrance of Madhuban, the land of blessings, by listening to the words of blessings from the letter of Dadi Ratan Mohini ji. A special Rakhi bhog would be offered to BapDada, the Giver of Purity, at every ceremony, followed by a brief yet essence-full class by Didi Chakradhari or Didi Santosh. Everyone would stay in the hall even after having their Rakhi tied, till the end of the ceremony, in order to do the Mansa Seva to our planet Earth that desperately needs Purity and Peace in the present-day scenario.
On August, 11, a group of BKs visited the General Consulate of India in St. Petersburg for having a friendly spiritual chit-chat and Rakhi celebration with the staff members. Starting the meeting, Mr Kumar Gaurav, Consul General, thanked Didi Santosh and the Brahma Kumaris for enabling the staff of the Consulate to keep in touch with the auspicious tradition when sisters tie Rakhis to their brothers.
In a worldly way, money is always offered to your sister who comes to tie a Rakhi. So what money would the Brahma Kumari sisters accept? The sisters explained that the only money we have to give here is the useless money of our weaknesses and vices! A special form was offered to the participants of the sneh-milan suggesting them to give away a bad habit or character trait and imbibe a divine virtue or power instead. And it was really touching to watch how the sisters from Russia wearing white saris were tying Rakhis to Indian diplomats and their family members!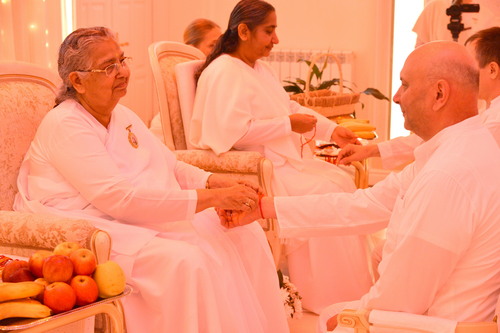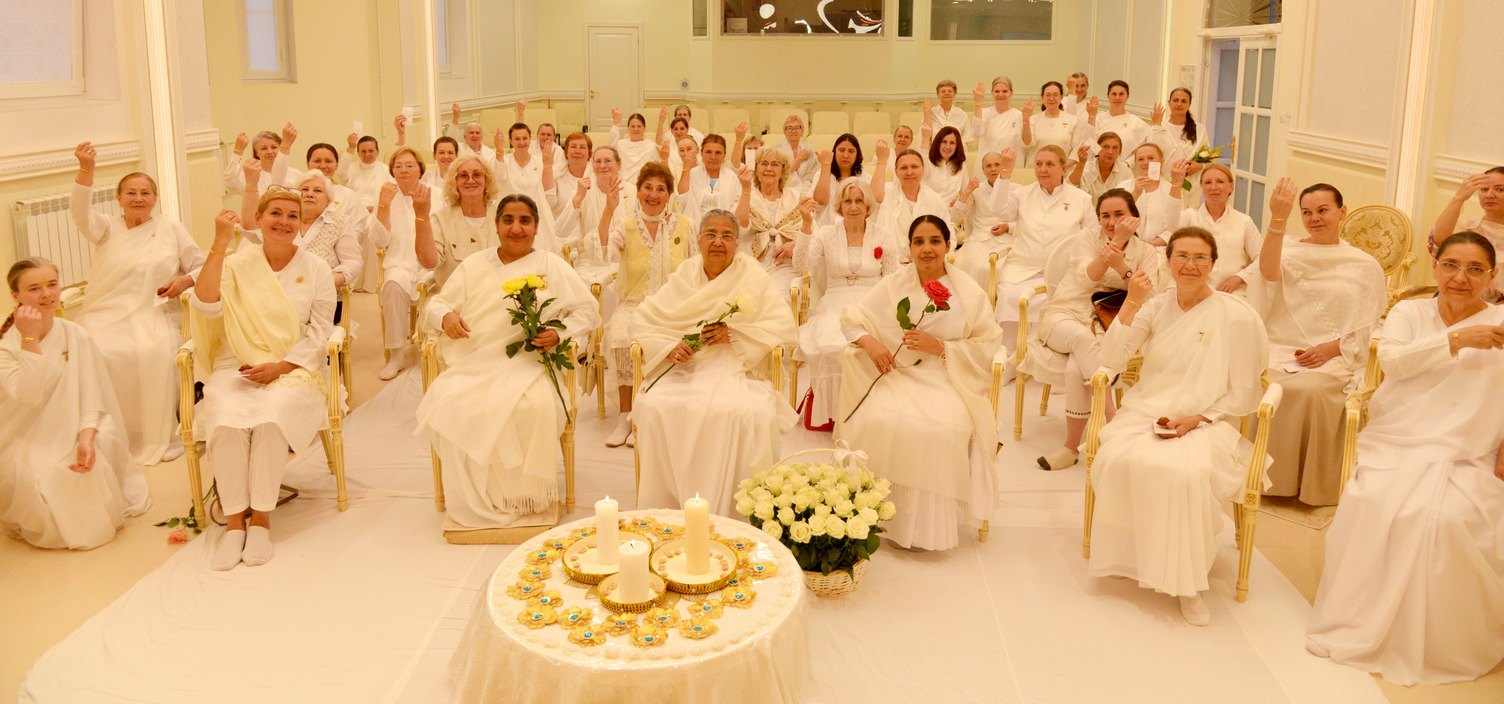 ----------------------------------------------------------------------------------------
A few words from our special guests
Ms Ludmila Kuleshova, Major General, President of A. F. Koni Foundation
"Love is the greatest energy in the Universe. We should live with love for God, people and nature. The basis of this love is purity of our soul, purity of thoughts and actions. I feel that Russia and India have much in common. Something that appeals to me at the Brahma Kumaris organization is that their aim is to ensure spiritual development, mutual understanding and goodwill, without anger, animosity and hatred."
Ms Victoriya Zhirnova, head of department, Centre for Social Support of Families and Children
"I feel that our mission is to shine, just as the Sun shines giving its light to whoever needs it. The families who come to us face a severe deficiency of peace, love, happiness, power and bliss. And here, at the Brahma Kumaris, I have learned that every soul possesses these divine virtues! I have always wanted to help people, and now I feel that I know how to do this service. it's as if the hand of the Divine is leading me, sustaining and helping to bring benefit to others."
Ms Tatyana Bartova, science advisor, dietitian, nutritionist
"Our diet is something that makes us light and enables to communicate with God. When you consume impure, non-vegetarian food you cannot fly."
Ms Valentina Suloyeva, director general, Diagnostic and Treatment Centre "Health"
"As a doctor I can say that cleanliness of our body, as well as of our thoughts and actions is of utmost importance. Our body is the temple where the soul abides, therefore we should take care of purity of our diet as well."
Prof. Ludmila Rubis, State University of Industrial Technologies and Design
"I am 84 now, yet I continue taking part in sports competitions. I work with youth, and I feel that we should influence them with our practical example. The atmosphere at the Brahma Kumaris centre is something so beautiful and necessary for us in this respect. The aura of this space is very warm, and every time I come here, I smile and laugh, because I feel so good! Sharing your goodness with others is the main thing in life."
Click HERE to download the report with more photos in PDF file format.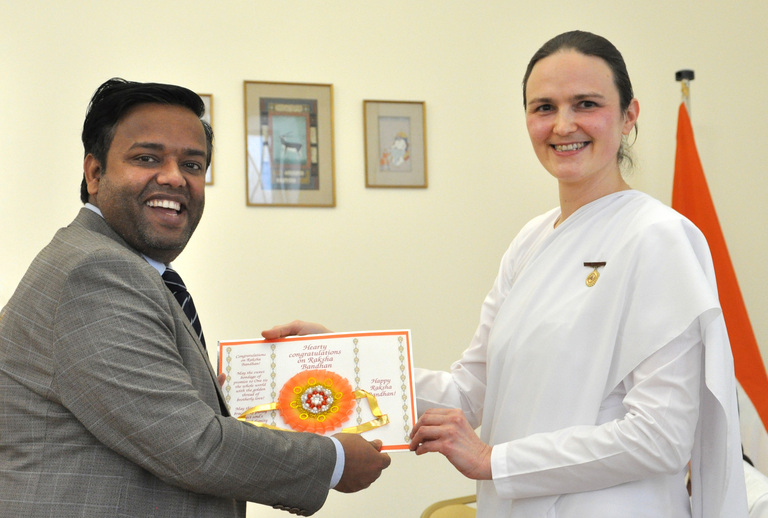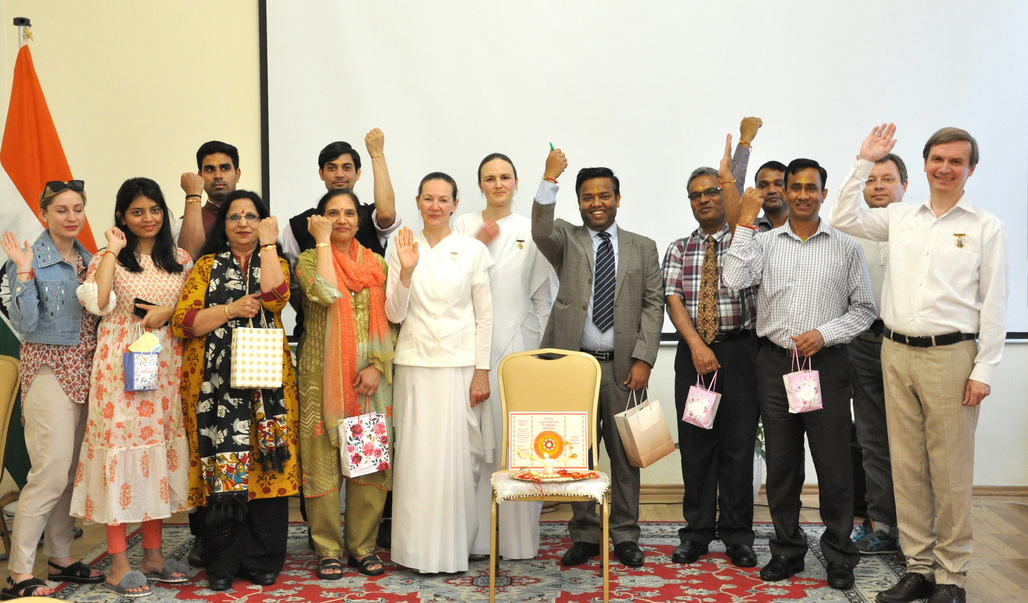 Happy Raksha Bandhan from Moscow (Russia)
10 August 2022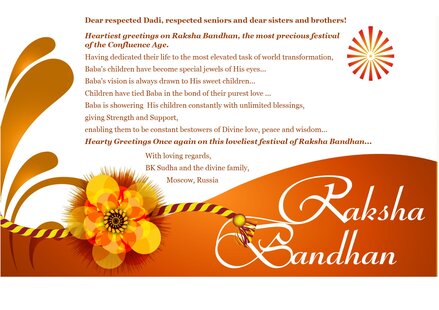 Interview in English with Sister Shivani for Moscow, Russia, 19-06-2022
22 June 2022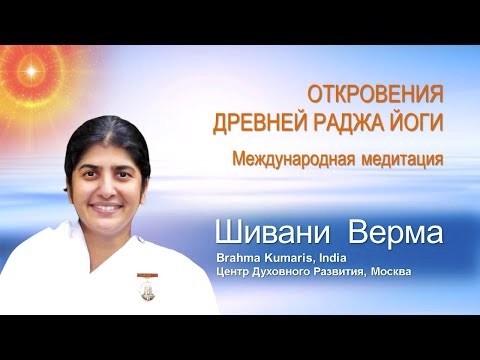 Om Shanti.
Sending you our video interview with Sister Shivani for Moscow, Russia, 19-06-2022
https://disk.yandex.ru/i/1VEfA42UK7AW2A
For download click - "скачать".
This video on Youtube
https://www.youtube.com/watch?v=6uzdNnkpttM
With best wishes and divine love
In Baba's yaad
Multi-media department
Moscow

2022 Russia & the CIS News Archive
2021 Russia & the CIS News Archive
2020 Russia & the CIS News Archive
2019 Russia & the CIS News Archive
2018 Russia & the CIS News Archive
2015 Russia & the CIS News Archive
2014 Russia & the CIS News Archive