Russia, CIS & Balkans News
Russia, CIS & Balkans News
Celebration of International Women's Day in St. Petersburg, Russia
9 March 2021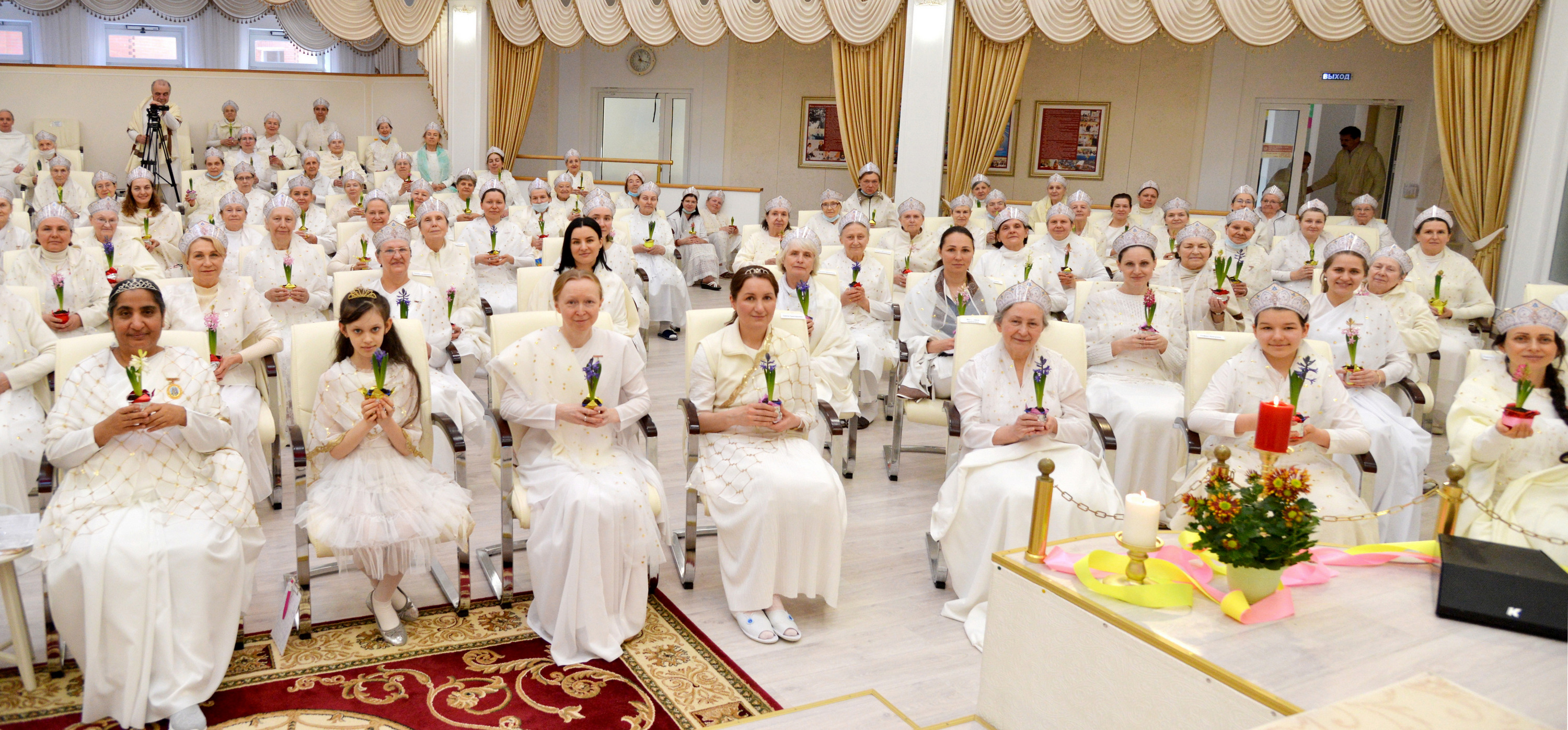 The International Women's Day celebrations come in variety of hues as per political, social and cultural features of every country. However during all these years March, 8, has been celebrated at Brahma Kumaris Centres of Russia, CIS and Baltic states as the Day of Shaktis. It is an important time for all the souls in sisters' bodies, who have been given the urn of responsibility for world service, to underline for themselves a number of commitments. On this day, the sisters, spiritual students and servers, reconfirm their pledge to stay simple and become a sample of purity and dignity in order to reveal our Supreme Father. On the same day, they are honoured with special spiritual and physical gifts from the yagya. All the brothers see it as a day for taking most of household tasks on their shoulders, like cooking and serving meals, cleaning, washing utensils etc, so that the sisters stay decorated and shining.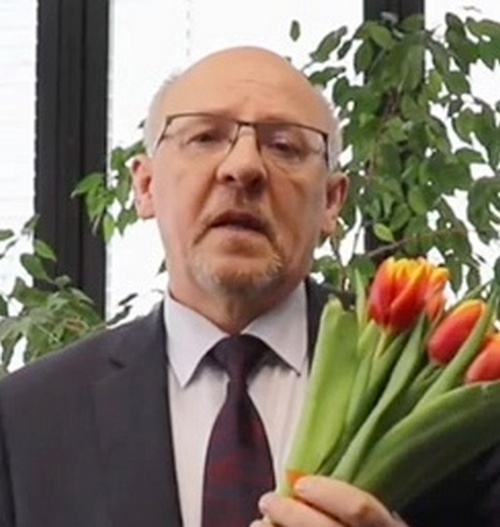 High dignitaries of St. Petersburg expressed their good wishes on this special occasion.
Mr Alexander Rzhanenkov, chairperson of Social Policies Committee of St. Petersburg City Administration, said in his video message, "My hearty greetings to all women who carry out most important work in the field of social service with lots of love, professionalism and aspiration."
On the eve of Women's Day, a group of BKs met Mr. Valery Garnets, head of Vyborgsky district Administration of St. Petersburg. Vyborgsky district is one of the largest areas of the city, with population of more than 5 lakhs. Mr. V. Garnets appreciated the contribution of mothers in creating the atmosphere of mutual co- operation and care in the city.
Mr. Deepak Miglani, Consul General of India in St. Petersburg, expressed his greetings on the occasion, appreciating the activities of the Brahma Kumaris in this city and world-wide.
A colourful celebration honoring God's Shaktis on March, 8, pulled about 150 BK sisters from St. Petersburg as well as lots of others who joined the event online from many beautiful cities of Russia and other countries.
In March, a nonstop yoga bhatthis are going on in Lighthouse, especially to support the well-being of God's beloved chariot, Dadi Gulzar. The all-day long tapasya of silence of various groups of mothers contributed a lot in making the atmosphere of the celebrations vibrant and powerful.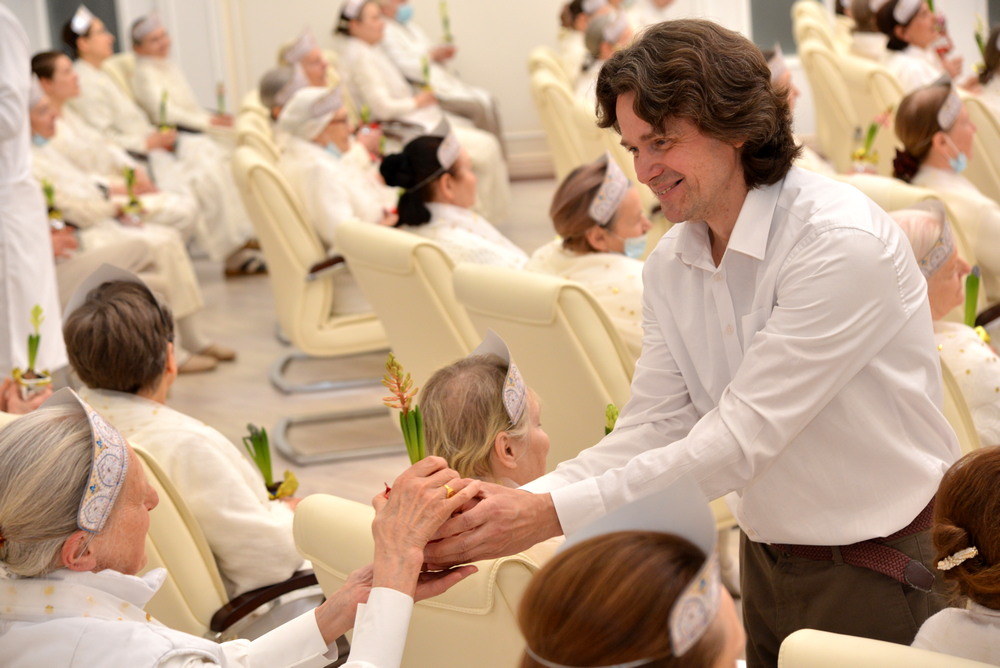 BK brothers shared their feelings of deep respect and love for Shiv Shaktis using the language of poetry, music, drama and even a bhangra dance.
At this time of transition, God makes sisters and mothers into caring gardeners who help Him to change thorns of vices into flowers of virtues. As a sign of that, every sister got a special gift of a flower in a flower pot.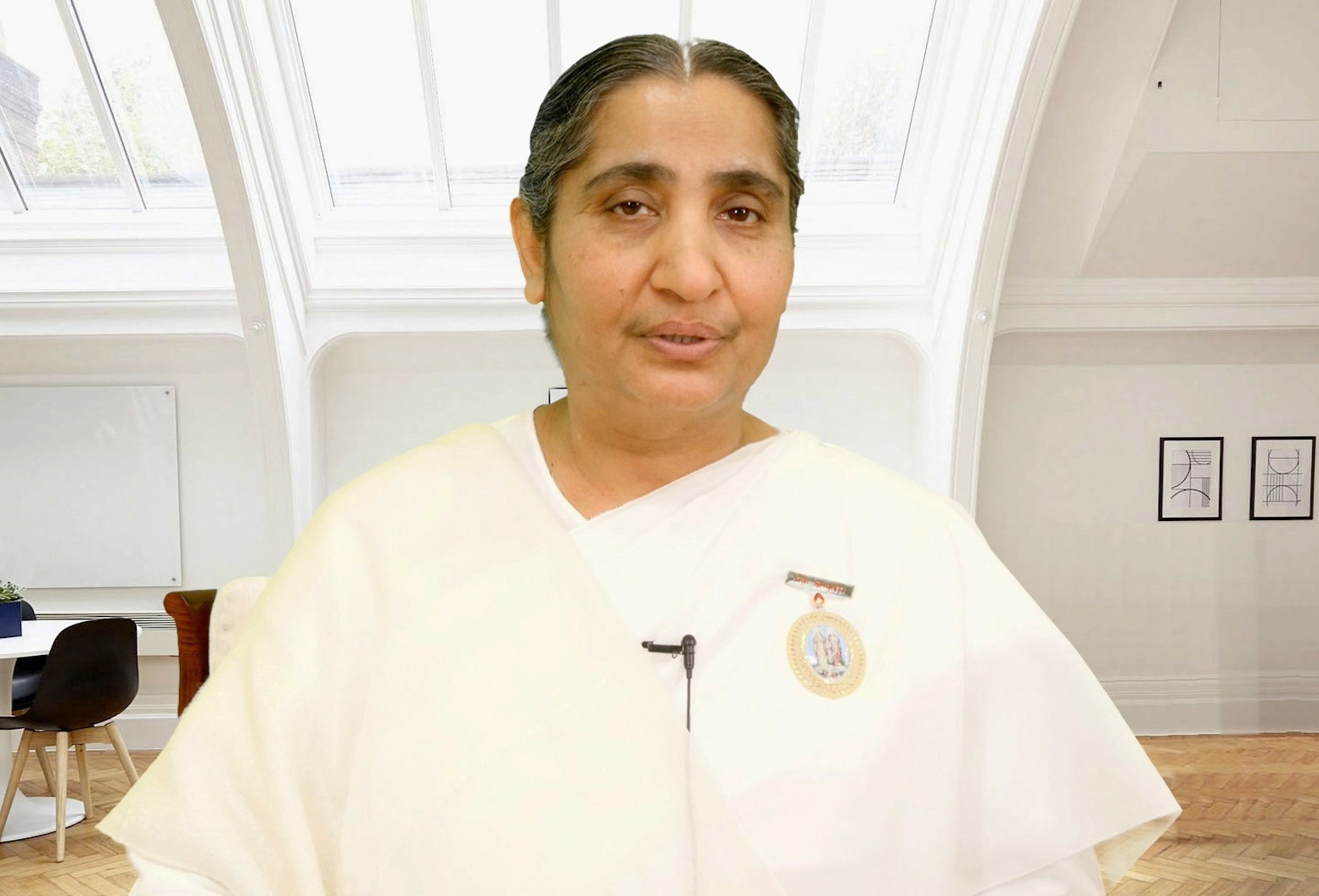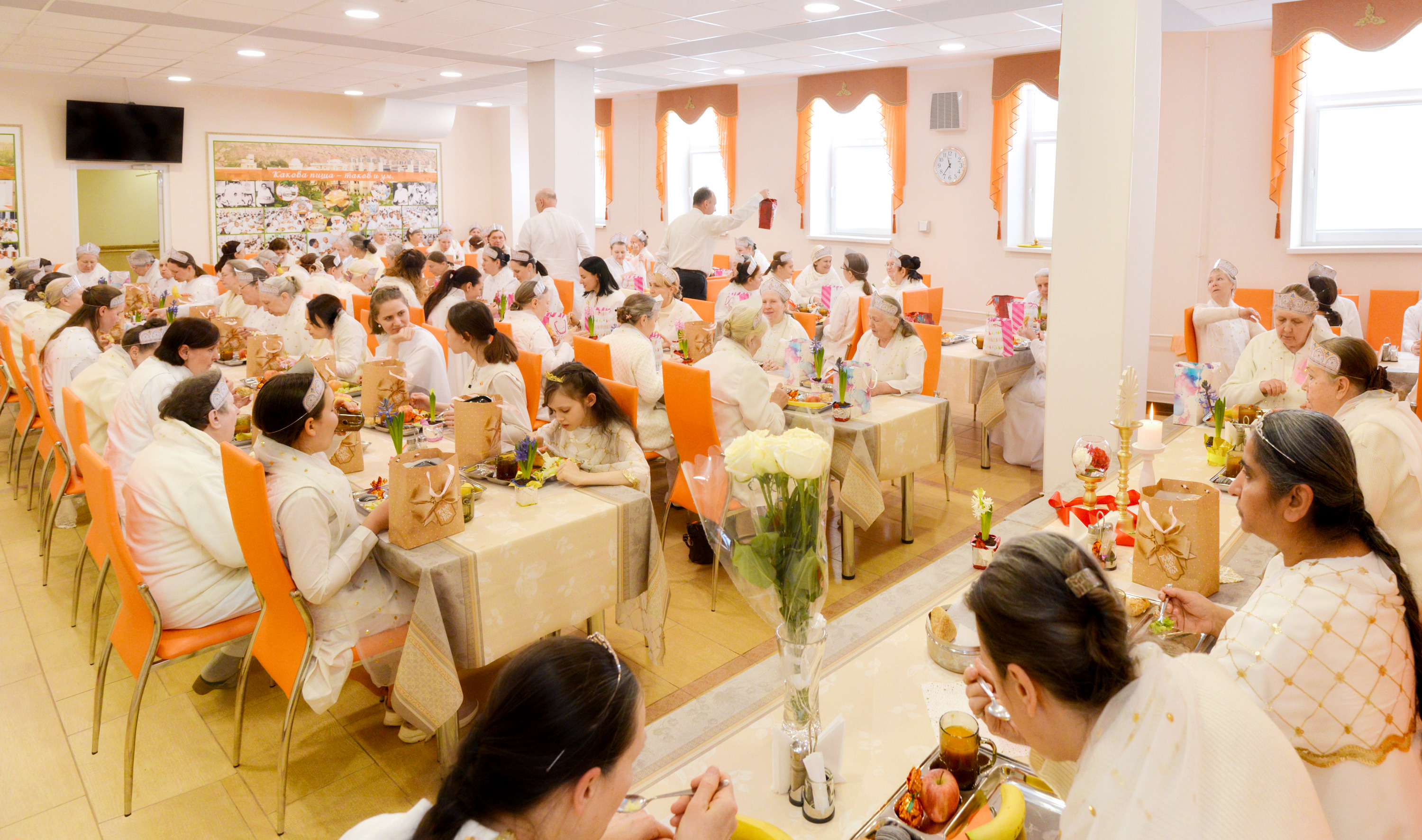 As the pandemic restrictions are still on, a 15-minute video presentation "Secrets of Making One's Life Beautiful" was released on Lighthouse YouTube channel for the general public who could not take benefit of coming personally to the Centre. Didi Santosh shared 3 spiritual secrets of beauty revealed to us by God, the Supreme Artist. The first secret lies in forging and maintaining deep and loving relationship with God. In order to keep giving to others, one has to get charged with God's love on a daily basis. The second secret of beauty: we should be able to create a beautiful atmosphere of cleanliness and lightness around us through our attitude of good wishes and positive thinking. And the third secret: we should not eat anyone! As is the food, so is our mind. Pure, sattwic vegetarian food cooked with love and offered to the Supreme Giver of Life, will make everyone who takes it, healthy, happy and beautiful.
Click here for the report with photos in PDF version.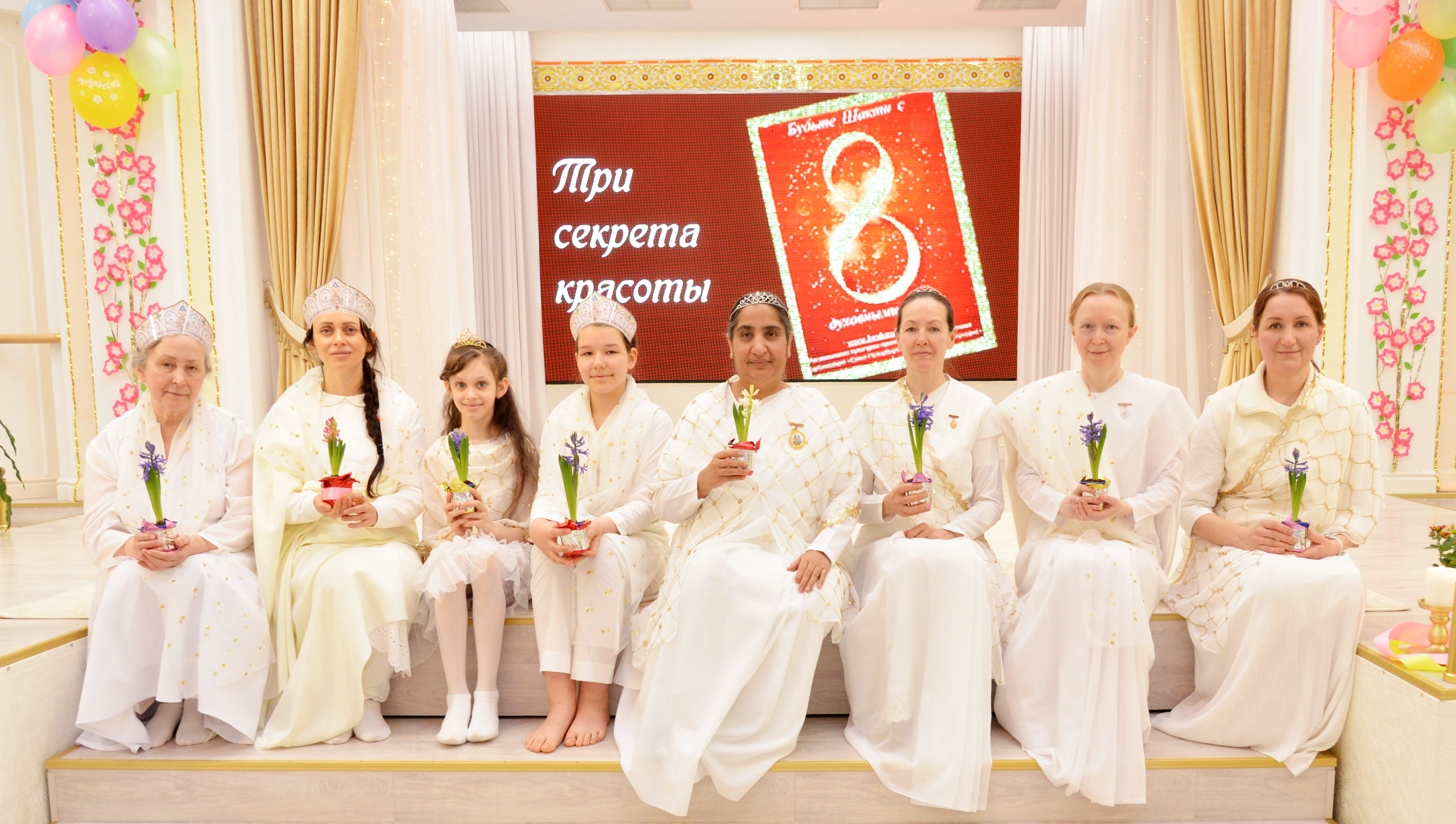 Celebrating the Day of Protectors - Service News from Russia
2 March 2021
The Day of Protectors of Fatherland is a remarkable festival annually celebrated in Russia in February. Mothers, wives and sisters congratulate their sons, husbands and brothers on this special occasion, making love-filled gifts and reminding them of their sacred duty to protect their near and dear ones from all the evils. In a way, love exchange that happens on this cold winter day reminds us of Raksha Bandhan celebration taking place in hot August! And even the names of the festivals sound similar. Raksha means protection, and this festival in February is the day of all the Rakshaks, or protectors of their family and country.
SPECIAL GUESTS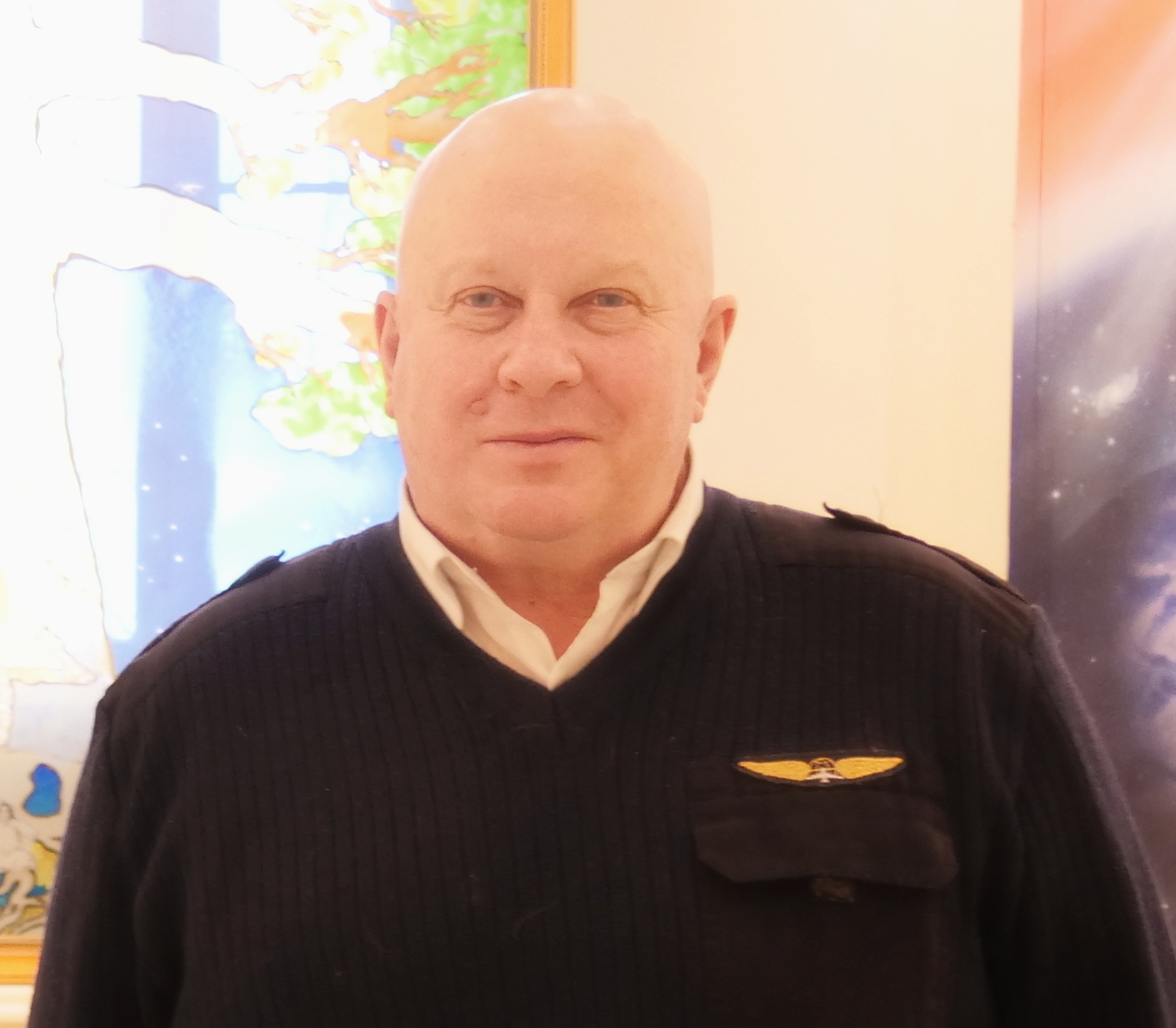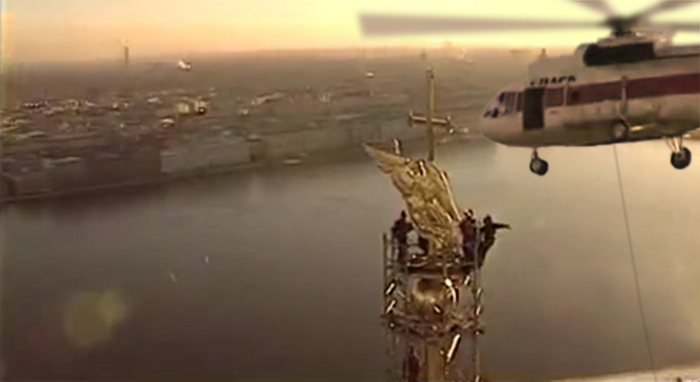 On the eve of the festival, the Brahma Kumaris Centre in St. Petersburg received very special guests. Mr Vadim Bazykin is a unique helicopter pilot who saved lives of dozens of people in emergency situations in extremely cold Arctic regions. He is also famous for having piloted a helicopter to install a golden angel statue on top of 122m high steeple of Saints Peter and Paul cathedral. Mr Vadim Bazykin became an official partner of the Brahma Kumaris project "7 Billion Acts of Goodness".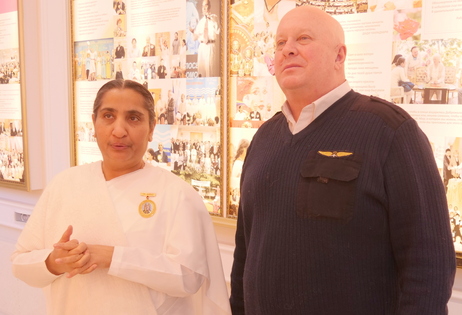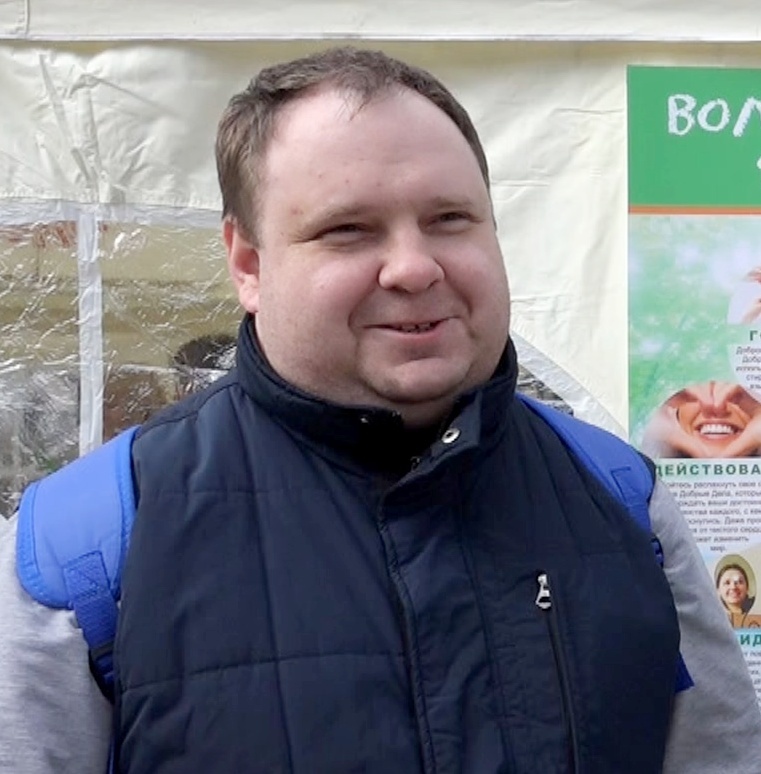 In a heart-to-heart conversation at Lighthouse, he shared his vision of a true hero. "I think it is easier to commit a spontaneous heroic act during a war conflict than to keep sharing love and care with people on a daily basis. This is why our mothers are true heroes. The truth is recognized in silence. A hero is not the one who talks loudly or cleverly. Rather, a hero acts on the basis of love and humility."
Another guest of Lighthouse, Mr Andrey Zlenko, head of Federal Social Service Program "People Need You", proved to be a true hero and protector last year, when along with other volunteers he served tirelessly, day and night, providing help to senior citizens at the time of the pandemic. During his visit to Lighthouse he expressed his wish that everyone should realise and practice true love, which is an unlimited attitude of respect and non-violence.
CELEBRATION FOR BK BROTHERS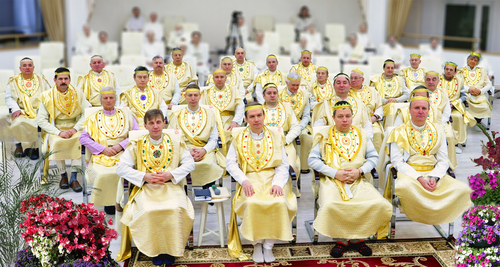 A gorgeous colourful ceremony honouring all the BK brothers, regular practitioners of Raja Yoga, took place the next day. In fact, it had started much earlier, as every brother had received a golden chance to spend any day and a half in Lighthouse from 1 to 23 February, having a powerful yoga bhatti with a unique time-table. Those days spent in complete inner and outer silence in the company of the Supreme provided every brother an opportunity to contemplate on the achievements in their spiritual journey and create a vision for their future progress. And on the special day of the festival every BK brother was decorated with beautiful royal attributes having a deep spiritual significance. A golden armour is symbolic of the golden stage of purity that protects us from attacks of vices and negative influences. This golden dress was tied with a strong belt of a determined thought. And a golden crown became a reminder of being responsible for serving the society through one's selfless thoughts, words and actions.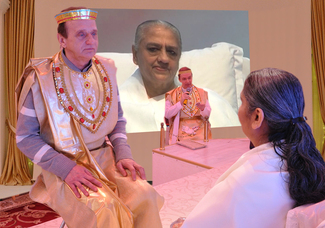 Just like in the earlier days of the institution, every brother was photographed both in their white dress and royal attire. This double photo is going to serve as a beautiful reminder of the aim and object of spiritual effort, that is of becoming a personality possessing the royalty of purity in their life.
An entertaining and enlightening cultural program culminated with a powerful drishti and blessings session with Santosh Didi, followed with a special feast.
Fortunately, about 45 brothers could join the celebrations personally, while about 20 others enjoyed the event online.

Friendly Get-together with Indian Families in Moscow
15 February 2021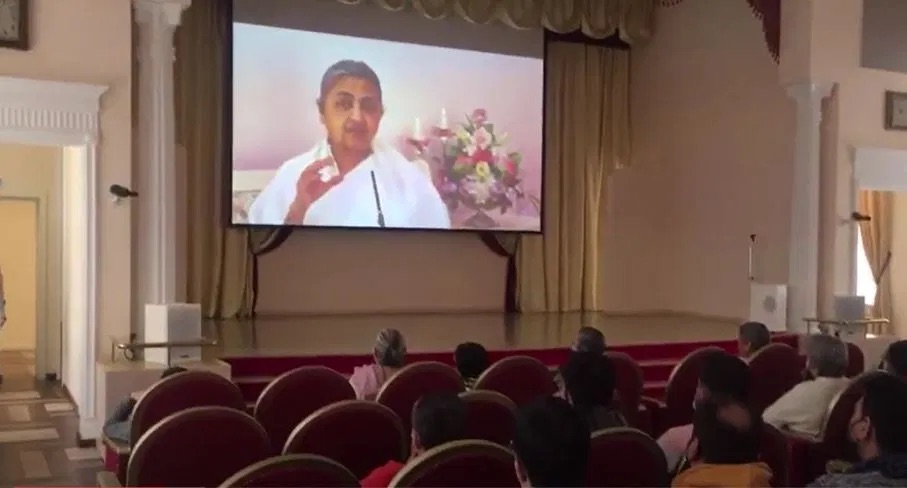 Moscow (Russia): A friendly get-together with Indian families living in Moscow , which 60 people attended, took place at the Brahma Kumaris center.
The Program started with a video "The habit of seeing the good." The pre-recorded lecture by BK Sudha gave a reply to many questions in the minds of the guests.
A series of beautiful performances by the children of the guests was the main attraction of the event.
BK Sudha, BK Vijay, and the invited guests Mrs. Satya Hemrajani, Embassy of India, and Dasha Kotwani, President, Indian Cultural Centre, Moscow, "SITA" extended greetings on the occasion.
BK Sudha continued the program with an enlightened talk on the topic: "How to transform yourself so that the world would become a paradise."
At the end, BK Sudha explained the significance of offering food to the Supreme Father.
Please click on the below image below to watch video highlights of this program [14:15] https://youtu.be/FAekzSYYZLk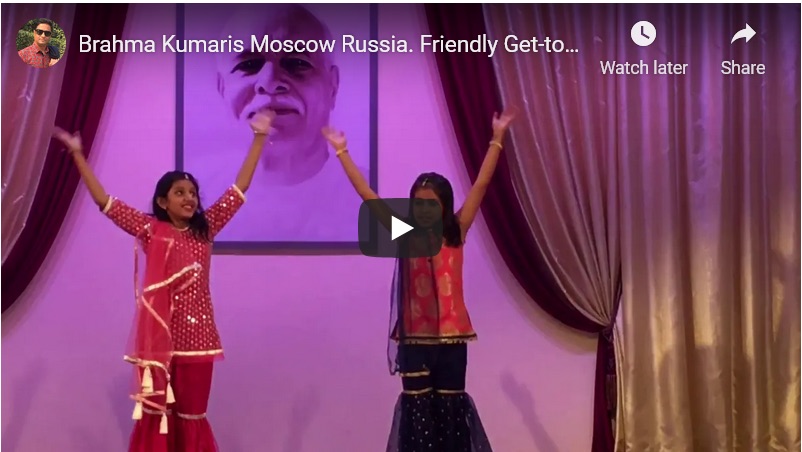 "The One Who is Always with Me": Brahma Kumaris Moscow Observe World Interfaith Harmony Week (Feb 1-7)
9 February 2021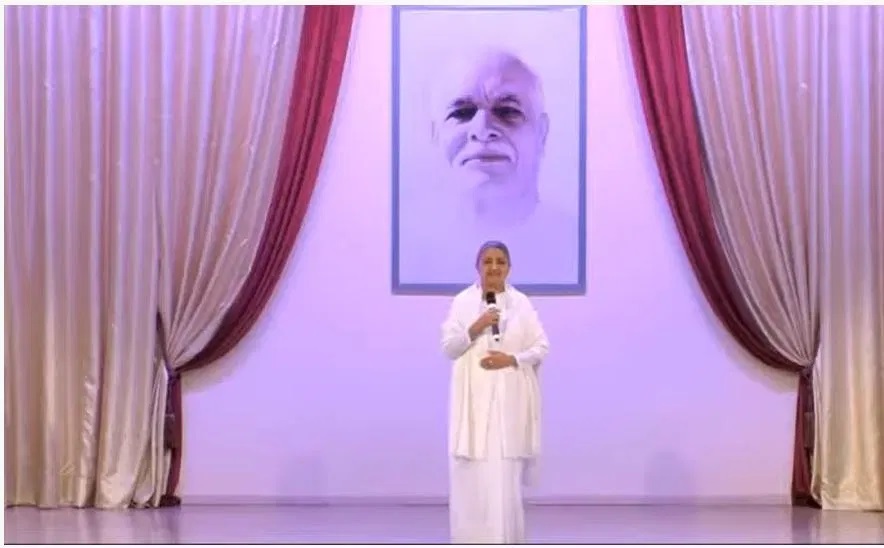 Moscow (Russia): The programme "The One Who is Always with Me" in the Russian language was prepared by the Brahma Kumaris centres in Russia, Ukraine, Moldova, and Mongolia. This online event was dedicated to the World Interfaith Harmony Week annually observed by the UN.
Representatives of different religions and traditions shared their feelings and thoughts addressing the audience in various forms: in speeches, prayers, songs, poems, paintings. A beautiful programme was created with mutual cooperation conveying the message about One God, the Father of one global human family. All the participants of the event became one in their expression of love for God and humanity.
The participants of the programme were :
Sudha Rani Gupta (India, Russia), the General Director of the Centre of Spiritual Development in Moscow, medal holder "The Person of Millennium"
Mrs. Eugenia Ursu (Moldova), ambassador of peace, General Secretary of the Federation of Associations, Centres, and Clubs of UNESCO in Moldova
Mrs. Anna Chernikova and her daughter Amelia Uzun (Moldova), singers
Mrs. Karina Kvazem (Russia), the ambassador of peace; the author of peace-making and educational programmes; the director of the interactive museum complex "Our world yesterday, today, tomorrow; president of the inter-ethnic women's club "The Commonwealth"
Father Eugeniy Boyko (Ukraine), Greek Catholic priest, the abbot of the Peter and Paul temple in Cozova, Ukraine, creator of the Alley of Kindness
Mr. Akim Salbiyev (North Ossetia, Russia), film director, producer, screenwriter, singer, honoured art worker
Mr. Michael Mostov (Russia), stage director, actor, vocalist, teacher of acting skills
Mrs. Valeria Porokhova (Russia, Syria), translator, theologian, well-known for the translation of the Holy Koran from Arabian into Russian
The Baha'i community in Mongolia addressed all the participants of the programme with a beautiful message of love and harmony performing beautiful songs and prayers together.
Mr. Arthur Makarov (Russia), theatre and cinema actor, poet, member of the Union of Writers of Russia
Mrs. Viktoria Lepko (Russia), theatre and cinema actress, honoured artist of Russia and Poland, writer, poet
Dr. CH. Dambajav, Khamba Lama (Ulaanbaatar, Mongolia), Dashichoiling Monastery
Mr. Pavel Khoroshutin (Russia), musician, songwriter, singer, psychologist
The beautiful paintings by two artists — Mrs. Irina Matsyura (Russia) and Mrs. Gutiera Prodan (Moldova) — were shown at the beginning of the programme. Their works are filled with light and deep spiritual meaning, conveying the ideas of peace and universal harmony.
The Presenter of the event was Ms. Elena Titova (Russia), a BK student, English and German teacher, interpreter, poet.
The program was streamed live on 5th February and you can watch the replay (in Russian only) here: https://youtu.be/6Mq8VTljiqc

New video produced by Russian BKs "Music of Silence": Pure Angel Flying Above The Earth - Dedicated to Brahma Baba's Remembrance Day
20 January 2021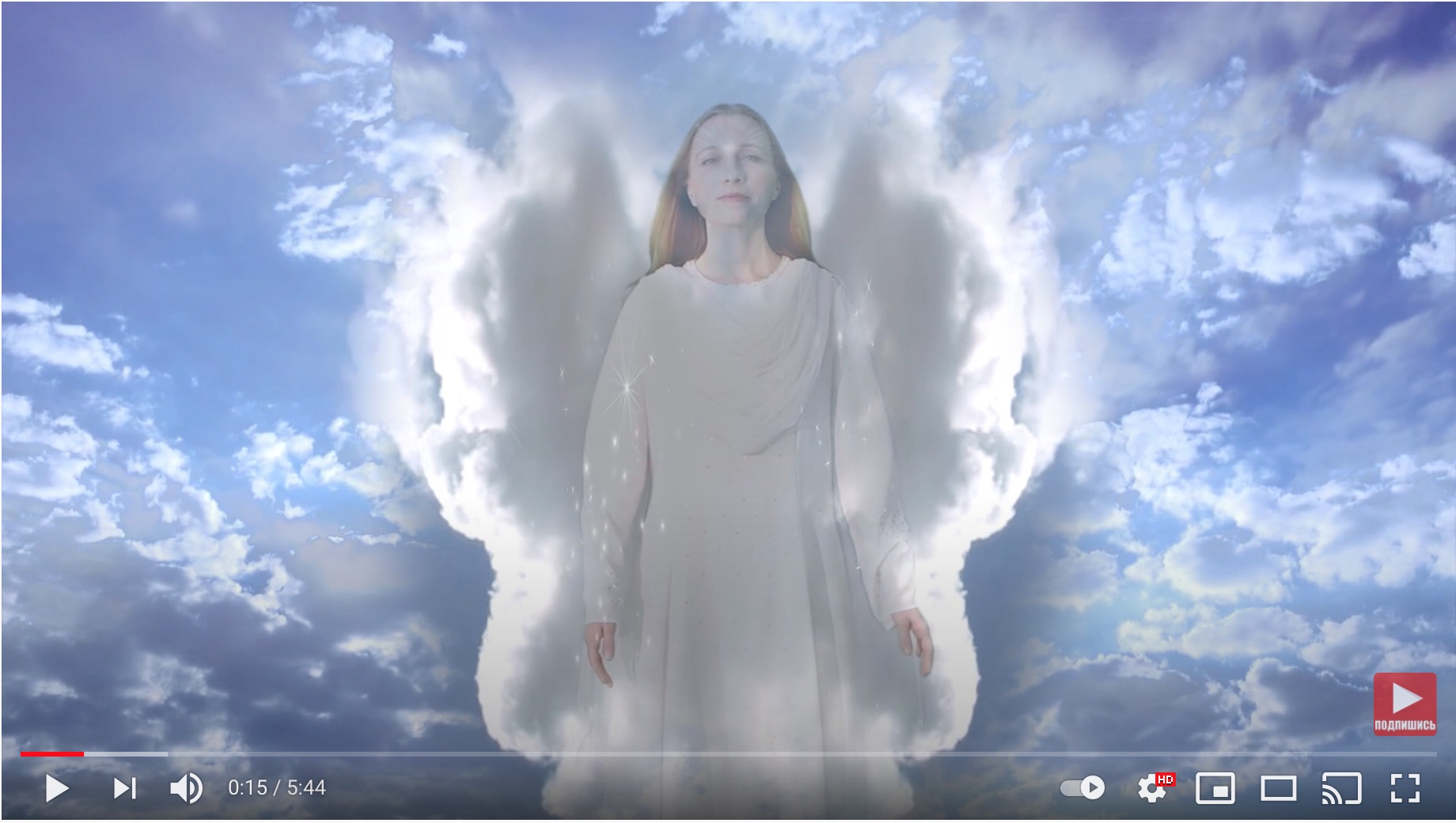 Dear divine family, Om Shanti,
Greetings from freezing Rusland!
Here is a beautiful song 'Pure Angel' in Russian with subtitles in Hindi. The song is created by BK's "Music of Silence", Moscow and is dedicated to Brahma Baba's Smriti Diwas (Remembrance Day). Watch, listen, and feel the unearthly joy... of our beloved Prajapita Brahma Baba ascending to an Angel.
Music of Silence - Pure Angel Flying Above The Earth
Link: https://youtu.be/-yLOA2yTSEc
With best wishes and divine love
In Baba's yad
BK Elena
Multi-media department
Moscow

New Year Greetings from Centres in Russia, Baltic countries, CIS and Mongolia - YouTube Video
15 January 2021
Dear divine family,
Please accept Happy New Year's greetings and a short video of the holiday from Moscow and the performance of BK brothers and sisters from different centers of Russia, the Baltic countries, Mongolia, and the CIS with explanations in Hindi. This video can be shown in class or sent to BKs. Not for posting on social media.
In Baba's yad
BK Sudha
Link to video is here. Duration is 5 minutes.
IN HINDI:
प्रिय दैवी परिवार, आप सभी नव वर्ष की शुभकामनाएँ स्वीकार करें | एक छोटा वीडियो जो की मास्को में छुट्टी और रूस के विभिन्न केंद्रों, बाल्टिक देशों, मंगोलिया और सी.आई. एस के बी. के. भाई- बहनों की सेवाओं को प्रदर्शित करता है, लिंक समेत भेज रहे हैं, हिंदी में स्पष्टीकरण के साथ| यह वीडियो क्लास में दिखाया जा सकता है या बी.के. भाई- बहनों को भेजा जा सकता है। सोशल मीडिया पर पोस्ट करने के लिए नहीं है|
वीडियो का लिंक यहाँ है। इसकी अवधि 5 मिनट है।

New Year Celebrations in Brahma Kumaris Moscow
9 January 2021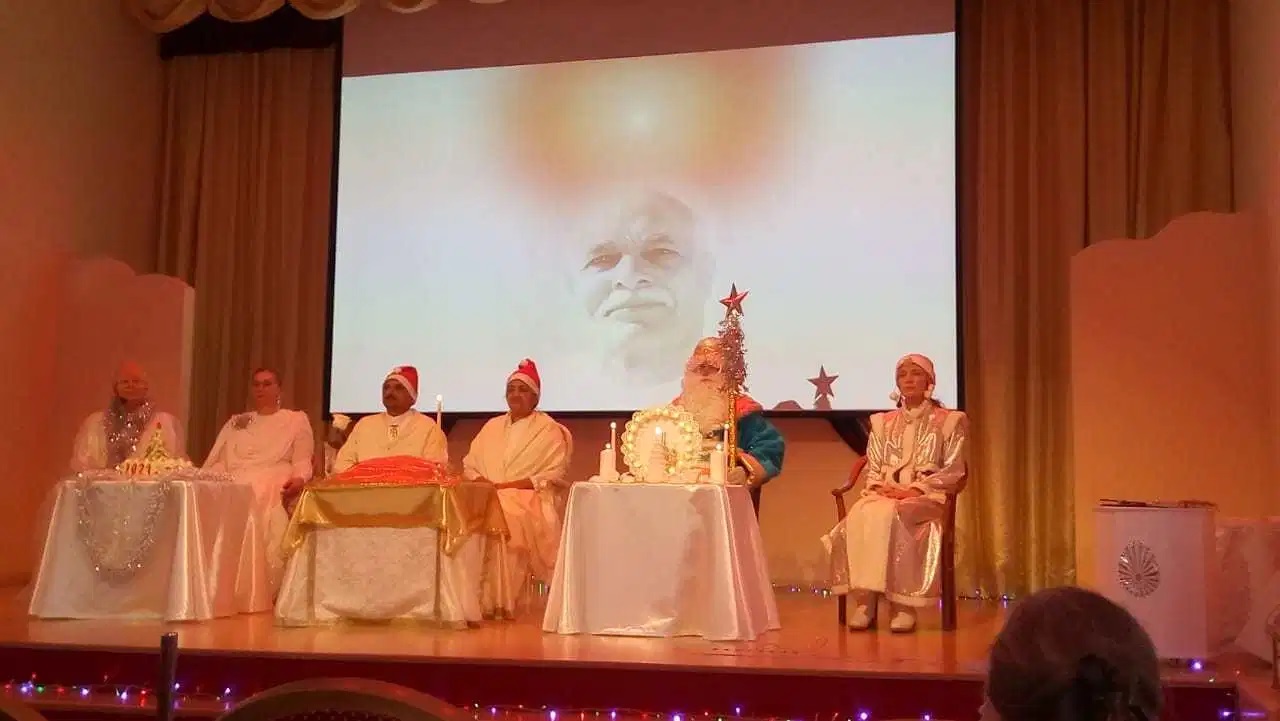 Moscow (Russia): The New Year program by Brahma Kumaris Moscow started with a small performance "The Magic Mirror or Garland of Virtues". Parts from popular films were shown where some kind of virtue was presented. Everyone gathered in a garland to decorate the Christmas tree.
Senior BK teachers Didi Sudha and BK Vijay were invited to the stage,
along with the rest of the heroes of the performance for lighting candles, offering bhog to the main Dedushka Moroz (Grandfather Frost)-Baba and cutting the cake.
The program ended with the song "A davaite mye budem schastlivyemi" (Let us be happy).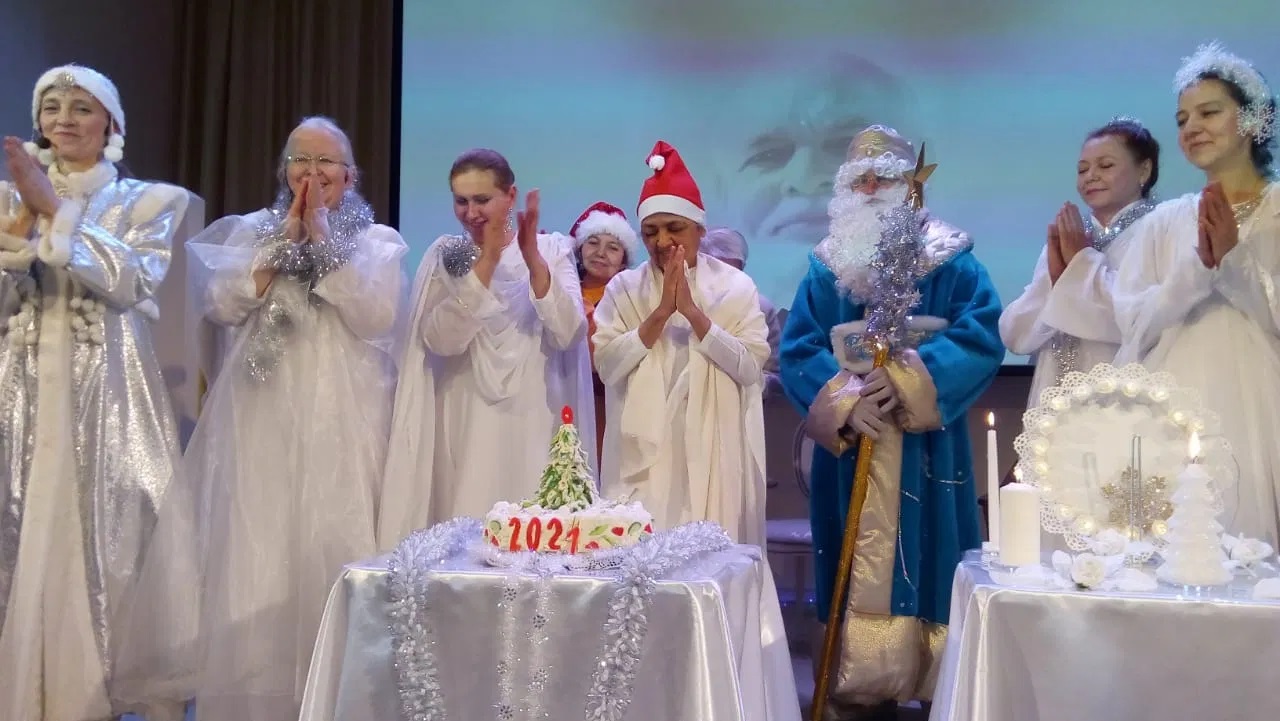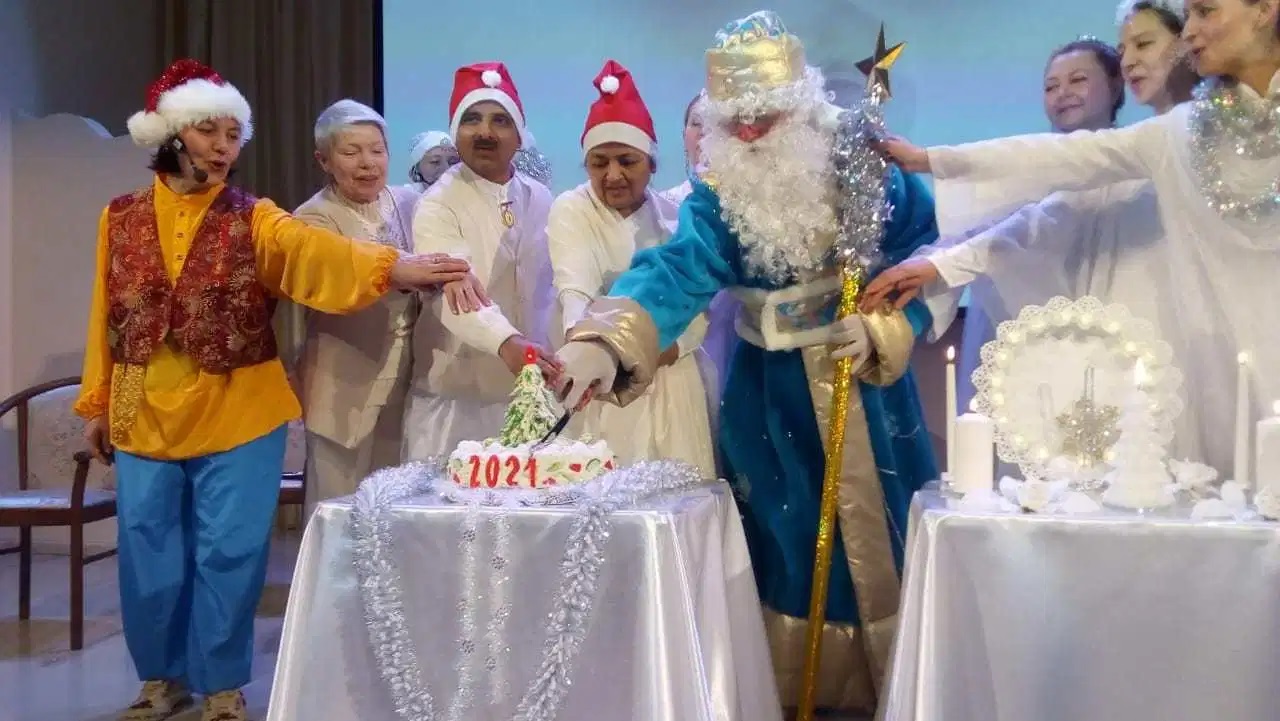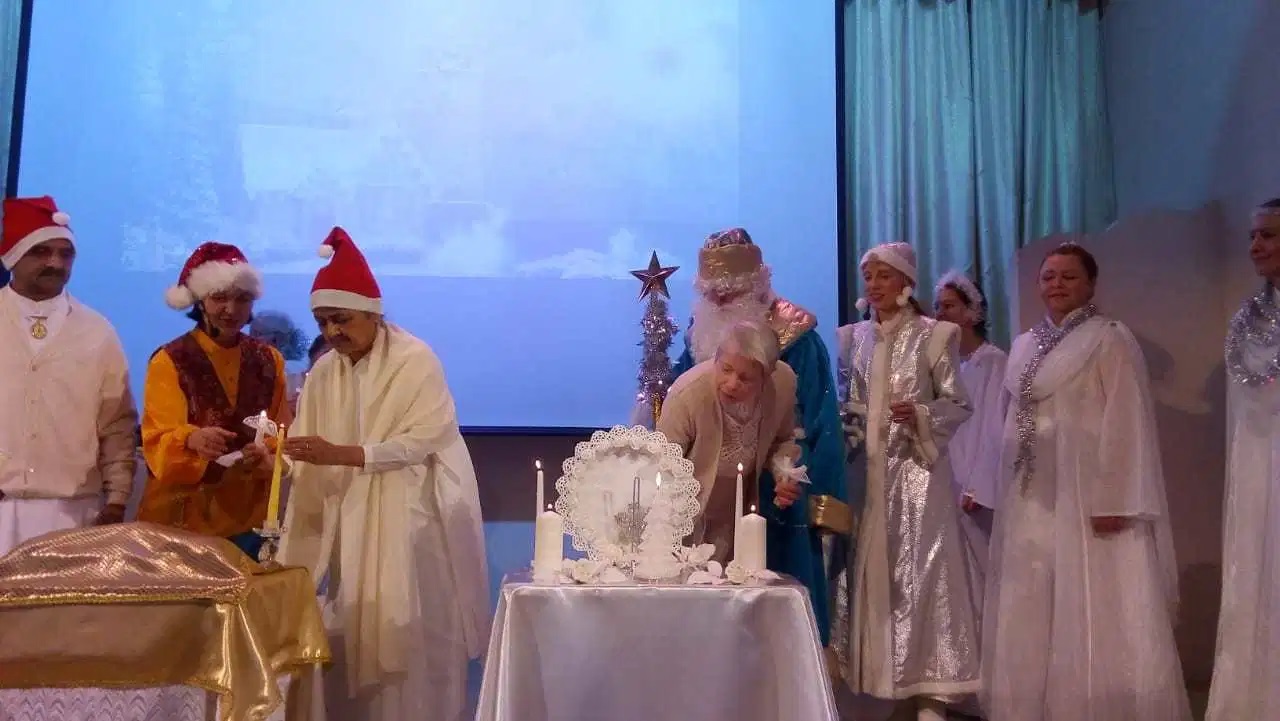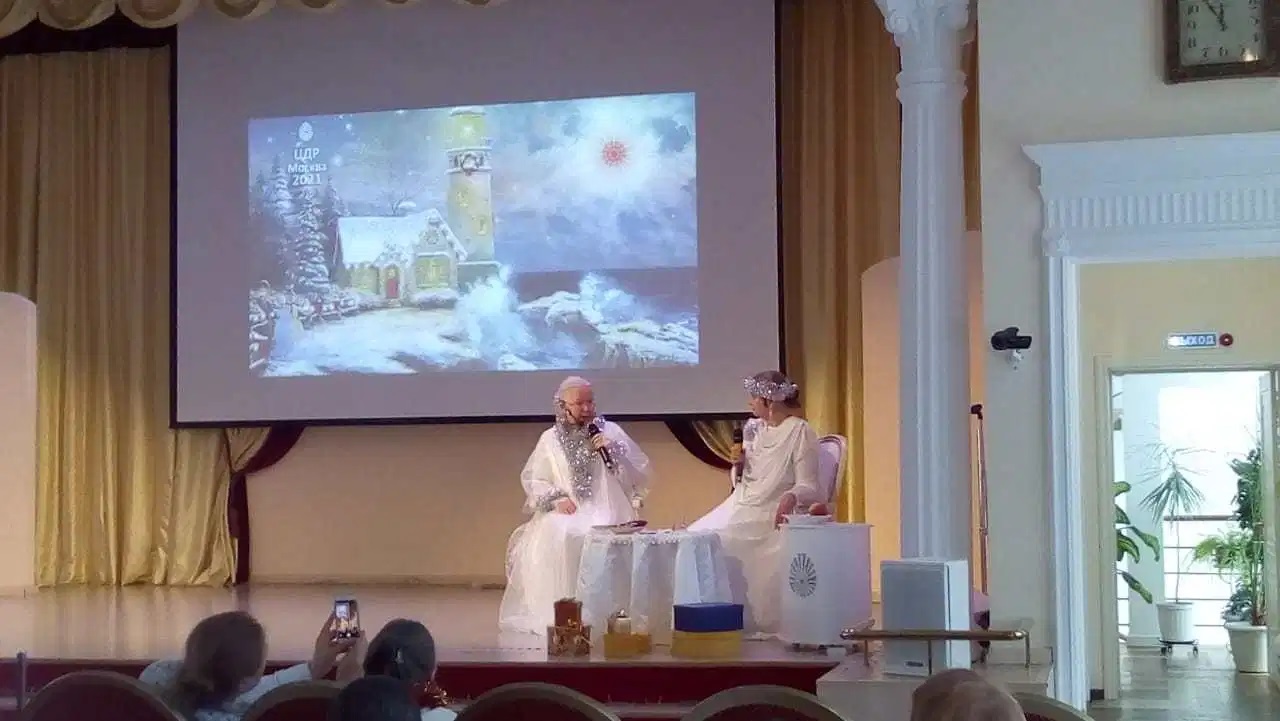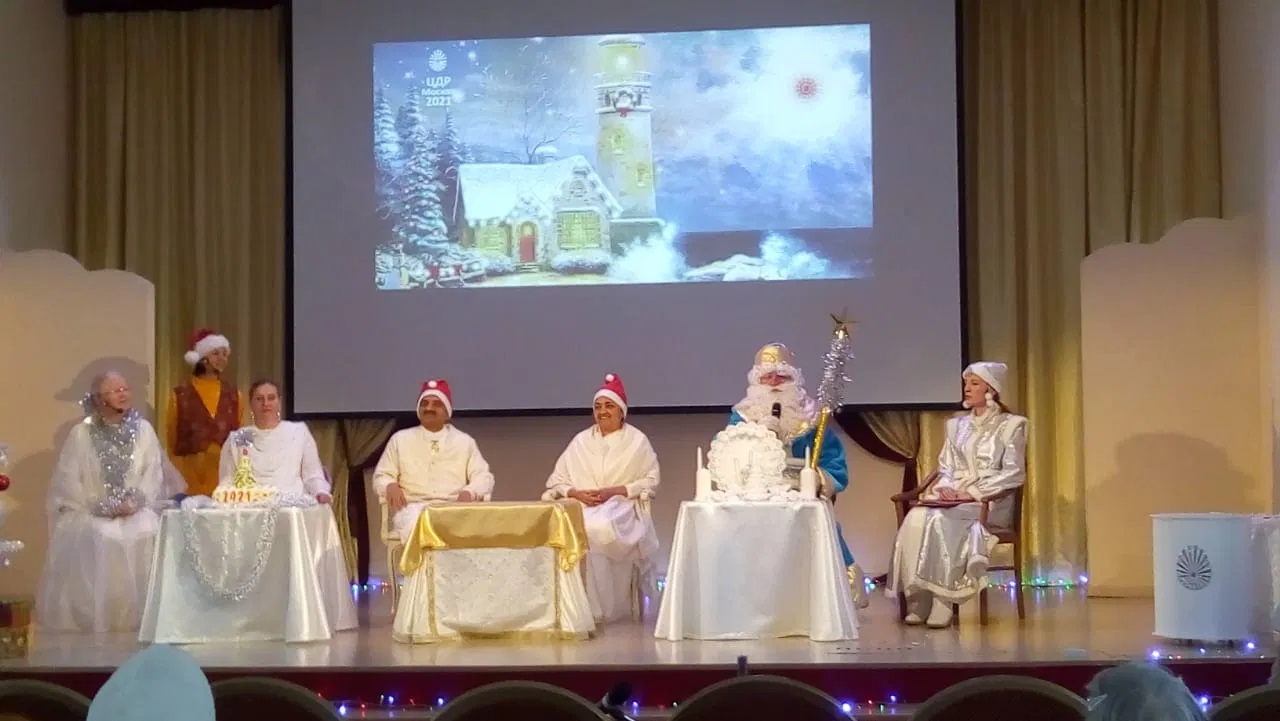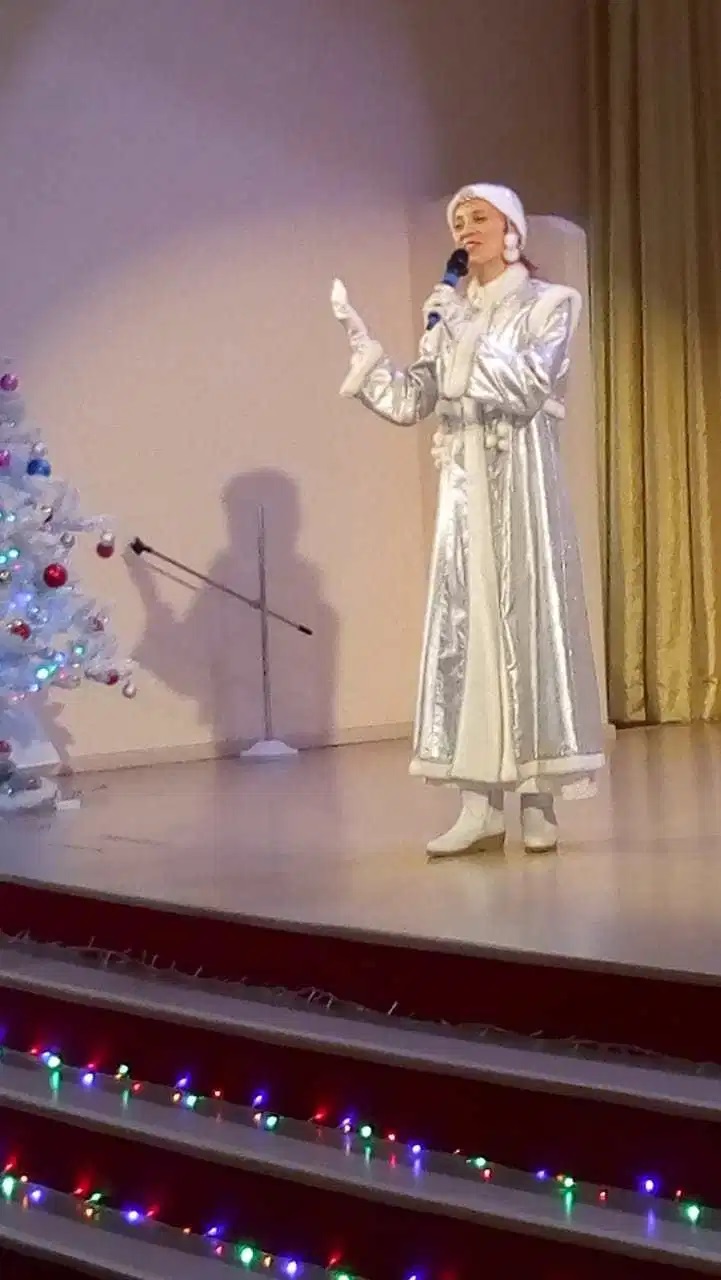 Center for Spiritual Development in Tyumen Awarded with Letter of Gratitude for Selfless Work
1st January 2021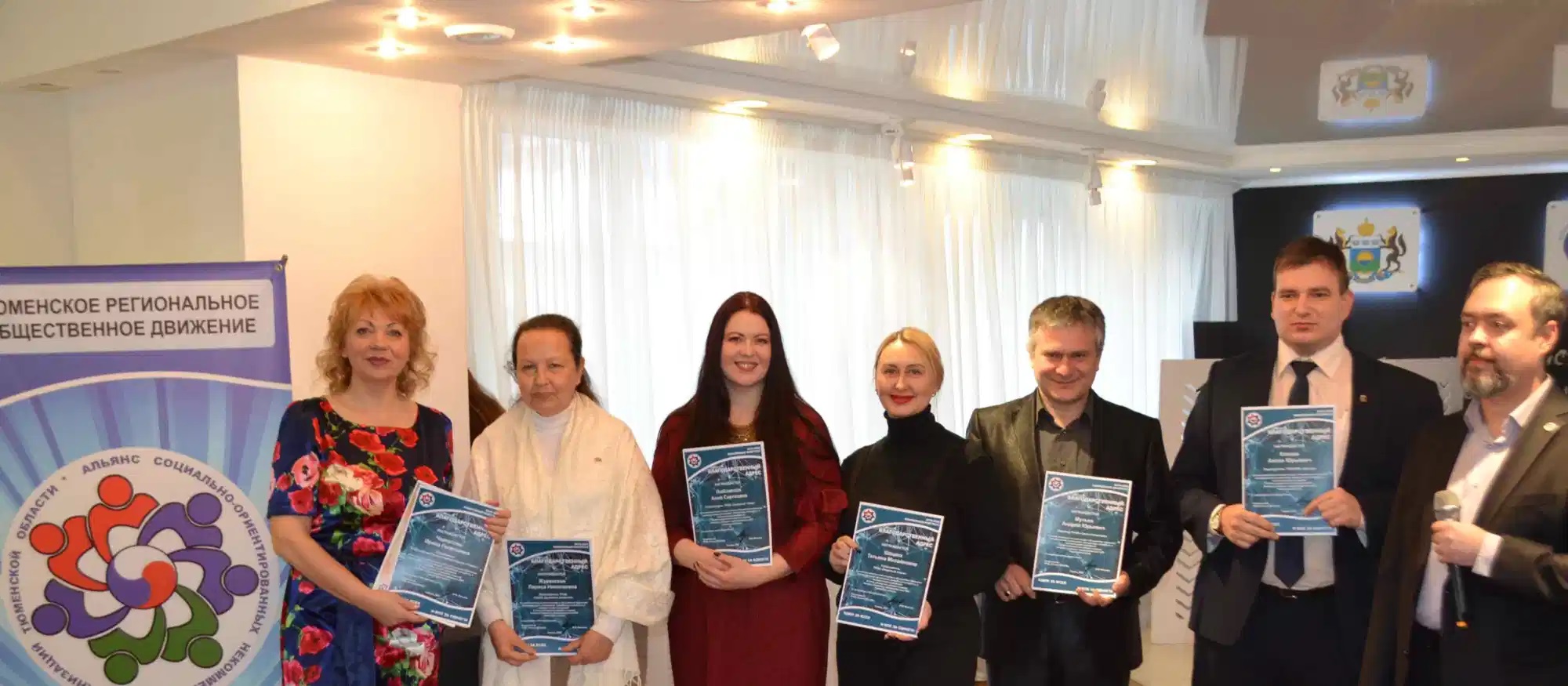 Serving the Leaders of Non-profit Public Organizations
Tyumen (Russia): In honor of the five-year anniversary alliance of socially oriented NGOs of the Tyumen region, there was a presentation of certificates and words of gratitude. The collective of the Center for Spiritual Development was awarded a letter of gratitude for the contribution to the development of public initiatives, civic activity, and selfless work for the benefit of people. BK Larisa Juravskaya received the award.
The event was held at the Semya regional center with the support of the Trajectory of Hope Charitable Foundation. A business game was organized, meeting the leaders; many personal meetings and individual negotiations took place.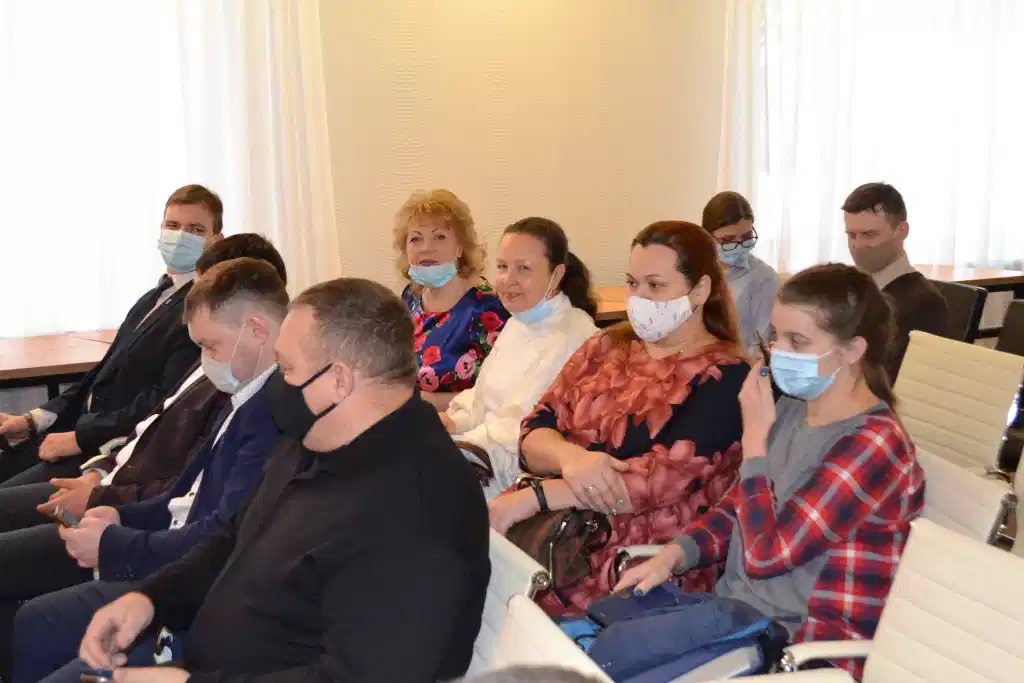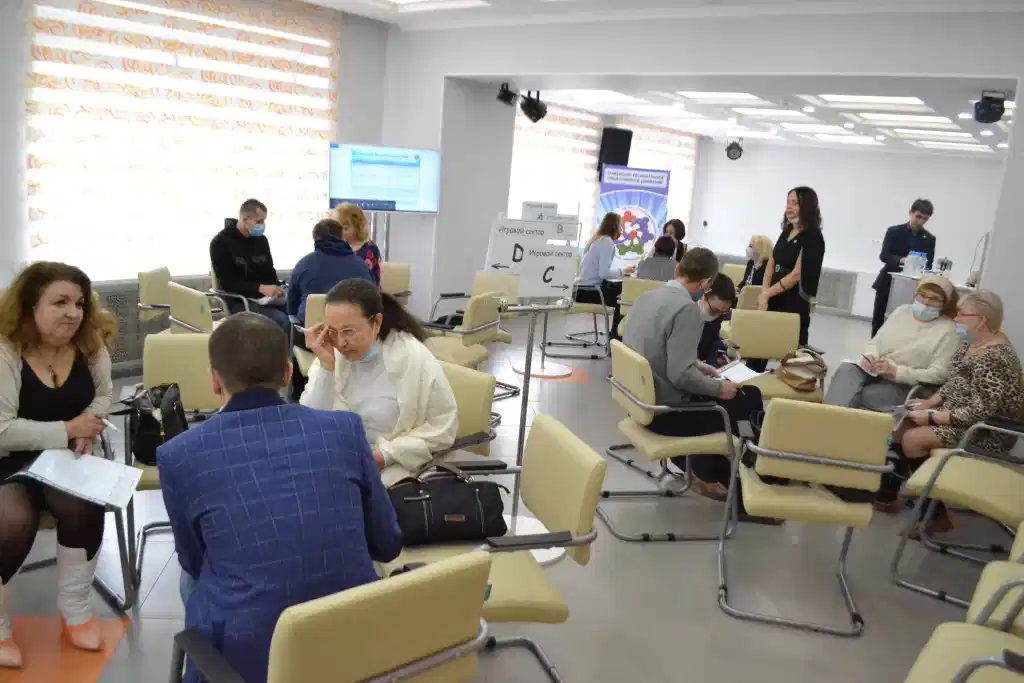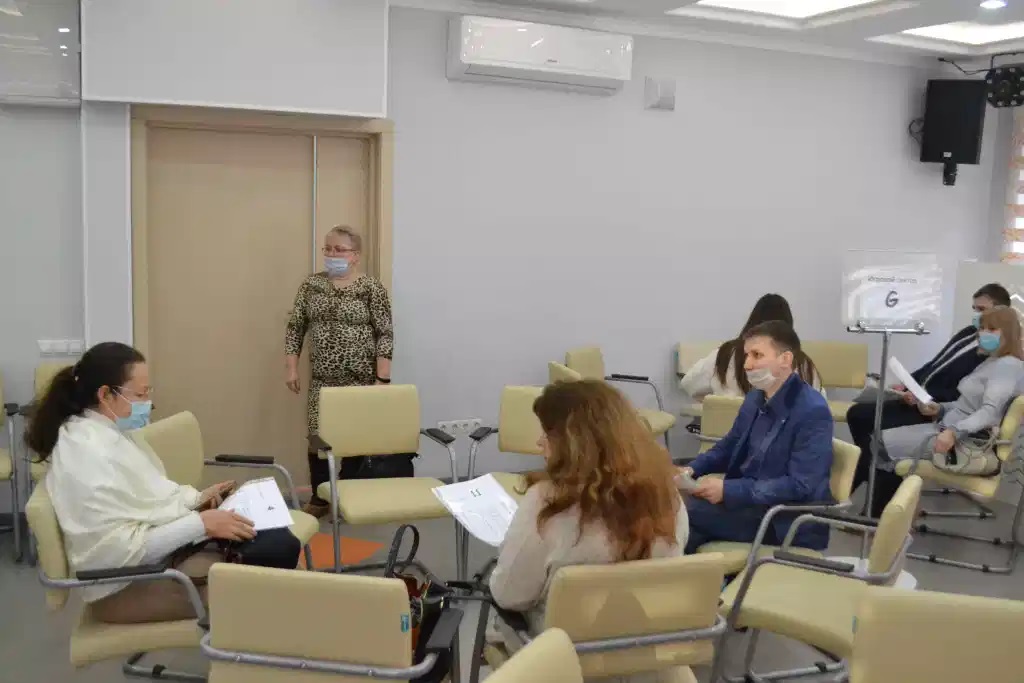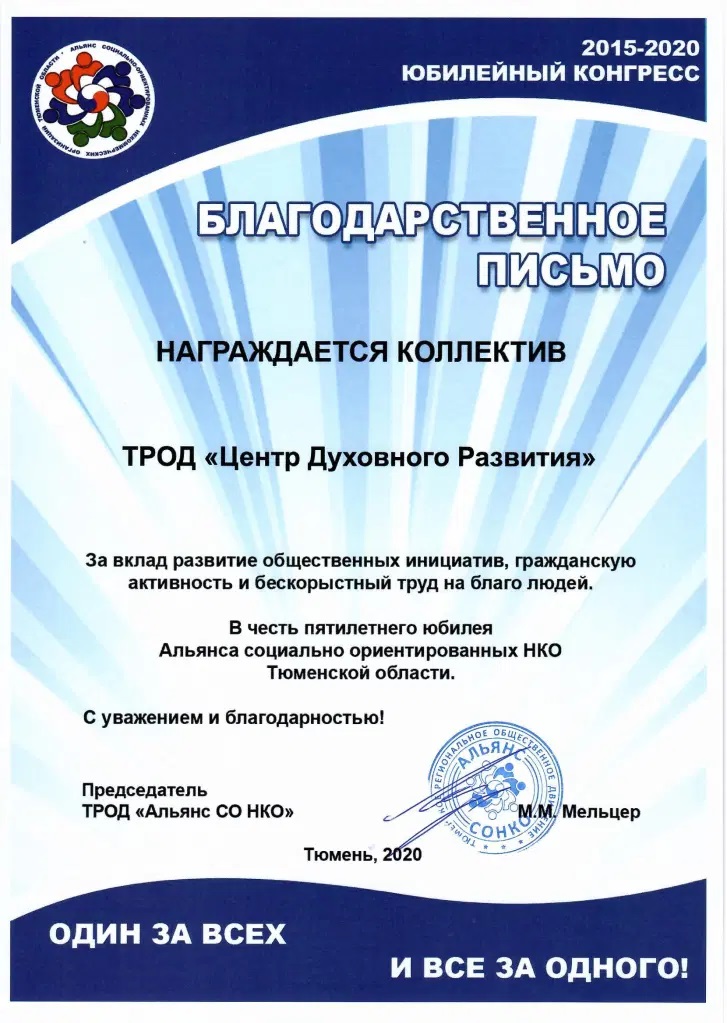 2020 Russia & the CIS News Archive
2019 Russia & the CIS News Archive
2018 Russia & the CIS News Archive
2015 Russia & the CIS News Archive
2014 Russia & the CIS News Archive
2013 (and end of 2012) Russia & the CIS News Archive