Africa News
Africa News
Godly Power Bank Report from Kenya
11 January 2021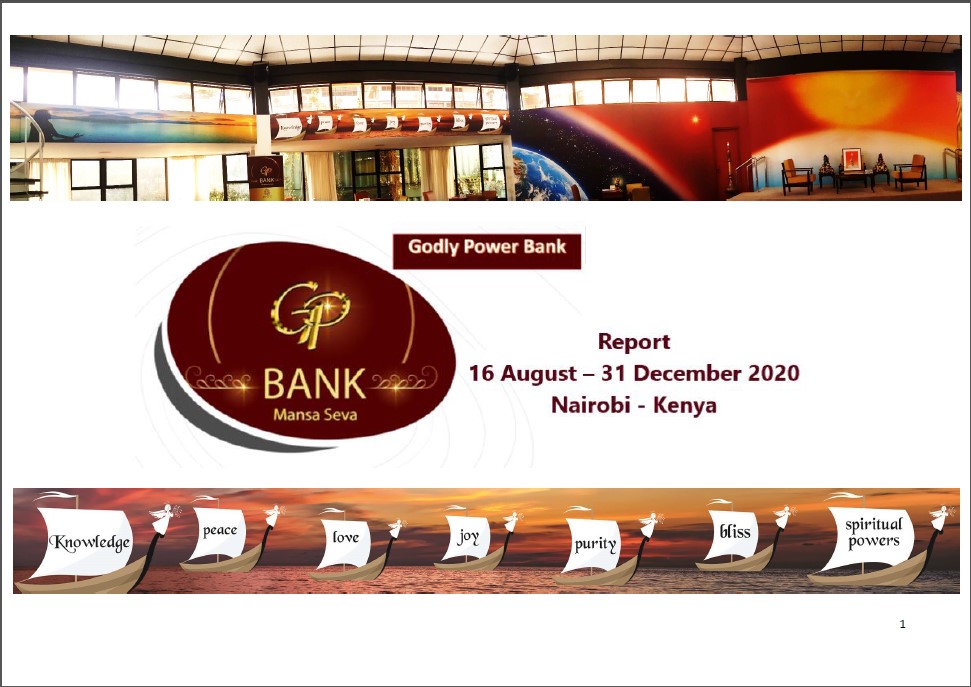 Om Shanti. Please find the 10-page report here:
https://drive.google.com/file/d/14q3i9ND_eVO58DM5L5y_6Ac7dRfMRosd/view?usp=sharing
Brahma Kumaris Nairobi
Karmateet Stage: Silence Yoga Bhatti News Nairobi - Kenya, December 2020
4 January 2021
Dear divine Family Around the Globe,
Greetings for the New Year from Sr Vedanti and the Nairobi Family.
An online All Africa Teachers Get-together in November inspired this special Online Silence Yoga Bhatti. All the centres of Africa connected online for 1 hour in the evening for the whole month of December. Each Centre or 2/3 centres together took the responsibility of organizing the presentation for that 1 hour. The theme was Karmateet Stage.
The aim was to involve all the main centres and teachers. The teachers and as many students of centre that was responsible to present in the evening remained in silence for the whole day. 38 centres got involved in this bhatti. The themes of the presentations were on various topics like love, peace, purity, silence, incorporeal-viceless-egoless, karmateet stage, virtues etc.
It was a wonderful experience of love and unity. Wah Baba Wah.
Some of the Experiences:
· Karmateet Yoga Bhatti was like a tree with ripe sweet variety of fruits every evening, enjoying the sweetness whole day.
· Plough through the untouched levels of deep rooted and subtle vices hidden inside me.
· Increased touching and catching powers, my deep Love for Baba and Soul Consciousness
· Silence has strengthened my mental stage
· Collective practice in the centre had made it easy for me to maintain Silence
· The centre is a Tower of Silence and its fragrance can be experienced everywhere
· I never realized until now just how much it has helped me:
Silence humbles arrogance, neutralizes the urge to defend myself, learn to speak through my eyes, ends confusion, guides me to the sacred point inside, heals the mess created by extremes, the impossible becomes possible, allows me to acknowledge impurity and transform it with love and zeal and enthusiasm increased everyday. This is like watching a suspense spiritual movie.
· I practiced putting a full stop and made my mind silent.
· Very powerful experience. Kept me connected to Baba and Brahmin family. Experienced newness everyday
· It was spiritually inspiring to have combined yogadaan with our brothers and sisters in different countries.
· This precious one hour was so energizing and uplifting that it actually flew by so quickly. A most valuable and exciting experience.
· It was a tour of Africa without any visa or ticket.
· The experience of the silence was an opportunity to listen to the sound of inner silence away from the external sounds that I got inspired to continue with the silence for the whole month of Dec and Jan.
· Silence taught me to detach from the outer world, helped me to realise the beauty of my inner world and gave me the strength to accept whatever is happening outside, to become a detached observer. Now my aim is to stay as much as possible in that beautiful state of silence.
· The atmosphere of pin-drop silence at the Centre. Silence reminds us of our sweet Silence home, of our beloved Shiv Baba who is always beyond sound.
· The whole centre was vibrating Peace and Silence, Mind and intellect were full of Baba's remembrance with a deep experience of Angelic stage.
· At work, I had the facemask on all the time so meetings were only full of smiles and full attention was on the inner self. The work finished in a short time and had lots of time to spare.
· Good experience...want to continue this practice
These experiences have inspired the centre residents of Nairobi to remain in silence in this Avyakt month of January.
Best wishes
Sr Vedanti and Nairobi Family

New Year Greetings from Mauritius Family
27 December 2020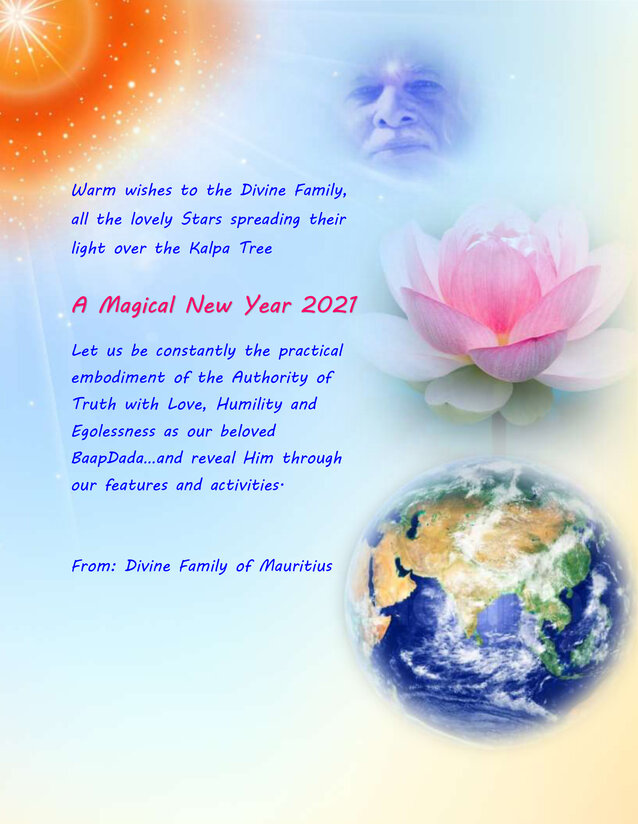 Seasons Greetings from BK Vedanti & Nairobi Family
24 December 2020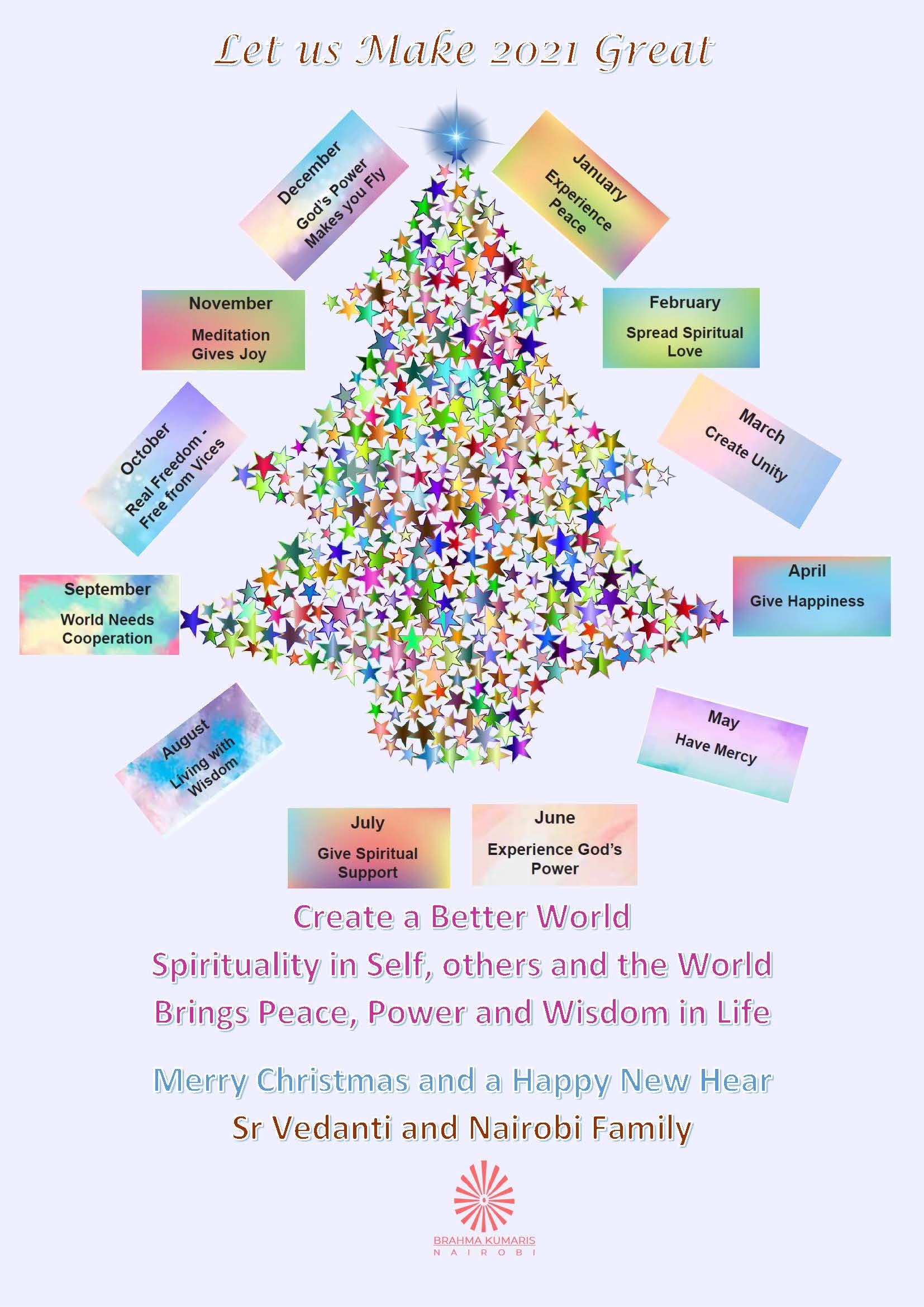 Brahma Kumaris Nairobi
Tel: +254 20 3743572/ 3741239
Mobile: 0722 202491 / 0735 337735
Email: nairobi@brahmakumaris.org

Interfaith Dialogue and Prayer for World Peace by Brahma Kumaris Mauritius
14 December 2020
Peace Day Celebrations in Mauritius
As the country was Covid-19 free since the month of June, the Brahma Kumaris of Mauritius was able to celebrate the International Day of Peace through numerous events. The peace events held throughout the island by the Brahma Kumaris branches observed strict sanitary rules and barrier gestures. It should also be noted that the country had and is still suffering from an ecological disaster due to an oil spillage in its lagoon and that this tragedy raised lots of concern for the protection of our eco resources. More online events were used to spread the message of peace, as some venues were restricted in terms of attendance and people are more used to such technology.
Interfaith Dialogue
On 21st September there was an interfaith dialogue and prayer for world peace with the participation of different communities which made a bouquet and harmony of the rainbow island. Mr. S. Bhunsee, President of the Flacq District Council graced the function.
BK Neeru performed the candle lighting ceremony along with faith representatives. After the dialogue, BK students demonstrated practical examples of how we can live a peaceful life through dance, song, skit, and meditation.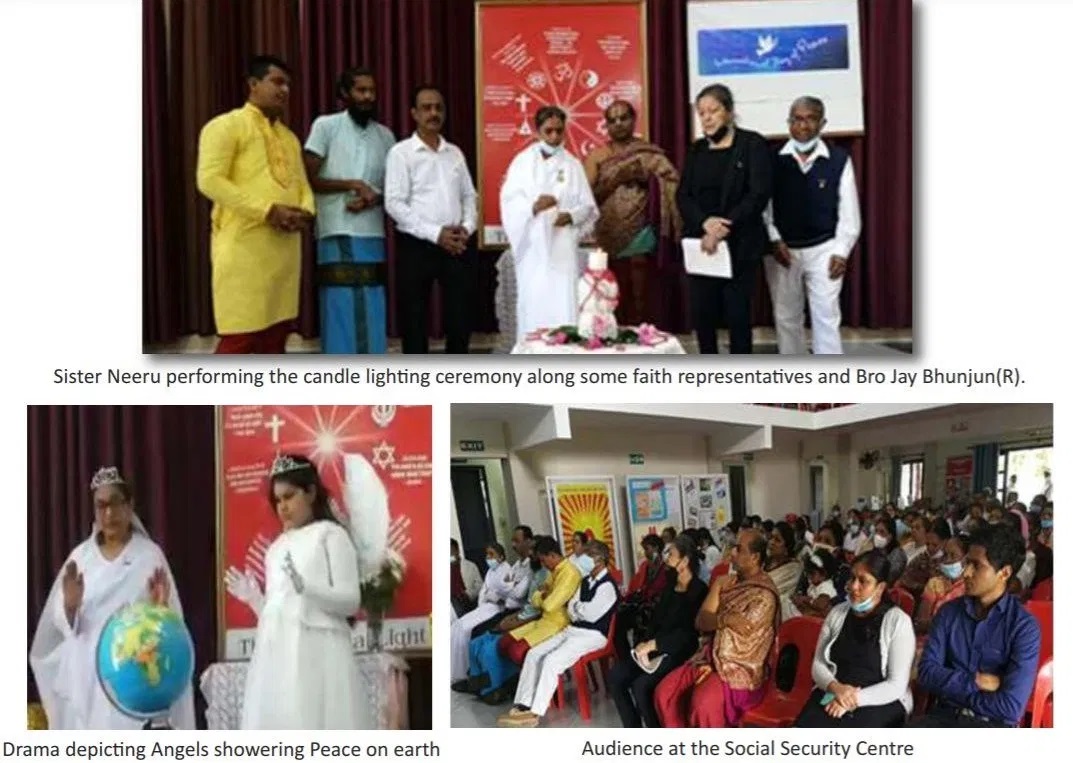 "Artistic Expression on Peace" – Peace Wall Painting by BKs of Rose Belle, Mauritius
3 December 2020

Rose Belle, Mauritius (East Africa): The Brahma Kumaris of Rose Belle organised a Peace Wall painting opposite the new Plaisance Mall in Rose Belle to sensitize the people of the region on the role of community values to create Peace in society.

"Making Each Home a Haven of Peace": Online Event By Global Peace House, Mauritius
1 December 2020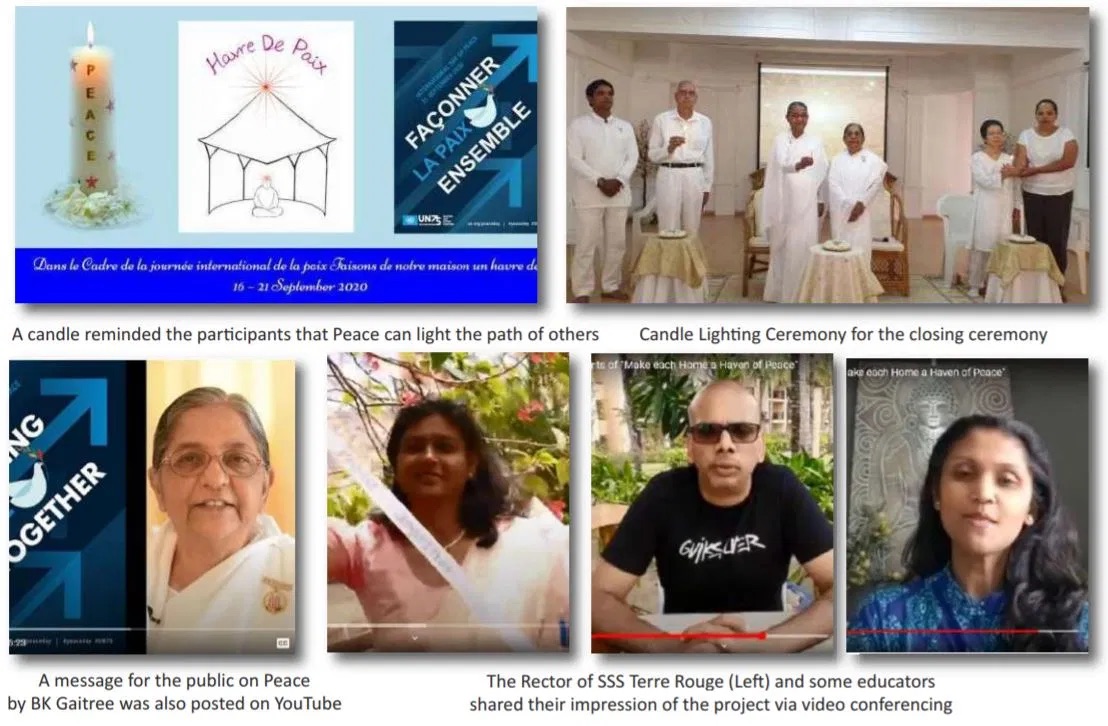 Brahma Kumaris Global Peace House hosted an online event "Making Each Home a Haven of Peace" from 16 to 21 September 2020. It was an initiative whose main focus was on experiencing peace as our original nature and spreading the vibrations of peace into the five elements of nature (Earth, Water, Fire, Air & Space).
Participants were invited to light a candle and meditate from 6 to 7 pm. The One hour synchronized meditation included meditation commentaries and reflections on the qualities within the human soul matching the natural qualities in each element - with the vision of restoring beauty to Mother Nature.
An average of 500 participants followed online. The program culminated on Sunday 27th September with a finale including testimonials, brief meditation sessions on healing ourselves to heal the planet, interspersed by songs, silent moments, and reflections on universal quotes on peace.