Africa News
Africa News
New Year Greetings 2022 - From Mauritius Divine Family
2 January 2022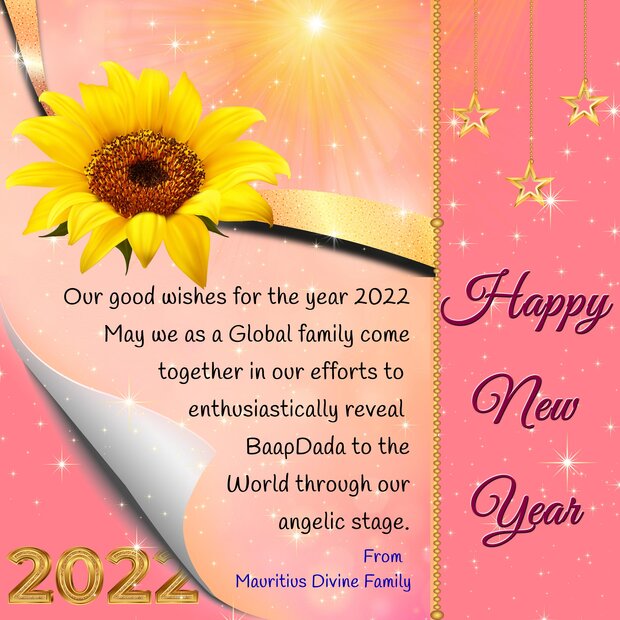 Brahma Kumaris in Cape Town Address Interfaith Tribute to Archbishop Desmond Tutu, Message from Additional Chief of Brahma Kumaris
30 December 2021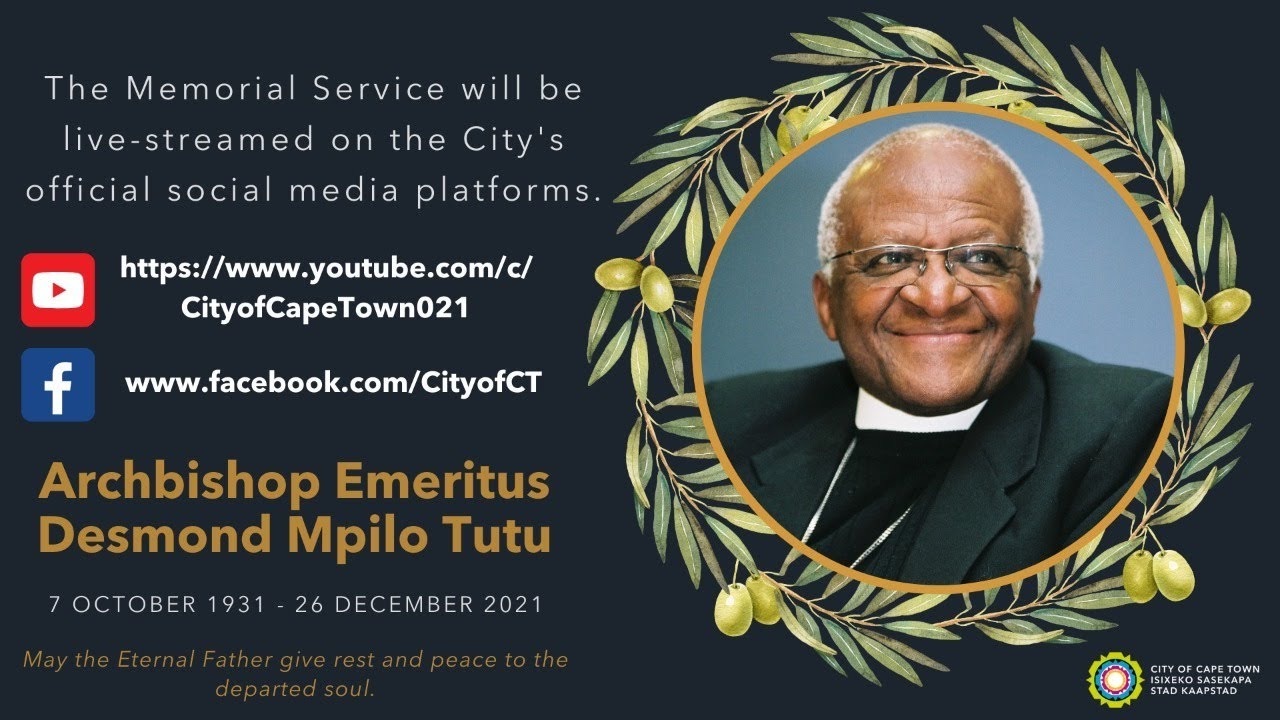 Cape Town (South Africa): An interfaith tribute to the late Archbishop Emeritus Desmond Tutu was held by the City of Cape Town on Wednesday.
The Nobel Peace Prize laureate, who played a pivotal role in ending apartheid, died on Sunday at the age of 90, in Cape Town.
Cape Town Mayor Geordin Hill-Lewis, representatives of the family and the Desmond and Leah Tutu Legacy Foundation, the faiths represented from Christianity, Islam, Judaism, Hinduism, Buddhism, Brahma Kumaris, Bahá'í, African Traditional Religion, and Khoisan representatives took part in the service.
Neeta from Brahma Kumaris addressing the tribute ceremony in Cape Town, asked everyone to hold the moment for a silent prayer for Desmond Tutu, sending the love from hearts for his truth, dedication, unwavering faith, courage and inner strength all rooted in the power of God's love.
Tribute Message from BK Mohini and BK Jayanti, Additional Administrative Heads, Brahma Kumaris World Spiritual University :
Archbishop Tutu played a significant role in changing the course of history in South Africa, which became an example and inspiration for the whole world.
Many students of the Brahma Kumaris treasure, in their hearts, their encounters with him, pre- and post-democracy, whether in an interfaith setting, as chair of the Truth and Reconciliation Commission or when South Africa hosted COP 17. He was an absolute champion of any initiative that promoted peace, togetherness, non-violence and compassion.
Archbishop Tutu will be remembered for his courageous voice for racial harmony, truth and justice, especially during the most trying times of South Africa. His deep faith in God and in the intrinsic good that is at the heart of every human being, gave him the strength to endure the difficult hearings of the Truth and Reconciliation Commission and help a nation to steer towards peace, harmony and racial integration. He understood the importance of the power of forgiveness in allowing for the healing of hearts and the reclaiming of our humanity.
Archbishop Tutu was fearless in speaking his truth, and using his position of influence to raise the conscience of leaders and remind them that they are in their positions to serve people, especially the most vulnerable.
His legacy is one of demonstrating the power of God's love, of determined faith, compassion and of courage and inner strength.
He will be greatly missed by the people of South Africa and by many millions around the world who drew inspiration from his life.
Brahma Kumaris were also featured in the BBC News – Desmond Tutu: Religious and political leaders pay tribute in Cape Town https://www.bbc.co.uk/news/world-africa-59823682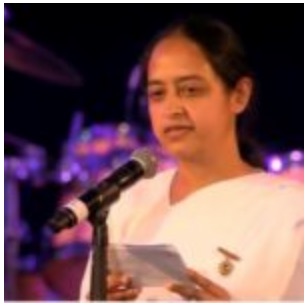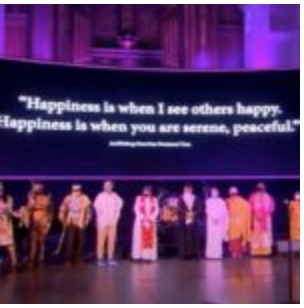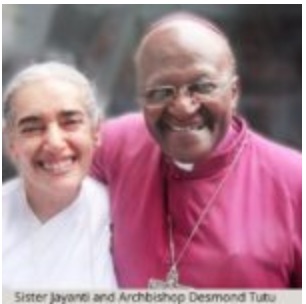 Merry Christmas and a Happy New Year from ​Nairobi - Kenya
24 December 2021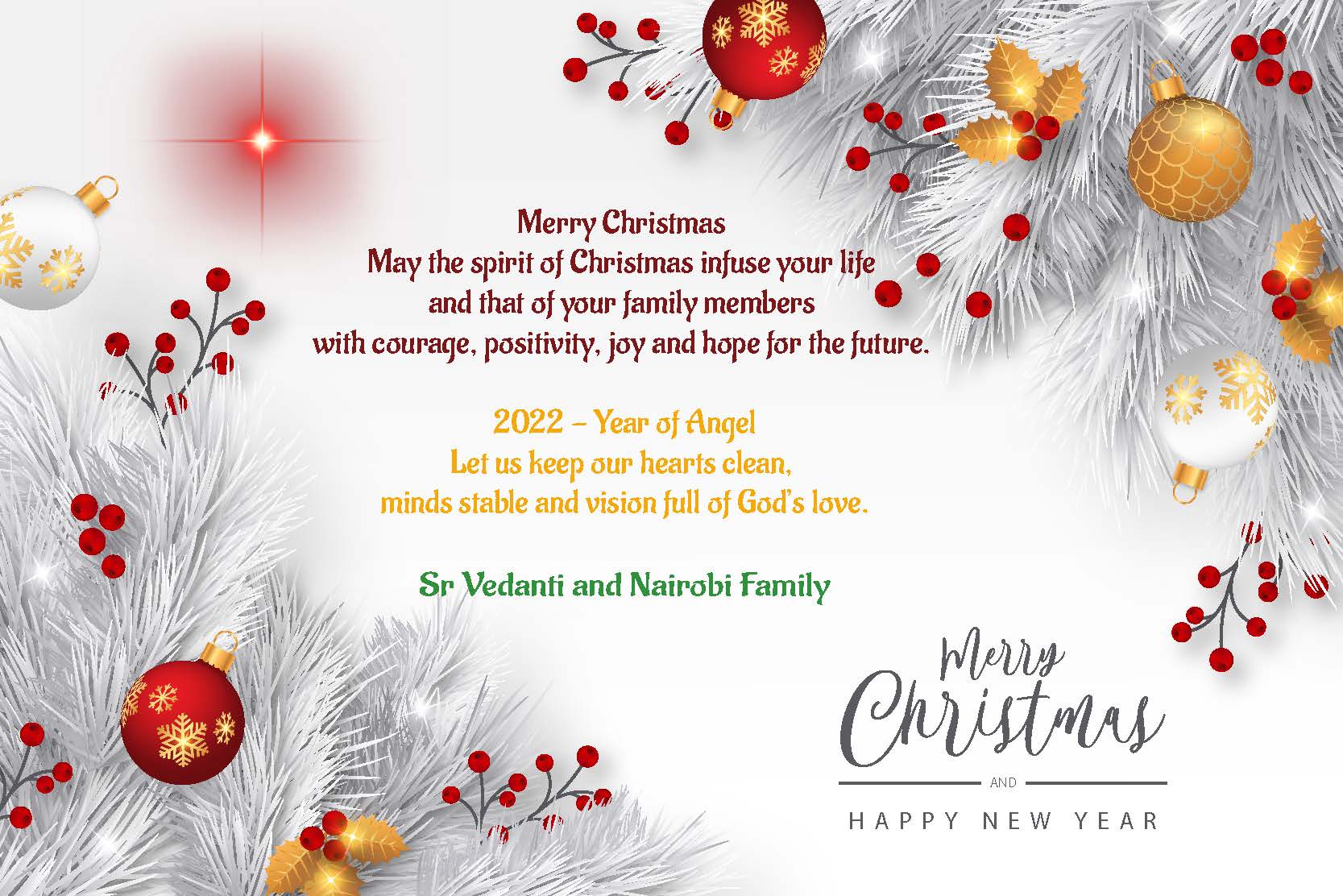 Diwali Greetings from Mauritius Divine Family
8 November 2021

Diwali and New Year Greetings from Sister Vedanti, Nairobi - Kenya
8 November 2021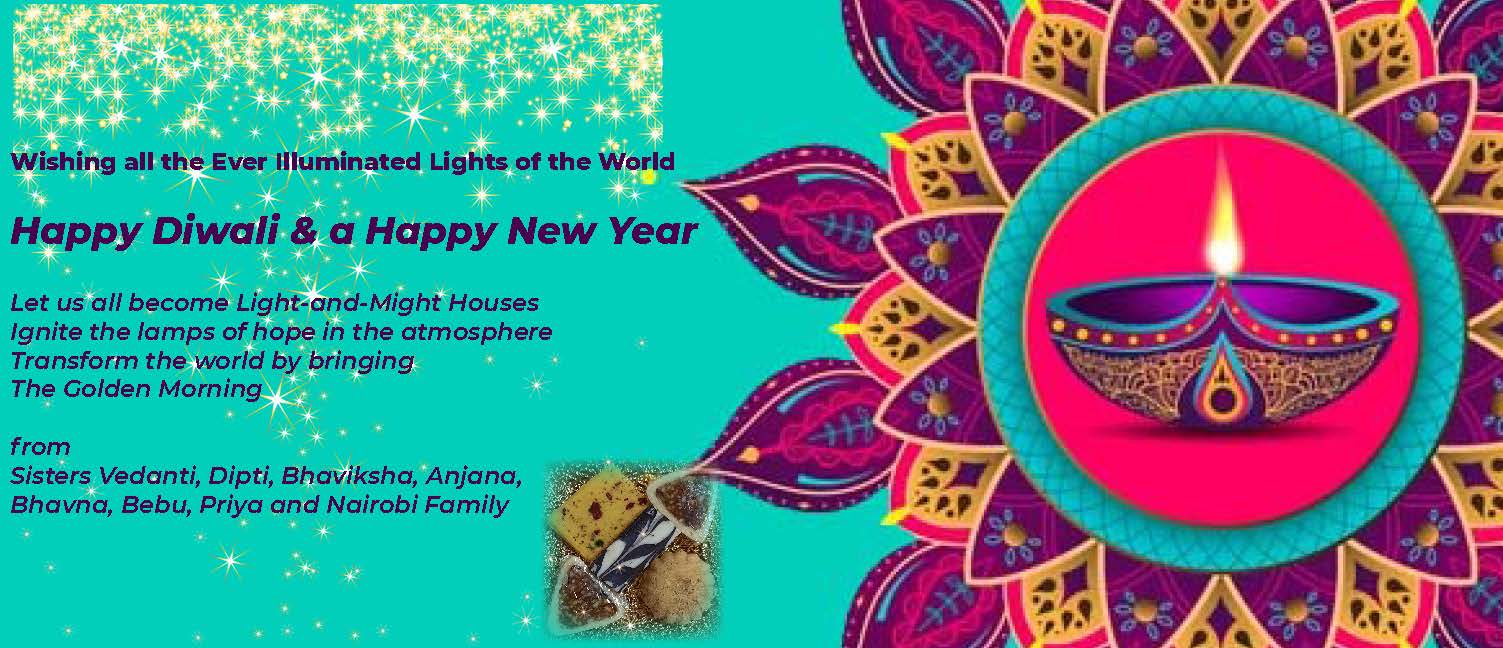 2021 Raksha Bandhan Report From Mauritius
27 September 2021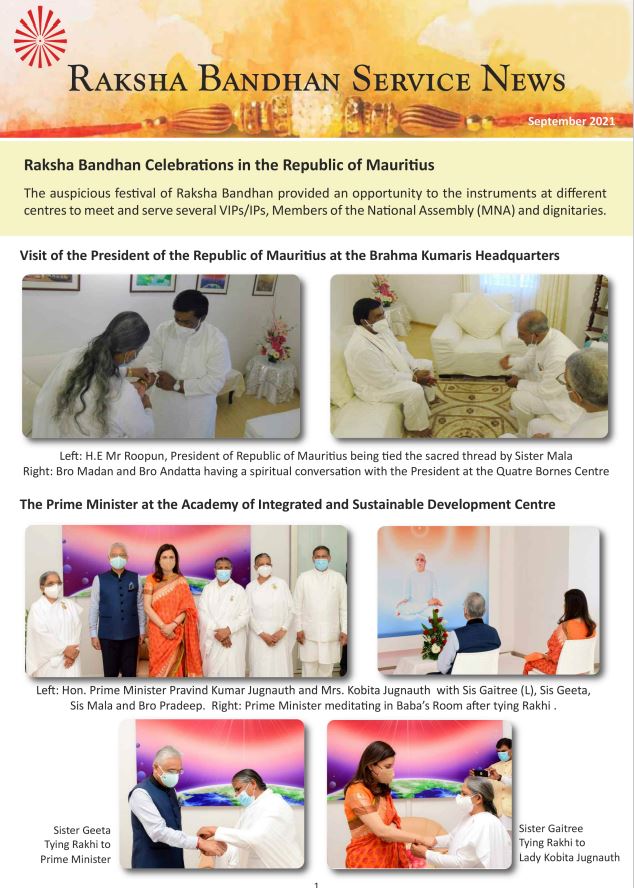 click on above image to download Full report in PDF.

Raksha Bandhan Greetings from Sr Vedanti and Nairobi Family
18 August 2021

Nairobi - Kenya - Godly Power Bank Report 16 August 2020-15 August
15 August 2021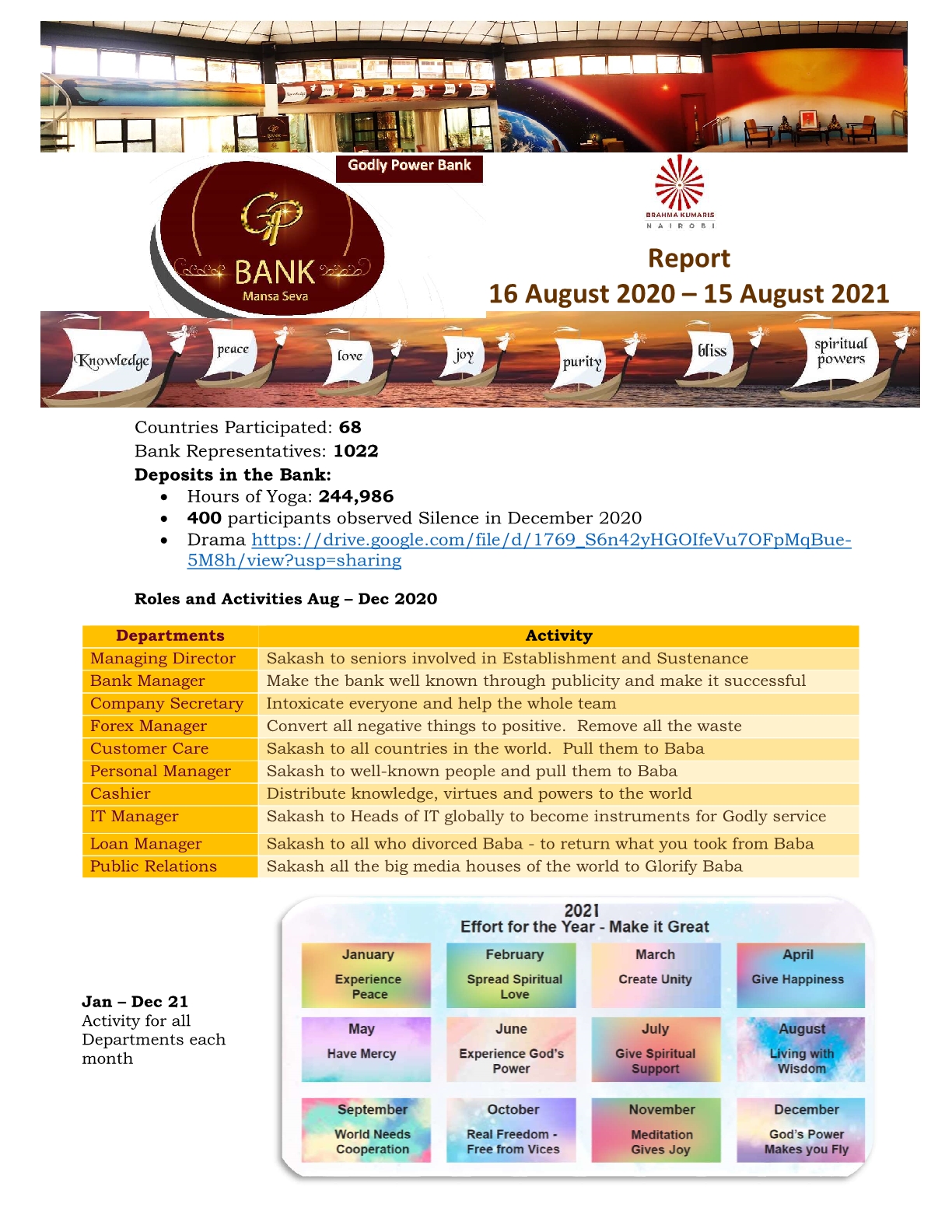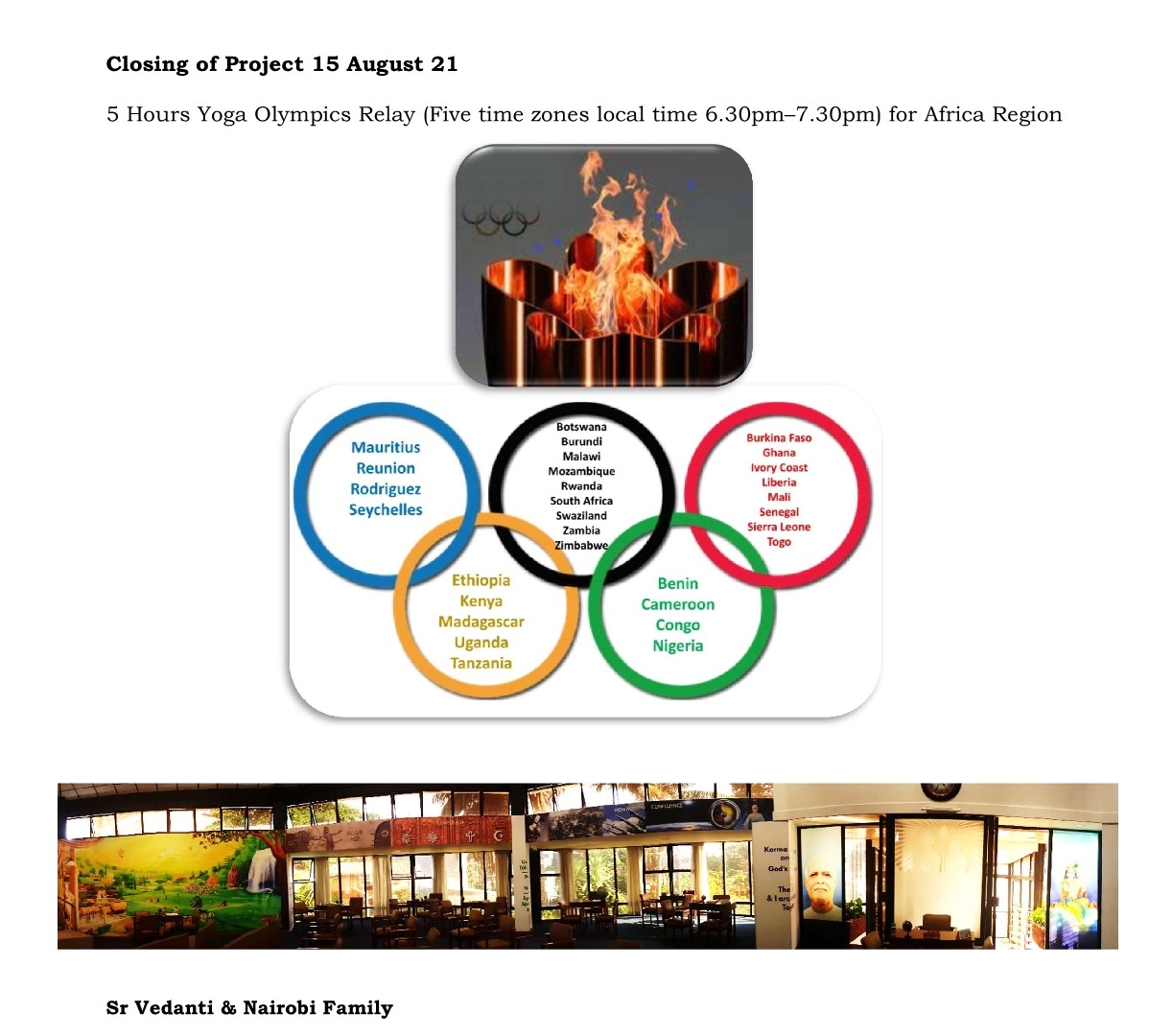 Brahma Kumaris Nairobi
click here for the report in PDF format.

News from South Africa regarding recent violence and rioting
15 July 2021
To Our Divine World Family,
Thank you for your messages of good wishes and concern. Your loving support during this time is so appreciated by the SA family.
As per Baba's teachings, the time of 'suddenly' erupted a few days ago. Things here are tense at the moment with a concentration of unrest and destruction of property in the areas around Durban and Johannesburg, but spreading to other areas each day.
We are in touch with the BK family in those areas and, thanks to Baba and drama, all are safe. We are holding a 24 hour chain bhatti to lend support to souls through vibrations of Baba's love and power.
Please continue to add your yoga power as the country passes through difficult times.
In Baba's sweet yaad
The BK family of SA

Godly Power Bank Report from Kenya
11 January 2021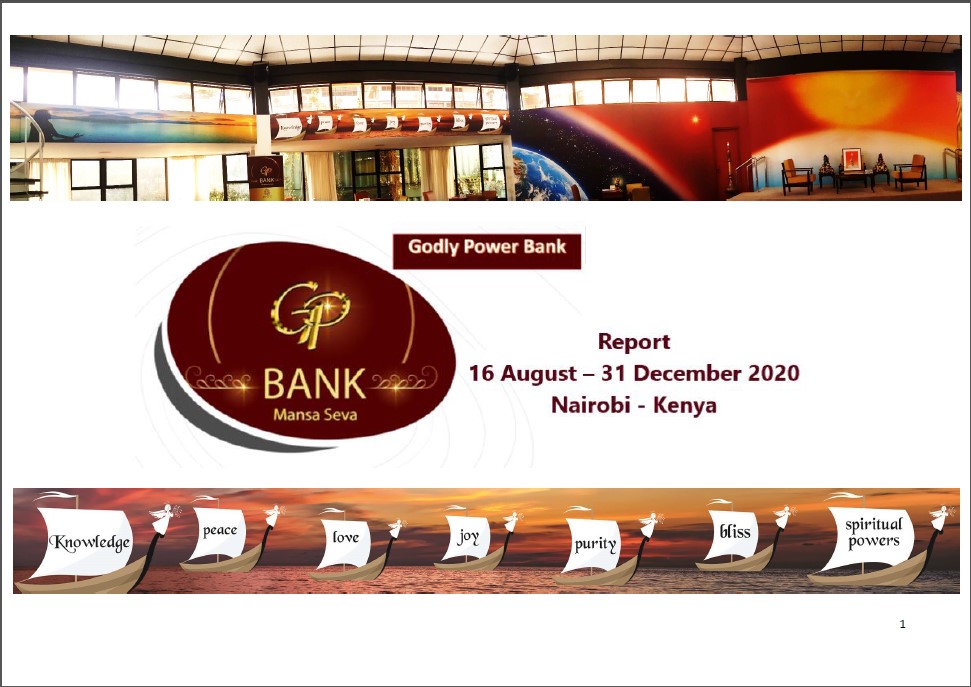 Om Shanti. Please find the 10-page report here:
https://drive.google.com/file/d/14q3i9ND_eVO58DM5L5y_6Ac7dRfMRosd/view?usp=sharing
Brahma Kumaris Nairobi

Karmateet Stage: Silence Yoga Bhatti News Nairobi - Kenya, December 2020
4 January 2021
Dear divine Family Around the Globe,
Greetings for the New Year from Sr Vedanti and the Nairobi Family.
An online All Africa Teachers Get-together in November inspired this special Online Silence Yoga Bhatti. All the centres of Africa connected online for 1 hour in the evening for the whole month of December. Each Centre or 2/3 centres together took the responsibility of organizing the presentation for that 1 hour. The theme was Karmateet Stage.
The aim was to involve all the main centres and teachers. The teachers and as many students of centre that was responsible to present in the evening remained in silence for the whole day. 38 centres got involved in this bhatti. The themes of the presentations were on various topics like love, peace, purity, silence, incorporeal-viceless-egoless, karmateet stage, virtues etc.
It was a wonderful experience of love and unity. Wah Baba Wah.
Some of the Experiences:
· Karmateet Yoga Bhatti was like a tree with ripe sweet variety of fruits every evening, enjoying the sweetness whole day.
· Plough through the untouched levels of deep rooted and subtle vices hidden inside me.
· Increased touching and catching powers, my deep Love for Baba and Soul Consciousness
· Silence has strengthened my mental stage
· Collective practice in the centre had made it easy for me to maintain Silence
· The centre is a Tower of Silence and its fragrance can be experienced everywhere
· I never realized until now just how much it has helped me:
Silence humbles arrogance, neutralizes the urge to defend myself, learn to speak through my eyes, ends confusion, guides me to the sacred point inside, heals the mess created by extremes, the impossible becomes possible, allows me to acknowledge impurity and transform it with love and zeal and enthusiasm increased everyday. This is like watching a suspense spiritual movie.
· I practiced putting a full stop and made my mind silent.
· Very powerful experience. Kept me connected to Baba and Brahmin family. Experienced newness everyday
· It was spiritually inspiring to have combined yogadaan with our brothers and sisters in different countries.
· This precious one hour was so energizing and uplifting that it actually flew by so quickly. A most valuable and exciting experience.
· It was a tour of Africa without any visa or ticket.
· The experience of the silence was an opportunity to listen to the sound of inner silence away from the external sounds that I got inspired to continue with the silence for the whole month of Dec and Jan.
· Silence taught me to detach from the outer world, helped me to realise the beauty of my inner world and gave me the strength to accept whatever is happening outside, to become a detached observer. Now my aim is to stay as much as possible in that beautiful state of silence.
· The atmosphere of pin-drop silence at the Centre. Silence reminds us of our sweet Silence home, of our beloved Shiv Baba who is always beyond sound.
· The whole centre was vibrating Peace and Silence, Mind and intellect were full of Baba's remembrance with a deep experience of Angelic stage.
· At work, I had the facemask on all the time so meetings were only full of smiles and full attention was on the inner self. The work finished in a short time and had lots of time to spare.
· Good experience...want to continue this practice
These experiences have inspired the centre residents of Nairobi to remain in silence in this Avyakt month of January.
Best wishes
Sr Vedanti and Nairobi Family