Madhuban News
Madhuban News
Global Summit and Divya Basant at Shantivan Abu Road: Folder & Registration Link | ग्लोबल समिट और दिव्य बसंत कार्यक्रम: फोल्डर और रजिस्ट्रेशन लिंक
3 August 2022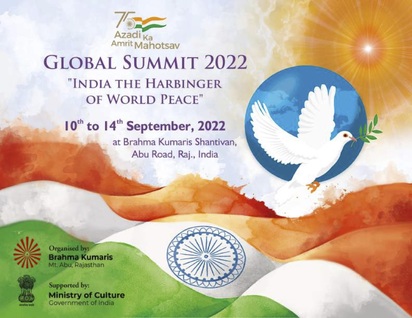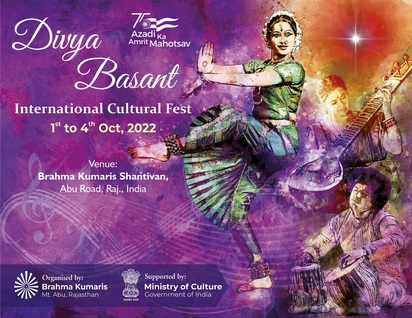 To BapDada's heart-wishers, instruments for world service, to all divine sisters and brothers, please accept the loving remembrance of God.
The following programs have been organized at Brahma Kumaris Headquarters Shantivan Complex, Abu Road:
A Global Summit has been organized from 10 to 14 September 2022, the theme of which is "India, the Harbinger of World Peace".
More than 3,000 VVIPs, VIPs and IPs from India and abroad will participate in this event. Along with this, those who have done remarkable work in different fields will also be honored with awards.
In this program Governors, Chief Ministers, Government of India and State Government Ministers, Scientists, Industrialists, Judges, Vice Chancellors, Social Workers, Famous Sports Players, Administrators (IAS, IPS, IFS and IRS officers), MPs, MLAs, Lawyers, Media persons, etc. will be involved. The last date for registration is 5th September, 2022.
Also, "Divya Basant", an International Cultural Festival, has been organized from 1st to 4th October, 2022 at Shantivan, Abu Road. About 5 thousand other guests, including eminent artists from this country and abroad, can participate in this program. The last date for registration is September 20, 2022.
An invitation letter is being sent to invite "general guests" to both these programs. To invite VIP guests, you can contact is via the below given e-mail or mobile number.
Guests and service holders for both programs must be registered on the Brahma Kumaris Accommodation website (accom.bkinfo.in). For more information, contact this e-mail (bkiccf@bkivv.org) or these mobile numbers: +91 9079092434; +91 7597545115.
The folders of both the programs are attached.
With all good wishes, in Divine Service,
B.K. Mrityunjay
Executive Secretary, Brahma Kumaris
Mount Abu, Rajasthan
==========================================
बापदादा के दिलतख्तनशीन, विश्व सेवा में निमित्त दैवी बहनों और भाइयों प्रति,
ईश्वरीय स्नेह-सम्पन्न याद स्वीकार करना जी।
बाद समाचार, ब्रह्माकुमारीज़ मुख्यालय शान्तिवन परिसर, आबू रोड में निम्नलिखित कार्यक्रमों का आयोजन किया गया हैः
दिनांक

10

से

14

सितम्बर, 2022 को

ग्लोबल

समिट

का

आयोजन

किया

गया

है

,

जिसका

विषय

है

-

भारत

,

विश्व

शान्ति

का

अग्रदूत।

इस

कार्यक्रम

में

देश

-

विदेश

से

3

हजार

से

अधिक

वीवीआईपीज़

,

वीआईपीज़

और

आईपीज़

भाग

लेंगे।

साथ ही समाज में अलग-अलग क्षेत्रों में उल्लेखनीय कार्य करने वालों को अवार्ड देकर सम्मानित भी किया जाएगा।

इस

कार्यक्रम

में

राज्यपाल

,

मुख्यमंत्री

,

भारत

सरकार

और

राज्य

सरकार

के

मंत्रीगण

,

वैज्ञानिक

,

उद्योगपति

,

न्यायाधीश

,

कुलपति

,

सामाजिक

कार्यकर्ता

,

ख्याति

प्राप्त

स्पोर्ट्स

खिलाड़ी

,

प्रशासक

वर्ग

(IAS, IPS, IFS and IRS officers),

सांसद

,

विधायक

,

वकील

,

मीडियाकर्मी

इत्यादि

सम्मिलित

होंगे।

रजिस्ट्रेशन की अंतिम तिथि 5 सितम्बर, 2022 है।
दिनांक 1 से 4 अक्टूबर, 2022 को

शान्तिवन

,

आबू

रोड

में

दिव्य बसंत - अंतर्राष्ट्रीय सांस्कृतिक उत्सव

का

आयोजन

किया

गया

है।

इस

कार्यक्रम

में

देश

-

विदेश

के

नामीग्रामी

कलाकारों

सहित

लगभग

5

हजार

अन्य

कोई

भी

मेहमान

भाग

ले

सकते

हैं।

रजिस्ट्रेशन की अंतिम तिथि 20 सितम्बर, 2022 है।
इन दोनों कार्यक्रमों में General Guest को निमंत्रण देने के लिए Invitation Letter भेज रहे हैं। VIPs Guest को निमंत्रण देने के लिए नीचे दिए गए ई-मेल अथवा मोबाइल नंबर पर संपर्क कर सकते हैं।
दोनों कार्यक्रमों के लिए मेहमानों और सेवाधारियों का रजिस्ट्रेशन आवास-निवास के वेबसाइट (accomabu.bkinfo.in) पर अवश्य करें। अधिक जानकारी के लिए इस ई-मेल (bkiccf@bkivv.org) पर सम्पर्क करें अथवा मोबाइल नम्बर्स (+91 9079092434, +91 7597545115) पर भी सम्पर्क कर सकते हैं। दोनों कार्यक्रमों के फोल्डर संलग्न हैं।
इन्हीं शुभ आशाओं सहित,
--
ईश्वरीय सेवा में,
(ब्र.कु. मृत्युंजय)
कार्यकारी सचिव, ब्रह्माकुमारीज़
माउण्ट आबू, राजस्थान
Invitation Letter General - Global Summit
Invitation Letter General - Divya Basant

'Spiritual Parliament For Youth': Inaugurated by Dadi RatanMohini
28 July 2022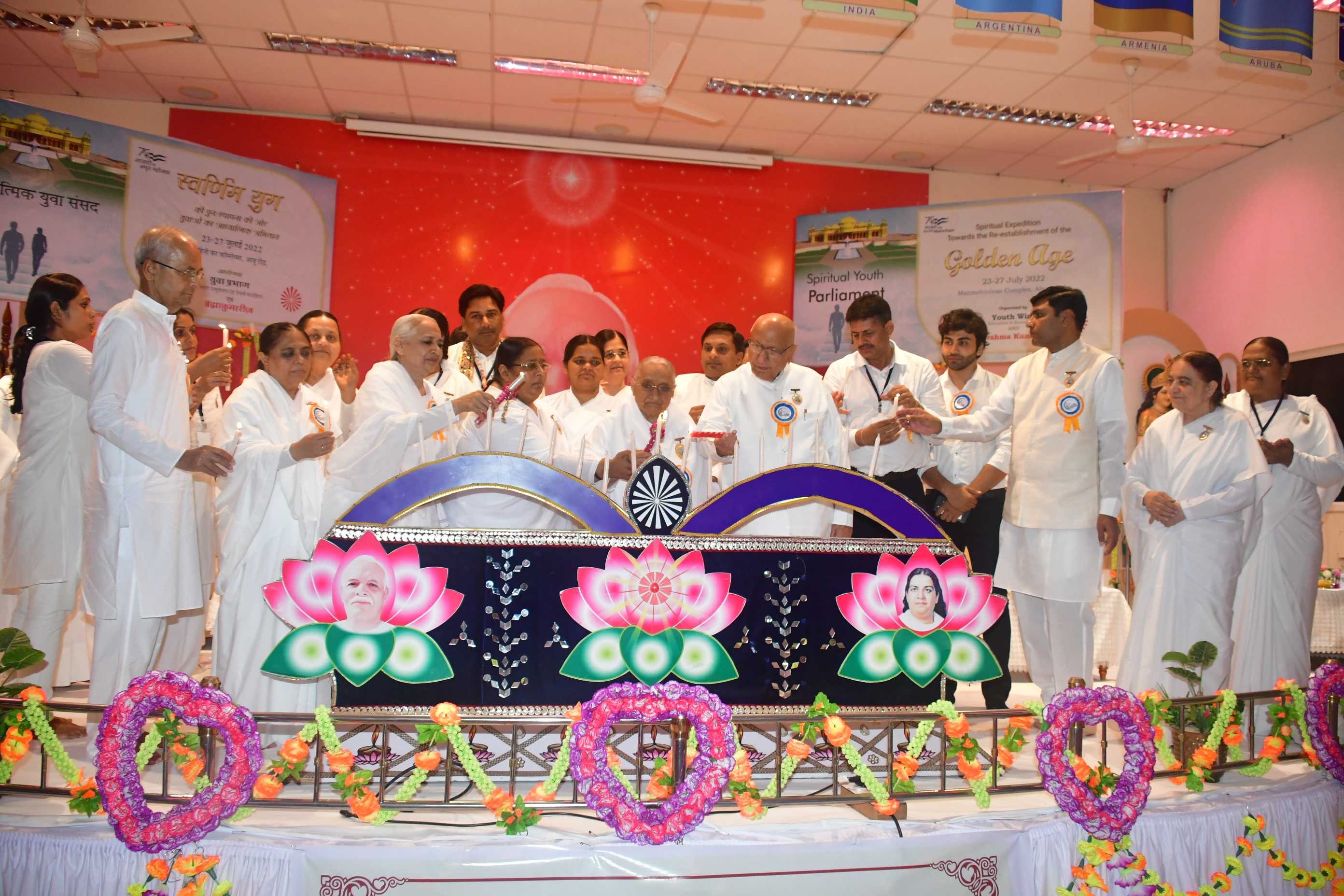 Abu Road(Rajasthan): The Youth Wing of the Rajyoga Education and Research Foundation held a Spiritual Parliament For Youth at the Global Auditorium on the Manmohinivan campus premises. The theme of this initiative was 'Spiritual Campaign of Youth For Re-establishing Golden Age'. Highly qualified and professional Youth from all over the Nation came to participate in this Parliament. The proceedings of this Spiritual Parliament were held exactly on the same model as Lok Sabha, having a Speaker, Deputy Speaker, Committee Members, Opposition etc. More than 500 Youth participants benefitted from this program.
Dadi Ratanmohini, Chief of Brahma Kumaris and Chairperson of the Youth Wing, in her inaugural address, said that the youth are the primary doers of all work for this Nation. They are the repositories of power and energy. They can give a new direction to the world with their positive energy. She wished them great success and prosperity in life.
BK Chandrika, Vice Chairperson of Youth Wing, inspired the youth to make three important affirmations for assured success in life. These are, I am lucky, unique and great. By internalizing these, one will personify these with time. Youth should learn to properly use time, thoughts and breath. If thoughts are focused, then anything is possible. They must always remain grateful to God. Brahma Kumaris teach how to establish a lasting relationship with God through Rajyoga.
Welcome speech was given by BK Kruti, National Coordinator of Youth Wing.
Uday Shankar Singh, Founder and Coordinator of Vishwa Yuva Kendra from Delhi, said that a river of good conduct and spirituality is running here. The youth must remember the pearls of wisdom that they get here. The real purpose of life can be found here. There is only one Godly University on this earth.
BK Jeetu, Senior Member of Youth Wing, explained the working of this Spiritual Parliament. Welcome song was sung by Madhurvani Group. Atul Mishra, Founder of Hindu Yuva Vahini from Lukhnow, also attended this event. BK Geeta from Bhinmal coordinated this program. BK Arun, Zonal Coordinator of Punjab Zone, gave the Vote of Thanks.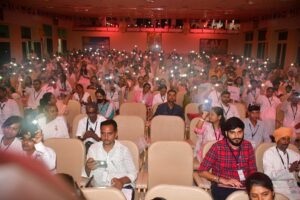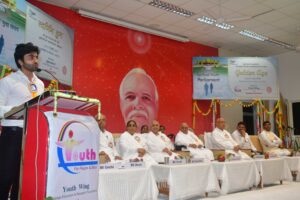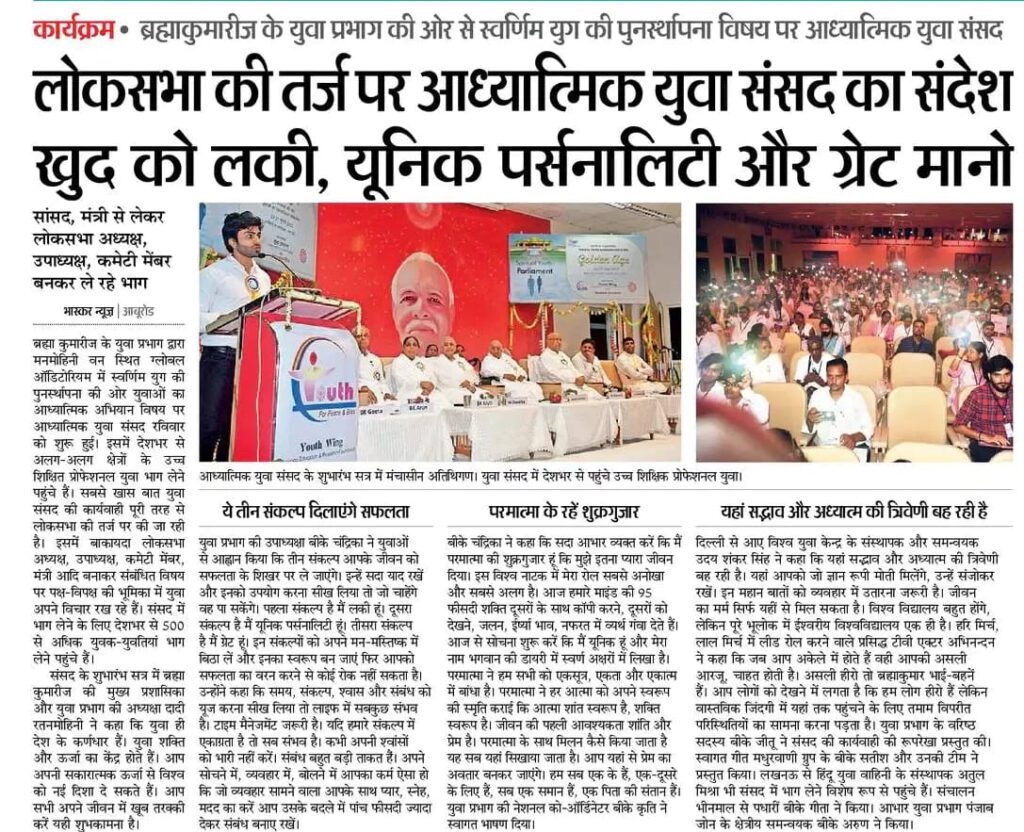 Brahma Kumaris invite newly elected President and Union Ministers for Global Summit 2022
28 July 2022
Mount Abu (Rajasthan): BK Mruthyunjaya, Executive Secretary of the Brahma Kumaris met with the newly elected President Hon. Droupadi Murmu at her residence and cordially invited her to the Global Summit 2022 being held at the Headquarters of the Brahma Kumaris in Mount Abu on the theme "India the Harbinger for World Peace" from September 10 to 14, 2022.
BK Mruthyunjaya also met Arjun Ram Meghwal, Minister of State for Parliamentary Affairs & Culture, and Gajendra Singh Shekhawat, Union Minister for Jal Shakti, and invited them for the Global Summit.
BK Shivika was also present on this occasion.
News in Hindi:
देश की नवनिर्वाचित राष्ट्रपति श्रीमती द्रौपदी मुर्मू जी से ब्रह्माकुमारीज़ संस्थान के कार्यकारी सचिव बीके मृत्युंजय ने मुलाकात की और उन्हें दिनांक 10 से 14 सितम्बर, 2022 को शांतिवन में होने वाले ग्लोबल समिट में शामिल होने के लिए निमंत्रण दिया।
केन्द्रीय जल शक्ति मंत्री माननीय श्री गजेन्द्र सिंह शेखावत जी, केंद्रीय संस्कृति मंत्री माननीय श्री अर्जुन राम मेघवाल जी से भी बीके मृत्युंजय ने मुलाकात कर ग्लोबल समिट में सम्मिलित होने के लिए निमंत्रण दिया।
इस अवसर पर बीके शिविका भी उपस्थित थीं।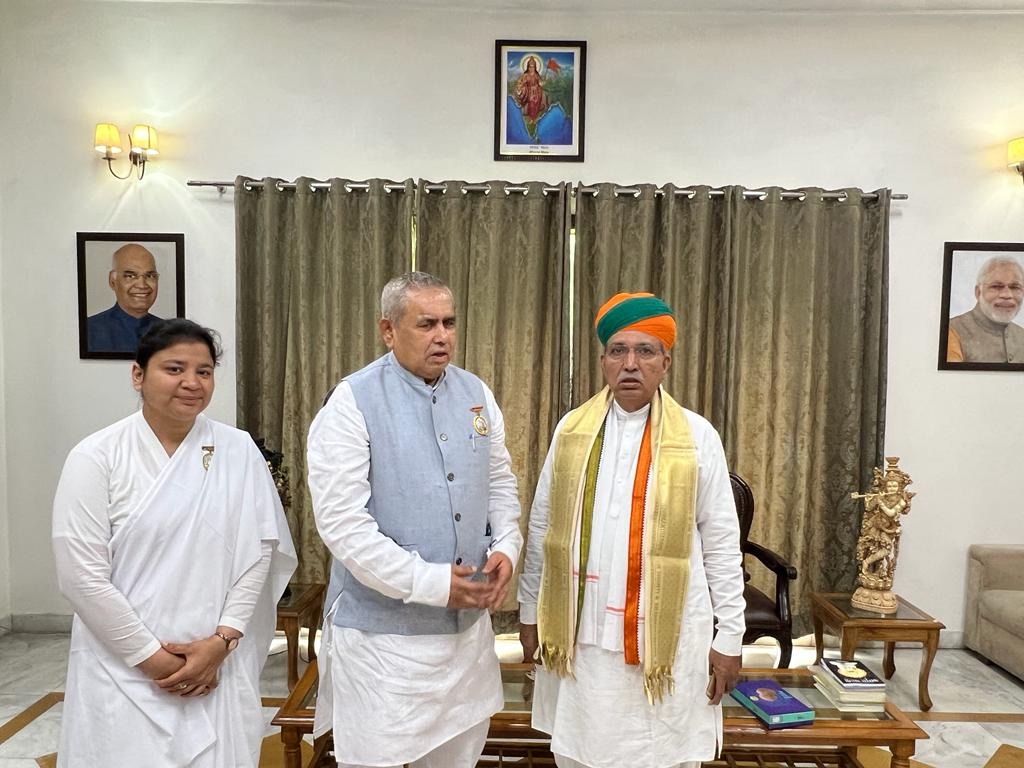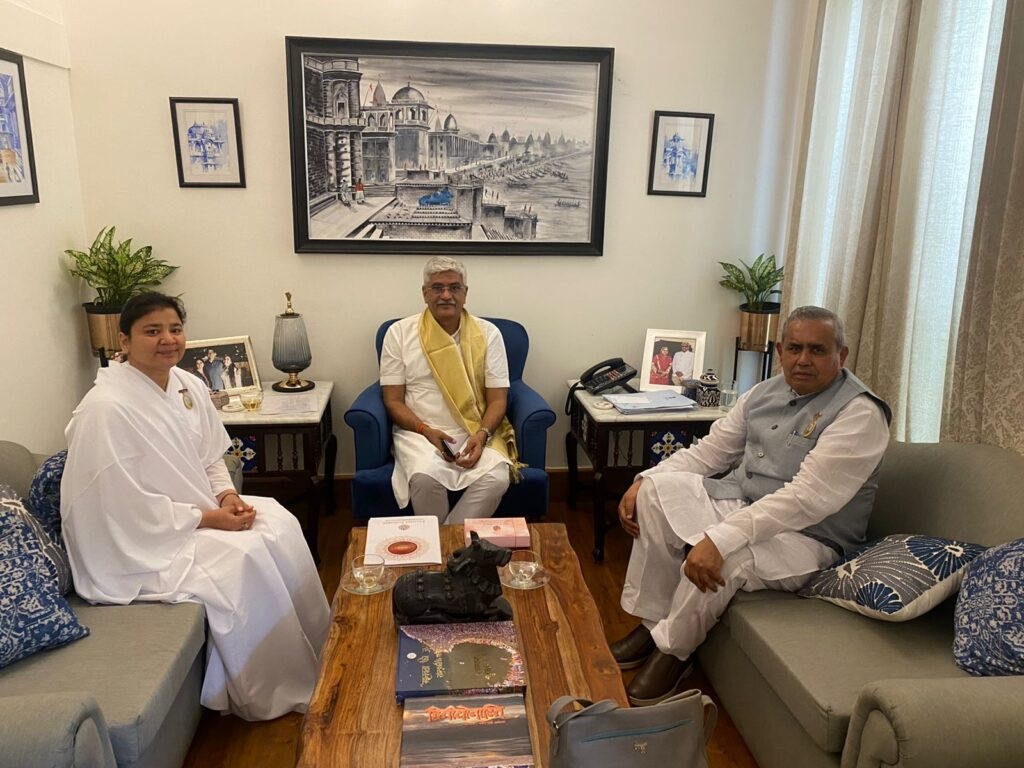 Latest news from Jayantiben - Shantivan 22nd July, 2022
27 July 2022
On Wednesday evening I was able to meet with the Madhuban Niwasis surrendered brothers and sisters for chit and chat and class. It was the first time I had this opportunity and it was a lovely atmosphere and gathering.
Yesterday I conducted class with the Teachers who had come for their Bhatti. This time there were 800 teachers and they completed their Bhatti yesterday.
Sis Devi from Shakti Bhavan joined this group and maintained silence from Tuesday till Thursday night.
Rakhi has started and many of the Teachers are bringing Rakhis.
Om Shanti

Brahma Kumaris congratulate the new President of India
25 July 2022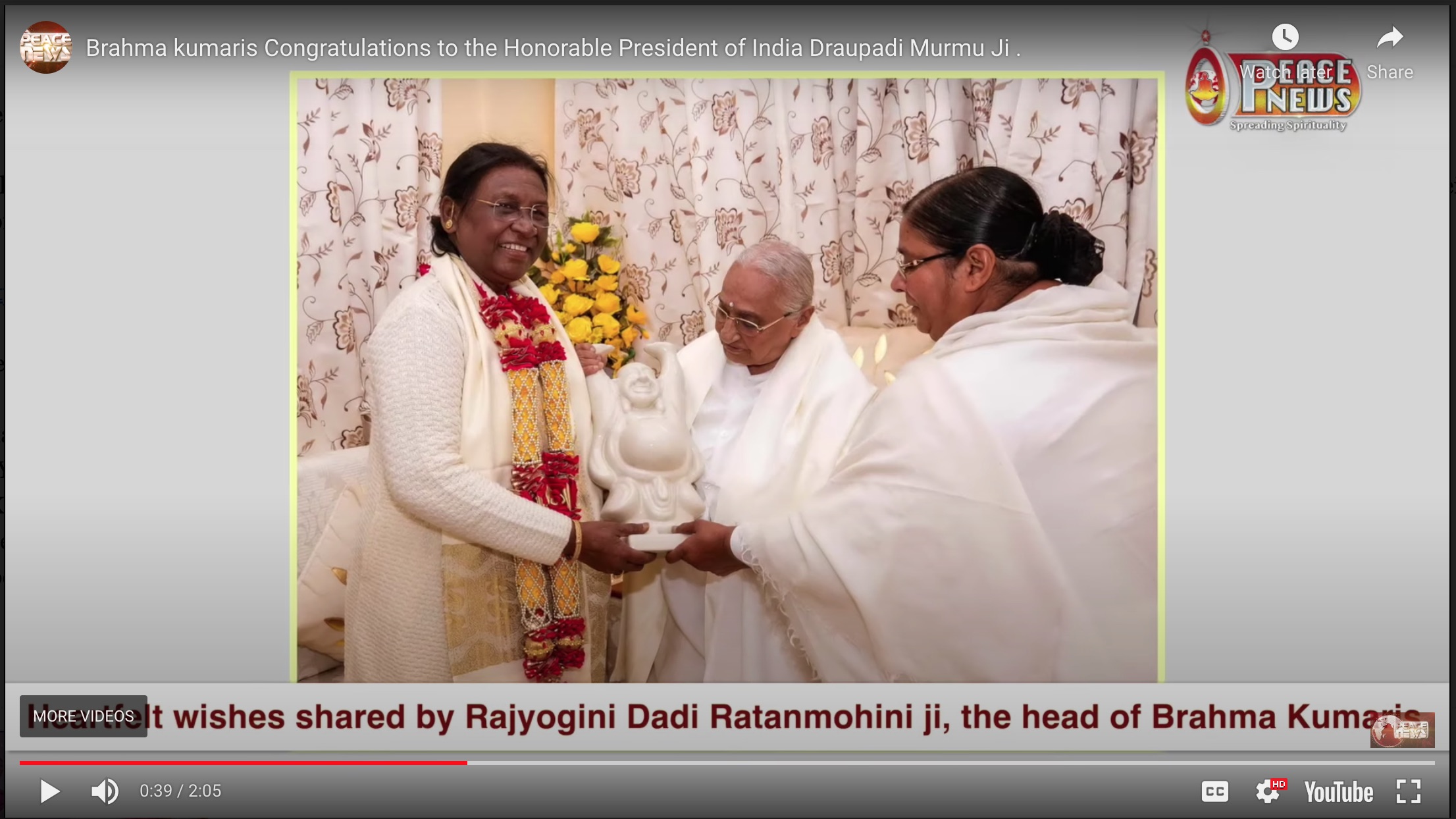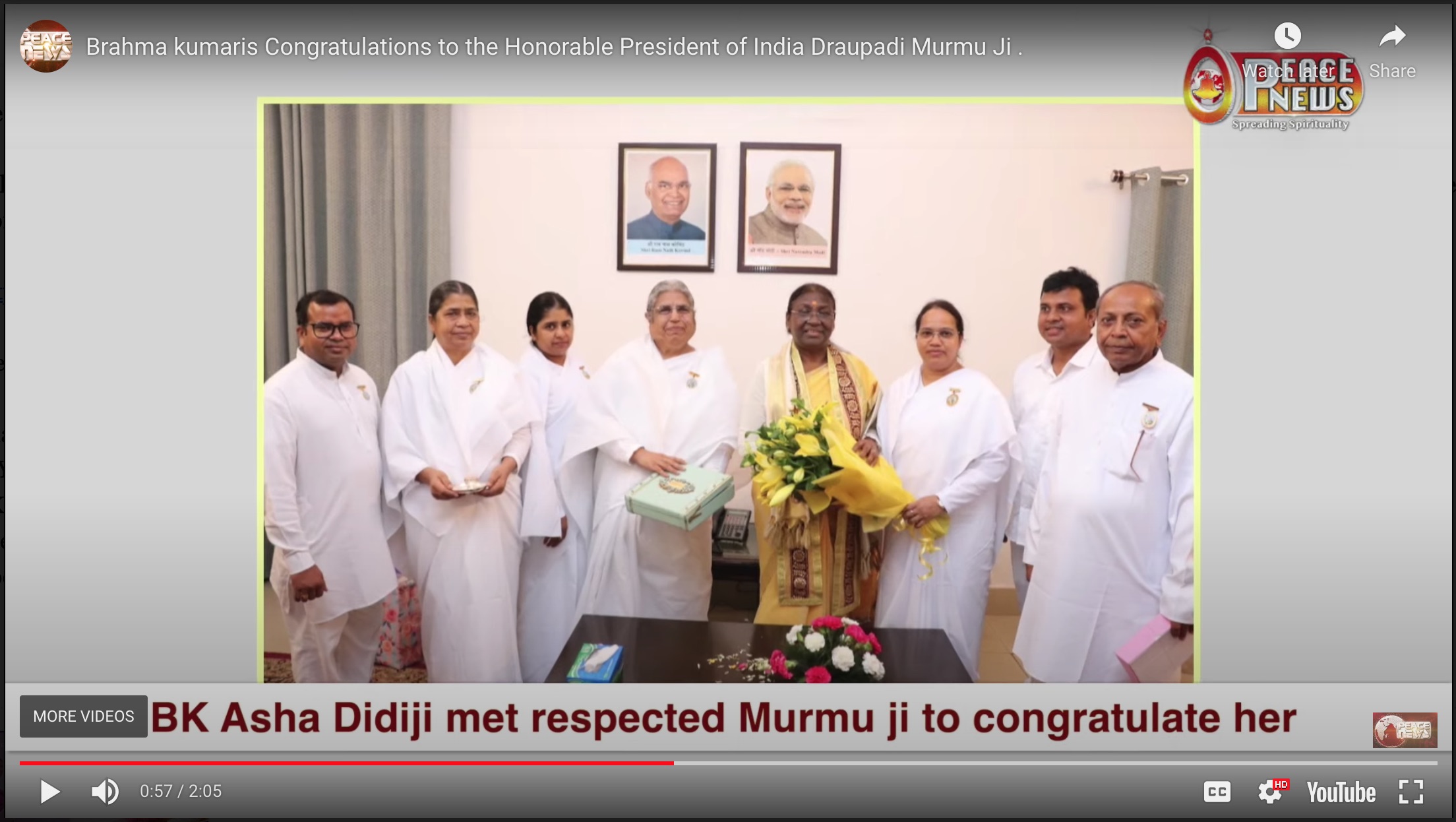 Dear Brothers and Sisters, Om Shanti and greetings of peace from Godlywood Studio.
Honourable Draupadi Murmuji has been elected the 15th President of India. The Brahma Kumaris organization is sending multimillion congratulations to her for this great achievement.
The people of the nation are very happy with her excellency's appointment as president. It is a matter of great joy for the Brahma Kumaris as honourable Draupadi Murmuji has special regards towards the organization. She is Baba's child. She has been regularly attending class for many years. Baba's knowledge helped bring her out of depression during a difficult phase of her life because of family matters. She openly acknowledges that Rajyoga meditation helped her come out of those dark hours.
Her filming took place in celebrity's program, Ek Mulakat at Godlywood Studio. She posted that video on her Facebook page.
Below is a special video prepared by Peace News for telecast in Peace of Mind channels of Godlywood Studio. As per the request of double foreigners worldwide, it is subtitled in English.
Please enjoy the video and share it with your near, dear, and loved ones.
Thank you.
IBY, With Warm Regards,
BK Harilal
Executive Director
Godlywood Studio

Latest news from Madhuban Jayantiben, 18th July, 2022
17 July 2022
The Jurist Wing's Conference has started and there are 4 judges who are still active and 11 retired judges, but also many many lawyers and CAs. The Conference is happening at Man Mohini complex. Together with that there is a Raja Yoga camp for non BKs also happening in Man Mohini, another Bhatti in Mansarovar and the Teachers Bhattis for 20-25 years for surrendered souls starts today in Shantivan.
All this is happening in just one complex and then the Bhattis in Pandav Bhavan and Gyan Sarovar are also continuing.
The rainy season continues with full force. Yesterday I went up to Gyan Sarovar for the first time on this trip and the views are stunningly beautiful either in the sun or also in the rain and clouds. After morning class in Gyan Sarovar, I met with the Bhatti group and had a short visit to Dadi Janki Park.
There are now as many tourists coming to Mt Abu as in the Diwali season, which means there are long long lines at the toll tax. Also wherever there is a bus or large vehicle that also has a long line of vehicles behind, since it is difficult to overtake on the curvy narrow roads. The journey up and down can take up to double the amount of time.
Travelling at 6.00 am is fine, but even then there are lots of tourist buses going up and down.
I go to Panipat on the 23rd and return late night on the 24th July then return to London on the 26th July.
Om Shanti

Brahma Kumaris are doing noble work across the world: Union Minister of Jal Shakti
17 July 2022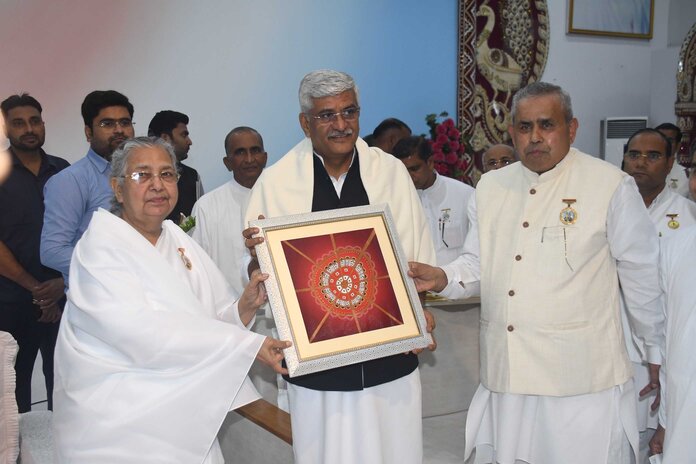 Abu Road (Rajasthan): The Brahma Kumaris held a program for spiritual empowerment at its headquarters in Shantivan, Mount Abu. Gajendra Singh Shekhawat, Minister of Jal Shakti, Government of India, addressed this program. BK Mruthyunjaya, Executive Secretary of Brahma Kumaris; BK Karuna, Multi-Media Head of Brahma Kumaris; BK Chakradhari, In-charge of Brahma Kumaris in Russia, et al., were present on this occasion.
Gajendra Singh Shekhwat, while speaking on this occasion, said that water is the most important element for life, hence it needs to be conserved. The water scarcity challenge in the world is worrisome. He said that he is happy that Brahma Kumaris are doing noble work across the world.
Bharat is the repository of cultural and civilizational values of this world. Brahma Kumaris sisters are doing the important work of taking these all over the world. He has been associated with this organization for a long time, along with his mother. He finally fulfilled his desire of visiting Madhuban. The seed sown by Brahma Baba, the Founder Father of Brahma Kumaris, has become a huge tree, engulfing the entire world today. This indicates that today there is a desire for a new change in society. Positive and value-based thinking can change this society. The 'Azadi ka Amrit Mahotsav' Project of Brahma Kumaris is going ahead with full speed. It has fulfilled its aim very soon. He congratulated the Brahma Kumaris on its success.
The Union Cabinet Minister met with Dadi Ratanmohini, Chief of Brahma Kumaris and received her blessings. In this meeting lasting half an hour, the Minister enquired about Dadi's well-being and discussed the various activities of the Organization.
Yogesh Sharma, SP; Arvind Sharma, SDM Abu Road; Dinesh, Tehsildar, Saroj Bairwa, and Harchand of City and Sadar Police Stations, were also present on this occasion.
News in Hindi:
आध्यात्मिक सशक्तिकरण के लिए आयोजित कार्यक्रम में बोले जल शक्ति मंत्री
आबू रोड। संसार को जीवित रखने के लिए सबसे अहम तत्व की जरूरत होती है और वह है जल। इसलिए इस तत्व को बचाये उसका सदुपयोग करें। जिस तरह से जल को लेकर विश्व में चुनौती बनी है वह चिंताजनक है। इस चुनौती को पार पाने की कल्पना को साकार करना है। मुझे खुशी है कि ब्रह्माकुमारीज संस्थान दुनिया भर में अपना नेक कार्य कर रहा है। केंद्रीय जलशक्ति मंत्री गजेन्द्र सिंह शेखावत ने व्यक्त किये।
उन्होंने कहा कि भारत देश संस्कृति और सभ्यता की धरोहर है। इसकी छवि पूरे विश्व में दिखती है। ब्रह्माकुमारीज संस्थान की बहनें इसे पूरे विश्व में फैलाने में अपनी महत्वपूर्ण भूमिका निभा रही हैं। मेरा बहुत लम्बे काल का संस्थान से जुड़ाव रहा है। मेरी माता जी भी इस संस्थान से सम्बन्ध रखती थी। तब से इच्छा थी कि माउंट आबू आऊं लेकिन आज यह संयोग मिला है। संस्थान के साकार संस्थापक प्रजापिता ब्रह्मा बाबा ने एक ऐसा बीज बोया कि पूरी दुनिया में यह फैल रहा है। इससे यह सिद्ध होता है कि अब समाज में एक अलग बदलाव की अलख है। सकारात्मक और मूल्यनिष्ठ सोच से समाज की आबोहवा बदलती है। आजादी से अमृत महोत्सव से स्वर्णिम भारत की ओर विषय पर जो अभियान चलाया गया था वह आज पूरे तेजी से आगे बढ़ रहा है। कम समय में ही इस अभियान ने अपना लक्ष्य पूरा कर लिया। इसके लिए मै इस संस्थान को धन्यवाद और बधाई देता हूॅं।
इस कार्यक्रम में ब्रह्माकुमारीज संस्थान के कार्यकारी सचिव बीके मृत्युंजय, मीडिया प्रभाग के अध्यक्ष बीके करुणा, रसिया सेवाकेन्द्रों की प्रभारी बीके चक्रधारी, बीके कोमल, बीके शिविका समेत कई लोग उपस्थित थे।
दादी से की मुलाकात: कार्यक्रम के पश्चात केन्द्रीय मंत्री गजेन्द्र सिंह शेखावत ने ब्रह्माकुमारीज संस्थान की मुख्य प्रशासिका राजयोगिनी दादी रतन मोहिनी से मुलाकात की तथा आशीर्वाद लिया। करीब आधे घंटे की मुलाकात में जल शक्ति मंत्री ने दादी की कुशलक्षेम पूछी तथा संस्थान के गतिविधियों पर चर्चा की।
ये रहे उपस्थित: प्रात: काल ब्रह्माकुमारीज संस्थान के शांतिवन पहुंचने पर पुलिस उपाधीक्षक योगेश शर्मा, आबू रोड उपखण्ड अधिकारी अरविन्द शर्मा, तहसीलदार दिनेश, सदर थानाधिकारी हरचन्द, शहर थानाधिकारी सरोज बैरवा समेत पुलिस के अधिकारी उपस्थित रहे।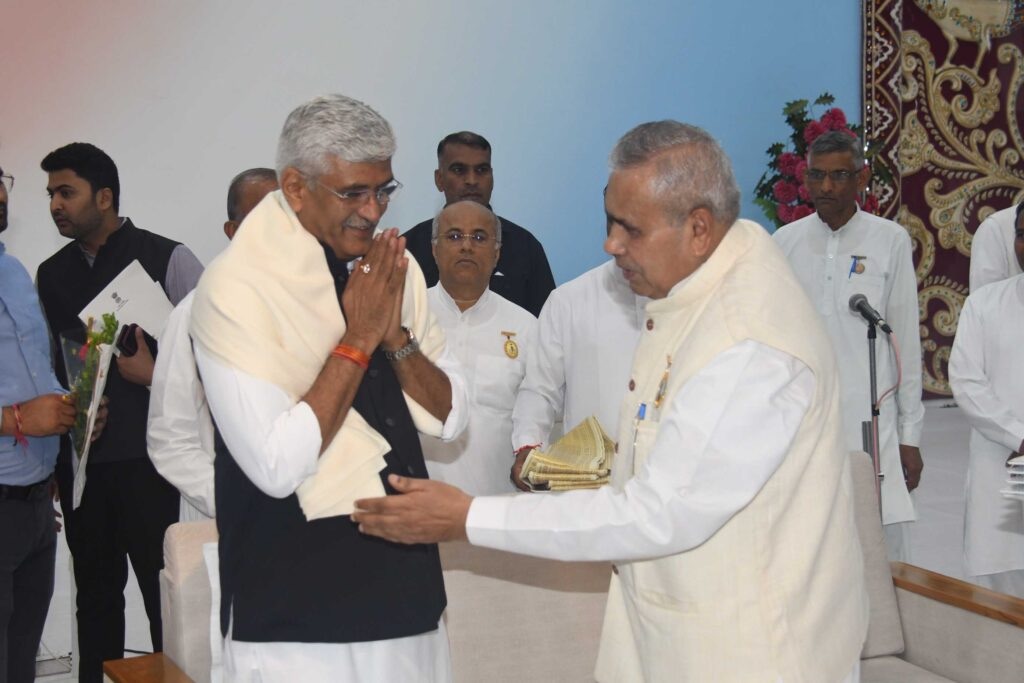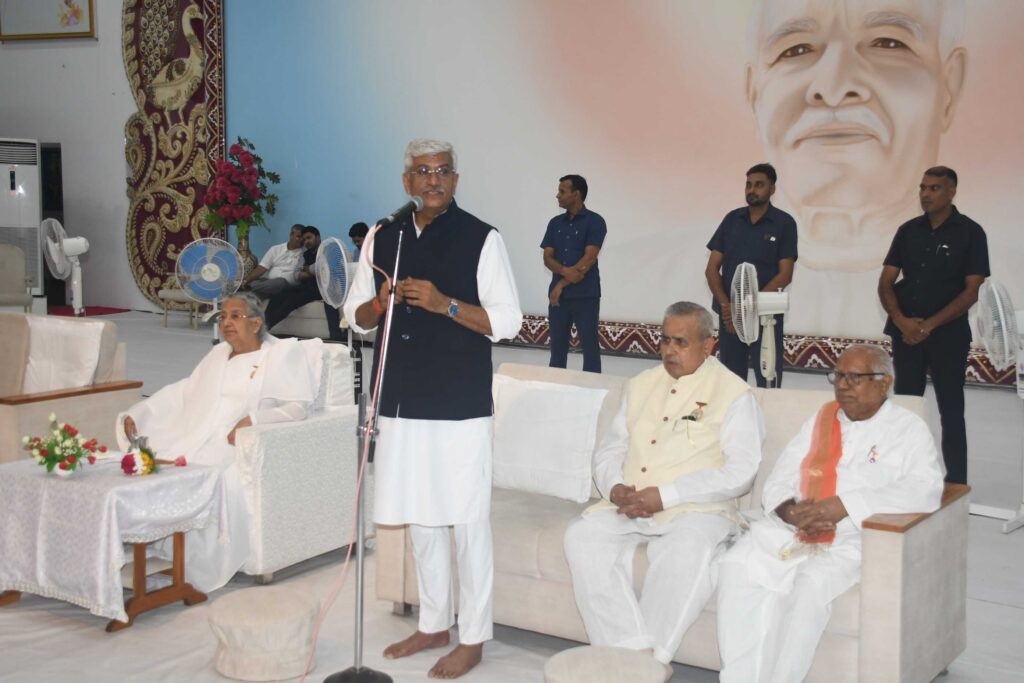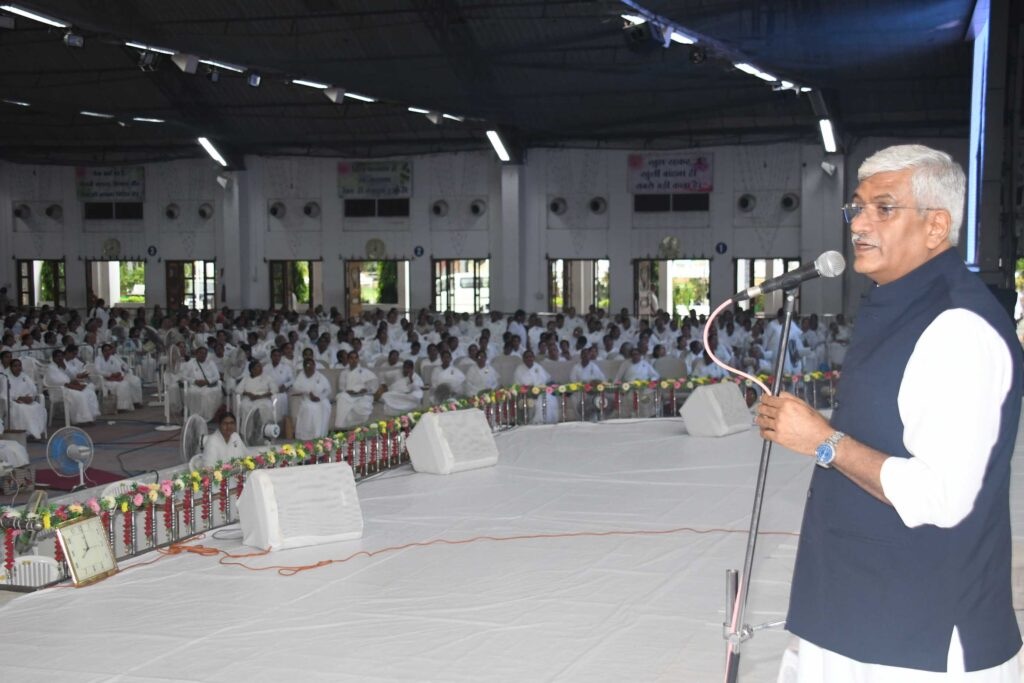 "Spirituality in Education – Compassion & Kindness": Conference for Educationists, August 12-16
17 July 2022
Mount Abu (Rajasthan): Brahma Kumaris Education Wing is organising a Conference for Educationists from 12-16 August, 2022 on "Spirituality in Education – Compassion & Kindness" at Brahma Kumaris, Manmohinivan, Abu Road. VCs, Deans, Professors, lecturers of colleges and Principals/School Teachers can be invited for this Conference. The folders in Hindi & English (JPG & PDF) can be downloaded from the links provided below, as can the Program Booklet (English only)
In Hindi:
मनमोहिनीवन परिसर, आबू रोड में "शिक्षा में अध्यात्म – करूणा और दया" विषय पर शिक्षाविदों के लिए महासम्मेलन का आयोजन किया गया है। इस महासम्मेलन में विभिन्न प्रतिभागी जैसे- अध्यक्ष, उपाध्यक्ष, शिक्षा मंत्री, शैक्षिक प्रशासक, कॉलेज के प्राचार्य, डीन, रजिस्ट्रार, एच.ओ.डी., प्रोफेसर, एसोसिएट और सहायक प्रोफेसर इत्यादि सहृदय आमंत्रित हैं। इस महासम्मेलन में स्कूल के टीचर्स एवं प्रिंसिपल्स को भी ला सकते हैं।
इस महासम्मेलन का ऑनलाइन रजिस्ट्रेशन आवास-निवास के वेबसाइट (accomabu.bkinfo.in) पर उपलब्ध है। महासम्मेलन का हिंदी और अंग्रेजी में फ़ोल्डर (JPG & PDF) संलग्न है।
English – Education Conf. 2022

2022 June Madhuban News Archive
2022 May Madhuban News Archive
2022 April Madhuban News Archive
2022 March Madhuban News Archive
2022 February Madhuban News Archive
2022 January Additional Madhuban News Archive
2022 January Madhuban News Archive
2021 November through December Madhuban News Archive
2921 September through October Madhuban News Archive
2021 April through August Madhuban News Archive
2021 Jan through Mar Madhuban News Archive
2020 September through December Madhuban News Archive
2020 31st Jly through 31st August Madhuban News Archive
2020 May through 29 Jly Madhuban News Archive