2014-Jan through Aug Madhuban News Archive
2014-Jan through Aug Madhuban News Archive
Photos of the observance of the Seventh Remembrance Day (Ascension Anniversary) of Dadi Prakashmani ji at Shantivan on 25th August 2014
27 August 2014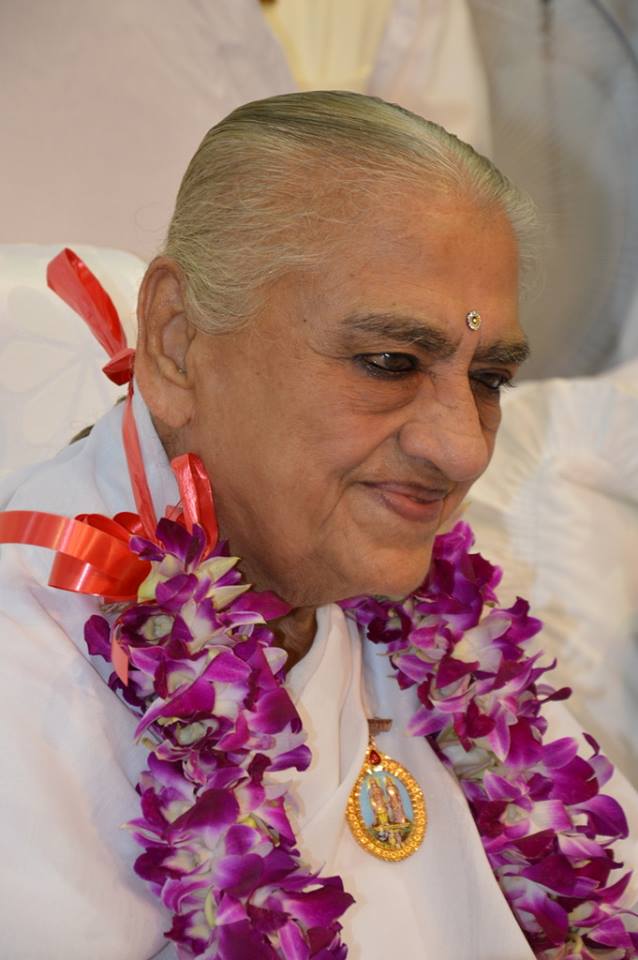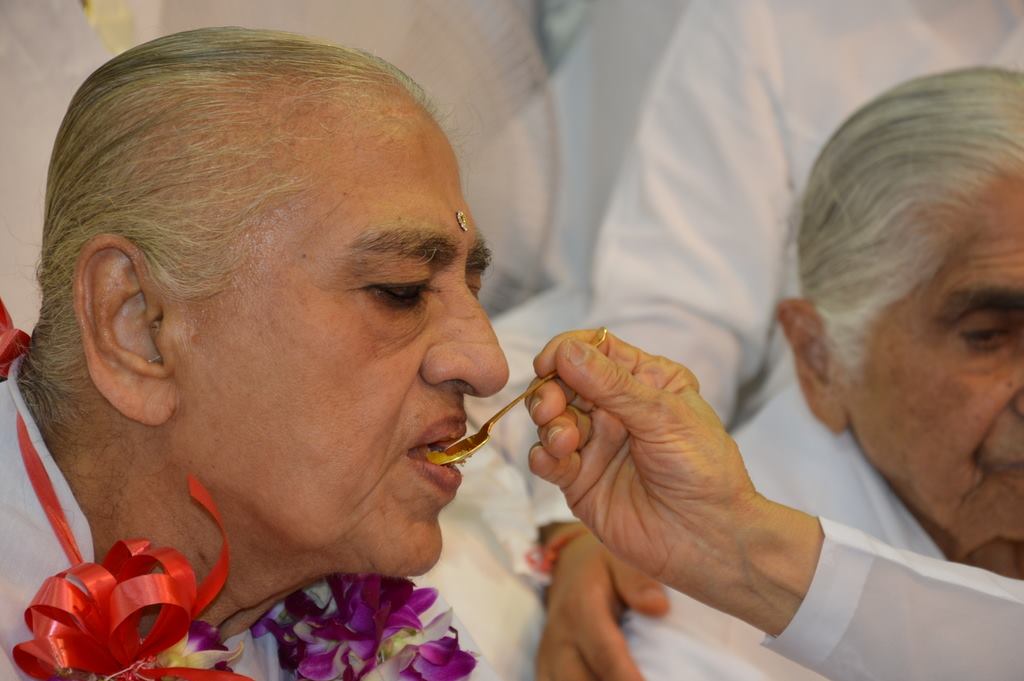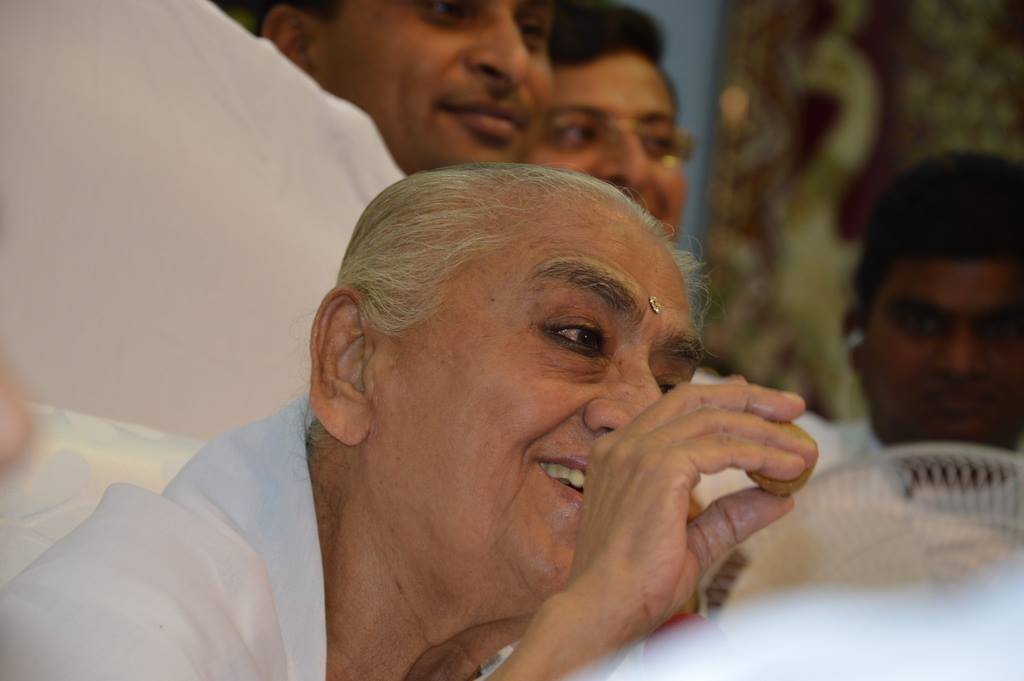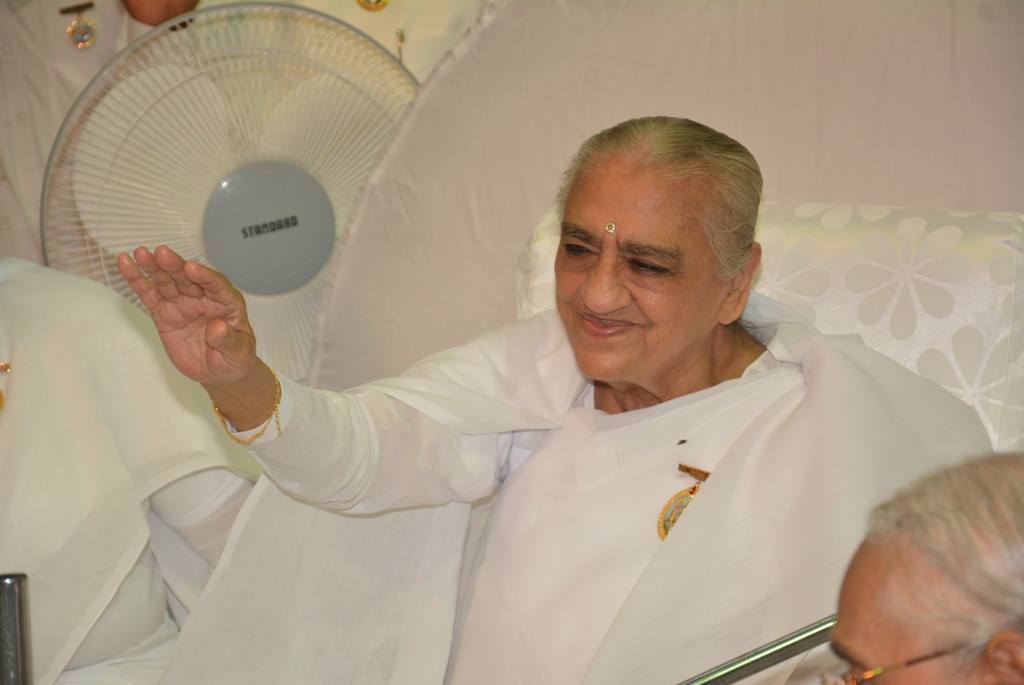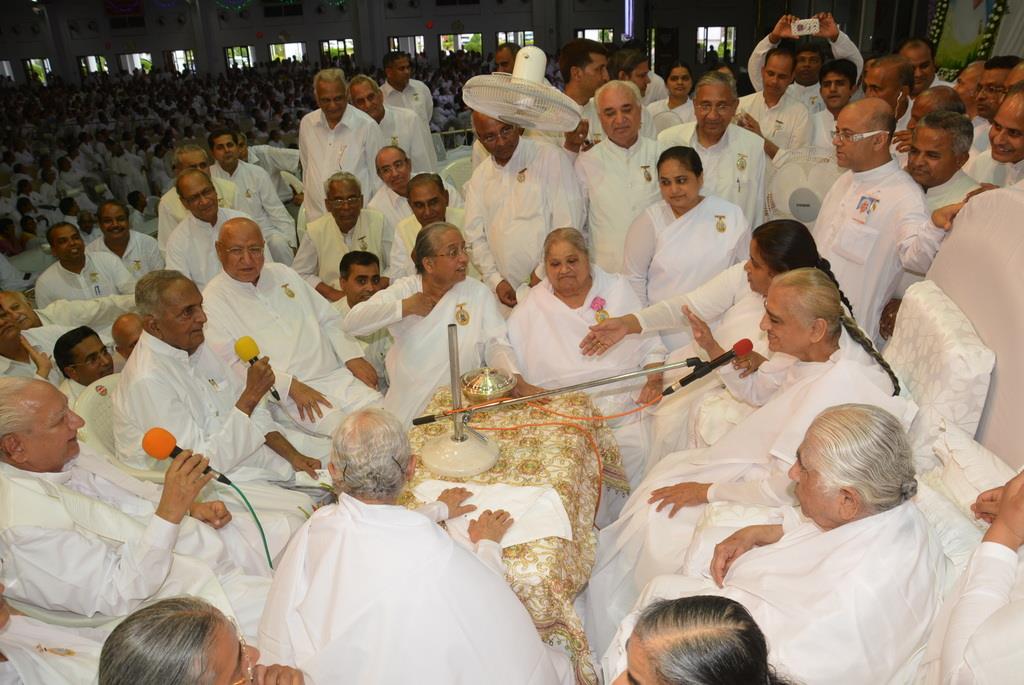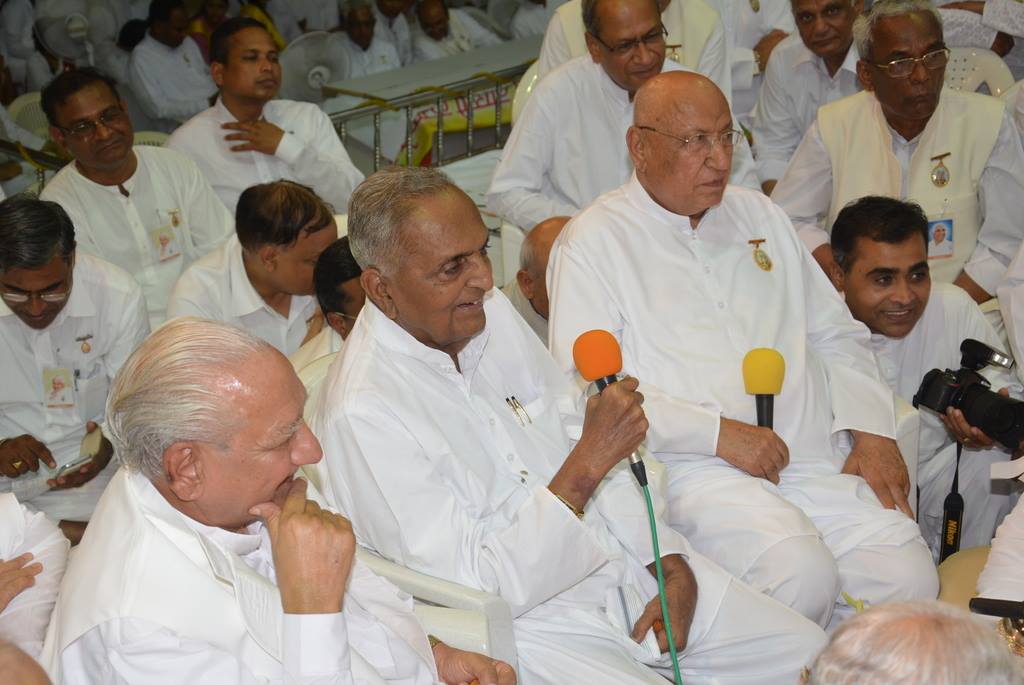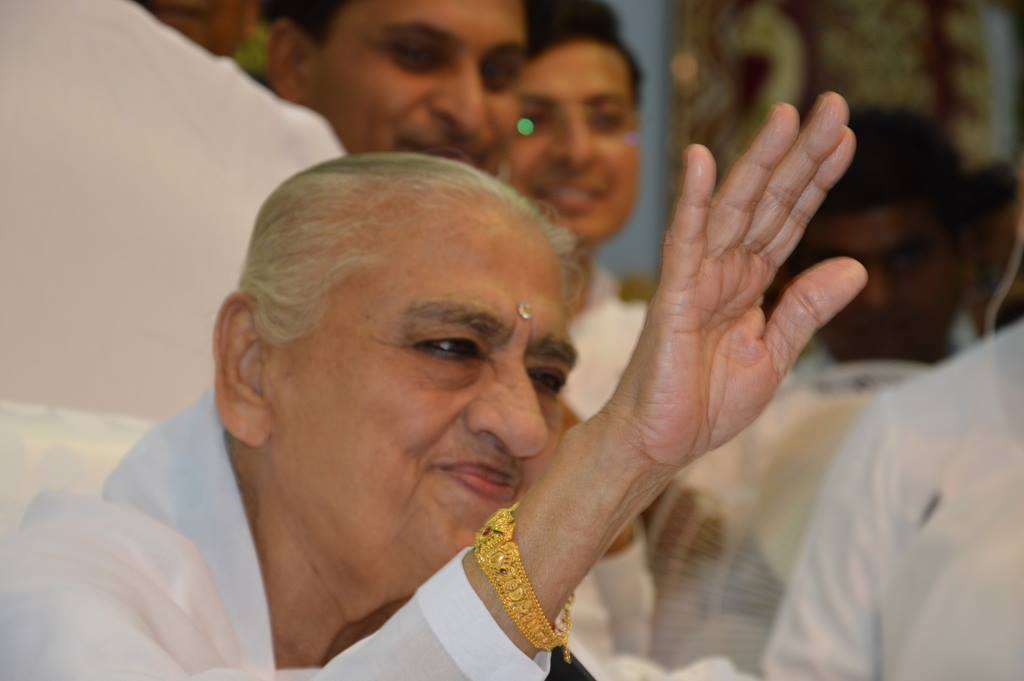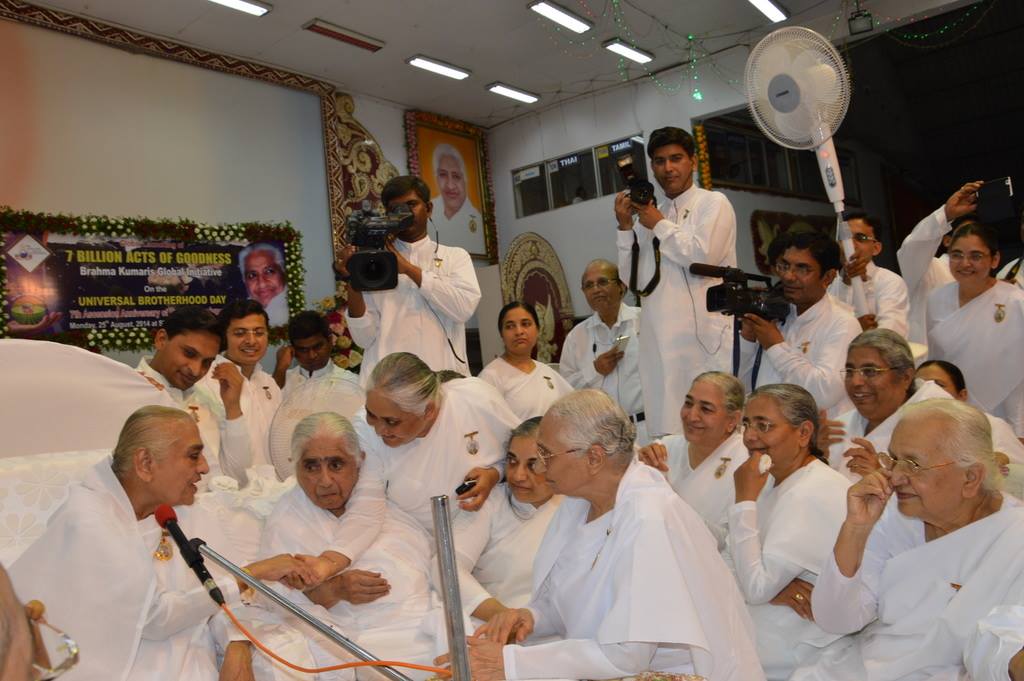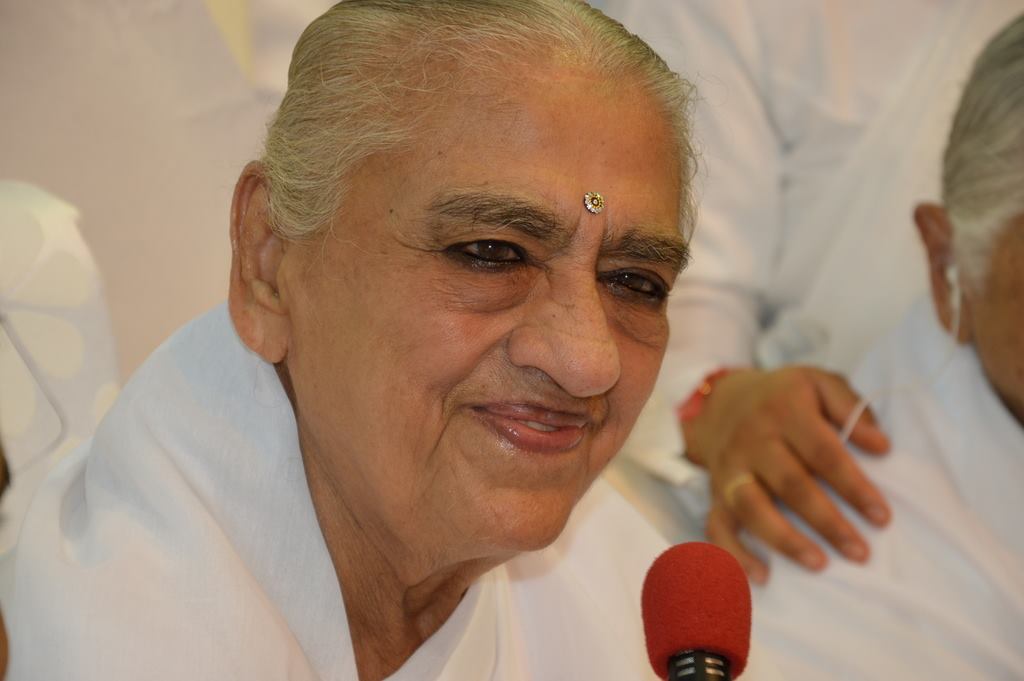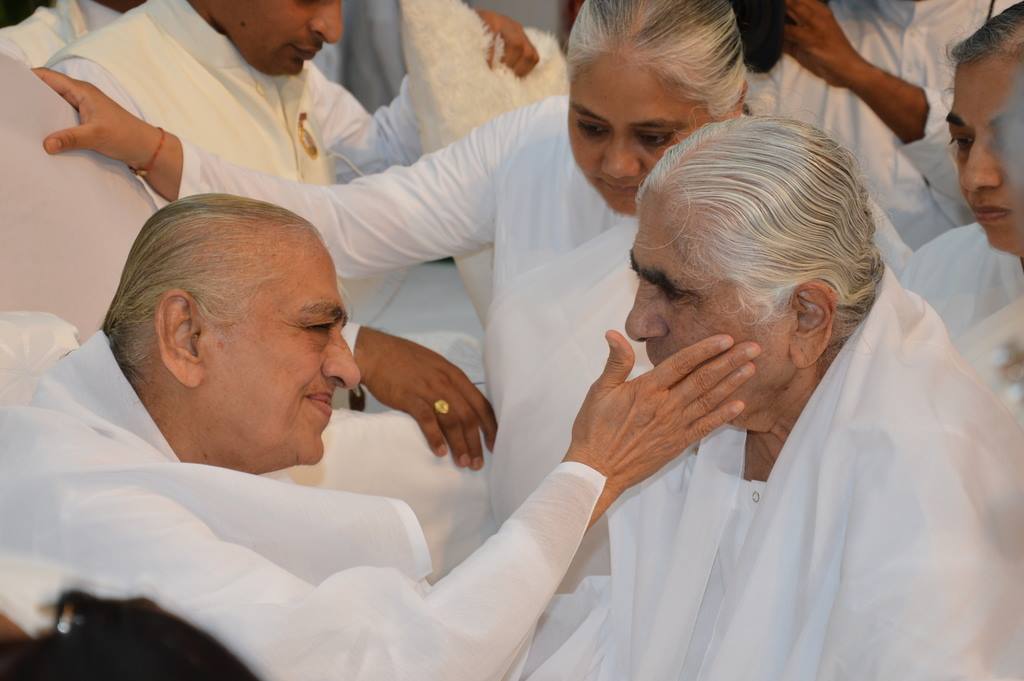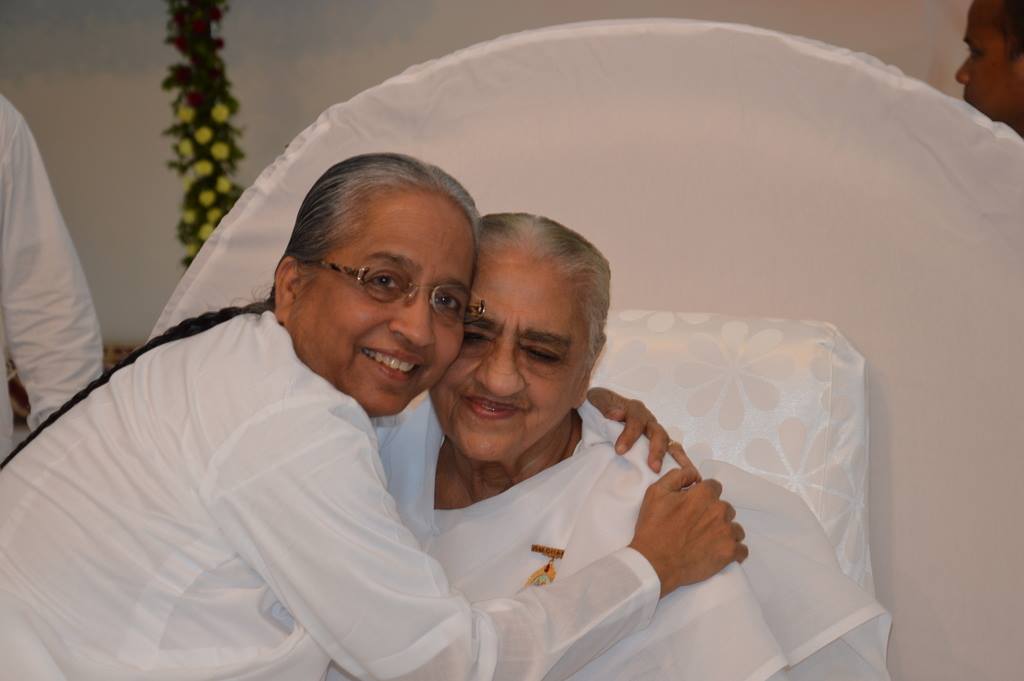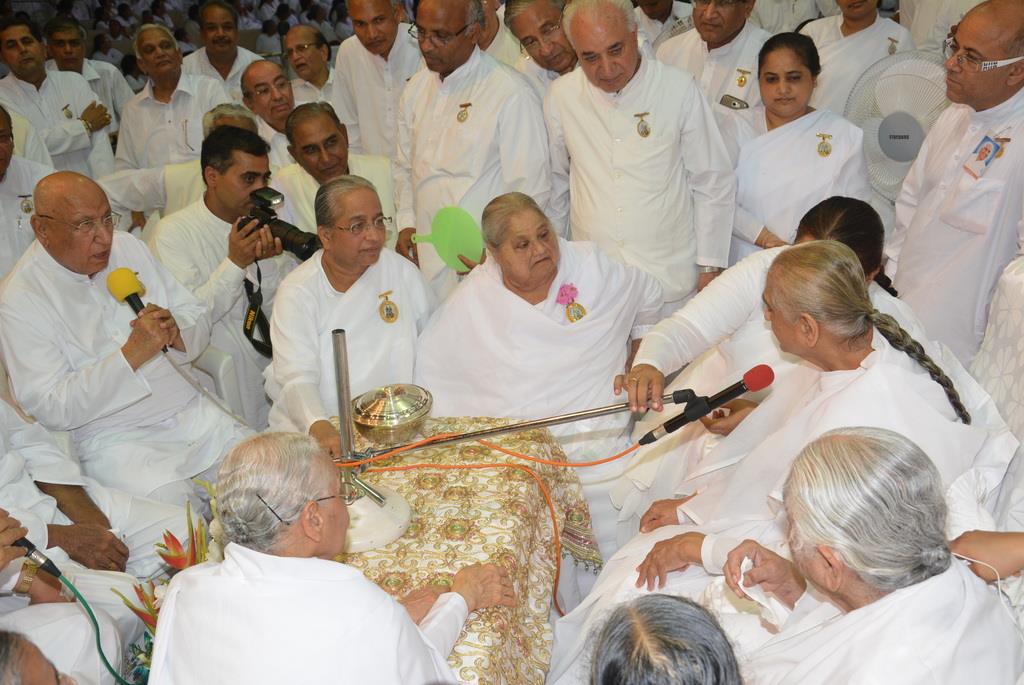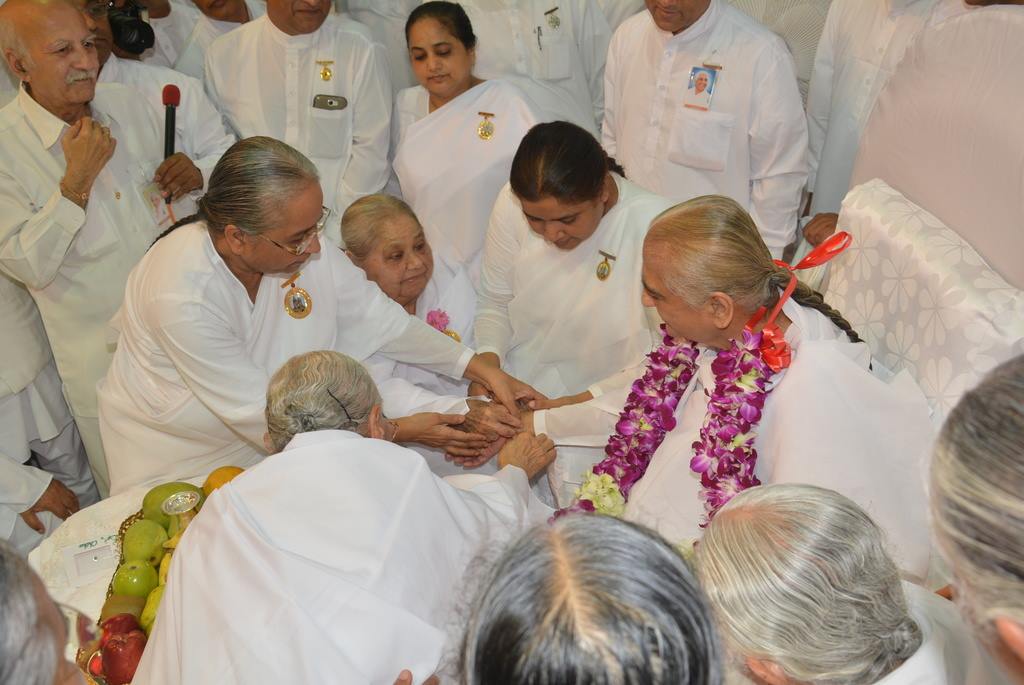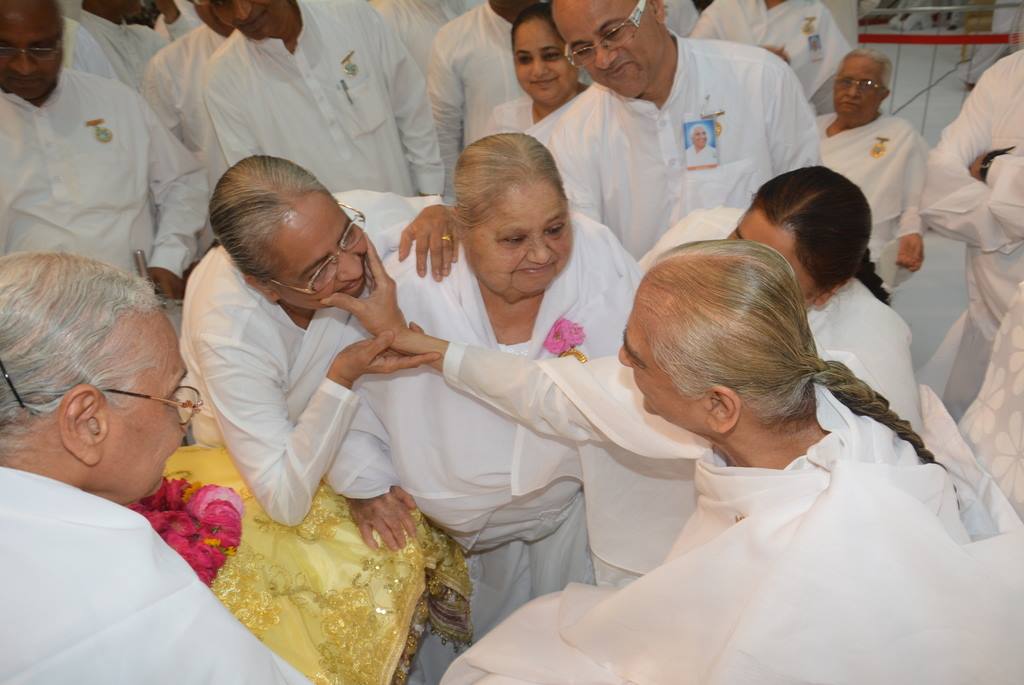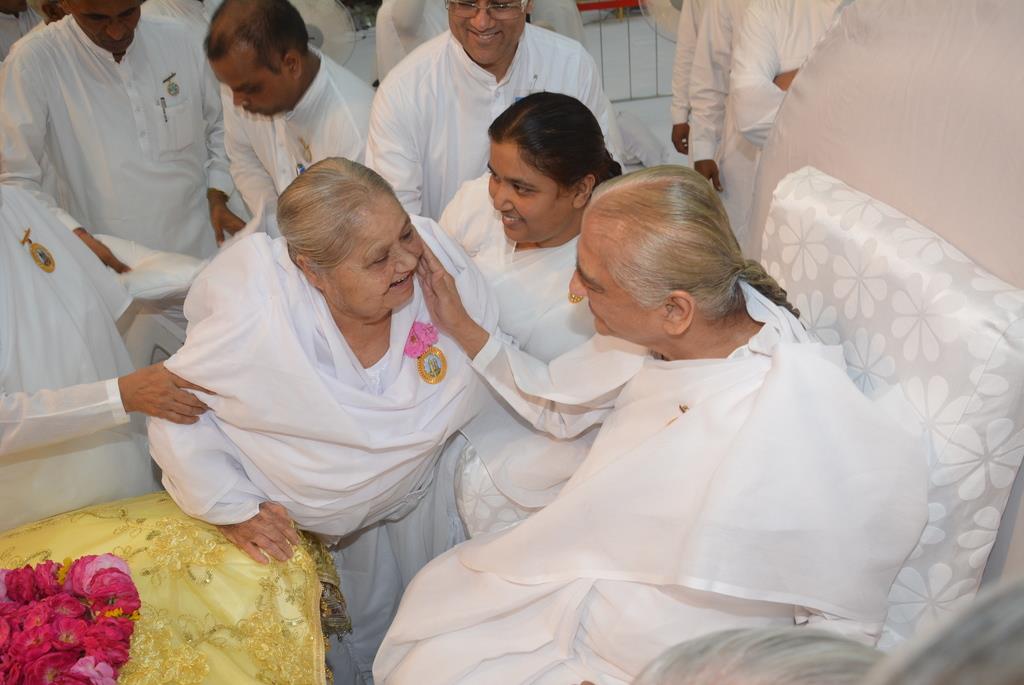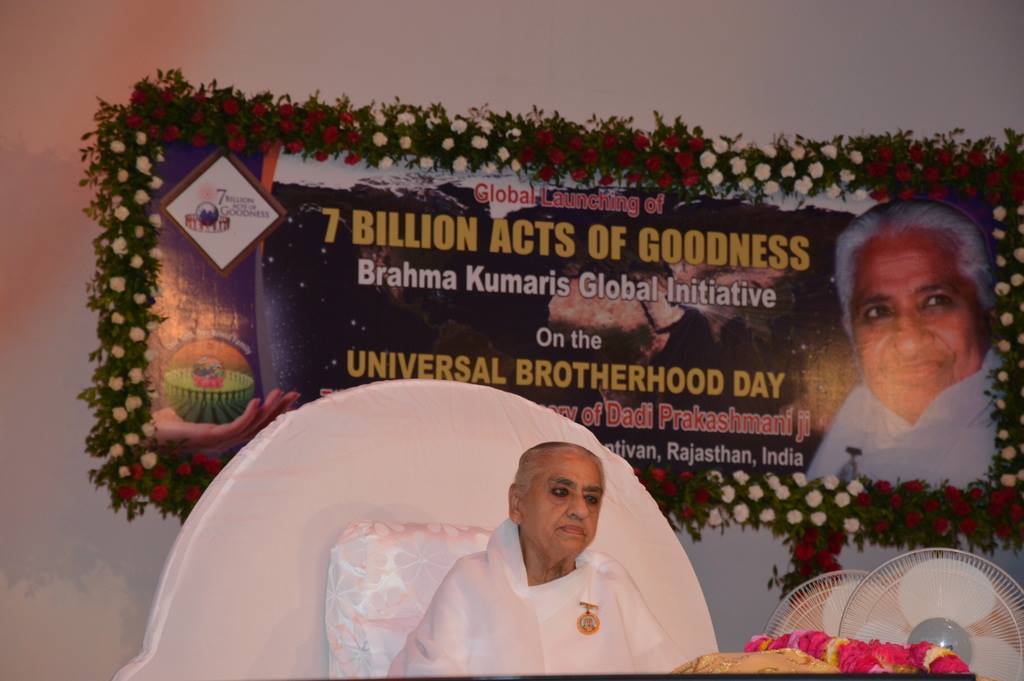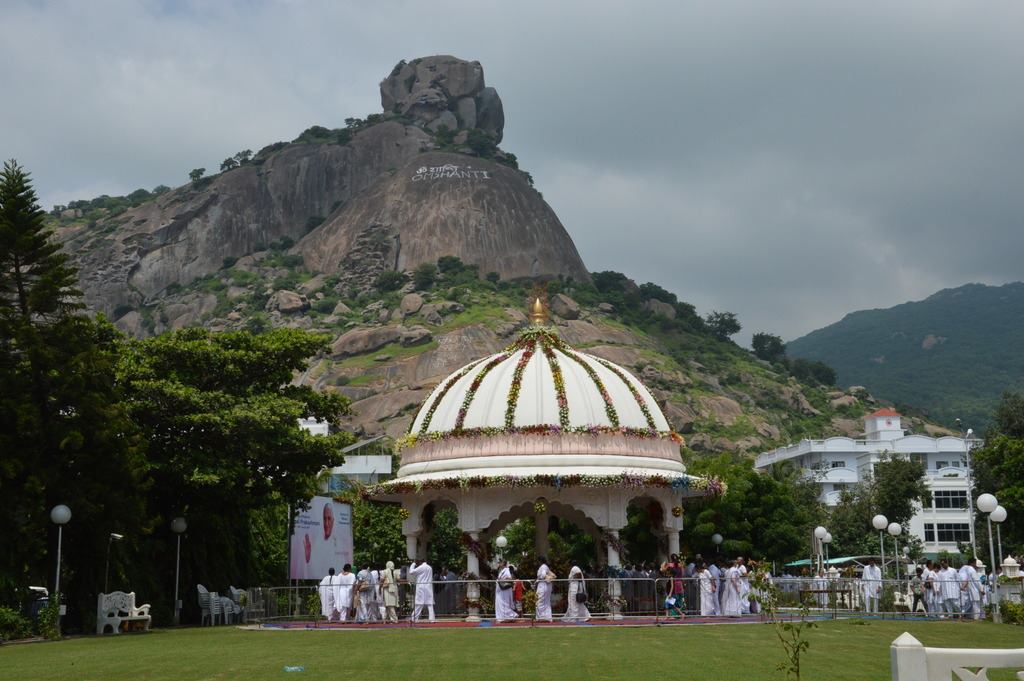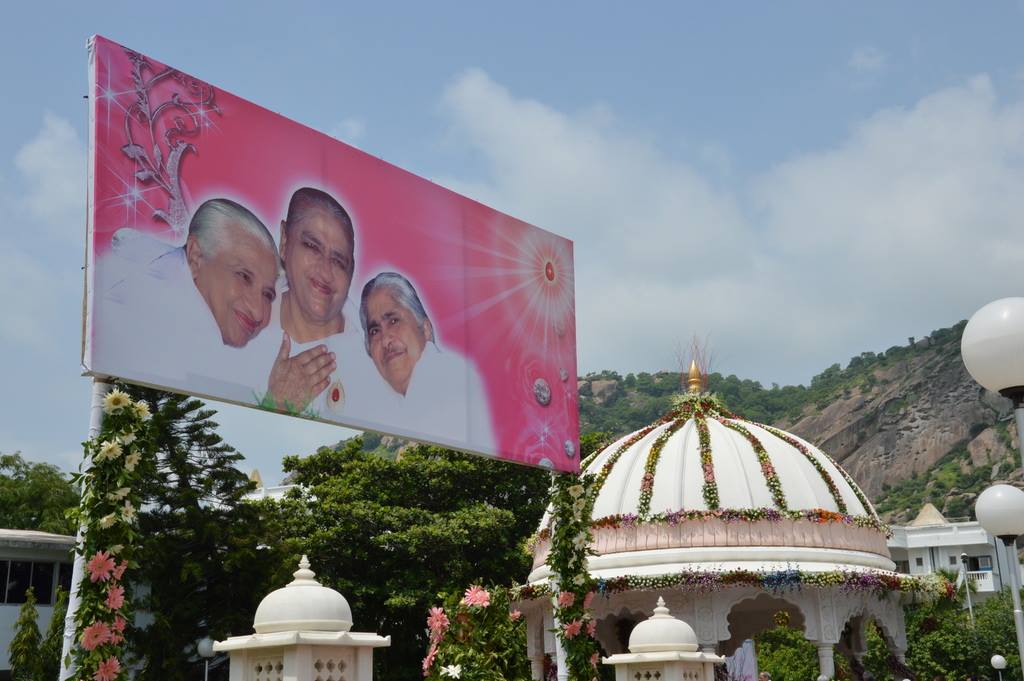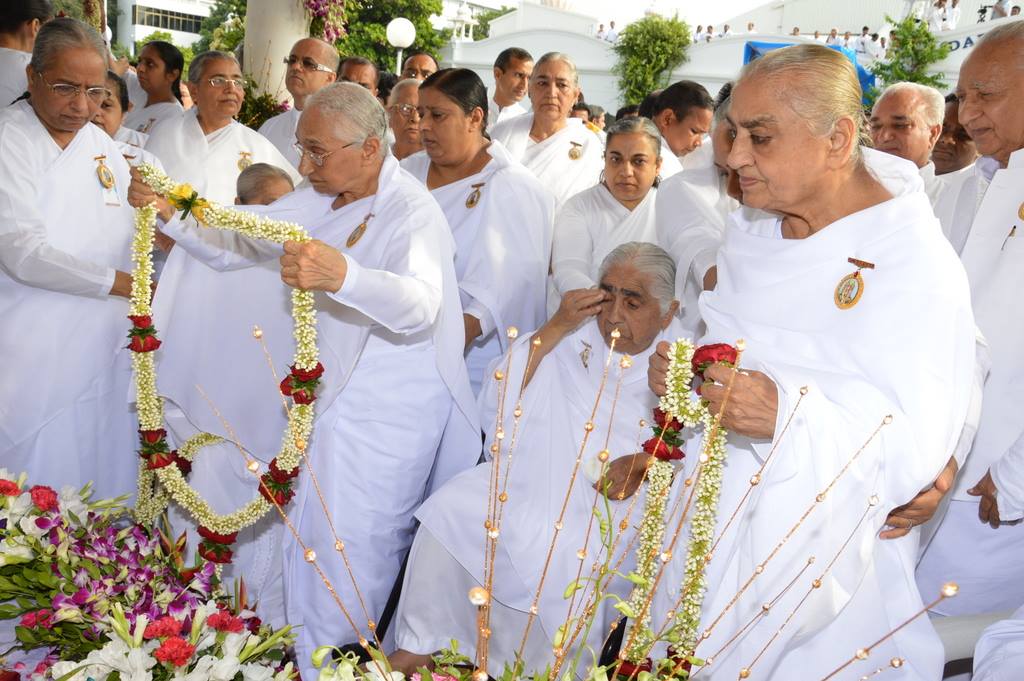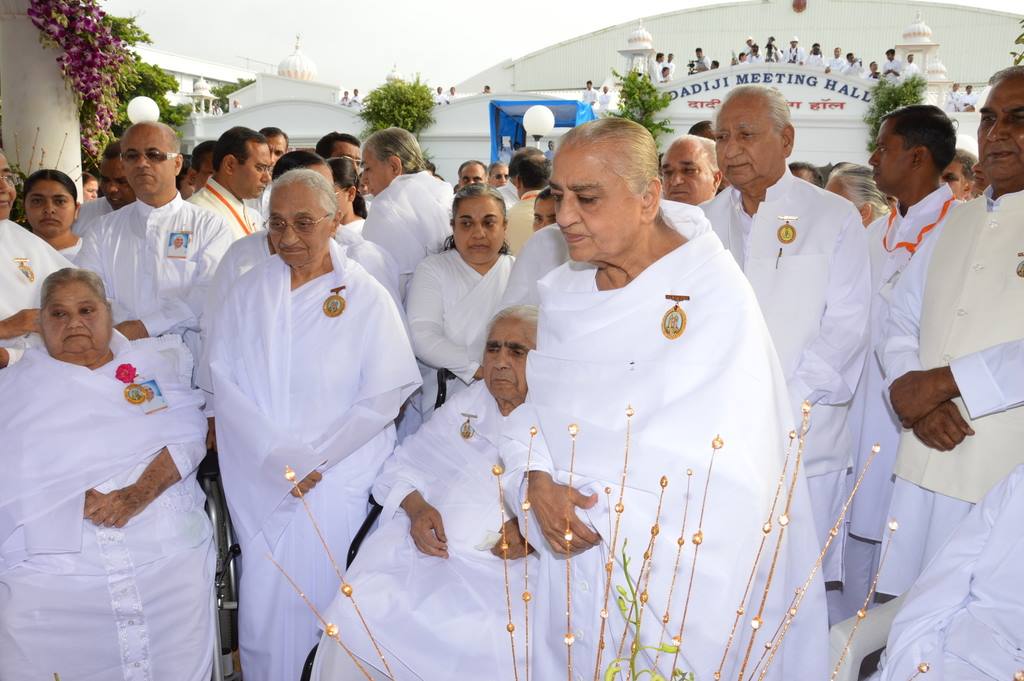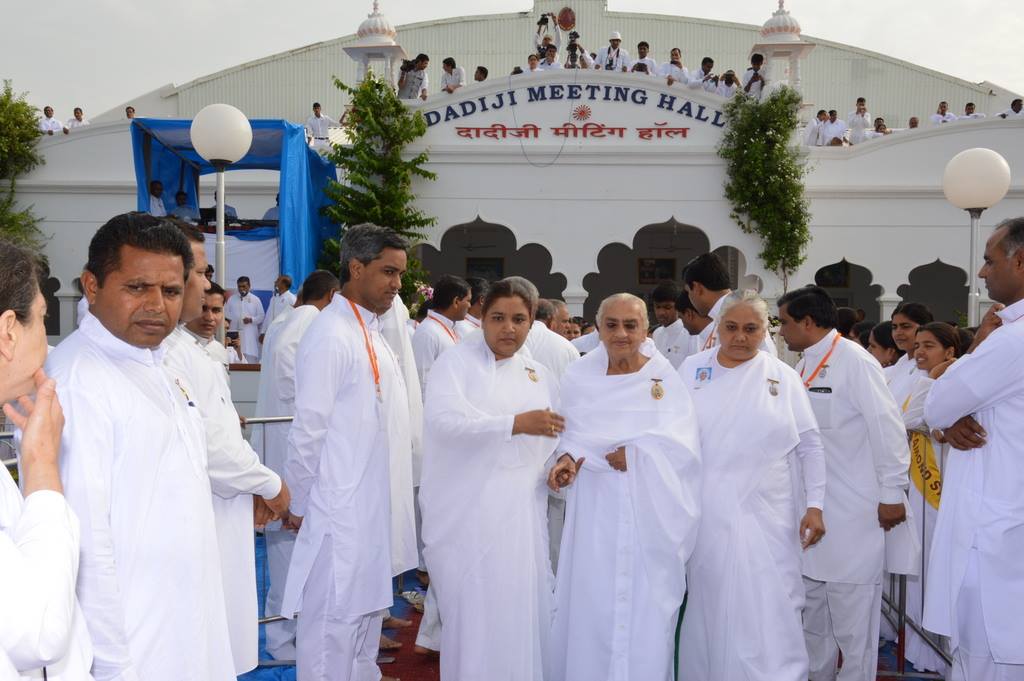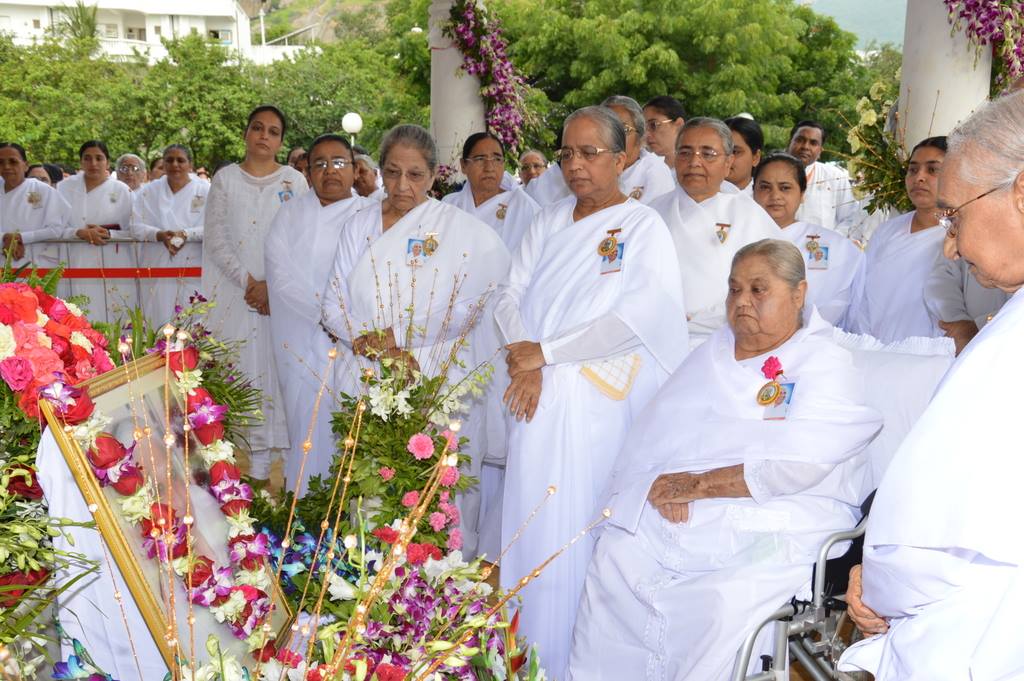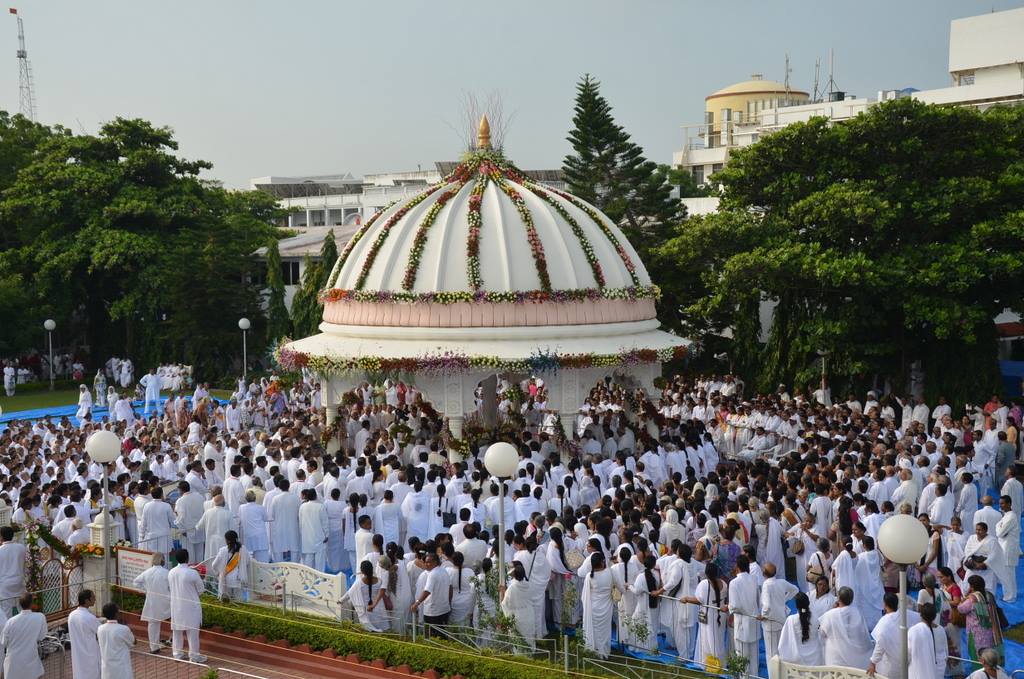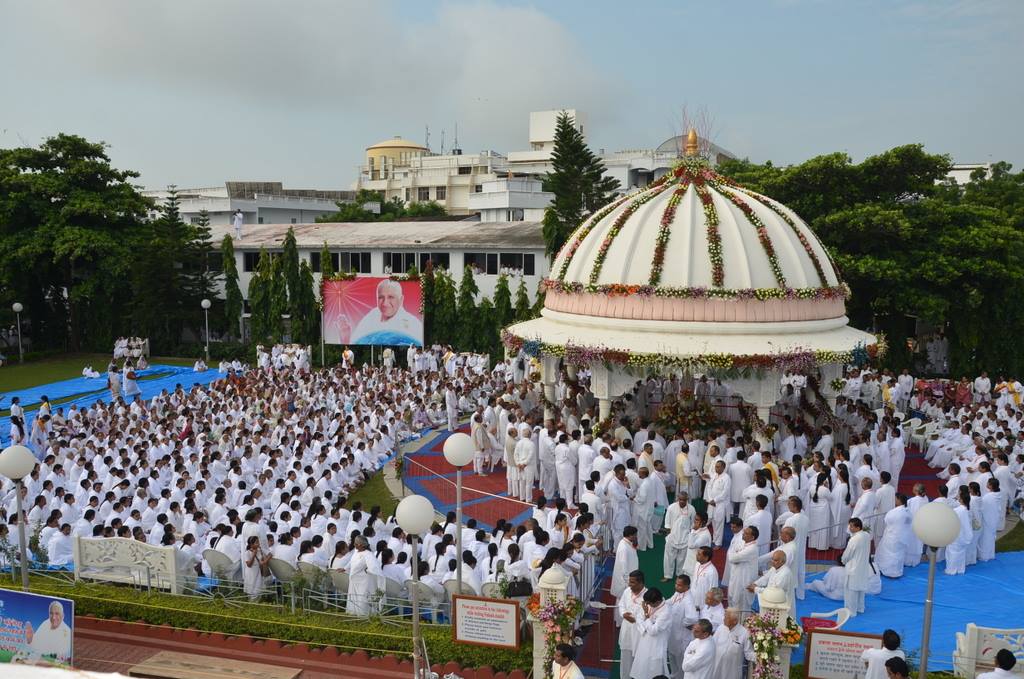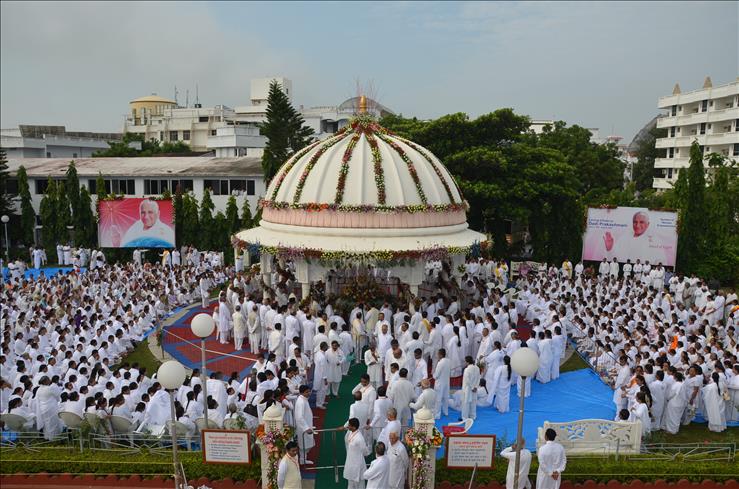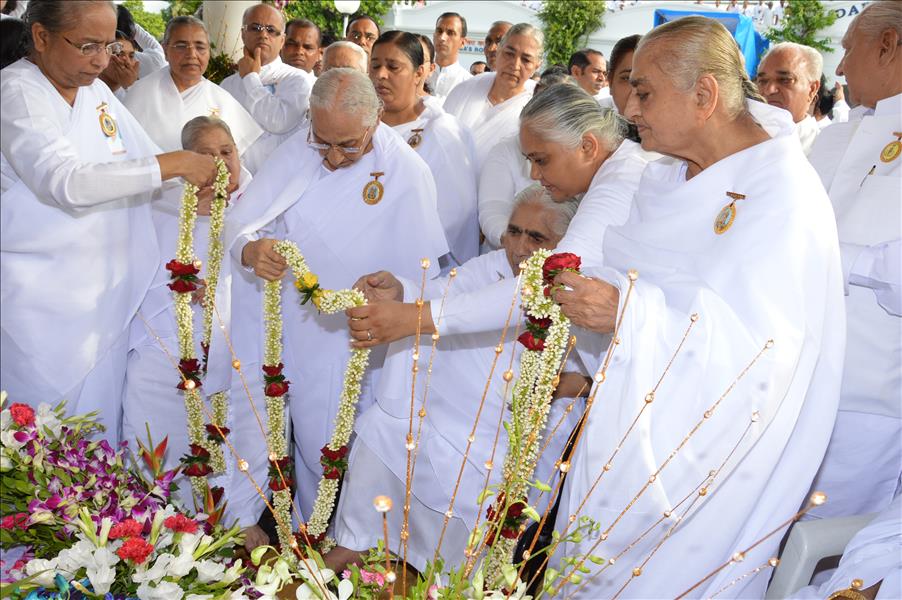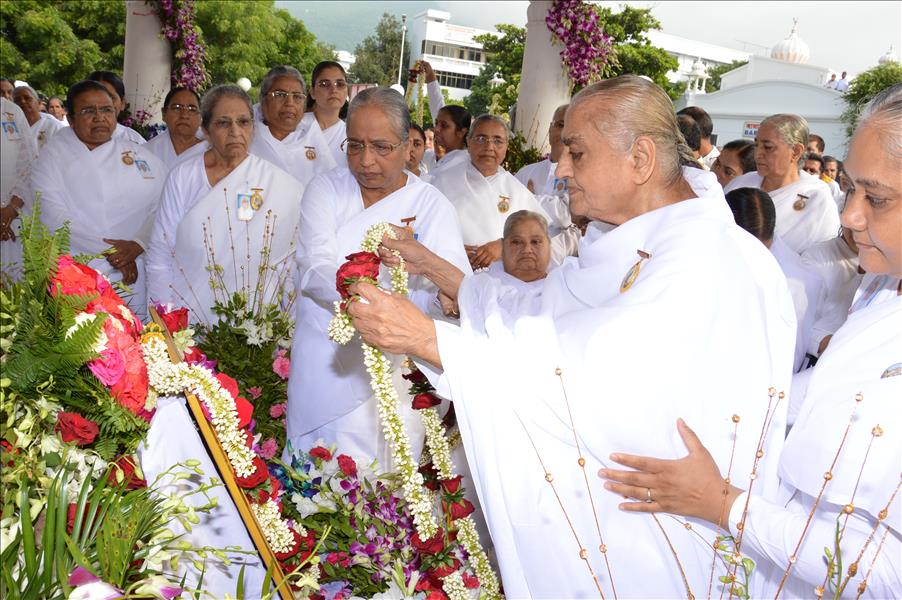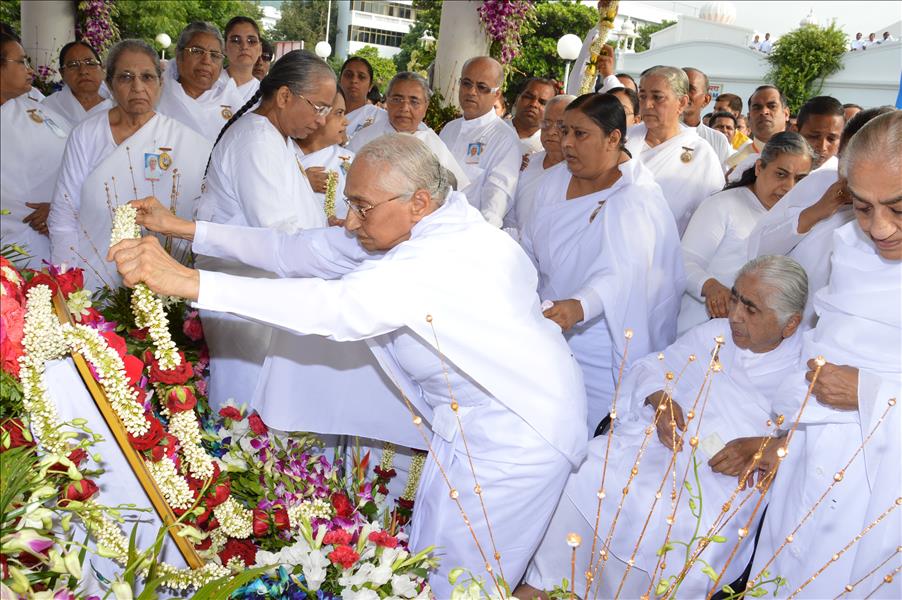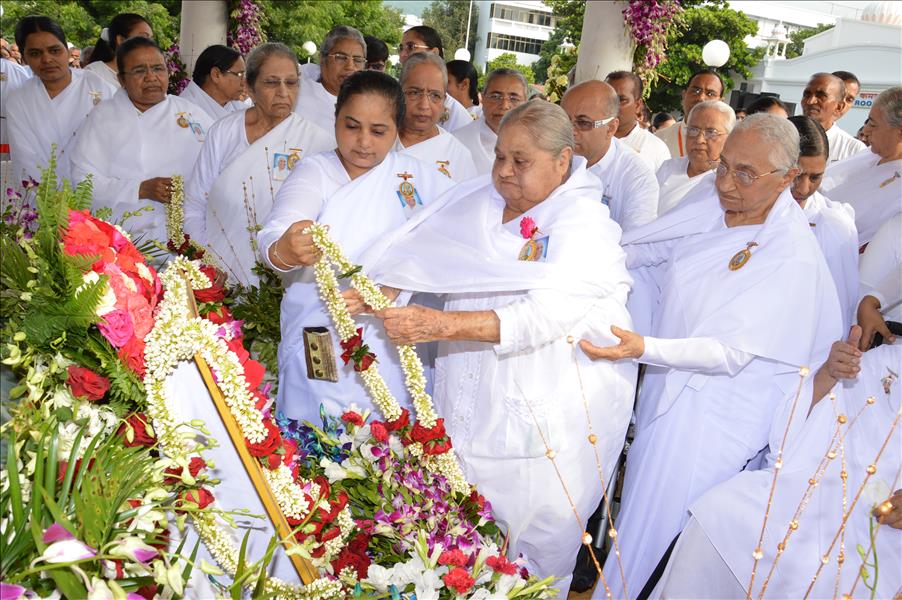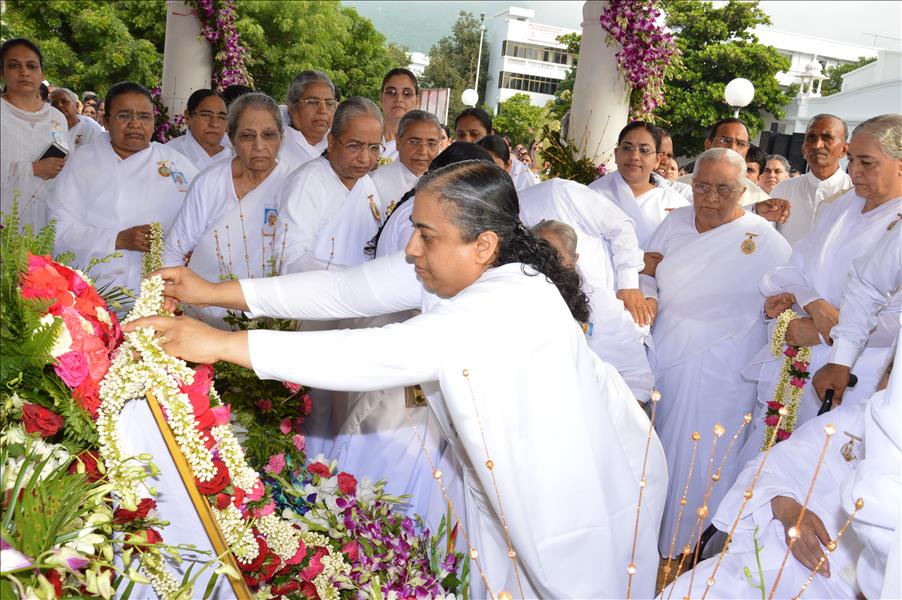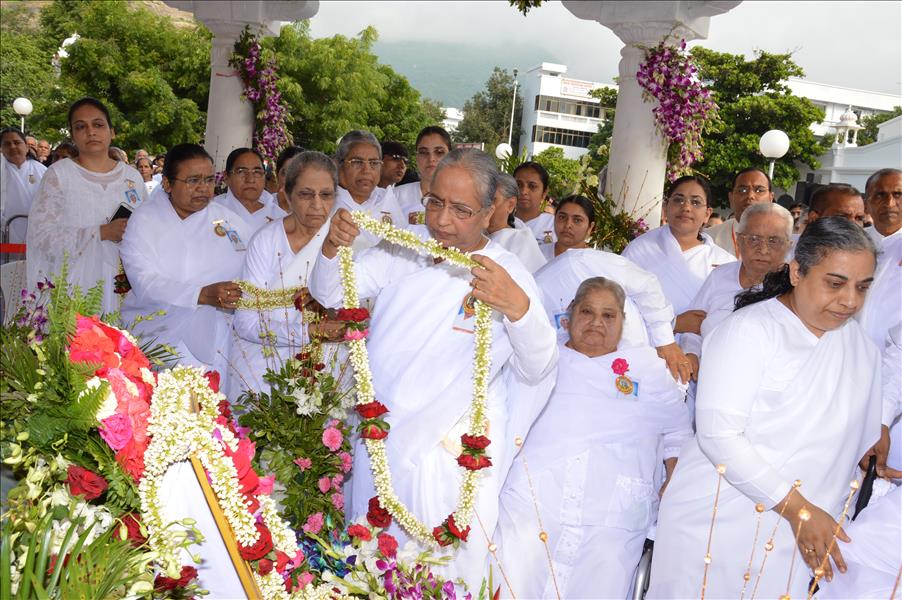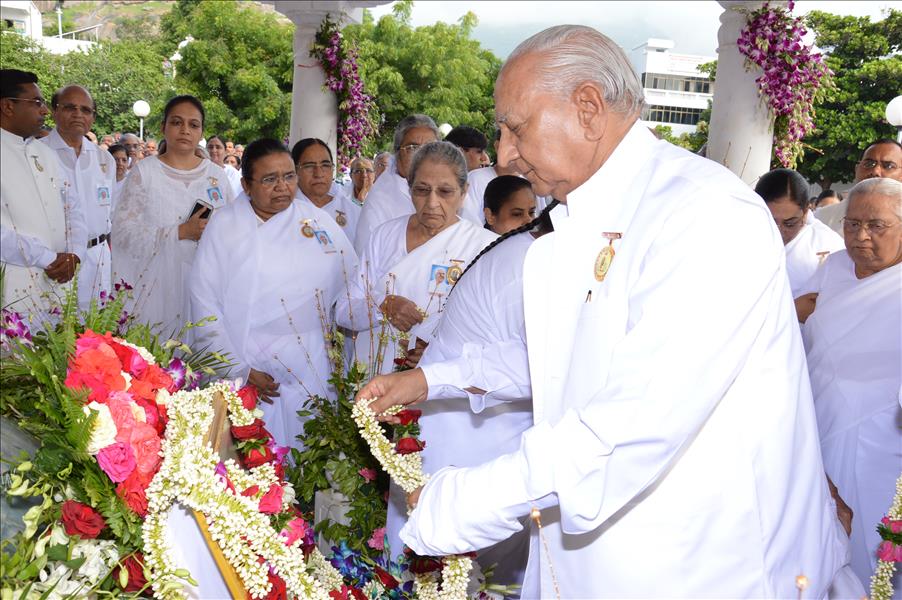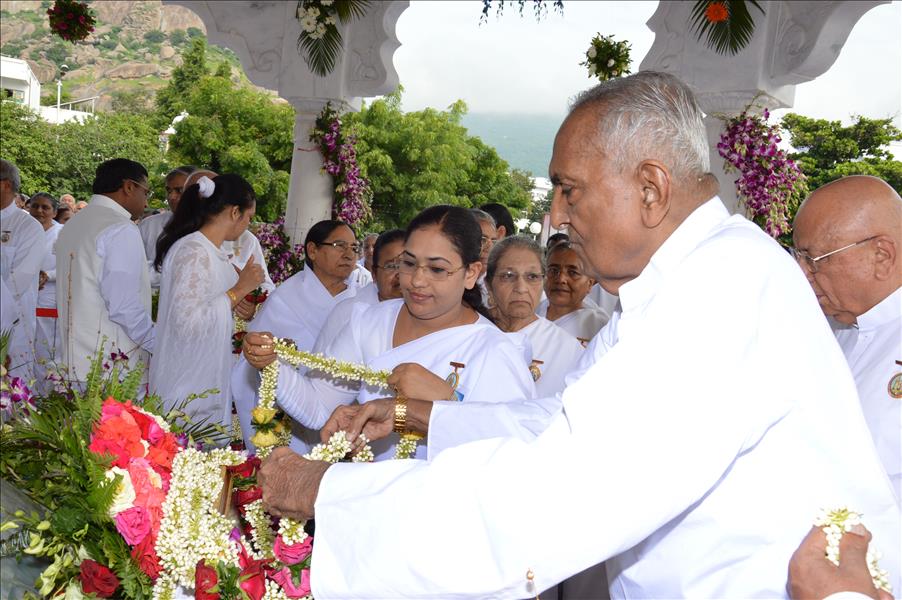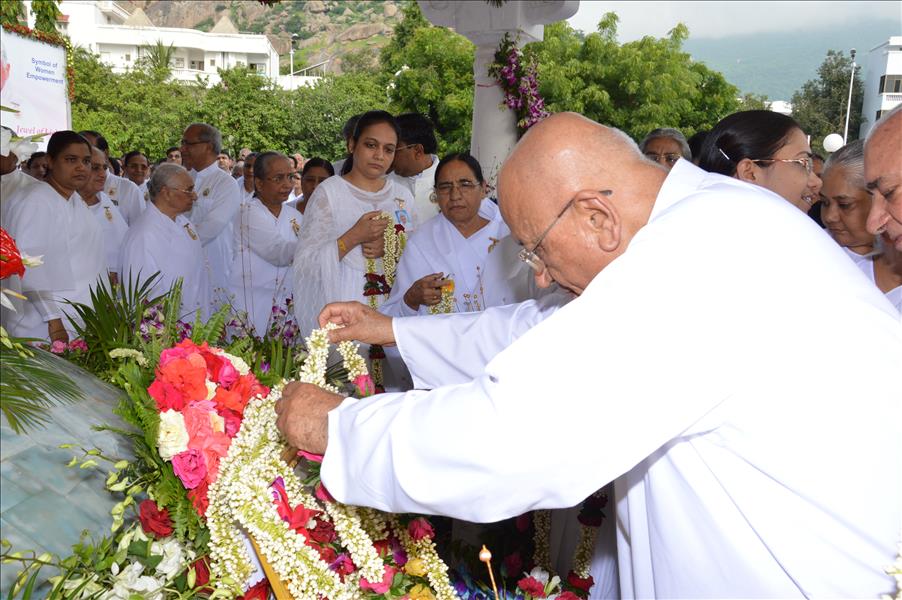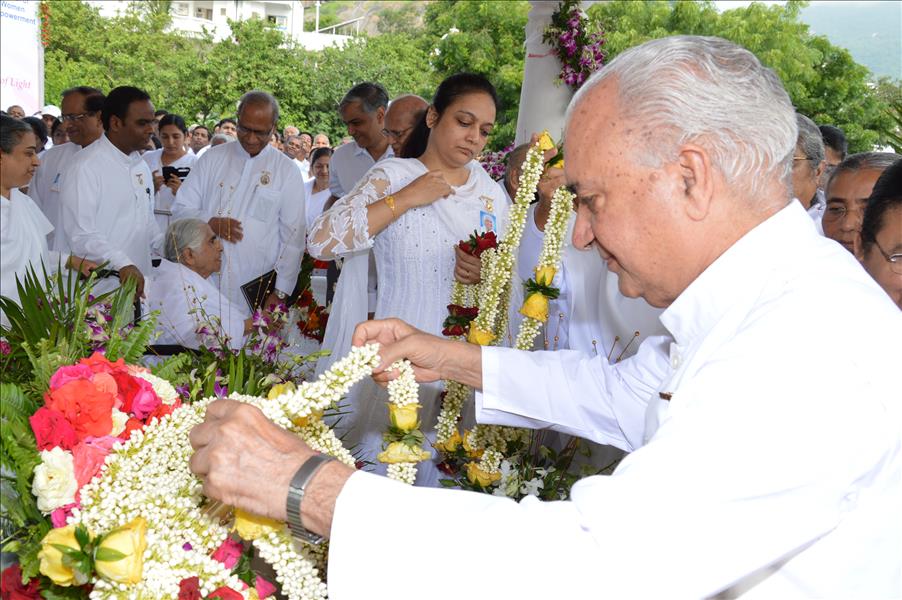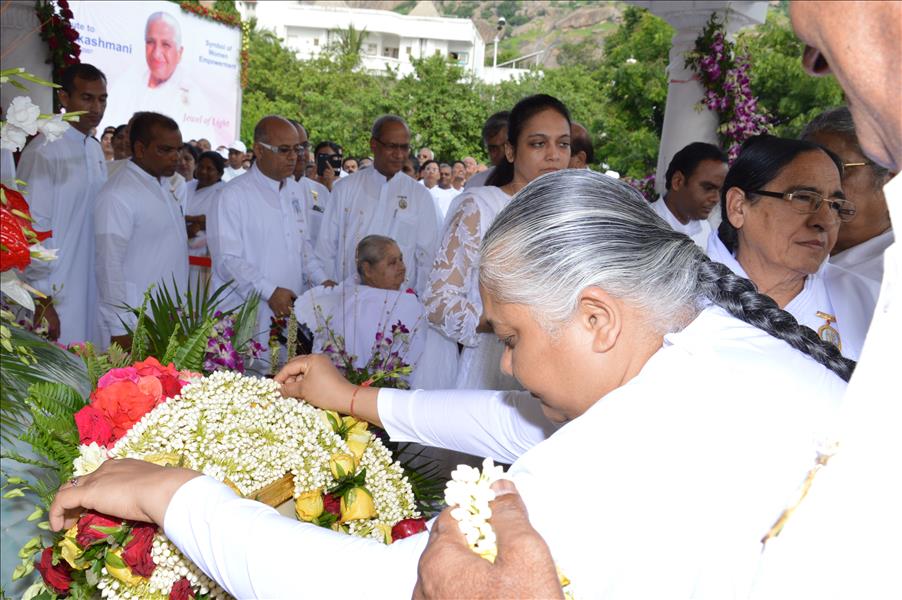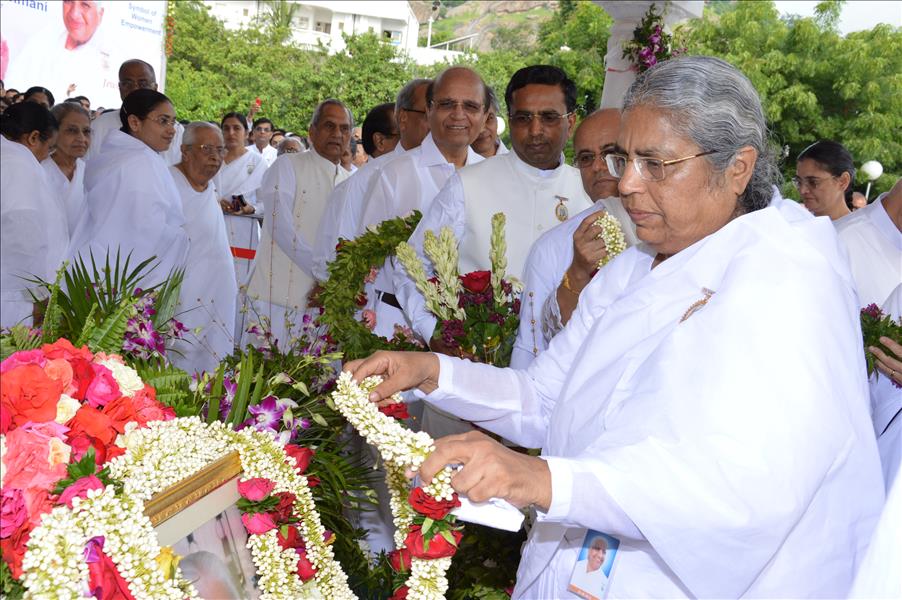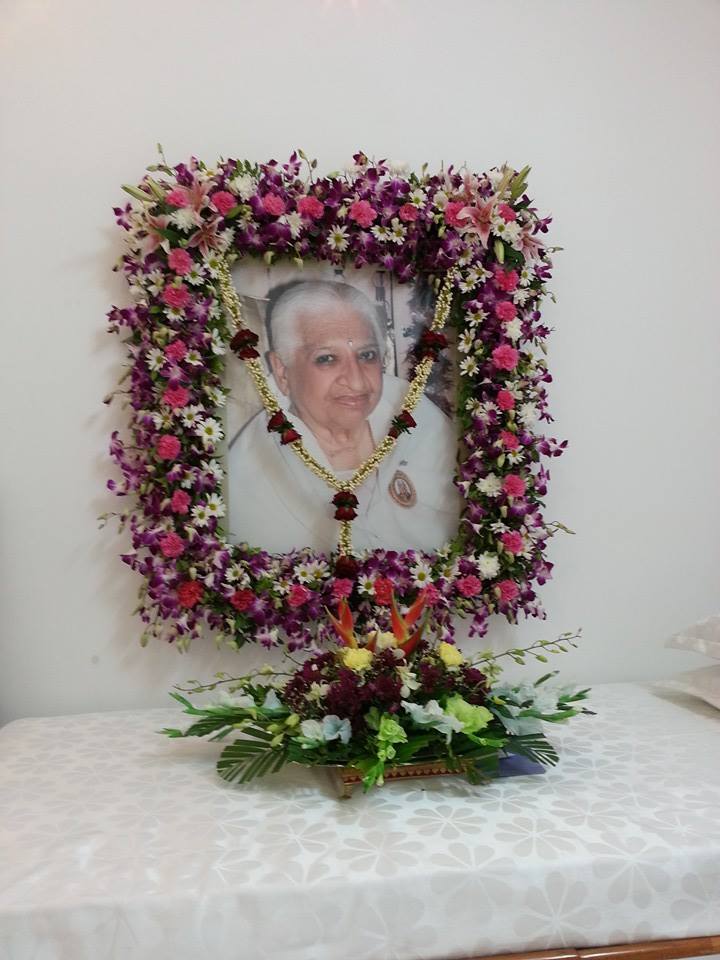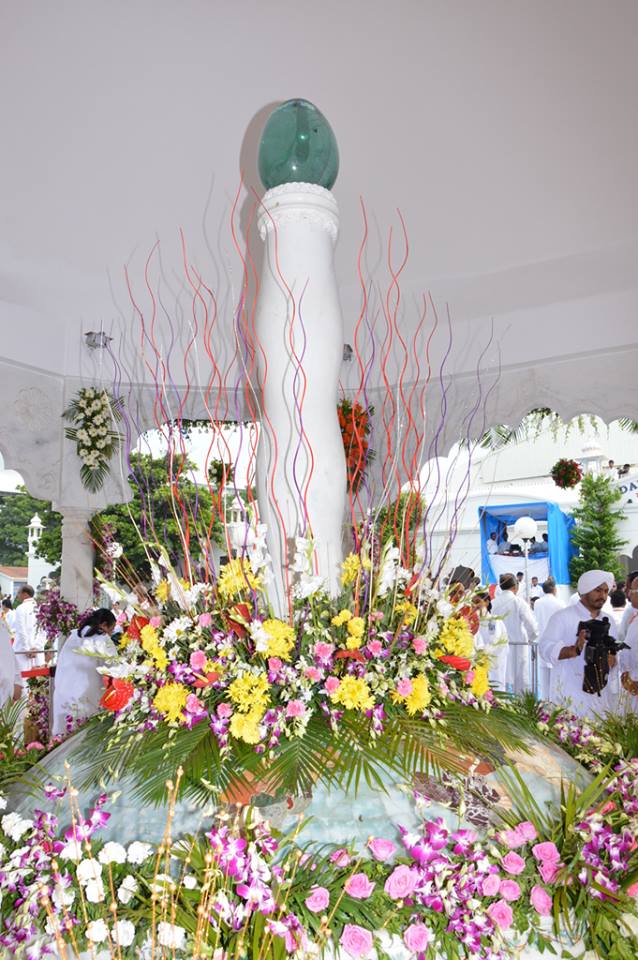 Union Minister Ananth Kumar Inaugurates '7 Billion Acts of Goodness' - a Global Project at Brahma Kumaris Headquarters
27 August 2014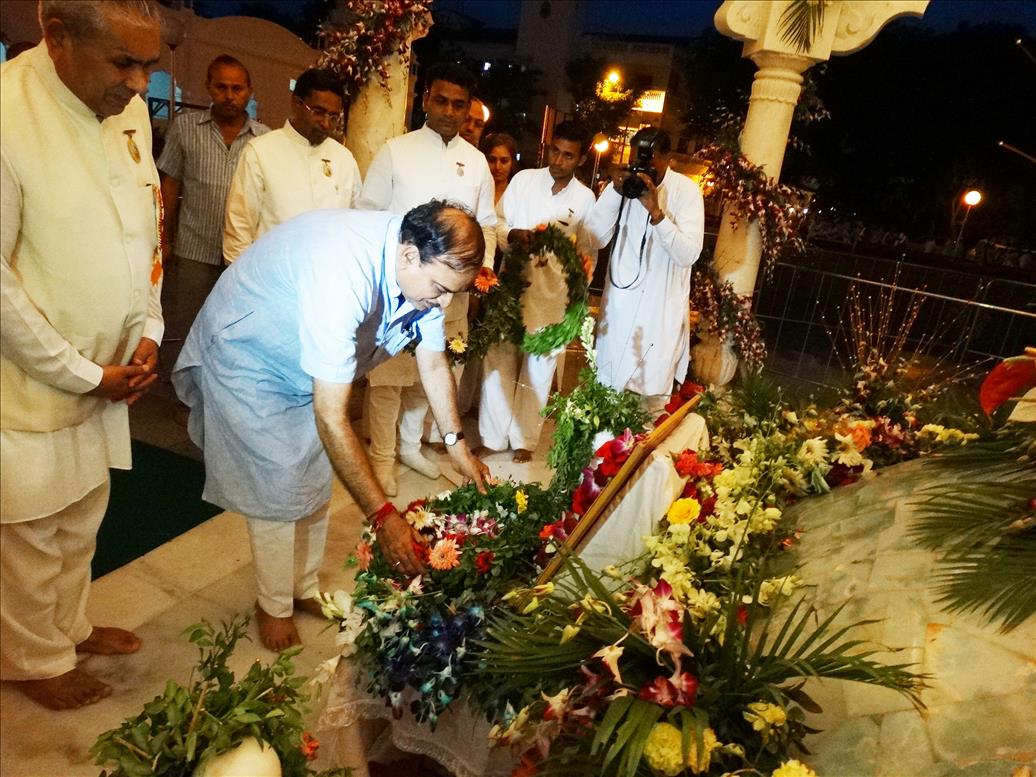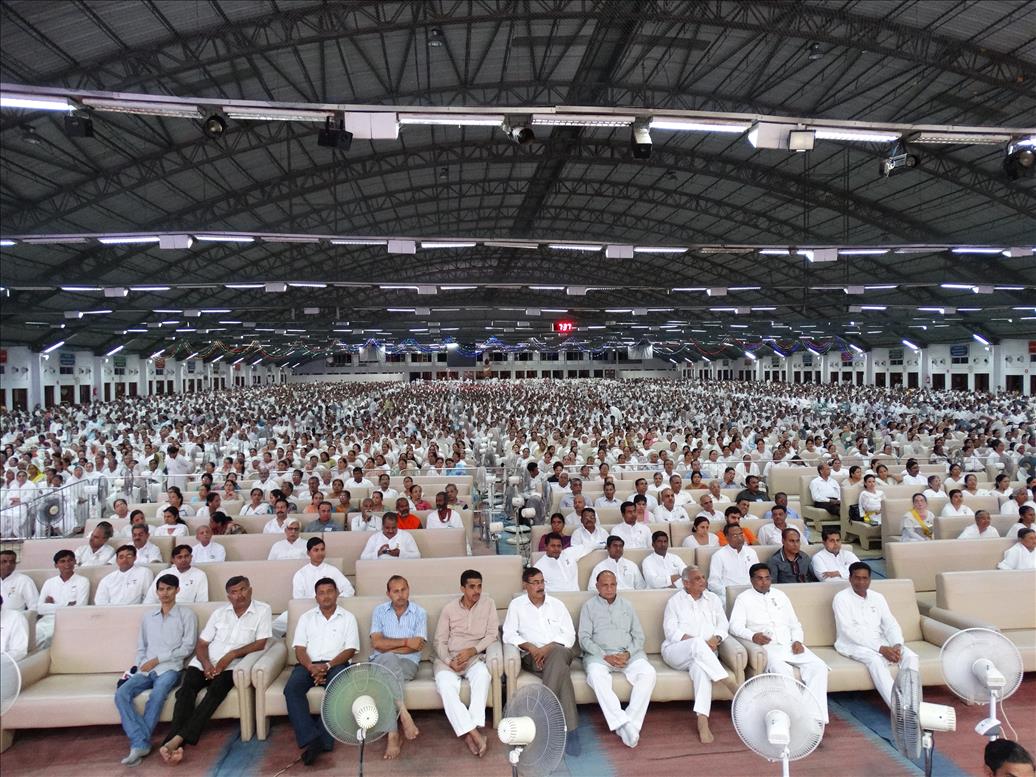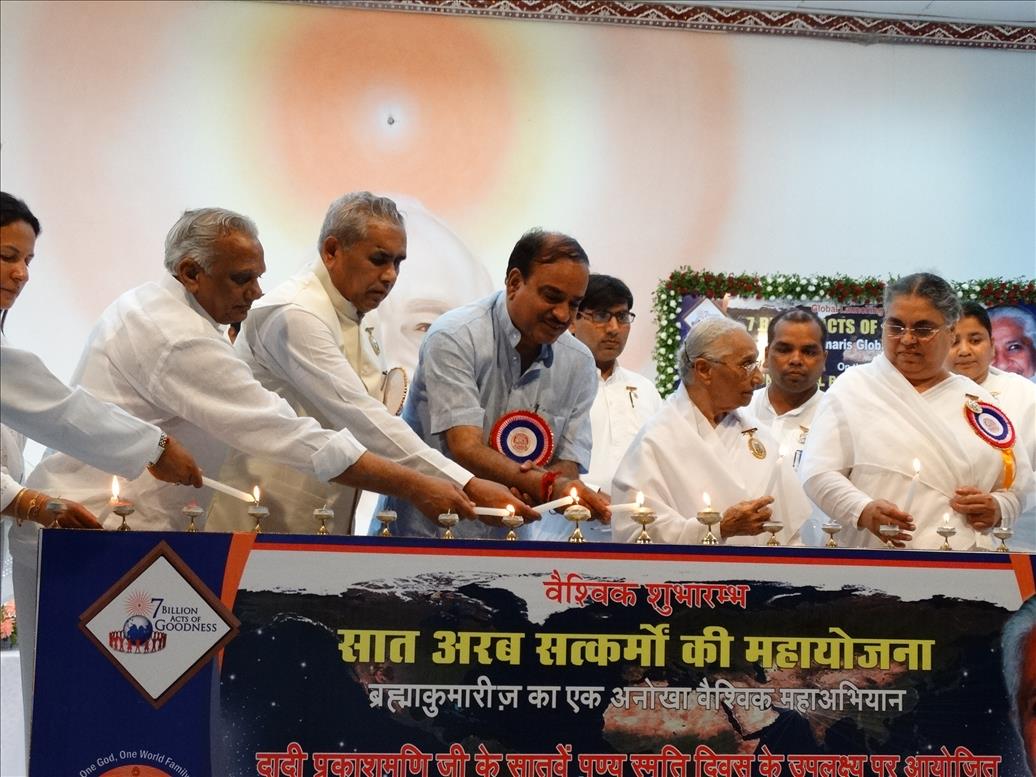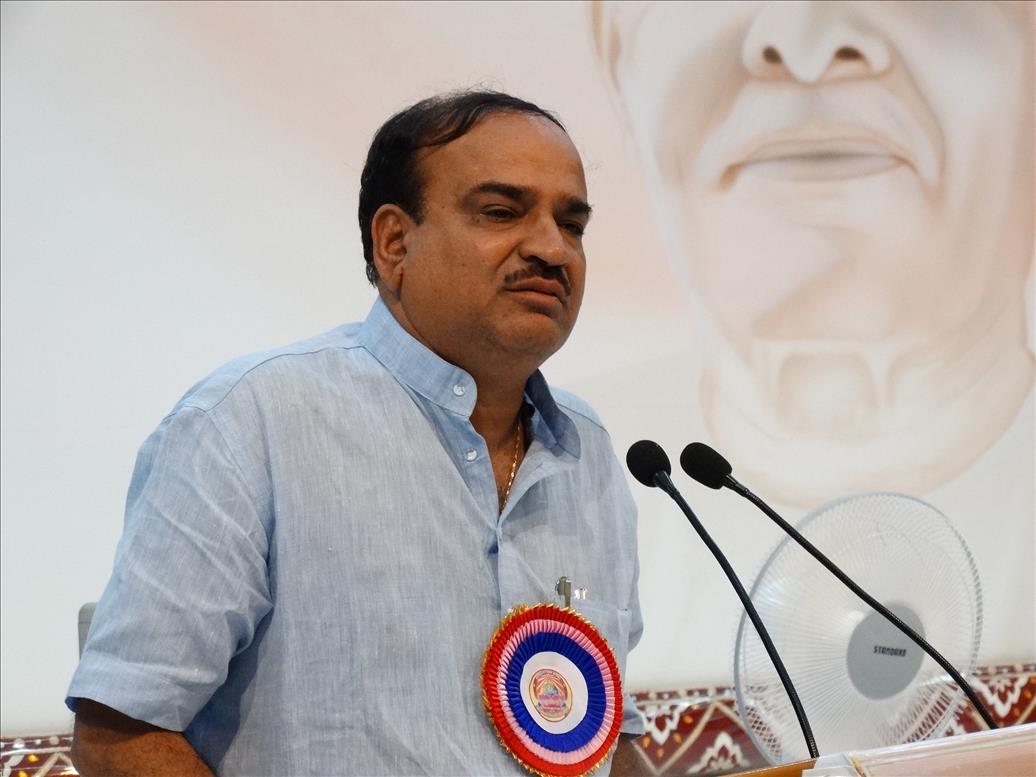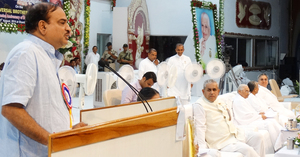 Global Launching of "7 Billion Acts of Goodness" - Brahma Kumaris Global Initiative on the Universal Brotherhood Day (7th Ascension Anniversary of Dadi Prakashmaniji) Hon'ble Ananth Kumar, Minister for Chemicals and Fertilizers, Government of India inaugurated the project.
Dadi Ratanmohini ji, Joint Administrative Head of Brahma Kumaris; B. K. Ramesh Shah, Addl. Secretary General of Brahma Kumaris; Sister Maureen Goodman, Senior Faculty, Brahma Kumaris, London;
B. K. Mruthyunjaya, Executive Secretary, Brahma Kumaris, Mount Abu; B. K. Munni Behen, BK Pushpa Behen and BK Neha Behen were the speakers. More than 15,000 BKs, Guests from all over India attended the function.

Dadi Jankiji visits Pandav Bhawan after five months!
23 August 2014
To our beautiful Brahmin family in Bharat and abroad,
Please accept greetings from the land of tapasya, our home Madhuban.
It gives us so much joy to share that according to drama, Dadi Jankiji was able to visit Pandav Bhawan this evening (23 August) after 5 months! For the past two days Dadiji was admitted into Global Hospital for stomach infection. But with Baba's powerful blessings, magic of Madhuban, and most definitely the accurate and tireless care given by the doctors, Hansaben, Pravinaben, Dadiji has started to feel better since this morning, but of course will continue to take rest.
Since the fall in March, Dadiji hasn't been able to visit the Mount, and so her visit this evening was nothing short of a lottery. As you know, as soon as Dadiji starts to feel better, she wants to be active and so has returned to Shantivan after a 45-minute round of the four pilgrimage places. It was one of Dadiji's favourite times of the day: dusk (when the angels fly around…) and the whole courtyard was immersed in silence while Dadiji met with BapDada and all of us.
Dadi Jankiji is looking forward to Dadiji's Memorial Day. Dadi Gulzarji returned to Shantivan yesterday and so we all look forward to honouring 25 August with great regard, love and oneness.
In Baba's sweet remembrance,

Greetings from Madhuban
20 August 2014 by Br Nirwair
To the jewels of BapDada's eyes,
Our beloved sisters and brothers at all Centres in Bharat and across the globe,
You would have received the good news that Dadi Jankiji returned to Shantivan on 17 August, after giving 7 weeks in Ahmedabad for treatment. Dadiji sends all of you her deep loving remembrances. While reading today's Murli, she shared how Baba must have repeated the one point, "Mujhe Yaad Karo (Remember Me)" at least 10 times, for only then we can become those who give and receive happiness. Dadiji is grateful to have returned to Shantivan, and says, 'Though the body continues to play games, the vibrations of everyone's love and good wishes is reaching me very powerfully - this is my fortune!'
The last week of August is a reminder to our entire BK family of beloved Dadi Prakash Maniji's great role in shaping and nurturing the divine family worldwide. 25 August is is solemnly observed every year as 'Universal Brotherhood Day' not only at the headquarters in Abu but also at the Centres.
This day brings back memories of Dadi Prakash Maniji's courage and conviction in upholding the principles of complete purity, universal brotherhood, and a cooperative attitude towards establishing peace and happiness in the world. She remains a role model for the young, old, and even children in leading a noble life based on spiritual principles and outlook. Though Dadi Prakash Maniji is no more in the physical with us, her unique personality and lifestyle of being a Spiritual Student as well as Spiritual Leader par excellence would continue to inspire us.We all love you Dadiji, wherever you are…
With those fond memories and Baba's love,
B.K. Nirwair

Dadi Ratanmohini inaugurates Janmashtami Janki at Shantivan
20 August 2014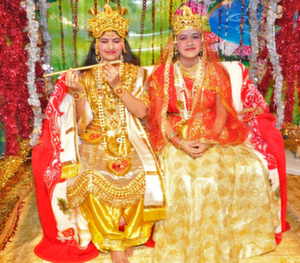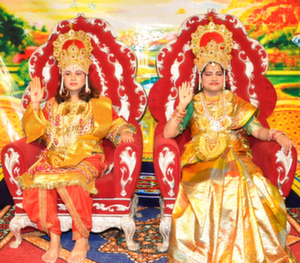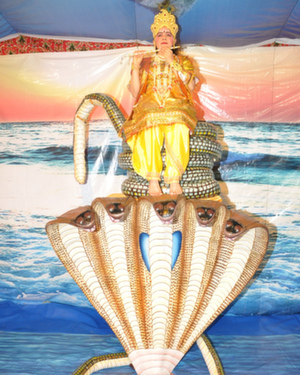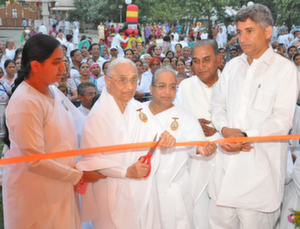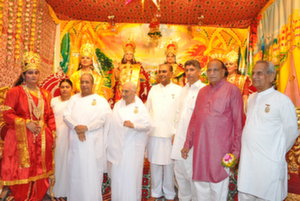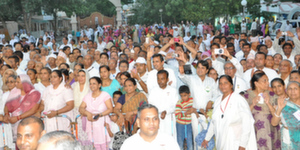 Happy Shri Krishna Janmashtami
18 August 2014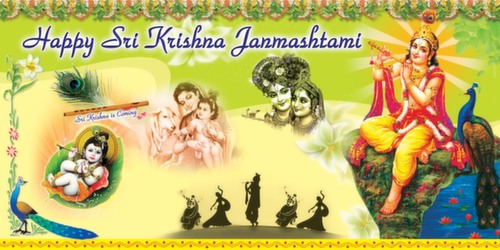 Images of Janmashtami Present and Past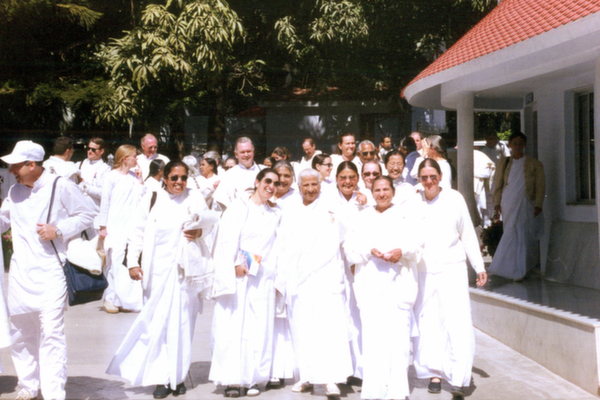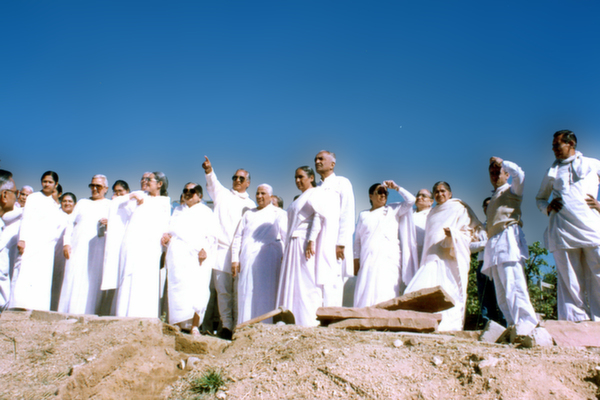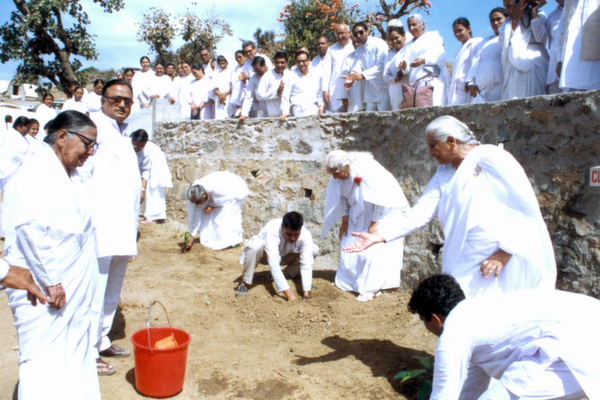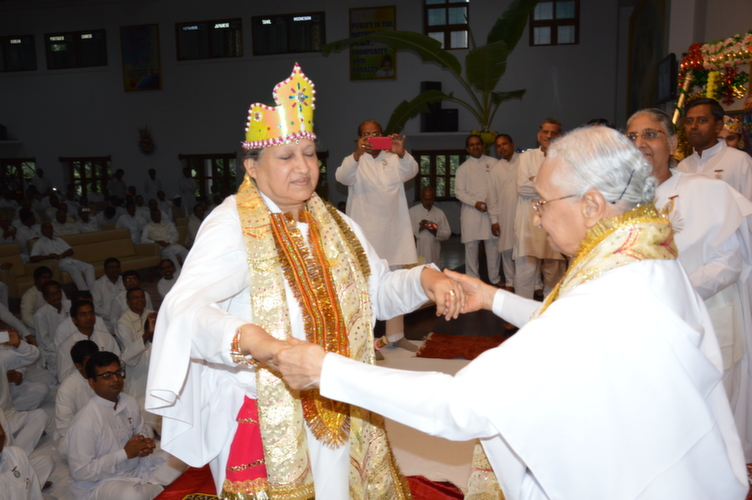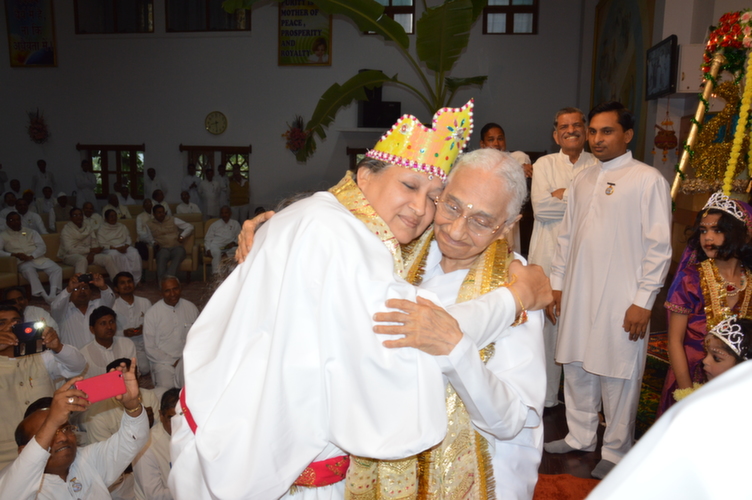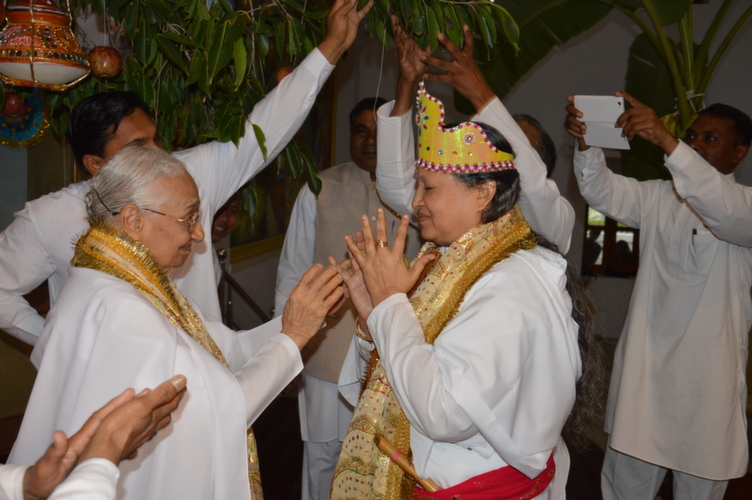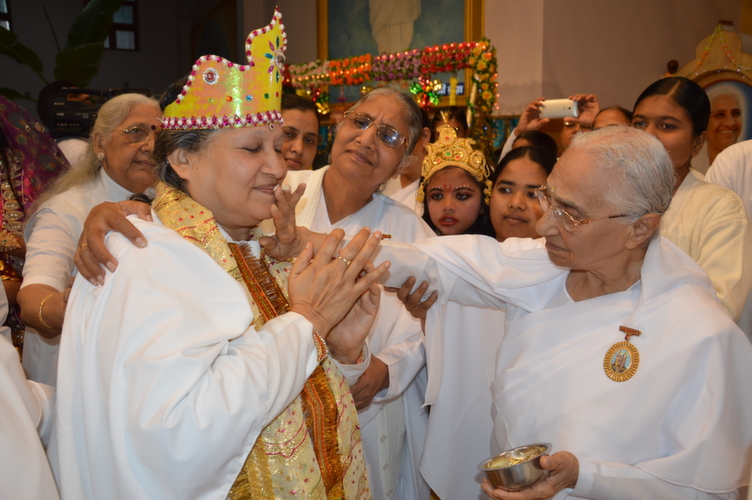 Godlywood Studios announces production of "Khushiyan Khede Sadde Vede" TV series program in the Punjabi language
7 August 2014
Divine sisters and brothers,
Om shanti,

We, the team of Godlywood Studio, are once again approaching Baba's beloved family members.

With the grace of Respected DadiJi's and Senior brothers, as well as Respected Ramesh bhai's vision, we are adding one more feather in the cap of Godlywood Studio, by starting to produce our "Khushiyan Khede Sadde Vede" TV series program in the Punjabi language. Presently we are producing this program in seven languages i.e. Hindi, English, Gujarati, Marathi, Bengali, Malayalam and Telugu.

We are pleased to announce that this program will start telecasting on a daily basis at 5.40am (to 6.00am) from the 15th of August, 2014 on the Punjabi Plus Channel. This channel is available through Fastway Digi Cable Network.

For your ready reference we are attaching the backdrop of the said program.

Presently Sister BK Shikha under the guidance of respected BK Amirchand bhai of Chandigarh is looking after the production of the Punjabi Program. We particularly request BK brothers and sisters who can fluently speak pure Punjabi to contact Sister BK Shikha for this seva via godlywoodstudio@bkivv.org.

We are quite confident that by starting Baba's program in the Punjabi language we will fulfill Baba's direction to convey Baba's message in each and every corner of the world.

Regard's
In Baba's Yaad

BK Harilal
Executive Director
Godlywood Studio
World Renewal Spiritual Trust
Manmohinivan Complex, Shantivan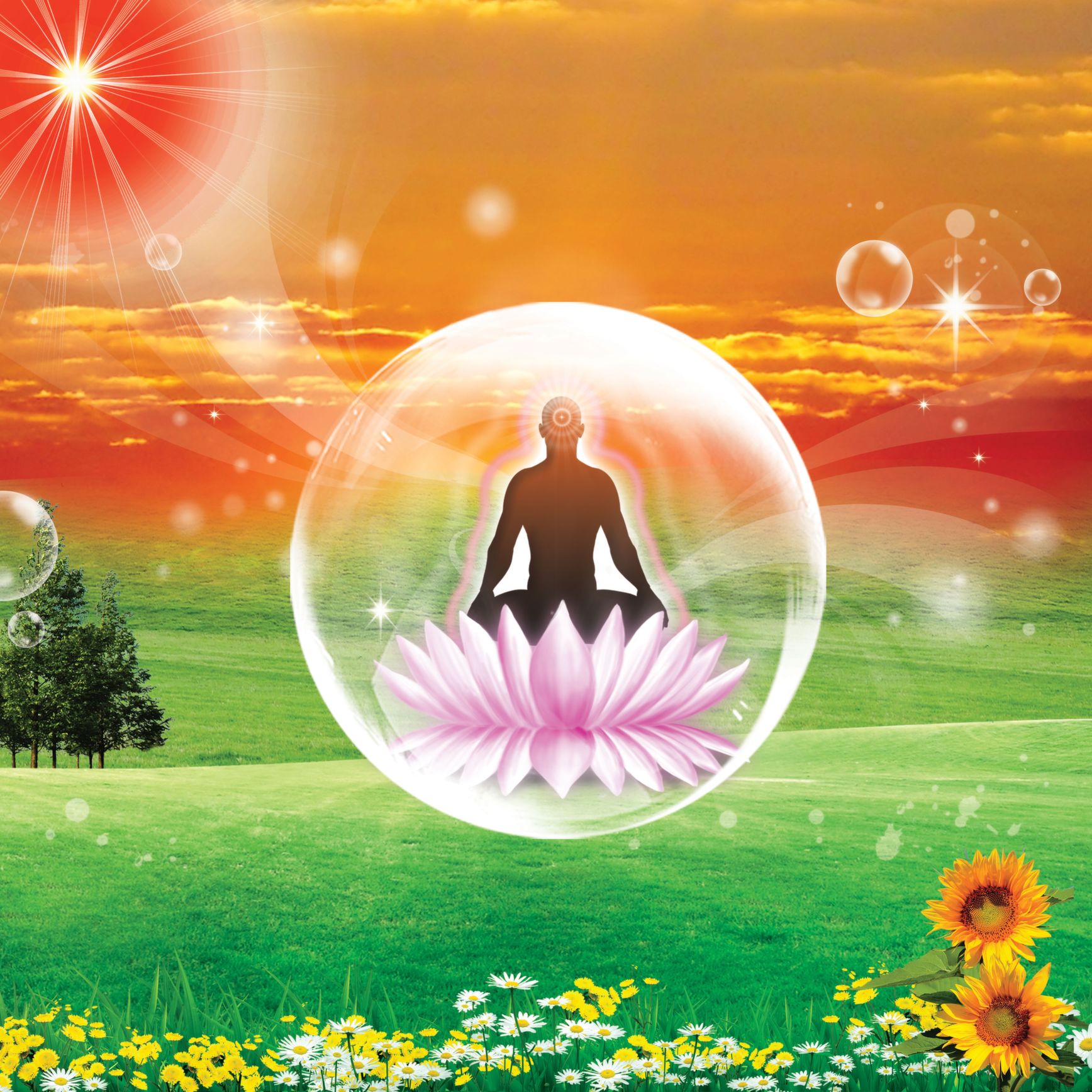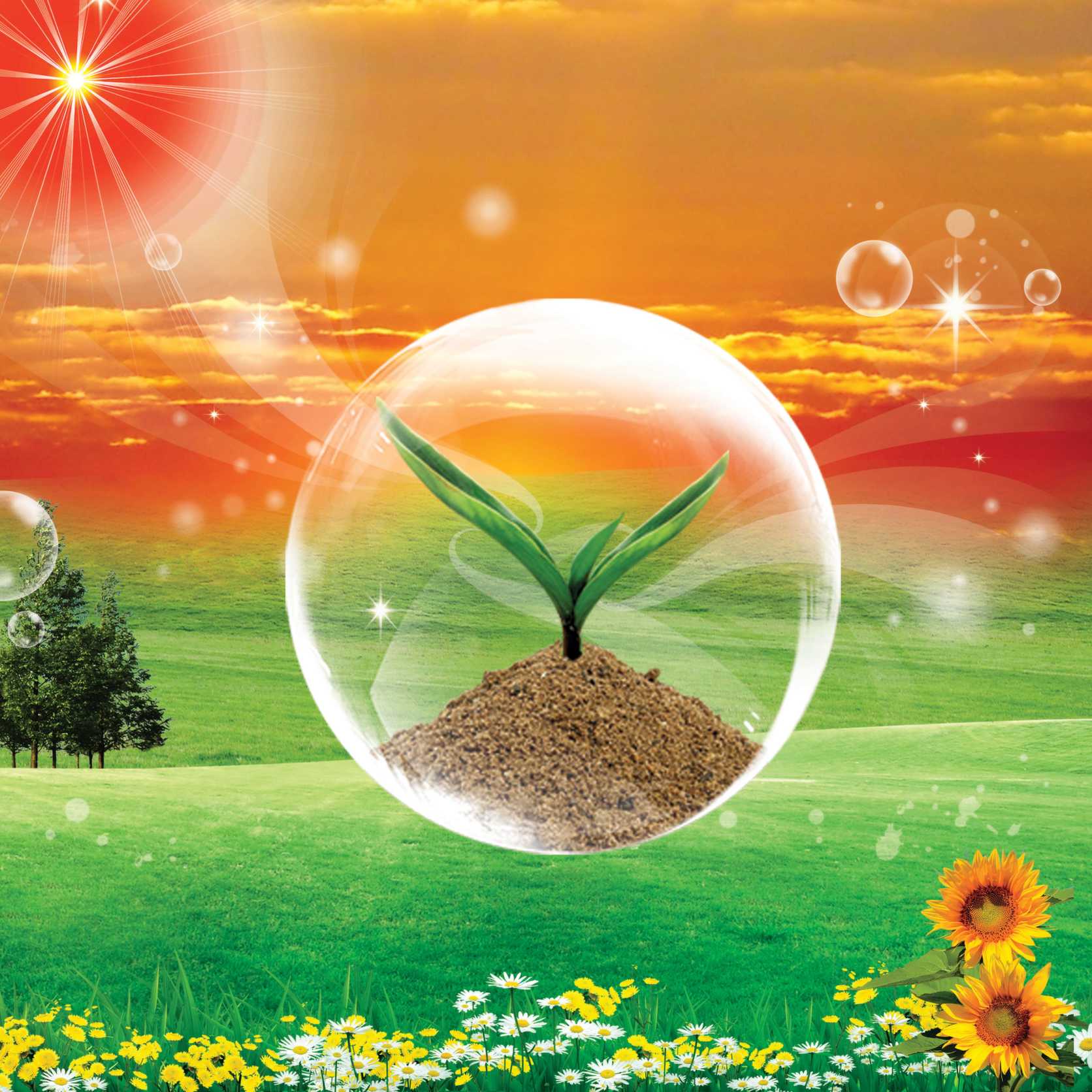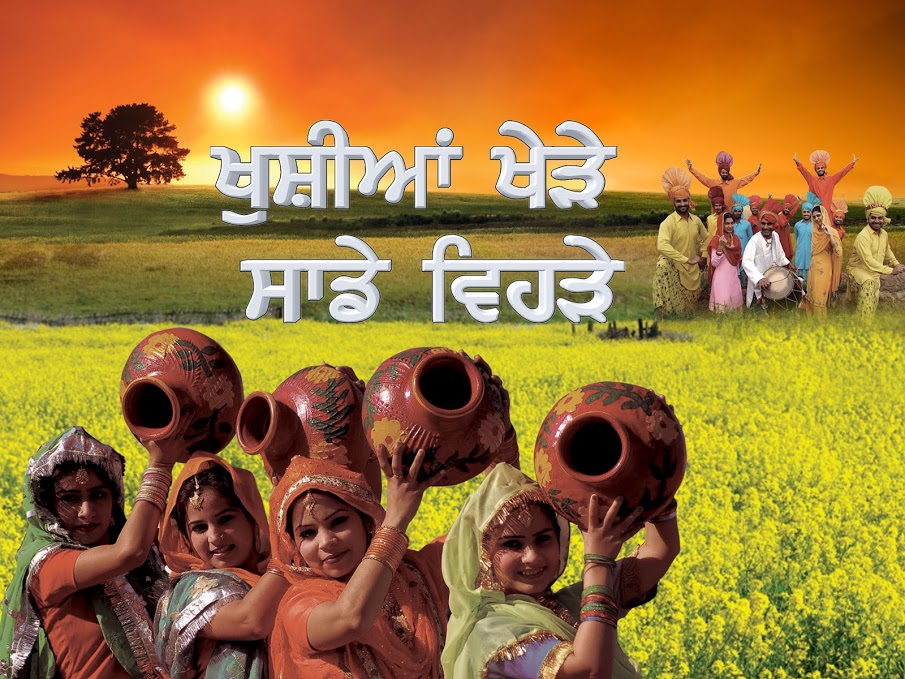 Dates and Outline for Double Foreigners Program in Madhuban, October 2014
4 August 2014

Arrivals – October 7-8
Divali – October 23
Departures – October 25-26


Dear Center Coordinators,
Om Shanti,

An international team, with the RCs as Advisory Consultants has put together a program for Double Foreigners, with the aim of bringing
newness in our learning, and expanding the depth of both gyan and experiences for October 2014.

Could you please pass this information to all BKs that are in connection with your Center and who are going to Madhuban. Click here to see rest of letter on International News page.

Shipping, Aviation & Tourism (TTW) National Seminar at Gyan Sarovar
27 July 2014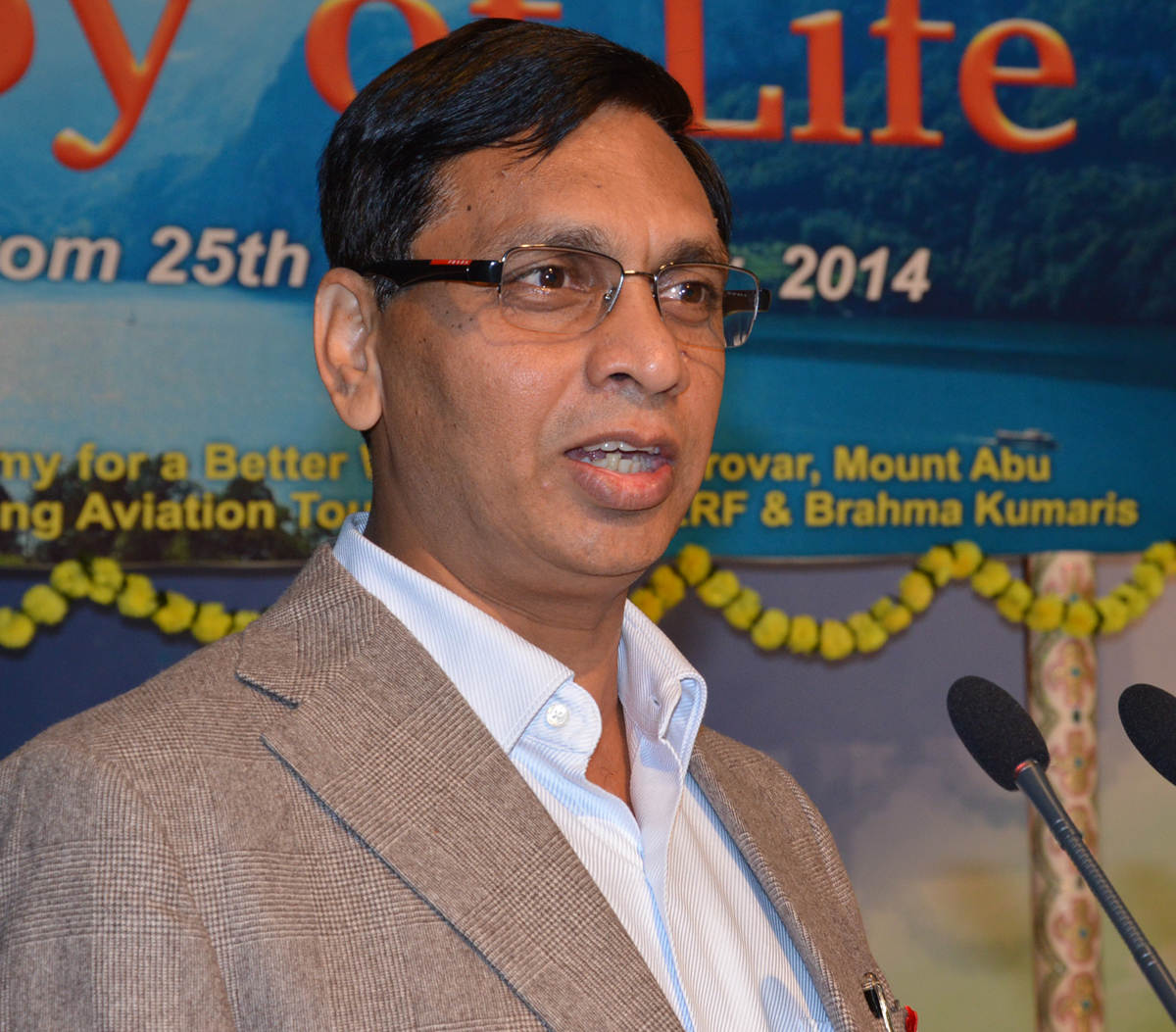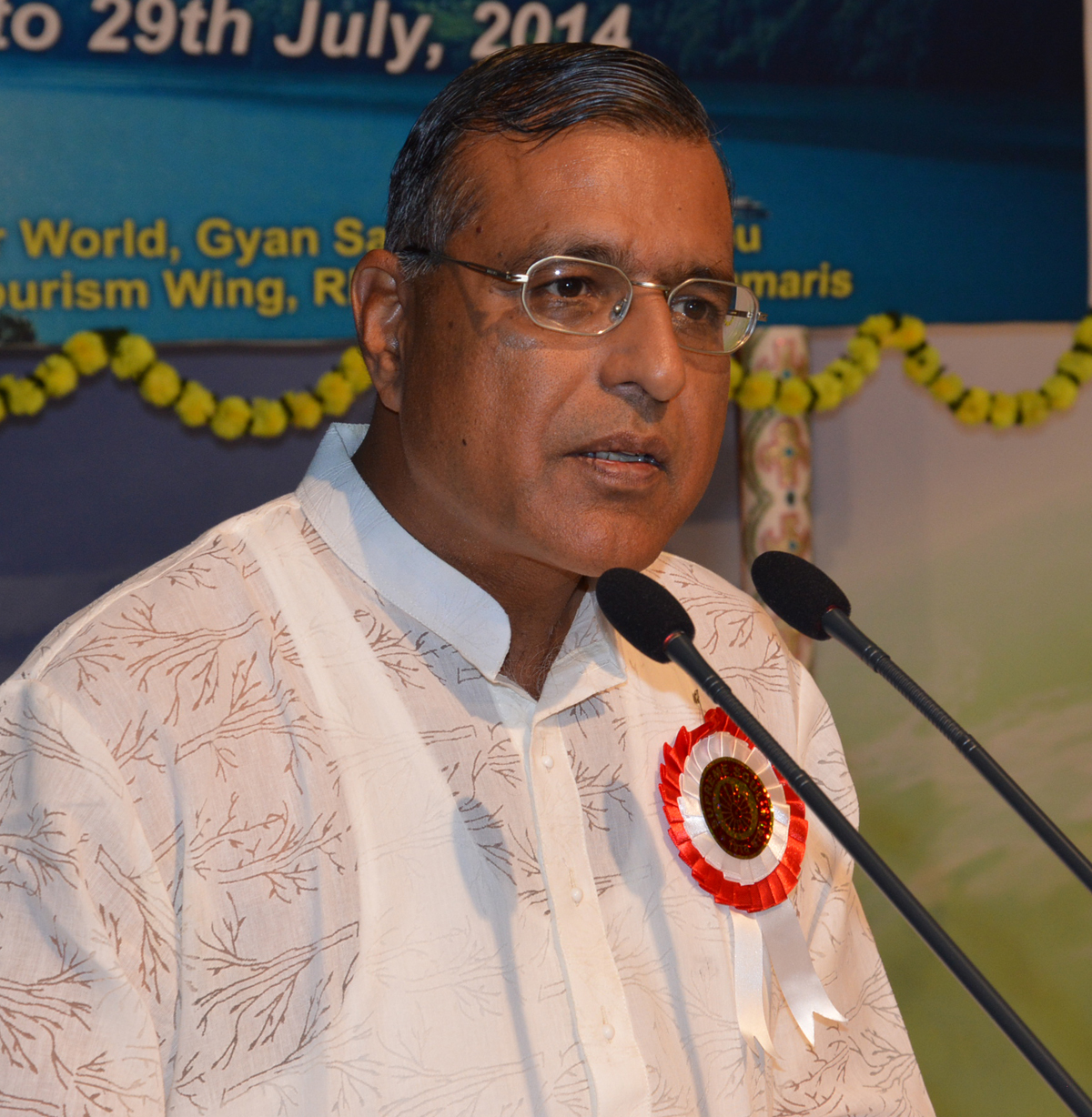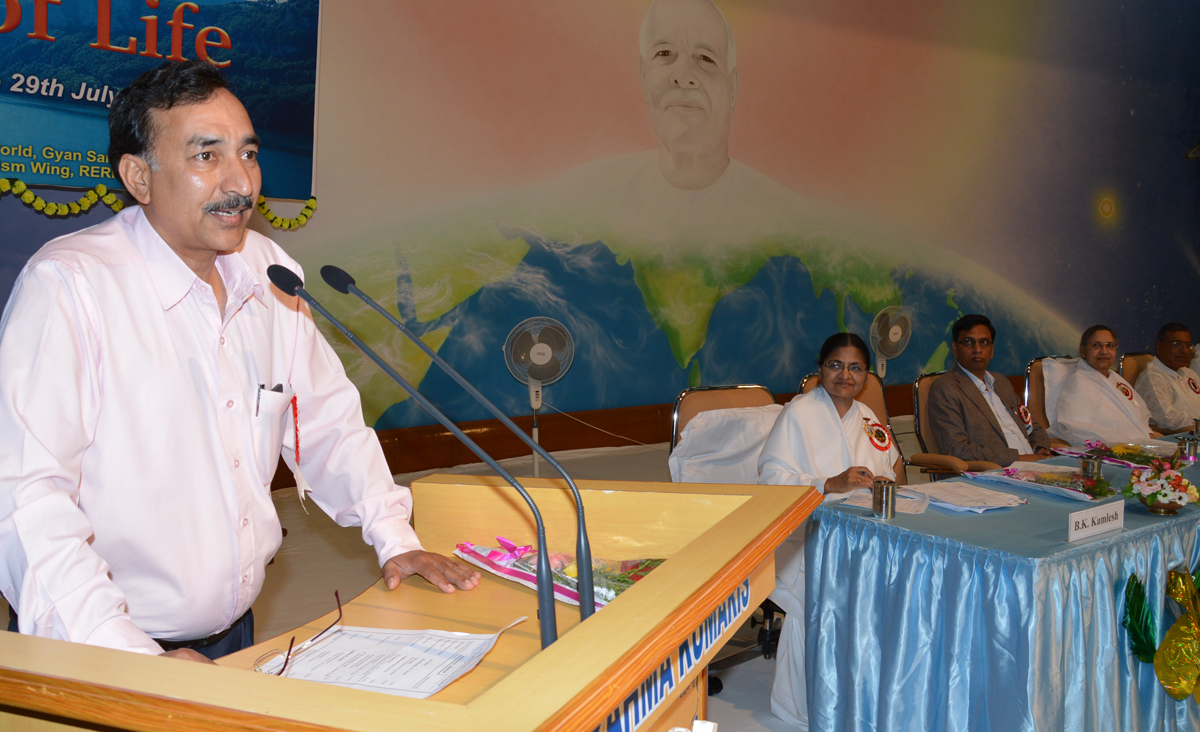 News form Lotus House, Ahmedabad together with Inspirations from Dadi Janki
26 July 2014
onelink.brahmakumaris.org/international-news

Transport & Travel Wing's Seminar on Speed, Safety and Spirituality at Gyan Sarovar
20 July 2014
Photos from the Inauguration of the event and press release in Hindi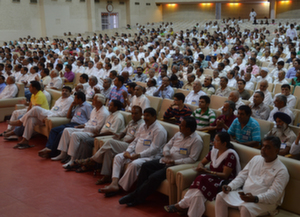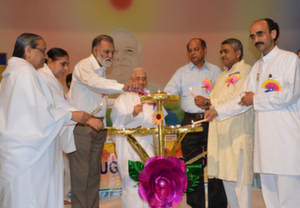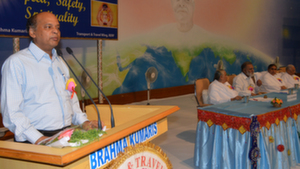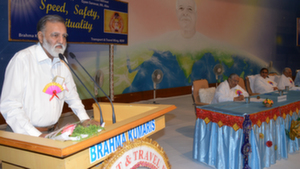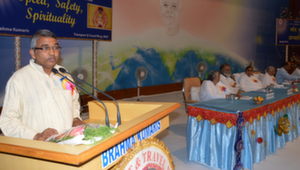 Cultural Evening with Actress Gracy Singh at Gyan Sarovar
7 July 2014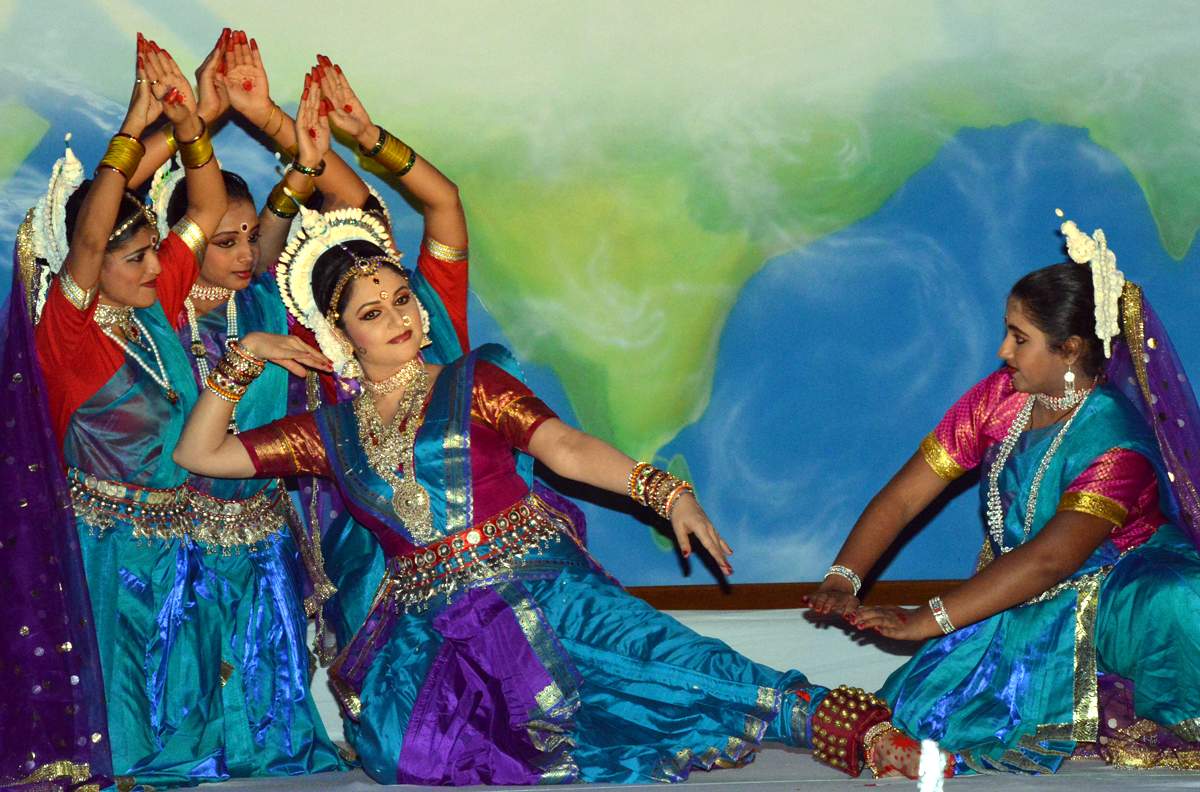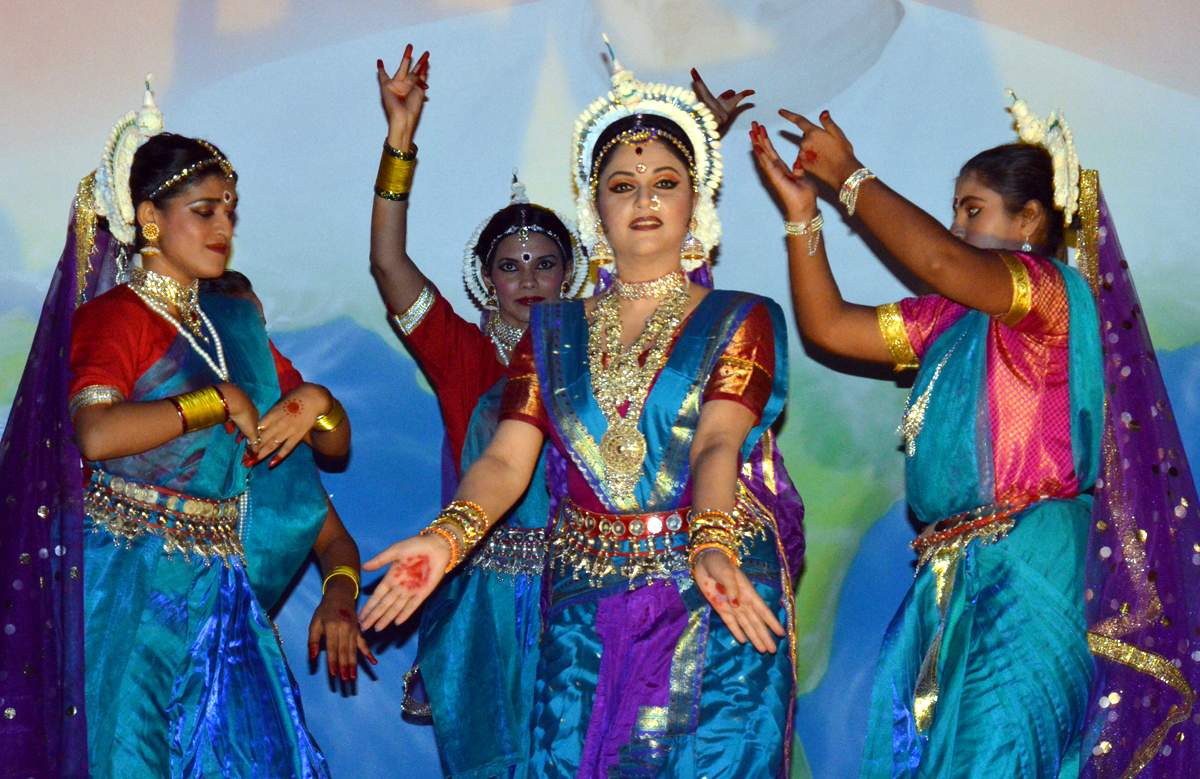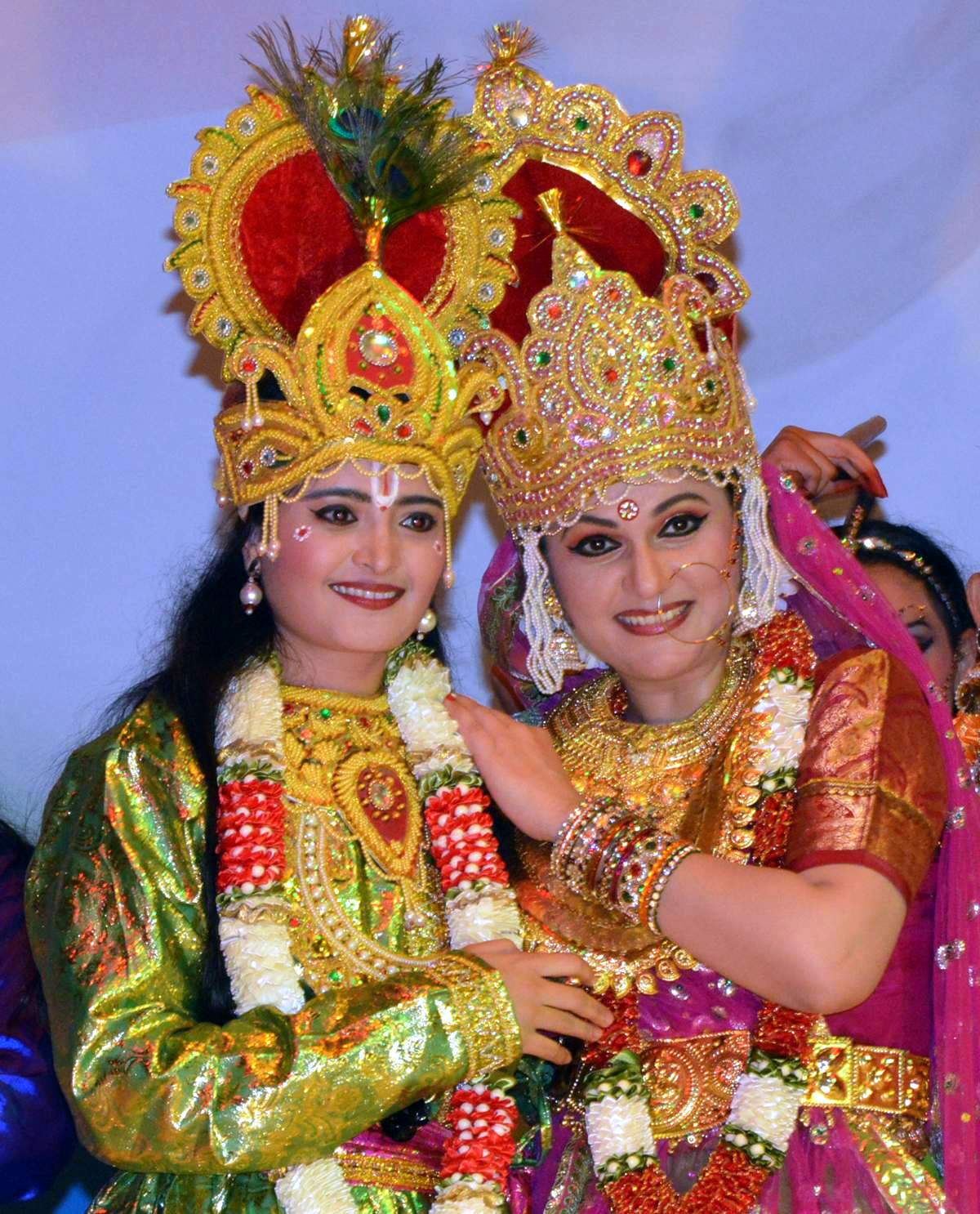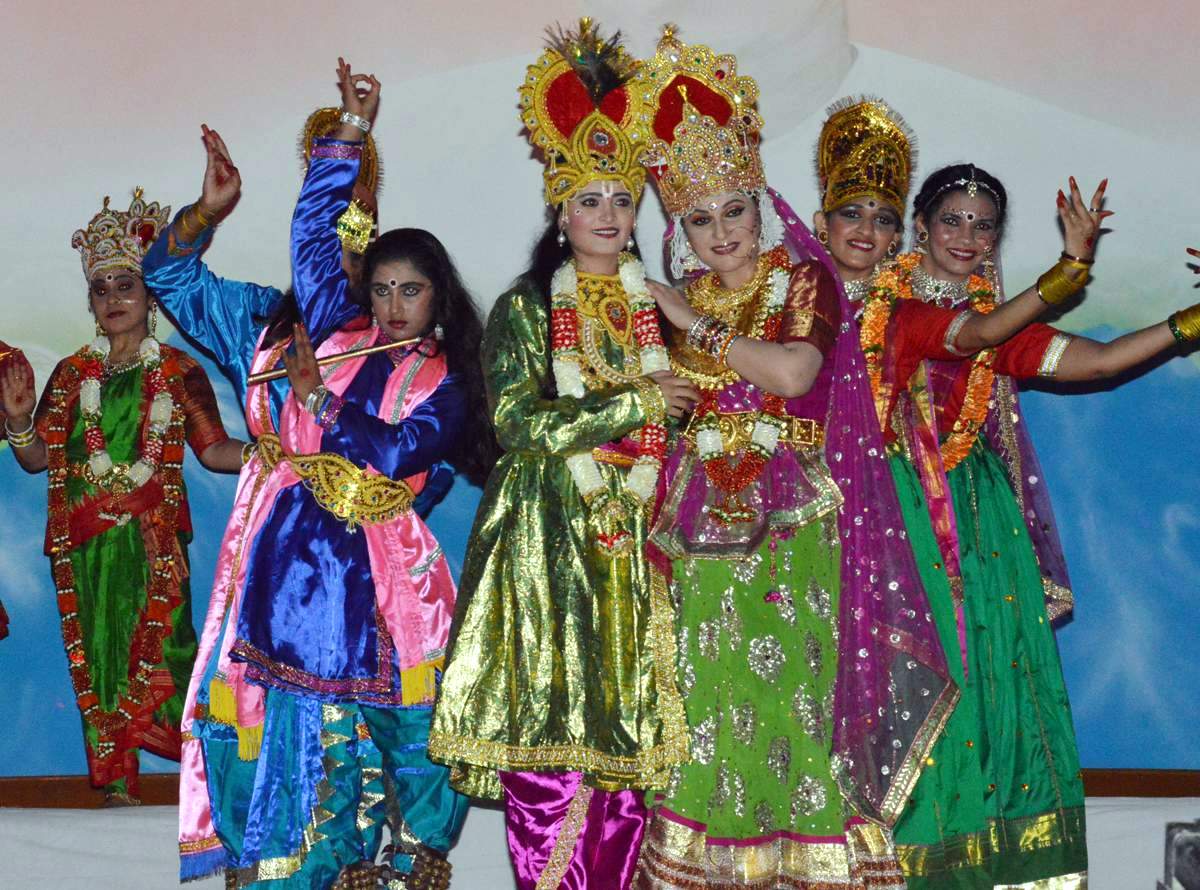 Important News on Dadi Jankiji's Health
7 July 2014
Our dear BK sisters and brothers in Bharat and around the globe,

Please accept very special Godly love from Dadi Jankiji and all Madhuban Niwasis.

On 30 July, Dadi Jankiji decided to travel to Ahmedabad to visit her Spine Surgeon and Pain Management Consultant. Dadiji was advised to get MRI and CT Scans done, which took several hours on 3 July. We have now received the reports that clearly show us how courageous our beloved Dadiji is in facing the pain and discomfort of the fractures. With the help of the Pain Management Specialist, Dadiji continues with her early morning meditation routine as well reading Murli, and meeting few Seniors during the day. Dadiji prefers to spend time by herself in Baba's remembrance, and does read few emails every day.

On Monday, Dadiji will have a Pain Management procedure done on the spine, which would relieve over 50% of the pain. Apart from this, 'time', Baba's sakaash and your good wishes are three important healing factors. No doubt it is Avyakt BapDada's power of love and blessings that keeps our Dadiji in good cheer and sweet smiles.

We have to be patient for another 4 weeks so that Dadiji can totally recover and be active again. At this stage, even physiotherapy is not helpful.

Dadiji has specifically advised that no one needs to worry about her, and just remain in the intoxication of Baba's love as is Dadiji's experience.

Our dear sisters Hansaben, Pravinaben, Dr Ashaben from USA, brothers Dr Banarsi and Deepakbhai all continue to look after Dadiji with lots and lots of love and lightness. Your constant vibrations of love and support are much appreciated.

With Baba's love,
B.K. Nirwair

News and Photos of Media Conference at Mount Abu
12 June 2014
Dadi Ratanmohini, Jt. Chief of Brahma Kumaris, was joined by eminent journalists in inaugurating the Media Conference-cum-Retreat at Gyan Sarovar complex of the organisation on Saturday. The conference has been organized by the Brahma Kumaris' Media Wing and Rajyoga Education and Research Foundation.
Welcoming hundreds of delegates from different states and Nepal, Media Wing chairperson BK Om Prakash said India has made tremendous progress in science and technology resulting in more powerful media but with the change of time crime graph and erosion in values across various fields of life too had become a cause of concern. The educational institutions have been producing good professionals but not good citizens, he regretted. He hoped the media will join Brahmakumaris' endeavors in bringing a social revolution.
Explaining the objectives of the conference Media wing chairperson BK Karuna said the dignitaries from print and electronic media, universities will discuss mass media's role in restoring values in the society.
Gyan Sarovar director Dr BK Nirmala said media can lead the society to positive direction. Academy coordinator BK Mohan Singhal gave an introduction of the organisation.
BK organisation Executive Secretary BK Mruthyunjaya said media had played important role in Anna Hazare's "India against Corruption" campaign followed by revolutionary change in the formation of new govt at New Delhi. He exhorted the mass media to lead the River Ganges cleansing campaign to big success.
Raipur based "Samvet Shikhar" Editor Madhukar Dwivedi lauded the efforts of Brahmakumaris in providing the largest platform to the mass media for introspection and transformation.
Dr. Man Singh Parmar, HoD, Dept of Journalism, Devi Ahilya University (Indore) said the concept of society enshrined in our Constitution has yet to be turned in to reality. "Since people were losing faith in other pillars of democracy, hopes are now pinned over the forth pillar-media, he felt.
Webduniya.com editor Jaideep Karnik said media itself has come under the scanner for past decade over its role as there had been a steep decline in values. "We must look our face in the mirror that this forum has provided, he said.
Dr P.C. Patanjali, former Vice Chancellor, Purvanchal University, resented overflow of advertisements in a section of newspapers at the cost of news. The media need to realize its responsibility has increased manifold in the present scenario. The society has been heading fast towards disaster; media will have to function as the rescuer.
K.G. Suresh, Director and Chief Editor, Global Foundation for Civilization Harmony, Zee group, lambasted the cinema and entertainment TV channels for feeding the material that hurts the basics on Indian culture and heritage. He cautioned against fast increasing interests of corporate house, real estate and chit fund companies in media. Let's draw a "Laxman Rekha" to maintain good image, he said.
Press Council of India member and India News TV editor Rajiv Ranjan Nag said the present young generation is less concerned over the moral values that we have been cherishing as ancestral gift in Indian society. He pointed out that number of TV channels in India has gone up to 820 and whopping number of newspapers has been officially put as 85 thousand whereas literates are just 25 percent of the total populace. Despite of the hard biting compulsions due to commercialization, the media has to perform important role in developing positive thinking, he added.
Media Wing coordinators BK Shantanu and BK Sushant thanked the guests.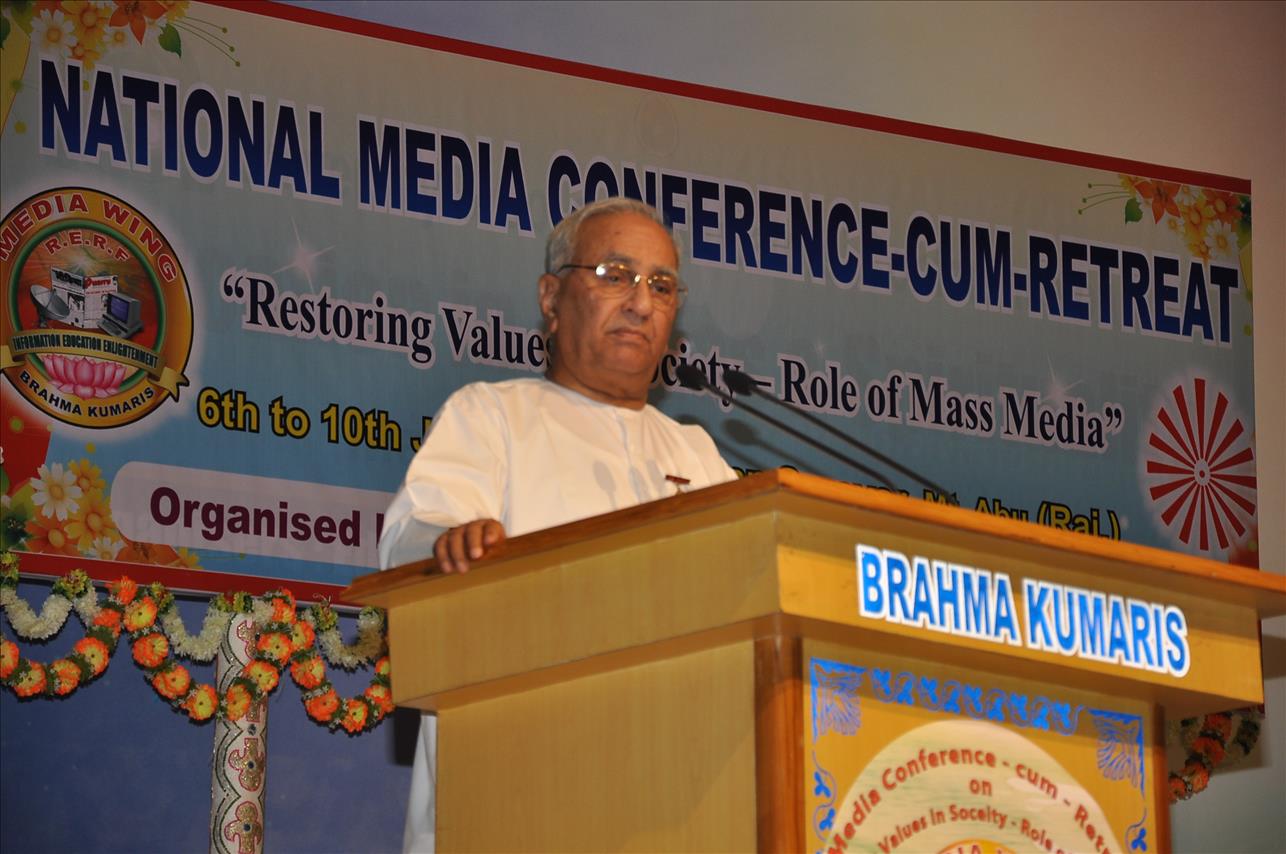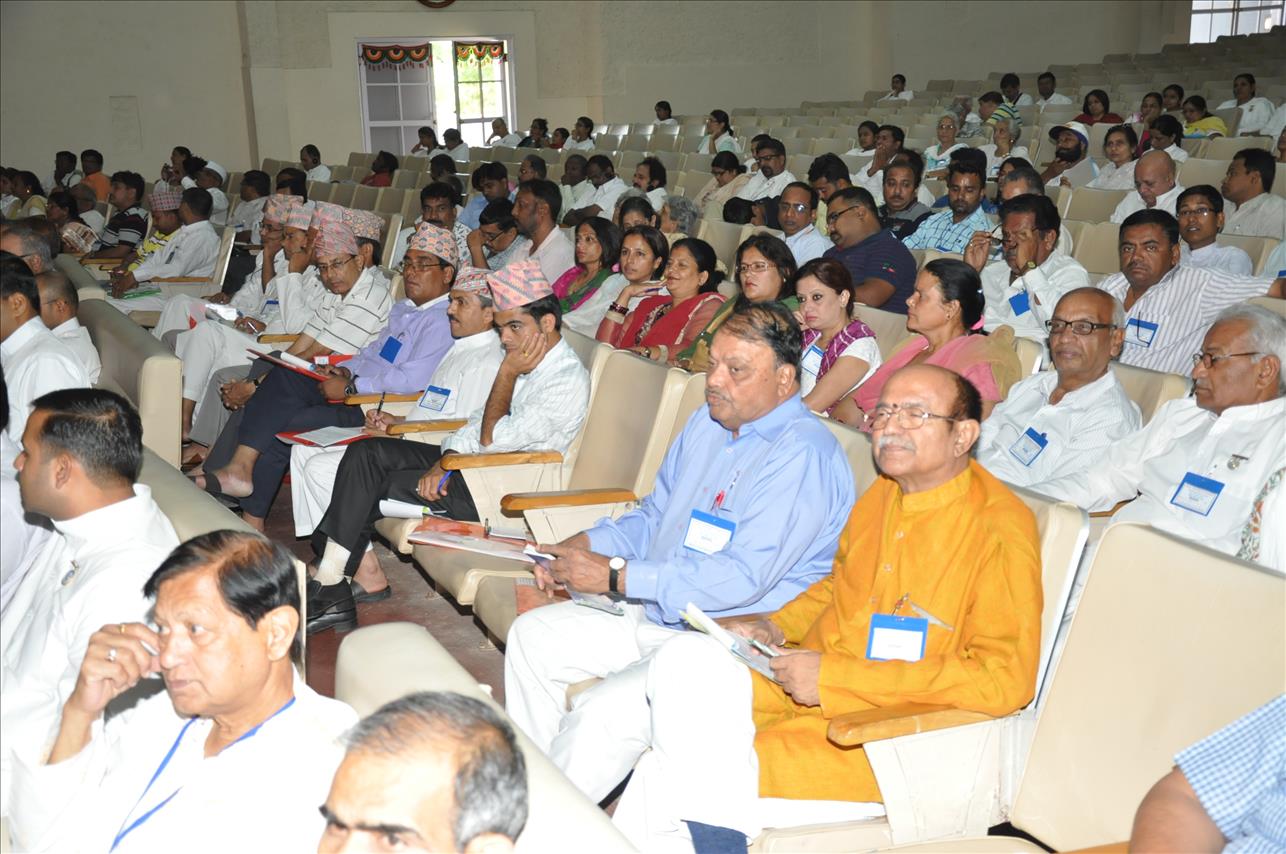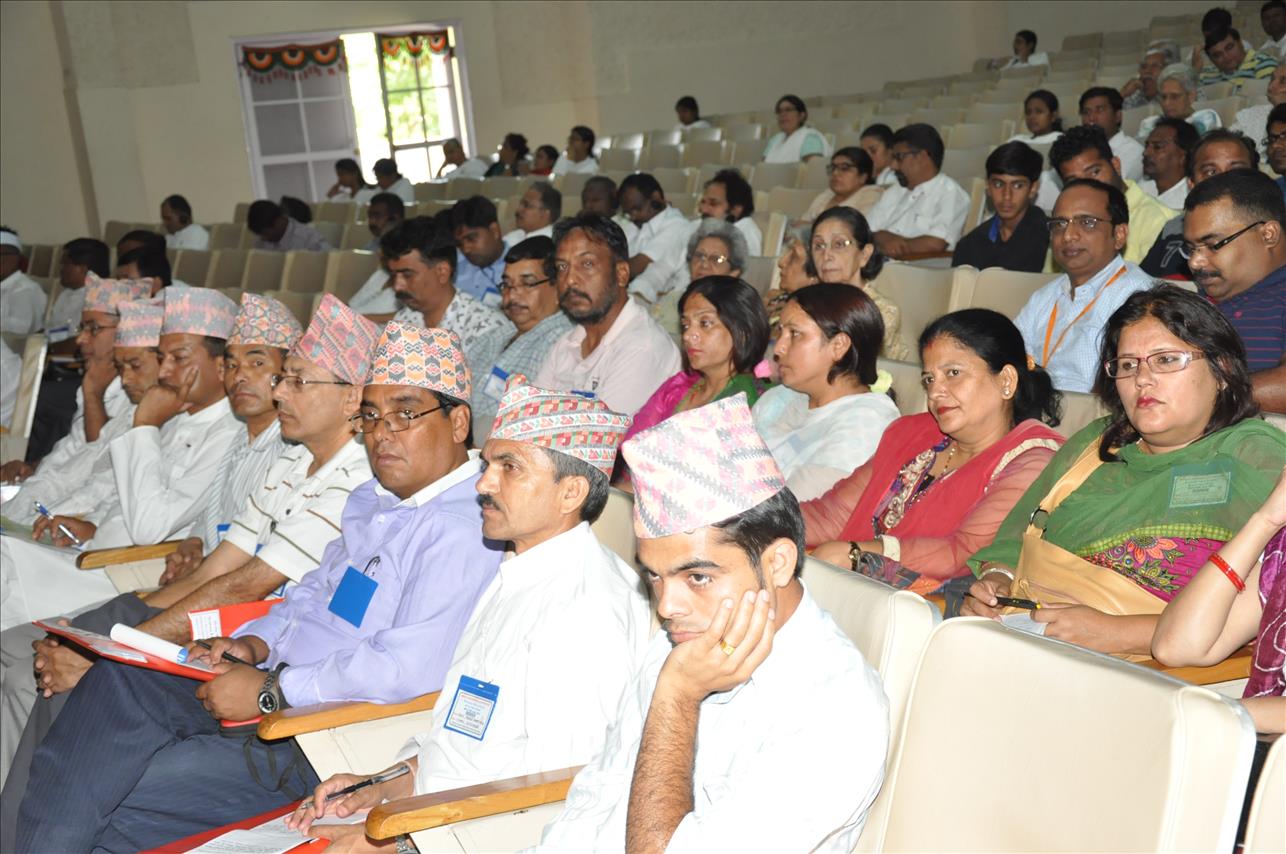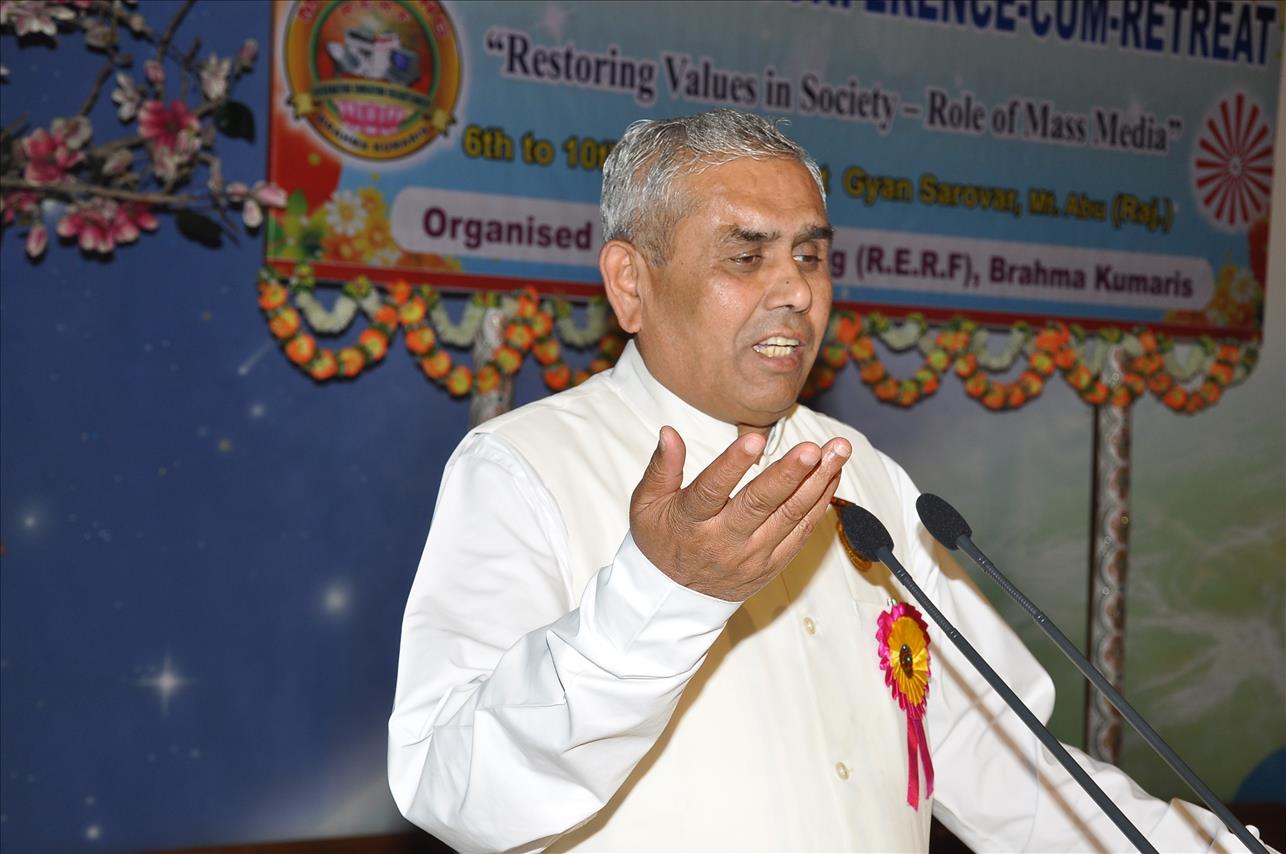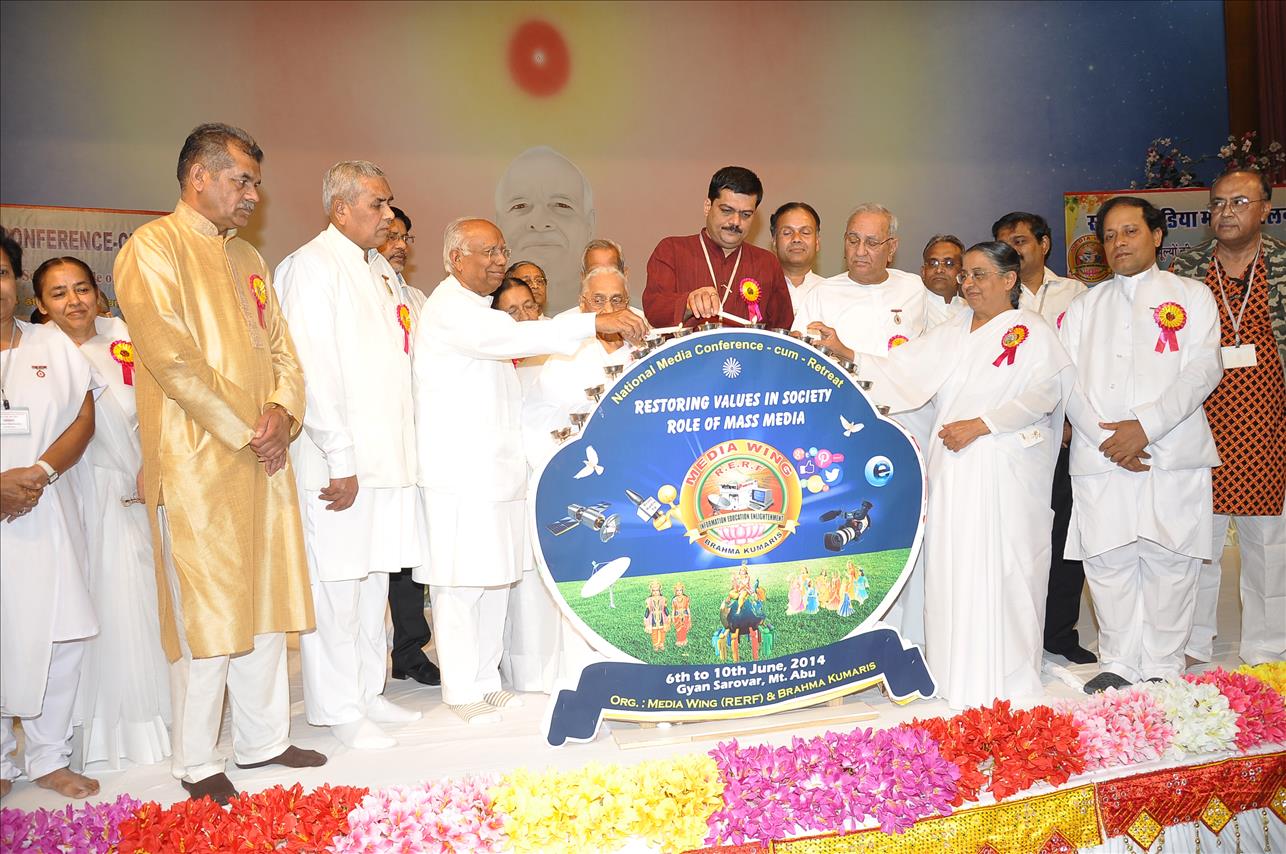 News and Photos of Cultural Nights during Media Conference at Mount Abu
12 June 2014
Please see the attached files i.e. News & Photo of Cultural Nights ( 7th and 8th June 2014) during Media Conference at Mount Abu (Raj.)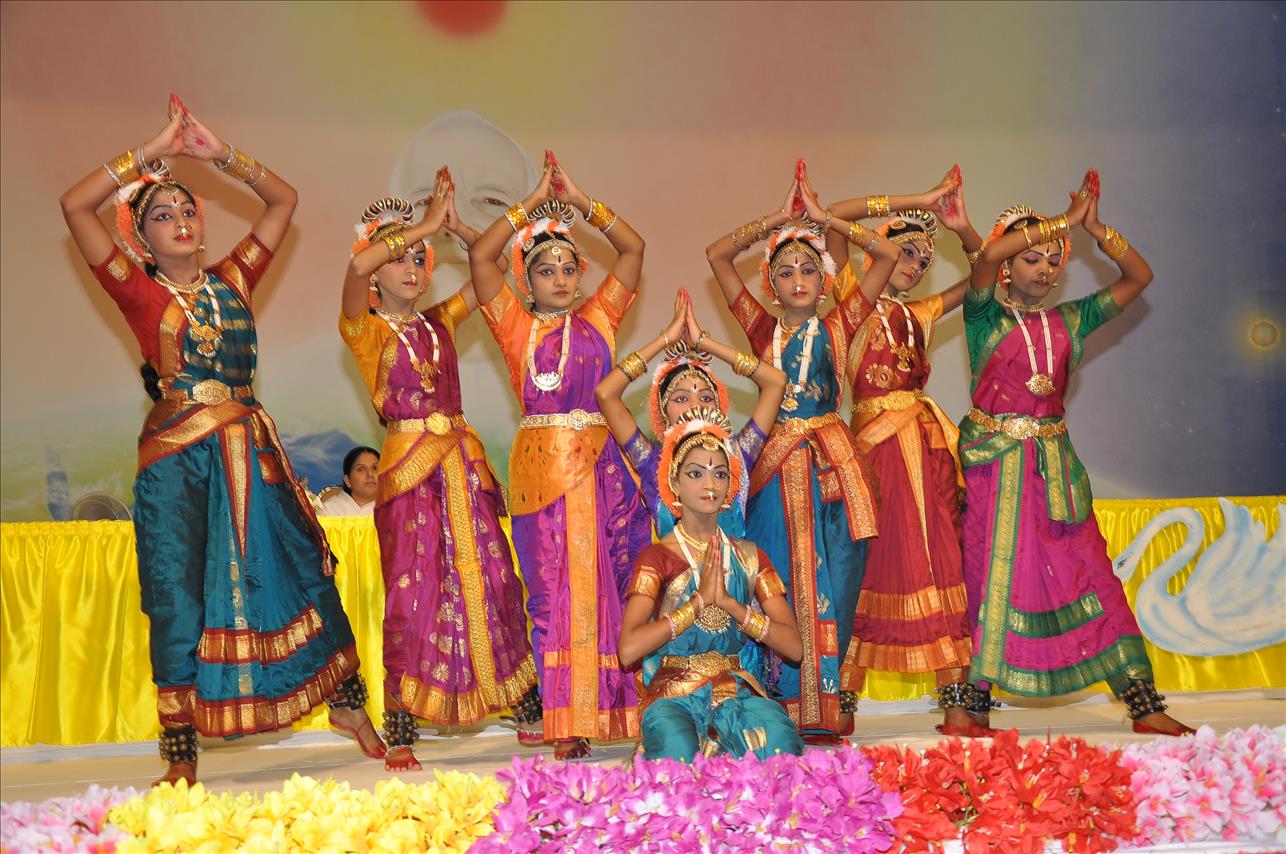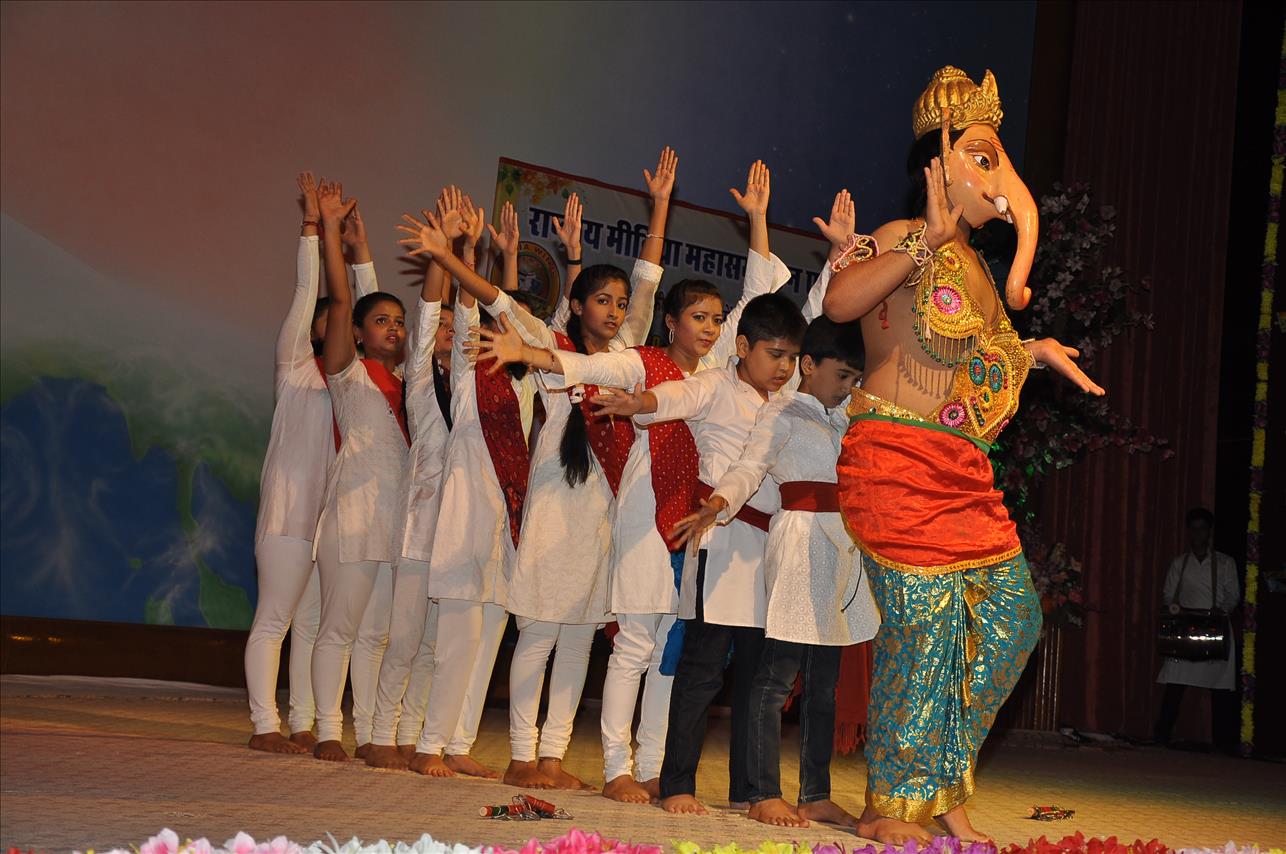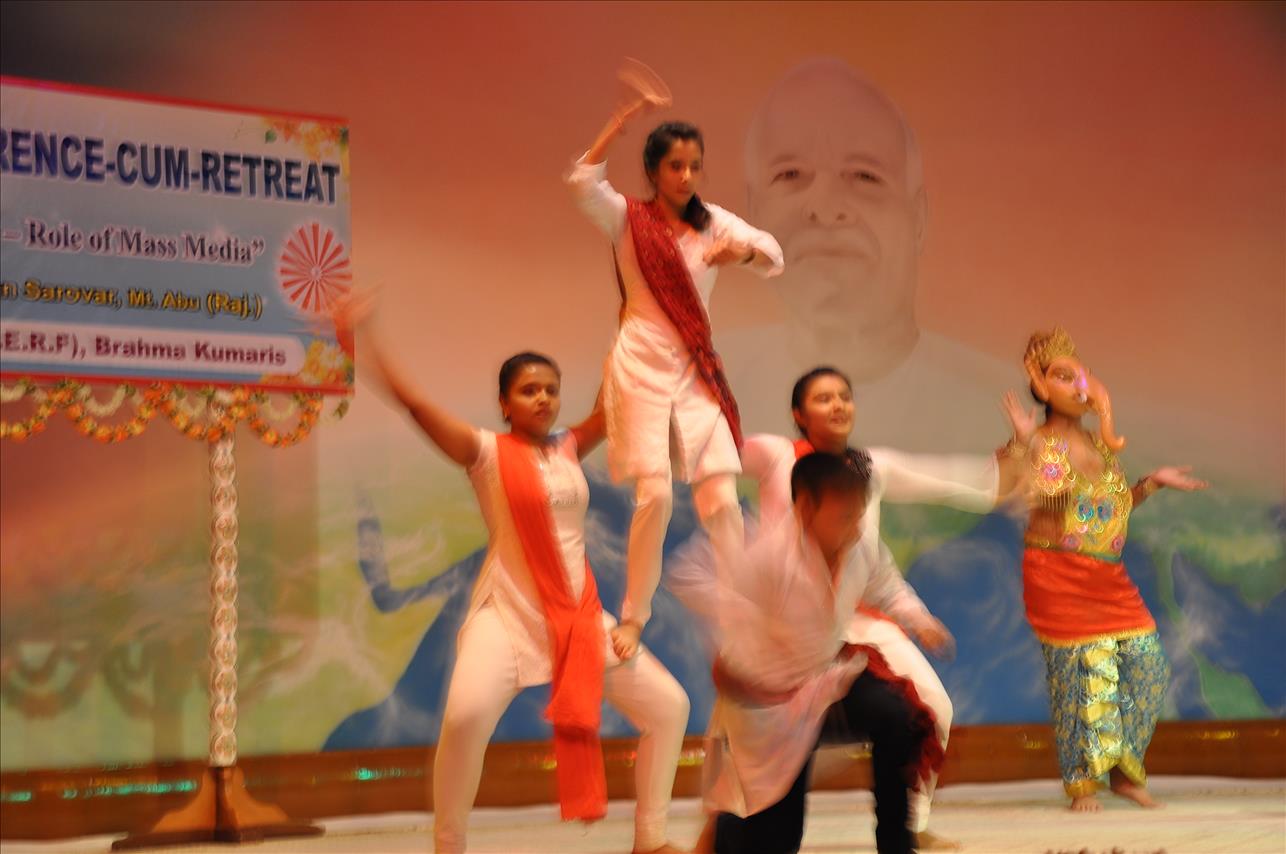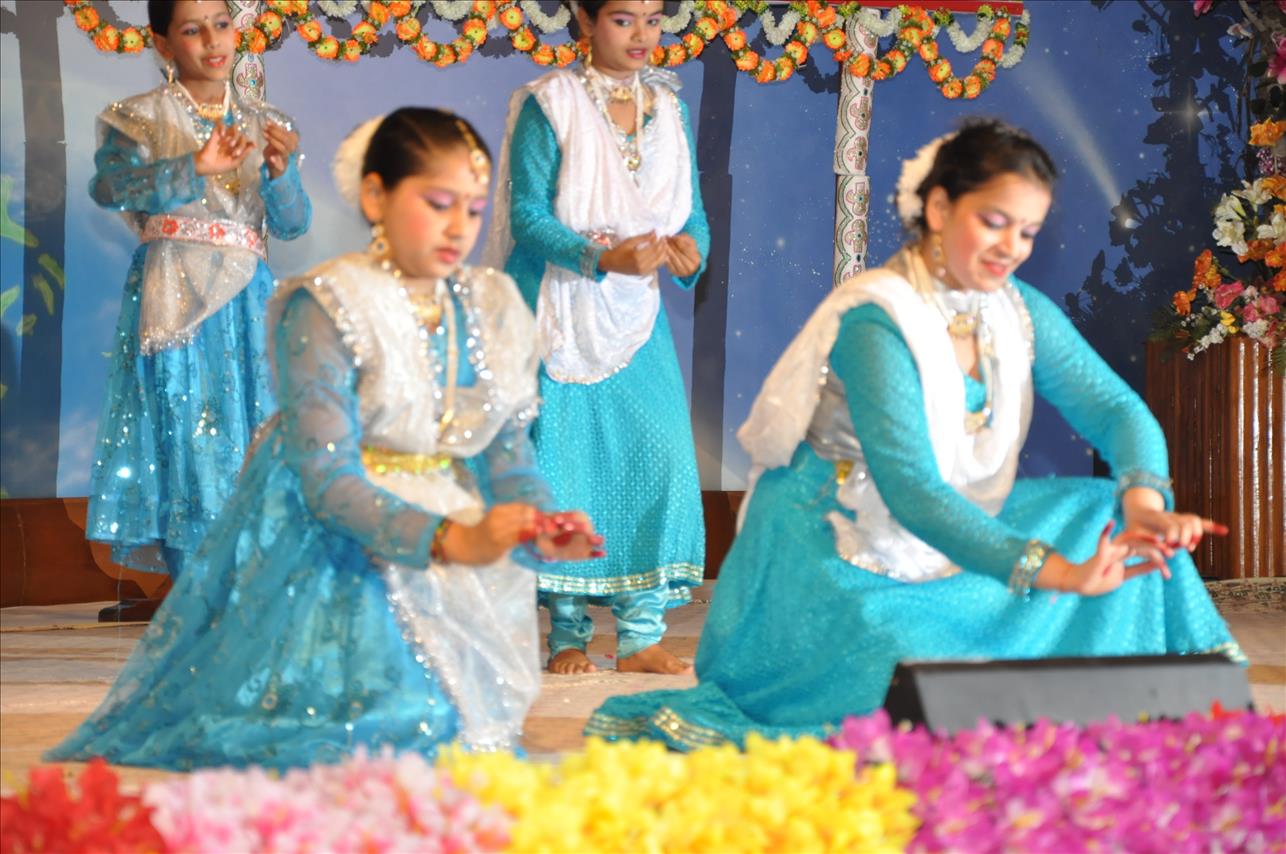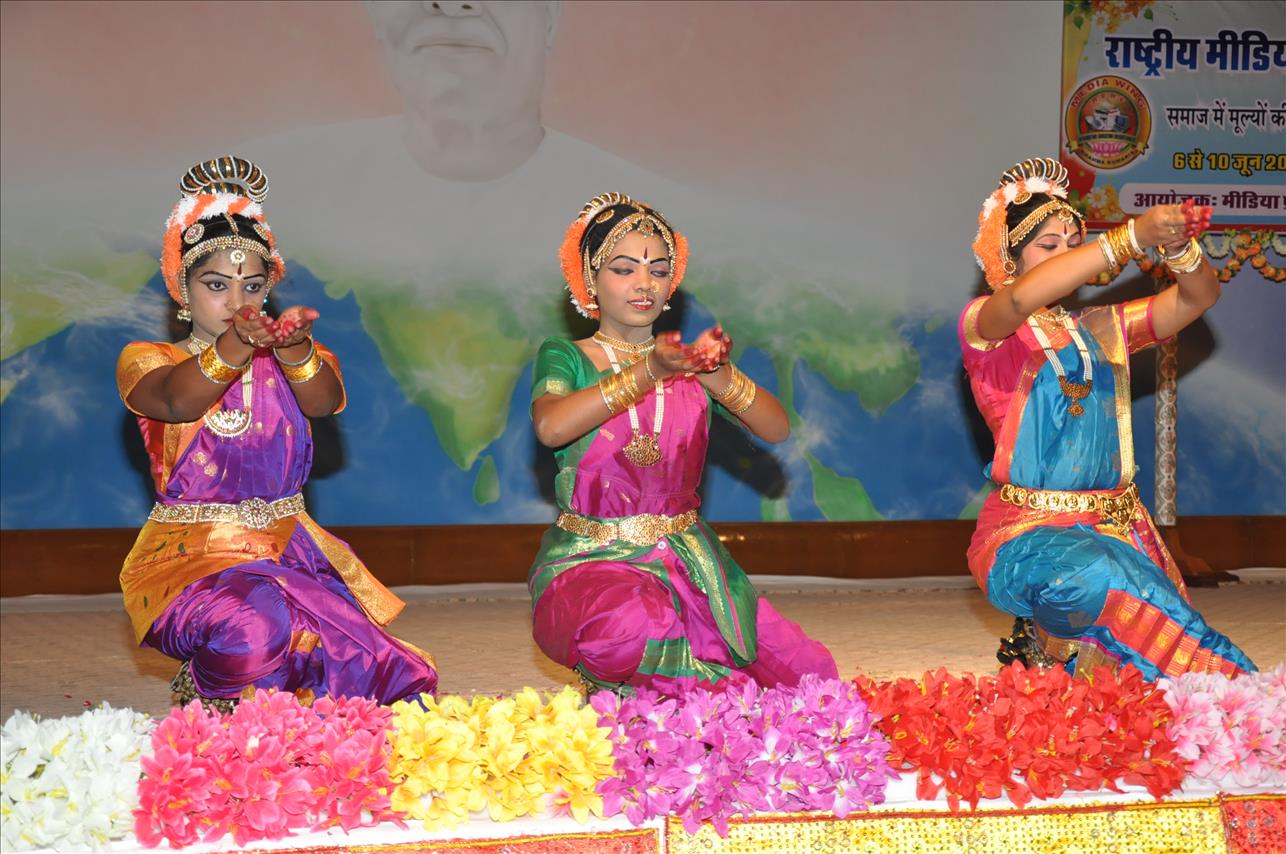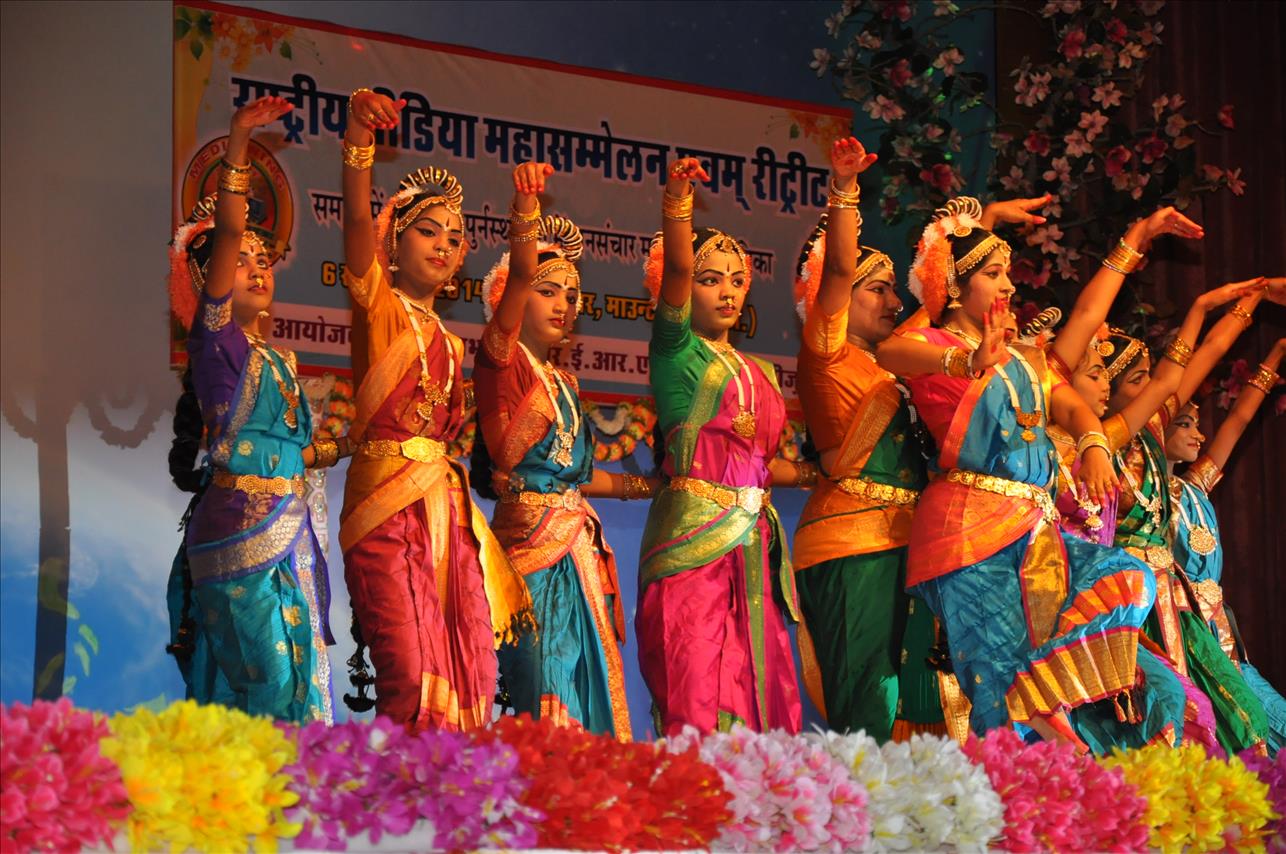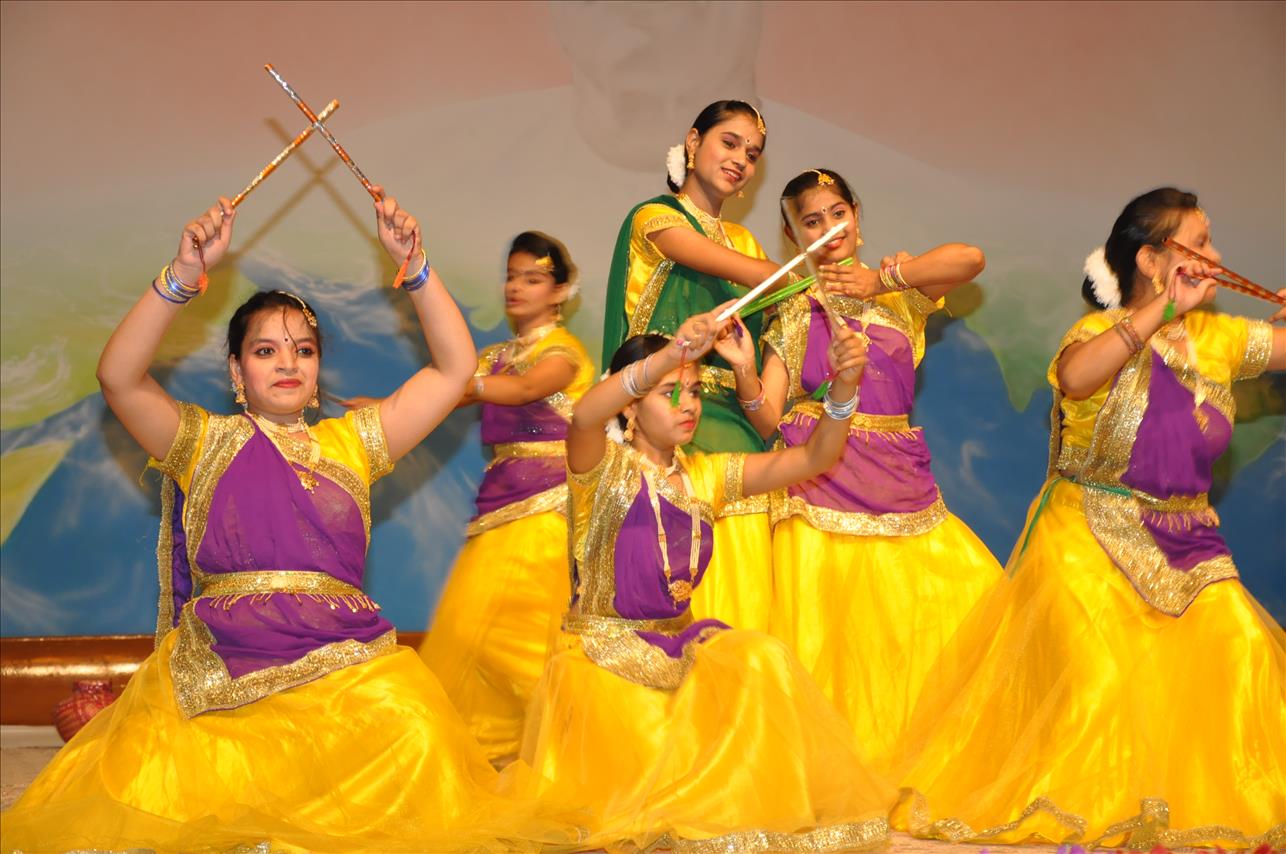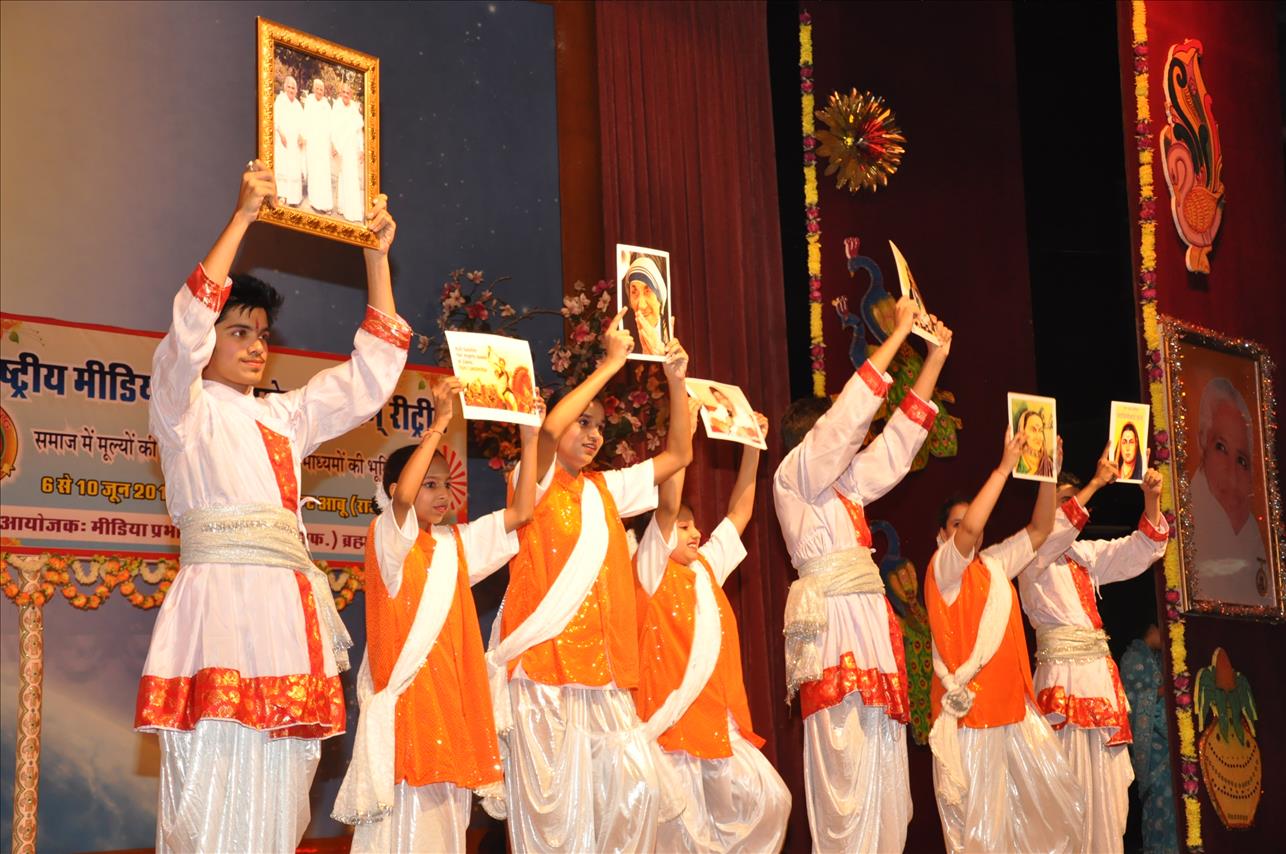 Detailed Cultural News in Hindi

National Media Conference (6-9 June 2014) at Gyan Sarovar, Mount Abu
12 June 2014
Please watch the entire 2.5 hour event here.

SpARC to hold 8th Spirituality in Researchers (SIR) Conference and Meditation Retreat in Shantivan from 12-16 September 2014
12 June 2014
Dear Divine Family,

Om Shanti.

Hope all of you might be doing intense effort to fullfil all expectations of BapDada during the season 2013-14.

It is our immense pleasure to inform you that SpARC will be conducting

8th SIR Conference and Meditation Retreat for researchers at Shantivan from 12-16 September 2014 on "Fostering Research to Build Value Based Society - A Holistic Approach", at Shantivan, Abu Road, Rajasthan.
Please find the attached brochure, registration form (On-line also can be done), Invitation letter to delegates and Instruction letter for Centre Incharge regarding Conference.

For further details please contact SpARC Office.

BK Ambika
National Co-ordinator, SpARC Wing

3-Day Conference on "Education in Values and Spirituality"
1 June 2014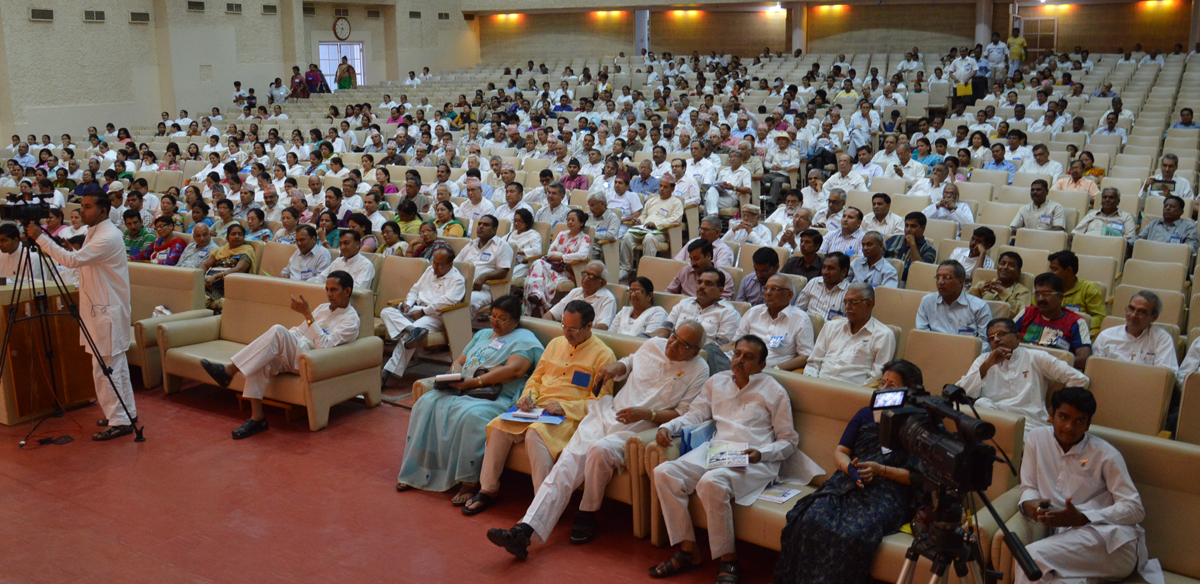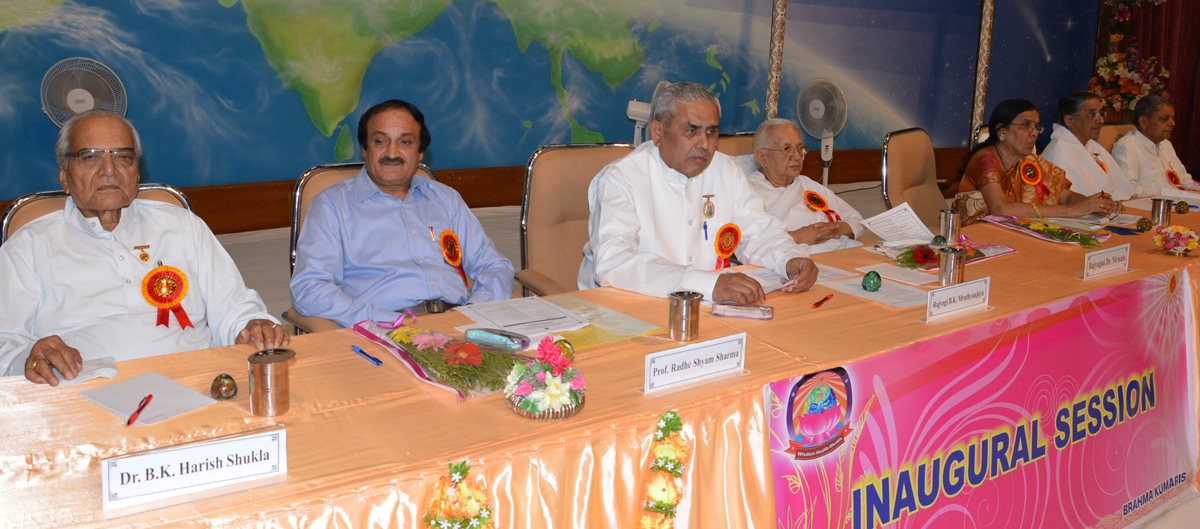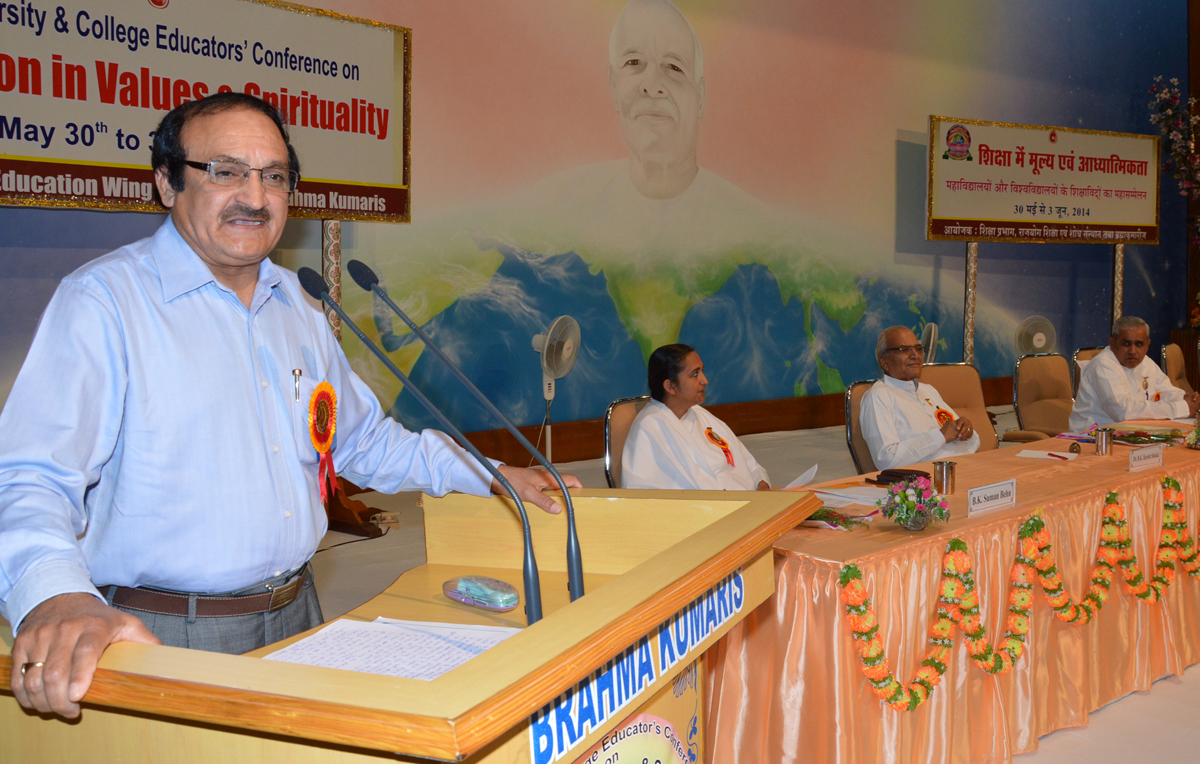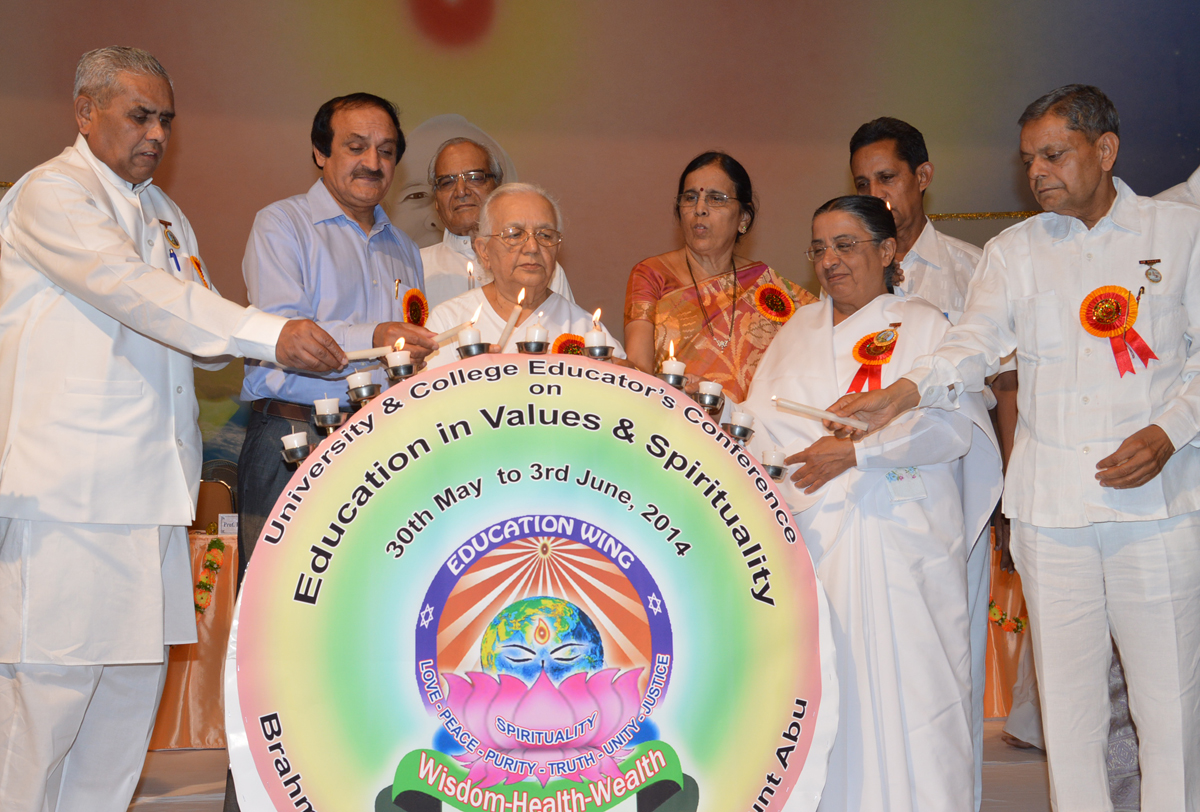 The Education Wing of the Brahma Kumaris University and college Educators' Conference on 'Education in Values and Spirituality' started with its Reception Session on the evening of May 30, 2014 at their Gyan Sarovar Campus, Mount Abu (Rajasthan). In this conference, which raised some of the prominent spiritually intellectual issues concerning the modern human society, more than 700 educators including Lecturers, professors, deans, directors, vice chancellors, presidents etc. of colleges and universities from across India and Nepal participated.

The main theme of the conference focused on the state of deteriorating moral and spiritual values and overpowering gross materialism at all levels of human existence in the present world. The prominent speakers included Rajyogini Dadi Dr. Ratan Mohini Ji, Joint Administrative Head of the Brahma Kumaris; Dr. P.C. Patanjali, Member of the Governing Council A.B. Vajpayee Hindi VishwaVidyalaya, Bhopal; Dr. Sanjay Biyani, Director, Biyani Group of Colleges, Jaipur; Prof. Baishnab Charan Tripathy, Vice-Chancellor, Ravenshaw University, Cuttack; Sri Suresh Deshmukh, MLA Wardha; B.K. Ravikala, Senior Rajyoga Teacher and Executive Member, Education Wing and Dr. Pandiamani, Director, Distance Education, Brahma Kumaris.

While Dadi Dr. Ratan Mohini emphasized the need for change in the man's outlook towards life and spirituality, B.K. Ravikala explained the true meaning and significance of meditation practice. It is for man to exercise his choice of a better and elevated living than mere existence for material comforts, Dr. Sanjay Biyani said. All the speakers stressed upon the high time to pause and formally introduce spiritual values in present day education system. Dr. Pandiamani gave the details of Brahma Kumaris' effort of collaborating with 7 Universities and running Value Education courses like PG Diploma, M.Sc., and MBA etc. in these Universities.

Br Ramesh Health News
27 May 2014
Today 3rd time special treatment for kidney (Regerative Cell Therapy) will be performed for Respected Ramesh Bhai Ji at our Mumbai Hospital. It will start at 9.30 AM and will continue for nearly 1 hour.

All are requested to perform special yoga during 9.30 am to 10.30 am, today.

Greetings from Br Nirwair
27 May 2014
Our dear divine Brahmin family in Bharat and foreign lands,

Please accept hearty Godly love and remembrances from Shantivan (Madhuban).

As all of you know, our most respected and sweet Dadi Jankiji and I returned to our unlimited home, Shantivan on 20 May. We both wish to thank all of you for your get-well-soon greetings, and best wishes for optimal health.

Dadiji is improving though a bit gradual due to the age factor. There are practical aspects that need to be monitored continually. Dadiji is always cheerful, lost in Baba's love, and shares jewels of spiritual wisdom regularly. Though she does not venture out of her Cottage yet, Dadiji addresses the Conferences and Training programmes taking place in Shantivan via video-conferencing, and so her presence is greatly appreciated and loved by the Brahmins and guests. Dadiji specifically asked me to extend her loving thanks to everyone for your concern.

We are also pleased to share that our beloved Dadi Gulzarji has returned to Gyan Sarovar after a sojourn in Mumbai. Dadi is doing fine.

Dadi Ratan Mohiniji is well and was away for a few days on service in Rajasthan, and returns to Shantivan today.

My health too is improving though energy level is a bit low. I trust things will be absolutely normal in a few week's time. From a medical point of view, all parameters are near normal. The hot weather does not allow me the liberty to go for walks, but that's a temporary phase and I hope to be active very soon.

Couple of days back, I luckily was able to spend half an hour with school-age children (2500 in number!) and their BK teachers and parents, who were all part of the Annual Personality Development Camp in Shantivan. I attended their Concluding Session which included the prize-distribution ceremony for all the various cultural/sports activities and competitions.

All else is fine.
With Baba's love,

B.K. Nirwair

Loving Remembrances from Dadi Janki
20 May 2014 - Shantivan
Dear beautiful and loving Brahmin jewels around Bharat and the globe,

Loving greetings from our wonderful home, Madhuban-Shantivan.

This is to share with joy that Dadi Janki and Nirwairbhai both
returned comfortably to Shantivan on 20 May, having completed almost 5
weeks of treatment and recuperation in Mumbai and Ahmedabad
respectively. They both had left on 16 April and returned today. Dadi
Janki flew from Mumbai to Abu Road, reaching around 2.15pm while
Nirwairbhai came by road from Ahmedabad arriving around 2pm.

Several Senior Brothers of Shantivan welcomed Dadi at the airstrip
near Abu Road, while a large group of around 50 greeted Dadi Janki at
her cottage: Dadi Ratan Mohini, Rameshbhai, Munniben, Ashaben (Delhi)
and others. Dadi shared her feelings on returning home, and how 'Om
Shanti' continues to carry Dadi through all scenes. Dadi also shared
the intoxication she especially has on being Baba's instrument, and
worthy of all the great attainments Baba is bestowing at present.

Dadi Janki then gave toli, while Dadi Ratan Mohini gave blessings, to all.

Thank you to everyone for your constant good wishes for Dadi's health.

In Baba's sweet yaad,
B.K. Janki

SpARC Wing's 8th Conference 12-16 September 2014
8 May 2014
Dear Divine Family,

Om Shanti.
Hope all of you might be doing intense effort to fullfil all expectations of BapDada during the season 2013-14.

It is our immense pleasure to inform you that SpARC will be conducting 8thSIR Conference and Meditation Retreat for researchers at Shantivan from 12-16 September 2014 on "Fostering Research to Build Value Based Society - A Holistic Approach", at Shantivan, Abu Road, Rajasthan.

Please find the attached brochure, registration form (On-line also can be done), Invitation letter to delegates and Instruction letter for Centre Incharge regarding Conference.

For further details please contact SpARC Office.

In BapDada' Sweet Remembrance,
BK Ambika
National Co-ordinator, SpARC Wing

Greetings from Dadi Janki
4 May 2014
Greetings from Dadi Janki – live by telephone on Sunday 4th may 2014.

Om shanti. Om shanti. Om shanti.

Jayantiben, you remembered me before I remembered you. I came and had amrit vela in this hall this morning. Every scene of the drama is benevolent. All my brothers and sisters, all of you know which level of effort we must be making. Never have any thoughts inside yourself. All of you have made it firm, have you not, that according to the drama, whatever scene comes in front of us is for the ascending stage. Not only the ascending stage, but as Jayantiben experienced while she was here recently, that everything is for the flying stage. I like the four things mentioned in the leaflet "To follow" to such an extent that there is no need to say anything else.

Jayanti, call it a message or my love and remembrances, but tell all my friends and brothers and sisters that there is no need for them to come here to see me. Even phone them or send them a message that there is no need for anyone to come here.

Today's murli is so wonderful, that every child of Baba, according to today's murli, should not waste anything or put on any weight. (Revised avyakt murli of 28/6/77).

All of us are Baba's specially beloved jewels who are very light. This is a very good method to let the past be the past and keeping Baba with you as your Companion. I am not going to take too much of your time, but Brijmohanbhai is here with me and he will meet the whole London family. (Big program organized for the 10th Anniversary of Borivali centre.)

Brijmohanbhai: It is my good luck to have come here and it is my fortune to be here for the 10th Anniversary of the Borivali Retreat Centre. I came here to see Dadi and I found that Dadi is walking and moving around. She is looking healthy, as though there is no problem and smiling, and we are talking to each other outside the room.

It is my good luck to be talking to you. As per today's murli, Baba said: You have to meet one another through vibrations and feelings, and so talking is also not necessary, but at least I should be allowed to talk now, otherwise, I would have to use subtle tools. Dadi is perfectly OK and saying that she wants to go to Madhuban right now, today. The doctors want one more test to be done tomorrow and Dadi says: I don't need any more test and I am fine and want to go to Madhuban today.

So, many brothers and sisters want to come and meet Dadi out of love, but Dadi says: I am fine and no need for anyone to come.

Jayantiben specially invited Brijmohanbhai to come to London soon. May be it will be the fortune of London to have Brijmohanbhai visiting us here in London.

According to today's murli, be incognito co-operative souls with one another, take sakaash from one another, experience for yourself and give others the experience of what Baba is like.

Jayantiben then took leave to go to Bahrain.

Dadiji's Health Updates from Mumbai, Vile Parle
4 May 2014
Dear Jewels of the Brahmins clan,

Greetings of love from Vile Parle Family

Dadi Janki Ji's Health is improving fast. Her spine & shoulder pain is reducing. She undertakes Physiotherapy twice a day & this helps a lot. She walks for some time & medicines given to her for the past 2 days are yielding good results. Stomach problems are now diluted. Vomiting has also stopped & she is eating well.

Dadi Janki Ji & Dadi Gulzar Ji meet every morning & every evening. Since past few days both Dadijis are performing evening meditation together.

Dadi Ratan Mohini Ji had also come to meet Dadi Janki Ji. All three sweet Dadijis had good ruhrihan on 2nd morning. Dr. Nirmala Didiji & Brij Mohan bhaiji also came to meet Dadi Janki Ji.

Dadi Ji during her conversation emphasized that "this part of health in Drama is very nice. It's easy to be achal adol on Drama. Baba likes gyani souls as they remember Him with lots of love. By being truthful, loveful & spiritual one can do seva like a light house & might house. Sustenance, which I have received from Sakar Baba in the form of subtle power of love, helps me to move on & the same power I am able to fill in all".

Dadi Janki & Dadi Gulzar (2nd May, 2014; Evening)

I cannot forget Madhuban even for a minute. Whatever I remember, it seems as if I am sitting in Madhuban. Baba is getting things done. Whatever is there in Drama is predestined & thus there should be no thoughts on it. Whatever Baba wants to do, He will get it done.

Asochta – No waste thoughts
Akarta – It's certain & already done
Abhogta – Without any waste feelings

I have never had such feelings of pain in my entire life but using spiritual knowledge helps me sustain happiness.

Once Baba said I want those children who can be my right hand & that thought stuck me. I introspected, I should become His right hand but how? To this Baba said, See Father-Follow Father. In every situation, let's be light, absorb His might & thus will become Right.

Dadi Janki Ji requested Dadi Gulzar Ji to speak –

Dadi Gulzar Ji –

What is it that Baba wants from us? To this everyone will say that Baba wants that we become Baap-Saman. He has taken a lot of care. He takes care of the yagya. Through His stage of yoga He has moved all of us ahead. He kept an aim to stay in remembrance while walking or doing any other activity. Now I need to ask myself do I remember Baba while doing all the activities. Why not – We work & also remember Baba. Through Baba's remembrance, work becomes easy.

However, we say that we remember Baba while walking or moving around, but power that comes by sitting & remembering Him is more powerful. While walking or doing any activity & remembering Baba our attention is divided amongst both. Baba's remembrance makes any activity easy & fruitful but still it diverts our attention to a certain extent. So one should definitely sit & be in His remembrance. There is difference in sitting & remembering Him & remembering Him while doing any activity. By sitting in His remembrance, we can pull power & might. There should be fix time for this in the evening.

In Baba's Sweet Yaad,
Mumbai -Vile Parle Family

News from Br Ramesh regarding Dadiji's Health
3 May 2014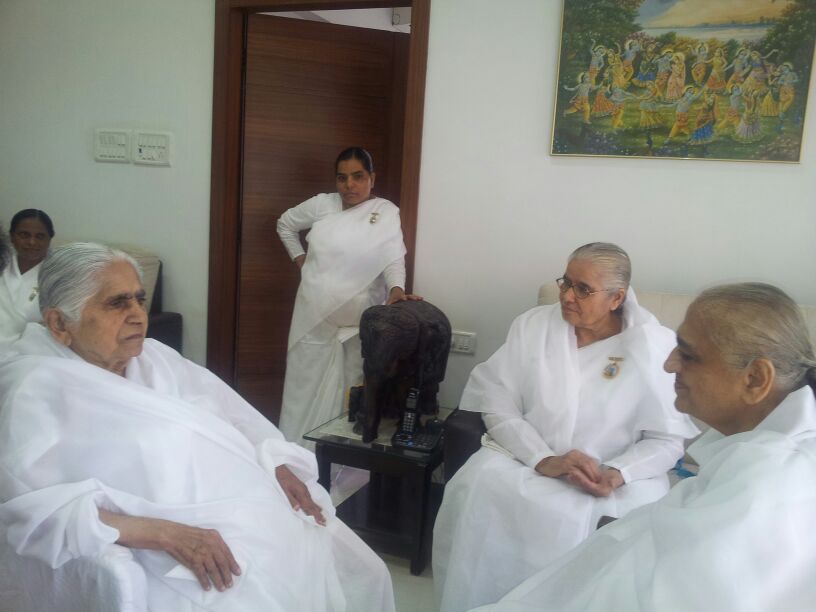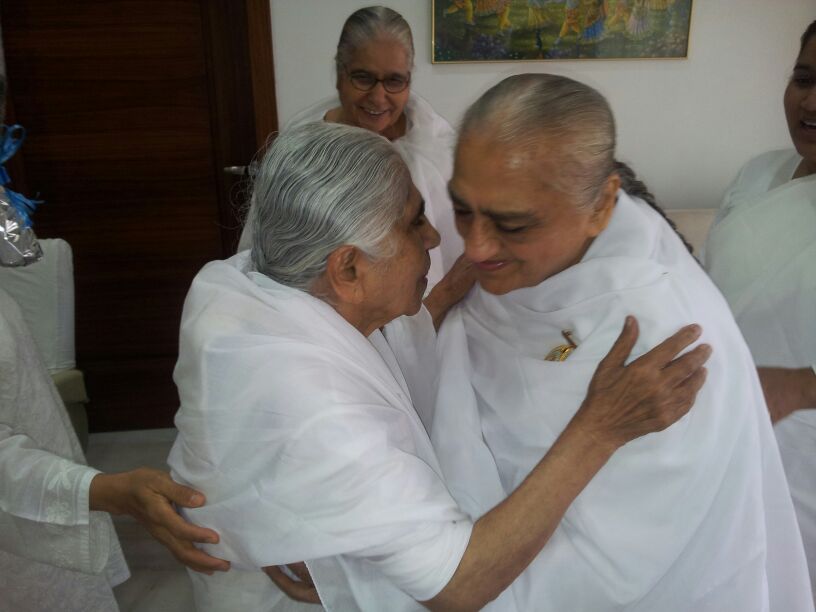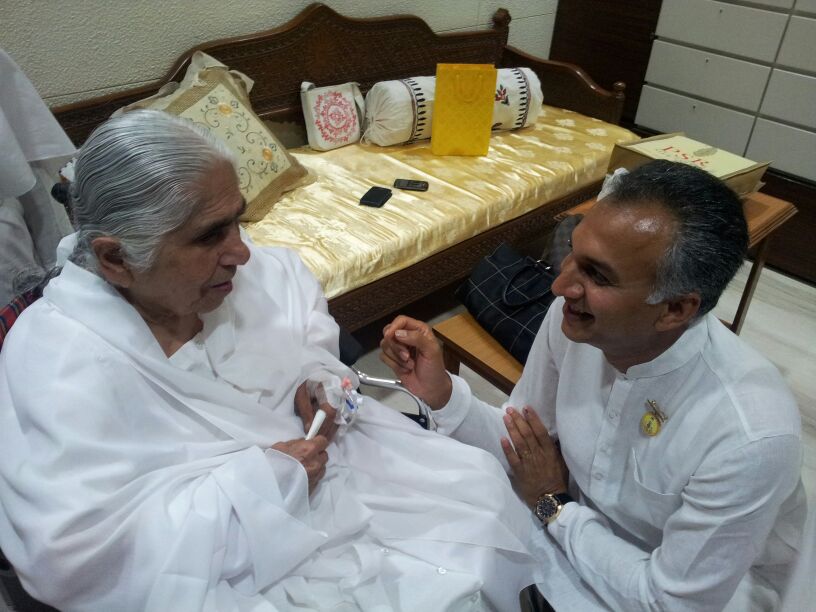 My dear Divine Brothers and Sisters around the Globe, Accept sweetest Godly remembrances from Sweet Home-Madhuban.

I met Dadiji on Tuesday, 29th April 2014 in the evening at Ville-Parle Centre. Dadi Gulzar Ji was also present there for some time. Respcted Dadi Janki asked me to go to Abu hence I left from Bombay and reached at Abu yesterday night. This e-mail is my last e-mail till the time Dadiji is in Bombay and I will come back to Bombay.

Yesterday, I met Respected Bro. Nirwairji at Ahmedabad. He is having some stomach problem. He told me that he will be return to Abu by 4th of this month.
In Bombay I asked Dadiji about the stories of properties purchased in London like Tennyson Road, Baba Bhawan, Global Retreat Centre and Oxford Retreat Centre, etc. and you all know that Dadiji is an expert in narrating stories.

Dadiji narrated me all the stories about the purchasing of properties in London. Dadiji told me that you know how the neighbour of Baba's centre in London was introduced by B.K. Usha Ji to Baba and that lady liked Baba's Meditation room at Tennyson Road and then she became Baba's Child. In due course she felt sick and died. Her relatives used to stay in Canada. They also knew the preference of the late lady for Baba and hence they sold that property, which is just next door to us, to Baba for 13,000/- GBP. Brother Govind became an instrument for providing funds of this property.

Then in due course there was a search for new better and bigger place for Baba and so after searching many properties and the verifying their title deeds Baba Bhawan was selected and finalized and it was purchased for 40,000/- GBP. You all must know how powerful vibrations are there in Baba's Room of Baba Bhawan. The lawn at the backside of this Baba Bhawan is open and also good Godly Service.
Then again we needed a better and bigger place for Baba and so the land at 60, Pound Lane, London was selected and was negotiated for a price of 238000/- GBP. That time Dadiji phoned me about the purchase of property. I responded to Dadiji that Dadiji, you are Additional Administrative Head of the Vishwa Vidyalaya, so you need not obtain my consent. But Dadiji told me that I want to follow Shrimat so we need to obtain BapDada's consent for the purchase of this property. Then I send a message to BapDada through Dadi Gulzar Ji and then Baba gave a green signal for the purchase of this property. I conveyed Baba's message to Dadiji, Dadiji replied me that Baba has given His consent but I have not even 75000 GBP with me. I replied Dadiji, yes, Baba has given His consent means this work will definitely be done. Baba will send you the required quantity of money. Have full faith in Baba. Then Dadiji told me how the flow of money came to her. The contract of the construction was given to Bro. Lakshman, who earlier stayed in Kenya, Africa and then shifted to London, his son Bro. Kalyan was in-charge of the construction. Dadiji told me that whenever we received the bills from the contractor, we had sufficient funds in our hands. We were not required to take any loan from any bank really, it was the Magic of Baba.

Then there was a proposal of buying Oxford Retreat Centre. Dadiji told me that at that time Sis. B.K. Sheel Indra Dadi and Bro. Ratan were also in London, and then the Oxford Retreat Centre was also purchased with the great help of Baba. Dadi Sheel Indra went into trance and brought green signal from BapDada.
This is a story of purchasing Baba's properties in London. In the same way many properties for centres and retreat centres are purchased in various countries with the magic of Baba. Really, Baba is a great magician.

I felt that we should write the history of how various purchase of properties in Baba's Yagya took place. How Baba helped His children for such purchase. It will be a very interesting history of purchasing the Baba's properties in India and foreign centres.

In India first property i.e. 'Pandav Bhawan' was purchased in 1958 in the name of Dada Vishwa Ratan. Then in 1969 World Renewal Spiritual Trust was established and the first property in the name of Trust was purchased is our Museum at Mount Abu which is near Nakki Lake.

You know by now we have several properties in and outside India. The demand of properties is increasing because our divine family population is increasing and accommodation is getting limited. Few centres in India are running their classes in shifts i.e. at 5.00 to 6.00 am, 6.30 to 7.30 am and 8.00 to 9.00 and also in the evening 6.00 to 7.00 pm and 7.30 to 8.30 pm., etc.

In Tennyson Road, London due to shortage of space and time they used to run the classes in shifts. You know the story about Sis. BK Rama and BK Chandru originally from Africa and then settled in London and about whom I wrote in Gyanamrit.

I forget to write one most important event which Dadiji told me when she was in Breach Candy hospital, Bombay. Dadiji told me that once when Dadi Gulzar Ji was in London, Dadiji requested BapDada to incarnate to meet to Sis. Rajani Kriplani and Bro. Vishnu Marwah. Bro. Vishnu Marwah and his wife Dulari Behn were very devoted children of Baba. Bro. Vishnu was suffering from last stage of Cancer, so he was not able to travel to Abu. And due to request of Dadiji, BapDada came in London for a while to meet these two great souls. They were really great souls because Baba Himself came to meet them in UK.

Dadi Gulzarji had a further checking of her laparoscopic surgery which took place before 3 or 4 months in Bombay and doctors told her that her health is now all right. Dadi Ratan Mohiniji has also gone to Bombay to meet Dadis.

And with this I take your sweet leave……
With loving regards
BK Ramesh

Chit chat between Dadi Janki and Dadi Gulzar
28 April 2014
On Monday 28th April at 1.30 pm (India time), Dadi Janki arrived at the Vile Parle centre. On 27th evening, Dadi Gulzar had also arrived there, and both Dadis had wonderful chit-chat, the fragrance of which is being sent to you.

28th April 2014
Chit-chat between Dadi Gulzar and Dadi Janki at Vile Parle centre

Om shanti.
Dadi Gulzar: All brothers and sisters have the thought that now our sweetest Dadi Janki will be fine and will get up and conduct class for all of us and tell us sweet things of Baba. Dadi is now fine and remembering all of you and also giving you drishti. Although there are only a few here personally in front of her, all of you are sitting in front of Dadi's eyes. Dadi is giving you drishti through the eyes and also sharing with all of you the power she has received from Baba. Tell me, all of you are experiencing Baba's power and making yourselves powerful, are you not? Simply Baba, Baba and sweet Baba! That is all there is in the heart and all that will remain in the heart. Baba is also so happy and singing the song: Wah, children wah! Wah, sweet children, wah!
Dadi Janki: My sweet Dadi is sitting in front of me. Why is the whole world remembering me? I have the feeling very well, that throughout my whole life, I have received the beautiful part of just moving along as Baba has made me move, being obedient, faithful and trustworthy. I have also received the fortune of seeing the beautiful part of this soul (Dadi Gulzar). I was in hospital for one week and today, I have come in front of my sweet Dadi in Parle centre. In the early days when Baba used to be in Bombay, and seeing Bombay today, just see what Bombay has become, having taken sustenance from the Brahmins. I had the opportunity of meeting so many of Baba's lovely children. It feels as if all of us now have to become karmateet. Didi's only concern was: We now have to return home. I now feel: We don't have to go home, we just have to remain in our home. When we see Dadi, both Baba and Dadi are visible together. Dadi has become an instrument – see how see has enabled us to meet Baba. Dadi has only Baba in her eyes and in her heart. I then check inside myself and see: Who is in my heart? Who is in my eyes? I see as a detached observer that my companion is Baba who has enabled me to do world service for 40 years. I went to London on service in April 1974. Baba's part is so wonderful. Now, everyone is happy to let Dadi stay here in Madhuban. The whole world is pulled towards Baba. Now, it feels that the time has come for us to become complete with God's love and honesty with one another. No weaknesses should remain in me nor should I be looking at anyone else's weaknesses. No, now all weaknesses and defects have gone. We are with Almighty Authority Baba. We have Baba with us and we also have Dadi with us. The blessings received from Baba are working. The Almighty Authority says: You are My companion, are you not? You are My companion and also My child. All of Baba's blessings have done so much service. I am seeing as a detached observer how everyone has so much love. Seeing the meeting of both of us, the whole world is so happy. These are such beautiful moments!!!
Dadi Gulzar: Not just Madhuban, but all the souls from each of the countries are remembering you. Everyone has so much happiness. Dadi is not in bed but in Baba's lap and in His eyes. Now, we have grown up and so Baba embraces us.
Dadi Janki: Children are in Baba's eyes and Baba is in the eyes of the children. Dadi, where have you sat Baba? In your heart and in your eyes!
Dadi Gulzar: Baba is in everyone's hearts. The speciality of your companion (Hansa) is that she is always smiling. No matter what happens, she never stops smiling.
Dadi Janki: What are we going to do now? How much longer do I have to stay here?
Dadi Gulzar: It depends on your health. Rest here a little and then we will go to Abu.

News from Br Ramesh on Dadi Janki's discharge from Hospital
28 April 2014
Om shanti

I am in Bombay as I have postponed my trip to Abu.

Yesterday in the evening doctor came and gave green signal to Dadiji's discharge from hospital. Today morning another senior doctor came and he also signed discharge papers. So Dadiji left hospital by about 1230 noon for Vile Parle center.

In my yesterday's email, I made one mistake. I am sorry for this mistake and this was told to me by Dadiji. She told me that Satyabhama is sister of Murlidada and his mother's name Satibhahi. Then Dadiji told me about Murlidada's lokik father who in the beginning was not in favor of Brahma BABA. But he watched carefully transformation in sister BK Rajni ( Mother of BK Jayanti) and he then started telling his wife to read Murlis.

Then he was sick due to cancer and Dadiji went to his home daily and read murlis. So he asked his wife (Satibhabhi) to go to center and listen to Murlis.

Then Dadiji told me about decision of Murlidada to shift from India to London. And this was the real seed for godly service in UK. IN 1971, we 6 delegates stayed at the residence of Murlidada and did lots of Godly services. Because of this demand of Godly service in London, we decided to divide our group, 4 remained in London. BK Dr Nirmala and myself went to New york to participate in "Awosting retreat conference" and then to Pittsburgh in Pennsylvania state which was long back, capital town of US. We returned to New york and invited Bro Jagdishji and sister BK Rosie, Dadi Sheel Indra and BK Ushaji stayed in London for further period of 15 days I narrated this story to Dadiji and she was in India at that time and so did not know these facts in great detail. Today we exchanged our stories.

Let me tell you, Dadiji is ocean of stories and what I am narrating to you is only a tip of iceberg. For example, Dadiji recorded for sister BK Gemini who was with us, who the 5 pandavas were and how they are related with we all in this confluence age. To that I responded to Dadiji that as per Hindu mythology there were 10 incarnations of God. I told Dadiji that they are symbols of acts performed by BABA in this confluence age. I narrated this story to Dadiji and told Dadiji, that I have written in Hindi Gyanmrut, one article on this subject to prove that these 10 incarnations are stories about acts performed by BABA in this confluence age.

So like this, we exchange stories. Today also before departure from Hospital she told me stories from her past. But to write this will be very lengthy and your time consuming. But one thing very important, was told to us, that she does not read newspapers, see TVs, write any thing as notes or carry money purse. She does not have any bank account and when she landed in London, she carried hardly a few clothes in a small attachy (small bag) of Air India. Today one divine brother, told dadiji that you were in my car and I drove you. To that Dadiji replied that my charioteer is BABA. That means Dadiji could relate to Shivbaba in all her thoughts.

Dadiji is having a desire that some one must write history of 40 years of her stay and Godly services done during this period. I have told Dadijj, yes that will give us insights to many developments that took place in these 40 years, I hope some body reading my this email, may get inspiration to write a book on this subject. And my thanks in advance to that sweet soul.

IN BABA's love and regards to all

BK Ramesh

News from Br Ramesh on Dadi Janki's Health
27 April 2014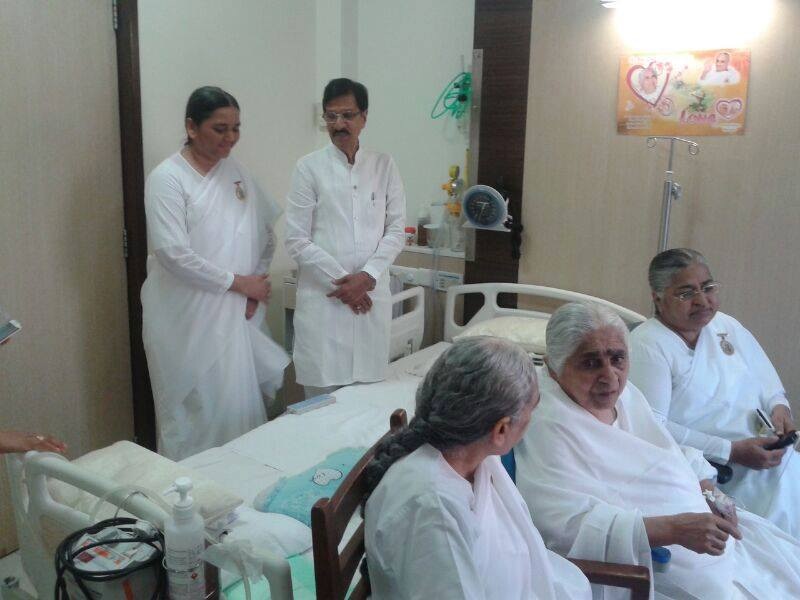 Om shanti and loving greetings from all souls in Bombay.

Thanks for your loving response to my earlier second email on this subject. Today, I will narrate details of 25thand 26 April.
Doctors attending Dadiji, had recommended that Dadiji must now walk and so on that day in the evening Dadiji walked about 25 steps and in wheel chair she had a tour of 4th floor, visited Nurses desk and distributed toli. Next day i.e. on 25th Dadiji had longer walk of about more then 200 steps and then Dadiji occupied chair to meet and greet BK and guest visitors. In between we got many new stories from Dadiji. Dadiji told us that when Brahma Baba in 1953 was admitted in Harkishandas hospital, ( incidentally I also met BABA for the first time in this hospital) Dadiji was in that hospital and all neighboring inmates of the hospital asked Who is he? Is he your Guru? So then Dadiji went inside and repeated same question to BABA and Baba told her to tell every body that BAPDADA has come. Thus Dadiji told us that the word BAPDADA was coined for the first time and is now also known to every body.
Then Dadiji narrated that during those early days in Abu, BABA first asked Dadiji to write letter to her mother who was in Bombay. Then next day suddenly she was asked to visit personally Bombay and meet her mother. So she decided to travel, Bombay, she purchased ticket to Ahmedabad and in Ahmedabad she gave BABA's knowledge in a Jain temple and then they offered money. So Dadiji asked for ticket to Bombay and this is how she came to Bombay. And it was essential as her father was very sick and then left body. Then she was in Bombay for some time and doing Godly service in Worli area of Bombay. She used to buy bananas for a price of 1 Anna ( 1/16 of one Indian rupee) by eating that banana, she use to walk to many places and during that period Dadiji was visiting houses and conducting classes and one such class was at my residence by the invitation of my lokik mother and I (BK Ramesh ) as per Dadiji, had first meeting with Dadiji.

Then Dadiji narrated how both the Dadijis asked Dadi Janki to be ready to go to London in 1974. To this I narrated real back ground history. I told Dadiji that I had a meeting with both the Dadis and discussed about who should be deputed to UK on a permanent footing Earlier Dadi Ratanmohiniji and her mother had gone to UK for some time and then visited her relatives in Malta near Italy. I also told Dadis that I and Usha ( we) have visa for 6 months ending 30th March 1974 and also USA visa for 10 years. Avyakta BABA had told us to visit UK and get the institution regd., and to get proper legal umbrella. So if the institution is regd in UK, then there should be a permanent hand to take care. I also told both the Dadis that I had visited Poona as Janki dadi was bed ridden, this was before 2 years or so. At that time I had requested Janki Dadi to correspond with old time BK sindhi friends and relatives and Dadiji had very good respond e.g from mother of Murli Dada. Her name was Satyabhama and she was grand mother of BK Jayanti. So both the Dadis accepted my suggestion and decided to appoint Jankidadi and so matter was referred to BABA and green signal was obtained. In January 1974, we had big spiritual Mela in Bombay and at that time both the Dadis were present in Bombay. So Dadi Jankiji was selected and then we started preparations for exhibitions in London. Visa was obtained for Janki Dadi and Dadiji came to London with sister Jayanti on 24th APril 1974 with pictures for exhibitions.

We had reached London on 28 March as our visa was to expire on 30th March. Before Dadiji could come to London, we in London started preparations for getting us registered. Trust deed was drafted and with help of one UK but Indian solicitor applied for registration. But in due course, it was rejected. Then BABA directed us to apply with the help of a english solicitor and one such soliciter was known to Murli dada and our application for registration was accepted after some correspondence. This is how we got first registration out side India and Dadiji was appointed as its director and BK Jayanti was its first secretary. Bro Satish Mohan Lal and sister BK Shashi were its first trustees.

I have already narrated to you how Dadiji came and then we have exhibitions in London and then we on the invitation of Rambhai of Zambia, went to Lusaka and then invited Dadiji to finalize first center in Africa. Then we returned to London and we returned to India. Then in UK application for Dadiji was made for permanent stay in UK. It took more then 3 years and Dadiji was in UK during this long period. After obtaining permanent right to stay in UK Dadiji came to India. Dadi was staying in 98 Tennyson road. BK Usha became friendly with a neighboring British lady before her death she recommended to sell 96 Tennyson road to BKs and so both 96 and 98 Tennyson road became BABA's properties

Then on 26th morning Dadiiji had morning walk for more then 250 steps and then proper medicines. In the evening when we visited hospital, Dadiji was late for her physio exercises as that sister was busy. So Dadiji had no evening walk and had more then 80 visitors. Due to this we had less history stories from Dadiji. But Dadiji asked sister Jayanti to write a batook on Study Sustenance and Result I hope some one from divine family will help BK Jayanti to write such book Then we teased Dadiji. Dadiji told us that on Monday she will get discharge from Hospital. To that I responded that you have not fixed Monday and so it means that whenever you will be discharged, then that day must be Monday. SO Dadiji smiled and said this coming Monday.

Other things are already narrated by sister Jayanti and so I am no repeating. But one thing I must narrate. After evening meditation, Dadiji asked us about our experiences and I told Dadijithat Dadiji, you are telling us that your visit to Bombay had some hidden purpose and some thing very important is going to happen. So I was thinking on it and Dadiji confirmed that this was her feeling since last couple of days. Then Dadiji also narrated her yoga experience and said in previous birth, we had very good relationship with Brahma BABA and Dadi gave us sustenance. We all hoped that let it be a reality Today on 27th, Dadiji had nice rest, meditation and visitors. Dadiji has asked BK Jayanti to visit Ahmedabad to meet and visit sister BK Mohini who is in hospital in Ahmedabad and also meet Bro Nirwairji and then go to Abu to inquire about health of sister BK Charu who has knee replacement in both the legs.

Today evening Doctor has promised to come and let us hope that he signs discharge memo iand then Dadiji may go on this Monday for a few days to Parla center and then onward journey to Abu. If Dadij is discharged on this Monday, then Dadiji has permitted me to go to Abu for our audit work and in that case this will be my last email to narrate to you details of daily routine in this hospital. Let us see what is stored in Drama.
Thanks and With Loving Regards
In Baba's Love
BK Ramesh

News from Sr Jayanti on Dadi Janki's Health
25 April 2014
Loving greetings from Mumbai!
I have made an unexpected visit to meet and be with Dadi Janki and will be here till the 30th. Dadi seems to be doing well. Thursday evening, Dadi met many, many people giving them drishti and then I gave toli and blessings. Rameshbhai was with Dadi for a few hours. He came to be in Dadi's presence. Yoginiben was there throughout too. It was a very light and sweet atmosphere. Everyone was happy to see Dadi well.

Dadi had gone through a lot the day before, as they cleared out the stomach. The process had started in Ahmedabad and continued very specifically in Mumbai. Some of the pain from the fractures have gone, but of course she is still going to take a little bit of time.

The physiotherapy started yesterday, so Dadi was able to walk a very short distance. That is going to continue, so gradually she'll get her strength back. Everyone's loving good wishes are reaching Dadi, and with Baba's help and everyone's love surely Dadi will be back on active service in a short while.

Update on Dadi Jankiji's Health from Br Ramesh
24 April 2014
Om shanti and godly greetings from Bombay divine family.

Thanks for wonderful response from our divine family round the globe for my first email for Dadiji's health and arrival in Bombay. I think it is my duty to keep you informed and so I am performing this duty.

I wrote to you till Tuesday night i.e. 22nd night. Now from 23rd morning.

Dadiji had nice sound sleep and so in the morning by Amritvela, of 23rd, Dadiji was fresh and so took the chair facing Indian ocean and did morning yoga. Then she had her routine. Then at about 9 am our Bro Arun was the first visitor and so BK Hansa asked Dadiji as to who is this brother and Dadiji immediately replied he is Arun who is always with BK Ramesh. That means Dadiji had perfect memory and could remember and identify him from hundreds who meet Dadiji.

It is also a good thing that in this hospital there are many senior doctors who are known to our doctors like doctor Sunil Kowli. Chief Medical Supdt and others are known to him and us. So they came one by one and examined Dadiji and gave nice tretment. As a result Dadiji since yesterday morning has no gastric trouble. In the evening when I went there, Dadiji was fully fresh, good looking and had her popular smile on her face. So I requested Dadiji, that yesterday you promised to send today message of your well being and also your churning to divine family. To that Dadiji replied that tomorrow is Bhog day and BK Jayanti is also coming, so I will record my message tomorrow. And Dadiji has already recorded that message today and as told to me by sister BK Jayanti, message is already sent to all round the globe.

Today doctors who examined Dadiji have recommended that Dadiji must walk and so today evening Dadiji did walk in that room for a few minutes and then set on the chair for about 2 hours and met many visitors. In fact Dadiji walked after more than 4 weeks and then on the wheel chair went round the 4th floor, went to nurses desk and gave them toli to all of them. Dadiji told me that as per Drama every thing is wonderful and accurate. Look because of sickness, I am in Bombay and able to meet them all. Yesterday and today Dadiji gave dristi, toli and blessings. Dadiji had variety of tolis from Bombay and also from London (brought by sister Jayantiji.) She reached Bombay today morning and is now staying at Gamdevi center. She after morning murli class went to Hospital and it was wonderful scene in drama, how Dadiji greeted sister Jayanti. I am sure you all can imagine very well this special meeting.

Dadiji is regular in her morning and evening meditation. We must learn this art from Dadiji, art to be punctual and regular in our meditation sessions. Her room was full of Divine Joy and Happiness with very powerful vibrations and Brightness.

Yesterday we were all teasing Dadiji that you have to go to London for call of time meeting and also there is a very big function organized in your honour in Wembly stadium. But Dadiji was firm and said she will go to ABU first and then other programme. I asked her, Dadiji why to ABu. So Dadiji replied that Abu is BABA's incarnation land.

Sister BK Jayanti told me that sister BK Jaimini is in Kerala and will come to Bombay by this Sunday or so. So also Sister Yogini told me that Gulzar Dadiji is expected to go to Ahmedabad and then for routine check up in Bombay. Let see what is stored in drama.

Today Dadiji unfolded one very good scene of Drama. Exactly before 40 years this day, Dadiji landed in London. So from 24th April to 1974 to 24th April 2014, it is exactly 40 years long period and to that I responded to Dadiji Yes Dadiji, I and BK Usha came to receive you at London airport and you and sister Jayanti landed with pictures for exhibitions to be organized in London at India tea center and then Ceylon tea center. And Dadiji you in your hands had globe of the earth and I told Ushaji that Dadiji has world in her hands and Dadiji has landed here for World Godly service. And we all know that as per Drama those words became reality in due course of time

And then after the exhibitions, we both went to Africa and then from Lusaka, we invited Dadiji to finalize opening of first Godly center in Africa. This thus was the beginning of Godly service in and around Africa. From Lusaka in Zambia we 3 went to Nairobi, Nigeria, Monrovia etc and then returned to London . Dadiji stayed in London and we 2 returned back to Bombay for certain urgent Godly service work and did not go to USA for Godly service in that country So this is now history and we all know how Dadiji played her role.

I also narrated to Dadiji many have sent their remembrances and love and to that Dadiji responded that yes those who got experience of BABA through Dadiji will naturally love and greet Dadiji. So all those who have sent their remembrances to Dadiji, please in return accept Dadiji's love and greetings.

Lastly let me write a few words about Dadiji's health. I have observed that in 3 days time, her health improvement is of more then 50%. Dadiji is fresh and energetic. Let us hope for the best in next couple of days.

With this I take your sweet leave

In BABA's yaad
BK Ramesh

U

pdate on Dadi Jankiji's Health from Bombay
22 April 2014
Omshanti
Today our sweet respected Dadi Jankiji was brought to Bombay from Ahmedabad for further medical check up. Dadiji was brought to Bombay by special flight and from the airport, by ambulance, Dadiji is admitted in Breach Candy hospital. By about 0200 pm Dadiji's flight landed in Bombay.
This hospital authorities are strict and allow visitors only in the evening from 0500 pm to 0700 pm. Dadiji was in very good condition and I gave greetings of divine family. At about 0600 pm, there was phone from our sweet Dadi Gulzarji. Gulzar Dadiji also gave greetings of all Madhuban Niwasis and Gulzar Dadiji also told Dadiji that we in Madhuban are feeling lonely in your absence and to that Jankidadi responded , yes sweet Dadi that is natural. Then we all sent message through Dadi Gulzarji to Sweet Bapdada about Janki Dadiji's health.
It seems that Dadiji's shoulder injury is healing nicely. This was the observation of the Doctor who visited Dadiji. But the main problem is with her Gastric trouble which is causing trouble since last few weeks. For that doctors have started investigation and treatment. I also asked Dadiji whether Dadiji will like to send message to all divine family members and to that Dadiji asked me to do the same on her behalf and therefore this email message to all. Dadiji also told me that she may record the message tomorrow.
Due to today's journey, Dadiji was little bit tired and therefore we all felt that Dadiji requires more rest and less number of visitors. We will keep you informed about daily progress in Dadiji's health. We are sure that you all must be sending yoga vibrations for Dadiji's health improvement.
Kindly allow me to add that this hospital is very near to my lokik residence. It is just about 10 to 15 minutes walk.
In Baba's love
BK Ramesh

Further Update on Health of Dadi Jankiji and Nirwairbhaiji
20 April 2014
Dear Loving, Sparkling Stars of Baba's galaxy, Our Brahmin family in India and abroad,
Loving greetings from all of us in Ahmedabad!
Sterling Hospital and Apex Heart Institute are housing and caring for two of our beloved seniors, Dadi Jankiji and Nirwairbhaiji, respectively. As of today, both are carrying on with treatment.
Dadiji has required colon cleansing to alleviate the severe discomfort experienced last week. Dadiji is more comfortable and, as you would have heard from recent chit-chats, is constantly on unlimited service of the mind. Physiotherapy for the collar bone and back will start sometime this week in Ahmedabad itself.
After the stenting process on the renal artery on Thursday, Nirwairbhai has had slight fever and just requires few more days rest.
Thank you for your constantly flowing good wishes.
On Baba's service,
BK Dr Partap

Update on Nirwairbhai's Health
17 April 2014
Dear divine family around the globe,
Greetings and love from Ahmedabad.
We wish to update up on Nirwairbhai's health.
Angiography took place around 11.30am today which showed that the heart is functioning fine. While investigating further the cause for high BP, it was found that the renal artery had a blockage and so a stent was immediately added in. The doctor is very hopeful that this would ensure there are no more high BP crises in future.
Nirwairbhai is all right and has shifted to the Ward this evening. He will stay one more day in hospital and most likely be discharged tomorrow (Friday). He will then go to Lotus House.
In Baba's sweet yaad,
BK Dr Partap/BK Karuna

Important Message regarding Dadi Janki and Br Nirwair
16 April 2014
Dear divine jewels in Bharat and foreign lands,
Greetings in Baba's remembrance!

We continue to learn and take inspiration from every scene of drama. Dadi Jankiji has been recuperating in Shantivan for more than three weeks now, and her immense tolerance power and positivity continue to amaze all of us.

Dadi Jankiji requires some check-up and consultation and so left for Ahmedabad today, Wednesday 16 April, at around 1pm.

Nirwairbhai was already scheduled to go to Ahmedabad today for his own checkup. Early this morning, he had an episode of breathlessness and so was taken immediately to the Hospital near Shantivan (Trauma Centre). Things were brought under control, and after some rest he was taken to Ahmedabad by 2.45pm.

We know everyone will continue to share their loving vibrations for our dearest Dadiji and Nirwairbhai to return to Shantivan in good health.

Thank you
In Baba's sweet remembrance,

BK Dr Partap/Karunabhai

News Update on Dadi Janki
12 April 2014
Dear Jewels of Baba's Family,

Special loving yaad from London.

I returned from our divine home Madhuban on Monday after being away for a few months. It was a beautiful and inspiring time in our sweet home.

Dadi continues to be in Shantivan and each day is getting better. On Thursday, the day of the Satguru, Dadi sent a message which many of you would have received after a long long gap. Dadi's voice is strong and no matter what the body is going through, the words that continue to emerge from Dadi's lips are 'Baba, Baba and Baba'. Dadi is a great inspiration for us. The special meditations the whole family are having are helping and sakash is reaching Dadi and Dadi continues to sing praise of her great fortune and reminds us to remember our fortune of the Confluence Age.

Dadi continues to receive emails filled with much much love from across the world and Dadi wishes to share her loving remembrances, deep appreciation and good wishes to the family worldwide.

Dadi is deeply touched by each one's emails and wanted to convey special love and thanks to each one personally.

Dadi is surrounded by many angels helping Dadi at each second and again Dadi sings praise and appreciation of each one who is helping and serving Dadi so tirelessly and lovingly...Hansaben, Pravinaben, Bhartiben from Lotus House, Dipakbhai and Ketanbhai especially.

Lots and lots of love to the family.

In Baba's sweet yaad,

Sister Jayanti

Message from Dadi Janki and Dadi Gulzar
4 April 2014
Gulzar Dadi: Om shanti. Good news I would like to relate to all of you today is that our Dadi is now fine. The pain has gone and our Dadi is as she was – she is not able to walk, but I am sure she will be able to walk. Today, it was the first time that Dadi had a proper bath and Dadi herself is saying that there is no pain. Dadi has Baba in her heart and Dadi is in Baba's heart.

Dadi Janki: The whole world was concerned hearing that Dadi was in a lot of pain in her back and in the shoulder and that she was in complete bed-rest. The pain was unbearable. It was the wonder of Hansa and Baba. Today, I had good amrit vela and then I was resting until 10.00 am, but I was with Baba and ot even aware that I was in bed. Baba also used to say: I cannot bear to see the pain of the child. This is why I was not aware of anything until 10.00. I have Baba's photo in front of me. I have Baba beside me and so I was saying thanks to Baba. It is a wonder of Hansa in giving the medication at the right time and looking after her duty. Out of her love she comes and kisses me again and again. Everyone has had a lot of yoga for me with a lot of love. Hansa and Jayantiben have continually been receiving e-mails to wish me well. I had been waiting for Dadi from 10.00 thinking that it is a wonder of Baba and Dadi.

Dadi Gulzar: If Baba doesn't perform His wonders on you, then on whom will He do that?

Dadi Janki: I have Baba beside me, in front of me, everywhere around me. Though I missed Baba on the 30th, I feel I didn't miss anything. When the children have courage, the Father helps and that is the wonder I am seeing. The Lord is pleased with an honest heart. I have lived my whole life with economy.

Dadi Gulzar: I would like to relate the good news to everyone that our Dadi has become well. Dadi has received the fruit of all the yoga that all of you had that Dadi has become well. We are all very happy seeing Dadi and all of you must be very happy to hear this: Our Dadi has come back to us. Now, she will get up, walk and do everything.

Dadi Janki: It is a wonder of Baba and Dadi Gulzar. Dadi Gulzar comes to meet me every day and also at night and that gave me a lot of sakaash. I read the blessing and question and answer of today's murli. Baba says: Whatever happens is the drama and benefit is merged in everything. The whole family has so much love. I am sending love and remembrance to all of you and perhaps this was something to enable everyone to remember Baba.

Saying om shanti three times in front of the sages and saints in Haridwar, I explained why I say om shanti three times. I am a soul, Baba is mine and everything that happens in the drama is accurate and benevolent. Baba says: Do not ask any questions such as what happened or why did it happen. Benefit is merged in this too. Everyone's love is merged in this too. I received a lot of love from Dadi Gulzar who came to meet me every morning and evening.

Dadi Gulzar: Seeing this one (Hansaben) looking after Dadi quietly, with a lot of love, as though she herself is not doing anything, though she is doing everything.

Dadi Janki: Today's blessing was so wonderful. Seeing Sakar Baba's humility and greatness, Baba is truly an example in front of us. We have to continue to smile in every situation. Nothing is difficult. Baba is wonderful and Dadi Gulzar is no less.

Dadi Gulzar: Dadi, everyone is very happy that you are now fine – on the road to recovery fast.

Om shanti.
Note: Dadi Janki is still in bed-rest and will be a while before back to normal, but everyone is happy that Dadi is now able to speak without too much pain, and back to her normal enthusiastic self, spiritually.

Godlywood Studio inaugurates new department of Overseas Communication
30 March 2014
Dear Friends, Beloved Bapdada will inaugurate Godlywood Studio's new department for Overseas Communications during the evening of 30th March. The following morning, we cordially invite you to visit the new Overseas Communications Centre at 11 am.
In case if you are unable to come on this day, please visit when you are next at Shantivan. In Baba's yaad, your sister, BK Denise

Update on Dadi Janki's health
26 March 2014
Our dear beloved and divine family in Bharat and abroad,

Please accept hearty Godly love and remembrances from Shantivan.

Dadi Jankiji especially asked me to convey her deepest yaad-pyaar, and thanks for all the concern and good wishes reaching her since Saturday. Dadiji, Hansaben, Pravinaben and the rest of us returned to Shantivan on Tuesday afternoon, around 2.15pm.

Further tests in Ahmedabad have shown a problem in the right side collar bone, and minor compressions in the spine and hip. Dadiji needs a lot of rest for the next few weeks, so that recovery can take place very smoothly. We will definitely cooperate by continuing to send Dadiji vibrations in Baba's yaad, and giving her time and space to rest.

Thank you again for creating a powerful and comforting atmosphere of love.

With Baba's love,
B.K. Nirwair

Message regarding Dadi Janki's health
22 March 2014
To Baba's beloved Brahmin children around the globe,

Please accept hearty Godly love and remembrances from Ahmedabad.

Dadi Janki had left Abu on 18th to visit Haridwar for a special gathering of Saints and Sages. Three major events took place very successfully in Haridwar on the 20th, and then Dadi came to Dehradun on 21 March.

Late last night, Dadi woke up to use the rest-room but the feet slipped and she sustained a fall by the bedside. Doctor was called, and X-rays taken. There is soft tissue injury on the right shoulder, near the collar bone, and some pain in the hip etc. Dadi was brought by Air Ambulance to Ahmedabad late afternoon. Dadi preferred not to go directly to the hospital, and so is resting now in Lotus House.

Dr Deepak Dave, a senior orthopedic surgeon came to see Dadi within an hour of her arrival. He examined Dadi at length and doesn't feel there is any major problem. He has recommended medication for the pain and swelling and is of the opinion that things will be all right soon.

Dadi is well otherwise. Tomorrow, her condition will be reviewed and MRI tests taken. Dr Ashok Mehta specially flew from Mumbai to care for Dadi.

So fortunately for all of us, Baba is looking after Dadi and with everyone's loving vibrations all will be well soon.

Thank you for your concern. We will respectfully allow the healing process to take place smoothly.

With Baba's love,
BK Nirwair

Holi Greetings from Madhuban
17 March 2014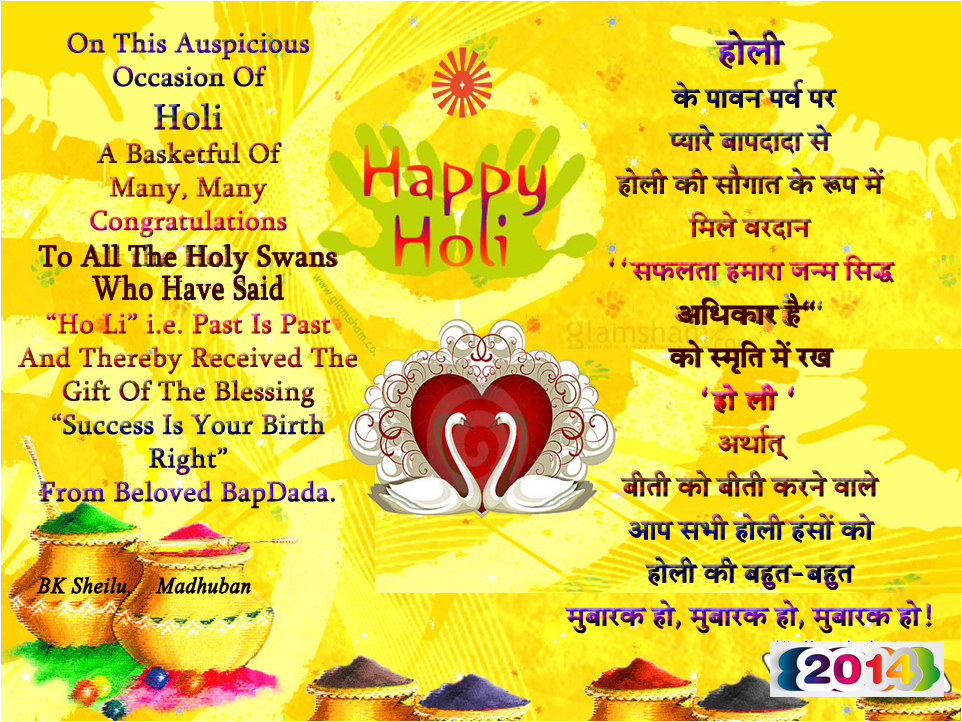 Beloved Bapdada on Holi
16 March 2014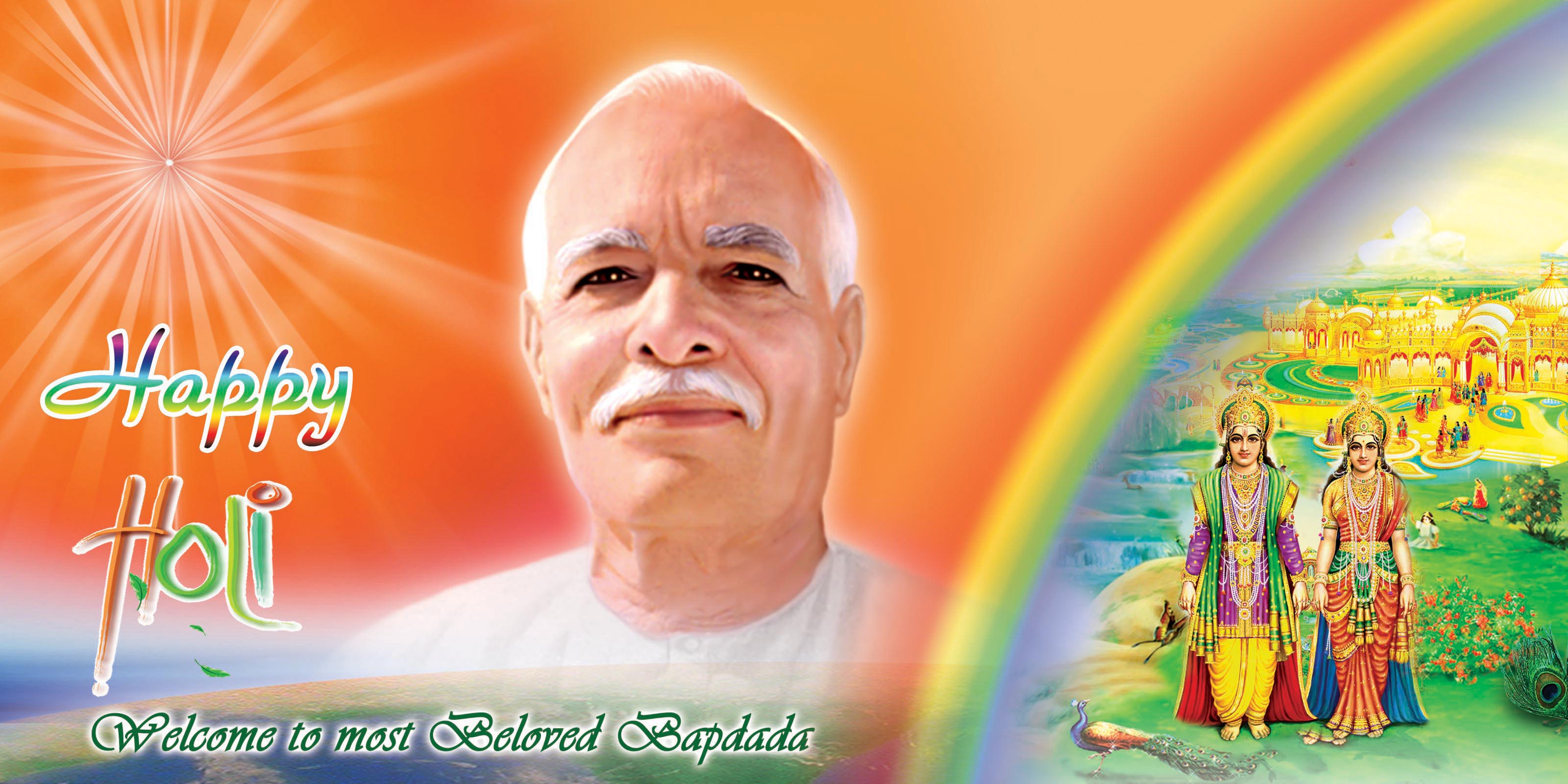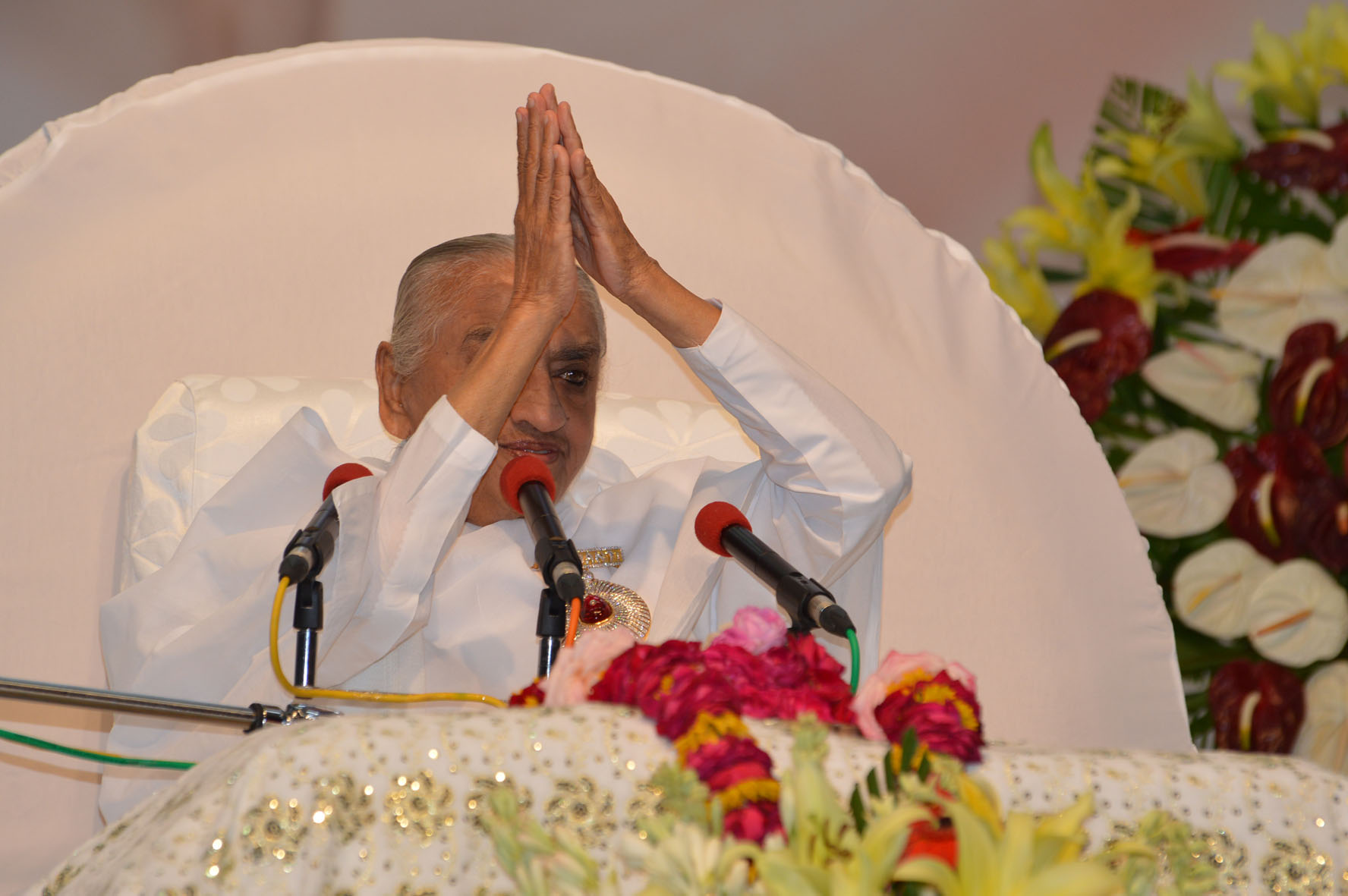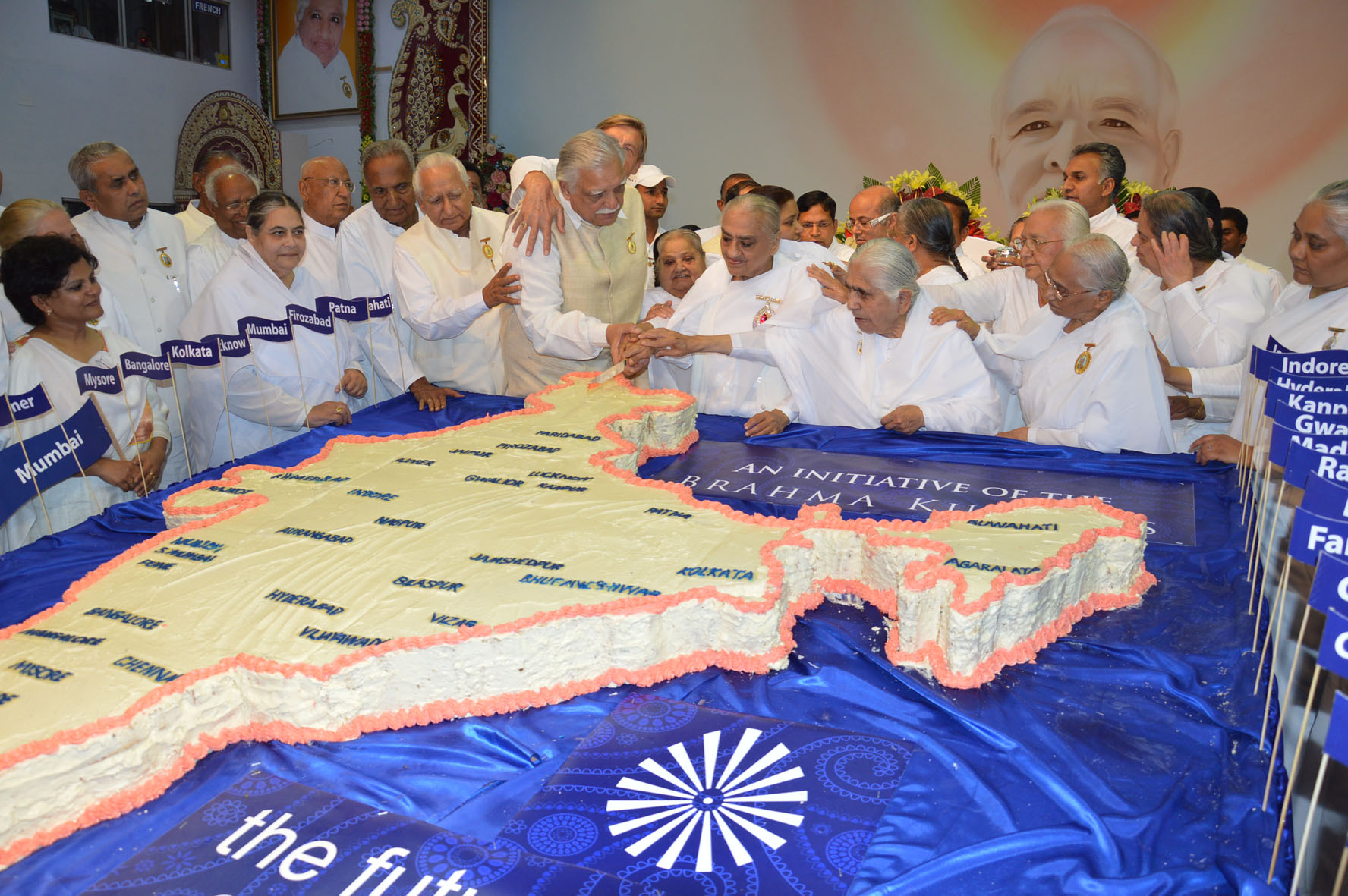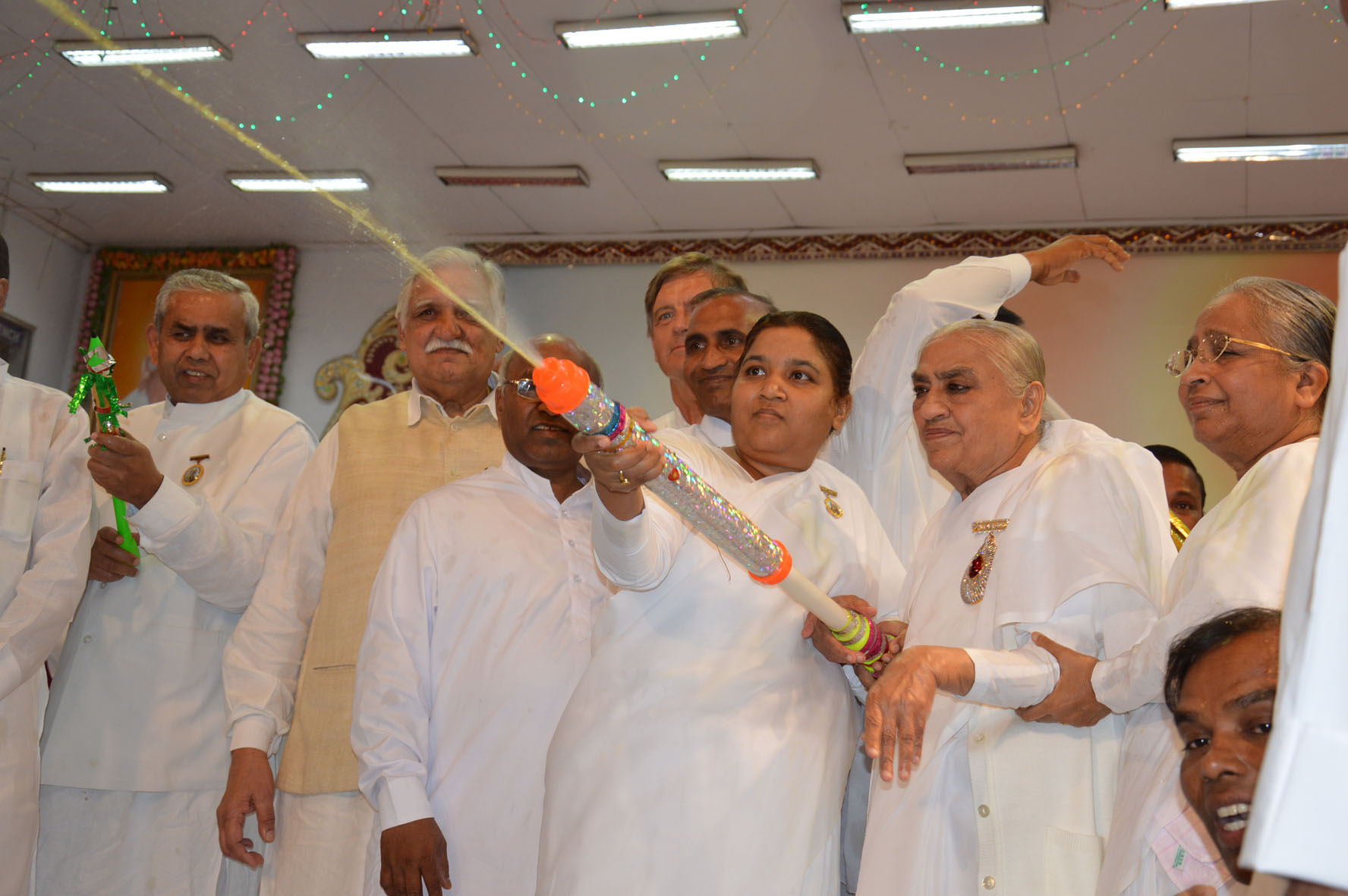 Golden Jyothirlingam Rathyatra
10 March 2014 - Hubli, Karnataka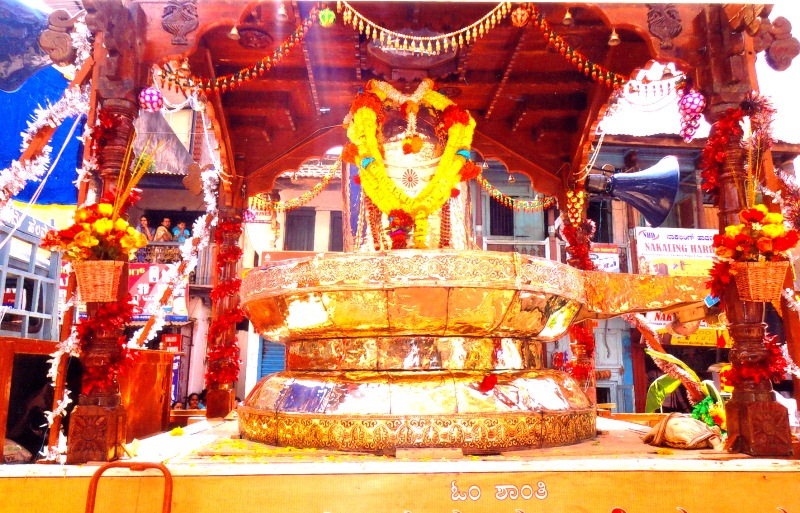 International Women's Day: Radio Madhuban
10 March 2014
On the occasion of the International Women's Day, Radio Madhuban Community Society organized a 10 day community development program which was concluded at a grand celebration in Shantivan, Abu Road on 8th March'14.

Abu International Trial Half Marathon
9 March 2014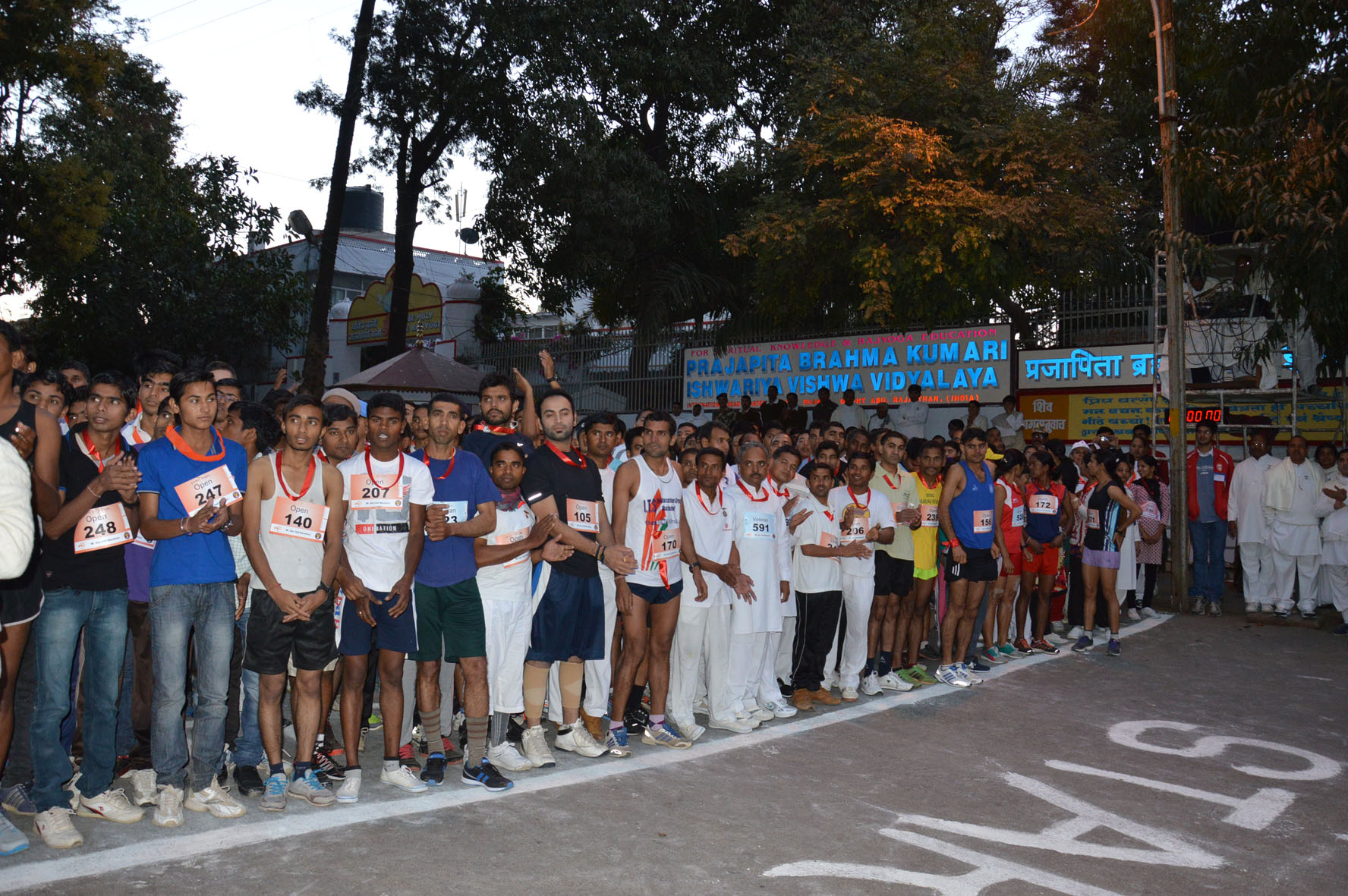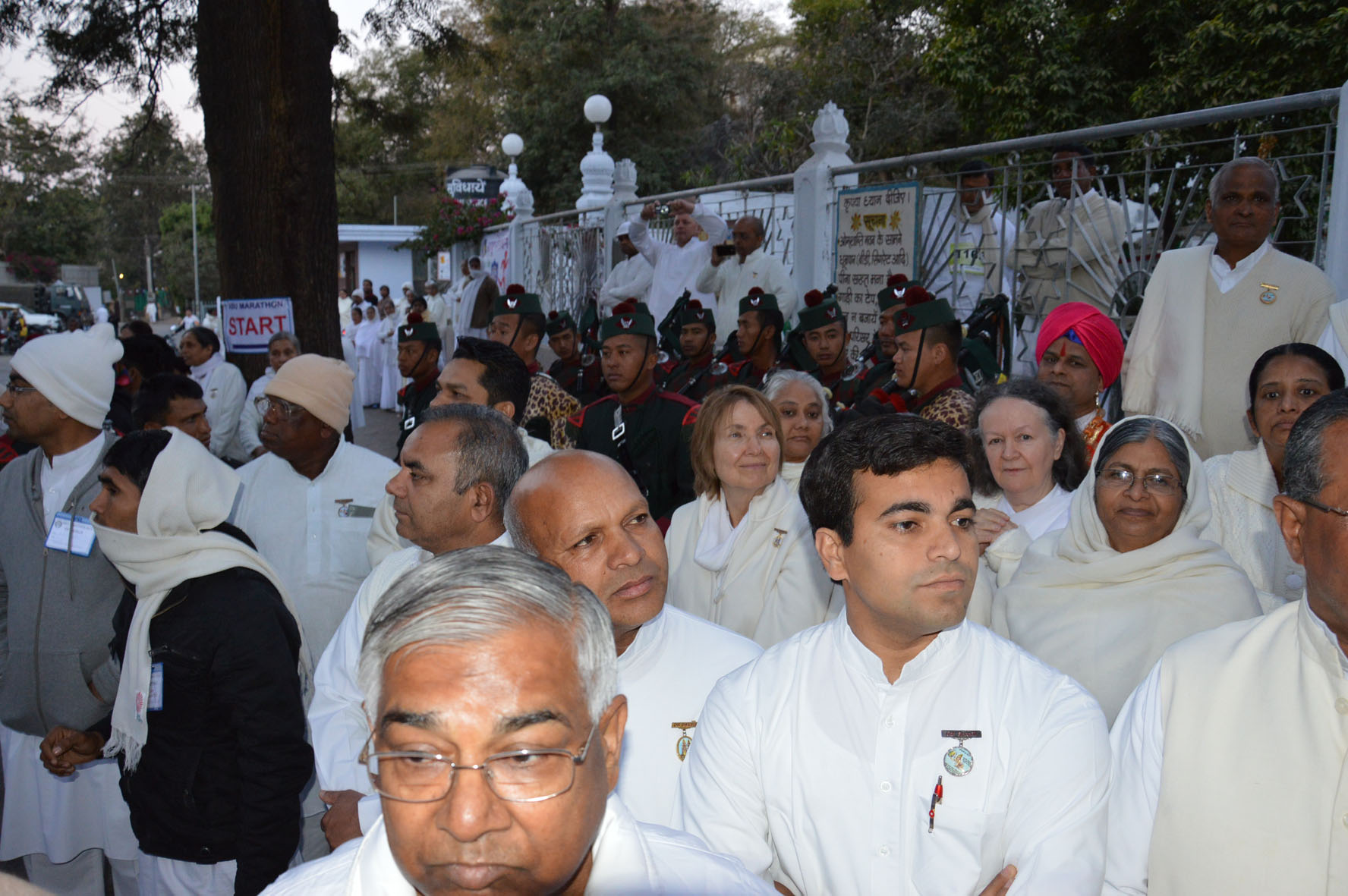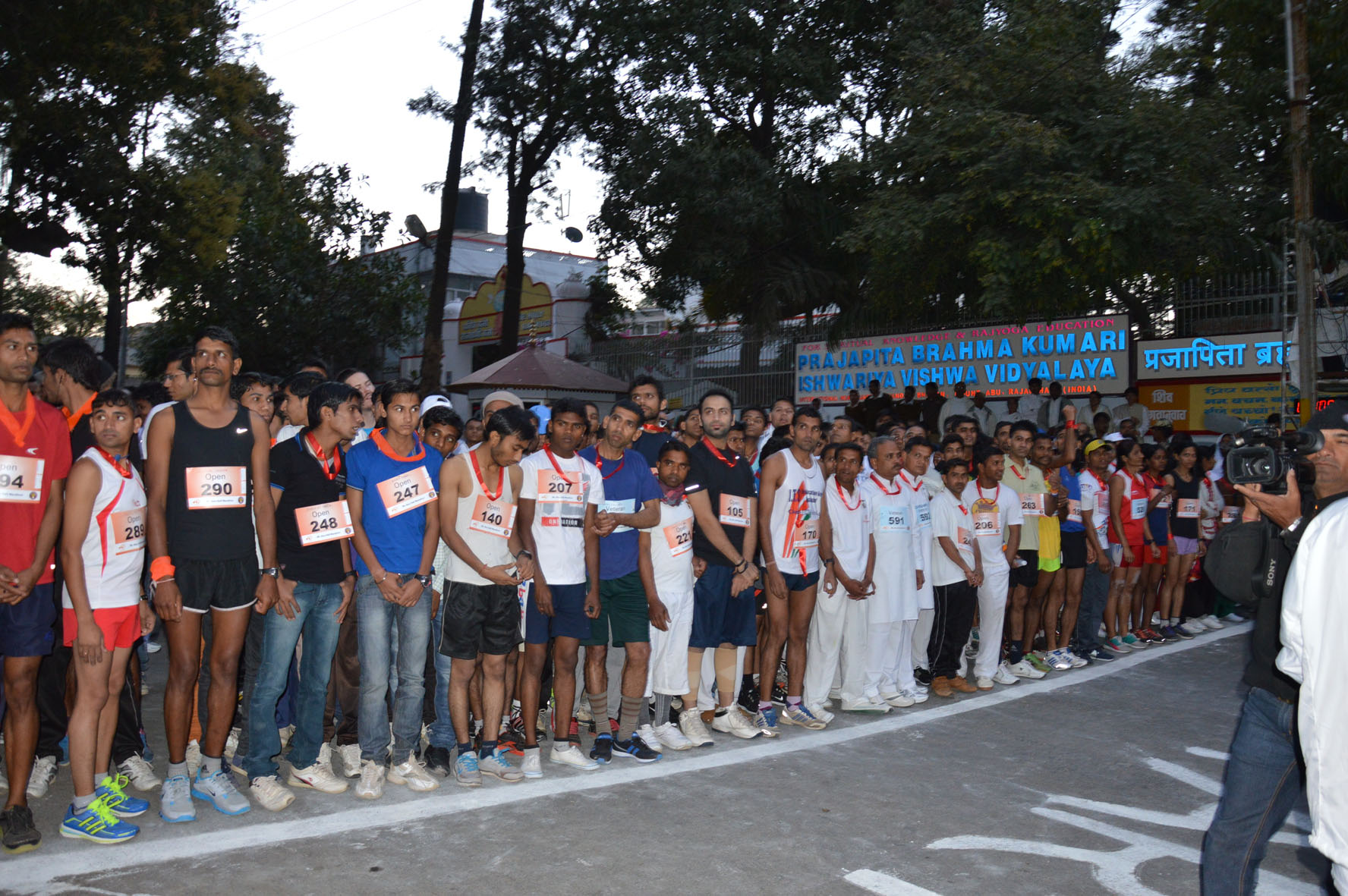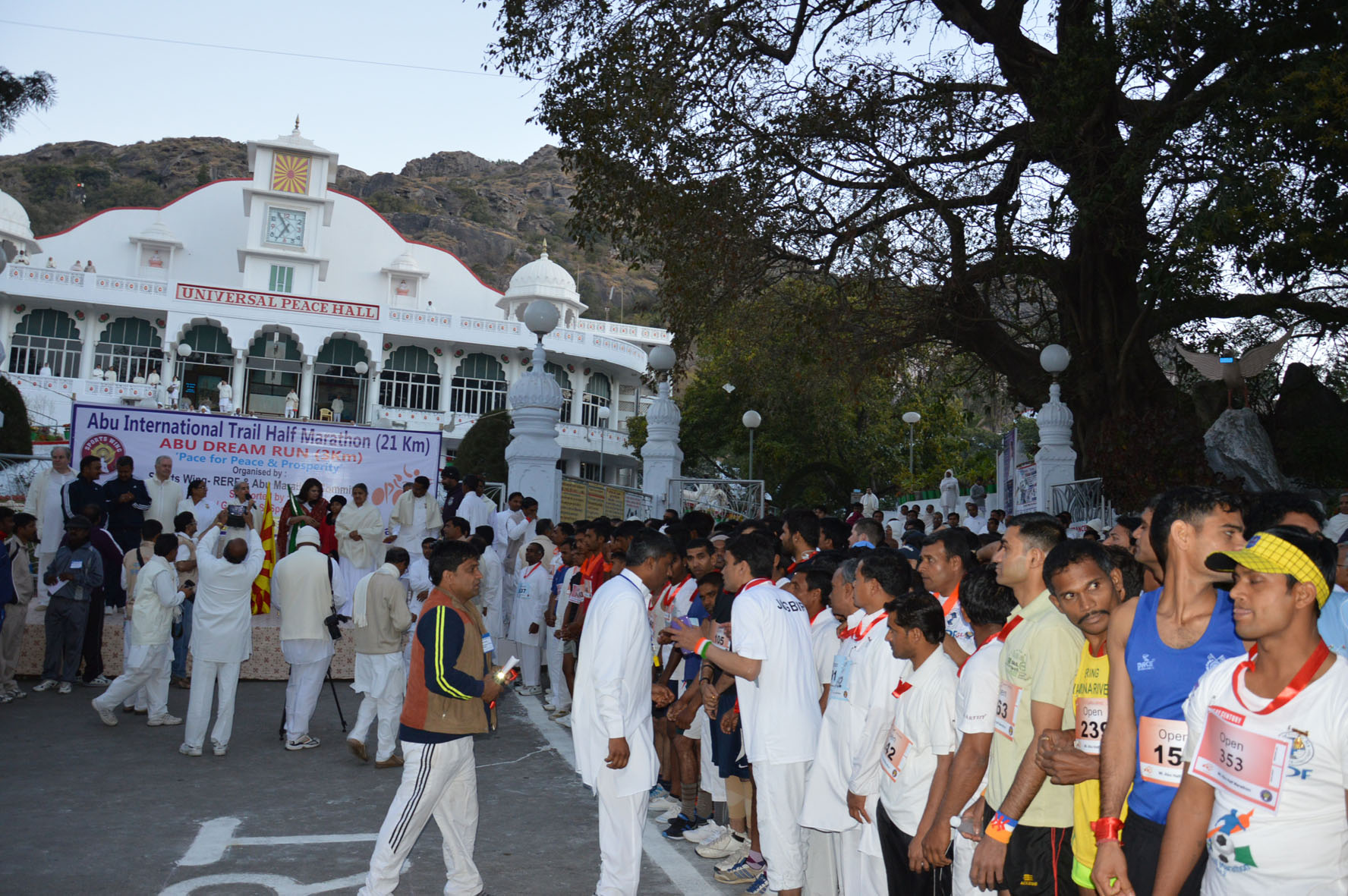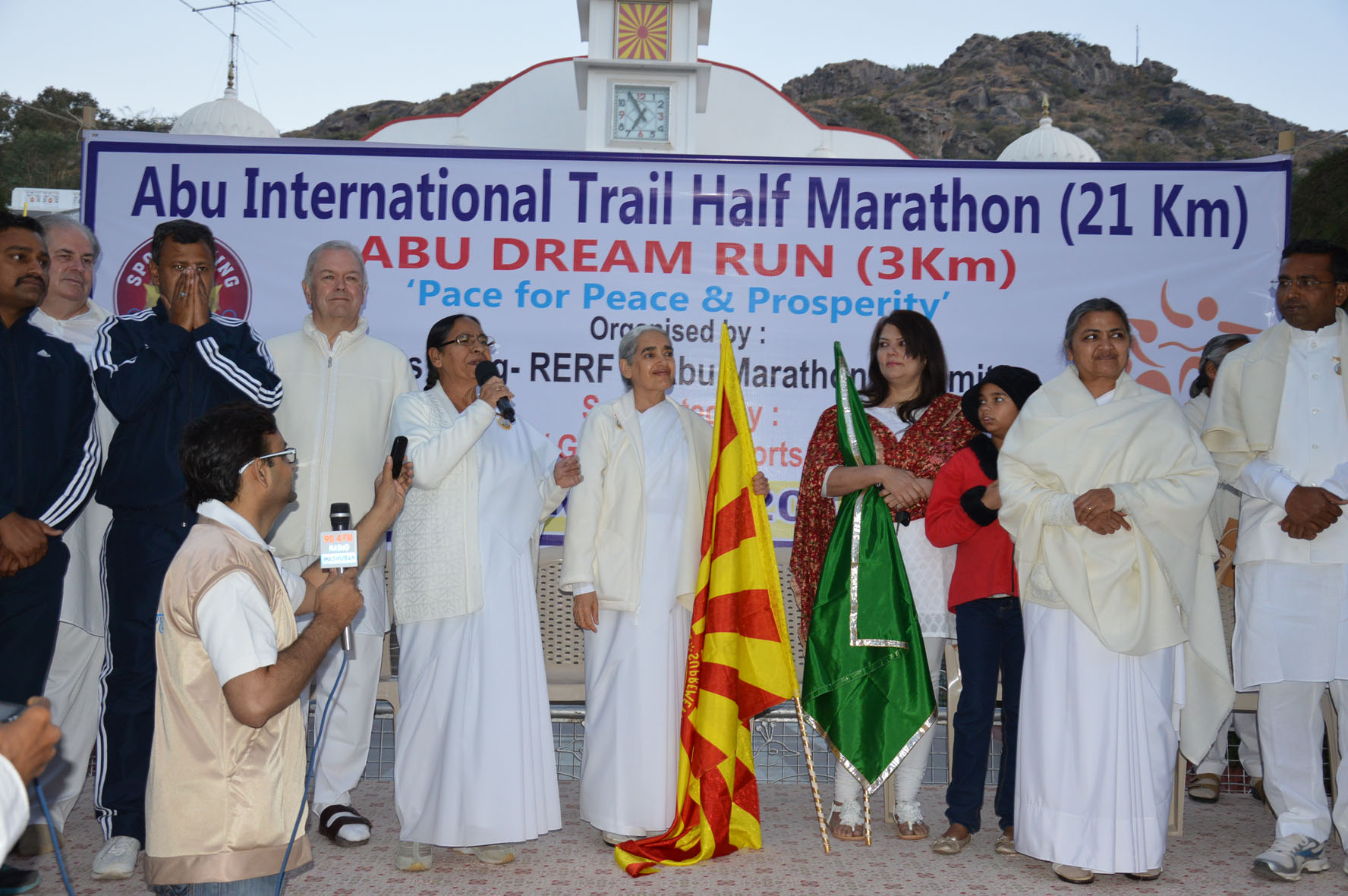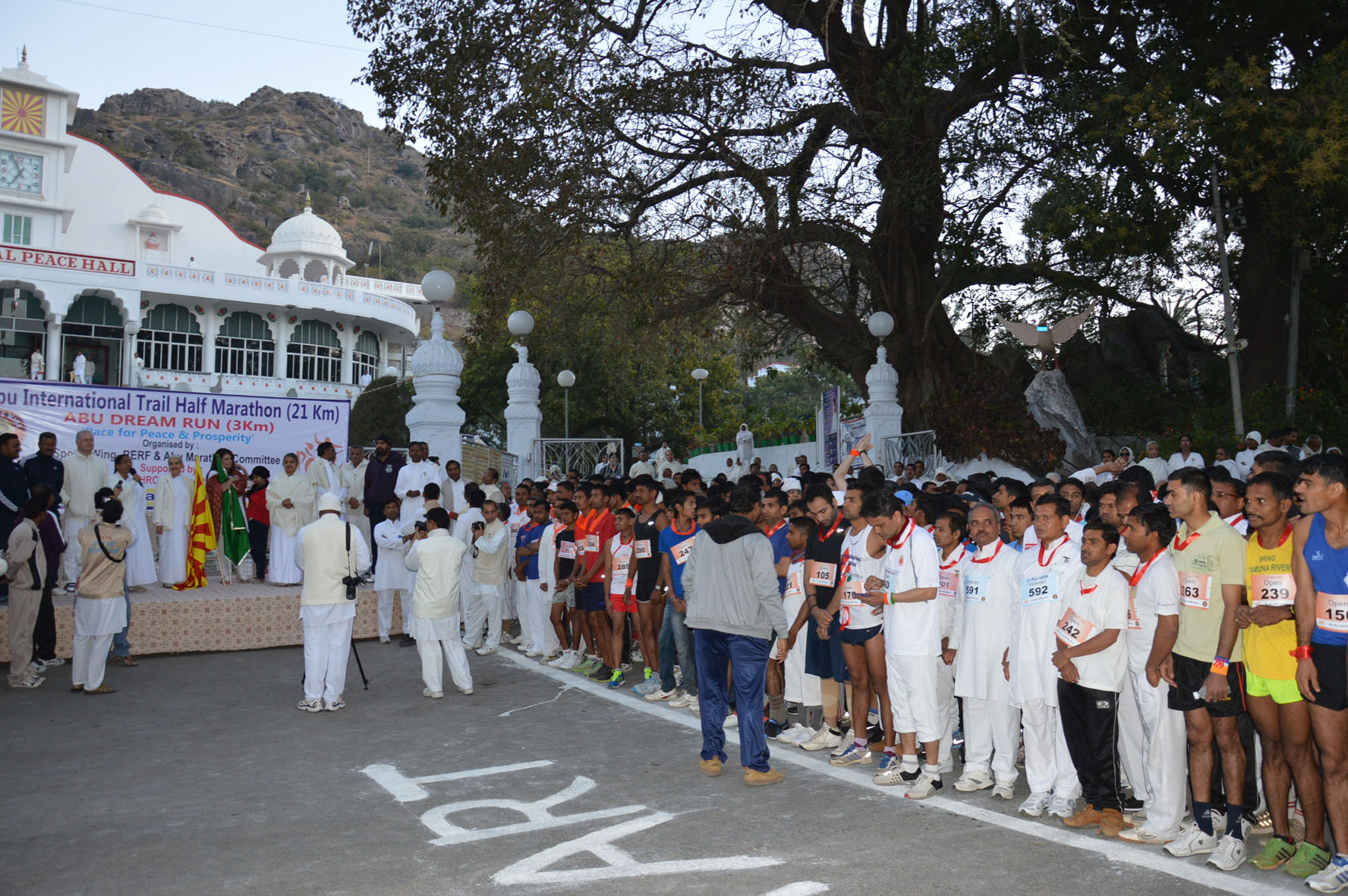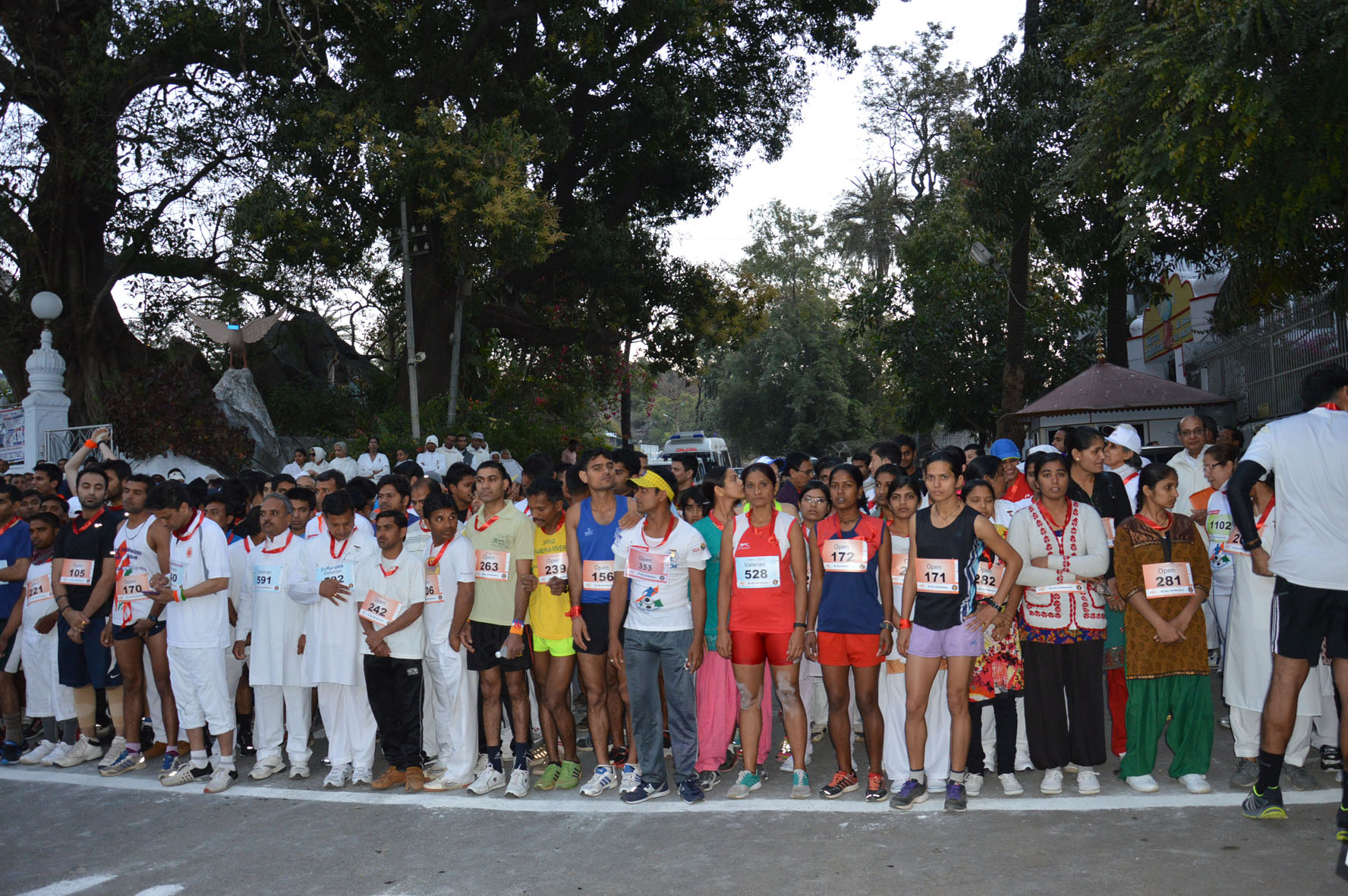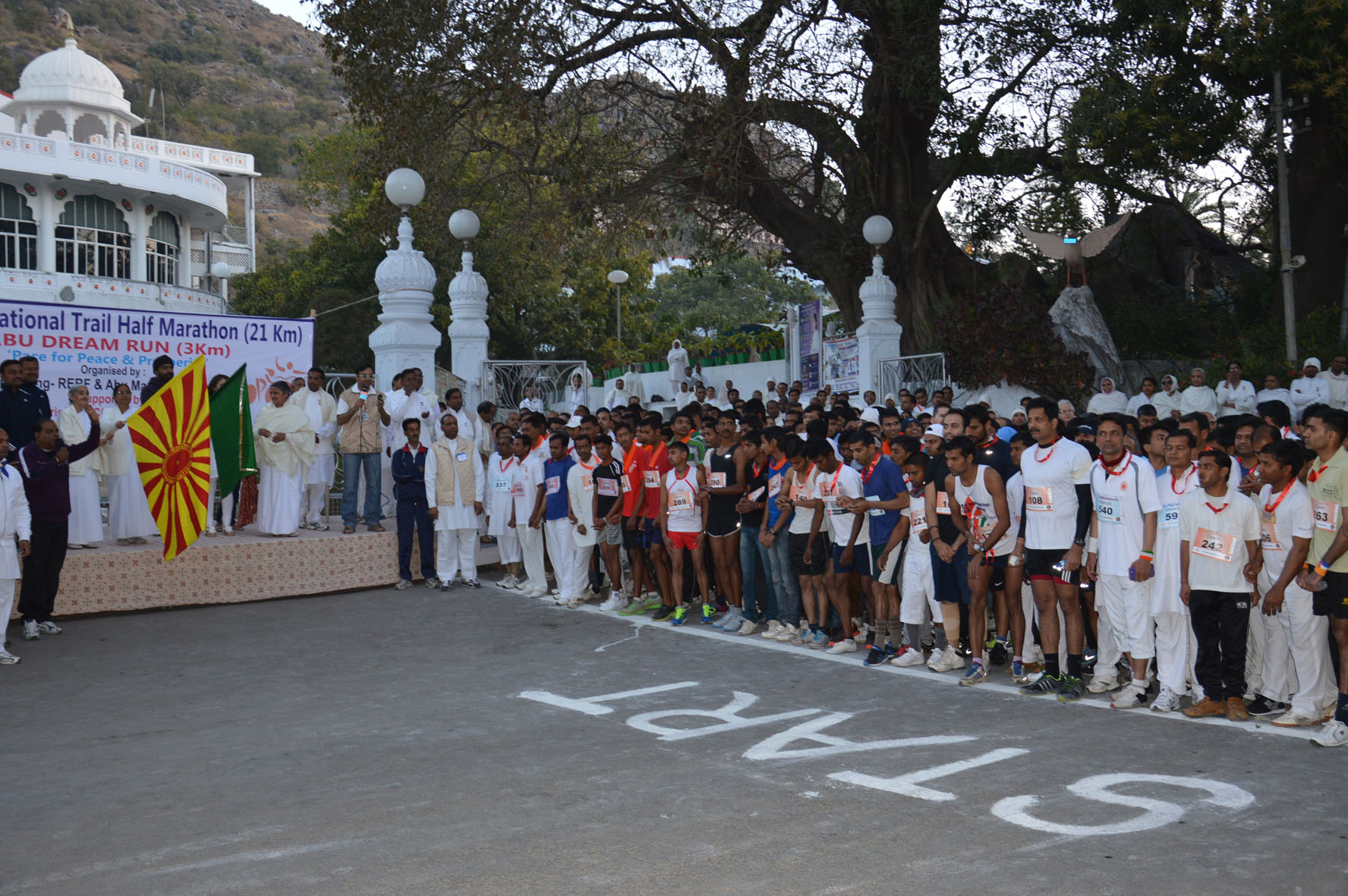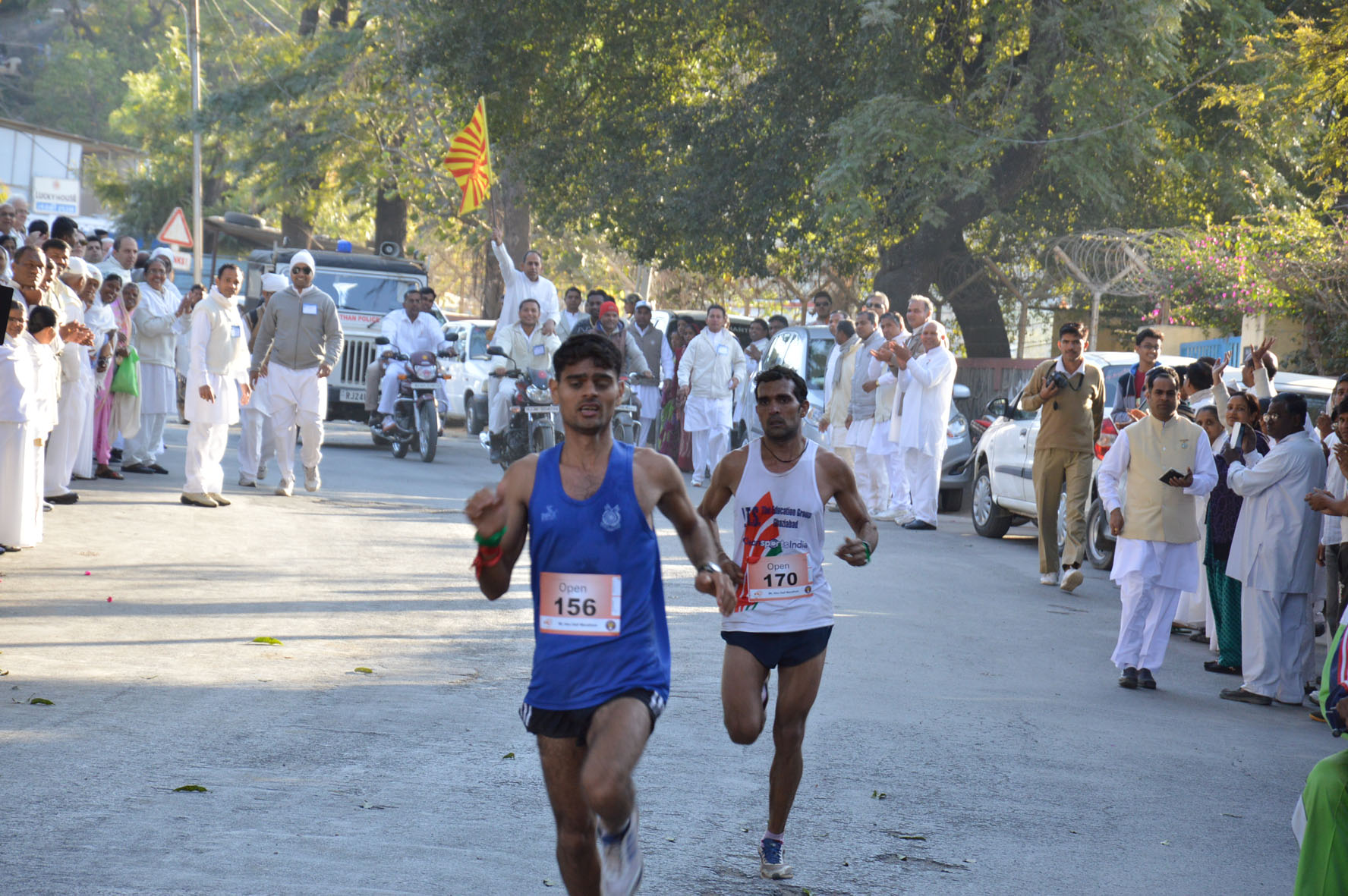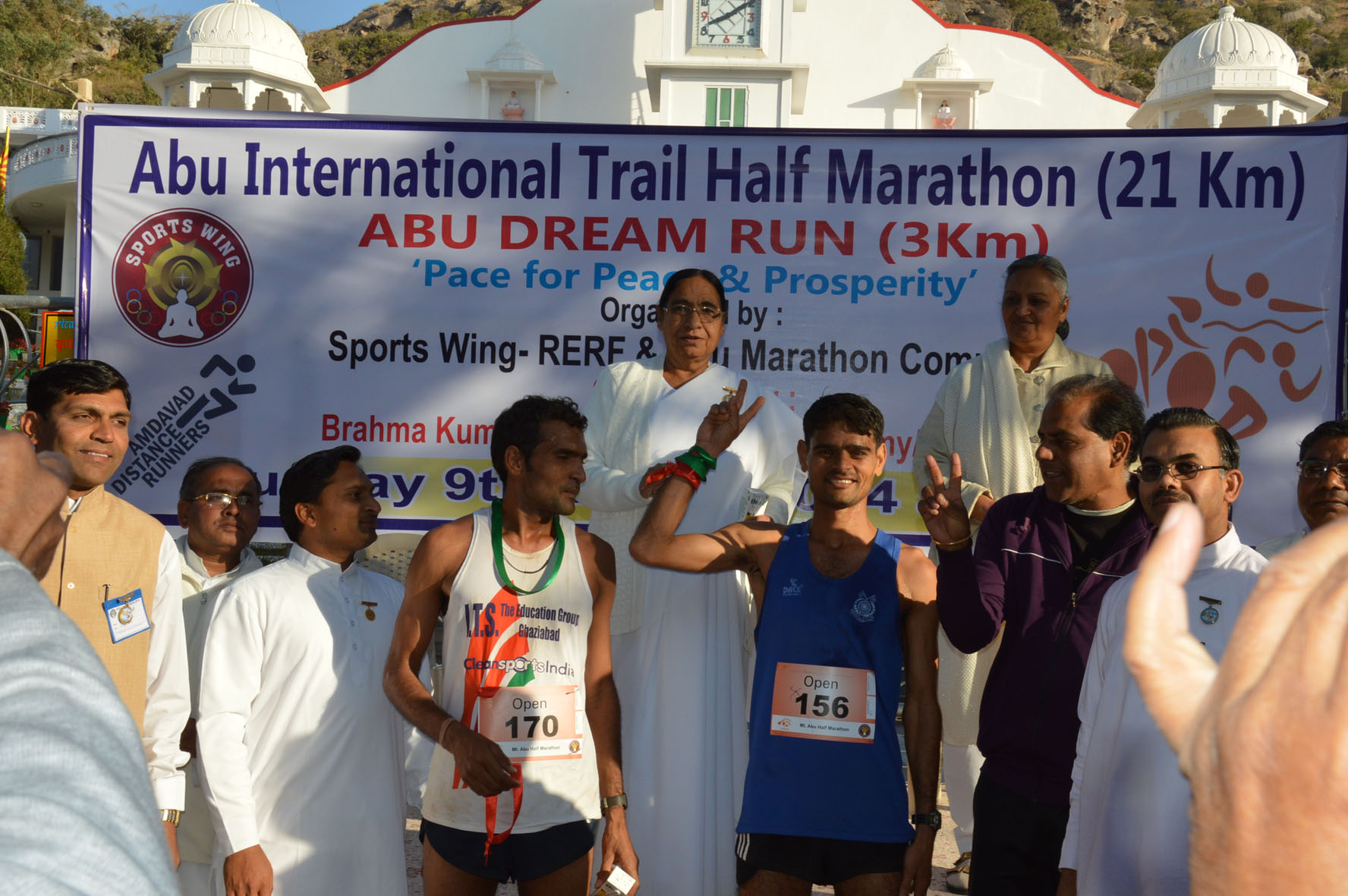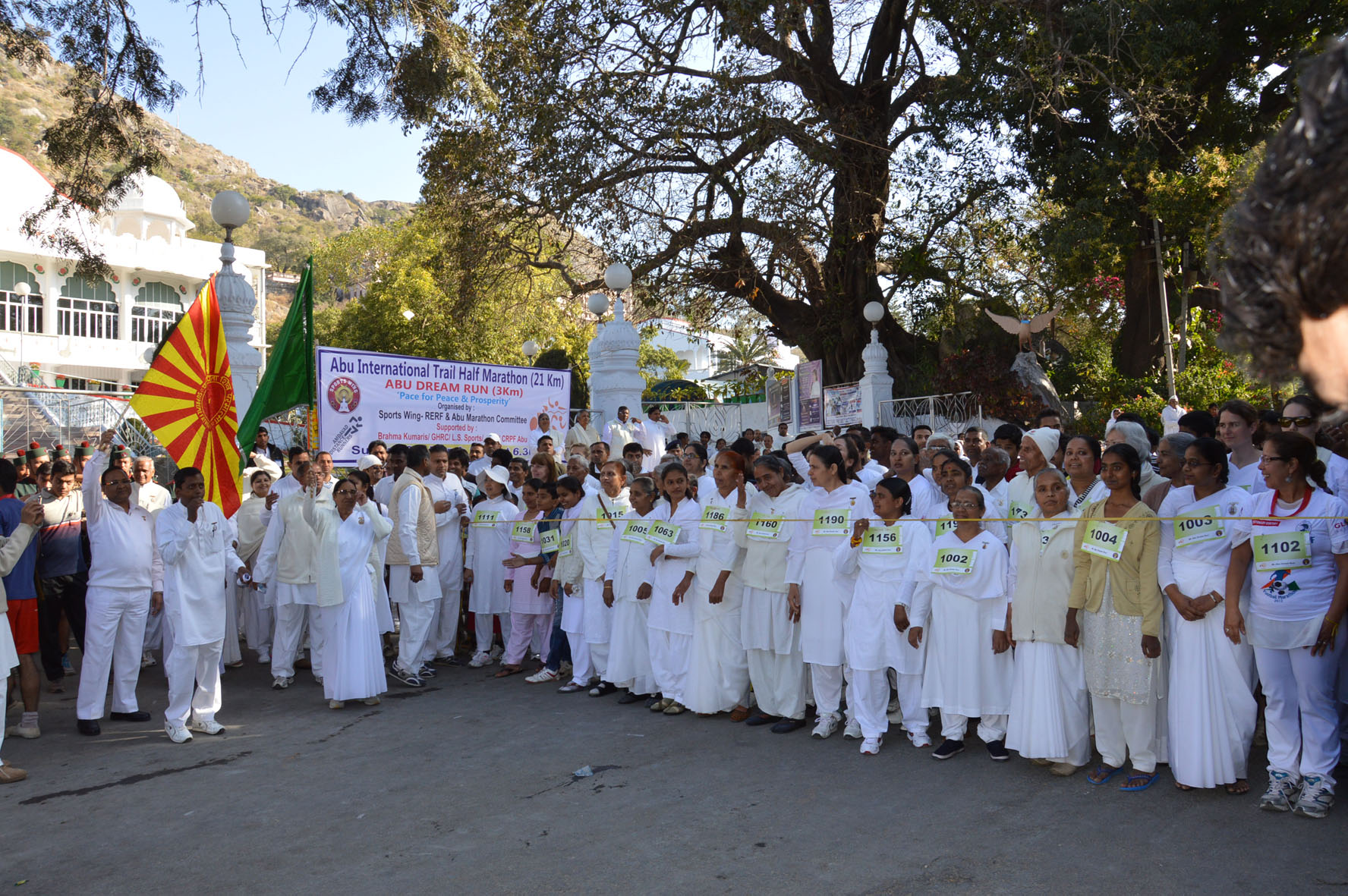 News from Sr Jayanti - Current Madhuban Events
8 March 2014
Dadi Janki has been conducting classes. A group of 45 executives from the State Bank of India, nearing retirement, came to Gyan Sarovar for a full-day retreat. I had a chat with them on the subject of 'Soul', then Dadi Janki met with them and later Sudesh Didi.

The Latino Group of Guests (around 100) is in Manmohini Van Complex. They came up for a day today to Pandav Bhawan and Sr Mohini met them, and I will meet them tonight in Om Shanti Bhawan.

Groups of DFs are leaving, and the new ones are slowly arriving. Dadi Janki has had Regional meetings with the Americas, Russia and Europe. Tomorrow she meets Asia-Pacific and Africa.

I'll be going to Ahmedabad tomorrow just for the day. It will be to honour 50 years of service in Gujarat, 60 years of surrendered life of Sarla Didi, and 75 years of her lokik life.

Bapdada Milan - Shiv Jayanti 2014
1 March 2014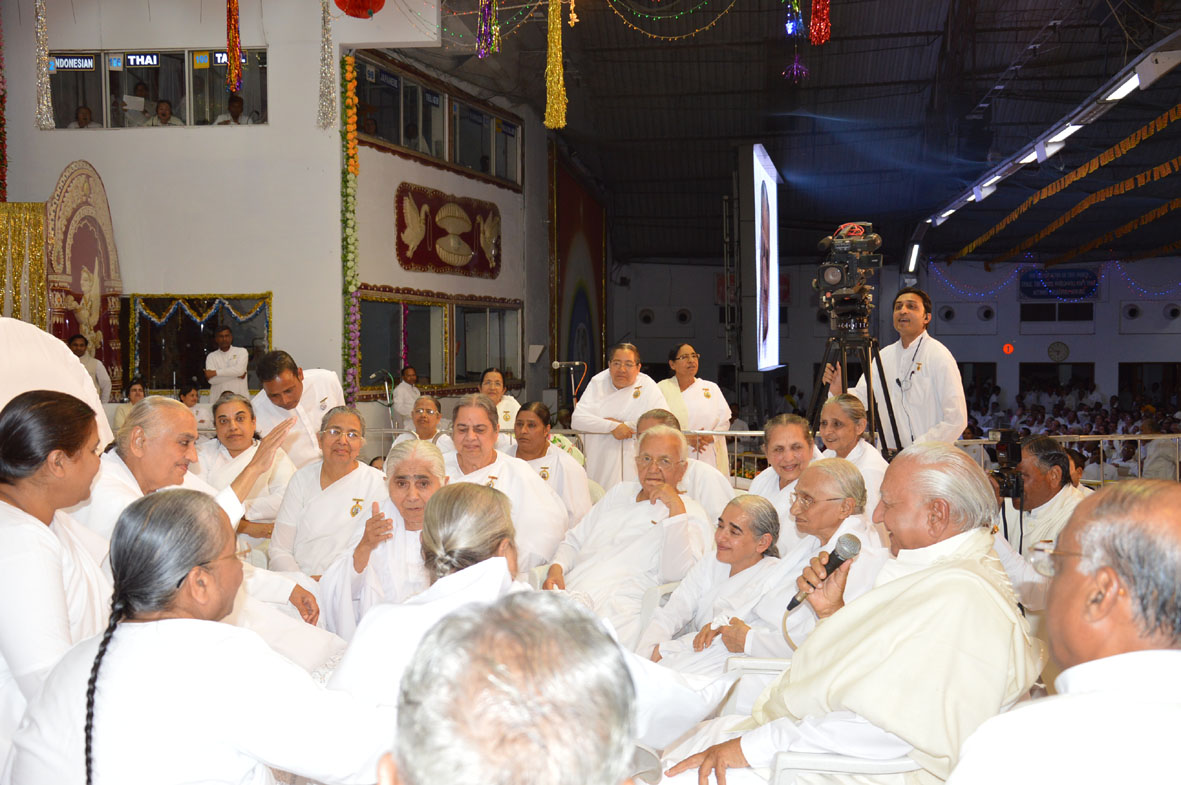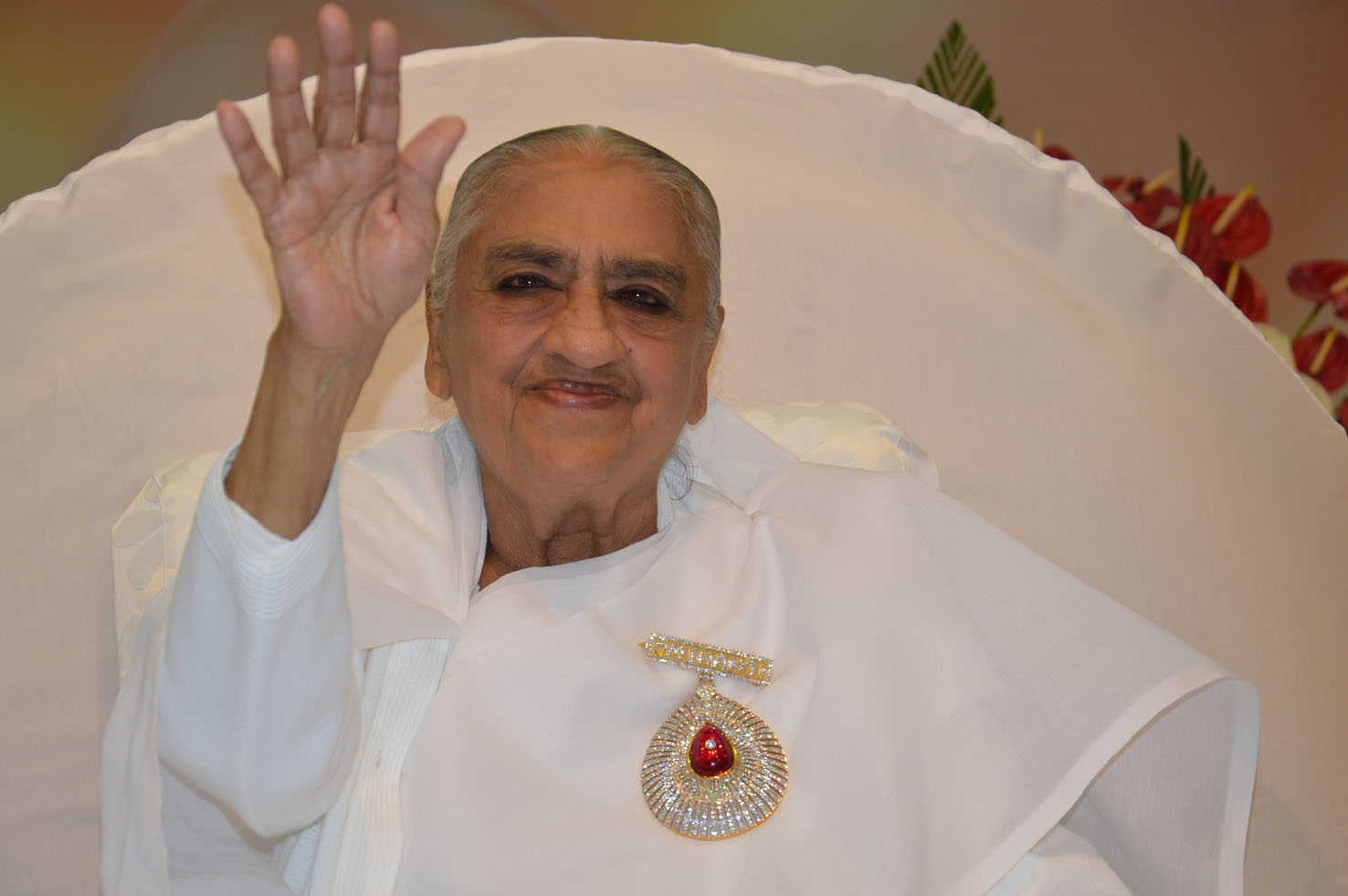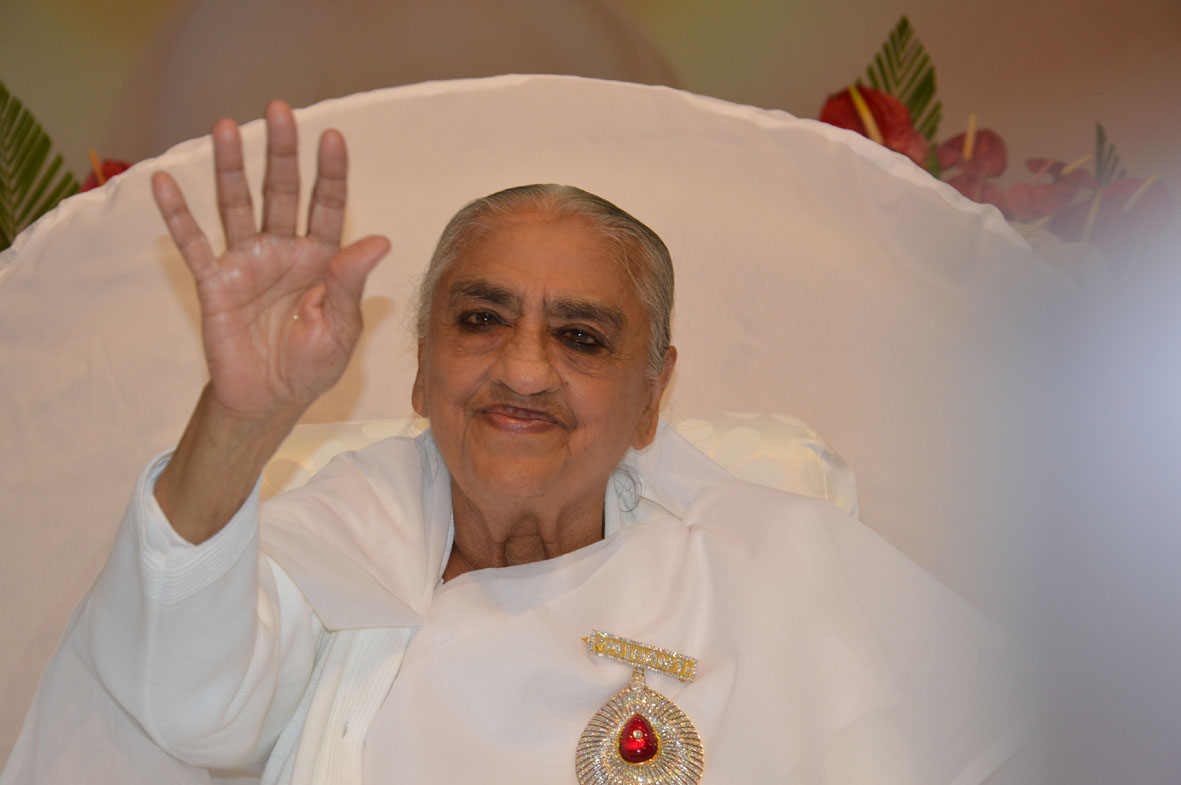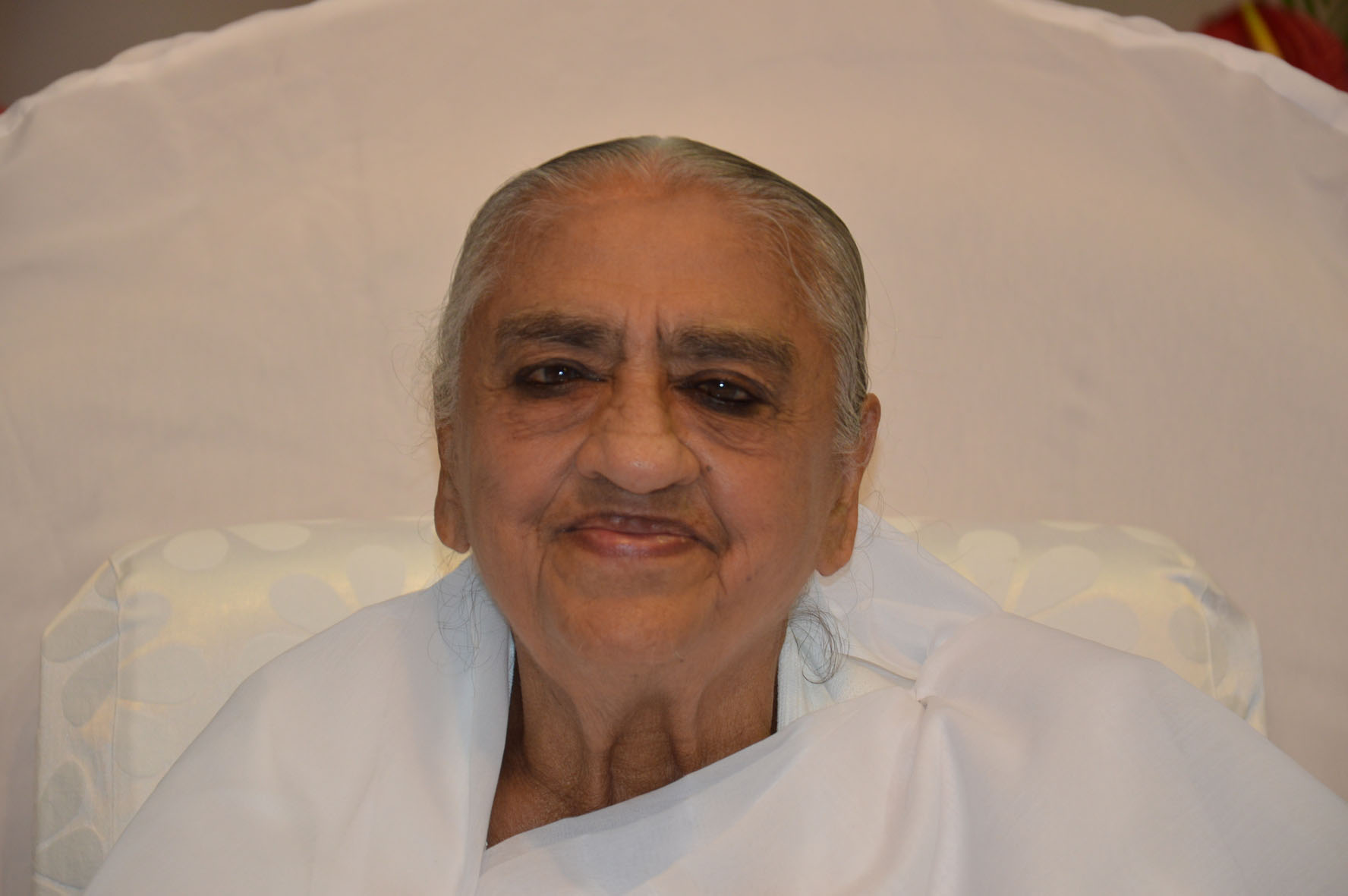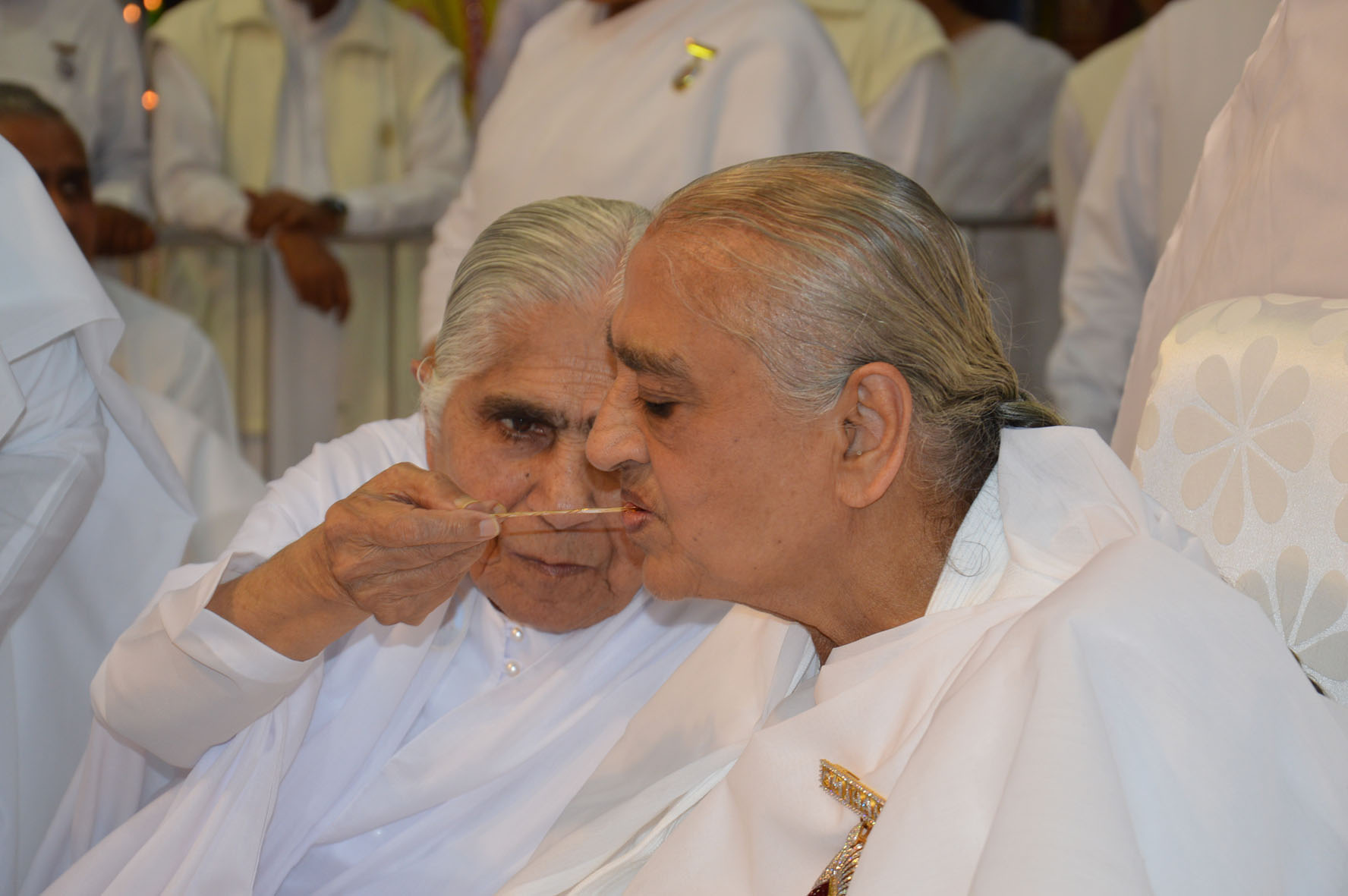 Shiv Jayanti Celebration at Gyan Sarovar
26 February 2014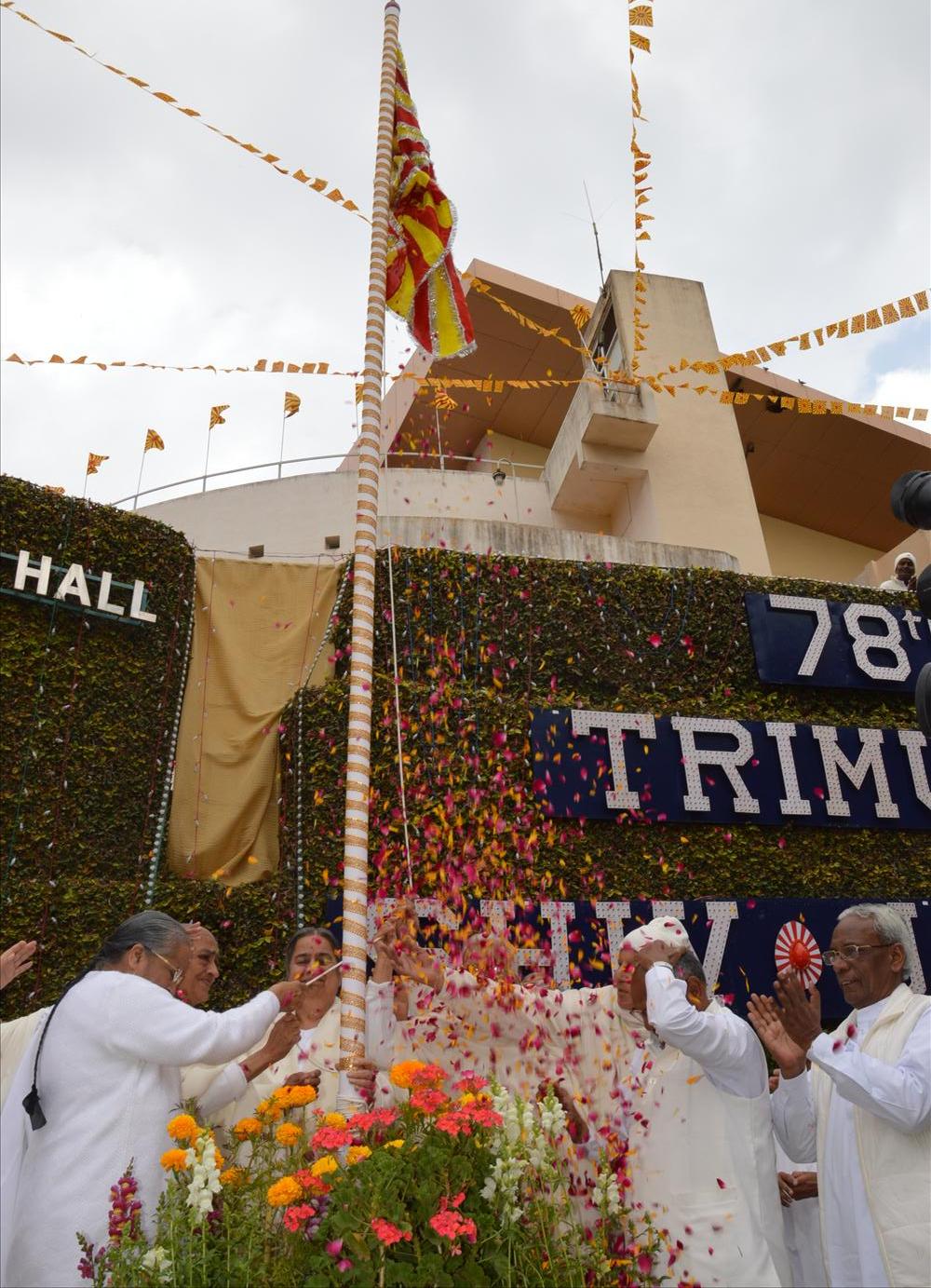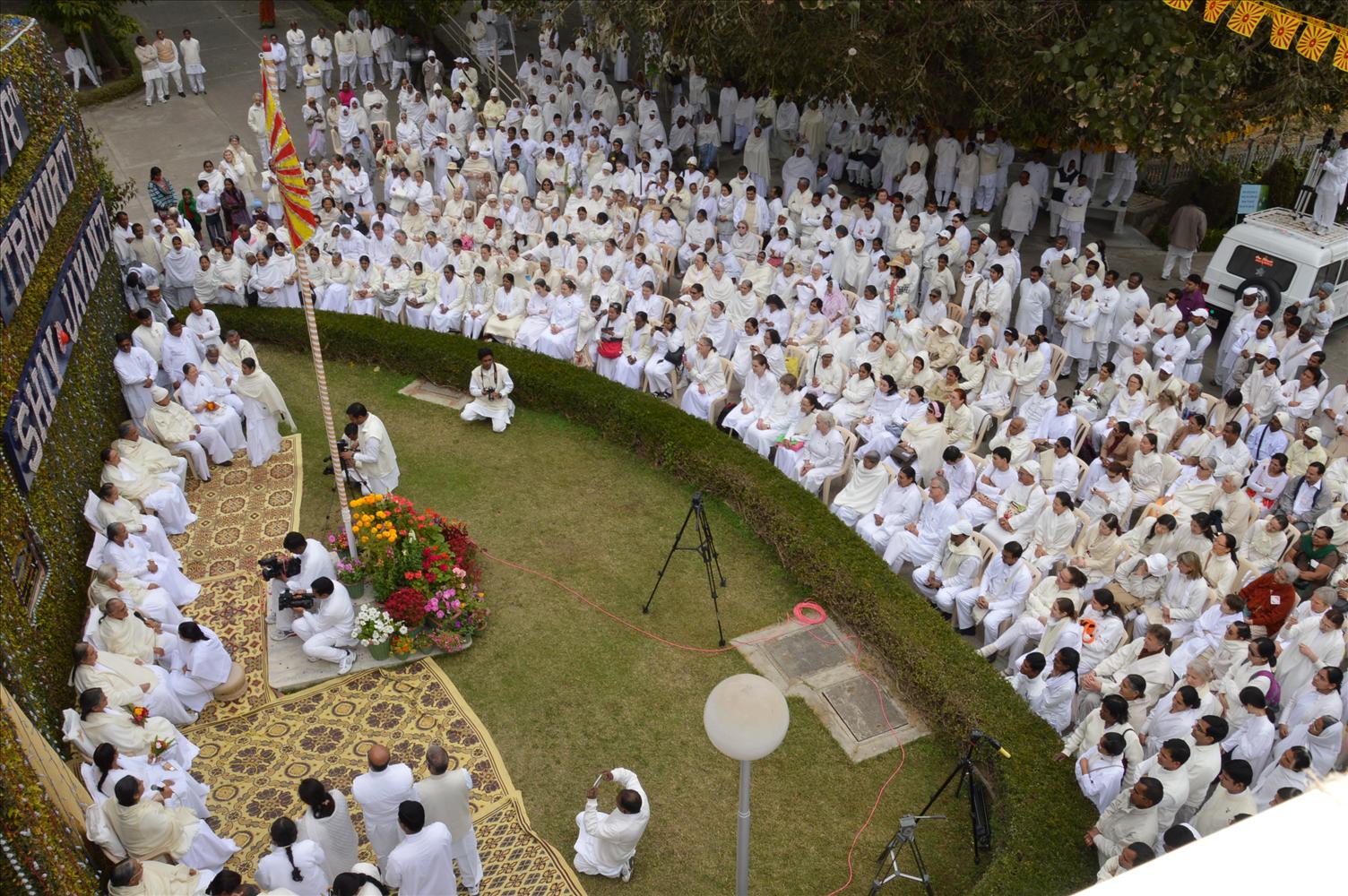 Video of 78th Shiv Jayanti Celebrations in Madhuban

News from Sr Jayanti - Hindu Environment Week
24 February 2014
Thursday, 20th February, there was a programme in Harmony Hall, Gyan Sarovar, for the Bhumi Project during Hindu Environment Week. One of the officials from the Bhumi Project, had come from Mumbai especially for this event. There must have been over 200 people in the Hall.

Br Srinidhi from the Trauma Hospital, who also has a background working with the environment, was the Stage Secretary and spoke impeccable Hindi. There was simultaneous English translation of course. Dr Nirmalaben welcomed everyone as Director of Gyan Sarovar, and I gave the Keynote Address describing the background of Spirituality and a little connection with Hindu Religion, but mainly with the environment. Br Mohan Singhal spoke about the work done by the Scientists & Engineers Wing. They've done amazing Campaigns over the years to raise awareness in terms of the environment, and have also planted many, many trees. A lot of things have happened in India on a very high-level with Conferences.

Then Rajubhai spoke about the Rural Wing and how at one point, a couple of years ago, they had covered over a 100,000 villages with Campaigns all over India. Starting in Maharashtra, they began the Sustainable Yogic Agriculture project with farmers, and now many many Universities are involved in studying and doing research on the outcome of these. Trials are being conducted in a very systematic way and the results already seem excellent

We then had Br Golo speak about the Solar Energy Projects that we've had, and in particular about IndiaOne, which is a 12-million Euro project. With God's grace, and help from everyone, the project is due for completion next year. Shantivan will then be self-sufficient in its use of electricity. Jignesh Patel also spoken about the work of the Bhumi Project and the cleaning-greening of all the pilgrimage places in Bharat, which had been swallowed up by tourism and commercialism. We were very, very lucky that Dadi Janki was able to be with us. Dadi's presence itself had a terrific impact. Sr Valeriane did a Meditation Commentary which was very beautiful so the whole programme was quite uplifting and inspiring.

The next morning we had the flag-hoisting in Gyan Sarovar and then I left Mt Abu to go to Ahmedabad. On Saturday 22nd morning in Ahmedabad, we were able to meet with Dadi Ratan Mohini, Karunabhai and Mruthyunjayabhai. They had returned late on 21st night from Gulbarga, since Gulbarga University awarded an Honorary Doctorate to Dadi Ratan Mohini on 20 February. Karunabhai was sharing that many other prominent scientists and social activists had also been awarded this but leading the procession was Dadiji. During the Convocation the first mention was of Dadiji, and as usual she was the only woman on stage. The family in Hyderabad really celebrated Dadi's Doctorate.

Some of the Spanish guests met us in Ahmedabad and all of them were very, very happy with their experiences in Mt Abu. I then left on Saturday for Surat.

News from Sr Jayanti - First Shiv Ratri Flag Hoisting in Abu Road
20 February 2014
Today Dadi Ratan Mohini is in Gulbarga receiving a doctorate from Gulbarga University. I had a recording at Godlywood Studio with Sister Magela of South Africa who is interviewing me about the significance of Shiva and Shivratri.

We then went to the first Shiv Ratri Flag hoisting ceremony at Sangam Bhawa in Abu Road. Mohiniben, Ishu Dadi, Munniben, Dr Nirmala, Rajben from Nepal, and Kamleshben from Cuttack were all there. It was a different line up to the usual one of the Dadis as Dadi Janki decided that it would be best not to go up and down the mountain at the moment. It was a sweet programme and a huge Brahma Bhojan for everyone. Tomorrow is the flag hosting in Gyan Sarovar.

We are expecting around 1,100 double foreigners, a very large group. This time Rajasthan zone will be serving the multi-thousands of Bharatwasis in Shantivan. Dadi Janki and Dadi Gulzar are both presently in Gyan Sarovar.

Dadi Ratan Mohini honoured with Doctorate degree
14 February 2014
Most Respected and serviceable Instruments of all the Baba's Centers,
Please accept multi-million times of love, peace and Godly remembrances.
It gives us immense pleasure, privilege and honour to inform you that reverand Rajyogini Dadi Ratan Mohini Ji is being honoured with Doctorate degree by Gulbarga University, Karnataka on 20th February 2014. It will be an another golden crown in the glory of Bapdada and a successful milestone in the history of the institution.
You can send your good wishes to Dadiji and thanks to Prof. E.T. Puttaiah, Vice Chancellor, Gulbarga University, Gulbarga (his email address is: profetputtaiah@rediffmail.com) for having selected her to honour with this doctorate degree.
With love and Regards,
Your Spiritual Brother
BK Mruthyunjaya
Executive Secretary
Brahma Kumaris, Mt Abu

News from Sister Jayanti - Gyan Sarovar Niwasis picnic at Nirmal Van
12 February 2014
On Wednesday, 12 February, we had a very beautiful picnic for Gyan Sarovar Niwasis at 'Nirmal Van'. Last July the District Forest Officer came together with the main organisations of the area and requested them to plant as many trees as they could in the neighouring areas to their organisations.
A huge area just behind Gyan Sarovar was allocated to Baba, and this now has 1,600 fruit trees. A rough road has been created and in one particular area lots of flowers have been planted and so it looks quite beautiful. It's still a public area, so it's really being done for the benefit of whoever comes. The District Forest Officer also came to the Picnic Lunch.

News from Sister Jayanti - Dadi Janki visits Gyan Sarovar
10 February 2014
Dadi Janki came up the mountain yesterday, 9th February, and at 12noon met with the Double Foreigners in Gyan Sarovar. The person designated by the German Ministry, which supports the India One Solar Project, came for a few days to visit the project and also spent time in Gyan Sarovar. He enjoyed it a great deal and also met with Dadi Janki.
On Sunday evening, Dadi met everyone in Om Shanti Bhawan. On Monday morning, Dadi met with the Heads of Departments of Pandav Bhawan and Gyan Sarovar, and some from the Hospital who came even though it was a working day.
Eleanor Detiger, an old friend and support of the BKs from Costa Rica, arrived yesterday and will be here till Baba's meeting. She is enjoying being back in Madhuban, and seeing the expansion since her last visit.
The temperature currently is around 2 degrees in the early mornings in Gyan Sarovar, so it's for everyone to be aware. The weather fluctuates till at least the end of February from pleasant to cold.

News from Sr. Jayanti - Br Ramesh celebrates 80th birthday
6 February 2014
Wednesday 5 February was the day Rameshbhai from Mumbai completed 80 years and was entering his 81st year in this chariot. So the family had a small party by the riverside in Dadi Shantamani farm. There was a dance by a young kumari, a poem in praise of Rameshbhai's vast experiences and contributions on the field of service in particular, and then a song by the Madhur Vani group. Nirwairbhai, Dr Nirmalaben, Jayantiben, Munniben, and Harilalbhai (Godlywood Studio) shared their loving regards and good wishes on behalf of the Bharatwasi and Double Foreigner family. This was followed by a delicious lunch. On Thursday, 6 February, Dadi Gulzar left for Ahmedabad for some health checks. Dadi Ratan Mohini is away on service while Dadi Janki remains in Shantivan.

News from Sr. Jayanti - Service of Rotarians
1 February 2014
It's been very beautiful to be back in Madhuban. Yesterday, 31st January, I was able to meet Dadi Gulzar, which was a very sweet meeting in the afternoon. Everybody saw Baba's transmission, and Baba gave very powerful signals for the self and service. It's Punjab's turn, and many, many senior teachers are in Shantivan.
On 1st morning, I left with Br Ashok Gaba for Udaipur. We left at 6.30am and arrived in time to meet the class at the Centre and have breakfast.
We then went to the Rotary International District Conference in Udaipur. The past District Governor is a student in Indore and he had invited me to speak. The present Governor chaired the whole conference. It was a top-level gathering of Rotarians. They had arranged things in style: a special horse-and-carriage took us from the gate to the steps of the University. It was a very good opportunity. Before myself, Guruvanand Swami Gurudev spoke very eloquently and beautifully and referred to the BKs saying, Brahma Kumaris teach you about the soul and how to conquer anger. I was able to meet him afterwards and invite him to Madhuban.
I then spoke and picked up on some of the things he had mentioned. My talk was on the subject of 'Values in Life' and it was well received. We returned to Shantivan in the evening. Dadi Janki is well and will be conducting evening class.

3rd Anniversary celebration of Radio Madhuban 90.4 FM
31 January 2014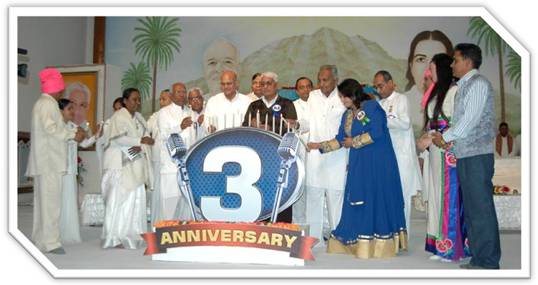 Your Favourite, Radio Madhuban 90.4 FM celebrated its 3rd anniversary on the 19th January, 2014.
Attached pdf file is a small report of the ceremony...

Thanks for support and good wishes

Radio Madhuban Team.

News from Sr. Jayanti on Arrival in Shantivan
29 January 2014
Dadi, Hansa and myself arrived at 6.30pm in Shantivan. Dadi Gulzar, Dadi Ratan Mohini, Nirwairbhai, Munniben and the Punjab family: Premben, Achalben, and others were all there to welcome Dadi to Shakti Bhawan. It was a very sweet scene of Dadi being welcomed after just one week away.
I came up the mountain early this morning, to conduct Murli in Pandav Bhawan. It is very cold but everyone is reminding me that it's not as cold as it was last week.

Spirit of Care Retreat Invitation
24 January 2014
Invitation to the Spirit of Care Retreat
"THE HEALING POWER OF LOVE"
22-24 February 2014, Gyan Sarovar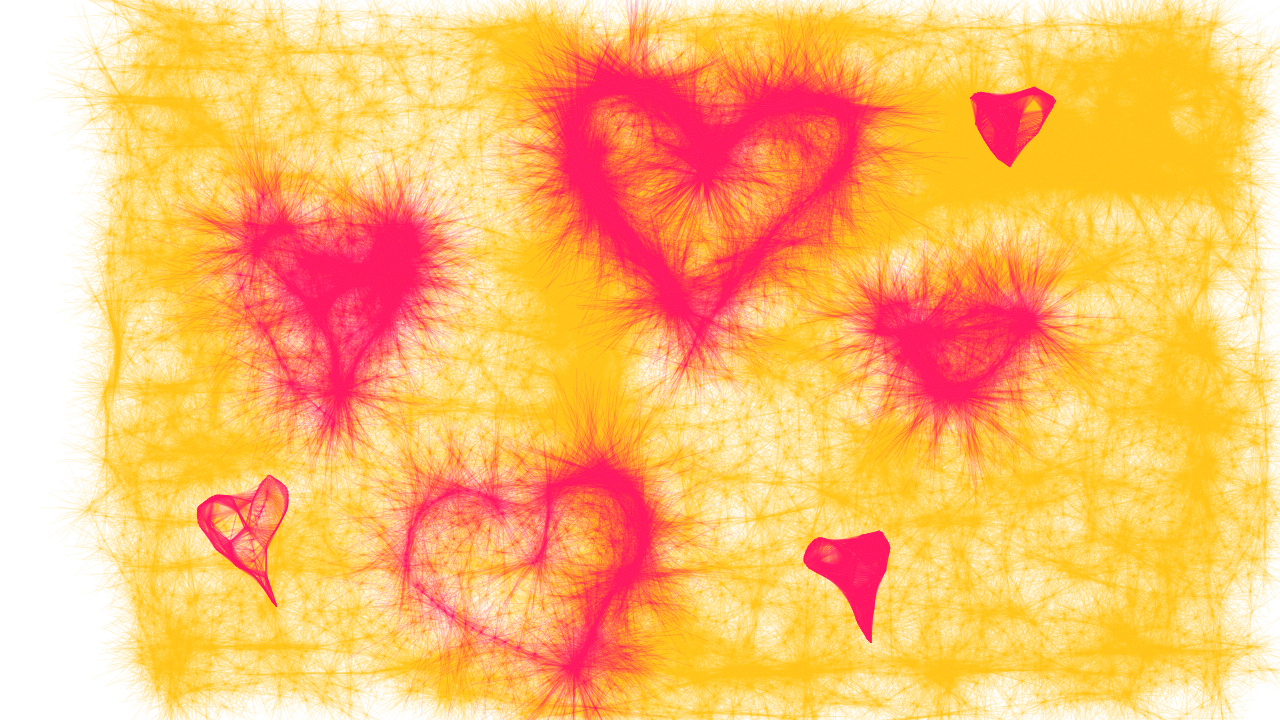 Dear Brothers and Sisters,
Om Shanti. Please find below details for the third Spirit of Care Retreat to be held in Gyan Sarovar. This is an open invitation to all the Brahmin Family. This Spirit of Care Retreat will provide an opportunity for the exploration of, and conversations around, 'LOVE', especially the healing power of love.
Love is an ancient and essential component of the soul. It is said… "love heals the soul – and then the body – it is unfathomable, and outside the scope of intellect, and yet we know that it is there, vast and powerful". The experience of love is something for which all people strive. But how much have we explored this experience from a spiritual viewpoint, and its capacity to heal body and soul?
The Spirit of Care retreat will be a rare opportunity for such an enquiry. Time will be spent exploring – and experiencing – the unlimited love of Baba, and the presence – or absence – of love in our relationship with the Brahmin family, our lokik family, and with the world.
REGISTRATION:
You are advised to register promptly at the latest by 15 February, since only a limited number of spaces are available.
Madhuban forms and travel details are to be given in the usual way, via the local centres.
If you do not speak English fluently, please check with your NCs to make sure that there will be someone in Madhuban who can translate in your language during the retreat, before you register.
Spirit of Care Retreat:
21 February 2014 Arrivals and registrations
22 February 2014 Exploring the concept and experience of love, and its power to heal
23 February 2014 Experiencing love in my relationship with Baba
24 February 2014 Caring for the self, the family and the world
In Baba's yaad
Spirit of Care Retreat Team

Photocollage from Bapdada's Meeting of 18th January
18 January 2014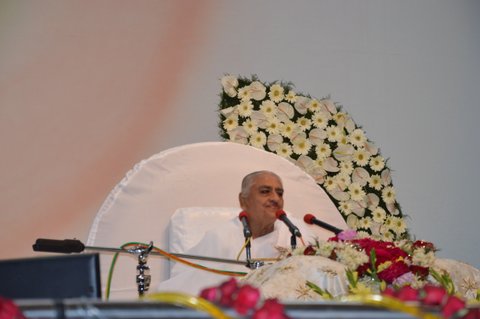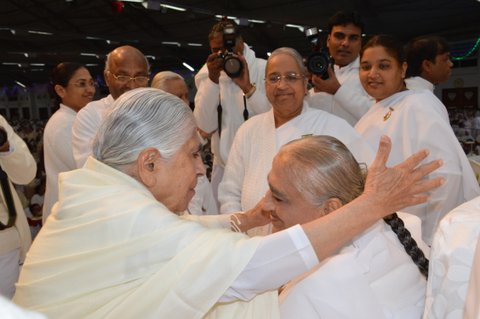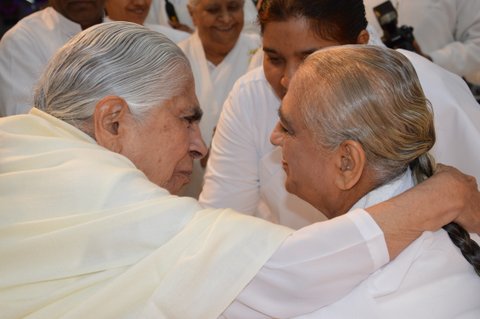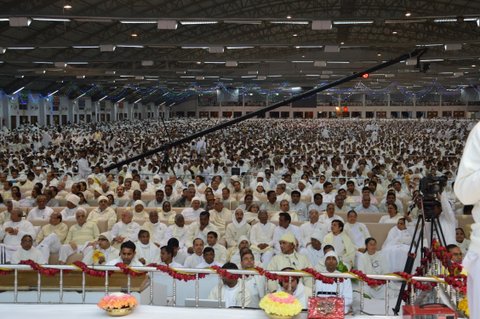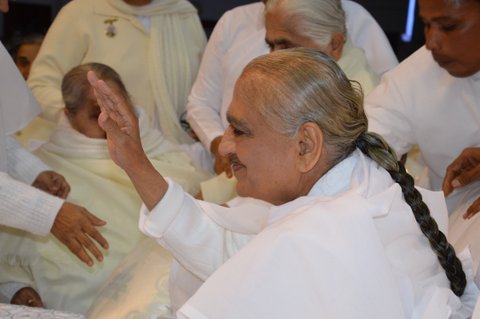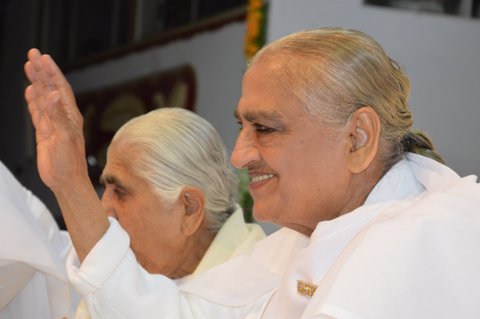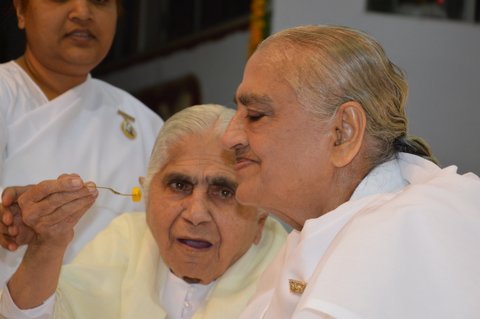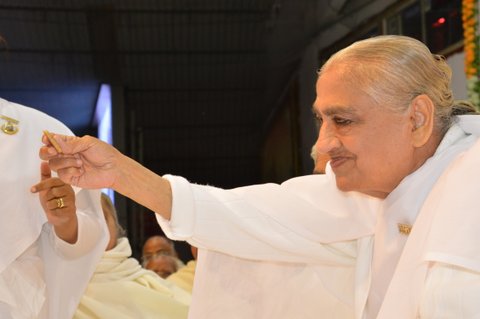 Pitashri Smruti Divas Photos - Gyan Sarovar
18 January 2014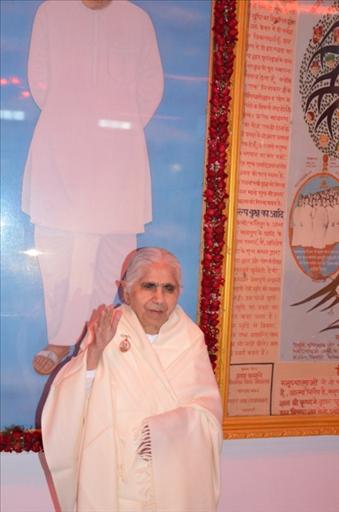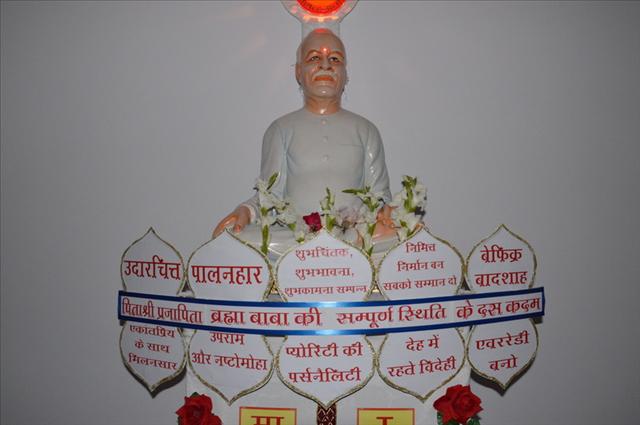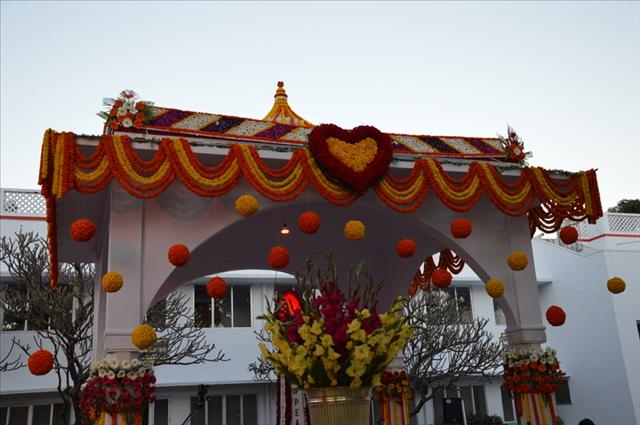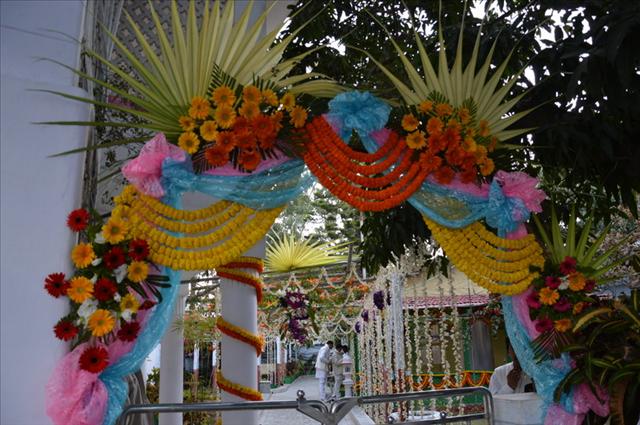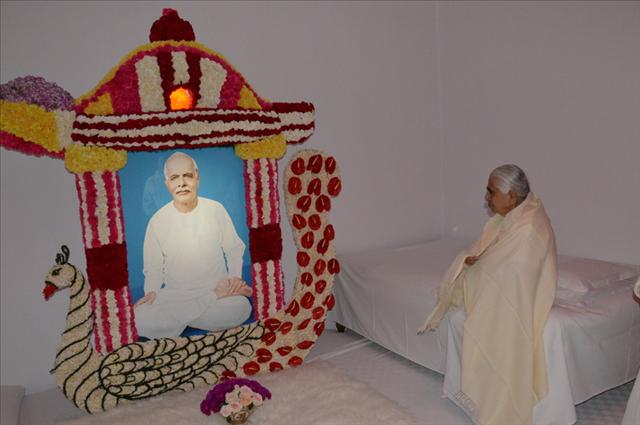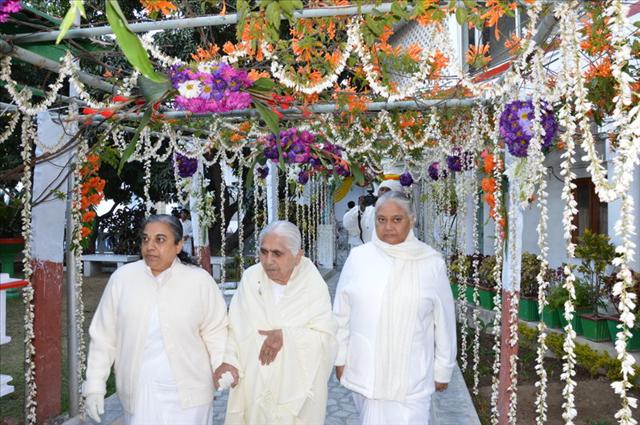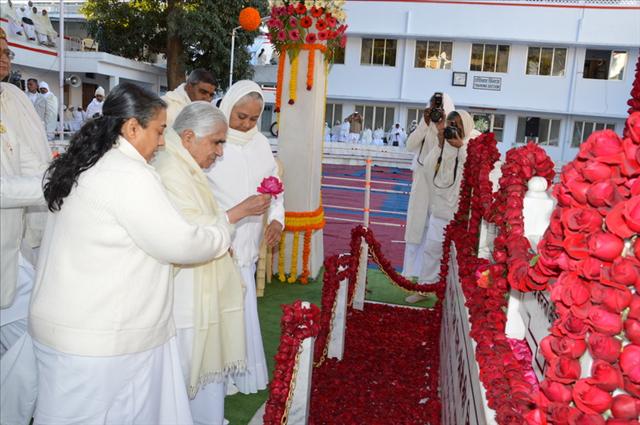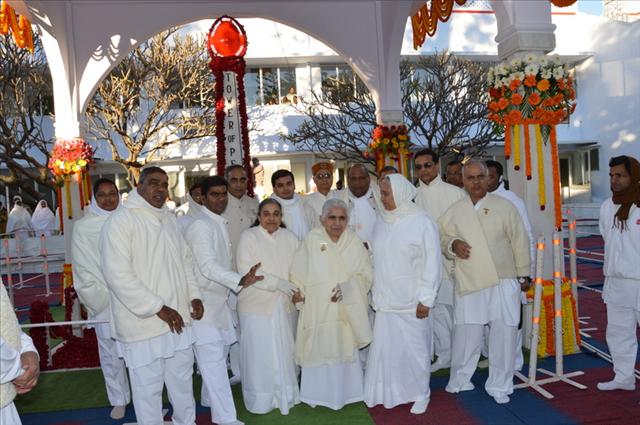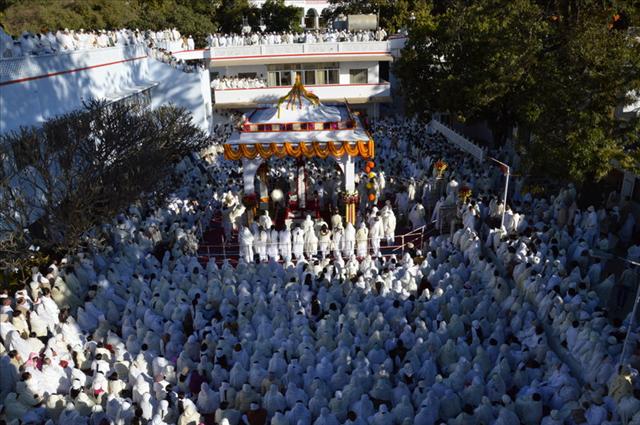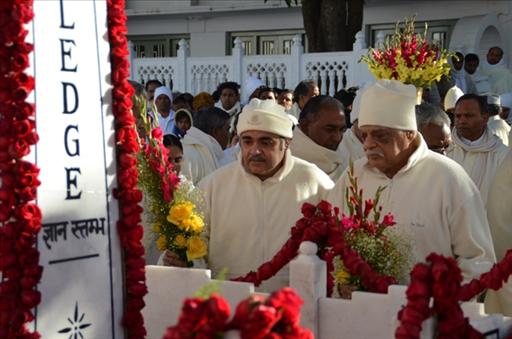 18th January Amritvela Photos
18 January 2014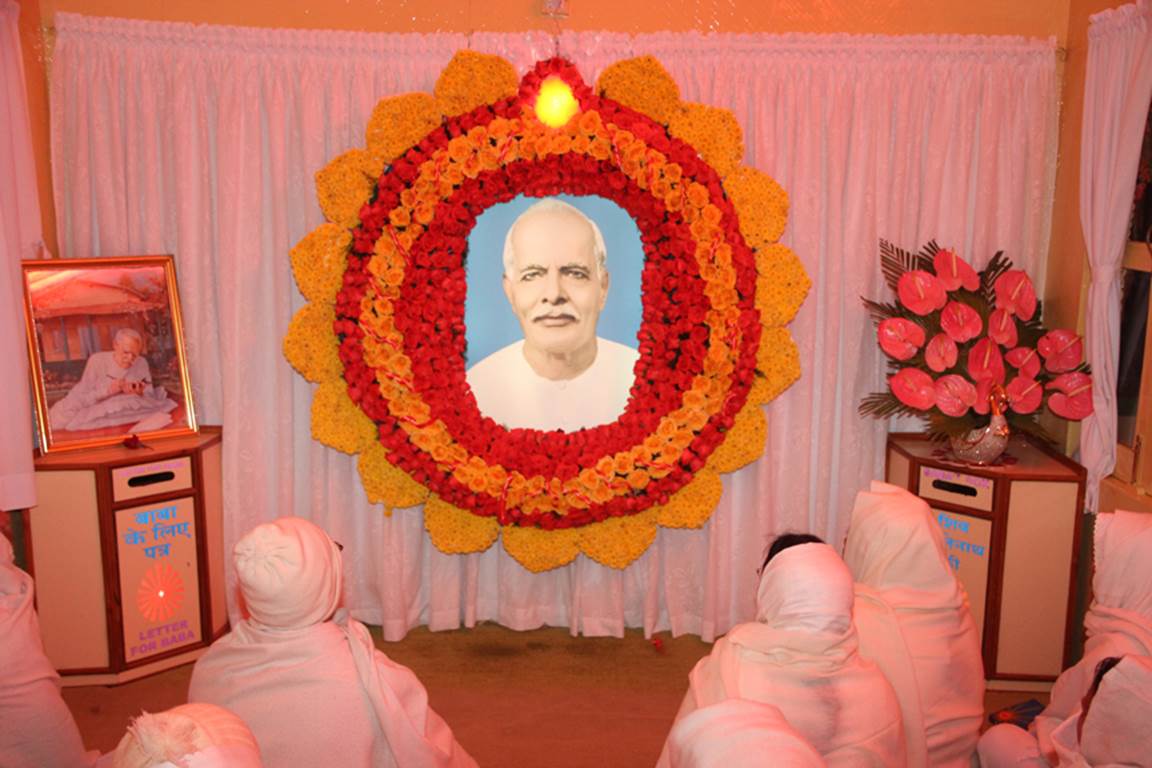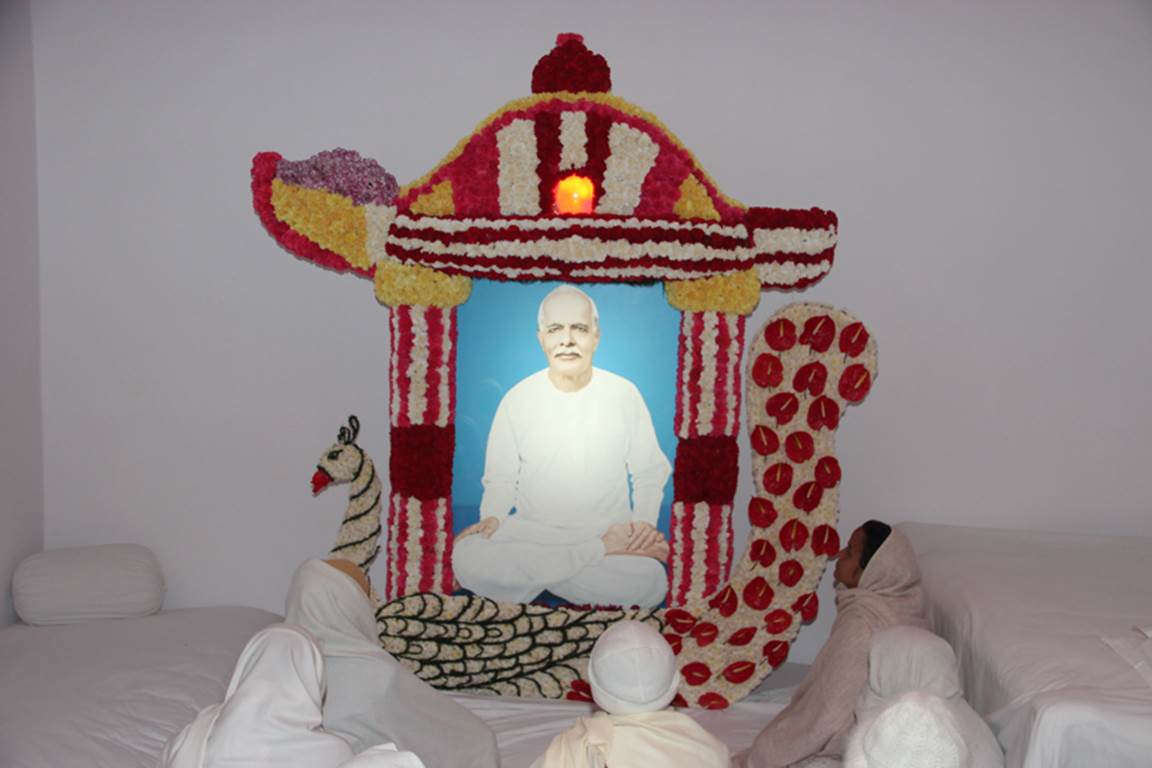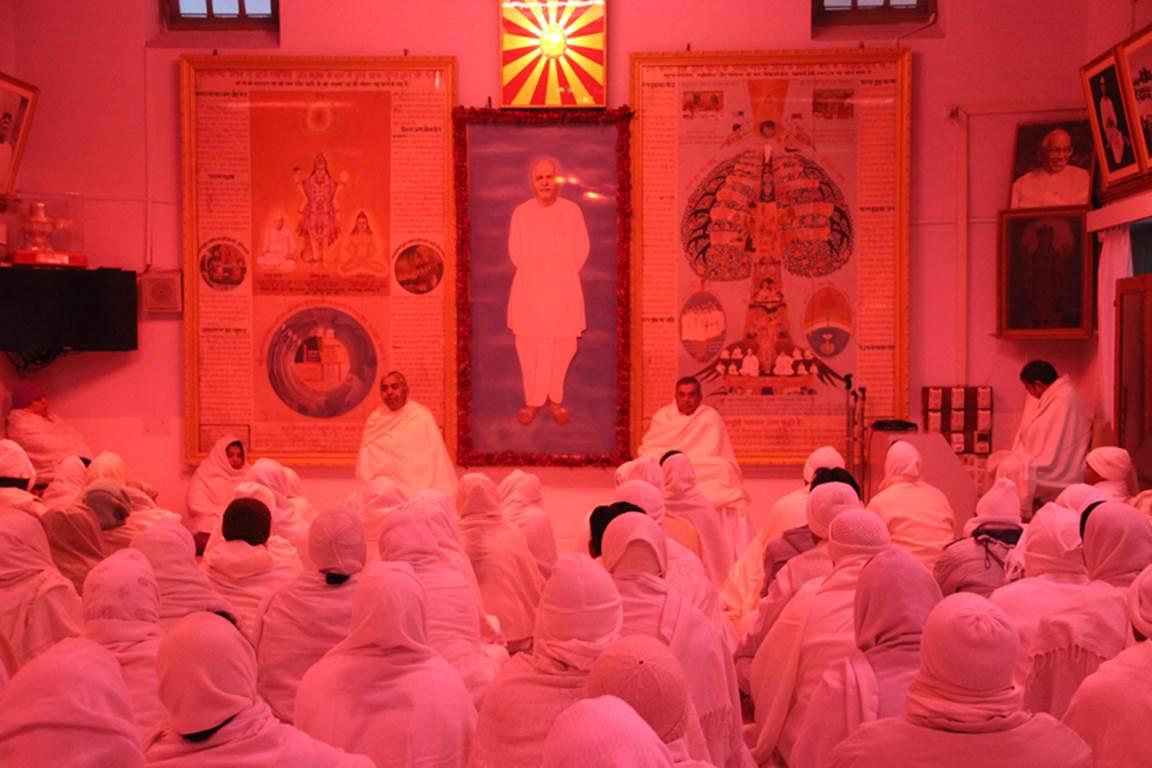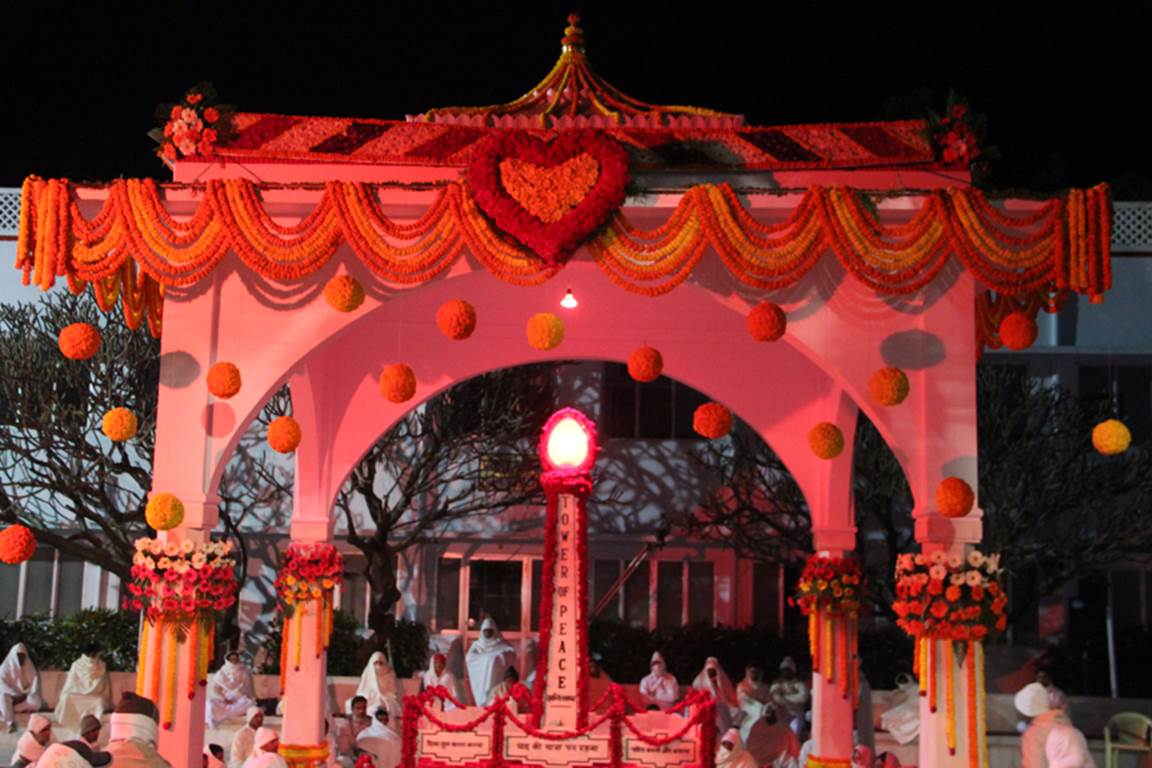 Observance of "World Peace Day" of Prajapita Brahma Baba at Mount Abu
18 January 2014
Prajapita Brahma Kumaris Ishwariya Vishwa Vidyalaya is globally observing 18th January today as 'World Peace Day to mark the 45th Ascension Anniversary of its founding father, Prajapita Brahma.

Over 8500 Brahma Kumaris Centers in India & abroad are holding public programmes, conferences, workshops, seminars and meditation sessions on this day for creating awareness, inner power, inner peace and mindset among people to to restore true peace, health, harmony and happiness in life and society.

Live Telecast of Radio Madhuban Anniversary
17 Januray 2014
Brahmakumaris Community Radio, Radio Madhuban is celebrating its 3rd Anniversary on 19th January 2014, at Conference Hall, Shantivan.
We are pleased to inform you that this program will be Telecast live on Peace of Mind TV Channel, pmtv.in on internet and can be heard on www.radiomadhuban.in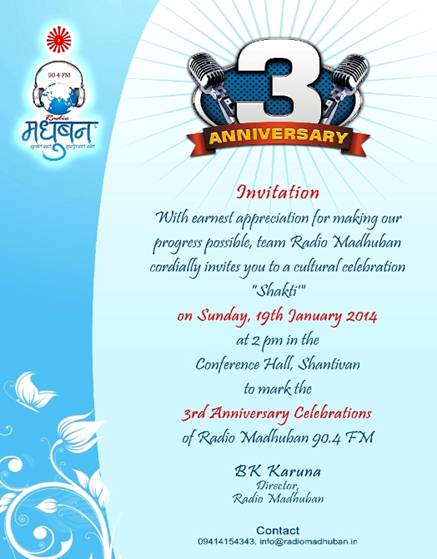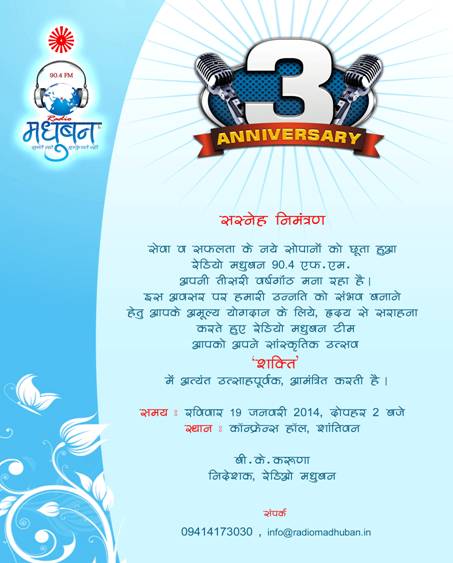 News & Gems from Dadi Janki
15 January 2014
Dadi Janki was very happy to come up the mountain today (Wednesday). It was Dadi's first visit to the mountain in 2014 so a special day for all. Dadi was in Shantivan in the morning, late morning in Gyan Sarovar, and afternoon/evening in Pandav Bhawan. Dadi has met the 200 or so double foreigners who are here (more are coming), and would give evening class in Om Shanti Bhawan.

Dadi Gulzar returned to Shantivan comfortably this afternoon from Ahmedabad, after a 11-day stay. Dadi Gulzar was sharing on the phone how the awareness of the Avyakt month has to be clear in our minds and hearts.

*Dadi Janki shared how she has been feeling as though she is here, and yet not here over the past few days. Dadi doesn't feel she is far from any of the families/places around Bharat or the globe. It's the magic of the silence and purity of this month. Baba's life teaches us to pay close attention to our own thoughts, words and actions. Time is so valuable; every action reaps instant fruit or feeling of repentance. All we need to do is clear the old accounts, and perform elevated actions. Serve through a pure attitude.

*Let there only be a sweet, constant concern to remember the one Merciful Father, who is making so much effort to make us complete. We have to full His elevated pure wishes. Let us unite and cooperate to make this happen.

- Develop love for solitude (ekanth-priya)
- Stay introverted (antarkmukhi)
- Use the power of concentration (ekagrata ki shakti)
- Live by the name of One (eknami)
- Live economically
This is how you will "See Father and Follow Father".

*Nature and the world are waiting for their Deities of Happiness and Peace to remove their sorrow, and take them into the world of peace and joy. Live with this consciousness. We have received avyakt sustenance for 45 years and it is time for the 900,000 jewels to shine brightly...

Br Nirwair's Health Bulletin Report
16 January 2014
Dear International Family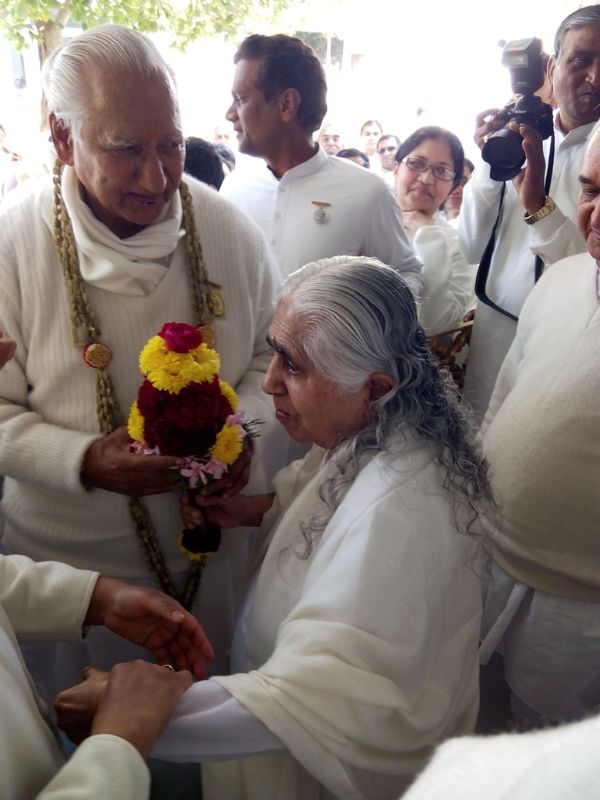 We are happy to share this "Good News" with you all that today(16 January 2014) at around 01.15pm (IST)Respected Brother Nirwair jireturned back to the heavenly land of 'Madhuban'.It was a sweet moment in Drama to have our Sweet Angel Dadi Janki ji welcoming him in his cottage with a Big Garland and Flowers.
All the seniors from all the complex of Madhban had gathered to welcome our sweetest brother. After the welcome ceremony, Nirwair bhai thanked all the Doctors and their team for their services and very joyously shared that Dr.Tejas Patel has allowed him to start his routine service, BUT!! with a caution of not to over exert himself. In the end Dadi ji gave TOLI to everyone and Nirwair bhai gave sweet drishti to all. Thank You.Om Shanti.
On Behalf Of Brother Karuna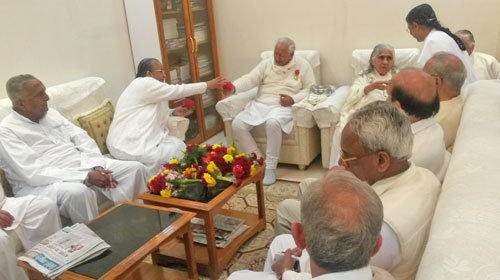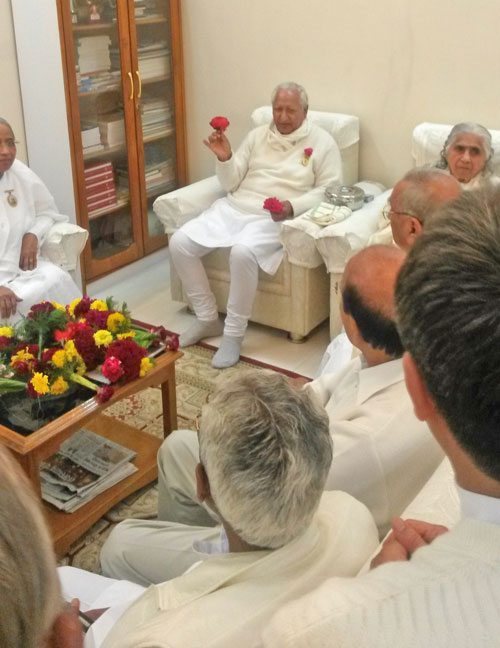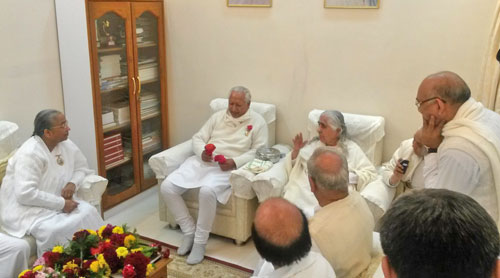 14 January 2014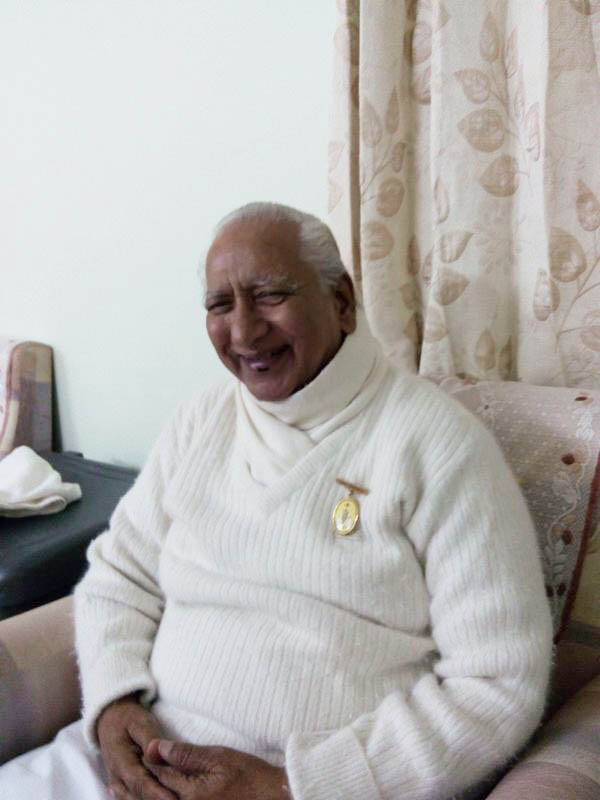 Makar Sankranthi Wishes in English
Makar Sankranthi Wishes in Hindi
13 January 2014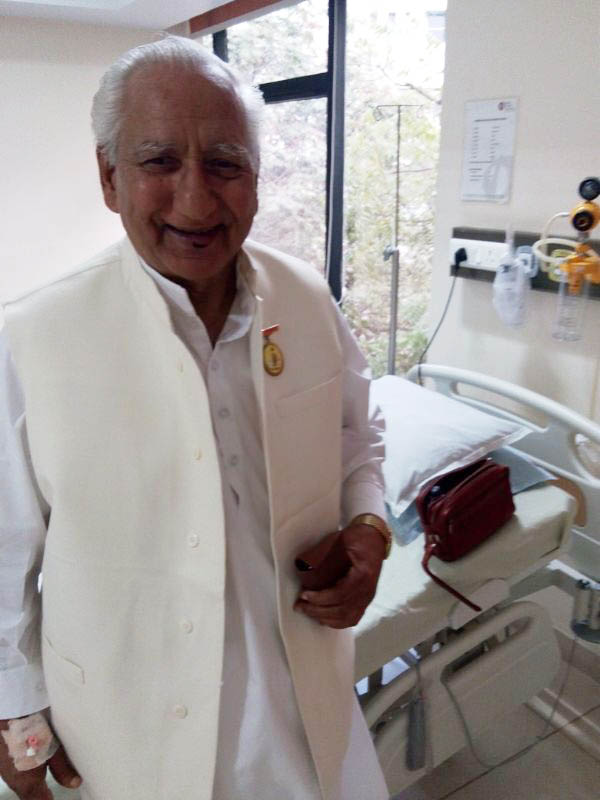 Dear International Family
We are happy to share this "Good News" with you all that today (13 January 2014) at around 06. 45pm (IST)
Respected Brother Nirwair ji was discharged from Apex Heart Insitute & he is back home at Ahmedabd Lotus House.
It was a sweet gesture on part of Baba's Chariot Dadi Gulzar to have come all the way from Lotus House to get
Nirwair Bhai ji discharged in presence of Doctors & Medical Staff. Dadi ji , accompanied by Sarla Didi gave gifts & toli
to all the staff at Hospital who stood on their toes and served Nirwair Bhai since the day he was brought to Hospital.
At the end , the Chairman of Apex Heart Insitute "Dr.Tejas.Patel ji" specially came down to see off Nirwair Bhai ji and
wished him good health.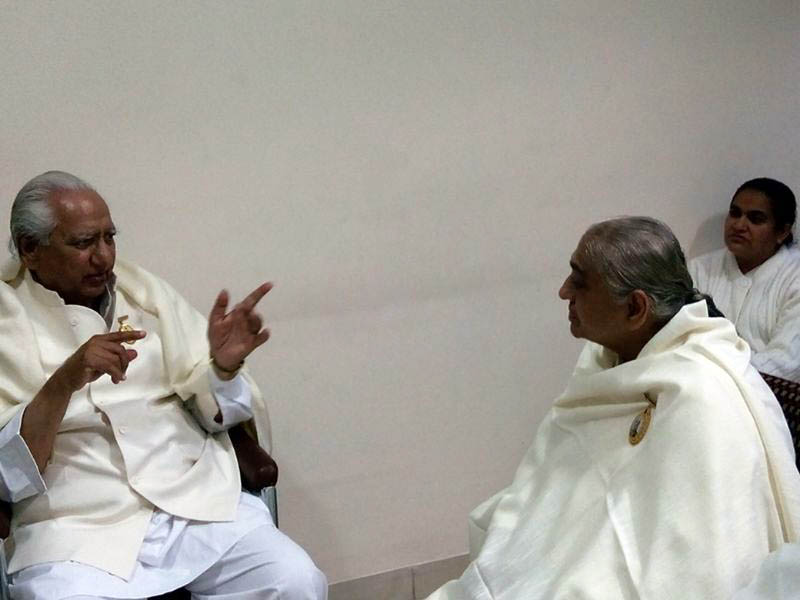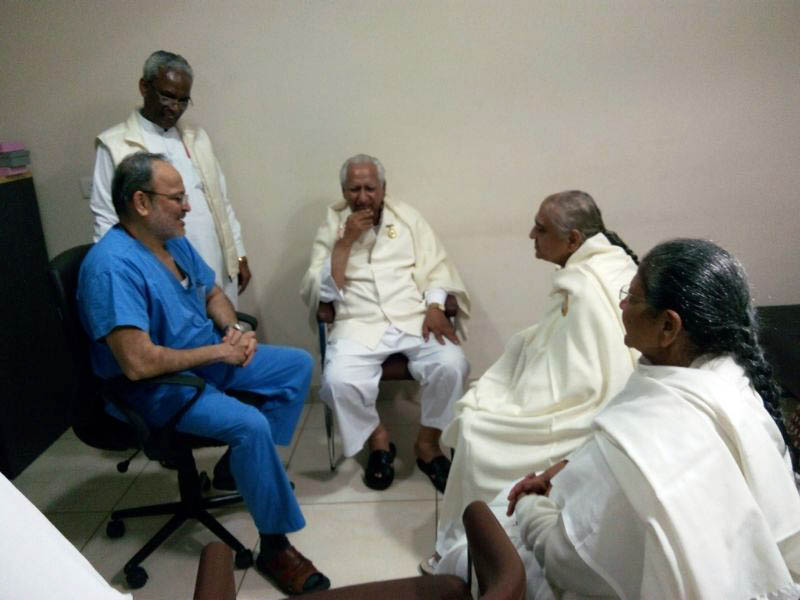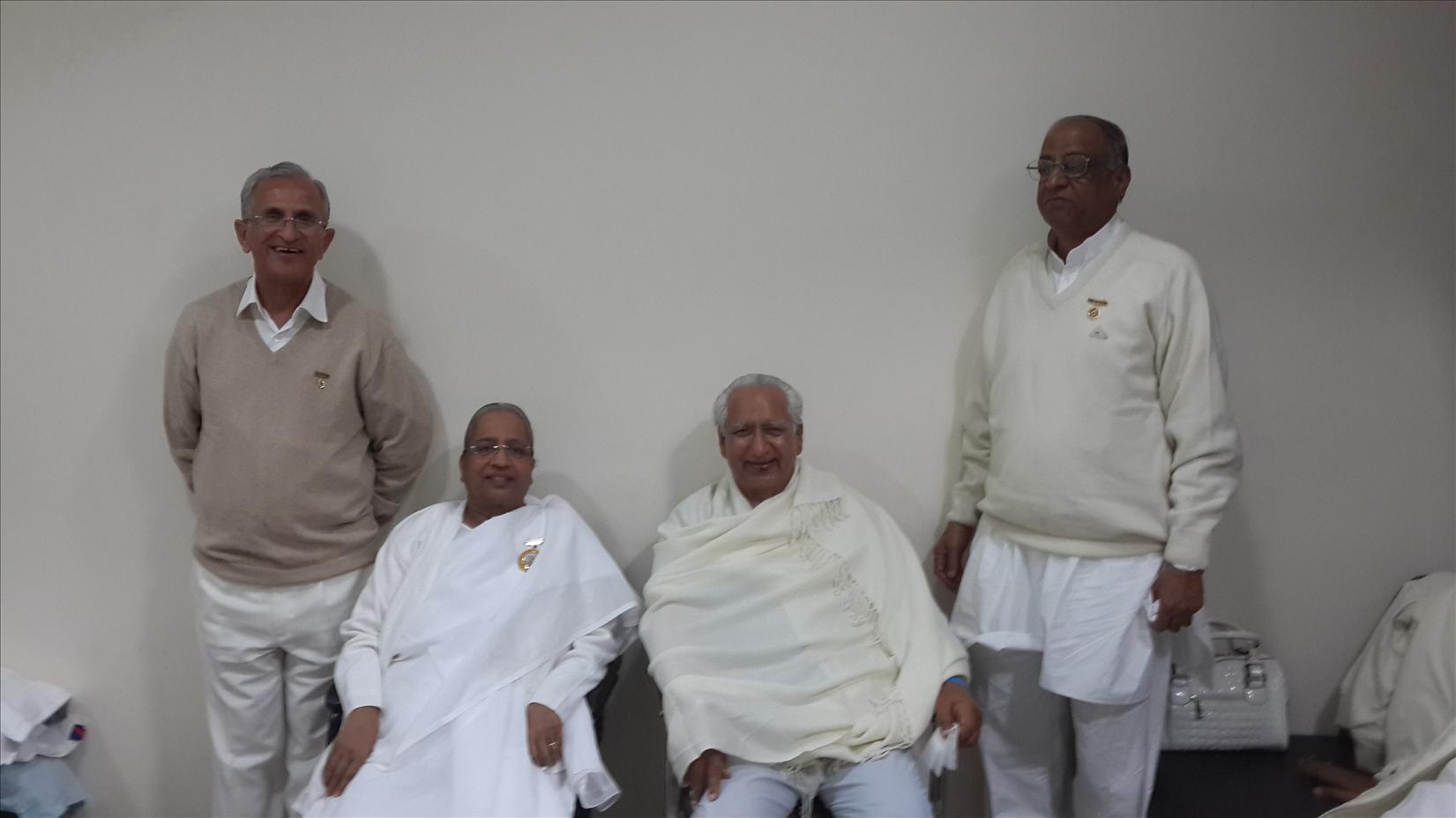 Nirwair Bhai ji would take rest at Lotus House for now. We are sending you few pictures specially clicked by Karuna ji

today evening from Hospital while Nirwair bhai ji was being discharged. Thank you all for the continous support through Sakaash,Love & Blessings.. Nirwair bhai wholeheartedly thanks all of you in return with lot of brotherly love and blessings.
On Behalf Of Brother Karuna
10 January 2014
Dear International Family
This is to inform you that today(10
January 2014) at around10.30amafternoon (IST) Chairman of Apex Heart Institute
Dr.Tejas.Patel examined Nirwair Bhai ji and thereafter at 1.00 pm noon he was was shifted from ICU to a Normal Room.
He had a good rest in the afternoon. Thereafter he met few visitors for a while . He has continued taking taking semi-solid
food today also.
Today Brother Ramesh.Shah from Mumbai visited hospital to meet Nirwair Bhai..They both had a light hearted conversation
for a while .Thereafter he was visited by Bhopal Bhai (Shantivan) & then in evening our beloved Dadi Gulzar ji visited
hospital for the second time in last two days to meet Nirwair bhai. He had a nice chit-chat with Dadi ji & there was an
exchange of powerful drishti between them. According to Doctors, he might have to stay put in hospital for few more
days to completely recover & gain back his physical stamina. We all are hopeful to see our lovely brother back on his feet.
I read out few of the Emails from hundred's of get well mails that we recieved today from all over the world on special
ID "getwellnirwairji@gmail.com" . He was quite overwhelmed and emotional for the unlimited love and affection of
brahmin family towards him. He has personally thanked everyone with lot of blessings in return & has asked for
print out of all the 'get well emails' to read .
Thank you all for the love & support through SAKAASH..Please continue with it . Om Shanti
On Behalf Of Brother Karuna
9 January 2014
Dear International Family
This is to inform you that today(09January 2014) at around 9.30 pm we received a message from Dr.Pratap Midha regarding further progress on Respected Nirwair Bhai ji 's health.
Below is the transcribed version of Dr.Midha's Audio message that we received from 'Apex Heart Insitute" Ahmedabad.
"Om Shanti.This is the latest update on Nirwair Bhai's health.The progress has been good. He is accepting almost normal diet in semi-solid form. He is been meeting few visitors and the doctors are being very optimistic about his progress, but they are cautious.They haven't still shifted him to the room. He is still under ICU under close monitoring, but he is recovering and he is happy. The Doctors did some tests also, viz: ECG & Colour Doppler Test & they are within reasonable good limits. I am sure he should be moved to the room tomorrow morning and thereafter they would definitely like to look into his fluctuating hyper-tension & then we would mange it accordingly.
Today our Sweet Dadi Janki had sent him a "Huge Red Velvet HEART" with lots of love & Blessings. Also those of you from India & Abroad who had sent greeting cards for him were shown to him. He has wholeheartedly accepted your love & blessings and said big thank You to you all. Om Shanti. Thank You Very Much" .
For your convenience we have created a special email id to send in your good wishes,love & blessings directly to Nirwair bhai. We assure you that it will reach him . You may please send it on "getwellnirwairji@gmail.com"
Requesting all to please continue sending powerful SAKAASH from your end. Om Shanti.
On Behalf Of Dr.Pratap Midha & Brother Karuna
8 January 2014 - Second Update
This is to inform you that today (08 January 2014) at around 7.30 pm we received a message from Dr. Pratap Midha regarding further progress on Respected Nirwair Bhai ji 's health.
Below is the transcribed version of Dr.Midha's Audio message that we received from 'Apex Heart Insitute" Ahmedabad.
"Om Shanti. We are happy to share with you that Nirwair Bhai's Progress is Good, His ventilatory support has been taken out and he is breathing on his own & his respiration, his blood pressure, everything is doing very well. He is fully alert & conscious.
During day time Dadi Gulzar had also come to visit him & it was a lovely scene. They had silent exchange of Drishti. Sarla Didi was also accompanying. Now he is able to take orally also. He has taken sips of water. He is alert and conscious. Everything is going well as per the Doctor's expectations. Now he would be moved to his personal room maybe in a day & I am sure we will be sharing with you the good news. Thank You Very Much. Om Shanti".
Requesting all to please continue sending powerful SAKAASH from your end. Om Shanti.
On Behalf Of Dr.Pratap Midha & Brother Karuna
8 January 2014 - First Update
This is to inform you that today (07 January 2014) at around 9.30 pm we received a message from Dr.Ashok Mehta
& Brother Karuna ji regarding further progress on Respected Nirwair Bhai ji 's health.
Below is the transcribed version of Dr.Mehta's Audio message that we received from 'Apex Heart Insitute" Ahmedabad.
" This is about the health of Nirwair bhai.Today he is progressing well. He is still in Intensive Care Unit. He is also on
Ventilator. But his blood pressure is well maintained with lower doses of supports & his ventilatary support is relatively
less then what it was yesterday.His urine output is good,his consciousness level is very good,he is responding,opening his
eye,and otherwise i think over and all he is progressing very well.In another couple of days he should be off the ventilator
as well as all other supports.Om Shanti" .
Transcribed version of Brother Karuna's Audio message that we received from 'Apex Heart Insitute" Ahmedabad after
he met Nirwair Bhai.
" On behalf of you all,i went to see Nirwair bhai and greeted him with an Om Shanti.He reciprocated by opening his eyes and smiled and expressed his gratitude to you all. All your blessings, affections & love are reaching here. I believe in a couple of
days he will be as normal as we all are. Om Shanti."
Requesting all to please continue sending powerful SAKAASH from your end.Om Shanti.
On Behalf Of Dr.Ashok Mehta & Brother Karuna
7 January 2014
Sweetest BapDada's jewels of light being sustained by BapDada's sweet sustenance, brothers and sisters who are the decoration of the Brahmin clan,
Please accept special love and remembrances from Ahmedabad.
This is to inform you that on 6 January evening, our specially beloved senior Brother Nirwairji's health was not so good and therefore, had to be taken to Ahmedabad to be admitted at the Apex Heart Institute at around 2.30am today. According to Dr. Pratap Midha, Nirwairbhai had very high blood pressure and fluctuating pulse rate. Senior doctors in Ahmedabad gave him emergency treatment to stablise all parameters.
At present, Nirwairbhai is under observation of a team of expert doctors. His condition is stable, and the doctors are waiting for further improvement to conduct further investigations.
We will continue to keep you all informed of further information by e-mail from time to time.
It is our special request to all of you that you send powerful sakaash from your own places to our divine brother to help him recover as quickly as possible.