International News
International News
The Daily Guardian - Delhi 27th May 2023
27 May 2023
Click on the image to download a pdf version of the page.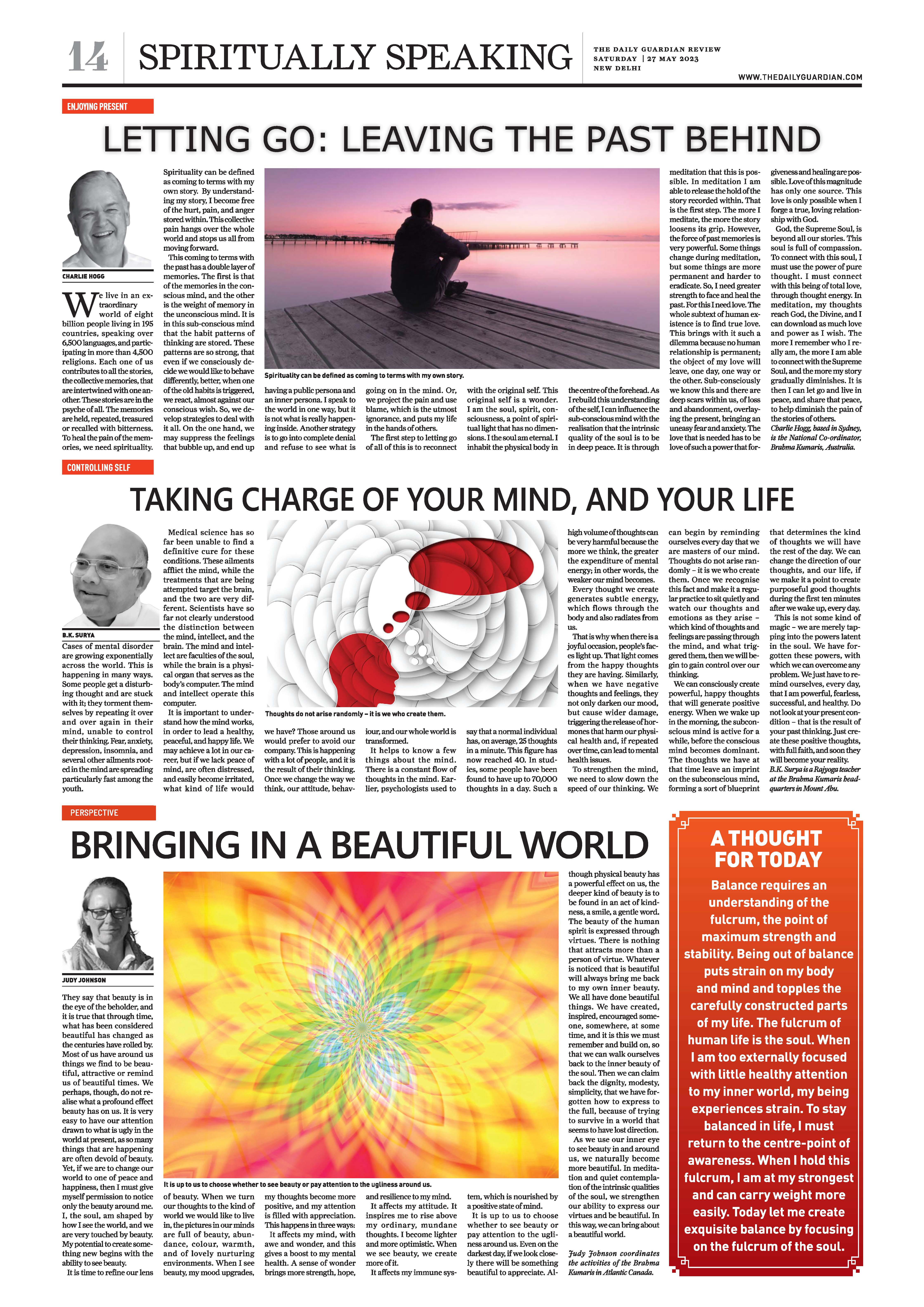 International Brothers Retreat - Save the Date & Survey
27 May 2023
Dear BK Brothers Worldwide
This is a special message from our dear brother Ken. Ken bhai has initiated the planning of an online International Brothers Retreat in 2023 and an in-person retreat in February 2024.

International Brothers On-line Retreat
Proposed Dates: 27-29 October, 2023
Theme: "Pandava life - Courage, Ownership & Initiative"
We are inviting our international community of BK brothers for another international retreat to explore three topics:
- Courage to do what is best at this time
- Claim ownership of your destiny
- Take the initiative and step up for the last stretch
With so many signs that indicate the old world is winding up, the new world is on the horizon; we need to strengthen our Yagya even more. Part of that is to reinforce the fellowship and cooperation in our global community of Pandavas. As Baba says, the 'too late board' has not been put up yet. There are still many things we need to do internally and also in creating our fortunes through service.
This retreat will go into the depths of each of the three main topics in the title. We hope to carry it out in 2-3 different time zones throughout the world, with at least one timing in which everyone can be present.
It is a chance to enhance the natural bond we have for each other, as well as our commitment to Baba's task.
Yaad pyars to all,
Ken

For our retreat design, we would like to request your input.

Please complete the linked survey: https://tinyurl.com/ibr-survey
or
https://docs.google.com/forms/d/e/1FAIpQLSecC8yfrhT0MFHaa-7y8Y7CX9L9W9e_yyr_ytfQgeGF9wHoAw/viewform

If you have any questions please send an email to brothersretreat.info@ca.brahmakumaris.org.

Much brotherly love in Baba's sweet remembrance,
The IBR Design Team (Ken, Peru, Raj, Rodrigo, Tim)

BK Couples International Retreat - May 26 to 29, 2023 - Invitation and Flyer
23 May 2023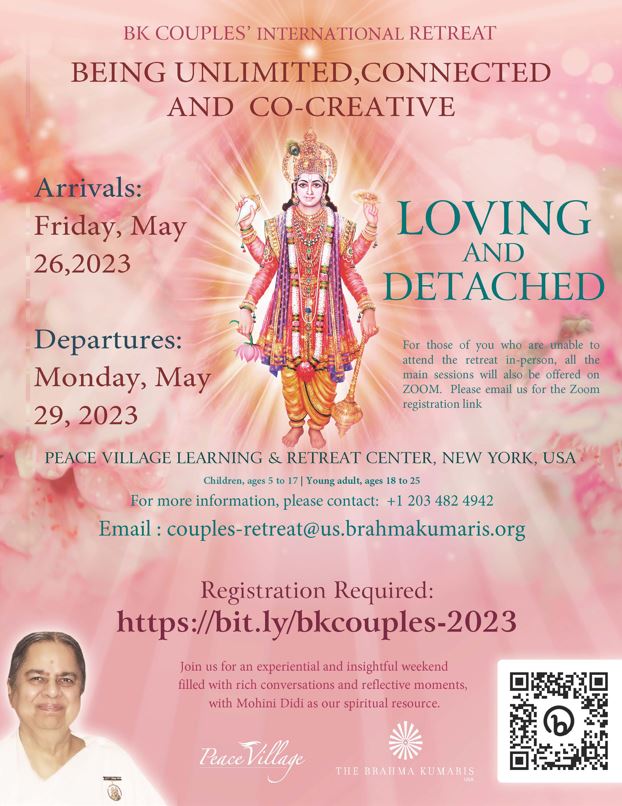 ABOUT THE RETREAT:
The BK Couples Retreat seeks to provide the BK Couples and their children a safe haven, where they can participate in activities designed to promote their spiritual well-being and enrich their lives. This retreat, open to BK couples will have a special program for the children 5 years and up and the youth accompanying the adults with age-appropriate parallel sessions, aimed towards their spiritual progress.
Join us for an experiential and insightful retreat this Memorial Day weekend (May 26-29th) infused with rich conversations and reflective moments with Mohini Didi as our spiritual resource.
ZOOM REGISTRATION - ONLY FOR THOSE NOT ABLE TO ATTEND THE RETREAT IN-PERSON:
While we regret that you will not be able to attend the retreat in-person, for those of you who are unable to come to Peace Village, all the main sessions will also be available on ZOOM. Please note that the children's and youth sessions will NOT be on ZOOM.
CLICK ON THE ZOOM LINK BELOW TO REGISTER:
https://brahmakumaris.zoom.us/meeting/register/tZUpcOCorzMsGtLV8q9O-rT-V4BkbSDbDCLP
You will receive a zoom link for the main retreat immediately after registration. Agenda for the sessions will be sent separately as we get closer to the date. Translation will be provided where necessary by the retreat design team (please indicate language required in registration).
With Baba's Love,
Dolly Behn
Couples' Retreat Design Team

Financial Transfers to Global Hospital & Research Centre
17 May 2023
Dear Divine Family, Om Shanti.
The government of India has recently introduced new norms for the transfer of money from overseas. As a result, some sisters and brothers have been returned their transfers with no clear reason.
We have reached out to the State Bank of India, our bankers for foreign exchange transactions, and learned that many intermediary banks, banks in India that serve overseas banks, have not complied with the new norms. Until they do so, transfers from overseas will continue to be sent back to the donor.
If you are planning to transfer money to Global Hospital & Research Centre, we suggest that you ask your bank if they can remit money by SWIFT DIRECTLY to the State Bank of India.
If they cannot do a direct transfer and are dependent on an intermediary bank, we would suggest that you post (snail mail) us your cheque with a photocopy of your passport and your name, address and email. Our address is: Global Hospital & Research Centre, Delwara Road, Mt Abu, Rajasthan, India 307501.
Having a transfer returned implies losing money due to foreign exchange conversions. This loss can be quite significant.
Please email us for more details, if needed (info@ghrc-abu.com).
In Baba's sweet yaad,
Dr Partap
Global Hospital & Research Centre

Sun Rise Meditation and Earth Day Celebrations by Brahma Kumaris Worldwide
11 May 2023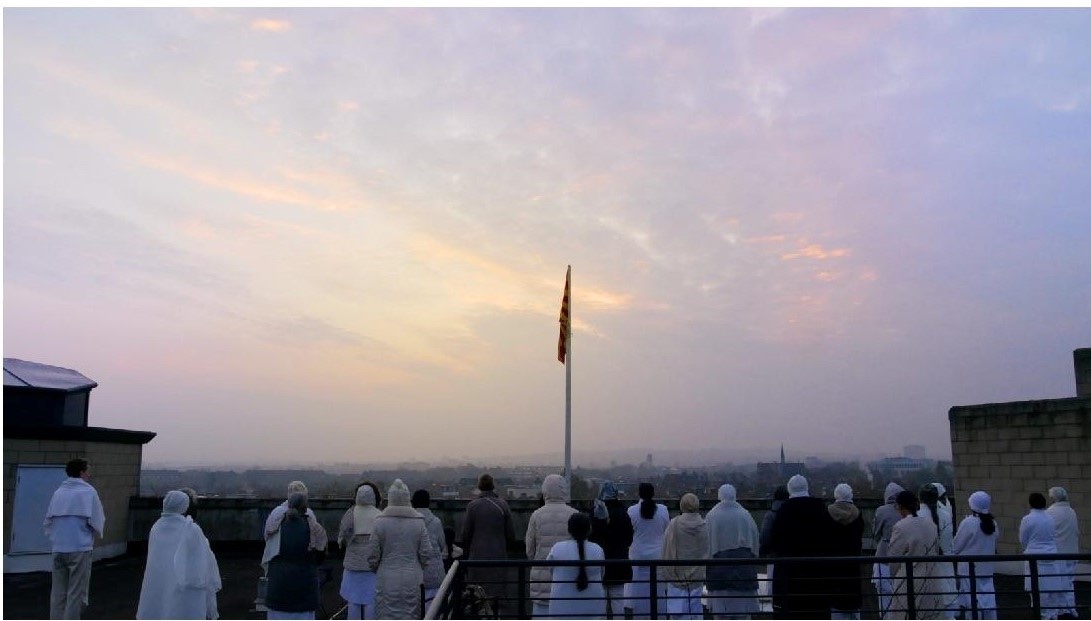 Copenhagen (Denmark, Europe): As part of Brahma Kumaris Environment Initiative, Earth Day was celebrated by sharing gratitude for mother earth. Experienced Rajyogis from Brahma Kumaris centers across the world joined together to share Peace, Love and Hope for all life forms.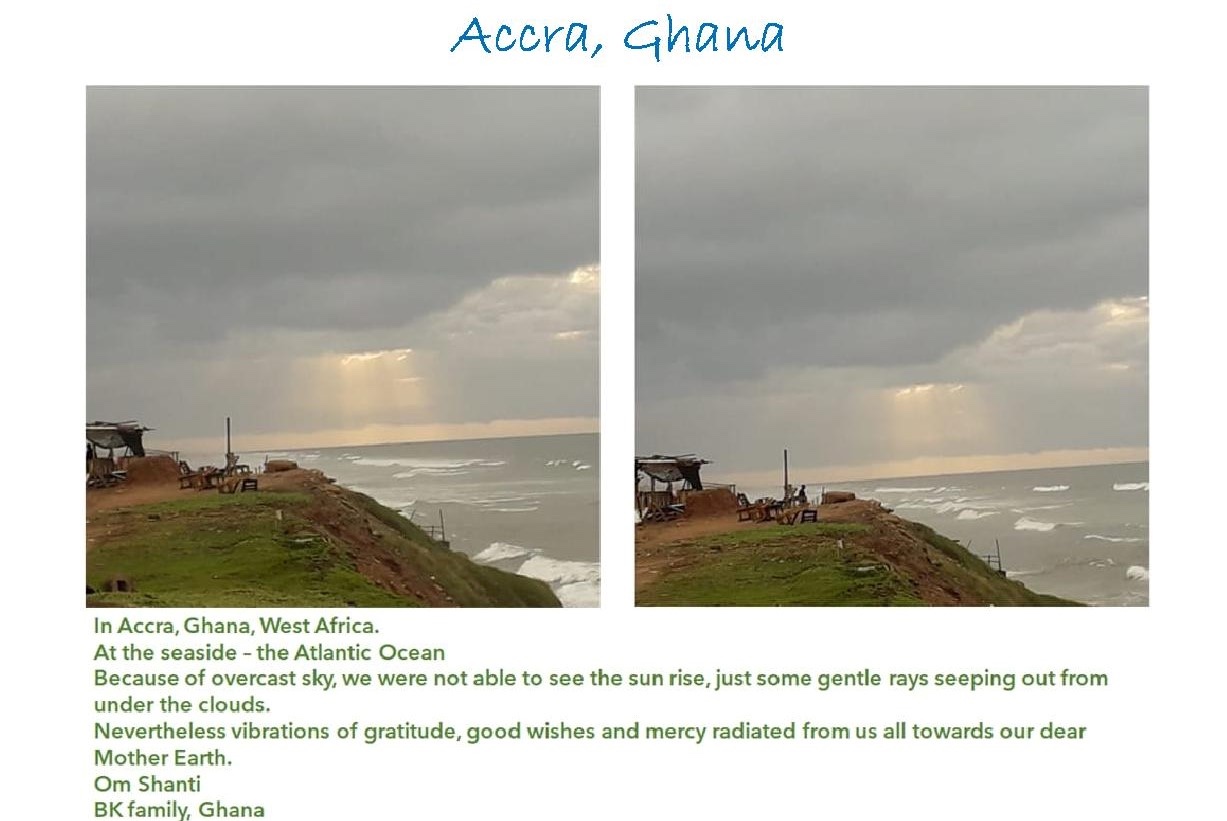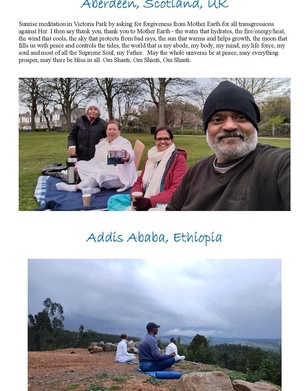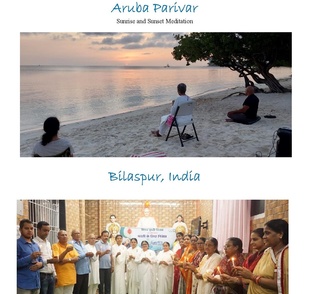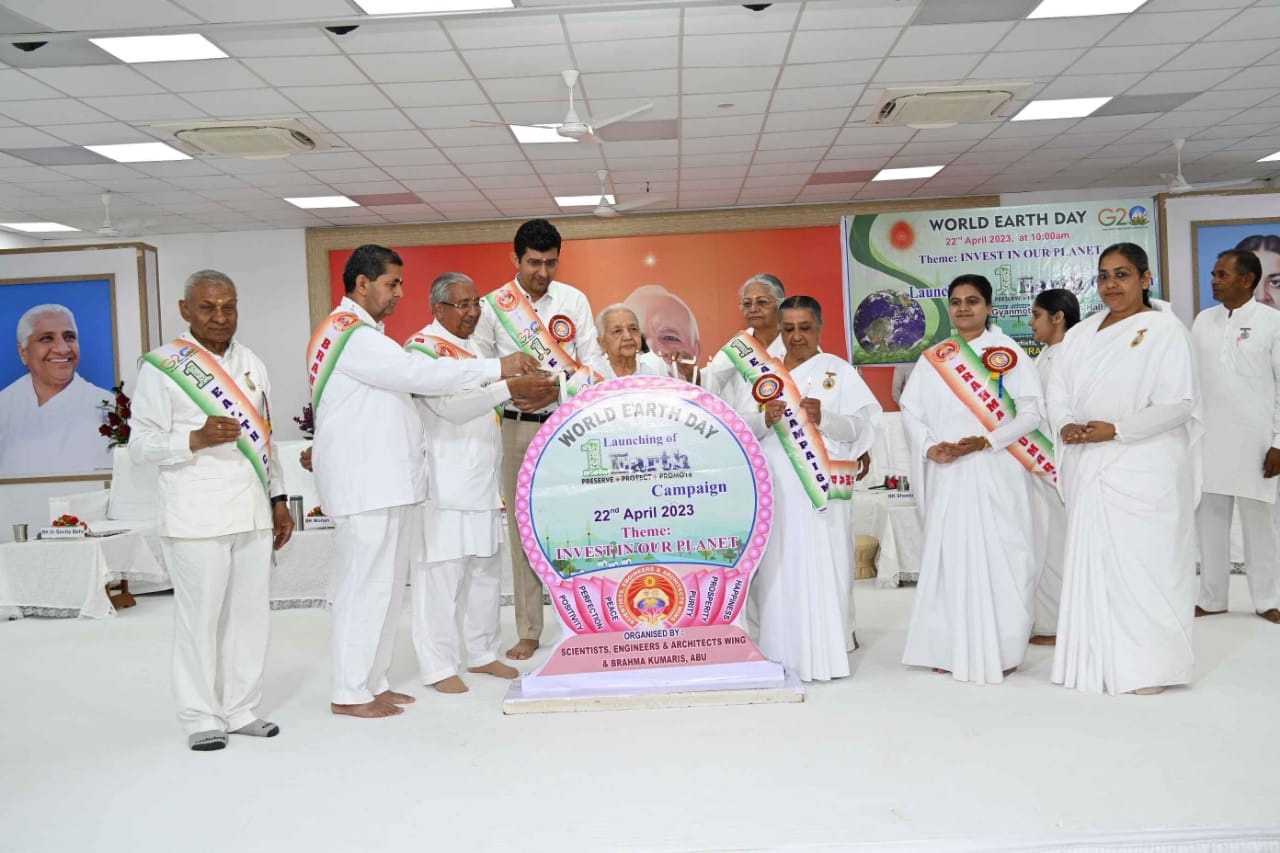 Launch of '1' Earth campaign at Brahma Kumaris Headquarters by Scientists &Engineers Wing on Earth Day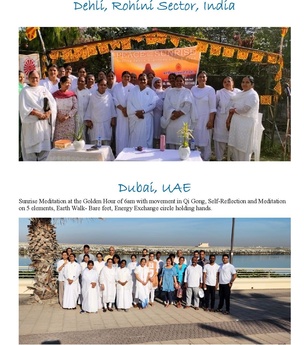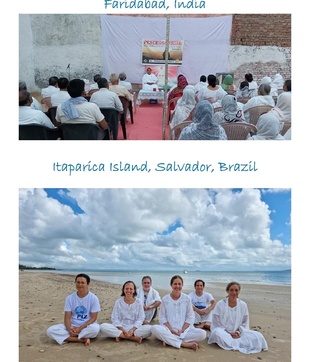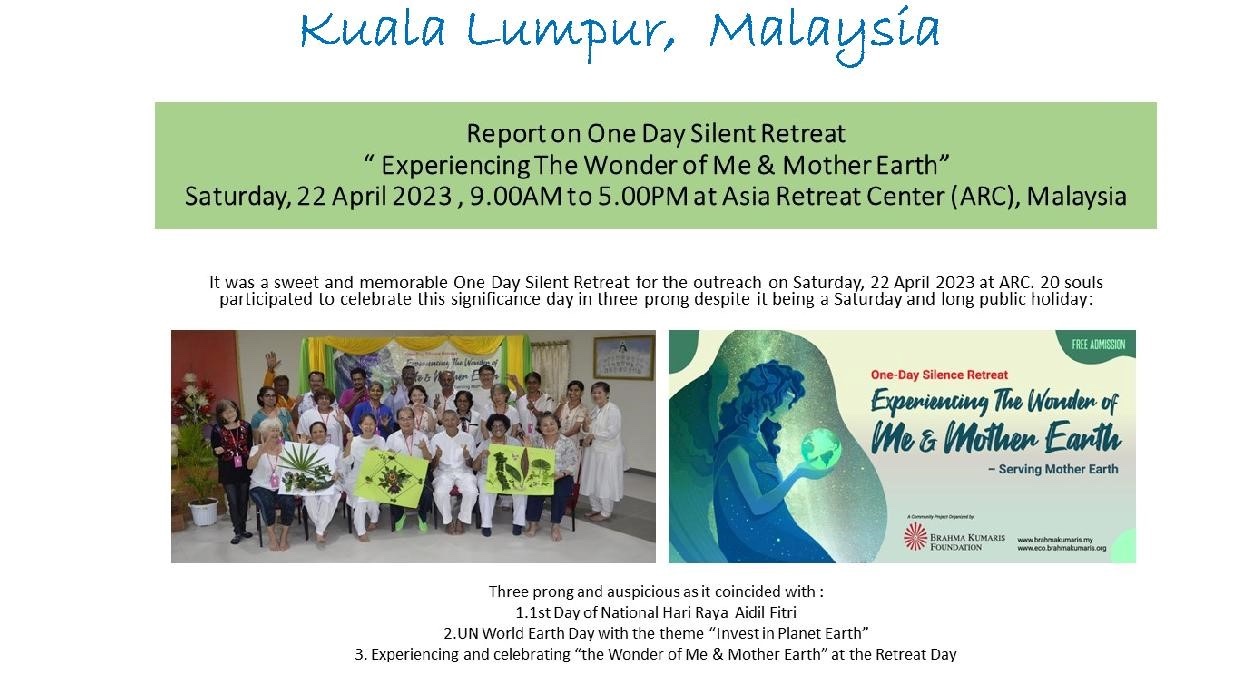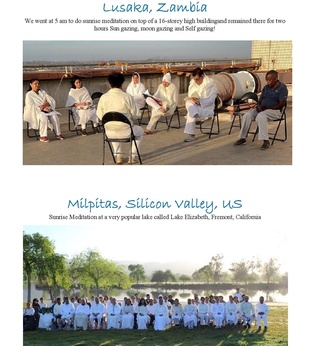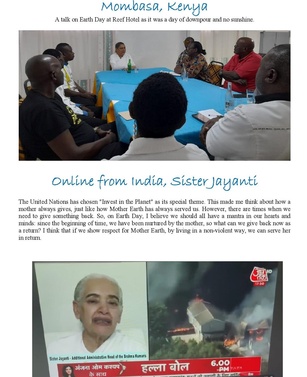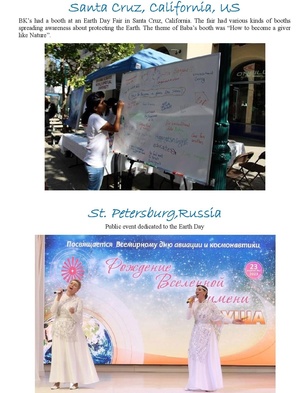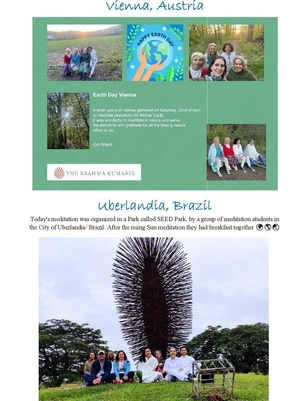 Upcoming Retreats in Peace Village in May and July
9 May 2023
Dear Divine Family, Greetings!

We are having 2 retreats in Peace Village which have been announced in Avyakti Parivar.
1. Couples Retreat: Friday, May 26, 2023 - Monday, May 29, 2023
Registration Link: https://bit.ly/bkcouples-2023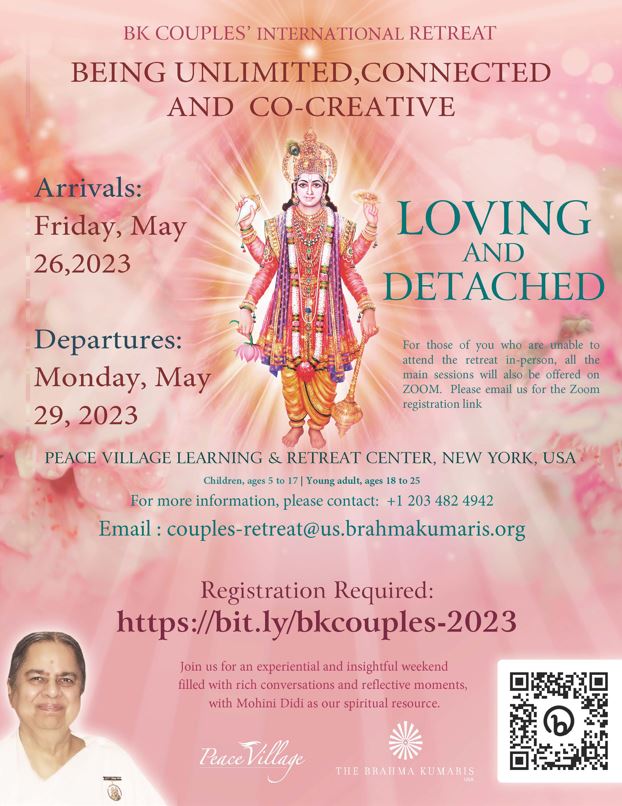 2. Avyakti Parivar Retreat: Friday, July 7,2023 - Monday, July 10,2023

Registration Link: https://bit.ly/appv-23
For this retreat, first priority will be given to those who are far distant. Brahmins from NY, NJ, CT, Albany will be given the chance to register for the retreat only if there is any vacancy.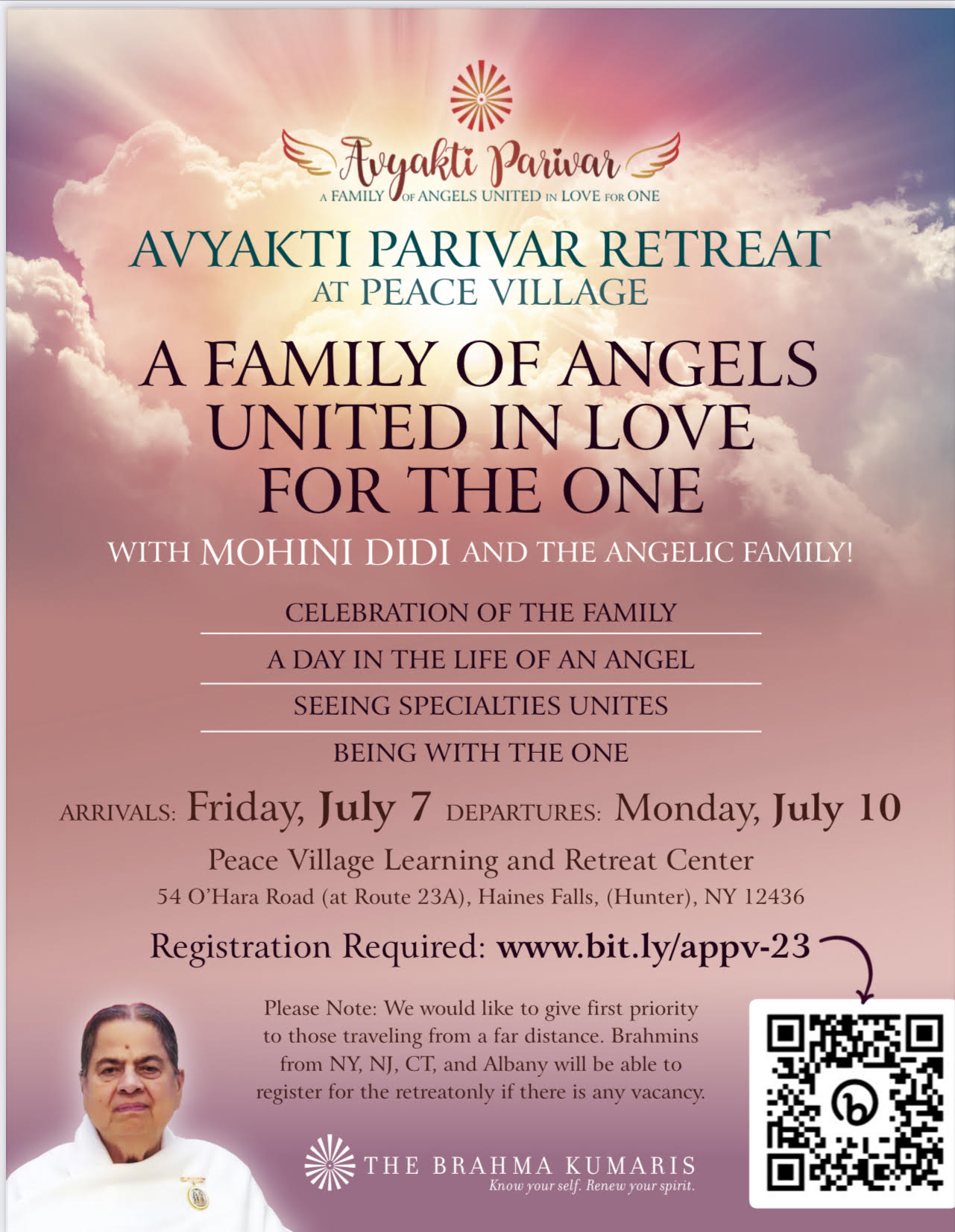 The Daily Guardian - Delhi 6th May 2023
8 May 2023
Click on the image to download a pdf version of the page.

Reports from the DF Madhuban Program Team for the 2022/2023 Season
2 May 2023
Dear Divine Family, Warmest greetings of love,

It was wonderful to see so many of you in Madhuban personally, and also to know those of you who could not make it, were able to join via the online DF Madhuban Youtube Channel.
Please find attached some reports of this 2022/2023 DF Madhuban Season.
Please see a small tribute to BapDada, our Seniors and the Madhuban Niwasis at the conclusion of the DF Season 2022/2023: https://www.youtube.com/watch?v=LzezmE8-1g4
To stay connected to Madhuban during the off season, we will have several special classes premiering on the DF Madhuban Youtube Channel. You may subscribe at to be notified: http://tiny.cc/DFMadhubanProgramYouTube

Much love,
In Baba's yaad,
DF Madhuban Program Team

The Daily Guardian - Delhi 29th April 2023
2 May 2023
Click on the image to download a pdf version of the page.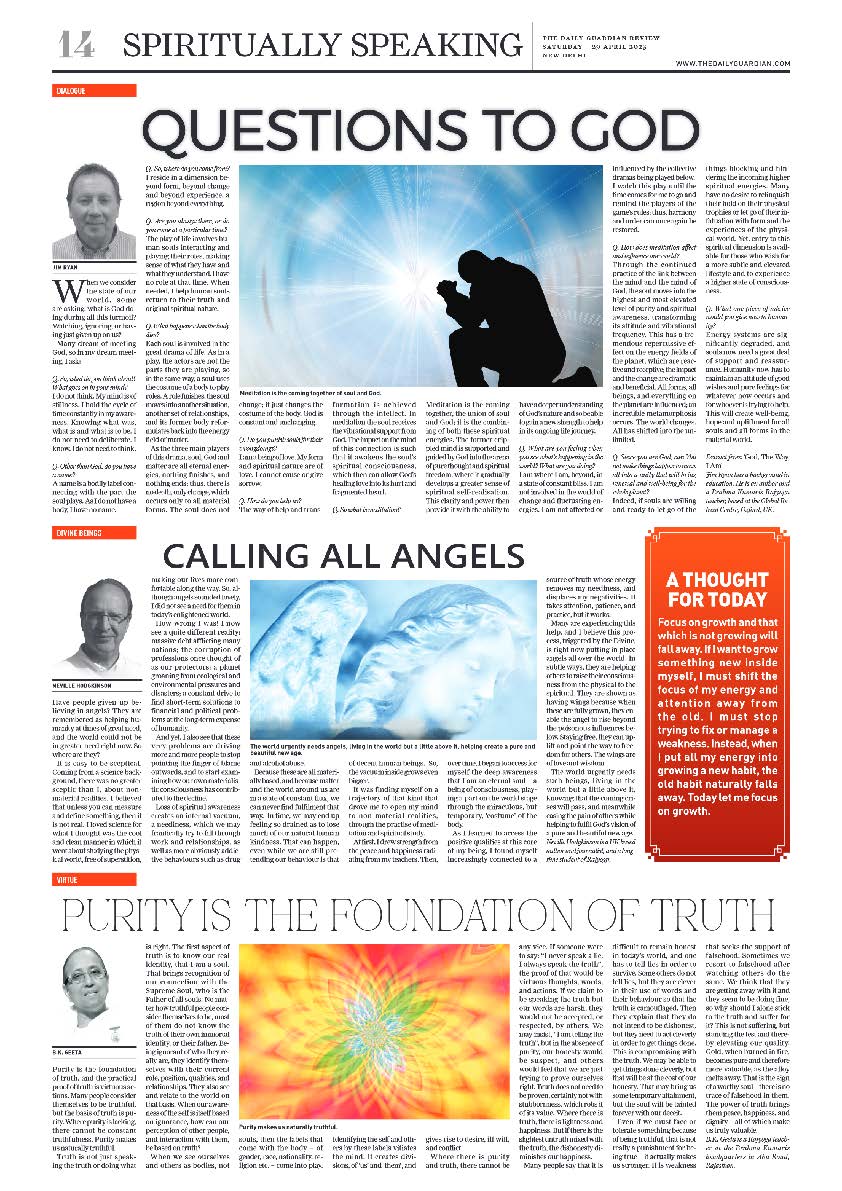 May 2023 Homework: "Now do service with your elevated state of the mind and your subtle attitude": BK Mohini - मई 2023: "अब अपनी श्रेष्ठ मन्सा द्वारा सूक्ष्म वृत्तियों से सेवा करो" अभ्यास (होम वर्क) - बी.के.मोहिनी
1 May 2023
Om Shanti Dear Baba's Family, Greetings of love,
In the month of May, Avyakti Parivar welcomes you to the new Series: "Now do service with your elevated state of the mind and your subtle attitude'' -"अब अपनी श्रेष्ठ मन्सा द्वारा सूक्ष्म वृत्तियों से सेवा करो''. Promo: https://youtu.be/OlRBF_uHZlM
You will receive a daily point of self-awareness and the method of practice in the YouTube folder links given below.
In Baba's loving yaad,
BK Mohini
Additional Administrative Head of Brahma Kumaris
English: https://www.youtube.com/playlist?list=PLHSAb26Vm7rlRBt6I5rSif8u-lMa0VOt0
Hindi: https://www.youtube.com/playlist?list=PLHSAb26Vm7rnIdwQeIX0yuR0bCea1DAp8
Avyakti Journey
Hindi - अव्यक्त मुरली रिवीजन 1969 से - ब्राह्मण से फरिश्ता बनने की प्रेरणा
https://youtube.com/playlist?list=PLHSAb26Vm7rlQPK6rQUFIejd5-f7wzT4c
English - Avyakti Murlis from 1969...inspiring us to change from Brahmin to Angel
https://youtube.com/playlist?list=PLHSAb26Vm7rlKtm-ix-k_AVVBsvSjxOug
Hindi (translated classes):
https://youtube.com/playlist?list=PLHSAb26Vm7rnCwTCmGES3aW64O0WzXLVR
Thank you
Avyakti Parivar
A Family of Angels United in Love for One
Youtube : http://tiny.cc/avyaktiparivar-youtube
Website : https://www.avyaktiparivar.org/
विषय : मई 2023: "अब अपनी श्रेष्ठ मन्सा द्वारा सूक्ष्म वृत्तियों से सेवा करो" अभ्यास (होम वर्क) -
बी.के.मोहिनी- May 2023 Homework: "Now do service with your elevated state of the mind and your subtle attitude": BK Mohini
ओम् शांति
सर्व ब्राह्मण परिवार के प्रति, ईश्वरीय मधुर यादप्यार स्वीकार करना जी।
मई महीने में, अव्यक्ति परिवार अपनी नई सिरीज़ : "अब अपनी श्रेष्ठ मन्सा द्वारा सूक्ष्म वृत्तियों से सेवा करो" में आपका स्वागत करते है।
Promo: https://youtu.be/OlRBF_uHZlM
प्रतिदिन आपको नीचे दी गयी YouTube Folder Link में अभ्यास की स्मृति और विधि मिलती रहेगी।
धन्यवाद
बाबा की याद में,
बी.के.मोहिनी
सह-मुख्य प्रशासिका, ब्रह्माकुमारीज
होमवर्क लिंक - HOMEWORK LINK प्रतिदिन के लिए आपको नीचे दिए गए फोल्डर में मिलती रहेगी।
हिंदी https://www.youtube.com/playlist?list=PLHSAb26Vm7rnIdwQeIX0yuR0bCea1DAp8
अंग्रेज़ी - English: https://www.youtube.com/playlist?list=PLHSAb26Vm7rlRBt6I5rSif8u-lMa0VOt0
Avyakti Journey
Hindi - अव्यक्त मुरली रिवीजन 1969 से - ब्राह्मण से फरिश्ता बनने की प्रेरणा
https://youtube.com/playlist?list=PLHSAb26Vm7rlQPK6rQUFIejd5-f7wzT4c
English - Avyakti Murlis of 1969...inspiring us to change from Brahmin to Angel
https://youtube.com/playlist?list=PLHSAb26Vm7rlKtm-ix-k_AVVBsvSjxOug
Hindi (translated classes):
https://youtube.com/playlist?list=PLHSAb26Vm7rnCwTCmGES3aW64O0WzXLVR
धन्यवाद ।
अव्यक्ति परिवार - Avyakti Parivar
Youtube: http://tiny.cc/avyaktiparivar-youtube
Website: https://www.avyaktiparivar.org/

2023 May through June International News Archive
2023 March & April International News Archive
2023 February International News Archive
2023 January International News Archive
2022 Additional December International News Archive
2022 September through December International News Archive
2022 July & August International News Archive
2022 June International News Archive
2022 May International News Archive
2022 April International News Archive
2022 March International News Archive
2022 February International News Archive
2022 January International News Archive
2021 December Archive of International News
2021 September through November Archive of International News
2021 July through August Archive of International News
2021 May through June Archive of International News
2021 April Archive of International News
2021 March Archive of International News
2021 February Archive of International News
2021 January Archive of International News
2020 December Archive of International News
2020 November Archive of International News
2020 October Archive of International News
2020 September Archive of International News
2020 August Archive of International News
2020 July Archive of International News
2020 Jun Archive of International News
2020 Apr through May Archive of International News
2020 Mar 18 through Mar 31 Archive of International News
2020 Jan through Mar 17 Archive of International News
2019 Aug-Dec Archive of International News
2019 Jan - Jly Archive of International News
2018 Aug - Dec Archive of International News
2018 Jan - Jly Archive of International News
2015 Archive of International News
2014 Archive of International News