International News
International News
News from Jayantiben in London: 12 April
13 April 2021
Greetings of love!
Sincere apologies for the delay in communication. Travel has meant that I am very behind with my replies to emails. In fact, the last few days in Madhuban were extremely busy as you can imagine. I returned to London on the 11th.
12th morning in London, there was a bit of snow but it stopped fairly soon. It gives you an idea of the temperature. Shantivan/Abu Road was around 42 degrees in the afternoon, and so it's quite a change to be back in the cold. I thought it was going to be spring, and yes many of the spring blossoms and flowers are out, but somehow there is a cold snap that's come in.
COVID seems to have slowly decreased in the UK. Shops, schools and most places are now open again. Baba's home has been open for Class since 11 March, Shivratri Day and the day that Dadi Gulzar flew to the Subtle Region, and it continues to remain open.
OM SHANTI

News from Jayantiben in Abu, 7th April
10 April 2021
My programme as it stands is to go to Ahmedabad on the 9th for COVID test, and then I fly from Ahmedabad to Delhi on the 10th, and onto London early on 11th morning. It's been a powerful experience being here in Madhuban for the ceremonies of the two Dadis, and again renewing connections with several departments in Madhuban.
On the 7th, we had a chance to go to the new Water Treatment Plant in Shantivan. It is quite amazing; the basement is as clean as a conference area. A few Heads of Departments and the labourers were there, so Jayminiben, Hansaben, Balwantbhai and myself all had a chance to see the place. We shared a few words of good wishes and congratulations to the whole team.
It's been a huge project as all of you know, and the good news is that everything is moving towards the final stage. It's almost ready, and there will be an official inauguration once Nirwairbhai is back, but for the time being, they wanted representatives of the double foreigners to come and see the progress. So guaranteed, whenever the next season begins in Madhuban and we will all be there to be with the family and Baba again, we will have very clean, fresh and healthy water available.
OM SHANTI

"Science in Silence" Article posted in Time Business News on 26th March to Promote Online "Creator Silence" Events
6 April 2021
SOURCE: https://timebusinessnews.com/science-in-s-i-l-e-n-c-e/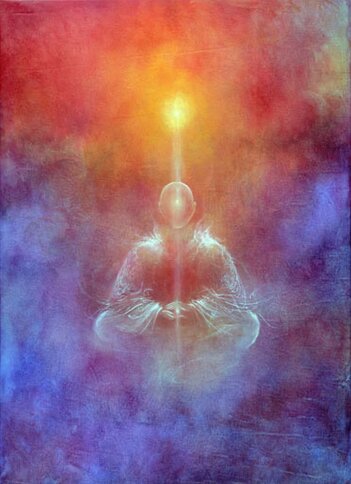 Increasingly, scientists are becoming aware that the mainstream vision of scientific materialism is a too narrow view on reality, and is not going to bring us relevant breakthroughs in understanding nature, and the refined non-violent technologies to solve the great problems that are bringing this world to the edge of total collapse. We might be willing to accept that there exists an immaterial science with a focus on studying the truth of the innate self, the incorporeal source of that, and our relationship with that source. And when we are able to see that this is indeed a science, since it has a method, and it leads to consistent results in the form of experiences that are reproducible in time and for different practitioners in different geographical locations, then we might come to the inevitable conclusion that the material – and the immaterial science need to unite, to bring us further.
The experience of the Raja Yoga of the Brahma Kumaris practiced at Mount Abu, India and in many countries over the whole world, gives us the method of this unification: both recognizing their immaterial root cause, and then their effect and task in the material, including the entire universe.
The ONE provenance of the perfect existence of both is an immeasurable tiny spark of immaterial light, the absolutely innocent, so unconditional highest creator essence, with liberating effect on human consciousness and subatomic, so atomic matter.
Aware, that now a time has come, in which humanity no longer is able to learn through lectures or dialogues, but through conscious experiences in the individual and collective immaterial fields of consciousness, SCIENCE IN SILENCE, offered at the hand of THE DIVINE, is an Experiential shortcut Retreat for Scientists responsible for the promotion of THE UNCONDITIONALLY GOOD, THE NON-VIOLENT.
The content is connected to the fact that we are living in the flow of an intense transformation of the world, leading into a new era of elevated original awareness. Just as a seed contains the significance to grow a complete tree, the new consciousness contains the significance to reconstruct this era of truth, inherent goodness, and non-violence.
With this increasing experience of the responsibility to adopt new consciousness, humanity will re-adopt its right to an individual link with the reality of the DIVINE, and in this experience a release of all its hidden, inherent qualities of the exclusively GOOD, empowered by its true identity, not violable by false identity, and false, exploitative aims. Its mirror will be new scientific attainments, whose importance and value is recognized by those who awoke to a new incomparable, altruistic responsibility with new loving intelligence.
Transition means to adopt new ethics of a gentle complete form of non-violence from deep inside. Non-violence towards the entire creation, including ourselves, and non-violent technologies, through which the harmony in nature and the harmony among people can be re-assigned, and stabilized anew. When we study our inner world in-depth, we may find that the material is a reflection of the immaterial. This means that to come to new refined and perfect solutions in the matter, we need to search at refined energetic levels in our inner self in connection with the most precious, brilliant, and perfect source, that is beyond matter. This type of searching happens in a state of deep inner silence where thoughts become stillness and truth can appear as an experience and as a long-lasting solution.
For mature scientists, this is a warm welcome to our future online SCIENCE IN SILENCE events. These events are four hours in length and take place on one weekend per month. The recently past "Science in Silence 2" was held from 6:30 am to 7:30 am (CEST) and 3 pm to 4 pm (CEST) on both 4th and 5th April. The events are hosted by the Neutrino Energy Group, www.neutrino-energy.com.
Science professionals are welcome to click here to register for future sessions: https://neutrino-energy.com/science-in-s-i-l-e-n-c-e-online-event/. Then, all you need to do is …. nothing. All you need to be is …. quiet, lean back …. and absorb waves of tension-free non-violence, deep into yourself…
The essence of immaterial experience dispells the darkness of material arrogance, ignorance, and violence.
Dr. BK Tanno Vorenkamp,
Master of Science in elementary particle physics;
Ph.D. in experimental condensed matter physics;
Permanent representative at the Team SCIENCE IN SILENCE

Update on Bro. BK Nirwair's Health by Dr. Pratap: 4 April
6 April 2021
To our Brahmin family in Bharat and foreign lands, Om Shanti and greetings!
We are pleased to inform you that Nirwairbhai moved to the main Sterling Hospital after 12 days of COVID care this evening (Sunday, 4 April). He is good, and his care will continue here. He is cheerful. Minimal oxygen support is required. It was a tough battle, but it's been won successfully!
He will stay in Hospital for few more days, as doctors have advised rest.
He is thankful to everyone for their loving good wishes sent by emails and phone messages.
In Baba's loving yaad,
BK Dr Pratap

REMINDER TO REGISTER by April 10th! DF Madhuban Retreat
6 April 2021
Dear Divine Family, Warmest greetings of love.
We warmly welcome you to join the final online DF Madhuban Program of the season on the 17 and 18 April. This "Silence of the Home" Retreat will be based in our dear home of Pandav Bhawan, Madhuban.
The registration link is: https://brahmakumaris.org/r/silence-home
Registrations close on Saturday 10th April.
Please note:
Retreat Morning Murli on 17th & 18th April
As the retreat will take place in your local time zones we have included both Amrit Vela and the Murli of the day within the retreat. We would like to share with you that our seniors Didi Sudesh and Didi Nirmala will read the morning Murlis of the 17th and 18th of April to us from the beautiful gardens outside Baba's Hut in Pandav Bhavan and Dadi's Cottage in Gyan Sarovar.

The Retreat is designed as a 'Madhuban Day' and includes morning sessions and also evening sessions with the full schedule being sent shortly to all those who register. There is also a journal with reflective exercises which will be guided by a local MC. (This journal along with other materials have already been sent to the language coordinators for translation.)

We will use a Retreat Portal which will contain all the zoom links, the English journal along with translated versions, etc.
The link for this portal will be sent out early next week to all those who register.
If you have any questions please email dfseason@brahmakumaris.org
Much love,
In Baba's yaad,
Double Foreigner Madhuban Program Team

Murli Experiments in Video begins in May!
2 April 2021
Dear Divine Family, Loving greetings,

It has been suggested that we continue with the Murli Experiments to support the Brahmin family during this unique time of lockdown in many parts of the world. Therefore we will be running a Video version of the Murli Experiments for the month of May to start on 1 May and finish on 31 May.
Each day someone from the RC group will be sharing their own personal practices and experiences of the Murli that is being read on that day. This will take the form of a 7-8 minute video recording which will be available in the audio section on the official madhubanmurli.org website and mobile app.
You will need to download a new version of the mobile app to access the Video feature
Those using the mobile app will need to download the latest version of the app so that the new Video feature is visible. The new version will be available around mid-April.

Please do share news of the Murli Experiments happening in May with the BK family.

With love,
In Baba's yaad,
RCs

Special Memorial Event: In the Presence of Dadi Janki - 11 April, 4-5.15 pm (BST)
31 March 2021

News from Sister Jayanti in Shantivan: 29 March 2021
30 March 2021
On 29 March, the official Day of Colour for Holi, we offered Bhog to Baba in all three campuses for Holi. In Shantivan, we received a very sweet message from Baba about letting the past be the past, and be coloured with Baba's Knowledge. The Murli was very similar, so that was really lovely.
It was a very subdued Holi this year; Holi is usually a two-day festival, with the first day of Burning the Old and the second day, Celebrating with Colours. So normally we would be on the Mount, and there would be colouring with rose-water tinted with saffron and dancing on the stage in the Auditorium in GS or in PB Om Shanti Bhawan, and the same in Shantivan. But this year we didn't do any of this to honour the Dadis and the month of March, but of course many, many came to Shakti Bhawan to spend time with Dadi Janki, and also receive toli.
OM SHANTI

Message from BK Nirwairbhai for the Festival of Holi: 29 March (From Sterling Hospital, Ahmedabad)
30 March 2021
29 March 2021
सर्व सेवाकेन्द्रों के सभी ब्राह्मण कुल भूषण को आज होली त्यौहार की मुबारक हो!
ख़ुशी की बात है कि डॉ. डुमरा जी और उनकी टीम रोज़ चक्कर लगाने आते हैं और प्यार से मिलते हैं। उन्होंने कहा है कि सभी Parameters में सुधार है। High Flow Nasal Oxygen Therapy जो 60% पर था, अभी 50% पे है। उनके अनुसार जल्दी अच्छे हो जायेंगे।
होली के दिन थोड़ा बेहतर महसूस कर रहे है। सर्व के शुभ भावनाओ, शुभ कामनाओ से और बापदादा और दादियो के आशीर्वाद से, मैं जल्दी ही अच्छा हो जाऊंगा। बाबा मेरा बहुत ध्यान रख रहे है।
जिन्होंने भी Emails या फ़ोन द्वारा सन्देश भेजे हैं, उन सभी को दिल से धन्यवाद!
बाबा की याद में,
B.K. Nirwair
(Sterling Hospital, Ahmedabad)
---
English Translation of Nirwairbhai's message:
29 March 2021
Congratulations for the Festival of Holi to our sisters and brothers, the decoration of the Brahmin Clan, at all the Centres!
It is a matter of joy that Dr. Dumra ji and his team come on their rounds every day, and meet me with such love. He shared today that there is improvement in all parameters. The High Flow Nasal Oxygen therapy was at 60%, but has now reduced to 50% requirement. He feels that health will improve soon.
I am feeling a little better on the Day of Holi. I am sure I will get back to good health soon, with everyone's pure wishes and good feelings, and blessings from BapDada and our Dadis. Baba is looking after me very well.
Many thanks from the heart to all those who have sent their good wishes via emails and phone messages.
In Baba's remembrance,
B.K. Nirwair
(Sterling Hospital, Ahmedabad)

News from Sister Jayanti in Shantivan: 28 March 2021
30 March 2021
Since the 25th, there have been ceremonies to share gifts for Dadi Janki's first anniversary of ascension. In Bharat, it is a tradition that when a person who is very mature in age departs, and that one has had a life filled with kindness and goodness, gifts and special sweets are distributed to family and friends. And of course the Madhuban Family is an unlimited one; last year we weren't able to do this due to COVID, but this year Sudeshben, Hansaben, Jayminiben, and myself have been able to do fulfil this ceremony. On Thursday, we went up the mountain to give gifts to Gyan Sarovar Niwasis in the morning, and then to Pandav Bhawan Niwasis in the evening.
On 26th morning, we were able to meet the double foreigners and Senior DF Teachers in Shantivan and share gifts. On 26th evening, we met with the Dedicated Niwasis of Shantivan.
On 28th morning, we had the opportunity of sharing gifts with the BK Colony residents (who stay in the neighbourhood of Shantivan, and attend Murli Class in Manmohini Van Auditorium as they are trying to manage all the numbers during COVID). 28th late morning, we went to Pandav Bhawan to share gifts with the Sevadharis and Abu Niwasis, and then to the Global Hospital to share with the BK Staff. So it's been a lovely opportunity to meet many, many souls with drishti.
At the moment, all the complexes are quite particular about wearing of masks, and so masks are the order of the day.
We have also been meeting with BK friends from Ahmedabad who have been coming to help support the construction of Shakti Sthamb (Tower of Might). There was a large team of sisters and brothers from Hyderabad who spent the last few nights preparing garlands of marigolds and also other floral decorations for the Sthamb. On 27th morning, they finished decorating the Memorial at 4am; together with a team led by Sureshbhai from Manmohini Van Complex, they had all the floral decorations in place.
Of course, a large team of people have been working very, very hard under Rameshbhai (Chief Engineer) to create the beautiful Shakti Sthamb. According to drama, it's not completely ready, but the floral decorations ensured that no one missed anything. We've had very lovely comments about the beauty of the Tower. On 26th night, it was almost full moon just behind Shakti Sthamb, and so looked very special.
It's been wonderful that the whole worldwide family was able to watch all proceedings on the live webcast, but also on youtube and other platforms. Even as Murli was taking place on the 27th, we were able to hoist Shiv Baba's flag just outside the Conference Hall. The flag hadn't been hoisted at Shivratri for various reasons, and so Brother Brij Mohan hoisted the flag on the 27th, and we then offered flowers and garlands to Dadi Janki at Shakti Sthamb. The numbers were managed beautifully by the Madhuban Brothers, and so small groups came peacefully to offer flowers.
The two Dadis were present at the ceremony, along with Brother Brij Mohan and other Shantivan Seniors. Unfortunately, Brother Nirwair is out of action at the moment, but with everyone's loving good wishes he will surely be better soon, and be back with us in a short while. Brother Karuna was with us on 27th morning, but later tested positive; he is now in Ahmedabad but recovering well.
After offering flowers at the Sthamb, a gathering of the Seniors from Bharat and some double foreigners came into the Sitting Room, which many of you know, at the back of Shakti Bhawan by the garden. There we had a few words from Brother Brij Mohan who spoke beautifully about Baba being at the very peak, and so the Tower of Peace is on the top of the mountain in Pandav Bhawan; Baba speaks about light and might, and so the Tower for Dadi Prakash Mani is a symbol of light (Prakash) and Dadi Janki is the symbol of might (Shakti), so truly Abu is the Pilgrimage Place for the world.
Munniben then shared Madhuban laddoo toli and apples with everyone, and a beautiful booklet that explains the concept behind the creation of Shakti Sthamb was also distributed.
The late morning programme in Diamond Hall was very special. It began with Seniors sharing their meaningful experiences with Dadi Janki, followed by Bhog Offering by Rukmaniben, which you would have seen and heard.
There was a fabulous Brahma Bhojan offered to Baba and Dadi, which they must have appreciated for the love with which it was all done. But the Brahmins also definitely enjoyed it.
After lunch on 27th, we had a meeting with the Contractor who had taken on the task of constructing Shakti Sthamb, together with the Architect who had designed it, plus about 10 of the main helpers. It was a very lovely session of appreciation for each one. Hansaben had made a lot of preparations, and so the whole Meeting went off very, very well with each one being appreciated and thanked.
There was a non-stop flow of Brahmins in the afternoon and evening, all coming to Dadi's room in Shakti Bhawan for a few minutes, and receiving tolis and the booklet.
At the end of the day, it really felt as if Dadi had been with us in a very tangible way, and there was much appreciation of the love and powerful atmosphere that had been created by Baba's remembrance and Dadi.
OM SHANTI

Message from Bro. BK Nirwair from Sterling COVID Hospital in Ahmedabad, India
28 March 2021
Dear Sisters and Brothers,
I am receiving the cooperation of Avyakt BapDada's blessings and all your good wishes filled with yog-tapasya. Health is improving gradually.
Chariot is still positive. It will be re-checked in two day's time, but internally I am feeling better than before. There is a lot of weakness, which is why I am not using the phone. Multi-million fold thanks for all your good wishes!
In BapDada's remembrance,
B.K. Nirwair

Message from Dr. BK Pratap Regarding BK Nirwair Bhai's Health (as of 27 March)
27 March 2021
Om Shanti to the Instrument Teachers and BK family at all Centres in Bharat and abroad,
Greetings from Ahmedabad!
This is to share with you an update on BK Nirwair Bhai's health. He was shifted from Shantivan to Ahmedabad on 23 March night, as the fever was not relenting. He is now in Sterling Hospital ICU being treated for COVID-19, by an expert and friendly team of Doctors. He is on High Flow Nasal Oxygen and is comfortable to an extent.
Thank you for your good wishes and yoga power for his recovery. Please see Nirwairbhai's message for all of you (below in Hindi & English).
On Spiritual Seva,
BK Dr Pratap
.....
"अव्यक्त बापदादा के नैनों के नूरे रत्नों, भारत तथा विदेश के कोने-कोने के सभी ब्राह्मण कुल भूषण भाई-बहनों को निर्वैर
भाई की अहमदाबाद हॉस्पिटल से बहुत-बहुत ईश्वरीय याद स्वीकार हो |
कोविद-19 की बीमारी सबको पता है; आती है बड़े अचानक से, और जाती है बड़े धीरे से, लेकिन अब डॉक्टर हरजीत सिंह डुमरा,
डॉ सुधीर शाह और उनके साथ जूनियर डॉक्टर्स भी बड़ा ध्यान दे रहे है | दवाईयां काफी लेनी पड़ रही है |
अच्छे भी फील करते है और फिर थोड़ा दवाईयो का अलग असर होता है |
ठीक होने में थोड़ा समय लगेगा|
आप सबकी शुभ कामनाओ, ईश्वरीय याद और विशेष तपस्या के लिए, लाखों-लाखों धन्यवाद स्वीकार करना जी | ॐ शांति |"
ईश्वरीय याद में,
बी. के. निर्वैर
....
English Translation of Nirwairbhai's message:
To the lights of Avyakt BapDada's eyes, and decoration of the Brahmin Clan, Our Sisters and Brothers from Bharat and abroad.

Everyone is aware of COVID-19 illness; it comes quite suddenly but departs very slowly. However, Dr. Harjit Singh Dumra, Dr. Sudhi Shah and other junior doctors are now giving full attention to my health. A number of medicines need to be taken. I feel good at times, but occasionally there are side-effects to the medications… It will take a while to recover.
Please accept multi-million fold thanks for your good wishes, spiritual remembrances, and special tapasya for my well-being. Om Shanti.
On Spiritual Seva,
B.K. Nirwair

Madhuban Double Foreigner Program 2020 - 2021 Season April Retreat
25 March 2021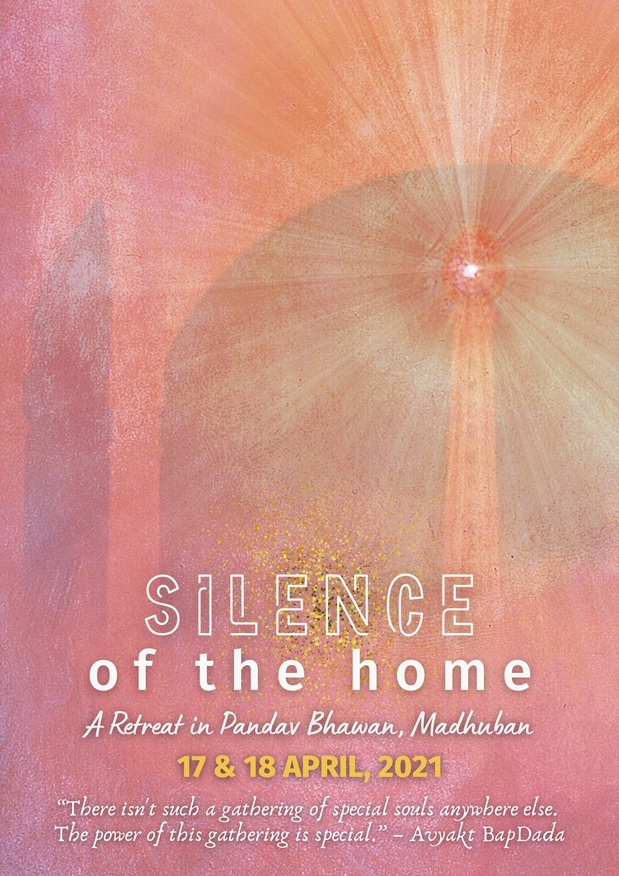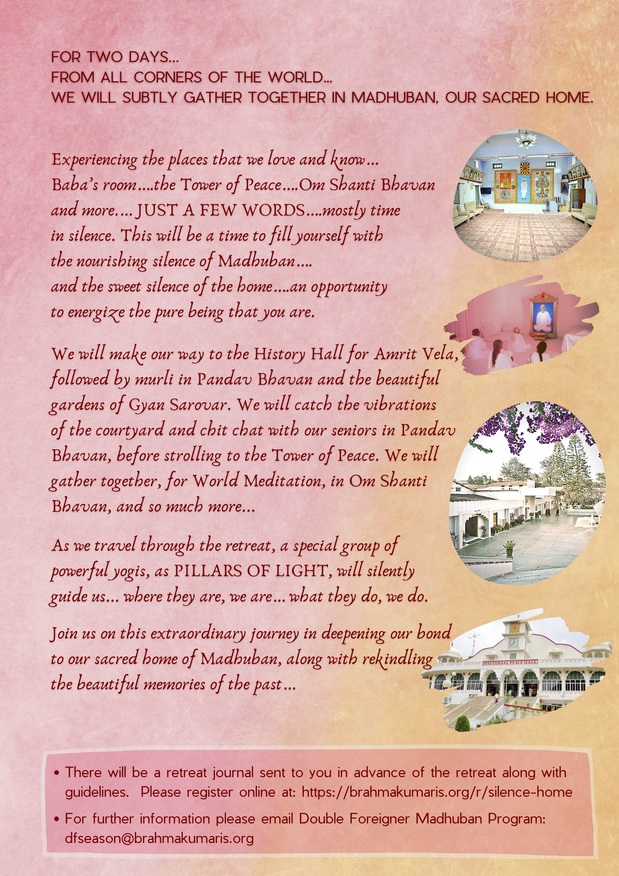 Dear Divine Family,
Warmest greetings of love.
We warmly welcome you to join the final online DF Madhuban Program of the season on the 17 and 18 April. "Silence of the Home" Retreat will based in our dear home of Pandav Bhawan, Madhbuan.
Please find the details attached.
Registration is necessary and the registration link is: https://brahmakumaris.org/r/silence-home
For questions about translation, please contact your language coordinator. If you have any other questions please email dfseason@brahmakumaris.org.
Much love,
In Baba's yaad,
Double Foreigner Program Team

Arrangements for Dadi Janki's first anniversary on 27th March
25 March 2021
Dear Divine Family,
We would like to remind you about the arrangements for Dadi Janki's first anniversary on 27th March.
At our centres:
You are invited to offer special bhog for Dadi on Saturday the 27th March, in the morning class. Please do share bhog with everyone according to the Covid systems in your country. You may also like to hold a special evening where BKs remember Dadi and share their special experiences of how Dadi has transformed their lives.
Inauguration of Shakti Stambh (Tower of Power)
(This will take place from 8am IST on Saturday 27th March and not 8.30am as previously mentioned)
On 27th March the inauguration of Shakti Stambh will be streamed live from Madhuban. The timetable is as follows:
8.00am IST: Inauguration of Shakti Stambh
10.00am - 12noon IST: Sharing of personal experiences of Dadi Janki
12noon IST: Offering of Bhog and Baba's message
Live Streaming from Madhuban (instructions)
The event will be streamed Live on YouTube from 8am IST. At whatever time after 8am (IST) you start watching on YouTube, you will only have to scroll to the beginning of the video and start watching.
Here is the YouTube link for you to share with your students: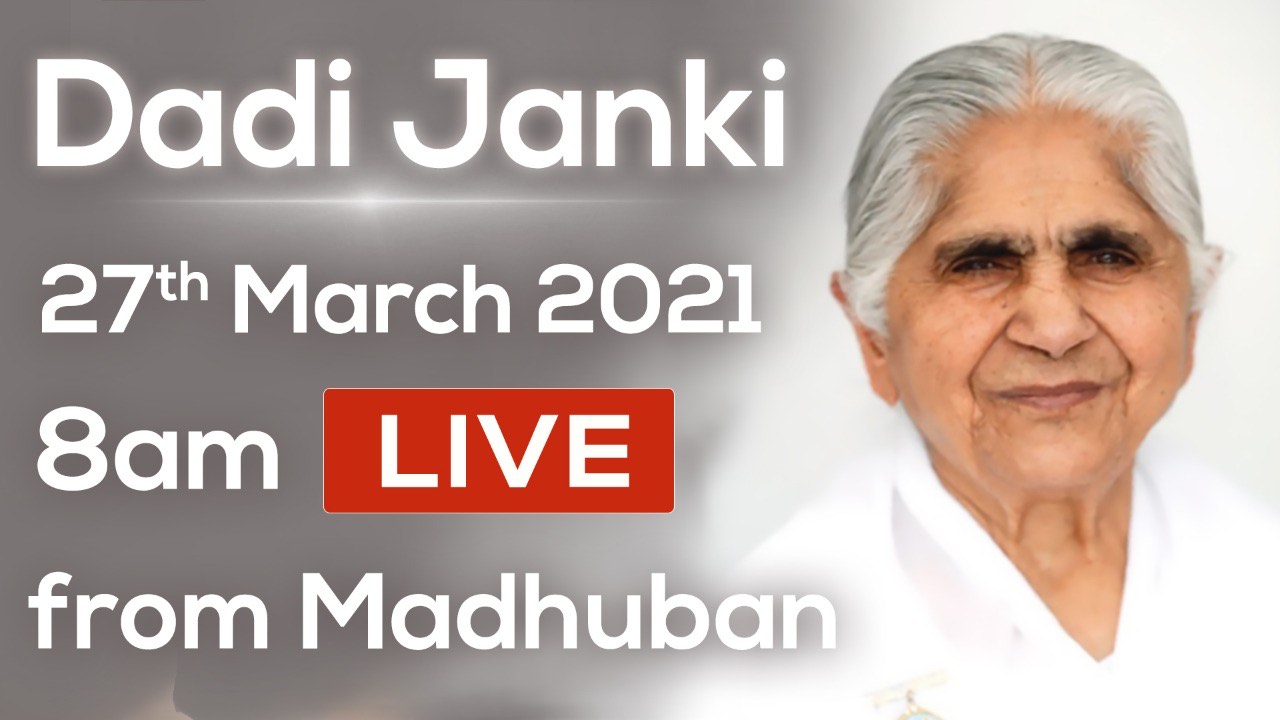 News from Jayantiben in Shantivan: 18 March
20 March 2021
Thursday morning, we offered Bhog to Dadi Chandramani and Dadi Nirmal Shanta, and the Bhog Message via Rukmaniben said that it was as if Baba also emerged Dadi Janki and Dadi Gulzar with the other two Dadis. Baba emphasized how much love the Dadis had for each other, and this led to the state of unity where they were able to harmonise their ideas very, very naturally and easily. Baba also mentioned how Dadi Janki, Dadi Chandramani and Dadi Nirmal Shanta all stayed together on the ground floor of Indraprasth in Pandav Bhawan, and they would meet frequently and express their love with heart-to-heart conversations in Indrapasth. Just across the window was also Dadi Gulzar's room, and so she would also often join them, so it was a very lovely reminder of the past and also of the present continuing bond of these souls who are the original jewels of the Yagya.
March seems to be a very special month in which many have chosen to fly to Baba, perhaps because it's the month of Shivratri...
OM SHANTI

12th day Bhog Offering for Dadi Gulzarji and 1st Anniversary Bhog Offering of Dadi Jankiji
19 March 2021
Dear Brothers and Sisters, Om shanti and greetings from the London family.
Please find below instructions from Madhuban for bhog offering for Dadi Gulzarji and Dadi Jankiji.
With much love,
Jasu
16/3/2021 Madhuban Om shanti
Beloved Avyakt BapDada's deeply loving instrument teachers and all brothers and sisters who are always being sustained with Avyakt sustenance, those who are very close to all the Dadis, and are the decoration of the Brahmin clan, please accept Godly love, filled with sweet remembrance.
Our sweetest Dadi Gulzarji, one who gave God's love and sustenance to all of us Brahmin children, one with the Avyakt form who merged our beloved BapDada in her heart, bid us farewell from the corporeal world and became a resident of the subtle region. Now, special bhog is being offered for her in Madhuban every day.
On 22nd March, it will be the 12th day and special bhog will be offered for Dadiji on this day and there will also be Brahma bhojan for everyone. The stamp of the sustenance we have received from Dadiji is imprinted on everyone's hearts. On the day of remembrance of Dadiji (12th day – Monday 22nd March), let special bhog be offered and also have Brahma bhojan at all the centres. (If anyone wishes to have this programme of bhog offering and Brahma Bhojan on Sunday 21st as it is a holiday, please feel free to do so.)
Definitely feed everyone Brahma bhojan of the yagya in Dadiji's name with a big heart to all Brahmins. For bhog, you can prepare whatever you wish to according to your own convenience.
Our sweet Dadi Jankiji's 1st anniversary is on Saturday 27th March 2021. Dadiji always continued to give the whole world sakaash of all powers through her mind. So, on her 1st anniversary, because of her serving the whole world, the new Shakti Stambh (Tower of Power) that is constructed as her memorial will be inauguarated at 8.00 am. At that time, all brothers and sisters will offer their loving tribute to Dadiji. After that, at 11.00 am in Diamond Hall, some brothers and sisters will share their special experiences with Dadiji. After that, bhog will be offered to our beloved BapDada in Dadi Jankiji's name. Then everyone will take Brahma Bhojan. Please have a special programme of bhog offering and Brahma Bhojan on Dadiji's 1st anniversary at all the centres.
Achcha. Lots of love and remembrance to all.
In Godly service.
BK Ratanmohini.

RE: The False Messages Circulating Regarding the Spiritual Heads of the Brahma Kumaris
19 March 2021
Dear BK Centre Incharge Teachers and BK Sisters and Brothers,
Please accept greetings and remembrances from Madhuban.
It has come to the notice of the PBKIVV Management Committee that a message regarding Respected Dadi Ratan Mohiniji, Respected Dadi Ishuji, and Dr Nirmala Didi has been circulated on Whats App on 16 March. This message is incorrect.
In the Meeting of the PBKIVV Management Committee on 14 March 2021, it has been decided that Respected Dadi Ratan Mohiniji hereafter is "Spiritual Head of the Brahma Kumaris" and Respected Dadi Ishuji is "Additional Spiritual Head of the Brahma Kumaris". Only these two positions have been appointed.
The rest of the message is false, which may be kindly noted.
On Spiritual Seva,
BK Shashi Prabha
Member-Secretary
For PBKIVV Management Committee
सर्व सेवाकेन्द्रों के इंचार्ज टीचर बहने व क्लास के बी. के. भाई-बहनों को ईश्वरीय याद स्वीकार हो।
PBKIVV के मैनेजमेंट कमिटी के नोटिस में आया है, कि आज WhatsApp पर एक मैसेज आदरणीय दादी रतन मोहिनी जी, आदरणीय दादी इशू जी, और डॉक्टर निर्मला दीदी के नाम से भेजा गया है। वे बिलकुल गलत है।
मैनेजमेंट कमिटी की १४ मार्च २०२१ मीटिंग में यह फैसला किया गया है, कि आदरणीय दादी रतन मोहिनी जी "Spiritual Head" और आदरणीय दादी इशू जी "Additional Spiritual Head" रहेंगी। केवल दो को नियुक्त किया गया है।
बाकी जो मैसेज में भेजा गया है, वे गलत है जो आपके ध्यान पर रहे।
ईश्वरीय सेवा में,
बी. क. शशि प्रभा
Member-Secretary
For PBKIVV Management Committee

2021 April Archive of International News
2021 March Archive of International News
2021 February Archive of International News
2021 January Archive of International News