2020 Mar 18 through Mar 29 Archive of International News
2020 Mar 18 through Mar 29 Archive of International News
Message from Dadi Ratanmohini Ji and Transcript of Bhog message for Dadi Jankiji via Rukmaniben - 28th March
29 March 2020
28/03/2020 Om shanti Madhuban
Beloved Avyakt BapDada's very loving instrument teachers and all brothers and sisters who are the decoration of the Brahmin clan, ones who watch every scene of the drama as detached observers, ones who always stay in a concentrated stage and have a constant and stable stage, ones who give your subtle powerful sakaash, all Rajyogi tapaswi souls, please accept sweet love-filled remembrances.
Dadiji, beloved of all of us, the beloved of Baba's heart, the one who always made the lesson of "I" and "mine" firm with the great mantra of om shanti, has now gone to the subtle region to BapDada to give the sakaash of the power of yoga to the service of world transformation. Bhog will be offered to Dadiji every day in Madhuban. Then, after the 13th day, on Thursday 9th April, there will be special bhog offered. All brothers and sisters in this land and abroad have had true love for Dadi in their hearts. Until this age, Dadi tirelessly served this land and abroad. She donated her virtues to us. All of you may also offer bhog to Dadiji at your own places. For bhog, whatever is possible according to the present times, you can offer that to BapDada and Dadiji because at present, according to the current situation, it will not be possible to have Brahma bhojan collectively. When all the coming and going is back to normal, then we will inform you when we can have a collective gathering for Brahma bhojan. Now, at your own places, definitely offer bhog to Dadiji on Thursday 9th April 2020.
Sitting at your own places, along with the facilities of science and with the binoculars of a divine intellect, you must be seeing the conditions of the world very clearly and experiencing it, and must definitely also be doing tapasya. This is also a beautiful opportunity to increase our concentration and to make our minds and intellects completely viceless. Now, at the blessed time of amrit vela and evening meditation, all Baba's children, becoming double light, and being in a fearless stage, must be doing the service of giving sakaash of peace and power through your mind and making the atmosphere free from fear.
With these good wishes, in Godly service.
B.K. Ratanmohini.
28/03/2020 Om Shanti Shantivan
Divine bhog message for Dadi Jankiji (Rukmaniben)
Today, I reached Baba in the subtle region carrying bhog for Dadi and giving Baba remembrance of everyone, I said: Baba, today, I have brought bhog for Dadi. Baba then made Dadi emerge. I said: Dadi, I used to come to meet you all the time, but today, I have brought bhog for you. Dadi became silent for one second. Seeing Dadi's silent face, Baba said: Child, Dadi's fortune is very high because before she went, all the elements completely cleansed everything. There were very strong winds and the elements cleansed everything. (The day before, there were very strong winds and heavy rain in Madhuban). When the body became quiet, the child came into Baba's lap, and then the elements also began to quieten down. Dadi has come at such a time when the conditions of the world are going through many obstacles. At such a time, the elements need a lot of sakaash. When the child was in the corporeal form, she used to specially give a lot of sakaash to nature. Even now, while the child is sitting with Baba in the subtle region, being with Baba she is giving sakaash to the whole world. The child's duty of giving sakaash to the world was very significant.
Now, even people of the world are giving their co-operation to matter and the Brahmin children are giving special sakaash with the power of yoga. Each one is co-operating in one way or another. Each one is experimenting with one thing or another. Baba then said: For this child to come at this time is very significant because from all three places (the souls residing in the incorporeal world, the subtle deities (angels) in the subtle region, and Brahmin souls in the corporeal form) – the child is receiving a lot of co-operation from all three places, and with this co-operation, the work that the child will do in the future, all the souls that are still remaining will be awakened through the vibrations from Dadi.
Dadi was internally very happy. Baba said: Baba has called this child at such a time when all souls need to receive sakaash. The child has done this work from the beginning, and even now, she will stay in the subtle region for a short time and will become an instrument to enable this work to be carried out. Baba was saying this looking at Dadi and Dadi was also looking at Baba and listening with attention.
I said to Baba: I have brought bhog for Dadi and to Dadi, I said: I have brought everyone's remembrance and bhog for you. Baba said: The child anyway used to eat very little from the beginning, and so Baba will feed the bhog from that place to His children in the same way and will satisfy all the children. Baba gave drishti to each of the items with a lot of love and then made Dadi accept bhog.
I said: Dadi, all your companions are sitting here. The subtle remembrance of all of them is reaching you, is it not? Dadi said: Till the very end, everyone served me a lot and I can never forget that. I have taken a lot of service from everyone. That was also the fortune of all of them. Dadi remembered each one personally by name and gave them personal remembrance and said: You have accumulated your fortune of service through this too. Remembering all her service companions by name, Hansaben, Jayantiben, Kumarbhai, Gopiben, she said: I am with everyone. Just as you have created the atmosphere now, keep it like that. Saying this, Dadi became introverted.
I then said to Baba: Baba, I will bring bhog every day for the next 11-12 days. Baba said: You may do so, Baba will keep the child emerged. Definitely come to offer bhog. Baba and Dadi gave love and remembrance in this way and I came down again.
* * * O M S H A N T I * * *

Transcript (E & H) of Dadi Jankiji's bhog message in essence from Shashibehn on 27th March
29 March 2020
27/03/2020 Om shanti Madhuban
(Essence of the message brought back by Shashiben on offering bhog for Dadi Jankiji)
On Friday, 27th March 2020 at 2.00 am, Dadi Jankiji, at the age of 104, completed her life's journey, shed her physical costume and merged in our beloved Baba's lap. The physical body was taken on a pilgrimage of Pandav Bhawan and Gyan Sarovar and then taken to Shantivan. After offering a loving tribute to Dadiji, the final cremation ceremony took place at 12.00 noon in the garden outside the Conference Hall. In the evening at 6.30 pm, Shashiben offered bhog for Dadiji in the Meeting Hall and the message she brought back is as below:
Today, as I reached the subtle region carrying love and remembrance of all the brothers and sisters from this land and abroad, the subtle region was very beautifully decorated. On one side, there were angels standing with garlands in their hands and on the opposite side, in the midst of sparkling light, Dadiji was visible. First, the angels welcomed Dadiji and sat Dadi on a beautiful throne on which was written: Vishwa Adhikari (one with who has conquered the world), the one who has won everyone's hearts. Then the angels started to shower flowers on Dadi, and the flowers were forming the words "Multimillions at every step". Dadi was watching everything just being detached and loving. Then, Baba was visible coming from opposite. As she saw Baba, she opened her arms and said: My Baba has come! Then Dadi said to Baba: Why are all of these doing this? So the angels replied in a very sweet voice: our sweet Mother who sustained the whole world, the one who has multimillions at her every step, is today in the midst of us, and this is why we are dancing with happiness. Then Dadi became fully decorated with the light. This scene became merged in a short time, and then the Tower of Peace and some pillars were visible in the front, and these pillars formed a beautiful path. Baba said: The child has prepared many such pillars for the task of world transformation. There were also people from many different professions, such as scientists, politicians, Religious leaders, etc. All of them were sharing their own feelings for Dadiji.
Then I said: Dadi, you flew and went away to Baba. Why did you go away? Dadi replied: This body of mine was playing games every day. I used to tell Baba: Baba, this body does not co-operate with me anymore. So Baba called me to the subtle region. Then Baba said: Though, physically, the child was lying in bed, Baba was taking her on a world tour. The child would fill each one with power for the task of world transformation and would inspire them. Dadi would say: Baba, this is Your work, I am just an instrument. You are Karavanhar. So Baba said: Child, even in the advance party, there are such tasks remaining which need to be given the donation of yoga and to intensify the speed of world transformation and Baba is giving you that responsibility. Dadi was just smiling.
Then Baba made the whole Brahmin family emerge in the subtle region. So Dadi asked: Baba, why have so many people come here? Baba said: They all have a lot of love for you in their hearts. They have all come to share the feelings in their hearts. Now, at present, in the world, there are such situations that no one was able to come here physically, and this is why Baba called everyone here in the subtle region. Dadi was looking at everyone with a lot of love. I said: Dadi, today, all Dadis, senior brothers and sisters and all your service companions are remembering you a lot. So, all of them were emerged in the subtle region and Dadi took hold of Baba's hand and as though she gave everyone's hands in Baba's hand and said: All of them are under Baba's canopy of protection. All of them are serving with a lot of love. I also learnt a lot staying with all of them. They looked after me as though they were looking after a little child. Then she said: Baba, what return can I give them for the service they did for me? They taught me a lot, gave me many experiences, kept me light and enabled me to move forward. Baba said: You played the part of being a conqueror of attachment till the last moment. You became an example of being loving and detached and came to the Father. I then said: Dadi, I have brought you special bhog. Baba began to give the bhog to Dadi and she said: I alone cannot eat this. Also feed all of them.
Then along with feeding Dadi, Baba also fed everyone. I then asked: Dadi, do you want to say anything to all of them? She replied: Baba says: Always learn the lesson of belonging to One and being economical. This is what I have learnt, so let everyone pay attention to this. According to the time, newness has to be brought into each one's efforts. World transformation has to be brought about through self-transformation. The task that remains now has to be accomplished very quickly. One strength and one support. I and my Baba. Always remain Baba's companion, hold Baba's hand, step onto Baba's footsteps, fly and make others fly. Then Baba said: Look, even the situations are showing their form to accomplish their task. In the future, the form of service will change through these situations and revelation will take place. Saying this, Baba gave remembrances to everyone and I came back. Achcha.
* * * O M S H A N T I * * *

Join Sr Shivani, Sr Denise & Sr Chandru in the San Francisco Tribute to Dadi Janki and World Meditation.
28 March 2020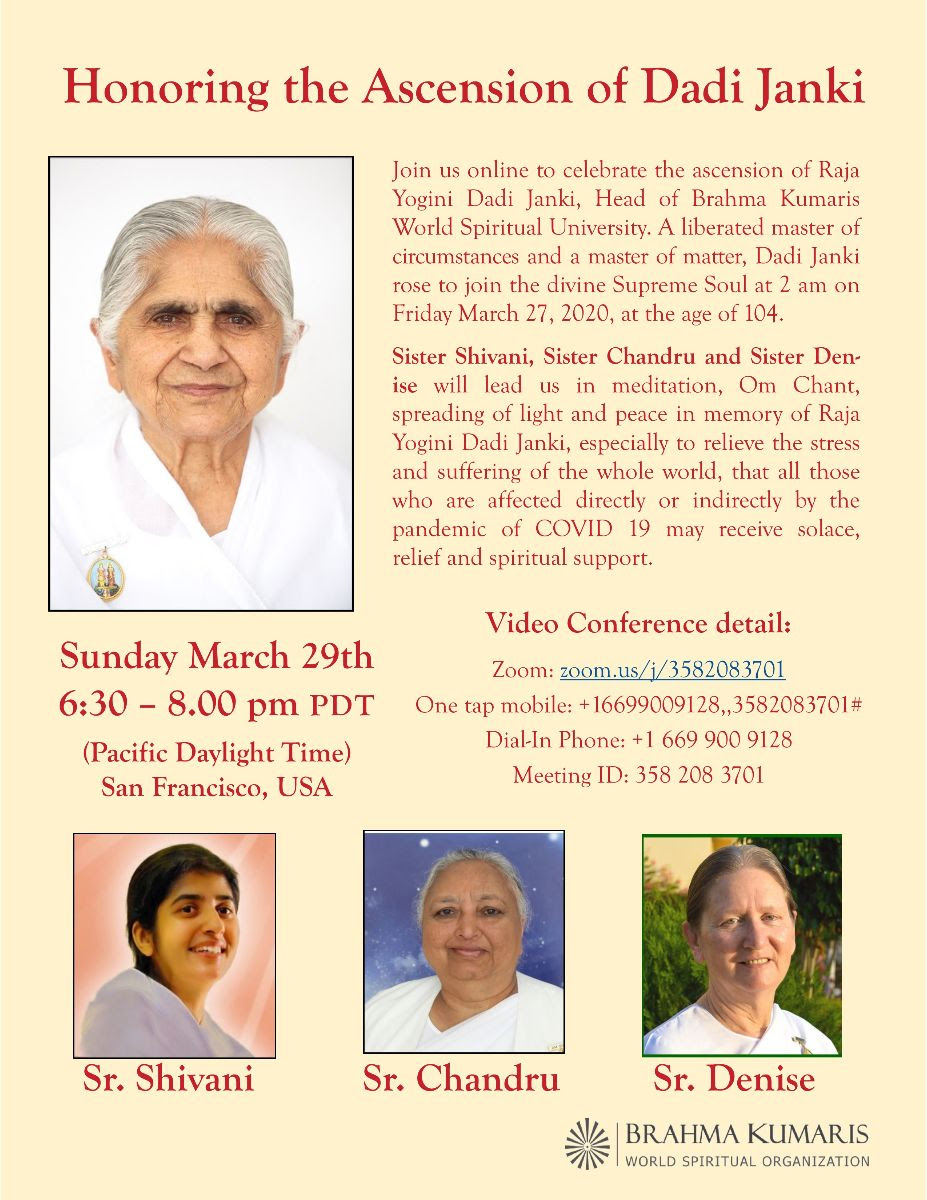 Honoring the Ascension of Dadi Janki
Sunday March 29th
6:30 – 8.00 pm PDT
(Pacific Daylight Time)
San Francisco, USA
Join us online to celebrate the ascension of Raja Yogini Dadi Janki, Head of Brahma Kumaris World Spiritual University. A liberated master of circumstances and a master of matter, Dadi Janki rose to join the divine Supreme Soul at 2 am on Friday March 27, 2020, at the age of 104.
Sister Shivani, Sister Chandru and Sister Denise will lead us in meditation, Om Chant, spreading of light and peace in memory of Raja Yogini Dadi Janki, especially to relieve the stress and suffering of the whole world, that all those who are affected directly or indirectly by the pandemic of COVID 19 may receive solace, relief and spiritual support.
Conference Login Details:
Zoom: https://zoom.us/j/3582083701
One tap mobile
+16699009128,,3582083701# US (San Jose)
+13462487799,,3582083701# US (Houston)
Dial by your location
+1 669 900 9128 US (San Jose)
+1 346 248 7799 US (Houston)
+1 646 558 8656 US (New York)
Meeting ID: 358 208 3701

Webcast Tribute to Dadi Janki – Sunday March 29
27 March 2020
Dear Divine Family,

Warm greetings filled with love. I'm sure all of you are experiencing Dadi Janki's avyakt presence. We are all becoming well versed in the art of suddenly and every ready. As many of you know, we were scheduled to have a webcast with Sister Mohini on Sunday, March 29. As per Drama, we decided that Sunday morning at the same time, we will do an impromptu tribute to Dadi Janki instead of the heart-to-heart with Sister Mohini.
Everyone is invited to take part. If you have already registered for this particular webinar, you do NOT have to register again. Just a reminder that only 3000 participants are allowed in this webinar.
Tribute to Dadi Janki with Sister Mohini
Sunday, March 29, 2020
7:00 am New York time
12:00 pm London time
4:30 pm India time
10:00 pm Sydney time
Please calculate your local time here:
https://www.timeanddate.com/worldclock/converter.html
The webinar is available only in English. Please make provisions for translation at your end. Registration is required, see details below:
https://attendee.gotowebinar.com/register/8518056624120497932
Loving Regards,
The Sustenance Team

Brahma Kumaris Pay Loving Tribute to Dadi Janki, Chief of the Brahma Kumaris, including Messages from President and PM of India
27 March 2020
Mount Abu ( Rajasthan ): Rajyogini Dr. Dadi Janki, Chief of the Brahma Kumaris, passed away at 2 am in Global Hospital, Mount Abu, on Friday, 27th March 2020.
Amidst great love and peace, Dadi Janki was given farewell by the members of the BK Divine family at Global Hospital, Pandav Bhawan, Gyansarovar and her final rites were performed in the ground in front of the Conference Hall in Shantivan.
Dadi Ratanmohini, Joint Head of the Brahma Kumaris, speaking at the cremation of Dadi Janki, said that Dadi Janki was an exemplary figure who fully implemented the teachings of the Supreme Soul. She always tried to impart these teachings to anyone who came in contact with her. She considered the whole world her family, and gave love and peace to all. She never cared for her bodily comfort while serving the people.
BK Nirwair, Secretary General of the Brahma Kumaris, in his message, acknowledged the tributes of all prominent personalities for Dadi Janki. He also acknowledged the services of the officers of administration who oversaw the last rites. He said that the more we connect with the Supreme Soul, the closer we will be to Dadi Janki. "Vishwa ki Dadi" (Dadi who belonged to the whole world) is now free from the responsibilities of maintaining the body, and rests with her eternal Companion. He read out the message of Dadi Gulzar, saying that she wished peace and eternal companionship of the Supreme for Dadi Janki. He also acknowledged the services of BK Hansa, in caring lovingly for a valuable Spiritual leader.
BK Brij Mohan, Additional Secretary General of the Brahma Kumaris, recounted his last visit to Dadi Janki at Global Hospital. He found her in a very peaceful state, beyond the effects of medical equipment and medicines. She was responding to BK Hansa, her personal caretaker and companion. She radiated tranquility. The power of her yoga was exemplary. She was a unique woman Spiritual leader who met leaders of all fields from all over the world.
Dr. Ravindra Goswami, SDM, Mount Abu; BK Munni, General Manager of the Brahma Kumaris; BK Jayanti, European Director of the Brahma Kumaris; and BK Sudesh from Germany, also expressed their heartfelt condolences to Dadi Janki for her tireless services for 104 years to the whole world.
Honorable President Ramnath Kovind, in his tweet message, expressed deep sorrow on hearing the news about Dadi Janki. Her contribution in the fields of spirituality, social welfare and women empowerment is invaluable. He expressed solidarity towards her many followers.
Prime Minister Narendra Modi in his condolences said that she served the society with diligence and toiled to bring a positive difference in the lives of others. "Her efforts towards empowering women were noteworthy," he expressed in a tweeted message.
Honorable President of India Ramnath Kovind, Speaker of Lok Sabha; Om Birla, Defence Minister of India; Rajnath Singh, Law Minister of India; Ravishankar Prasad, BJP President; J P Nadda, Rajasthan Chief Minister; Ashok Gehlot, Governor of Chhatisgarh; Anusuiya Uikey, Deputy Chief Minister of Rajasthan; Sachin Pilot, Chief Minister of Uttar Pradesh; Yogi Adityanath, Congress leader; author Sashi Tharoor; Acharya Lokesh Muni from Delhi; and Baba Ramdev of Patanjali were amongst the many prominent leaders who sent their messages of tribute to the Brahma Kumaris.
About Dadi Janki:
Born as Janki Kriplani on 1st January 1916 in Sindh, Pakistan, she joined Brahma Kumaris sometime around 1937. After independence [of India, in 1947], she came to Mount Abu with Dada Lekhraj, the founder father of the Brahma Kumaris. She traveled all over India to impart spiritual education. She visited London in 1974 to set up Spiritual services there. She helped set up the first European Brahma Kumaris Center in London.
In 1978, Dadi Janki was declared the most stable mind in the world by the scientists of the Medical and Science Research Institute at the University of Texas, USA. In 1997, a charitable trust, the Janki Foundation for Global Healthcare, was opened in London. In 2004, she was awarded the Grand Cordon of the first order of Al Istiklal (medal of independence) by HM King Abdullah of Jordon for her humanitarian services to the world. In August 2007, she became the Chief Administrator of the Brahma Kumaris. In 2015, she was appointed as the Brand Ambassador of Swachh Bharat Mission (Clean India Mission). She has also published many books, such as Wings of Soul and Pearls of Wisdom.
Her Slogan was "Sachchai, Safai, Saadgi" (Honesty, Cleanliness and Simplicity).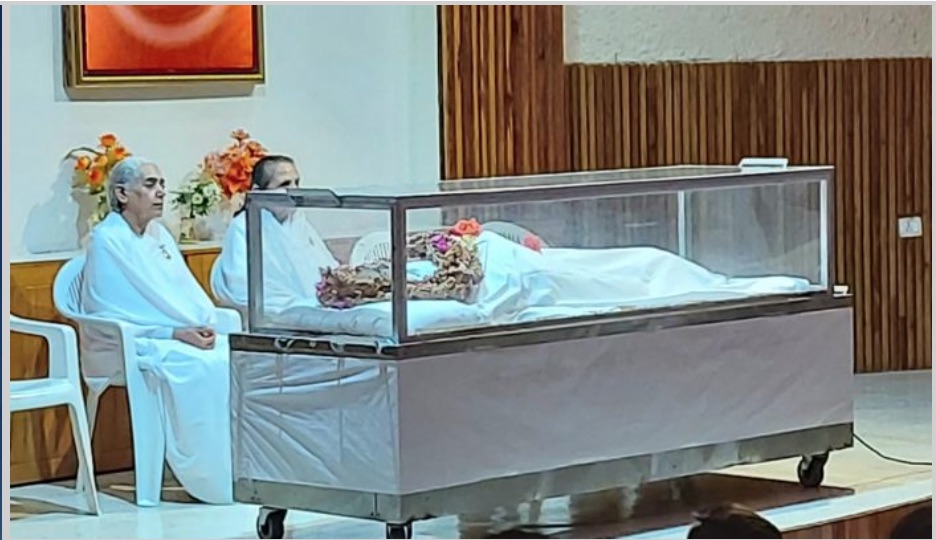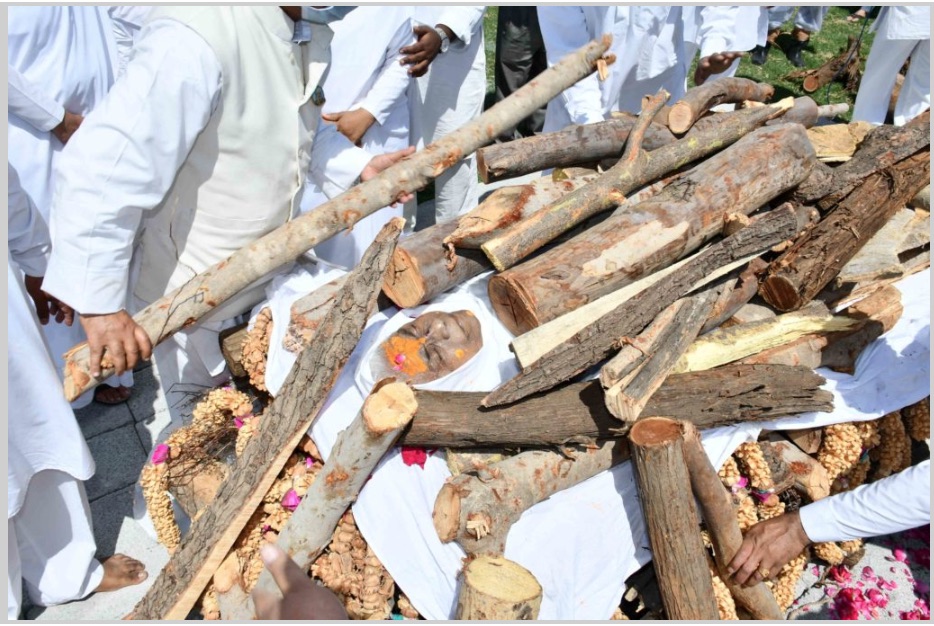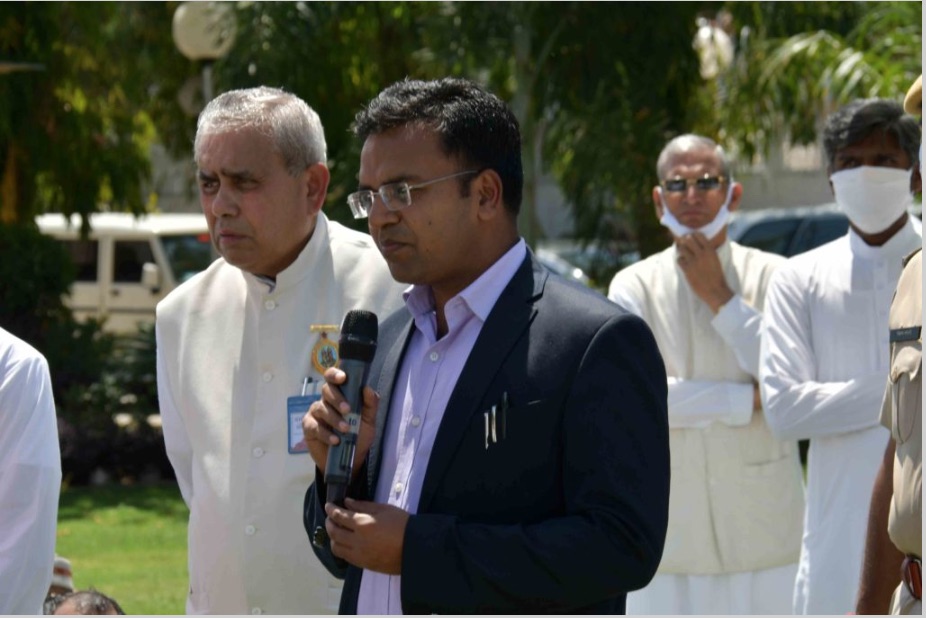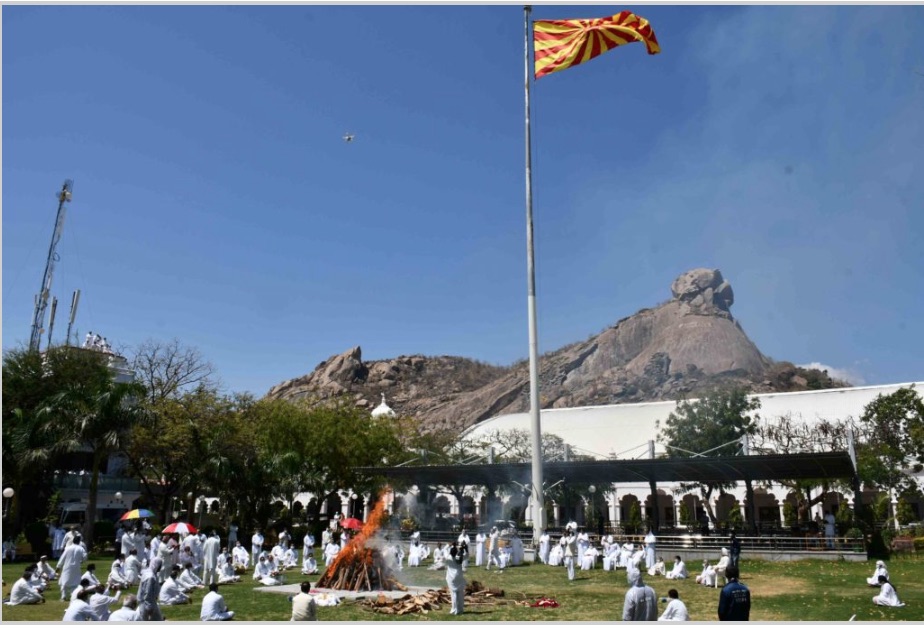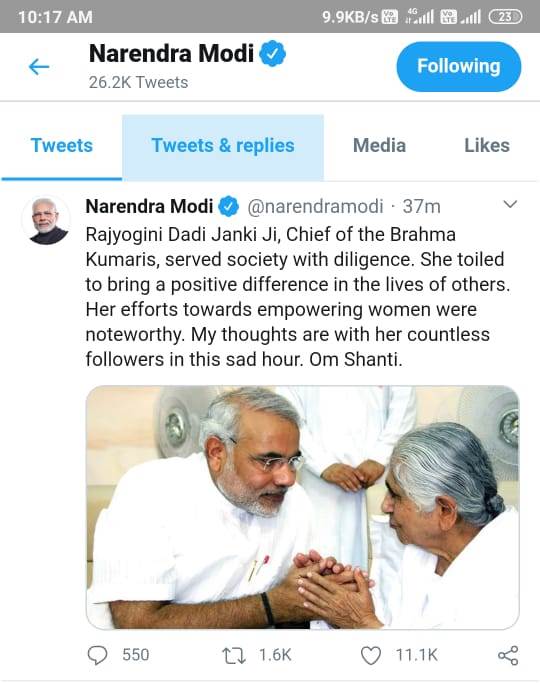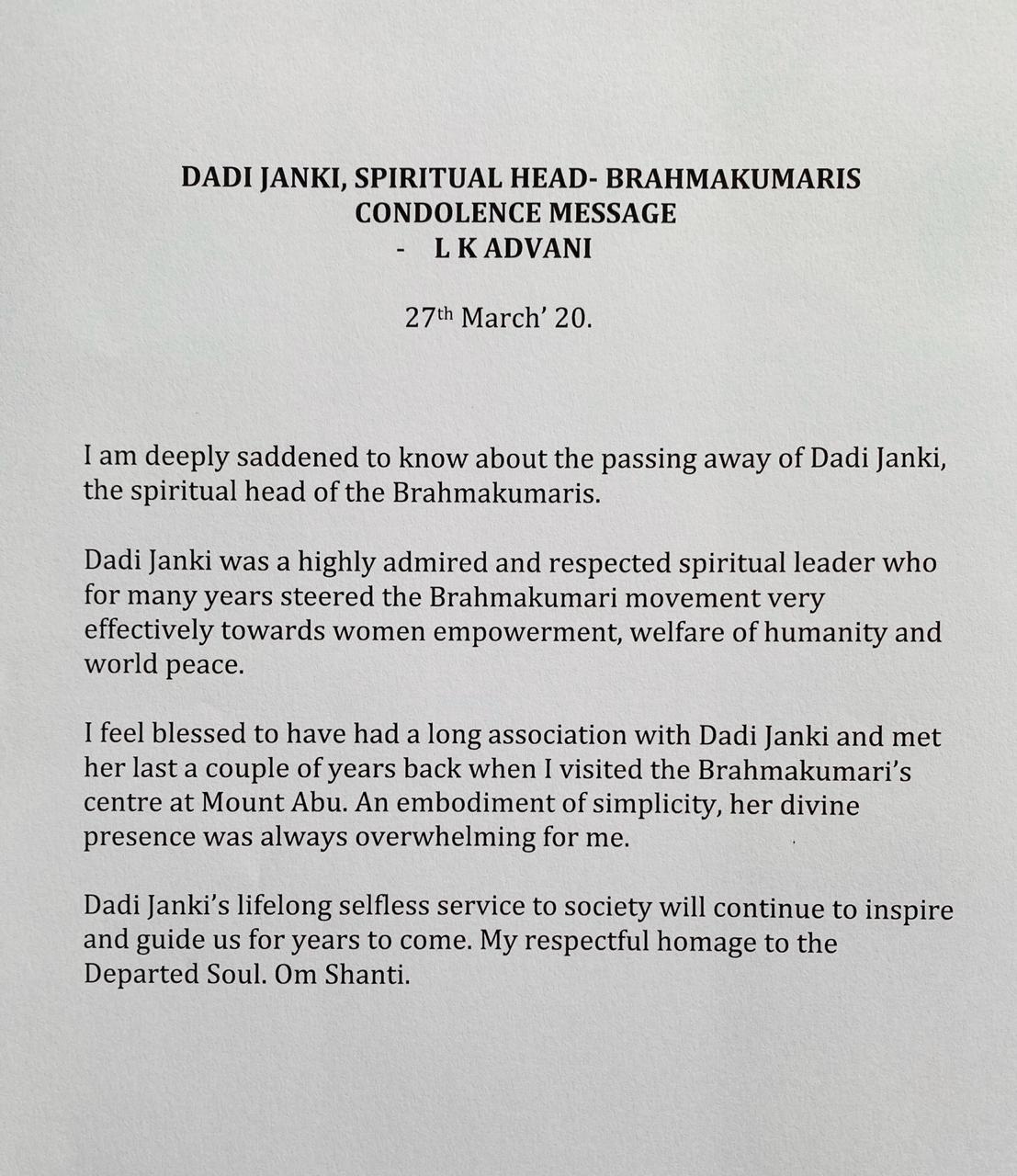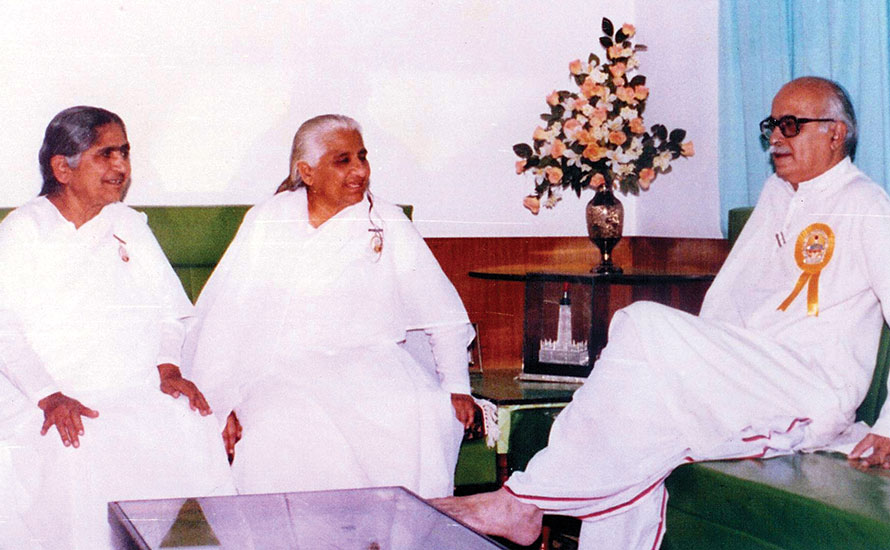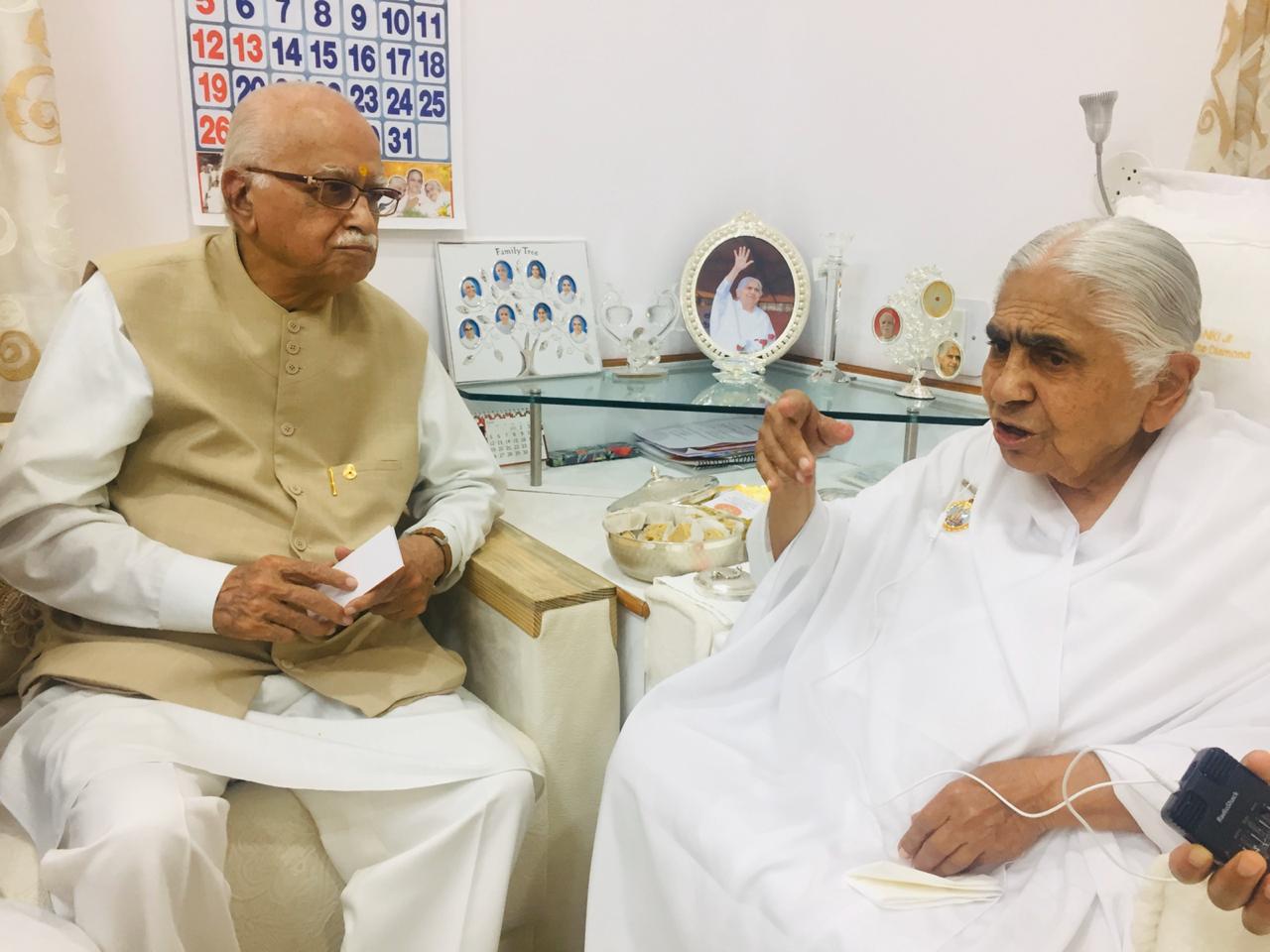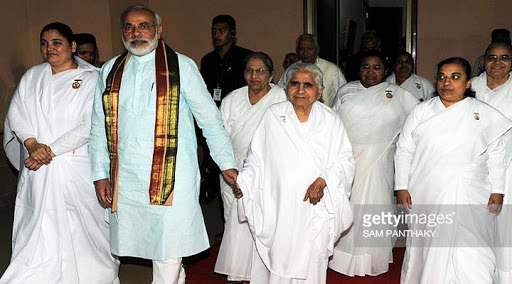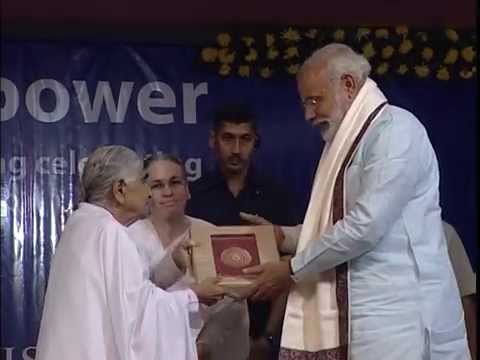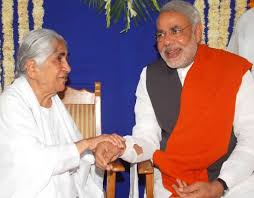 Dadi Janki's Funeral Photos 27 March
27 March 2020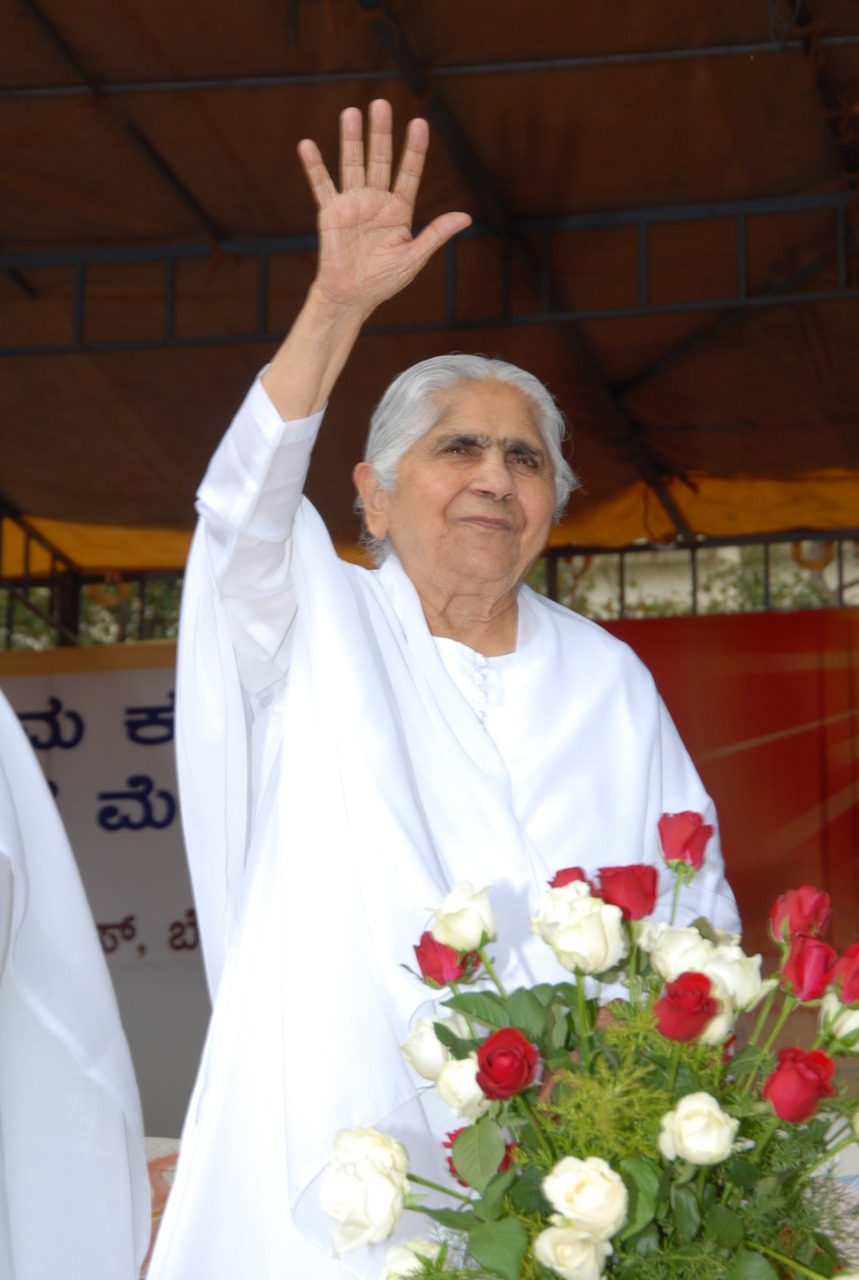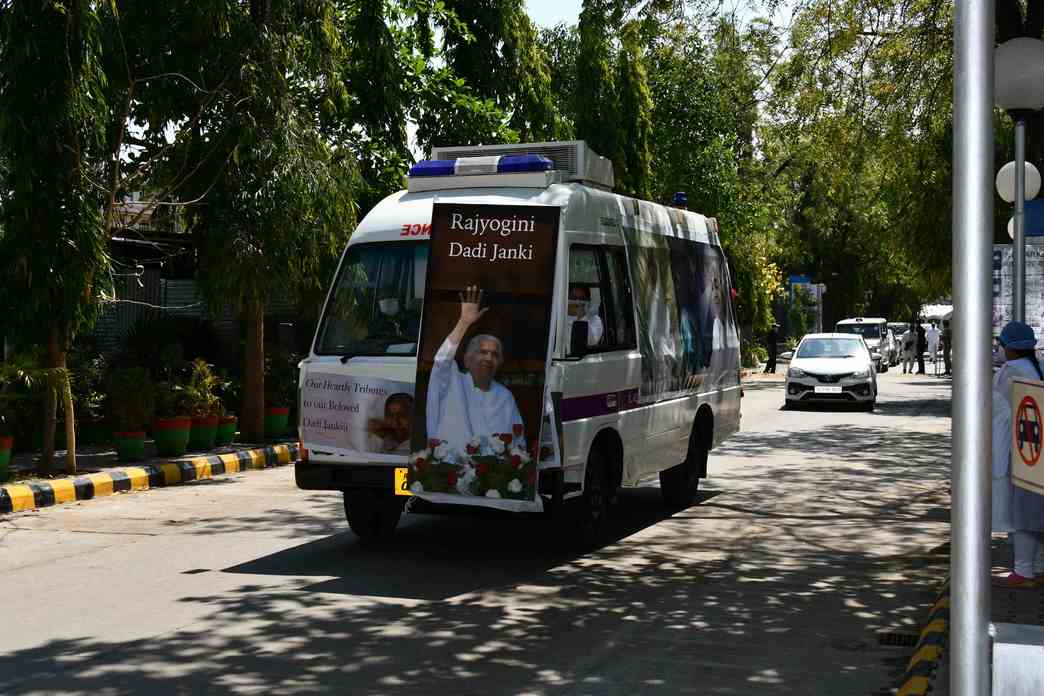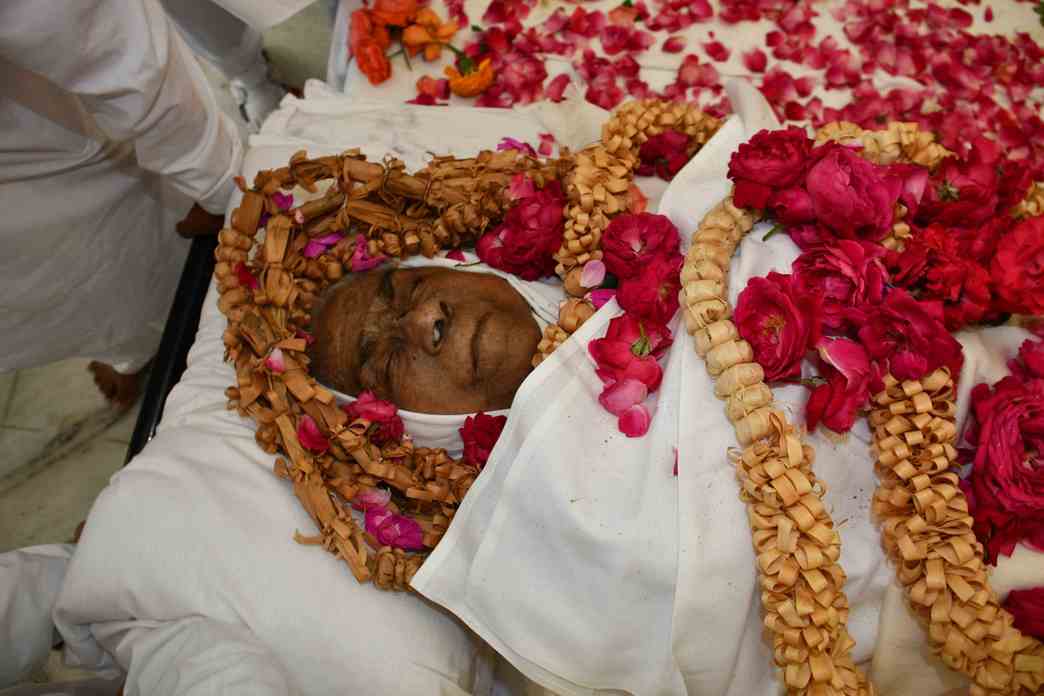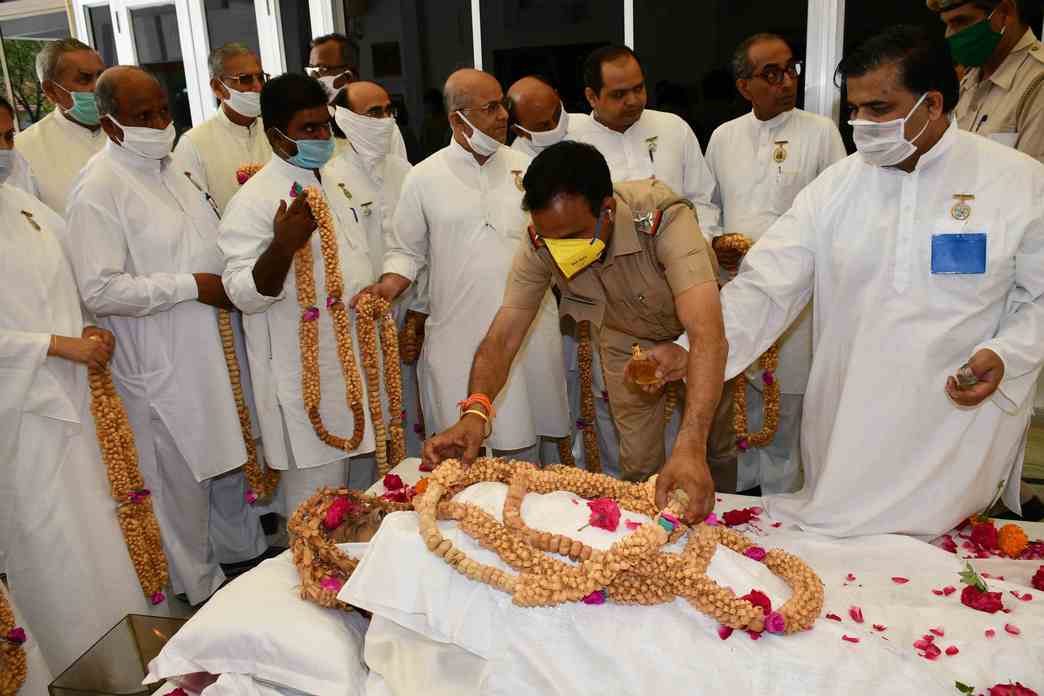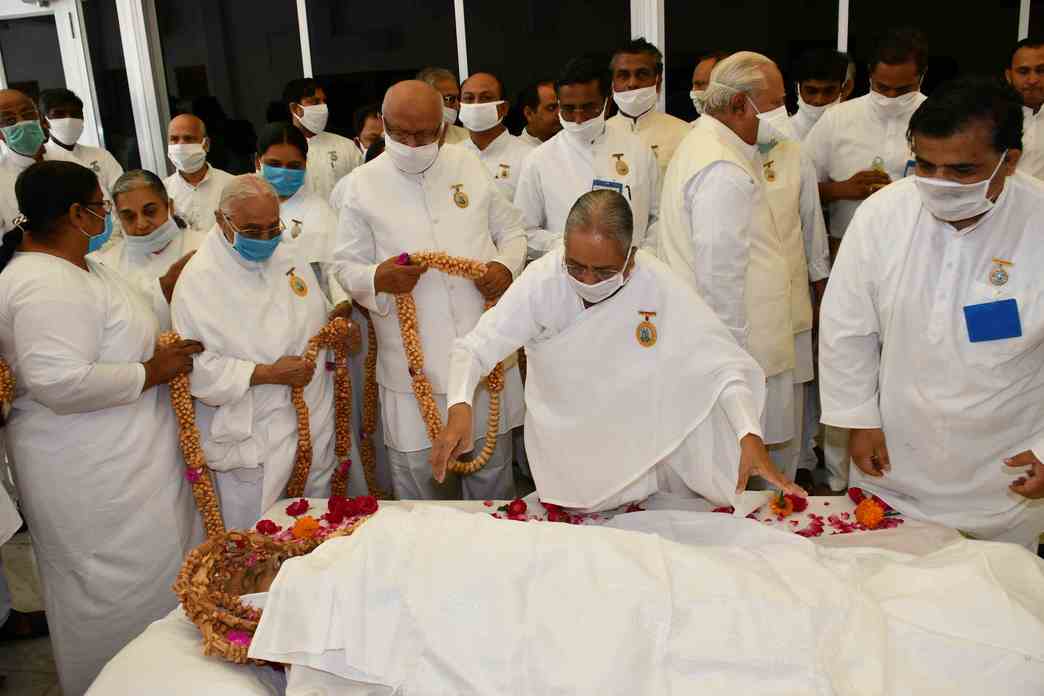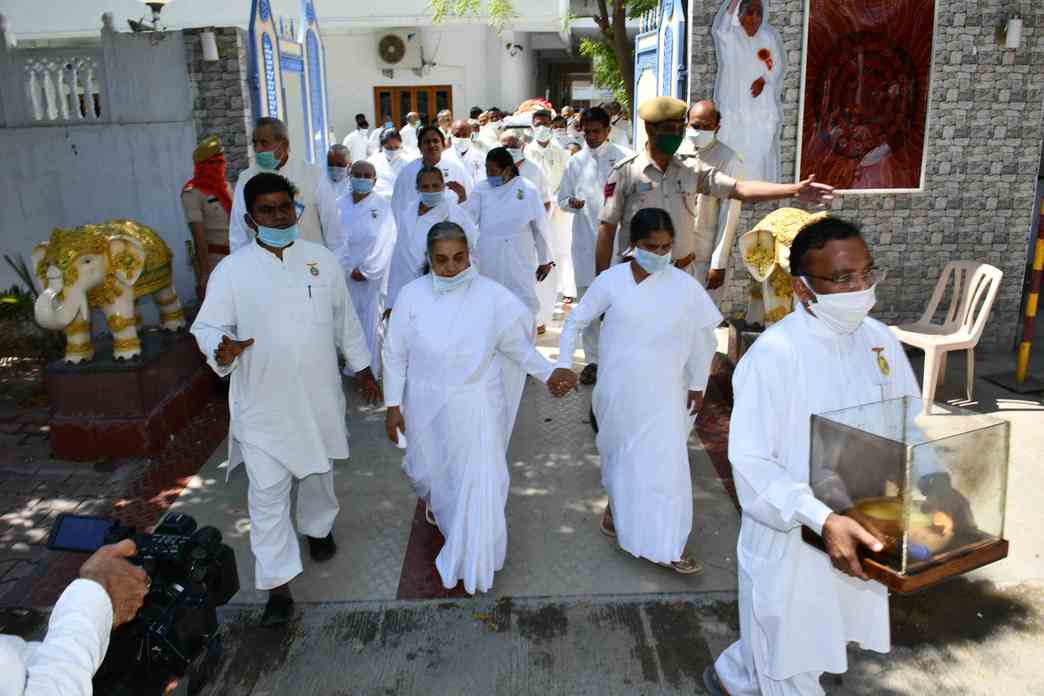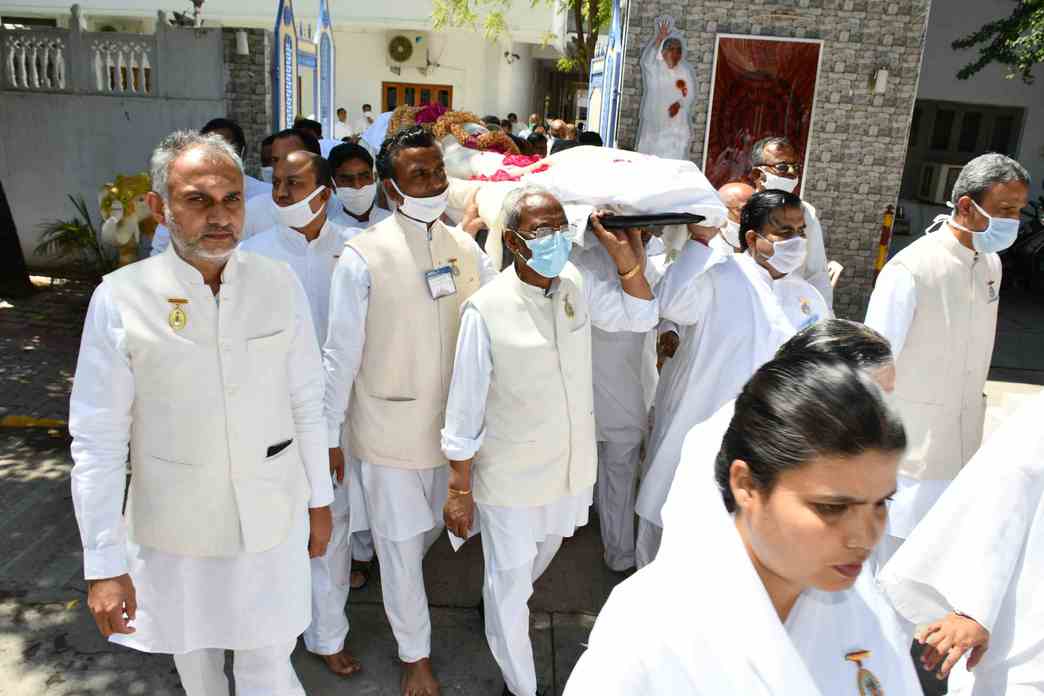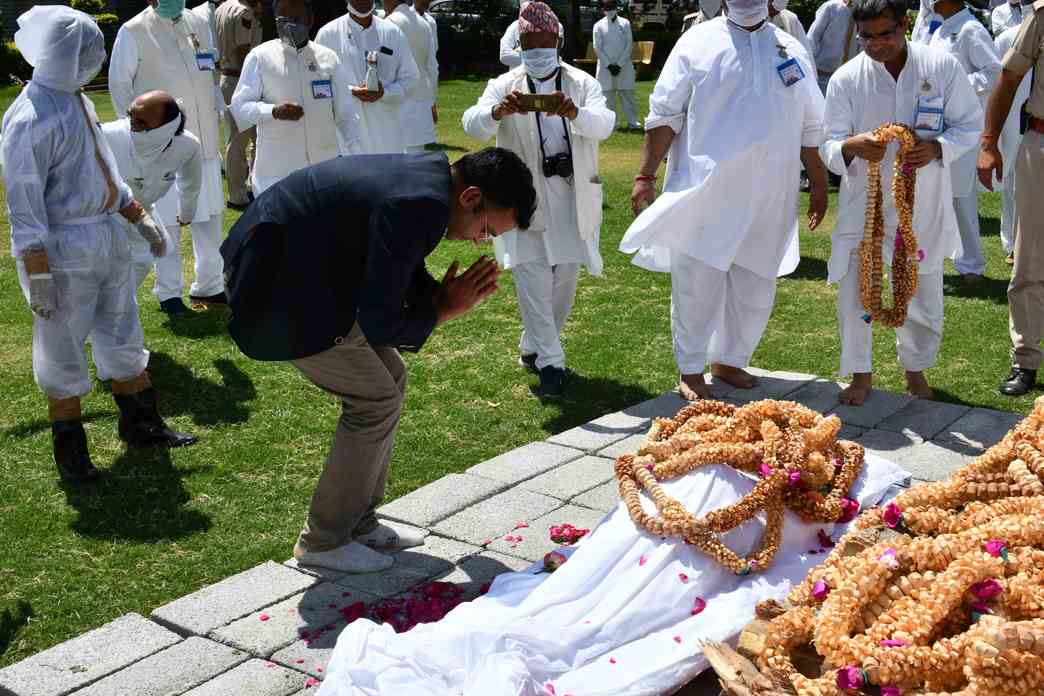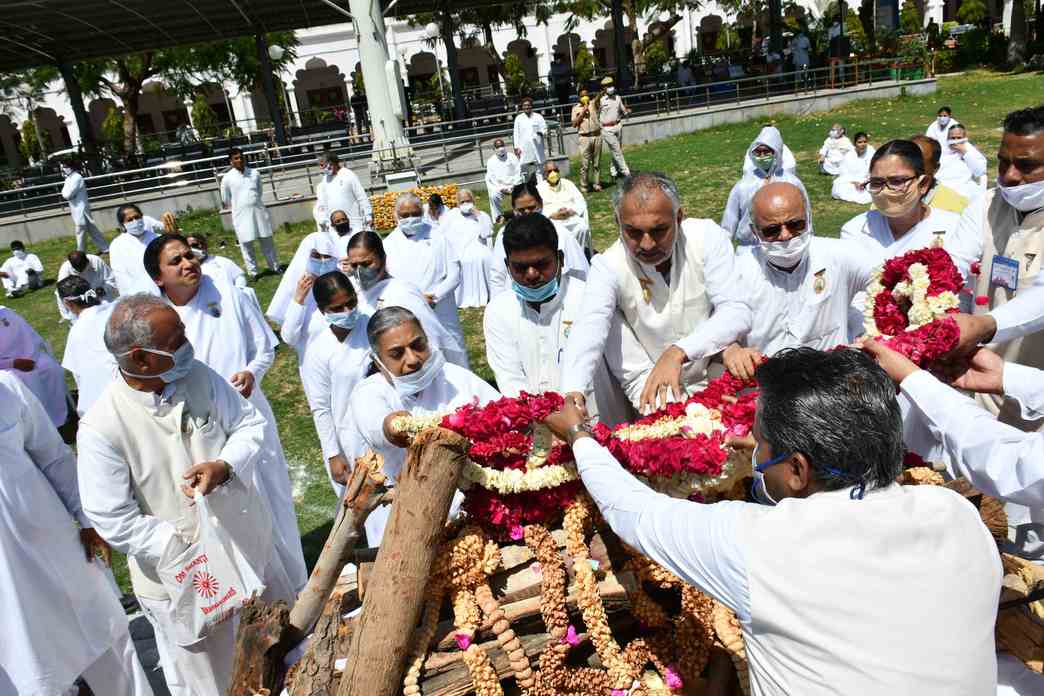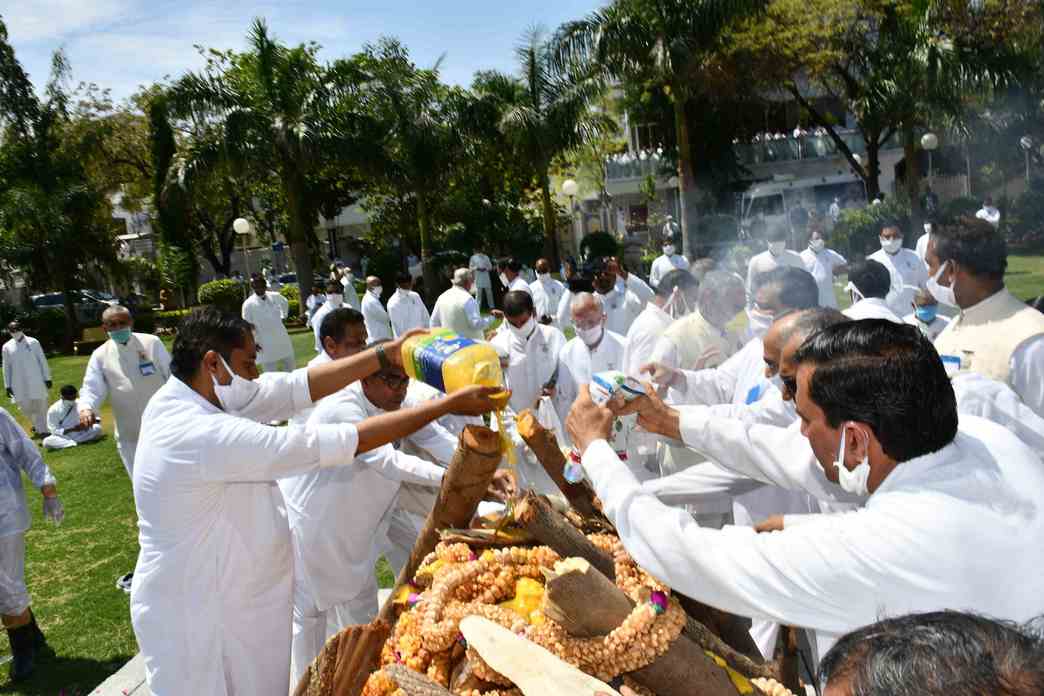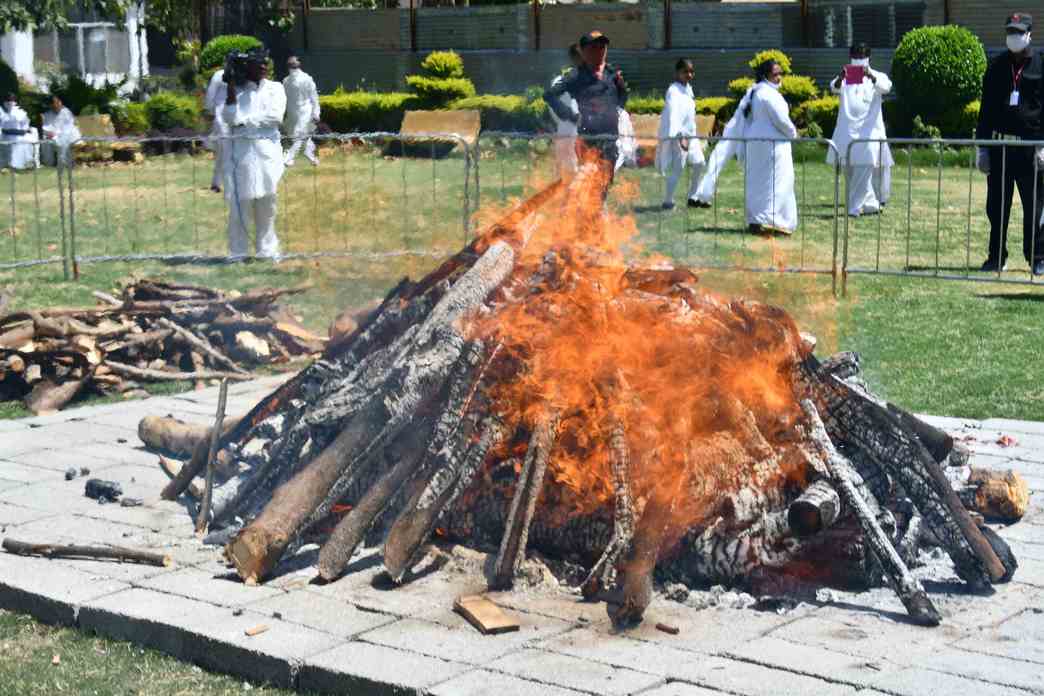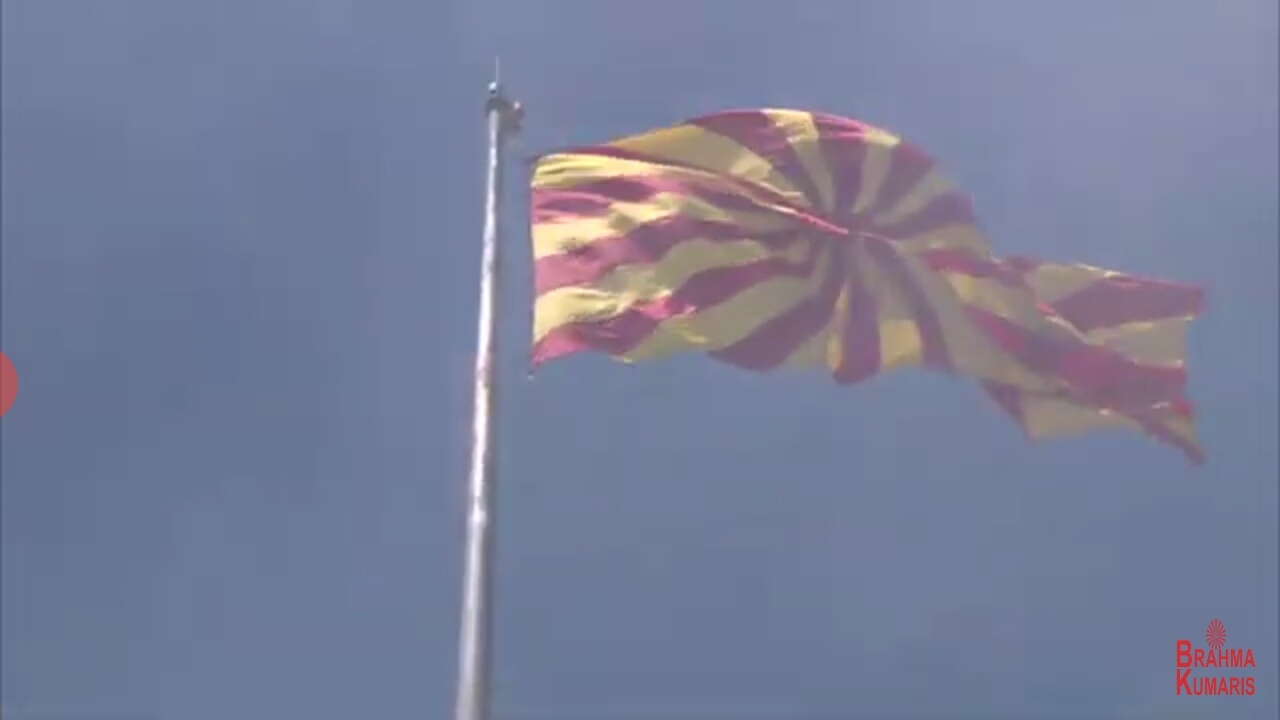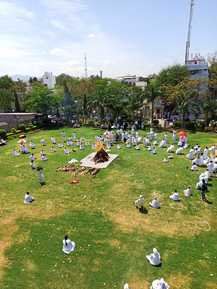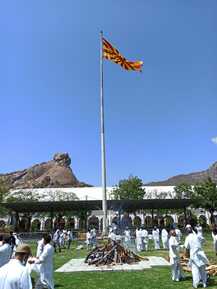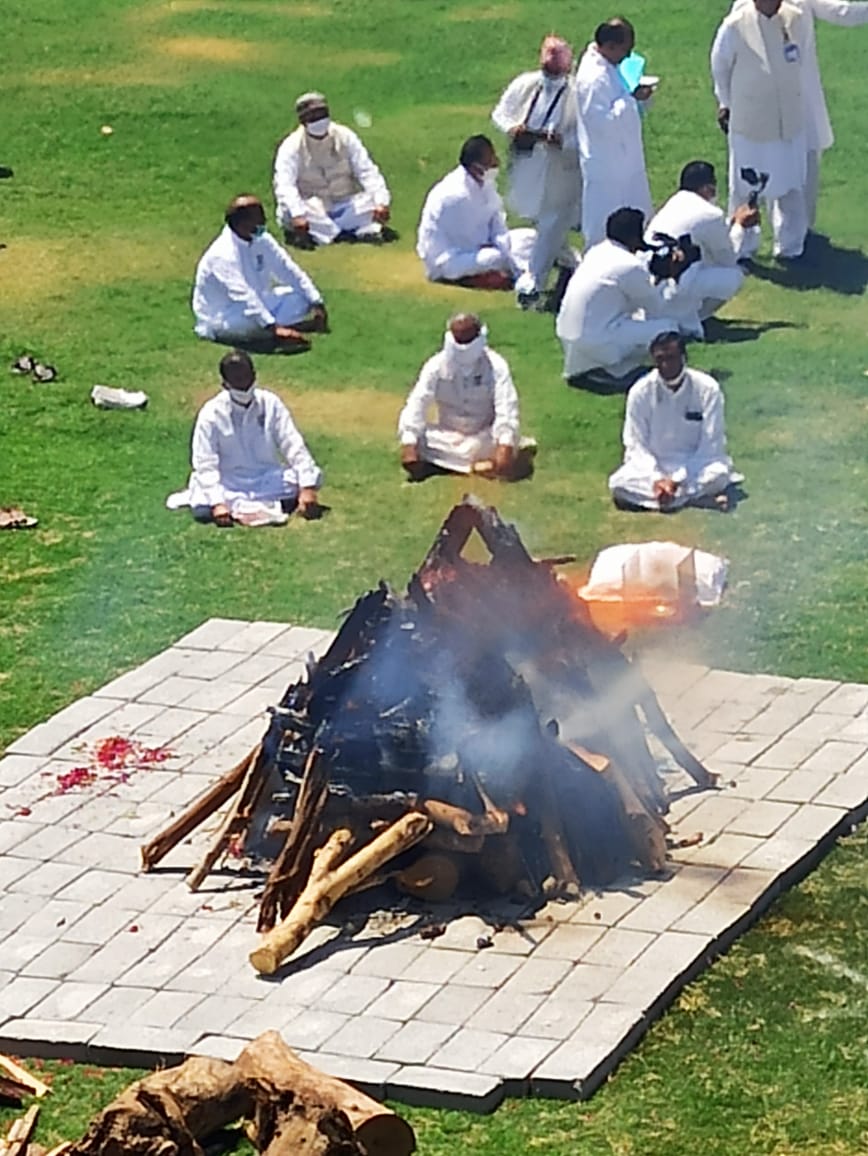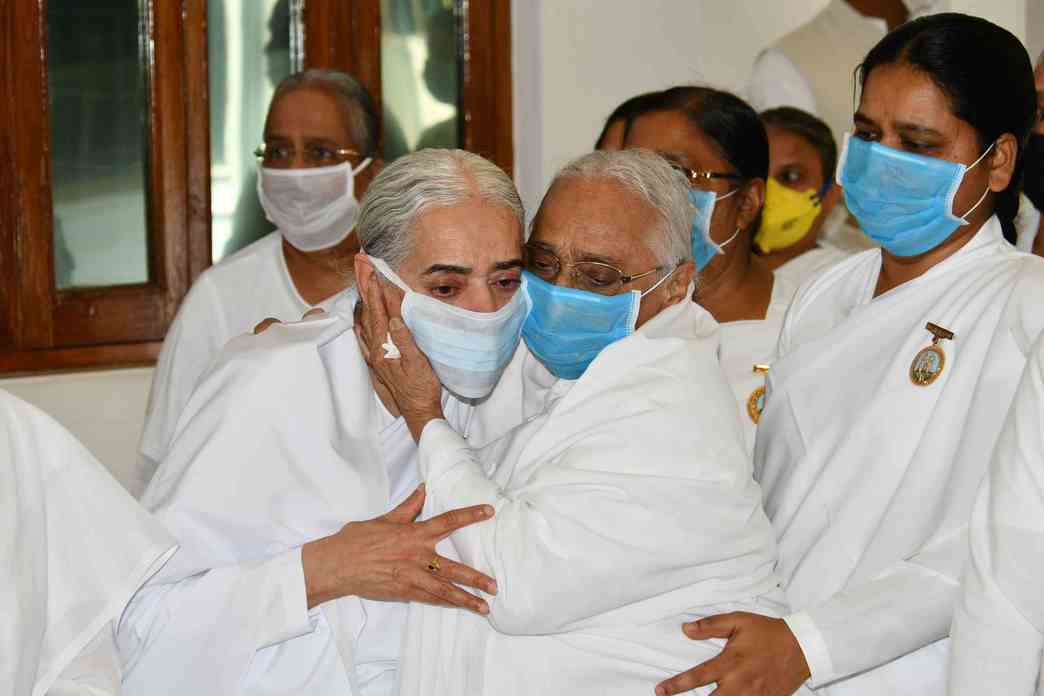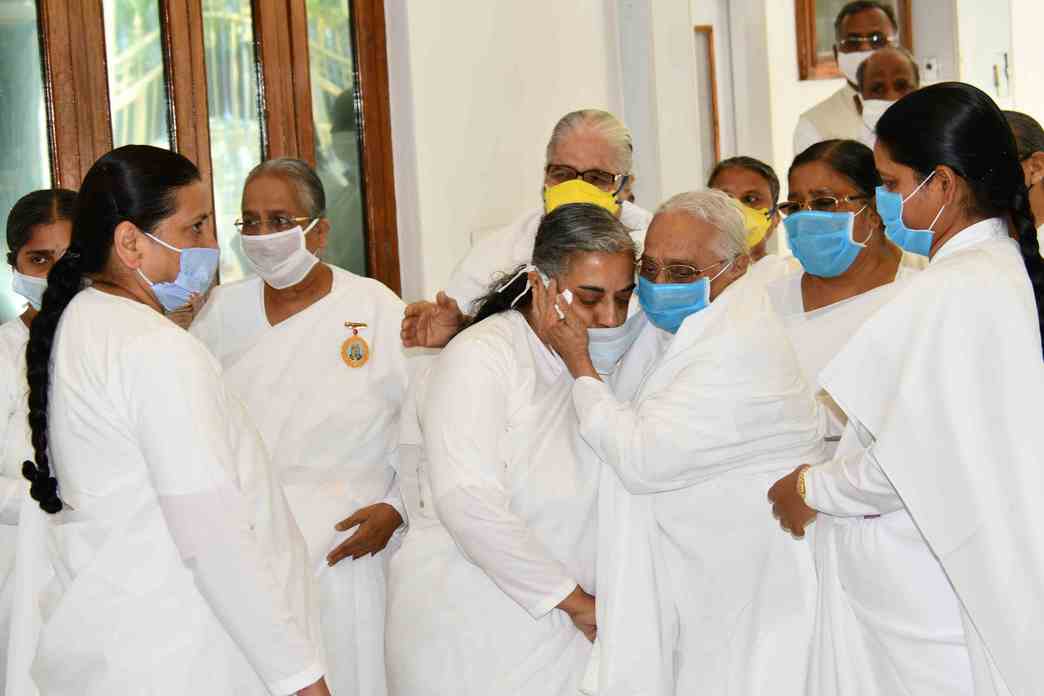 Dadi Janki's teachings - shared during the cremation ceremony in Shantivan - 27 March (Hindi & English)
27 March 2020
27/03/2020 Om shanti Madhuban
Beloved Avyakt BapDada's very loving, instrument teachers, brothers and sisters who are the decoration of the Brahmin clan, ones who constantly stay in an unshakeable stage and spread vibrations of powerful yoga. Please accept sweet love-filled remembrances.
Today, from amrit vela, we have been hearing news of our sweet Dadi Jankiji having become avyakt. We are seeing the destiny of the drama as detached observers. Everyone has this feeling in themselves that we should at least have a final glimpse of Dadiji, but… according to the drama, the situation in the whole world is such, that even those who are staying here in the house are not able to come personally, and so, we can only give the co-operation of our yoga power. Dadiji always used to say: I always used to say to Baba that not a single penny should be spent on my funeral pyre. Baba always listens to the sound of the heart of His special beloved children. Today, we are sending you some invaluable elevated versions of Dadiji which we have heard from Dadiji from time to time. Reading them, you can offer your loving tribute to Dadiji, simply saying, "Wah, Baba, wah! Wah, the destiny of the drama!"
02/03/2009
The Almighty Authority is my Companion, my Mother, Father, Friend, Beloved and the Satguru. This is not just a feeling, but I have the practical experience of this. The bodily relations are perishable. If not today, then tomorrow, they will not be mine and I will not be theirs. When they carry away the body, neither will my home remain nor will my relatives. Those whom I considered to be mine will send me away. Mine is One and none other. When I leave my body, I will have just one companion. While alive, I am sitting here having renounced everything. I say: You are not mine and I am not yours.
26/01/2009
I have written my will. Just as I have been economical and always belonged to the One from the beginning, in the same way, I will always belong to the One. Let not a single penny be spent on my funeral. I do not want any garlands of flowers. I have always paid attention that there is just me and my Baba and no third person in between. Just as Baba has said: If a third person comes in between, the third eye will be closed. So, I have always paid attention that there is never a third person between me and Baba.
09/01/2014
I do not have this feeling for even one minute or one second that I the soul am alone. I have detached from this body. Sweet Baba made the Janak very firm for me: To be a trustee and bodiless. In being a trustee, I never have the awareness of "I". I have always paid attention that neither is the centre mine nor are the students are mine. No one is mine. I am free from "I" and "mine". I cannot even say, "I did this work. What did I really do?" Yes, it is definite that I have one strength and one support, and an intellect that is victorious through having faith. Whatever was predestined happened. I just had the thought that this should happen, so it happened. Baba did it and made it happen through me, and I just had a feeling for that. The whole world is being served through those feelings.
21/09/2014
Baba had everyone's name changed, but He didn't change my name. He said to me: Janak means having the practice of being bodiless and being a trustee. To be bodiless means to internally have such practice of being bodiless: I always remembered this. Even while interacting with everyone, I just remained loving and detached. When I went abroad, I just made the lesson firm "Don't worry, no problem!"
24/06/2015
I am happy that I maintained the honour of the name Janak. I never said: This is mine. Nothing is mine. Mine is one Baba and none other. All my brothers and sisters have made this mantra very firm very well: In the mind, there is just the desire to be a trustee and to be bodiless. To live and die is not a big thing, if you are going to die, then how are you going to die and how are you going to live? I have always paid attention to this.
22/08/2015
This morning I was preparing to die, that is, my final moments should be like this. Such was my stage. Listen to me. You would say, "Don't say this." I said: But I have to remain ready. If I am going to die, then I have to make all preparations happily. Let me not just die suddenly.
18/02/2019
Baba taught us how to live our lives. If I were to die, then how am I going to die? I have to shed this body. I have to renounce this body. Everyone knows this. Each one knows the drama and always remains carefree. Whatever happened was just a dream. Baba taught this very good method that whatever happened was the drama, and what will happen will be the drama. The scene in the drama at the moment is very beautiful and so enjoy it. Peace is my original religion and happiness is my form. I am just intoxicated with "Who am I?" and "Who is mine?" That is, I am flying in the flying stage. Achcha.
* * * O M S H A N T I * * *
Click below PDFs document to download:
Dadi Janki Teachings - English

Dadi's Bhog Message with English Translation - 27 March
27 March 2020
Divine Family, Om shanti.
To get the simultaneous english translation of Baapdada's message for Dadi Janki and experiences and inspirations from seniors, use the link - https://m.youtube.com/watch?v=sLAmGOtQIzU (English Language Link)
You can also watch the last journey and last rites of Dadi Janki's chariot on the link - https://youtu.be/FNYBxgI1Vgc (Hindi Language Link)
OmShanti..
In Babas Yaad,
Prashantbhai & Prabhubhai,
Audio Video Dept
Gyan Sarovar
Click below images to view the videos:
Dadi Janki - Bhog Offering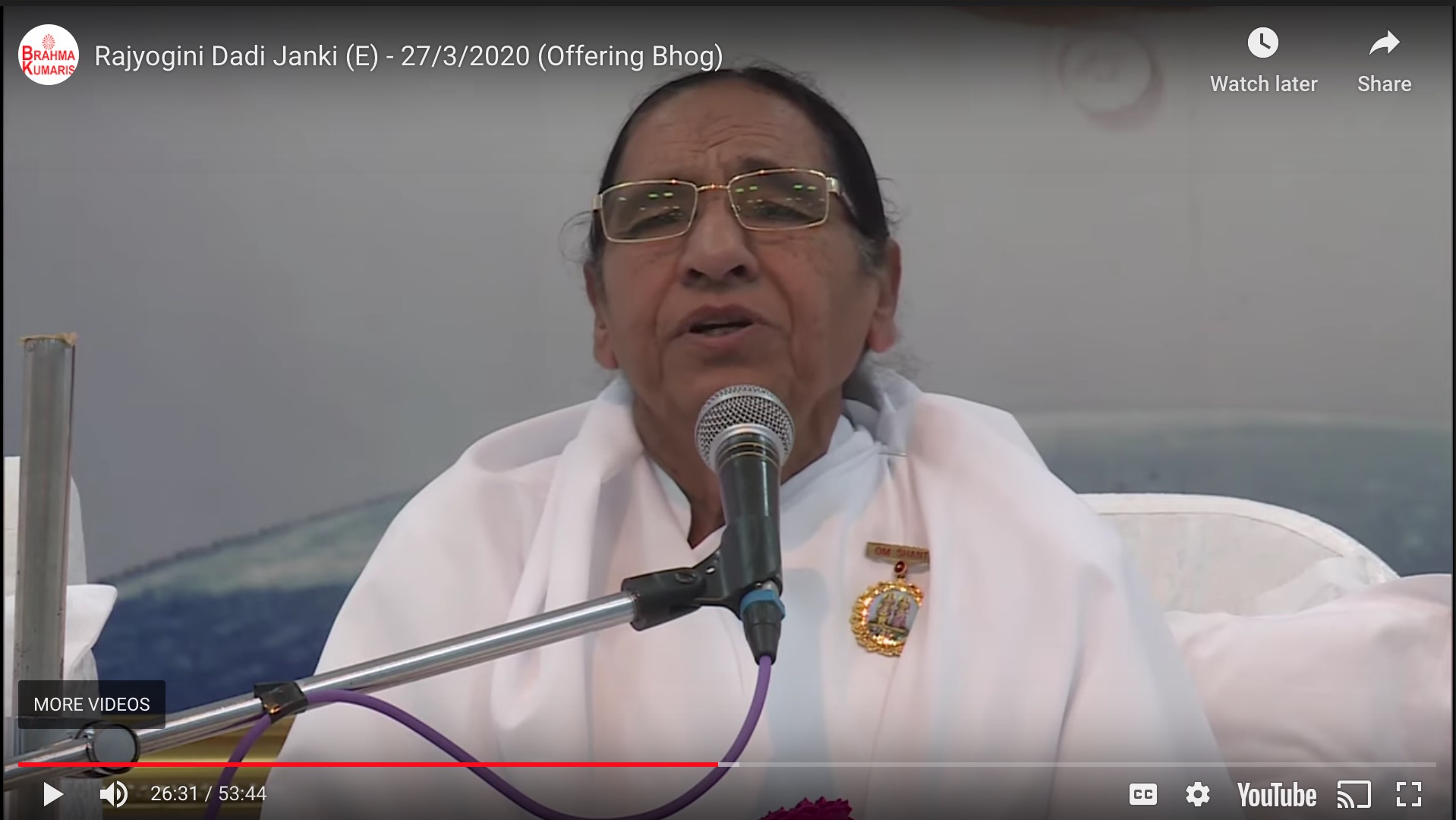 Dadi Janki - Bhog Offering and Last Journey

Honouring Dadi Janki
27 March 2020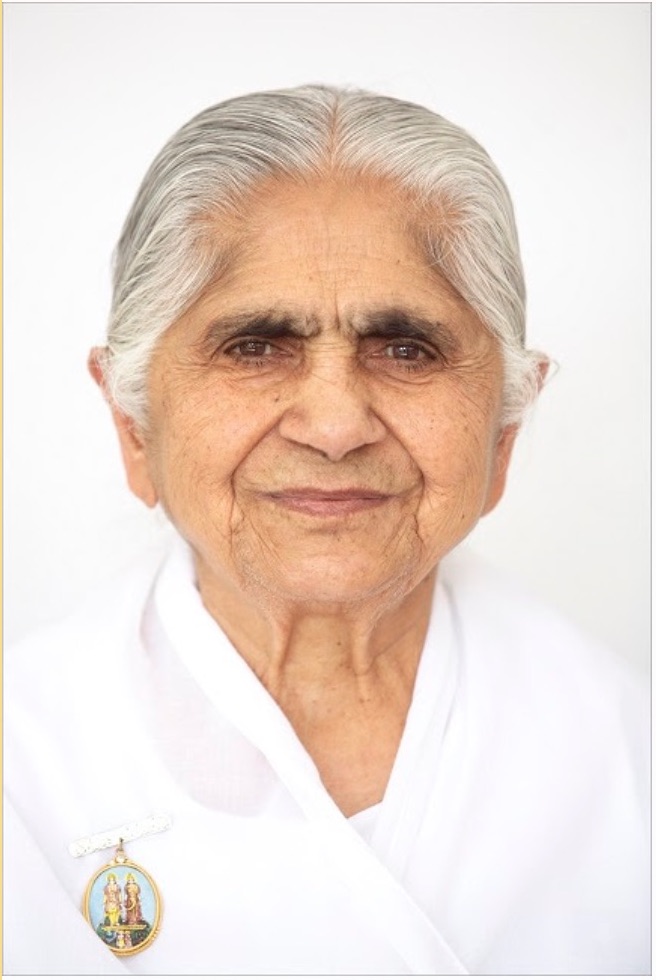 Dear Friends,
Out of respect for the departure early this morning of Dadi Janki, Spiritual Head of the Brahma Kumaris, for the next three days each evening from 7-8pm (London time) you are welcome to join us online for live meditations and sharings about the life of this great soul.
It will be webcast on: CLICK HERE
Our webpage is now open for receiving condolences - please CLICK HERE
Our sincere thanks to those who have already sent messages.
All usual online activities are cancelled during these three days.

Tributes to Dadi from Brij Mohanbhai, Dadi Ratanmohini, Santosh Didi, Godlywood Studio
27 March 2020
Dear Brothers and Sisters, Om Shanti.
You have already received the News. The Angel has flown back leaving sweet and powerful memories and a legacy of love, peace, power and unlimited disinterest. We don't know what the future has in store for us, but one thing is sure - our beloved Mother/Sister/Angel, our beloved Dadi Jankiji will continue to help and support us, will keep us under her loving canopy, till the task is complete.
Please find obituaries from Respected Dr. Dadi Ratanmohiniji (Addl. Chief of Brahma Kumaris), Respected Brijmohan Bhaiji (Addl. Secretary General of Brahma Kumaris), Respected Santhosh Bahanji (Member of Managing Committee, & In-Charge of Maharashtra Zone-Brahma Kumaris) and TEAM Godlywood attached. Will update you about the proceedings.
Tributes From:
Brijmohan Bhaiji (Hindi) - https://www.youtube.com/watch?v=WXihRG5NrWc
Brijmohan Bhaiji (English) - https://www.youtube.com/watch?v=LwQ98Vdpwck
Ratanmohini Dadi - https://www.youtube.com/watch?v=L8uENYcc96A
Santosh Didi - https://www.youtube.com/watch?v=EVAtTby-9Vc
Godlywood Studio - https://www.youtube.com/watch?v=bMbe9P3Wtxw
With Warm Regards,
BK Harilal
Executive Director
Godlywood Studio

Dadi Janki, Brahma Kumaris Chief Passed Away Today: Biodata and Photos
26 March 2020
Om Shanti
Our beloved Dadi Janki ji (104 Years Old), Brahma Kumaris Global Chief has left her mortal coil on 27 March 2020 - 2 am at Brahma Kumaris HQ Mount Abu.
Please find her with her biodata and photos.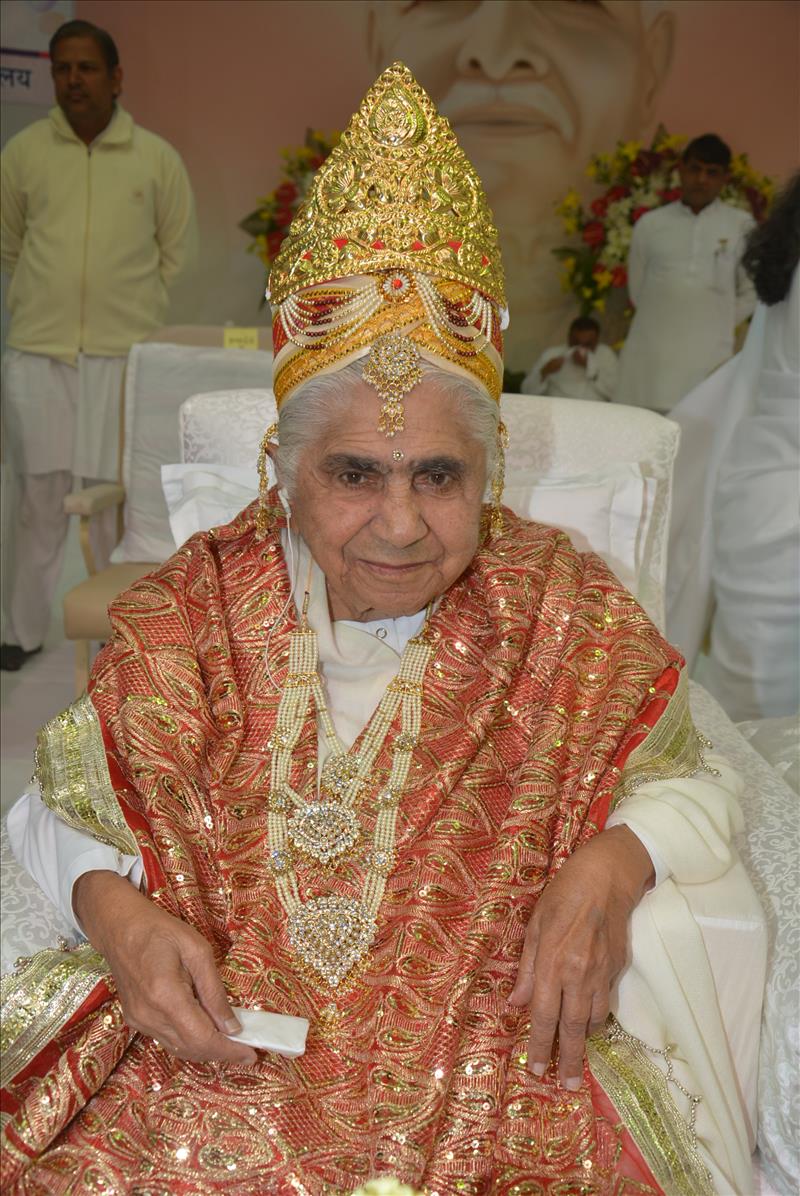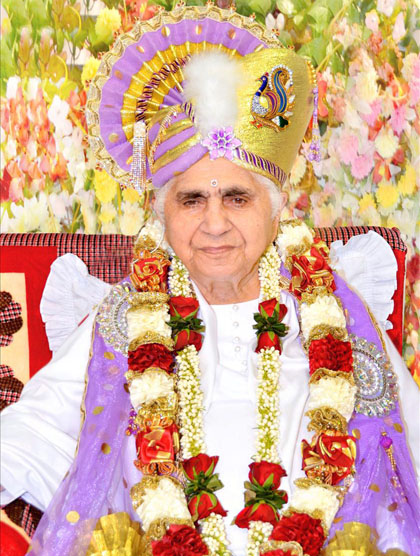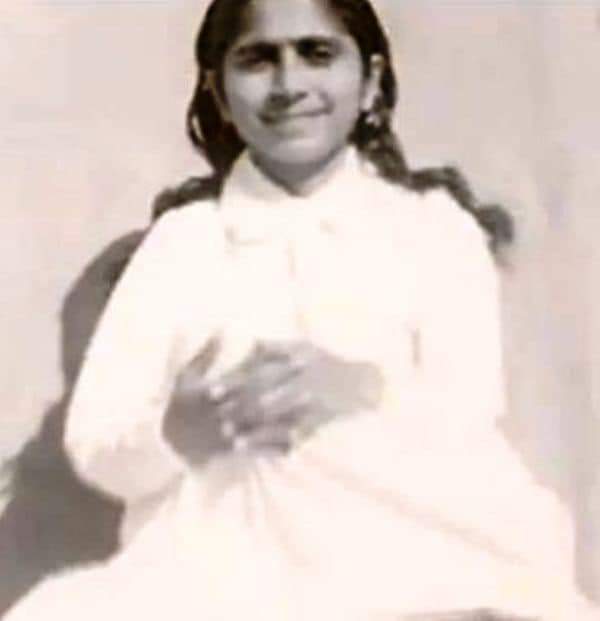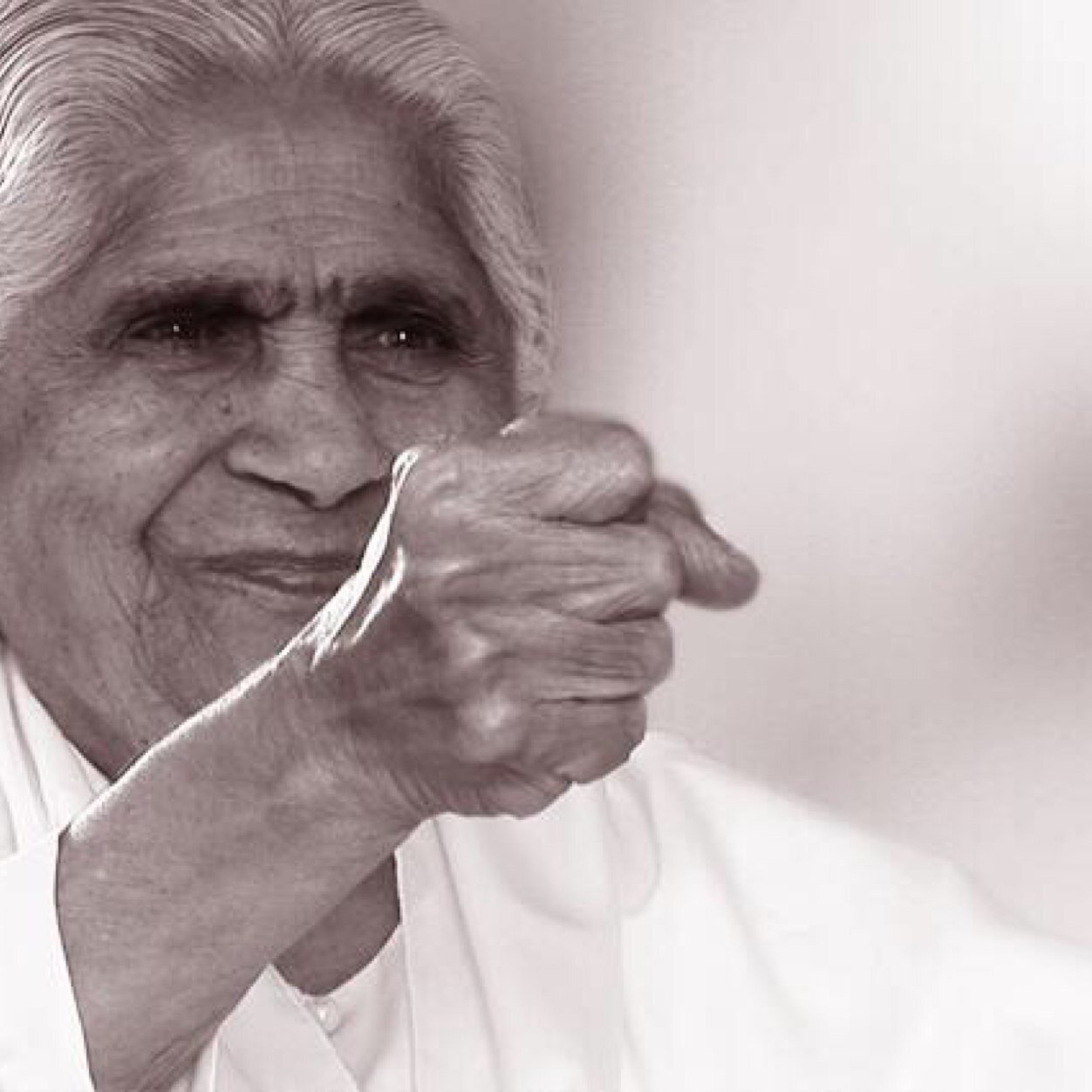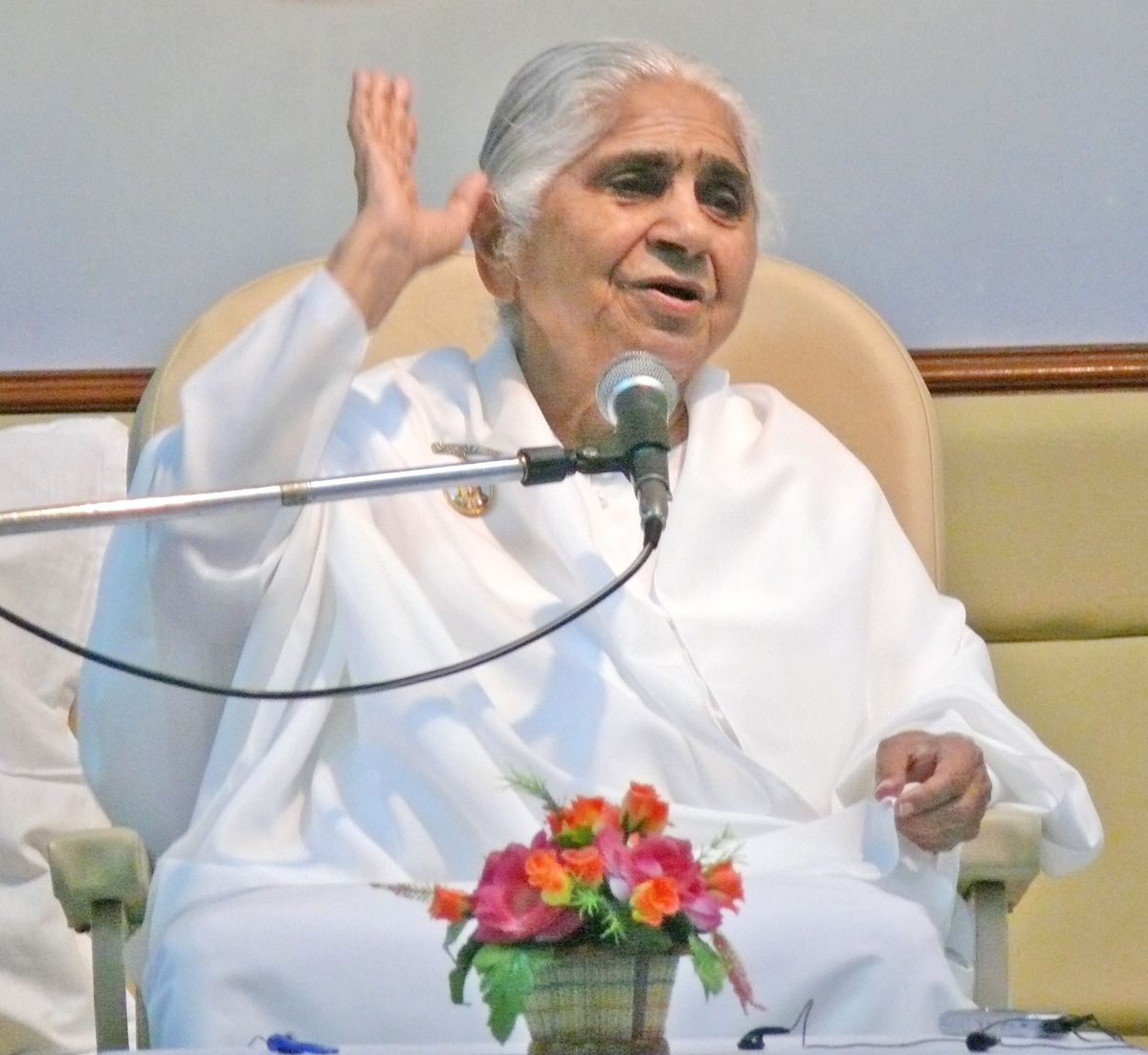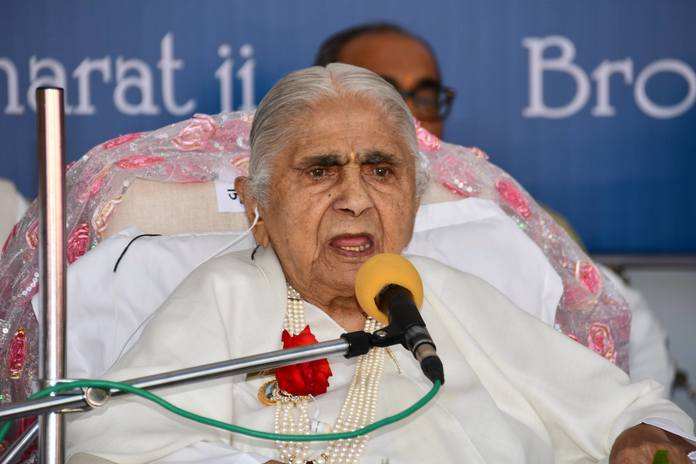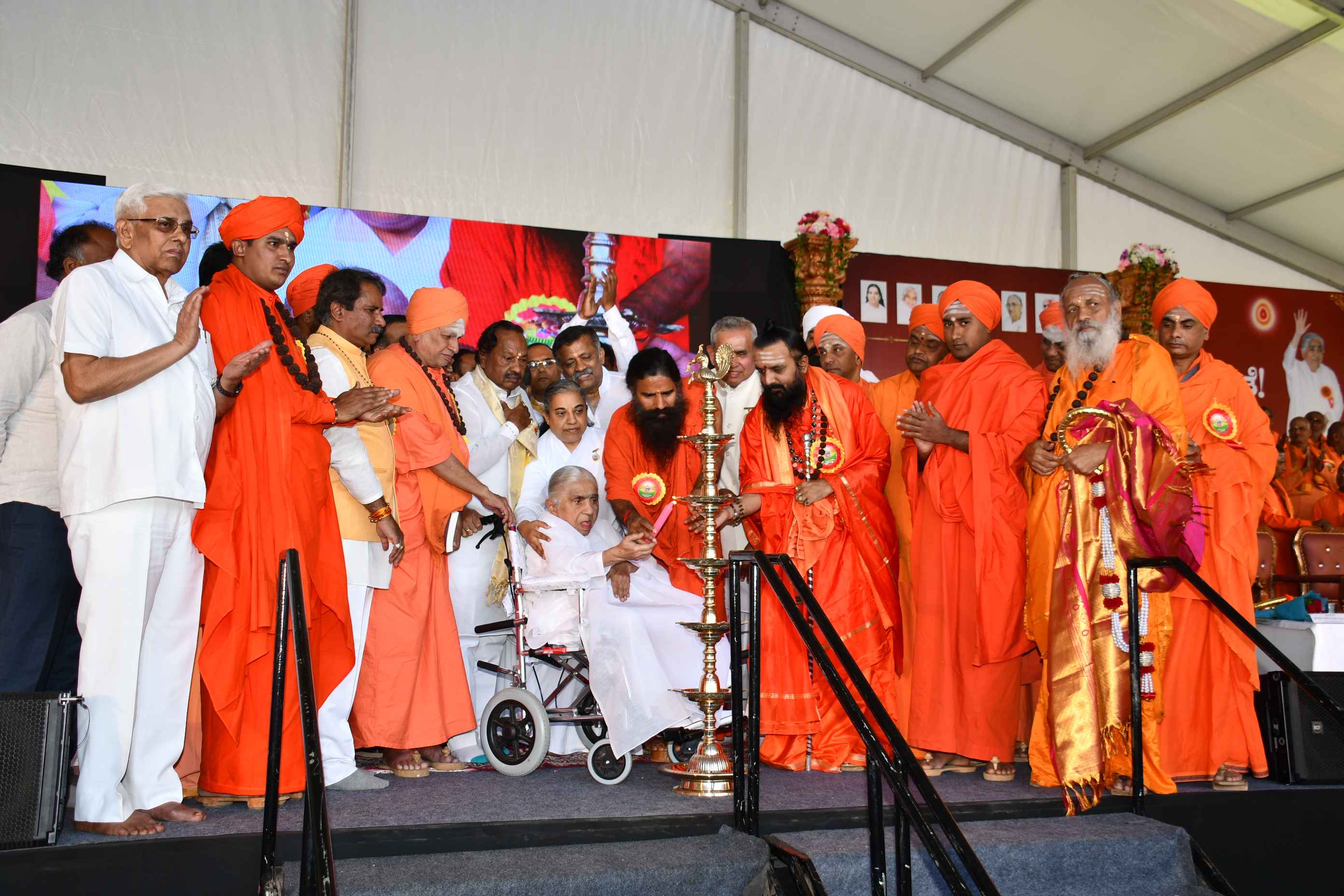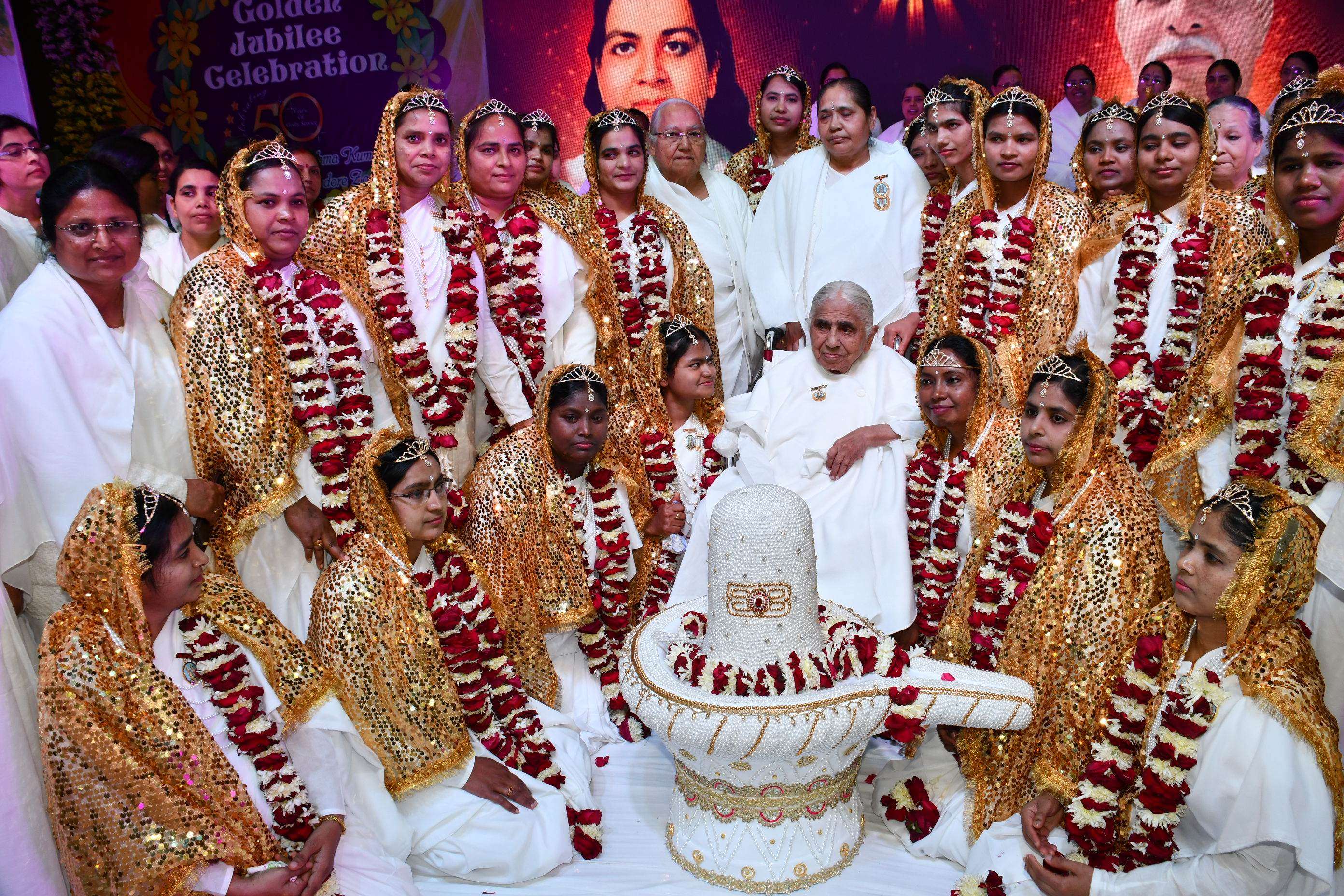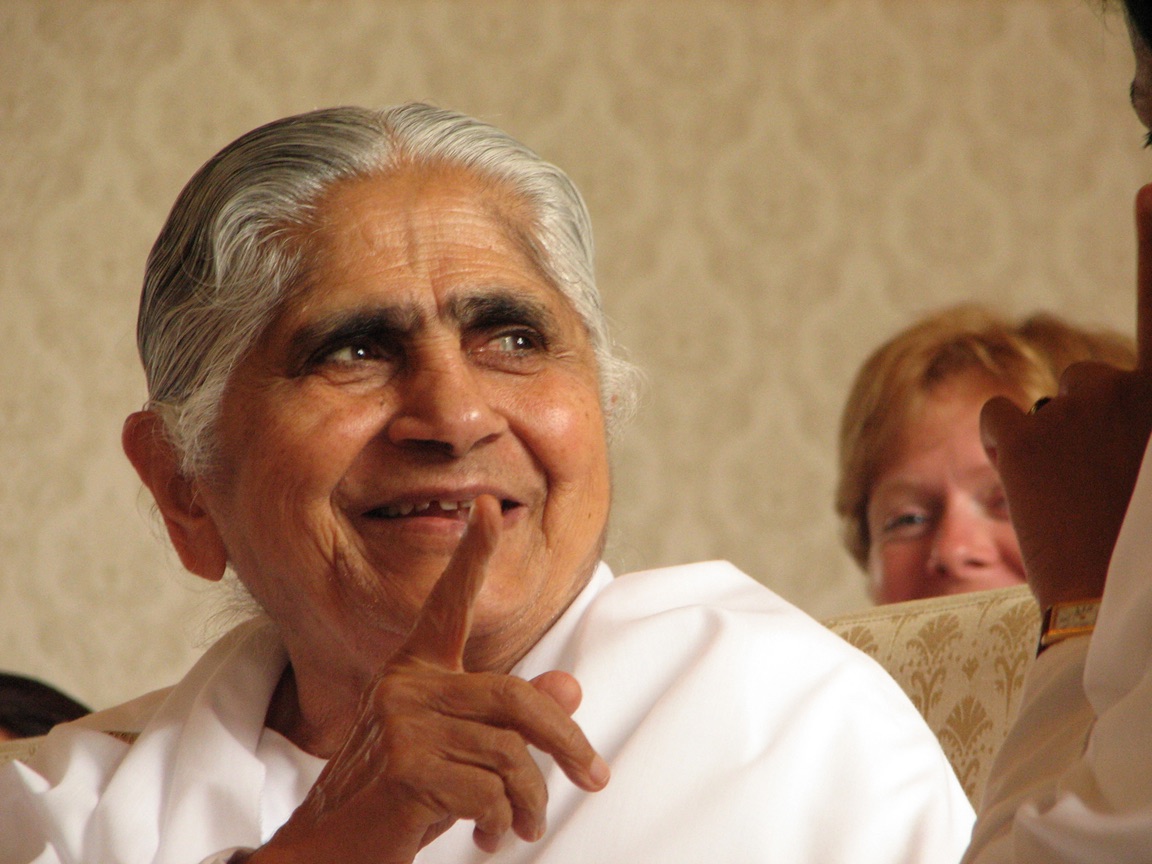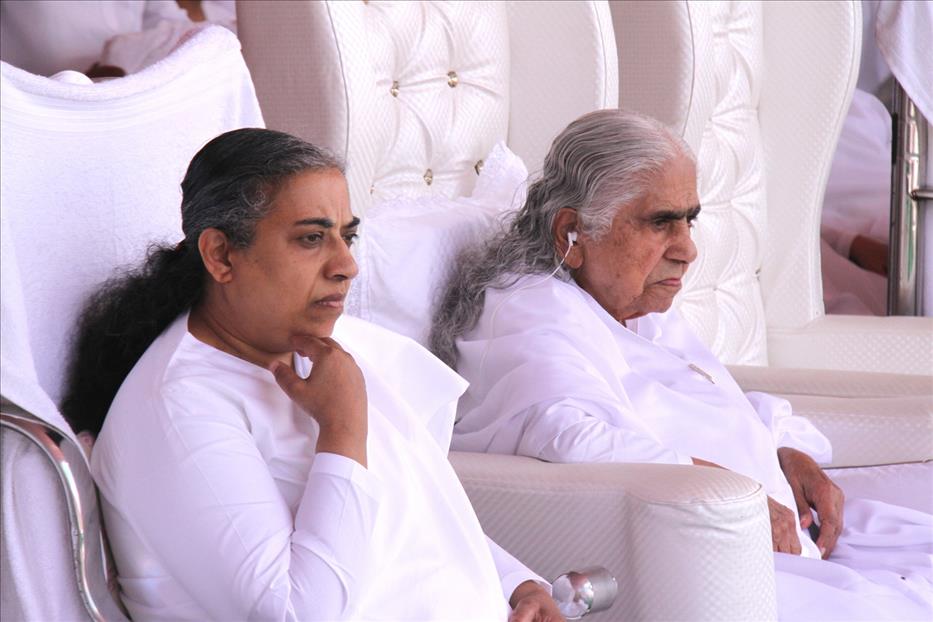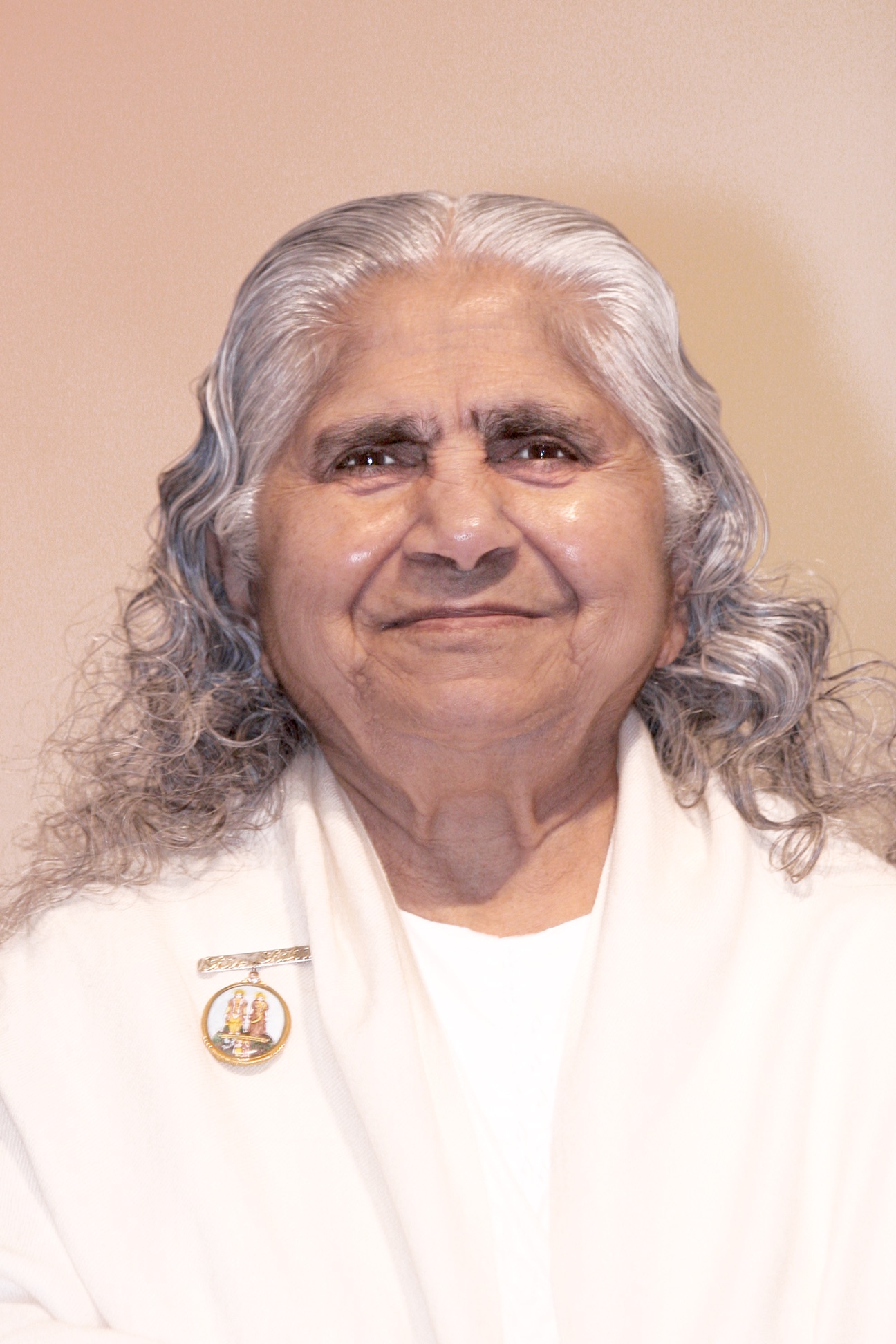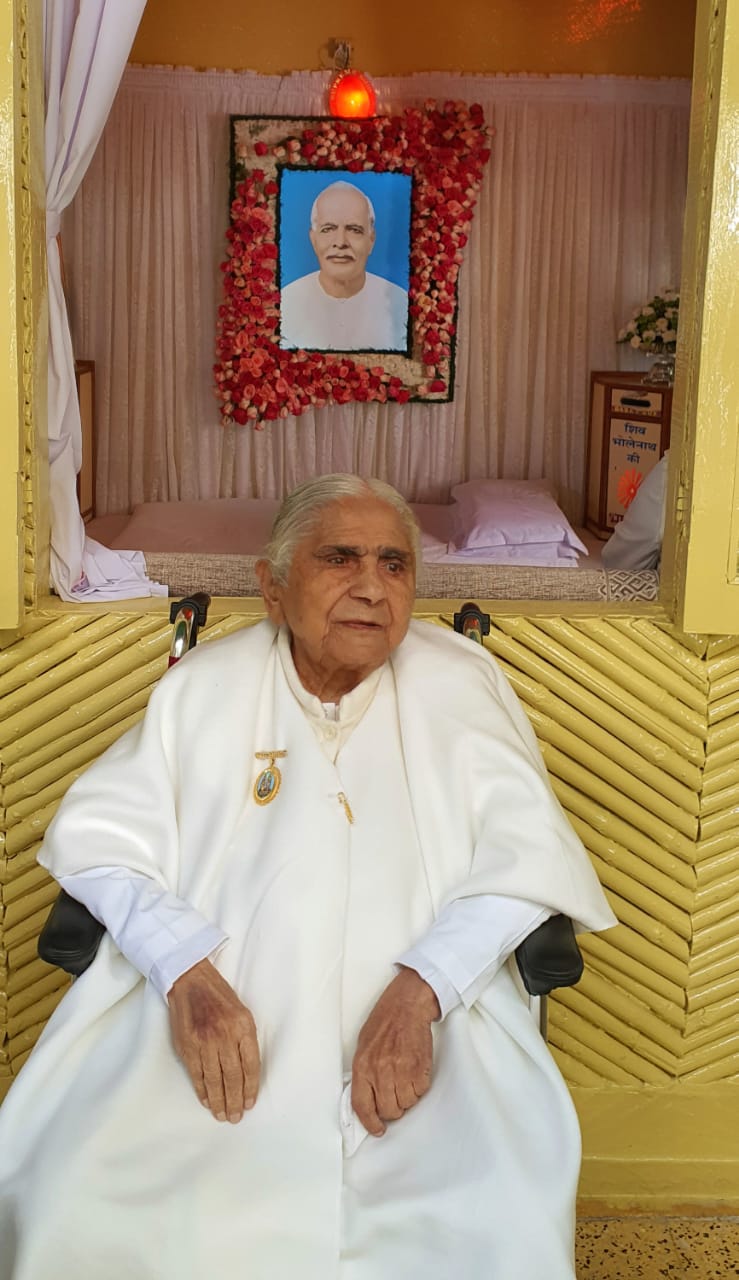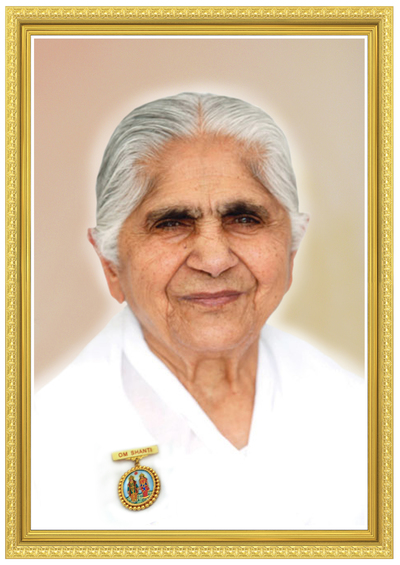 Click below links for PDF documents:
Dadi Janki - Chief of Brahma Kumaris
Dadi Janki - The Living Legend

News of the Passing of Dadi Janki
26 March 2020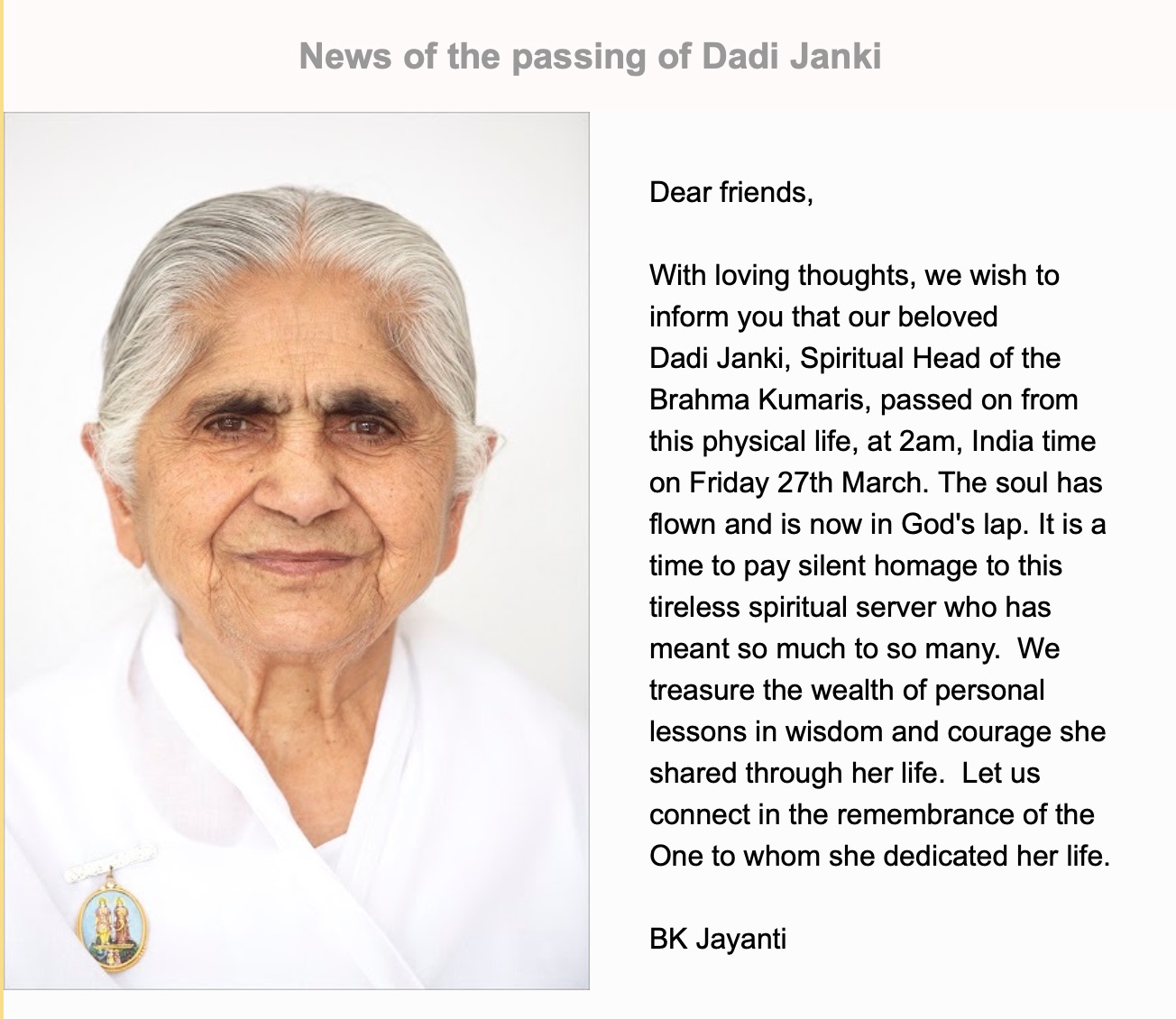 Physical and Spiritual Precautions in Times of Chaos - 25 March at 4pm (India time)
24 March 2020
Dear DIvine Family,
On 25th March, 4pm India time, Didi Nirmala and Sr Jayanti will be speaking on the topic 'Physical and Spiritual Precautions in Times of Chaos'.
It will be shown through via YouTube:
https://www.youtube.com/watch?v=12LPlvJ027I&feature=youtu.be
The one-hour seminar is aimed at a public audience and of course, BKs would also benefit.
Could you please pass on the information to all your contacts and BKs.
We know that in many countries gatherings are not being held at the centres and so many may like to listen from home.
With love,
In Baba's yaad,
RCs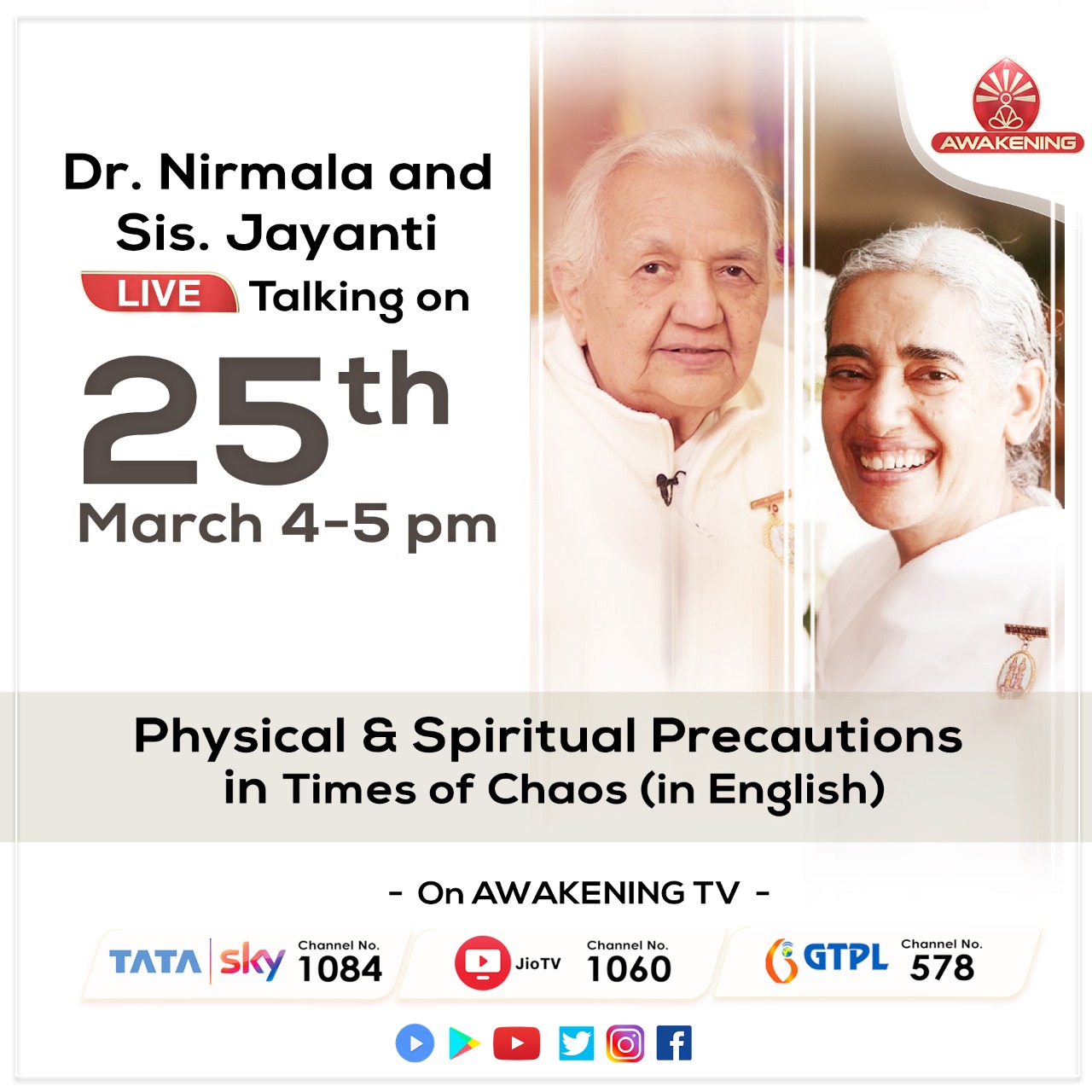 Update on the Murli Experiments
24 March 2020
Dear Divine Family,
Over the past few months we have had a lot of positive feedback from the family about the Murli Experiments. We also heard that when they come every day we lose the value a little.
The RCs met in February and based on the feedback from the family have decided that we will have the Murli Experiments twice a year for just a month. It was felt to maintain the value and newness, just to do them every so often.
This means the Murli Experiments will finish on 31 March and will start again in September for just the month. As time comes closer we will let you know when the Murli Experiments will begin again.
Please let the BK family know.
With love,
In Baba's yaad,
RCs

Corona to Karuna - Sister Mohini's Karuna Response to the Coronavirus DATE: 23 March 2020
24 March 2020
Dear Divine Family,
Please find attached Sister Mohini's sharing on Karuna Response to the Coronavirus. She did a webinar on this subject this morning to about 2,100 participants. Here is the link if you'd rather listen than read: https://soundcloud.com/bk-sustenance/corona-to-karuna
IBY,
Sr Gayatri

Corona to Karuna – Webinar with Sister Mohini Sunday March 22nd
19 March 2020
Dear Divine Brothers and Sisters of the Brahmin Family,
Please accept warm greetings filled with love. Hope this note finds all of you safe and well. This Sunday, March 22, 2020; Sister Mohini will share her vision of karuna (compassion) as the paramount need of the hour.
Sister Mohini has been sharing her thoughts on moving the vibrations from Corona Virus to karuna virtue with a few of us and we felt the whole of Brahmin family can take benefit from her wisdom during these trying times hence the webinar. She feels that the world right now is suffering from collective karma so, our response also has to be collective. The whole universe right now including the plant and animal kingdoms need our compassion.
During the webinar, Sister Mohini will delve deeply into karuna or compassion and how to inculcate it and vibrationally send it to the whole universe, including the environment, the plant, and the animal kingdoms. Sister Mohini will also share helpful hints on how to serve at this time of social distancing, how to conserve through simplicity, and how to prepare Baba's homes as places of spiritual refuge.
Sister Mohini Webinar on Corona to Karuna
Sunday, March 22, 2020
7:00 am New York time
11:00 am London time
4:30 pm India time
10:00 pm Sydney time
Please calculate your local time here:
The webinar is available only in English. Please make provisions for translation at your end. We will devote some portion of the webinar to questions from the participants. Registration is required, see details below.
https://attendee.gotowebinar.com/register/3600931772934709004
In Baba's Yaad and Pyaar,
The Sustenance Team

Directions for Centres abroad re Visitors to Madhuban
18 March 2020
Dear NCs/NCTs and CCs, Greetings and remembrances from Madhuban.
We trust everyone is well, and surrounding Baba's homes with yoga power and light.
The Central and State Government rules regarding holding gatherings and travel within India are getting stricter. Therefore, we request that you do not encourage any of your BK students/guests/contacts, who may already be in India, to visit the HQs till after mid-April, even if it's for a day or two.
The less that people travel around India, the better it is for their own safety and that of Baba's homes.
Thanks for your immediate attention to this.
On Spiritual Seva,
BK Shashi

Important Message from Bhartiben Lotus House
18 March 2020
Dear Jewels, Om shanti,
All those who are travelling to other countries from Ahmedabad, please go directly to the Ahmedabad airport.
If it is absolutely necessary to go to Lotus House, then you may do so, but only for a few minutes.
Under no circumstances can you stay overnight at Lotus House because the local administration has banned people coming to stay there.
If someone misses their flight, or they have no other arrangements made, they may stay either in a hotel or go back to Madhuban.
BK Bharti
Lotus House