2019 Jan through July International News Archive
2019 Jan through July International News Archive
Rakhi Letter in both English and Hindi from Dadi Janki, Madhuban
27 July 2019
You can download pdfs of the language by clicking on the relevant image.

Rakhi Messsage from Sister Mohini in English, Hindi, Spanish, Portuguese and French
25 July 2019
You can download pdfs of the language you will like by clicking on the relevant image.

Dates for Madhuban Season 2019/20
08 July 2019
Season's dates and Double Foreigners Program
Madhuban is welcoming us and this season we have the fortune of 11 groups for the Avyakt meetings. Below is a schedule of dates for the 2019-2020 season
As you will see below, the full season for double foreigners will start with the Avyakt Meeting on 30 November, with smaller groups welcome for 17 October and 15 November Avyakt Meetings.
Groups One & Two: 17 October and 15 November 2019 Avyakt Meetings
Due to a continuous number of guest retreats in Gyan Sarovar and festivals from mid-October to early December, all of the rooms in Harmony House, Vishnupuri and Shanti Kunj Bhawan will be occupied by guests, BK companions for guests, helpers and IP/VIP Bharatwasi guests.
Therefore, during this time, for BKs who are not helping with the retreats and are coming for the season, only dormitory-style accommodation will be available in Raj Rishi Bhawan (Gyan Sarovar) and Pandav Bhawan. As only a limited number can be accommodated we wish to offer these places to those groups who can adjust with dormitories.
A small number of Hindi-speaking BKs can be accommodated in Shantivan for 17 October and 15 November meetings. This group may have day visits to Pandav Bhawan and Gyan Sarovar, but would not be able to stay.
The numbers are:
- 50 DFs in Gyan Sarovar (who are willing to stay in Raj Rishi Bhawan dormitories)
- 100 DFs in Pandav Bhawan (who are willing to stay in dormitories)
- 100 DFs in Shantivan (Hindi-speaking DFs)
Therefore the allocation is as follows:
- Gyan Sarovar and Pandav Bhawan: 30 per region
- Shantivan: 20 per region
Please let your NC office know how many BKs wish to come for these groups by 15 July. The NC office will liaise with the RC to confirm those spaces or otherwise.
Group Three: 30 November Avyakt Meeting
As there will be guest retreats in Gyan Sarovar until early December, 300 BKS can be accommodated in Gyan Sarovar, and 100 BKs can be accommodated in Pandav Bhawan in dormitory-style accommodation only.
Please be aware that as a very large group of guests will be in Gyan Sarovar until 24 November, it may be that the rooms you want are not ready on your arrival, as they need to be cleaned, but please just adjust and be patient.
Groups Four onwards: Avyakt Meeting of 15 December 2019 onwards
Double Foreigners may arrange their travel for Group 4 dates onwards. Accommodation for double foreigners will be in Gyan Sarovar and Pandav Bhawan.
It is requested that double foreigners come for one meeting, and adhere to the Group Dates, as there are just few days in between for the cleaning of rooms before the next group arrives.
It is requested that those coming for Group 11, leave on the dates mentioned, to allow for cleaning and preparation for the season of Indian retreats and meetings.
Retreats with Centre Residents & Right Hands of Centres (incl Gita Pathshala Coordinators)
Please note that this season there will not be a retreat for this group in October as there has been in the last few years. Instead, we will be holding a few two-day retreats during the DF program for those from Centre Residents & Right Hands of Centres (incl Gita Pathshala Coordinators). More information about these will be coming to you.
There will be DF Programs in all 11 of the Groups
Please note that for the groups where there is a smaller number of Double Foreigners present, there will be a small range of activities and classes available. For the largest Groups, in particular groups 9 & 10, there will be a wide number of activities, classes, retreats and seniors.
Accommodation
Those who need small rooms due to health, couples who need a room together or the elderly, are requested to avoid the 17 October and 15 November meetings, and to come for the 6 March, 20 March or 3 April meetings where more facilities are available. Please avoid coming for the 20 February meeting as the NCs & CCs will be there and it's also much colder in mid-February.
We look forward to an uplifting season.
With love,
In Baba's yaad,
RCs
GROUP DATES
| | | | |
| --- | --- | --- | --- |
| GROUPS | ARRIVAL DATES | AVYAKT MEETING | DEPARTURE DATES |
| Group 1 | 2-3 October | Thursday 17 October | 18-19 October |
| Group 2 | 2-3 November | Friday 15 November | 16-17 November |
| Group 3 | 26-27 November | Saturday 30 November | 6-7 December |
| Group 4 | 8-9 December | Sunday 15 December | 20-21 December |
| Group 5 | 22-23 December | Tuesday 31 December | 6-7 January |
| Group 6 | 9-10 January | Saturday 18 January | 22-23 January |
| Group 7 | 24-25 January | Sunday 2 February | 6-7 February |
| Group 8 | 8-9 February | Thursday 20 February | 23-24 February |
| Group 9 | 25-26 February | Friday 6 March | 11-12 March |
| Group 10 | 13-14 March | Friday 20 March | 27-28 March |
| Group 11 | 29-30 March | Friday 3 April | 10-11 April |

HEAD's UP: Murli Experiments begin on 1 July
19 June 2019
Murli Experiments', an innovative addition to each day's Murli, will be starting from 1 July.
Each day an RC or senior will be sharing their own personal practices and experiences of the Murli that is being read on that day. This will take the form of a 10 min audio recording which will be available on the official madhubanmurli.org website and mobile app.
We know the incredible power and wisdom of both the Sakar and the Avyakt Murlis. This experiment is to inspire the family using the Murlis in a new way that is highly relevant to the current times. Baba often says, 'Do this and you will get this result – 'Children this is the attainment you will receive if you do this practice.' Or 'Spin the discus of self-realisation and you will become a self-sovereign', or 'By focusing on the positive you will become carefree' etc.
Murli Experiments is not a standard Murli revision as such. It will allow us to see clearly the impact of the various experiments that Baba offers us through the Murli, which can in turn inspire an increased variety and depth in our own spiritual experiments.
Murli Experiments begins on 1 July and runs for a pilot period of three months.
Please do share news of the Murli Experiments with the BK family.
With love,
In Baba's yaad,
RCs
Click here to download Murli Experiements pdf.

News of Sr Jayanti's Recent Trips, including Visit to India for Sarla Didi's Last Rites
10 June 2019
Time has really been flying past! The Iceland event, Spirit of Humanity, was absolutely amazing, and it was wonderful to see God's magic at work with the leaders who had come, and shared from very deep personal spaces of experience.
Sister Maureen and I arrived back to Global Cooperation House, where Dadi Janki had already arrived from USA a couple of days earlier. I was determined to spend maximum time taking advantage of Dadi's presence, so email replies just didn't happen. It was beautiful being with Dadi not just for the Classes but also especially on her visit to Tennyson Road and Baba Bhawan. Dadi really emerged the experiences of the years that she had spent there. Most evenings, Dadi was able to take general class too.
On Thursday morning, 6 June, we had meditation for Sarla Didi of Ahmedabad, and immediately afterwards I heard that it would have been around the same time that Didi had flown to Baba. Within a few minutes, it was decided that I should go to Madhuban to represent Dadi for the final rites, so within a few hours I was already on the flight.
Friday morning, 7 June, I arrived in Ahmedabad and went straight to Shantivan. I was able to Munniben, Nirwairbhai and others of the family. At 3.30pm that afternoon, the funeral procession (after going to the 4 pilgrimage places in Pandav Bhawan, then GHRC and Gyan Sarovar) came to Shantivan. Everyone was able to offer their respects and flowers under a tent, where the chariot lay in front of Tapasya Dham. Hundreds had come from Gujarat and there had been very beautiful and powerful messages sent by the Prime Minister of India, Chief Minister of Gujarat and other dignitaries.
Vedantiben from Nairobi and Jyotiben from Dubai also came to represent foreign lands.
After sweet words of honour for the soul that is Sarla Didi from Dadi Ratan Mohini, Nirwairbhai and others, the procession then went to Mukti Dham, the BK cremation ground near the riverside. The funeral pyre had been constructed on the plinth, and the chariot was laid to rest; everyone was given sandalwood pieces dipped in ghee to put on the pyre.
Sarla Didi's lokik relatives: her two brothers, their wives and sons were also present. Bhartiben from Rajkot, Sarla Didi's youngest sister was also there. Three media channels were represented and so they interviewed Bhartiben, myself and others also.
7pm that evening, Shashiben came from Pandav Bhawan to offer Bhog for the soul, and there was a very detailed Bhog Message that has come to you already. After that everyone enjoyed Brahma Bhojan.
I had the opportunity of a quiet day in Shantivan on Saturday, meeting various souls. On Sunday, I went to PB to read the Murli in Om Shanti Bhawan and met with Shashiben and Dr Nirmalaben. I then returned to Shantivan, to prepare for my onward journey to Ahmedabad and London.
After the webinar which finished at 5.30pm, I went straight to Sukh Shanti Bhawan, Ahd, where I was able to meet the lokik and alokik families of Sarla Didi, and share love and support with the family.
I stayed for a few hours that night, and left early on 10 June morning for London. I am back in London now.
OM SHANTI

Invitation - Return to Source - Opening Webinar with Sister Mohini - Sunday, May 12

th
2 May 2019
Click here to Register.

Message for Sri Lanka
23 April 2019
Message for Sri Lanka
Our hearts filled today with pure feelings of love and compassion, reaching out to the people of Sri Lanka and to their families and friends around the world. There is no doubt that this message is accompanied by similar thoughts and feelings of people from every corner of the world - from every religion, every race and every way of life - all stopping to pray, to meditate or simply, to send their loving thoughts.
As challenging as it can be with images and commentaries promoting fear and division, perhaps our greatest contribution can be to choose to give our attention and our complicity to the billions of compassionate hearts longing for healing and peace. For many, that means rising above the division to the one Source, under whose canopy of love, we come together as brothers and sisters.
It is also time to reach out to anyone we know from our Sri Lankan family...and while we will likely feel uncomfortable, not knowing what to say or how to say it, it is ok, but it is important to remember that moments like this are not about our comfort, rather they are about caring and about compassionate connection.
As impotent as we might feel in the face of such atrocities (and of course we do), when we courageously choose to act with the truth that we are one human family, when we decide to keep our hearts and minds full of wisdom and free from division and hatred, we make healing possible.
Dr Nirmala Kajaria
Regional Coordinator Asia Pacific
The Brahma Kumaris

International Spanish Retreat Peace Village June 6-9
25 March 2019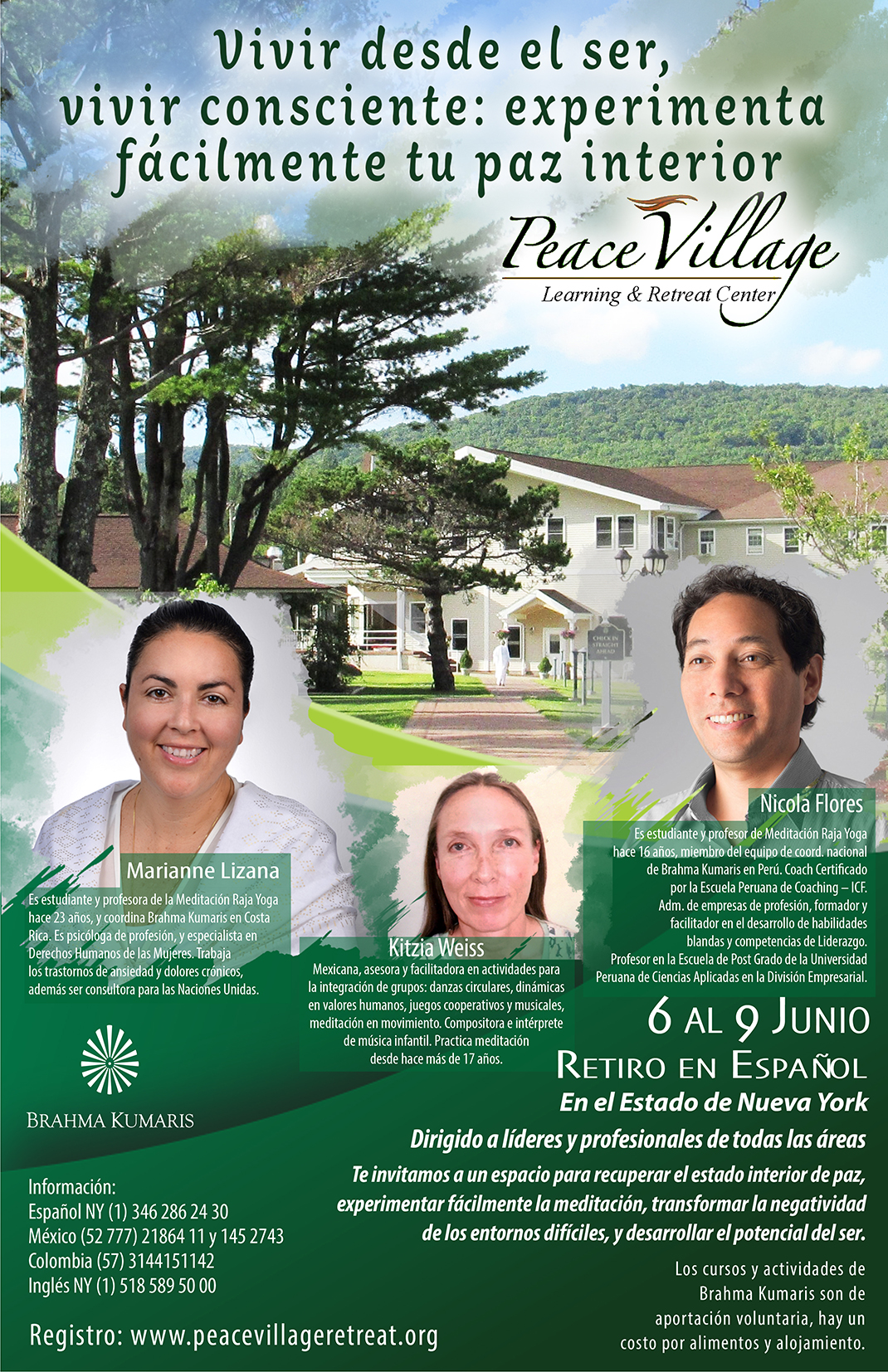 News of the International Conference held at I.G. Stadium in Delhi on 10

th

March including Session Videos
12 March 2019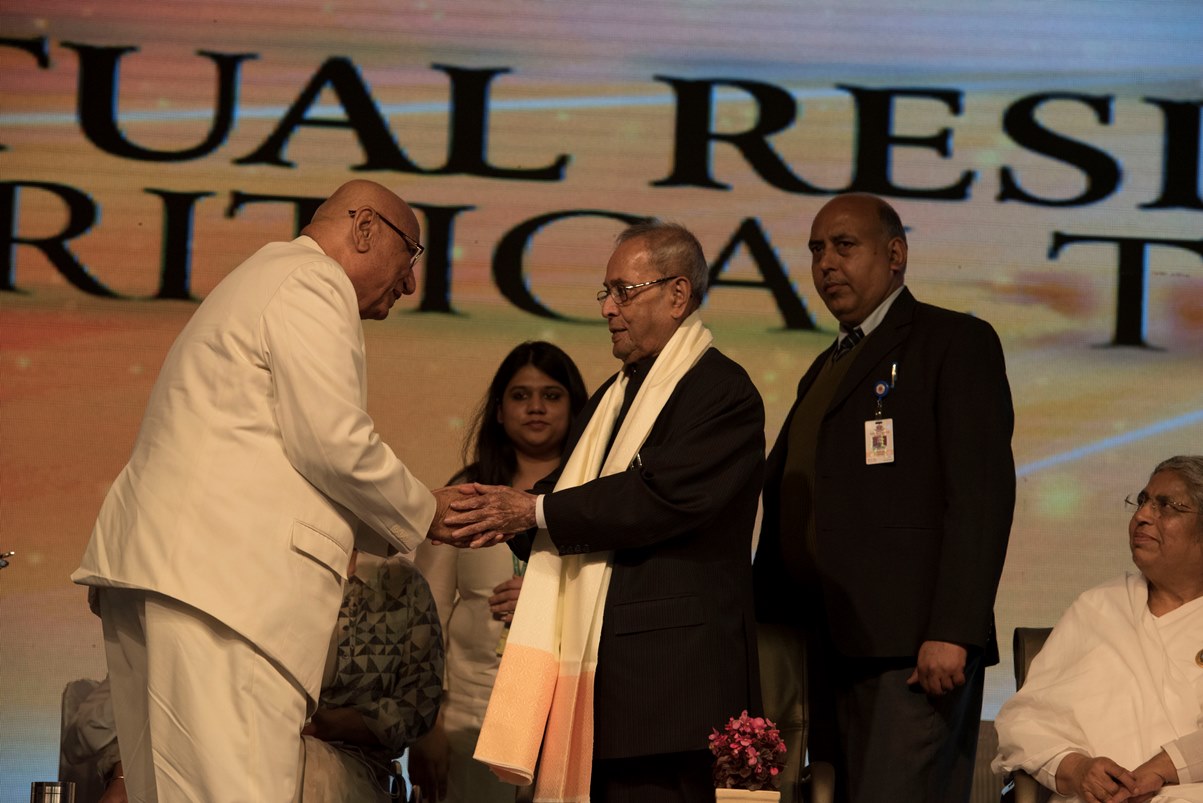 Dear Brahmin Family,
Sharing service news of International Conference held in Delhi on 10 March 2019.
The program was amazing. Latest technology was used for background motion graphics on five LED screens. Chief Guests were Former President of India Mr. Pranab Mukherjee and Vice President of Argentina H.E. Mrs. Gabriela Michetti.
There were talks by Sr. Jayanti, Br. Charlie, Br. Ken and Sr. Shivani; three Talk Shows; songs and dance performances and also a magic show. The audience were spellbound and glued to their seats for 8 hrs., even during lunch break.
Some photographs are sent herewith.
YouTube links of the International Conference
1st Session: - Spiritual Response to Critical Times | Indira Gandhi Stadium | New Delhi | 10-03-2019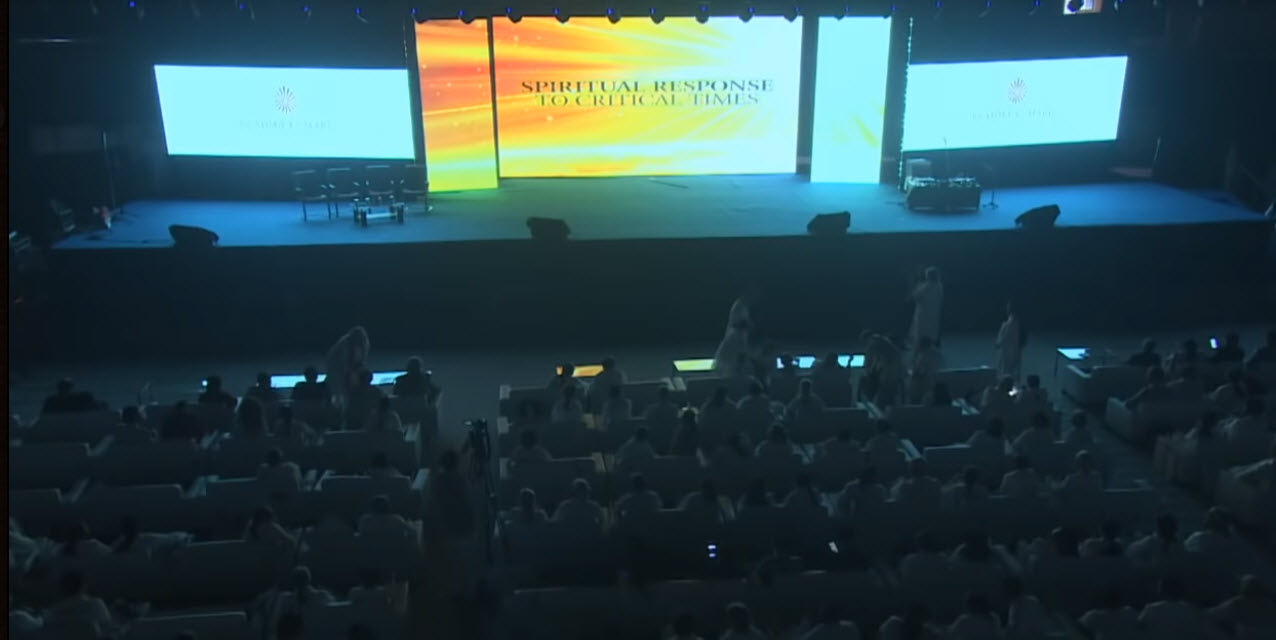 Click on the above image to watch the video for 1st session.
2nd Session: Spiritual Response to Critical Times, Mr. Pranab Mukherjee | Indira Gandhi Stadium | New Delhi | 10-03-2019
Click on the above image to watch the video for 2nd session.
Concert 'Desert Rose' Group from Africa | Indira Gandhi Stadium | New Delhi | 10-03-2019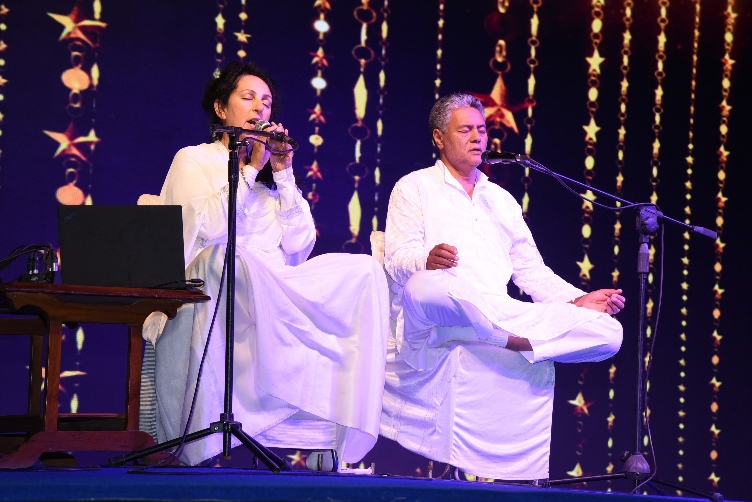 Click on the above image to watch the video for the concert.

In Baba's Yaad
BK Brij Mohan Bhai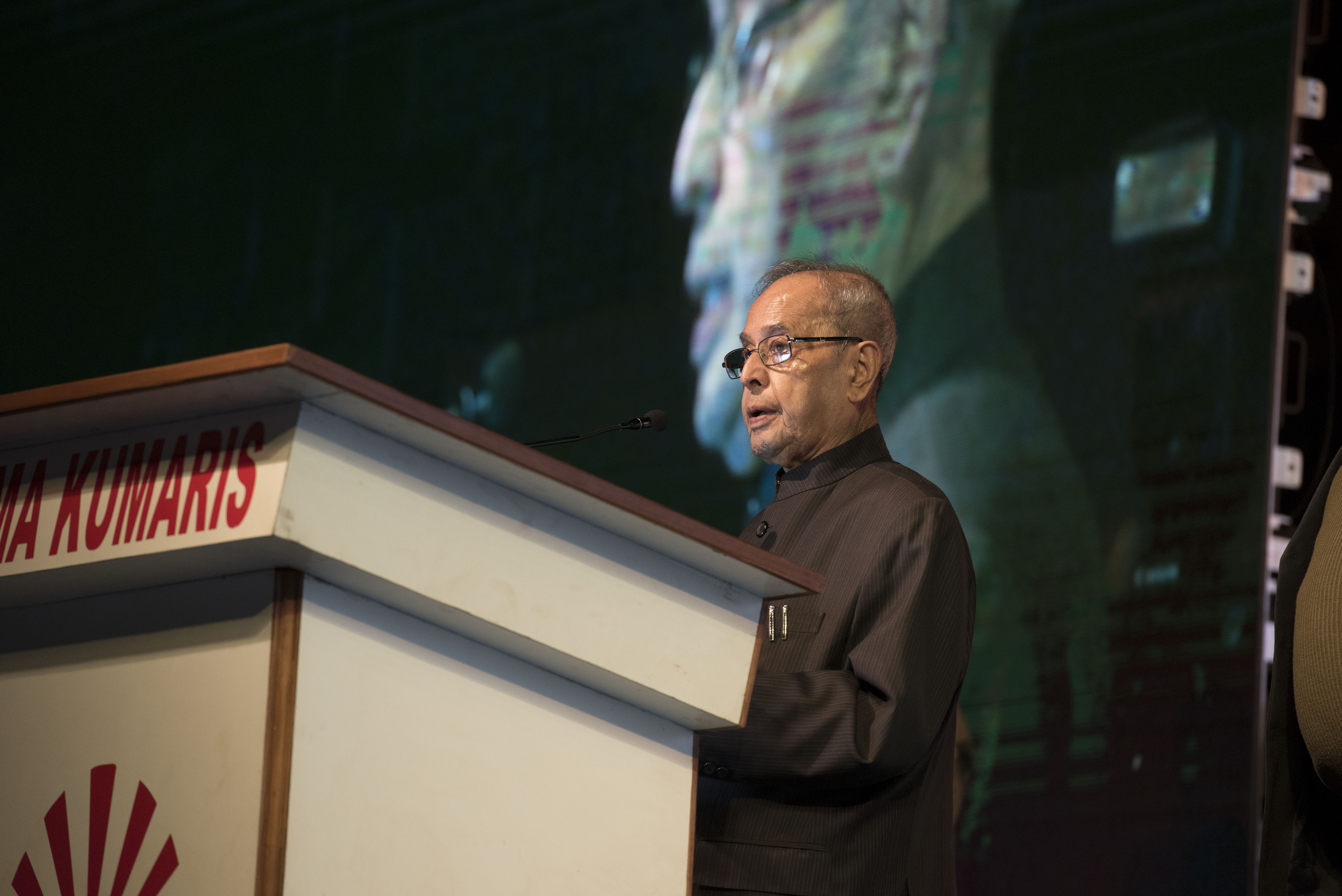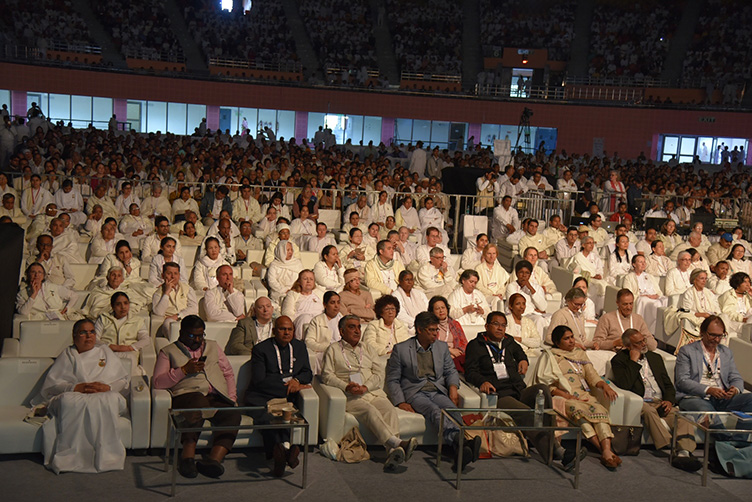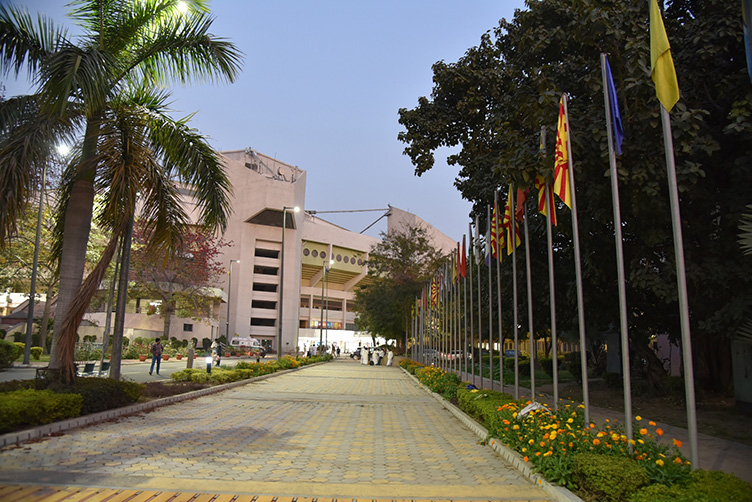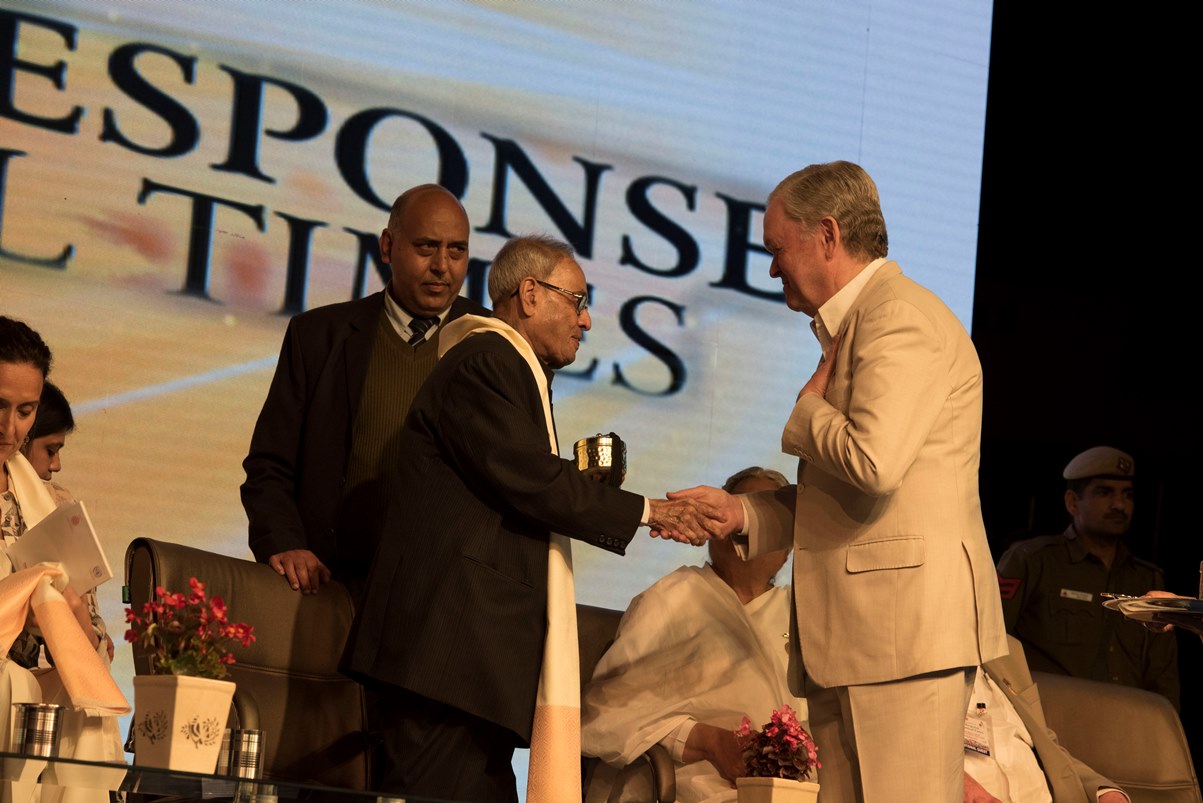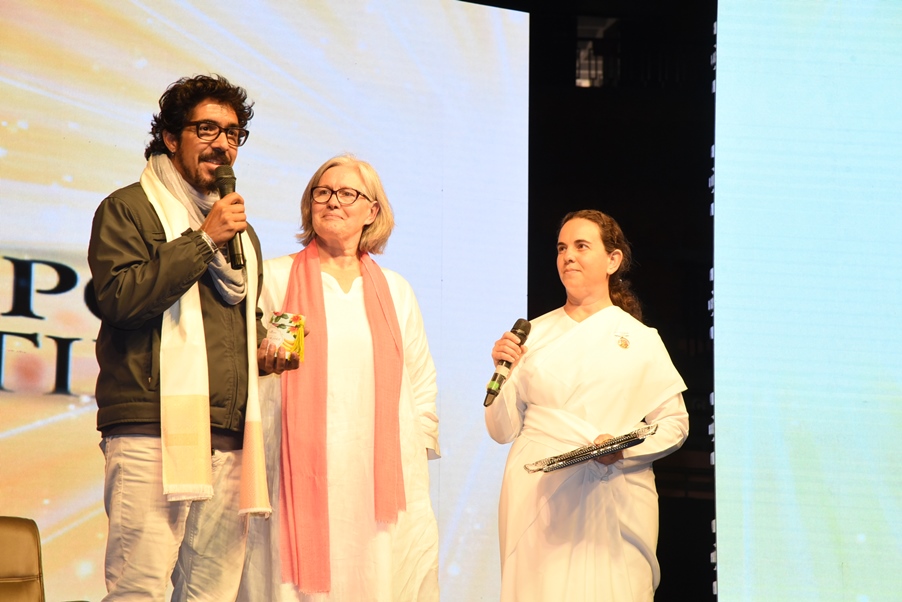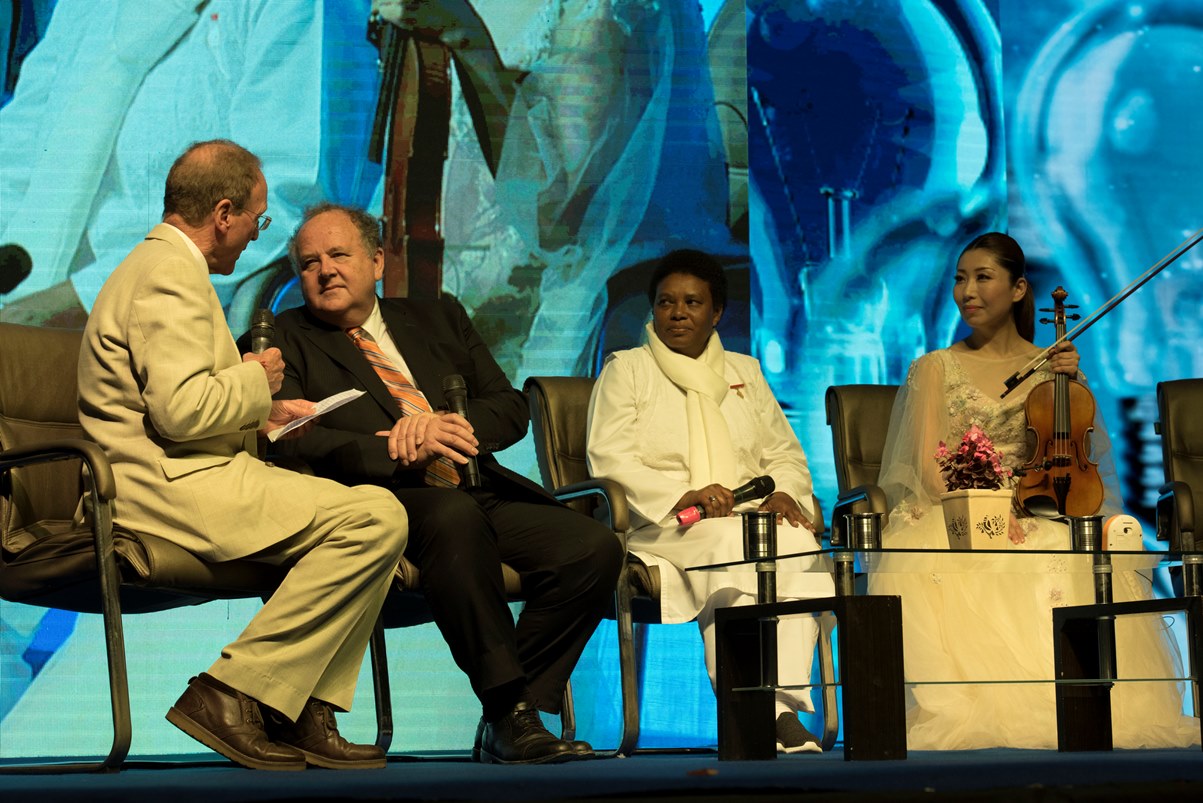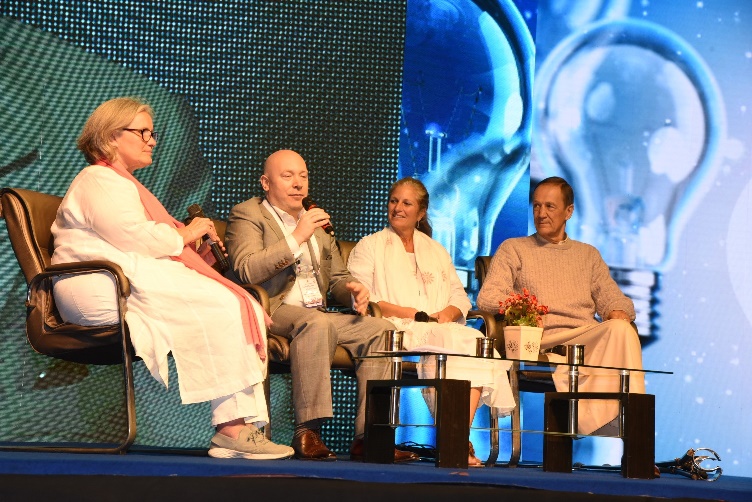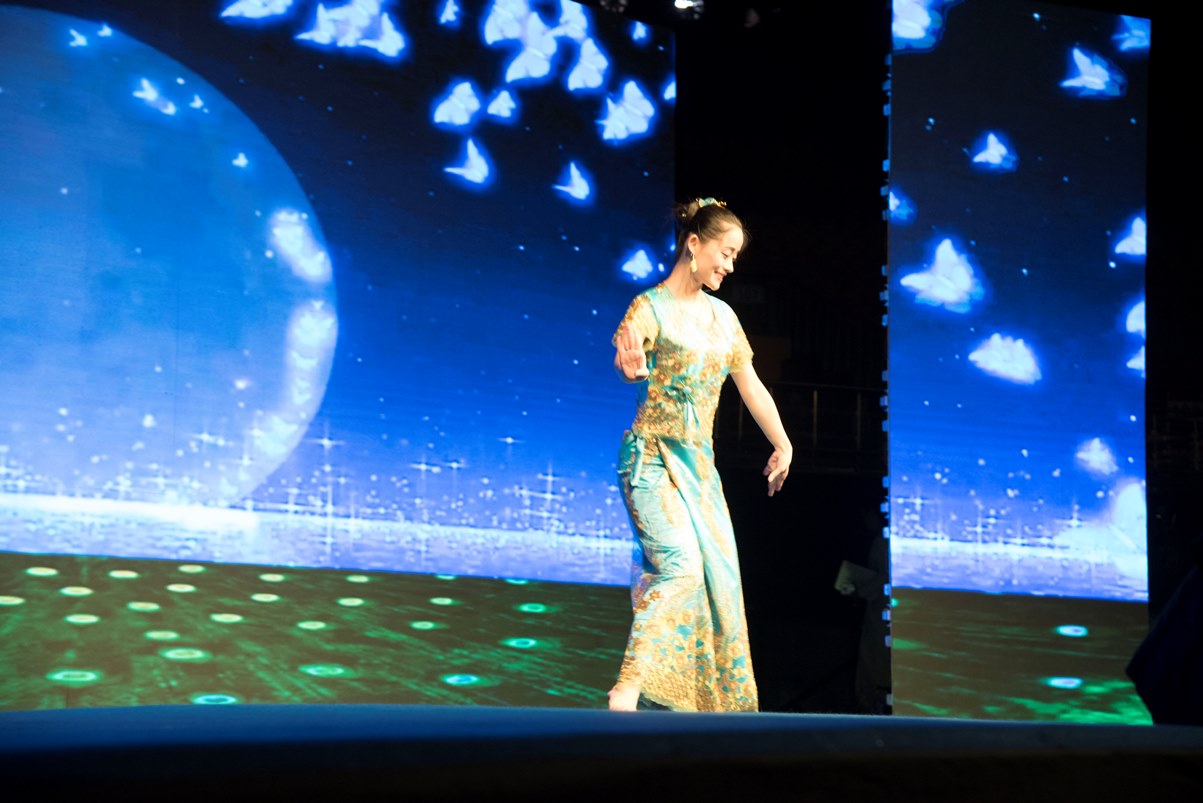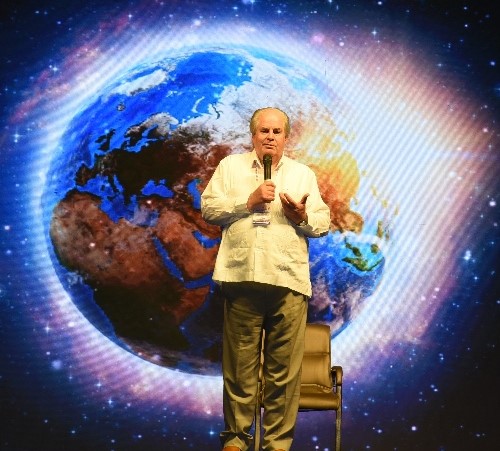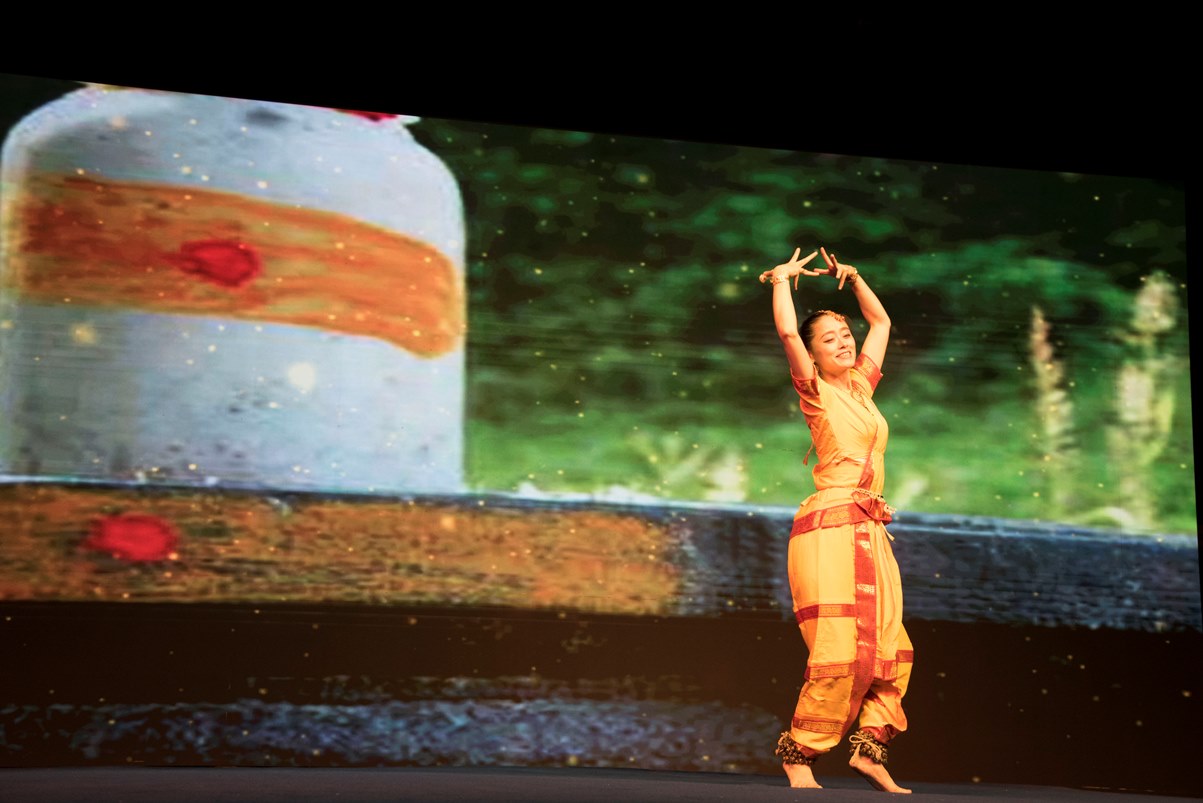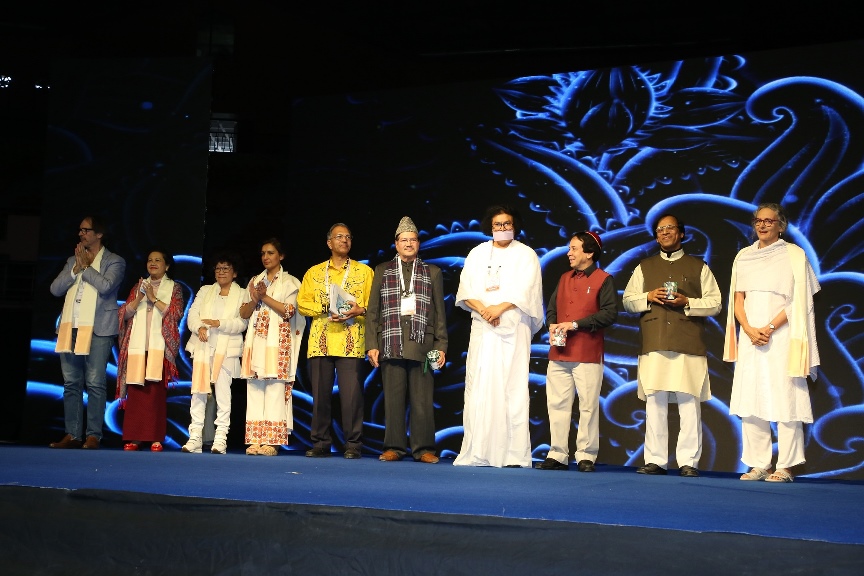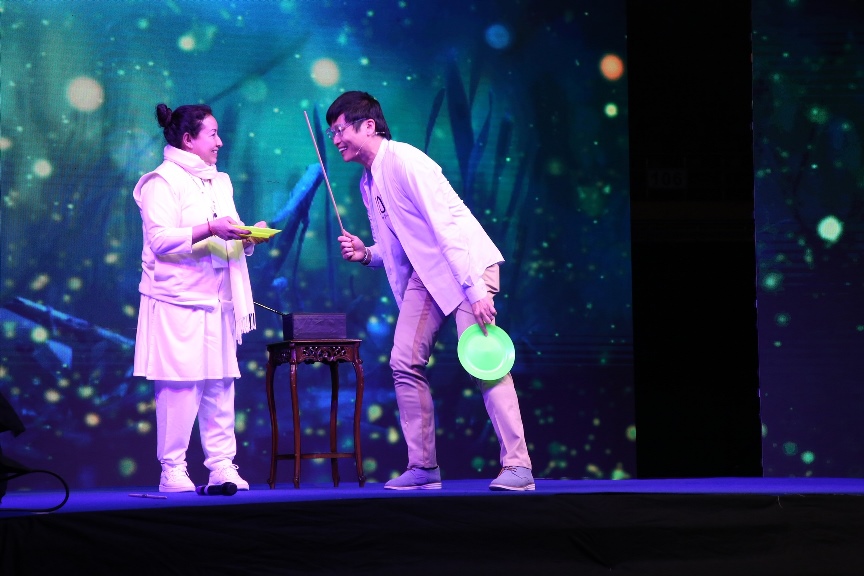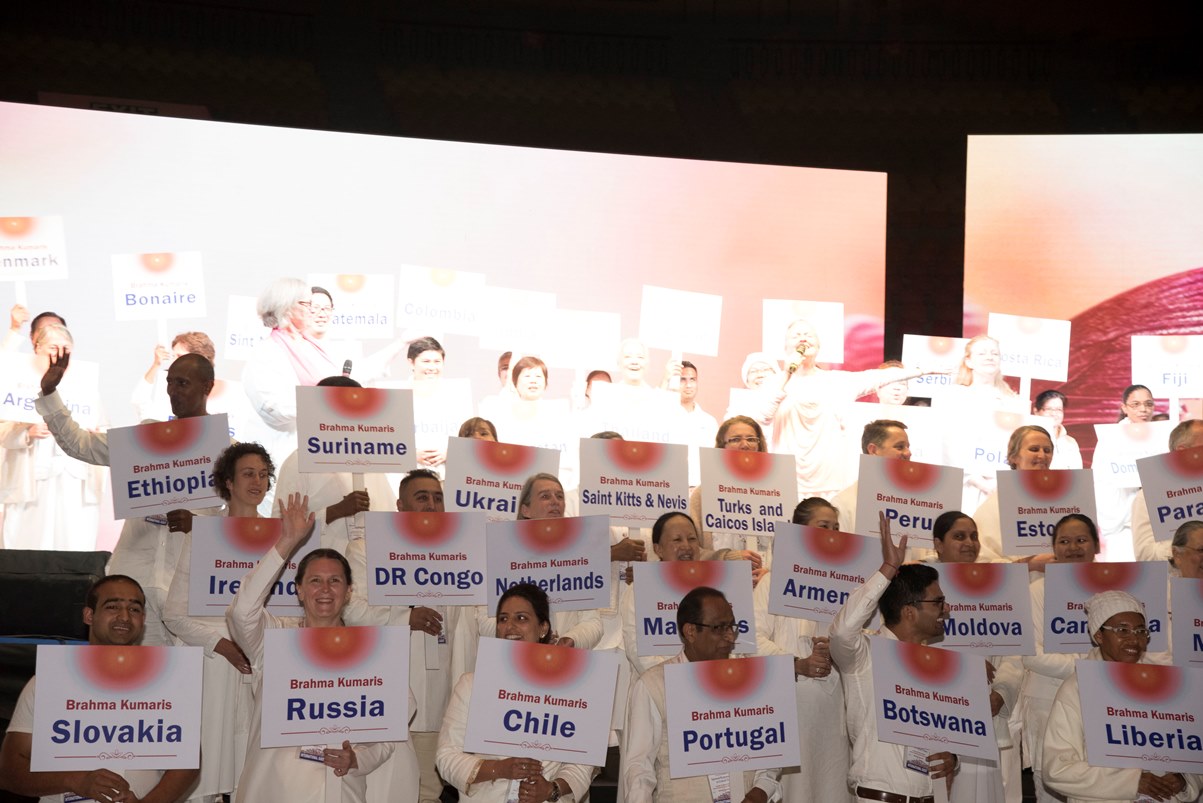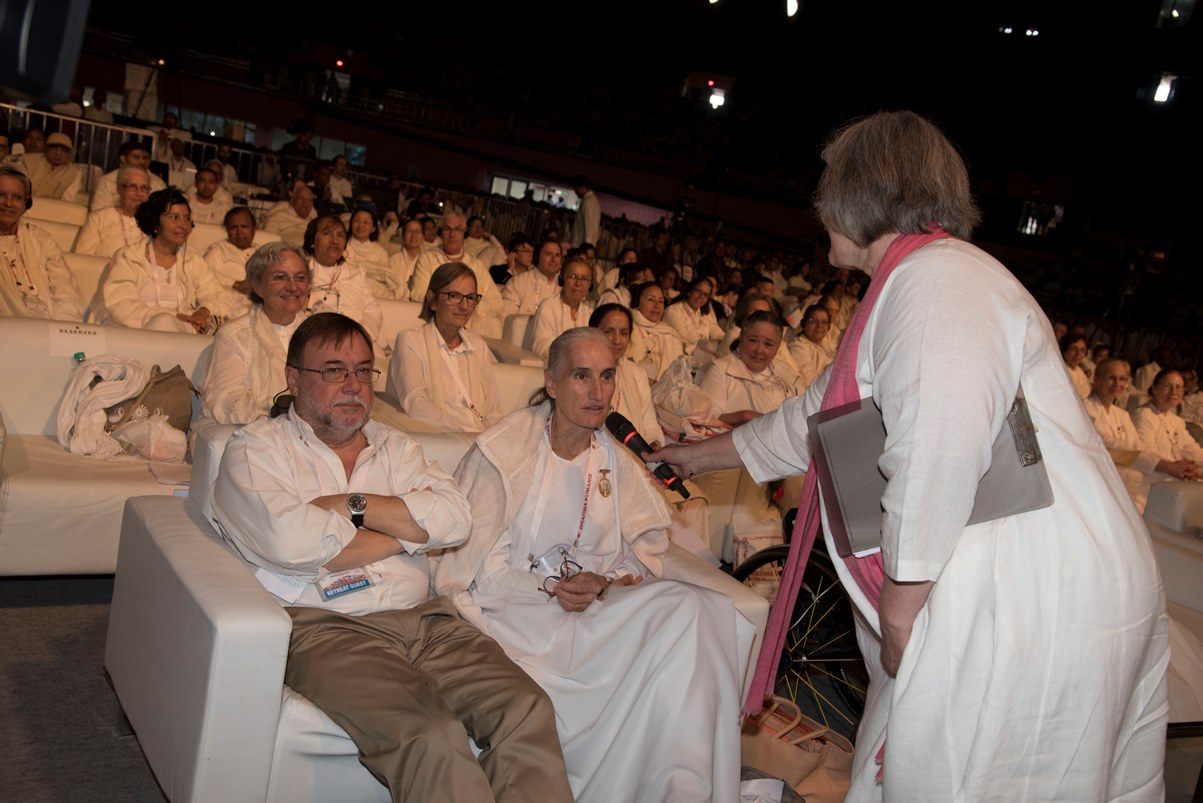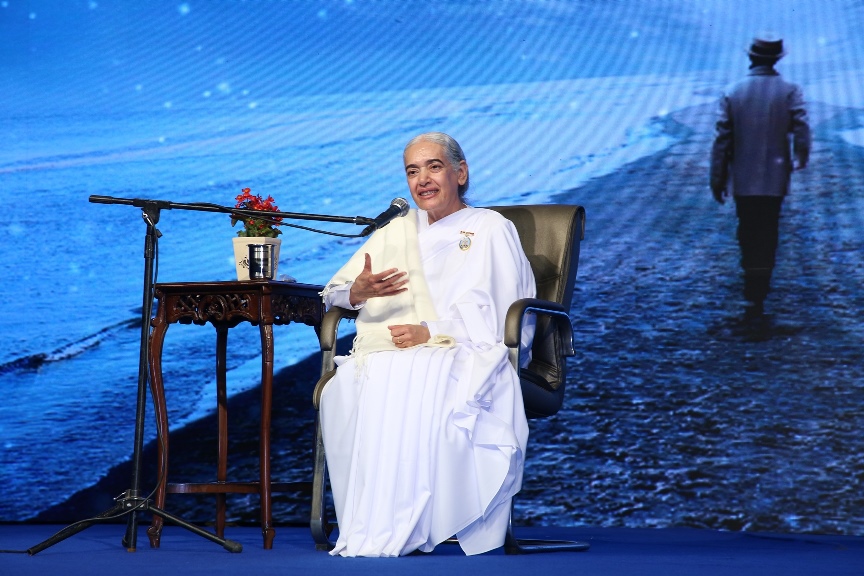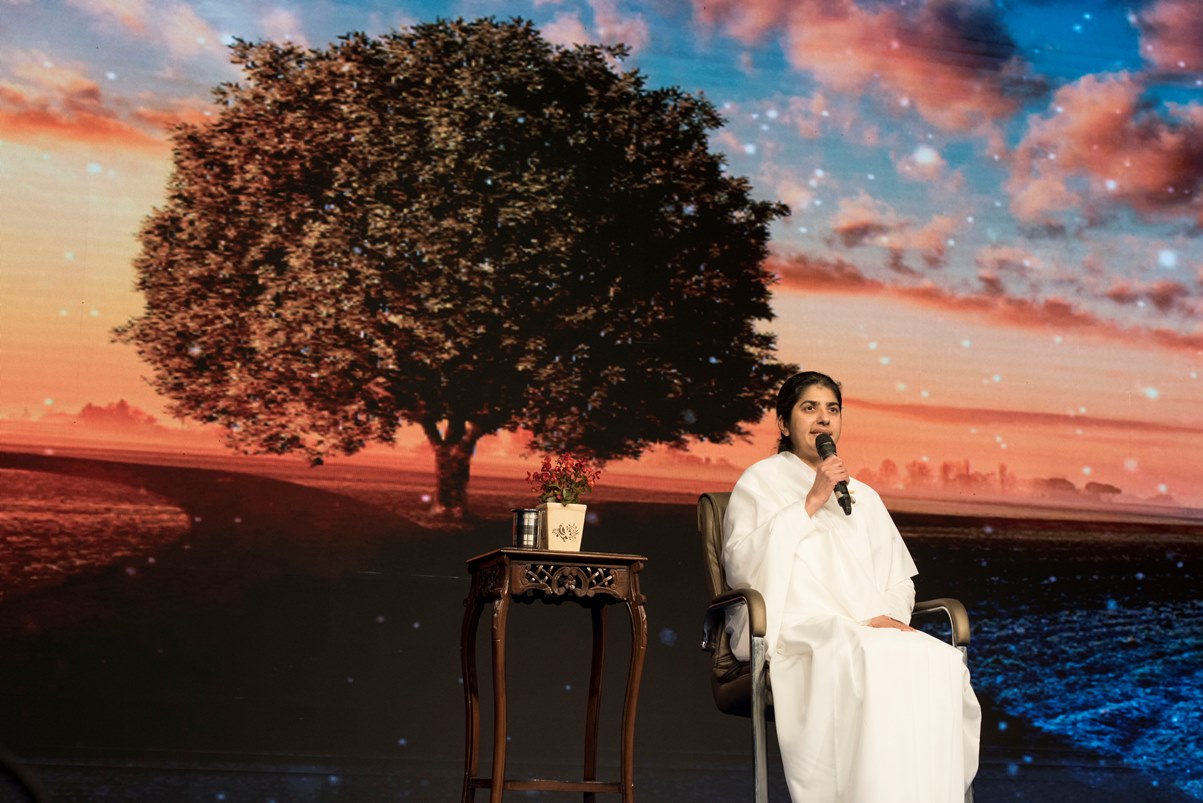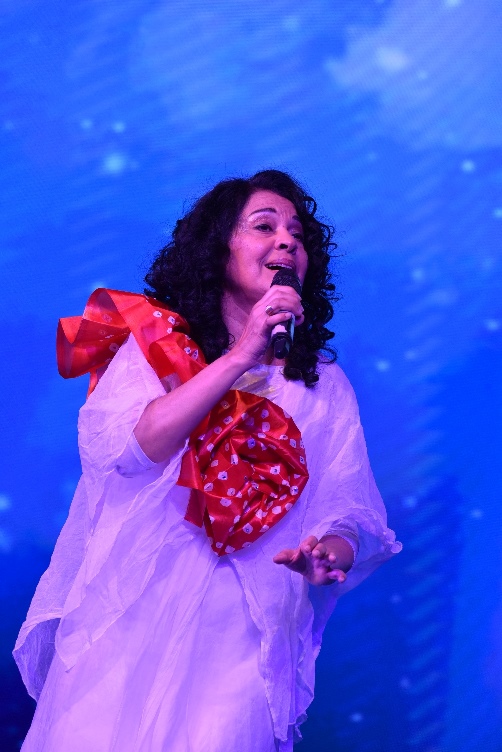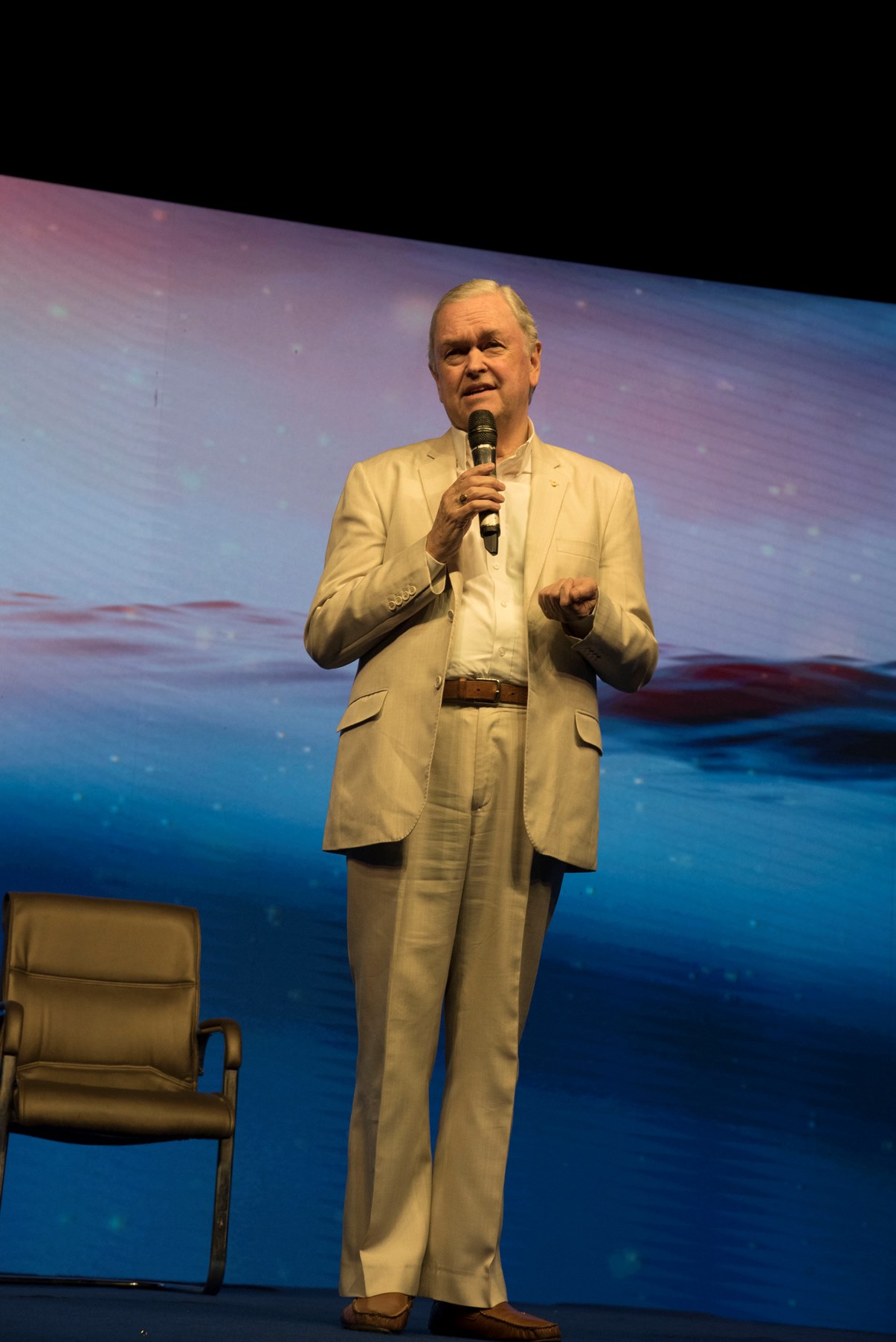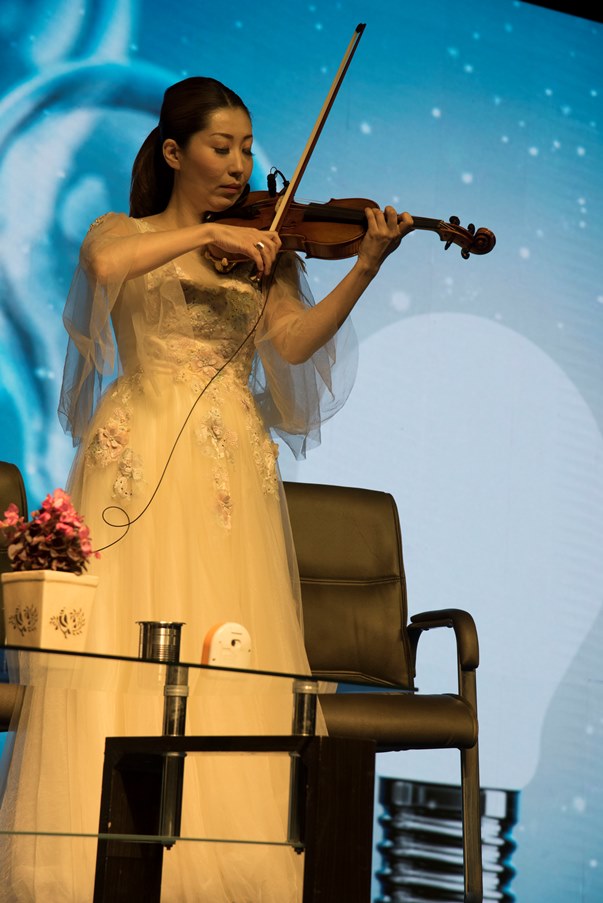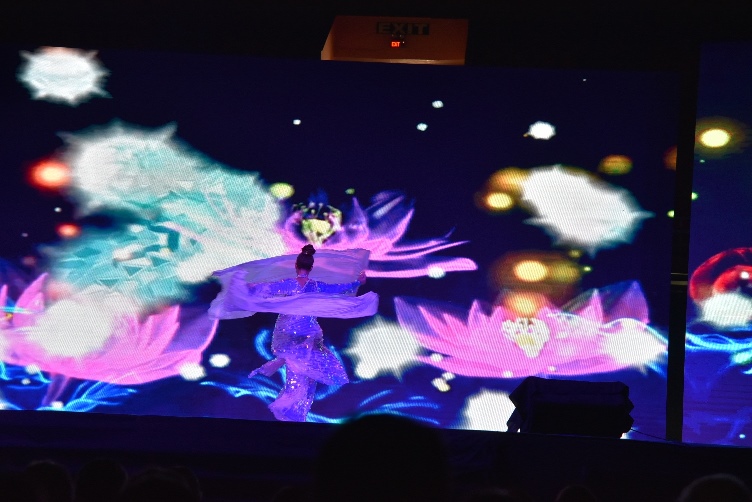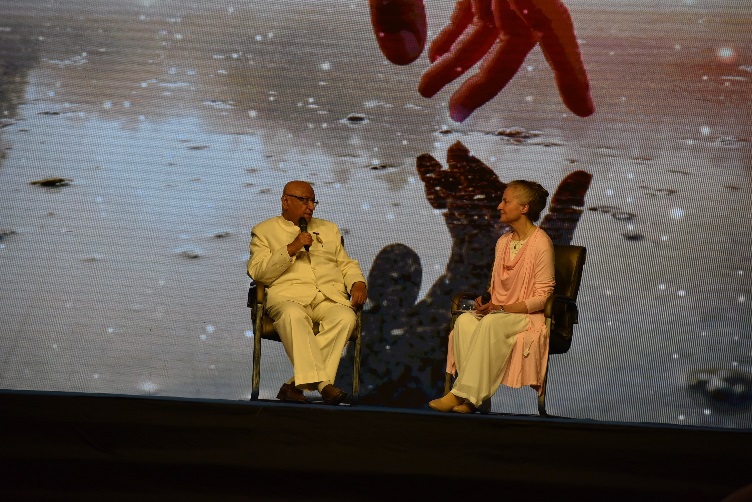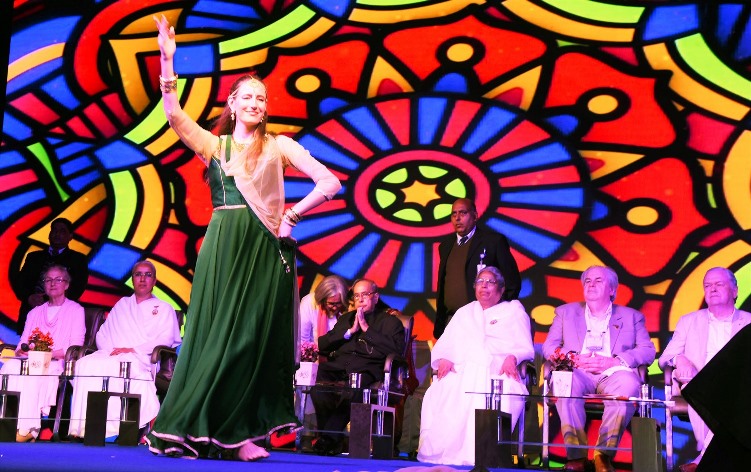 Shivratri Message from Jayantiben
2 March 2019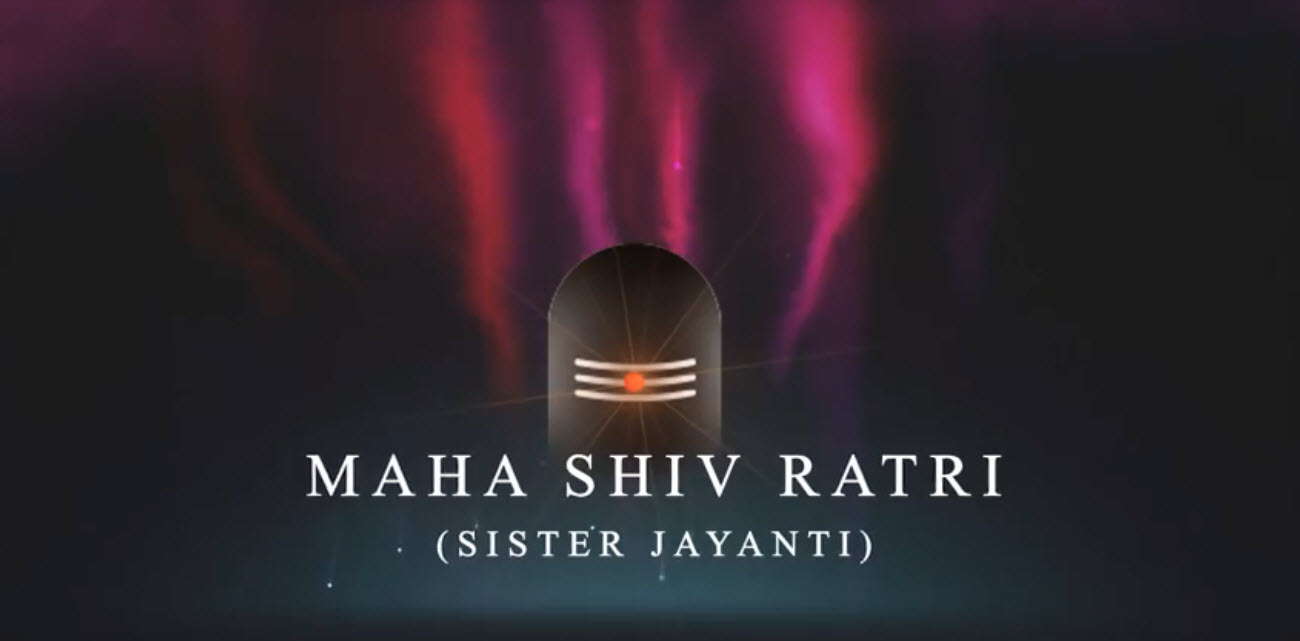 Click on the above image to watch the video.

Global Enlightenment on Shivratri
3 March 2019
Dear Brothers and Sisters, Om Shanti.
There is a amazing fusion of ideas of different world cultures taking place and its frequency is increasing day by day. Deeper meanings underlying in Indian festivals are more and more recognised and imbibed by our friends from abroad and it feels great to watch them talking about our culture with authority and conviction!
Shivratri - the most ancient and the most mysterious of all Indian festivals - is at the doorstep. ShivJayanti as we call it, marks the auspicious time when GOD enters the human world - which marks His 'Spiritual birth' - when the darkness of body consciousness is at its peak. And He turns this darkness into Light through an amazing cleansing process which happens only once in the whole Time Cycle.
Watch our brothers and sisters from diverse parts of the world talking about their understanding of Shivratri. I am sure it will touch you deeply and inspire you to look at our own rich heritage in a more informed way.
This time, let's celebrate ShivJayanti by going deep inward, away from the clamour and commotion of the world, and find our real inner spiritual space. I assure you, this experience will change you forever. Happy ShivJayanti!
Please click on the below image to watch and follow the link to the video and share it with your dear and near.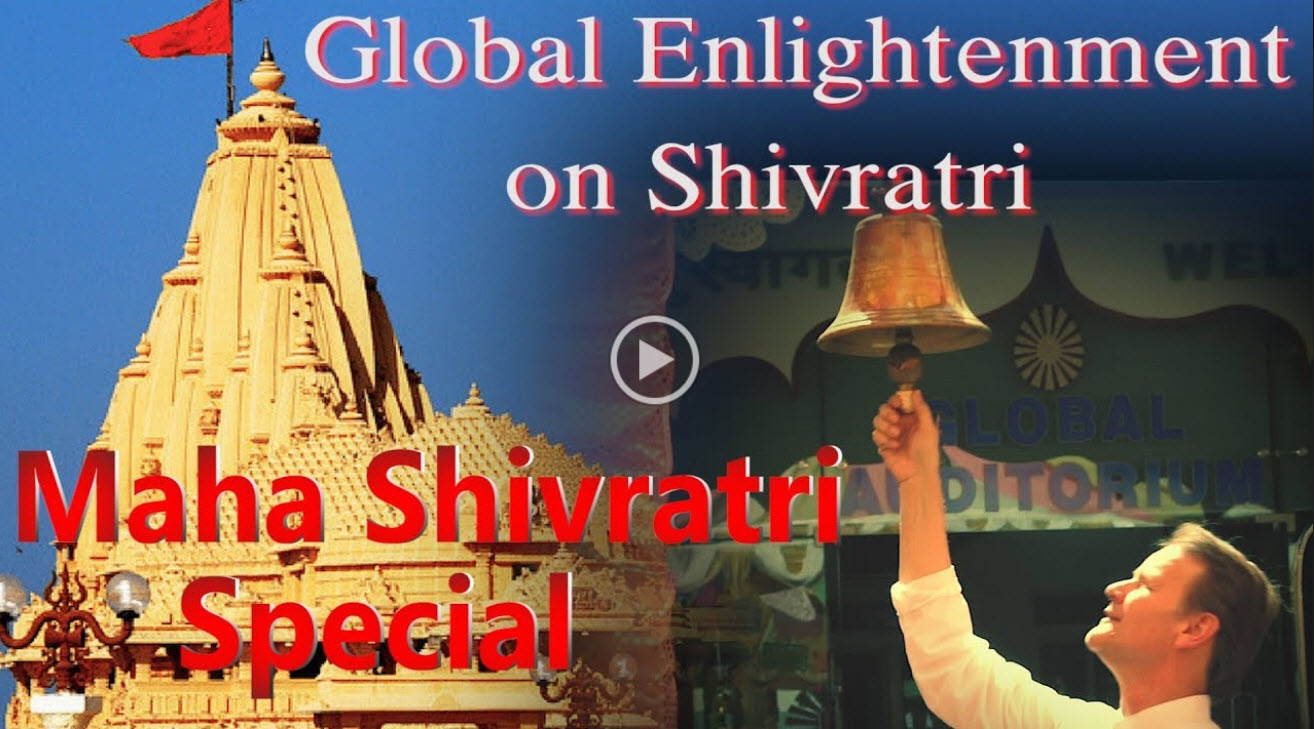 With Warm Regards,
BK Harilal
Executive Director
Godlywood Studio
World Renewal Spiritual Trust

Important Notice regarding Double Foreigners' travel to India
28 February 2019
Om Shanti dear jewels of the rosary in foreign lands,
Greetings of peace from the unlimited home of the One!
You have been receiving news of the recent serious developments between the two countries. We continue to send vibrations of peace to all souls within the region.
Double Foreigners who are travelling to India/Madhuban within the next week are asking whether it's safe to travel. You are requested to first check the situation with your Travel Agent and local Embassy, before setting out on your journey.
All good wishes,
On Spiritual Seva,
B.K. Karuna
Brahma Kumaris Spokesperson

Brother Nirwair's Health Update: 22

nd

February
22 February 2019
My dear divine sisters and brothers,
Please accept hearty Godly love and remembrances from Apex Heart Institute, Ahmedabad.
Due to accute weakness experienced for some days, I decided to consult my doctors at Apex Heart Institute, especially Dr Tejas Patel and Dr Sanjay Shah (my long-term Cardiologists). At the same time, I also needed advice from Dr Sudanshu Patwari (Gastroenterologist ), and Dr Himanshu Patel (Kidney Specialist).
I am very happy to inform everyone that with their immediate intervention, proper investigation and medication, supplemented by proper diet on the advice of Dr Kunal and Dr Hina (Ayurvedic doctors), I feel much better, but still need some more time for complete recovery. I am very sorry for not having informed everyone before leaving Shantivan on 19 February,
as the chariot was experiencing much weakness.
My cardiologist suggests that I reduce 25% of my activities, but I wonder how that is possible.... Rather I would request my doctors to bring me back to my 100% normal health, so that I may continue with my responsibilities in Baba's Service.
I have had very, very relaxed sleep over the past couple of nights in the Hospital, and it's my hope that it won't be long before my doctors permit me to return to Shantivan.
Shashiben, Dr Pratapbhai, Dr Banarsibhai, Dr Satish Gupta, Dr Hari, Bharatbhai, and sisters from Ahmedabad have been around at different intervals, bringing me lot of comfort.
With my regards and spiritual love,
BK Nirwair
(dictated from Ahmedabad)

Invitation to Participate: International Conference at Indira Gandhi Stadium, New Delhi on 10th March
9 February 2019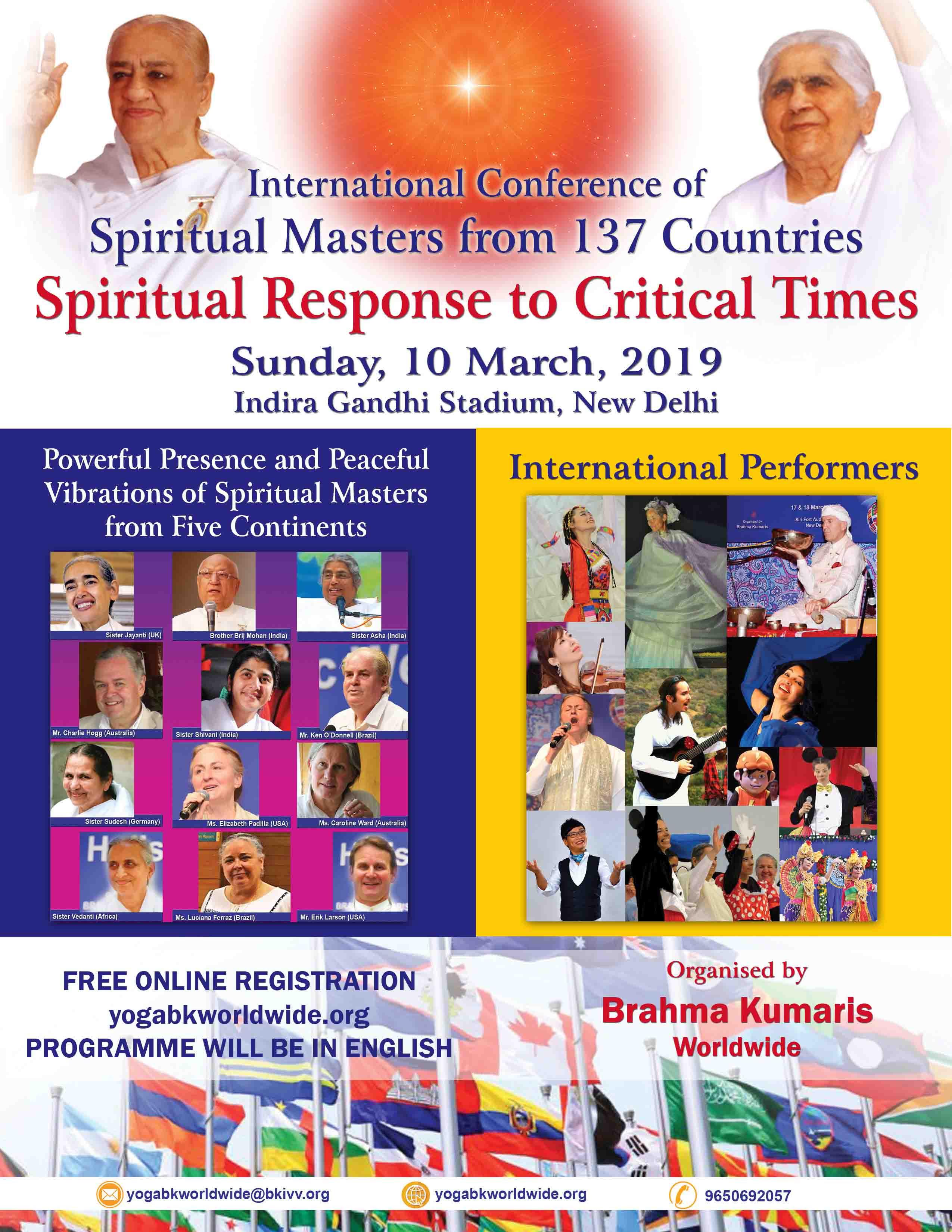 Dear Divine Brahmin Family, Om Shanti,
The HAPPY NEWS is that an International Conference, with BK participation from five continents, will be held on 10th March 2019 at Indira Gandhi Indoor Stadium, New Delhi with 20000 seating capacity.
International Conference on Spiritual Response to Critical Times
The folder of this Mega Event may be downloaded here.
You are welcome to participate in this Historic Event. Send us your details at yogabkworldwide@bkivv.org.
In Baba's Yaad
BK Brij Mohan
Addl. Secretary-General
Brahma Kumaris
Mount Abu
Editor
Monthly 'Purity' Spiritual News Magazine of Brahma Kumaris
25 New Rohtak Road, New Delhi -110005

Chairperson
Politicians' Service Wing
Rajyoga Education & Research Foundation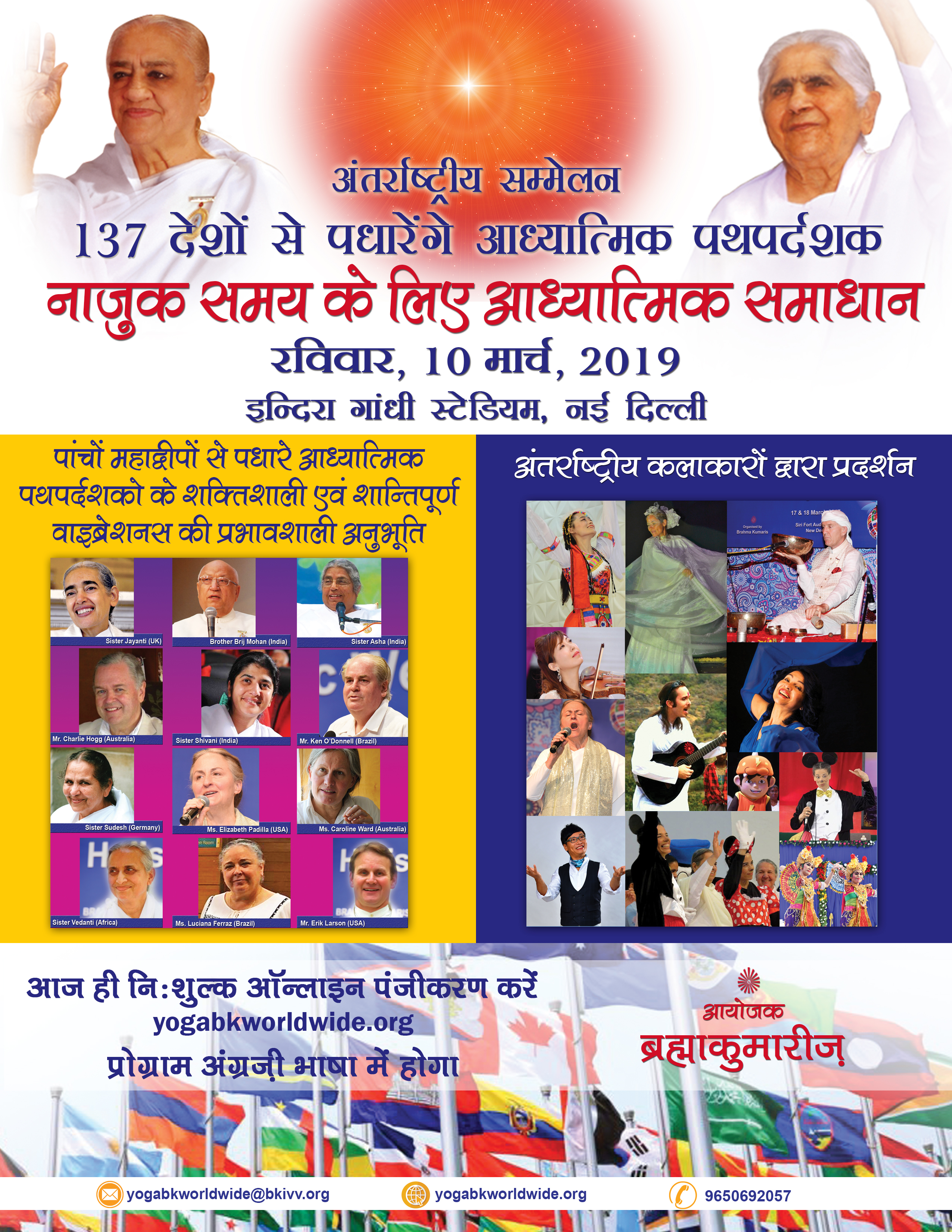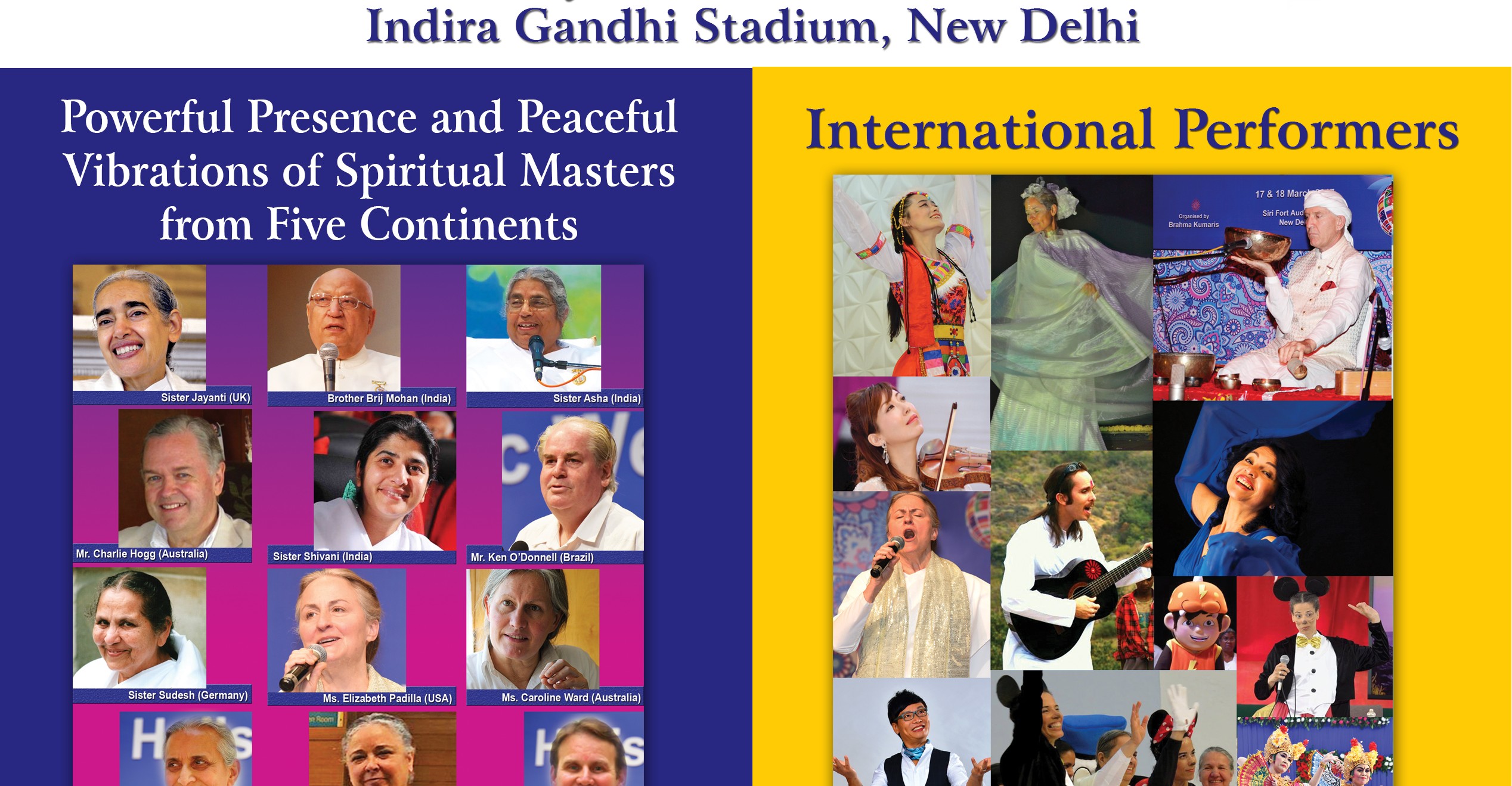 Greetings from Brother Nirwair Ji from Madhuban on 29th January
29 January 2019
Most beloved Avyakt BapDada's very near, dear and serviceable instruments in Bharat and across the world,
Please accept Godly love-filled remembrances from Shantivan.
As we are nearing culmination of the month of avyakt purusharth, I am sure everyone must have spent quality time in maintaining a natural and high stage of avyakt consciousness. The month of January is always blessed by Avyakt BapDada's powerful vibrations, and inspirational points at the end of each day's Murli, so that reaching our flying stage is seamless. Many BK Centres organised Bhattis in the mornings and evenings during the month, and this would have benefited all students and contact souls. Let us take forward the inspirations of this special month to conquer our short-comings, and emerge as Father-like Angels.
These days, the weather in Northern India is going through severe winter, and mercury levels have dropped below zero on a number of days in Mt Abu... It's only the warmth of Baba's love that keeps us going with our daily routine.
In a few weeks, we will be celebrating the most auspicious festival of Maha Shivratri. Meanwhile, devotees of Hindu faith especially continue to take benefit from the Kumbh Mela at the confluence of three main rivers in Allahabad. So far 50 million people have benefited from the Bhakti discourses and of course the holy dip, or even just being sprinkled with the pure waters. Our divine sister Manoramabehn and her large team from Allahabad Centres and different parts of Bharat continue to share BapDada's wisdom through spiritual exhibitions and discourses organised at the Mela site. We send our good wishes that the devotees re-awaken through this unlimited service, and come to reclaim their inheritance of Jeevan-Mukti for many lives to come.
Keeping in view our New Year Resolutions, let us channel our spiritual efforts towards leading naturally soul-conscious lives, while remaining immersed in the love of our Supreme Parents. Baba's Sakar Murli of 26 January outlined the prevailing circumstances of the globe, and motivated us to be ready for transformation whenever it chooses to occur.
Dadi Jankiji and her entourage has returned to India after a successful 4-day visit of Hong Kong.
Several sisters and brothers from all over the world are expected to gather in Abu during February and March, and we welcome everyone to your own sweet home, Madhuban.
With best wishes and Godly remembrances,
BK Nirwair

REMINDER - Pilgrims to Madhuban during February - March 2019 & Update on Weather in Mount Abu
27 January 2019
Dear NCs, CCs and DF Travel Database System Users,
Greetings and love from Madhuban,
As February and March are especially peak seasons for arrivals of Double Foreigners, we would like to request that the Travel Coordinators upload details of all your pilgrims on the DF Travel Database system as soon as possible.
1) Even if people have registered for their respective retreats, their information needs to be on the DF Travel Database system too so that Madhuban also has this information.
2) As far as possible, it would save time if everyone could bring the new version of FORM C ready to submit, with photocopies of their passport and visa. A current copy of FORM C is attached for your use.
WEATHER IN MOUNT ABU
Also the weather in North India has changed suddenly and is expected to be very cold over the next couple of weeks. So as the weather fluctuates a lot in February, please do remind everyone to come prepared with sufficient warm clothing.
Thank you,
In Baba's yaad,
DF Accommodation Office, Madhuban
To download PDF format of Form C click here.

Video (7 minutes) of Sweet Memories of Brahma Baba by Sister Jayanti
22 January 2019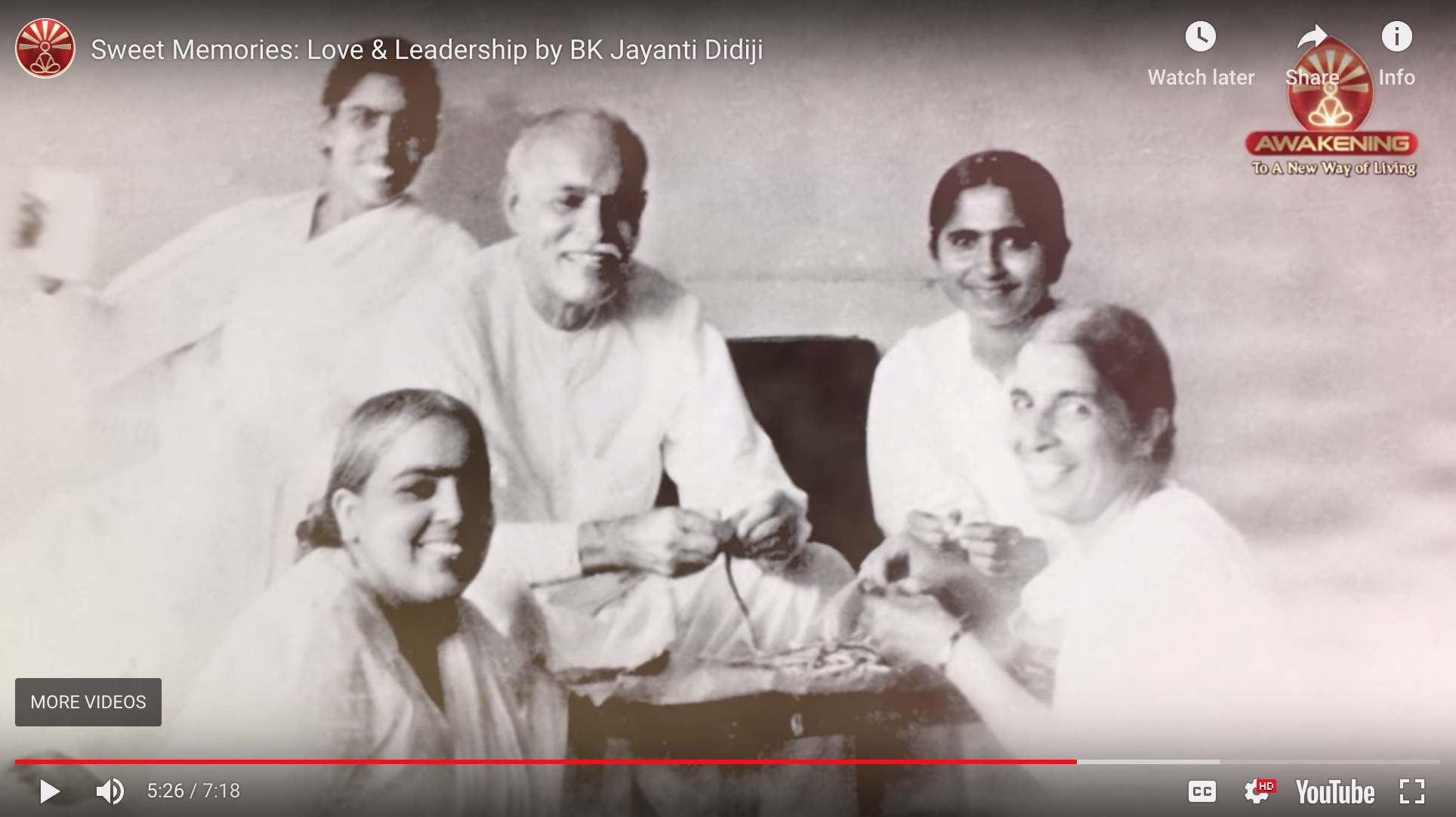 Click on image to play.

The Golden Thread: 50 Years of Avyakt Sustenance (32 minute video created in London)
17 January 2019
This 33 mintue video was created for the London class for the 18th January. Entitled "The Golden Thread: 50 Years of Avyakt Sustenance", the video offers a flavour of different scenes with our beloved BapDada through the decades. It is a small collection of sweet snapshots that we can hold in our hearts.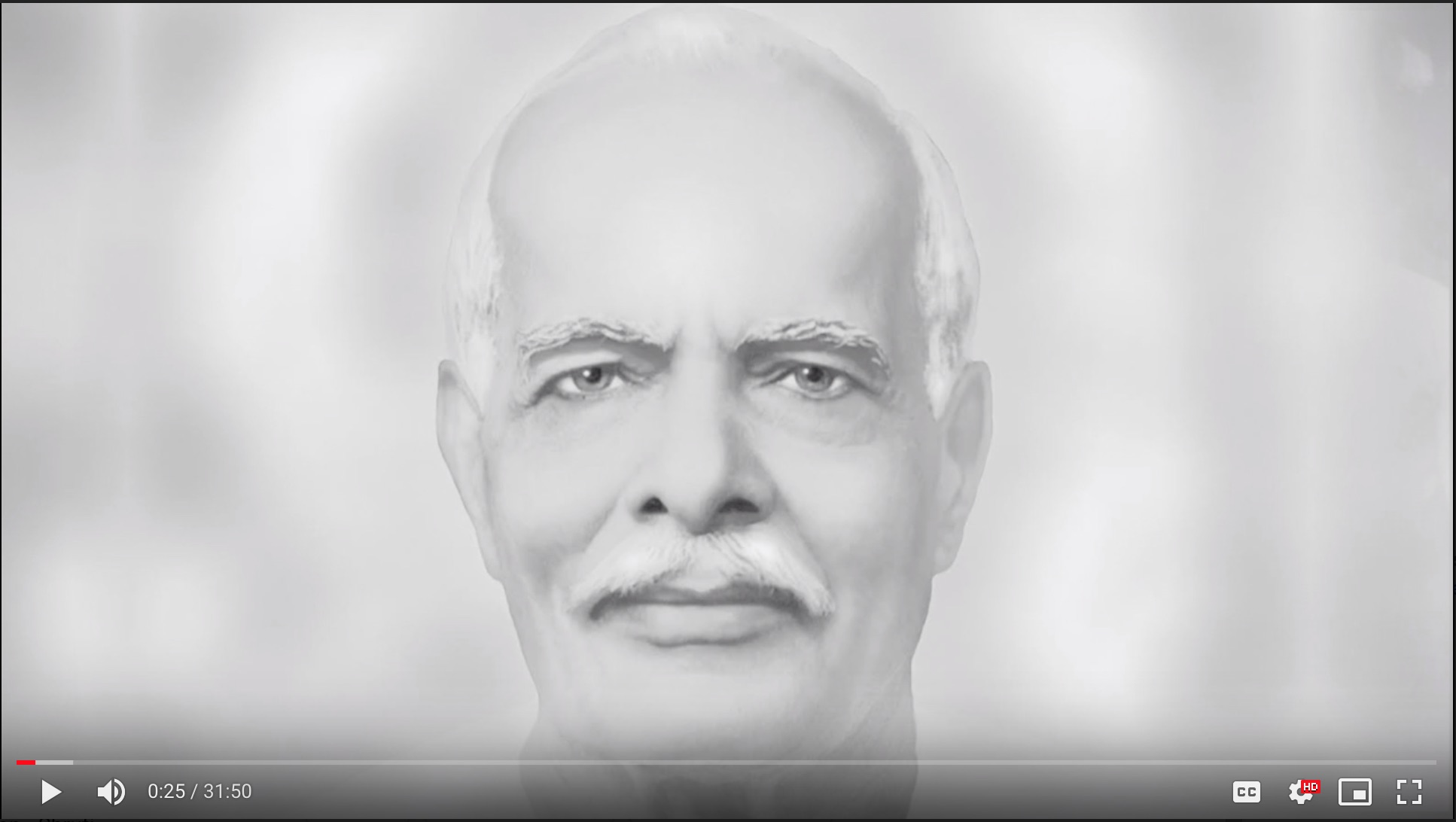 Click on image to play the video.

Video Message (7:25 min) from Dadi Janki Ji for the 18th of January
17 January 2019
Click on image to play.

Announcement for Delhi Program, March 2019 - Registration Process
17 January 2019
Dear Centre Coordinators and Double Foreigner Family , Greetings of love,
We recently sent you the invitations and some information about the:
• VIP Retreat on the 8th - 9th of March in the Om Shanti Retreat Centre (ORC) and the
• International Conference on the 10th of March in Indira Gandhi Indoor Stadium in Delhi.
With this email we send you additional information for the registration process:
BK REGISTRATION FOR THE DELHI EVENT, 10th MARCH
In Addition to the information we sent you for your registration via the Madhuban data base, please also register via this online form:
https://brahmakumaris.org/r/delhiconf_BK (please register by 25th February latest)
GUEST REGISTRATION & TRANSPORT DETAILS FOR THE VIP RETREAT 8-9th MARCH & DELHI EVENT ON 10TH MARCH
If you would like to invite a guest to the VIP Retreat 8th - 9th in ORC and or the Delhi event on the 10th please send an email with brief background information about your guest to Charlie and cc Trish at dfseason@brahmakumaris.org by the 25th of January. Please wait for confirmation before inviting a guest. We will communicate regarding this process with the guest and their local Centre once they have confirmed their attendance.
COORDINATORS HANDLING MADHUBAN DATABASE FOR THEIR COUNTRY
In Addition to the guest´s registration via the Madhuban data base, please also register the guest via this online form: https://brahmakumaris.org/r/delhi_event by 15th February.
GUESTS TRAVELLING TO MADHUBAN 11th MARCH FOR AN EXPERIENCE OF BRAHMA KUMARIS HEADQUARTERS
Guests are invited to the Headquarters after the Delhi event. They will fly from Delhi to Udaipur on the morning of the 11th of March. Before traveling further from Udaipur to Mt. Abu they will enjoy some hours sighting in Udaipur on the afternoon of the 11th. A special program will be tailored for them in the Headquarters from the 11-13th of March. Departures on the 14th
Many thanks with love
Charlie Bhai and the DF Delhi Team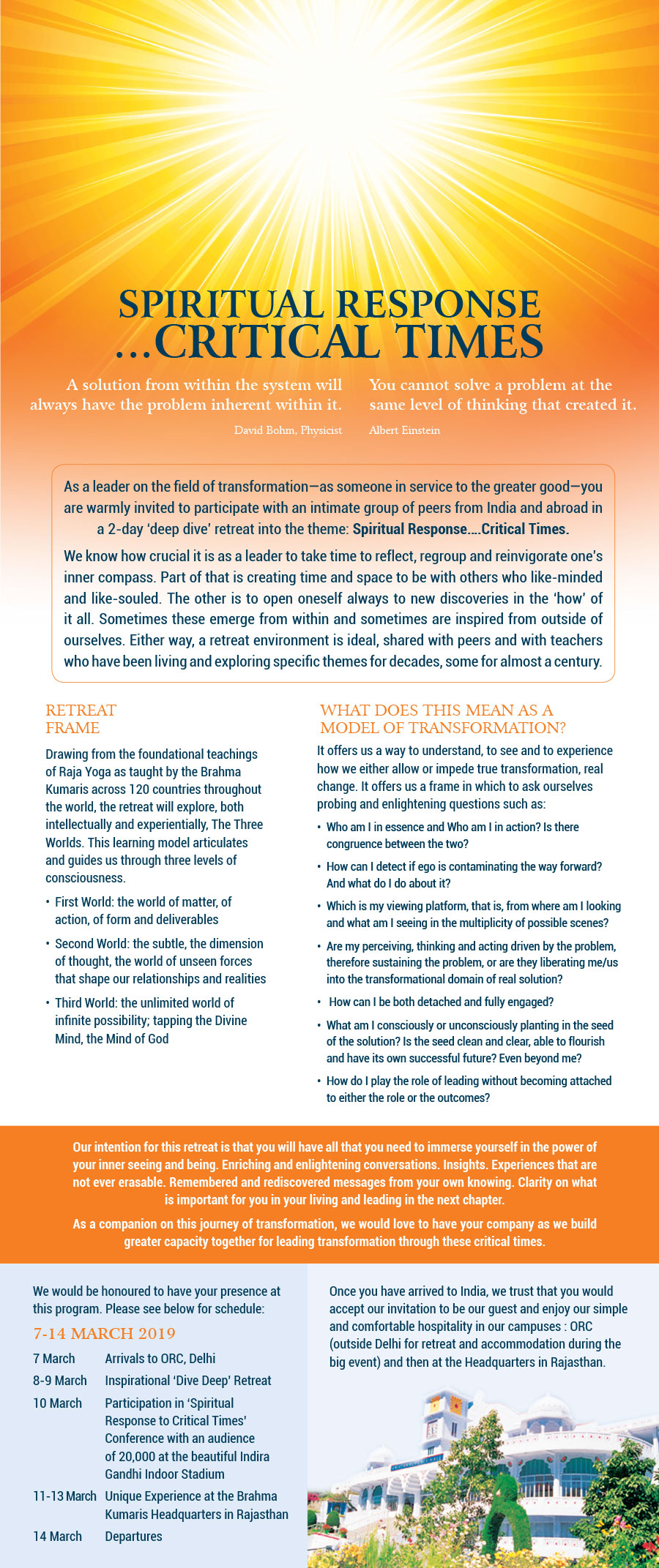 Click on below links to download PDF format of the related documents:
Announcement Delhi Program - Registration Process

Global Summit on "Science, Spirituality, Education & Environment" to be held on 10th February at Talkatora Indoor Stadium, New Delhi
17 January 2019
BapDada's most loving, serviceable Instruments around the Globe, Multi-Million times greetings and best wishes!
This is to inform you that Brahma Kumaris World Headquarters is organizing a Global Summit on "Science, Spirituality, Education & Environment – Role of Human Beings in Creating a Better World" on 10th February 2019 at Talkatora Indoor Stadium, New Delhi, India. A folder of the Summit is sent herewith for your kind reference.
It would be our pleasure and honour if you can invite some prominent personalities like scientists, spiritual leaders, environmental scientists/leaders and distinguished dignitaries from different fields such as science & technology, politics, spirituality, media, corporate sector, business & industry, defense, art & culture, education, economics, administration etc to participate in this Summit.
The objectives of this Global Summit are:
1. To ensure integration of science and spirituality and highlight on their roles of Self-transformation and World transformation
2. To emphasize and implement the constructive, creative and ameliorative role of science.
3. To promote values and help people inculcate them for peaceful co-existence
4. To create spiritual awareness in people and inspire them to practice Rajyoga meditation for Self-realization and God-realization.
5. To create a quantum shift/change from body-consciousness to soul consciousness.
The highlight of this Summit will be Grammy Award Winner, Indian Composer and Environmentalist, Mr. Ricky Kej who has agreed to perform in this Global Summit with his team of singers, musicians and orchestra.

For online registration of guests, please click on the link below and fill the form.
https://goo.gl/forms/dHOR8whYSwz22ibC2
For further enquiry, folders and invitation letters, you may contact BK Shivika Behn 9414152358 (Shantivan, Abu Road) and BK Neha Behn 8586003288 (Harinagar, New Delhi).
You can also visit our website
Download the Summit brochure here.
Thanking you and with thoughts Divine,
Your Spiritual Brother
B.K Mruthyunjaya
Executive Secretary, Brahma Kumaris

Announcement Regarding The Delhi Program to be held on 10th March, 2018
6 January 2019
Dear Centre Coordinators and Double Foreigner Family, Greetings of love,
For past two years we have had a very special program in Delhi in March which has been jointly organised by the Delhi family and the Double Foreigners.
This year's two programs on the 10th of March are titled "Spiritual Response to Critical Times" and will take place in the beautiful Indira Gandhi Indoor Stadium accommodating an audience of 20,000. The brochure for the Programs is attached for your information.
These programs will also be a real opportunity to showcase Baba's Double Foreigner Family, who will as Baba has frequently said, contribute to triggering the awakening of our 'family in Bharat'. So, having said that; We Would Love to have at Least One Representative From Every Country where Baba has a Centre.
VIP RETREAT, 8-9 MARCH, ORC
This retreat will explore the same theme as the Programs on the 10th, yet with much greater depth. The participants will be drawn from a select group of our special contacts from all over the World. These contacts will be of a very high caliber, active on the field of service, dedicated as change makers and agents of transformation in their areas of endeavor and open to further exploring the application and implications of elevated thinking and a divine mind as principal tools for facilitating long term transformation. This retreat will be facilitated by Caroline Ward and include participation from our respected seniors. These contacts will also participate in the 'Spiritual Response to Critical Times' Programs on the 10th.
The retreat participants will be recognised publicly during the Programs on the 10th for their dedicated work of living from integrity and spirituality. Please consider if you have special contacts/friends/professionals of BK's, who could be considered for being invited to the retreat. The retreat will be in English so it is suggested that they are competent in English to take full benefit. We would appreciate if you could prioritise whom you feel to invite first and send a few lines description of them and their relationship with the BK's, with a copy to your NC office.
CULTURAL ITEMS
If you have cultural items from your country that are of a very high quality, could you please also send the performer/s name/s and a brief description of the item along with a video. Kindly send items for submission by 10th January. The vetting team will respond by January 30 latest regarding the items.
Sorry to give a short deadline, but if you could you kindly send this information to Trish at (innerspace111@gmail.com) and copy Charlie (charlie hogg charlie.hogg@au.brahmakumaris.org) by January 10th.
FURTHER DETAILS FOR BKS PARTICIPATING IN THE 10THMARCH PROGRAM:
ACCOMMODATION
We will all stay comfortably at ORC and receive the ORC Family's special hospitality.
BK REGISTRATION FOR THE DELHI EVENT ON 10TH MARCH (please register by February 25th latest)
It is important to provide the following information already when registering for Madhuban via the Madhuban Data base. You need to connect to the instrument in your country that is managing the Madhuban registration on the Madhuban database for your country to make sure this additional information is been uploaded to the database.
1. Mention in the "Comment field": I will participate in Delhi program (10th March) and/or silence retreat ORC (3rd -8th March)
2. Provide your full travel itinerary including travel from Madhuban to ORC/ Delhi or traveling from your country directly to ORC/ Delhi and also the details of you return journey.
3. In case you arrange your own travel to ORC or Delhi and DO NOT want to be picked up, pls. Mention in the "Comments field": I do my own travel arrangements to ORC.
4. In addition to the above registration via Madhuban database, we will be sending out another form for you to add your details.
This will be sent out soon.
GUEST REGISTRATION & TRANSPORT DETAILS FOR THE DELHI EVENT ON 10TH MARCH
We will communicate regarding this process with the guest and their local Centre once they have confirmed their attendance.
FOR NC´S AND NCT´S AND TRAVEL COORDINATORS HANDLING MADHUBAN DATA BASE FOR THEIR COUNTRY

This year we would like to request that BKs from your country traveling to Madhuban and who will also to stay at ORC and attend the Delhi Event on the 10th of March, need to provide some details when they register for Madhuban.
We kindly ask you to make sure that the following information is been added to the Madhuban database for each person:
1. Mention in the "Comment field": I will participate in Delhi program (10th March) and/or silence retreat ORC (3rd -8th March)
2. Provide your full travel itinerary including travel from Madhuban to ORC/ Delhi or traveling from your country directly to ORC/ Delhi and also the details of you return journey.
3. In case you arrange your own travel to ORC or Delhi and DO NOT want to be picked up, pls. Mention in the "Comments field": I do my own travel arrangements to ORC.
Many thanks with love
Charlie Bhai and the DF Delhi Team

New Year Greetings from Dadi Ratanmohini Ji
2 January 2019