2014-Sep through Dec Madhuban News Archive
2014-Sep through Dec Madhuban News Archive
Madhuban Year End News from Sister Jayanti
31 December 2014
On the 30th, Dadi met the whole team from the Kitchen and it was a very lovely, beautiful exchange. In the evening, Dadi was with a smaller group but shared chitchat from the morning also.
On 31st December Dadi was very active. In the morning, after meeting several people she also went to the games that had been organised for the end of the year. The games took place in the lawns outside the Conference Hall where we have the Shiv Baba flagpost. It was a lot of fun watching. Many, many brothers and sisters competed in various games. In fact, Dadi Ratan Mohini was there right from the beginning to the end, which was about 3 hours, and Mohiniben also. Dadi Janki and Dadi Gulzar joined for about an hour and a half towards the second half. Prizes were given and drishti shared.
In the evening, there were several programmes going on. The three Dadis were in Dadiji's Meeting Hall with all the surrendered brothers and sisters of Shantivan. There was yoga, followed by Dadi Janki speaking and then Dadi Gulzar, and then a dialogue together, and at the end Dadi Ratan Mohini spoke. It was a very beautiful scene.
Yoga continued later from 10pm until 11.30pm. At 11.30pm the surrendered group joined the larger gathering in Conference Hall (BKs who live outside Shantivan in the colony, sevadharis, and BK staff from the hospitals). There was yoga, chitchat and then the gong rang out at midnight and a cake was cut. Pandav Bhawan and Gyan Sarovar also had yoga bhattis till midnight.

MoU Signing Ceremony of BK Education Wing and Karnataka State Open University
29 December 2014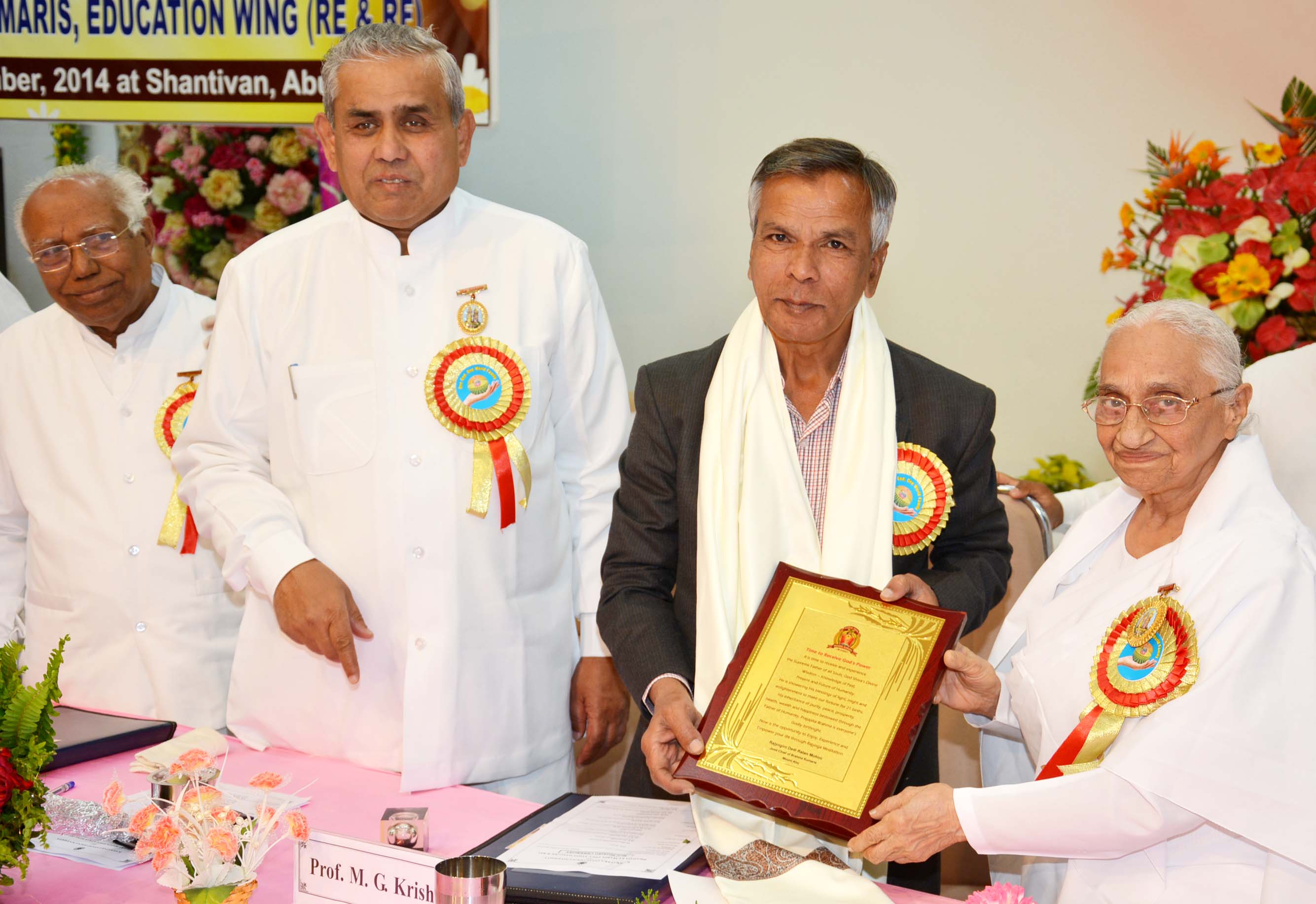 Most Respected and BapDada's Serviceable Instruments around the Globe,
Multi-million times Happy New Year and Christmas Greetings to all of you.
You all would be delighted to know that Education Wing of Brahma Kumaris has signed another Memorandum of Understanding (MoU) with Karnataka State Open University, Mysore on 26th December 2014.
In order to sign this MoU, the Vice-Chancellor of Karnataka State Open University Prof. M. G. Krishnan himself came to Mount Abu with sister BK Lakshmi and Bro. BK Ranganath of Mysore. It is an another jewel in the crown of BapDada.
The MoU Signing Ceremony took place in Diamond Hall of Shantivan Complex on 26th December 2014. Rajyogini Dadi Ratan Mohini ji, Rajyogi BK Karuna ji and Rajyogi BK Mruthyunjaya Ji graced the occasion and showered their blessings.
Dr. BK Pandiamani, BK Lakshmi, BK Harish Shukla, BK Ranganath and BK Shivika were also present.
With love and Regards,
Your Spiritual Brother
BK Mruthyunjaya
Executive Secretary
Brahma Kumaris, Mt Abu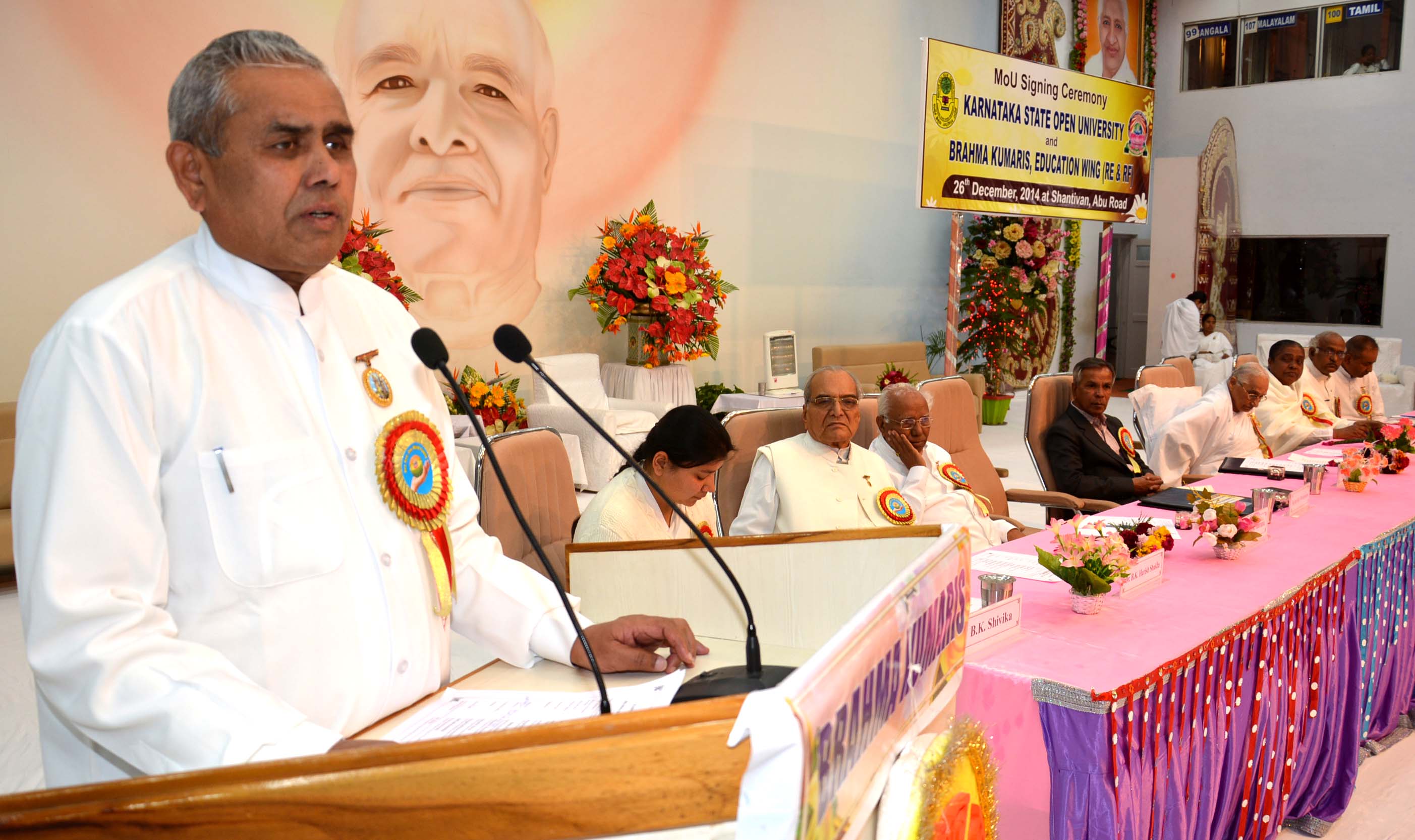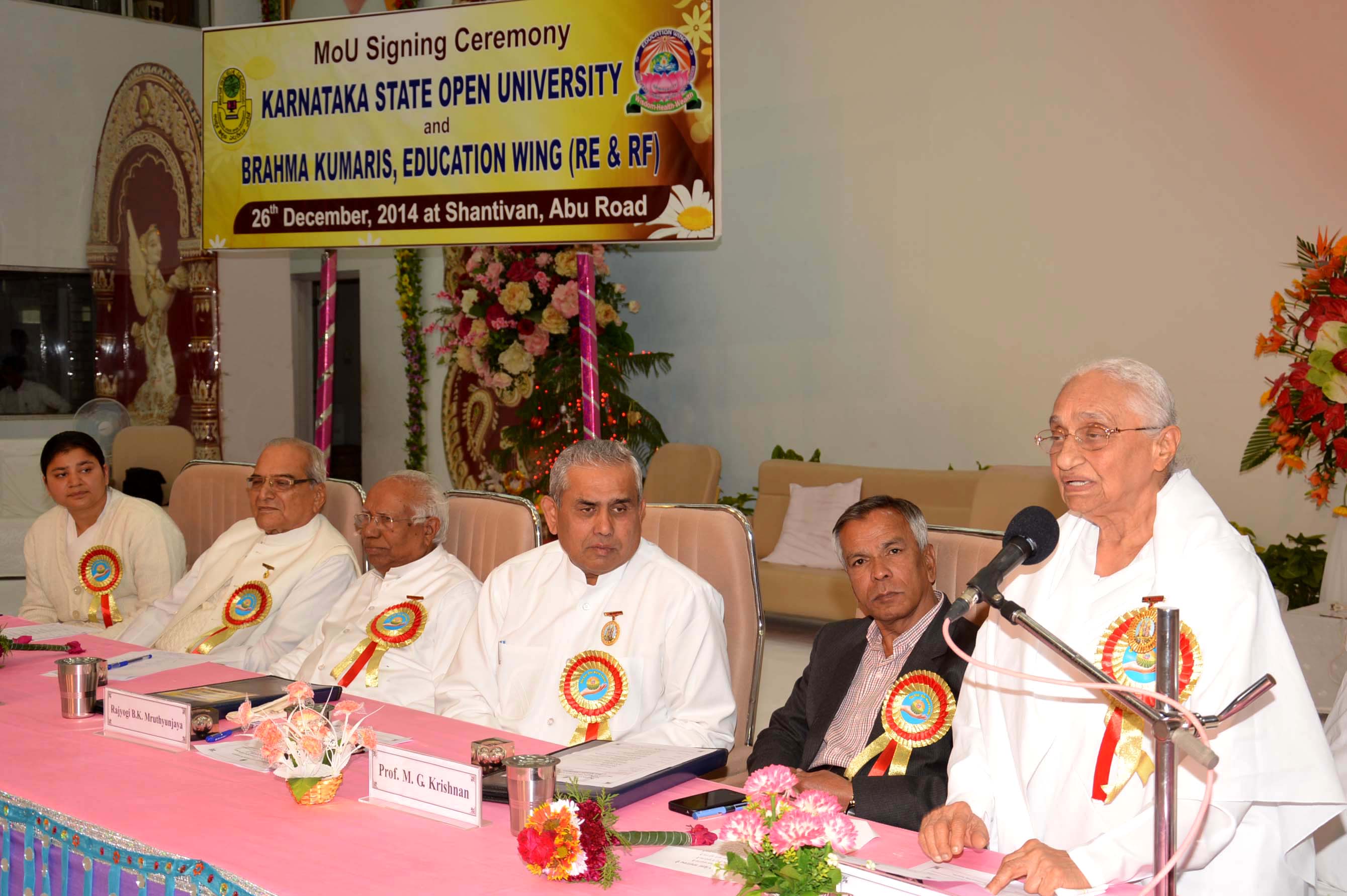 Greetings from Sr Jayanti on Christmas Day
26 December 2014
Greetings of the Season to the whole family.
Here, in Madhuban, many many celebrations are taking place.
Murli today has very very special love and blessings for us. It is actually a Murli in which Baba is giving us very beautiful teachings about what we need to do the self and for others. If we remember Baba then we see our aim and objective. Seeing our aim and objective, we also remember Baba. Baba gives us the two mantras: Manmanabhav and madhyajibhav. Baba has focused a lot on dharna. Looking at others, talking about others is a waste of energy. I need to focus on transforming myself, and then I receive Baba's help. Then everything will be very simple and easy. The highest form of love is Baba's love for us and it is expressed to make us perfect.
Christmas time is a time for remembering angels, and angels is a blessing for today. Today's blessing is: Become avyakt angels. All you have to do is press a button. What button do I need to press? That of having such light that all waste thoughts disappear for ever. As soon as I push the button, I am able to have pure powerful thoughts and I can be the angel. It is really a very special blessing for Christmas. Take that blessing, be a messenger for peace and share with the whole wide world.
Early morning hours is the time when people are ready to accept pure and beautiful vibrations of God's peace and love. So, let us spread that vibration of God's love.
News from Madhuban is that huge numbers have gathered. Yesterday Dadi on the evening of 24th, went to give class and the whole gathering applauded her as soon as she entered Diamond Hall. It was seeing God's magic again, especially in terms of Dadi's health. Yesterday (24th) in the morning she was in the ICU in Ahmedabad, in the afternoon she was transferred to her room and in the evening (10.30 pm), she wanted to return home to Shantivan. So, we left at 10.30pm and arrived in Shantivan at 2.00am and conducted class.
In the gathering, Dadi asked for her favourite songs to be played: Baba tera banne me sukh milta ilahi... Baba, we experience supersensuous joy in belonging to you. Sakhi ri maine payo re teen ratan. ... o friend, I have found three jewels: Baba, murli and Madhuban. It was a very beautiful gathering with lots of love. Then we came back to the cottage and Dadi Gulzar was waiting to meet Dadi Janki. It was a beautiful scene of two dadis meeting one another, each one taking care of the other.
This morning, Dadi has been meeting people. Rameshbhai came to meet her, then Ishu Dadi, Nirwairbhai and Sarla Didi came, so it became a gathering of the Maharahits. Dadi sends all her love to each one and until Baba decides when she is ready, and it will happen, Dadi will not be travelling anywhere at the moment.
Meanwhile, Dadi is serving the whole world in a subtle way and Baba is waiting to give us treasures.
Wishing you all a very Merry Christmas and a Happy New Year.

Christmas in Madhuban - News from Sister Jayanti
26 December 2014
On Christmas Day I went up the mountain to read Murli in Gyan Sarovar, and after that to Baba's Room in Pandav Bhawan and breakfast. There were many people to meet on Baba's Day. In the evening, Father Christmas came Himself, bringing many, many gifts for all of us.
Dadi is slowly getting better and Dadi was able to sit in front of Baba for two hours and then also be with Baba on stage. Baba's presence and love gave her that extra strength. Baba holding Dadi's hand seemed to give her new life and strength.
Baba's Murli was beautiful and very clear, filled with many inspirations and spoken with such deep love and humility. Baba was really advising the children about what it is we need to do.
On 26th, Dadi Gulzar also was meeting many souls and I also had the opportunity of sitting and meeting all the different groups that had come to see her and give them toli and drishti. In the evening there are various activities planned: The Gujarat Teachers will have a picnic with Mohiniben and Munniben, and Sr Asha will have a class with these teachers prior to the picnic.

Pre-Christmas News of London and Madhuban from Sr Jayanti
24 December 2014
I arrived back to London on Friday night, 19th December and on Saturday we were able to have the opening of one of the homes near Baba's house which was a sweet gathering. On Sunday, there was an invitation from GRC to see the Christmas Panto. This was 'Into the Woods' which was a fantastic production: highly professional and very, very beautiful. They'd had 9 shows already and each one had been packed out. On Sunday afternoon, there were over 200 people.
After the Panto, many left for London and I stayed for morning class and also the cutting of a cake. All the December birthdays were honoured, including Murli Dada, and when I asked who else had birthdays in December, one bright spark mentioned 'Jesus' and so we honoured that soul also!
By Monday afternoon, my plans changed and so I was preparing to travel to India. I left for Zee Studios to do a pre-arranged recording and then off to catch my flight on time.
On Tuesday arriving in Ahmedabad, Dadi had already been moved from ICU into her room. In the afternoon, Dadi Gulzar had come to see her before leaving for Mt Abu that afternoon. In the evening, Dadi really felt the pull to come to Shantivan and so at 10.30pm with the blessings of the doctors, Dadi was able to leave and we arrived into Shantivan at 2.15am on Wednesday morning.
On Wednesday evening, Dadi went into class in Diamond Hall and the 20,000 Brahmins who had gathered really loved being with Dadi, took a lot of benefit and experienced a lot of joy. Afterwards, Dadi Gulzar and Dadi Janki sat together for chitchat and later Dadi also met with the main teachers from Gujarat who are here to look after the whole gathering. So that was Christmas Eve. The brothers in Shakti Bhawan have decorated a Christmas tree for the front room, and two more trees have been decorated with lights outside Shakti Bhawan, and so there is feeling of Christmas in the air here.

Dadi Janki Health News
22 December 2014
To the shining stars of love, Our divine BK family in Bharat and abroad, Please accept hearty Godly love and remembrances from Ahmedabad.

This is to inform our divine family that most beloved and respected Dadi Jankiji had to be taken to Sterling Hospital, Ahmedabad on Sunday night due to discomfort in the stomach area. Seniors doctors attended to her on arrival and gave immediate treatment. Keeping her delicate condition in view, she was shifted to the ICU where she continued to receive treatment. The parameters have now stabilized, and Dadiji is fully conscious and communicative.

The doctors recommend a CT scan on the intestine which will take place soon, but the good news is that she is relieved of the discomfort of the past couple of days.

Everything will be fine with the attentive and loving care of her doctors, and good wishes and yoga power of the global family.

Dadi Gulzarji will be reaching Ahmedabad in the evening and this news made Dadi Jankiji very happy. We trust things will get back to normal very soon so that we can bring Dadiji home to Shantivan before Christmas.

Thank you for your loving concern.
With Baba's love and yaad-pyaar from the Ahmedabad family,
B.K. Nirwair

European Director BK Jayanti addresses Valedictory Session of the Women Conference at Shantivan: Press News and Photo
18 December 2014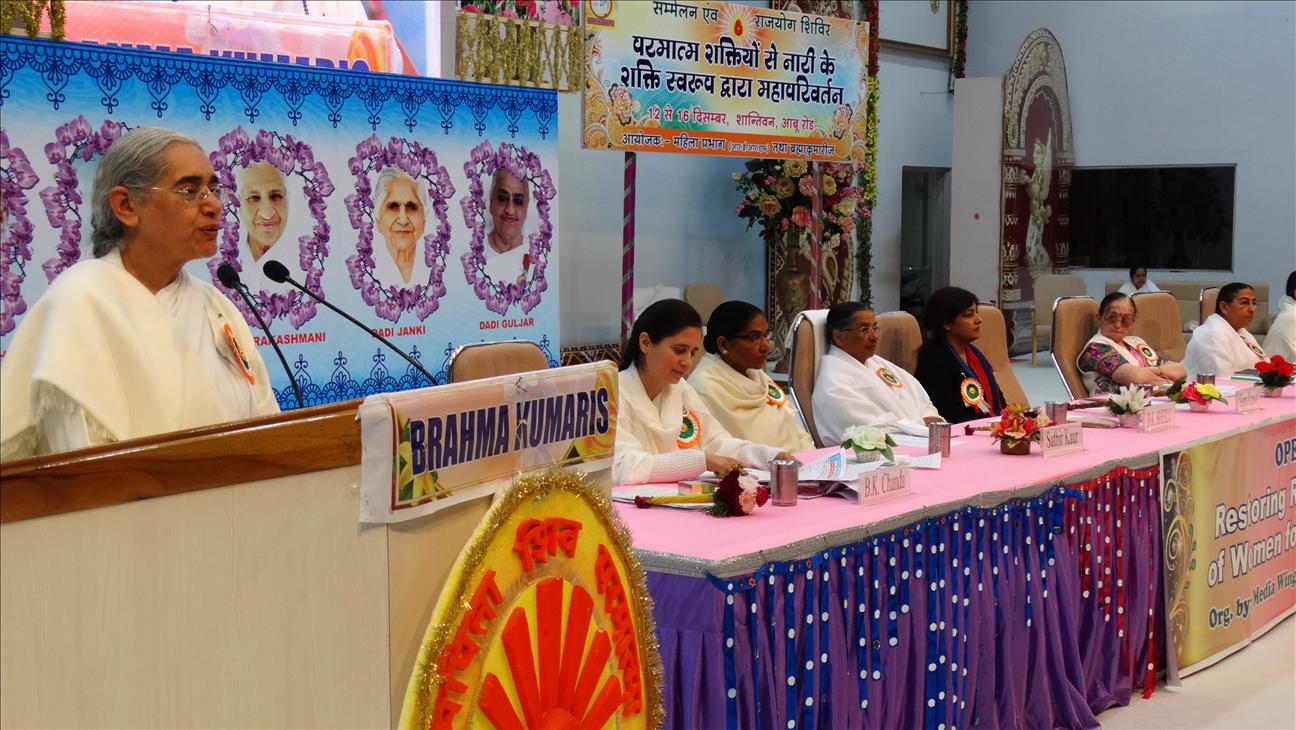 What's Happening in Madhuban & Gyan Sarovar - News from Sr Jayanti
15 December 2014
Dadi Janki returned from Ahmedabad on 13 December and the same evening was able to give class in the Conference Hall to the Shantivan residents and BKs living nearby in the Colony.
On Sunday, 14th I went to Gyan Sarovar to read Murli and it was very beautiful to be back home. Gyan Sarovar feels like home. There was a Rajyoga retreat taking place for a group from Amritsar, but some of them seemed to have reached the point of Murli so a good few of them were in Murli Class also.
We went to see Nirmal Van, the forest area that the BKs have been asked to care for near Gyan Sarovar. 1800 trees have been planted, mostly fruit trees, lots of roses bushes and marigolds and other plants. The Forest Commissioner is very pleased with the way that Harishbhai of Gyan Sarovar is looking after this particular area. Harishbhai has since been given the task of cleaning up the Polo Ground, which started a few months ago, and this has now become a place which is clean and also many trees have been planted. There is also a full circle of flowers which have been planted around the periphery of the Polo Ground, and so it has become a place which the Mt Abu residents are proud of. The Brahma Kumaris are being recognized for all the good work that has happened there.
On Sunday morning, Dadi Janki went to meet the women's group who are in Shantivan for a Conference to talk on 'Women's Role in Family'. 5000 women from all over India are here, and high-level women have also come. There are some men who have accompanied the women but 99% are women. The event has also been reported in the local press.
In the evening, I also joined the Women's Conference with a session on 'Maintaining Self-Respect & Honour'. There were other BKs as well as guest speakers with me on the platform. One particular individual was an HR executive from the Birla Company where the sisters go each month to conduct classes. She spoke beautifully, inspiring all the women to begin to do the work inside, so that then we could change the world outside.
After the session with the women, I went to meet the Kumaris of Shantivan. There are around 70 now, including all the sisters who serve in the Trauma Centre/Hospitals near Shantivan. The beautiful thing was that Dadi Janki, and Dadi Ratan Mohini also came to say hello to the group and so it was a veryloving and joyful session together.
On Monday, Dadi was meeting many different people all morning and also went to Chinnibhai's home (Rajeshshreeben's home). Brothers from Gyan Sarovar had been invited and we had meditation in Baba's room and offering of bhog that had been prepared. Dadi then cut a cake, and shared cake, gifts, and halwa with everyone.
Dadi then went for literally a 2-minute circle of Prakashmani Park, saying that it was such a long time since she'd been there and so had forgotten what it looked like. Dadi was very happy to see how beautifully the Park is kept.
On Monday evening, Dadi conducted class with everyone in Shantivan. I met with the dedicated brothers and had chit-chat with them. After dinner, Dadi was able to meet a group of brothers who are specially focused on self-efforts and transformation.

Women's Conference Inaugurated in Shantivan
14 December 2014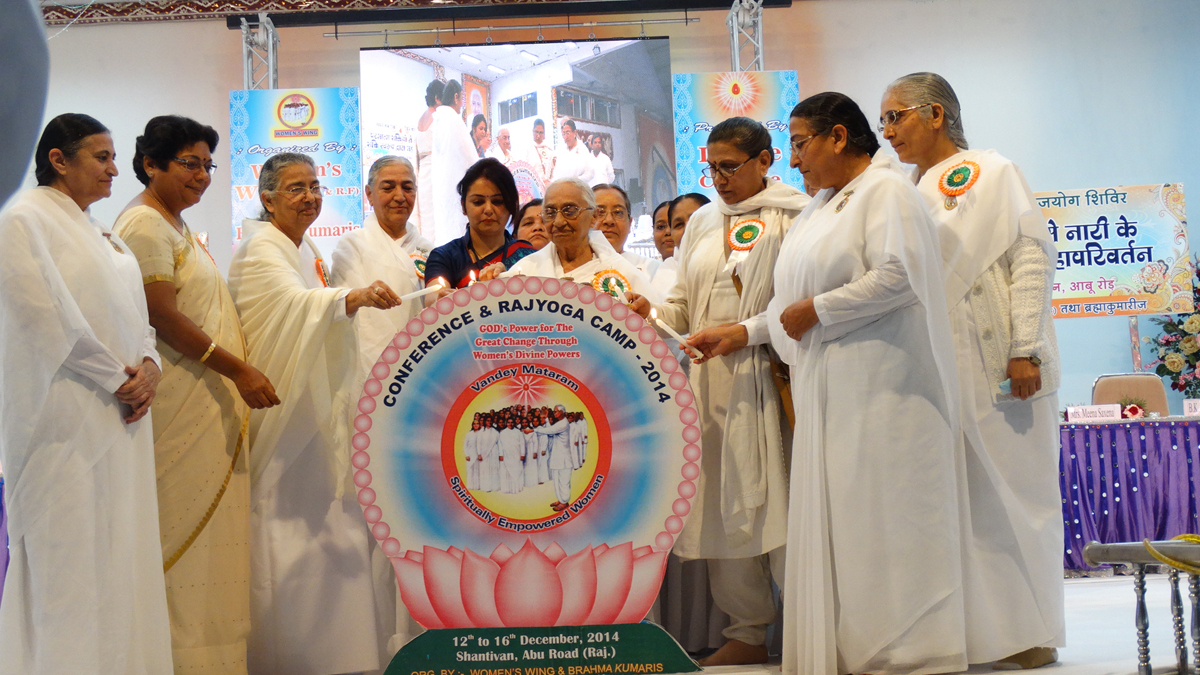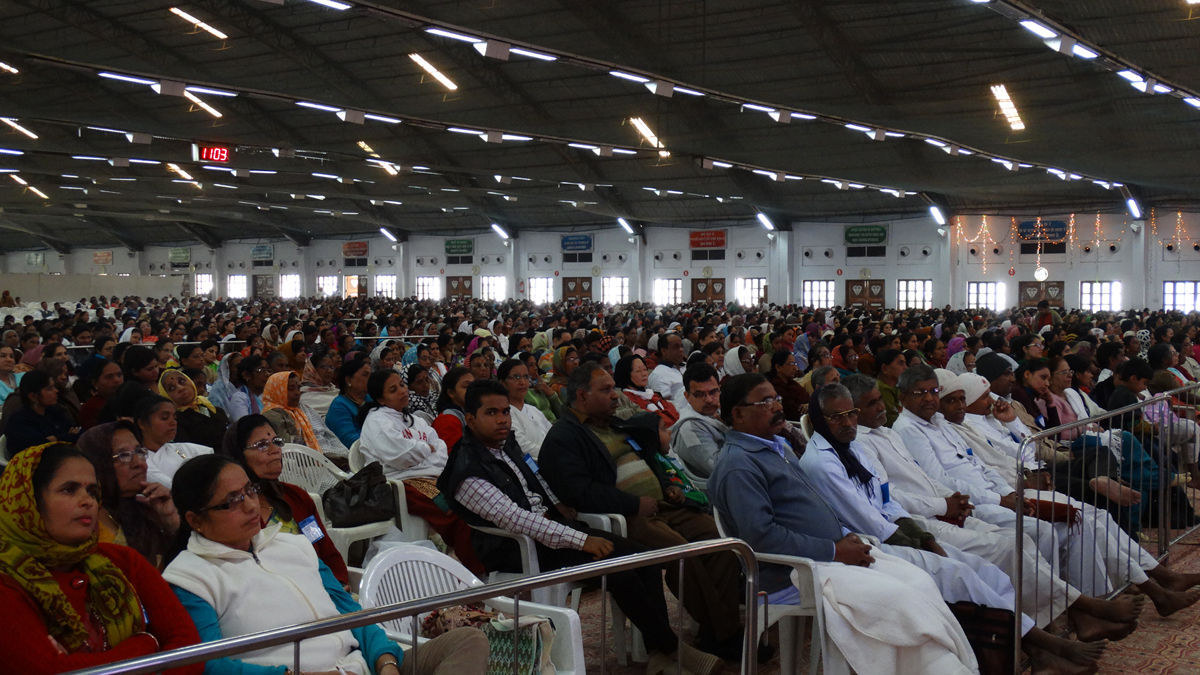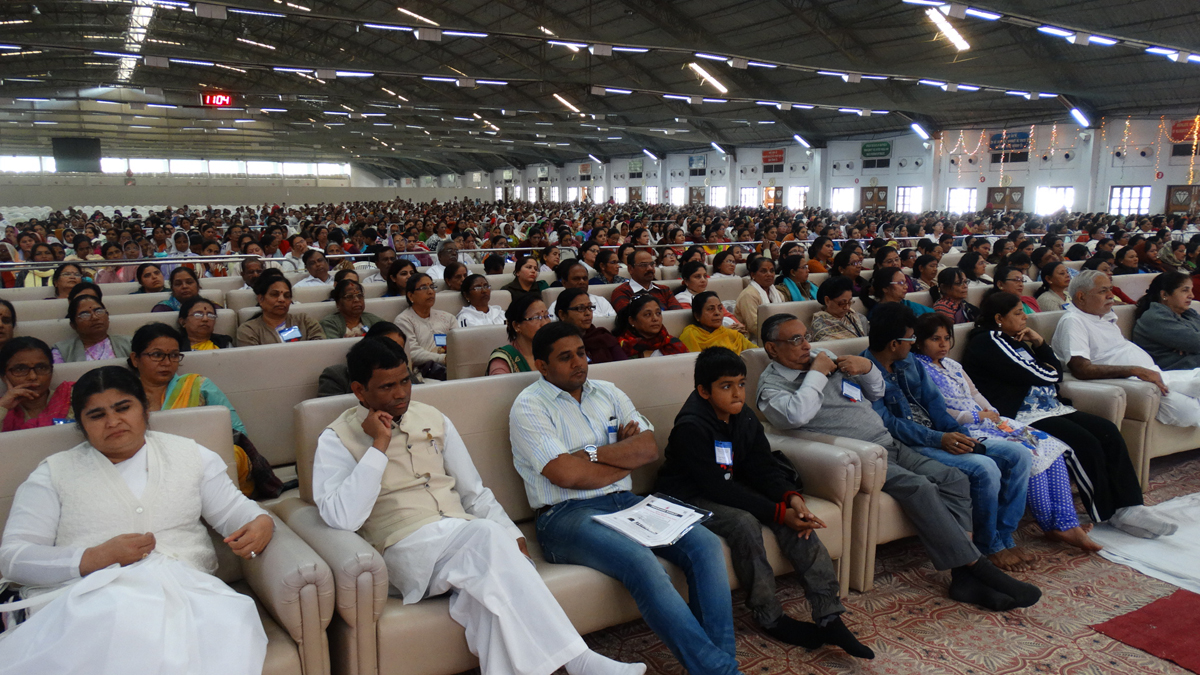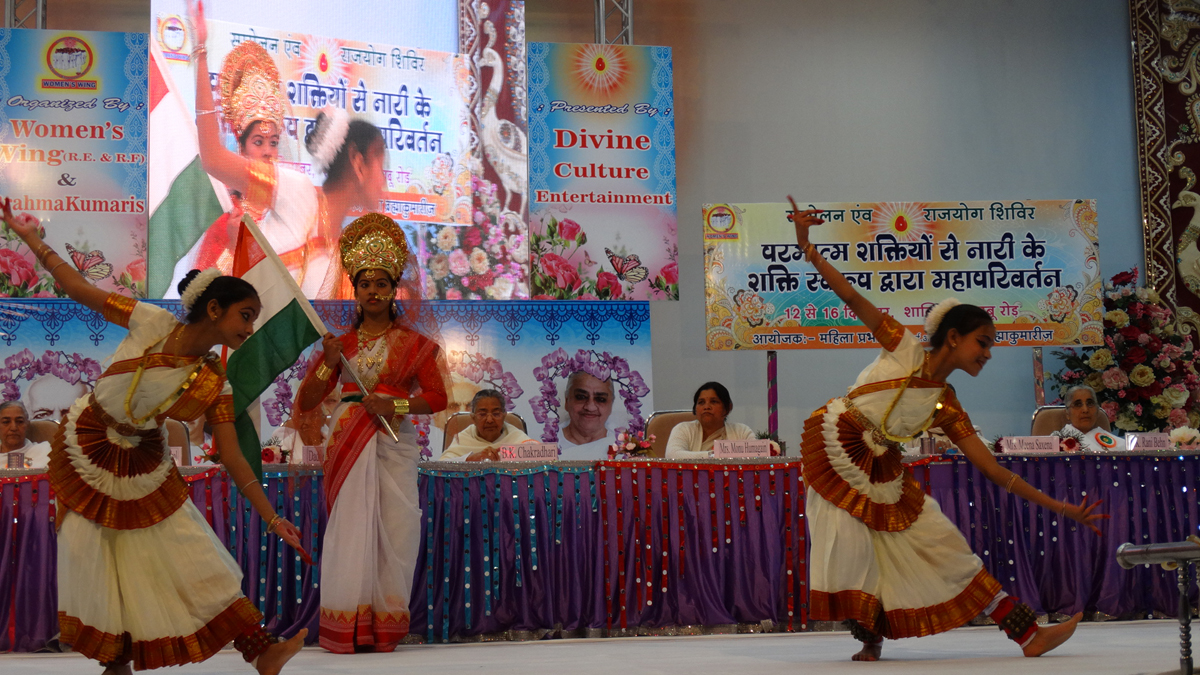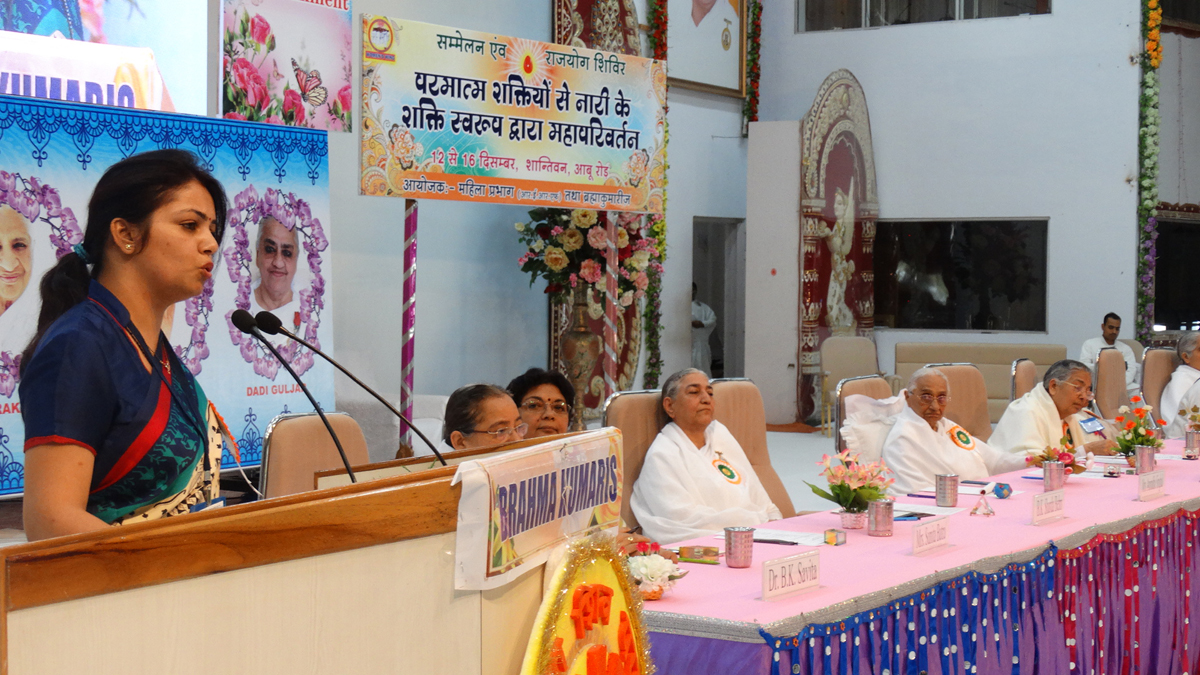 Read full report in Hindi only.
Conference videos available here.

Sr Jayanti Reports on a New Initiatve at Solar India One
13 December 2014
On 13 December I joined the inauguration of the UNDP Awareness Programme on Concentrated Solar Thermal Technologies, which is what we are providing on the Solar India One site.
The previous Director of the Ministry of New & Renewable Energies in India first visited in 1997 and then encouraged us in our work. He has since retired and is now with UNDP and had asked us to organize seminars on awareness, training and education especially for those working in the different fields of education in the industry so that they could come and find out about the practical developments with solar.
A group spent half a day in Gyan Sarovar and another group came for the 2-day training/workshop sessions that were being conducted on this particular project. This is the first and there will 15 more conducted over a period of 3 years supported by UNDP.

Sister Jayanti's News of the IT Conference in Hyderabad and Return to Ahmedabad
11 December 2014

On Thursday morning, 4th December, I was able to go to the Nagarjuna Centre. It was a full Hall for Satguruwar bhog and Class. Back in Shanti Sarovar, we were able to have a meeting about the IT Conference, and about how things would flow. In the afternoon, Sr Shivani arrived from Delhi and she was taken to the Cardiology Conference where she had a major presentation. We continued with service meetings till night.

On Friday, 5th, in Hyderabad, we had high level meeting for those of CXO qualification in IT industry (that is, a chief experience officer responsible for the overall user experience (UX) of an organization). 58 of them gathered for a full morning session. This went very well. The Government of Telangana which is the State in which Hyderabad is now the Capital, had supported this and they had also asked the Hyderabad Software Enterprises Association to support this and so it was the BKs and these other two organizations who worked together to make this happen. People had expected that we would be able to bring 30 people together at the most but it was lovely to see the room full, which was very nicely laid out with 6 people at every table. There were brief introductions and they then had three questions that they spoke about together in their groups, while changing groups each time. There were also some graphic art designs to illustrate the summary of their discussions. Br David of Gyan Sarovar was there and shared his music as well as his art work. He captured the essence of everything on a big canvas that was put up in the front.

By the time it was lunchtime, Sr Shivani gave a summary and I led them into a meditation, followed by gifts and toli by Kuldeepben. We all had lunch together. It was incredible that they were speaking about all the things that we would also be saying, so it was very valuable.

In the evening, Sr Shivani gave another class to those of the CXO group who were interested to come for further spiritual understanding. Later, Google India hosted a reception and dinner for those of the CXO Summit who were able to come and it must have been around 40 people who came with their partners. Google presented their new product, called 'Google Wallet', and also had a fun quiz for everyone. The Head of Google India welcomed us and said a few words. The Presenters of the various items also came to find out more about Brahma Kumaris from myself and Kuldeepben.

On 6 December we had 1100 IT professionals who came together in Shanti Sarovar in Hyderabad for a full day's gathering. It was open to anyone in the IT industry. We were looking at all the different subjects that relate to health. There were a couple of Padma Bhushans and Padma Shris (the third and fourth highest civilian awards respectively in India) one of whom had introduced the hepatitis vaccine to India (the vaccine is now available for everyone at a very reasonable price). So there were very good people who participated, sharing their thoughts on physical health, and then people from an IT professional background, and finally BKs sharing on 'Emotional Health'. Then there was Brahma Bhojan for all. We had the Chief Secretary of the Govt IT Department, who had actually suggested having this Conference who had been in contact with the BKs over a period of time.

In the afternoon we had Sr Shivani speak on 'Relationships' and then as part of the panel on 'Social Health', and then finally there was a talk on 'Compassionate Leadership' by a person who had come from Texas, and had done research on the subject of Compassion. So it was an excellent day and people enjoyed the whole thing, and were keen to come to follow up programmes. We started at 9.30am and finished at around 5.30pm. The atmosphere of Shanti Sarovar, Kuldeepben's generous heart, and the IT team of BKs all made it happen very easily.

On Saturday evening there were debrief meetings, and also preparatory meetings for Sunday. On Sunday morning, we had a big gathering of several hundreds from all the other Centres in Hyderabad who came together for Murli and then a special bhog offering for Rajashreeben. She actually used to live in Hyderabad, and so there was a lot of love for her within the Hyderabad family.

From 9.30am onwards, we had a cultural programme which included performances from blind children. It was amazing to see the beauty, grace and love with which they performed the dances. It must have been an incredible task for the teachers to train them for this. They also sang songs. We had the Minister of Transport come for the Launch of the 7 Billion Acts of Goodness initiative in the State of Telangana. Br Ramprakash of USA shared with an audience of around 900. They were mostly Brahmins but a few hundred non-BKs also. It was high-level people who came from the BK community as well as friends and contacts. The programme concluded in the afternoon again with Brahma Bhojan for all. In the early evening I flew to Ahmedabad and went to Madhuban on Monday night, after spending some time in Ahmedabad.

On 7 December morning there was the inauguration of a new Centre in Memnagar (Ahmedabad), attended by Dadi Ratan Mohini, Nirwairbhai, Mohiniben and Munniben.

The two Dadis are really enjoying each other's company as well as the company of ORC family, and the Teachers of Delhi. Dr Abdul Kalam, former President of India, came together with the Dadis for the ORC Annual Day event on 7 December evening, for a gathering of 8,000 people.

I was able to visit the Solar site this morning just briefly to see new developments. They have a programme that will be the start of the UNDP Raising Awareness event that will be happening on Saturday.

I travelled to Ahmedabad late morning today just to be in Dadi's company when Dadi returns from her tour of Delhi and Sonepat. Dadi arrives in Ahmedabad tonight at around 8.30pm or so. So we won't be travelling back today but tomorrow to Abu.

Latest Madhuban News from Sister Jayanti
2 December 2014
News from Sr Jayanti (30 November morning)
It's my good fortune to arrive in Madhuban on the 29th. I came straight from Ahmedabad airport to Shantivan, was able to meet Dadi briefly and then went up the mountain to meet the guests at the IPIP retreat in Gyan Sarovar. They are a lovely group.
After that I had a vision of all the Bharatwasi pilgrims in Pandav Bhawan. I didn't get a chance to go into Baba's room as it was so full. Some of you have seen how many come to Pandav Bhawan during the season. I've seen the coach-loads in GS but every inch of PB was absolutely full of people so I came down to Shantivan again. Dadi Janki seems to be in good form and conducted evening class in Diamond Hall last night. Today everyone is excited since BapDada is coming. We will have a gathering of 23,000 as of yesterday's count. It's great to be home. Shantivan is very pleasant weather and Mount Abu is quite cold in the evenings and early mornings (10-15 degrees).

Governor of Chhattisgarh addresses Multidisciplinary Conference
20 November 2014
The Governor of Chhattisgarh, H. E. B. D. Tandon, addressed this conference yesterday. Please see the (attached news in Hindi only) and see the below article for more news and photos on this conference.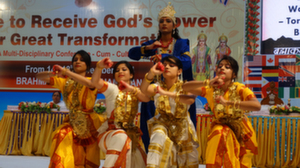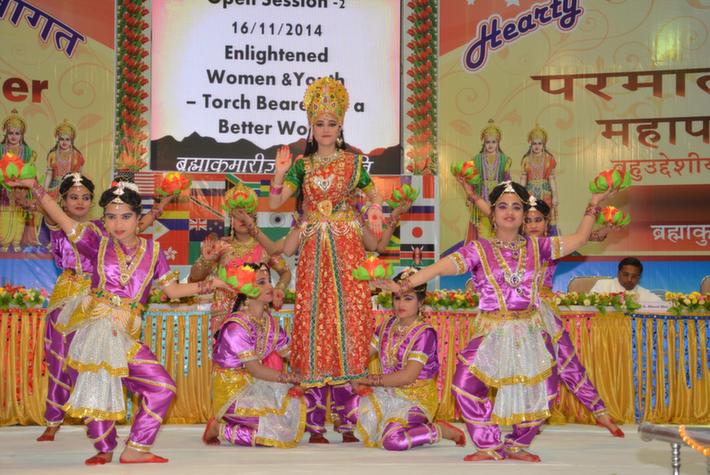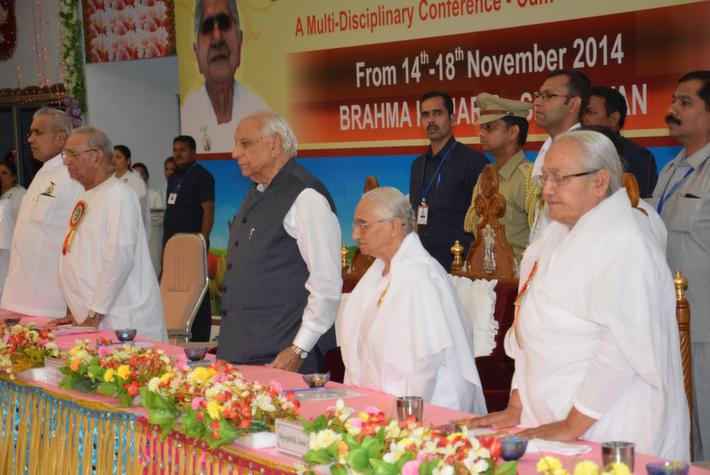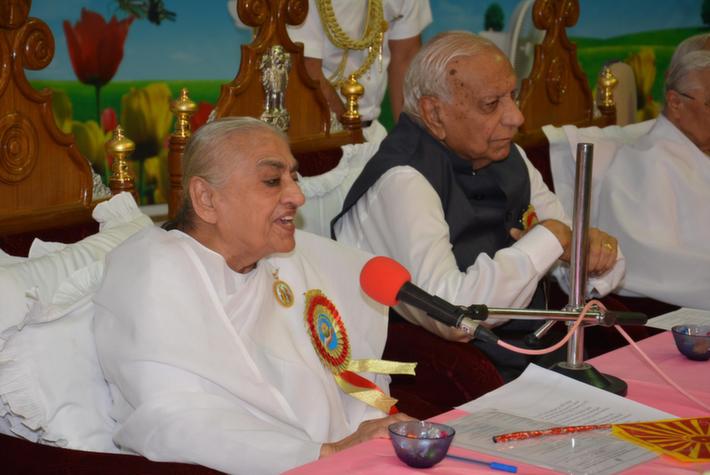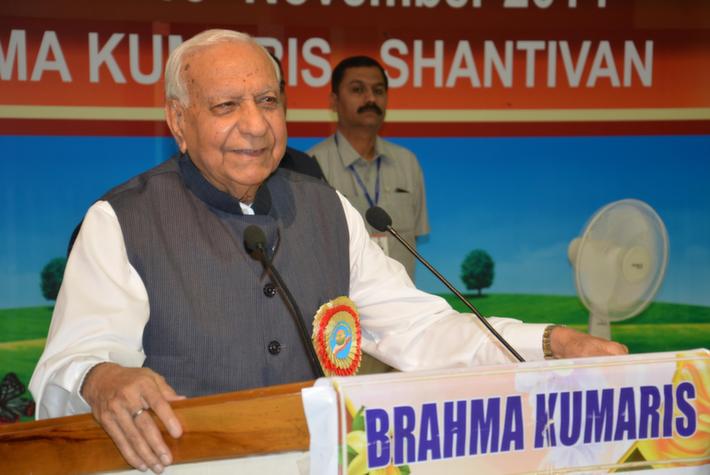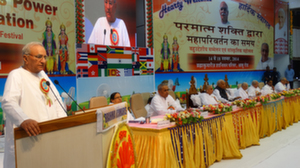 Shantivan: News & Photos of an International Multi-Disciplinary Conference-cum-Cultural Festival
19 November 2014
People from all walks of life want peace and happiness in their live and in the society. Many efforts are made in this direction but it is only when values are embedded in every aspect of life that everyone's life can become elevated and happy. This was said by the speaker of the Andhra Pradesh Legislative Assembly Dr K Shiva Prasad Rao.
He was addressing the attendees of the international conference held at Shantivan, the head quarters of the Brahma Kumaris World Spiritual Organization. He said that anyone who has inculcated values in their life becomes a source of inspiration of all in their field. So for the sake of peace and happiness in our life, it is important to create a space for values in our life. The Brahma Kumaris is a worldwide organization and they are working with people of all religions and all castes to make their life elevated.
The additional administrative head of the Organization, Dadi RatanMohini said the main goal of the organization has always been to make everyone's life elevated and happy. The people associated with the organization are full of happiness and contentment. Dr. A S Randhwa, the Commander in Chief of Punjab for the Bharat Scouts and Guides said the atmosphere of the place is enough to know the influence that spirituality and Rajayoga can have on a person's life. B.K Amirchand, Br Anjaneyulu, Sr Munni and others also shared their views on the subject.
click here for news report in Hindi only.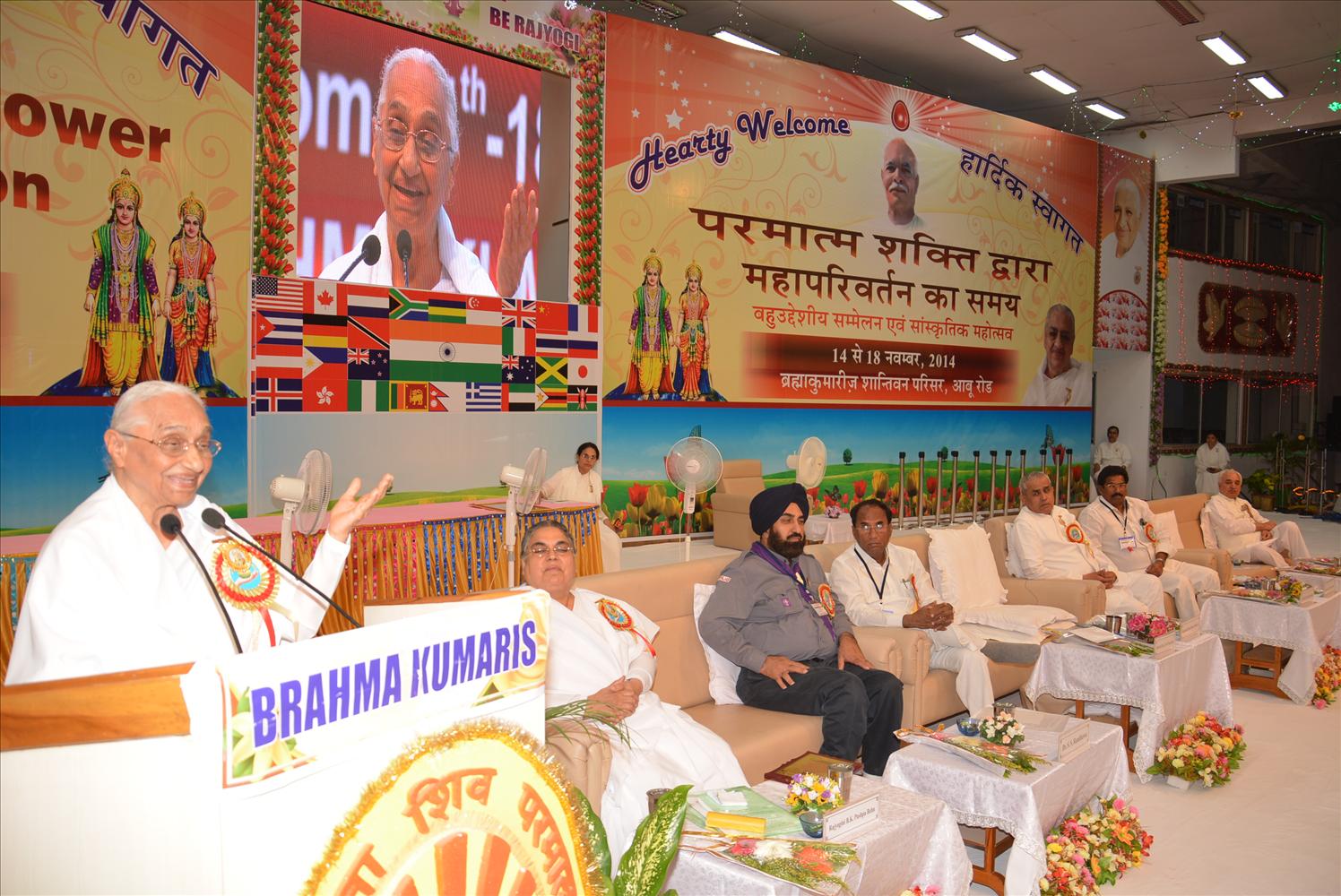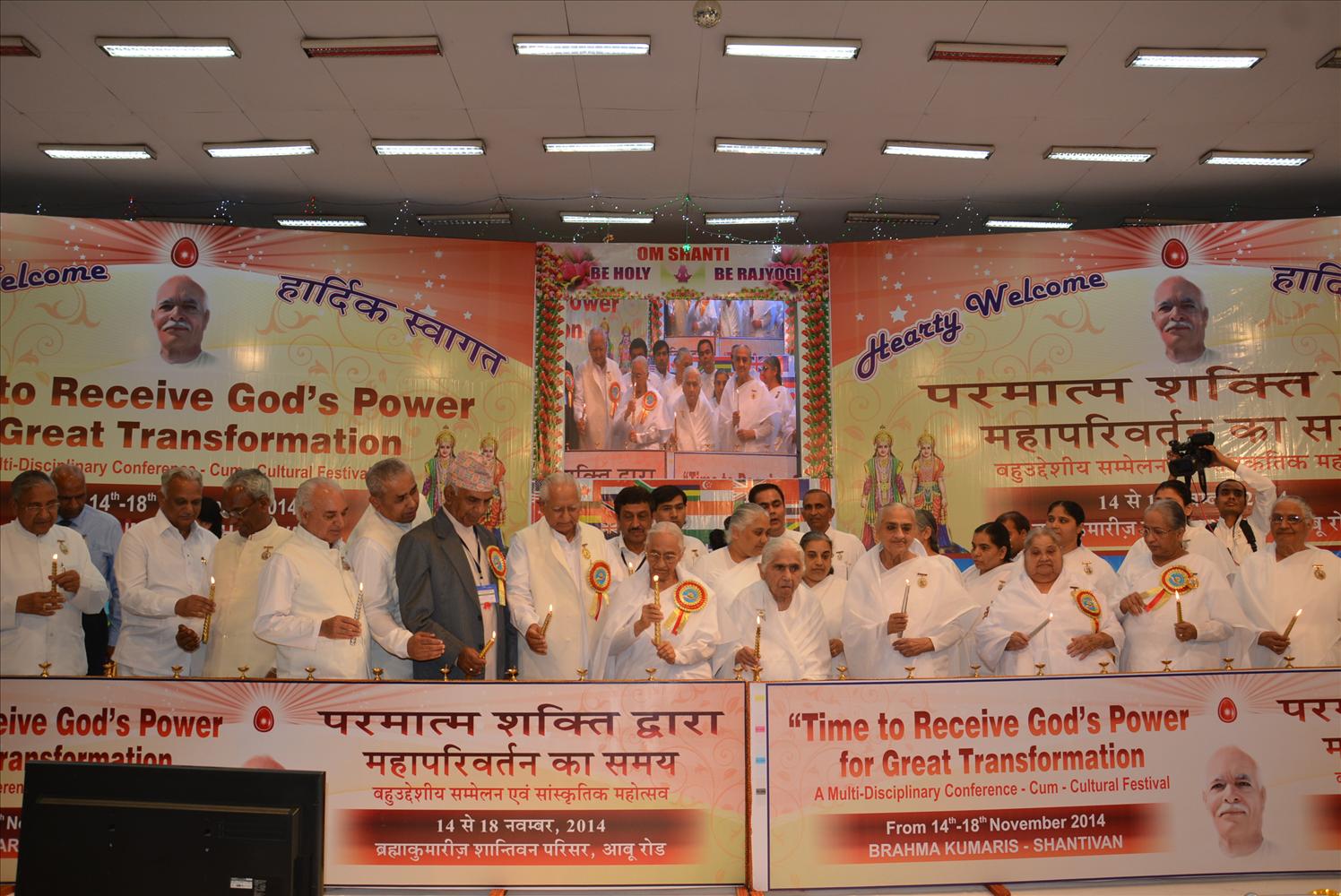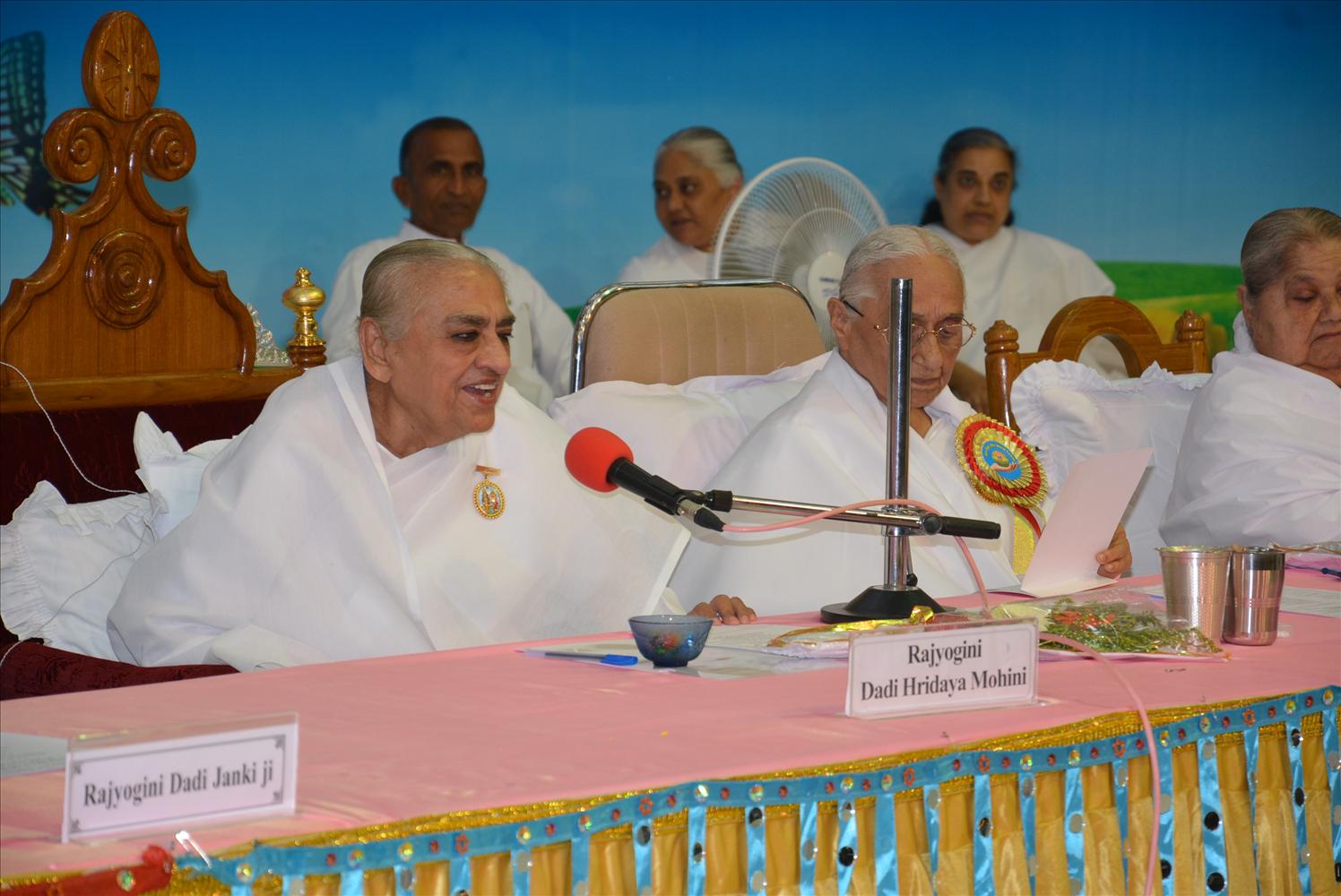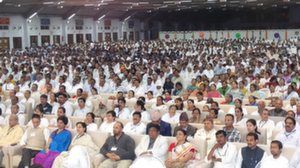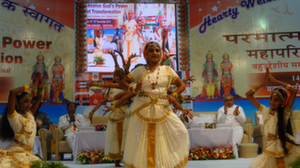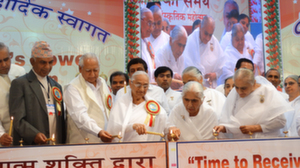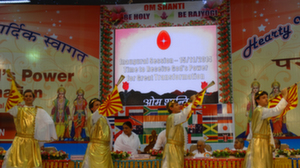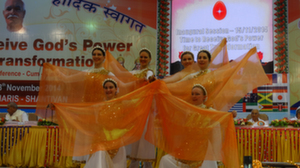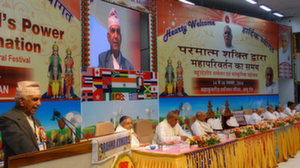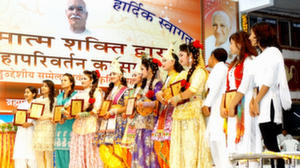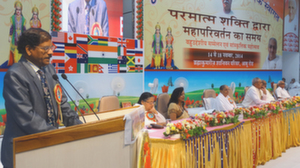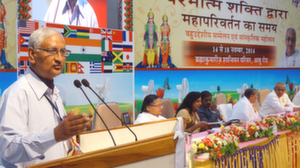 Remembering Dadi Manohar Indra Ji
18 November 2014
Monday, November 17th is the Remembrance Day of Manohar Dadi who left body in 2008. Dadi Manohar had been in charge of Gyan Sarovar from its beginning.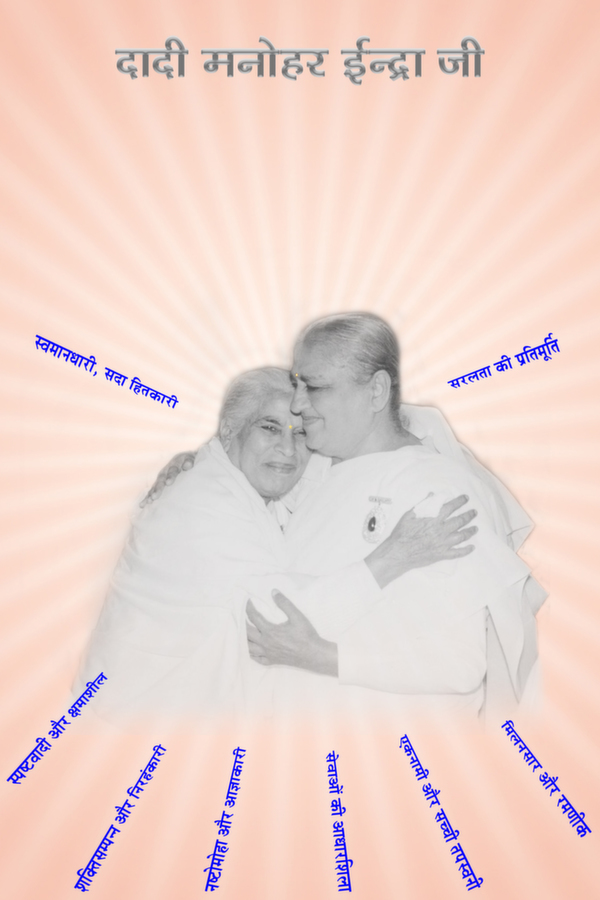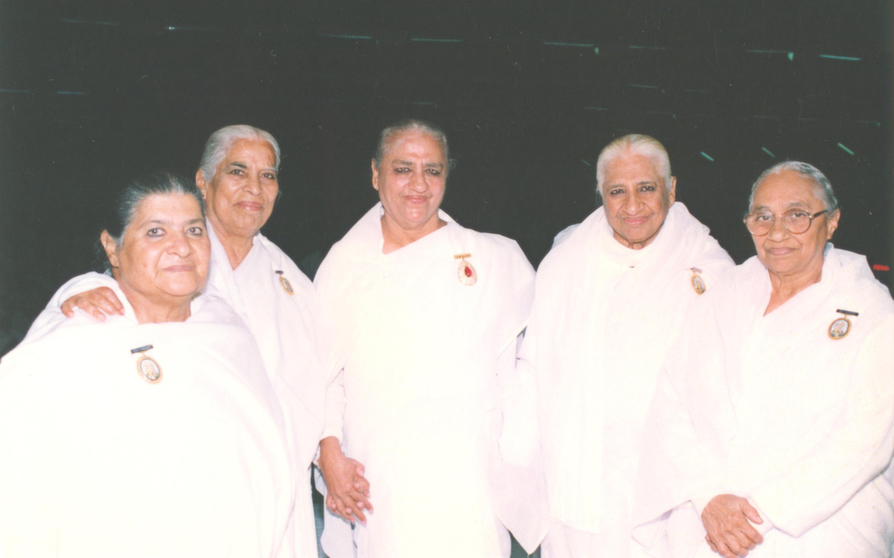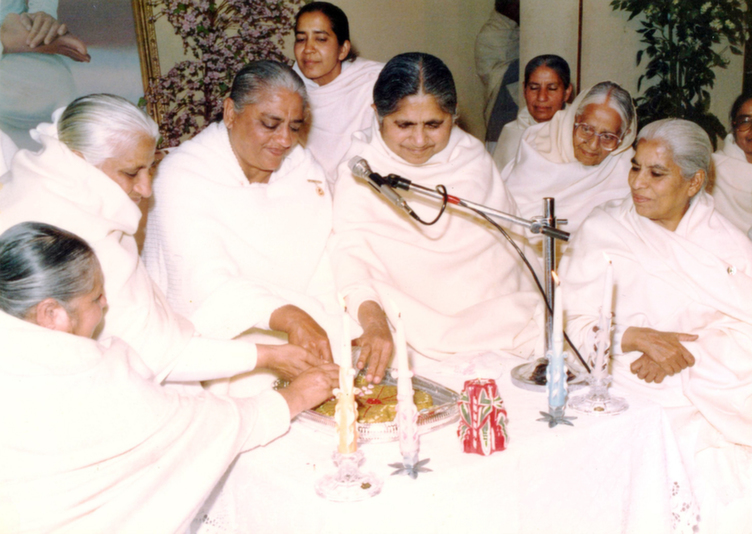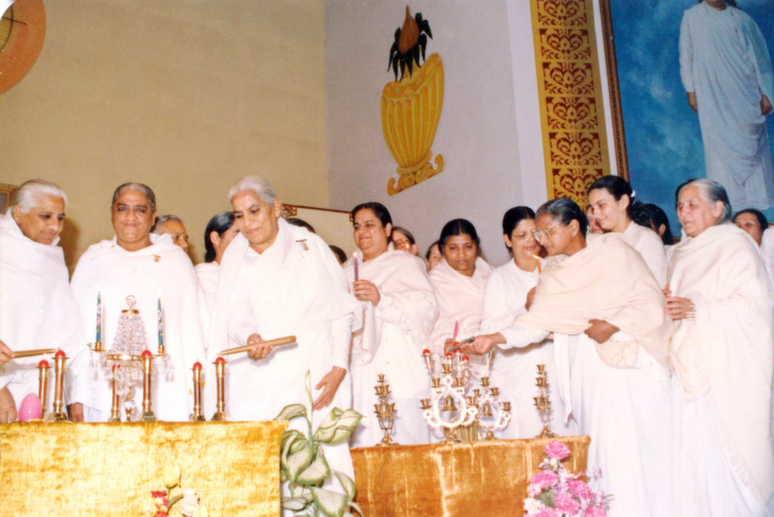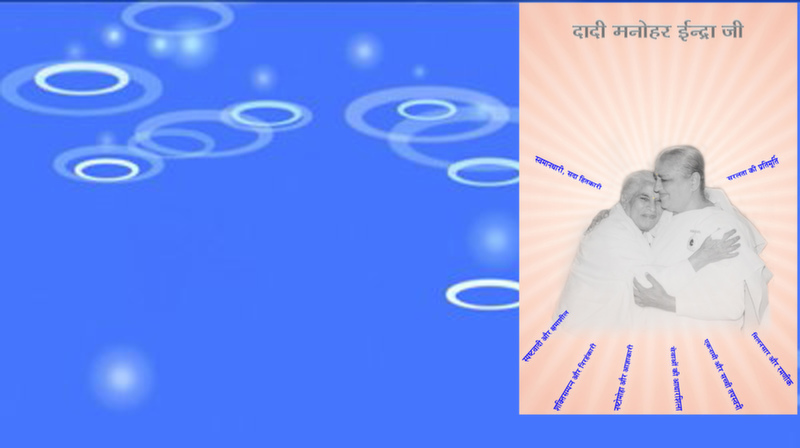 Cultural Programme during Diamond Jubilee Celebration of Services of Karnataka Zone at Shantivan, Abu Road on 6th November
10 November 2014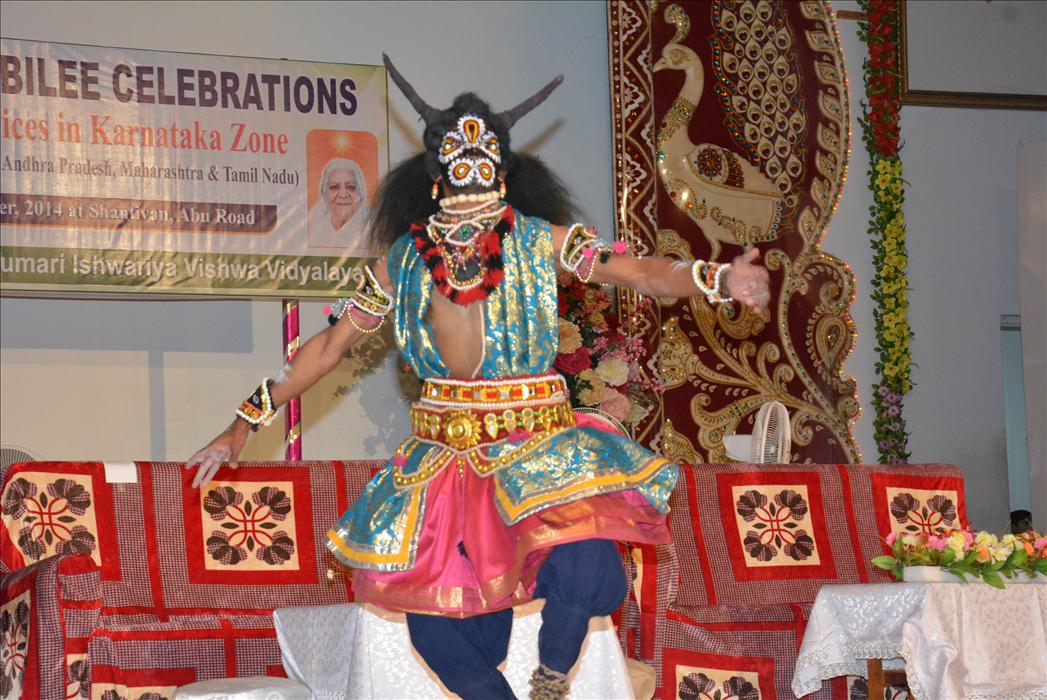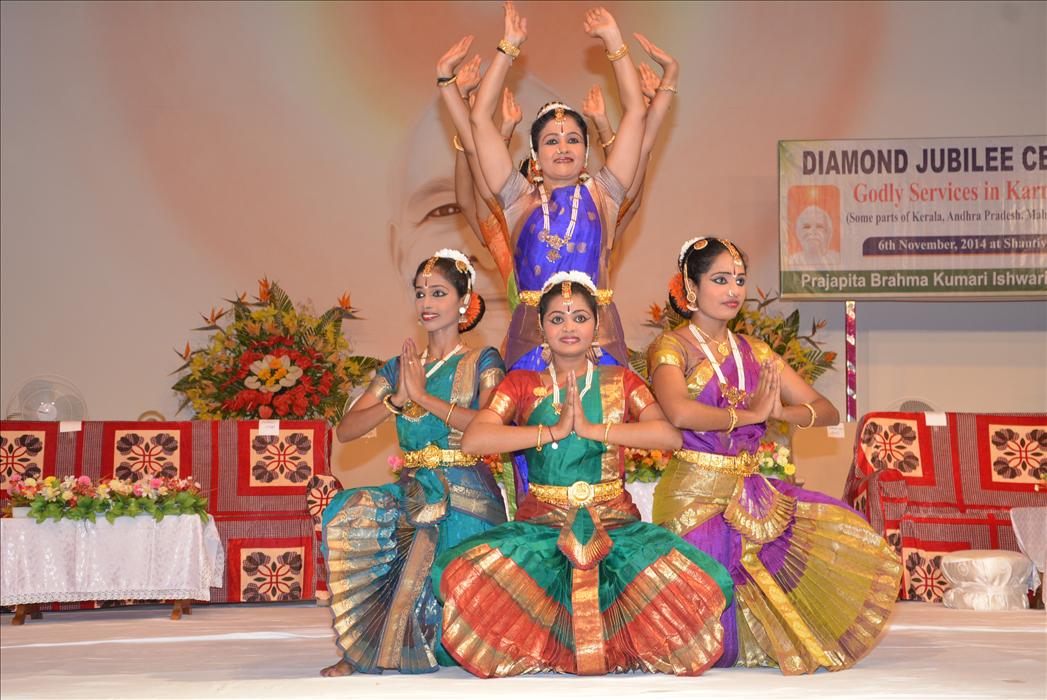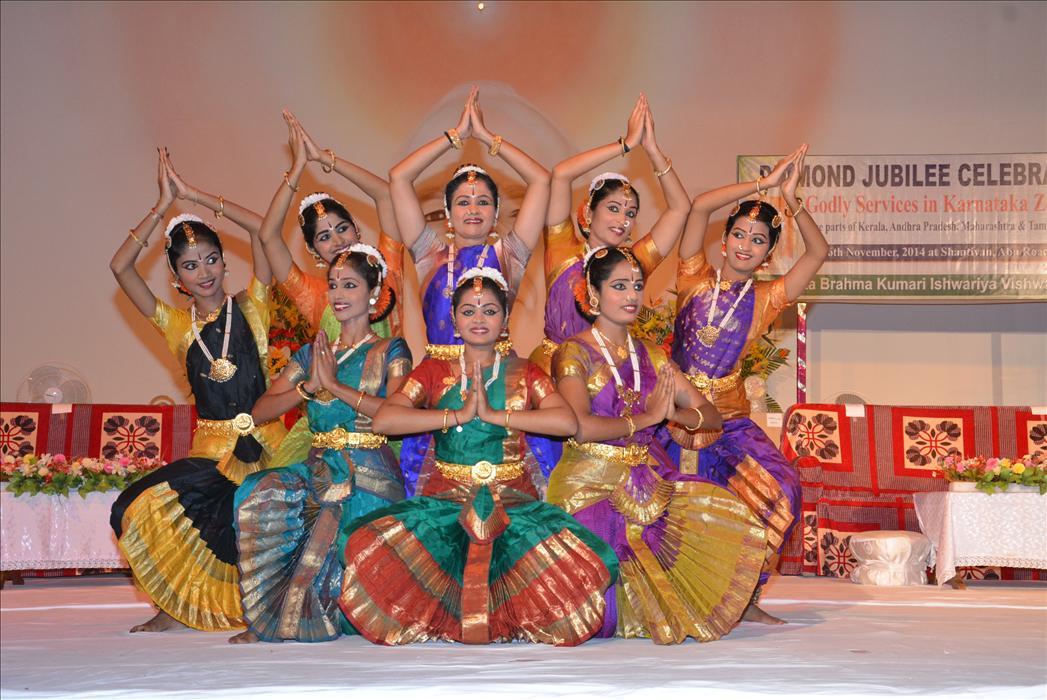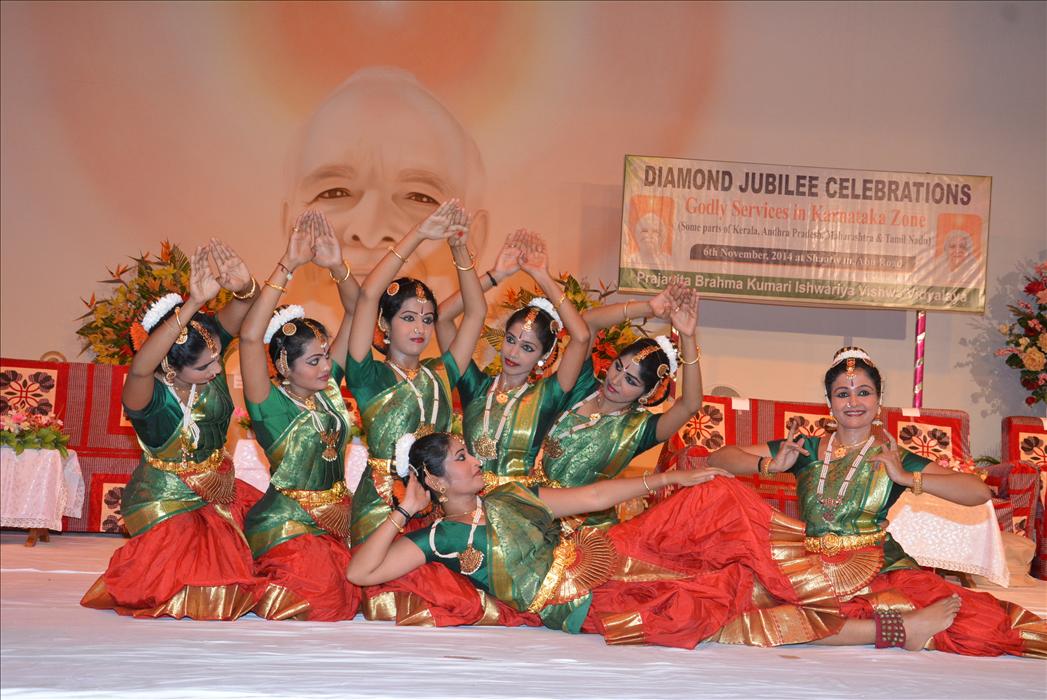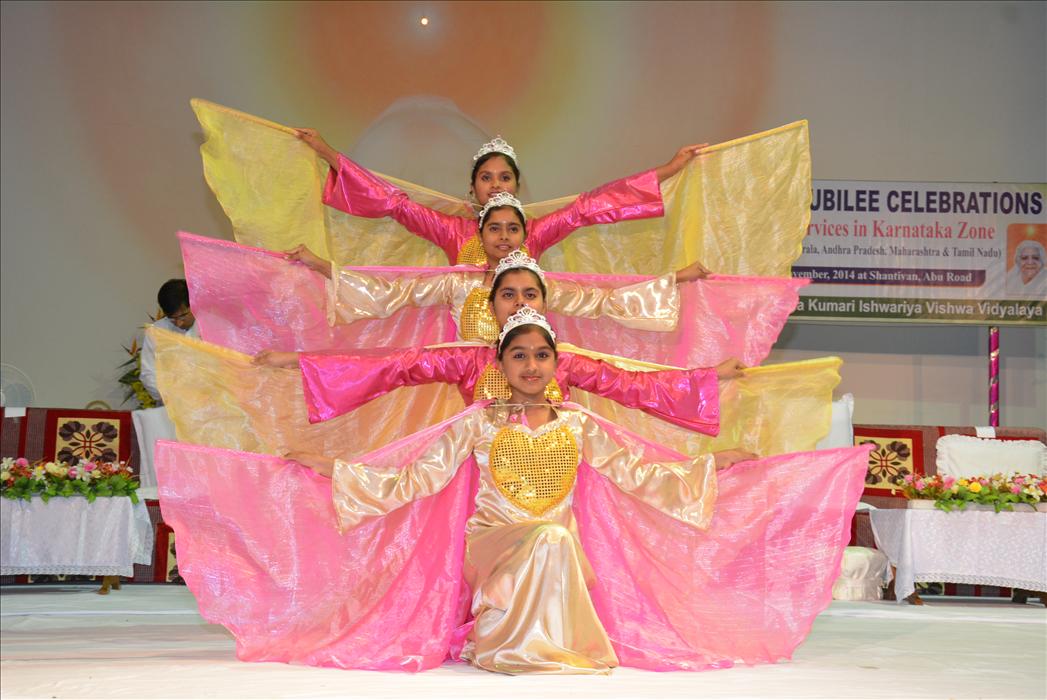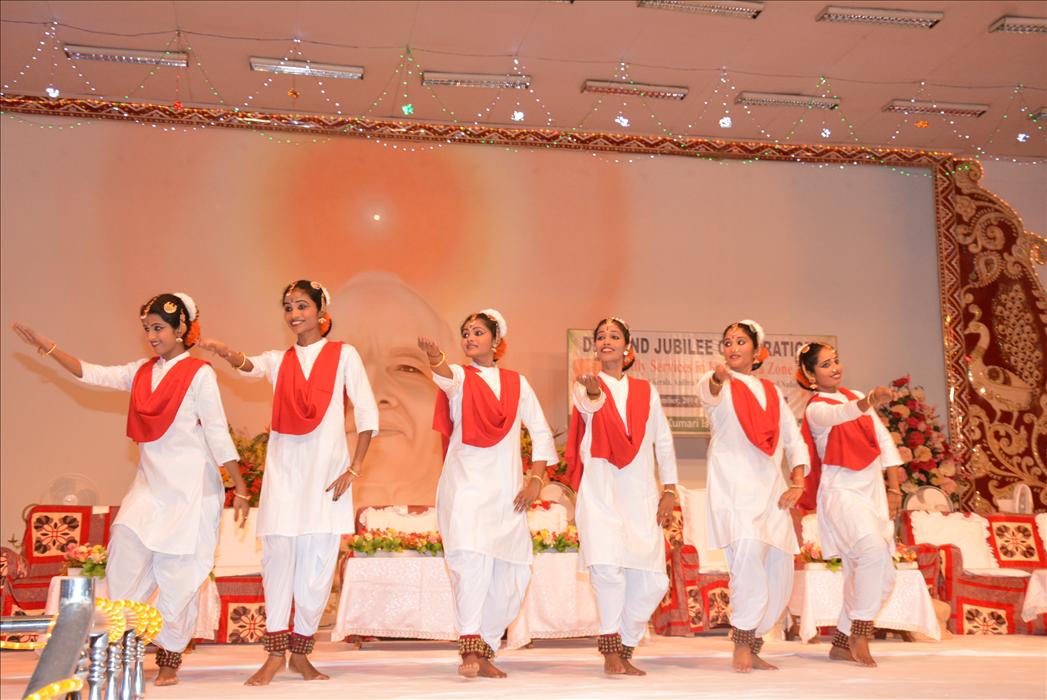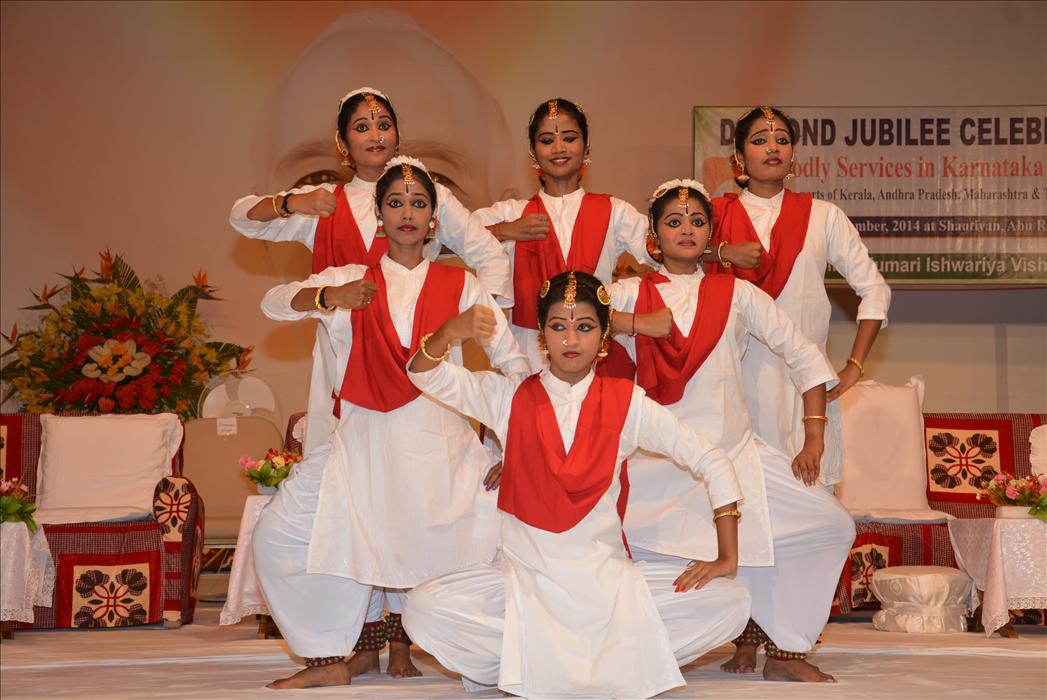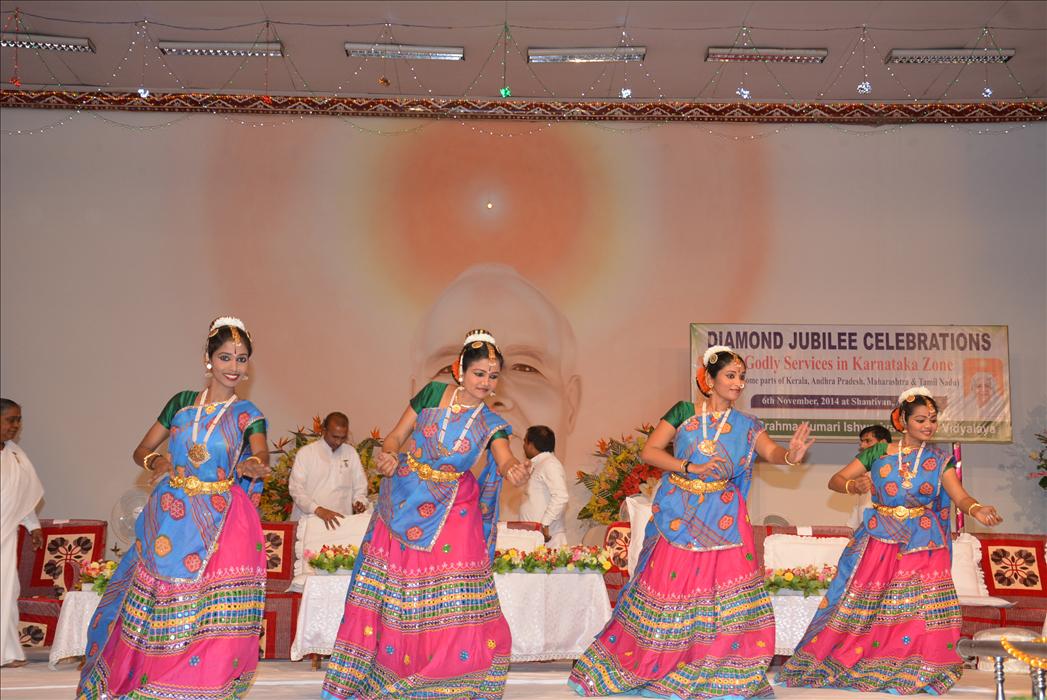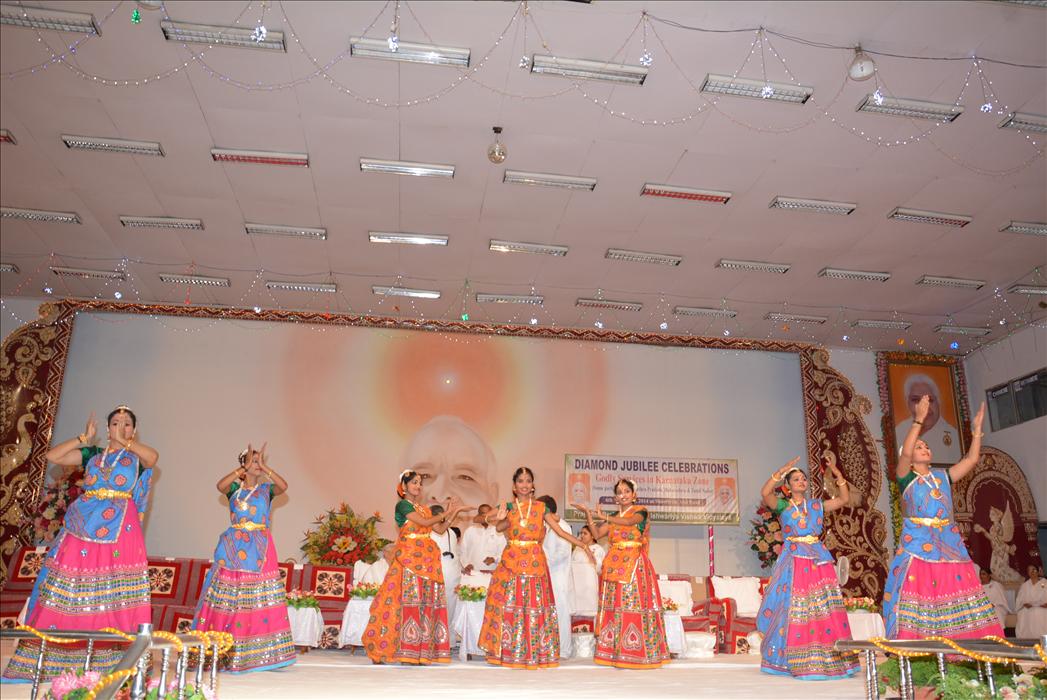 Dipawali in Pandav Bhawan with Dadi Jankiji
31 October 2014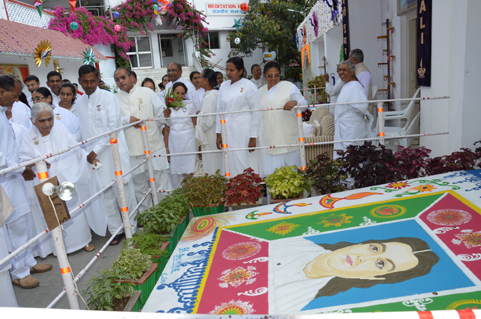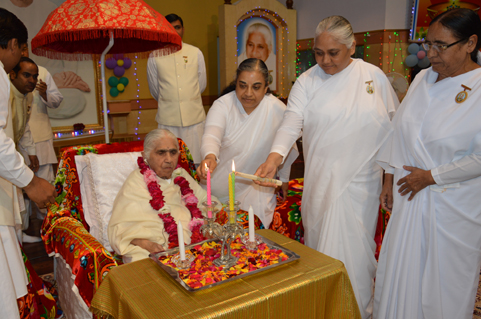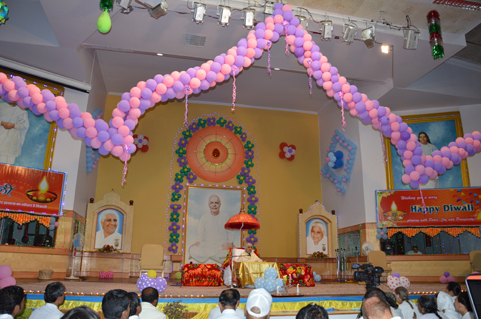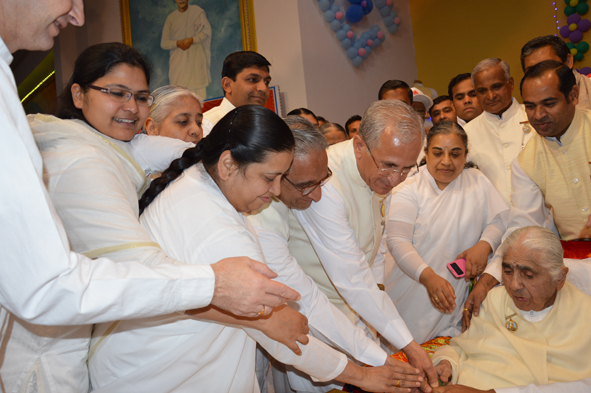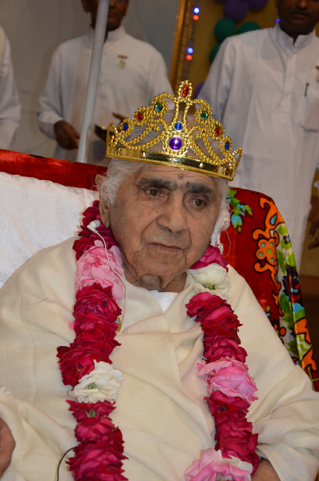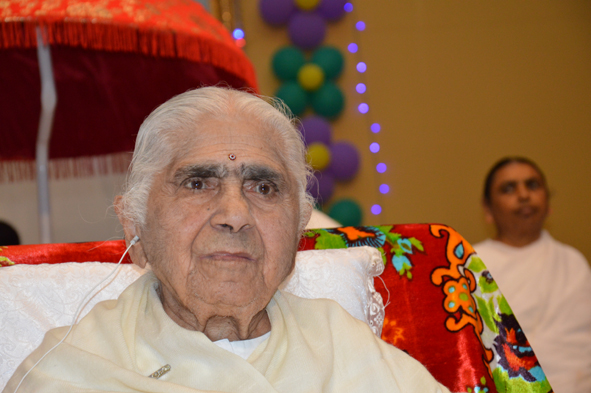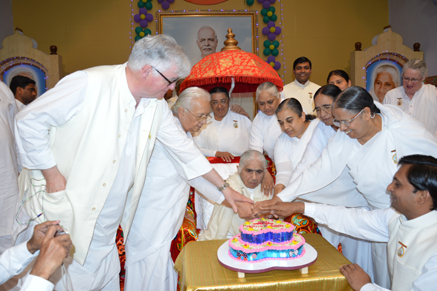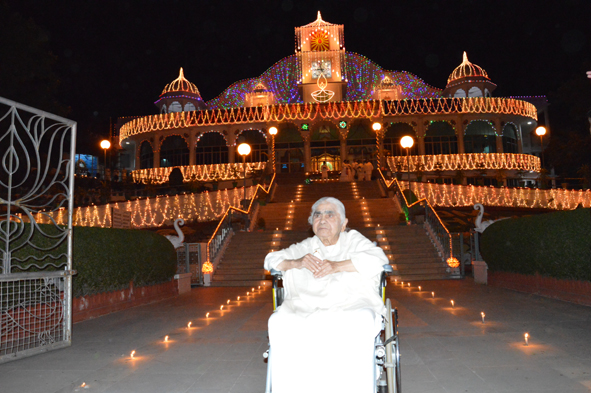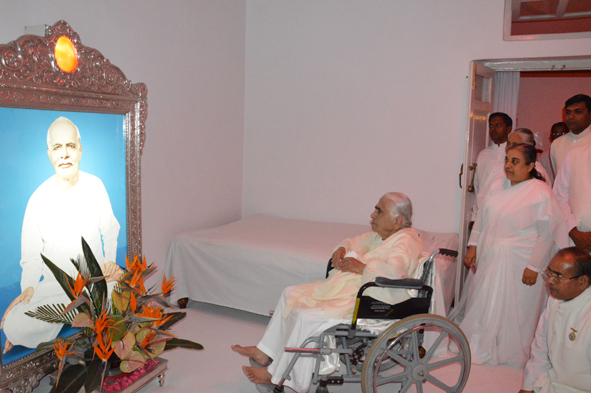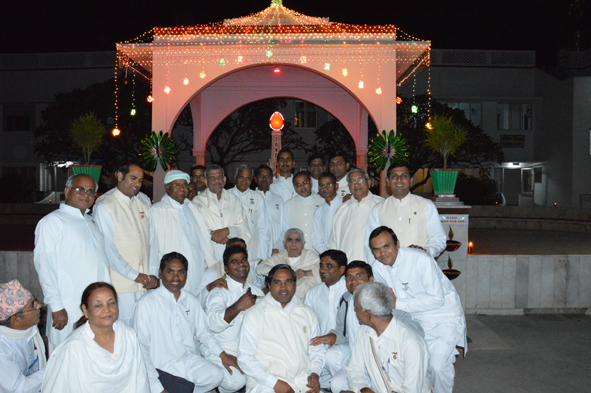 News and Photos: Diwali Cultural Evening (26 October) featuring Chinese & Russian Artists
27 October 2014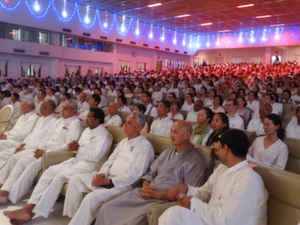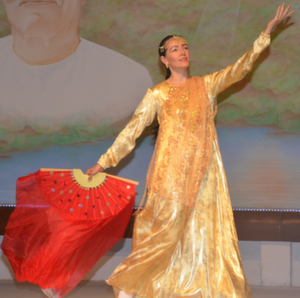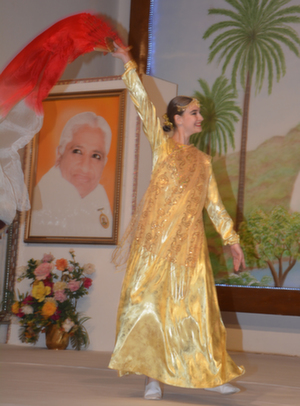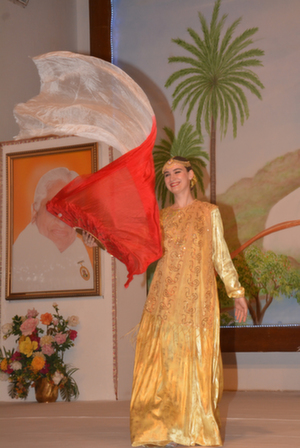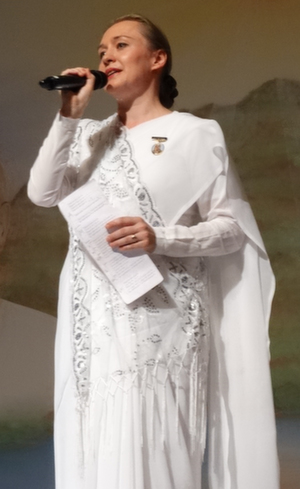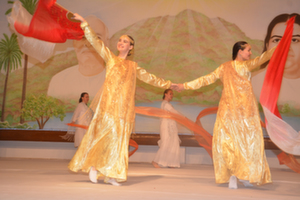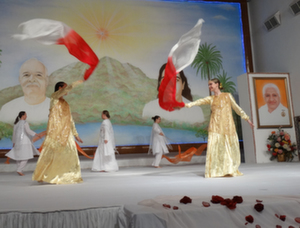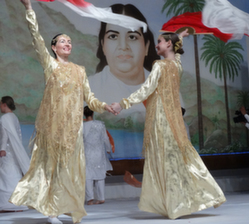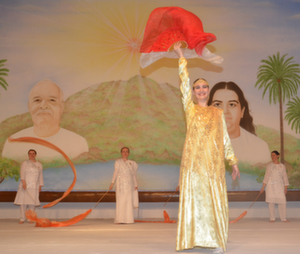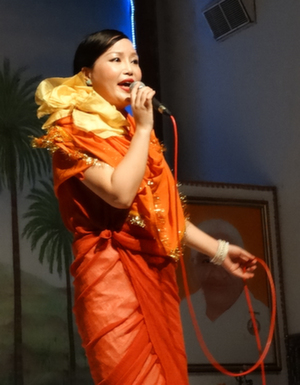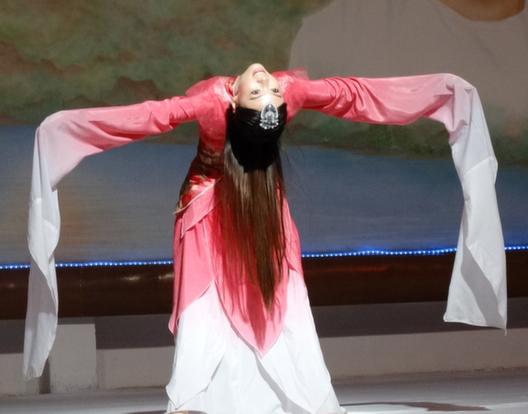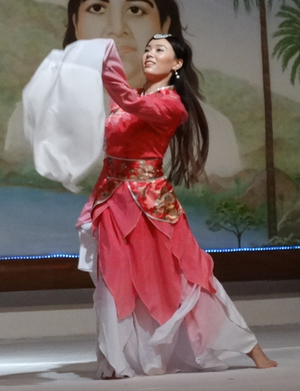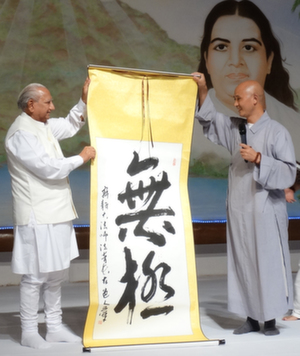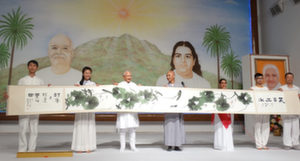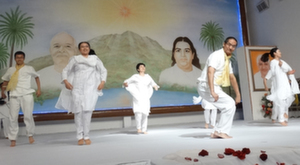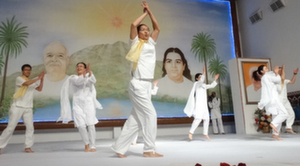 Click here for detail report.

News of Dadi Janki's visit to Pandav Bhawan
26 October 2014
Dadi Jankiji had a very strong pull to come up the mountain in the New Year and so on Saturday, 25 October at around noon Dadiji suddenly told her companions that she really wished to go to Baba's original home, Pandav Bhawan. Dadiji and her team made it up around 1.30pm. Mount Abu is buzzing with tourists who specially come in hundreds of thousands during their Diwali holidays, so travel up the mountain took a while. Dadi Jankiji was very happy to be home (after exactly 9 weeks) and gave time to see the decorations and observe the rangoli (sand art) designs in the courtyard.
Dadiji's health was a bit fragile in the evening but Hansaben got her ready before time and Dadiji came into Om Shanti Bhawan to meet a packed hall. It was truly the 'real' Diwali being celebrated. Dadiji lit candles on stage, cut a cake, gave a short class which has come to you already, asked Hansaben and Pravinaben to come on stage and share a few words. Dadiji and both sisters have been through so much in the past 6 months, and our sisters shared how much they have learned from Dadiji while witnessing her courage and faith, and ability to forget the discomforts/challenges of the past day as though it didn't even happen…
There was initially the thought to return to Shantivan in the night, but then Dadiji said she would like to stay Saturday night in PB and so she did! Then today, Dadiji said she feels she would like to spend few more days in the Mount and so it's a multi-fold lottery for everyone. We continue to have yoga for Dadiji's health to remain stable and comfortable, so that she and her companions can be relaxed and we take maximum benefit.
Sunday morning, Dadi Jankiji met all the double foreigners in Gyan Sarovar which was special and lovely. Before leaving for GS, Pandav Bhawan Niwasis were so, so happy to have a brief, impromptu photo session on the steps of Meditation Hall with Dadiji. It was sweet to see Dadiji's smile when she saw the excitement of the family.
OM SHANTI

Hearty Deepawali Greetings from Media Department - Madhuban
23 October 2014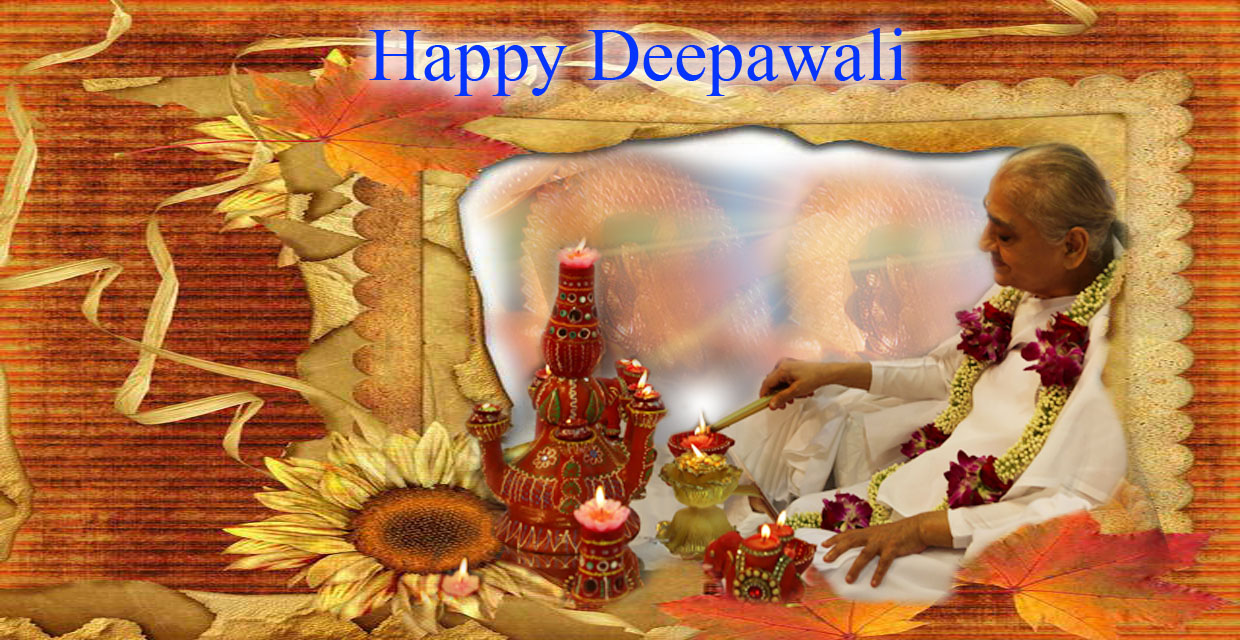 Photos of Pandav Bhawan Diwali Celebrations on 21st October
23 October 2014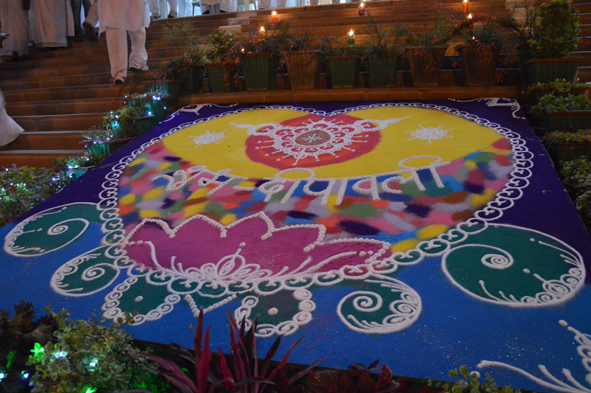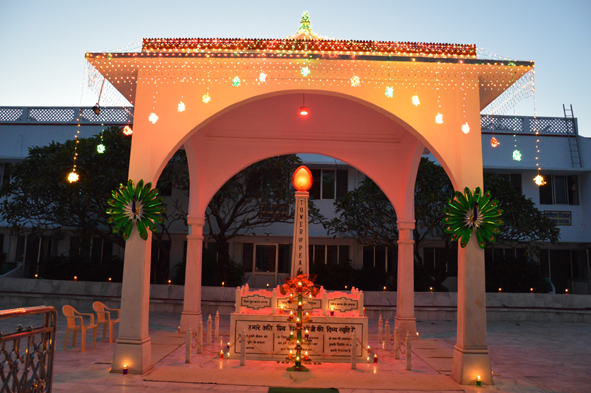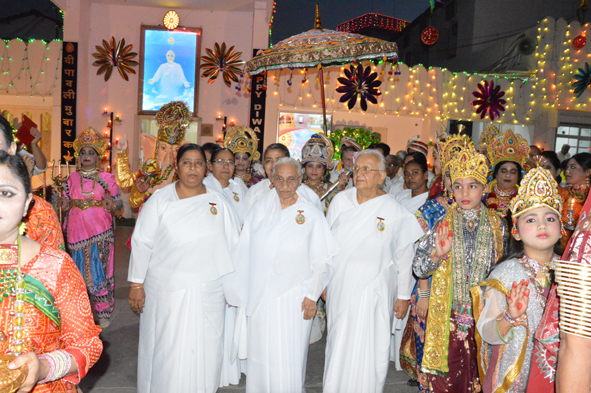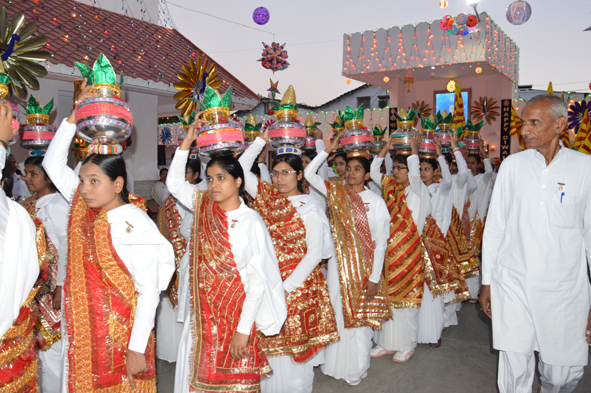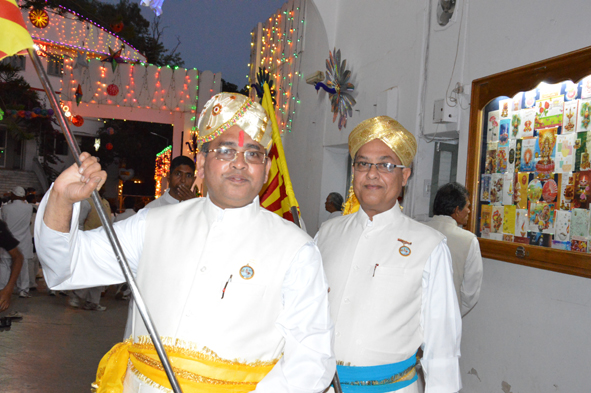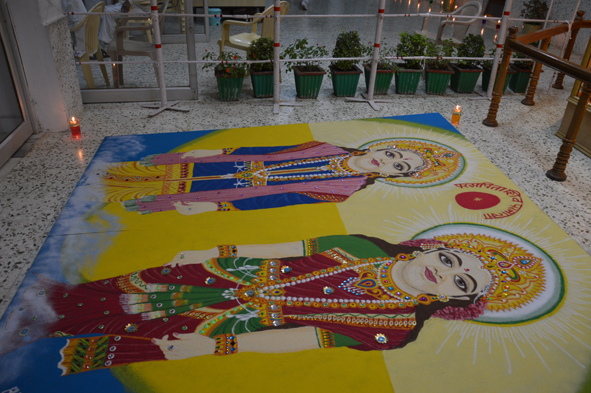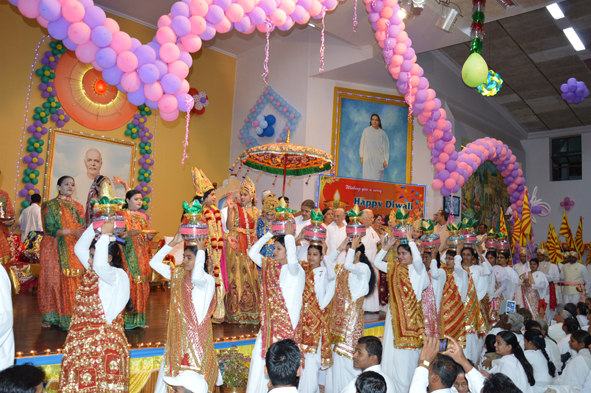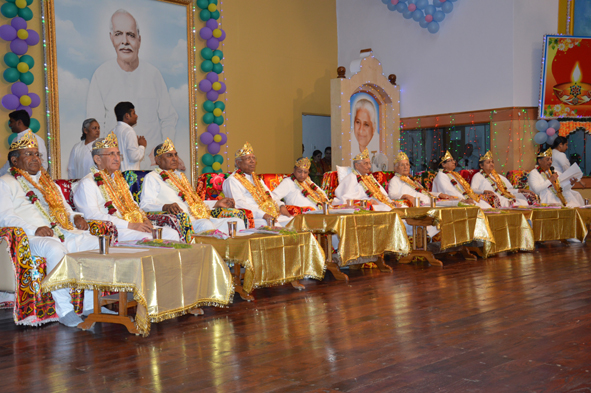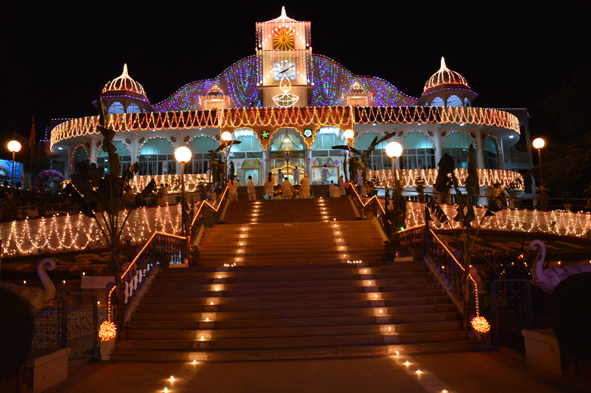 Greetings for Diwali from Sister BK Sheilu, Madhuban
21 October 2014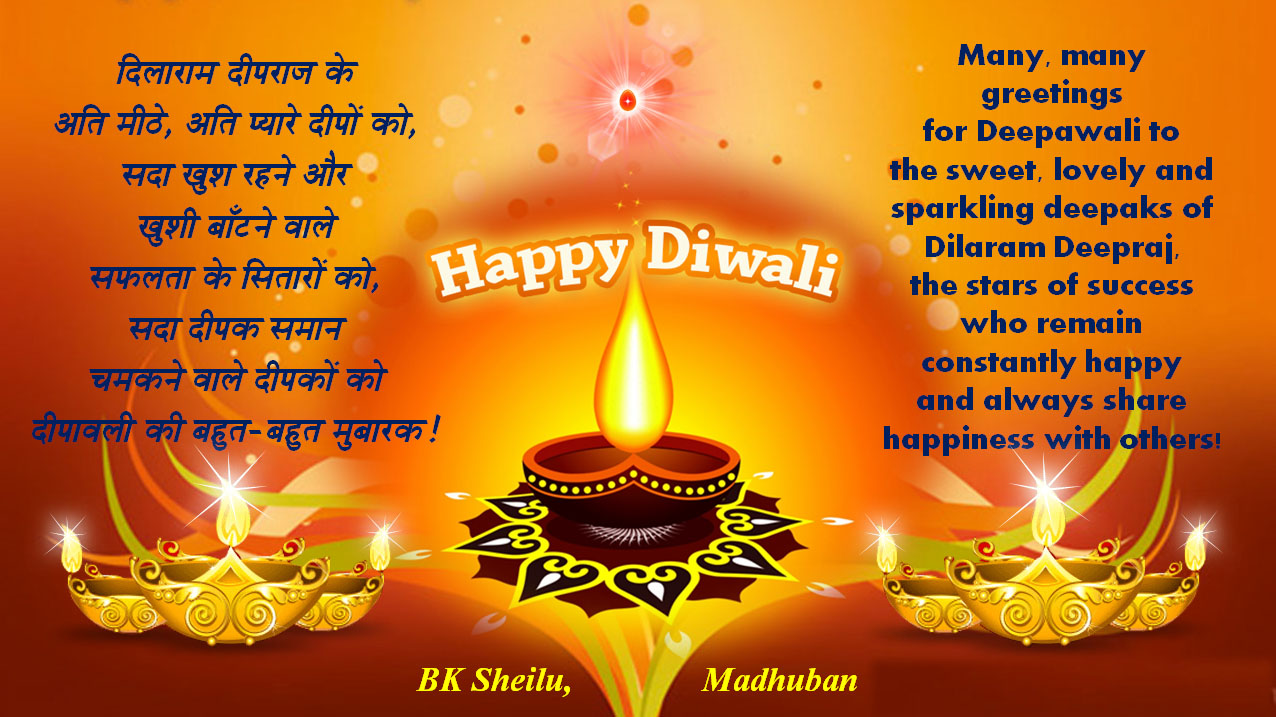 Dadi Janki's Video Message for Diwali
20 October 2014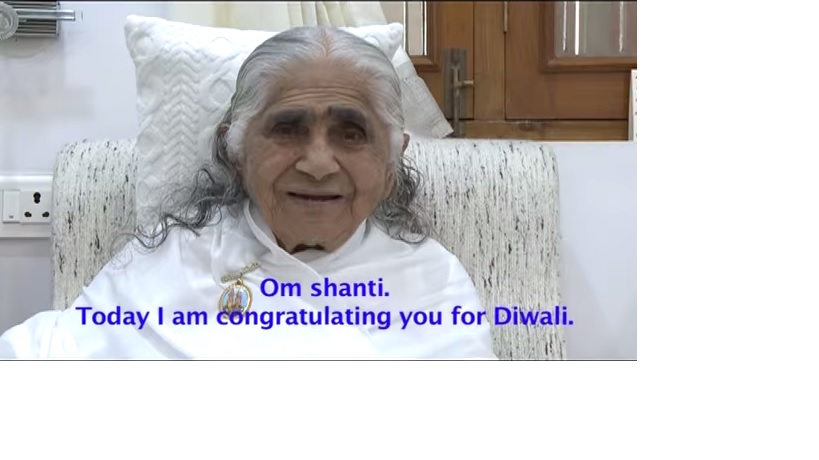 Click on the above image to access the video.
This video is also posted on Dadi's Facebook page: https://www.facebook.com/video.php?v=10152834668201789
Please feel free to share on your social media accounts or for wider circulation as you wish.

Photos of Gyan Sarovar Diwali Celebration on 17th October
20 October 2014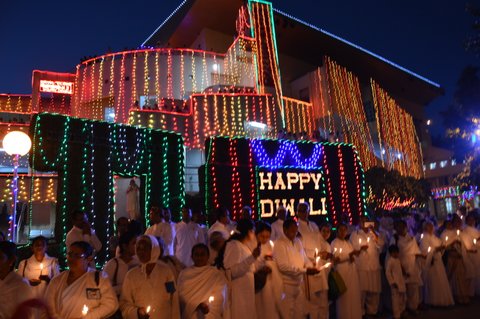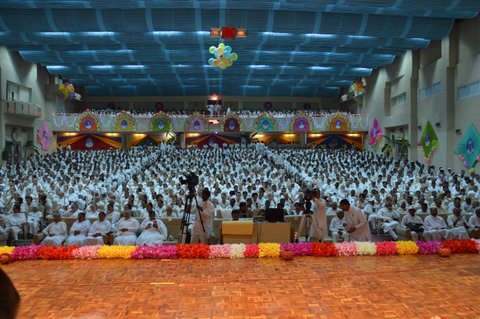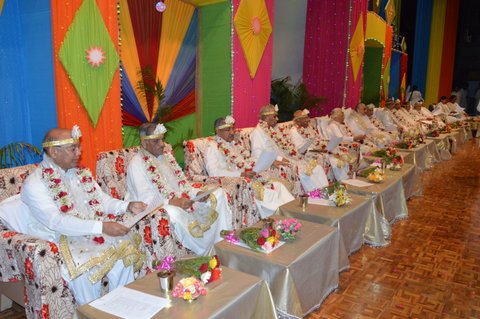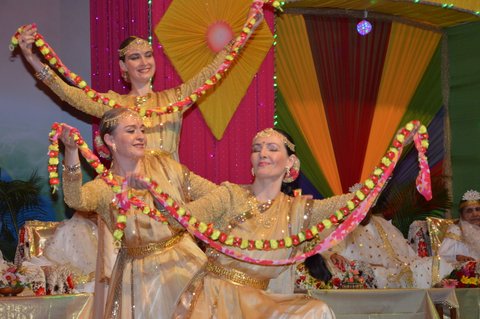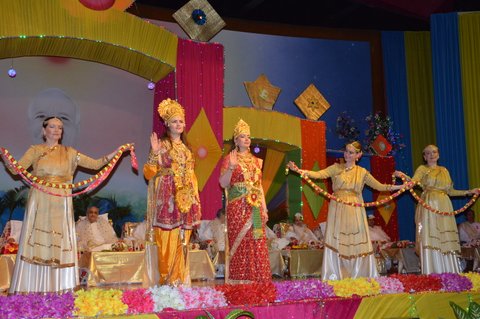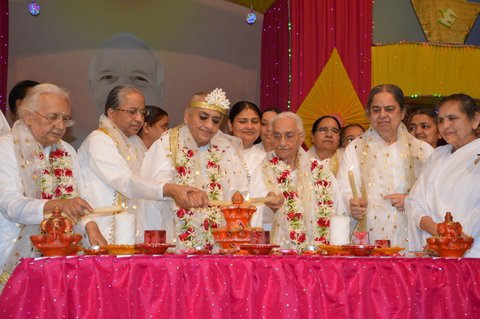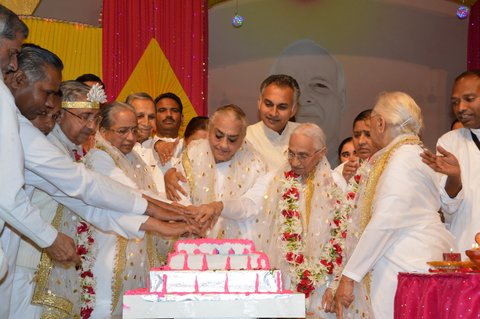 Diwali celebration at the Trauma Centre, Shantivan on 17 October
18 October 2014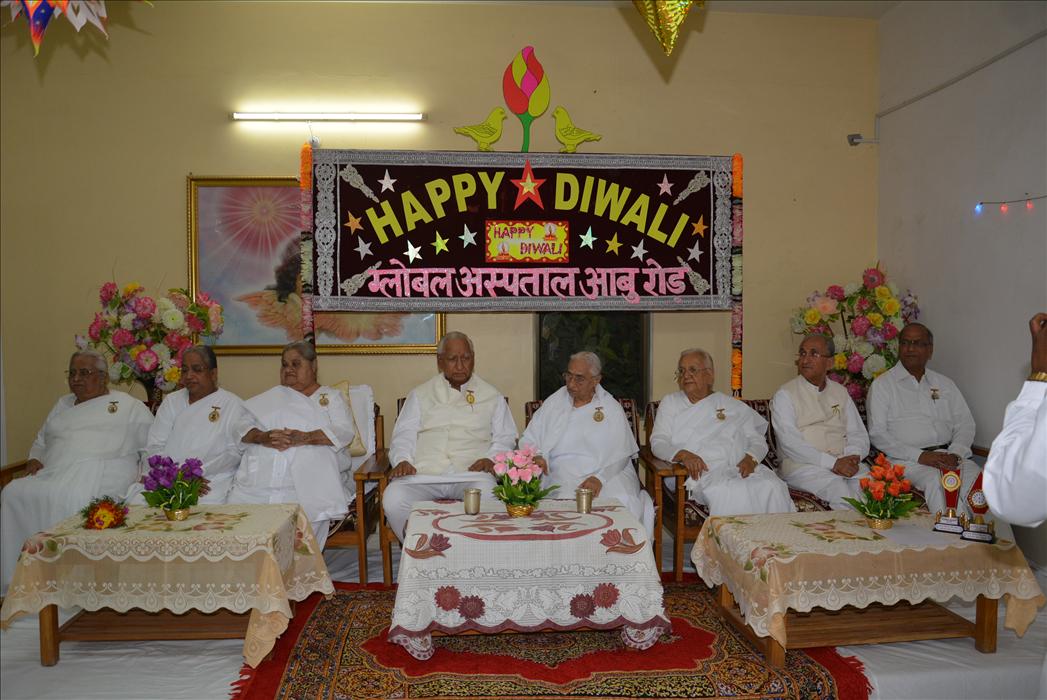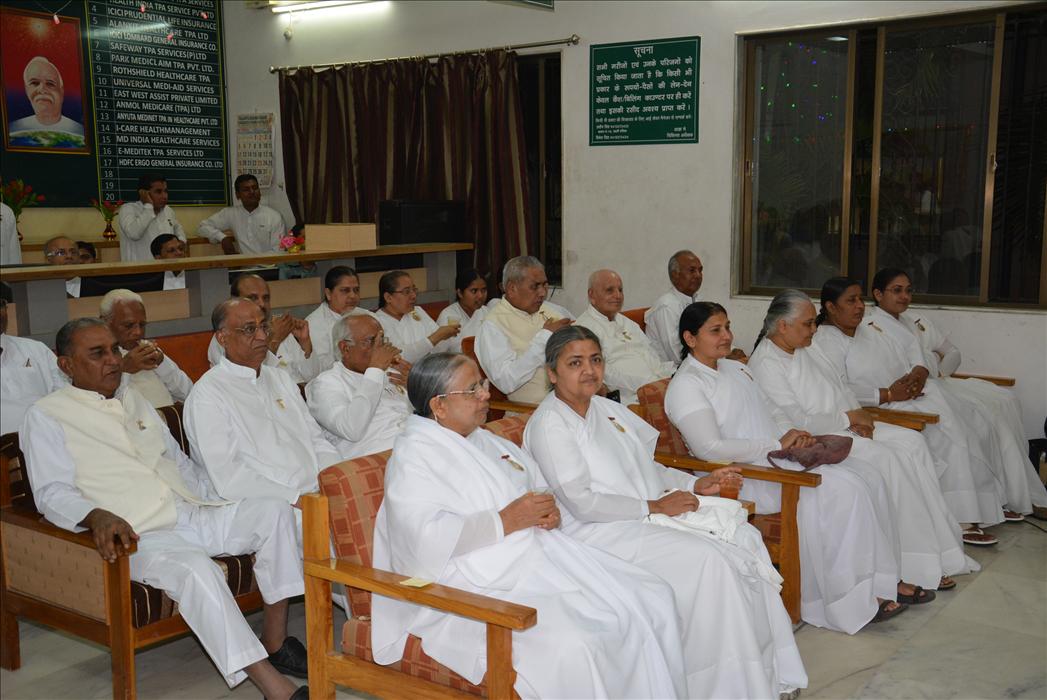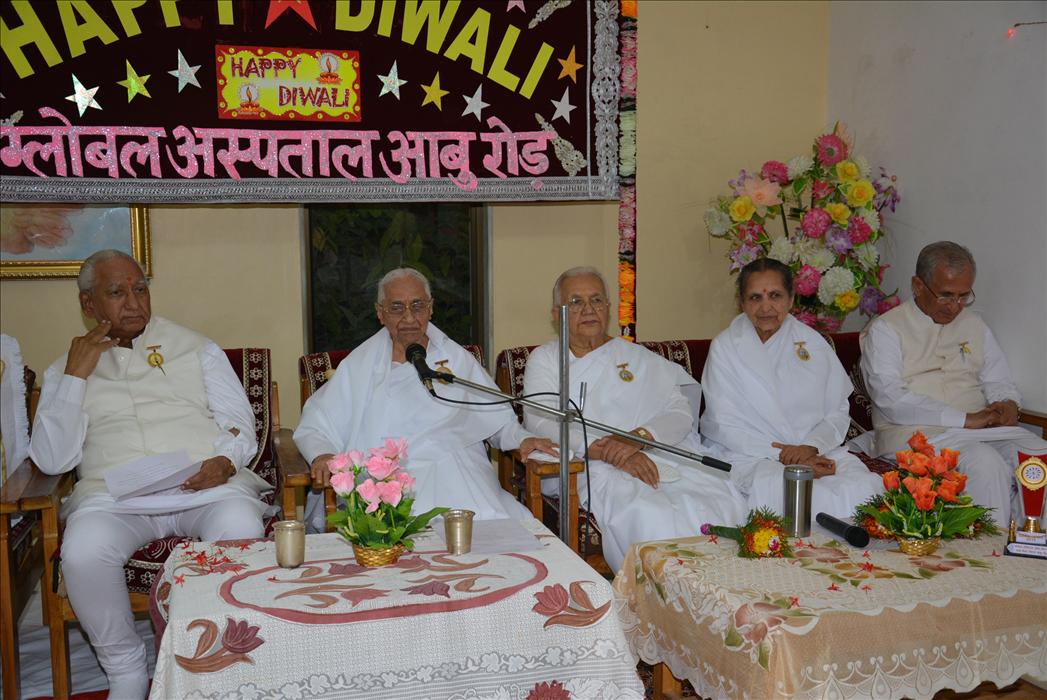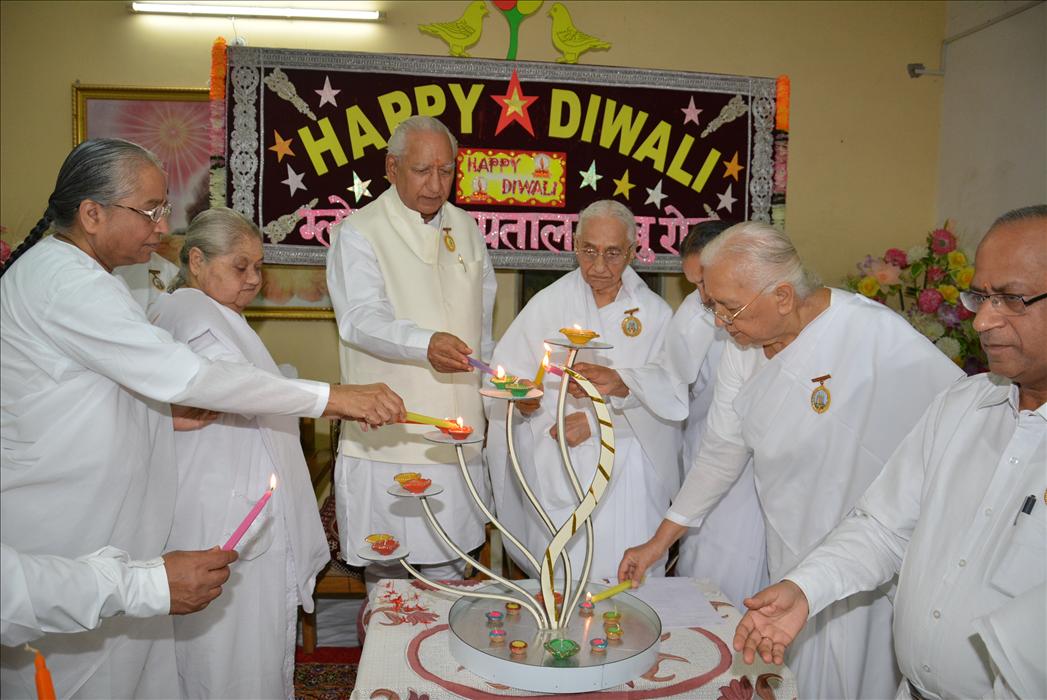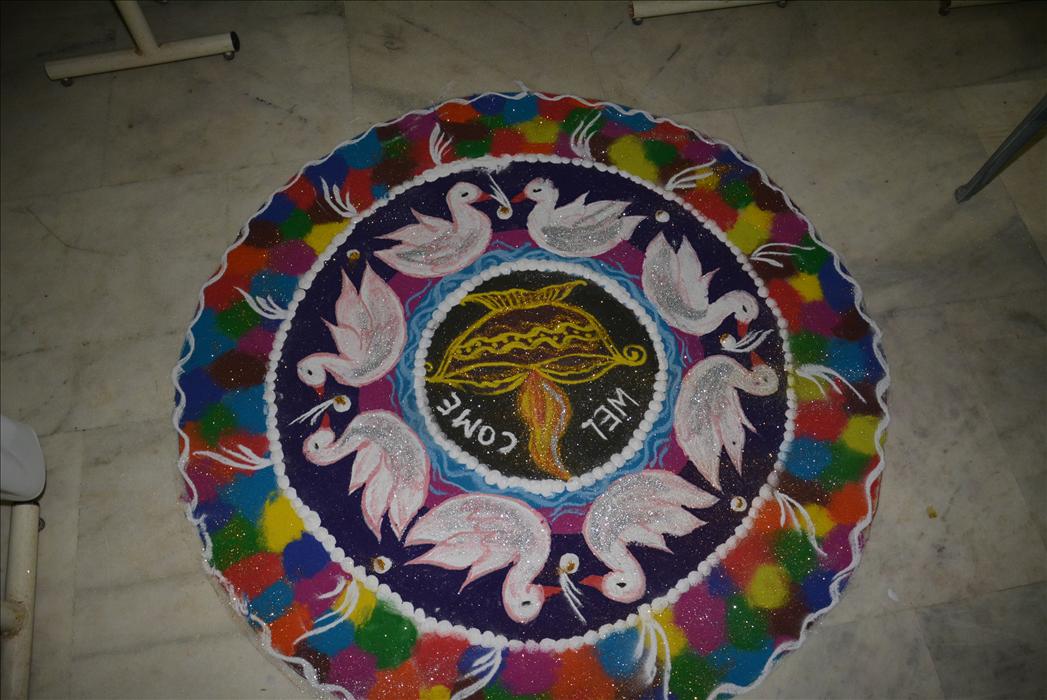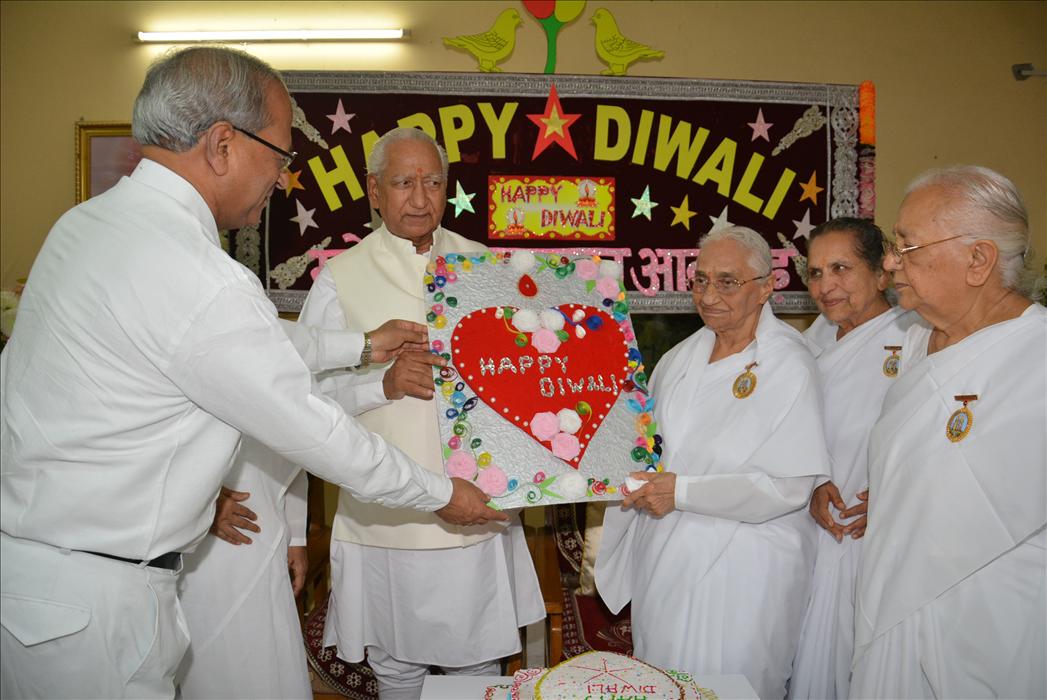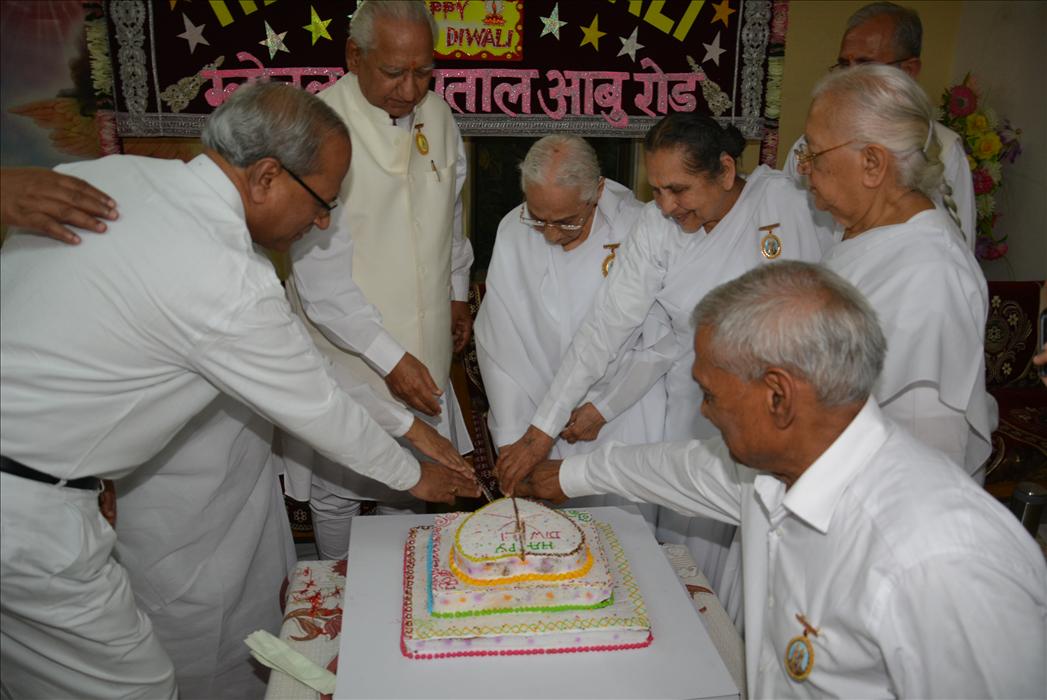 Photos of Dadi Gulzar launching Diwali celebrations by visiting pilgrimage places in Pandav Bhawan & lighting the first deepas in Baba's room
17 October 2014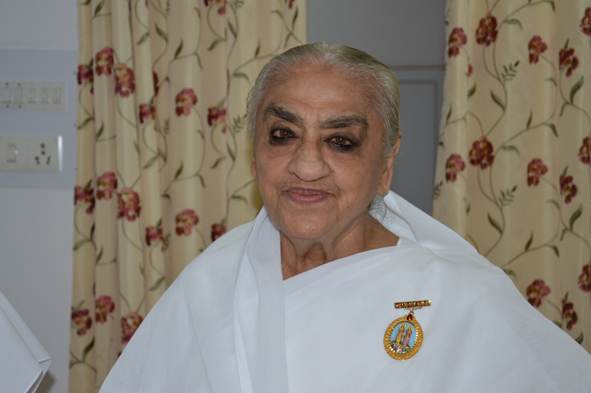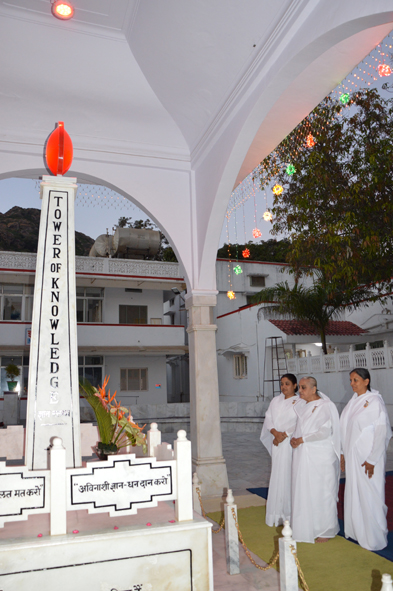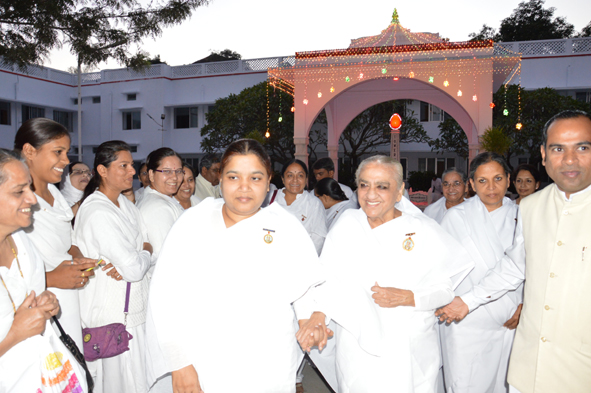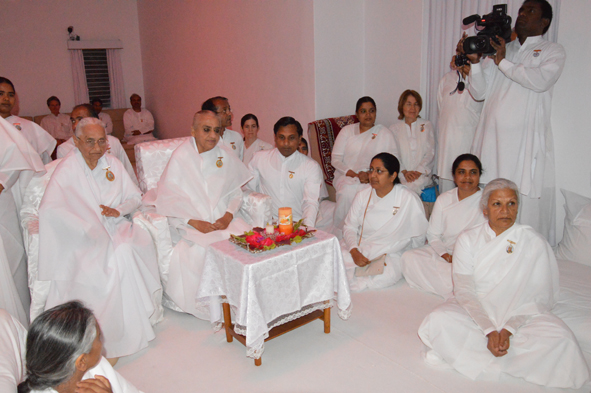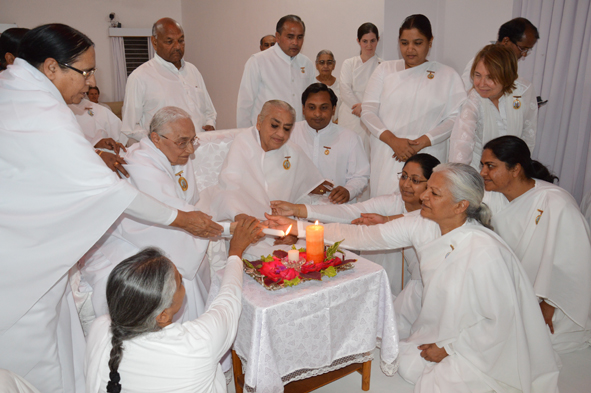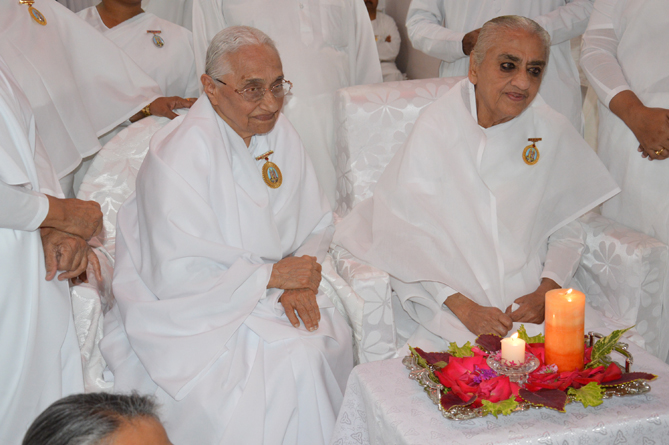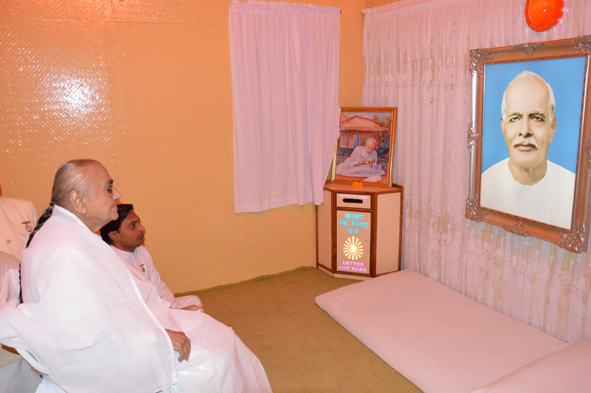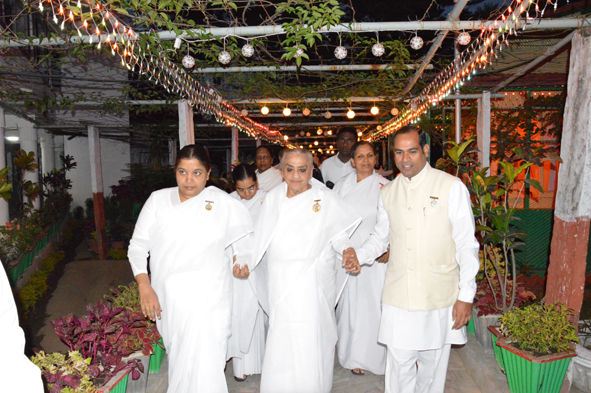 Photos of the 12 October Celebration of Diwali with Most Beloved BapDada
16 October 2014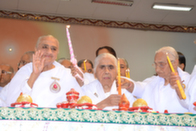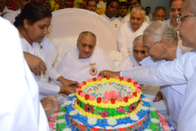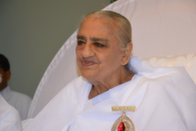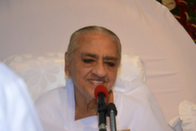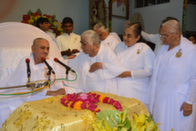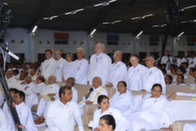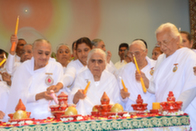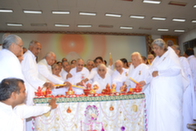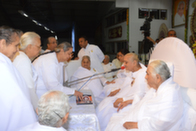 New Air Fibre Microwave link will allow High Speed Internet for Shantivan, Pandav Bhawan and Gyan Sarovar
15 October 2014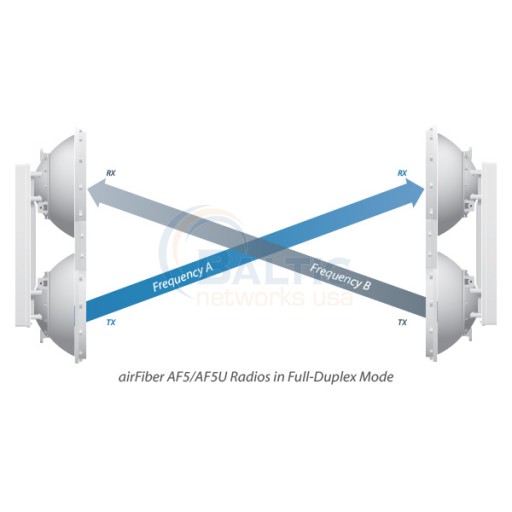 The installation of this new air fibre link will begin on 16 October, 2014 and will be in service within a week.
This new facility in addition to improved internet access will enable High Definition video broadcasting between all the three Madhuban campuses.

Brief Report of First-ever BK IT Conference
15 October 2014

In the beautiful Harmony Hall, 350+ technology professionals from all over India gathered for the first national unConference in order to recharge, relax and rejuvenate. The event was organised by BK IT &Communications team under the
leadership of BK Yashwant. At the inaugural ceremony of the event, BK Chaya presented a brief overview of the 75 glorious years & an endearing journey of the Brahma Kumaris since its inception in the 1930s.
Read full report here.

First ever Translators Retreat held in Shantivan on 8th October
13 October 2014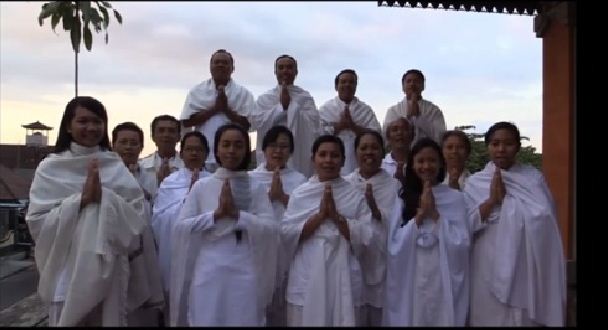 Click on image to play video
For this first time in this kalpa, a retreat for double-foreigner translators was held. Around 40 souls participated, including senior translators, Sister Sheilu of Madhuban and Sister Meera of Malaysia.
The aim of the retreat was to acknowledge the invaluable role translators play in enabling double foreigners to take benefit from Baba. The retreat began with participants introducing themselves and with Sisters Sheilu and Meera, in a very light and informal way, sharing how they themselves became translators.
After that, the above video was shown. It was produced from video clips sent in by translators and shows people who receive translation in different languages thanking the the translators.
Sister Manda spoke about the connection between attitude, awareness and words, and responded to many different questions. Brother Ken ended the morning with an interesting workshop on how to go beyond words.
In the afternoon, Sister Moira conducted a Q&A session with Sisters Sheilu and Meera, based on questions that had been submitted by the group. Sister Mohini gave a final class that touched everyone's hearts, after which gifts, blessings and tolis were shared.
Many, many thanks to the RCs for giving us the important space and time for this retreat. We hope to organize another such retreat in the future.
In the remembrance of the ONE,
Br Marcelo

Special Loving Message from Dadi Janki
10 October 2014
To all of Baba's specially beloved children,
Greetings of love from Shantivan.
It's wonderful to see Madhuban sparkling with Baba's stars from Bharat (about 14,000 as of the 10th) and double foreigners from over 100 countries (1700 as of 10th).
Dadi Gulzar is also with us. Nirwairbhai is getting stronger day by day here. I myself am all right, and with Baba's blessings and grace am able to visit classes from time to time. Baba is taking care of me.
Dadi knows that you are paying attention to the four subjects. Each one knows it is time to make deep intense effort so that the soul is able to fly to Baba easily, free from all bondages and attachments and reach the karmateet stage. Baba has given us time to deepen the sanskars of respect and regard so that we can create that cherished world of Golden Age. The sanskars of love and respect will allow us to claim our place in the future world. Each one makes individual effort, but within gathering it is the bond of love and respect which will reveal Baba and our angelic forms to the world.
Dadi sends you all her love, as you prepare to meet Avyakt BapDada in your own angelic, avyakt form.
In Baba's loving remembrance,
BK Janki

Greetings from Madhuban for the festive season of Navratri
1 October 2014
Our dear sisters and brothers of the Brahmin clan in Bharat and abroad,
Please accept hearty Godly love-filled greetings for the festive season of Navratri (worship of 9 Goddesses for 9 Days) which will culminate in Dusshera on 3 October.
In India, almost everywhere, people are expressing their happiness and a lot of devotional feelings for the different avtars (incarnations) of the Goddess, Divine Mother, through songs and the traditional dance (the 'Garba-Raas'), where young and old, including very small children, participate zealously. But most of the fun is enjoyed by the young adults who attend in new attire each day and are full of energy. These days there are different music bands and singers tirelessly presenting their devotional and popular folk songs for hours together. Some places, the Garba Raas carries on till early morning hours even though they have been advised to end the celebrations by midnight!
During this auspicious period, it has been inspiring to view Prime Minister Narendra Modiji's programmes in USA on his first trip after being elected PM of India. The Sunday, 28 September, event at Madison Square Garden, New York, was particularly enjoyed because of the colourful, brilliant Rajasthani and Gujarati dances by Indian artistes to East-West fusion music, and performances by the famous singer, Kavita Krishnamurthy. It created a picture of youthful India in America. During Navrati, the devout observe fast for 9 days and our PM Modiji set a unique example of remaining active despite being on a fast of water, and lemon juice with honey since the 25th. He has endeared himself to one and all in America as well as in India with his personal discipline in day-to-day life, punctuality, alertness, and interest in cultivating new ideas of development and governance.
From the spiritual perspective, we are aware that since the advent of Ravan, we the fortunate souls of Golden and Silver Ages became victims of the five arch weaknesses symbolised by the demonic figure of Ravan. Symbolically, as per the inner desire of human souls, effigies of Ravan are burned every year but no one tries to renounce their inner weaknesses, thereby continuing to multiply one's own sufferings. Our beloved Supreme Father, Shiva, descends to awaken us by sharing the truth about the original qualities of the self and how to rejuvenate the same. We know how helpful this spiritual wisdom has been in inspiring us to conquer weaknesses from within, right down to their subtlest form, so that the ever-healthy, ever-wealthy and ever-happy double-crowned deity world sovereignty is regained.
On behalf of our beloved and respected Dadis and the Madhuban family, we wish you all eternal victory!
With Baba's love,
B.K. Nirwair

Media must wear crown of responsibility with care, use power for positive changes: Shabnam Asthana
30 September 2014: Published in the ANI news of this date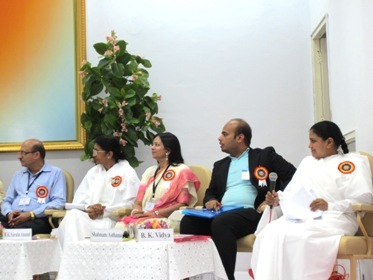 Mt. Abu (Rajasthan), Sept.30 (ANI): Media must wear the crown of responsibility with care and use its power for positive changes to keep the people's trust, said Shabnam Asthana, a public relations and media expert.
Participating in a parallel dialogue session with the theme "" Media's role in keeping people's trust", held as part of a national conference, Ms. Asthana, who is the Director, Empowered Solutions and Global Director P R and Mktng - IND TV USA, a guest of honour and an invited speaker , elucidated how trust had become a rare and precious commodity.
She said, "It (media) should work towards preventing the breeding of unhealthy emotions and negativity. It is an arduous task no doubt and cannot be achieved single handedly. We must all rise above the blame game and work together. The contribution of the masses is very vital towards this positive transformation."
The well attended conference saw a turnout of about 1500 delegates and professionals representing print, electronic, internet, film, traditional and promotional media from all over India and neighbouring Nepal.
Union Minister for Tourism and Culture Shripad Y Naik inaugurated the conference, which was recently organised and hosted by the media wing of the Rajyoga Education and Research Foundation Prajapita Brahma Kumaris Ishwariya Vishwa Vidyalaya , Shantivan Mt Abu Rajasthan.
In his inaugural speech, Naik said, "Spirituality can help media contain cultural pollution."
Joint Chief of the Brahma Kumaris, Dadi Ratan Mohini, who chaired the session, said, "Cultivation of core values is essential for positive transformation."
She also opined that the role of media in promoting positive and spiritual trends in the modern-day lifestyle and culture will help in the containment of socio-cultural pollution.
The other eminent speakers and delegates, who participated were B.K. Urmila, Prof Ujwal Chowdhary, Rajesh Rajore, Pradeep Bhattacharya and Dr. Bhanupratap Singh, among others.
All present were unanimous in the view that the Brahma Kumaris have been working relentlessly for several decades towards the promotion of Indian culture, values, and spirituality. They are striving towards inculcating positive values in the masses not only in India but all over the world. (ANI)
http://www.aninews.in/newsdetail2/story185672/media-must-wear-crown-of-responsibility-with-care-use-power-for-positive-changes-shabnam-asthana.html

Valedictory Session of the Media Conference held in Shantivan: Press News & Photos
24 September 2014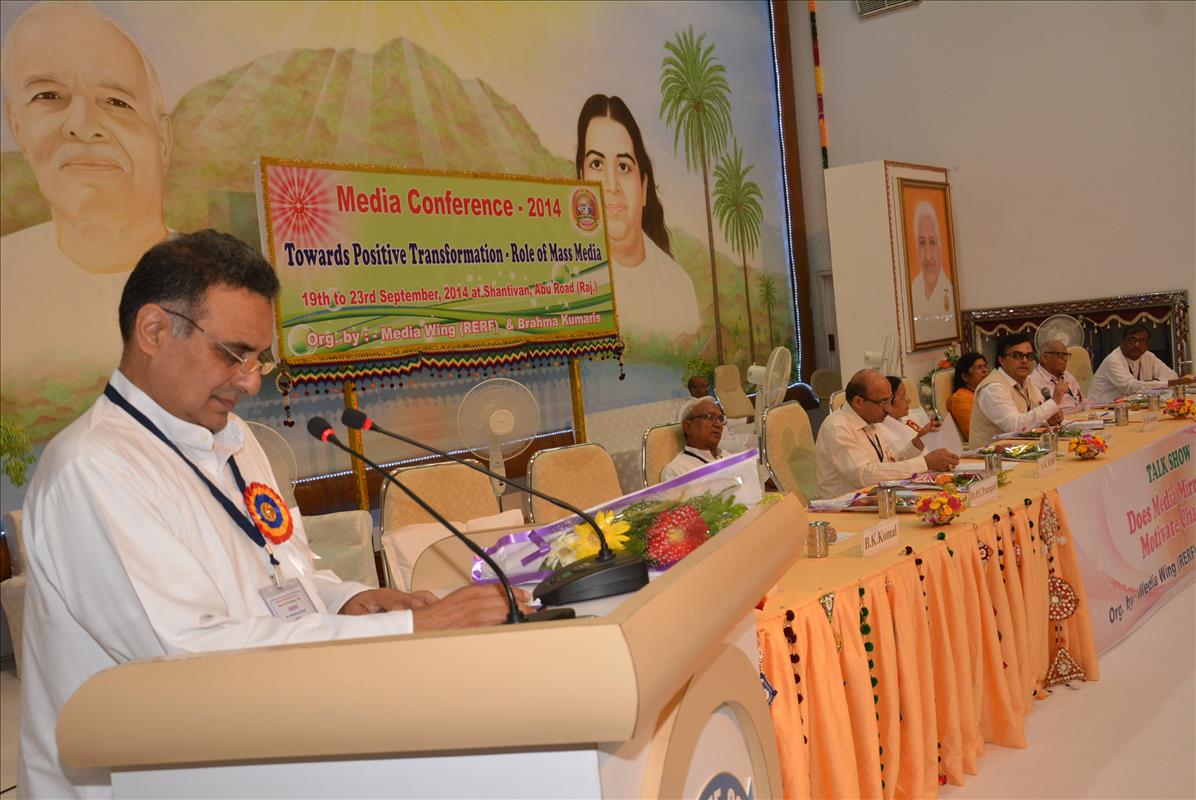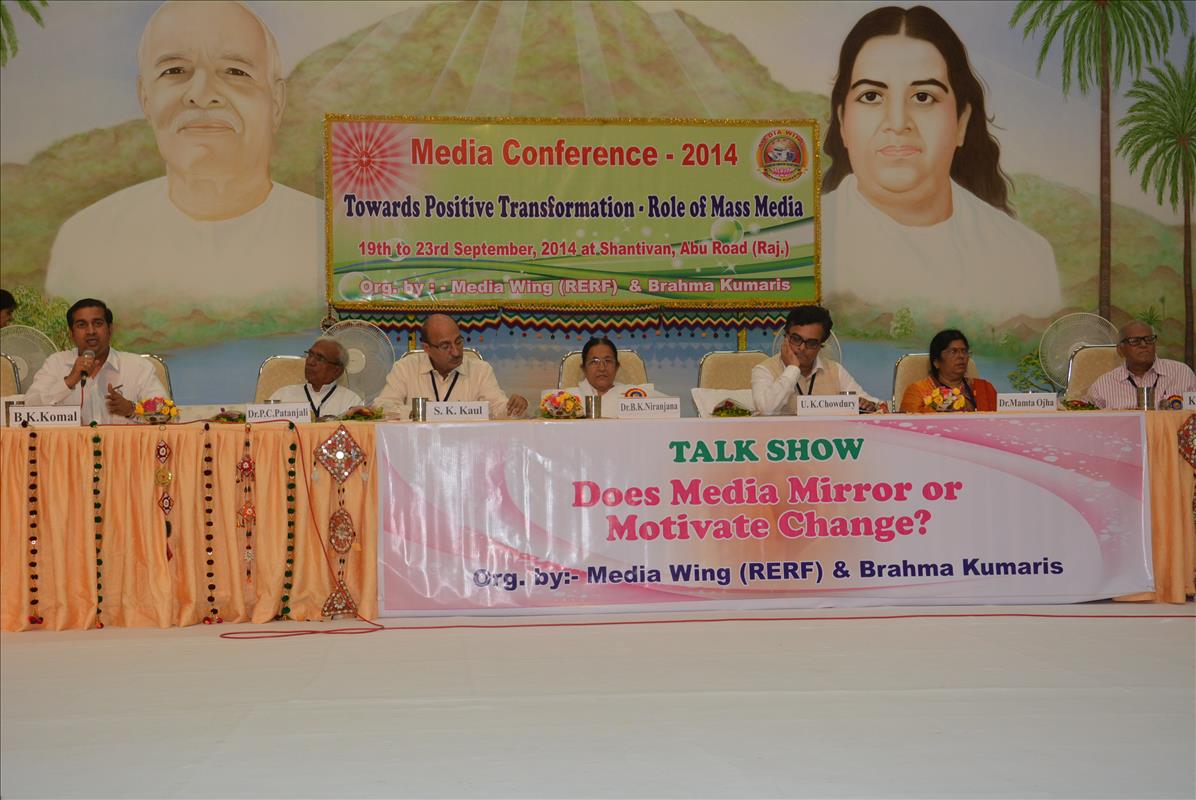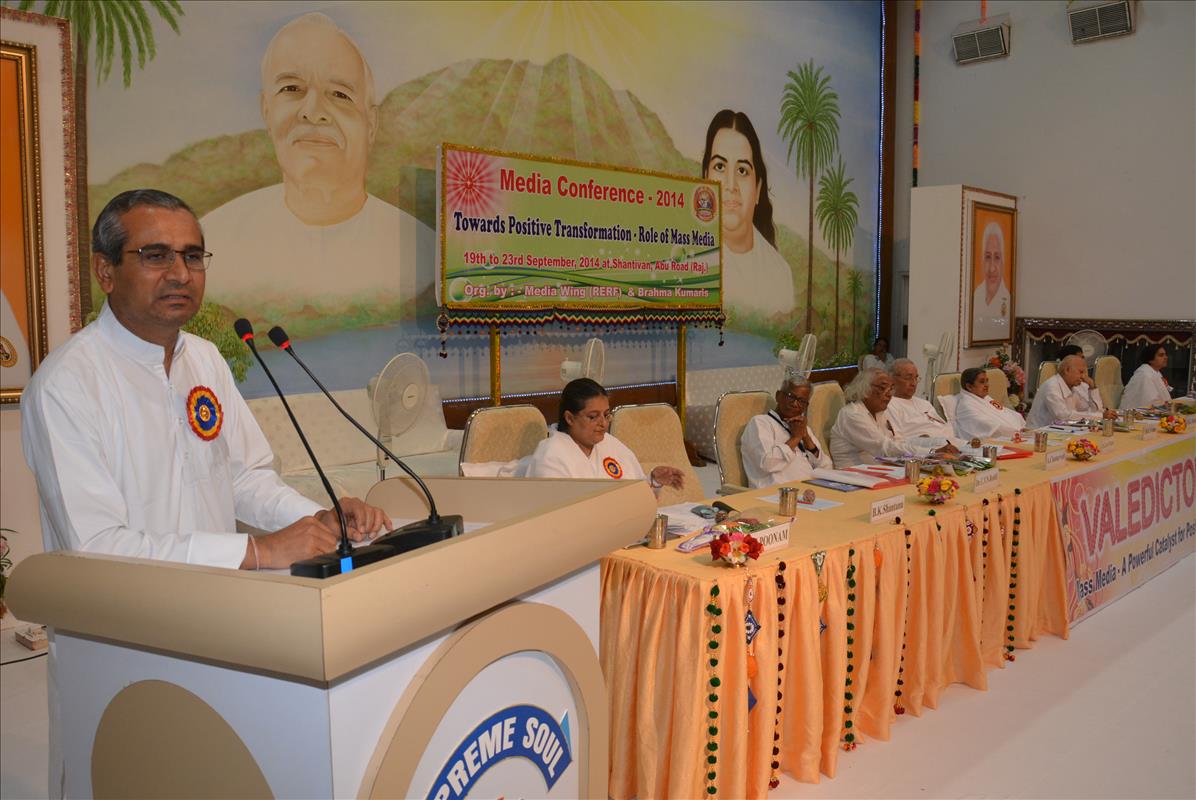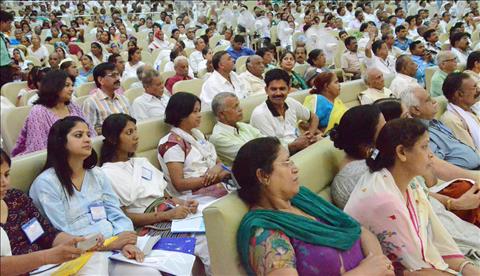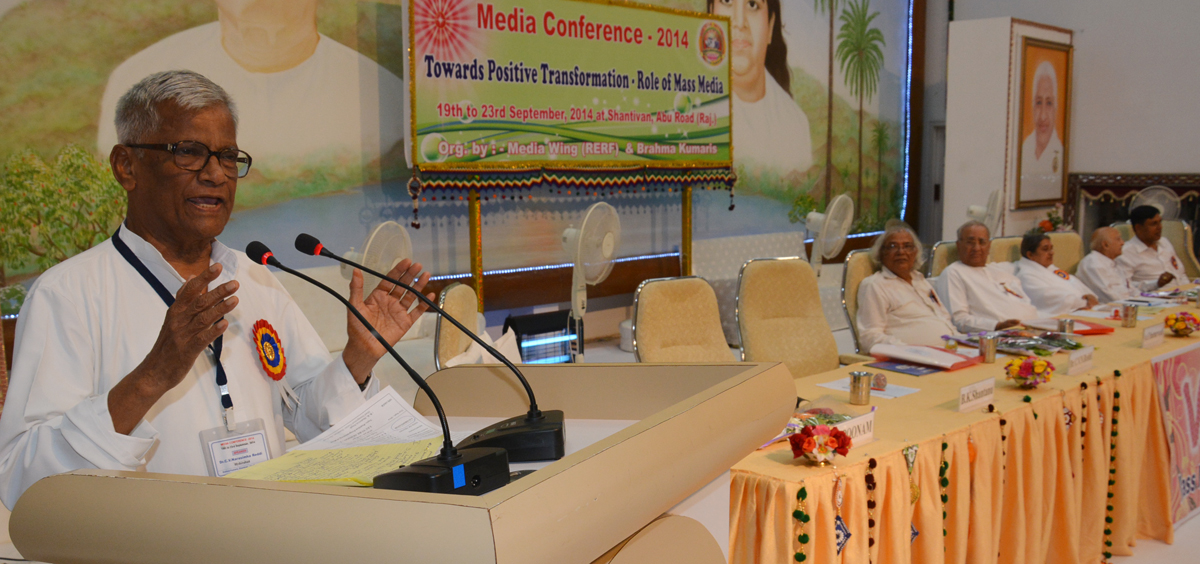 A 3-Day Mega Media Conference on "Towards Positive Transformation - Role of Mass Media" was organized and hosted by Prajapita Brahma Kumaris Institution's Rajyoga Education & Research Foundation at institution's Shantivan Complex, Abu Road, Rajasthan from 19 September. 2014.
The Conference was inaugurated by Mr. Shripad Naik, Hon'ble Union Minister of Tourism & Culture in the presence of over fifteen hundred media professionals, academicians and experts representing print, electronic, internet, film, traditional and promotional media from all over India and Nepal.
The dignitaries and delegates of this Media Conference deliberated through seven open sessions & two dialogue sessions on media issues of topical interest, for three days.
They also underwent a few experiential sessions on raj-yoga meditation, inner empowerment and arrived at the following conclusions and resolution in the Valedictory Session of the Conference on 21st September, 2014.

Union Minister Sripad Naik Inaugurates National Media Conference - Shantivan
24 September 2014
"Spirituality can help Media to contain Cultural Pollution - Mr. Sripad Naik
"Cultivation of core Values Essential for Positive Transformation" - Dadi Ratan Mohini
Abu Road, Sept., 20 : "If mass media in a major way has contributed towards abetment of materialism, consumerism and cultural pollution in people's life and society, the same media can also work in a sustained way towards promotion of positive, healthy and spiritual trends, lifestyles and culture in society and thereby can help in the containment of socio-cultural pollution."
Mr. Shripad Naik, Union Minister for Tourism & Culture said this while inaugurating the 3-Day Conference on "Towards Positive Transformation - Role of Mass Media" organised by the Media Wing of the Brahma Kumaris Institution's Rajyoga Education & Research Foundation of Instituion's Shantivan Complex, here today.
Addressing an august gathering and about fifteen hundred professionals representing print, electronic, internet, film, traditional and promotional media from all over India and Nepal, Mr. Naik said that it is incumbent on mass media not only to properly inform, educate and entertain the public but also to positively guide, motivate and suggest solution to people in day to day life. This process of positive transformation and positive implementation should start from media persons who can act as powerful catalyst for holistic change with the help of spirituality, he stressed.
Extolling the virtue and relevance of spirituality, he said that it is the very basis of positivity, peace, love, tolerance, health, harmony, happiness and development in human life and society. And there is the need to blend spiritualism with modern day journalism to make the latter more vibrant, pro-people and salutary, he said.
He lauded the noble efforts of the Brahma Kumaris for ceaselessly working for lest seven decades towards promotion of rich Indian culture, values, spirituality, rajayoga meditation and positive lifestyle among masses all over the world.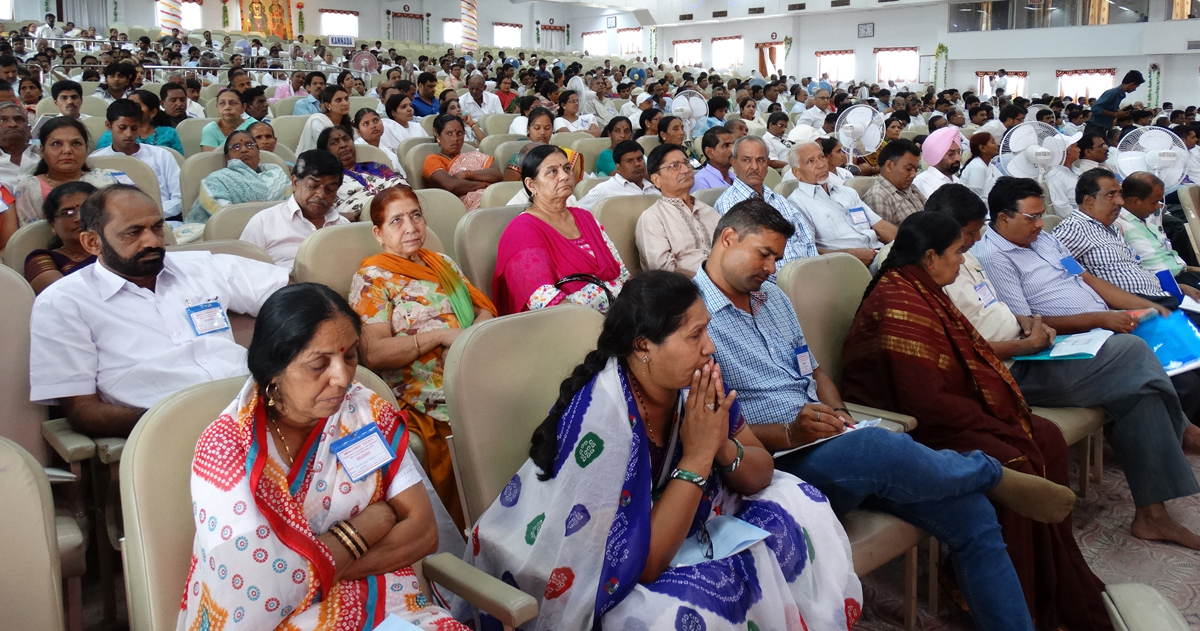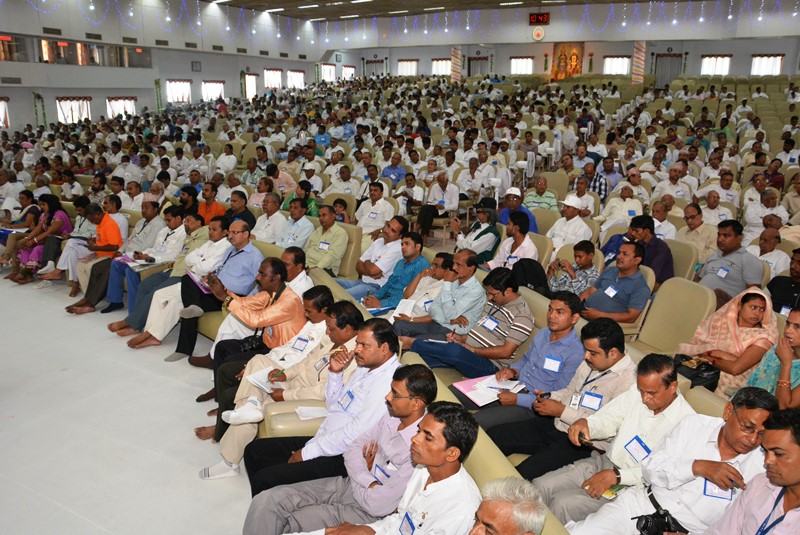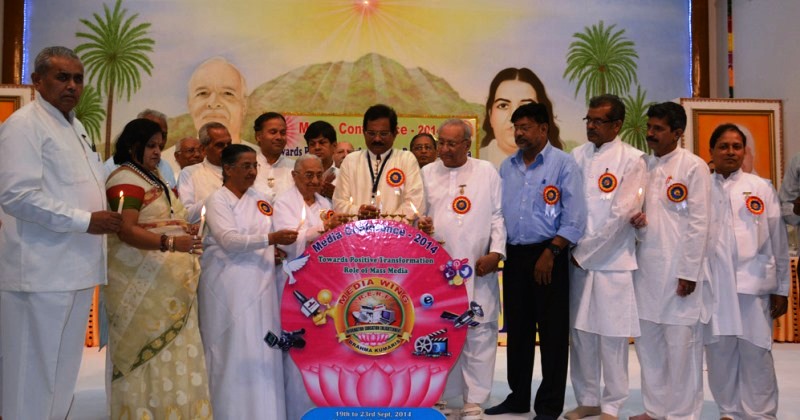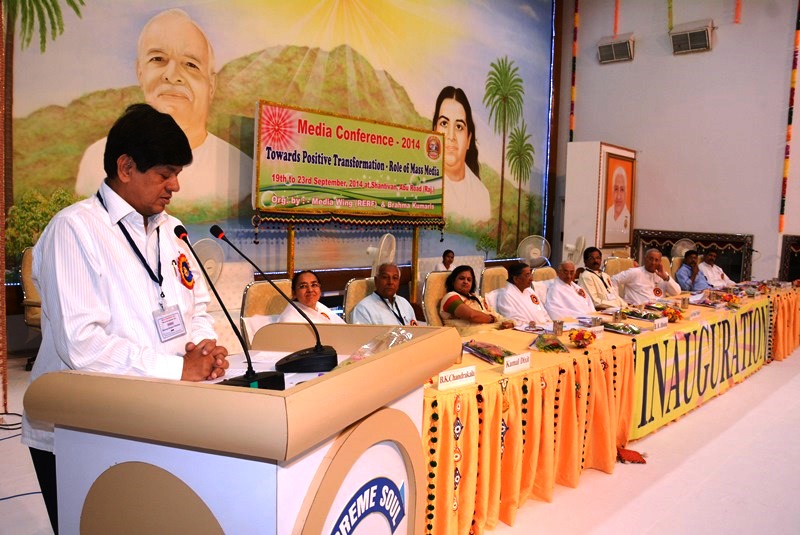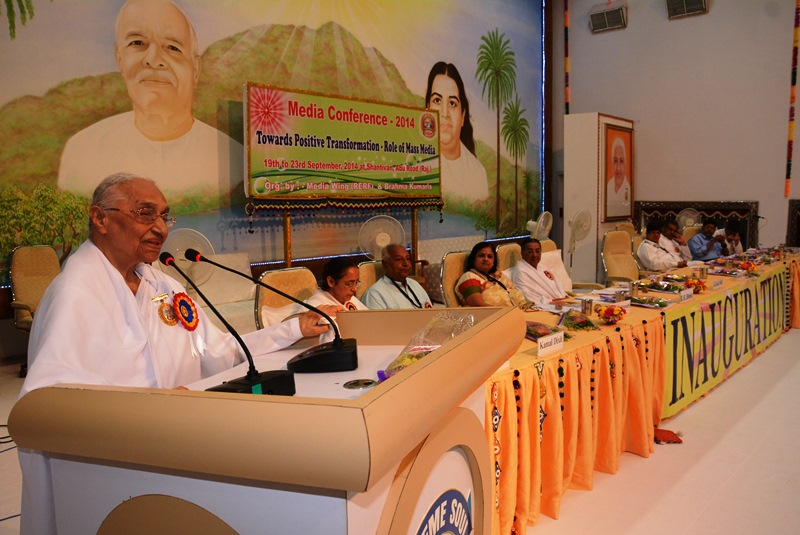 Chairing the session, Rajyogini Dadi Dr. Ratan Mohini, Joint Chief of the Brahma Kumaris delineated on the deep meaning of 'omshanti' and said that realization of one's inner self as a peaceful being is the key to restore inner and outer peace in human life. She said that cultivation of core values such as truth, wisdom, peace, love, happiness etc. which are real religion of human being can lead to inner empowerment and thereby the much needed positive transformation in individual and society.
Delivering the key note speech, Prof. Kamal Dixit, Eminent Journalist and Media Activist said that even though today's mass media has been suffused with materialist and market values, its inherent social concern and journalistic communication if combined with spiritual introspection and inculcation, can bring about the much needed positive transformation in human life and society.
Mr. Soumy Ranjan Patnaik, Chairman, Eastern Media Society and Chief Editor of Odiya Daily "Sambad" made a strong pitch for 'self-regulation' and 'self--restraint' in media profession which he equated not with three other pillars of democracy but with noble professions like medical and education.
He urged the media fraternity to indulge in a lot more self-introspection with the help of spirituality & meditation so as to have the best possible balance between media's commercial interests and social responsibility. He cautioned the media professionals to protect India's culture, languages and heritage from the negative effects of social media and new communication technology.
Prof. Mansingh Parmar, Head of Journalism Dept., Devi Ahilya Bai University, Indore advocated for initiation of value based journalism training for both upcoming and working journalists and for regulation of electronic media contents, so as to bring positive transformation in media content communication to society.
Mr. Rajiv Ranjan Nag, Senior Journalist and Member Press Council of India said that in spite of pressures and challenges from various quarters to make media subservient to vested interests, mass media professionals should be careful and cautious not to compromise their core journalistic values.
Dr Maya Chakravarty, Director, Symbiosis Institute of Media & Communication, Bangalore expressed her full faith in self-regulated mass media including social media, to lead positive transformation in society with the help of spirituality.
While Brahma Kumaris Media Wing Chairman, B.K. Om Prakash spoke about objective of this Media Conference to empower media professionals to work as catalyst for social transformation, B.K.Karuna, the Multi-Media Chief of Brahma Kumaris in his welcome speech urged the media to work more for inner empowerment so as to be able to contribute positively toward making India fully developed enough to become 'Vishwa Guru' in all fields including spirituality.
Senior Rajayoga Teacher Brahma Kumari Sheilu conducted mass meditation while B K Mruthyunjaya, Executive Secretary of the Institution briefed the gathering about several ongoing value based projects of the Brahma Kumaris such as "7 Billion Acts of Goodness", "Clean the Mind & Green the Earth" and different courses on "Value Education & Spirituality".

Visit of Mr. Klein and GIZ Delegation to BK Gyan Sarovar, "India One" and Shantivan, 17-18 September, 2014
22 September 2014
On the 17th and 18th of September, 2014 WRST and BK solar team was honoured to host a GIZ Delegation in Abu.
GIZ, the Deutsche Gesellschaft für Internationale Zusammenarbeit (GIZ) GmbH is a federal enterprise that supports the German Government in achieving its objectives in the field of international cooperation for sustainable development.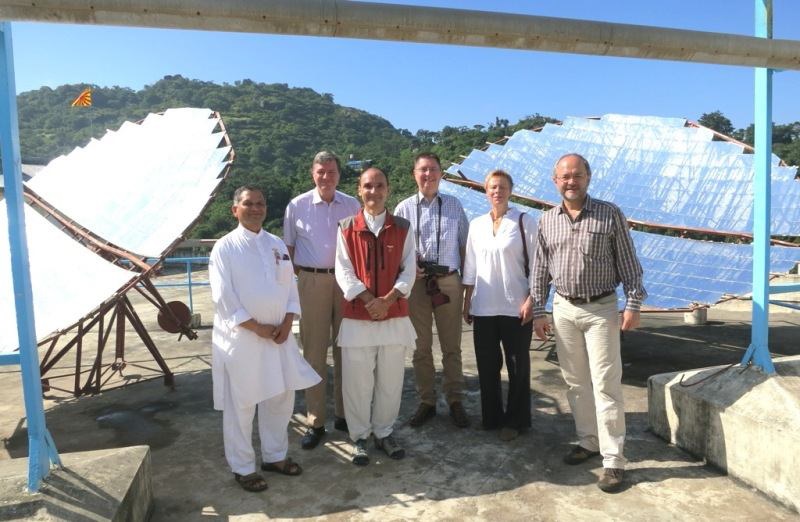 For WRST "India One" Solar Thermal Power Plant Project, GIZ has been an execution and development agency of the German government, the Federal Ministry for the Environment, Nature Conservation, Building and Nuclear Safety (BMUB), that provided significant part of the project funds within the "ComSolar" Indo-German Energy Programme (IGEN). Read rest of report here.

Inauguration of Cultural Conference cum Silver Jubilee Finale at Shantivan, Abu Road (Raj), 12 Sept to 16 Sept 2014
Theme: Time to Receive God's Power for Value-based Art and Culture.
22 September 2014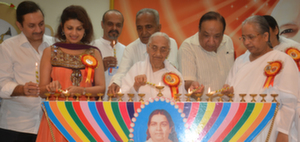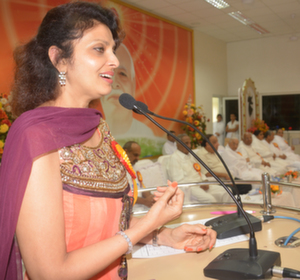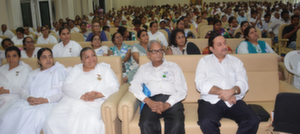 Peace of Mind Global TV Channel
17 September 2014
To the dearly loved children of our most beloved Mother and Father, BapDada, our instrument teachers who instill zeal and enthusiasm in everyone by sharing sustenance filled with spirituality, thereby keeping oneself and others free from obstacles,
Please accept sweet loving remembrances from BK Karuna.
With great happiness, zeal and enthusiasm, I wish to specially convey today that with the elevated wishes of all our senior sisters of Bharat and abroad, and that of the entire Brahmin family,our sweet Baba's 'Peace of Mind' Channel has finally been granted a license by the Indian Government! Yes indeed, it has now become a Registered Channel and will enjoy the same rights as the others. Up till now, Peace of Mind was being presented through Vision Shiksha TV Channel. But this is no longer needed as we now have obtained our own license. Hereon, you will be able to view the designated Peace Of Mind Logo on the upper right side of the screen. We can now request Cable Operators in any city and country to televise our Channel.
All of you must be aware that at present the Peace of Mind Channel is available on the 3DTH Operator Network, the Names and Channel Nos of which are as follows:
1. Videocon D2H 497
2. Reliance Big TV 171
3. Airtel Digital TV 686
Apart from the above, till date our Channel has reached millions of homes through a range of small and big Cable Operators across Bharat. Additionally, it can be viewed sitting at home in any corner of the world with 'Roku Box' and 'Reliable Box'.
In a few days, Peace of Mind Channel will be made available on the well-known DTH Tata Sky Operator.
It gives us great joy to share that according to the TAM (Television Audience Measurement) Report, Peace of Mind Channel is as much liked by audiences as are Aastha and Sanskar Channels! If we continue to have your support and cooperation, that day is not far away when 12 million Indians will wish to view this Channel every day!
Multi-million fold thanks to everyone for your good wishes and sincere cooperation!
In the sweet remembrance of our sweetest Bapdada,
Your Obedient Servant,
Rajyogi Brahmakumar Karuna
Information & Public Relations
PEACE OF MIND TV
Radio Madhuban 90.4-FM
+91-94141 53999/93999
Land Line 02974-228111

Letter of remembrance from Dadi Janki in Madhuban and Bhog message conveyed by BapDada when Dadi was in the Mumbai hospital
11 September 2014
To those merged in the remembrance of dearly beloved Avyakt BapDada,
Our instrument teachers and all sisters and brothers who are the decoration of the Brahmin clan, please accept remembrances filled with spiritual love from our unlimited home, Madhuban.
Yesterday, Jayantiben sent you a message conveying Dadi Jankiji's loving remembrances and all the news of Dadiji's health. Today when I went to meet Dadiji, she was sharing with a lot of happiness, "I have come to my home in Shantivan! Just look at my room and see how Baba, Mama and others are sitting with me (Dadiji was looking at the various photos of Baba in different poses put up in her room with a lot of love while saying this). No one has a room like my room." Then Dadiji said: In the drama, the accounts of this body have become instrument to serve many souls. So many souls have come close to Baba. My one elevated feeling for the entire Brahmin family is that the knowledge that our sweet Baba has given us should be visible through each one's life. May each of Baba's children become so powerful that all waste is finished forever. Baba served up to the age of 93; Baba has till now kept me in this body and whatever service Baba wishes for me to carry out, He continues to do.
Dadiji is drawing our attention to some special points:
Dadiji reminded us of how Baba gave her the name 'Janak', the one who is videhi (bodiless) and trustee, so Dadi always pays attention to this. Let all of Baba's children always pay attention to:
1) Baba, this body belongs to You. You may use it as You wish. I will remain bodiless.
2) The mind cannot remember any one else apart from the one Baba. Let there be no waste thoughts in the mind.
3) Just as Baba did not deal directly with money, similarly Dadi too has never handled it: whatever any soul wishes to offer for a worthwhile cause, it is given here and accumulated in the Yagya.
4) Our relationships are the best, but no relationship can ever bind me.
5) Let our thoughts be so good that they serve the globe of the world.
6) Baba is enabling me to use my breath in a worthwhile way. There is only the remembrance of One in every breath.
7) Matters of the past cannot enter my awareness at all. Whatever has happened up till yesterday has passed by. Baba says, "Child, do not think about the past." There is no chinta (worry) or mamta (attachment).
Then Dadi shared with Jayantiben the eight points of knowledge and said, "The Knowledge of Soul, Supreme Soul, and Eternal Home lift us away from the body, the world and relationships. The knowledge of Tree teaches us to sit in tapasya. Knowledge of the Cycle reminds us of the confluence age. The Ladder tells us it's time to go to Baba… Madhuban, Baba and Murli are constantly merged within. One can be liberated from waste when this essence of knowledge is spinning in the intellect."
Dadiji said, "Just look at how much love Dadi Gulzar has for me. She spent time with me in the hospital, and then yesterday she shared loving remembrances from Baba which enabled me to return to Madhuban." Dadi left the hospital at 10am on Wednesday morning, and reached Shantivan by 10pm! It is due to the good wishes of all of Baba's children. Dadi continues to receive your loving letters, emails and phone calls. All of you have sent the sakaash of very, very elevated thoughts and feelings, and it is with the power of this that Baba enabled me to reach Shantivan. Dadi then gave her remembrances from the heart for everyone.
Achcha, loving remembrances to all!
In Godly service,
B.K. Raju (Madhuban)
Short Message from BapDada (through Dadi Gulzarji) whilst Dadi Jankiji was in hospital (10 September 2014)
Today, I carried Dadi Jankiji's loving remembrances and went to Baba. I saw that Dadi was already there before me, and Baba was giving Dadi lots of lots of love. Baba then said, the child continues to receive Baba's love and good wishes of the entire family. It is with this that the child is moving ahead, and will continue to move on. Baba's love was such that it was as though it was finishing all of Dadi's pain. Dadi was merged in Baba's love. Baba also gave lots and lots of love to all of Dadi's service companions (carers) as well.
Today, when I went to Baba, I saw that my sweet Dadi was already merged in Baba's lap. Baba was sharing love by gently patting her with a lot of love. Then Baba said: This child is courageous. No matter what condition the body is in, but she has good courage. She is giving everyone the inspiration to become equal to the Father. Baba is constantly merged in her heart. Baba is for sure helping the child. Baba gave lots and lots of remembrances to Hansaben and Pravinaben and said that they are serving with lot of love. Then Baba sent lots and lots of love for everyone.
Baba emerged Dadi in the subtle region, gave her lots and lots of love and said, "The child has passed the paper of tolerance." Baba gave such love from the heart that it was as though both became one and became merged in love. Baba merged Dadi in both his arms, and it appeared as though both had become one.
OM SHANTI

Dadi Jankiji back in Shantivan
10 September 2014
Dear Jewels of Baba's family in Bharat and abroad,
Loving greetings from Shantivan!
The good news is that with Baba's help and everyone's love and good wishes, Dadi Janki has now returned to Shantivan (Wednesday night). 9th night was the last procedure. This morning, all the staff came to take toli from Dadi. All the main doctors ,who were deeply touched by Dadi's presence, were there to take leave of Dadi. Dadi Gulzar came to the airport to see Dadi Janki off. The two Dadis met each other with a lot of love.
Early this morning, Dadi Gulzar brought a message from Baba saying that Dadi Janki is His very special child. Baba of course is going to be helping Dadi and she'll get well. Even if it takes a little time, she is definitely going to get better.
With the power of that message, Dadi Janki then had the courage to travel. Dadi was supposed to travel by chartered flight straight from Mumbai to Abu Road. However, the weather conditions in Mumbai were of monsoon rain, and the flight path along the journey would have been through stormy clouds and rain, so the small aircraft wasn't able to travel. We had to switch plans and come by regular flight to Ahmedabad.
From the airport, Dadi and her entourage came by road all the way to Shantivan. Rameshbhai also accompanied Dadi Janki from Mumbai to Shantivan.
Dadi Ratan Mohini, Munniben, Karunabhai and the family were here to receive Dadi Janki. Dadi will now be resting.
Thanks for continuing to send loving vibrations and good wishes for Dadi's health.
In Baba's sweet remembrance,
xxxxxxxxxxxxxxxxxxxxxxxxxxxxxxxxxxxxxxxxxxxxxxxxxxxxx
Dear loving sisters and brothers around the globe,
Please accept hearty Godly love and remembrances.
Thanks for your good wishes for Dadi Jankiji. As you've heard Dadiji has returned home. Dadiji is great, and Baba will continue to take care.
Due to the activity over the past few days, especially the high-level Heart Surgeons and Specialists' Conference we recently had in Shantivan, I became a little over-busy. Additionally, a small change in my eating routine also worked adversely, and I had to take help from Dr Satish Guptaji by staying overnight in the Trauma Centre (9 September night). I returned to my Cottage this morning, and am now doing well. I hope to be as active as ever very soon. Thank you for your good wishes.

Important News regarding Dadi Jankiji's Health from Br Nirwair
7 September 2014
Dear Jewels of the Brahmin clan,
Please accept hearty Godly love and remembrances from Shantivan.
This is to update everyone on beloved Dadi Jankiji's health. Dadiji took to ill health on 3 September, and her gastrointestinal doctor in Mumbai recommended she be brought for check up immediately. Dadiji was flown by chartered flight on 4 September to Mumbai.
Dadi Jankiji was in the ICU for 24 hours and was shifted to a private room today. Dadiji has been losing blood and the doctors are trying to see where the problem is. More tests will be done tomorrow, but for the moment Dadiji is being given blood transfusions.
Dadi Gulzarji flew over on Thursday to be with Dadiji, and so her presence has helped Dadi Jankiji a great deal and given her the sense of Baba's presence. There has been pain due to the troubles in the intestine, but with everyone's loving good wishes, everything will surely be fine.
We continue to send our loving sakash in Baba's remembrance to our beloved Dadi Jankiji. We'll keep you updated on Dadiji's well-being.
The worship of Lord Ganesh is taking place with full force in Mumbai. Tomorrow is the final immersion of the 2000+ Ganesh idols into the ocean. So a lot of bhakti is going on at one side, while a lot of silence and yoga on the other…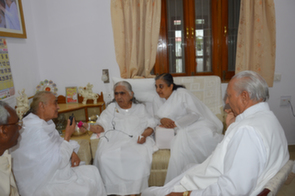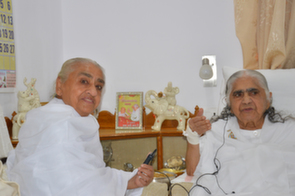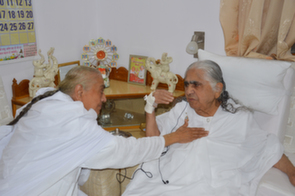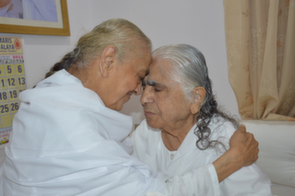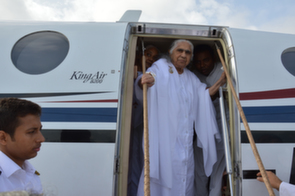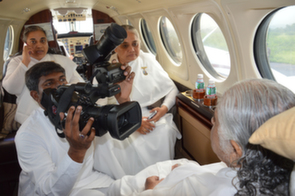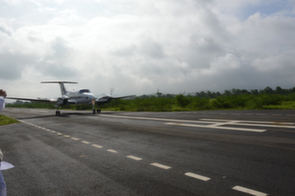 Our Beloved Dadi - Recent Photos
5 September 2014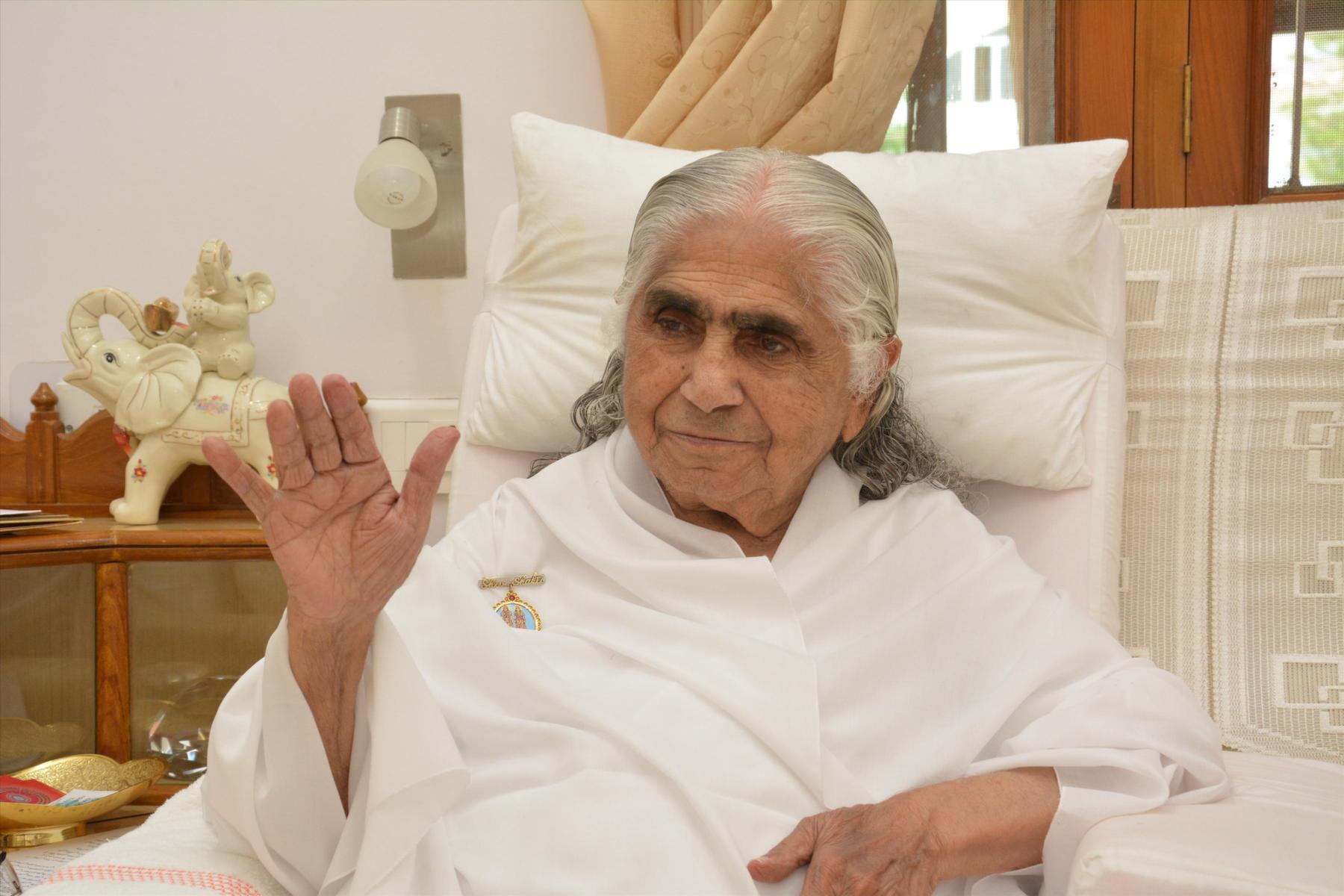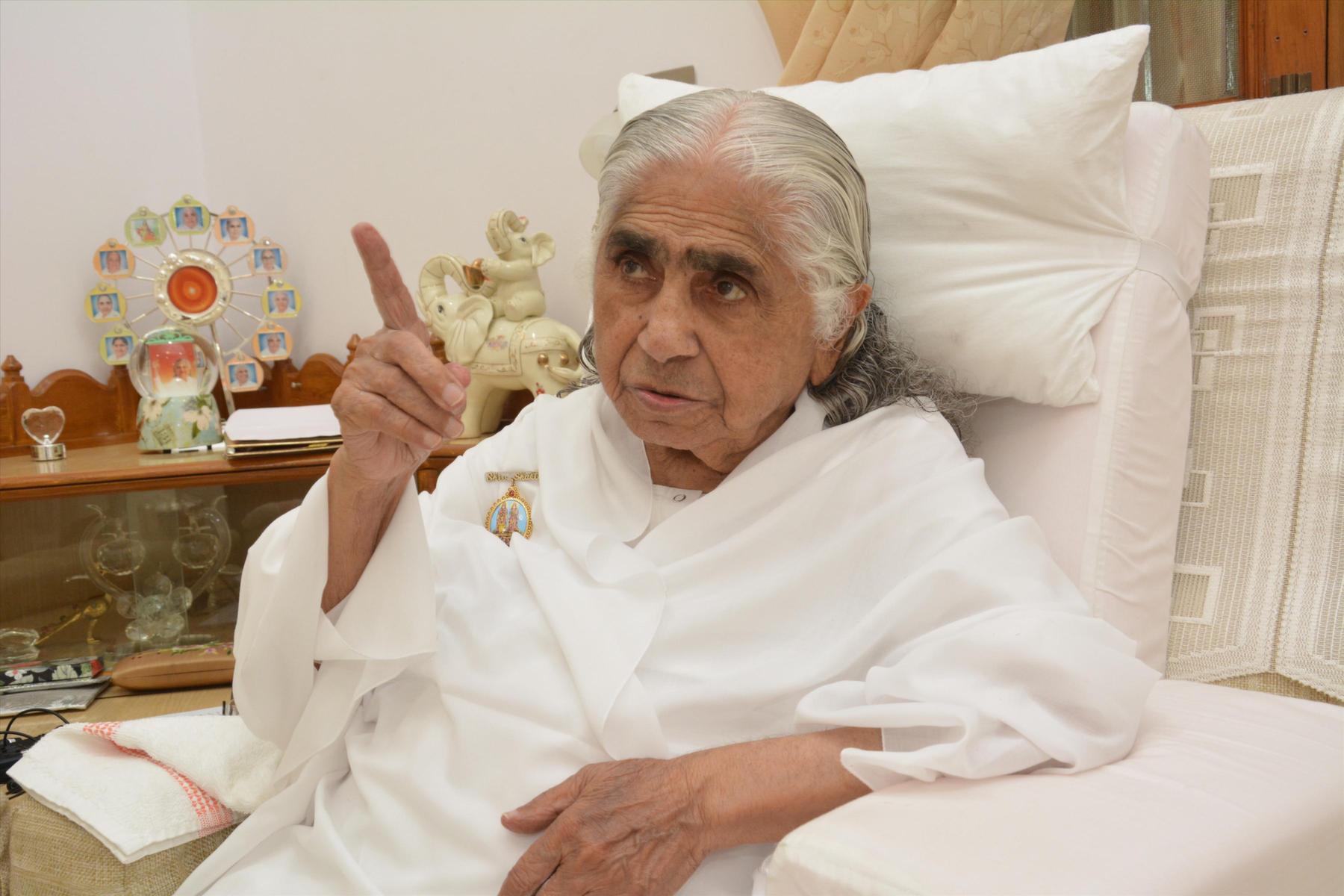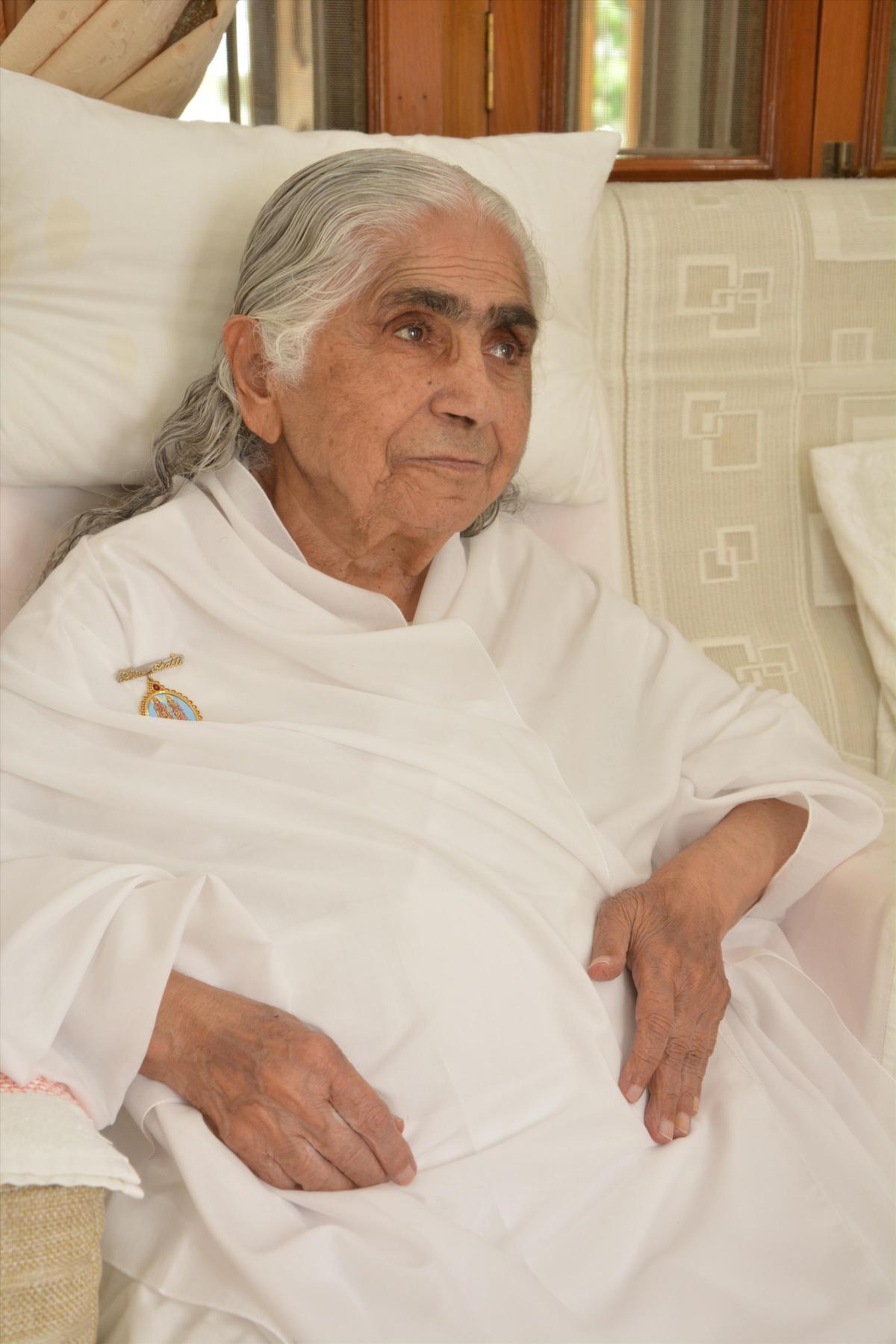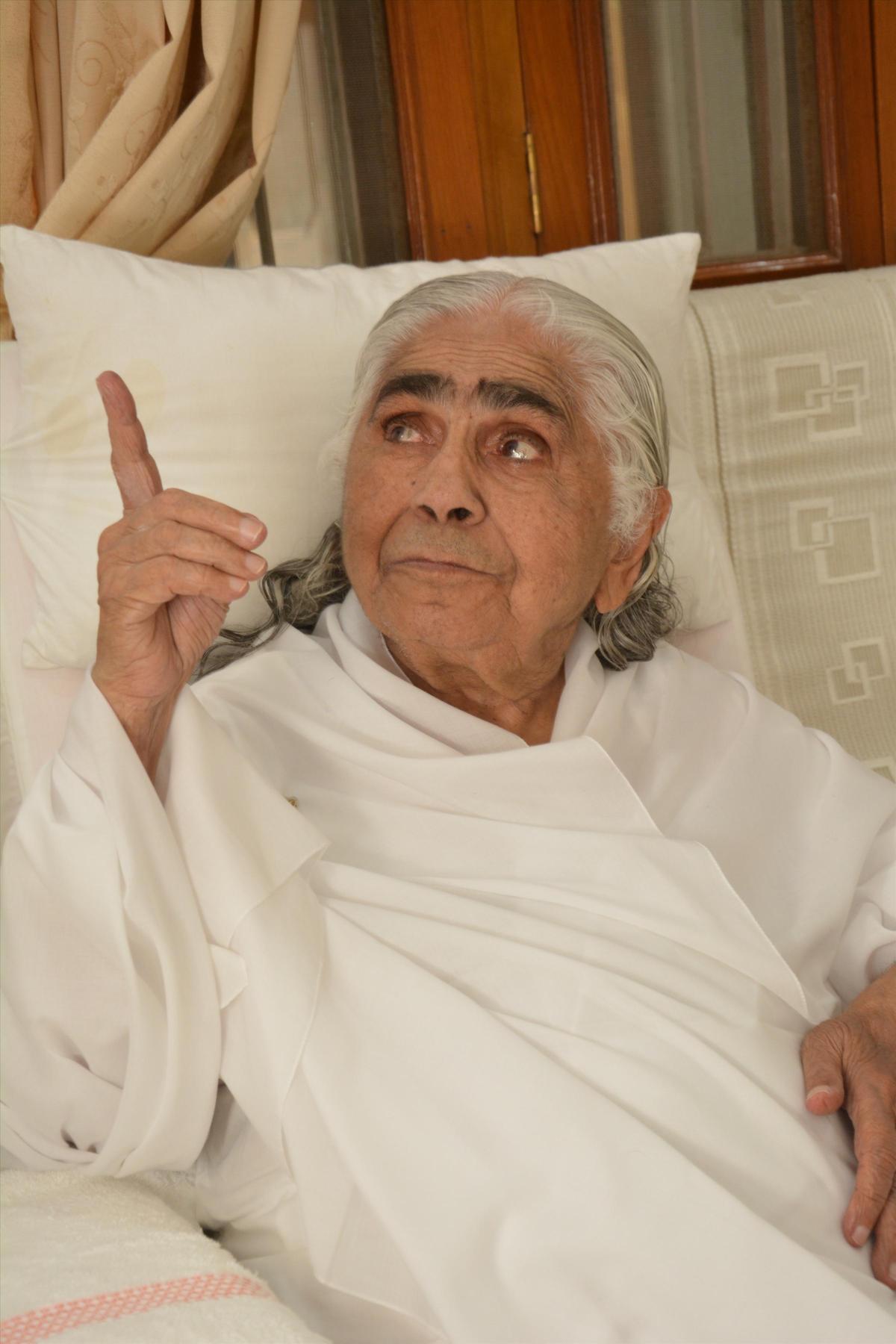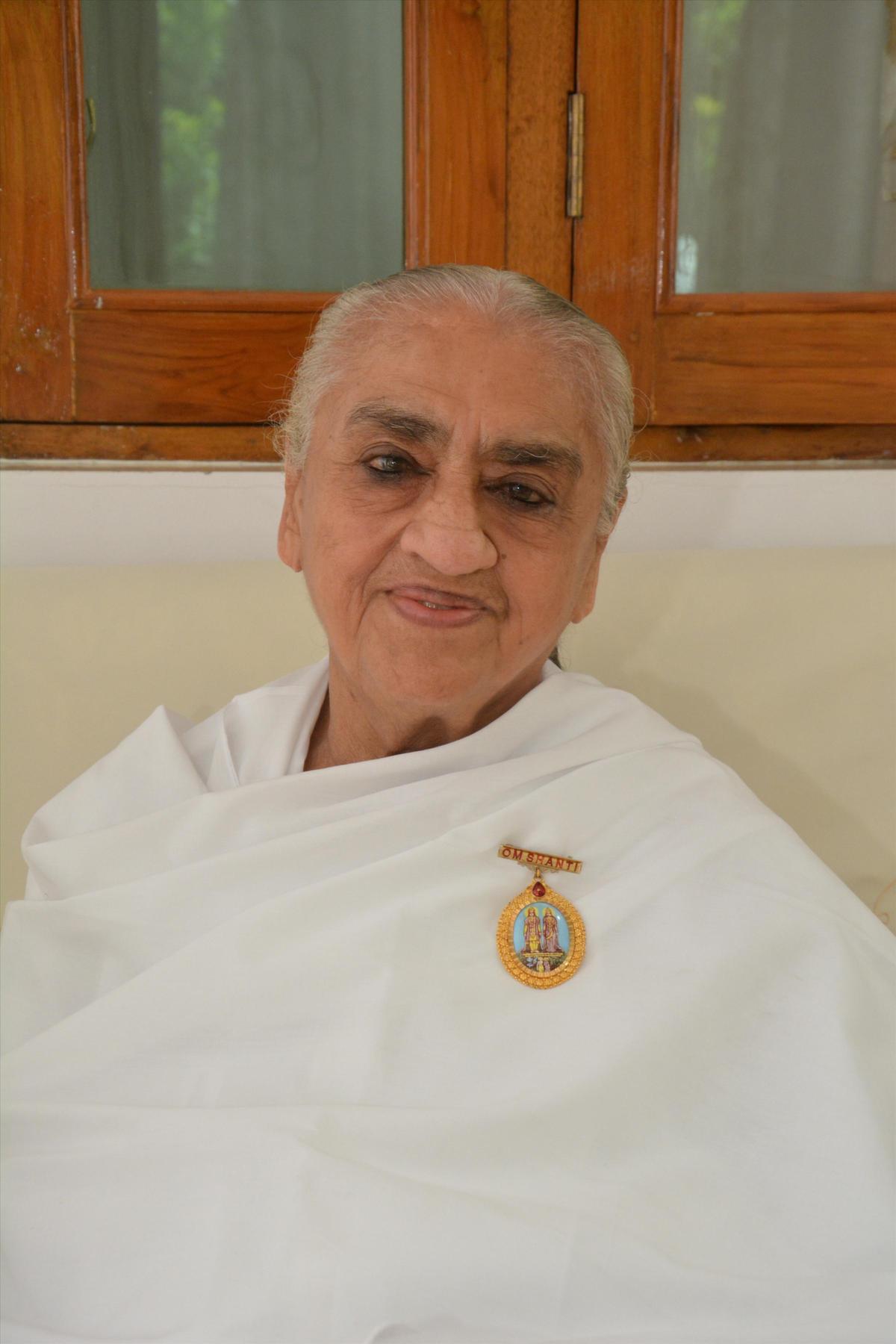 Brother Nirwair speaking to doctors on 5th September
5 September 2014
How long were you smiling throughout the day? When we discuss serious subjects it sometimes becomes difficult to smile. No matter how important a discussion may be, speak with lightness and a smile. Then anything is easy to solve. Keep your thoughts light, positive, focused and free from waste. Sometimes we enter into discussions where we feel to be wasting our time. In spiritual parlance, if your consciousness is pure and light you can raise it to any height. When we think about the power of silence, it is the power we are able to regain in silence. The first aspect of power is how to generate it and then how to use it.

Youth Wing Conference at Gyan Sarovar - Mount. Abu (August 29 - September 2) - Press News and Photos
2 September 2014