2014 Jly to Dec India News Archive
2014 Jly to Dec India News Archive
Report on Delhi Megaprogram: Its Time To Receive God's Power For Great Transformation
30 December 2014
"Respect Women for Peace & Progress in Society"-Mrs. Lalita Kumarmangalam.
"Women are doorways to heaven"-Shankaracharya Omkaranand.
"Pledge for self-change to bring world change"-B.K.Shivani.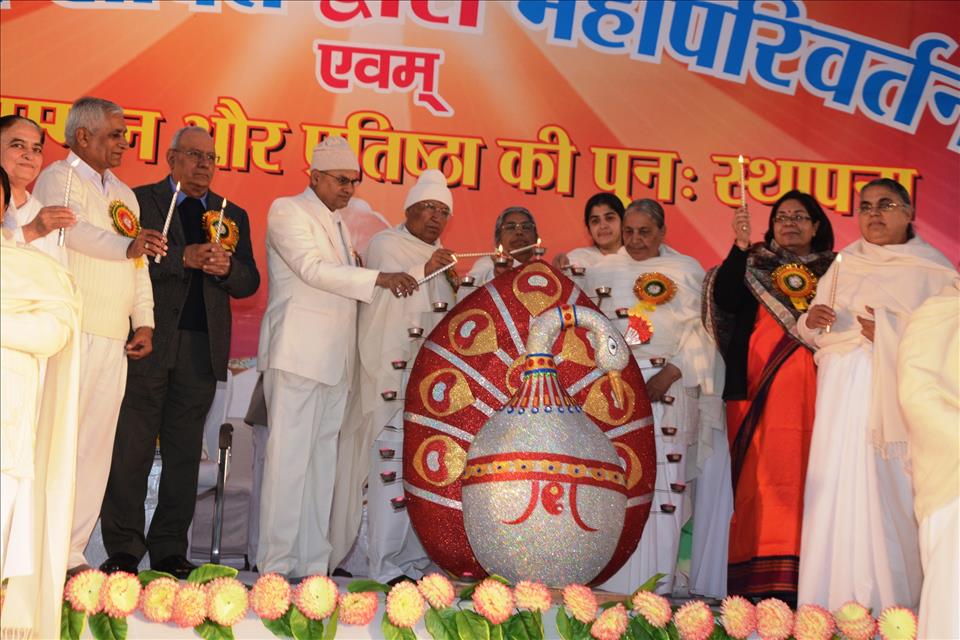 New Delhi,Dec-29: A series of Mega Programs on "Its Time To Receive God's Power For Great Transformation" organized by the Brahmakumaris institution in and around Delhi during last several months, concluded in a public function held at Radission Blu DDA Ground, Paschim Vihar here last evening.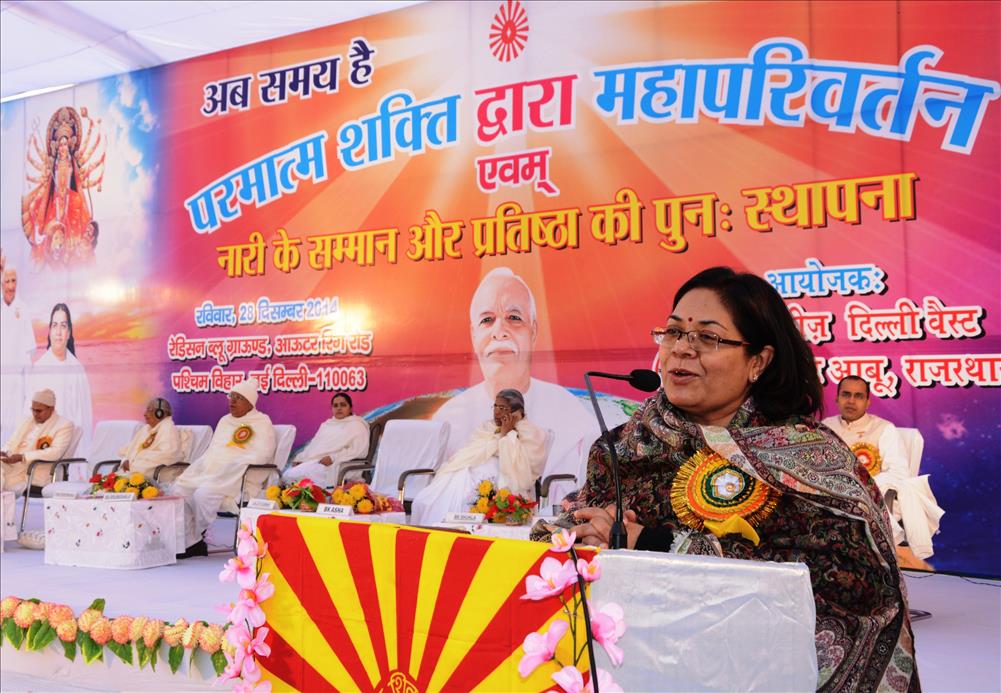 Mrs.Lalita Kumar Mangalam, Chairperson,National Commission for Women as Chief Guest in the function said that by treating women section with respect & dignity in all walks and segments of society, we can experience peace, progress & prosperity in every sphere of life. She said not mere change in women dress code & mode can contain crime against them, rather transformation in people's mindset, attitude & behavior from vicious to virtuous, held the key. In this direction, she called for cooperative and collaborative efforts by both men & women to live in love, harmony & respect for each other.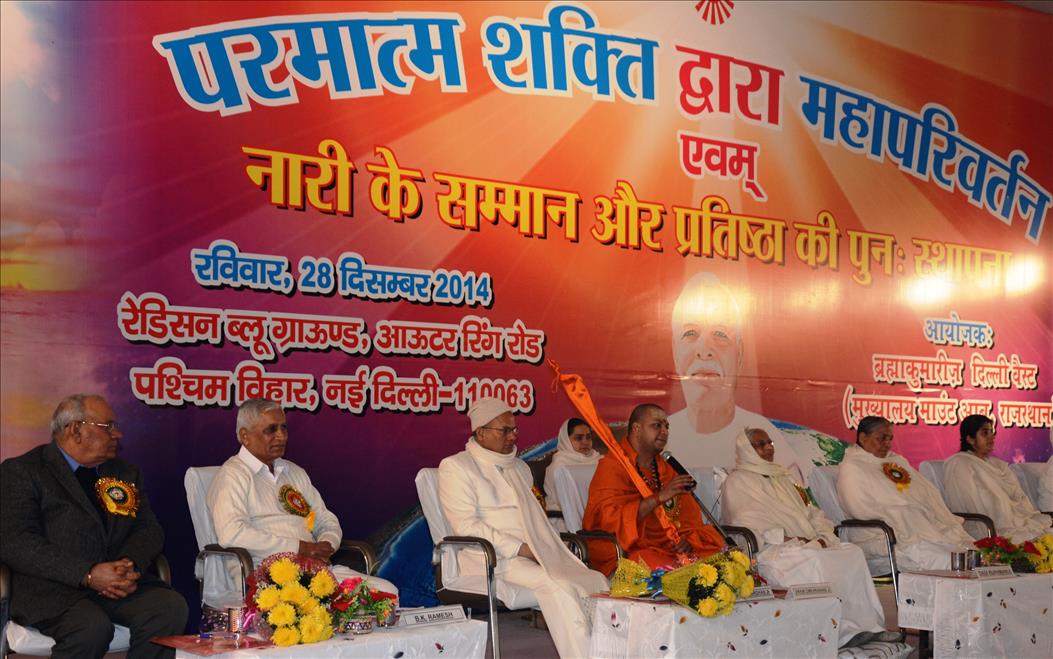 As Special Guest, Jagatguru Shankaracharya Omkaranand, Head of Prayag Peeth from Allahabad said that women as wives & mothers, procreate & nurture human beings. He said according to Sanatan Dharma & Culture, female power is worshipped as Shivshakti's & deties because at some point of time they must have served as God Shiva's divine instruments to establish heaven on earth. He said that time is now when, incorporeal Supreme Soul Shiva's spiritual knowledge on universal Brotherhood & 'one-world family' ideals are being practiced & popularized by the Brahma kumaris across all continents, to re-establish divine deity culture & civilization on earth.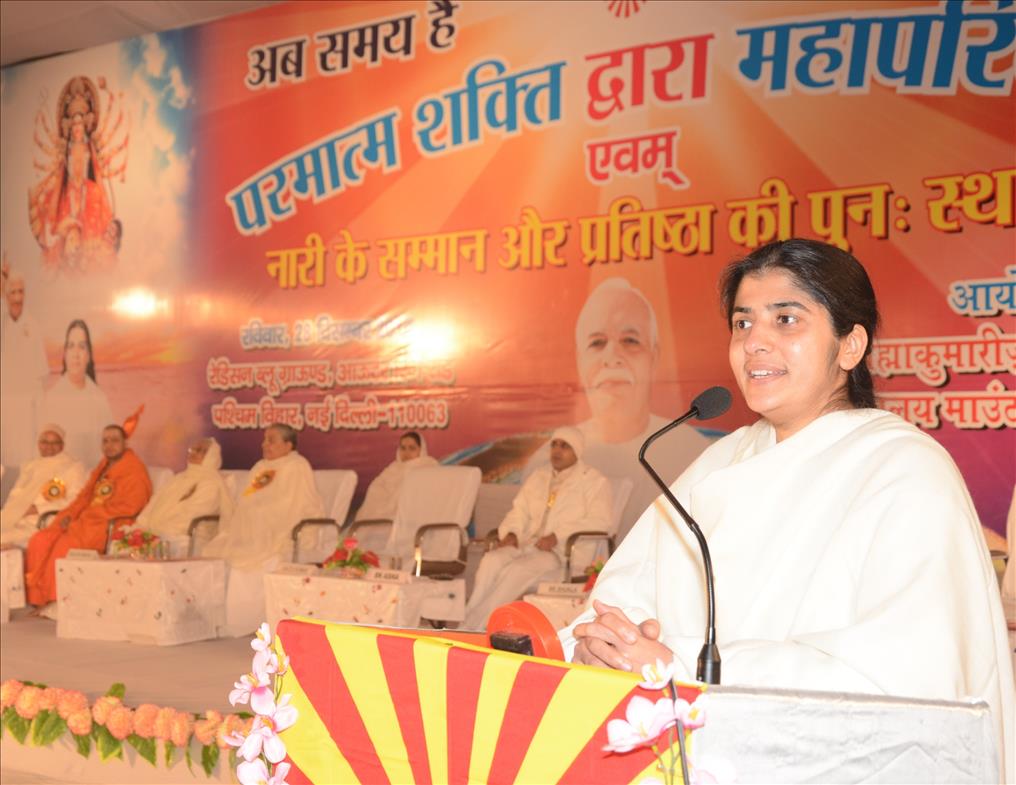 Spiritual Motivational Speaker B.K.Shivani administered the audience a Pledge in self change i. e. not succumb to negative traits of anger, aggression, revenge & criticism but to cultivate the culture of giving, forgiving & behaving with compassion & sweetness towards fellow beings in remembrance of the Supreme Being. That will create a climate of peace, health, harmony & happiness within the self, before building similar atmosphere outside, she stressed.
Justice V Eshwaraiah, Chairman, National Commission for Backward Classes said that there is an urgent need for character building among all sections & professions for holistic development of society. For that, spiritual education imparted by institutions like Brahma kumaris will be of immense help.
Rajyogini B.K.Asha,Senior Director of Brahmakumaris ascribing materialist & body conscious mindset as root cause of crime against women, she called for creation of a spiritual atmosphere at home, educational & professional institutions and for starting a campaign all over India to ban all advertisements containing obscene projection of female figures.
Prof.Ranvir Singh,VC,National Law University advocated for restoration of India's declining culture & heritage through moral & spiritual orientation of human professions.
Rajyogi B.K.Brijmohan,chief spokesman of the Brahmakumaris said that inner empowerment of women with the help of divine knowledge & meditation would enable them to become incorporeal God Shiva's Shaktis whose dedication to the cause of world transformation would make them worship worthy.
Rajyogini B.K.Shukla,The Main Coordinator of the Program said that cultivating soul conscious attitude, divine virtues, simple living, good character & conduct are basis for building better life & world.
B.K.EV.Girish, Management Trainer & Life Coach from Mumbai explained meditation techniques to awaken one's innate qualities & powers; while local public school children presented value based cultural programs before an august gathering of about ten thousand gentry.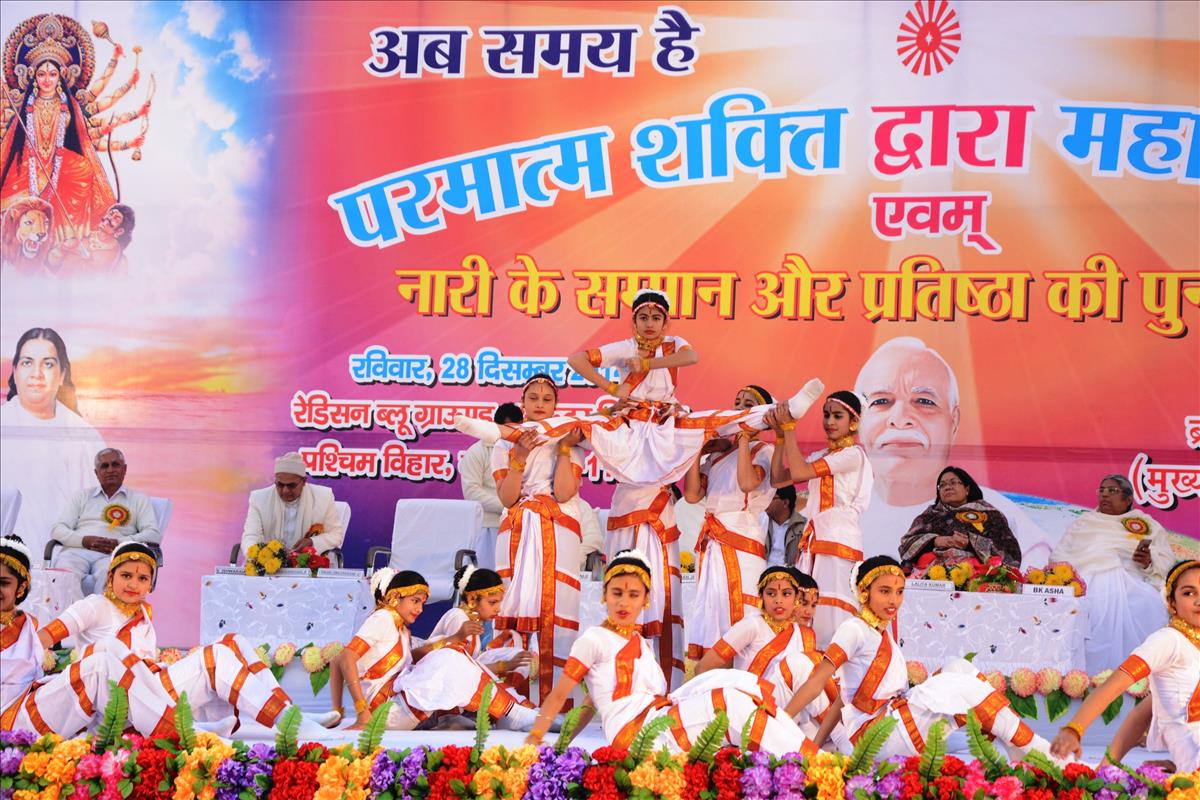 Art & Culture Wing Get-To-Gether Cum Retreat at Mysore
29 December 2014
Art & Culture Wing conducted a Get-To-Gether Cum Retreat Programme at Mysore Gyan Sarovar from 6th to 14th Dec. 2014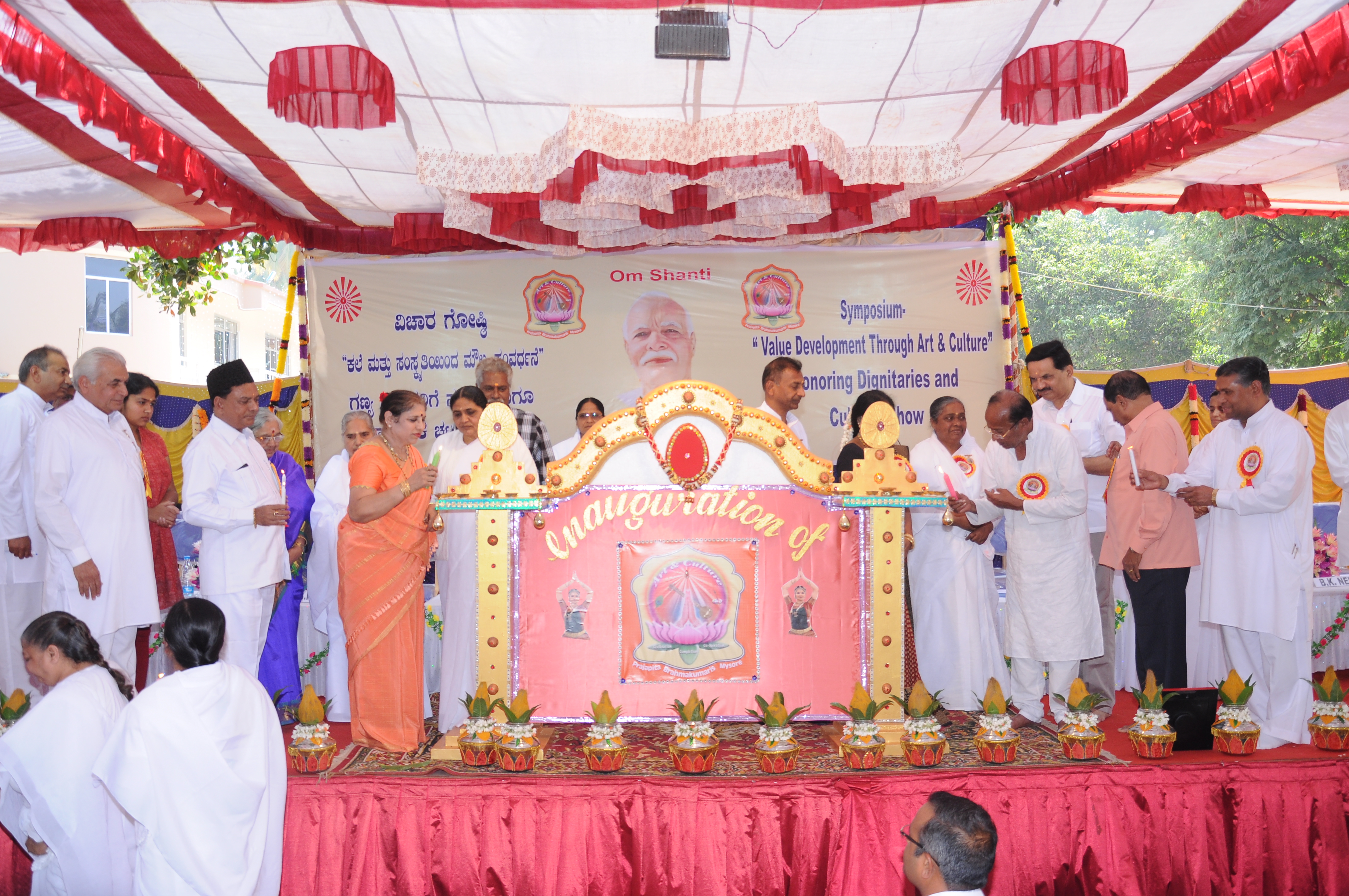 Distinguished Guests included Dr Sarvamangala Shankar, Vice-Chancellor of Dr Gangubai Hanagal University for Music & Performing Arts, Mysore.

Krishna Gowda, Professor St Philamenas College and well known Mysore Humorist, M A Wali Sab, Chairman of Anmol group of Companies, Hospet were invited for the Public Programme on 7th Dec at Gyansarovar.
Later on Famous Distinguished Artist K.C. Shivappa; well known Mysore writer, Dr Padma Murthy; Famous Vocalist in Karnataka Shastreeya Sangeet; Dr Vasundhara Doreswamy, Internationally acclaimed Bharatanatyam Dancer; Dr C. Basavalingaiah, Famous Stage Artist & Director of the National School of Drama Bengalaru; Dr P.K. Rajashekhar, well known Folkart Expert Mysore; Honavalli Krishna, well known Cine & TV Serial Artist Bengaluru; & Kumari M.N Gowri, Sand Artist were Facilitated at the public programme.

Senior Sisters National Co-ordinator of Art and Culture Wing, BK Kusum Bahen fom Chandrapur, BK Niha Bahen from Mumbai Gamdevi, BK Bhavana & BK Alpa Bahen from Delhi, BK Meera Bahen from Sunam, BK Meenakshi Bahen from Jalgaon, BK Jyoti Bahen from Pune, BK Gita Bahen from Khed, BK Usha Bahen from Tumsar, BK Shakti Bahen from Warti & BK Kamlesh Bahen from Raniya, Haryana were also present for the Retreat Cum Get-To-Gether Programme.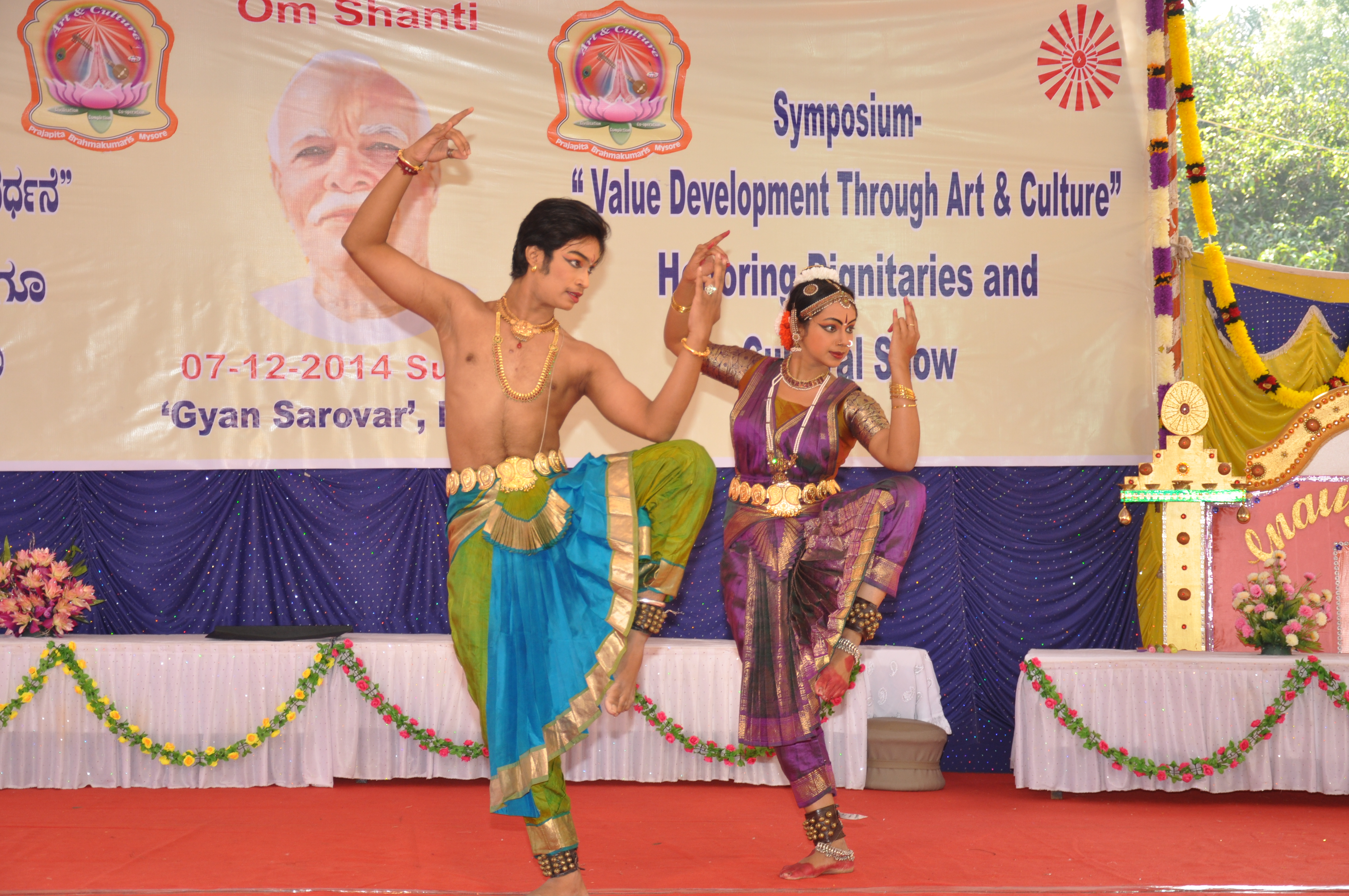 News of Sr Shivani's Programmes in Chennai
16 December 2014
Brahma Kumari Sister Shivani ji recently gave deep insights on the following topics in a series of three lectures held at Anna Auditorium:
13th Dec 2014 @ 7 am - " HAPPINESS UNLIMITED"
The inaugural session of the programme began by lighting Kuthu Villaku in the presence of Sister Beena, Sister Shivani, Sister Kalavathi, Mr. Suresh Oberoi, Mr. Sanjay Bhandari & Mrs. Bhandari. Then there was meditation followed by the talk of Shivani Behn. Later a Sharing of Experiences was conducted by Mr. Suresh Oberoi.
13th Dec 2014 @ 6 pm - " HEALING RELATIONSHIPS"
After a welcome by Smt. Anita Ramachandran of the Mitraa Foundation, the session began with meditation followed by Shivani Behn's talk and a Sharing of Experiences by Mr. Suresh Oberoi.
14th Dec 2014 @ 6 pm - " BALANCE SHEET OF LIFE"
The welcome by Dr.S.Thiruvanandan was followed with meditation, Shivani Behn's talk and a Sharing of Experiences by Mr. Suresh Oberoi.
In every session the auditorium was filled with more than 1500 participants. All the above 3 programmes received appreciative applause from the audience and thus this program a grand success.
Shivani Behn also enlightened more than 2000 souls of BK family with Baba's Gyan on 14th Sunday morning. .
Regards and Thanks again from the heart ….
IBY
Sister Beena, Chennai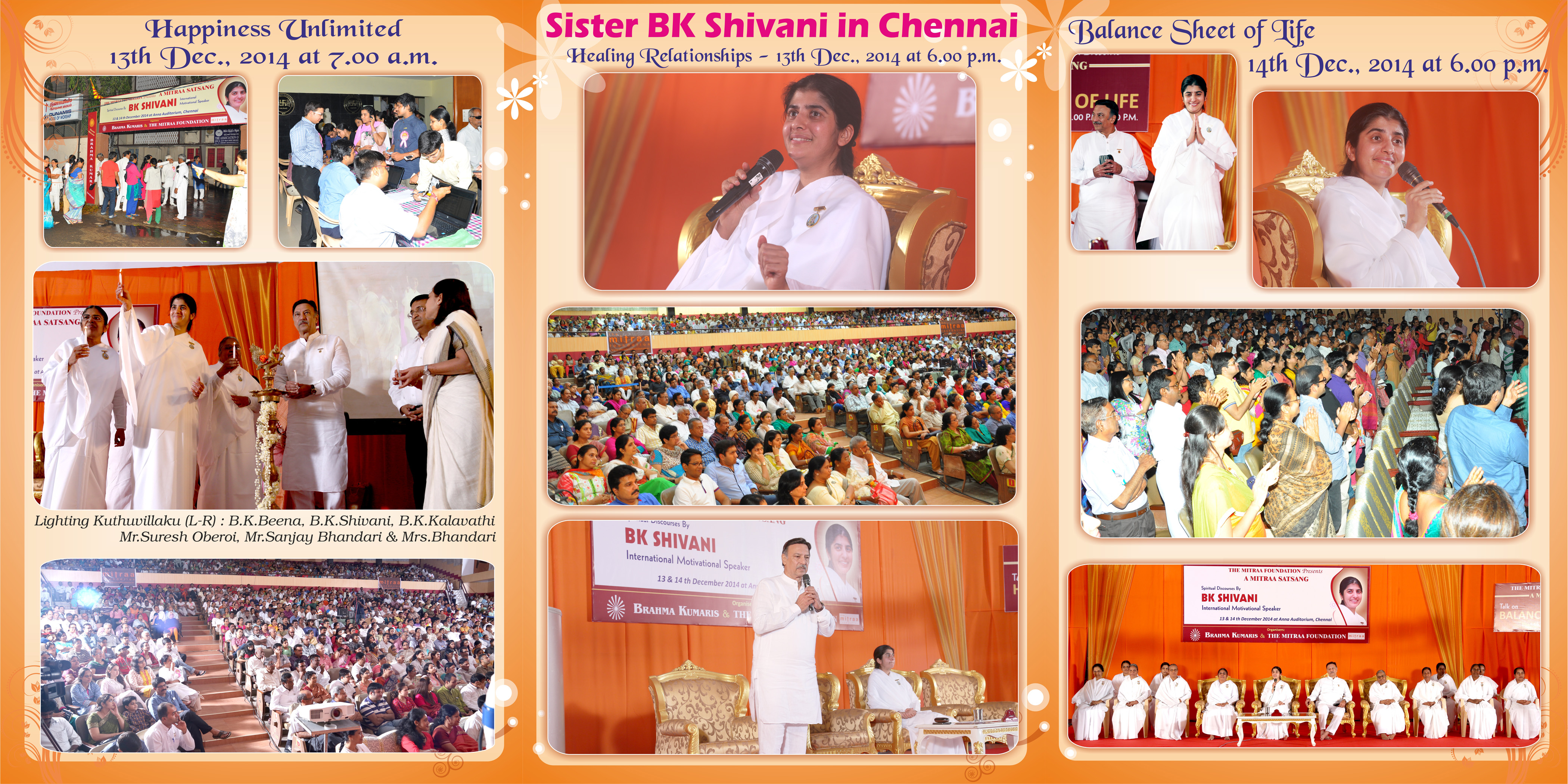 Government of Rajasthan Awards "Rajasthan Energy Award" to the BKs
16 December
BapDada's most loving and serviceable divine brothers and sisters,
Please accept greetings of Baba's love and remembrances from Madhuban. Om Shanti
We are very pleased to inform you all that, with the help of BapDada and the blessings of divine family, Government of Rajasthan has recognized our services in the field of energy and sustainability.
Shri Pushendra Singh, Hon'ble State Minister of Energy, Government of Rajasthan, has awarded Brahma Kumaris with "Rajasthan Energy Award -2014" for their exceptional contribution in the file of Energy Conservation and sustainability activities. This is another mile stone in the service history of Brahma Kumaris.
Please click here for additional news and photographs.
Thanks BapDada and the divine family for the continued support and good wishes.

Shashti Poorthi (60th Birthday Celebration) of Kuldeep Didi Ji held at Global Peace Auditorium
16 December 2014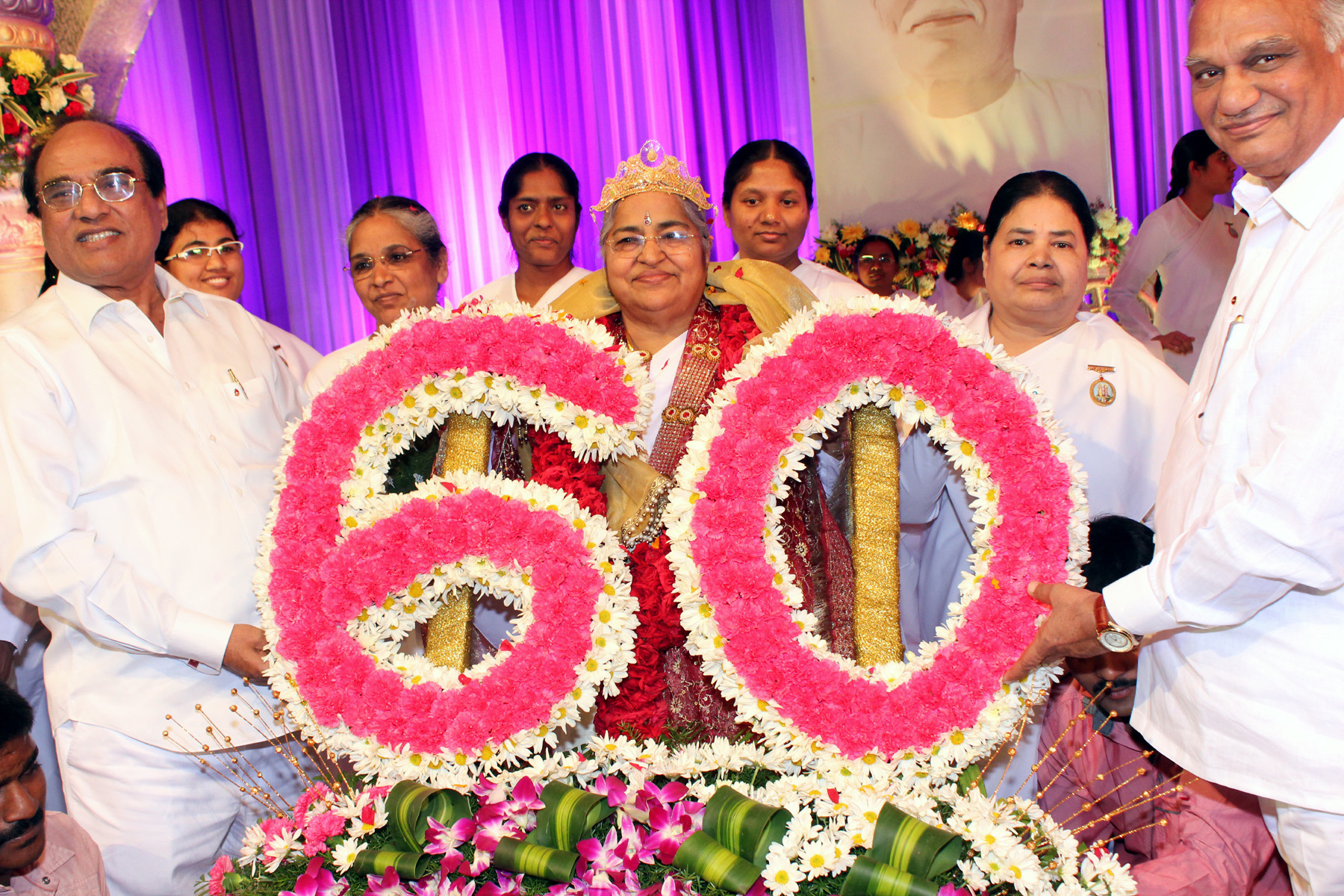 Please see other photos of this event here.

Dadi Janki Arrives at Sonepat Retreat Centre
14 December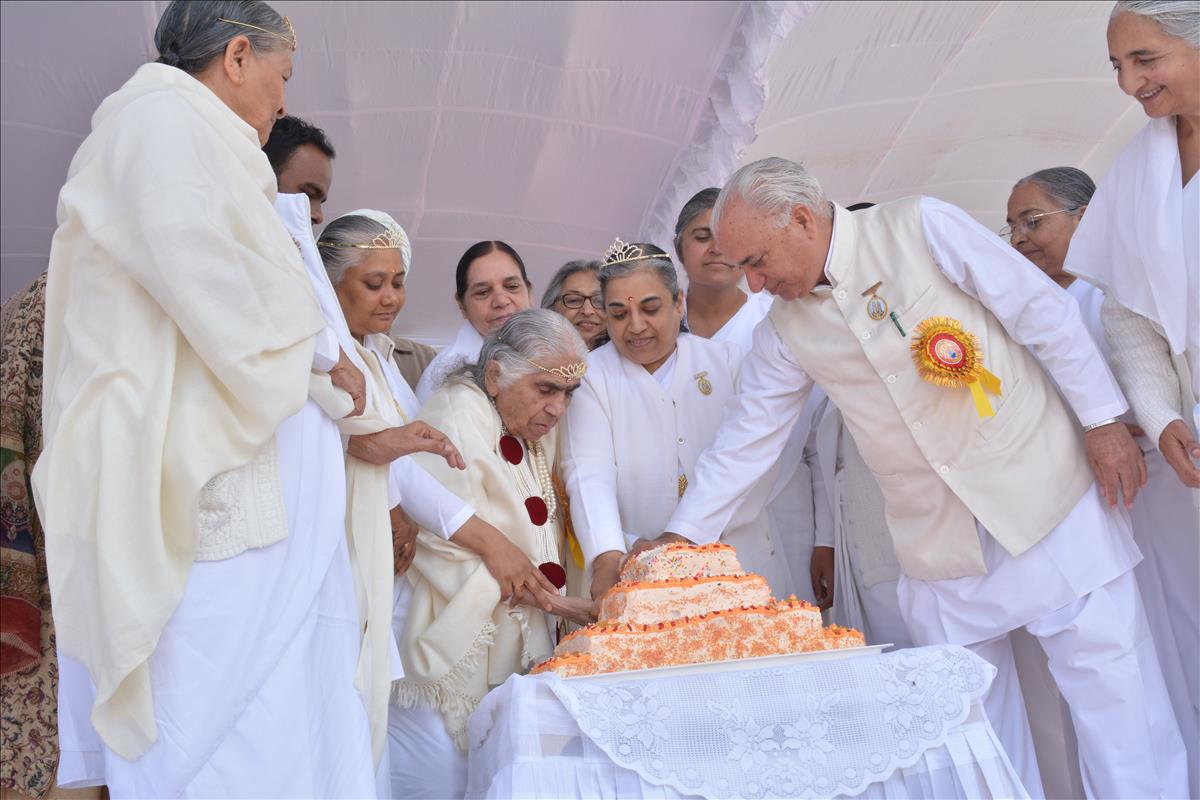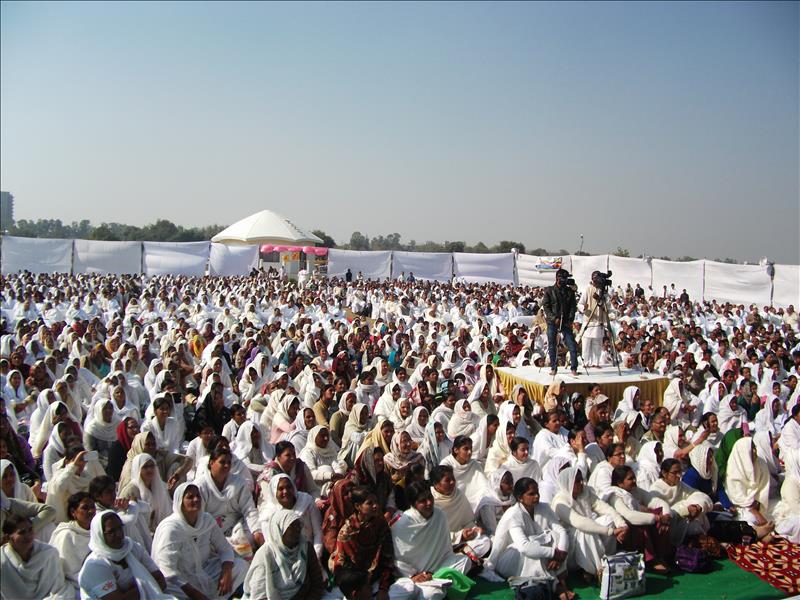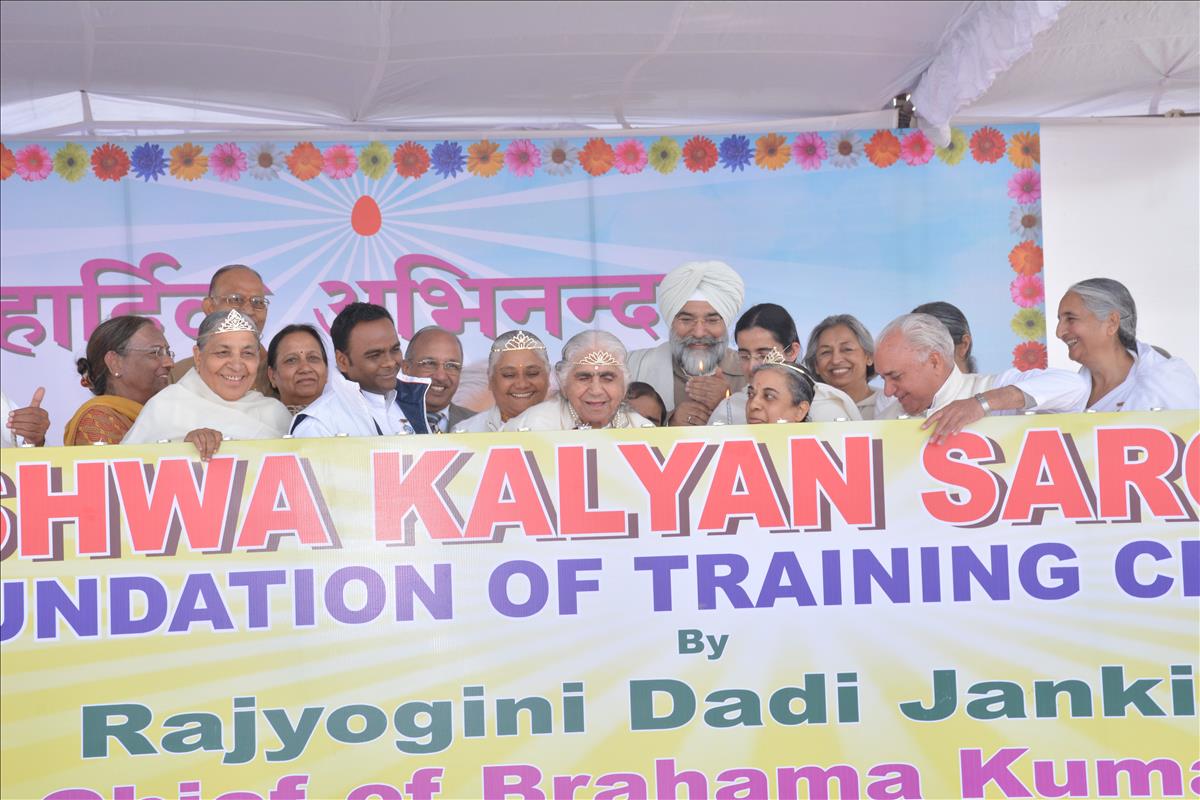 Gandhinagar Centre in Gujarat takes up Swatch Bharat Abhiyaan (Clean India Campaign)
13 December 2014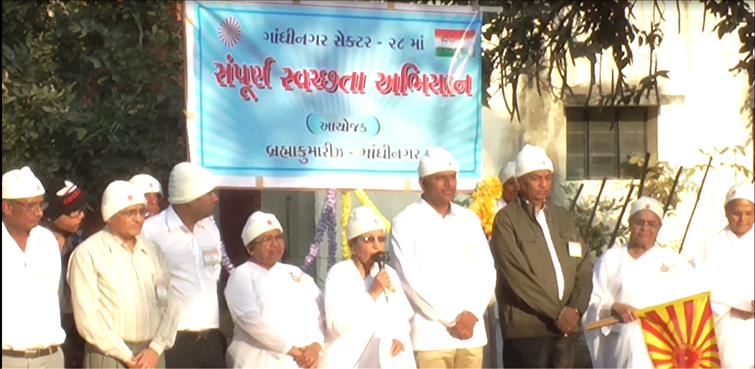 On 30th November, 2014 morning, in the presence of Res. BK Sarladidi, Zone Incharge of Brahma Kumaris Centres in Gujarat, the Gandhinagar City Municiple Commissioner & Standing Committee Chairman, the project of total cleanliness in sector-28 of Gandhinagar was started.
More than 100 Bks sevadharis joined in this Safai Abhiyan.
Sarladidiji, Kailashdidi and all guests also cleaned the area near the Gandhinagar centre.

Interfaith Conference in ORC on 6 December & Report in Hindi
11 December 2014
An interactive Inter-Religious & Inter-Faith Meet on the theme 'Towards a Violence Free Society' was organised by the Brahma Kumaris during the 13th Anniversary of its Omshanti Retreat Center (ORC) at Pataudi Road, Gurgaon on Saturday, 6th December, 2014.
Justice P C Ghosh, Judge, Supreme Court of India opened it, while Justice V Eshwaraiah, Chairman, National Commission for Backward Classes addressed it along with other spiritual & religious leaders representing Muslim, Jain, Christian, Hindu, Hebrews, Budhist communities.

Rajyogini Brahma Kumari Asha, Director of Omshanti Retreat Center presided over the Meet.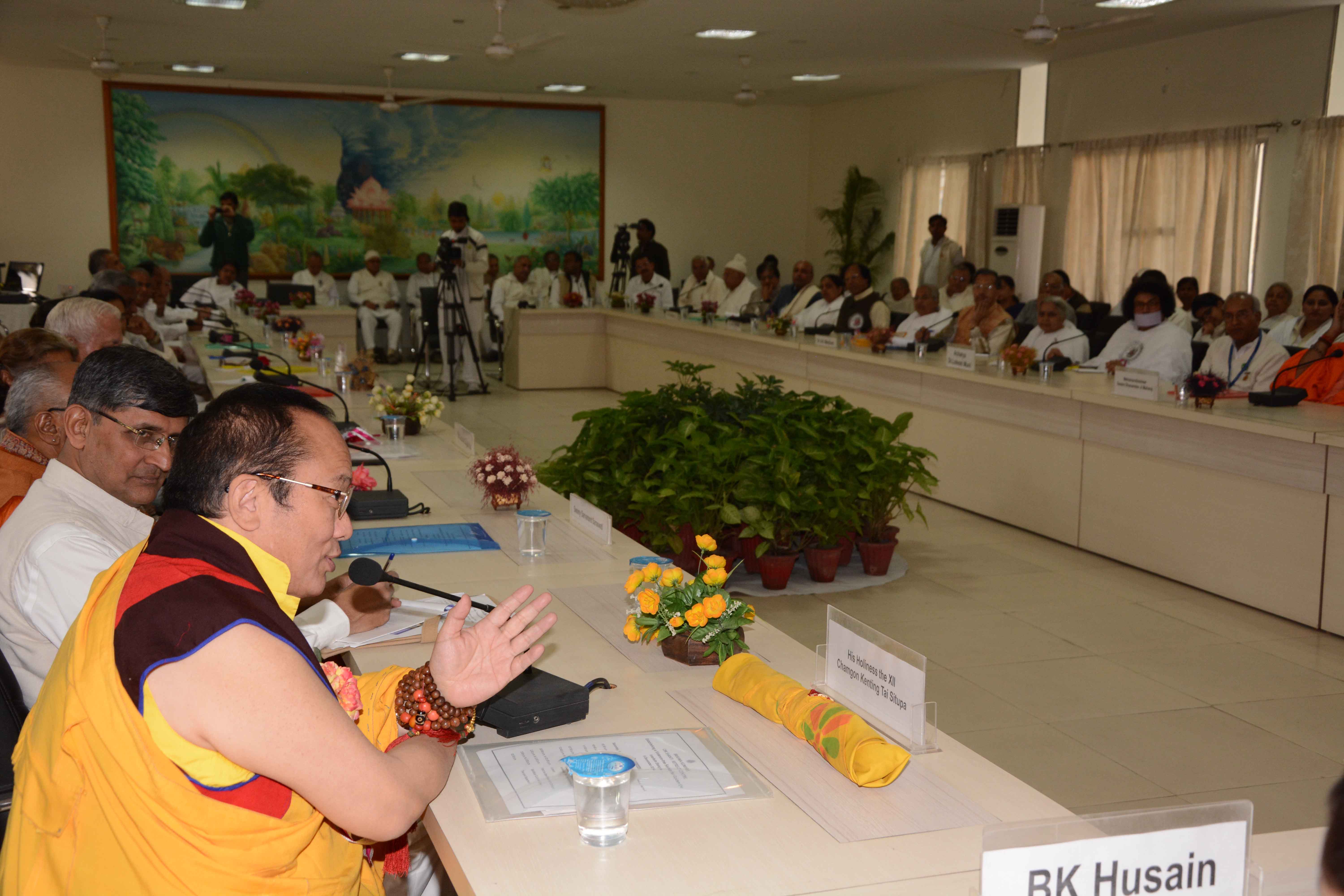 B.K.Asha, Justice P.C. Ghosh and Justice V. Eahwaraiya Chemgon Kentin Tai Situpa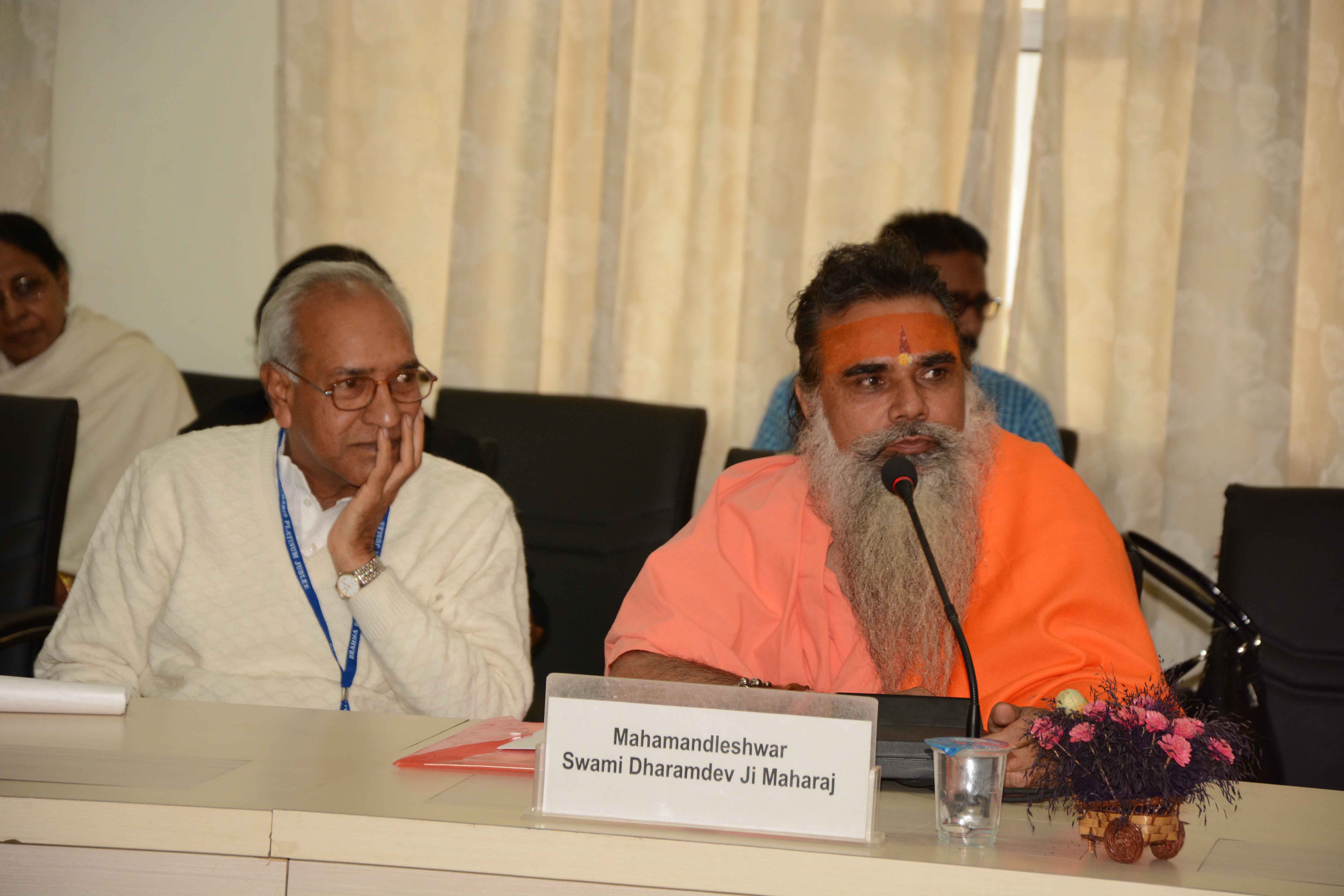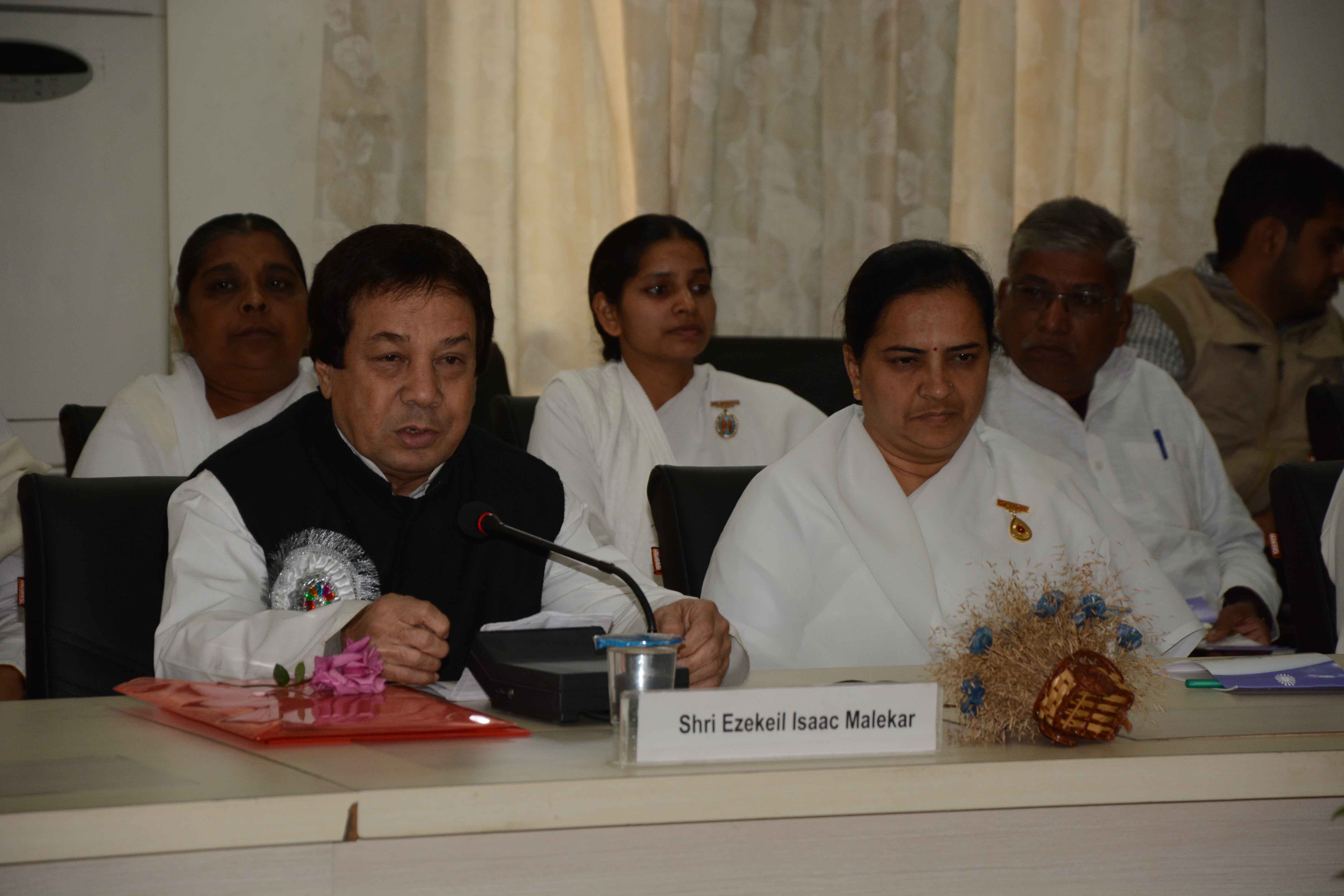 Dharamdevji Maharaj Shri Ezekeil Isaac Malekar ji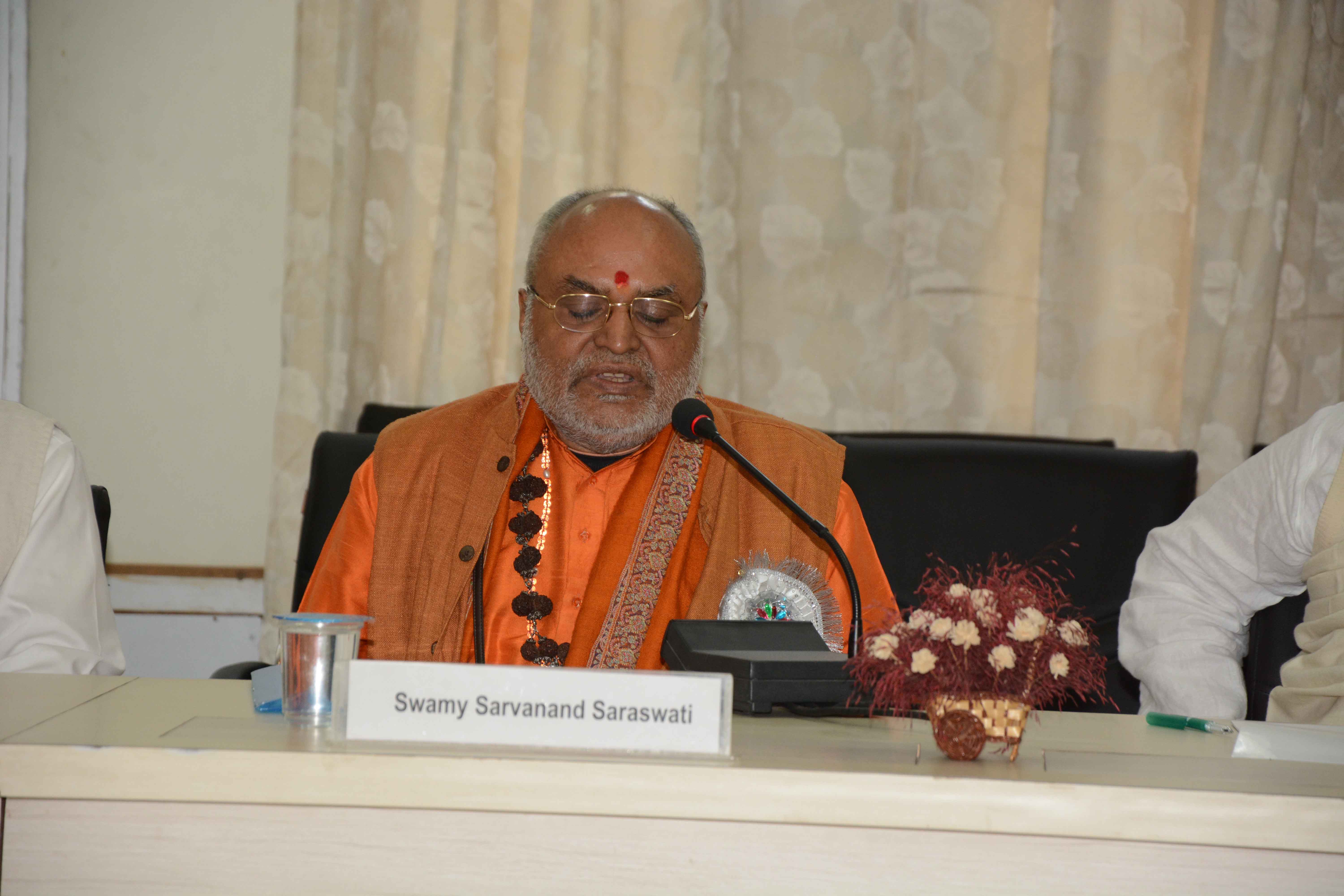 Mohammad Iqbal Mullah Swami Sarvanand Saraswati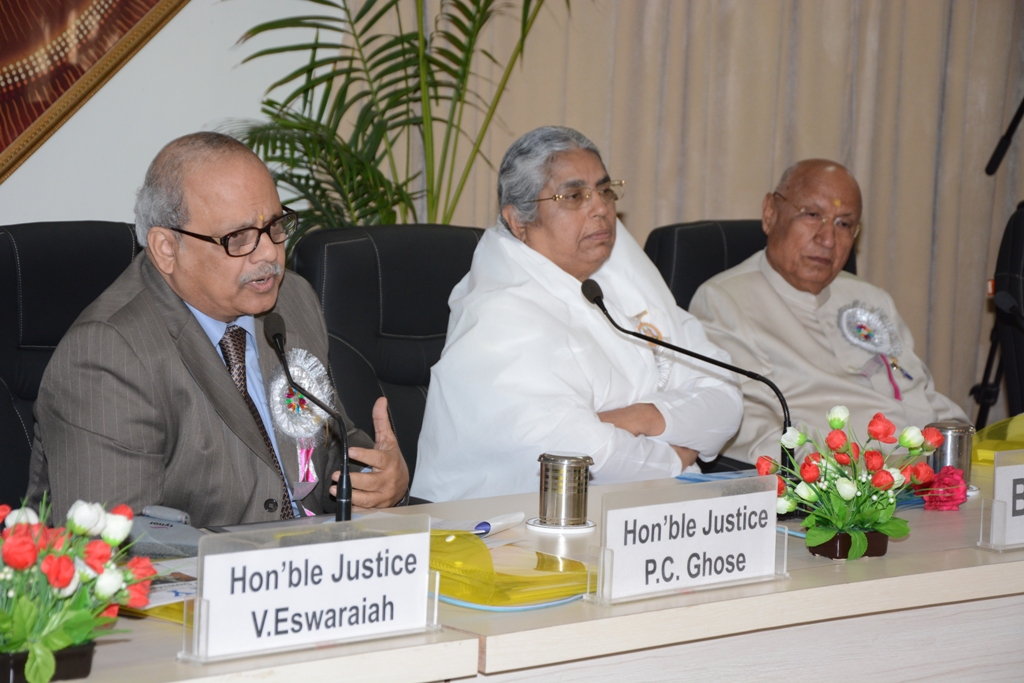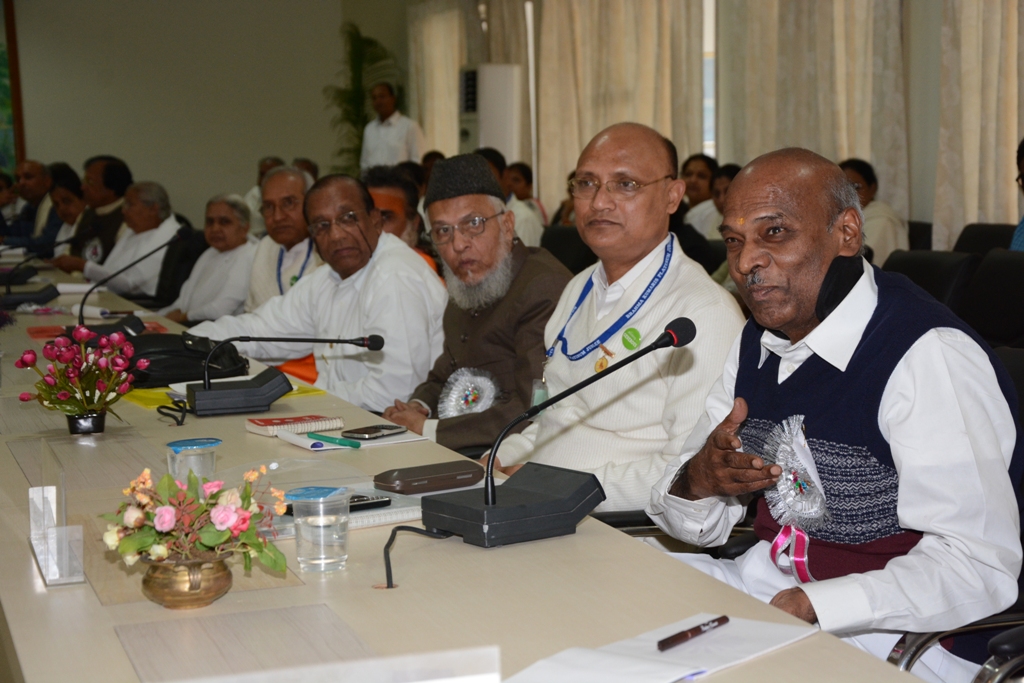 Justice PC Ghose Justice Venkat

Gurgaon - Dr Abdul Kalam, Former President of India, Concludes 3-Day Carnival & 14th Anniversary of Omshanti Retreat Center
10 December
Gurgaon, Dec. 8: The 3-Day Spiritual Carnival organized by the Brahma kumaris institution to mark the 14th Anniversary of its Omshanti Retreat Center in Gurgaon was concluded in a public function last evening.
Dr Abdul Kalam, Former President of India and Chief Guest in the Valedictory Function, said that to make India a developed nation by the year 2020, the holistic development of every home and its members should be country's top priority.
Addressing an august audience of four thousand gentry, he said that the family, which is the nucleus of society and nation, can be happy, harmonious and prosperous only when respect for its mothers amd female forces, reading habits, prayers & meditation, tree plantation, truth, transparency, good character and community services are encouraged among its members.
For that, he said, a moral and spiritual awakening in everyone--especially among youth--is the need of the hour: to work towards realizing a clean, green, crime & corruption-free, united and developed India by 2020.
He lauded the efforts of Brahma Kumaris for consistently working in this direction of developing a spiritual culture of moral character, ethical conduct, positive and healthy lifestyle among people.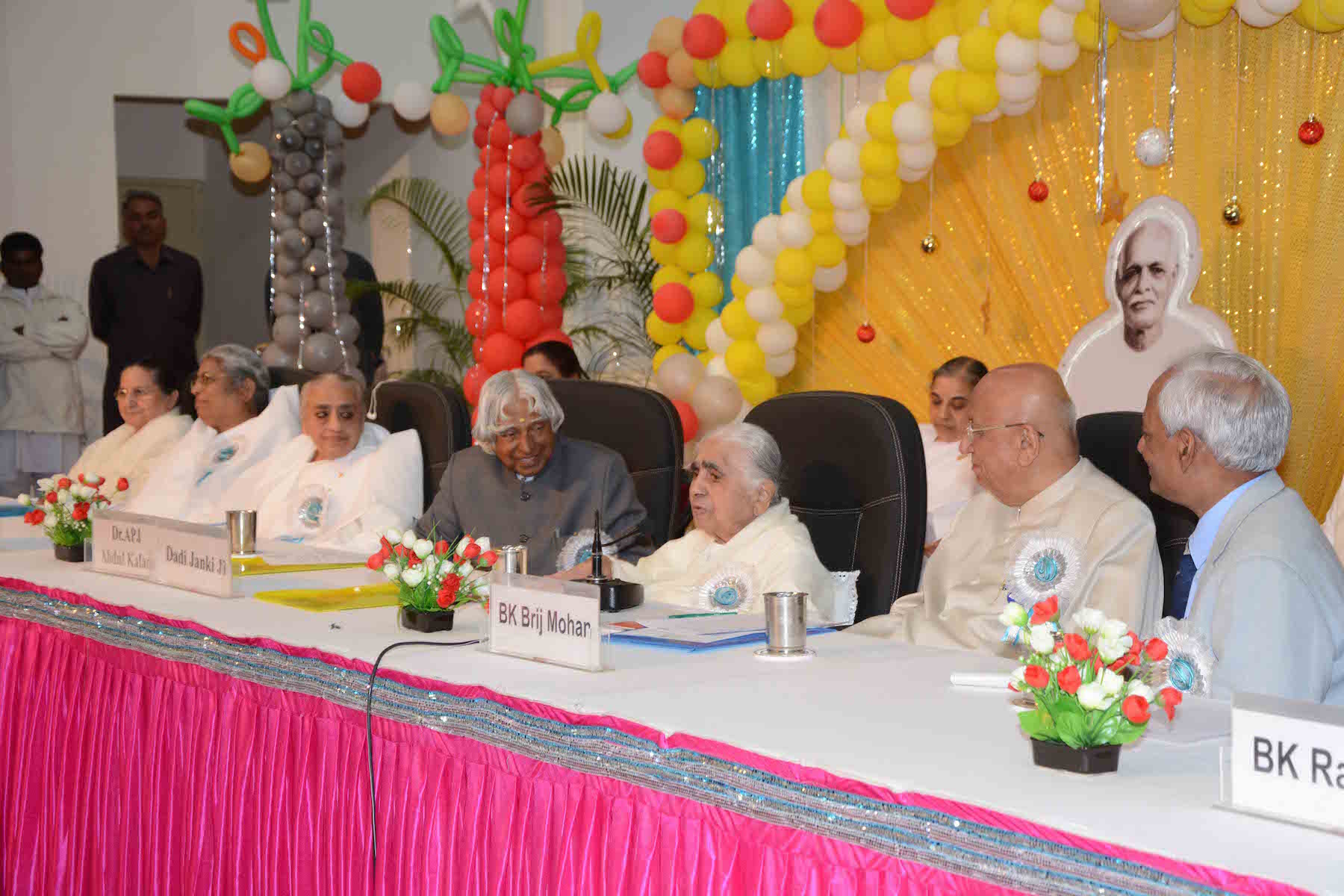 Rajyogini Dadi Janki, Chief of the Brahma Kumaris from Mount Abu presided over the function. She said that self introspection and meditation are twin tools for checking and changing the self to be good and to do good.
Attributing goodness as the intrinsic and innate quality in every human being, she called for its cultivation through regular practice of spiritual wisdom, raj-yoga meditation and righteous conduct for experiencing individual, familial and societal peace, health, harmony and happiness.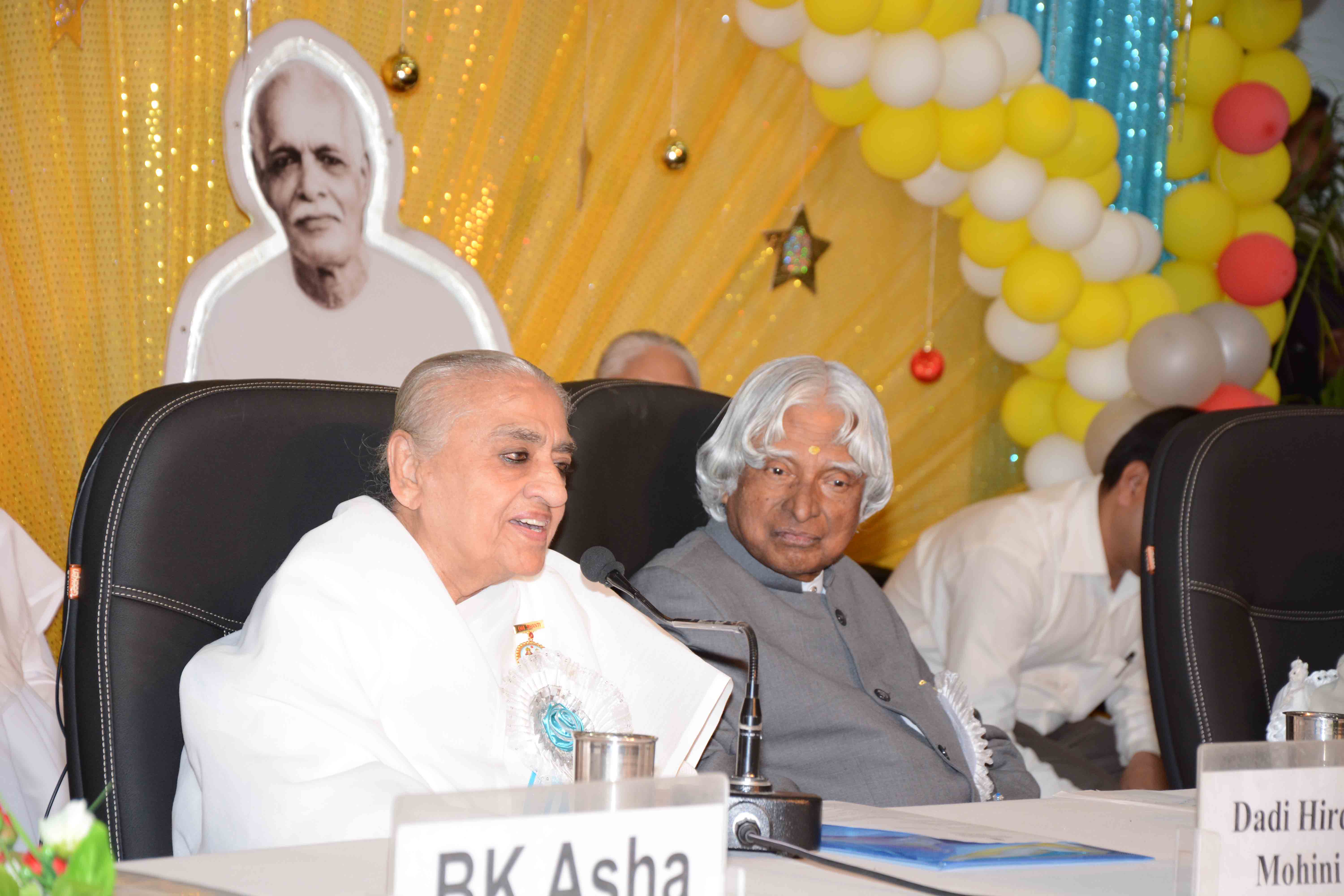 Rajyogini Dadi Hirdaya Mohini, Addl. Chief & also Delhi Head of Brahma Kumaris in her blessings said that since happiness emanates from positive thinking and doing, one should desist from negative thoughts and wrong doings by connecting one's inner self with the Supreme Soul who is the eternal source of positive powers.
On this occasion, Mr Rakesh Mehta, Election Commissioner for Delhi & Chandigarh said how the practice of spiritual knowledge and meditation being taught by the Brahma Kumaris had completely changed his temperament from an angry and aggressive administrator to an accommodative and endearing one.
Rajyogini Brahma Kumari Asha, Director of Omshanti Retreat Center, in her welcome address described Dadi Janki, Dr Kalam & Dadi Hirday Mohini as representatives of Gyan, Vigyan & Dhyaan, respectively.
Dr Kalam also released a documentary film on the Omshanti Retreat Center made by Mr Kunaal Kumar, a young Producer, Director & Actor from Mumbai.
With this, the 3-Day spiritual Carnival which had been specially designed and organized for inner empowerment of children, youth, students, teachers and parents with several educative stalls and pavilions & exhibitions came to a close. Thousands of people from Delhi & NCR had derived spiritual benefits from the Carnival during these three days.

Gurgaon - Spiritual Carnival at ORC Inaugurated by Kaptan Singh Solanki, Governor of Haryana
9 December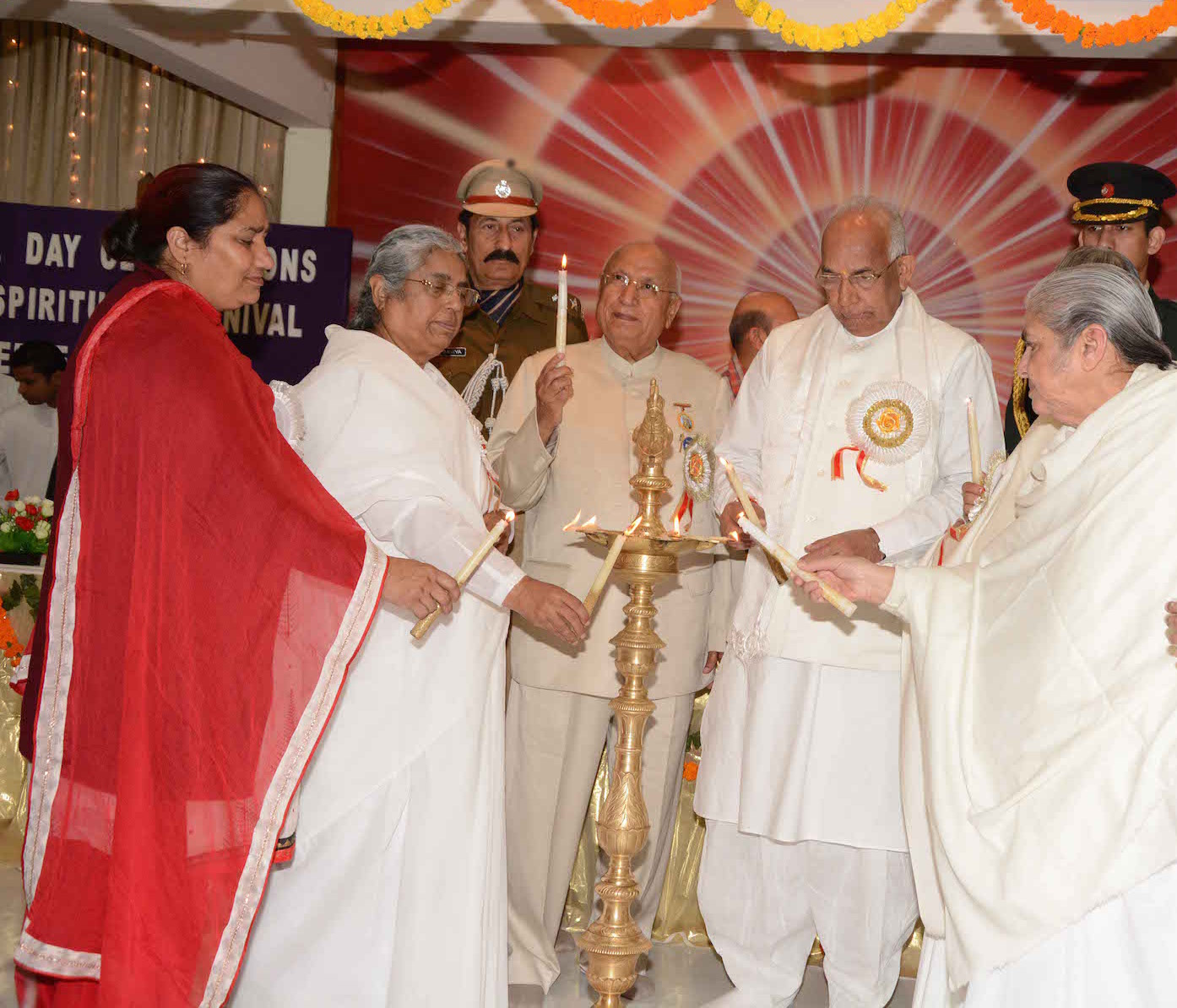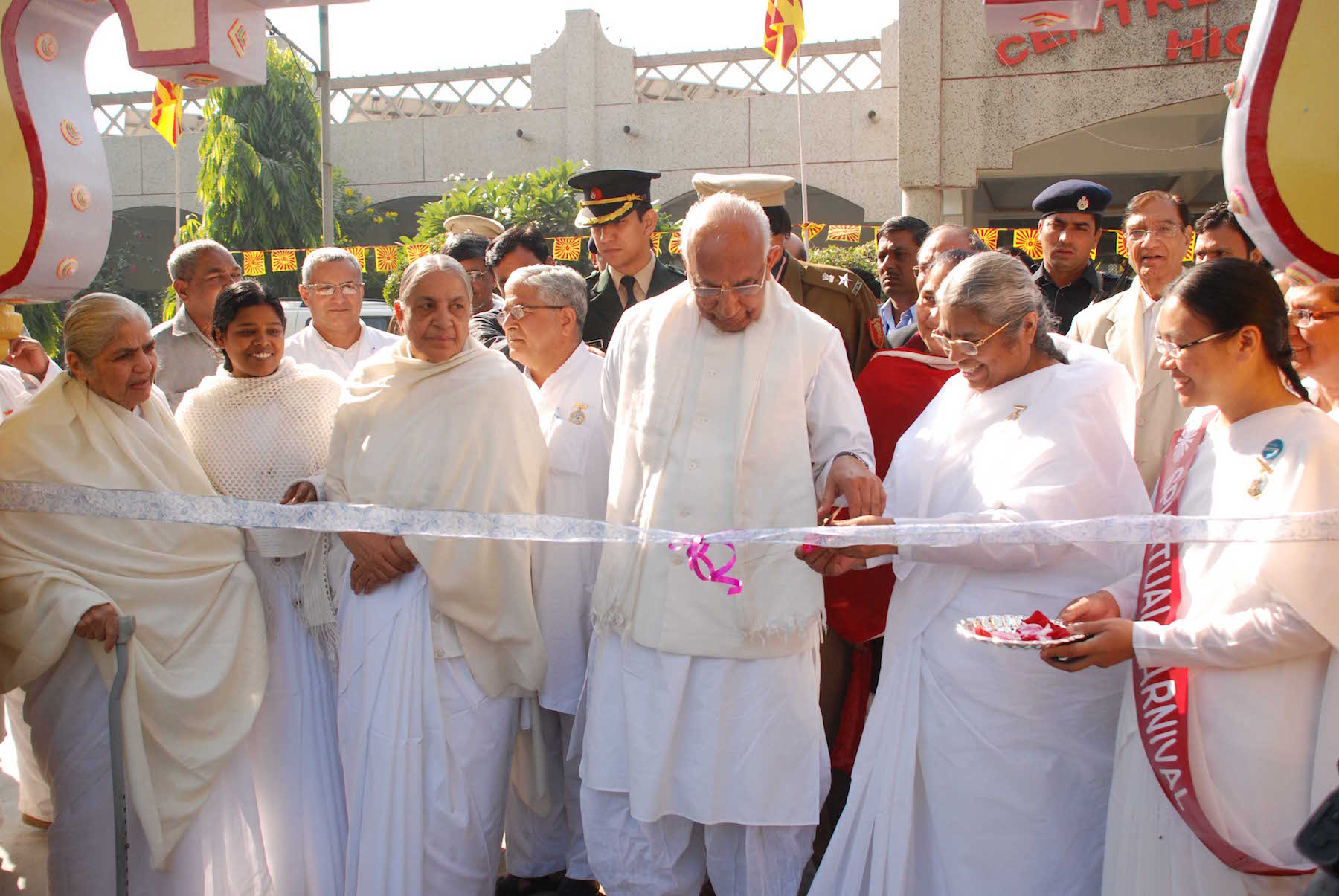 Inauguration of Spiritual Carnival
Candle lighting Ceremony from right B.K. Geeta, Pro. Captan Singh Solanki] Governor of Haryana] B.K. Brij Mohan] B.k. Asha and Vimla Chaudhary M.L.A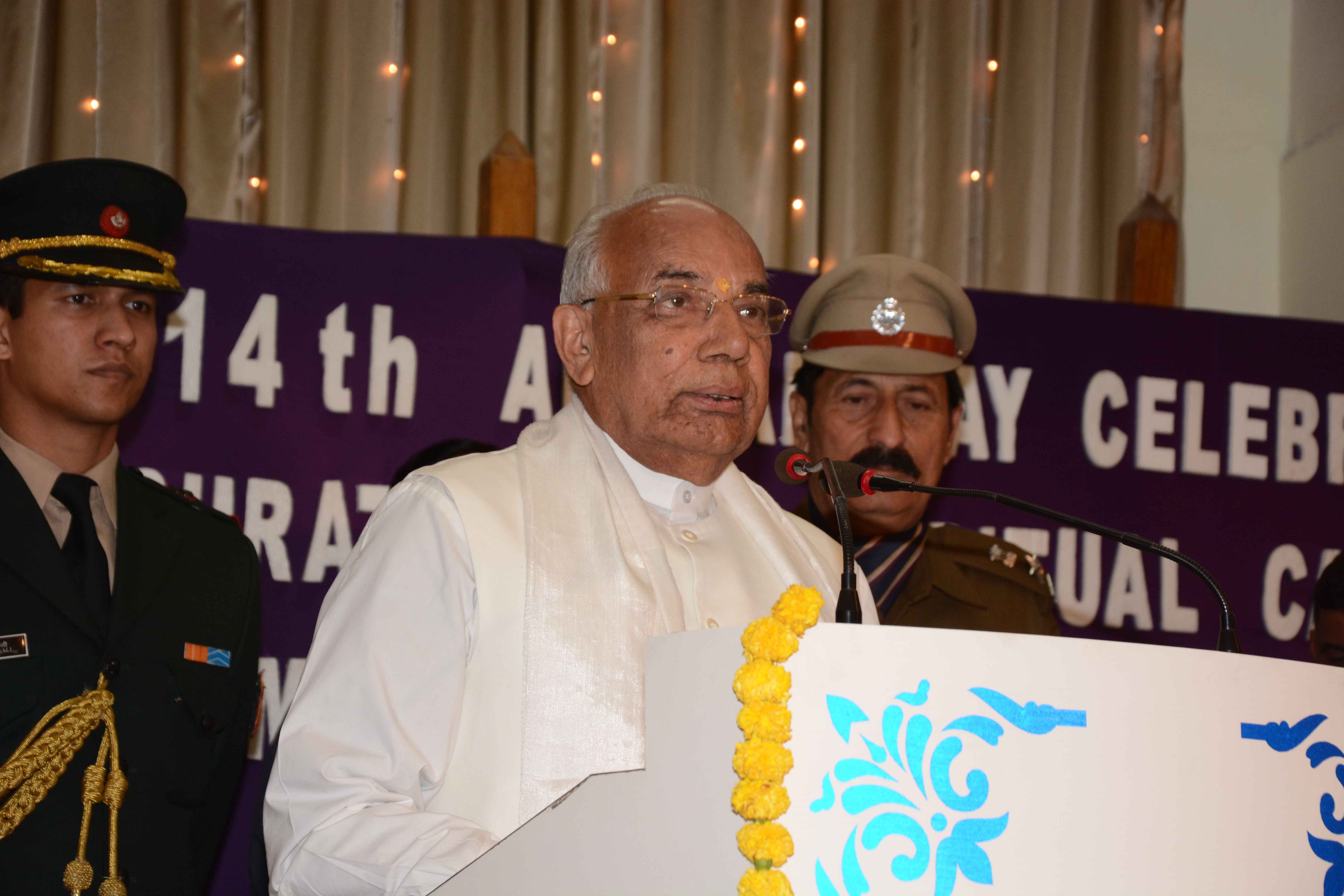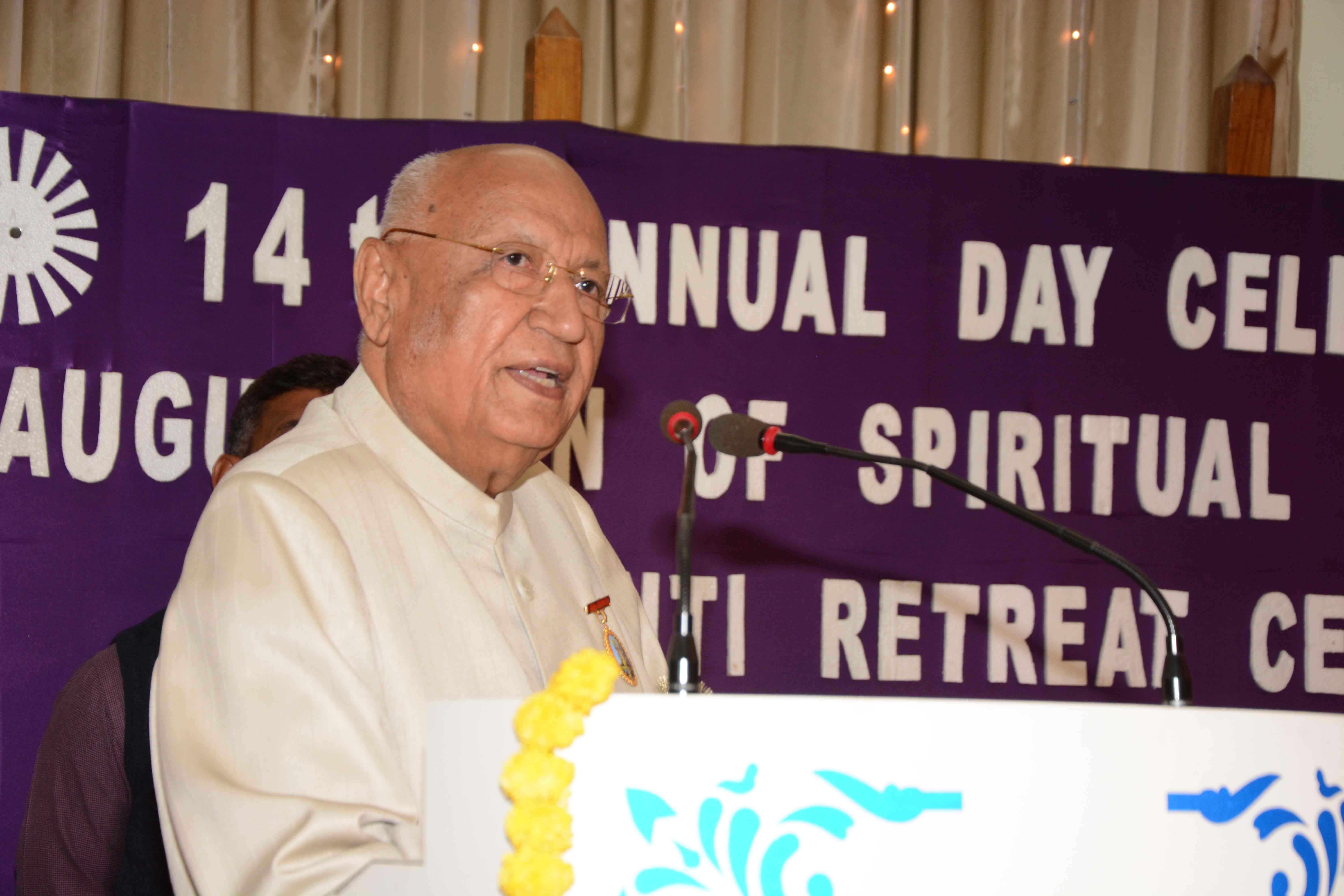 BK Brij Mohan
Pro. Captan Singh Solanki
Report (in Hindi only) is here. (Click to read)

Dadi Janki & Dadi Gulzar arrive at the 14th Annual Day Celebration of Delhi-ORC
8 December 2014
Full report in Hindi only is available here. (Click the word 'here')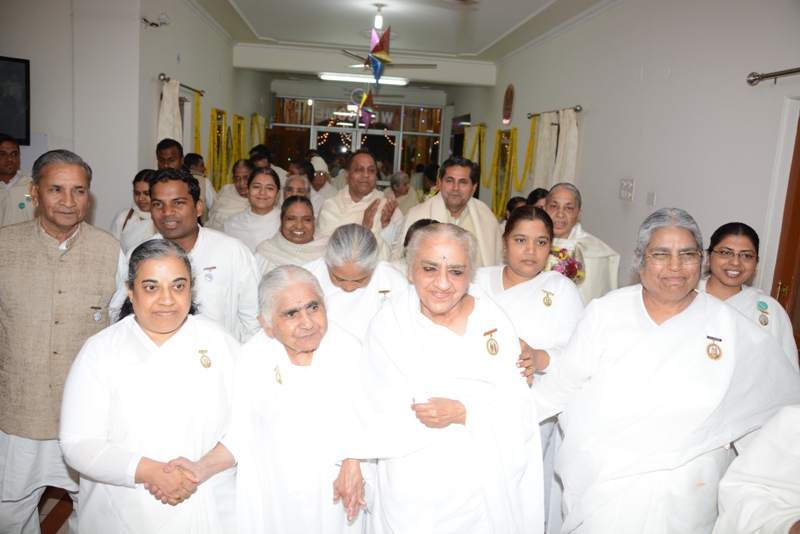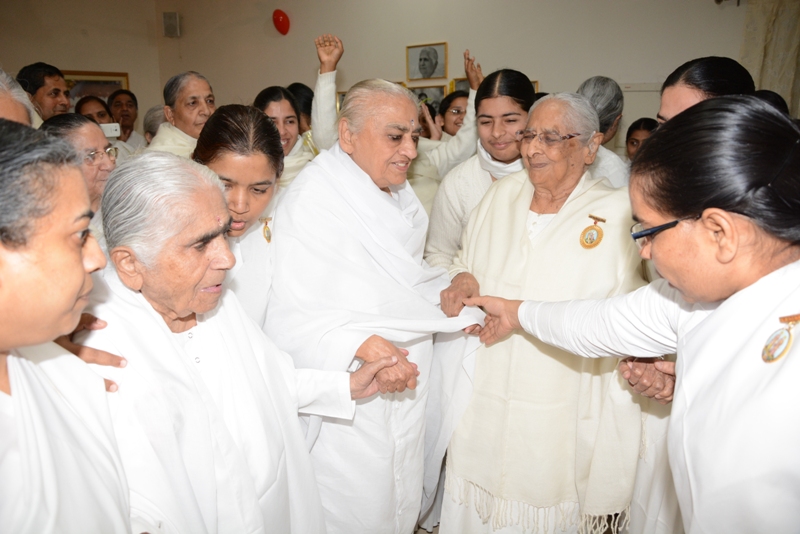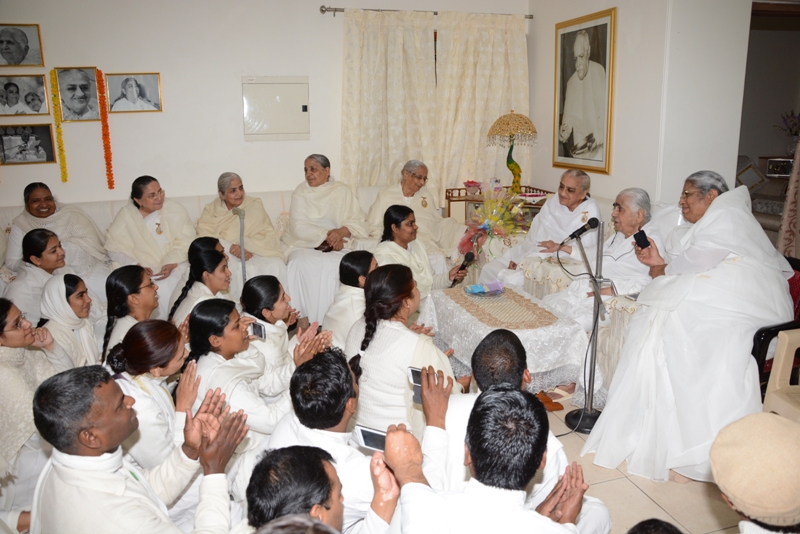 Bangalore - BKs Inaugurate Free Eye Camp in Coordination with Narayana Nethralaya Hospital
9 December 2014
In co-ordination with the Narayana Nethralaya hospital, the free Eye Camp held on 16th Nov at Chamrajpet, Bangalore was very very successful. About 150 patients were examined and received Shiv Baba's divine message.
Inaugurating the Free eye test camp with the group of Doctors of Narayan Nethralaya & B.K.Padmaji (Andra-Karnataka Subzonal Incharge)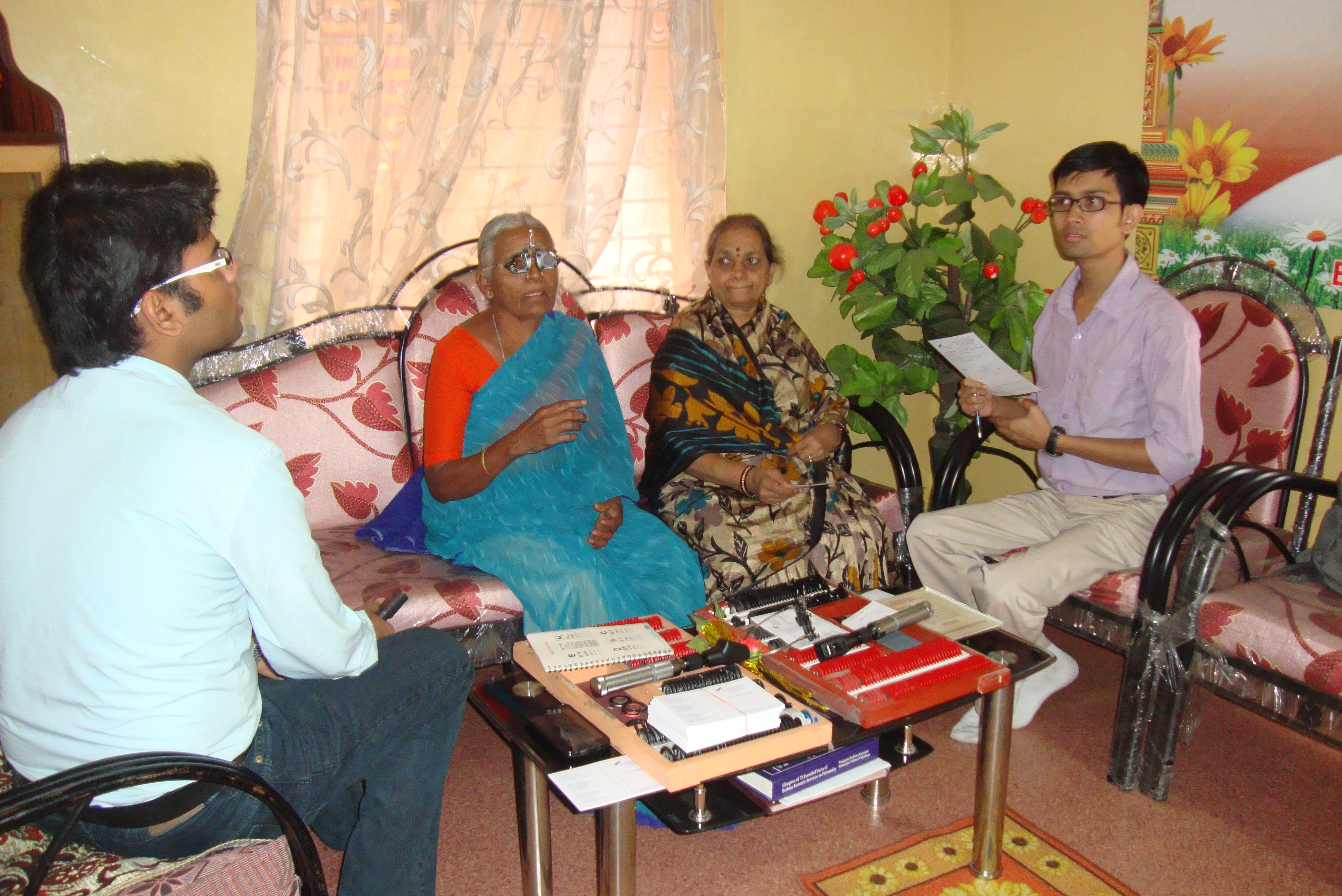 Doctors are examining the patients who attended the Free eye test camp.

Photos & News of "Geeta Conference" held at Pragjyotika Auditorium in Guwahati (Assam)
8 December 2014
On 23rd Nov 2014 in Guwahati, 'Gita Conference' on "It's Time to Re-Establishment of Golden Era by God of Gita" was held at Pragjyotika Cultural Complex Auditorium.
Rajyogini B. K. Usha, Senior Rajyoga Teacher from Mount Abu, Rajyogini B. K. Asha, Director, Om Shanti Retreat Center, Delhi & Rajyogi BK Brijmohon, Additional Secretary General of the Brahma Kumaris, Mount Abu delivered their speech in different topic linked with Gita.
Special Guest, Shri Shri Bhriguguri Maharaj, Acharya, Panchakanya Dham, Basistha, Guwahati conveyed his best wishes to the organizers and expressed that it is perfect time for everyone to work for self- realization in order to usher the days of peace and non-violence.
The hall capacity is 1000 and over 1000 people had attended this program, With Baba's blessing we are able to get a full house for the event.
Kumari Tanshi presented a beautiful recitation of Gita Shlokas in the beginning of the Program. A group dance on the theme "Abhimanyu Badh" performed by Satriya Dance Group of Mrs Bhanu Deka from Mangalodoi mesmerized the audience.
Rajyogini BK Sheela, Sub-Zone Incharge, Guwahati introduced Brahma Kumaris to the audience, Rajyogini Bk Jonali, Incharge, Nalbari District presented vote of Thanks and Rajyogini BK Kabita, Incharge, Tripura & Bangladesh centers of the Brahma Kumaris coordinated the stage very aptly.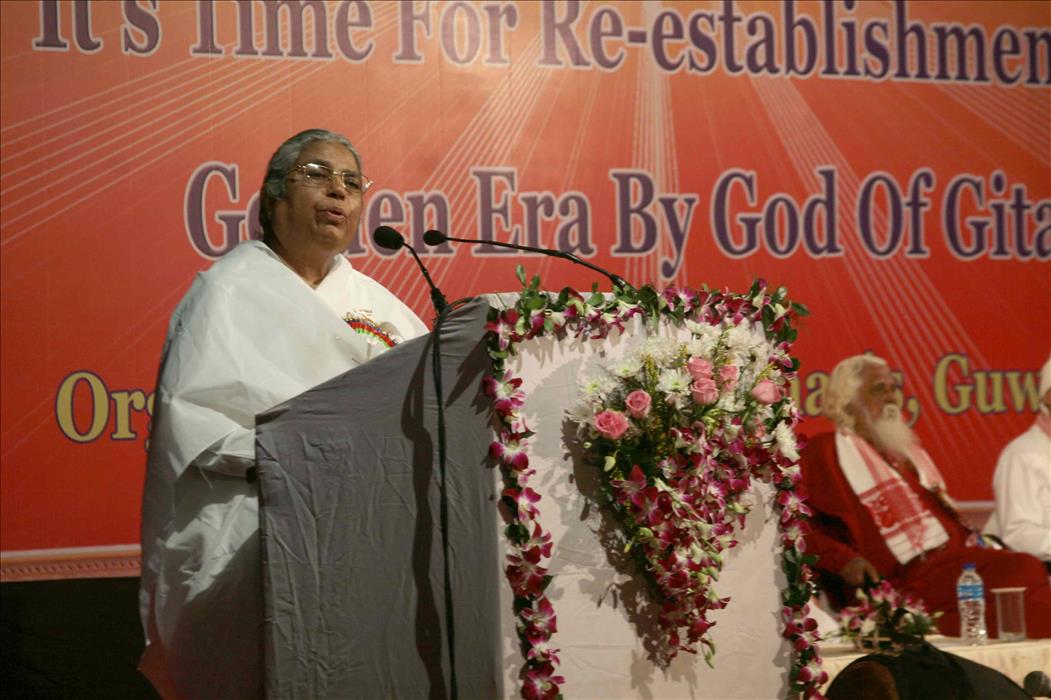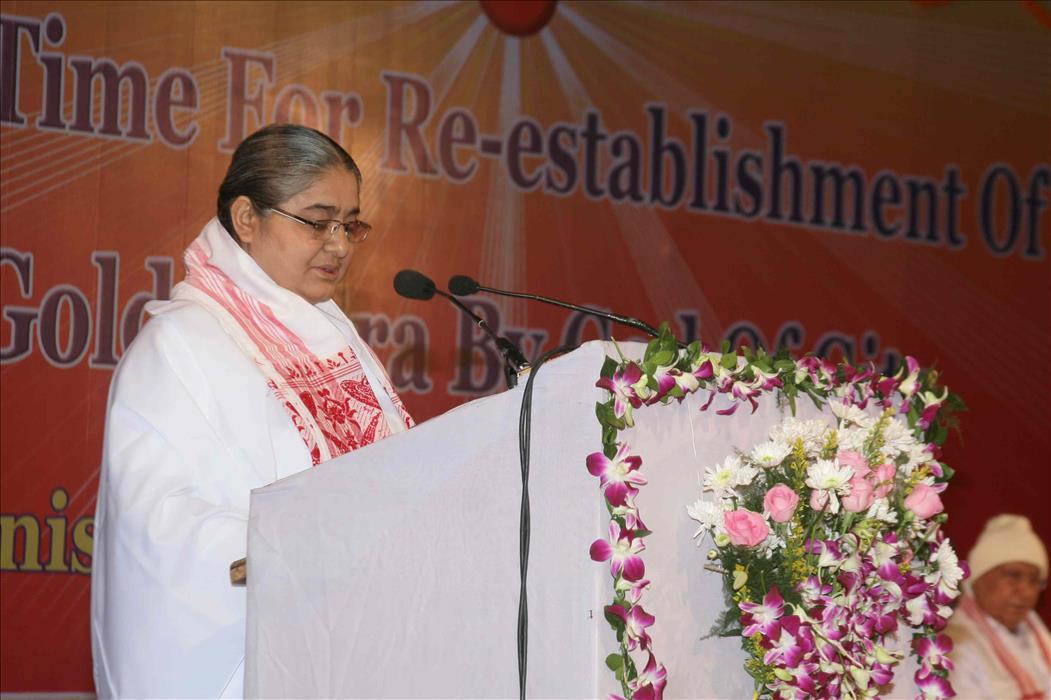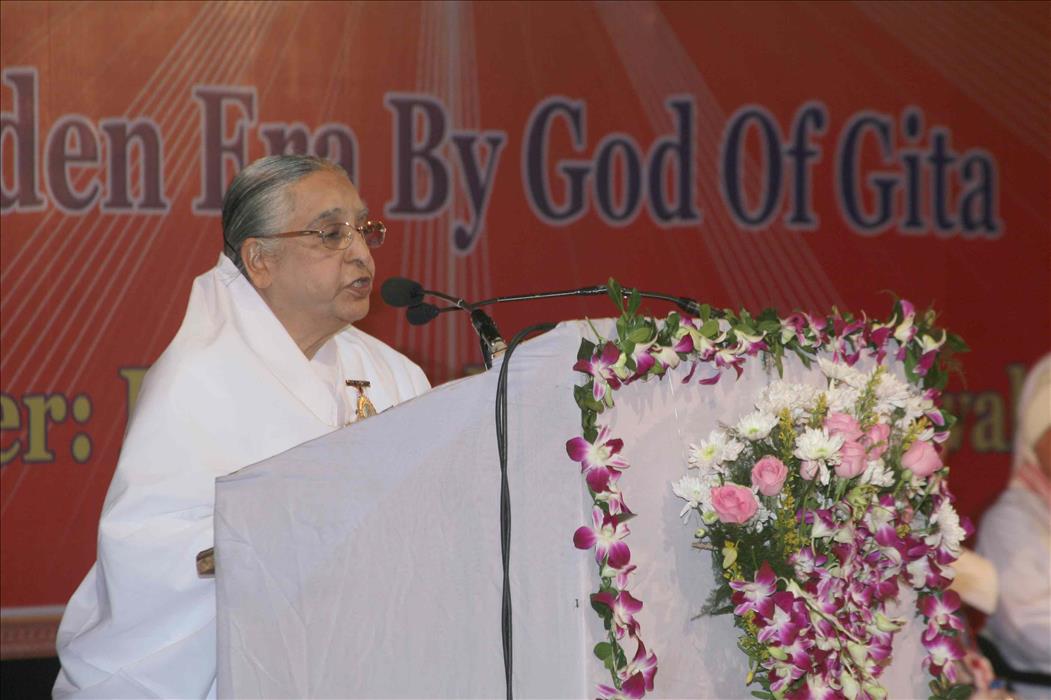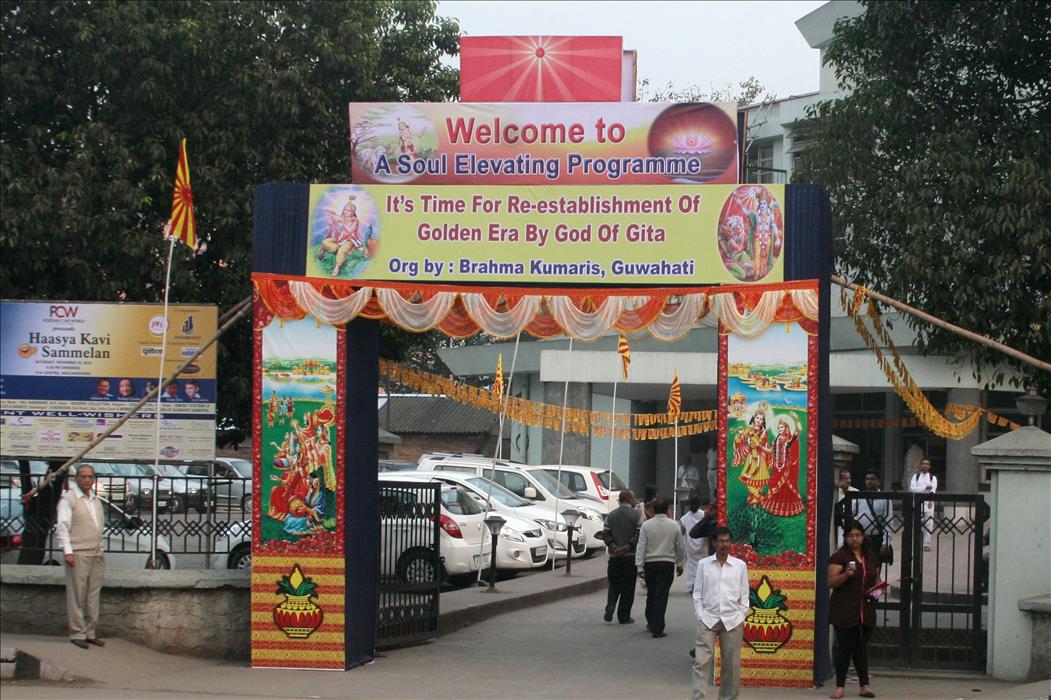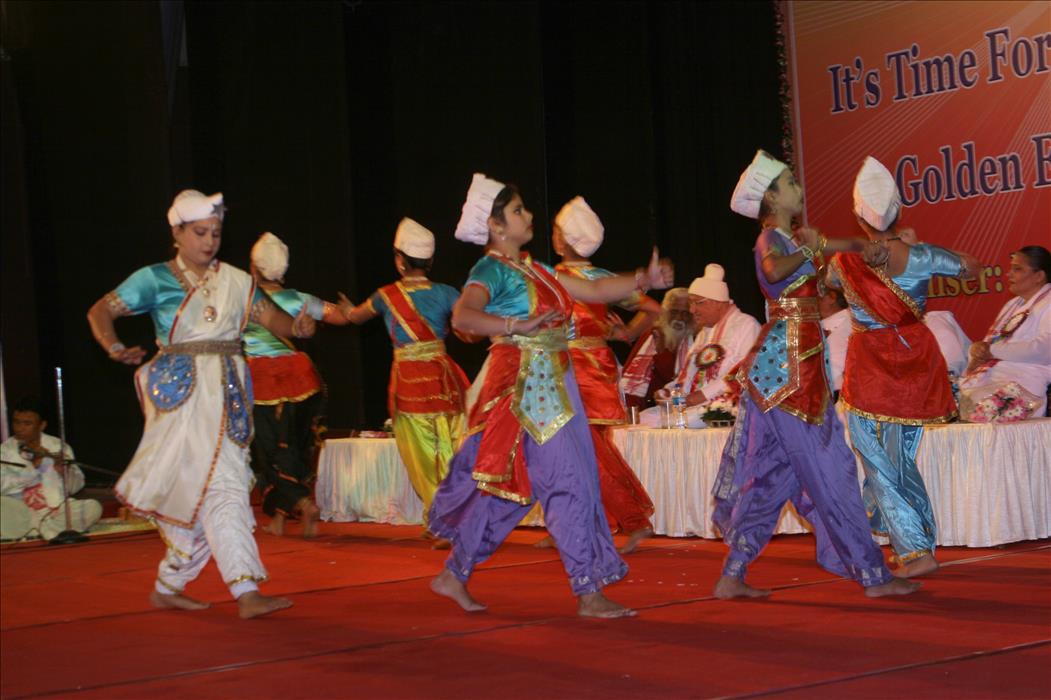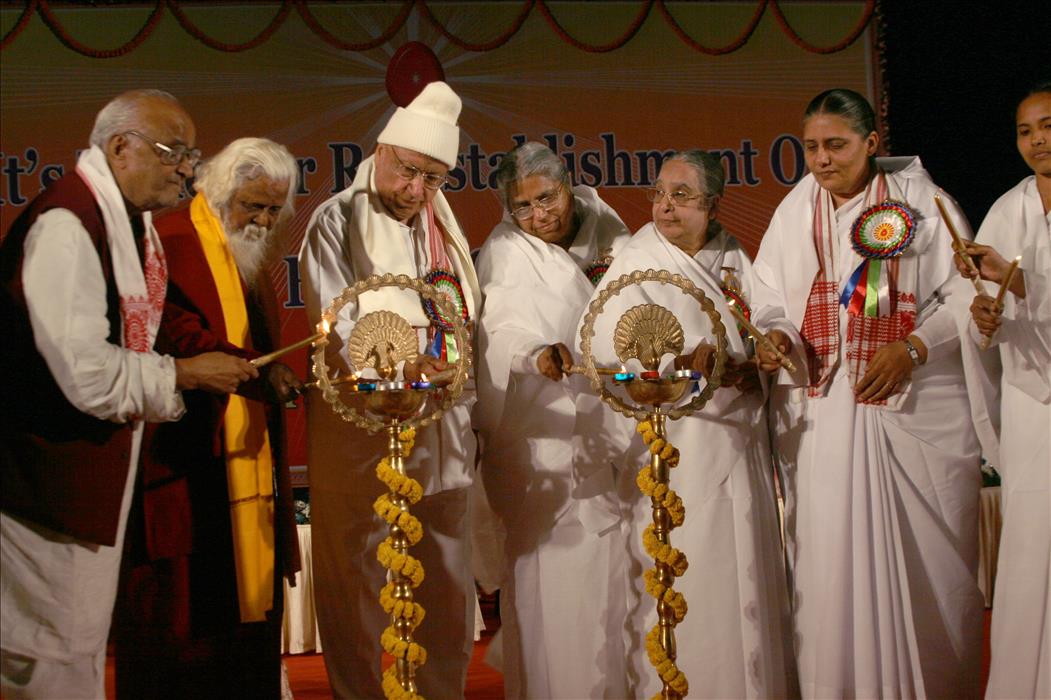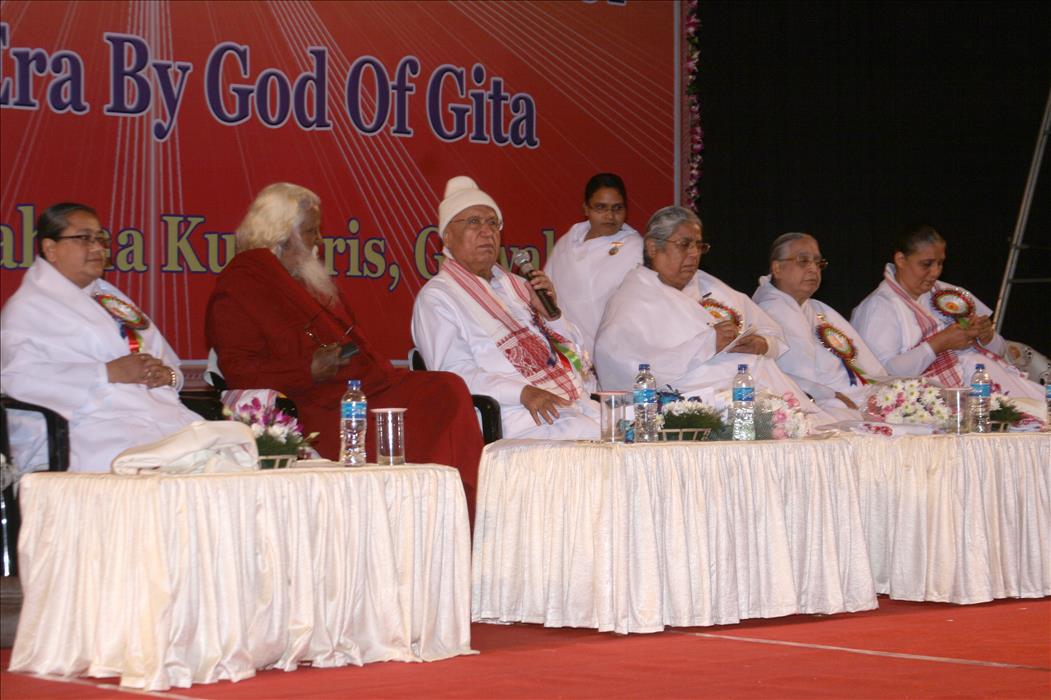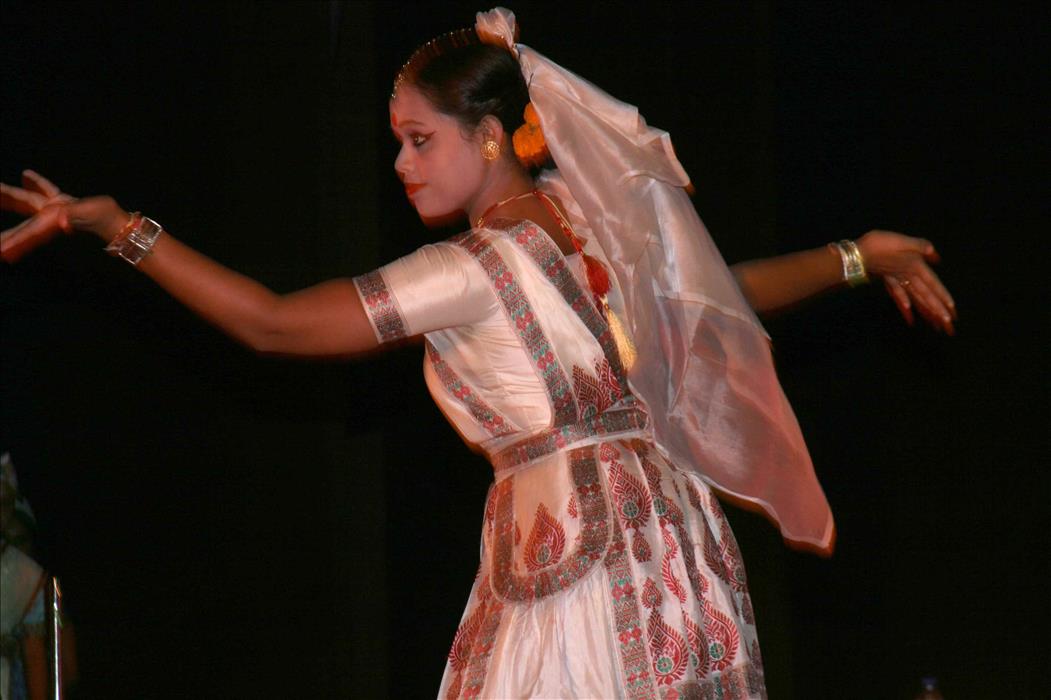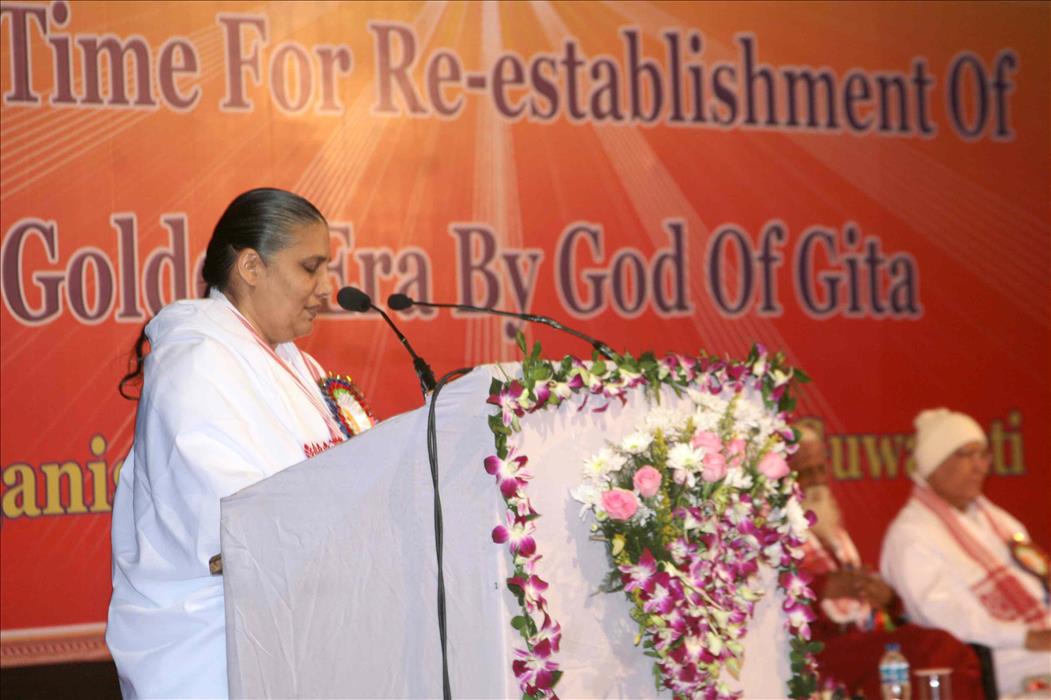 Social Activist Anna Hazare Inaugurates "Online Registration" of "Geeta Gyan Rahasya Pravachanmala"
3 December 2014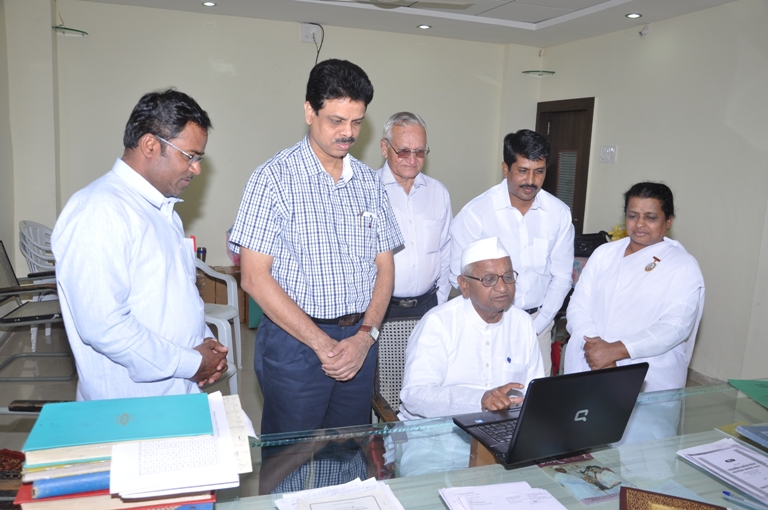 Veteran Social Activist Bro. Anna Hazare ji is inaugurating 'Online Registration' of Geeta Gyan Rahasya Pravachanmala of BK Usha behen in Ahmednagar(Mah).

Governor of Maharashtra, H.E. C. Vidyasagar Rao, Signs the Pledge for the "7 Billion Acts of Goodness" Campaign at Sonayi, Rahuri
3 December 2014

New Sukh Shanti Bhawan in Ahmedabad Inaugurated by Dadi Janki and Dadi Gulzar on 23 November
3 December 2014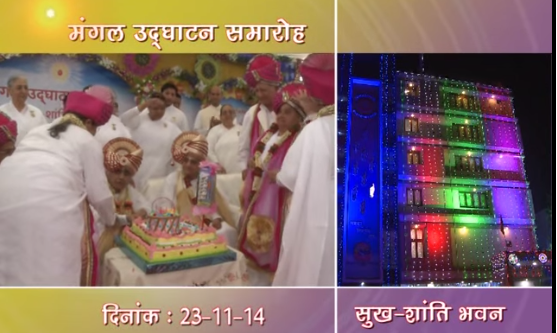 This is the first of a series of videos on the inauguration. Click on the image to be taken to the web page where you can view the rest.

Brahma Kumaris hosts 'The Future of Power' in Kolkata
2 December 2014
Source: India Blooms, 27th November http://indiablooms.com/ibns_new/life-details/L/504/brahma-kumaris-hosts-the-future-of-power-in-kolkata.html
Kolkata, Nov 27: In all major cities throughout India, this project aims to provide a platform for both international leaders & leaders of India to find ways to develop their individual and collective strategies in modelling responsible leadership now and for the future.
The Future of Power event was hosted by a Kenyan industrialist Nizar Juma with Dadi Janki, the head of the Brahma Kumaris.
The event has already been conducted in more than 35 Cities throughout India, Nepal, Melbourne, Australia and across the world and now, in Kolkata. Leading personalities and luminaries of the city from various fields will be participating in the programme.
The chief guest of the occasion was Governor of West Bengal Keshari Nath Tripathi.
Nizar Juma, an industrialist from Kenya, was one of the main speakers with Anthony Phelip, Oxford UK based creative consultant, who hosted the 'Talk show'.
Nizar Juma, who is an economics graduate from the University of Wales, and also the Chairman of more than 50 companies said, "The dialogues and evening events will help participants respond personally and professionally to the challenges ahead.

BK Sisters Honored with National Women Excellence Award
2 December 2014
Every year, the Yog confederation of India gives the National Women Excellence Award to women who are doing social service in India and abroad.
This year The 7th National Women Excellence Award Function was organized on 25th November at FICCI Auditorioum in Delhi. This year the award was conferred upon several Brahmakumaris sisters:
Asha Didi from ORC (Savita ben received the award on her behalf)

Anasuya Didi from Mahipalpur center (Delhi)

Pushpa Didi from Chattisgarh center

Sister Aruna Ladva from Kuwait center
Sister Vijaya from Janakpuri center was given the opportunity to present the awards.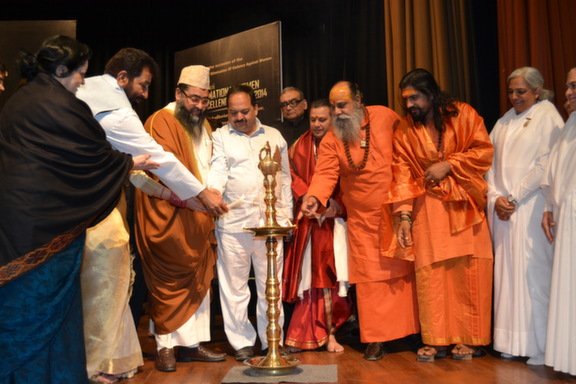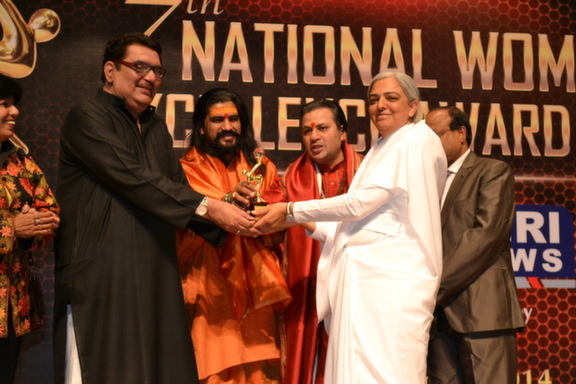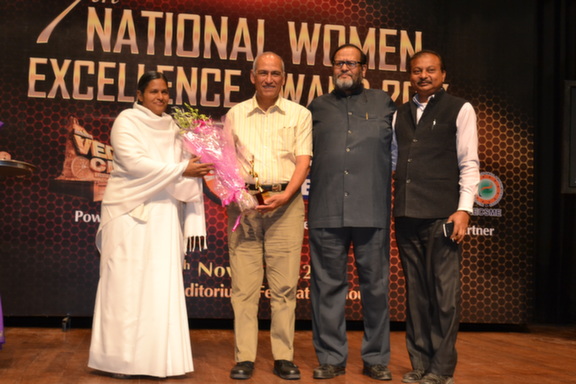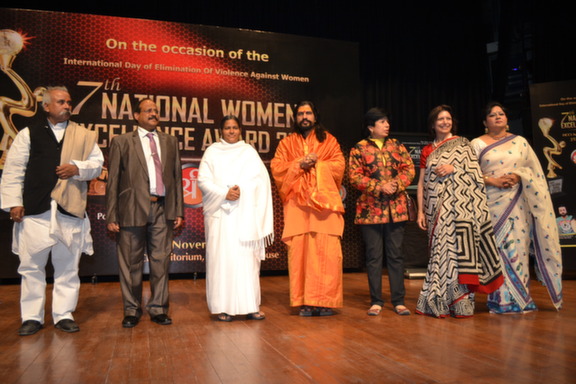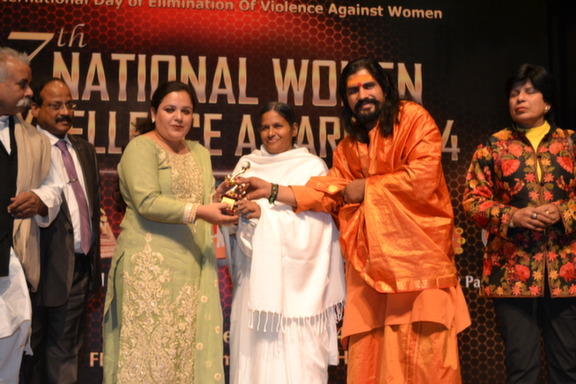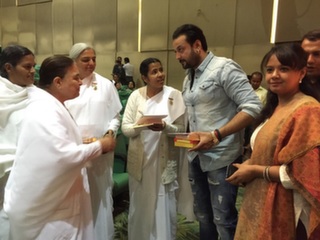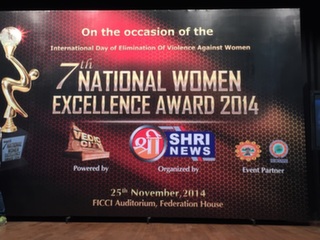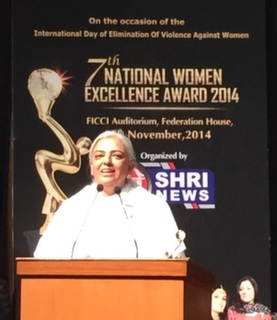 Time for Receiving God's Power for Great Transformation -- a Women's Empowerment Conference in Jagannath Puri
1 December 2014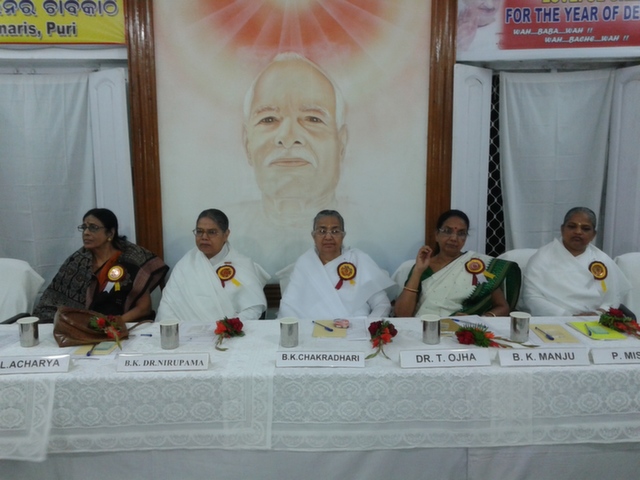 Jagannath Puri ( Odisha)- On the occasion of Women empowerment conference titled as " Women- Key to Change the Society" seated on the dais L-R Dr. Laxmipriya Acharya, Principal, Govt. Womens' College, Puri ( Retd), B.K.Dr. Nirupama, B.K.Chakradhari, Chairperson, Women Wing RERF, Mt.Abu cum Director, Brahma Kumaris,Russia , Dr. Tulashi Ojha, Principal, Govt. Womens' College, Puri ( Retd) & B.K.Manju, Brahmakumaris, Shakatinagar, Delhi & others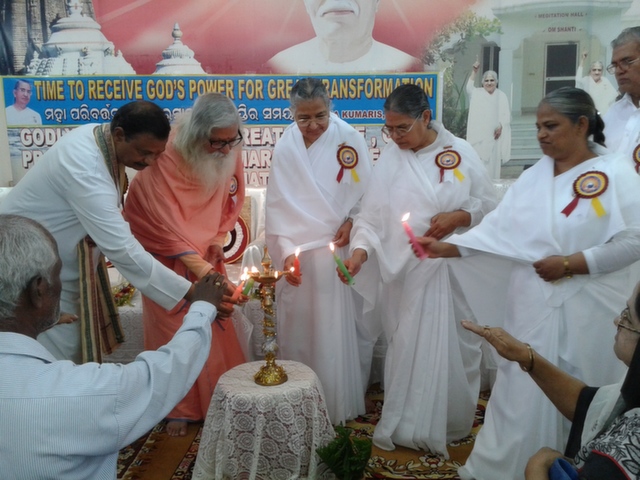 Jagannath Puri-GRC(Odisha)- On the occasion of "Time for Receiving God's Power for Great Transformation" inaugurating the ceremony, lighting the deepaks by the guests L-R Prof. Dr. Gangadhar Panda, Vice-Chancellor, Shree Jagannath Sanskrit University ,Puri, Swami Samarpanananda Giri, Vice-President, Hariharananda Gurukulam, Pranjana Mission ,Puri,B.K.Chakradhari, Chairperson, Women Wing RERF, Mt.Abu cum Director, Brahma Kumaris,Russia , B.K.Dr. Nirupama, B.K.Manju, Brahma Kumaris, Shaktinagar, Delhi& Dr. B.K.Prasanna ( Retd. CDMO)

Delhi: Mega Public Programme on "Divine Power & Woman Honor" held at Chhatasal Stadium - News and Photos
25 November 2014
Press Release
Mega Public Program on 'Divine Power & Women Honor' Held
"Women can be Torch Bearers of Spiritual Revolution"— Rajyogini Dadi Rukmani
"Divine Power Key to Great Transformation"— Justice V Eshwariaha
Delhi, Nov. 17: "Human being's real enemies are not outside but innate in the form of vices, unhealthy habits and negative traits. Overcoming these evils through the adoption and regular practice of spiritual wisdom, values and meditation on the Divine are the keys to true & total transformation".
Justice V Eshwariaha, Chairman, National Commission for Backward Classes said this while delivering the inaugural address at a Mega Public Function on "It's Time to Receive God's Power for Great Transformation" organized by the Brahma Kumaris' Institution at Chhatrasal Stadium here, last evening.
He said that any positive change is an uphill task. It requires inner powers which can be derived in intellectual communion with the Almighty Incorporeal Supreme Soul through raj-yoga meditation of the Brahma Kumaris, as has been experienced by him for last several years.
Rajyogini Dadi Rukmani, Addl. Zonal Head of Brahma Kumaris in Delhi in her blessings said that today's time characterized by climax of irreligiousness and unrighteousness has warranted the descent of the Divine to annihilate the evils. In His task of complete socio-spiritual transformation, women have the apt human qualities and innate powers to act as torch bearers of this spiritual revolution which Brahma kumaris are spearheading, she emphasized.
Motivational Speaker, BK Shivani said there is the need to know and connect one's inner self with Supreme Being while doing daily duties for self empowerment and betterment of personal, professional and social life.
Rajyogini B K Asha, Director, Brahma Kumaris' Omshanti Retreat Center speaking on 'Women Power' said that women are not to be treated as mere dolls for physical pleasure but need to be respected as embodiment of divine virtues and powers essential for building healthy, harmonious, non-violent and peaceful deity character, culture & civilization on earth.
Rajyogi BK Brijmohan, Chief Spokesman of Brahma Kumaris said that changes in the world till date have witnessed gradual degeneration due to entropy, whereas the divine process of rejuvenation and human meditation on Supreme Being now aim at upgrading quality of life and nature to new heights peace, prosperity and happiness in geometrical progression.
Main Coordinator of the Function & Director, Brahma Kumaris' Centers in Russia, Rajyogini B K Chakradhari while conducting guided raj-yoga meditation for the public said that such spiritual exercisewould bring positive inner change in each person to finally result in great transformation of society.
Prominent among others who spoke on the Mrs Kiran Chopra, President, Senior Citizens Kesri Club and Mr Surendra Gupta, Area Municipal Councilor. Other Municipal Councilors i. e. Mr. Arvind Garg, Mr. Suman Gupta, Ms. Madhu also were present. Russian artists enthralled the audience with their soul stirring cultural presentations based on Indian spiritual themes and ethos.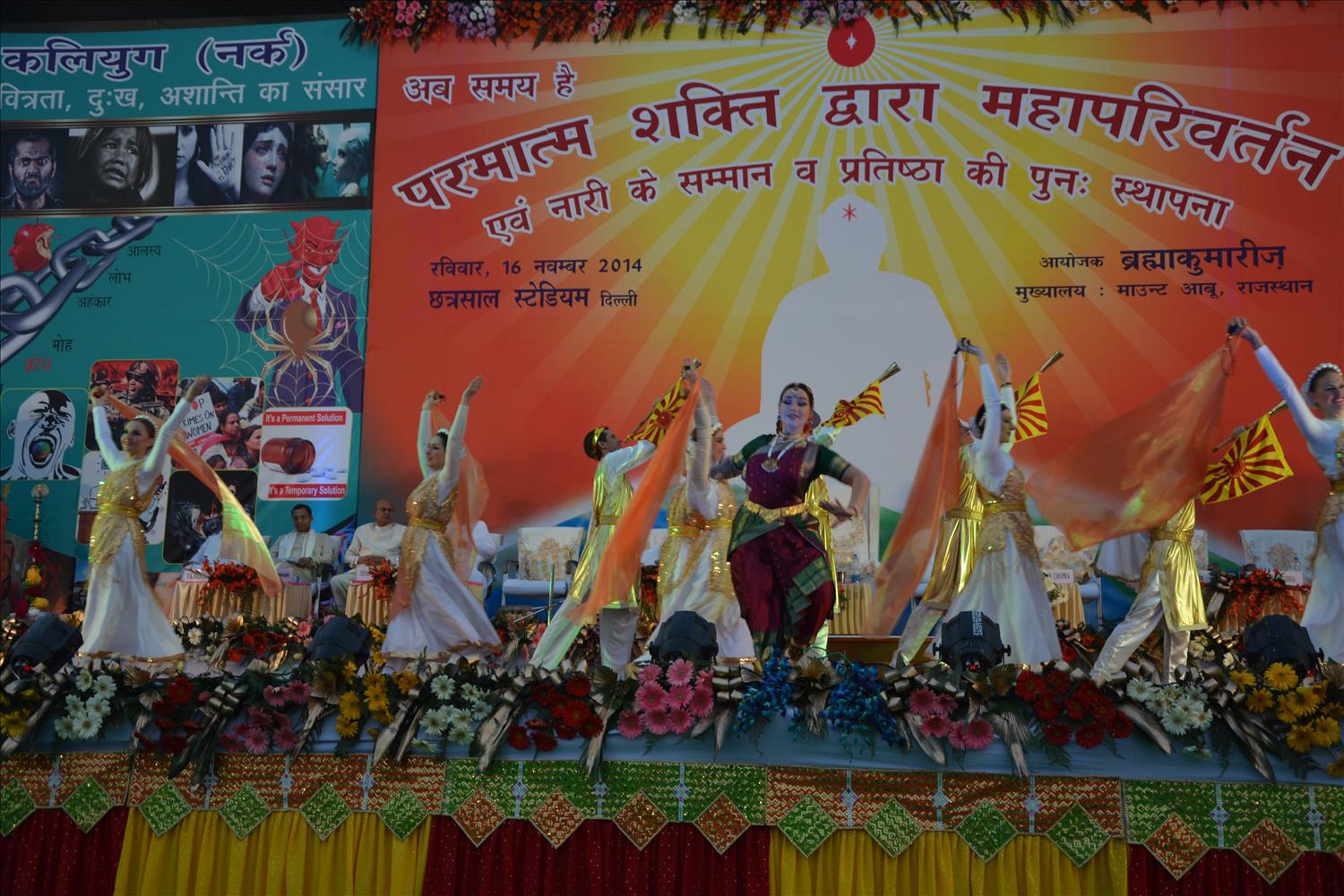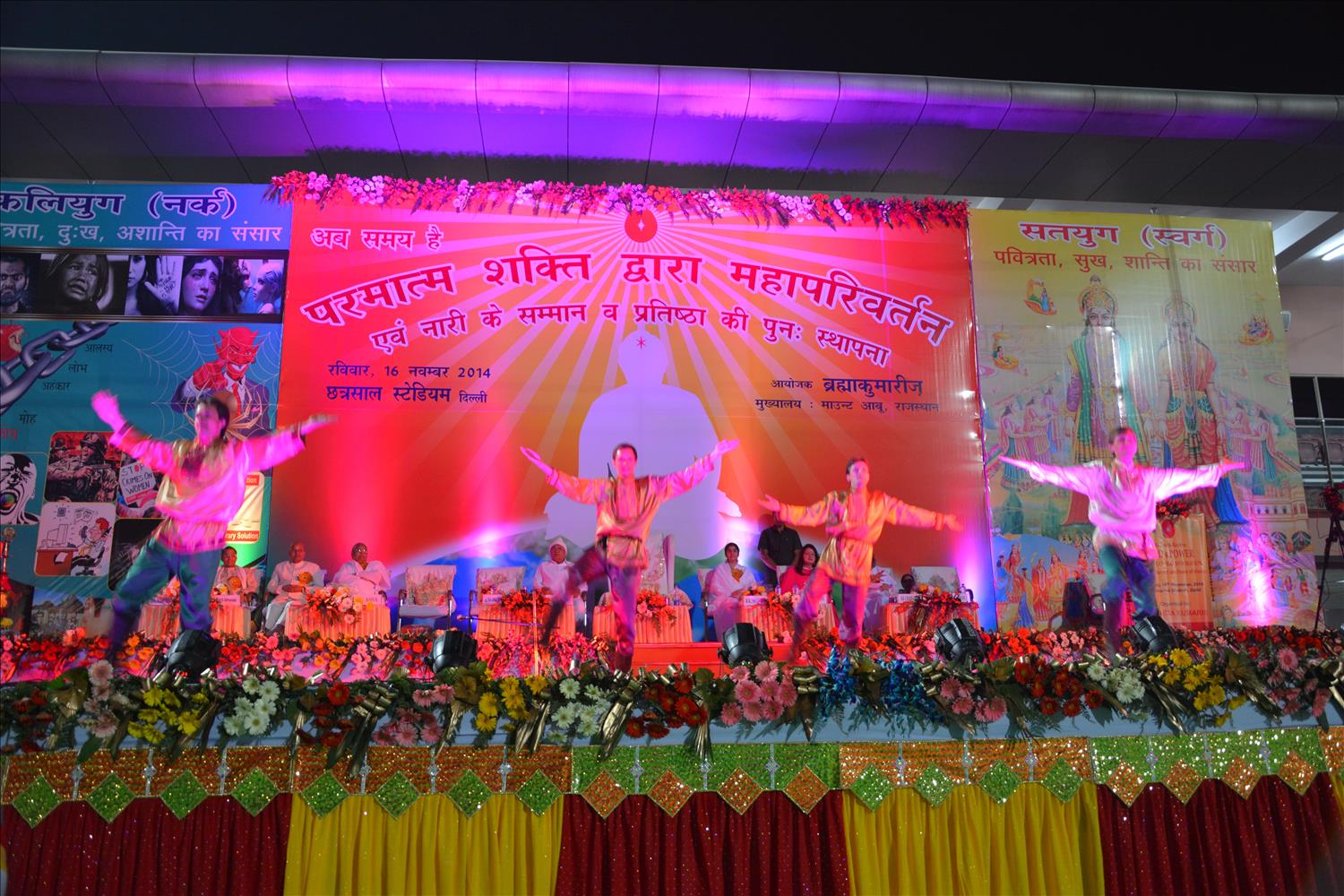 Service News - Future of Soft Power Program (FOSP) in Ajmer (Raj.)
24 November 2014
Omshanti
On 12th Nov 2014 in Ajmer FOP follow up program was held at Jawahar Rang Manch auditorium. The hall capacity is 1000 and over 1000 people had attended this program. With Baba's blessing we are able to get a full house for the event. We had Russian group (Divine Light Group) for the cultural programme which was excellent and appreciated by every one.
Several delegates from the Ajmer and Jaipur came to attend this event. Our chief guest was Shri Indresh Kumarji Margdarshak (Guide) Muslim Rashtriya Manch, special guest was Sri Vasudev Devnani, Education Minister of Rajasthan, Mr Dharmesh Jain, Chairman of Tourism and Hotel Association, and many more. Rajyogini BK Shanta gave the welcome speech. Main speaker was Brother Nizar Zuma, Meditation experiences bhy Anthony Phillips and vote of thanks was given by BK Ankita, co-ordinator, FOSP, Ajmer. After this event several people are coming to the local centers for learning meditation. BK Shantameeting with the chief guest Shri Indresh Kumar Margdarshak (Guide) Muslim Rashtriya Manch, along with Mr Vasudev Devnani, Minister of Education Rajastha, Mr Dharmesh Jain, Former UIT Chairman.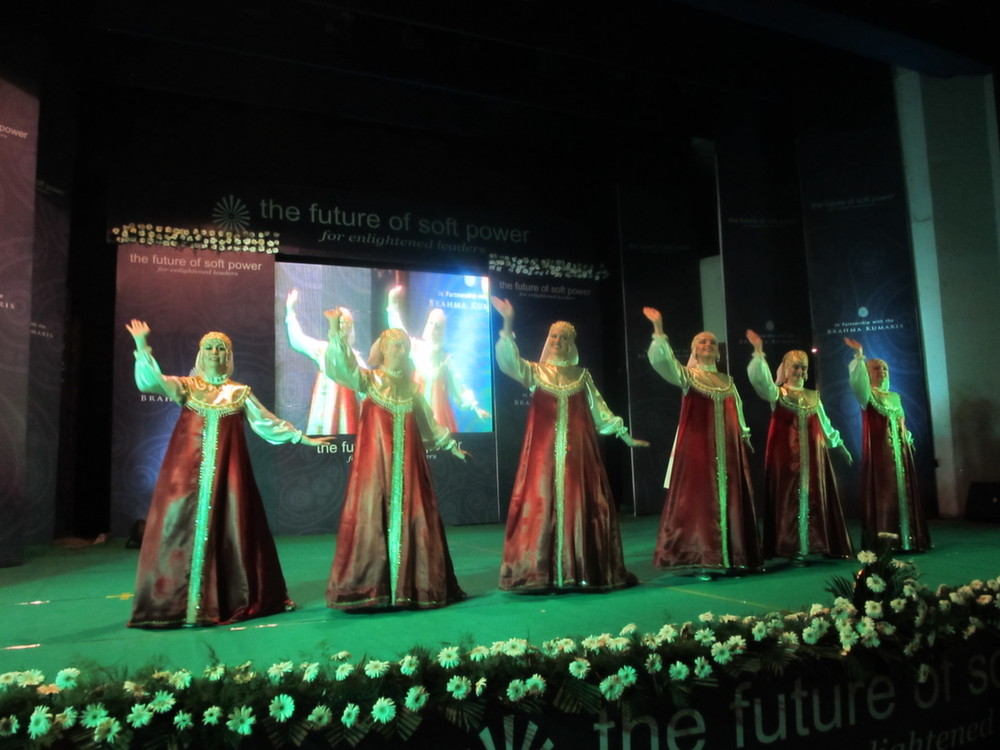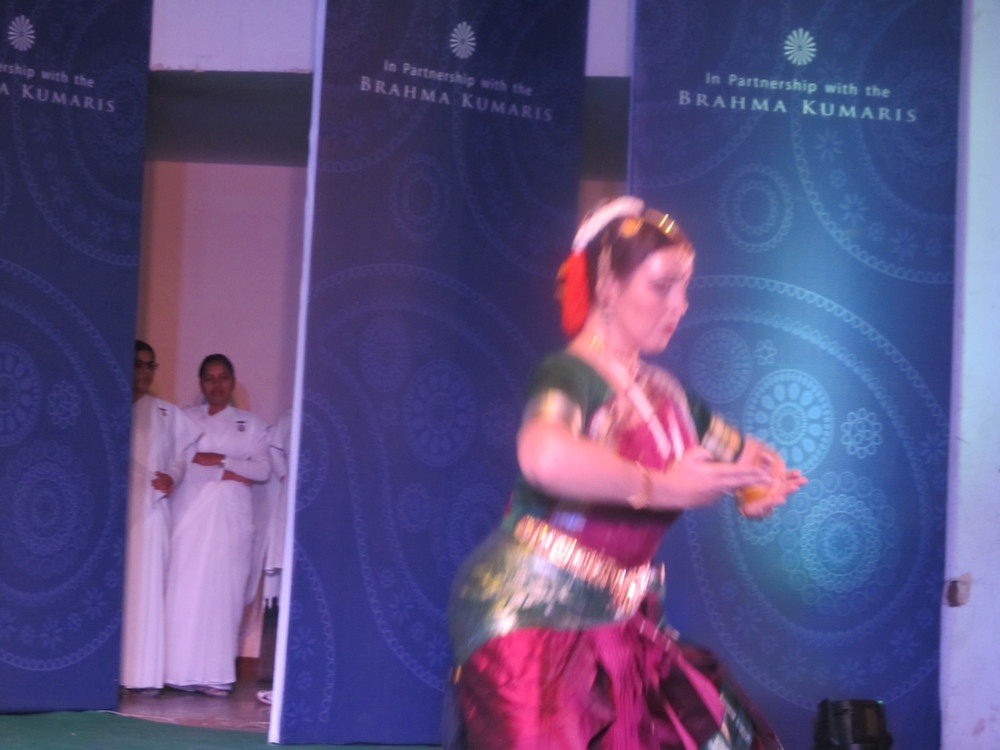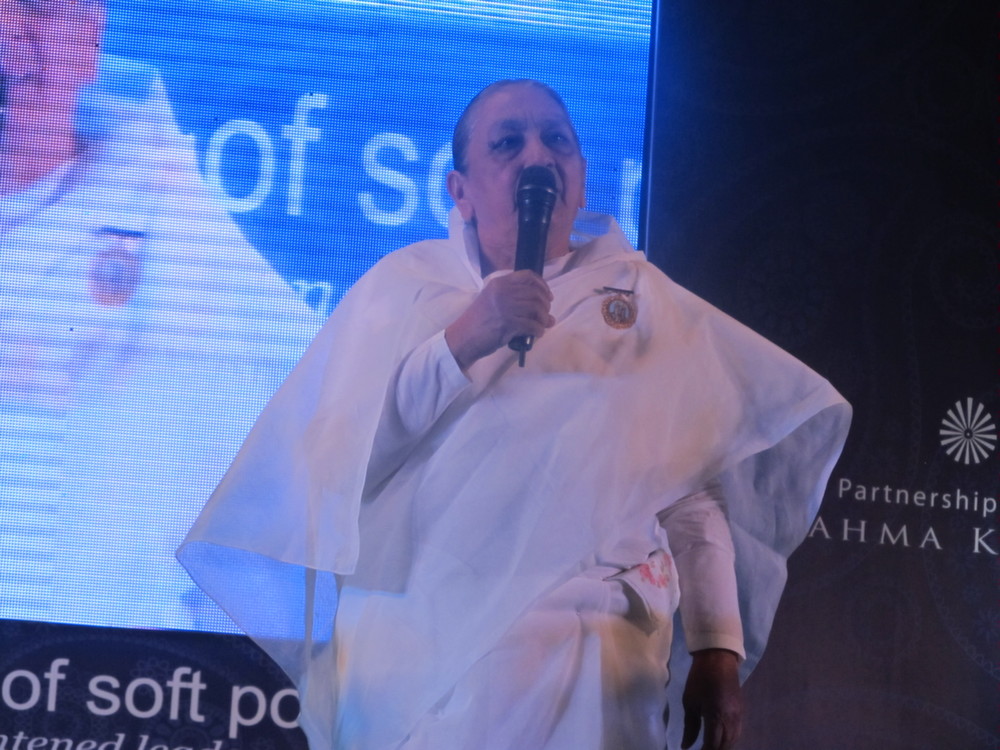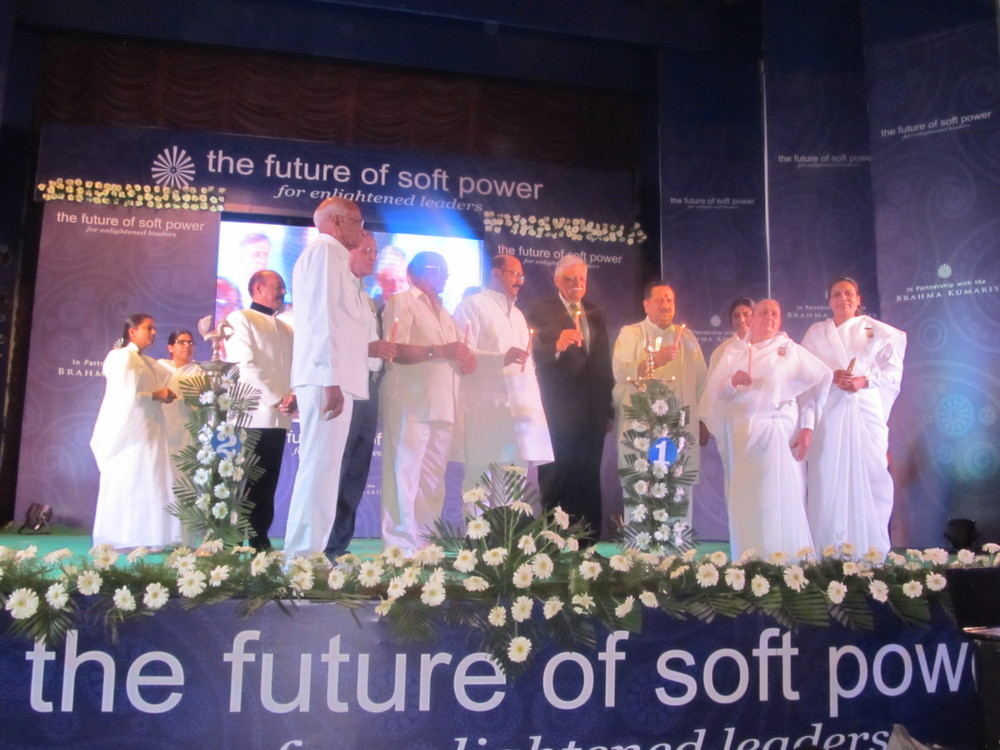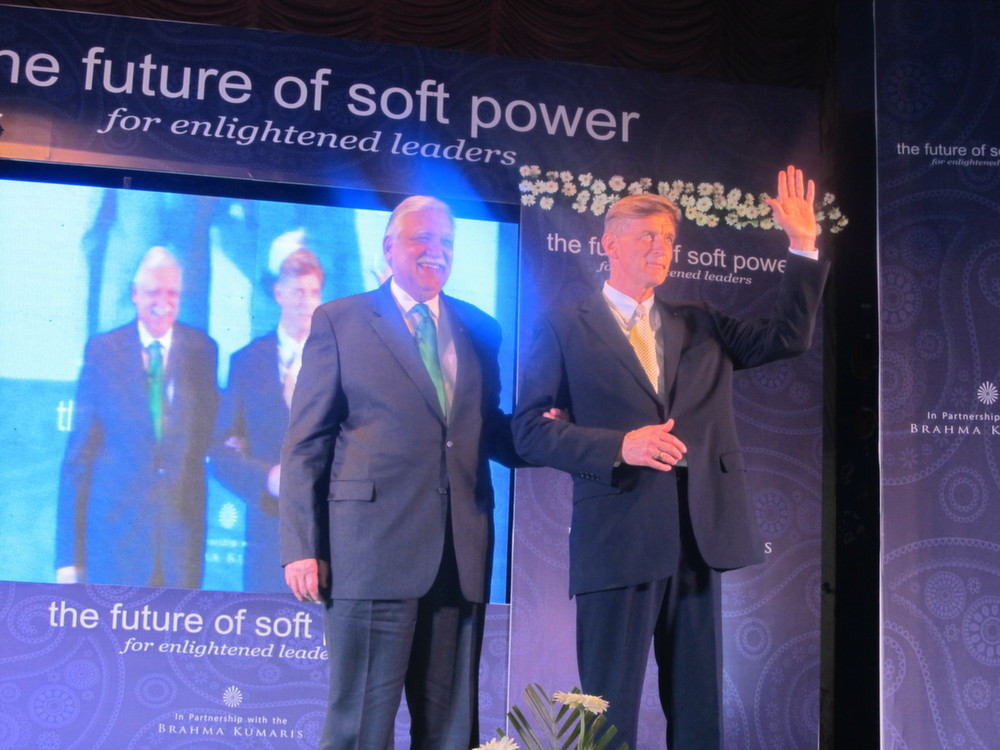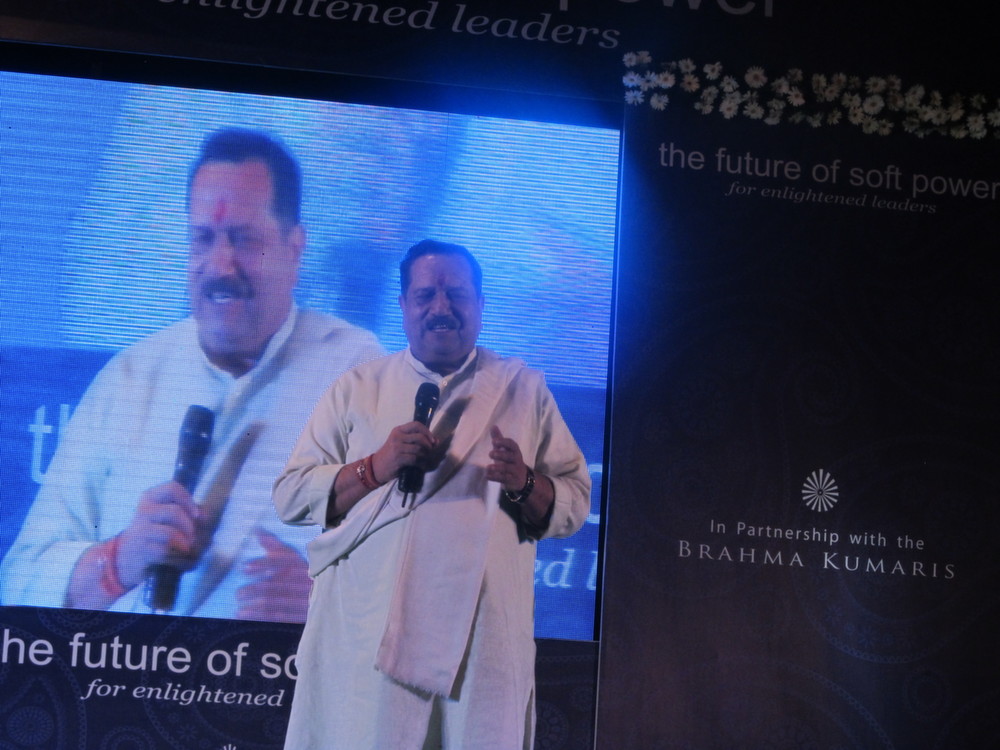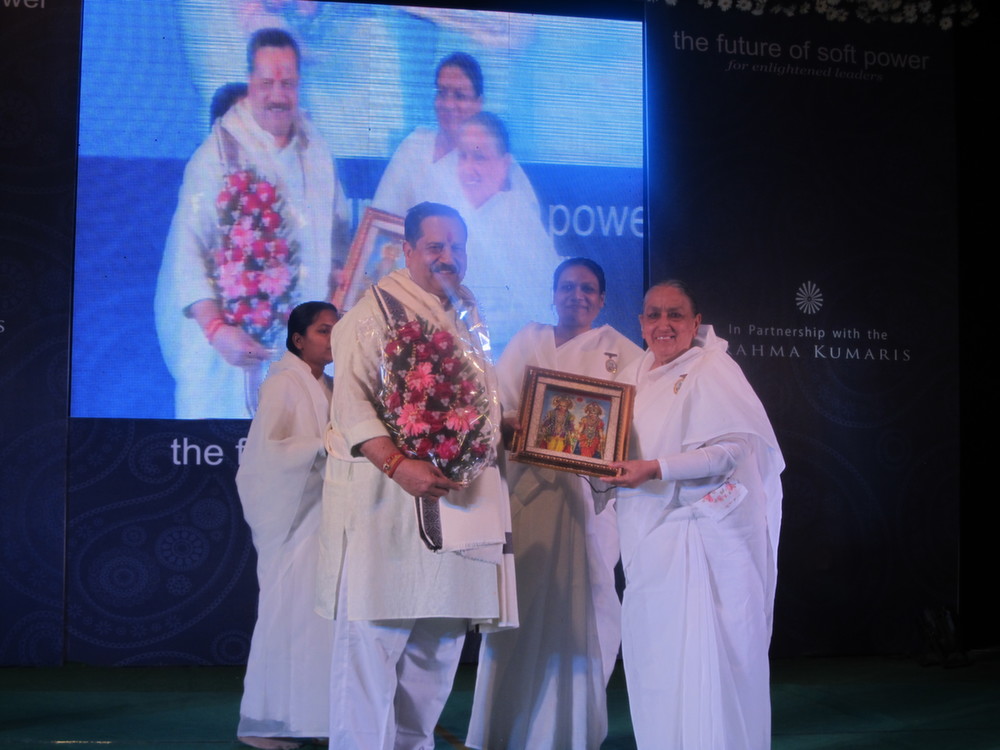 Greetings to New Health Minister of India - Mr J P Nadda in Bilaspur (HP)
21 November 2014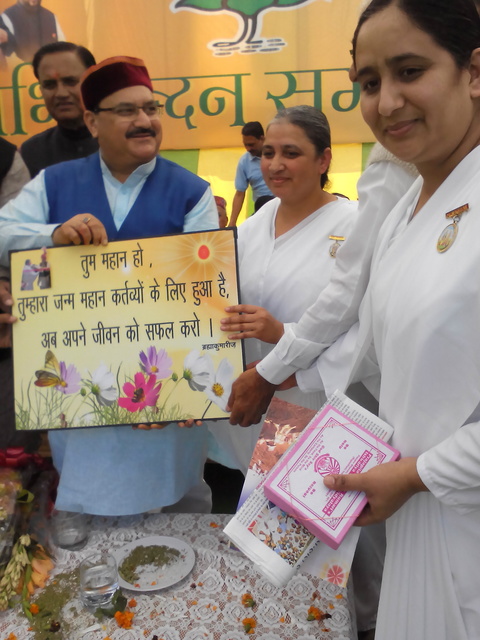 Chief Guest of Guwahati High Court - Mr. K. Shreedhar Rao visits Brahma Kumaris
21 November 2014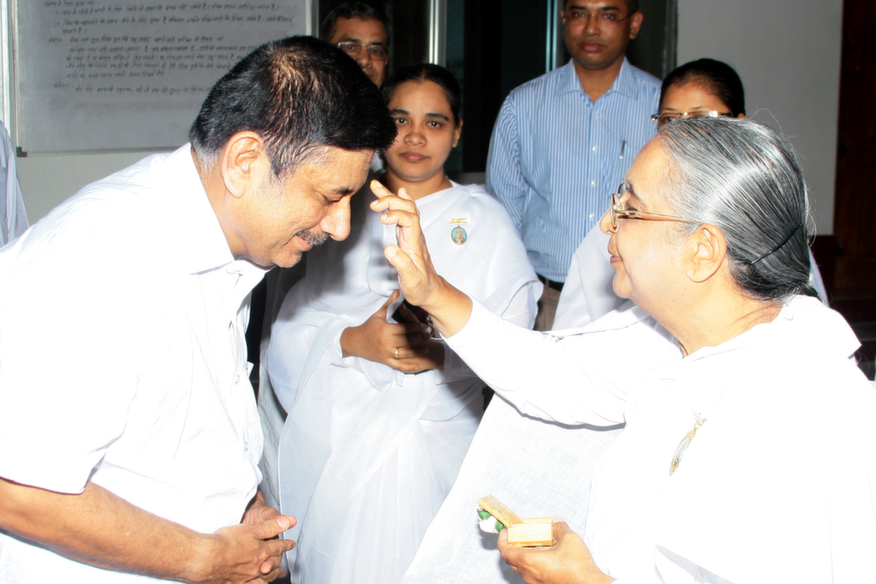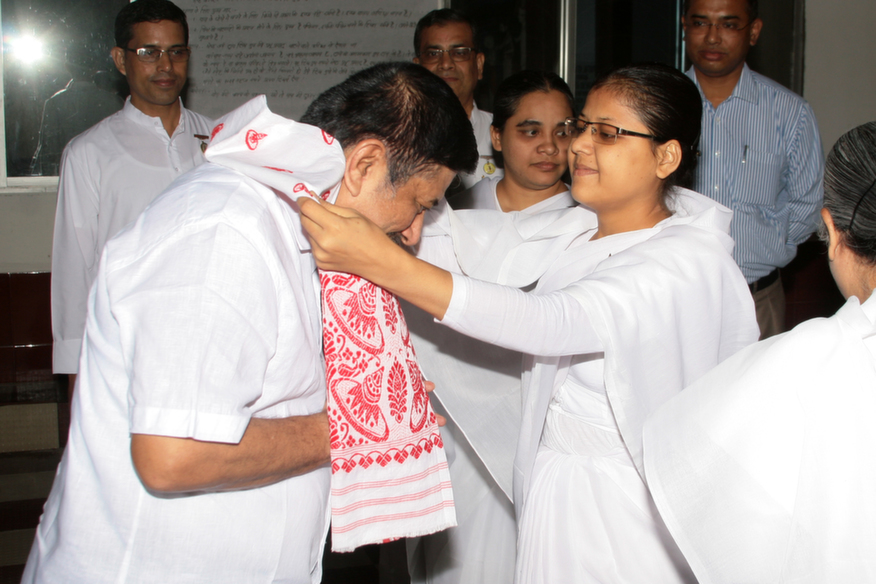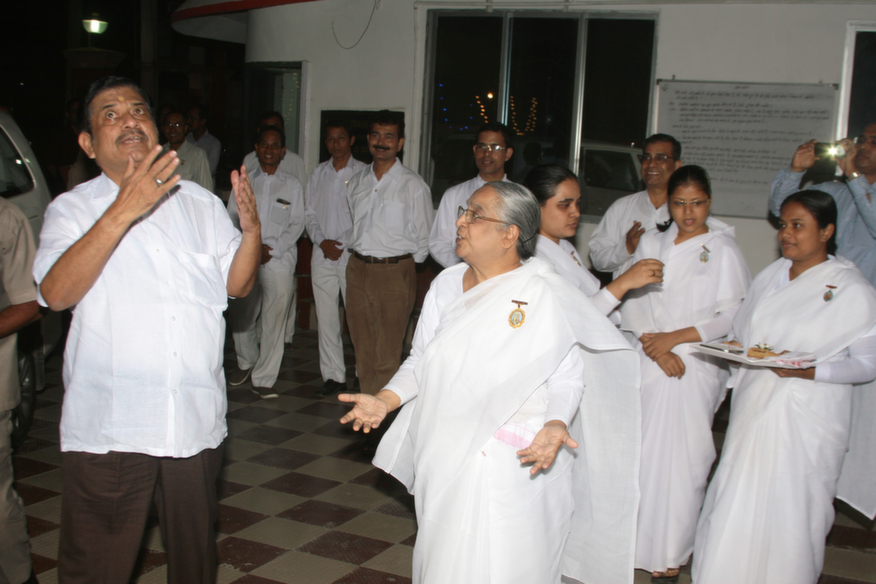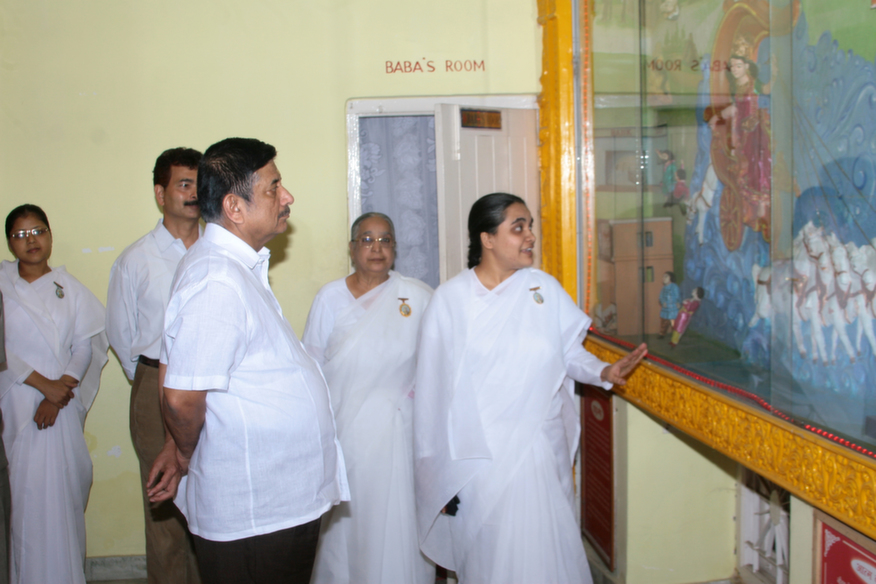 Governor of Goa, HE Mridula Sinha, visits Panaji (Goa) centre
20 November 2014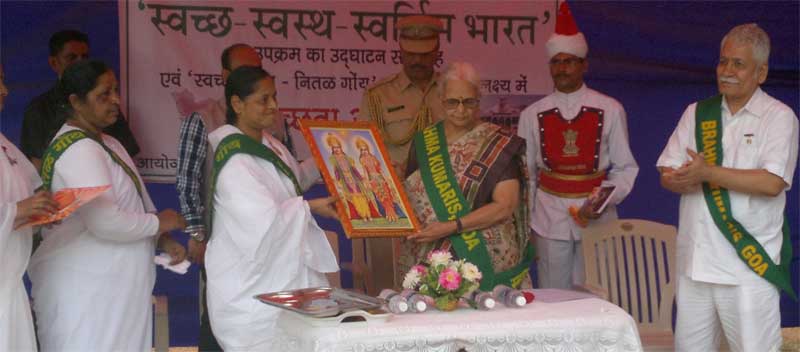 Panaji, Goa: Attached photographs show Hon'ble Governor of Goa Ms. Mridula Sinha at a programme held as part of 'Svachh Bharat Abhiyan' in the city on Sunday. The Governor visited Baba's centre at Mala (Panaji), participated in group meditation on the occasion of 'World Day of Remembrance for Road Traffic victims', and then addressed a gathering of around 300 BKs.
The event was held in the distinguished presence of Shobha bahen, Surekha bahen and B. K. Prakash Talathi (Mumbai).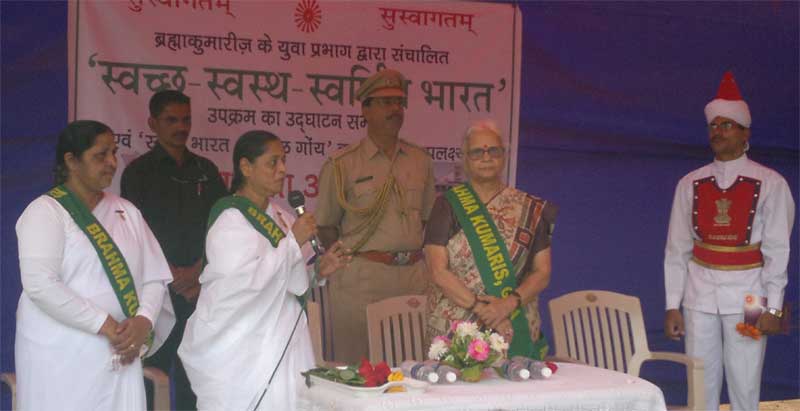 Inspirational Retreat for Scientists to Take Place at New Sonipat Retreat Centre
20 November 2014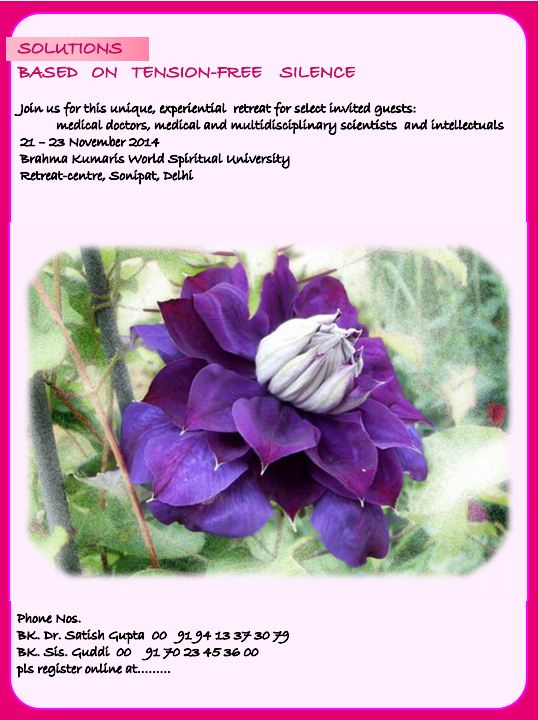 Click on the above image to view the full report.

Imphal, Manipur - Shipping & Aviation Wing holds "Linking Hearts" Conference
17 November 2014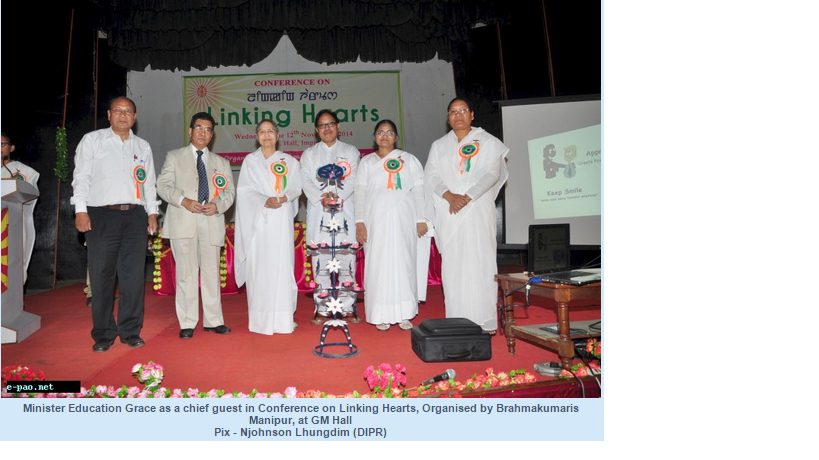 Source: The Sangai Express
Prajapita Brahma Kumaris Ishwariya Vishwa Vidyalaya, Imphal Centre conducted a conference under the theme, "Linking Heart" at GM hall on 12th November.
Works Minister Dr Kh Ratankumar and Shipping Aviation Tourism Wing National Co-ordinator Rajyogi Brahmakumari Meera were the chief guest and special guest of the conference respectively.
Shipping Aviation Tourism Wing Executive Secretary Rajyogi Brahmakumari Kamlesh, Senior Advocate and Bar Council of Assam, Manipur, Nagaland Chairman I Lalikkumar and Department of Psychiatry of RIMS Professor Dr RK Lenin were the guests of honour of the conference hosted by Brahmakumaris Manipur in-charge Rajyogi Brahmakumari Nilima.
Rajyogi Brahmakumari Meera, while speaking at the conference, said that there is a need to bring unity among the people of different communities.
Saying that India has many historical, natural and holy places, she expressed hope that India would become a major tourist destination in the future.
Speakers at the conference observed that the prerequisite for actual human development is absolutely missing in today's society.
As such, the current situation is uncertain, unstable, chaotic and materialistic though innovative technologies have changed the whole world into a small village, they observed.
The conference further observed that there is need to bring an end to the differences between rich and poor, leaders and followers to experience true peace, joy and love.

Dadi Prakashmani Day Program Attendance entered into World Record of India Book
13 November 2014
Brothers/Sisters,
We are pleased to inform you that on the remembrance day of Dadi Prakashmani more than 8000 teachers in India and Nepal shed light on the life of Dadi Prakashmani and more than 4 lakh people participated in the event which was entered in the World Record of India book. Head, Mr. Pawan Solanki presented the record certificate to Dadi Ratan Mohini Ji, Additional Administrative Head of Brahma Kumaris in Shantivan, Mt. Abu. Brother Mrutyunjay and Br. Gangadhar were also present at the time.
Click here below for this report in Hindi only.

Mumbai: India to be the biggest super power of this world in the 21st century! - Report on the Future of Power programmes
10 November 2014
On 1st November, an all-day Future of Power dialogue was held at the Fortune Hotel, Lechcity, Thane, Mumbai City in partnership with the Brahma Kumaris. It was attended by over 50 leaders belonging to over 15 different professions. Almost all the guests attended the full programme and were very happy. The programme was planned in well in advance so each and every event was conducted smoothly and efficiently. Thanks to the FOP Core Team for its guidance.
On 2nd November, over 1200 intellectuals of Thane, Mumbai city attended a related international event at Dr KashinathGhanekar Auditorium, Thane, where leaders from Thane shared the stage with leaders from China, France, Iceland, Italy, Kenya, Venezuela and UK.
Full report on 1st November programme with photos
Full report on 2nd November program with photos

Lucknow - Programme featuring BK Shivani and Cultural Programme by BK Russian Family Grabs Media Headlines
10 November 2014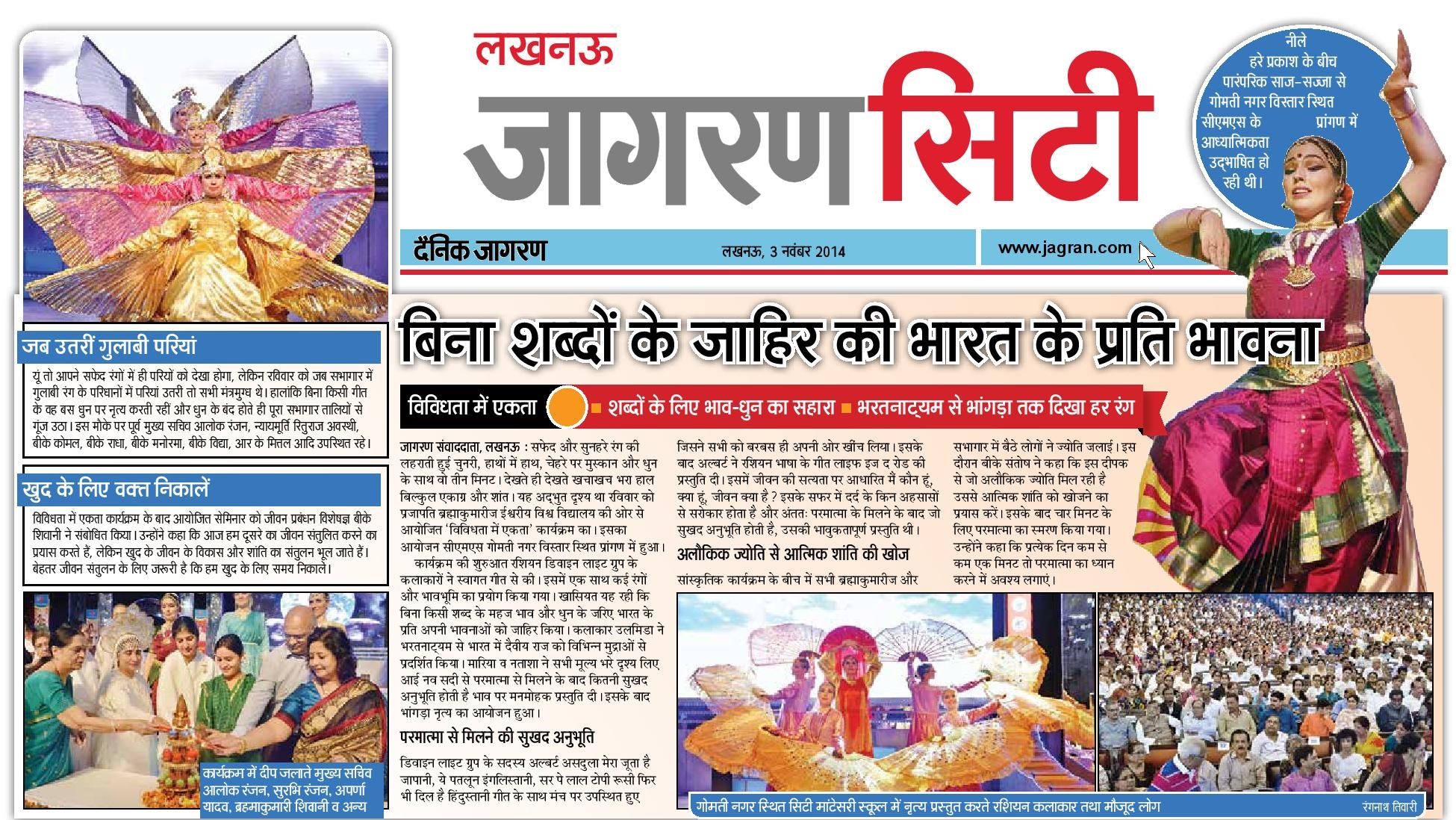 Gomti Nagar, Lucknow: BK Sr Radha writes that an evening event featuring a combination of a Russian Cultural Programme, "Unity in Diversity", put on by BK Santoshi Didi Ji & Divine Light Group as well as a lecture by BK Shivani Didi on "Balance sheet of Life" was held on 2nd November at the Auditorium of Gomti Nagar's Montessori School. 3800 visitors filled the hall and all souls watched the lecture and divine performance and experienced self realization and the power of silence through Meditation.

Mumbia - Brahma Kumaris Felicitates the new Chief Minister of Maharashtra, Devendra Fadnavis
04 November 2014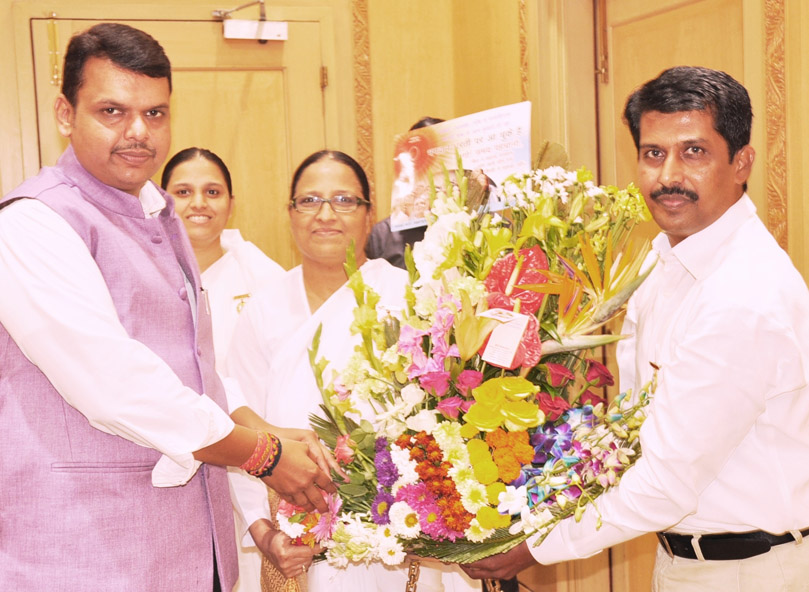 BK Sisters and Brothers greet newly appointed Chief Minister of Maharashtra Devendra Fadnavis with World Record Flower Bouquet that has been entered in World Amazing Records, Asia Book of Records in addition to 10 other world records. With this bouquet the newly appointed Chief Minister was also given a message that "God has arrived onto the Earth".

Delhi - Public Function "Restoring Respect & Honour of Women" held at Tyagraj Stadium, New Delhi
04 November 2014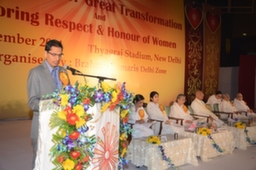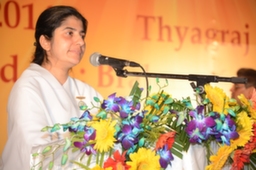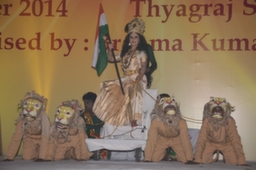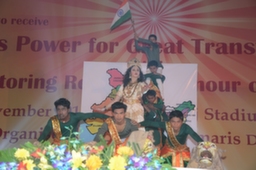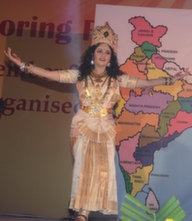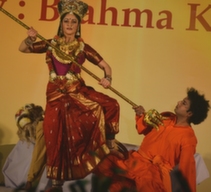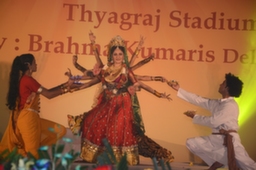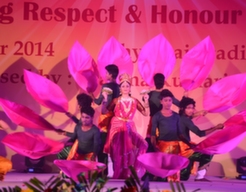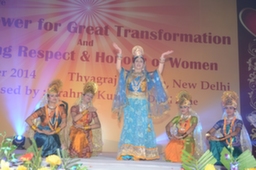 New Delhi, Nov. 2: A public program on "Restoring Respect & Honour of Women" was organized by the Brahma Kumaris institution at Thyagraj Stadium last evening.
The program was a part of institution's ongoing Project "It's Time to Receive God's Power for Great Transformation". It was addressed by several dignitaries and women leaders in the packed auditorium of the Stadium.
Nepal's Ambassador to India, Mr Krishna Prasad Dhakal, the special guest of this event, said that women were the key to any social transformation. They need proper education & inner empowerment to take the lead in bringing change to unhealthy, negative and discriminatory mindset, conditions and culture prevailing in today's society, he opined.
Rajyogini Brahma Kumari Gita, the main coordinator of the program, in giving her blessings, said that the root causes of crimes, corruption, vices and violence in society were crises of character, identity and cultural pollution abetted by our subservience to materialism, consumerism and sensuality.
She said that regular practice of spiritual wisdom, raj-yoga meditation, and a simple and positive lifestyle are highly essential to end such evils and negative traits afflicting our society.
Mr A K Purwah, CMD of EIL (the sponsoring organization) whilst addressing the function said that there was an urgent need for inner-power enhancement and capacity building among people especially in women to enable them to become agents of social transformation. In this direction, Brahma Kumaris are doing a great service, he averred.
Mr R Ravindran, Director (HR) of GAIL (another co-sponsor of the program) was Guest Speaker. He said that spiritual teachings and training were greatly needed to empower people from within and to enable them to excel in personal, professional and social life.
A Panel Discussion on "Restoring Respect & Honor of Women" was also held & addressed by Ms. Pam Rajput, Head, Center for Women Development, Punjab University; Mr Rakesh Mehta, Chief Electoral Commission for Delhi & Chandigarh; Dr Avdhesh Sharma, Eminent Psychiatrist and Rajyogini B K Asha, Director, Brahma Kumaris Retreat Center.
Rajyogini B K Chakradhari, Director, Brahma Kumaris Centers in Russia conducted the guided mass meditation and enabled the audience to experience inner peace and power.
Bollywood Actress Ms. Gracy Singh & her cultural troupe enthralled the audience with their dance-drama 'Shiv Shakti' theme; Motivational Speaker B K Shivani gave a talk on 'family values' and Rajyogi B K Brijmohan, Chief Spokesman of Brahma Kumaris delineated on institution's ongoing project "It's Time to Receive God's Power for Great Transformation".
Please see the attached press release in hindi, english and photographs.
B K Sushant
National Coordinator-Media
Brahma Kumaris Institution