Health Field News
Health Field News
Feel Well, Heal Well lounge - self care for health professionals
11 July 2020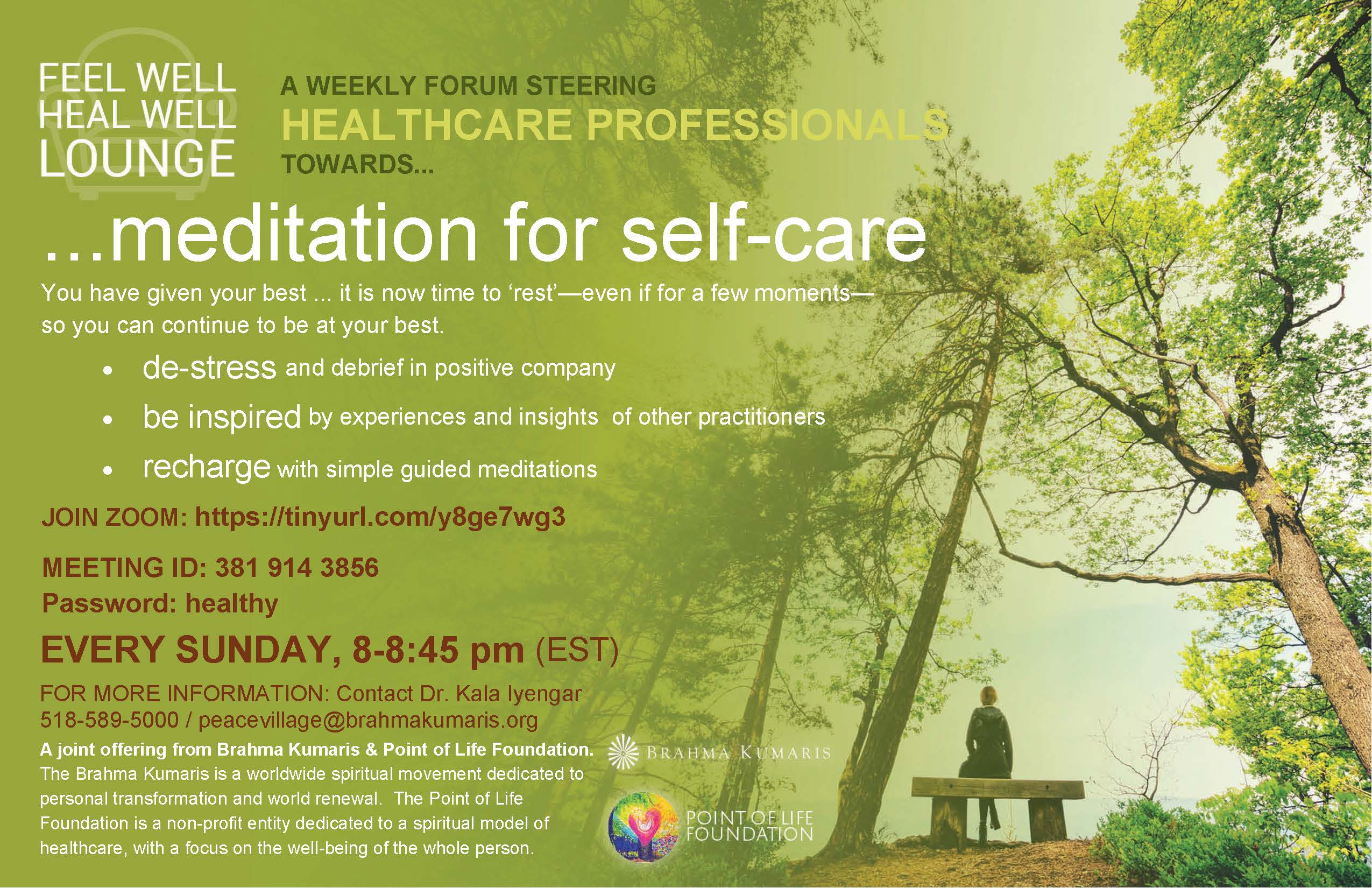 Om shanti and greetings of Satguruvar.
You must know/ remember that a couple of months ago, we had started this special service of health professionals through Sunday evening online sessions to introduce spirituality and meditation.
We have continued the same with slightly different timings - every Sunday 8:00 -8:45 PM. It is planned and delivered by a group of BK health professionals many of whom are in active medical practice and are working sincerely on this program, creating a nice appeal and impact with increasingly more focus on meditation practice.
Please download the invite and share with your contacts in healthcare who might be able to use the sustenance.
Here is a simple link for the recurring program:
To join on Zoom, please click:
Meeting ID: 381-914-3856
password: healthy
You may also want to send their contact info to us so we can keep them
informed of any changes.
Thanks and much love.
Healthcare Team

"Empowering Nurses in Times of Crisis" – Online Webinar – May 12 at 5 pm
11 May 2020
The Medical Wing of the Brahma Kumaris, Global Hospital and Research Centre, SLM Global Nursing College and School, invites you for a Life-changing Webinar on International Nurses Day on the topic "Empowering Nurses in Times of Crisis."
We are living in turbulent times. Accumulation of repeated negative and stressful incidents depletes our mind power. It is very important to take care of our minds and to stay energized during the chaotic COVID-19 times while caring for our patients. Let us come together for a live interactive webinar with BK Sister Shivani to empower ourselves mentally for combating the most challenging pandemic of our times. Let us connect and understand the simple life-changing techniques of transformation.
BK Sister Shivani, a globally renowned spiritual teacher, mentor and presenter with the Brahma Kumaris, is the speaker of the event. She has a special gift in analyzing deeply rooted emotions like stress, anger, fear and offers practical solutions and simple practices that have helped millions across the world through her talks, seminars and television programs.
Date: 12 May 2020 (Tuesday)
Time: 5.00 PM to 6.00 PM IST (India time)
Registration is a Must but Free.
Webinar Registration Link : http://www.swarnimtouch.com/bks

Serving Healthcare Professionals
11 May 2020
Dear Divine Instruments,
Om shanti and greetings. As everywhere, recent times have opened many doors for sharing what we have received from Baba and certainly, distance has been no barrier!
This is to briefly let you know that with inspirations from Sr.Mohini and many others, we have had several events in the past few weeks to serve healthcare professionals who have been in great need of help but now more so due to the present crisis. As a team of BK health professionals, most of them with current hands-on experience in patient care, we have started to have weekly on line forum and meditationsspecifically geared for them and are attaching the flyer.
Please share this widely with your contacts and BKs in the field. Also, please let us know of those who can be valuable resources to share in these forums based on integrating their personal experience of meditation and spirituality in their professional practice.
Thank you. With good wishes for all you do,
Kala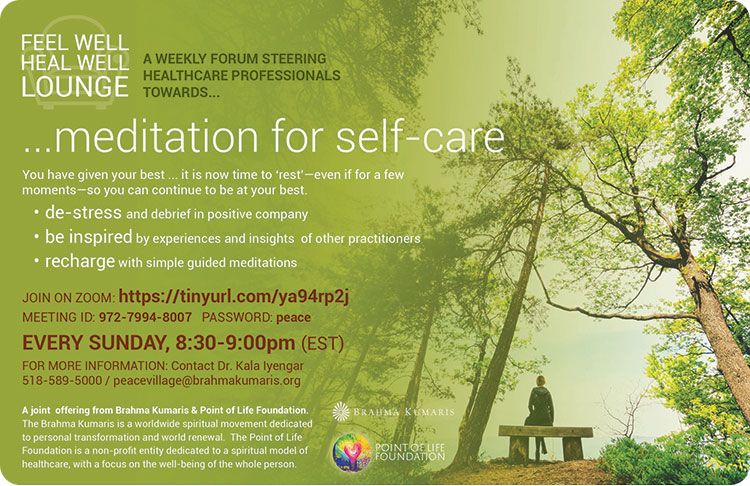 Happidote App – The New Meditation app Especially for Health and Social-Care Professionals
5 May 2020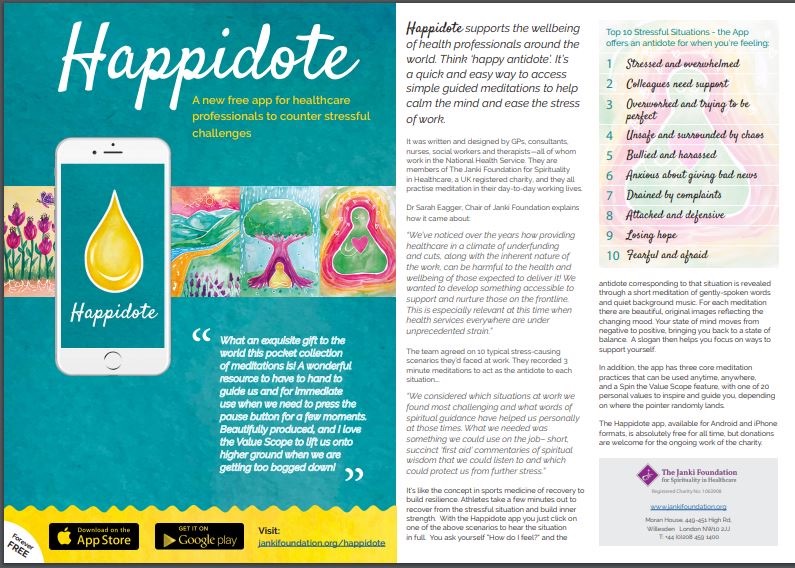 At this time of particular pressure on healthcare systems around the world, we wish to remind you of Happidote, the new meditation app especially for health and social-care professionals. Carers would also benefit. The app is free. A short video capturing the highlights of the launch can be found on the Janki Foundation website:
https://www.jankifoundation.org/janki-foundation-launches-happidote/
Happidote supports the wellbeing of health professionals around the world. Think 'happy antidote'. It's a quick and easy way to access simple guided meditations to help calm the mind and ease the stress of work.
It was written and designed by general practitioners (GPs), consultants, nurses, social workers and therapists—all of whom work in the National Health Service. They are members of The Janki Foundation for Spirituality in Healthcare, a UK registered charity, and they all practice meditation in their day-to-day working lives.
Dr. Sarah Eagger, Chair of the Janki Foundation, explains how it came about:
"We've noticed over the years how providing healthcare in a climate of underfunding and cuts, along with the inherent nature of the work, can be harmful to the health and wellbeing of those expected to deliver it! We wanted to develop something accessible to support and nurture those on the frontline. This is especially relevant at this time when health services everywhere are under unprecedented strain."
The team agreed on 10 typical stress-causing scenarios they had faced at work. They recorded 3-minute meditations to act as the antidote to each situation ….
"We considered which situations at work we found most challenging, and what words of spiritual guidance have helped us personally at those times. What we needed was something we could use on the job – short, succinct 'first aid' commentaries of spiritual wisdom that we could listen to and which could protect us from further stress."
It's like the concept in sports medicine of recovery to build resilience. Athletes take a few minutes out to recover from the stressful situation and build inner strength. With the Happidote app you just click on one of the above scenarios to hear the situation in full. You ask yourself "How do I feel?" and the antidote corresponding to that situation is revealed through a short meditation of gently-spoken words and quiet background music. For each meditation there are beautiful, original images reflecting the changing mood.
Your state of mind moves from negative to positive, bringing you back to a state of balance. A slogan then helps you focus on ways to support yourself. In addition, the app has three core meditation practices that can be used anytime, anywhere, and a Spin the Value Scope feature, with one of 20 personal values to inspire and guide you, depending on where the pointer randomly lands.
The Happidote app, available for Android and iPhone formats, is absolutely free for all time, but donations are welcome for the ongoing work of the charity.
We hope you will share the news of Happidote with your colleagues to help support them through this difficult time. Please encourage people to post ratings and reviews on the App store or our website – feedback will help us greatly with any further development.

Brahma Kumaris Offer Isolation and Quarantine Units with 1000 beds
2 April 2020
SOURCE: http://bkdailynews.org/brahma-kumaris-offer-isolation-and-quarantine-units-with-1000-beds/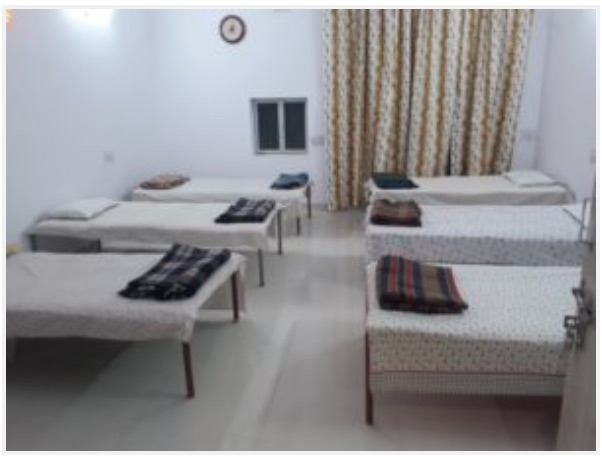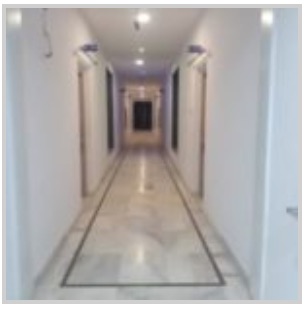 Mount Abu ( Rajasthan ): Brahma Kumaris Offer Voluntary Assistance To State Administration During Corona Epidemic.
Brahma Kumaris at its International Headquarters in Mount Abu prepared 1000 beds to serve as isolation and quarantine units to help the state government in dealing with the epidemic of Corona Virus.
Dr. Ravindra Kumar Goswami, SDM, gave this information to the media people. He apprised the people about the voluntary assistance being offered by the Brahma Kumaris to the State government for relief to the patients of this epidemic. This fully equipped isolation ward with beds has been set up at Brahma Kumaris Mansarovar complex situated on Sirohi Road, Kiwarli village.
Dr. Goswami, further said that this voluntary assistance by Brahma Kumaris should not only be appreciated but also imitated by others. It is a shining example of coming forward to share social responsibility in a time of crisis.
Various Allopathic, Ayurvedic and other physicians, health workers and nurses have been asked by the district administration to offer their services in these isolation units.
News in Hindi:
अन्तराष्ट्रीय आध्यात्मिक संस्था ब्रह्माकुमारी संगठन ने तैयार किया 1000 बैड का आईसोलेशन
माउंट आबू: अन्तराष्ट्रीय संस्था प्रजापिता ब्रह्माकुमारी ईश्वरीय विश्व विद्यालय की ओर से महामारी के रूप में विश्व भर में फैल रहे कोरोना वायरस से बचाव को लेकर प्रशासन की ओर से 1000 बैड का आईसोलेशन तैयार किया गया। यह बात उपखंड अधिकारी डॉ. रविंद्र कुमार गोस्वामी ने मीडियाकर्मियों से मुखातिब होते हुए कही।
उन्होंने कहा कि प्रजापिता ब्रह्माकुमारी ईश्वरीय विश्वविद्यालय ने कोरोना वायरस संक्रमण की रोकथाम को आगे आकर प्रशासन को सहयोग दिया। जिसके तहत शान्तिवन तलहटी के पास सिरोही रोड पर किवरली गांव में मान सरोवर परिसर में अत्याधुनिक आईसोलेशन तैयार किया गया है। जो संभवत: राज्य में पहला उपखंड होगा जिसमें कोरोना वायरस से बचाव को लेकर अत्याधुनिक सुविधाओंयुक्त आईसोलेशन तैयार करने की पहल की गई है।
उन्होंने कहा कि ब्रह्माकुमारी संगठन द्वारा की गई यह पहल अपने आप में सराहनीय ही नहीं अनुकरणीय भी है। महामारी के प्रकोप से बचने के लिए ऐसी कठिन परिस्थितियों में आगे आकर सहयोग प्रदान करने का मानवीय पहलू का एक ज्वलंत उदाहरण है।
इस राष्ट्रीय आपदा के लिए आवश्यकता पडऩे पर प्रशासन हर तरह से तैयारियों में जुटा हुआ है। कोरोना वायरस से बचाव को लेकर आईसोलेशन में 1000 बैड तैयार किये जा चुके हैं। जिसके लिए उपखंड क्षेत्र में स्थित ऐलोपैथी, आयुर्वेदिक व अन्य पद्यतियों के चिकित्सकों, स्वास्थ्यकर्मियों, नर्सिंग कॉलेज, स्कूल के विद्यार्थियों को आवश्यकता पडऩे पर आइसोलेशन में सेवायें प्रस्तुत करने के लिए निर्देशित किया गया है।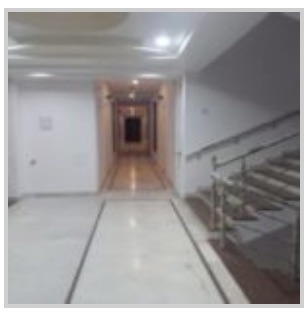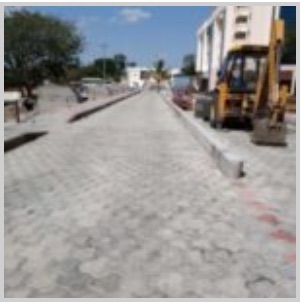 Message from the Janki Foundation re: Dadi Janki
30 March 2020
Click here to download PDF document with additional links.

Launch of 'Happidote' - Free Mobile App Meditation for Healthcare Professionals
17 February 2020

Dear Friends,
We are very pleased to announce the launch of our forever Free Mobile Application "Happidote" - this is primarily aimed at healthcare professionals but can be used by any professional under stress. There are 10 stressful scenarios with short antidote meditations to help soothe you with words of wisdom. Please share the app with your friends, family, colleagues and networks and kindly rate the App on the App store - it helps to spread the word around!
Thank you. Very best wishes for 2020.
From,
All at The Janki Foundation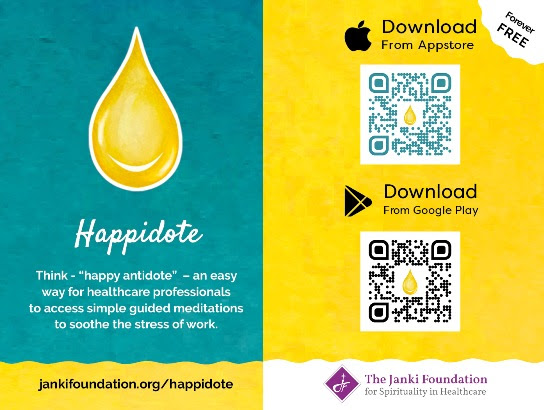 Download on AppStore:
https://apps.apple.com/gb/app/happidote/id1465567798
Download on Play store:
https://play.google.com/store/apps/details?id=com.happidote&hl=en_GB
https://www.jankifoundation.org/happidote/

2020 Health Field News Archive
2019 Health Field News Archive
2018 Health Field News Archive
2015 Health Field News Archive
2014 Health Field News Archive