2019 Health Field News Archive
2019 Health Field News Archive
Janki Foundation to Host Special Event 'Shining Light on Death' on 21 September in Leicester
13 August 2019
Dear Friends,
With the very successful one day event held last year in July, in London (GCH), a similar one day is being held in Leicester, jointly organised by the Janki Foundation and Brahma Kumaris Leicester - 'Shining Light on Death' on 21 September 2019. Please see e-flyer below (with attached PDF). Admission is free but registration is required as places are limited.
We also invite you to join the JF mailing at https://www.jankifoundation.org/join-mailing-list/ if you are not already on so that you are kept informed of the Foundation's activities and new developments.

Thank you.
With all good wishes
Bhavna Patani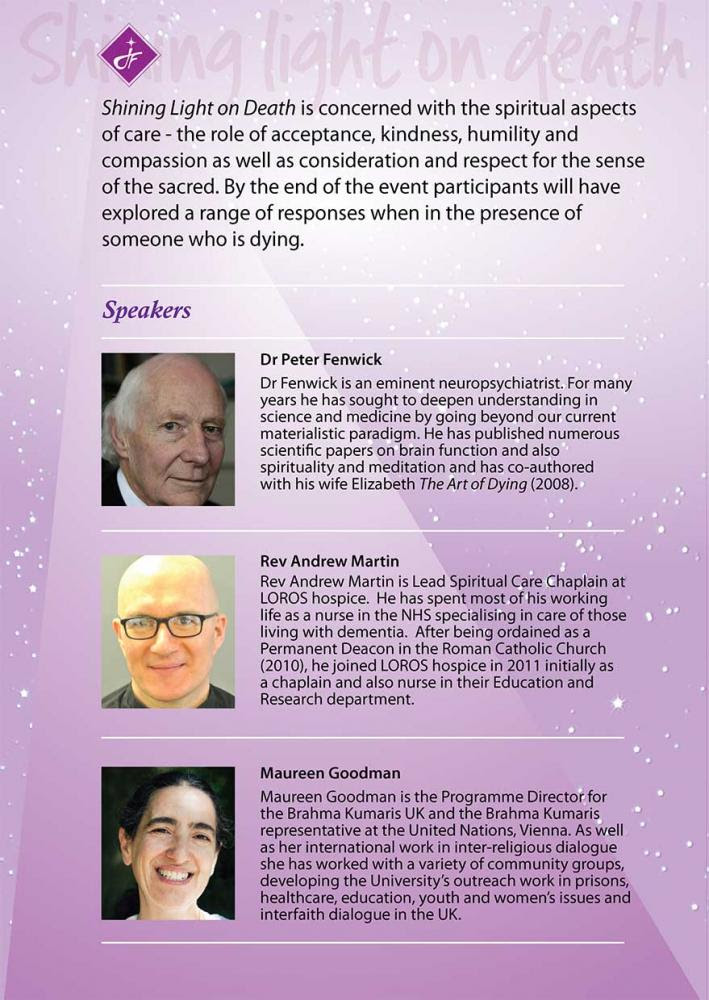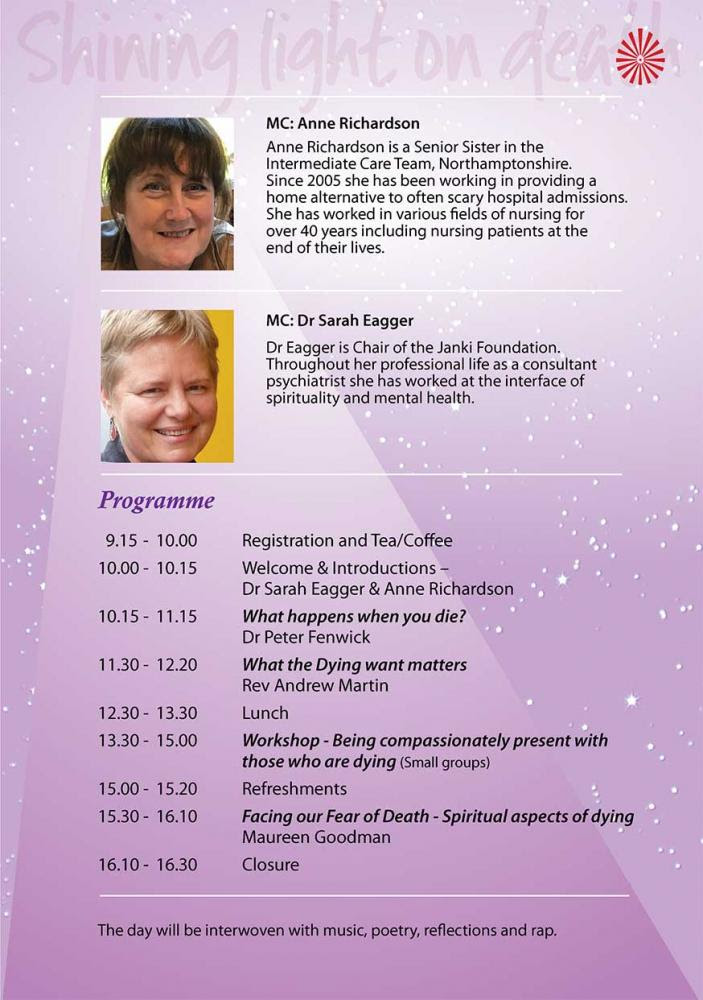 NEWS Bulletin from the Janki Foundation: Video links for 'Shining Light on Death... Creating a Sacred Space' held in November 2018 AND forthcoming Workshop Dates
20 February 2019
GOODBYE, SORRY, THANK YOU and I LOVE YOU' is a summary of the complex negotiations that a dying person may engage in when consciously letting go.

The news reports and video links for the event are now on our website under the news page. Please feel free to pass this news on to colleagues, family and friends who may be interested.
We are also pleased to inform you that based on the feedback from participants attending the Shining Light on Death events last year, our forthcoming events are continuing with the same theme. Workshops on 'The Sacred Journey' are being organized for those interested in further exploring the subject of death in smaller groups. The dates for the two afternoon workshops are Saturday 13th April and Saturday 15th June 2019. If you are interested in attending, please SAVE THE DATES in your diaries. Details of the workshops including how to register will be sent out in due course.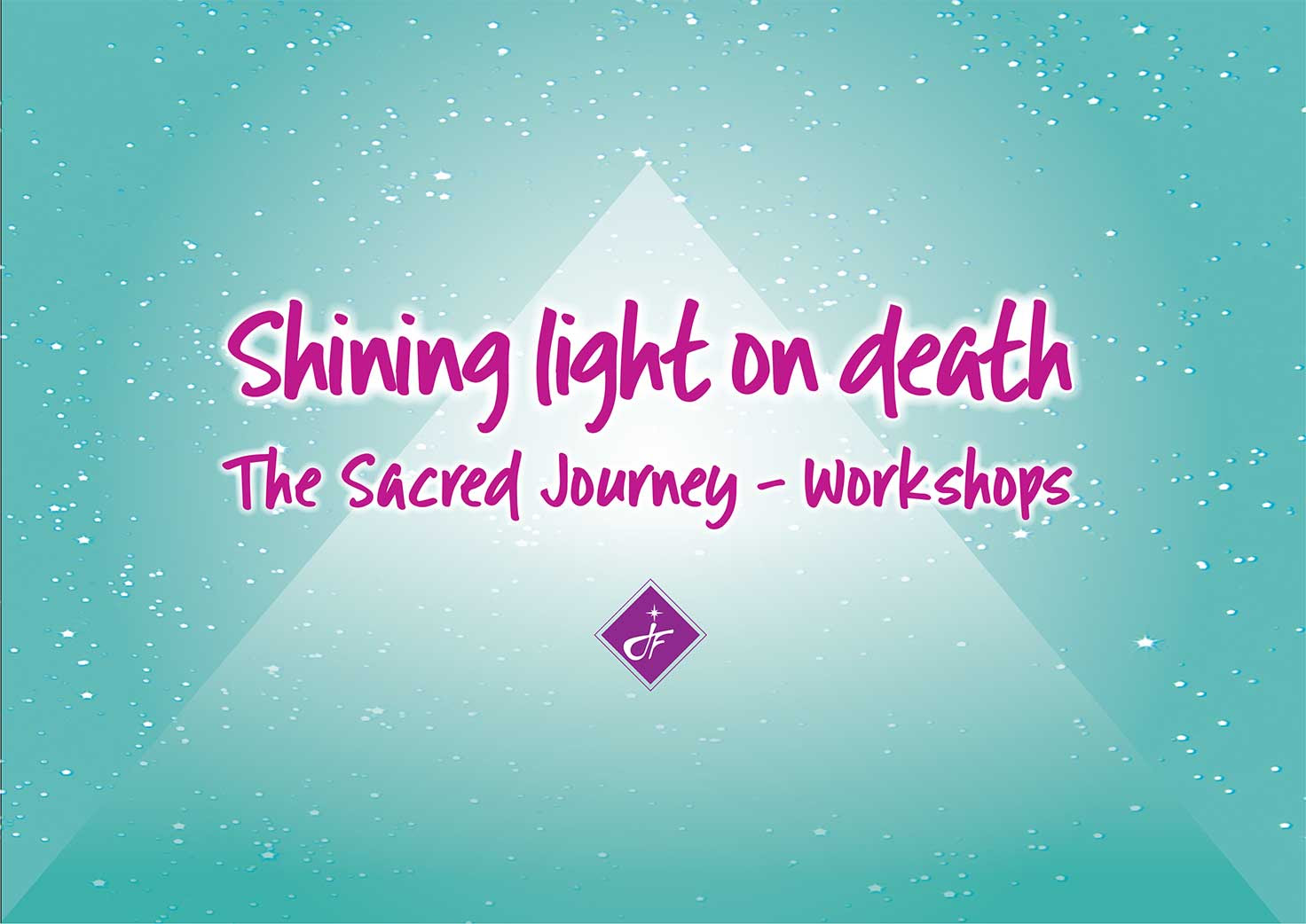 Meditation for Medics, Mums & Dads - See latest news of regular meditation sessions held at Queen Charlotte's and Chelsea Hospital and St Mary's Hospital.
One of the main aims of the Foundation is to give regular support to the Global Hospital & Research Centre, a unique hospital situated in Mount Abu, Rajasthan, India. The hospital's work has grown exponentially over the last 27 years. The latest annual report for the hospital can be found on our website.
The Values in Healthcare: a spiritual approach programme, a personal and team development programme for healthcare practitioners, is moving forward leaps and bounds in India with facilitators being trained from all states to cope with the demand for the programme.
The Foundation's work was featured in the December 2018 issue of the YOGA Magazine. We thank the Martin Gill, Assistant Editor, YOGA magazine, for giving us this opportunity. See the article and cover page on our website.