Transitions
Transitions
News of Kanwal bhen of Coventry
2 December 2022
Dear Brothers & Sisters,
Tribute to Kanwalben, of Coventry, who flew to Baba on Friday 18th November.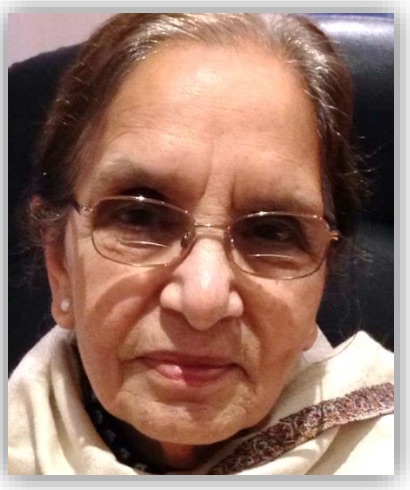 Kanwalben's life, in the words of her close family members:
Kanwal Kant Bajaj 01/05/1941 - 18/11/2022
Born in 1941, she grew up in Lyallpur and lost all of her family during the partition as they all migrated to India. The family drank from a well during a break on their train journey from Pakistan to India. It later transpired that the water had been poisoned. Only her (aged 4-5 years old) and her elder sister (6-7 years old) survived. They were adopted by two separate families in India (still uncles in the same family).
She grew up in Delhi in India in a Sikh family. She studied in school/college up until she got married at the age of 17. She studied Hindi in detail and often spoke about enjoying Economics. The family initially lived in Bharganj and later lived in Roopnagar and then Model Town in Delhi. The family sold motorcycle parts and were fortunate to do well in this business.
She got married in 1959 to Krishan Lal Bajaj, a highly skilled motor mechanic. They moved to Afghanistan in 1960 for two years as her husband got a job with The British embassy in Afghanistan. Her husband was able to move his job to England and the family later moved to Coventry, England in 1963. The family worked hard, bought and sold two houses in England and decided to pack their bags and drive back to India in 1968 and set up in Delhi. Business in India was difficult and with the children becoming unwell, the family soon came back to England in 1969.She had three sons and one daughter, and 9 grandchildren. She lived happily in Coventry, and helped the family set up a motor parts shop and a small grocery shop in the 1970s. The motor parts shop has continued to this day. In 1995, the family set up a radio station in Birmingham. She helped raise all 9 grandchildren who are all very fond of her and love her dearly. She used to drive everywhere and was an independent lady. The grandchildren have very fond memories of her dropping them all to school every morning when she used to sing and teach them religious prayers.
She was known for being very peaceful, calming and always very approachable. You could talk to her about anything and she would help you form a rational solution. She only ever taught us good morals and always told us to never hold a grudge. She always told us to see the good in people and always gave us the strength to pursue our goals. She was such a loving and caring person that taught us how to work together as a close family and to this day we are an extremely tight-knit family that are united on everything.
She joined the BKs approximately 20 years ago and was first introduced by Kantaben, when she met her at Stoney Stanton Road Mandir in Coventry. She was very committed to the Brahma Kumaris. Sometimes, Shivam, her grandson, would come home and she would be writing essays in Hindi about the murli for that day. Shivam used to laugh with his grandma and say "She is studying more than I did for my degree!" She would log on to zoom on her iPad three times a day and really enjoyed her time with her BK family.
She had been living with a lung condition for quite a few years, which made her quite breathless, but apart from that she was fit and well. In December 2021, she started to become more breathless even when walking, but her quality of life remained good, except she had to reduce her 1-hour long walks.
The lung condition gradually increased over the next few years, and in recent months she needed to use oxygen bottles to keep her mobile. Despite the difficulties, Kanwalben was very determined and pushed herself to go for walks outside, as much as she could, up until the final few weeks. She still had a good quality of life, continued attending BK classes on zoom and joined in on some visits to the Leicester Centre when she could.
In early November 2022, the disease really progressed and she was breathless even when just standing. She stayed in hospital for one week and was a true fighter until the end. Two days before her passing, she was still communicating and attended her BK class on zoom. On the penultimate day the consultant advised that they couldn't do much more. She passed away very peacefully in her sleep on Friday 18th November 2022 at approximately 9:38am. She was at peace with her loving family around her.
Memories shared by the BK's of Coventry
For many years, and when the Coventry centre was functioning, Kanwalben attended the murli very regularly, would often help in the kitchen and bring provisions. She also brought her grandchildren along and they would sit happily in the front room playing and reading while grandma listened to the murli.
The night before she passed on, her family called Jayantibhai to come to the hospital and he was able to read Kanwalben the latest Avyakt Revised Murli of the season. When Kanwalben came to the BKs she became part of her spiritual family with her whole heart. However she in no way moved away from her own family, in fact she integrated the two aspects of her life in a very beautiful way. She taught us many things, but especially the lesson of humility and true family values.
(The family adds that if anyone else is going through or has been diagnosed with Idiopathic Pulmonary Fibrosis they would be happy for you to contact them and discuss all the western and Ayurvedic approaches they used to help their grandma. Shivam's phone number is 07872 634 807.)
She has moved on now and Baba will surely be holding her and her whole family close as she continues on her journey. We know that Kanwalben is with Baba, protected by Baba's loving drishti.
With love,
In Baba's yaad,
BK Jayanti

News of Lataben Nehra of Nottingham
27 November 2022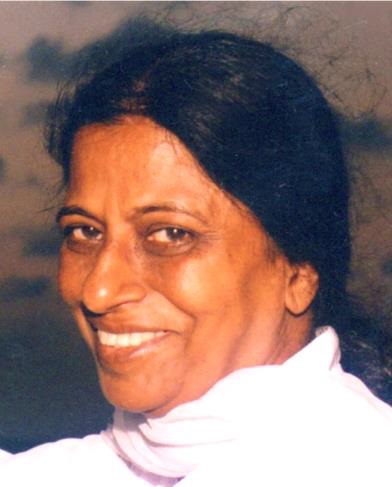 Dear Divine Family,
BK Lataben Nehra of Nottingham peacefully flew to Baba on Thursday 17 November 2022 at 3.08 am. She passed with love, surrounded by her family. Lataben had been suffering from Parkinson's disease and had sustained serious fractures following a fall. She was 82 years young. Lataben was born on 26 February 1940 in Mombasa, Kenya to her parents Vidya Wati Dosaj and Raj Gopal Madan Dosaj. She had 6 siblings: 3 brothers and 3 sisters.
Lataben started school at 5 years old attending a convent school, 'The Star of the Sea School' run by the French 'Our Lady of Africa' Catholic sisters, also called 'The White Sisters'. Lataben loved school and was very bright. She wanted to be the best in her class and excelled at whatever she put her mind to, whether it be academic study or sports. Lataben passed the Senior Cambridge Certificate which is equivalent to GCSEs today and then went on to do a Teacher's Training Course for 2 years. After completing this she went on to become a teacher at a girls' school in Mombasa called Mabini Girls School. She was popular among her colleagues and students.
In 1960 Lataben's father passed away and shortly afterward her elder sister, Devi arranged Lataben's marriage to Kewal Krishen Nehra who lived in nearby Kisumu. They were married in 1963 and lived in Kisumu, Kenya. Lataben taught at the Gujarati Girls School and the M.M. Shah School in Kisumu. In June 1966 Lataben gave birth to her eldest daughter Meera and a few years later, in April 1970, her second daughter Mamta was born.
Following Idi Amin's decree to expel all Ugandan Asians, In October 1970, Kewalbhai and Lataben decided to emigrate to Nottingham where the Nehra family had settled. Here they both worked tirelessly to build a new life. Lataben obtained a teaching position in North Nottingham at Butlers Hill Nursery and Infant school, catching three buses to get there (along with her youngest daughter in tow who she enrolled in the nursery there). It was a difficult time as many parents from this working-class mining community did not want a person of colour teaching their children. Lataben overcame their resistance and taught there for a few years. She continued her studies whilst also raising a young family.
She then moved to a school much nearer home, Collygate School Primary in the Meadows area of Nottingham, and after a few years moved to her final school, Edna G Olds School in Lenton, Nottingham. Lataben was passionate about her work and strongly believed in helping families in these inner-city communities. She dedicated 30 years of her life to teaching before retiring in the mid-1980's.
During this time Lataben was introduced to the Brahma Kumaris via Anjanaben from Nottingham who held Friday evening gatherings at her home. Here Brahma Kumaris from nearby Leicester Centre would attend and share Baba's knowledge. Lataben was hooked and from that point dedicated the rest of her life to serving Baba. Her husband Kewalbhai followed in her footsteps a few years later and together they opened and managed Nottingham Centre.
Lataben was instrumental in sharing Baba's knowledge with the City of Nottingham. She built a network within the community at the highest levels including the Mayor and Sheriff of Nottingham and the Director of Nottingham County Council. Through these relationships, she gained support and involvement to successfully launch a number of campaigns to promote Baba's knowledge. Amongst the projects she got involved in was the global campaign " the Million Minutes of Peace Appeal", as well as conferences organised for Senior Police Officers, Council Leaders, and other professionals across the City.
Lataben was very passionate about serving souls, giving them courses, and inviting them to the centre for spiritual sustenance. She used to hire the town hall and other venues for public events with Dadi Janki, Sr Jayanti, and Sudesh Didi. Especially during the Rakhi month, she would prepare many personal invitation cards for posting to VIPs, IPs, and those in contact to attend in person and share Brahma Bhojan with them. Lataben would do the same during Christmas celebrations. She also started prison service in Nottingham and she used to conduct meditation at the International Yoga Day gathering.
Lataben touched many people's lives and helped so many people in their time of need. She was a hardworking, determined, tenacious, innovative soul who was a role model to many. Even during her illness and the last few days of her life, she never stopped serving Baba, sharing his message with the other residents at the Care Home she was living in. Lataben devoted her life to Baba and is now at peace sitting in Baba's lap.
The funeral for Lataben will take place on:
Tuesday 29 November 2022 at 10 am
Wilford Hill Crematorium, Loughborough Road, West Bridgford, Nottingham NG2 7FE
Brahma Bhojan will be served at Harmony House, Leicester Centre at 1 pm.
There will be a live webcast of the funeral service at:
Username daji4493
Password 604366
We send our good wishes in Baba's remembrance to Lataben and her family.
With love,
In Baba's yaad,
Sr Jayanti
Click here to download in PDF

News of the Passing of Brother Anand of Edison, NJ
30 October 2022
Om shanti and greetings of peace.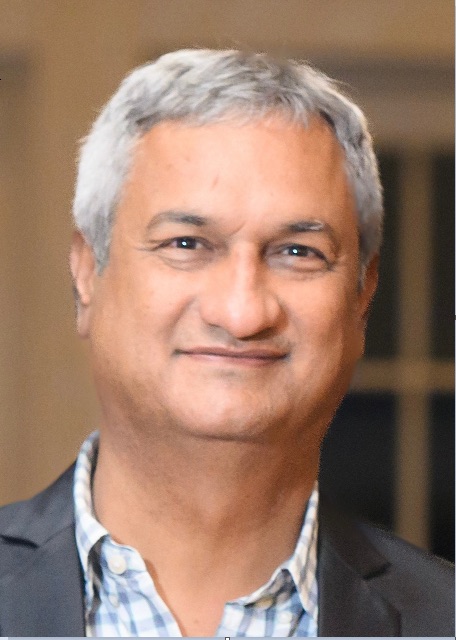 Drama is truly testing how ready we are to courageously face all the unimaginable uncertainties that are coming at us during this time.
Our beloved and sweet brother Anand bhai Chanchlani (yugal of Henna behn, from Edison Center ) suddenly left his mortal coil yesterday around 4 pm, and flew into Baba's lap.
Anand bhai came into knowledge in 2012 and his body was 59 years old. Anand bhai was well-known by so many because of his tireless seva, whether it was in Edison, Harmony House or Peace Village. He was always ever-ready, with a beautiful smile to fulfill all of Baba's tasks.
Please inform all Centers to join us on Zoom this evening for Bhatti for Baba's most treasured Child.
Sunday, October 30, 2022
4:30 pm to 6:30 pm EST
If you are local and wish to come in person, please join us at Henna behn's residence:
18 Fordham Court
Kendall Park, NJ 08824
Or you can share your powerful drishti on Zoom:
Meeting ID: 880 7261 5283
Passcode: omshanti
https://brahmakumaris.zoom.us/j/88072615283?pwd=ZW9rQndmcklYMFlrSVhYcVR6V3BuUT09
Thank you,
In Baba's yaad,
BK Sheetal
********************************************************************************************
To honor Anand bhai, a BK student at Edison, NJ, who has recently left his body, we will gather every evening to give our good wishes to God's very special soul.
October 31 - Nov 10
7:00 pm - 7:45 pm EST
If you are local and wish to come in person, please join us at Henna behn's residence:
18 Fordham Court
Kendall Park, NJ 08824
OR
You can share your powerful drishti on Zoom:
Meeting ID: 880 7261 5283
Passcode: omshanti
https://brahmakumaris.zoom.us/j/88072615283?pwd=ZW9rQndmcklYMFlrSVhYcVR6V3BuUT09
Program will be in English. Hindi Translation will be available.
Thank you for your cooperation,
In Baba's Sweet Yaad,
BK Sheetal & Team

News of Pushpaben Sharma of Coventry
22 October 2022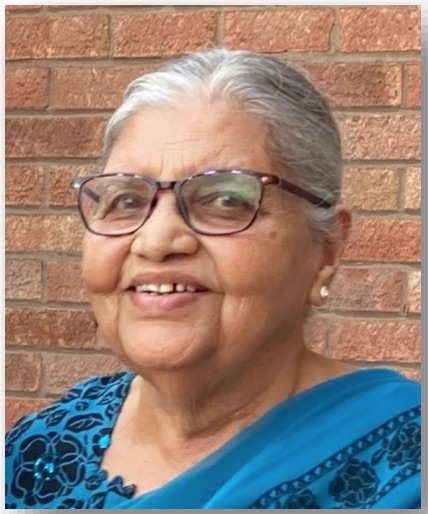 Dear Brothers & Sisters,
Pushpaben Sharma, Baba's child for 40 years, left her body on Monday 17th October. She was in her 80s. Born in India, she came to Coventry with her husband in the 60s. She took up work at General Electric Company where she soon became an inspector. It was there that she met with Shantaben Kheradia, who had recently become a BK. Once she was introduced to gyan, it became and continued to be a big part of her life.
She took on board a BK lifestyle and was a regular attendee at Murli class in Coventry. She would often join the family for outings to Leicester and other places. She would also participate when visiting teachers gave classes and would love to join the gatherings that took place at BK houses around the city. She was a strong soul, with a lot of dignity and discipline.
On Tuesday 11th October, she had a heart attack and had been in ICU. She left her body on Monday 17th October. Baba will surely be looking after this soul as she moves on to her next role.
With love,
In Baba's yaad,
BK Jaymini

Yolande Menu of Belgium flew to Baba
17 October 2022

Yolande Menu was born in Mesen, Belgium on 19th December 1924 and passed away in Ganshoren, Belgium on 8th October 2022. The funeral and cremation took place on Friday 14th October 2022 in the Crematorium of Daelhof in Zemst. The ashes will be spread in the cemetery of Ganshoren.
Yolande Menu became a Brahmin around 1990 in the BK center in Brussels. Before taking gyan she was a catholic nun who went as a missionary nun to Africa. Yolande was a very sweet and humble soul. She was always very dedicated to helping in Baba's house, and receiving guests with a lot of hospitality. She had good wishes and pure feelings for everyone.
Only in the last years when her body became too fragile she needed professional help and went to a caretaking home. On Friday, 14 October we took leave from Yolande on the physical level, but she will always stay in our memory as that subtle angel who always kept Baba's hand in her hand.
With love, Belgium family

News of Sushilaben Devalia of Coventry
11 October 2022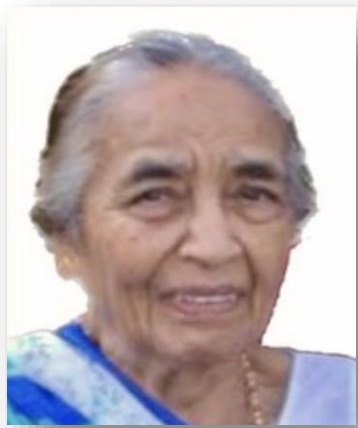 Dear Brothers & Sisters,
On Wednesday 5th October, Sushilaben Devalia passed away. She had been Baba's child for over 40 years. Along with her husband, Madhavji Bhai, she attended murli regularly for many many years and helped in Baba's service in many ways. Sushilaben was a gentle soul with a great deal of love for Baba, Baba's service and the Yagya.

Sushila Ben had five children, six grandchildren and one great-grandson. She was a devoted mother and grandmother, who paid attention to her duties to her family as well as supporting Baba's work whenever she could.

They first attended Murli at Lilaben's house, then at Rekhaben's, then in the late 80's, when the centre opened in Coventry they had their fixed seat in the class. After Madhavji Bhai passed away in December 2007, she continued to come to the centre until her health no longer allowed, but continued with her Brahmin lifestyle at home, whilst visiting the centre whenever she could and continued following all disciplines with great loyalty and faith.

Baba will surely be taking care of his special child now that she has finally moved on to her new role in the drama, and she takes with her many lovely sanskars that she filled in herself throughout her life of study and service, and she leaves us all with beautiful memories of her gentle nature, accuracy and sweetness.

Sushila Ben's funeral is on Thursday 13 October 1pm at Canley Crematorium, 180 Canley Hill Road, Coventry CV4 7DF.

The funeral will be webcast at:
Username xeqo4187
Password 403471
In Baba's yaad,
Sr Jayanti

News of Sister Conny of Australia & Germany
30 August 2022
Click on the below image to download the full document.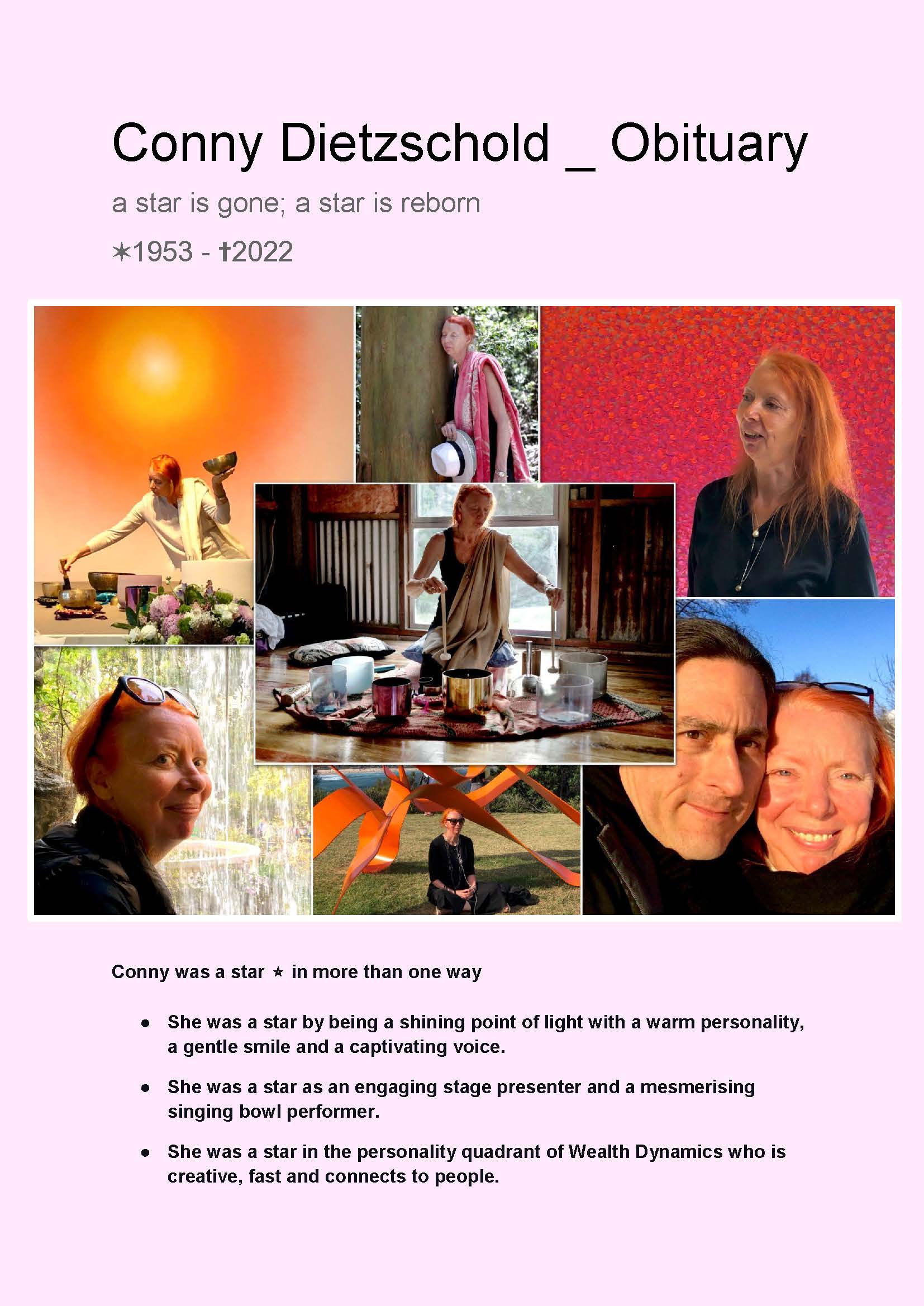 Transition of Inderbhai of Suriname
29 August 2022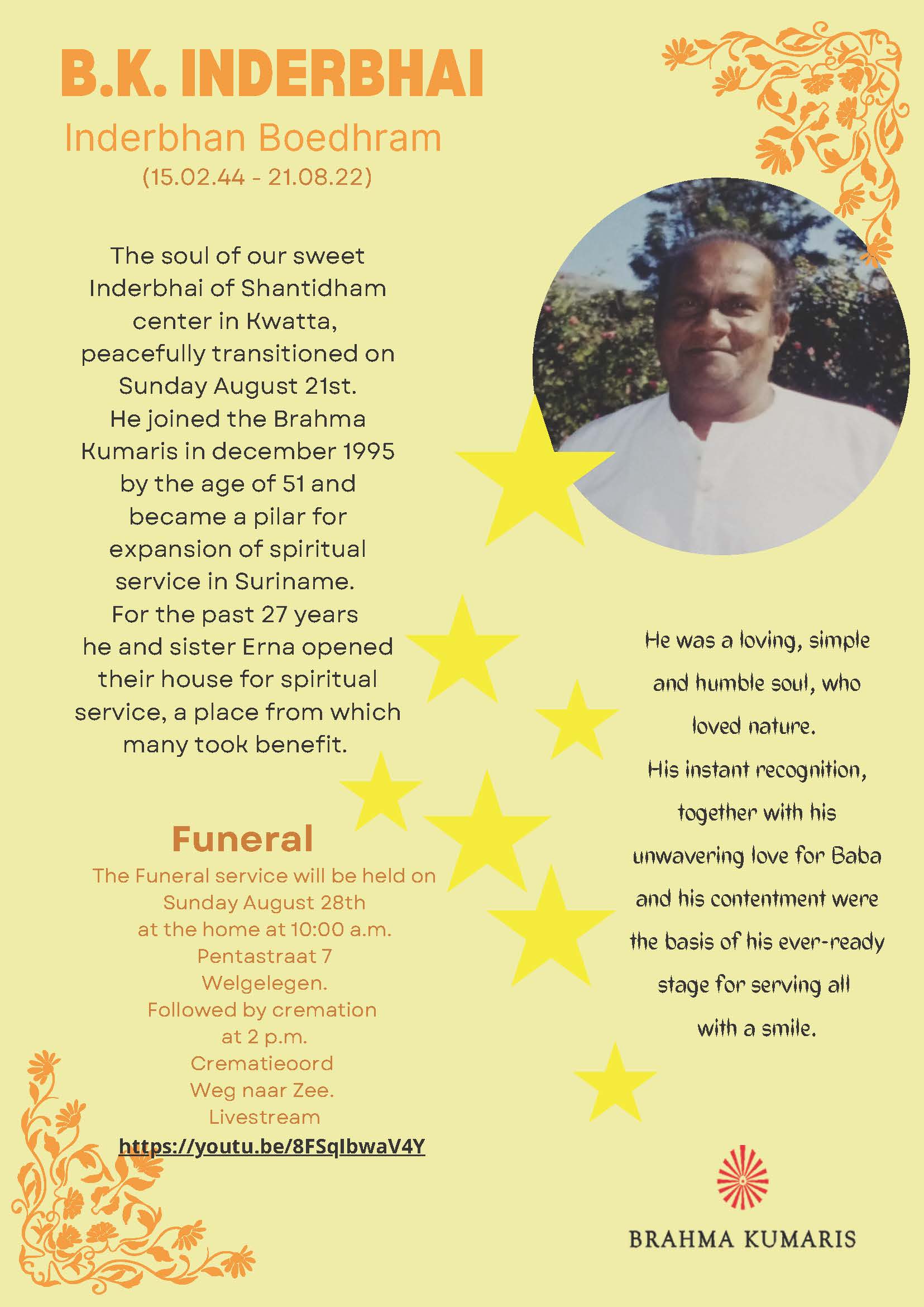 Dear divine family,
We herewith send you the news of transition of our Inderbhai at the age of 78. The soul was instrumental for service in Kwatta center. He was bedridden for the past three years, but still served all who came to see him.
Together with sister Erna the first Gita Pathshala opened their doors 27 years ago. Many took benefit.
The final rites will take place on Sunday 28th.
Much love for One,
Sr*Loes and divine family in Suriname.

Sr. Loretta Joseph of GCH & Spain flew to Baba
28 August 2022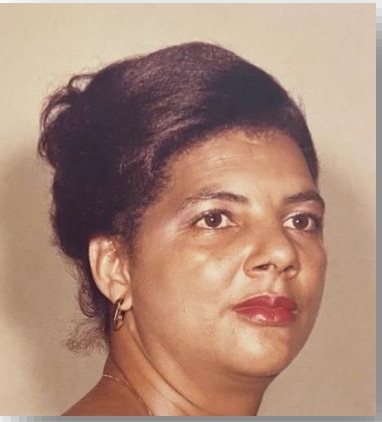 Dear Brothers & Sisters,
Sister Loretta, Baba's child for her 30 years, left her body on Thursday 18th August, aged 81. She had a heart attack.
Loretta came to Baba in 1987 and was part of the London family helping in many departments. She was on the GCH reception team for many years, welcoming everyone with a smile and kind words. Loretta had a warm motherly presence and created deep friendships. Below is a eulogy written by her family.
Margaret Loretta Sylvia Joseph was born on the 24th September 1940 the first of 6 children in Montserrat, West Indies. She attended St Peter School where she excelled in athletics; had a thirst for knowledge; particularly about the wider world which led her to leave the Island at the age of 17 for the far shores of England 1957. She settled to live with her uncle. At this time she met Joed, her husband to be. They married 26th September 1959 and had three sons.
When Loretta set her mind to a task, it would be done no matter what. In the 60's she qualified as a hairdresser but then decided to venture into retail finally opening her own successful personalised card and gift business.
Then came the beginning of a new life with the Brahma Kumaris. She devoted the rest of her life to the faith, visiting Mount Abu, Rajasthan in India where she found peace and enlightenment.
With her husband they travelled around the world eagerly learning about new cultures and places i.e. Africa, America, Canada, Europe, India, Singapore and Thailand. With the same determination she moved with her husband to Spain. Wanting to make life a new adventure and that's exactly what they did. They joined an International Association of Pensioners Club and travelled throughout Spain submerging themselves in the culture of the country. She was invited to speak at a world conference in Madrid on the subject of 'Aging Gracefully'. At the annual pensioners gathering she was chosen as overall pensioner Queen of the Alicante region. She was proud of this award as it signified being accepted by the community. She worked with Mopp Alliance as a welfare officer supporting young people in crisis, then whilst in Spain through the club, she coordinated visits for pensioners who were living in 3rd Age Homes, especially those without relatives in Spain.
The funeral service will take place on Tuesday 23rd August in Alicante, Spain.
We know that Loretta is with Baba, protected by Baba's loving drishti.
With love,
In Baba's yaad,
BK Jayanti

News of Brother Louis - Netherlands
15 August 2022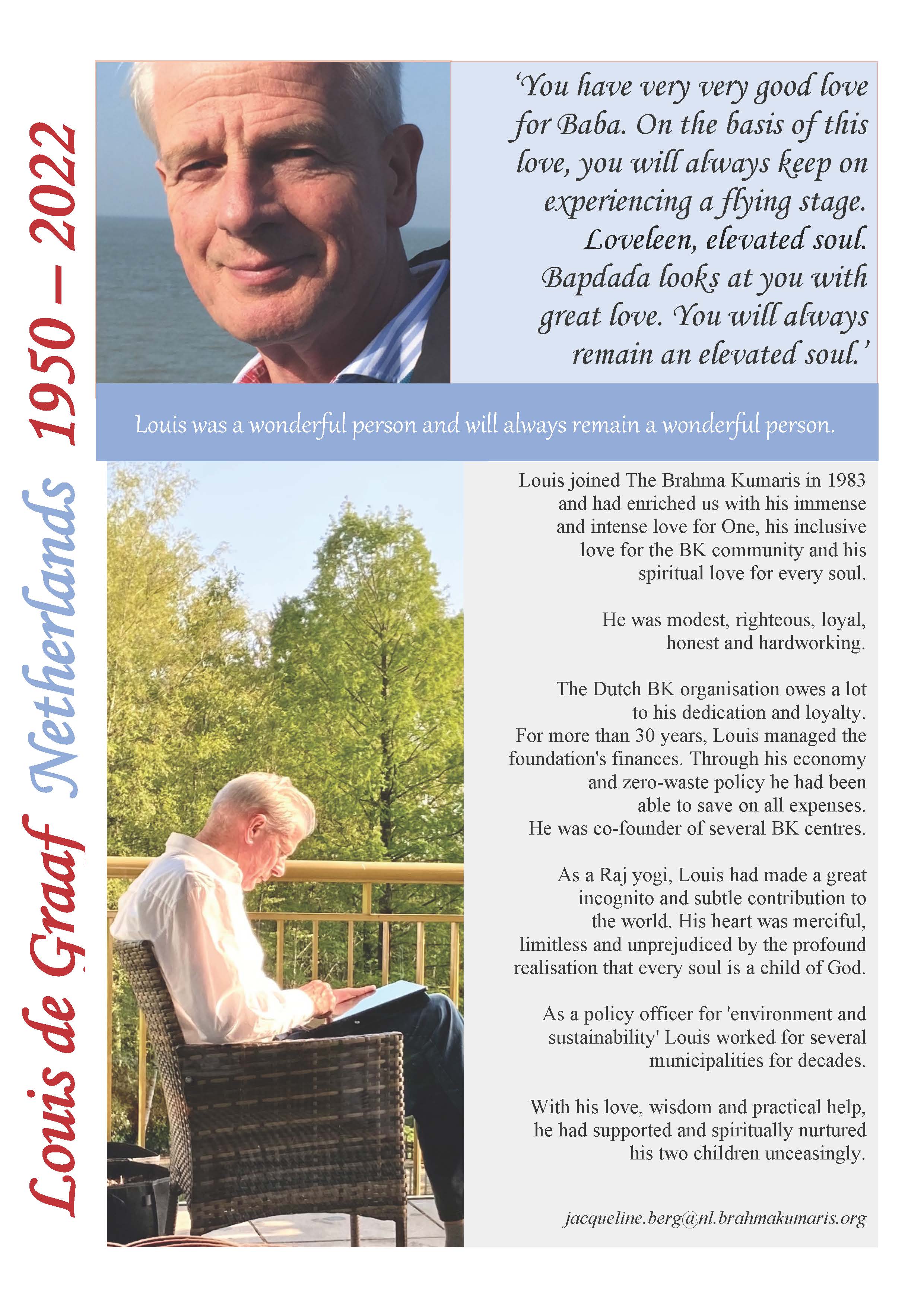 Click here to download the pdf.

News of Sister Doreen Bowen of GRC
7 August 2022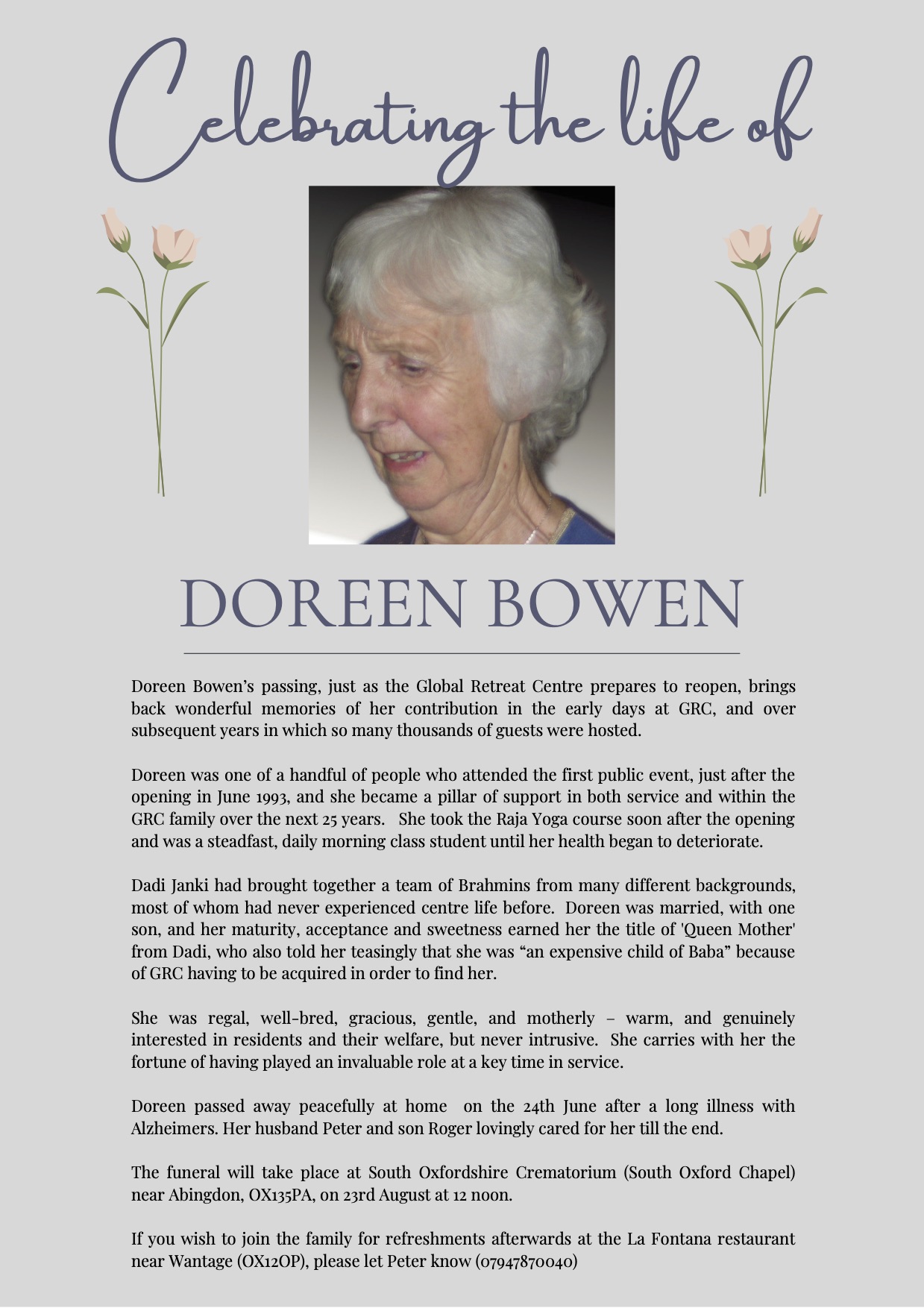 Click HERE to download in PDF version.

2022 June through December Transitions Archive
2022 February through May Transitions Archive
2022 January Transitions Archive
2021 July through December Transitions Archive
2021 January through June Transitions Archive
2020 July through December Transitions Archive
2020 January through June Transitions Archive
2018 Sep-Dec Transitions Archive
2018 Jan - Aug Transitions Archive
2014 & Prior Transitions Archive