Transitions
Transitions
Sister Joan McCarthy of GCH, London, UK, Flew to Baba - Final Farewell: 29 August
25 August 2023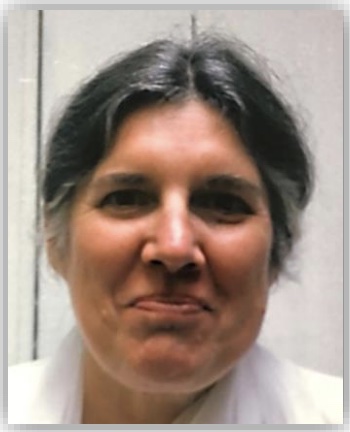 Dear Brothers & Sisters,
Sister Joan was born in Woolwich, South London on 12 January, 1936. She had a brother and a sister. She had serious illnesses as a child and at one point she was in bed so long she had to learn to walk again. During the war the children were evacuated to South West England where she got on well with her host.
Later she worked in a bank and also had a dog grooming business. She met the Brahma Kumaris when she was living in a flat in South London in January 1978. In the summer of 1980 she joined three other sisters in one of the first Shakti Bhavans of London in Olive Road. They soon found another Bhavan which could accommodate a large Shakti Army, and while the renovations of 8 Dartmouth Road were going on she cooked meals to help the BK workers keep going. Then in February 1981, Joan and other sisters moved into 8 Dartmouth Road which was later known as Pavitra Bhavan.
She would spend a lot of time in Baba Bhavan and was close to Dadi Janki, Sudesh Didi and Sister Jayanti. Dadi would always acknowledge her as her contemporary in the class. She taught the Raj Yoga course and was on hand to drive visitors and teachers around.
Later she moved to a little house in Dollis Hill that Dadi Janki inaugurated, and during that time of her life she endured arthritic pain and had several hip replacements. Despite her health challenges she always kept the desire to become well again to serve and travelled a lot and shared spiritual knowledge in Trinidad and other places in the Caribbean, Dubai, Gibraltar, Scotland and many more.
She had a great love of singing and performing and would often sing at cultural events and later had a part in the pantomimes at Global Co-operation House. Joan had a good rapport with younger members of the BK class such as those whom she acted with in pantomimes and with Shailen Popat with whom she shared a birthday.
In 1996 she was part of a small group who were inspired to create a charity to support the Global Hospital and Research Centre in Mount Abu, India. This charity later went on to become The Janki Foundation for Spirituality in Healthcare.
Joan had a great love for the BK gathering and moved to an apartment opposite to Global Cooperation House and for many years was part of the team that read the mid-morning Murli and also served in the Murli proof-reading team. Joan was ever ready to serve as Baba's instrument and was an inspiration for many. In the last couple of years she needed constant physical care, however until her last days was very alert and cheerful.
She peacefully flew into Baba's lap in hospital on 15 August.
The final farewell will take place on Tuesday, 29 August as follows:
The hearse will arrive at GCH forecourt at 11.45am
The funeral will be held from 12.15pm Watching Webcast live and watch-again:
East Chapel, West London Crematorium Website: https://watch.obitus.com
Harrow Road, London W10 4RA Username: pimo0547 / Password: 339204
May the soul be guided by Baba's love, light and peace in her onward journey.
In Baba's yaad,
Sr Jayanti

Sheilaben (Kumud) Karia of Crouch End, UK, Passes Away
16 August 2023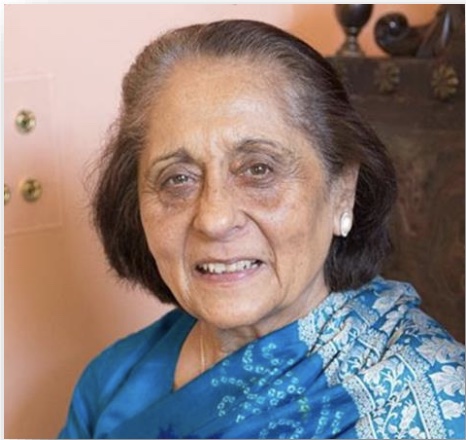 Dear Brothers & Sisters,
Known to many simply as Sheila, Kumud Karia was born on 15 August 1935 in Dar-es-salaam, Tanzania. She moved to the UK in the early 1970s and through hard work and perseverance, landed a job at Harrods in London where she worked for over 25 years.
Sheila was a regular BK student and in the 1980s she often made the journey to Dudden Hill on Sunday mornings on three buses, taking an hour and a half to reach there. Such was her determination.
When she moved to Crouch End (North London), she attended classes at GCH until mid-2010 when she developed late-stage Lymphoma and underwent chemotherapy. Through all the challenges she had to face at that time, she was positive – finding solace in humour, and remained independent. No matter her appearance or frail physicality, she insisted on attending GCH for special gatherings such as 18th January and Raksha Bandhan, and in more recent (Covid) times, attending in-person BK classes in Finchley.
Sheila radiated warmth, compassion and kindness and her life was lived with real simplicity and enjoyment. She embraced every day and every experience. She loved laughing, learning (she had weekly computer classes and was a regular at her local library) and travelling – making the trip to India annually without fail.
Sheila passed away peacefully on 1 August, 2023 at the Michael Sobell Hospice Charity in Northwood. Her cremation was held on 8 August, 2023.
We send our good wishes in Baba's remembrance to Sheilaben and her family.
With love,
In Baba's yaad,
Sr Jayanti

News of Narmadaben Kantilal Raichura of Leicester
15 July 2023
Dear Brothers & Sisters
On Saturday 8 July, 2023, Narmadaben flew into Baba's lap. She became Baba's child in 2009 and was a regular student who attended the morning Hindi murlis and participated in BK events and service. Narmadaben was well loved by the BK family.

She was born in Blantyre, Malawi on 25 December, 1934. She was married to Kantilal Jamnadas Raichura and had four children, and one brother and sister.
In Blantyre she was a Gujarati Teacher and had a passion for writing poetry and spiritual lyrics. She loved sewing and cooking. She learnt to speak English while working hard at her job in Leicester. She was a devoted Mother, very caring and loving and, raised her children with strong Indian family traditions.
May the soul be guided by Baba's love, light and peace in her onward journey.
In Baba's yaad,
Sr Jayanti

Final Rights of Jadavbhai, Toronto, Canada
14 July 2023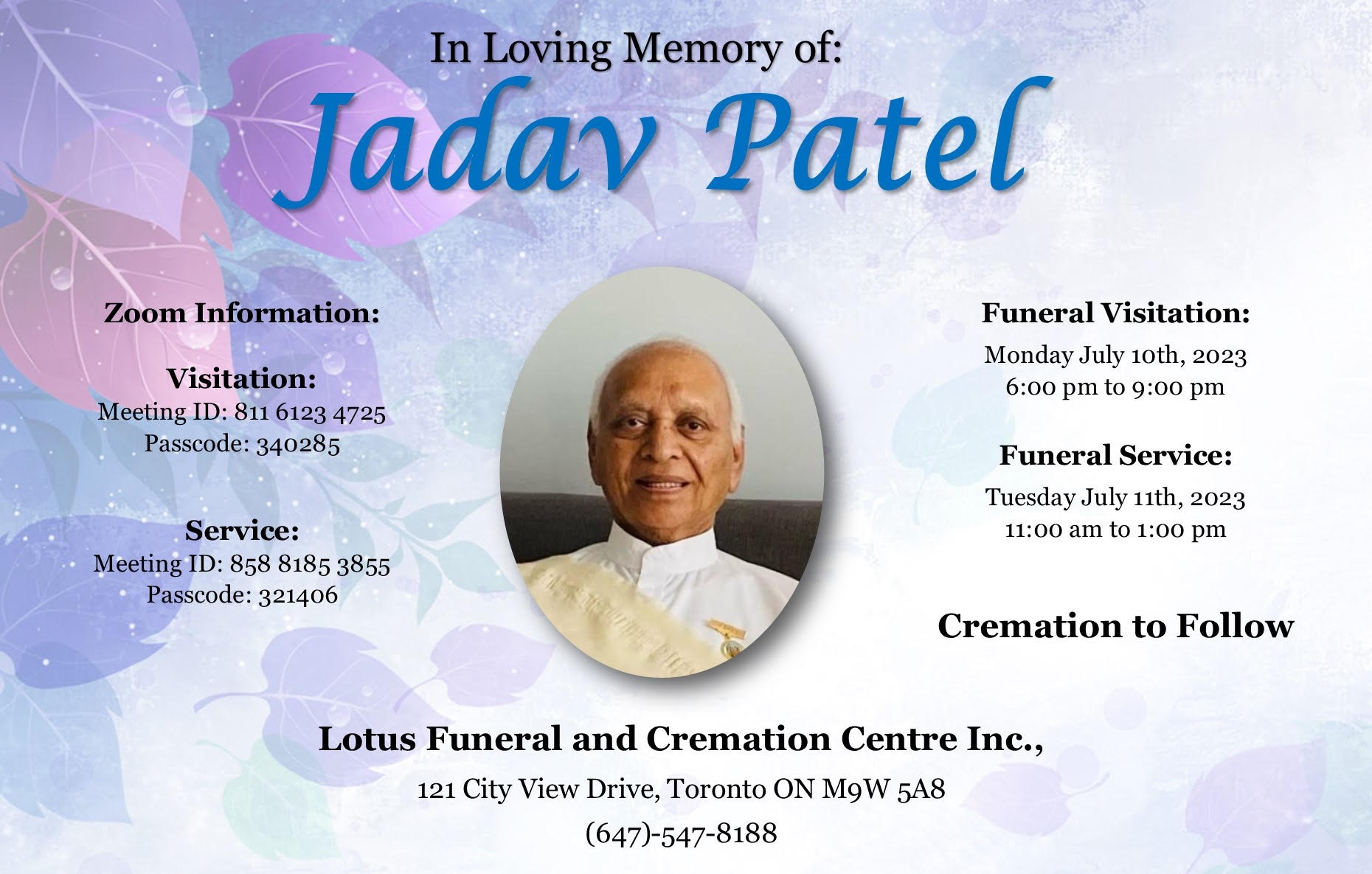 Dear Divine Family, Greetings of love,
We are sharing with you details of the final rights of our dear Dada Jadavbhai who flew to Baba on Friday, July 7th at 4:50 am.
Jadavbhai joined Brahma Kumaris in 1981 with his family in Toronto. His light nature and true heart brought him very close to the Yagya, Dadis and all seniors. He was one of the pillars of Toronto centre since he came into knowledge.
Although he was based in Toronto, he was always ever ready to cooperate wherever the Yagya needed, whether it was Peace Village, GRC London, Madhuban or any other country. His smiling face and tireless service gave courage and enthusiasm to many and will always be remembered by those who had the chance to meet him.
Our condolences to the family of Jadavbhai.
In Baba's sweet yaad and pyaar,
Saviben, Arvindbhai and Toronto Family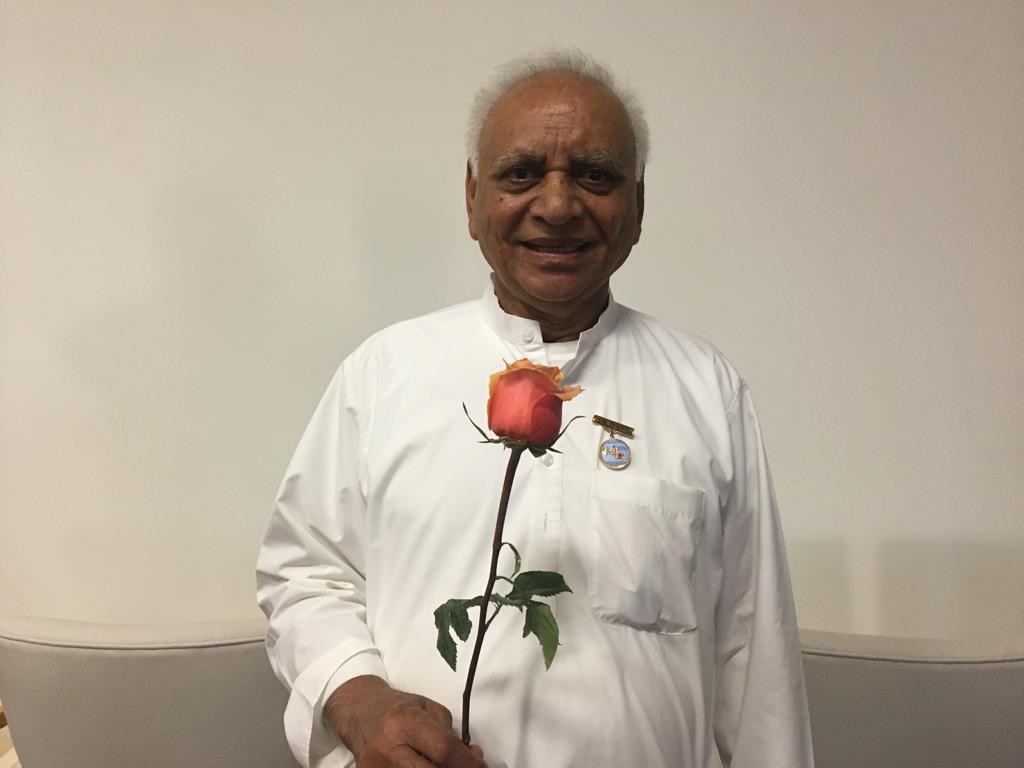 News of Sister Kristan of New Zealand
26 June 2023
Om Shanti.
Please find below a brief article written as a eulogy for dear Sister Kristan who passed away suddenly a week and a half ago.
It was special that members of the Brahma Kumaris family from the South Island (NZ) were able to farewell her intimately at her home (the Dunedin Centre) as part of the scheduled Raksha Bandhan programme with Sister Bhavana.
There will be a large community memorial service at Logan Park High School where she was co-Principal.
Picture of Sister Kristan Mouat
Eulogy for Sister Kristan Mouat from BK Malcolm of NZ
Om Shanti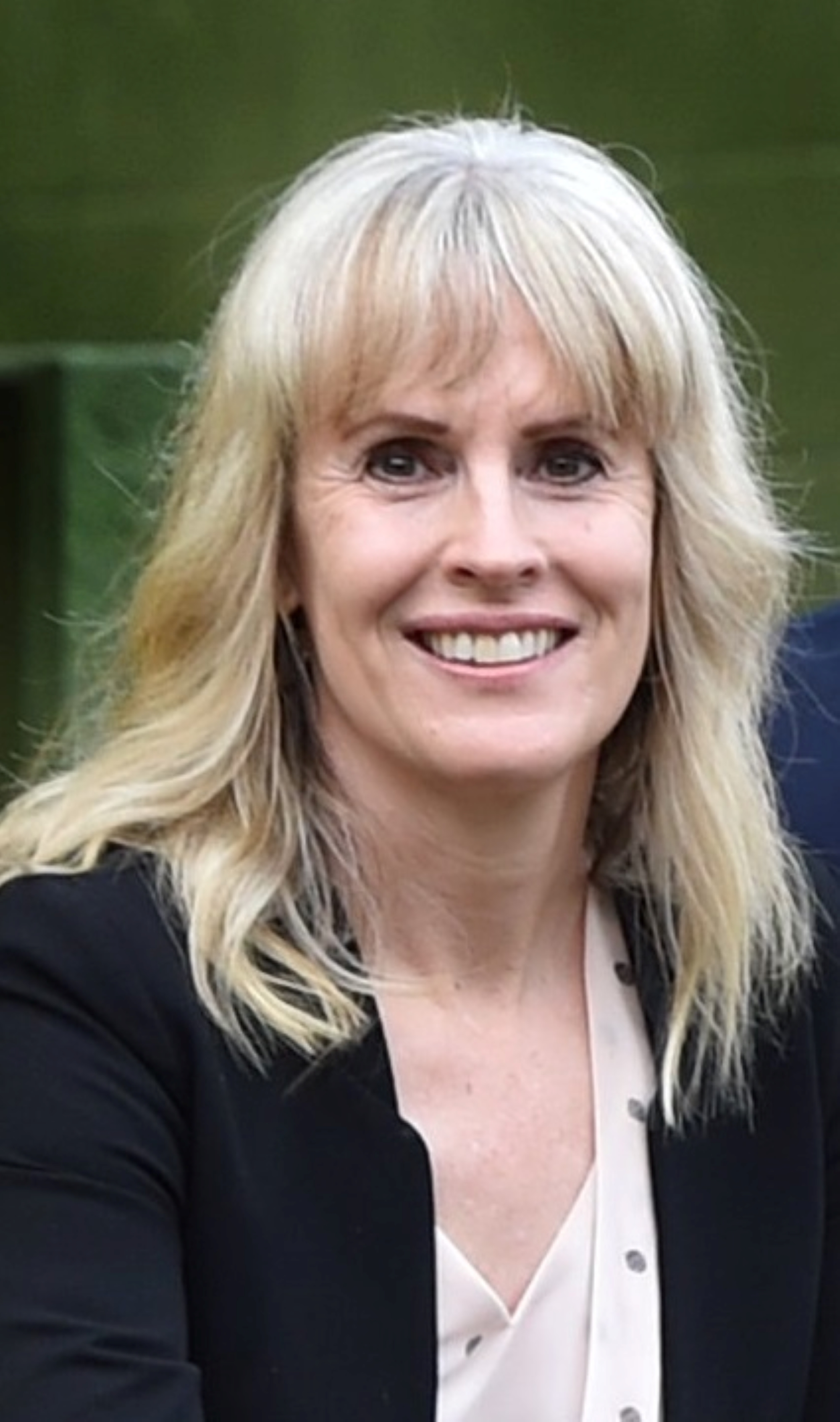 Kristan Mouat – a passionate student, teacher and leader
The 10 th June 2023 will be remembered as the day Kristan Mouat left us unexpectedly.
She passed away peacefully - leaving a personal, professional, and spiritual legacy reflecting her ability to live with integrity, sustain meaningful relationships, and provide insightful leadership.
These brief notes capture a few moments along Kristan's path with the Brahma Kumaris whom she first met in Christchurch (along with her sister Justine) as a young teacher graduate in 1991.
The following year, when Kristan was offered a teaching position at Logan Park High School, she was encouraged by Dr Nirmala (Didi) to begin service in Dunedin. Even though she felt under prepared, Kristan would recall being encouraged by Didi saying "when will we ever be ready?".
Kristan was instrumental in establishing the Dunedin Interfaith Council which represents a diverse group of religious traditions and faiths. This group fosters mutual appreciation and positive relationships between different faith traditions in the community, uniting to celebrate International Peace Day and the Week of Prayer for World Peace.
Otago University students benefited from workshops Kristan facilitated at the Halls of Residence about adapting to their new environment, adopting constructive behaviours, and making positive lifestyle choices. The university campus was also the venue for a large "Peace Week" project which included a peace march, workshops, and presentations as part of the United Nations "Manifesto 2000 for a Culture of Peace and Non-violence".
She established friendly relationships with local civic leaders, members of parliament and religious leaders including Sukhi Turner, who served as the Mayor of Dunedin from 1995 until her retirement in 2004, her successor Peter Chin, and Bishop Penny Jamieson who was the first woman to be ordained a diocesan bishop of the Anglican Church. Kristan was regularly invited to participate in civic and religious ceremonies around Dunedin.
An initiative which endeared Kristan to residents of the many villages around Mt Abu and Abu Road, India involved her school students contributing educational resources and fund-raising for the Village Outreach Programme coordinated by Dr Vinay Luxmi, at the Global Hospital. Others in her school gifted woollen clothing they had knitted.
Kristan negotiated with Singapore Airlines to transport large swathes of these handmade treasures without charge. When she was able, Kristan then personally delivered some of these resources during her annual pilgrimage to Madhuban.
Tributes show that such acts of service and kindness inspired empathy and compassion.
Recognising her strength as a leader, she was appointed Co-principal at Logan Park High School in 2017, where she has continued to serve passionately, supported by her daily meditation practice, spiritual study, and service with the Brahma Kumaris family.
As a board member of Brahama Kumaris (Aotearoa) New Zealand, Kristan has also been instrumental in strengthening the governance of the organisation in New Zealand.
We will genuinely miss her presence, however her spiritual legacy will continue to inspire us.
Malcolm Cox

Sister Yashbala Vyas from Alperton, Wembley, Passes Away
26 June 2023
Dear Brothers & Sisters,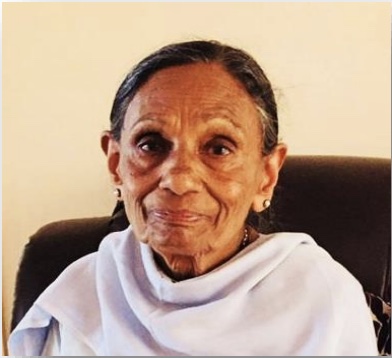 Sister Yashbala passed away peacefully on Thursday, 18 May and her funeral took place on 30 May, 2023. Sister Yashbala suffered a major stroke in 2021 and was bedridden since that time.
Sister Yashbala was born in 1938 in Moshi Tanzania. In 1979 she was introduced to the work of the Brahma Kumaris and began to attend classes in Dudden Hill Lane Community centre. After her trip to Mount Abu, the BK headquarters, Sister Yashbala became resolved in her love for the BK family.
Sister Yashbala for many years helped in the bookshop at the main BK Centre in London and enjoyed the classes and trips organised by the BKs. Her faith in the BKs work and knowledge was unwavering. No matter how ill she was, Sister Yashbala would log in and listen to the online classes every single day right up until the end.
Sister Yashbala had a very loving, sweet nature. She was humble, kind and reliable and had a lovely sparkle in her eyes. She was very easy, cheerful, and always ever ready. She loved coming to GCH and being a very accurate Godly student. She never said 'no' to any service. She was a very accurate, punctual and conscientious person, and she always maintained a balance between her lokik and alokik family.
She has moved on to a higher purpose and greater attainment in her onward journey. A very great place filled with love, light, peace and happiness is awaiting her. We all bid her farewell and pave her path of salvation and liberation with our love, good wishes and pure feelings.
May the soul be guided by Baba's love, light and peace in her onward journey.
In Baba's yaad,
Sr Jayanti

Sr. Madeleine Jennings of London and Poole Passes Away
19 April 2023
Dear Brothers & Sisters,
Madeleine Jennings Baba's child for 48 years, passed away in March at the age of 92. Madeleine was born in London and all her life had a deep search for God and for truth. For many years she was a follower of Krishnamurti. She was taught the Raja Yoga course in 1975 by Sister Jayanti and just a few months later made the trip to Madhuban to be in front of Baba and the Dadis. When she first saw Didi Man Mohini, she was transfixed – she had seen her some years before in a vision. She was one of the very first westerners to become Baba's child.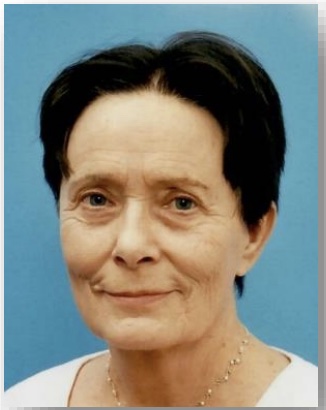 Madeleine was steeped in Gyan and whoever she taught the course to, she was able to put Gyan 'deep into their bones'. She always said that her students would go ahead of her. In the 1970s she spent time in Belgium helping to establish Baba's service there. She was very sincere and surrendered and would support the Yagya in every way. Later on when she lived nearby the Tennyson Road, she would come every day to water and take care of the plants in Baba's home.
At age 77, she moved to Cockermouth in the Lake District. When severe flooding took place in 2008 she then moved to Poole in Dorset to be near her son Paul. Madeleine was very active until about 3 years ago living in sheltered accommodation. In January of this year she fell and broke her hip and moved to a care home.
Madeleine will be remembered for her dedication, complete faith and deep intellect. Her final farewell will take place on 26th April. The details are below.
We send our good wishes in Baba's remembrance to Madeleine and her family.
With love,
In Baba's yaad,
Sister Jayanti
Farewell for Madeleine Jennings:
Wednesday 26th April, 11.30am, Service at Poole Crematorium (lasting 30 minutes), Poole Crematorium, Gravel Hill, Poole, BH17 9BQ, Tel: 01202 265235
The Wake will be held at the Grasshopper public house and restaurant at 12.30 directly after the service at Poole Crematorium. The Grasshopper, 139-141 Bournemouth Road, Parkstone Poole, Dorset, BH14 9HT, 01202 741463 – Free parking available

Obituary of Dr Raj Kumar Aggarwal of Bath - June 1947 to February 2023
25 February 2023
You may download a pdf of the obituary HERE.

BK Hirubhai Dhulabhai Patel of Kenton, Harrow, Peacefully Few Into Baba's lap
22 February 2023
Dear UK Centre Co-ordinators,
BK Hirubhai Dhulabhai Patel of Kenton, Harrow, peacefully flew into Baba's lap on 18 February 2023 at 4.15am on the auspicious day of Maha Shivaratri, surrounded by his family. He had been unwell with pneumonia and in hospital for five weeks.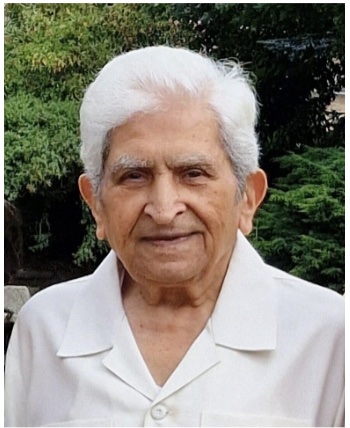 He was born on 28 May 1938 in Kathor, a small town in Surat, Gujarat and was the youngest of six children. He married Indiraben in 1954 and went to live in Uganda. They had four children, Nayna, Shaila, Samir and Sanjay. In 1972, the family moved to the UK. He had a number of jobs for a few years and then bought a shop in Ashford, Middlesex which was run by himself and Indiraben, as well as working in the Post Office.
When he retired at the age of 63 he undertook the BK course and started to practise meditation and listen to Baba's Murli daily. He loved to study and revise the Murli and understand the depths of God's wisdom. He did seva devoutly for BK Publications since 1999. He served tirelessly with a lot of enthusiasm and was very keen to explore and learn new things and methods. He was very active and fit.
He left a lasting impression on everyone he met and will be remembered fondly by those who knew him for his cheerfulness, generosity, genuine care and love for all.
The funeral will be held on Friday, 24 February, at 3.00pm
Hendon Crematorium, Holders Hill Road, London NW7 1NB
The hearse will arrive the Global Cooperation House forecourt at 2.15pm for the BK family to pay their last respects
Webcast details for the funeral at 3.00pm
Website: https://watch.obitus.com / Username: muya3725 / Password 969347
We send our loving good wishes to Hirubhai and his family.
With love,
In Baba's yaad,
Sr Jayanti

News of Wolfgang Bhai (Germany)
24 January 2023
Dear divine family,Om shanti and loving greetings.
Please share this news with the BK family.
Best wishes from Didi Sudesh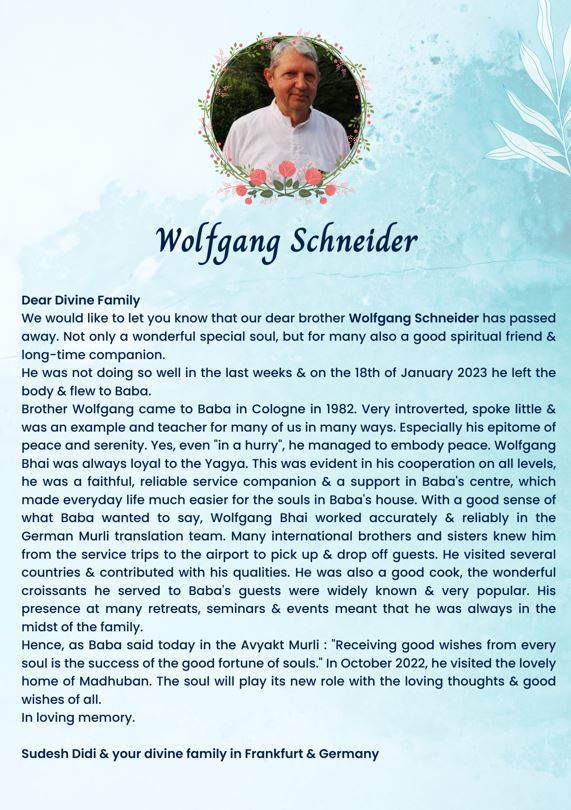 News of Passing Away of Ramaben (Ramadevi) Bhatt from GRC in UK
22 January 2023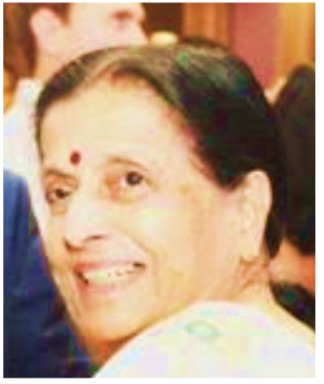 Dear Brothers & Sisters,
BK Ramaben (Ramadevi) Bhatt left her body peacefully in her sleep in hospital on Wednesday the 18th of January 2023. Ramaben was married to Kanubhai, and was the mother of Bina (of Sukhdham, London), and Urmilbhai of Edgware.
Ramaben took spiritual birth in 1988 along with Kanubhai, and was a daily morning Murli student at Global Cooperation House. Due to illness, when she was no longer able to attend GCH, she listened to the Murli daily at home. Her place of service was the Global Retreat Centre kitchen, and she went to Madhuban numerous times.
Ramaben was an incognito effort maker who lovingly imbibed Baba's knowledge. Sweet memories remain in the hearts of all who knew her.
The funeral took place on 23 January 2023. We send our loving thoughts to the soul of Ramaben and her family.
With love,
In Baba's yaad,
Sr Jayanti

Kiranbhai from Suriname has flown to Baba
18 January 2023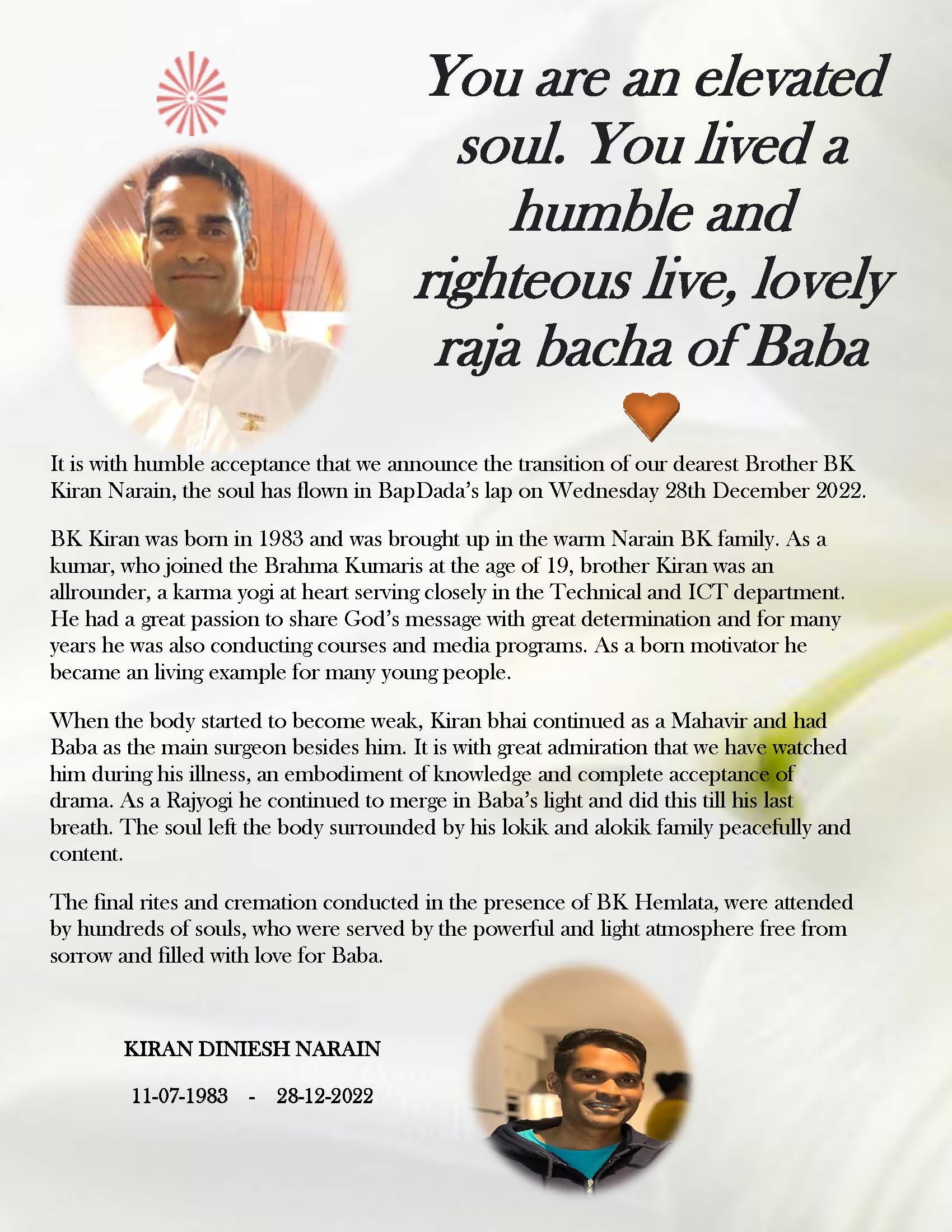 Dear divine jewels around BapDada's neck,
We herewith send you the news of the transition of our Kiranbhai at the age of 39 on December 28th. The cremation was on 31st.
He was a pakkah kumar who courageously passed the last stage of a fast-ailing body with a strong determined mind and an intellect focused on One.
Much love from Sr*Loes and divine family in Suriname.
Brahma Kumaris Spirituele Organisatie
National Coordinating Office (Suriname)
Paramaribo

News of Prabhaben Shah of Finchley, UK
13 January 2023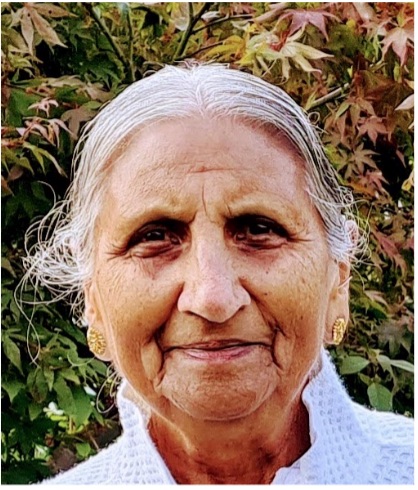 Dear Brothers & Sisters,
Prabhaben Shah was born in Chapaberaja, India on 5 June 1941 to Mepa Punja Shah and Viraben Shah. When she was six months old, they travelled to Kenya to start a new life. They settled in Kitale where Prabhaben was the first of eight children. She studied until she was 12 years and then helped raise her younger siblings and her father in the shop. She was a very creative person and learnt how to sew clothes. She would also embroider, crochet, knit and the family still have some of her beautiful designs. She would not only stitch clothes for her siblings but she has also designed many clothes for her daughters.
She married Mansukhlal Shah in 1963, aged 22 and moved to Muranga (Forthall) where she helped her husband in the running of their successful wholesale shop. They had two beautiful daughters – Kalpana (Pinku) Shah and Parul Shah. She also had a caring, gentle and very smart grandson Nirav.
In 1978, her husband Manubhai, had a fall and fell into a coma. At this time, she relocated the family to Nairobi and after a year in hospital, brought her husband home and nursed him. She was now looking for answers as to why life was the way it was. This brought her to the Brahma Kumaris in 1981 where she received the understanding of the soul and God. This totally changed her outlook on life. In 1983, she also made a decision to move the family to London where her daughters would benefit from an education and have an opportunity to create their lives, and of course have support from her siblings. Her husband left the body (flew away) in January 1984.
All this time, Prabhaben continued to be a mum and dad to both her daughters, sustaining them in every way. She also started running a spiritual class for mothers who lived around North London. A group of about 25 mothers met once a week from 1984 onwards. During Covid times, most of the mothers, helped by their children and grandchildren, became tech savvy and the class continued over zoom. From all the messages received Prabhaben has sustained thousands of people over the last 40 years. For years, she also drove to Oxford once a month to make a variety of biscuits for the Brahma Kumaris at their Global Retreat Centre.
As the matriarch of the family, she was a sounding board for everyone. Tea and biscuits were always available to anyone who visited, and friends and family would depart with a box of biscuits or sweets. This would also apply to the delivery drivers, doctors, nurses, plumbers etc. She made a point of keeping in touch with everyone in person and on the phone. She never thought they had not called her.
She loved cooking and feeding others, helping anyone in need, visiting friends and family in hospital, gardening, watching murder mystery dramas, together with touring and exploring new places. She was well travelled.
Her health was mostly okay all through her life, taking home remedies to manage her health. However, in December 2022 she had a fall which led to a few complications. She was then admitted to Barnet Hospital on Thursday, 5 January 2023 and flew away very, very peacefully on Tuesday 10 January 2023. Many people visited her in hospital in the last five days and they will never forget the love in her eyes and her sweet smile.
She is a true Shiv Shakti – courageous, fearless, gentle, generous, and humble with deep love for God. We send our loving good wishes to Prabhaben and her family.
Peace Prayers will be held on Friday, 13 January and the funeral will be held on Tuesday, 17 January 2023.
Messages of condolences and memories can be shared online:
https://www.remembr.com/prabhavati.shah
With love,
In Baba's yaad,
Sr Jayanti

Manohar Lal Nanda of Slough and Bournemouth, UK, flew to Baba
13 January 2023
Dear Brothers & Sisters,
BK Manohar Lal Nanda left the body peacefully on December 14. Manohar bhai was originally based in Slough, and had relocated to Bournemouth.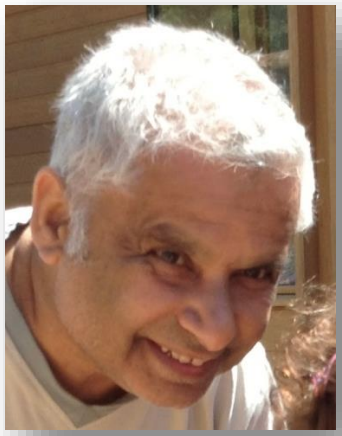 BK Manohar bhai and family, wife Santosh bhen and two young daughters came to Baba in the early 80's in Slough. They visited Madhuban for the first time in 1984 and being one of a handful of whole families in gyan at the time, they were showered with love and attention, not just from all the Dadis and Madhuban niwassis but also from BapDada Himself. Baba's blessings on that occasion became a pillar for Manohar bhai, sustaining him his entire Brahmin life. With great intoxication he would share the indelible imprint it had on him with every person he met.
Manohar bhai had great love and bhavna for Madhuban and the yagya. For a number of years he would lovingly send fruits for all the UK family who would get together for World Meditation. He would make a point also of regularly sending dry fruits to Madhuban.
Every person Manohar bhai met, whether it was for a few moments at a grocery store or at a medical appointment, his keen interest for souls to know Baba meant he would seek out a way to share Baba's introduction. From the beginning until the end it was Baba who was at the centre of his heart and so this along with the sanskara of wanting to reveal Baba will surely be used in his future part.
Manohar bhai was unwell for many years and a few years back he and Santosh bhen had relocated to Bournemouth after having lived in Slough for many years but continued to remain in close contact with Baba's centre.
A BK funeral took place on 21 December, and we send our good wishes in Baba's remembrance to Manohar bhai and his family.
With love,
In Baba's yaad,
BK Jayanti

News of Ramesh bhai Manibhai Patel of Stanmore, UK
8 January 2023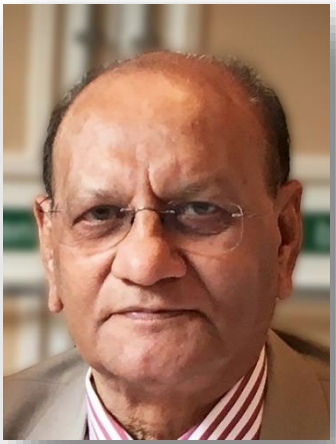 Dear Brothers & Sisters,
Rameshbhai Manibhai Patel of Stanmore passed away on 19 December 2022 at 85 years old. Rameshbhai came from a large family of ten siblings, and being the eldest brother, he was known as Mota, Mota bhai, Mota kaka and Doctor R. A famous writer once said, "We make a living by what we get, we make a life by what we give". If that is true, then Rameshbhai made a great life! He was born in Lumwar, Kenya on the 4th of October 1937. He moved to India to study his BSC in Mumbai College, before moving to England in 1962 where he studied at Bradford University to do his PHD in powder chemicals, writing his thesis accordingly.
He got married in India in 1967 to Neelaben and five years later their beautiful son Paren, was born in 1972. Both He and Neelaben dedicated their unwavering love and devotion in raising him. Working life in England started for him as an esteemed University Lecturer. He had the skills and attributes of a scientist, however he did not continue to use his PHD along these lines, instead he went on to develop his business skills, running a wholesale pharmaceutical company known as Barclays and Sons, which also had a photo lab attached called Euro Photos. He was very particular in the running of the business and created fond working memories especially with the staff who called him Dr R.
As far as home life was concerned, his priority was to make sure the family stayed connected and looked out for each other. He was always approachable in a time of need, whether you needed advice or comfort. This was based on the strong relationships he built with his siblings, whom he loved very much. He was the head of the family and he was most proud of the bond that they all shared with each other.
In his downtime he loved to watch sports, whether it was cricket or football. He was very adventurous and loved to travel especially to far places such as Canada, Australia, Japan and to see his in-laws in South Africa and visit his mother and sisters in India. He was always well groomed, well-mannered and had a very impeccable dress sense. No one will ever forget his love of hats! He was a car enthusiast, and everyone will remember his love for Mercedes-Benz.
As a person, he was very kind, gentle and ensured everyone was well looked after. Nothing was ever too much. He gave his time to people if they needed it. He really was a great listener and advice giver. Many would agree that at one point of time or another he shared his wisdom with them when required over a cup of Neela Aunties chai. If you were visiting his house, he would make sure you left with a full stomach. He was most definitely a feeder and enjoyed plain spaghetti with butter, cheese and pepper!
For someone who was from an older generation, he had a refreshingly modern outlook on life. He made the most of his life from the spirituality and light that Brahma Kumaris brought into his life and that was a significant transition for both him and Neelaben. He attended classes regularly bringing others in his car to the BK centre, GCH, and served friends and neighbours with his deep spiritual insights. He ensured that his entire family got the introduction to the knowledge shared by the Brahma Kumaris. His favourite mantra was "I am a peaceful soul" which he was in his practical life. His favourite phrase was "Health is your wealth".
The funeral service took place at Hendon crematorium on 23 December 2022. We send our good wishes in Baba's remembrance to the soul of Rameshbhai and his family.
With love,
In Baba's yaad,
Sr Jayanti

Brother Dennis Hiebert of Los Angeles has flown to Baba
4 January 2023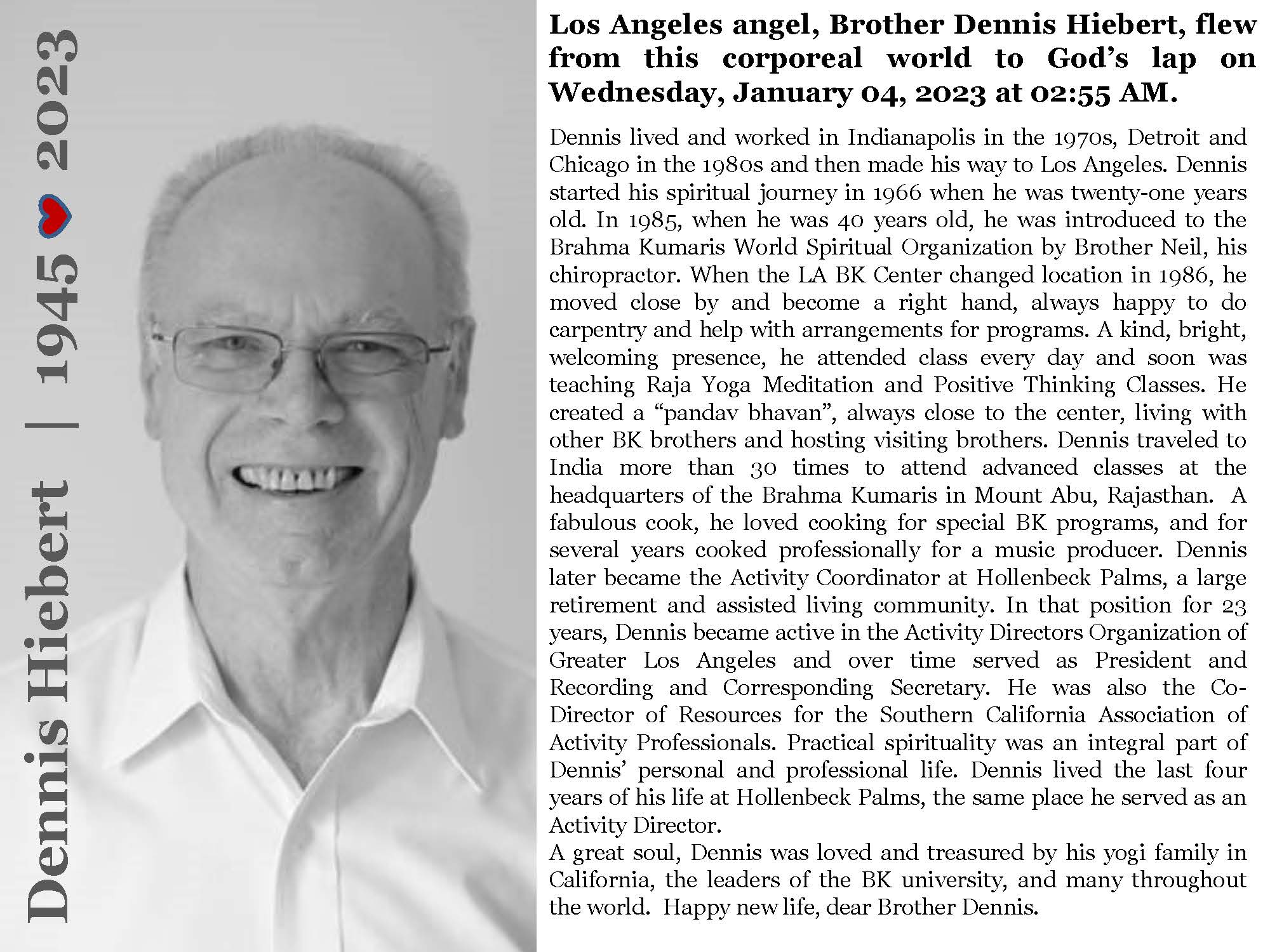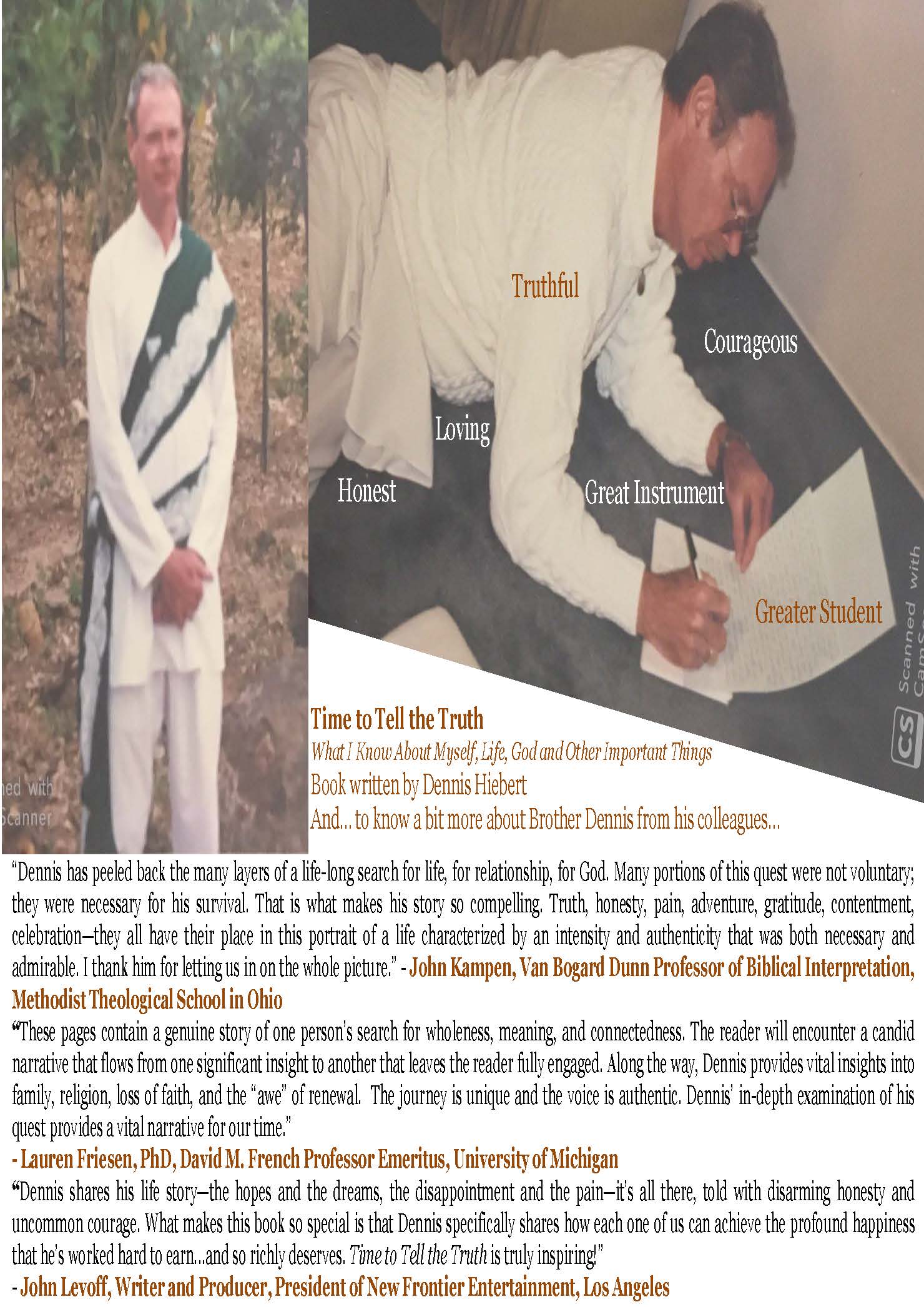 Please click here to download the PDF.

Sudesh Mata of Slough, UK, flew to Baba
2 January 2023
Dear Brothers and Sisters,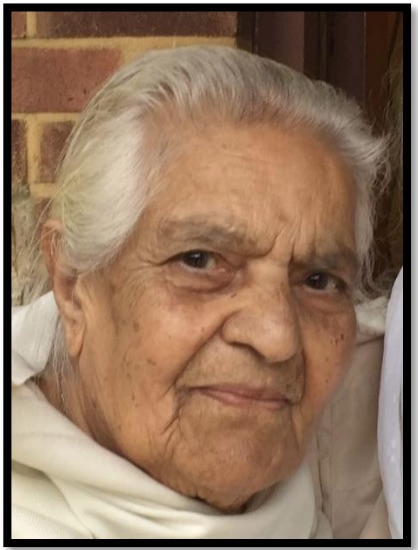 This is to share news of Sudesh Mata of Slough, a soul whose incognito contribution to the establishment of Baba's work in the UK is recorded with Baba for eternity. Having lived a long life filled with Godly attainments, at age 96, Sudesh Mata flew peacefully to Baba's lap, early on 8th December. Sisters from the centre had visited her just days before and despite physically being unwell, she was fully alert in mind and spirit. She had Baba and Baba's senior instruments in her heart and on her lips till the very end.
Sudesh Mata had in fact, taken knowledge in Punjab in the early 60's via her brother-in-law and his sister who had come into gyan just before then. In 1964 Sudesh Mata had the fortune of spending two weeks in Madhuban where she enjoyed the company of both Sakar Baba and Mama. Sudesh Mata moved to Slough, UK in 1969. When Sister Jayanti came back from India after having surrendered, her first place of service was Sudesh Mata's home in Slough. She would go there for class every Saturday. Some of the very first UK BKs emerged at that time. When the delegation came in 1971 they stayed with Murli Dada but again the place that supported them hugely was in particular Sudesh Mata and her family. They provided transport and lodging and all types of logistical support. Madhuban requested Dr Nirmala to return to the UK around September and she stayed with Sudesh Mata and her family until the Centre opened in October 1971. Then when talks began of opening the first centre in the UK there were twelve people who signed that letter and application to Madhuban stating they would support the centre. Sudesh Mata and her daughter, Saroj, were amongst the signatories.

For many years, Sudesh Mata came regularly to help in Baba's Bandara at GRC, often staying for a few weeks at a time.
Sudesh Mata was quiet and steadfast. She had an almost invisible presence. Her strength lay in her self-contained nature – a nature that meant she never sought validation or acknowledgment from others. All her Brahmin life, she moved forward knowing what she needed to do and she just got on with it. She did what she needed to do silently, keeping things very simple and uncomplicated. She focussed on keeping the light of Baba's lamp lit no matter what.
The funeral service took place in Slough on 28 December 2022.
We send our good wishes in Baba's remembrance to Sudesh Mata and her family.
In Baba's yaad,
Sr Jayanti

2022 June through December Transitions Archive
2022 February through May Transitions Archive
2022 January Transitions Archive
2021 July through December Transitions Archive
2021 January through June Transitions Archive
2020 July through December Transitions Archive
2020 January through June Transitions Archive
2018 Sep-Dec Transitions Archive
2018 Jan - Aug Transitions Archive
2014 & Prior Transitions Archive