2013 India News Archive
2013 India News Archive
Nareetva Darshan TV Show released by Bapdada
31 December 2013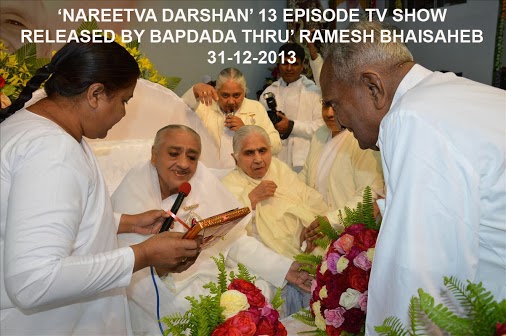 150th Birth Anniversary of Swami Vivekananda at Ooty
27 December 2013
On the occasion of 150th Birth Anniversary celebration of Swami Vivekananda at Ooty, Sri Ramakrishna Math organized a Regional Interfaith Dialogue on 9th Dec 2013 at JSS Pharmacy college auditorium ooty, Ramanath Bhaiji from Brahma Kumaris heaq quarters Mount Abu spoke during the function.

Dialogues to discuss 'future of power'
22 December, 2013 Source: The Times of India, Kanpur
A unique public programme titled 'The Future of Power' will be organised by the Brahma Kumaris at Lajpat Nagar on Sunday.
The Future of Power is the theme of a series of dialogues, which Nizar Juma. a leading industralist from Kenya is hosting with Dadi Janki, the head of the Brahma Kumaris at different place across India to deepen understanding of the nature of power and help restore awareness of the nation's spiritual heritage both within India and abroad.

Rajyogini BK Chakradhari Didiji, who is the director of Brahma Kumaris Centre in Russia, Rajyogini BK Vidya Didiji, who is the sub zone incharge of Brahma Kumaris Centres in UP, Justice Ravindra Singh of Allahabad High Court, Archana Nigam, principal, Delhi Public School, Kalyanpur, Evelyn Sasamoto an American ESL teacher will participating in the programme.

Juma has teamed up with the Brahma Kumaris network in India and abroad to host a series of dialogues in different cities to know about the way the centre of power is shifting from western countries especially US to India in East. He firmly believes that India in the coming years will become the superpower.

"India has dazzled the world over the past two decades with a stunning display of domestic economic growth, entrepreneurial ability at home and abroad and emergence as a world power in information technology. Many western economies whose performance seemed enviable are now heavily in debt, their GDP growths are either negligible or in negative territory and showing no signs of true recovery," Juma said while addressing newspersons.

He added that global shift of power is the likely outcome of these developments. According to Nizar, he had teamed up with the Brahma Kumaris network to host a series of dialogues examining the implications of these trends.

"India's legendary intellectual, economic and spiritual resources flowed outward across the globe for more than 2,000 years," Juma said, supporting and sustaining a succession of foreign civilizations and cultures. Beneficiaries included China to the east, then Egypt, Athens, Rome and northern Europe to the west, until power finally reached the Americas and became concentrated in the United States.

The current financial crisis, he argues, indicates a turning point in which US power is on the wane. A historic reversal is underway, in which power is flowing back to India, he added.

Speaking on the same lines, Anthony said that the economic and soon political power will be shifting towards the East. So, the future of power will primarily be driven by the east and 'newly developed' countries

Disseminating Non-violence the Bhagvad Gita Way
21 December 2013 - BK Express News Service, Chennai; published in The New Indian Express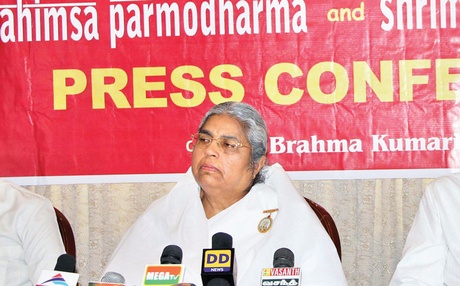 Ahimsa Paramodharma, has been mentioned as a godly version in Bhagavad Gita.
Ahimsa means non-violence which is considered as the supreme religion and highest code of conduct.
How can non-violence be relevant and significant in the battle field of Mahabharata war, where it is shown as having been imparted? In the midst of war how can Ahims—the precept of cause no Injury, lead to success?
This precept clearly should be 'Cause no Injury' or violence to the self. This interpretation here is all about the stability of the mind—peaceful, focused and powerful.
Hence the version Ahimsa Paramodharma in Bhagavad Gita, the song of god, incorporated into the Mahabharata, emphasises the cardinal importance of Ahimsa in life, and it literally means Ahimsa is the highest virtue.
Ahimsa is the highest self-control, Ahimsa is the greatest gift, Ahimsa is the highest sacrifice, Ahimsa is the finest strength, Ahimsa is the greatest friend, Ahimsa is the greatest happiness, Ahimsa is the highest truth and Ahimsa is the greatest teaching, as Bhagavad Gita says.
The interpretation is about non-violence and the battle field, a metaphor explaining the internal war within each human being. The basic concept to understand is that when we are not stable, not peaceful, and not happy and when we are hurt, we hurt others.
Any act of violence has its own karmic consequences; hence the hurt to the self, hurts more and is deeper.
Violence is a self inflicted pain and it is manifested on others in the form of words and actions. Conflict with others and the outward war is actually a result of the inner conflict within oneself. Only by stopping this inner conflict can we stop the violence outside. Just like in a fruit, its bitterness lies merged in the seed beneath the ground, violence that erupts in words and actions has its seed at a very subtle level, in the form of thoughts. Beware! It has many disguises.
It is sown in the form of guilt, resentment and disappointments and it is due to low self esteem and disrespect for the self and discontent with the self. According to a recent statistics, globally violence claims the lives of more than 1.5 million people annually. Of this over 50 per cent is due to suicide, some 35 per cent due to homicide, and just over 12 per cent as a direct result of war or some other form of conflict.
This clearly shows that damage is due to violence within the self and the only antidote for this is peace.
Peace leads to non violence. The the normal belief is that if there is no violence there will be peace. But actually it is the other way around, when you are peaceful and not hurt yourself, you will not hurt others and there will be peace around you.
So the highest dharma, code of conduct is being non violent to the self. Ahimsa should be a faith and a lifestyle.
Truth and nonviolence are inseparable.
Meditation helps to realise our true nature and thereby help us to remain non-violent. In meditation, the one who connects with the supreme being, to allow him to take over and let his own mind take a back seat, is able to use godly wisdom, as the arrows of knowledge to destroy the very creation of ignorance, which is the progeny of blind faith, and thereby become winners of this non violent war.

A Scientists' view on Spirituality
9 December 2013 (SPARC NEWS)
A "Scientists' view on Spirituality" programme was organised at the sevakendra of Brahma Kumaris, Unit-8, Bhubaneshwar on 27th November 2013.
Brother Fakir Charan Parida, Scientist-G, Indira Gandhi Centre for Atomic Research enlightened (those who attended our 5th SIR Conference at Shantivan and since then has become Baba's child) on the topic "Art & Science of Thought Management". About 150 guests availed benefit out of it, 12of them are undergoing Rajyoga courses/classes from the next day.
This programme was organised by SpARC Local Chapter, Bhubaneshwar, Unit-8. It was the follow-up programme for delegates who have attended 7th SIR Conference organized at Gyan Sarovar, Mount Abu.

Greetings from BK Nirwair
8 December 2013
To our dear and invaluable Brahmin sisters and brothers,
Please accept hearty greetings, remembrances and many, many thanks for your kind concern for the well-being of Avyakt BapDada's chariot, Dadi Gulzarji, who underwent gall bladder surgery on Thursday, 21 November in Mumbai.
Her surgeons Dr Hemant Bansali, BK (Dr) Ashok Mehta and others are very happy to see the outcome of this timely and successful laproscopic surgery. No one would have ever thought that Dadiji would be looking after so many saligrams (stones)... which had in fact occupied the entire space available within the gall bladder causing a lot of discomfort and affecting her digestion system.
Dadiji's recovery was rapid because of her spiritual stage of being naturally in God-Consiousness, BapDada's constant light of love and power, helpful doctors and accurate medication. No doubt the greetings from the entire BK family, and special yoga bhattis held for several hours at the time of surgery and later too, were very helpful. Dadiji appeared to have been in the Subtle Region... When the affect of anesthesia subsided, Dadiji asked a question 'how come I didn't feel anything? Did they not carry out the operation?' Of course after 24 hours of the surgery there was a little discomfort because of the incision.
Dadiji, as mentioned earlier, started walking the day after the surgery as advised by her surgeon. He encouraged her to walk at least 100 steps in the first round, and then advised her to walk four times a day. Her walking and regular physiotherapy have contributed in re-energising her physical costume as was evident within a week's time of hospitalisation.
While being in hospital, Dadiji befriended several doctors, nurses, and general staff who would visit and receive drishti, toli and blessing card. Dadiji is particular about asking every receipient to read his or her blessing out loud, which would naturally empower the individual and make the soul happy.
During her walks, Dadiji used to visit Baba's Room at the BK Centre on the 6th floor of the Hospital and bring a lot of happiness to the BK sisters there, as well as Baba's Bhandara team.
Dadiji shifted to Baba's Vile Parle Centre on Sunday, 1 December. Before returning to the Centre, the entire BK family in Mumbai, Madhuban, Bharat and abroad received a beautiful message via Dadi Gulzarji. Everyone appreciated the wonderful, inspiring words of Godly wisdom shared by Dadiji, and the loving chit-chat that followed between the Dadis and seniors.
Let's hope that from now on Dadi Gulzarji will enjoy very good health, and play her role as Avyakt BapDada's Medium as well as Joint Administrative Head of Brahma Kumaris worldwide for many, many years to come!
This event connected with Dadi Gulzarji's health has definitely awakened the conscience of all BK sisters and brothers, bringing home the realisation that we have to settle our remaining accounts on all levels. No doubt, being direct children of beloved BapDada, we do receive Baba's timely help in the form of clear signals and enough strength to face situations.
Secondly, the BK family sitting in meditation for couple of hours together all over the globe definitely creates a very postive vibration, which brings a lot of benefit to innummerable suffering souls everywhere. This has motivated us to continue our practise of staying in silence, explore new depths of our inner being, while being in the spiritual presence of the Supreme. Let's remain ever-inspired, and deepen our yoga sessions to multiply the power of purity for the required global transformation.
Dadi Gulzarji specially asked me to convey her very special Godly love, remembrances and thanks to the entire family for their kind concern, emails/phone calls and good wishes. Our divine sisters Neeluben, Yoginiben and their entire team have been looking after Dadiji day and night, and bringing her comfort at all times.
Dadi Jankiji and Dadi Ratan Mohiniji have also visited Dadiji in Mumbai over the past couple of days to express their love and solidarity of the divine family.
With Baba's love and good wishes from Madhuban Niwasis,
B.K. Nirwair

Art and Culture Retreat on Bharat
Source: the New Indian Express, 26 November 2013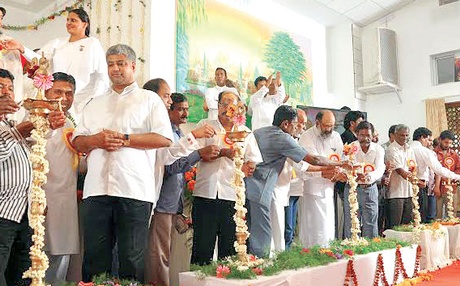 Prajapita Brahma Kumaris organised an 'All India Art and Culture Retreat on Bharat—The Cradle of Ancient Culture' on November 24. (Express photo)
Prajapita Brahma Kumaris organised an 'All India Art and Culture Retreat on Bharat—The Cradle of Ancient Culture' on November 24.

The programme started with a prayer song by S J Janani, singer and music director, followed by a dance by Kalaimamani Shobana Ramesh, Vipanchi. The welcome address was given by Rajayogini B K Kalavathy, senior Raja Yoga teacher, TN Zone. Brahma Kumari sisters from various parts of India attended the function.

The keynote address was delivered by B K Dayal, head quarter coordinator, Art & Culture wing, Mt Abu. In the ancient Bharat (India), a lot of importance was given to arts and culture but gradually it lost importance, said a release here. Rajayogini B K Kusumji, national coordinator of Art & Culture wing of Brahma Kumaris, Chandrapur and Maharashtra said that South Indians, especially people of Tamil Nadu, give more importance to art and culture.

Update on Dadi Gulzarji's Surgery
21 November 2013
To our most loving sisters and brothers in Bharat and foreign lands, Please accept hearty Godly love and remembrances from Mumbai.

We know all of you are waiting to hear updates on the health of our beloved, respected Dadi Gulzarji.

This afternoon at around 3pm, Dadiji was taken into the Operation Theatre. The operation began at 3.50pm and ended at4.30pm (India time). The entire gall bladder needed to be removed as there were many, many stones present. A very experienced group of doctors was present: Dr Hemant Bansali (who operated on Dadiji), Dr Ashok Mehta, BK Dr N Khandelwal, BK Dr MD Gupta from Delhi, Dr Pratapbhai, Dr Banarsibhai. Neeluben and Yoginiben were also present throughout the procedure.

With BapDada's powerful blessings and love-filled vibrations from the Brahmin family, the operation was a success. Dadiji will be kept in the ICU for an hour and the doctors will then see further.

Thank you,
With Baba's love,
B.K. Nirwair

Dadi Gulzarji's Surgery
20 November 2013
Our dear divine sisters and brothers from Bharat and all other countries, Please accept hearty Godly love and remembrances from Mumbai.

Hope everyone is enjoying Baba's love through remembrance, and jewels of Baba's wisdom through the precious Murlis, which seem to have been spoken in Mumbai (as I could make out from this morning's Sakar Murli).

On 15 November, everyone would have seen that BapDada's visit was very short, and it was even mentioned that the chariot was not in good health. So accordingly, Brother Dr Ashok Mehtaji visited Shantivan and requested Dadi Gulzarji to come to Mumbai for a health checkup. After a sonography in Abu, it was evident that the chariot has stones in the gall bladder which need to be dealt with laproscopic key-hole surgery. A very experienced surgeon, Dr Hemant Bansali, will perform the surgery today, 21 November between 3-4pm in BSES Brahma Kumaris' Global Hospital, Andheri (Mumbai).

Apart from this, Dadiji is in very good health and high spirits as Dadi Jankiji, and the sisters and brothers from Madhuban, Mumbai, Delhi, and other parts of India and abroad have been sharing greetings and good wishes for her speedy recovery.

Our dear sisters Neeluben, Yoginiben and others are looking after Dadiji very well. The surgeon has recommended that Dadiji stay in hospital until Saturday, and return home on Sunday. As the weather is very pleasant these days in Mumbai, Dadiji may spend a few more days here before returning to Shantivan.

We trust our loving sisters and brothers from across the globe would keep the atmosphere very powerful, in the highest consciousness of being in the company of Avyakt BapDada, and all will be well.

With lots and lots of Godly love and feelings of gratitude from Dadi Gulzarji and the family in Mumbai,
In Baba's sweet remembrance,
B.K. Nirwair

Values Activities in Hyderabad entered in India Book of Records
20 November 2013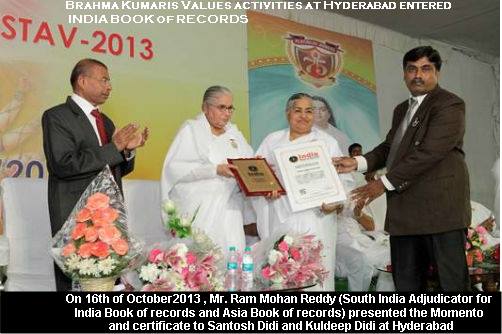 Inauguration of Dadi Prakashmani Ladies Lawn at Ulhasnagar
12 November 2013
With the blessings of Baapdada a Lawn specially for the Ladies has been built with the funds of Deputy Mayor, Shri Jamnu Purswani. The Lawn was named in loving memory of our revered Dadiji, Dadi Prakashmani Ladies lawn. A part of Brahmakumaris Peace Park(Since 1999) located at heart of the city.
Inauguration of Dadi Prakashmani Ladies Lawn at Ulhasnagar was kept on 2nd November, 2013 at 7pm. The inauguration was done by Shri R.D. Shinde-Secretary, Social Justice, Maharashtra. Shri Kumar Ailani-MLA-Ulhasnagar, Smt Meena Ailani-Standing committee chairman, Smt. Asha Idnani-Mayor-Ulhasnagar, Shri Jamnu Purswani-Deputy Mayor-Ulhasnagar. The work of Lawn being funded by Dpty Mayor shri Jamnu Purswani. The lawn is occupied with beautiful Jumping Grass, a walking track, Yoga Deck, benches for sitting and beautiful inspiring slogans for ladies, Cooler water arrangement etc.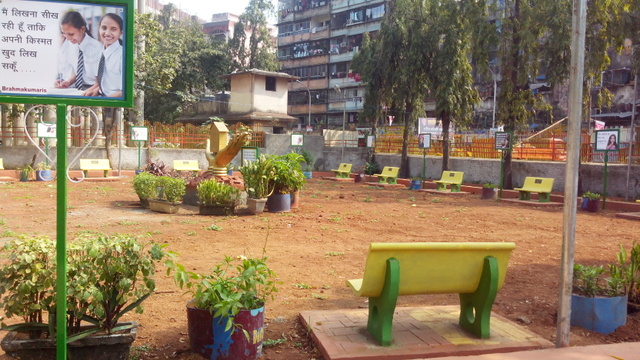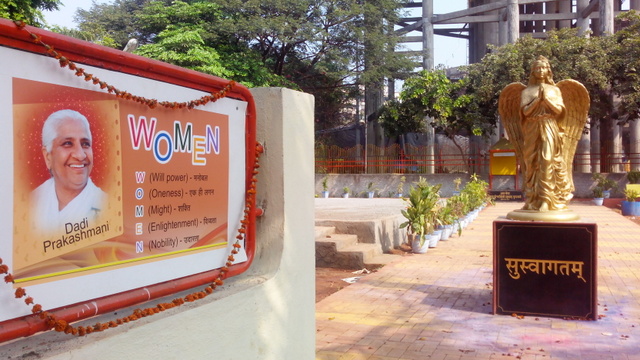 Cycling for a "glorious" Bharat
Source: The New Indian Express, 4 November 2013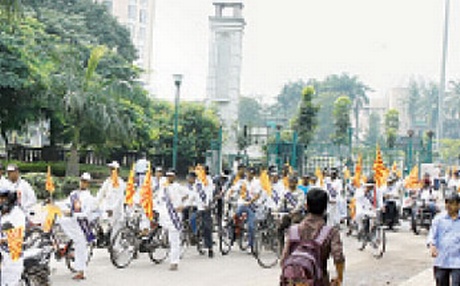 The Brahmakumaris, an international Spiritio-Socio-Educational non-profit organisation, concluded its 3000 km long cycle rally, as part of its 'Shantidoot Youth Cycle Yatra for Glorious Bharat' recently. This national level event was inaugurated on September 13 in Delhi by the chief minister of Delhi, Sheila Dikshit. With 85 cycle rallies put into motion all over the country, they travelled through cities, towns and villages covering more than 1,50,000 km, spreading the message of peace and getting people to commit to a viceless and tension free life. Advocating and imparting spiritual knowledge, they also want to educate the masses about the advantages of 'Rajyoga' and the many benefits it has on the human mind and body.
The Bangalore leg of the cycle rally commenced on 15 September from Kadapa Town, Andhra Pradesh and comprised of thirty cyclists and ten Brahmakumaris, who gave lectures and demonstrations at various venues. Since then the rally has travelled through various towns and villages of Kadapa and Chittoor districts and entered the state of Karnataka on 12 October. In Karnataka, the rally travelled to Kolar, Chikkballapur, and Tumkur to finally reach Bangalore, after covering 2500 km.
Apart from lectures conducted at schools and colleges, the cyclists also held exhibitions on youth and women empowerment, creating awareness about the harmful effects of addiction, various cultural programmes, etc.
Chaitanya Krishna, who has been volunteering with the Brahmakumaris for 16 years now and is also part of the cycle rally, said, "We want to talk to the youth about everything that's gone wrong with the society and how it's in their hands now to change the system. Whether it's violence against women or drug problems, we want to address all these issues. The youth of this country have forgotten how to identify the divinity in them. We would like to remind them how."
According to the Brahmakumaris the main objectives of the event were:
Establishing value based society through righteous youths

Women and youth empowerment

De-addiction and creating a healthy society

Spreading the message of non violence

National unity

Stress free living through practice of Rajyoga meditation
The Bangalore festivities included a Shantidoot Youth Festival on 27 October. The youth festival consisted of a youth rally that started from Town Hall and passed through Halasur Gate Police Station, Kempegowda Road, Mysore Bank Circle, K R Circle, etc. and finally ended at Yavanika Auditorium in Nrupathunga Road.
The flag off was performed by Umashree, the minister for state, women and child welfare; Raghavendra Auradkar, commissioner of police, Rajneesh Goel, principal secretary for higher education and other dignitaries. The closing ceremony was held at Brahmakumaris Rajyoga Bhavan, Jakkur.
The services offered during the journey
Lectures in schools, colleges and youth organisations

Exhibitions on youth and women empowerment

Creating awareness about the bad effects of addiction and motivating them to quit

Public programmes spreading the message of peace and harmony

Teaching meditation

Creating spiritual awareness by imparting spiritual knowledge

Women Empowerment coverage by Rajya Sabha TV
2 November 2013
With the blessings of Dadis and senior brothers and sisters, the support of whole brahmin family Radio Madhuban is progressing day by day. Seeing the progress and services of Radio Madhuban, Rajyasabha TV has selected Radio Madhuban to shoot a program in the station. Brahma Kumaris being the huge Women led organisation they wanted to know the secret behind the women empowerment of all the sisters and Dadis in the Yagya and chose the topic of Women Empowerment. BK Sudesh Didi, Germany was representing the organisation and other guests in the show were local pradhan Mrs. Padma and Mrs. Richa, Director, Janchetna Sansthan who is locally working for the tribal women. The program went very well and was telecast on 27th Oct 13 Sunday and was repeated on Monday 12 pm, and Tuesday 11 am if you missed watching it on TV can still see on YouTube -. The following is the link of the show.
Please watch and share.
http://www.youtube.com/watch?v=7k8n-dxa_6k&list=PLFE4865630AA5DA8E

Durga Puja in Bangur
26 October 2013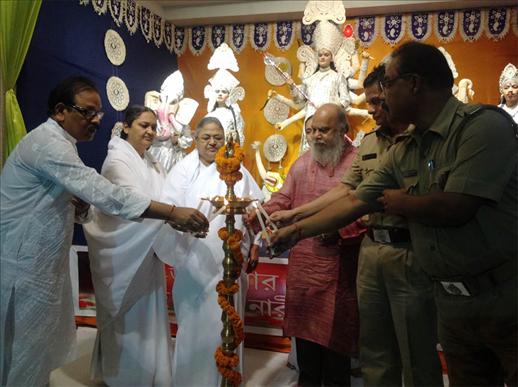 As every year Durga Puja festival celebrated with lots of zeal & enthusiasm. This is an opportunity for us Brahmins to serve special guest and the local residents of the city. This time also we had Living Goddess programme for five days (from Sasthi to Dashmi).
Every evening 15 to 20 VIP guest visited along with their family to light the inaugural lamps of the day. They also participated in one hour session on 'Inner Solutions' and Meditation which was taken by Bro. Mukul Chowdhary (Pune) and Bro. Kristopher (Denmark).
After lighting the lamps they shared their views and feelings with the audience. All the guests were pleased to experience Peace & Purity by Living Goddess and receive such spiritual sustenance with Toli and gifts.
Apart from special guests thousands of souls took benefit of this programme.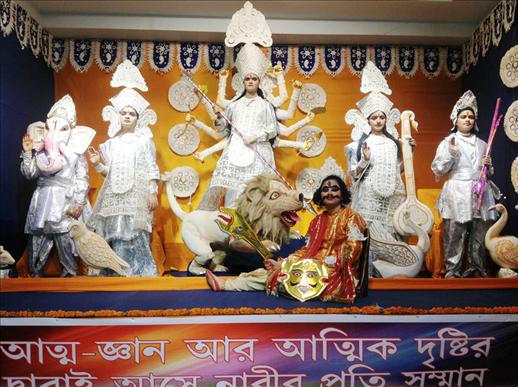 The Future of Power is in India
17 October 2013 - Nagpur
Extract from Times of India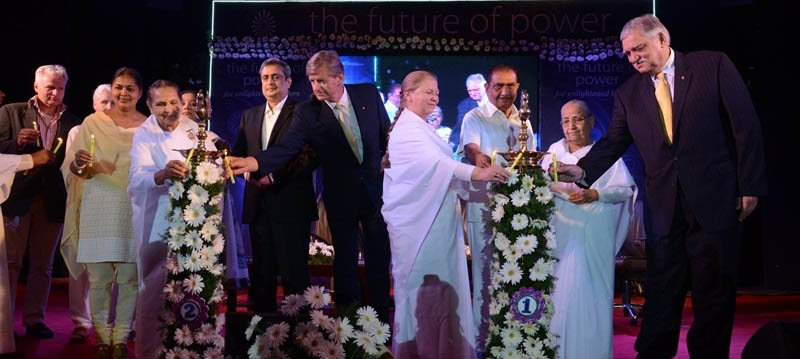 The Future of Power conference involving representatives from various sectors, will discuss the changing power dynamics of the world. The conference has been organized by the Brahma Kumaris on October 19 and 20 at Nagpur.
"The first day will be out of bounds to the media, so that the participants can express their thoughts without any restrictions. On the second day, a programme will be held at Vasantrao Deshpande Hall so that the media and the society have an idea of what was discussed," said Nizar Juma, Kenyan industrialist, who is associated with the Brahma Kumaris for this event.
The conference in Nagpur is the 21st in a series of such events in various cities across the country and a few cities abroad too. "India used to be the power house of the world, because its power was rooted in spirituality and benevolence of its rulers. But with the shifting of power to the west, power began to be equated with brute strength," said Juma.
The Brahma Kumaris have termed the former as 'soft power' and the latter as 'hard power'. This series of talks has been organized based on their belief that power is going to return to India soon. The aim is to prepare a consensus on what kind of power India wants to have - hard or soft.
"Power is now being equated with politics and that is why we have invited representatives from at least 20 fields like education, science etc, to be a part of this discussion so that power goes back to them," said Sister Maurine of the Brahma Kumaris.
The programme on October 20 will begin at 5.30pm. "I have faith that power will return to India. But the question is whether the country will transform it into soft power. That is why after we finish these talks in next 15 cities, we will have a discussion on the findings with prominent politicians of the country and also publish a book," said Juma.

Russian Cultural Program in Bangalore, India
15 October 2013
Please see the links to the wonderful videos on the Russian News page.

19 PG Diplomas awarded to inmates of Sabarmati Jail inmates
14 October 2013 - Ahmedabad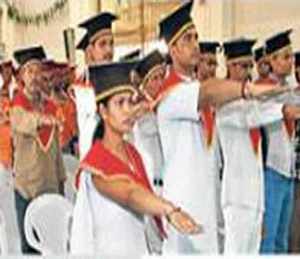 Young and shy, Doli Jayswal stood fourth in her post-graduate (PG) diploma on Friday. This would not have been a big deal in any manner, had she not been the only woman inmate who studied and finished the course while serving her sentence in Sabarmati Central Jail. She along with 50 other inmates from 14 jails in the state received PG and diploma certificates in value education and spirituality during a convocation ceremony in the city.

Of them, 19 inmates were awarded PG diplomas, while 32 received diplomas through a distance education programme by Annamalai University and education wing of Brahma Kumaris.

According to data provided by the jail authorities and Brahma Kumaris, 39 students had enrolled for the course, 26 of them attended the classes and
19 appeared and cleared the exam. Among the top PG performers is 35-year-old Meru Gohil, who stood first, while his elder brother Gambhirsinh (43) finished 15th. The duo is imprisoned at Junagadh district jail.

Noting a change in his own behavior through the course, Meru wrote: "I used to be angry earlier thinking I was imprisoned despite being innocent, but the course has taught me to embrace true peace and joy. Through the Karma philosophy, I realised that I'm in here paying for something I might have done in a past life."

Among the three postgraduates who cleared the exam in English language is a professor of rural studies, Virendra Vaishnav. He had studied and done social work in Africa for nearly a decade before teaching at South Gujarat University.

"I have studied and taught a lot before I went to Lajpore Central Jail in Surat and this course was more for the peace of mind than anything else," said Vaishnav.

In addition, 32 inmates appeared for the diploma course, all of whom passed. Around 54 inmates had enrolled for the diploma from prisons
including Ahmedabad, Surat, Vadodara, Palanpur, Rajkot, Jamnagar, Bhavnagar, Mehsana, Himmatnagar and Bhuj. Among them, Vikas Jain and Chetan Makvana were tied for the first rank. Both are inmates from Surat.

At the convocation ceremony, various jail officials and dignitaries including DIG Gujarat prisons, IM Desai, director of education wing, Brahma Kumaris, Mount Abu, BK Mruthunjaya, ADGP IG of prisons, PC Thakur, director at Annamalai University, Dr SB Nageswara Rao, zonal head of Gujarat Brahma Kumaris, Rajyogini BK Sarladidi and superintendent of Sabarmati Central Jail RJ Pargi. Officials of all the prisons that participated in the education programme were also felicitated.

Cycle Rally to spread Peace
7 October 2013
The grand finale of the Brahmakumaris Shantidoot youth cycle rally was commemorated here in Anna Nagar on Sunday, 21 days after it was flagged off on September 13.
Former election commissioner Naresh Gupta and M Rajaram, Secretary to Government, Tamil Nadu Development and Information department presided over the meeting. S Gokula Indira, MLA from Anna Nagar constituency gave a special address and congratulated all the Brahmakumaris on this special occasion. The ward councillors from Anna Nagar constituency were also present.
Brahmakumaris is a spiritual organisation committed to self transformation through meditation and positive thinking. Every 5 to 6 years they organise a campaign to promote peace. This year a cycle rally was flagged of by the governor, K Rosaiah from Raj Bhavan. Messengers of peace travelled 875 kilometers through villages and towns in Tamil Nadu, conducting meetings and serving the people. Brahmakumaris in other states in the country have also taken up similar rallys. An all India grand finale is to take place at Hyderabad on November 8.

News from Sr Jayanti
30 September 2013
Dadi Janki has been up the mountain since the past two days to be with about 65 high-level Call of the Time Guests from various countries. There was cyclonic weather for the past 4 days but today things cleared up a bit. The gathering is being empowered by Baba's love and Dadi's pure feeling for the group to take a leap in their spiritual efforts.

Choose, Change and Become - Living in Style
29 September 2013
Summary
The Choose, Change & Become-Living In Style retreat was held at Earth Science Dept Hall, Manipur University. There were 65 participants for the retreat. The Works & Transport Minister, Mr. Kh. Ratankumar inaugurated it. He shared his experiences of leading a stress-free life after practicing Rajyoga meditation. He also encouraged the youth to be clear in their goals. He attended the energizer and the first activity with so much enthusiasm.
Purpose
The retreat will give adults and youth the opportunity to spend time in a relaxed atmosphere, to talk and to listen to each other, to get more comfortable with each other and to explore ways to discover their spiritual DNAs.
Goals
Make Manipur more peaceful through Spirituality
* Gather creative ideas
* Meet new people to understand their know their idea of style
* Think and learn about spiritual lifestyles
* Figure out how to get youth in spirituality
* Mingle and have fun
* To make aware that spirituality is not boring but a lifestyle
Participants
20-35 years of age youth mainly research scholars participated in the retreat. All of them new to this spiritual university. The audience were open to learning and co-operative throughout the retreat.

Sustainable Yogic Agriculture
Agriculture is one of the biggest and far reaching industries around the world, affecting every living being on the planet. Todays agricultural practices, greatly influenced by the "Green Revolution," have resulted in poorer food quality, inappropriate use of chemicals, a decrease in the health and wellbeing of farmers and an increase in their depression and suicide. Food prices have gone through the roof in recent years and food security and hunger are some of our worlds most pressing problems.
Representatives from the Rural Wing and the office to the United Nations spent 6 days traveling through Maharashtra and Goa exploring the growing fascination with SYA through the eyes of the farmers who practice it. Interviews, farm visits, and meetings with dignitaries filled the days, as many people came forward to support the work of smallholder farmers whose lives and livelihoods have been, and are being, transformed through the practice of SYA.

Honest BK Taxi Driver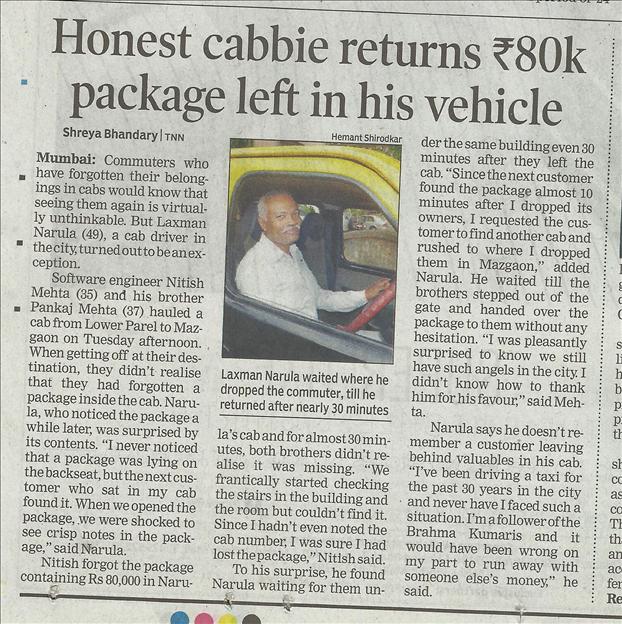 Brahma Kumaris adjudged first in the field of Environment Protection in Rajasthan
27 September 2013
BK Mohan Singhal recieving the "Green Idol Award" from the Governor of Rajasthan, Mrs. Margaret Alva at Rajbhawan, Jaipur on 27th September 2013. Prajapita Brahma Kumaris Ishwariya Vishwa Vidyalaya was awarded First Prize in 130 entries from all over Rajasthan for its exemplary services in the field of Environment Protection.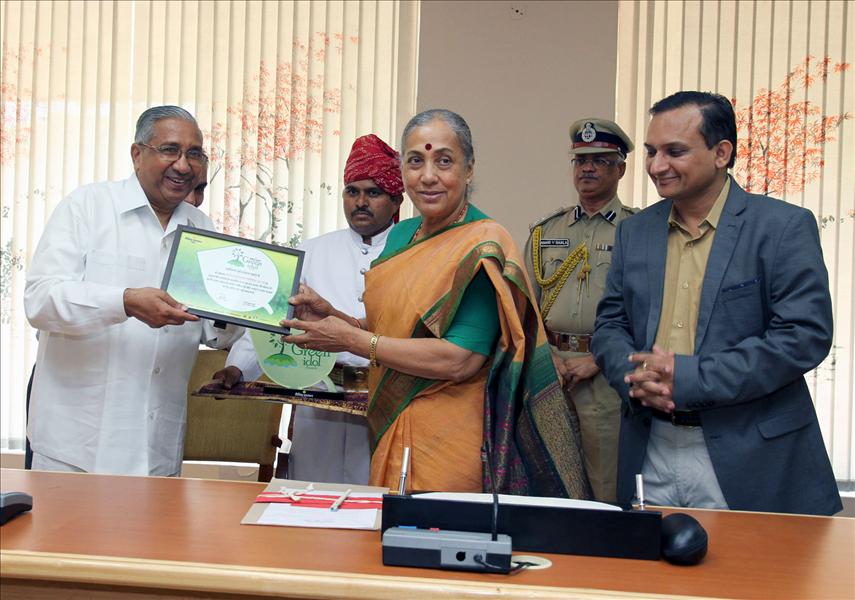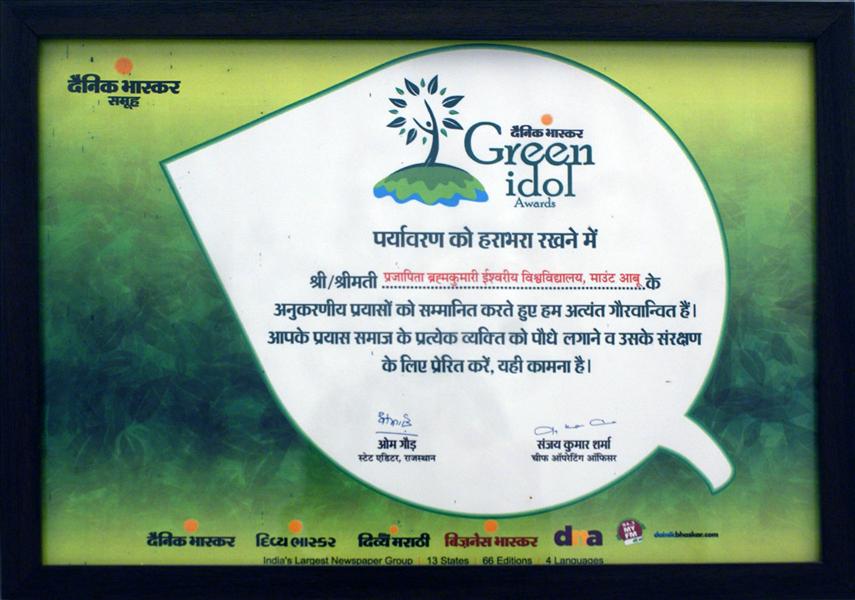 Dadi Janki in ORC, Gurgaon
20-22 September 2013
Video link of Dadi Janki ji visit to ORC http://youtu.be/71ECY8lr0Vg
Text version of Classes: Class 1 Class 2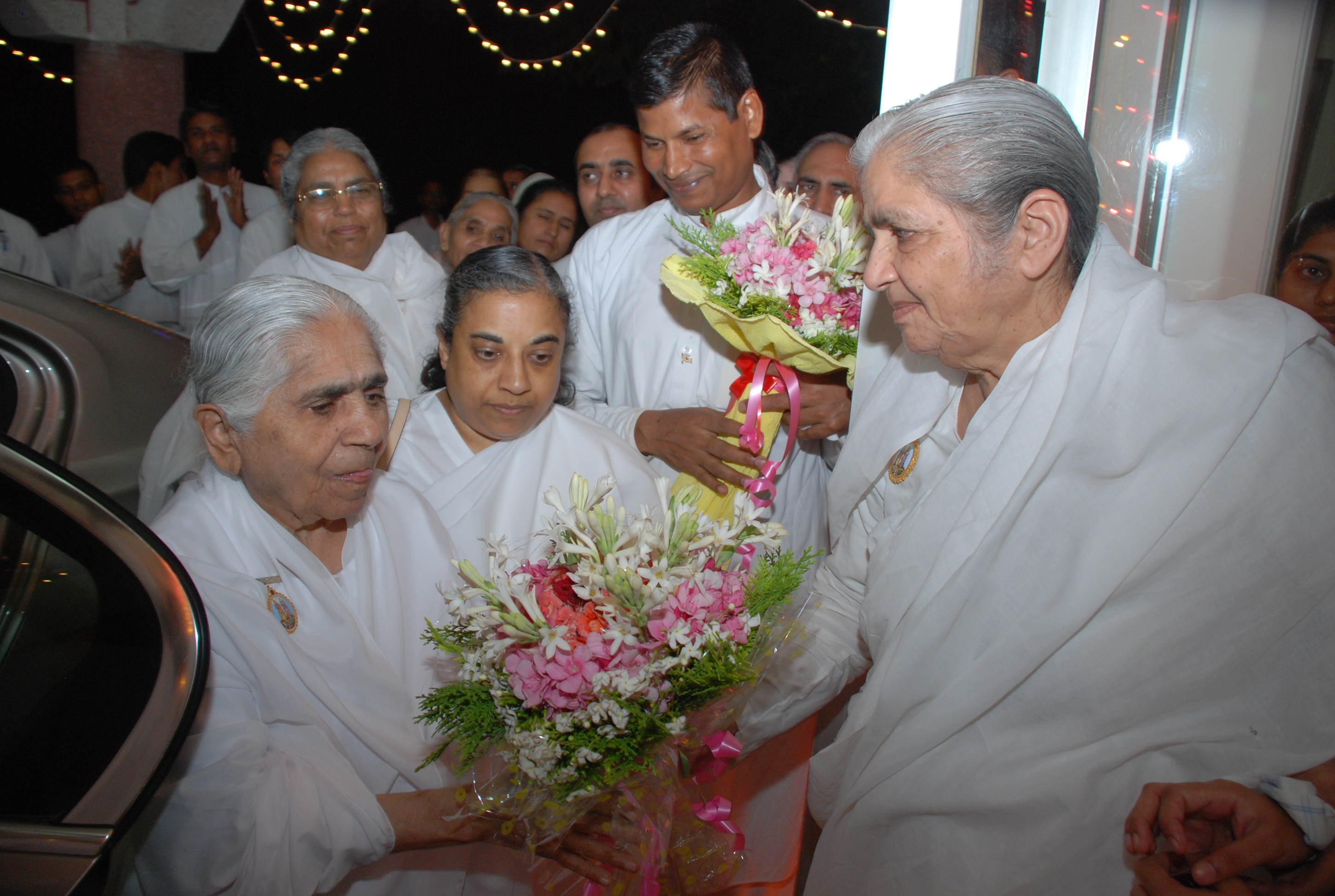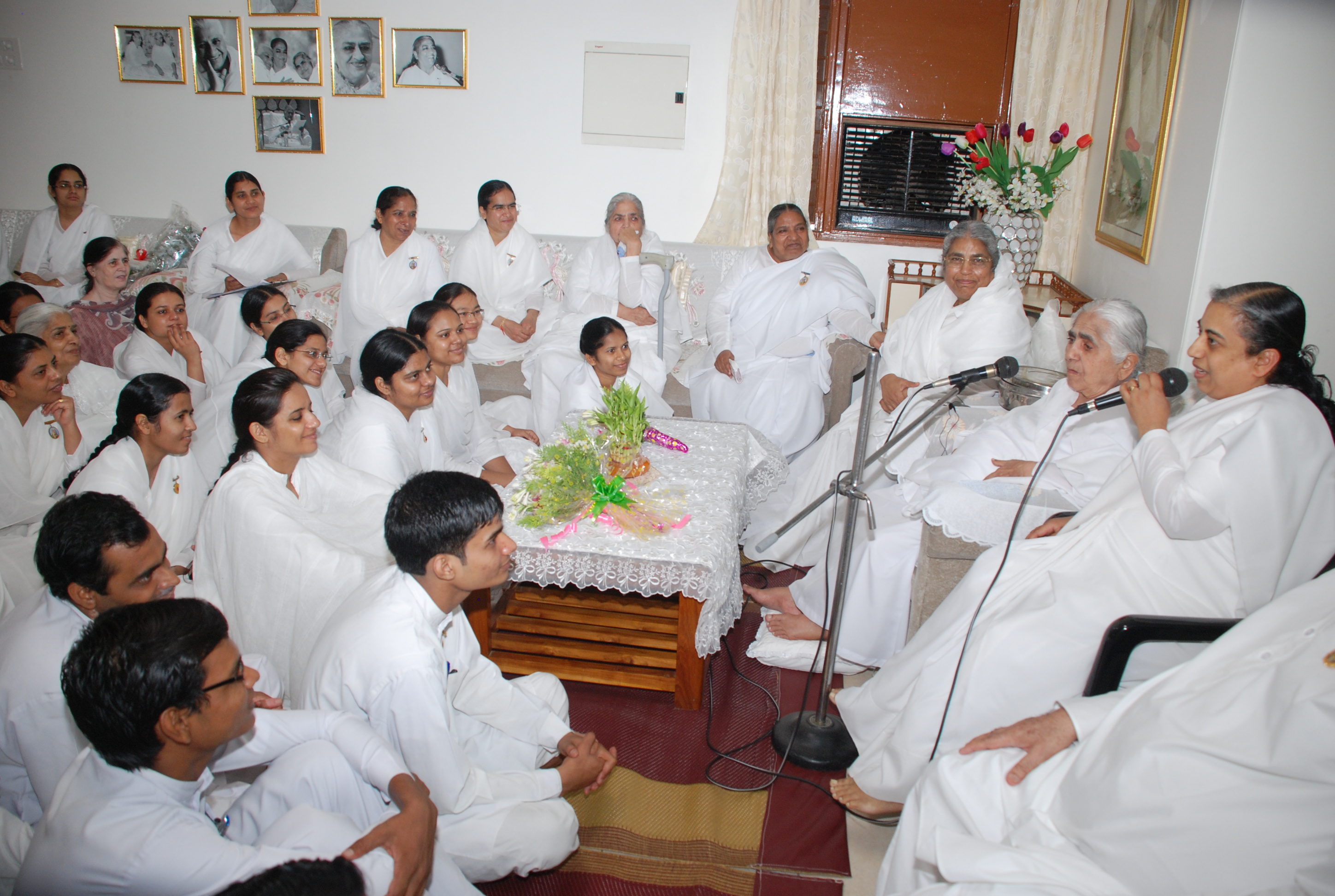 Dadi Janki in Delhi
20 to 22 September 2013
Dadi has been asking one question recently: Can we say confidently that we have eliminated negative karma of the past? Unless 'vikarm' has ended, we cannot truly and completely 'see and follow the Father', since the soul continues to struggle with laziness and diminished attention. Keep the fire of yoga burning brightly. When our actions are elevated, a number of souls will take power to come closer to Baba.
Dadi Janki was in Delhi from 20-22 September to participate in the very prestigious launch of the "Non-Violence is the Greatest Religion" Campaign at the President House. It is an initiative of the Brahma Kumaris along with other eminent Interfaith Leaders, and the Delhi family have truly carried out a phenomenal task. It was an honour to be in front of the President of India, hearing his support and appreciation of this noble project.
Dadi Janki returned to Shantivan on Sunday evening to meet with the guests of the Annual Media Wing Conference. We now prepare to welcome special guests for the Call-of-the-Time Dialogue in Gyan Sarovar, and BKs of Colaba Centre, Mumbai, for their retreat/bhatti in Pandav Bhawan.

Youth cycling for peace
24 September 2013
The "Youth Peace Cycle Rally" from Kohima to Lumding was flagged off on Tuesday at the Assam Rifles Ground in Kohima. The rally is being held under the aegis of the youth wing of Brahma Kumaris as part of the "Youth Cycle Yatra for Glorious Bharat" from 111 different places throughout India for empowering youth and establishing a value based society on the basis of non-violence. It was flagged off by Col. Prashant Kumar, CO, 19 Assam Rifles.
Speaking on the occasion, Col. Kumar was appreciative of the Brahma Kumaris for initiating such an event to spread the message of peace and harmony.
The objective of the rally is to establish a valued based society through righteous/virtuous youth, respecting and empowering women, non violence, national integration, healthy addiction free society, stress free living through Raj Yoga and social development through education. Activities during the rally included an interactive talk show, lectures in colleges, youth association clubs, mass meditation, group discussion, taking up community work, public programme, multi-cultural activities, spiritual discourses etc.
The programme in Kohima was managed by the Youth Wing of RERF & Brahma Kumaris Centre, D. Block, Kohima. The rally was formally launched by Sheila Dikshit, Chief Minister of Delhi in New Delhi on September 13. It will culminate on November 8. The Brahma Kumaris Institute has gained international recognition for unique preaching on matters of world peace and spirituality. It is affiliated as an NGO to the Economic and Social Council (ECOSOC) of the UN and to UNICEF. It has been awarded a peace medal by the UN and also an international and five National Peace Messenger awards by the UN.

Dadi Gulzar meeting President of India
22 September 2013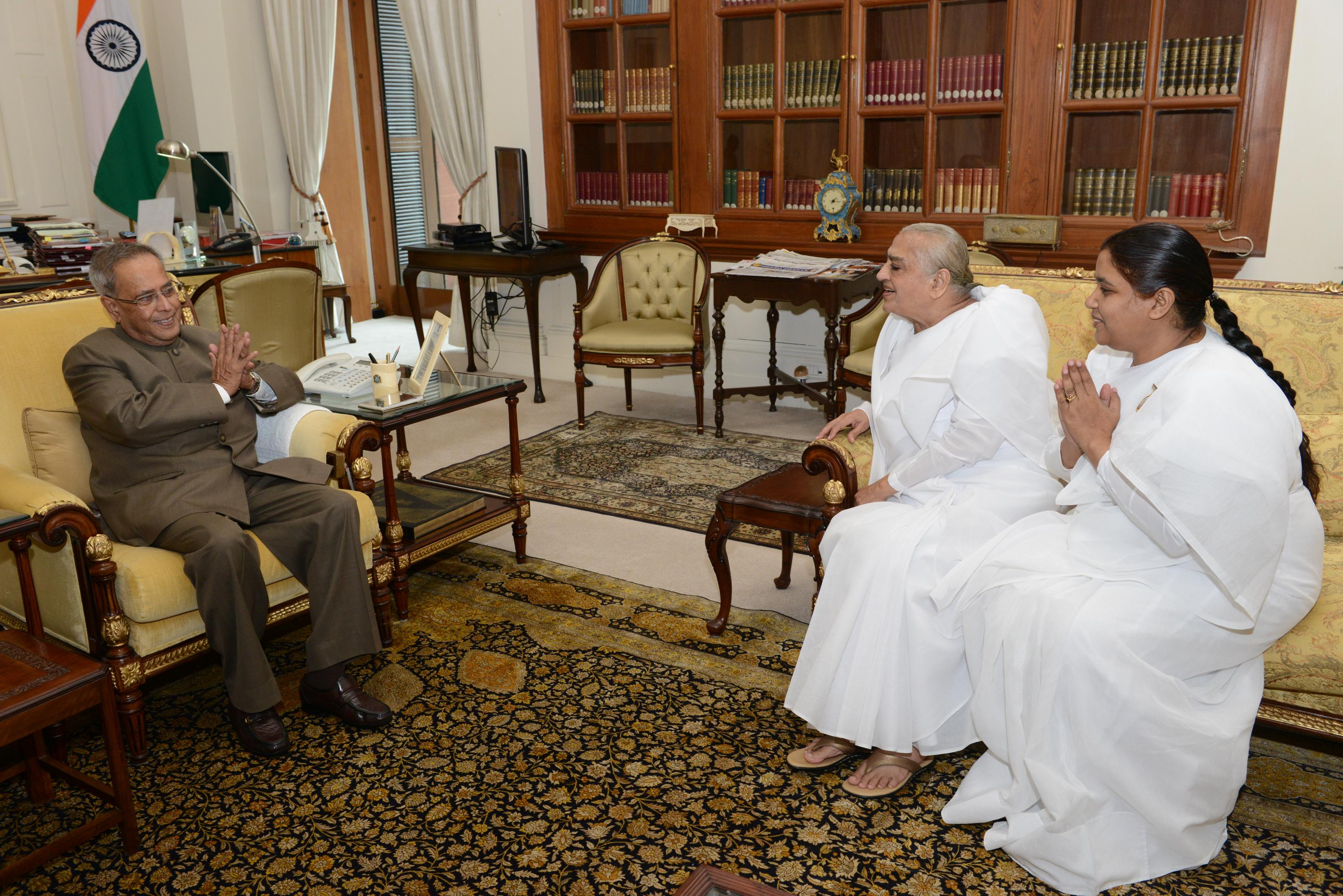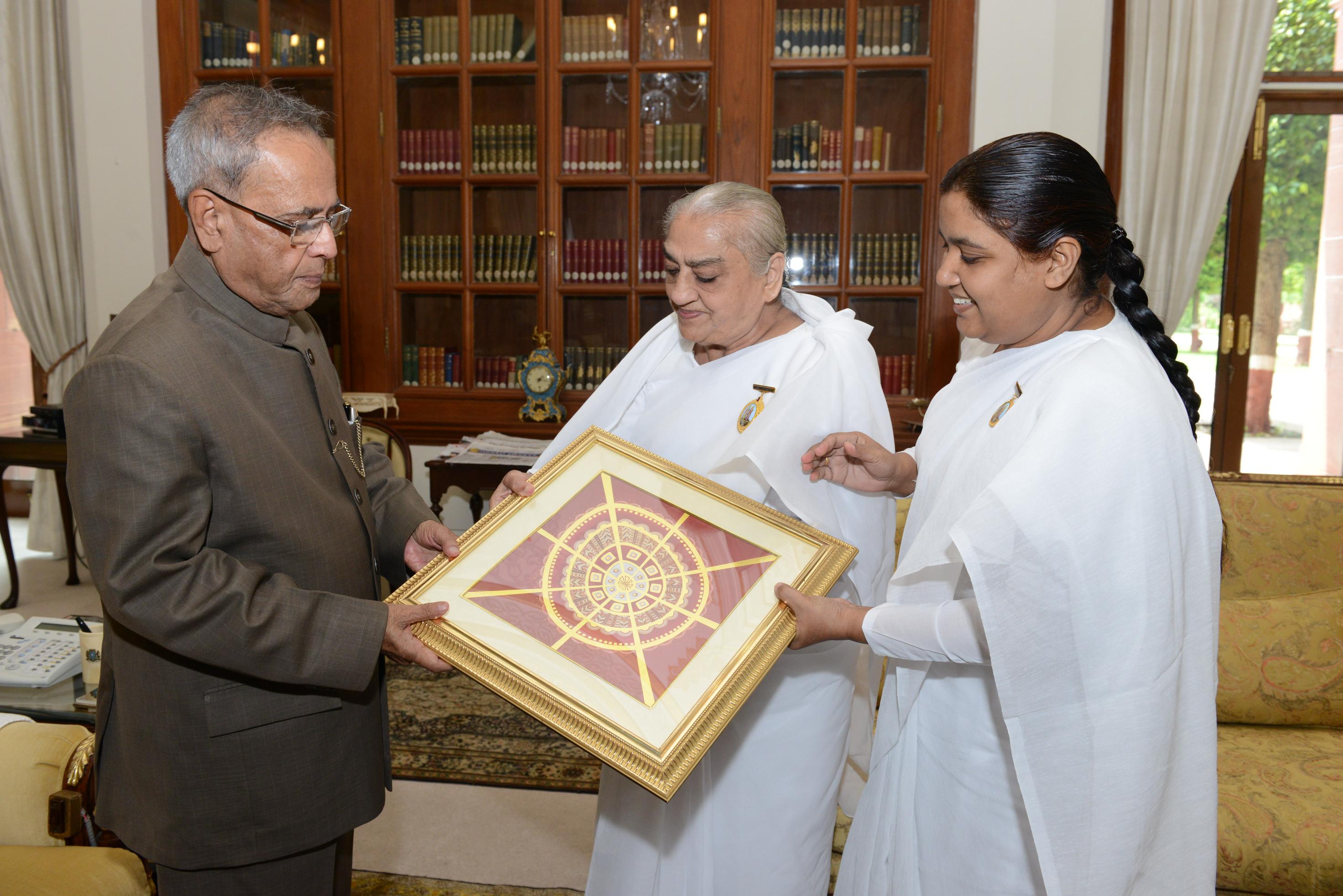 All India Ahimsa Paramo Dharma Awareness Campaign
21 September 2013
Speech of President of India at the launch of "All India Ahimsa Paramo Dharma Awareness Campaign" - an intiative of Brahma Kumaris jointly with interfaith leaders. The launch was followed by Inter faith programme on 22 September at Sirifort auditorium with Dr. Farooq Abdullah, Union Minister for New & Renewable Energy as Chief Guest.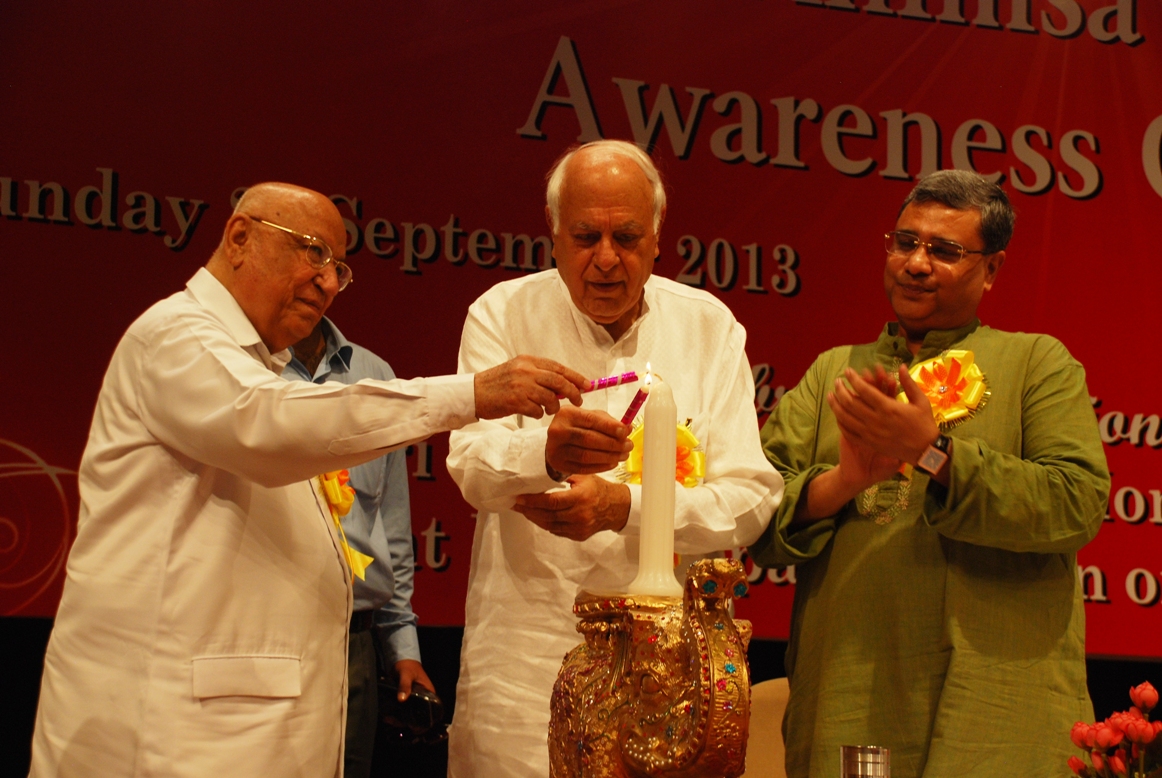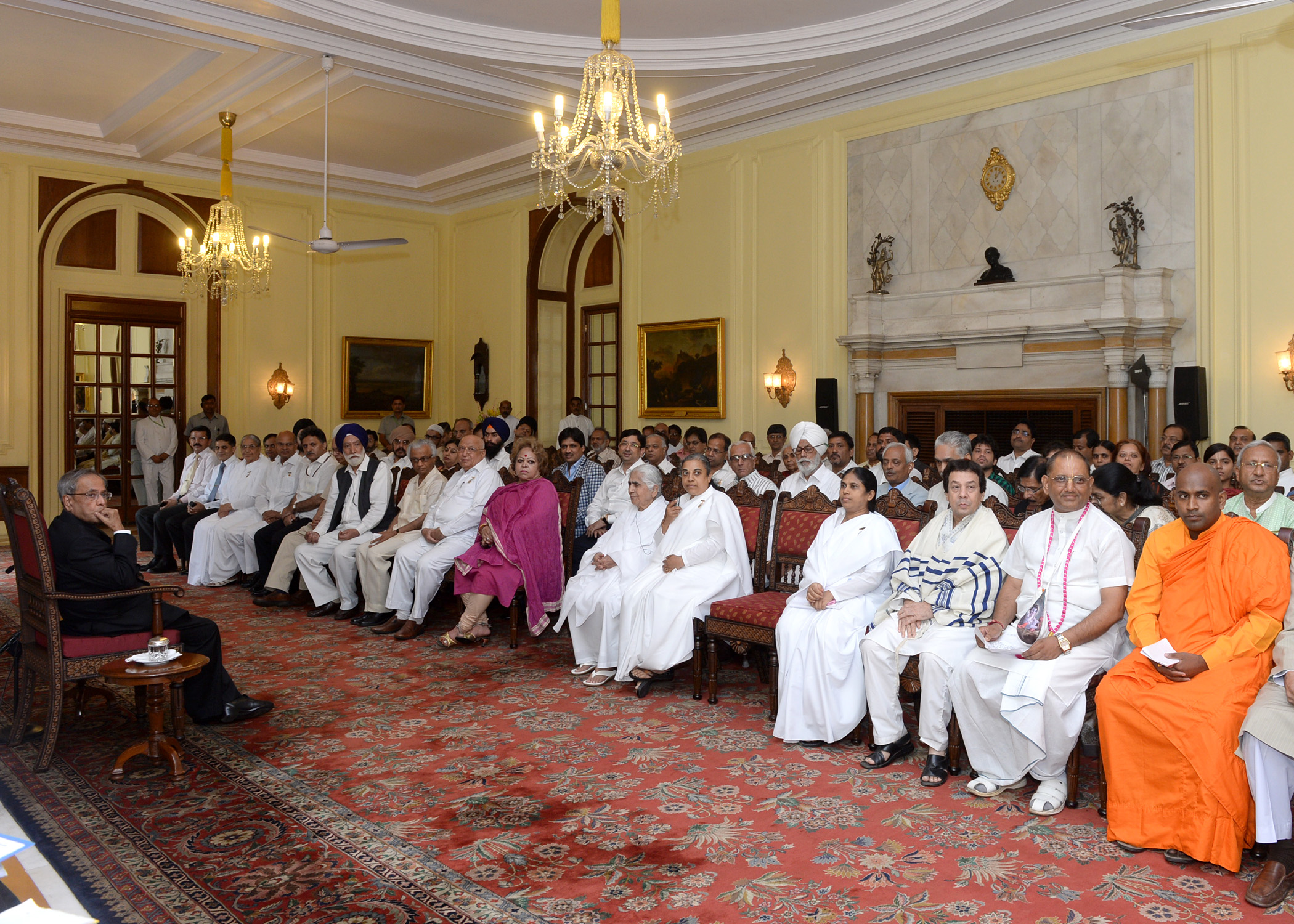 Road Safety Initiative by Brahma Kumaris
The Road Safety initiative of Brahma Kumaris is knocking on our doors once again with an opportunity for synchronized global activities. The UN Road Safety Collaboration has declared 6th to 12th May 2013 as the Global Road Safety Week (GRSW). This year, the theme for the week is 'Pedestrian Safety'.

The World Day of Remembrance observed on 18th Nov 2012 was an encouraging start to internationally synchronized events within the yagya in the direction of promoting road safety. For this GRSW, we would like to propose a list of activities that centres could undertake during the week.

Please click on link below for The Global Road Safety Week letter.