2018 International Yoga Day Archive
2018 International Yoga Day Archive
"Wellness from Within" Service News and IDY celebrations from Mauritius
3 September 2018
She talked about the importance of proper diet and exercise in the health and wellness of every human being. In order for exercise to be a lifetime change, it has to be something one enjoys. She added that physical activity or exercise can improve one's health and reduce the risk of developing several diseases like type 2 diabetes, cancer and cardiovascular disease. Physical activity and exercise can have immediate and long-term health benefits for the body, lungs, mood, etc. Most importantly, regular activity can improve one's quality of life.
The lecture was followed by Health and wellness stretching exercise. This created an atmosphere filled with positive energy and vibrations. Enthusiasm and joy were seen on everyone's face and activity.
Click here for full report with photos.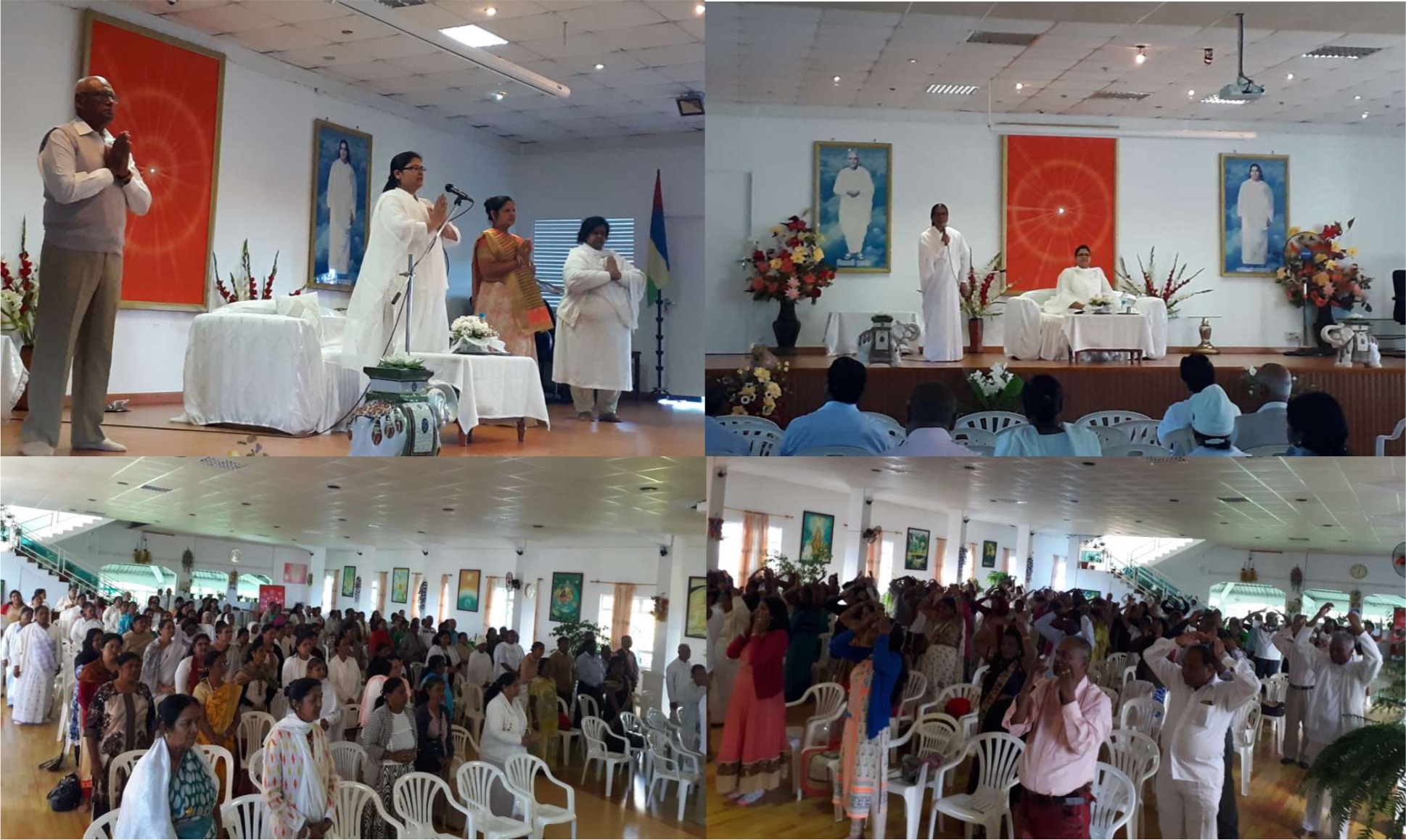 BK Binny Sareen in Colombia for International Yoga Day Celebrations
3 September 2018
Accompanied by her sister Neena, Bk Binny after her tour of the United States and arrives in Colombia in june 2018 to fulfill several commitments.
The first was in Fusagasugá, population at 1.30h from Bogotá. Sister Binny addressed a large group of 600 women students for police officers in the Police School Province of Sumapaz "Intendente Maritza Bonilla Ruiz" - ESSUM and another 100 special guests, businessmen of the region and police officers. He developed the theme Self empowerment: stability in life and in the relationship with others.
He also visited several sites in the region, including an ecological and self-sustainable farm.
After returning from Fusagasugá, the sisters were in the Mandalay Headquarters, Sukdham, sharing with the family in particular on an important topic: Healing of the Being through the experience with Baba.
Visit to the Chapinero headquarters, Kamdhenu: He gave the conference: Forgiveness Requirement to Heal The conference was divided into two parts, the cousin makes reference to an introductory talk of experience, at the Monte Abu hospital, where Dr. Binny is a resident , as well as exemplify cases in which people have been healed by their meditation and changes in lifestyle (behaviors, habits). The second part, emphasizes that forgiveness is essential to have a healthy life, also teaches us how to cleanse as it explains that all emotions, thoughts and feelings are 90% mental, that come from oneself and not of the outside; Emphasizes that there are three fundamental aspects to forgiveness: focus, forget and meditation.
Visita a la Sede Las Margaritas, Lotus. "Lotus bhawan" was fortunate to have sisters Binny and Neena who shared with the family. The family received this visit with great joy. They shared with the family some beautiful experiences, knowledge, stories, anecdotes. It was a fun and creative morning.
And as expected one of our most exotic tourist places, is the "Salt Cathedral of Zipaquirá", for that reason we went with the sisters to that place, who enjoyed it very much. On the way back we went through the savannah and enjoyed its beautiful landscapes. The next day we enjoyed his sweet company in the amrit-vela, it was fantastic to feel the powerful vibrations of Baba in his company.
He also gave a lesson on the need to listen to the murli because it is the murli that gives us the power to have a more constant memory of Baba and also fills us with strength to contribute to the task of Baba. We had breakfast as a family and in general there was a lot of lightness, depth and joy.
In general it was an opportunity to empower us with this visit of two kind, gentle, sweet and very deep shaktis.
He participated in the birthday celebration at the La Castellana, Vishal headquarters and also had meetings with members of the Hindu community.
In his visit to the Embassy of India he tied Rakhi to Mr. Ambassador RAVI BANGAR, to all his staff and other officials.
They participated in the celebration of the International Yoga Day in Bogota, in association with the Indian Embassy and other yoga schools.
He also visited the city of Medellín where there were important events. The Yoga event for holistic health and happiness should be highlighted.
Click here for full report with more photos.

Dr Binny and Sister Neena participate in UN Yoga Celebrations Events in NY and in Peace Village Retreat
3 September 2018
Sister Dr. B.K. Binny and Sister B.K. Neena from India represented as honored guests at UN Yoga for Peace Day Celebrations with UN Deputy Sect. General Amina. J. Mohammed, eminent Spiritual leaders UN Ambassadors , Diplomats , Social and Civil representatives. This event was organised at UN building by the Permanent Mission of India to the United Nations . In this event Dr. Binny and B.K. Neena conducted Peace Pledge on stage with UN Ambassador Mr. Syed Akbaruddin, Permanent representative of India to the UN and many eminent dignitary.
She also interacted with Ambassador, and UN diplomats and introduced the activities of Brahma Kumaris at International Headquarters Mount Abu. Thousand children participated at UN event. Dr. Binny was also joint organizer and Key not speaker at RETREAT YOGA FOR HEALTH AND HAPPINESS at Peace Village. In this retreat imp leaders and key persons from US participated. Dr. Kala, Sis Dorothy, Sis Gaytri, Sis Judy and many speakers addressed this event
Dr. Binny and B.K. Neena represented at Yoga Celebration Events by Indian Consulate at Governors Island at Statue of Liberty New York
Dr. B.K. Binny also represented and interacted at mega event of Indian Consulate, where leading social org and faith leaders presented Yoga exercises and Meditation. Dr. Binny and Neena also presented with interfaith US leaders Yoga song. Many children and social organisation presented on Yoga for Peace theme.
Dr. Binny Sareen
Regional Director for India
Global Peace Initiative
Director General,
Int. Peace Initiatives (Hon.)
Mount Abu, Rajasthan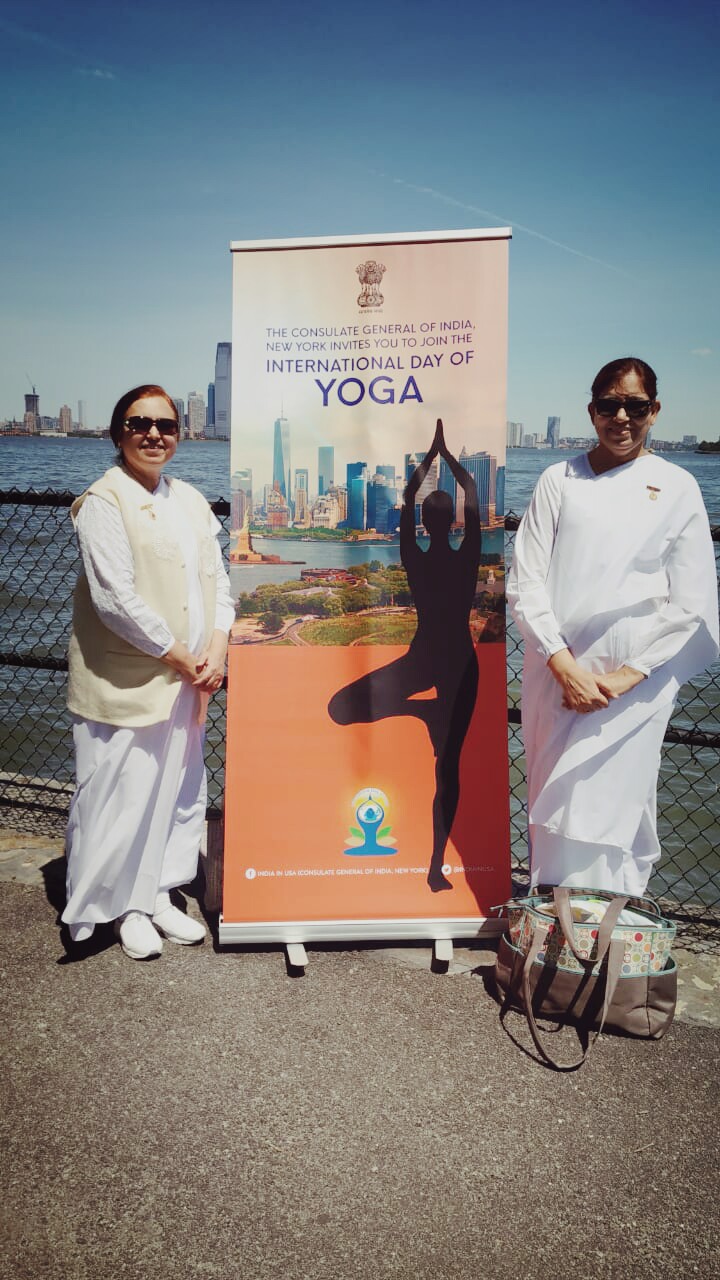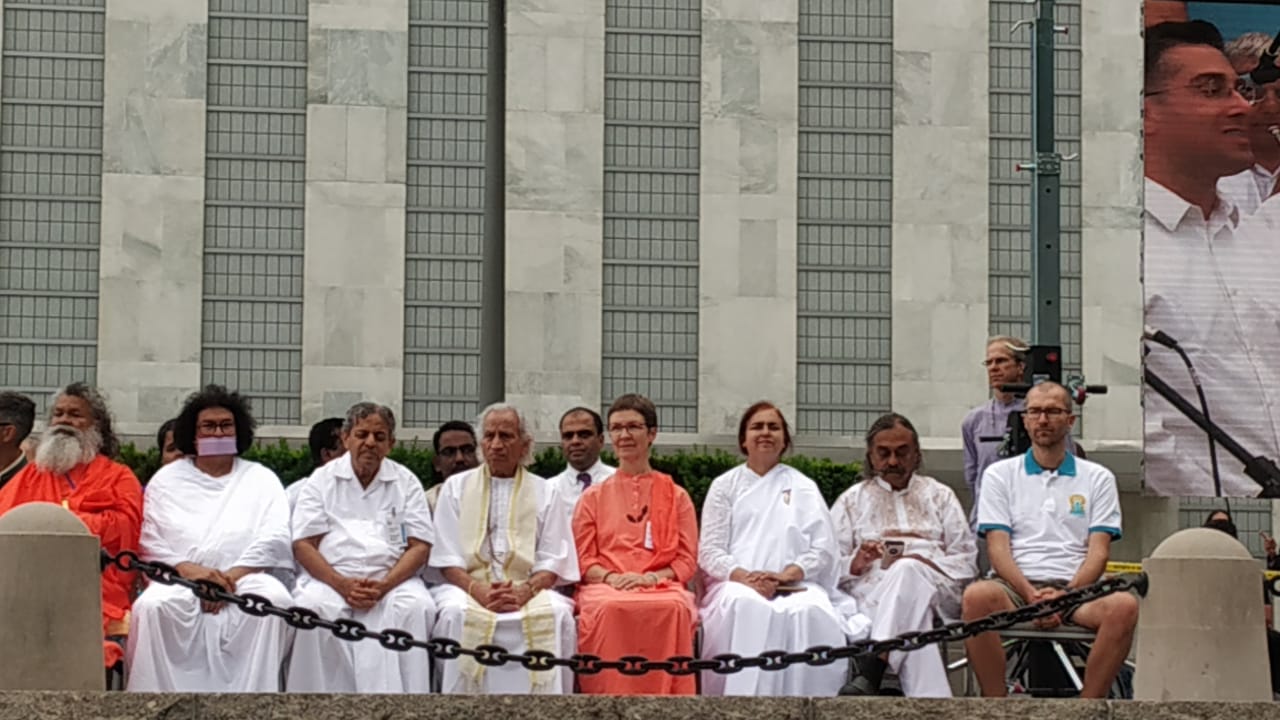 IDY in Ulaanbaator, Magnolia on June 17
14 August 2018
The 4th International Yoga Day was celebrated in the city of Ulaanbaator on 17th June 2018. About 150 people participated in the event. The festival was organized by the Embassy of India in Mongolia and yoga centers.
All volunteers of yoga centers and representatives of the Embassy of India in Mongolia have repeatedly met to discuss all organizational issues.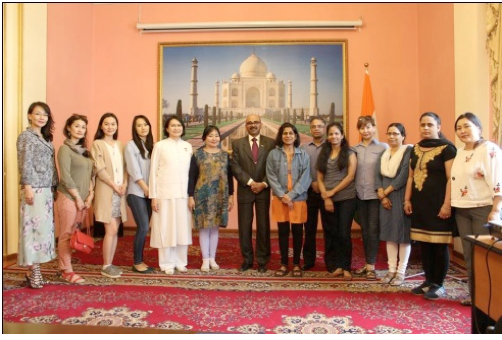 Representatives of yoga centers, the second secretary of the Embassy of India Mr. Ravi Shanker Goel and BK Meera Ainukhatova
It was raining on the day of the celebration of the fourth International Yoga Day in Ulaanbaator, but in spite of the weather conditions, all participants with courage and enthusiasm and perseverance performed yoga exercises.
The volunteers of yoga centers, children's dance groups and famous dancers from Mongolia performed on stage.
A group of students of the Brahma Kumaris Raja Yoga educational center held the meditation for all participants of the festival. Students of Brahma Kumaris educational center offered to play in the "Virtues scop". They explained the good qualities and gave the good wishing cards to alll and distributed brochures representing the activities of the center.

Videos: Sr Jenna's Message for IDY and the Om Challenge
6 August 2018
IDY Message
OM Challenge

Brahma Kumaris Sponsors International Day of Yoga Program in Kanzakigawa-Osaka, Japan
3 August 2018
Aim: To enjoy yoga exercises and meditation with 100 people, including Shumekai members. Most of the participants were beginners but while listening to Prime Minister, Mr.Modi`s message, the strong thought to create a harmonious world become very real among the participants.
Using the body to create peace of mind and to have the thought of spreading peace to the world.
The natural process of relaxing the body, observing its energies and seeing the inner qualities of the soul brought about an experience of the higher self and thus to create the feeling to serve with peaceful mind to the world was easy. This created a beautiful meditative environment. The faces of all the participants were blooming after the program!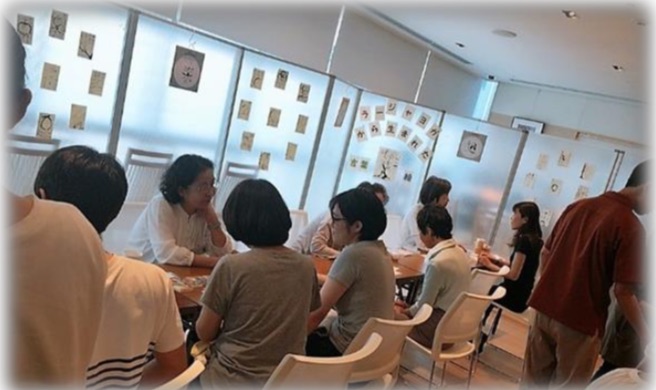 Promotional IDY Video produced by Godlywood Studio
2 August 2018
NOTE: The accompanying video can be used next year as well!
Dear Divine Brothers and Sisters,
Om Shanti.
A very important news from Godlywood Studio on the occasion of Yoga Day.
It is extremely delightful to watch every blessing of Baba has showered on us becoming a reality.
Doors are now open to the glorification of Baba's greatest gift - Rajyog - being embraced by the whole world. Due to the efforts by our beloved Prime Minister Narendra Modi, UN has declared June 21 as International Yoga Day and in connection with this Brahma Kumaris has been given the responsibility of promoting Yoga in many selected places all over the country. This is a great opportunity for Baba's revelation and we should not miss this at any cost.
In order to promote this event fully, we in Godlywood Studio have made a short video on the topic which features message from the Ayush Minister Mr. Shri Pad Yesso Nayak for the Brahma Kumaris. It also includes the message of our beloved Prime Minister. For maximum reach, the video is made in Hindi with English Subtitles. Please run this video in every program you organise in connection with international Yoga day.
You Can download it from Google Drive link and follow the youtube link to watch it online.
Together let us glorify Baba and His task in this world.
IBY, With Warm Regards
Godlywood Studio
Google Drive to download High quality Video:
International Yoga Day_with Subtitle.mp4
Click below image to play the Youtube video

International Day of Yoga in Aruba in the Caribbean
22 July 2018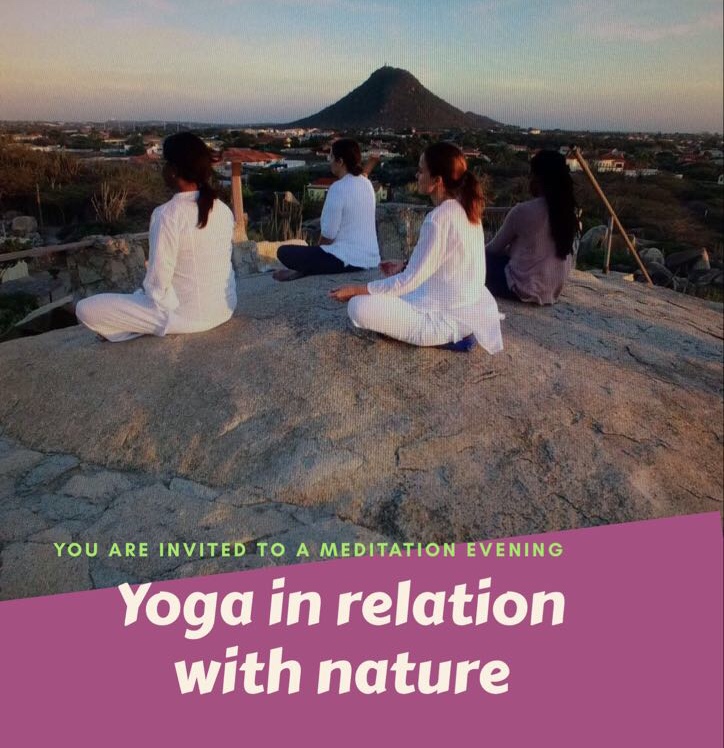 Dear divine family,
This year our theme is:
"YOGA IN RELATION WITH NATURE"
We choose this theme, because of the preperation for the huricane season.
Our aim is to inspire everyone and simultaneously serve the elements so they can restore their strength with Shiv Baba's power.
Serving the elements has become a commitment for us in our daily meditation.
Last year a documentary was made, "YOGA AS LIFE STYLE". This year it has become possible to telecast it on the International Day of Yoga on June 21st.
The souls who made the documentary were two lokik brothers who are very good friends of the Brahma Kumaris.
It took the two brothers some time to make it while their experience was that they could feel a Supreme Silent Power was directing them.
For us the feeling was the same, we could feel that nothing was in our hands. Baba was the real Director during the whole period of filming and editing. It was a wonderful experience for all who were involved in whatever way.
To see the video, click on the image below.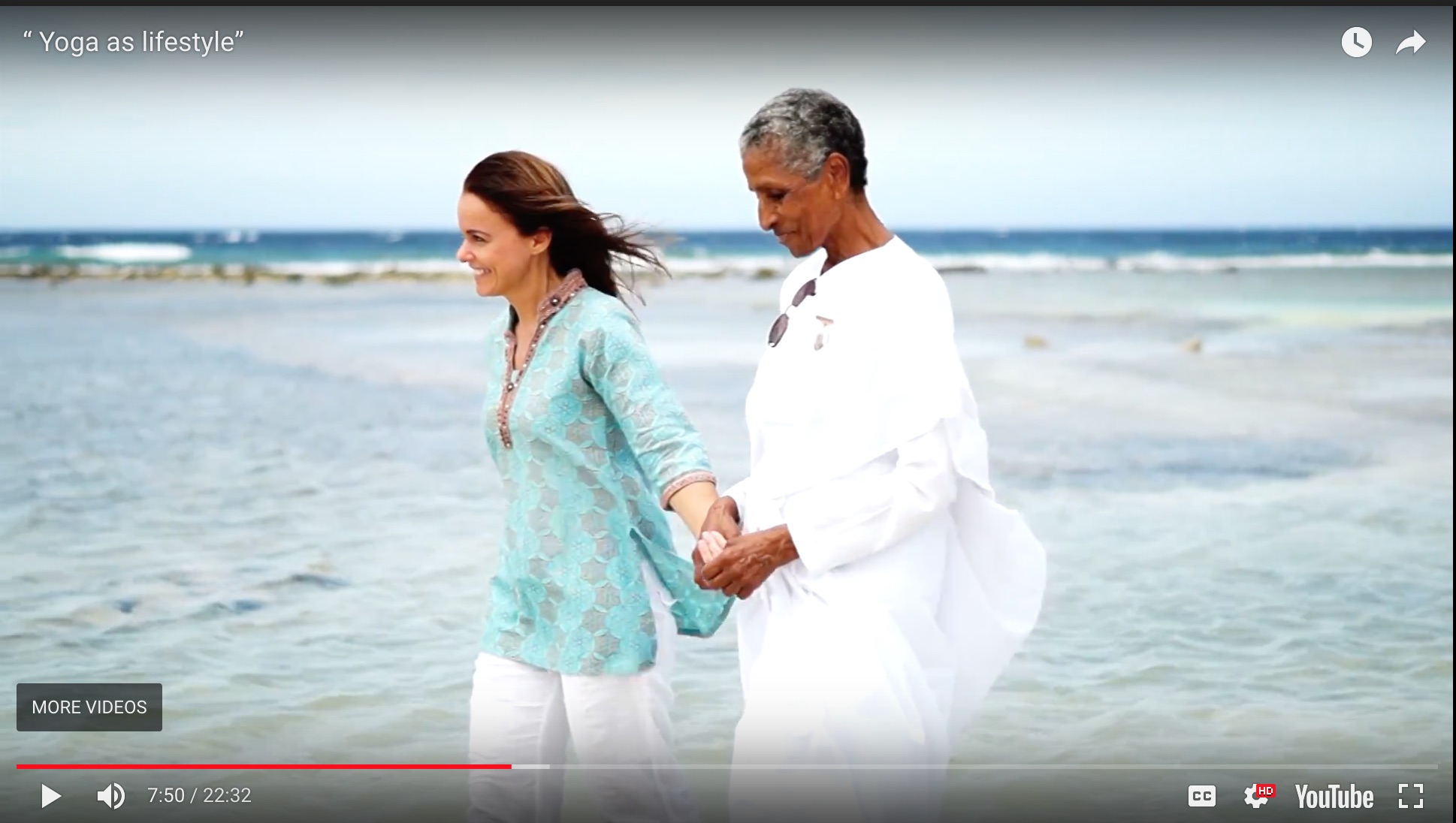 Our hearts say thanks to BapDada and to all the souls who made this service possible.
In Baba's Loveful Remembrance,
sr Rota

International Yoga Day in Kuching, Malaysia
22 July 2018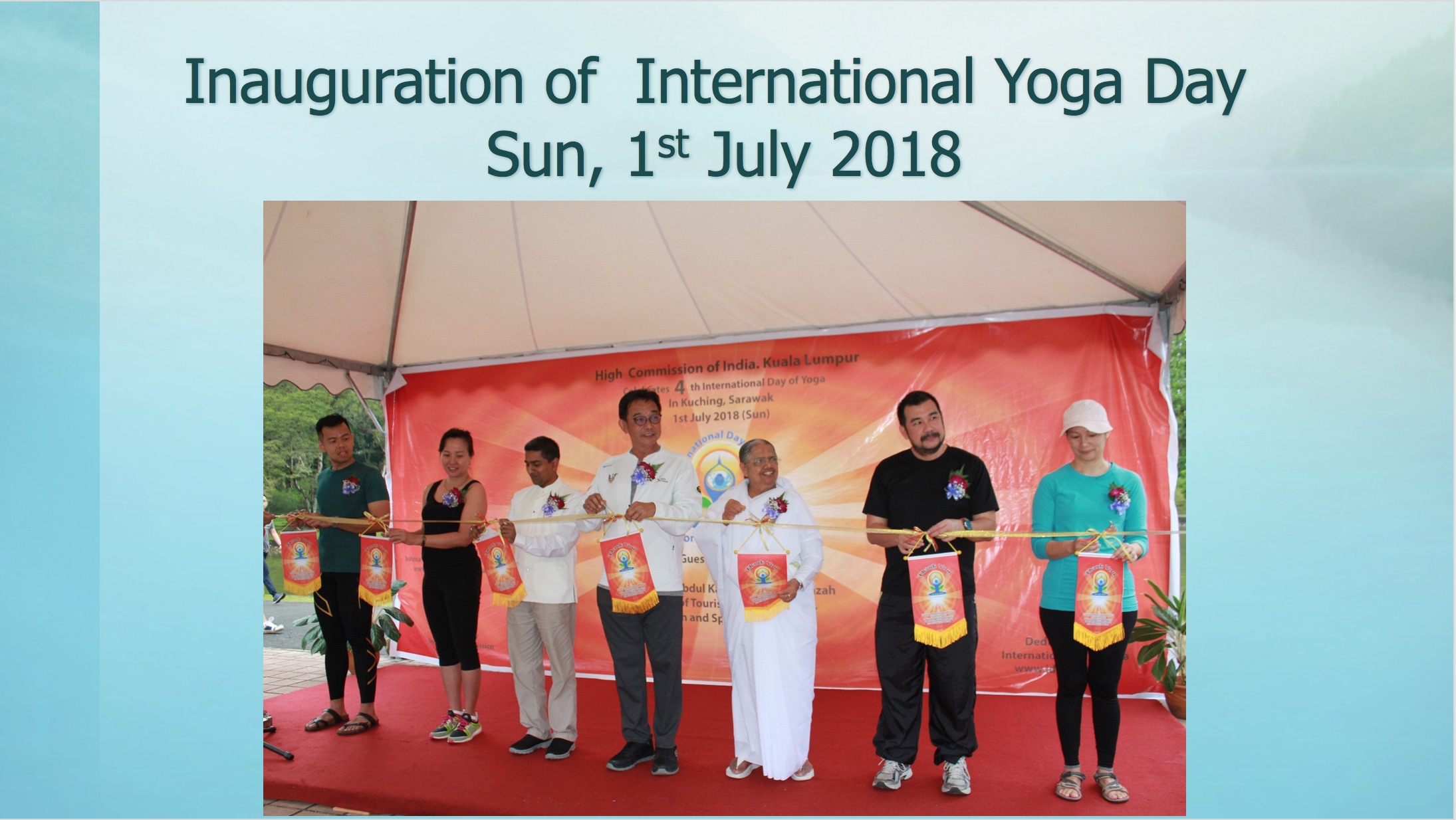 Persatuan Brahma Kumaris Malaysia Kuching Branch celebrated UN International Day of Yoga on Sunday, 1st July 2018 at Taman Budaya Reservoir Park, Kuching, Sarawak. This event is supported by the Indian High Commission. The International Day of Yoga aims to raise awareness worldwide of the many benefits of practicing yoga.
We are very fortune to have the Honourable Minister of Tourism, Arts, Culture, Youth and Sports Sarawak, YB Datuk Haji Abdul Karim Rahman Hamzah to officiate the opening of this 4th United Nations International Day of Yoga and to take part in this event.
In the presence of an audience approximately 110, the event commenced with the inauguration of 4th United Nations International Day of Yoga by untangling the ribbon of the appreciation flag led by YB Datuk Haji Abdul Karim Rahma Hamzah followed by Didi Meera Director of Persatuan Brahma Kumaris Malaysia, Dr Muralindran Mariappan, the co-ordinator of Persatuan Brahma Kumaris Malaysia, Kota Kinabalu Branch, Ami Yoga & Studio, Yoga Region, Mr Anderson Voon, CEO of NIIT College Kuching, Brother Chan President of Buddhist Society , key representative of Tusita Hermitage.
This is an outdoor event held at the open space of Taman Budaya Reservoir Park, Kuching. For the first time yoga organisations have gathered to altruistically share their collective intentions in educating the public on the importance of achieving a healthy mind and body through regular practice of Yoga and Meditation.
This event include a continuous guided activity by qualified senior instructors for the participants to experience relaxation postures, yoga postures and breathing by Ami Yoga Studio and Yoga Region, Mr Alvin Heng. Our Honourable Minister and distinguished guests, friends and contacts was given an experience of Hatta Yoga from the floor conducted by yoga instructors. Everyone was enjoyed the demonstration from each of Hatta Yoga groups.
Didi Meera, Director of Persatuan Brahma Kumaris Malaysia, sharing the ultimate connection – Yoga & Unity, that is the theme for this year UN International Day of Yoga. Follow with a silent reflection on Raja Yoga meditation. Distiguished guests, friends, young and old carry with them the deep experience and attainment of inner peace from this 5 minutes meditation with live commentary narrated by Didi Meera.
Thank you Baba, Didi and Honourable Minister of YB Datuk Haji Abdul Karim Hamzah, Mr Anderson Voon, Yoga instructors and all distinguished guests, friends and contacts of your supports to make this event a successful and smoothly one.
OM SHANTI.
Click here for full report with photos.

BK UN Event for International Yoga Day
22 July 2018
The International Day of Yoga Committee at the United Nations organized a unique event with a focus on meditation and silence. Meditation is a form of yoga that promotes inner peace and well-being, through connection with something beyond the self and the creative force of life. In meditation, we can experience a heightened sense of self, of others, and of the deepest part of that goodness within all beings. We can experience a sense of unity in a special way beyond words.
Collective meditation can strengthen our connection to that quality of our essential human-ness, to human dignity, to acceptance, to peaceful consciousness and to many kinds of healing.
To create an atmosphere that allowed for this experience, three Yoga Masters shared briefly on peace, unity, and dignity. After each presenter, the entire gathering reflected for five minutes, in silence, on the words they heard with the aim of going into an experience of them. Enriching musical performances followed each period of silence. It was amazing how quiet and still the 80 plus people who were present, remained.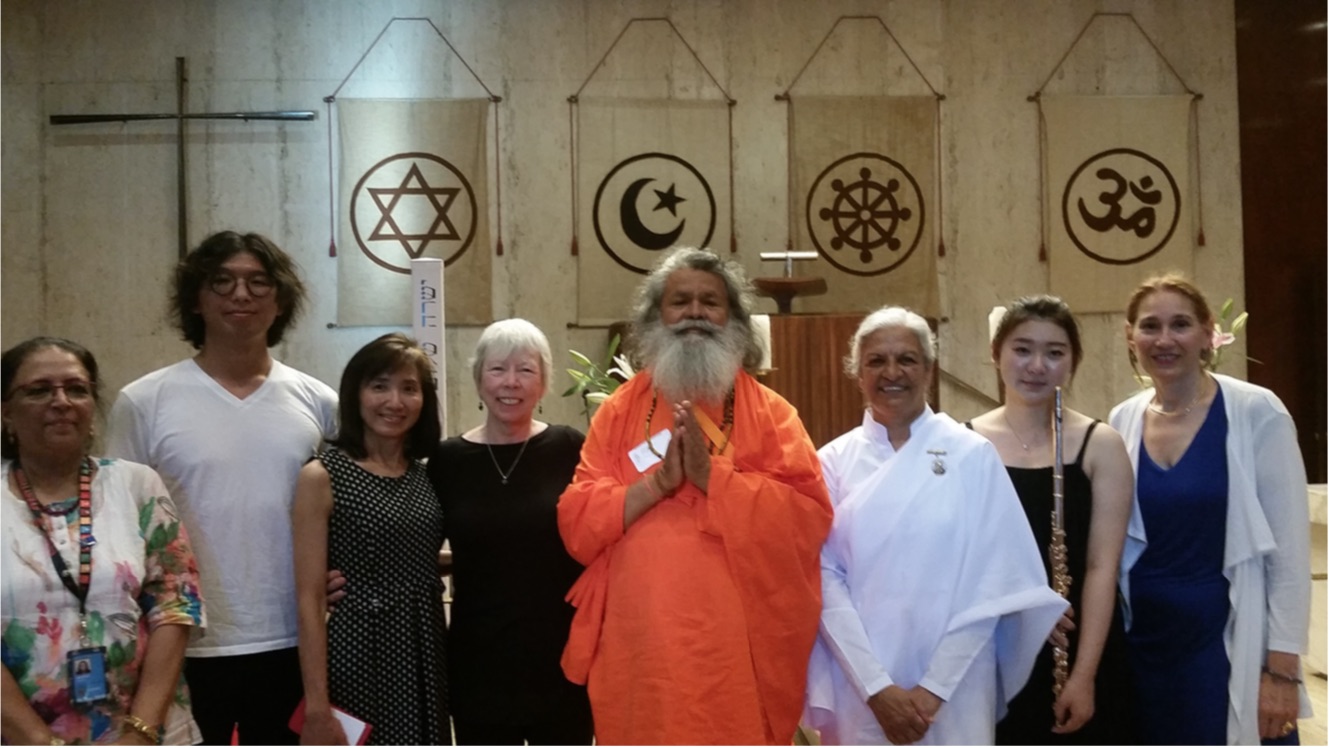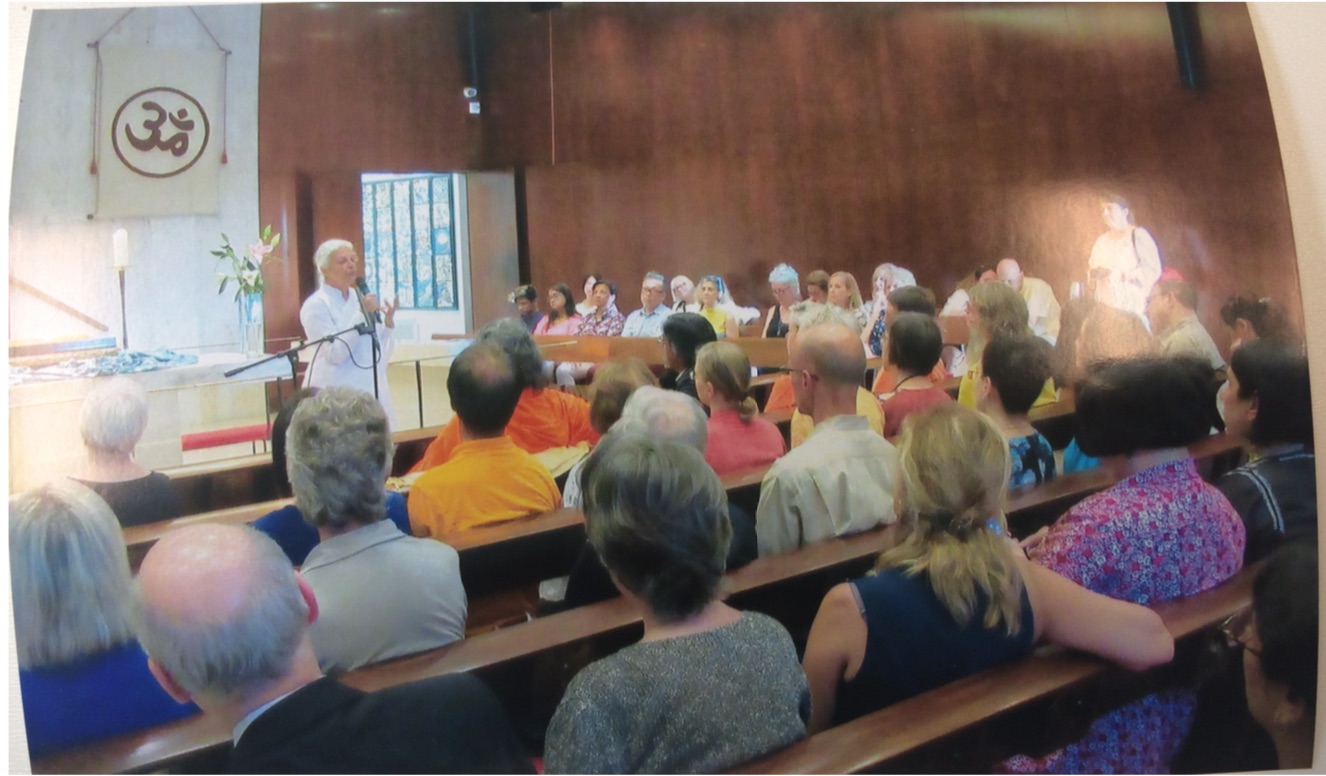 BK Gayatri Naraine, UN Representative of the Brahma Kumaris, shared on the virtue of Peace reminding everyone that peace is our innate nature, and that yoga is a wonderful method to access that peace from within. She further explained that yoga means connection and at the UN, the Brahma Kumaris has connected with various tenets integrating the spiritual significance that offers deeper meaning and give a higher purpose. For example, 'to reaffirm faith in the dignity and worth of the human person' (Preamble, UN Charter); 'all human beings are born free and equal endowed with reason and conscience' (Human Rights Declaration); and 'since wars begin in the minds of men, it is in the minds of men that the defenses of peace must be constructed.
(UNESCO Constitution). When people are able to connect to the spiritual significance of the tenants, it is then possible for the tenets to have relevance on people's lives and contribute to their well-being in a practical way.
Paramhans Swami Maheshwarananda of Yoga in Daily Life, spoke on the aspect of Unity and Yoga, the unifying force, stating that with yoga, every thing comes together because we are all one and belong to One.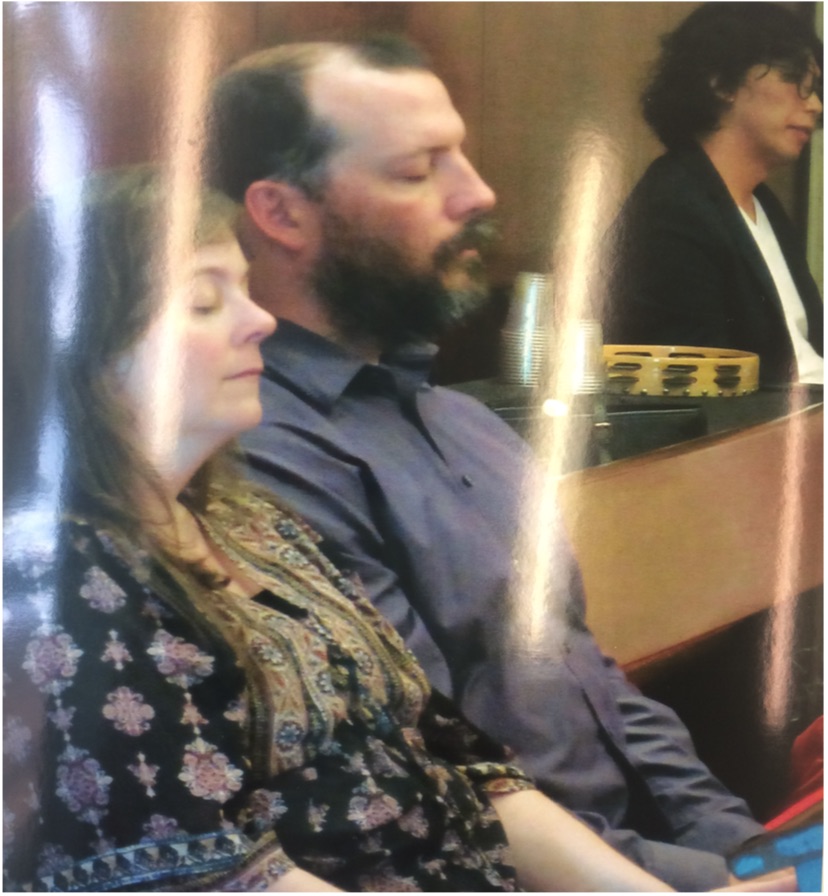 Cosmologist, Ms. Jude Currivan, then took yoga to another level by describing yoga as a means to connect with our Dignity or spiritual worth. She stated that this is a pivotal time in history - the 'aha moment' where yoga becomes the uniting force within the abundant diversity. This is the time when we either wake up, grow up, clean up, rise up, or not.
This event took place in the beautiful chapel of the United Nations Church Center, NYC, in the late afternoon on a very hot day. Yet, with the wise words of the speakers and the serene and enrapturing music of the violin, flute and piano, no one felt the heat, but instead, were lost in the experience of peace and tranquility.
Students of TWNY Music Guild, a non-profit organization, provided music.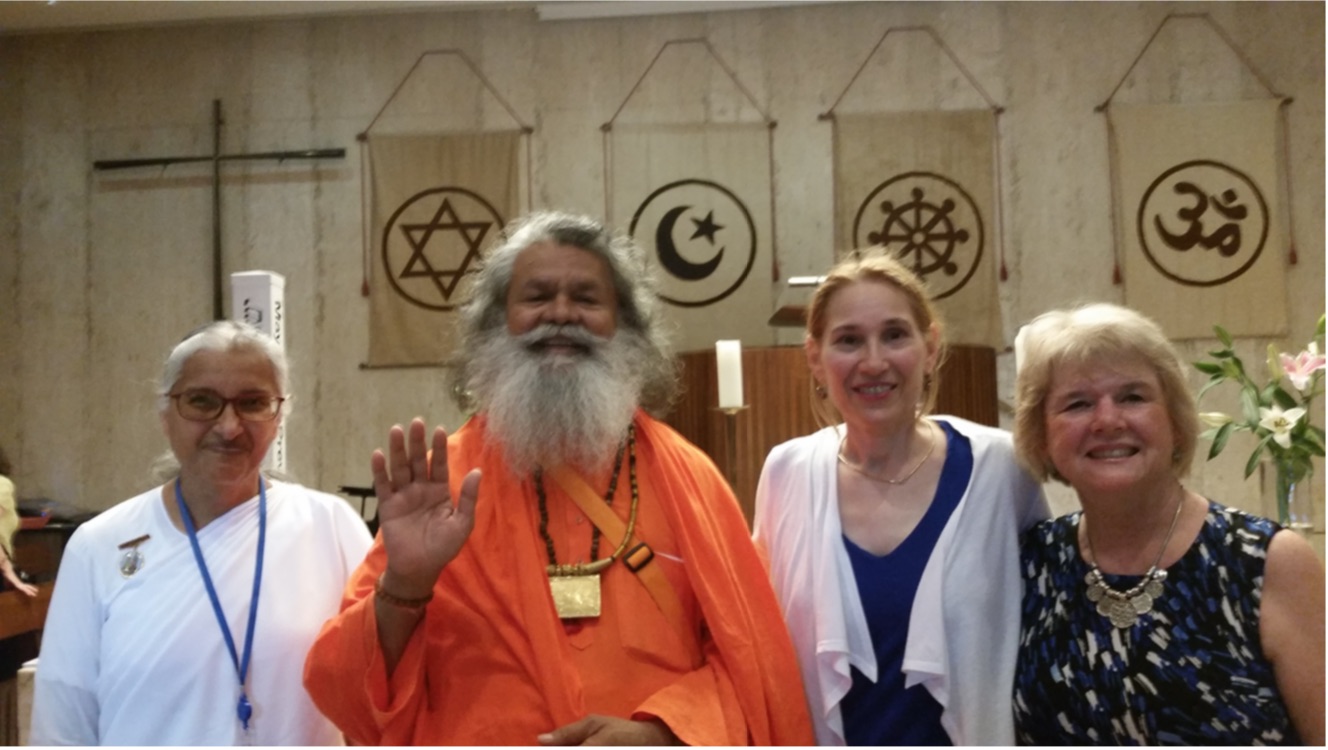 As a final touch to this uplifting afternoon, each participant was given a 'blessing' card. The program was moderated by Ms. Denise Scotto, Chair of the International Day of Yoga Committee at the United Nations.
Many shared how refreshed and energized they felt as they left the chapel.

4th International Day of Yoga in London
22 July 2018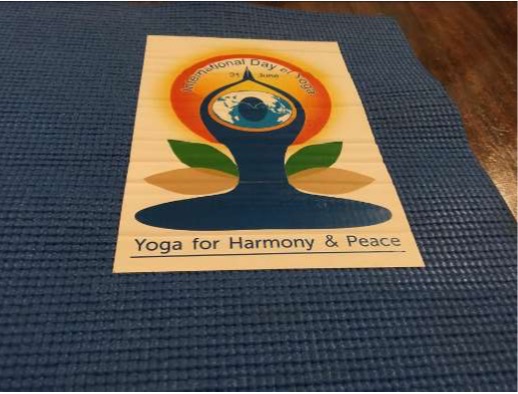 There was a buzz around London, and beyond, as various organisations held events to honour and celebrate the 4th International Day of Yoga. BKs from Global Co-operation House were present at various locations around London.
On the morning of 21st June, a group of BKs celebrated yoga at India House, the offices of High Commission of India in Central London.
The event started with a short video by PM Narendra Modi, after which Brahma Kumaris commenced the yoga sessions.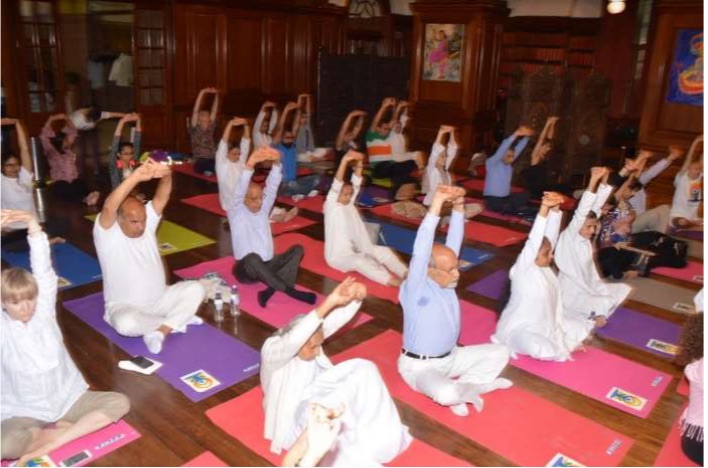 BK Balram Talreja of Mumbai, a teacher of yogasana, pranayama and meditation for the past 28 years, took the participants through some exercises to align the breathing and the body, followed by Raja Yoga meditation. BK Dipti and BK Shivali of GHRC sat in meditation throughout the session.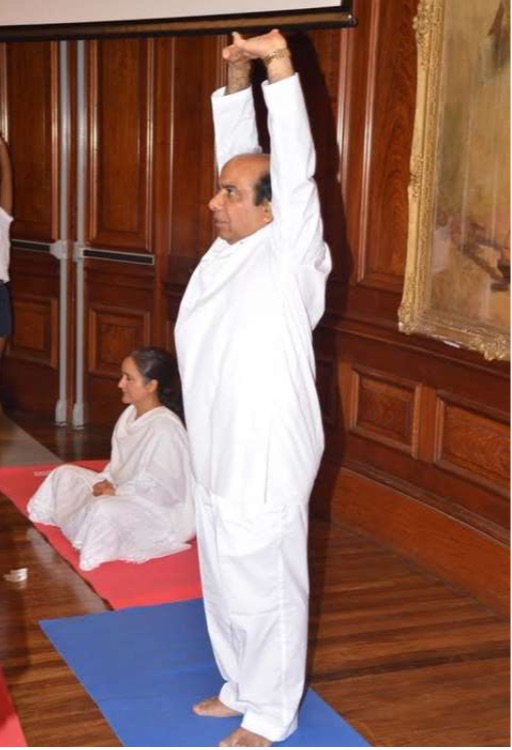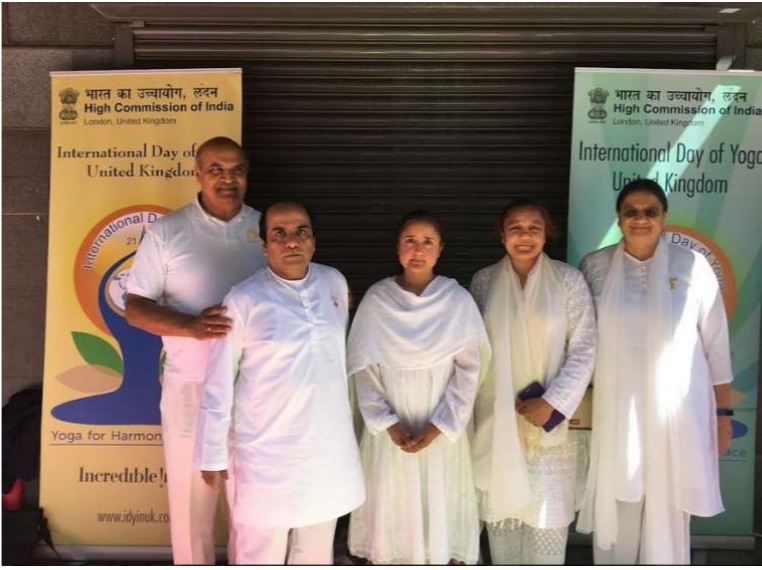 Various other yoga organisations were present, as well as approximately 20 children from the local school, with their teachers. The event continued outside India House, in India Place, with various forms of yoga celebrated, including a procession around India House led by Mr A.S. Rajan, Minister of Coordination.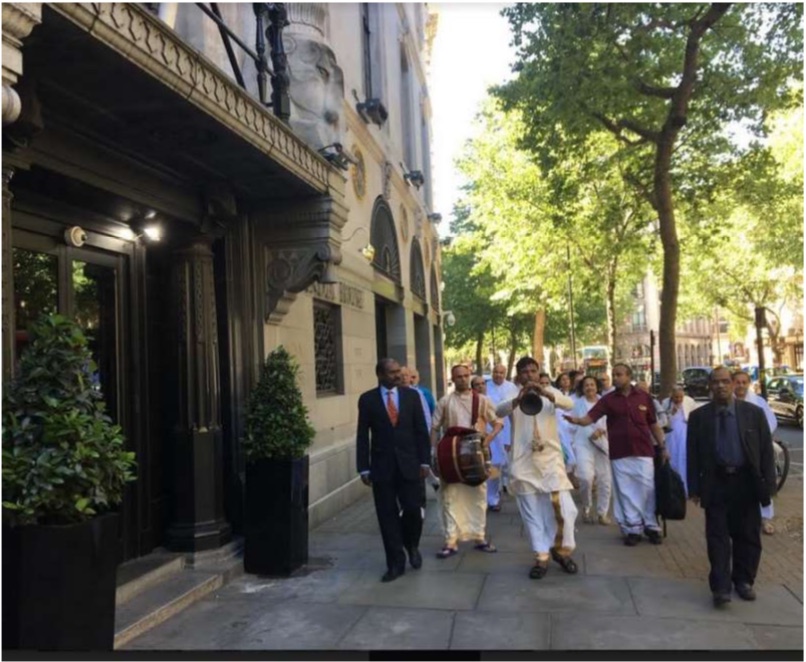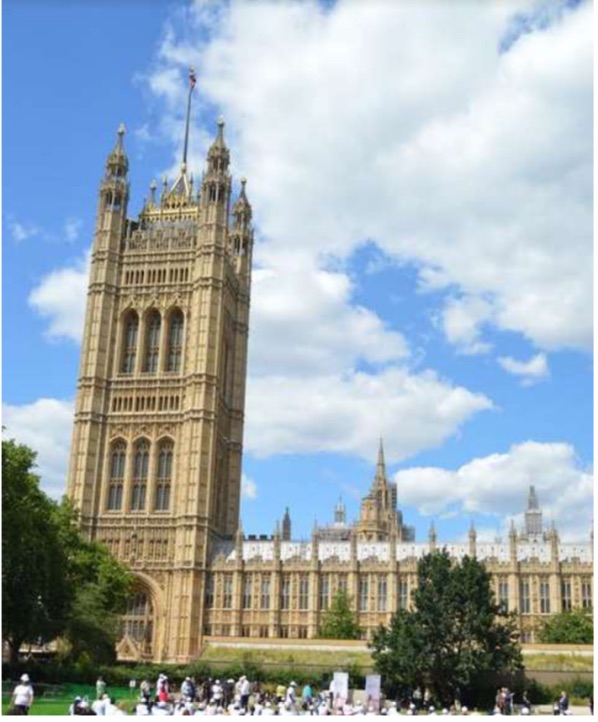 In the afternoon of 21st June, BK Bhavna of London and BK Shivali of GHRC attended a celebration at The House of Lords, hosted by an APPG (all-party parliament group) on Yoga in Society. Various MPs and dignitaries were present, including friend of BKs - Lord Stone.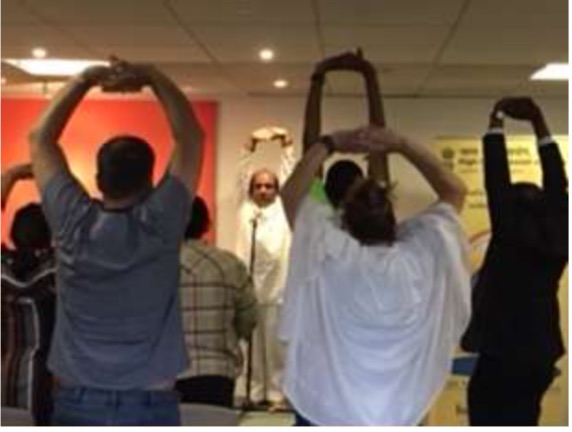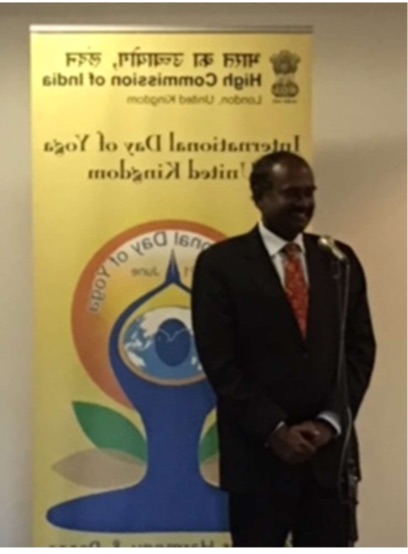 In the evening of 21st June, Global Co-operation House hosted a special evening of sharing, conversation and
Raja Yoga meditation. There were over 50 present. Dadi Janki opened the programme with her pre-recorded video for IDY 2018, in which she encouraged everyone to take up Yoga for the mind, Raja Yoga, as well as doing yoga for the body.
Mr A.S. Rajan, Minister of Coordination at High Commission of India, who is a meditator, greeted everyone and shared how important Raja Yoga is to the world these days.
BK Balram Talreja took the audience through some simple exercises to align the breathing and the body. This was a good start to the evening to help energise the audience after a long day at work.
There then followed a conversation between BK Suman and BK Allan, facilitated by BK Toots, to explore how to access Raja Yoga. Both speakers shared their personal experiences of this 'connection' and the impact it has on their thinking and feelings.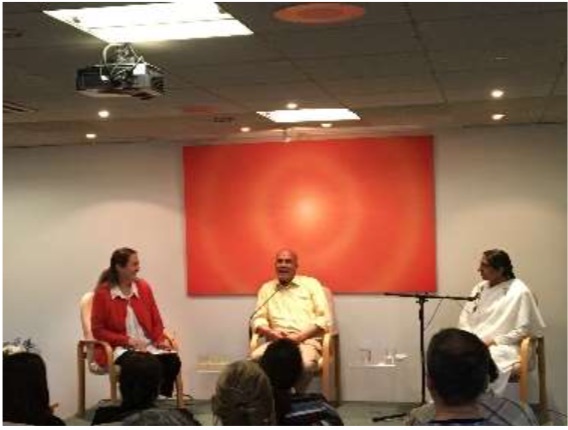 On Tuesday 19th June, at Inner Space in Wembley, over 100 people gathered to mark International Day of Yoga, and support Refugee Week.
Demystifying Raja Yoga was the title of the event, which started with physical exercises conducted by Sharron O`Reagan, which was very well received. After an informative video, Sister Jayanti shared many practical tips on how to easily incorporate Raja Yoga in our day-to-day life. The programme finished with meditation.
On Saturday 23rd June, BKs were invited by the High Commission of India to participate in the one day celebration by Swami Ramdev at Olympia Hammersmith. Swami Ramdev held sessions in the morning, followed by various organisation. BKs opened their session with Dadi Janki's pre- recorded video for IDY 2018.
BK Balram Talreja then took the audience through some asanas, pranayamas, followed by meditation.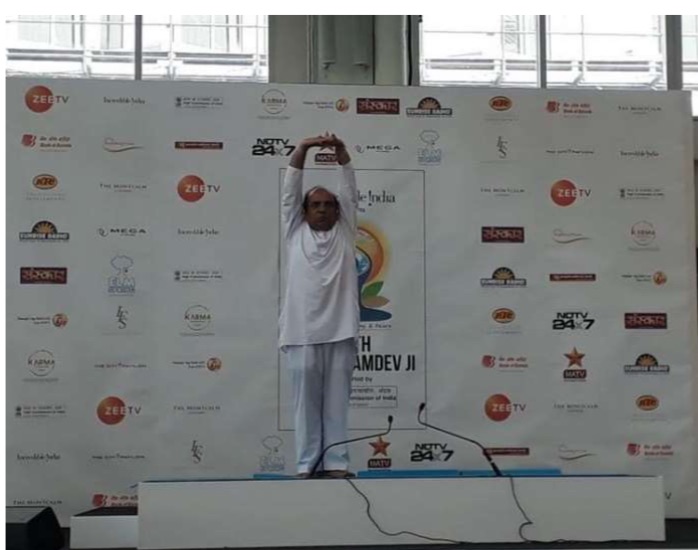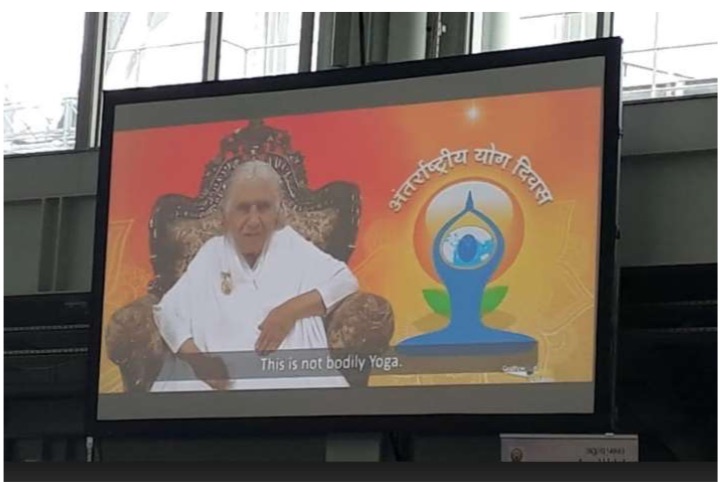 All organisations that came together for collaborative events around London, appreciated the opportunity to share yoga and the importance of yoga with Londoners, and look forward to reaching even more people next year.
Click here for report in PDF format.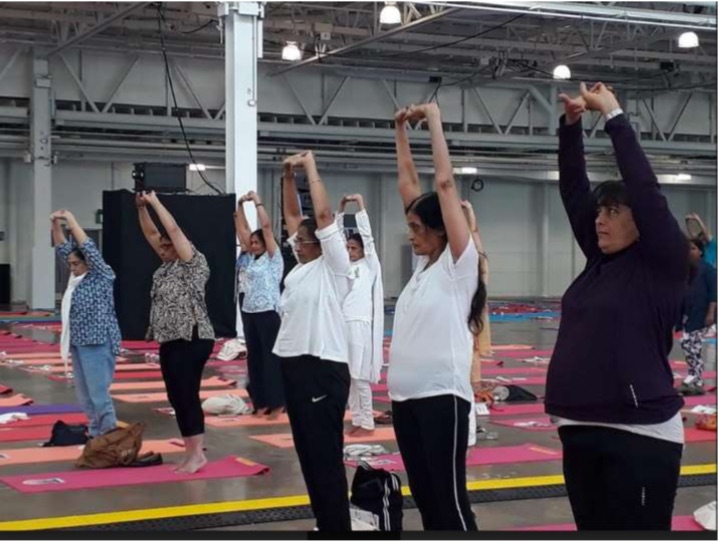 Brahma Kumaris Invited to Conduct Meditation & Lead Workshop at Huge International Yoga Day Event at Guangzhoy, China
21 July 2018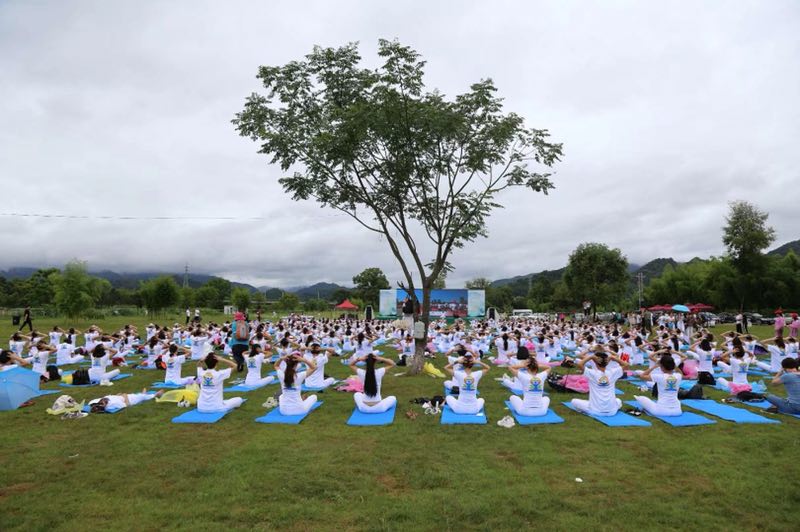 Dear brothers and sisters !!
Greetings from Guangzhou , China
It's a great pleasure to share with our global family , the news about 4th international yoga day celebration in China.
This year 21st June, there was a big event organized by China-India cultural Exchange Centre, supported by Consulate General of India, in which about 1500 Chinese yoga enthusiasts participated. The program was a combination of yoga performances, Indian and Chinese dance performances and Meditation by Brahma kumaris. Mayor of the City and other local authorities were also present and gave greetings on the occasion.
Sister Sapna was invited to conduct Rajyoga meditation for the participants. There was one open session for all and later on the participants were divided into small groups to attend various workshops by different teachers. Sister also conducted a 2-hours workshop on the topic " Awakening the Master Within".
The event was a great success and was covered by newspapers and TV channels as well.
Photos enclosed!
In Baba's yaad
BK family, Guangzhou
China.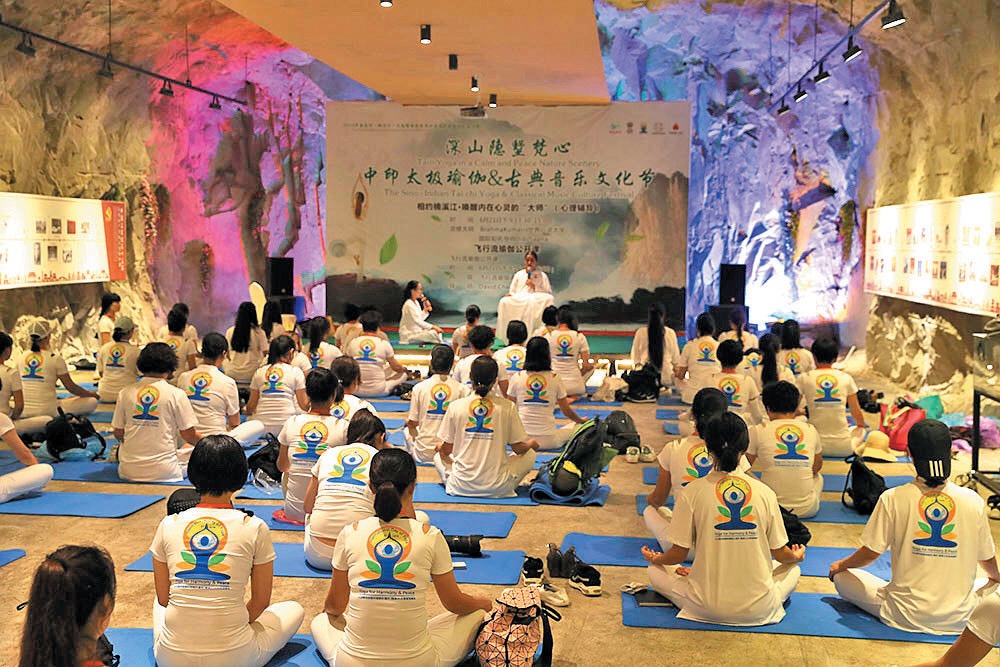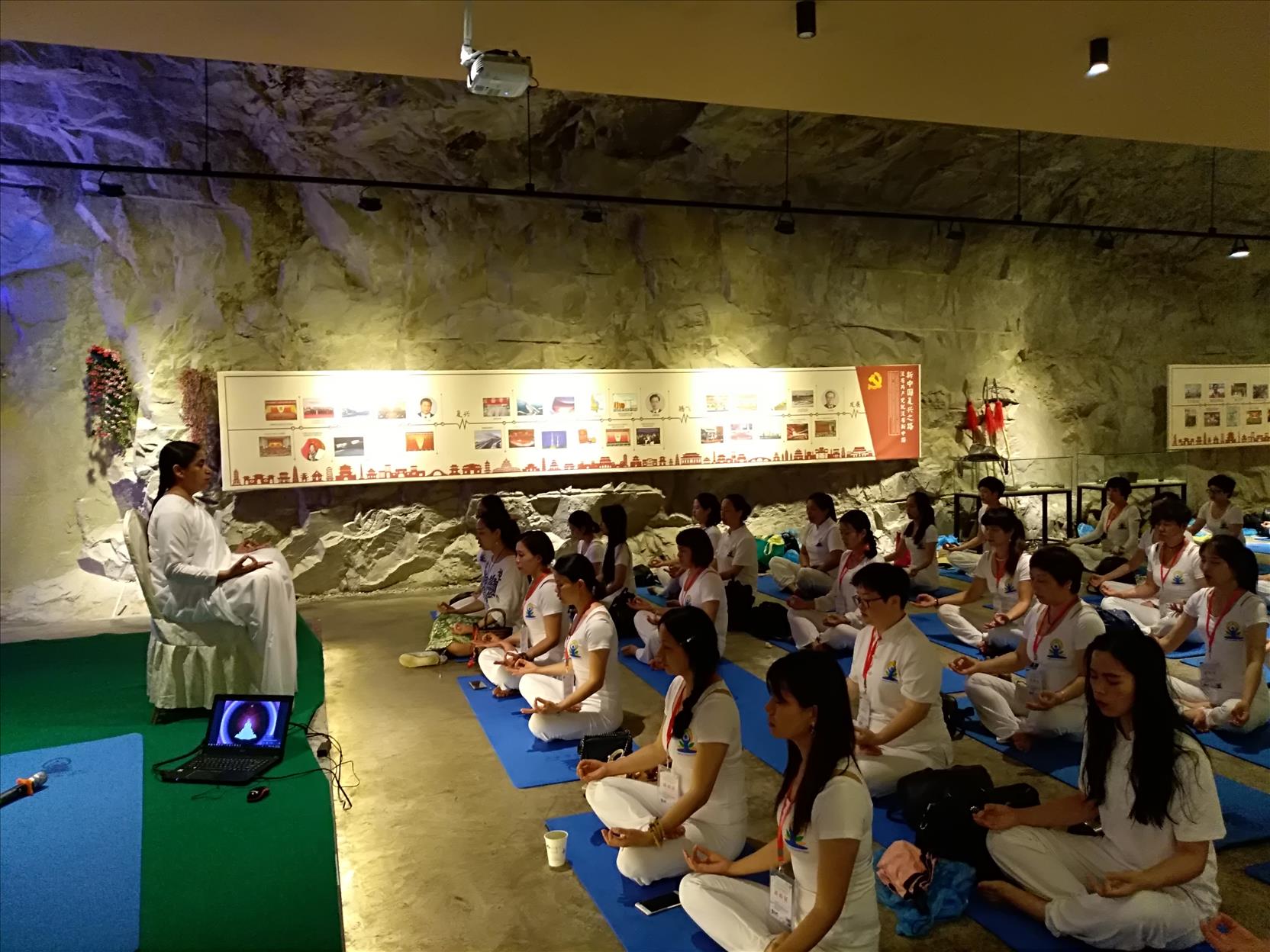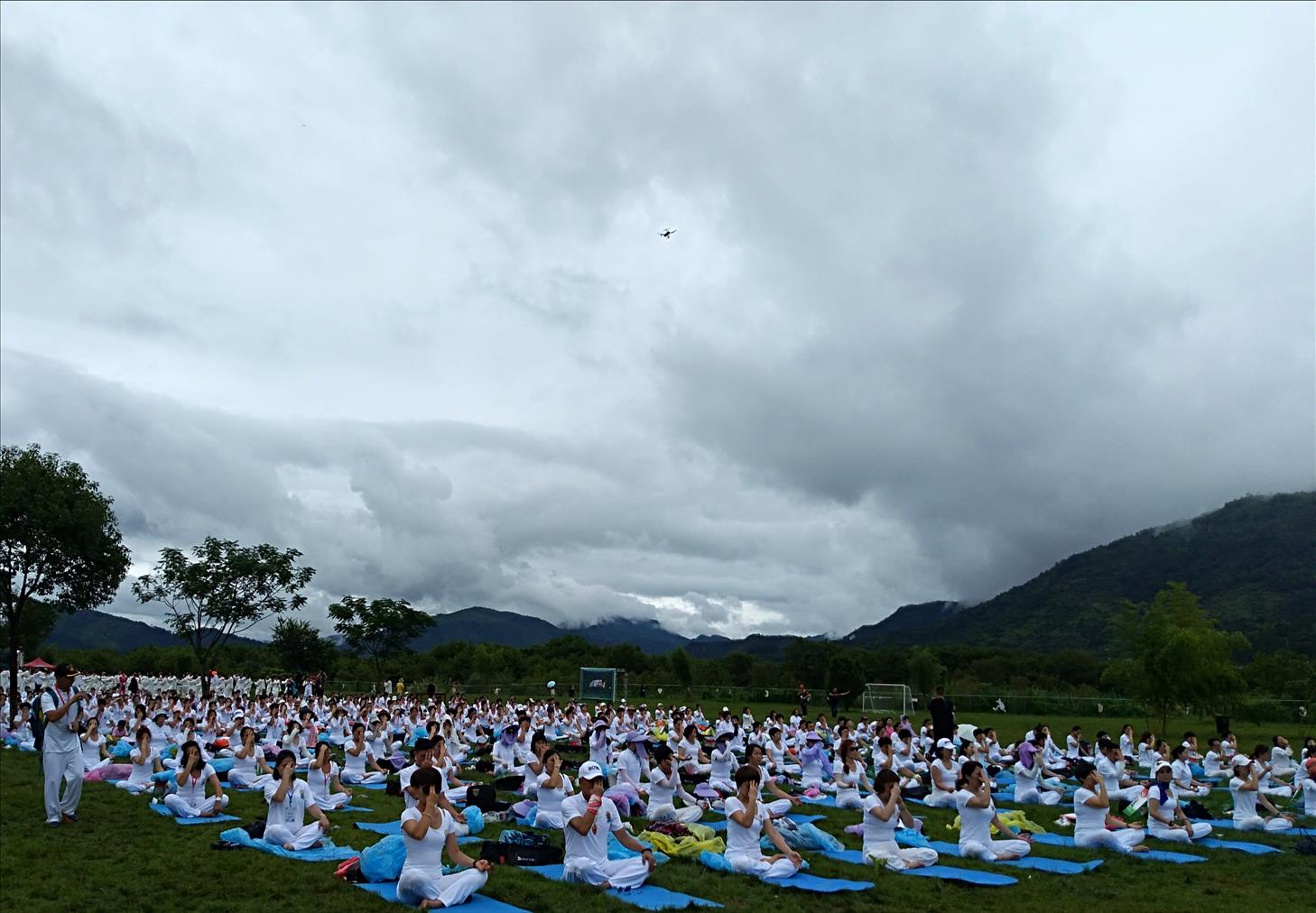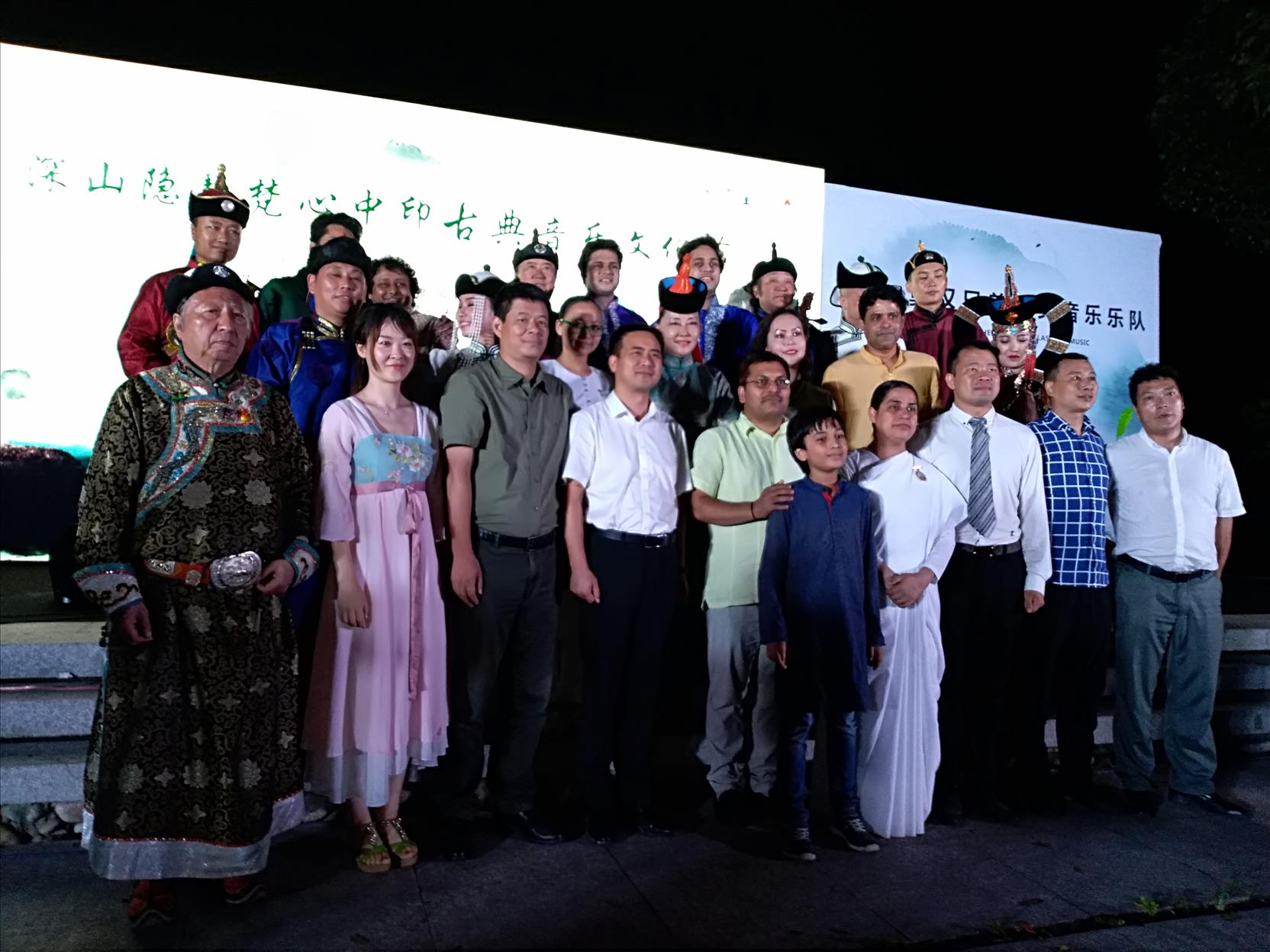 IDY Celebrations in Johannesburg, South Africa
21 July 2018

On Sunday 24th June 2018, the Brahma Kumaris centre in Observatory Johannesburg held an awareness program, celebrating the 4th International Yoga Day. The program was fully supported by the Indian Consulate of Johannesburg and were represented by Mrs Maya Bhatt.
The program began with the rendition of the anthem of South Africa and India by a team of classical musicians, which created a beautiful ambience. The aim of the program was to create awareness of the different facets of yoga - that yoga is more than just exercises but a philosophy for life.
BK Manubhen Rama, offered an explanation on the health benefits of pranayama - and demonstrated simple exercises so that all could experience it and thereafter integrate it into their daily lives.
Click here for the report with photos.

International Day of Yoga Program at Peace Village, New York
21 July 2018
Om Shanti,
Peace Village annually holds the special IDY International Day of Yoga program, this year facilitated by Sr Susan and held on a beautiful day June 21 at 5 pm. Sr Binny from Global Hospital, Mt Abu, India, was the enthusiastic guest speaker . She and Br Rick spoke and conducted a variety of excellent yoga exercises.. Sr Dorothy explained and conducted meditation of Raja Yoga,. and Carrie Dugo and family conducted a silent heling yogic walk around the Peace Village labyrinth.
A local student continued to enhance the atmosphere with her singing bowls and powerful vibrational gong.
Special guest from Utah and friend of Sr Binny came to facilitate the IDY Yoga Retreat held from 21-23 June.
Toli and blessings was given to everyone and all enjoyed this lovely spiritual program.
Enjoy the photos attached and fwd to others .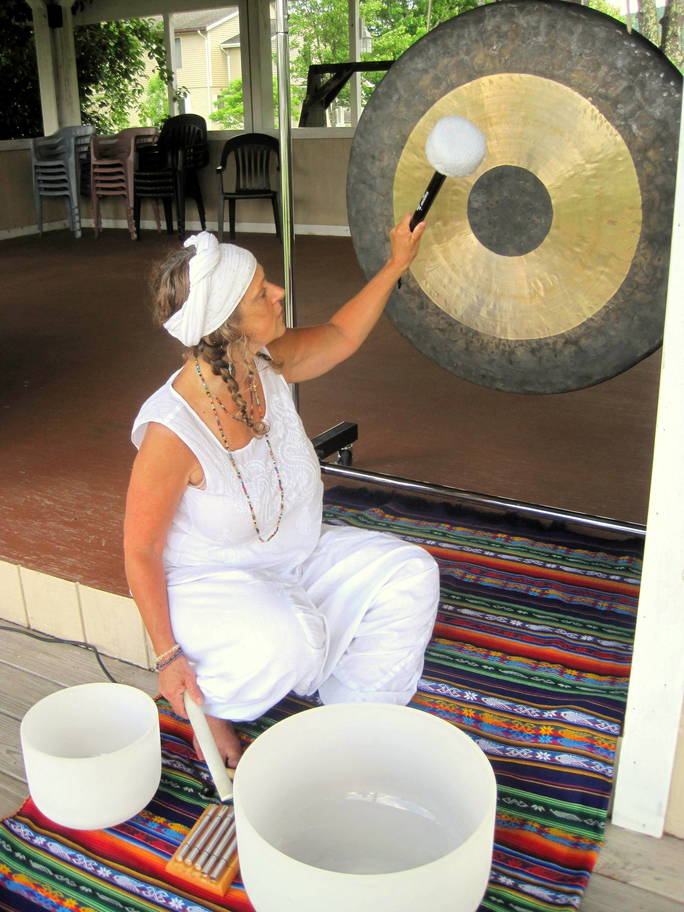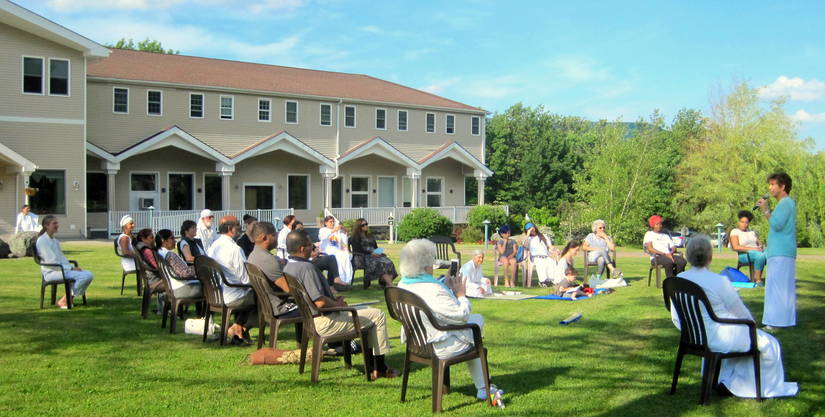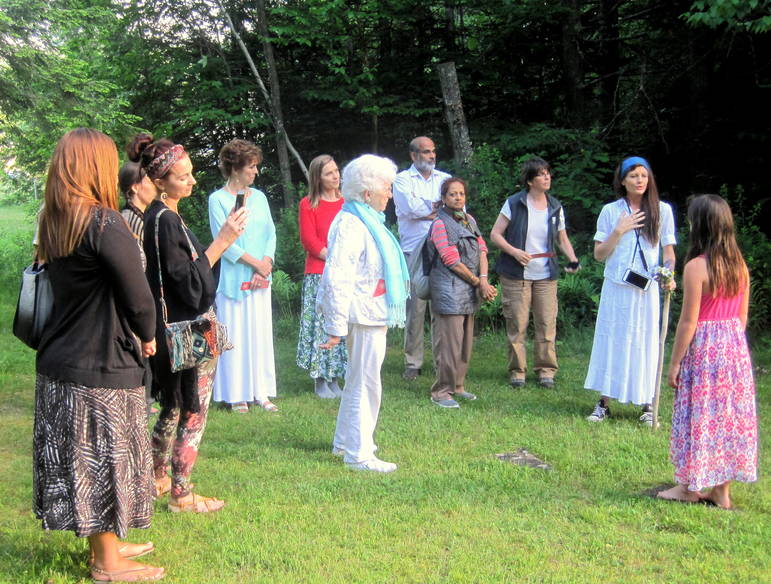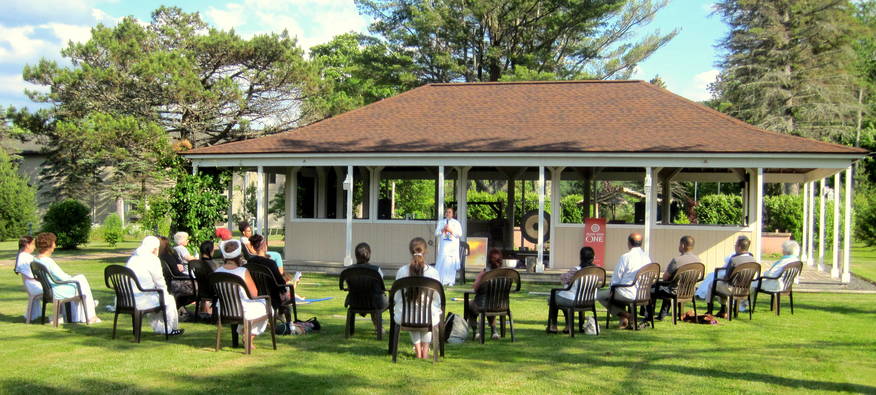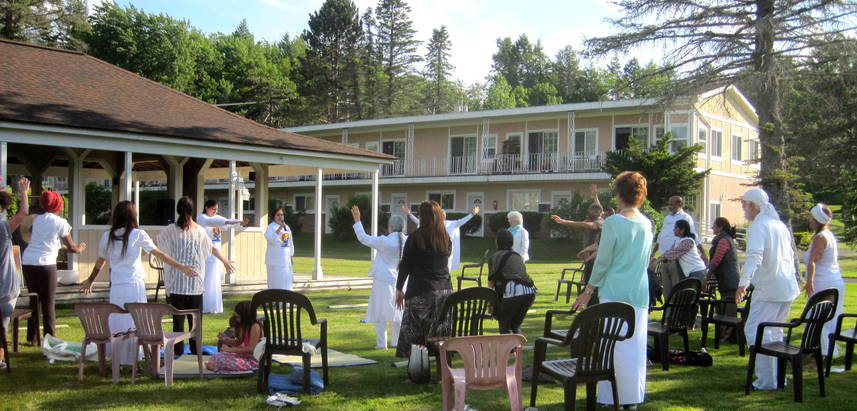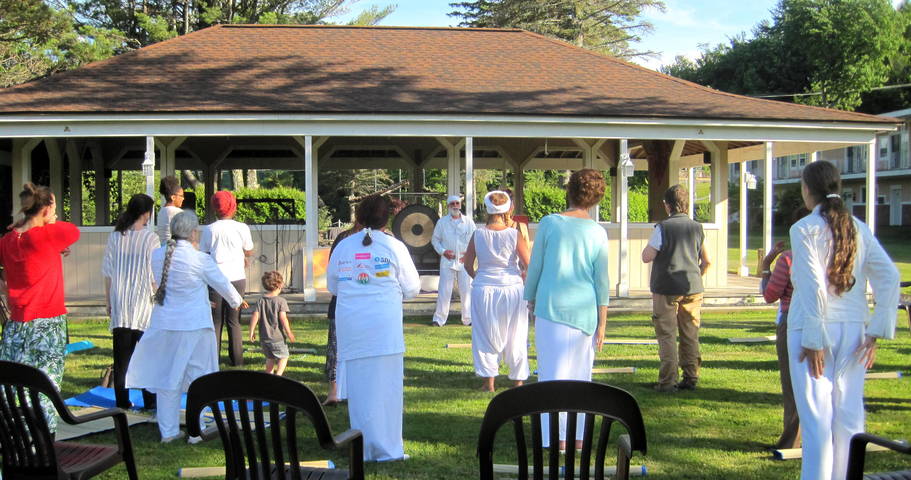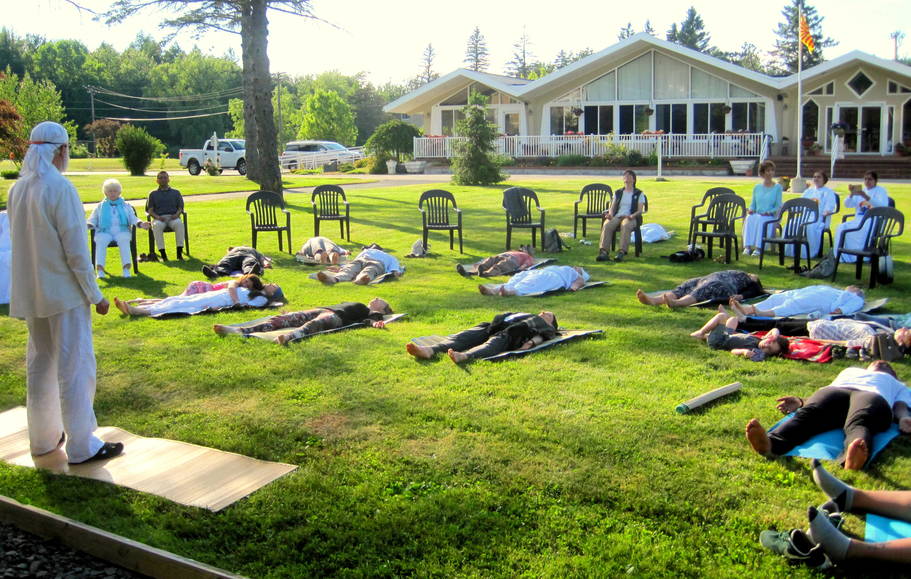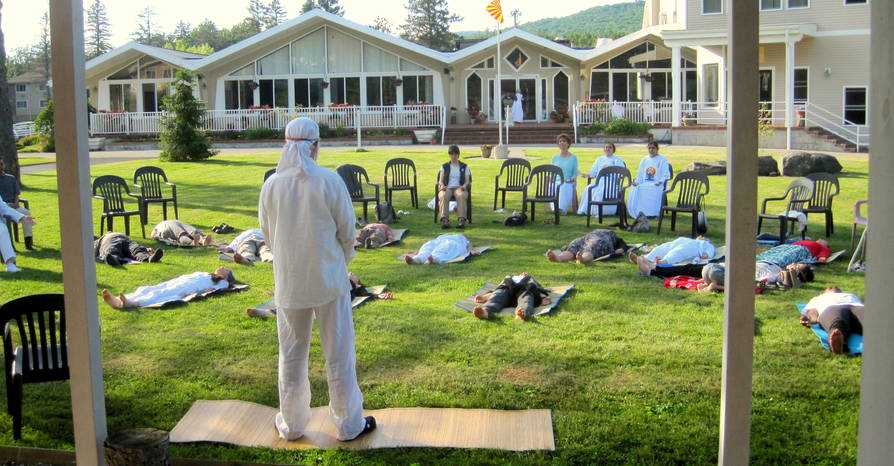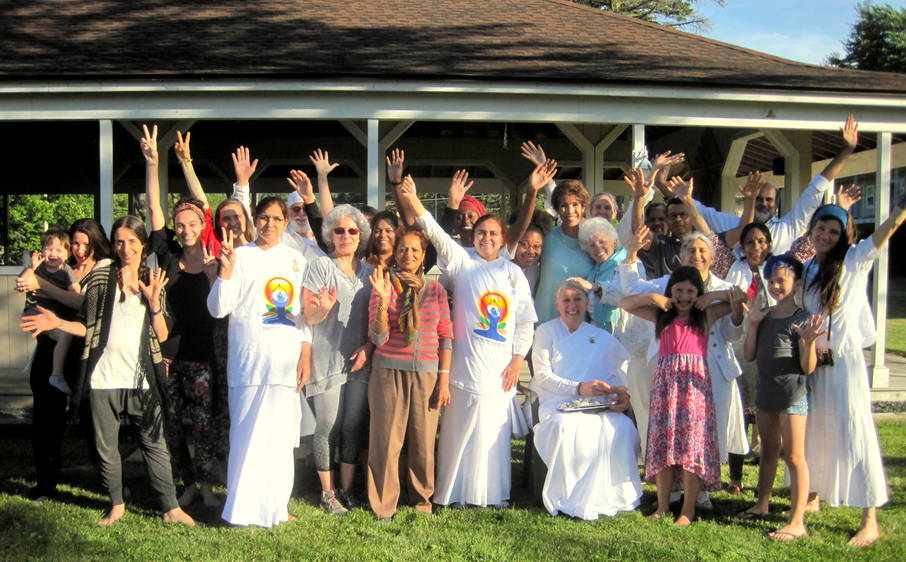 Introversion: What's going on in my mind.....IDY at GCH on 21st June
21 July 2018
To honour and celebrate the 4th International Day of Yoga, initiated by Prime Minister of India, Narendra Modi and set up by the United Nations in 2014, Global Co-operation House hosted a special evening of sharing, conversation and Raja Yoga meditation.
There were over 50 present. Dadi Janki opened the programme with her pre- recorded video for IDY 2018, in which she encouraged everyone to take up Yoga for the mind, Raja Yoga, as well as doing yoga for the body.
BK Dipti Khatry welcomed everyone and invited Mr A.S. Rajan, Minister of Coordination from the High Commission of India, to speak. MrRajan, who is a meditator, greeted everyone and shared how important Yoga is to the world these days; to be able to put all the incessant demand of today's living on hold; to go off-line, to experience the joy of 'missing out' from social media and practise the art of yoga.....click here for detailed report with photos.

International Yoga Day in Antananarivo, Mauritius
21 July 2018
Sis. Gaitree from Mauritius telling about « The Importance Of Raja Yoga Meditation In Today's World » during the conference on Yoga at the Indian Embassy on 15th June and she conducted meditation. Government officials from the Ministry of Education , the president of the university, other Yoga school Teachers and others were present.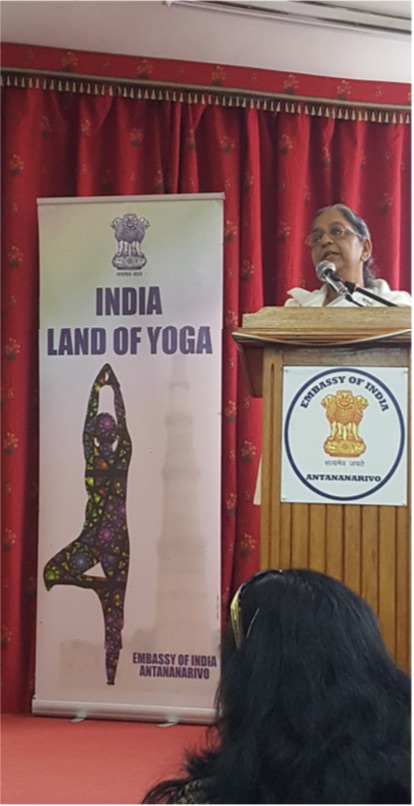 Internatonal Yoga Day on 21st June 2018 at the University Campus of Antananarivo. Organised jointly by Indian Embassy and the University and Yoga Schools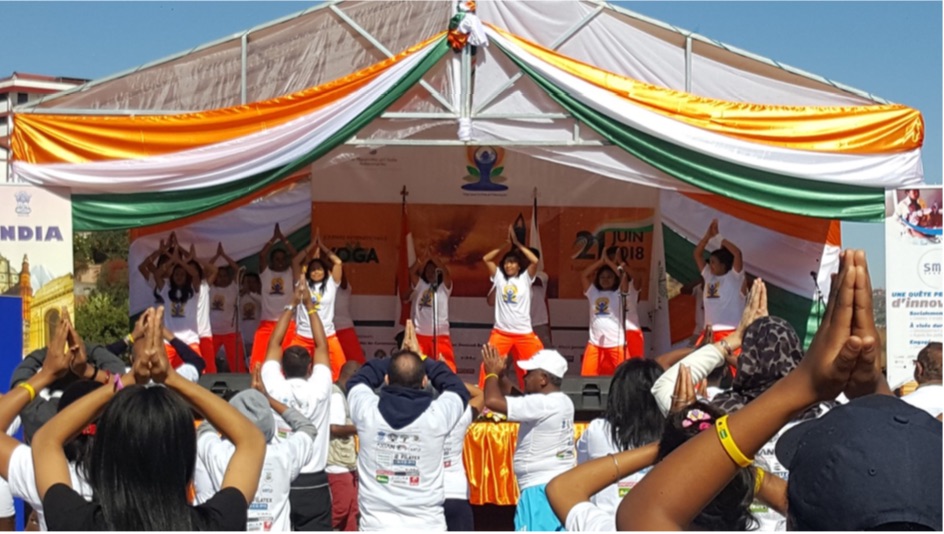 There was a presence of more than 500 university students, professors, the sta and other public.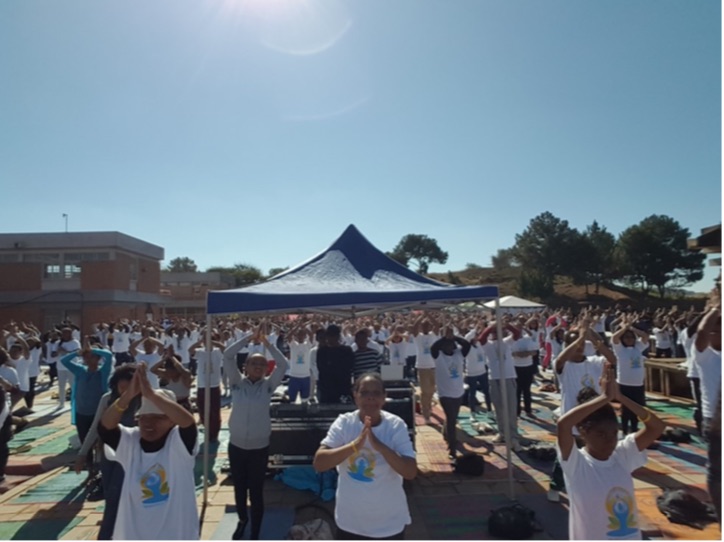 BK volunteers a ending our exhibition stall a er the program on stage was over.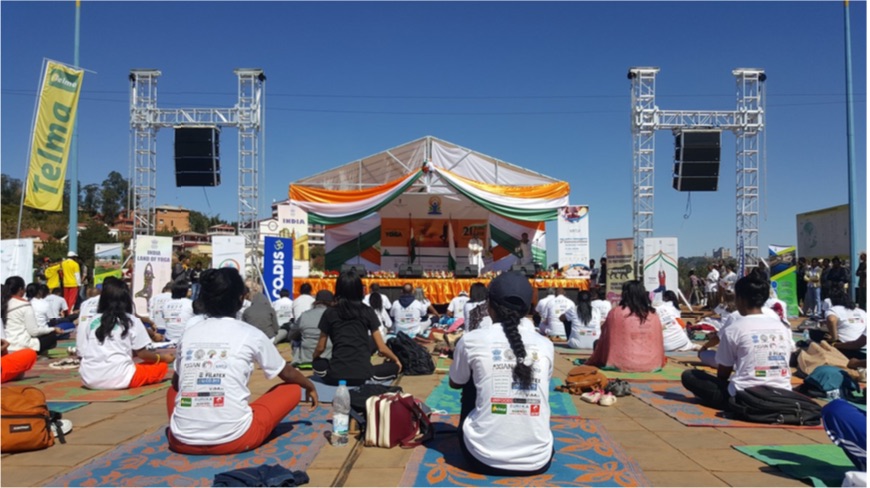 Meditation conducted by Sis. Gaitree. Brahma Kumaris were given this role on behalf of various Yoga Schools. This event was attended by government officials from the Ministry of Art and Culture, the Ministry of Education, diplomates of various countries, the President of the University besides the 500 students...
The director from the Ministry of Education receiving a blessing card.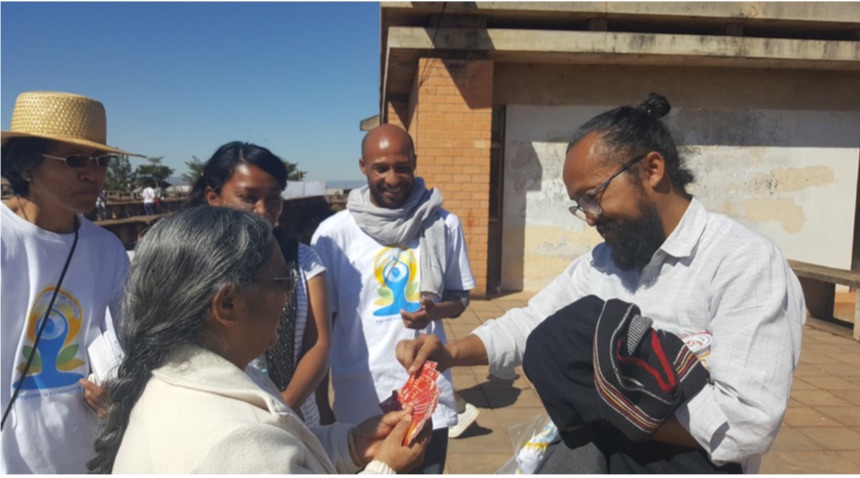 IDY Celebrated in Madagascar with visit of Sister Gaitree and Sis Malini from Mauritius
21 July 2018
We were fortunate to have Sis. Gaitree and Sis. Malini from 14th june un l 22nd June 2018. During their visit, apart from taking part in the Interna onal Yoga Conference on 15th June and Yoga Day Event on 21st June, a 2 days Silence Retreat for BK's on 16th and 17th June and a workshop for public on « How To Restaure Our Authen c Power » on 19th June were ani- mated by Sister Gaitree. Below is the report in images.
Click here for full report with photos.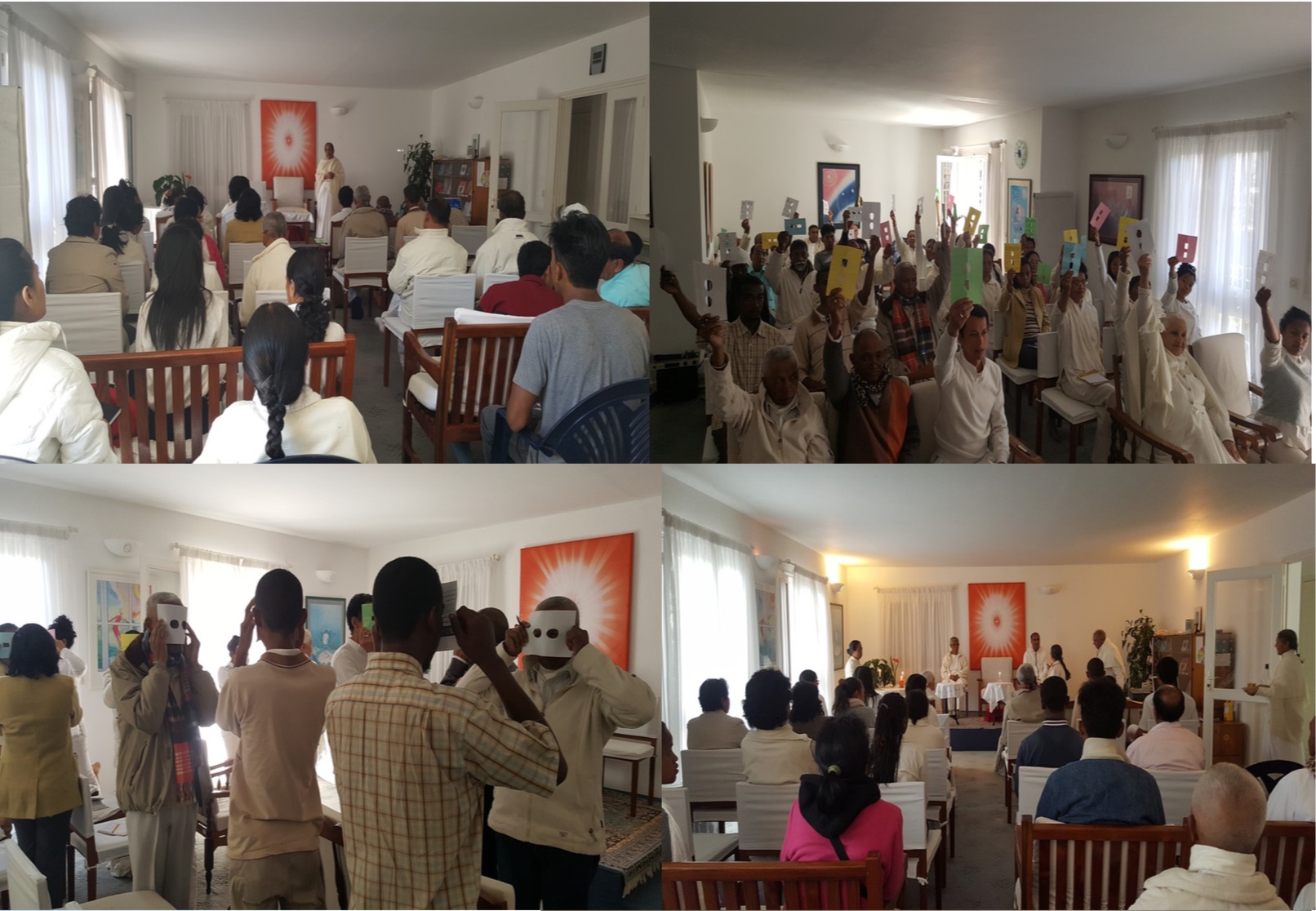 Silicon Valley Milipitas Celebrates International Day of Yoga
20 July 2018
Omshanti Dear Brothers and Sisters, Greetings of Peace.
As part of International Yoga Day Indo-American Wellness Conclave and exhibition to revisit India's "wellness" heritage of spreading the awareness of the 5000-years-old Indian philosophy on natural wellness and health, a three-day Indo-American Wellness Conclave and exhibition was organized at the Santa Clara Convention Centre by India Post in collaboration with many other local silicon valley organizations. The event took place from 22nd to 24th June 2018.
Sr. Kusum, Director of Brahma Kumaris Silicon Valley, gave a talk on spiritual wellness.
The formal inauguration ceremony was held on Friday, June 22nd. Honorable Consul General Venkatesan Ashok of the San Francisco Consulate was the Chief Guest. Other guests who presided over the ceremony were Sister Kusum and many other local political dignitaries. Those who graced the occasion included Ash Kalra, Assembly Member; Lily Mei, Mayor of Fremont; Dave Bonaccorsi, Fremont City Council Member; Kathy Watanabe, Vice Mayor of Santa Clara; Darcy Paul, Mayor of Cupertino; Anu Natarajan, former Vice Mayor of Fremont; Kansen Chu, California State Assembly Member; Rishi Kumar, Saratoga Council member; and Dr. Jayarajan Kodikannath, Academy Director, Kerala Ayurveda USA.
Here are a few pictures from the event.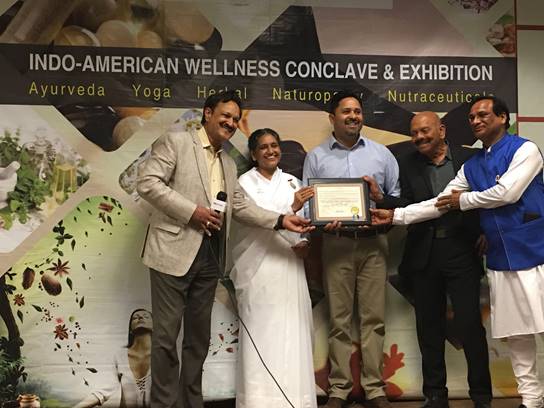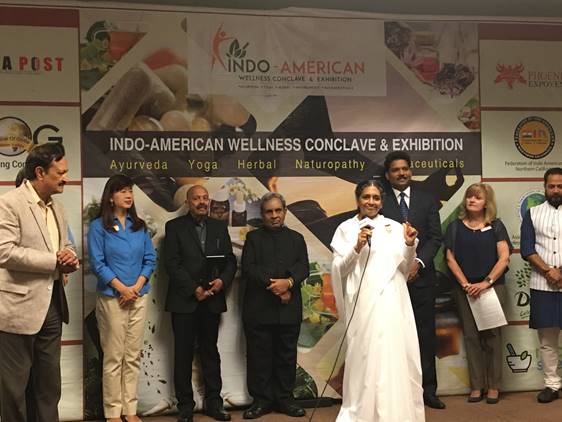 Dadi Janki's message on International Yoga Day
29 June 2018
Dear Divine Brothers and Sisters,
Om Shanti.
We feel blessed as our beloved Dadi Jankiji visited Godlywood to record a powerful message on the eve of International Yoga Day. Watch Dadi as she unravels the the deepest secrets and mystery of the most ancient art of Rajyoga in less than 3 minutes!
We proudly present the video message with english subtitles (please find it attached) with a request to spread it to as many souls as possible. Let us celebrate this international yoga day with Dadi and make it one of the most memorable events of our life.
Click below image to play the message.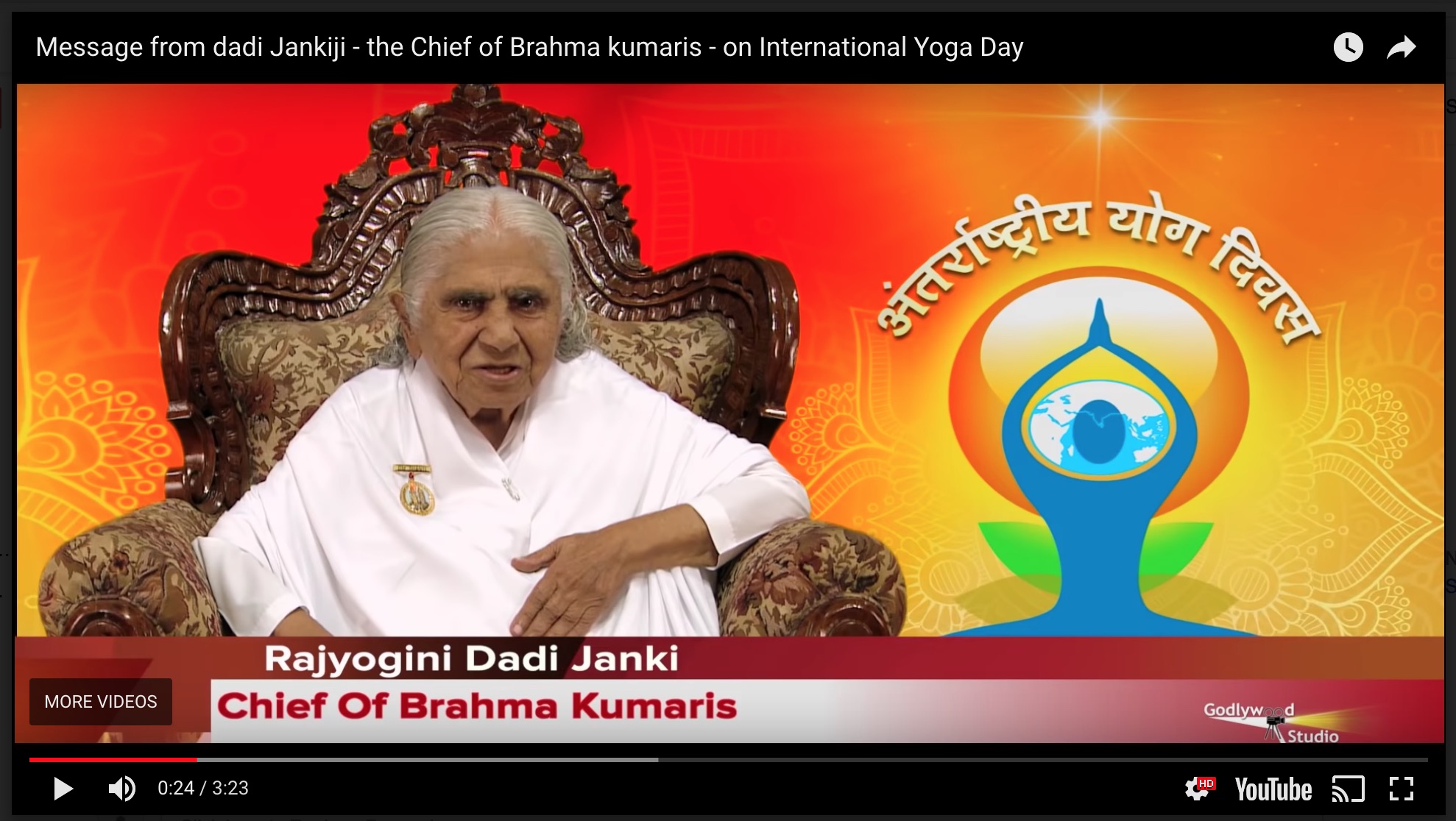 IBY, With Warm Regards

Yoga for a Sound Mind in a Sound Body - Article by Br Brij Mohan published in the Times of India Speaking Tree
29 June 2018