2018 International Day of Yoga
2018 International Day of Yoga
"Wellness from Within" Service News and IDY celebrations from Mauritius
3 September 2018
She talked about the importance of proper diet and exercise in the health and wellness of every human being. In order for exercise to be a lifetime change, it has to be something one enjoys. She added that physical activity or exercise can improve one's health and reduce the risk of developing several diseases like type 2 diabetes, cancer and cardiovascular disease. Physical activity and exercise can have immediate and long-term health benefits for the body, lungs, mood, etc. Most importantly, regular activity can improve one's quality of life.
The lecture was followed by Health and wellness stretching exercise. This created an atmosphere filled with positive energy and vibrations. Enthusiasm and joy were seen on everyone's face and activity.
Click here for full report with photos.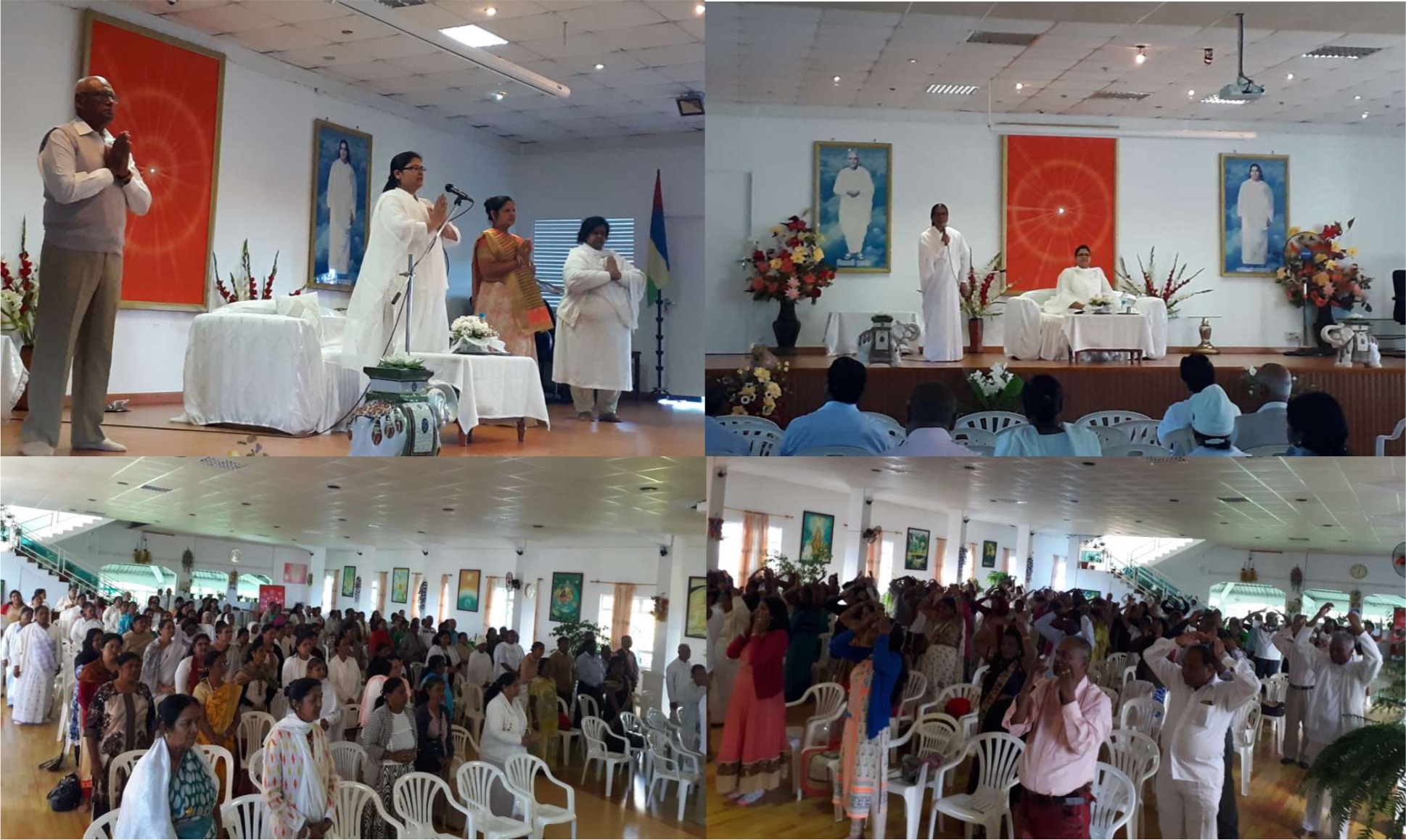 BK Binny Sareen in Colombia for International Yoga Day Celebrations
3 September 2018
Accompanied by her sister Neena, Bk Binny after her tour of the United States and arrives in Colombia in june 2018 to fulfill several commitments.
The first was in Fusagasugá, population at 1.30h from Bogotá. Sister Binny addressed a large group of 600 women students for police officers in the Police School Province of Sumapaz "Intendente Maritza Bonilla Ruiz" - ESSUM and another 100 special guests, businessmen of the region and police officers. He developed the theme Self empowerment: stability in life and in the relationship with others.
He also visited several sites in the region, including an ecological and self-sustainable farm.
After returning from Fusagasugá, the sisters were in the Mandalay Headquarters, Sukdham, sharing with the family in particular on an important topic: Healing of the Being through the experience with Baba.
Visit to the Chapinero headquarters, Kamdhenu: He gave the conference: Forgiveness Requirement to Heal The conference was divided into two parts, the cousin makes reference to an introductory talk of experience, at the Monte Abu hospital, where Dr. Binny is a resident , as well as exemplify cases in which people have been healed by their meditation and changes in lifestyle (behaviors, habits). The second part, emphasizes that forgiveness is essential to have a healthy life, also teaches us how to cleanse as it explains that all emotions, thoughts and feelings are 90% mental, that come from oneself and not of the outside; Emphasizes that there are three fundamental aspects to forgiveness: focus, forget and meditation.
Visita a la Sede Las Margaritas, Lotus. "Lotus bhawan" was fortunate to have sisters Binny and Neena who shared with the family. The family received this visit with great joy. They shared with the family some beautiful experiences, knowledge, stories, anecdotes. It was a fun and creative morning.
And as expected one of our most exotic tourist places, is the "Salt Cathedral of Zipaquirá", for that reason we went with the sisters to that place, who enjoyed it very much. On the way back we went through the savannah and enjoyed its beautiful landscapes. The next day we enjoyed his sweet company in the amrit-vela, it was fantastic to feel the powerful vibrations of Baba in his company.
He also gave a lesson on the need to listen to the murli because it is the murli that gives us the power to have a more constant memory of Baba and also fills us with strength to contribute to the task of Baba. We had breakfast as a family and in general there was a lot of lightness, depth and joy.
In general it was an opportunity to empower us with this visit of two kind, gentle, sweet and very deep shaktis.
He participated in the birthday celebration at the La Castellana, Vishal headquarters and also had meetings with members of the Hindu community.
In his visit to the Embassy of India he tied Rakhi to Mr. Ambassador RAVI BANGAR, to all his staff and other officials.
They participated in the celebration of the International Yoga Day in Bogota, in association with the Indian Embassy and other yoga schools.
He also visited the city of Medellín where there were important events. The Yoga event for holistic health and happiness should be highlighted.
Click here for full report with more photos.

Dr Binny and Sister Neena participate in UN Yoga Celebrations Events in NY and in Peace Village Retreat
3 September 2018
Sister Dr. B.K. Binny and Sister B.K. Neena from India represented as honored guests at UN Yoga for Peace Day Celebrations with UN Deputy Sect. General Amina. J. Mohammed, eminent Spiritual leaders UN Ambassadors , Diplomats , Social and Civil representatives. This event was organised at UN building by the Permanent Mission of India to the United Nations . In this event Dr. Binny and B.K. Neena conducted Peace Pledge on stage with UN Ambassador Mr. Syed Akbaruddin, Permanent representative of India to the UN and many eminent dignitary.
She also interacted with Ambassador, and UN diplomats and introduced the activities of Brahma Kumaris at International Headquarters Mount Abu. Thousand children participated at UN event. Dr. Binny was also joint organizer and Key not speaker at RETREAT YOGA FOR HEALTH AND HAPPINESS at Peace Village. In this retreat imp leaders and key persons from US participated. Dr. Kala, Sis Dorothy, Sis Gaytri, Sis Judy and many speakers addressed this event
Dr. Binny and B.K. Neena represented at Yoga Celebration Events by Indian Consulate at Governors Island at Statue of Liberty New York
Dr. B.K. Binny also represented and interacted at mega event of Indian Consulate, where leading social org and faith leaders presented Yoga exercises and Meditation. Dr. Binny and Neena also presented with interfaith US leaders Yoga song. Many children and social organisation presented on Yoga for Peace theme.
Dr. Binny Sareen
Regional Director for India
Global Peace Initiative
Director General,
Int. Peace Initiatives (Hon.)
Mount Abu, Rajasthan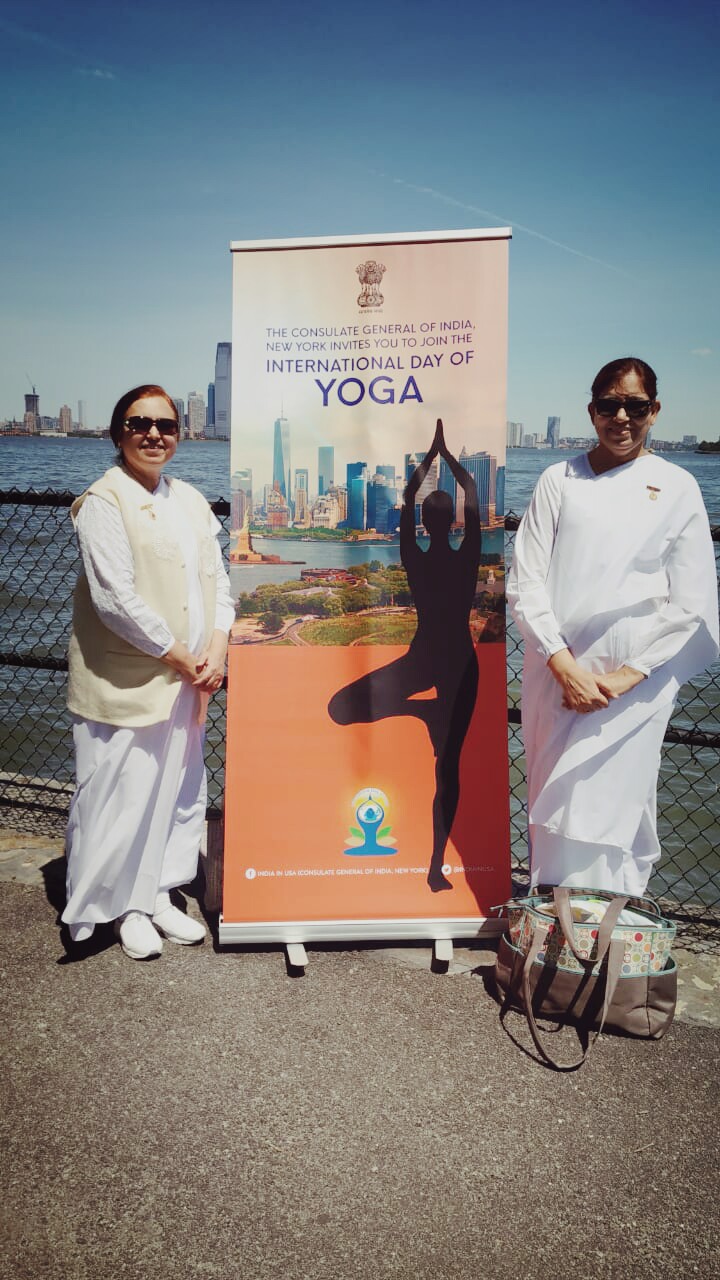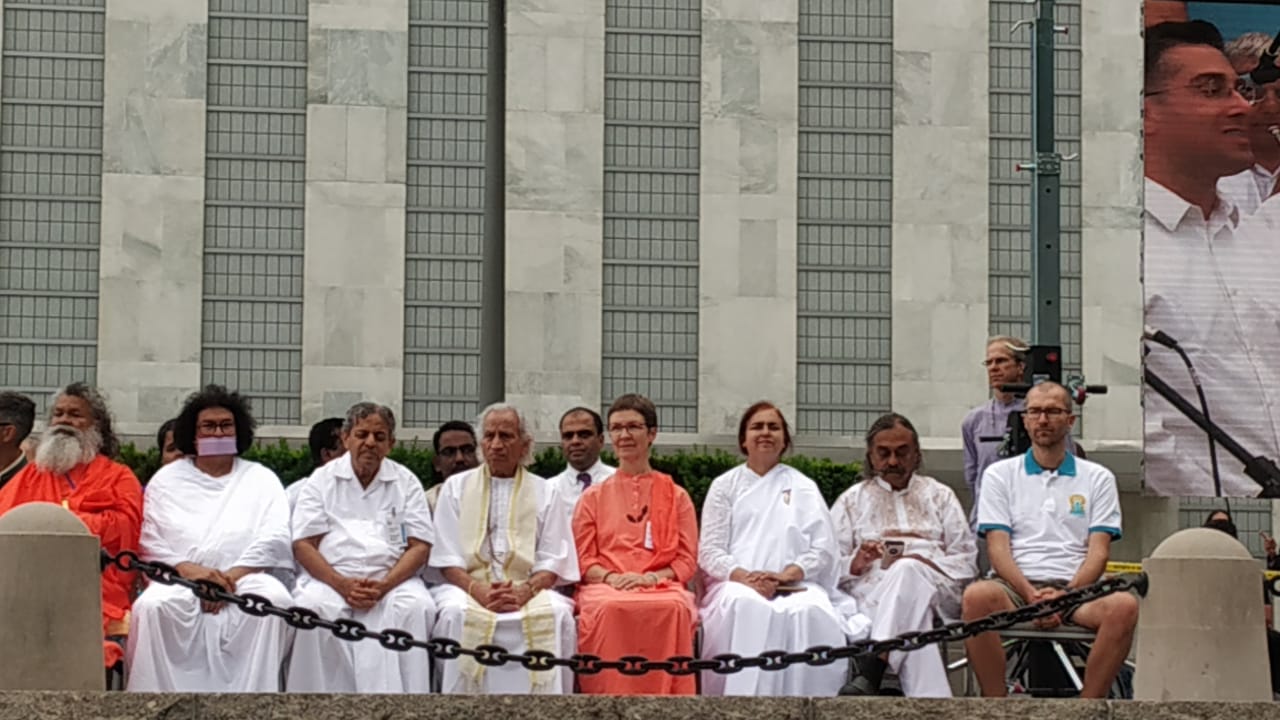 IDY in Ulaanbaator, Magnolia on June 17
14 August 2018
The 4th International Yoga Day was celebrated in the city of Ulaanbaator on 17th June 2018. About 150 people participated in the event. The festival was organized by the Embassy of India in Mongolia and yoga centers.
All volunteers of yoga centers and representatives of the Embassy of India in Mongolia have repeatedly met to discuss all organizational issues.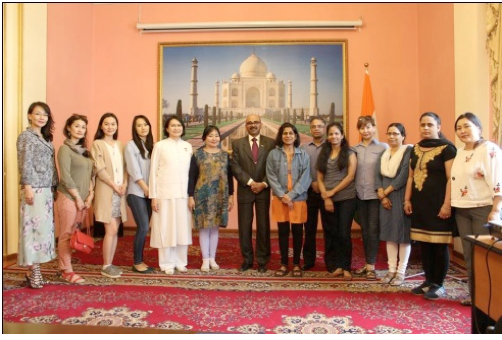 Representatives of yoga centers, the second secretary of the Embassy of India Mr. Ravi Shanker Goel and BK Meera Ainukhatova
It was raining on the day of the celebration of the fourth International Yoga Day in Ulaanbaator, but in spite of the weather conditions, all participants with courage and enthusiasm and perseverance performed yoga exercises.
The volunteers of yoga centers, children's dance groups and famous dancers from Mongolia performed on stage.
A group of students of the Brahma Kumaris Raja Yoga educational center held the meditation for all participants of the festival. Students of Brahma Kumaris educational center offered to play in the "Virtues scop". They explained the good qualities and gave the good wishing cards to alll and distributed brochures representing the activities of the center.

Videos: Sr Jenna's Message for IDY and the Om Challenge
6 August 2018
IDY Message
OM Challenge

Brahma Kumaris Sponsors International Day of Yoga Program in Kanzakigawa-Osaka, Japan
3 August 2018
Aim: To enjoy yoga exercises and meditation with 100 people, including Shumekai members. Most of the participants were beginners but while listening to Prime Minister, Mr.Modi`s message, the strong thought to create a harmonious world become very real among the participants.
Using the body to create peace of mind and to have the thought of spreading peace to the world.
The natural process of relaxing the body, observing its energies and seeing the inner qualities of the soul brought about an experience of the higher self and thus to create the feeling to serve with peaceful mind to the world was easy. This created a beautiful meditative environment. The faces of all the participants were blooming after the program!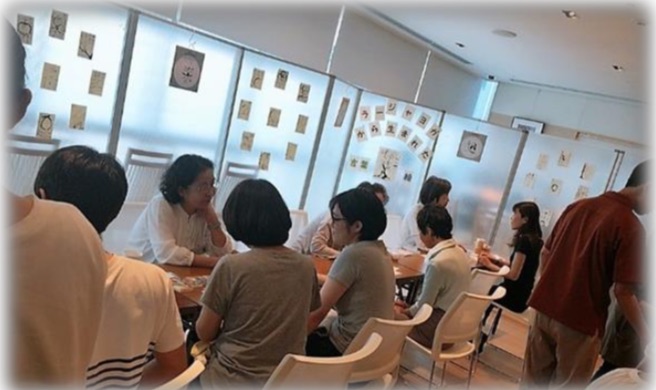 Promotional IDY Video produced by Godlywood Studio
2 August 2018
NOTE: The accompanying video can be used next year as well!
Dear Divine Brothers and Sisters,
Om Shanti.
A very important news from Godlywood Studio on the occasion of Yoga Day.
It is extremely delightful to watch every blessing of Baba has showered on us becoming a reality.
Doors are now open to the glorification of Baba's greatest gift - Rajyog - being embraced by the whole world. Due to the efforts by our beloved Prime Minister Narendra Modi, UN has declared June 21 as International Yoga Day and in connection with this Brahma Kumaris has been given the responsibility of promoting Yoga in many selected places all over the country. This is a great opportunity for Baba's revelation and we should not miss this at any cost.
In order to promote this event fully, we in Godlywood Studio have made a short video on the topic which features message from the Ayush Minister Mr. Shri Pad Yesso Nayak for the Brahma Kumaris. It also includes the message of our beloved Prime Minister. For maximum reach, the video is made in Hindi with English Subtitles. Please run this video in every program you organise in connection with international Yoga day.
You Can download it from Google Drive link and follow the youtube link to watch it online.
Together let us glorify Baba and His task in this world.
IBY, With Warm Regards
Godlywood Studio
Google Drive to download High quality Video:
International Yoga Day_with Subtitle.mp4
Click below image to play the Youtube video