International Day of Yoga
International Day of Yoga
Yoga for Body, Mind, and Soul: Embracing Holistic Wellness at Harmony House in Kuala Lumpur
15 July 2023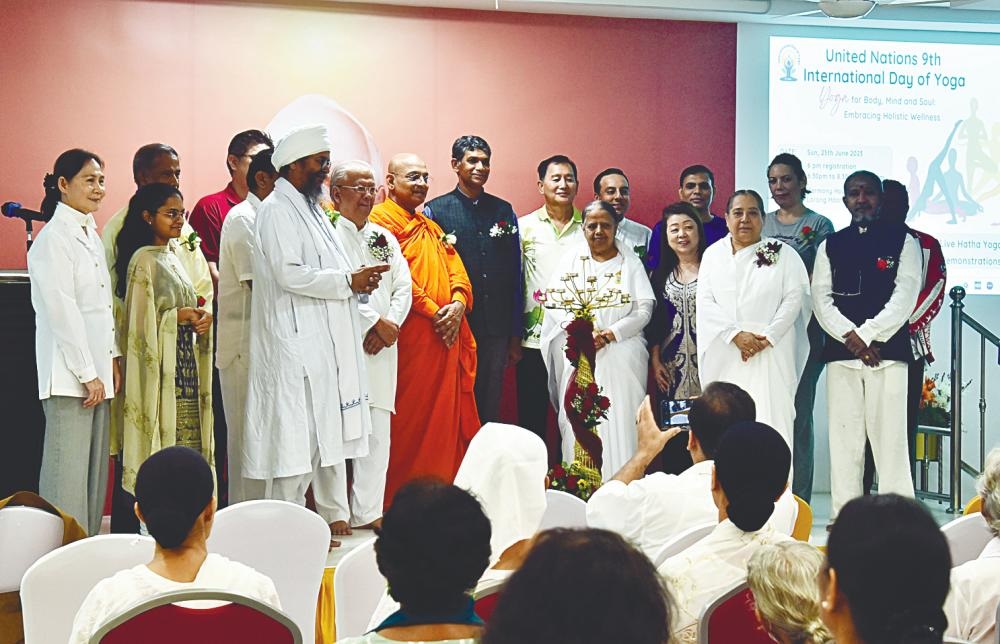 Kuala Lumpur (Malaysia): FEELING stressed or strained? Struggling to concentrate in a chaotic world? Meditation helps us achieve a healthy mind. Stress or strain actually arises from the situations or challenges that we have to deal with on a daily basis. We live in a fast-paced world and spend most of our time working with computers, multi-tasking, and under constant pressure to meet deadlines. Unconsciously, this impacts our minds to a great extent. Our minds are compacted with so many running thoughts on a myriad of things, and eventually, we get tired quite easily. Over time, we tend to neglect our mental health, which will have an impact on our body's health sooner or later.
Often, we are told that a healthy body is the key to a healthy mind, but it's also the other way around. For a healthy body, you need a healthy mind, too.
For a healthy mind, we need to 'exercise' our mind the same way we make it a point to do physical activities that benefit our body. The exercise we mean here is meditation.
BK Dr. Savita Arora, a medical graduate who served as medical officer at the Global Hospital and Research Centre in Mount Abu, India, said that we need to allocate 10 to 15 minutes for meditation on a daily basis. Dr. Savita is attached to the Brahma Kumaris Foundation, and she is the national coordinator of the women's wing.
She gave a talk on Yoga for Body, Mind, and Soul: Embracing Holistic Wellness at Harmony House in Kuala Lumpur, in line with the 9th International Yoga Day celebration on June 21, 2023. But why do we need to do meditation? One may ask.
Meditation heals the mind through calming and re-centering ourselves, which massively helps our overall physical health. "The mind gets attracted to people and situations constantly, which indirectly creates a negative state of mind and eventually affects the health of the body," BK Savita said.
Explaining further, she said that a stressful mind could lead to psycho-somatic diseases like heart disease, even in youngsters. "We have a fast life; we compete and compare with others. Our minds are affected by people and situations, and when the mind is in a negative state, it affects the body," added BK Savita.
She elaborated, saying that when the mind is in a negative state (like stress or anger), the body releases certain harmful chemicals into the system, and this could affect our physical health in the long term.
"More than 70% of diseases are psychosomatic, such as heart attacks, compromised immunity, and body aches, and this could happen even in youngsters," explained BK Savita.
Positive thinking for a healthier mind
BK Savita said we need to practice positive thinking for a healthy mind. "When we start practicing meditation, we should consciously start thinking positively as well," .
According to BK Savita, we must observe the direction of their mind to see if it is becoming negative with anger, hatred, revenge, ego, and insecurity and change the direction of the mind.
It's also important to have a 'self-realisation moment and become aware of the thoughts in our mind, whether positive or negative. "We need to stop and think: I need to transform myself because all of this emotion gives me pressure and pain. Focus and say, I can change my thoughts to positive thoughts," shared BK Savita.
She advises us to constantly train our minds in a positive direction, even in adverse situations. She explained that adverse situations will not stop coming, but one must be aware that they have no control over the situation. The only thing in their hands is how they can handle or respond to the 'situation.'
Positive thoughts would start transforming our state of mind, and our vibration would change completely.
She reminded me that all kinds of problems will always arise, but it's how a person changes their mind and reacts or responds (after going through meditation and adopting positive thoughts) to the situation that matters, as it makes a difference.
A person with a healthy mind would not consider a situation bad; instead, they would try to gain or learn a lesson and rise above the situation.
Meditation helps change our lived realities
"Meditation does not change our situation. Meditation changes our mind towards the situation," she said. A person with a calm mind will respond much better than a person who is not in the right mind. If they take on the challenges positively, they will tend to progress in their lives.
Health needs to be approached holistically and not be limited to the physical. Holistic health encompasses physical, mental, and psychological health, as well as the development of spiritual awareness. She said yoga has a good effect on body, mind, and soul and shared about Rajyoga meditation, which is a practice of higher consciousness and considering oneself a soul or conscientious energy. "Rajyoga meditation shifts consciousness from body consciousness to mind consciousness and encourages connecting with the supreme soul or god," added BK Savita. In Rajyoga meditation, the focus is on the original positive qualities or virtues of the soul, such as peace, knowledge, purity, love, happiness, bliss, and power, and apply them in their daily lives.
At the start of the event, a yoga instructor guided the audience to do simple yoga postures on their seats, followed by a performance by young children who showcased their talent by doing yoga postures.
The event was graced by the attendance of the Indian High Commissioner to Malaysia, B.N. Reddy, who officiated the event with other VIPs and gave a speech about yoga.
The Brahma Kumari Foundation offers Rajyoga meditation workshops and courses throughout its branch in Malaysia for free.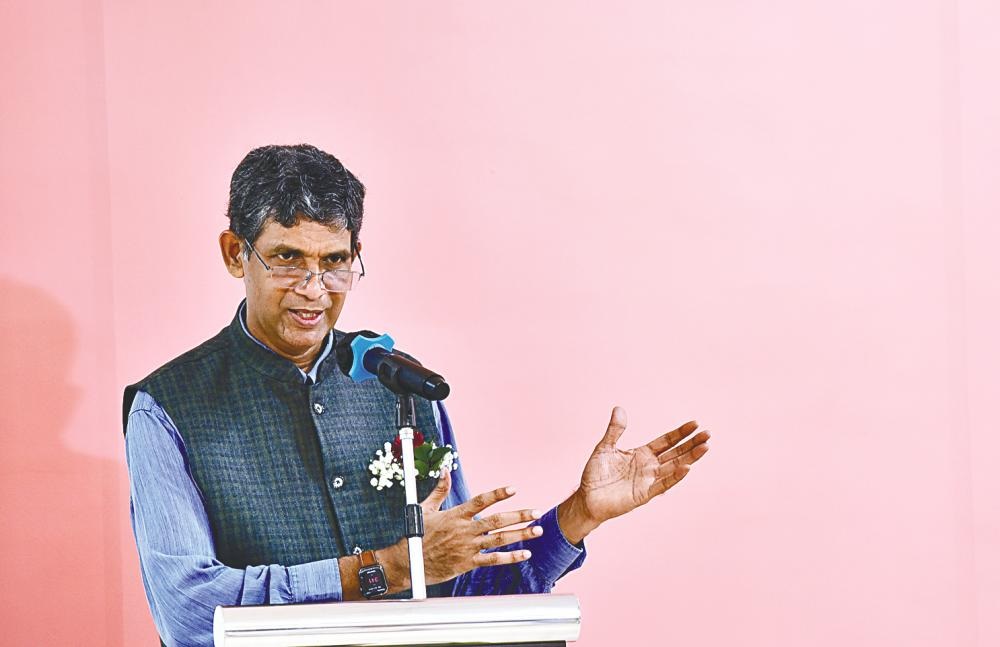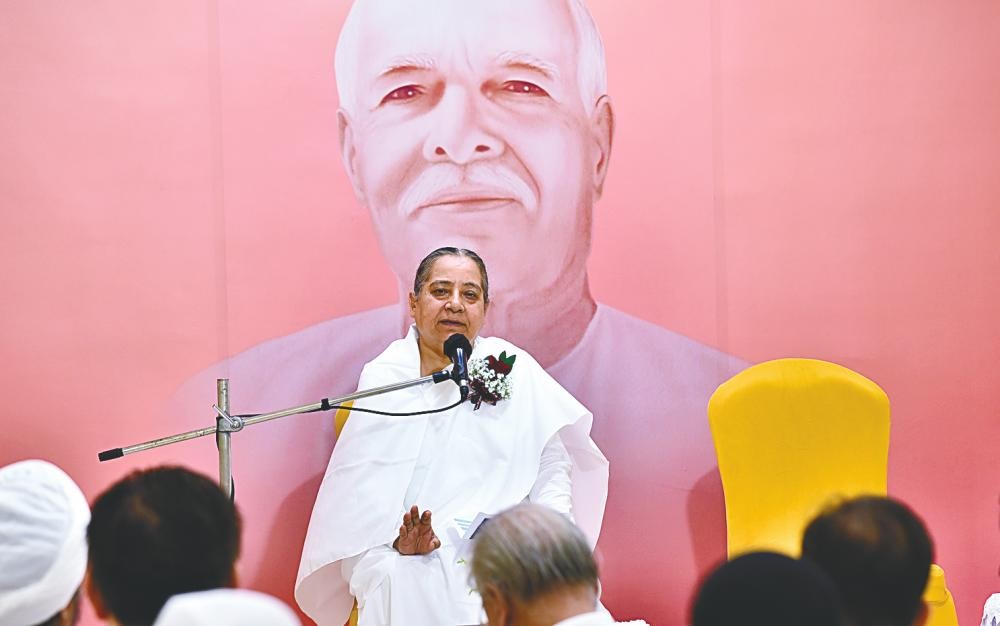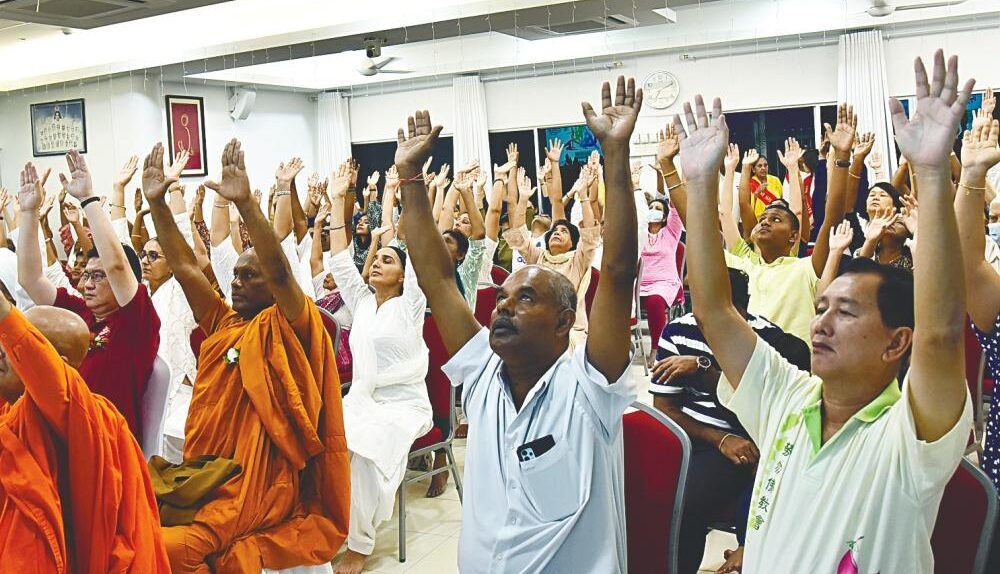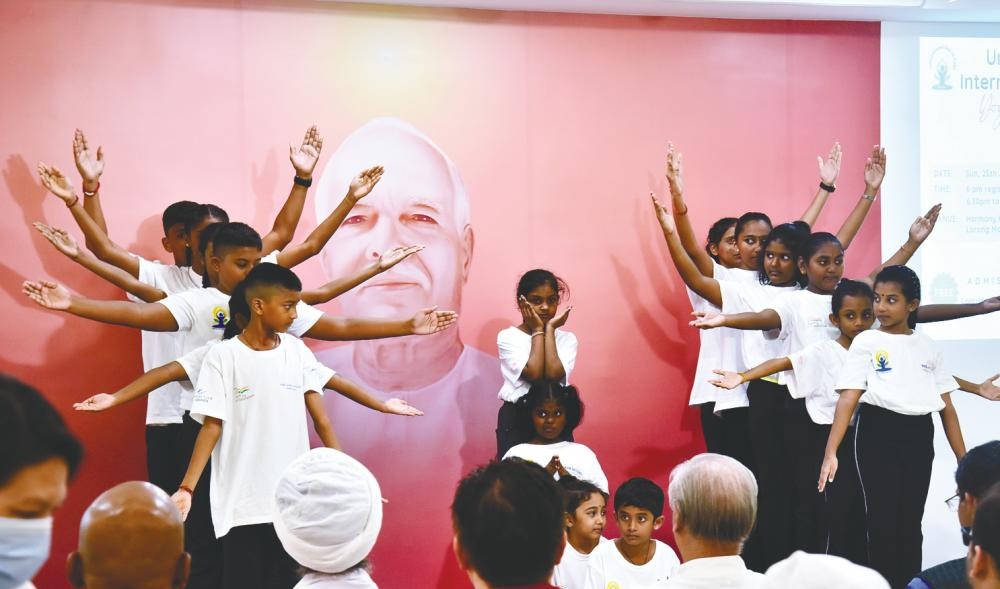 Sri Lanka- 9th International Yoga Day Celebration
07 July 2023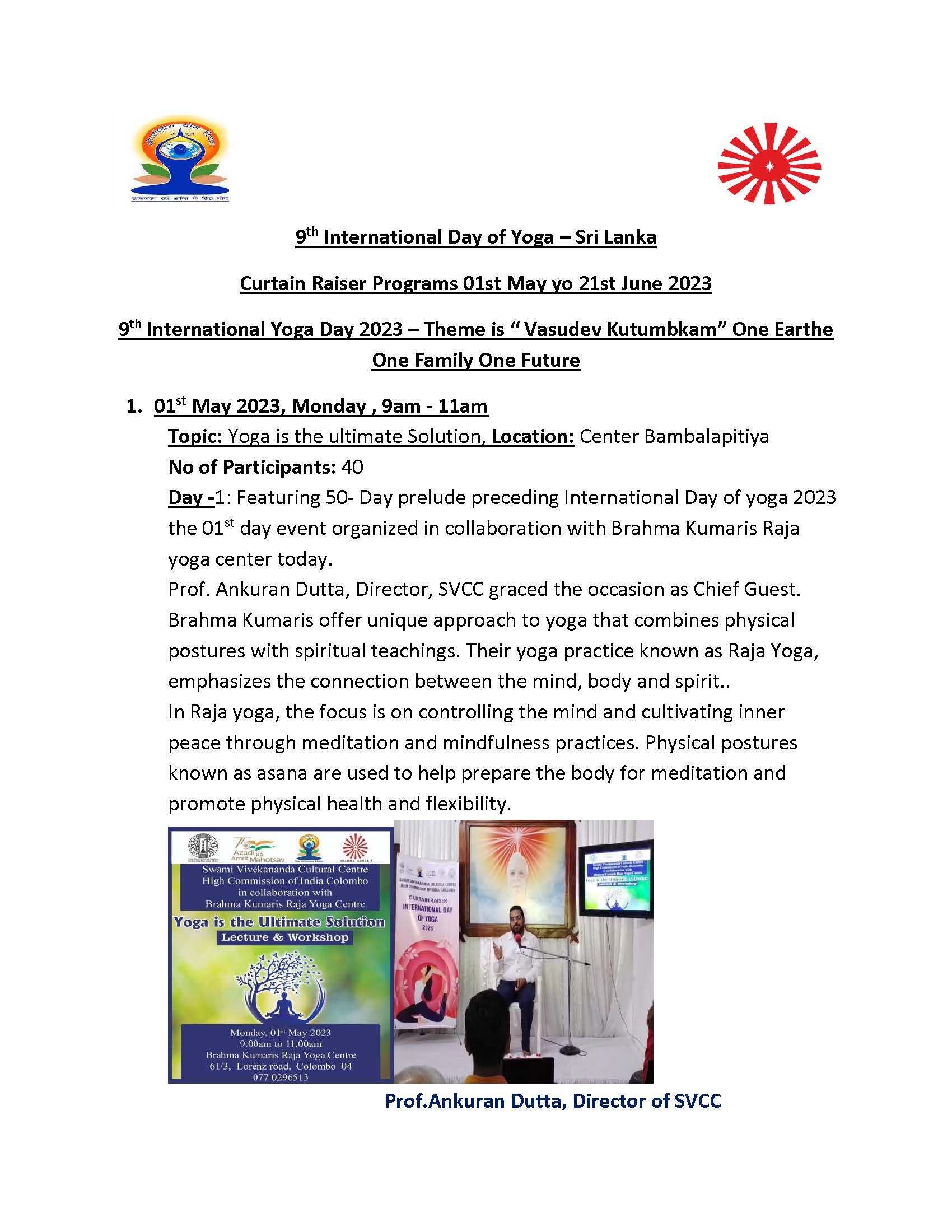 Divine Family,
Please click HERE to download the summary of IDY 2023 done in Sri Lanka in collaboration with the Indian High Commission and Swami Vivekananda Cultural Centre, Colombo. Om Shanti.
IBY
BK Ganesh
National Coordinator
Sri Lanka

Brahma Kumaris of Toronto join the Canada India Foundation (CIF) in Celebrating the 9th International Day of Yoga at Queens's Park
07 July 2023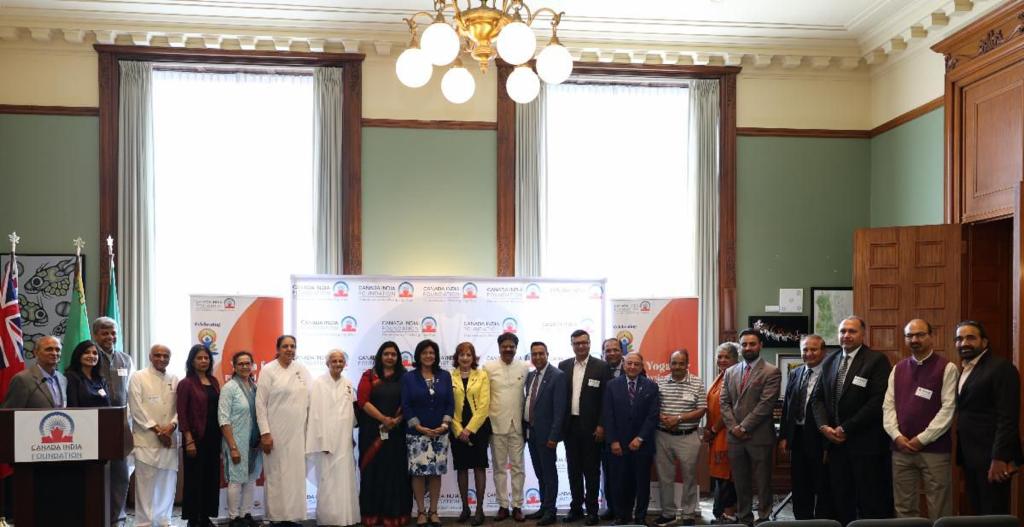 June 1, 2023 (Toronto): The International Yoga Day celebrations for 2023 got off to a great start on June 1, with a formal event hosted by Canada India Foundation, at Queen's Park, home of the Ontario Legislature. The event was graced by the Minister of Mental Health and Addiction for the Government of Ontario, Hon. Michael Tibollo and the Consul General of India in Toronto, Smt. Apoorva Srivastava, former Senator Dr. Asha Seth, as well as several MPPs, dignitaries and partnering organizations, Brahma Kumaris, Patanjali and the Vedic Spiritual Heritage Foundation.
The initial draft resolution, establishing the International Yoga Day at the United Nations, was proposed by India at the initiative of Prime Minister Narendra Modi and endorsed by a record 175 plus UN member states. Following the proposal, in 2015, the United Nations declared June 21 as the International Day of Yoga and since then CIF has had the pleasure of hosting Yoga Day celebrations in many venues across GTA, including the pandemic years, when the event went online with live telecast with a reach of couple of million people.
Welcoming the attendees, CIF Chair Satish Thakkar said that Yoga provided the perfect balance between mind, body and spirit. He referred to Patanjali's Yog Shastra and said that Yoga, with Asanas and Meditation, enabled one to have better control of thoughts, emotions & feelings and also develop ethical values. He acknowledged and thanked the sustained support and guidance provided to CIF by Consul General Srivastava, throughout her tenure in Toronto, with participation in all of CIF's events, particularly the online Ayurveda series of lectures. He also thanked Minister Tibollo for his appreciation of and support for Yoga and Ayurveda as complementing the mainstream healthcare ecosystem for a holistic solution.
Consul General of India in Toronto, Mrs. Apoorva Srivastava thanked Canada India Foundation for its contributions to Canada India bilateral relations and recommended that Yoga and Meditation be introduced to children in schools, so that they can develop a healthy lifestyle early in life.
Addressing the attendees, Minister Tibollo thanked CIF for its contributions and spoke at length of his many visits to India, first in his private capacity as a lawyer, and later as a Minister for Mental Health, when he got exposed to the spiritual side of India as well as the ancient traditions of Yoga and Ayurveda. He spoke of his interactions with the Brahma Kumaris, Patanjali and Baba Ramdev and said that Yoga was now a part of his daily life. He said that the mind is the most important muscle of the body and Yoga and Meditation were essential for a healthy mind. Prior to the community event, Minister Tibollo announced in the Legislature that he would be introducing a private member's bill when the session reconvenes, declaring June as the International Yoga Month.
Parliamentary Assistant to the Minister of Labour, Immigration, Training and Skills Development, Mr. Deepak Anand applauded CIF for its continuous efforts and promotion of Ayurveda and Yoga in the Province of Ontario. He appreciated CIF Chair for his leadership for the promotion of age old Indian alternative health system. He looked forward to being part of CIF future initiatives in this and many other areas.
Other dignitaries of South Asian origin attending included Associate Minister Nina Tangri, Logan Kanapathi, Adil Shamji, Sheref Sabawy and Vijay Thanigasalam. Following the talks, Uma Bhalla from Vedic Spiritual Heritage Foundation, Canada and Sister Shobna Obhrai from Brahma Kumaris, Canada provided demonstrations of breathing exercise and meditation. Apart from the venue, the enchanting and soothing music, as performed by flautist Sahil Khan, provided the perfect ambience for the event.

Ulaanbaatar, Mongolia- International Day of Yoga (IDY) June 2023
06 July 2023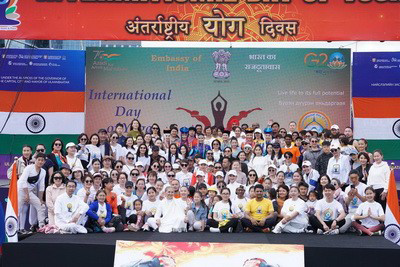 The International Day of Yoga (IDY) was celebrated in Mongolia for the 9th time. Nowadays, yoga is gaining popularity all over the world. Yoga doesn't only help people to maintain their physical health, but also creates a peaceful state of mind. It also helps to cope with everyday problems and challenges.
The Indian Embassy in Mongolia and the Mongolian Yoga Federation organized a big event, which was celebrated on the 18th of June, 2023. The Brahma Kumaris Raja Yoga Center in Mongolia has been an active participant and assistant in organizing, promoting and holding events dedicated to the International Day of Yoga since 2015.
On the 18th of June, the Yoga Festival was celebrated on the main square of Ulaanbaatar, in front of the state building of the Khural (Government). The Ambassador of India to Mongolia, His Excellency Mr. MP Singh, the Buddhist Guru His Holiness the 7th, Naro Banchen Rinpoche, Ms. Saranchimeg from the Government of Mongolia delivered a welcoming speech to the participants of the event. Guru Swami from India performed the main asanas according to the generally accepted protocol to all the participants.
BK Inna Kim explained to the participants the meaning of the word 'Dhyana' which means attention to the self, the true self, one's true nature (in the context of Brahma Kumaris Raja Yoga ). She shared that all BKs practice conscious attention while studying and performing various activities. The BKs from the Raja Yoga Center together with the 'Light' team of the Healthy Fit Club presented the active fitness composition with yoga poses. All participants of the event actively moved to cheerful music, froze in asanas and tried to practice attention on themselves (on a soul). After active movements, a collective meditation for everyone was held from the stage. There was a deep silence on the main square of the capital. An image of the Supreme as the Point of Light on the screen projected sparkled rays of peace and love while giving His golden light to all participants. At the end of the meditation, everyone was asked to look at each other as brothers. All shared the light of goodness, peace and harmony. The atmosphere on the square transformed, everyone experienced sweet feelings of brotherhood, belonging to one global family, gratitude to the Creator. After that everyone began to hug each other and shake hands.
BK students handed out invitations for a 3-day meditation course, explained pictures of knowledge, played interactive game 'Virtuescope' and gave blessing cards. A wonderful festival brought together more than 400 participants on Sukhbaatar Square. There were songs, dances, mantras and national music.
The wonderful atmosphere of the IDY celebration allowed all the participants to feel the closeness and the flavor of enchanting India.
Link to photos and videos
https://drive.google.com/drive/folders/1tMn74xztG3TiXOfZcXZOA6hKm0ZZqO4h?usp=share_link
Please download a pdf of the report with photos HERE.

"Meditation for purifying the mind": Brahma Kumaris Address Yoga Day Events in Moscow
29 June 2023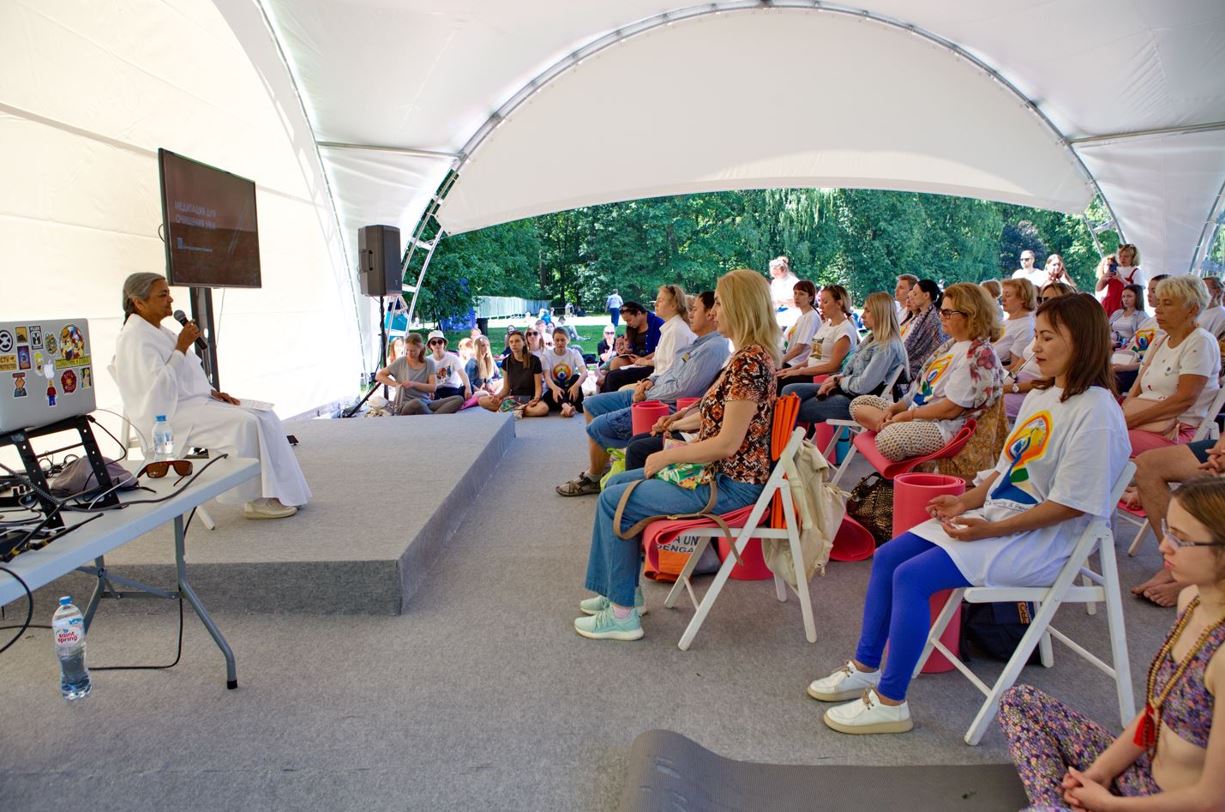 Moscow (Russia): In 2023, the 9th International Day of Yoga had been widely celebrated all over the world. The interest in yoga is growing everywhere, and yoga is becoming more and more popular with people of all ages. Yoga has already won the hearts of many far beyond India and has become their way of life.
Since the beginning of the month of June the Jawaharlal Nehru Cultural Centre at the Embassy of India in Moscow, various yoga studios, Ayurveda centers, Indian Cultural Centre "Sita" and the Brahma Kumaris Center for Spiritual Development have joined different events of this occasion.
On June 3rd and 10th, the Embassy of India in Moscow organized yoga in Izmailovskiy and Vorontsovskiy Parks public events, where representatives of Brahma Kumaris BK Harish (Shantivan, India) and BK Dr. Alexey shared special exercises for harmonious body and mind.
On June 10, the Indian Cultural Center 'Sita' gathered various yoga studios and Ayurveda centers in the "Muzeon" Art Park. BK Sudha, the General Director of the Brahma Kumaris Center for Spiritual Development in Moscow, attended the event having congratulated all the participants on this wonderful day.
On Sunday June 18th, yoga united all her admirers in the national museum-reserve "Tsaritsyno". Yoga master classes, lectures on Ayurveda, meditation and much more were included in the program of the main Moscow event of the 9th International Day of Yoga. The event was officially inaugurated by the Ambassador of India to Russia H.E. Mr. Pavan Kapoor, who reminded participants of the main idea of the International Day of Yoga: "Yoga is an invaluable gift of the ancient traditions of India. It embodies the unity of soul and body, thoughts and actions, harmony between man and nature, a holistic approach to health and well-being. It is not about physical exercises, but about finding a sense of unity with the self, with the whole world and nature. If we change our way of life and create a new way of consciousness, it will help everyone's well–being". The Indian Ambassador added that yoga is not a one-day practice, but a life-long path to a harmonious and peaceful inner state, and noted that the International Day of Yoga is the most widely celebrated, especially in Russia.
Dr. Brijesh Gupta, a yoga teacher at the J. Nehru Cultural Center in Moscow, together with his students, conducted theGeneral Yoga Protocol demonstrating the basic asanas. Everyone followed him with enthusiasm.
BK Sudha Didi gave a lecture on "Meditation for purifying the mind". She shared with the audience a method of meditation based on understanding the self as a spiritual being, eternal and initially absolutely positive. Awareness of such a simple axiom of spirituality helps to control your thoughts and clear your mind of everything unnecessary and negative. Many people became interested and wanted to learn more about the practice of RY meditation. They asked questions and were interested in deepening their meditation practice. Invitations to the upcoming programs were distributed instantly.
At the end of the event, BK Sis. Olga Streltsova, a gymnastics coach and teacher of Raja Yoga, conducted on the main stage a set of stretching exercises and inspired the participants to chant the mantra "Om Shanti", which calms and disciplines the mind. This was an inspiring conclusion to the wonderful celebration of ancient yoga in the reality of the modern world.
Click on the below image to watch a 3:29-minutes video of the event.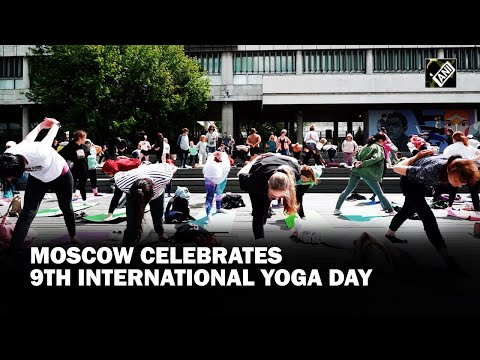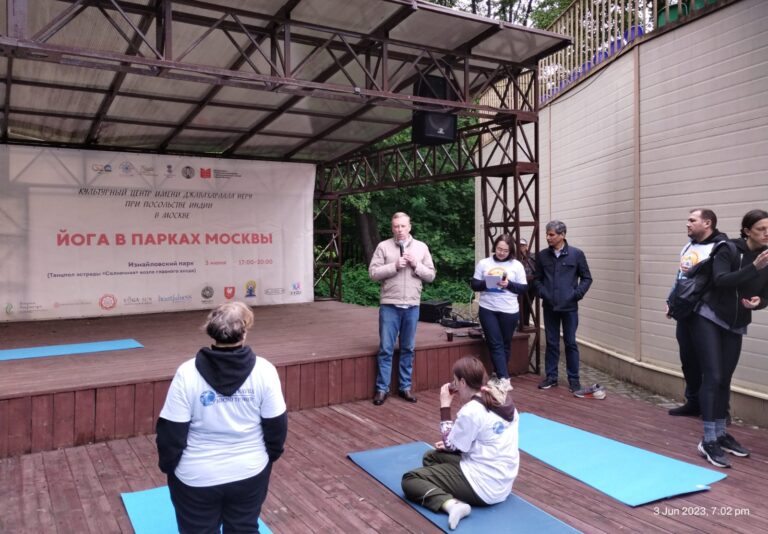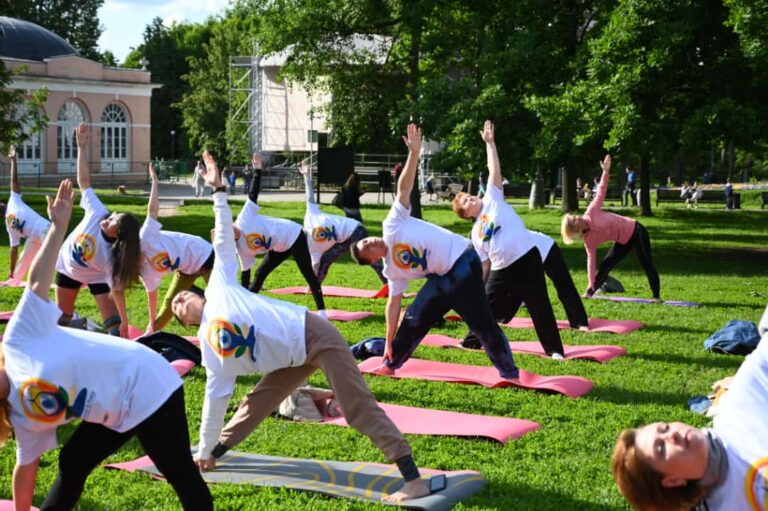 International Day of Yoga, Kiev, Ukraine
28 June 2023
Kiev, Ukraine: Despite the very difficult situation in the city, the Embassy of India in Ukraine decided to celebrate International Yoga Day in Kiev, the capital of Ukraine.
As a regular participant in this event and as a member of the organizing committee, Brahma Kumaris Centre in Kiev was invited to take part in the event.
The Celebration took place in a big, well-equipped hall of a large business centre which also has a bomb shelter, which was a mandatory requirement.
The event was opened by Mr. Harsh Kumar Jain, Ambassador of India to Ukraine, Mr Oleg Torgalo, Chairman of the Ukraine-India Society and Dr. Jayant Kumar Das, Ayurveda.
According to the IDY protocol, the programme included speeches by embassy staff, performances by representatives of various yoga schools and Indian dances.
Brahma Kumaris, Kiev took an active part in the event: doing exercises, introducing the Brahma Kumaris main subject of Raja Yoga meditation, offering holy sweets, giving blessing cards and spiritual drishti.
BK Sister Nina, Centre in-charge explained the basics of Raja Yoga and conducted meditation with commentary.
After three years of almost total isolation, it was really a nice feeling to talk directly to the people again and see their shining eyes.

"Yoga for Holistic Development" - BKs in Oklahoma City, Oklahoma, USA, Celebrate International Day of Yoga
28 June 2023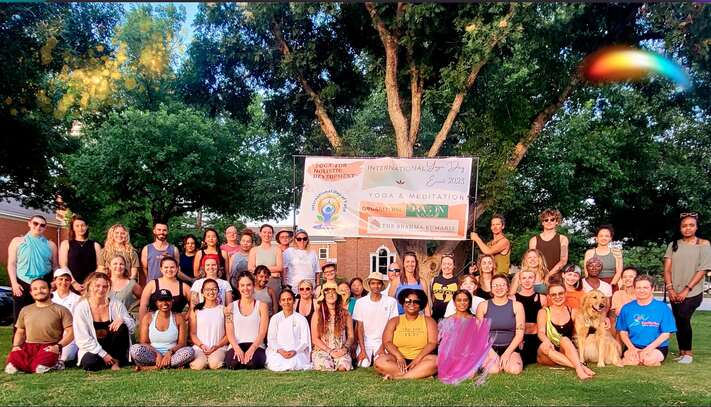 Dear Divine Family,
On the occasion of the International Day of Yoga 2023, on the 21st of June, the Brahma Kumaris Meditation Center of Oklahoma City, Oklahoma- USA, organized "Yoga and Meditation in the Park". The theme for this year was "Yoga for Holistic Development".
The program involved yoga asanas, restorative yoga, and sound bath by our invited Yoga group and a talk on Raja Yoga Meditation followed by Guided Meditation by Sister Bindu- center coordinator, Oklahoma center.
YouTube link
https://www.youtube.com/watch?v=Cz4eMCux224
Google Photos
https://photos.app.goo.gl/Ugc5L8prW5ZYNady8
In Baba's Loving Remembrance
Sister Bindu
Oklahoma, USA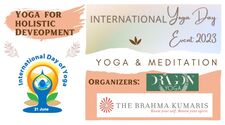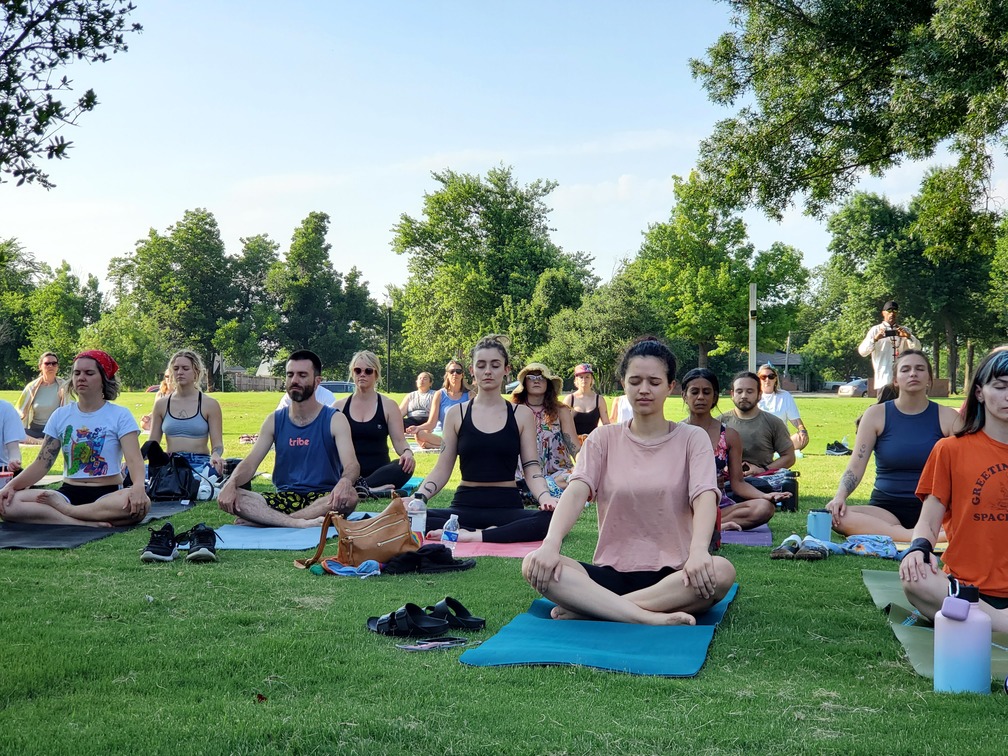 BKs celebrate International Day of Yoga in London June 2023
27 June 2023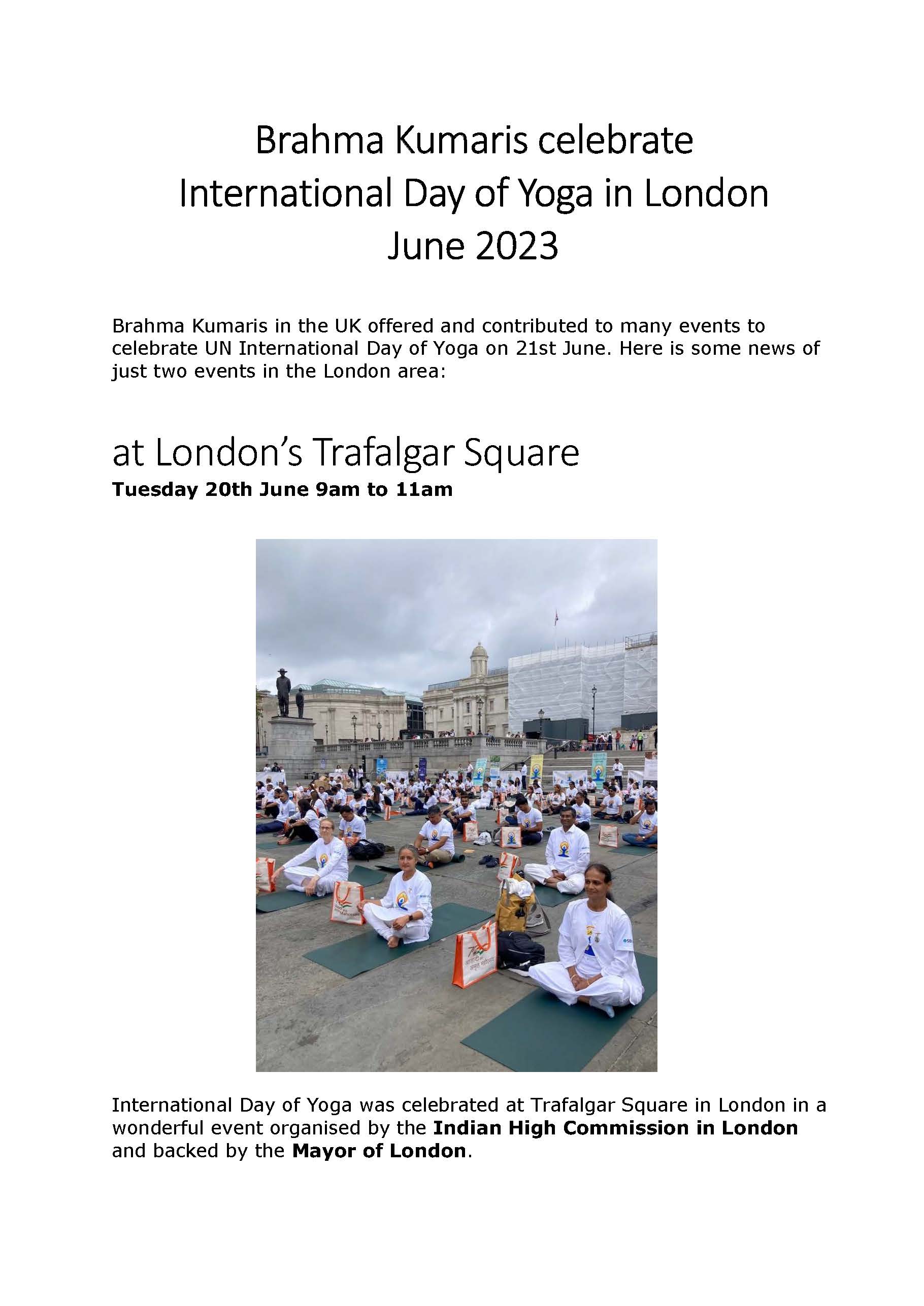 Please click on the image above to download the full report pdf.

Houston, Texas BKs Celebrate IDY 2023
26 June 2023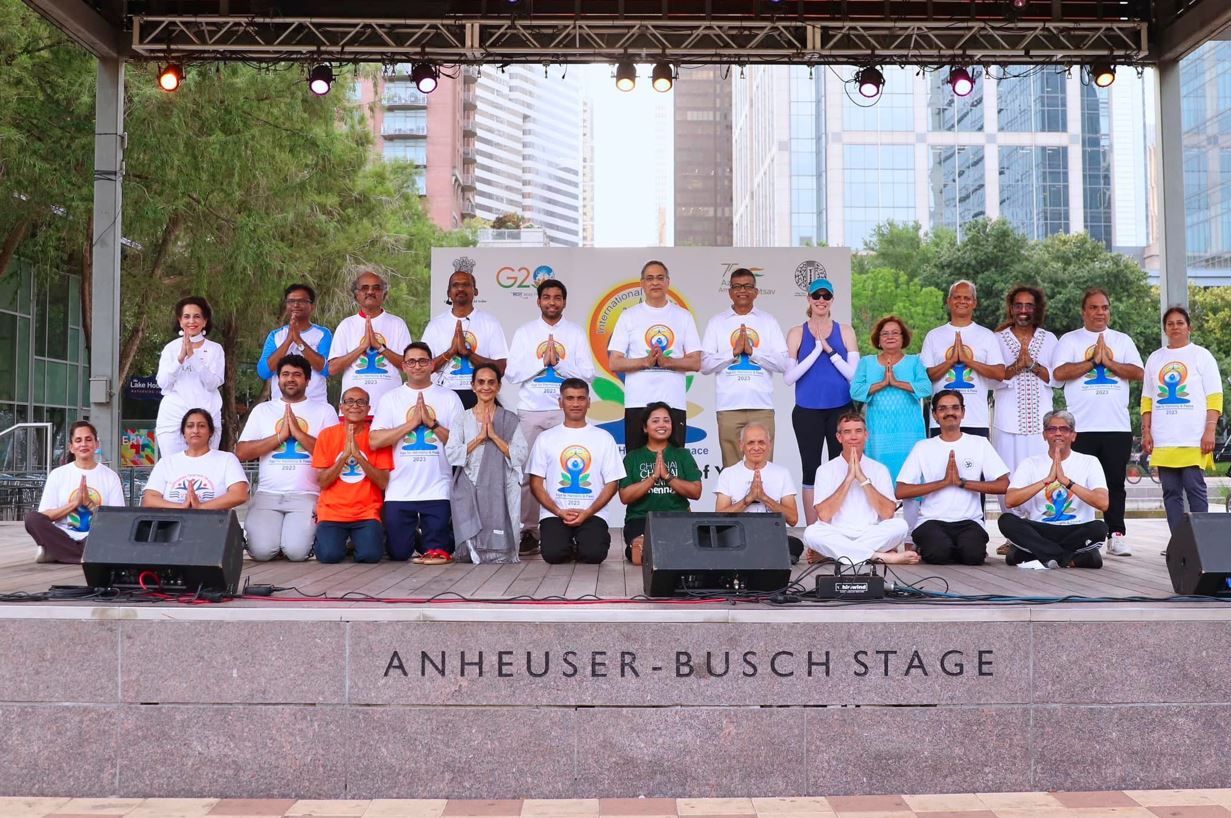 Dear Divine Family, Om shanti and greetings of love.

Brahma Kumaris in Houston, Texas celebrated the International Day of Yoga 2023. We wereinvited to conduct the Dhyāna (meditation) portion of the Common Yoga Protocol at two public events in Houston.

Summary:
Discovery Green City Park: 500 participants of diverse backgrounds came together to celebrate the International Day of Yoga. The Consul General of India and staff participated in the event. Brother Mark on behalf of Brahma Kumaris in Texas conducted the dhyāna portion of IDY yoga protocol. The audience experienced Raja Yoga Meditation, the yoga to take the mind away from the body and connect to the Higher source of divine energy.

Pearland Pavilion: City Mayor Cole participated in the event. Mayor Cole pointed out that yoga is not just physical asanas, but more importantly the emotional health of the soul. Brother Mark on behalf of Brahma Kumaris Texas conducted the dhyāna portion of IDY yoga protocol. The audience experienced complete silence through meditation commentary.
Link for Pictures:
https://www.dropbox.com/scl/fo/8ic0z1hn5numyhcg0fyte/h?dl=0&rlkey=70w47seisjl5079cv74cillwm
Much love in BapDada's yaad,
Brahma Kumaris
Houston, Texas, USA

Consul General of India in Guangzhou Appreciates Brahma Kumaris Work
23 June 2023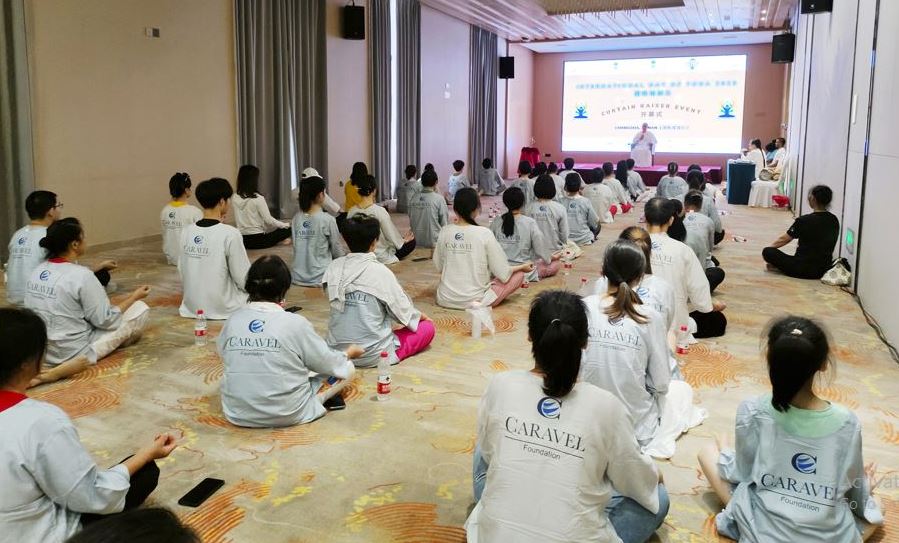 Changsha city (China): The 9th International day of yoga curtain raiser event was organised by Brahma Kumaris in Changsha city (Hunan) with the support of the Consulate General of India(Guangzhou).
Mr. Shambhu L. Hakki , the Consul General of India in Guangzhou, while addressing the gathering, appreciated the great work being done by Brahma Kumaris in China for creating a friendly bond between Indian culture and Chinese culture. He appreciated BK Sister Sapna for organising such events where not only we can promote our traditional culture but also bring harmony in people to people connections.
The program began with a candle lighting ceremony and raising the curtain of Series of International yoga day events , followed by Classical dance by BK Sister Khushi. The program included yoga asanas as per yoga protocol conducted by expert yoga masters, Chinese Tai chi performance and concluded with Rajyoga meditation experience conducted by BK Sister Sapna.
Godly gifts were presented by Bk Sister Sapna to the guests and teachers.
On this occasion Mr. Shambhu L. Hakki, The consul general of India presented a certificate of appreciation to Sister Sapna for taking lead in organising such public welfare activities and also promoting the ancient culture. The program witnessed a very enthusiastic participation by the local Chinese nationals. The program will be followed by series of events until the final day of IDY 2023.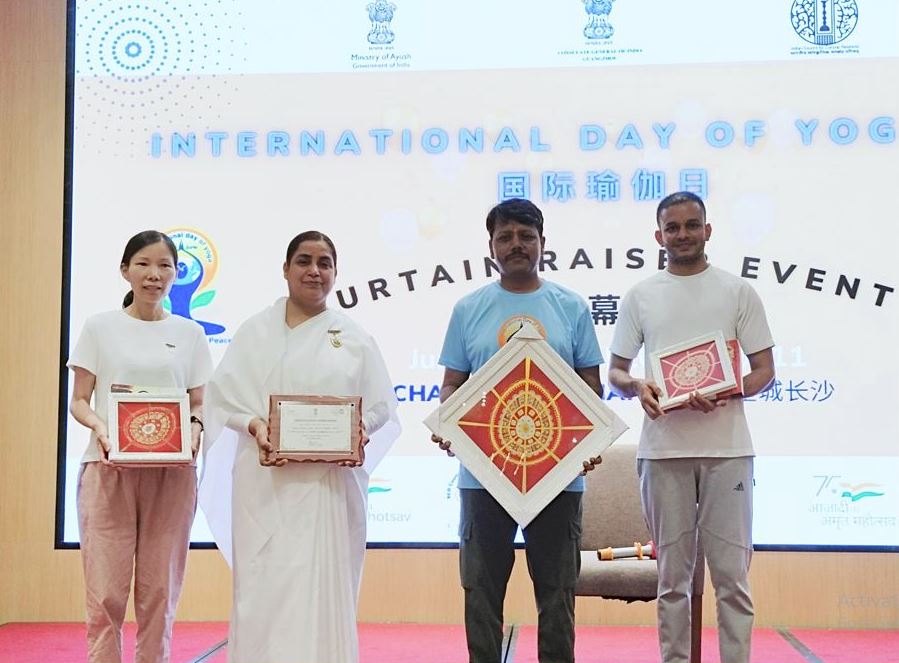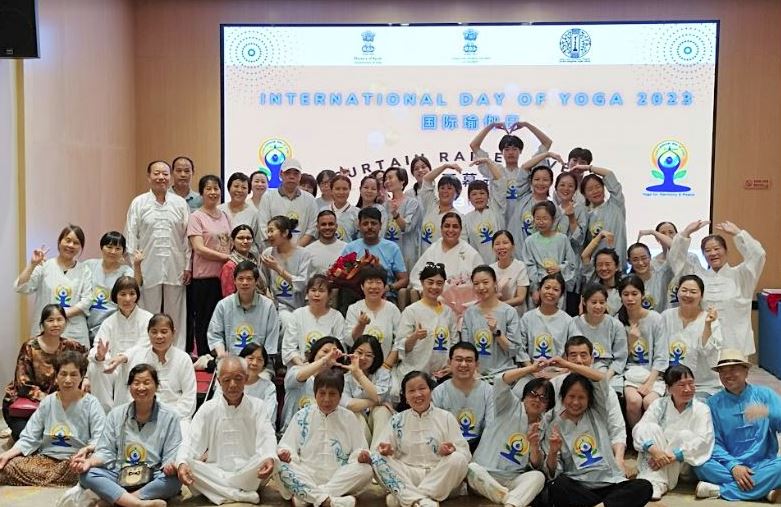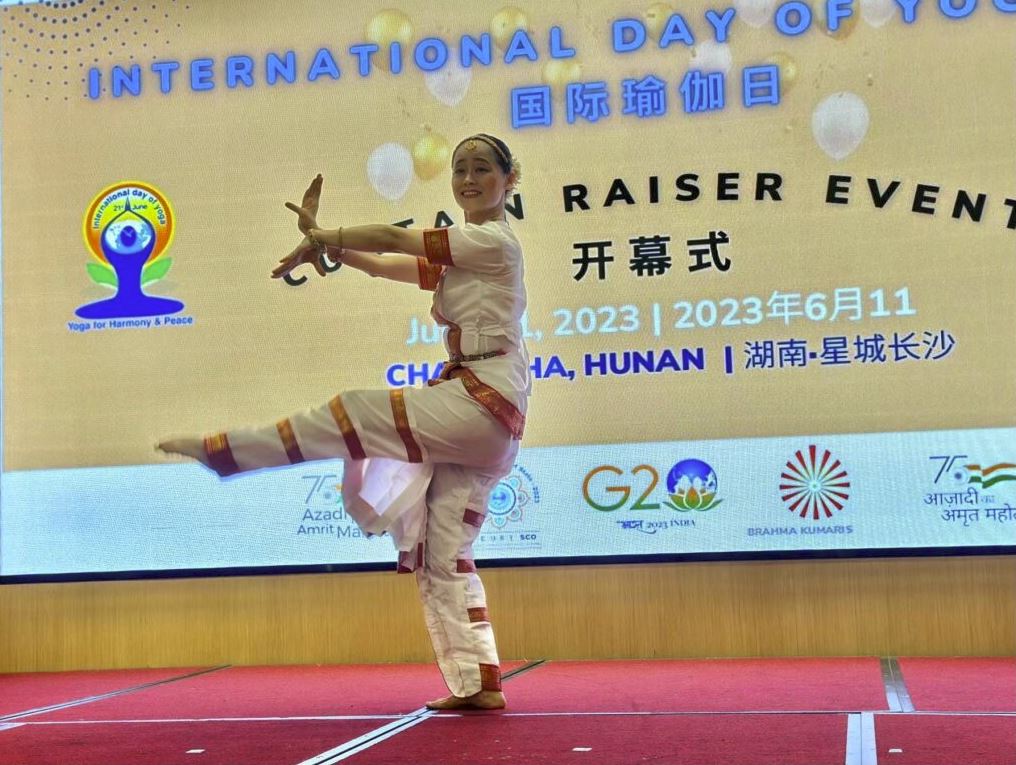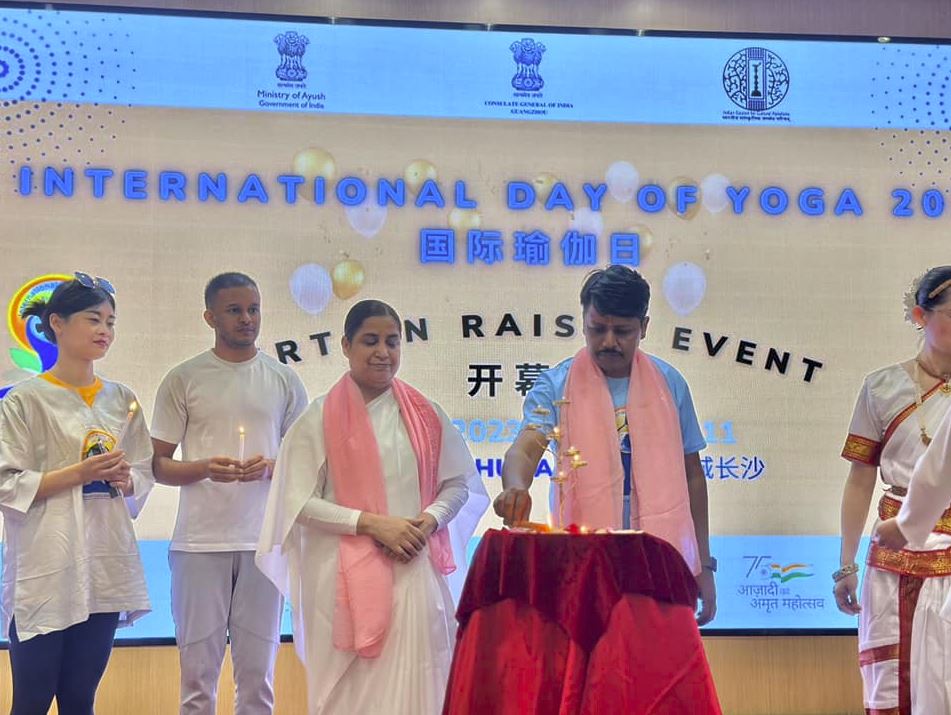 Activities in London for International Day of Yoga 20th and 21st June
20 June 2023
Two Outdoor London events to celebrate International Day of Yoga:

1) at Trafalgar Square
Tuesday 20th June 2023
8.30am to 11.30am

Join in the line up of yoga offered at Trafalgar Square by the Indian High Commission and The Nehru Centre.

Just turn up - free of charge

Closest underground station: Charing Cross (Bakerloo Line)

Brahma Kumaris are supporting the event by attending the celebration. Please come along, wear something comfortable and invite your friends and contacts too.
2) at Museum of London Docklands
Wednesday 21st June 2023
8.30am to 6pm

Wellbeing at the Docks
Brahma Kumaris will be offering Raja Yoga Meditation sessions, games and activities all day, including Virtue Wheel, Emergency Optimist, Tree of Good Wishes and Guiding Star Cards.

Sister Jaymini will be speaking and leading meditation sessions at 8.45am and 12.45pm : Raja Yoga Meditation - Wellbeing for the Mind and Body
free of charge - BOOK your free ticket at https://www.museumoflondon.org.uk/museum-london-docklands/whats-on
Select : Wellbeing at the Docks event
Click 'book here'. Then click 'reserve a spot'.
Nearest underground stations: Canary Wharf (Jubilee Line) and West India Quay (DLR)
Please tell your friends and contacts, especially those who work or live in Canary Wharf and surrounding areas.

with kind regards,
Dipti
on behalf of the team: Jyoti, Harika, Rachel, Rekha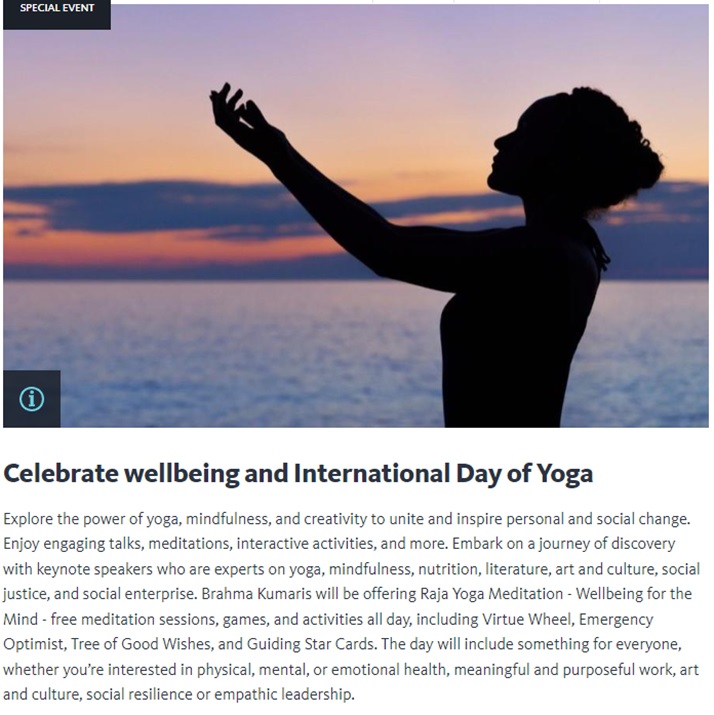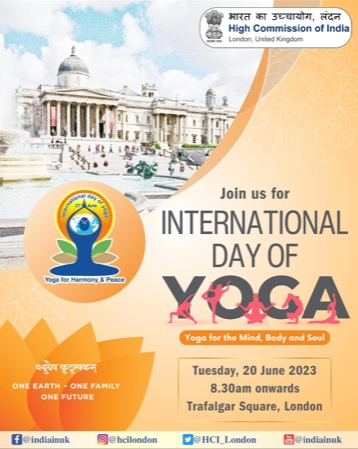 21 Postures of the Soul - Leading up to International Day of Yoga
29 May 2023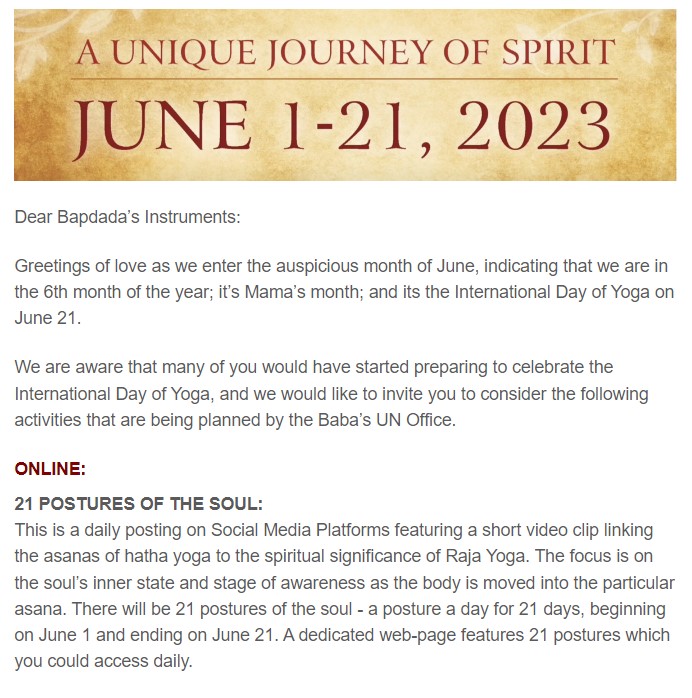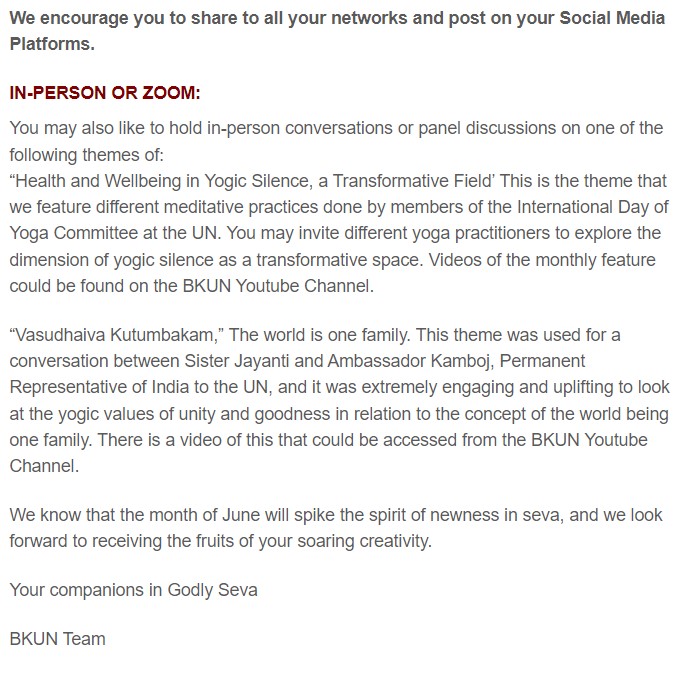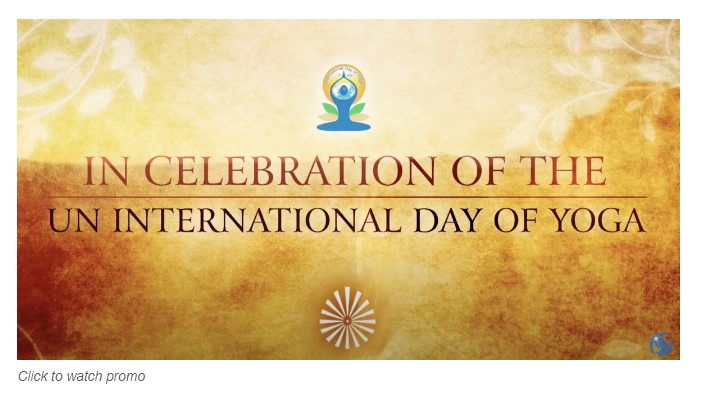 2022 International Yoga Day Archive
2021 International Yoga Day Archive
2020 International Yoga Day Archive
2019 International Yoga Day Archive