North Americas News
North Americas News
Boston Center Presents Its Special Program of the Month! - The Ability to Bend Without Breaking | Sunday, October 17, 5:00 - 6:15 pm
15 October 2021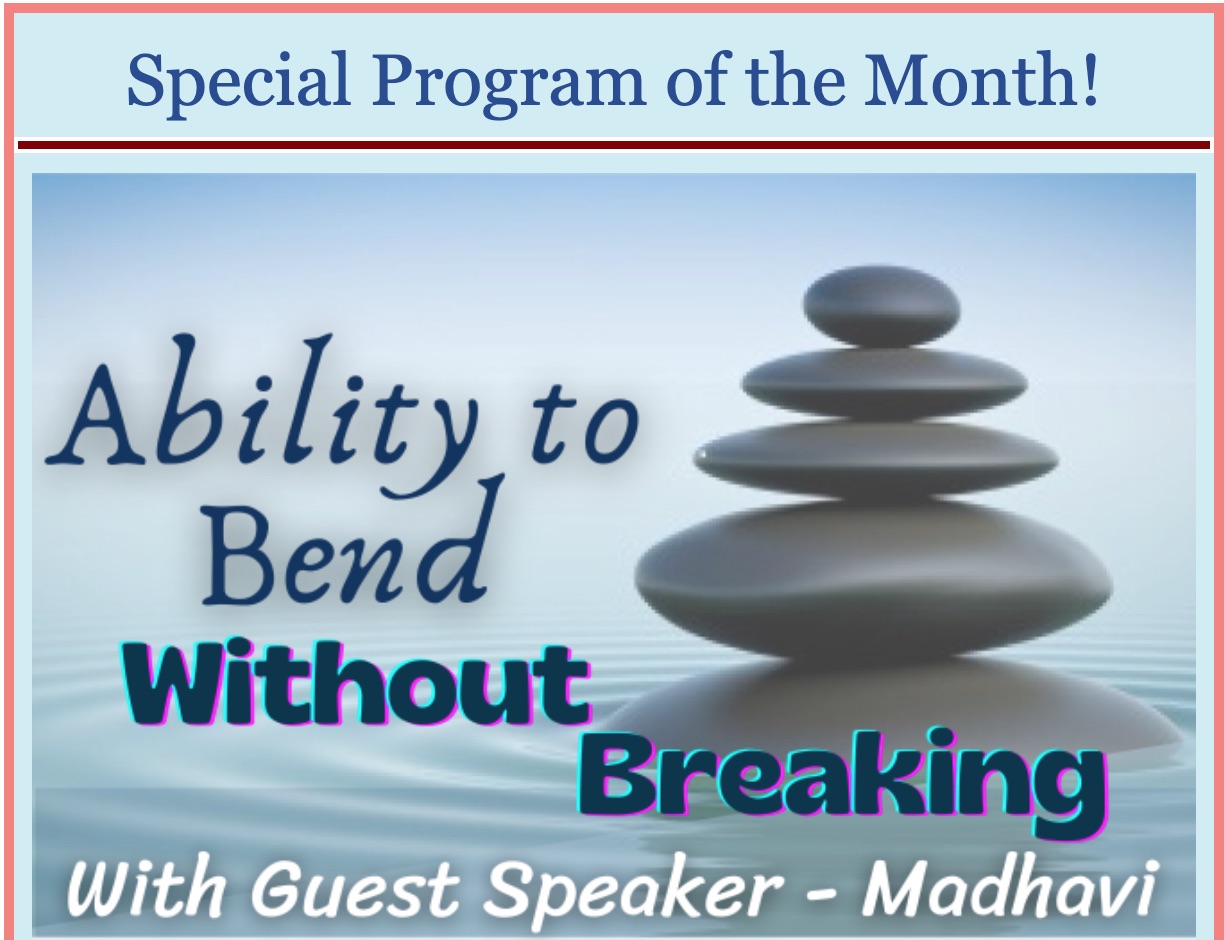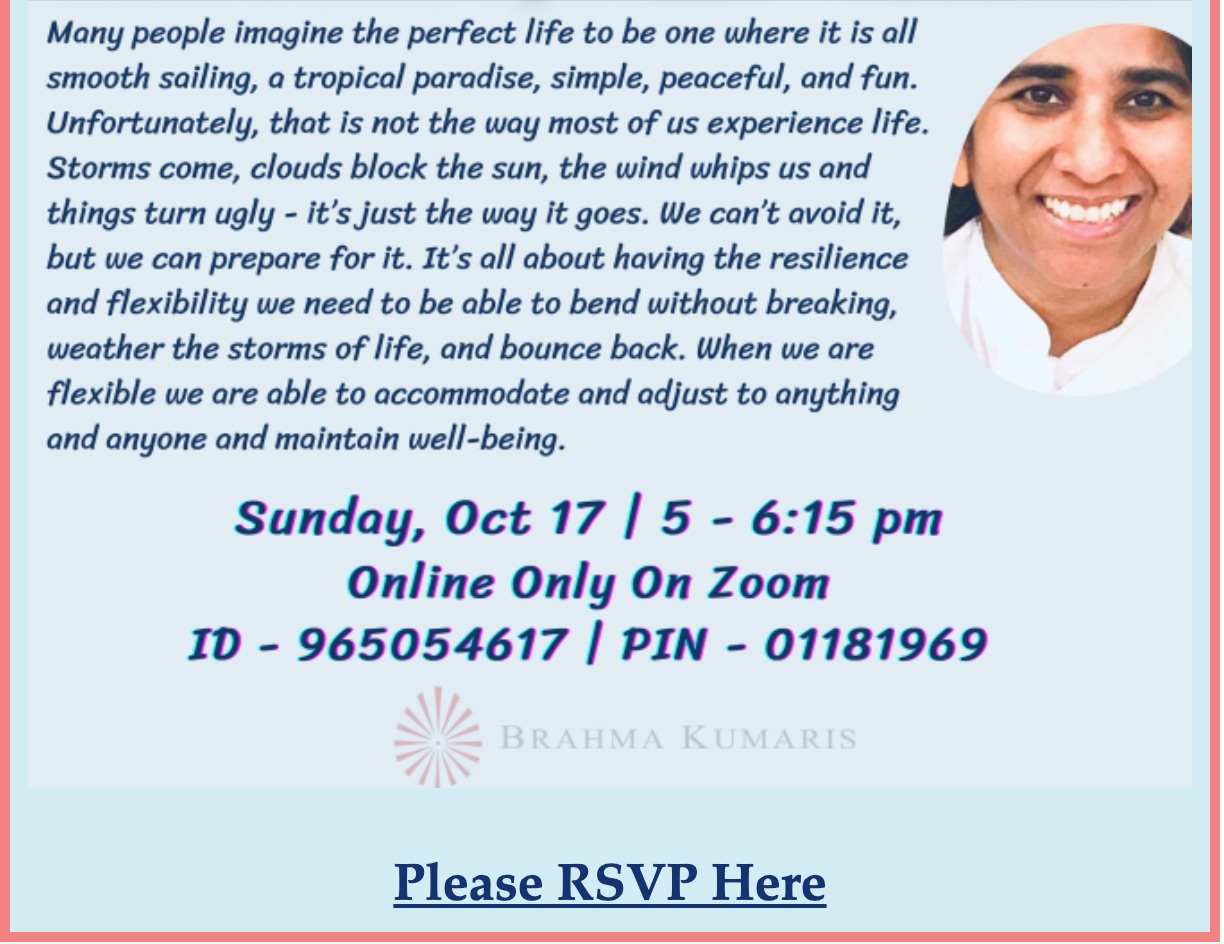 Manhattan Center Presents a Lecture this Thursday (10/14) by Sister Judy Rodgers: Mastery of the Inner Kingdom
13 October 2021

Brahma Kumaris Silicon Valley is Offering Navratri Special Guided Meditation Series Till October 14
12 October 2021
On the occasion of Navratri, Brahma Kumaris Silicon Valley presents:
Navratri Special Meditation Series
Join us for LIVE guided meditation for 9 days to "Invoke and become the Embodiment of your Inner Powers and become Victorious".
No Prior Experience Needed
Starting Wednesday, October 6 – Thursday, October 14, 2021, from 7:30 pm – 8:00 pm (PST)
Navratri Reflections:
Day 1: Simplify and Simply fly
Day 2: Armour of Purity and Benevolence
Day 3: Embodiment of Coolness
Day 4: Bestower of Blessings
Day 5: Shine the Light of Wisdom
Day 6: Being Shakti
Day 7: Be the World Mother(Share, care, inspire)
Day 8: Jewel of Contentment
Day 9: Victory is my Birthright
Please calculate your local time here:
https://www.timeanddate.com/worldclock/converter.html

International Day of Peace- Are you at Peace? Special Music/Meditation Offering Provided by the Meditation Museum
12 October 2021

Greetings of peace,
A saying echoed by the Hopi Indians, " we are the ones we have been waiting for", couldn't be more poignant in these times. Because, I believe the peace we seek outside of ourselves is bubbling up inside to reveal its gentle force and transformative wonder.
Here is a peace offering to the United Nations International Day of Peace that we produced for this special day. CLICK TO WATCH THIS BEAUTIFUL FEELING EXPRESSION OF PEACE!
In Peace,
Sister Dr. Jenna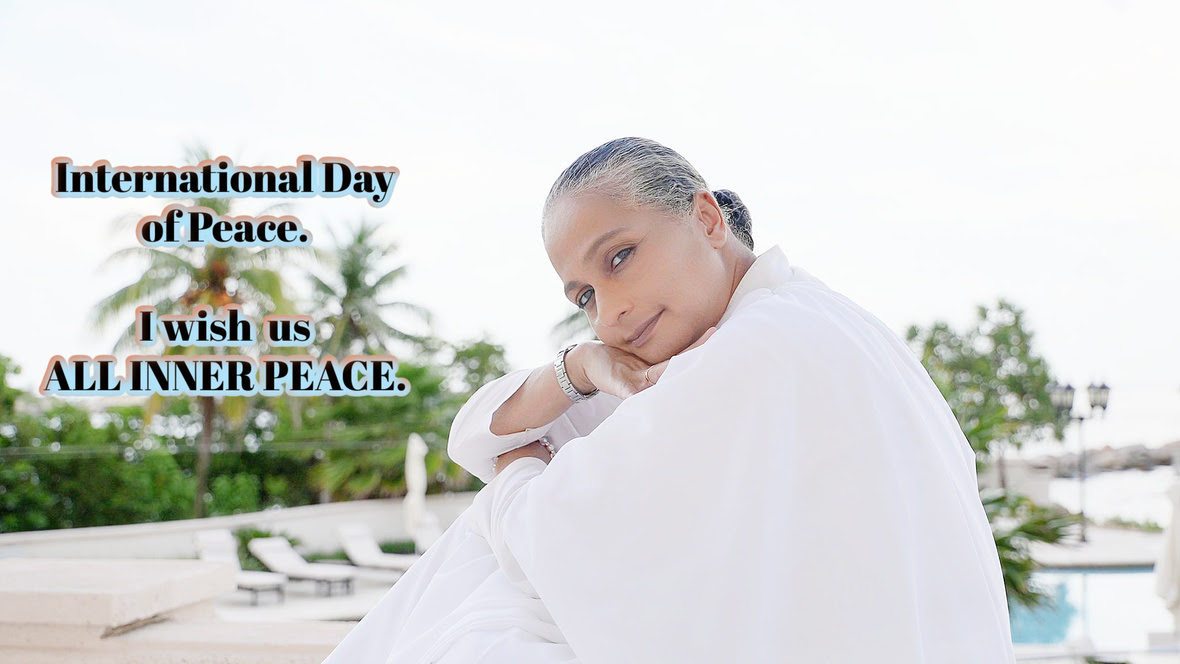 Concert For Peace : Peace Halifax returns for 2021
12 October 2021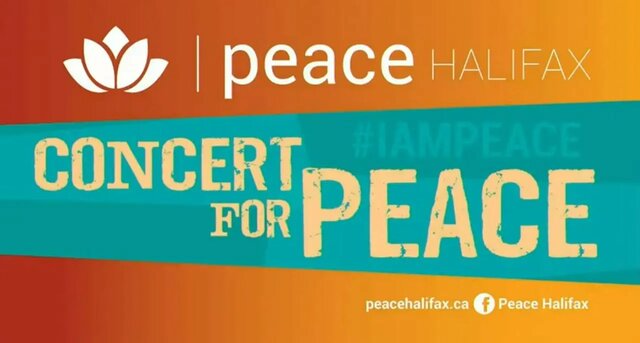 Peace Halifax returns for 2021
Halifax ( Canada ): Festival of Peace was organized in honor of The International Day of Peace by Brahma Kumaris Halifax.
This year's edition of Peace Halifax, a day-long festival offered a gift to the people of Halifax in honour of the United Nations International Day of Peace.
Watch on Youtube: Click Here

REPLAY: Ending Emotional Baggage – Friday Talk by Sister Jenna on 24th September
12 October 2021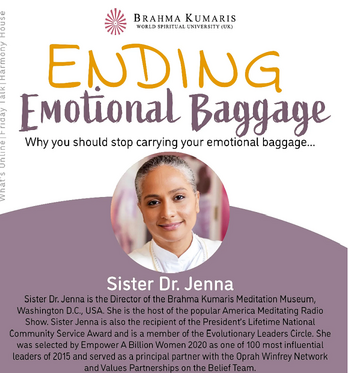 Leicester (UK): Why you should stop carrying your emotional baggage…
FRIDAY TALK on 24th SEPTEMBER
Topic : Ending Emotional Baggage
About the Speaker:
BK Dr. Jenna is the Director of Brahma Kumaris Meditation Museum, Washington D.C., USA She is the host of popular America Meditating Radio Show. Sister Jenna is also the recipient of the President's Lifetime National Community Service Award and is the member of Evolutionary Leaders Circle. She was selected by Empower A Billion Women 2020 as one of 100 most influential leaders of 2015 and served as principal partner with the Oprah Winfrey Network and Values Partnerships on the Belief Team.
Click to Watch Replay on YouTube

Brahma Kumaris at the College of Central Florida
12 October 2021
Ocala, Florida (USA): Brahma Kumaris Ocala were invited to present at the College of Central Florida as part of the "Comparative Religions" course. Two small groups of students also came to visit the BK center in person the following week.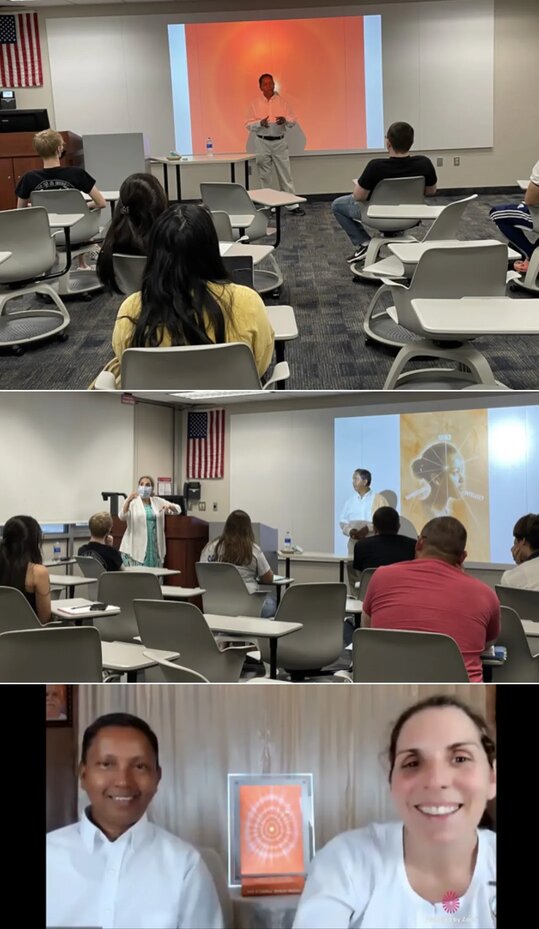 "Creating a Consciousness of Peace…. If Not Now, When?": Program on International Day of Peace
12 October 2021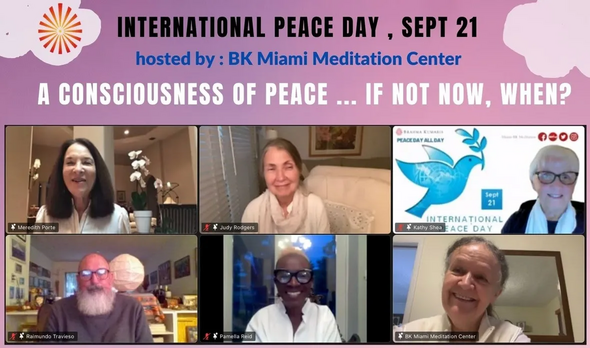 Miami, Florida (USA): "Creating a Consciousness of Peace…. If Not Now, When?" was the featured program dedicated to the international day of Peace, hosted by BK Meredith Porte, the program featured BK Judy Rodgers, artist Raimundo Travieso, and NGO founder Pamella Reid. To revisit the session, click here.
Click here for the playlist with the #PeaceDayAllDay meditations

Purity Series - Recording of talks by Sister Jayanti & Brother Charlie
12 October 2021
Dear Divine Family,
As per many requests for a recording of Sister Jayanti and Brother Charlie on the topic of the Purity Series, please find the links below for you and other Brahmins.
Sister Jayanti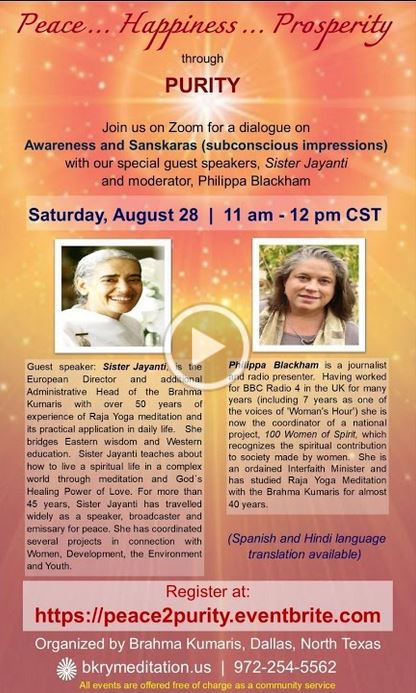 Click on the image to play the video.

Brother Charlie
Regards,
Dallas Service Team
Brahma Kumaris Meditation Center Dallas
dallas@us.brahmakumaris.org
www.bkdallas.net

LIVING VALUES: "Pathways to Peace….at Home, in School, and in the World"
12 October 2021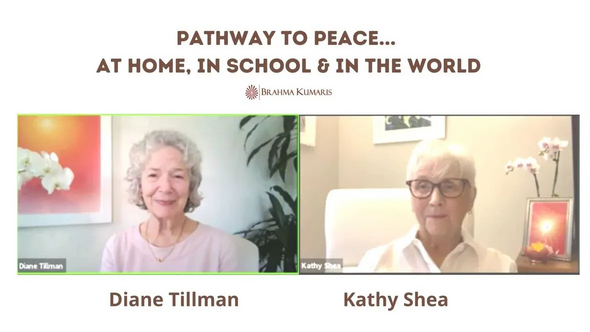 Miami, Florida (USA): The Miami BK Center's observance of the UN International Day of Peace began on Third Sunday with World Peace Meditation. "Pathways to Peace….at Home, in School, and in the World" included a conversation with BK Diane Tillman, an educational psychologist who is the developer and primary author of Living Values Education.
Click here to access. [44:59]

Message of Hope from Peace Village – The Secret To a Full Life
12 October 2021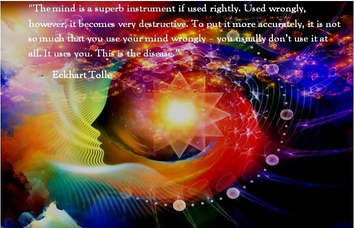 Peace Village, New York (USA): Brahma Kumaris Message of Hope: The Secret to a Full Life is to have no fear of death because death does not exist.
Hope this eases people's fears and clarifies the real understanding about 'death'. Also, how to give loving support to the departed soul, and remove one's own feelings of grief. To remember there is only life after life and death does not exist might be comforting in these times when so many are leaving the body due to the virus.
A main fear in life is the fear of dying. Death has been on our doorstep now for over a year and many throughout the world have lost loved ones.
The recent statistic is 1 out of 500 in the USA have died due to the virus.
Is it possible to rid ourselves of this fear of the hereafter, and if so how? A new yet very old knowledge is spreading worldwide explaining that death does not exist, there is no death, only life after life after life and so on without end. I, the soul never die. I always am. This new knowledge clarifies that the identity of you and me is not the physical body with all its extensions of age, gender, race, religion, but we are individual souls, thinking beings of spiritual energy separate from the body. By incorrectly identifying ourselves as bodies, when our bodies become old or sick, we also feel the life force within, becomes old, ill and possibly dies. Not so! Obviously, we have not experienced our bodies to be just physical costumes made of matter that will turn to dust or ashes, nor have we experienced ourselves to be souls, immortal thinking spiritual beings that live forever. There is no death as you the soul never die. Whether a soul leaves the body (known today as death) or a soul is in the womb of its mother or if a person is in a coma, the soul is alive, still creates thoughts and also receives thoughts, but cannot express them.
With this new understanding when a soul leaves the body, the family left behind should create thoughts of love, not sorrow or pain Thoughts such as 'I cannot live without you", "How could you leave us?" – these thoughts will only cause unrest and pain in the departed soul. Instead, look into your heart and dissolve any heavy feelings of loss or sorrow and fill it with thoughts of love and happiness. Give blessings to the departed soul; they will receive and feel them, be comforted and move happily into their next life. When you serve souls who have passed on by creating this peaceful atmosphere through your loving vibrations, you will feel God showering you with blessings and love and power flowing through you.

San Francisco (USA): Anubhuti Retreat Center New BKs

from

Zoom- 1st Retreat since COVID
12 October 2021
Om Shanti,
Please see highlights of the first retreat since covid started, with new BKs that emerged from Zoom classes.
Sisters Hema and Vaishali
Anubhuti Retreat Center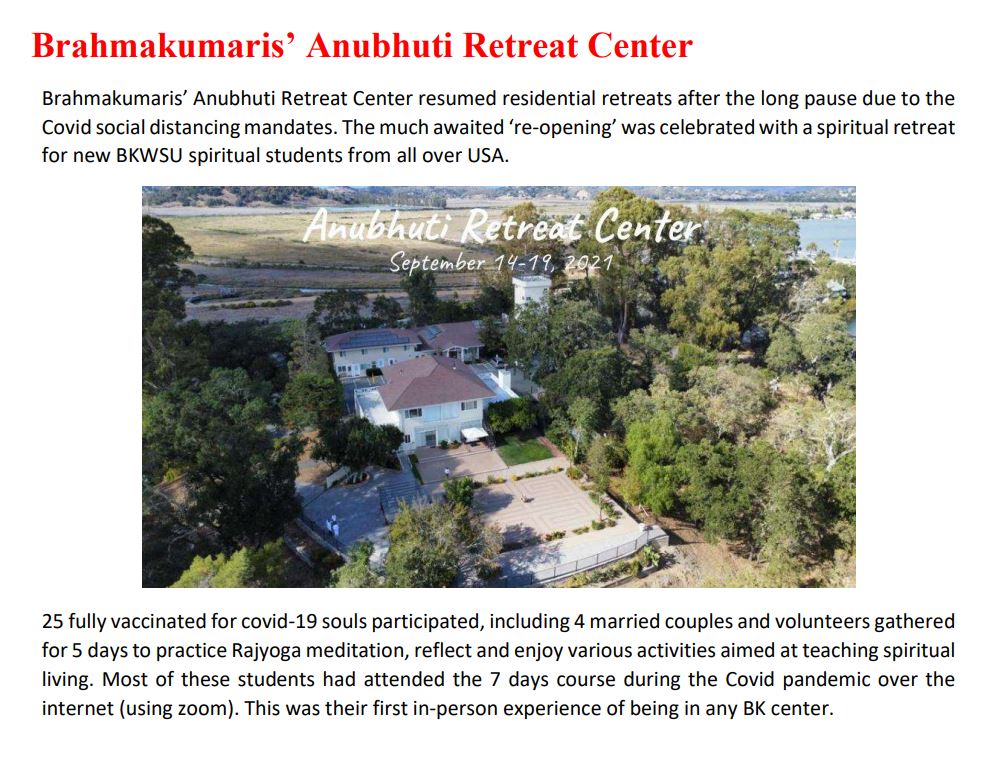 Click here to download a pdf of the full, photo-laden, 6-page report.

Report on various platforms featuring BK's
12 October 2021

Dear Divine Family,

Loving greetings from Washington D.C.

Baba's Murli on Sunday, October 3rd was received more powerfully due to many events and new scenes in the drama which we thought would be valuable information to share with you.

The month of September featured scenes of revelation through various stages of service. The links below are worth a read and sharing.

1. Awakening with Spirit Summit - Included our Sister Jayanti and Sister Shivani sharing the platform alongside Dr. Joe Dispenza, Deepak Chopra, Jean Houston and many more discussing connecting with the Divine. CLICK HERE

2. A few magazines featured the journey of the Brahma Kumaris though Sister Jenna's eyes and the research they did, was quite good. One of these was OWL magazine

3. Another was Meditation Magazine – The editor was spectacular in the way he covered the Brahma Kumaris in this magazine which has global distribution. CLICK HERE

4. Mayhem to Miracles: Sacred Stories of Transformational Hope is a new book in which Sister Jenna is a contributing author sharing her story of transformation as a result of finding Baba via the Brahma Kumaris. The book has become an Amazon best seller. CLICK HERE

5. East Meets West podcast distributed by Ep. Log Media based in India features Sister Jenna interviewing some of the most prominent Indians outside of India who talk about their values, determination, and faith and how they enhance the western world. CLICK HERE to subscribe
We would like to share this with the global family to offer an awareness of a kind of continuity of sharings and further collaborations with souls who are, and will become, Baba's mics. If you know of any Indians outside of India who we can interview on Where East Meets West, please send their name or contact info to antonia@americameditating.org.

If you have any queries, do forward them to us and we will respond as best as we can.

In Baba's Yaad,
Sister Antonia on behalf of Sister Jenna and the Washington D.C. Family.

Brahma Kumaris featured on the cover page of EDEN Magazine, USA
12 October 2021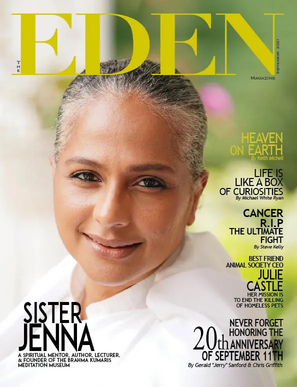 Washington DC (USA): A photograph of BK Sister Jenna, Director of Brahma Kumaris centers in Washington, DC, is featured on the cover page of EDEN magazine in the month of September 2021.
"I connect my energy to God, I ask him what He wants from me for that day; for me, God is Love, so sometimes I'll ask God, 'Tell me what does love want me to do today.' " –Sister Jenna, A Spiritual Mentor, Author, Lecturer, and founder of the Brahma Kumaris Meditation Museum, sits down with us for a very enlightening conversation.

Sister Jenna, Thank you for your time; please tell us how you chose your life path?
SJ: I wouldn't say I chose it. Honestly, this path chose me. There is no way that, when I was younger, I envisioned a life for myself of service and helping people's lives to be better. This path definitely chose me. It's funny how we think we have so much control over our destiny and the truth is that we don't. We just don't. And so, my answer is: this path chose me.
As founder of the Brahma Kumaris Meditation Museum, would you please tell us the mission behind the Meditation Museum?
SJ: I wanted a place people could come to where they didn't feel they were being preached at. I wanted to create an environment where, the moment you walked in, you could feel the essence of who you really are, in a way that you might not be able to feel when you're out there in this world of chaos and distraction we live in today.
I know the Brahma Kumaris Meditation Museum has become a place of solace — a place of respite, a place of comfort and personal growth to many. It aims to help people discover their gifts, helping them realize how strong they are, giving them insights into the things we need to embrace about ourselves and the parts we need to let go of.
The Meditation Museum is all about becoming more of a service for our humanity because, once you understand the essence of who you are, there is no way you're going to hold yourself back from giving back to society. This Meditation Museum has been a gift. I cannot begin to tell you the thousands and thousands and thousands of lives that have been transformed as a result of the Meditation Museum, and I am so honored to have played a role in that.
As we see tragedy happening every day worldwide, how can we move forward with all the negativity around us?
SJ: One of the things that I love about the teachings of the Brahma Kumaris and the philosophy of Raja Yoga meditation is that it turns the attention to you. You become the one that will change in order for the world to change. If we continue to hold on to three Cs — comparing, criticizing, and complaining — there will be no change. Once you recognize that the change that needs to occur has to start within you, then you stop worrying about the direction the world is going in. The world is in the state that it's in because people are not paying attention to themselves and the energy they bring into the world. In our spiritual philosophy in meditation, there is a very important quote we live by. I use it all the time. "When I change, the world has to change." If I keep looking at the doom and gloom, that's what I'll feed. If I look at what's transformative and what's right and light and pure, well, that's what I'm going to feed. In our philosophy, we want to feed the light and what's right so that we can elevate consciousness and elevate our future.
You mentioned in one of your speeches, "No one is born full of hatred, and only a person in great pain, confusion or distress would harm another. At the soul level, we are all perfect, and the souls that do us harm are also grieving, for they will have to come face-to-face with the results of their actions. The Karmic debt does not go unpaid." Is this concern for all living beings or only if we are in the human body? Would you please explain?
SJ: We need to have the awareness to recognize that there are things we're doing at the energetic level that create these karmic results. There isn't another answer that makes sense. It doesn't make sense that some people are born into certain conditions. It doesn't make sense that some have a golden spoon in their mouth while others live in a state of poverty. There has to be something that we're missing – or maybe it's right in front of our eyes. The more we recognize that the soul's original nature is pure, peaceful, loving, and powerful, than a person in that mindset will not give suffering to another person. I have found that when I show up less than my best self, I either give sorrow or take sorrow. When I'm in that body awareness, fed by an acronym I speak of, ALGAE — anger, lust, greed, attachment, and ego — we find ourselves contributing to suffering. Peace, love, purity, bliss and truth do not. So yes, hurt people hurt people. Pure people inspire purity in others.
Would you please share with us your daily basis practice? And tips for mindfulness.
SJ: Back in the day, I used to own two-night clubs in south Florida. I used to go to bed around 7 a.m. in the morning, and now I'm waking up around 4 a.m. every day, listening to the deepest thoughts that are emerging at that time. I connect my energy to God; I ask him what he wants from me for that day. For me, God is love, so sometimes I'll ask God, "tell me what does love want me to do today." That helps me a lot. In the spiritual teachings of the Brahma Kumaris, we have the Murli, which I conduct at 6:30 a.m. every morning, during which we talk to the students about the soul, God, karma, and time. Following that, we have breakfast, and my meetings happen after that. Regardless of what the day has in store, every hour, we have a nice practice in the Brahma Kumaris called "traffic control." I pause for 2-3 minutes every hour, and I go into the experience of Om Shanti. "Who am I? I am peace, am I not?" Alternatively, I'll check where my thoughts are and see if they are connected to the values of God and love. Checking in every hour on the hour is essential in helping me preserve the energy of light and might that I received. In addition to that practice, I do service. I try to be available for people's hearts and minds. As my day comes to a close, I aim to turn in at a reasonable hour, usually around 11 p.m., and then I am up again in the morning. I love the morning rise. I can feel myself unlike any other time of the day. I can feel God's presence, which is important to me. That's my day.
Many of us are dealing with our loved ones who have Alzheimer's. What was the single most challenging experience you had when your mother was diagnosed with Alzheimer's, and how did you find a spiritual path to accept her as who she is and respect all her differences?
SJ: This is such a sensitive area for me right now because now that we have recently relocated to a new home, I actually share a bedroom with my mother, even though we have nine bedrooms. I've done that because I'm concerned she won't be able to take care of herself alone. I did it to protect her, but I've had really rough days because of it. In regards to the original question, the hardest thing for me was to accept that she's changed. I lost my best friend, my mother, a spiritual teacher, my business partner. That's a lot of important relationships that have all now been transformed into only one – that I've gained a child. I've never had an interest in having children, and now the universe and destiny have given me a child that I have to take care of. The hardest thing for me was to accept that change. On some days, she just seems so normal. But on 95% of the days, she's just entertaining. I've had to accept that.
How can we be in peace within ourselves and the world around us?
SJ: To be at peace with yourself and the world around you – something I use for myself, is to check in a lot with how I'm feeling. Based on how I feel, it gives me some insight into what I am thinking. I think that's essential. The second thing that's really important is to observe your thoughts, words, and deeds to see if they are connected to a vibration of peace and love. Look, I talk so much throughout the day, but I am still able to maintain my peace. So, even in my speaking, I am conserving my energy by speaking from the awareness that my original nature, my original religion, is peace. So, I continue to weigh that, and I support that connection with myself to that understanding and belief that I am a peaceful soul. I am Om Shanti. Whatever the world wants to do around me, it can do what it needs to do. But the person in charge of how I choose to feel is me.
Is the diverse spiritual, cultural, and faith impacting our self-being with the Divine?
SJ: You cannot squeeze God into a religion. He is much too big for that. One of the reasons people are fighting so much with themselves and each other is that there's a need for a deeper understanding and deeper experience of the Divine. Our diversity is a must. That's what makes the world beautiful – we don't want everyone to be the same. I don't want everyone walking around in a white Sari. That would be so boring. Let me be the one walking around in a white Sari. The point I'm making is that if you feel that your connection to Source is an intimate one — and it's personal, and it's yours, and it's pure — it doesn't belong to any religion, but the experience is yours. I think we would get along much better with each other. I think we would accept each other's culture and diversity and connect at a soul level much more honest with each other. There would be a Golden Age. We wouldn't have to put so much money into wars or end famine. We would put money into growth and light and the future. So yes, I think we should stop squeezing God into a religion and start experiencing more of his love.
You have traveled to over 90 countries to provide practical life tools and solutions that empower people to foster and build stronger relationships. Can you share with us the most influential moment that you experienced?
SJ: Wow, there has been so much. I don't know where to begin. One memory that's coming up was a trip I took to India early in my spiritual growth. I went out on what's known as the Village Outreach Service for the Watumull Global Hospital and Research Centre. While I was there, I went out with the doctor in an ambulance, and I remembered holding a baby. He was two years old, but he was so malnourished that he was like a newborn baby. I remember holding that baby in my arms, and I witnessed the baby's soul leaving the body. He died in my arms. I remember the doctor saying, "Jenna, you can put him down. He's gone." And I said, "No, No, you can shake him, right? Can't the soul come back if you just shake it? Maybe give him some milk or something." And she said, "No, Jenn. We lose a lot of children like this in this village." There was something about that moment when I saw that the light of the baby was gone. That has stuck with me all these years. It helped me deepen my belief in being soul-conscious and knowing that I'm a soul. And so, whatever thoughts, conversations, or actions I choose to perform, I became more committed to performing these thoughts, conversations, and actions with love. And with the best of intentions. So, I guess I would say it was one of my trips to India that did it for me.
A special thank you to Sister Jenna for her time and grace.
By Dina Morrone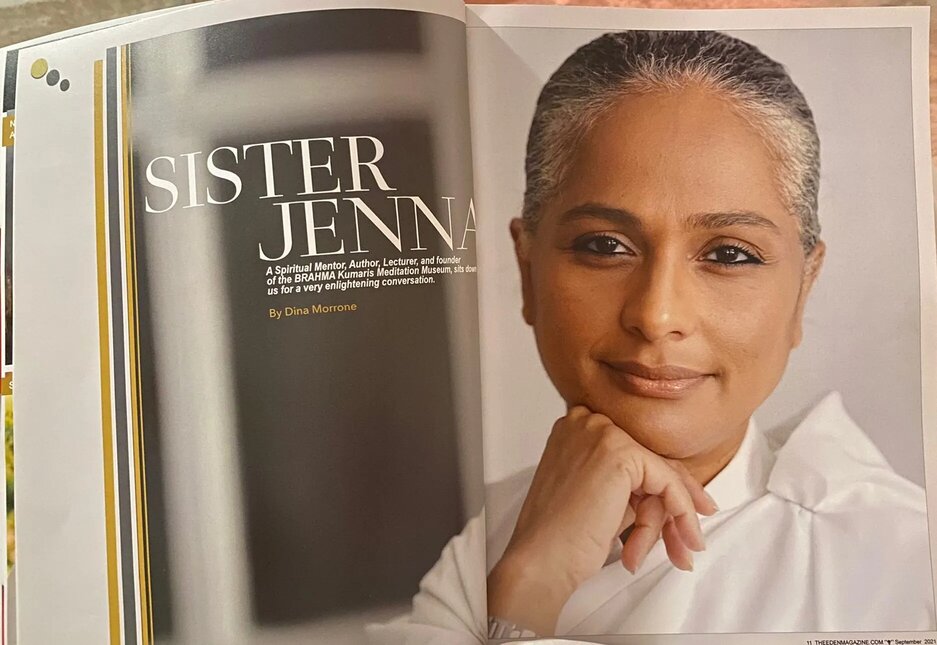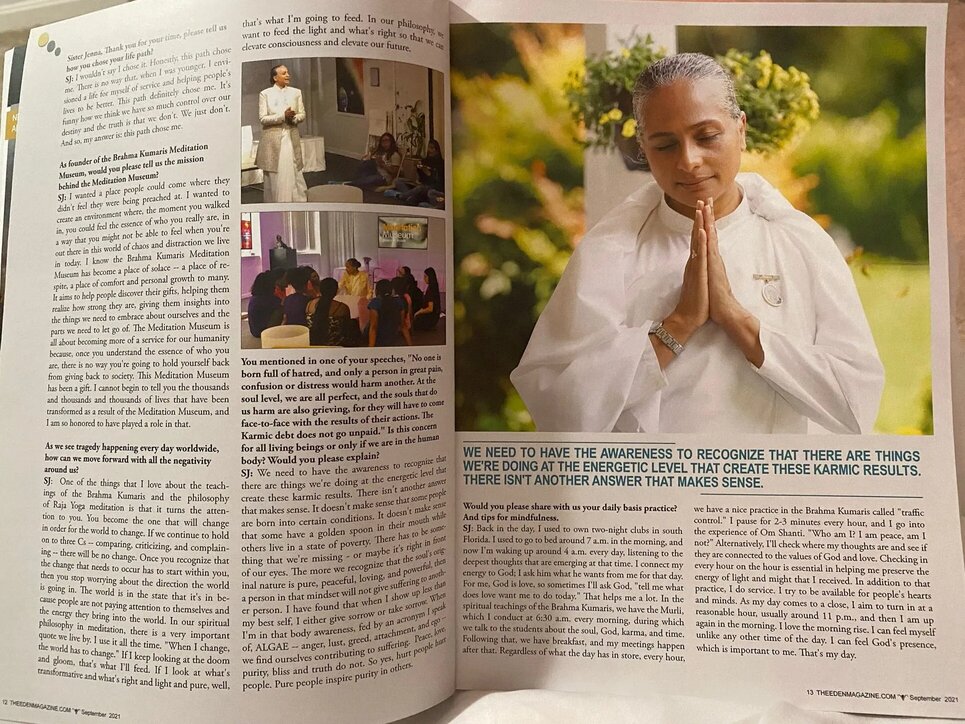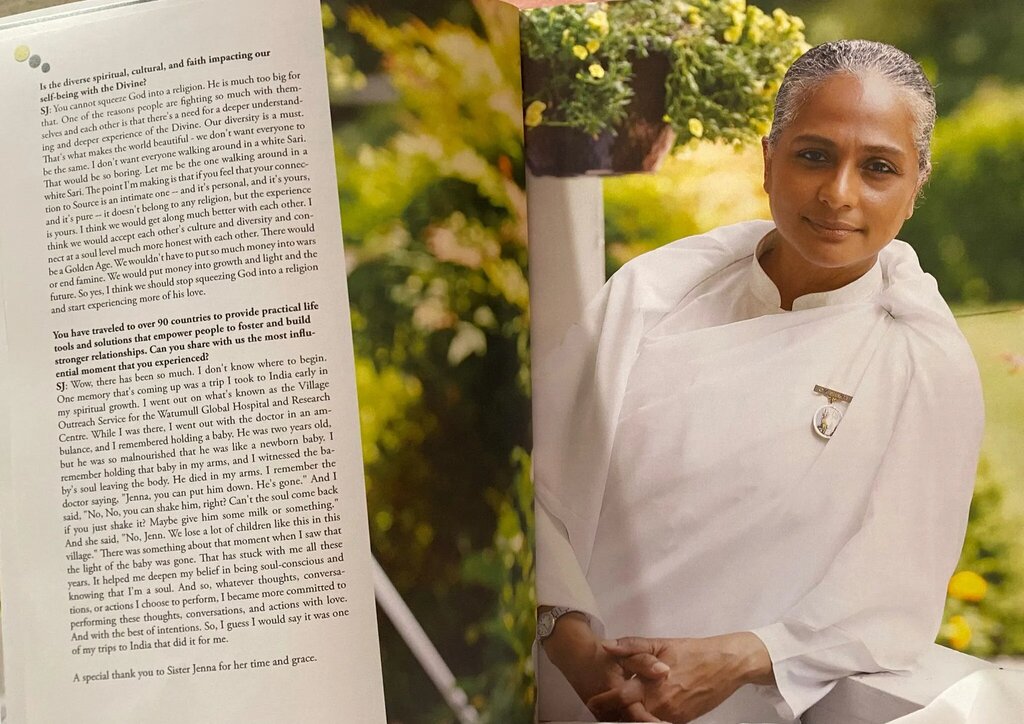 Nine strange things I recently observed in a meditation retreat
12 October 2021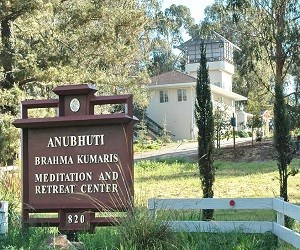 Novato, California (USA):
If you also think the world is no more a better place to live in, wait!
Recently, I happened to join a meditation retreat program in Novato, California! What I witnessed there in those five days' stay is not less than a shock! Let me explain!

We were welcomed like celebrities
There was a unique program organized to welcome us! Yes! We were 25+ participants from different parts of the US, and we enjoyed a divine welcome ceremony with garlands, gifts, and sweets! It was a more-than-a-family feeling as each one of us got special attention and affection. I mean, who does that… it was not about one, two, or three, but for every single person that reached there.

We woke up at 3:30 AM
For real! Imagine everyone in the house waking up at 3:30 in the morning and gathering for a collective meditation session. This time is considered the purest hour of the day and the best time to charge up your energy. The meditation we practiced was about connecting with the highest energy and receiving the divine powers. There are reasons why famous people have pointed out the importance of waking up early in the morning.

Please don't get scared when they stare at your eyes for long
We have heard a lot of interviewers saying about the vitality of eye contact in communication. But this one is a little more than that. In Brahma Kumaris meditation centers, the language of silence is considered the most robust mode of communication. Whenever a person meets another, they exchange eyesight to reciprocate the positive energy with each other. They look at each other as a point of light, i.e., energy, to maintain connections beyond physicality.
Evening walk at its best
Have you ever thought of going for an evening walk with a mindset that your high energy flowing from your feet is nurturing mother earth? We did something like that! That's how they use the power of affirmations to boost themselves and make a positive contribution to nature.
Graveyard meditation
I had read about it on the internet, but this was my first live experience being a part of a graveyard meditation session. At 9 PM, we all were asked to gather in a hall and lay down on the floor. Followed by a guided meditation commentary, each of us was covered by a white cloth. As the commentary went on, I visualized – I, the soul left the body, the costume… the soul witnessed several rituals carried upon the death. How family and friends mourned, how the soul kept noticing everything going on… being a detached observer… After half an hour of the session, I came out being so light-hearted… conquering the fear of death.
Those three hours in a forest
We paid a visit to Muir Woods, a famous national monument in California, and it was beyond an outing. We were there to talk to the trees and express our affection and gratitude to them. A bunch of people focused on one goal being in a soul-conscious state, imagine the intensity of positivity created in the place. We all were continuously monitored and guided by spiritual trainers and experts.
Save water, and it will save you
When I entered the kitchen area and sought an opportunity to help with doing dishes, I heard the retreat center in-charge saying, "Marin County is in drought, and we are very much concerned about using every drop of water here." I was amazed by how efficiently they've implemented the 3-sink cleaning system. Imagine how happy our nature will be if each one of us thinks this way! I learned a lesson!

I didn't do this, thanks to the Supreme doer
We all crave verbal rewards, don't we? But people associated with this spiritual movement are so uniquely different. They are ready to help you anytime, anywhere, and when you thank them… they'll say, "Thanks to the Supreme doer."
Golden age glimpse
One of the activities that were being organized during the retreat was a demo of the golden age. We all were asked to bring our favorite ethnic outfit for this program. We dressed up and turned ourselves into a look of divine deities. We took a pledge to inculcate values and virtues and become one. Each of us was sat down on the throne on stage. We walked down the hall, photographed by a professional… and had all the feels! We danced to the tune of God's love for an hour!
That was a once-in-a-lifetime moment!
It's a proud feeling to be in a family of angels united in LOVE for ONE. If you want to join us, you are most welcome to take a step forward. Visit www.anubhutiretreatcenter.org
Greetings of Peace!

DF Madhuban Retreat links and timings for the Americas & the Caribbean
7 October 2021
Dear NCs, NCTs and CCs of the Americas and the Caribbean.
Please find attached a pdf file with clickable links for the upcoming Double Foreigner Program this coming weekend: "My Subtle and Secret Life with The Supreme".
We respect that you have already received multiple emails on this special event. The below clearly indicates the timings, online locations, and translations offered specifically for THIS region.....which is slightly modified from what was sent from the International Office.
Please ensure you clarify this with your students locally, so they are in the right place at the right time if wishing to join.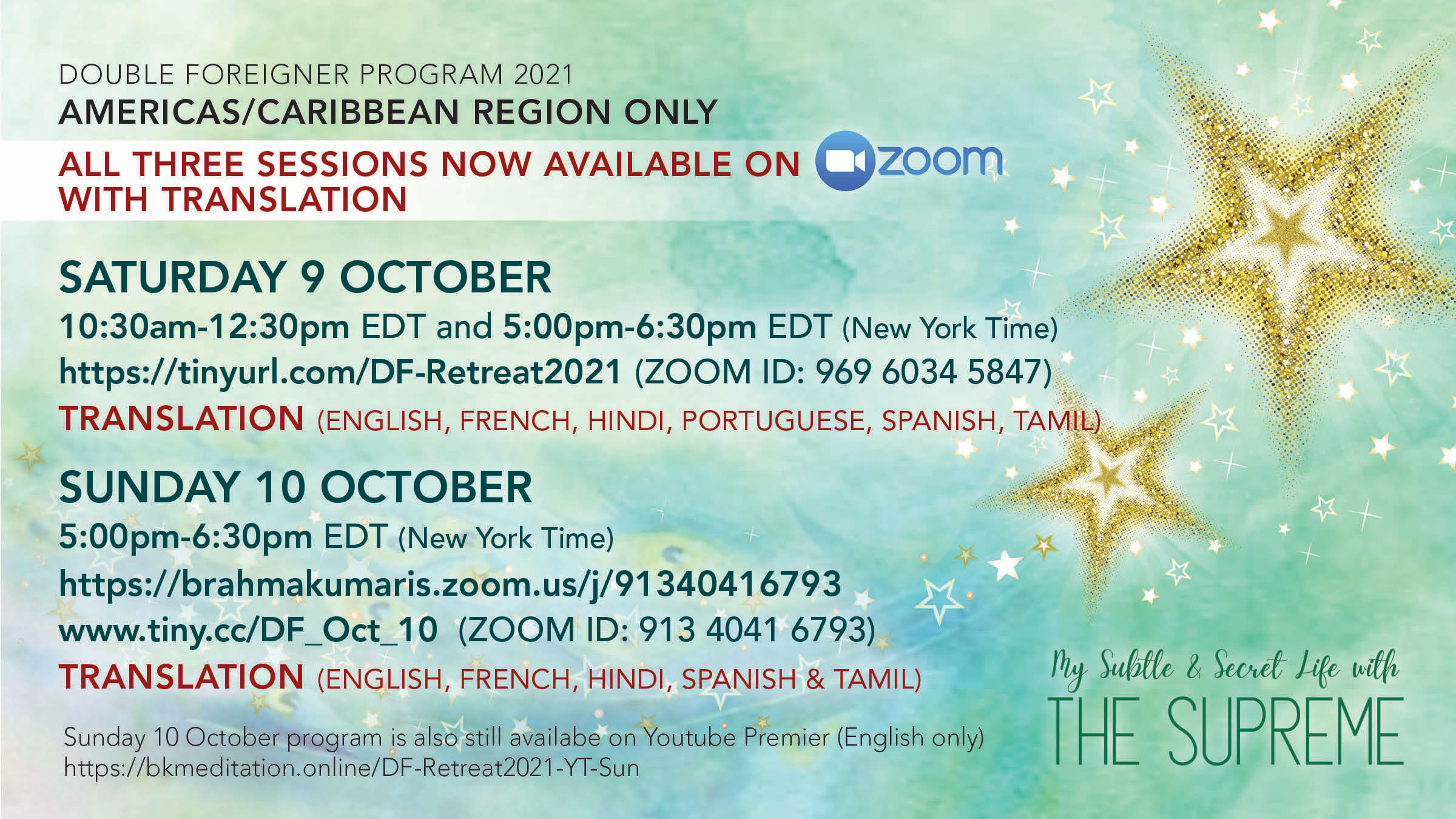 Click HERE for PDF version of the change in schedule.

Actividades en Español en los Estados Unidos y Canadá - Octubre
5 October 2021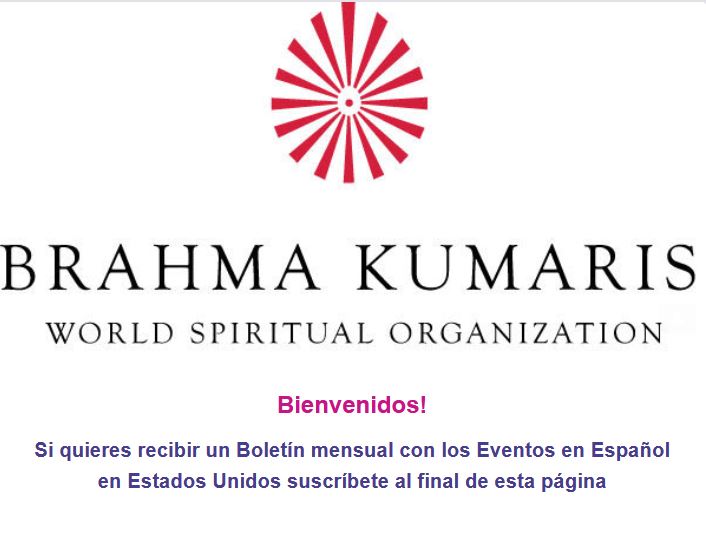 Evento Especial!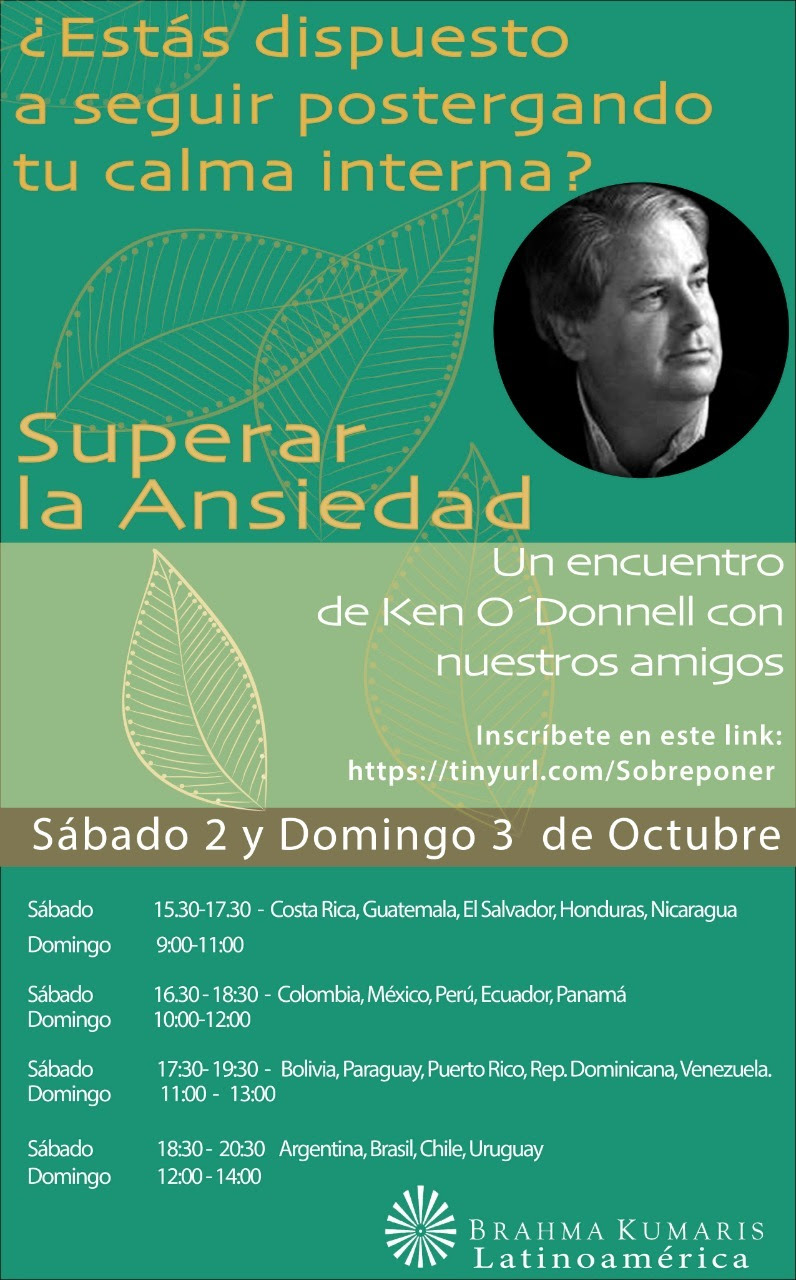 Eventos en Canadá
Evento en Inglés con traducción simultánea al Español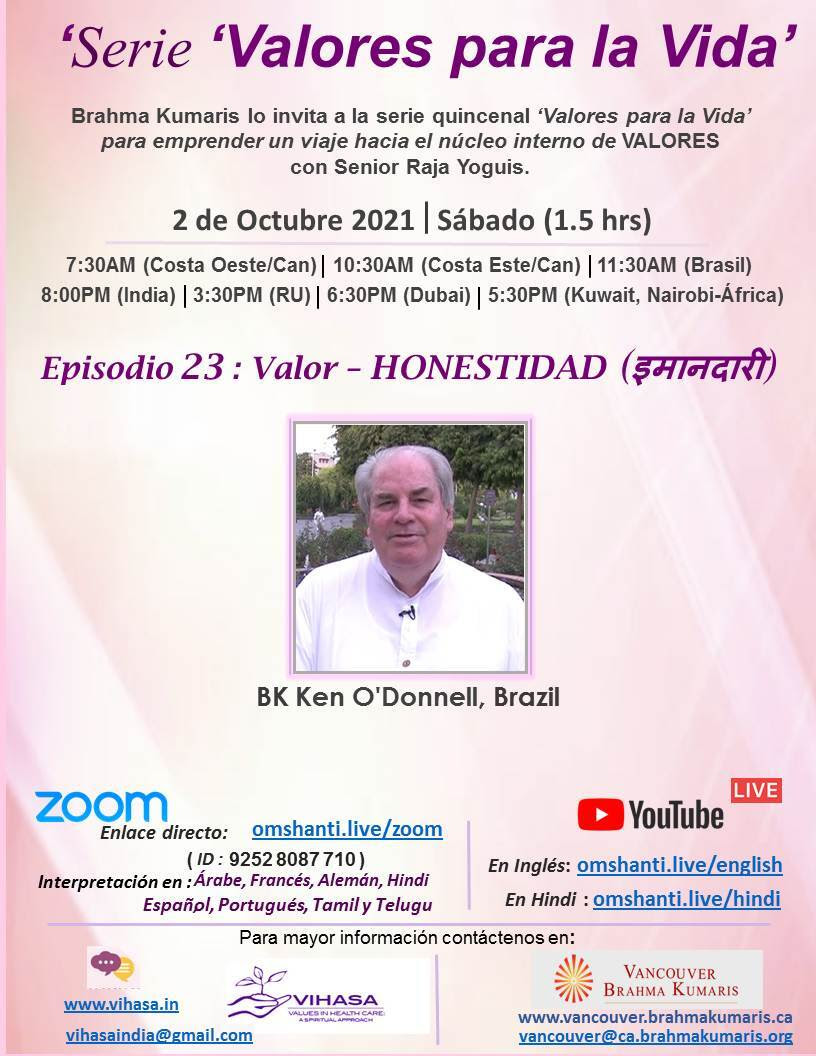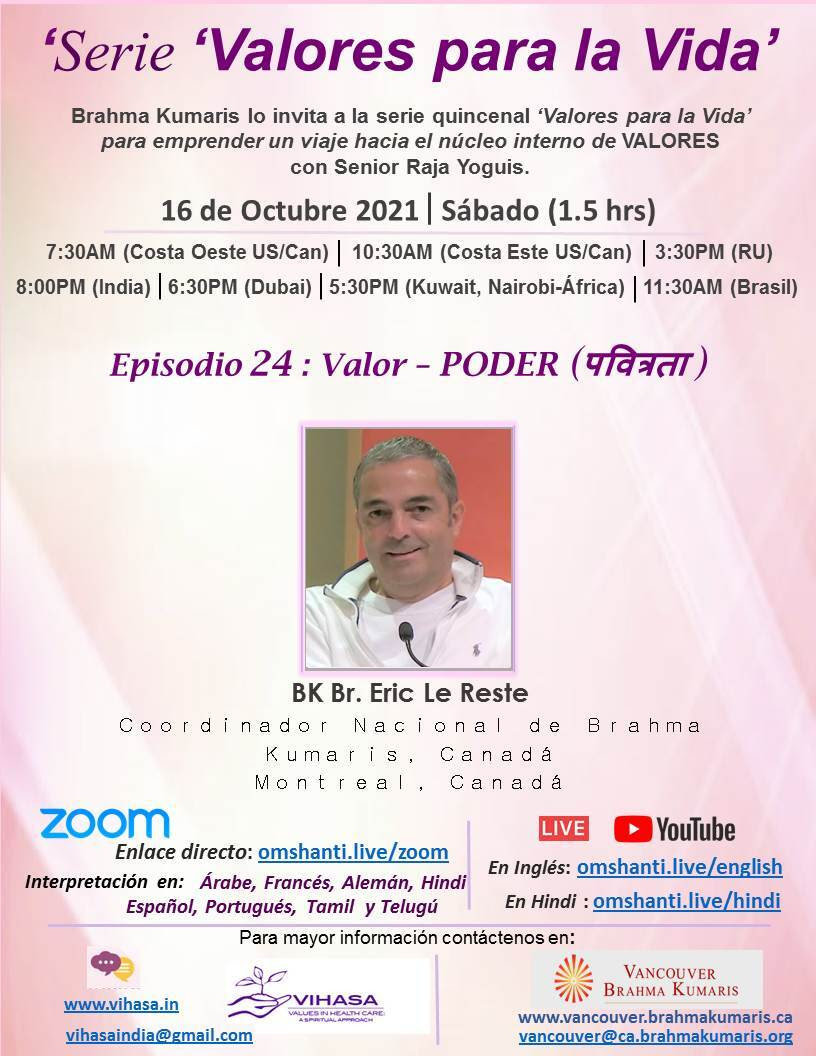 Eventos en Florida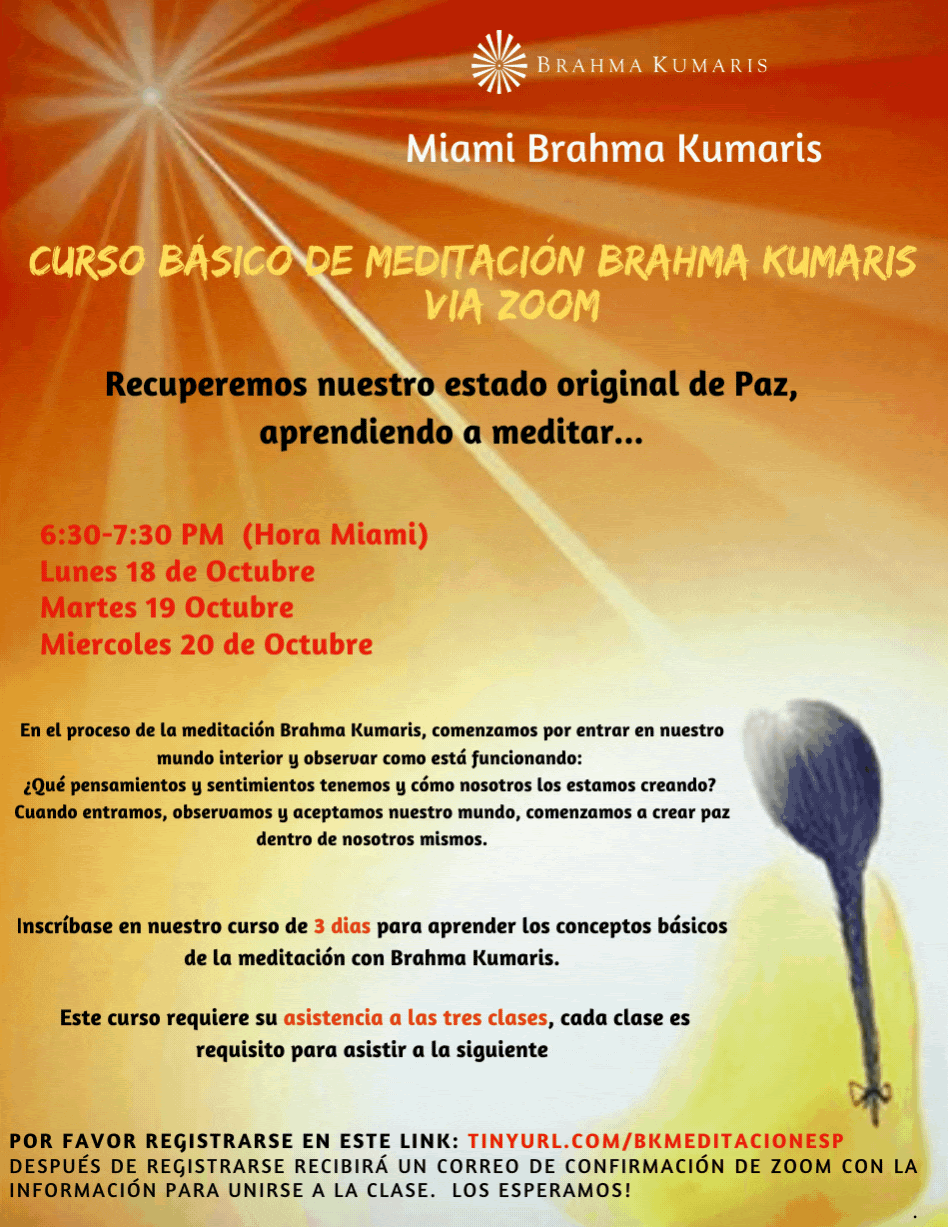 Eventos en Nueva York
Charlas todos los Jueves en inglés con traducción simultánea al Español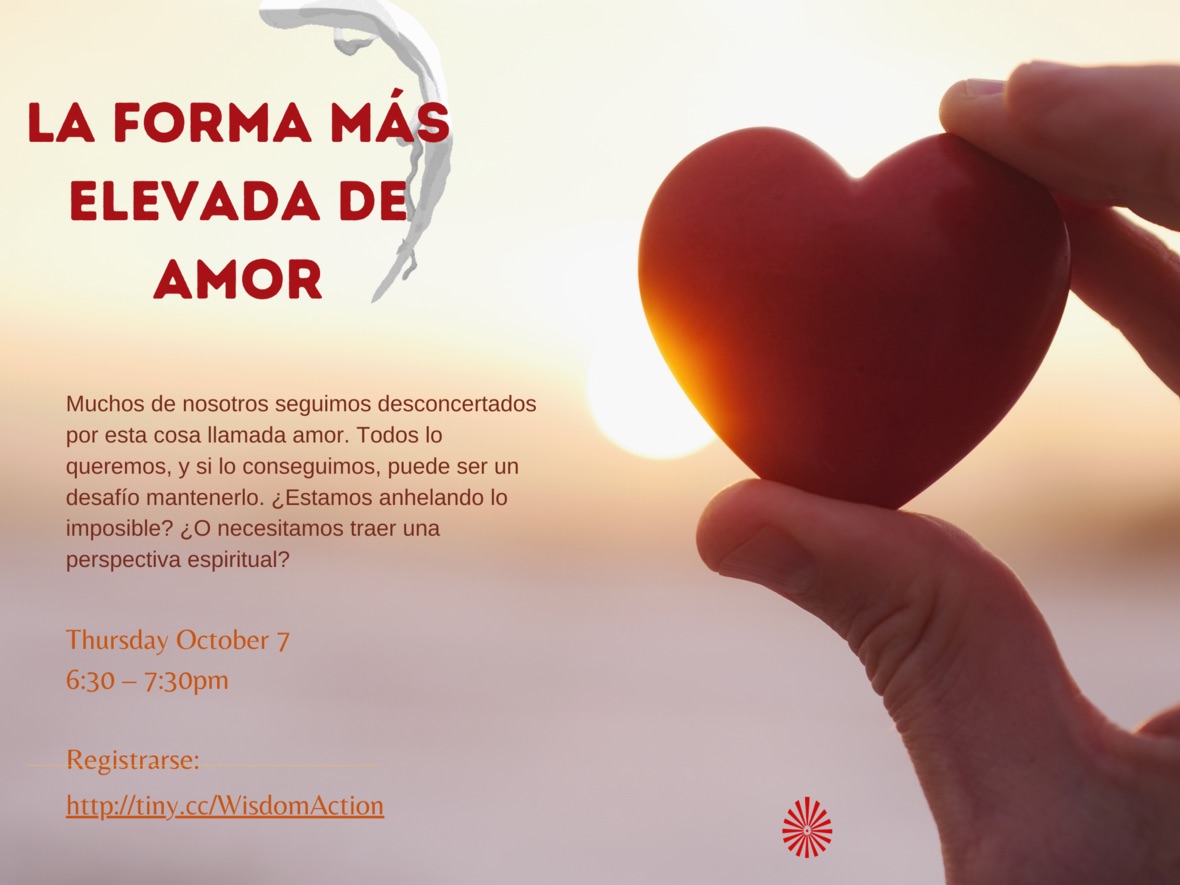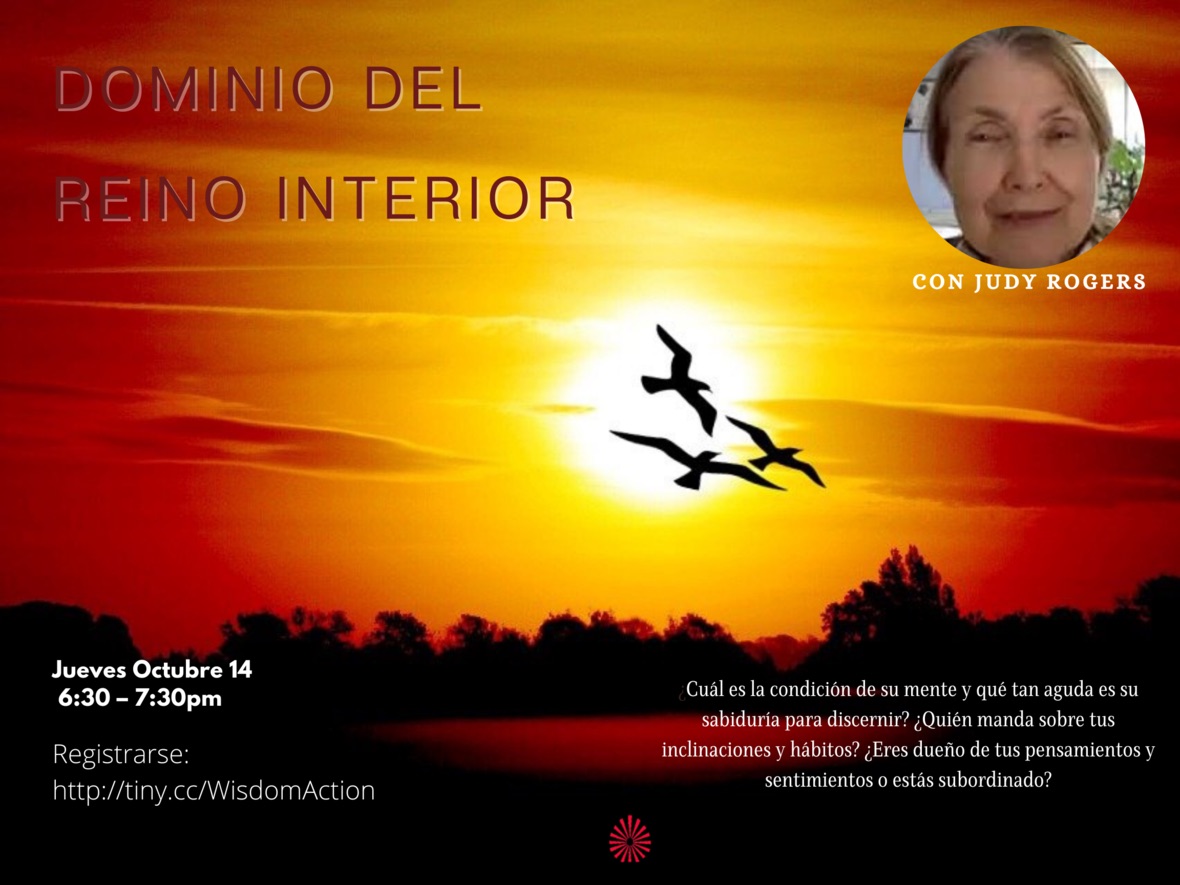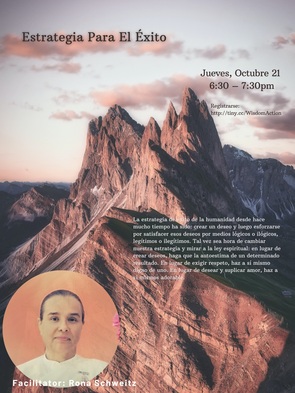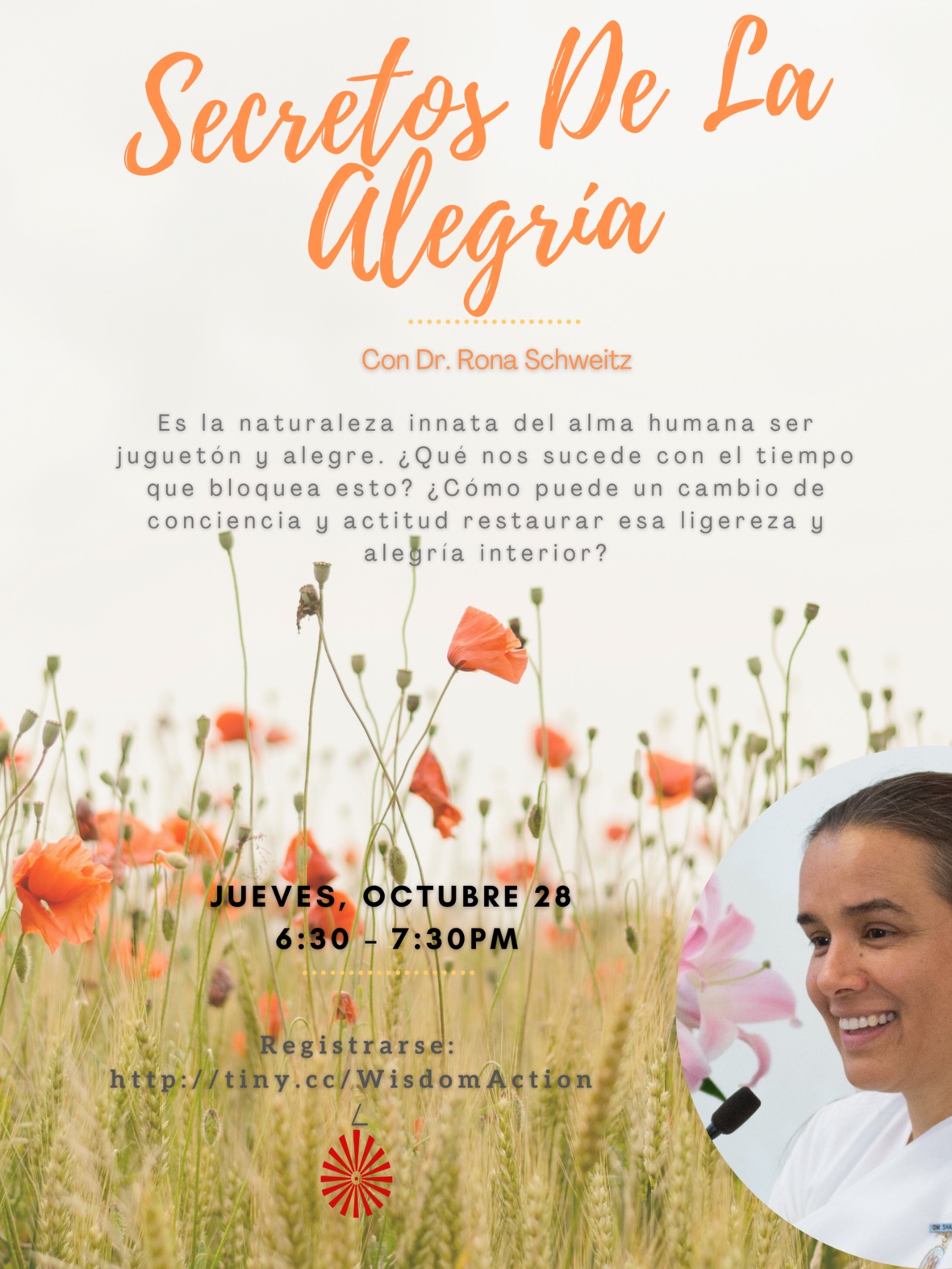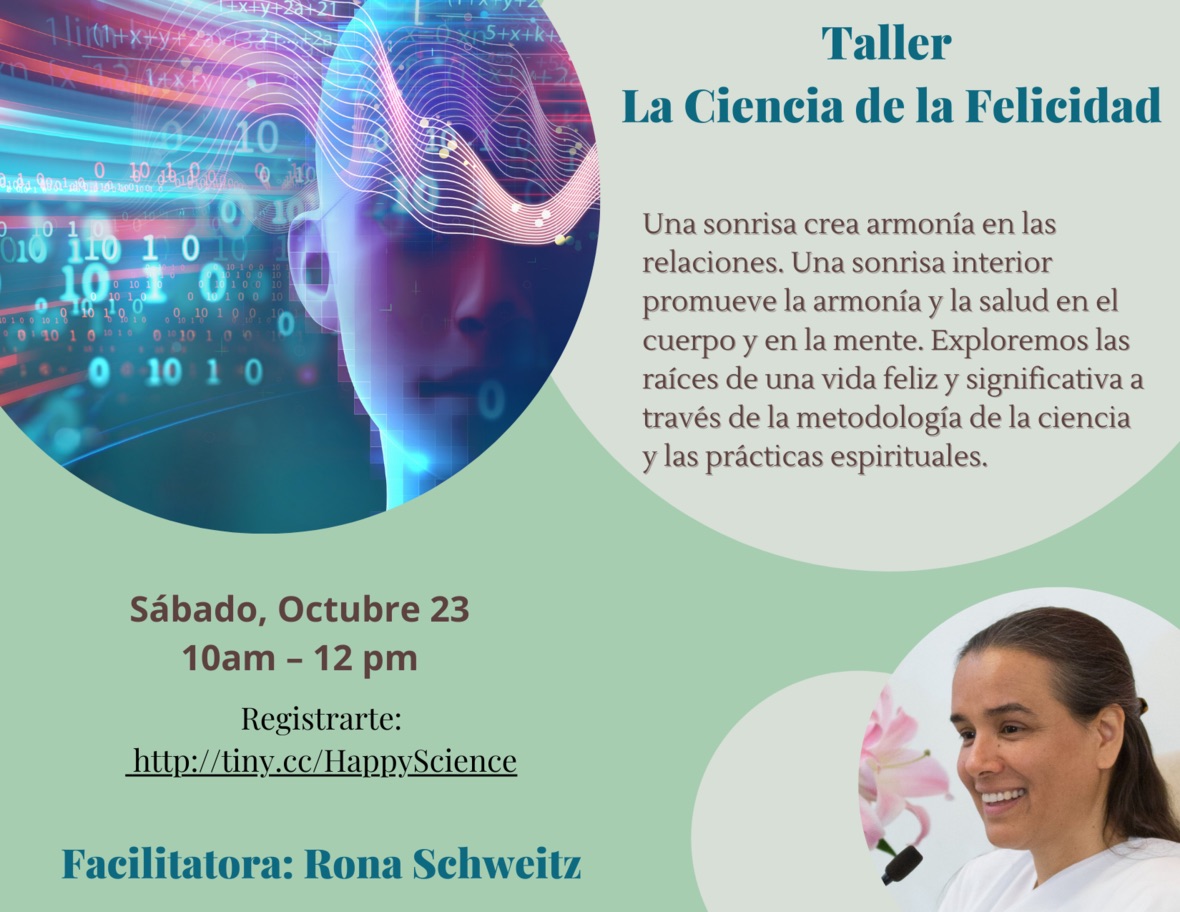 Eventos en Texas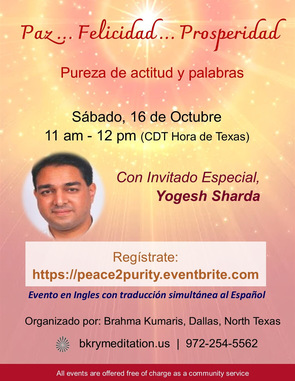 Para registrarse haz clic abajo y recibirás un correo electrónico donde deberás verificar la suscripción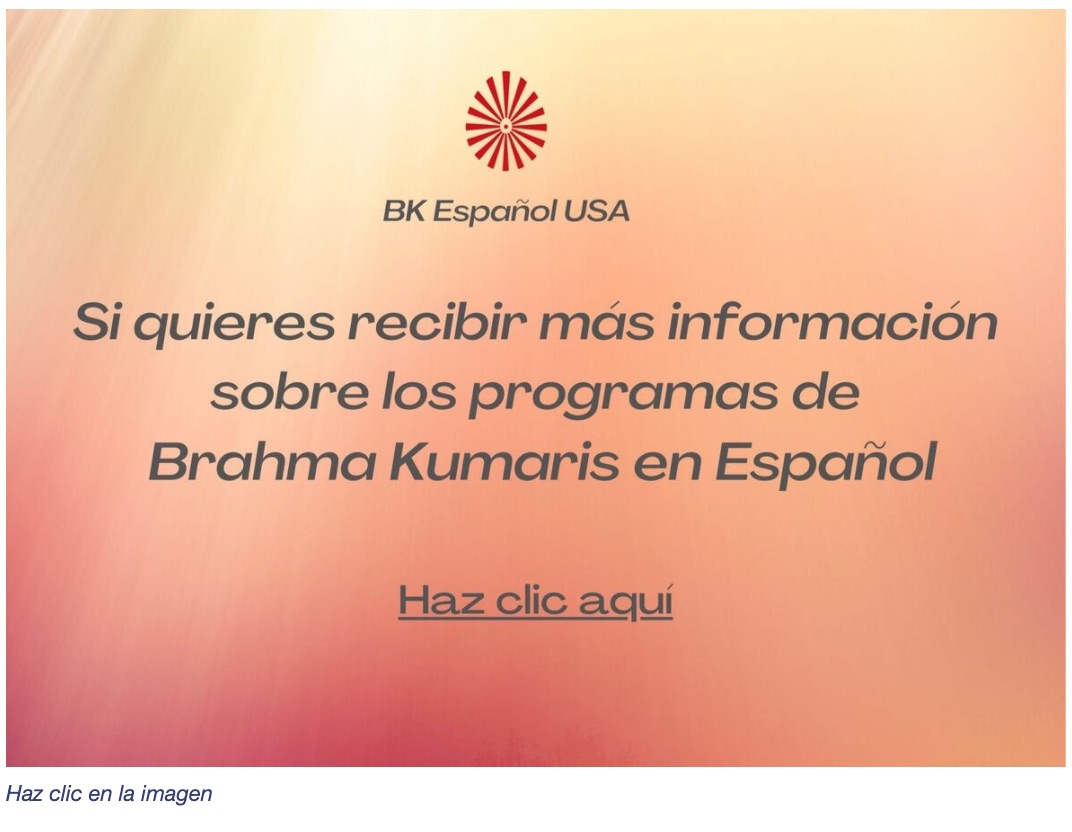 October 2021 Calendar for the Manhattan Meditation Center is here: Lecture (Thurs 10/7) on The Highest Form of Love
5 October 2021

Demain + Octobre à L'Émergence | Tomorrow + October at L'Émergence
3 October 2021
L'Émergence, votre Oasis de paix
Chers amis de l'Émergence... Om shanti !
Nous espérons que vous avez passé une agréable rentrée. Nous sommes heureux de vous accueillir de nouveau en présentiel. SI vous avez déjà présenté votre passeport vaccinal à la réception, il n'est pas utile de le présenter à nouveau. Comme toujours, tout est mis en place afin de respecter les mesures sanitaires et d'hygiène et assurer votre santé et votre sécurité.
Bel automne à toutes et tous!
L'équipe de l'Émergence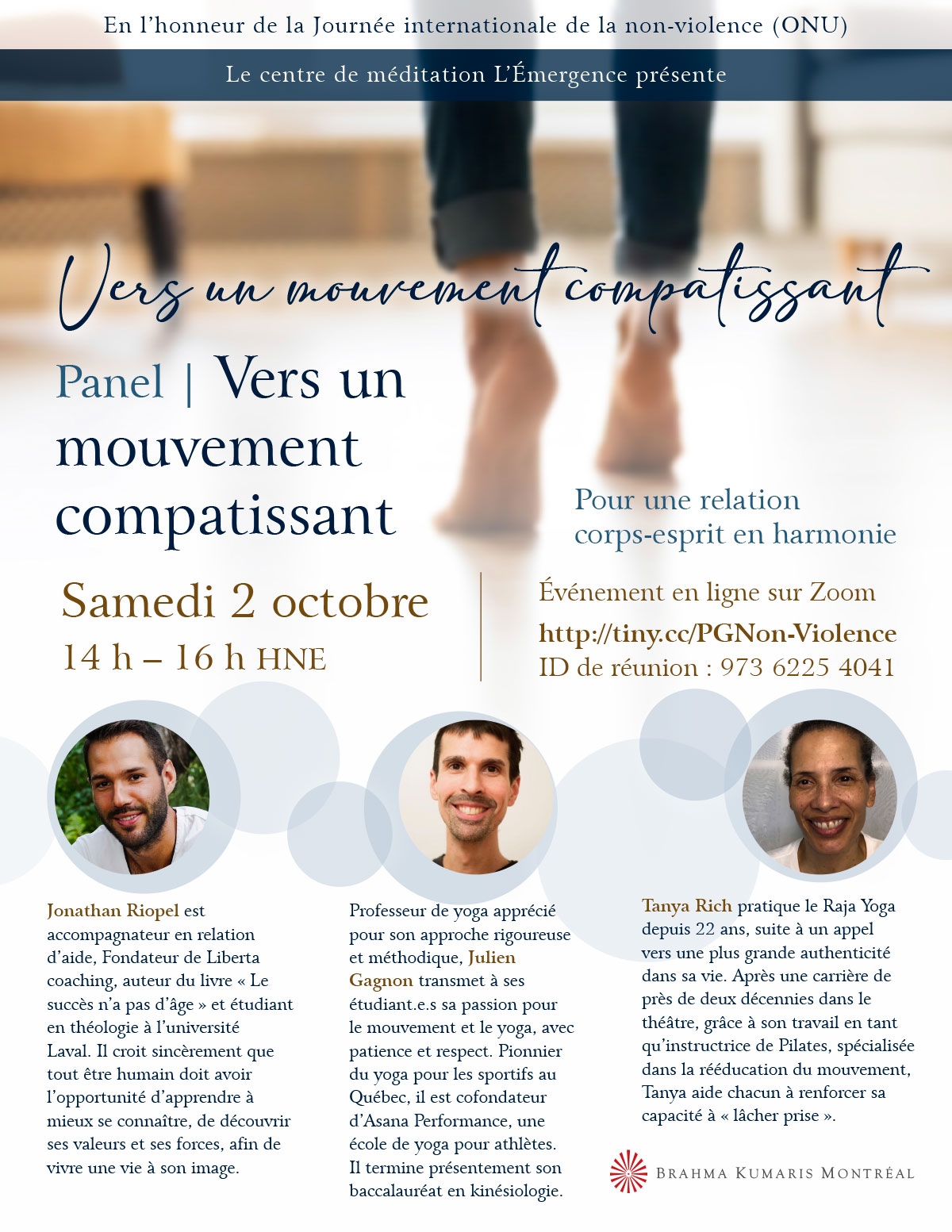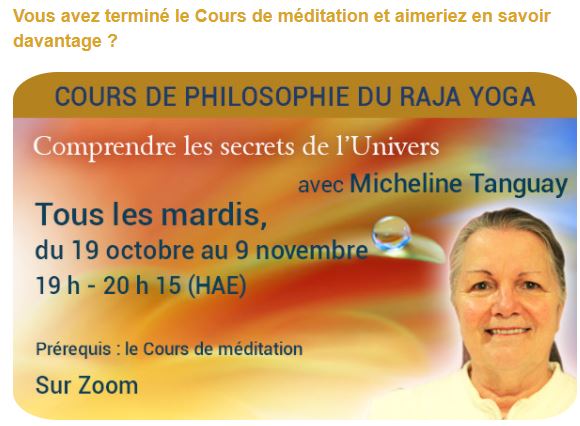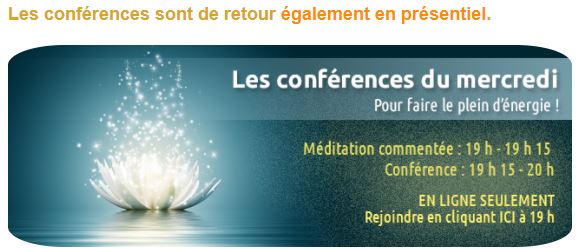 Découvrez le prochain thème ICI.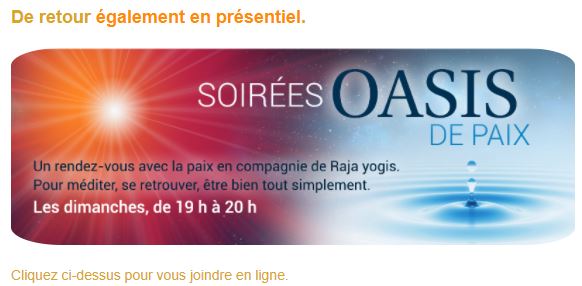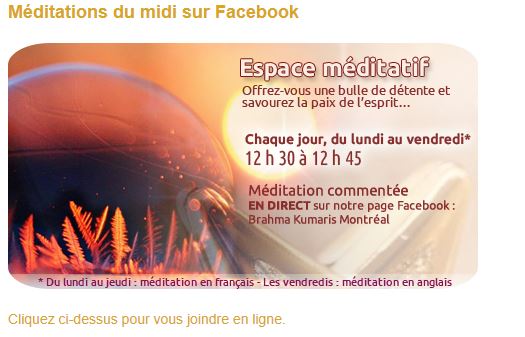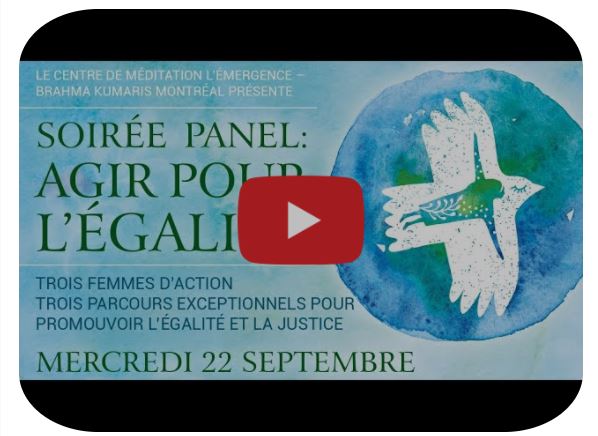 L'Émergence, your Oasis of Peace
Dear Friends of L'Emergence ... Om shanti!
We hope you had a pleasant return to your activities post-summer. It's been a pleasure to welcome you again in person at the Centre. If you have already presented your proof of vaccination at the reception, it is not necessary to present it again. Rest assured that all health and hygiene measures will be in place to ensure your health and safety.
We thank you for your collaboration.
Best wishes of peace,
The L'Emergence Team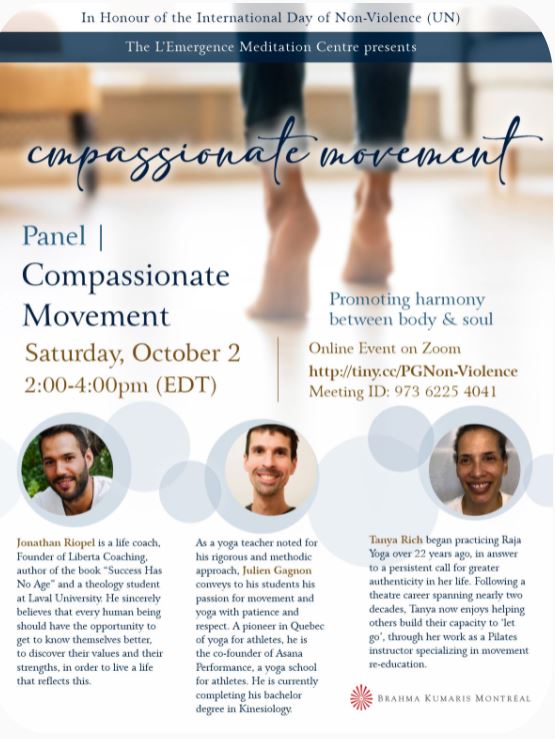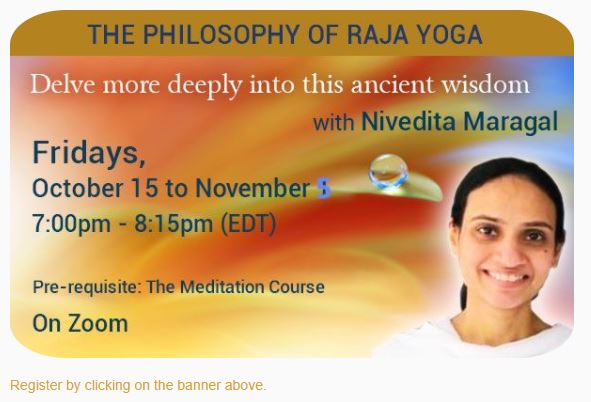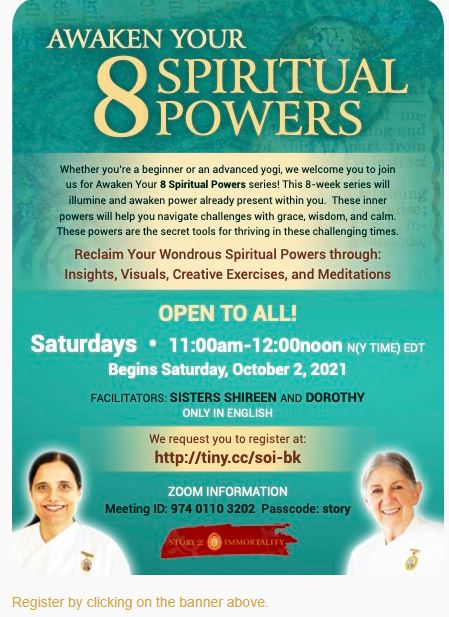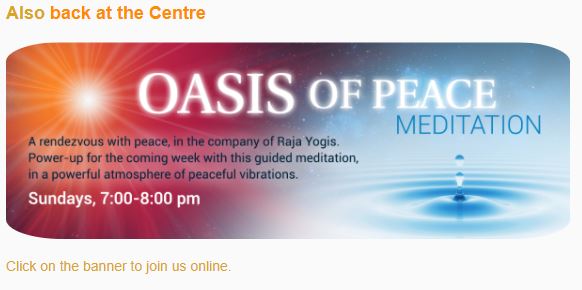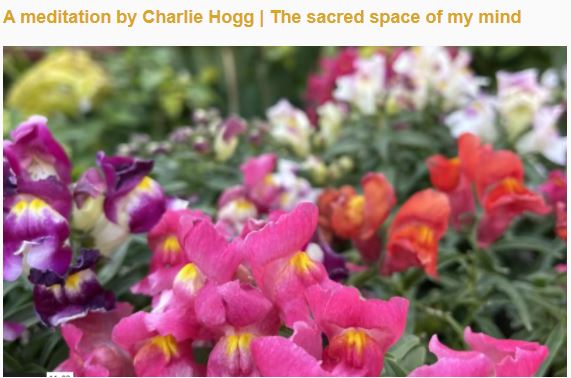 Brahma Kumaris Florida Service News - September 2021
2 October 2021
MARGATE
Wellness sessions
Weakly sessions continue with the wellness group. Interest grows and numbers are increasing. The Foundation course will be given to this group – starting next week.
Sustenance Program for zoom babies
Special classes continue to help in the sustenance of new students who completed the Introductory classes on Zoom.
Evening Sustenance – Avyakti Parivar
Avyakti Parivar program with Sister Mohini continues to sustain, strengthen and unite us in our efforts as one spiritual family.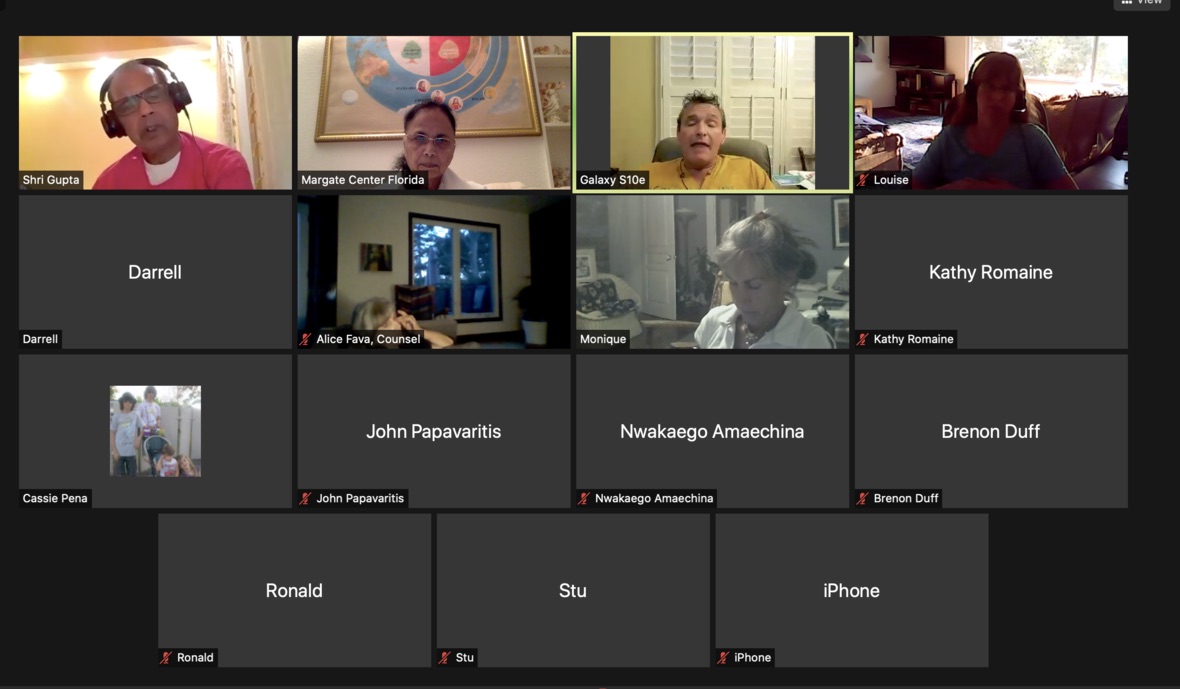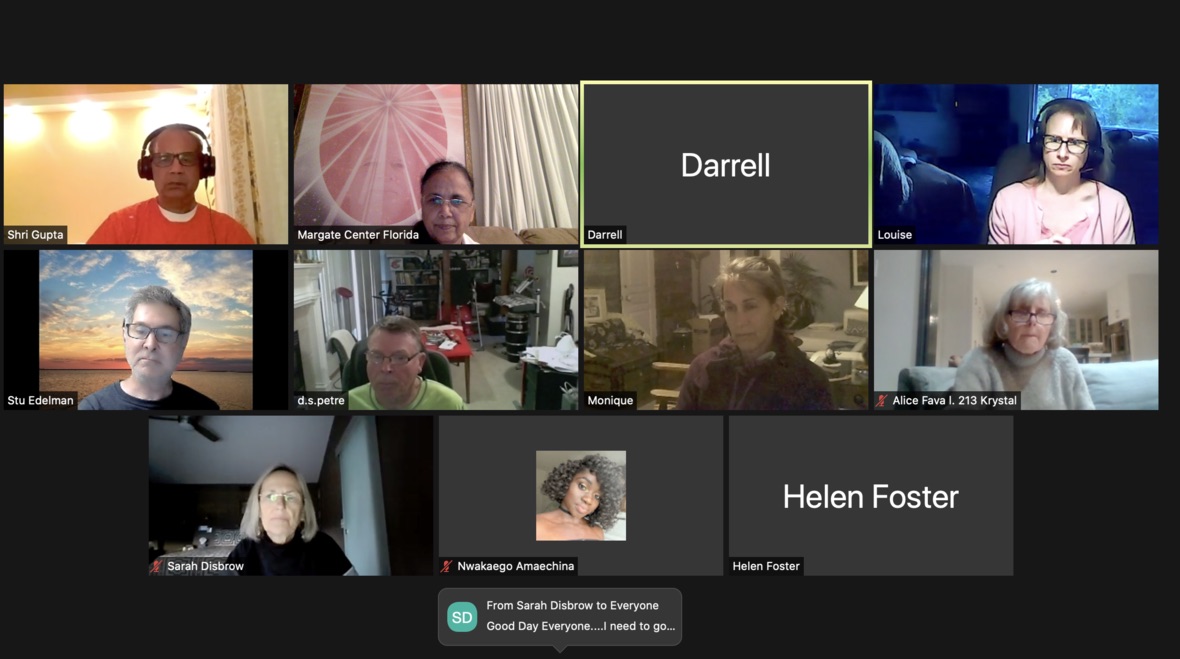 Day of Realization Celebration
The day you died alive and had faith in the Father, that day should be celebrated with a lot of pomp and splendor. That day is Janamasthmi (birthday) for you children. Sakar Murli 9/16/21

This shrimat prompted a birthday celebration on Sunday, 9/19 to celebrate the spiritual birthday of us all. A candle was lit for everyone in attendance in person and online and we all made a wish for our spiritual birth and journey. Click HERE to view the full report.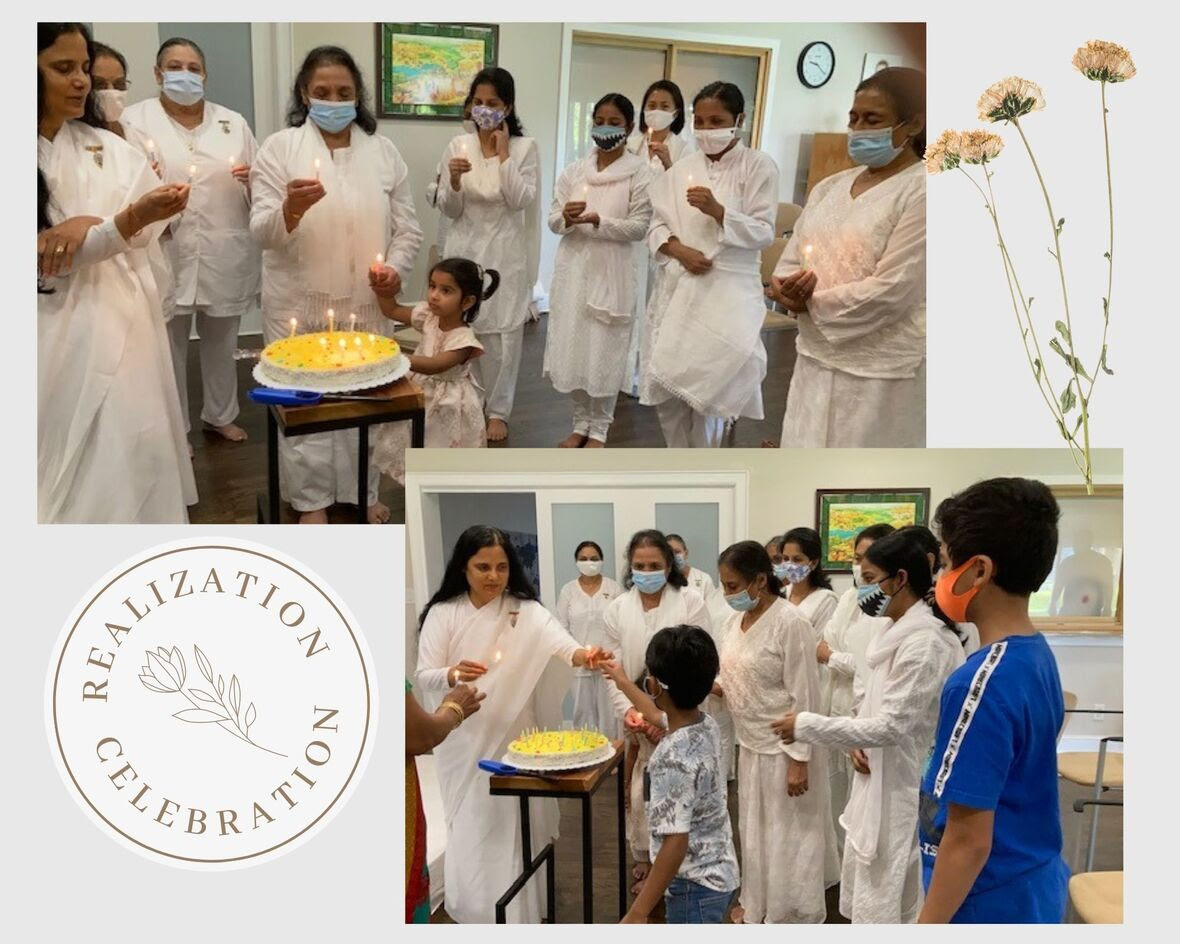 Upcoming Online Events for October 2021 at the Boston Center
2 October 2021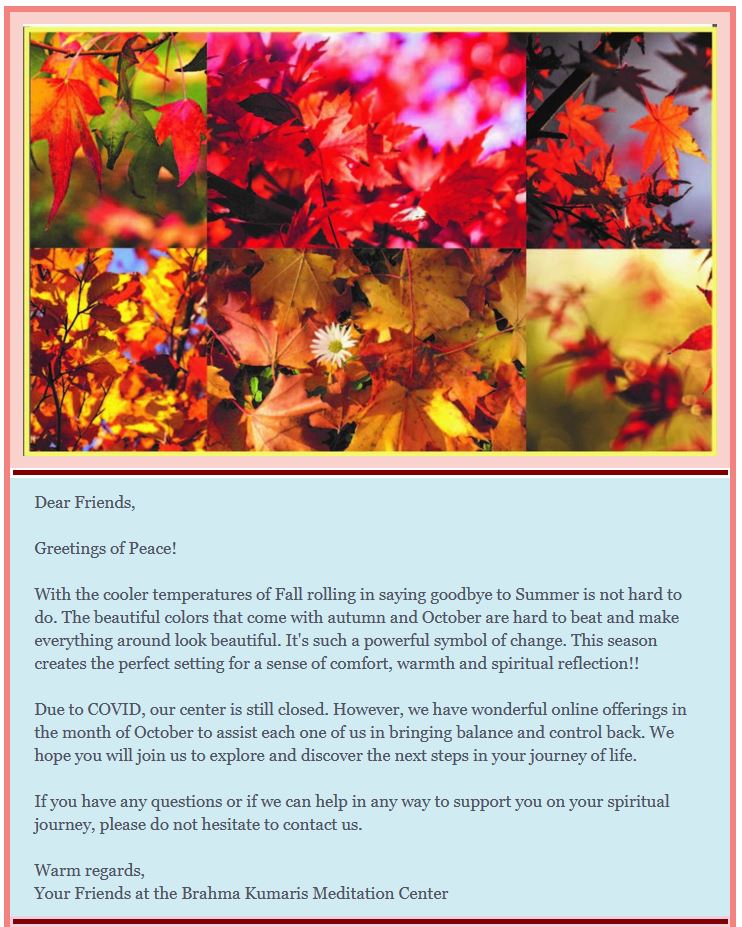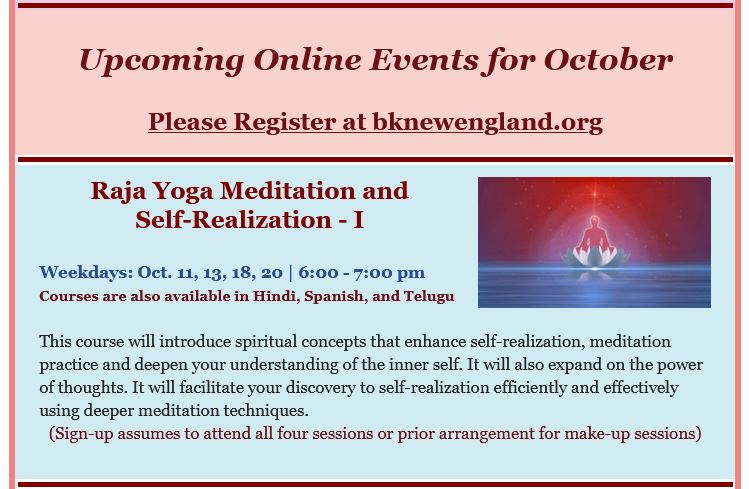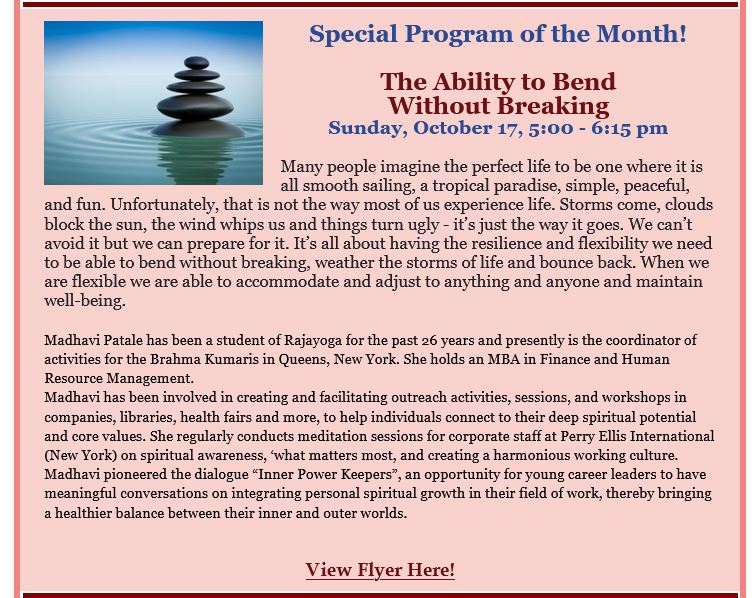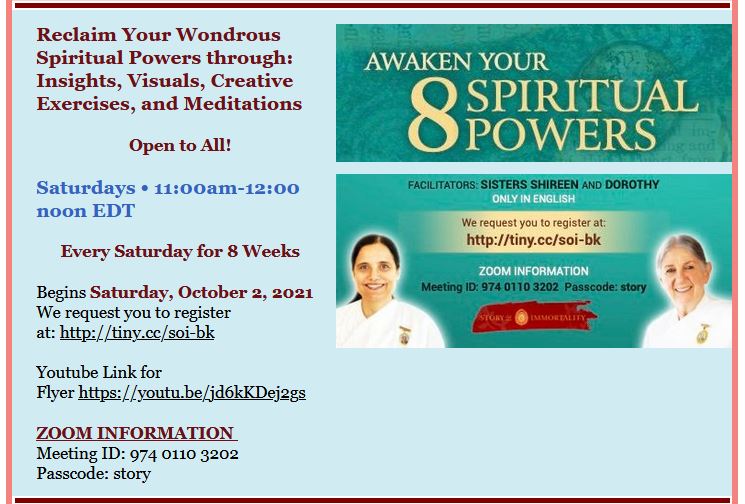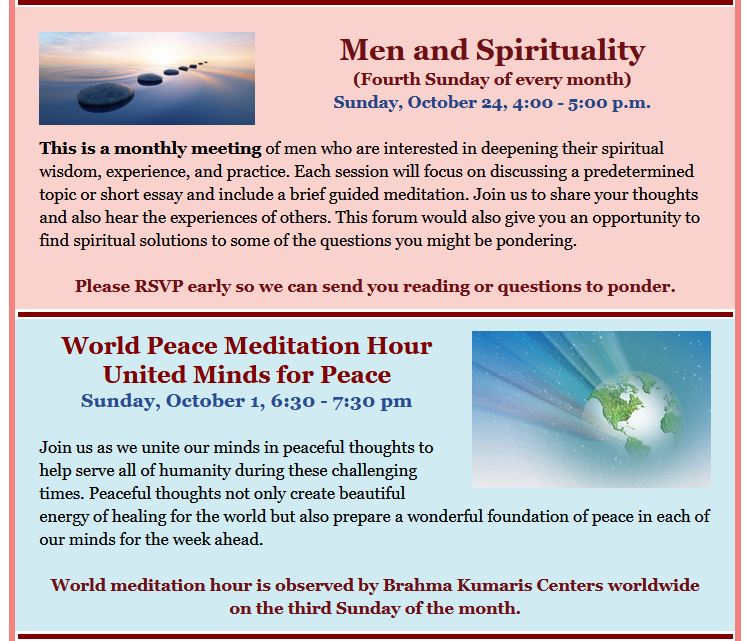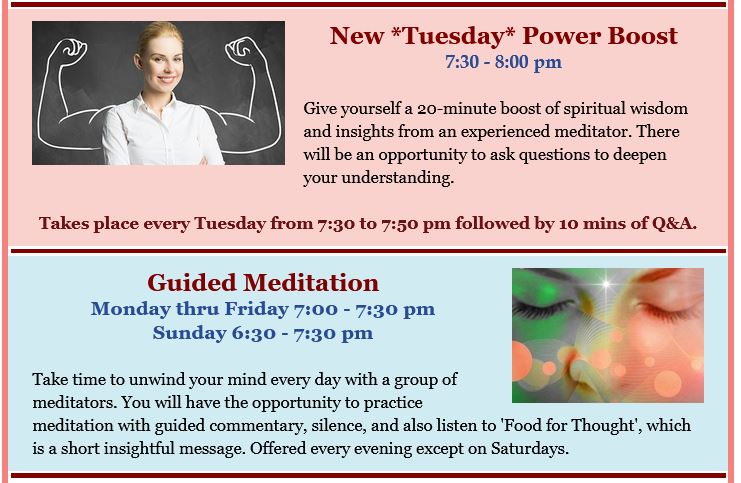 2021 August and Sep N. America News Archive
2021 June and July N. America News Archive
2021 May N. America News Archive
2021 April N. .America News Archive
2021 March N. America News Archive
2021 January & February N. America News Archive
2020 December North America News Archive
2020 November North America News Archive
2020 October North America News Archive
2020 September North America News Archive
2020 August North America News Archive
2020 September 24 through October North America News Archive
2020 August through 24 September North America News Archive
2020 Jun & Jly North America News Archive
2020 Jan through May North America News Archive
2019 September through December North America News Archive
2019 January through August North America News Archive
2018 November & December North America News Archive
2018 January through October North America News Archive
2015 North America News Archive
2014 North America News Archive
2013 North America News Archive
2012 North America News Archive