North Americas News
North Americas News
Brahma Kumaris Florida Service News: BK Rakhi Special
9 August 2020
Highlights from the BK Miami Rakhi Celebrations (2 Aug, 2020)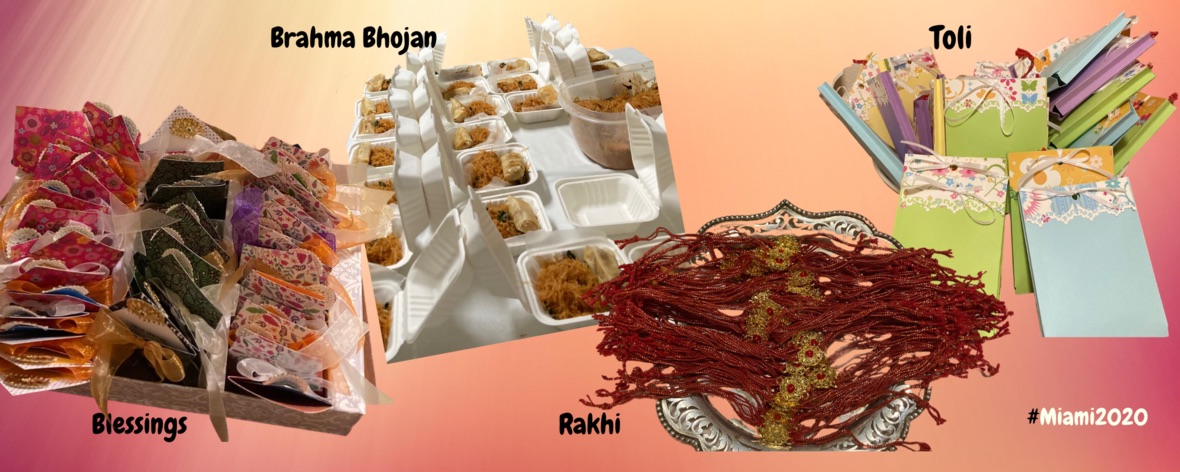 The special atmosphere of Raksha Bandhan brought a very unique gift to look at ourselves, access ourselves, and use this as a gift to leap forward in our spiritual life. Sr. Manda was the specially invited facilitator who beautifully guided this powerful process by being so transparent and honest with her spiritual efforts and creating this special space where each of the family could dive deeper with Baba and stabilize the self in the present.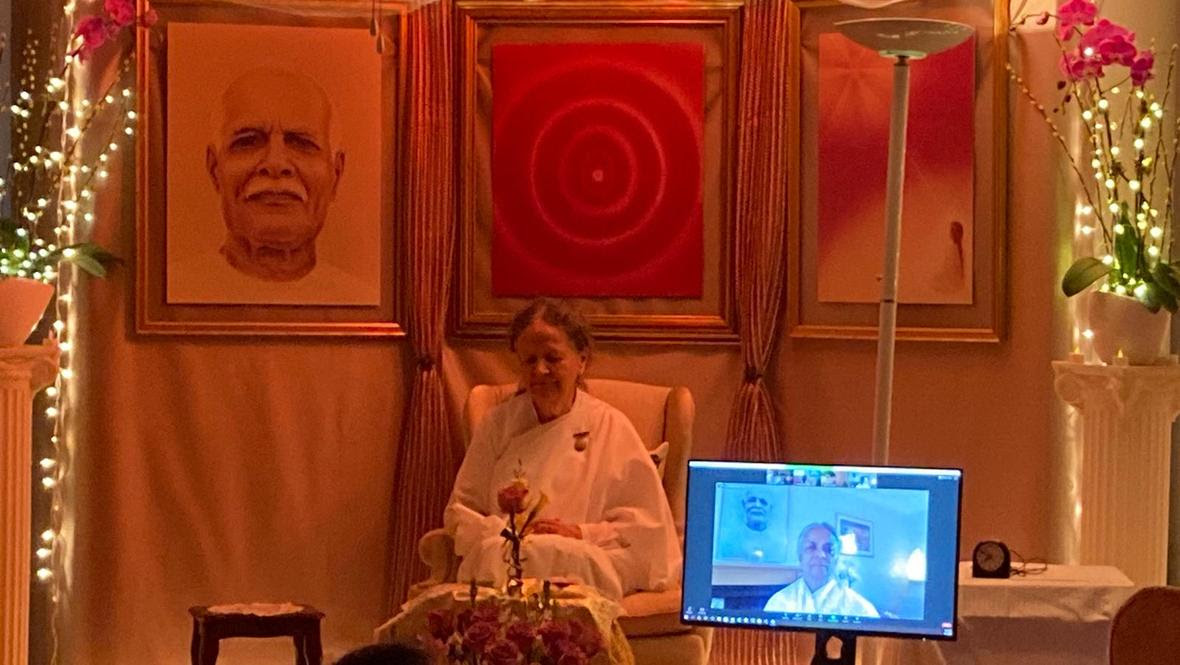 Rakhi Bhog Offering : Sr. Manda and Sr. Waddy
Following the class and meditation by Sr. Manda each soul exclusively shared a loving drishti with the rest of the family and got a unique blessing which was read by Sr. Waddy.
Those at the center got their rakhis tied and rest got it delivered along with the loving brahma bhojan. Was also very special to also be in the loving company of dear alokik family after a long time.
Click here for full report with photos.

Online August Events....Reminder for Tomorrow's lecture (8/6): Purity and Cleanliness: Forgotten Treasures of the Soul
6 August 2020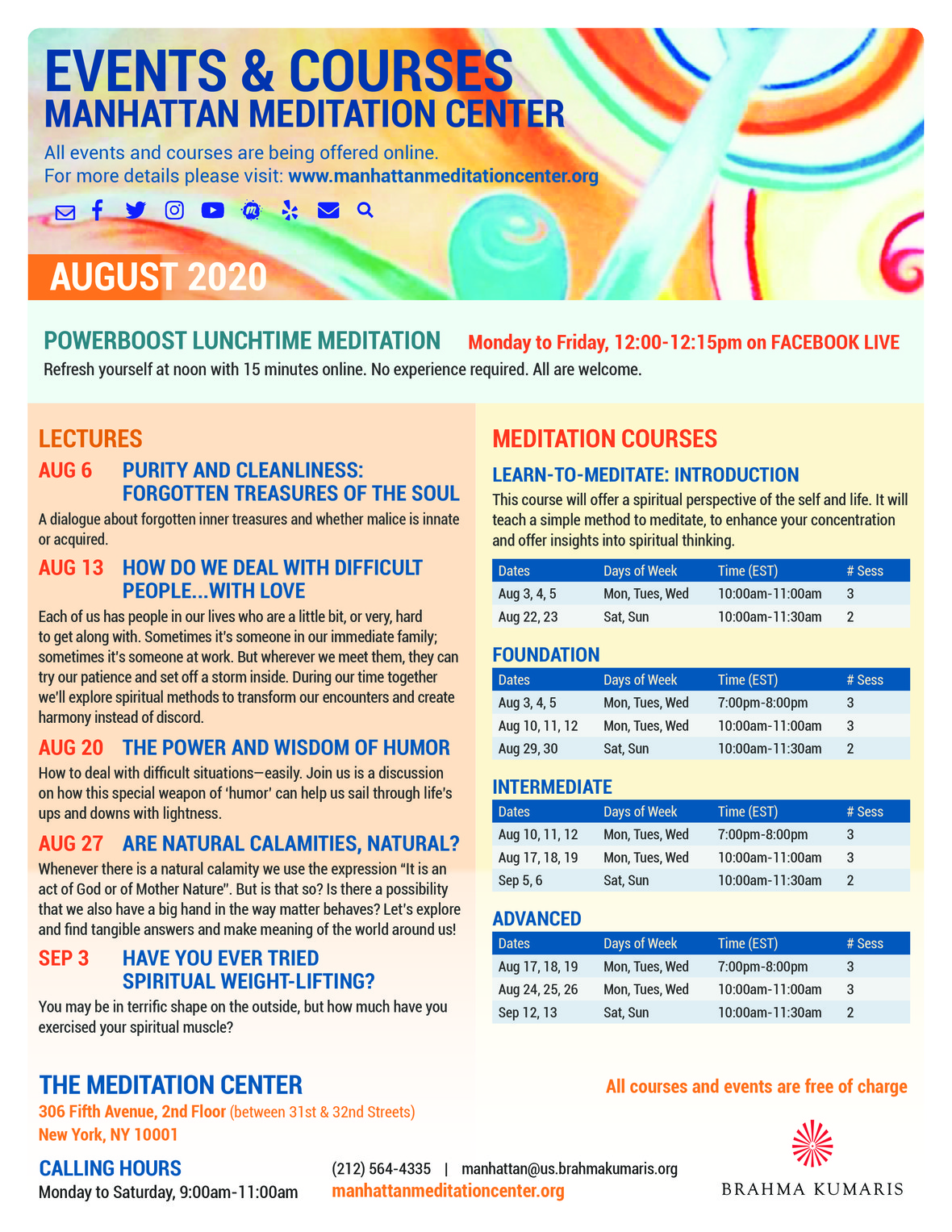 Practicing Pause Post Covid-19: What will the future look like, and how can we shape it? – An Online Panel Event on August 5th, 8 am to 10 am PDT
5 August 2020
On August 5th Dr. Rollin McCraty, Amanda Masters, BK Sister Jenna, Arthur Joseph, and Michael Ventura join Jennifer K. Hill for a Humanity Rising panel on Awake TV
LOS ANGELES, CA, UNITED STATES: Jennifer K. Hill discusses with leaders how to expand the power of the pause into the future of tomorrow in a post-COVID-19 world. She and the panelists explore tools that people can use, as well as how those tools can help us all sustain a balanced tomorrow.
Panelists include:
Sister Dr. Jenna: Director, Brahma Kumaris Meditation Museums & Host, America Meditating Radio
Dr. Rollin McCraty: Director of Research at HeartMath
Arthur Joseph: Founder of Vocal Awareness
Michael Ventura: CEO of Sub Rosa
Amanda Masters: Co-Founder of Awake TV Network
Tune in for free to Awake TV Network on
Wednesday, August 5th from 8 am PT (Pacific time) to 10 am PT
to watch the panel: https://www.awaketvnetwork.live/browse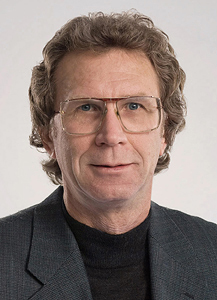 About Dr. Rollin McCraty
Rollin McCraty of Boulder Creek, California, is executive vice president and director of research of HeartMath Institute. McCraty is director of research and project coordinator of the Global Coherence Monitoring System. He has been with HeartMath since its creation in 1991. He is a psychophysiologist and a professor at Florida Atlantic University. McCraty's research interests include the physiology of emotion, with a focus on the mechanisms by which emotions influence cognitive processes, behavior, and health. He and his team regularly participate in studies with scientific, medical, and educational institutions worldwide. McCraty has written extensively and been widely published in his areas of scientific interest. He holds numerous memberships, including with the American Autonomic Society, Pavlovian Society, National Association for Psychological Science, Association for Applied Psychophysiology and Biofeedback, and Society for Scientific Exploration.
https://www.heartmath.org/about-us/team/founder-and-executives/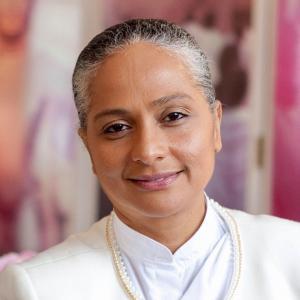 About Sister Dr. Jenna
Sister Dr. Jenna is an acclaimed, trusted spiritual mentor committed to bridging divides in societies and building relationships between global influencers. She has impacted lives around the globe, inspiring change and finding solutions to current day crises as the founder and director of two Brahma Kumaris Meditation Museums, located in the metropolitan Washington D.C. area. Sister Dr. Jenna is also the host of the popular America Meditating Radio Show and recipient of the President's Lifetime National Community Service Award. She is a member of the Evolutionary Leaders Circle, a group of thought leaders from diverse disciplines in service to conscious evolution.
Selected by Empower A Billion Women 2020 as one of 100 most influential leaders of 2015, she serves on various advisory boards such as Conscious Good Media, Global Women's Network, the Love Button Global Movement, The Wisdom Council for the Summer of Peace and the Shift Network, to mention just a few.
Sister Dr. Jenna also served as a principal partner with the Oprah Winfrey Network and Values Partnerships on the Belief Team, a community of individuals from diverse spiritual, cultural, and faith backgrounds. Her voice of influence is particularly needed in the wake of tragedy and increasing violence in our world.
https://www.americameditating.org/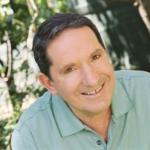 About Arthur Samuel Joseph:
Arthur Joseph's proprietary voice and leadership training program, Vocal Awareness,™ is designed to teach Communication Mastery through a disciplined regimen of highly- specific techniques designed to cultivate an embodied and enhanced leadership presence. The Vocal Awareness Program has a proven track record of success with business leaders, world-class athletes, broadcasters, actors, singers, politicians, Fortune 100 companies and multinational corporations, including Roger Goodell, Emmitt Smith, Michael Irvin, Magic Johnson, Sean Connery, Angelina Jolie, Pierce Brosnan, Lucie Arnaz, Arnold Schwarzenegger and many others, as well as ESPN, NFL, NFL Network, Ernst & Young, Disney, Toyota, Ritz-Carlton, the Federal Reserve Bank and more who have all recognized the significance of Empowerment Through Voice.
About Michael Ventura:
Michael Ventura is an accomplished entrepreneur, practitioner, educator, and author. He currently serves as the founder and CEO of Sub Rosa, a strategy and design firm that has worked with some of the world's most influential organizations: from the ACLU, Google, Microsoft, and Nike to well-respected institutions such as The United Nations and the Obama Administration. Alongside this work, Michael has spent more than a decade working in private practice with individuals seeking support through an indigenous medicine practice grounded in the traditions of the Nahua people. His book, Applied Empathy (Simon & Schuster 2018) explores the intersectionality of these two worlds (business and well-being) through the practice of empathy for the self, and for others. He has served as a board member and advisor to a variety of organizations including The Burning Man Project, The Smithsonian's Cooper Hewitt National Design Museum, and the United Nation's Tribal Link Foundation. He is a visiting lecturer at institutions such as Princeton University and the United States Military Academy at West Point. An ardent steward of self-development practices, Michael is frequently engaged as an advisor to leaders seeking personal and professional growth.
About Amanda Masters:
Amanda Masters the mother of three, Co-Founder, Owner and CEO of Awake TV Network. Coined the "Spiritual Netflix," Awake TV is an interactive conscious media platform that hosts weekly live-streaming shows on a wide variety of awakening topics including both free and subscriber-based content. The teachers on the network have been carefully selected by Amanda, and are experts in their respective fields. Their shows assist viewers in raising their own vibration, and by extension, the vibration of our planet. Amanda is also the co-host of the series, 'Living in the New Consciousness" on Awake TV, where she guides her viewers in healing and raising their consciousness.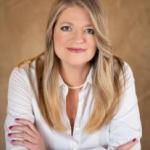 About Jennifer K. Hill:
Jennifer K. Hill has appeared on many major news outlets around the world, including KNX Radio, BBC News, ABC, NBC, FOX and E! News, and has been quoted in numerous online articles as well including The Ladders and Glassdoor. In addition, Jennifer has been featured speaker for various conferences, law firms, and corporations around the United States.

Special Webinar by Senior BK Sister Usha : Raksha Bandhan: "A Loving Bond That Ends All Bondages", Saturday, August 8th, 9 am to 10 am
5 August 2020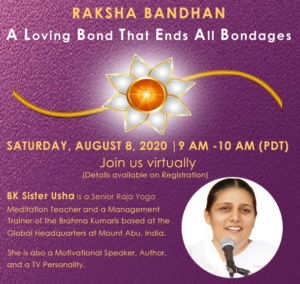 BK Sister Usha is a Senior Rajyoga Meditation Teacher and a Management Trainer of the Brahma Kumaris based at the Global Headquarters at Mount Abu, India. She is also a Motivational Speaker, Author, and TV personality.
Please calculate your local time here:
https://www.timeanddate.com/worldclock/converter.html
REGISTER: https://bit.ly/2PmWMqz
OTHER UPCOMING EVENTS:
"Song of Silence from the Heart of the Soul"
Date: Saturday, August 15, 2020
Timings: 12 Noon to 1:00 PM (PDT)
Register: https://bit.ly/2XrxjRi

"Decoding the Psycho Dynamics to Understand the Deep Secrets of Human Mind"
Date: Saturday, August 22, 2020
Timings: 12 Noon to 1:00 PM (PDT)
Register: https://bit.ly/39Xbded
"The Attitude of Gratitude"
Date: Saturday, August 29, 2020
Timings: 12 Noon to 1:00 PM (PDT)
Register: https://bit.ly/2PpkkuL

REPLAY Less is The New Luxury - a Webinar by Brahma Kumaris Silicon Valley
5 August 2020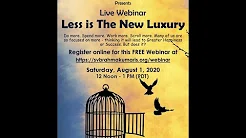 Click on above image to watch [55:18]

REPLAYS OF Recent Programs with Sister Jenna at the Meditation Museum - Week of July 27-August 02
5 August 2020
02 August - Are You A Leader or A Follower? [1:06:07] https://youtu.be/6VAGijLVTyY

01 August- Knowing Yourself in a Changing World [1:03:21] https://youtu.be/mprb5B4sZ_g

31 July- Healing the Anger [1:10:07] https://youtu.be/9U7Y9B4Xov4

30 July - Creating Healthy Habits [1:09:17] https://youtu.be/DZ3scBaadbw

29 July - Minding our Own Business [1:11:12] https://youtu.be/G7oO-YuzUWY

28 July - Being the Author of My Own Happiness [1:12:56] https://youtu.be/vPWBDOVv97g

27 July - Special Raja Yoga and Meditation Monday [1:06:30] https://youtu.be/QtSRTztNzkc


REPLAYS of Recent online Programs at the Los Angeles Meditation Center - Week of July 27th
5 August 2020
27 July - "A New Consciousness, A New Life" Workshop by BK Anna Doilliani [1:38:37] https://youtu.be/F2siWeWmVgU

REPLAYS of Recent Online Events at the Manhattan Meditation Center - Week of July 27-31
5 August 2020

31 July - El Acertijo del amor por Rona Schweitz [1:01:14] https://youtu.be/q5xQtkTshU0

31 July - The Riddle of Joy by Rona Schweitz [1:00:15] https://youtu.be/yJeiLuCns48

31 July - Nuevos Comienzos I por Rona Schweitz (Dia 3) [43:19] https://youtu.be/q5xQtkTshU0

30 July - Clarity of Thinking by Rona Schweitz [18:49] https://youtu.be/FmKE52JLW38

30 July - Pure Love for Self and World [5:48] https://youtu.be/YKm7XnteNEs

30 July - New Beginnings by Rona Schweitz (Day 3) [50:20] https://youtu.be/YCb017NbPGM

30 July - Nuevos Comienzos I por Rona Schweitz (Dia 2) [59:59] https://youtu.be/fzZWRjZtrUo

29 July - New Beginnings by Rona Schweitz (Day 2) [01:00:19] https://youtu.be/XTkUZf0y-Xw

28 July - Nuevos Comienzos I por Rona Schweitz (Dia 1) [1:00:13] https://youtu.be/h-OtKbcSjcg

28 July - Powerboost Lunchtime Meditation [23:14] https://youtu.be/XTkUZf0y-Xw

28 July - Flying Free- Powerboost Lunchtime Meditation [16:51] https://youtu.be/Wm_08LHZ9Yo

29 July - New Beginnings by Rona Schweitz (Day 1) [1:04:41] https://youtu.be/hhlT1WcbnAs

Upcoming Online Events hosted by Peace Village
4 August 2020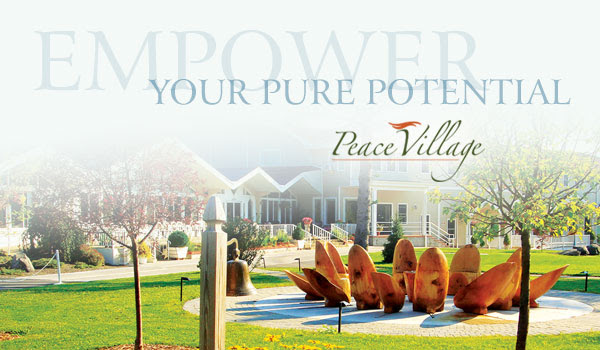 Resilience is your personal power, your inner strength that allows you to rise above difficult circumstances, and bounce back stronger than before the challenge! With such vitality, nothing can bring you down, or de-stabilise you. And then, you become an anchor for those around you; a calm in the storm, or a light in the darkness.
Learn To Meditate - a 3-Day Course for Beginners: August 4, 5 & 6 | 11 am - 12 noon
This three-session Meditation Course, based on Raja Yoga knowledge, is a 4-Step program to learn and practice meditation. You will explore and experiment with a spiritual perspective of self and of life. You'll discover the power of living in spiritual awareness. For those who would like to learn more, you may follow this with the "6-session course in Raja Yoga" beginning on August 11.
Click here for more information and to register for this event: https://www.peacevillageretreat.org/online-classes.html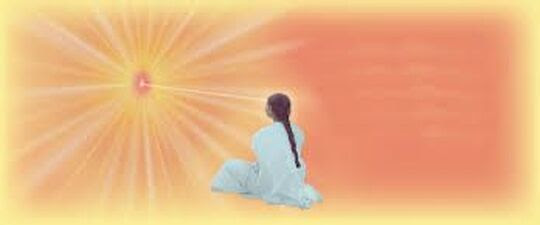 Locked In? Time to Look Within
Six Session Course In Raja Yoga Meditation
Tuesday and Thursday For 3 weeks Beginning August 11 - 10-30 - 11:45 am
Raja Yoga Meditation is especially designed to build our capacity during times of change and challenge. This course will empower you to keep your mind focused on the positive, come closer to your Higher Power, and find peace and joy amidst uncertainty. You will stand out as a beacon of light in the darkness.
This is an online class on ZOOM. Once you register, we will send you the login information.
Click here for more information and to register for this event: https://www.peacevillageretreat.org/online-classes.html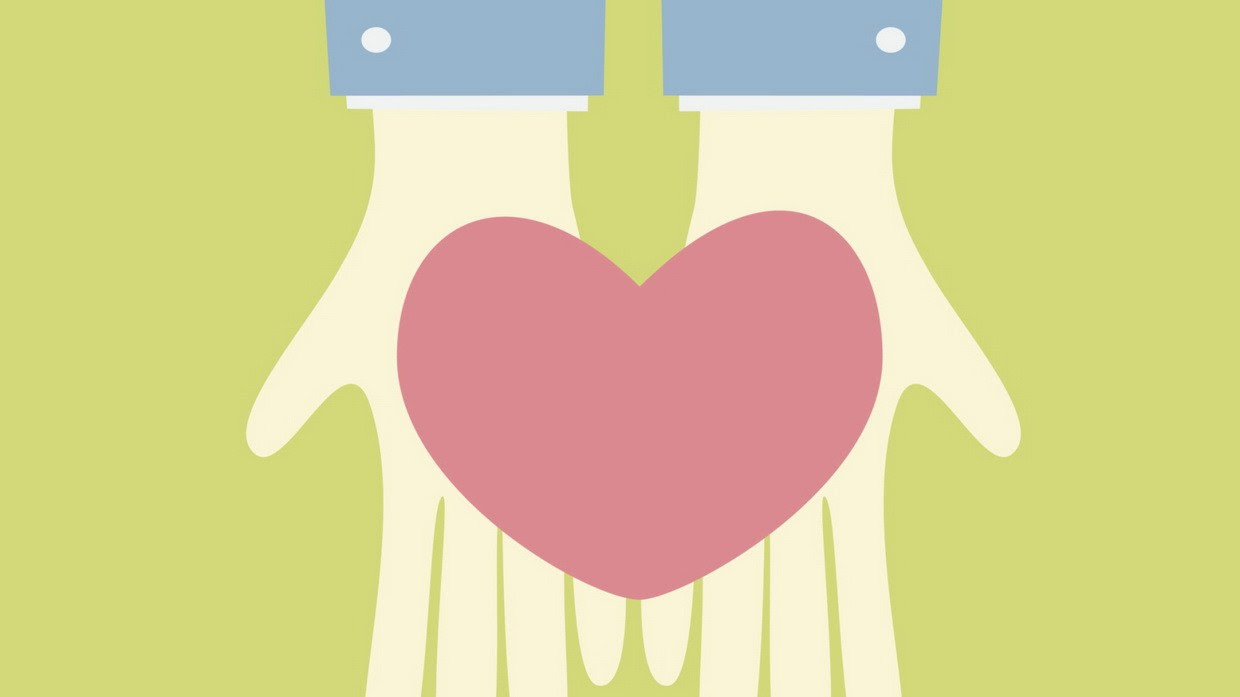 Dealing With Difficult People With Love - August 16 | 5:30 - 7:30 pm
Each of us has people in our lives who are a little bit -- or very -- hard to get along with. Wherever we meet them, they can try our patience and set off a storm inside. During our time together we'll explore spiritual methods to transform our encounters and create harmony instead of discord. This one-hour spiritual discussion will be followed by a powerful hour of meditation. Through guided commentary, soft music, and silence we will contribute much-needed healing energy of love, peace, and care to our world.
Register in advance for this zoom meeting here: https://bit.ly/3kaSLn2. After registering, you will receive a confirmation email containing information about joining the meeting.
This program is brought to you by the Albany Branch of the Brahma Kumaris and Peace Village.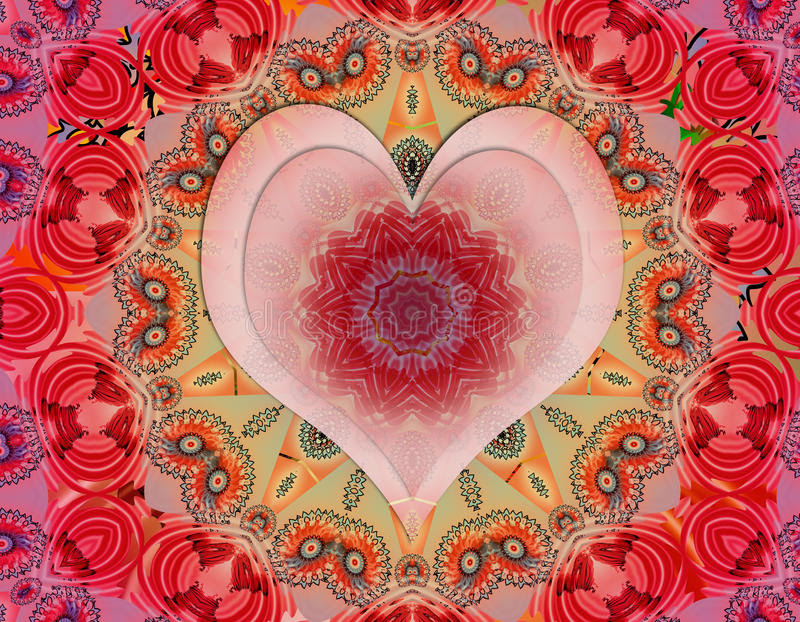 Quantum Spiritual Healing: Embracing a New Reality Online Retreat: August 7 - 9
A retreat for those affected by cancer and other challenging illnesses as well as their caregivers.
Modern research has shown that there is tremendous potential in our minds to heal our bodies and it all begins with changing our limiting beliefs and reorganizing our inner landscape. While the world of quantum physics may seem daunting to say the least, herein lies the most unimaginable secrets to the world of consciousness – the understanding that our consciousness plays an unquestionable role in the unfolding of our reality.
Click here for more information and to register for this retreat: https://bit.ly/2PmhBlO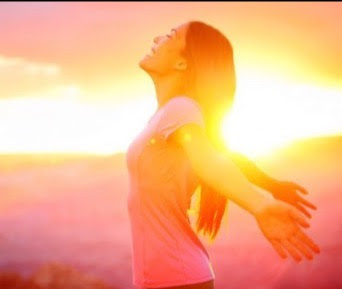 A Time To Shine: A Retreat For Women To Create a New You, a New Us
Online Retreat: August 14 - 16
We will focus on our true identity, reminding us of and re-activating our feminine energy that leads the way towards a peaceful and compassionate life. For the self and all others, let us restore peace, harmony, and self-respect in each area of our daily lives. Through discussion, journaling, meditation, and celebration as women, we will explore the power of remaining loving and stable in a troubled world.
Click here for more information and to register for this retreat: https://www.peacevillageretreat.org/online-retreats.html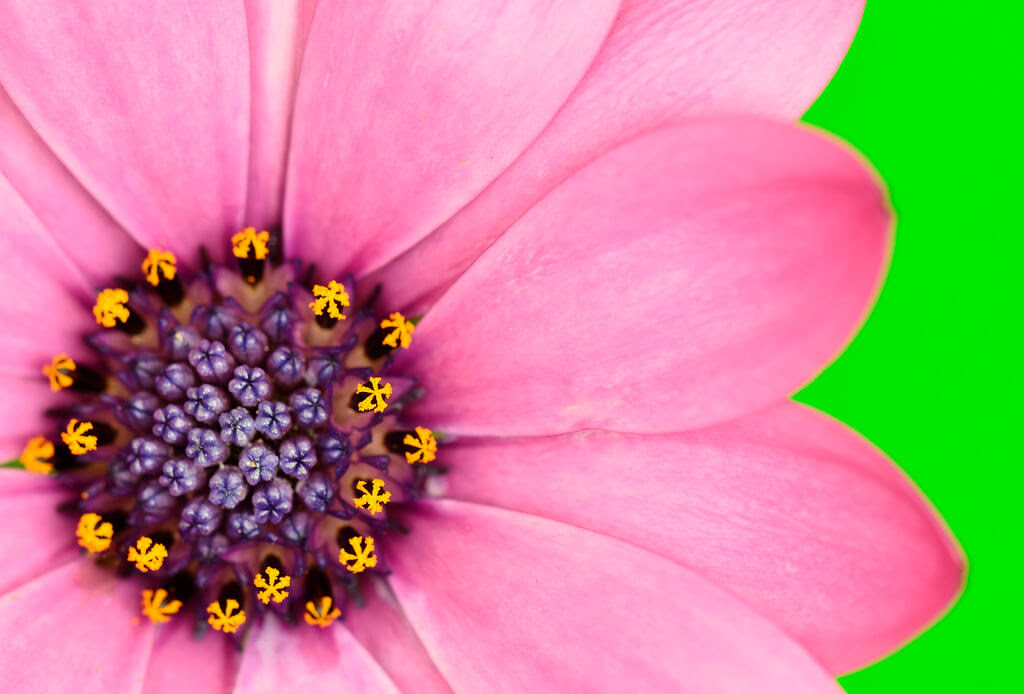 See Only Beauty| Speak Only Love Online Retreat: August 28 - 30
This retreat is part of the "Wisdom Series" and is about the most profound kind of transformation – changing the way we experience life and the way we engage with others. Through spiritual talks, selected readings, small group sessions, and meditations, you will learn how to experience peace, love, and contentment while in the midst of anxiety and sorrow. And you will be positioned to make choices to change the path you're on in ways that may change you forever.
Click here for more information and to register for this retreat: https://www.peacevillageretreat.org/online-retreats.html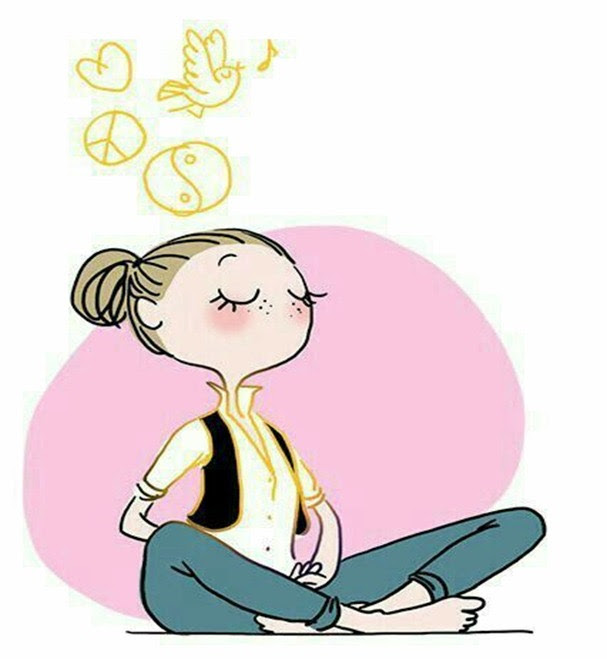 Empower Your Pure Potential: Inspirations and Meditation Online
Evening Meditation Monday - Friday 7:00-7:30 pm
Create a sacred space in the comfort of your own home! Join through this Zoom link: https://brahmakumaris.zoom.us/j/5185895001 The password is peace.

JOURNEY INTO RECOVERY THROUGH MEDITATION
Wednesdays: 8:00 - 8:30 pm
Learn to take power from your connection with the God of your understanding. Dedicate some quality time with a healing and inspiring meditation.
This meditation is sponsored by: Mountain Top Cares Coalition & Peace Village.
Here is the Zoom Link: https://bit.ly/2Du8MDR
Meeting ID: 856 9004 0643
Feel Well, Heal Well Lounge - A Weekly Forum Every Sunday for Health Care Professionals
8:00 pm – 8:45 pm (EST)
You have given your best … it is now time to 'rest' — even if for a few moments so you can continue to be at your best.
de-stress and debrief in a positive company
be inspired by experiences and insights of other practitioners
recharge with simple guided meditations
Join on ZOOM: Meeting ID: 972-7994-8007 PASSWORD: peace

REPLAYS of Recent Programs at the Miami Meditation Center Week of July 27-31
4 August 2020
31 July - Evening Meditation by Marianne [09:22] https://youtu.be/CiWiJyGviY0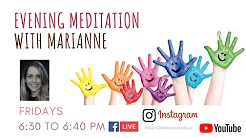 30 July - Inner Peace Inspires Loving Relationships [11:23] https://youtu.be/LOF-MWWlJBA

29 July - Evening Meditation by Meeta [13:51] https://youtu.be/s7RevWUJI5c

28 July - Meditación al atardecer con Amar [13:09] https://youtu.be/6gPAgJqhl6g

27 July - Meditation and Insight on Spiritual Faith by Dev and Vijai [23:03] https://youtu.be/OwC2871KMhY

Workplace Meditation for Royal Caribbean Cruiselines
4 August 2020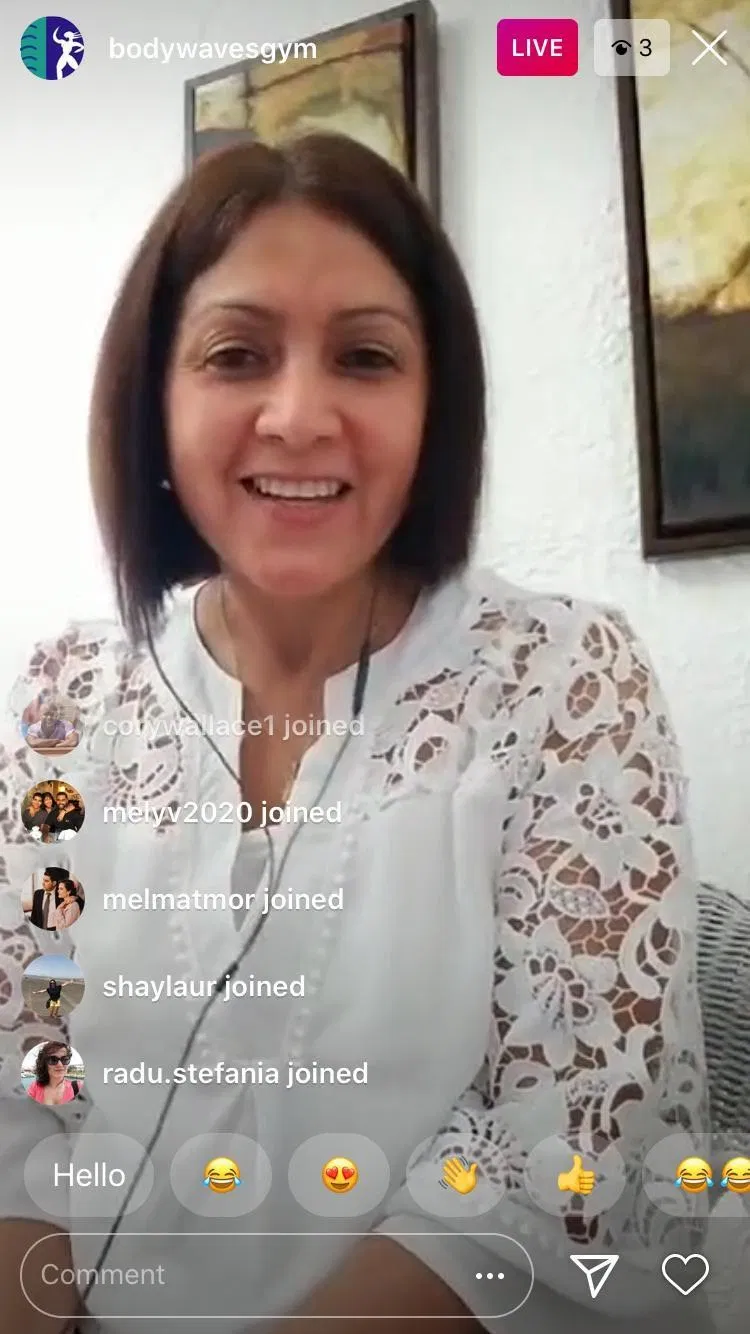 Miami (Florida): In addition to the weekly lunchtime meditations, the BK Miami meditation center has been invited to conduct "Instagram LIVE meditations" for Royal Caribbean employees so that many can continue to join and benefit. Here is a link to a recent Instagram session by Amar.

BK Brothers Workshop: Living Lighthouses- Saturday, August 8th, 10 AM to 12:30 PM EST
4 August 2020
Special invitation to all BK brothers for the workshop on "Living Lighthouses" on Saturday, August 8th, 2020, from 10 AM to 12:30 PM EST. Please use the google docs link to RSVP and we will share the Zoom link with those who register.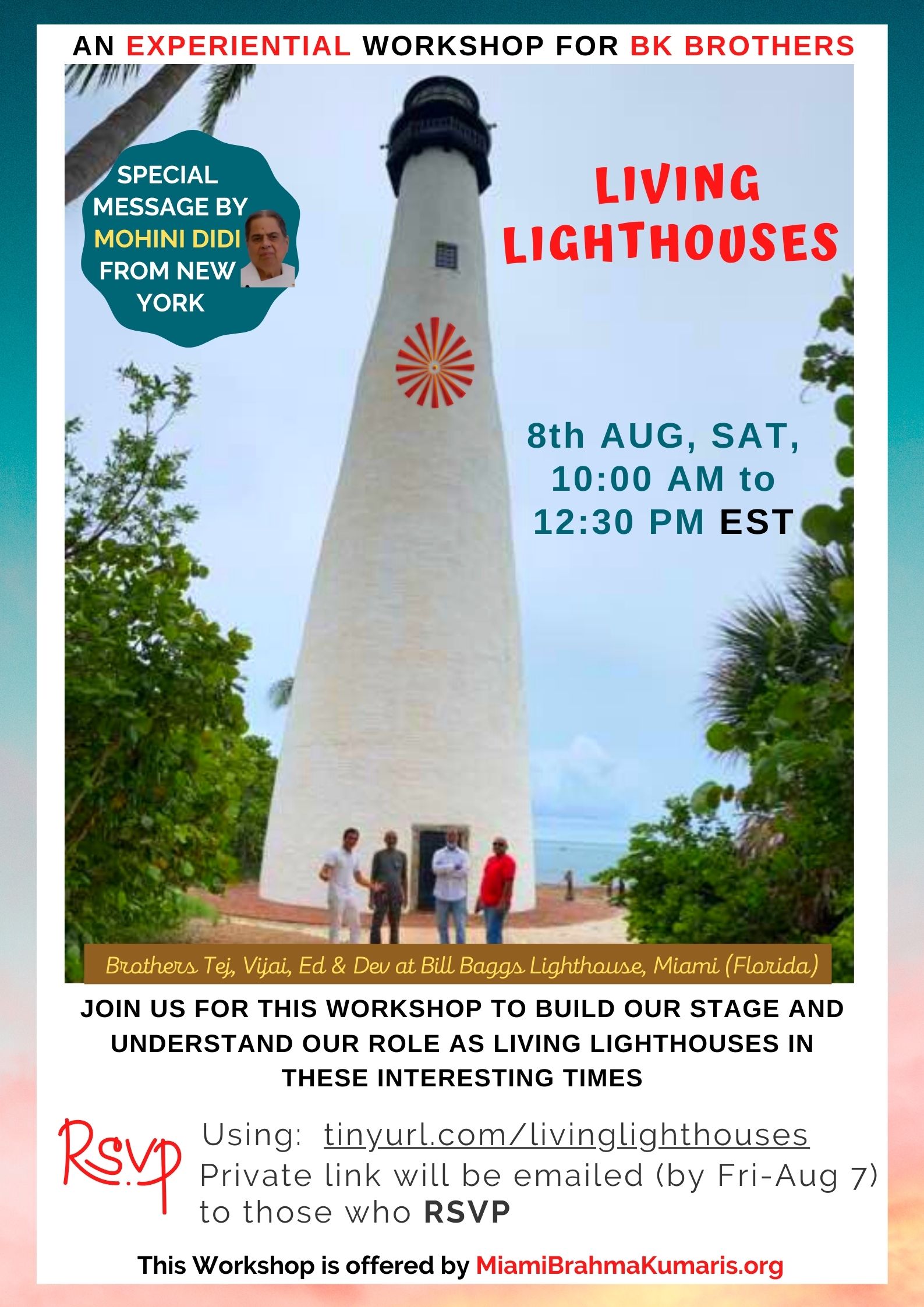 Mohini' Didi Ji's Rakhi Message for BK Students in English & Hindi
3 August 2020
Om Shanti and Warm Greetings for Rakshabandhan,
May Baba's canopy of protection be always over you and the thread of avyakt love keep you close.
With special love for this special festival during this special time.
BK Mohini

Please download Sis. Mohini's full Rakhi message from the links below:

Brahma Kumaris Florida Service News - July 2020
2 August 2020
MARGATE
Raksha Bandhan
Baba's children are preparing physically and spiritually to celebrate and strengthen our sacred bond with Baba on Raksha Bandhan. All will join the celebrations with Mohini Didi and the US Family on August 3. For the few who can come out physically, we will be having a small but powerful celebration live (body and soul) at the residence.
Live classes at Commerical Site
Two to three weeks ago, in accordance with state and city guidelines, we were slowly resuming live classes at the center. However, with the second flare up of COVID, souls are very hesitant to come out to class, therefore Zoom increases but live classes and programs at the Center are at a standstill for now.

We are taking decisions whether to close the commercial site and continue functioning at the residence until the situation changes.
Evening Sustenance – Avyakti Parivar
Everyone is enjoying the evening sustenance programs with Mohini Didi. Thanks to Sister Mohini, the IT staff and all serviceable instruments for making this family sustenance possible.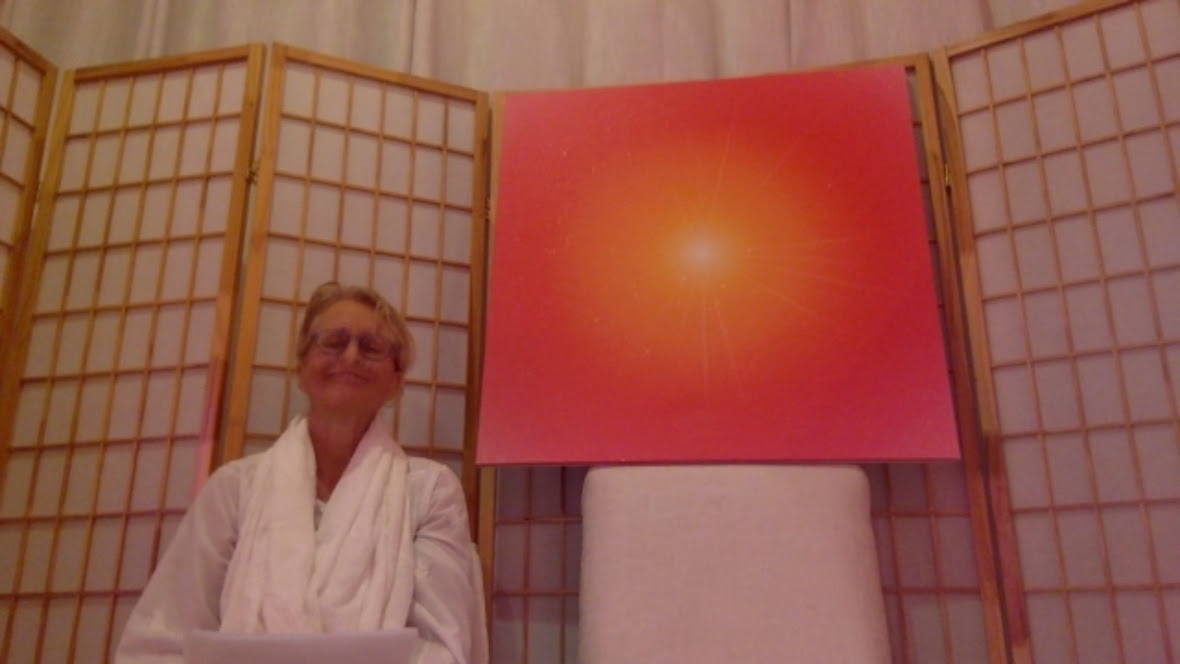 NAPLES
The Secrets of Divine Balance
Brother Vivek did a wonderful ZOOM class on the subject, "The Secrets of Divine Balance."
Since we are all striving to achieve balance in life, Vivek pointed out that keeping the mind uncluttered and focused helps us move towards this balance.

We need to hear and feel whatever comes up in the mind and heart so that we can move through what is there and return to peace.
The shift from the Consciousness of "Letting Go" to True Awareness.
Sister Yolanda explained how we can shift from the idea of " Letting go" to being in True Awareness. Once we experience True Awareness, the urge to Let Go will vanish as we understand what our True Nature really is. It not complicated to SHIFT....it becomes you, the eternal soul going through it's journey!
The New Unlimited You
This class focused on checking every hour of the day if you had any limited, thoughts, and reactions. Moving from this limitation to your unlimited true self.

Many souls felt how they were indeed having limited thoughts rather frequently and it was an eyeopening experience.
You make a difference in Collective Consciousness
We explored how we are all part of the collective consciousness and each thought, intention, and action will make an essential change collectively!

How important it becomes what you are personally broadcasting in this world. It gives us extra motivation to be pure in thoughts, words, and deeds!
Sister Yolanda read the murli for the Miami family. She observed how the Miami Family is such a great and creative team during the COVID 19 especially!
MIAMI
Independence Day Celebration at the center
Beautiful singing by Sr. Jamila - click here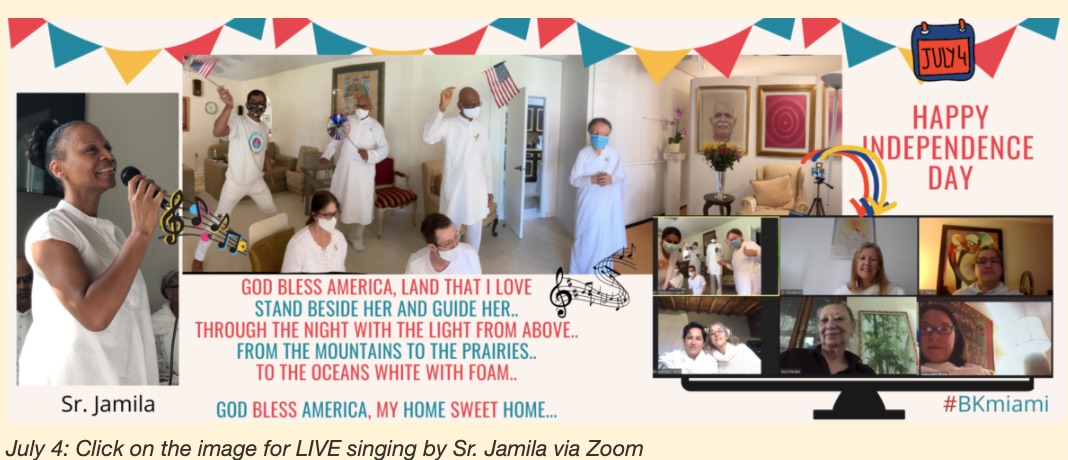 Click here for full report with photos.

2020 Jun & Jly North America News Archive
2020 Jan through May North America News Archive
2019 September through December North America News Archive
2019 January through August North America News Archive
2018 November & December North America News Archive
2018 January through October North America News Archive
2015 North America News Archive
2014 North America News Archive
2013 North America News Archive
2012 North America News Archive