2013 North America News Archive
2013 North America News Archive
Service News 2013 - Los Angeles
30 December 2013
(video is 22 minutes)

Peace Village Angels Christmas Day
25 December 2013
We had a very jolly merry Christmas Party today Dec 25 here at Peace Village, and thought you'd like to enjoy the sparkle of our celebrations.

CBS Reporter Kimberly Suiters explores the Meditation Museum with Sr Jenna
19 December 2013
Reporter Kimberly Suiters explores the Meditation Museum with Sr Jenna
in three, 35 second radio infomercials aired on CBS-DC radio news (All-News 99.1 WNEW)
1 - http://yourlisten.com/player/director/17055448.mp3
2. http://yourlisten.com/player/director/17055450.mp3
3. http://yourlisten.com/player/director/17055452.mp3

Meditation Museum targets the mind, soul and spirit
10 December 2013 - Source: Gazette.Net (Maryland Community News Online) by Aline Barros, Staff writer
The Meditation Museum is unique in Silver Spring. Visitors say it renews the soul, clears the mind and relaxes the body. Students talk about getting spiritual help while enhancing the quality of their thoughts.
They also get to meet Sister Jenna, as she is called, the director and founder."The audience that we have are individuals that are soul searching. They want to be better people. They are stuck — perhaps overwhelmed or even just curious," Sister Jenna said during an interview. The museum, at 8236 Georgia Ave., is open to people practicing any religion. All are welcome, she said.
Visitors to the museum, which has been open since 2009, can find free classes on meditation. They can join in workshops about busy people, the purpose of the soul, spirituality and growing up, world peace and more. The museum offers presenters, discussions and sessions on how to silence the mind.
"We have to make the personal choice to change some of our own limitations, and I think one of the misconceptions of meditation is that a lot of us in America ... we thought that meditation was sitting down and being quiet and emptying the mind," Sister Jenna said.
When meditation was brought to the West, she said, people left behind a particular component, which was to teach students how to "understand the mechanisms of your thoughts, but also of your feelings and how you perform actions based on your thoughts and your feelings and creating an experience in here."
She said the museum is a nonprofit with free training sessions funded by private donations. Regular students volunteer their time. It has artwork in every room, including sculptures and paintings, plus a Tree of Blessings, where people can share blessings or just give thanks. The museum also has a quiet room, where visitors meditate as long as they wish.
In June 2012, the Meditation Museum organized the America Meditating initiative for Dadi Prakashmani Day, which honored a spiritual leader. According to Sister Jenna's official biography, the initiative promotes awareness of personal empowerment and peace to increase harmony and a more vibrant America.
She has devoted more than 20 years to meditation and relaxation techniques. She is the director of the Washington, D.C., branch of Brahma Kumaris, a worldwide organization with more than 8,000 branches in 120 countries.
Kathy Satterley of Silver Spring, a certified life coach, met Sister Jenna in Miami and became intrigued with meditation. She was invited to lecture at workshops and found out there were many opportunities to serve people looking for empowerment and improvement in their lives. "We are all lifelong learners over here. We are constantly learning from each other," Satterley said.
Volunteers said first-time visitors have reported feeling peace when walking through the door and workshops often can generate emotions, leading people to identify the feelings they need to heal. "When people come in to the space, immediately they feel a sense of peace and calm. ... You come in here and it is a very peaceful and steady vibration because everybody that's here is really working on themselves," Satterley said.
Others have found in the museum the life answers they were looking for. Diamond Thorne, a real estate agent, said someone told her years ago that she needed meditation, but she never gave much attention to it. Then came a point in her life when, she said, "I was confused, really confused." Thorne was attending a church in Takoma Park, but believed she was not getting the answers she was looking for — until one church member told her to visit the Silver Spring Meditation Museum. Thorne has been visiting the museum for almost three years and says it has changed her life. "I've been living for a long time and I had some answered questions like, 'What was really going on?'" Thorne said.
Khelan Dattani of Arlington Va., who works in the fast-paced financial industry, said that through positive thinking, people can change how they think about things. The meditation museum is not meant to be a place where people just sit and find peace. Dattani said the key is to find the right balance to find peace at home or work and come from that peace in actions. "That's the training [and] that's the study to really think about, what it is that is triggering my emotions," Dattani said.
Sister Jenna said that even politicians and corporate executives visit the museum to seek clarity on what to do next. "When the government shut down, a lot of people came as to find solace and to figure out what they should do," she said.

Living with Intention Program in Florida - Announcement
2 December 2013

Happy Thanksgiving Parade in Maryland
28 November 2013
Meditation Museum RV rolls through Silver Spring for Thanksgiving parade Source: WTOP 103.5 FM. WTOP's Rachel Nania reports.
WASHINGTON - This weekend, plenty of local clubs, businesses and organizations will show off their holiday spirit at the annual Montgomery County Thanksgiving Parade. But for one Maryland organization, getting in the spirit means getting spiritual -- in a RV.

For the past three years, Sister Jenna, director of the Meditation Museum in Silver Spring, Md., participated in the parade by driving a classic Mercedes convertible with some of her museum team members. "All the sisters and the kids would walk around (the car) with angel wings and bubbles," says Sister Jenna, who explains that her name signifies kindness and respect, not religion. But this year, Sister Jenna is ditching the angel wings for a set of big wheels.

About a year and a half ago, the museum, located on Georgia Avenue, received a RV as a donation, with the intent to travel across the country to meet individuals and groups interested in meditation. "We wanted to travel around the U.S., anyhow, and just stop at different places and invite people into a place of understanding and silence and power," says Sister Jenna, who named the RV tour "America Meditating." "The real intent was to have a place where people can come to and just figure themselves out, de-stress, get clear." But before heading out on the big journey, Sister Jenna and her team will show off the RV to the local community.

When the RV is parked after the parade, everyone will be invited to come see the vehicle, which has a sofa, a kitchen, a bedroom -- soon to be converted into a meditation room -- and a colorful changing light display, which is undoubtedly Sister Jenna's favorite feature. "When you come in at night, it's like 'Come into my space and be silent.' It's very lovely," she says.

The RV also has a large sticker map of the U.S. on the kitchen table, which will help Sister Jenna and her team on their journey. "So when we stop at all the places, we can just X-mark the spot," she says.

The Montgomery County Thanksgiving Parade will take place on Saturday, Nov. 23 at 10 a.m., and will be held rain or shine. In addition to the Meditation Museum's RV, the parade will also feature giant balloons, a variety of floats, high school marching bands and dancing groups. Plus, Santa, his sleigh and all of his elves plan to make an appearance. The parade begins at Ellsworth Drive and Veterans Place and proceeds south on Georgia Avenue, ending at Silver Spring Avenue.

Sister Jenna says participating in the Thanksgiving Parade is a reminder of everything for which there is to be thankful. "As we're approaching Thanksgiving, the first person we need to say thanks to is ourselves … When you can start to do that for you, you can extend that to another person who's been short with you," Sister Jenna says.

Take a tour of the meditation RV with Sister Jenna and Meghan Mulvenna:

Festival of Diwali - Peace Village
14 November 2013
Celebrate the Festival of Diwali every day during this confluence age and enjoy thisStory of Diwali Smilebox Presentation:
http://www.youtube.com/watch?v=YIRd_iUxI8s

Supervisor London Breed honors BK Meditation Center
(San Francisco) on occasion of Diwali
15 November 2013

A Van Dedicated to Our Dadis
14 November 2013
Baba has a van dedicated to our three lovely Dadis.

Golden Autumn in Peace Village and Happy Diwali
10 November 2013
It's the season of LIGHT. The FESTIVAL OF DIWALI - also called The Festival of Brotherhood and the Festival of Lights is the grand finale on Nov 3, to culminate the glorious work that God the Father and Mother Nature did this autumn in lighting up the landscape at Peace Village and surrounding area of Hunter Mt. with such beautiful bouquets of leaves of variety colors. Enjoy this gift of light and 'walk in peace as the eternal spiritual light you are to the song of Martin Sheen from Jamaica, West Indies.
Love and Blessings from Peace Village

Pictures from Silence Retreat at Peace Village
8-10 November 2013

the Time is Now... in New York
27 September 2013
Buy your tickets online at http://www.movietickets.com/movie_detail.asp?movie_id=168613
27th Sept after 5.15pm show: Director Vishal Hiraskar Producer Karunakar Shetty, Creative Director Prashant Hiraskar
27th Sept after 7.35pm show: Director Vishal Hiraskar Clinical Psychologist Dr. Judy Kuriansky Clinical Psychologist Dr. Ani Kalayjian
28th Sept after 1.00pm show, Director Vishal Hiraskar Creative Director Prashant Hiraskar, Sound Designer Prabhu Patil
28th Sept after 5.15pm show: Director Vishal Hiraskar Creative Director Prashant Hiraskar, Sound Designer Prabhu Patil
28th Sept after 7.35pm show, Director Vishal Hiraskar Creative Director Prashant Hiraskar, Sound Designer Prabhu Patil
28th Sept after 1.00pm show: Director Vishal Hiraskar, Narrator / Presenter Clarke Peters Creative Director Prashant Hiraskar

World Parliament of Religions at Chicago
11 September 2013
Dr. Binny Sareen of Global Hospital, Mount Abu, was invited to visit the headquarters of the World Parliament of Religions in Chicago on the occasion of the completion of 150 years of Swami Vivekananda's first visit to Chicago, where he delivered speech a speech to the very first Parliament on September 11, 1893. Sister Binny, together with her lokik and alokik Sister Neena and Brother Rakesh, met with the Executive Director of the Parliament, Dr. Mary Nelson. Dr. Binny was interviewed on the subject of the Vivekenanda's spirituality. She also shared the activities of the Brahma Kumaris University, at Mount Abu, presented a godly gift to Dr. Nelson and conveyed the greetings of Dadi Janki ji. While she was in the USA, Dr. Binny was also invited to speak on the subject of spirituality at an international Women's conference in Los Angeles and at various other venues.

BKs at Times Square, New York
22 September 2013
BK's spread the message of importance of Spirituality and Rajyoga Meditation at Maharashtra Tourism Development Corporation (MTDC) mega cultural event on September 22, 2013 at Times square.

Sr Denise's Southern California Trip
7 - 12 September 2013
On a beautiful Saturday evening, Sister Denise met with a small group of invited guests for a reception in the Cathedral's courtyard around a fountain specially decorated with red roses.
About 125 angels of Los Angeles gathered in the magnificent cathedral filled with gentle music played by award winning accompanist Valeria Morgovskaya on the grand piano. Shelly Ren, an active chamber music violinist played the 2nd movement of Sonata by Grieg and Meditation by Massenet accompanied by Valeria who later played Prelude by Bach and Sonata by Mozart.
Rev. Dr. Gwynne Guibord, Founder and President of "The Guibord Center – Religion Inside Out" welcomed the angelic audience who had become lost in an atmosphere of peace created by the music and beautiful surroundings. Dr. Gwynne introduced the Brahma Kumaris and welcomed Sisters Denise, Gita and Diane on stage. Sister Diane, Director of the Brahma Kumaris, Seal Beach thanked the musicians and coordinated the "Tree of Blessings" ceremony. Each guest, Ruth Bryode Sharone, Rini Ghosh, John Levoff, Melissa Levoff, Rev.Paul Nugent, Rev. Leland Stewart, Rev.Dr. Gwynne Guibord, Dr. Lois M. Sprague and BK Sisters Denise, Gita and Aruna was invited on stage to read their blessing for the City of Angels and for the world. They each tied their blessing leaf on the tree of blessings which was adorned with fresh flowers.
Following this ceremony, Rev. Dr. Gwynne facilitated a very interesting conversation with Sister Denise in the form of an interview. One of Dr. Gwynne's main questions was how can we as individuals balance our lives and make the necessary changes in Los Angeles and in the world to end the suffering that we experience and see all around us. Sister Denise started by congratulating all the individuals and organizations who are working to help people end all the varieties of suffering. She said that the Brahma Kumaris teaches that the real change will happen only when each individual understands that the help required is that each of us needs to change how we think and overcome our own negativity and weaknesses. She said that our slogan is "When We Change, the World Changes". For this reason the Brahman Kumaris has over 8,000 centers in over 100 countries teaching free classes to anyone who is ready to accept responsibility for their own suffering and wants to stop suffering. To understand this responsibility, spiritual truths and God's help is needed. Our goal is that these classes must be available and offered free to every soul on earth. There is power in the act of having good wishes.
Following the conversation, Sister Gita, Director, Brahma Kumaris, Los Angeles, Sister Denise and Rev. Gwynne personally gave everyone a blessing card and a traditional sweet. It was an event of insights and unity.

The Peace is on in Washington, D.C.
7-9 September 2013
The America Meditating Talk Show dedicated last week to peace in Syria, calling on everyone to send good wishes and peace to the leadership of Syria and the people.http://www.
7 September
Arun Gandhi, grandson of Mahatma Gandhi visited the Brahma Kumaris Meditation Museum to join in a conversation with youths from the Gandhi Brigade on Peace in Syria. He shared with them that violence begins with our thoughts and that it can end with our thoughts. "Pause for Peace" Plaques were presented to Arun Gandhi and the Gandhi Brigade. The students also had an opportunity to ask questions and Arun shared memories and teachings of his grandfather.
On the same day, a Special Prayer Call, hosted by the Shift Network, was held with spiritual and religious leaders and members of the general public. It invited people from around the world to join Pope Francis in a day of worldwide fasting and prayer for peace in Syria. Sister Jenna conducted a meditation and sent well wishes on behalf of the Brahma Kumarishttp://theshiftnetwork.com/
Brahma Kumaris participated in the Unity Walk honoring the life of Nelson Mandela. South African Ambassador Rasool; Rabbi Lustig from the Washington Hebrew Congregation; Joshua Salaam from the DC Youth Slam youth poets and Sister Jenna shared wisdom and words of encouragement on hope, divinity, and peace. http://911unitywalk.org/
Sister Jenna, representing the Brahma Kumaris, served as a guest panelist in Baltimore, Maryland, at a program organized by Simran Singh's 66-City Rebel Road Tour.Other spiritual leaders included: Rev. Anthony Farmer, Rev. Dr. Raymont Anderson, Honi Borden, Peg Zenuga and Lea Morris.

Br Anthony's tour of East Coast, USA
30 August - 8 September, 2013
30 August – 1 September (North American Retreat Labor Day Weekend)
Magic, Miracles and Moments at Peace Village
Sister Mohini and Brother Anthony from Greece held the weekend with great power, dignity and grace. The topic was 'Acquiring a Silent and Still Mind!'
The atmosphere of silence and stillness created a stage where magic and miracles could happen. The gathering of about 200 souls were taken to a height and depth of spirituality where our old world was felt to sigh with relief and in hope. There was an unusual soothing atmosphere of calm & peace without any conscious effort to be silent.
Brother Anthony shared many profound points to help us deepen our connection with ourselves, with Bap Dada the human family and Nature.
1. It is essential to explore the subtle; it is only truly accessible through silence and stillness, going deeply in and deeply up. A process to achieve this is to move from formular thinking to reflective thinking and contemplative thinking (a state of absorption)
2. Silence, awareness, open heartedness, inclusivity can only come from the connection with Baba. We give our heart and mind to God. He gives it back to us – purified & healed – so others can be healed.
3. Have full commitment to the original complete form. Om shanti Om… I am here, my true identity in the present, an eternal, luminous point of energy; original harmony, serenity, contentment.
Brother Anthony spoke of the importance of being the detached observer, a state of being that is extremely valuable. This state enables the soul to embrace differences, to be tolerant, not opinionated, free of criticism, to be involved & not entangled.To observe – neutral; to be able to tune in to the picture but to absorb nothing from the picture, not to be influenced. Aware without judgment….Silence helps to observe ourselves more accurately. My / our Dharna needs observation because I / we want to improve, be a better server, be authentic.
In the short space of time, so much happened; angels were revealed, pure vibrations felt, souls surrendered to the moment and BapDada came very close. Renewed energy and emphasis was put on the concept of mansa – seva that Dadiji spoke of recently. It was a joy to have such a yogi soul in our midst who so openly, generously and deeply shared his knowledge and experiences. The deep commitment to his spirituality and the stage he has attained through it is an inspiring example especially as a spiritual manifestation of Brahma Baba in the West.
It was a very full, fun and satisfying weekend at Peace Village which brought souls from all parts of North America. Aunty was here from Toronto with many family members to meet Sr.Mohini and to honor the memory of her sister Sunny. The film crew of the movie 'It's About Time' was at Peace Village and they previewed a portion of the film. The IT team was here as well, fine-tuning many technical aspects and taking spiritual benefit from Sister Mohini's presence. The Youth team was also here planning for the future of '7 Billion Acts of Goodness' initiative.
And of course, we celebrated the homecoming of Sister Mohini back to Peace Village after her knee surgery. It was thrilling to see her walking along the new pathway so steadily, with such grace and dignity. She was like a royal ship sailing into the harbor! Her spiritual smile was reflected on the face of everyone around her. She continued to thrill us with magic and miracles as she rose to her feet, inspired to dance in appreciation of the moment.
The retreat concluded with sharing of profound experiences, a cake cutting ceremony of joy, thanksgiving and celebration.
3 & 4 September
After the retreat, Br Anthony had public programs at the Edison New Jersey center as well as the Manhattan Center.
5 September - Public Event at Harmony House
The Way of Being at Times of Crisis
Crises come in our lives because I need to learn a lesson for development and growth. If internally I'm in harmony with myself, the crisis won't affect me. Silence helps a lot: To be in peace with your-self. A peaceful person is stable and can share solutions at the time of crisis because their intellect is clear. Inner peace is a great power.
At times of crisis we need discernment. We have the ability to make choices and decide, so nothing is hopeless. Open the third eye of the soul, "Today I choose a new attitude". Every day I can make a choice for something alternative. "Past is past". Learn from the past but don't be defined by it; sometimes we have "convenient amnesia". We forget our own mistakes but remember those of others.
We need stethoscope intuition: The ability to listen well and pick up the rhythm of another human being, not to criticize but to have empathy.
Generosity of spirit helps in times of crisis. Don't get stuck seeing other peoples' defects. If you are stuck in a vision of someone, the relationship can't improve. Pure love is generous. A truly generous person doesn't count or measure….."I was patient twenty-five times, now I'm fed up!"
6 & 7 September
Br Anthony met a small gathering of VIPs in Boston, visited Inner Space and spoke on the subject of "Slaying the Three Dragons: Worry, Doubt and Fear" at the Cambridge Public Library. At a public program in Danbury, Connecticut, his discussion featured the Main idea of "How it takes just a minute to change your thought and change your life". He was presented a plaque and the key to the city of Danbury by Mayor Mark Boughton.

the TIME is...NOW
8 August 2013
The film was written a few years ago by Barbara Ramsay and made by HIM studios in Gyan Sarovar, Mount Abu. It addresses questions that affect us all. It features BK Sr Jayanti and Clarke Peters is the 'voice'.

Sr Bhavana's tour of Canada
August 2013
BK Sr Bhavana recently returned to New Zealand from a tour of Canada which included visits to Vancouver, Winnipeg, Calgary and Edmonton.
Her Canadian experience started at Vancouver, a beautiful city with lots of mountains, water and a lovely BK Centre. Vancouver BKs organised a public program at the Holiday Inn hotel, "Union of God" which 160 people attended. There was also a program at the BK Centre on "Relationships" after World Meditation Hour and a Janmashtami (Krishna's birthday) celebration for 60 people. Many children came and enjoyed dressing up and dancing as Krishna or Radhe.
Outdoor activities included a gondola ride in the mountains followed by a hike with local BKs.
After Vancouver Sr Bhavana visited Calgary for six days where she was able to enjoy a mountain day hike, a Rakhi Program for the public, time with new Hindi speaking students and a lovely BK Rakhi program in the mountains.
Her next destination was Winnipeg and shortly after she arrived she took part in an interview on a CTV live morning show discussing the benefits of positive thinking and meditation. This interview was only finalised shortly before she arrived. After the TV interview there was class and breakfast at the "Forks", a historic site for Winnipeg. Some other sightseeing included the Royal Canadian Mint where gold, silver, copper and iron coins are being made for over 70 countries.
Other programs included "Union of the Hearts", a Rakshabandhan program for 60 students and contacts and smaller gatherings such as a group at Portage La Prairie, a one hour drive away and visiting a sick relative in hospit
al who passed away a few days later. Sr Bhavana was also able to give a talk at a Hindu Temple for Janmashtami celebrations where there were over 200 people.
Edmonton was her last stop, where she stayed for four days and gave a public talk on "Easy Yoga for a Balanced Life", which about 60 people attended.
There was also a Q&A class for BKs and a picnic at Victoria Park. On another day there was a Rakhi program with BKs and a Janmashtami celebration.
Sr Bhavana stopped for one night on her return trip at Vancouver. Her overall experience was of enjoying the beautiful nature of Canada, the local BKs and everyone who looked after her so well.

Awakening the Dreamer Workshop Kickoff in USA
28 July 2013

The Brahma Kumaris and the Pachamama Alliance collaboratively presented the Awakening the Dreamer Workshop at Anubhuti Meditation and Retreat Centre in Novato, California (near San Francisco) on July 28, 2012. This joint venture was done for the first time in the USA to engage members of the public in some of the urgent and necessary questions of this age: Where are we? How did we get here? What is possible now? Where do we go from here? Our common mission is to create an environmentally sustainable, spiritually fulfilling and socially just world.

The workshop experience was based on Awakening the Dreamer; Changing the Dream Symposium developed by the Pachamama Alliance. It was integrated with Brahma Kumaris meditations, the BK Earth Care Workshop and a BK video on awareness. The Awakening the Dreamer Workshop was facilitated by Jon Symes, Development Director of Awakening the Dreamer, Gordan Lawrence, BK Green Team Representative, USA, and Sister Elizabeth Padilla, Program Director of Anubhuti Retreat Centre. Sister Chandru, USA West Coast Director of BKWSO, opened the event with words of blessings for the partnership and the workshop.

This USA kickoff event was well attended by sixty-seven participants of diverse backgrounds. They were deeply moved by the workshop and expressed real enthusiasm to play a role in creating a better world.

In the words of the participants, the workshop was …

"Rather than shutting out information because of feeling overwhelmed, I can process from a different place and be more empowered to act. This workshop is a sign of the shift that is happening."

"Incredibly informative, positively encouraging, and affirmative. One of the things that impacted me the most was the shift in the everyday attitude I felt – I did not feel the separateness after looking into the eyes of a stranger for over a minute."

"What a heartfelt experience, well presented, very meaningful, inspiring. Made me really want to get out there and do my part. You are the best ... I feel blessed and grateful! Thank you for being."

"Very good, very positive, making the emotion connection – good aha! The enthusiasm of the presenters and gazing into another's eyes exercise were favorite and effective parts. "

The workshop has factual and powerful documentaries interwoven with inspiring images, group sharing, creative meditations, and thought-provoking exercises. It encourages the participant to examine the environmental, social and spiritual condition of humanity, explore the root causes of our modern malaise, and generate alternative solutions for a better future.

BK Centres in nine countries have presented the Awakening the Dreamer Workshop thus far. The aim is to have as many BK Centres as possible do a workshop by 12/12/2012 as part of the effort to give birth to a new global awareness for a socially just, spiritually fulfilling and environmentally sustainable world. Jon Symes and his wife, Sand, will be attending the Environmental Group retreat in Madhuban on October 1, 2012. He will meet with other environmentalists and Brahma Kumaris leaders from around the world.

For more information and get access to all the materials visit, pachamama.org/bkwsu For PHOTOS: https://plus.google.com/photos

News of Flooding in Calgary, Alberta, Canada
as described by Sister Judi, Baba's instrument there
Monday, 24 June, 2013
Sister Judi is still evacuated. She reports that the underground parking of her condo unit was completely (to the ceiling) filled with water. And, the electrical room for the building is in the underground parking. So, no electrical, no gas, no sewage and no water usage. But, there is lots of heart all round!
It's really quite light and wonderful in the city, she says, despite the insanity of it all.

The mayor called for 700-800 volunteers

this morning

to gather at a meeting spot, and thousands appeared. And, the open source altruistic hash tag #yychelp has emerged, which connects those who need help with those who can.
To just dig in and get started is remarkable, considering what an overwhelming mess it is. And, they still believe the 'Greatest Outdoor Show on Earth" (i.e. Calgary Stampede) will go on, beginning July 5...quite a positive outlook in the face of what the fairgrounds look like! In the below images...anything that is murky brown in color is river/sewage water...and it's not normally there.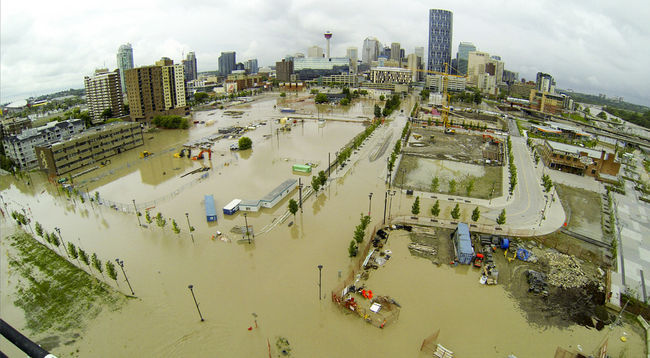 Sunday, 23 June 2013
This morning murli class is being held in our NE Class location, as the northern part of city was completely unaffected really. So farsighted of Baba to create the NE class space for us.
Saturday, 22 June 2013
All BKs are great in Calgary, but it is difficult to cross the rivers, so we have not all been able to meet physically together for a couple of days. Both the Main Centre and NE Class are in good shape (just a wee bit of water damage to NE Class, but that was due to rain, not flooding).
About five individual BKs and two BK couples were evacuated. Those who were evacuated lived within certain distance to Bow or Elbow River. All found accommodation with friends and/or family. This is actually the case for most souls affected by flood. Even if they did not have friends or family in city, the social media was filled with souls offering their home for accommodation. A few BKs homes have sustained damage.
The situation is having a powerful effect all souls here...BKs get to discover deepening meanings of spirituality, and all souls affected are discovering deeper meanings of letting go.
The water does seem to be receding, but a bit more rain is expected. However, the damage is insane. City of Calgary went underwater, and so they expect mid week may be earliest they can begin to operate. And, of course, the Calgary Stampede is scheduled to begin July 5. But, the fair grounds went underground. You can see the desire for souls to return to a state of normalcy....which I don't know if ever possible....
It will take quite a while for communities to resume full functioning...the water has made quite a mess. So much water everywhere, and power is off in evacuated communities. But, the power of the spirit is at an all time high...the beautiful acts of cooperation and care we witness, and the accuracy of the emergency services in supporting all, is really inspiring.
Send your sakash to the town of High River. An entire town evacuated, an entire town consumed by water. This is the sign of scenes to come. When the evacuation centre itself has to be evacuated...there is despair.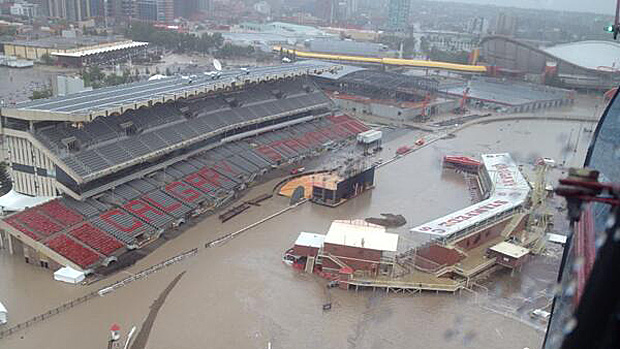 Friday, 21 June, 2013
I am currently at lokiks (as they are at higher ground). The main students here in Calgary (who tend to live near the Centre, which places them near to the rivers) were evacuated from homes from about 5:00pm onwards Thursday, as the run off water from mountains was swelling rivers at rates not anticipated, and backing up sewer water into the streets. Once we got home (had to use Baba as our "GPS" since radio updates were all fairly grim) we satin meditation much of the evening, knowing the increase distress of souls. You could look at the river one moment, turn your back for 5 seconds, and on looking again, see an appreciable rise in water levels.
Nora and myself were evacuated at 2:00am last night. The water was backing up so fast out of the sewer, one was not certain the car would make it out in time. Heartfelt appreciation to the city emergency services for being extremely proactive and organized in these evacuation procedures. Because they were ahead of the game, which appeared initially to be overcautious, they could stay on top of a situation that escalated quite quickly.
I hope to travel in to the core today, which is right by the river. I expect a bit of a mess, but Calgarians are a resilient bunch, and will undoubtedly attempt to keep things running as fully as possible. Tis' the result of being trained by brutal winters and volatile weather year-round.
That's about all I can report at the moment. We are encouraged to have our viceless wireless working well, as communication sometimes cannot be through regular channels. A sister (Diane) bravely got to Baba's Centre last night, about 11:00am, as it is a commercial space and no one resides there. The Centre is about two blocks from one of the two flooding rivers. She ensured valuables were removed, and as much contents as possible was lifted off the ground.
As for souls at the source of the issue, a place ironically called 'High River', as well as those in the mountains where the rain is pelting, sending unlimited light and might is our main focus today. Yesterday also saw a leak of sour gas from a southern Alberta town called "Turner Valley". The leak appears to be contained at this time.
Much love, Sister Judi

Sr Ronnie from Long Island, NY on the impact of Superstorm Sandy
2 November 2012
Hi all! i know many of you have been trying to reach me since you know i live on the water in long island new york and the devastating effects of the hurricane one week ago. i apologize to those of you receiving this email in error but just sent it to all on my contact list since i'm pressed for time.
after one whole week, one of our libraries finally got power and there is a long line of people waiting to use the internet computers. the whole bottom level of my house (bedroom/office/bathroom/garage/all the contents) and ron's two cars and deck and entire property got destroyed. but other people on long island even got it much worse and some people got killed. still no power or hot water / heat / internet service --- not even cell phone service in most places, so really frustrating not to get a hold of the people who are worrying about us --- still 3 mile car lines waiting for gasoline.
it took this disaster for me to realize the depth of attachment to physical belongings, especially the sentimental stuff that can't be replaced, like 35 years of family photos / 45 years of spiritual books / 16 years of all my Brahma Kumaris journals/notebooks/books/pictures, etc, etc, etc. i'm realizing the heaviness and sadness in my heart, even after all my years of spiritual practice and meditation and practicing 'going beyond' and knowing so deeply that all the physical is perishable. my block that my house is on looks like a war zone and many areas got hit even worse.
i feel like it's been months since my life was 'normal' even though it has only been one week. i really miss going to harmony house every morning for my daily group meditation and spiritual classes (way too far to use so much car gasoline) and i miss my daily international skype meditation practices --- i especially miss the power of the gathering.
ron's 92-year-old mom who lives with us is luckily at my sister's house where they have a generator for heat, etc. ron and i are limited to where we can go to sleep and take hot showers (although the first few days we took cold showers and slept in the cold) because of our dog. and since we all know: 'when it rains, it pours' --- 2 nites ago we had to rush our dog to an all nite emergency vet because of a bladder stone blockage - and even though we got him back the next day, he's not doing well at all. another reminder of my attachment to this beloved 'family member' who only gives us unconditional love.
i want to sincerely thank everyone around the world who has been reaching out to us, although i don't have the time to name you all individually. as we all know, there are always positive sides to every situation: it's beautiful and amazing the helpfulness and generosity of everyone, the comraderie, getting to know one's neighbors, spending quality family time together, and many more etc's, too many to mention. again, thank you all for your concern and good wishes --- we feel it and appreciate it.
and most of all, thanks to our beloved Baba (a loving and endearing name for 'God') for always being in our hearts and always having all of us in 'His Heart.' much love and peace and many, many blessings to all of you!!!! :) AND A VERY SPECIAL P.S. TO ALL OF YOU OTHERS THAT HAVE BEEN AFFECTED BY 'SANDY' --- MY HEART AND THOUGHTS AND BEST WISHES ARE WILL ALL OF YOU!!! :)