Green News
Green News

News from France of the Le Havre Positive Planet Forum
3 November 2019
5000 people were gathered during three days, with 150 speakers from all over the world who presented practical positive propositions to change our societies facing new challenges and the Brahma Kumaris were invited to participate.
Four main agreements have been signed by François Albert Amichia (Minister from Ivory Coast, François Baroin for the French Mayors Association, Guy Geoffroy for the Ecological Mayors and Michele Sabban for R20, in order to expand positive economy everywhere and help local officials to move on with this positive transition.
This year, an important place has been offered to young people through children and school forums, allowing them to address their concerns to the Education Ministry and to leaders of large corporations.
Topics ranged from saving the oceans to new food and transportation modes, with many films being shown and a concert at the end, with artists like Martin Solveig, Kungs and Myd, among 35 000 people on the Nelson Mandela plaza.
Click here for full report with photos.

Green Newsletter for September, 2019
29 September 2019
Dear Spiritual Eco Servers
Lovely and green greetings. Here comes another newsletter with green updates and inspirations.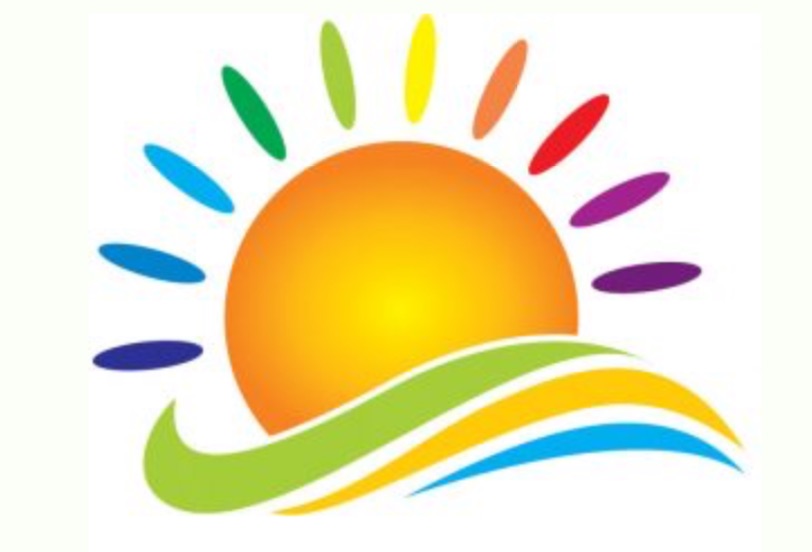 Arnold writes: It was in January 2009 that we started the BK Environment Initiative. In those ten years a lot has changed with respect to the climate, both inside and outside the BK. The most obvious change is the raise in awareness. Nowadays, people are talking about climate crisis and emergency instead of climate change. When people personally experience heatwaves, droughts, floods or storms, they truly start caring. Especially the lives of youth and future generations are impacted. That is why students have started climate strikes all over the world, please check https://globalclimatestrike.net. The next ten years will be crucial for the future of the planet. Will you actively contribute as well?
Adaptation is not an alternative to a redoubled effort to stop climate change, but an essential complement to it. The good news is that adaptation, done right, will lead to better growth and development. It will also protect nature, reduce inequalities, and create opportunities. Here is the link to the full report from Global Center on Adaptation.
NEW - Video Green Angel Commentaries. BK Nico from Switzerland has made a beautiful green angel meditation video. We now have a new green website in Spanish - congratulations to the team:
https://medioambiente.brahmakumaris.org
Looking ahead:
Green Day in Madhuban in 12 October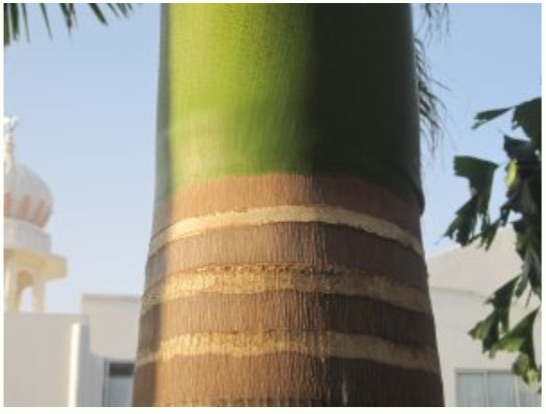 Welcome to finetune your relation with Mother Earth. With presentations about Planetary Consciousness we will go deep into the connection between mind and matter. We will arrange a variety of green conversations, art workshops, silent morning walks and an evening peace concert. You are most welcome to join – Golo, David, Sonja

The Living the change network is calling for programs, conferences and workshops around behaviour for sustainability. Food, life style change, are favourite topics of theirs. If you have organised anything or plan to please kindly fill this online table where information is collected for the the world map as soon as possible.
Climate change for youth all over the world
The Conference of Youth (COY) is the official climate change event, an annual gathering of young people from all over the world, who are passionate about climate change and environmental topics. Local COY (LCOY) are organised in different parts of the world. Our BK Environment Initiative, which has been taking part in the COY since 2011, provides youth with workshops on the connection between consciousness and climate change and self-empowerment through meditation. This year Local COY will take place in the following countries: Austria, Burkina Faso, Cameroon, Egypt, Fiji, Germany, Haiti, India, Italy, Ivory Coast, Kenya, Mauritius, Mexico, the Netherlands, Nicaragua, Pakistan, Poland and UK. There might be more countries participating. Kindly check here for the latest information and contact brother Niranjan if you like to participate at environment@brahmakumaris.org
Reports:
The living the change network is calling for programs, conferences and workshops around behaviour for sustainability. Food, life style change, are favourite topics of theirs. If you have organised anything or plan to please kindly fill this online table, where information is collected for the worldmap, as soon as possible.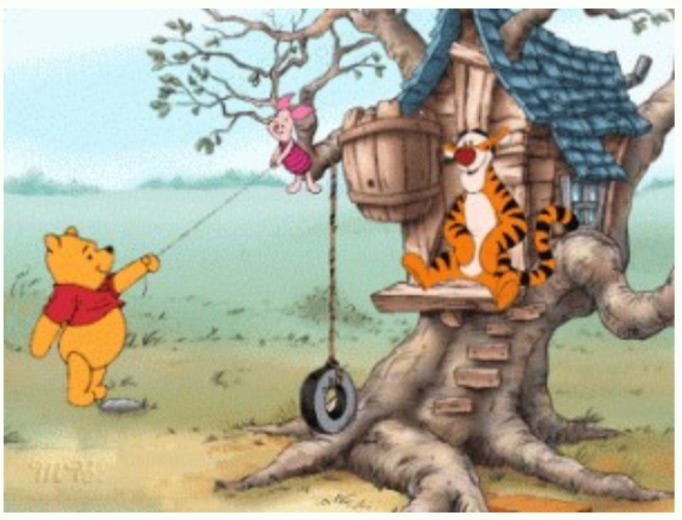 UN Conference on Combating Desertification in New Dehli
The UNCCD COP14 was organized from 2nd to 13th September 2019 at the India Expo Mart in Greater Noida in which delegates from 196 countries participated. The Brahma Kumaris Ecio Initiative particiapted with an international delegation. You can read 5 reports here with pictures also from our Happy Farm.
Visit Happy Farm Noida, New Dehli
NGO Conference in UTAH in August 2019 – Building Inclusive and Sustainable Cities and Communities, you can read about BK participation here.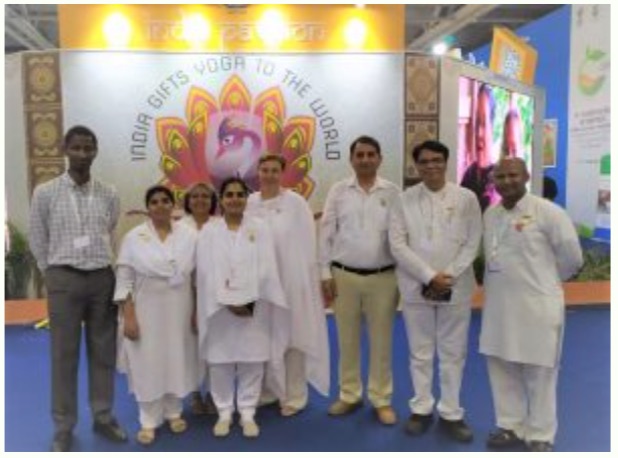 Salvadore, Brazil
This is a photo report of the participation of Brhama Kumaris in the Climate Week for Latin America & Caribbean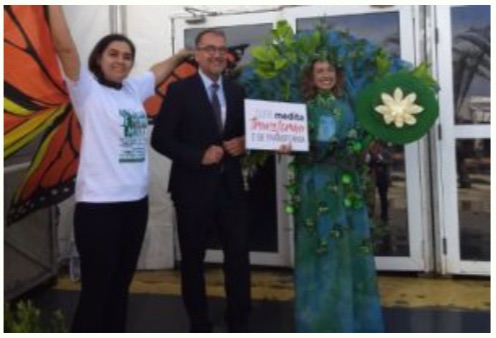 Laudatio Si Conference
Celebration of the 4th anniversary of Laudato Si and the 5th anniversary of the Catholic environment group CYNESA, Kenya July 2019. Nairobi green team participated, see report
Green Retreat in Malaysia
The Brahma Kumaris family in Malaysia held a green retreat to look at aspects of agriculture with experts giving advice on such matters as Fertigation and Hydroponic Farming Systems. This was combined with reflections on the power of meditation to positively affect agriculture yields (yogic farming) See report.
World Environment Day
We got acknowledgment from UNEP for our World Environment Day programs: "We're doing a compilation from all the faith-based activities done in World Environmental Day and Brahma Kumaris was one of the most active organizations, and we want to thank you for all your effort and implication during that day." See this report from Brazil with beautiful photos from many places incl. a Flash Mob.
Ban on single-use plastics in Abu
Good news from Madhuban about plastic. Read more about plastic free yagnya here.
"Many cities in India are working towards a ban on single-use plastics. Since 15 August 2019, Mount Abu/Abu Road Municipality and local government officials have declared a complete ban on single-use plastics or disposable plastics, which are commonly used for packaging, and include items intended to be used only once. These include in particular: Grocery/carry bags, food packaging, water bottles, straws, containers, cups and cutlery.Very strict action will be taken against those using the above items in any of the Brahma Kumaris' campuses. There will be fines for the first two times one is caught, and then a larger fine plus a First Information Report lodged in the fourth instance.
Pandav Bhawan, Gyan Sarovar and Shantivan have started to use biodegradable plastic in its departments, and we strongly urge all BKs and visitors to refrain from carrying/using/giving any form of single-use plastic during their stay in Abu. One litre Mineral Water bottles will still be available for double foreigners as every year. However, we request that these be kept in your rooms, and you can fill your personal double-walled/insulated water bottles to carry around the campuses. Once used, the single-use Mineral Water bottles can be deposited in a place on campus assigned for this purpose, and not discarded anywhere else."
Recommended links:
From Sister Maureen, London: 30 minute summary from WWF: Our Planet Our Business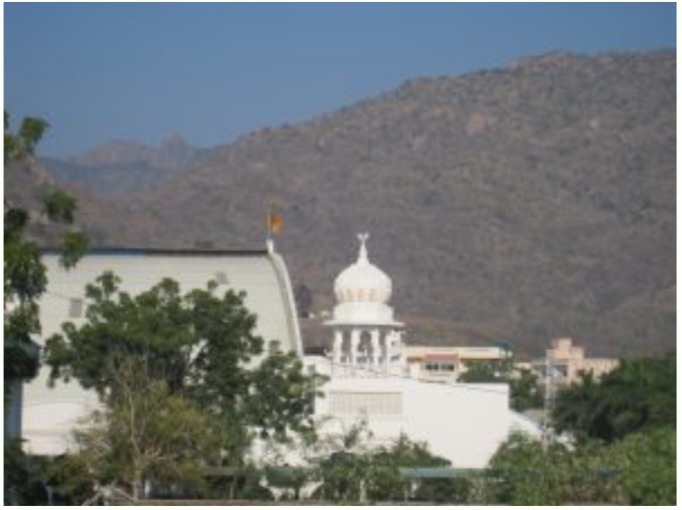 UNCCD COP 14 Service Report from New Delhi, India
12 September 2019
1st September:
The United Nations Convention to Combat Desertification, Conference of Parties 14 (UNCCD COP 14) is aimed at combatting desertification, land degradation & drought & focused on UN Sustainable Development Goals (SDG 15). This COP is organised every second year and this year the host country is India, Ministry of Environment, Forestry and Climate Change. The dates are from the 2nd September to 13th September 2019.
Brahma Kumaris got the accreditation as an observer organisation to UNCCD COP 14 just recently, so this will be the first time BKs will be taking part in this conference.
Long before the actual conference started the team had their regular skype meetings where they discussed and planned their events. Also regular yoga was done for this event specially.
We are the only Faith Based Organization (FBO) taking part in this Conference.
The BK delegation arrived on the 1st of September at Greater Noida. The BK family welcomed us all. The members of BK delegation are BK Rajesh Dave (Mumbai), BK John Ndiritu (South Africa), BK Shantanu (Madhuban), BK Swati (New Delhi), BK Parul (New Delhi) & BK Aneta (Poland/ Madhuban). The local BK family is helping us at every little and big step. To mention some of them: BK Vivek, BK Anita, BK Lalita, BK Vanita and BK Raghav. Its like an extended delegation that is serving the conference from outside.
We set up the BK booth which is just next to the India Pavilion. The second stall from the entrance (actually the first one as the first stall is empty for the time being so the first attention of the visitors falls on ours). The stall is quite big allowing us to display all our relevant posters and materials, we also have a nice big LED TV set that is constantly showing various BK environment initiative videos. The posters that we have displayed are Sustainable Yogic Farming (the objectives, process and experiments done so far), results of researches on power of consciousness on carrot cultivation, before and after example of how to change a barren land to a productive land. There is a poster of the new social wing campaign, together with plantation images of women, school kids from various corners of the country. BK renewable energy initiatives are present with information and images of India One Solar Plant and solar trainings.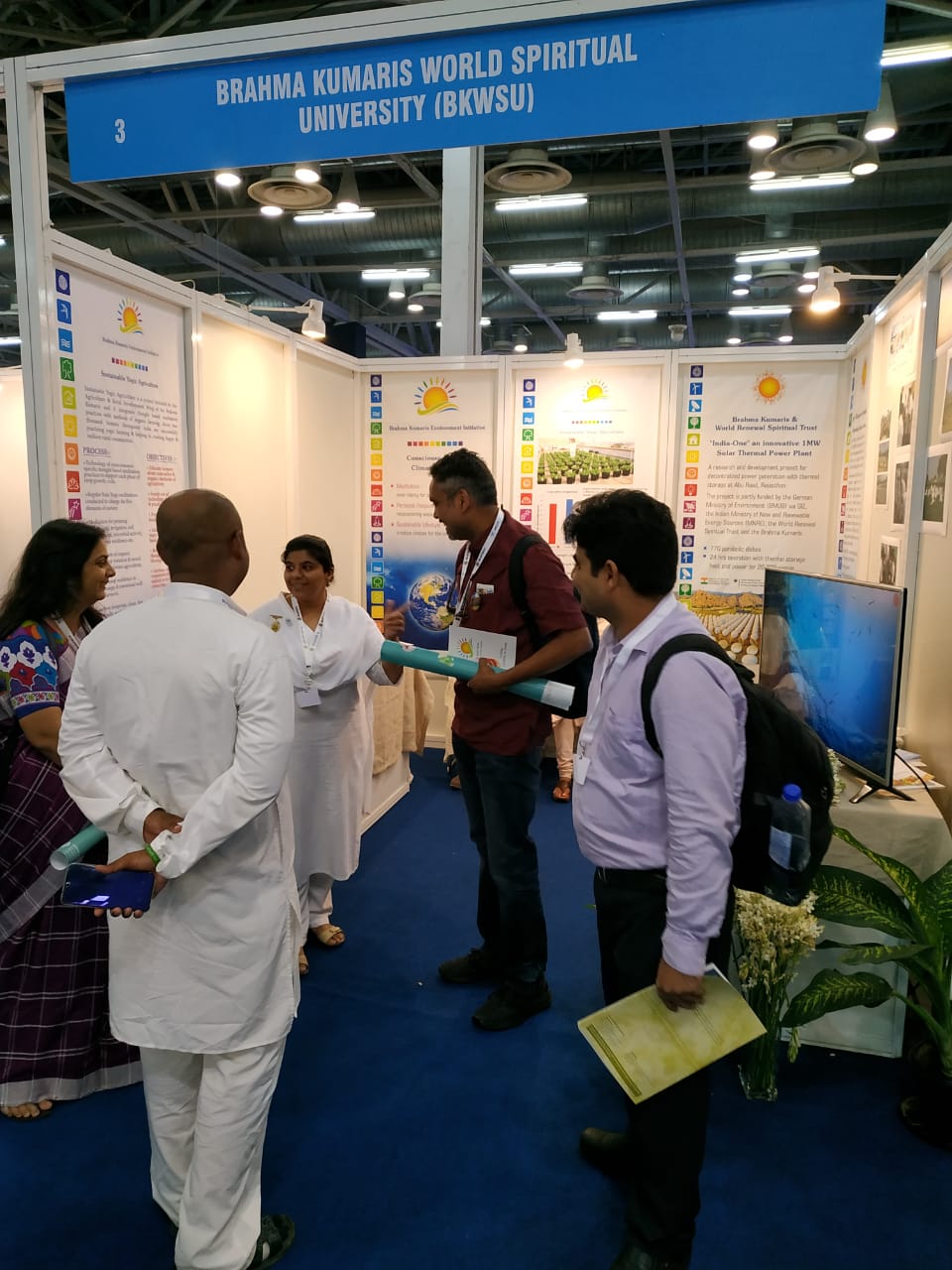 One of the unique addition to this presentation is the poster of Happy Farm. Happy farm is a 25 acre land where BK are doing yogic farming. It is just 10 minutes away from the Expo Mart of UNCCD COP 14 venue. Its is just like an extended booth of ours. Regularly twice a day we are organizing trips for interested delegates who want to experience yogic farming and yogic atmosphere. The speciality of the booth this year is the fragrance of fresh tuberose flowers from yogic farming which attract many, many souls.
On the same day we attended the first CSO coordination meeting. Brahma Kumaris got accredited to the UNCCD COP 14 as an observer organisation within the CSO community. It was the orientation meeting for the CSOs where various inputs were given on new communication methods like mobilize app, etc. The main agenda point was preparation of the opening statement on the behalf of CSOs for the inaugural session for UNCCD COP 14 to happen the next day, 2nd of September.
There are 5 main CSO priorities:-
1: Recognition by policy makers and others that community led initiatives are contributing to land degradation neutrality.
2: Securing land tenures in general and of women, young people and vulnerable groups specifically.
3: Participation of CSO in decision making process related to Land Degradation Neutrality
(LDN) targets is crucial.
4: Finance must be accessible and appropriate to achieve this LDN Targets.
5: Transform our society to achieve greater sustainability and equity especially gender.
The day ended with a nice meditation and blessing cards at the booth.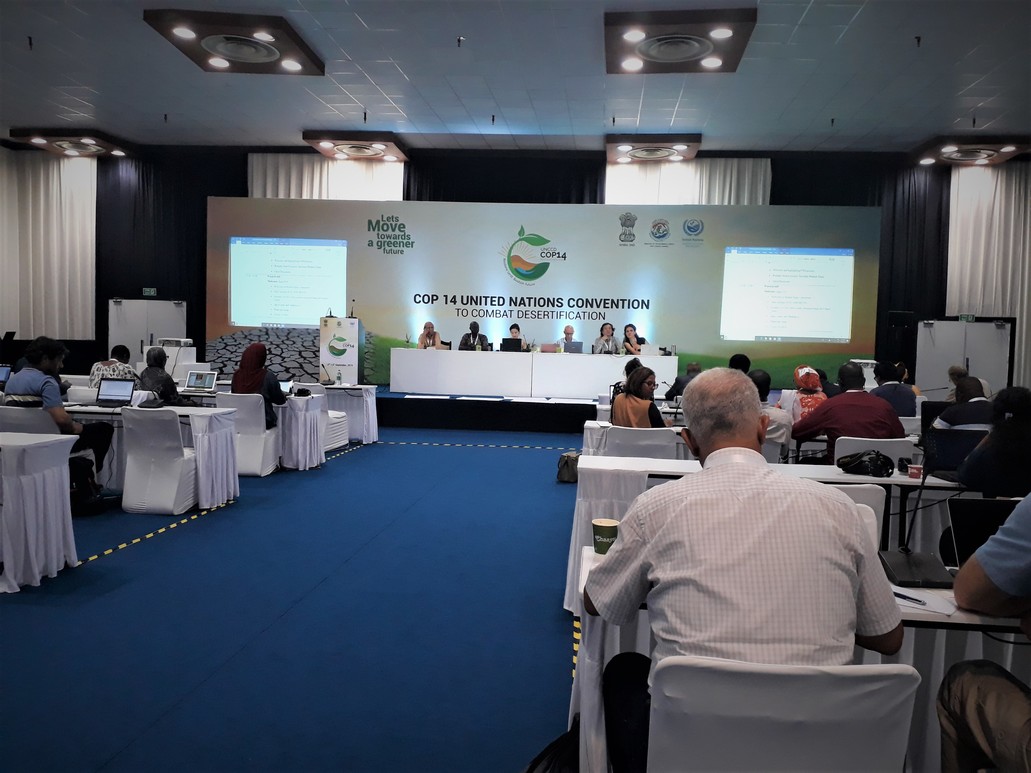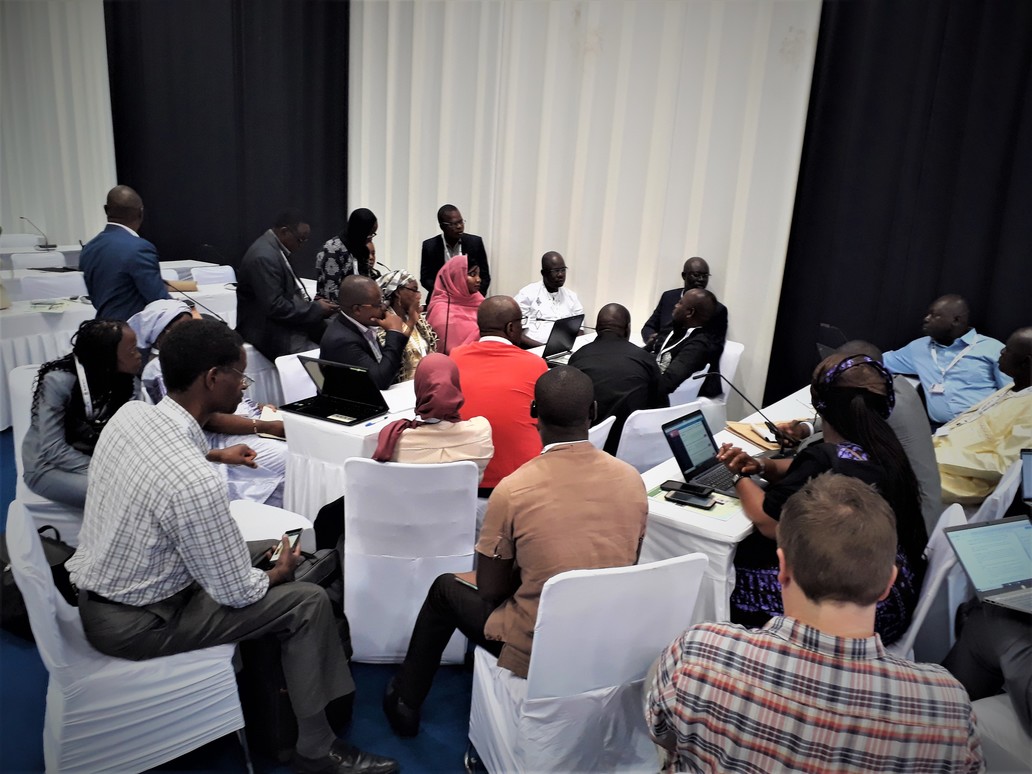 DAY 1:
2nd September
The day started with CSO (Civil Society Organisation) daily coordination meeting. We also enrolled for the working groups.
BK Aneta into Round table 1 on Land, Climate and Renewable Energy.
BK Swati into Interactive Dialogue 01 - Value Based Approach on Land Stewardship
BK Shantanu into Interactive Dialogue 02 - Healthy Planet, Healthy People.
BK Ndiritu into Interactive Dialogue 03 - Boosting Sustainable Value Chains for Land Based Business.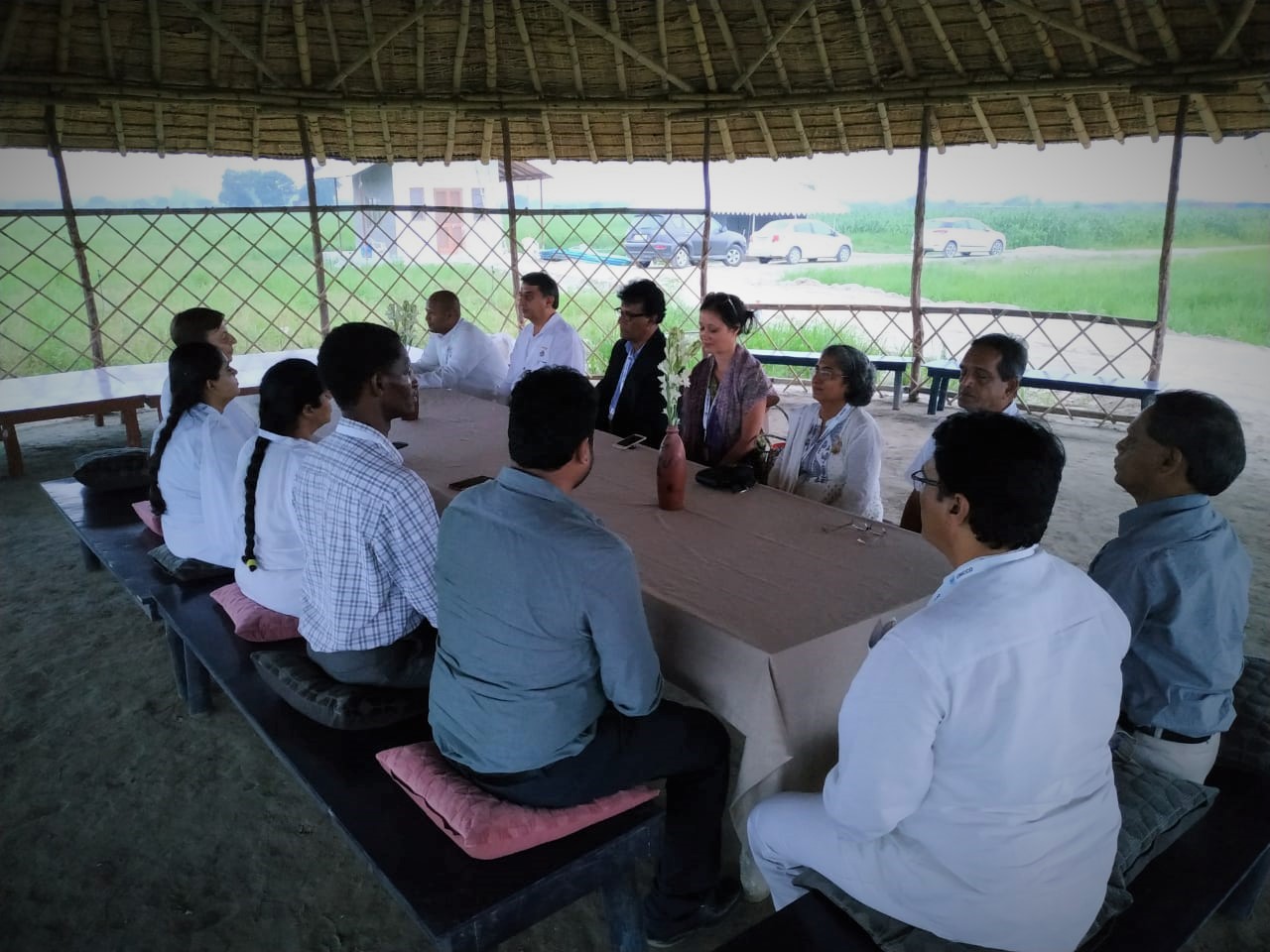 BK Ndiritu attended the meeting of all African CSOs. The discussion was to sensitize the delegates to engage actively and openly in all events with awareness that they represent around 1.3 billion African population. There was also statement formulation for the plenary sessions.
Some Youth Forum participants also met BK Shantanu and BK Parul.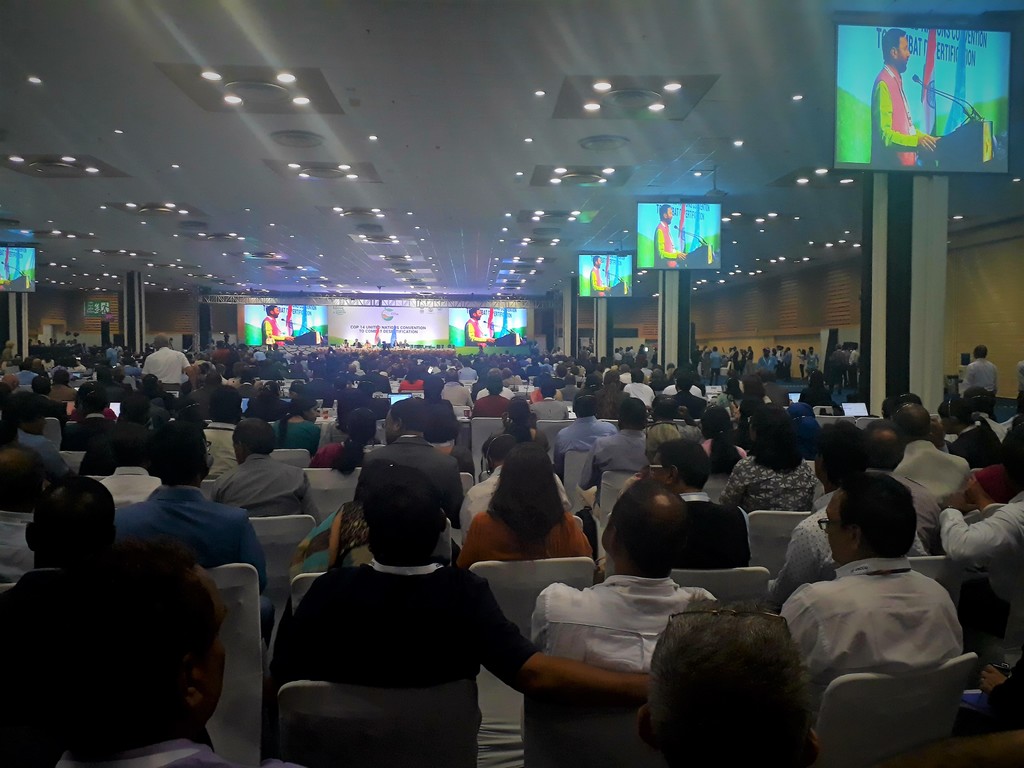 Later in the day, Mr. Prakash Javedkar (the New President of UNCCD COP 14 - Minister of Environment, Forestry and Climate Change, India) inaugurated the COP 14 and opened the plenary session by addressing the delegates. He talked about how Indians consider the land as their mother hence the UNCCD is of the utmost importance. As in India 29.3 percent of land is affected by degradation due to increased misuse of land resources and forests, so organising such an event becomes even more essential. He feels optimistic about the future because if our human actions caused the damage of climate change, land degradation, desertification and biodiversity destruction, so can our actions restore back our lands. There are representatives from 195 countries present at the conference.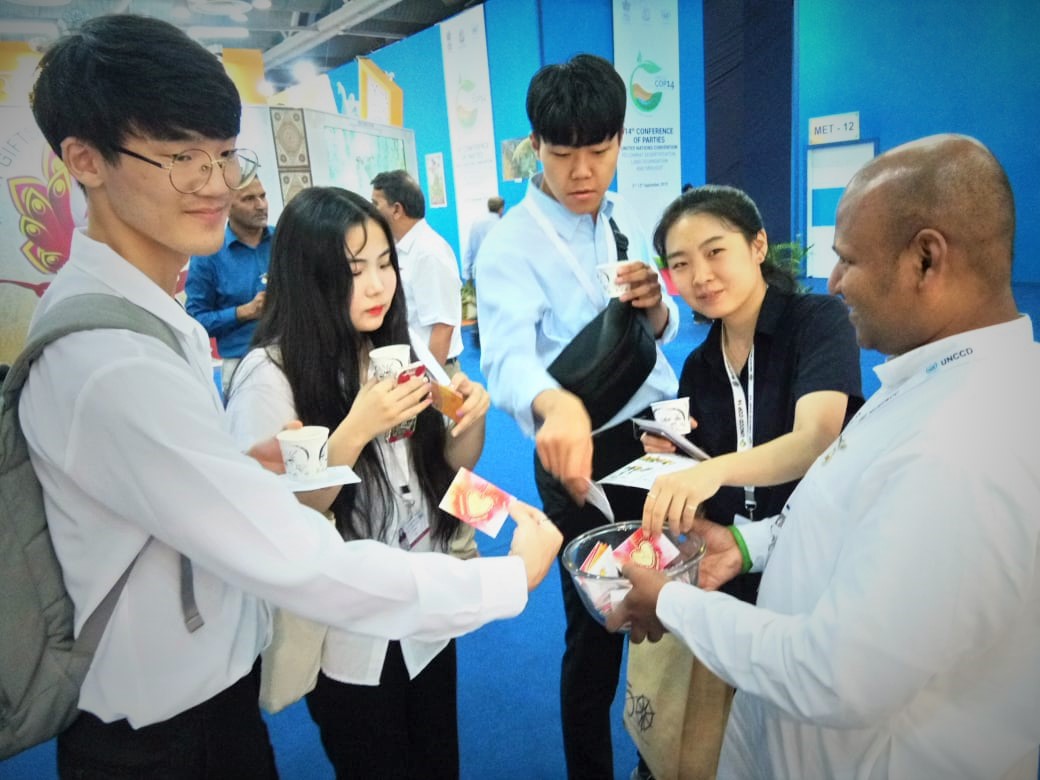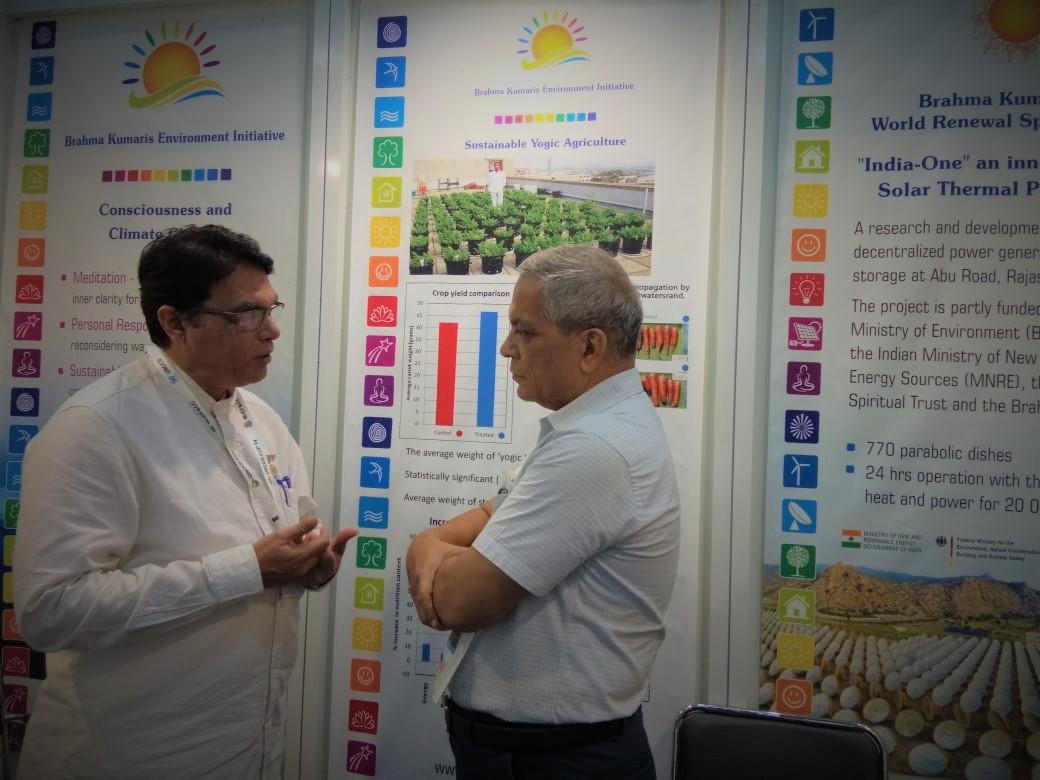 We also attended a side event organised by GIZ on Translating Soil and Land Rehabilitation into Action for LDN and Sustainable Livelihood. The main slogan is "A World without Hunger is possible". This special program of GIZ is implemented in 7 countries. Their targets include food security in 11 countries for 18 million people to be improved, development of 14 Green Innovation Centers, to improve life of 7 million people, rehabilitation of soil fertility of degraded soils.
BK delegates were kept very much engaged from the very beginning of the day because of the regular visits of many delegates to the booth. There were many interested delegates who wanted to visit the Happy Farm site to witness the yogic agriculture sample on first hand. At the end of the exhibition in the evening guests were taken to Happy Farm, where they visited the farm and also experienced a beautiful meditation conducted by BK Aneta.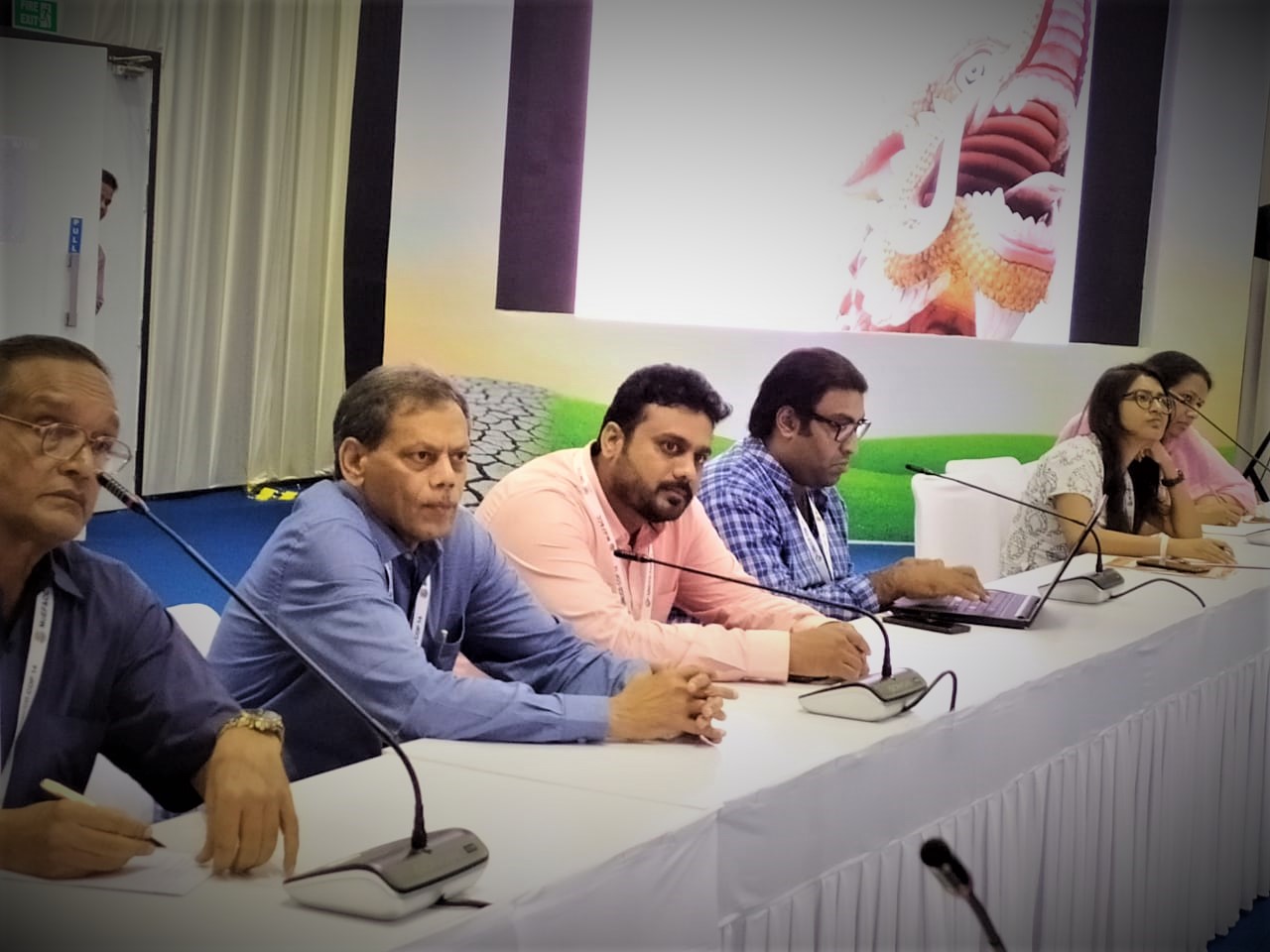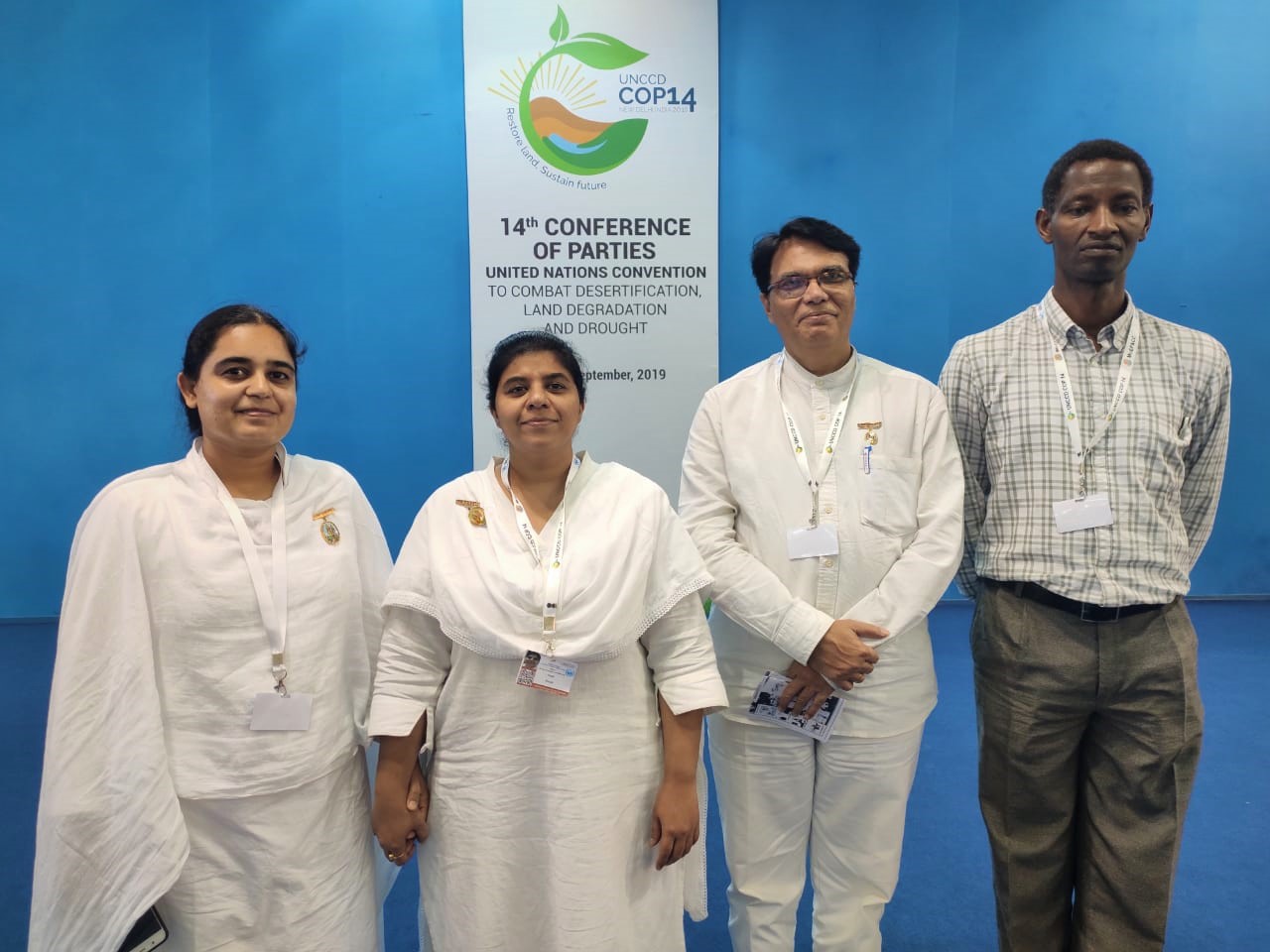 DAY 2:
3rd September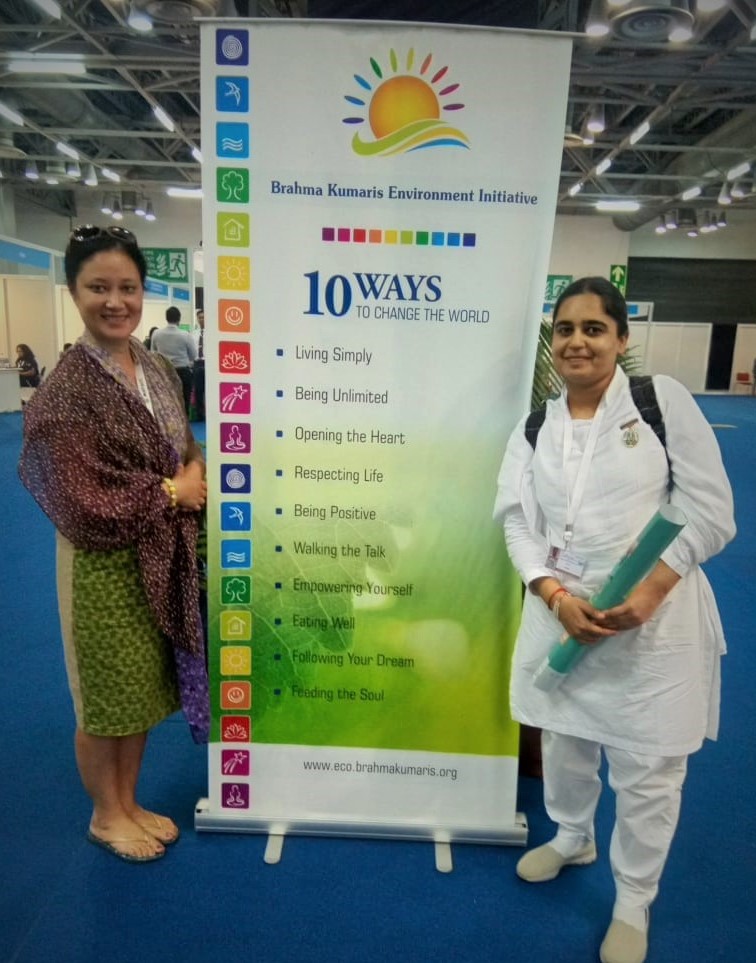 We started the day with Daily CSO coordination meeting where we invited everyone to our side event happening on the same day and also invited to our booth and Happy Farm.
Then we had our team meeting where we reviewed our past two days and made plans for the coming days. The booth is really doing a lot of service as most of the time there are some visitors there. Nathalie Van Haren (UNCCD COP 14 CSO Secretariat) got introduction to all BK environment initiatives and appreciated our contribution to achieving UNCCD COP targets.
From 1 PM to 3 PM we had our side event on Sustainable Capacity Building for Individuals and Communities in Challenging Times. As it is a paperless conference, we advertised this side event in all the media platforms being used by UNCCD COP like UNCCD App, Mobilize app, WhatsApp groups. etc. This side event was co-organised by another faith based organisation (FBO) Diverse Earth. The panel consisted of BK Aneta (R&D Coordinator India One), Liza Zogib (Founder & Director, Diverse Earth), BK Rajesh Dave (Executive Member of Rural Development Wing of Brahma Kumaris) & BK John Ndiritu (Asst. Profesor of Civil and Environmental Engineering at the University of Witwatersrand, South Africa). The event started with a moment of silence. The motive behind this side event was to explore the role of consciousness in desertification and present examples of success stories of applications of pure consiciousness on the matter: yogic agriculture, water and consciousness, solar energy. Also, presented was the role of sacred, natural sites in building resilience as beacons of hope and in transformation. It ended with a powerful meditation. Participants gave their valuable feedbacks after the sessions. Most of them were amazed that such a great potential is in the power of positive awareness and they felt that Brahma Kumaris must reach out more with their powerful messages to people. They were very touched by the meditation experiences specially.
The day was closed again with a visit to Happy Farm of interested delegates. Delegates from Israel and South Africa visited the Happy Farm, experienced meditation and felt very blessed.

Day 9
10th September
We started the day with our CSO (Civil Society Organizations) meeting. In the plenary session in the morning, there was a very interesting panel. The panel had Sadhguru Jaggi Vasudev (Isha Foundation), Baaba Maal (Senegalese Musician) and others. There were 3 interventions. There was a CSO intervention on theme "Value-based land stewardship". BK Shantanu's inputs laid the foundation for the preparation of the statement.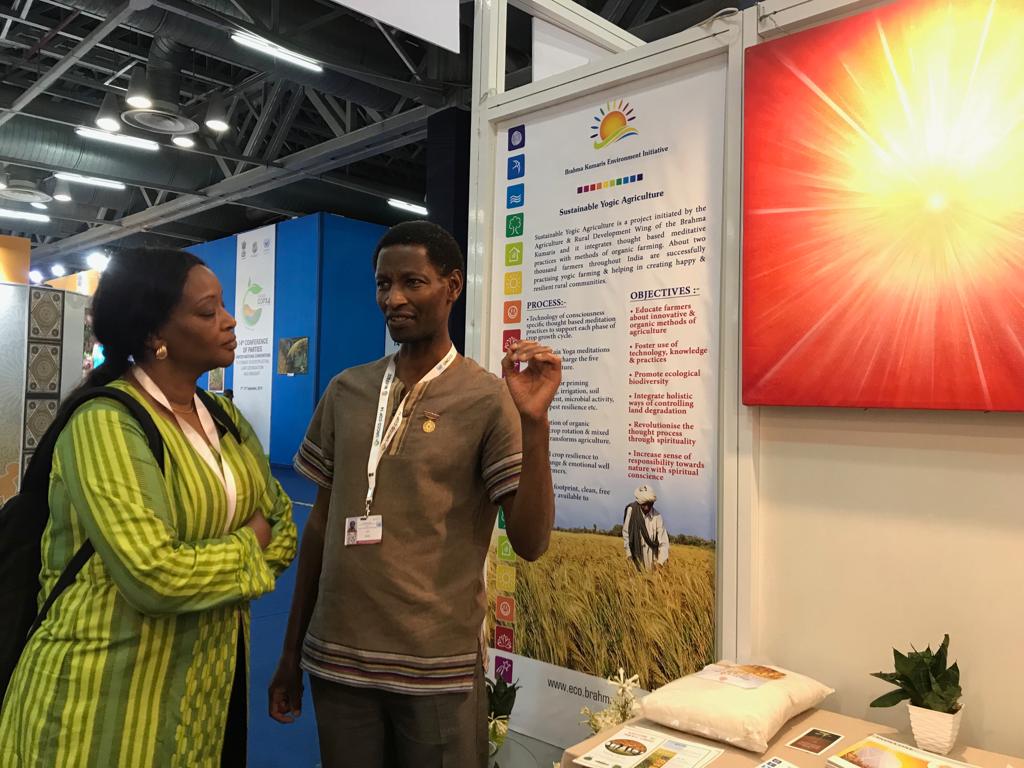 After this, there was a meeting of youth delegates with UNEP Executive Director Ms. Inger Anderson. It was a very small group, specifically the youth constituency, with some observers like BK Aneta and few others. BK Shantanu and BK Parul were amongst the youth constituency. NK Shantanu made an intervention and also raised a question. The intervention was to incentivize efforts of youth on all levels for youth and his question was, "What values in the inner world of an individual does UNEP in particular consider to change the outer world?". Ms. Inger in her reply first mentioned that yes, incentivizing can be a great model to keep the energy of youth freely flowing for longer durations, but the mode of incentives can be different in context of the place and people. She further added that the question is really a very deep one and one must consider its importance because it is with values that actions have any meaning. The values that UN in general endorses are of equity, respect and unity. So UNEP too works on this model and encourages efforts that strengthen these values in individuals and community. She also said "I thank you for putting this question on floor because when there is failure in one's efforts, it is these values that bring us back to action and so one must make the foundation of values stronger and deeper. Recharge your batteries every day because the task is huge and the path is rough".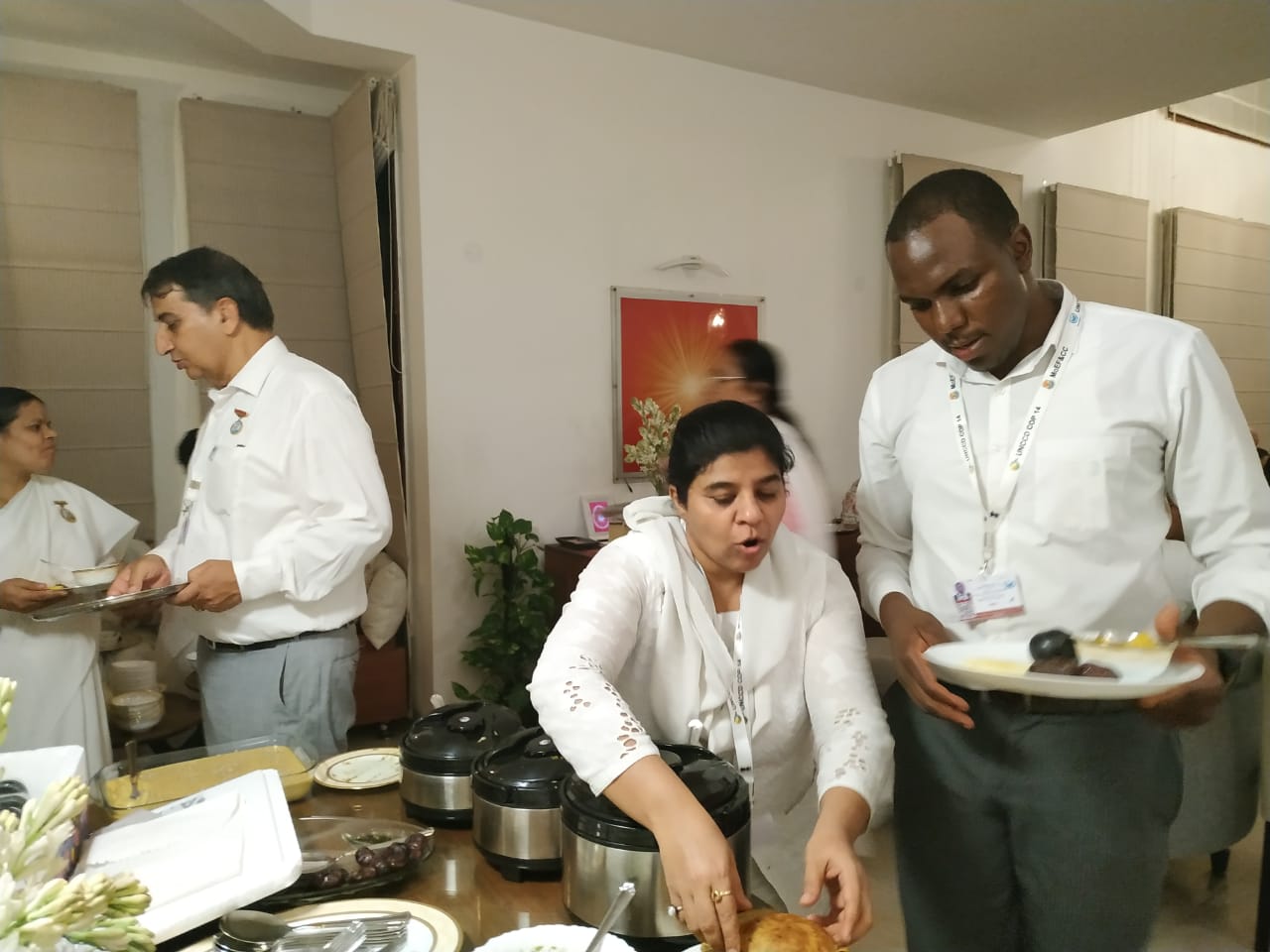 After this event there was a luncheon with HLS (High Level Segment) hosted by UNEP (United Nations Environment Program). In this event many CEOs, Ministers, world leaders, heads of delegations were present. There were youth constituency members too present. BK Aneta, head of BK delegation was present and also was BK Shantanu, who has prepared the interventions that were to be made by the Youth Representative in the session. The Panel had Ms. Inger Anderson (UNEP Executive Director), Mr. Tim Chirstophersen (Coordinator, UNEP for Land, Water & Climate), Ms. Naoko Ishii (CEO GEF), Ms. Yugratna Shrivastava (Global Focal Point for YOUNGO, and Youth Caucus UNCCD). The ideas were coming from every corner to make the upcoming decade of UNEP, successful.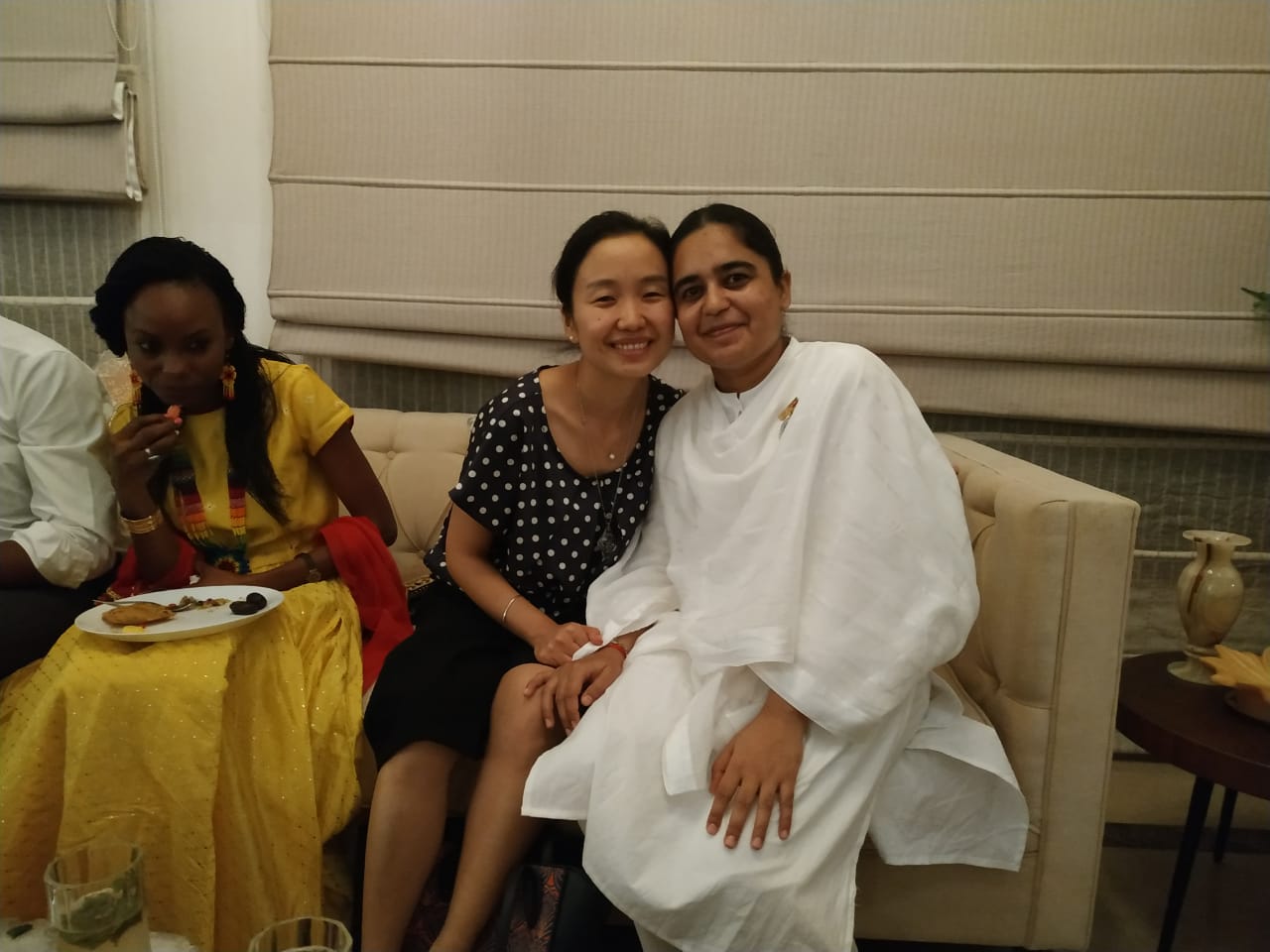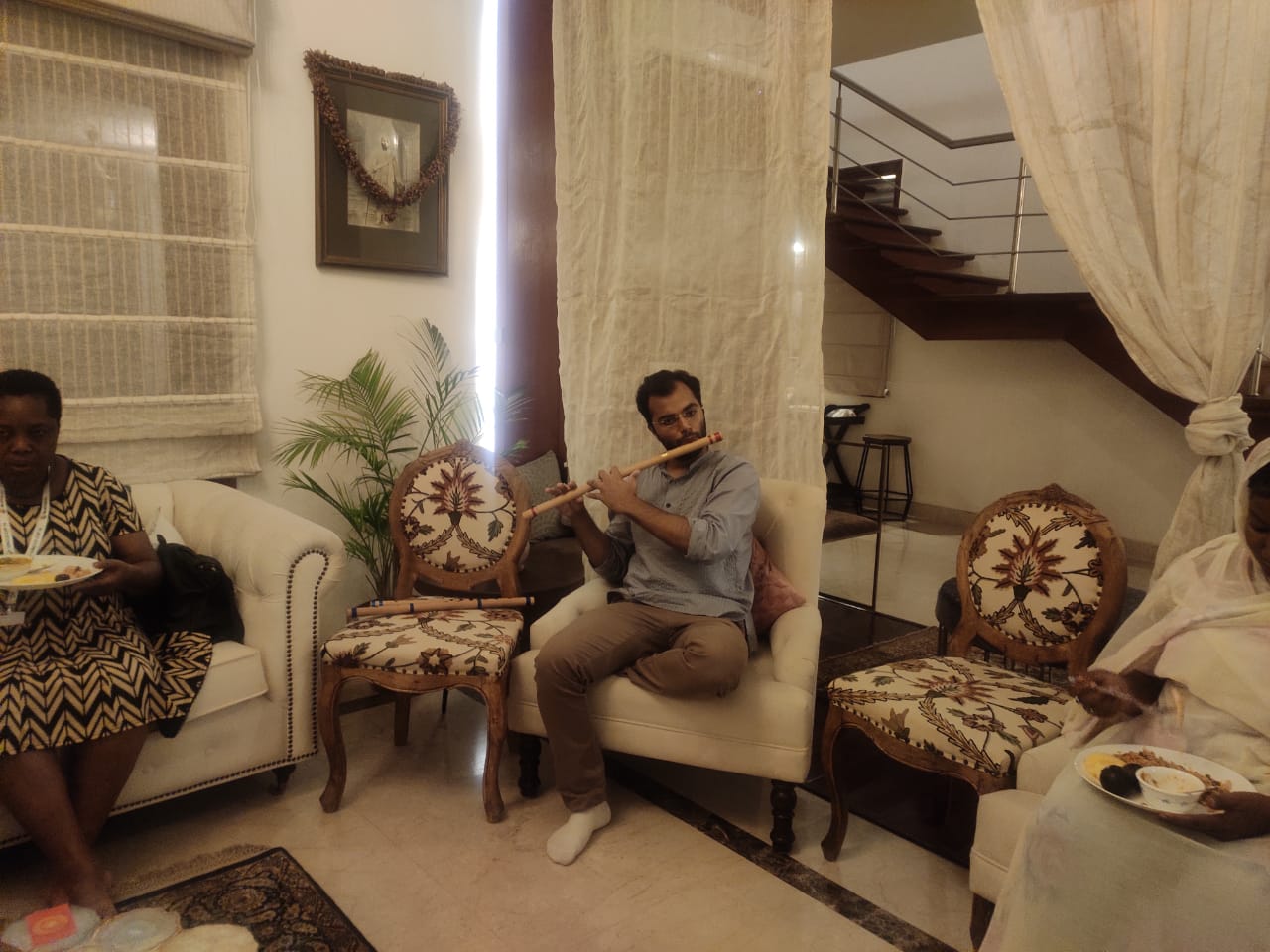 Later BK Aneta met Hindou Oumarou Ibrahim, CSO Leader, Indigenous Peoples Activist from Chad and Tim Chirstophersen in person and invited them for an informal dinner organized by BKs on the 11th September.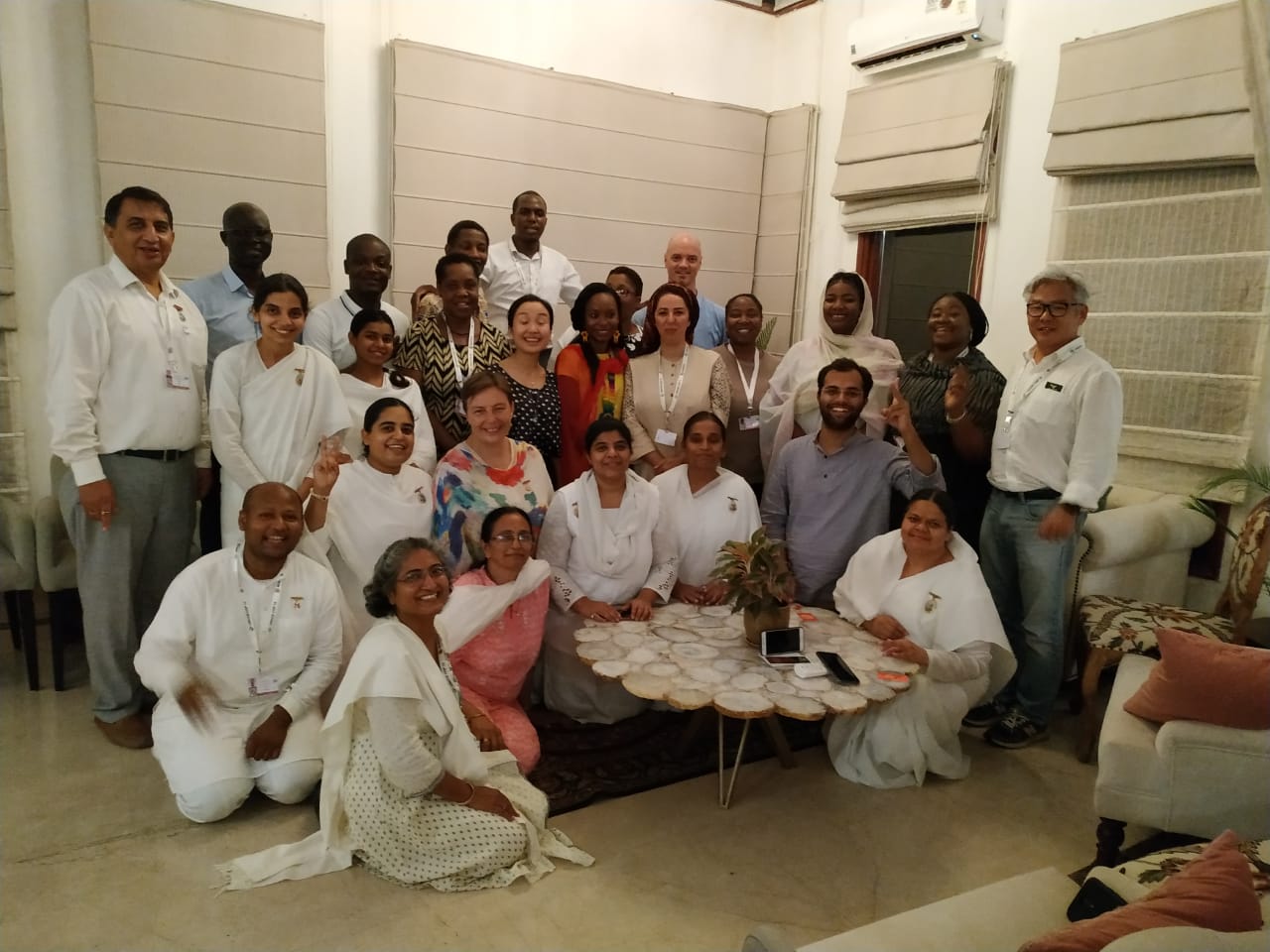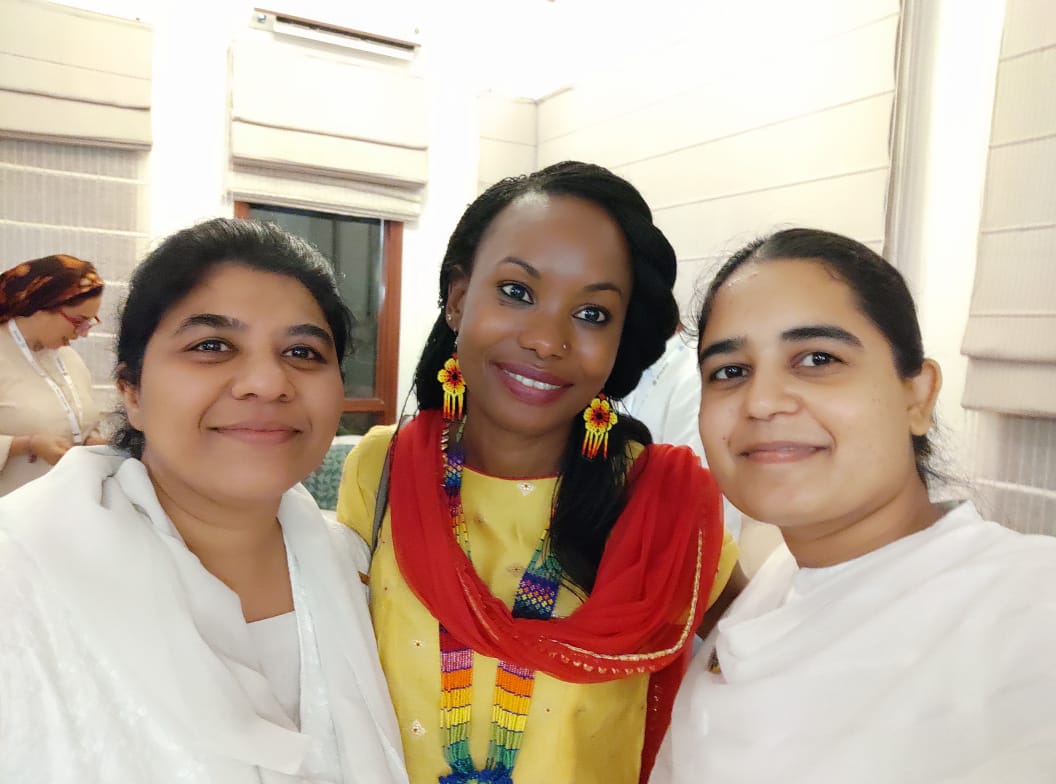 John Ndiritu attended a Technology Fair presentation by GIZ (Germany) on digitalization approaches to foster urban-rural nutrient and carbon cycle by enabling farmers in rural areas to obtain organic fertilizer from wastewater treatment works in urban areas efficiently.
Later that day, John Ndiritu attended the Day of Action for Land at the Rio Pavilion where the 2019 Land for Life winner and three previous winners spoke and made presentations. John Ndiritu enquired about the severity of sedimentation in the catchment and at a recently constructed dam and was informed that it is not significant at this point in time.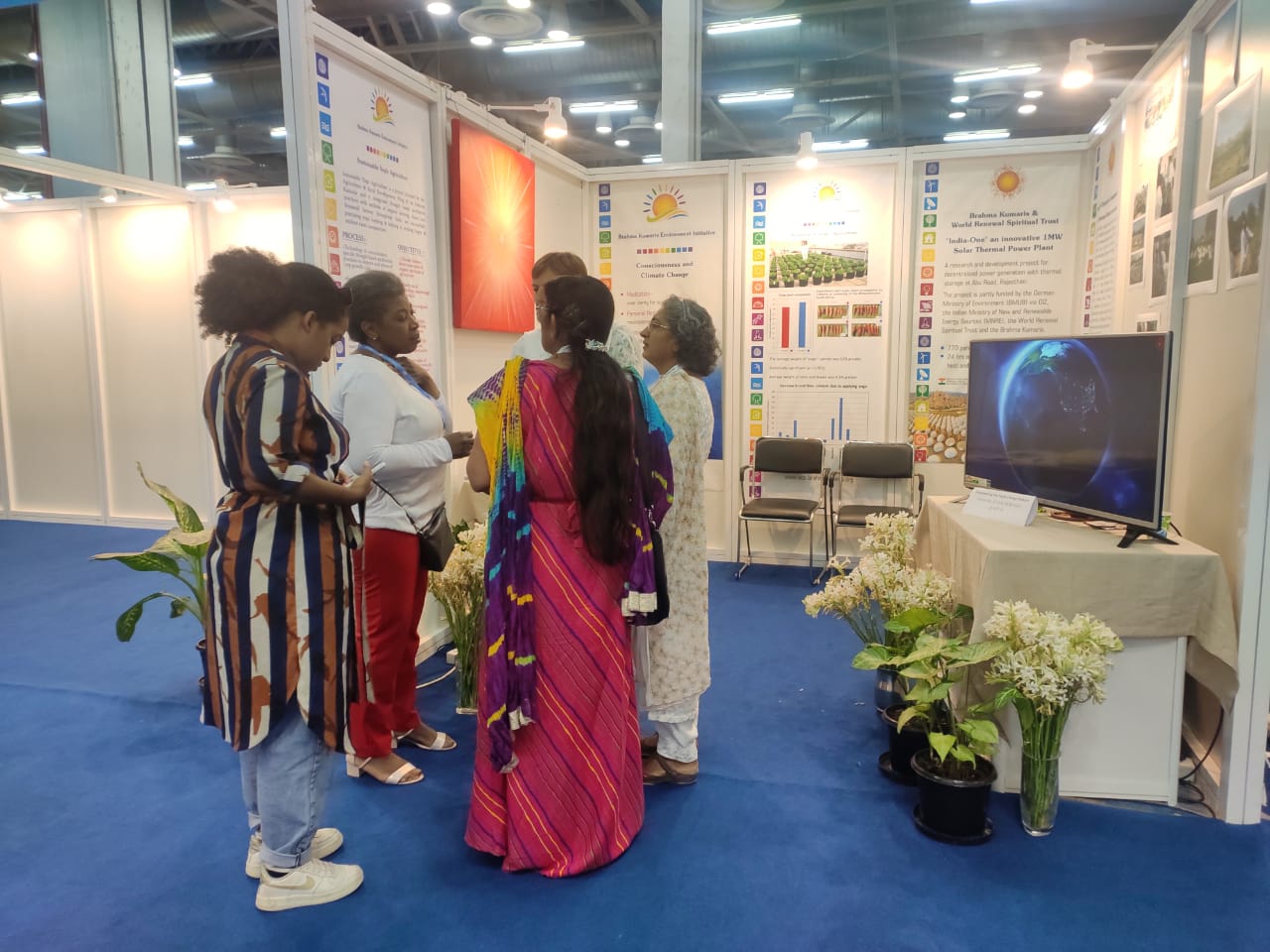 There was a delegation of the Polish government attending the HLS negotiations. They were first met by BK Aneta and then they visited BK booth were BK Ndiritu introduced all BK activities and BK Swati shared green blessings.

In the evening, many delegates were taken to the Happy Farm. After learning how the yogic farming is different to organic farming they were very happy to try some meditation themselves. So a beautiful mediation was conducted for them.
In the entire day almost 50 people visited the BK booth.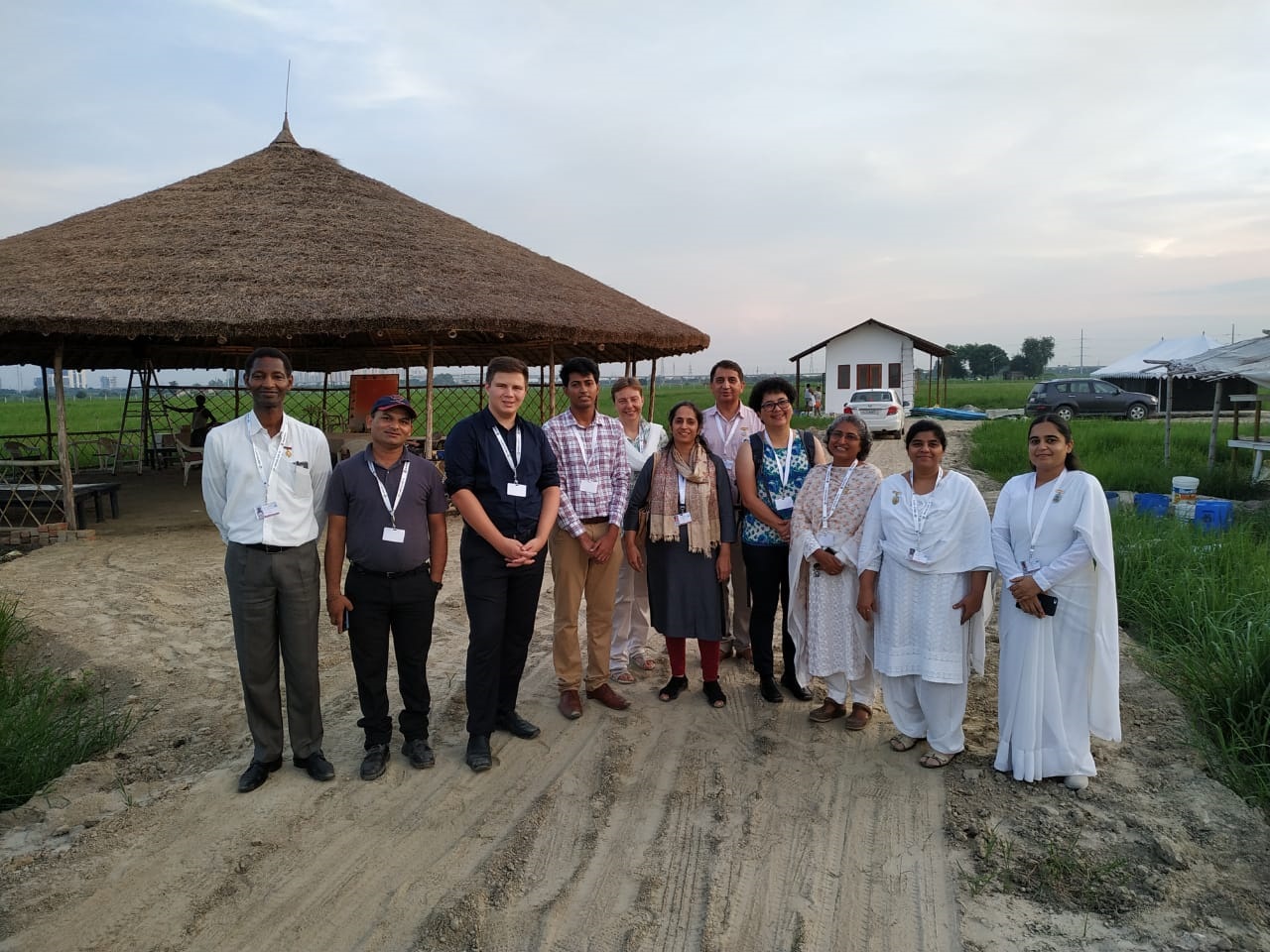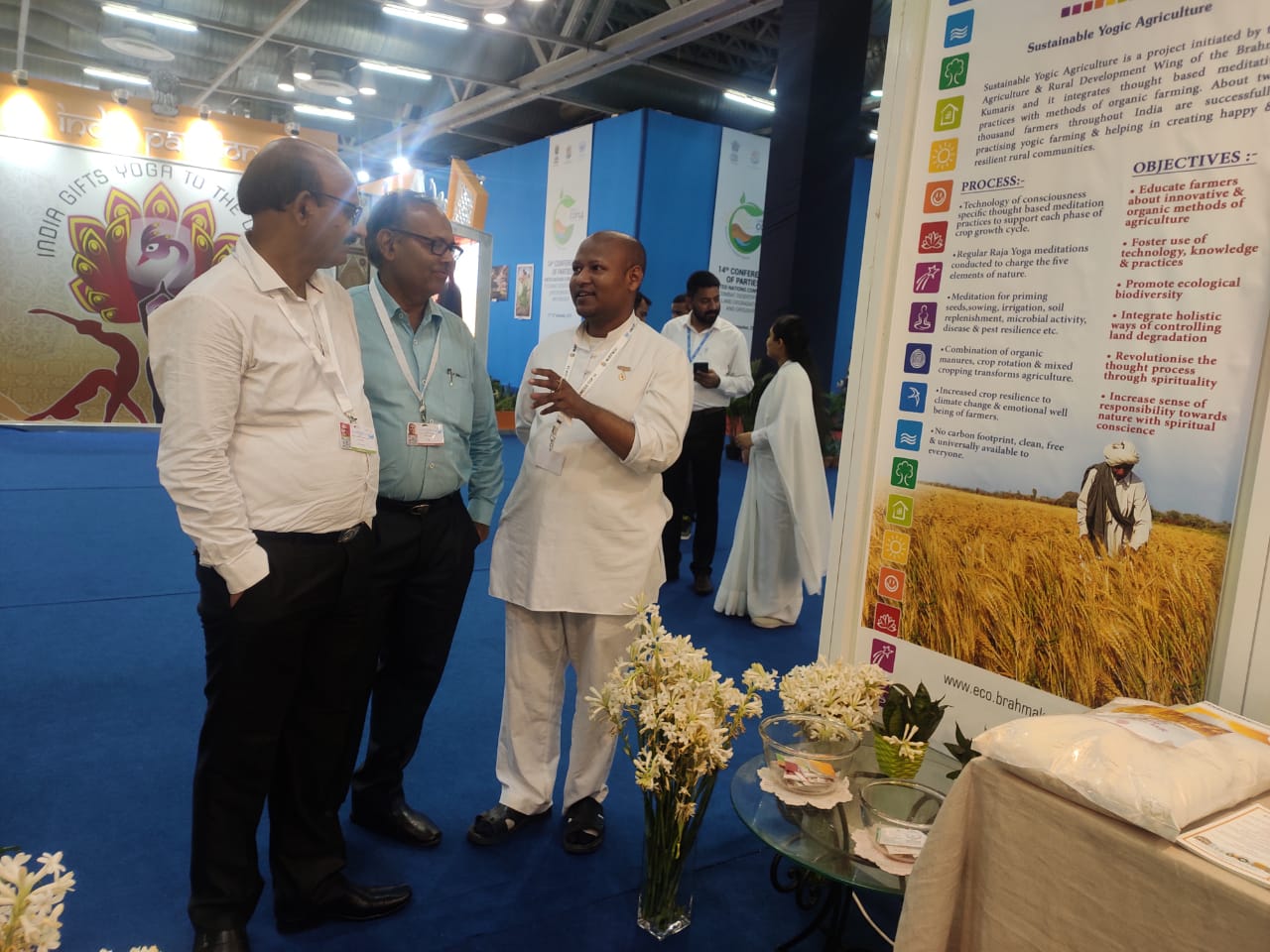 Day 10
11th September
The day began with a very busy note. Half of our team, the local BK family was engaged in the evening preparation, as we have invited some CSO heads, important VIP delegates for an evening, informal dinner at Vivek Bhai's place called "Light House" in Jaypee Greens, Greater Noida.
In the morning we had a special breakfast with Mr. Tim Chirstophersen at the Happy Farm. As Mr. Tim wasn't able to attend our dinner, but he wanted to see the Happy Farm before he left India. He spent an hour with the BK delegation who told him about all the UN initiatives, where BKs are active members. He was surprised to see the massive work of BKs in all sectors, particularly in renewable energy and yogic farming. He expressed his happiness after a sweet meditation conducted by BK Aneta and felt refreshed on the farm. He informed he would be keenly looking forward to BK's cooperation in preparations for the guidelines of the UNEP Decade for Restoration of Ecosystems.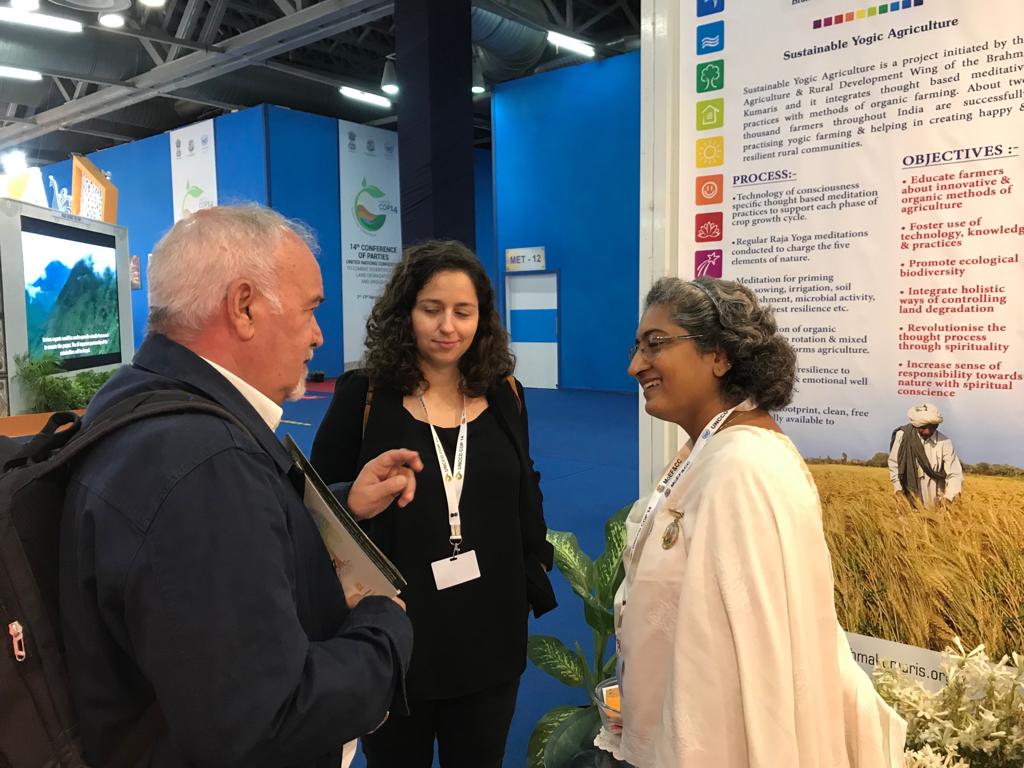 In the afternoon, BK Aneta had a presentation on "Science and Spirituality: 24 hr solar power generation" in the TECH Fair, at the Exhibition area which was very well attended. Many delegates from the audience expressed their willingness to visit the India One solar thermal plant and some showed more interest in learning meditation. After the presentation, BK Aneta gave a short interview for PIB India on Twitter (Press Information Bureau – nodal agency for communicating to media on behalf of Government of India).
BK Parul and BK Swati attended a side event organized by UNDP India. The plenary was decorated with some very unusual dignitaries, "the rag pickers". As UNDP India had a stall that had many innovations done from plastic waste. The CEO , Mr. Sodhi (who later visited our booth) said that the idea behind bringing the waste pickers as delegates is that they must be heard and their voices are also the voices of the vulnerable ones who are indirectly or directly affected by climate change. The waste / rag pickers showed their views in very timid yet heart touching ways. One of them said that "I am not educated at all, but I feel surprised to see how educated people make mistake in mixing dry waste and wet waste together."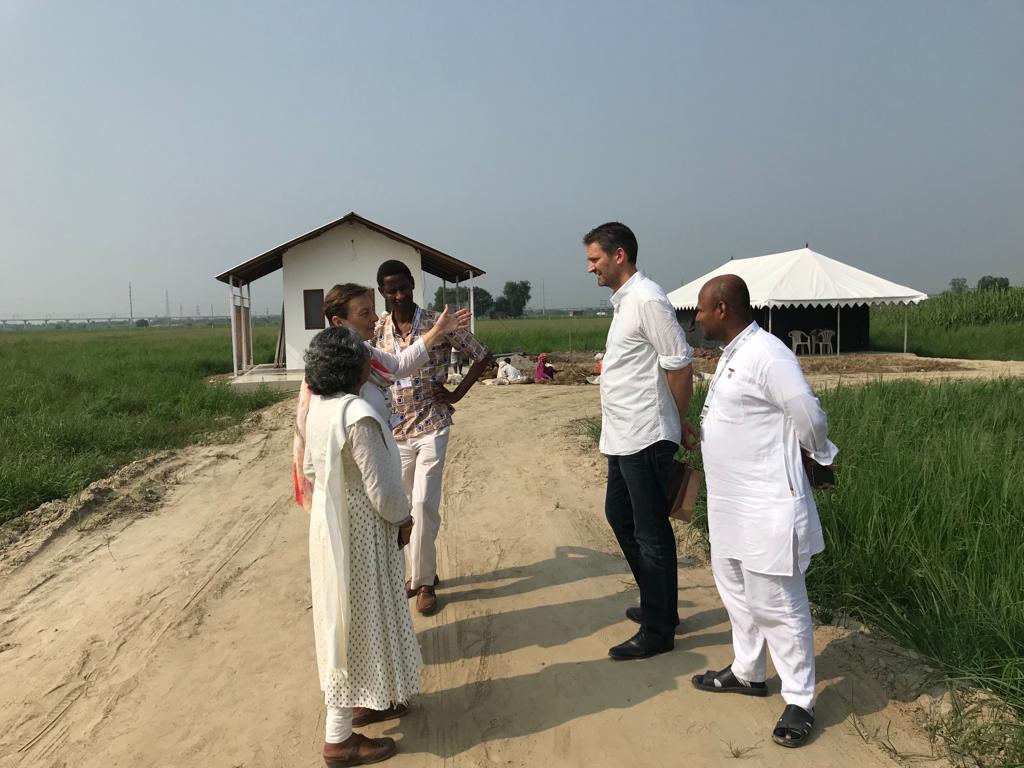 After lunch, BK Parul attended another workshop, organized by Plant for the Planet. The key message was that there are 3 trillion trees in the world, and we all can grow another 1 trillion trees. So they encouraged all to take part in the campaign and contribute to trillion trees plantation; those trees would have identity marked in GPS and so there would be the proper accountability of the efforts. She also put her interventions in the open dialogues where she said that even though there is awareness about the importance of plantation, yet there is lesser effort. She bridged the gap by saying that, lack of self-awareness leads youth to use their vital energy in unnecessary activities, whereas those who are self-aware and understand their true potential, they simply use it in the right direction, hence self-awareness and a value based lifestyle is important for bringing any noble mission to success.
John Ndiritu attended the Drought Preparedness Day at the Rio Pavilion. The event was opened by the UNCCD Executive Secretary Mr Ibrahim Thiaw after which addresses were made by the South African Deputy Minister of Environment, Forestry and Fisheries and by highly-placed officials of several international organizations (FAO, GWP, UN-Water, Kwame Nkrumah Pan-African Centre, and Africa Risk Capacity). An all women panel on drought resilience that was moderated by Ms Samia Nkrumah, the President of the Kwame Nkrumah Pan-African Centre, Ghana with speakers: Ms Caroline King-Okumu, a researcher in Ecology and Hydrology from Kenya, Ms Hindou Ibrahim, an Environmental Activist from Chad, Ms. Lorena Revelo, Vice Minister Foreign Affairs, Costa. John Ndiritu later met Ms Samia Nkrumah introducing the Brahma Kumaris as a global women-led organization and informing about BK environmental activities. She informed that she meditates and it is obvious to her that positive mind power definitely improves crop yield as studies on yogic farming show.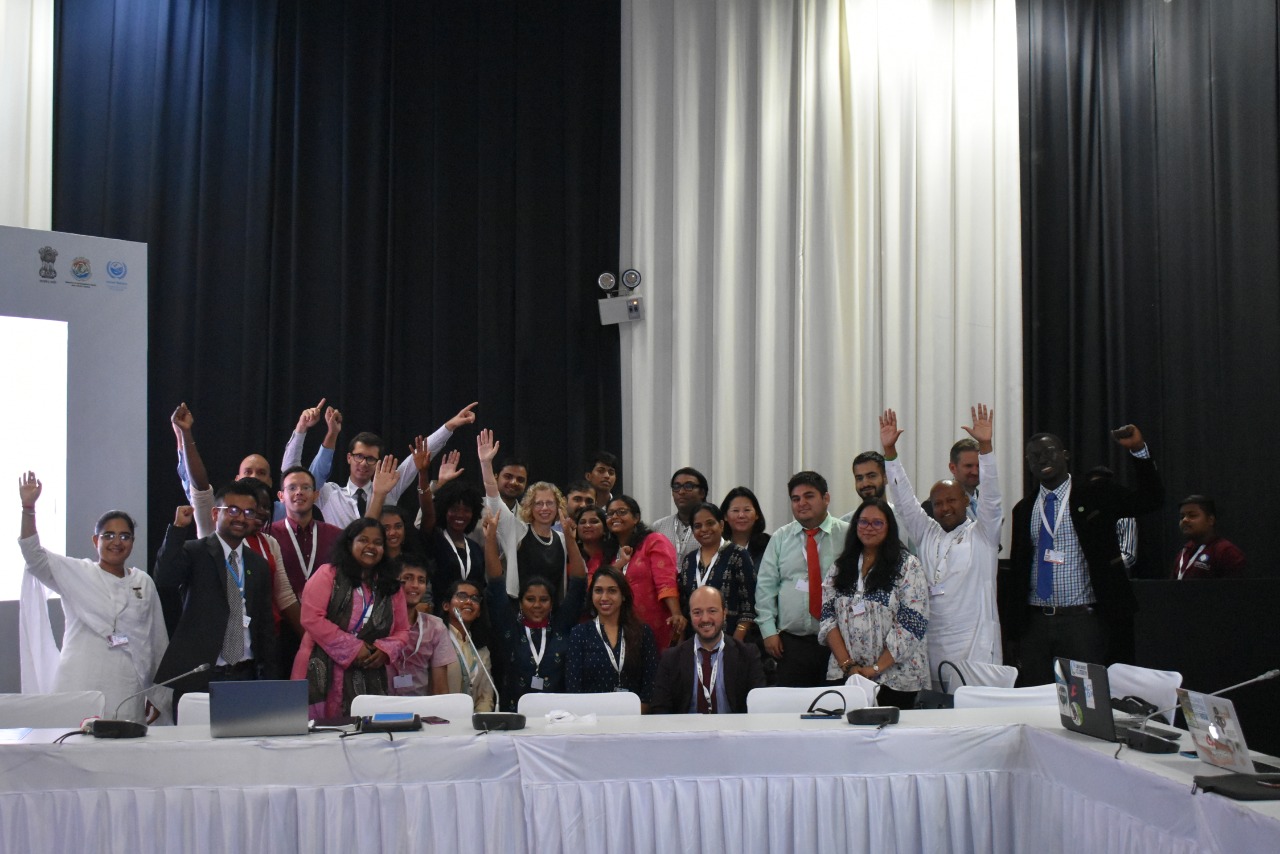 Later in the afternoon, a drought tool box developed jointly by several agencies (UNCCD, FAO, GWP, WMO, UNEP-DHI, JRC, and NDMC) was launched and demonstrated.
During the day, BK Swati and others attended to delegates coming to the booth; total visitors were more than 60.
In the evening BK Aneta and BK John took few guests to the Happy Farm. After a guided tour there was a powerful meditation session conducted by BK Aneta. One of the delegates Mr. Emmanuel Seck, CSO leader from Senegal, member of the core CSO team at UNCD COP14 liked it very much, got relaxed and refreshed after a very intense day and said he would like to learn more about meditation and join us for dinner. Earlier due to a sudden announcement of a high tea organized for the delegates by the Government of India, many of them declined the invitation for our dinner. However, later in the evening, many of them joined us, because Emmanuel shared his experience to them and they were motivated to rejoin.
In the evening there were guests from Chad, China, Guinea Conakry, Iran, Korea, Mauritania, Senegal, South Africa, Togo and Uganda who joined us for our evening reception. There was a very homely atmosphere, as there were virtue games, nourishing chit chats and refreshing vegan food. BK Vivek and BK Asha transformed their house into a beautiful garden with love, care and open hearts. BK Parul invited the guests for some joyful raas and bhangra and BK Raghav played flute. Later, BK Aneta conducted a meditation for everyone to connect to the source of peace and happiness. There were gifts and blessings sharing. Some VIPs who attended the dinner were Ms. Hindou Oumarou Ibrahim, the activist for indigenous peoples, from Chad; Mr. John from Future Forest, Korea; Mr. Emmanuel Seck, CSO leader from Senegal; Ms. Jiajia, CSO leader from China and several others. This was a very special dinner because most of the guests were unknown to Brahma Kumaris before COP14 and this friendship was developed during the Conference itself.
Day 11
12th September
Our day began with the daily CSO meeting. The main agenda for the day was to prepare the final statement for the plenary session of the COW (Committee of Whole at the COP High level Segment) and signing of a common youth declaration by joint youth bodies.
Sister Jayanti sent a beautiful and powerful message for the delegates of COP14, which we shared in many social media groups.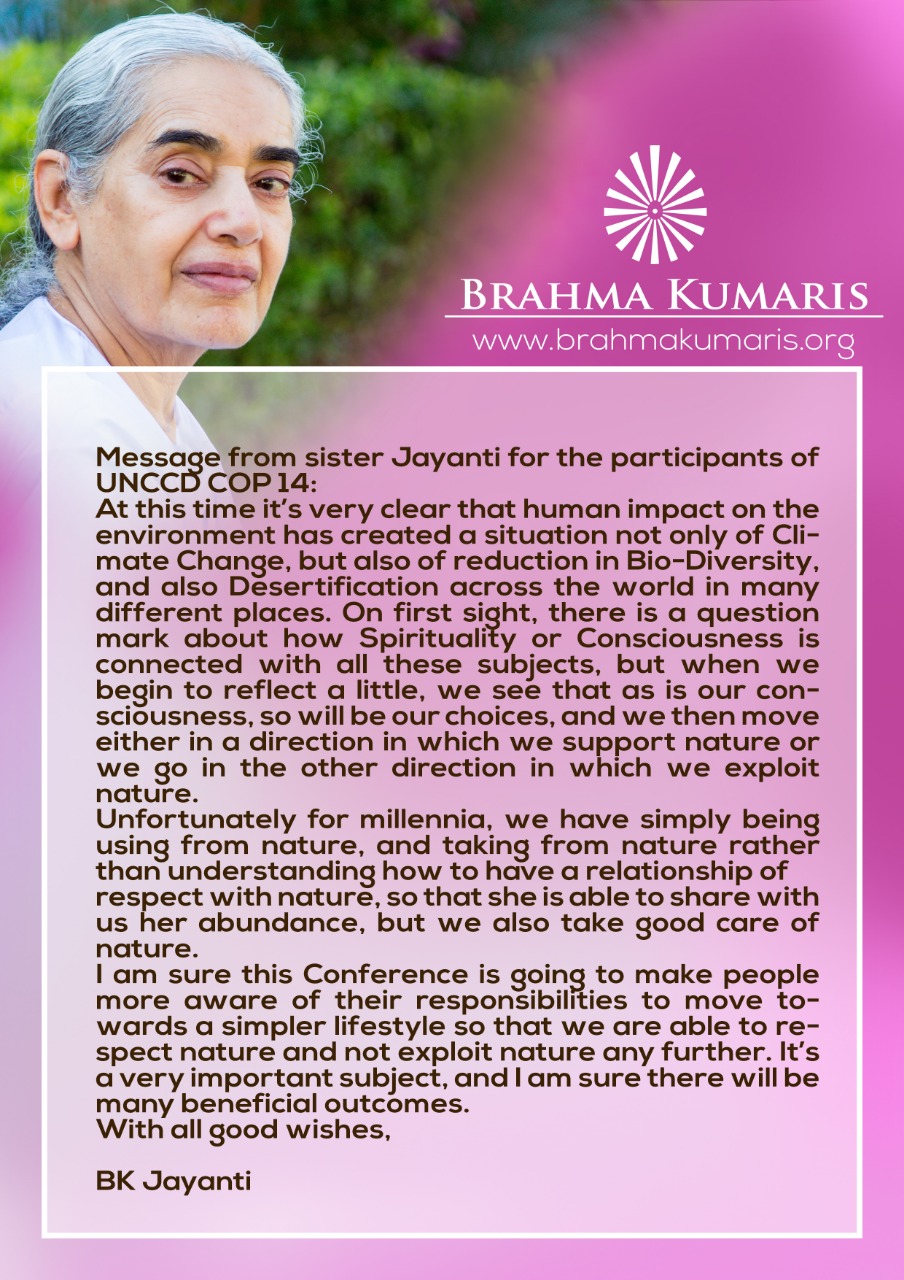 BK Shantanu gave his interventions to be drafted in the final statement of the CSOs. The two interventions made, were incorporated in the final statement that was read in the plenary session.
BK aneta was approached by the representative of CSO from Bangladesh who expressed his high interest and gratitude for what he heard from BKs, especially about yogic farming and on behalf of the Minister from Bangladesh, he extended an invitation for the BKs to help with establishing such a system there.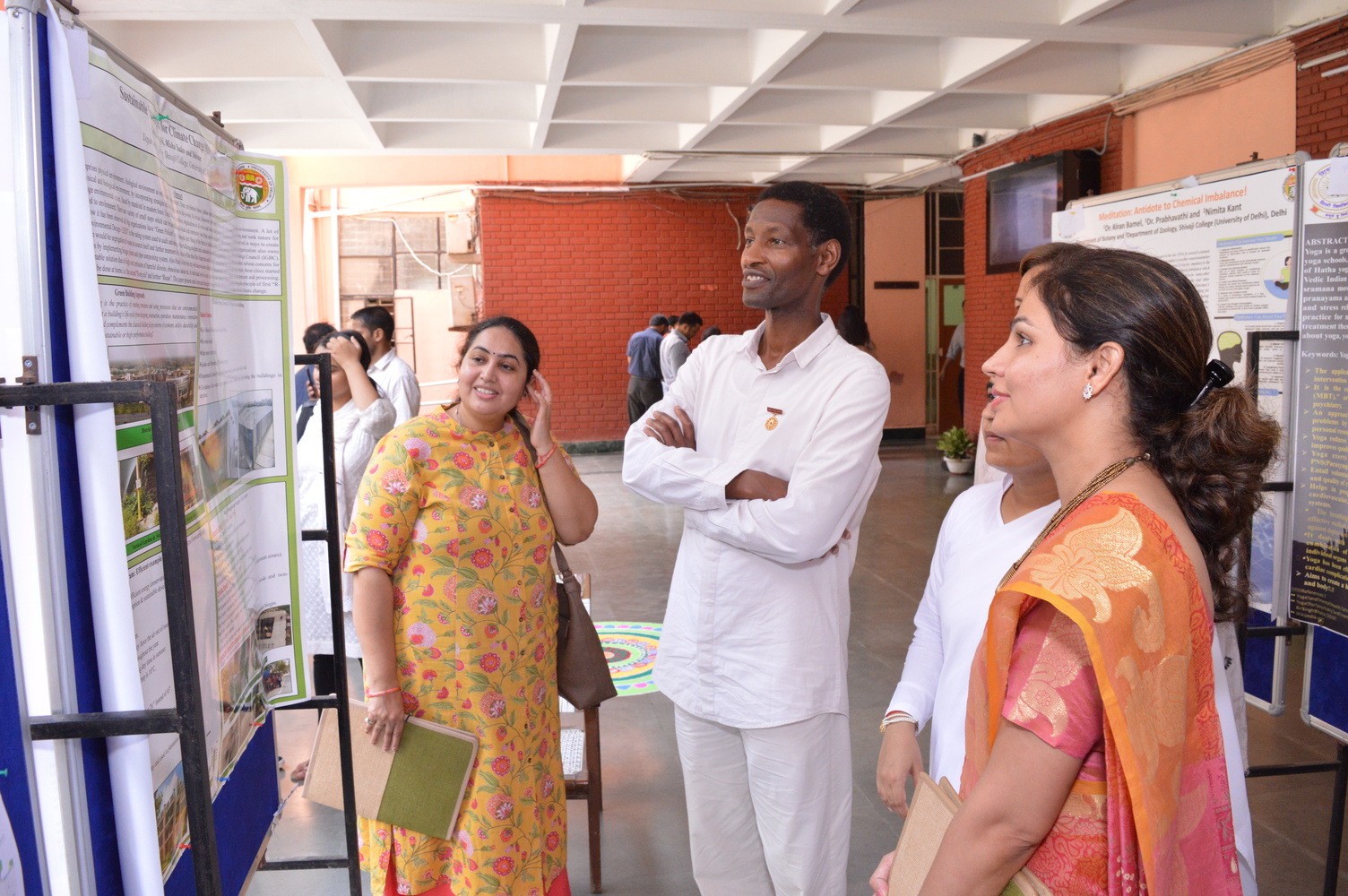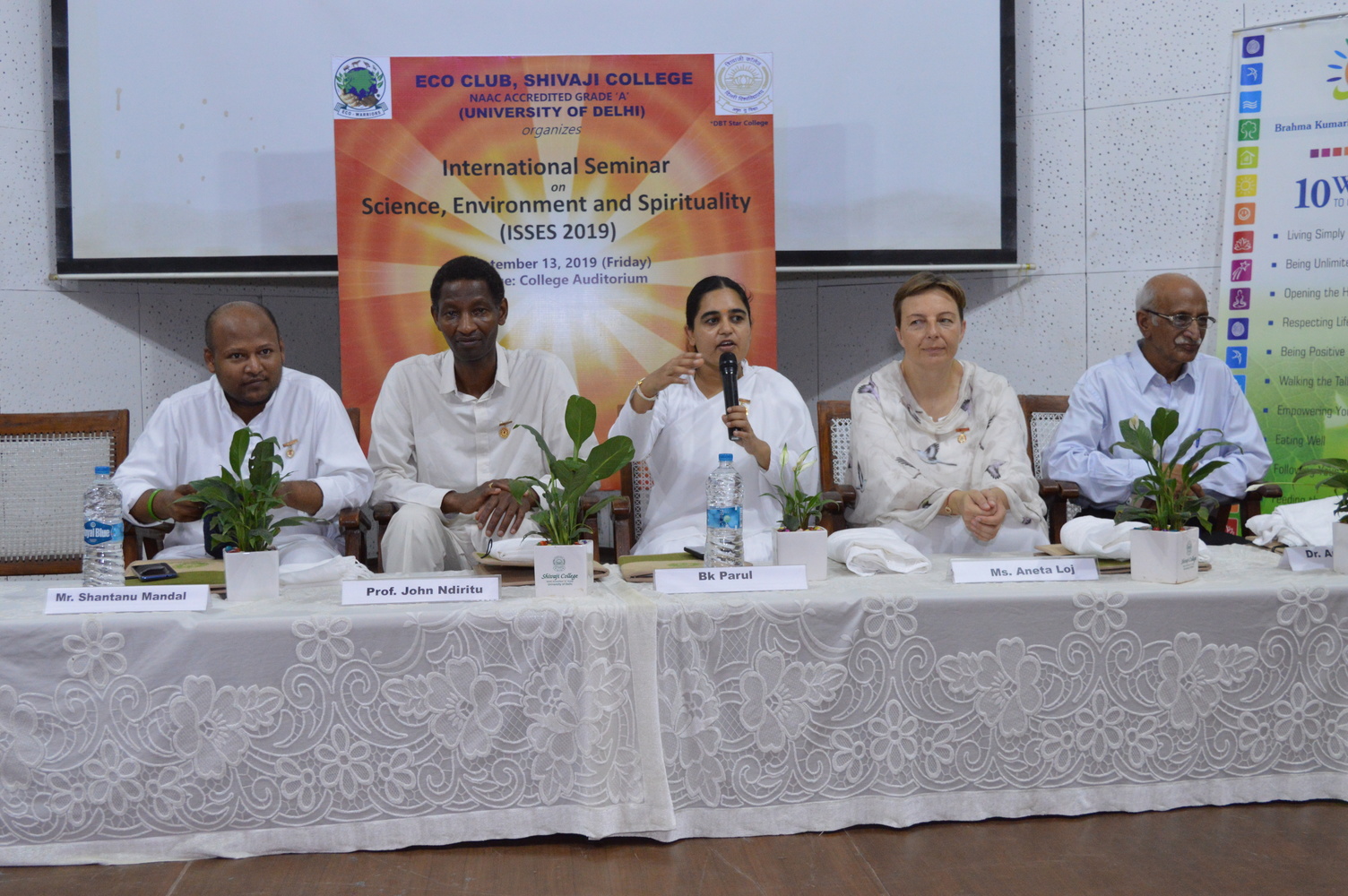 Later in the afternoon BK Shantanu and BK Aneta attended the first screening of the documentary Great Green Wall of Africa made by Inna Modja, an activist and musician from Mali. It was a narrative that opened eyes of viewers on what exactly desertification, land degradation and climate induced migration meant for human survival; showing both the current despair and hope for a better future. Some of the guests who attended the screening later on came to our booth to just relax to find some peace. One of such guest was Dr. Bijay K. Nanda (Founding Member, Asia Region, The World Bank, USA DC).
Early in the afternoon 2 delegates from FAO, two organic farmers and four undergraduate students visited Happy Farm where BK Vivek and Raghav informed about the activities and plans for the farm. BK Ndiritu described yogic farming, some basics of meditation and conducted a short meditation for the group.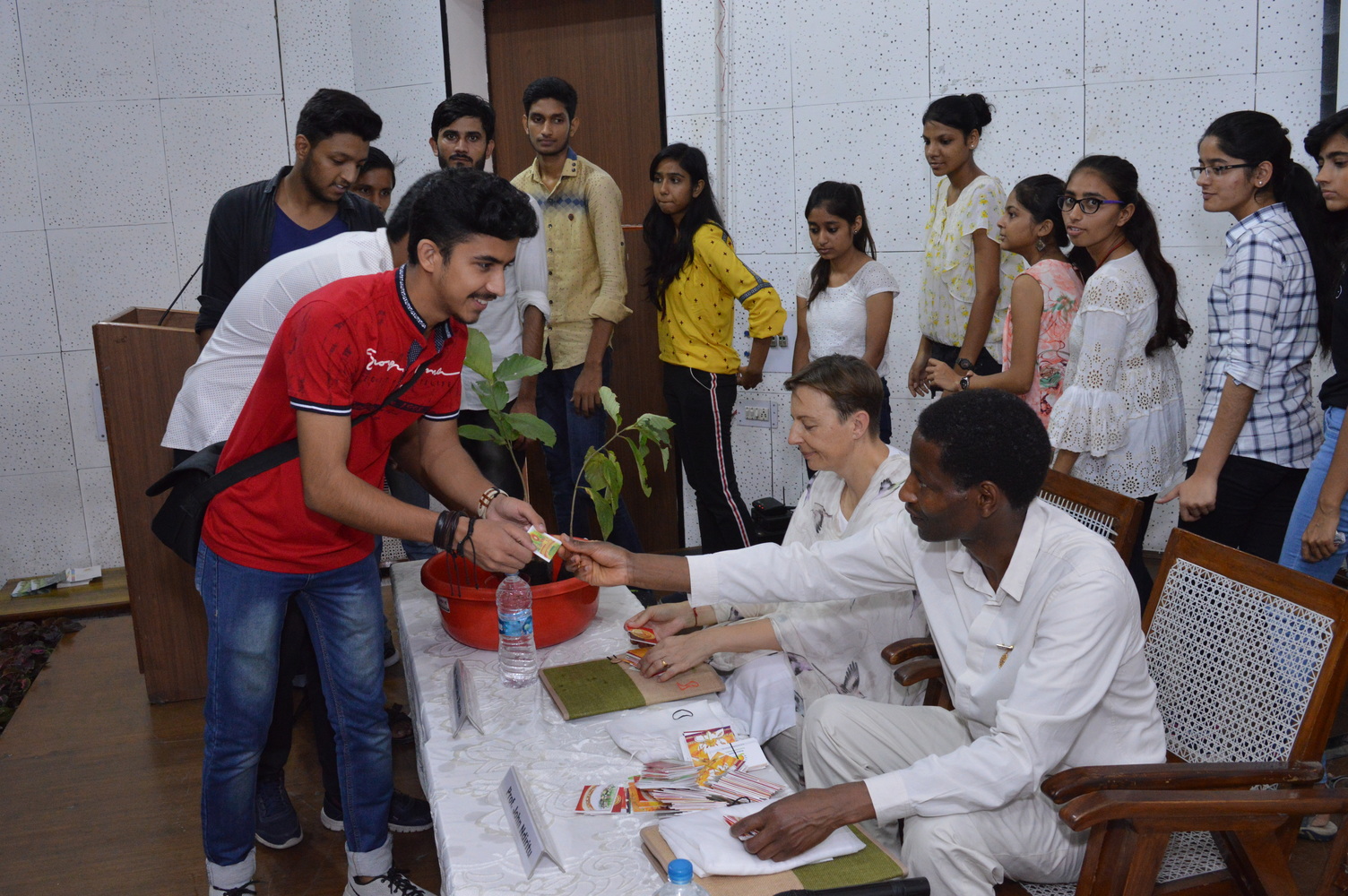 Other delegates who visited Happy Farm that day were from Vietnam, Cambodia and India. They got many of their questions answered, on both yogic agriculture and meditation. Among them there was Mr. Mandal, the retired Chief Secretary of Jharkhand, state in India. They all appreciated the experience of quiet meditation and serving the nature through the mind.
Later in the evening BK Aneta, BK John and BK Shantanu met with sisters from all the centers who have helped the UNCCD delegation with food, accommodation and other logistics. They thanked them for their tireless efforts and gifted beautiful rubber plants with angels, as a token of loving appreciation.
The same day, good news came to us, that Brahma Kumaris will be hosting the official LCOY (Local Conference of Youth) for India, this year.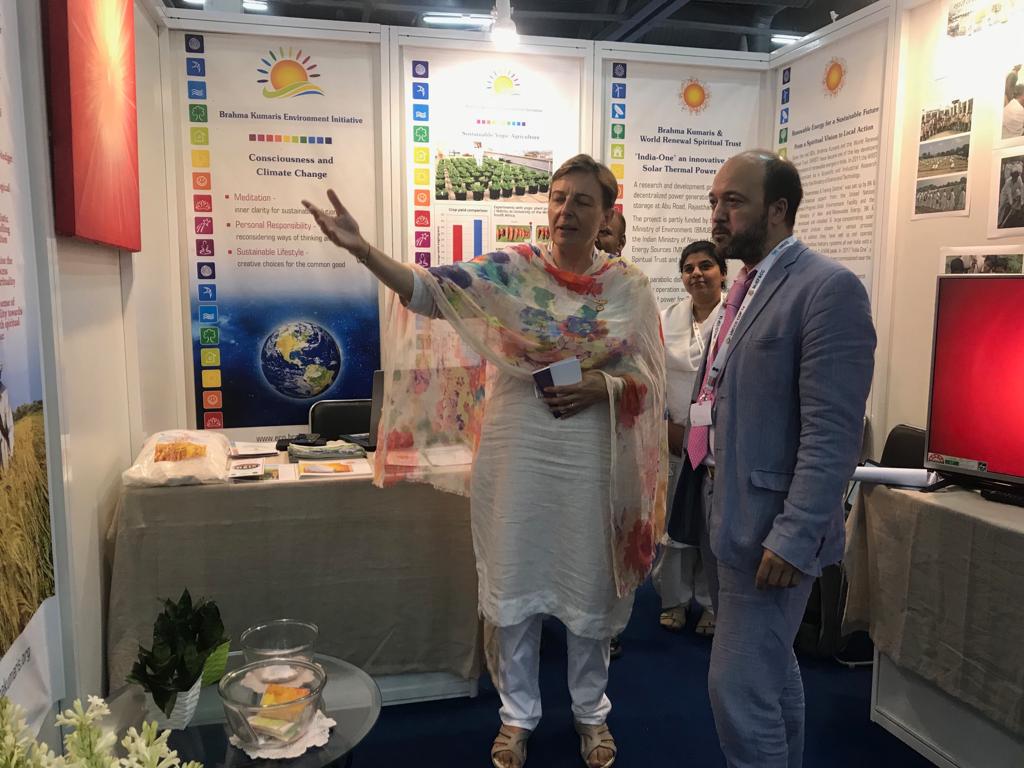 Day 12
13th September
On the last day of the Conference, many people including the Vice President of Bolivia visited our booth. Some guests also visited Happy Farm and enjoyed the yogic atmosphere there.
With early good bye to the class in Greater Noida, BK Aneta, BK John, BK Parul and BK Shantanu left for New Delhi, for an International Seminar on Science, Environment and Spirituality. The seminar was organized by the Eco Club of Shivaji College of Delhi University. Around 300 students from different colleges were present for the day-long seminar, with presentations by all the above BK delegates and poster presentations by some students also. The auditorium was full with students and faculty members.
BK Aneta showed some powerful slides and brought the participants attention to the present conditions of the world and how one can deal with this. She also spoke about the role of consciousness in changing the world by showing the example of India One Solar Power Plant.
BK John Ndiritu made a presentation on sustainable yogic farming and his research on the effect of meditation on crop yield and nutritional value and on seedling development. He invited the students to come up with innovative ideas, where they could experiment in their respective fields on the effect of consciousness and pure intentions on the elements of matter.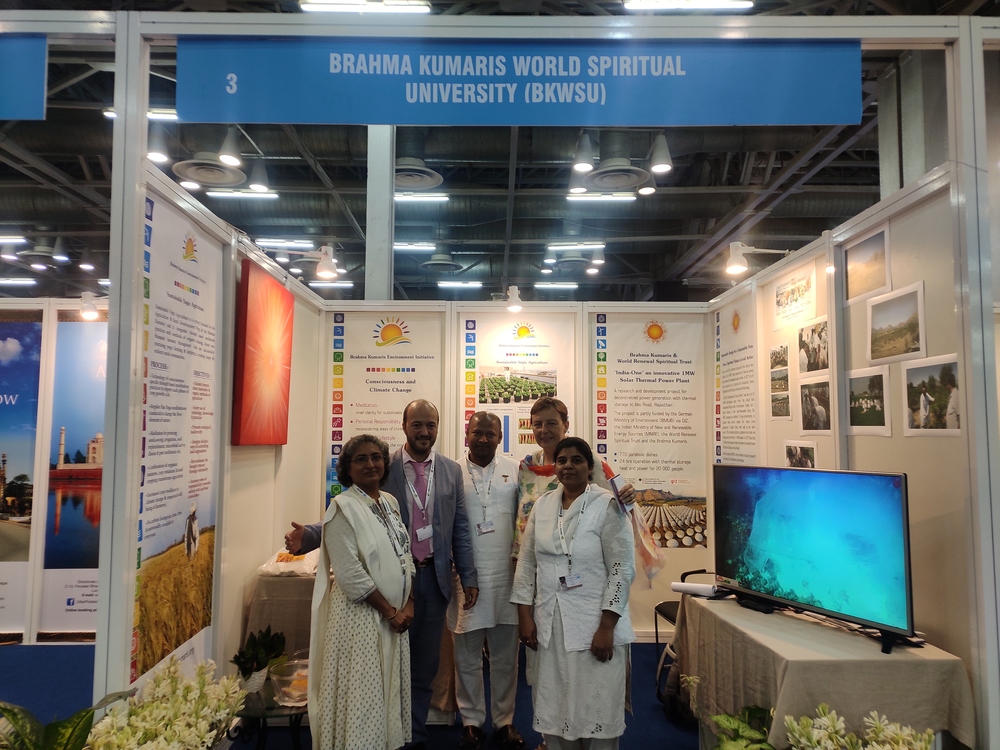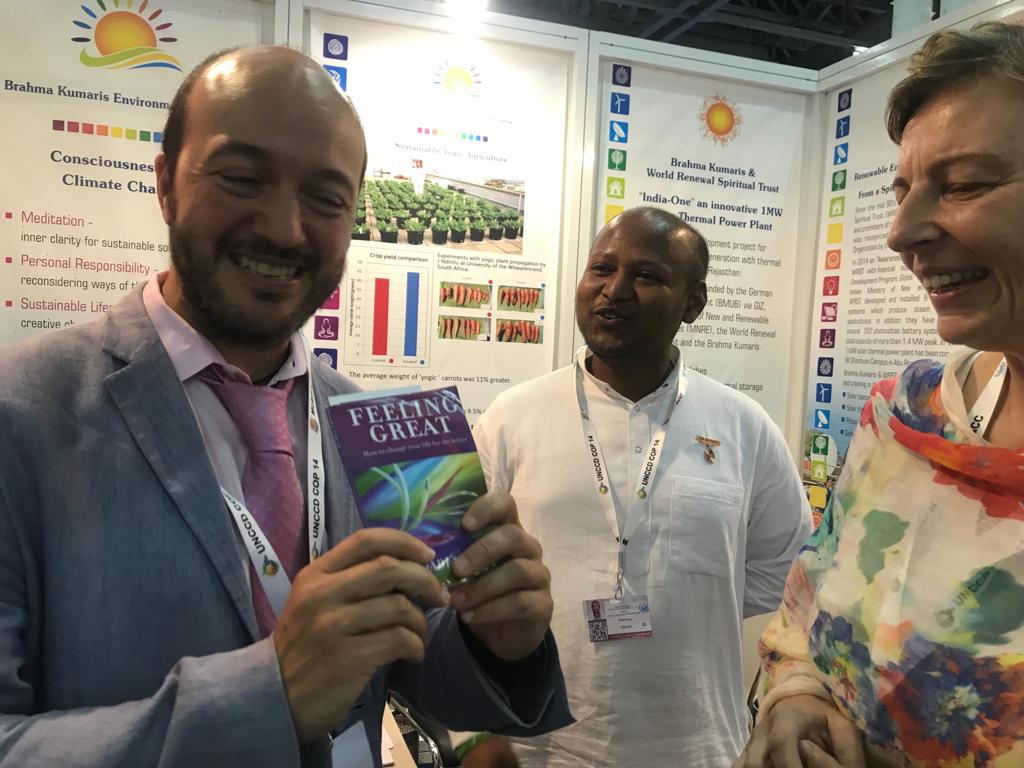 BK Parul energized the whole gathering with some joyful dancing and experience sharing on a sustainable lifestyle. She also strongly motivated the participants based on her experience from the past 2 weeks at COP 14 that the world is seriously in great danger unless we change our ways. She shared with the gathering that she didn't understand earlier the reason behind people going vegan, but she declared to the audience that after her 2 weeks experience and study, she had now decided to take vegan lifestyle to bring change to the world. Truly the UNCCD COP 14 was transformational in so many ways, and one of such example was BK Parul, who is not just a Shiv Shakti but Eco Shakti, a great instrument to motivate people for the cause of the planet.
After a tea break, BK Shantanu conducted a session on Hope and Empowerment for Youth. He spoke about the importance of hope in life and how can one empower themselves. During his session he showcased a short movie for audience to interact and understand the topic more.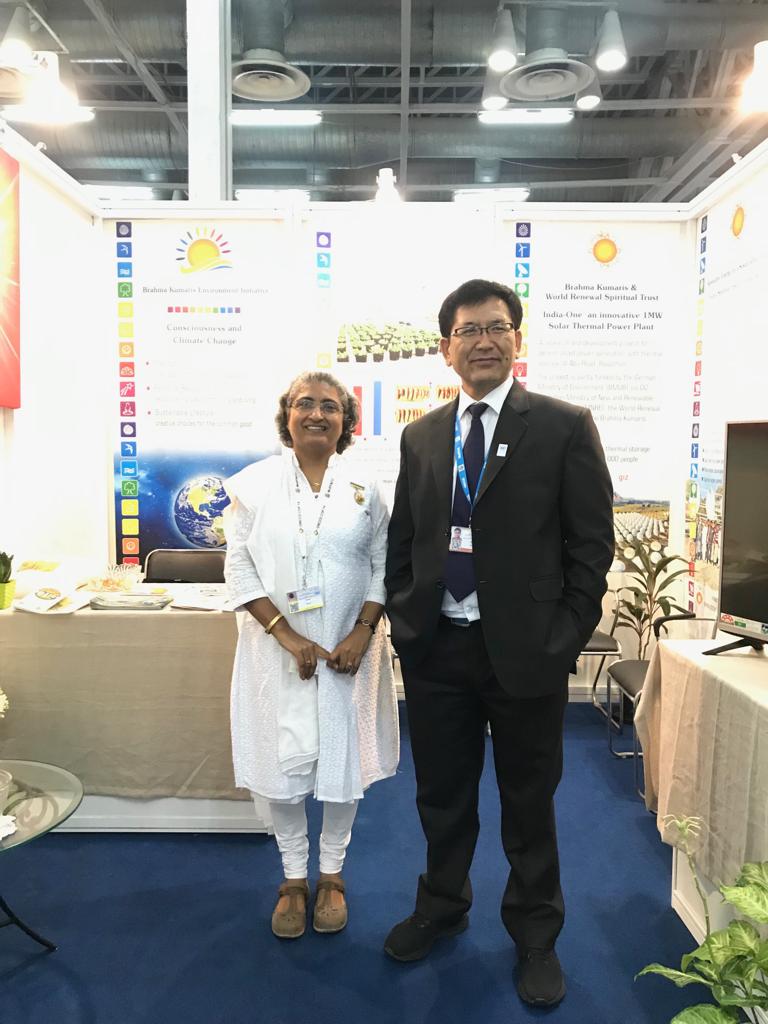 The seminar concluded with meditation, inviting everyone to ignite their hope through rediscovering the self and serving the Mother Earth through their peaceful and powerful thoughts.
In the end the gathering was welcomed to put few drops of water mixed with good vibrations on two kadam plants kept in the auditorium. Kadam is an indigenous and auspicious tree from that area. Everyone received blessing cards from BK Aneta and BK John. Later the BK delegation and students planted the kadam tree in the college compound, thus creating a memory that would provide cooling shade and comfort for the future.
In the evening BK John left for South Africa and BK Aneta left for Madhuban. BK Shantanu met the BK family at Satkar Bhawan in Delhi on the 14th morning and brought to everyone's attention the lifestyle changes that every person should consider, to make this planet what it was originally.
One of the last days of COP14, Marcos Montoiro from the UNCCD Secretariat, who was very cooperative throughout our whole UNCCD journey, came to our booth to say that we must send our good vibrations, so that a big agenda of land tenure would get approved in the COP High Level Segment meeting. Later he thanked BK Aneta and the entire team for support all along the conference. He said it was one of the most successful ones for them. Land tenure was adopted which means a lot for vulnerable people. He said it was a pleasure working with the BK delegation.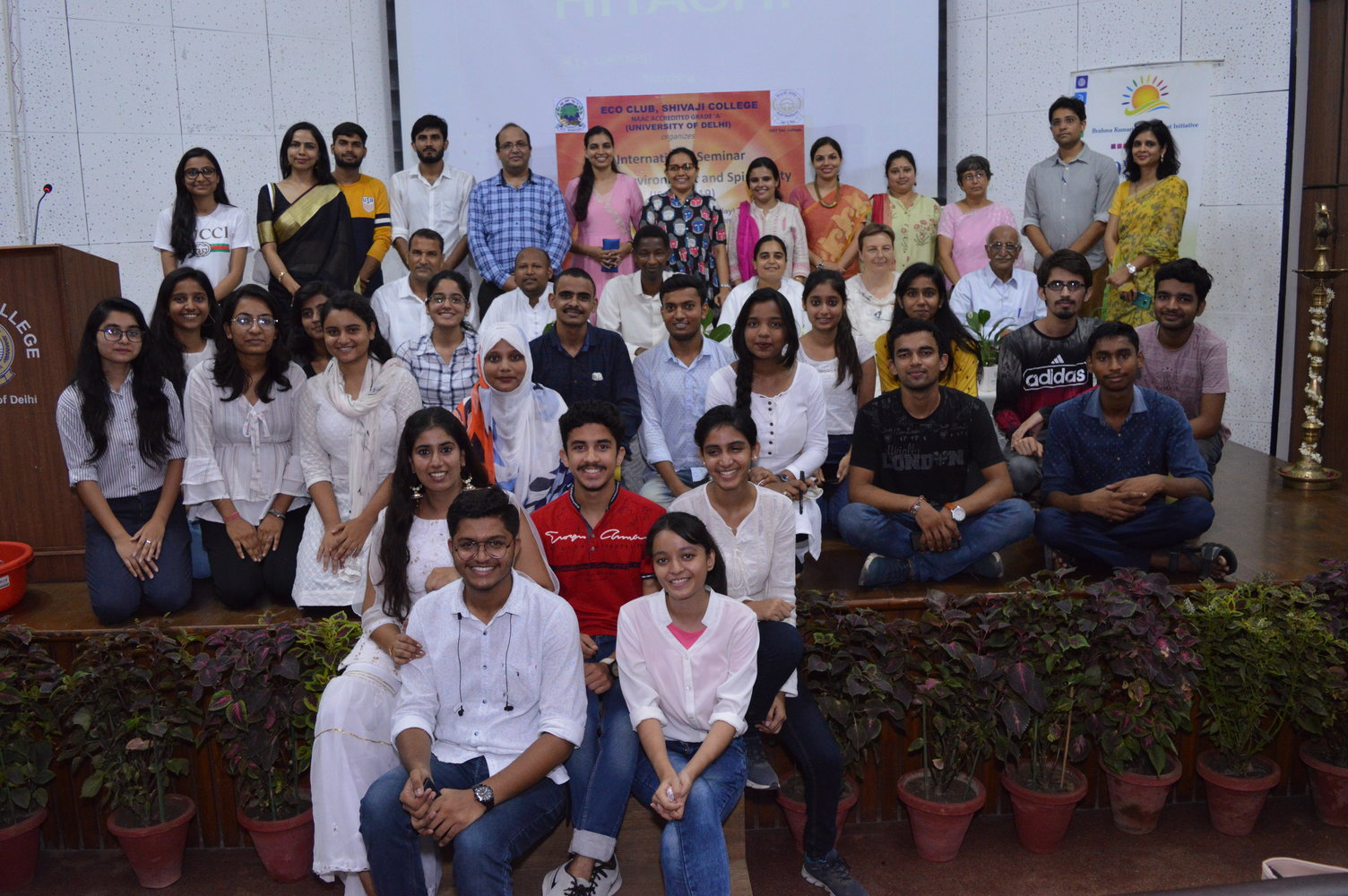 We would like to thank the One, who made it all possible and to share our deep gratitude for BK Asha Didi Ji, for BK Raju Ji, BK Jay Prakash Ji & BK Sumanth from BK Rural Development Wing and for the whole BK family of Greater Noida, for their complete dedication and tireless service during the UNCCD COP14 event; big thank you to BK Vivek, BK Asha, BK Vanita, BK Raghav, BK Anita, BK Lalita, BK Priti and all other sisters and brothers for their big hearts and unlimited vision.
Thank You and Om Shanti.

Newsletter - Climate Emergency, Deep Adaptation and Spirituality in Society
14 August 2019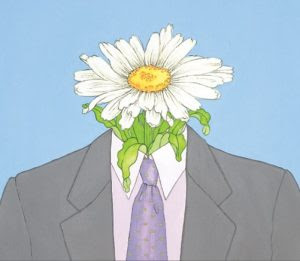 Lovely and green greetings. Here comes another newsletter with green updates and inspirations.
Time seems to accelerate and even climate change has been renamed into the climate emergency. And indeed the news coming in from various areas of this planet are quite concerning. It seems the change of climate and the deterioration of our environment is exponential and a debate within science community has begun, if we still have time to fix the various problems or it's too late and things may spiral out of control.
In this regard, recently Sister Jayanti , Maureen, Sonja and Golo recently met to Prof. Jem Bendel of Cumbria University in Global Co-operation House in London. He says that climate change is out of control and we have 10 years time until a full collapse of our civilization. He suggests to inform the public about the dramatic events and prepare and allow them as best as possible to adapt towards the end.
We had a very interesting 2 hrs conversation and shared BKs message that we are immortal souls and a new age of happiness and truth is coming. He liked this news a lot and we ended our meeting with a powerful mediation. For more news on Prof. Jem Bendel you can look up his paper "Deep Adaption" in the internet and "The Deep Adaption Forum".
Golo and Sonja also briefly met some of the founders of "Extinction Rebellion" and invited them for meditation.
We are all facing challenging times and for us it's a clear call to strengthen our inner resilience and spread the message of love and hope.
From Golo on behalf of the editorial team Arnold, Peter, Sonja
We need to renew the old website - anyone out there that can help to rebuild the new site? Please write to us.
Now you can listen to Green Angel Commentaries on Spotify
Spirituality in Society: Christiana Figueres in conversation with Sister Jayanti. This event took place in London 7th July 2019.
Christiana Figueres was the Executive Secretary of UNFCCC and the climate change conferences 2010-2016. Here she was in conversation with Sister Jayanti each supporting the idea that changes in attitude can create changes in the world environment, from their perspective. Read the summary report. See the video on youtube.
EU Energy week 2019
Brahma Kumaris were very active at EU Sustainable Energy Week (EUSEW), the annual flagship event in Brussels, as well as organising a number of events in EU member states to bring spiritual awareness in shaping Europes' energy future. These are described in this photo report.
Bonn Climate Change Conference 2019
These two reports give a summary on the BKEI involvement in SB50, the intercessional meeting of the UN's Framework on Climate Change (UNFCCC) in Bonn. See the report and photos – first week and second week
Sister Jayanti visit to Japan
Sister Jayanti and Aneta visited a number of places in Japan, meeting the BK family and giving talks and sharing panel discussions on environmental issues. See the report and photos
Green Service in Polynesia
See intro video on how spirituality canhelp the planet.
Follow the Pacific Facebook page and check out these programs:
Inner Ecology and external world - 23.02.2018 - Tahiti (Papeete)
When spirituality is helping the planet - 12.10.2018 - Noumea
Earth, environment and ecology - 01.03.2019 - Tahiti (Papeete)
Listen to the self, listen to the planet - 02.03.2019 - Tahiti (Papeete)
World Environment Day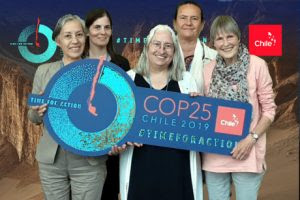 A meeting was organised in the Desmond Tutu Conference Centre in Nairobi to commemorate World Environment day, 5th June. Many religious groups attended this meeting and Jyotsna Patel and Dorcas from the BK's, were active there. See the report
Next news will linclude Green retreat in Malaysia and World Environment Day in Brazil.
Recommended links:
FLY LESS - Stay Grounded Conference
Listen to Seeking Fairness in an Unfair World with Angel Gurría from Outrage and Optimism in Podcasts.
Stand for Peace All over the world, people are Standing For Peace. This is an invitation to anyone who dreams of building a peaceful, sustainable world for all. A time to take what we have built together as UNITY EARTH and invite people everywhere to join us in Standing For Peace! Put yourself in the frame...
Invitation to join the global climate strikes

In Photos: "Green India Clean India" Program at Central School of Mount Abu
13 August 2019
Divine Sister / Brother , Greetings of Peace!
A Special Program "Green India Clean India" is organised in Central School of Mount Abu.
The program had a motivational speech by Dr. R.P. Gupta, Principal Sh. Meghwal and B.K. Virendra. The program was followed by plantation. Staff and students were present on this program.
Thanking You.
Dr. BK Mruthyunjaya
Chairman, Education Wing
Brahma Kumaris, HQ, Mount Abu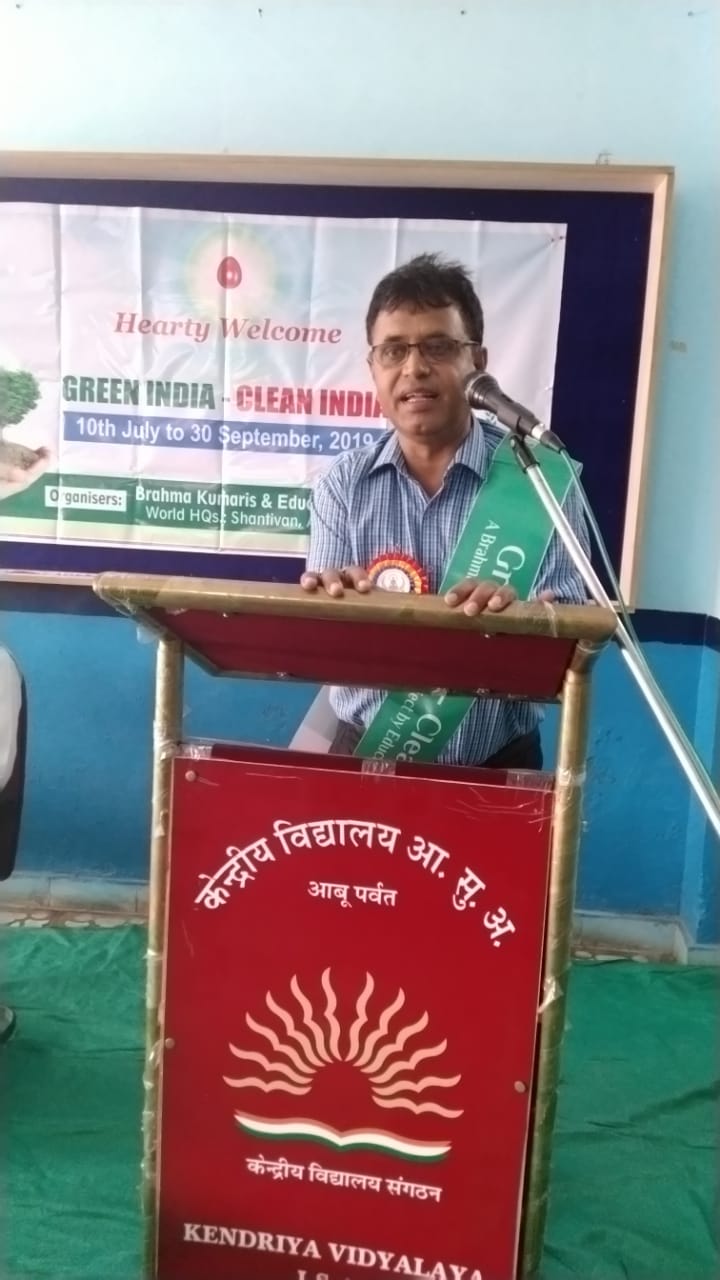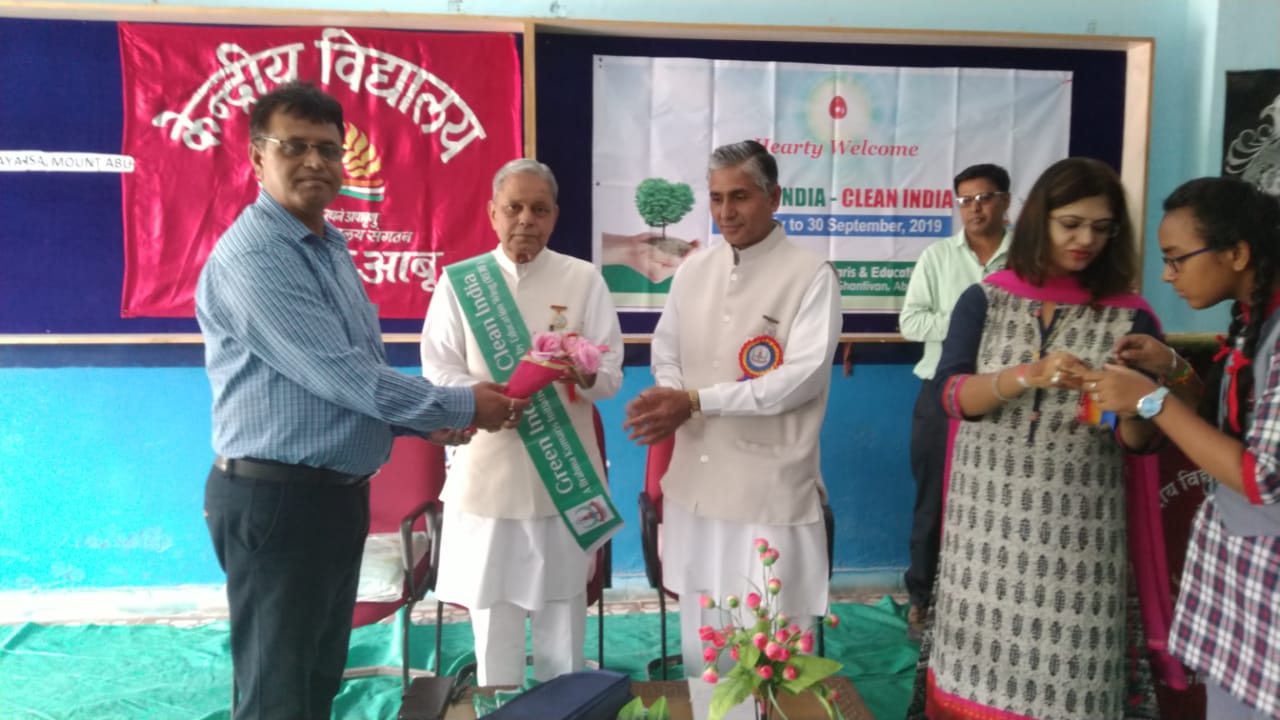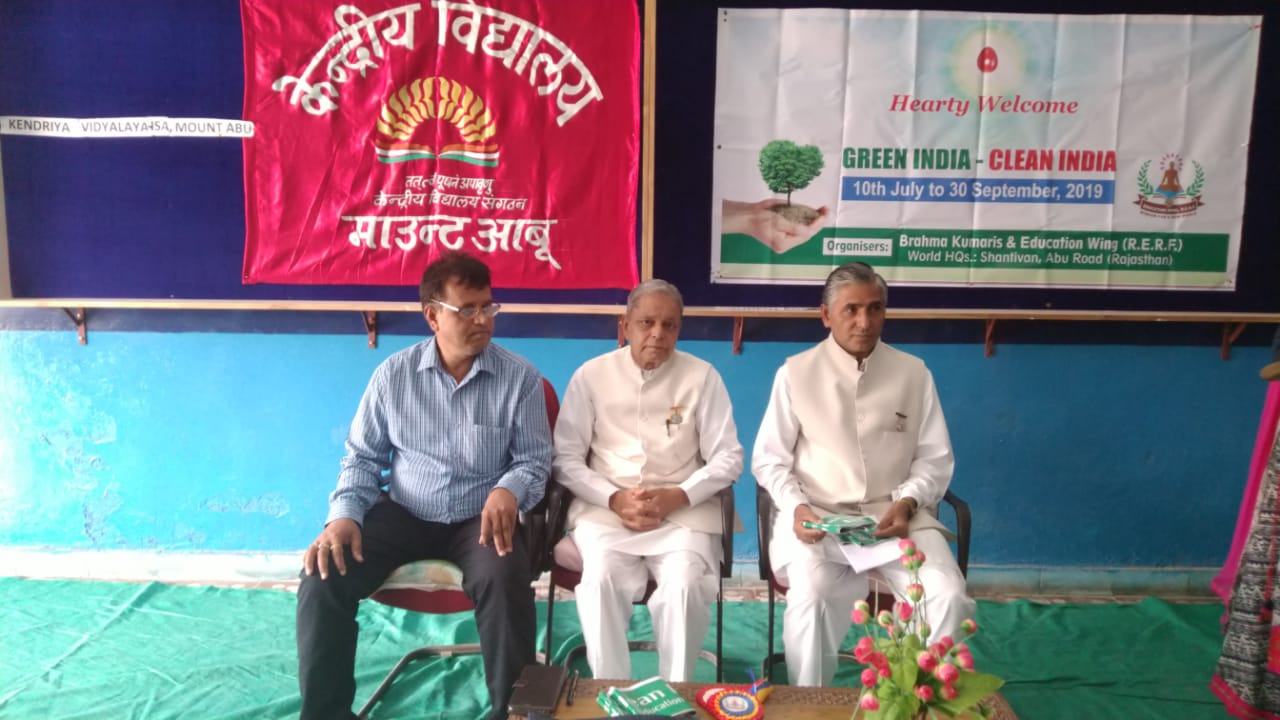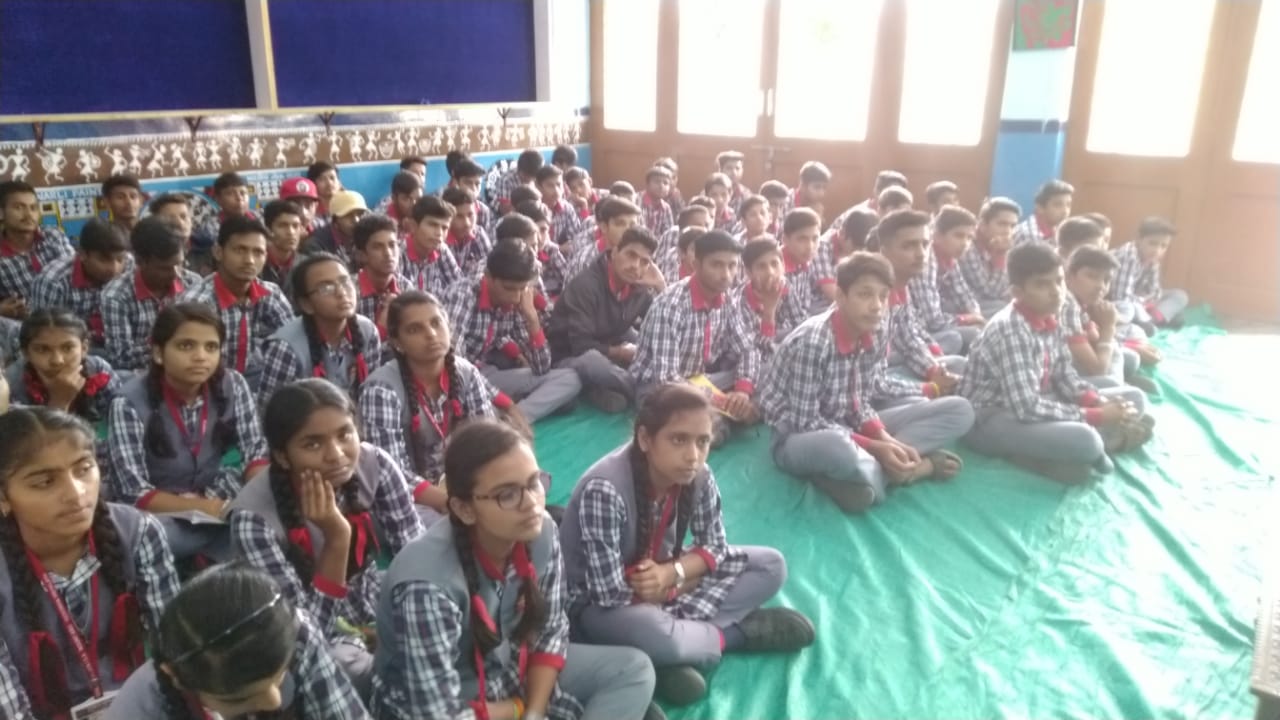 2019 Green News Archive January to June