Green News
Green News

BK side event at UN Ocean Conference - June 30th
28 June 2022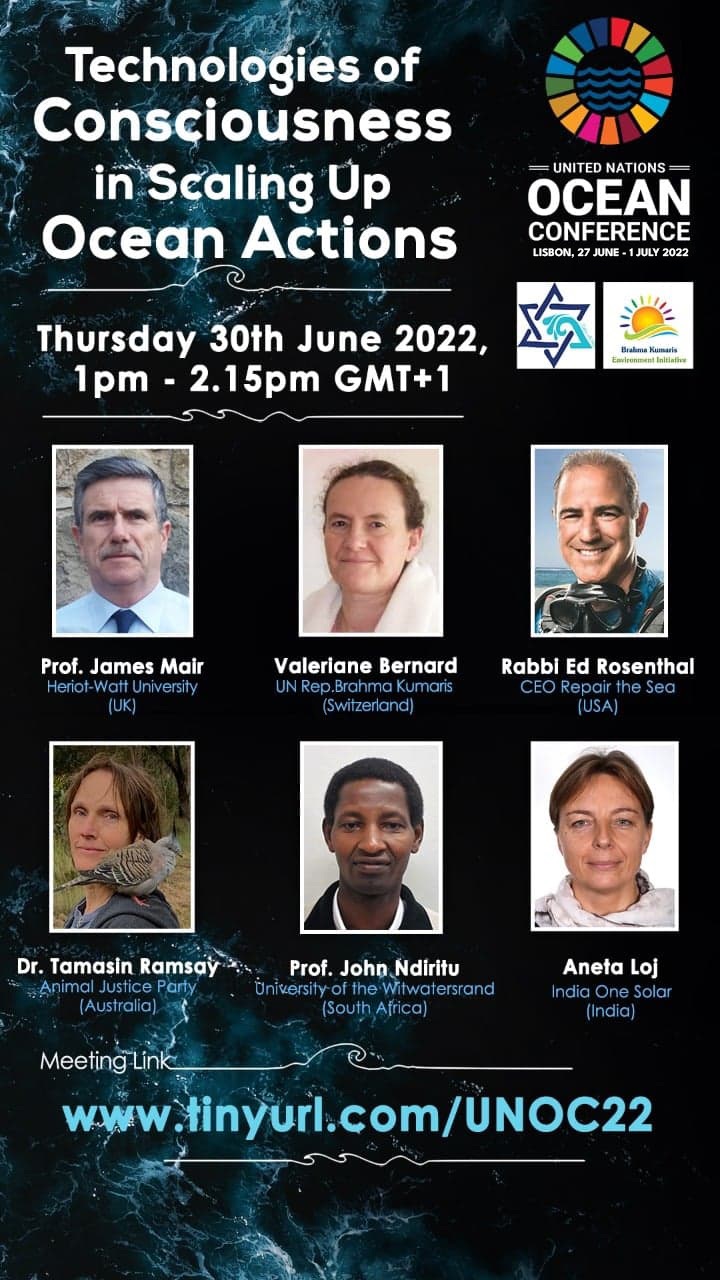 Dear family and friends,
You are warmly invited to a virtual side event organized by the Brahma Kumaris at the UN Ocean Conference 2022 in Lisbon.
Technologies of Consciousness in Scaling Up Ocean Actions
Thursday 30 June 2022; 1.00 pm – 2.15 pm GMT+1
Zoom link.
Meeting ID: 918 6720 1526
Passcode: ocean
This panel offers an in-depth discussion on the role of human consciousness in degradation and rebuilding of the ocean life and in achieving sustainable development goals. The participants will examine which shift in mindset is needed so that the well-being of humans and ocean can become the new imperative of our global action.
Moderator
Dr. Tamasin Ramsay, Senior Policy Advisor, Animal Justice Party (Australia)
Speakers
1. Professor Emeritus James Mair, Centre for Marine Biodiversity and Biotechnology, Heriot-Watt University, Edinburgh (the UK)
2. John Ndiritu, Professor of Water Engineering University of the Witwatersrand (South Africa)
3. Rabbi Ed Rosenthal, CEO - Repair the Sea (the USA)
4. Valériane Bernard, UN Representative for Brahma Kumaris in Geneva (Switzerland)
Meditation:
Aneta Loj, R&D Coordinator at India One Solar Thermal Power Plant (India/Poland)

Report from Stockholm +50 UN Conference - The Brahma Kumaris Environment Initiative
8 June 2022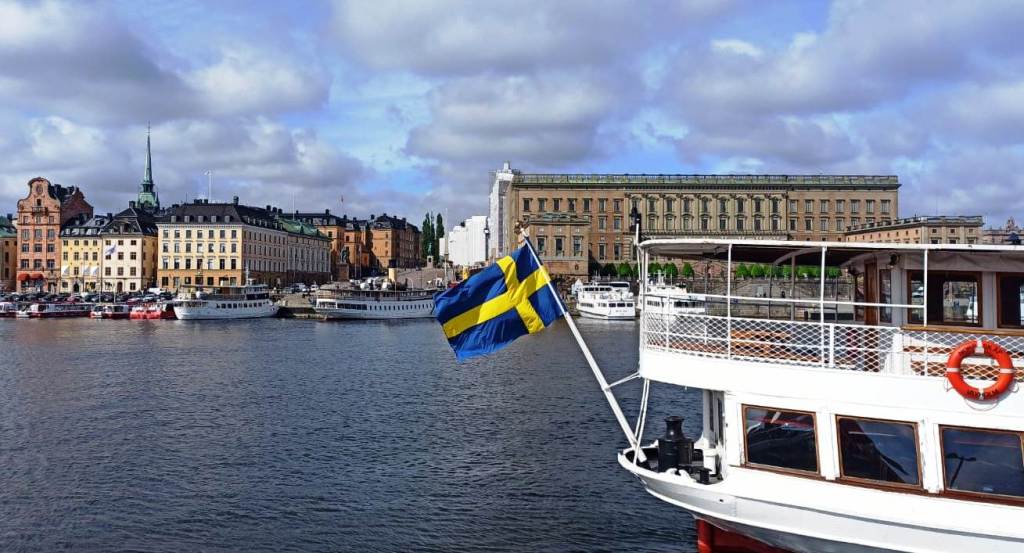 The Brahma Kumaris Environment team has been part of UNEP's "Faith for Earth" preparation group to promote the voice of faith at the conference. The BK's have sent a delegation of 4 people to the summit and were hosting three associated events with partners.
You can read the report from the conference via this link.
The two associated UN events are also on youtube:
Healthy Mind, Healthy Planet - Strengthening values and authenticity in sustainable development

How can a shift in mindset contribute to a sustainable planet?
You can also read detailed report from above event here:
https://eco.brahmakumaris.org/report-stockholm-50/


Green Newsletter - World Environment Day, Stockholm +50, Combating Desertification
28 May 2022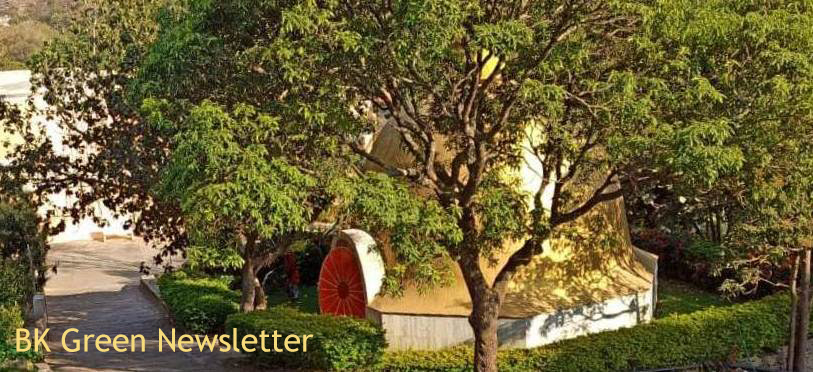 Only One Earth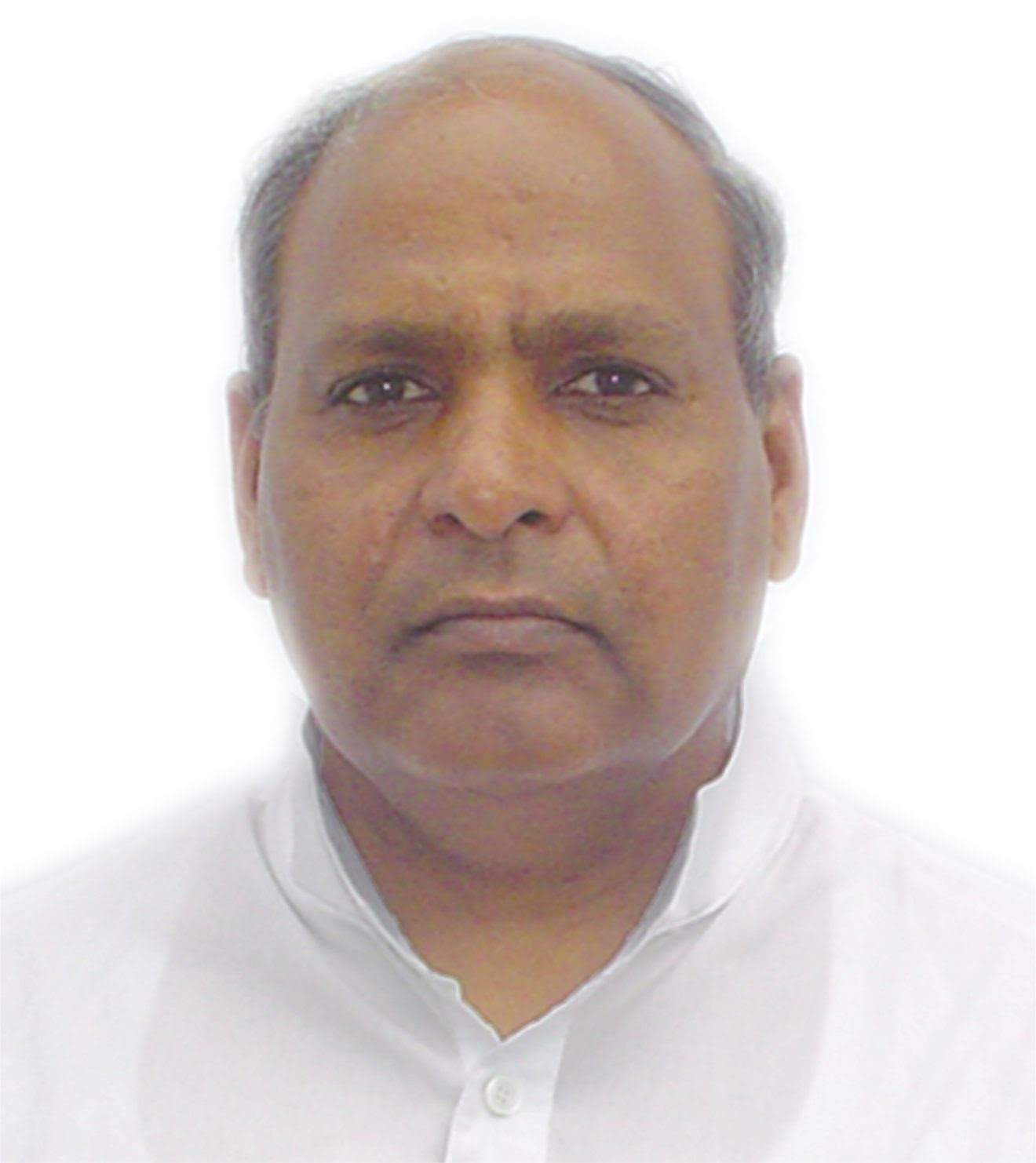 Mother Earth provides us space for a healthy life and basic life-sustaining elements on a platter for the survival of humankind. The philosophy that animal life doesn't harm the Earth as much as intelligent humans do to their home and environment is basic to protecting the globe on a larger scale.
Hence, the key to protecting the Earth or environment lies in transforming society and the inner nature of humans in particular. Philosophers and yogic practitioners have found it tough to transform global nature over the centuries. The arduous task, the Green activists have found parallels in the Greek Myth of Sisyphus, is to rebuild an irreparable loss caused by harmful practices of humanity to sustain the globe's survival over the decades. The underlying greed for wealth on the part of the developing and developed countries on the pretext of productivity and progress has degenerated the environment beyond redemption, thanks to global concern for the increasing population, hunger, disease, poverty, and death.
A matter of concern is that days ahead of World Environment Day 2022, we have experienced severe heatwave about 50 degrees Celsius, and severe cold waves in different parts of the world. All living species are dependent on the environment for food, air, water, and other necessities. Hence, it is the responsibility of every individual to protect the environment at a time when science and technology have failed to do so.
Sustainable subtle activities such as eco-spirituality have been created to strengthen and intensify the connection between human beings and the environment. Such efforts incorporate an intuitive awareness of all life and of the link between the person to the planet, inner to the outer world, soul to the soil.
Mother Earth has always been kind to us and it is our turn to return the favor by showing a responsible attitude towards the environment on Earth. Agriculture and Rural Development Wing of Rajyoga Education and Research Foundation is working to bring awareness to Sustainable yogic agriculture, Yogic home gardening, Plantation with values, Internal hygiene with cleanliness, preventing mental pollution with environmental pollution, making the best of the waste, spiritual & natural way of living for this environment day.
Om Shanti. And warm wishes for World Environment Day.
BK Raju, Vice-Chairman, Agriculture & Rural Development Wing(RERF)
Brahma Kumaris, Mount Abu
Register your World Environment Day activity here. As an example of activity, we can mention that Sweden and Norway are doing outdoor meditations this year.
Picture report of World Environment Day 2021 by Rural Wing and Youth Groups.
Read about Agriculture and Rural Wing on Sustainable Yogic Agriculture
1. They are supplying free seeds, organic nutrients, and organic pest management kits to hundreds of centers to motivate them to inaugurate Yogic Home Gardening
2. Cleanliness Programs
3. Plantation Programs
4. Waste to Best activities
5. Awareness of Environment pollution
6. Meditation for the Environment
7. Yogi Life Style
8. Environment protection through Sustainable Yogic Agriculture.
9. Environment Day rally
10. Self-reliant farmers' campaigns. See National Farmers Day Report 2021

World Environment day was established 50 years ago by UN at the Stockholm Conference on the Human Environment 1972. This year's golden anniversary will be commemorated by a follow-up conference, Stockholm+50. It will focus on a healthy planet for the prosperity of all, and more specifically on our responsibility and our opportunity for global environmental action. Follow Brahma Kumaris Environment Initiative at Stockholm +50 at their two associated hybrid events.
Wednesday 1st June 17.00 - Healthy Mind, Healthy Planet, Brahma Kumaris & LM International, read more and register for online participation

Thursday 2nd June 19.00 - Brahma Kumaris & Inner Development Goals & Spirit of Humanity Forum, read more and register for online participation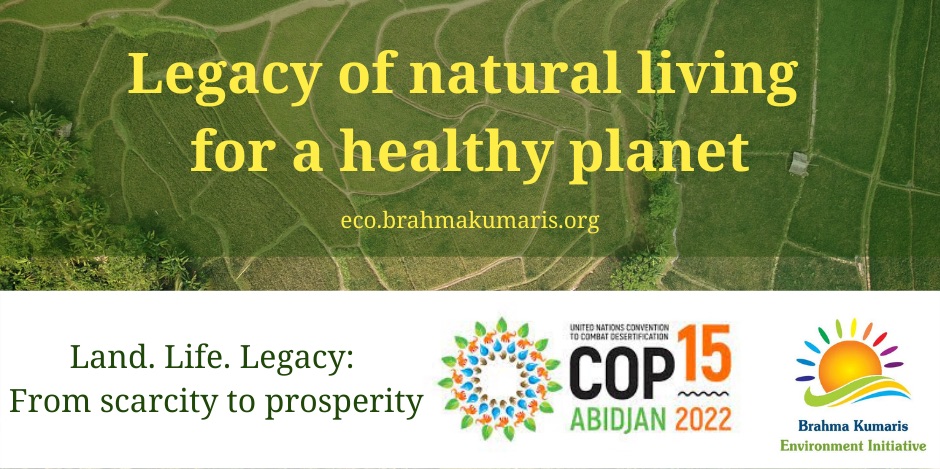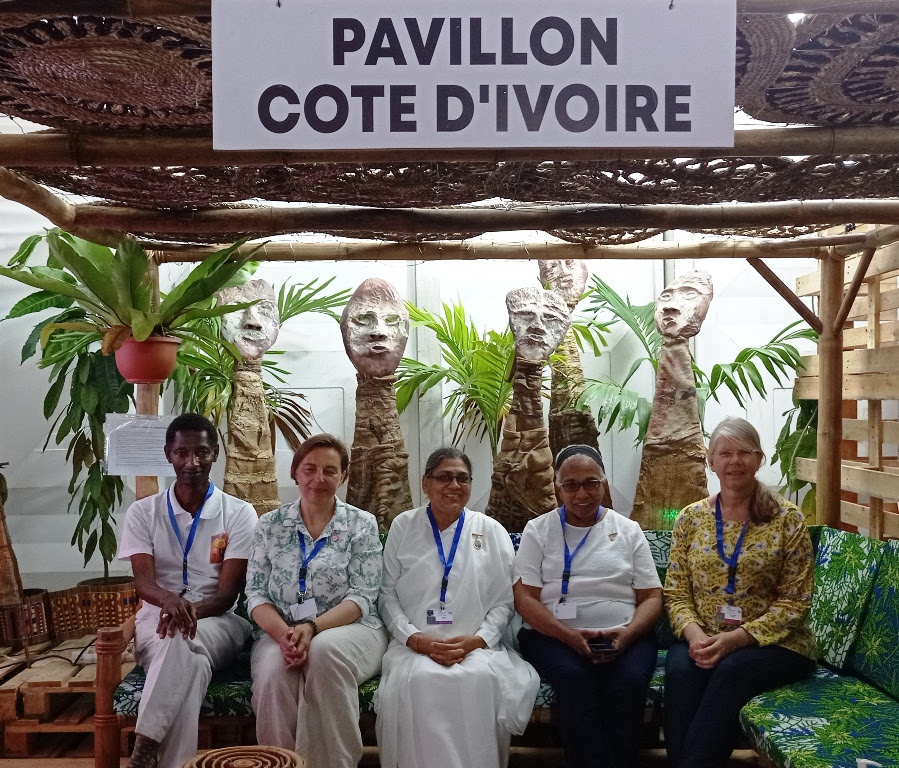 The UN conference on Combating Desertification COP15 took place in Cote D'Ivoire May 2022. Brahma Kumaris sent 5 delegates to participate in the 2-week long event. Read two reports
Listen side event "Values and Legacy of Natural Living"
Listen Aneta guiding Meditation in Plenary Session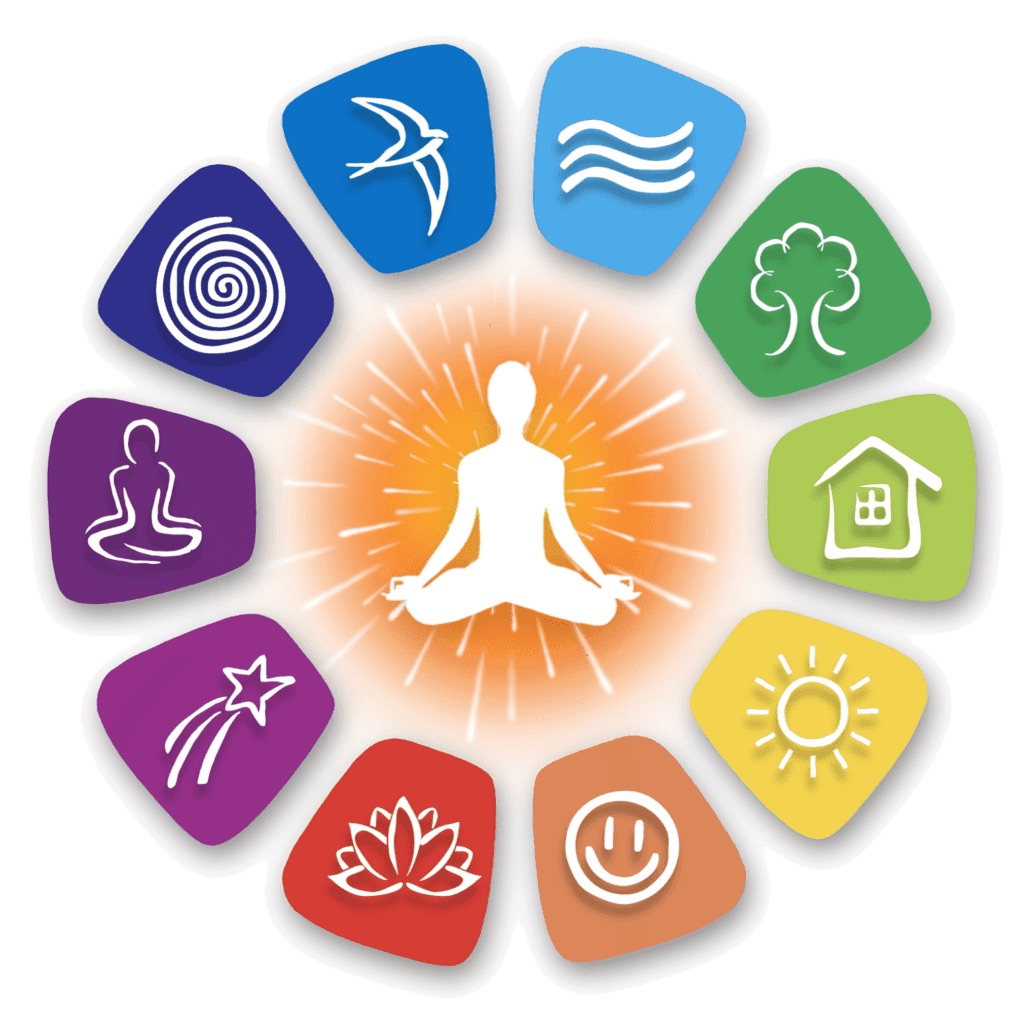 Yogis for Future invites like-minded people to come together, meditate, and create good thoughts and intentions for the well-being of humanity and the planet. 100 visual meditations to choose between.

Second Report from UN Conference on Combating Desertification in the Ivory Coast
27 May 2022
DearDivine Family,
Om Shanti. The second and final week of UNCCD COP15 in Abidjan in Côte d'Ivoire was a time for creating friends of the Earth among COP delegates and anyone caring for the land.
There were several gatherings within and outside the COP15 venue, such as an informal get-together, COP15 Reception, side event and dinner hosted by the Prime Minister of Côte d'Ivoire. These formed a platform to share our inside–out approach to healing the land and creating prosperity.
Another highlight was the amazing Great Green Wall which became an inspiration for a new meditation project.
Webpage : https://eco.brahmakumaris.org/2nd-service-report-unccd-cop15/
You can read more in our first report here
You can also here Anetas guided meditation in plenary session last week on our youtube channel
Greetings from Sister Pratibha, Aneta, Grace, Ndiritu, Sonja and Veena

Stockholm + 50
Preparations are now going on for the next conference in Stockholm 2-3rd June. Stockholm+50
will commemorate the 1972 United Nations Conference on the
Human Environment and celebrate 50 years of global environmental action.
Join the Brahma Kumaris Environment team in two associated hybrid events.
See more: https://eco.brahmakumaris.org/stockholm50_conference/
Brahma Kumaris
Vodroffsvej 9B, 1900 Frederiksberg C
Copenhagen, Denmark

UN Conference on Combating Desertification in the Ivory Coast
16 May 2022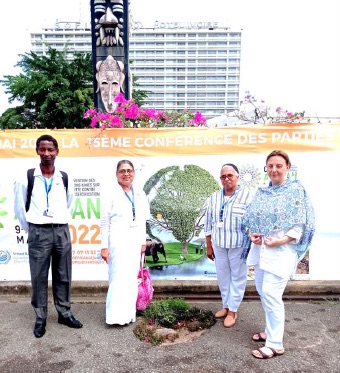 The BK delegation arrived on 6th & 7th May. Members of the delegation: Sister Pratibha Patel (Kenya), John Ndiritu (South Africa), Aneta Loj (Poland), Grace Lopez-Charles (Ghana), and arriving on 12th May Sonja Ohlsson (Denmark).
Dear Divine Family,
Please accept Godly love and remembrance from Abidjan in Côte d'Ivoire (The Ivory Coast).

A UN conference on Combating Desertification is taking place (the 15th Conference of Parties (UNCCD COP15)), and Brahma Kumaris has a delegation of six dedicated servers here. On Tuesday 17th May, we have our official side event, "Values and Legacy of Natural Living for a Healthy Planet".
Please see our eco website: https://eco.brahmakumaris.org/unccd-africa-cop15/
A few main events have happened so far:
Introduction to the UN Convention to Combat Desertification COP15

Meeting Sadhguru and the Save Soil project

BK Aneta guiding a meditation in the plenary
You can read more in our first report here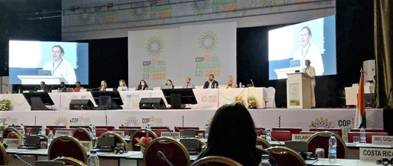 BK Aneta guiding meditation in plenary
Om Shanti
Sister Pratibha, Aneta, Grace, Ndiritu, Sonja and Veena
Brahma Kumaris

Green Newsletter - Lets Celebrate Earth Day 22 April - Upcoming Online Events
21 April 2022
Dear Green Friends
Let's celebrate Earth Day on 22nd April together! Here are a few online events you can choose between. I am sure there are much more happening out there... let us know about your activities! World Environment Day is also coming soon on 5th June.
EarthDay.org: For us, every day is Earth Day. If you feel the same, here are 52 actions and tips to make a difference, every day of the year.
The history of Earth Day is a revealing story of how one person can make a difference
Om shanti.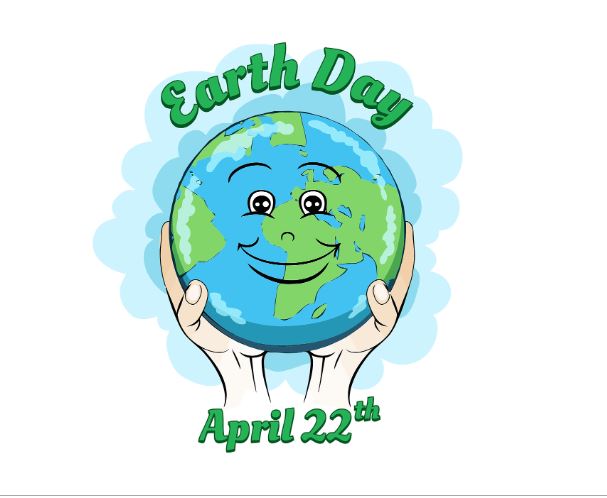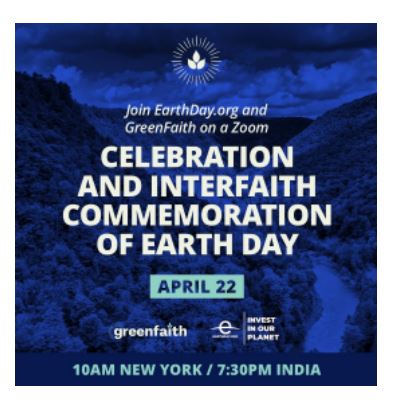 Interfaith Dialogue on Investing in Our Planet' on April 22, 2022,
10 AM New York - 7:30 PM IST
Earth Day is organizing the Interfaith Summit in collaboration with GreenFaith. Sister Jayanti is invited speaker in this Zoom Celebration & Interfaith Commemoration of Earth Day 22 April. Register FB GreenFaith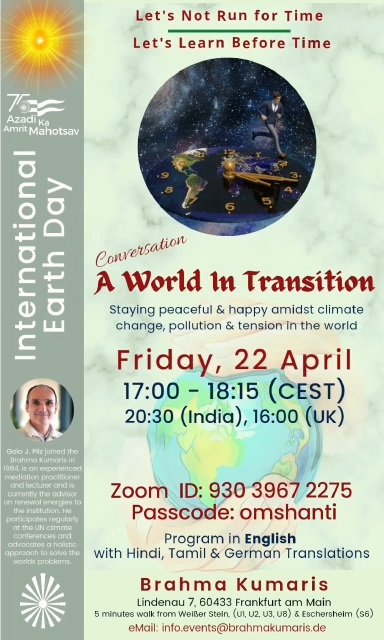 Conversation of a World in Transition on April 22, 2022
17:00 CEST - 18:15 IST
Program in English with translation to Hindi, Tamil & German with Golo and Niranjan about staying happy amidst climate change and tension.
Zoom ID: 93039672275
pass code: omshanti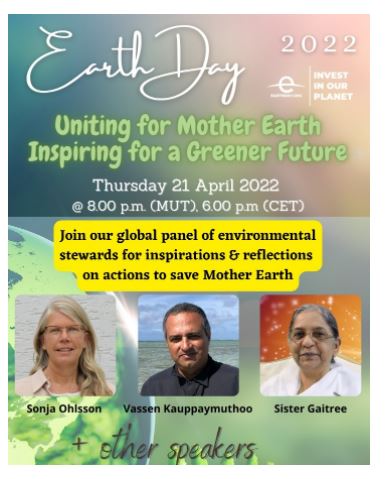 Uniting for Mother Earth
Inspiring for a Greener Future
Thursday 21 April 2022 @
18:00 CET - 20:00 Mauritius,
Join us to collectively reflect on how we can all contribute in small daily steps to save Mother Earth
Register for this online event with total of 7 speakers and Vikram as host. @ www.globalpeacehouse.org/earthday2022
Save the Soil
Take inspiration to Save the Soil with Sadhguru:
Toni Garrn and Sadhguru discuss #SaveSoil -
Goran Visnjic in conversation with Sadhguru #SaveSoil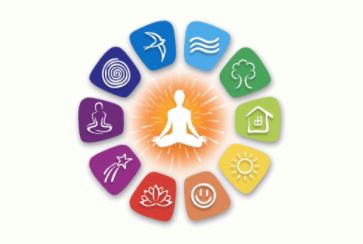 Yogis for Future invites like-minded people to come together,
meditate, and create good thoughts and intentions for the well-being of humanity and the planet.
100 visual meditations to choose between.

Brahma Kumaris Hold Awareness Exhibition On World Water Day
23 March 2022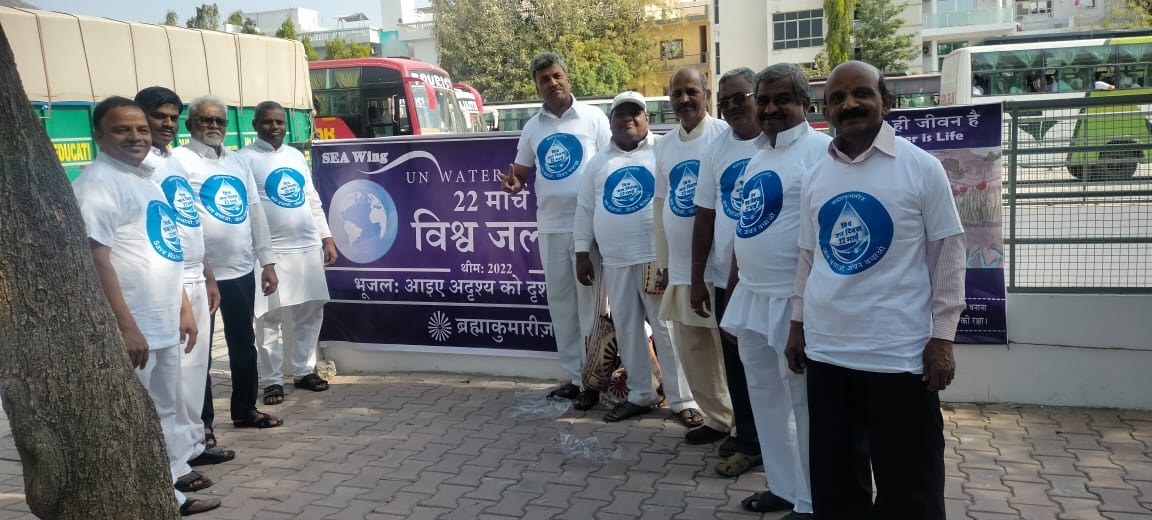 Abu Road (Rajasthan): The Water Department at Brahma Kumaris Headquarters held an exhibition in Abu Road for generating awareness on World Water Day. It shed light on water scarcity and conservation methods.
BK Pari, Head of the Water Department of Shantivan, said that we need to manifest the water that is hidden. "Without water, human life is difficult. Without trees, water is becoming scarce. We must plant more trees every year. This will help bring the Monsoons on time. We need to recycle water as well."
BK Shambhu, Chief of the Water Department, and BK Deepak along with many others were also present.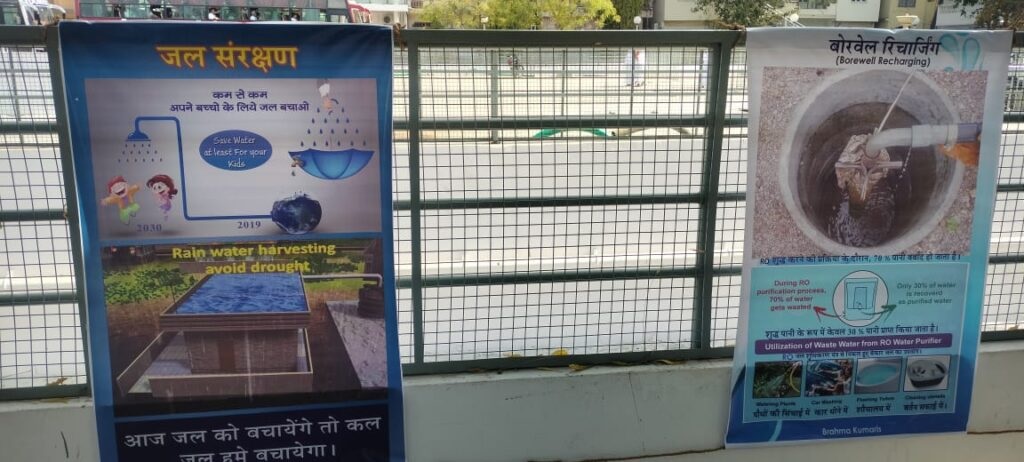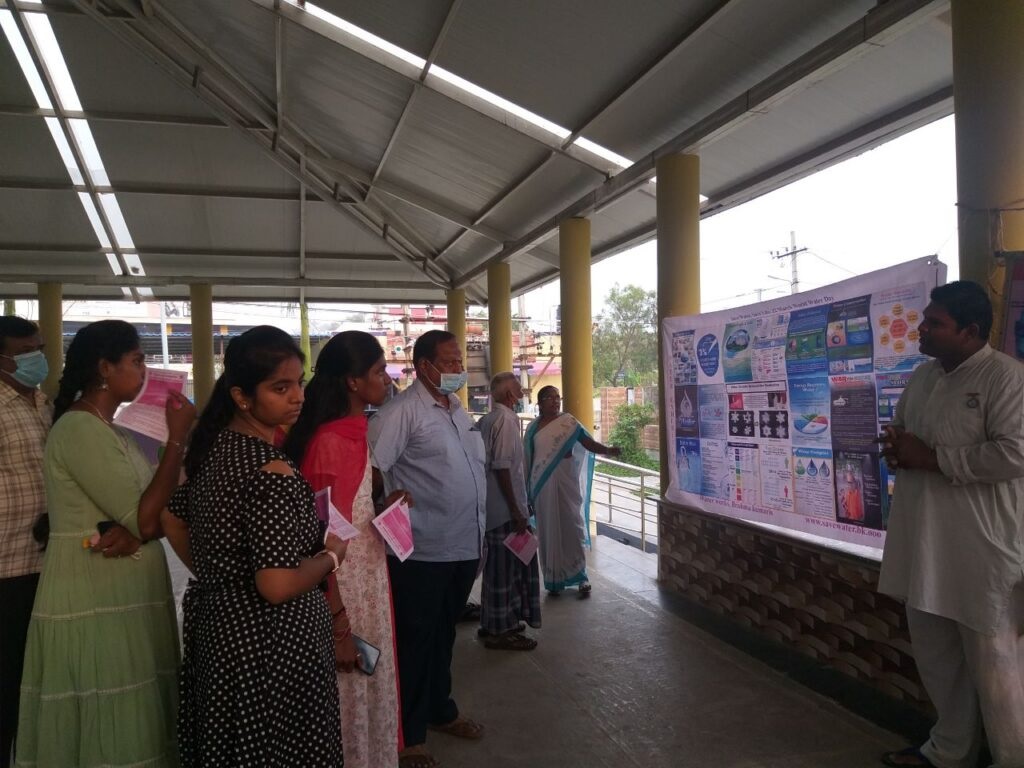 Green Newsletter - Peace, and World Water Day on 22 March
21 March 2022
Dear Green Friends
These days, we know how crucial peace is - on the inside and outside. We send peace to all war and conflict areas in the world. We also know that promoting and living by the principles of universal peace will enable vast resources to be redirected to creating a healthy and sustainable society. BK John in London has written an article about the topic, available in this newsletter.
One reason for conflict in the world is the lack of natural resources - water being one of them. So let's be careful not to waste our water, and let's celebrate UN World Water Day together! We highlight how BK's in three countries celebrate it - India, Brazil and Australia. Welcome to participate.
Would you like to join the new What's app group Eco Initiative Programs? We share each other's events and stay connected. Please send a mail with your name and what's app number.
Thanks for all your contributions and best of all
Sonja
PEACE
NOW IS THE TIME TO PRACTICE PEACE -
How to put an end to conflict by BK John Mcconnel, UK

BK Eco Wing in Australia is arranging a Meditation on Water 22nd March at 6.30 am London time, 12 pm in Delhi, 5.30 pm in Sydney. LINK to live meditation. Please also check out their new Eco Facebook page for links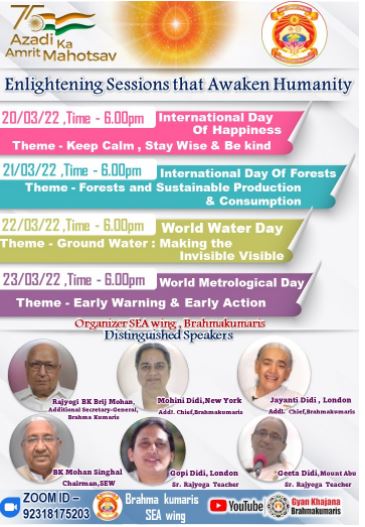 Shantivan Programs in HINDI:
21 March - Int. Day of Forests. Theme: Forests and sustainable production and consumption. Speakers: Sister Jayanti, Dr Debabrata Swain, Head of Forest Force, Odisha and others.
22 March World Water Day
Theme: Groundwater: Making the Invisible Visible. Speakers: BK Gopi, London, BK Pari Bhai, Shantivan and others.
23 March World Meteorological Day
Theme: Early Warning and Early Action
Speakers: Rajyogi BK Brij Mohan Bhai, Rajyogi BK Mohan Singhal and others
Join us live YouTube (in Hindi)
http://tiny.cc/UNDAYS
Shantivan Waterworks have made a "Water is Life Tutorial" for us, link here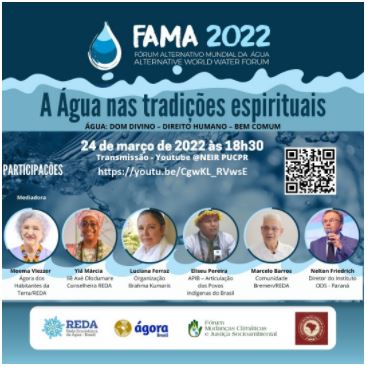 Brazil - 24th March
Programme in Portugese - The Siginficance of Water in Religion with BK Luciana as part of panel at 18.30 Brazilian time
Canal de transmissão: Youtube @ NEIR PUCPR e FAMA2022
Check It Out
New Playlists on our Eco Youtube Channel:
Food and Veganism
Woman and Spirituality
Eco Practices at BK Centres, including award-winning video from Mauritius on solar and bio enzymes for retreat centers.

UNEA 5 - UN Environment Assembly took place in Nairobi 28/2-2/3. BK Shantanu, Madhuban had the opportunity to read the Interfaith Statement made by the 640 participants from faith-based organisations to the Assembly, see here
Total 23 Faith for Earth Dialogues were arranged dedicated to UNEA 5, you can see all here. BK's participated in 5 of them:
22 Feb: The Role of Accredited Faith-based Organisations - Aneta is part of the organising committee and guides a meditation
23 Feb: Biodiversity and Ecosystem Restoration - Sonja part of the panel
3 March: Faith in Action: Only One Earth - Sister Jayanti part of the panel
3 March Faith – the Solution for Pollution, Shantanu moderator
4 March: Faith for Earth Youth Coalition - Shantanu part of the panel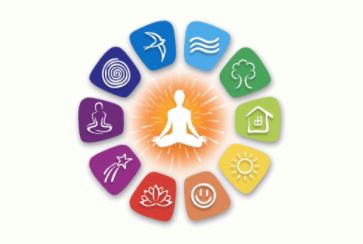 Yogis for Future invites like-minded people to come together,
meditate, and create good thoughts and intentions for the well-being of humanity and the planet.
100 visual meditations to choose between.

Green Newsletter - Biophiles, Food Care and Stay Connected
9 February 2022
Dear Green Friends
Are you a biophile? Someone who feels a profound love for and kinship with nature?
Perhaps you even read this newsletter to feel a kinship with other biophiles…..Maybe you are a sky gazer, a tree planter, a lover of wild places.
There are biophiles expressing their love of nature in every corner of our world - in cities and villages, forests and deserts. Some are protecting nature against all odds and at great personal risk. Many are learning nature's ways to better assist in its regeneration and rewilding. Some are taking care of wild animals or quietly reintroducing lost species. Others are learning to grow food that respects the soil and local wildlife and teaching us all to give back all we can and harm as little as possible.
There are endless ways to express our kinship with nature so that we can find our way back to living in harmony with the natural world again. And see nature's magnificence fully restored.
Now the drama and intrigue of COP26 is over and the media spotlight has moved on, we need more than ever to hear stories of care and hope for nature.
Please write in and tell us how you express your love for nature - from tiny acts and private commitments to grand life-changing experiences.
Best wishes,
Wendy Marshall
Stay Connected!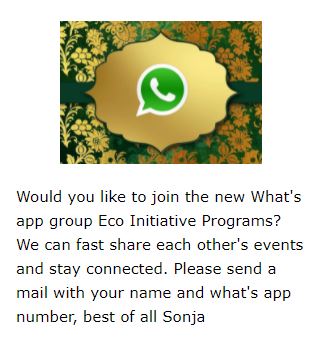 The January edition of the public-facing Eco News is focusing on our sacred relationship with the Earth and food. Editorial by David Goodman and interview with David Fletcher. Subscribe here (Scroll down)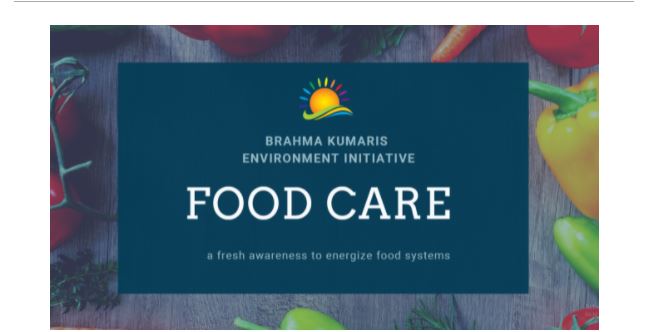 This new Food Care Toolkit (69 pages) is a resource of information and activities to guide your participation in and contribution to the emerging food systems dialogue. You are warmly invited to select any aspect which interests you - understanding Food Systems, Good Food Blessings, meditation and reflective questions, workshops, activities and games and much more. The toolkit can be used for personal development or to help you design and implement events for youth and adults in your city or country.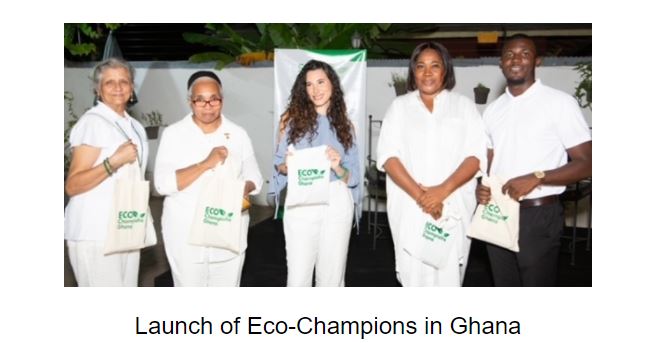 The Ghana Wing of the Global BK Eco Initiative was launched on 8th December 2021 by the Accra BK Center as 'Eco-Champions Ghana.' The official launch was a two-hour long ceremony, including a panel discussion and networking session, at a quaint Coffee Shop named Theia House, with over 50 people in attendance, from various sectors ranging from agriculture, micro-farming, to waste recycling, energy and oil, holistic well-being and health, among many others. The owner of the venue, Lana Captan, graciously gave us the space free of cost. Read more

Veganism has become more and more critical to those who want to contribute to both the practice and energy of non-violence in our world. Join us for interviews with two BKs who have chosen a vegan lifestyle. We will hear about their journeys into veganism and why it's so important to them. Tamasin Ramsay and Klig Akerly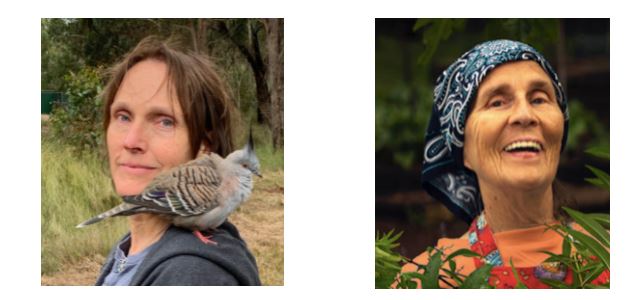 Meet our new partner Faith Plans. We will come back to you on how this partnership will develop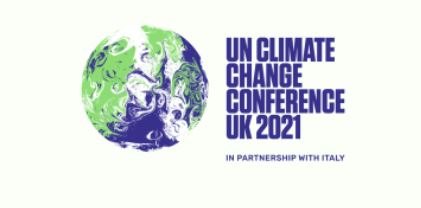 Brahma Kumaris Voices COP26
New uploads:
Energy Transition Deciding our Future
Voices from COP26, GCH London
Talanoa Interfaith Dialogue, Glasgow
Feminine and Indigenous Leadership for a Sustainable World, SDG Pavilion
- Uniting Hearts to Heal the World
- Report from COY - the Youth Conference on Climate at COP26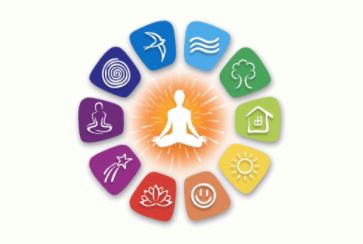 Yogis for Future invites like-minded people to come together,
meditate, and create good thoughts and intentions for the well-being of humanity and the planet.
100 visual meditations to choose between.

2022 January Green News Archive
2021 November & December Green News Archive
2021 October Green News Archive
2021 June through Sep Green News Archive
2021 Jan through May Green News Archive
2020 Jly through Dec Green News Archive
2020 Jan through Jun Green News Archive