Green News
Green News

Copenhagen: Online Event for BK Youth on Consciousness & Climate Change
7 October 2021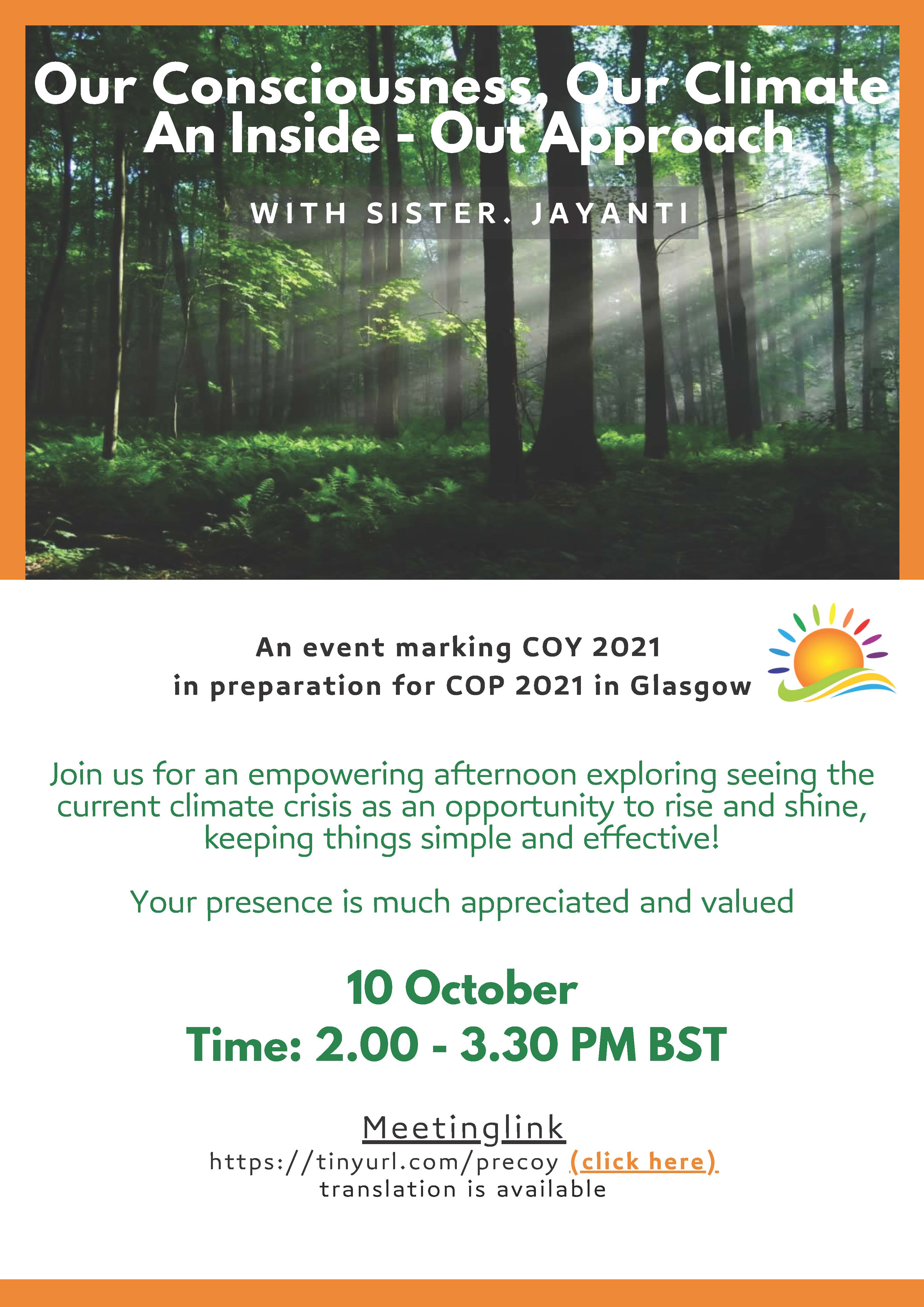 Dear Divine Family, Greetings of peace.
Each year world leaders gather to collectively decide upon what can be done to mitigate climate emergency. This annual event by UNFCCC (United Nations Framework Convention on Climate Change) will take place in Glasgow in November this year.
You can follow us on the online calendar, which is presently building up: https://eco.brahmakumaris.org/cop-26-events/
Prior to COP the Conference of Youth- COY - takes place in Glasgow. In preparation to the COY 16 the Brahma Kumaris Youth Climate Network is organizing an online event. Kindly find the details in the poster for circulating amongst the BK youth.
When: 10th October
Time: 2:00 pm to 3:30 pm BST
Topic: Our Consciousness, Our climate...an inside-out approach.
Highlights: Keynote address by Sis Jayanti.
Workshop and reflections
Meeting link: https://tinyurl.com/precoy
Translations will be available.
Aimed at:
BK Youth between age 15 to 35 years
BK Observers between age 35 to 45 years.
Om Shanti
Brahma Kumaris Youth Climate Network
copenhagen@dk.brahmakumaris.org
Click here for flyer in PDF version.

A Little News and Environment UN Days in September & October 2021
30 September 2021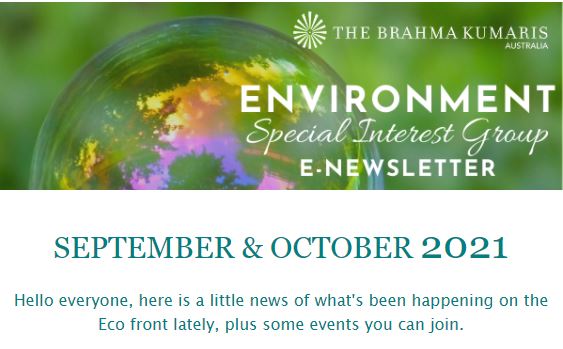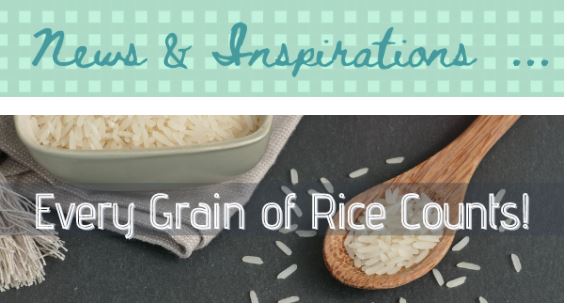 Information Session for BKs
Wednesday 29th September @ 10.30am AEST
with Klig (Yarra Valley) and Jessica & Robert (Leura)

As BKs we know that wasting food means losing our fortune; washing grains of rice down the sink is like washing away diamonds.
For UN International Day of Awareness on Food Loss and Waste Reduction we will hold a workshop for BKs:

Tips on how to store food, recycle leftovers successfully, compost and farm worms.

Bring along your own experiences.

On Zoom on the day

Tamasin Ramsay's research report on Sustainable Yogic Agriculture has been cited extensively by Janus Bojesen Jensen in a book titled 'Subtle Agroecologies - Farming With the Hidden Half of Nature".

The entire book is free to download... see Chapter 22.
At home, Tamasin has just started a personal Sustainable Yogic Agriculture practice according to the system of the farmers in India - established and practiced for more than ten years. The SYA practice begins with "seed empowerment" i.e. meditation on the seeds, for ten days. In the photo below Tamasin has separated the seeds - the yogic seeds are in the glass jars with labels and the control seeds are the ones remaining in the packets. She will update us with developments!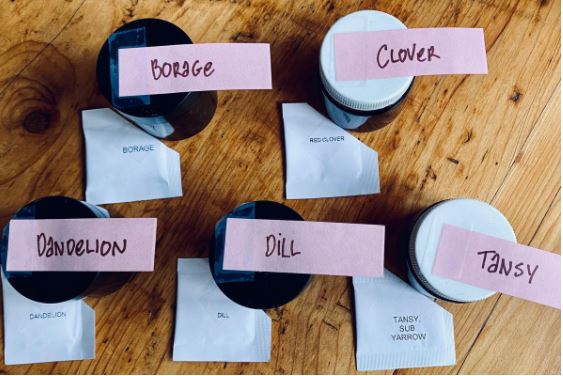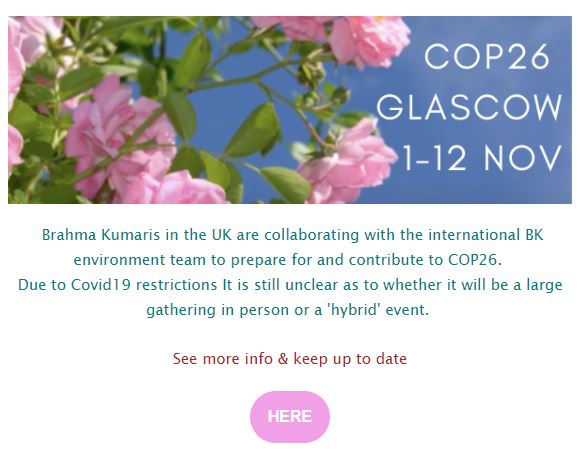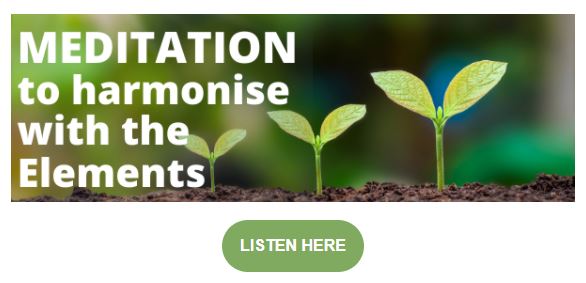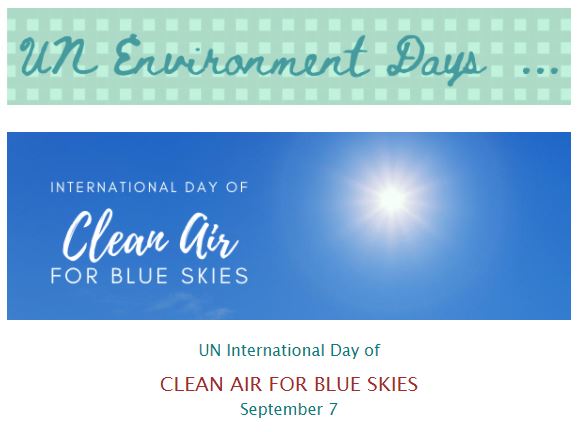 Аir pollution is the single greatest environmental risk to human health with with far-reaching impacts owing to its transport over long distances and one of the main avoidable causes of death and disease globally. Particularly in developing countries, air pollution disproportionately affects women, children and the elderly, especially in low-income populations as they are often exposed to high levels of ambient air pollution and indoor air pollution from cooking and heating with wood fuel and kerosene.

Meditation for Clean Air and Blue Skies
online via Zoom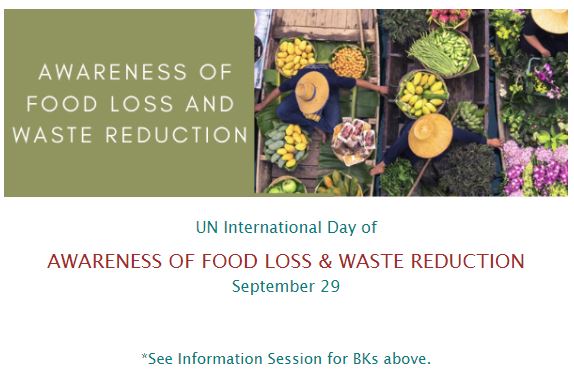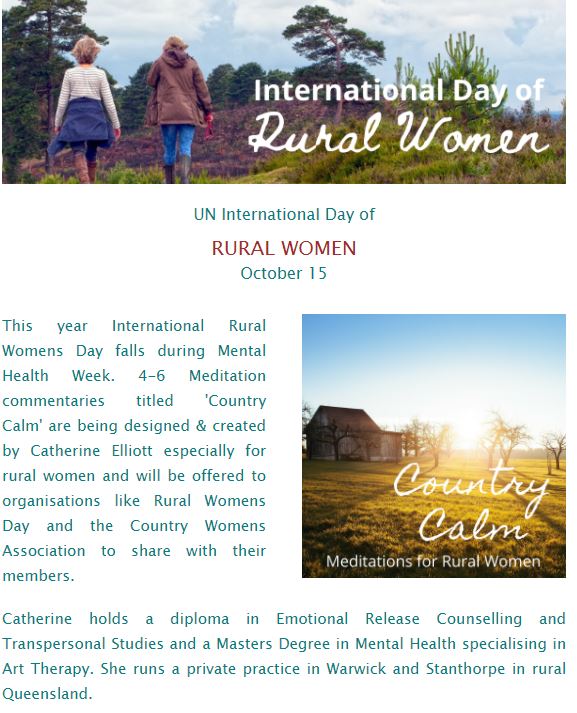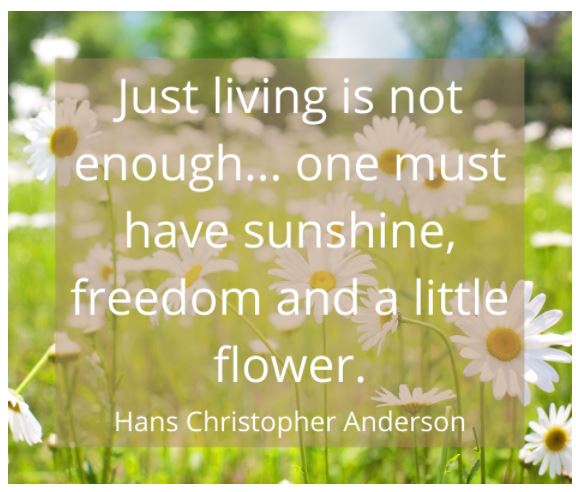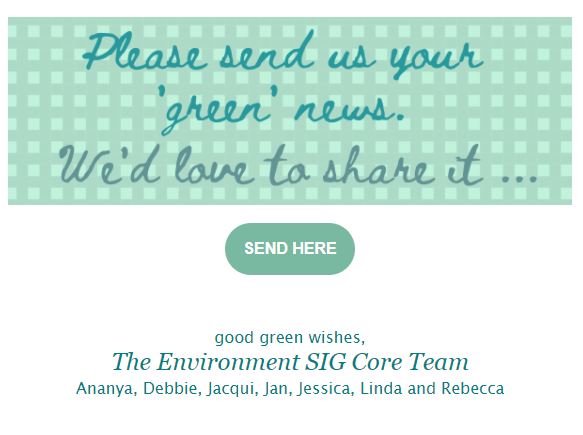 Green Newsletter - Preparing for COP26 Conference on Climate Change
30 September 2021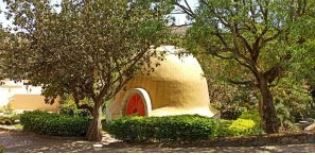 Dear Friends of Eco Brahma Kumaris
The Confluence Age is challenging for the world. The global community is now preparing for COP26, the hugely important UN Climate Conference in Glasgow in November. The Brahma Kumaris Environment Initiative will send a big delegation to advocate for the spiritual pathway of regeneration.

We want to hear from you! What message would you like the Eco Brahma Kumaris team to deliver at COP26? Please share with us by replying to this mail. We look forward to hearing from you.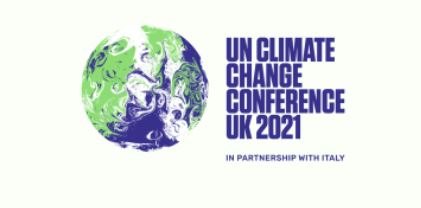 COP26 Calendar
You can follow us by using this calendar of events on the road to COP26.

The online seminar "Inspired Faith Action Towards COP26" is already happening tomorrow Monday 27th. Read more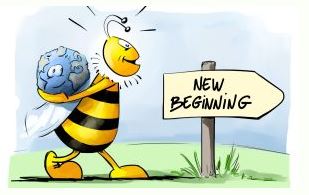 Faiths 4 Climate Justice:
A Global, Multi-Religious Action on 17-18 October 2021
Two weeks before the COP26 global climate negotiations, people of diverse religions will rise to send a message: Destroying the planet is against our religions. Join us or host an event.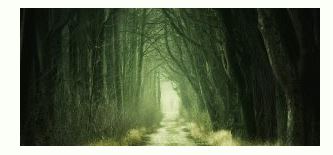 The Green Saint
In connection with COP preparations and the focus of the world on climate change, maybe you would like to revisit an article the late Anthony Strano wrote about the Green Saint of Assisi, St. Francis? Enjoy the article.
Francis learned to be realistic as well as spiritual for he stated: "Start by doing what is necessary, and then do what is possible, and suddenly you are doing the impossible."
Sustainable BK retreat centers
Enjoy new video presentations from Serra Negra in Brazil, Itteville France and Illawarra,Yarra Valley, Peninsula and Leura in Australia. Any more retreat centers out there that we don't know about? Let us know!
World Environment Day India
239 centers in India celebrated World Environment Day – another milestone in tree planting. See report with photos
Youth Celebrations called Dear Nature…, celebrating the eternal bond with nature
New Meditation section on Eco Website
New series of visual meditations, enjoy. Thanks to webmaster Jignesh.

Also try the new meditations from Australia
A Meditation for UN Day of Clean Air for Blue Skies
"Healthy Air, Healthy Planet",

Meditation for the UN Day for the World's Indigenous Peoples
Articles recommended by our readers:
Our leaders look climate change in the eyes, and shrug
Athens will be the first European city to appoint a chief heat officer
ExxonMobil reveals secret lobbying against climate change
Climate crisis: 50 photos of extreme weather around the world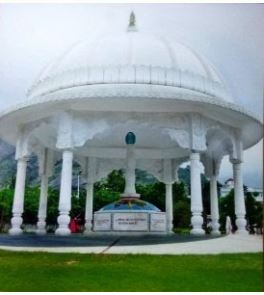 Peaceful Greetings
Brahma Kumaris Eco
and your newsletter editors
Peter, Jignesh, Golo,
Arnold, Sonja

2021 June through Sep Green News Archive
2021 Jan through May Green News Archive
2020 Jly through Dec Green News Archive
2020 Jan through Jun Green News Archive