Asia Pacific News
Asia Pacific News
Public Program Series By Brahma Kumaris Makati
31 January 2022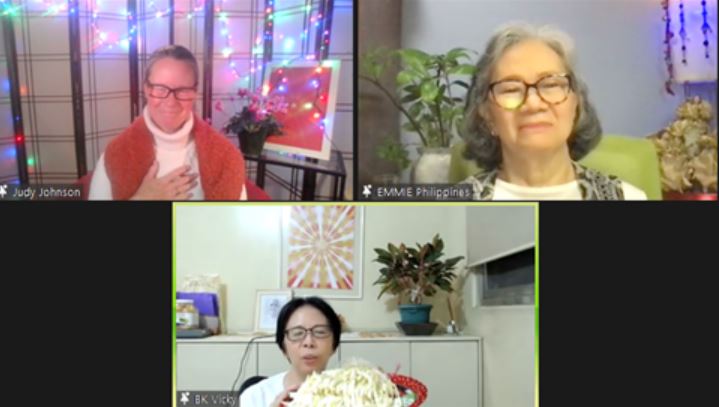 Makati (Philippines): "Christmas Stories, With Love" were cheerfully imparted during the December Public Program Series hosted by Brahma Kumaris Philippines Makati Center. Held on the four Thursdays of the month, the hour-long evening gatherings lent a new layer of warmth to the holidays via deeply personal sharings by BK speakers. There is an anonymous saying, "The best Christmas gift is to realize how much you already have." Each program illustrated that few things can be truer.
December 8, 2022
The online session kicked off with BK Rajni Daulatram, National Coordinator for Japan and the Philippines, sharing on the subject, "Love in Action." She pointed out that the phrase simply meant "to ignite our innate qualities." Learn from the past and move forward, she said. "Don't keep anything in the heart that stops you from expressing love. Christmas radiates beautiful feelings that make it easy for us to give our best to one another. When we see the world as one family, we allow our hearts to forgive and forget." This particular season, celebrated around the world, is a blessing meant to light up and enrich lives, she stressed. "And yet, whenever we give love from our hearts, it feels like Christmas, no matter the time of year."
December 15, 2022
"Beyond the Presents" was the first face-to-face public program at Makati Center after the pandemic lockdowns. It was a chance to exchange gifts, the BK way, with family and friends. Participants wore festive Santa hats. Spontaneous exchanges from the heart became part of a unique round of musical chairs. Every aspect of the get-together conveyed the joy of opening up to exchanging energies of caring and affection with one another. The program concluded with guests receiving blessing cards and vegetarian Christmas treats.
December 22, 2022
Much can be said about Christmas; it need not always be the same things over and over. Merle Pimentel, a senior consultant in organization development and a meditation practitioner for four decades, took the subject to a deeper level by saying that "Reason for the Season" might also be called "The Season for Being Able to Check Myself." First, she said, reflect on lessons learned and experiences that propelled growth. Second, clearly decide what matters for you, and what doesn't. Third, re-view your life to see if you are still on track vis a vis the goal that you have set for yourself. Fourth, close your book of accounts; that is, in your mind, say "I am sorry" to anyone that you may have hurt or harmed, until your heart is free from all anxiety. Fifth, celebrate with a deep sense of gratitude. And finally, leave the past behind and take the present as an opportunity to see your real reason for being.
December 29, 2022
BK Judy Johnson of Halifax, Atlantic Canada, is never too busy for Philippine programs. She has been a regular resource person since 2016, even dropping in (virtually) a few times at the height of the pandemic. She is an author, educator, meditator and meditation teacher, a seasoned leadership coach, professional adviser on conflict resolution, and vigilant advocate for peace and global harmony. By way of starting to "reflect and reset, she invited the participants to look deep inside: "Breathe in all that has been 2022 and release everything. Now take another deep breath, opening up to 2023. Relax and enjoy it." She led them through five rapid-fire questions, with instructions to just allow what comes to mind in quick response:
The wisest decision I made in 2022
The biggest lesson I learned in 2022
The biggest risk I took in 2022
The biggest surprise of 2022
How did my heart grow this past year?
She zeroed in on the state of the heart through the following reflection:
"How has your heart grown stronger? Feel it. Feel the strength of your heart. How has your heart grown softer? Maybe you think of the soft heart as being a pushover but it's not. It means the hardness that you were used to is now allowing the power of the soft heart to emerge. Feel the softness of your heart. "As we come to the end of 2022, I ask you to promise yourself that you will keep your heart safe as we enter 2023. What promise can you make to keep your heart safe? Give this promise to God now, and visualize it sitting in the highest shelf in your mind, framed and golden, royal, eternal. Feel God's light shining down directly upon you. This light brightens your heart, softens your heart, strengthens your heart and makes it bigger."
The four December programs presented ways of infusing everyday life with the Christmas spirit. They each highlighted reflections on relishing the richness of 2022 as we step into 2023. Participants effusively expressed gratitude in the Zoom and Facebook chat boxes during every live-streaming, proof that the message of the series hit the mark each time. We reflect, we ruminate, we count our blessings. We continue to allow a deep spiritual longing—something sacred and exquisite, a thirst that can be quenched only by God— to light our way.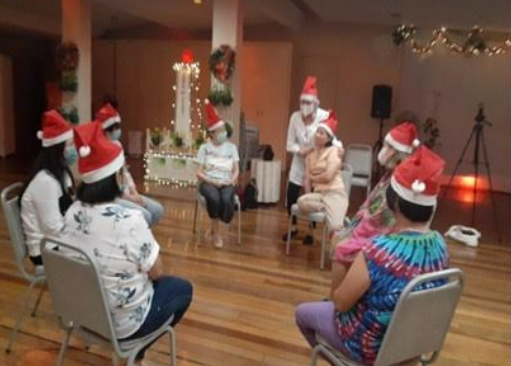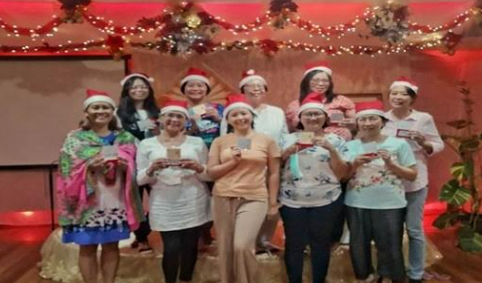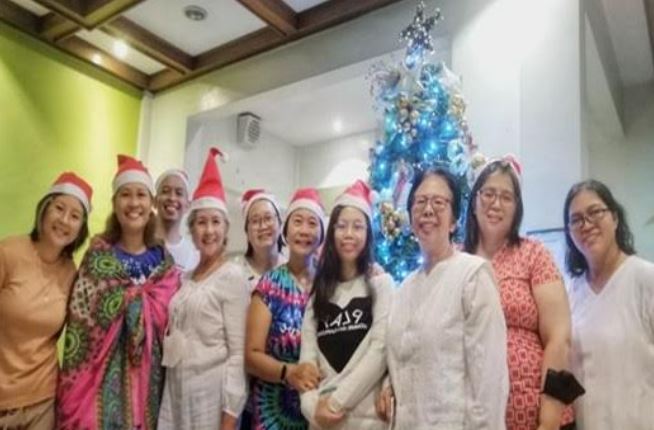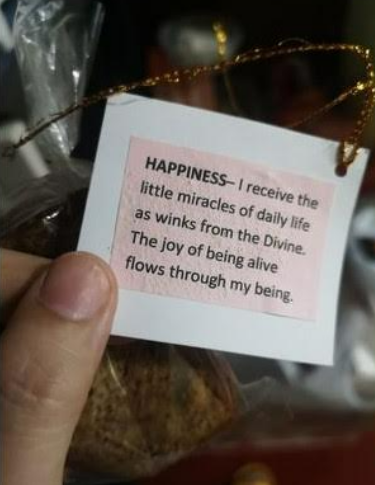 Brahma Kumaris Peninsula February 2023 Newsletter
29 January 2022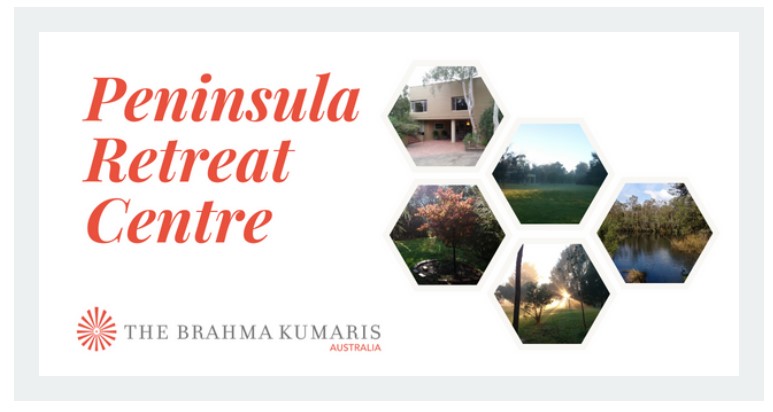 NEWSLETTER FOR FEBRUARY 2023
Dear Friends of the BKs
Greetings and good wishes for the start of February. We have listed programs here which we hope will help you on your spiritual journey. As well perhaps you might choose a thought for the day, eg, from the link below, to use to maintain good feelings for your self during your day. https://www.thoughtfortoday.org.uk/
Affectionately.
Jacqui.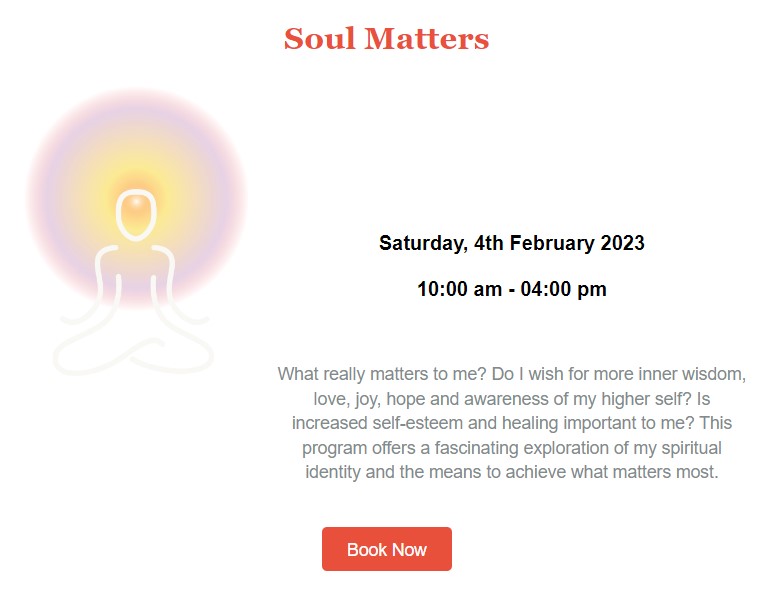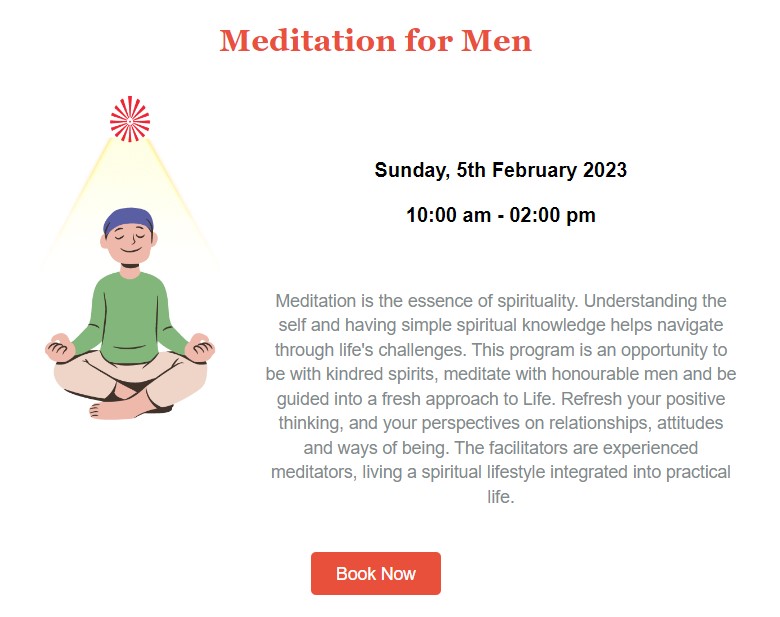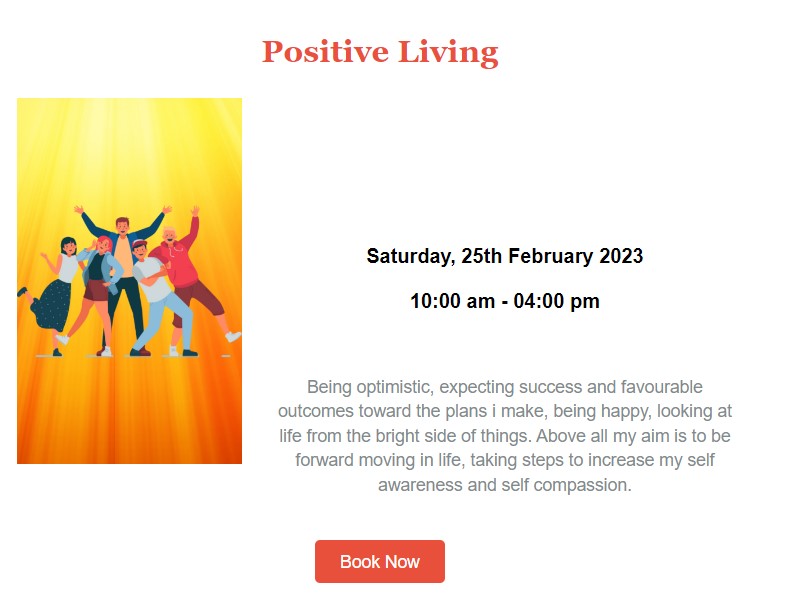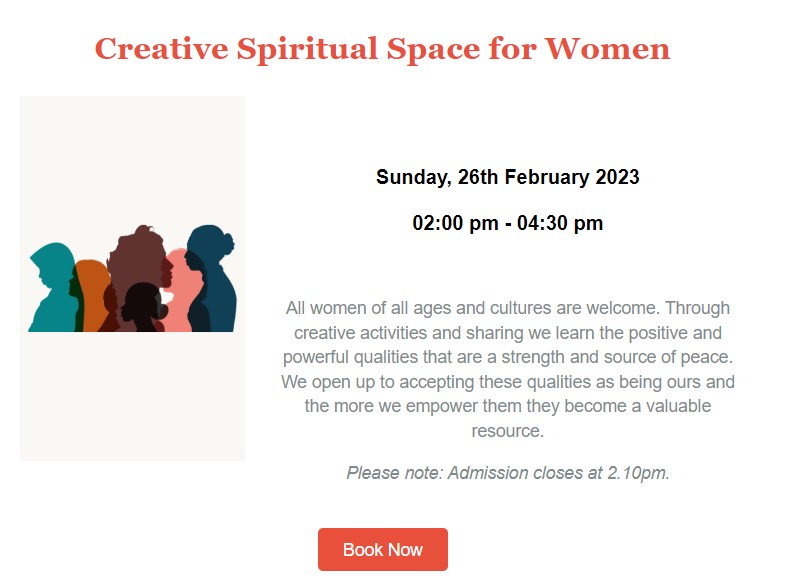 For more updates please visit our website

Brahma Kumaris - Sydney - Programs in February 2023
24 January 2023

Newsletter for February 2023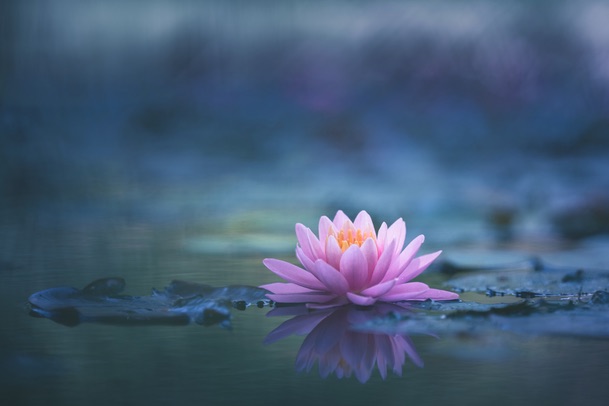 Raja Yoga Meditation Introductory Course (starts on first Wednesday of the month)
Wednesday, 1 February '23 7pm – 8:30pm AEDT
This is an interactive introduction to the practice and philosophy of Raja Yoga Meditation.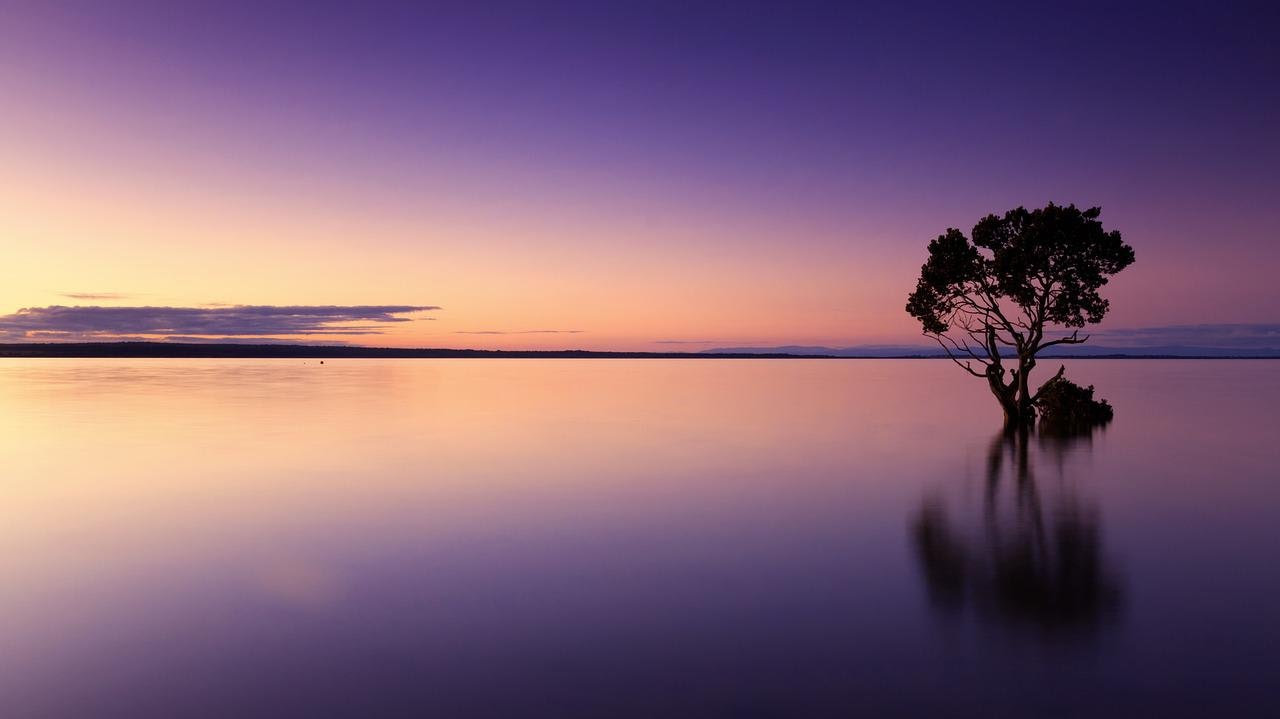 Positive Thinking Course (starts the first Thursday of every month)
Thursday, 2 February '23 6:30pm – 8pm AEDT
This course starts on the first Thursday of every month. The course has a total of four lessons and runs once per week (on Thursday nights) for four weeks.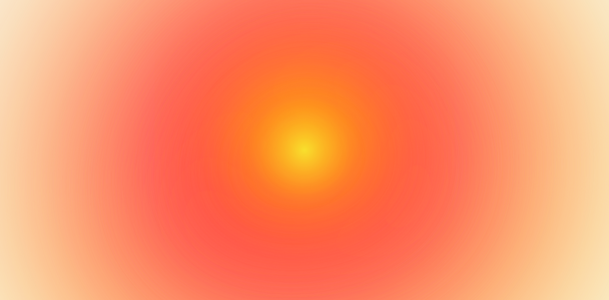 Raja Yoga Meditation - Introductory Course (starts on first Saturday of the month)
Saturday, 4 February '23 10am – 11:30am AEDT
This is an interactive introduction to the practice and philosophy of Raja Yoga Meditation. This lays the foundation for ongoing spiritual development. In these sessions, we review the means to nourish the soul and to free our spirit.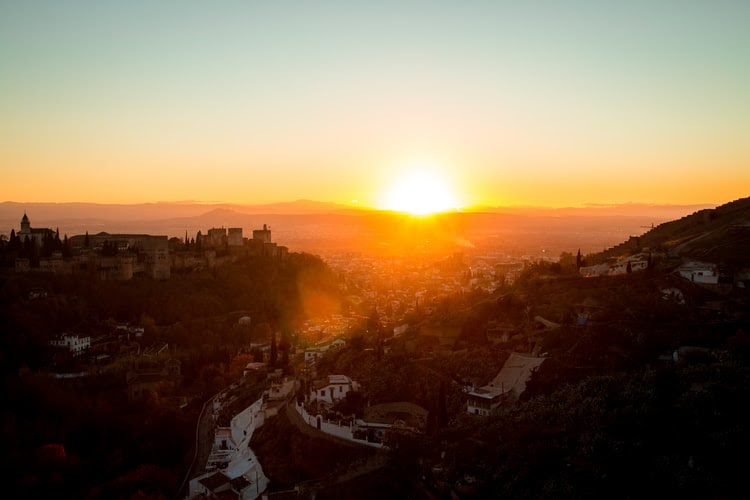 My Relationship with God
Saturday, 4 February '23 4pm – 6pm AEDT
This program is open to all and dedicated to UN World Interfaith Harmony Week.
A panel of people from different faith traditions will lead an enquiry into this topic.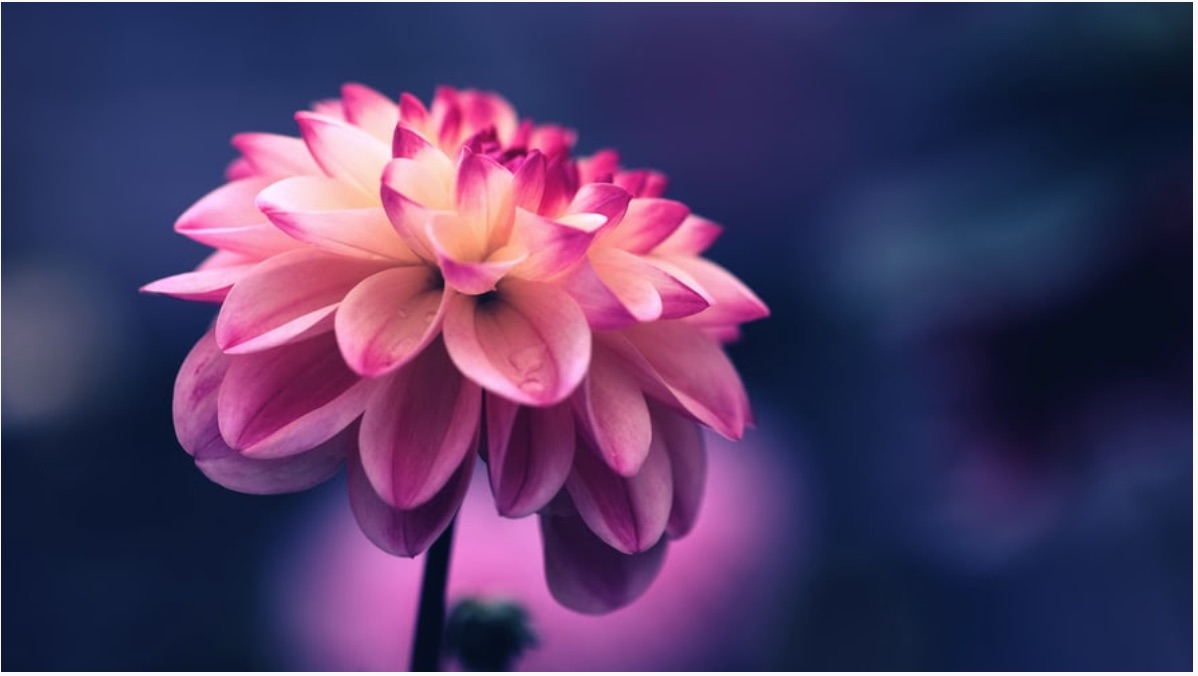 iBeing online spiritual book cafe.
11 Feb: Sat. 4:30pm - 6:00pm AEDT
First timers to register on: http://tiny.cc/iBeing2023
Enquiries: ibeing@au.brahmakumaris.org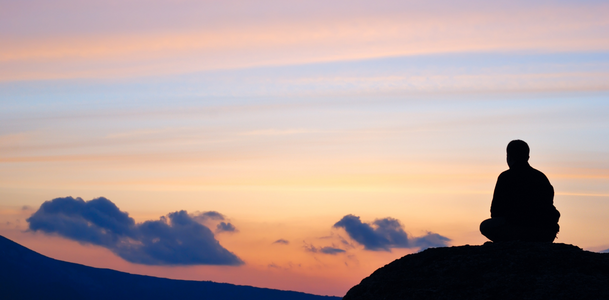 Reflection Series: Meditation - the Breath of life
Monday, 13 February '23 6:30pm – 7pm AEDT
https://tiny.cc/reflections-stories
Panna Patel for many years felt attracted to meditation but that her time and energy was pulled between many other competing priorities on a daily basis.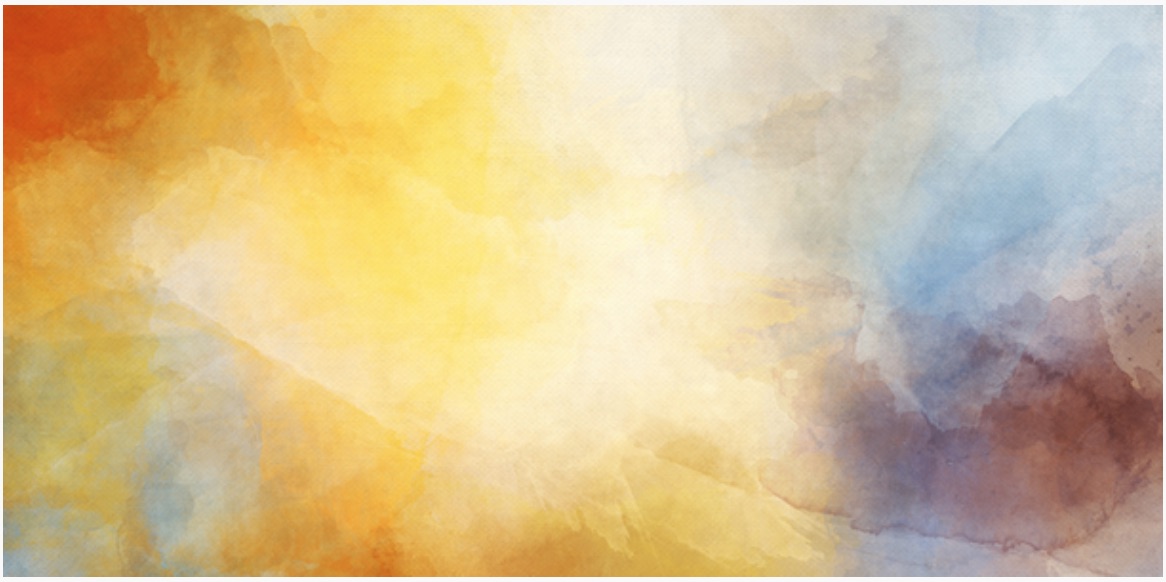 Reflection Series: Blessing or Curse?
Joseph Jarczewski has been meditating since 1990. In that time, he has come to appreciate the power of self-reflection and an open heart and mind. In his varied working career.

2023 January Asia Pacific News Archive
2022 December Asia Pacific News Archive
2022 November Asia Pacific News Archive
2022 October Asia Pacific News Archive
2022 September Asia Pacific News Archive
2022 August Asia Pacific News Archive
2022 July Asia Pacific News Archive
2022 June Asia Pacfic News Archive
2022 May Asia Pacfic News Archive
2022 April Asia Pacfic News Archive
2022 March Asia Pacfic News Archive
2022 February Asia Pacfic News Archive
2022 January Asia Pacific News Archive
2021 December Asia Pacific Additional News Archive
2021 December Asia Pacific News Archive
2021 November Asia Pacific News Archive
2021 Sep & Oct Asia Pacific News Archive
2021 Jly & Aug Asia Pacific News Archive