Asia Pacific News
Asia Pacific News
Report on Didi Ambika & SpARC Team's Visit to Malaysia 12 to 16 December 2019
12 January 2020
Malaysia had the fortune of having the following three senior SpARC Team members' visit led by Didi Ambika, the Regional Coordinator of Bangalore, India.
1. Didi Ambika - Chairperson, SpARC Wing of Brahma Kumaris
2. Dr. Sushil Chandra – Scientist, Management Member of SpARC Wing 3. BK
Shrikant – National Coordinator SpARC Wing, Mt Abu
The three-member mission had come on the invitation of the Indian High Commissioner in Malaysia to conduct a one-day Training Course on the "Scientific Approach to Spirituality". This was the outcome of Didi Ambika's recent visit to Malaysia for the Raksha Bandhan Program in August 2019.
During their mission a couple of programs for BKs and non- BKs took place as detailed below:
12 Dec 2019, Thursday afternoon - Ministry of Health, Traditional & Complementary Medicine Division

Immediately upon arrival, the team had a meeting with the Ministry of Health, Traditional & Complementary Medicine Division Head, Dr Jaspal Kaur, and her team of four officials. The aim was to share the science of Raja Yoga Meditation and its positive effects on human health and well- being as a tool in self-healing and in combating diseases. At the moment, the Ministry of Health Malaysia has yet to recognize or regulate Raja Yoga Meditation as an alternative medicine and, hence, would not be able to support, endorse or participate in any of the collaboration proposals. It is hoped that the meeting would open up the opportunity for the Malaysian government to regard Raja Yoga Meditation as a powerful tool in addressing human health and positive behavioral changes. Scientific research papers were shared and the Division would study the documents to assess the extent Raja Yoga Meditation can be classified as alternative medicine under non medicine realm or other medical and health science division.
Indeed, it was an eye opener to the Ministry's team of officials and they were intrigued with the knowledge and the positive research results of the Raja Yoga Meditation and our genuineness in benefitting humanity......click here for detailed report with photos.

Third International Hindi Retreat to be held at the Asia Retreat Centre, Malaysia
12 January 2020
The Malaysia Family is very pleased to inform brothers and sisters around the world about the coming International Hindi retreat. It will be from 16-19 July 2020.
Arrivals: 16 July
Departures: 19 July evening
Theme of the retreat: The Magic of God's Blessings
The Spiritual Resource will be Respected Divine Sister Meera, Incharge of the Bombay Santacruz Centre
The link for registration will be sent to you soon. In the meantime, please reserve these dates on your calendar.
Looking forward to meet you ...
BK Meera
NCO Malaysia

Press release January 2020 RE: Sydney Main Center & Blue Mountains Retreat Center Holding Special Meditation Programs for the Bushfire Season
12 January 2020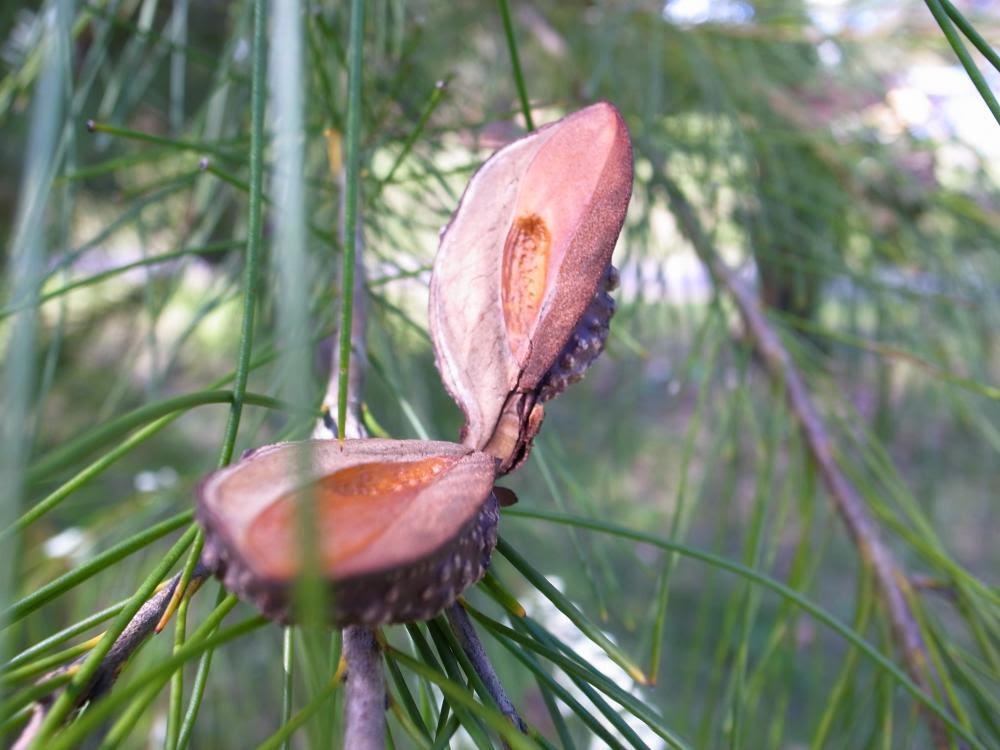 Dear friends,
Please know we are thinking of you all through this difficult bushfire season.
Charlie Hogg our CEO in Australia has asked me to share the Brahma Kumaris best wishes with everyone and to let you know of a special program at our headquarters in Sydney on Sunday 12 January. Another event is in the Blue Mountains on Sunday 19 January. The links with booking details are below.
With good wishes
Phillippa.
The Brahma Kumaris extend our deepest sympathies and compassion to all in Australia affected by the recent fires.
Throughout this disaster, there have been outpourings of support and goodwill for Australia from around the world generally, and we have also received many messages within the global Brahma Kumaris network.
As meditators we know the impact of intention. When many of us focus together, the collective power and vibrations have a greater effect. In support for those suffering from the bushfires, including animals and nature, many people have gathered at Brahma Kumaris centres in Australia and all over the world to do special meditation and spread vibrations of peace, love, care, and support.
One such event is in Sydney this Sunday 12 Jan. https://tinyurl.com/wamhubk
Another event is in the Blue Mountains on Sunday 19 January. https://tinyurl.com/yhgcvfog
Two of our residential retreat centres, in the Blue Mountains and Wilton to the southwest of Sydney, evacuated for extended periods of time. Several retreats were also cancelled as a precautionary measure to ensure the safety of residents and retreat participants.
We also appreciate and would like to acknowledge how heartening it has been to see that many positive stories of hope, generosity and human goodness have been emerging. This is very valuable in the midst of situations which we all find challenging. The road to recovery will also be long and we hope this resilience will continue.
With love and best wishes
Phillippa and the Wilton Team

Update on bushfires in Australia
6 January 2020
Dear Centre Co-ordinators and Baba's Worldwide Family, Greetings of love from the family of Australia.
Thank you for the flood (word especially selected!) of loving emails, calls and whatsapp messages full of good wishes from all corners of the world for the fires in Australia.
We have been feeling you showering cooling vibrations on this part of the world, especially seeing the TV footage of the destructive power of these fires. They have been going for months and an estimate is they have already burned 12 million acres of bush land. It is reminding us all of Baba's words that we are living in the final times of this cycle.
All Baba's children and property are safe and well. The family of the Blue Mountains left the retreat centre for 10 days but they have now returned and all is well. The fires came within 500 metres of Baba's retreat centre. The Wilton family have evacuated four times for short periods of time but are also okay.
Baba's children here have been having yoga bhattis. All are in a very light stage observing these scenes of drama of last kalpa.
Thank you again for all your love and good wishes which are deeply appreciated.
With love,
From Charlie and the Australian family

Happy New Year 2020 from Kowloon, Hong Kong
3 January 2020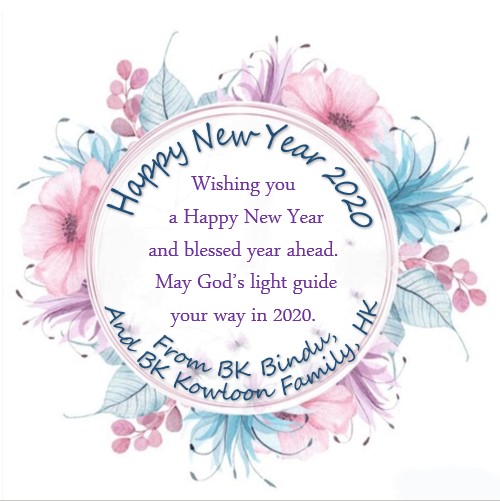 New Year Greetings from Singapore
29 December 2019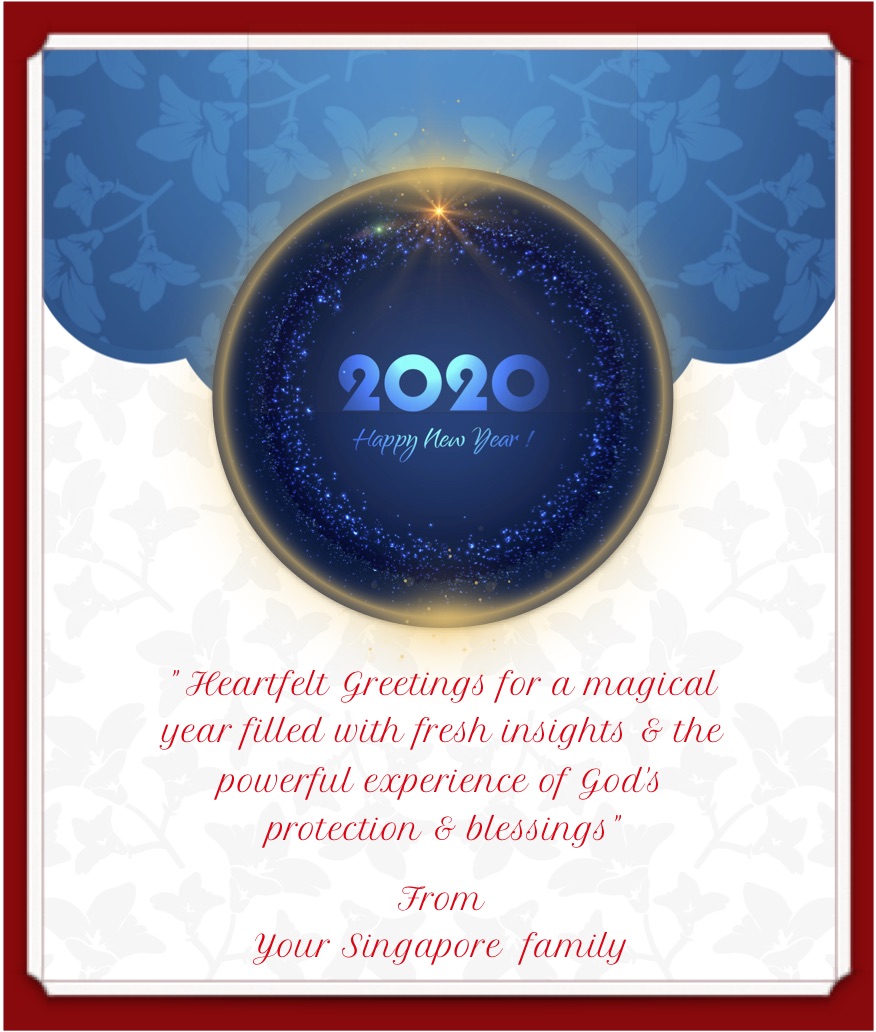 MERRY CHRISTMAS & HAPPY NEW YEAR from Indonesia
24 December 2019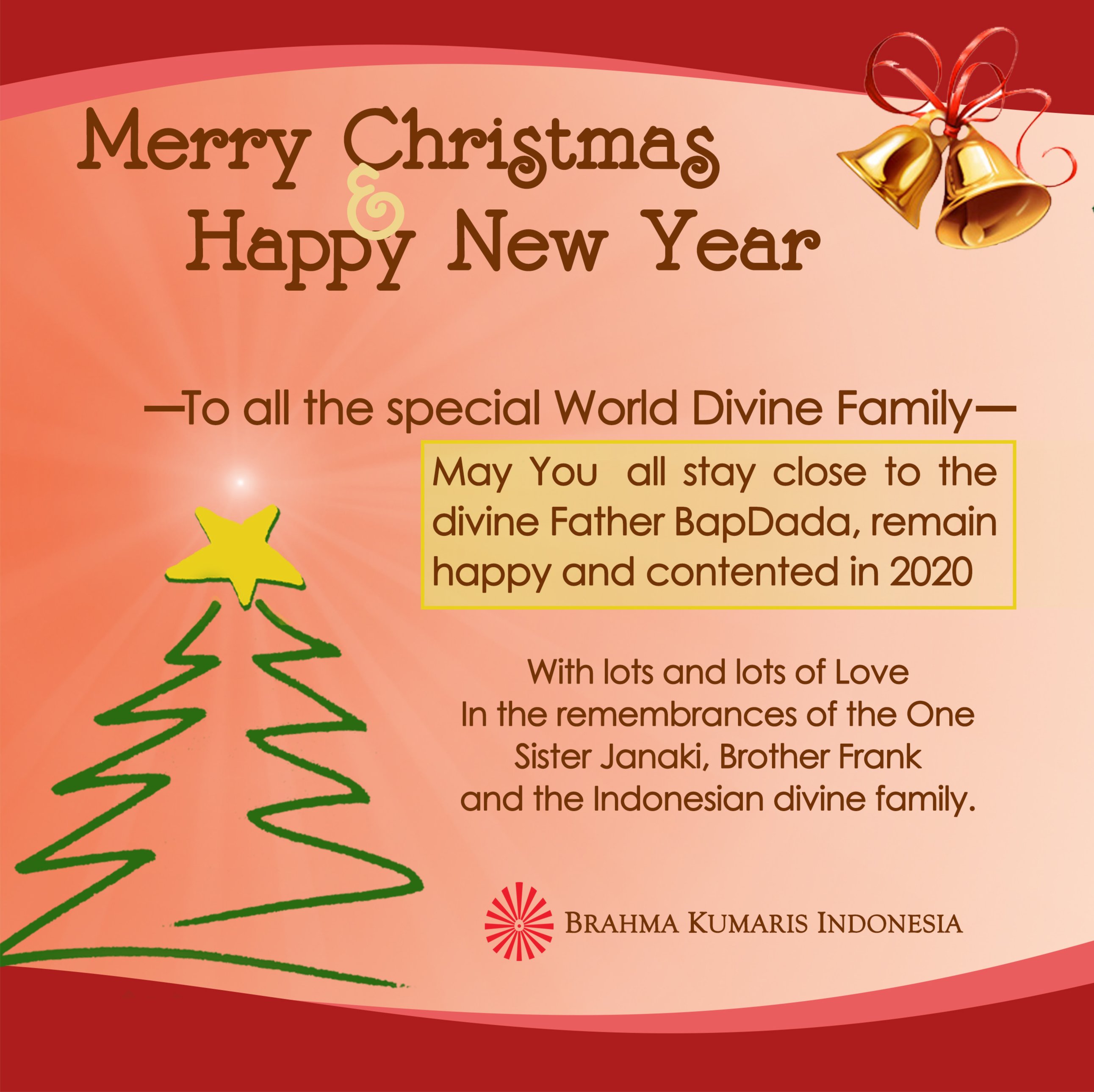 Merry Xmas & Happy New Year 2020 to the BK World Family from Hong Kong
24 December 2019
Dear Divine Global Family
Om Shanti.
We wish you a Merry Xmas & Happy 2020 New year.
May we embody Baba's powers & personality in our personality and give the experience & Sakaash of Divine love, good wishes and pure feeling to our divine brothers of the world in the year 2020 .
BK Rohini
National Coordinator
National Coordinating Office, Hong Kong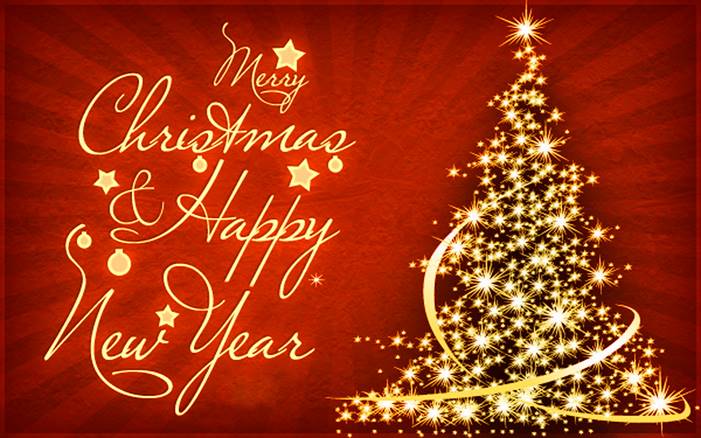 New Zealand : Merry Christmas & A Happy New Year
24 December 2019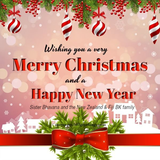 News of Taiwan Service
24 December 2019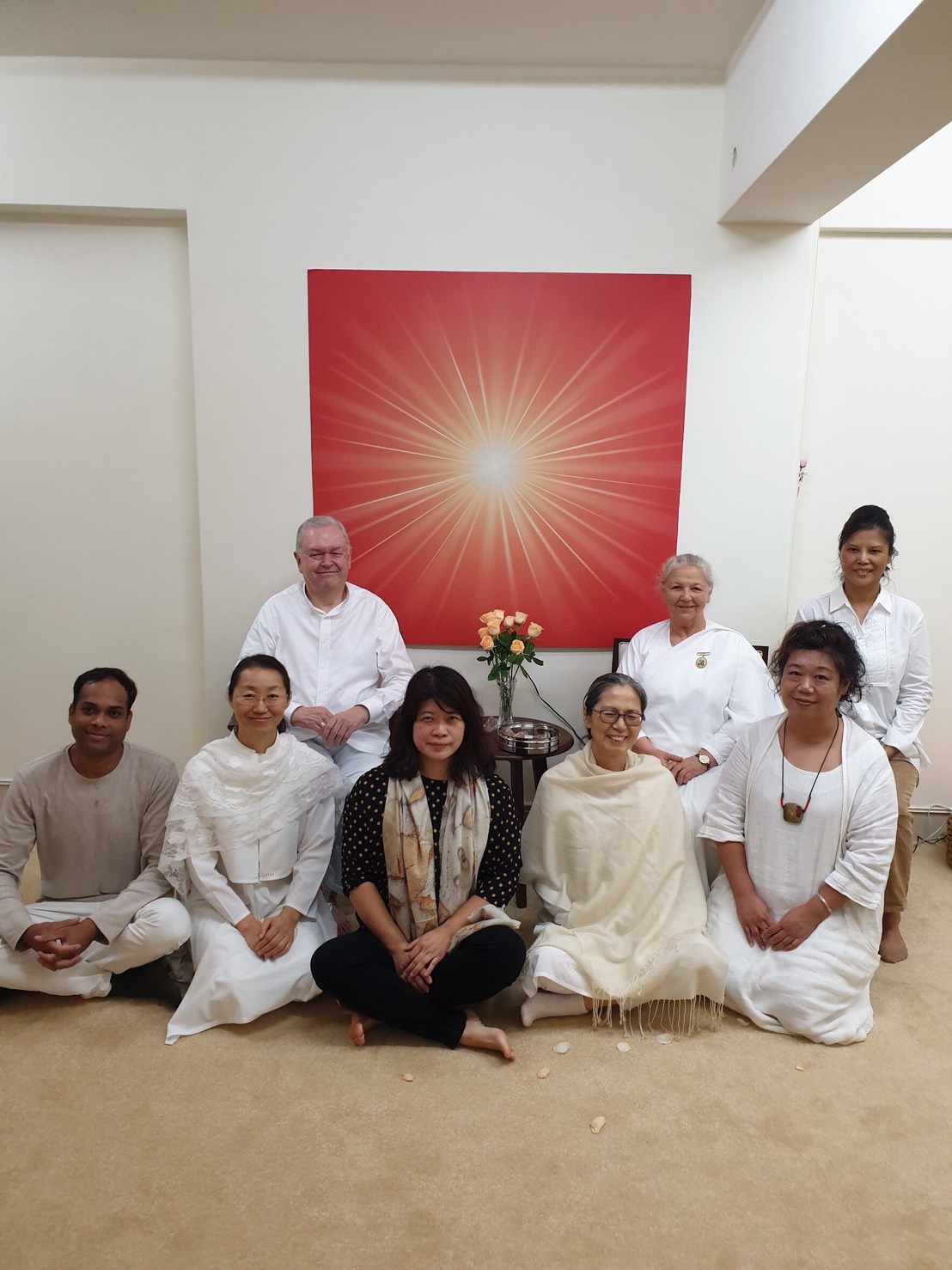 On 18th December BK Taiwan inaugurated a dedicated space gifted to us by a Taiwanese sister, Echo, In Kaohsiung, South Taiwan. This building has a cafe and bakery where we now have a Bookshop and is popular for Book Clubs, Tea Classes, Coffee Classes and Art Exhibitions.
Brother Charlie graced the occasion and we began with the traditional cracking of a coconut, followed by a Tea Ceremony by Sr Asha and Music by a sister who traveled all the way from Taipei as she has been following us through Echo's Facebook.
The Inauguration lasted for 5 days and included an Art Exhibition called 'Bathing in Light' by over 30 professional artists. These artists have donated their art to the BKs to enable us to publish BK Chinese publications, the first of which will feature their art, and bilingual inspirational thoughts.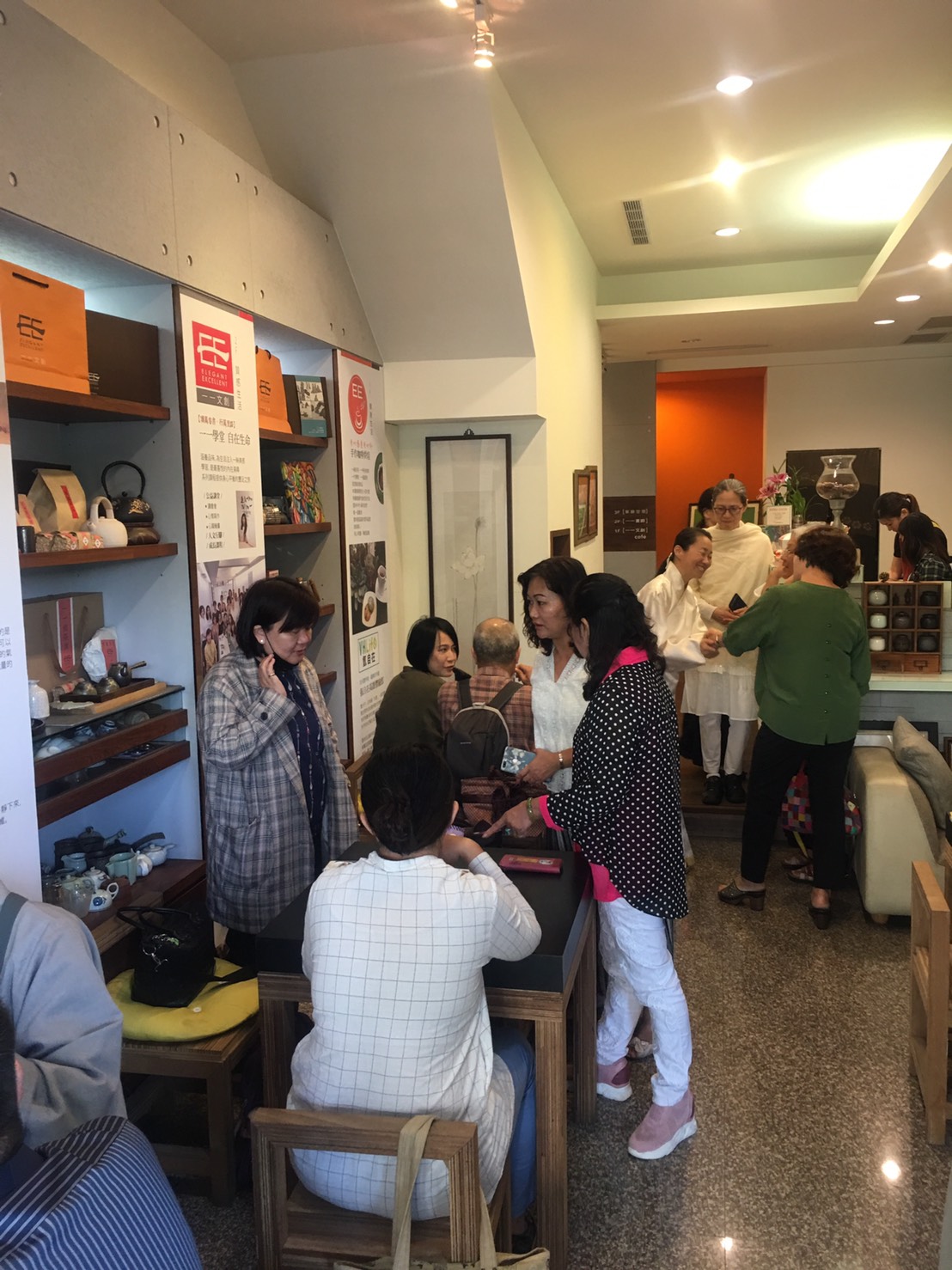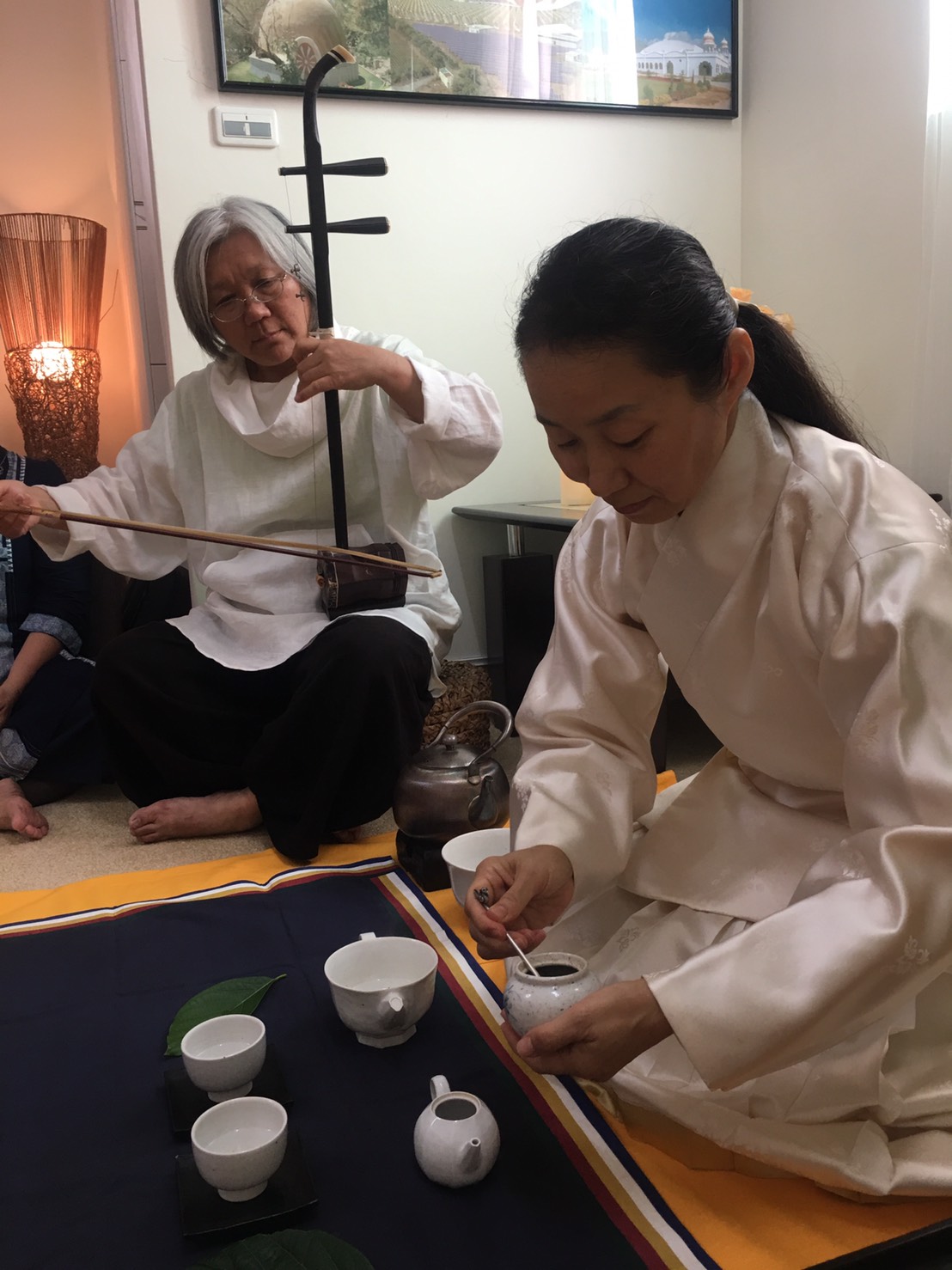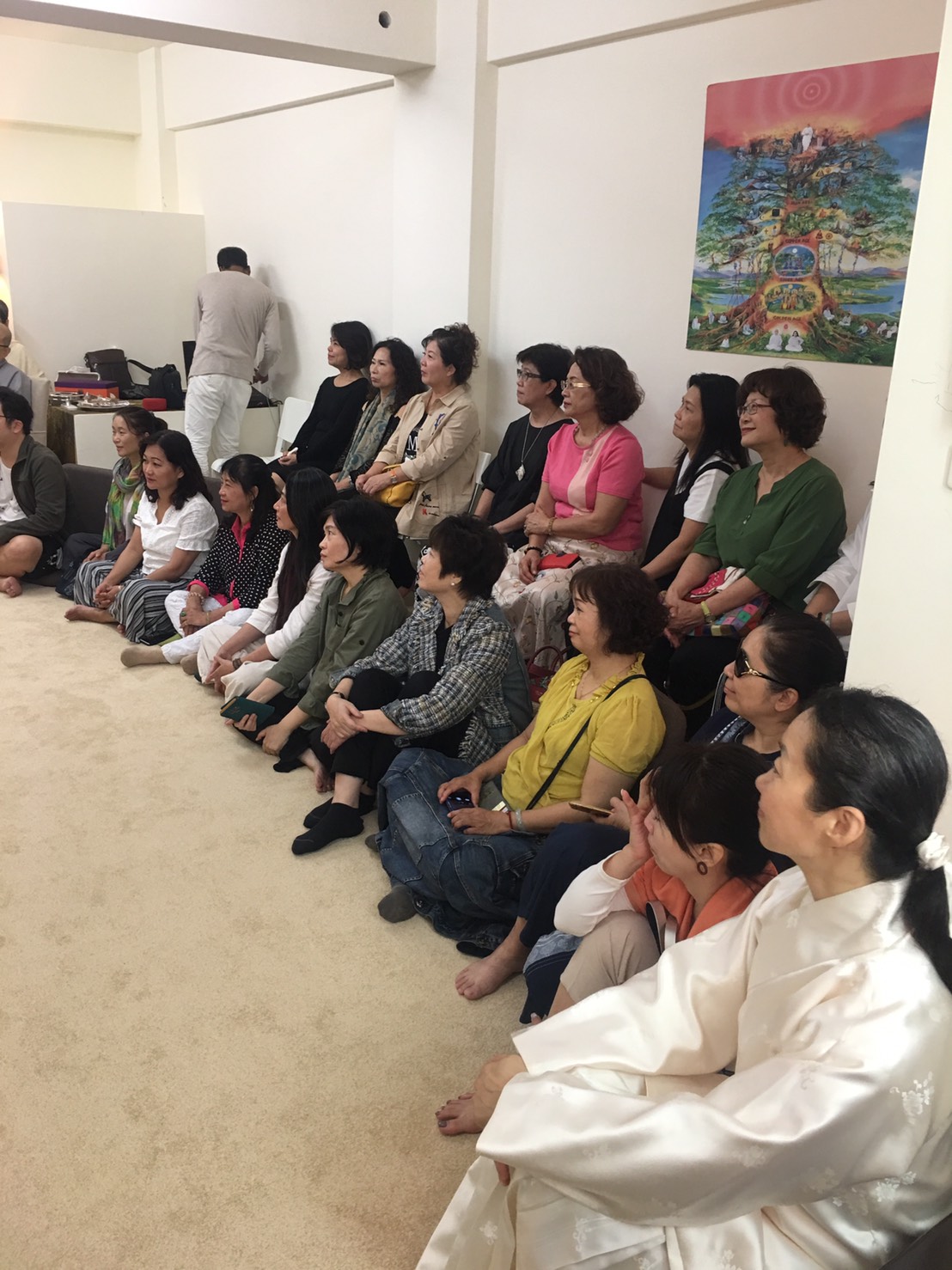 New Year 2020 Inspiration from Sister BK Meera - Malaysia
24 December 2019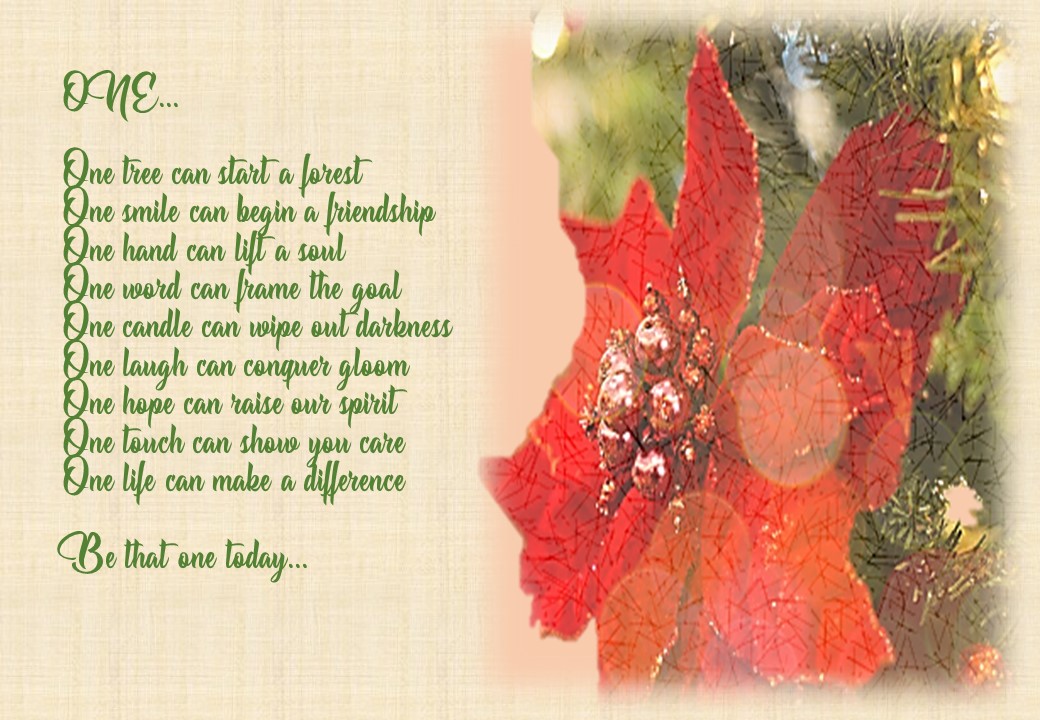 Update from Sydney re Fires
21 December 2019
Dear Global Family,

Love and greetings from Australia. Many of you have seen the news of bushfires burning near Sydney over the last few weeks and sent messages of concern and good wishes from around the world. We would like to let you know that all the BK family are well, safe and calm. Below is an update from the retreat centres as of Friday 20 Dec.

Illawarra (Wilton), south of Sydney:
The area is experiencing unprecedented fire conditions and no-one can predict what is going to happen. A retreat that was planned for this weekend has been cancelled. A 10 day retreat is scheduled to start on 27 December but there is no certainty it will go ahead.

The Retreat Centre has a Bushfire Survival Plan and the centre has been prepared as well as possible. In order to remain safe and keep others safe, residents are evacuating today to various places. They feel it is best to leave ahead of a forecast of extreme heat and dangerous weather conditions on Saturday and in the coming days. They decided to leave before time rather than wait until it is either too late or very stressful in getting out.

Blue Mountains (Leura):
The Blue Mountains Retreat Centre sits on the northern outskirts of the village of Leura, west of Sydney. To the north of the Centre is a fire termed by the media a "mega fire". It covers some 6,000 square kilometres. The fire is a conglomeration of some six or seven fires which have joined together.

In normal circumstances the direction a bushfire would travel is according to the wind direction, however in the case of this massive fire the vegetation is so dry that the fire is burning in all directions. This is irrespective of the efforts of the bushfire fighters. To quote the Bushfire Commissioner: "In these drought conditions, whatever we try doesn't seem to be working".

The Centre has been prepared as best as could be done to handle the approach of the bushfire given the resources available. Currently the fire is some 6-8 kilometres north of the Retreat Centre. There is a lot of smoke in the air. Given that nothing seems to be able to stop its slow and methodical consuming of the vegetation, it is likely that all residents will be evacuated to Sydney within the next 24 hours. There were no retreats scheduled this weekend but a one–day program that was planned has been postponed.

Thanks again for your good wishes.

Wishing everyone a happy Christmas,
In Baba's love
Charlie

Malaysia: Merry X'mas & Happy New Year 2020 to the BK World Family
21 December 2019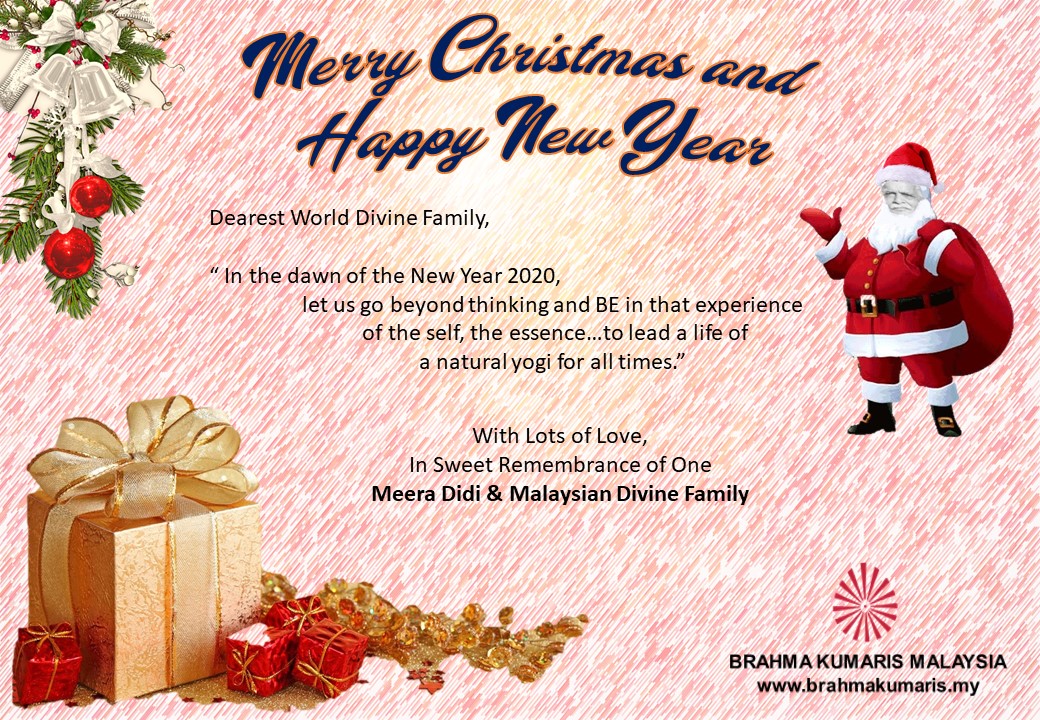 Australia Hosts International BK IT Retreat, 24-30 November
13 December 2019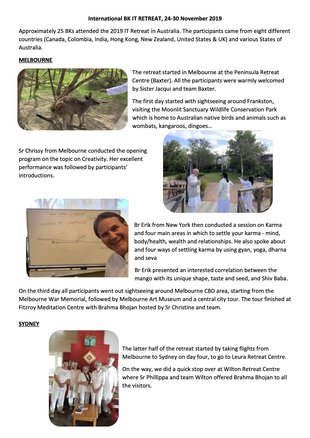 Click here to see the full report with photos.

Bro Francois's November Visit to Papua New Guinea
7 December 2019
Click here for full report with photos.

News from Hong Kong
1 December 2019
Om Shanti. Thank you, everyone, for your care and concern.
As you know, Hong Kong is in bit of a turmoil, which is very much unusual for Hong Kong and its people. Usually, people are busy with work and earning money whilst minding their own business and not bothering others, but lately, it has been an ongoing test paper. 95% of the time people – whether demonstrators or authorities including police – have maintained peace and restraint. Lately, however, sometimes it has gone out of control.
The Hong Kong Council elections have brought some normalcy, but it will not be the same. People and services are getting back to routine, although there are some protest events here and there. Otherwise, people, children, offices are getting back to business. Still, MTR closes by 11.30 pm, so people work around it. The upheaval has and is affecting the economy, but Hong Kong is like a Phoenix bird that will quickly rise from the ashes.
Meanwhile, Sr. Bindu from Kowloon Centre and I are very much OK, focused on yoga and having positive conversations with Brahmins and evening students - encouraging, inspiring and empowering them to revise knowledge, focus more on traffic controls and positive things in general. We also make it a point to remember our role of sending out sakaash.
Hong Kong Centre has announced extra meditation timings and we have also been doing double World Meditation Hours for a while. I remain available to meet and have chats with people. Overall, Brahmins are OK and are being mindful in their work-related movements. We keep each other informed about the potential areas of disturbance. So far the Murli class attendance is unaffected – in fact, attendance has increased on Sunday for the Murli class, Churning groups and BK Bhatthis.
Of course, we do appreciate the extra help of your good wishes, pure feelings, and powerful Sakaash so that Hong Kong returns to normalcy soon. We are expecting Charlie Bhai in mid-December. We are looking forward to a powerful spiritual time with him. The rest is fine. Look forward to spending some time in Madhuban in February.
In Baba's loving yaad and service. Thank you again.
BK Rohini
National Coordinator
National Coordinating Office

Diwali Greetings from Sis BK Rohini & the Hong Kong Family
28 October 2019
Dear Global family
Om shanti. We wish you warm and loving greeting of Diwali.
May we glorify Baba's name by becoming "Equal to the Fathers" and
we continue to fly in our Spiritual Journey and reach to our Destination with Honors.
BK Rohini
National Coordinator
National Coordinating Office, Hong Kong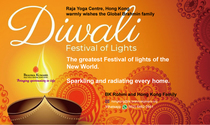 Diwali Greetings From the Indonesian Family
28 October 2019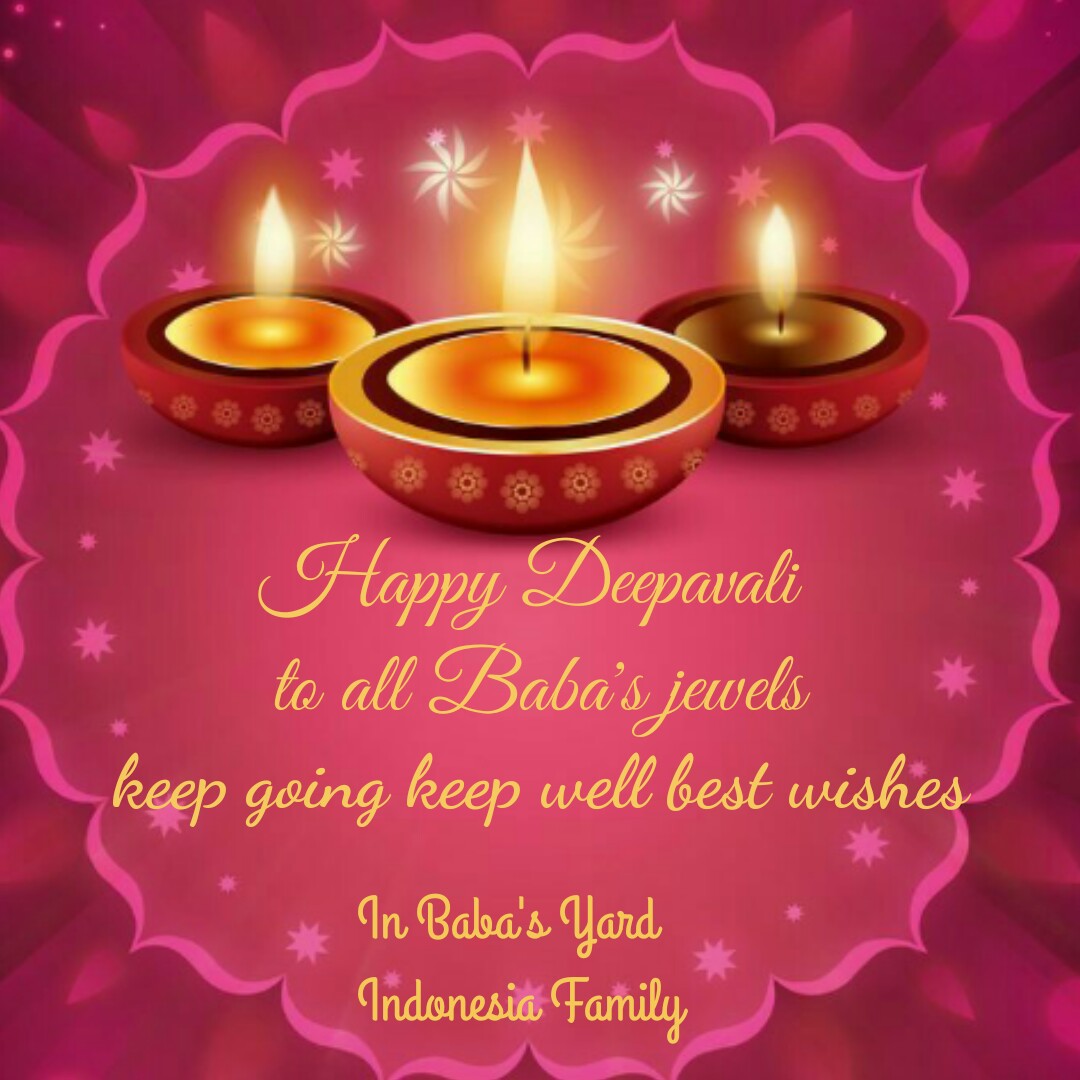 Diwali Greetings From Sister Bhavana-NewZealand
28 October 2019
My dear world family,
While Celebrating Diwali Let us Light the Lamp within...
Lots of love.
Sister Bhavana
BRAHMAKUMARIS
NewZealand

Sister Bharati of Singapore
28 October 2019
Dearest Family, Greetings from Singapore,
I arrived in Singapore early yesterday to see Sister Bharati who had a stroke last Friday 18th October night. Sister Bharati was admitted to the ICU and is still there. Until now she has been sedated and on a ventilator and has not opened her eyes.
Just in the last few hours, the doctors have removed the ventilator and taken her off sedation to see how she responds. They will monitor how she responds but have said it can take a week or more with such strokes to ascertain the extent of the stroke and if it may affect her mobility and speech.
The family in Singapore is taking excellent care and someone is with her in the hospital most of the day. They are also doing special yoga bhatthis and so she is surrounded with the love of Baba and the family. There have also been many many messages of love and care from all over the world so Sister Lakshmi and the family are deeply appreciative of all the support.
If you would like to send a message of goodwill, please send it to singapore@sg.brahmakumaris.org. As soon as Sister Bharati is conscious we will read them to her.
Sister Lakshmi will keep in touch with updates.
With love in Baba's yaad,
Charlie

Deepavali greetings from Singapore
28 October 2019
Om Shanti.
Although Sister Bharati is in a critical state, during this festival of Deepavali, it is especially empowering to remind ourselves that we are imperishable, immortal lights connected in eternity to the most Beautiful Light. We also have the internal happiness of knowing that an age of truth, beauty and true love is soon to come and we extend those pure wishes to all brothers and sisters.
From the Singapore family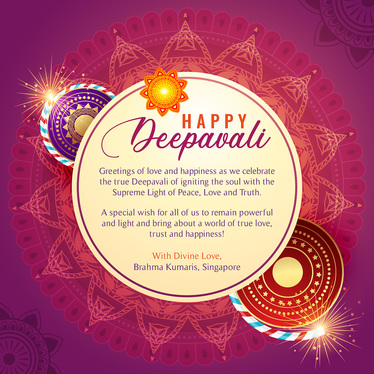 Happy Diwali 2019 from Malaysia
28 October 2019

Tranquility at top-speed Mode - Sr Jayanti's Whirlwind visit to Philippines, July 18-20
2 September 2019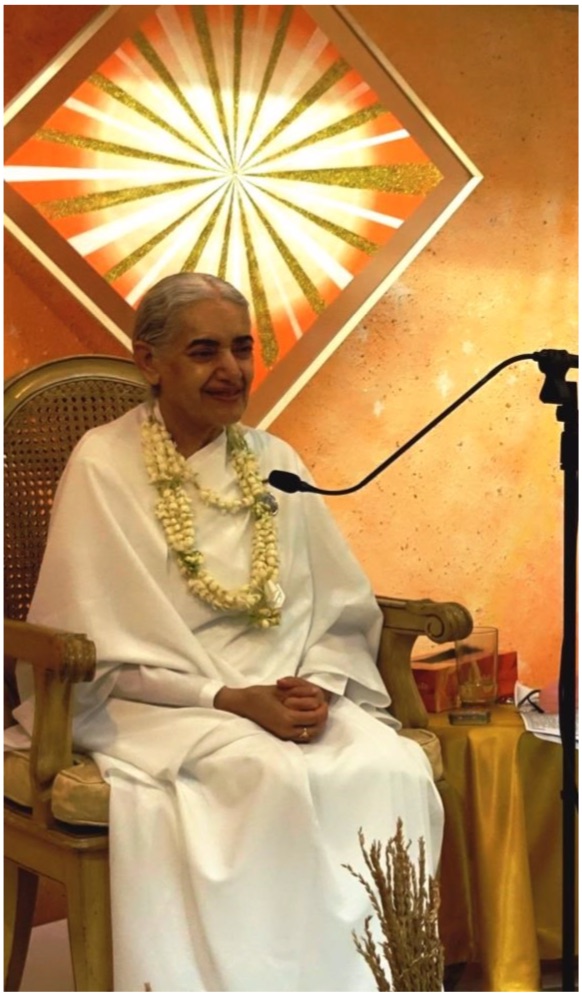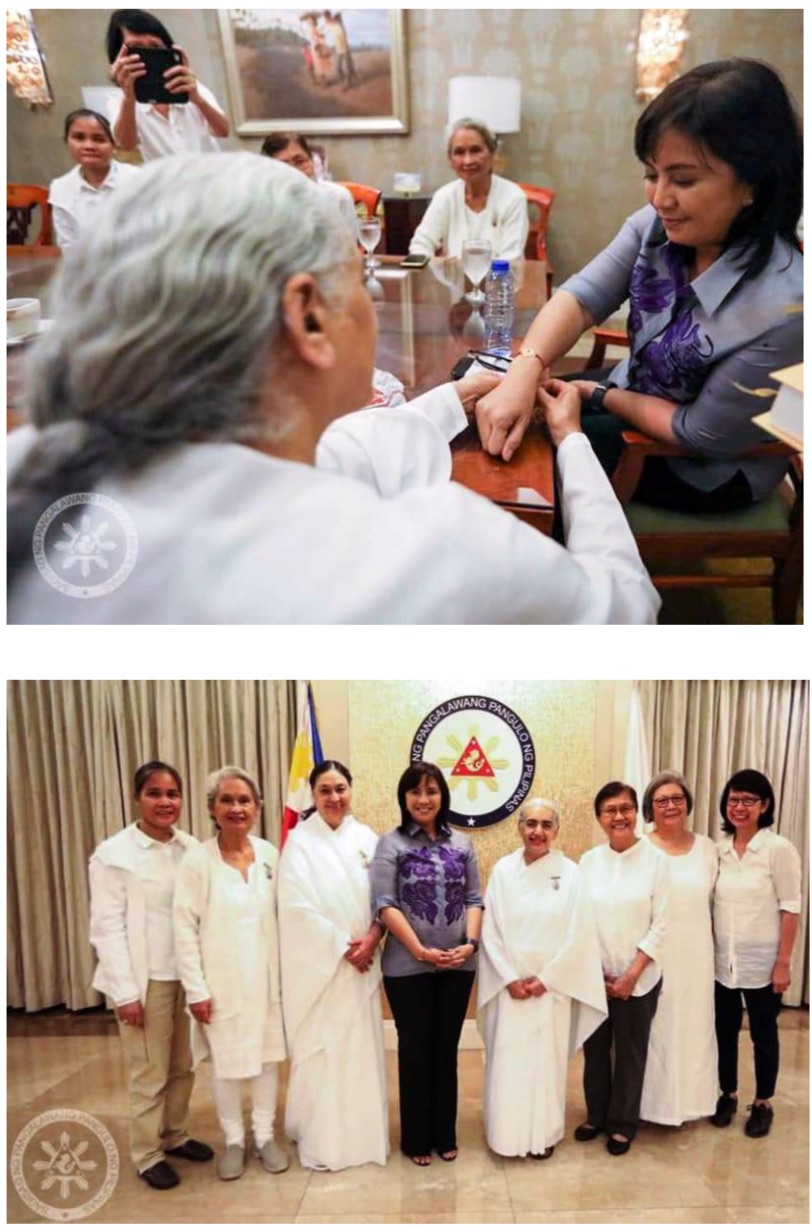 Sister Jayanti"s whirlwind visit, only three years after the last one, was packed with first-rate service—and not surprisingly. Her tirelessness, accuracy and mastery of time on one hand and, on the other, her tranquility, generosity and instrument-consciousness, were almost baffling. Many were inspired yet again to follow her lead on this journey.
She arrived shortly before 4 a.m. on July 18, two hours behind schedule, as a result of her delayed flight from Japan. Less than four hours later, she was giving a class at the Makati center and proceeded to attend two meetings. This top-speed mode seemed to set the tone for her three-day stay.
Courtesy Call on Vice-President Ma. Leonora "Leni" Robredo, July 18, Morning
On July 20, 2016, Sister Jayanti and Vice- President Leni Robredo shared the stage as main speakers in the BK public program, "Inner Resilience in Times of Conflict and Disaster," at SMX Convention Center in Taguig City.
Thus this courtesy call also served as a reconnection of like minds dedicated to serving others. Sister Jayanti tying a rakhi on VP Leni"s wrist symbolized God"s promise to protect a leader"s endeavors that are sparked by a binding sense of brotherhood.
The Office of the Vice President posted photographs of this latest meeting in its Facebook page with these words from Ms. Robredo: "Always a pleasure to welcome Sister Jayanti Kirpalani, director of the Brahma Kumaris in Europe and the Middle East...
The Brahma Kumaris continues to inspire many lives and promote spirituality and peace...in an increasingly divided world."
"SILENT MIND, HAPPY HEART"
(Public Program)
July 18, Evening
Makati Sports Club Ballroom, Makati City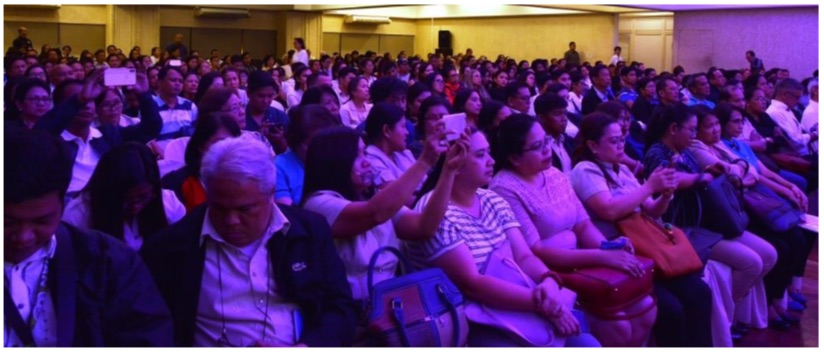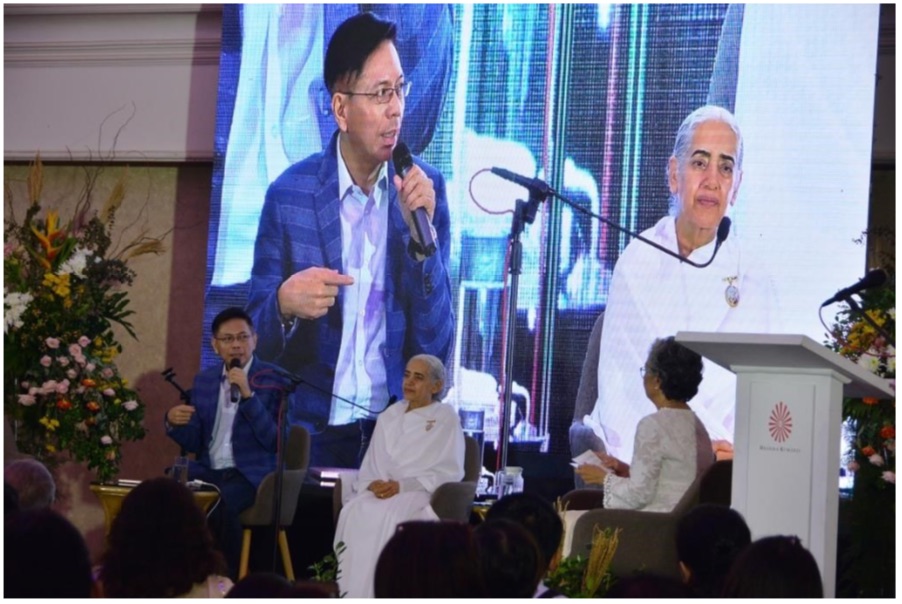 Close to 1,000 turned up at the end of a rainy day, most of them teachers and guidance counselors from all 16 districts of the Department of Education"s National Capital Region. VIPs in the audience were led by Indian Ambassador Jaideep Mazumdar and Mrs. Parvati Mazumdar as well as Philippine ambassadress to Rome Grace Princesa with international fashion designer-entrepreneur Ditta Sandico (a meditation practitioner herself). Employees of the Philippine National Police, Cebuana Lhuillier microinsurance, The Prestige fragrance company, and other professionals also took benefit from the program.
The program opened with a live meditation commentary by BK Sister Rajni, national coordinator for the Philippines and Japan.
In his talk on the "Neuroscience of Meditation and Mindfulness," eminent Filipino psychiatrist Dr. Rene Samaniego cited extensive scientific research on meditation. "Dr. Rene," past president of the Philippine Psychiatric Association and current consultant at Makati Medical Center (a first-tier multi-specialty hospital), advocates calming the mind through a sustained reflective practice alongside clinical methods.
Dr. Rene is the Asian Federation of Psychiatric Association"s secretary for education and training. The federation gave him an Award of Excellence for Exceptional Contributions during its 7th Congress in February.
He especially noted one of the new paradigms in modern psychiatry—neuroplasty, which he said has proven that the brain, when positively and persistently stimulated, could repair itself and regenerate or grow new tissue. Thus, he added, meditation done properly would result in increased attentiveness and even help manage mild cases of mental disorder.
Sister Jayanti later said that Dr. Rene"s thesis validates the practice of Raja Yoga, uniting the self with the Divine. Happy hearts depend on the self, she said. "If you have it inside, you won't have to depend on others."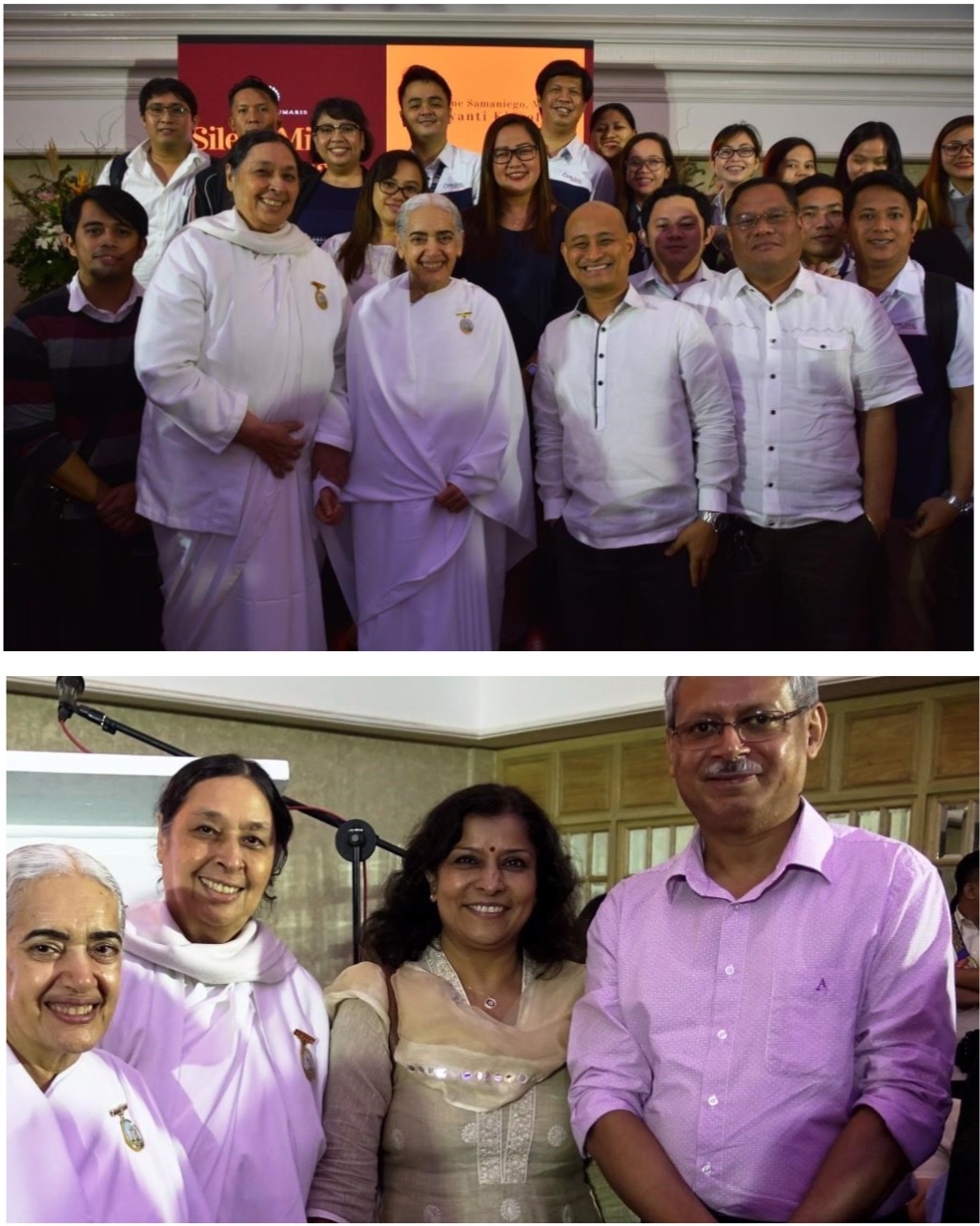 Since the doctor helped push the Mental Health Bill in the Philippines, he got to share salient points during the interview portion of the program. For instance, the onset of suicidal tendencies: "A suicide threat situation is a psychiatric emergency that should be taken seriously and addressed urgently. It definitely calls for professional help. There is no absolute way to know how severe someone"s mental health issue is; only proper assessment could determine this. The obvious signs include a sharp departure from the person"s usual behavior, especially if it compromises his functionality."
Sister Jayanti, who discussed the spiritual aspect of mental health, proposed an on-the-spot approach. "When someone tells you he wants to kill himself, instead of asking why, maybe help him remember all the good things that happened in his life."
Asked, as BK head delegate to the UN Conference on Climate Change since 2009, how much hope remains for Planet Earth, Sister Jayanti said, "The planet will survive. Nature has its own mechanisms for renewal. Meanwhile, human consciousness should be conditioned to positively impact nature. Man"s gross material, physical needs deplete natural resources. At the rate we are going, we consume three times more than the planet can give. We need to live simply, adopt a plant-based diet, live in harmony with nature. More than climate change, there is a need to change minds."
The program, one of BK Philippines" best-attended on record, concluded with Sister Jayanti giving a live meditation commentary, a most fitting takeaway for the audience, which stayed enthusiastic for two and a half whole hours.
BK National Retreat with Sister Jayanti
July 19 - July 20
Brahma Kumaris Center for Spiritual Learning, Tagaytay City
The morning of July 19 was a long reflective session for the country"s resident meditation teachers. The focus points (on three levels—personal, family country): "Where am I now?" "Where do I want to go?" and "How am I going to get there?" Meaningful sharing helped revive and increase understanding, respect and harmony within the group.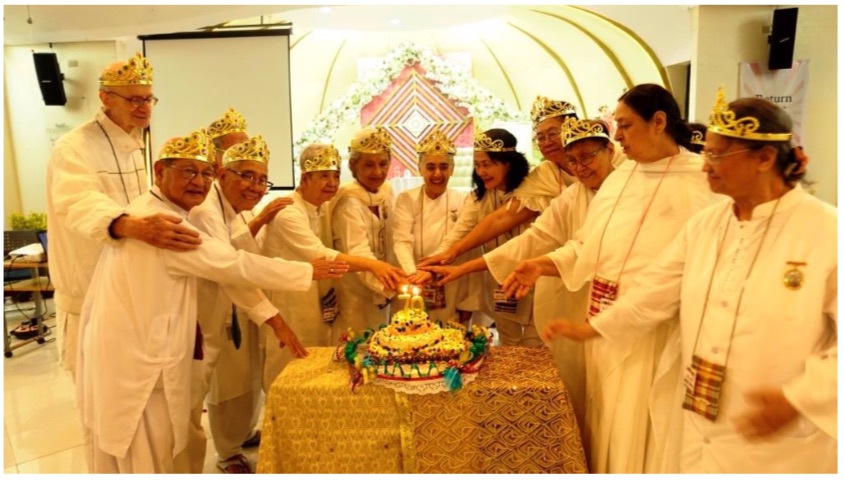 In the early evening, with the theme, "Return to the Source," a national retreat commenced with 165 BKs. The day"s program concluded with a celebration that combined distribution of welcome gifts, cultural and creative performances from centers across the country, and a tribute to those who are, physically, 70 years and older.
The next day, Sister Jayanti started the ball rolling with one question: "What does Baba do and what does Baba not do?" She acknowledged concerns expressed in an open sharing the day before that revealed occasional feelings of disheartenment. She urged everyone to recall the times when they felt Baba was fully present and helping them along.
She laid down some checking points: "Sangamyug is the time to be with Baba. If I am not able to experience Him during meditation, then I have to identify what it is that I have done. How clean is the soul in terms of thoughts, awareness, drishti and attitude? Why have my sanskars and behavior not changed? Maybe I am not having accurate yoga, or enough yoga to start with. In fact, there must be something blocking me from having any yoga at all."
Stability comes from focused introversion, she said. "If I sit in yoga and I am not stable, that means I am not introverted enough. Unity comes only when everyone achieves a stable stage."
Sister Jayanti recalled how the public program two days before had emphasized that science and silence should go together to sustain the balance of mental and spiritual wellbeing. She especially mentioned researches that show how kindness prolongs and improves life. "Science is now supporting everything that Baba has said; the only thing that drama is waiting for, is us. So now we have to be prepared. The less things I have to think about, the easier it is to remember Baba. I need to de-clutter; it is time to go home."
Question-and-answer sessions are always good venues for clarification and, therefore, deepening understanding. One such session held in the afternoon of July 20 kicked off with the wake-upper, "When will destruction come?" Sister Jayanti"s quick answer was, "What would you do if I said it was tomorrow? Because it could be. Are you ready?"
How one can do tapasya in the midst of so many other things was the next question. "Connection" was Sister Jayanti"s simple reply. "When I am connected to Baba, I am able to use time in a worthwhile way. Then I can find more and more time to keep connecting."
Relationships are often an area of tension. Sister Jayanti"s advice is to always be clear about what is really going on. "Check the self: If I am not saying "yes" with my heart, is there a solid reason? When feelings are suppressed instead of brought out in open conversation, it is not good."
She also spoke of constant and healthy communication in relation to service. "It is important to give feedback," she said, "but very respectfully. The first step is to create strong spiritual relationships and stay mindful of the other person"s dignity."
Sister Jayanti led the special rakhi celebration that evening. Prior to the ceremony, she shared these thoughts to ponder: "If I keep my promise of purity, Baba will protect me, not just now but throughout the whole cycle. The rakhi tied around my wrist is a symbol of that promise. The tilak I then receive is a reminder of how I should keep coming back to the stage of purity. And then I receive a fruit, which means that all my words and actions should be fruitful."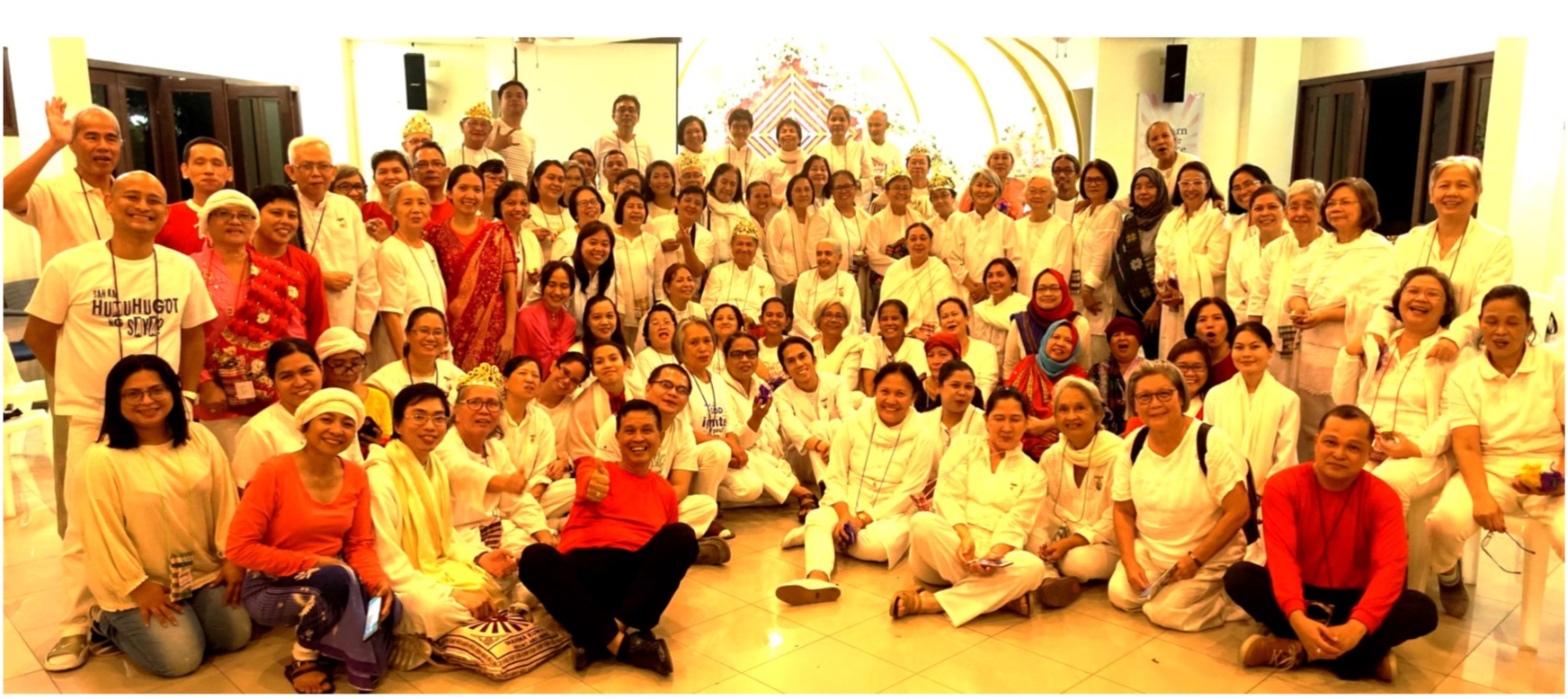 The two and a half hours that followed were deeply solemn and sweet, an indication that the gathering, no doubt, was enveloped in BapDada"s warm embrace.

Atam Prakash Bhai's visit to Taiwan
19 August 2019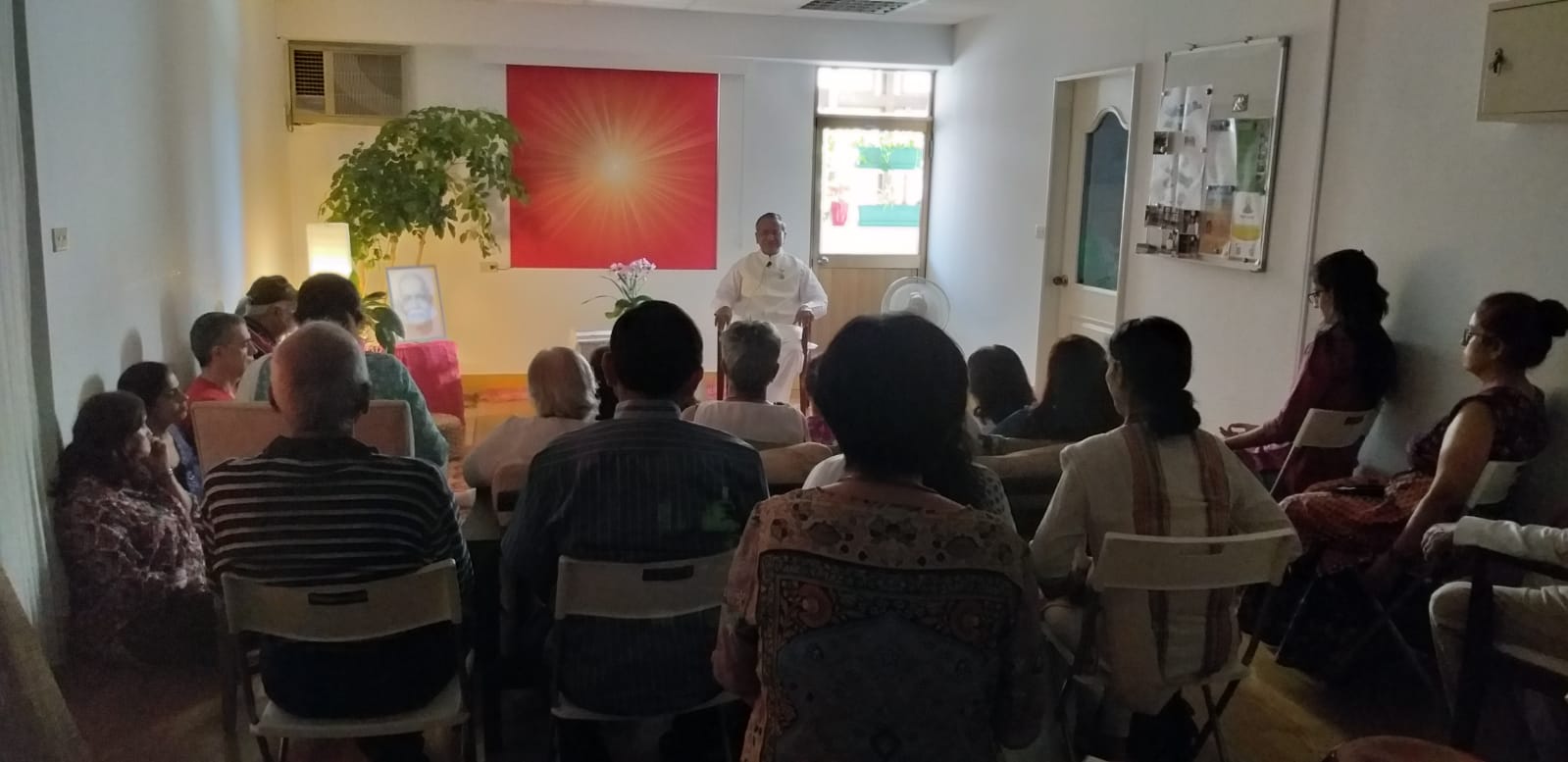 Atam Prakash became the first senior Madhuban niwassi to visit Taiwan. Ashabhen from Korea arrived on 26th July to help in Taiwan service just a few days before his arrival on 29th July. We were a little hesitant to host his visit as Ashabhen is still learning Chinese, we are not experienced Indian cooks, we have a few budding BKs spread throughout the island and it was the hottest weather at this time of year. However, Atam Prakashbhai's yogi stage, positive energy and lightness put us quickly at ease!
Besides visiting the Chiang Kai Shek Memorial Hall, the Tamsui River area, and the Port Area of Kaohsiung, we were able to keep him busy in service throughout his stay. We visiting the retreat centre and temple offered by a Taiwanese nun and confirmed our cooperation with her organization. We had three public programs tying rakhi to 85 souls, including 6 Buddhist nuns, three of whom have their own temples as well as 8 interior designers. One program was at the Taipei Centre, mainly for Indian contacts; another was for 35 powerful women leaders at Echo's and another 30 attended the shop/office/home of Jade, one of Taiwan's top interior designers.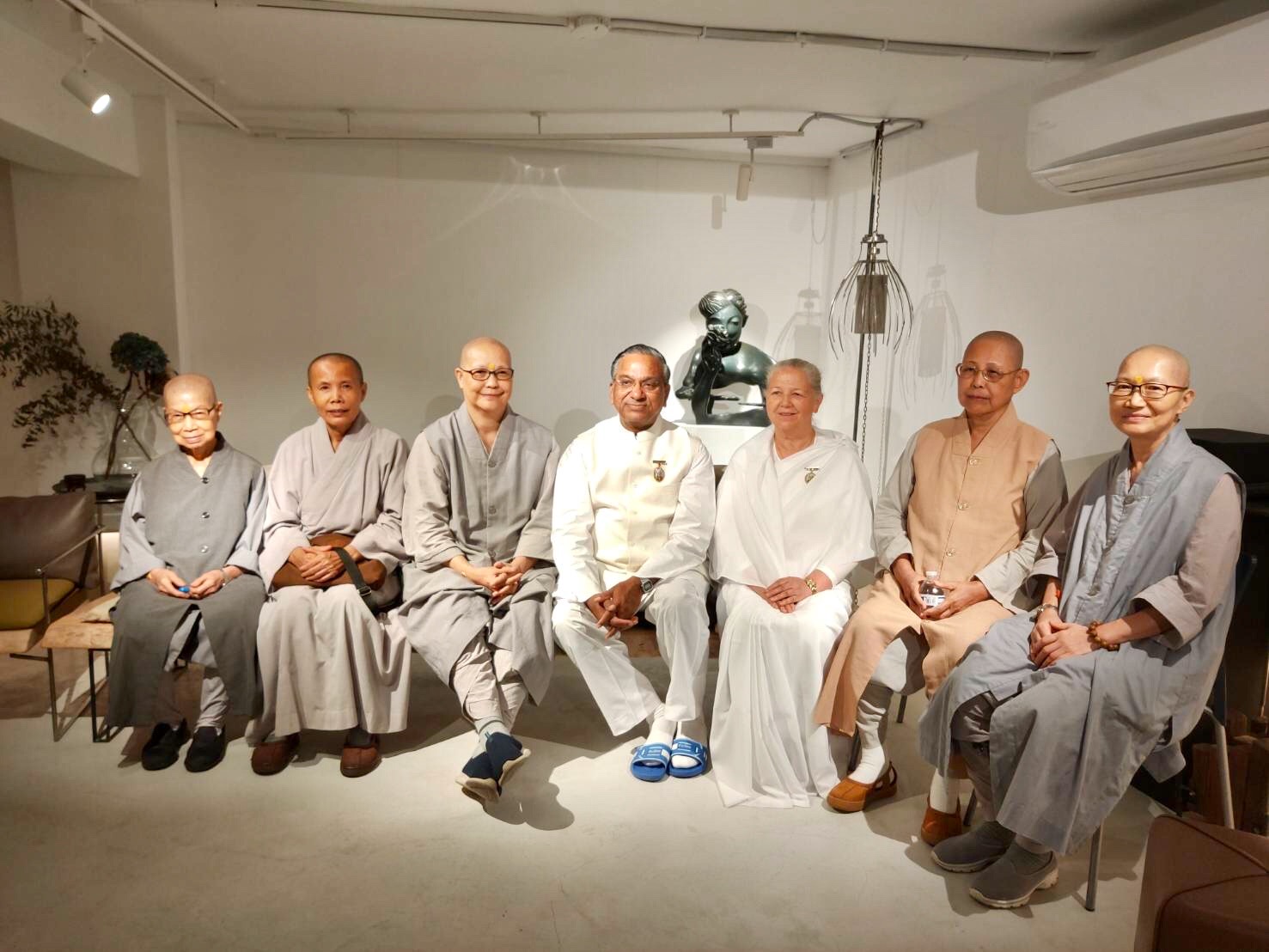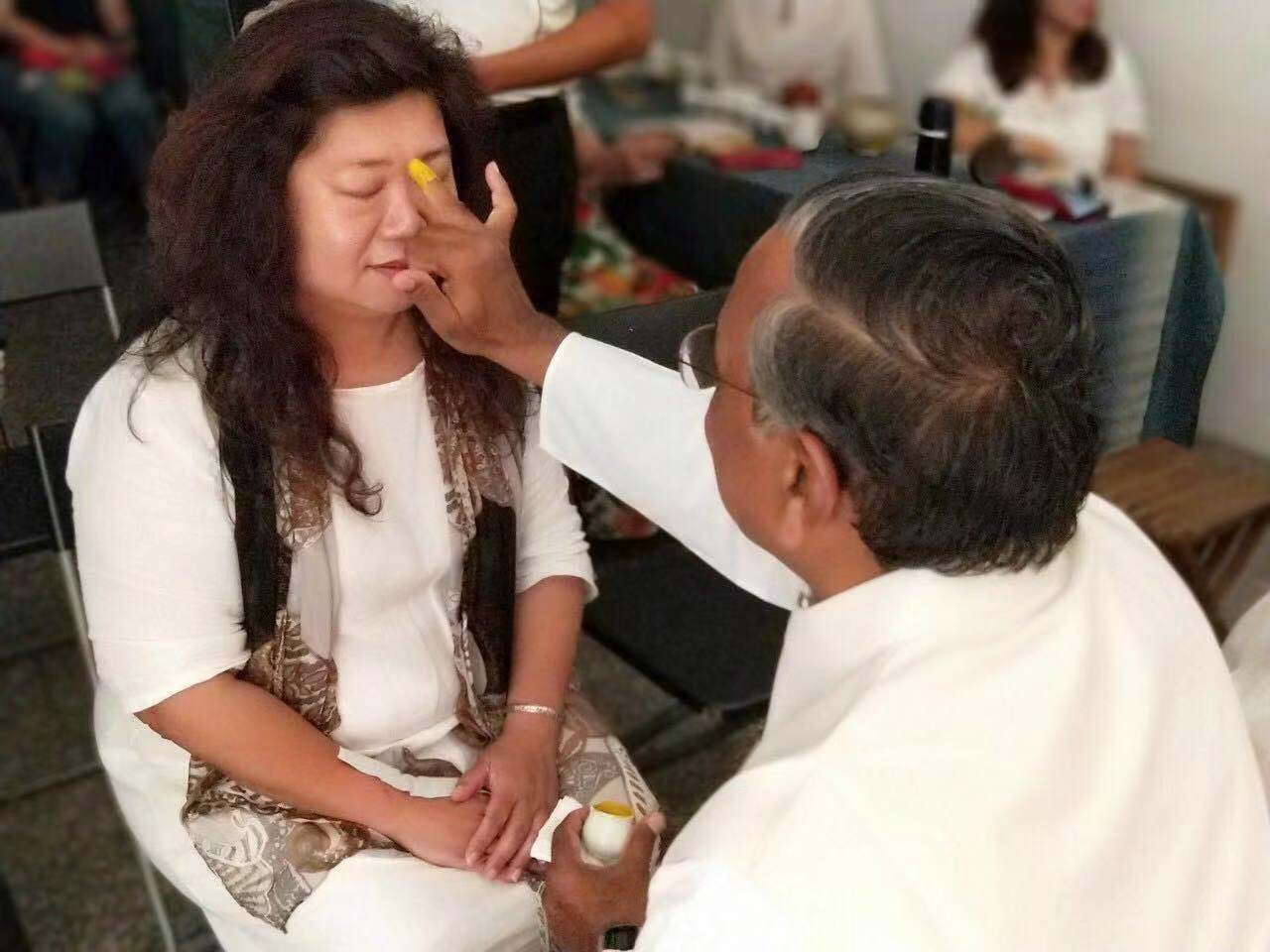 Sisters Morni and Asha, are now looking for a centre in the Kaohsiung district and have 4 teaching locations throughout Kaohsiung. For this reason, we will be closing the Taipei centre to move to the second largest and most southern city.
It was a beautiful opportunity in the drama to get closer to Baba's special World Transformer and Sustainer soul who is now the Youth Wing Coordinator. He supports the lives of so many and helps them to create their amazing fortunes.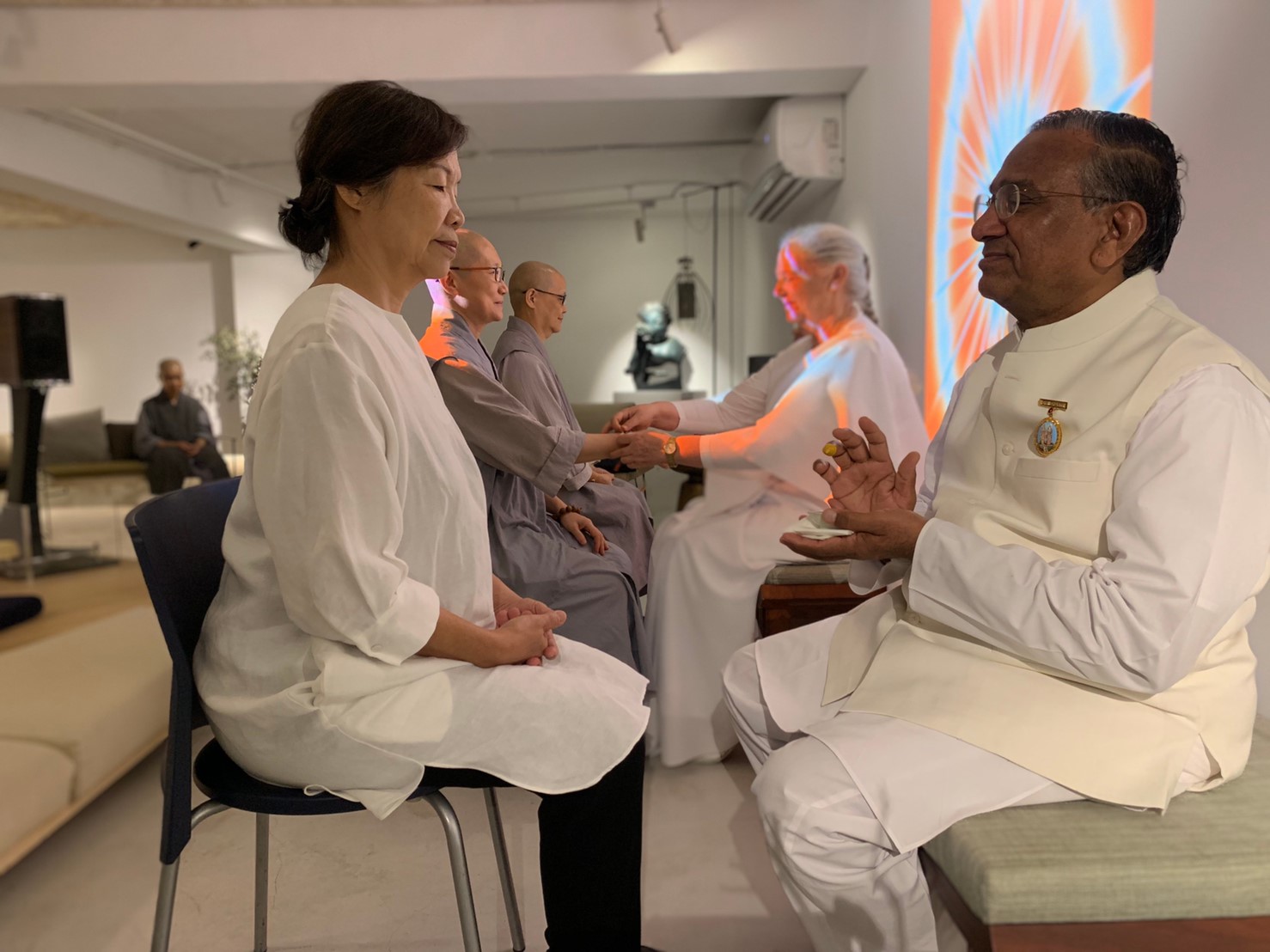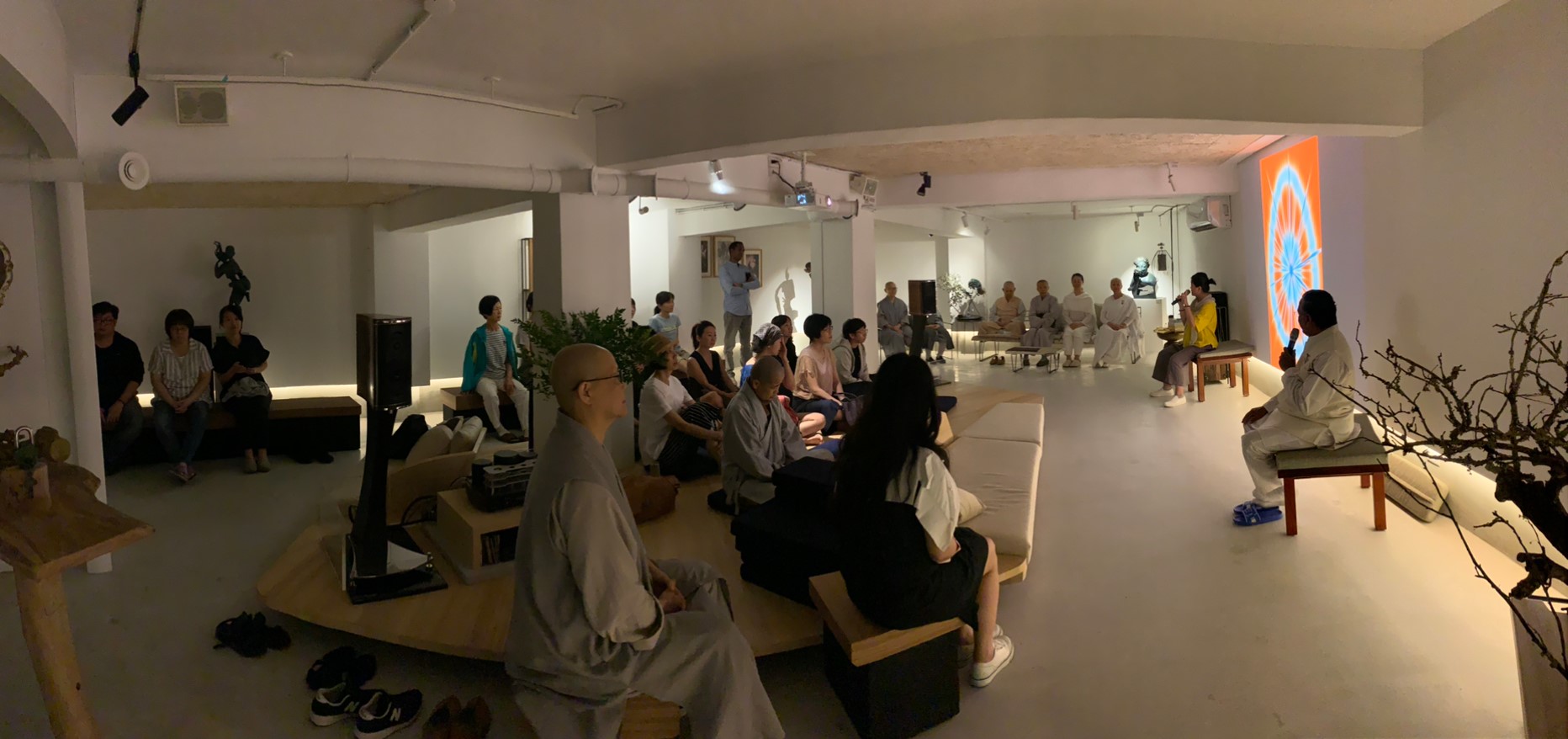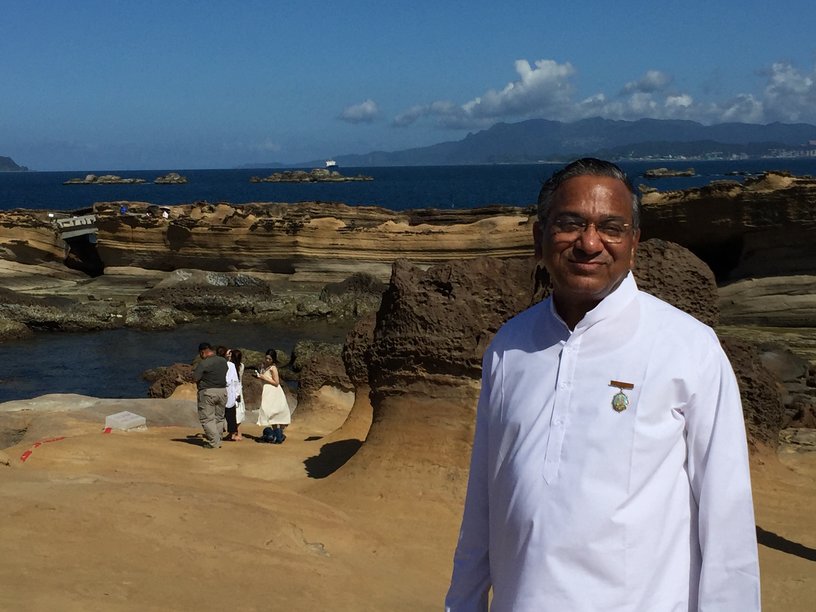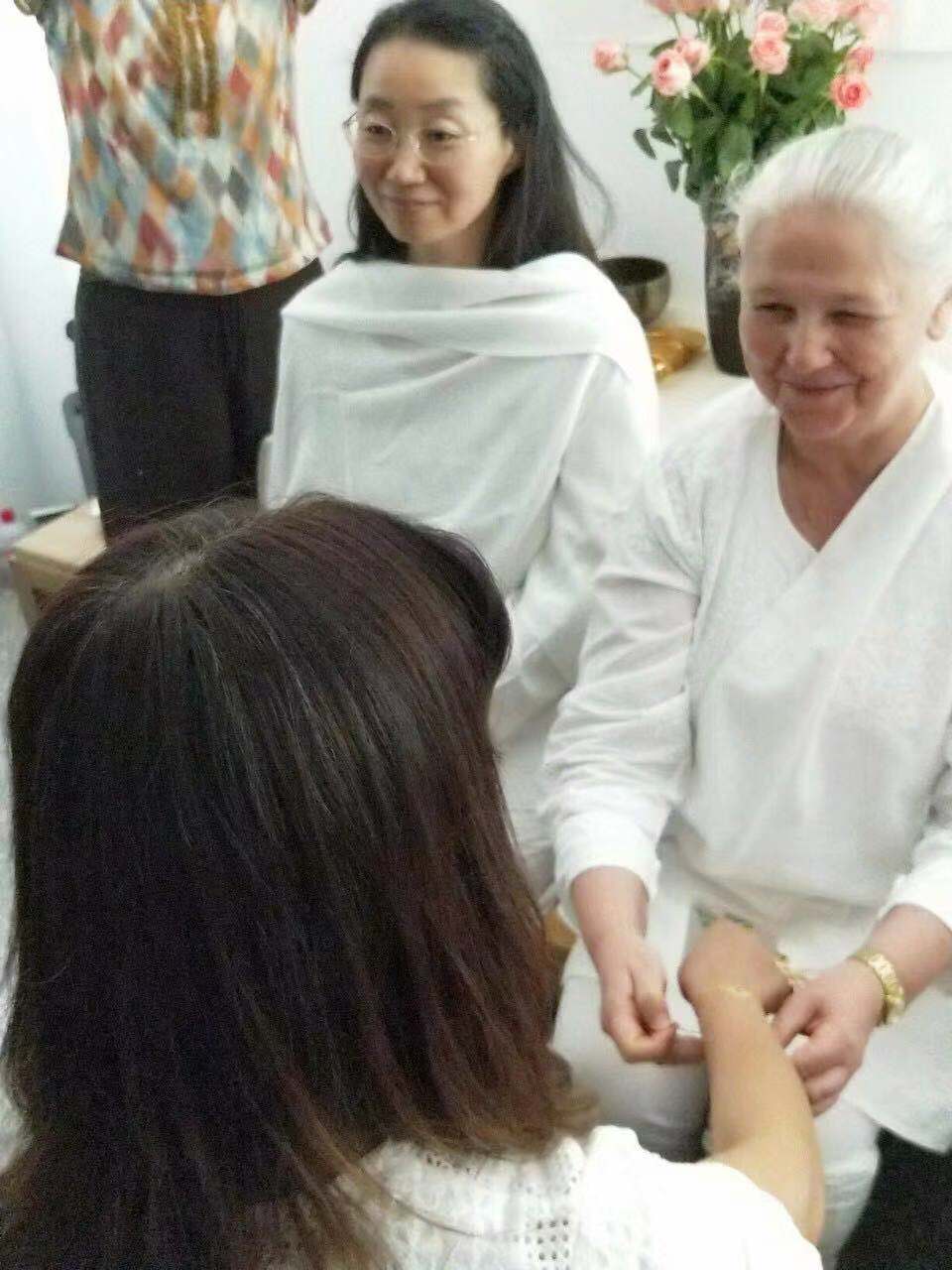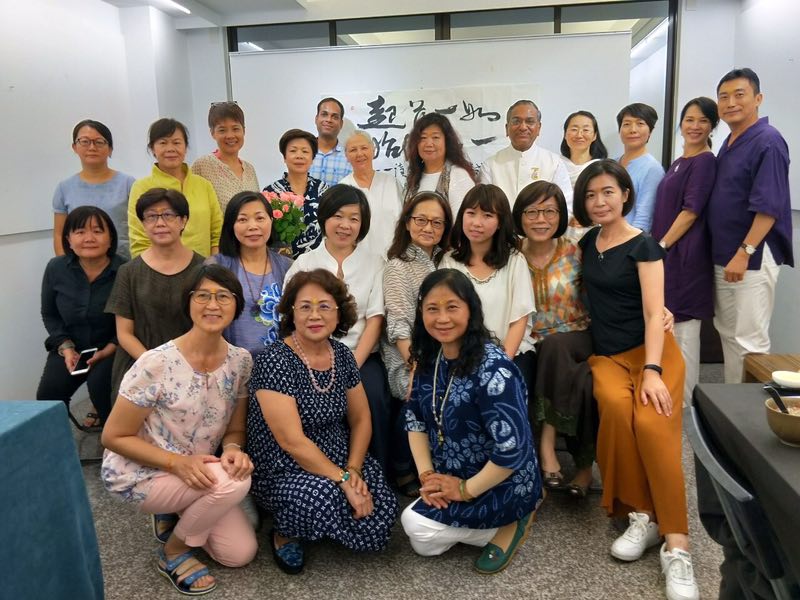 Rakhi Greetings from the Indonesian Family
19 August 2019

Rakhi Greetings from Sister Bhavana, New Zealand
13 August 2019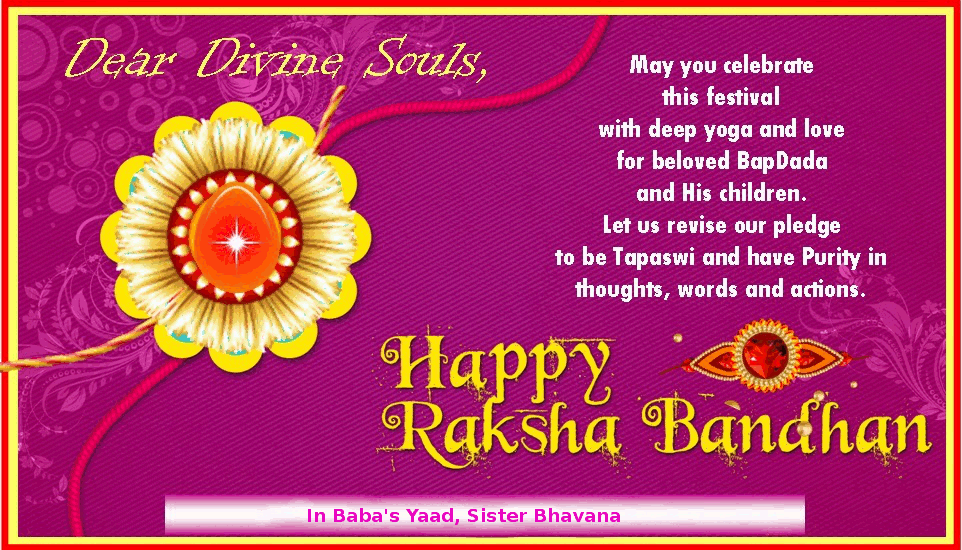 Rakhi Greetings from Hong Kong Family
13 August 2019

Rakhi Greetings from Sister Bharati & Singapore Family
13 August 2019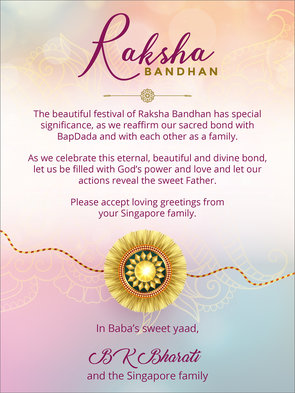 Didi Chakradhari's Visit to Malaysia
2 August 2019
Dear Global Family, Om Shanti,
We are sending Malaysian Service Report of Didi Chakradhari's Visit to ARC & Kuala Lumpur for the 2nd International Hindi Retreat. You can download the report here.
Lots of Love
Meera Didi

Didi Nirmala and Dr.Savita's Visit to Thailand - More Service News
2 August 2019
From a pure desire to have a first national center residence retreat in Thailand. BapDada and Nirmala Didi expand this plan to First International center residence and right hands retreat. From 30 participants, extended to almost 80 souls attended in the 2.5 days retreat. We have 36 participants from oversea: Vietnam, Korea, Malaysia, Singapore and China, which really made this retreat like mini-Madhuban.
Didi and Dr. Savita visited us for 5 days from 28th June to 2nd July. They arrived Bangkok 2 am and start the retreat at 10 am and leaving Bangkok right after Murli on 2nd July. There are 3 events happened during their short visit. The International center residence and right-hand Retreat in Thailand, Rakshabndan ceremony for Thai people and 1 Day BKs retreat.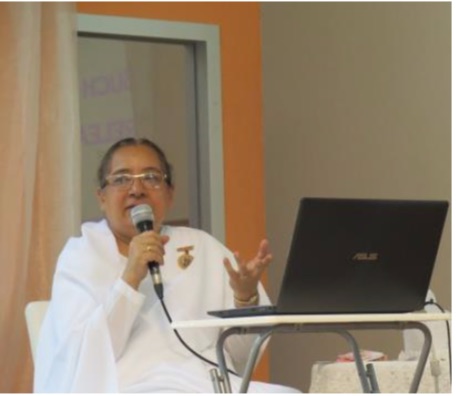 Even though the retreat is only 2.5 days, 2 double doctors, Dr. Nirmala and Dr. Savita, made the retreat so full and worthwhile. Didi Nirmala trained us from the very foundation of Maryadas of Center residents's life, how much contribution we should put in Baba's box, how to read murli, what to cook for Bhog, how to create loving atmosphere in the center, what relationship we should have with each other and students etc. The most popular session is about. FOOD! Including instruction about working in the kitchen. We have all sorts of questions about food especially why we can't eat some kind of food as Asian countries had varieties of delicious fruits and vegetable. Many are little disappointed that we can't eat Durains (famous fruits of Thailand) and all Durian products such as ice cream.
From this retreat, we get full understanding and inspiration to improve ourselves to be Baba's good instrument and make ourselves and others progress well in Baba's knowledge.
Dr. Savita also trained us how to give courses: Positive Thinking, Stress free living and 7 days Raja Yoga. She shared with us many inspiring stories about Dadi Prakashmani. How Dadiji kept her stage as the bestower of fortune, the world benefactor like the Father all the time even during her final moments.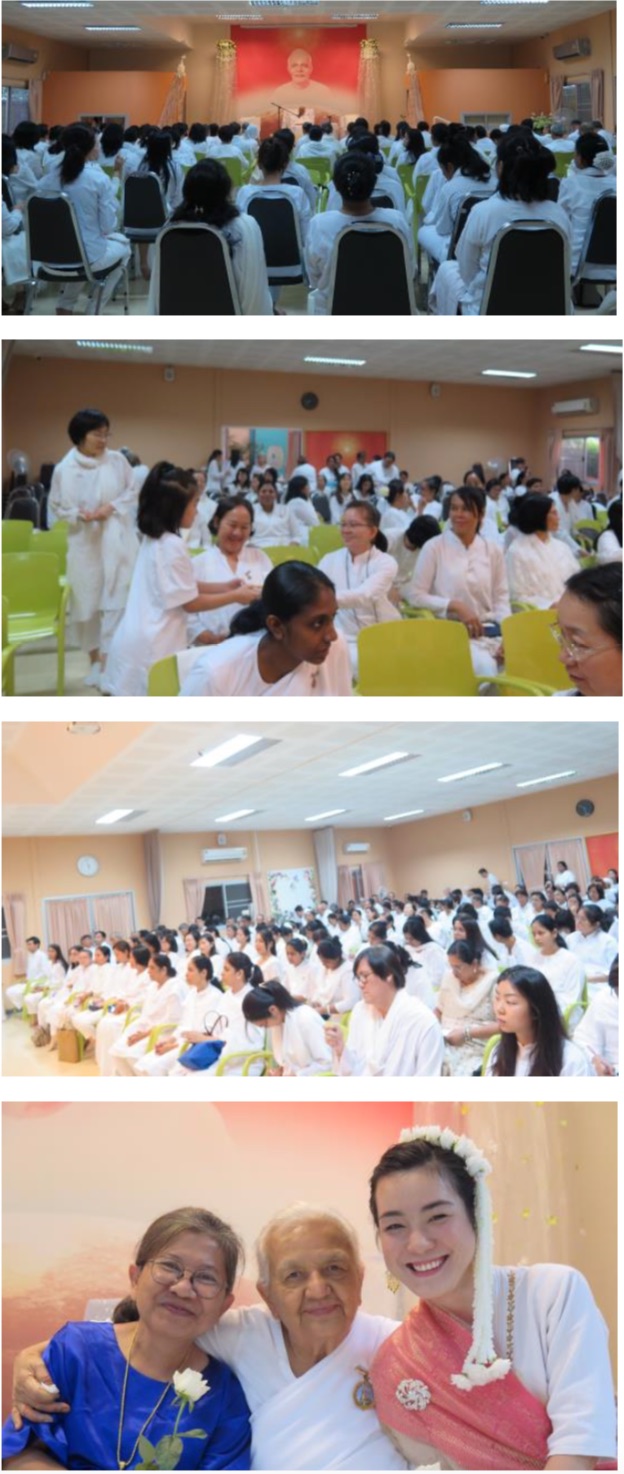 On Sunday June 30th, more than 200 BKs attended Murli class. And at the most auspicious moments at 5:00-8:00 p.m. about 300 BKs were making promise of purity in the Rakhi ceremony. This seemed to be the biggest Brahmins gathering in Thailand. The overall atmosphere was purified and empowered with the most elevated thoughts and purest feelings.
Around 150 Bks attended 1 Day BKs retreat with Nirmala Didi. Didi is the image of simplicity and a very good example for us all. She conducted Amrit Vela powerfully every day. She gave time to all to meet, to discuss and giving them guidance with so much love and care.
Her classes are simple but clear and powerful. In our 1 day retreat, Didi gave us a chance to ask all sorts of questions from the big issue for Buddhist such as killing ants, mosquitoes, rats, termites etc to many other things. Her vibration of lightness and her sense of humors really lifted up the atmosphere.
She also shared her own stories as a double doctor who surrendered to Baba wholeheartedly and started setting up centers in India and abroad by receiving good support from her lokik father who respected her decision-making in whatever services she did. Everyone was highly motivated to join her in this Godly service. We all greatly appreciate her for her love and dedication to Baba being simple and sample for us all.
Didi served all Baba's children with zeal and enthusiasm, tirelessness, accuracy and determination.
On behalf of working team from Pinthu center for running the big program first time in this cycle. We grateful to this opportunity which helps up to learned so many things:
We learned how to go with the flow of Drama, to obey the leader, to do whatever services in front of us with lots of love and happiness, to accept and accommodate any changes in Drama.
We really have the experiences of Baba's help as Baba always said in the Murli: When you take a step of courage, Baba will help with thousand steps. Whatever we need for the program, Baba always provides that for us the right things at the right time, for example the center had only 200 chairs, but we have 300 people. Someone offered us help with their 100 chairs. And many other supported from Baba. We really felt His presence with us. And we could go through everything easily and happily.

The most beautiful thing is the supports from all members of Pinthu center who are so generous and unlimited. They are so proud to be a host and prepared the center with lots of zeal and enthusiastic, doing things with so much love and happiness.
Thanks Baba for your multi million times help in every step. Thanks all Bks especially the oversea BKs who bring tolis for us with lots of love.
Wah! Baba Wah! Your children are so wonderful!
Here are some experiences by those who attended the retreat with Didiji Dr.Nirmala at Pinthu Center.
Didiji Dr. Nirmala's experience:
" Om Shanti. Leaving today for Vietnam. It was a very lovely gathering, large gathering, and everybody was so much interested in gyan and yoga and everything was organized very well. People feel very comfortable even in a simple accommodation, simple food. They felt very satisfied. They said they learnt a lot from this gathering - that how can be simple and yet they have such a lovely meal, no hard labour and satisfy everybody. So that people really appreciated that Jyoti took this responsibility and was smiling all the time, not feeling heavy or irritated. Om Shanti.
Sr.Kim , Penang : I took benefit of the power of the gathering and the warmth and caring hospitality of the Thai family. Attending this retreat inspired me to work more on myself especially in my discipline and purity in my thoughts, words, and actions and to be a tireless server. Baba's love and purity in front of me through Didi, make realized I must work faster to become complete and perfect.
I find that Training on disciplines and Marayadas are a good constant check, reminders and inspiration for the self. I hope Didi will conduct more of these sessions in the future. Although we were staying in the dormitory of 23 sisters, it was comfortable.
Thank you Baba, Didi and the sweet tireless Thai family for this spiritual refreshment and their generosity.
Pinthu Family "The first international retreat and the tying Rakhi ceremony, was so impressive and powerful that I would like to share some of my personal experiences, as the whole family was arranging, planning, coordinating and making so much effort.
I could feel the zeal and enthusiasm in me too, as I was listening on line to the group planning and was also thrilled and shukriya that it all went so well with all the management team work and the cheerful faces. I am very proud to say that I belong to this family.
Sr.Nuan and BKs at Baan Mae Naam Gita Pathsahla
We experienced the power of co-operation, pure intention for Baba's service, seeing the potential in management, that all the responsibilities being fulfilled with ease and smiling faces. What we are proud of was that we managed to accommodate many Brahmins from overseas. Everything ran so smoothly that it's praiseworthy.
We saw the art of living life of Didi whose pure heart wished everyone to be liberated from traps. Her pure consciousness and vision made us learn to truly offer everything to Baba and became light even in adverse situations. Om Shanti
Sr. Tim, Pattani Center:
I felt like I am in mini madhuban as there are many brothers and sisters from many countries stay together so we come closer and knew each other more.
I am really appreciated Baba's children of Pinthu center, they are doing service very professionally, effective, balance and really giving inspiration.
Thanks Baba and Drama that I am a part of these beautiful scenes of unity. Thanks Didi for being an inspirational instrument: you are so spiritual, clear and balance yogi.
Pattani family
"I felt so good and happy to be in a spiritual family, it's really increase my zeal and enthusiasm"
"This is my first retreat. I got a loving, light and happy feeling. Before attending the retreat, I felt that I'm not worthy enough as I am not a good student, I couldn't follow all shrimat. But from this retreat, I felt that Baba loves me so much."
"I witnessed how to do service in light stage with lots of love and faith in Baba of BKs from Pinthu center. To prepare food on time for so many BKs is not a small thing. They managed everything beautifully. Their faces always smiling, their drishti are so powerful. This really touched my heart.
Om Shanti

Rakhi Celebrations with Sr.Jayanti and More Service News from Japan
27 July 2019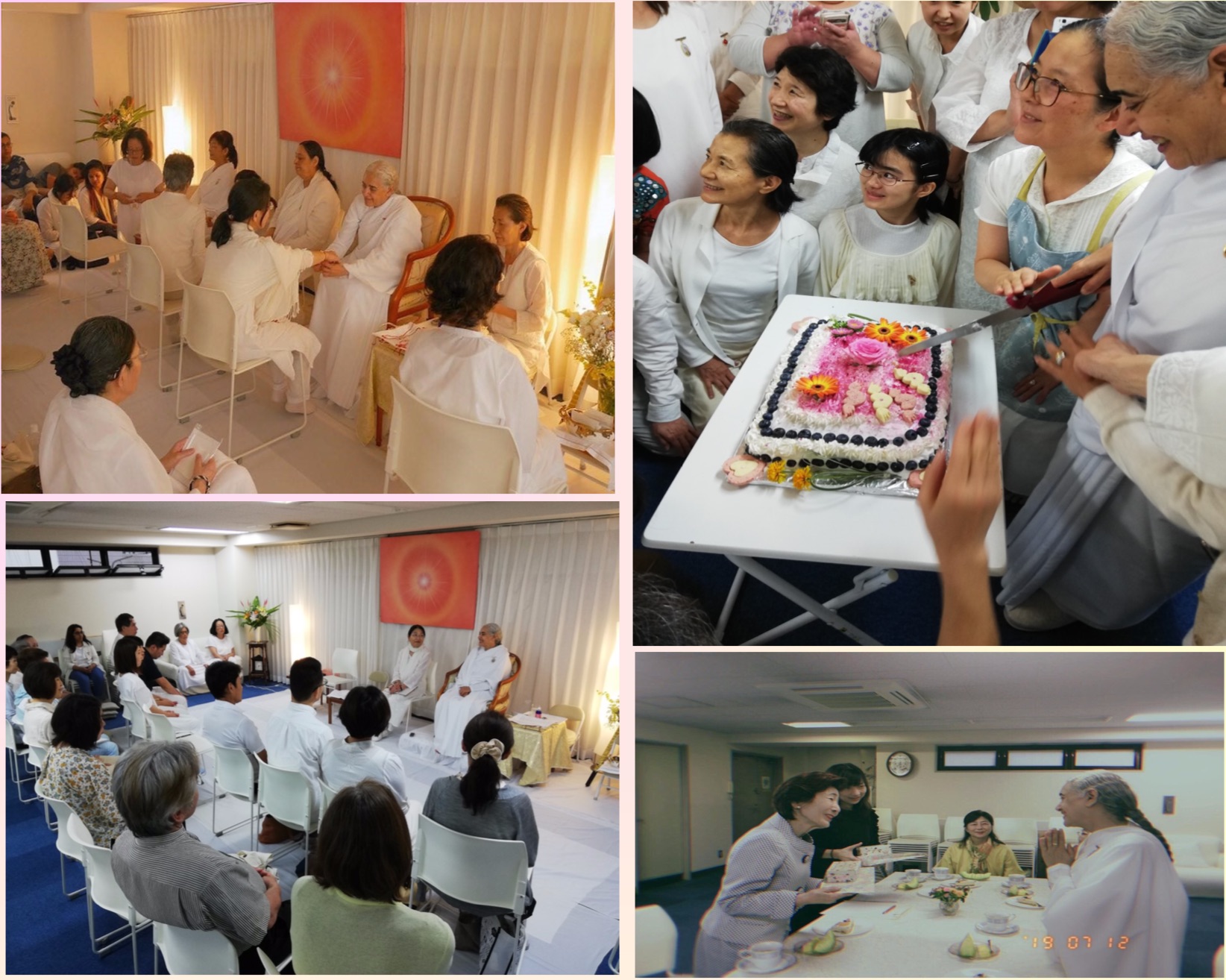 Click on the above image for full report with photos.

Madhuban Sister Savitha's Visit to Taiwan & Hong Kong
24 July 2019
Dear Divine Family, Pl ease accept greetings of Baba's yaad ,
I am pleased to share the Service news from Taiwan & Hong Kong. It was an amazing experience to see how Baba's Instruments are doing service and revealing BapDada. It was also an opportunity for lots of Learning. In Taiwan, we participated in an event called Innovex Forum -2019, professionals from168 countries participated in this event. It was an opportunity to learn lots more about, technology, innovation, and other new things happening in the world and serve professionals from these backgrounds. Also attended Taiwan-India Co-operation Forum, and understood how strongly India and Taiwan are Connected. So, everyday was filled with so much of Newness and new things to learn.
Special Thanks to Janki Dadiji, Dr. Nirmala Didi, and all other seniors who gave this fortune to serve the Unlimited family and earn lots of Blessings. Heartiest thanks to all those, who helped in making this service tour a successful one.
Kindly enjoy the glimpses of service happened.
Thank You.
In Baba's Yaad
BK Savitha, Madhuban
Download full report with photos here.

News of Br. Charlie's Visit to Papua New Guinea, 18-24 June
13 July 2019
Bapdada and Drama continue to bring wonderful service experiences in Papua New Guinea (PNG). In June, Bro. Charlie Hogg visited in Papua New Guinea on invitation of the High Commission of India to PNG and the Governor of the National Capital District to be a guest speaker for the 5th International Day of Yoga (IDY) celebrated in Port Moresby, the capital of PNG.
Together with the opportunity to serve at the IDY, PNG souls were very receptive to spiritual reflections and experiencing guided meditations during sessions led by Bro. Charlie on a variety of themes such as Calm In Crisis, Creating Healthy Relationships, and Inner Leadership. Several service programs were held in partnership with the PNG Women In Energy Network (WEN), including a public program titled I Choose Happiness. Another large program was held in collaboration with the PNG Flexible, Open and Direct Education (FODE) organization, including attendees from the PNG Government Department of Education and teachers and school administrators from across Port Moresby schools. An event was hosted in conjunction with the Computer Communication Institute PNG (CCIPNG) was covered by the PNG national TV broadcaster NBC on Sunday evening National News, and a PNG national newspaper, the Post Courier. Programs also took place at the United Nations and Yu Yet PNG, an association promoting yoga in support of youth and local communities. Bro. Charlie made a courtesy visit to the High Commissioner of India to PNG.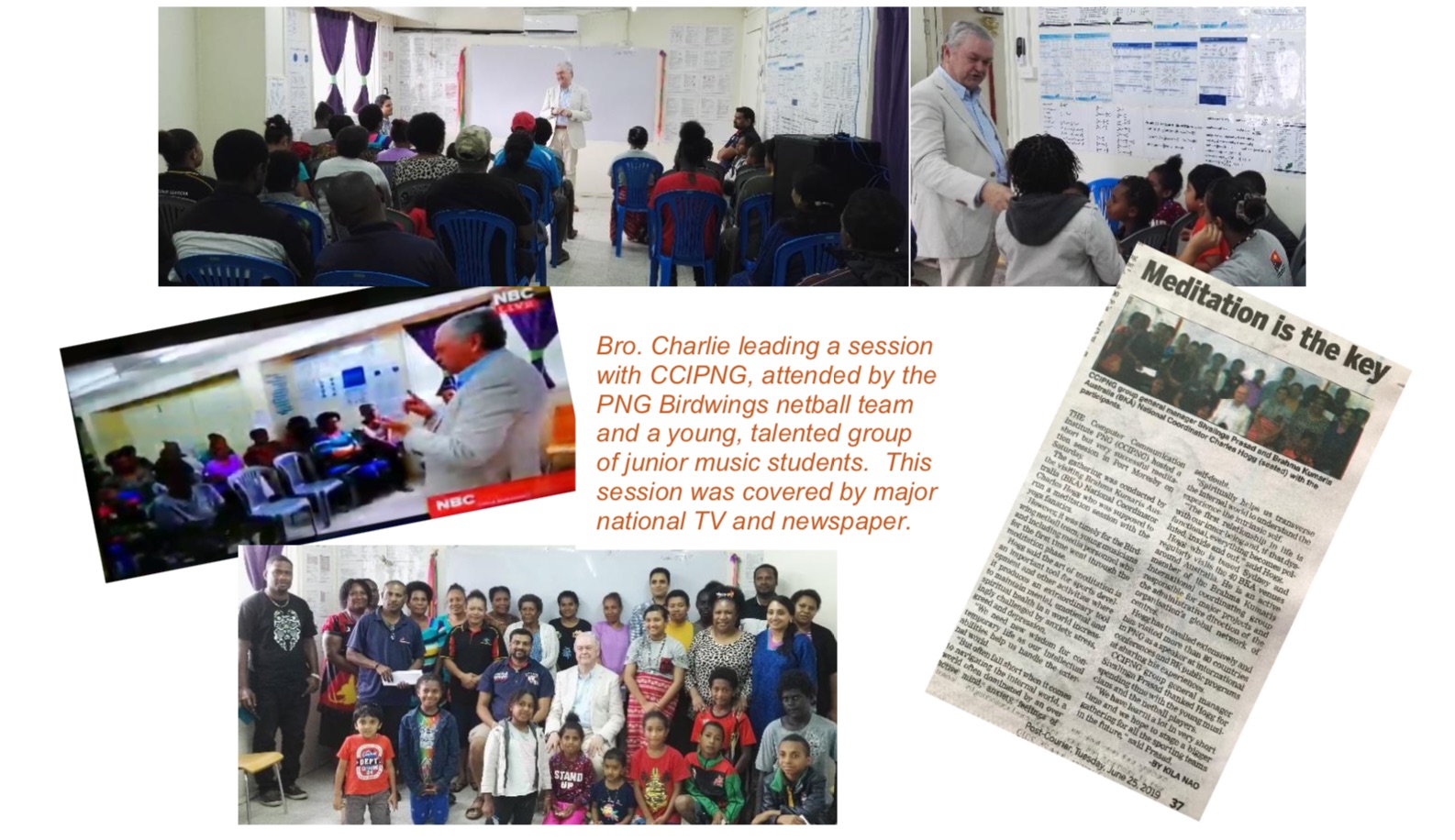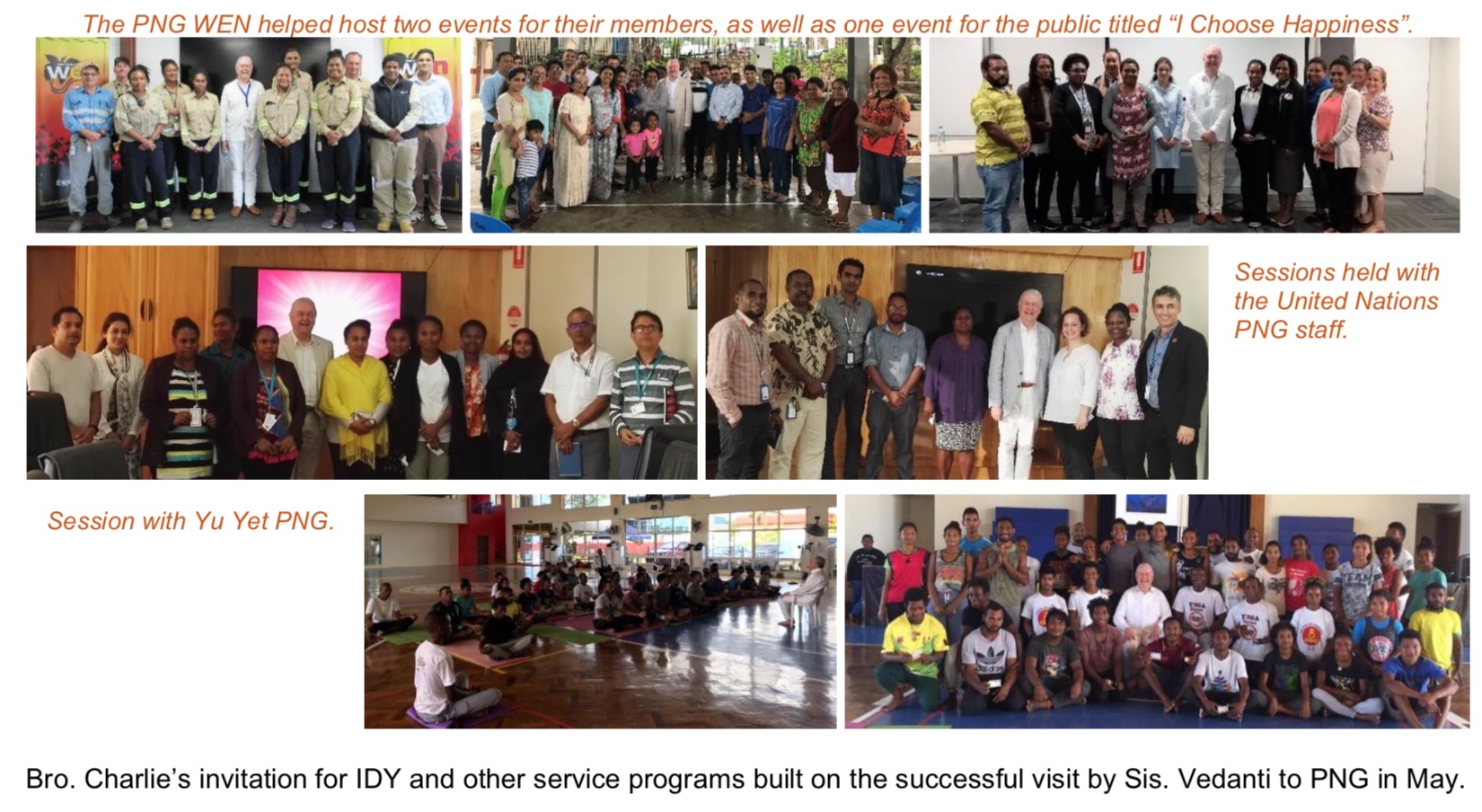 Bro. Charlie's invitation for IDY and other service programs built on the successful visit by Sis. Vedanti to PNG in May.


Giant scroll bears 5000 messages of Love from Australia after terror attacks
28 May 2019
BK Brother Shekhar Kamat from Melbourne Australia has created a project where members of the public can express their good wishes for others who are experiencing disaster or crisis. The good wishes are written onto a long scroll of paper which is then delivered to those who are affected. Below is news of the latest activity under this initiative.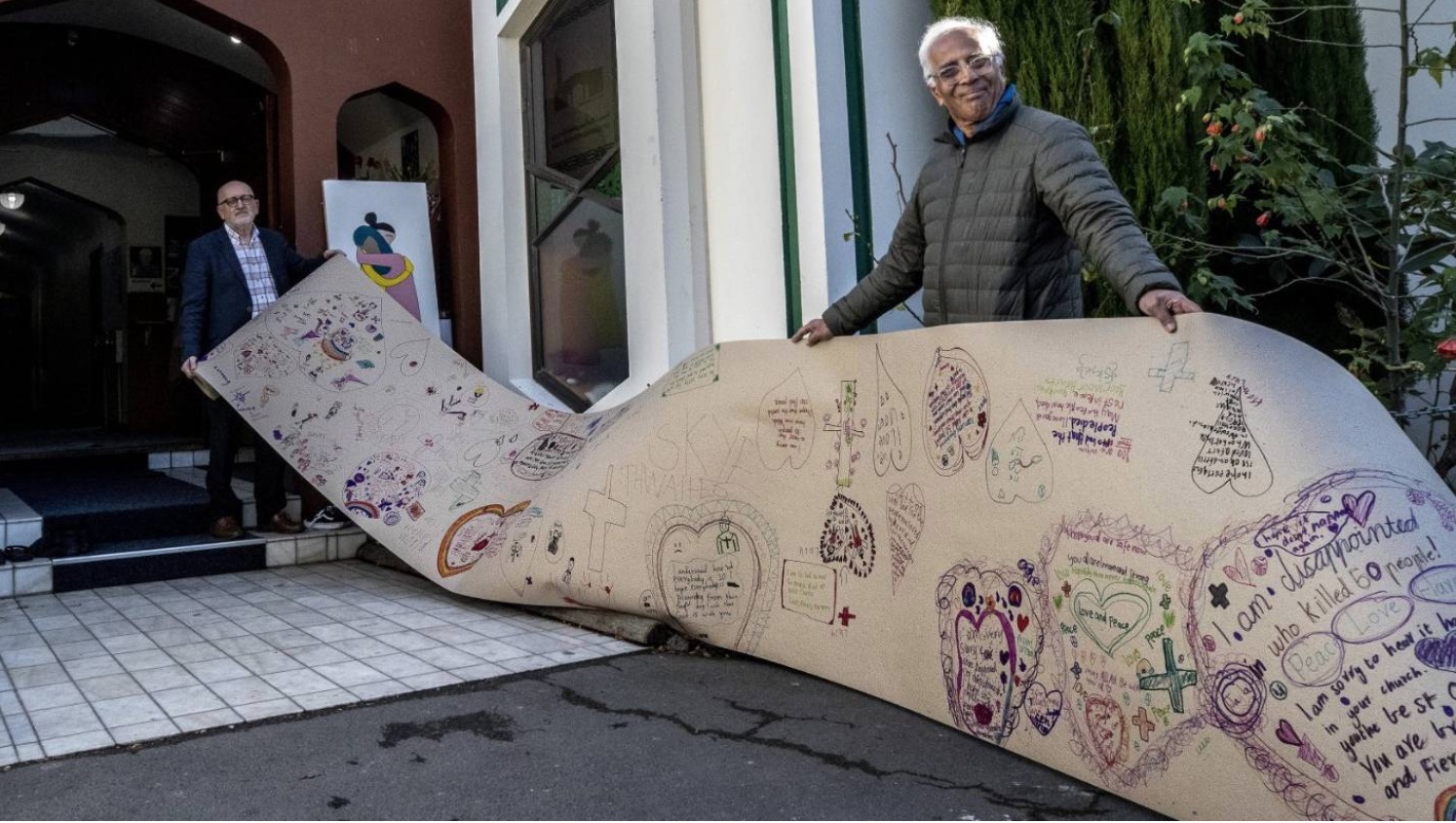 An enormous scroll bearing thousands of messages from Australia has been presented to Christchurch as a gesture of love and support in the wake of the terror attacks.
More than 5000 people from across the state of Victoria signed the 100m scroll, filling it with touching notes to show their solidarity following the atrocity.
The document was handed to Mayor Lianne Dalziel earlier this week and on Friday was taken to the Al Noor mosque, where 44 people were fatally shot.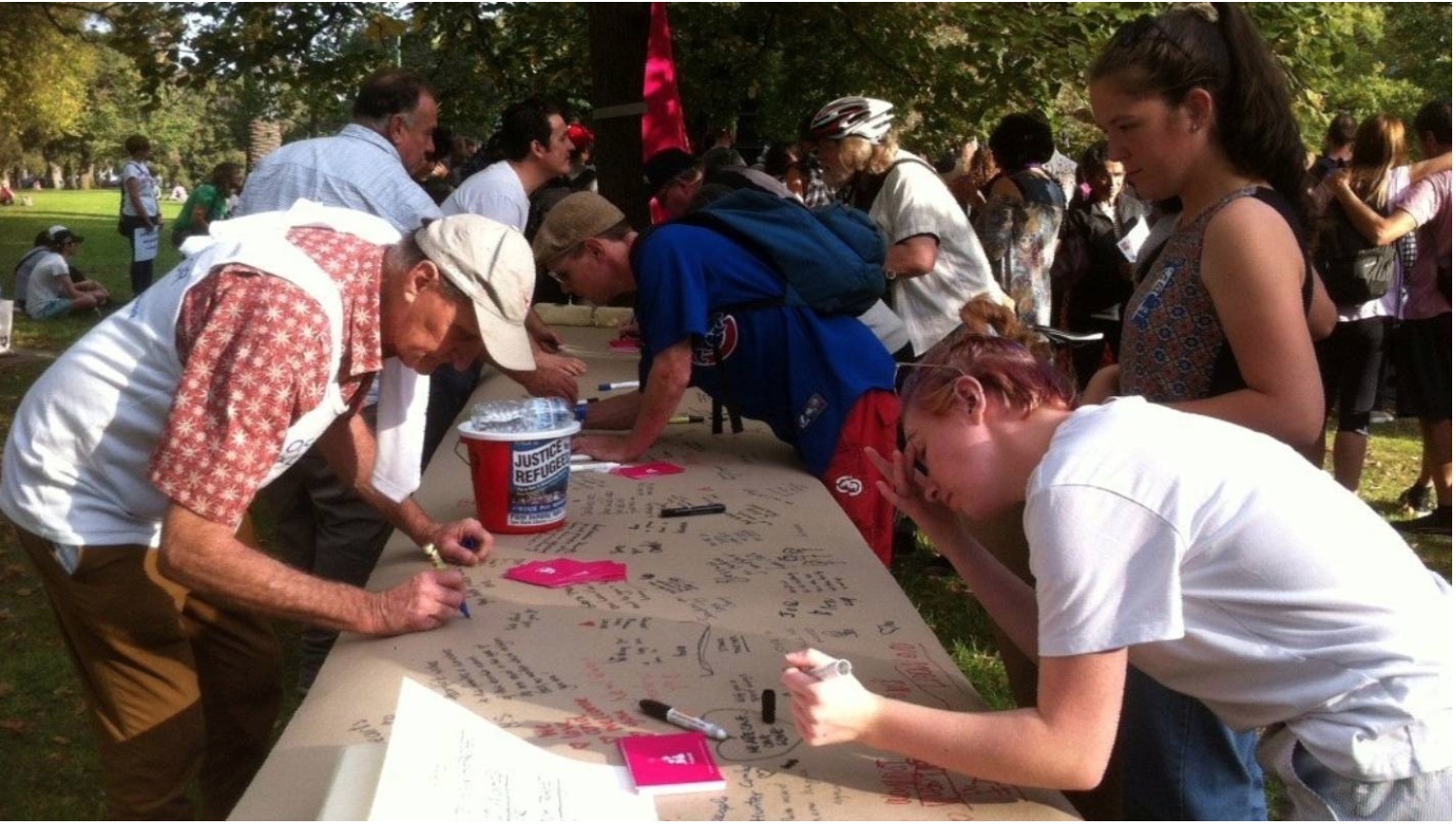 The gesture was initiated by Shekhar Kamat, founder of Goodwishes, a Melbourne-based organisation that provides a platform for people around the world to support each other in times of disaster and great crisis.
Click on the link here below to read more:
https://www.stuff.co.nz/national/christchurch-shooting/112806365/giant-scroll-bears-5000-messages-of-love-from-australia-after-terror-attacks

Pause for Peace - News of Sr Vedanti's visit to Papua New Guinea
14 May 2019
Sister Vedanti and Priya from Nairobi, Kenya visited Port Moresby, Papua New Guinea (PNG), in May. There were many avenues available for service. However, the Pause for Peace project from Africa became the launching pad for service in PNG. The project was a real gift, which opened many doors to connect with a wide spectrum of people. Whoever was approached with this theme of Pause for Peace was very receptive.
A variety of programs were held in various places. The programs took place at banks, the United Nations, various education organizations, Women's leadership groups and with a Yoga for Health association supporting youth communities. A courtesy visit was made to the High Commissioner of India to PNG. A big public event was held in association with the High Commission of India to PNG on "Take a Moment to Pause for Peace" together with celebrating 150 years of Mahatma Gandhi's birth.
Personal visits took place at the homes of families and their friends to give an experience of Pause for Peace. Many had wonderful and different experiences through these programs. They shared:
Realization that in their daily lives, they pause for many things but they hardly pause for themselves.

Recognition that they spend their time living in the past or the future, and miss their experience of being present in the now.

Reflection that there was power in meditation after experiencing live guided meditation commentaries.
In total, twenty five programs were held throughout Port Moresby with over 300 attendees.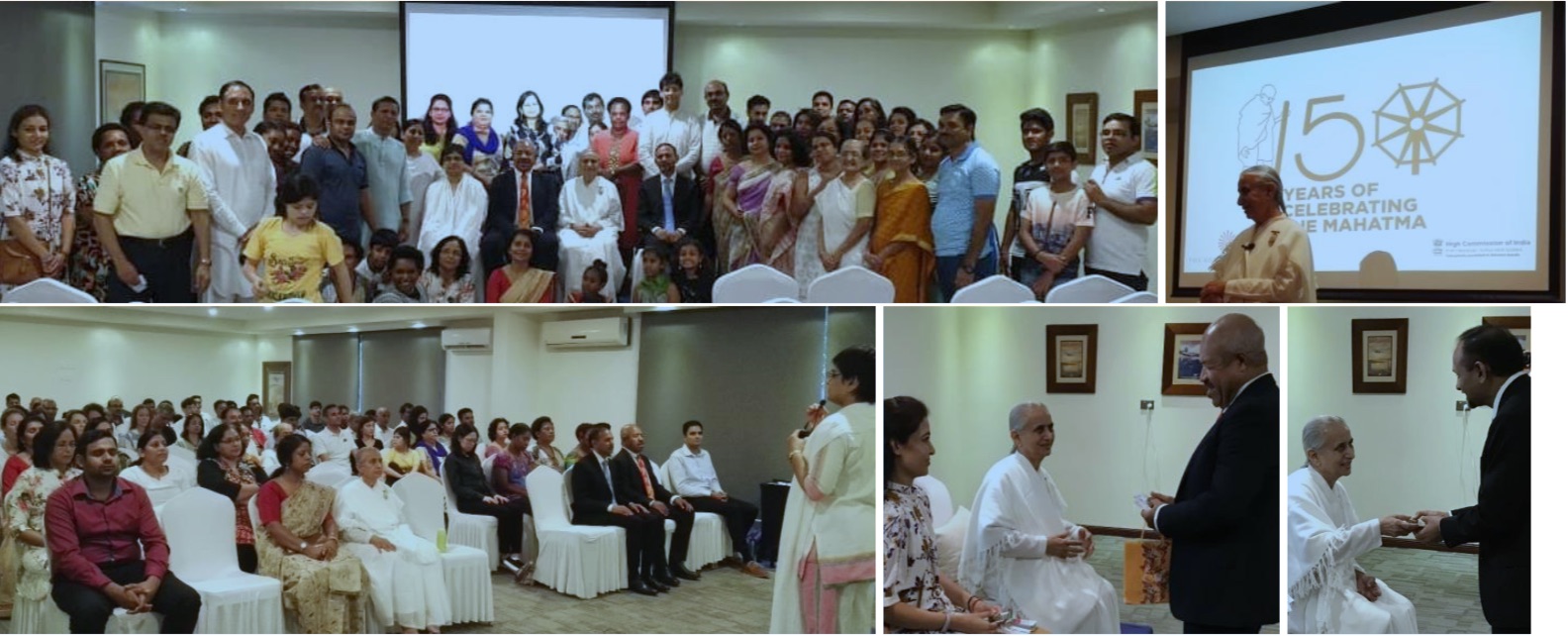 Click here for detailed report.

Half Day Retreat at Asia Retreat Center with Br Sachin Suksohale of Global Hospital, Madhuban
14 May 2019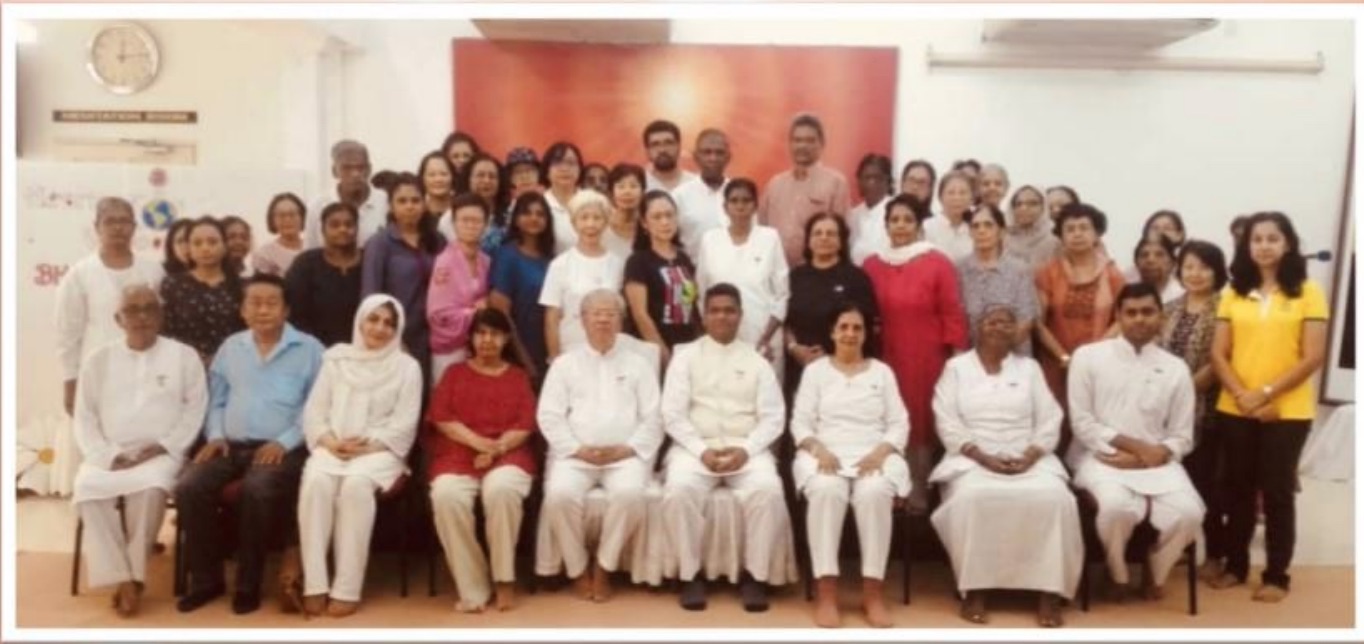 Click here for full report.

Self-Care and Meditation....more Service News from Tacloban City in Phillipines
14 May 2019
The second year of Brahma Kumaris' service to Leyte province benefited social workers on the first day (April 30), a mix of teachers, insurance agents, business persons, contractors and others on the second day (May 1) and students taking bartending and wellness massage courses on the third day (May 2).

The programs were held in the capital Tacloban City, nearby towns Palo and San Jose which were devastated by Supertyphoon Yolanda in November 2013.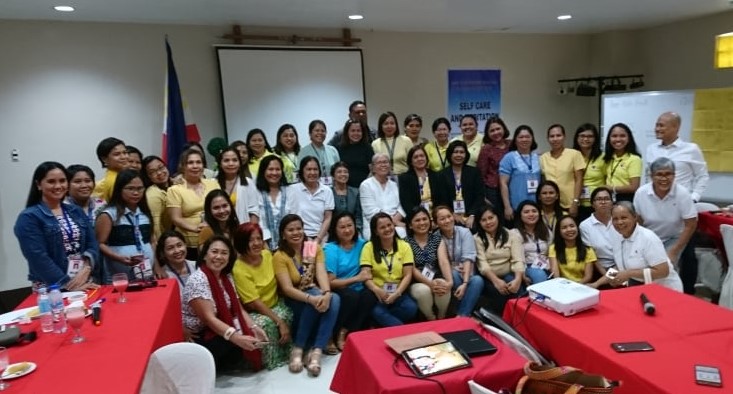 Self-Care and Meditation
April 30, 2019

The first program on April 30, which tackled Self-Care and Meditation, had 45 social workers from different departments, sections, units and areas of the Department of Social Welfare and Development (DSWD) in attendance.

Also present was DSWD Eastern Visayas Officer-in-Charge Director, Yvonne Serrano-Abonales, a classmate of BK Rani, who was instrumental in introducing BK and its services to her. Abonales gave the opening message of the program.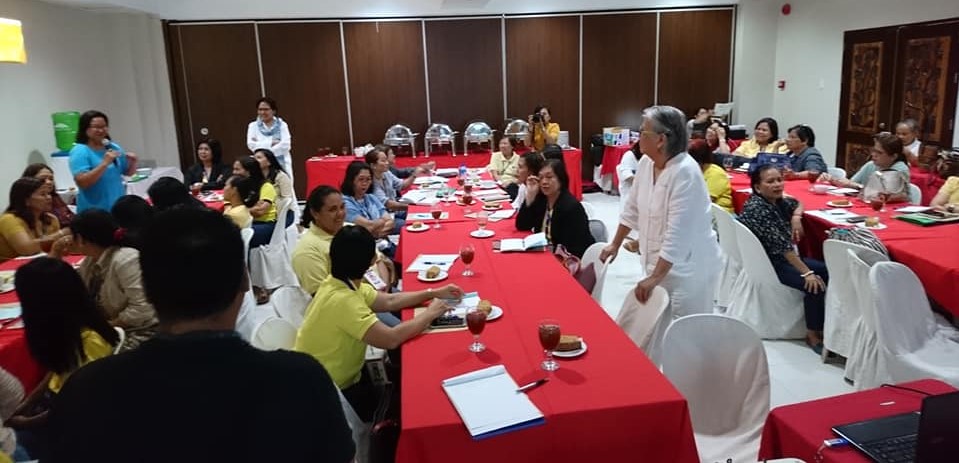 BK Becky Ortega, a senior meditation teacher, discussed the importance of self-care and meditation and detaching oneself from worldly things, well-being and healing, ways to handle stressful situations, and positive thinking.

Other meditation practitioners provided the break activities such as physical exercises and ukulele playing

The participants found the group sharing of how they take care of themselves, effective. And that one-day program was not enough. They looked forward to longer sessions.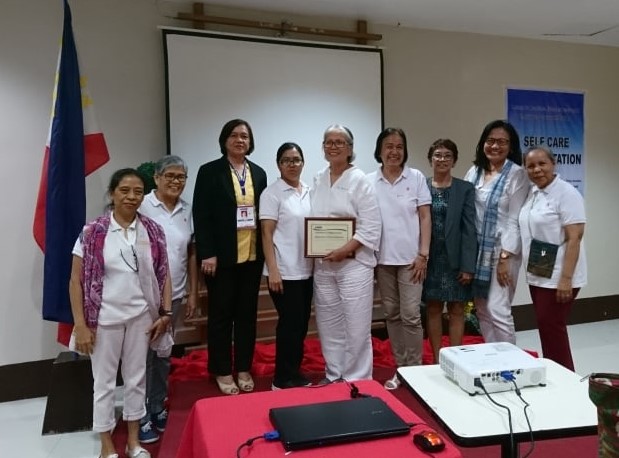 The program was a joint activity of Brahma Kumaris and the Department of Social Welfare Development (DSWD). The DSWD shouldered the arrangements for the attendance, venue, and facilities as well as the food, seminar supplies and materials. Brahma Kumaris took care of the resource persons, program proper and other support activities.
Karma and Silence
May 1, 2019
May 1, remembered as Labor Day, is a regular holiday in the country. Forty-four (44) people took the opportunity to participate in a one day public program of Brahma Kumaris. Two meditation practitioners for over two decades who are corporate executives were tapped as the main speakers for this program.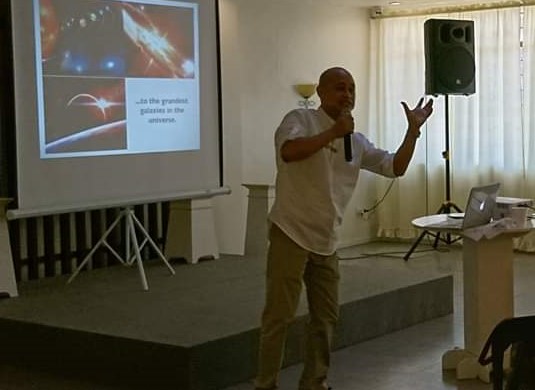 As to the composition of the participants, many were classmates of BK Rani. Others were friends or connections of her sister, who has taken a course on Inner Peace Inner Power in the BK retreat center in Tagaytay, and two nieces who attended the Peace of Mind international program in the spiritual headquarters of Brahma Kumaris.

In the morning, BK Jonathan discussed the law, principles, philosophy and types of karma using a power point presentation.

Some of the questions raised were: Why is it that despite helping others, what comes back is still negative? For example, if you lend someone money intending to help that person, you are not paid back? How do you end your karmic account? Is it possible to have positive thoughts for others but they don't accept your advise? How do we purify our thoughts?
Vegetarian lunch prepared by meditation practitioners were served which was much appreciated by everyone.
After lunch, BK Juan Luis (JL) conducted exercises and several workshops on depositing and withdrawing karmic accounts, on forgiving the self and on gratefulness.

He shared how meditation helped shape him as a person. What he does, he said, is write and focus on positive things he wants to practice then meditate on them and act on them.


Sister Becky, at the end of each talk, discussed the meditation process with a live guided commentary

These programs really showed how having good relationships with the lokik family can help in organizing BK service. BK Rani''s lokik sister coordinated the activities in Leyte. She also mobilized her relations, connections and resources for the use of BKs in the service.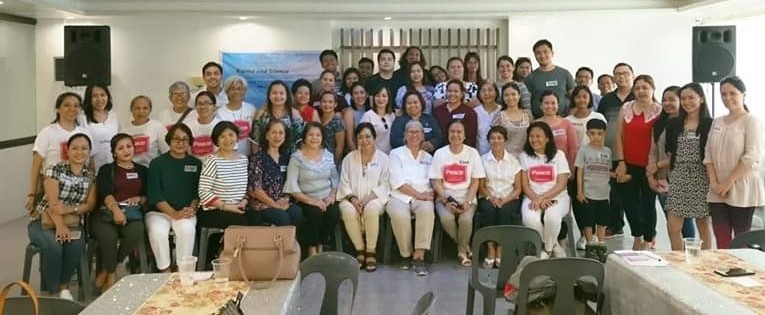 Self-Care and Meditation
May 2, 2019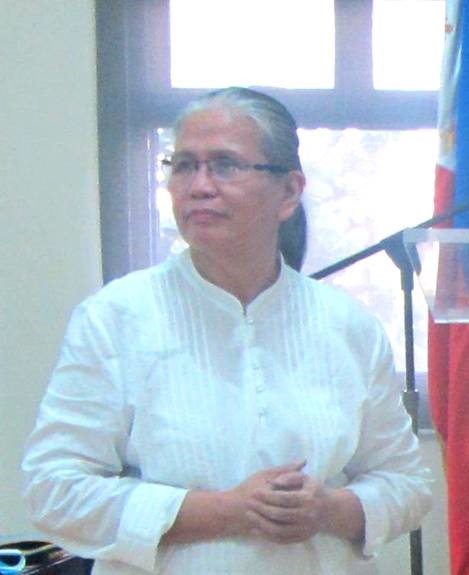 A meditation student organized a session in her own school, accredited by the Technical Education and Skills Development Authority (TESDA), for its 35 enrollees of bartending course and wellness massage (hilot) course.
BK Becky, a senior meditation teacher, discussed that in both courses of bartending and wellness message, the quality of concern for clients is important. This must begin with the self by learning positive thinking which sets one's consciousness. This can also keep the self protected from absorbing negativity.
Much thanks to the BK team who took air travel, shared their resources and made themselves available to continually sustain this valuable region of the Philippines! It is truly an inspiration for other meditation practitioners to serve their hometown.

Sister Ranjani's Visit to Malaysia 26 March to 2 April
21 April 2019
Sis.Ranjani, a Zonal Co-ordinator of Youth wing of Brahma Kumaris for Tamilnadu , was in Malaysia from 26th March till 2nd April 2019. During her visit, Sis.Ranjani participated in various godly services displaying her divine spiritual wisdom, teachers training skills and as a good orator.

National Tamil Teachers Retreat My Baba, My Family & My Responsibility
Sis.Ranjani was invited as the main speaker for the National Tamil Teachers Retreat attended by 130 BKs. The participants were teachers and right-hand instruments that have a crucial role in the center's services. Sis.Ranjani along with Br.Letchu & Br.Pure sustained all the participants with their divine insight and powerful vibrations that have left an everlasting caring feeling in the heart of participants.
The retreat was well-planned by young organizing team with high zeal & enthusiasm. The participants were kept well focused with various contemplative sessions. Sis.Ranjani's sharing on application of spirituality applied spiritual, her clarity of gyan and her shrewd sense of humor affectionately empowered all the participants. She is an exemplary instrument with training skills. Indeed, she is a special gift by Bestower for the retreat.
Click here for full report.

Doctors and Teachers Learn How to Improve Concentration in Bali
15 April 2019
POWER OF CONCENTRATION FOR DOCTORS
Denpasar, Bali, Indonesia - 29th March 2019: 31 doctors and 20 Bks gathered in the Gita Patshala on Himalaya Road to listen a talk on the topic "Power Of Concentration". The talk was given by Sister Janaki of Denpasar centre. She talked about the benefits of concentration and how to have quality thoughts. There was a question answer session followed by dinner for all. Talks like this which last for one and a half hours will be held once every two months, so that doctors also become spiritually enthusiastic. Dr Putu Yasa, who arranges such programs at the Himalaya Gita Patshala, said that he would continue to give cooperation for this kind of service in the future.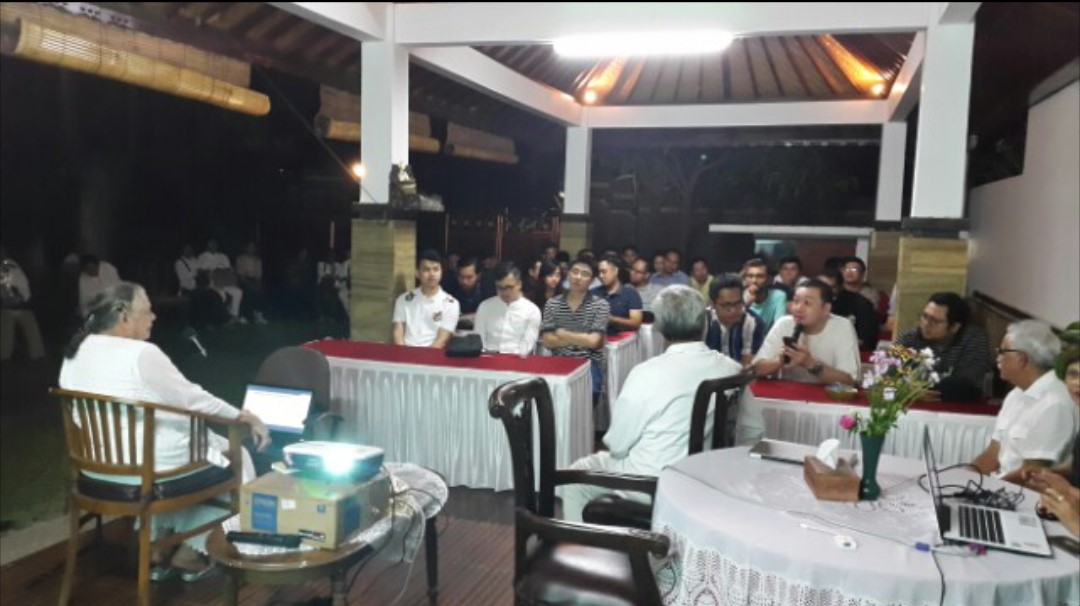 A section of those who participated.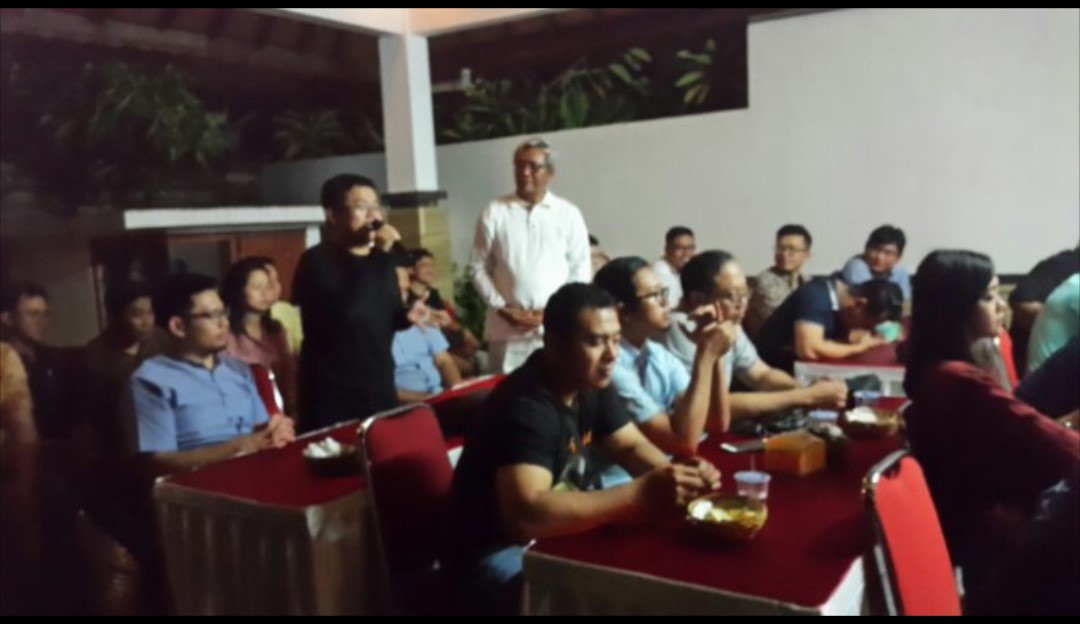 A section of those who participated.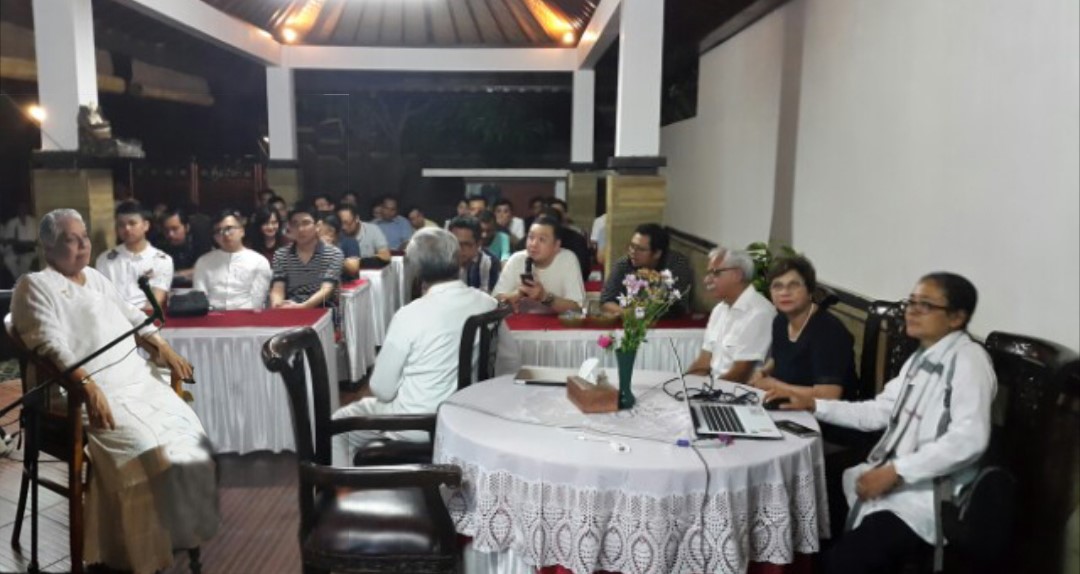 Sister Janaki seen delivering her talk during the session
ENCOURAGING WRITING SKILLS AMONG TEACHERS
Denpasar, Bali, Indonesia - 30th March 2019: About 50 teachers from various schools in Denpasar participated in a seminar to encourage teachers to write. The event was organized by Pilar Printers. Among the different items for the seminar was an inspirational talk on "The Benefits of Writing" by Bk Sister Janaki of Denpasar centre.
She talked on the importance of concentration and of experiencing happiness seeing the details and the beauty of every act.
The talk was followed by a question answer session and breakfast. More seminars on this line will be held from time to time by Pilar Printers, Denpasar
Warmest Regards
In Baba's Yaad
Bk. Janaki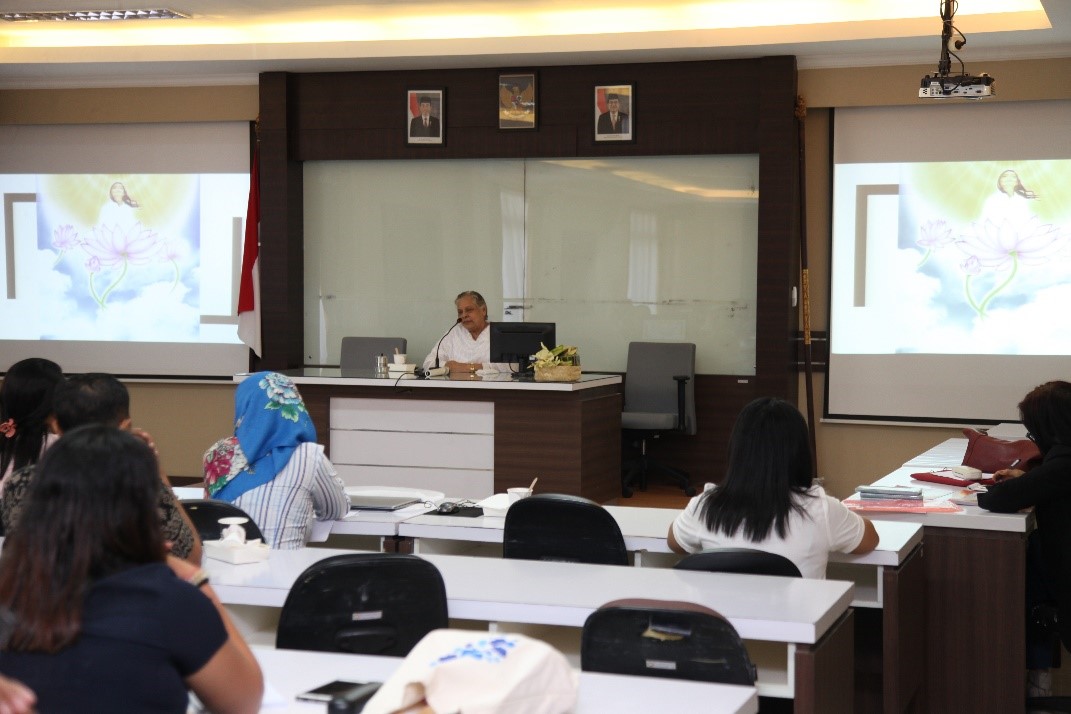 Sister Janaki seen delivering her talk during the session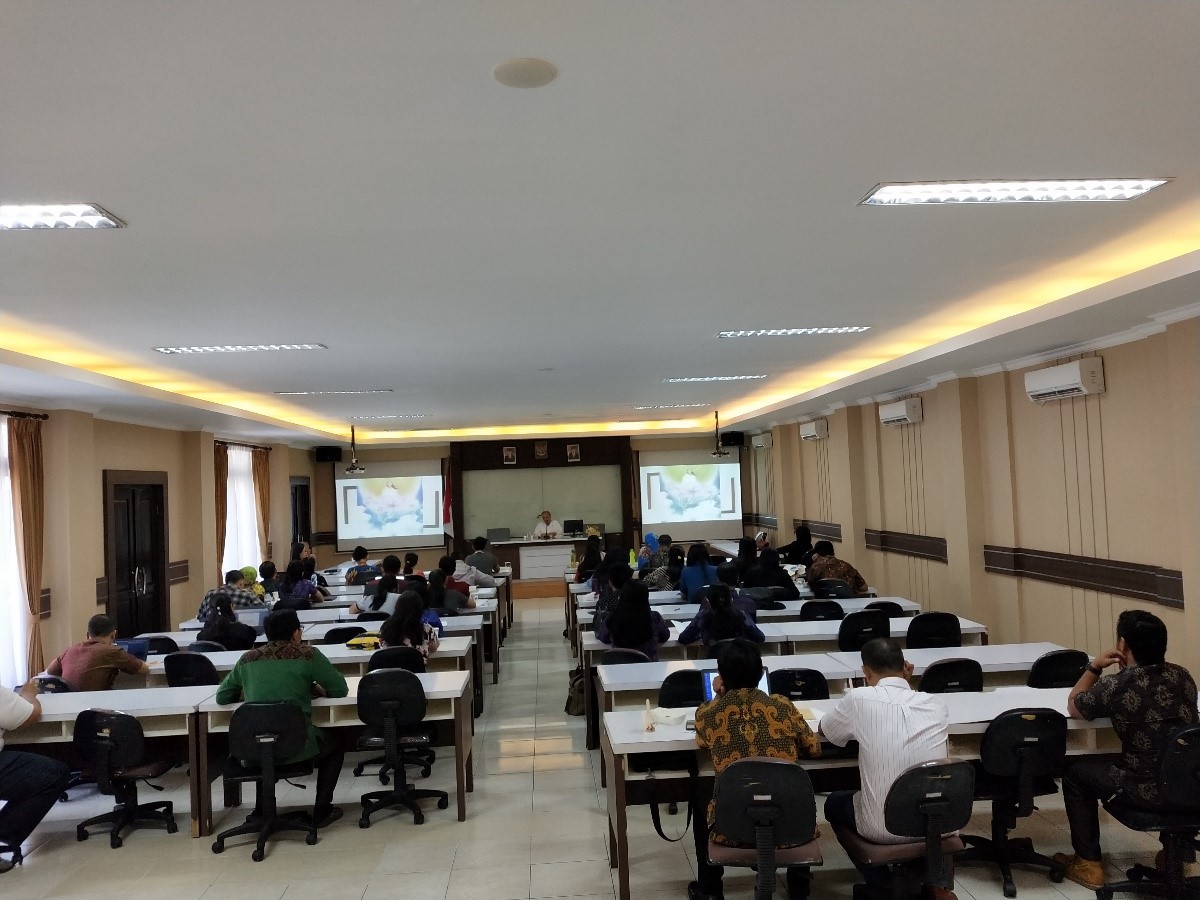 A section of those who participated.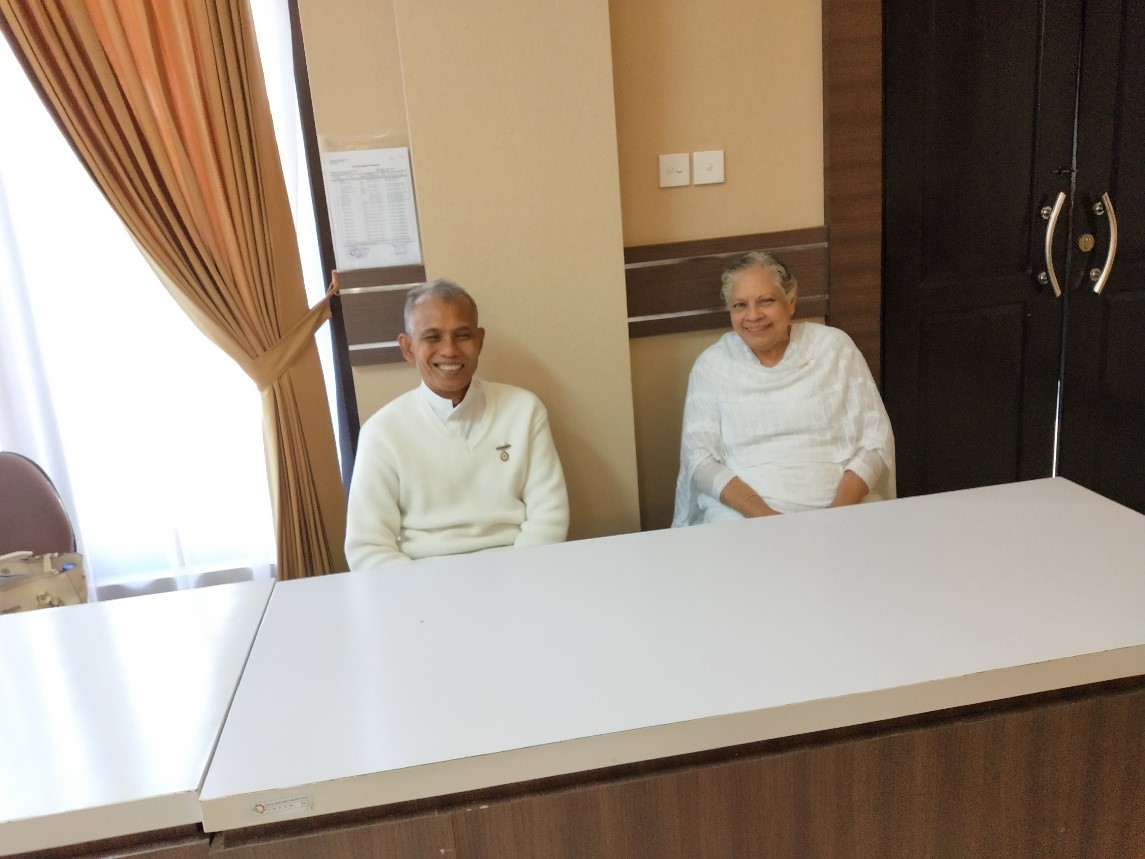 Bk. Sister Janaki with BK Brother I Made Jana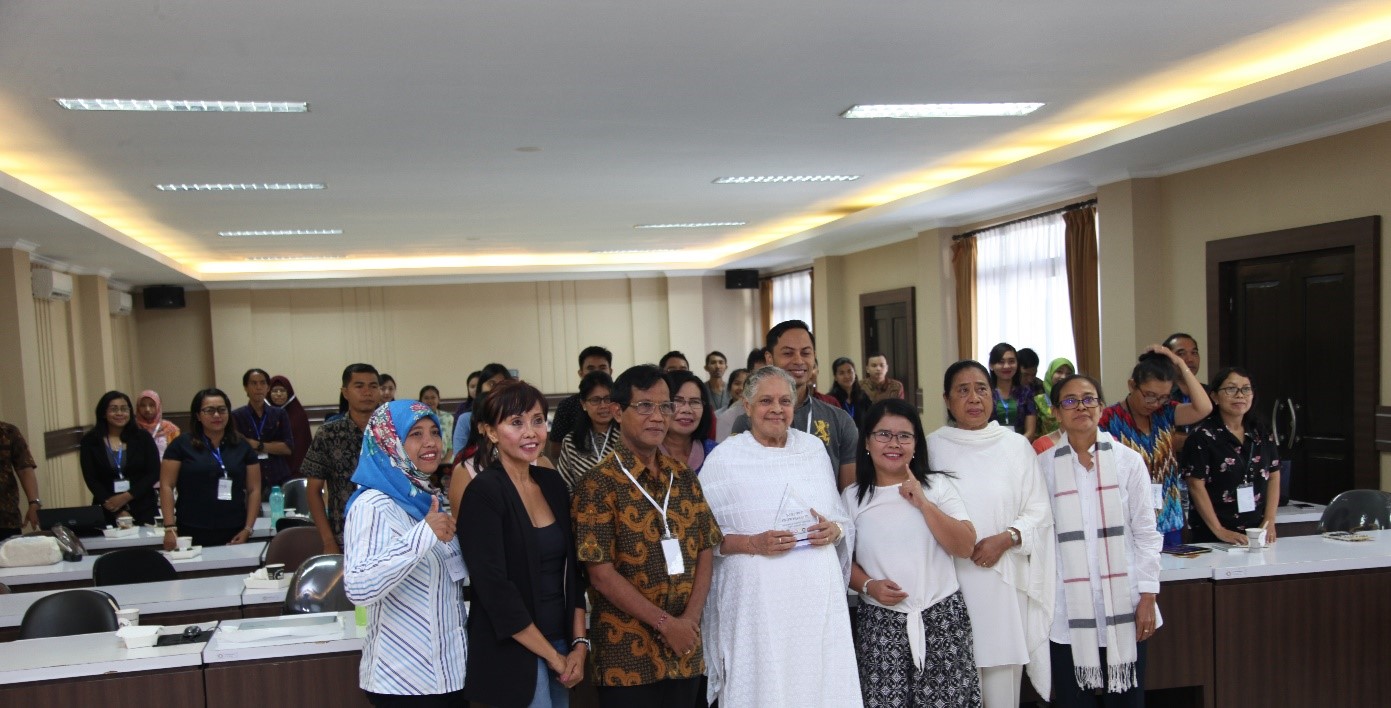 A section of those who participated. In the middle is Sister Janaki and to her right is the Head of Pilar Print, Ms. Thiolina FM.

IN PICTURES: Chinese New Year Celebration at the Asia Retreat Centre Malaysia and at Harmony House, Bangsar
10 February 2019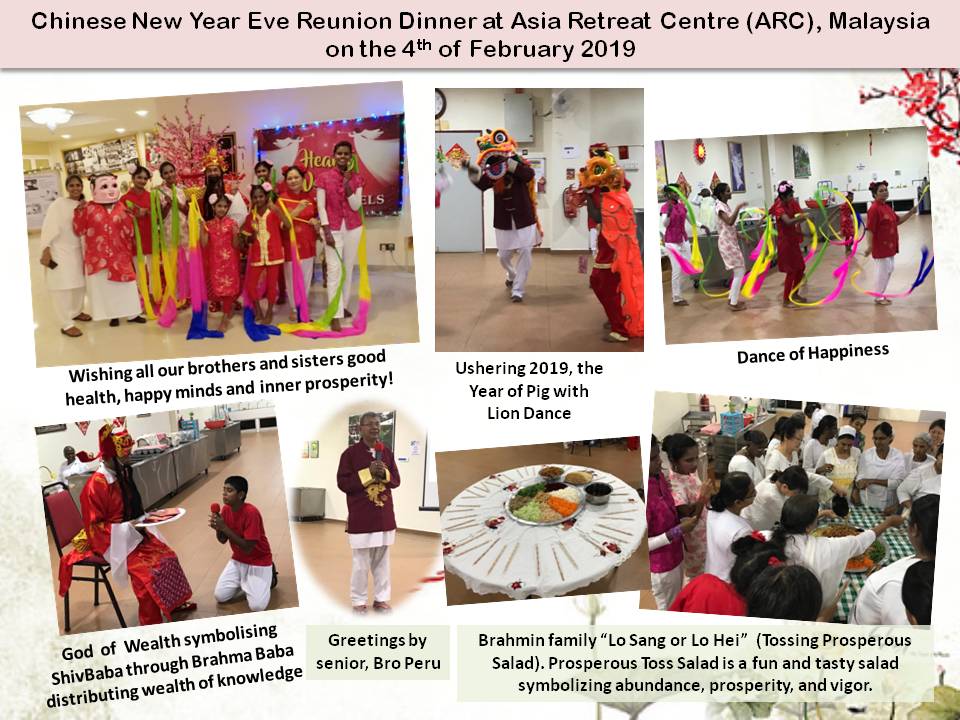 Pictorial Presentation: 50 Years On Retreat at the Blue Mountains Retreat, 17-20 January
4 February 2019
Dear BKs, Warm greetings.
We hope you like this presentation of the beautiful 50 Years On retreat at the Blue Mountains, 17-20 January 2019.
Loving wishes,
in Baba's sweetest remembrance,
Sally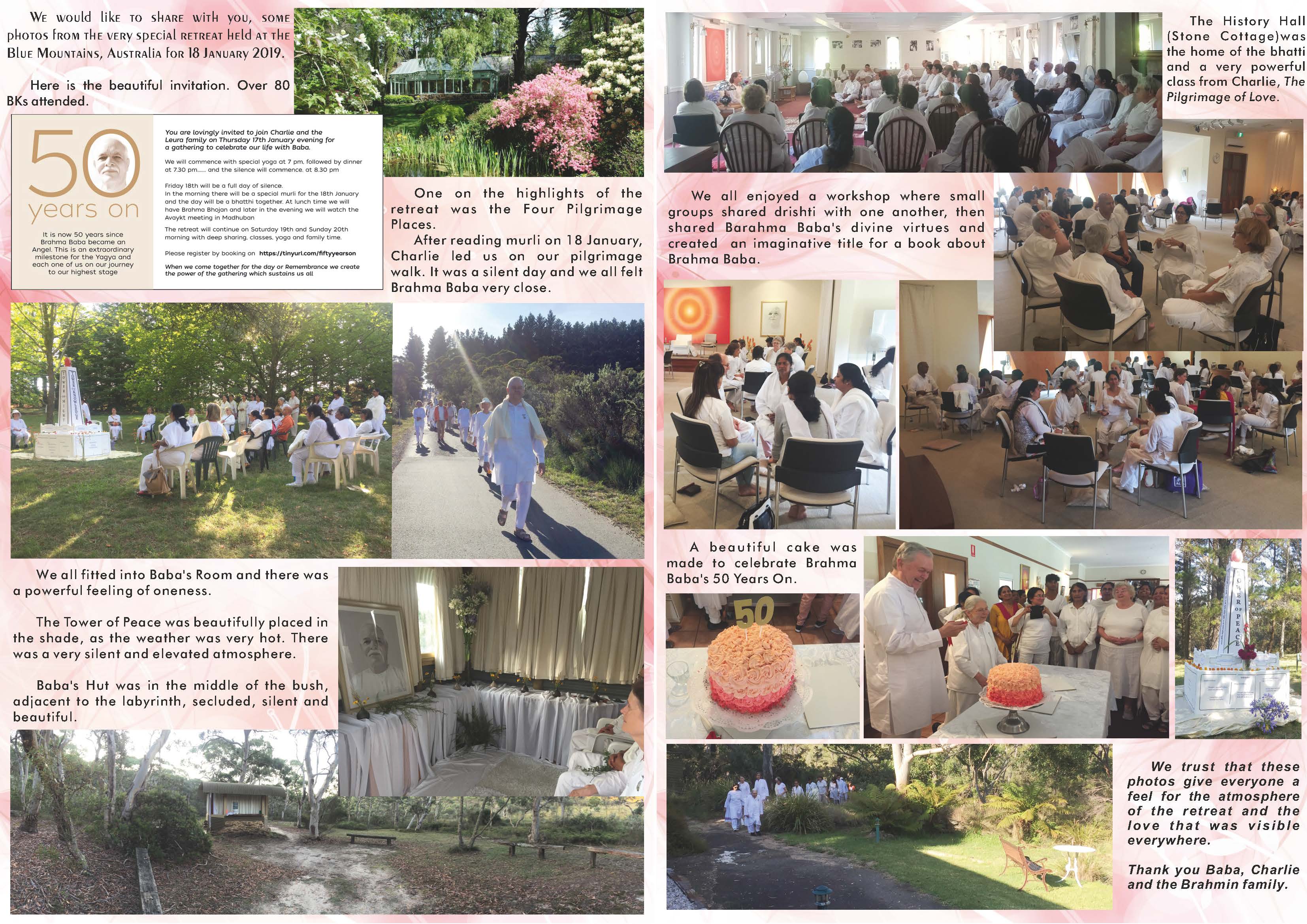 Presentation can be downloaded here

Chinese New Year Greetings 2019 from Sister Meera, Malaysia
4 February 2019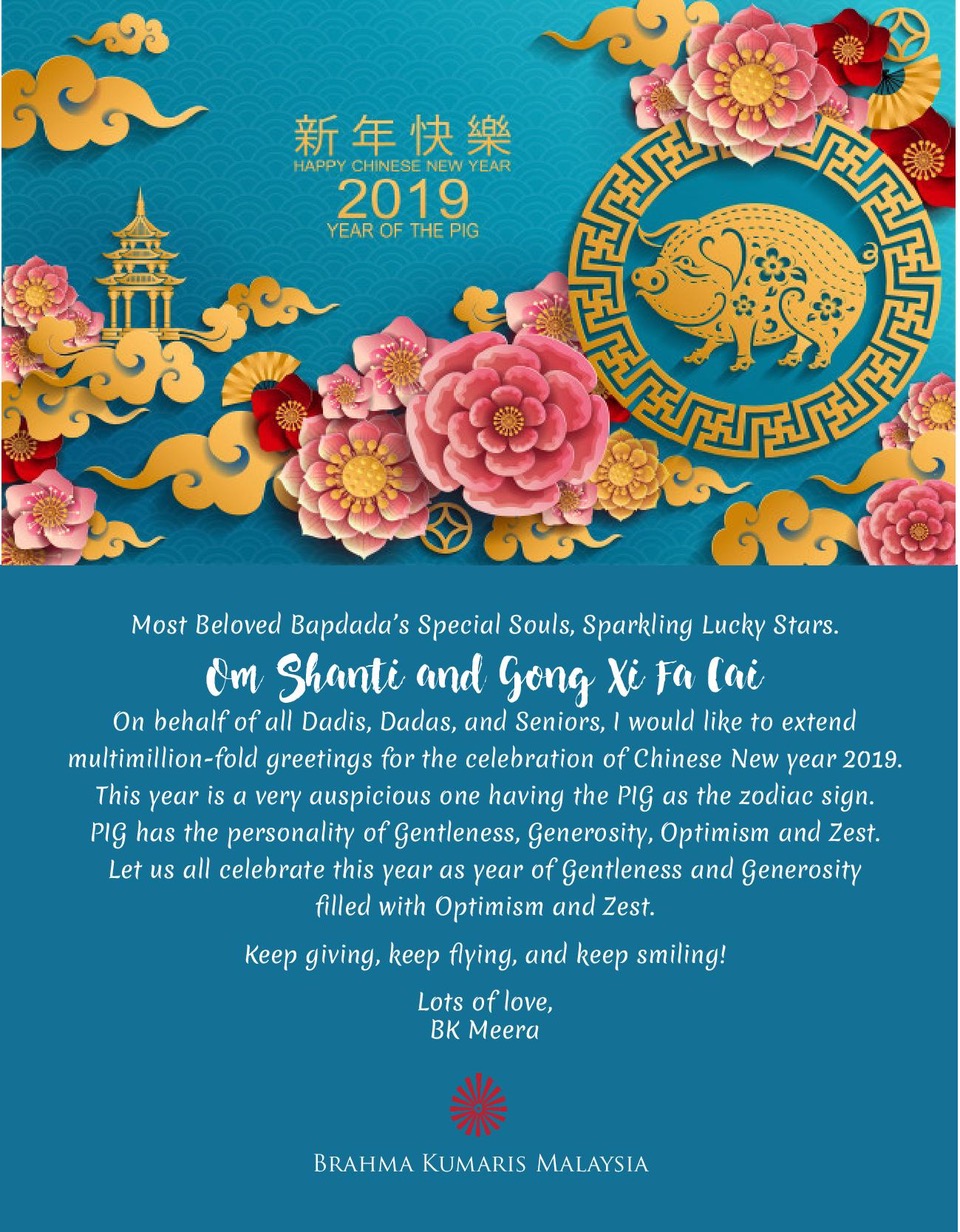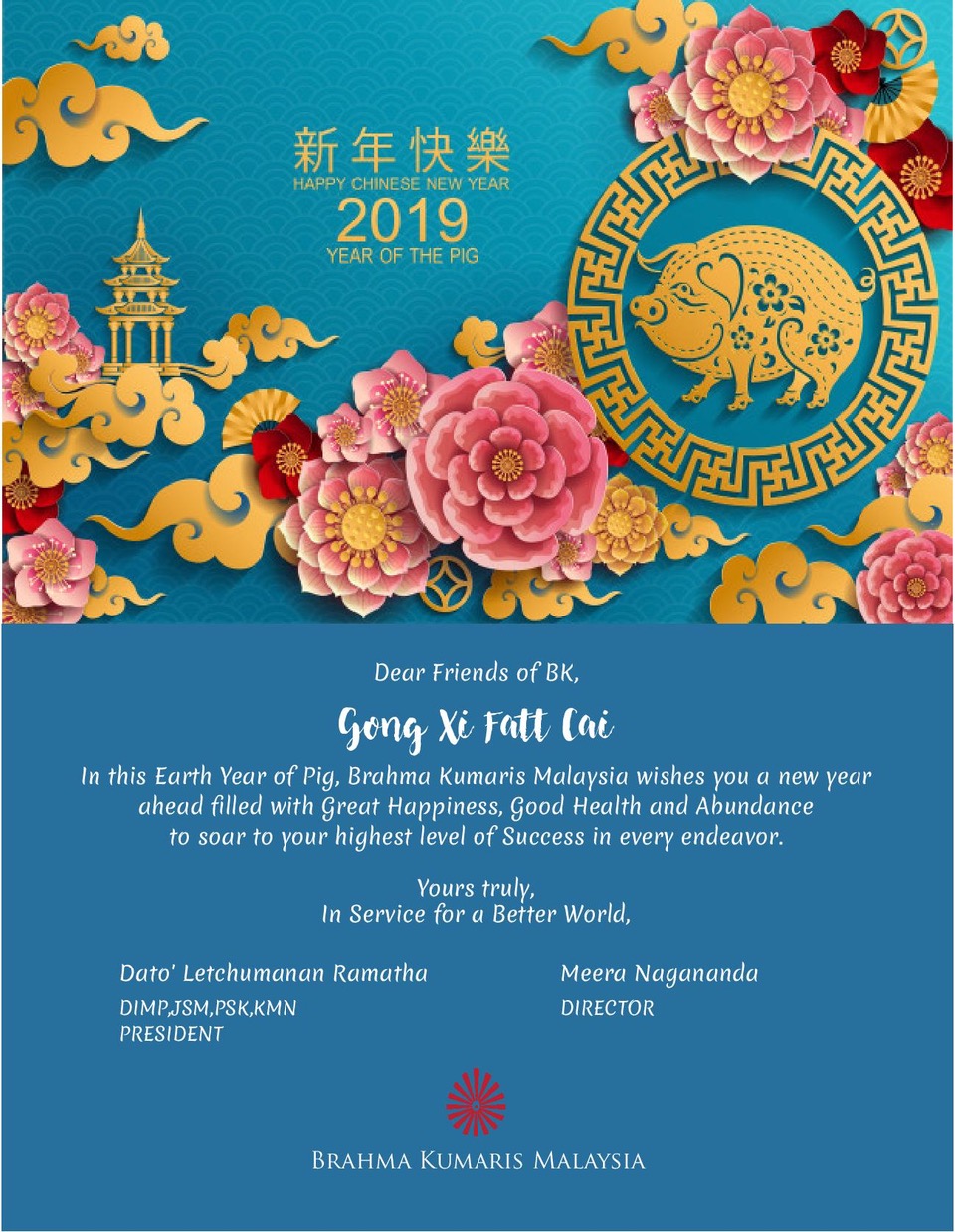 Xmas Greetings from Sister Bhavana of NewZealand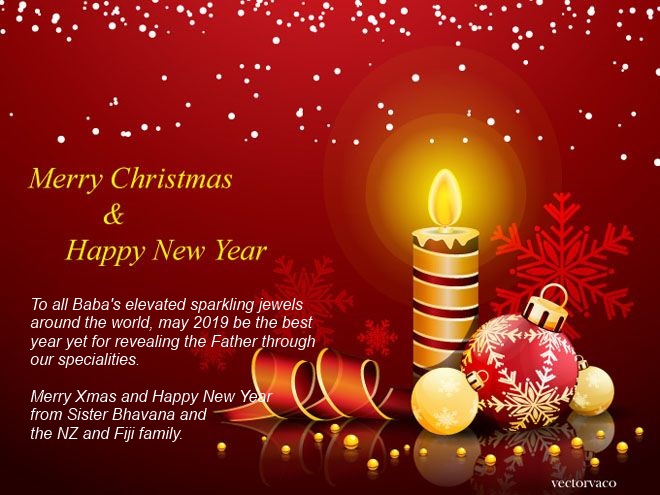 Christmas Greetings from Gianyar - Indonesia Family
25 December 2018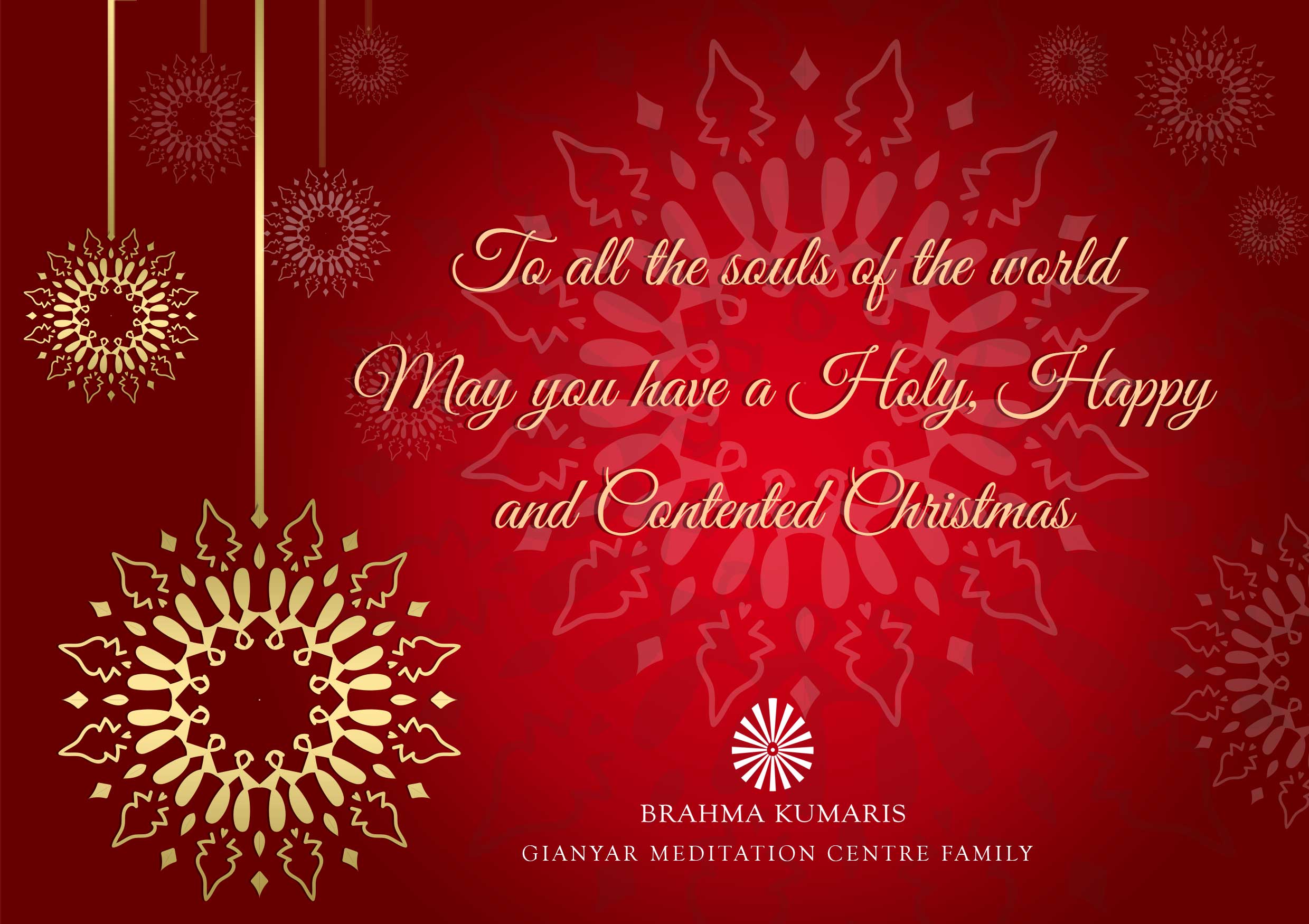 Merry Christmas and Happy New Year Greetings 2019 from Sis BK Meera, Malaysia
23 December 2018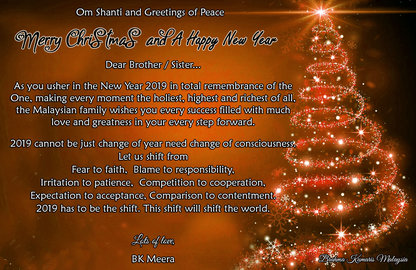 Brahma Kumaris at 15th Annual Yoga Workshop, Sri Lanka
17 December 2018
Dear divine Bro. Ganesh,
Dr. Chamin Warnakula the renowned yoga master in Sri Lanka had his 15th annual yoga workshop last Sunday 2nd Dec. at the National Youth Centre stadium in Maharagama.
The full day pgm was attended by 1700 - 2000 public from many areas of the island covering a very good cross section of individuals.
The former Commander of SL Army Lft. Genaral Daya Rathnayaka was the chief guest. Officers from the Presidents security unit, leading business personals, educationists, prominent media personals were guest of honours along with we BKs. Sr. Sreema took part on your behalf for the welcoming procession, lighting of traditional oil lamp and the opening ceremony of the event.
Dr. Chamin was very much interested in introducing Raja Yoga at this event since his visit to ARC last September. So as his plan we got a chance to do a presentation on Raja Yoga for Stress free living followed by a meditation session to all 2000 crowd. He had all the arrangements made for us with all facilities, whatever he used for his presentation. So that the presentation became very professional and unique to the participants. He also gave a good introduction of Brahma Kumaris and Raja yoga sharing his personal experience before handing over the stage to us.
We also had a very good sales of CDs and BK publications at the lobby. Nearly 1500 notices were distributed which carried the message of Raja Yoga and tips for Stress free living.
Thanks to Dr. Chamin, so many were fortunate to receive Baba's message.
Some photos are attached herewith.
Brother, Hope you will like to share this news with Bro. Charlie and POM group, Sr. Meera, Bro. Letchu, Bro. Pure, Sr. Ceilia, Bro. Peru , Sr. Susan and whole ARC family who were special instruments in sustaining this soul at his visit to POM in Gyan Sarowar and ARC, Malaysia.
Thank you.
In Baba;s yaad,
BK Rammi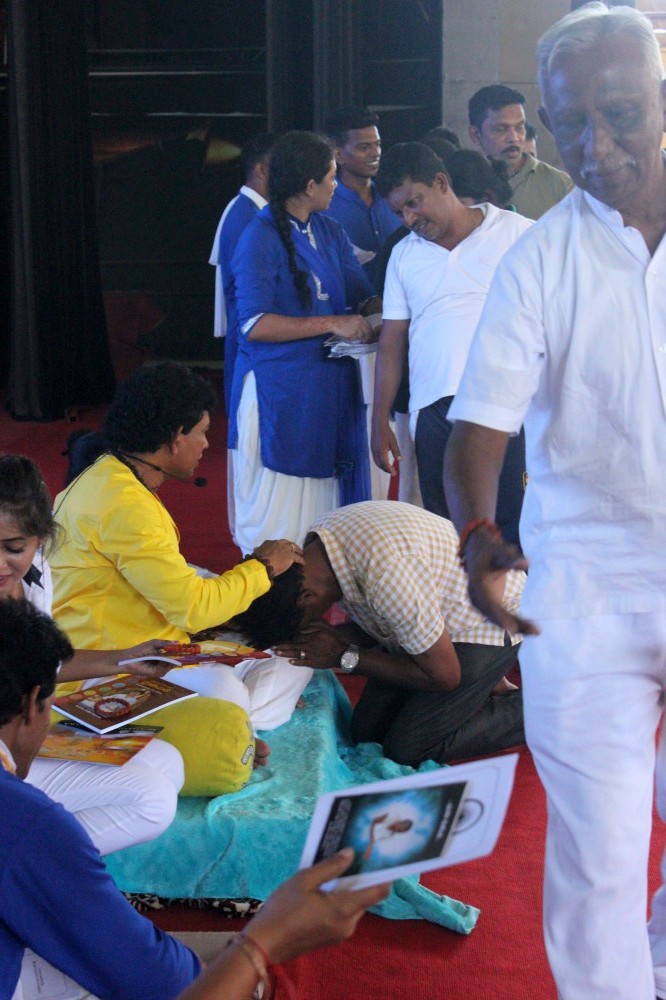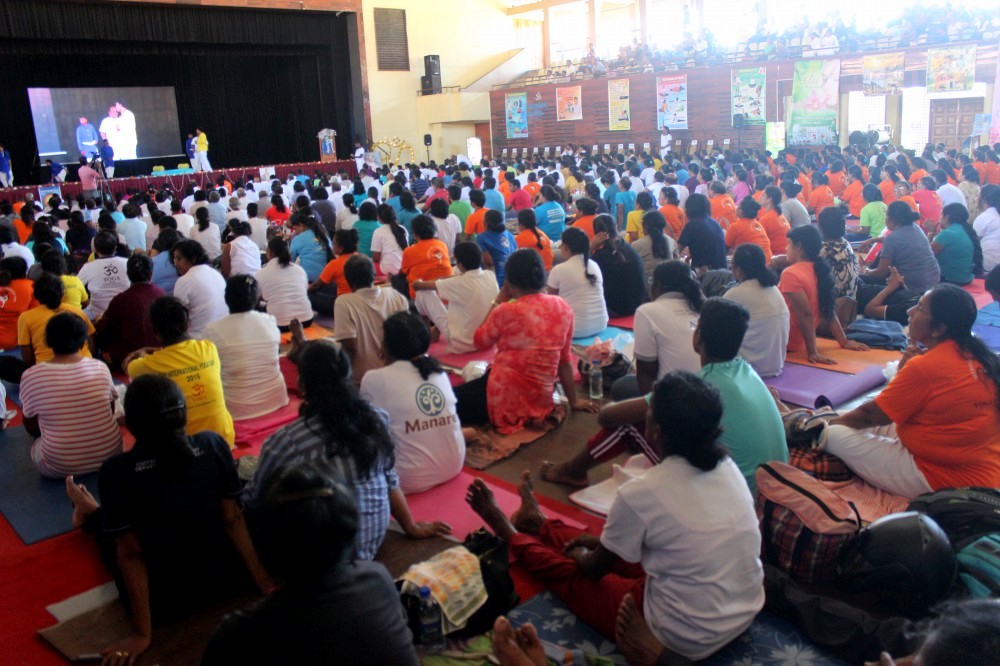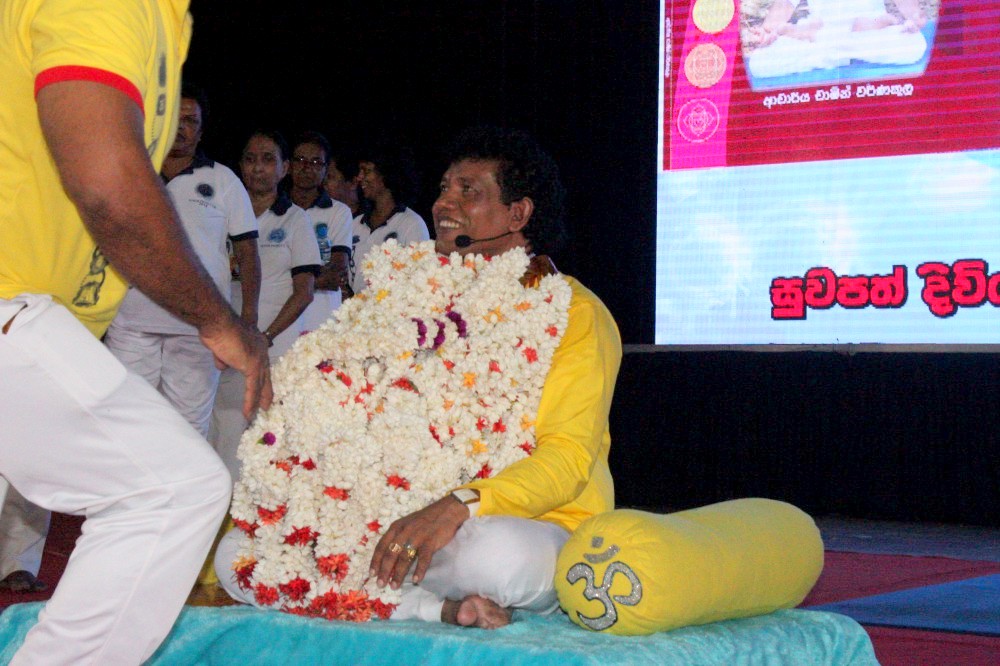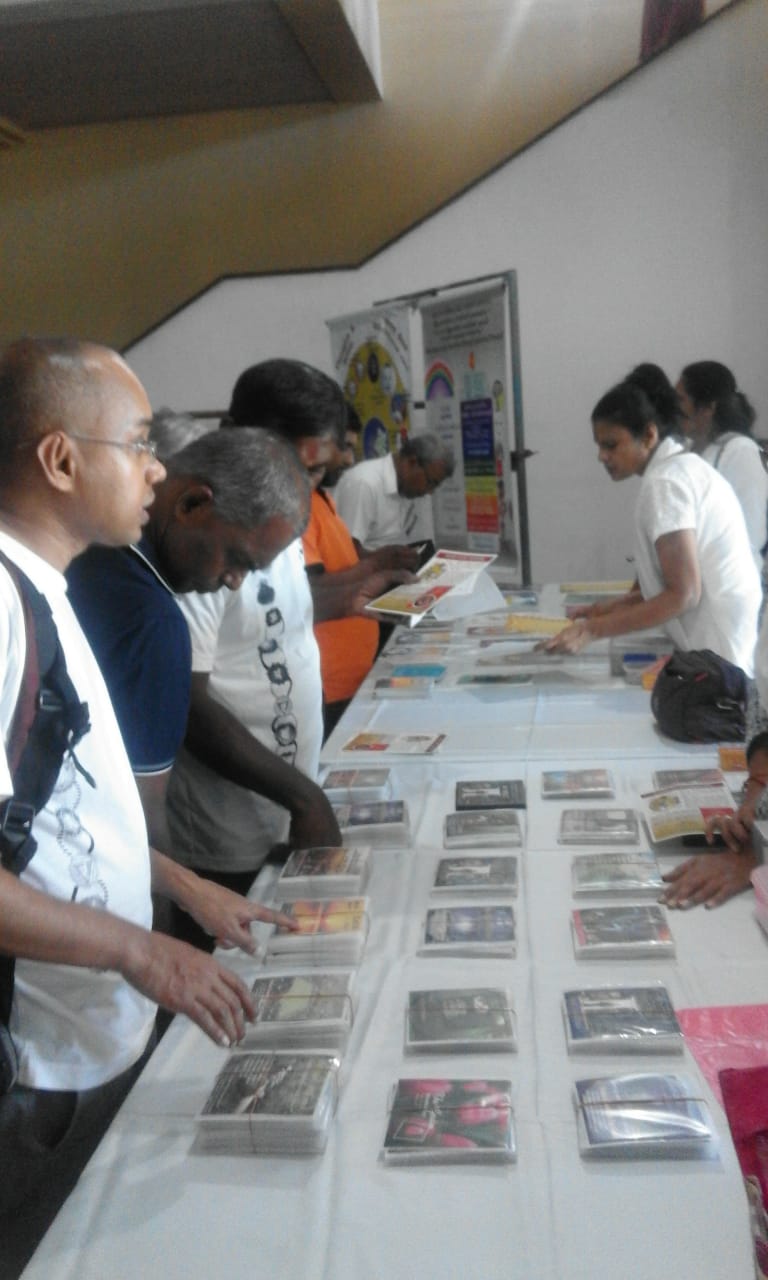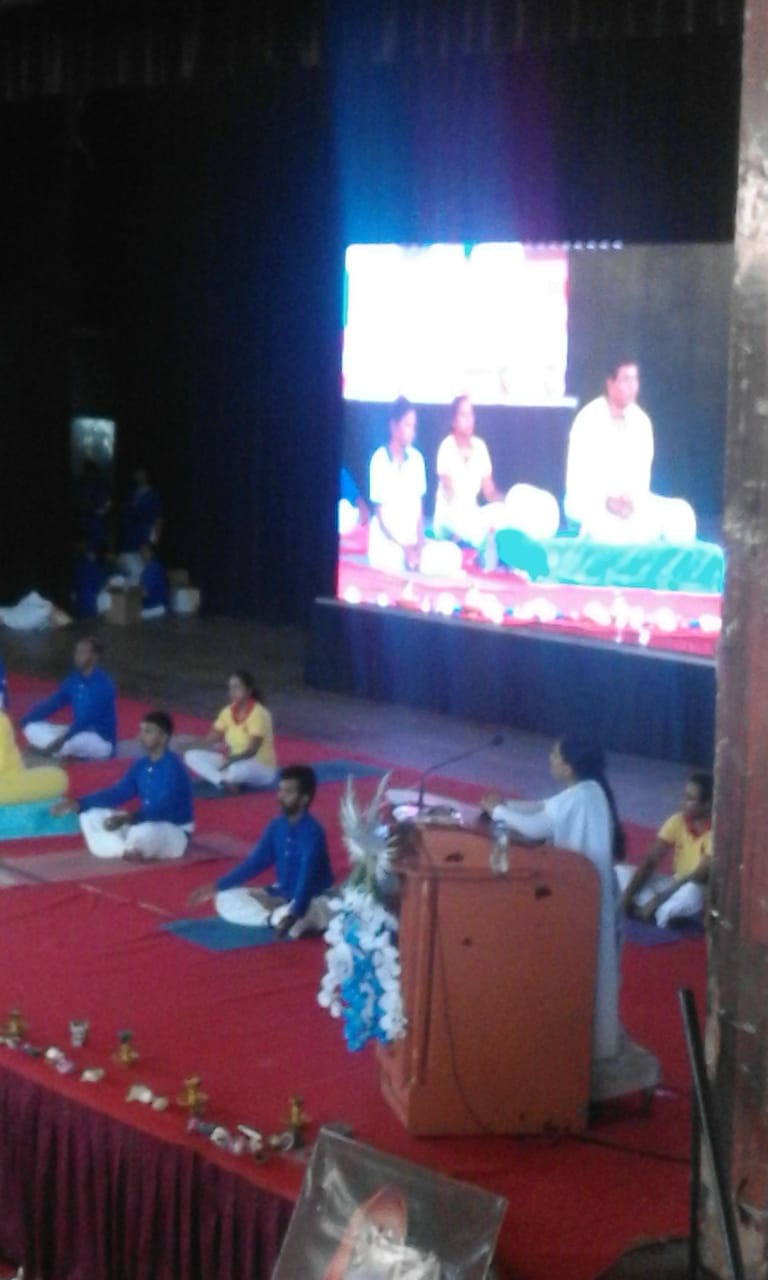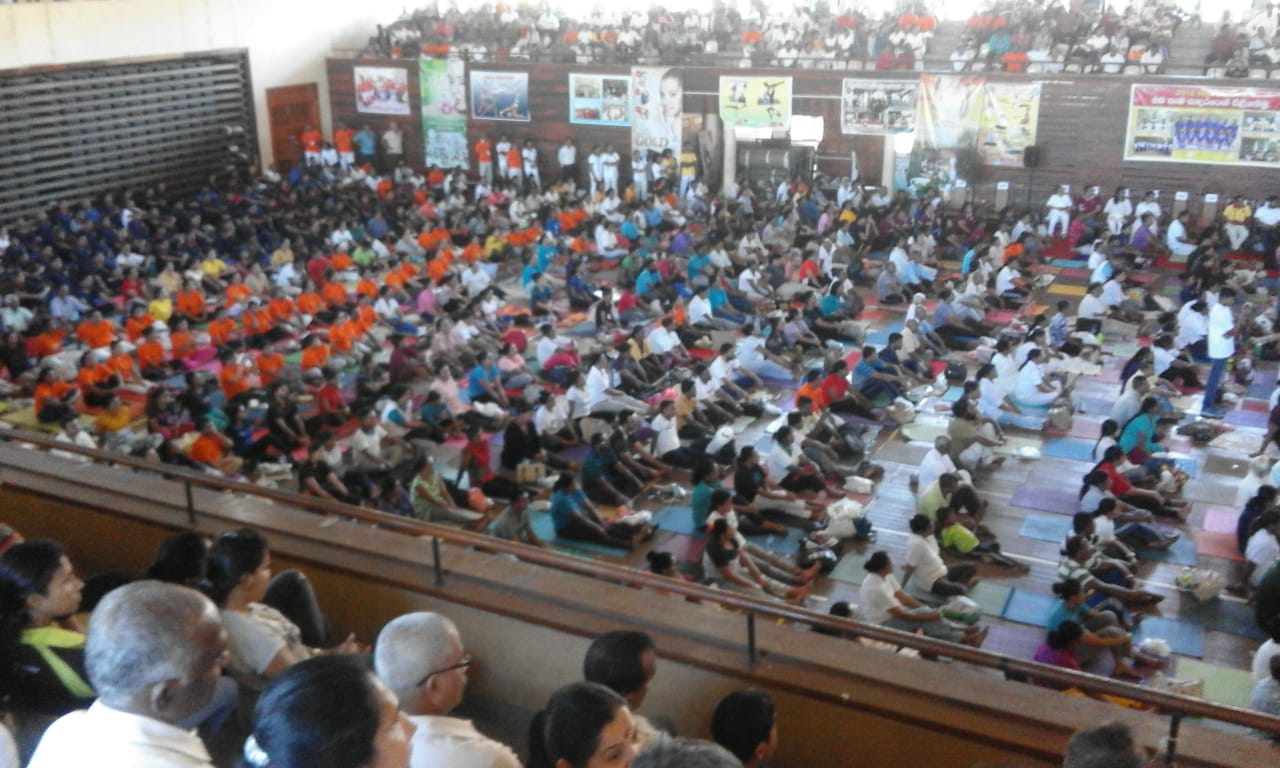 Sr Judy Johnson Visits Thailand, 15-25 October 2018
15 December 2018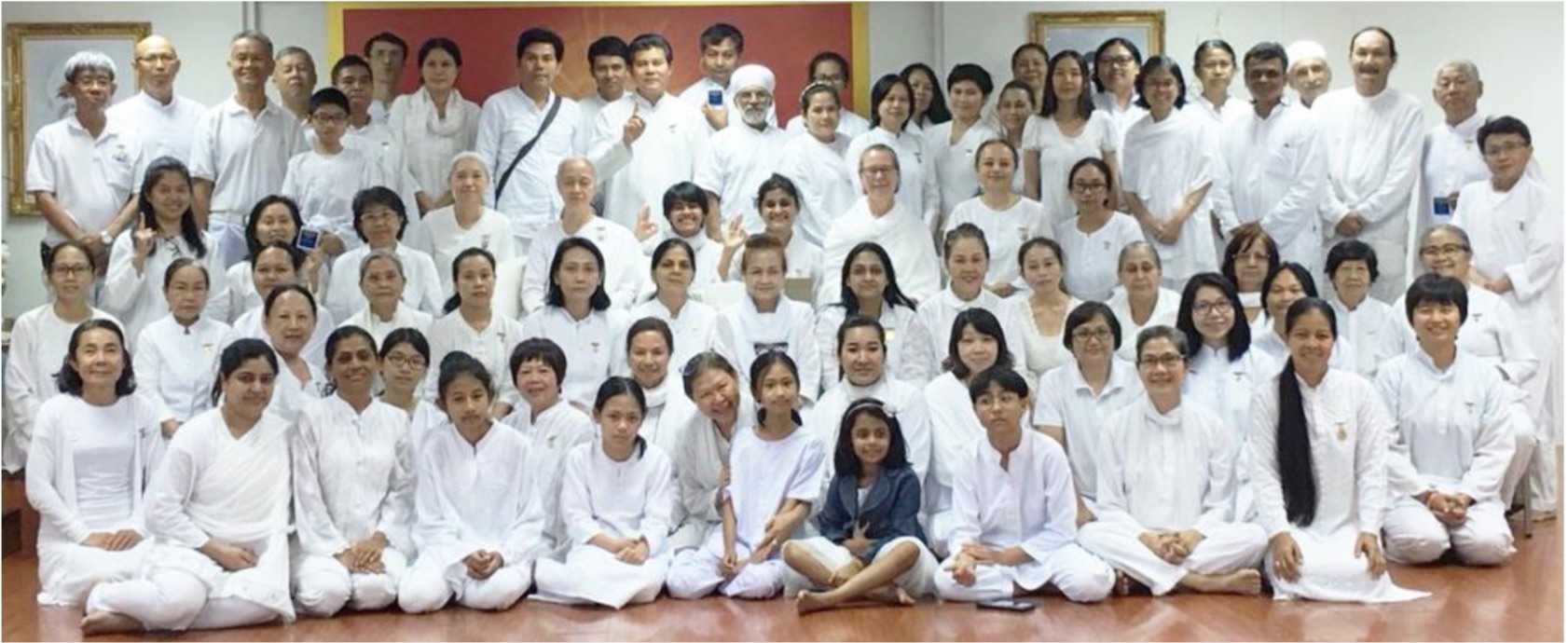 From Madhuban, Mt.Abu, Sister Judy flew directly to Thailand to spend time with the family engaging hearts and souls in sharing the Arts of living practically.
Beautiful experience was shared in English from two programmes, beside deep impact expressed in Thai for full Thai service news.
17 October, 18, The work-shop on "Engaging Hearts and Minds" by Sr. Judy Johnson at Aditya Birla Chemicals (Thailand) Limited, Samrong was well received and appreciated by all audience. About 30 officers from middle & senior management team (mix of Thai & other nationalities) of the company attended the program. CEO of the company also attends the program.
It was not just a lecture but mix of presentation, exercise and meditation which made it very interesting. She beautifully explained why in current world of chaos & complexity, engaging hearts and minds of people is very important for leaders. Current engagement in corporates is at IQ & EQ level mainly and why this need to be extended at SQ level. It is very important to discover core to increase productivity of the people. All people heartily participated in the exercise of story-telling and reflection process and understood relevance for leadership. The program ended with meditation in very creative way. People were touched by blessing cards they received with powerful vibrations from Sr. La. On the whole it was an excellent program appreciated by the team including CEO. (Br.Kailash).... click here for detailed report with photos.

Special Program 'In Other Worlds' held at the Museum of World Religions in Taiwan on 4th November
16 November 2018
It was with delight that we came to know from Brother Kim Cunio, a BK of nearly 30 years, that he had been invited to judge the music scores for the International Animation Festival in Taipei. Dr Cunio is Associate Professor at the Department of Music at the Australian National University in Canberra. He also specialises in spiritual music from all traditions.
The program, 'In Other Worlds', was held at the atmospheric Museum of World Religions on Sunday afternoon on 4th November. Although the audience was small and many of Kim's instruments had been damaged in the flight, the program was extremely successful.
Previously Kim had researched how to run a Laptop Orchestra and was able to do the concert using his laptop! With his amazing voice, a laptop and a few little instruments, Kim created a magical atmosphere with everyone participating. His son Samarai delighted everyone with his tabla playing, showing the audience the art behind it.
The program was concluded with guided meditation from Sister Morni, as well as an interactive discussion between Kim, Morni and the fabulous bilingual MC, Jane Lewis. By the end of the meditation everyone floated 'in other worlds', and a new type of service was shown in Taiwan.
BK Sister Morni
BK Spiritual Study Center, Taipei, Taiwan

Happy Diwali Greetings from the Indonesia family
9 November 2018

UN International Day of Peace Celebrated in Sydney
11 October 2018
Sr. Margaret Parker represented the Brahma Kumaris at an Interfaith Prayer Service at the Uniting Church in Parramatta on Friday 21 September to mark the United Nations International Day of Peace. The Uniting Church pastor, Rev. Dr. Manas Ghosh has been conducting this Interfaith service for the past fifteen years. The service started with the lighting of the Peace Candle by Dr Zeny Edwards from the UN Association of Australia while the congregation recited the international prayer for peace. This year, the Armenian Apostolic Church, the Coptic Orthodox and the Sufis joined for the first time. After the prayers, there was an address from the Moderator of the Uniting Church, Rev. Simon Hansford, followed by the lighting of the candles by each member of the congregation. Along with Sr. Margaret, Sr. Vijaya Padayachy, Bharat bhai, Br. Graham Mooney, Br. Josh and Sr. Ranjula attended.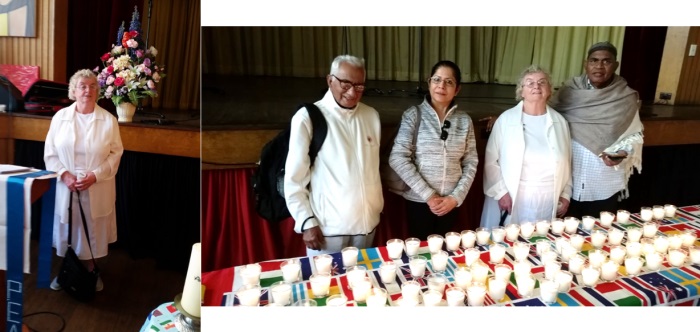 Another Interfaith Prayer Service on Friday September 21 was attended by BK Helen Chapman at the Lindfield Uniting Church, in northern Sydney. About 120 people were present when the service started at 11.00 am. Twelve representatives from different faiths were present to participate in the leading of a prayer or reading of their particular faith. Helen presented a meditation for peace.
The service started by the payment of respect to the Elders and Leaders of the Kuringgai and Terramerragal peoples whose care, respect for and connection to this land has been nurtured for countless generations. This was followed by the lighting of the Peace Candle by a local high school student. A lovely touch to the service were 12 local primary school children who each read a short, thoughtful description of their hope for our world. Concluding the service another high school student rang the peace bell 12 times, then all present were asked by the Presider: Rev. Mary Pearson, to come forward and light a peace candle representing the light within each of us. A final prayer and delightful refreshments were ready for all to enjoy while meeting and greeting each other.
On Sat 22 Sep, Sr Priti, Br Dan and Bharatbhai from Five Dock, attended the World Inner Peace Celebration. Along with representatives of many other faiths, BK Sr Priti spoke briefly on inner peace, introduced the BKs and gave a meditation commentary for the audience of about 200. There was also an exhibition outside the Prymont Theatre Foyer about loving kindness, compassion, inner peace and sustainable development goals (SDGs) where BKs also had a table to give out pamphlets.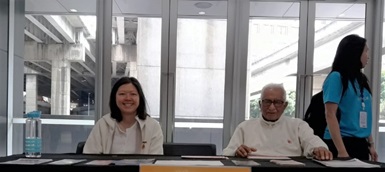 Below is the flyer for the World Inner Peace Celebration. This was the second year BKs had been invited to participate this event.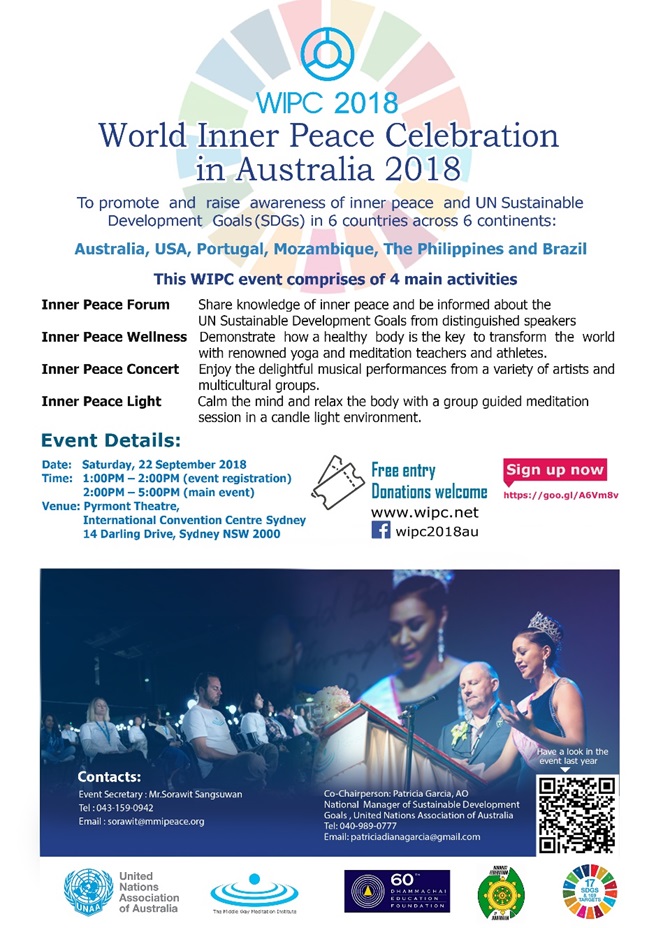 2018 International Day of Youth - Service News from Bali, Indonesia
15 September 2018
2018 International Day of Youth was celebrated in Bali Indonesia with a workshop by the Youth wing of the Brahma Kumaris. The 78 Youth included those from the Brahma Kumaris Youth group, Campuhan College students, Bumi Sehat Youth Centre students and Rotaract Bali-Ubud members. The two-hour theme for the workshop was Fortune of the Future: From Waste to Best where youths were asked to recognize their specialties so that they can use them in worthwhile way and as an agent of change that brings benefit to themselves and others.
Sister Mona
Coordinator Ubud Centre Bali - Indonesia
See additional photos @ www.brahmakumaris.id/index.php?page=eventsubudinternationaldayofyouth

Sister Shivani in Perth, Australia!
9 September 2018
Om Shanti, Greetings of love from Perth, Australia.
Baba's instrument, Shivaniben visited Perth, Australia from 7th to 9th August as part of her 'Awakening' Australia Tour.
We have compiled the attached report with a lot of bhavana to express the wonders that Baba has done through His children. It has been a golden opportunity in Drama.
Thank you Baba, Drama and meethe parivaar.
In Baba's sweet yaad
Sapna Ruparelia
Service Representative of WA
Download report here.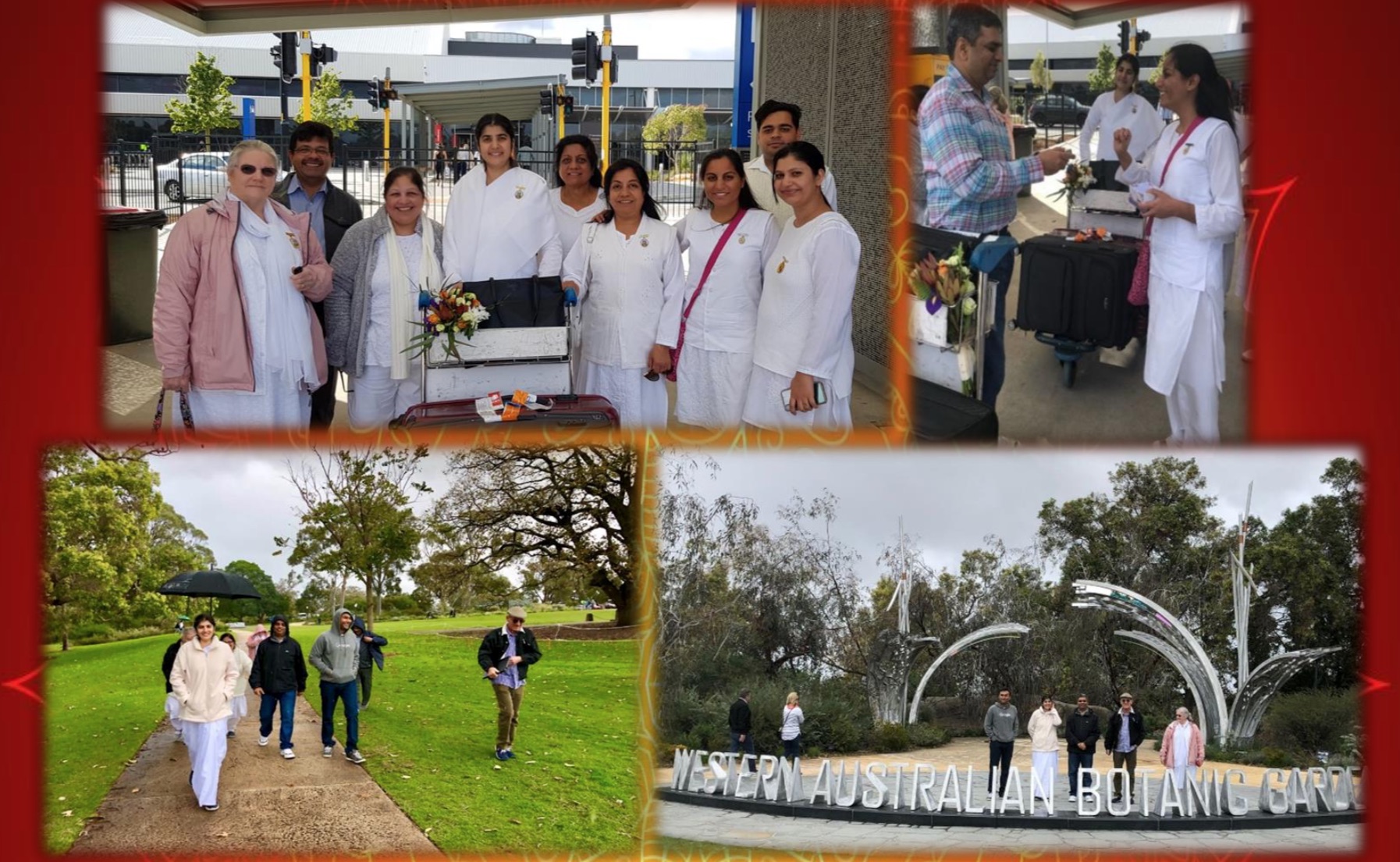 2014 Asia Pacific News Archive
2013 Asia Pacific News Archive