2014 Asia Pacific News Archive
2014 Asia Pacific News Archive
Sister Rajni's visit to Australia, 20 Nov to 3 Dec, 2014
23 December 2014
Sister Rajni, coordinator of BKs in the Philippines and Japan, visited Australia from 20 Nov to 3 Dec, 2014, accompanied by Sr Erlinda (Linda) from the Philippines.
The day they arrived in Sydney Sr Rajni gave a public talk in the southern suburb of Penshurst on "Living with Myself". It was well received and became very interactive with Q&A after the talk.
Then, travelling to the western suburbs, the next night she gave a class in the Hindi language at Toongabbie, and a morning class and workshop in Blacktown on Saturday morning. Topics were "How to finish negativity and taking sorrow from my mistakes and the mistakes of Others" and "How to change Negative into Positive".
Sr Rajni visited the Blue Mountains retreat centre at Leura where she took one of the sessions in a weekend retreat. Originally her program was to start in Leura but due to delayed travel arrangements she had to make it a quick visit on Saturday afternoon.
On Sunday morning she met the bigger BK group for morning class in Sydney then went to Wilton retreat centre later in the day for dinner and an informal get together with BKs from the retreat centre and nearby Wollongong.
On Monday she went by road to the national capital Canberra where she gave two talks back-to-back. The first was at the centre on "The art of Forgiveness" and the second at the Vishnu Shiva Mandir on "Love for One and attainment from the One".
From Tuesday 25 Nov Sr Rajni spent the last week of her visit in Melbourne, touring the different centres at Sunshine West, Fitzroy and Mill Park. She gave talks on topics including "Spiritual Solutions for daily Life" and "Discover your true Self".
The last weekend, 28-30 Nov, there was a national retreat for Hindi speaking BKs at the Peninsula Retreat Centre, Frankston South. The retreat was the main reason for her visit and had been in the planning for many months.More than 60 adults and 14 children attended, including 16 interstate guests. Participants were refreshed and spiritually nourished by sister Rajni's wisdom. She presented sessions in a relaxed and simple way that was well received by everyone. Sr Jacqui, coordinator of the retreat centre, together with all the helpers, provided warm hospitality and organized a separate retreat for the children.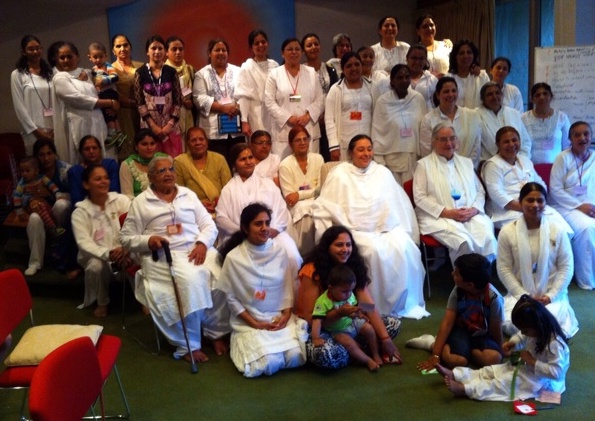 News from the Biodiversity Conference Korea Week 2
20 October 2014
The 12th Conference of the Parties to the Convention on Biological Diversity, Pyeongchang, Korea
Report week 2, 12th -17th October 2014
Read more: www.environment.brahmakumaris.org
Pdf report with Pictures, see this link: Click Here
Over the weekend the conference closed, so after a busy first week the Brahma Kumaris delegation had a day by the beach, including some meditation for the elements.
Sonja Ohlsson, Denmark and Piero Musini, Italy joined the team for the second week. They had particularly come to do the Brahma Kumaris presentations at the CEPA fair and an UN side event.
Two presentations: presentations by the Brahma Kumaris and Lotus World:
Living in Harmony with Nature – CEPA Fair
The Power of Human Awareness in Safeguarding Biodiversity -UN side event
These presentations were by Sonja Ohlsson, the international coordinator of Brahma Kumaris Environment Initiative, Piero Musini, a Brahma Kumaris farmer practising sustainable yogic agriculture in Italy and Min Junghee, the director of general affairs of Lotus World, a Korean NGO doing international conservation work. Dr Andrea Gutierrez, senior researcher in Biofuels in Finland moderated the discussion.

Raksha Bandhan at Holy Tree Balasubramaniam Temple on 16 August 2014 - Singapore
26 September 2014
The Brahma Kumaris (BK) Raja Yoga Centre in Singapore, jointly with the Holy Tree Balasubramaniam Temple, celebrated Raksha Bandhan on 16 August 2014. Senior Sisters Bhavana Behn, Director of BK New Zealand and Bharati Behn tied rakhis to some 314 devotees. Throngs of devotees waited in an orderly manner to have their rakhis tied. The contented faces of the devotees who left the temple hall vouched for the impact of the ceremony.
On 17 Aug the BKs enjoyed a double celebration of Raksha Bandhan & Krishna Janmashtami with Sr Bhavana. Her ebullient nature very special gift of sharing various anecdotes made the occasion a truly festive one!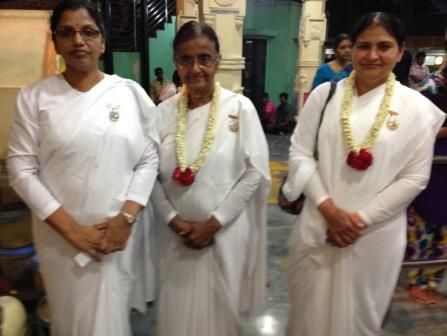 News Report on Children Class and Teachers Retreat in Japan, August - September 2014
25 September 2014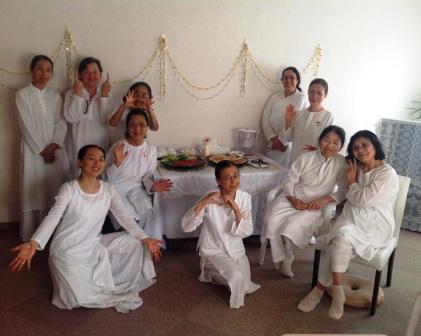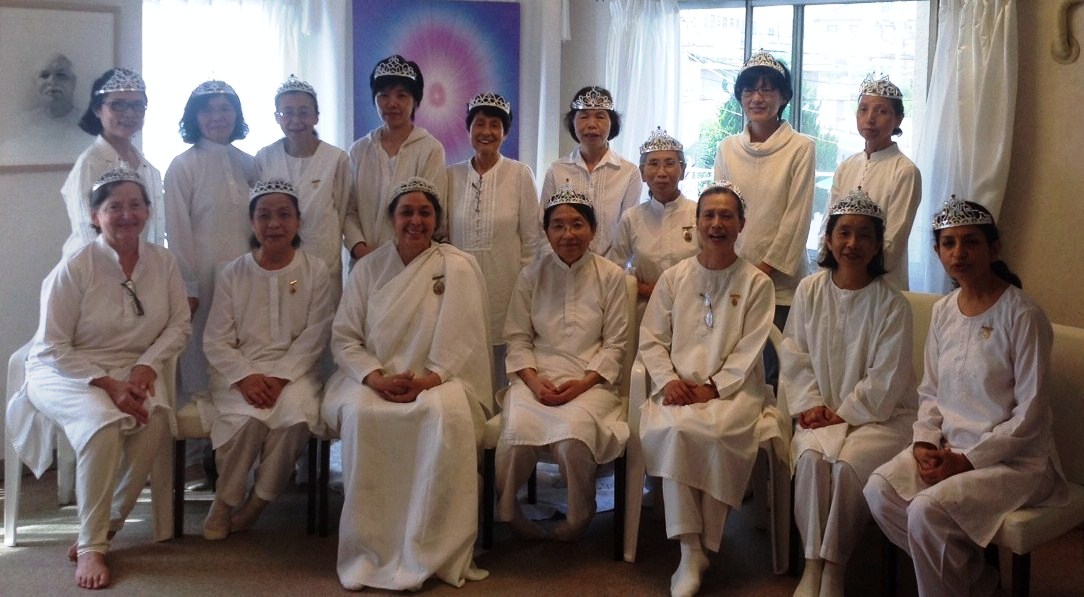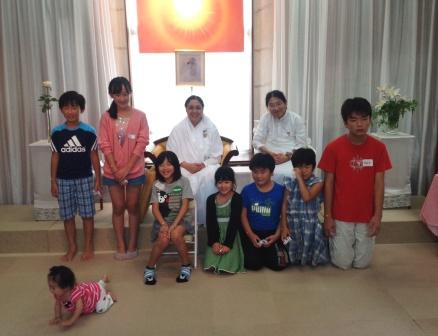 Click here for detailed report.

Philippine Daily Inquirer publishes an article about the BKs entitled "Rajasthan: Where the chatter in your mind stops"
24 September 2014
written by Marge C. Enriquez and published on Saturday, 20 September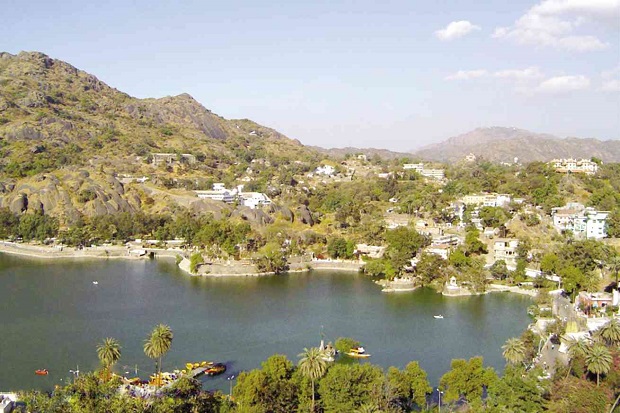 ONCE revered as sacred,Nakki Lake in the hill station of Mount Abu offers tourist facilities such as boat and horse rides. There are temples that surround it that lend the holy atmosphere.
Every time I come from a holiday in Mount Abu in Rajasthan, India, people can't explain the "well-rested look" that isn't attributed to cosmetic science.
We all need some breathing space in our lives, more so, in our minds. I always hie off to Madhuban ("forest of honey" in Hindi), a sanctuary for the soul.
Much has been written about the conventional tourist cities in Rajasthan, such as Udaipur, Jaipur and Jodhpur, and their glorious heritage. Under the radar for now, Mount Abu has its charms; it has cool weather, blue skies and mysticism.
According to legend, Mount Abu's sacred vibes have lured sages to contemplate inside its caves.
During the British empire, rajahs astride elephants, royal servants and soldiers in tow, would escape the blistering summers in the lowlands and enjoy Abu, the only hill station in Rajasthan.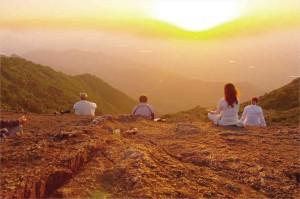 WATCHING the sunset on the cliff of a amystical mountain.
In Guru Shikhar, the highest peak in Mount Abu, you would get a bigger picture of Rajasthan as a rock-strewn, severe and tawny-colored land.
The state is split by the Aravallis, a range of bleak, jagged mountains that separates the parched desert and gritty uplands of the northwest from the abundant southeast part.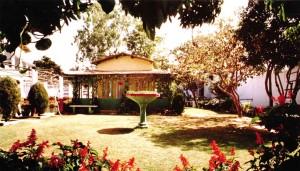 Madhuban lends itself to little spaces for reflection.
Yet, it is the austere terrain of the north that lends the most striking backdrop for ancient marble temples and palaces, red chillies drying under the sun, a band of monkeys ready to prey on tourists' foods, or a gaggle of long-necked ethnic women clad in flashy saris gracefully balancing brass pots of water or bundles of firewood on their heads.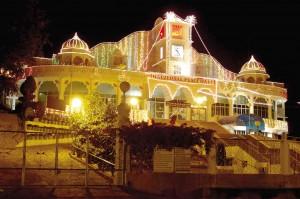 OMSHANTI Bhavan, Brahma Kumari's auditorium, is amajor tourist attraction where people end up donating their bad habits.
Temples and holy caves are Mount Abu's major attractions. Built in the 11th century, the Dilwara Jain temple leaves one in awe of its perfection. Interlacing networks of deities and floral patterns are exquisitely carved in detail on the domed ceilings, columns, doorways and walls.
Erected on a high plateau, Achalgarh Fort, built in the 15th century, rises from the rocky barren hills that serve as protection against hostile enemies. Its looming granite walls look as if they emerged from the earth. The vantage point overlooks an arid desert broken up by patches of scrub vegetation. The sight is made more visceral as the wind provides a background chant.
The fort is surrounded by ruins and a temple of the sacred bull called Nandi, who was the vehicle of Lord Shiva in mythology.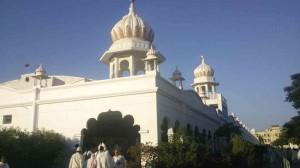 THE CHATTRI, the elevated dome pavilions on Diamond Hall in the Brahma Kumaris complex, characterizes Rajasthani architecture.
The more adventurous travelers visit the temple of Gaumukh which means "mouth of the sacred cow." Descending 700 steps—which is nothing compared to other temples which have over 1,000 steps—you will see the marble statue of Nandi and holy water sprouting from its mouth.
Depending on the time of day, Nakki Lake exudes romance. In the early morning, the silence is interrupted by the quacking of ducks, the ringing of temple bells and a haunting chant from the priests.
Toad Rock, a frog-shaped formation and the heritage hotel Jaipur Palace, both rise from the lake's perimeter, their images reflected on the still waters.
THE ICONIC Tower of Peace in Madhuban is said to be the most energy-packed place on earth.
Major tourist attraction
During the day, the road around the lake is a burst of color, lined with bougainvilleas in intense yellow, orange, fuchsia, crimson complemented by softer tones of lavender and white.
The Brahma Kumaris complex is a major tourist attraction. It is a learning centerfor values, and in the bigger picture, a nongovernment organization affiliated with the United Nations.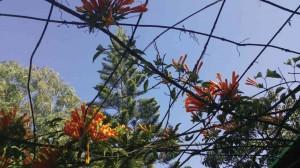 FLOWERS and trees with Mount Abu's perennially blue skies as backdrop
Every afternoon, legions of tourists visit Brahma Kumaris' Om Shanti Bhavan, the pristine white auditorium with elevated dome-shaped pavilions. Tourists are overwhelmed by the atmosphere of purity and meditation so that many of them leave the place pledging to give up smoking, drinking and eating meat.
In Madhuban is the original Brahma Kumaris headquarters, where its visionary founder, Dada Lekhraj, once treaded.
When he turned 60 in 1936, Lekhraj, a renowned diamond merchant, had a series of visions. He saw the Supreme Being as a point of light that foretold world cataclysm followed by a Utopia where nature and man lived in harmony. He would become known as Prajapita Brahma ("Father of Humanity"), and would establish Brahma Kumaris World Spiritual University in 1937.
One of the university's main precepts is that man's original nature is positive and pure. All teachings are aimed at restoring these qualities and exemplifying the attendant values.
Pandav Bhavan, the oldest campus of the BKWSU, feels more like home. It is the paragon of the institution's teachings. Foreigners and locals take time off from work for a few days' visit, attend classes and workshops, and also seek personal guidance.
Silent walks are part of the daily routine. There are no gurus there, just mentors or life coaches who have been meditating and teaching from 50 to 78 years.
One of the university's tenets is not to preach but to melt people's hearts with love and respect.
In October and November, the institution hosts Peace of Mind retreats for professionals who want to share their ideals. For three decades, the Philippines was represented by Celia Diaz Laurel, former Cabinet member Jose Antonio Gonzalez, the late advertising executive Bobby Caballero, comedienne Tessie Tomas, and author Nelson Navarro, who immersed themselves in its culture.
Before dawn, a chai wallah, or one whose duty is to prepare tea, rolls in the trolley filled with urns of hot tea.
The silence is interrupted by a song: "Hour of nectar/ the air is pure/ awaken, my beloved."
Shortly, people swathed in thick white shawls walk to the meditation halls to be empowered for the day. They then welcome the day with hot chai.
The chai wallah pours three ladles of fresh cow's milk into a pan and heats it up. He adds masala, a sprinkle of sugar crystals, fresh ground ginger and, finally, a tablespoon of black tea and brings the brew to a boil. He then strains the chai into a stainless steel glass and serves with a smile.
Discourse
There is a general discourse in the morning class on such topics as confronting the challenges in relationships or improving one's thinking patterns. The students keep nuggets of wisdom in their minds.
Customarily, after class, a piece of confection or fresh fruit is given to each student as he or she leaves the hall, to remind him or her of the sweetness of his/her nature.
Breakfast is freshly-baked bread, carrot jam, steaming potato soup or rice porridge, and a salad of sprouts, sweet tomatoes, cucumber and cilantro.
A Sunday breakfast is either idli, fermented rice cake, or dosa, fermented eggless crepes with spicy potatoes, chilli and cilantro and mint chutney.
Lunch is mixed dhal or bean soup, subji or a vegetable dish, flatbread, vegetarian koffta balls, paneer (cottage cheese) with spinach or green peas, and boiled vegetables for people who don't like spices and oil.
Dinner is light—either curry soup, khichdi or comfort food made of rice and lentils, and a vegetable dish. Occasionally we'd have an Indian version of macaroni and pizza, everything made from scratch.
My free time is spent on walks to the mystical rock or to Sunset Point with like-minded friends to share meaningful conversations so unlike the banal exchanges back home. Some would shop at the government emporium where the prices of the Rajasthani crafts and fabrics are government-controlled.
In the late afternoon, the azure sky slowly becomes ablaze in burnished colors, heralding the end of the day.
Back in Madhuban, the spiritual travelers prepare to welcome an evening of reflection. The imperious marble Tower of Peace, said to be the most spiritually-charged icon on this earth, glistens in the dark.
They say that the endless chatter in their mind stops; they begin to understand the meaning of serenity. A few people sit in front of the tower to absorb its subtle vibrations and embark yet again on their inner journey.

News of Didi Nirmala's visit to SriLanka, 5 - 18th September
19 September 2014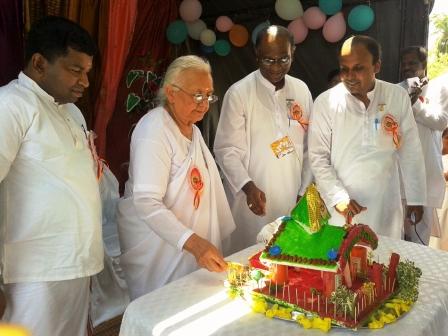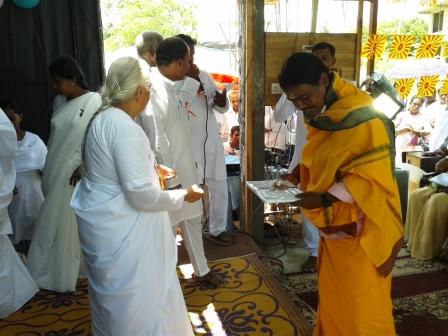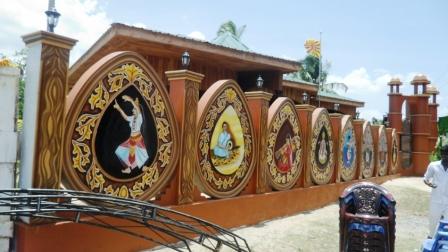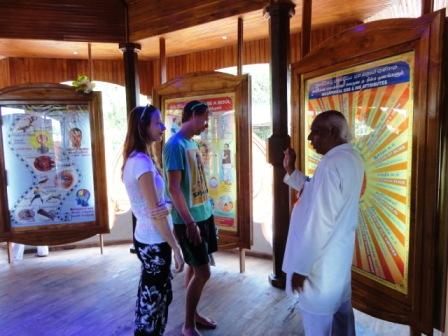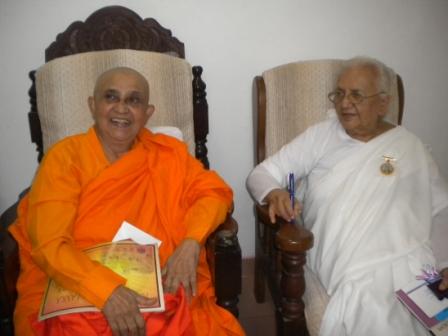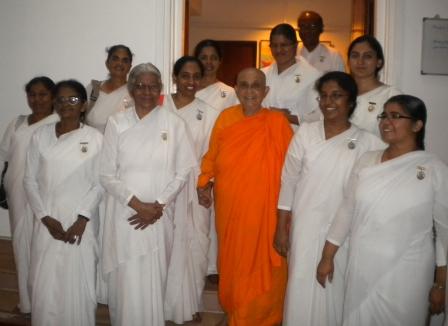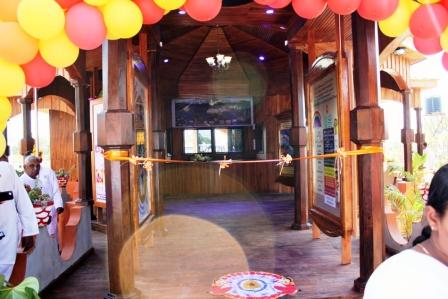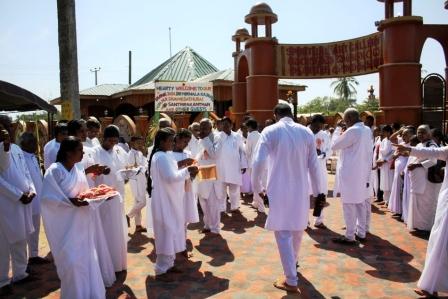 Click here for detailed report.
*****************************************************************************************************************
Rakhee Celebrations with Sister Jyothi at different locations in Sri Lanka
14 September 2014: Whilst travelling around Sri Lanka with Didi Nirmala, Sr Jyoti went to Nuwara Eliya for rakhi service.
Air Force and Army officers had their rakhi tied by Sr Jyoti at Pedro Mountain (Pidurutalagala), the tallest mountain in Sri Lanka at 8282 feet above sea level.
Service at Nuwara Eliya Municipal Council
Sr Jyoti tied rakhi to the Mayor of Nuwara Eliya, Municipal Council member Mr Mohamed Fallel, an Accountant and others at the Municipal Council.
Sr Jyoti visited Nuwara Eliya BK Centre and tied rakhi to many VIPs. Among them were the Director of the Nuwara Eliya Hospital, Consultants, Manager/Secretary of The Hill Club and the Grand Hotel Manager. Click here for detailed report.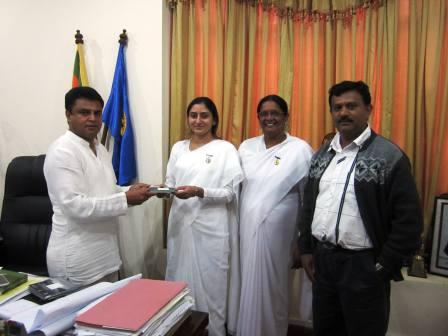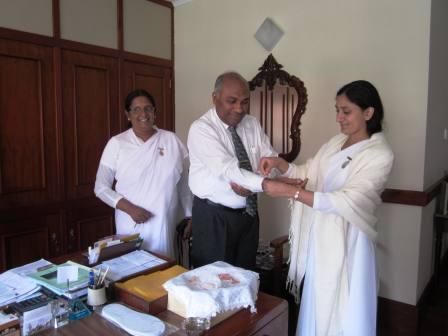 Didi Nirmala's visit to Indonesia, 15-24 August 2014
18 September 2014
Click here for detailed report and photos.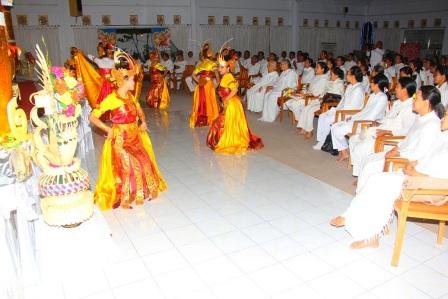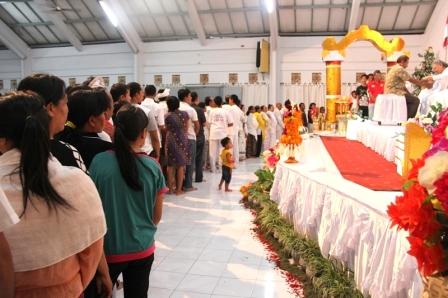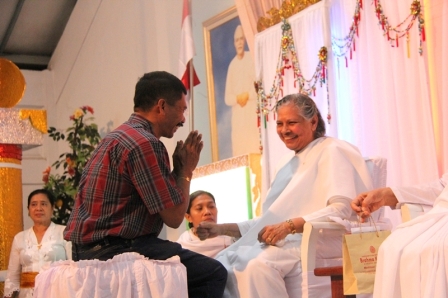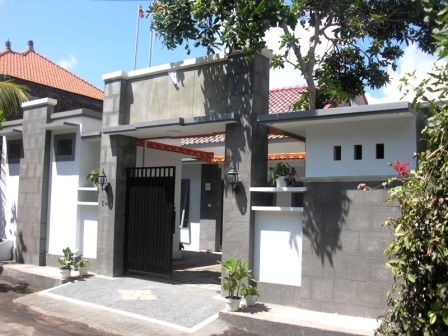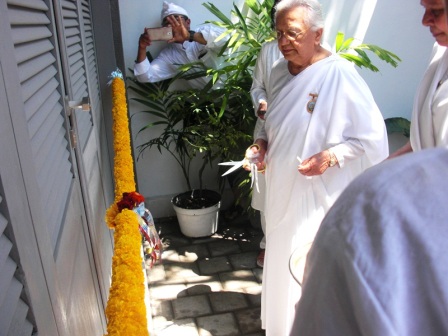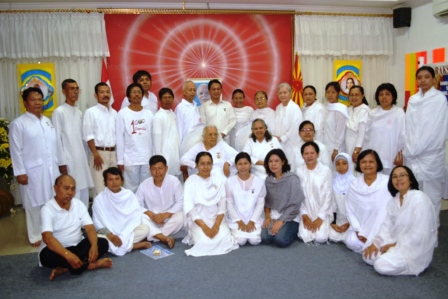 Celebration of Fathers' Day, 7 Sep. 2014, Nausori, Fiji
18 September 2014
Fathers' Day was celebrated at Nausori Centre, Fiji, on 7 September 2014 from 3.00–6.00pm. The function was attended by about 60 people including many prominent people from the community. A program was especially prepared for fathers. Items included songs, poems, drama, dances and talks. A fathers' role in their families and community was acknowledged and appreciated. Every fathers was given small gifts, blessing and sweets. A cake was also baked for the fathers. The function concluded with a delicious meal shared and enjoyed by everyone present. Click here for detailed report and photos.

News of Sister Shashi's Visit to Malaysia
18 September 2014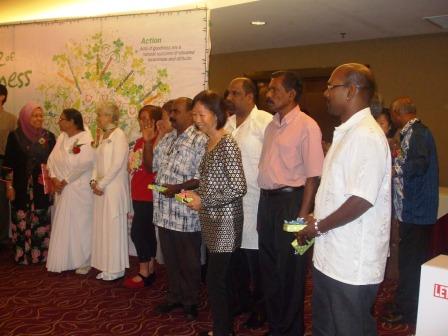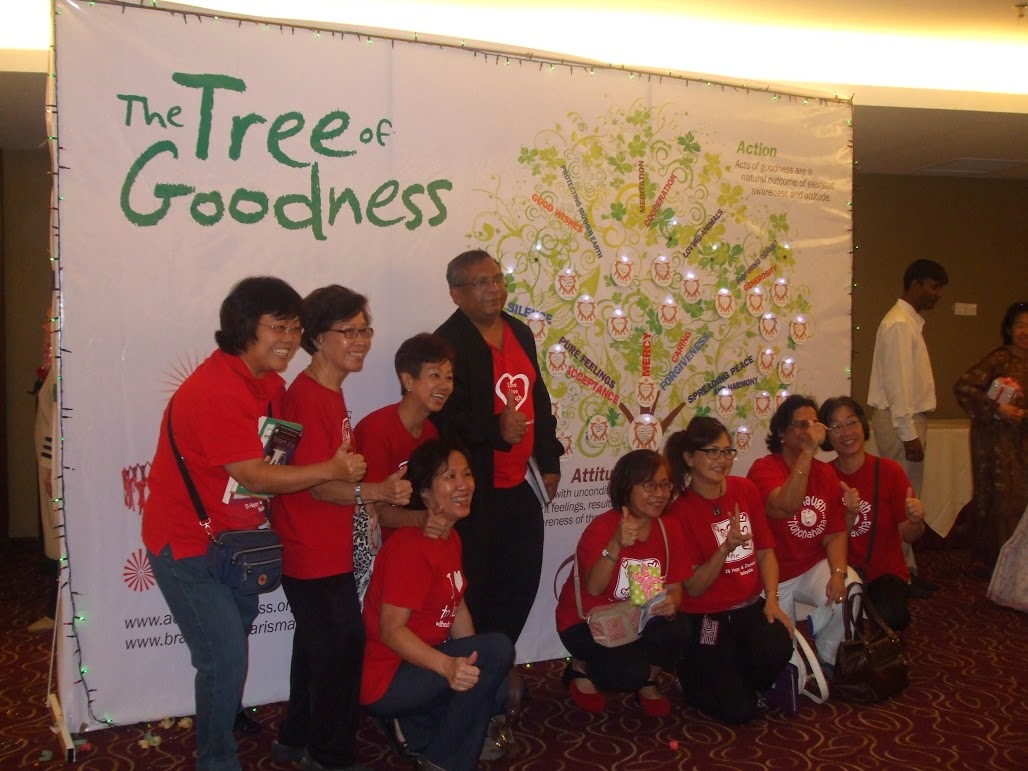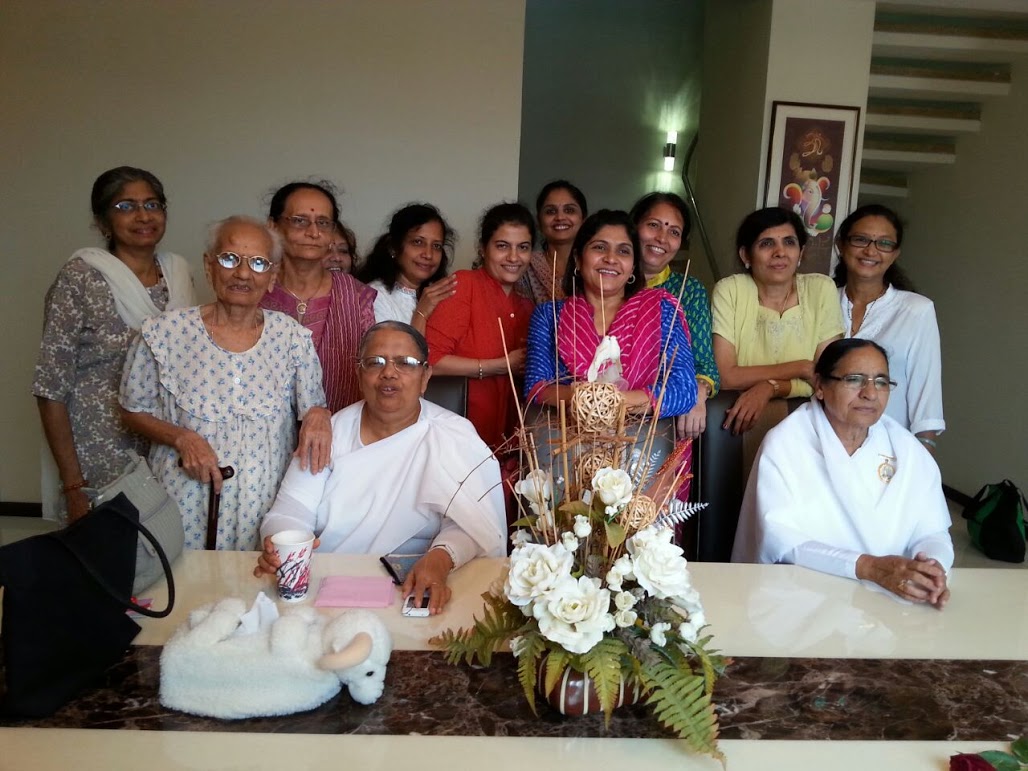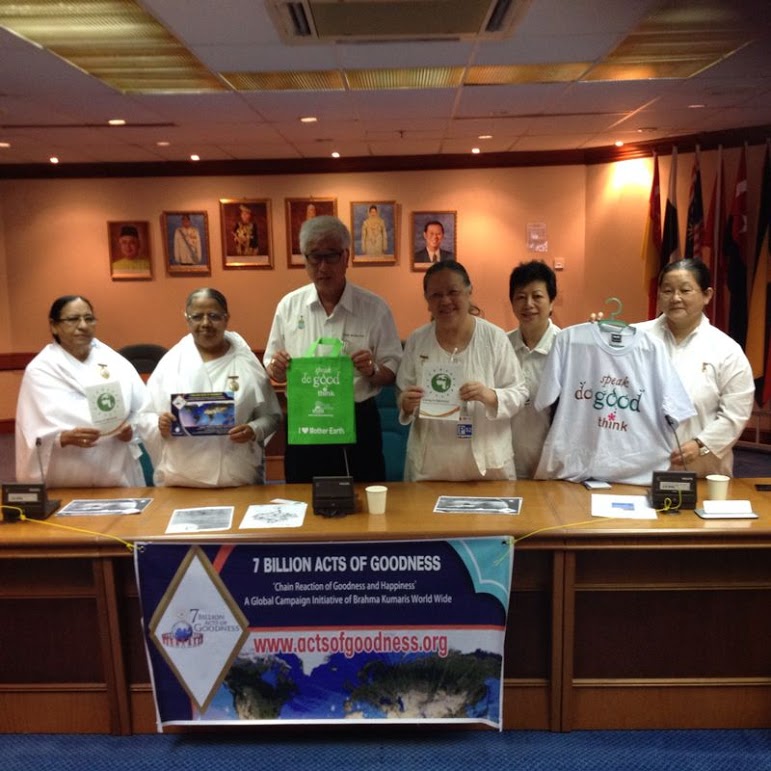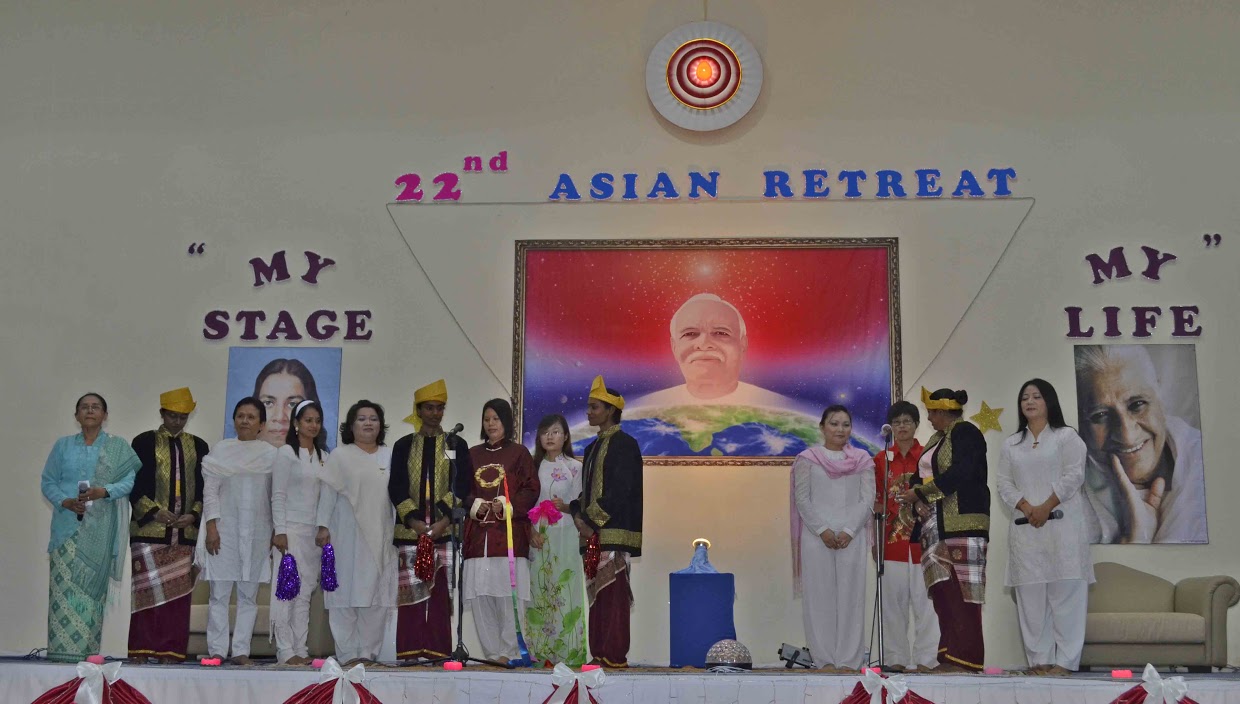 Malaysia had the fortune of having Sr Shashi from Madhuban visiting after 24 years. The highlights of her visit were; 1) 22nd Asian Retreat at the new Asia Retreat Centre (ARC), and 2) Launching of 7 Billion Acts of Goodness in Southern and Northern Region of Malaysia.
Sr Shashi arrived in Kuala Lumpur, Malaysia on 29 August 2014, warmly welcomed by the ARC residents. A beautiful, colourful, multicultural Grand Welcome program was held in the evening in Diamond Hall with the capacity of more than 1000 people. Brothers and sisters from all over Malaysia presented variety of cultural items showing the colours of Malaysia. Sr Shashi was welcomed on the stage with special decorations from Borneo in East Malaysia. She inaugurated the 22nd Asian Retreat by lighting 22 lotus candles with senior instruments. More than 500 BKs attended and enjoyed this welcome program. The theme of the retreat was "My Stage, My Life", in which a variety of programs were conducted by senior teachers. Click here for detailed report............

Sister Bhavana's Visit to Sri Lanka on the Occasion of Rakhi
18 September 2014
Click here for detailed report.....

News of Sister Sheilu's & Didi Nirmala's visits to Thailand, Rakshabandhan Celebration and more
18 September 2014
Sister Shielu had 'Rakhi celebration' with almost 300 students at 4 different centres. Her visit during 30 July till 7 August, started from Sukhumvit (Indian) family for 3 days, 2 days at Pinthu centre, one programme at New Lotus House, 2 days in Chiangmai and 2 days in Nonthaburi. Didi Nirmala visited from 11 to 13 August and inaugurated a new building in Pattani, tied rakhis and gave a public talk......click here for more news and photos

Sister Gayatri visits Australia - Photos and News Report
17 September 2014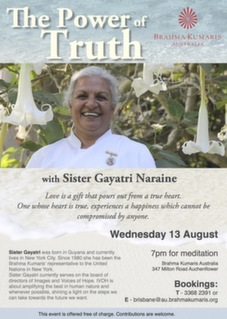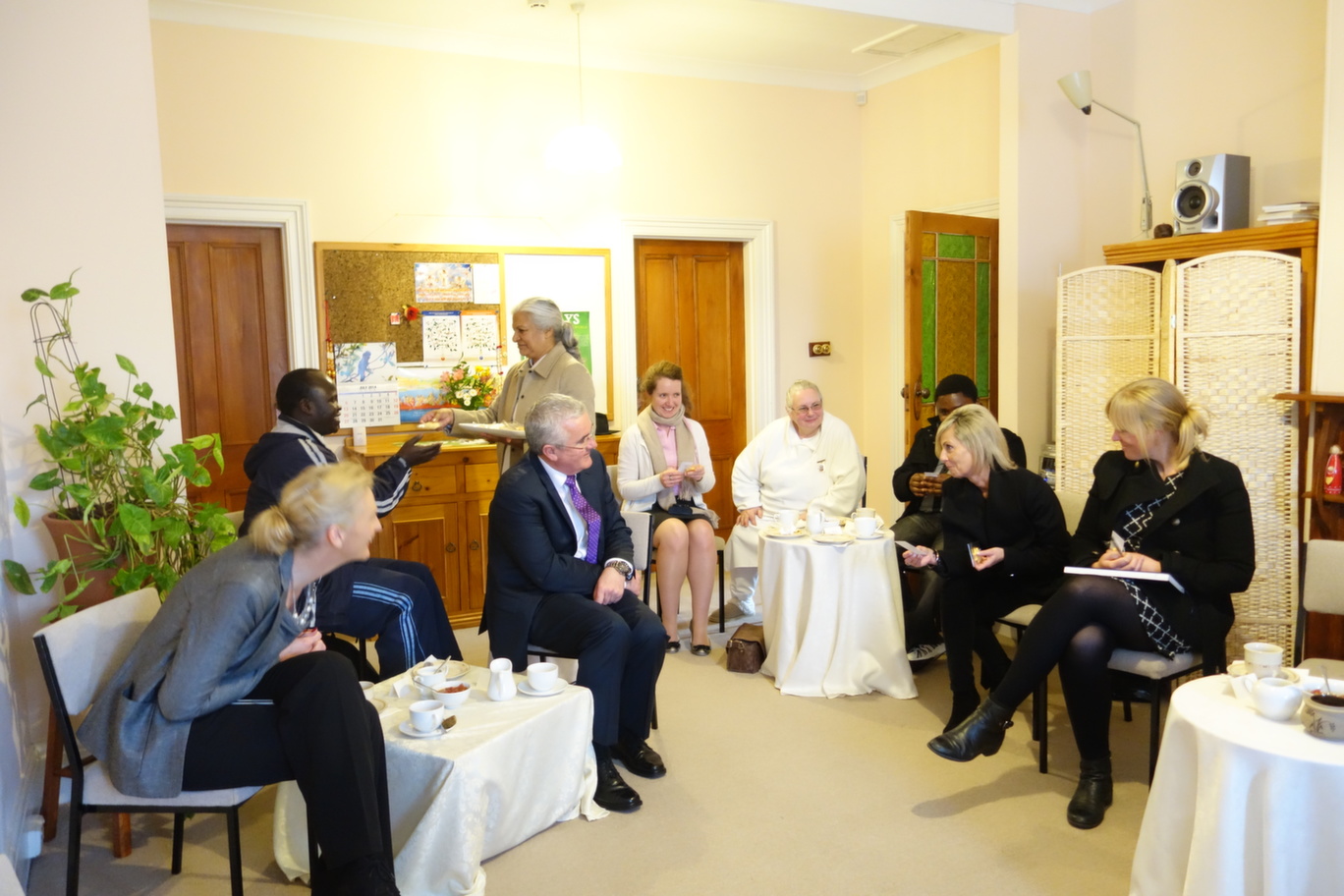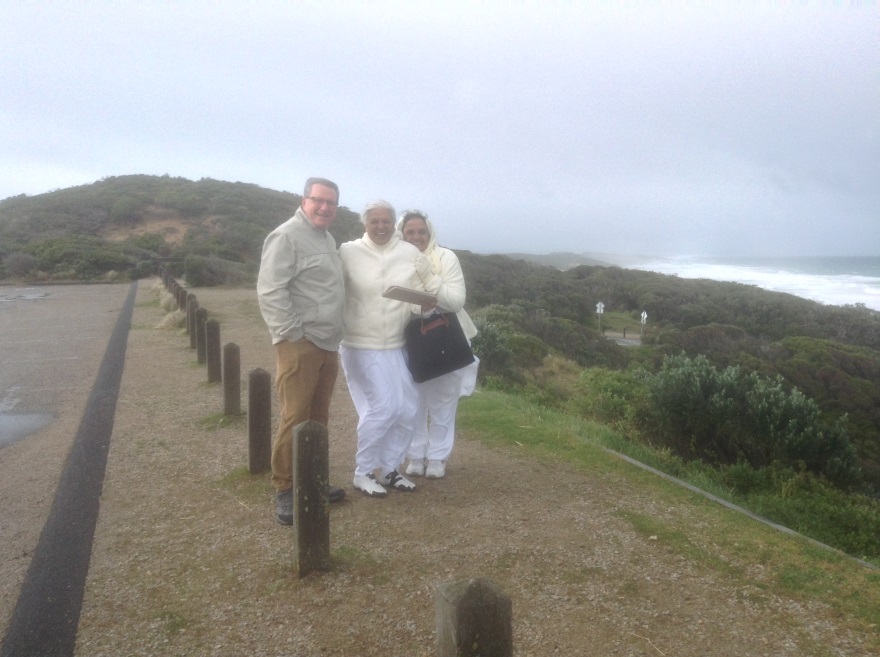 Click here for more photos and news.......

Sydney Class Location Celebrates 10 Year Anniversary
17 September 2014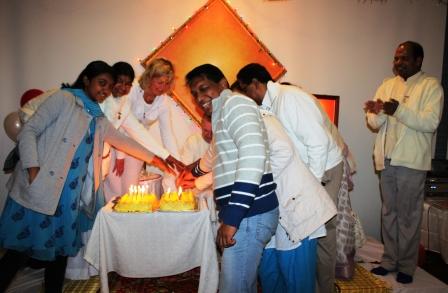 Click here for more report.......

Sr Bhavana's visit to Fiji in July
27 August 2014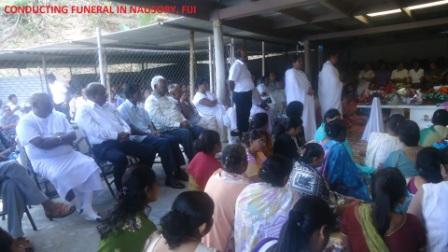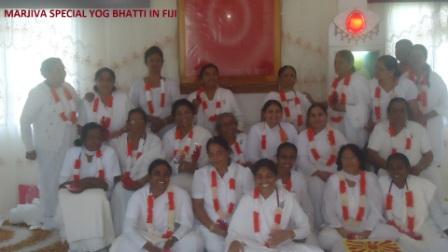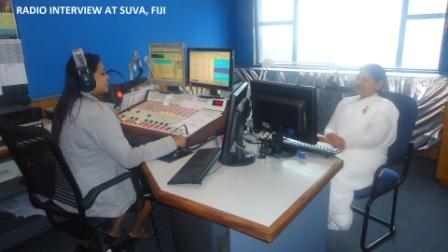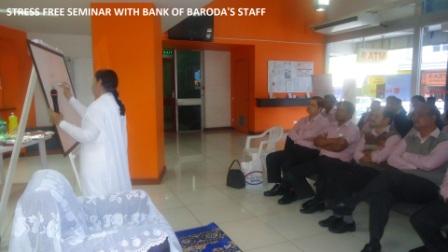 Dr Nirmala in the Phillippines, 20-29 July 2014
9 August 2014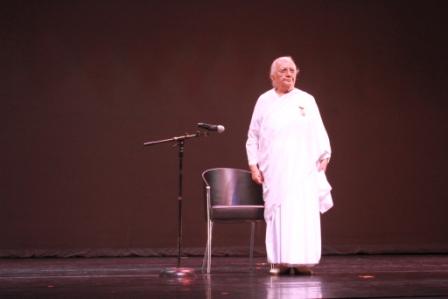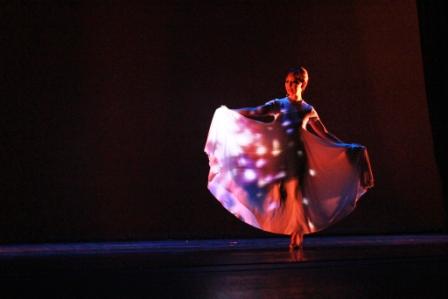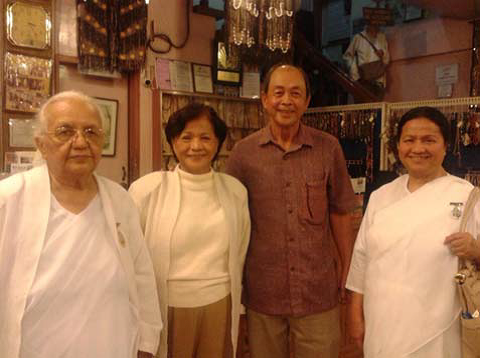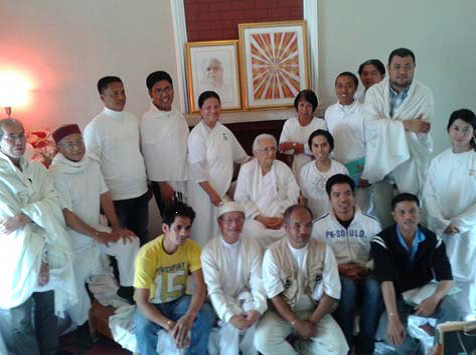 After a year of facing serious challenges as a country due to natural and human induced catastrophes, the Philippines recently benefitted from a ten day visit by Didi Nirmala, who toured provincial centres in the cities of Baguio, Manila, Davao, Tagum and Cebu from 20-29 July, 2014.
In Davao City, Didi Nirmala visited smaller class locations and tied rakhi to BK students. In Tagum, a city in southern Philippines, she celebrated the class' third anniversary with the BK gathering and guests. She gave a talk on "Meditation as a Medicine" for a group of doctors and nurses who took a lot of benefit.
In Cebu, there was a get together of VIPs and government officials. They met Didi Nirmala, had meditation and listened to a talk on "Stability". Didi also tied rakhi to the BK students there.
2004 was the last time Didi Nirmala visited the Baguio Centre. This visit, from 19-20 July, was filled with one day of service to VIPs and one day was a retreat and reunion with the Baguio BK family.
On Saturday 19 July Didi Nirmala gave a talk titled "The Heart of Well-Being" to an audience of 60 VIP guests who were leaders of various sectors of the city; education, medical, political, art and religion. The essence of Didi's talk was how well-being starts in the mind and how meditation empowers the mind to live a positive life and therefore ensures one's well-being. After a brief question and answer session guests were served with a light yet filling dinner.
The next day, Sunday 20 July, the Baguio BKs had the auspicious chance of celebrating Raksha Bandhan with Didi. The morning started with a class on how weaknesses can turn into strengths, followed by a welcome program. After a light breakfast, the Baguio family had their Rakhis tied. New students had a short class from Didi on the value of Rakhi and the blessings that come with a spiritual life. All students sat in blissful silence and gave their written pledges as they received their Rakhis.
It was a lovely reunion of Didi with the old and new students as the next part of the retreat was a Question and Answer session with Didi. Many questions ranged from Brahmin practices to questions about attending classes and receiving sustenance.
After lunch and personal meetings, Didi left for the Manila region and the National Retreat. Before leaving the city, Didi was able to pass by Narda's where the sub-centre, Inner Space, is housed. She tied Rahki to proprietors Wilson and Narda Capuyan.
Having Didi in the Baguio centre was an auspicious opportunity to harmonize personalities and create a service event that benefitted many. More importantly, it was a reminder and an affirmation of a loving and very personal connection with Didi, Madhuban and God.
On 21 July 2014, the Department of Education National Capital Region (DepEd NCR) Project SMILE (Serve with Meaning In Lifelong Education), in collaboration with Brahma Kumaris Philippine Foundation Inc., Quezon City, invited over 100 Superintendents, Assistant Superintendents and key Education Leaders in charge of 16 cities from Metro Manila, to "Happiness at the Workplace", A Caring Conversation with Dr Nirmala Kajaria.
Dr Luz S. Almeda (Regional Director, DepEd NCR) assisted by Dr Ponciano Menguito, (Asst. Regional Director NCR) warmly welcomed everyone by personally giving each one a long-stemmed white rose. Both leaders likewise offered bouquets of flowers to Didi, Sister Rajni Daulatram (Philippines and Japan Coordinator Brahma Kumaris) and Sen. Leticia Ramos Shahani (President Brahma Kumaris Philippines Foundation, Inc.) who gave the introduction of Dr Nirmala. Also present were Dr Corazon C. Rubio (Schools Division Superintendent, Manila), and Dr Serry C. Vargas (SPED Supervisor, DepEd Quezon City ) companions of Dr Almeda when she visited Mount Abu in India in February.
In her talk Didi pointed out how thoughts, attitude and perception of our work and co-workers create or destroy our happiness. She suggested staying positive and empowering the spiritual self via a closer connection with God. She explained to the mostly Christian crowd how we understand God as the Supreme Father of Christ, Buddha and all other religions, and that a connection can be stabilized by with Him by regular focused time in prayer or meditation.
Sister Rajni facilitated an experience of silence through meditation towards the program's end. Picture-taking and the traditional sweets properly capped the unique event. An interview with Dr Nirmala and Dr Almeda by the Educnews DepEd National paper for the 16 division followed after. A year-long program in partnership with Brahma Kumaris Philippines is foreseen as a fruit of this initiative.
Didi's Philippines visit culminated in a one and a half day national retreat held at the Centre for Spiritual Learning in Tagaytay City, with around 140 BKs experiencing "Being with the One" through classes and meditation. Songs and dances depicting happiness, contentment and gratitude welcomed the retreat.
Morning classes intersected with other classes given by Didi Nirmala who focused on the themes of purity, contentment and keeping our aim of being free from the influence of negativity. Practical points to check the remaining habits of body consciousness were outlined during one class, which had everyone reflecting deeply on their current stage. Subtle vices and their manifestations were also described in detail and enabled each one to realize the importance of constantly checking themselves.
Didi gave reminders of the aim that BKs should maintain, which is of being fully content and free from desires. "A life of spirituality", she said, "means being disinterested in the old world, practicing detachment from the body, simplicity and renunciation. By sharing the treasures that we have received we show spiritual love and acceptance to all. These include time, thoughts, words, money, breath, happiness, virtues and blessings. Sharing increases them and by giving happiness to others we will be happy".
Prior to the rakhi tying ceremony on the evening of 26 July, the Philippine family listened to a message from Dadi Janki who emphasized that "Through knowledge and yoga that I have been able to bring virtues into my practical life and do service." Dadi also said "don't think about what others are doing, we must keep a stable state of mind through silence and bring unity to the family."
Rakhi was tied amidst an atmosphere of sweet silence and love in the flower-bedecked hall after each one had written the promise they wanted to make on that auspicious day of God showering love and protection.
Question and answer sessions complemented the spiritual 'jewels' of understanding that participants took from the classes, providing an opportunity to further clarify points of various subjects. Everyone went home with renewed commitment, energy and plans of how to sustain and intensify efforts for self-progress.
Special Concert: Dancing in the Light
Greenbelt, Makati, Manila
400 people attended the program and Didi gave a talk on "Integrating Values in Life".
Marge Enriquez, artist, performed a multi-media dance based on Dadi Janki's book "Companion of God" on different values.
Happy 15th Birthday to Wilton Retreat Centre
20 July 2014

Asia Pacific Regional NC/CC Meeting and Inauguration of Asia Retreat Centre (ARC), Malaysia, 10-15 June 2014
15 July 2014
NC/CC ASIA PACIFIC RETREAT, 10-14 June 2014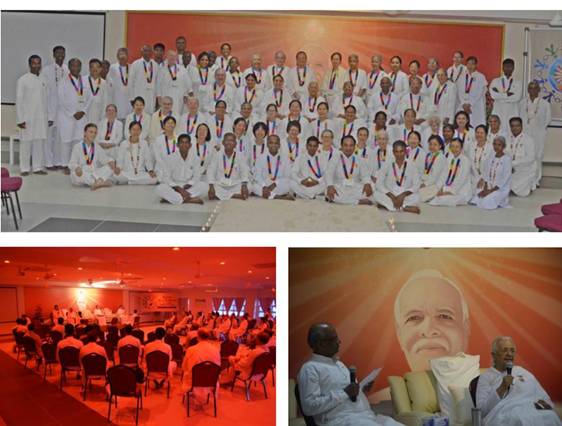 BKs from 14 countries of the Asia Pacific region participated in the National and Centre Coordinators' Retreat from 10 to 14 June 2014 at the new Asia Retreat Centre (ARC) near Kuala Lumpur international airport, Malaysia. There were around 64 participants for the retreat. ARC is source of great pride for the Malaysian BKs as it is the largest BK retreat centre outside of India. The theme of the five day retreat was Spirituality, Sustainability and Stability. The many 'special guests' at the retreat included Didi Dr Nirmala from India and Br Charlie from Australia.
The retreat covered various aspects from the 'Living Yagya' conversations, workshops, innovative service presentations, café conversations, open forum, open hearted conversations and administration sessions. Each day of the retreat carried a sub theme such as: Day 1 - Exploring the Subtlety of the Self; Day 2 - Sustaining the Self and Others; Day 3 - Asia Pacific Meeting (administration) and; Day 4 - Serving Through Stability.

INAUGURATION OF ASIA RETREAT CENTRE (ARC), MALAYSIA, 15 June 2014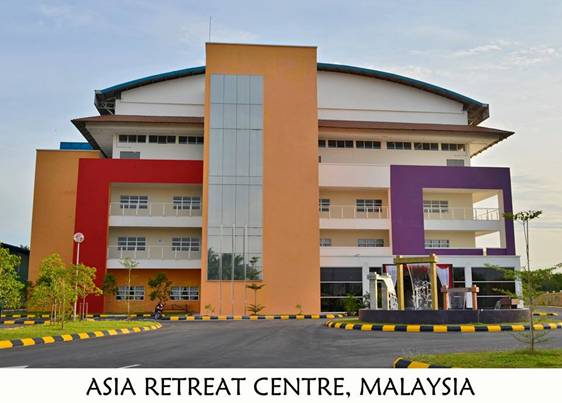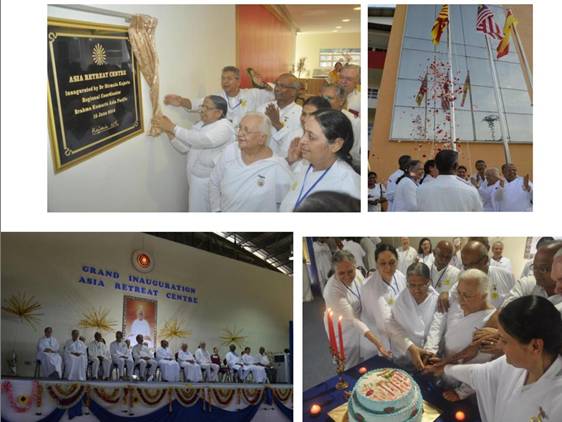 Sunday 15 June 2014 was a memorable and historical day for the BKs in Malaysia. Didi Dr. Nirmala inaugurated ARC in Dengkil, Selangor together with her hopes and blessings. The event also received recorded powerful messages from Dadi Jankiji & Dadi Gulzar which were played on large screens. The auspicious occasion was heralded by a lion dance followed by the traditional breaking of coconuts by Didi, Brother Charlie, Brother Letchu and Sister Meera. It was witnessed by around 700 Malaysian BKs, VIP guests, contact souls and the participants from 14 countries of the Asia Pacific NC/CC retreat. Representatives from each of the 14 countries gave their blessings and auspicious words of wisdom for the future of ARC.

ARC is the realisation of a vision, the culmination of the hopes, sacrifices and determination of the Malaysian BKs. It is a big complex of three blocks. The main block includes amongst other facilities a media room, office, children's room, meditation room, classrooms and a large hall that can seat up to 1500 people. There are also two accommodation blocks.

Many thanks to all involved for the cooperation in turning the vision of the Asia Retreat Centre into a reality.
Malaysian BK Family
Asia Retreat Centre

Sr Bhavana's visit to Perth, Western Australia, 28 May to 4 June 2014
12 July 2014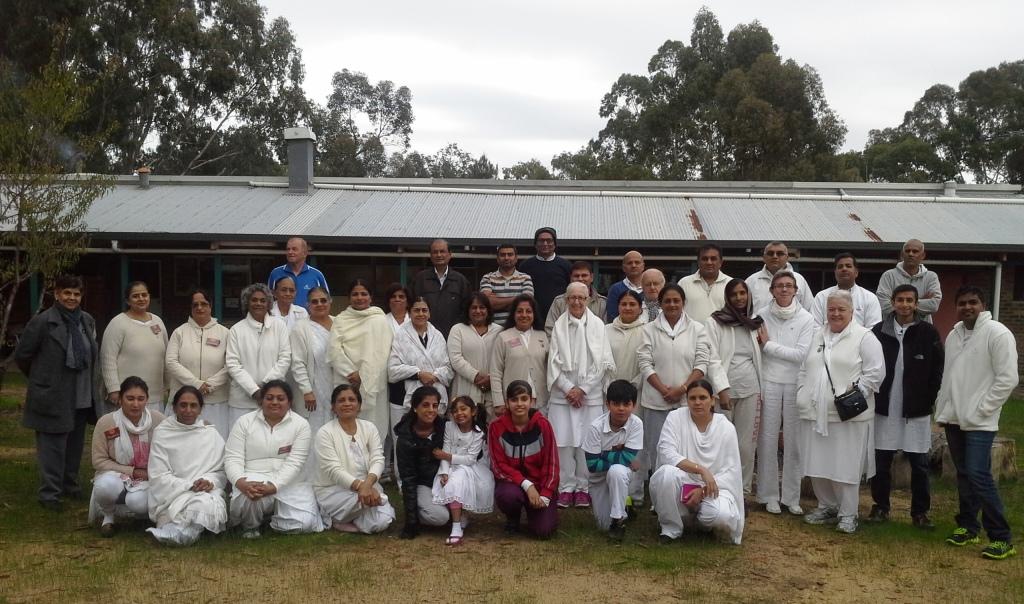 Sr Bhavana, Director of BK Centres in New Zealand, visited Perth to conduct three events in the Hindi language. Programs during her visit included a talk for the Gujarati community, a three day retreat at Lake Leschenaultia, Chidlow and visits to ten BK homes.

The BK Hindi retreat, with participants from WA and interstate, was on the topic "Becoming Bapsaman". The program included various creative activities, meditations, workshops and classes. It enhanced spiritual qualities with fun and joy, evoking an experience of one family, harmony, unity, love and trust. The 34 participants greatly benefited including nine couples, mothers, three children and seven youth.

Philippines newspaper publishes a BK sister's conference speech linking meat consumption to climate change
26 June 2014 - article by Giovani Joy Fontanilla, published i the Sun Star Baguio newspaper
Expert: Let's go vegan OR AT least go easy on the meat

Didi in Thailand
22 June 2014
The Day of laying foundation of 'Raja Yoga' in Thailand is usually celebrated annually on 5 May. From the back of our memory in 1988… Dadi Chandramani – The Lion of Punjab was sent directly to inaugurate 'Raja Yoga Centre' and 'Global Co-operation Bank' in Bangkok as part of International Project … 'Global Co-operation for a Better World'.

This Year on 25 May 2014, Dr.Nirmala and 200 BKs. got together from 6.30am till 11.30am with fun in full colours to create fond memory of 7 main relationships with God. We started in yoga with the Father, having Pinthu family expressed 2 songs /commentary. We finished in yoga with the Beloved, tears of love from the purest desires to be beautiful Brides including… many brothers.

UN World Environment Day observed in Australia
12 June 2014
Several BK Centres in Australia observed the UN World Environment Day on Thursday 5 June 2014.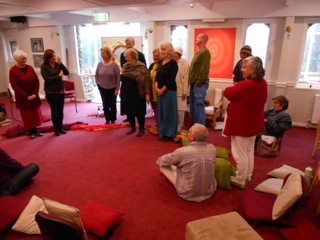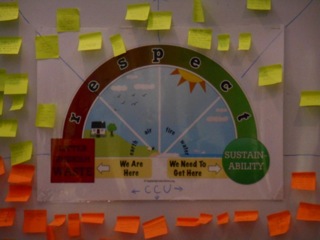 Blue Mountains, Sydney
Fifteen people participated in a workshop at Blue Mountains Retreat Centre called The joys of living ASAP. ASAP (as sustainably as possible) is a campaign run by Shirley Lewis, who runs a local community radio program each week based on the concept. It encourages people to commit to doing one positive action for the environment whilst giving up a bad habit.
Shirley's 'respect arc' focused the group's attention on the four elements of earth, air, fire and water and how our actions affect all of them. BK Greg Welham facilitated a session on how our thoughts affect how we feel which then impacts on nature and other people. The day was very thought-provoking and joyous because of the opportunities the workshop gave for sharing the good things each of us are currently doing to bring about a more sustainable world.

Ashfield, Sydney
There was an evening talk on 'The State of the Environment': BK Linda started by briefly talking about the history of phenomenal detrimental environment changes which started because of the industrial revolution, around 1750. She then narrowed down some of the significant environmental areas of concern including: water, climate change, energy, coal, biodiversity oceans, population, sustainable cities, transport and people.
As a case study, she spoke about a large oil and gas company and their 1/2 page advertisement in the newspaper. They were saying they were committed to environmental preservation which she didn't believe and after a brief search she found a trail of destruction they left behind in mainly developing nations.
Finally, Linda spoke about different ways of thinking, which in itself will improve the wellness of our environment by creating positive ways to look at our environment. This included economic versus social benefits, composting, thinking globally and acting locally, planting trees and getting involved with community gardens.

Gold Coast, Queensland
'Meditation for the Environment' was held at the Peace Pavilion from 12.30pm to 1.30pm. A small group of people attended.

Perth, Western Australia
BKs went to clean up a local park, however some magic earth angels had already done a thorough job of it as there was no rubbish to be found. So they returned to the centre for meditation which created a powerful vibration to shower our world with TLC.
They then shared their thoughts on why it is so important to keep the balance between our inner matters and external matter and how our external world is coloured by our internal wellbeing.
They made environmentally-friendly toothpaste whilst talking about simplicity, economy, awareness as in regards to waste (mental and physical), and how vital it is to check what kind of thoughts we are spreading throughout the day and what type of vibrations we are carrying with us into the world.
They watched a video clip called ''we need to wake up'' for the betterment of our world.
After that they planted some organic seeds with love and yoga and shared thoughts on good wishes and pure feelings.
The program finished with a peaceful meditation, a poem from Sr Carolyn Minter dedicated to trees called "Dance of the trees" and the song "Heal the World" by Michael Jackson.

Hobart, Tasmania
On the Queen's Birthday holiday, the local branch of Religions for Peace, as part of our shared spiritual journey to honour the elements - earth, water, fire, air and ether - visited a place sacred to the Tasmanian Aboriginal people where they honoured fire at Mt Amos, as viewed from Dolphin Sands. The recently published book The Cotton Papers, originally written by a Quaker pioneer in the area, documents that the place was the pathway to the Land of the Sleeping Gods and the place of special ceremonies to honour fire.
The group was led by Kris, an Aboriginal artist and horticulturalist who has made a special study of the Cotton Papers and is especially interested in the spiritual process of 'singing up country'.

International Mother Earth Day
20 May 2014 - Sydney, Australia
On Tuesday 22 April 2014, Ashfield BK centre in Sydney dedicated its weekly evening class to UN International Mother Earth Day. The day is about raising awareness of our relationship with and caring for the planet.
Sisters Shakti and Swaran showed a short video of the Earth talking as mother to the people its inhabitants. They then held a discussion on our relationship with the Earth and highlighted how our body is sustained by the Earth. From the perspective of us being a soul in a body, the living soul is very reliant on and closely connected to the Earth.
Rather than taking a political approach to improving our relationship with the planet and nature, it was suggested to make simple but effective personal efforts such as being careful in the way we use resources. The class concluded with a meditation sending peaceful energy to the Earth using a Globe of the Earth as a visual focus.

Mothers Day at Wellington
16 May 2014 - Wellington, New Zealand
BKs had a lovely Mother's Day celebration in Wellington on the second weekend of May. Wellington produced a fine day for the occasion and about 200 people came for the programme. Mothers were entertained with dances, poems, songs and two very funny skits, followed by a lovely lunch. The programme was enjoyed by everyone.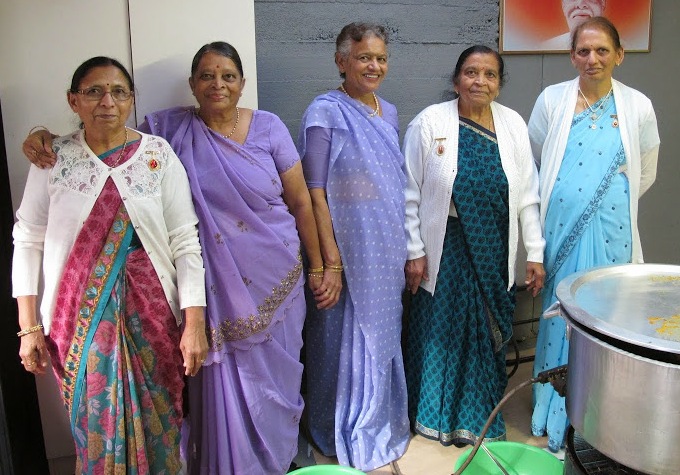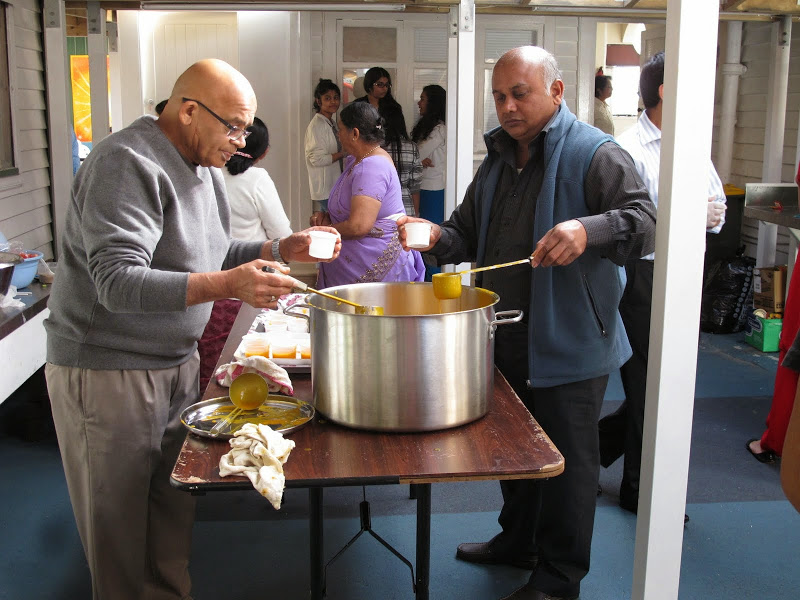 Easter Retreat at Wellington, New Zealand
13 May 2014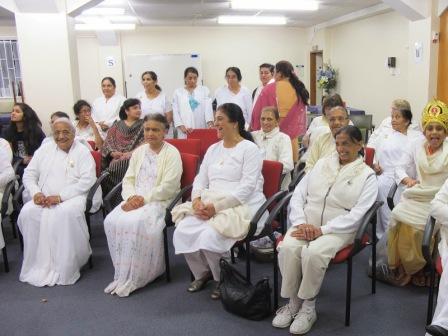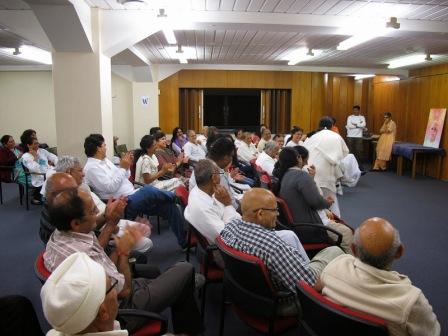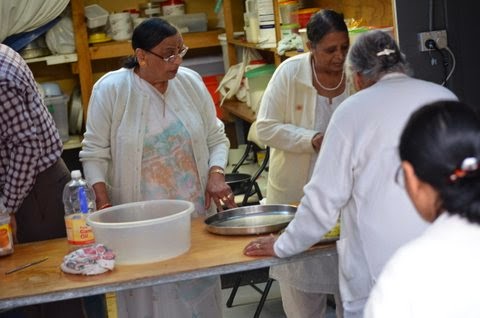 At Easter 2014 the New Zealand BKs had a retreat at Wellington. Sixteen BKs came from Auckland, one from Palmerston North, a few from Paraparam and the rest being about 50 from Wellington. For part of the retreat they used one of the large rooms at the Bridge Club across the road from the centre. For cooking they used the small garage while the big garage was used for dining.

It was a lovely weekend, the highlights being two enjoyable extended meditations, an entertaining cultural program with dances, songs, jokes and skits, and delicious food prepared by the mothers who, as well as enjoying the other retreat activities, also enjoyed cooking together.

Many participants shared their experiences, saying that the two days of the retreat were the happiest times of their life. After the retreat some had the determined thought to do early morning meditation every day.


Courage or Cowardice? Response to fear is a choice
6 April 2014, reported by Emmie G. Velarde - Philippine Daily Inquirer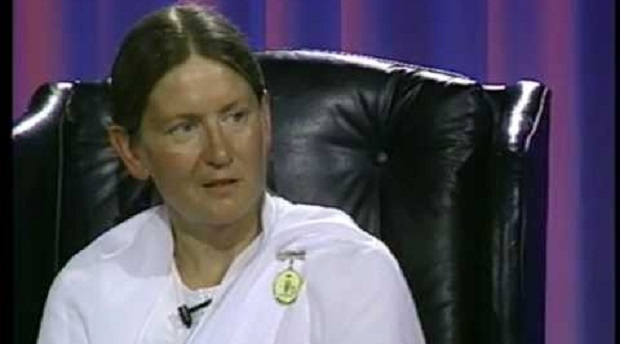 "Fear is crippling. Human beings fear violence and loss—of loved ones, personal property and reputation. Current world events continue to indicate that anything can happen to anyone, anytime, anywhere. Fear is a response to perceived danger. You have two choices: courage or cowardice."

Sister Denise Lawrence, a visiting teacher of the Brahma Kumaris, had this message for the "Yolanda" survivors and "community rebuilders" in a lecture she delivered on Thursday at the University of the Philippines Tacloban and on Friday at the Leyte Normal University. She spoke on the subject, "When the Unexpected Happens."

Lawrence said fear spiritually weakens anyone who has a lot of negative weight on their conscience. "They respond by acts of moral cowardice." On the other hand, she said, "A person with a clear conscience will have developed the power of courage in the face of danger and hardship. Building that level of courage requires attention to the quality of every action."

Over the weekend, Lawrence led disaster management groups on a silence retreat that revolved around "Caring for the Self," at the Center for Spiritual Learning in Tagaytay City.

"Being fearless," she said, "is moving forward, no matter what. It is believing that Someone immensely bigger than the situation has a plan and is watching over you. It is believing that that Someone is counting on you to help carry out the plan because everyone's bright future, including yours, is factored into it."

On Monday, April 7, the Canadian educator based in the BK main campus in Mount Abu, Rajasthan, India, will speak in a free public program on the subject, "Living Beyond Fear."

Before dedicating her life to spiritual practice and service in 1974 at age 23, Lawrence worked in the news divisions of the British Broadcasting Corporation and Canadian Broadcasting Corporation.

As a Raja Yoga teacher for the Brahma Kumaris, she helped establish centers in Germany, Canada and the United States. From 1984 to 1996, she gave meditation courses to recovering narcotic addicts at several facilities of the Los Angeles prison system.

Ten books in values and spirituality that Lawrence authored have been translated into Hindi and are being used in distance learning courses offered in seven universities across India.

Since September 2010, Lawrence has divided her time between the BK main campus in Mount Abu and the international headquarters in London. She travels extensively to give lectures and conduct seminars, retreats and conferences on spiritual practice and yoga/meditation. (For a sampling of her work, log on to: http://bkdclasses.net.)

Is it possible to live beyond fear? Lawrence said, "In this hyper-speed age, we see an exponential number of self-created fears dominating people's lives. We need to be reminded of our true worth and untapped strengths."

International Day of Happiness
2 April 2014 - Sydney
In honour of the UN International Day of Happiness (20 March 2014), Ashfield centre in Sydney, Australia, held the weekly evening class on 25 March on the topic The Art of Personal Happiness. The UN observance day was introduced by mentioning how happiness is becoming a consideration by governments with many countries having been surveyed about their national happiness. The 13 participants were asked what made them happy, then looked at the meaning of spiritual or inner happiness as an intrinsic quality of the soul. The session finished with a short meditation commentary on improving happiness in relationships by having an attitude of respect and equality.

Service News from Thailand
1 April 2014
Brother 'Bharat Bhushan' gave self introduction with sense of humor as we meet 'Bharat' himself instead of introducing proudly many great seniors, guest speakers in the past as someone from Bharat. Bharat, means 'Bountiful', the most ancient and imperishable Land, going through the highest stage to the most degraded stage according to the world drama cycle. We are at the most auspicious Confluence Age to claim the fortune of being the most ancient souls on earth – ancestors souls who have to sustain everyone from the heart at the most critical moment of the world.
During 26-28 Febuary and 1 March 2004, Bharat spent time with the Sukhumvit family for different programmes.
"All the programs went very well. The Indian family had the programs in Sukhumvit and outside Bangkok two programs in Birla factories in Aang Thong and Rayong. All enjoyed and benefitted from his classes." (Br.Anil)
From Saturday night, he spent time with Nonthaburi family, sharing Sunday morning class after Murli, then he went to New Lotus Centre.
We carried on with our full day programme for Peace maker on 'Inward Journey' till the end of the day. In the evening, there was Public programme at Club House of Golden Heritage Residential area.
Sr.Karen related her experience as follows…
"Bharat Bhai's program at Golden Heritage Club house on March 2, 2014, 4pm, was a beautiful conclusion of Sr La's Peace Maker program of an all day virtues events, in celebration of Shiv Ratri. As you read this writeup, you will sense the magical grace I felt that day, especially at home.
The evening began with brief introductions, and Bharat Bhai conducted an amazing simple and yet deep session in which he talked of the 7 'C's that lead us to negativity and away from our "core" values and peace... And the 7 'C's that we need to practice to become beautiful and enjoy life. He concluded very articulately with the last C for "concentration", which he stressed as the key to inculcate all divine virtues, 7 positive Cs and for the removal of the negative 'C's. He explained, and practically gave an experience of "our true identity", being beyond our name and body, by interacting with a youth, and giving the realization that everything we touched on myself, were "my", not "I"! And just like my clothes or my ring, or my finger wasn't "me", but "my", "my name and my body" weren't "me", but "my" of the "I". The "I" that is there before all these, and is saying all that. And that "Inner true I", that was forever, beyond body and life and death, to "connect" and take power from "it's true, forever Father/Creator"! And thus in a beautiful meditation guidance, relating with Gurbani quotes (as there were lots of Sikhs), he gave an experience of "true, empowering Yog/Divine Connection".
The session ended with a silent and musical lighting of 12 candles by the 12 representatives of the 12 virtues of a Peace maker... and everyone received a blessing card and individual drishti from Bharat Bhai as they also got showered with Rose petals.
Everyone then walked to Baba's home classroom in that area "Guru Kripa", where we had some silent meditation and Toli.
As Bharat Bhai was about to take leave, my husband walked in. After the introductions, they had a short, yet powerful chat and Bharat Bhai's amazing words that he was a very rare, special, beautiful, and cooperative soul, touched me deeply. Sr. La then kindly suggested for me to call my son, Harprem, as his birthday was in 2 days, so everyone could surprise him with a birthday song. As he came down, before going in to the meditation room, he too had a private moment with Bharat Bhai, who very graciously shared some cream talks with him, and my daughter in law, Sneha and daughters Rashmeen and Prabneet. Sonu, a young friend was also blessedly present. Some of them, although missed the public program, received a chance to get an experience with this deep Yogi soul.. which was amazing and such a blessing!
And as all of us moved into the meditation room again, every one greeted him with the birthday song, lots of warmth and love and smiles, while sprinkling little blue, sparkling paper stars as wella It was such a great sight.. beautiful and serene, as my lokik and alokik family, were sitting together, for the first time, since I came into Gyan.
Bharat Bhai gave and had them each read out their blessing cards. Each one felt, the relevance and beauty of the blessings. For me, I got to be "the Love magnet, overcoming all obstacles and criticism with the power of pure love". When asked what he felt about Harprem, the birthday boy, Bharat Bhai paused, and to my delight and surprise said "Guru Gobind's brave sahibzadey". Wah!! I could sense and detachedly observe the beauty of that moment, which is still etched in my heart and mind.. A very special rare moment of tremendous joy and love.. and I captured it..as everyone together sat in yog power.
The whole visit home, turned out to be an experience beyond belief, a real magical surprise for all of us, and so unexpected as well."

Remembering Dadi Prakashmani, a woman of spirit
20 March 2014 - By Rina Angela Corpus, GMA News Online, Philippines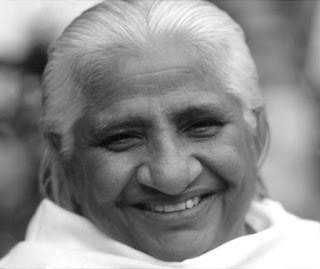 Part of a series on women this month. March is Women's Role in History Month in the Philippines.

With a mind saturated from decades of academic study and jaded by political activism, I yearned for the simplest way to make sense of life. Somehow, amid the composite pathways I took in my young adult life, I knew that a spiritual path would provide the ultimate answers to my questions.

I was 23 when I first stepped into a meditation center that helped me sort out not just my path, but my way of thinking and being in the world. I was taught and guided by meditation teachers, mostly women, to whom I remain thankful to this day. After more than a decade of meditation practice, they've become my most trusted peers and friends.

I consider it even more significant to have experienced the presence of one soul whose life filled me with what it means to live with meaning and purpose.

In speaking of my life's greatest influence, l hold the memory of Dadi Prakashmani, a meditation teacher and a wise soul who surrendered her life to a spiritual path at the tender age of 15.

Vocation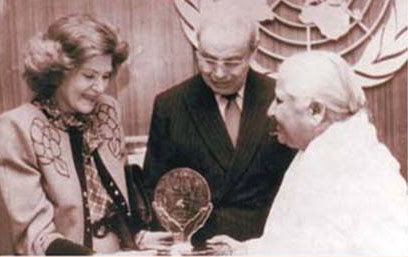 The author's mentor, Dadi Prakashmani. File photos from the Brahma KumarisFemale spiritual leaders were unheard of in India in the 1930s, yet Dadi ("elder sister" in Hindi) dedicated her life to serving in Om Mandali, a then-little-known meditation school in Karachi (now in Pakistan). It is now Brahma Kumaris, an international NGO with consultative status with the United Nations. The institution runs centers in 130 countries, teaching free meditation and values courses in local communities. The school's growth happened under Dadi's dynamic leadership from 1969 until her death in 2007.

It's now seven years after Dadi's demise. I remember little of the words she spoke, for it was her very being that illumined my life. Dadi moved, walked, ate and studied with everyone else in the meditation school, as if she were just like any other student. Her ego-less, carefree, self-effacing manner continue to be the qualities that I strive to nurture in myself amid a busy modern life, seemingly dictated by the nanosecond.

Prakshmani means "jewel of light," and my meeting Dadi for the first time in Mt. Abu, Rajasthan, in 2001 was filled with lightness, calm and comfort. Dadi exuded warmth and a feeling of belonging—the same traits, I would realize, that she showed to everyone. It was her emotional equipoise, a result no doubt of seven decades of meditation practice, that made her shine like a polished gem, inside and out. Grounded, cheerful, carefree, Dadi could be seen in the courtyard in the early morning, sitting in a chair to get some sunshine as students passed her by.

On one such morning, my friend and I playfully decided to ask for a photo with her, to which she readily agreed. Dadi seemed like an innocent child and playmate, game to accommodate and fulfill anyone's requests.

And while there were teachers who taught me of the basic principles of meditation practice, it was Dadi who showed me the subtler aspects of living a life of virtue, sans preachiness. Dadi's classes were never formal and lengthy, but punctuated with a few lines. One that I will always remember was Dadi's motto: "Take happiness, give happiness. Take peace, give peace. Take love, give love."

Dadi Prakashmani receiving the United Nations' Peace Messenger Award from the UN Secretary General Javier Perez de Cuellar in 1987.Samosas and ice cream

After sharing her short snippets of wisdom, Dadi would then ask us how we were doing, what we wanted to eat for lunch, and if we wanted a picnic in the park. Samosas, ice cream, fries, the group would usually reply back, and sure enough these would be part of our meals the following day. Plus, the picnic would have been arranged.

Care, I realized, was not a customary incidental in a spiritual path, but is at the very heart of one's ability to look after oneself and others as in a family. I was shown that spirituality also meant cascading one's virtues to practically nurture everyone's needs in a community. To me, being able to look after others is a sign that one has deeply cared for the self, with an unwavering attention to one's capacity to give what was essential to nurture others.

Dadi's presence always reminded me of the power of the mother, the power of guiding hearts quietly to a place of peace inside themselves, because she guided herself to reach it. Always in a white sari, she was an embodiment of simplicity, who owned nothing yet gave everything of herself back to the service of humanity. Like a child and a master, her eyes sparkled with a deep contentment and respect, regardless of who she was in front of. These, to me, are the marks of a servant leader: a way of being without force, a gentle yet firm embodying of inner strength, of generous love balanced with non-attachment. Dadi embodied the feminine principle that is much-needed to heal hearts that have grown weary from our competitive patriarchal world.

Accessible and modest, one would never know that Dadi served as one of the presidents of the Parliament of the World's Religions, or that she was once a recipient of a United Nations Peace Medal, not to mention the honorary doctorates she received from a number of universities. She never finished formal education, yet her humility and trustworthiness made her emerge most fit to lead an institution that runs 8,000 centers, with close to a million students worldwide.

I continue to celebrate the human virtues that Dadi chose to live by. My memory of her as a gentle yet steady spiritual mother keeps me spirited and awake to the presence of beauty and the great potential that lies in every human soul.

http://www.gmanetwork.com/news/story/352965/lifestyle/peopleandevents/remembering-dadi-prakashmani-a-woman-of-spirit

Br Charlie in Srilanka
19 March 2014
BK Charlie Hogg, National Coordinator (NC) of Brahma Kumaris Australia, left Sydney on Sunday 16th Feb for Singapore where he spent a night and flew on to Sri Lanka the next day. His eight day visit included five areas; Colombo, Jaffna, Vavuniya, Batticaloa and Kandy. He gave many classes, public talks and met contacts.

COLOMBO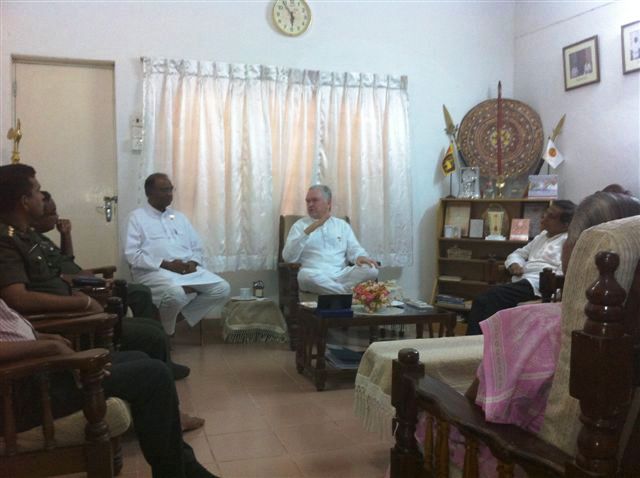 In Colombo Charlie was met by Br Ganesh who is the NC for Sri Lanka and Br Mohan. They went straight to the large BK Centre which is just in front of the ocean. From 5.30-6.20pm Charlie and Ganesh had a spiritual chit chat on the theme "Merciful Heart" with a small gathering of contacts. Charlie shared some examples of leaders with merciful hearts who had won the hearts of the people by being embodiments of virtues. There was a discussion on how to help people who are in recovery from alcohol and drug addiction. It was suggested that our good wishes and pure feelings for humanity with a merciful heart can benefit others. Guests at the meeting were:
Maj. Gen. K.J. Wijetilleke, Commissioner General of Rehabilitation
Colonel Manjula Kaluarachchi, Program Coordinator, Rehabilitation Bureau
Mr P. P. Devraj, Former Minister of Hindu Cultural Affairs
Mr & Mrs Somasundaram, Retired Deputy Director General of National Institute of Education
Mrs. Shanthi Wijesinghe, Directress of Seekers Research

That night Charlie gave class for around 100 BKs who attended even though it was a workday evening. Charlie was welcomed in front of the BK gathering by Br Ganesh who presented a flower bouquet and Sr Sreema who delivered a welcome speech. In the class Charlie shared practical points about increasing spiritual efforts. He mainly mentioned not to have any internal barriers to receiving God's love and to instil the practices of soul consciousness and self-respect. He also shared the story of how he started to practice Raja Yoga in the 1970s. Later Charlie had an informal meeting with 15 young brothers (kumars). He encouraged them to be good examples, saying that disciplined practice will bring success in this spiritual lifestyle.

JAFFNA

The next morning Charlie flew to Jaffna in the very northern tip of the country. The plane was just a 12 seater and there was only one other passenger.

On arrival in Jaffna he went to the BK Centre and 200 metres from the Centre he was welcomed in a traditional way with a procession and school brass band in bright red jackets. He was escorted from Kalati Junction into the Centre by the band with BKs lining the road with Shiv Baba flags. There are around 150 BKs in Jaffna and after some beautiful welcome dances he gave remembrances from the Australian BK family, especially the Tamil BKs living in Australia who are originally from Jaffna.

There was then a morning retreat for around 105 BKs including a class on "Maintaining Zeal and Enthusiasm and Becoming Obstacle Free" and a Q&A session. Jaffna was the centre of the Tamil resistance during the war and all families have suffered losses. Everyone has many stories to tell. One student commented, "The class was subtle, interesting and practical and Br Charlie gave some useful techniques for overcoming obstacles."

In the evening around 70 special guests attended a program at the centre on "Ways to Challenge the Challenges." The program started with a video presentation. A lecture was followed by Q&As. Although the war has finished there are many social problems and difficulties in the community and there were many questions about this. There was a vibrant discussion and the whole gathering was very supportive of spiritual solutions. The program was concluded with supper. Some guests commented that they felt the talk was from Charlie's own experience and that was what touched their hearts.

The next morning Charlie conducted early morning meditation with around 30 BKs. On taking leave he gave out sweets and reminded everyone to see the scenes of life as accurate and beneficial and remain carefree.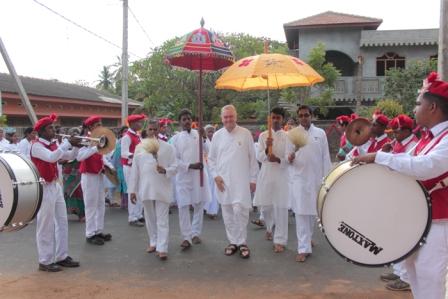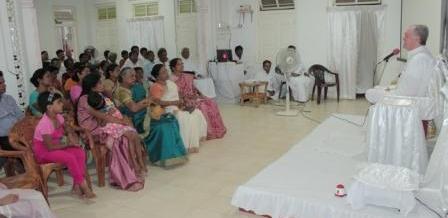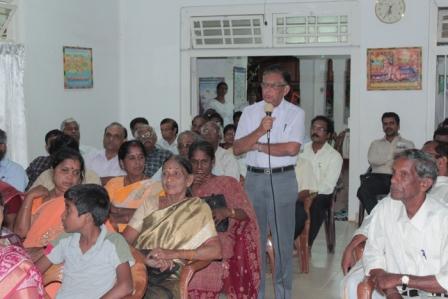 VAVUNIYA

On the way to Vavuniya, two hours from Jaffna in the central north, Charlie passed many forests with palm trees with no tops, which was the result of heavy bombing for many years. Vavuniya has a lovely BK Centre with a beautiful garden with mango and banana trees. There was a class with BKs then a program at the city administration office for around 150 people.

BATTICALOA

Charlie then went by car another five hours to Batticaloa on the east coast. Batticaloa took the main brunt of the tsunami in 2004 and 50,000 people died. He visited the site where BKs are building a new museum. The two brothers building the museum had both lost their wives and two children in the tsunami.

Batticaloa has a huge purpose built BK Centre with an auditorium for around 800 and there are 800 BKs in the region. On Thu 20 Feb there was a half day retreat with a one hour meditation commentary and class. More than 250 BKs of Batticaloa, Trincomalee, Kalmunai and Pandiruppu joined this gathering.

In the evening around 75 people, including BKs, local government staff and members of the public gathered at Paddippalai Junction in the Kokkadicholai area to inaugurate a huge billboard (hoarding) advertising the centre in an area close to the ocean. Special guests were the local priest, and administrator Mr Krishnapillai, the secretary of Prathesa Shaba (Local Government) in Kokkadicholai. Mr Krishnapillai is a BK and gave the billboard space free of charge. Together with Charlie all three cracked coconuts and gave blessings. At Kokkaticholai BK Centre Charlie conducted a class for 40 BKs.

After that he returned to Batticaloa and from 7.00-8.30 pm around 15-20 past and future Peace of Mind retreat guests came to the centre where they had a discussion on the topic "Harmonizing Relationships". Charlie especially invited all the participants to come for a retreat in Australia. Throughout his Sri Lankan visit he met quite a few Peace of Mind guests all over Sri Lanka who have become regular BKs.

On 21 Feb Charlie visited Eravur centre for morning class with nearly 25 BKs, then returned to Batticaloa to inaugurate
the "Safety Drivers" project with Br Ganesh. The main participants were:
Mr S Kanagasuntharam, C.T.B Regional operating manager, Kalmunai
Mr ULA Wahab, Motor traffic examiner, Department of motor traffic examination
Mr KK Vasuthevan, Director of private transport service, Eastern region
Mr Nazeer, administrator, traffic division Kaluwanchikudy
Mr ABM Sanooz, Depot manager, CTB Rithithenna
Mr MSM Ganee, Depot manager, CTB Eravur
Mr MIA Azeez, Depot manager, CTB Valaichennai
Guest Mr ULA Wahab said that worldwide approximately 13 lakhs (100,000) people died per year and in Sri Lanka on average seven people died per day in road accidents. Participants Mr Kanakasuntharam and Mr Raventhiran said that all drivers should receive spiritual knowledge that would help them to have a good state of mind while driving. Mr Nazeer said that not only those employed as drivers but all holders of driving licenses could participate in such a program.
Previously the Centre has conducted many programs where participants were Hindus but this time the majority were from the Muslim community. Mr Ajma, a leader of the Eravur Muslim Youth Club, requested a program immediately at his youth club. Though the number of drivers attending was less than expected, the program was successful in connecting with the Muslim community.

After that Charlie went to Pasikkudah to see the Exhibition Centre's construction works, visited Kalkudah and conducted a class for 32 BKs from Valaichenai area, then took leave from Batticaloa to drive to Kandy.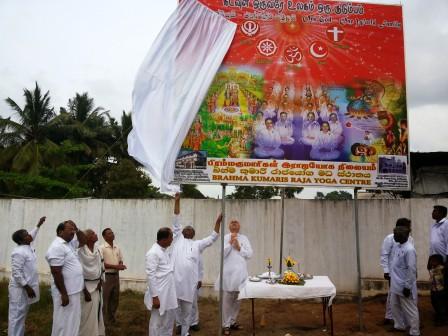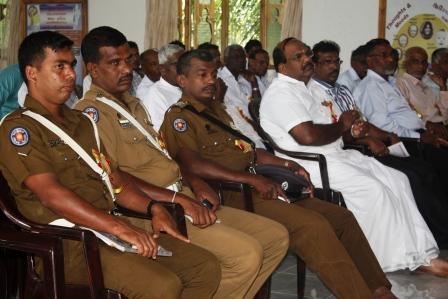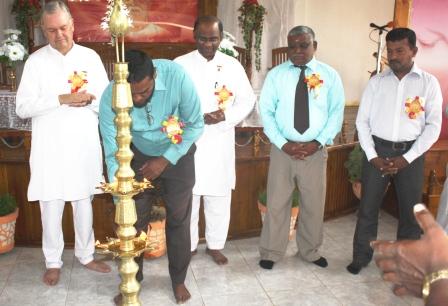 KANDY

Kandy, in the mountains, is close to the heart of the tea plantations. It is a very beautiful area and has a lovely BK centre, an information centre in the heart of town and a large seminar hall "Jyoti Bhavan", where there was a public event for special contacts. Sri Lanka is blessed with excellent facilities.
On Friday night Charlie was welcomed and shared his BK life experience with 40 BKs. The next morning he conducted morning class with 45 BKs. He also gave a talk at the Kandy Society of Medicine for 80 medical professionals and doctors, many of whom had studied in Australia. The topic was "Finding Balance in IQ, EQ & SQ". He also gave a class for 50 BKs at another centre, Inner Space.

There was a half day BK Retreat at "Jyoti Bhavan" on Sunday 23 Feb. Br Ganesh introduced Charlie and explained his specialities. Charlie gave a class on "How to Become Obstacle Free" which was followed by a Q&A session. 102 BKs from Kandy, Matale, N-Eliya, Bandarawela, Badulla, Nawalapitiya, Galaha and Balagolla took benefit.
In the evening there was a public talk on "Peace of Mind" for 76 participants including 48 business people and professionals of different disciplines. Charlie introduced meditation and how it can contribute to peace of mind.
Guests of honour were Prof. Upali Illangasekera from the Teaching Hospital, Mr WD Weeraratna, Senior Attorney-at-law and Prof. Chandra Abeysekara from the Faculty of Medicine. Br. Ganesh told guests about the Peace of Mind retreat held annually in Mount Abu, India.

After Sri Lanka, Charlie went to Hyderabad in South India for two days on the way to Mount Abu.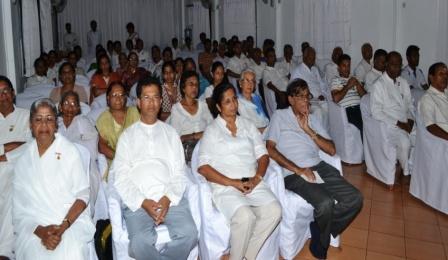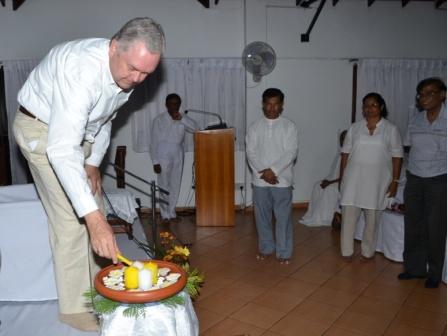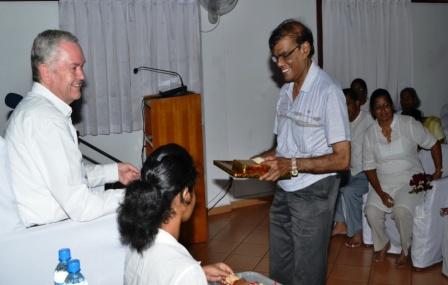 Shivratri Programs in Australia
18 March 2014 - Sydney
Saturday 1 March - Ashfield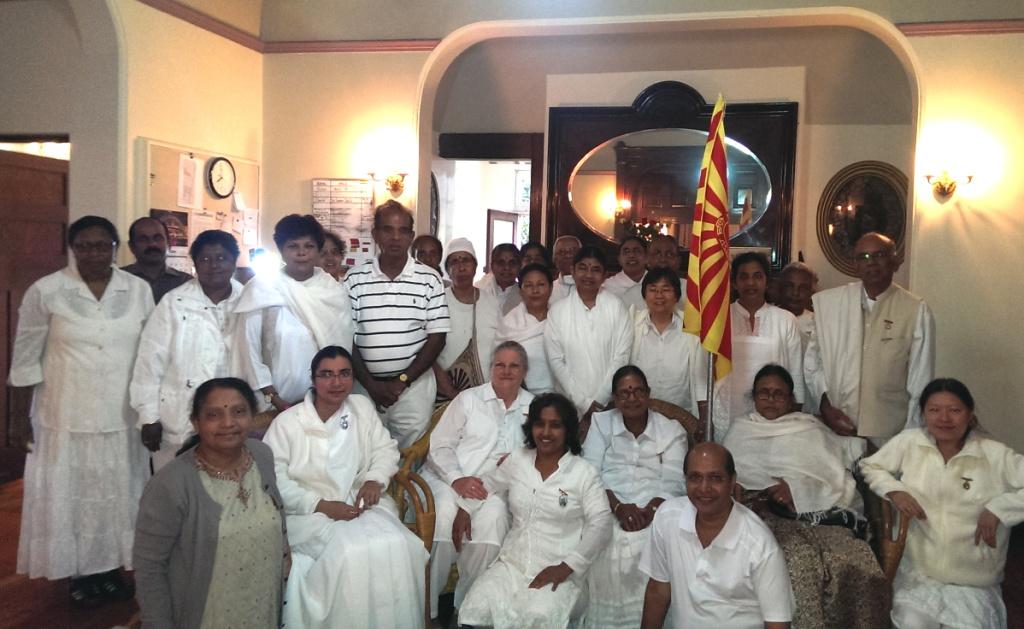 About 35 BKs attended a special morning gathering at Ashfield Centre. It was raining, so after class there was a quick flag hoisting in the garden then everyone went back inside for breakfast. One Sr Vijaya had made sweets and another Sr Vijaya had made savoury pakoras, while the centre provided upma and cake. It was a pleasant morning and many stayed for a while and enjoyed one another's company.

Blacktown
The BK Hindi speaking group headed by Sr Indu and Br Ramesh had planned for months for a program at the Blacktown Senior Citizens Hall on the afternoon of Saturday 1 March. Over 180 people attended. Sr Monika MC'd the program which had various elements such as three dances in between talks, a visual meditation and a meditation commentary spoken by Sr Pranita with Sr Maureen leading meditation. Br Jagdish gave an entertaining talk which had the audience laughing and agreeing with him on many points. The program was in the Hindi language.
A highlight was the appearance of 'Shankar' who was really Br Sanju, sitting by the Shivalingum. People prostrated at his feet, had their photo taken and he gave them blessings. Many of the audience were Indians who had recently migrated to Australia and had been to BK centres in India. Sr Vaishali and the kitchen team worked hard to feed everyone chick peas, halva and puris. There was even enough food left over for the Sydney BK morning class to have breakfast on Sunday.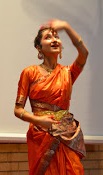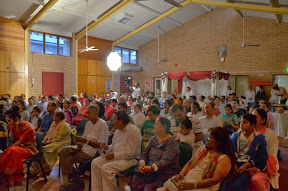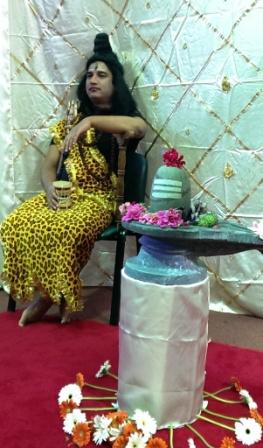 Sunday 2 March - Toongabbie
February was busy but enjoyable and rewarding as preparations were made to celebrate Shivaratri with lots of happiness and splendour. ShivaBaba's introduction was given in an entertaining and enjoyable way at Toongabbie Godly Garage on Sunday 2 March. The program, held in the Tamil language, drew a full house (about 50) and included a variety of items such as dances, songs, videos, a discussion and sharing of experiences on the theme "Experiencing Gods Love".
Sr Maureen from Ashfield Centre gave brief talk, Sr Nithya and Sr Sharu from Blacktown performed beautiful dances, Br Thayalan from Malaysia joined in a discussion about the spiritual significance of Shivratri and Br Bubbles shared his experience.
The program was very much enjoyed by all and participants sent good feedback. Some new people booked in to start the Foundation Course in meditation.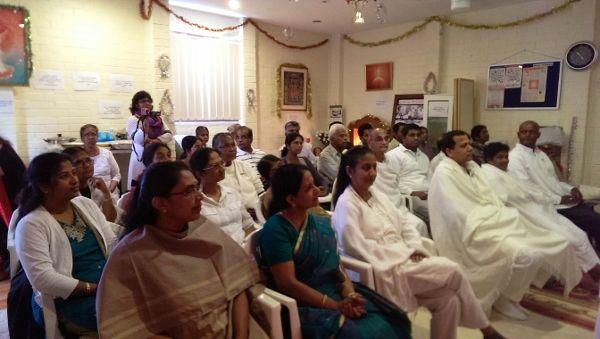 Mahashivaratri in Singapore
18 March 2014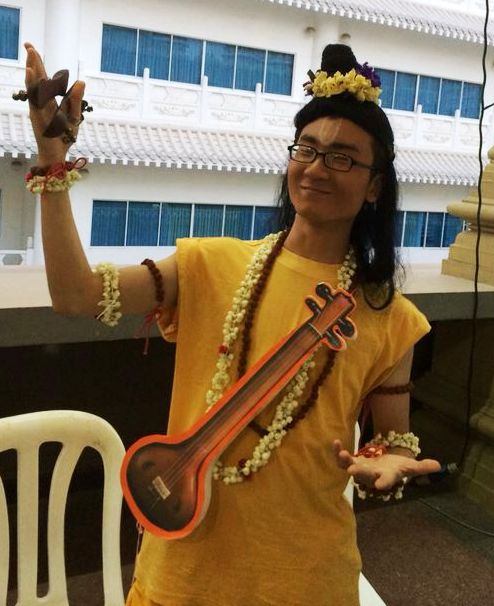 Shivratri, literally meaning 'The Night of Shiva', or Shivjayanti, 'The Birthday of Shiva', is a unique festival celebrated by Hindus all over the world. It marks the moment when the deep spiritual knowledge bestowed by Shiva, the Benefactor, brings about the dawn of enlightenment which completely finishes the dark night of ignorance.

Singapore BKs also commemorated this special occasion on 27 Feb 2014 by raising the flag of Shiva, the Supreme point of light energy, with a lot of love & enthusiasm. Each one received an exquisitely handcrafted blessing card to help them spend the entire day in powerful contemplation.


This year the BKs worked with the Sri Arulmigu Velmurugan Gnanamuneeswaran Temple to shed light on the significance of Mahashivratri. An exhibition entitled 'Shiva Darshan' extolled the various names given to Shiva in His different forms and clarified how the true aspirant could derive strength and comfort by understanding the importance of each form and meditating on it.

On the actual Shivratri day BKs presented a very entertaining and enlightening musical, 'The Opening of the 3rd Eye', a story that resonated very well with the devotees. Many devotees appreciated the spiritual messages cleverly interwoven with the popular story.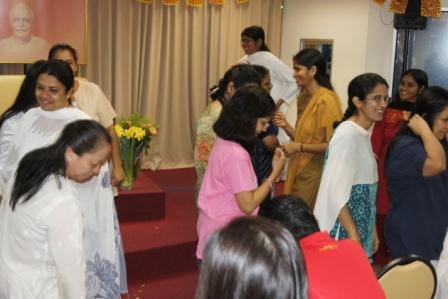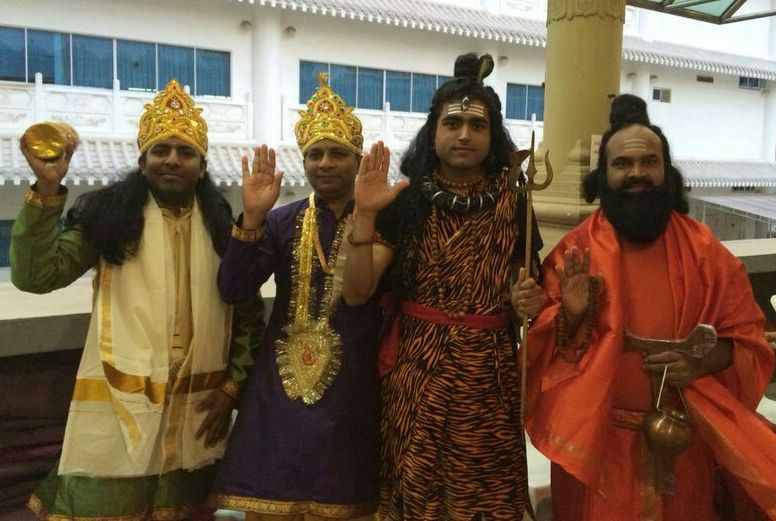 UPCOMING PROGRAMMES in Singapore

Talk by Br Charlie, Director of Brahma Kumaris Australia, ' Meditation - A Way of Life'
Sun 23 March 2014, 10.00-11.30am @ 7 Hindoo Rd #03-00 Chern Seng Bldg, Little India
Tel: 9645 4759/62966566 (Enquiries/Reg)

Power of Resilience –Discussion/Dialogue
(based on video-recorded classes)
Fri 14 March 2014.7.00-9.00pm@ 7 Hindoo Rd #03-00 Chern Seng Bldg, Little India
Tel: 9645 4759/62966566 (Enquiries/Reg)

Wellness Series – 7 Tools for Self Wellness
Mon 14 April 2014 (for 4 consecutive Fridays), 7.30-9.00pm
@ 7 Hindoo Rd #03-00 Chern Seng Bldg, Little India
Tel: 9645 4759/62966566 (Enquiries/Reg)

2014 International Women's Day events
14 March 2014 - Sydney, Australia
Friday 7 March 12-1pm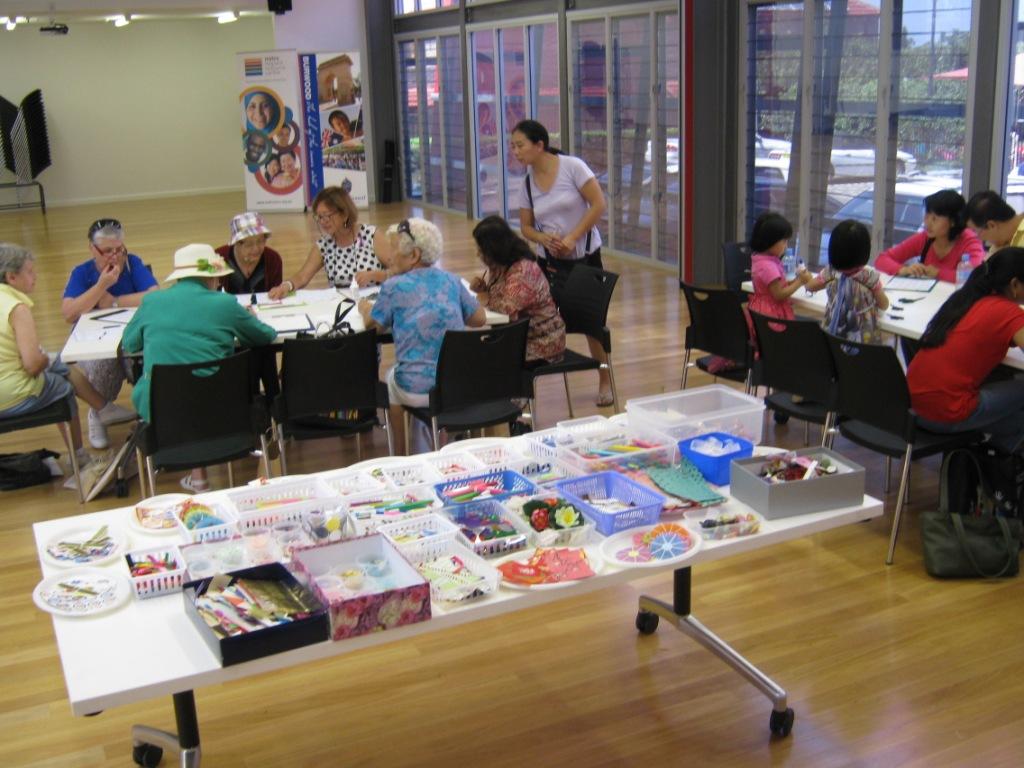 The Brahma Kumaris (BK) centre at Ashfield provided an art workshop to neighbouring Burwood Council's IWD event. The day also included speakers, information stalls, theatre, dance, lunch and giveaways. Twenty participants in the art workshop shared stories in pairs about women who have inspired them through positive qualities, then depicted those qualities through art. At the end they shared their stories and art as a whole group. Most people said their main inspiration came from their mother. An event organiser from the Council said she received good feedback from participants.

Saturday 8 March
At Ashfield BK centre, in a program from 2-4pm on 'Inspiring Change', Feng Shui Master BK Gayle Shakti Atherton shared a personal story of how four women helped to save her life during a serious illness, then she gave a talk on Inner Feng Shui. The international gathering of participants including 14 women and 2 men from Australia, China, Japan, South America, Sri Lanka, India and Fiji then chose an aspect of their lives that was particularly important to them and used that as a focus for decorating a crown. Many chose 'inner purpose' as their theme. Others chose things like 'the world family' or 'helping others'. At the end they shared the symbolic meaning of their crowns and enjoyed afternoon tea in a happy and light atmosphere.

At East Sydney, Srs Conny and Casey held a program from 6-7pm on 'Honouring Me, Honouring You / Inspiring Change'. It was an evening celebrating the role of women in bringing about change to create a world of higher values with integrity, respect and appreciation, non-violence and universal harmony. There was a special guided meditation and a screening of an excerpt from 'Girl Rising', a moving and inspiring documentary about the stories of girls around the world (viewable on YouTube), followed by discussion.

Sunday 9 March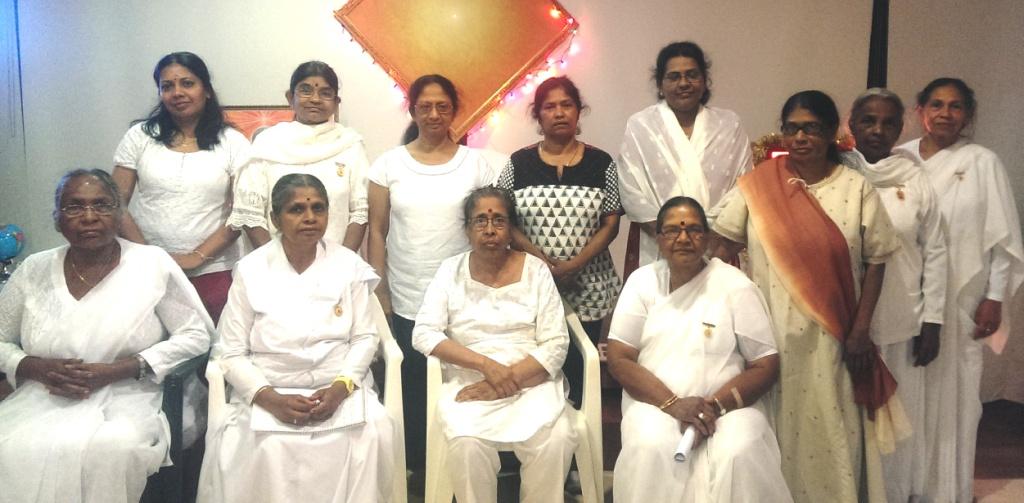 Twelve Tamil BK sisters enthusiastically created a program to celebrate IWD for the first time at Toongabbie. The program included sharing of personal stories, inspirations about being a woman and stories of the power of women in history and BK life. There were special songs and videos about significant women who are spiritual leaders in the BK's organisation. Srs Saratha and Kamala briefly shared the essence of the Four Faces of Woman program.
"It was great to see most mothers contributed with courage. They did very well and everyone enjoyed it," reported Br Keethan, coordinator of the Toongabbie Class Location.

Wednesday 12 March, 6.30-8.00pm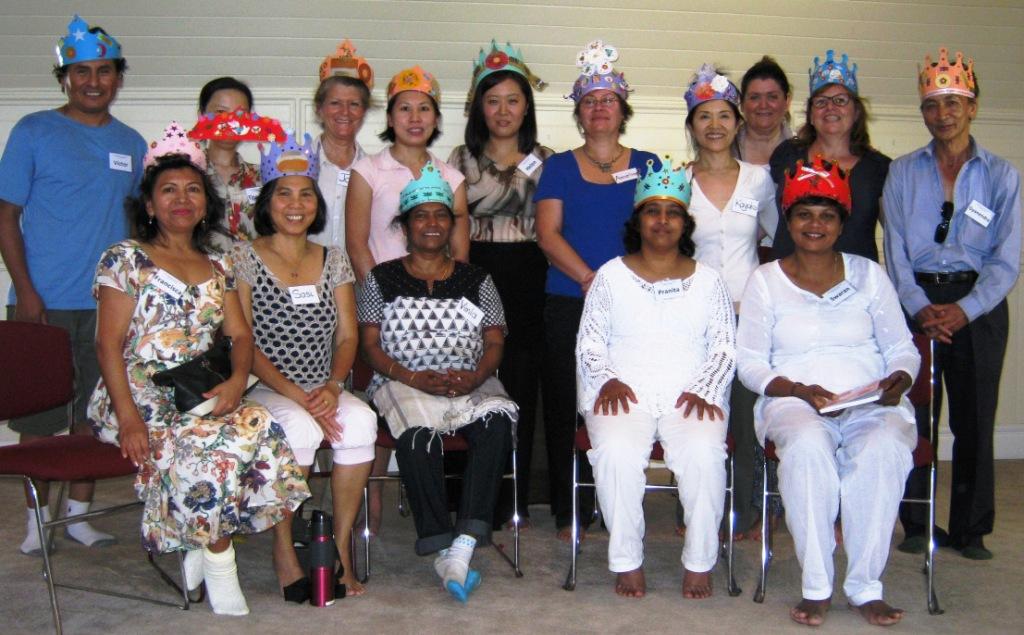 At the Blue Mountains retreat centre, the evening commenced with a half hour of peaceful meditation as the sun was setting, which was visible through the beautiful pyramid shaped windows of the Meditation Hall.
After this there was a panel of three women who have dedicated their lives to inspiring change in themselves and others. They were Natalie Hull, a local community worker, Kay Ridgway, a renowned naturopath in the Blue Mountains and BK Nerida. The panellists were asked three questions:
1. Do you remember the first time you had the thought to empower women? Can you tell us about this?
2. The theme of this year's International Women's Day is Inspiring Change. Could you describe how you inspire change in women in your day to day life?
3. How are you empowered yourself? Who or what inspires you to change?
Each answered in their own way from personal experience and the 20 people in the audience felt inspired by their commitment and honesty.
The retreat centre coordinator Sr Sally said, "Several women attended who have not been to the Centre for a long time and it was a joy to see them again". The evening finished with a song and powerful meditation. Everyone was given sweets and affirmation cards on leaving.

Sr Gopi Patel in Denpasar, Bali
7 March 2014
The Denpasar family was very happy to have Gopiben with them for a few days. Gopiben talked on many interesting gyan points with the family in a light and and natural way. Everyone enjoyed her classes and there was full attendance throughout her stay in Denpasar, both in the morning and evening sessions.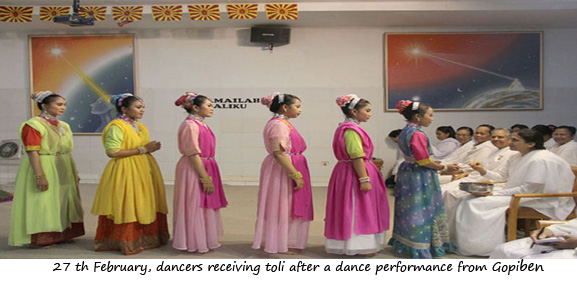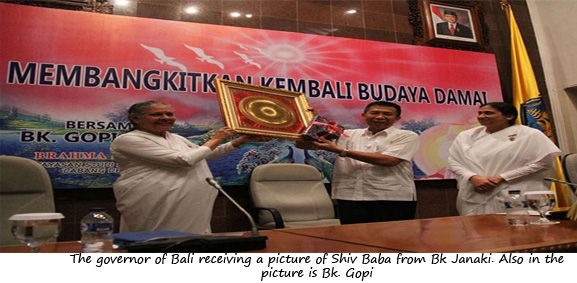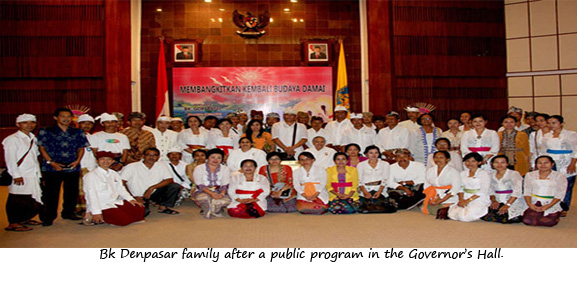 Sr Gopi Patel in Surabaya, Indonesia
7 March 2014
Here is the report of Sr Gopi Patel in Surabaya, East Java, Indonesia.
4 March – Sr Janaki and Bk family Surabaya welcomed Sr Gopi with tilak. Then Sr Gopi gave a class on the topic "Courage of a Compassinate Heart" attended by 20 souls.
5 March - Morning after murli Sr Gopi gave a class on the topic "Reconciling with Ego" attended by 25 souls
A Public program at Ciputra University on the topic "How to Change Obstacles into Solutions" attended by 400 students and lecturers.
Then there were two Radio SHE (Suara Surabaya) recordings – one on the Role of Modern Woman and a talkshow on Women as Leaders.
In the evening, at the centre there was a class for BKs and contacs on the topic "The Pleasure Of a Simple Life" attended by 40 souls
On 6 March after Bhog and Murli, Sister Gopi took leave from the family. All members of the BK family were happy and took much benefit from Sister Gopi's presence /classes/sharing.
Some interesting points from Gopiben's classes :
- For tolerance we need to be introverted
- Introversion helps us to discriminate right from wrong
- For a simple life style create only few thoughts
- Create an atmosphere of gyan and yoga in the centre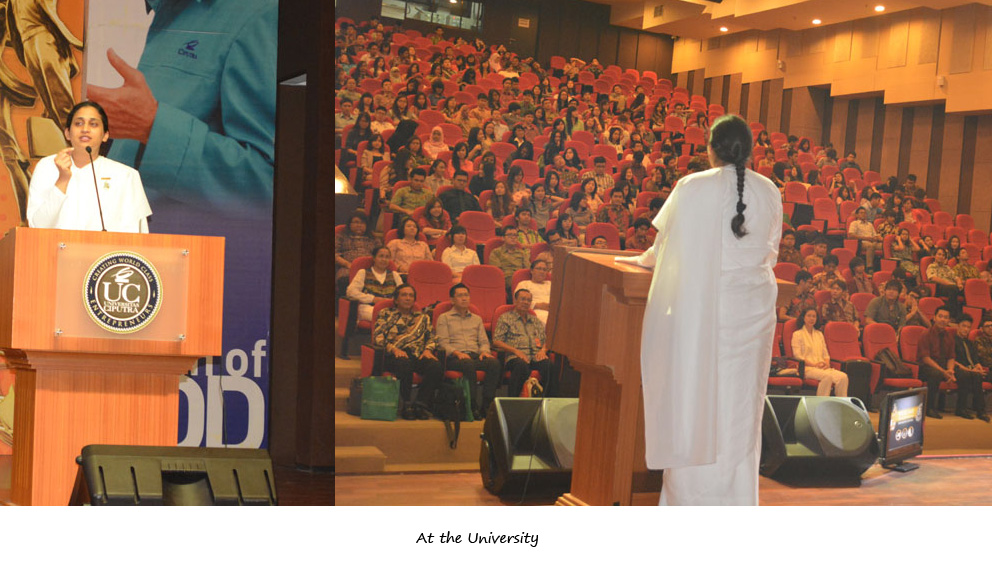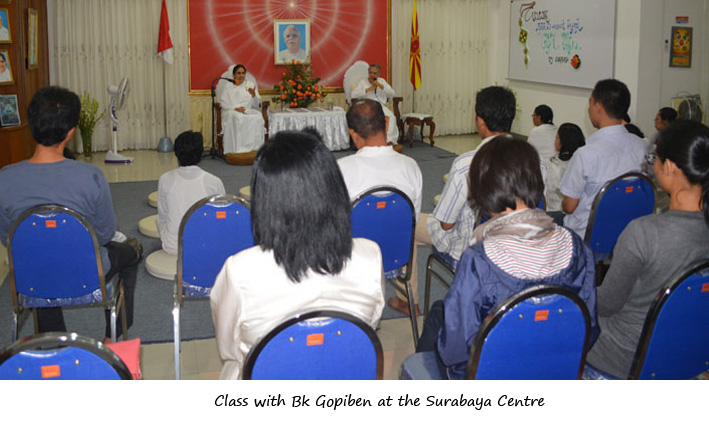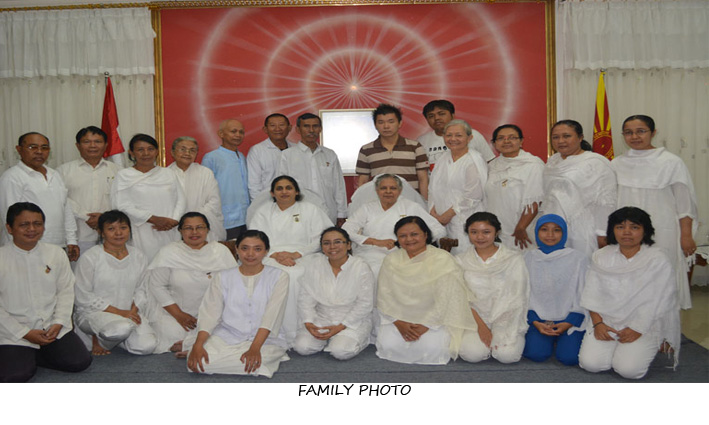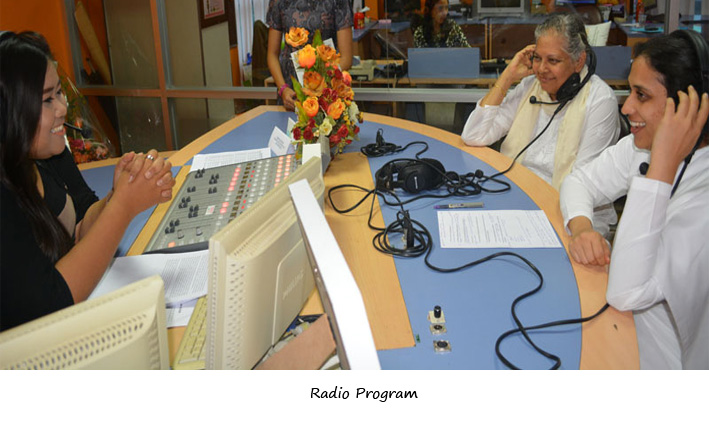 Shiv Darshan programs in New Zealand
18 February 2014
Wellington, 8-9 Feb
The BK centre in Wellington, New Zealand, held a Shiv Darshan programme over the weekend Saturday 8 and Sunday 9 Feb 2014. 'Shiva's birthday' was celebrated as a public programme in the Petone Indian Cultural Hall with 300 people attending the Grand Opening on Saturday evening.

His Excellency Mr Ravi Thapar, High Commissioner for India, attended as chief guest and there were many other VIPs and IPs. The evening's programme was entertaining and inspiring. It included two beautiful dances, a speech by Sister Bhavana explaining the significance of Shiv Jayanti followed by a short meditation for everyone. Both Mr Ravi Thapar and Mr Dhirubhai Patel, President of the Indian Association, praised the Brahma Kumaris as an organisation and for their work in the community. After the speeches 75 VIP guests took part in a candle lighting ceremony which was followed by a dinner for all those attending.

On Sunday 9 Feb BKs started the day by enjoying a cake cutting and flag hoisting ceremony after morning class. Everyone made promises to glorify Baba in the world and to remain constantly happy in their life. Many BKs spent the rest of Sunday at the Petone Indian Hall assisting at the main public program where many devotees especially came to have darshan of the 8 foot tall red and white rose decorated Shiv Lingam.
Other activities included a well-positioned Virtue Wheel stand in a room at the exit side of the stage. Many people (both young and not so young) enjoyed spinning the wheel to see what special virtue was selected for them. The Virtue Wheel is a simple and fun way to introduce people to the value of strengths and specialities in daily life. Other BKs helped by explaining the BK posters, which had been placed around the hall, to groups of people.
Overall it was a wonderful experience celebrating Shiv Jayanti together at the same time as serving the wider community.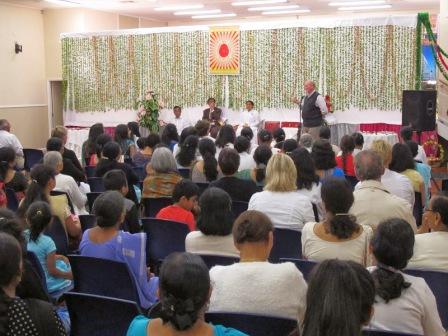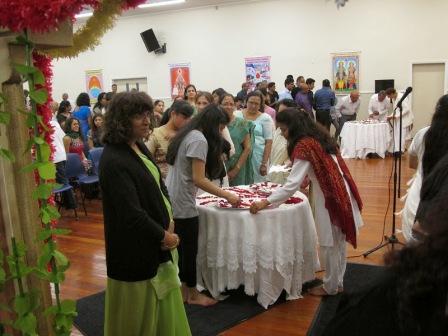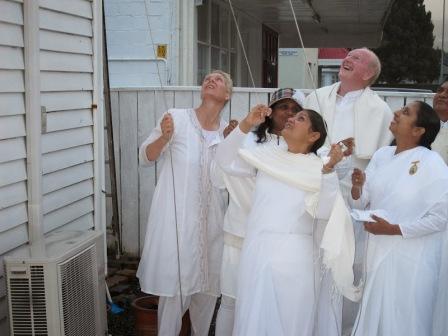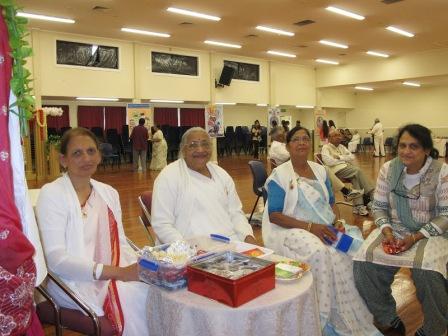 Auckland, 15-16 Feb
There was also a very successful Shiv Darshan program in Auckland the following weekend. On Saturday thre was the grand opening attended by 175 people. Mr Bakshi (Member of Parliament) and his wife Mrs Bakshi attended the program as special guests. He praised Brahma Kumaris in his speech. Little children performed dances and there was a candle lighting ceremony, cake cutting ceremony and flag hoisting ceremony.
Here is a link to a youtube slideshow of the Auckland program: http://www.youtube.com/watch?v=dC6VdxVTO3w&feature=youtu.be

BK retreat in the blue mountains, Australia
17 February 2014
Please see Gunneta Kaur's article based on the 18th January BK retreat in the Blue Mountains, Australia.
http://www.desi.com.au/imagine.html

Br Charlie Hogg's visit to Indonesia
30 January to 10 February 2014
Br Charlie Hogg, National Coordinator of Brahma Kumaris Australia arrived in Bali on 30 Jan. and was met by Br Frank Wilson, who looks after four centres in Bali and Sr Mona. They went straight to Bedugal which is in the mountains and where one of the BKs has a small place used for retreats. From there they drove to the other side of the island to the capital Singaraja. There is a lovely centre there where Sr Oka, a mother, lives. There was an evening class then the next morning there was a programme at Ganesha University for 200 staff and students on "Youth for Tomorrow".

To open the programme a few BKs did some beautiful Balinese dancing. There were some excellent questions from the students and each time after a question was asked the audience clapped; then they also clapped for each answer. Afterwards Charlie spent 45 minutes taking photos with virtually everyone who came to the programme. With a camera in every phone, everyone wanted a photo!

Charlie then returned to Gianyar centre on Friday 31 January, where Br Frank stays. The following day there were classes for BKs in Ubud and Mengwi centres. The next day they had an all-day retreat in the 'House of Masks and Puppets' which is a huge complex of classic Balinese buildings set in the lush tropical jungle with a very golden aged feeling. BKs got together from all four centres and over 100 attended.

On Charlie's final morning in Bali there was a programme in Balai Badai, an auditorium in Gianyar for 700 people who were mainly students. It was a beautifully produced event. A Government official from the Health Department gave a very straight talk about health, drugs, sex and AIDS. Charlie then spoke about spiritual health. Afterwards one of Indonesia's top young pop singers sang a few beautiful songs with deep lyrics. Many years ago he had attended a BK centre and all the rest of his family are BKs.

Charlie then flew to Jakarta. Arriving late, he was picked up by Sr Helen and they went straight to a programme for close contacts of the centre. He did a quick change in the bathroom and then had a wonderful discussion about Compassion. There were people from all religious backgrounds, which is a feature of Indonesia. The current population are mainly Muslim and there is a real openness in the majority. Charlie then stayed at the centre in South Jakarta where Sr Mala is based. Mala had just arrived back in Jakarta from Melbourne a few days earlier.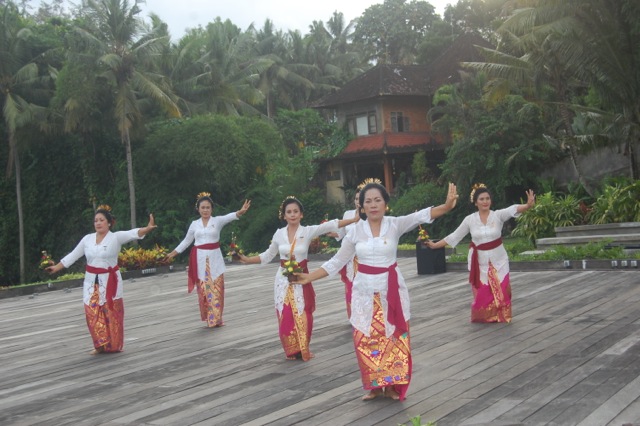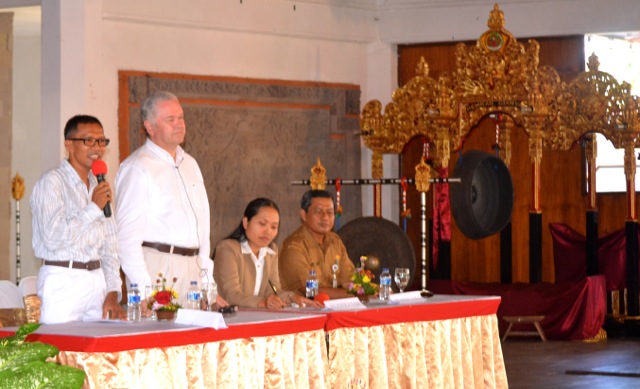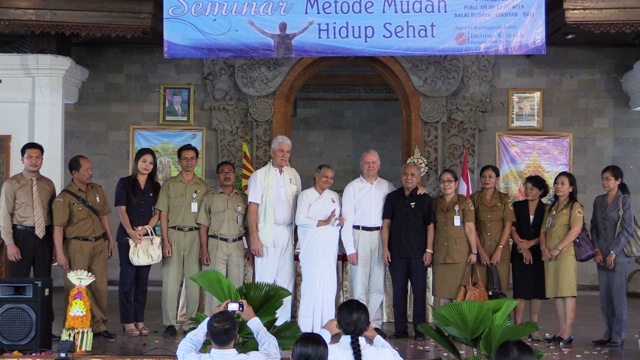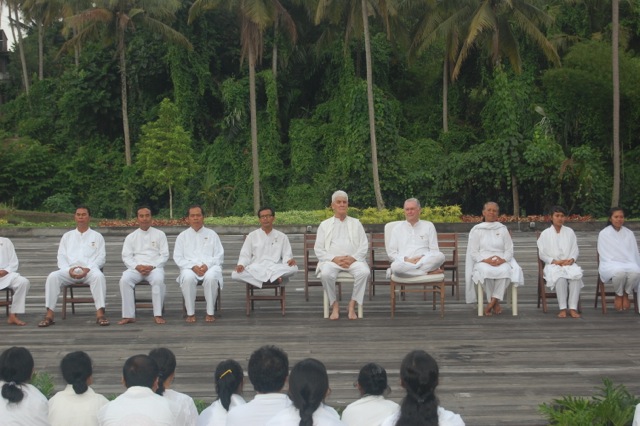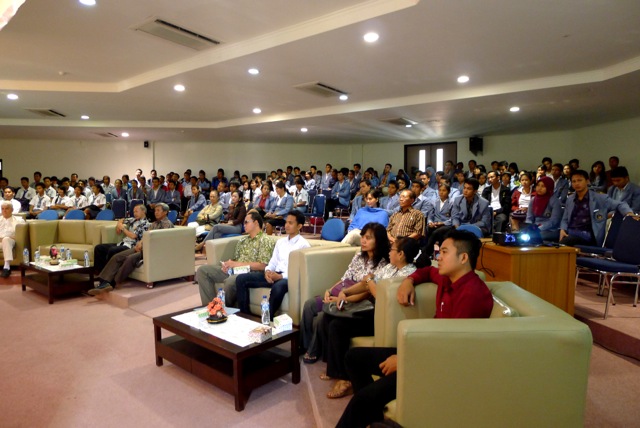 The next day a group who deliver Values Education all over Indonesia came to the centre. They had a very deep discussion about Spirituality and Virtues as they are studying the books written by BK Denise Lawrence. That evening there was a programme in a church for around 150 people on "Understanding the Self and Ego". The priest, Father Romo, had attended the Inner Peace Inner Power retreat in Mount Abu last November and loved it.

On Charlie's last day in Jakarta he went to the other side of the city for a programme with the Sindhi community. Around 110 people attended a programme at the Universal School. Once again there was a very vibrant Q&A session. He then returned to the main centre for an interview for Kompas, the main newspaper in Indonesia. He was scheduled to stay in Sunter with Helen in the north of Jakarta but the centre was flooded for the second time in two weeks so it was not possible. Helen was very light about it and just got on with things. For the last two years on 18 January the centre has flooded. She had sent a photo of herself, knee deep in water in the classroom but she was still smiling.

The next day Charlie flew back to Bali and to the Denpasar centre where Sr Janaki is based. It is a huge and beautiful centre with around 150 regular students. There was a lovely public programme at the centre for around 200 people on "Creating Healthy Relationships".

Throughout the 10 day visit there were also many sessions with the BK family.

Service News from Thailand
January 2014

Sr Rajni's Visit to Malaysia
16 December 2013 - 6 January 2014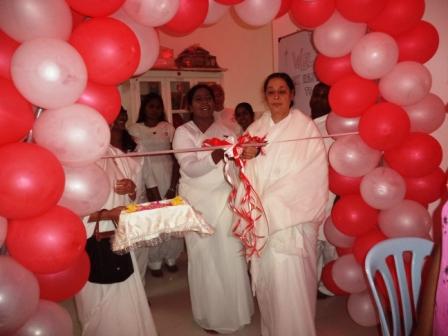 The Malaysian family had the fortune of Sr Rajni's visit for a total of 21 days over the Christmas and New Year holidays. She arrived on 16 Dec at noon and was greeted by the Bangsar family with bouquets of flowers, tilak and rose water.
On the morning of 17 Dec a simple welcome program was arranged where sisters presented her with a bouquet of flowers and sang a welcome song in Hindi. The Bangsar family joined in singing the song.

17 – 19 Dec, Ipoh
Sr Rajni started her tour of various cities at Ipoh, one of Malaysia's main cities about 200km north of Kuala Lumpur. Her program there was morning and evening classes for the BK family.

19 – 23 Dec, Penang & Northern Region
Sr Rajni spent a very lovely weekend with the Penang family sharing her warmth, love, experience, effort and understanding of the significance of her recent motor vehicle accident and how she had used that to intensify spiritual effort.
On Saturday morning the family had a gathering at Oasis of Peace, a BK service place in the south of Penang Island and Sunday at Peace Palace in the north of Penang Island.

Sr Rajni brings with her an air of humility, spirituality, openness, gentleness and an encompassing nature that allows others to draw on her wealth of experiences, from the practical lessons she learnt in the company of elevated souls like Didi Manmohini, Dadi Gulzar, Dadi Janki, Dadi Ratan Mohini, Br Jagdish, Br Brijmohan, Sr Mohini of New York, Didi Nirmala and Sudesh Didi to name a few. What started as an hour and a half of the Q and A Session extended to 2 1/2 hours.

On the Sunday morning there was further sharing. Sr Rajni saw that every question was answered. Sunday evening ended with a light Christmas celebration attended by 50 over students. From Sr Rajni to the cook, everyone took part and enjoyed themselves.

Below is some of the feedback from students:
1. It was an awakening session. Sr Rajni helped to increase my awareness and lift me to an elevated consciousness. I learnt to put a stop to the past and move forward with the present to create an elevated future.
2. Pure diet is Baba's protection for me and so I will keep this discipline of not eating outside vegetarian food in the future.
3. Amrit Vela and morning class in the centre are ways Baba has created to protect me and I should appreciate it and churn knowledge more and not regret later.
4. I am inspired to set a personal aim and program for 2014 and move forward.

23 – 25 Dec, Johor Bharu (JB)
Sr Rajni arrived at the JB Main Centre on 23 December at around 7.00pm. She read the morning murli on Christmas eve and at 6.30pm she met all the centre residents from the various centres in JB. On Christmas morning she read the class and after breakfast she officiated in the Christmas programme organised by all the centres. She introduced a game in which all participated enthusiastically and it was followed by an angel dance by the youths. The programme ended with the singing of Christmas carols by the young sisters and the grand finale of the show was the surprise appearance of 'Santa Claus' with gifts, sweets and blessing cards for everyone.

25 – 26 Dec, Kota Kinabalu (KK), Sabah
As it was the Christmas holidays Sr Rajni and the small KK family of nearly 10 people went on a boat ride to Manukan Island. They had a lovely time with sharing spiritual knowledge, meditation and games. On 26Dec a program was organised for contact souls. More than 10 souls took benefit. Everyone enjoyed the company of Sr Rajni.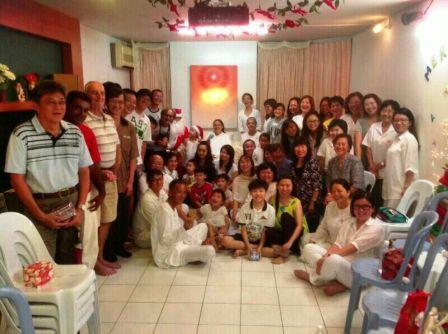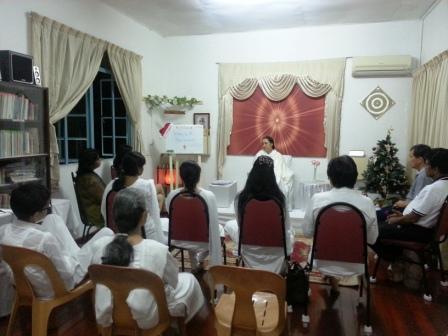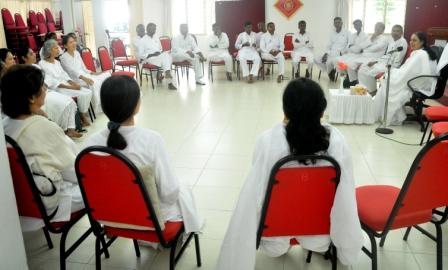 26 – 29 Dec, Kuching, Sarawak
Kuching family had a beautiful Christmas celebration with Sr Rajni on the 26 Dec. They had a retreat for more than 25 BKs and close contacts. Everyone took great benefit and felt energized. The sessions with Sr Rajni were very powerful and essenceful where they experienced closeness and connection with Baba and the family.

29 Dec 2013 – 6 Jan 2014 Klang Valley Area
Sr Rajni arrived in KL in the evening of 29 Dec where she stayed in Bangsar (Main Centre) and from there visited several centres viz.: Ampang , Klang 2 (Shivalaya), Sentul, etc. for morning classes/sustenance and contact souls programs. Below were some of the highlights:-

01 Jan, Bangsar
After morning class, Sr Rajni had a lovely New Year celebration with nearly 150 of the BK family who came from centres all over the Klang Valley. She specially arranged a variety of fresh fruits and a meal. Then there was a cake-cutting ceremony with good wishes for the New Year. The family had breakfast together before going back to the hall to continue the celebration program. Young and old, all joined in to participate and play several games. She then led everyone into meditation and gave a powerful class with interesting stories of the experience with Dadis and senior BK teachers. It was indeed a beautiful start to the new year with much happiness, lightness and family togetherness.

01 Jan, Klang 2 (Shivalaya)
Klang 2 (Shivalaya) centre moved to a new premise and hence took the opportunity of Sr Rajni's visit to inaugurate the centre. The program started at 5:30pm. and about 100 brothers and sisters from Dengkil, Klang 1, Glenmarie and Bangsar centres attended. Sr Rajni did the candle lighting ceremony then cut the ribbon. She then gave a talk which touched on God's miracles and praise. The program ended with blessings from Sr Rajni and sweet dinner for everyone.

02 Jan, Bangsar – Women Empowerment Group
Twenty-two sisters and a brother attended the session. Sr Celia facilitated by posing several questions to Sr Rajni, some of which included (1) Sr Rajni's experience in Japan and the Philippines; (2) the importance of spirituality; (3) methods for good meditation.

Sr Rajni's insights were that the Japanese are largely Buddhist and they have the determined nobility for action, sincerity and hygiene but less prominence for God. They are good at catching vibrations and this is a great thing in a holistic way. The Filipinos, being Catholics, join the BKs after completely satisfying themselves with many questions. Their nature is to love, sacrifice, accommodate and give respect to all. This helps them in their spiritual growth.

For BKs spirituality is awareness of being a soul separate from the body and to transform the self by constantly checking the self. Spirituality is always to remain sweet and not just in meditation only. The peaceful, sweet and loving vibrations should reach others as well.
To have good meditation, Sr Rajni said that the body should be still; ask for forgiveness for any wrong action performed so that the heart and feelings remain pure and there will be no enmity. Loving every soul on earth will dispel waste thoughts frequently coming to the mind during meditation. Finally, the intellect should be alert, awake, pure and powerful and there will be concentration of the mind. Listening to God's wisdom in the daily Murlis develops wisdom every day and helps recognize and solve situations in everyday life.

This session was enjoyed by all present and they greatly benefitted from the knowledge received in such an easy and friendly manner. After a short meditation Sr Rajni gave everyone a toil and blessing.

02 Jan, Bangsar Family Get-Together
Sr Rajni had expressed her desire to have a get-together of the Bangsar family. This was something which no other senior visitors had done before. She started the session by getting everyone to introduce themselves and organized a Q&A session where she shared her experiences in Japan and the Philippines. She had only positive and elevated thoughts to share about both the places although both places were as different as chalk and cheese.
Then she got the family to play a game. Each one present was given a plastic bag containing a chocolate wrapped in gold, two rubber bands, an eraser, two paper clips and a pen. Then she asked everyone to:

1) Take out the 2 paper clips and give them to two people who are instruments for their spiritual growth.
2) Take out the 2 rubber bands and give them to 2 people who are flexible.
3) Take out the eraser and give it to someone who always keeps his or her heart clean.
4) Take out the pen and give it to someone who is creative and resourceful in making things happen.
5) Take out the 2 chocolates wrapped in gold and give them to 2 persons who are making good progress in his or her life like a real gold.

Everyone enjoyed the game and finally each one kept whatever they received as their prize. Everyone also received a mandarin from Sr Rajni. After that everyone enjoyed dinner together.

03 Jan, Sentul, Kuala Lumpur
Sr Rajni gave a class for new students and contacts based on the theme "Easy Meditation for Everyone". The talk was very practical and highlighted the importance of mediation in everyone's life to bring back the lost peace and happiness. Sr Rajni touched on spiritual powers which are essential to face daily challenges and situations and how these powers can be developed through meditation. Around 60 souls participated even though there was heavy rain.

04 Jan, Bangsar – Hindi Program "Sukhmaya Jeevan"
Sr Rajni addressed 20 Indian expatriates and enlightened them on how to lead a happy life and what is true happiness. The topic was "Sukhmaya Jeevan". The session was an interactive one where the first few questions were raised by the facilitator and the rest came from the audience. Most of the people wanted to understand how to maintain the balance between spiritual life and worldly desires and achievements. She explained with simple examples how to experience true happiness and maintain balance in life.

05 Jan morning, Bangsar – Meeting at Asian Retreat Centre (ARC)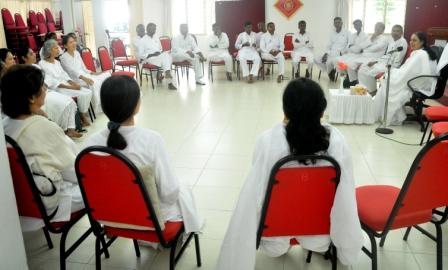 Sr Rajni shared several ideas with 20 BKs on the preparation for the first three months and types of programmes that can be organized in ARC along with some suggestions for various roles.
She suggested that for the first 3 months it is important to have lots of meditation, retreats in ARC involving various BK groups with the aim to purify the atmosphere and harmonise personalities before starting the operations. Meditation could be in Baba's Room, the garden, the main hall etc. Subsequently, every three months, conduct spiritual knowledge and meditation sessions for BKs in ARC. She highlighted that it is very important to keep a balance between our state of mind and using talents in doing tasks. She gave suggestions on conducting special early morning meditation (3.30-5.15 am) and evening meditation from 6.30-7.30 pm to spread vibrations to the people of this land. She also shared about programmes that could be conducted for various groups, promotion and marketing strategies and how to project a good image when dealing with guests visiting ARC.

05 Jan afternoon, Bangsar
High Tea - Dialogue session with POM/IPIP guests & contact souls
In conjunction with Sr Rajni's visit to Malaysia, the English group kicked off the year by organizing a high tea-cum-dialogue session for Peace of Mind (POM) and Inner Peace Inner Power (IPIP) Retreat participants. This programme was aimed to sustain participants, create opportunities for them to meet and network with fellow companions of POM and IPIP and rekindle their peaceful experiences in Madhuban. Participants from other programs and retreats who are potential POM and IPIP guests and good contacts were also invited to the program.

The Dialogue Facilitator was a POM / IPIP guest. This was a new approach with more than 30 participants attending the programme. Everyone felt that the dialogue session was useful and practical. The participants took the inspiration that they need to use the power to discern in their daily lives for making accurate and better decisions, at work or in business. Another pertinent point that was shared by Sr Rajni in the dialogue session was "Never push or force your idea, never instantly react when ideas are rejected and thus spoil your relationship with others." She emphasized the importance of maintaining good relationships while interacting with others.

The program ended with high tea. Sr Rajni, with her usual easy and friendly nature, chatted with everyone while joining them for light refreshments.

06 Dec 2014
Rajni bhen left KL for Manila at 8.30am with a deep imprint of love, affection, care and warmth in the hearts of many BKs.
Malaysians enjoyed Sr Rajni's visit and her classes were refreshing, inspiring and enjoyable. She gave many examples of how senior BK teachers overcame their problems and how other yogis settled their obstacles with courage and determination. She explained that yoga is like fire which burns impurities and purifies us. Yoga is also like water which flows over obstacles (stones and rocks) and flows on towards its goal. Yoga is also light which makes us double-light and natural yogis. She showed her love for Baba and inspired the listeners to have similar feelings for Baba.
Sr Rajni's entertaining manner kept listeners spell-bound and eager to hear more of her experiences. She is also a friendly sister and got on well with everyone. She invited the sisters who cooked her meals to sit and eat with her. She interacted with one and all with natural zest and won everyone's hearts.

Happiness - A Way of Life
4 Jan 2014 Compiled by Guneeta Kaur for Desi Online Magazine (desi.com.au)