2015 Asia Pacific News Archive
2015 Asia Pacific News Archive
News of the Chinese Retreat for the group from China in ARC from 4th to 9th February 2015
9 March 2015
It is with great joy the ARC team shares the news of the Retreat for China Group brought by Sis Sapna and Bro Sumeet, that took place in ARC.
189 souls arrived on the 3rd and 4th February in four batches. Special Welcome Programme was organised in Murli Hall at 9.30 am. All participants were given tilak, corsage and scarf as they entered the hall. Programme began with a beautiful Chinese Welcome Song by Sis Peng & Group, followed by Fusion Dance showing three cultures in Malaysia by professional dancers from Art of Living. The Retreat was inaugurated by all the Seniors – Asha Didi (Delhi ORC), Bro Charlie (Australia) Sis Sujata (Global Hospital), Sis Sapna & Bro Sumeet (China), Sis Meera (Malaysia) and Sis Manshu (China) . All the main guests shared their blessings for the Retreat and all participants received toli and blessings at the end of the welcome programme
The Retreat was conducted in three different groups – Adults, Young Adults and Children. The theme of the Retreat was Spiritual Solutions for Life Challenges. Each day, there were different themes for adults like Parenting – Relationships – Spirituality – Discovering the Self – self respect etc. Many seniors shared their experiences on various topics. Participants were very touched by these sessions. Every morning and in between sessions, there was exercise conducted by Sis Sujata from Global Hospital.
There was Meditation Laboratory conducted by Sis Celia in the Diamond Hall. The hall was filled with powerful vibrations, uplifting the souls enabled them to experience peaceful and calm stage using soul conscious vision.
The highlight of the retreat was another very interesting session conducted by Sis Sapna where parents and Children were grouped to create "Mandala"- a spiritual symbol in Hinduism & Buddhism representing the infinity of Universe. Nearly 82 Mandalas were createdaround Diamond Hall using colourful flower petals, leaves etc. In the end of the session, the meaning of Mandalas created by each participant was explained which is the reflection of the inner state of individuals. Through this activity, the participants experienced love, togetherness, belonging and happiness among each other. The session was concluded with a special Meditation with live music by Brother David from Gyan Sarovar, of which the participants enjoyed and truly appreciated the light moments filled with joy.
Finale of the Retreat was celebrated by having a Family Reunion Dinner specially prepared in Malaysian Chinese styles and a cultural programme jointly presented by China and Malaysia family in conjunction with Chinese New Year Celebration. Special ceremony was organised by China family to express their gratitude to all facilitators and karma yogis who served directly or indirectly to make this Retreat a success. Each karma yogi received a token of appreciation with a hug from the participants especially the young adults and children. Participants experienced peaceful vibrations in every corner of ARC. They were grateful that they were served with love and smiling face every meal. They cherished every single moment spent in ARC and determined to practise meditation regularly.
With Love from the ARC Team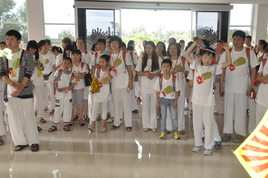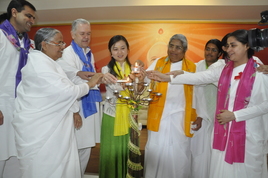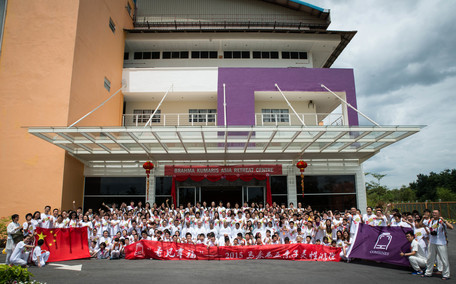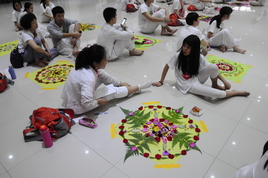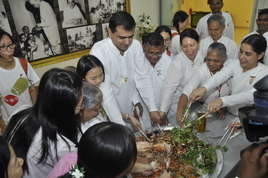 Maha Shivaratri Celebration at Huntingdale, Perth, Western Australia - 21 February 2015
7 March 2015
Approximately 66 adults and 6 children attended the celebration which included 25 Tamil speaking guests, hence the program was conducted with Tamil translation.
The evening commenced with meditation video presentation followed by a beautiful song in praise of God Shiva by Sr Aastha and Br Ajay. Sr Diana performed a contemporary Bharatnatyam dance, leaving the audience in wonder of her gracious movements in this dance of knowledge.
Br Subraa then conducted an interview with Sr Carolyn from the main BK Centre in Perth on the spiritual significance of Shivaratri. After Q&As Sr Carolyn led a live meditation commentary which created a very silent atmosphere and high energy within the gathering.
Br John narrated a story about how the help of God that comes in many different forms and it is up to us to take God's help.
With much merriment a candle lighting and cake cutting celebration was carried out by the Centre residents, Srs Carolyn and Gail, together with the Class Location teachers and other BKs who teach meditation in local community centres.
The power of cooperation and unity of the BK family was felt by the Huntingdale brothers as the preparation commenced only one week before the program. A special thanks to Br Sujesh for all his enthusiasm for the stage lighting.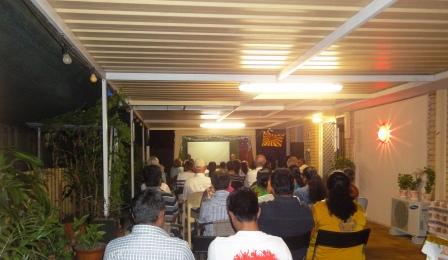 Multi-faith Australia Day celebration, Adelaide, 26 January 2015
19 Febuary 2015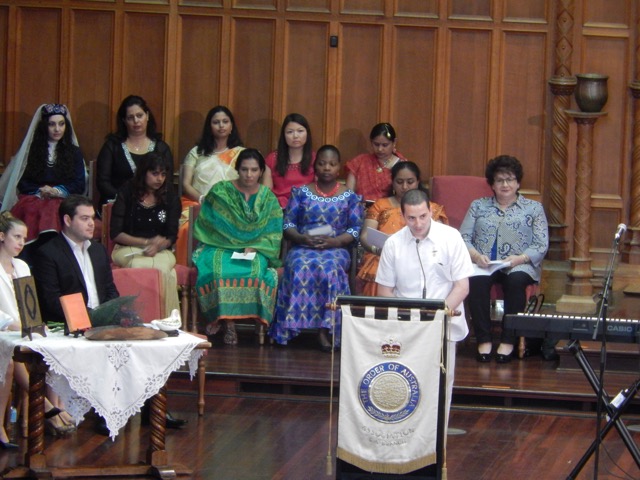 On Australia Day, Monday 26 Jan 2015, Br Damian from the BK Centre in Adelaide spoke at a multi-faith celebration in the Bonython Hall at the University of Adelaide. The event was hosted by the South Australian Branch of the Order of Australia Association, with the theme "Faith – Harmony – Healing."
Aboriginal Elder Uncle Lewis O'Brien AO gave the welcome to country with a symbol of healing made of eucalyptus leaves.
Eight different faith communities celebrated in music, song and speeches in the presence of His Excellency The Honourable Hieu Van Le AO, the new Governor of South Australia.
Approximately 200 people of all faiths, families and friends were warmly welcomed.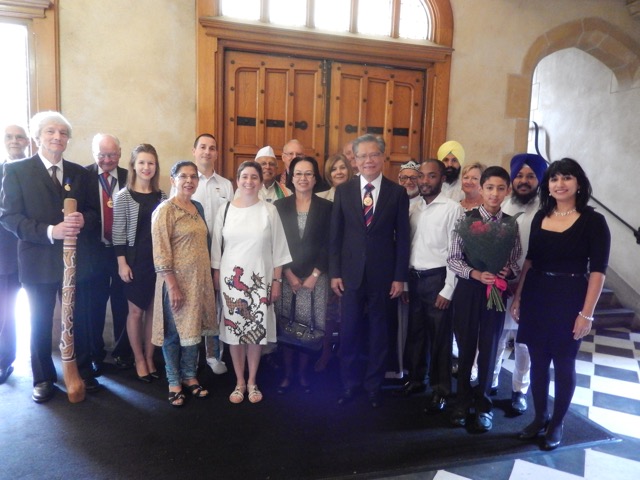 Click here for detailed report and more photos.

ShivRatri Programme in Wellington, New Zealand
11 February 2015
In Wellington there was a Shiv Darshan programme over the weekend (7th/8th February). Shiva's birthday was celebrated as a public programme in the Petone Indian Cultural Hall with a good crowd attending the Grand Opening on Saturday evening. Mr Trevor Mallard MP attended as chief guest and there were many other VIPs and IPs. The evening's programme was entertaining and inspiring and included two beautiful dances, a speech by Sister Bhavana explaining the significance of Shiv Jayanti followed by a short meditation for everyone. Both Mr Trevor Mallard and Mr Jayantibhai Patel (Vice President of the Indian Association) praised the Brahma Kumaris as an organisation and for their work in the community. After the speeches 60 VIP guests took part in a Candlelight ceremony. This was followed by a special dinner for all those attending.
On the Sunday the day started with BKs enjoying a special breakfast and flag hoisting ceremony. Many BKs spent the rest of Sunday at the Petone Indian Hall assisting at the main public programme where many devotees especially came to see the five shivlingams. One was a 6 feet tall Shivlingam decorated with diamonds. Other activities included a well situated Virtue Wheel and game of Snakes and Ladders of Life in a room just beside the stage. Many (both young and not so young) enjoyed spinning the wheel to see what special virtue was selected for them. The Virtue Wheel is a fun way to introduce the value of strengths and specialities in our daily lives. Other helpers explained the BK posters, which were placed around the hall, to groups of people.
Overall it was a wonderful experience of celebrating Shiva's birthday together with serving the wider community.
Clink on this link to see photos

Singapore Newsletter for January 2015
9th February 2015
Service news from Singapore – January 2015 With January 18th falling on a Sunday, it was full house at Peace Hall right from Amrit Vela as BKs in Singapore came to fill themselves with special love & power. The hall was beautifully decorated with 4 pillars depicting the foundation of Raja YogaKnowledge, Yoga, Inculcation & Service. Almost all the BKs capitalised on the day being a holiday & stayed till the end of the programme, immersing themselves in the magical atmosphere of powerful silence filled with deep spiritual love.
To commemorate Brahma Baba's 45th year of ascension, on Sun 25 Jan we organised Brahma Bhojan, an event which has become an annual tradition in Singapore. After a break of nearly 4 years whilst we were waiting for Baba's new house to be completed, the turnout at the rented premises, Silat Federation Hall, was indeed heart-warming!
Many of our old contacts & friends were very happy to celebrate Brahma Baba's achievements with us. About 480 invited guests took great inspiration from the energetic & entertaining sharing by Vedanti bhen (Director, BK Centres, Africa), our special guest for the occasion.
It was also wonderful to see how readily & lovingly all the BKs cooperated with their bodies, minds & wealth to make this event a huge success. It is also noteworthy that Baba's new kitchen was maximised to the fullest to prepare the elaborate dishes which were served to every guest on a banana leaf!
A big THANK YOU to Did Vedanti, Yashmita bhen and all the BKs who made this event a big success and touched the hearts of every guest who attended!
From the Singapore family Om Shanti

Didi Vedanti's Visit to Malaysia
2 February 2015

BK Br Ganesh from Sri Lanka Visits Perth, Australia - Friday 23rd to Monday 26th January S
ervice News
28 January 2015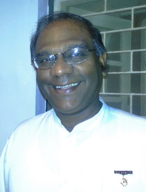 The Perth BK family were very lucky to be the first stop for Br Ganesh's first visit to Australia and very much enjoyed his pleasant spiritual company. Having known Perth BKs Subraa and Raajen from Malaysia, it was a nice opportunity for Br Ganesh to be accommodated with them at their Class Location in Huntingdale.
Sat 24 Jan
In the morning Br Ganesh conducted class at Huntingdale after which he enjoyed exploring the Fremantle area, visiting an old shipwreck and beaches etc. He was fascinated to see the "doggy" beach and enjoyed watching various breeds of dog playing together and noted how well behaved they all were!
That afternoon Br Ganesh gave a talk on "How to Remain Light and Easy in Rocky Times". He shared his experiences of the aftermath of the 2005 tsunami in Sri Lanka and the effect that such huge 'rocky' times had on people. He expressed that he had to learn to listen to others from his heart and by doing that he has learned much about himself and others. After the tsunami, he had observed that people looked at their situation in a range of ways – some felt a loss of hope and some who had lost all their family and belongings used their loss as a motivation to help others.
Sun 25 Jan
The morning was spent sharing class and breakfast with Perth BKs and advanced students, who enjoyed Br Ganesh's reading of the latest murli of 18 Jan, together with the designated class for the day on the topic "To give regard is to receive regard".
This was followed by a sharing on "How to Achieve a Deeper Quality of Yoga". Br Ganesh started his sharing by explaining going 1) inward; 2) upwards and 3) forward (out to the world). He said;
· Before connecting 'upwards' it is important to firstly spend time to step within, create silence and connect with the eternal self. This revives the original peace of the self which flows into one's being, harmonising and healing everything that's in imbalance. It brings our spiritual energy to a still point of concentration.
· Learning to listen to oneself develops openness to God which makes us receptive to the reality of God, gradually moving to absorption in one thought of God.
· Love breaks the barrier of old consciousness and through the love of God, the soul comes back to life, back to reality. To remember God is real knowing, an acknowledgement of our own eternity and the truth of our existence.
· Love creates change and inspires; peace lays the foundation for that inner change.
Br Ganesh was also taken to the iconic King's Park for a tour and a drive along the expanse of Perth's Swan River.
On Sunday evening 35 people took inspiration from a talk on the topic "Applying Spiritual Wisdom to Everyday Situations". Br Ganesh asked the audience, "What is spiritual wisdom? Does it work? Is it time tested and is it practical?" He shared that unexpected things can happen at any time at home, at work, in relationships and with nature. He also spoke about the need for preparedness, not only on the physical level, but also on the spiritual and mental level, hence the need to spend time with the self in order to build up our spiritual wisdom to know how to manage unexpected events. Based on going inwards, spending time getting to know the self deeply, we will be in touch with our own spiritual wisdom and conscience which will guide us in everyday situations.
Feedback from those who attended Br Ganesh's programs was that all took benefit from his deep sharing and enjoyed spending time in the company of an easy-going yet wise and concentrated yogi.
Br Ganesh left Perth on Monday morning to visit Melbourne, Canberra and Sydney.

Report on Sister Aruna's Visit to Malaysia, December 12-16, 2014
20 January, 2015
Sister Aruna from Kuwait paid a flying visit to Malaysia from 12th – 16th Dec 2014 on her way to Vietnam. In just 5 days, she served and benefitted a wide category of souls from BKs to contacts, to IP's & VIP's and government officials and Ministers.

Read Rest of Report here.

Sister Denise Visits Thailand - December 10-14, 2014
18 January 2015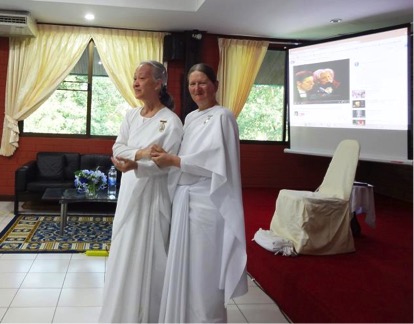 On the morning of a Public Holiday on 10th December, Sr Denise arrived from Singapore. The programs during her visit included:
Wednesday, Dec 10th: Pinthu Centre In-house program

Thursday, Dec 11th: Seagate Way Motivational Talk

Thursday night - Saturday 13th morning: BK Family retreat, "Virtues for Life"

Saturday, Dec 13th evening: Nonthaburi program, "Self-Mastery"
Subsequent to Sr Denise's visit, BKs also had a booth at Thai Rotary Day in Lumpini Park in Bangkok.
Please read the full report and see all the photos here.