Retreats & Trainings
Retreats & Trainings
Madhuban Double Foreigner Program October – April, 2021 - 2022 Season
23 July 2021
Dear Centre Coordinators, Warmest greetings of love.

We are happy to announce this Season's Theme: My Subtle and Secret Life with the Supreme.
Rethinking the Season in Times of Transition
· There are already a lot of wonderful online sustenance programs going on around the world, so we feel the role of the DF Program at this unique time is to connect the DF Family with the Madhuban Seniors, Madhuban itself, the Madhuban Niwasis and our Madhuban memories.

· So as not to 'over crowd' the Season from October – April, when we have the connection with Madhuban through the BOL, we will spread the DF programs out through the year, with the first two in October and January.

9-10 October 2021 – 9th Full Day and 10th Morning Only
We welcome you to join us to reconnect and rejoice in the subtle and spiritual connection we all have with each other, our home Madhuban and Baba. There will be interactive sessions and a yoga bhatti leading up to watching Baba's avyakt murli on 10 October.
January 2022
There will be a retreat from 14th (evening) – 18th (finishing after Amrit Vela) to give the experience of a real Madhuban pilgrimage. Details of this retreat will come in the near future.

Second part of the season – February – April 2022
We will be in touch with our RCs to be guided on the situation and schedule programs accordingly.

"News & Views from Madhuban"
Regular 10-20 minute videos creatively featuring news from Madhuban are being developed with the first edition subtitled "Monsoon on the Mount" to come out around the end of July.

With much love,
In Baba's yaad,
Celia, Dorothy, Nita, Manda, Marcelo, Petra, Pratiba, Suman, Sona, Trish, Vijai for DF Program Team

Invaluable Teachings of Mateshwariji by BK Mohini Didi (YouTube video with English subtitles)
25 June 2021
Dear Centre Coordinators,
Respected Sisters and Brothers of the Brahmin family,
In memory of Mateshwari's day on 25th June, BK Mohini Didi is sending this video recording of how the precious teachings of Mateshwariji felt like a boon.
All of you are requested to show this video to all the Brahmin family on 24th June.
YouTube Link:
Mateshwari's Teachings are a Boon - BK Mohini Didi (with English subtitles) - 24 June, 2021
https://youtu.be/JSWpALKN1IM
In Baba's yaad,
International Coordinating Office

Message re Data Privacy: International Day of Yoga - 21 June 2021
17 June 2021
Dear Centre Coordinators,
Following up on the message about providing material for any International Day of Yoga (IDY) events to Brij Mohan Bhai, please take into account data privacy regulations pertinent to your country. The material you share about events in your country might be published in a public manner in India and hence you might want to take the necessary steps required for your national data privacy regulations.
Please ensure you take appropriate measures to comply with your national data privacy laws before sending any material as part of IDY to India.
In Baba's yaad,
GDPR Team, London
gdpr@brahmakumaris.org

Avyakt Murlis now available on the Madhuban Murli Website and mobile app
13 June 2021
Dear Centre Coordinators,
We are pleased to announce that the official Madhuban Murli website at https://madhubanmurli.org/ and the Madhubanmurli mobile app (see attached PDF) has now started to provide the full set of historic Avaykt Murlis.

At the present time, Murlis from 1969 to 1978 in English and Hindi are available. We will continue to add the subsequent years as they become available. Language translators have also been informed and so translations in other languages will start to be added as soon as they are available.

To access Avyakt Murlis please click on the menu icon in the top right-hand corner of the website or the mobile app (see screen shot below). This will present you with a list of options including Avyakt Murlis years.

We hope you will take benefit of this new facility that has been provided.

Please note, there are various other sites and mobile apps that provide Murlis but this is the only official way to access genuine murlis sourced from Madhuban, London and other Murli departments across the world.

Any questions can be sent to murli-support@eur.brahmakumaris.org

In Baba's yaad,
Global IT Team & Murli Department in Madhuban and London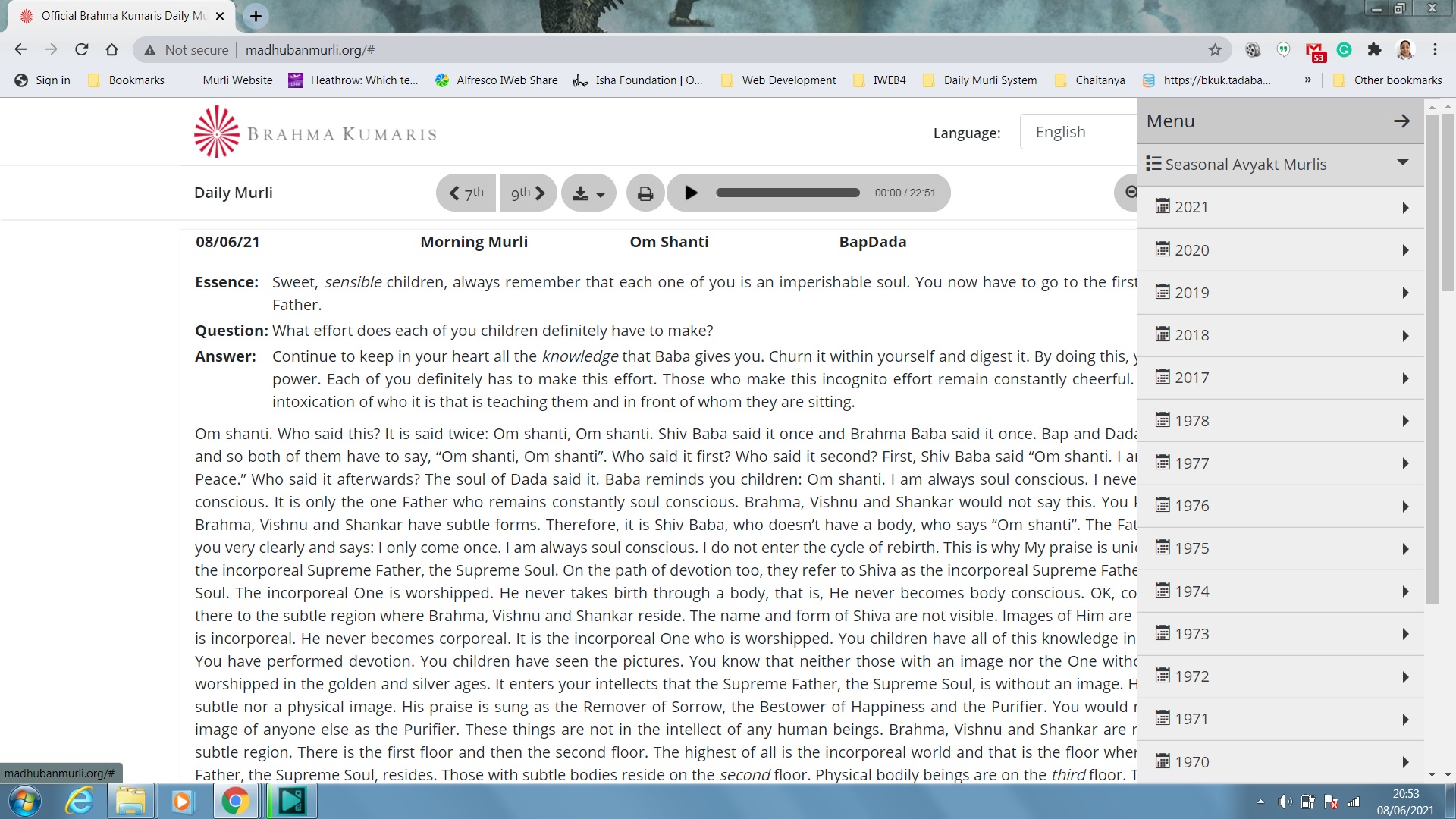 click here to download instructions for Mobile app in PDF version.

Regarding photos of International Retreat Centres and Services by BKs
9 June 2021
Dear Divine Sisters, Om Shanti
At ORC, we are planning to change a few display boards which depict world-wide services and retreat centres of Brahma Kumaris. Presently the displays are very old and a lot of new services have happened all across the world, before lockdown. There must be many new things that we have taken up at the UN. In addition to this, the photos of our retreat centres in different countries show the diversity and universality of the organisation.
Therefore, I request you to please circulate my request to the RCs in all 5 continents to send their service photos and photos of the retreat centres, with appropriate action, so that we can upgrade the displays at ORC.
In Baba's Yaad
BK Asha
Director,
Om Shanti Retreat Centre
Brahma Kumaris

International Day of Yoga - June 2021
9 May 2021
Dear NCs & CCs,
Om Shanti, and loving greetings from Brother Brijmohan.
As every year, the Ministry of AYUSH, Government of India, has desired that we organize programmes for the International Day of Yoga 2021 globally in collaboration with them. They have permitted us to use the IDY logo (attached) along with the BK logo. Of course most of the programs will be held online.
They also want us to collect data and photographs of various events held by Brahma Kumaris around the world and submit a consolidated report. You are requested to send post-event details and photographs as soon as possible for making a consolidated report to this Google Form https://tinyurl.com/idybk2021
For celebrations in India, we have planned an 'International Day of Yoga 2021 Global Festival', under which a 7-episode, 30-minute series on different aspects of Rajyoga will be telecast on PMTV, Awakening TV, and YouTube from 14 to 20 June. Some episodes will have double foreigner participation.
The final event will be held on 21 June 2021 (IDY).
In Baba's yaad,
BK Brijmohan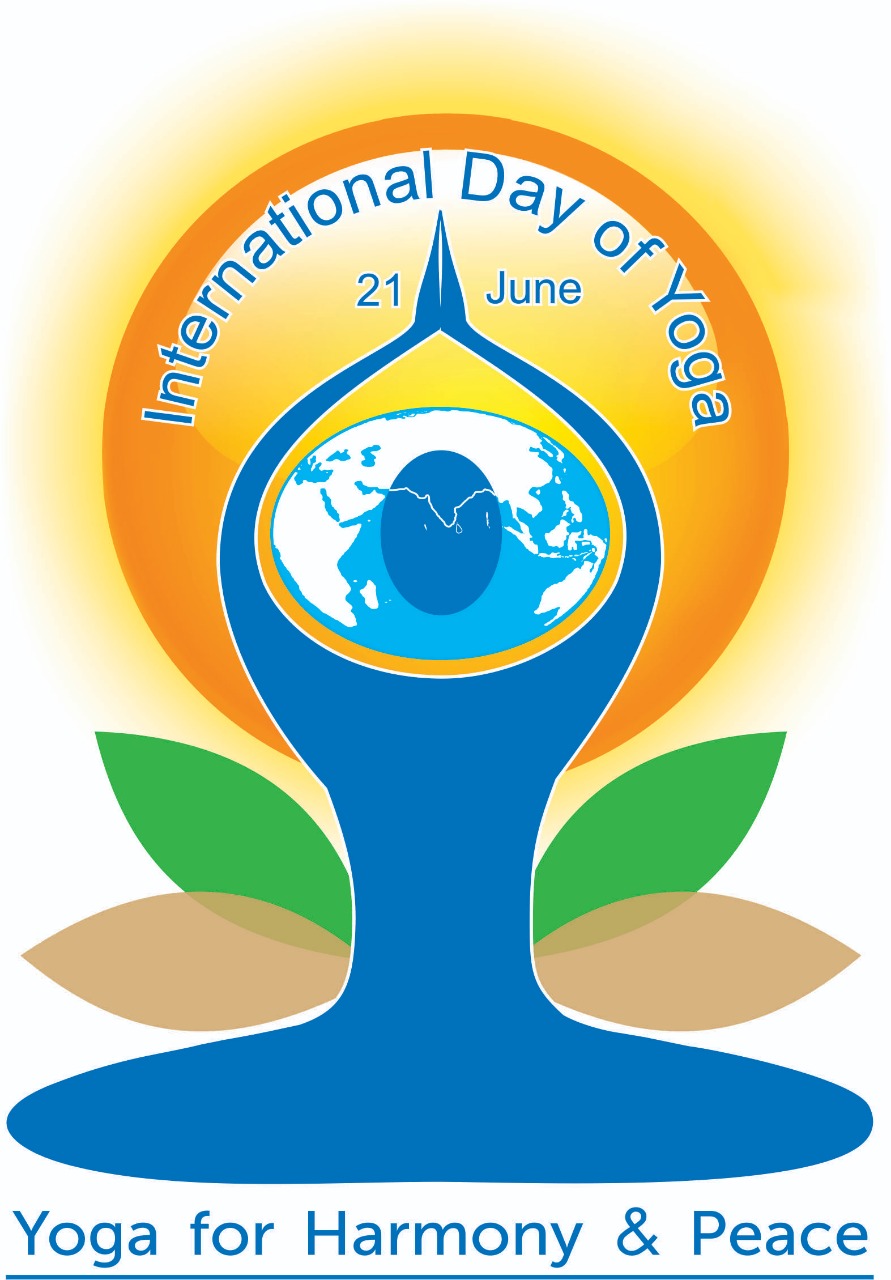 Save the Date - Online Global Silence Retreat - July 16-17
20 May 2021
Dear Divine NCs, NCTs and CCs, Warmest Greetings of Love!

We all continue to experience the importance and value of uniting together in powerful silence - both for our own progress, as well as in an expression of care towards a world in transition.
We warmly invite the entire BK Family to join us in the upcoming Online Global Silence Retreat July 16-17, 2021 - The Sanctuary Within - In the Silence of the One...with more such retreats planned in the months to come.
Please share the attached save-the-date with brothers and sisters at your centre. A formal invitation, including registration details, is forthcoming. This will be a special one, as we will enjoy together the beauty and brilliance of Baba's Retreat spaces in Australia!
Wth much love,
In Baba's sweet yaad,
Your Global Online Silence Retreat Team
silenceretreat@ca.brahmakumaris.org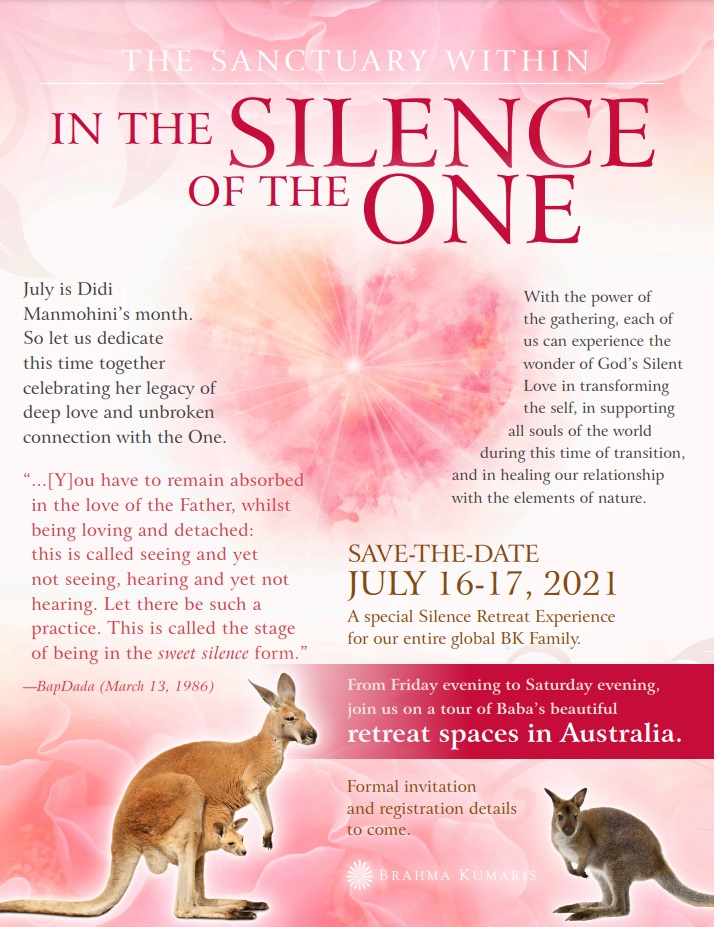 click here to download PDF version.

Transfers to Global Hospital & Research Centre
7 May 2021
Dear Centre Coordinators,
The Government of India has introduced new guidelines for the transfer of money from overseas to Indian NGOs. We are still working out the details for Global Hospital & Research Centre. We will come back to you with an update soon. Please bear with us till then.
Some of you may have the details of the hospital's domestic account. However, please do not transfer any funds until further notice from us. The spotlight is on the NGO sector and such errors can get the hospital trust into trouble with the authorities.
In Baba's yaad,
Dr Partap
Global Hospital & Research Centre

Madhuban Newsletter - May 2021
4 May 2021
Dear Centre Coordinators,
Please find attached the Madhuban Newsletter for May 2021 in English and Hindi which includes points for 1-15 April to become an embodiment of success with the experimentation of yoga, and points from 16-31 to become full of success with the power of yoga.
In Baba's yaad,
Rajubhai
Murli Department, Madhuban
Madhuban Newsletter in English

Launch of Dadi Janki's postage stamp in India
1 May 2021
Dear Centre Coordinators,
We are pleased to send you the images of the material related to the launch of Dadi Janki's Postage Stamp in India.
Stamp Material:
1. Stamp Sheet – one sheet contains 45 stamps (image attached)
2. Brochure (Image Attached)
3. First Day Cover (cancelled) (Image attached)
4. Presentation Pack (Image attached)
5. Stamp Album Deluxe (Image attached)
6. Sheetlet (Image attached)
7. HD Image of Blow Up for printing in size 30"x40"
Also, sharing with you the following of the Stamp Release Function held at Hon'ble Vice President's House in New Delhi, India on Monday, 12 April 2021 in case you need it for displaying in various countries holding celebration functions:
8. Few Photos
https://drive.google.com/drive/folders/11gxd6ZApJ7rUsCaYS2HzHrA3MRveXxBc?usp=sharing
9. Short video clip of Hon'ble Vice President of India unveiling the Blow up of Dadi Janki's Stamp and Hon'ble Minister
Ravi Shankar Prasad presenting the first Album to Hon'ble Vice President of India for its release.
10. Press Note of Hon'ble Vice President (in English)
11. Speech of Hon'ble Minister Ravi Shankar Prasad, Ministry of Law and Justice, Information Technology and Electronics and Communications, Government of India. (in Hindi)
12. Speech of D.R. Kaarthikeyan, Former Director, Central Bureau of Investigation (in English)
In Baba's yaad
BK Brij Mohan
Stamp sheet containing 45 stamps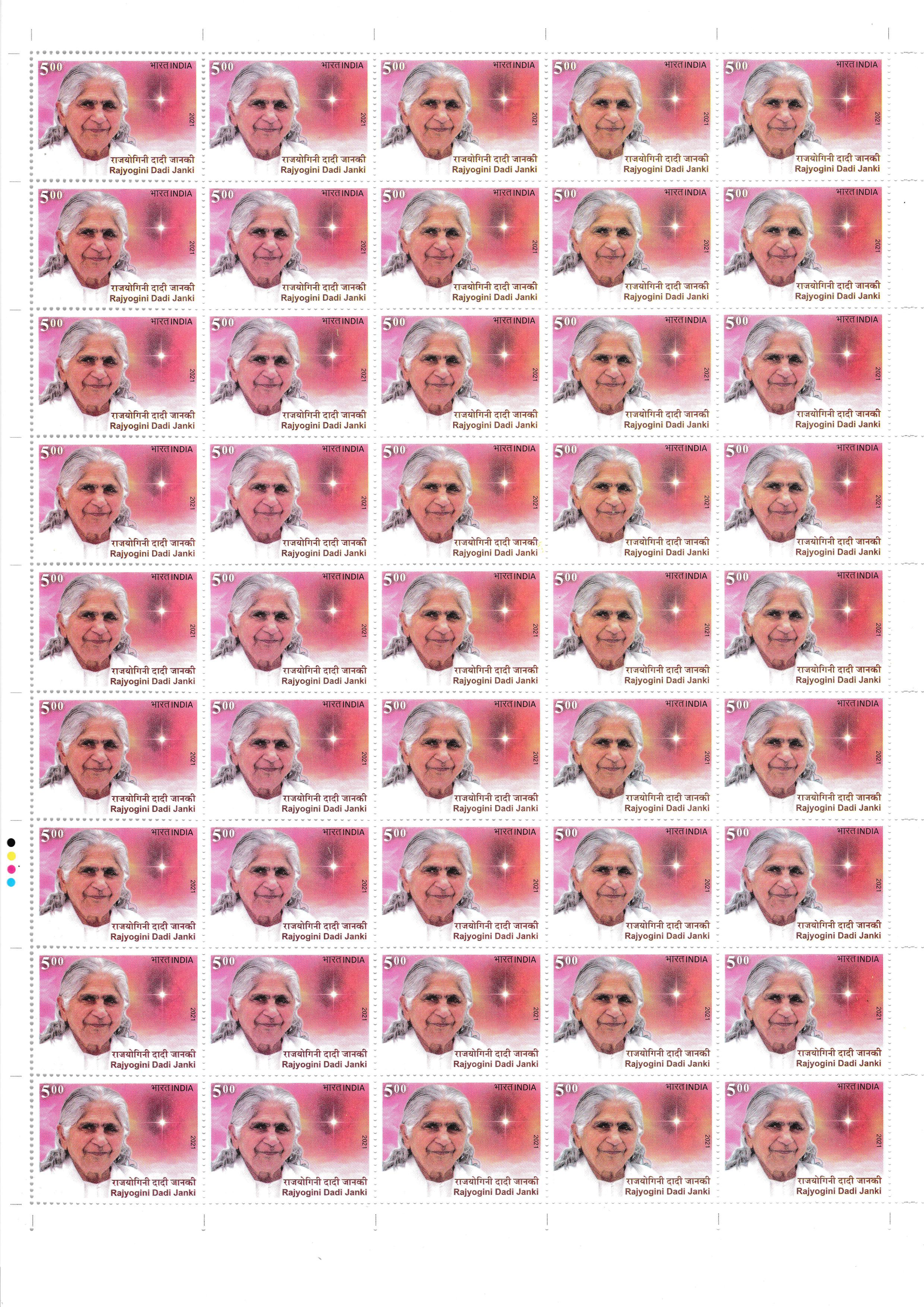 Sheetlet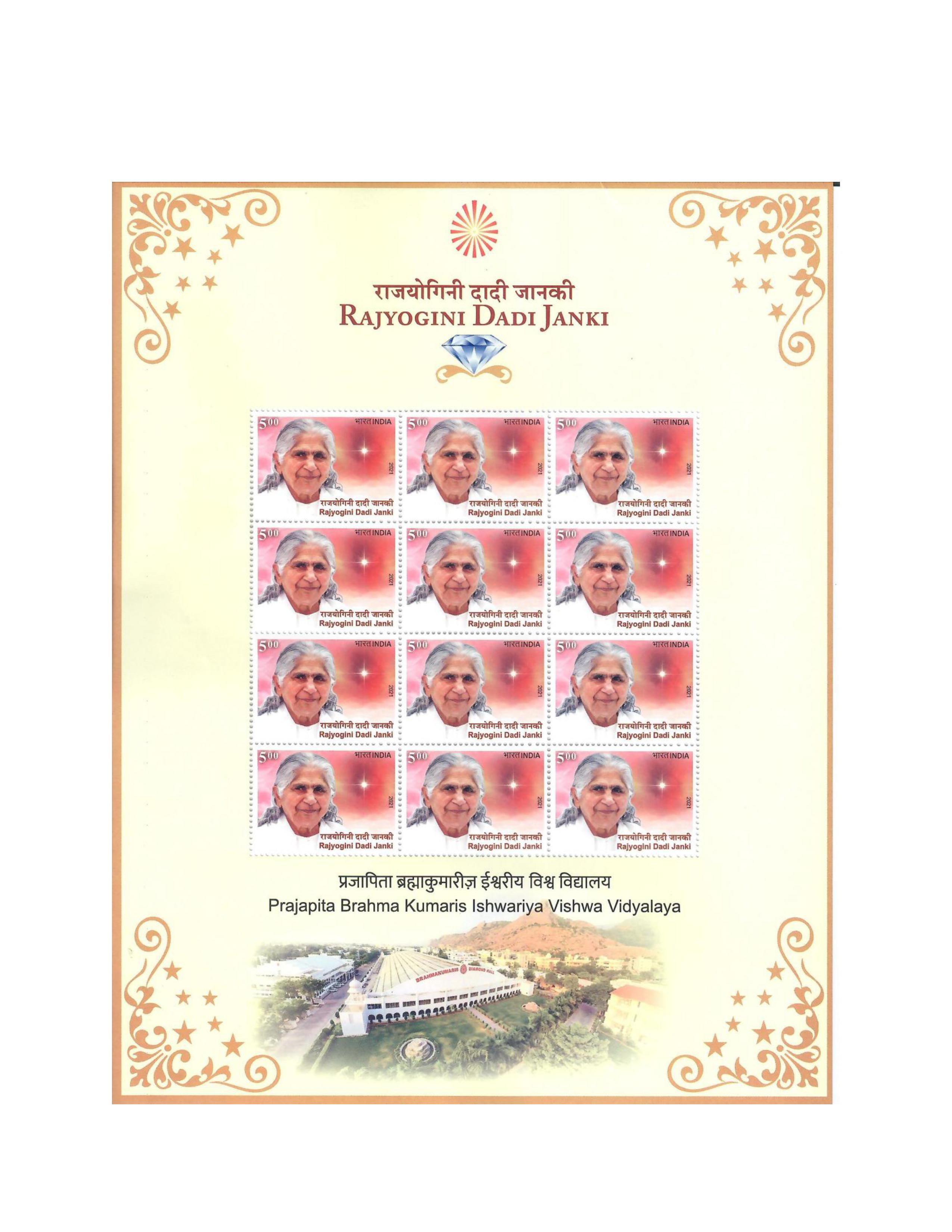 FDC (Cancelled)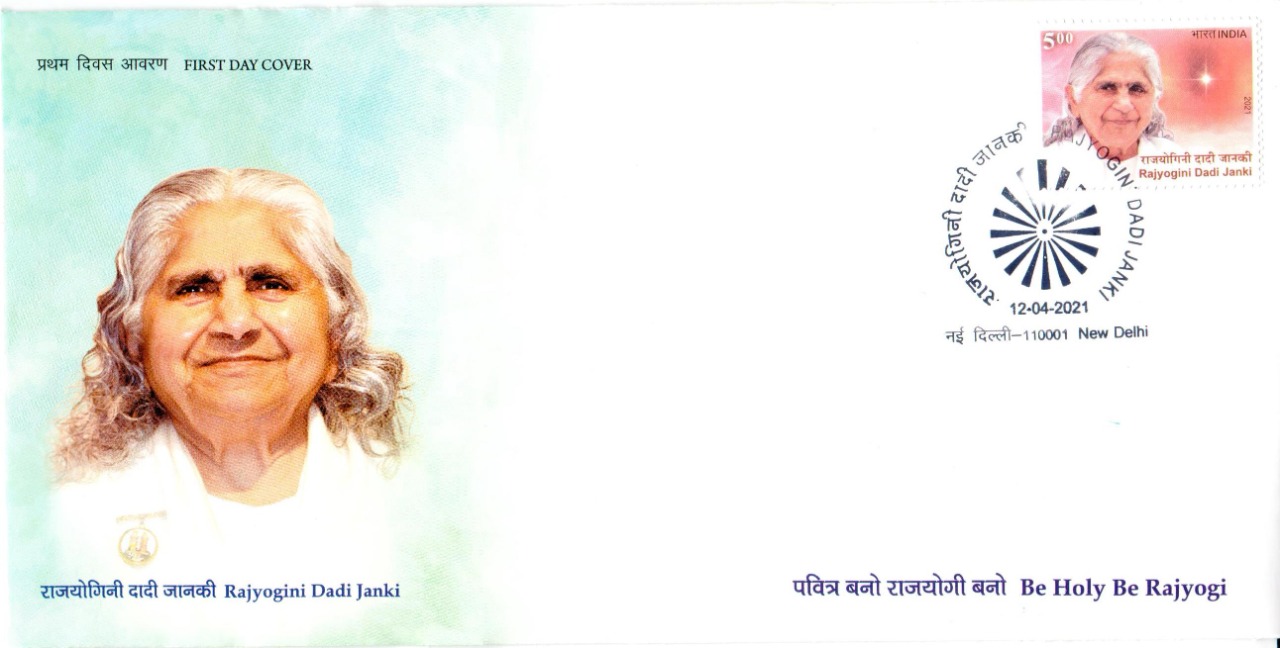 Delux Album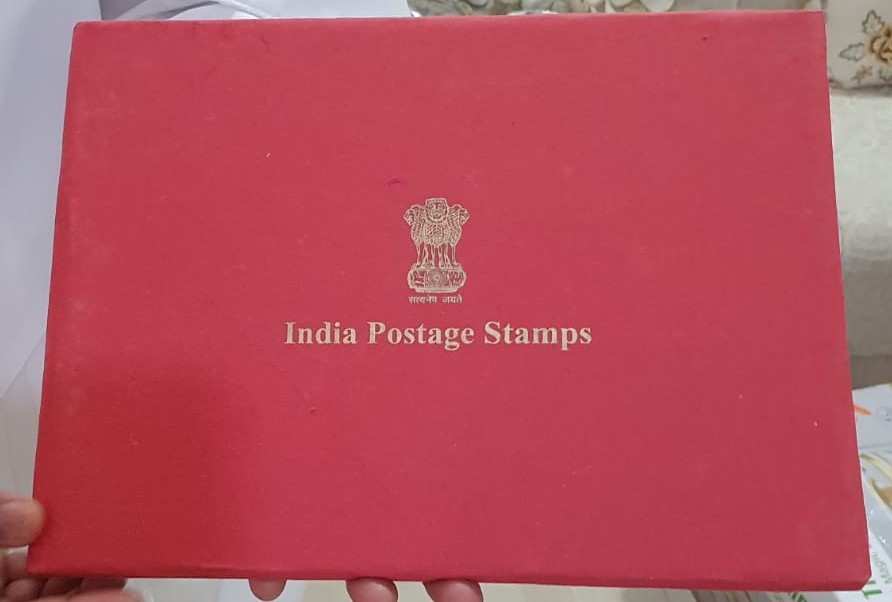 Click below image for brief view of the ceremony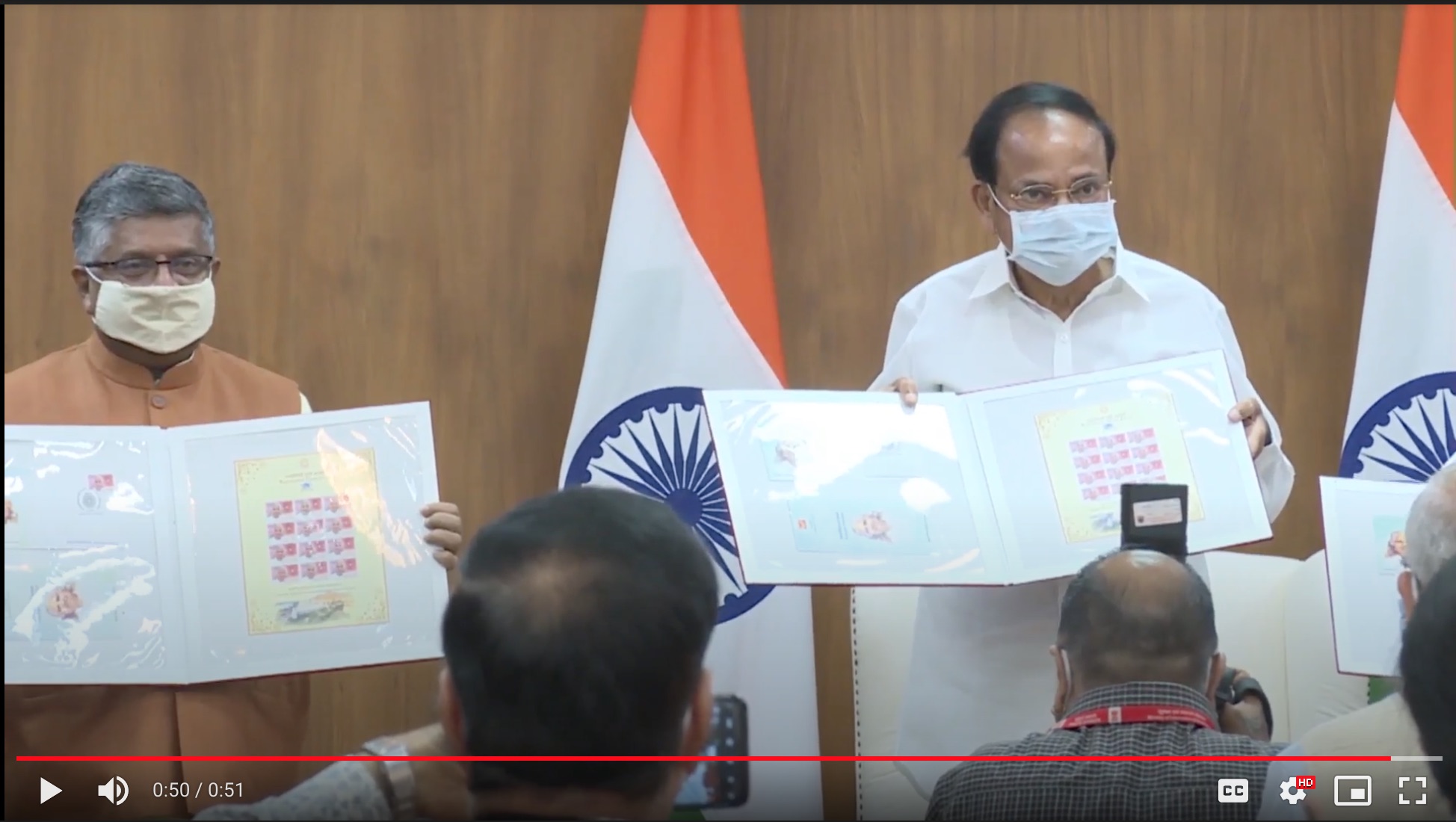 Click on below links for PDF versions of the respective documents.
Blow Up HD image for Printing in 30x40 inches
Speech of Hon'ble Minister Ravi Shankar Prasad Ji
Speech of D.R. Kaarthikeyan Ji, FD CBI

Important Letter from Dadi Ratan Mohini - 30 April
1 May 2021
Dear Centre Coordinators,
Beloved Avyakt image, Mother and Father, BapDada's deeply loving instrument teachers, and all brothers and sisters who are the decoration of the Brahmin clan, ones who become complete and perfect with their pure and elevated attitude always, ones who are stable on the globe of the world and with their angelic form, donate the powers of the mind to all souls, ones who are yogi and experimenting with yoga, please accept love-filled sweet remembrance.
While hearing news of the land of Bharat and the lands abroad, all of you must be having special yoga at your own places. At present, our sweet Ishu Dadi and many brothers and sisters of our Brahmin family are receiving treatment in the hospital. Some members of our Godly family have suddenly shed their bodies through the illness of corona and gone into BapDada's lap. Everywhere, there is the atmosphere of insecurity and fear.
At such a time, our sweet BapDada's signal for all of us children is: Children, at the time of this illness, the power of your yoga and the vibrations of happiness will work like medicine and with your courage and the power of your faith, God's co-operation will be like blessings. This is the method to pass through this difficult situation.
Today, I am especially writing this letter of remembrance to all of Baba's children, that all surrendered brothers and sisters at the centres and all those living in their households, please make time from your daily timetable and make a programme to have such yoga tapasya in which, each one has at least 8 hours of yoga every day. Let every service place become a light-and-might house. Let each one, with their double light angelic form, do the service of giving subtle sakaash with your mind to the elements and all souls, and with the setting of your viceless stage, protect yourself and also help the whole world.
With these good wishes,
In Godly service,
B.K. Ratan Mohini
Click below links for letter in PDF version.

2021 March & April Official Communications Archive
2021 January & February Official Communications Archive
2020 December Official Communications Archive
2020 Oct through Nov Official Communications Archive
2020 Jan through Sep Official Communications Archive
2019 Sep through Dec Official Communications Archive
2019 Jan through Aug Official Communications Archive
2018 Sep - Dec Official Communications Archive
2018 Jan through Aug Communications Archive
2015 Official Communications Archive