Retreats & Trainings
Retreats & Trainings
REMINDER TO REGISTER: Silence Retreat at ORC
16 February 2019
There will be a Silence Retreat at ORC from 3rd to 8th March. Arrivals will be on 3rd March and departures after breakfast on 8th March, and we encourage all those who would like to stay on for the Delhi Double Foreigners program to remain in ORC on 9th and 10th of March.
The Delhi event will be held at the Indira Gandhi stadium for around 30,000 people, Brij Mohan bhai, Ashaben and the Delhi family would love as many double foreigners as possible to stay and take part and more information has been sent to you.
The Silence Retreat is aimed only for NCs, NCTs and CCs and those over 25 years in gyan.
More information about the Silence Retreat is enclosed in the invitation together with the link for registration which is also below:
brahmakumaris.org/r/retreat-into-silence
In Baba's remembrance,
Silence Retreat Team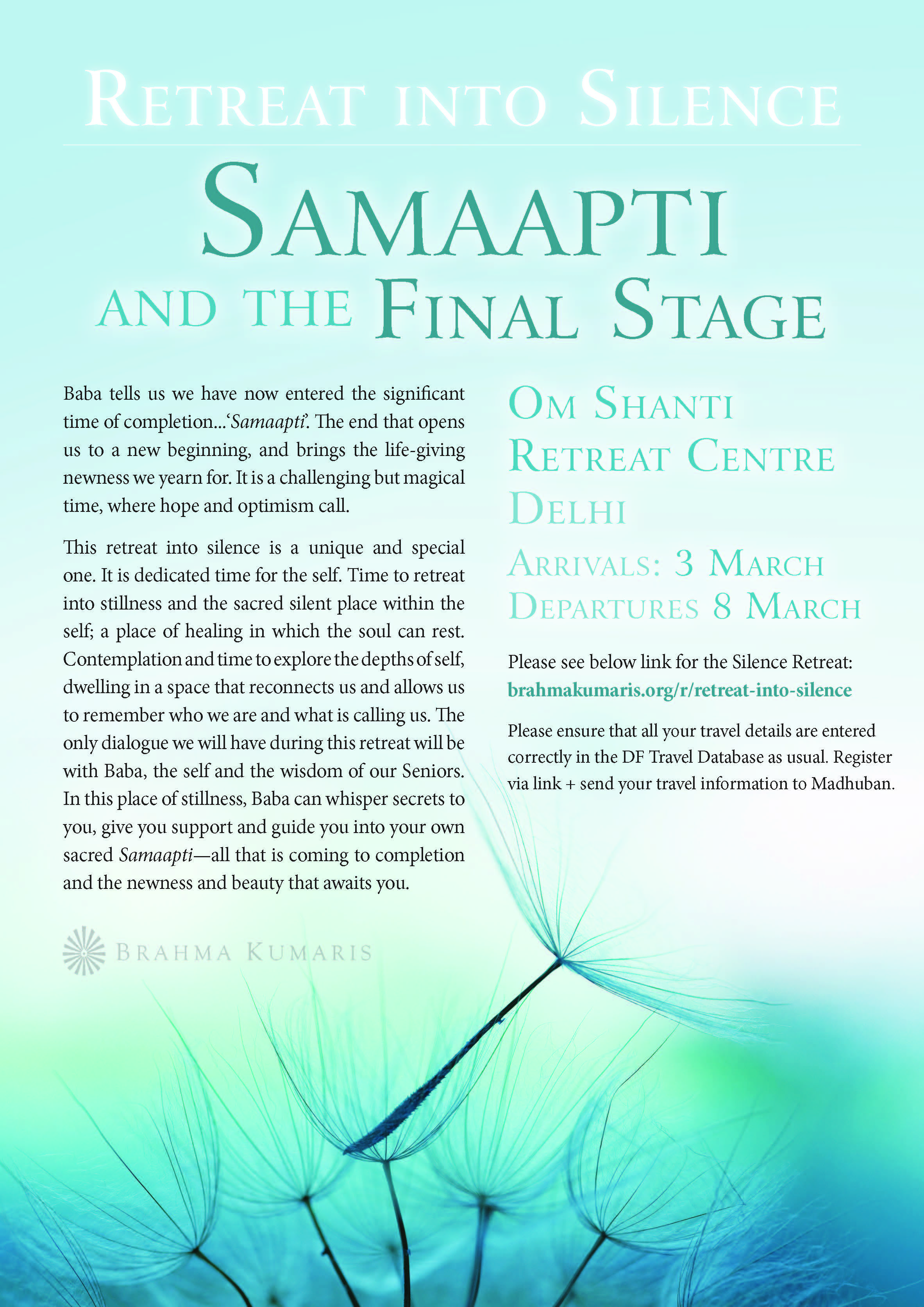 Invitation to 2nd International Hindi Retreat at the Asia Retreat Centre, Malaysia - 4th to 7th July
17 January 2019
Dear Centre Coordinators, Om shanti
We are very pleased to let you know that Malaysia is hosting 2nd International Hindi Retreat at Asia Retreat Centre. The theme of the Retreat is "Clear Intellect and Clean Heart". The Retreat will be held from 4th to 7th July 2019 (arrival date: 3rd July; Departure date: 7th July after lunch).
We are very fortunate to have Didi Chakradhari as the resource person for the whole retreat. Didi Chakradhari is the Regional Coordinator of Russia.
Any BKs who are more than one year in gyan and follow Brahmin principles are most welcome to participate in this Retreat.
Please click the link below for registration:
https://goo.gl/forms/462VT8yifF4csv4E2
For more information or registration, kindly send your email to asiaretreatcentre@brahmakumaris.org
In Baba's Yaad,
BK Meera

UPDATED Registration Links for True Self Esteem Courses & Retreat Details - Double Foreigner Programs Groups 9 to 12, Madhuban Season February-April
14 January 2019
The registration links for the two True Self Esteem Courses running from 12 February and 26 February were incorrect. If you have already registered, please kindly register again using the updated links below. Thank you for this and sorry for the inconvenience.
For language groups and groups of 10 souls or above from one Centre, you may register for the True Self Esteem Course & Retreats by: simply sending a list of the participant names, country and language to dfseason@brahmakumaris.org. This is being offered to save the time of separately registering each souls details online.
Please register 3 weeks in advance. If you would like to join a course or retreat and you need translation please talk to your Language Coordinator (via your National Coordinator). Language Coordinators will explain which courses and retreats there will be translation available for.
A detailed program is attached for groups 9, 10, 11 and 12 with Registration Links.
If you have any questions please email us at: dfseason@brahmakumaris.org
In Baba's yaad,
Double Foreigner Program Team
PDF document format of the announcement.

REMINDER: Invitation to the Spirit of Care Retreat 12 - 14 Feb, Gyan Sarovar
5 January 2019
From your inner sanctuary –
Open your wings and fly

Hello and Om Shanti. We are delighted to share with you details of the sixth Spirit of Care Retreat to be held in Gyan Sarovar. This is a warm and open invitation to each member of our beautiful Brahmin Family.
We all have our own silent, safe and wise place within us - at the epi-centre of our soul.
The place where the light burns brightest....
A 'sanctuary' of our own ... a sacred place within where we can take refuge and find peace ... a place where God's presence waits patiently for our return.
With one thought we can be there... to find peace, re-connection, love and the wisdom of insight...
Here in our inner sanctuary we can be free from the constraints of the world. Free to heal the self, our relationship with others, empower nature and the elements, and sit in God's presence.
We would be happy if you could join us to explore this inner sanctuary over 3 days at this the 10th anniversary of the Spirit of Care retreat.
We will explore the sacredness, silence and greatness our inner sanctuary offers us....
Spread your wings and fly free....
REGISTRATION:
Registration is only available ONLINE. Please follow the link: brahmakumaris.org/r/spirit-of-care
Madhuban forms and travel details are to be submitted in the usual way, via the local centres.
If you do not speak English fluently, please make sure with your national coordination teams that there will be someone in Madhuban who can translate for you during the retreat. If you have any questions please contact valeriane.bernard@ch.brahmakumaris.org.
Spirit of Care Retreat February 2019:
11 Feb 4 - 5:30 pm Registrations
12 Feb The inner sanctuary
13Feb Baba's gift of freedom
14 Feb till 9.30 pm Flying
In Baba's yaad,
Spirit of Care Retreat Team

2018 Retreats & Trainings Archive
2015 & Prior Retreats & Trainings Archive