Retreats & Trainings
Retreats & Trainings
22nd Peace of Mind, Mount Abu Meditation Experience, October 1-8, 2018
5 March 2018
Dear Centre Coordinators,

It is with great pleasure and enthusiasm that we inform you of the dates for the 2018 Peace of Mind, Mount Abu Meditation Experience.

The program title was inspired by one of Mama's Murlis when she spoke the words 'Peace of Mind' in English. For over 20 years, the program inspired by Mama and Dadi Prakashmaniji, has served to open the hearts and minds of thousands of friends from around the world by exposing them to the 'heart' of the Yagya.

The Peace of Mind program is coordinated by a group of dedicated BKs from several countries. This very successful service program continues to have the blessing of Dadi Janki and all Seniors.

The Peace of Mind program includes an increased focus on:
- the meditation experience with new experiential sessions
- ways to sustain effective spiritual practices in everyday life after guests return home
- active engagement of companions as mentors and friends during the retreat
- a visit to the Solar One thermal power facility at Shantivan during the program for those interested.

Peace of Mind is designed for people who would like to study a full program of Baba's knowledge and experience the depths of meditation in the atmosphere of Madhuban, including:
- Professionals and Community Leaders who have an interest or are genuinely engaged in some spiritual endeavour, and
- Family and Friends who are connected with the Brahma Kumaris and/or are likely to appreciate our philosophy and practices.

The program is not for students or contact souls who currently attend the centre on a regular basis, or murli students who do not otherwise qualify to go to Madhuban. It is also not open to residents of India.

Participation is by invitation only. Madhuban do their very best to ensure that we can offer comfortable accommodation and the best possible learning environment. This is why the numbers are limited. If you would like to invite a guest, please first contact your NC or RC.
Please ensure your guest has a companion who is willing to actively engage in their care and learning during the retreat. Ensure that your guests arrive on October 1 and depart on October 8.

Please note the new website www.peaceofmindretreat.org to send to potential guests.

In Baba's yaad,
The Peace of Mind Co-ordinating Team

Peace Village 2018 Retreat Schedule
1 March 2018
Om shanti.
Please download the Peace Village Learning and Retreat Center Schedule for 2018.
If you have any questions about any of the retreats please contact us on programs@peacevillageretreat.org.
In Baba's yaad,
Peace Village

Invitation to the Spirit of Care Retreat 7-9 March 2018, Gyan Sarovar, "Healing the Self - Becoming Whole Again"
26 February 2018
Om Shanti.
We are delighted to share with you details of the seventh Spirit of Care Retreat to be held in Gyan Sarovar. This is a warm and open invitation to each member of our Brahmin Family.
We believe the Confluence Age is the Age of Healing; a time when Baba helps and guides us back to the original self. This spiritual journey is one of healing the soul. We are learning to rediscover and reconnect to our unique greatness and become whole again. When we have restored ourselves, we can then assist Baba to heal humanity and nature.
Baba says he is the 'Surgeon' … so if we let him, and work with him, he becomes our greatest Healer. We are always learning how to use Gyan, Yoga and Baba's energy to return to our true nature, that of the eternal self, so we too can become 'healers'.
We have learnt so many things but still need to experience a sense of wholeness, and to let go of that which no longer sustains us. So, how can learn to reconnect and live with, the sense of deep inner power and peace that comes from a feeling of being complete?
This 3-day retreat invites you to explore how you can heal unresolved parts of the self and feel deeply connected to your authentic and original self. We will also investigate how to mend relationships with others: including those you live with, are close to and with whom you share service. Mother-Nature and all the souls of this world will be uplifted through this transformation.
REGISTRATION ONLINE:
Please follow the link: https://tinyurl.com/Spirit-of-Care-March-2018
Madhuban forms and travel details are to be submitted in the usual way, via the local centres.
If you do not speak English fluently, please check with your national coordination teams that there will be someone in Madhuban who can translate for you during the retreat. If you have any questions please contact valerianebernard@gmail.com.
Spirit of Care Retreat March 2018:
6 March 4 - 5:30 pm: Registrations
7 March Starts at 4.00 pm: Healing the self
8 March Starts 9.30 am: Healing Relationships – How God comes to heal us
9 March Up to 9.30 pm: Healing the World
In Baba's yaad,
Spirit of Care Retreat Team

2018 Retreats and Programs at Asia Retreat Center, Malaysia
26 February 2018
Dear Centre Coordinators,
Om shanti. Please find enclosed a Schedule of Retreats and Programs that will be held at the Asia Retreat Centre, Malaysia in 2018.
If you have any questions about any of the retreats please contact Sis Meera at meera.nagananda@my.brahmakumaris.org and copy asiaretreatcentre@brahmakumaris.org.
In Baba's yaad,
Asia Retreat Centre, Malaysia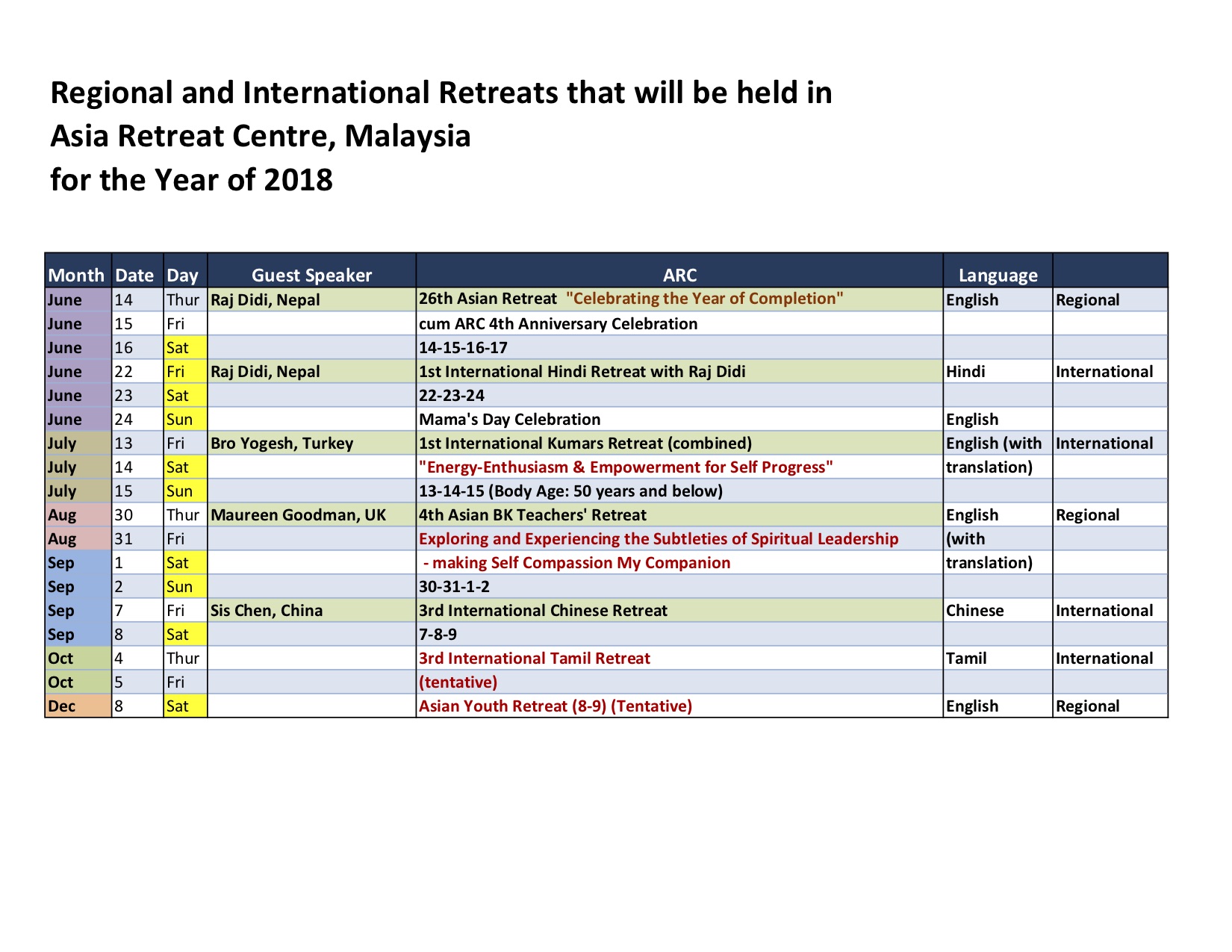 Retreats and Programs in PDF format

2015 & Prior Retreats & Trainings Archive