2020 Jan through Jun N America News Archive
2020 Jan through Jun N America News Archive
Houston, Texas, USA : BK Dr Hansaben on Immune System and Healthy Diet
28 April 2020
Dear Divine Family, Om shanti and greetings of love.
During COVID-19 global crisis, many inquiries have been made about the immune system and a healthy diet.

BK Dr. Hansaben shared her professional and spiritual experiences on the topics "How to Make Your Immune System Strong" and "Healthy Diet".

Please see link below for YouTube LIVE session recordings on these topics:
https://www.youtube.com/playlist?list=PL9UZAzeDd04QT6RItjabcCblyvL4KWadP

The full series How to Meditate, Near Death Experiences, Immune System and Healthy Diet is located at link below.
Sessions were Live streamed so recordings vary in quality due to internet traffic.
https://www.youtube.com/playlist?list=PL9UZAzeDd04TUwzc2APDGOmZ4uxVQyC_-

Much love in BapDada's yaad,
Brahma Kumaris Texas

Online Seminar: I Know How to Live, I Know How to Die (Sunday, May 3 @10.30 am - Noon)
28 April 2020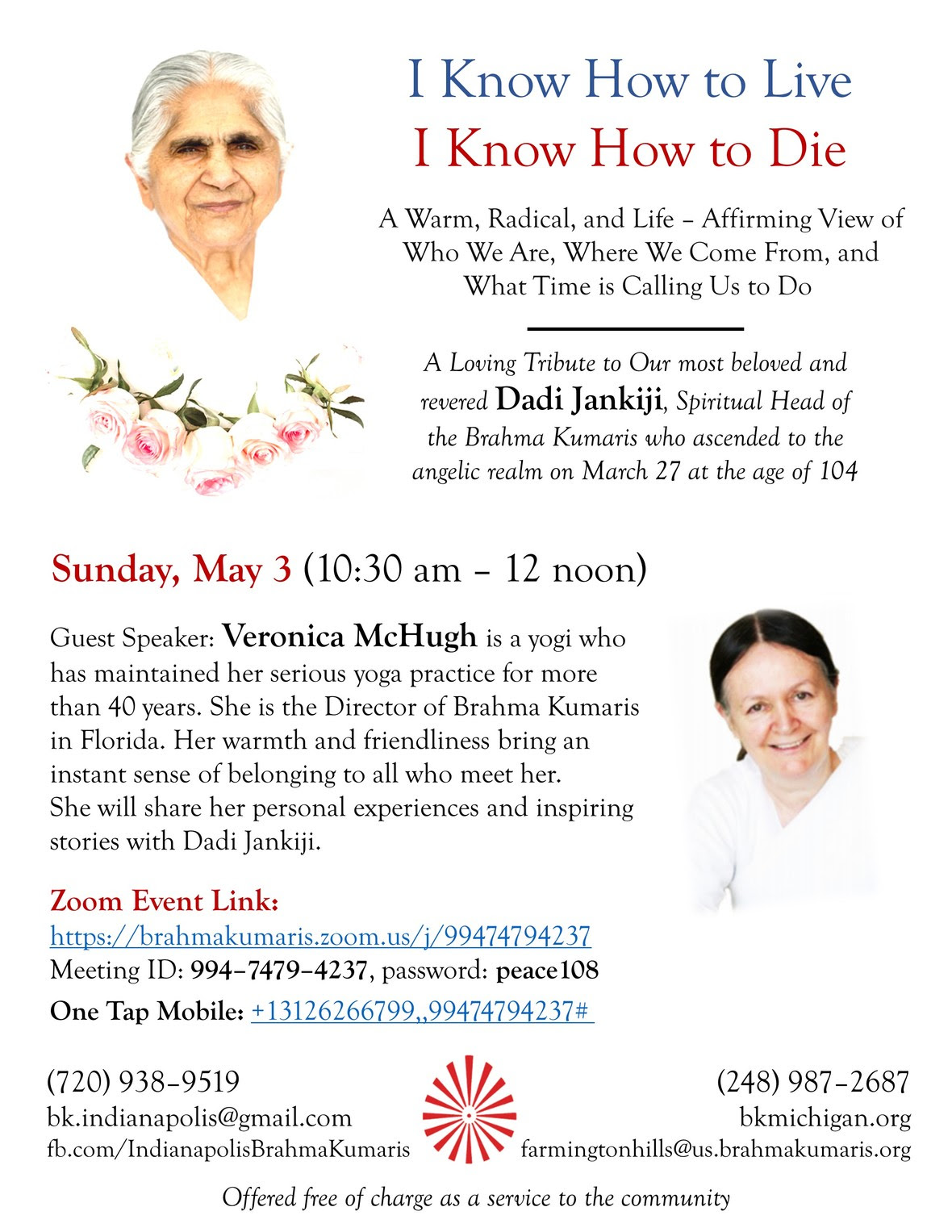 Online Retreat & More by Peace Village
27 April 2020
In the midst of uncertainty, keep determination in your thoughts and that will become like a guiding light in front of you. Then you become a guiding light for others. It brings great power and happiness to become a light in the life of others during times of darkness and fear. You will really make a difference for others at the time when they need it most. Be a light in the darkness!
MAY 1-3 - ONLINE RAJA YOGA COURSE
INNER PEACE - INNER POWER FOR BEGINNERS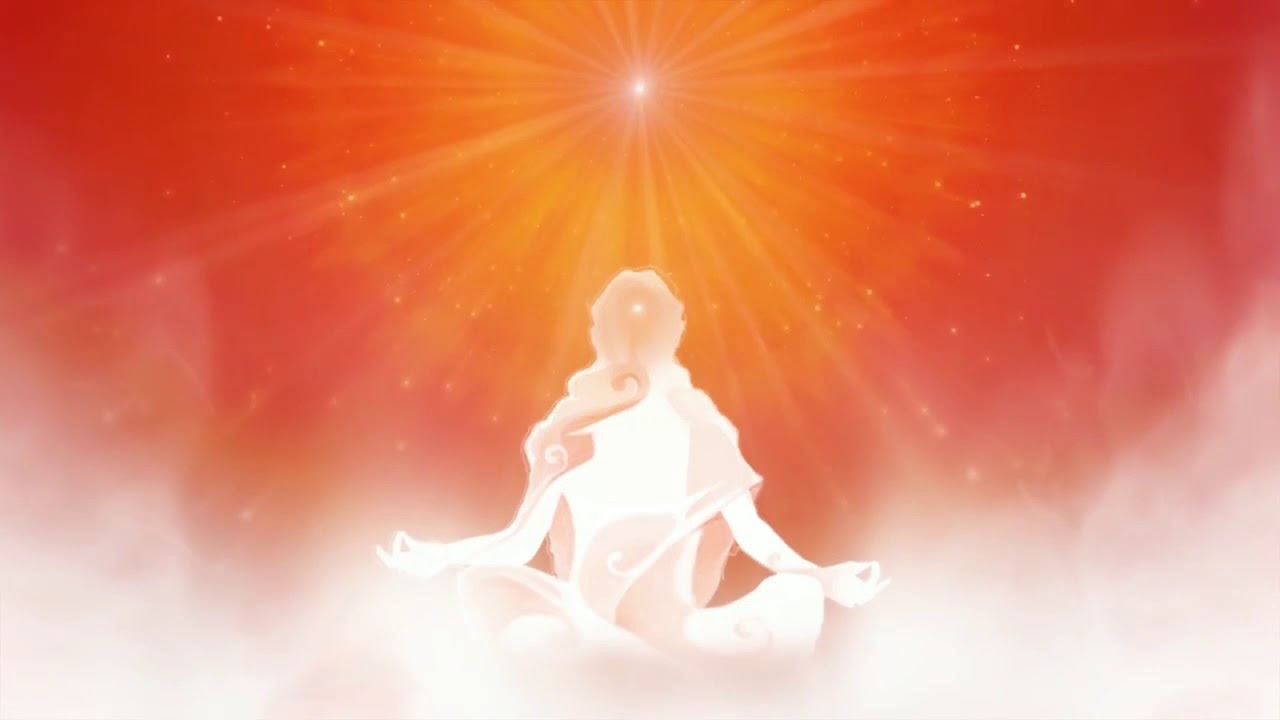 With many at home with time for solitude, this is a great opportunity to enjoy getting to know yourself as you truly are : an eternal and immortal spiritual being with great inner resources and inner strength, and a capacity to connect to an unlimited Source of inner peace, comfort, wisdom and stability.
Spiritual Knowledge, when applied to daily life, brings immense practical benefits to mind, heart and body. During this retreat, you will learn to experience yourself as a soul, a spiritual being of tremendous inner beauty and inner wealth, and to establish a direct connection with the Supreme Source of purest energy and highest consciousness.
This is an online course with 5 sessions.
For full benefit, it is required to register in advance, and to attend all 5 sessions:
1) Friday, May 1:
7:30 - 9 pm EST
2) Saturday, May 2
9 am – 10 am EST
3) Saturday, May 2
1 pm – 2 pm EST
4) Saturday, May 2
5 pm – 6 pm EST
5) Sunday, May 3
9 am – 10:20 am EST
All timings are EST (Eastern Standard time)
Registration is required to receive the log-in link:
CLICK HERE to register for this retreat!
Then, click on "Click here to register for the above event" (in blue)
More details will be sent to you after your registration is received.
Thursdays and Sundays 5:00 - 5:45pm
HEART TO HEART CHATS & MEDITATIONS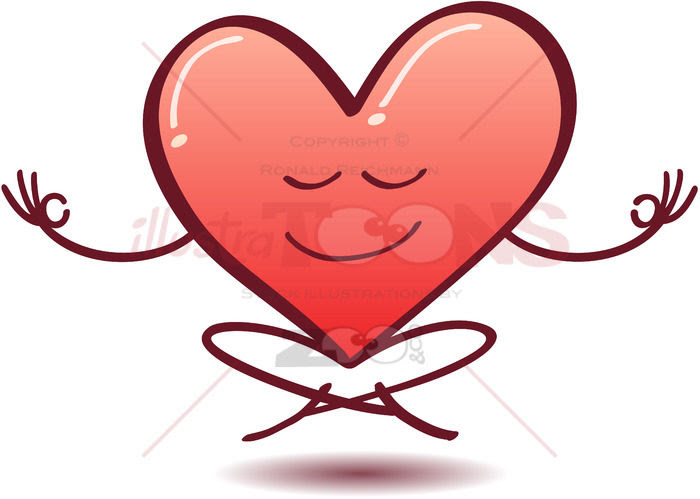 Please join us on Thursdays and Sundays 5:00 - 5:45 pm for a spiritual chit chat and meditation. We will take a different topic each time. This Thursday (today!) we will be talking about purity – pure heart, pure intention, pure thoughts, and so on. Here's the Zoom link.
Join us in your favorite spot in the
comfort of your own home!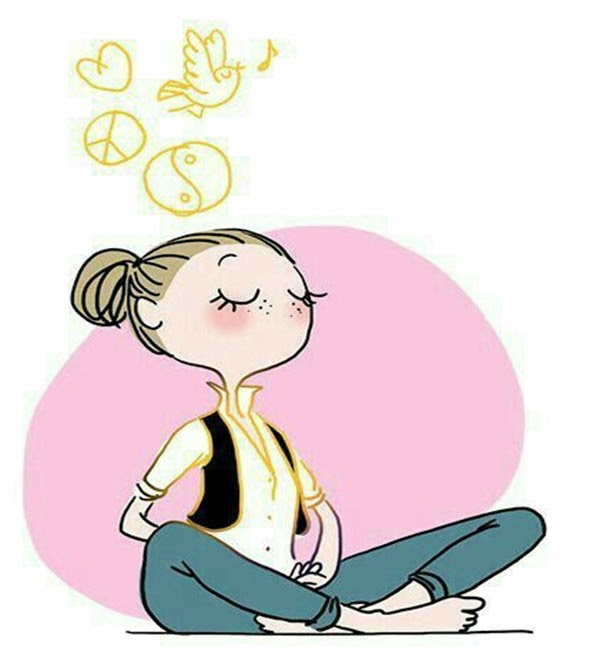 Evening Meditations- Please join us Monday-Friday and Sunday from 7:00 - 7:30 PM by zoom. Please join us through this link. **The password is peace.
Learn Meditation Online!
Check out our "Learn Meditation" website, a free 7 lesson course in BK Meditation!
This course is suitable for anyone wanting to try meditation for the first time and also for regular meditators interested in exploring another meditation method. This can also be a wonderful refresher if you have already taking the classes.

http://learnmeditationonline.org/elearning/course/index

Gift of Music - In Simple Ways
24 April 2020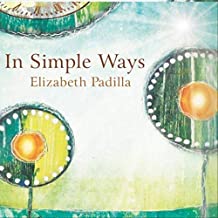 Dear Family and Friends,
We wanted to share with you the songs from our CD, In Simple Ways.
You can download all the songs for free here: In Simple Ways - Music Download-MP3
David Warrick-Jones from California produced this CD and wrote some of the songs. It was a wonderful and inspiring experience to sing and co-create. I hope you enjoy it as much as we had in making it.
Love and gratitude in His sweet remembrance,
Sister Elizabeth
Anubhuti Retreat Center
Novato, CA

Nurture the Heart of the Healer - One day online event for Healthcare professional on Saturday, April 25
24 April 2020
Please add somewhere: "NOTE: All Times are in EDT (Eastern Daylight Time) Find your local time here: https://www.timeanddate.com/worldclock/converter.html
Nurture the Heart of the Healer
Hope in Healthcare ONE DAY ONLINE EVENT
For Healthcare Professionals
Saturday, April 25, 2020 | 9 am- 5:30 pm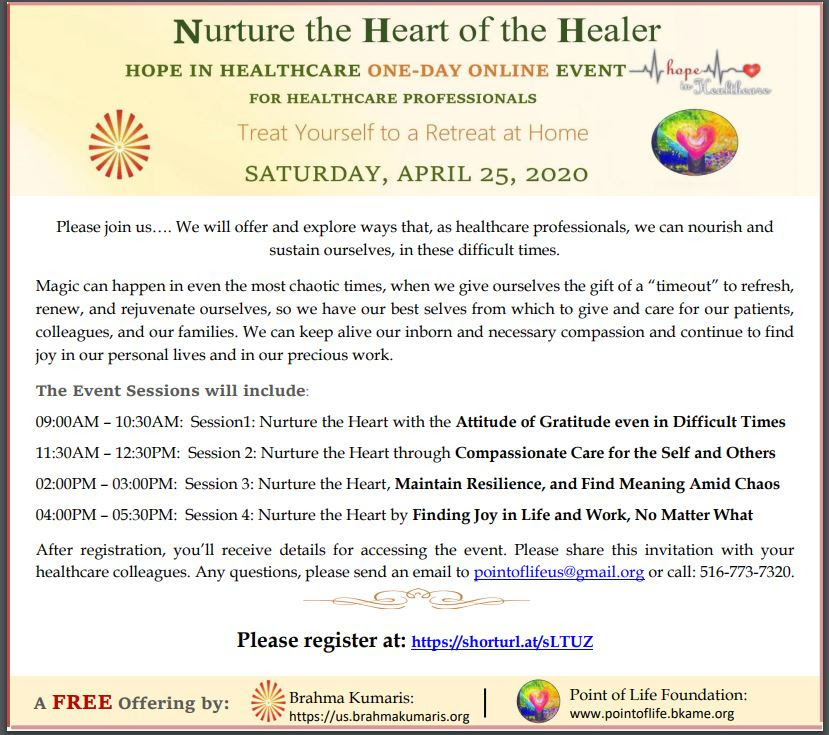 Please join us.... We will offer and explore ways that, as healthcare professionals, we can nourish and sustain ourselves, in these difficult times.
Magic can happen in even the most chaotic times, when we give ourselves the gift of a "timeout" to refresh, renew, and rejuvenate ourselves, so we have our best selves from which to give and care for our patients, colleagues, and our families. We can keep alive our inborn and necessary compassion and continue to find joy in our personal lives and in our precious work.
The Event Sessions will include:
09:00AM - 10:30AM: Session1: Nurture the Heart with the Attitude of Gratitude even in Difficult Times
11:30AM - 12:30PM: Session 2: Nurture the Heart through Compassionate Care for the Self and Others
02:00PM - 03:00PM: Session 3: Nurture the Heart, Maintain Resilience, and Find Meaning Amid Chaos
04:00PM - 05:30PM: Session 4: Nurture the Heart by Finding Joy in Life and Work, No Matter What
After registration, you'll receive details for accessing the event. Please share this invitation with your healthcare colleagues.
Any questions, please send an email to pointoflifeus@gmail.org or call: 516-773-7320.
Please register at: https://shorturl.at/sLTUZ

Recordings from Sister Shivani's 2 day webinar with NJ - AAPI - Caring for your Mind while Caring for your Patients
https://www.youtube.com/watch?v=T09CvUubpzQ
https://www.youtube.com/watch?v=CTnAJ60pcWE
Sunday evening on line meditations for healthcare professionals- Every Sunday, 8:30 - 9 PM
Zoom link:
https://brahmakumaris.zoom.us/j/97279948007?pwd=SXJGcnNYWHRYaFJCNUlLVWRlcXFZdz09
Meeting ID: 972-7994-8007
password: peace
Brahma Kumaris Meditation Center, 75 Common Street, Watertown, MA 02472

Houston, Texas, USA - BK Dr Hansaben Shares Near Death Experiences
20 April 2020
Dear Divine Family,Om shanti and greetings of love.
During the COVID-19 global crisis, many inquiries have been made about what happens after death, and how to deal with the death of a loved one. BK Dr. Hansaben shared her personal and patient's Near-Death experiences to help understand the process of leaving the body.
Please see link below for two YouTube LIVE session recordings on this topic:
https://www.youtube.com/playlist?list=PL9UZAzeDd04R_Ea_vktaIF71r4ENc_Qm7
Much love in BapDada's yaad,
BK Texas

Online Seminar – "Power of the Invisible" on April 19
18 April 2020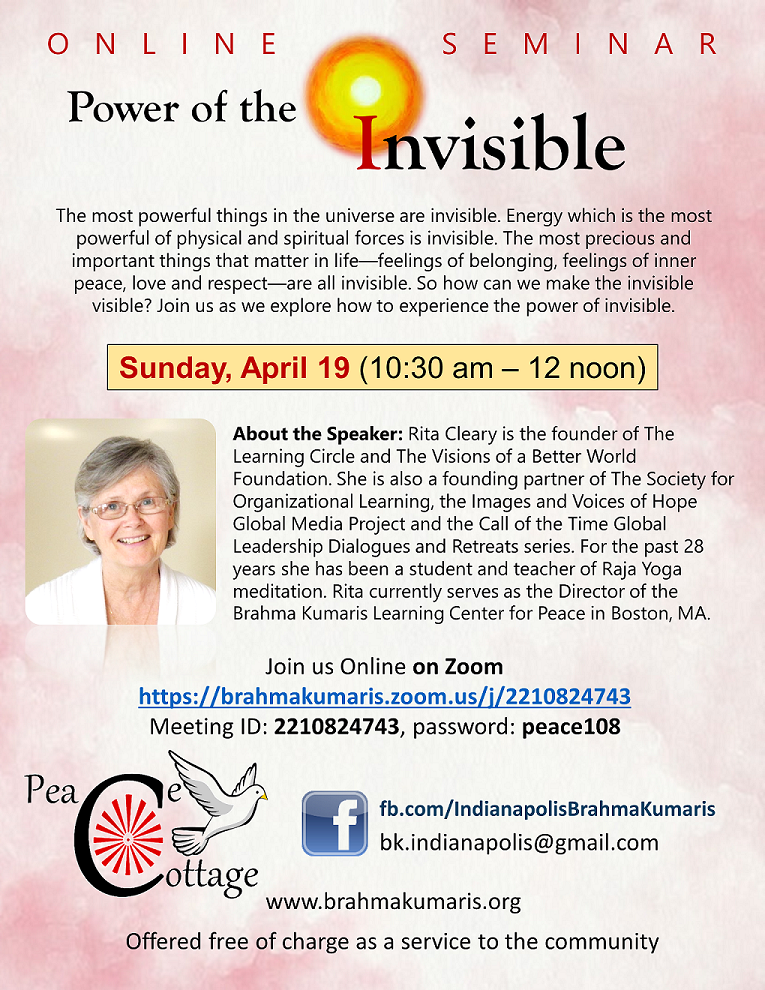 Indianapolis ( USA ): The most powerful things in the universe are invisible. Energy, which is the most powerful of physical and spiritual forces, is invisible. The most precious and important things that matter in life—feelings of belonging, feelings of inner peace, love and respect—are all invisible. So how can we make the invisible visible? Join us as we explore how to experience the power of invisible.
About the Speaker: Rita Cleary is the founder of The Learning Circle and The Visions of a Better World Foundation. She is also a founding partner of The Society for Organizational Learning, the Images and Voices of Hope Global Media Project and the Call of the Time Global Leadership Dialogues and Retreats series. For the past 28 years she has been a student and teacher of Raja Yoga meditation. Rita currently serves as the Director of the Brahma Kumaris Learning Center for Peace in Boston, Massachusetts, USA.
April 19, 2020 10:30 am – 12 pm EDT
April 19, 2020 8:00 pm – 9:30 pm IST ( Indian Time )
Join us Online on Zoom
https://brahmakumaris.zoom.us/j/2210824743
Meeting ID: 2210824743, password: peace108
To register, click here
Timezone Convertor, click here

Online RajaYoga Meditation Courses Offered by Brahma Kumaris California
17 April 2020
San Francisco, California ( USA ): Anubhuti Meditation & Retreat Center, Novato, California – Brahma Kumaris is here to support you and your spiritual practice and to help all of us nurture our hearts and minds as we continue to face these new and unfolding challenges. Since in house programs and events are on hold, we are streaming most of them. You are welcome to share these with your contacts. Please see the program list and NEW LOGIN information below.
All times are Pacific Daylight Time
Here is a timing converter if needed
♠ Creative Meditation:
Fridays, 6:30 pm to 8:00 pm
Saturdays, 10:00 am to 11:30 am
Sundays, 10:30 am to 12:00 noon
♠ Evening Workshops/Talks:
Sundays, 5:00 to 6:30 pm- SPECIAL
Karma, Destiny and Choice series with Denise Lawrence
Mondays, 7:00 to 8:30 pm – different weekly topic
Tuesdays, 7:00 to 8:30 pm – different weekly topic
Thursdays, 6:00 to 7:30 pm – SPECIAL
Convergence of Psychology and Spiritual work with Denise Lawrence
♠ NEW Conference Login Details:
Join Zoom Meeting
One-click:
https://zoom.us/j/3582083701?pwd=R3ZZN2lKekpyMDE1Yzd3VmpFdEdpUT09
Meeting ID: 358 208 3701
Password: 18011969 (password only needed when logging into Zoom without using the one-click link above)
One tap mobile
+16699009128,,3582083701# US (San Jose)
+13462487799,,3582083701# US (Houston)
Dial by your location
+1 669 900 9128 US (San Jose)
+1 346 248 7799 US (Houston)
+1 646 558 8656 US (New York)
+1 253 215 8782 US
+1 301 715 8592 US
+1 312 626 6799 US (Chicago)
Meeting ID: 358 208 3701
Password: 18011969
Find your local number: https://zoom.us/u/admVSmStRe
For more info about any of the programs, please visit the events pages on the San Francisco Center or Anubhuti websites.
Below are some courses that will be offered online-
♠ Raja Yoga Online Meditation Course- 8 Weeks of Instruction April 8 – May 27
Wednesdays 6:00 pm to 7:30 pm PDT
Click here to register.
♠ NEW – HINDI Raja Yoga Online Meditation Course
7 Consecutive Days of Instruction Wed, April 15 – Tue, April 21, 3:00 pm to 4:30 pm PDT
Click here to register.

Experiencing God During COVID19 w/ Sister Jenna and Special Guest Marianne Williamson
14 April 2020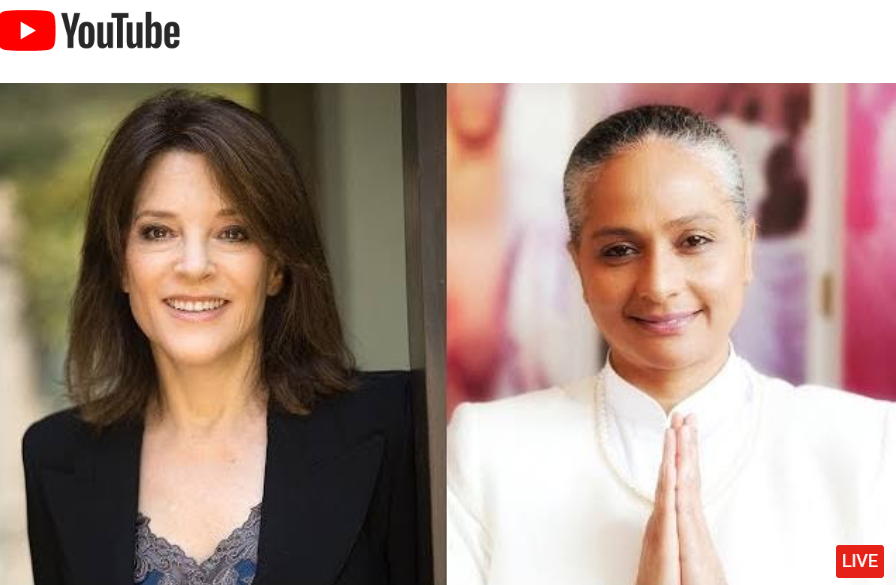 Important Message from Sister Mohini
8 April 2020
Dear Brothers and Sisters of the BK family worldwide, Greetings of love.
I have been receiving many messages of concern inquiring about the devastating impact of the COVID19 in the USA, and particularly in New York, which is declared one of the epicenters of the virus.
Baba's children in the New York area and in the US appear to be fine. As I think you know, our centers and retreat centers have been closed for several weeks. Residents of our New York City centers in Queens and Manhattan have moved to Peace Village, 2 ½ hours away from the city, in an area where there is a much lower percentage of infection.
I am still on Long Island, with a family of sisters and brothers, quarantining here. Those in centers around the country are "sheltering in place." But our instruments are active on-line, offering amrit vela, murli, lunchtime meditations and evening classes and meditations to students, contacts and friends.
I have made myself available every evening over zoom for yoga, offering bhog for Dadi and personal sharing. This has brought a huge response from the family, with over 600 BK's online together each evening. I am also in touch with many individuals in our region and around the world, as I'm sure all of you are in your regions.
The current situation of COVID 19 is that of the approximately 1.2 million cases of the corona virus worldwide today, 338,000 are in New York State and most of those in the greater New York City and Long Island area. All but the most essential businesses such as grocery stores, pharmacies and medical facilities are closed. Most are either working from home or are not working at this time, and all schools are closed. However, the government officials are cautiously optimistic today, saying that the rate of new cases seems to be slowing.
What is spreading faster than the virus itself is the sense of fear, worry and sadness. With the news filled with stories of alarm, people everywhere are absorbed in fear and looking for support. I believe our most important service is "karuna," which I spoke about last week.
This is the time for all of us to practice the "Karuna Response," spreading waves of compassion and reassurance, as people need Baba's strength and support. We were forewarned by Baba of having to face such challenges, and we were trained and are still being trained on how to serve souls with compassion through our subtle and avyakt stages.
At the confluence of the departure of Dadi Janki and the arrival of COVID19, we can all step onto the subtle platform of serving with sakash, shakti, sneh (love), and sahyog (cooperation). This is the time people need to experience Baba's presence and protection.
In Baba's love and remembrance,
Sister Mohini

Brahma Kumaris Florida Service News - March 2020
7 April 2020

Miami
Calming and Comforting Myself and an anxious world - World Peace Meditation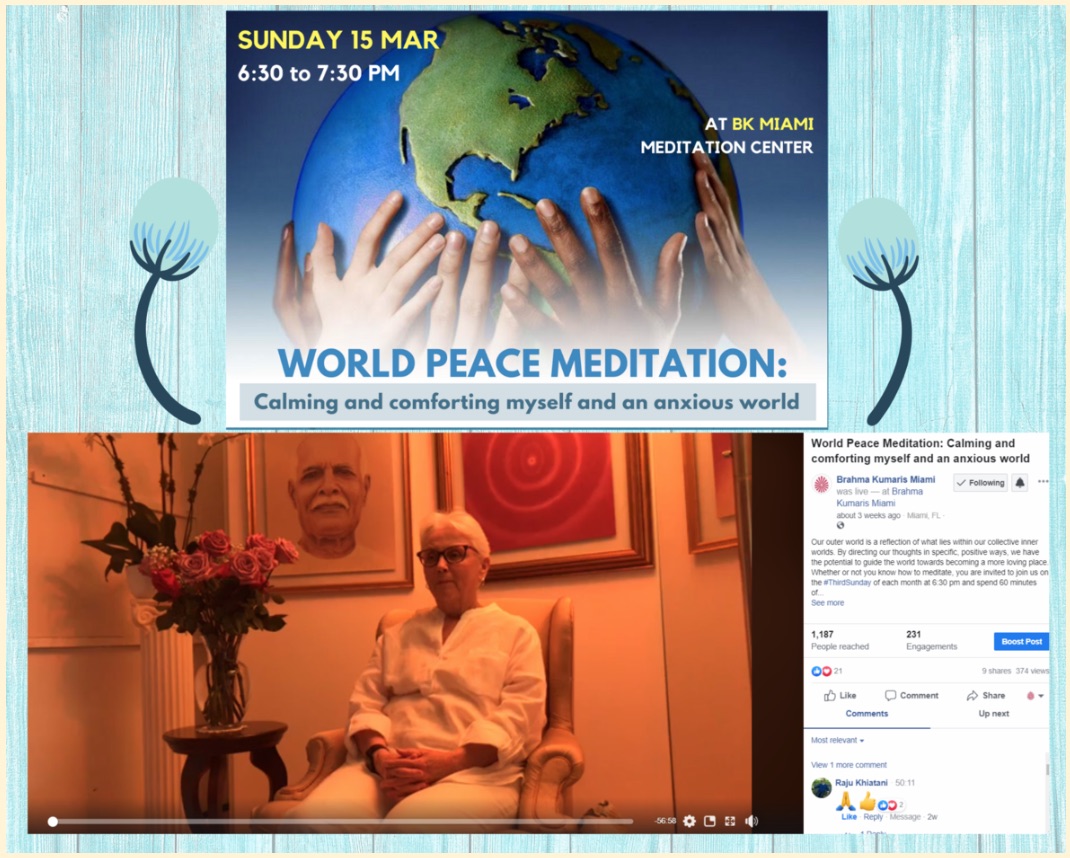 World Peace Meditation at BK Miami Meditation Center, click on the image for link to the meditation
March 15: The World Peace Meditation Hour held on the Third Sunday of every month was dedicated to "Calming and Comforting Myself and an Anxious World". Kathy welcomed the group of 8 who joined at the center and the LIVE streaming of the session (link here) made it available for 1000+ Fb users who stumbled upon the session and has been accessed 375 by 230 users. It was a timely opportunity to add some calmness and comfort amidst the growing health concern globally.
Florida Visitor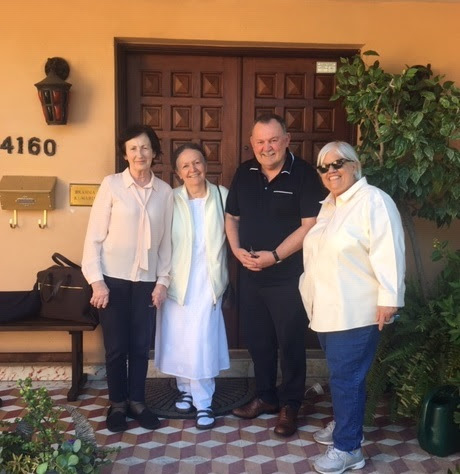 Transitioning to Online Meditation Classes:
March: To tune with the call of the time and to continue to offer spiritual classes and meditation opportunities - the evening classes from the center were all revised to be made available Online. Initially, Facebook Live sessions and then Zoom meetings and now Youtube LIVE sessions are being broadcasted.
FaceBook Live sessions continued to be available and have served through an average of 350 views.
Link to Facebook LIVE session on Creano estabilidad en momentos de crisis facilitated by Amar on March 24.
Link to Facebook LIVE session on Meditation & Insights - Being Light facilitated by Tej on March 25.
Click here for full report with photos.

Los Angeles Offers Online Raja Yoga Meditation - Group 1, Starting Monday, April 6, at 7:45 PM
7 April 2020
Online Raja Yoga Meditation - RY01
Introductory Course (RY01)
Two Weeks Series - April 2020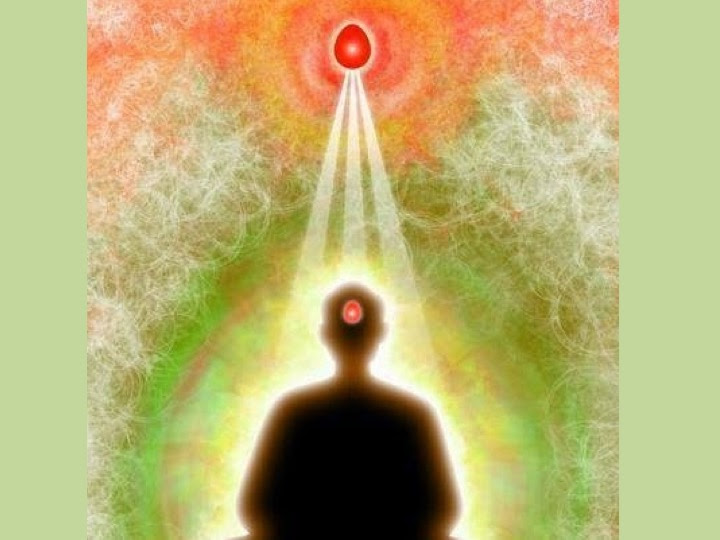 This course is offered in
Two Online Groups,
3 Days per Week for
Two Weeks
Group 1
Week 1: April 6, 8 and 10, 2020
Week 2: April 13, 15 and 17, 2020
7:45 to 8:45 PM

Group 2
Week 1: April 20, 22 and 24, 2020
Week 2: April 27, 29 and May 1, 2020
7:45 to 8:45 PM
No Prerequisite required. In this introductory course, we will explore the foundations of Raja Yoga. Journey back into the experience of peace, harmony, and inner power through this unique form of meditation. We will introduce the spiritual identity of the soul and experience how our daily actions & choices influence the main functions of the soul - the mind, intellect, and impressions. We will explore the power of thoughts and how they can bring harmony and build better relationships in our lives. We will also discover methods to understand and connect with the unconditional love of the Source. When we keep ourselves full of this precious gift, we have so much more to give others!

Venue
Zoom Room
Login information:
Link: https://zoom.us/j/4668022263
Meeting ID: 466 802 2263
Password: 659565

For more information,
feel free to contact us via:
323-933-2808
losangeles@us.brahmakumaris.org

If you don't have a Zoom app,
you can download for free
either on your computer, laptop,
IPad or smartphone, and
then join the collective meditation
by entering the meeting invite.
We know you are busy and finding time to meditate isn't always easy. The moment you open your eyes and know you are awake is a great time to start meditating. Start by greeting yourself, the powerful positive soul you are. And then greet the One who never sleeps.
All programs are offered FREE OF CHARGE as a community service.
Weekend residential retreats in spiritual awareness, meditation and practical application of spirituality are offered in:
Anubhuti Meditation and Retreat Center, California

Peace Village Learning and Retreat Center, New York

More sites of interest to visit:
Brahma Kumaris in USA
Brahma Kumaris International
Spin the Wheel of Virtues

Brahma Kumaris Raja Yoga Meditation Center - Los Angeles
Tel: 323-933-2808
Email: losangeles@us.brahmakumaris.org
Wish to mak‍‍‍e a contribution?
Donations are tax exempted.
Please click the Donate button
below to make a contribution.
Donate

Houston Offers Online Training: How to Meditate, from April 9th – 20th
5 April 2020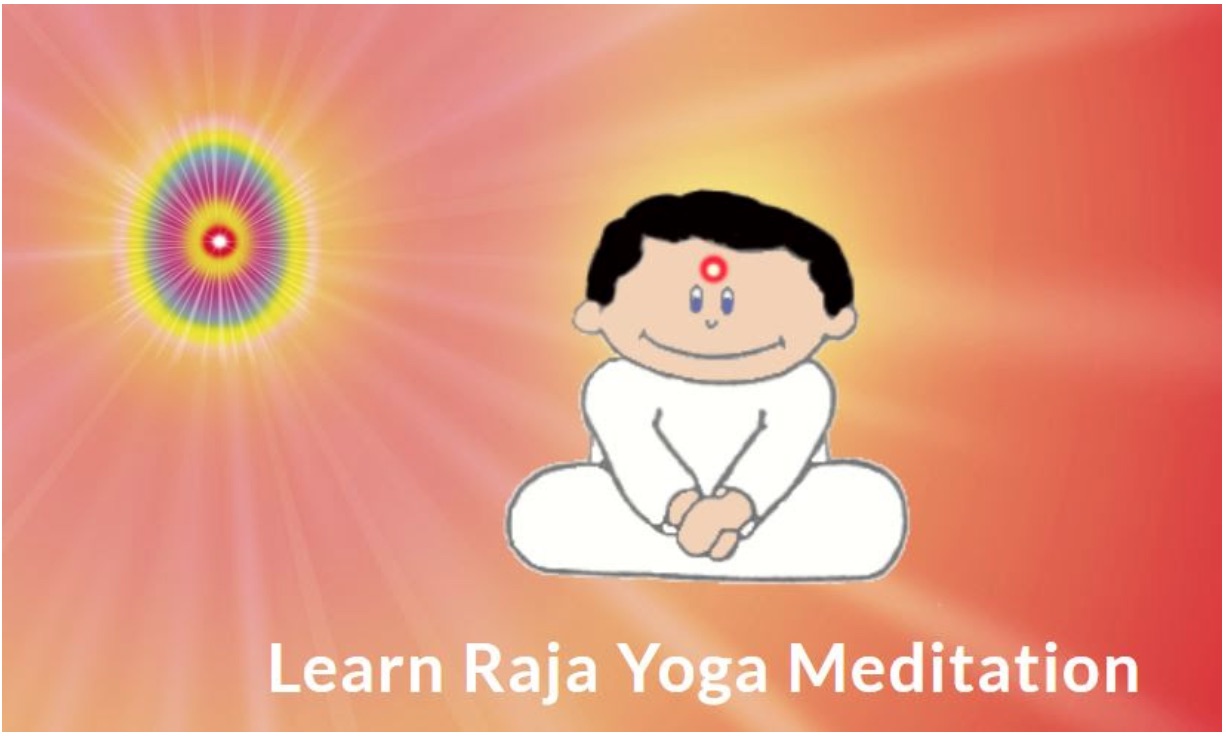 Houston ( USA ): Join us for an online training to learn meditation and how to make yourself peaceful. This LIVE stream online training: How to Meditate will include:
12 sessions, 30 minutes per session from April 9 – 20 @ 7:00 pm.
Here is the timing converter if needed.
Senior Rajayogis Dr. Hansa and BK Mark will take the classes.
Registration is required.
Please Pre-Register below. Your place will be held. A Registration link will be sent to you by Monday, April 6.
Each session will build on the previous session. If you are unable to attend a session and need to catch up, session recordings will be posted online.
Brahma Kumaris ® Texas, USA
USA's FOX News network interviewed BK Mark about upcoming LIVE online training: How to Meditate.
See news story here: https://www.fox26houston.com/video/671251

Milpitas Baba's Center offering LIVE Guided Meditation – No Prior Experience Needed
2 April 2020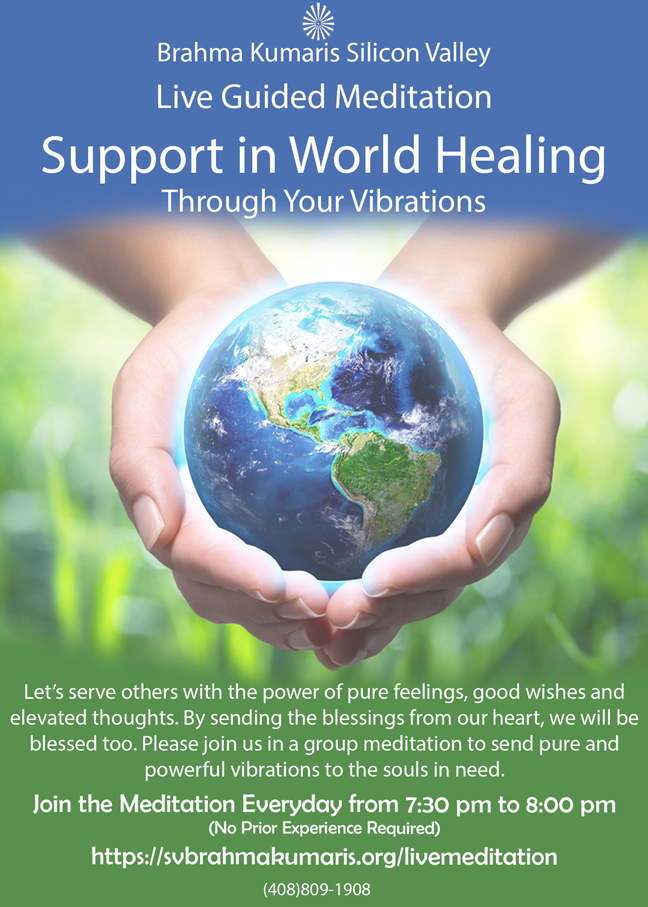 Note: Timings are in PDT

Greetings from Peace Village
31 March 2020


Coronavirus Guidelines from the NC Office for the Americas
16 March 2020
Om shanti and healthy greetings,
We are sharing some guidelines for the USA centers and classes during this time of health concerns on how the center activities can continue.
We are closing Global Harmony House for public events and also limiting access for daily classes.
Guidance for the Centers of the Americas from the Regional Coordinating Office
15 March 2020

Our guiding principles in creating this set of guidelines are to protect our instruments, students, contacts, and friends from becoming ill and to support public health efforts in mitigating the spread of this highly contagious virus. We understand that those with strong immune systems might contract the virus but remain without symptoms. However, they may infect those who are older or who have weakened immune systems. Our hope is to support the efforts in all of our countries and local communities to protect the health of everyone who lives and works there. As we do this, it's important to remain aware of our main task of spiritual sustenance and upliftment. Our responses to situations need to be considerate and compassionate.

Guidelines for Centers Regarding Gatherings:
· Effective immediately, and through the end of April, we are requesting that all BK centers and classes in the region be closed for gatherings of any size for the public and for BK's.
· During this period, we encourage you to make every effort to create on-line versions of programs using Zoom, Facebook live, Skype and other technologies to continue to sustain our students, friends, and contacts.
· We will not have in-person murli class in our centers except for those who live in the center. Note there may be case-by-case exceptions for those who live nearby and are not using public transport, but instead will offer murli via Skype, Zoom, phone or other methods.

Guidelines for instruments living at the centers:
o For those who work, please consider working from home if at all possible.
o Please cancel all non-urgent appointments, including those with doctors or dentists.
o Those arriving back from travel to India or elsewhere should thoroughly wash and sanitize their luggage before bringing it into the center.
o We will not be able to accommodate international guests at the centers until further notice.
o Anyone with a cold or symptoms of a respiratory disease should self-quarantine for 14 days. If there are vulnerable people living with you, make every effort to self-quarantine in a location other than the center – or as far away as possible in the center.
o For those who have to go into work,
o Avoid public transportation.
o Remove outerwear, such as coats, gloves, and handbags, briefcases, backpacks, etc. before you enter the center and keep separate in a garage or outer room.
o Disinfect anything you touch when coming in from the outside.
o Shower with disinfectant soap as soon as you enter the center.
o Follow the precautions set by the Center for Disease Control.
o Take everyday preventive actions to stay healthy.
· Avoid close contact with people who are sick.
· Avoid touching your eyes, nose, and mouth.
· Stay home when you are sick.
· Cover your cough or sneeze with a tissue, then throw the tissue in the trash.
· Clean and disinfect frequently touched objects and surfaces using a regular household cleaning spray or wipe.
· Wash your hands often with soap and water for at least 20 seconds.
· Follow public health advice regarding school closures, avoiding crowds and other social distancing measures.
Guidelines for Instruments Not Living at the Center:
o Those instruments who support the center while living in their homes should practice social distancing, minimizing their contact with the public and maintaining high levels of hygiene.

Guidance for those Hoping to Attend the Regional and Sub-regional Retreats and Brothers Retreat
o Because it is still 10 weeks until the scheduled start of the Regional Retreat, and there is so much uncertainty at this time, we will delay making a decision on this series of retreats until April 15 when we hope the situation will have stabilized.
o Please wait to purchase tickets until that time.
o The planning team will continue to plan for the retreat in the awareness, that it could be conducted on-line as a webinar or similar format if necessary.

Stay current with updated information on the virus.

o Check reliable Websites for updated information
o Take the guidance of the government officials in your area.
Stay informed. CDC's COVID-19 Situation Summary will be updated regularly as information becomes available
Prepare the Centers for Extended Periods of Confinement
o As advised in the past, all centers should maintain a stock of a 3 to 6 months of food staples, medical supplies and paper goods.
o Instruments should maintain a supply of critical personal medications.
o In the case of a public health epidemic as we're facing now, you will want a stock of disinfectants, hand purifiers, sprays and wipes, hand soaps, tissues and so on.
The Power of Our Practice:
o Our foundation as always is to keep our centers and the instruments at our centers spiritually charged.
o We are asking that you set aside time each morning and again in the evening for extra yoga.
o Consider the power of vibrations of compassion shared with all souls of the world, and nature.
o Once you have taken all necessary measures, allow your thoughts to remain elevated, peaceful and stable.
Click here to doanload full report.

GUIDELINES for Coronavirus for the USA
7 March 2020
Dear instruments for the USA,
Greetings of love. I know you must be aware of the corona virus (COVID 19) that is spreading rapidly in parts of the US. It is still early in the spread of this virus, and much is unknown. I encourage you to inform yourself by going to website of the Center for Disease Control and staying in touch with your local public health officials.

We can make certain preparations to assure that the centers are safe places for you and for those you serve, such as frequent and thorough washing of hands, not touching your face, and keeping surfaces clean with disinfectant. You can make sure that there are waste baskets in many places in the center and boxes of tissues. Ask those who aren't well, not to come to the center, but to stay home and care for themselves until they are well.

If the virus has not spread to your area, these precautions may be enough. However, when the virus is spreading rapidly in an area, health officials may restrict public gatherings until the virus has subsided. Our center in Northern Italy is closed for now, with the exception of a few students who live in the center or nearby. And Brother Surya in Seattle, Washington, is limiting murli to on-line for now, because the virus is spreading rapidly in Washington state.

When planning travel, you can find travel advisories on the CDC Website mentioned above. Currently travel restrictions apply to only those traveling to and from high-risk countries such as China, Italy, Iran and South Korea. However, this may change, so you should check this Website before making your travel plans.

We are closely monitoring the COVID 19 situation as it unfolds, at all levels. We are deeply committed to the safety of you, our instruments, and to our students, friends and contacts. I encourage you to follow county health and government protocols, especially now when so little is known about the virus, and to be ready to respond if the situation worsens in your area.

Finally, this is the kind of situation when our practice will bring calm and reassurance to the family and to those we serve. Keep your mind stable and at peace and use the power of silence to counter the fear and sorrow that many will feel. These are the kinds of situations that Baba has been preparing us for. When we know more, we will plan to have a call with all of the USA instruments.

With love,
Sister Mohini

Brahma Kumaris Florida Service News - February 2020
3 March 2020
MIAMI
Visit to an Assisted Living Facility (ALF) in Orlando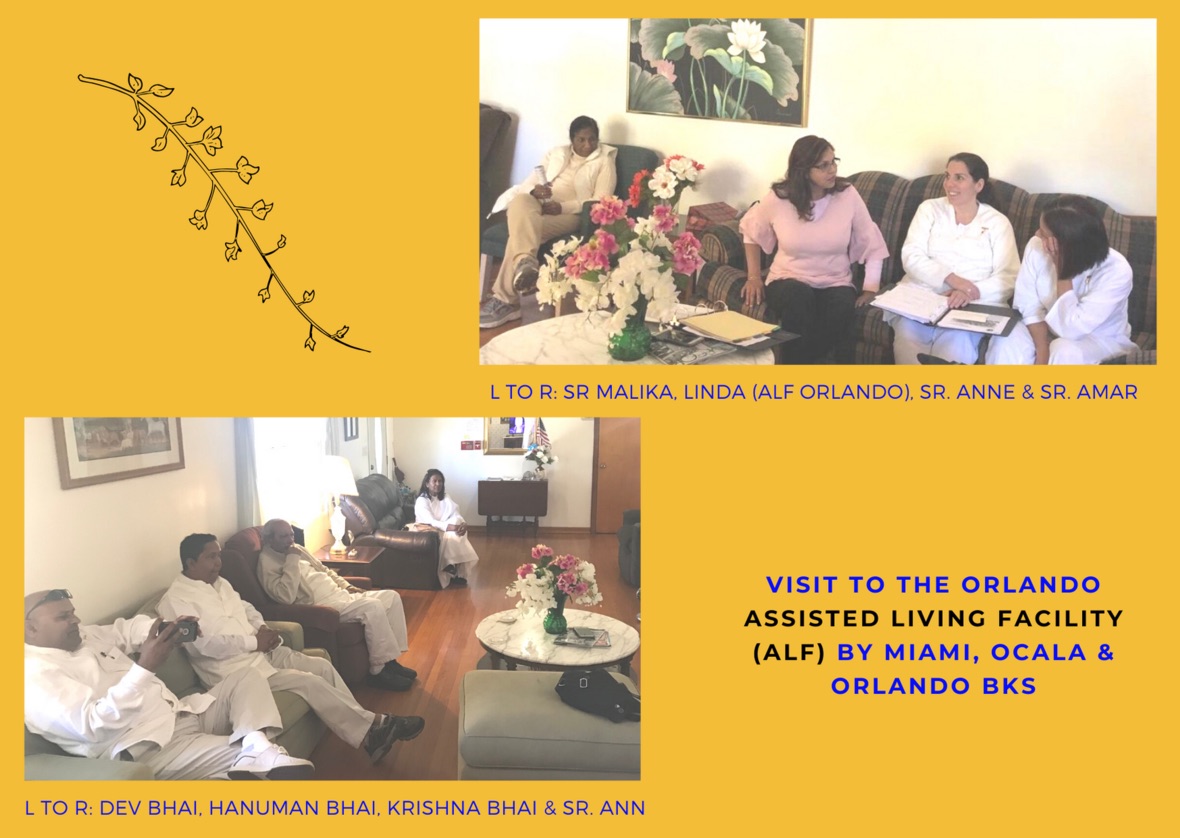 Assisted Living Facility (ALF) meetings in Florida
Feb 2: BKs with the healthcare background from Miami, Ocala & Orlando came together to visit an assisted living facility in Orlando to gain more insights about practical aspects of creating & running such a facility.
The team of BKs included Amar, Marjorie and Devbhai from Miami; Anne and Hanumanbhai from Ocala; and Krishnabhai, Ann & Malika from Orlando. This team met with Dev bhais school time friend (from Trinidad) - Linda who is a registered nurse and has been running an ALF facility in Orlando for 13 years. Linda very patiently answered the many questions by the team about the reality of running such a facility in the state of Florida. Br. Krishna then lovingly introduced the Brahma Kumaris, shared a blessing and also extended a warm invitation to visit the BK Orlando center.
Passing of Marie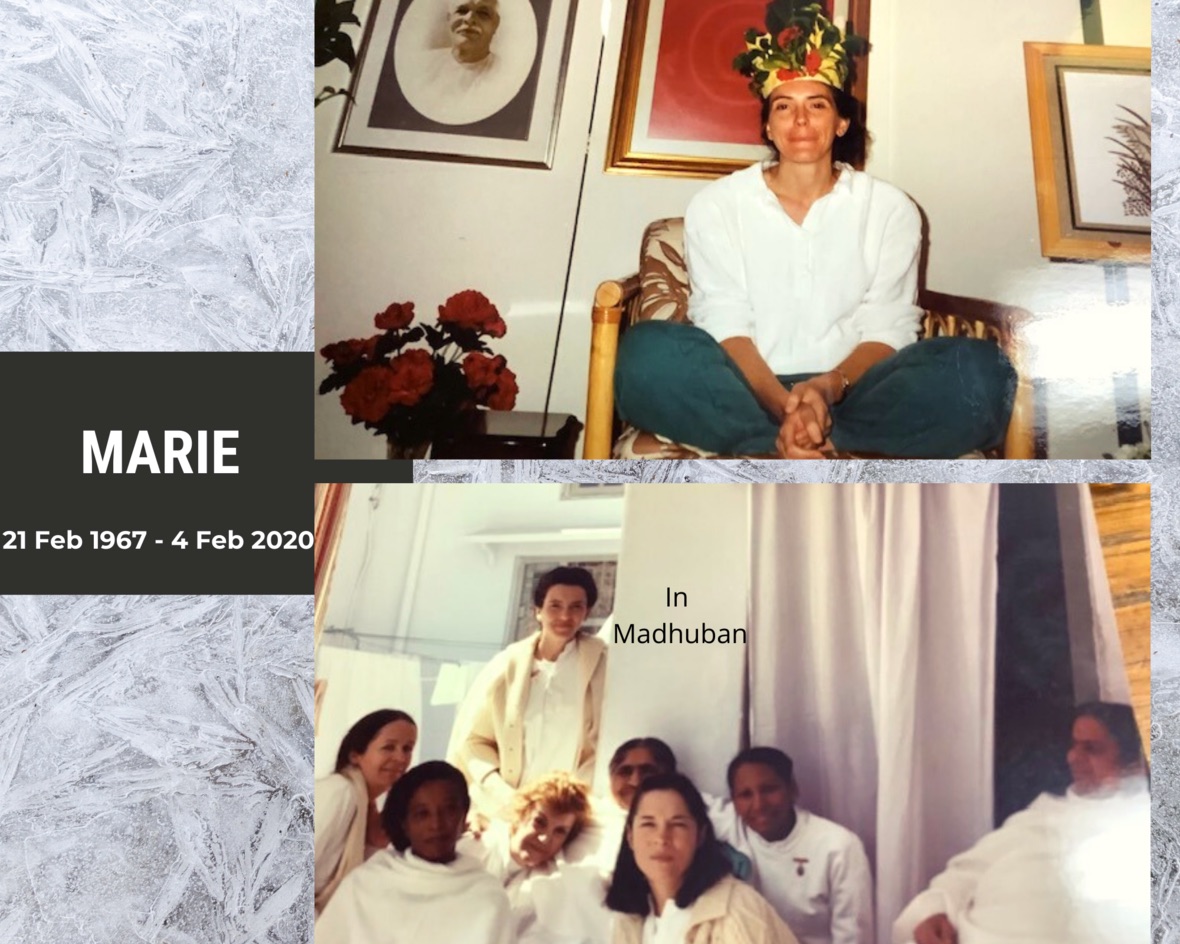 BK Marie from Miami, Florida
Feb 4: Marie whose 63rd birthday would have been on Feb 21st was the first student to become a BK when service in Miami began 35 years ago. She had quickly become a teacher as well as an inspiration for newer students.

Marie was at home with her husband and under the care of Hospice. Despite the past 10 months since diagnosis and the operation (brain tumor), Marie had been uncomplaining and did not have to endure much by way of pain. Sr. Waddy visited her and shared a meditation commentary reminding her of Baba and the service that will be automatic in her next birth.....click here for full report with photos.

Peace Day at Los Angeles (USA) Brahma Kumaris Meditation Center
13 February 2020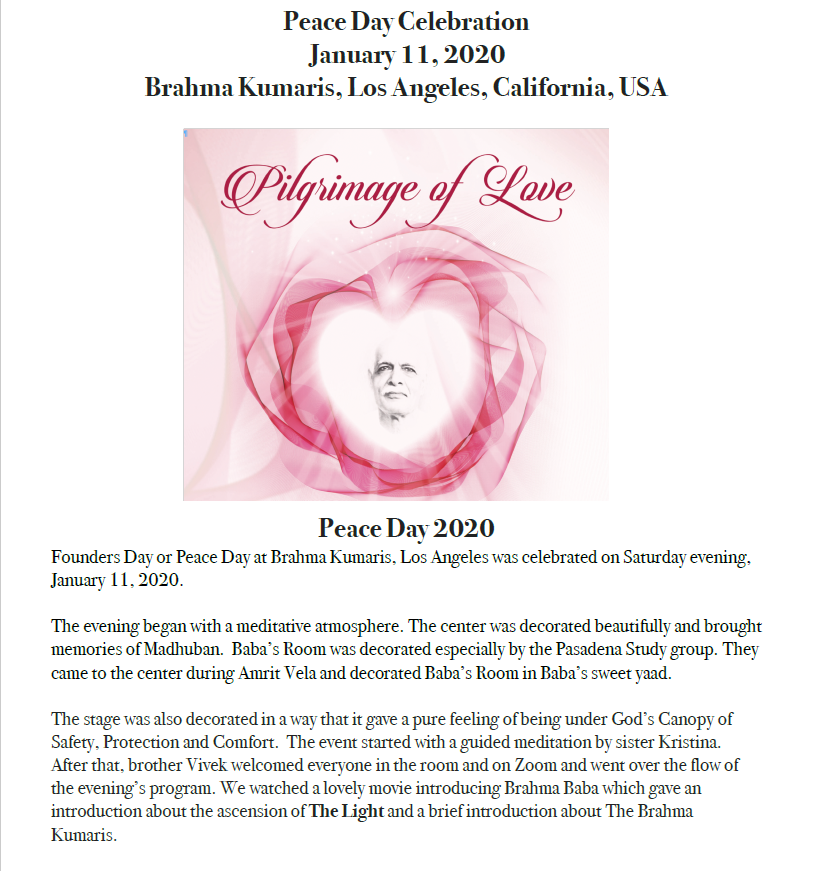 Click here to download full report.

Brahma Kumaris Florida Service News - January 2020

st

Republic Day
6 February 2020
MARGATE
JANUARY AVYAKT MONTH
After the festive Christmas period, January ushers in the new year with a shift in consciousness from festive/celebrative to introversion and and avyakt. A series of BK family programs was held to help in creating and experiencing our angelic stage. These included bhattis, churnings, movies etc all scheduled to help emerge and sustain our spiritual awareness and closeness to Baba.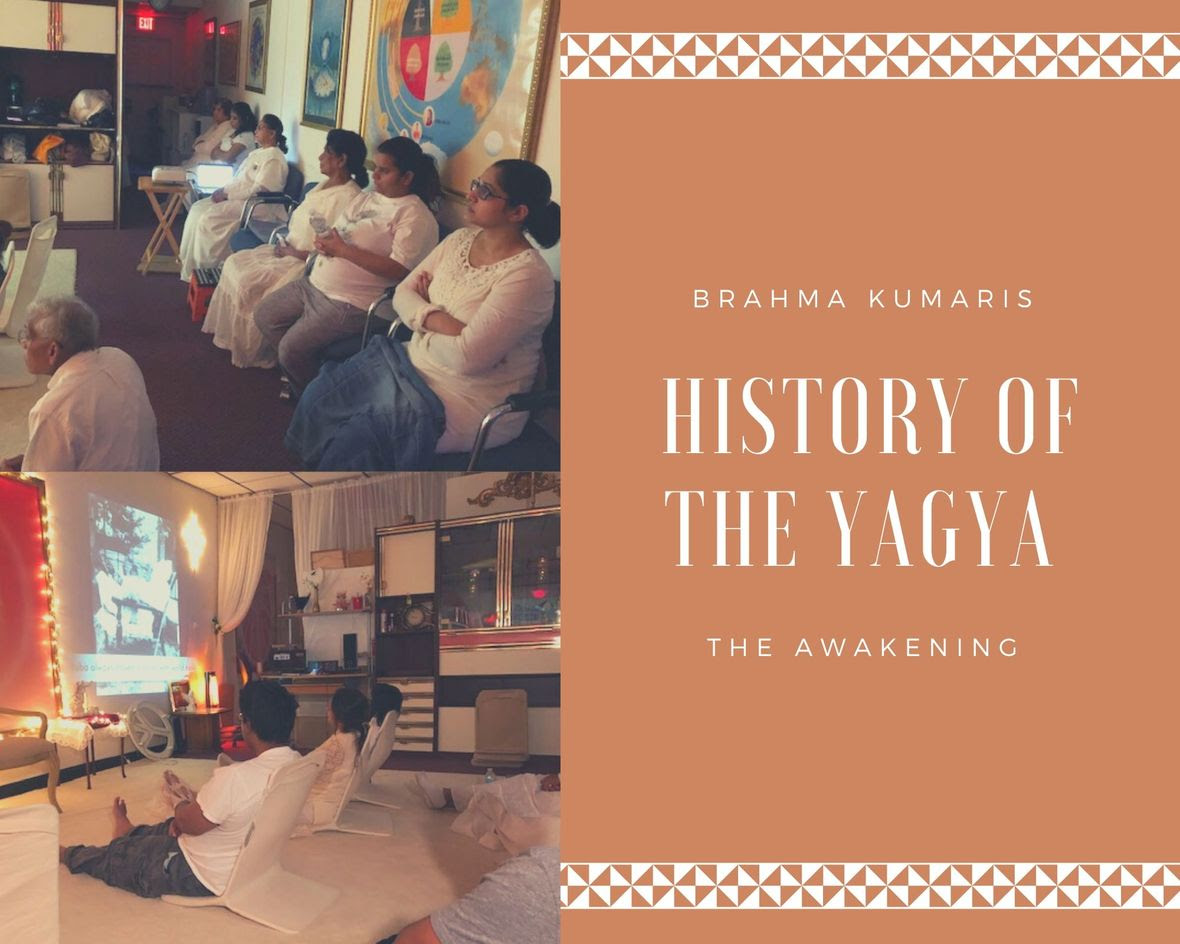 Jan 17th at BK Margate Meditation Center, Florida
Evening Mela: The History of the Yagya
As a pre-preparation for the 18th January program, a Bhatti using videos, songs and music was held on the evening of 17th January. Some new souls who completed the course also attended and were inspired to join us for auspicious Day of Remembrance program.
Day of Remembrance:
January 18th
As usual, this special day started at 4.00 am with Amritvela at the Center, followed by Murli and tuning in to Madhuban Program.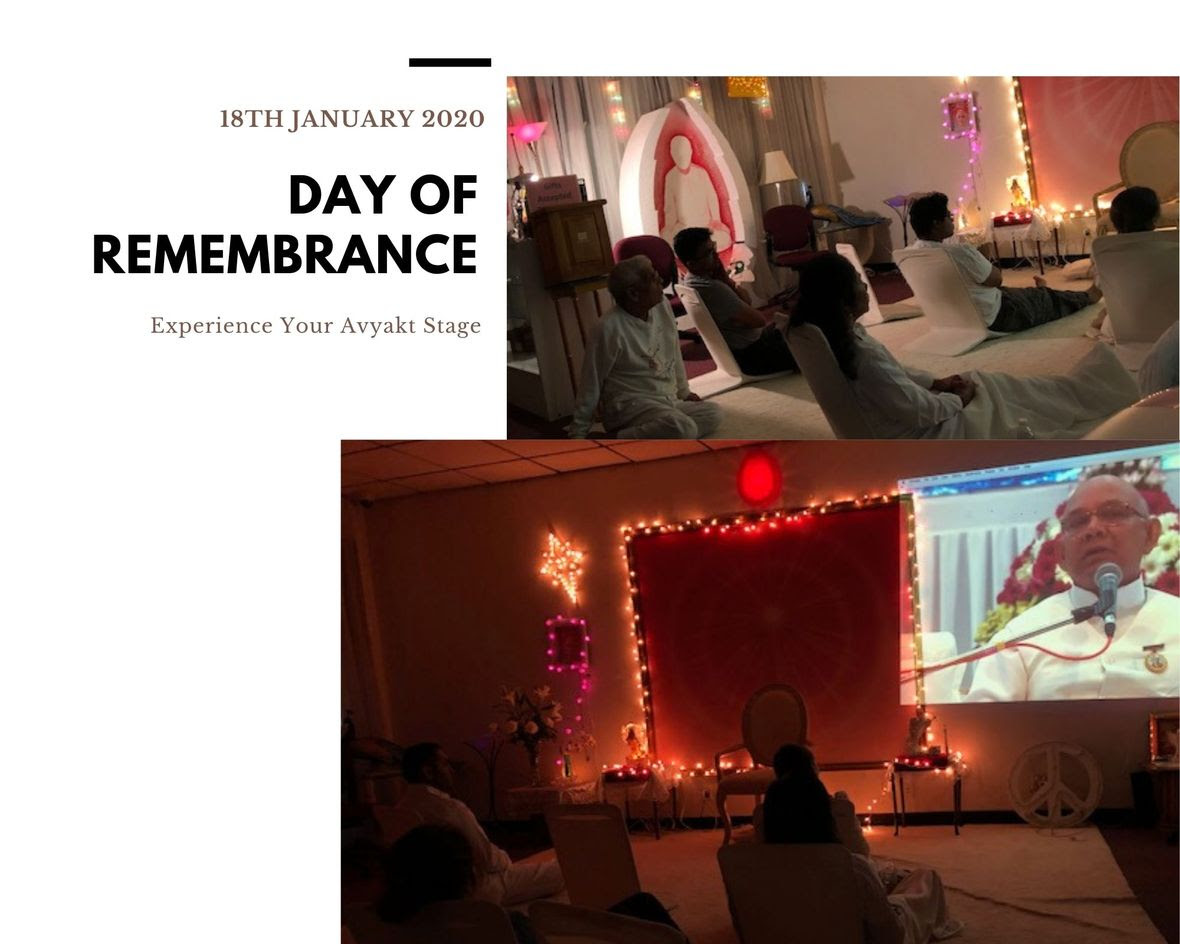 Jan 18 - Remembrance Day at BK Margate Meditation Center, Florida
Bro Chandra Visit to Trinidad
Bro Chandra travelled to Trinidad and was fortunate to attend Bhatti at the Chaguanas Center where he was able to reunite with Baba's sweet jewels.
Upcoming programs
Preparation for Madhuban Program: Sister Hansa and Bro Chandra will be leaving in February for the annual NC/CC retreat in Madhuban and will be attending the Silence Retreat at ORC, Delhi after Madhuban program.
Students will continue with regular programs at the center while Sister Hansa is away and is already making plans for celebrating Valentine Day with Baba......click here for full report with photos.

BKs in Houston, Texas, USA Serve VIPs on India's 71

st

Republic Day
30 January 2020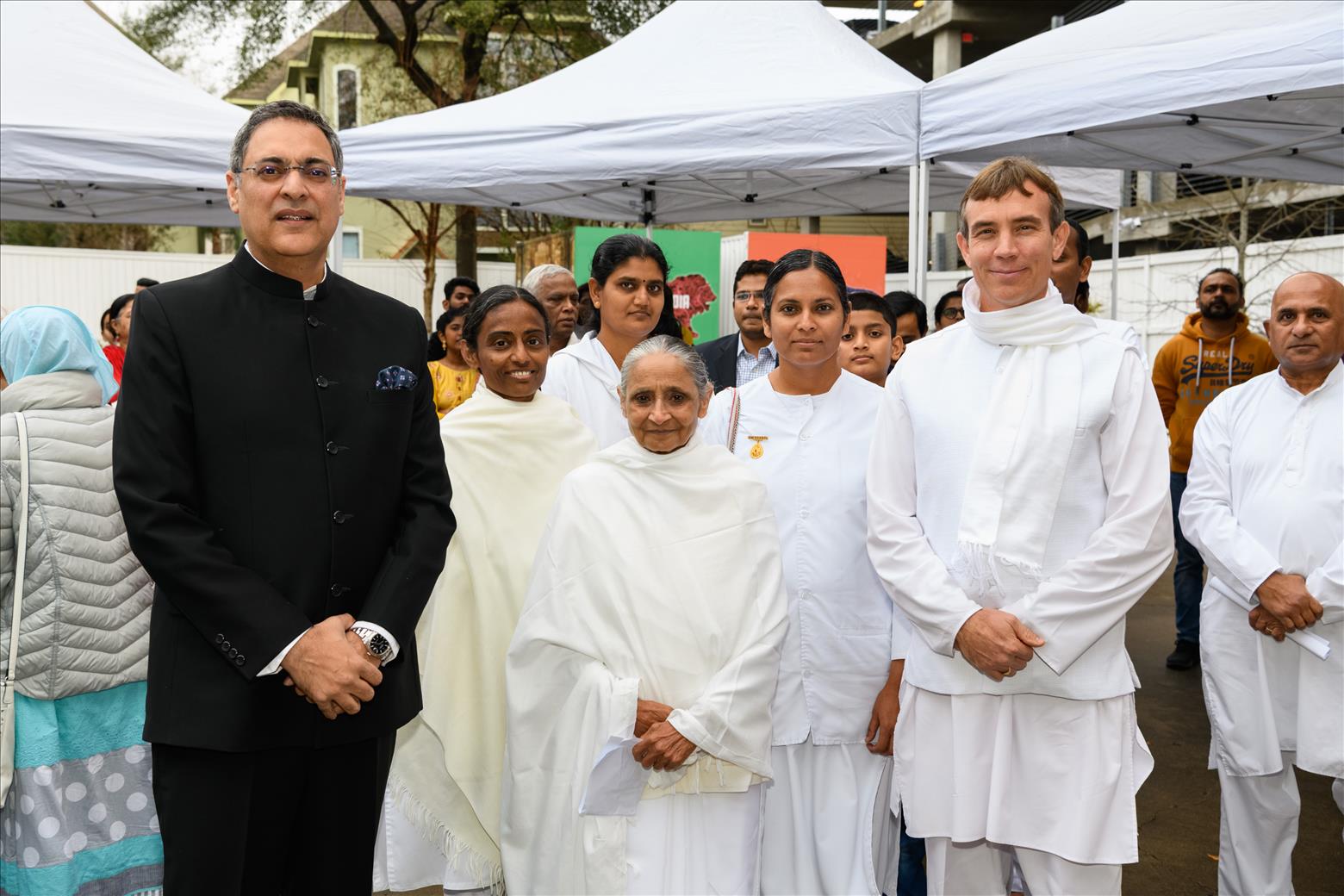 Dear Divine Family, Om shanti and greetings of love.
BK Dr. Hansa Raval and the Brahmin family joined Houston's newly installed Consul General of India, Mr. Aseem Mahajan, Fort Bend County Judge, Mr. KP George, Deputy Consul General of Houston, Indian community leaders, and other dignitaries to celebrate India's 71st Republic Day.
Much love in BapDada's yaad,
BK Dr. Hansa Raval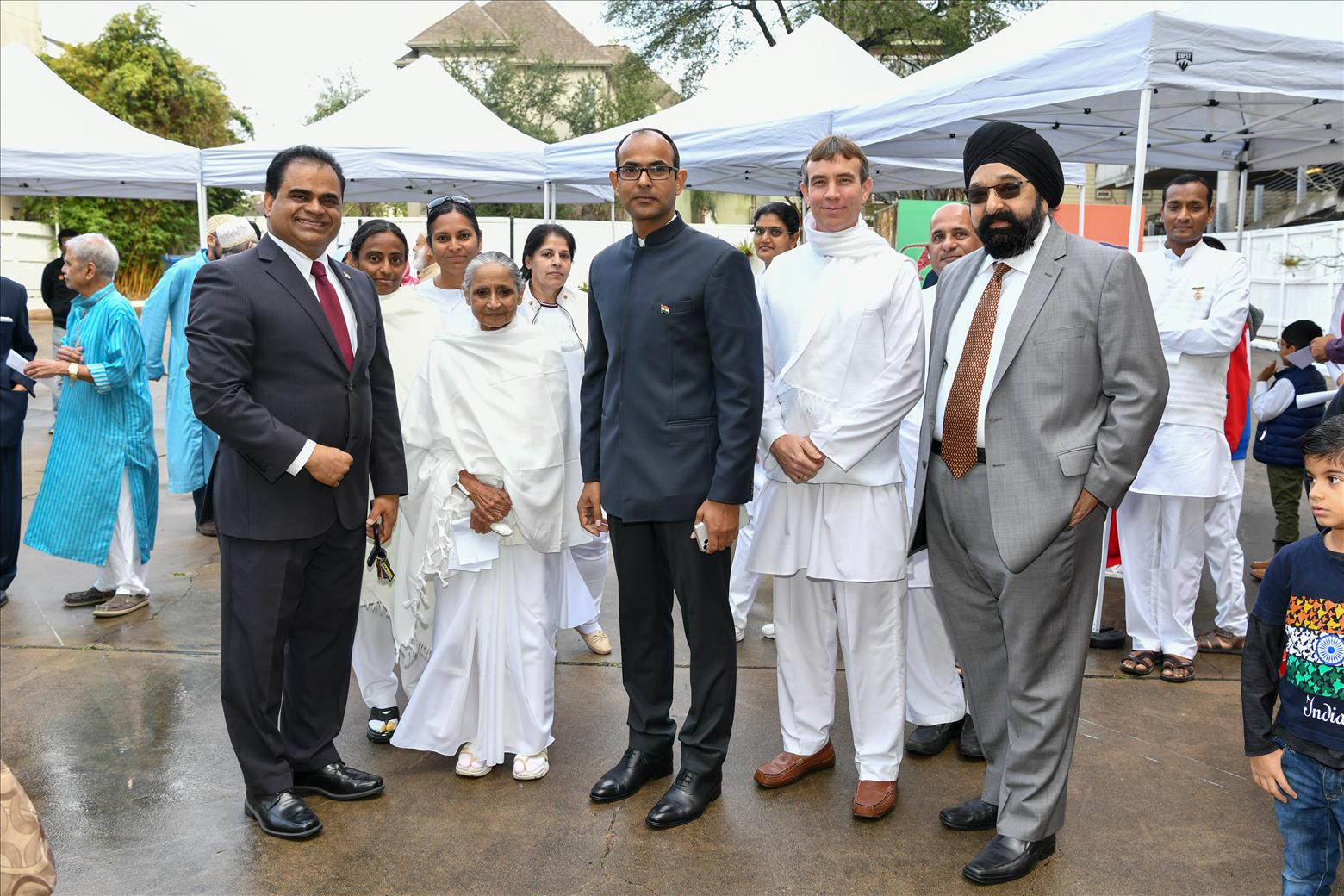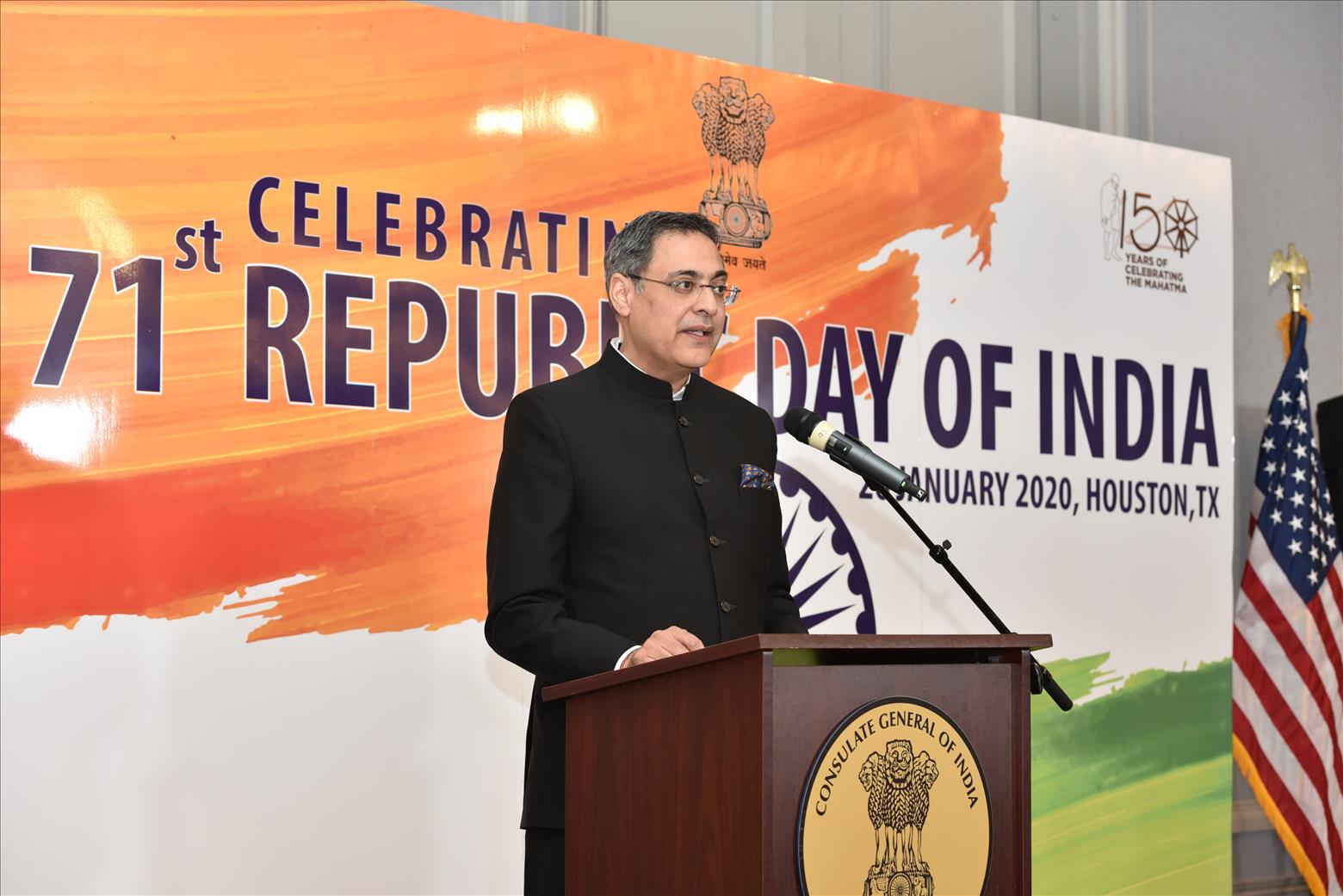 New Year Eve Celebrations - 2020 Brahma Kumaris, Silicon Valley, Milpitas, USA
12 January 2020
Om Shanti, Greetings of Peace for a Wonderful and Happy New Year 2020 from BK Silicon Valley, Milpitas family.
We had intense meditation and celebration with 103 brahmin souls to welcome the New Year 2020 from 10 pm to 12.30 am.
Below are some pictures of the celebrations.
Om Shanti,
Sr. Kusum

Intense Meditation with Angelic theme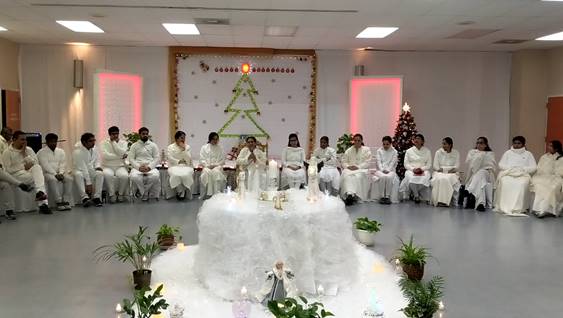 New Year Greetings by Sr.Kusum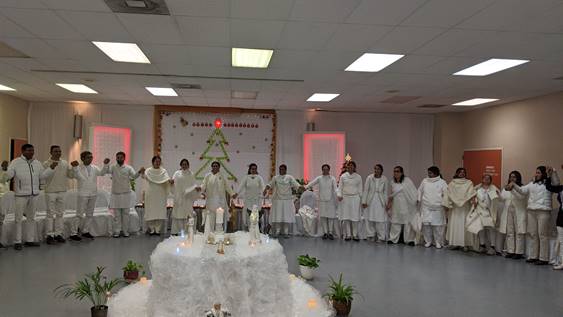 BK Family welcome New Year together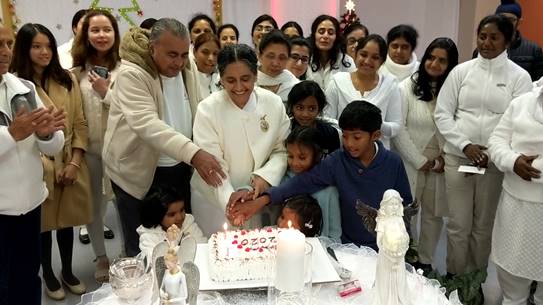 New Year Cake Cutting by Sr.Kusum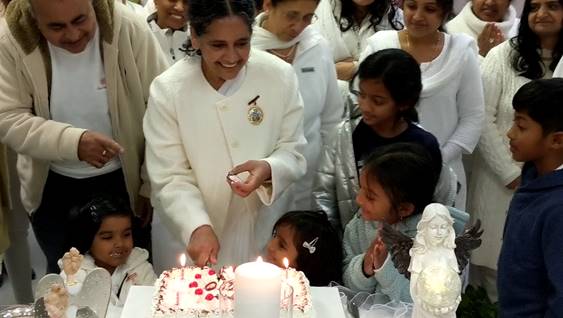 Kids enjoying the New Year Celebrations

Brahma Kumaris Florida & Puerto Rico Service News: December 2019
12 January 2020
Florida Family Retreat with special guest Sr Maureen from UK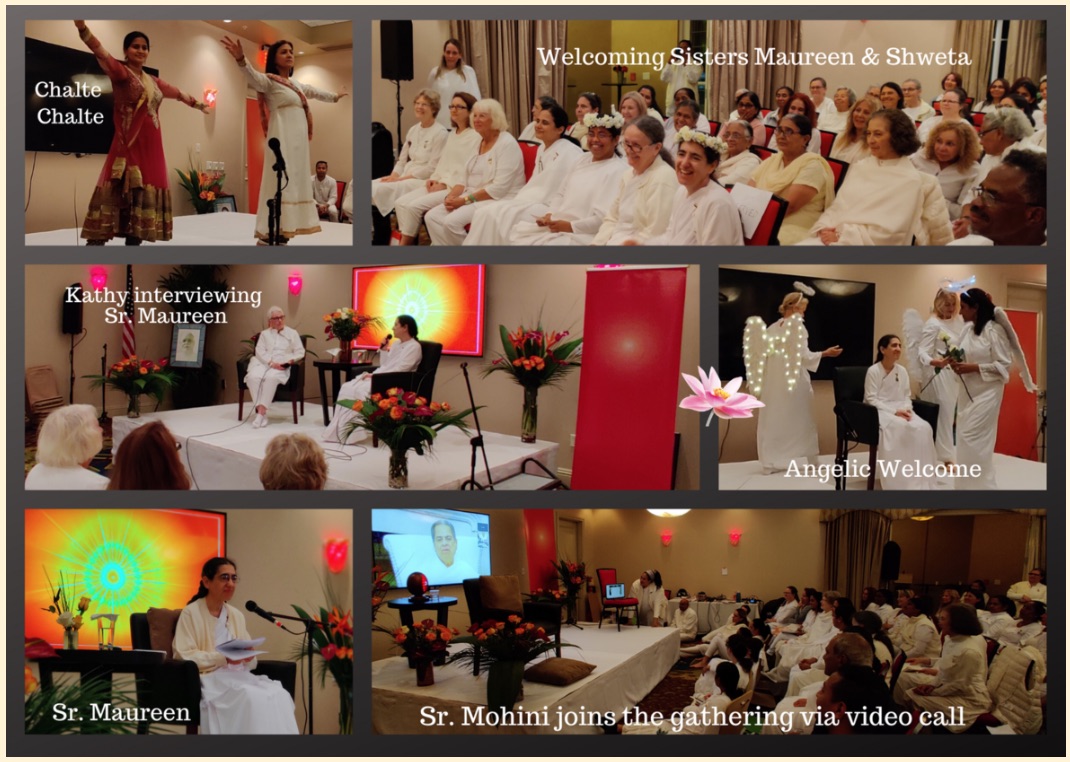 Dec 6-8: The annual Florida Family Retreat was held in Naples, FL. Over 125 BKs attended from Florida, Chicago, Puerto Rico, Atlanta, Peace Village, New York, and from around the globe including Mexico, Trinidad, India, Colombia and Peru.
Sr. Maureen from London brought special power and enthusiasm to the retreat. Throughout the weekend, she guided the group on a deep exploration of Bap Samaan: The Journey and the Destination From Amrit Vela onwards, she shared powerful thoughts, guided personal inquiries, and tied together with the "whole package" of deep soul consciousness. "Soul consciousness is about Truth, and letting go of everything else…. Do I accept Baba's vision of me? Do I accept myself, or am I battling? If you live according to the Truth, you will never know how many lives you've touched."
The coordinating team recreated the Madhubhan experience with a special Baba's Room for silent reflection, historical yagya photos in the dining room where we reflected on Brahma Baba's special qualities, and the gift of the official Madhubhan Retreat booklet. A Virtual Reality meditation experience was a new addition to the retreat this year. Singing, dancing, and qigong kept everyone moving. Seamless cooperation with meals, registration, AV, tea and coffees, cleanup and general goodwill was apparent everywhere. Sr. Mary (Chicago) and Sr. Shweta (London) also shared stories and provided special workshop activities during the weekend.....click here for full report.