2019 Jly through Dec Madhuban News Archive
2019 Jly through Dec Madhuban News Archive
New Year Greetings from Br Mruthyunjaya & the Education Wing Family, Mount Abu
31 December 2019
Dear Divine Family, Heartfelt Greetings for the New Year.
As we welcome 2020, let us be grateful for everything Baba has bestowed on us and introspect and reflect on how we could all emerge our divine nature, innate wisdom and positivity. Let us stop dwelling on the past, look forward to new beginnings and fulfill BapDada's hopes and aspirations.
Happy New Year!!!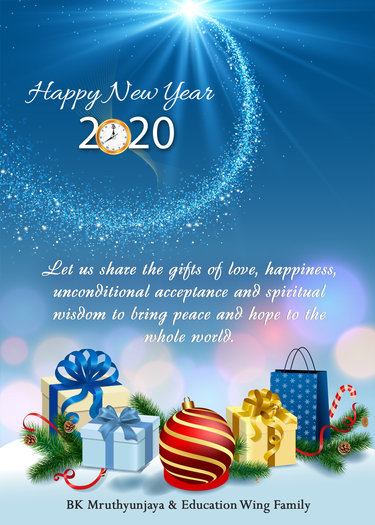 In Photos: Merry Christmas Programe in Shantivan
29 December 2019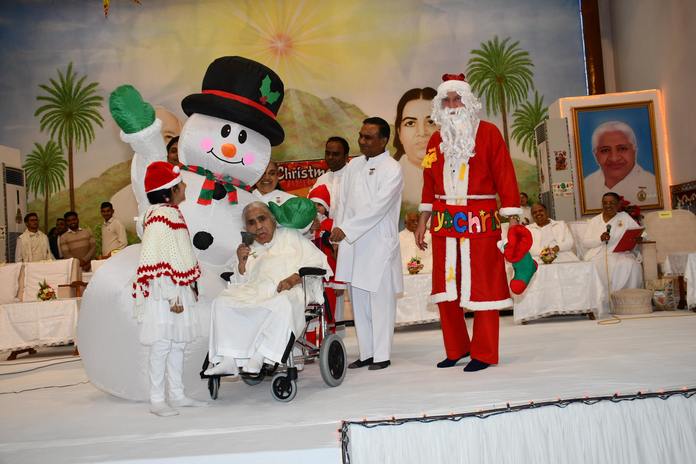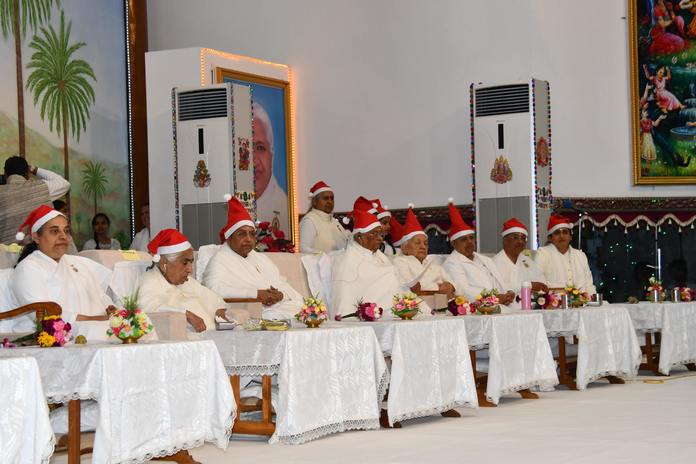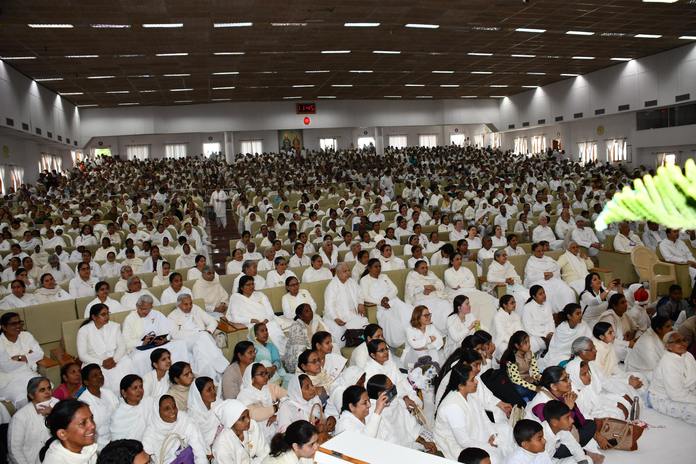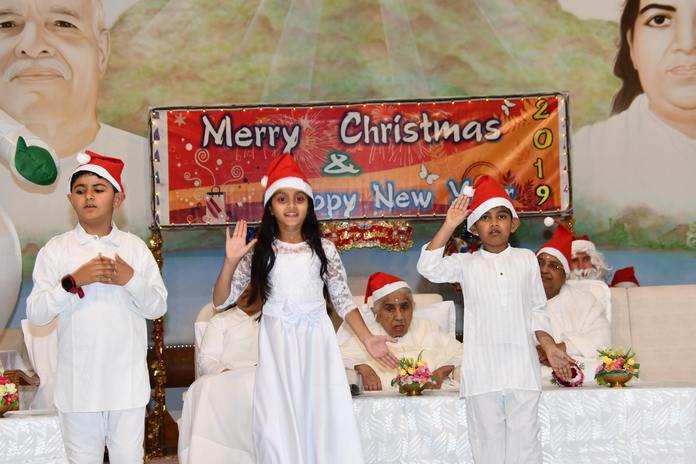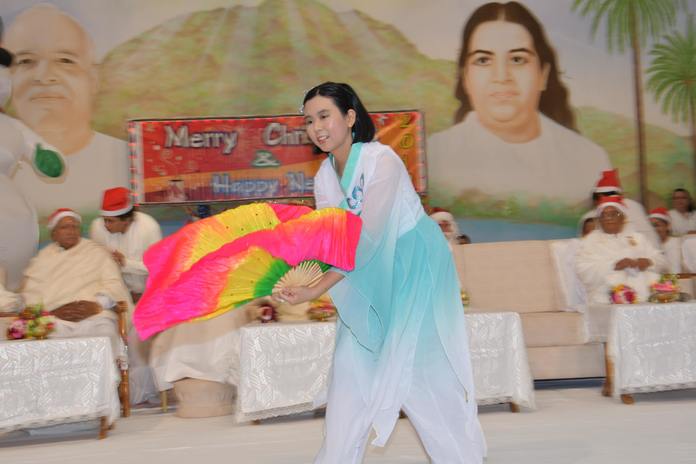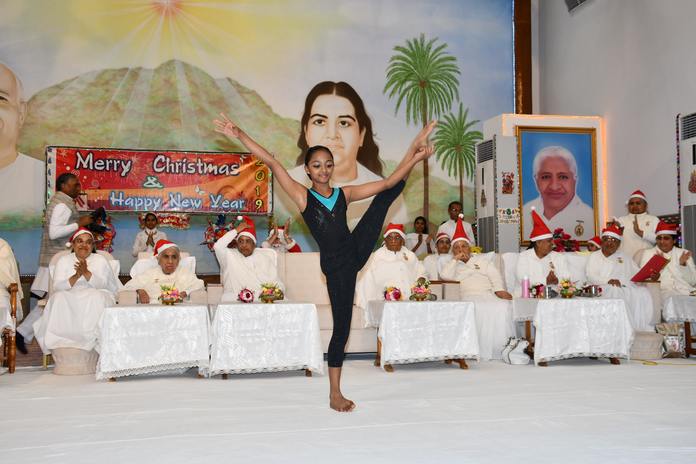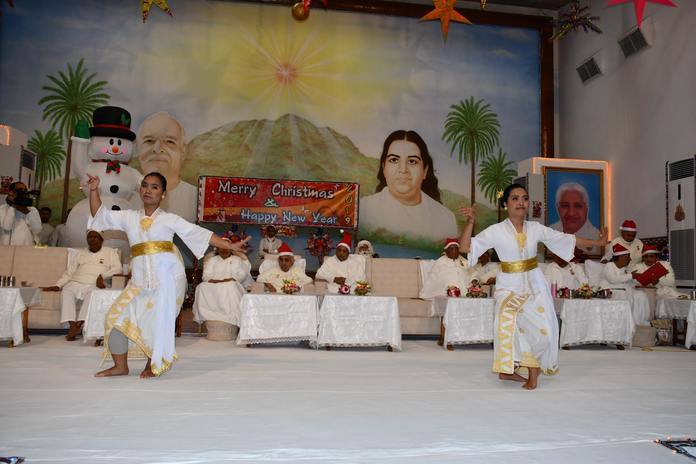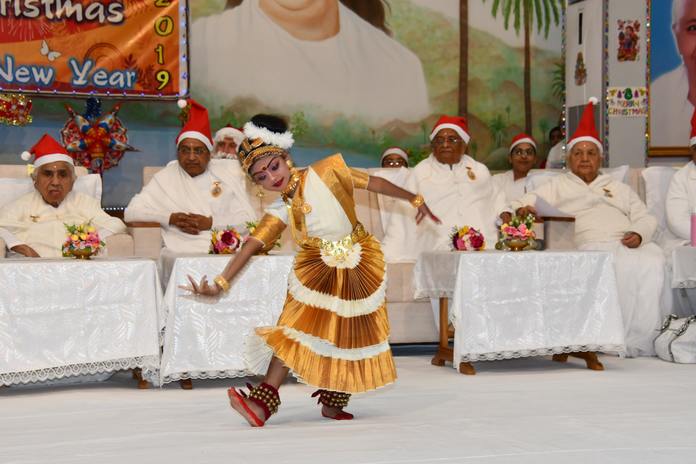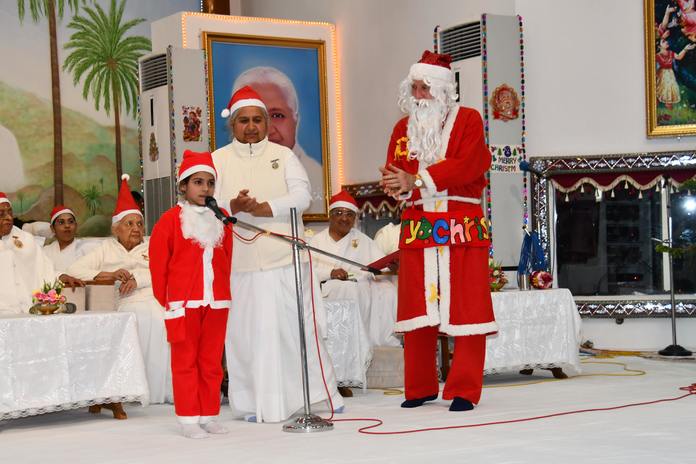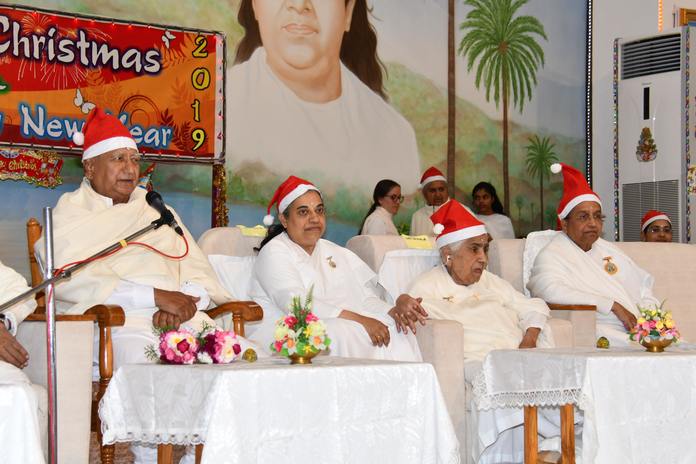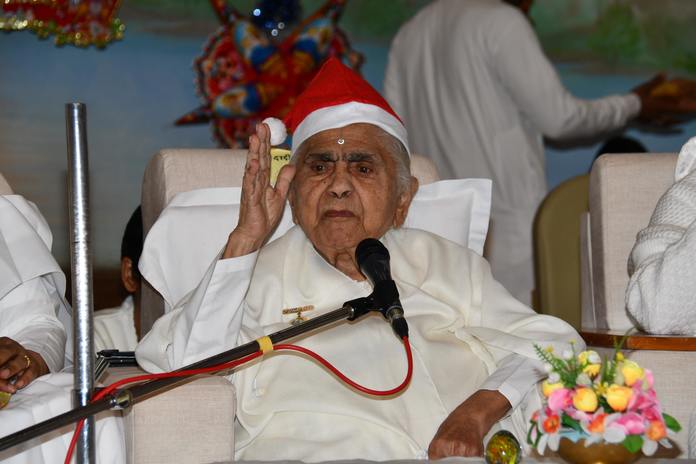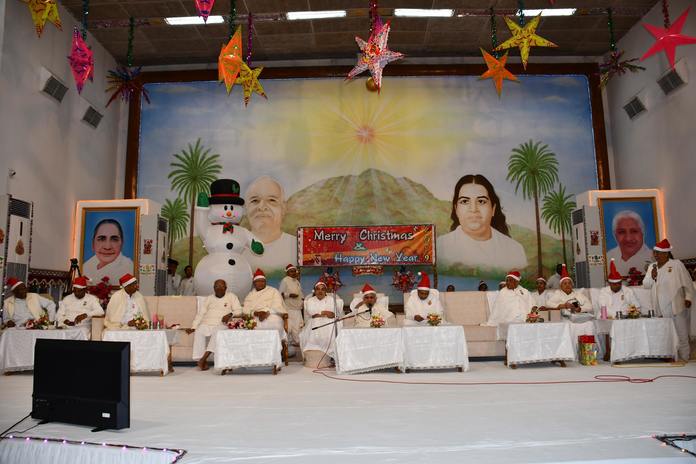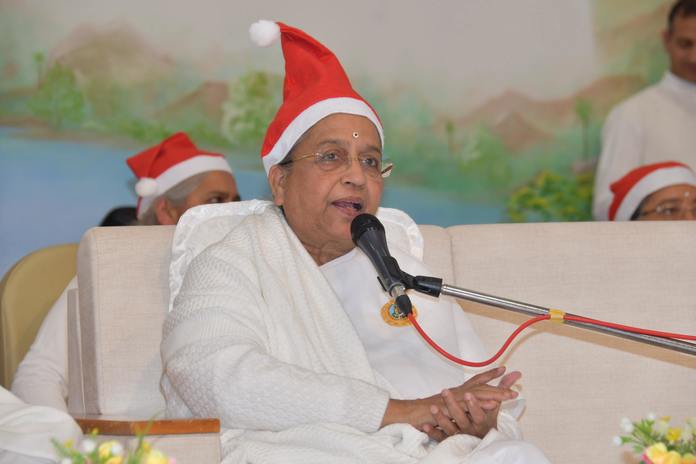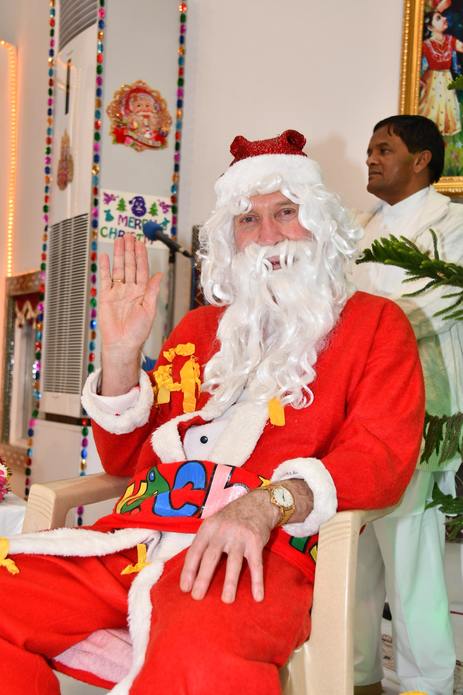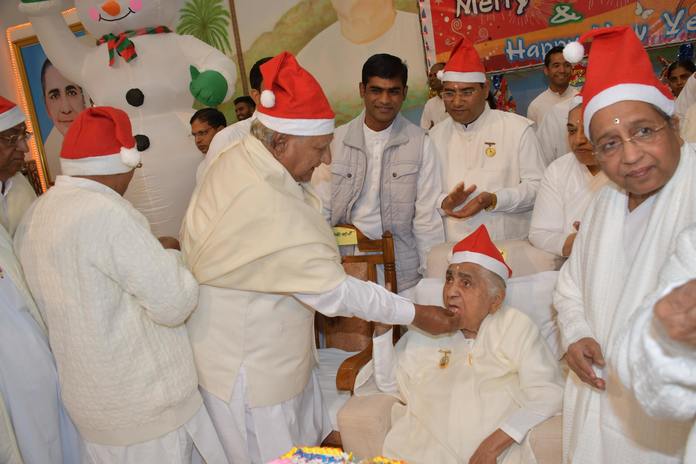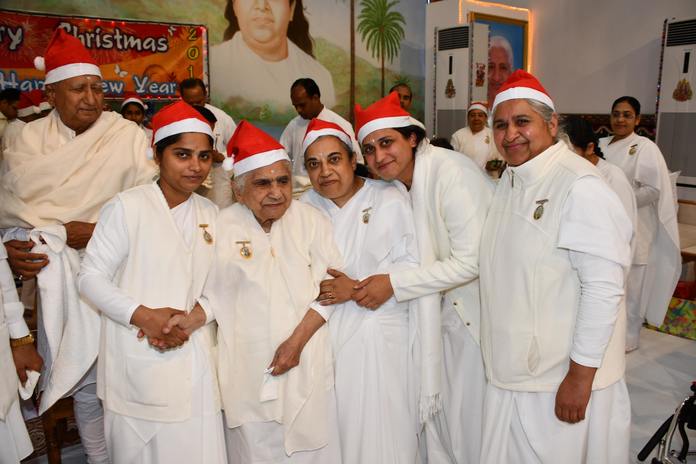 The Future of Power (FOP Retreat) at the Manmohini Complex, Abu Road, 6th to 9th December
29 December 2019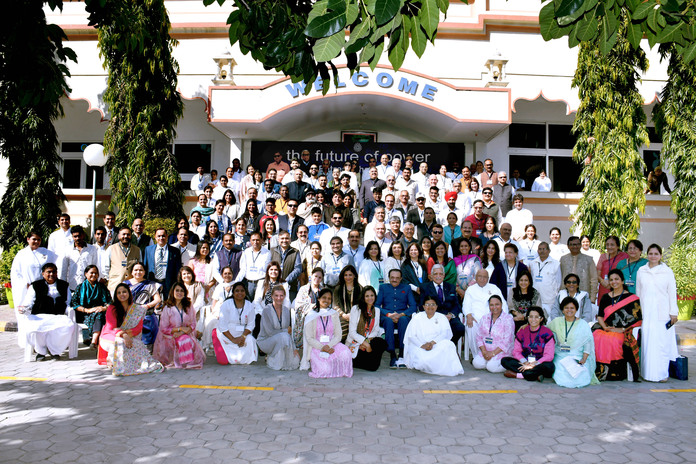 Dear Brothers and Sisters,
We are pleased to advise that almost 200 guests from varied professions attended the FOP Retreat last week end. The experience of having the Retreat at the Manmohini Complex was a very positive one and people in charge of all the various departments were very cooperative and positive. The end result was that the Participants were comfortable and had very good experiences. The Schedule was a little tight but everyone fell into it very well! As you will note from the attached Retreat Schedule, the list of the presenters was formidable and in reality we gave them the whole 7 days course and more!! After the candle lighting, the Maharaja of Sirohi welcomed the guests to his State, which was very appropriate!
In addition, on Sunday we also took them up the mountain and the visit to the Dadi Janki park which was a great success – each participant was individually garlanded which were made from flowers from the park! The feedback session was heartwarming and 'what will I action from tomorrow' was an eye-opener. The visit to Pandav Bhavan was spiritually fulfilling and the Dinner at Sukhdham was outstanding! One of the main feedback was that we should extend it to three full days!
All in all, it was a greatly successful Retreat!
Much Love
IBY,
Nizar & the FOP Team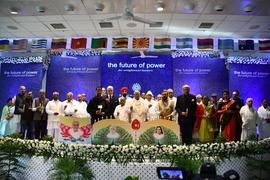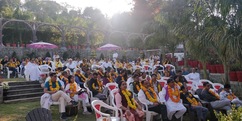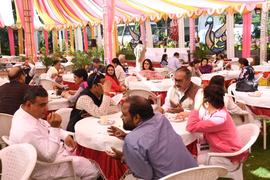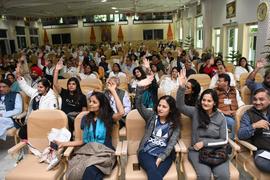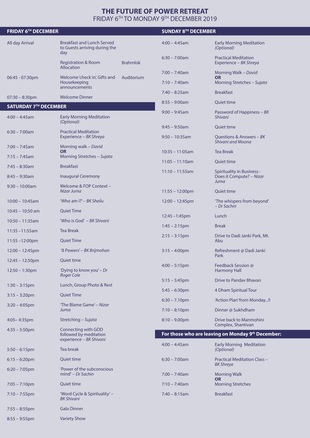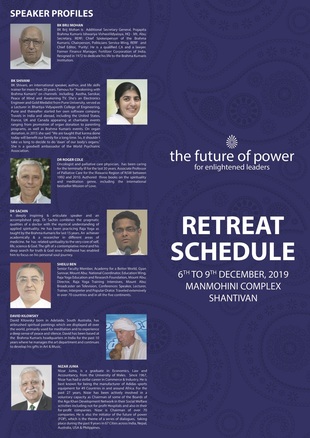 Watch "Honorable President of India visits Brahma Kumaris' Headquarter (English Subtitles) | Awakening TV" on YouTube
21 December 2019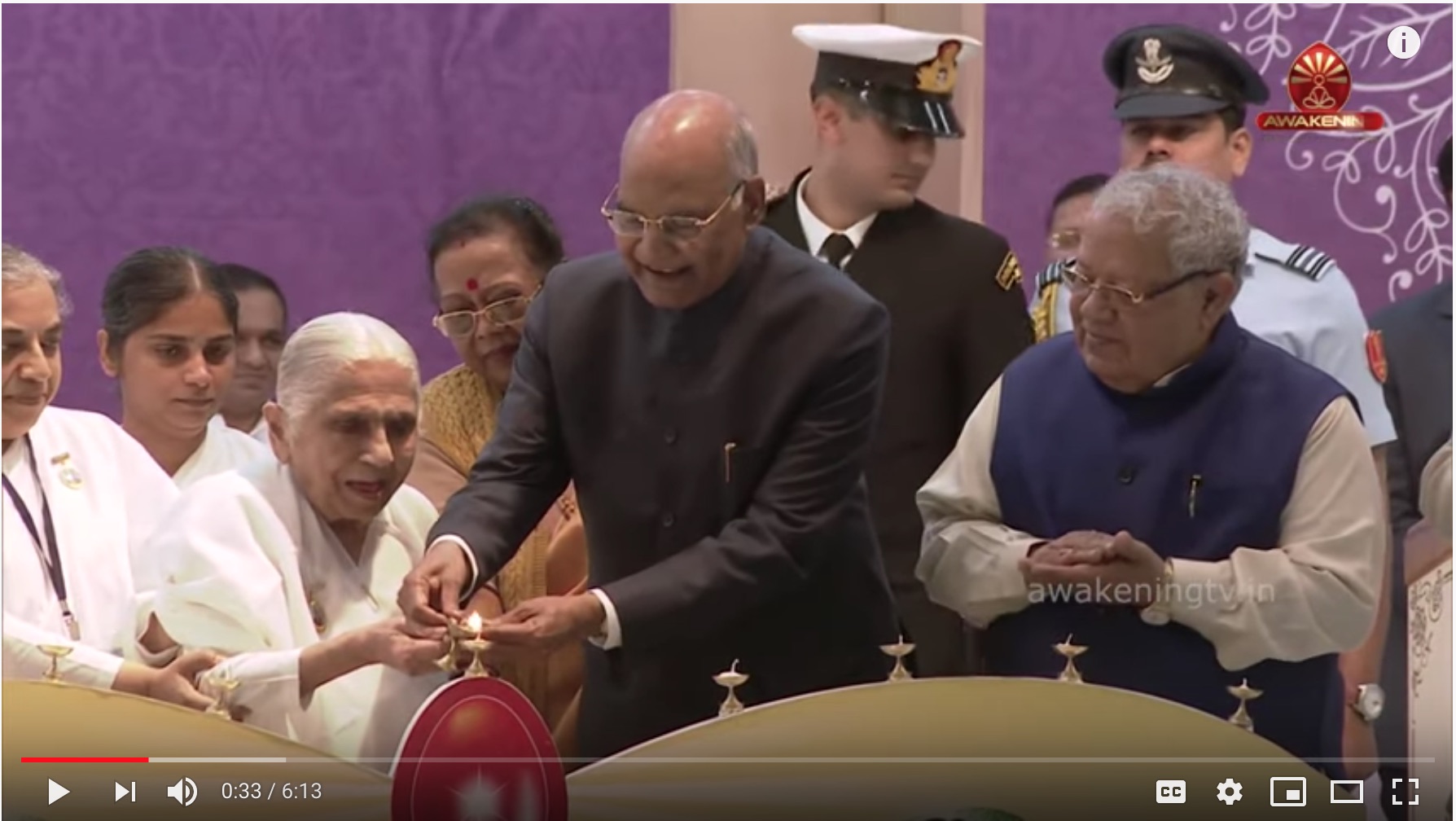 Click on image to play

A Unique Award by "World Book of Records (England and Wales) presented to Dr. Banarsilal Shah
1 December 2019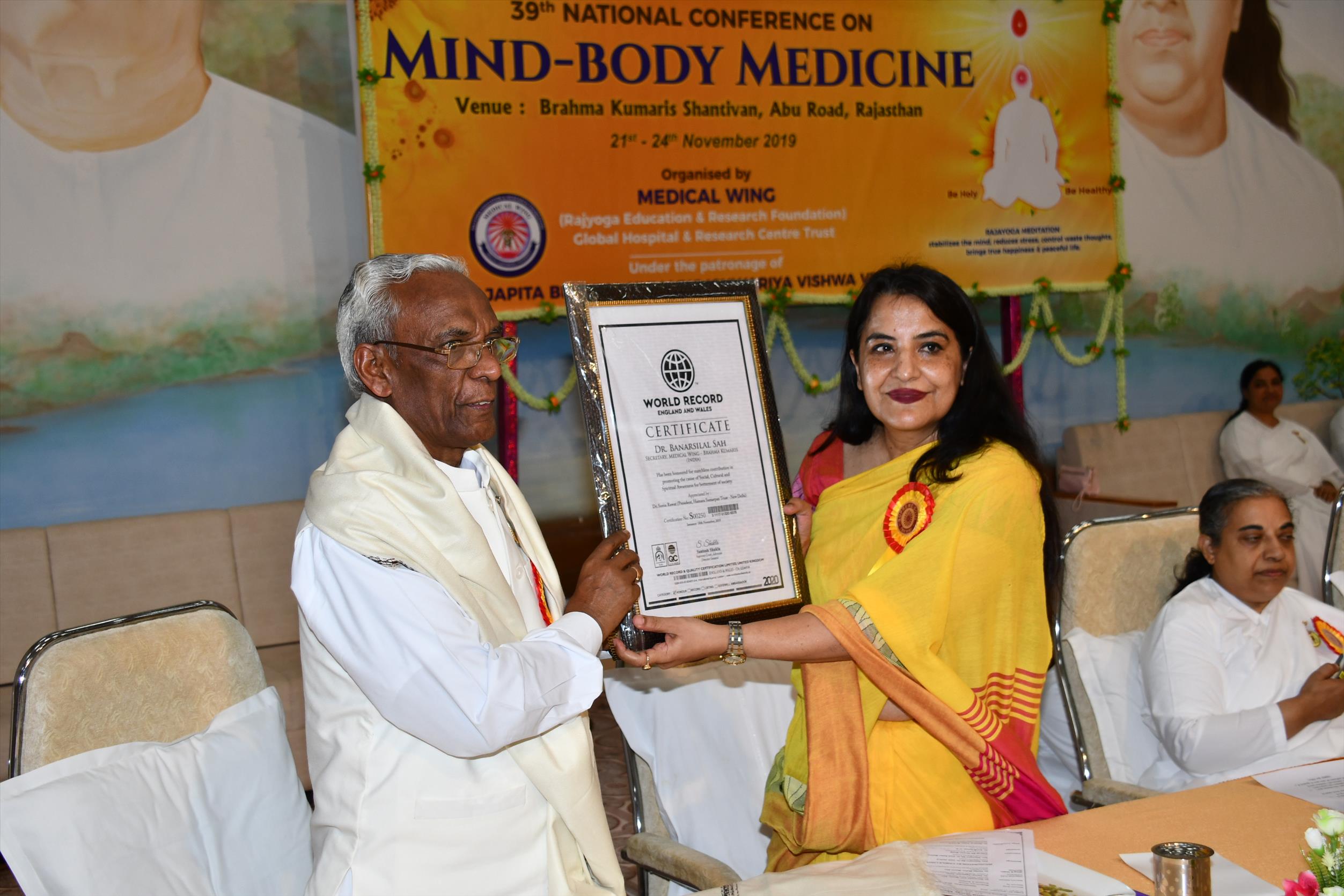 Respected Divine Brothers/Sisters, Om Shanti.
It gives us great pleasure in sharing the news with all of you that with the blessings of Almighty Shiv Baba and Brahma Baba, and the good wishes of the entire Brahmin family, our respected brother Dr. Banarsilal Sah ji, Secretary, Medical Wing (RERF), has been conferred with the unique award by "World Book of Records (England and Wales)" for matchless contribution in promoting the cause of Social, Cultural and Spiritual Awareness for betterment of society.
The Award was presented at the Shantivan HQs of Brahma kumaris amongst the midst of 1800 delegates (mostly doctors) of the Mind-Body Medicine Conference, and the august presence of reverend Dadi Janki ji, Chief of Brahma kumaris, Dadi Ratanmohini ji, Adl. Chief of Brahmakumaris, Brother Nirwair ji, General Secretary Brahmakumaris, by Dr. Sonia Rawat (President, Hamara Samarpan Trust-New Delhi) on the 22nd of November 2019.
This is indeed a moment of celebration and pride for the Brahmakumaris as a spiritual organization and the entire Brahmin family. Congratulations to you all!
With regards
Dr. Banarsilal Sah
Medical Wing Coordination Office
Rajyoga Education & Research Foundation

Godlywood News & Views - Diwali Edition
28 November 2019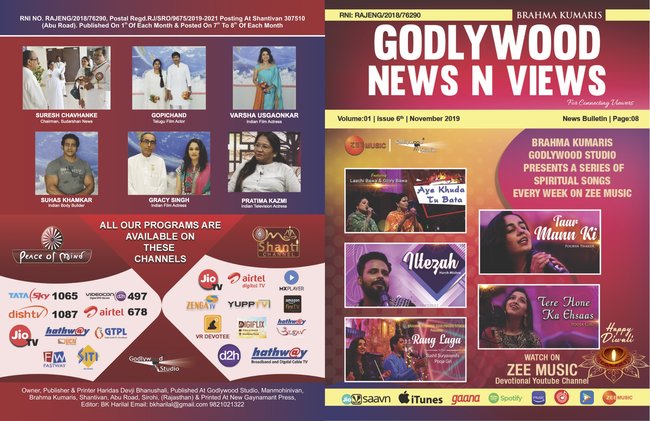 Dear Brothers and Sisters, Om Shanti.
The Diwali Edition of Godlywood News n' Views is out, I feel so happy to present every single edition in front of you - as every issue splashes a spoonful of the creative workflow happening inside Godlywood Studio.
Visual Media is a powerful tool, unfortunately used for meaner purposes nowadays - which has great potential to change mindsets of the society. This is our aim in Godlywood Studio and it is this power of our creative media ventures that we try to share with you through 'Godlywood News n Views'.
Find the scintillating start and eventual entry of Godlywood Songs into Zee Music (Devotional) which is a big step towards our aim of making music a medium to transform society. Munni Didi takes the first look at the Poster of the Animated Film - 'The LIGHT' and in the Tech Corner, get acquainted with the state of the art facilities inside our audio studio.
Hope this issue will make interesting reading, share the soft copy with all of your friends and let us together strive to create a world of peace and prosperity.
With Warm Regards,
BK Harilal
Executive Director
Godlywood Studio
Download PDF format here.

Regarding Registration of Guests for the Program of President of India at Shantivan on 6th Dec. 2019
25 November 2019
Most Respected Brothers and Sisters, Greetings of Peace!
You are aware that Hon'ble President of India Shri Ram Nath Kovind Ji is visiting our World Headquarters at Shantivan, Abu Road on 6th December 2019 for inaugurating the National Convention on Empowerment of Women for Social Transformation.
We cordially invite participants (BK or Non-BK) from all parts of India to attend this memorable event. Due to security concerns, we'll permit only those participants who have registered for this event. The important points of concern and registration procedure are mentioned below:
1. In order to register for 6th December Convention, please click on the link below and fill the form.
https://forms.gle/xX57kE2njHa6ASRH6
2. The last date of Registration is 4th December 2019. Registration is compulsory. Only registered participants will be allowed due to security reasons.
3. Arrival Date is 5th December 2019 and Departure Date is 7th December 2019.
4. Please mention a valid email id and mobile number to receive confirmation of your registration.
5. Make your travel arrangements once you receive the confirmation. Please make bookings only after receiving confirmation from the organizer.
6. Lodging & Food will be provided by the organizer. Accommodations shall be provided as per the availability. No demands for the VIP accommodations will be entertained.
7. Kindly bring your original ID for verification.
8. Please show a copy of your confirmed registration while taking accommodation.
9. In order to attend the President of India's Program, it is better to arrive either on 5th December or by early morning on 6th December 2019.
10. Nearest Airports from the Venue are Udaipur (159km - 2 hrs) & Ahmedabad (203km - 3.5 hrs)
11. Abu Road Railway Station is 5 Kms from the venue.
For any further assistance and concerns, please contact us:
+91 9079092434
+91 9413384876
Email: mruthyunjaya@bkivv.org
With love and Regards,
Your Spiritual Brother
Dr BK Mruthyunjaya
Executive Secretary
Brahma Kumaris, Mount Abu

A Brief Report of LCOY-15 India (2 - 4 Nov.) held at Shantivan, Brahma Kumaris
18 November 2019
Divine Family
The world leaders have been discussing environment crisis and negotiating climate change for 24 years, yet the speed with which we drive towards our own destruction is breath-taking. The young people, as Global citizens are becoming increasingly aware that they are born into a world in crisis and they need to do something about it.
With this in mind, Brahma Kumaris hosted 15th Edition of LCOY at our International HeadQuarters in Shantivan, Abu Road, Rajasthan from 2nd to 4th Nov., 2019, to enhance the youth's understanding on climate change and sustainable lifestyle. LCOY-India is an annual event officially recognised by the United Nations Framework Convention on Climate Change (UNFCCC) and its official youth-constituency called YOUNGO. LCOY India.
The event kicked off with an opening ceremony at Training Centre on November 2nd in the presence of eminent guests which included Mr. Prabhjot Sodhi, Sr. Coordinator, UNDP India and Mr. Akash Vashishtha, Advocate, Supreme Court of India & Secretary of the Society for the Protection of Environment and Biodiversity and the following two days more than 15 workshops were held to reflect a process of inclusive, participatory and transparent dialogue. Talanoa dialogue sessions also took place which enabled the participants to share stories, build empathy and to make wise decisions for the collective good.
The key themes at the heart of our event were:
Communicating Climate Action & Challenges
Climate Justice & Peace
History and science of climate change
Compassionate Living
Indigenous Sustainable Lifestyle
Solid & Liquid Resource Management
Zero Waste Conscious Living
Indian Heritage Art and others
This conference brought together 200 young people (age between 16 and 35 years) from across India to meet, learn from, and enter into dialogue with one another. Moreover, in different workshops covering about 15 different themes, people got the chance to learn about different facets of climate change. At the LCOY, people understood that isolated actions are not sufficient and that only by creating a web of actions can we achieve the necessary impact.
Informative sessions were conducted on Sustainable Yogic Agriculture by BK Sumanth and Climate and Consciousness by BK Aneta Behn where the environmental initiatives of Brahma Kumaris were discussed with the audience.
The participants also took a tour of India One Solar Plant and Tapovan as a part of BK Eco Initiatives and Environmental Awareness.
Special class by Rajyogi BK Suraj Bhai and Meditation Sessions by Bro. David and Desert Rose Group were held to heal the planet and create fresh awareness of interconnectedness with the world around us.
The whole Conference successfully concluded on 4th November, with the participants understanding the need to consciously adopt environment friendly practices and work together in creating a safer and healthy planet. The climax of the conference was the creation of a policy proposal which will be fed into the global Conference of Youth (COY). From the COY will come a synthesised policy report from all grassroots youth across the world who participated in LCOYs and will be fed directly into the Conference of the Parties (COP) - the largest international climate change conference. This is a unique way to have your voice heard on a global platform.
Pls find enclosed the link of photos of the event:
https://photos.app.goo.gl/Xrp679MAsr4ziDpC6
With love and Regards,
Your Spiritual Brother
Dr BK Mruthyunjaya

15th Edition of LCOY inaugurated on 2nd November at Shantivan
5 November 2019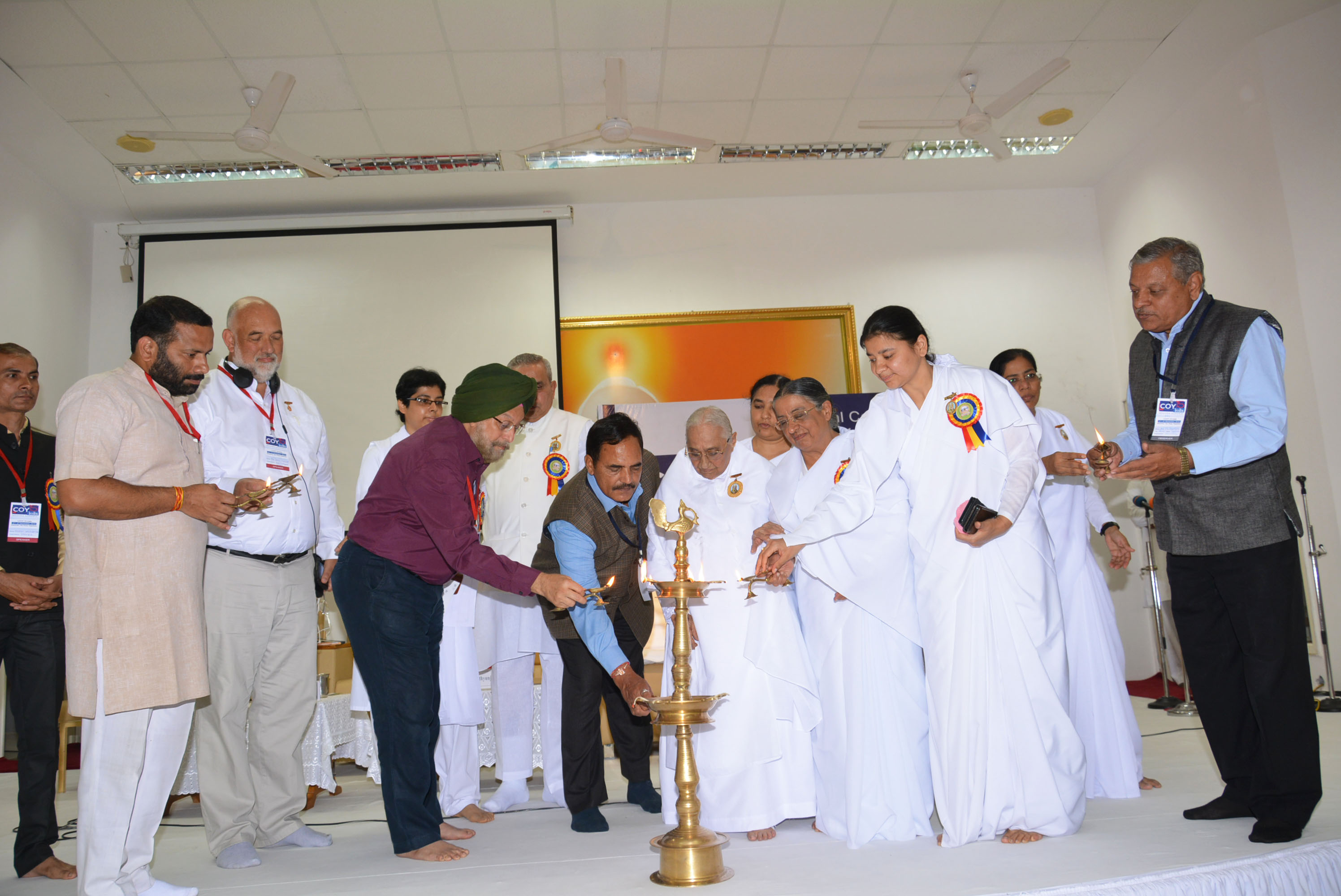 LCOY-India is an annual event officially recognised by the United Nations Framework Convention on Climate change & its official youth-constituency called YOUNGO.
The Inaugural event was graced by Rajyogini Dadi Ratan Mohini, Rajyogi BK Mruthyunjaya, Rajyogini BK Sheilu, Mr. Prabhjot Sodhi, Sr. Coordinator, UNDP India and Mr. Akash Vashishtha, Advocate, Supreme Court of India & Secretary of the Society for the Protection of Environment and Biodiversity.
Mr. Prabhjot Sodhi praised the efforts of Brahma Kumaris and its presence worldwide. He urged the participants to shed the 'weight' of mind and explore a good life which is guided by principles. He said, "Our good actions give us the motivation and means to change things in ways needed for better life."
Mr. Akash Vashistha gave statistics on how environment is moving towards disaster and asked the youths to take initiative and personal responsibility to reduce impact on earth and move towards a sustainable future. The crisis of a growing global population, desertification, the contamination of water, and damage to the atmosphere itself demands a radical change in our society at every level.
Rajyogi BK Mruthyunjaya said that the mental pollution is the seed of all pollution and negativity. "A polluted mind conceives polluted thoughts, which are then translated into polluted and contaminated words and actions. Negative influences of vices of anger, greed, sex lust, attachment and ego have led to an unprecedented rise in a global pollution. Youth should not just hope that government or other officials will magically transform our world but should focus on daily thoughts, actions and decisions that can have a positive impact on the environment." He asked the participants to pledge to plant at least one sapling in a year.
Rajyogini Sheilu Behn said, 'we all need to awaken greater environmental awareness. There is a deep connection between our consciousness, thoughts and actions, and their impact on the world. The values of love, compassion, sharing and caring are needed to restore the beauty of this world. The youth should focus on creating positive thoughts which can help to keep up their initiative and mobilization.'
Rajyogini Dadi Ratan Mohini Ji gave her blessings to all the participants and asked each to cooperate and collaborate with each other through positive actions and happy faces.
Sister BK Jayanti sent her good wishes through video in which she asked the participants to change their consciousness for a better sustainable future. BK Shivika welcomed the guests and BK Supriya coordinated the programme.
About 200 youths attended the program.
Please login to: http://lcoy.bkinfo.in/
Dr. BK Mruthyunjaya
Chairman, Education Wing
Brahma Kumaris, HQ, Mount Abu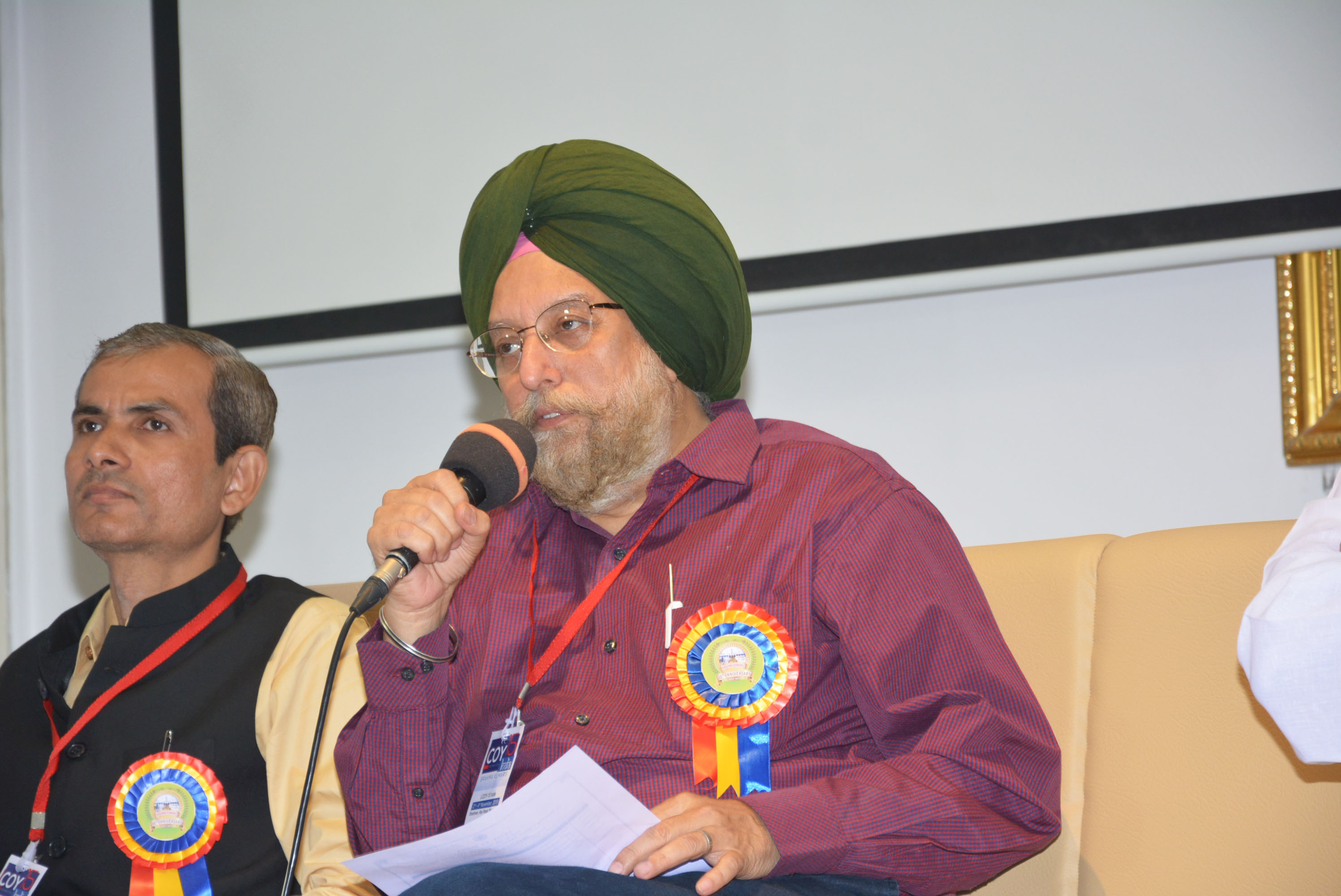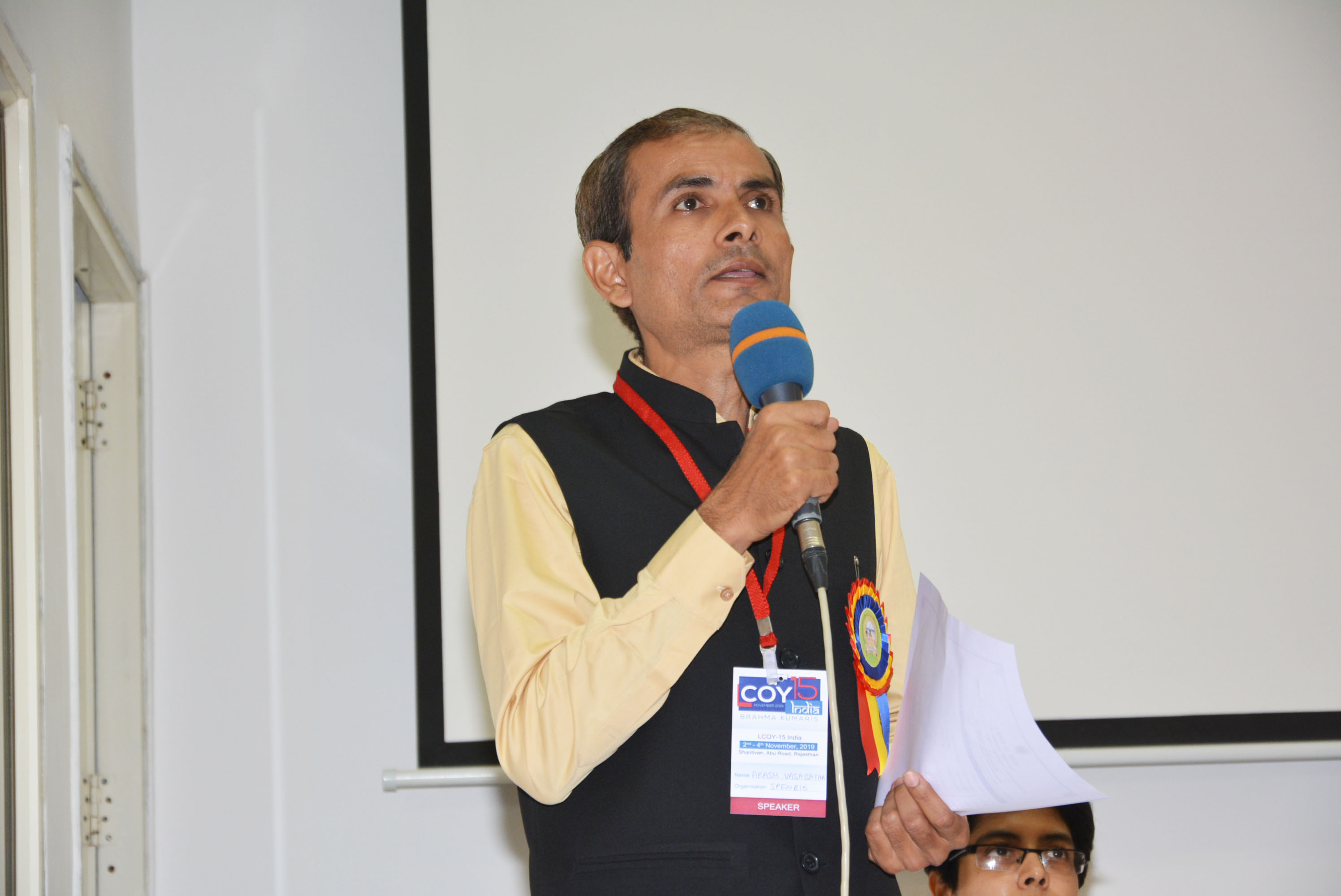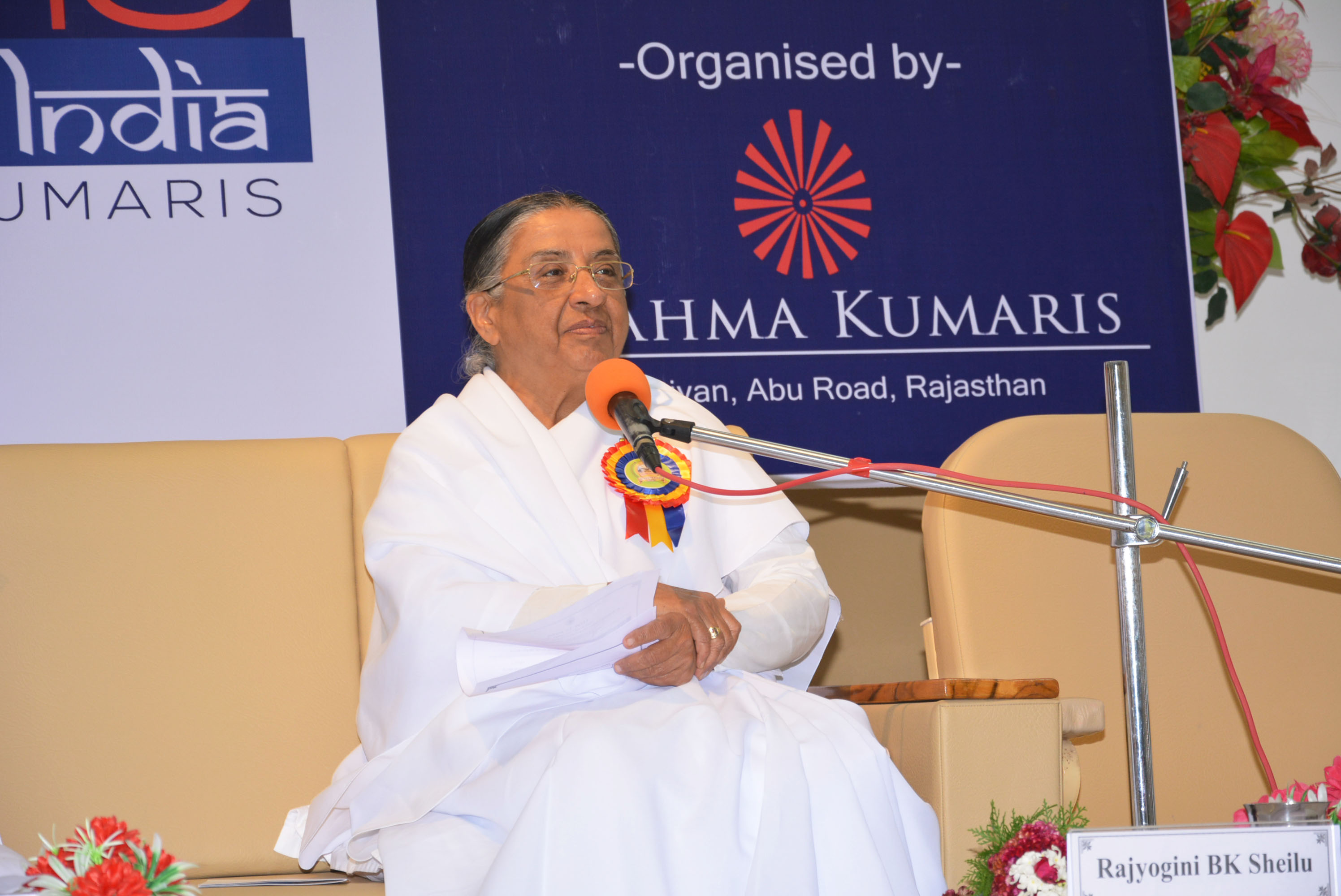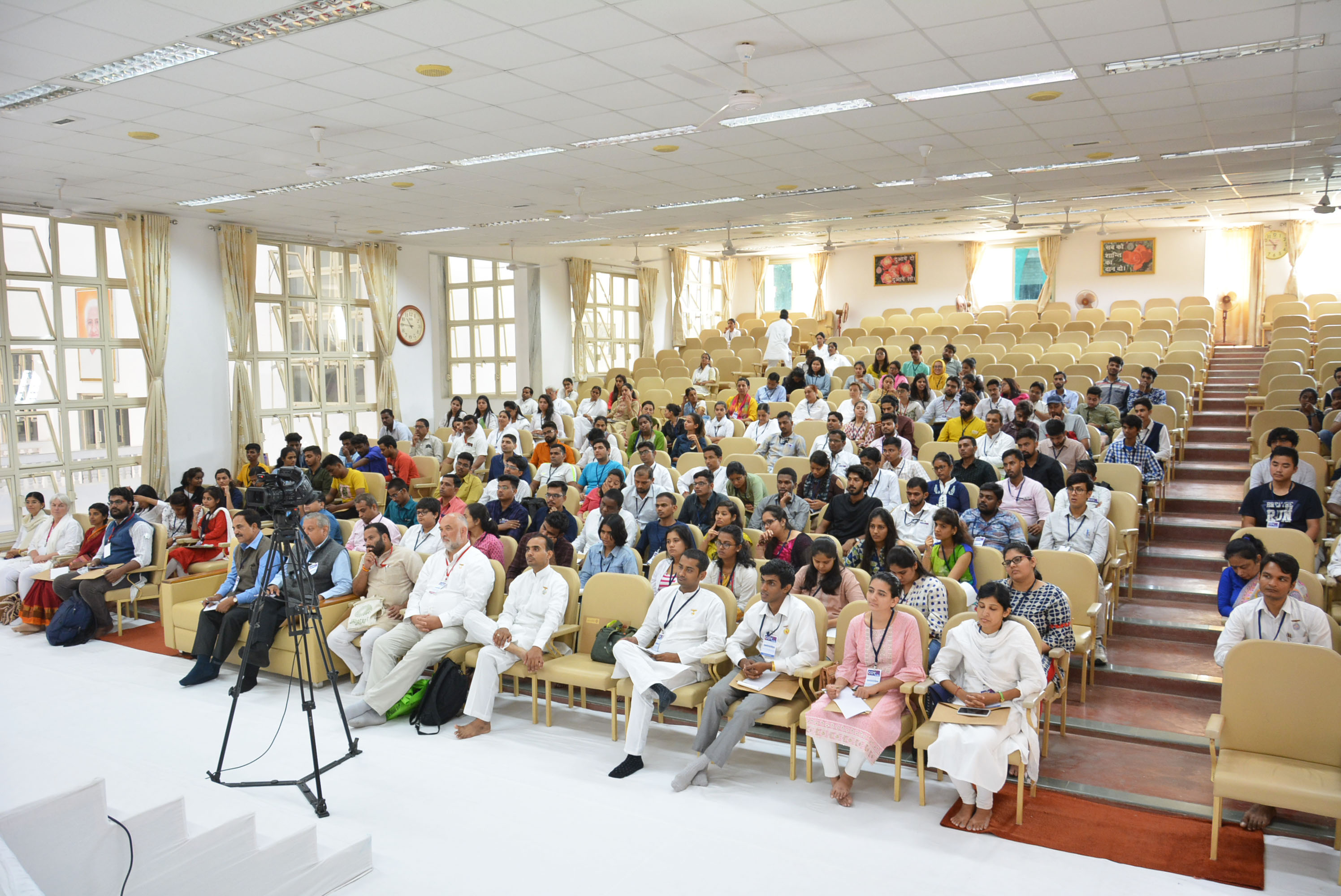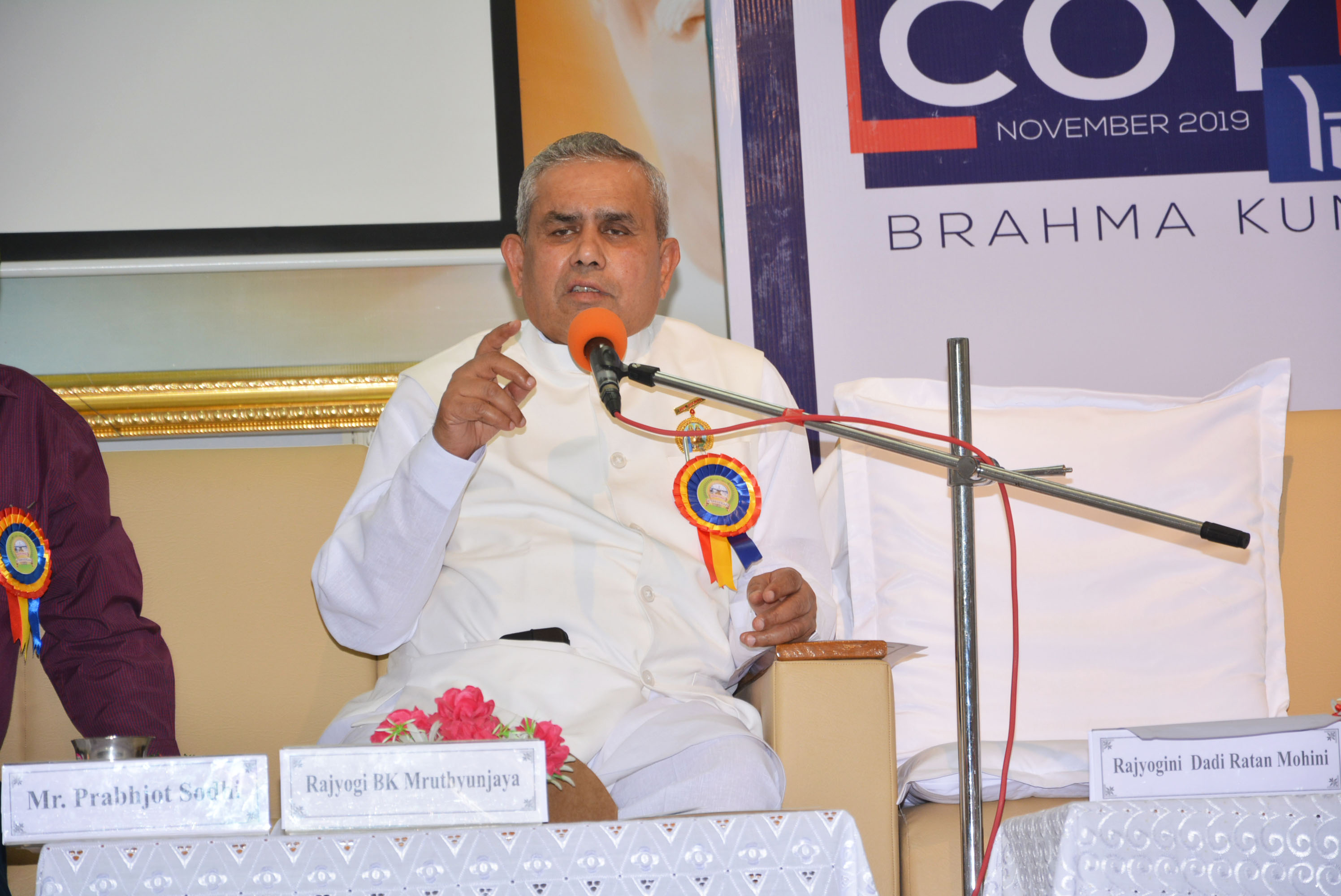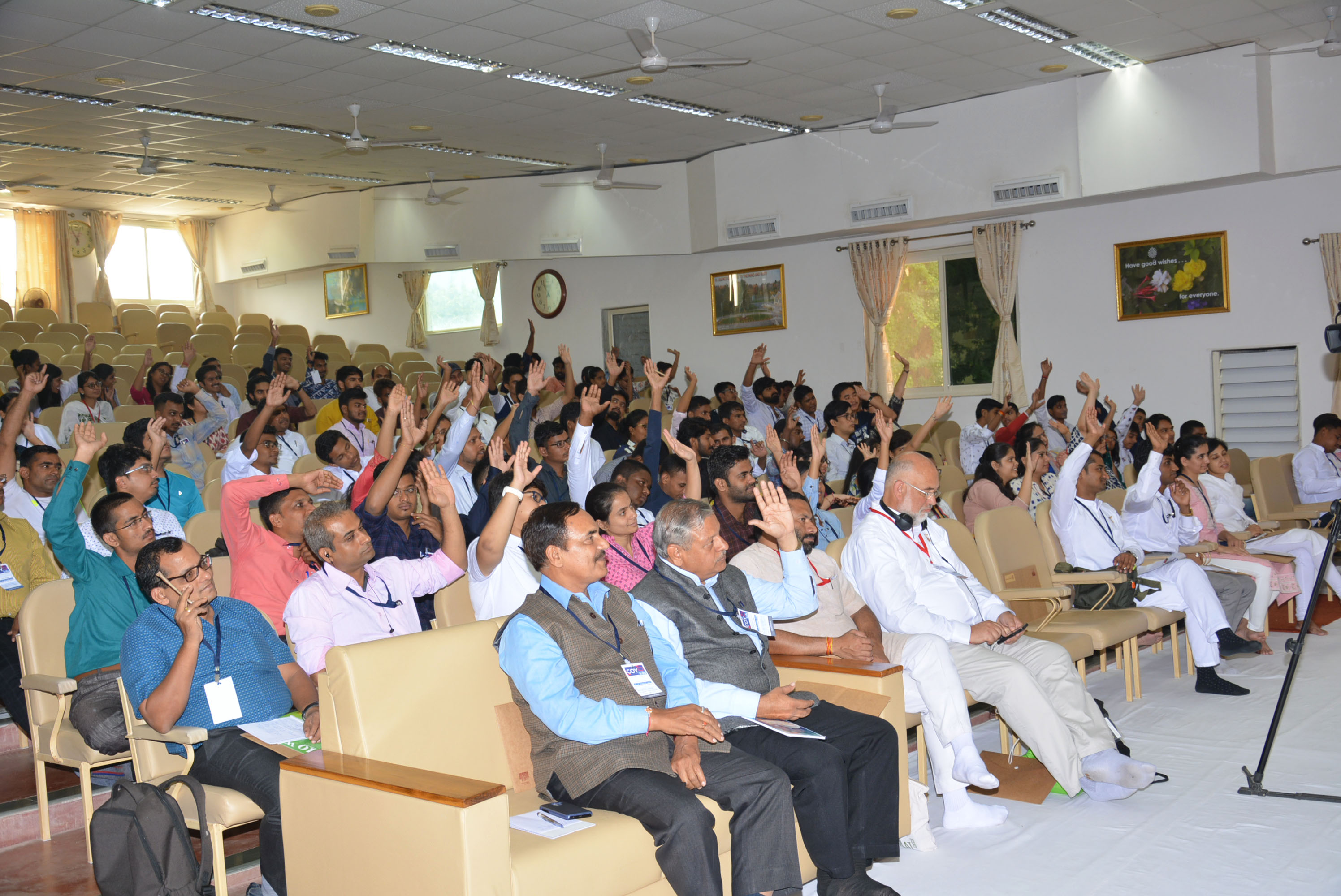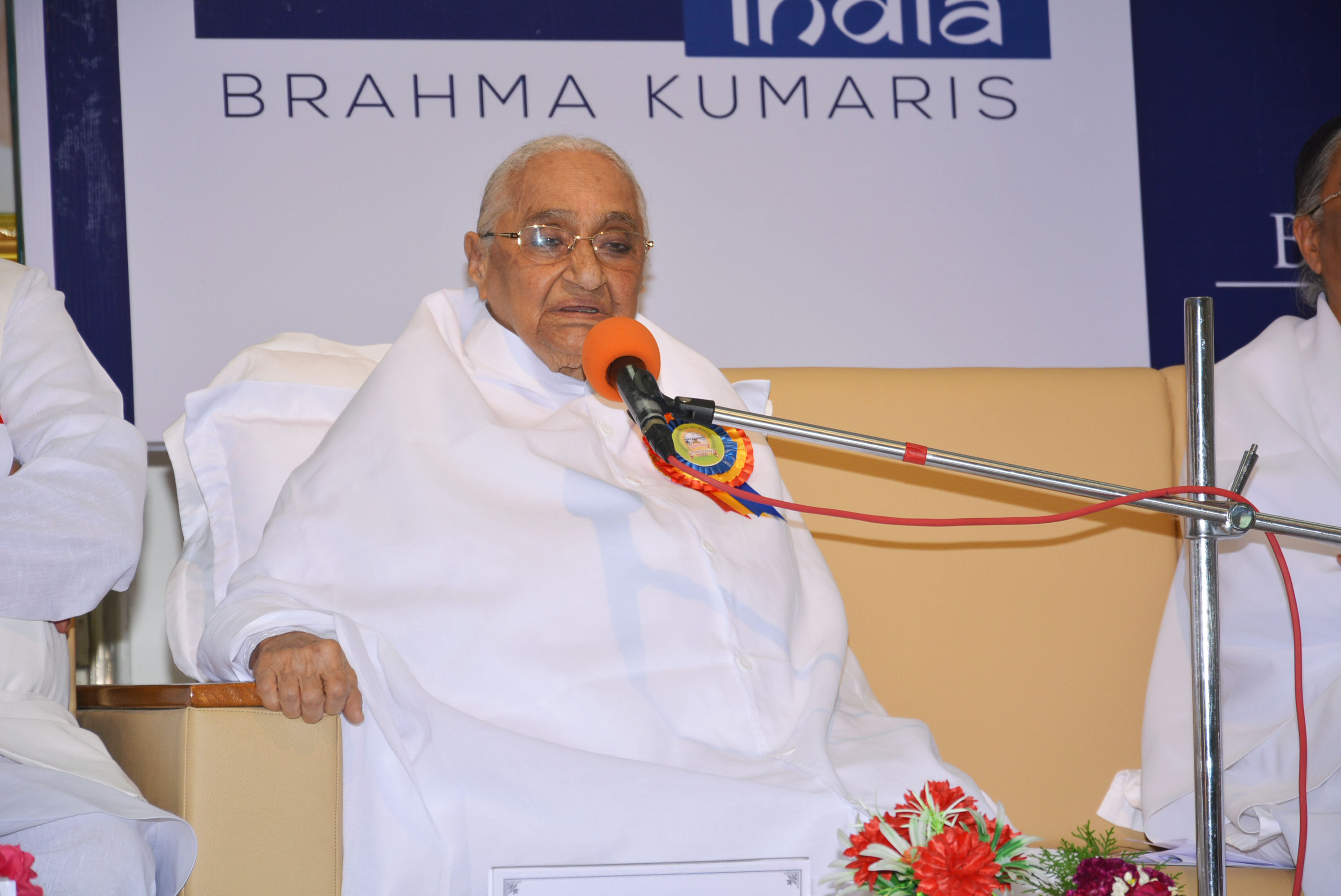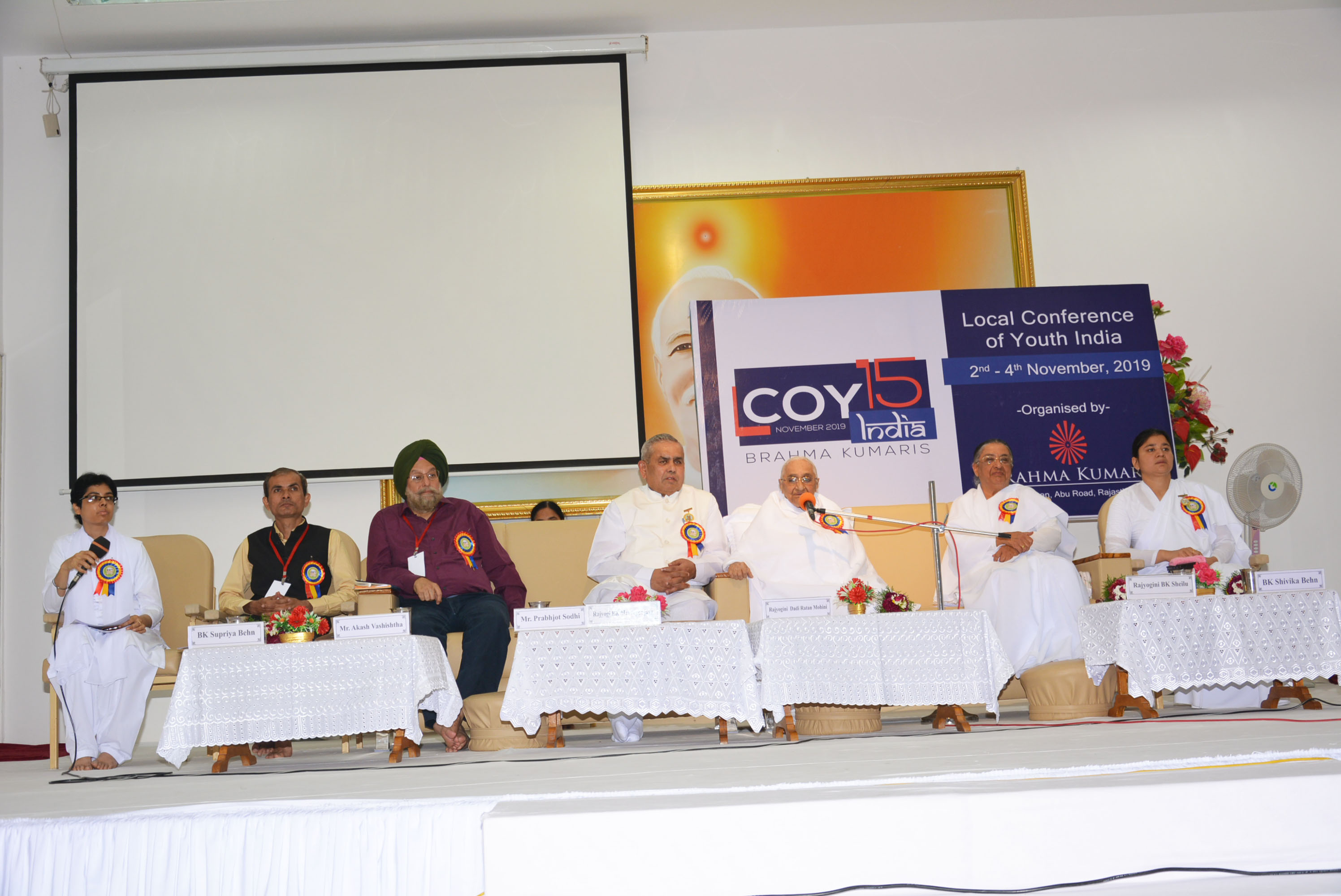 In Photos: Diwali Celebration at Manmohinivan Complex, Shantivan
1 November 2019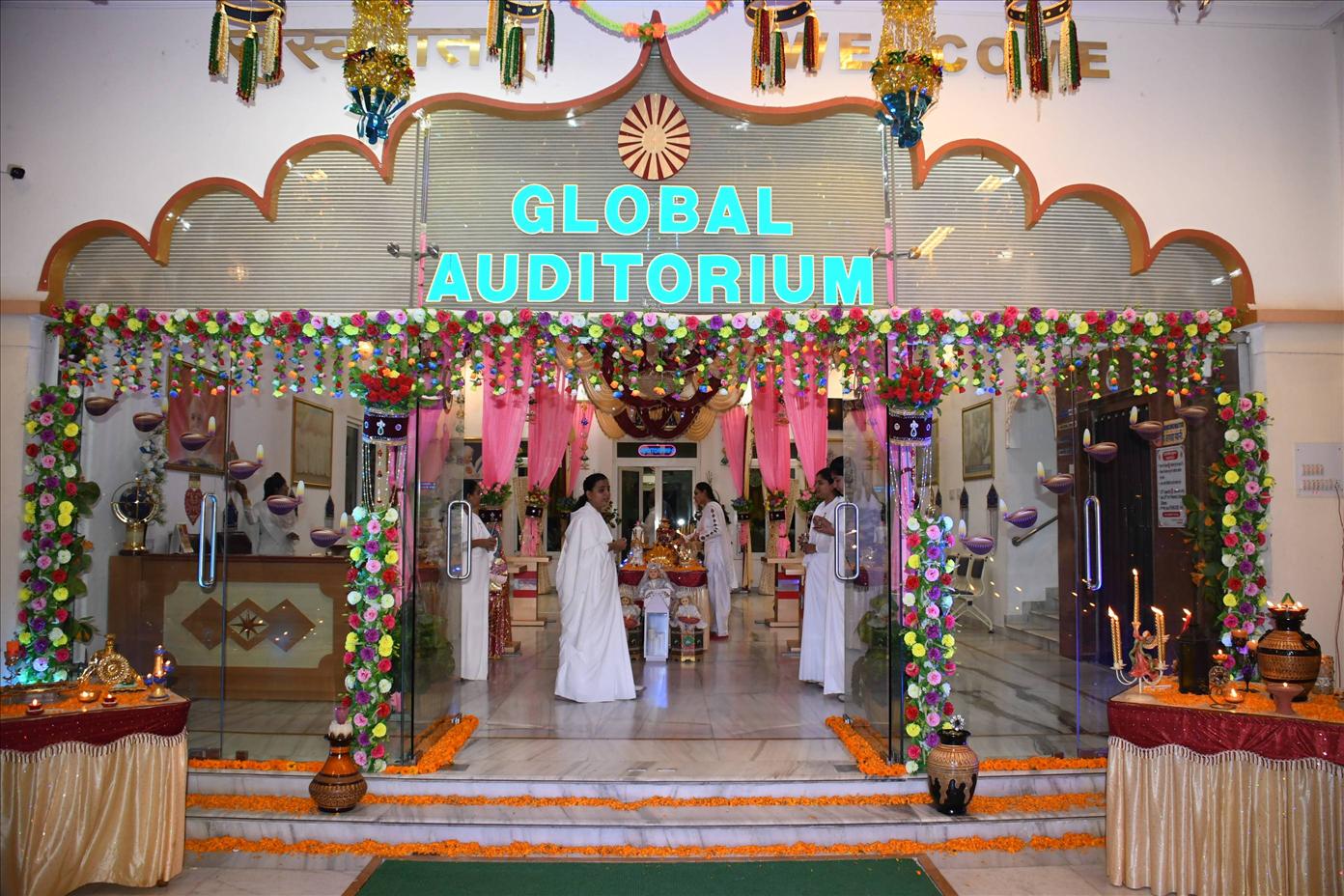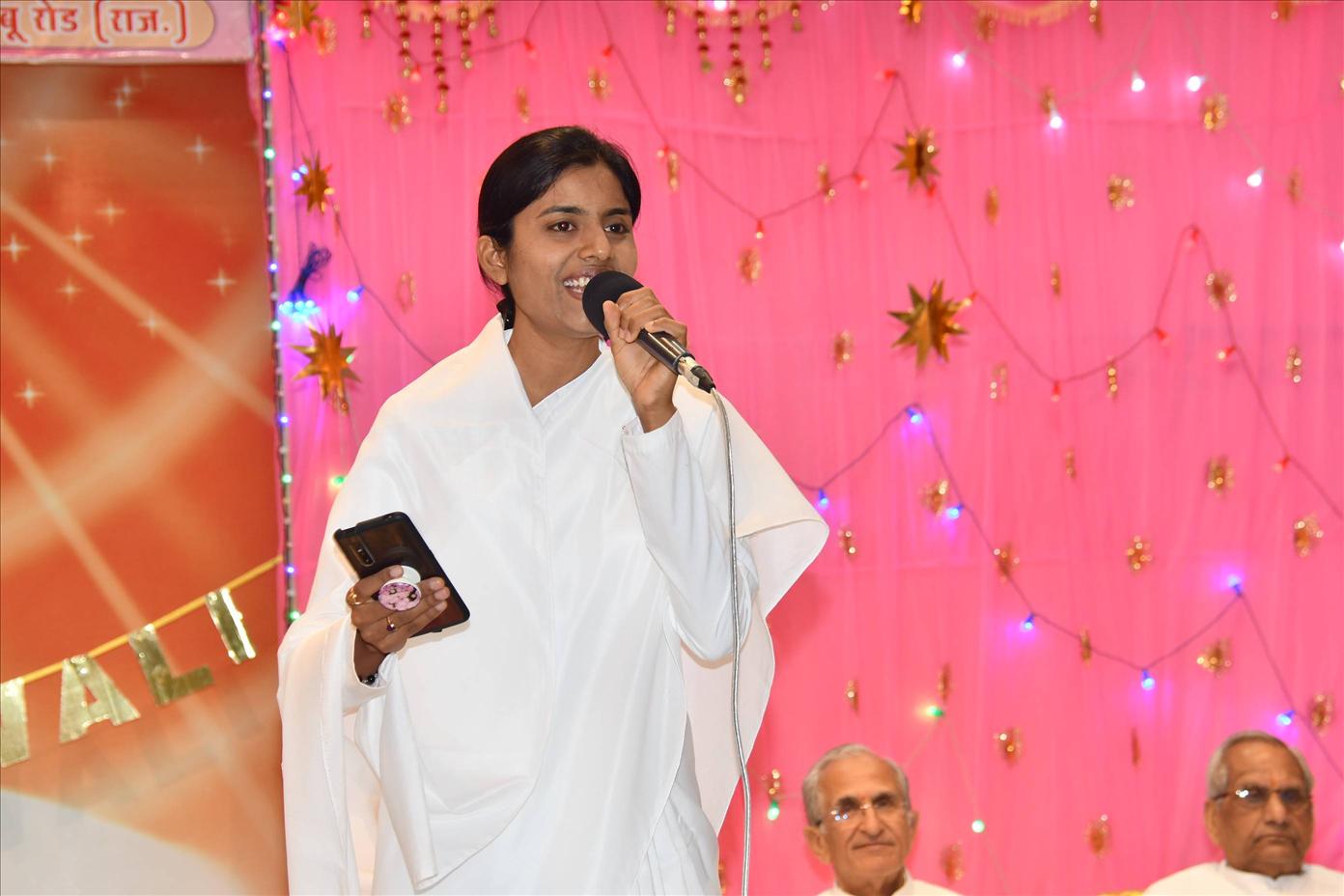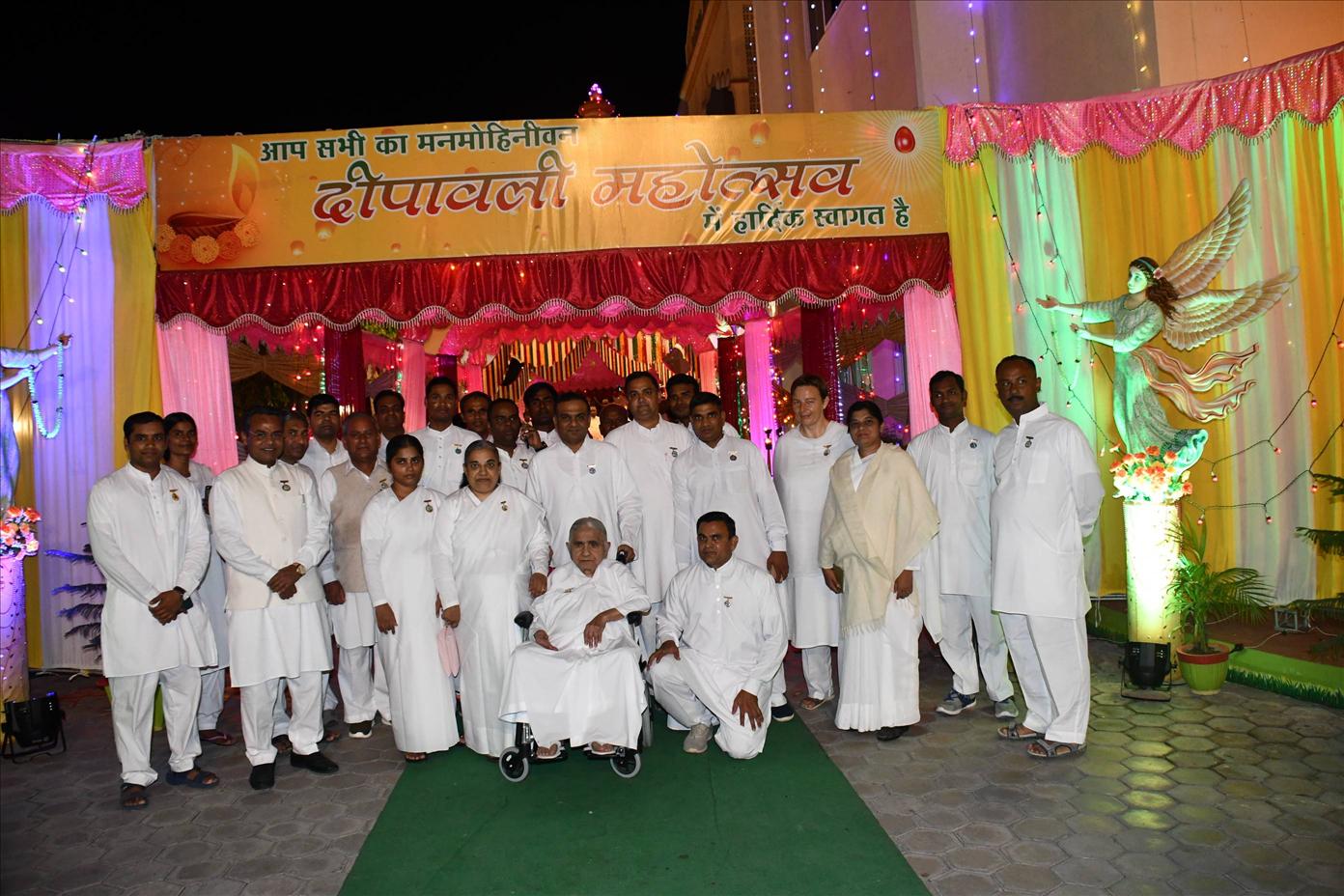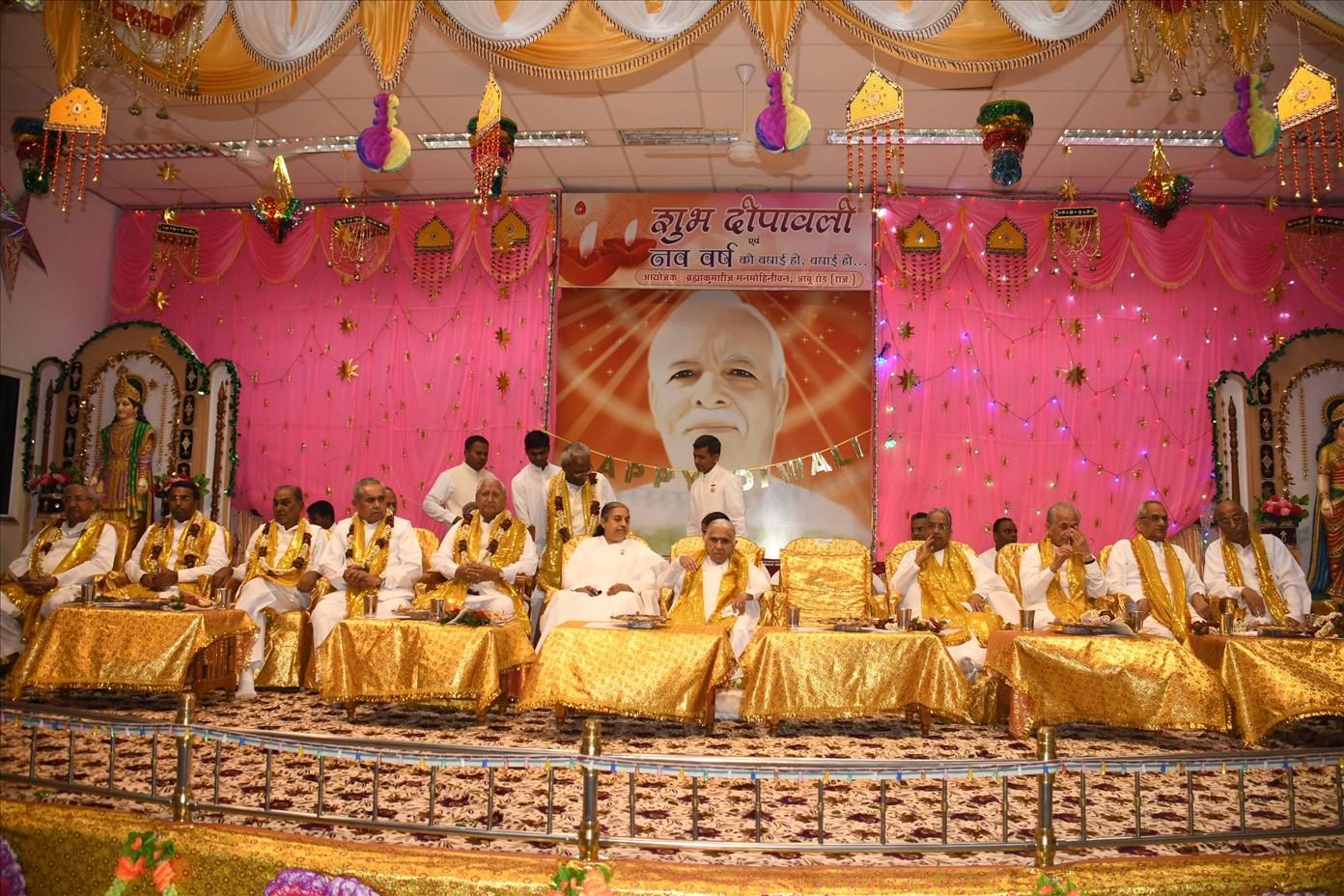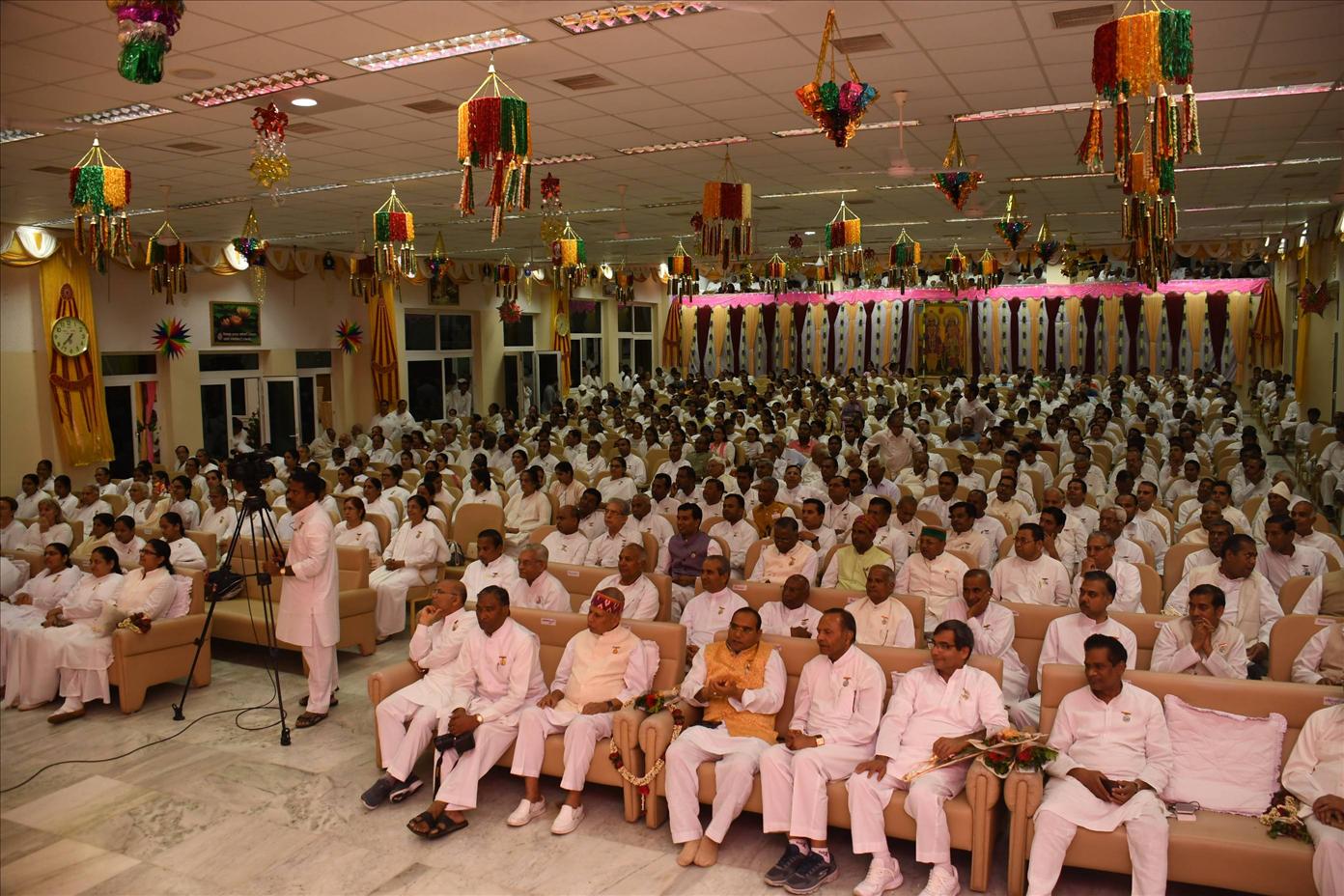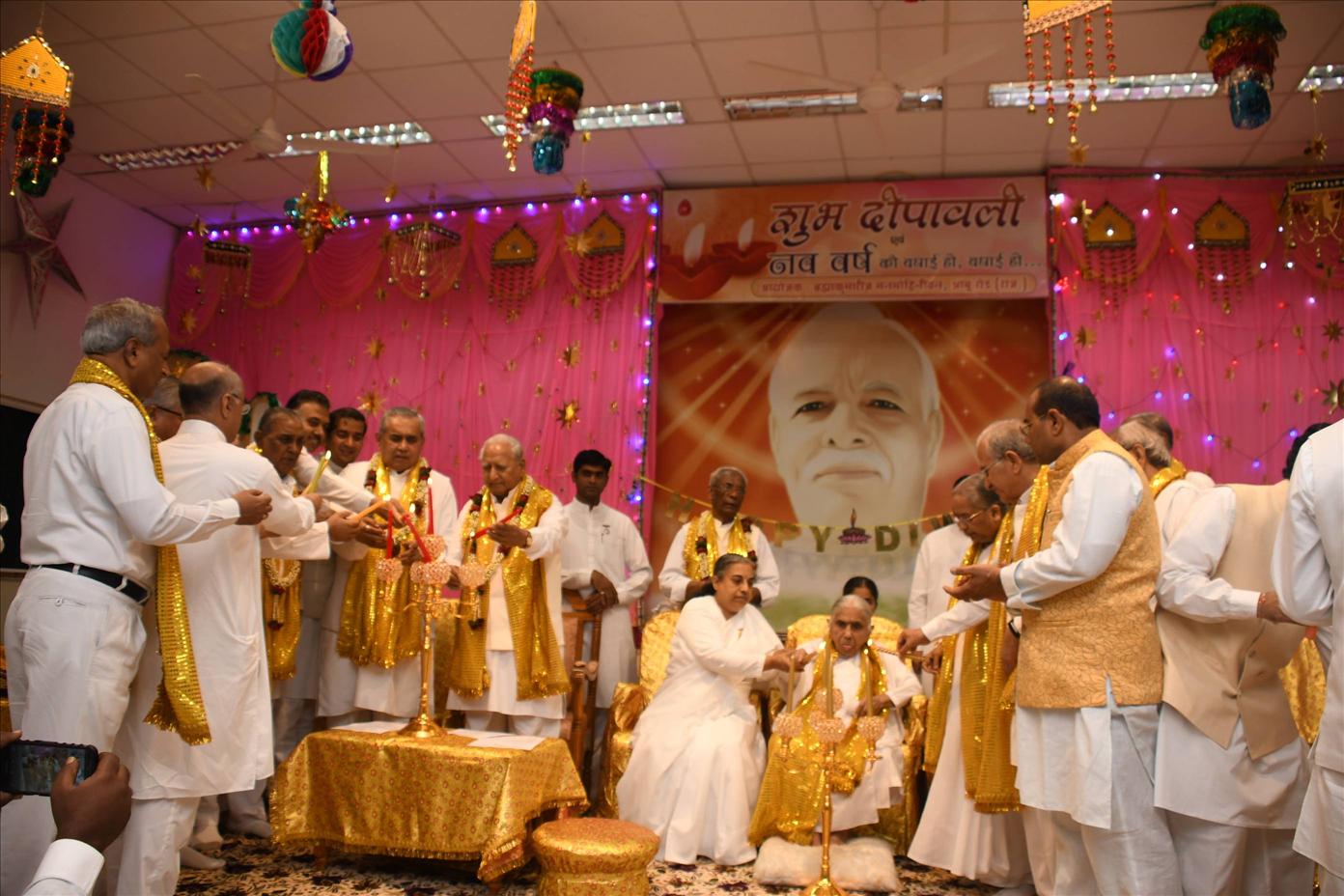 Diwali Celebration at Shantivan, Abu Road
1 November 2019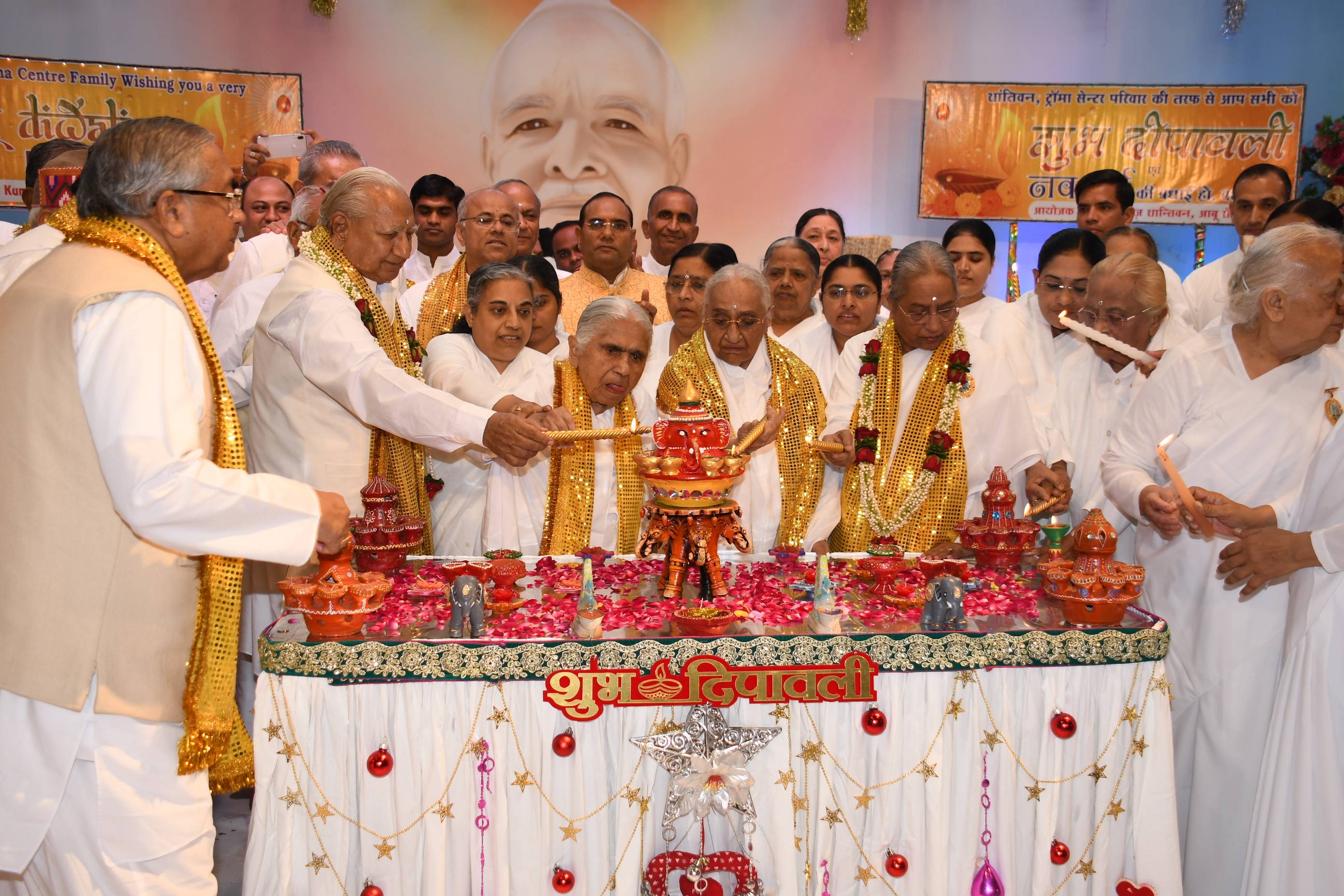 Abu Road (RJ): The Brahma Kumaris HQ Shantivan Campus celebrated Diwali - the festival of lights with great pomp and splendor at the beautifully decorated Diamond Hall.
Dadi Janki, Chief of the Brahma Kumaris, Dadi Ratanmohini, Joint Chief of the Brahma Kumaris, Dadi Ishu, Joint Chief of the Brahma Kumaris, BK Nirwair, Secretary General of Brahma Kumaris, BK Karuna, Chairperson, Media Wing, BK Munni, Program Director of Brahma Kumaris, Dr. Nirmala Didi, Dr. Pratap Midha, Dr. Satish Gupta, BK Shashi, BK Sheilu, Dr. BK Mruthyunjaya, BK Geeta, BK Mohan Singhal, BK Bhupal, Dr. BK Banarsi, BK Ashok Gaba, BK Surya, Dr. BK Savita, BK Hansa, BK Bharat, BK Rajni (Japan), BK Santosh (Russia), BK Bhavna (New Zealand) and many senior brothers and sisters were present on this occasion.
Dadijis, Senior Brothers and Sisters talked about the spiritual significance of Diwali and wished everyone a Happy Diwali. There was a beautiful candle lighting and cake cutting ceremony as well. The Cultural Group from Ahmedabad Memnagar presented a cultural program. Thousands of Brahma Kumars and Kumaris from India and across the globe took part in this event. Sister BK Usha conducted the stage programme.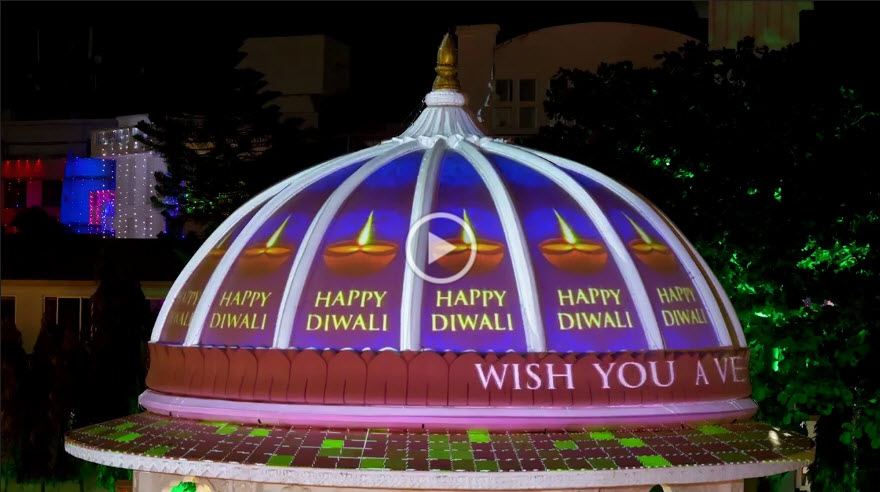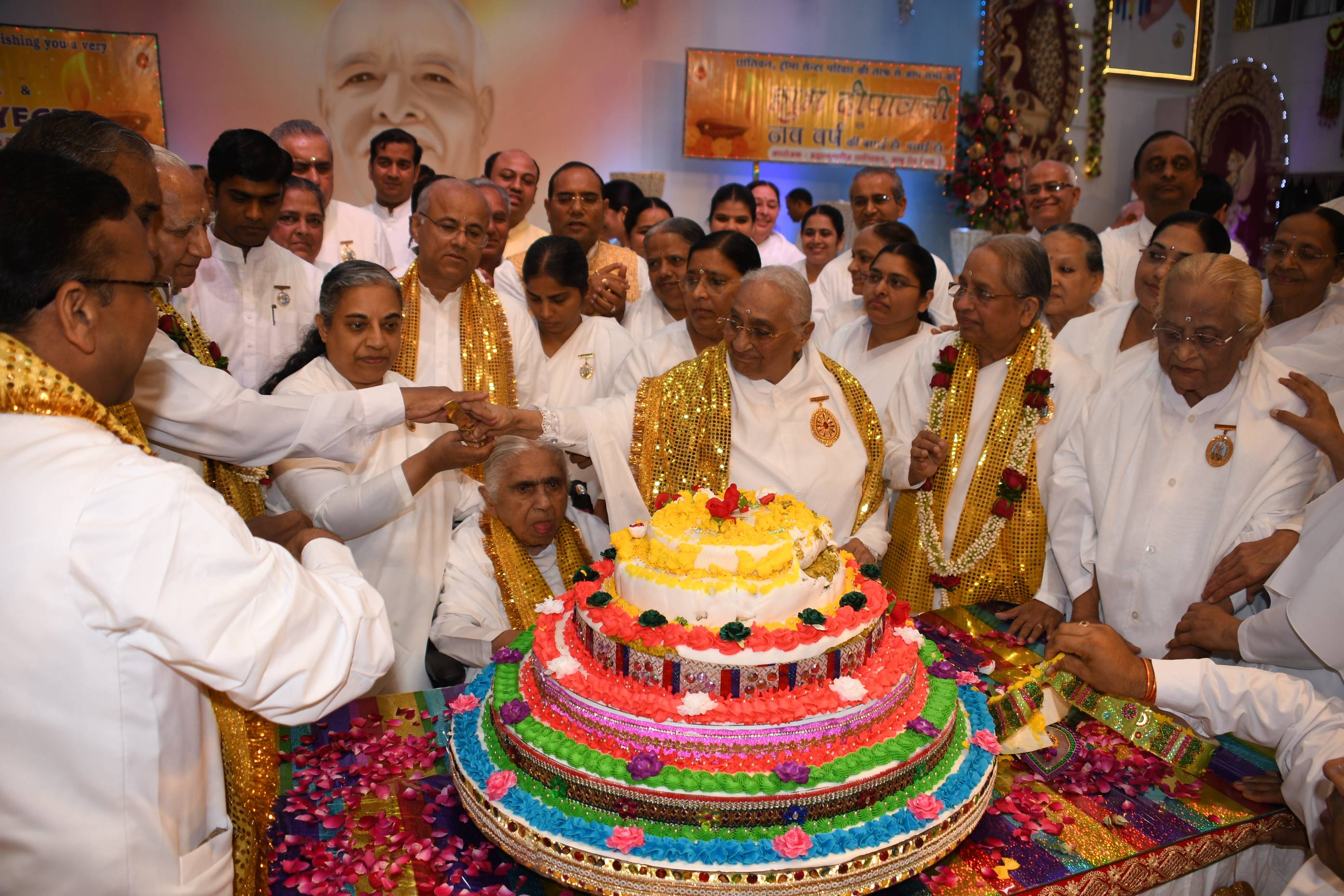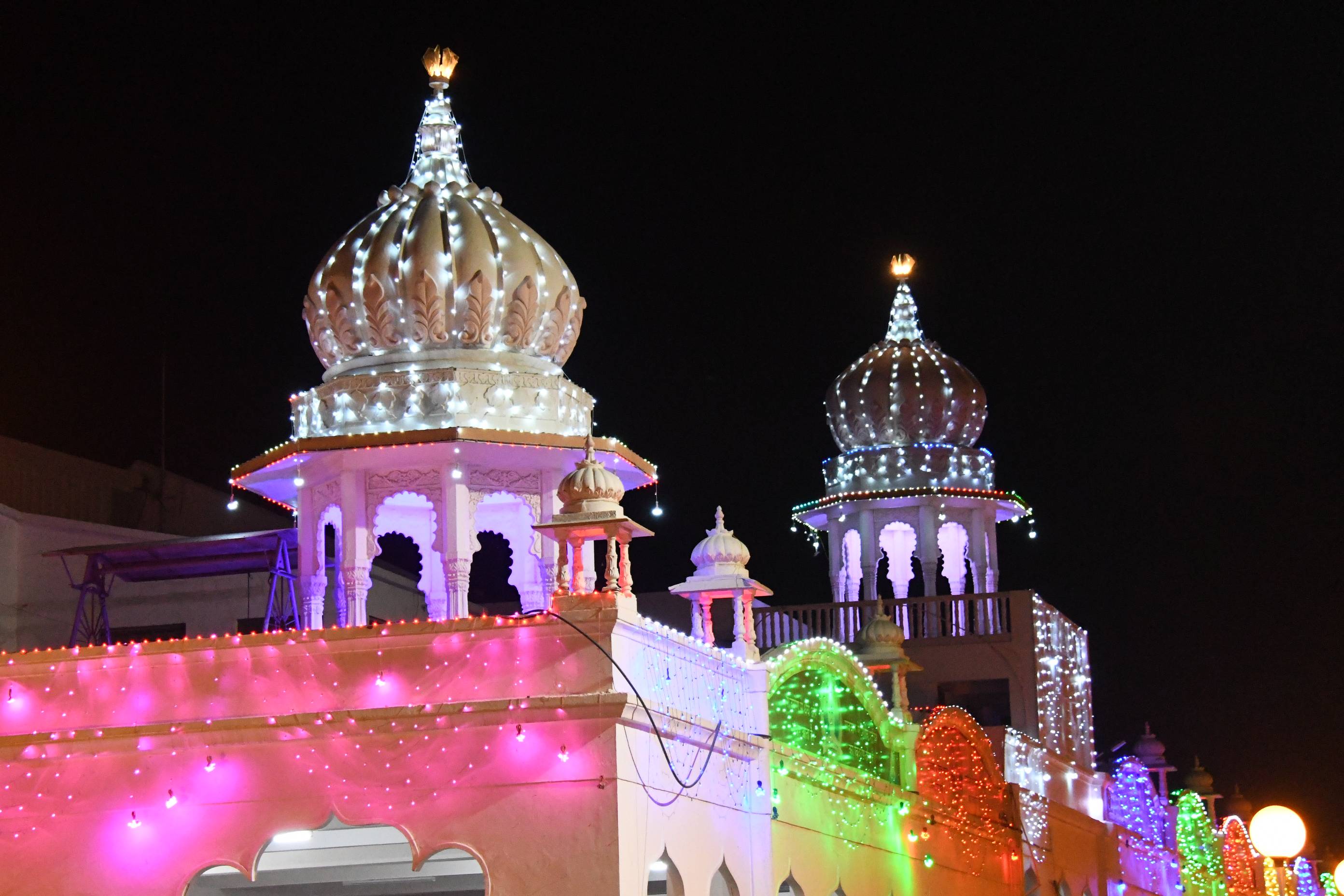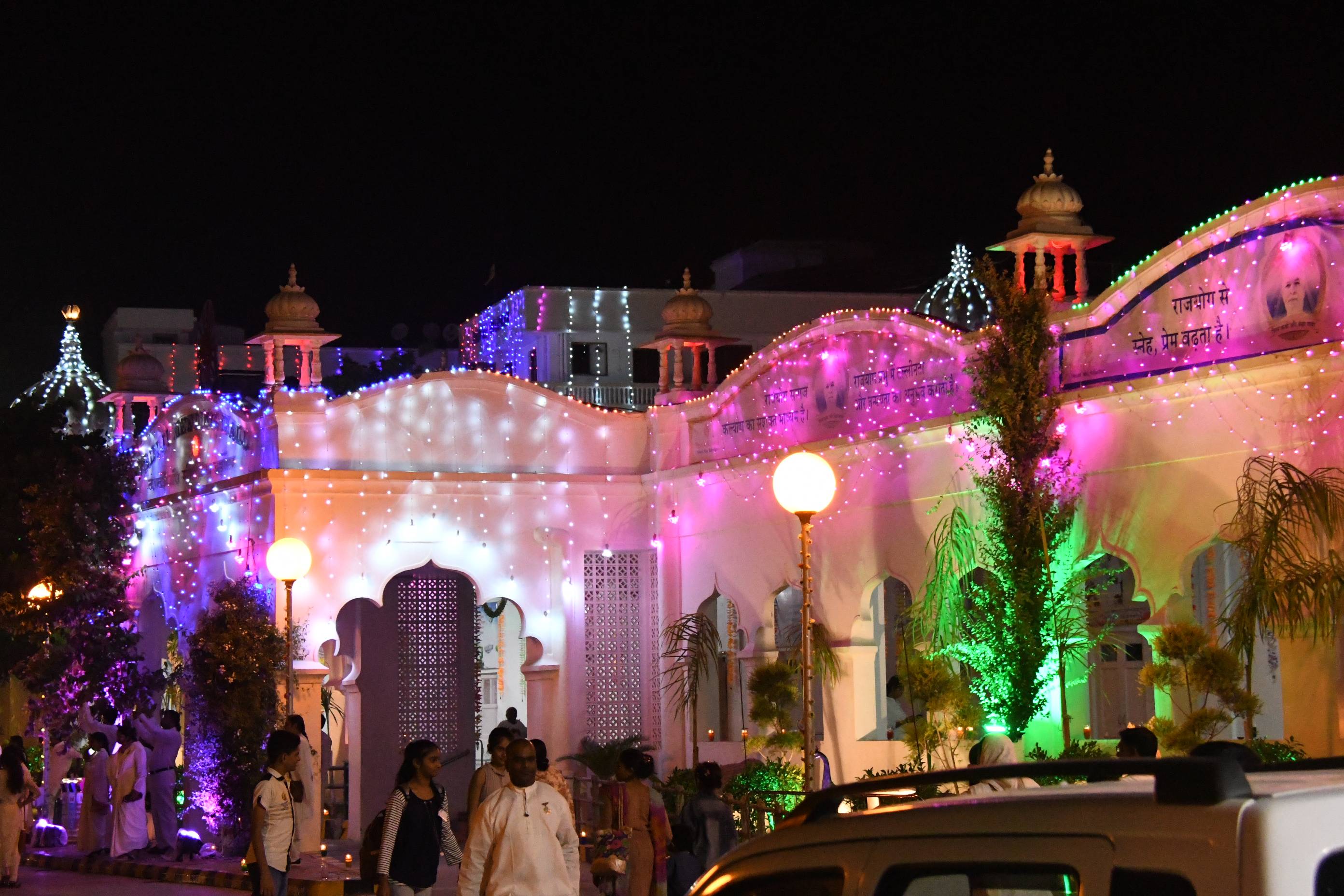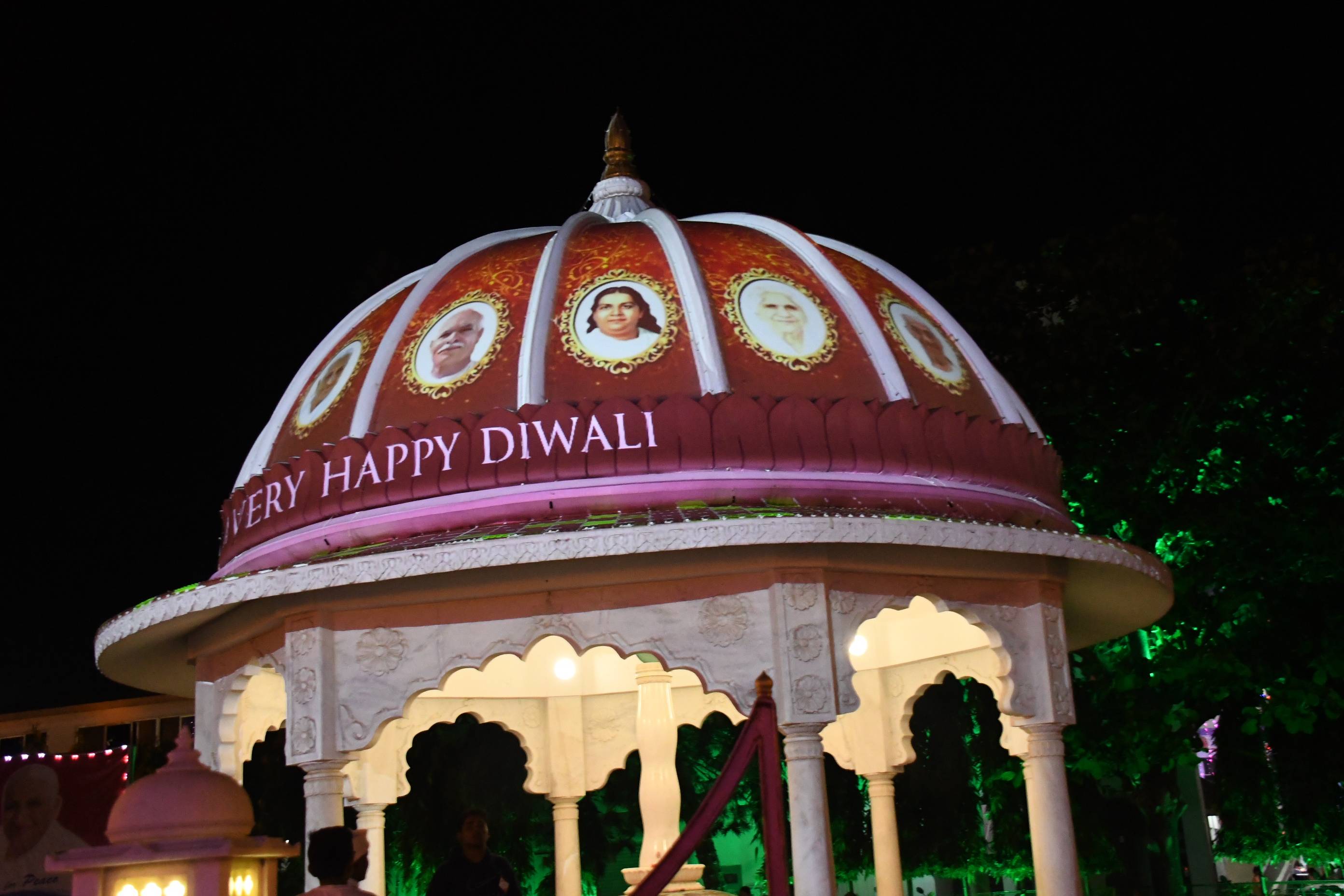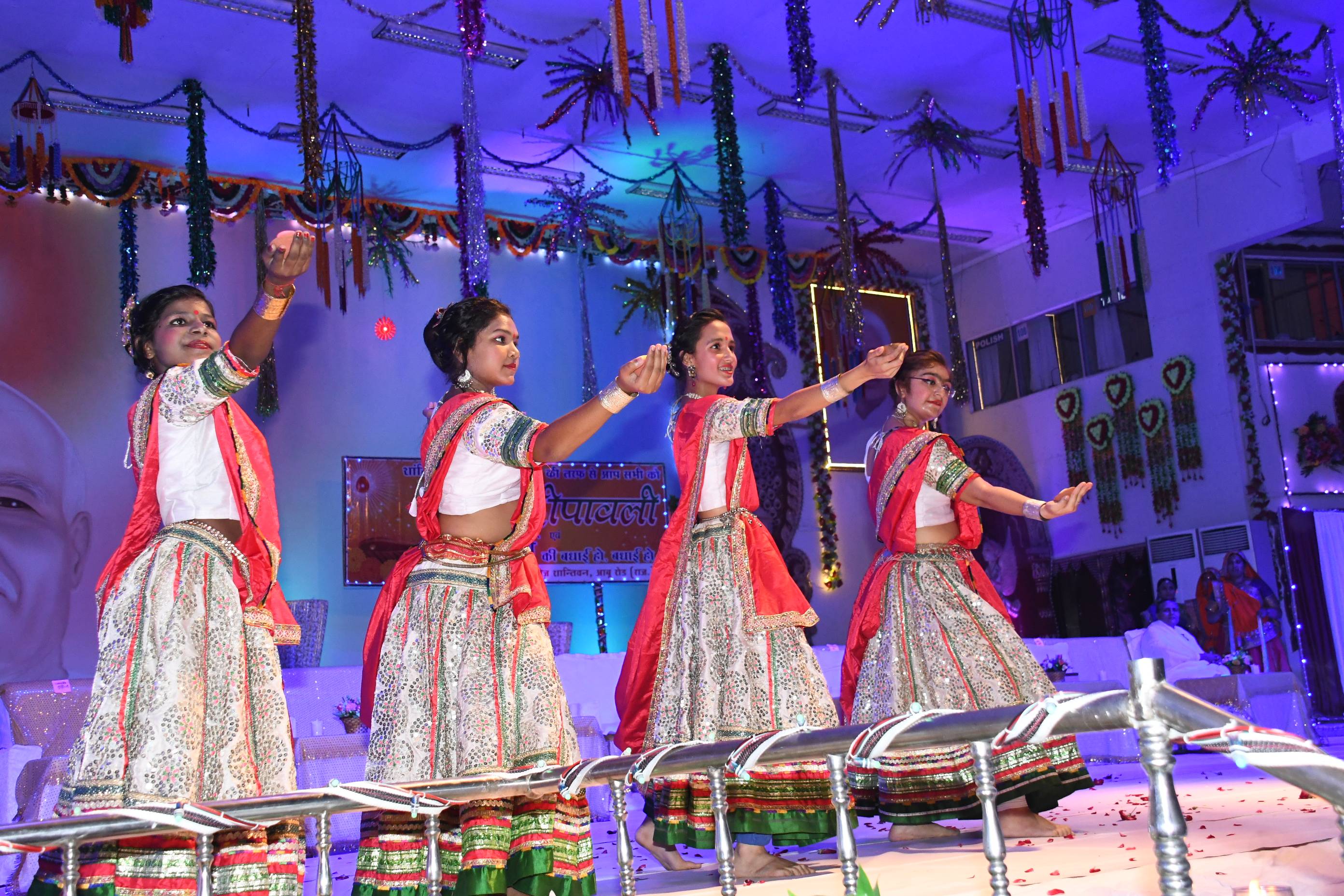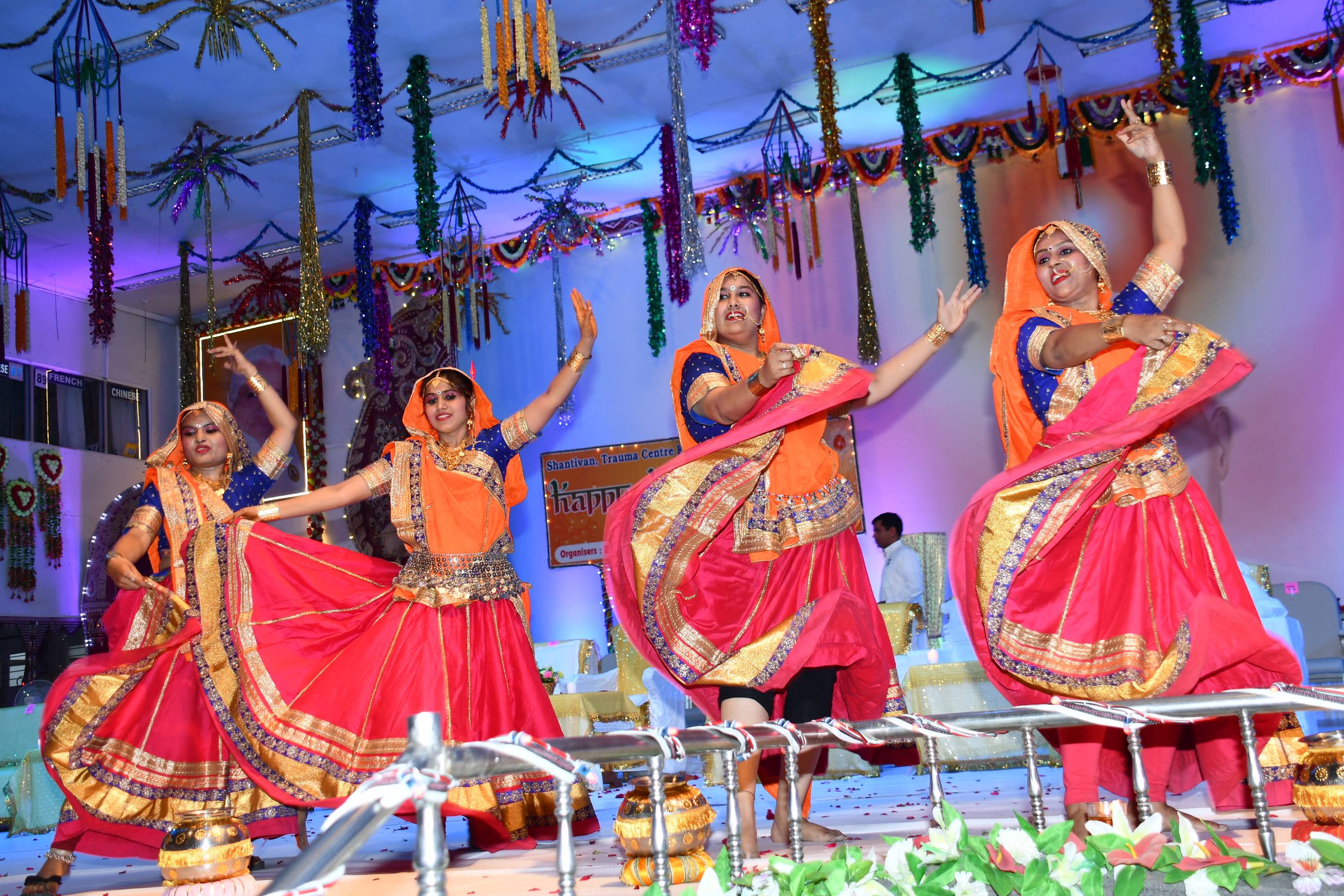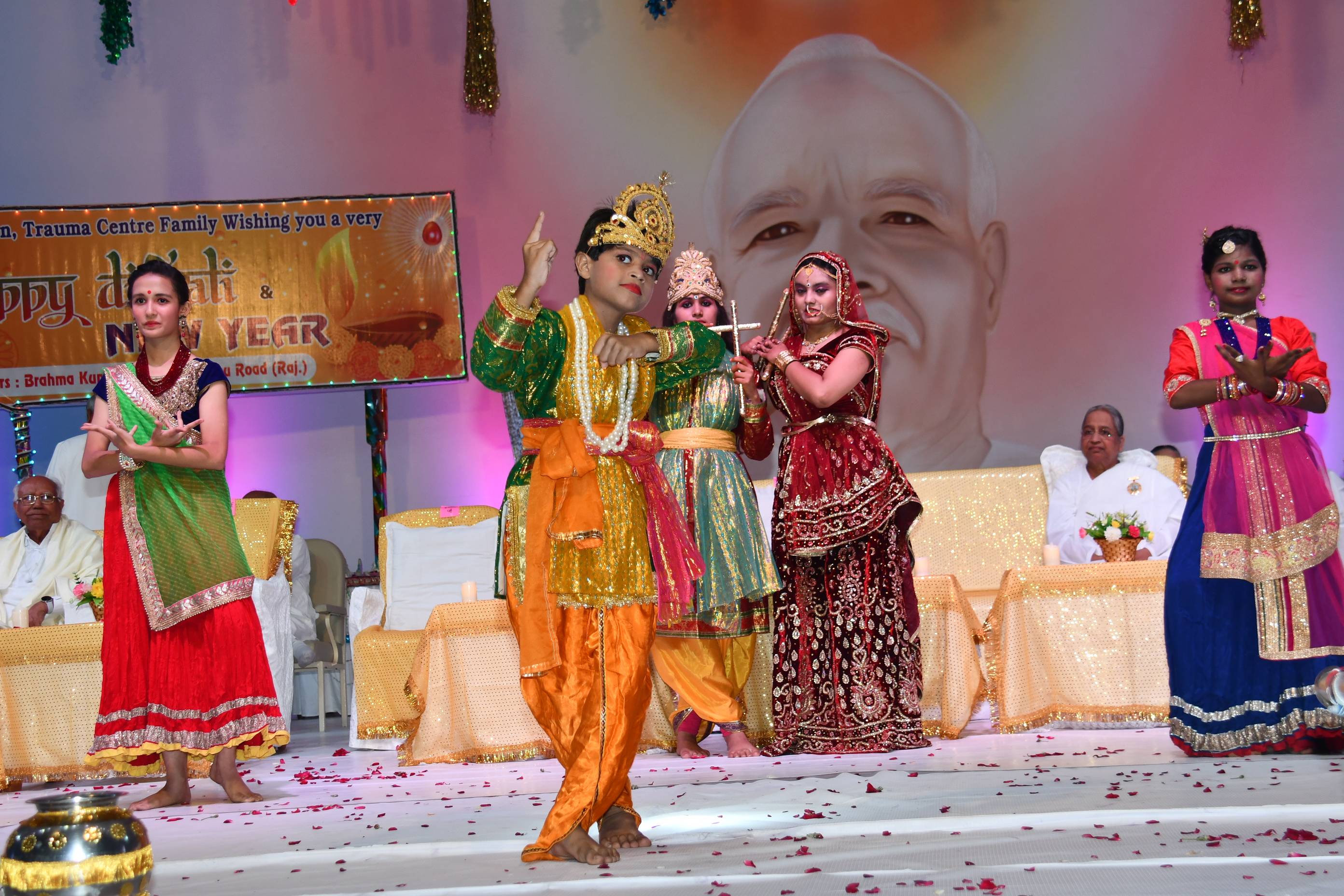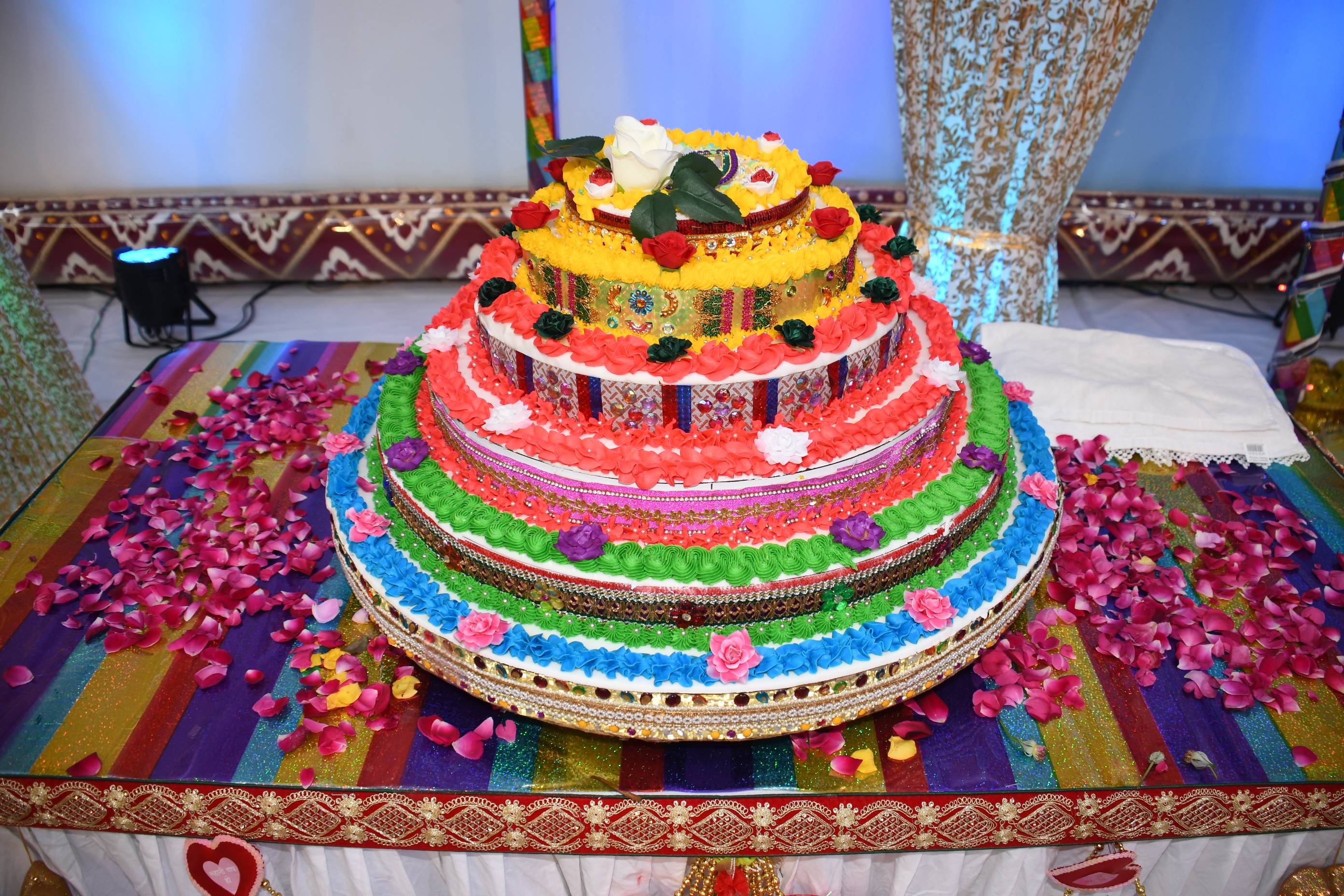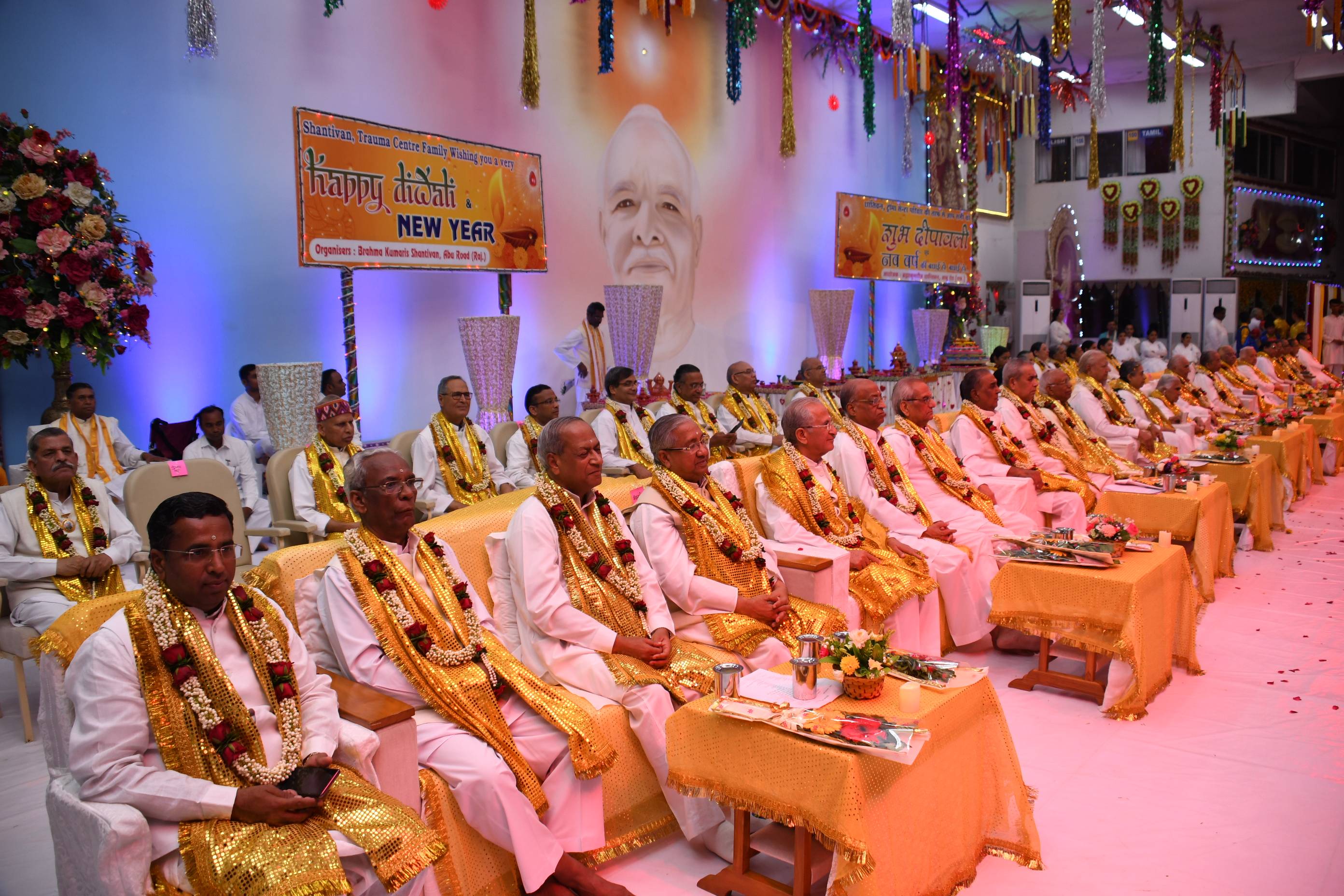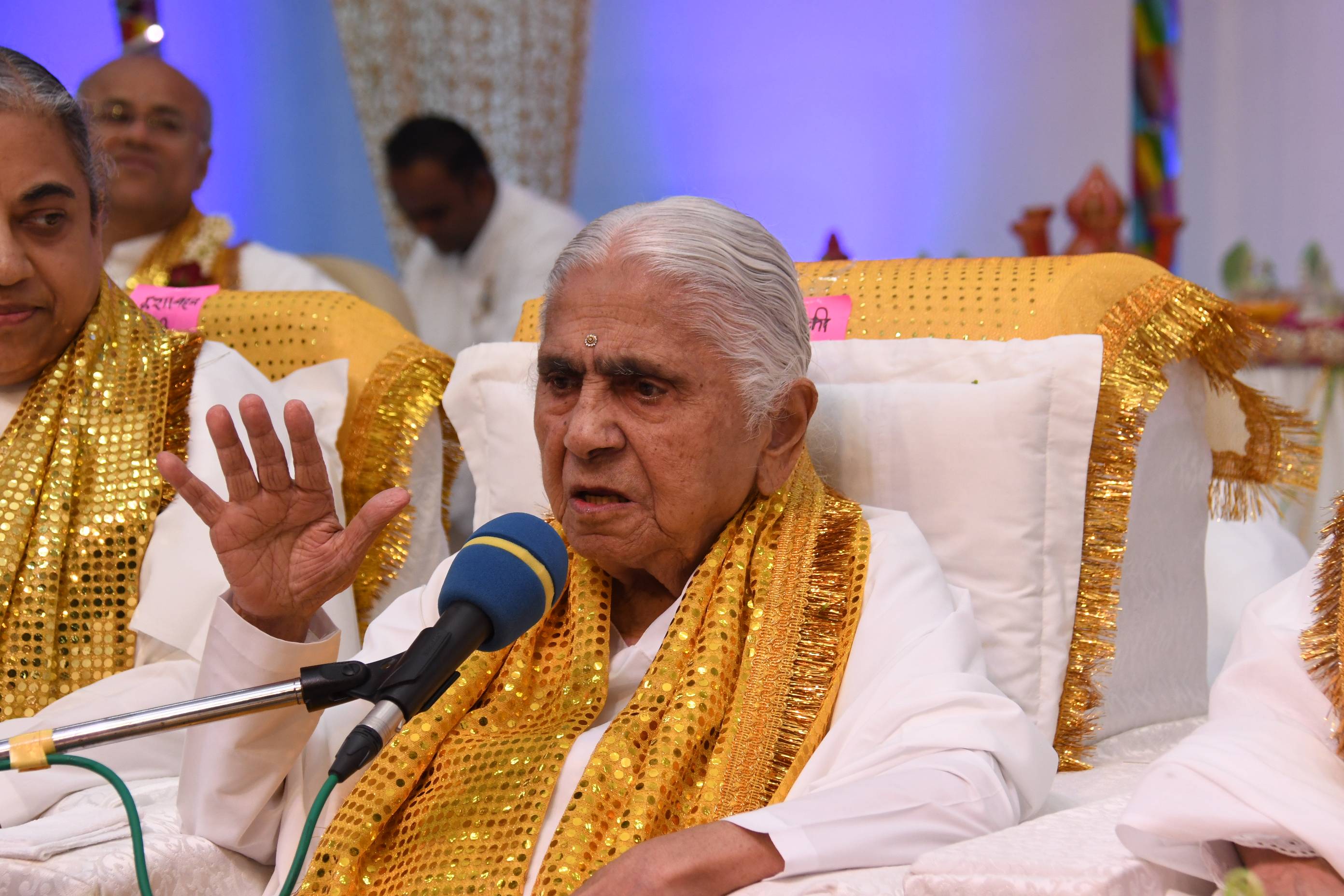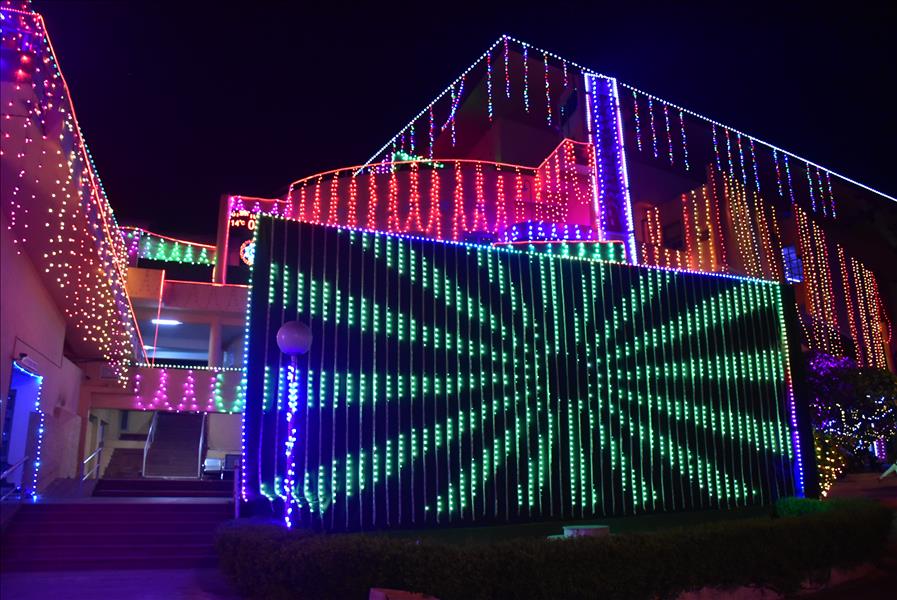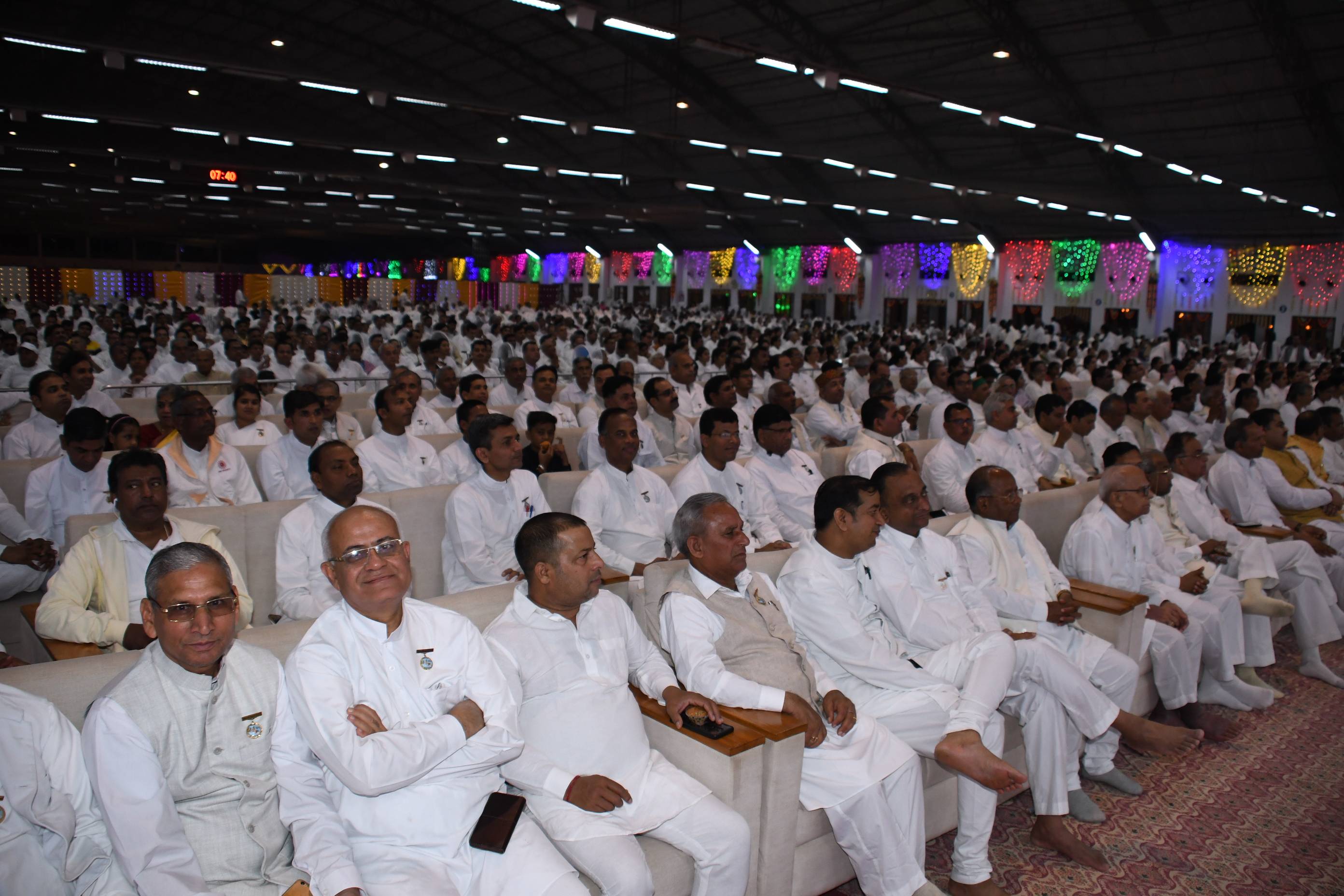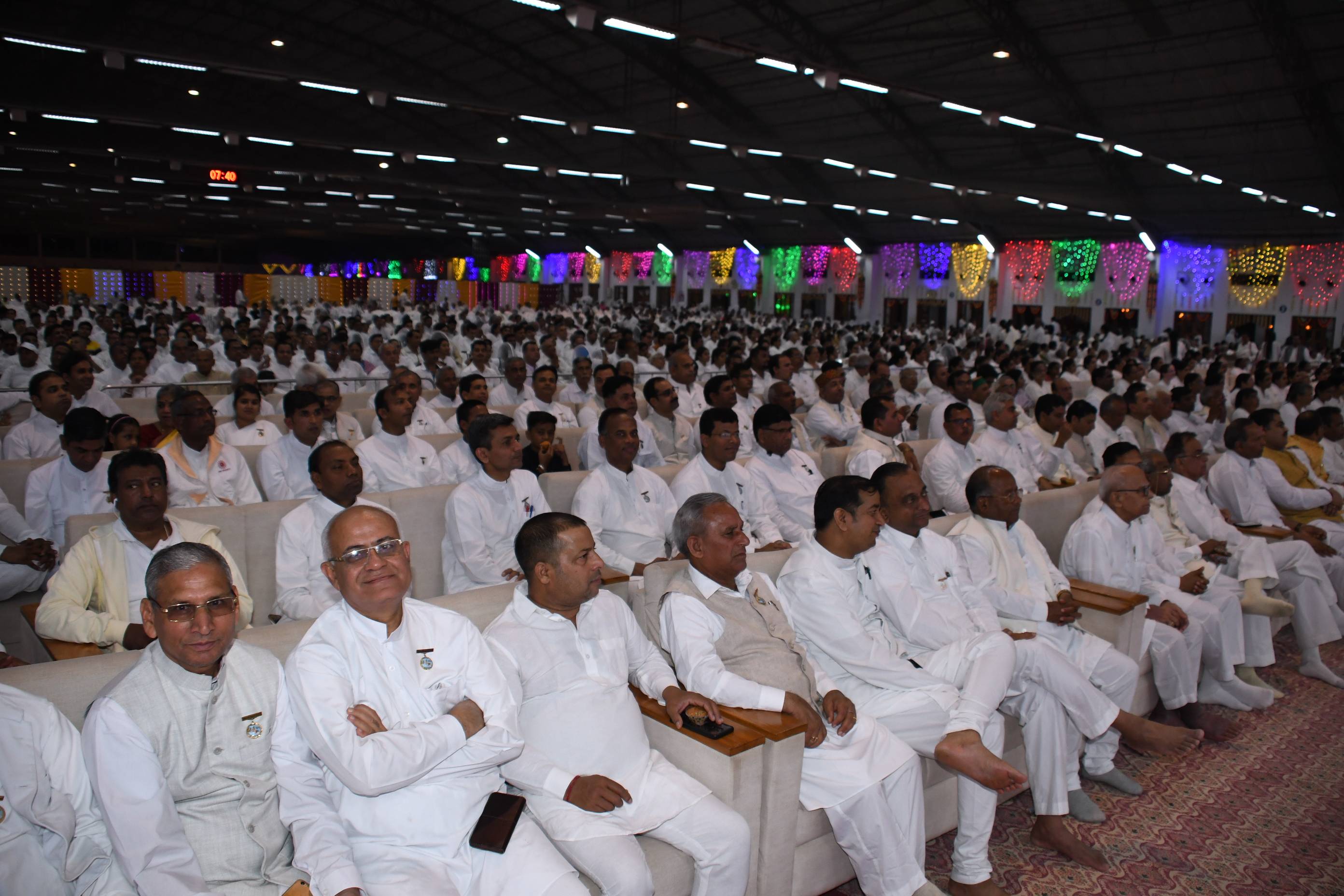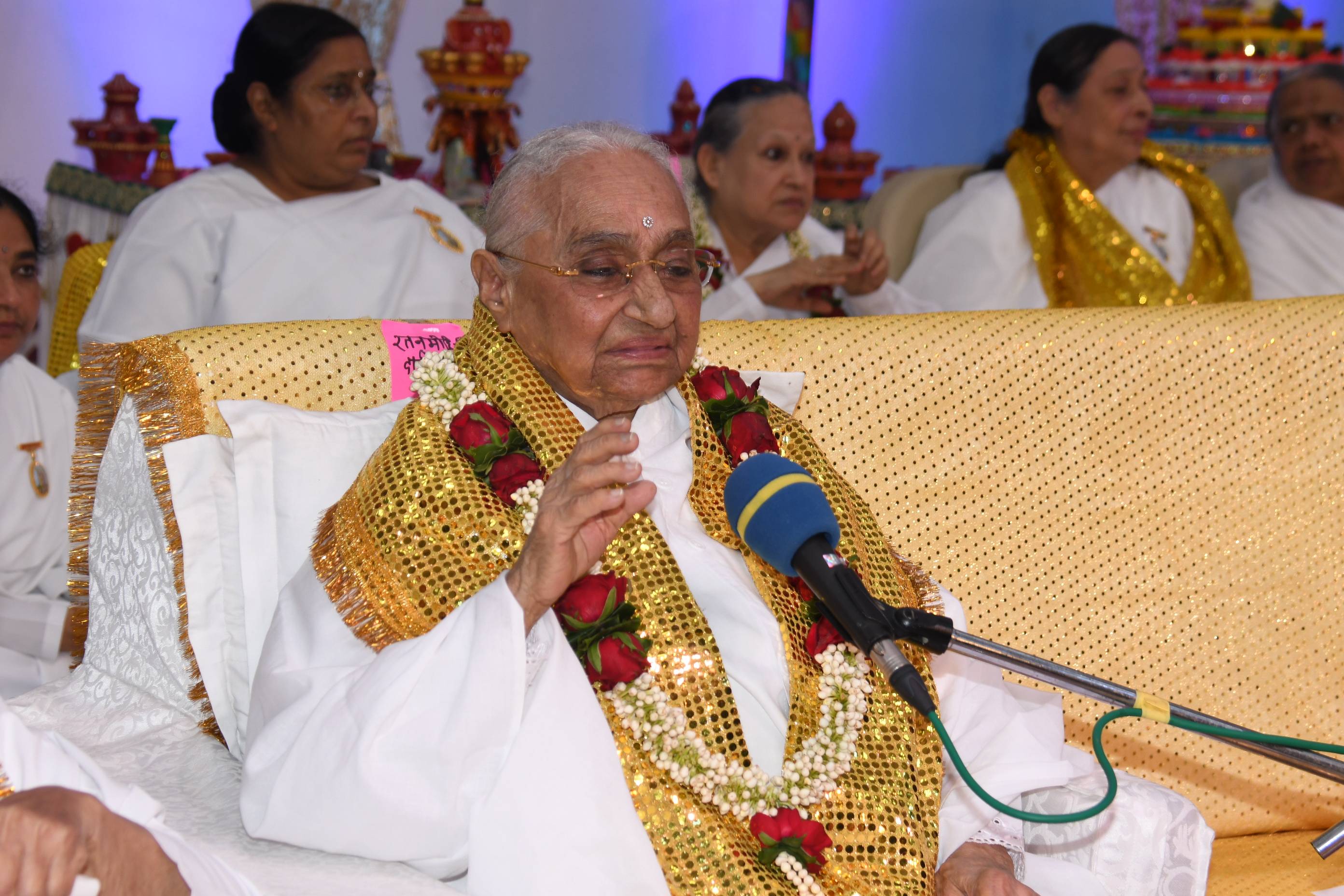 BK Mruthyunjaya Designated as the New Chairman of Godlywood Studio
31 October 2019
Dear Divine Family, Greetings of Peace!
Please be informed that Brother BK Mruthyunjaya has been designated as the new Chairman of Godlywood Studio, Manmohinivan, Abu Road, Rajasthan.
Click here to view Letter of Res. BK Nirwair Ji.
Dr. BK Mruthyunjaya
Chairman, Education Wing
Brahma Kumaris, HQ, Mount Abu

UNFCC Recognised Local COY Conference being held at Brahma Kumaris, Manmohinivan, Abu Road -1st to 5th November
31 October 2019
Dear Divine Family, Greetings of Peace!

You are aware of the different environmental initiatives undertaken by the Brahma Kumaris under the flagship of the United Nations and its allied organizations.
LCOY-India is an annual event officially recognised by the United Nations Framework Convention on Climate Change (UNFCCC) and its official youth-constituency called YOUNGO. LCOY-India aims at enhancing the youth's understanding on climate change and sustainable development, empowering them to contribute towards climate action locally, nationally and internationally, providing them a platform to share their experiences and giving them a space to let their voices be heard. The key outcomes of the discussions from LCOY-India are submitted and incorporated into the outcome document for global COY and critically discussed with UNFCCC's ACE (Action for Climate Empowerment) Secretariat.
Brahma Kumaris is hosting 15th LCOY at Manmohinivan, Abu Road, Rajasthan from 1st to 5th Nov., 2019.
In this event, Youth in the age of 16-35 years will participate. They will be led through panel discussions, interactive sessions and Expert Talks on topics like saving the planet, waste management, sustainable urban transport, education empowerment and awareness of youth about climate change issues etc. to inspire participants to take action.
The programme will be as follows:
1st Nov., 2019: Date of Arrival
2nd - 4th Nov., 2019: Expert Talks and Workshops
5th Nov., 2019: Sightseeing and Departure
We hereby invite BKs interested in environmental initiatives, young leaders, entrepreneurs, environmentalists, conservationists, social leaders etc., to participate in this conference. Only 250 participants will be selected based on their credentials.

One can register online at www.bit.ly/lcoy15india
For further details, kindly contact:
BK Shivika at +91 9079092434 or
BK Supriya at +91 7597545115
or you can email us at mruthyunjaya@bkivv.org
Website: lcoy.bk.ooo

A Concept Leaflet is below herewith for your kind reference. Click here to download it.
With love and Regards,
Your Spiritual Brother
Dr BK Mruthyunjaya
Executive Secretary
Brahma Kumaris, Mount Abu

Hearty Invitation_25
th
Annual SpARC Meeting & Retreat_08
th
-12
th
Feb. 2020_Shantivan
31 October 2019
Dear Divine Family, Om Shanti,
Please Accept Sweet Godly Remembrances from Madhuban Home.
We feel immense pleasure to announce that SpARC Wing will be conducting its 25th Annual Meeting and Retreat from 8th-12th February 2020, at Global Auditorium, Manmohini Complex, Shantivan, Abu Road, Rajasthan.
The aim of this meeting and retreat is to fulfill BapDada's expectations and also accomplish the tasks given by Him. During this meeting, we would review the results of the previous year's projects and services done by SpARC Wing. Alongside this, some decisions would also be taken with regard to the new paradigm of Godly services, conducting conferences at Madhuban as well as at other places across India.
A detailed invitation letter, both in English and Hindi, is provided below. Kindly read it carefully before registering.
Click here to download Invitation Letter for 25th Annual SpARC Meeting 2020 in English.
Click here to downlaod Invitation Letter for 25th Annual SpARC Meeting 2020 in Hindi.
So, all BK brothers and sisters, either SpARCler / Non-SpARCler, who are interested to attend this 25th Annual SpARC Meeting and Experiential Retreat, can register themselves online. The registration link is given below. Kindly click the link and register yourself online. You can also register through our website: https://www.bksparc.in,
Link For Registration: https://forms.gle/y8ZnEZRQbMpQ4xdh8
For further details kindly contact:
BK Sanjay, HQs Co-ordinator: 9785505561 / 9950616499

BK Shrikant, National Co-ordinator: 9414003497 / 7014315625

Email: sparcwing@bkivv.org, sparcwingbk@gmail.com

Website: https://www.bksparc.in
With Best Regards
BK Ambika
Chairperson, SpARC Wing

Happy Diwali from Karuna Dada Ji
31 October 2019

Diwali Greetings from Dadi Ratan Mohini Ji
31 October 2019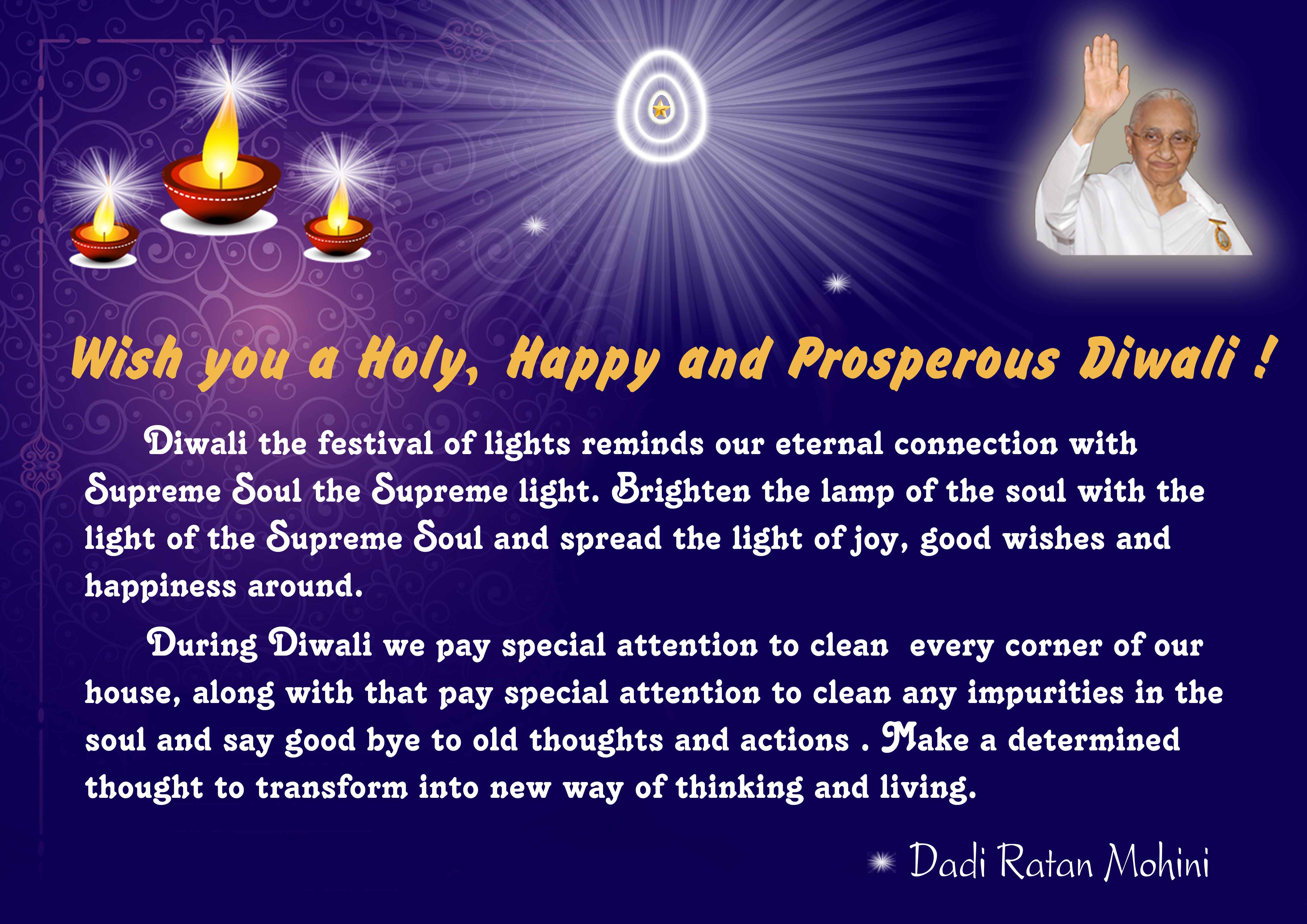 Om Shanti Divine Angels, Receive the sweet remembrances of Dadi Ratan Mohini Ji and all Madhuban Niwasis.

Wish you a Holy, Happy and Prosperous Diwali!

On Godly Seva
B.K.Santha Krishna for Dadi Ratanmohini
Personnel Admin. Dept., Madhuban

Godlywood Studios: Cementing our commitment this Diwali!
31 October 2019
Dear Brothers and Sisters, Om Shanti.
The festival of lights is filling our minds with joy and elation. To keep the festivity alive all we need is a daily dose of inspiration. Godlywood Studio exists to tap that insight from the wisdom pool of our 'Light Bearers' and channel that to you, so that the light you ignite today, remains intact throughout.
I wish you a Happy, Prosperous Diwali and a New Year full of possibilities, fun, innovation & productivity!
With Warm Regards,
BK Harilal
Executive Director
Godlywood Studio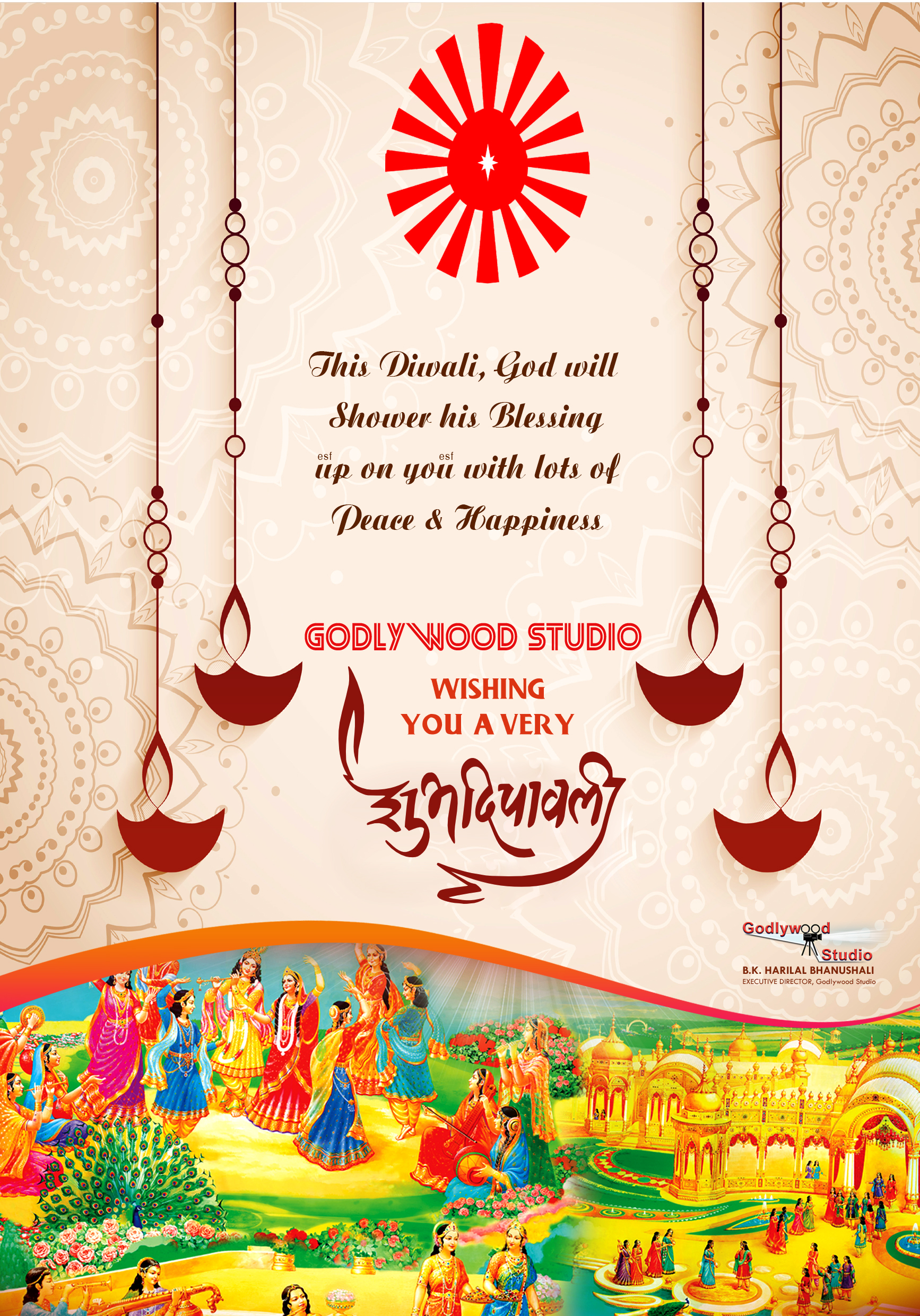 Diwali Greetings from Bro. BK Mruthyunjaya, Madhuban
25 October 2019
Dear Divine Family,
Greetings of Light and Might on this Auspicious Festival of Diwali !
Let this Diwali be the time when we nourish ourselves with the Divine Wisdom of the Supreme and illuminate the light within to transform the self and others.
Happy Diwali to all...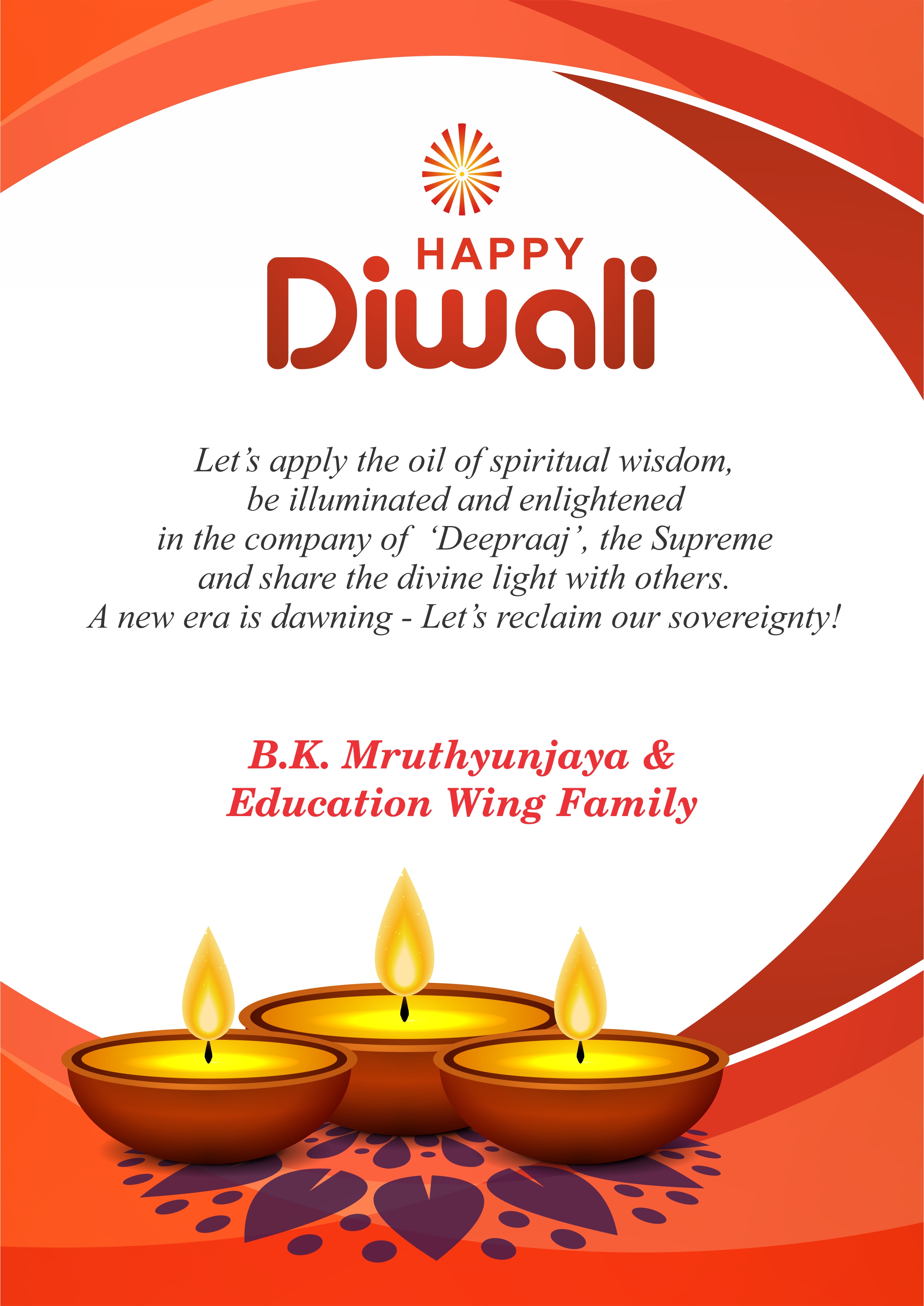 Diwali Wishes from Dadi JankiJi
25 October 2019
Dear Brothers and Sisters,
Om Shanti.
Diwali wishes from the brightest 'Light Bearer' on the planet - The Spiritual beacon, the companion of GOD and the embodiment of HIS legacy, the Chief of Brahma Kumaris Dadi Jankiji . Dadi Ji gives all of us her light, might and unlimited good wishes on Diwali - The occasion is just an excuse fellow souls, all that matters is our fortune to be able to listen to her, take 'Drishti' and fill ourselves and share with the World.
Happy Diwali from TEAM Godlywood.
Click on the image to watch video: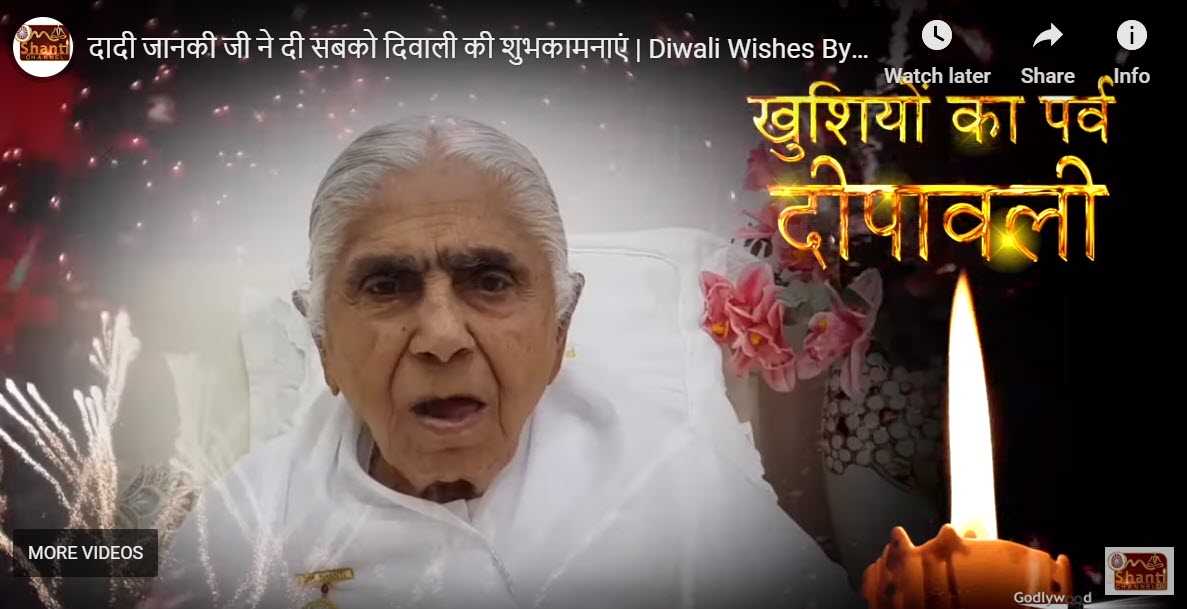 With Warm Regards,
BK Harilal
Executive Director
Godlywood Studio

In Photos - Diwali in Pandav Bhawan
25 October 2019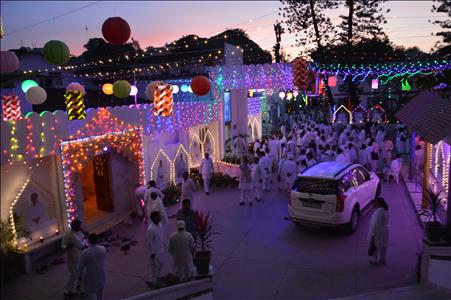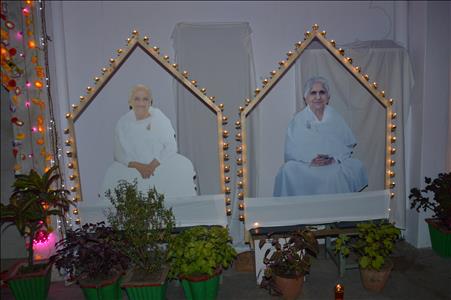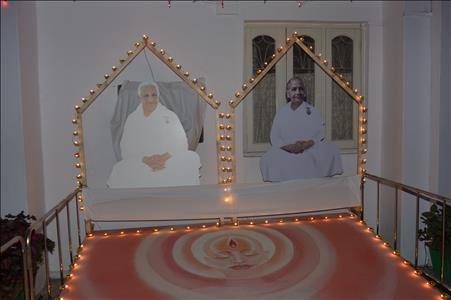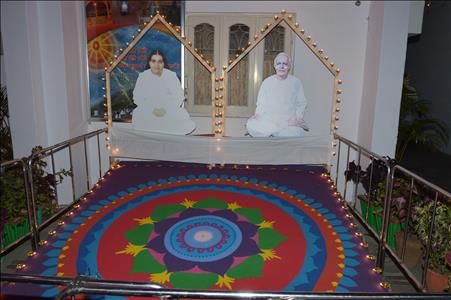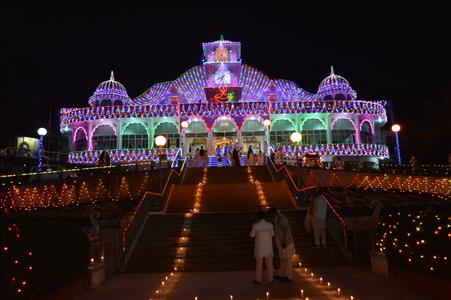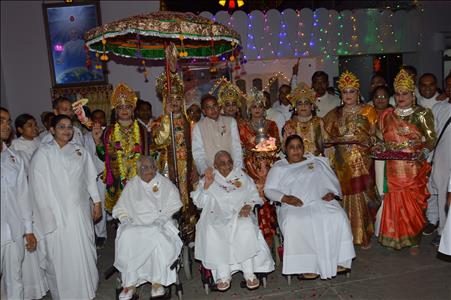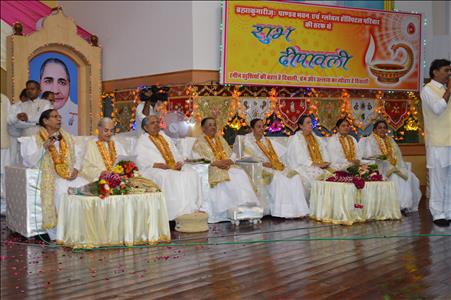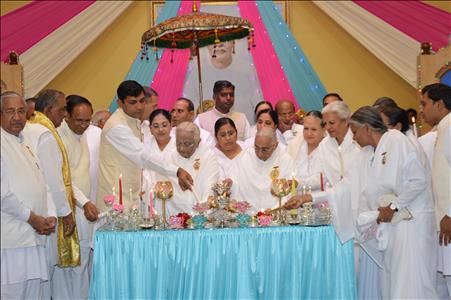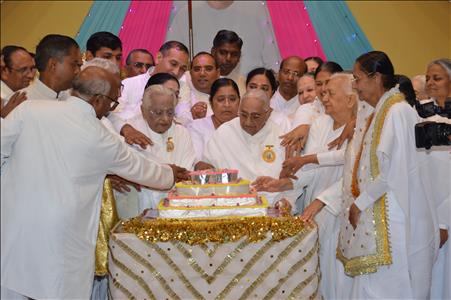 Silver Jubilee Diwali Celebrations at Gyan Sarovar
24 October 2019
Mount Abu (RJ): The Brahma Kumaris, Gyan Sarovar celebrated its 25th Anniversary Diwali at Academy Campus in a grand manner. The senior members of the Brahma Kumaris Family from India and abroad including BK Dadi Ishu, Joint Chief of Brahma Kumaris; BK Munni, General Manager, Shantivan; Dr. Nirmala, Director of Gyansarovar; BK Jayanti, Director of Brahma Kumaris in Europe and the Middle East Region; BK Karuna, Media Head of the Brahma Kumaris; Dr. Pratap Midha, Director, Global Hospital; BK Atam Prakash, Chief Editor of Gyanamrit; BK Bhupal, Manager, Shantivan, BK Ashok Gaba, Chairperson, Security Wing etc. attended this event.
BK Karuna, Chairperson of Media Wing said that Diwali represents lighting the flame of Divine Knowledge and dispelling the darkness of ignorance. He acknowledged the divine services of 40,000 dedicated Brahma Kumaris sisters and 10,000 brothers in 140 countries of the world.
Dr. BK Nirmala, Director of Gyan Sarovar Academy expressed her gratitude towards all the prominent personalities and audience members for attending the event. She gave special thanks to those who offered services for making this program happened at Gyan Sarovar 25 years ago.
BK Munni, General Manager & Programme Director of the Brahma Kumaris recounted the founding days of Gyansarovar and those many personalities who had offered great services to this place. She also expressed a wish for a movie of divine services of Gyan Sarovar be made on Silver Jubilee Occasion. Sister BK Jayanti from London conveyed his good wishes for this grand event.
BK Rupesh, Anchor of the Samadhan Show of Peace of Mind Channel, gave the welcome speech. The Madhurvani Group entertained the audience with divine songs. Sister BK Suman, National Coordinator, Education Wing coordinated the stage programme.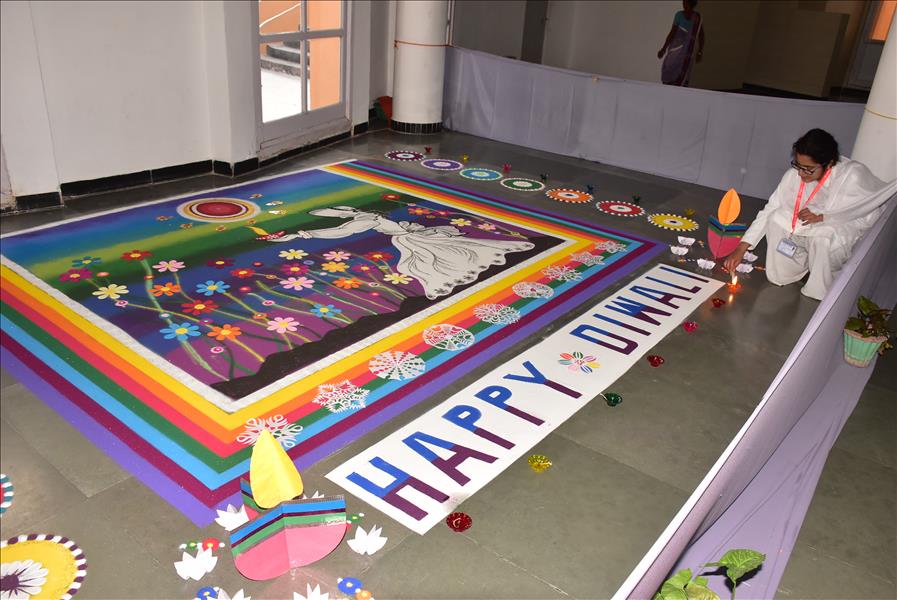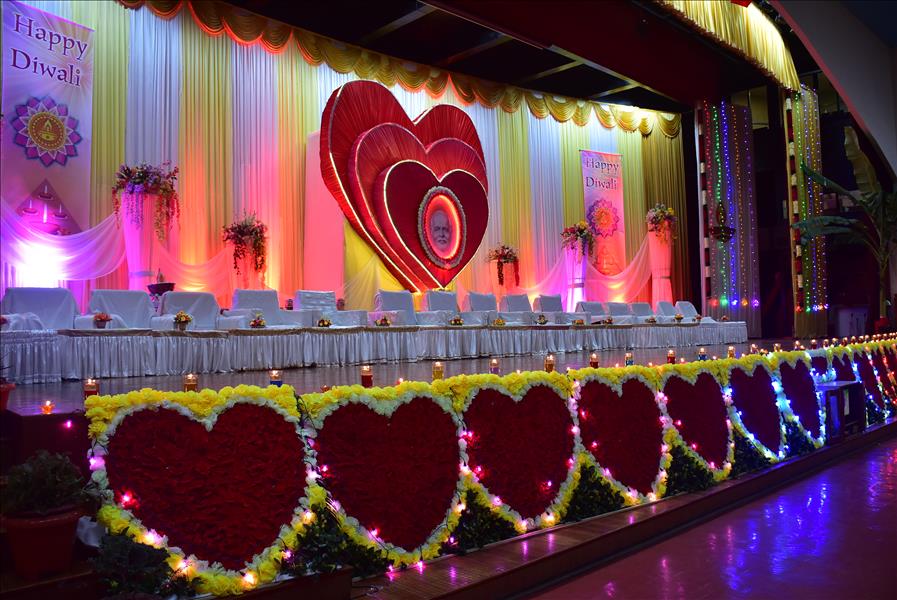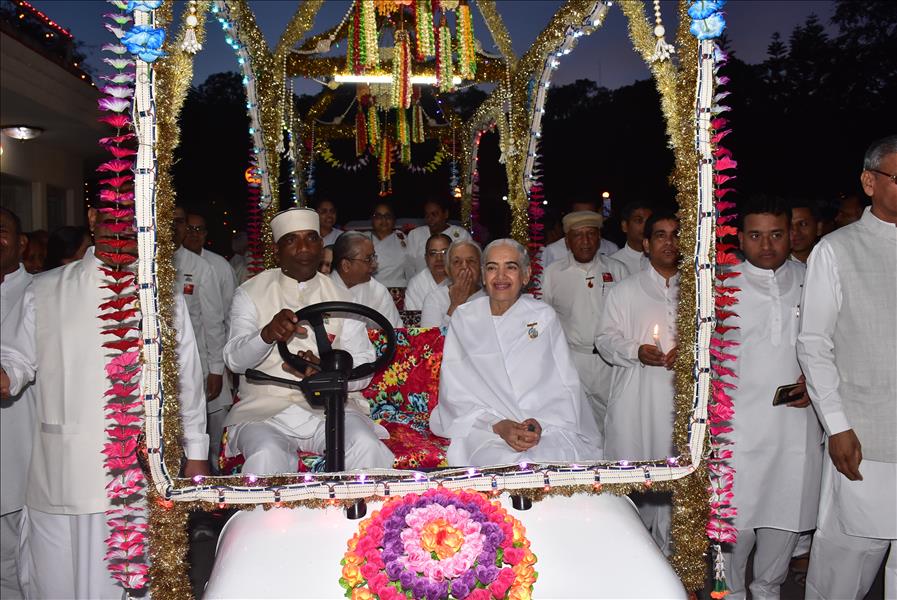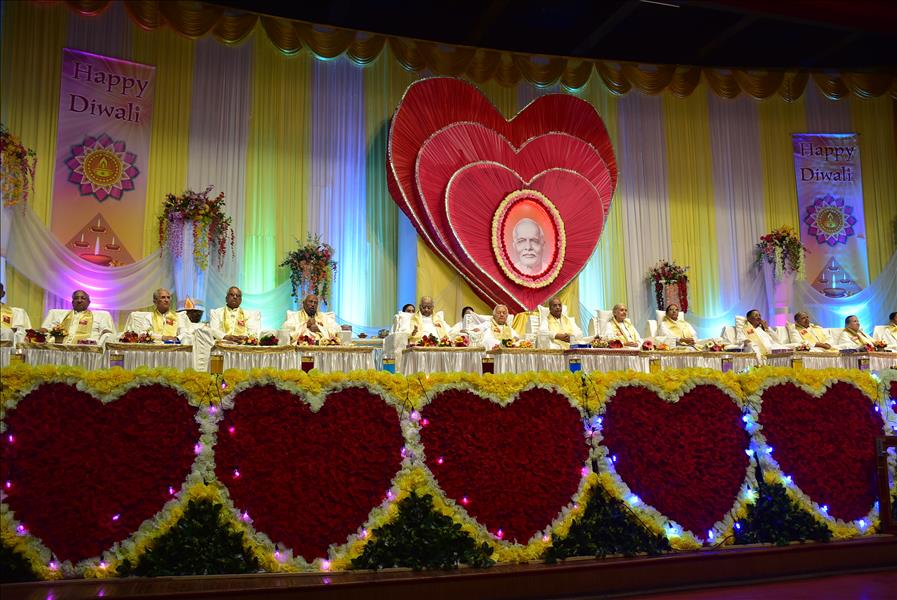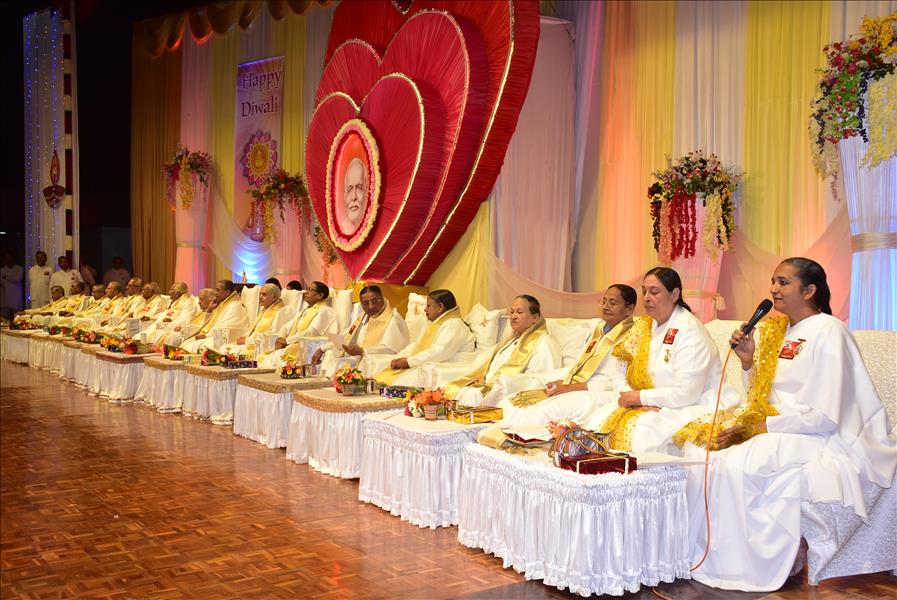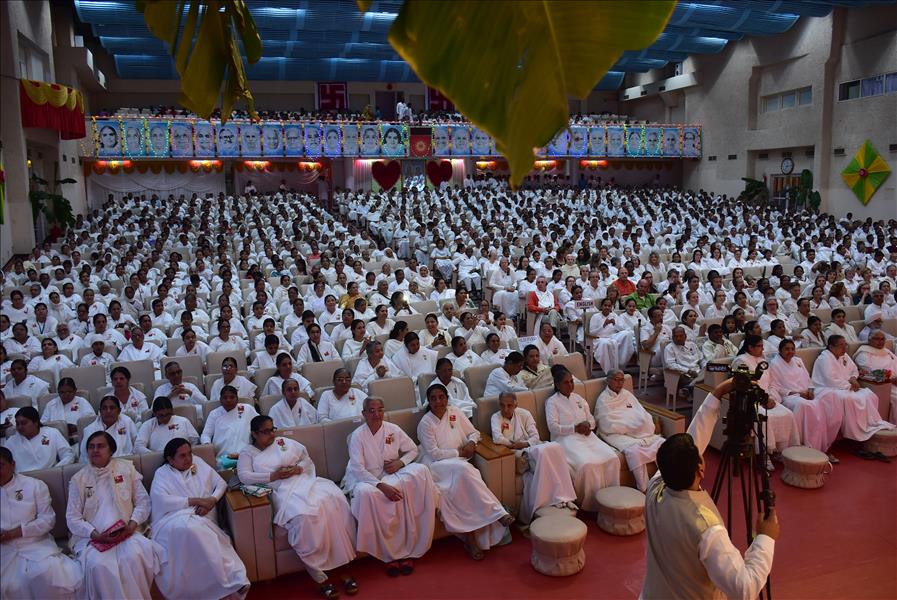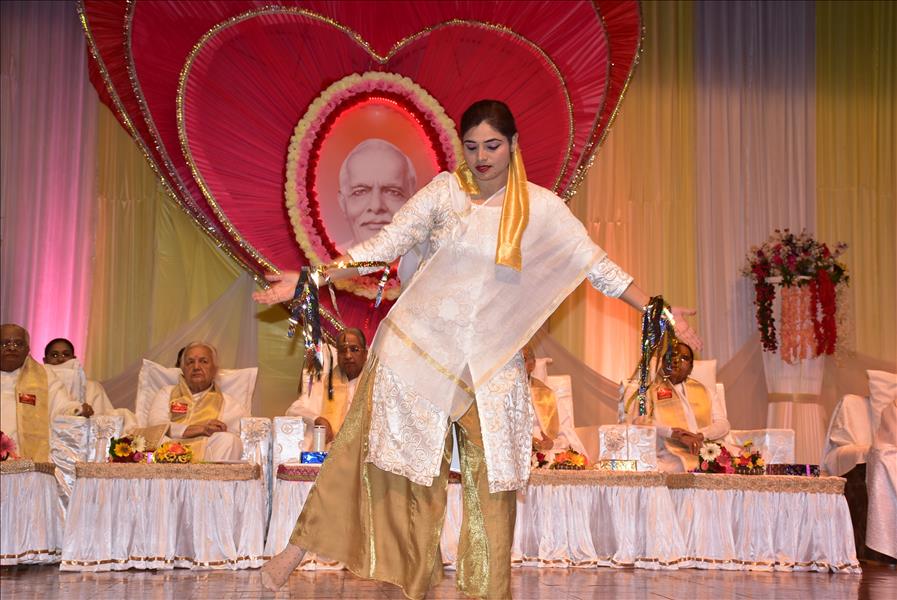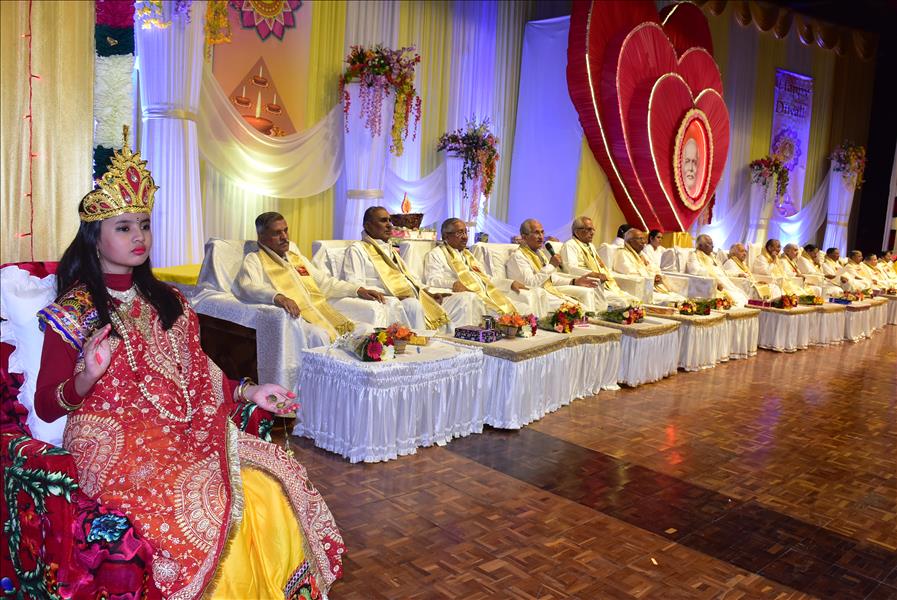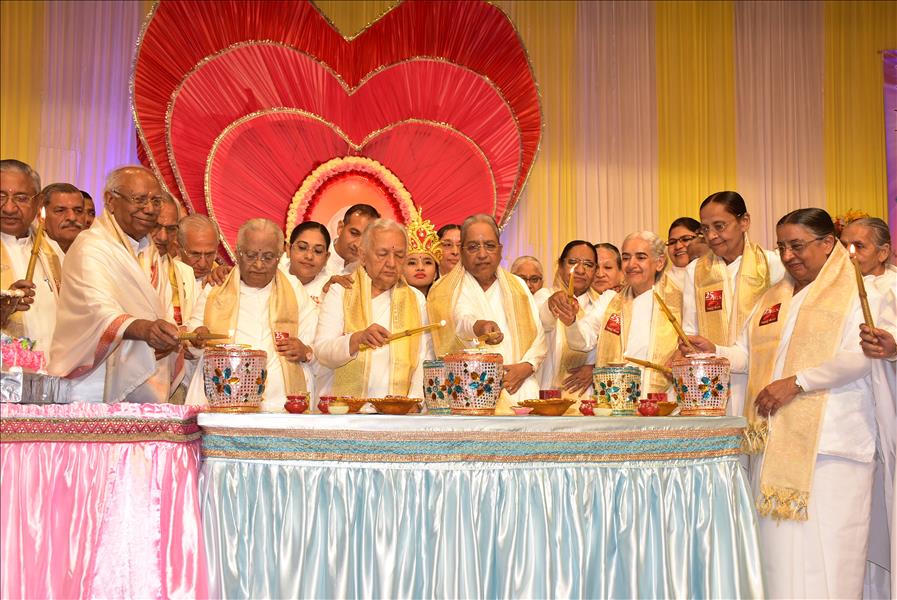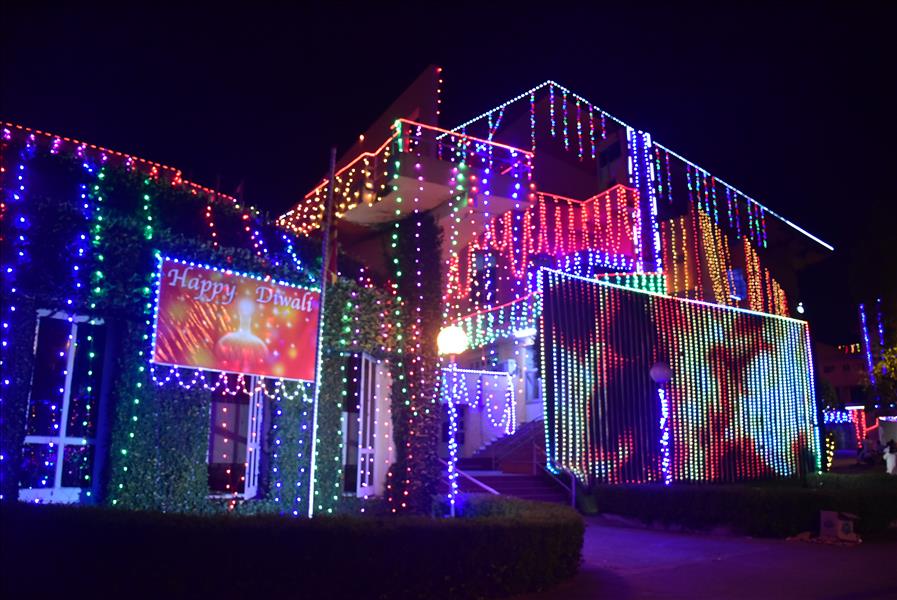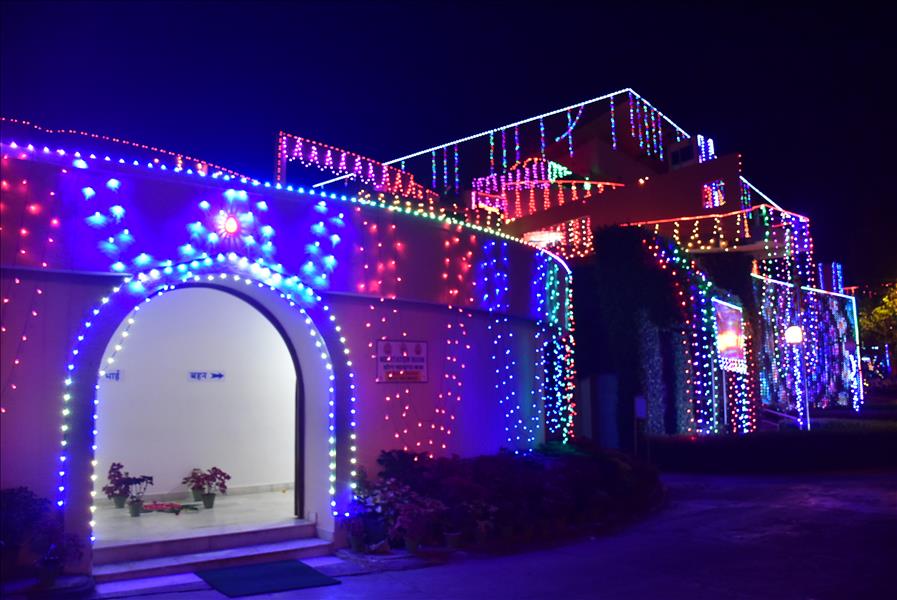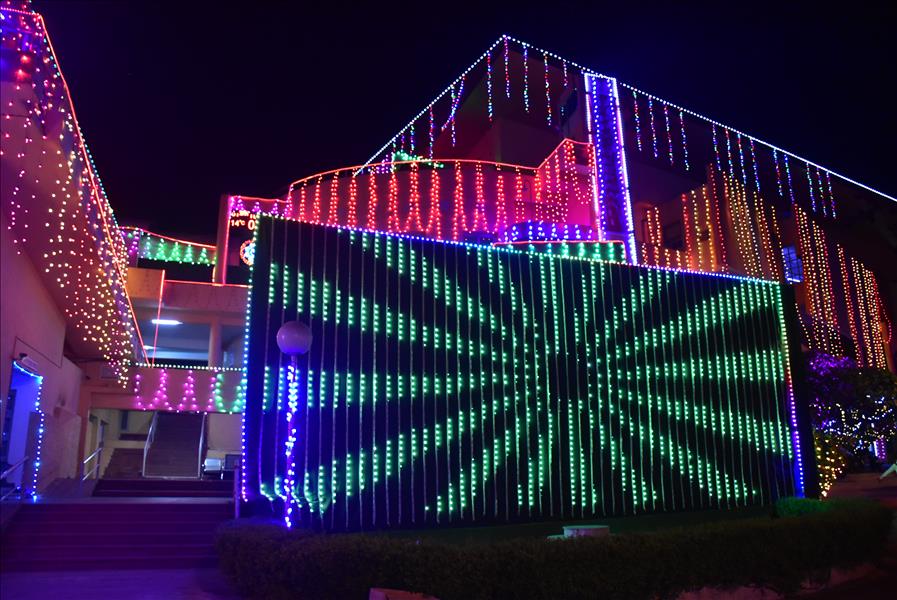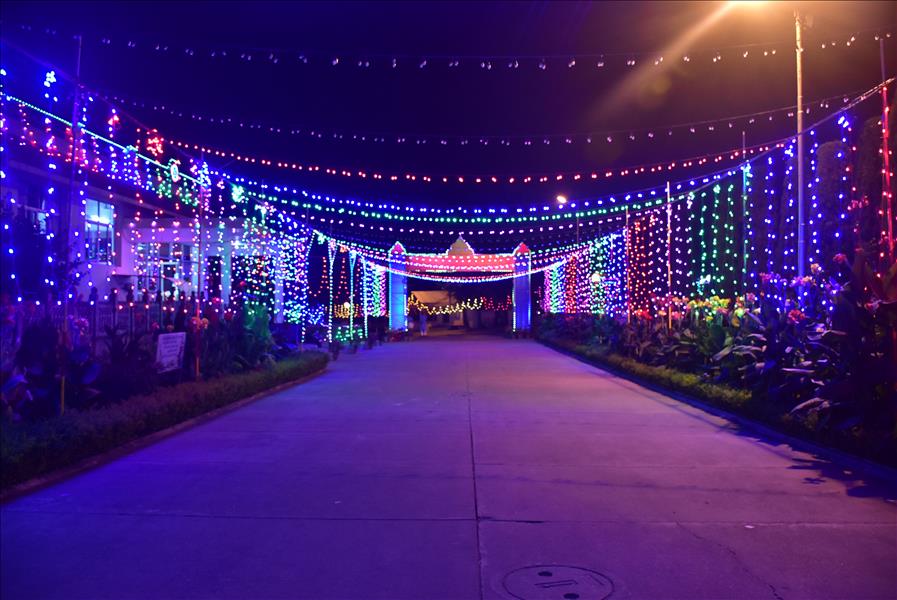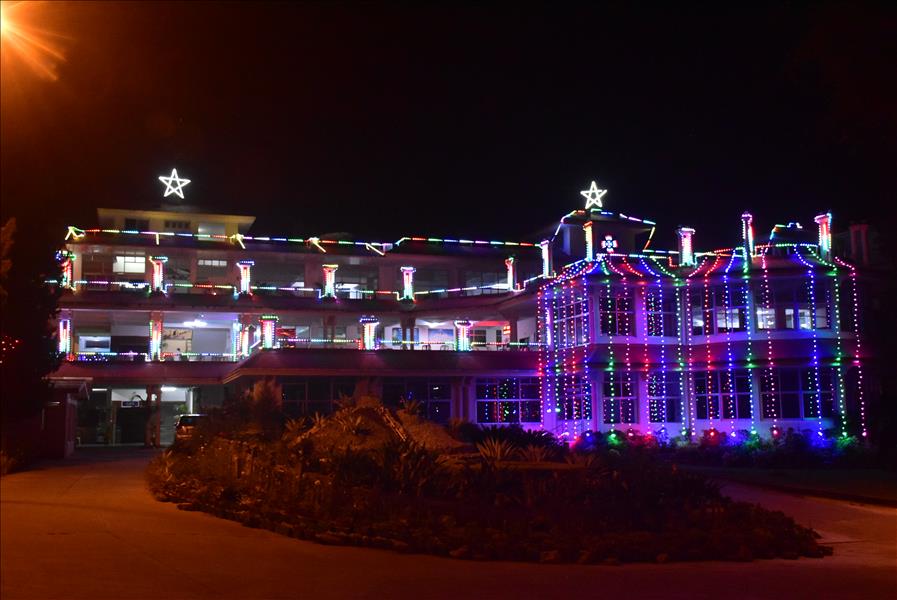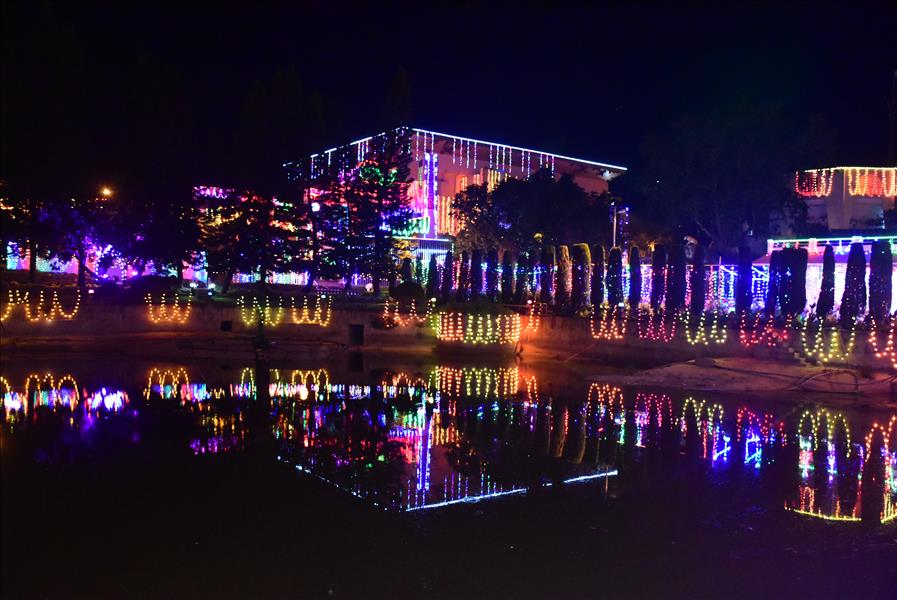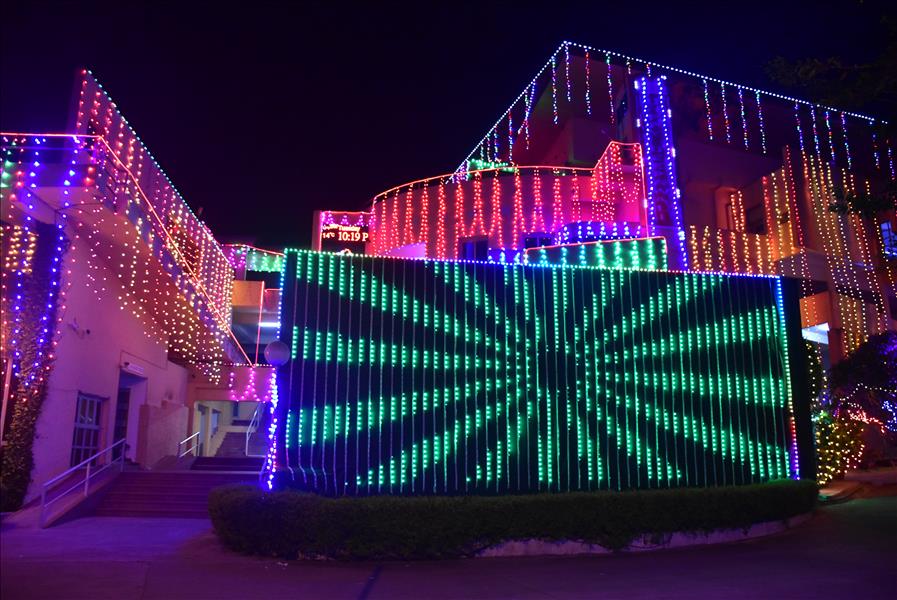 Vice-President of India, Venkaiah Naidu, calls for blending science and spirituality for peace and progress at the Global Summit held at Brahma Kumaris HQ
10 October 2019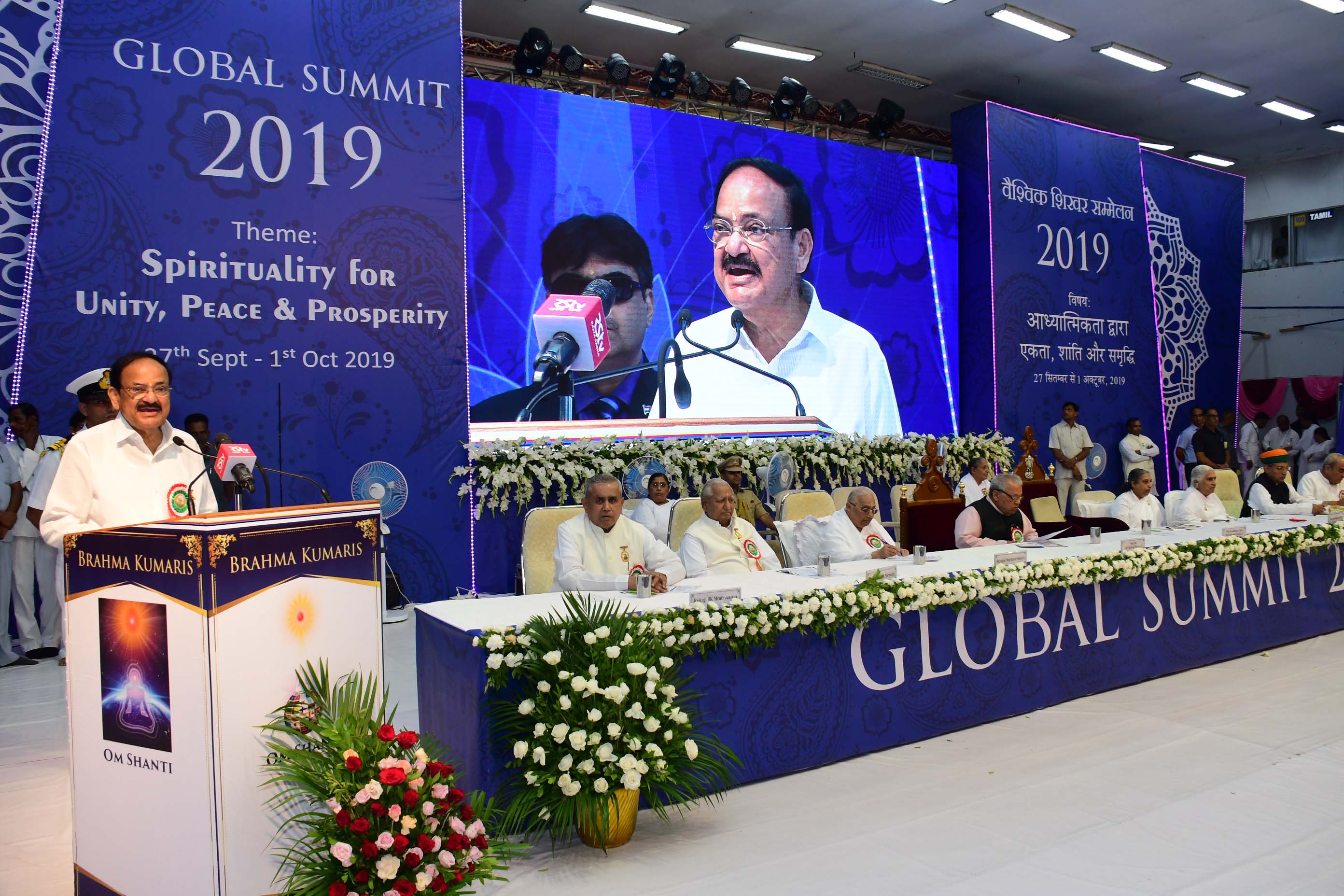 Abu Road, September 28: Vice President of India called for blending science and technology with India's rich culture of spirituality for peace, harmony, unity and development.
He said that the glorious tradition and spiritual value system of India had never prompted it to attack other countries but has always practiced and taught peace, love, tolerance, unity and universal brotherhood to mankind .
And only through spirituality, the long cherished goal of universal peace, love, progress and one world family can become a reality in today's society turned asunder by a culture of terror, hatred, vices and violence,he stressed.
He said this while inaugurating the four days Global Summit cum Expo organised by the Brahma Kumaris Isnwariya Vishwa Vidyalaya at its HQ at Shantivan Campus, Abu Road today.
Addressing an august gathering of over seven thousand delegates and dignitaries representing different professions from all over India and abroad, he said that spirituality and peaceful coexistence are the main aims of true religion whichever never teaches hatred, terror, violence and killings in the name of religion.
He said that Brahma Kumaris, the first and largest ladies led organisation through its global network of over eight thousand spiritual service centers in about 140 countries across continents are spreading the message of world peace, unity and brotherhood of mankind under the father hood of one incorporated God which is the need of the hour too.
He complimented the organisation for planting lakhs of trees every year, for being cleanliness brand ambassador and for spearheading the country's cause of single use plastic.
He finally urged the global gathering to live in love and harmony with nature so as to combine nature with culture for better future of humanity.
Blessing the occasion, 104 year old head of the Brahma Kumaris, Rajyigini Dadi Janki called for developing the practice of soul consciousness in loveful remembrace of Supreme Soul to foster and spread peace, positivity, health, harmony and happiness in self, society and nature.
While Governor of Rajasthan Mr Kalraj Mishra chaired the session, Union Minister Mr Arjun Singh Meghwal, Rajyigini and Ratan Mohini, Jt Chief of the Brahma Kumaris, Brahma Kumaris Secretary General Rajyogi B K Nirwair, Executive Secretary Rajyogi B K Mruthyunjaya were prominent among others who shared their views.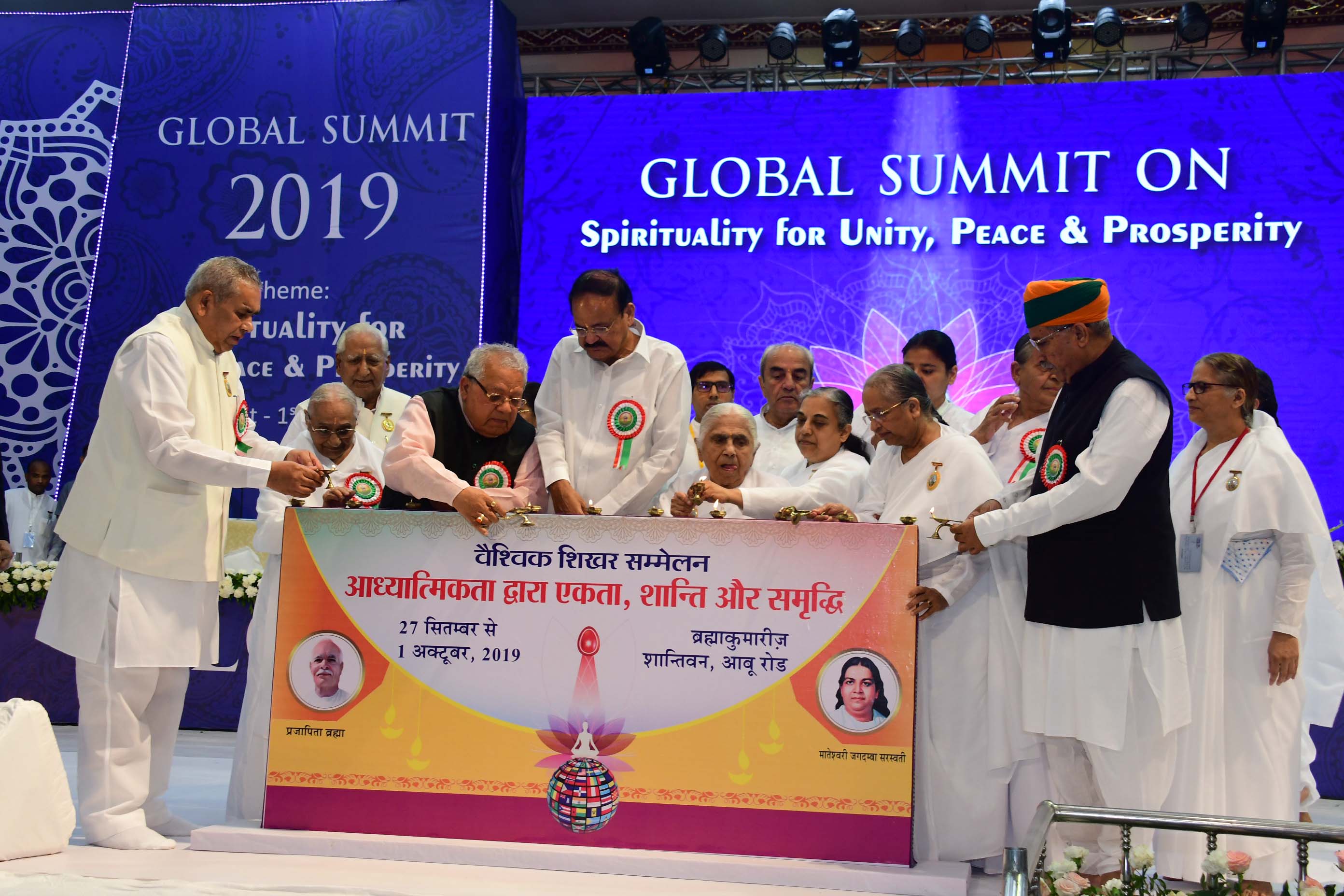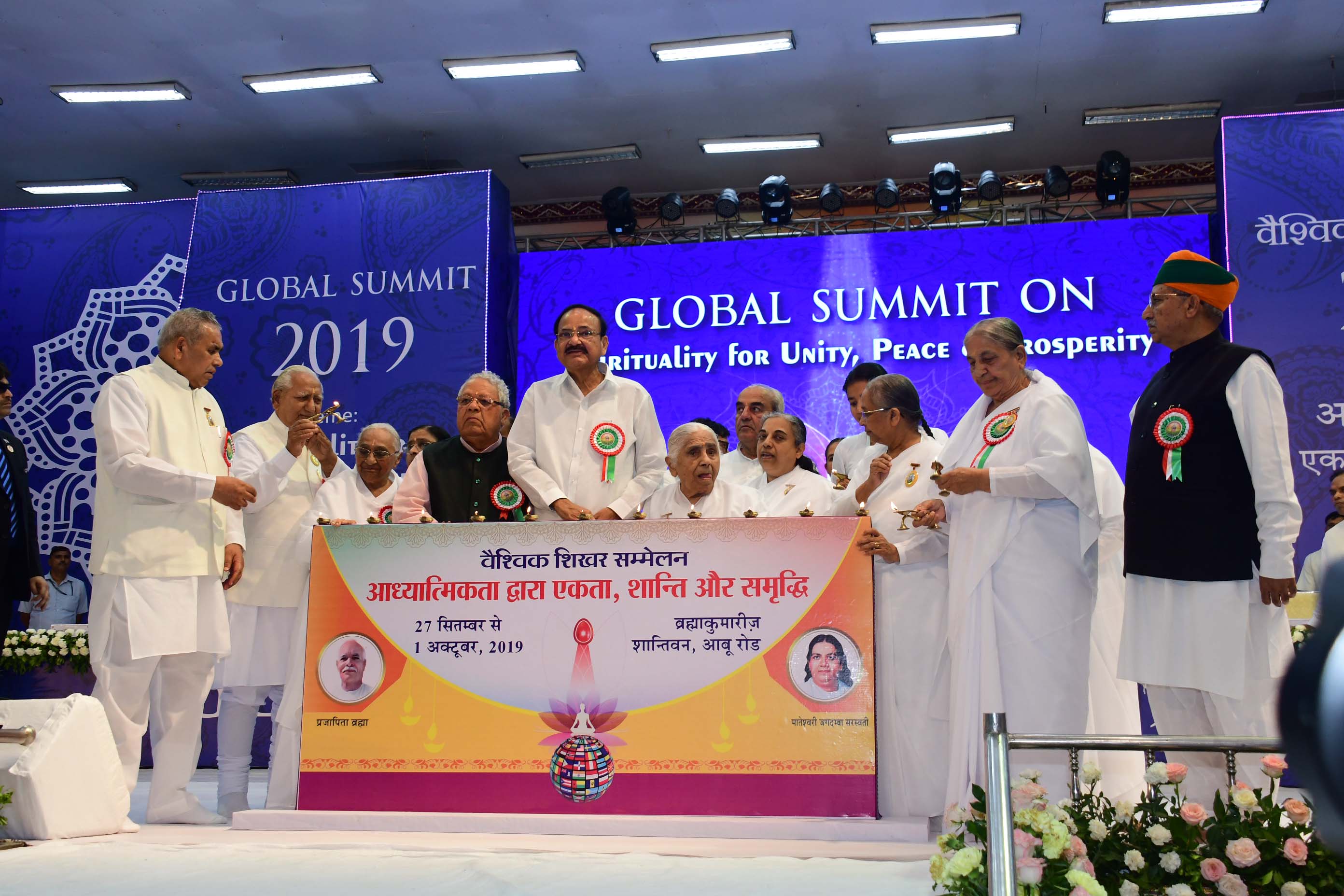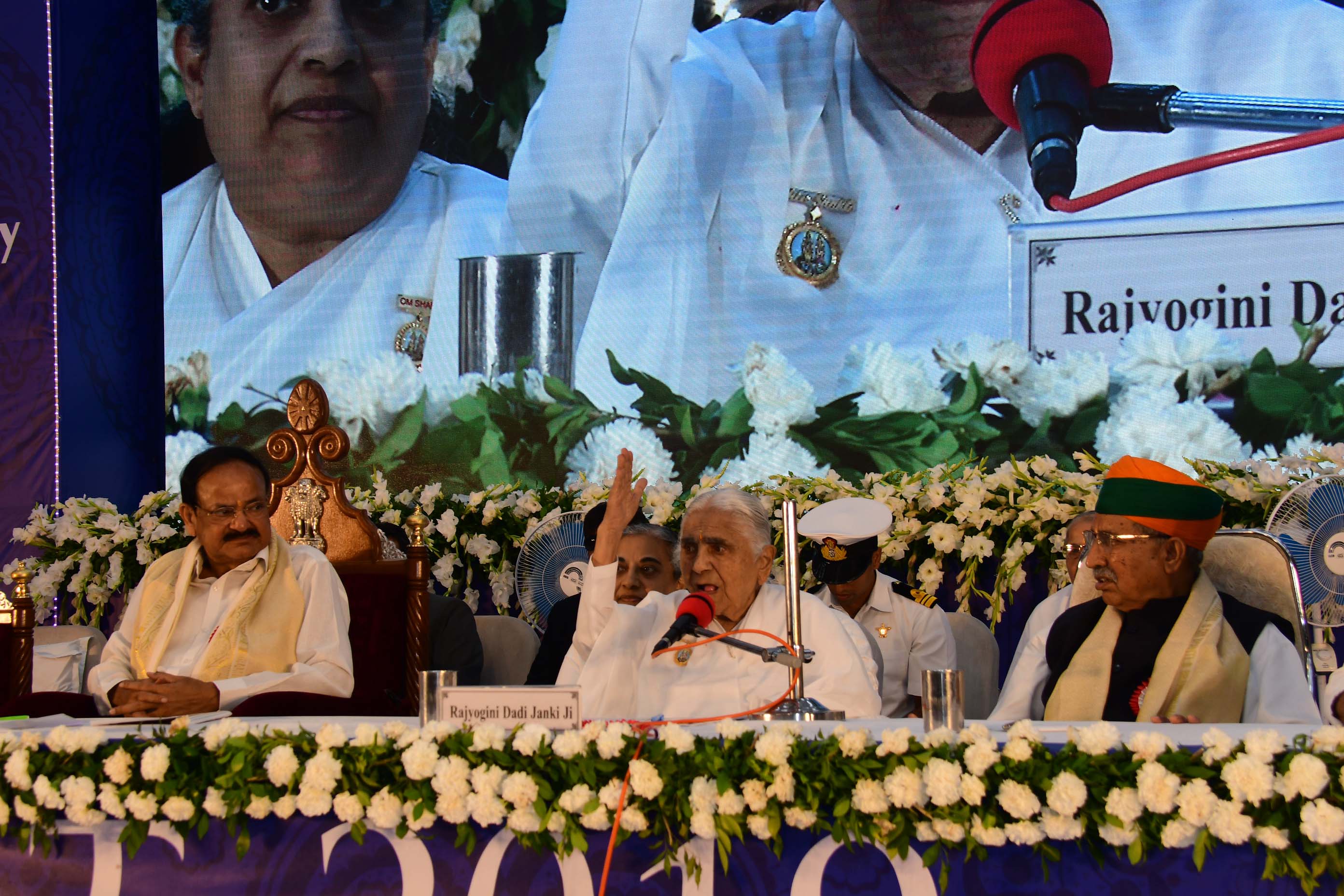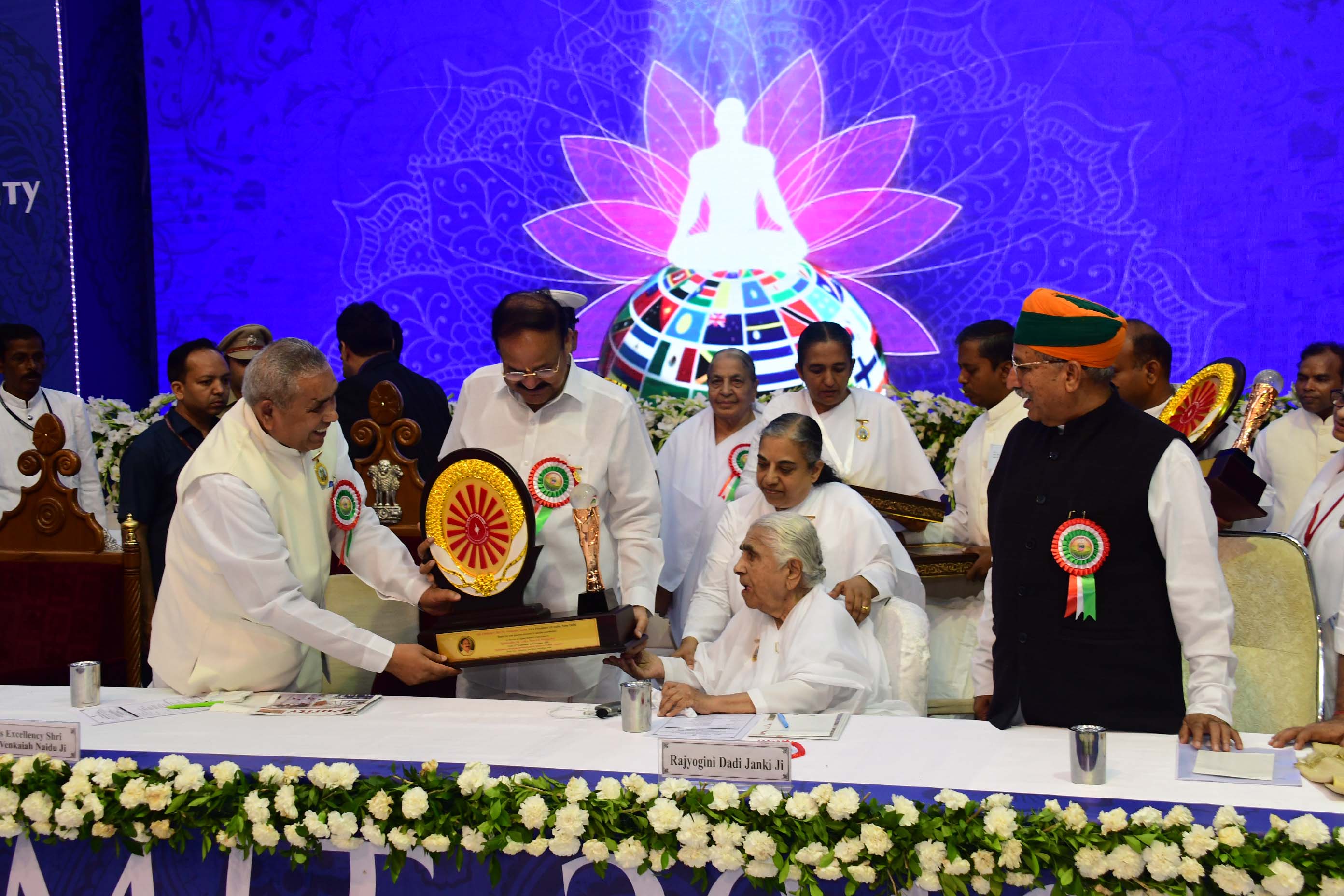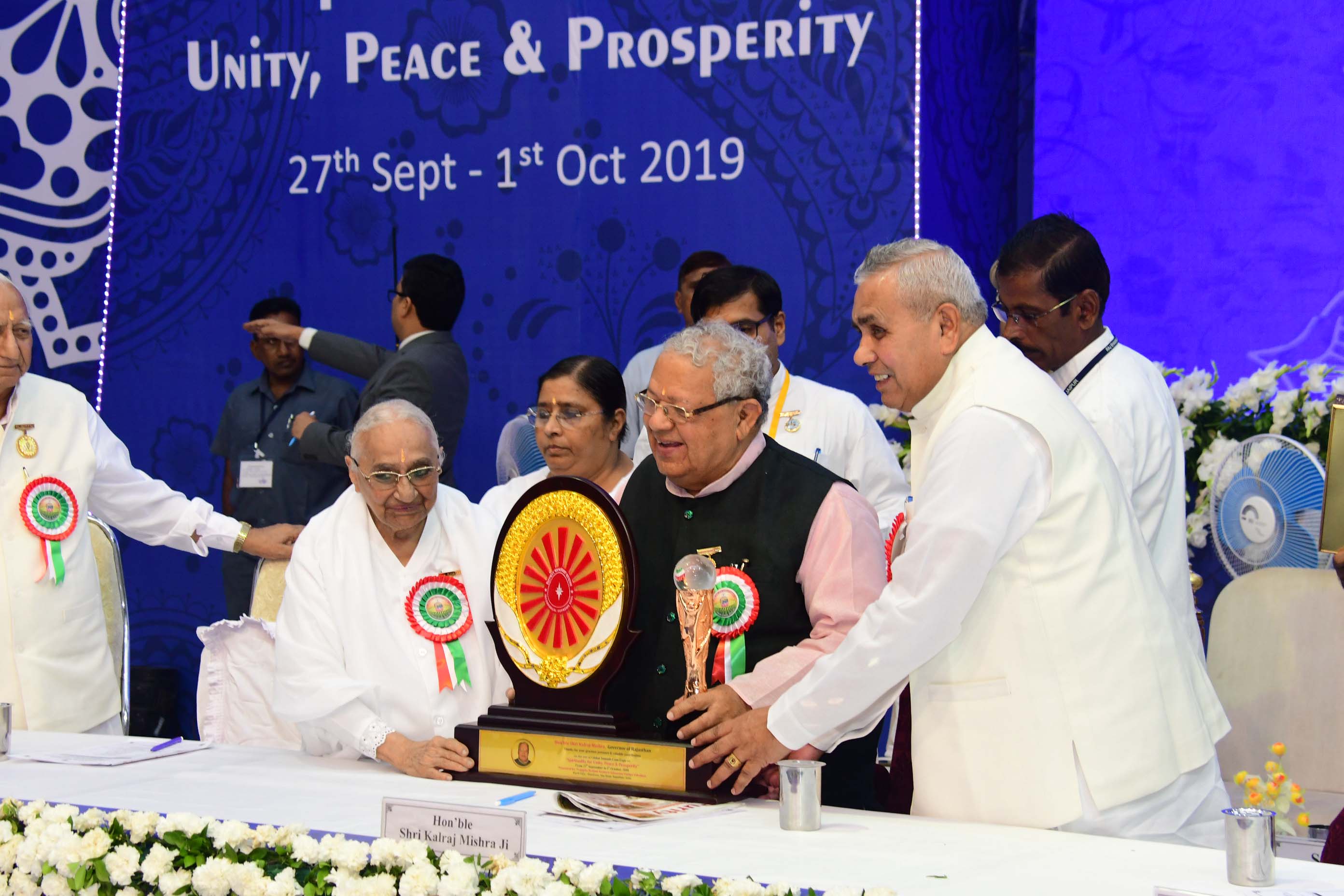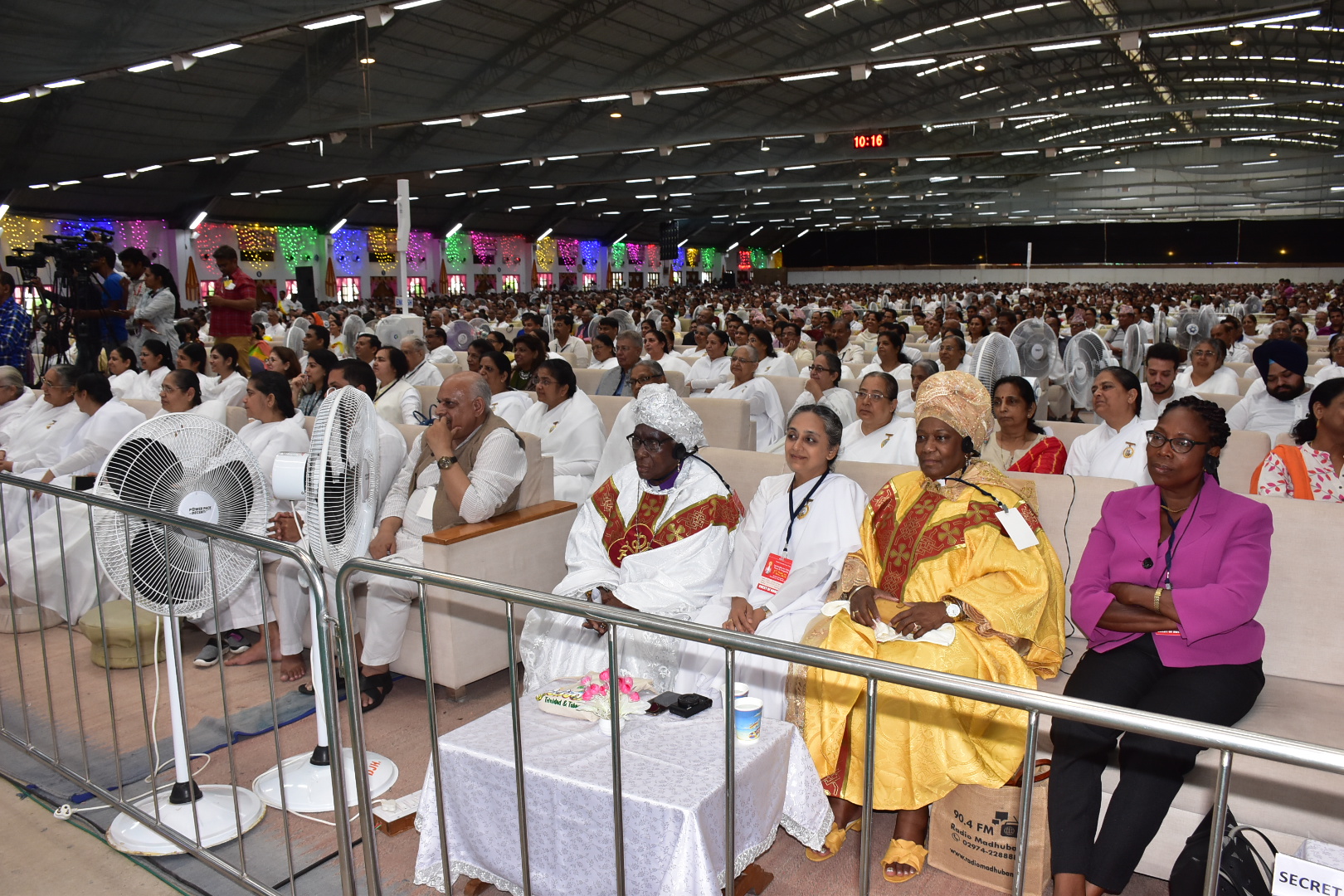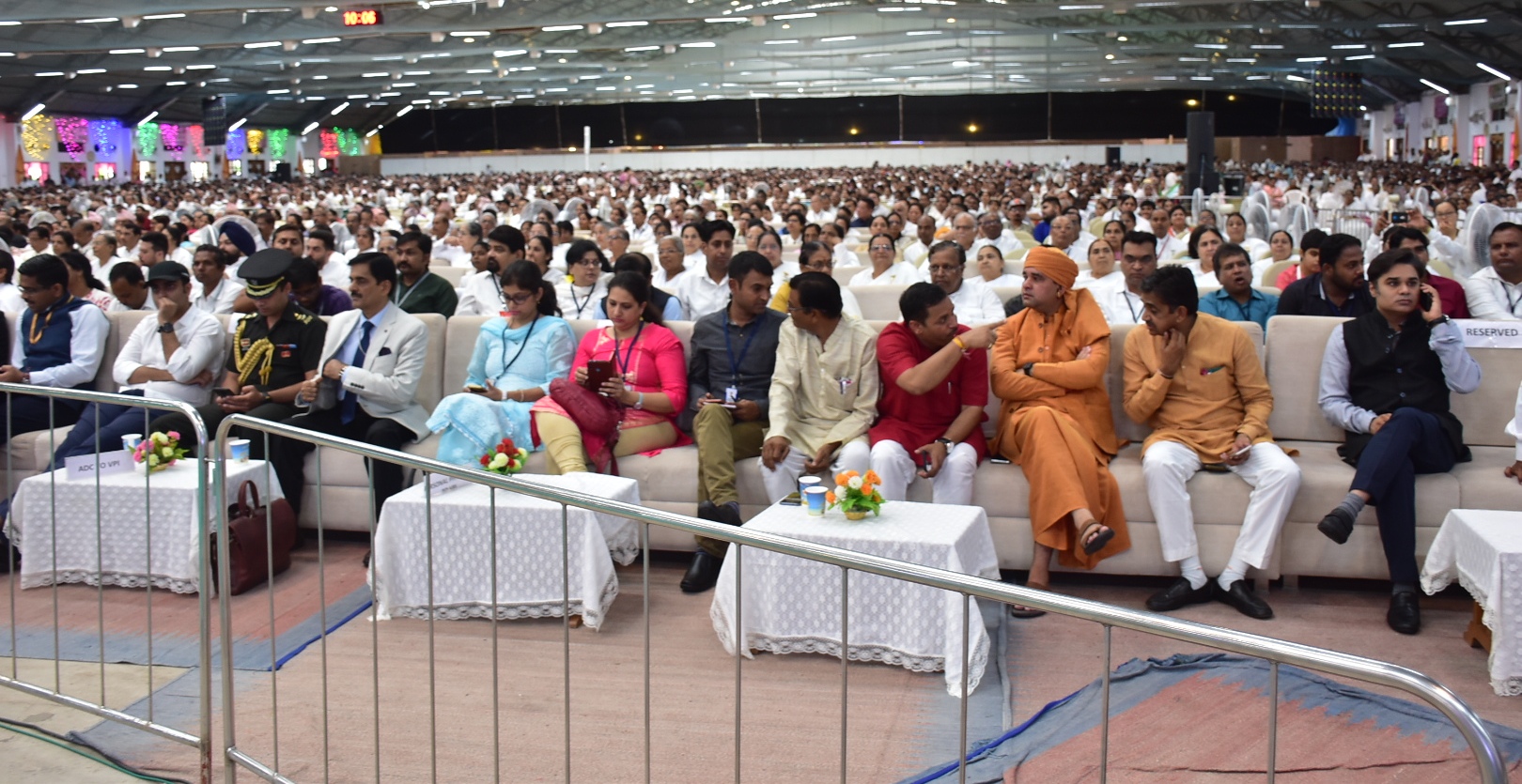 Poster of Animated Film - The LIGHT released by Munni Didi
8 October 2019
Dear Brothers and Sisters, Om Shanti.
Respected Munni Bahenji (The Head Quarters Program Coordinator of Brahma Kumaris) visited Godlywood Studio and in the presence of TEAM Godlywood, released the Poster of the much anticipated animated Film from Godlywood Studio - 'The LIGHT', directed by Shoojit Sircar. She appreciated the tireless efforts behind the Film and bestowed her blessings and inspirations.
The LIGHT' tells the story of Brahma Baba and the message of the Brahma Kumaris and is fast progressing towards its completion, expected to be released in the first quarter of 2020.
Please find the Film poster attached for your reference. Kindly share this with the BK family at your place and for exhibiting the full size flex-print in your zone, centres, retreat centres or any other place of your choice, kindly contact us and mention the size, the flex print will be sent to you free of cost. Exhibiting the Film poster in your place will go a long way towards enhancing the reach of the Film when it will be premiered Nationwide. I hope all of you will cooperate in this big step towards the glorification of Baba.
BK Harilal
Executive Director
Godlywood Studio
World Renewal Spiritual Trust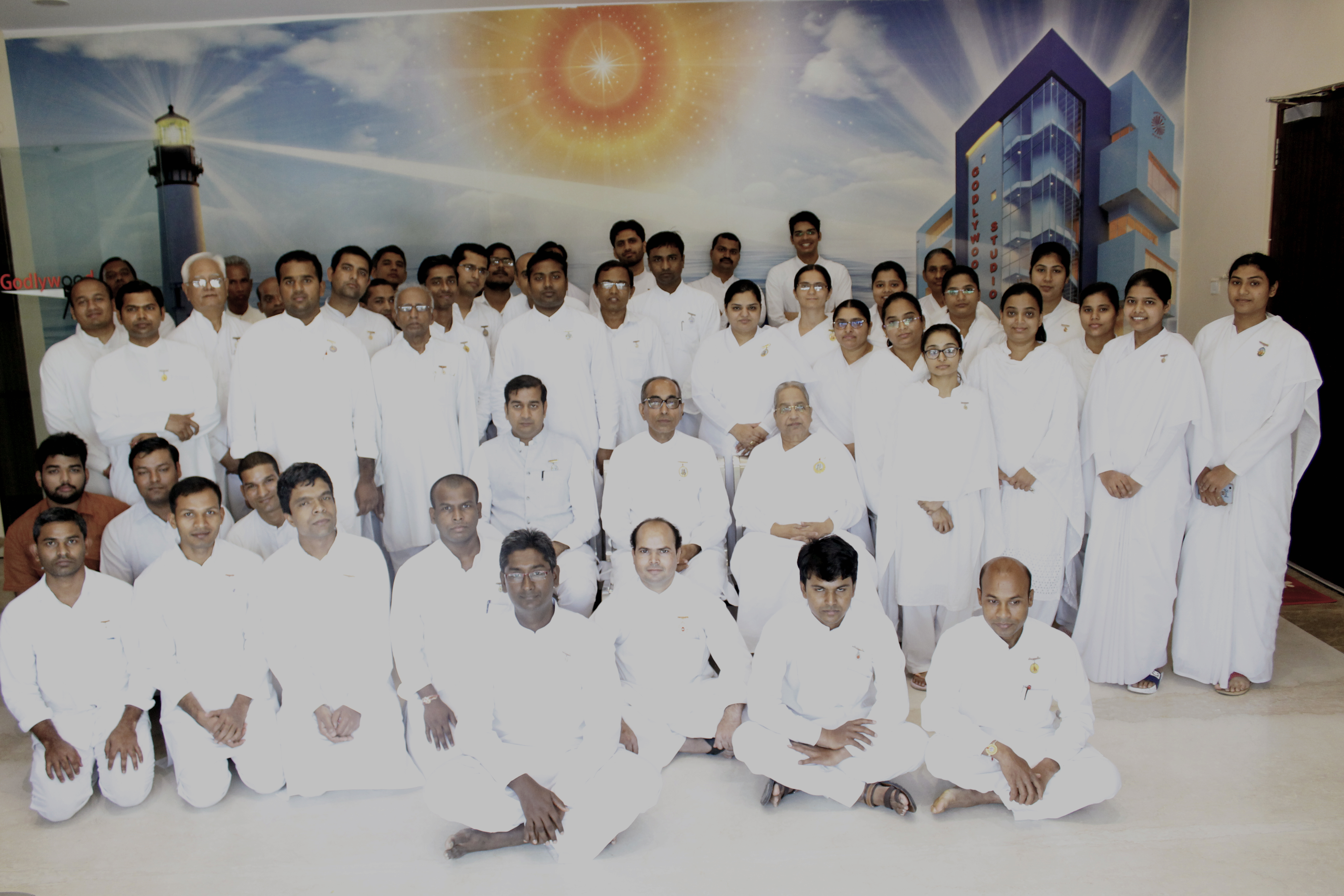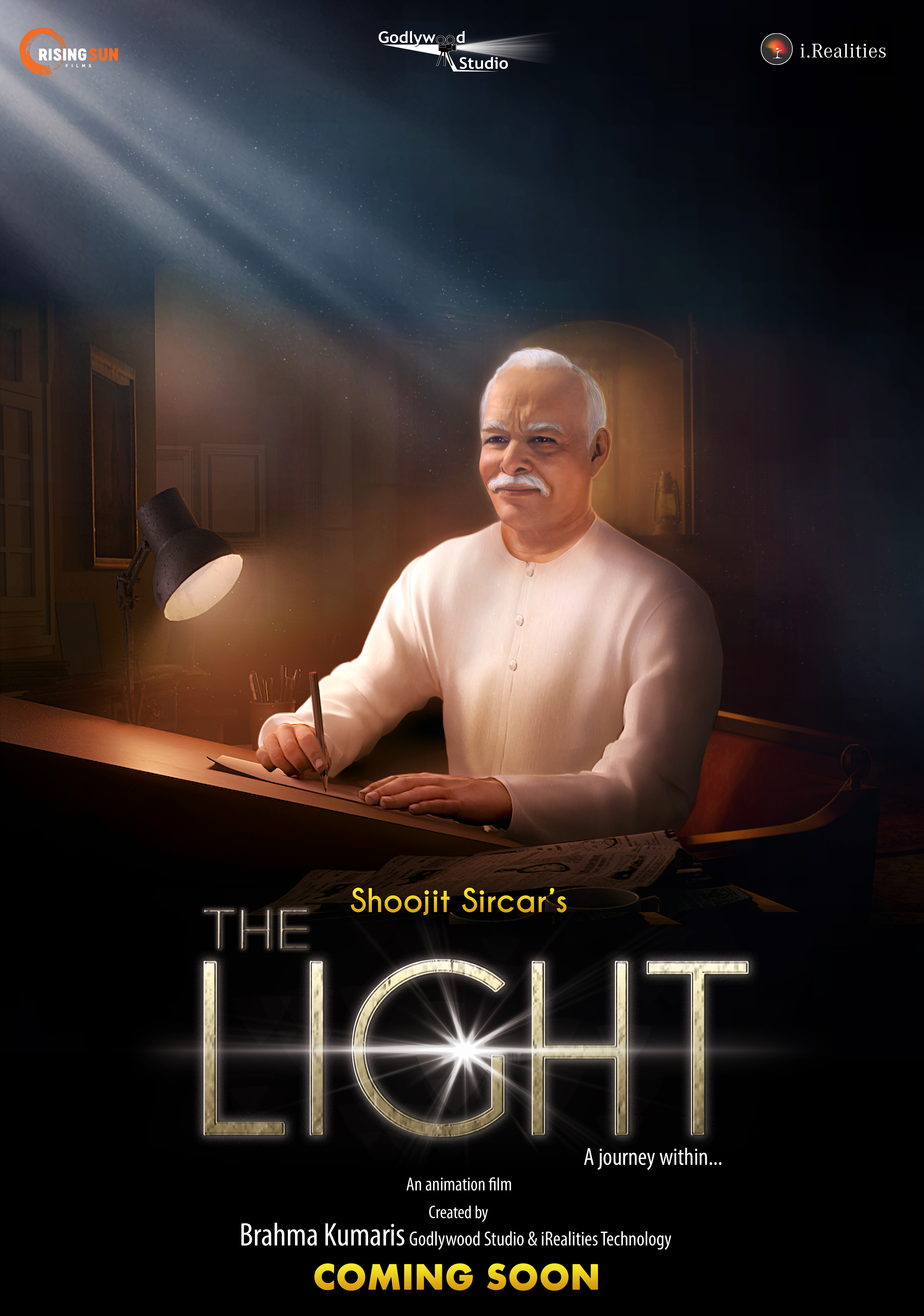 Service Report | National IT Conference & Retreat | 6 - 9 September
1 October 2019
Om Shanti, Greetings from Madhuban
Please kindly see the attached service report of National IT Conference & Retreat organized at Shantian, Abu, from 6 - 9 September 2019 with the theme "Awakening the Wisdom Within".
More than 1100 IT professionals from across the country including 200+ Leaders, CXOs had joined and taken the benefit from various sessions organized during this conference & retreat.
Thanks & Regards
BK Yashwant Bhai
HQ Co-ordinator, IT Wing
PS: To access Videos, Photos & Experiences of Senior IT Leaders -
Please visit https://www.bkitwing.org/conf