Middle East News
Middle East News
On REPLAY: A Special Master Class on Brahma Baba with Sis Jayanti in preparation for Avyakt Day 18th January.
14 January 2022
This special class was live on January 10th. You can access the replay here;

Raja Yoga Center of Dubai Honored with Bharat Gaurav Award 2021
29 December 2021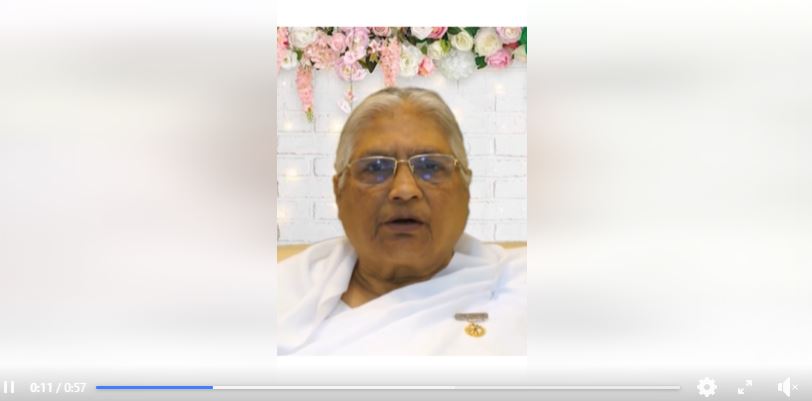 Dubai (UAE): Sister Jyoti, Director of Raja Yoga Centre in UAE, Oman & Qatar, has been awarded with the most prestigous Bharat Gaurav Award. The Award function was held at one of the most prestigious locations, Atlantis the Palm Island, Dubai, in which eminent and iconic personalities from abroad and the country were recognized and awarded.
His Excellency Awad Mohammed Sheikh Mogrin; Mr. Mohammed Al Ali, Managing Director, First Abu Dhabi Bank; Mr. Mohammed Al Banna, Senior Advisor and group CEO; and Pandit Suresh Mishra, President of Sanskriti Yuva Sanstha, were the chief guests of the event.
Sister Jyoti, who has been serving in Dubai for more than four decades, thanked Pandit Suresh Mishra, President of Sanskriti Yuva Sanstha, for nominating her name and awarding her with the most prestigious Bharat Gaurav award.
This was the eighth edition of the Bharat Gaurav award Sanskriti yuva sanstha, which recognizes the most prestigious personalities from the world every year and honors them. The previous events were held at the Parliament, in London, and at the United Nations in America.
While conducting the program on the occasion, Assistant Director, DPR Rajasthan, Govind Pareek, addressed and said that through this Bharat Gaurav Award ceremony, such hidden talents have been brought to the fore and praised. It honors those who made the countryman proud by making a different identity in the whole world.
Message from Bharat Gaurav 2021 Awardee Sister Jyoti, Director of Raja Yoga Centre in UAE, Oman & Qatar. https://www.facebook.com/watch/?v=1283762448768098

'Sweet Connections' on Saturday 8th of January at 10.30-13.00 CET / 9.30-12 UK time (Zoom link and request for topics)
28 December 2021
Dear Brothers & Sisters of Europe and the Middle East,
Many loving greetings to all of you. Following our mail from 4th of December please find here some further info.
Zoom link:
https://brahmakumaris-uk.zoom.us/j/92596882207?pwd=K3lneG45bmw0Wk5lNTgxUm9tSXBwZz09
Meeting ID: 925 9688 2207
Passcode: 525316
Program:
30 minutes meet and greet in plenary with Sr Jayanti. 90 minutes in groups of ca. 7 people. 30 minutes in plenary, sharing inspirations and insights from the groups (only those who want to).
The part with Sr Jayanti will be recorded and available afterwards. The rest will not. Anyone can participate in as much or as little of the program as they like.
Please send any suggestions for topics for the conversation groups to Dorte at dorte.haun@dk.brahmakumaris.org by 3 January the latest.
The topics can be related to gyan, service, yoga, particular issues etc. - whatever is on your mind.
Purpose of the 'Sweet connections' online meetings:
Different topics for inspiration and any concerns in BK life can be addressed in this forum - but the purpose is also simply to meet, being immersed in the collective vibration of the family, connecting with old and new friends.
Translation: If non-English speaking BKs from your area are likely to attend, please write to Mathias at zurich@ch.brahmakumaris.org by 31st of December at the latest.
If you have any questions, please don't hesitate to contact Dorte on dorte.haun@dk.brahmakumaris.org.
Lots of love,
In Baba's yaad,
Dusha, Wendy, Mathias and Dorte
Sweet Connections Team

REPLAY: Special Program on "Spiritual Awakening for World Peace" by Embassy of India, Muscat on 2nd October
4 October 2021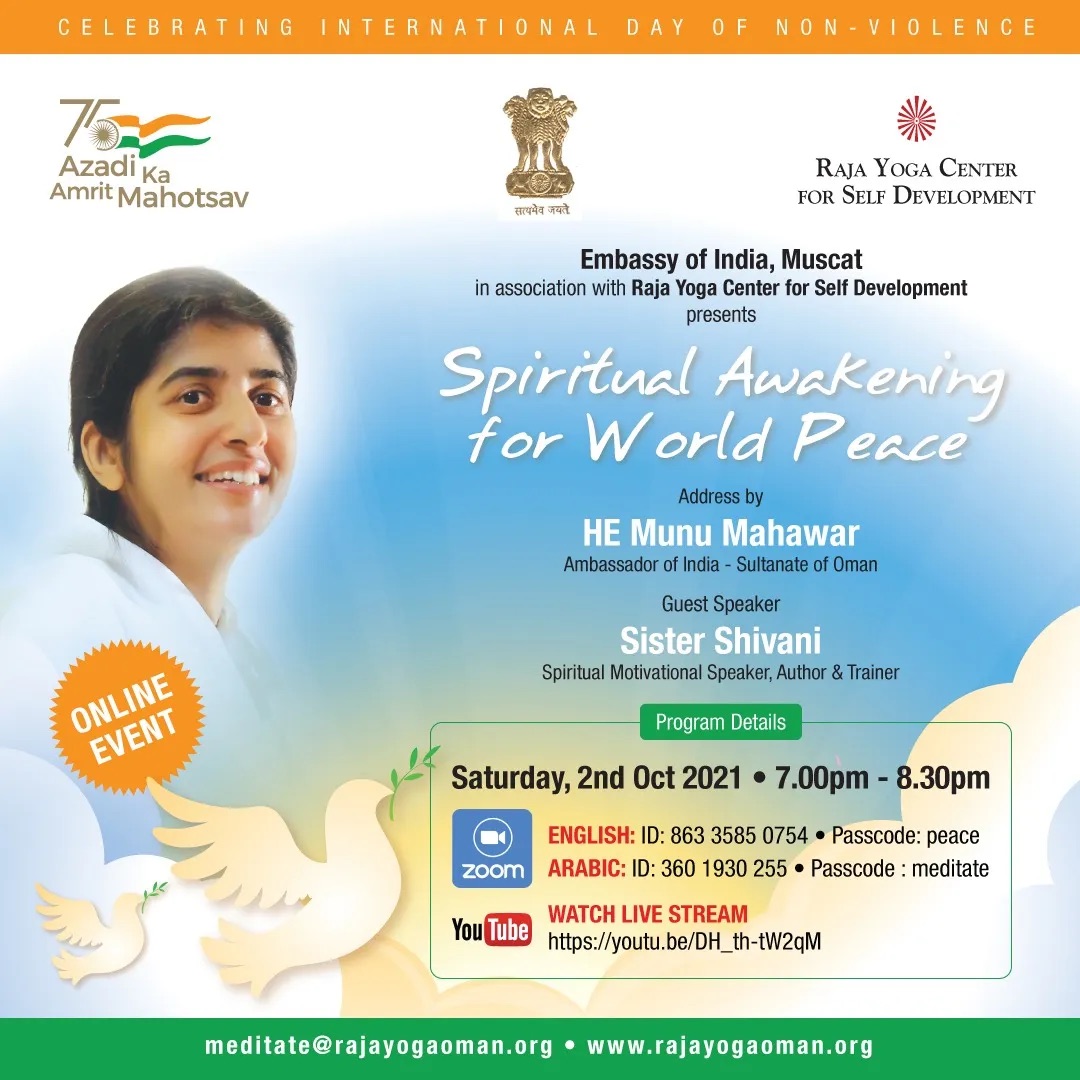 Muscat (Oman): Embassy of India, Muscat Presents Special Program on "Spiritual Awakening for World Peace" on Saturday 2nd October.
Faculty By: BK Sister Shivani (Spiritual Motivational Speake, Author and Trainer)
YouTube Replay Link: https://youtu.be/DH_th-tW2qM [1:32:39]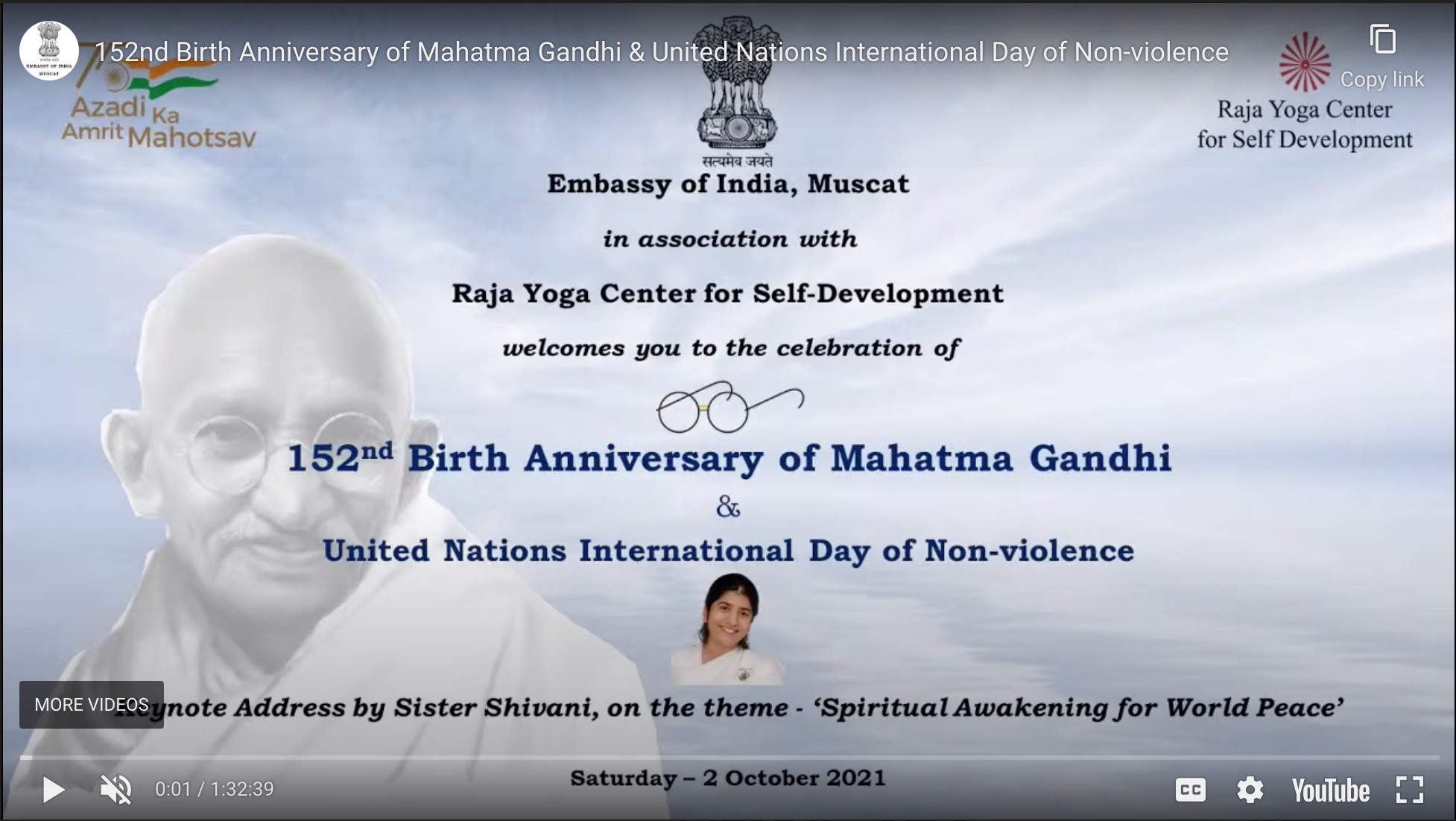 Organised by:
Embassy of India, Muscat in association with Raja Yoga Center for Self-Development

Harmony House Kuwait Presents: Overcoming Worry and Fear - A Webinar by Judy Johnson
8 August 2021

Understanding Spiritual Love - Webinar with Gayatri Naraine - Saturday, 24th July, 7:30 pm Bahrain Time | 5:30 pm UK time | 6:30 pm CET Time | 12:30 pm EST | 9:30 am PST
23 July 2021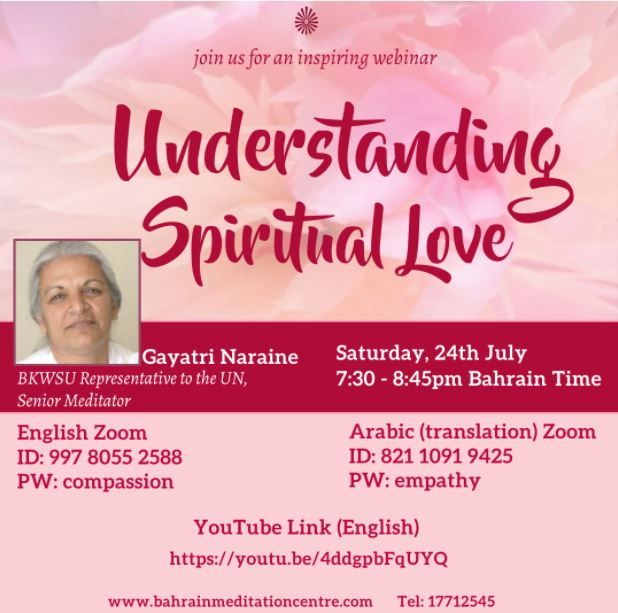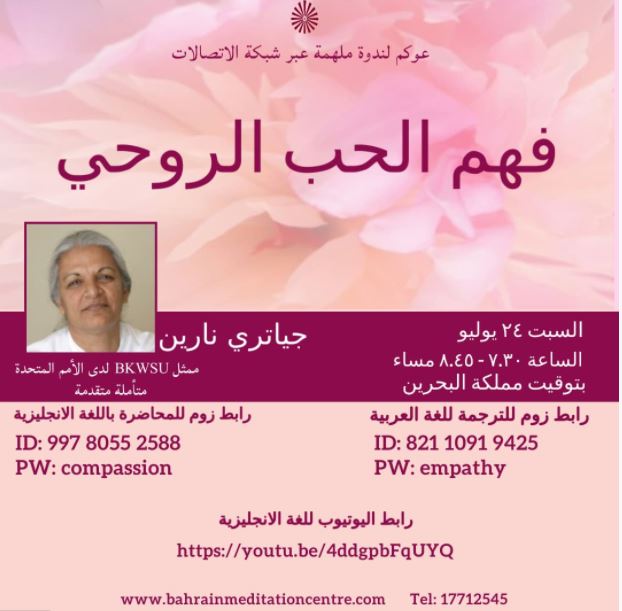 Coping with Stress Through Humor - A Webinar with Jagruti Patel, Tuesday, July 13th, 7:30 pm Bahrain Time
12 July 2021