2020 Jan - Apr Madhuban News Archive
2020 Jan - Apr Madhuban News Archive
News from Jayantiben in Shantivan: 28 April
28 April 2020
Since 27 April, we've been able to have BKs travel back by road to Maharashtra from Baba's campuses. They've been here since early March but got stranded due to lockdown, but finally all three local State Governments: Rajasthan, Gujarat and Maharashtra have agreed that a couple of hundred people can return, going straight from Abu to Maharashtra without stopping anywhere at all except for comfort breaks in isolated areas.
These are people who were at the top of the list due to family situations or because they were farmers who had to return for harvest, as the harvest season has begun in India. Gradually, things have moved forward for them.
OM SHANTI

April Issue of World Renewal available for Download
27 April 2020
Click here to download above image.
Click here to download above image.
Click here to download above image.
Click here to download above image.
Click here to download The World Renewal for April 2020 Issue

News from Jayantiben in Shantivan, 27 April
27 April 2020
Today, we had special Bhog Offering for Dadi Janki, as it's the one month anniversary of her ascension on 27 March. Bhog will be offered on the 27th of each month. We had Ishu Dadi, Brij Mohanbhai, Munniben, Santoshdidi join us along with some Madhuban Niwasis.

Rukmaniben offered Bhog, and the message she brought in essence was that before leaving the Subtle Region to enter the new role, Dadi had asked Baba to keep calling her back to the Subtle Region from time to time, and Baba said that this is what he has been doing. So Dadi specially came today when everyone was offering Bhog for her. Dadi said to Baba, I know that you called me from the corporeal world for special service, and I see that this is what is happening. Dadi has been touring Bharat and also foreign lands whenever Baba brings her to the Subtle Region. Dadi sends lots and lots of love to the whole family.
OM SHANTI

News from Jayantiben in Shantivan on 26 April
27 April 2020
On 26th morning was an interesting experience: Bharatbhai arranged for Sister Gopi and myself to go to Tapovan to conduct Murli Class. I wasn't quite sure where it was going to be held, but it turns out that there is a very beautiful Meditation Hall there, which I saw for the first time, but apparently it's been around for a while. Murli Class took place in this lovely area, and we then went on a tour of the Offices. Yogic Agriculture has been taken up in a big way here, with regular trainings for BK/Contacts Farmers taking place. Experts from various areas of Agriculture gather here to help as well. Baba has 75 acres of land in Tapovan and it's really a very lovely place with many fruit trees and plantation of vegetables.
OM SHANTI

News from Jayantiben in Shantivan: 23 April
24 April 2020
It's been a very busy time with lots of recordings and webinars with various parts of the world, and also meeting some individuals in Shantivan itself. Several come in small groups to Shakti Bhawan at various times, to have time with Baba and Dadiji.
Online service across the world continues in a powerful way. Souls seem to be touched by Baba to seek out further support and help. Baba had told us that this would happen, and it's interesting that it's happening right now.
OM SHANTI

Shantivan Sound Department is Now Streaming Audio All 24 Hours
24 April 2020
hantivan Sound Department से (मधुबन- शांतिवन) अखंड योग तपस्या भट्टी आज 22-04-2020 से 24 Hours Audio Streaming Live: https://www.omshantiaudio.com/play-audio/

BK Ravi Bhai
Sound Dept, Madhuban

A BK Initiative to Create Awareness about Staying at Home to Prevent the Spread of COVID-19
21 April 2020
Brother Nikunj in Mumbai is producing a series of videos on the theme of #Stayhome#Staysafe (#घरमेंरहेंस्वस्थरहें | #घर पर रहें #सुरक्षित रहें). Under guidance from various Indian News Channels and Publications, and with major inputs from Respected Karuna Dada ji, the series is a Brahma Kumaris special initiative to create awareness about staying at home to prevent the spread of COVID-19. The videos are in Hindi with English subtitles.
First video: https://youtu.be/1yEyv96MncY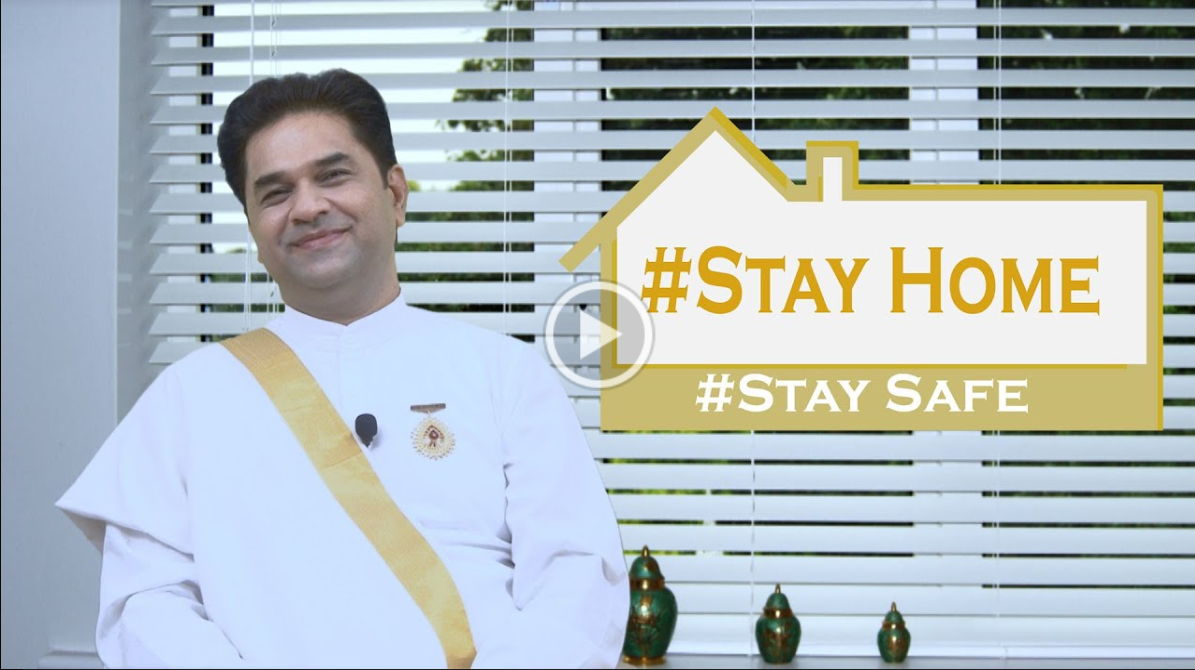 Second video: https://youtu.be/yrtUMt8NHYk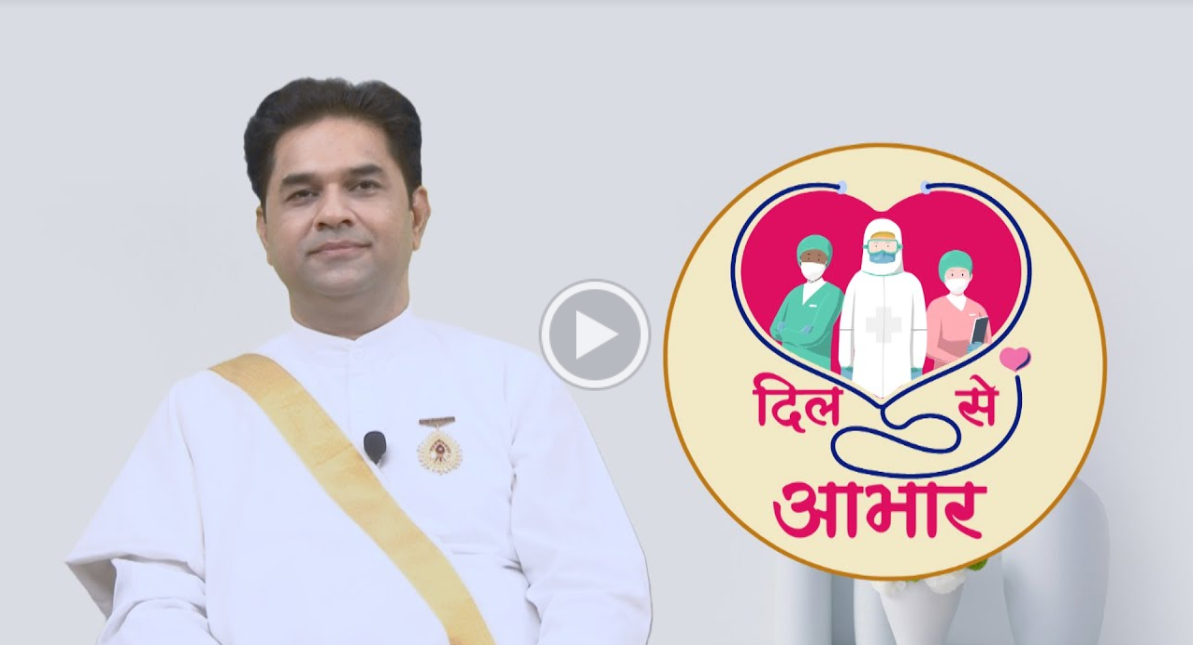 Third video: https://youtu.be/8hTvhFIW4Rk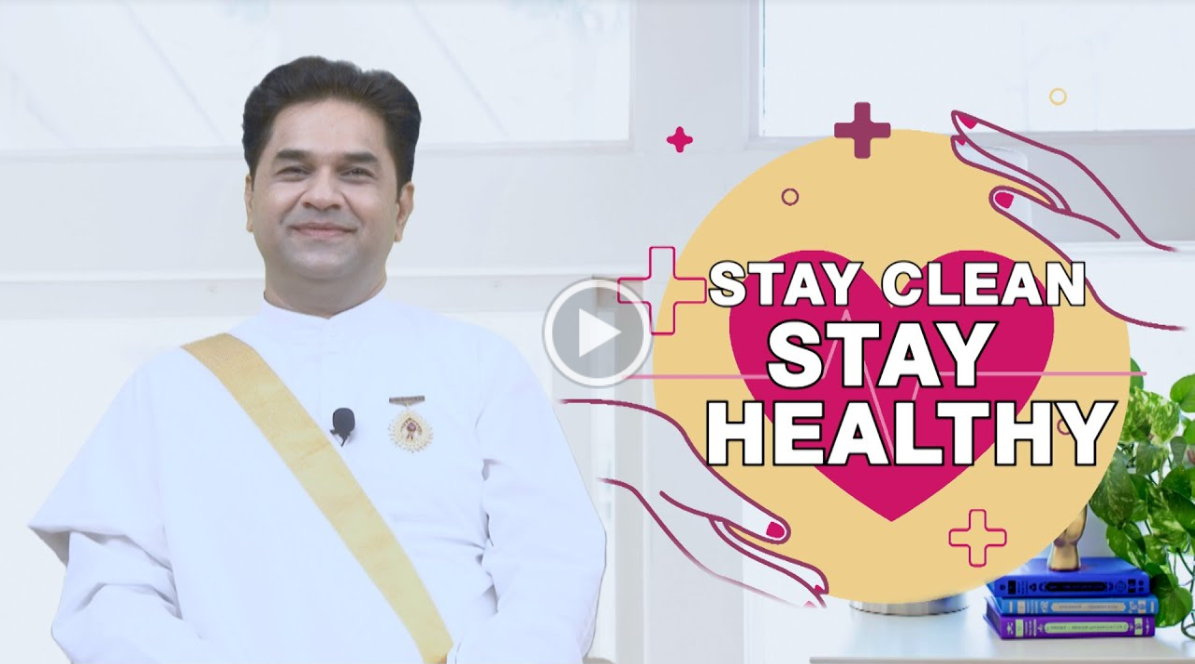 Brahma Kumaris Provide Food, Shelter and Medicine for 2500 People
20 April 2020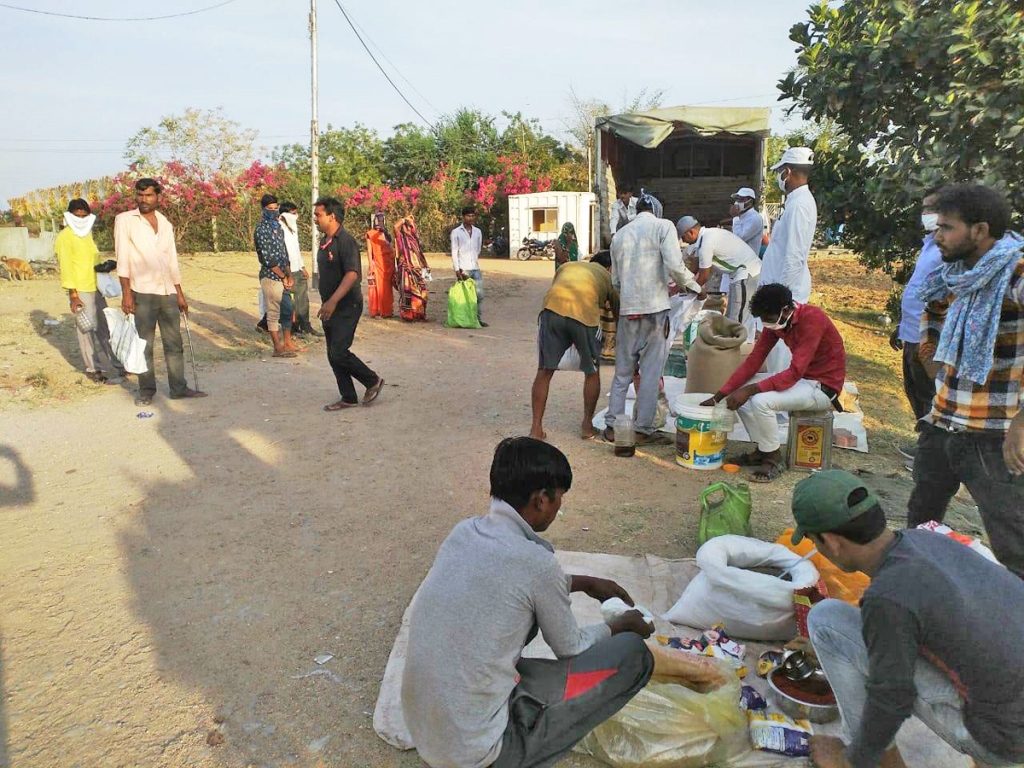 Mount Abu ( Rajasthan ): The Brahma Kumaris at its International headquarters is arranging for the food, medicine and other essential services of about 2,000 people stuck in the coronavirus pandemic lockdown from Maharashtra and Telangana, and for 500 labourers of Bihar, Jharkhand, Orissa and West Bengal.
Under this initiative, food essentials are being provided to 500 labourers for one week. This includes rice, wheat, pulses and medicines. They are also being trained in the art of Rajayoga Meditation. In addition, people are advised to maintain social distancing. BK Bhanu, BK Ninit, BK Ramsukh Mishra, BK Mohan, BK Sachin and BK Anoop Singh from the Social Activity Group of the Brahma Kumaris were part of this initiative.

News from Jayantiben in Shantivan: 18 April
18 April 2020
On 17th night, a 1-hour series started in Dadiji's Meeting Hall, Shantivan, with 30 minutes Meditation, and 30 minutes of Class. This will be broadcast for all BKs and contact souls. Last night it was myself, and on 18th night it will be Br Brij Mohan, and 19th it will be Santoshdidi (Mumbai), and this will continue till early May with different Seniors of the HQs. This is in addition to all the tapasya and other activities that are going on.
So lockdown is providing an opportunity for a lot of sustenance of the BK family, public and contacts.
OM SHANTI

News from Jayantiben in Shantivan (Abu): 16 April
16 April 2020
Service online from Madhuban continues, as it does in all other parts of the world.
Today, everyone must have offered Bhog to Baba for the day of the Satguru. In Madhuban too, there was a very sweet atmosphere. By now all of you know that lockdown in India continues till 3 May, so drama is giving us an extended period further for Tapasya.
OM SHANTI

Replays of Sister Jayanti's Online Meditation Series
14 April 2020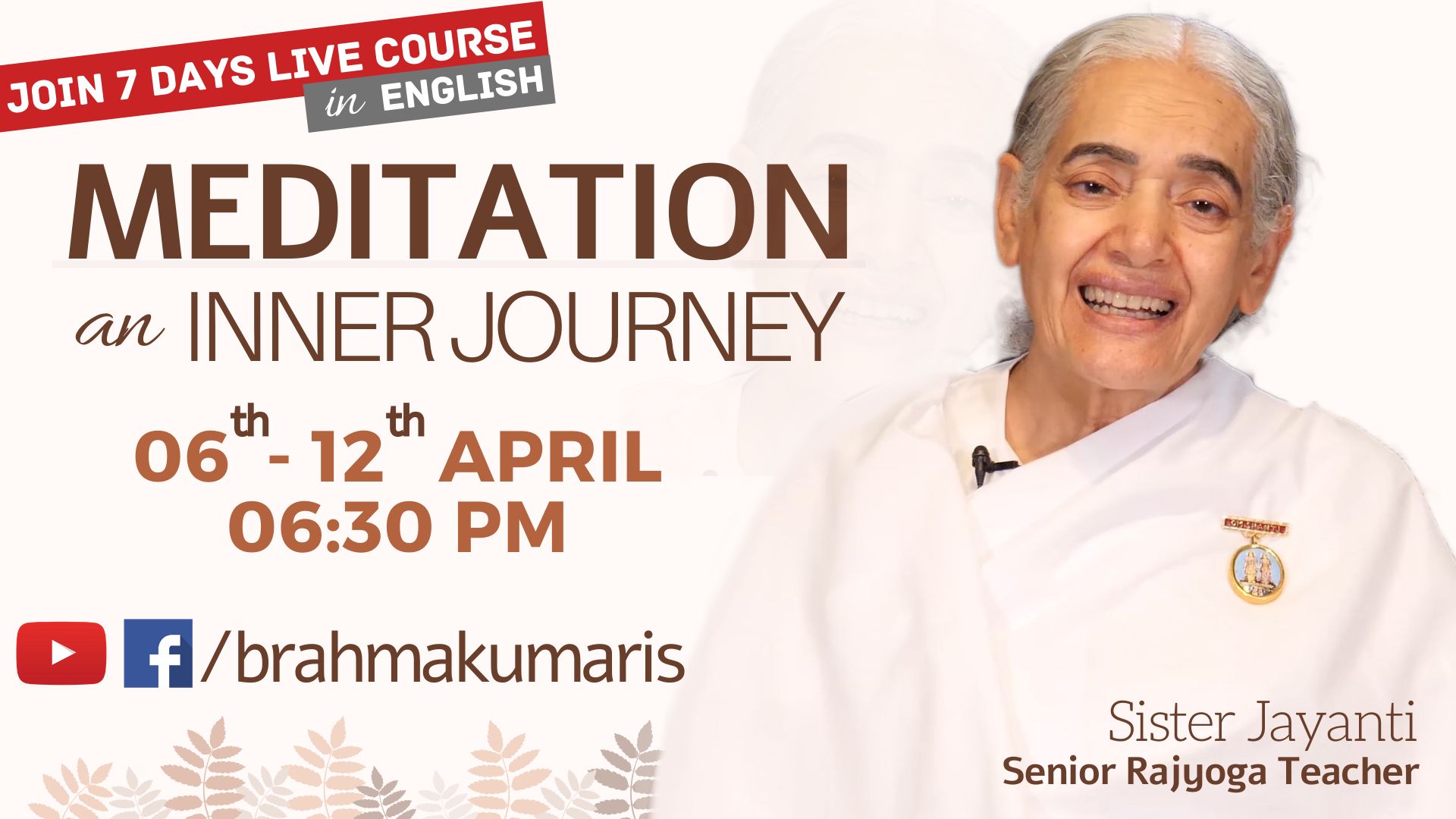 Sister Jayanti has been giving the 'Seven Days Course" online every morning (PDT) and those sessions are now available here. These videos are only about 20 minutes long and might a great way to introduce your friends and family to Raja Yoga meditation:
Meditation Ch 1 - Introduction To Meditation https://youtu.be/zQx4Z7K-H9Q
Meditation Ch 2 - Who Am I https://youtu.be/Er1GjE80J1w
Meditation Ch 3 - Where do my thoughts come From https://youtu.be/hPAwZ8E7fLk
Meditation Ch 4 - The Source of Love & Truth https://youtu.be/JYL1ZWCYwJU
Meditation Ch 5 - Connecting with The Divine https://youtu.be/dR0e3zlAE5E
Meditation Ch 6 - Steps of Meditation https://youtu.be/Tx9loEt5VBw

News from Jayantiben in Shantivan: 13 April
14 April 2020
The 13 days to honour Dadi Janki's departure past by with a lot of yoga, Bhog Offerings, and evening meditation, all of which were very powerful. On 9 April as you know, there was a very special final Bhog Offering in Dadiji Meeting Hall, Shantivan. We then went to the temporary Memorial that's been created outside Conference Hall, on the lawn. It actually looks very lovely, and carries Dadi's favourite slogans.
As the rules regarding numbers has become stricter, it's just the little team here that now has Meditation in the afternoons and evenings in Shakti Bhawan. Even the visits to the Godlywood Studio have stopped since we have to go out of the Main Gate to get to the Studio, and the Main Gate has now been closed. So everything is much quieter, and this has given me a chance to read all the emails that have been accumulating for 2 weeks, and to begin replying to them. Many thanks for everyone's patience.
OM SHANTI

Special Presentations to Pay Tribute to our Beloved Dadi Janki ji (New Songs & Videos)
9 April 2020
Divine Sisters and Brothers
Om Shanti
For the last 13 days we have all been experiencing Dadi Janki Ji's divine vibrations and powerful sustenance.
Tomorrow as we all offer special bhog to BaapDada and Dadi Ji, sharing with you a beautiful song sung by our dear brother Harish Moyal.
Also attached are short videos which will give each one a personal experience of Dadi's love and powers.
ईश्वरीय परिवार के भाइयों और बहनों,
ओम शान्ति।
पिछले 13 दिनों से हम सभी दादी जानकी जी के दिव्य प्रकंपन और शक्तिशाली पालना का अनुभव कर रहे हैं।
कल हम बापदादा और दादी जी को विशेष भोग लगाते हुए आप सभी के साथ, भ्राता हरीश मोयल द्वारा गाया हुआ एक सुंदर गीत शेयर कर रहे हैं।
साथ ही कुछ छोटे छोटे विडियोज़ हैं जो हर एक को दादी जी के प्रेम व शक्तियों का व्यक्तिगत अनुभव कराएंगे।

'God of Gods' Film Video Songs_with English Subtitles
8 April 2020
Om Shanti, All Centre Incharge and divine BK Brothers and Sisters,
Kindly accept sweet remembrance from Madhuban unlimited home.
In the present adverse situations, you all must be doing services of maintaining self-stage and giving Sakaash to the world.
We are pleased to inform you that the film God of Gods is not only being liked in India but in foreign countries as well, you all have done good services through this film.
You all have liked the video songs of this film. And many brothers and sisters want to watch these video songs and many emails and messages have been received from them. Therefore, in view of all these things, all the Hindi and English (English subtitles) Video Songs of God of Gods has been uploaded on the Film Division of Brahma Kumaris YouTube Channel.
Thereafter, we will keep uploading the video songs in other languages too in the Film Division of Brahma Kumaris YouTube Channel.
Though we also want to upload the full film God of Gods which is doing unlimited service, but before that we will require the maximum subscribers of YouTube Channel, which is not possible without you all. Therefore, we request you people to share and subscribe the Film Division of Brahma Kumaris YouTube Channel with your students and other brothers and sisters so that we can make available this film with you people sitting at home.
We don't just hope but are completely confident we will keep getting your cooperation as we were getting before.
Note: You can get this film shown at the theater for service at anytime.
Contact - B.K Venkatesh Bhai, Films Division Shantivan - 9769012581
Watch - https://www.youtube.com/watch?v=2vjqI8c0pgM&list=PLKqYWAJZlMVGtstdNEz0wgO4m2E78D59h
Subscribe - http://bit.ly/BKFILMS https://www.youtube.com/BKFILMS?sub_confirmation=1
Anand Song - https://youtu.be/_rs61MSBFsY
Maha Arti Song - https://youtu.be/Sho5-Sh3SgU
12 Jyotirling Song - https://youtu.be/AipAaTh_IuY

Om Shivoham Song - https://youtu.be/mel8Y1udzwc
Sadhano me Song - https://youtu.be/rJR578h_CTw
Shrunvantu Vishwa Shlok - https://youtu.be/ylB4bBMg-G8
Yada-Yada Shlok - https://youtu.be/VqPitA-vG7A
Ishwar Song - https://youtu.be/9eD8kBb-HOQ
Title Song_Making - https://youtu.be/2vjqI8c0pgM
In Godly service,
B.K Venkatesh Bhai
Films Division, Shantivan

Video and Audio Links: Hansaben sharing about Dadi Janki's final few months & 6th April Interview with Br Brij Mohan Ji
8 April 2020

1) 7th April 2020_Hansaben sharing about Dadi Janki's final few months (HINDI)
Audio Link https://drive.google.com/file/d/1uw7zrtoqRKr-69Z0xld2AKeiX-fQS3oL/view
Video Link https://drive.google.com/file/d/1rMK9MLbmybqdZw84oQAwzg7en6StT9UZ/view
2) 7th April 2020_Hansaben sharing about Dadi Janki final few months (ENGLISH)
Audio Link https://drive.google.com/file/d/1GqsQZxaj8OtT9fi0gNmLxItjj6YP6Ndo/view
Video Link https://drive.google.com/file/d/1ZZDlV5KWtPYgjuABFsNkOQXkX8Jhxh_b/view
3) 6th April 2020_ Interview with Brijmohanbhai_Faith in Each Other
Audio Link https://drive.google.com/file/d/1uZZ_6bX3pD9PyLDoAZ1yUVen7RPhpitH/view

News from BK Jayantiben in Shantivan: 7 April 2020
7 April 2020
I am sure you must all be feeling Dadi Janki's angelic presence. I see that magic in terms of service has already started; Dadi has started to touch powerful individuals who want to support Baba's work here in Bharat, and I am sure the same will happen worldwide.
Each day at 12 pm, we offer Bhog to Baba and Dadi in Shakti Bhawan, Shantivan. Dadi was always concerned about Baba's box to support the Yagya, and also Baba's Bhandara (Kitchen). Dadi used to give special attention to the service in the Bhandara, because she knows that the heart of the Yagya is in the Bhandara, and also that pure food is the way to be able to help us come closer to God. So there have been beautiful varieties offered to Dadi every day - around 8-10 fruits, and many little dishes filled with a variety of goodies that have been prepared in various kitchens in Shantivan Complex. One day, Munniben had everything prepared from Dadi's Cottage Kitchen, which was lovely. It's been an expression of love of the brothers that they want to make special items for Dadi, and this is then shared with the whole group that comes for Bhog.
Each day, Rukmaniben has been bringing back a message from Baba, and these are being compiled by Rajubhai in Hindi, and it will of course be translated and sent out in a few days. It's clear that Dadi is very happy to be with Baba in the Subtle Region; she is always smiling, and sending all of us a lot of love. Each day, we've had the Dadis come and join us, and also our senior brothers, so it's been a very beautiful family gathering. Of course, with social distancing, and attention on numbers some sit in Dadi's Sitting Room, others in the Waiting Room, some in Baba's Room, and then some come for Yoga after the group leaves.
In the evenings, we again have tapasya from 6.30-7.30pm, and it's a very powerful, beautiful atmosphere filled with silence and love.
8 April will be the last such offering in Shakti Bhawan, and then there will be the big Bhog Offering on Thursday morning.
OM SHANTI

Online Live Meditation Courses (Hindi & English)
6 April 2020
Brahma Kumaris presents a 7 Day LIVE meditation session (in English)
"An Inner Journey" with Senior Rajyoga teacher Sister BK Jayanti
Date & Time : 6 to 12 April, every evening 6:30 pm IST
Tune in to below link at the given time:
www.facebook.com/brahmakumaris/live
www.youtube.com/brahmakumaris/live
******************************************************
ब्रह्माकुमारीज प्रस्तुत 7 दिवसीय सहज राजयोग मेडिटेशन सत्र (हिंदी भाषा में)
"राजयोग - एक आंतरिक यात्रा" वरिष्ठ राजयोग शिक्षिका बी. के. गीता दीदी के साथ
दिनांक : 6 अप्रैल से 12 अप्रैल, रोजाना भारतीय समय सुबह 10:30 बजे
प्रतिदिन तय समय पर नीचे दिए गये लिंक पर देखें
www.facebook.com/brahmakumaris/live
www.youtube.com/brahmakumaris/live
Social Media Team
Shantivan, Abu Road, Rajasthan - 307510

Message from BapDada for Dadi Janki (and Hansaben) via Mohiniben
25 March 2020
21st March 2020 Om shanti
Message from Mohiniben (New York) from BapDada for Dadi Janki
Om shanti. Hansaben, Baba's very beloved, tireless server, Sister, when you phoned me, I sat with Baba and Baba especially said to you: Look, see Dadi in the light of an angel. When you touch her, then it is very soft. When you look at her, see her as a beautiful angel. See yourself as an angel too. Baba also remembered Devi and said: If you do this, then with this light, you will receive a lot of might and power (shakti). Now, create a relationship of one angel with another. Baba gave you (Hansa) a very loving hug and said: You are serving with a very honest heart. Look, Dadi's body is now delicate, but if you look at Dadi as an angel, then Dadi will receive a new kind of energy. And Dadi will meet all of you in her angelic form and play whatever part she has to play. Baba said: Look, two scenes are being enacted in the whole world. On one side, the Brahmin family is having yoga-tapasya. You sent everyone a message and everyone is having that powerful yoga for Dadi. Secondly, seeing the condition of the world, all of Baba's children everywhere are having yoga-tapasya. Baba said: Understand the significance of this, of how yoga-tapasya is taking place, not just for Dadi, but for the whole world, and according to the current condition of the world, everyone is doing a lot of tapasya. Baba said: These are the two scenes currently, but everyone is engaged in these two types of service with patience and determination. Your service will definitely be fruitful and Dadi will get well. Om shanti.

Loving greetings to Hansaben from Mohiniben (New York)
Hansaben, really from my heart, I am giving you a loving hug and I feel all of us are with you at every moment. Devi is fully co-operative with you. You just remain carefree. You have already surrendered all the service you do to Baba anyway. We know that Dadi has now been brought to Global Hospital. Hearing this, I felt very good, that when any thought reaches Baba, then Baba definitely helps. I hope all of you are well in Global Hospital in every way. Lots of love and remembrance to all of you, for Dadi, yourself, Devi, and Jayantiben. All of us angels are with you in every way. Please give lots of love and remembrances to all the serviceable brothers – Ketan, Kumar, Deepak and others who are with you from Baba and from all of us.

Lots of love
B.K. Mohinben (New York)
Click here for Audio message 1
Click here for Audio message 2

News from Jayantiben in Gyan Sarovar: 24 March
25 March 2020
The scene this morning in Gyan Sarovar was an interesting one: all the Gyan Sarovar brothers have taken up responsibility of cleaning up different sections of Gyan Sarovar, since the labourers and maids who have been coming from outside to help with the work are not going to be allowed to enter for the next 10 days or more (due to lock-down in Rajasthan), so teams have been created for the various areas.
The Russian group that hasn't been able to leave Gyan Sarovar for Delhi, and are likely to be here till the trains and flights start running, have also taken up the responsibility of cleaning the Dining Halls; some Russian sisters are taking care of the main areas of Dadis' Cottage.
Dadi Janki is very gently recovering and it's been lovely to see her become more and more alert. Everyone's loving good wishes are definitely working.
There is a lot of tapasya going on individually and also in small groups.
OM SHANTI

Latest News from Jayantiben in Gyan Sarovar: 23 Mar
25 March 2020
Dadi Janki's health is definitely improving; she is having a lot of physiotherapy, and her medications are being gradually reduced since the infection has truly gone now. There is a lot of nourishment being given. However, at her age, it's to be expected that the repair of the body is going to take a little while, and it's happening very, very slowly. With everyone's love and good wishes she is moving forward. Please continue to send your loving thoughts in Baba's yaad.
Madhuban has had to vacate more than 160 Double Foreigners, and according to drama and with Baba's help, it happened just before Rajasthan went into a state of lock-down on 22 March. Shashiben, Dr Pratapbhai, Sister Gopi (London), Sister Urvashi (London) and others have been working tirelessly to have everything done as smooth as possible.
Most of the world seems to be heading towards lock-down or perhaps is already there.
All good wishes,
OM SHANTI

Message from BK Nirwair RE Dadi Janki on 21 March
25 March 2020
To our beloved spiritual family in Bharat and all foreign lands, Please accept hearty Godly love and remembrances from Madhuban.
It gives me joy to share with you the gentle progress that is taking place with beloved Dadi Jankiji's chariot, as she recuperates in Global Hospital, Mount Abu.
I spent about half an hour with Dadiji this morning (21 March). It was a sweet feeling to hold her hand, while she interacted very lovingly. Dadiji was alert throughout our time together.
Physiotherapy sessions four times a day appear to be helping Dadiji's chariot a lot, and her doctors are hopeful that she will be able to sit up in a day or so.
Hansaben, Jayantiben, Dr Pratapbhai, Dr Sachinbhai and the medical staff are taking complete care of Dadiji's needs. This progress happening in Baba's very own Global Hospital makes us feel positive that Dadiji's strength will continue to increase; we look forward to seeing her walking soon!
I think Dadiji feels very comfortable being surrounded by Baba's children, and Dadiji's vibrations are continually spreading all over too. This is surely the result of BapDada's power, and the cooperation of our sisters and brothers across the globe, who are dedicating valuable time in meditation towards Dadiji's well-being. We trust this will continue till beloved Dadiji bounces back to her normal good health.
We cannot forget the unconditional attention and efforts of Dadiji's Ahmedabad doctors, Dr Sudhir Shah and Dr Dumbra and their teams. Dadiji's rest and recovery continues in Global Hospital.
With all of Baba's love,
BK Nirwair
Madhuban

News from Jayantiben in Gyan Sarovar: 20 Mar - Dadi Returns to Mt Abu!
25 March 2020
Greetings of love to the family!
Dadi Janki returned safely to Mount Abu on 19 March evening. We left straight from Sterling Hospital, Ahmedabad, to come to Global Hospital. It was a whole convoy with the Ambulance leading the way, and several vehicles following behind. Dadi is now comfortable and stable, but still quite fragile, and so please continue to send your yoga vibrations in Baba's remembrance to support her journey.
Many thanks,
OM SHANTI

What to do to stop spreading Corona virus
16 March 2020
Om Shanti,
Respected Nirwair Bhai and Brijmohanbhai, Also to all divine family,
Thank you for your timely decision regarding Baba Milan.
As we are all aware that the country is now heading towards Stage 3 of the virus spread. At this time the most crucial factor is not to have gatherings, small or big. Schools, Colleges, Theatres, Malls have been closed. Scientists and Doctors suggest only one method to stop the spread and that is no gatherings.
I suggest that for the next 15 days, we should have murli classes online. We will have murli on Awakening channel, Peace of Mind Channel. Apart from that every main centre sister can have murli class for the students on Skype or Zoom. The media and IT wing will take responsibility to arrange this for every centre who would like to do so.
In USA, UK and other countries, this has been the normal way of conducting murli for many years.
Family members of BKs are not happy about their family members being at the centre in a gathering.
Baba has prepared us that there will be times where there will be no seva and we will not be able to go to murli class.
Sharing below the figures of how it multiplied in other countries and the risk for India, as shared by a doctor. Also sharing a link of an article by a scientist.
https://science.thewire.in/health/italy-new-coronavirus-covid-19-lockdown-exponential-transmission/
New York
wk 1 - 2
wk 2 - 105
wk 3 - 613
France
wk 1 - 12
wk 2 - 191
wk 3 - 653
wk 4 - 4499
Iran
wk 1 - 2
wk 2 - 43
wk 3 - 245
wk 4 - 4747
wk 5 - 12729
Italy
wk 1 - 3
wk 2 - 152
wk 3 - 1036
wk 4 - 6362
wk 5 - 21157
India
Week 1 - 3
Week 2 - 24
Week 3 - 105
Next two weeks are crucial for India.
If we take adequate precaution and break the chain then we can tide the Corona virus Outbreak else we have a big problem in hand especially for the elderly population. So far so good. India has done well so far in its fight to contain Corona Virus. Now we are in stage 3 in which Virus spreads through social contacts & in social gatherings. This is most critical stage & number of confirmed cases spread exponentially everyday like what happened in Italy between last week of February & second week of March. From 300 to 10,000. If India is not able to manage this stage for next 3 to 4 weeks then we could have confirmed cases not in Thousands but in Lakhs. This next one month is crucial. That is why most events & public gatherings have been closed till 15th April.

Maha Shiv Jayanti Greetings from Nirwair Bhai (Madhuban)
16 March 2020
To the fortunate children of the One Supreme Father & Mother, Shiv Baba, and beloved Brahma Baba,
Our instrument BK Teachers and Sisters and Brothers of the divine BK family,
On the glorious occasion of Maha Shiv Ratri Celebrations at Pandav Bhawan and the Spiritual Museum on 17 February 2020, as we honour the 84th year of reincarnation of our most beloved Supreme Father and rising of Brahma Baba, I have the honour of conveying multimillion fold congratulations to our sisters and brothers from all 5000+ Centres in Bharat and the beautiful spectrum of countries across the globe.
As I write this from my Office in Pandav Bhawan, my heart is filled with warm, loving feelings on seeing so many members of the divine family, whether they are the responsible Zonal Incharges or Regional Coordinators, National Coordinators or other Senior Instruments, and Baba's loved Mothers, Sisters and Kumars who were present in Pandav Bhawan to hoist the Maha Shiv Jayanti flag.
How I wish the whole world could see this congregation of God's family which proves practically how God is One, and the divine creation is One no matter where they may reside around the world. We feel so very proud to be part of this family, which is responsible for transforming the iron-aged world to the golden-aged Paradise through the power of the Highest Wisdom, and the Art of Rajyoga Meditation as taught by none else than God Himself through the unique medium of Pitashri (Father) Brahma Baba.
May everyone rejoice this festival as the most blessed reincarnation of Supreme Father, as well as celebration of your own alokik birthday!
Wishing you a very, very, very Happy Maha Shivratri!
With Baba's love,
BK Nirwair

Holi Greetings from Bro. BK Mruthyunjaya, Madhuban
9 March 2020
Dear Divine Family
Please accept Hearty Greetings of Love and Peace.
Let us color ourselves in the Godly remembrance of Supreme Being, share divine Love with all and invoke the New World of True Happiness and Harmony.
Happy Holi to all!
With love and Regards,
Your Spiritual Brother
Dr BK Mruthyunjaya

'Godlywood News n' Views' March 2020 edition!
8 March 2020
Dear Brothers and Sisters, Om Shanti.
The 'Godlywood News n' Views' March 2020 Edition is out! This is a humble attempt to give you a flavour of our thought process as we try to tell the incredible story of God's work on earth, and I am extremely pleased to place this into your hands.
'Naad-The soul version' is just released and you can find the details in this issue. Read the inspiring story of Prof. Ved Pratap Vaidik, the spiritual journey of BK Sarla and please find other usual columns. Godlywood Studio is striving for excellence and with all of your support and good wishes we are sure to fulfil our aim of taking the Godly nectar to every aspirant on the planet!
Happy reading!
With Warm Regards,
BK Harilal
Executive Director
Godlywood Studio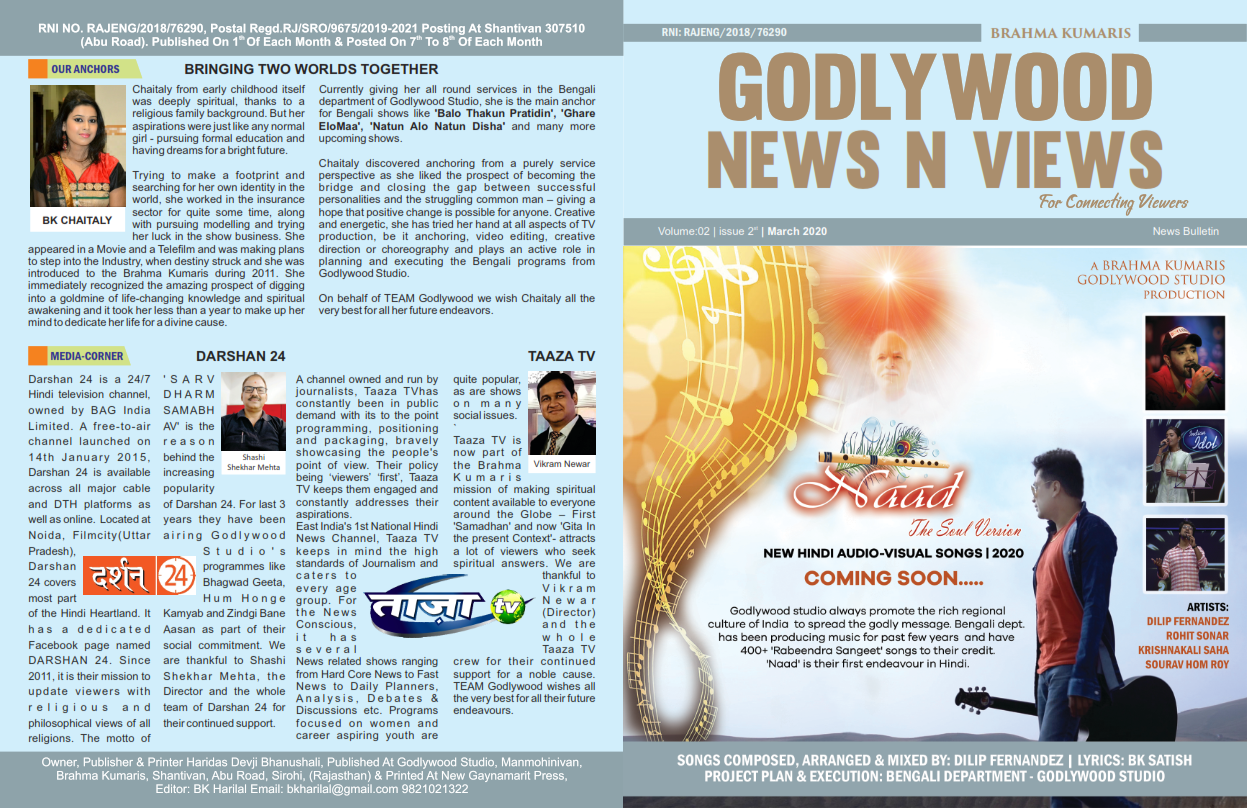 Click here for full report.

In Photos: Shiv jayanti Flaghosting Shantivan
4 March 2020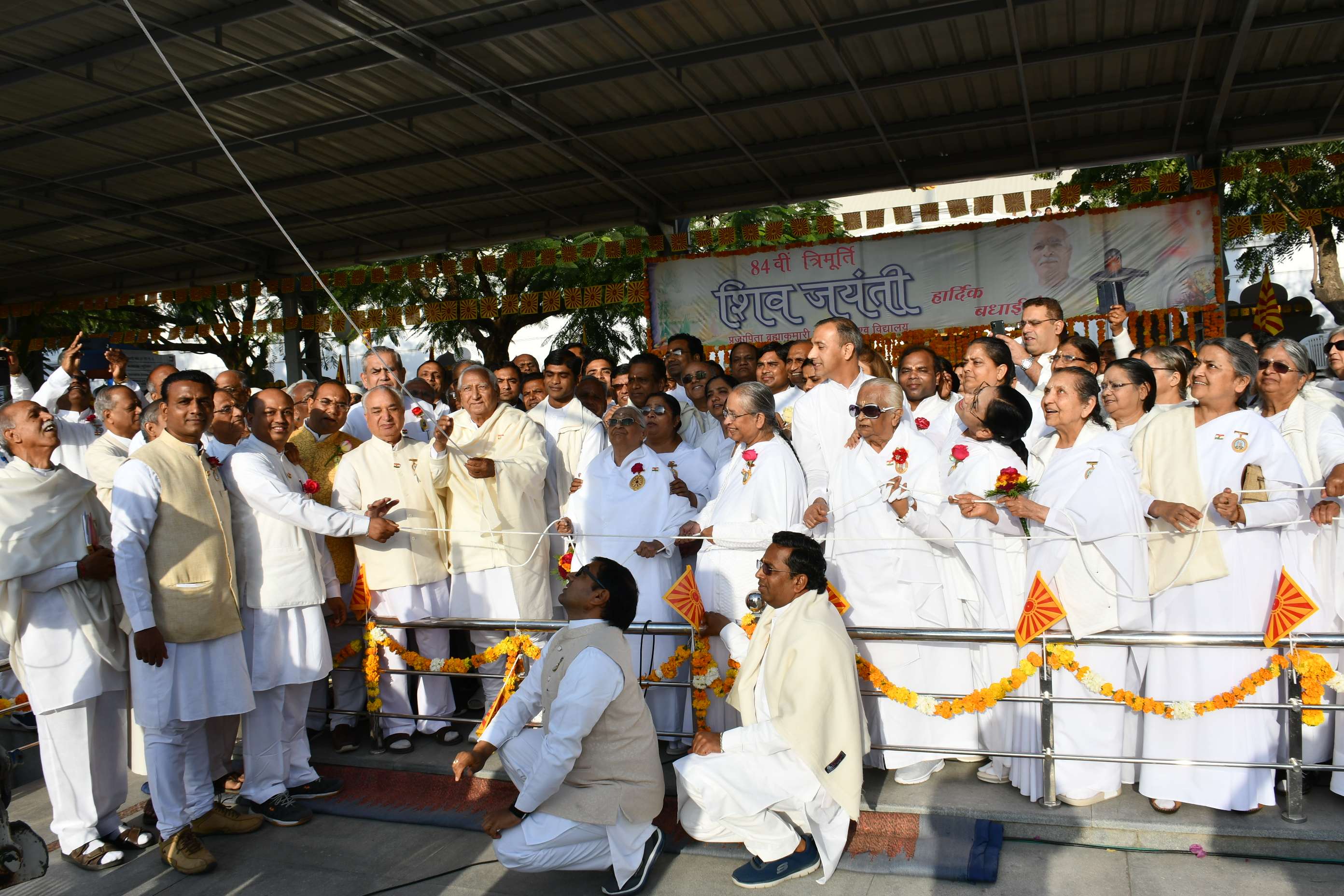 In Photos: Avyakt Milan & Shiv Jayanti in Diamond Hall
4 March 2020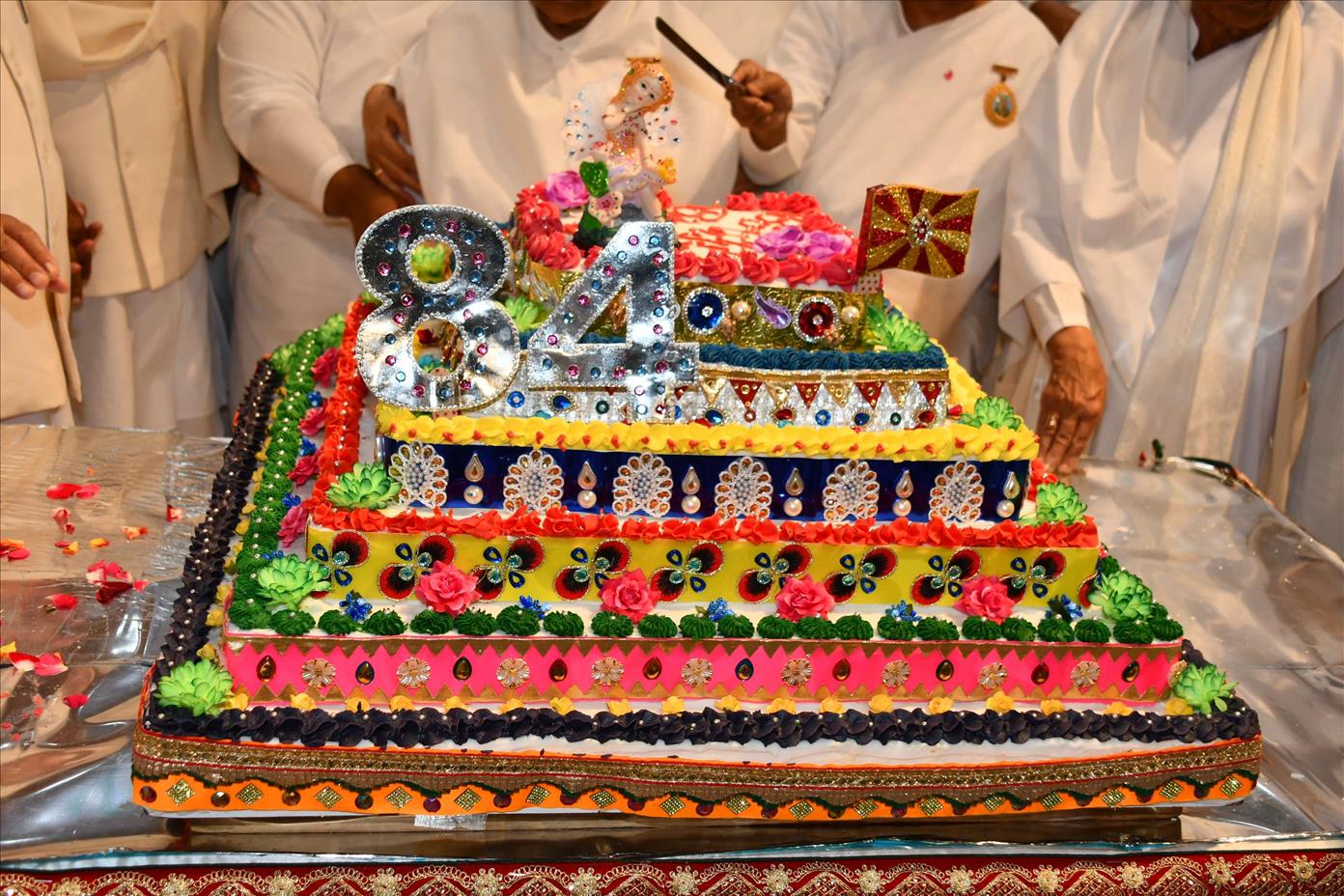 In Photos: Shiv Jayanti, Pandav Bhawan
20 February 2020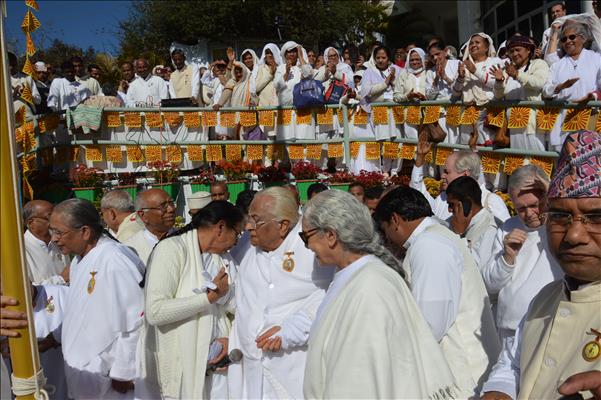 Personal Contact Programme at MMV & Shantivan
12 February 2020
Dear Divine Family,
Personal Contact Programme 2020 is running at MMV & Shantivan Campus from 5th to 18th February, 2020. 400 students in total from across the country are participating in this programme. The photos of PCP programme are included herewith for your reference.
Thanking You,
Dr. BK Mruthyunjaya
Chairman, Education Wing

News from Jayantiben in Gyan Sarovar: 11 February 2020
11 February 2020
On 9th evening, I was able to meet with Mohiniben of New York, who had just arrived in Shantivan from Delhi, and welcomed her to Madhuban.
On 10th morning, I left at 5.30am from Shantivan to go to Ahmedabad, Memnagar Centre, and then met with Dadi Janki. One of the doctors came to see her while I was there, and suggested that Dadi needed to be in the hospital for a couple more days. Dadi of course is wanting to come back to Shantivan as soon as possible, but it's beautiful that Hansaben is able to get a recording from Dadi nearly every day in which Dadi shares her thoughts and inspirations.
I returned to Gyan Sarovar on 9th afternoon, and in the evening we had a Welcome Programme for the Double Foreigner group that has arrived. There are large groups from Vietnam, Thailand, and Brazil and smaller groups from other countries. Larger numbers are expected in the next few days.
On 11th morning, I was in Gyan Sarovar for Murli Class, and the official programme for the DFs has started now.
Chandruben from USA arrived on the 8th, and joined the Panel for the DF Welcome Programme with Meeraben and myself.
OM SHANTI

News from Jayantiben in Gyan Sarovar: 6 February 2020
6 February 2020
On the 4th, I left London to come to Ahmedabad and then Madhuban, and prior to that it was busy in London with several meetings with individuals and groups.
I met Dadi Janki in Memnagar Centre on the 5th. Dr Bhalla came to visit her, and after his treatment (for the intestine obstruction) she felt more comfortable. When I left for Madhuban, Dadi was looking fine.
On 6th morning, I went to Pandav Bhawan to read Murli, and visit Baba's room which was really lovely.
It's very cold on the Mount, and it's difficult to predict how long the cold weather will last but certainly anyone coming through till mid-February should bring all their warm gear.
OM SHANTI

In Photos: Dec 31st Avakt Meeting & New Year Celebration
22 January 2020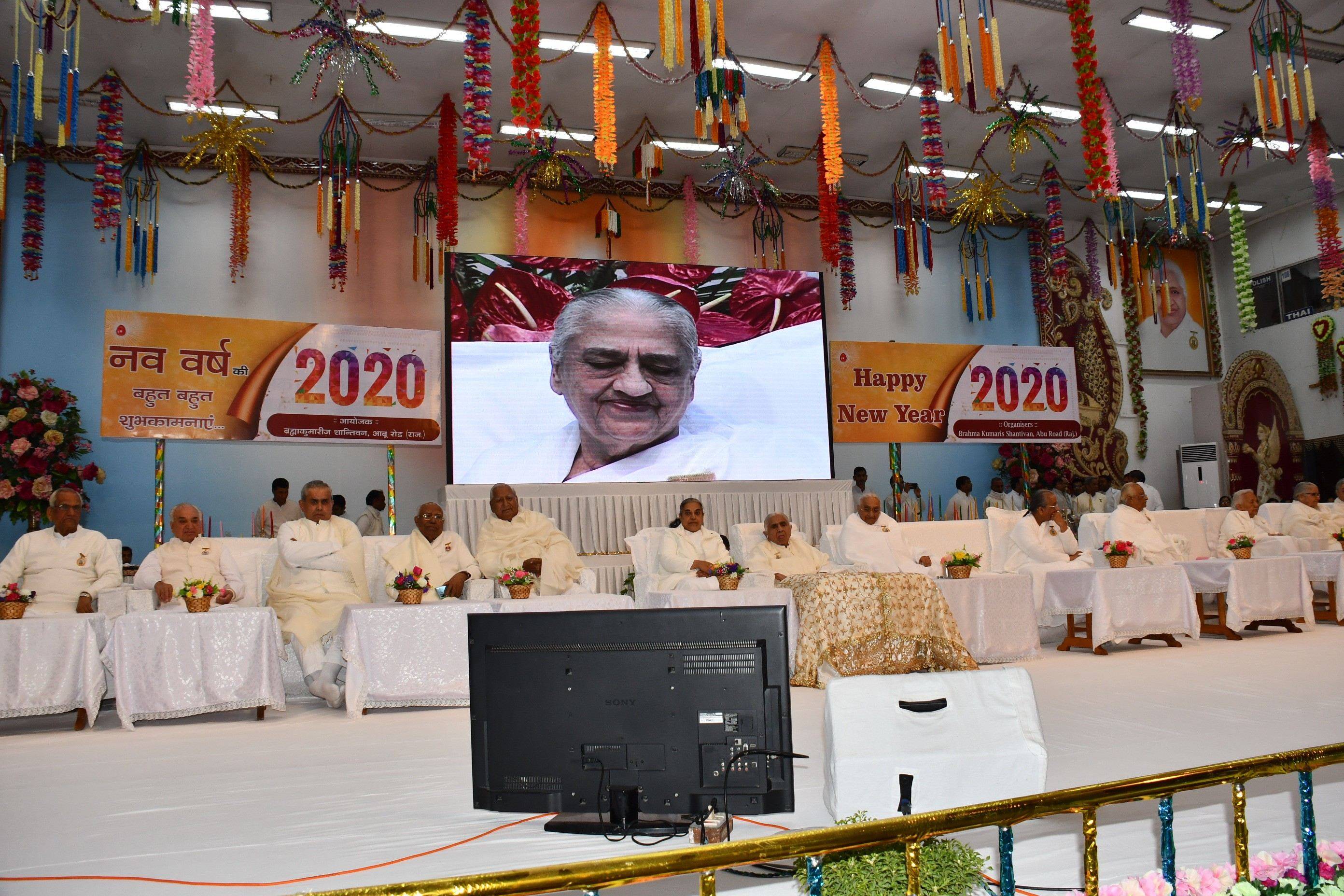 News of the International Children's Retreat - The Royal Swan (25-30 Dec. 2019)
22 January 2020
Click here to download full report.

In Photos: Smriti Divas Madhuban 18th
Jan 2020
22 January 2020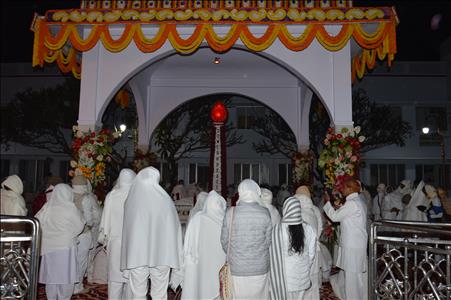 Celebration of BK Karuna Bhai's 80th Birthday at Tapovan
14 January 2020
Divine Family
The 80th Birthday of Rajyogi BK Karuna Bhai, Chairman, Media Wing – RERF, Chief of Multimedia and Member, Management Board, Brahma Kumaris HQ, Mount Abu was celebrated with great joy and fervour at Tapovan, Shantivan today. Hundreds of Brahma Kumaris Sisters and Brothers from India and Overseas attended the celebration and wished him longevity.
Dadi Ishu, Joint Chief of Brahma Kumaris, Brother Nirwair, Secretary-General of Brahma Kumaris, Br Amirchand, Br Mohan Singhal, Br Bharat, Br Avtar, and many other senior brothers and sisters congratulated him on his 80th Birth Anniversary and joined the cake cutting ceremony.The brothers and sisters from various places in India presented their cultural performances followed by Brahma Bhojan.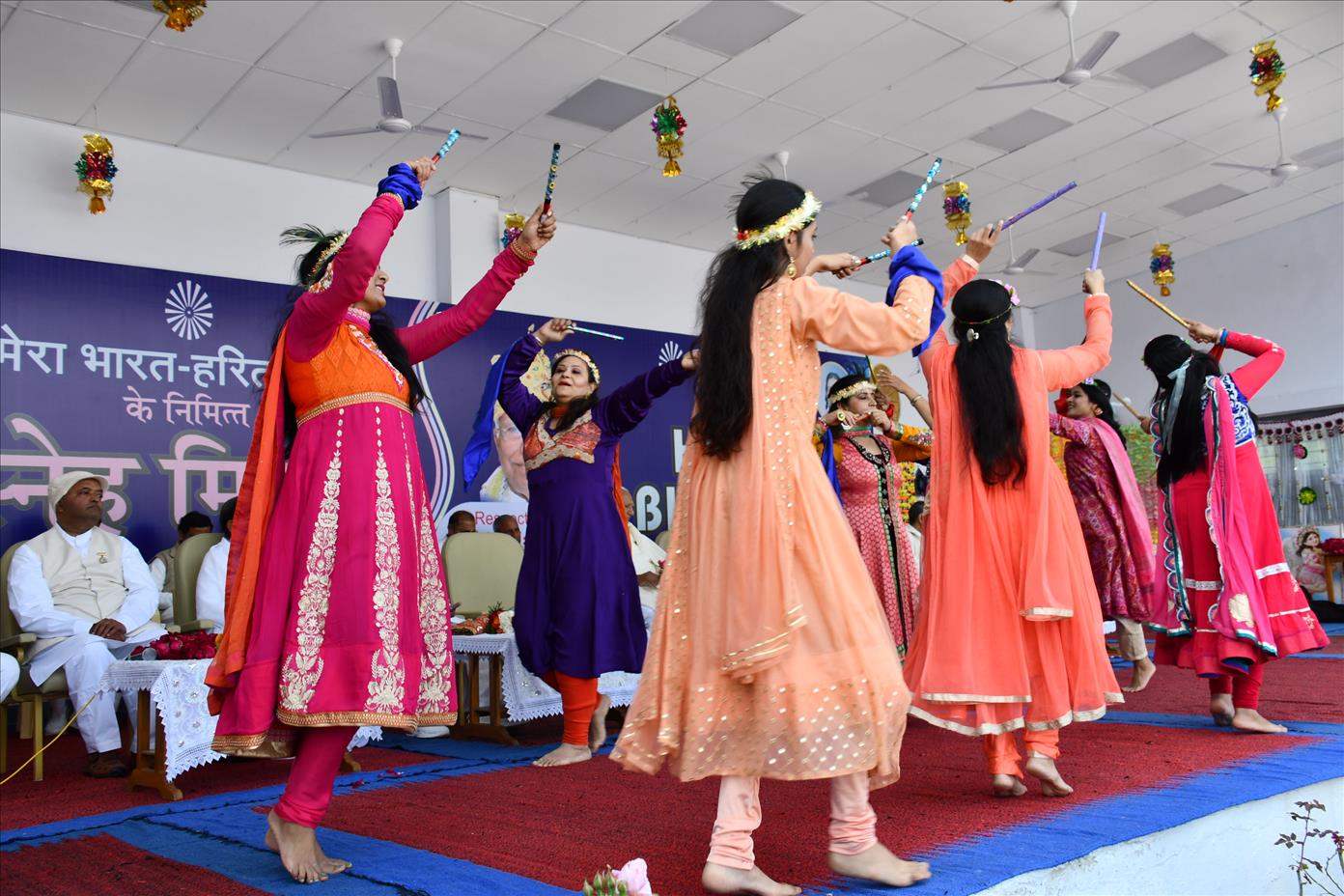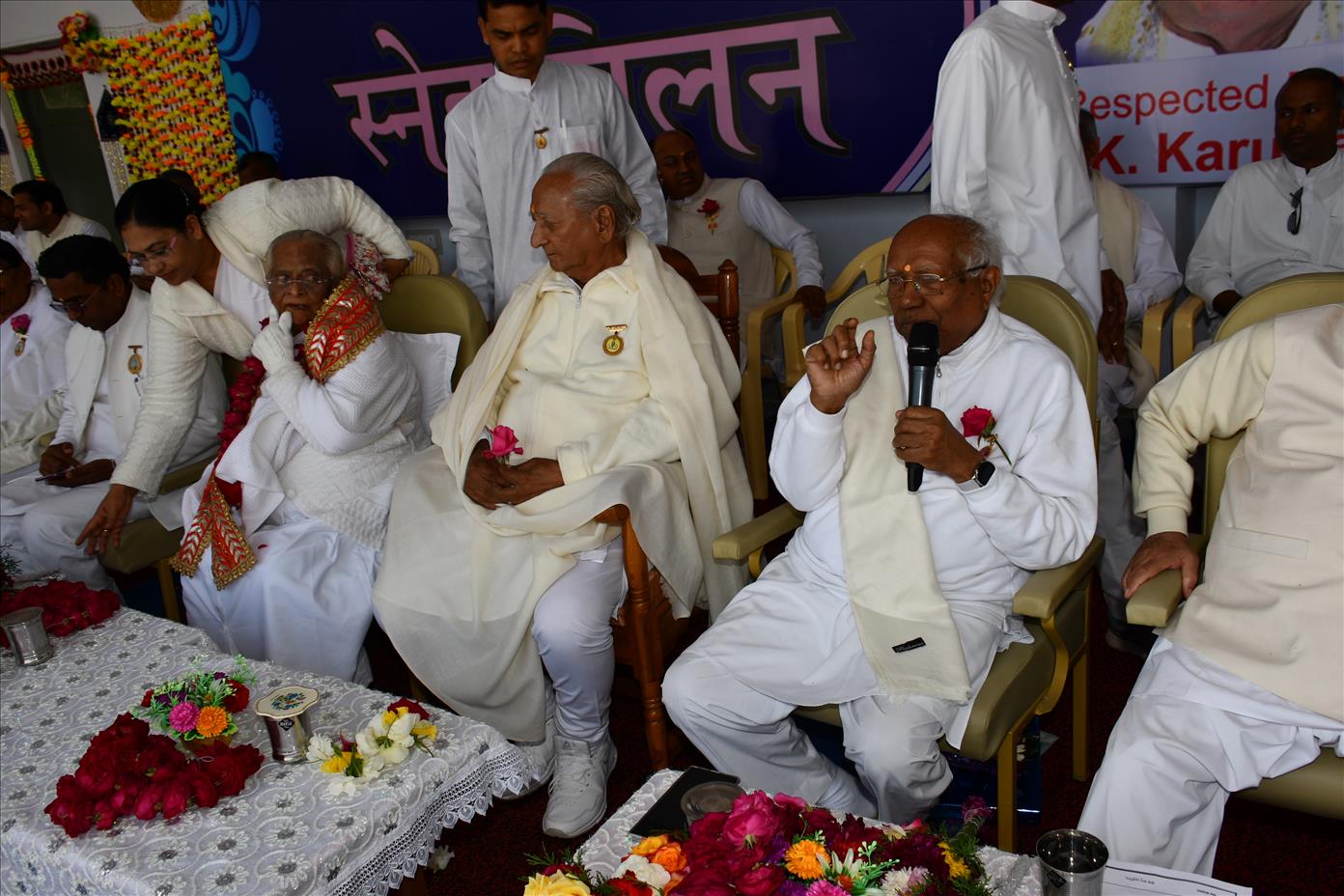 Celebration of the 104th Birth Anniversary of Dadi Janki, Chief of Brahma Kumaris
14 January 2020
Divine Family,
The 104th Birth Anniversary of Rajyogini Dr. Dadi Janki, Global Chief of Brahma Kumaris World Spiritual Organisation, Mount Abu has been celebrated with great rejoicing at Brahma Kumaris World Headquarters, Diamond Hall, Shantivan on New Year's day.
A huge gathering of twenty thousand BK Sisters and Brothers from India and overseas countries attended the celebration and wished her longevity. Giving thanks to the assembly, Dadi Janki said, "I am proud that I have reached this stage after completing the journey of 104 years. I am sustained today by all your prayers and blessings and by the strength of God Shiva. I have taken so many trips in the last year but I never feel it. I came to Baba when I was 21. Today many millions of people are trying to change themselves and change society. May the devilish tendencies infecting all people be eliminated from this world and may the kingdom of God come again. Let us run a campaign for this."
Rajyogini Dadi Ratanmohini, Joint Chief of Brahma Kumaris, Dadi Ishu, Joint Chief of Brahma Kumaris, Br Nirwair, Secretary-General of Brahma Kumaris, Br Karuna, Multimedia Chief, Munni Didi, Program Manager of the Brahma Kumaris, Santosh Did, Br Amirchand, and many other senior brothers and sisters congratulated Dadi and joined the candle lighting and cake cutting ceremony.
Rajyogini Dadi Ratan Mohini said that Dadi's life is an example for all people, but especially for women. Dadi's power achieved through Raja Yoga meditation and spirituality has proven that humans can conquer nature. Br Nirwair, General Secretary of the Brahma Kumaris, said that the blessing of a hundred years for Dadi has been surpassed. Now it is a prayer that Dadi should live a long, healthy life and inspire all to establish a better society. Br Karuna said that the Dadi's longevity shows that a person develops the riches of a great personality when one is positive and spiritual.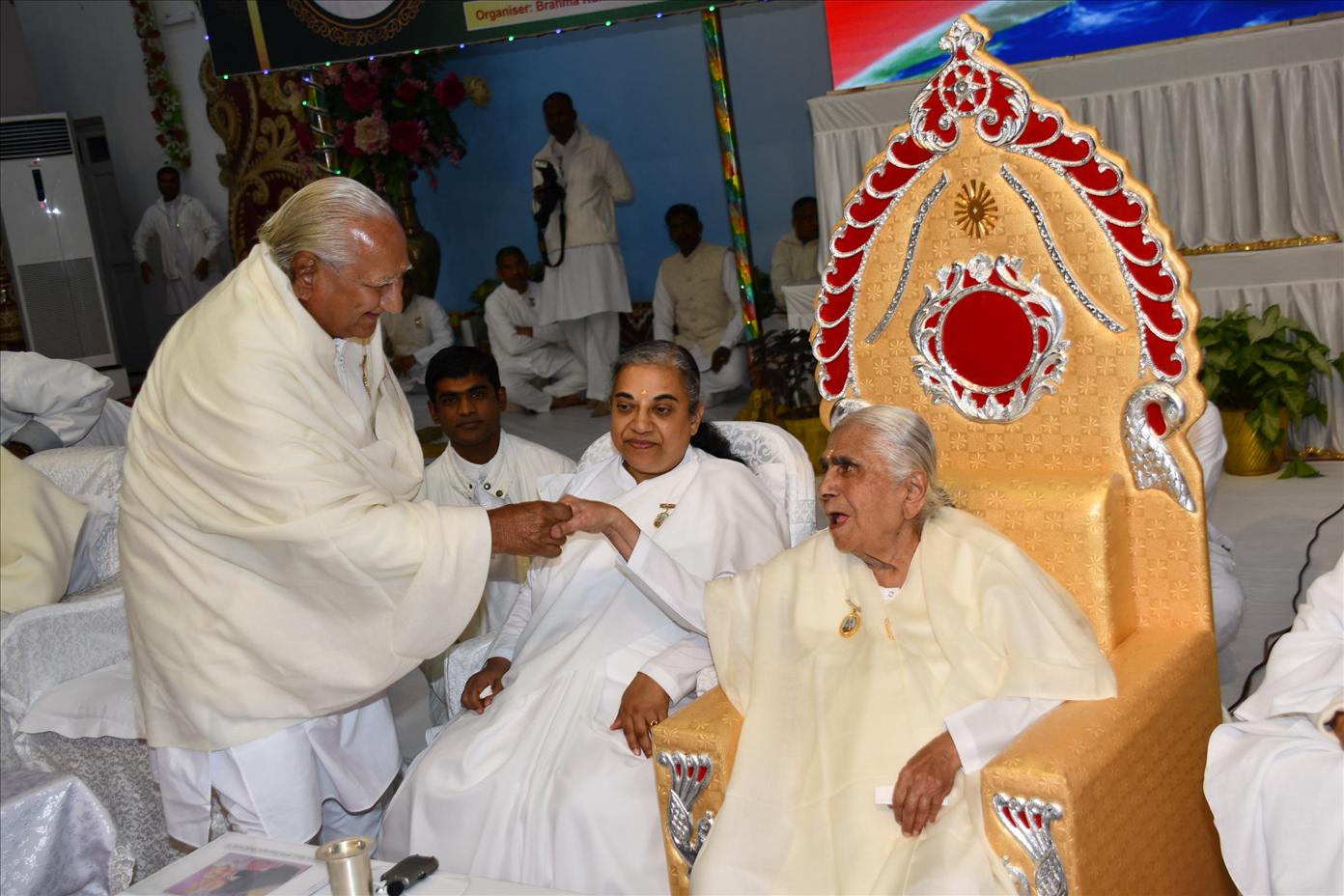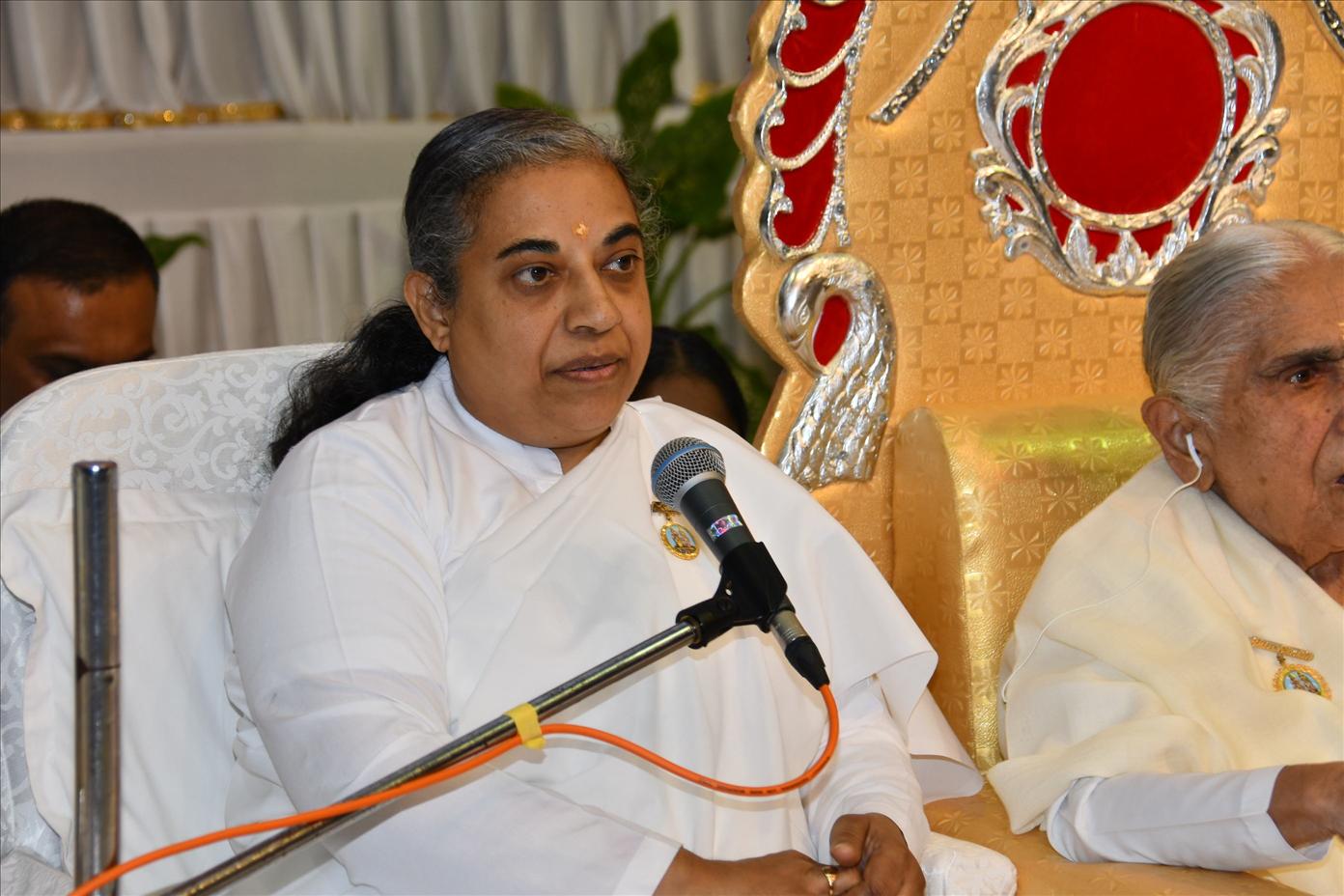 Mt Abu- President of India Inaugurates 2-day National Women Convention at Brahma Kumaris HQ
12 January 2020
Abu Road (RJ): With a candle lighting, His Excellency Ram Nath Kovind, the President of India, inaugurated the 2-day National Convention on "Empowerment of Women for Social Transformation" at the Brahma Kumaris World Headquarters in Abu Road, Near Mount Abu. Rajasthan State Governor Kalraj Mishra, Rajasthan State Energy Minister BD Kalla, and First Lady Savita Kovind also graced the occasion.
Honorable President of India Ramnath Kovind in his address said that he is greatly pleased to have come to an organization that is actively involved in transforming humanity for the better. Today, everyone searches for peace and tries to find it from outside things. Spirituality is the highest and best way to peace. The spiritual path leads us to good and moral conduct effortlessly. It is the culmination of all religious paths. He agreed with Dadi Janki's view that we are all children of the same Supreme Soul.
Mr. President said that the Brahma Kumaris Organization is a stellar example of women empowerment in front of the world. Brahma Baba, the founder of this organization, made jewels out of many women with his spiritual principles. The Honorable President gave the title of "Jewels" to all Brahma Kumaris sisters. He appreciated Dadi Janki's service to humanity and also her role as the Brand Ambassador of Swachh Bharat Abhiyan. He also referred to the efficacy of Rajyoga Meditation, as it has successfully transformed so many people. He also mentioned the appreciable services of BK Sister Shivani.
The Honorable President said that women's issues are fairly highlighted today by organizations like the Brahma Kumaris, as it is the largest spiritual organization being run by women in the world today. Using spirituality as the means of women empowerment shows the far-sighted approach of this place. Empowering women empowers the whole society. Sensitizing society towards women is everyone's responsibility. It is highly appreciable that the Brahma Kumaris are working actively to support the Sustainable Development Goals of the United Nations and also for Climate Change awareness. The Brahma Kumaris network is an asset to our society. Their community dining is very efficacious and famous as it brings harmony and equality in society. This organization is an apt example of how to use women's power constructively.
He further said that the theme of this national conference is very relevant. Brahma Kumaris is carrying out the empowerment of women for social change in the true sense. He emphasized that a society based on equality and harmony could only be possible by empowering women. He said that women's safety is a very serious issue. A lot of work has been done on this subject but much remains to be done. The incidents of demonic attacks on girls shake the conscience of the country. It is the responsibility of every parent to instill among boys the feeling of respect for women.
Dadi Janki, Chief of the Brahma Kumaris, while addressing the gathering said, Truth, Cleanliness, and Simplicity are needed. Honesty in the Heart, Cleanliness in activities gives power. Have courage and you will receive help from the Supreme Father. She underlined who am I – I am a soul, who do I belong to – everyone belongs to the One Supreme Father, and what I have to do – benefit the world with love, peace, and happiness.
BK Nirwair, Secretary General of the Brahma Kumaris, welcomed all on this special occasion; BK Mruthyunjaya, Executive Secretary of the Brahma Kumaris, felicitated the President; and BK Asha, Director of Om Shanti Retreat center, well-coordinated the whole event.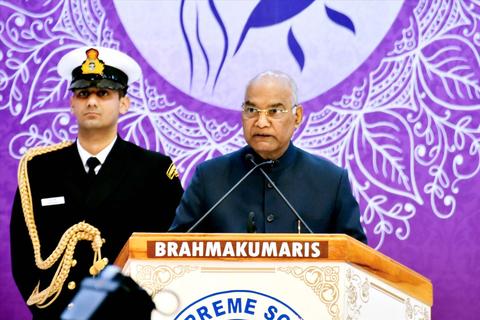 BK Chakradhari, Chairperson of the Women's Wing of the Rajayoga Education and Research Foundation, gave the experience of deep peace and silence through a guided commentary.
Rajayogi BK Brij Mohan, Additional Secretary-General of the Brahma Kumaris; Rajayogi BK Karuna, Multi-Media Head of the Brahma Kumaris; Sister BK Asha, Director of Om Shanti Retreat center and BK Sister Shivani, International Motivational Speaker, were also present at this occasion.
About 6,000 guests, including women leaders from all over the country and abroad, attended this event. The convention aims to focus on challenges women face and help strengthen them physically, emotionally and spiritually.

Invitation to the Spirit of Care Retreat, 7-9 March 2020, Gyan Sarovar
12 January 2020
Reuniting with our pure essence:
The real art of caring
Dear Centre Coordinators, dear all,
The cycle of time is ending, and new beginnings call.
We are coming to completion, and like the conch shell echoing in the distance, we hear the call of time and of our hearts. The call to shake old identities, reunite with our original self and return once more to the pure essence of our being.
To do this we need to remember… remember who we are and the art of caring and kindness: caring for ourselves, others, the world and for nature - our companion.
But how can we keep the balance? How can we find the energy needed for this enquiry, for this journey back to our essence?
The spirit of care is a beautiful, unique retreat that gives us the luxury of time and space for spiritual enquiry. Time to reflect on the journey towards authenticity and freedom.
We invite you to spend 3 days to explore, share and learn as we clear the blocks on our journey forward. We will reconnect with the self and the One, ignite the flames of yoga and create the energy needed to bring us resilience and stamina.
This is time spent in the sacred sanctuary of Madhuban, with yourself and others. Time to create a map that guides us, and leads us to reunite with the purity, strength and beauty of our divine essence…..
REGISTRATION:
Registration is only available ONLINE. Please follow the link: brahmakumaris.org/r/spirit-of-care
Madhuban forms and travel details are to be submitted in the usual way, via the local centres.
If you do not speak English fluently, please make sure with your national coordination teams that there will be someone in Madhuban who can translate for you during the retreat. If you have any questions please contact valeriane.bernard@ch.brahmakumaris.org.
Spirit of Care Retreat March 2020:
6 March : 10.30am Registrations
7 March : from 10.00am Pure essence
8 March : from 9.30am Reuniting
9 March : till 21.30 pm Flying
In Baba's yaad,
Spirit of Care Retreat Team
Click here to download PDF format of the Retreat details.

A First: Divyang Seva at Shantivan 6th & 7th January
10 January 2020
Respected Divine Family. Om Shanti.
A two-day program has been conducted at Shantivan premises for deaf students from Mumbai on 6th & 7th January, 2020 for the first time in Yagya history. BK interpreters from Hyderabad & Nadiad took their classes in Sign Language. Short telefilms (1.Bachhyon ke Baba & 2.Who am I) were displayed & interpreted by BK Interpreters.
Details news and photos attached.
BK Suryamani
Divyang Seva, Social Wing
Brahmakumaris HQ
Shantivan Complex, Abu Road
News in Hindi only [Click here]

New Year Greetings 2020 from Medical Wing
3 January 2020
Dear Divine Family, Heartfelt Greetings for the New Year 2020
Everything about the future is uncertain, but one thing is for sure that Almighty had already planned all our tomorrows, we just have to trust him today, I heartily wish a beautiful tomorrow for you and your family. Happy New Year 2020!
With regards
Dr. Banarsilal Sah
Secretary, Medical Wing

New Year Greetings 2020 - Radio Madhuban
3 January 2020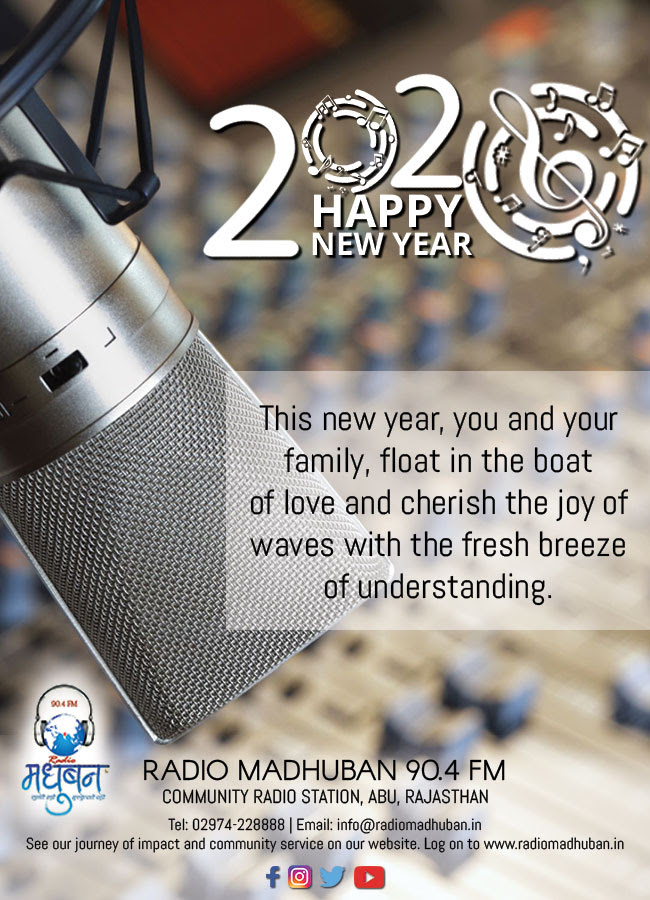 Dadi Ratan Mohini : New Year 2020 Greetings
3 January 2020
Respected Divine Angels,
Please receive the sweet remembrances of Bapdada and Dadi Ratan Mohiniji.