2019 International Day of Yoga Archive
2019 International Day of Yoga Archive
International Day of Yoga & Follow up Events in Hong Kong
8 August 2019
Dear Family , OM SHANTI
The 5th International Day of Yoga was celebrated with zeal and enthusiasm in Hong Kong on Sunday, 23nd June 2019.
Hong Kong Centre participated in 5th International Day of yoga at the Asia Society of Hong Kong. The event was co-hosted by Consulate General of India and Asia Society of Hong Kong. 20 Yoga organizations of Hong Kong participated in the event. The majority of Yoga s were Hatha Yoga and only Raja Yoga Centre, Hong Kong presented a Meditation program in th Cantonese language.
The Centre presented a program titled "Transform Energy with Raja Yoga Meditation". It was presented by BK Kathie Kwok. Sr. Rohini led the meditation commentary whilst BK Susanna Li did the simultaneous translation in Cantonese . About 80 people participated and benefited.
Two follow up programs were organised one at the Indian Consulate Auditorium and another at the Centre: "Creativity & Meditation" on Saturday, 29 June followed by "Healing Energy with Raja Yoga" on Saturday, 6 July. Close to 80 People benefitted at both the follow up programs.
The event was launched with the candle lighting ceremony followed by brief address by three dignatories : Ms. Priya Chauhan, newly appointed Consul General of India, Mr. Lau Kong Wah, Secretary for Home Affairs, Hong Kong, and Mr. Stanley Kong, Head of Programs (Art & Culture), Asia Society Hong Kong.
Dr. Devendra, Indian Consulate In House Yoga Instructor, presented few easy yoga postures and encourage the audience to participate. Easy yoga postures that were very suitable for the young, the aged and people with any kind of disability were demonstrated.
A video message of the Prime Minister of India, Mr. Narendra Modi , was also presented , followed by some group photos.
The Indian Consulate also felicitated all participant organizations with a certificate of Participation in the 5th International Day of Yoga event. This is a new initiative from the Consulate.
Approximately, 1500 people benefited from the event.
BK Rohini
National Coordinator
National Coordinating Office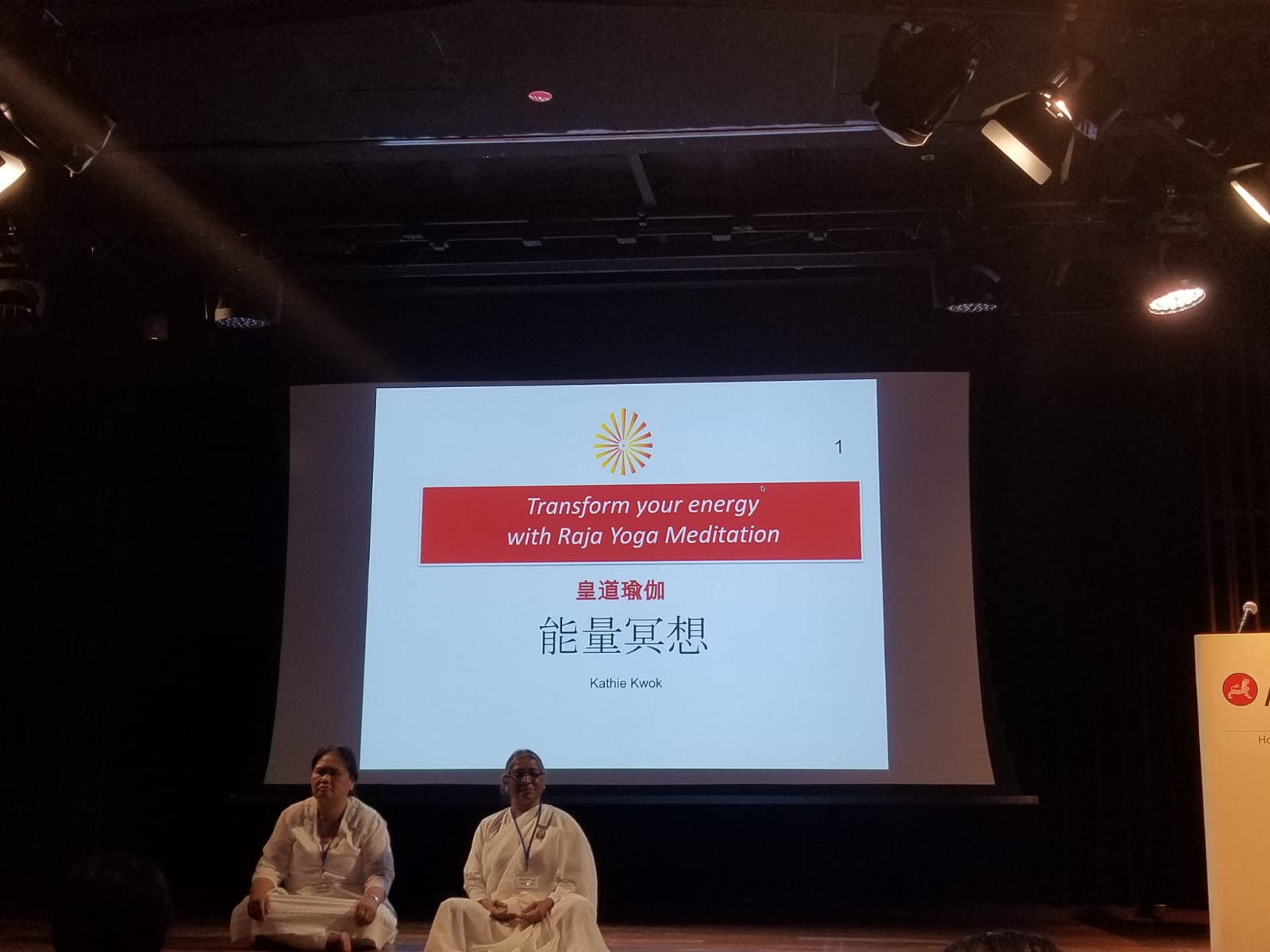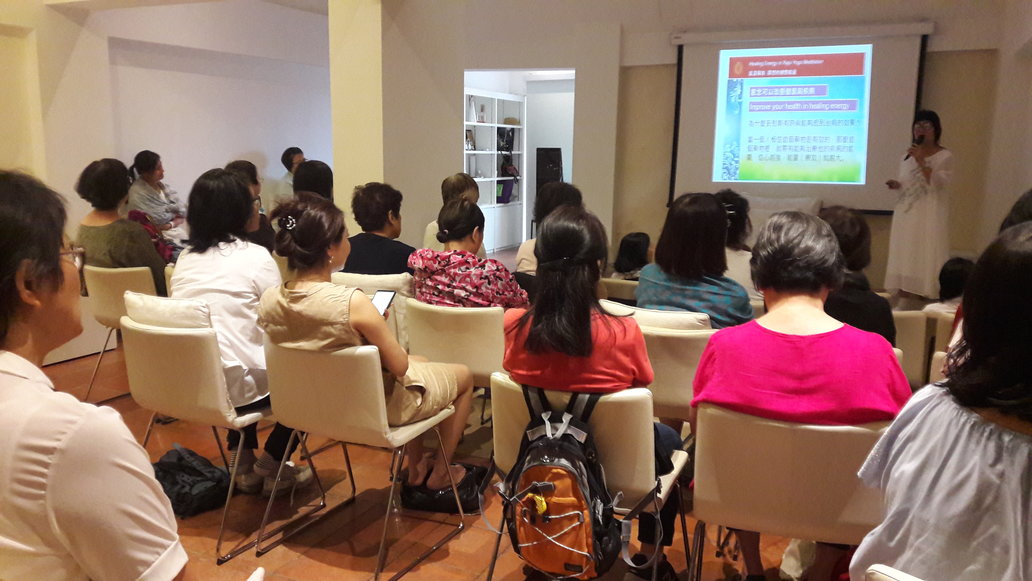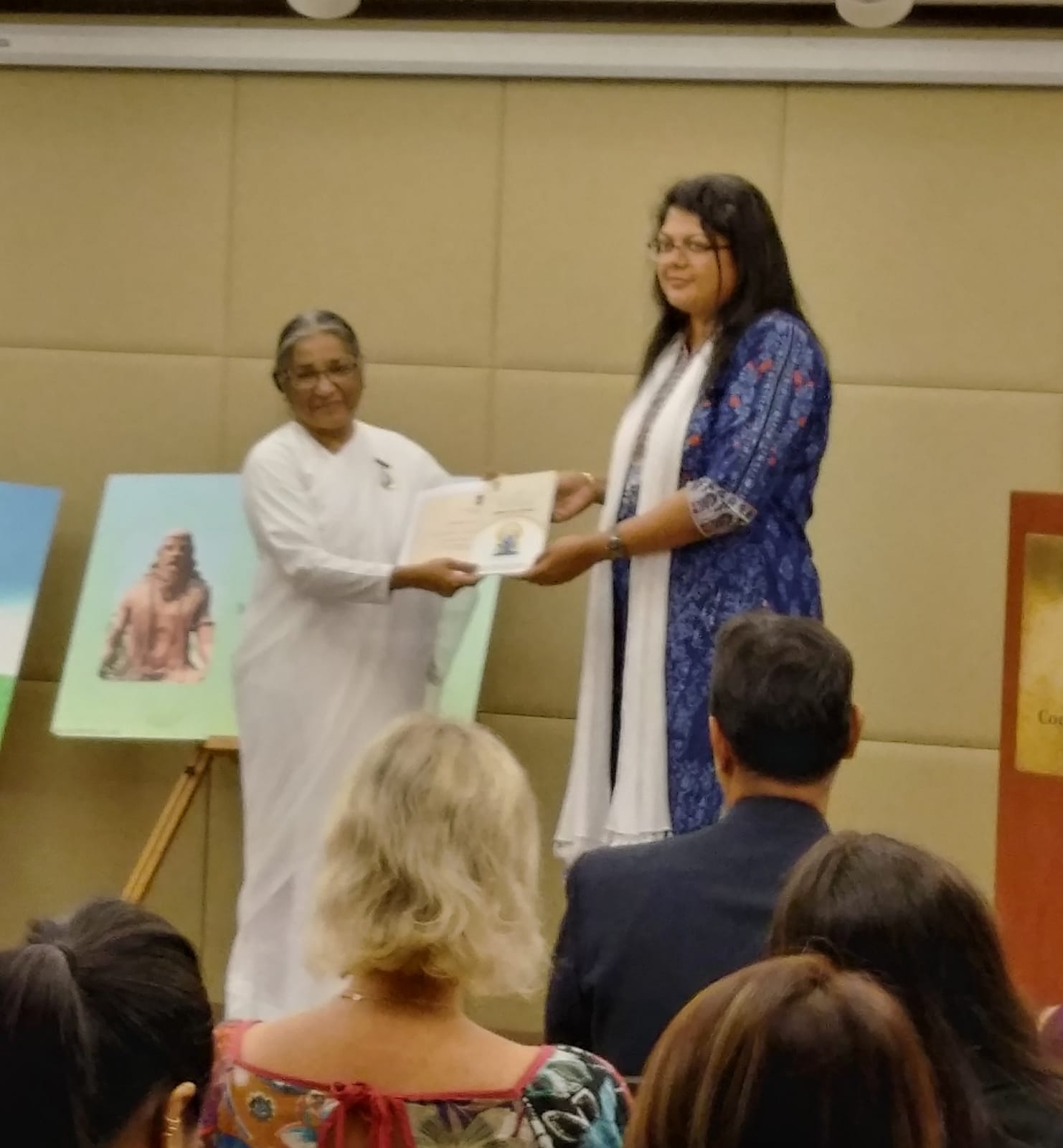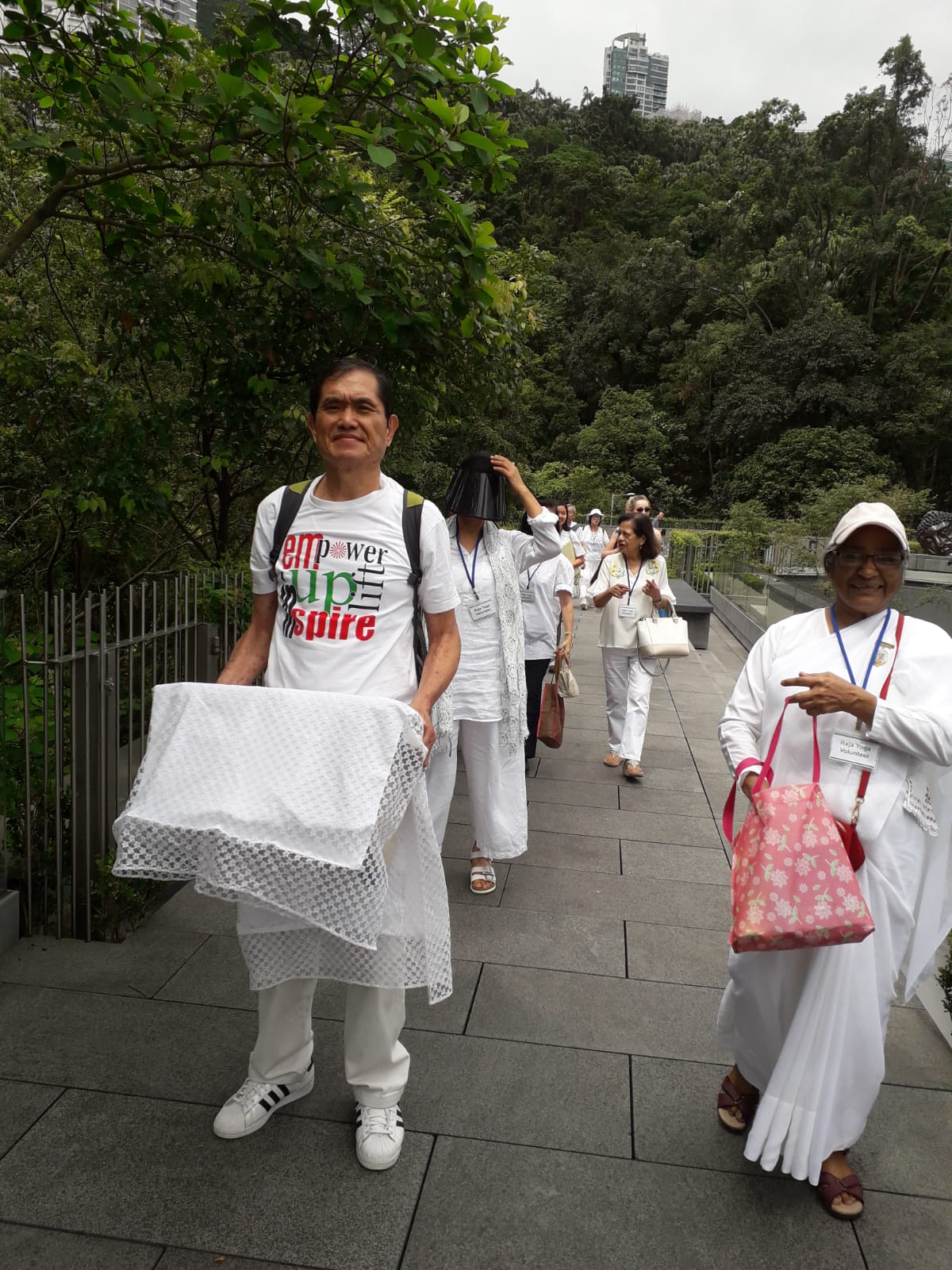 International Yoga Day in South Africa
24 July 2019
The 5th International Day of Yoga was celebrated jointly by the Brahma Kumaris in Johannesburg in partnership with the Indian Consulate in Johannesburg.
The first event was held in Bassonnia, at the Inner Healing Centre where 30 participants gathered on Saturday, 29 June 2019 from 11:00 am. The morning included a talk by Sr Shirley from Lenasia on the value and practice of Raja Yoga leading into a practical session of Hatha Yoga by Maya Bhatt.
On Sunday the 30th about 100 people gathered on the lawns of the Brahma Kumaris centre in Observatory to participate in honoring Yoga Day. The morning began with candle lighting ceremony to symbolically rekindle the awareness of yoga.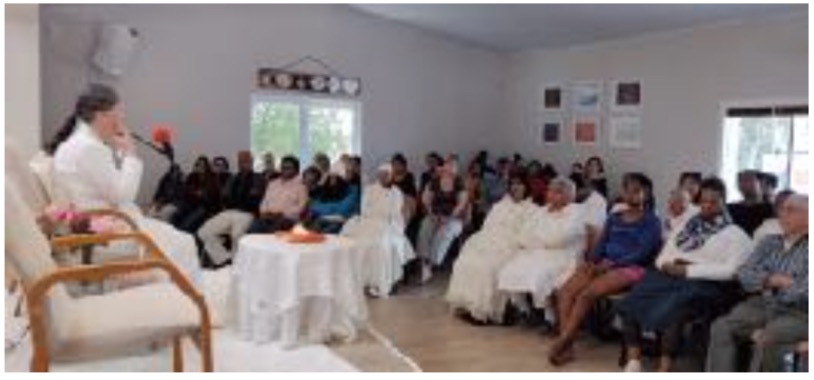 Visiting yogi, Sr Veronica (USA) the importance and the practice of Raja Yoga - the yoga to become a sovereign over the self. She emphasized that ultimately Raja Yoga teaches one to claim mastery over the self by learning to master ones thoughts. Everything begins and ends with our thoughts, and so our journey is a cyclical one of returning to our original stage of being - which is peace, love, bliss, wisdom and joy.
All then engaged in a powerful experience of silence led by a meditation commentary by Sr Dipty.

Everyone then engaged in hatha yoga in the garden... was a delight to see the lawn covered with colorful yoga mats and with everyone having a joyful experience. the youngest participant was a 3 year old little girl and the oldest was a grandfather of over 80 years.

International Yoga Day - Colombia
21 July 2019
Barranquilla
With the participation of 300 people on a sunny day the celebration was held, 8 committed BK's distributed tolis and blessings.
Medellin
In Medellín, together with the Embassy and the Mayor's Office, BK participated in the organization and execution of the celebration in the Botanical Garden. More than 20 yoga schools participated and BK closed with the final meditation.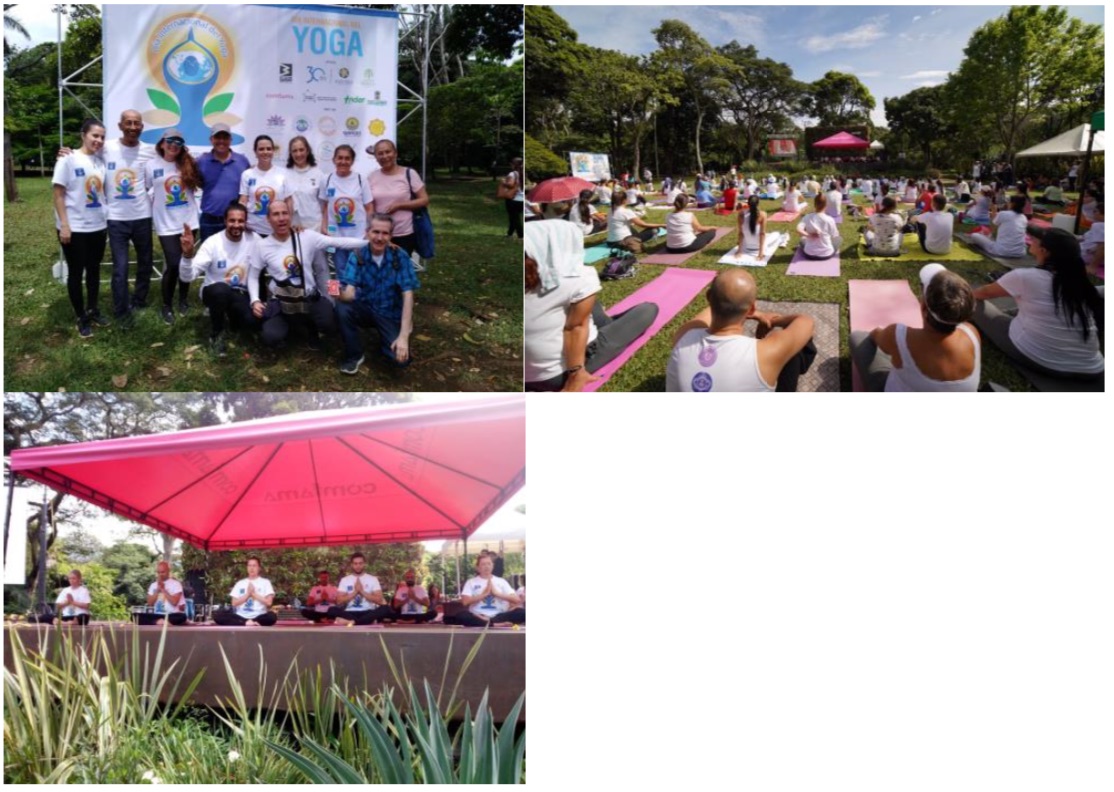 Cali
Event held by the Mayor of Cali, with the presence of the government secretary Brahma Kumaris participates with a dance at the closing of the event. 300 people approximately.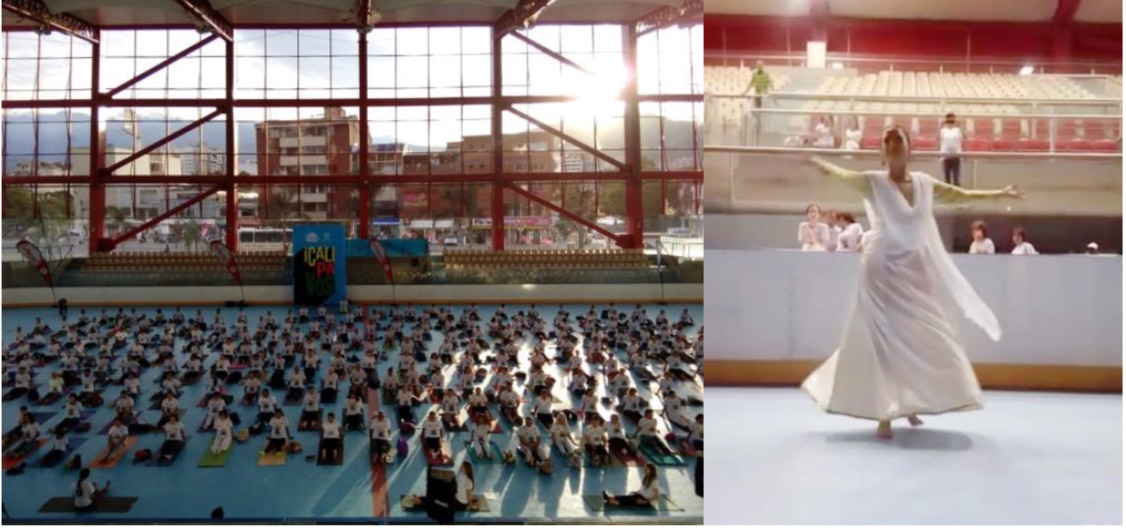 Tunja
Activities in the Tunja Coliseum, yoga for the elderly with live music, performed in the Coliseum with the Grupo Nuestra India. Assistance of 60 people.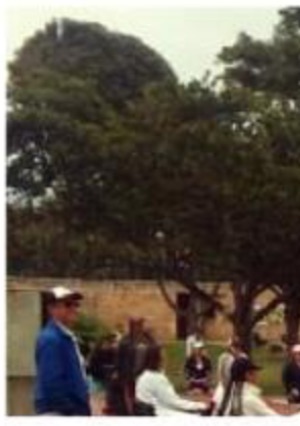 Bogotá
On June 21, 2019 they met at the Bicentennial Park, downtown Bogotá, on the occasion of the celebration of the International Day of Yoga, the delegate of the Embassy of India as well as the different Hatha yoga schools and guests in order to perform the exercise protocol endorsed by the Indian embassy. 120 people and other attendees participated as observers .
As an extension of this celebration, yoga activities were held on June 24 in 21 city parks. Brahma Kumaris was Timiza Park.
Lecture at Main Centre: Experience the union with you and the divinity.

Toronto (Canada)- IDY Program: Family Picnic
14 July 2019
Dear Divine Brothers and Sisters,
Please refer to the below summary of the Toronto (Canada) annual family picnic, celebrating 2019 International Day of Yoga. In addition to the decoration of the entire BK Toronto Family, The Consulate General of India, Mr. Dinesh Bhatia, and his wife Seema Bhatia were in attendance.
In Baba's Sweet Yaad Pyar
National Coordinating Office , Canada

BK Shivani speaks to a private gathering at the House of Commons, Westminster, London on UN International Day of Yoga 21st June 2019
13 July 2019
On UN International Day of Yoga Friday 21st June BK Shivani was invited to speak at a private event organised by Gareth Thomas, MP, Karma Foundation and The International Siddhashram Shakti Centre in the packed Grand Committee Room in the House of Commons, Westminster, London.
BK Shivani spoke about the responsibility of each one to bring about the happiness of satyug through the thoughts we choose. She emphasised how yoga was much more than a practice for our physical health or an occasional relaxation method; it's about living 'a yogi life'. This means to take responsibility for our own thoughts and feelings, aware of the impact they have on the lives of others. 'Raja Yoga means the power of self-change.' We have yoga with four things: our mind, our body, people and the world. There is a fifth type of yoga we need to have - yoga with God - and this is Raja Yoga. Shivaniben explained how it just needs one in every family to be able to stay calm and stable and so influence other family members in a positive way. She issued a challenge to everyone present to say: 'I will stay peaceful and calm for 24 hours from the end of this programme, from 5pm today'. All agreed with enthusiasm. Welcoming the challenge, Chief Superintendent Simon Ovens said he would share it with his colleagues in the Metropolitan Police.
Mr. Ramesh Arora, along with H.H. Shri Raj Rajeshwar Guruji, MP Gareth Thomas, Chief Superintendent Simon Ovens and Councillor Nitin Parekh then presented 'Happiness Ambassador' Awards to BK Shivani, BK Jayanti, Brother BK Ratan (Chair of Trustees, Brahma Kumaris (UK), Sister Devi Chitralekha, Brahma Rishi Kumar Swamiji and others in the presence of Councillor Ajay Maru and Baroness Verma of Leicester.
The afternoon closed with a beautiful meditation commentary by Sister Jayanti that brought pindrop silence to the room.

International Yoga Day in Dallas, North Texas
13 July 2019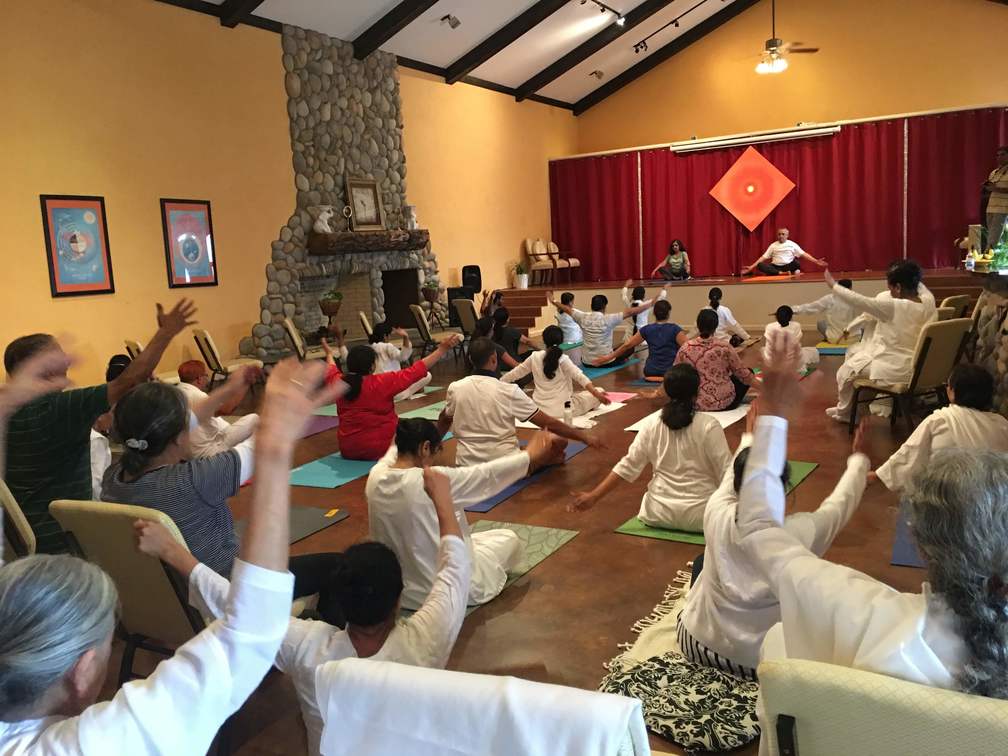 A beautiful International yoga day - at Tapasya Dham, Dallas retreat place, north Texas was conducted by BK Vinaybhai and Daxaben from K ansas followed by Raj-Yoga meditation commentary by Sister Ranjan on June 23rd.
Dallas service team

International Day of Yoga in Brazil: Activities attended and/or held by BKs in Brazil on 21st June
8 July 2019
Please click on the image below to open the report of BK Brazil participating in the celebrations of the International Day of Yoga.

International Day of Yoga, Phillipines, 22nd June
8 July 2019
Brahma Kumaris Philippines joined several hundred participants to the International Day of Yoga held June 22, 2019 at SM Mall of Asia's Music Hall.
In his message printed in a booklet distributed by the Indian Embassy in Manila which organized the annual event, Indian Prime Minister Narendra Modi said "In a world of excess, Yoga promises restraint and balance. In a world of suffering from mental stress, Yoga promises calm. In a distracted world, Yoga helps focus, boosts concentration. In a world of fear, Yoga promises hope, strength and courage."
The program, which started at almost 12 noon, had all partner organizations light up a lamp on the stage. Brahma Kumaris Philippines represented by Sister Rajni Daulatram, joined several organizations, including the Philippine National Police, the National Youth Commission, the Department of Health, business organizations, Yoga organizations and others in jointly lighting the lamp.
The Yoga Protocol led by Mr Sumit Kumar of the Indian Embassy and Mr. Chandru Mahtani of Speedo, followed with all the participants joining. Then Group Yoga Session lead by local Yoga schools came next.
In her closing remarks, Sister Rajni chanted "Om shanti" for several minutes as participants joined her chanting. In her meditation commentary, she asked everyone to think positive, peace, and happiness. Being healthy makes one wealthy and happy. At the end, she asked everyone to chant again: Om shanti.
Sisters Rani, Mulat and Yolly joined her as she conducted meditation in front. Together with Sisters Marilyn and Leti, they distributed blessing cards, and invitations to the July program of Sister Jayanti titled Happy Hearts, Happy Minds.

Moscow - International Day of Yoga at the famous Park Zaryadey
2 July 2019
Indian Business Alliance, Brahma Kumaris and many allied public associations organized an impressive programme to mark the 5th International Day of Yoga at the famous Park Zaryadey, right in the centre of Moscow.
While speaking to a big auditorium, BK Sudha, Director, Brahma Kumaris, Moscow explained about the Ancient Raja Yoga of Bharat. It is the love-filled intellectual communion of the human soul with the Supreme Soul which enlightens man and gives him an understanding of spiritual brotherhood and world peace.
Sis. Sudha emphasized that understanding of spiritual wisdom and everyday practice of Raja Yoga takes a man to the Celestial realms and empowers him spiritually. Divine virtues such as purity, peace, happiness, honesty, joyfulness, etc. will become a natural part of daily life, she added.
Sis. Sudha conducted mass meditation with guided commentary when everyone felt dead silence being created.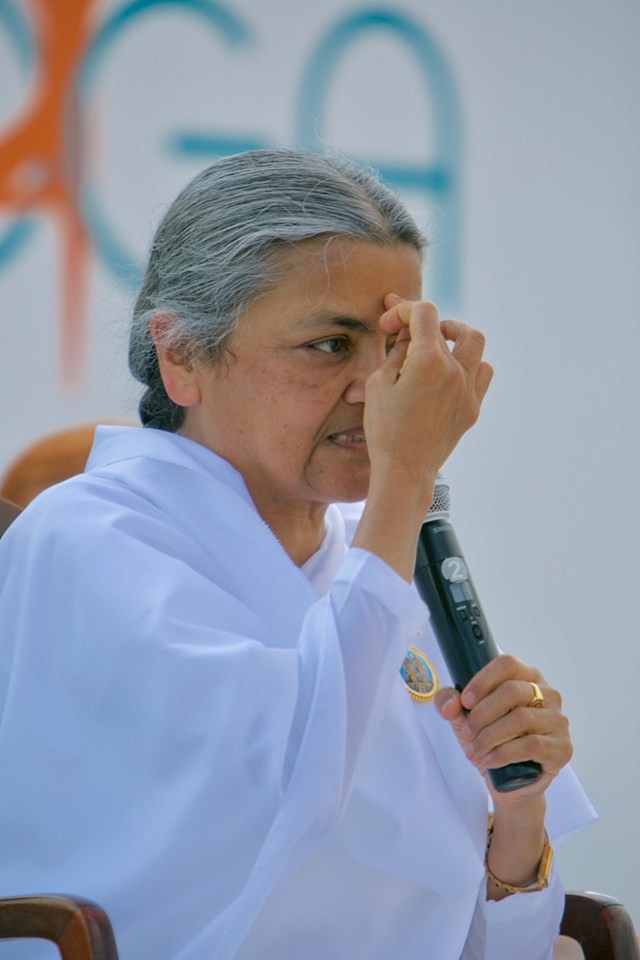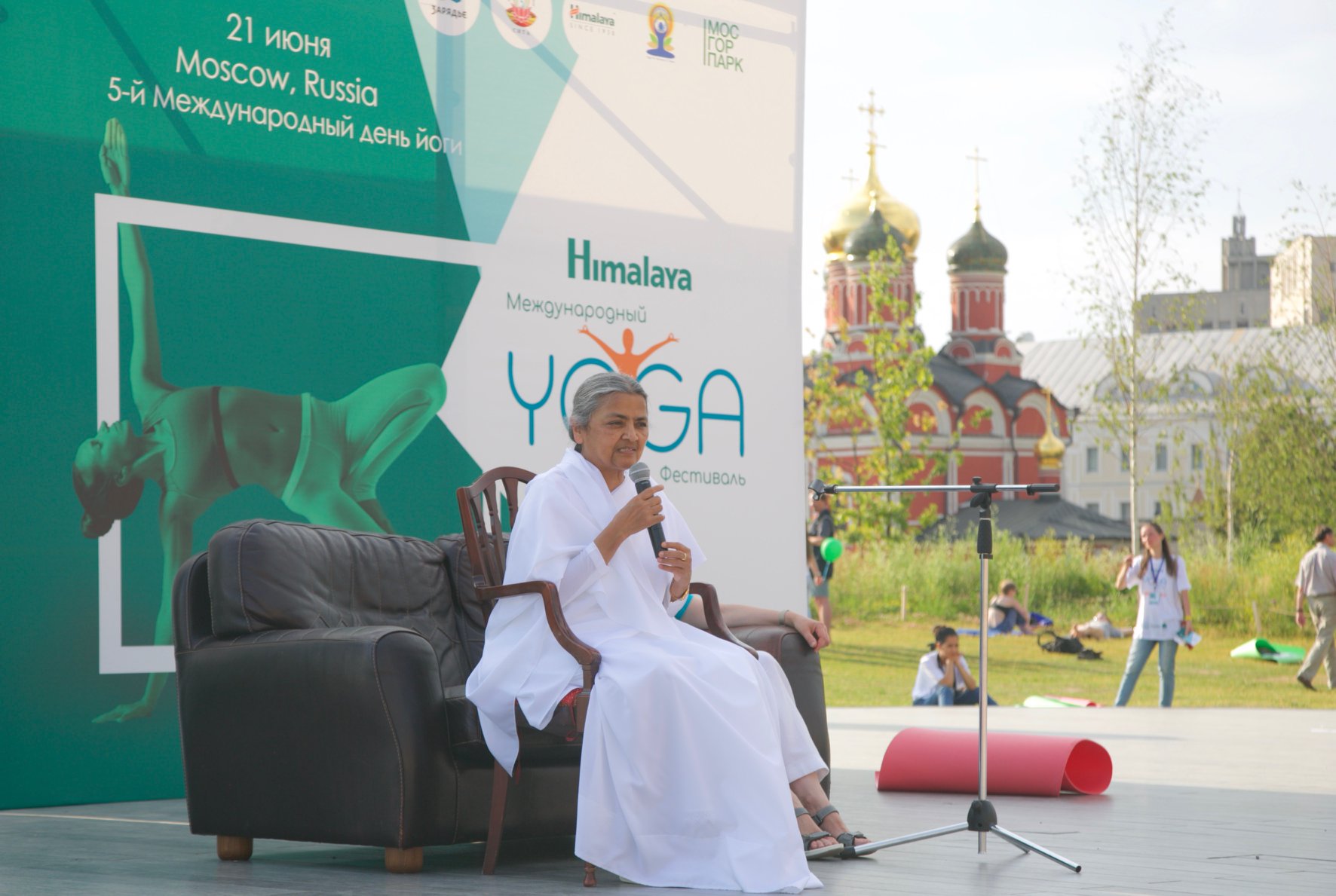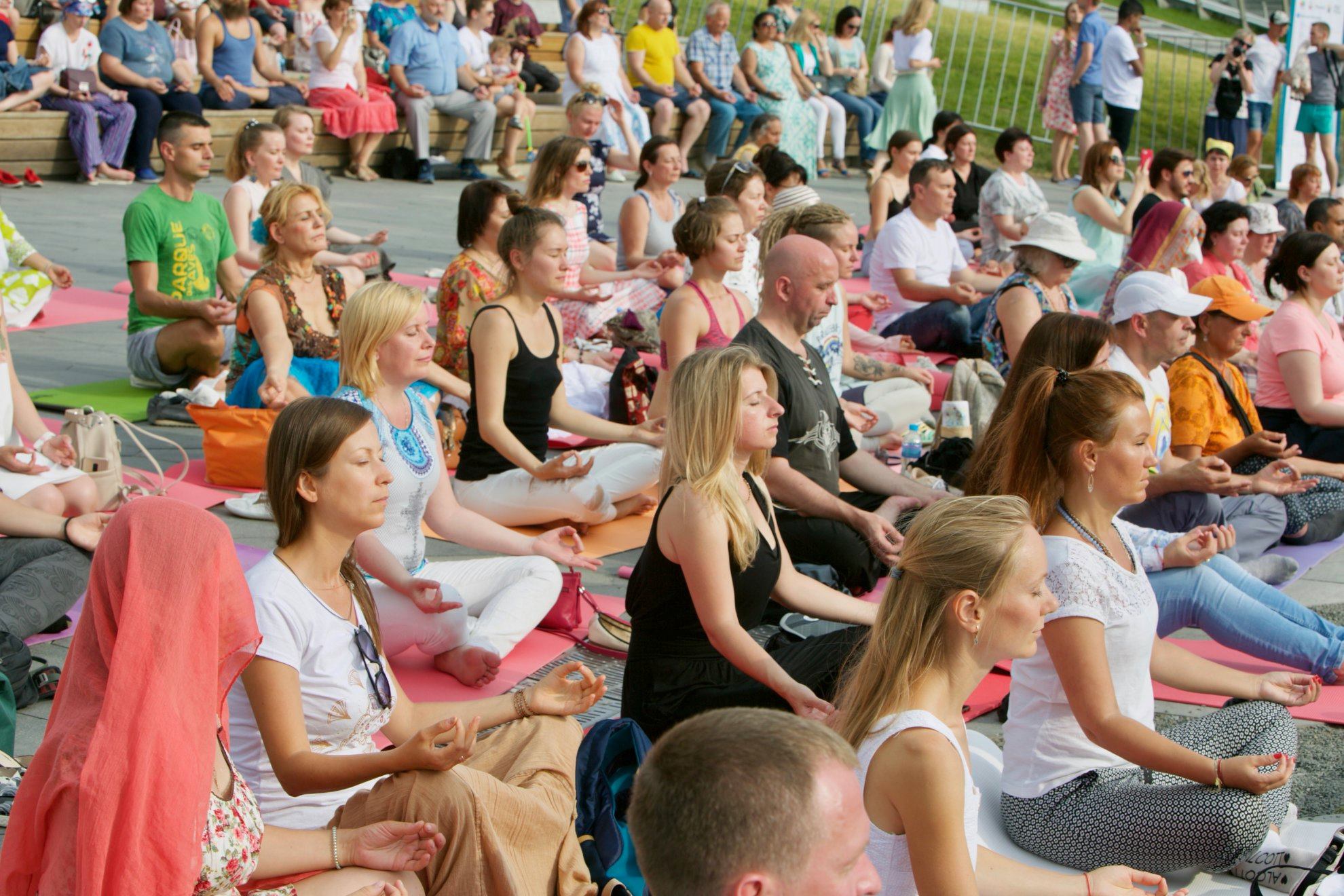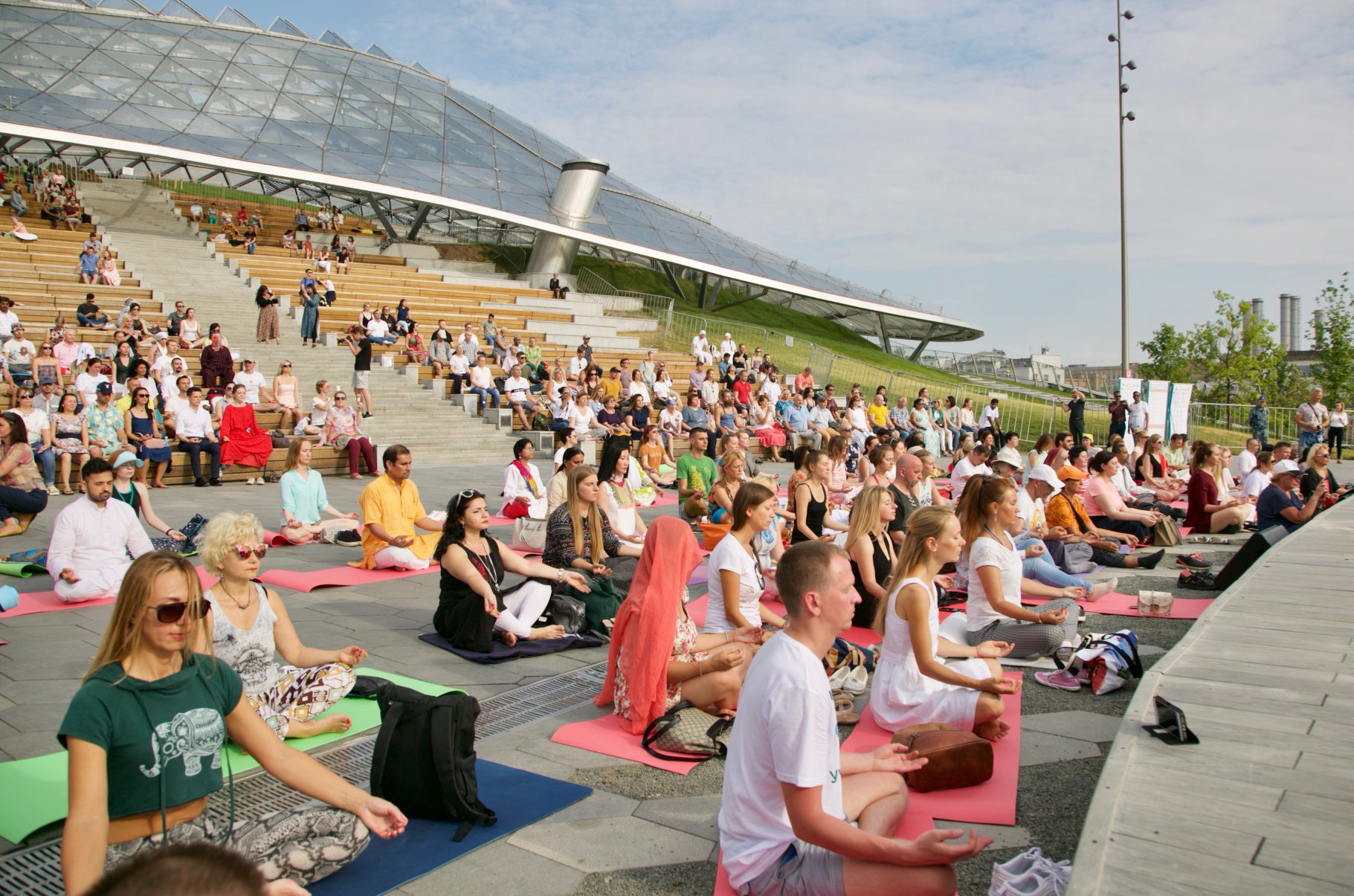 Malaysia - Celebration of UN IYD 2019
2 July 2019
Dear Global Family, Om Shanti,
Below follows the of Celebration of the UN 's INTERNATIONAL YOGA DAY which drew participation of members from many different groups. We received full support and cooperation from the Indian High Commission, Interfaith Group, NGOs & other groups .
With Regards
BK Meera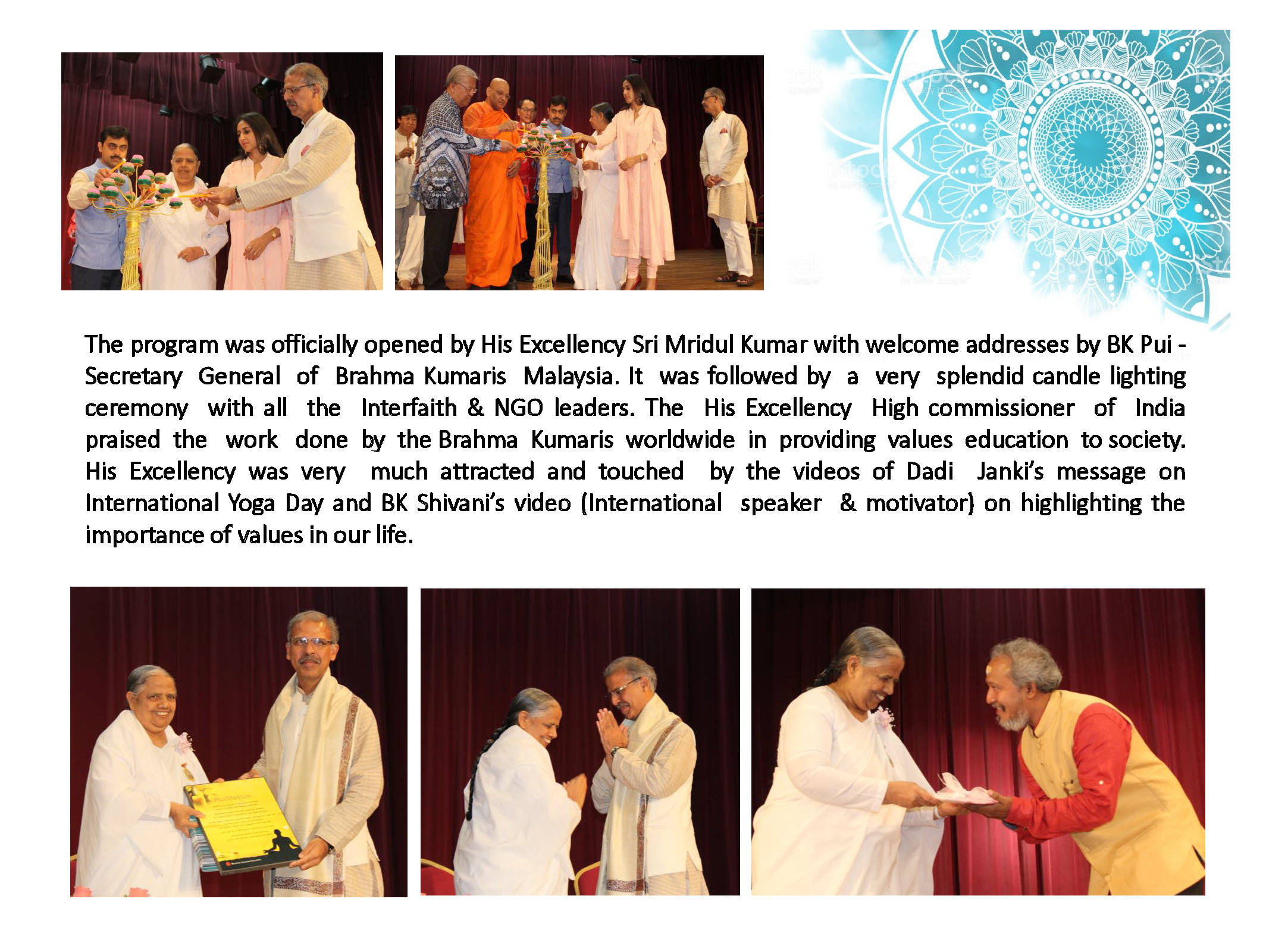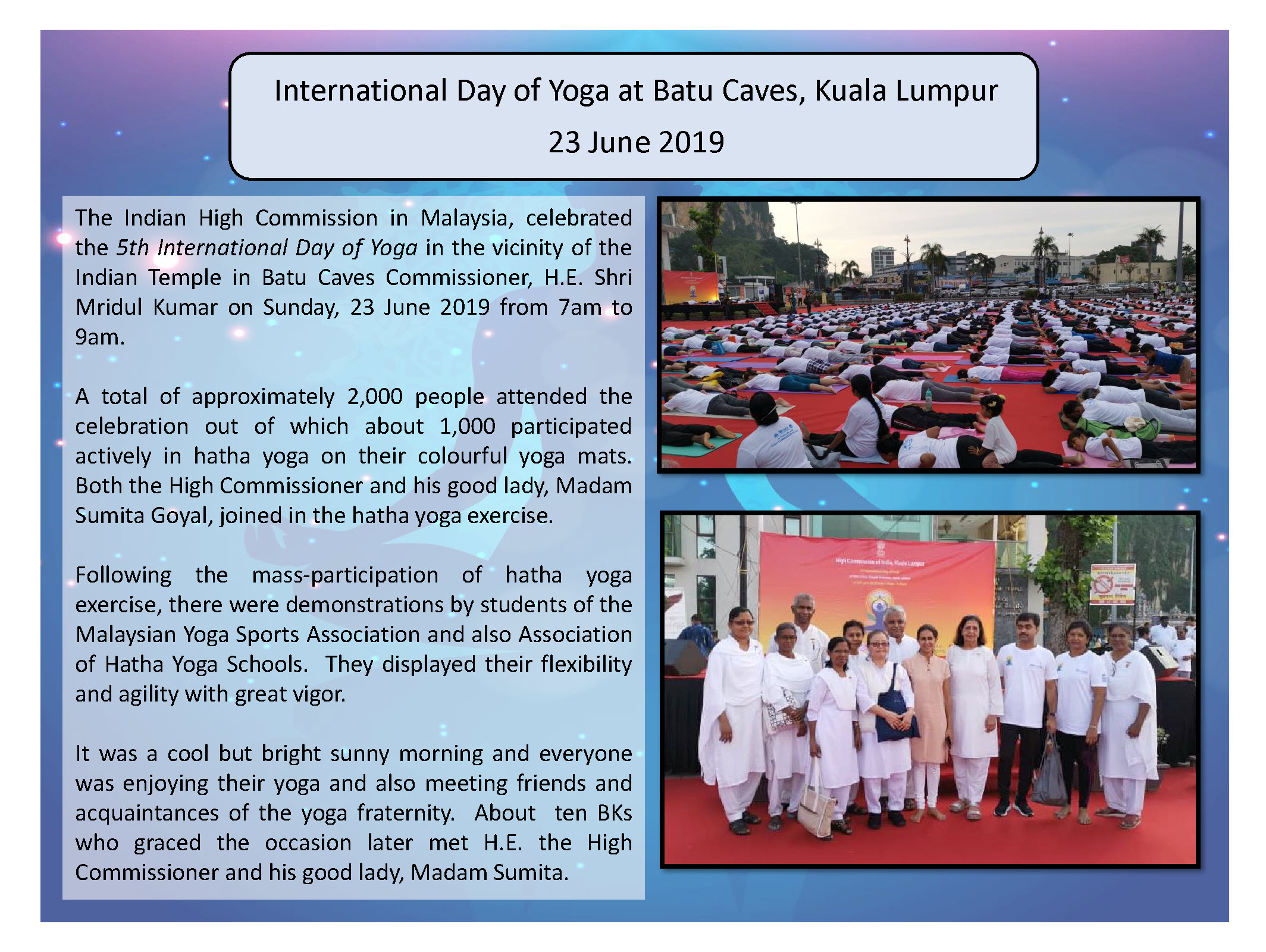 Kathmandu (Nepal) - International Day of Yoga 2019
2 July 2019
Sister Kusum presenting a godly gift to Giriraj Mani Pokhrel, Minister of Education, Science & Technology before the Peace Rally
Dear Divine Family, Om Shanti.
Please accept greetings of love and peace from Divine family Kathmandu Nepal.
The International Day of Yoga 2019 was celebrated with highly zeal & enthusiasm having organized peacefully coordination with Ministry of education science & technology along with many religious & social organization. Hon'ble Minister of Education, Science & Technology Mr. Giriraj Mani Pokhrael had launched the peace rally giving his good wishes to the rally participants to spread the peaceful & harmonious vibes towards the people of around the city.
Peace rally was concluded at city hall Pradarsani Marg with organizing the yoga postures demonstration, Rajyoga meditation and talk program. Rt. Hon'ble Prime Minister of Nepal Mr. K.P. Sharma Oli had addressed the mass messaging the importance of Yoga practicing for physical health & meditation. Prime Minister addressed historical background of spirituality and yoga of Nepal. Hon'ble Education, Science and Technology minister Mr. Giriraj mani pokhrel also congratulate of international yoga day. His excellency ambassador of India for Nepal Mr. Manjeev Singh Puri and other Yoga Leaders also present their good wishes. BrahmaKumari Kusum from the BrahmaKumaris Kathmandu conducted mass meditation with commentary which had given the deep silence feeling to the audiences. Various yoga postures were demonstrated. High level officials dignitaries, secretaries, ambassadors, social leaders, yoga gurus and yoga lovers participated on this program.
On Godly Service
Regards,
BK Raj Didi
Kathmandu, Nepal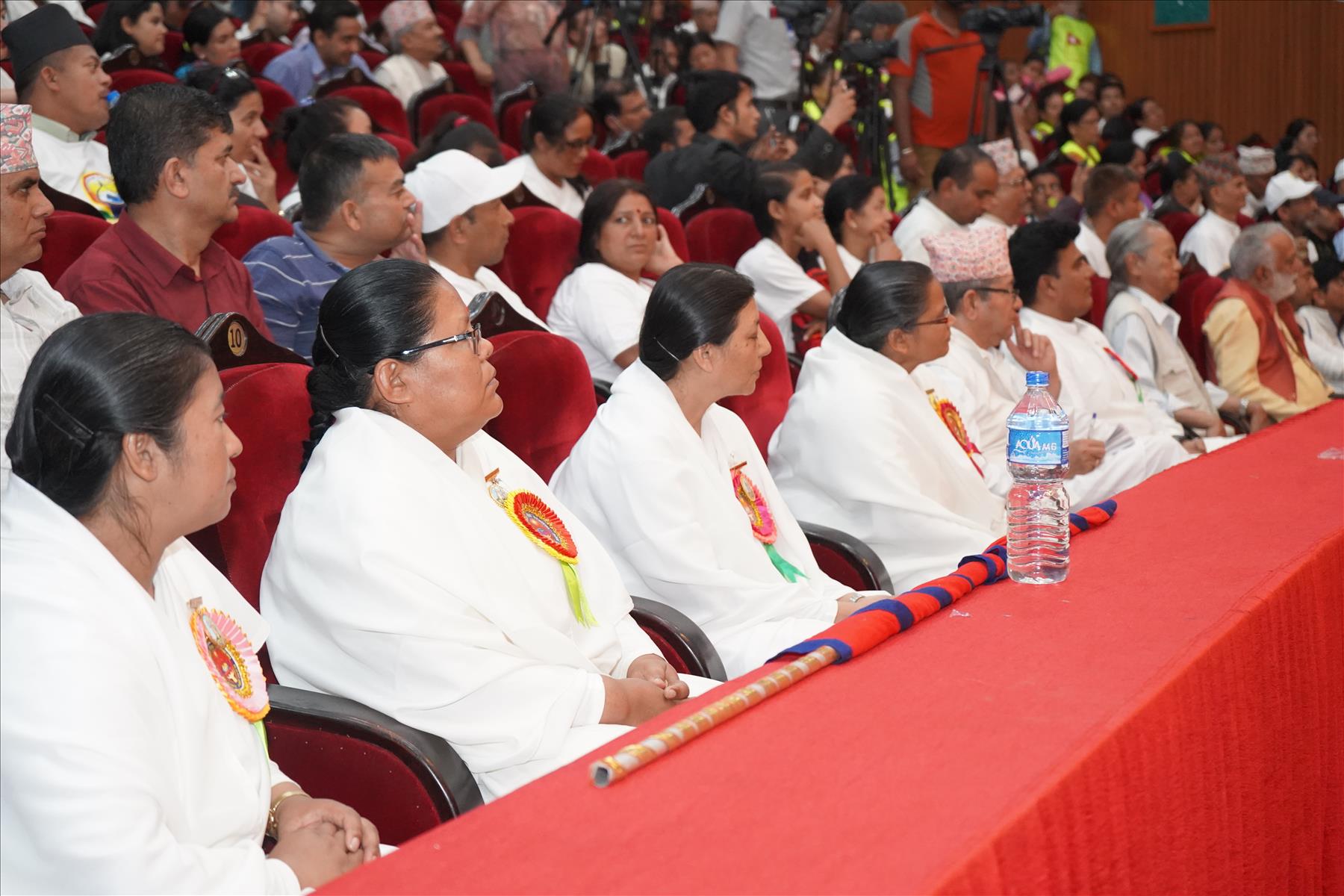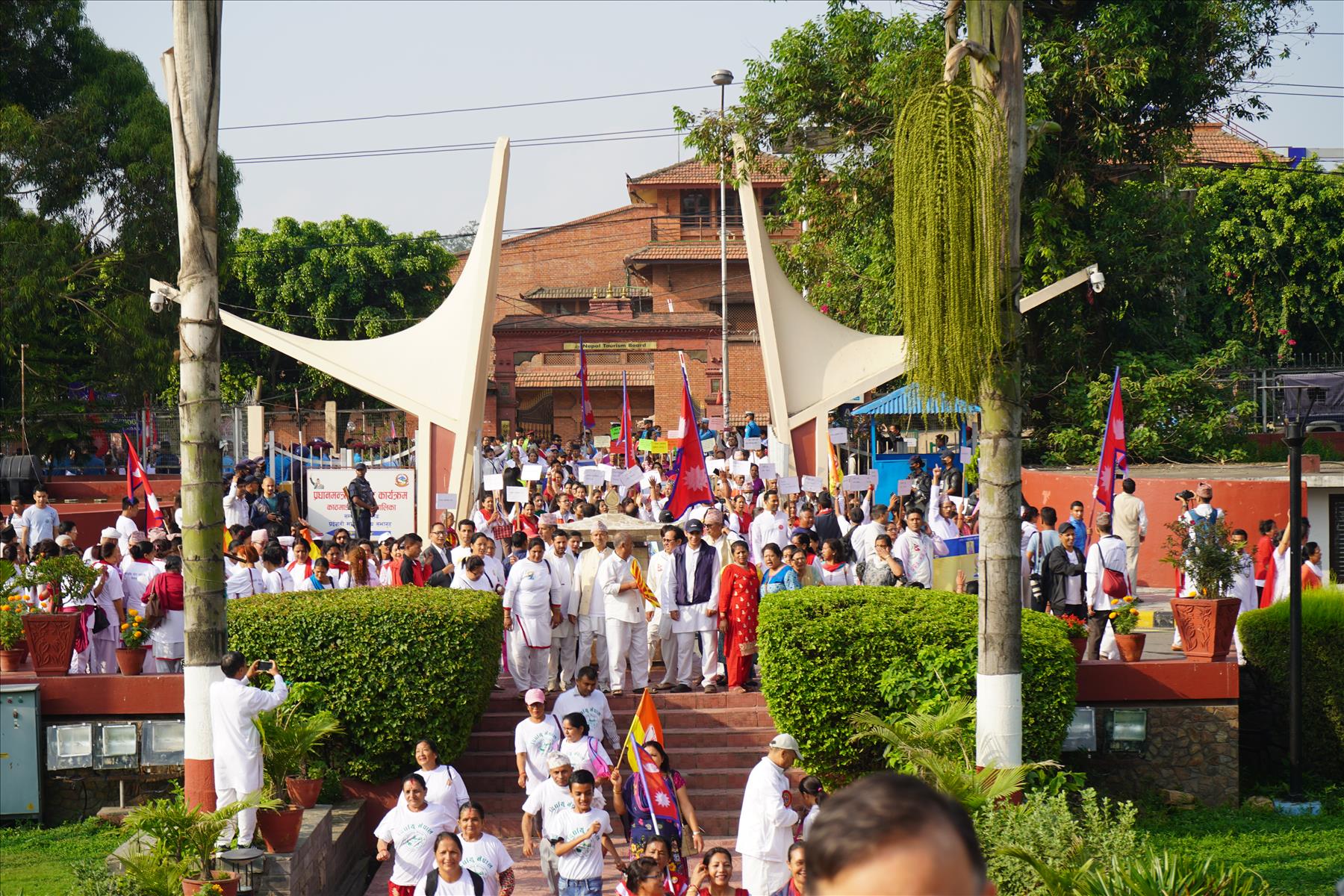 Celebration of IDY 2019 in Colombo, Sri Lanka
1 July 2019
Acknowledgement of BK Contribution to IDY by High Commissioner of India to Sri Lanka, H.E. Taranjit Sigh Sandhu.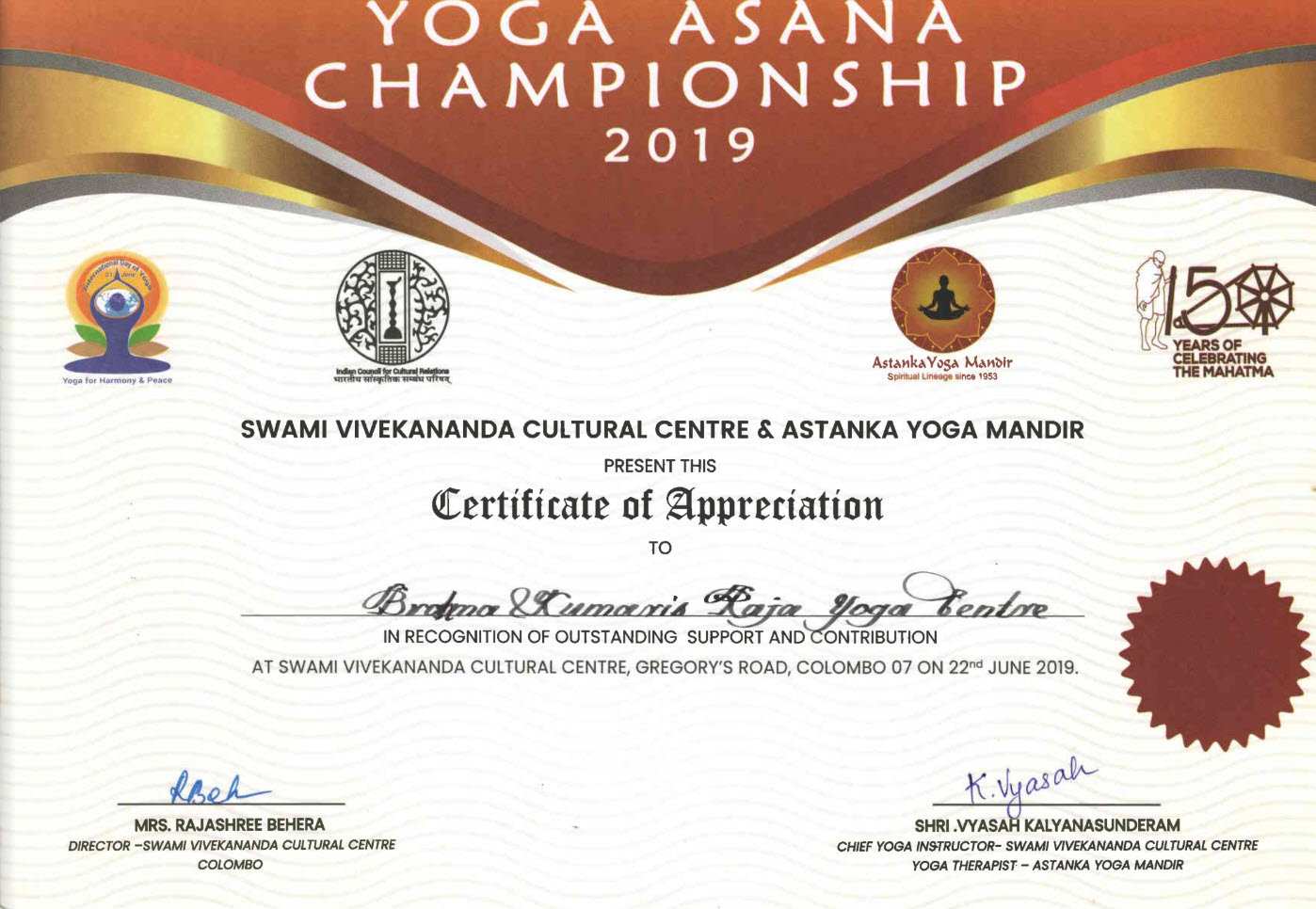 Certificate of Appreciation for BK Contribution and Support for IDY by Director of Swami Vivekananda Cultural Centre, Colombo: Mrs. Rajashree Behera.

In Pictures: IDY Organised by the Embassy of India, Moscow
1 July 2019
Embassy of India in Moscow has organised the International Day of Yoga in Moscow in the Park Taganskaya.
His Excellency Mr. D.B. Venkatesh Varma, Ambassador of India flanked by BK sisters Christina (left) and Mayajeet (right)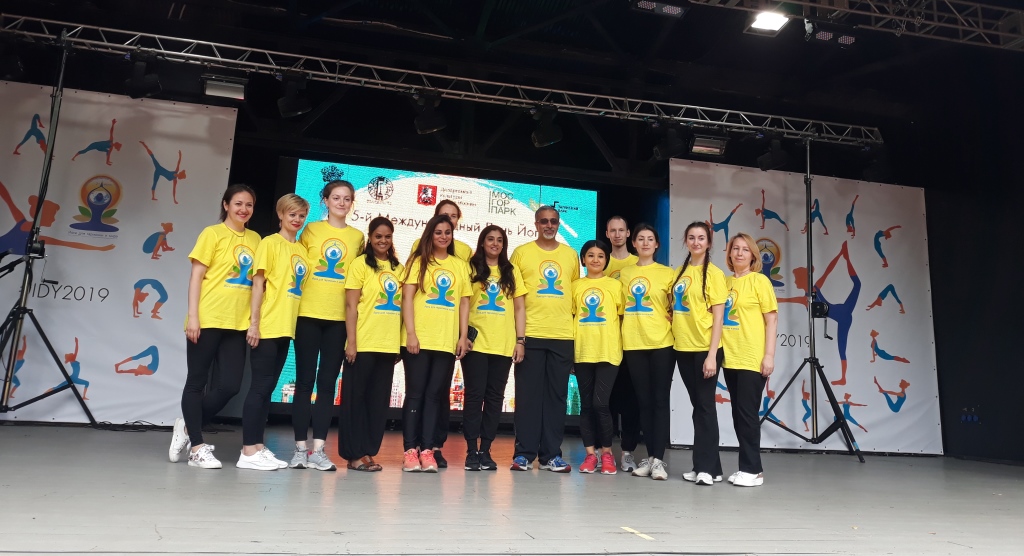 IDY Program Held on 21 June at Kandy, Sri Lanka
1 July 2019


China (Shanghai) 5

th

UN International yoga day
27 June 2019
Dear brothers and sisters, Greetings from Shanghai China.
On the occasion of 5th UN International yoga Day, a grand celebration was organized by the authorities in shanghai.
Special guests:
Consul General of India in Shanghai, President of the World Cultural Congress, President of the International Alliance of Yoga "One World- One sutra", Consul General of Venezuela, Consul General of Costa Rica, Consul General of Sri Lanka, Consul General of Japan, Consul of Israel, Consul General of Turkey, Sister Sapna from Brahmakumaris World Spiritual University, Former Vice Minister of Publicity Department of Shanghai Municipal Committee, Standing Vice Chairman of All-China Journalists Association, Shanghai Municipal Administration of Culture and Tourism, Centre of Indian Studies, Fudan University were present as special guests on this occasion.
Guided meditation:
Brahmakumaris were invited to conduct meditation/ dhyana as part of yoga protocol, wherein sister Sapna conducted guided meditation which was well received by the participants.
Award ceremony:
Yoga community teachers award for work of Transforming individuals to their Inner Harmony and peace was also presented to Sister Sapna on this occasion by the President of World cultural congress in China.
Thanks
In Sweet remembrances of the One
Bks China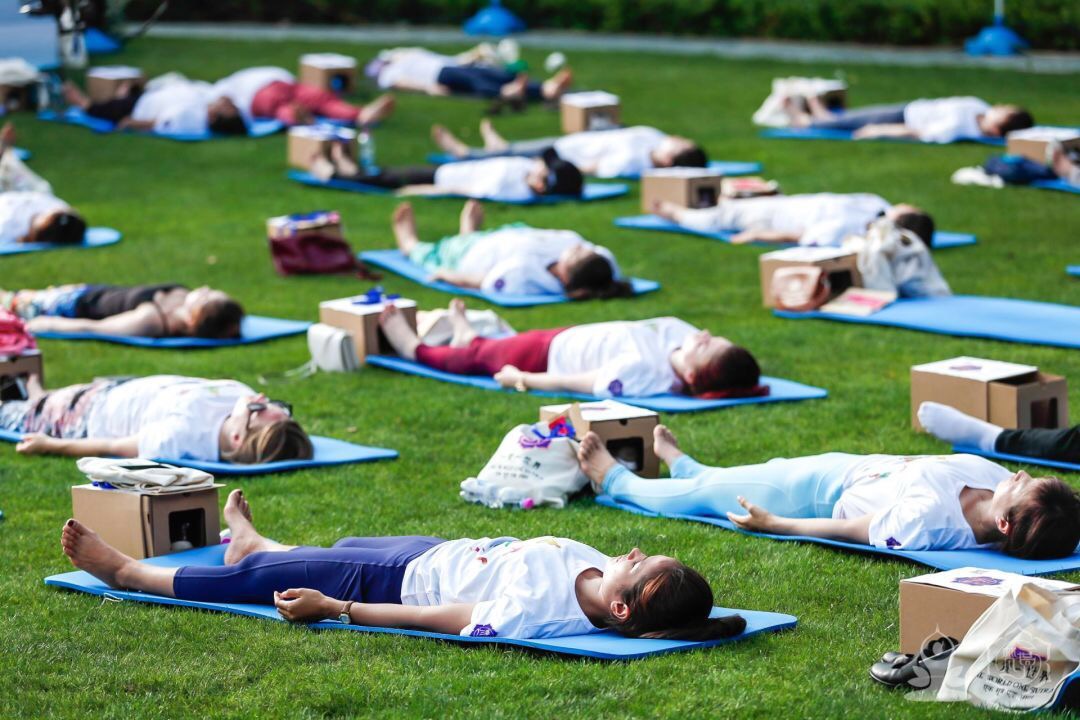 International Day of Yoga 2019 in Houston, Texas, USA
27 June 2019
Dear Divine Family,
Om shanti and greetings of love. Brahma Kumaris Texas celebrated the International Day of Yoga in cooperation with the Consulate General of India (Houston). A program was organized at the Houston center.
Brahma Kumaris also participated in a public Houston event. Over 1,200 people were present at the event. The event ended with BK Raja Yoga Meditation.
Please see video and picture links below:
Video: Click on above image to play video.
Pictures: Click here to view yoga event pictures.
Much love in BapDada's yaad,
BK Dr Hansa Raval
Texas, USA

Report on the International Yoga Day, Vienna
27 June 2019
Dearest Divine Family,
Please find below our report from the participation on the International Yoga Day event at Stadpark, Vienna.
The Embassy of India, Vienna invited us to the International Day of Yoga in Stadt Park Vienna, Austria, June 16, 2019. Ever growing numbers, including the Indian Community, Austrian citizens, members of diplomatic corps, Yoga schools in Vienna & Salzburg were part of the event.
Ambassador Renu Pall spoke of how Yoga was transforming people; from a concept that was meant to teach the individual how to connect mind, body and intellect, Yoga is today connecting people across countries in the quest for health, wellness and a stress-free existence.
The BK group Vienna participated and distributed Baba's blessing cards as well as meditation flyers and shared Baba's message.
With all our love and good wishes,
In Baba's sweetest Yaad,
Your Vienna Family
Raja Yoga Meditation Vienna
Please click here to download the full report.

IYD in Trinidad & Tobago
27 June 2019

Jamaica BKs Participate in International Yoga Day
24 June 2019

Report on the International Day of Yoga in Vancouver
24 June 2019

St. Petersburg, Russia - Yoga: Connecting with the Source - IDY 2019
24 June 2019
International Day of Yoga celebrations , under the title " Yoga: Connecting with the Source ", were organized by the Brahma Kumaris with the support of Consulate General of India in St. Peterburg.
Life is all about CONNECTIONS. Modern technologies have made them more intense than ever before. Mobile phones and social media, international air travel and bank transactions, as well as billions of other ways of communication and interaction are making it easier for us to connect to one another, changing our life into a more comfortable and satisfying one.
Raja Yoga is the "supreme", or "highest" CONNECTION. It enables us to have a link with our true inner self and with the Supreme Source of spiritual powers. Raja Yoga fulfills the urge of our heart to replenish the treasures of peace, love and happiness that have been lost by humanity in the course of time. This CONNECTION enables us to achieve both mental and physical health. By touching the common core of our spiritual nature, it unites people across the world, irrespective of their nationality, religious and cultural backgrounds.
The public event "Easy Exercises for the Soul and Body" held on the sunny morning of June, 21, in the green and beautiful Peace Park of Lighthouse, brought together experienced yoga practitioners and people who were just beginning to discover for themselves the joy of meditation.
Welcoming the audience, Didi Santosh, director of the Brahma Kumaris in St. Petersburg, said that in order to enjoy health and happiness, we should make every thought of ours positive, pure and benevolent.
Mr. Ram, a qualified master and teacher of hatha yoga, pranayama and meditation (India), and Ms. Irina Laryshkina, a qualified hatha yoga coach (St. Petersburg), conducted a series of physical exercises useful for maintaining the state of freshness and relaxation. Ms. Medona Tomi, doctor of Ayurveda at the Ayurdar Centre in St. Petersburg, was among the special guests of the event.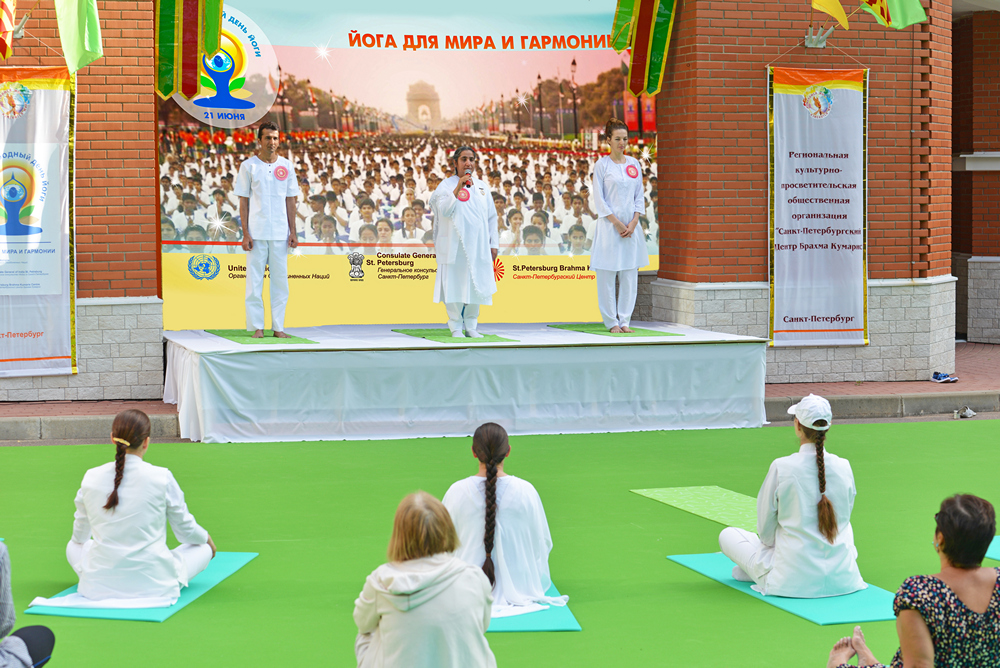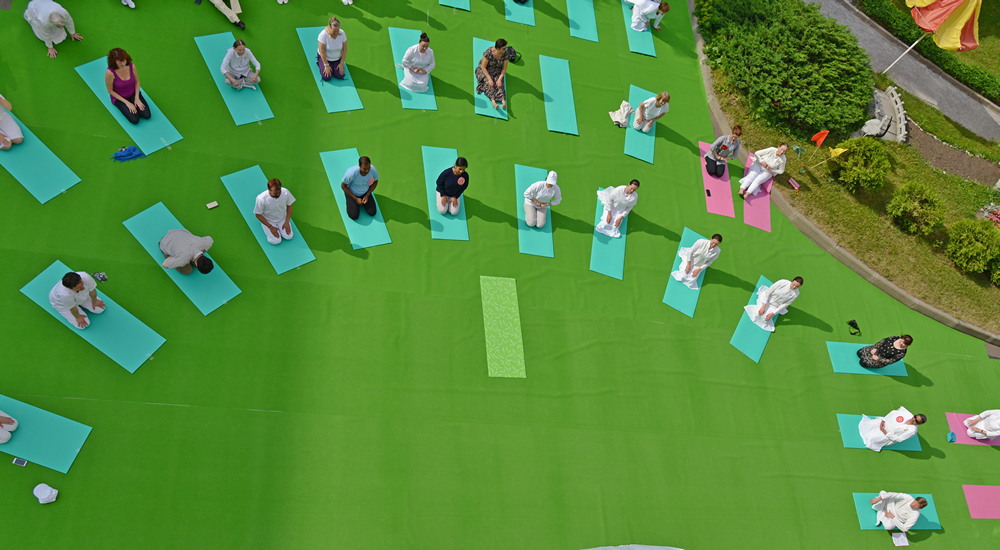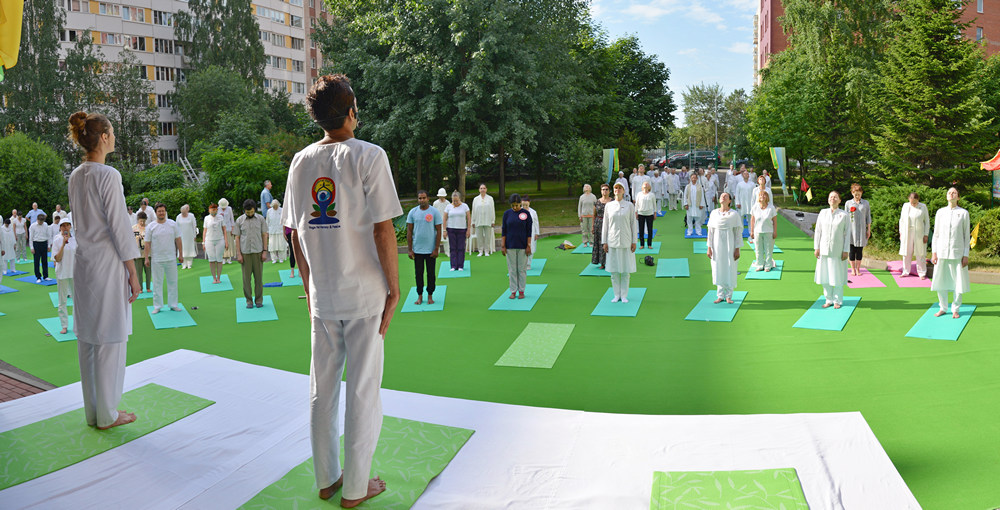 In Photos: International Yoga Day celebrated at the Diamond Hall of Shantivan
21 June 2019
Abu Road, June 21: International Yoga Day was celebrated on a large scale at the peace-fostering Brahma Kumaris institution. Thousands of people joined the program organized at the Diamond Hall of Shantivan. On the occasion, MLA Jagsiram Koli said that the Prime Minister of India, Narendra Modi, has brought about the awareness of International Yoga Day all over the world. Yoga is essential to the overall development of every human being. BK Karuna, head of the BK's Media Division, said that yoga always brings healing to the body and mind, so make it a part of your life. This can lead to victory over life's evils. BK Bharat, President of the BK's Social Services Wing, called for more trees to be planted with yoga so that the right balance of oxygen and water can be achieved. Many other people, including the Editor-in-Chief of the Gyanamrut magazine, Br Atamprakash, Sr Geeta, and Br Mohan Singhal also expressed their views.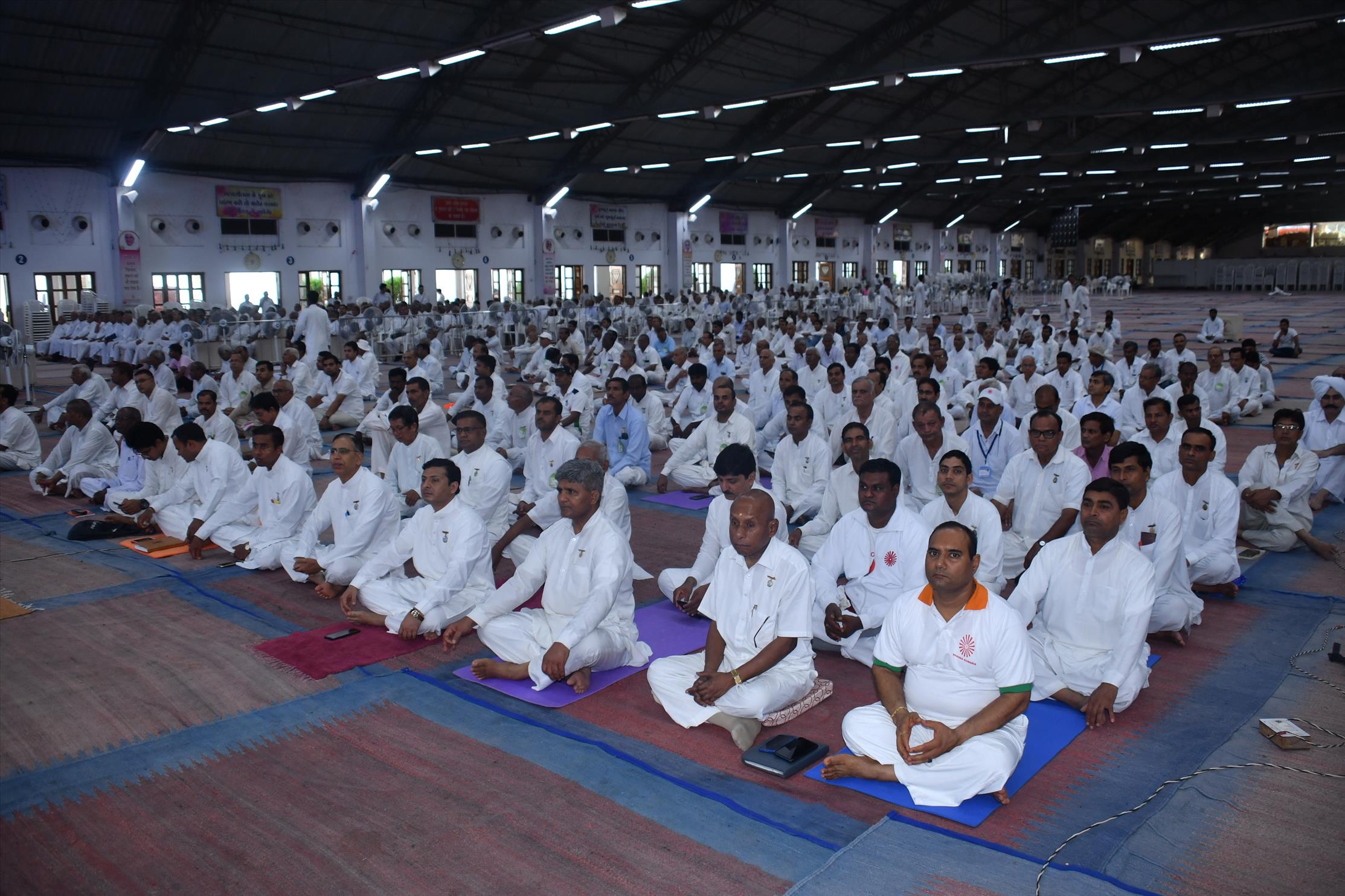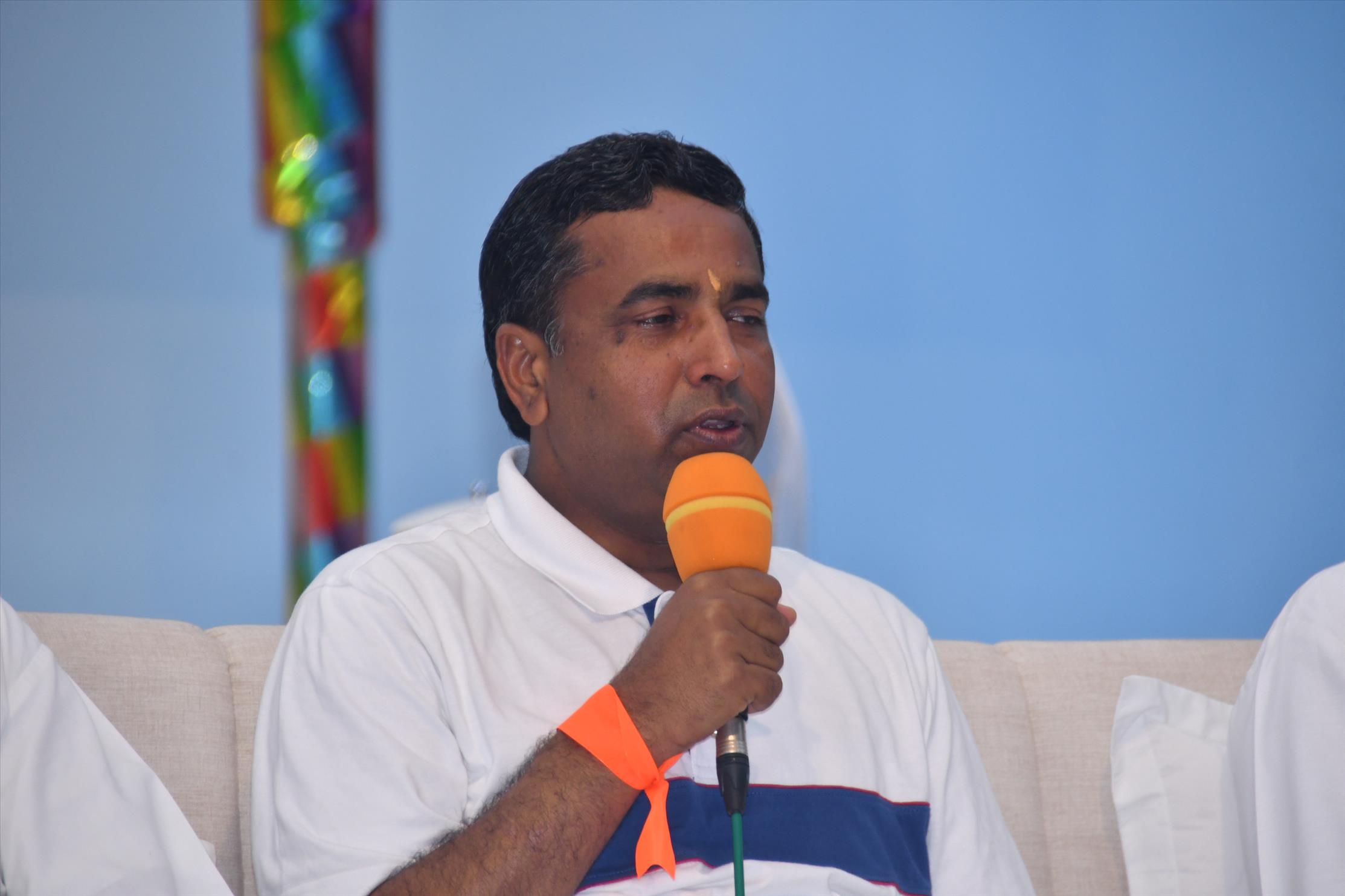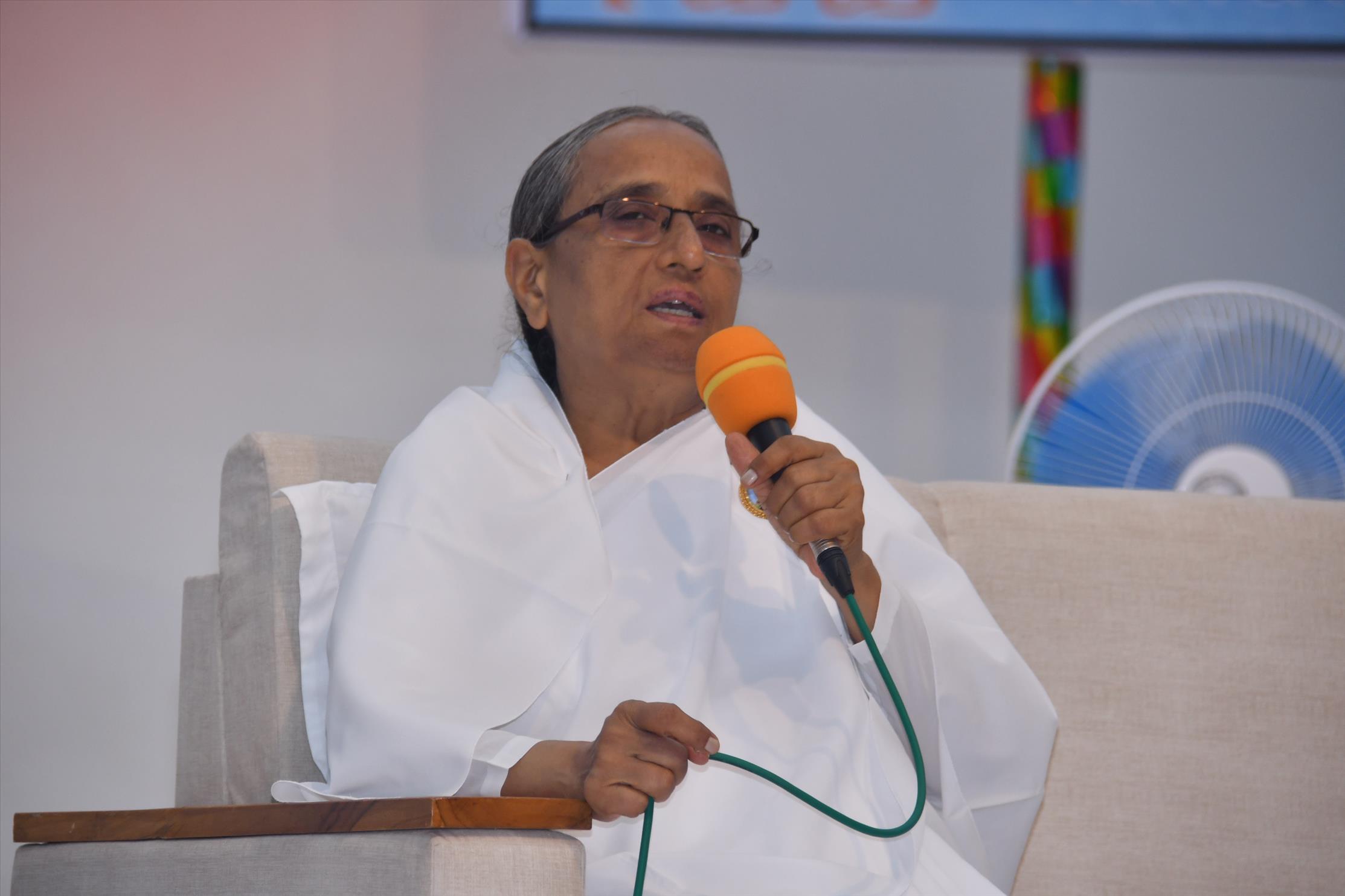 World Yoga Day Celebrated at Red Fort Grounds in Delhi -- Vice President of India Lauds Brahma Kumaris
21 June 2019
'Promote Yoga as a people's movement for universal peace, brotherhood and complete wellbeing '--Mr Venkaiah Naidu
Rajyoga is supreme yoga - Janab Firoz Bakht Ahmed
New Delhi, June 21: "Yoga is not just for physical health and fitness, but is for holistic health, harmony and complete wellbeing of an individual and society. It enables us to live in love and harmony with self, others, nature and environment, the foundation for a healthier and happier life and society" , said Vice President of India Mr Venkaiah Naidu , while addressing the World Yoga Day Event jointly organized by the Brahma Kumaris and Ministry of AYUSH, Govt. of India at Lal Quila here today.
Addressing a huge gathering of about fifty thousand yoga lovers clad in whites from all over Delhi-NCR, Mr Naidu said that there is an emergent need to promote yoga as a people's movement for realizing our cherished goals of universal peace, brotherhood, health, harmony, happiness and complete wellbeing.
"Sustainability and balance being the new mantra to arrest reckless exploitation of nature and cravings for materialistic pursuits, regular yoga practice worldwide can bring balance in all spheres and thereby can contain climate change", he stressed.
Lauding the Brahma kuamris for promoting the practice of India's ancient culture and heritage of yoga and meditation as a healthy and virtuous way of life all over India and abroad for last eight decades, the Vice President stressed on the need to propagate and preserve such holistic practice by making it a part of the school curriculum.
Rajyogi B K Brijmohan, Addl. Secretary General of the Brahma Kumaris delineating the true meaning and purpose of yoga said that true yoga is Bhagvad Gita's raj-yoga which urges Arjuna like human souls in today's time, to develop divine virtues and to sublimate devilishness and vices in the subtle fire of godly knowledge and raj-yoga meditation as being taught by the Supreme Soul.
Janab Firoz Bakht Ahmed, Chancellor of Maulana Azad National Urdu University, Hyderabad giving his greetings on the occasion said that raj-yoga of Brahma Kumaris as a science and art of healthy living, is supreme yoga which can join broken hearts & broken homes, and can unite all faiths on one platform.
He said that yoga not only promotes health and harmony but also fosters human values and civilized mannerism which exactly had attracted him to practice raj-yoga of Brahma Kumaris.
Dr. A. K. Merchant, National Trustee, Lotus Temple & Baha'i Community of India and Rabbi Ezekiel Isaac Malekar, Priest & Hon. Secretary, Judah Hyam Synagogue, New Delhi Rajyogini B K Asha, Chief Coordinator of the Event; Rajyogini B K Chakradhari, Director of Brahma Kumaris Centers in Russia & CIS countries were prominent among others who shared their views on efficacy of yoga and meditation.
While Yoga Teacher B B Jain conducted yogic exercise as per common protocol, Senior Rajyoga Teacher B K Pushpa conducted raj-yoga mass meditation for the entire congregation.

Dadi Janki Ji's Message for "International Yoga Day"
21 June 2019
Dear Brothers and Sisters, Om Shanti.
It is International Yoga Day again. It is India's contribution to the world and Yoga or "Yog" as we call it, is going to be the guiding light for all irrespective of caste, creed and religion. More than the physical and Wellness aspect of it, "Yog" or remembrance of the supreme is the panacea for all the inner ailments that the world is suffering from - it directly takes on and remove the root cause of all ailments - our false identification of with the body.
Watch Dadi Janki giving the message of "Yoga Day" sharing her boundless wisdom from her exemplary life based on the Mantra of "When I change the World Changes".
Click on below image to play this 3.5 minute video
With Warm Regards,
BK Harilal
Executive Director
Godlywood Studio

Telecast of IDY 2019 Celebrations at Red Fort Delhi on 21 June & TOI Speaking Tree Article
20 June 2019
Dear Global Brahmin Family, Om Shanti.
You will be happy to know that Vice President of India Hon'ble Shri Venkaiah Naidu, will be the Chief Guest at International Day of Yoga Celebrations on 21 June 2019 from 7.00 am to 8.00 am at Red Fort, Delhi. A huge gathering of more than 30000 participants is expected including BKs, IPs, Youth, AYUSH senior officers etc. You can download the stage programme here.
The event will be live on Peace of Mind TV and Rajya Sabha TV on 21 June 2019 from 6.55 am to 8.00 am. One can also see live on Brahma Kumaris social media from 6.00 am to 8.00 am. Please find the links below.
In Baba's Yaad,
BK Brij Mohan
Addl. Secretary-General, Brahma Kumaris, Mount Abu
Editor, Monthly 'Purity' Spiritual News Magazine of Brahma Kumaris
Chairperson, Politicians' Service Wing, Rajyoga Education & Research Foundation
Promo: Click on above image to download Promo video.
YouTube link: https://www.youtube.com/brahmakumaris/live
BK IDY Page: https://www.yogabkworldwide.org/live
Direct Live Link: https://www.youtube.com/watch?v=EokyikJHX40
Facebook page: https://www.facebook.com/pg/brahmakumaris/videos/
(Click here to download)