2018 Russia, CIS & Balkans Archive
2018 Russia, CIS & Balkans Archive
Happy Me. Stable Family. Harmonious Society. - Report from St. Petersburg, Russia
16 July 2018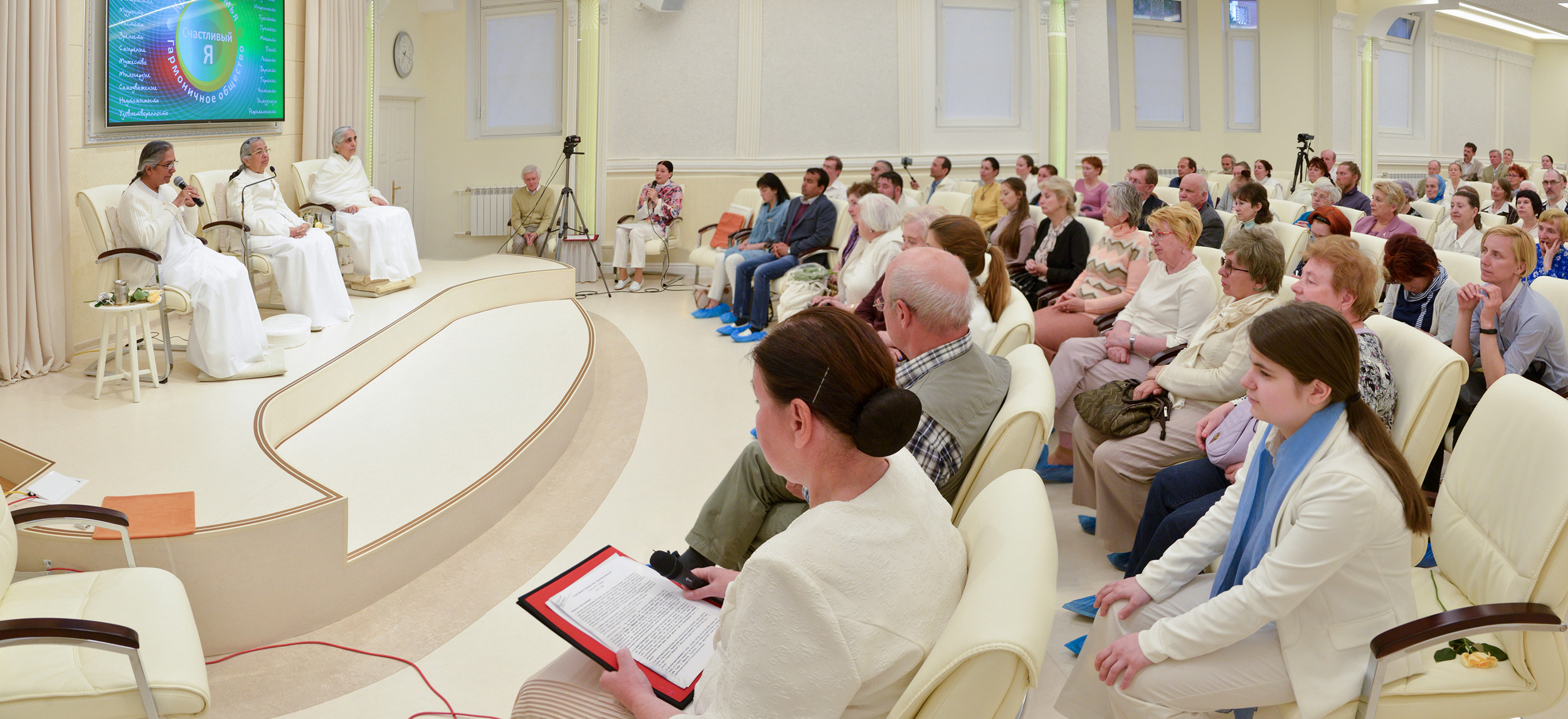 A dialogue on this topic took place at St. Petersburg Brahma Kumaris Centre with the participation of experienced and insightful speakers. Speakers on the panel included Didi Chakradhari, national co-ordinator of the Brahma Kumaris Women's Wing (Delhi, India), senior raja yoga teacher with more than 50 years of experience; Didi Rani, director of Derawal Nagar BK Centre (Delhi, India), and BK Jasu, program co-ordinator (London, UK).
By reflecting on various questions, the speakers drew a clear and inspiring picture of how harmony and stability in our family life, at a workplace and even at a global level largely depended on an individual's being in touch with his or her original values and with the Supreme. The dialogue covered a wide range of issues, such as defining a borderline between self-care and selfishness; the meaning of spiritual service to the self, our family, and our society, and others.....click here for complete report with photos.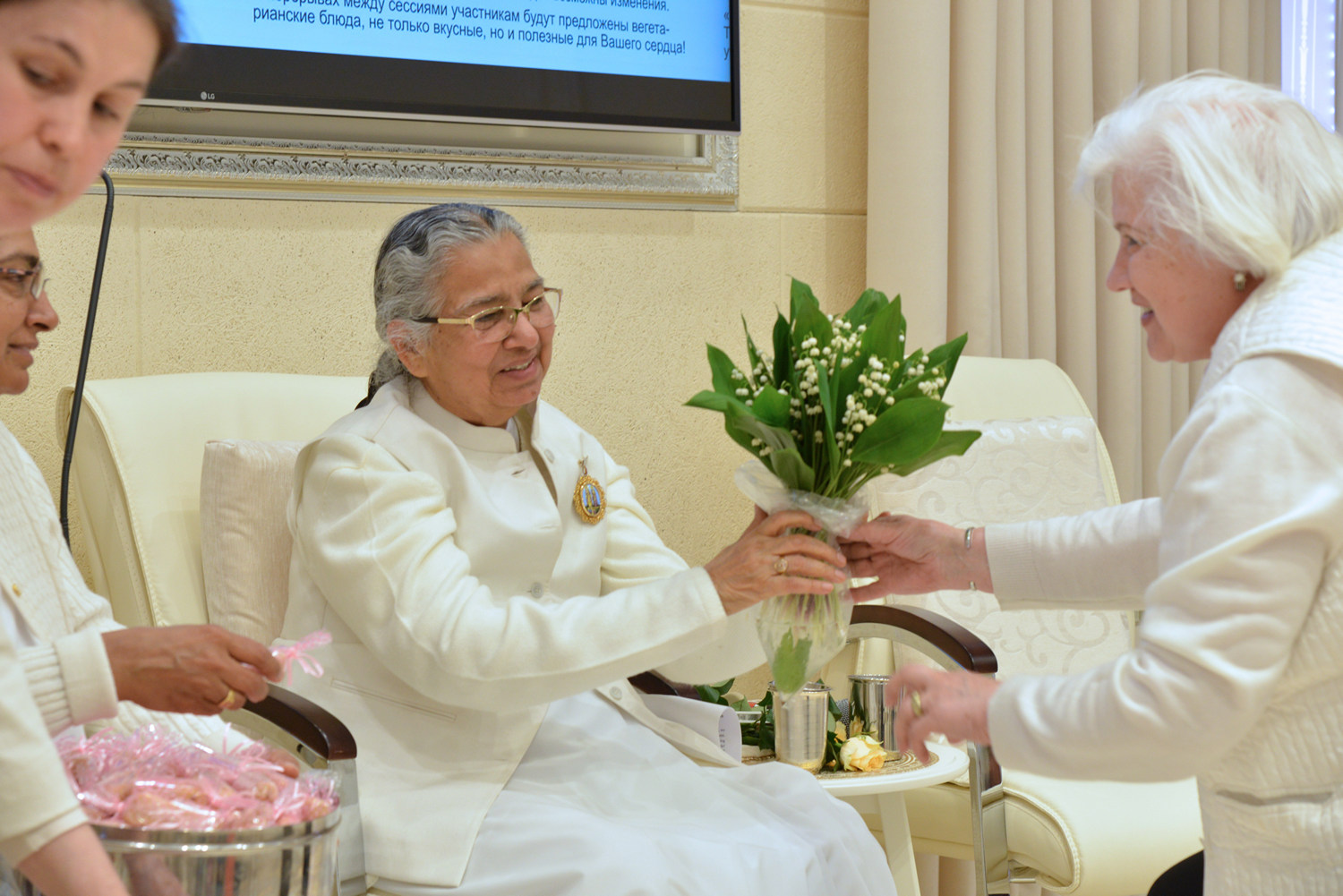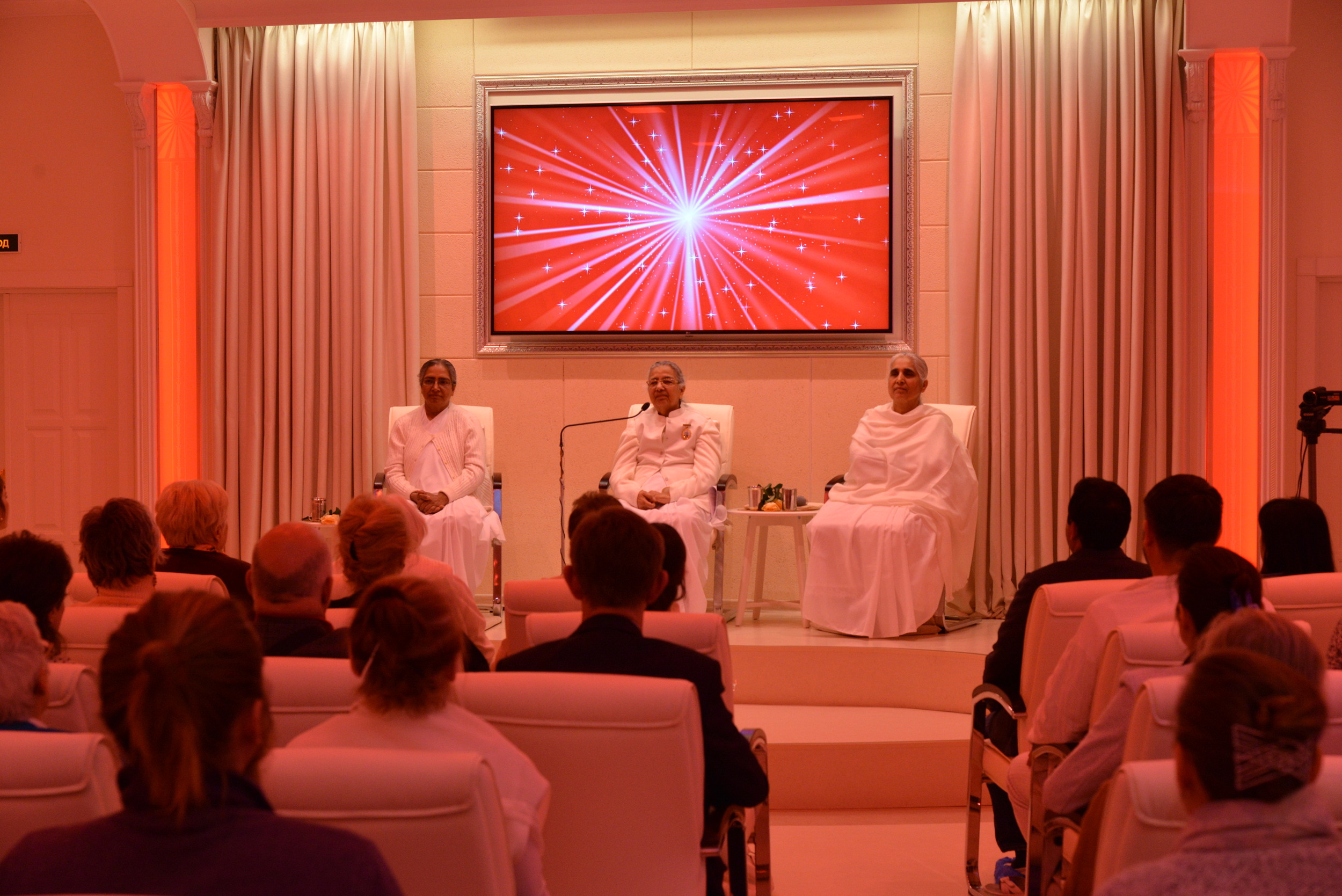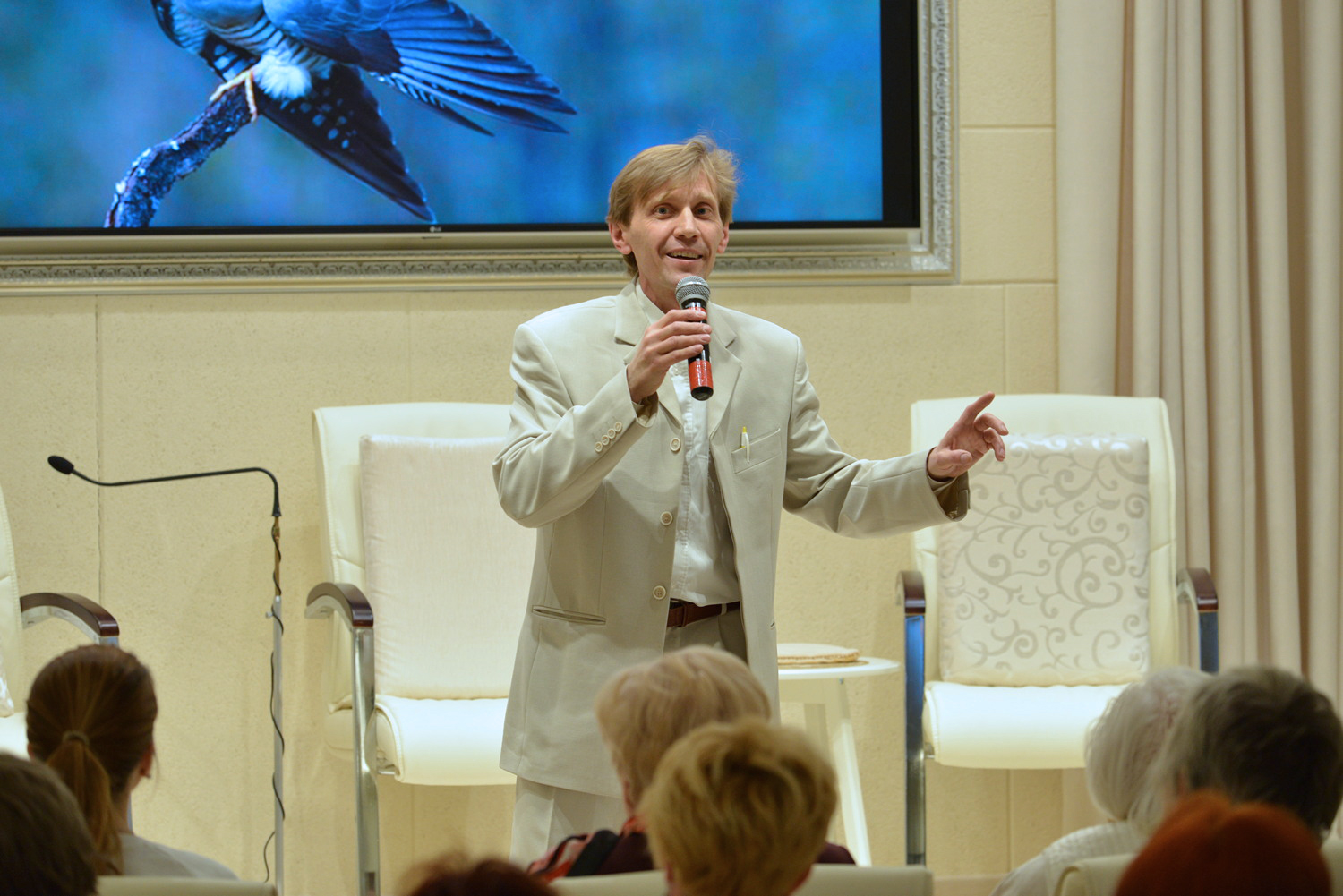 Dadi Janki Inaugurates a new Retreat Center near Moscow: "The Lighthouse of the World"
29 June 2018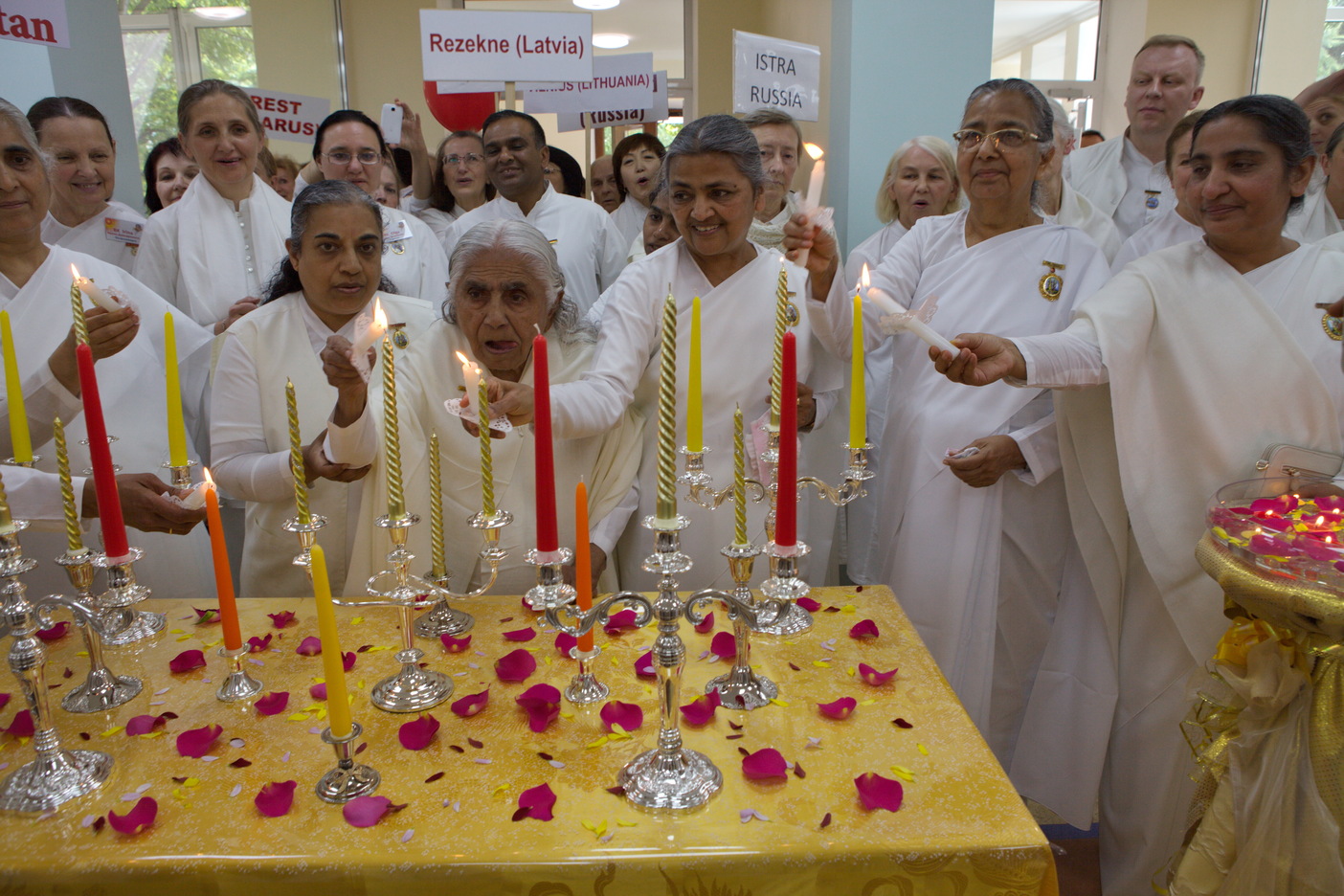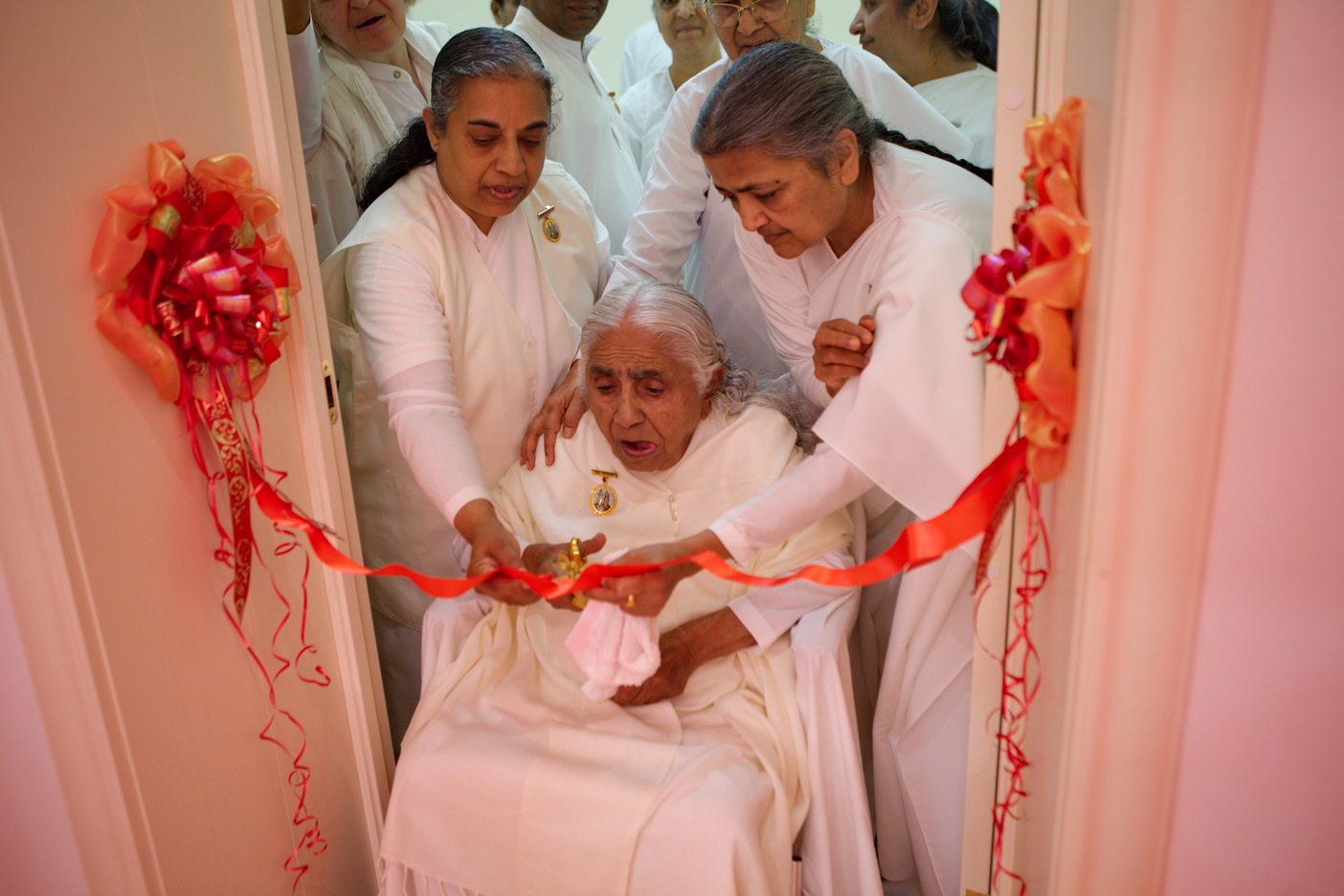 Dadi Janki, Didi Chakradhari, Didi Rani, Didi Sudha, director of BK centre in Moscow, Brother Vijay, Didi Santosh, director of BK centre in St.Petersburg, sister Hansa, BK sisters and brothers inaugurated the new Retreat Centre of Brahma Kumaris in Moscow "The Lighthouse of the World".
The program began with the flag hoisting outside the building. There were present BK students from 33 cities of Russia, Ukraine, Belorussia, Moldova, Baltic countries, Kazakhstan, Tadzhikistan, Mongolia. After hoisting the flag, they flied air balloons with the BK emblem into the sky. Then Dadi Janki cut the ribbon at the main entrance, and there was the ceremony of candle lighting and coconut breaking. Afterwards there was the inauguration of the 3 meditation rooms. Then Dadi Janki, senior teachers and all brothers and sisters visited different rooms of the retreat centre. After that all gathered in the main hall to enjoy the cultural programme prepared by BK students.
The main blessing by Dadi Janki was: "This building will be free from obstacles and will do great service".
In Baba's yad,
sister Elena
on request of Didi Sudha
View all photos here

Dadi Janki Honored at Public Program on the Occasion of Light House of the World Inauguration
29 June 2018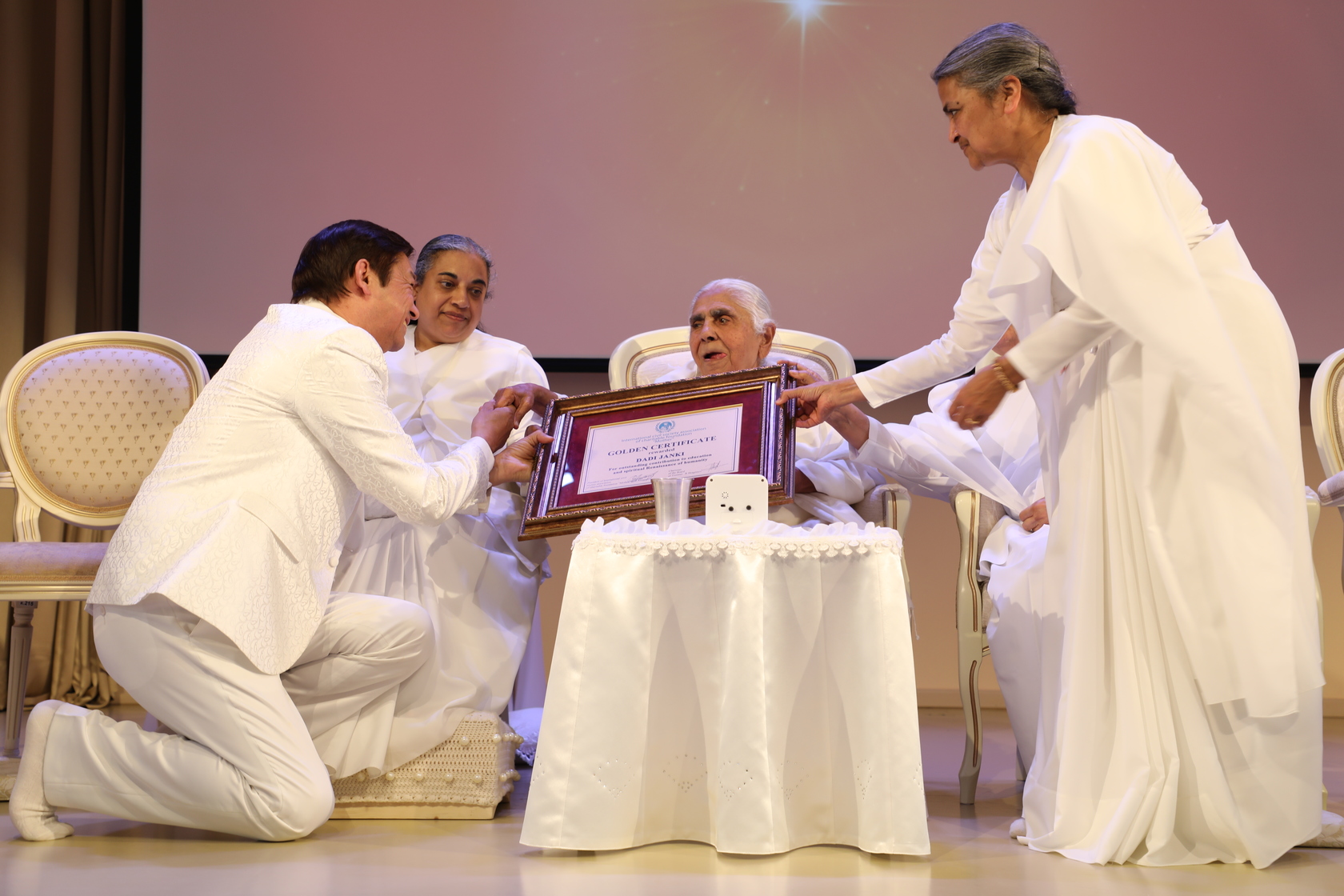 Mr. Rais Atnagulov, President of the International Social Association of charitable funds "Mama" awarding Dadi Janki with the Golden Diploma for the outstanding contribution to education and spiritual renaissance of humanity.
The public program with the participation of Dadi Janki "The Carrier of Light" was held on 2nd June on the occasion of the inauguration of the new retreat-centre of Brahma Kumaris in Moscow – "The Lighthouse of the World".
Among the honorable guests there were: Mr. Rais Atnagulov, President of the International Social Association of charitable funds "Mama", Mrs. Galina Pacheko-Reynaga, Deputy, Director of the Centre of social help for family and children of the northern administrative district of Moscow, Mr. Alexander Zimenkov, the Acting State Advisor of the Russian Federation, Mrs. Ludmila Dudova, member of the Public Chamber of the Russian Federation, Mrs. Tamara Bedoyeva, Director of the Cultural Centre of Ossetia in Moscow, Mr. Vyacheslav Yegorov, famous travellor, artist, ambassador of peace, Mr. Leush Lubich, Belarusian singer, actor, presenter.
Senior teachers from India present at the program: Didi Chakradhari, Didi Sudha (director of BK centre in Moscow, Russia), brother Vijay, Didi Rani, Didi Santosh (director of BK centre in St. Petersburg, Russia), sister Hansa, sister Jaimini, sister Devi, sister Jasu, brother Anil, brother Ketan.
Mr. Rais Atnagulov awarded Dadi Janki with the Golden Diploma for the outstanding contribution to education and spiritual renaissance of humanity. He remembered his first meeting with Dadi Janki in 2005 when the Second International Congress of Mothers was held in India at the head-quarters of Brahma Kumaris and at the ORC centre in Delhi. Mr. Atnagulov expressed his sincere gratitude to Dadi for her tireless effort in the spiritual service and called her "the mother of the whole humanity", "the main Mama of the planet".
Other photos of the program can be seen here.

Wisdom that Brings Light - Honoring Dadi Janki ji in St. Petersburg, Russia
14 June 2018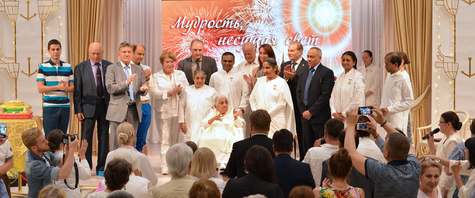 Addressing the international audience that included guests from 15 Russian cities as well as those from Finland, Belarus, Armenia and Azerbaijan, Mr Deepak Miglani, Consul General of India in St. Petersburg, said, "We are honoured by the presence of respected Dadi ji among us today. St. Petersburg is known as the cultural capital of Russia. Dadi ji's coming here has added another dimension to the cultural diversity of your beautiful city. For us, Indians, it is a matter of great satisfaction that even in a land so far away from India we have a spiritual movement which is bringing our two great nations together. The Brahma Kumaris is a worldwide spiritual organization dedicated to personal transformation and world renewal. It supports the cultivation of a deep collective consciousness of peace and of individual dignity of each soul. It is a matter of great pride for us, Indians, that the Brahma Kumaris is the largest spiritual organization in the world led by women. The founder Prajapita Brahma ji chose to put the women in front from the very beginning, which has set the Brahma Kumaris apart on the stage of world religious and spiritual organizations. For over 80 years, their leadership has been characterized by steady courage, a capacity for forgiveness and a deep commitment to unity. With this partnership and consensus model of leadership based on respect, equality and humility, the organization stands as exemplary in terms of accomplished and harmonious jurisdiction."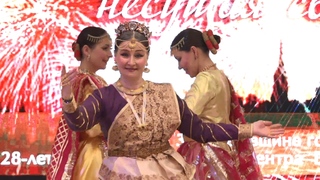 Mr Alexander Rzhanenkov, chairperson of the Committee for Social Policy of St. Petersburg, sent a special letter of appreciation for Dadi ji. "Respected Dadi ji, the Committee for Social Policy of St. Petersburg city administration expresses its appreciation of your selfless spiritual and social service. As a spiritual leader, you bring wisdom to people of every nationality and culture, every professional and social group. Your wisdom easily finds its way to the hearts of people of all walks of life, from laymen to heads of nation states, religious and social leaders. Your soul exceeds all the limits inspiring everyone to believe that they too can change the impossible into possible."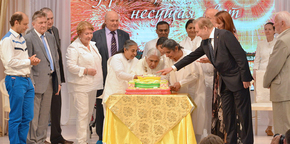 Prof. Vladimir Havinson, vice-president of the European Association of Gerontology and Geriatrics, said, "Dadi Janki ji is an epitome of the supreme spirit, perfection and harmony. She joined this organization back in 1937, and since then about 8000 centres have been established in 140 countries, uniting more than a million members and followers. Therefore, Dadi ji has virtually created a new country that has no borders! The special features of this new country are joy, harmony and peace. Being a gerontologist, a scientist who studies longevity, I can say that Dadi ji is a chief spiritual gerontologist of the world. Her life is the proof that the basis of longevity is spiritual perfection rather than medicines. Her spiritual service and help to the people of the planet Earth are unique."
Dadi ji was warmly welcomed by Mr. Alexander Kurbatov, deputy head of administration of Vyborgsky district of St. Petersburg: "Respected Dadi ji, may you keep sharing peace, wisdom and kindness with everyone for many more years to come. These days we are celebrating 315th anniversary of St. Petersburg, and today's event will surely become a highlight of the celebration."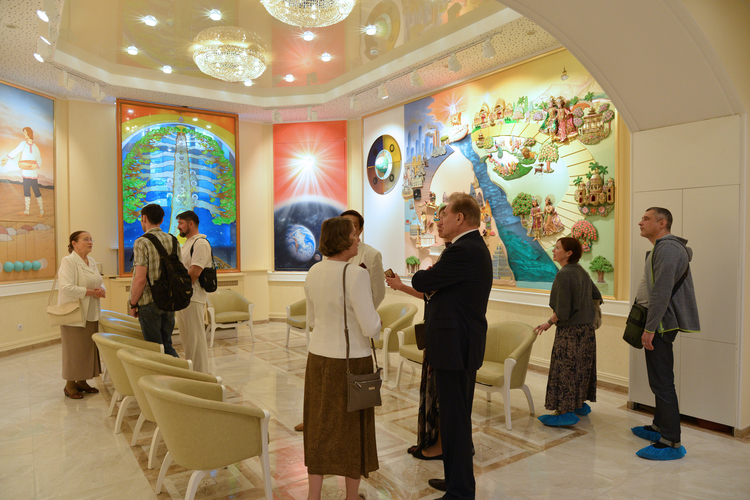 Ms Elena Kalinina, rector of St. Petersburg State Social and Economic Institute, president of St. Petersburg Women Alliance, said, "Our association unites 45 women organizations of St. Petersburg, and we are happy that the Brahma Kumaris is our partner in carrying out the projects of empowering women and improving their standard of living. So many factors disunite people in today's world: political clashes, economic disparity, religious and social conflicts. The Brahma Kumaris as a spiritual association of people is committed to the goal of uniting everyone on the basis of high moral values of respect, tolerance and benevolence. It is not by chance that women lead this organization. Women, mothers do not aim at having themselves in the forefront at any cost. Rather, they are willing to provide a space in which everyone can become successful."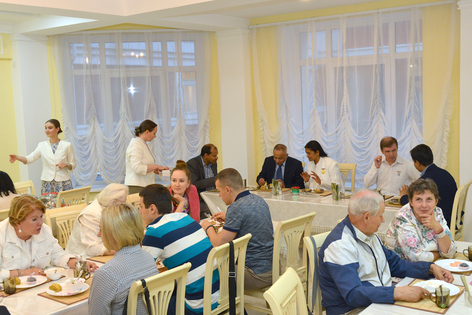 Mr Boris Ivchenko, member of St. Petersburg Legislative Assembly, chairperson of the Union of Pensioners of Russia, greeted Dadi ji in St. Petersburg on behalf of the chairperson and all the members of the city's Legislative Assembly. "Dadi ji, I want to express my admiration and deepest gratitude for your kindness and the strength of your spirit. The entire world bows down to you, and it is a matter of great pride for us that you have arrived in this city. Dadi ji, you keep saying that you do not do anything, that it is God's greatness, and not yours. OK, then just you both keep sending this light to the world!"
Mr Anatoly Konstantinov, chairperson of the Russian Union of People of Arts, awarded Dadi ji with a medal "For Contribution in Development of Culture and Arts". He said, "When someone says that they do not do anything themselves, rather that they are merely an instrument of the Supreme, it proves that that person is a genius! This is why all the great artists and authors have felt that it is the hand of the Supreme that makes them move and create. Dadi ji, you are a great personality and, by all means, you deserve being honoured here today!"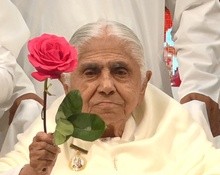 Prof Vladimir Agueevets, president of the National State University of Physical Culture, Sports and Health, said, "Today's world is facing the deficit of spirituality and moral values. The Brahma Kumaris are addressing this issue by creating a space where people can become richer spiritually and morally in order for them to be able to give a proper response to the challenges of life."
Didi Santosh, director of the Brahma Kumaris in St. Petersburg, addressed the audience saying, "The whole gathering today is lit up with the presence of our loved Dadi ji. Those who are simple become samples in front of the world. They are loved by God and by everyone. The proof of that love is your coming here today. Almost all of you have come here because Dadi ji has come. Majority of you met her already in Mount Abu, and she gave every one of you something very valuable that you keep in your heart until today. If you ask me, what main gift Dadi ji has taken from God, I would say that it is a very strong feeling of trusteeship. When you yourself disappear and allow God to act through you, wonders happen. For thousands of years people have tried all sorts of things, yet misery in the world has been increasing. In spiritual terms, we, humans, are little children trying so hard to bring about order in the home where there is chaos. And the Father says, "Children, that's enough. Let Me help you." The problem is that we have become too egoistic and materialistic, and we have forgotten the Almighty, who gave us once a gift of heaven. Today He offers His help. Just sit in His lap, be a child of the Almighty, and He will accomplish whatever is needed through you. Dadi ji is a perfect example of this wisdom of surrendering herself to the Supreme."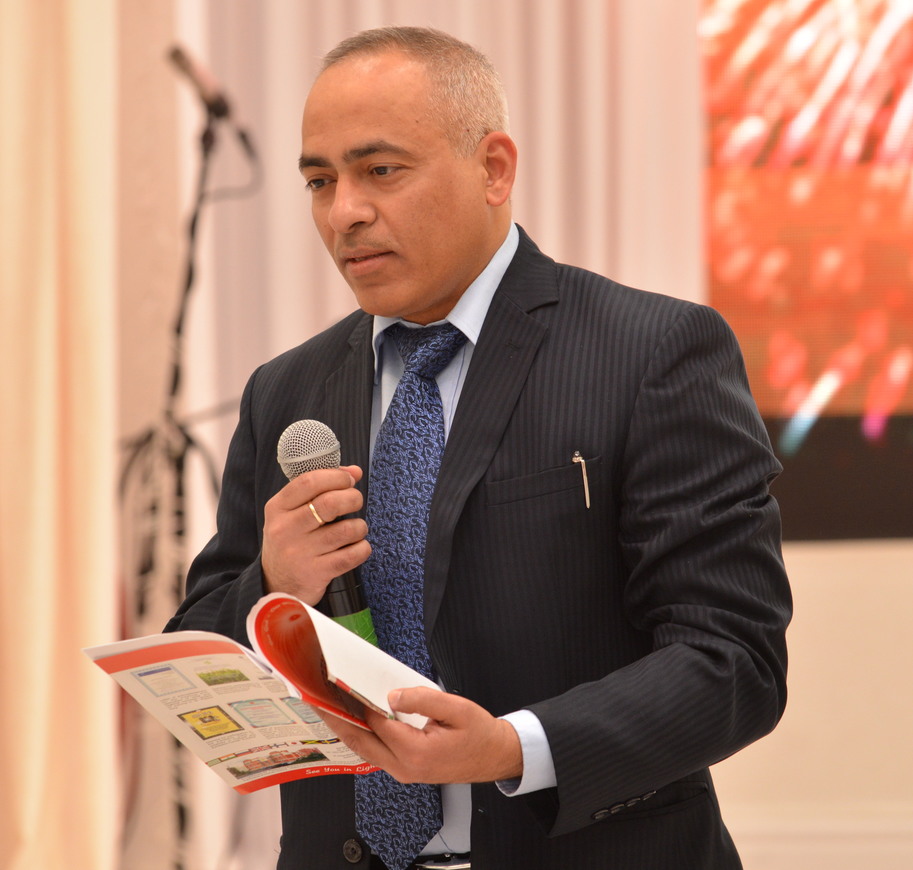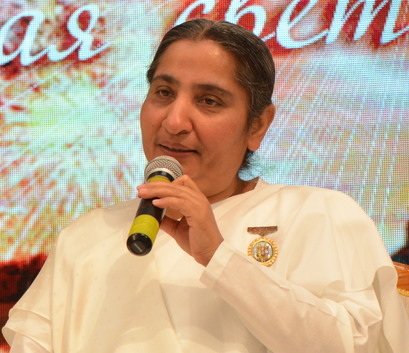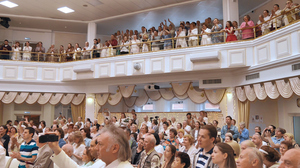 Throughout the felicitation event, Dadi ji as a generous grandmother kept showering gifts of her wisdom upon all of us. She asked for the mike three times to share yet another handful of jewels of spiritual knowledge. Dadi ji reminded us that the secret of harmony lies in our ability to keep five things with us. Those are Humility, Truthfulness, Patience, Sweetness, and Maturity. And the diamond key for success in life is to always remember that there is no tonic better than happiness and no disease worse that worry.
The event was broadcast live in about 25 cities of Russia and neighboring countries.
Click here for detailed report in PDF format.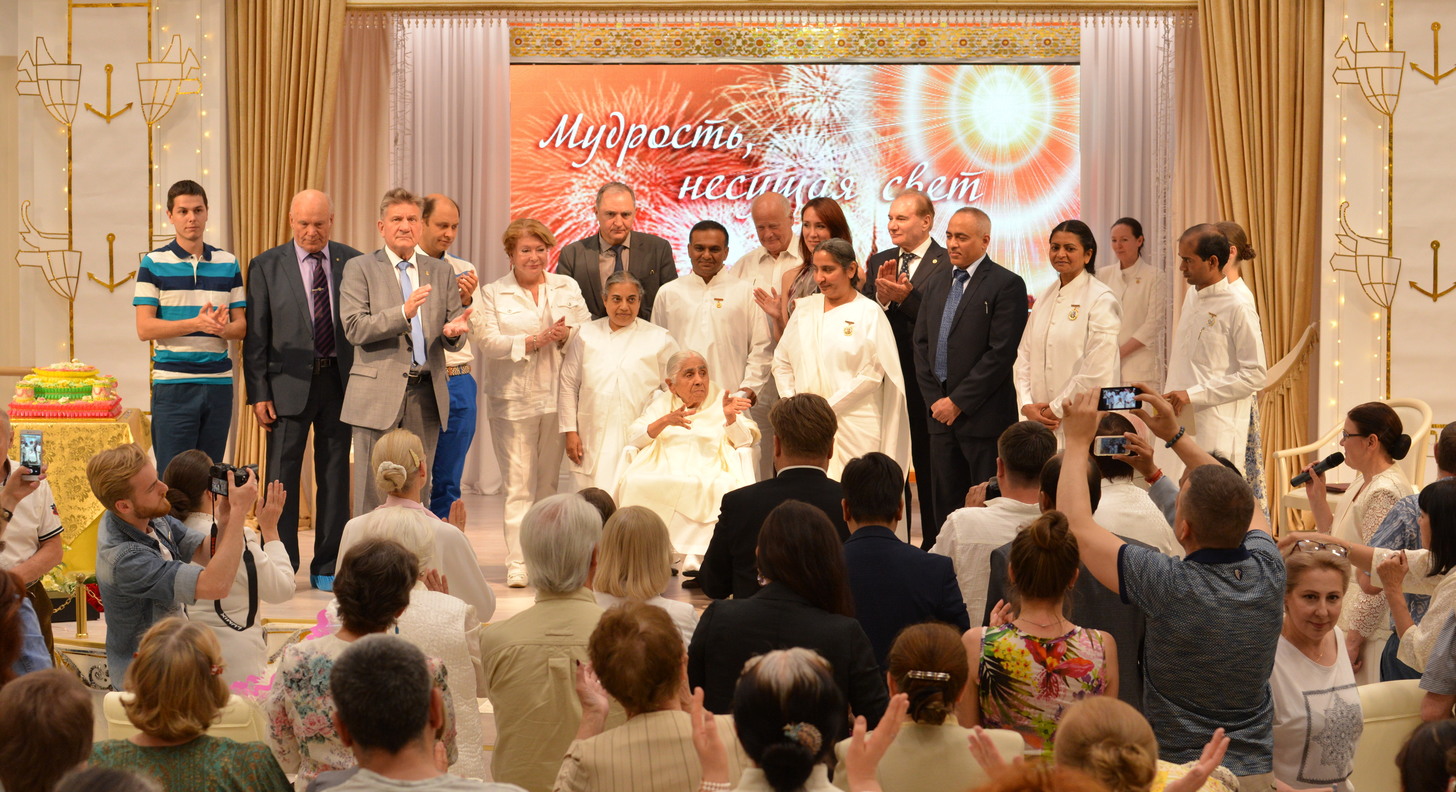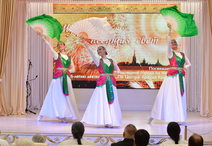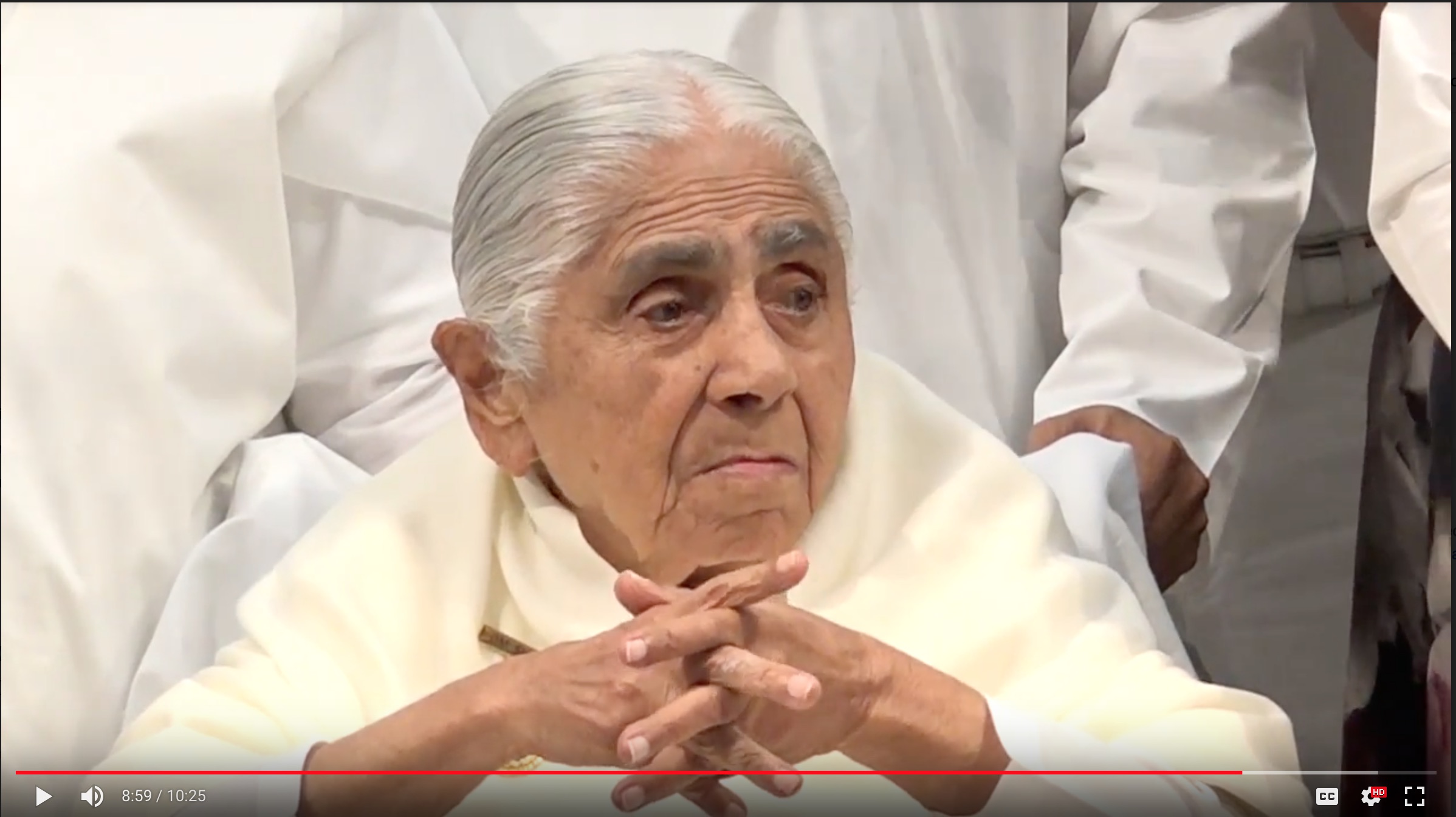 Click above image to play the video recording of the public programme.

Celebration of International Mother Earth Day in Russia, CIS and Baltic States
23 May 2018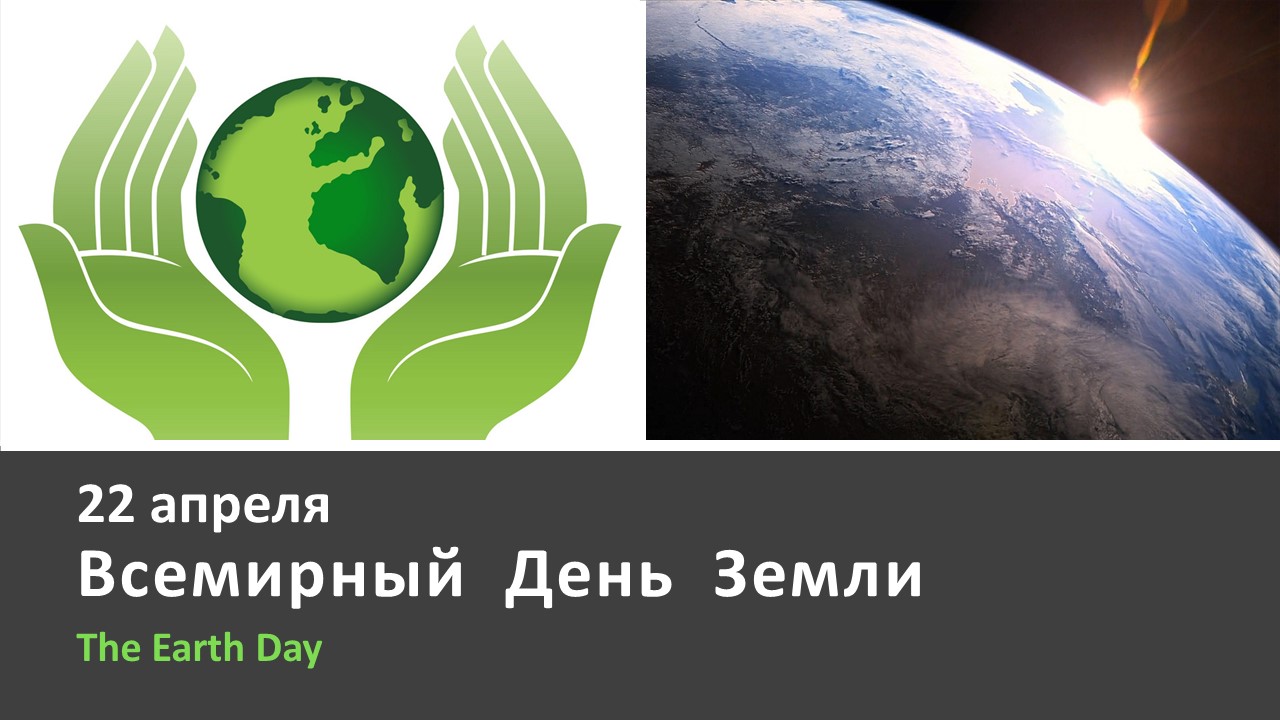 International Mother Earth Day is celebrated all over the world on the 22nd of April. It reminds each of us that the Earth and its ecosystems provide us with life and sustenance. This day also recognizes the collective responsibility for promoting harmony with nature and the Earth to achive balance among economic, social and environmental needs of present and future generations of humanity.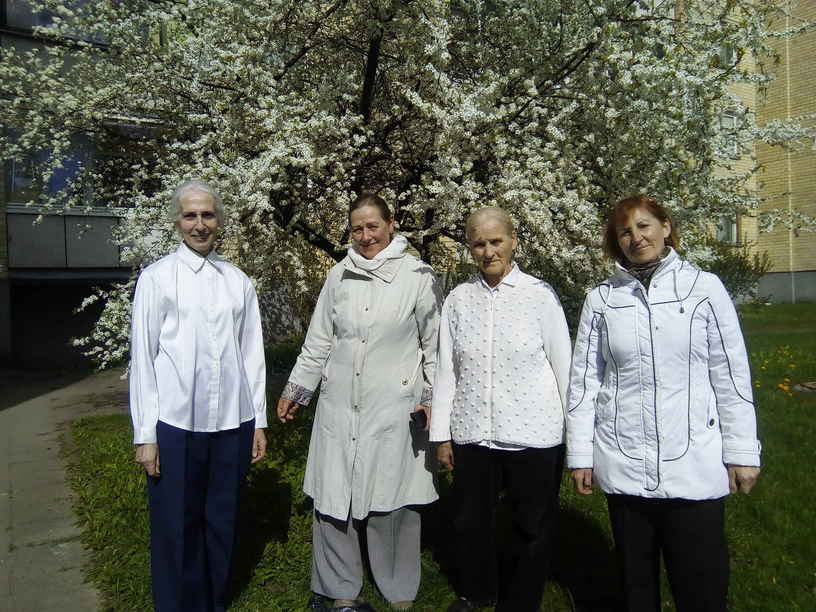 Members of Brahma Kumaris World Spiritual University in Russia, CIS and Baltic States also believe that the harmony can not be achieved without spiritual understanding of life itself. On this special day there were different types of activities in BK Centers all over the region from Mongolia in the East to Lithuania in the West. Special events were held in Moscow (Russia), Novosibirsk (Siberia, Russia), Ulaanbaatar (Mongolia), Astana (Kazakhstan), Vilnius (Lithuania) and others.
Most of them started with the spiritual input of serving Mother Earth by the power of pure
thoughts and attitudes. All the 5 elements of nature received pure vibrations of peace, care
and good wishes during a collective meditation conducted by powerful yogis. It allowed
everyone to experience a close connection with the Supreme, the Creator. They could feel that
His pure love, power and wisdom are able to bring Mother Earth to its original nature of purity
and prosperity.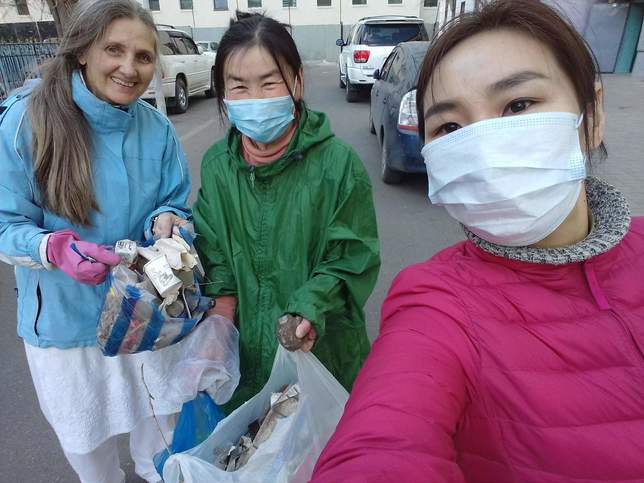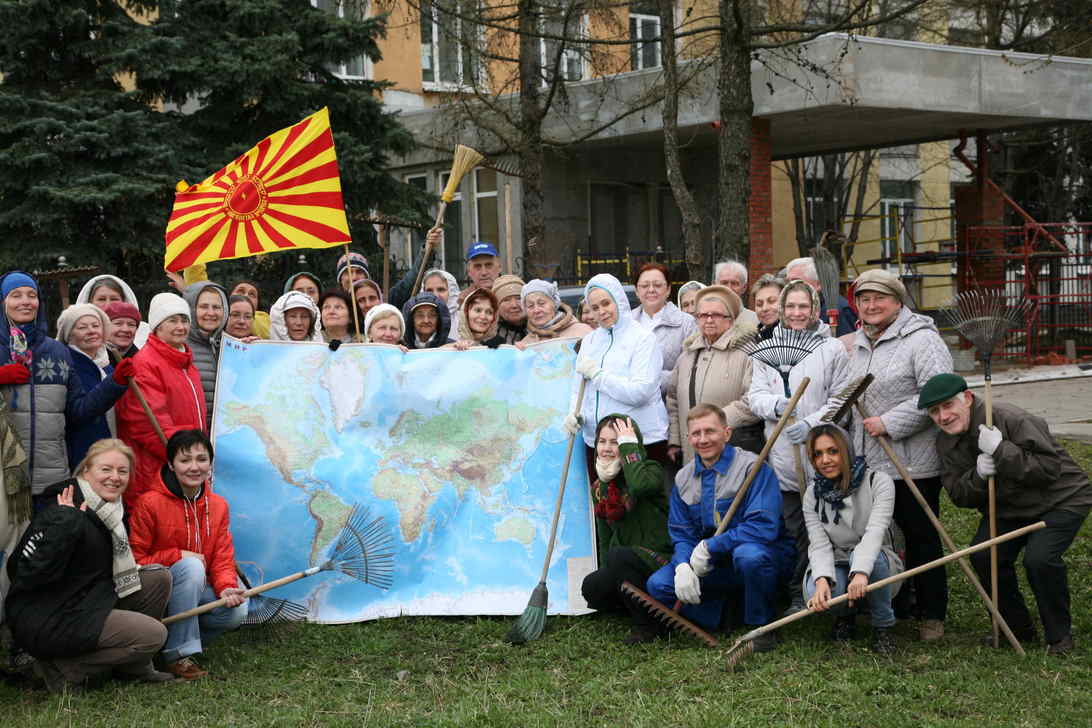 The celebration was continued by physical cleaning up our BK Centers inside and outside the
buildings. Everyone put their finger of cooperation in making our planet clean with a lot of
enthusiasm and a feeling of our common responsibility.
Spring itself is the time of rejuvenation. By taking part in such events we help people to stay
united and mindful of living in harmony with nature. It is time to show our regard and respect
to the ever-giving Mother Earth. By making a small step towards harmony we can inspire
others to change their attitude and the way of living and come close to the world of our
dream.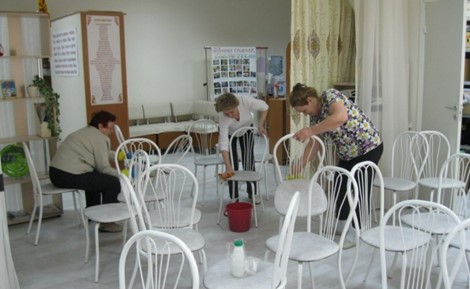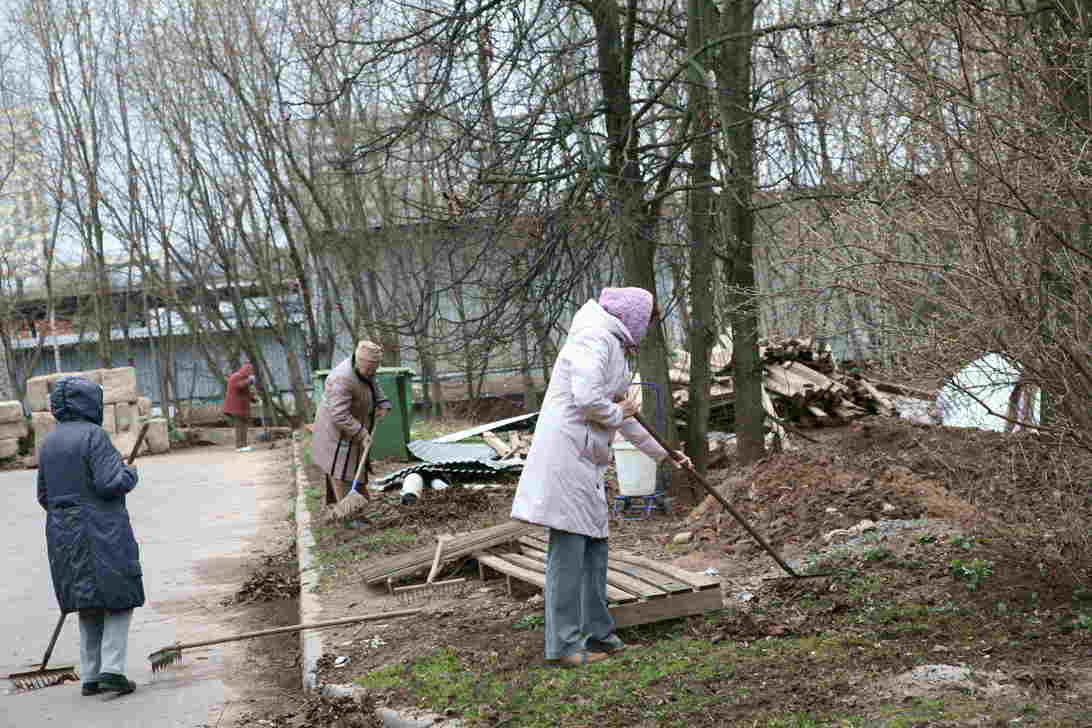 Click here for report in PDF format.

Didi Santosh of St.Petersburg, Russia, becomes a member of the Academy of Fundamental Sciences
25 April 2018
The Academy certificate was presented to Didi Santosh on April 19th, 2018, at the plenary session of the International Scientific Conference "Topical Issues of Information Society in Science, Culture, Education and Economics" (Zelenograd, Moscow).
Handing the diploma to Didi Santosh, Ms. Galina Morozova, director of the Institute of Arts and Information Technologies, organizer of the conference, spoke about the special importance of value education for social development.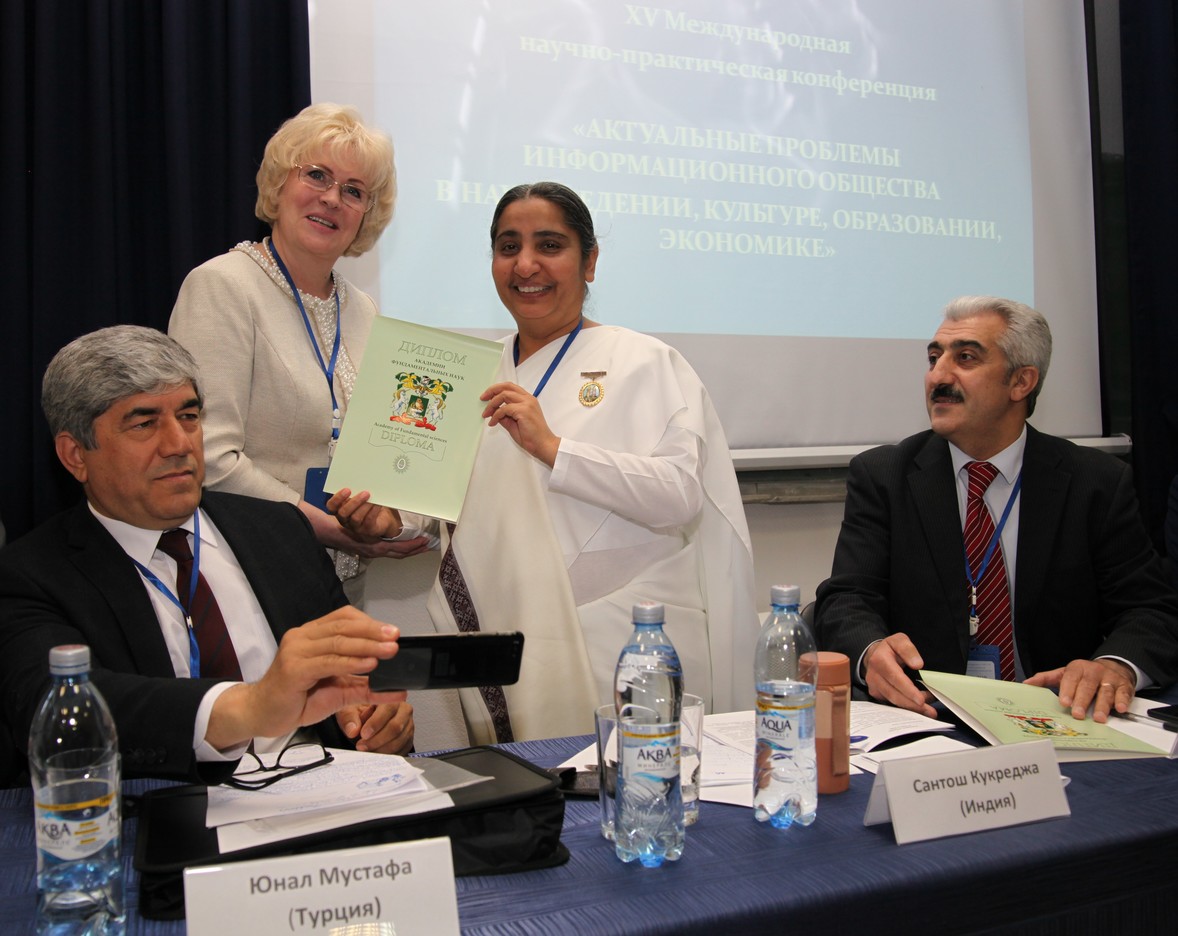 Plenary session of the International Scientific Conference "Topical Issues of Information Society in Science, Culture, Education and Economics" (19-20 April, 2018). (L to R) Prof. Valentin Borzunov, academician of the Russian Academy of Natural Sciences; Didi Santosh, Brahma Kumaris director, St. Petersburg, Russia; Mr. Yunal Mustafa, professor, department of history of religions, Erciyes University, Turkey; Dr. Andrey Tyunyaev, president of the Academy of Fundamental Sciences, Russia.
The 15th anniversary international conference in Zelenograd was attended by distinguished scientists, educators and administrators from Russia, Turkey, Azerbaijan, Belarus and Uzbekistan as well as by young researchers, students of the Institute of Arts and Information Technologies.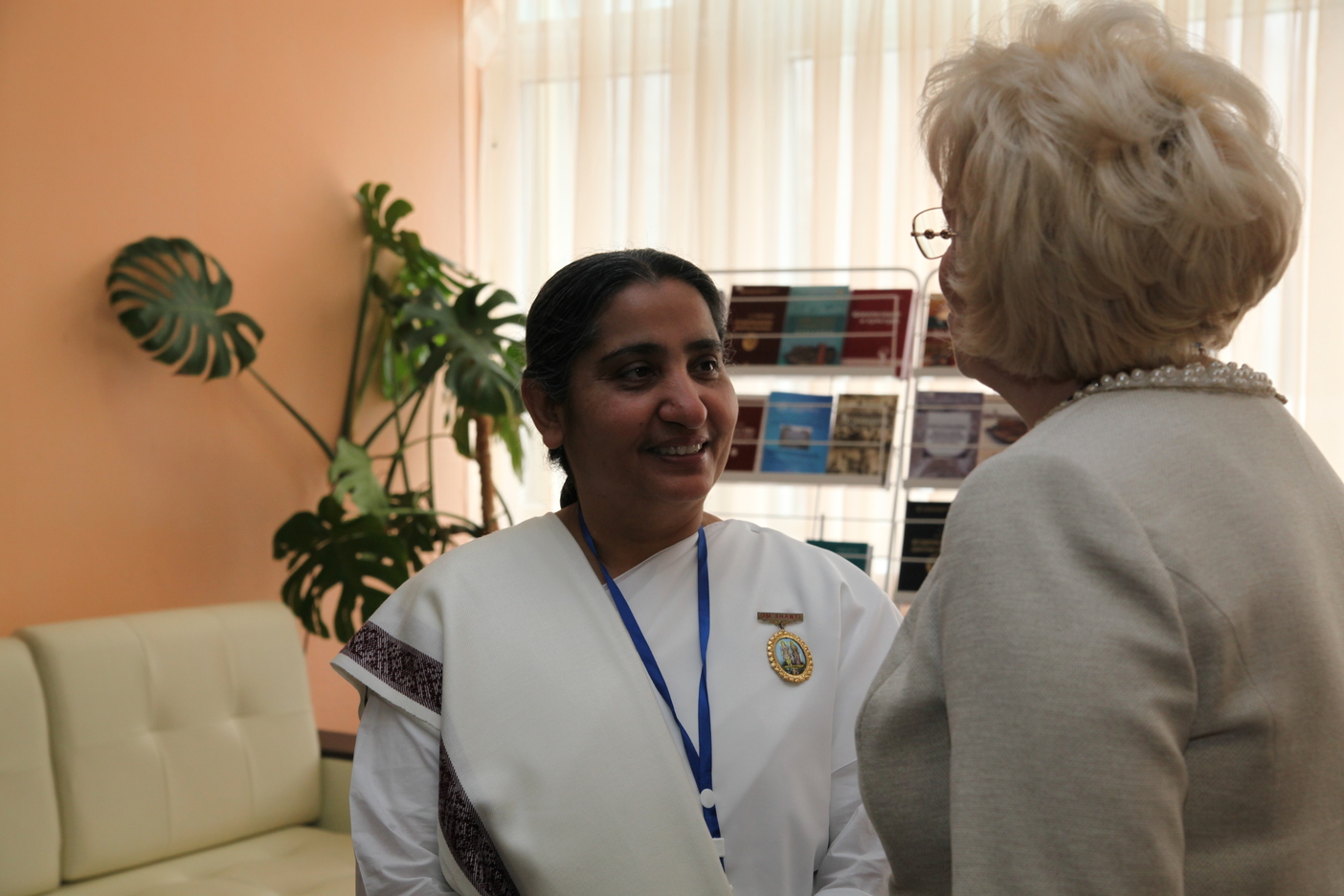 While discussing the major challenges of the modern times, many speakers talked about the degradation of values, on the one hand, and the transition to a new paradigm of thinking that is taking place right now, on the other.
Dr. Andrey Tyunyaev, president of the Academy of Fundamental Sciences, said in his presentation, "We are living through a period when new awareness and new philosophy are being shaped. The scale of the shift in the super-paradigm of human consciousness that is taking place right now can be compared to the one that happened in XVIII-XIX centuries when the technical way of thinking emerged. What shifts are to be expected in the future in this connection? The first and foremost of them is a transformation of religious thinking. An entirely new religion is about to come to replace the old ones. I do not know the name of that religion but it will make some people god-like. By 'gods' I do not mean mystical beings. Gods are the ones who open new spaces and dimensions for humanity. Just like Prometheus brought fire to people, in the nearest future some people will emerge and become divine by helping the humanity with a certain unique quality, entirely new and unknown before".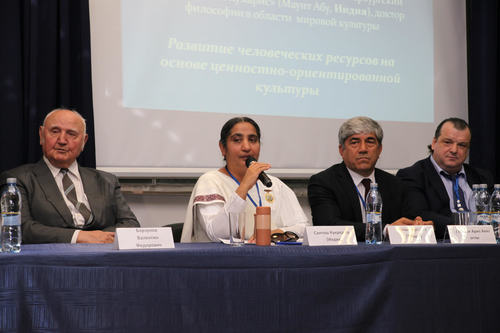 Prof. Yadviga Yatskevich, head of the department of social communications of Belarus State University (Republic of Belarus), said that the transition we are going through can be called an anthropological one, as we are turning towards making human life and human values into our priority. It is the transition from the governance based on instructions and orders, to value-based governance and administration. At present we have to learn to combine rational and moral approaches in our policy-making and management. Certain spiritual changes are required first for making any substantial change on a material level. A dialogue of cultures is essential for that, as it will enable the cultures to share their most valuable achievements with the rest of the world. For instance, the culture of the East can show us the path from violence to non-violence, solidarity, acceptance and dialogue."
Mr. Vitaly Nasedkin, president of Investment Agency of Central Federal District of the Russian Federation, underlined the importance of seeing the entire mankind as one family. "It seems wrong to talk about the dialogue of different civilizations, because humanity is one civilization. Science is international, it cannot be Muslim or Christian, Arabic, Chinese or European. Similarly, the laws of social development are universal, just like the laws of physics are universal. Well, if one day we learn to understand the language of ants, then perhaps it will be correct to speak of a dialogue of two different civilizations!"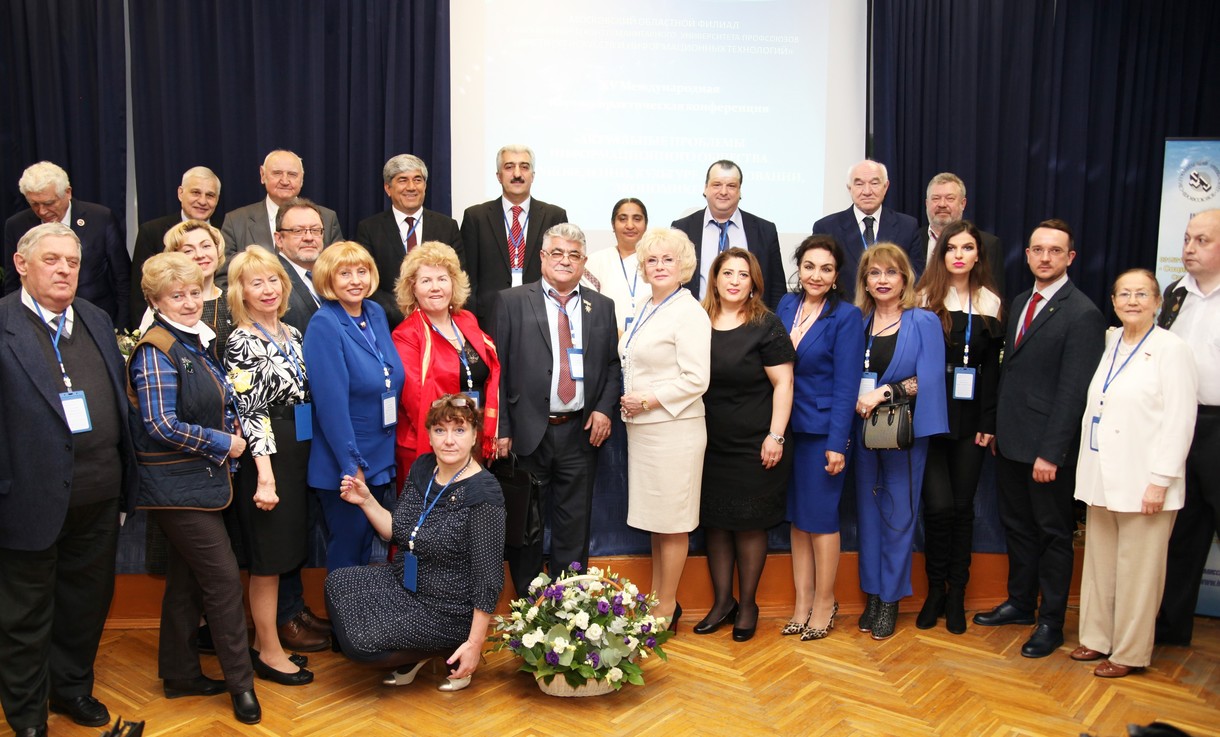 Prof. Nigina Shermuhamedova (National University of Uzbekistan) said, "The more science goes into the depth of human nature (cloning, decoding the human genome, AI development), the more enigmatic this human nature appears to be. Although we have entered the 3rd millennium, we still do not know how to be human. It is not by chance that the topic of the forthcoming 24th World Congress of Philosophy in Beijing will be "Learning to Be Human"!
Talking on "Value-Based Human Resource Development", Didi Santosh said that although modern technologies and institutions supposedly exist in order to help people in achieving peace, happiness and general well-being, there is a major lacuna in today's knowledge and way of action. Metaphorically speaking, science and technologies provide us with the knowledge about how to make a car, or even how to repair and renovate the car that has been manufactured, but they do not give us an ultimate answer to the question as to who is going to drive that car and what the needs of the user might be. The car is just a means for its user to achieve their goals. The food, both physical and spiritual, required by the user differs from the fuel required for the car. The issue of development is all about understanding human beings who are the users of resources provided to them by nature and technologies. We invest lots of brain power and money into creating technologies, while ignoring those who are going to use them. As a result, the instruments of technology are often used in order to augment the negative forces present in human minds. If an instrument of technology is used to cater negative traits and tendencies of human beings, this development is far from being beneficial. Development will become truly beneficial provided the people using the technologies learn how to think in the right way for the benefit of themselves and others.

Didi Sudha presents a talk on "The Power of Words" at XII Scientific Conference
24 April 2018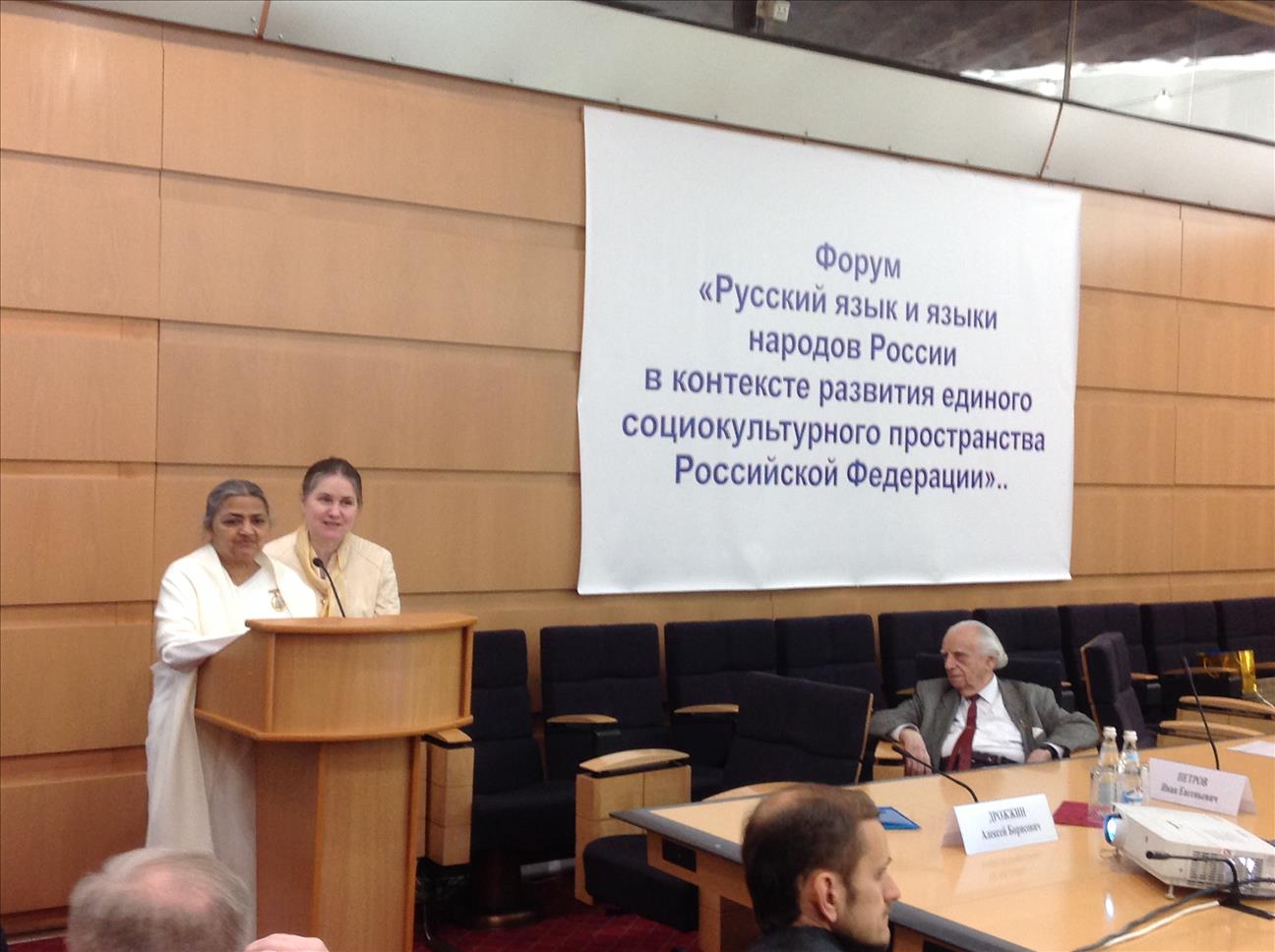 Didi Sudha, Brahma Kumaris, giving a talk on "Power of Words". In the presidium there is a doctor of philology, professor of the Moscow Pedagogical State University.
Moscow (Russia): On the invitation of Mrs. M.D. Tikhonycheva, Rector, Leo Tolstoy Institute of Language and Culture, Moscow, Didi Sudha, Director, Brahma Kumaris, Moscow, gave a talk on the theme "Power of Words" at the XII Scientific Conference. The theme of the conference was "The dialogue of languages and cultures: problems and perspectives of modern inter-cultural communication".
The Conference was held on 19th April in the building of Government of Moscow under the auspices of the Committee on Nationality Issues, Russian Federal Assembly.
Organisers included the Department of National Policy and Interregional Relations, the Moscow House of Nationalities, the Leo Tolstoy Institute of Languages and Cultures, Moscow, and the International Scientific and Cultural Centre, Moscow.
Mrs. M.D. Tikhonycheva, Rector, Leo Tolstoy Institute of Language and Culture, Moscow, opening the creative exhibition of the Forum.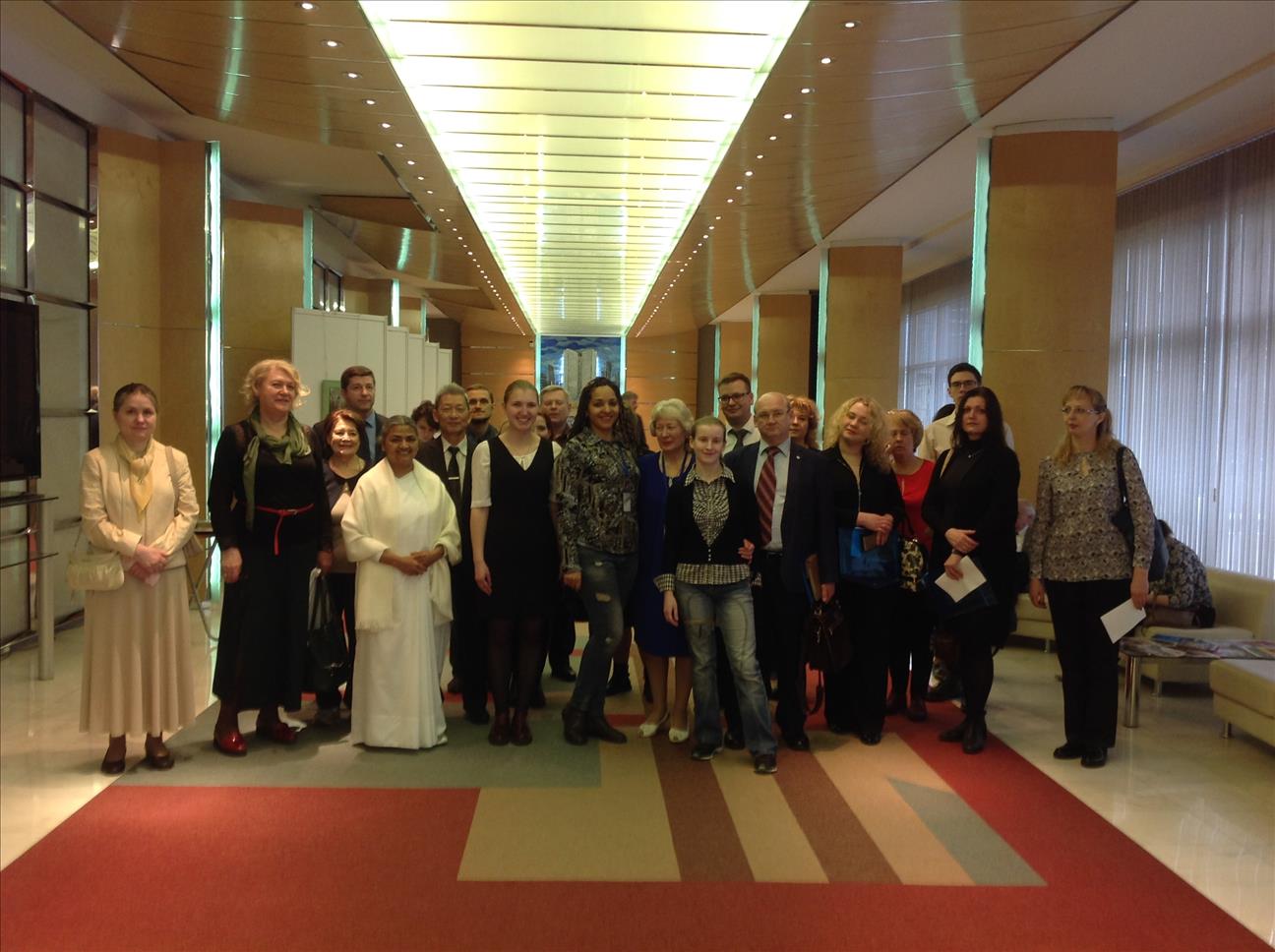 The Participants of the Forum in the building of Government of Moscow.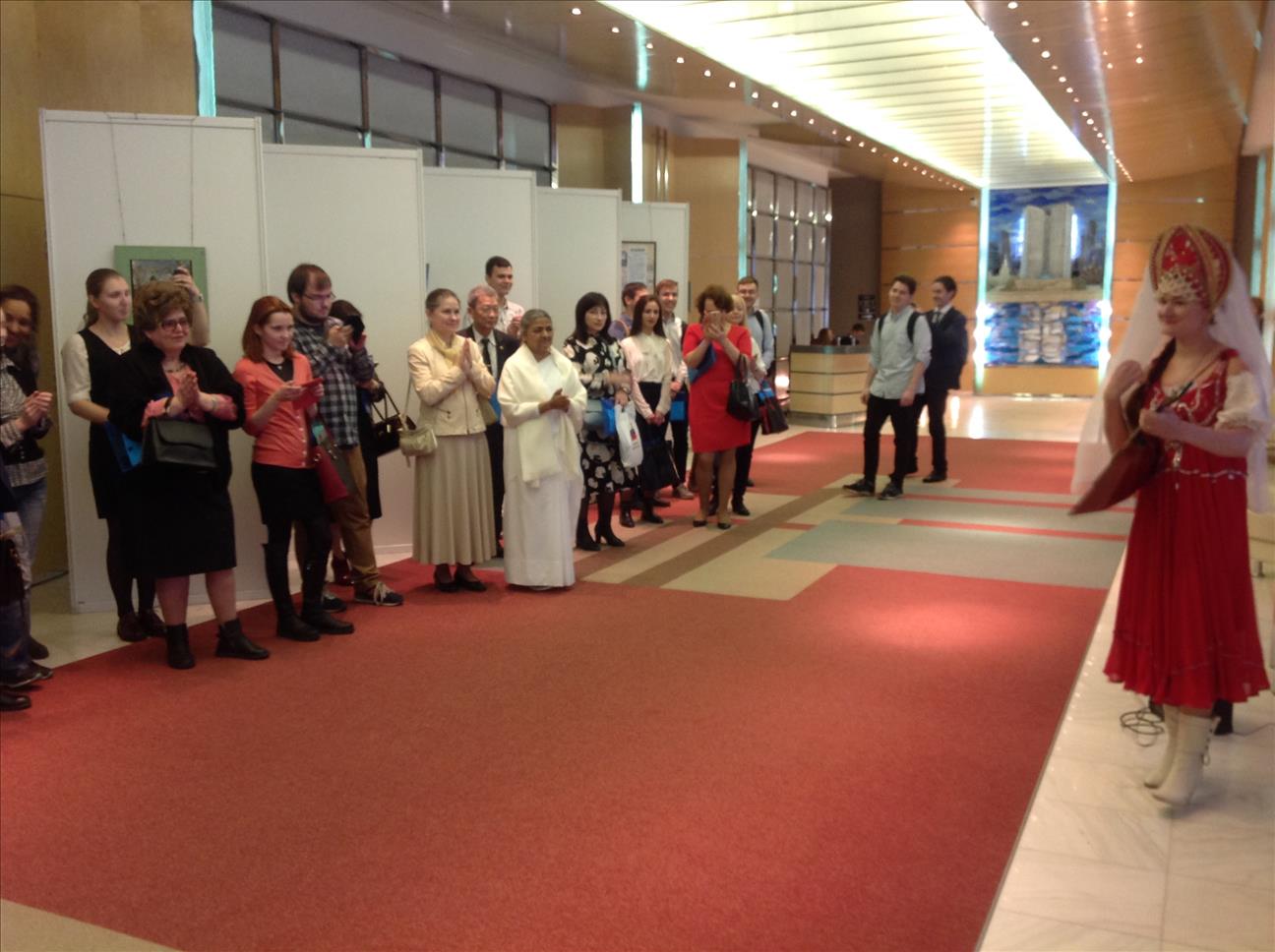 Welcome programme. The concert of Russian folk music: balalaika.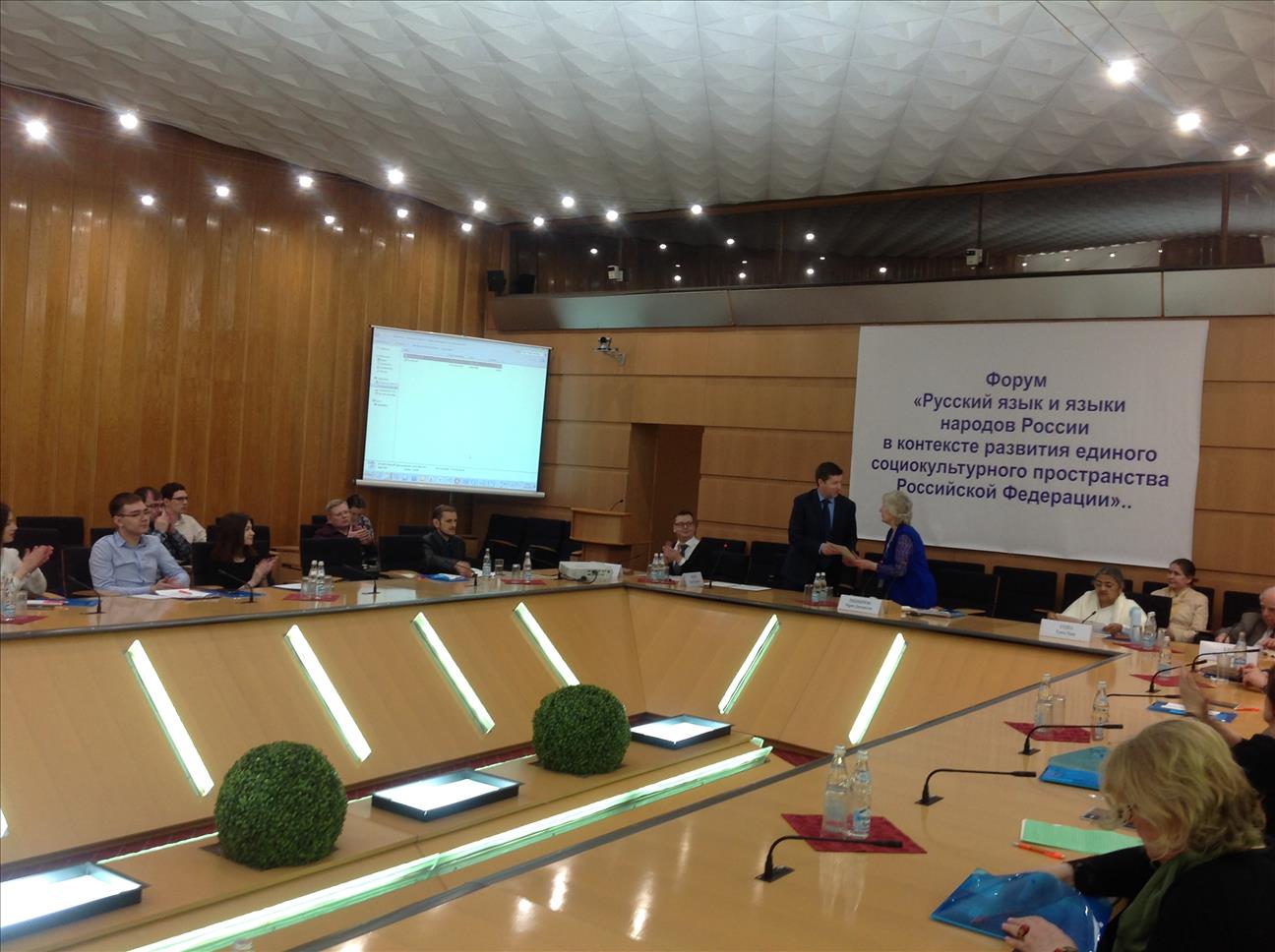 Greetings on behalf of the Head of the Department of National Policy of the Moscow Government.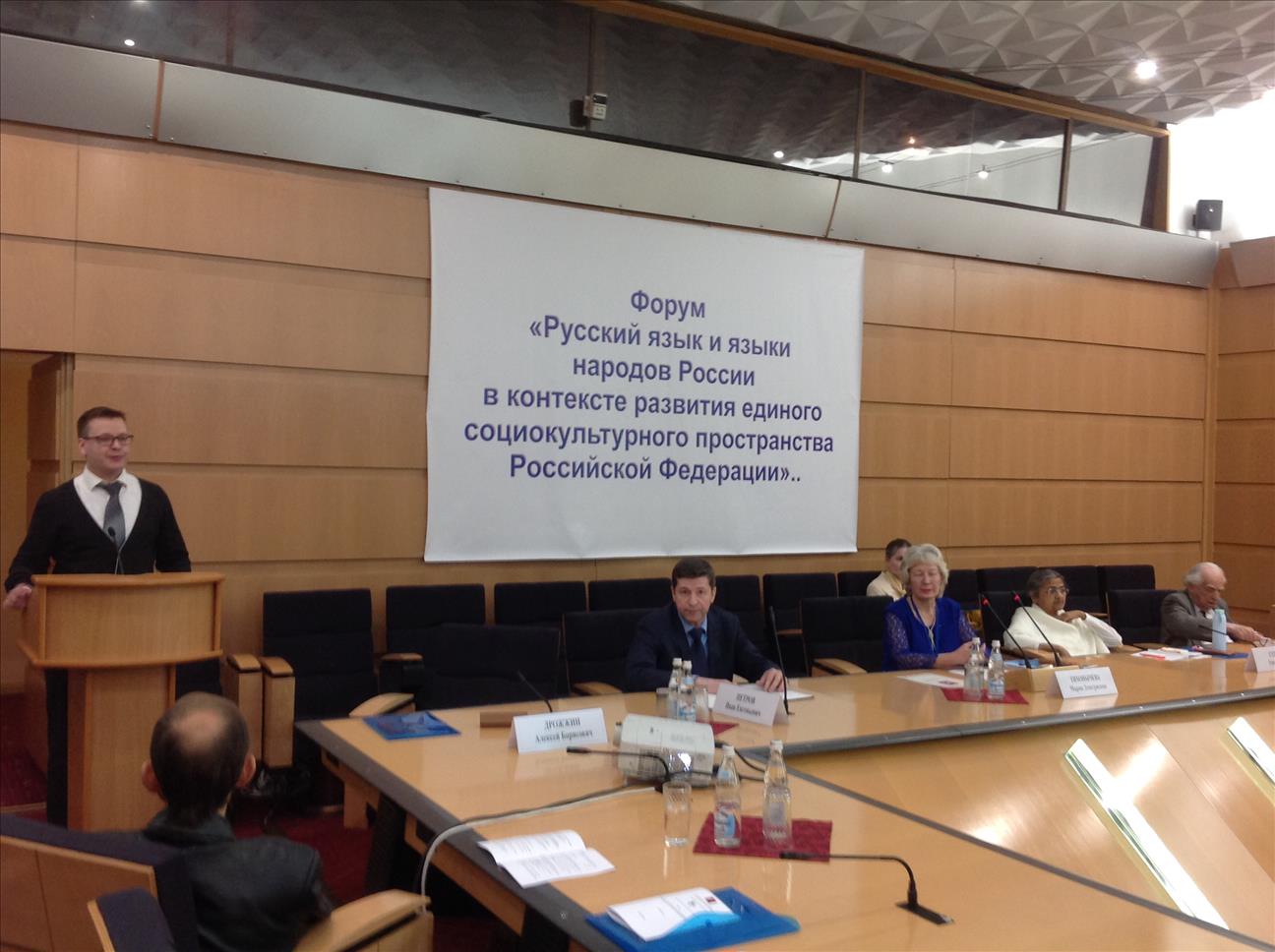 Mr. Alexey Drozhzhin wishing successful work to the Forum on behalf of Mr. Tarasov V.B., the Head of the Moscow House of Nationalities.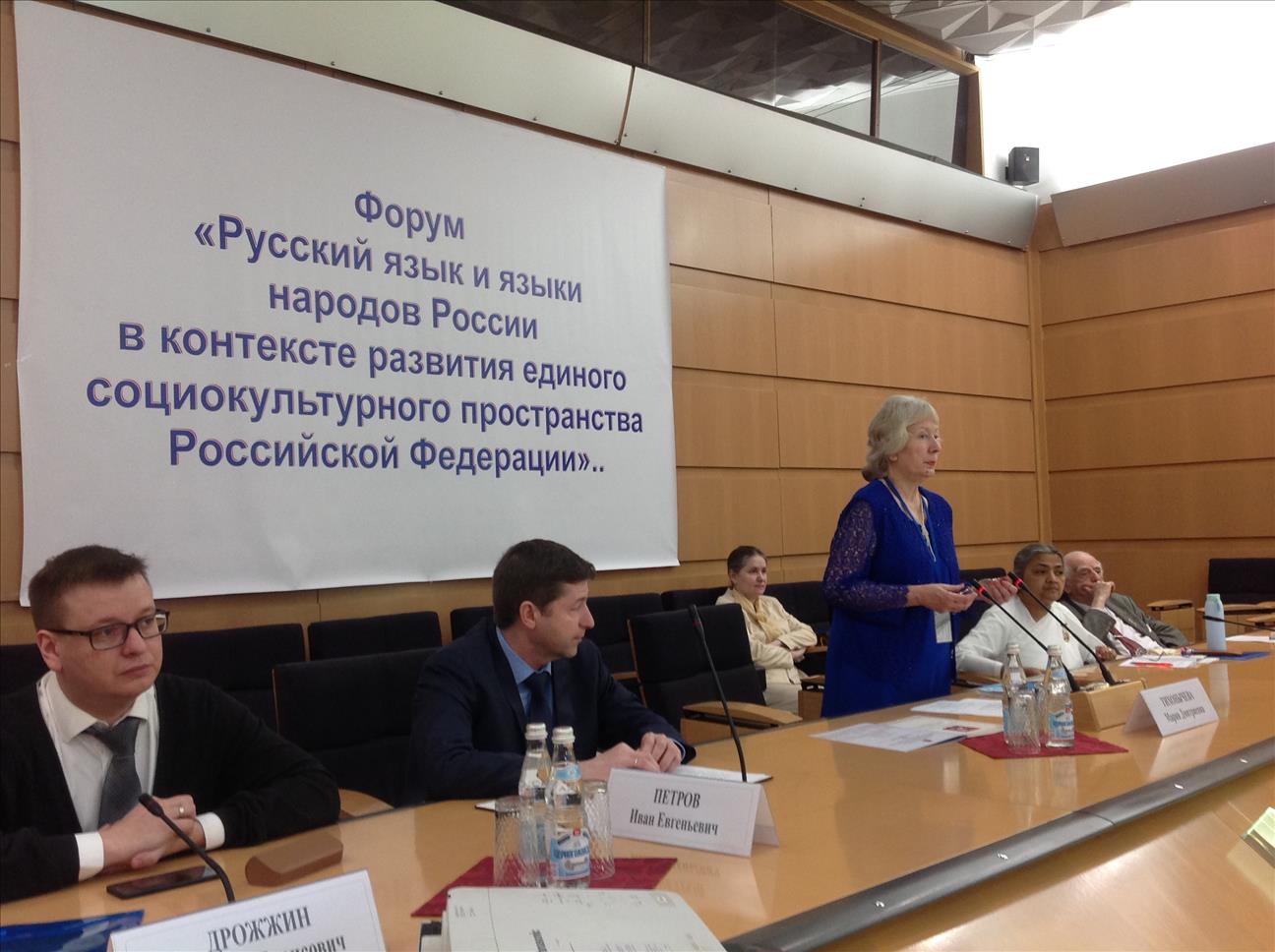 Mrs. M.D. Tikhonycheva, Rector, Leo Tolstoy Institute of Language and Culture, giving a talk on the main objectives of the Forum.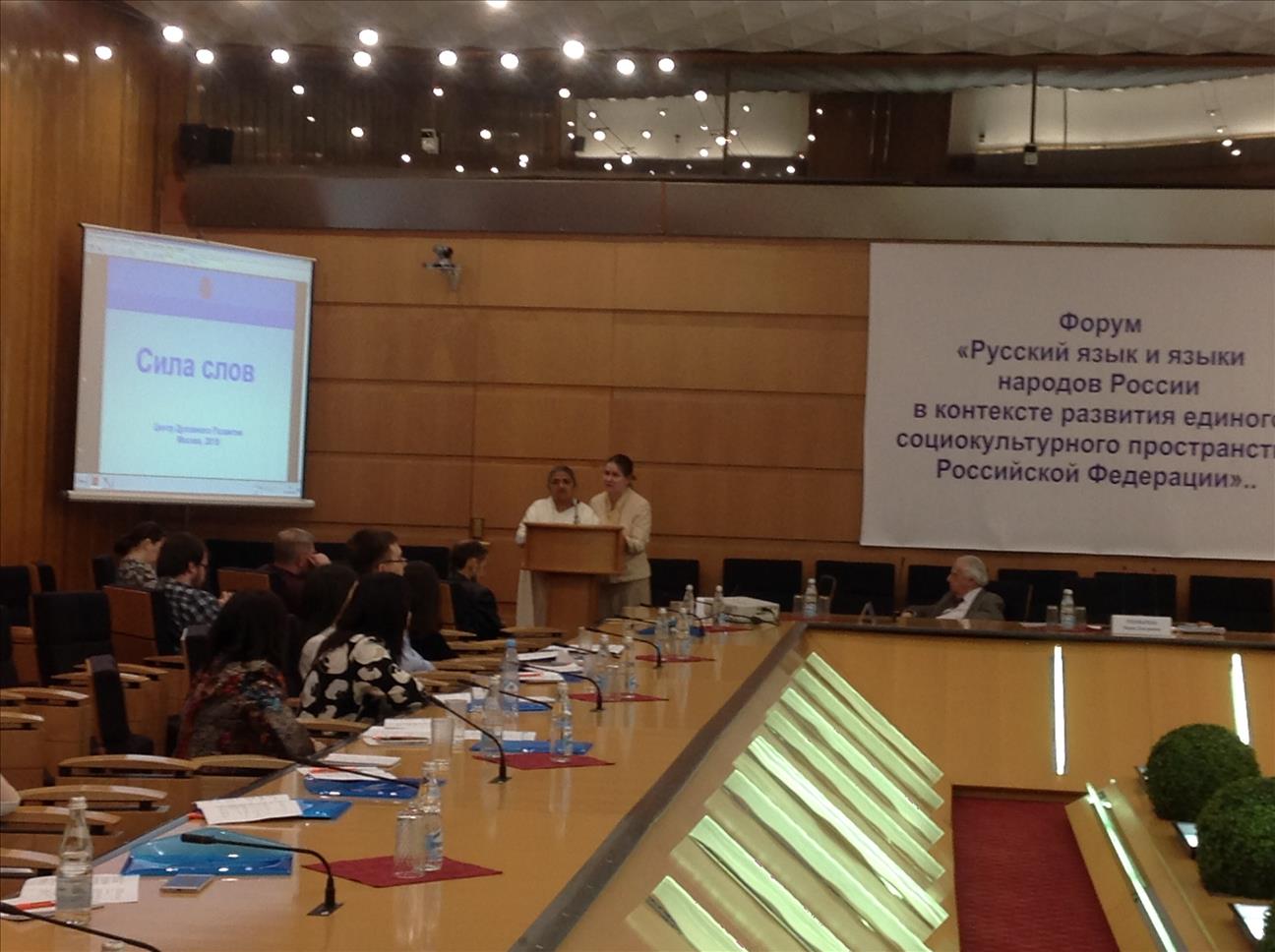 Didi Sudha telling the participants of the Forum about the principles of elevated speech.

Baisakhi Celebrated in Moscow
15 April 2018
A celebration of the Punjabi festival of Baisakhi, a joyous event having a religious and historical background, was organised by the Punjabi Sabha of Moscow. Sis Sudha, Director, Brahma Kumaris Moscow, was invited as an honoured guest on the stage for the Samman Samaroh (Felicitation Ceremony). Bro. Parmod Kumar, President, Punjabi Sabha, Moscow, and the invited guests extended heart felt greetings on the occasion.
The festival was filled with a colourful cultural programme, reminding participants of the bravery, courage, patriotism of Punjabis. It was dedicated to mark the glorification of this great state of India and its enthusiastic residents.