2018 Gyan News & Messages
2018 Gyan News & Messages
Pilgrimage of Love - Collective Remembrance Initiative for 18th January
25 December 2018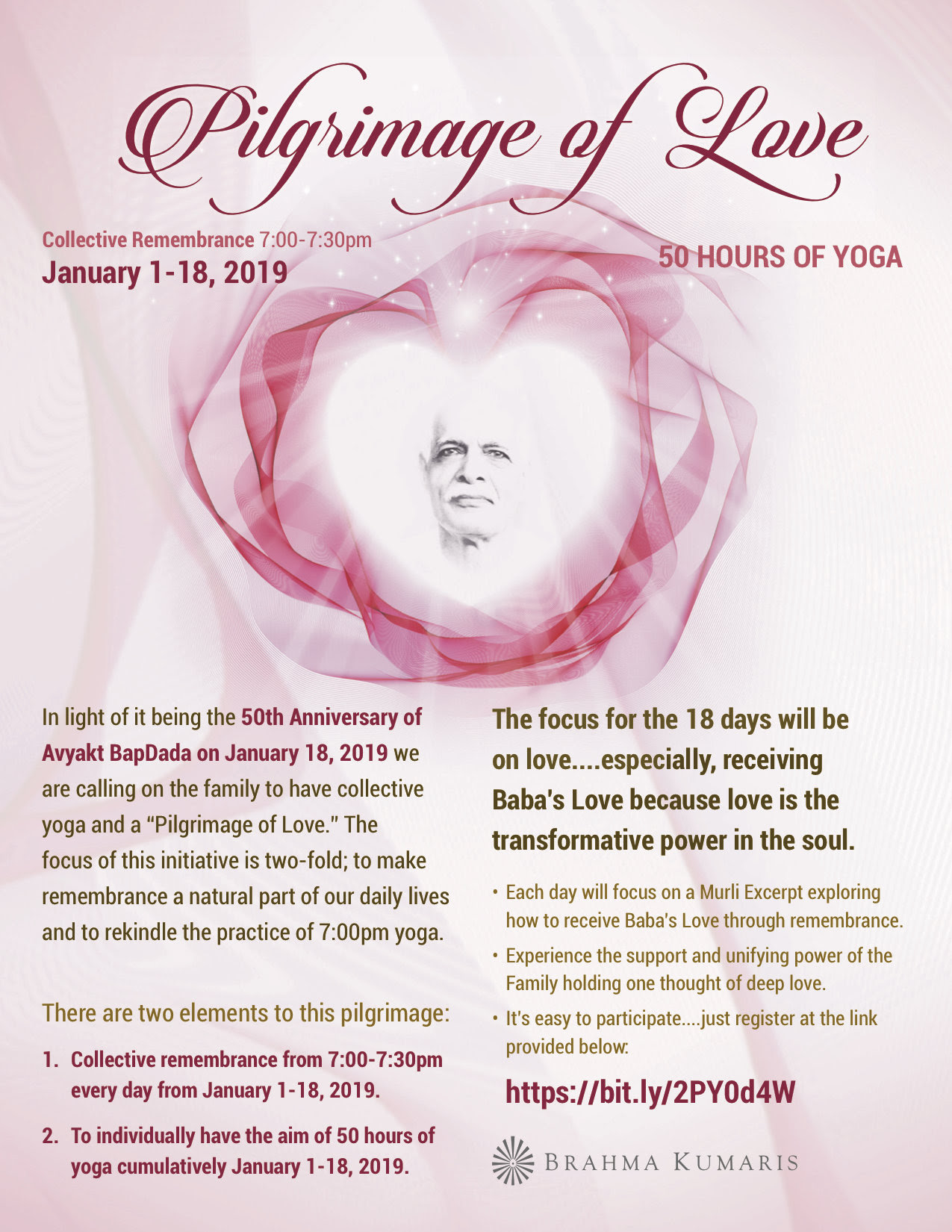 Pilgrimage of Love
January 1st - January 18th, 2019
Collective Remembrance from 7:00pm to 7:30pm
50 Hours of Yoga
In light of it being the 50th anniversary of Avyakt BapDada on January 18, 2019, we are calling on the family to have collective yoga and a "Pilgrimage of Love." The focus of this initiative is two fold to make remembrance a natural part of our daily lives and to rekindle the practice of 7:00 pm yoga.
There are two elements to this pilgrimage:
1. Collective remembrance from 7:00 to 7:30 pm every day from January 1st to January 18th. With 15 minutes of yuktis (from 6:45 pm to 7:00 pm) on how to draw love and remember Baba with our hearts. Both the yuktis and collective meditation will be broadcasted New York time via webinar every day for 18 days. The first 15 minutes is an option for those who want to learn.
2. To individually have the aim of 50 hours of yoga cumulatively from 1st through 18th January. Each soul can structure the yoga around their schedule - however, and whenever, and wherever.
Collective Yoga from 1 to 18, January
6:45 pm to 7:00 pm – Set-up
7:00 pm to 7:30 pm – Collective Yoga
The focus for the 18 days will be on love. Especially, receiving love from Baba because love is the transformative power in the soul. Our understanding is that sanskaras cannot be transformed unless the soul receives love from God.
Each of the 18 days, we will take an excerpt from the Murli especially on how Baba says to receive His love through remembrance. We will use 18 different Murlis and pull the methodology and experiences from it.
Both experienced and new BKs are invited to take benefit from this collective yoga. Sister Mohini is holding this effort assisted by Sister Gayatri, Sister Waddy, and Sister Shireen. Senior yogis will set-up the context offering hints, tips, and guidelines for 15 minutes and then 30 minutes we will be in the remembrance practice. We will live broadcast this everyday from 6:45 pm to 7:30 pm (New York time). If you are not interested in the set-up, then you don't have to come for the first 15 minutes.
All centers and all BKs are invited to hold one thought from 7:00 pm to 7:30 pm at their respective places. The idea is if we all hold one thought in the remembrance of ONE then it builds collective energy that unifies us all.
Daily Webinar
We will use gotomeeting to do the sessions. Please register at the link below. We will use the same meeting id and link for all 18 days. The set-up will be recorded and posted on Soundcloud so the global family can take benefit at their convenience.
https://attendee.gotowebinar.com/register/6366861014758456321
Time Zones
We understand that the sessions may not be at a time convenient for all time zones. However, please know the availability of the yogis determines the time. A link will be sent to those who register.
Mahadani (Great Donor) Initiative
We would like to connect the theme of "Pilgrimage of Love" to the on going Mahadani initiative and experiment with BapDada as the Bestower of Love.
Madhuban Initiative
We want to mention that Madhuban is rolling out a 50 day - 4 hours a day yoga initiative. During the day and after the 18th we invite people to follow the effort but for the 7 to 7:30 yoga time we are suggesting to hold this collective thought.
Language
The 15-minute sessions will be in English. Please provide translation at your end.


Opening Webinar for "A Great Donor" Sustenance Initiative to Feature Sister Jayanti
12 August 2018

Dear Divine instruments, Sisters and Brothers,
At these moments of the Confluence Age, sustenance has become a crucial factor, and the over the last few years, these programs and initiatives are helping the Brahmins to keep up with themselves, to enjoy more of this age and to feel more empowered.

We will start the program "A Great Donor" soon. The program will includes daily self explorations, mediations and experiential sharings of yogis around the globe. We will also have monthly webinars with our most beloved and experienced seniors. The general objective of the initiative is to help our divine family to influence the environment instead of being influenced by the different circumstances.

We are happy to have Sister Jayanti with us for the opening webinar. She will share her wonderful and vast experience after many years living in the West, serving and not being influenced by so many scenes of this time.

Join us for our opening webinar (please note the webinar will be in English, please arrange for local translation):

Sunday, August 19th, 2018
8AM (EST) - New York
2PM - Germany

Click HERE to register for the webinar. You will be able to select your time zone.
Sister Gayatri and Brother Marcelo
On Behalf of Sister Mohini

"Being Invisible in the Visible"
2 June 2018
Please download and enjoy this PowerPoint presentation which reflects the churning of a group of souls at the USA retreat in Peace Village on the May 26th weekend. Simply click on the image to download.