Caribbean News
Caribbean News
November Newsletter from St.Kitts & Nevis
28 December 2019
Om shanti dear,most fortunate global divine family,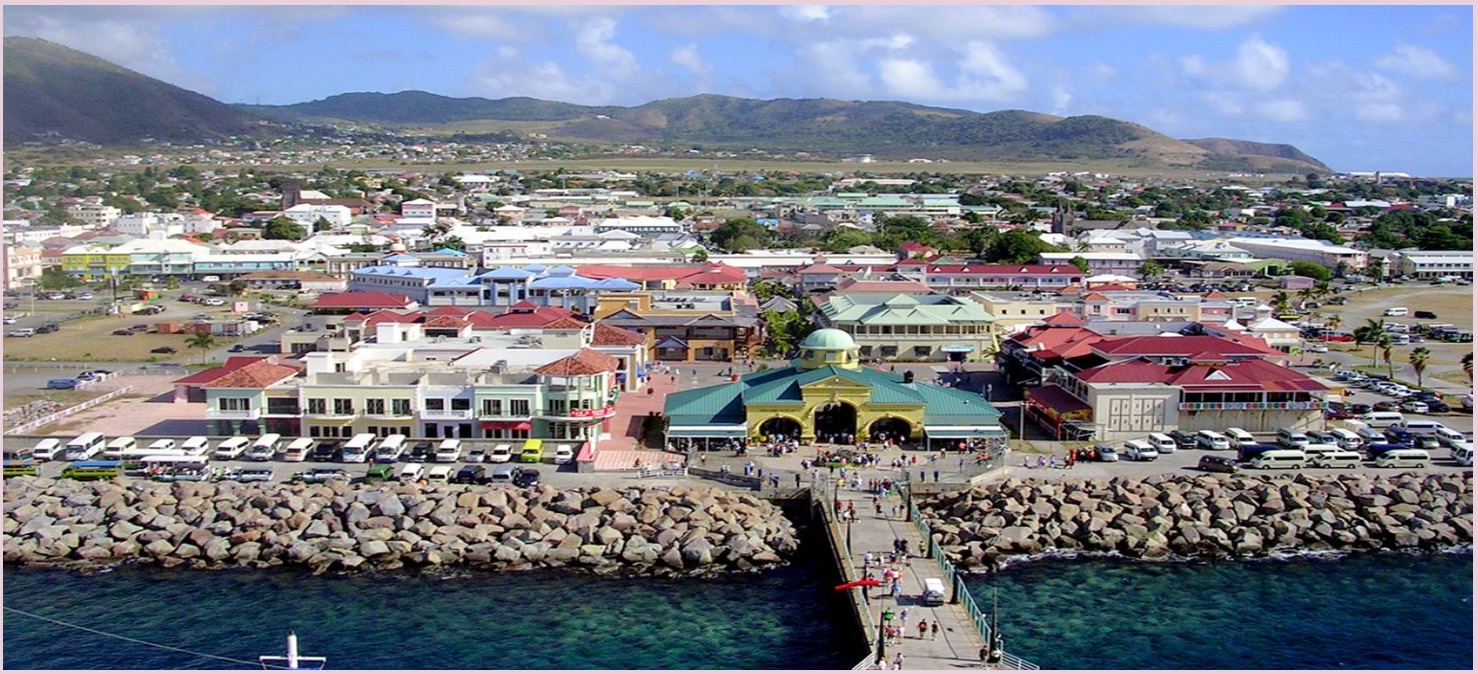 For the month of November we continued doing prison service in Nevis and St. Kitts.

6 new prisoners have joined the spiritual classes every thursday afternoon.We regularly visit the shopkeepers to serve them with Baba's jewels of Knowledge.
Collectively we sacrifice our sleep to start with Amritvela at 3am. Every evening there is an ongoing mansa seva from 6.30 pm-7.30 pm. For this month we had organized a programme for Remembrance of the Road Traffic Victims with the theme " Life is not a car part" by BK Anouschka. To serve the souls further a daily thought for the day is sent to the radio station. Souls kept coming to learn Raj Yoga.
Wishing the entire global family a blessed December month and lots of growth in your spiritual endeavour in remembrance of the Supreme Father, Supreme Teacher and Satguru, Shiv Baba.
Om shanti,
Bk Alana Aqui

Service News from Suriname - Cooking Workshops
28 December 2019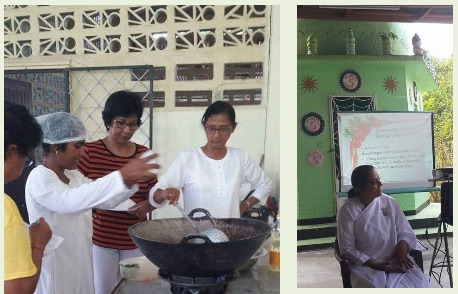 Vegetarian Cooking Workshop:Food & Soul
Seventeen enthusiastic Raja Yoga students participated in this workshop that was held at a temple inLivorno. The emphasis was on the effects of our thoughts while cooking and the benefits of first offering our food to God. Several dishes were made such as spaghetti, pizza, chocolate cake etc.
Vegetarian FoodFest: pure awareness while cooking
This Food Fest is an annual event where the BK Suriname is invited to participate. The exhibition consisted of different parts: visitors were invited to fill in a questionnaire about the effect of purity and cleanliness during the cooking process.

A display of different herbs and spices that can be used to cook delicious vegetarian meals. There were also virtues / qualities displayed, such as God's love, Lightness, Creativity; very important ingredients to make cooking spiritual. BKLoes also gave a lecture on the theme: a glimpse into the spiritual kitchen. There were several snacks that visitors could taste. It was a good moment to meet several contacts again and share God's love with them.
High Tea Party on the occasion of International Day of Peace
On the occasion of International Day of Peace a high tea party was organized in which 40 persons participated. The theme was: You are just as good as you are. By identifying a familiar object or a photo with themselves, the participants were taken into a deeper understanding and appreciation of themselves. Through practical exercises the link between feeling good or bad about the self and the choice between virtue or vice was highlighted.

In between sessions there were short speeches and powerful meditations.

Life is not a Car: World Day of Remembrance for Road Traffic Victims
28 December 2019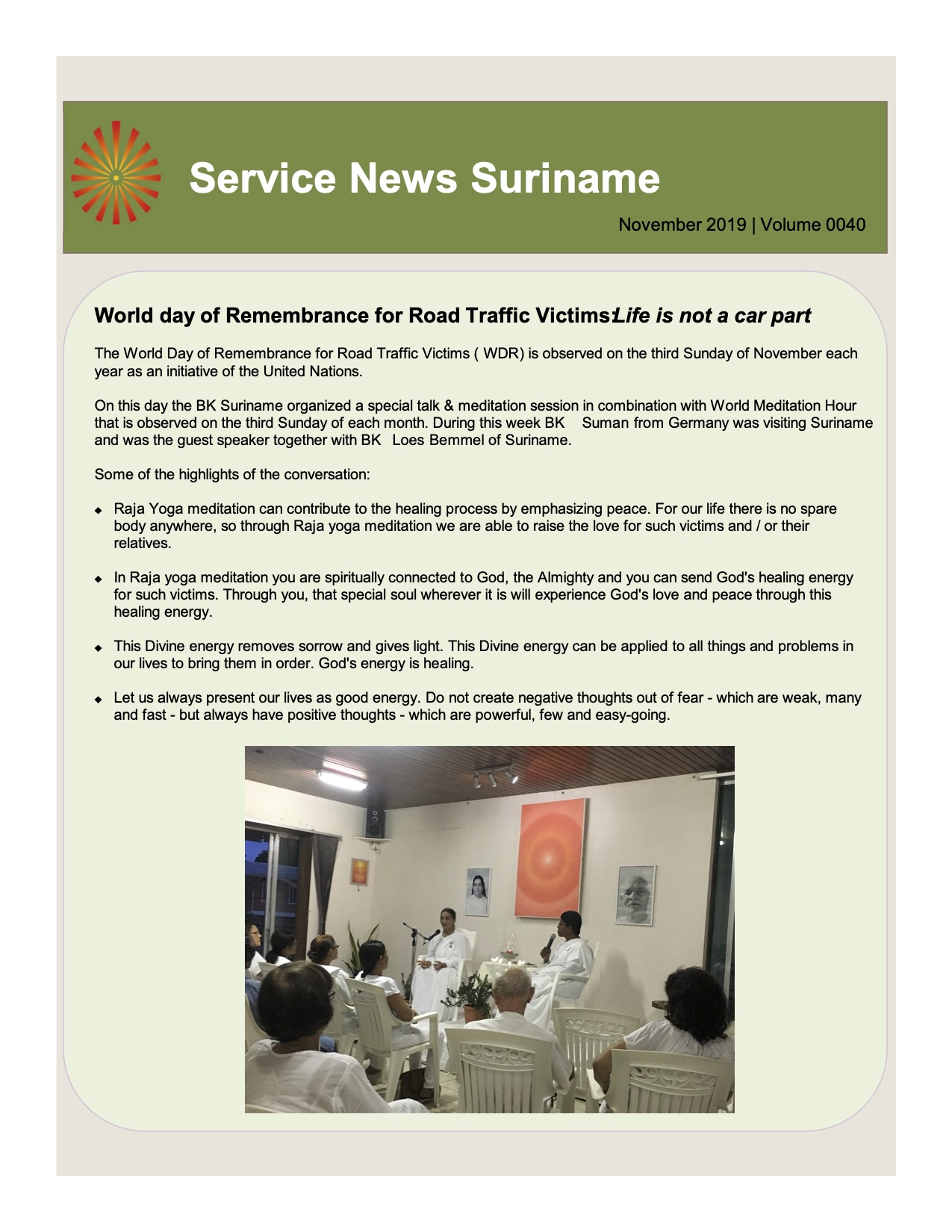 Service News from Trinidad
25 November 2019
I am pleased to inform you that I have returned to Trinidad after a very successful trip abroad and to share with you my news while I was away from Trinidad.
Upon my arrival in India on August 24th I flew to Patna Bihar, where I was bestowed with the "Indian Rising Star Award" for the year 2019 among 84 awardees from all over the World. This award function was organised by Indraprastha Educational Research & Charitable Trust of India, on Sunday 25th August 2019 at Bihar Chamber of Commerce Auditorium, Patna, and presented by Mrs. Kajal Yadav, National President of the Organisation for best services in Value Education and Spirituality.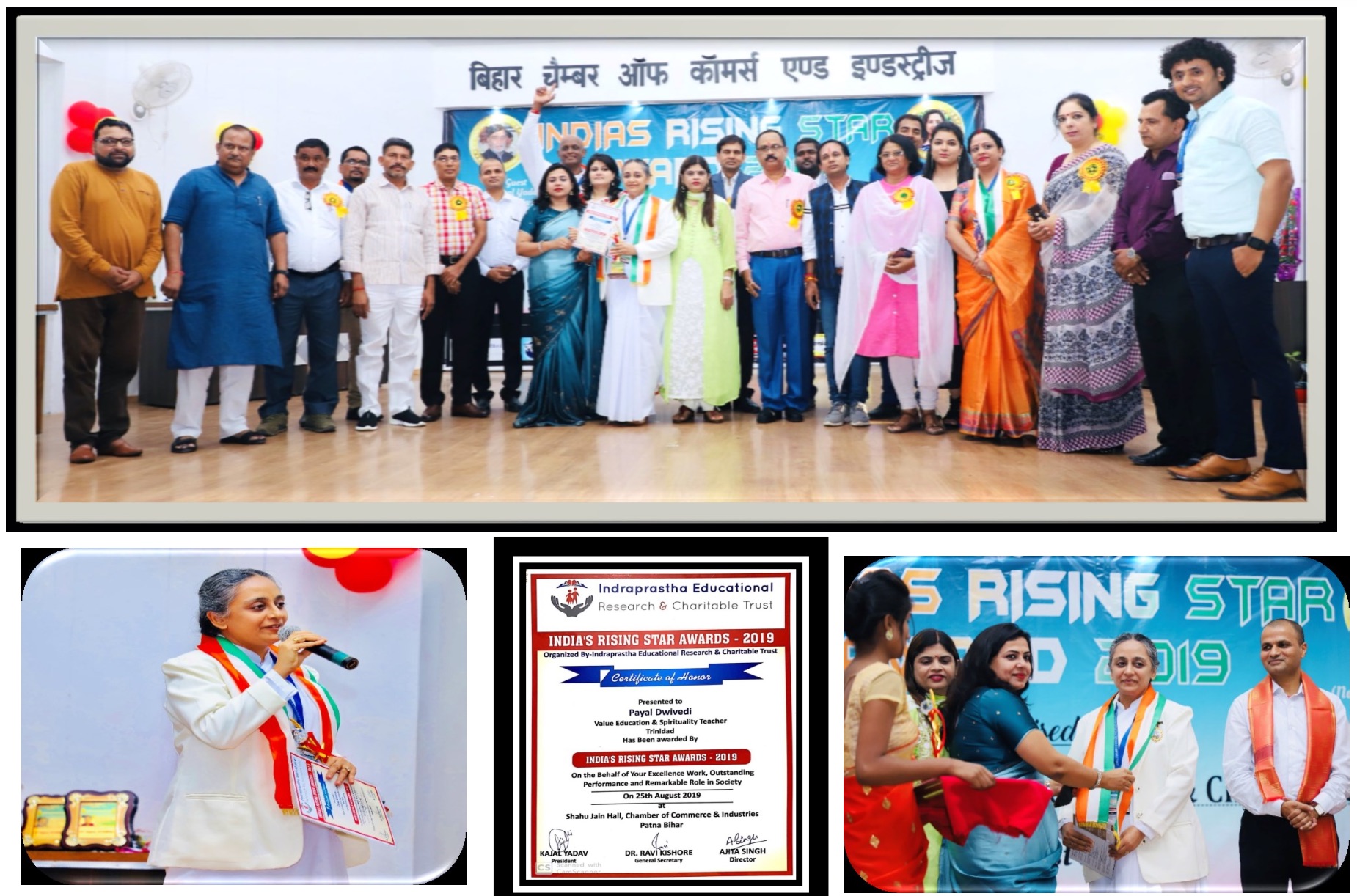 On 26th August, I was the Keynote Speaker on the topic of Stress Management and Personality Development at the Shri Krishna Memorial Hall of Patna, Bihar. Mr Amir Subhani, - IAS. Principal Secretary, Mr B. Kartikey Dhanji, - IAS Excise Commissioner cum I.G Registration,Mr Abhay Raj, IAS - Joint Secretary, Mr Ayaz Ahmad Khan - Deputy Inspector General and 28 IAS and four IPS officers, including few district magistrates and superintendents and officers actively participated in this programme. This programme was organised by the Brahma Kumaris sisters and brothers in Kankarbaug, Patna......click here for rest of the report with photos.

October News from the Caribbean Island of St Kitts
18 November 2019
Om shanti dear respected divine Family,
For the month of October we had the opportunity to serve humanity and the elements of nature. The newness for this month was a class and a radio programme by BK Alana about " What is meditation?"
We also came up with another newness to write our chart collectively right after evening meditation.
This newness is helping all the BK students to write their personal and private charts based on 5 questions to Baba. Every evening we dedicate one hour for mansa seva, serving the elements of nature and serving all the souls in the world. For the month of October we also had several Raj yoga classes by BK Alana for beginners and for the prisoners. The BK students and the contact souls co-operated very well to celebrate Diwali in Baba's home. We had a lecture by BK Anouschka about "how to give light to the world" and "the stories of Diwali". After the lecture we had a session about burning the vices in the sacrificial fire followed by candle lighting, toli and dinner.
Every Thursday and Sunday we have collective silence bhatti during amritvela. On a daily basis we are sending positive thoughts to the radio station Winn FM.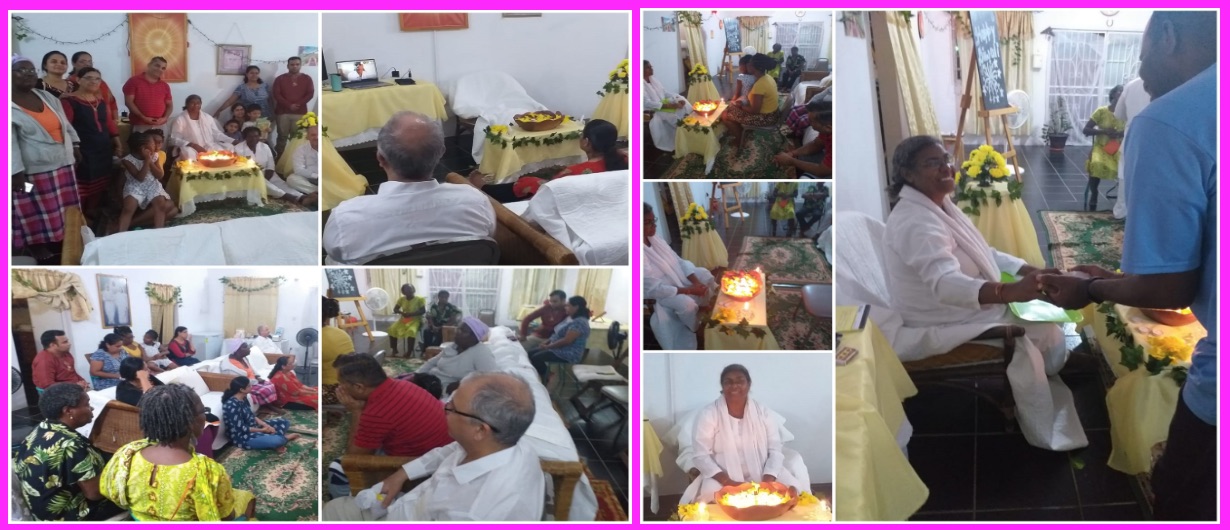 Greetings of Peace and more Service News from the BK Family St. Kitts & Nevis
14 September 2019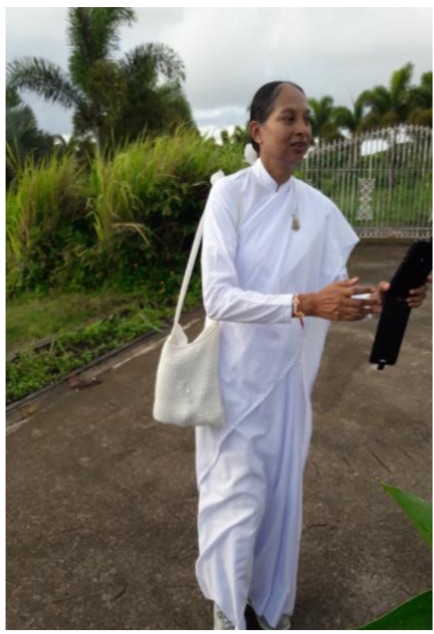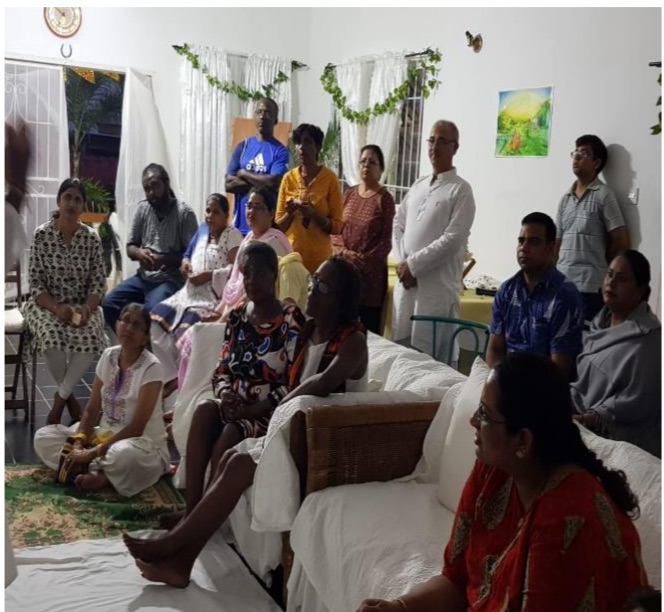 For the Month of August, we had in our midst beloved sweet sister Silvereen Mongru, coordinator of BK Centre's Venezuela. Monday 19th of August 2019, there was a small meeting at the Centre for centre students and family.
Tuesday 20th of August 2019, there was a video interview about Meditation on ZIZ Television and also a meeting with the Embassy of Venezuela. Wednesday
21th of August 2019, there was a live talk show on Ziz Radio and a meeting with students. Thursday 22th of August 2019, a visit was paid to the student's businesses at Port Zante. On the same day a visit was paid to the female and male prison. The talk was about "who is your best friend and who is your worst enemy".
Friday 23rd of August 2019, in the morning we welcomed two BK students from Sint Maarten. There was a public programme at the immaculate Conception Catholic Cathedral Basseterre. The theme was "Removing the Obstacles about you and God".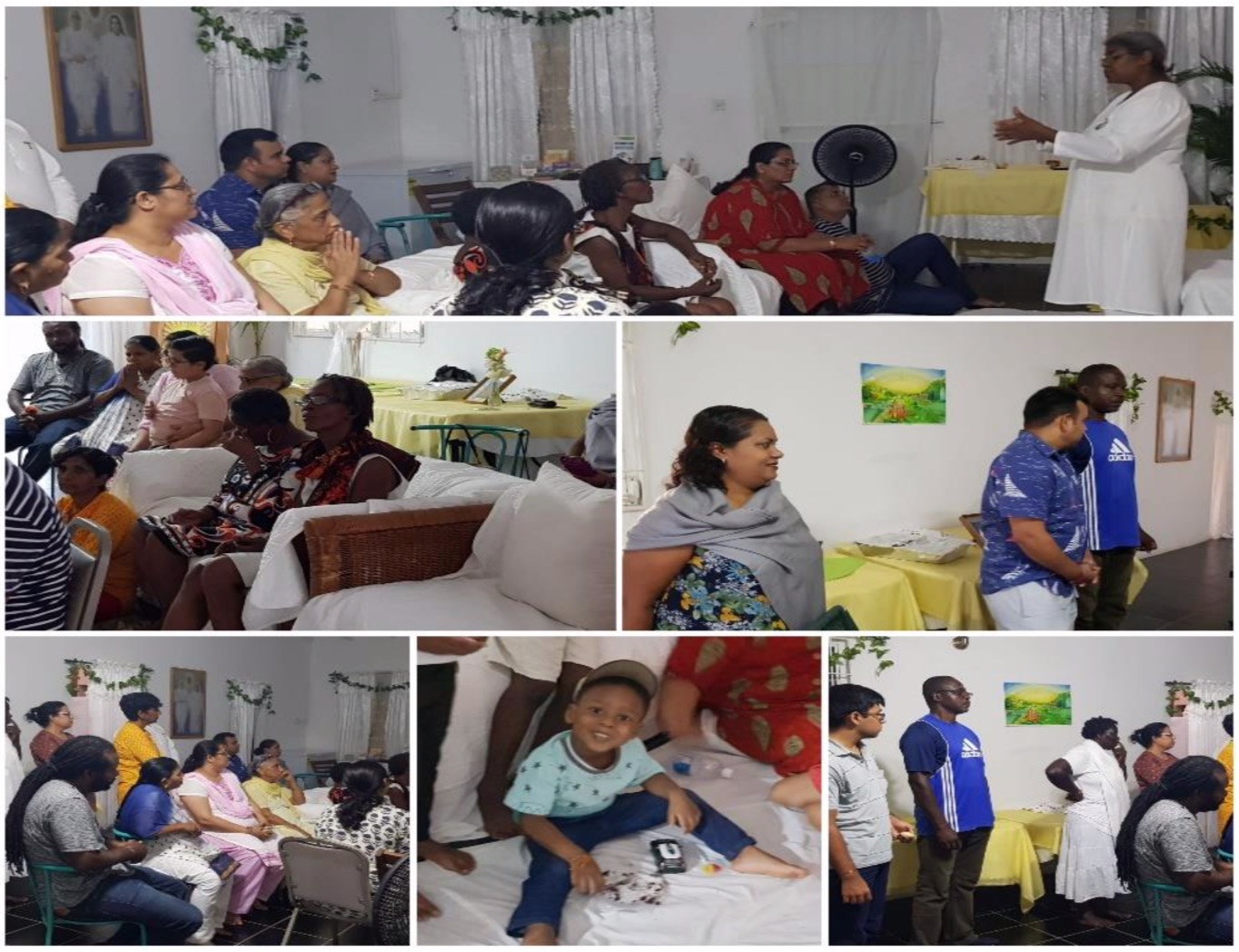 Saturday 24rd of August 2019, we had a Retreat" Return to the Source". Sunday 25th Of August 2019, we continue the Retreat "Goodwishes and pure vibrations". In the evening we celebrated Rakshabandhan, tying the Rakhi,a lecture and dinner.
Monday 26th of August 2019, we travelled to Nevis, met with the prisoners and had a talk with them about" The dangers of Anger". In the evening we visited the home of a senior member of the Temple. A lecture was given with the topic "the meaning of Rakhi for us Brahmins". Sister Silvereen shared her experiences of Rakhi in Venezuela. After that tying of the Rakhi.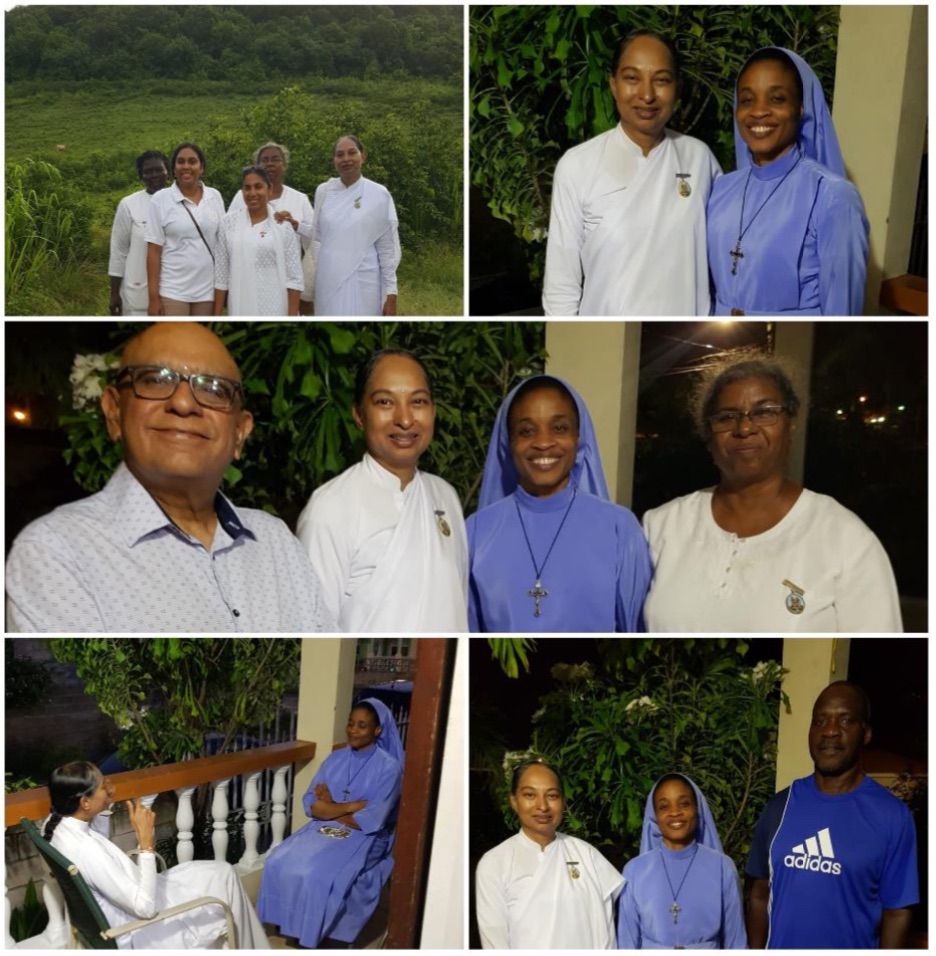 Tuesday 27th of August 2019 we had a meeting with the Minister of Social and Community Development. Wednesday 28th of August 2019, and a programme for the Nurses at the hospital with the theme" Healing yourself to be an effective caregiver". Thursday 29th of August 2019, we had a public programme "How to respond in time of Crisis".Friday 30th of August 2019, departure of sr. Silvereen left for Antigua.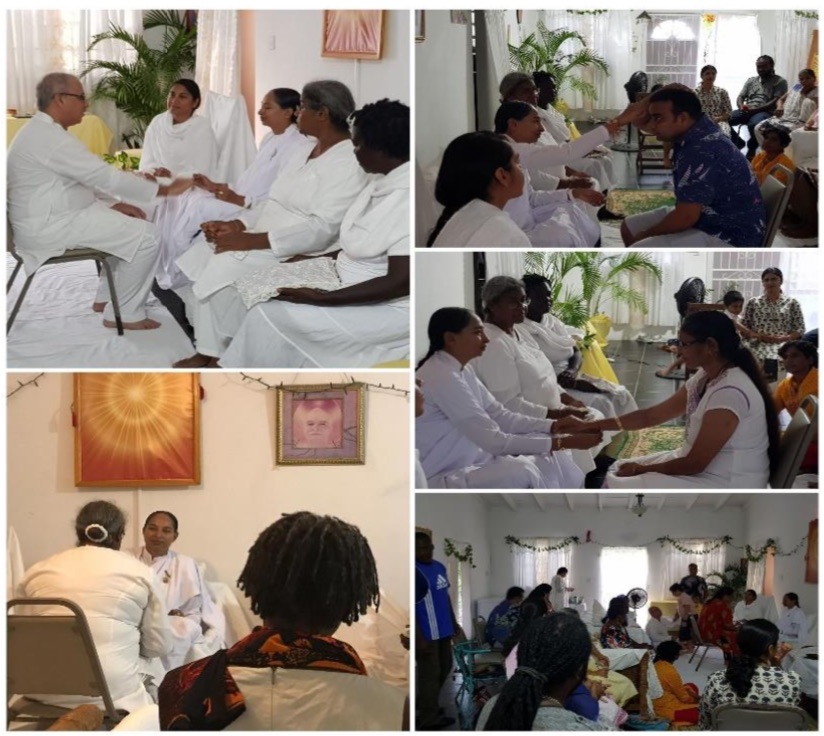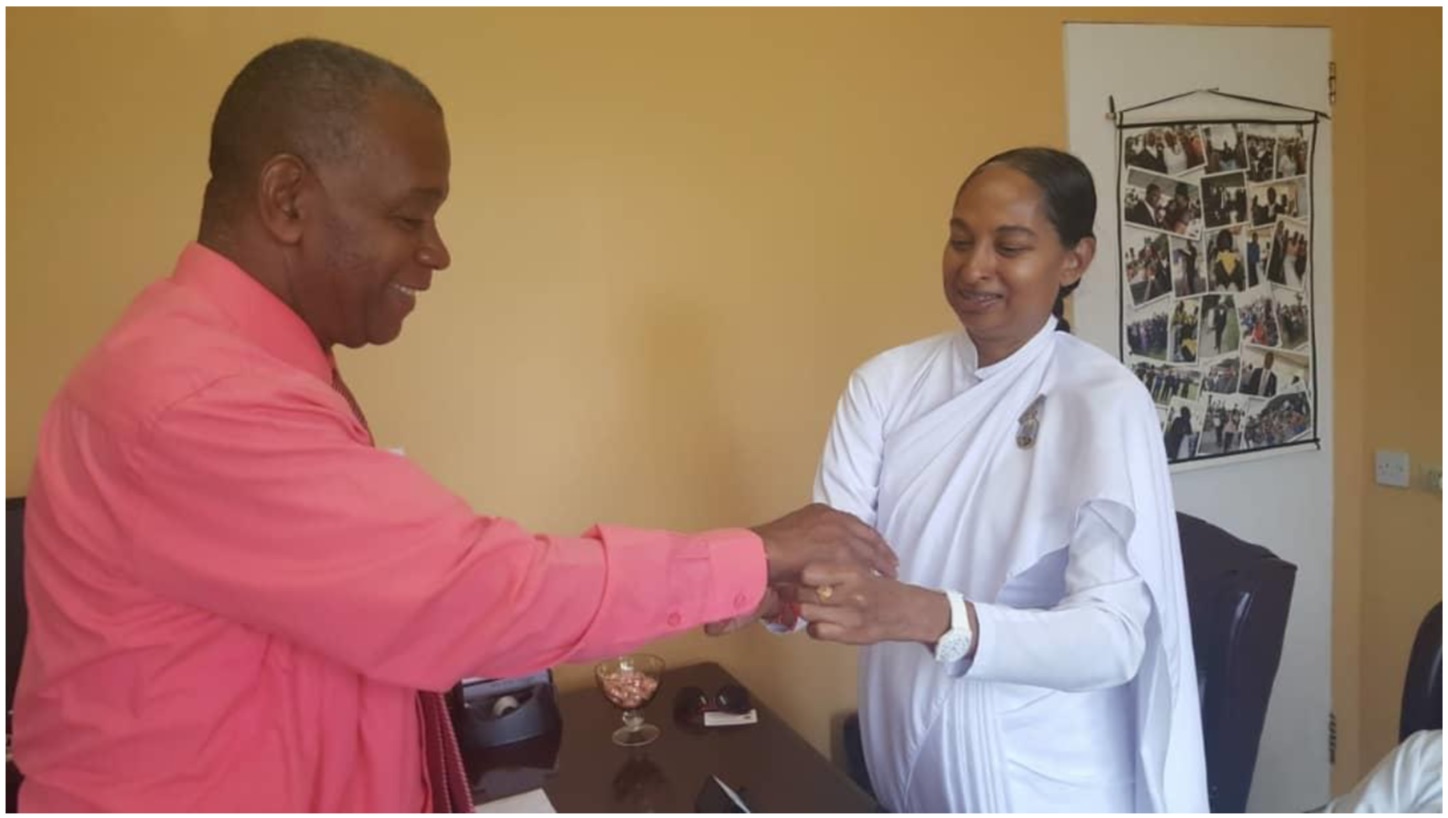 Visit by Sister Rona from New York: Rakhi and Carribean Retreat
10 September 2019
Visit BK. Sr. Rona from New York:Rakhi - Caribbean Retreat
On the occasion of Raksha bandhan and the Caribbean Retreat 2019 Sr. Rona visited Suriname from the 13th till the 20th of August.
Raksha bandhan Visits
Sr. Rona tied Rakhi for several people in the government and business community. She met the Director of Culture Mrs. Elviera Sandie, at her office, on behalf of the Minister of Education. Mrs. Sandie felt privileged and inspired to receive the message of brotherhood in this time of social imbalance.

Another special meeting was with the Vice President of Suriname Mr. Ashwien Adhin. "Only in brotherhood can equal rights and supported social responsibility become a reality. How to be proud to work and earn in favor of land and people requires a spiritual answer. Morality, values and norms require a new approach" shared Mr. Adhin.
Public Rakhi Program
A very special evening was hosted for the public and lokik families of BK's with the theme "Return to the Source of Love". Sr. Rona shared the journey of the soul coming from the home of souls to this corporeal world where we get involved in so many relationships. Because of all these relationships and activities, we forgot our true home. It's now time to make that journey back to our sweet home.
Caribbean Retreat 2019
The annual Caribbean retreat was held in Suriname from the 16th - 18th of August with 65 participants at Asewa'otono, a Catholic Retreat Venue. Baba's special jewel BK Sr. Rona was the main resource to share her spiritual wisdom with the family. The theme "Back to the Source' was experienced this weekend through workshops, classes, meditation experiments and with the highlight of tying Rakhi.
Friday afternoon started with a warm welcome for the entire family and a chit chat session after diner. At Saturday there was a special workshop on 'Purity in thoughts, words and deeds". in which the class had to explore on the
topic of Purity. The groups created a poster on the journey from the impure world to the pure world. " Don't make Drama big, but give it a small place in the bigger picture. Zoom in into the real home, soul world and zoom out from
Drama", Sr. Rona shared.
On Saturday night a special Rakhi atmosphere was created where the bond of purity was celebrated. Several new students experienced their first special Rakhi. The atmosphere was serene and powerful.
On Sunday special bhog was offered and the last workshop and yoga experiment were conducted. The group had to share their experience in one word. Some of them were: educational, family, experiment, happiness. After the gift ceremony the retreat with great contentment and joy.

Service News from Saint Lucia
14 August 2019
We had a wonderful time with Sister Payal from Trinidad in the month of 15th July to 13th August 2019.
An in depth and Heartfelt Meeting with His Excellency Emmanuel Neville Cenac. Saint Lucia's Governor General. Sister Payal and Sister Chandra meet on the occasion of Raksha Bandhan festival. Sister Payal tied Rakhi to the Governor General.
He mentioned that his mother although not having much education, has given much education of values in life.

The power of truth which everyone must imbibe at an early age which comes from the foundation of the family or home.

He defended and argued that there is a God, who is a mystery to anyone who say that there is no God.

All must respect the law of a country or the rules and stand up for democracy where everyone must stand up and speak for what they believe.

He mentioned security and safety for all because if a country is not secured, no one will be safe even to go and buy bread.

He raised the issue of sweetness using the example of making coffee. If you put some coffee and sugar in a cup and do not stir it, it will taste bitter. You needed to stir it to taste the sweetness. Similarly with God`s knowledge, you needed to churn it or put it into practice to get the sweetness or benefit from it.

He was mentioning about our founder Father and who gave up all his wealth and put women in front as leaders of the organization.

Governor General very humble, soft spoken, great memory, respectful, intelligent and resourceful.
Click here for detailed report with more photos.

Greetings of peace and Service News from the BK Family at St. Kitts & Nevis
2 August 2019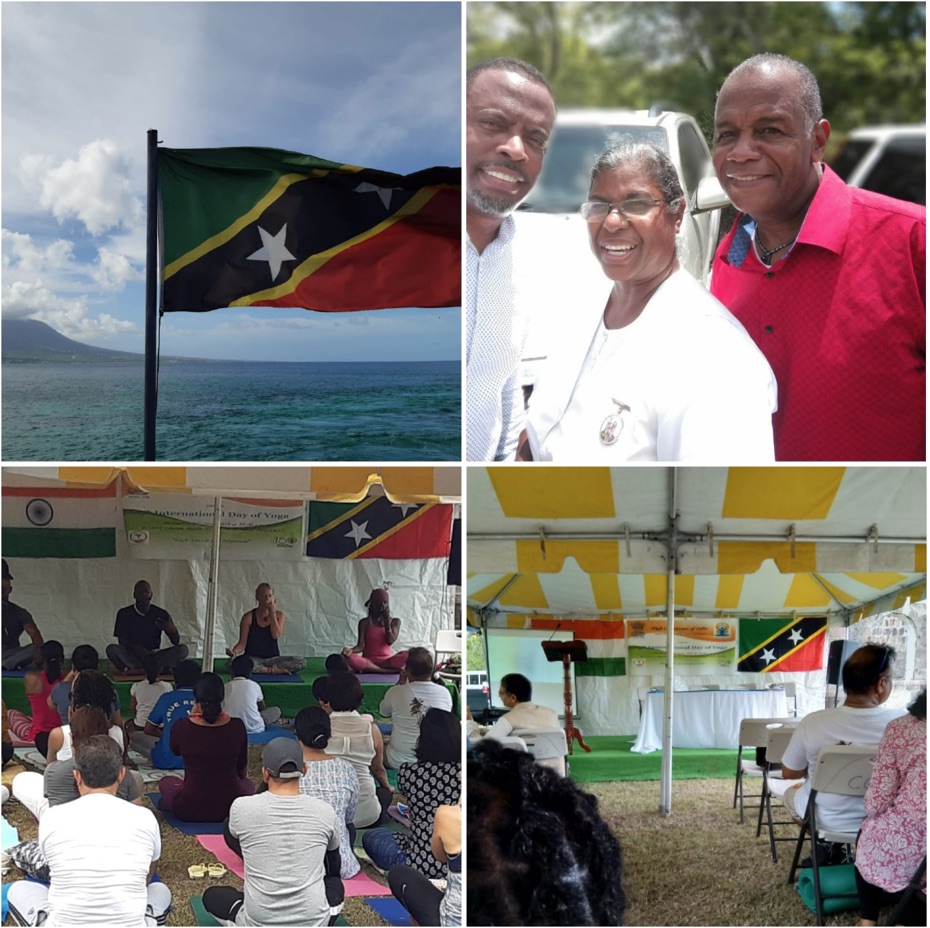 Om shanti,
Greetings of peace from the BK Family St. Kitts & Nevis,
Service news for the month June 2019
The yoga international day was celebrated this year in the twin island state of Nevis on Sunday 23 June 2019 on the grounds of the ancient remains of the Cottles Church next to Mt. Nevis. They said it was the first place in the island history that the whites and blacks had united in pray for the island.
From 2nd of June 2019 until the 8th of June 2019 we practiced with the angelic stage and shared after the evening meditation success stories and the yuktis used to maintain this angelic stage while playing our parts and roles.
From the 9th of June until the 15th of June 2019 we practiced with the deity stage and shared after the evening meditation success stories and the yuktis used to maintain this stage and the impact it has on the self and on others.
From the 16th of June until the 22nd of June 2019 we practiced with the bodiless stage.
Practice 108 times one minute. It was a challenge for everyone to practice the bodiless stage.
The experience was that everyone needs to manage their time better to create time to practice one of the most necessary stage, the bodiless stage.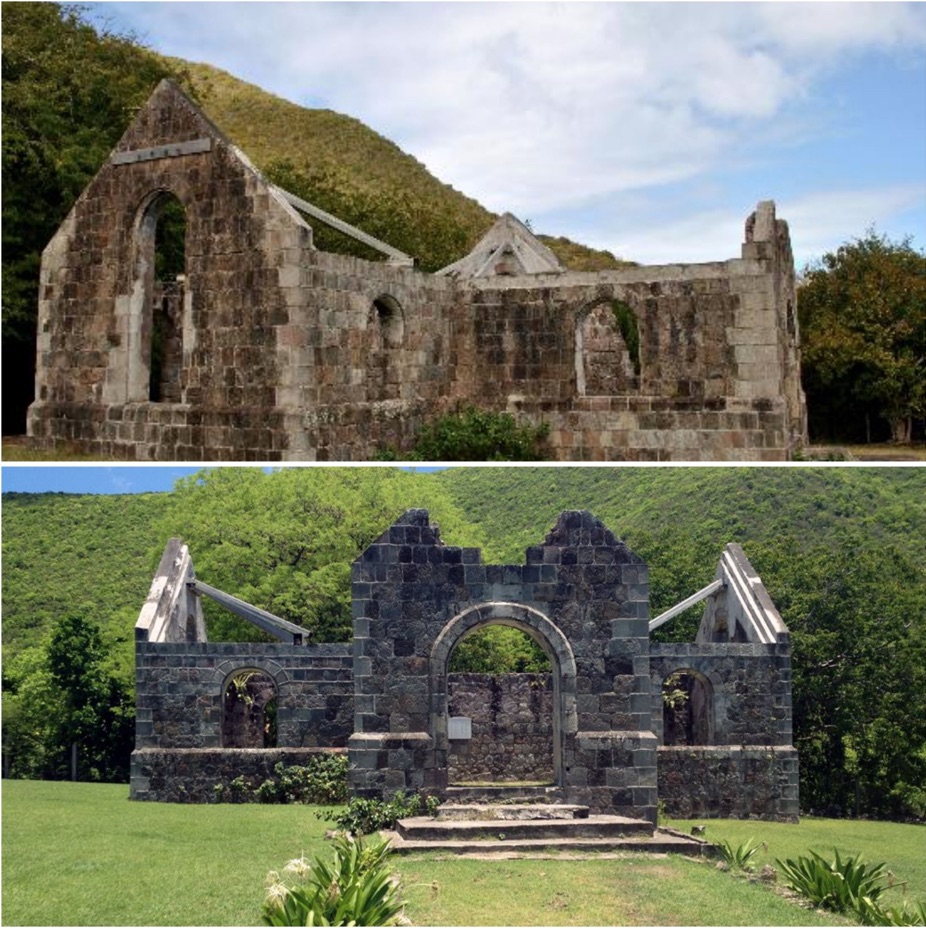 From the 23rd of June until the 29th of June 2019 we practiced with holy swan and shared after evening meditation success stories and the yuktis used. The concentration was on purity through thoughts, words and deeds, aiming to start the day with peace and end the day with peace.
On Sunday 30th of June 2019, we celebrated Mama's day in Baba's home. We started with meditation followed by Mama's story. After that everyone enjoyed the refreshments.
Babdada's blessings to everyone

Special Celebrations to mark 50 years of service of Didi Hemlata Sanghi
14 July 2019
Fifty years ago Sis Hemlata Sanghi made the decision to be an instrument for Shiv Baba's transformational work on earth. Giving up a career in the medical field she began serving at Centres in her homeland India and a few years later journeyed to the West Indies as one of the pioneers in the spreading of the Brahma Kumari knowledge throughout the Caribbean. After the establishment of the first Raja Yoga Centres in Guyana and Trinidad, she spearheaded service throughout the Caribbean in the ensuing years. She now serves the Organization as the Caribbean Area Coordinator.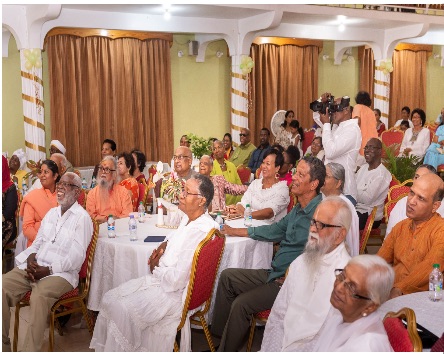 Last Sunday, June 30t,h her contribution was celebrated by the many souls who have become BKs and by other contacts whose lives have been impacted by the knowledge which she has shared. Her 70th birthday was also highlighted.
The observances were held at the spacious and beautiful hall of the BK Chaguanas Centre in Trinidad which was also commemorating its 20th year of service in the community. After a meditation by one of the first Raja Yoga students in Trinidad, Bro Vijai Sadal, a video of Sis Hemlata's life work and its impact over the years was presented.
A full programme of tributes and celebratory performances filled the evening. Speakers included government minister and former Principal of the University of the West Indies, St Augustine, Dr Bhoe Tewarie, the President of the Inter Religious Organization of T&T, Canon Dr. Knolly Clarke along with executive members, Swami Brahmadeo, and Sister Shirley Bell of Barbados who traveled to Trinidad to pay tribute on behalf of the other Caribbean countries. Several dignitaries, who were unable to speak because of time constraints, were acknowledged.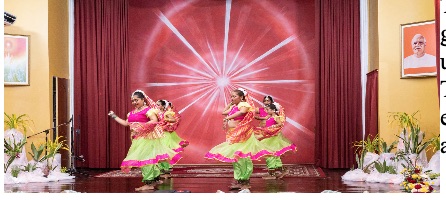 The atmosphere was charged with happiness and gratitude and this manifested in songs, dances and the uplifting sounds of musical instruments.
These gave way to Sis Hemlata's voice as she shared her experiences as BapDada's instrument and led all assembled into meditation.
Garlanding, decoration of the honoured guest, and the lighting of candles on a three tiered cake preceded the presentation of an exquisite Peacock engraved plaque to Sis Hemlata.
The BK family and community supporters delighted in honouring Sis Hemlata's 50th year of service and feel much gratitude that destiny brought her to us.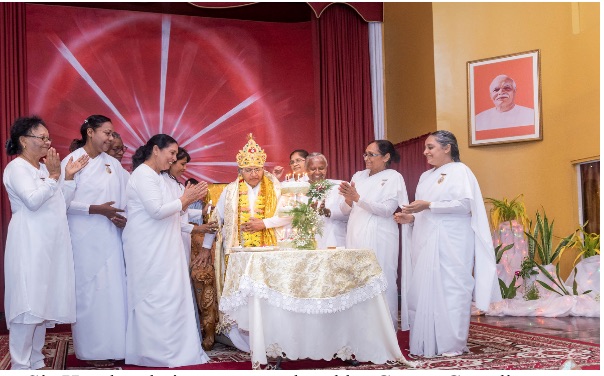 The evening concluded with music, a delicious meal and commemorative gifts for all.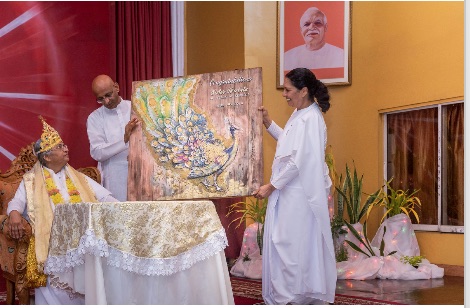 Sis Hemlata being congratulated by Centre Coordinators

News of Trinidad Mothers' Group's visit to Orlando Florida, from 16th to 22nd May 2019
19 June 2019
News of Trinidad Mother's Group visit to Florida, Orlando from 16th May to 22nd May 2019
A group of 20 Mothers from Trinidad in the West Indies went to Orlando Florida from 16th May to 22nd May 2019 on a retreat to celebrate Mother's day. They were accompanied by Sr Hemlata, Sister Vishantie and Sr Payal.
Sister Jyoti and Sister Anne welcomed all of us with beautiful flowers, blessings and toli. Sister Hemlata gave a short class and entertained the group with various stories and experiences with Baba.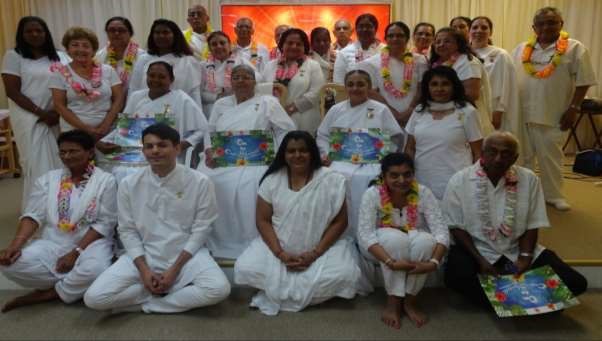 The five days retreat was full of various activities like value game, cultural programme, classes, self appreciation discussion, Baba and drama etc. Many mothers shared they felt like being in Madhuban and they had many "first time experiences". They enjoyed the powerful vibrations created in yoga experimentation.
A beautiful family atmosphere created in Orlando has made us feel we belong to one global family. Few contact souls from Orlando also joined the group for the retreat. Some of the sharing includes:
I felt a unique experience which cannot be expressed in words.
I had the same experience as when visited Madhuban for the first time.
If the same stage and vibrations are made everywhere all will become one.
We had new experiences which we will follow and forward to others.
Felt homely.
Very good management.
Time was used in a worthwhile way with newness.
If we did not come we would have missed a lot.
Compassionate feeling from all in every way.
Sister Hemlata gave a talk on Saturday 18th May afternoon at a public program, and the theme was "Happily Settling Karmic Accounts". She shared that destiny is a manifestation of our past karma, but our present karma is more powerful than past karmas, so at every moment we have the power to heavily influence and change our destiny, Ever if a relationship with someone is fragile, we have the power to settle the past account and turn the balance into positive with the help of right present karmas.
Other than gyan and yoga, the group visited the Centre in Tampa and took inspirations from the classes by Sister Shireen from Tampa.
Spirituality is all about what, how and when we should think because the energy that powers our actions and interactions is the energy of thought. When we take care of that inner energy, we are able to sustain our peace and happiness. When we are peaceful and happy, we feel comfortable. In this stage of comfort, we can feel others and love them. And when we love, we get love in return. This is what makes us into kings because when you get love, you get everything.
We also went on a day tour of Disney Land, a place which provides fun for all with more than 50 attractions spread across amazing parks.
Everyone returned feeling empowered and some expressed that this trip has brought them closer to Baba and Brahmin family.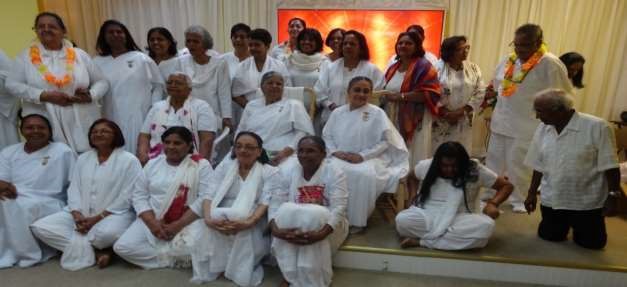 The visit in Orlando concluded with a special sustenance class and questions and answers session on the last day 22nd May 2019. We also spend one day on our route back to Trinidad in Panama where we had a tour of Panama City.

Programs in St Kitts & Nevis in May Including Visit by Sr Kiran of USA
12 June 2019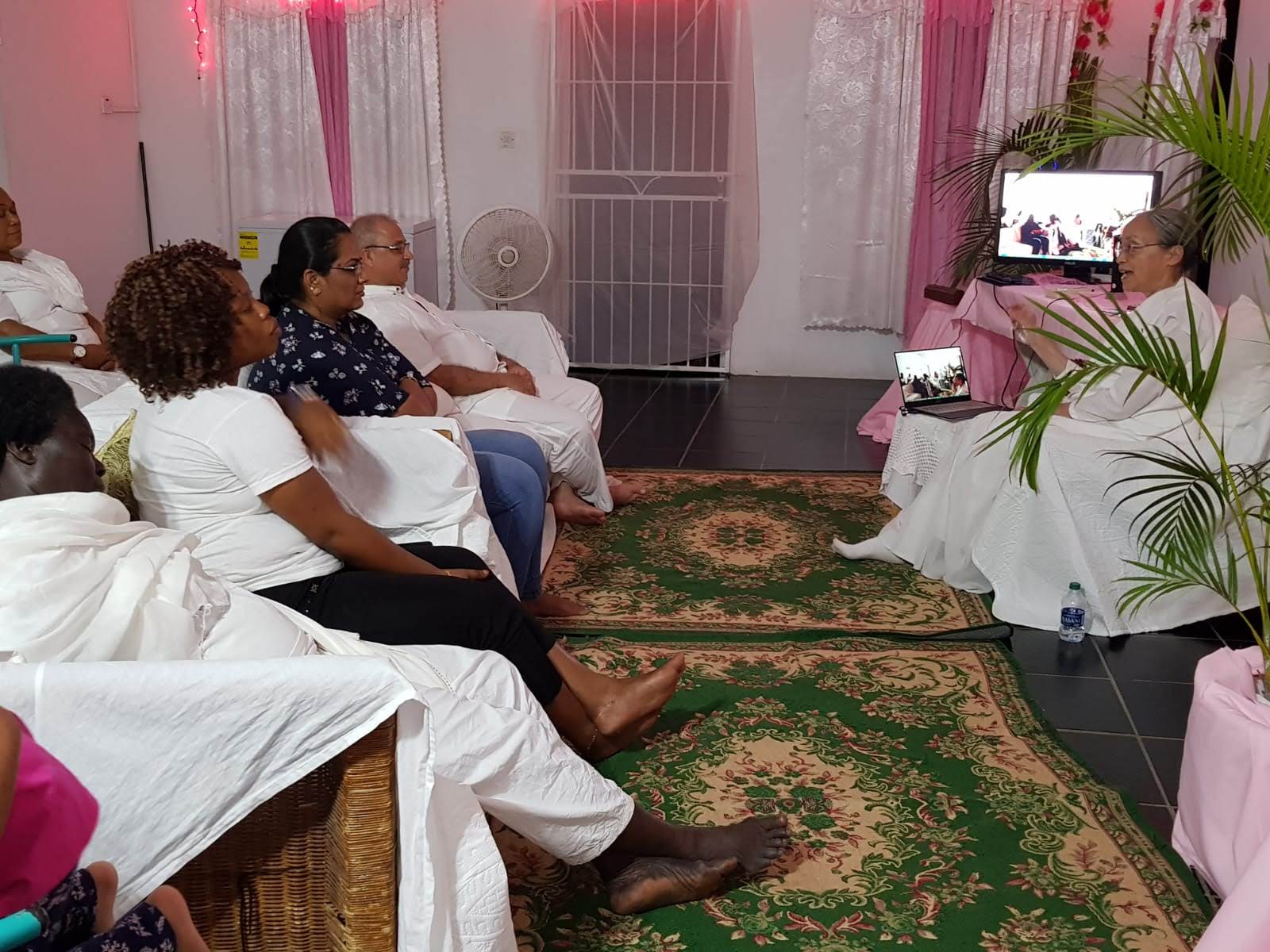 Peaceful greetings from Brahma Kumaris St Kitts & Nevis

In the month of May, we welcomed Baba's special instrument soul, dear respected senior sister BK Kiran from the West Coast State of Oregon.

Everyone who had already done the Raja yoga course was invited to do a refreshment course and to have a half day retreat. The participants (BK students from St Kitts & international BK students on Skype) were happy and pleased to have Sister Kiran doing the refreshment Raja yoga course. The session for the refreshment Raja yoga course started on Wednesday 8th of May, Thursday 9th of May and Friday 10th of May.

Sister Kiran visited the prisoners of St Kitts on Thursday 9th of May and visited the prisoners of Nevis on Saturday 11th of May and had a talk with them about spirituality.

On Sunday 12th of May 20, Mother's Day, all the mothers were decorated with a badge and a crown made out of flowers. After that Sister Kiran did a class on Spirituality for the public. There were a number of souls from St. Kitts present in Baba's home and 4 souls on Skype for this lecture.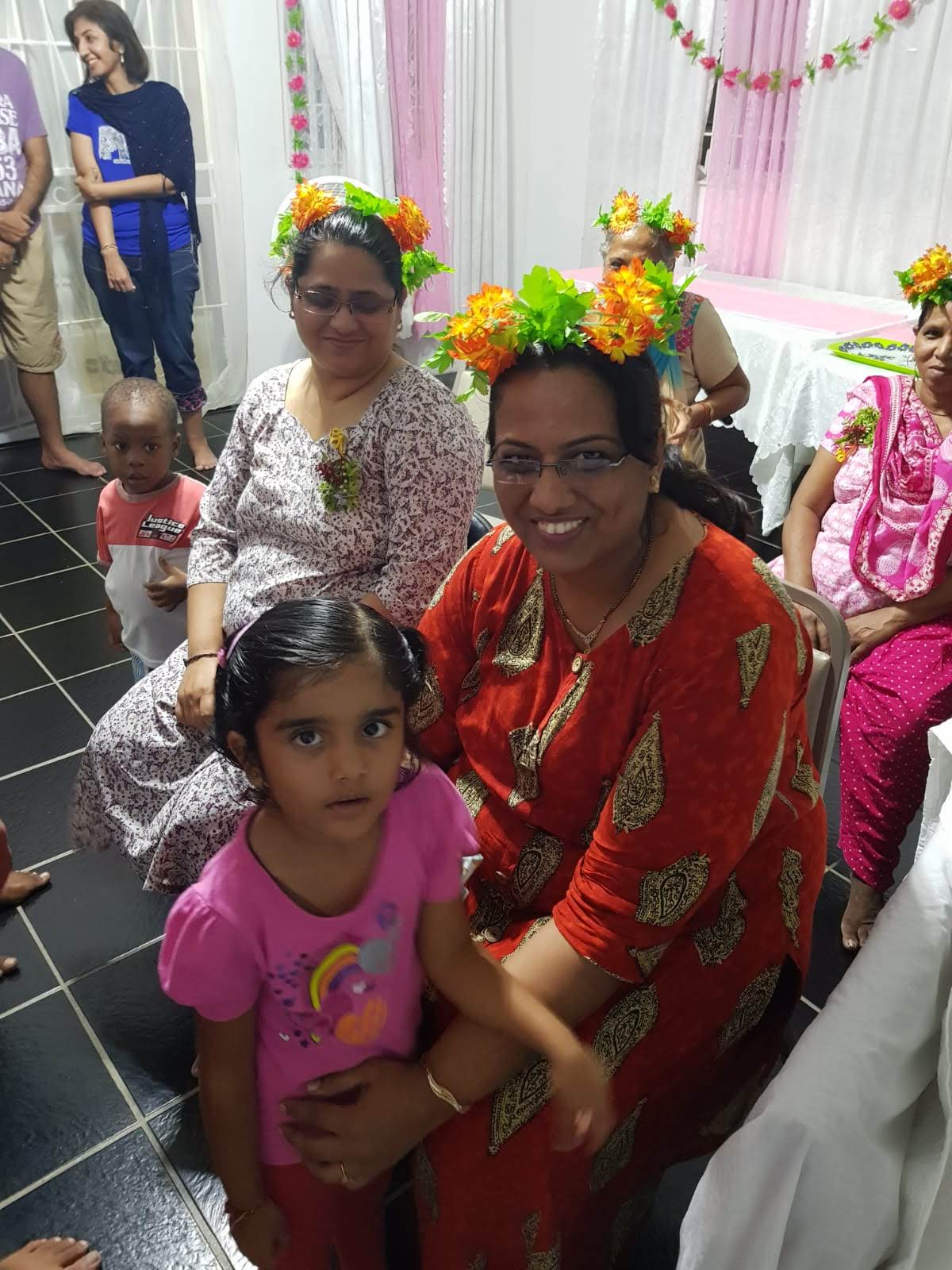 Beside the BK family of St. Kitts, the BK family of Curacao and the BK family of Aruba also enjoyed the morning Murli classes via Skype with Sister Kiran from Thursday 9th of May until Monday 13th of May.

For the UN global road safety week - May 6-12, 2019, we held an evening programme on Sunday the 19th of May. During the programme, there was world peace meditation, a talk about leadership for road safety via skype by BK student Anouschka from Saint Maarten and sharing from everyone about their contribution as a leader for road safety. In total 10 souls participated (7 in Baba's home and 3 via Skype).

On Sunday 19th of May, the BK students of St. Kitts/Skype started with one-week practice to consciously check the impact of people, nature, news, sounds, atmosphere, animals, movements, opinions, anything ...on oneself. The practice for the week (until Sunday 26th of May) was: How do I use the power of tolerance, the power to adjust to respond? (not react) How do I conquer the negative impact it has on everything within -- thoughts, speaking, attitude, behavior, emotions, feelings, mind, intellect? Am I the embodiment of the power to tolerate? What do I need to pay attention to, to be able to tolerate/ adjust? Keep a chart. After the evening meditation, everyone shared a success story.

Br Atam Prakash (Madhuban toli) visits Suriname!
12 June 2019
Suriname was blessed to have Br. Atam Prakash from Madhuban in their midst. Br. Atam Prakash was traveling in the Caribbean and visited Suriname from the 15th till the 17th of May.
There were several programs at the Raj Yoga centers for regular BK students, public programs, visits with Government officials and with TV & Radio stations.
Br. Atam emphasized on the importance of becoming an embodiment of experience. We first listen to knowledge and than practice it. The next level is to go deeper and experience all the powers & relationships with God. "This is the time to become an authority of experiences. This gives us a lift in our life, making us unshakable in unstable situations".
At the public programs Br. Atam explained the importance of Raj Yoga meditation in our life. "It charges the battery of the soul", he mentioned. The mind and the intellect are two children of the soul. Take good care of them and keep them light.

News of Shivratri Celebrations from Suriname
11 May 2019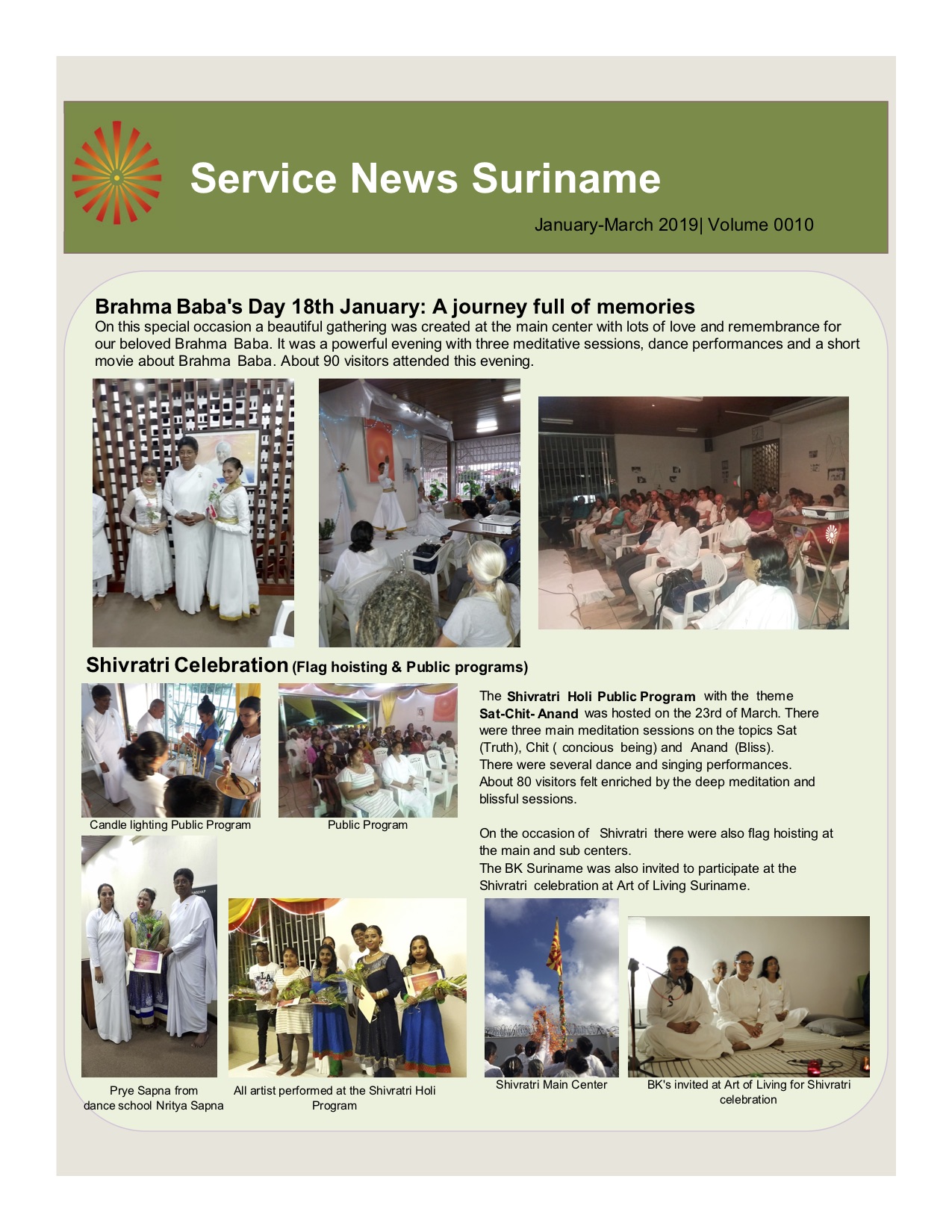 Trinidad & Tobago Celebrate the 50th Ascension Anniversary of Brahma Baba
6 February 2019
Guests were treated at this juncture to musical interludes, an Exhibition and audio visual presentations
featuring Brahma Baba.
Refreshments at Meet and Greet
As guests were seated, four BK yogis sat on the beautifully appointed stage and filled the atmosphere with spiritual vibrations.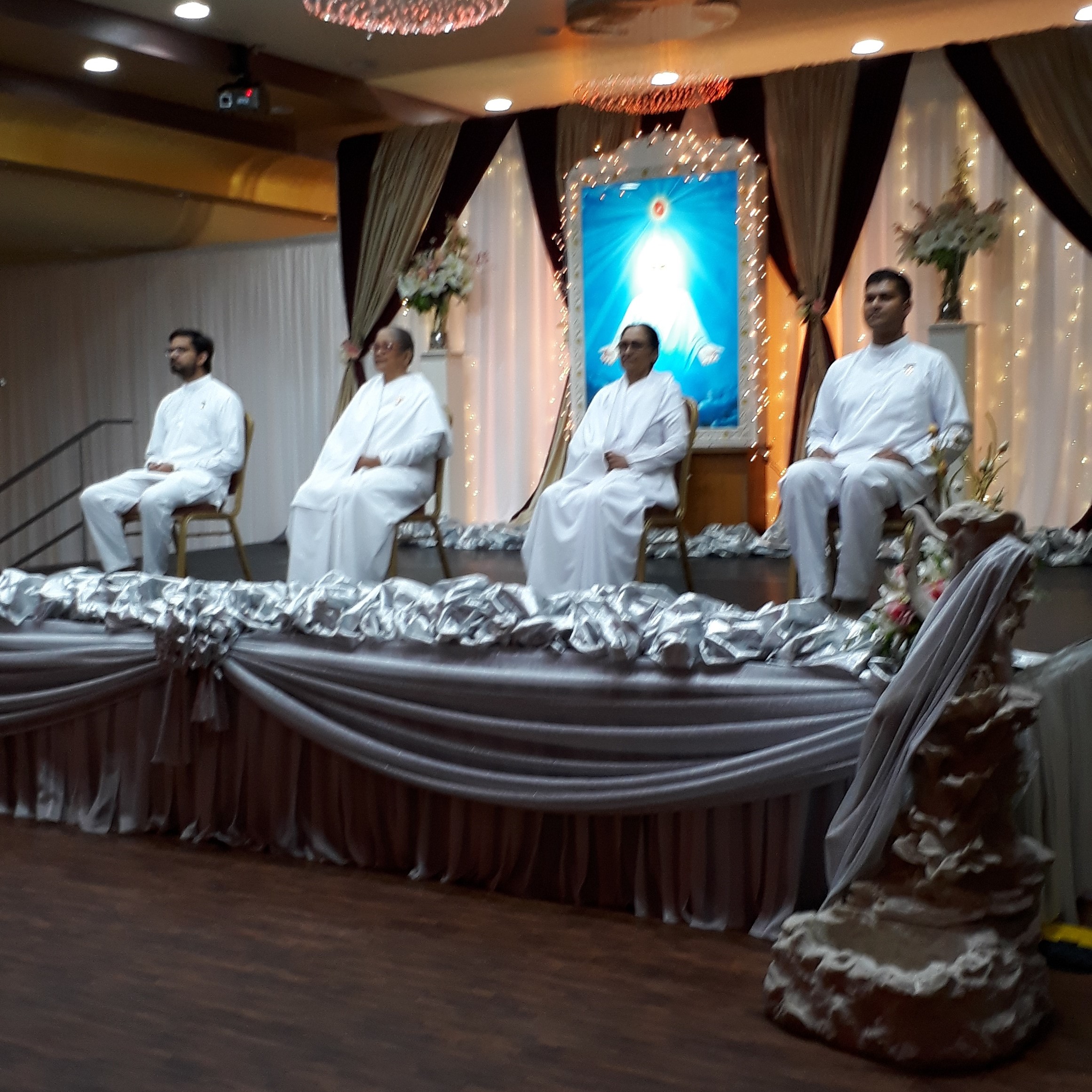 In this peaceful setting the story of Brahma Baba and his contribution and spiritual legacy unfolded. Sis Dr. Hemlata Sanghi, National Coordinator for Trinidad and the Caribbean, delivered a stirring and touching account of Brahma Baba's guidance and inspiration as the BK sisters embarked on world service under the canopy of the Almighty.
Bro Marcelo Bulk, guest speaker and BK Coordinator for Columbia, shared on the role of Brahma Baba as elder brother and father figure who gave guidance through his personal connection with God. He encouraged all present to give positive vibrations from the heart to remove any hurt and to spread peace.
Sis Jasmine of the Chaguanas Centre conducted power-filled live commentaries while Bro Anand Singh, chairperson for the evening, introduced several artistes who gave sterling performances in their areas of competence. The evening ended to the vocal strains of Sis Uma of the Sangre Grande Centre with a rendition of "Om Shanti". Guests were invited to cake and a delicious Brahma bhojan sit down dinner in Baba's honour.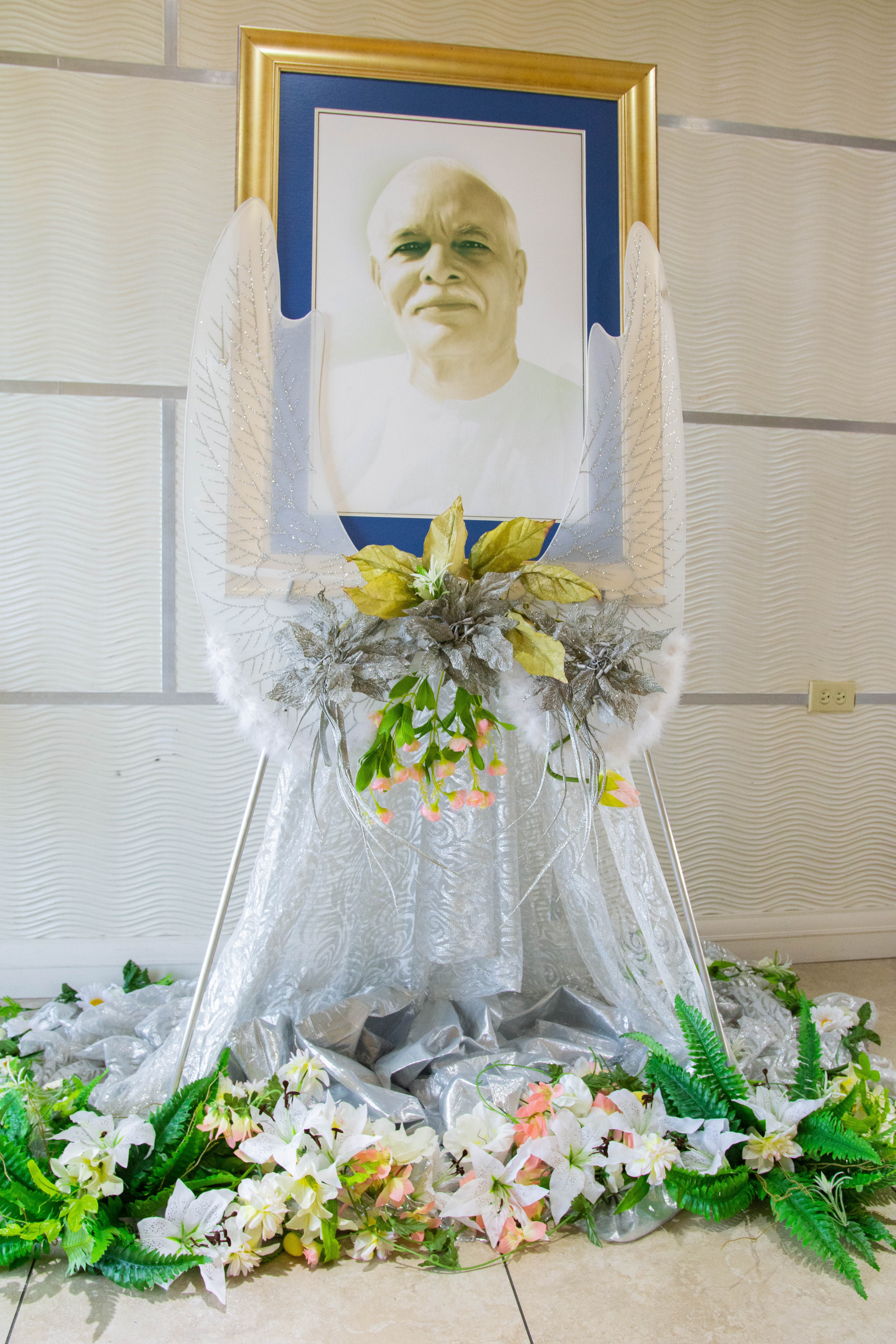 We Brahmins were delighted for the opportunity, on this auspicious anniversary, to again share with our lokik brothers love and appreciation for Brahma Baba's life and legacy.
lkik brothers love and appreciation for Brahma Baba's life and legacy.
Read full report (with more photos) here.

International Day of Road Victims - Service News from Suriname
23 December 2018
International Day of Road Victims 2018
Every year, thousands of people die because of traffic accidents. The UN has therefore declared November 17th as "World Day of Remembrance for Road Traffic Victims". The BrahmaKumaris who support this initiative, donated World Peace Meditation Hour on the third Sunday in November in memory of all victims of traffic accidents. There was an interview with Mr.Sharvien Manohar, a survivor of a serious traffic accident, who shared his story of determination, courage and hope with the audience. The program continued with special meditation donated to all road victims.

Vegetarian FoodFest 2018
This annual event was held on November 10th -11th, to promote vegetarianism and its many benefits.
The BrahmaKumaris participated this year as well and elaborated on the basic ingredients for a meal from a deeper spiritual perspective: What are the key ingredients, how doi prepare my food and how do I eat my food. There was a lecture on the theme 'Am I allowed to eat everything?' with the focus on freedom, choices and responsibility. visitors were also invited to turn the virtue wheel and allowed to taste snacks prepared with love.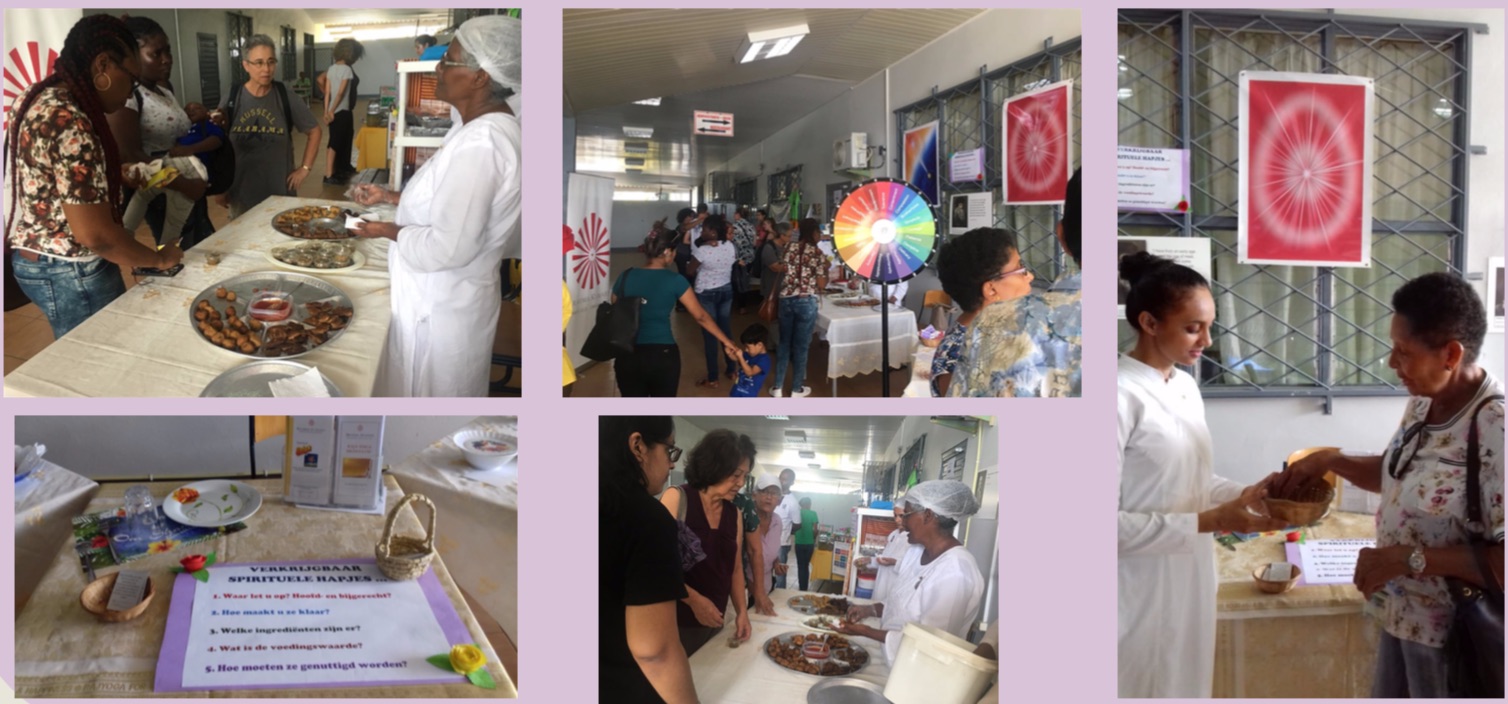 'Suriname Garland of Peace' the Celebrations of World Animal Day
23 December 2018
The Francis - Gandhi Exhibition 'Suriname Garland of peace' and the celebration of World Animal Day
From October 2nd - 6th, the BrahmaKumaris participated in an exhibition organized by the Alpha Max Academy & Learning Center, an Association that wants to actively contribute to a world of non-violence and peace for all living beings.

The exhibition was the main activity. There were also various other activities, including instructive films and a drawing contest.

Mahatma Gandhi was the symbol for nonviolence. For Francis, the pure practice of devotion and love for animals were central. With this in mind, BK's paid attention during the exhibition to:
- thoughts
- 8 spiritual powers of the soul
- Famous scientists from the past who shed light upon animal love

A Green Christmas at Suriname
23 December 2018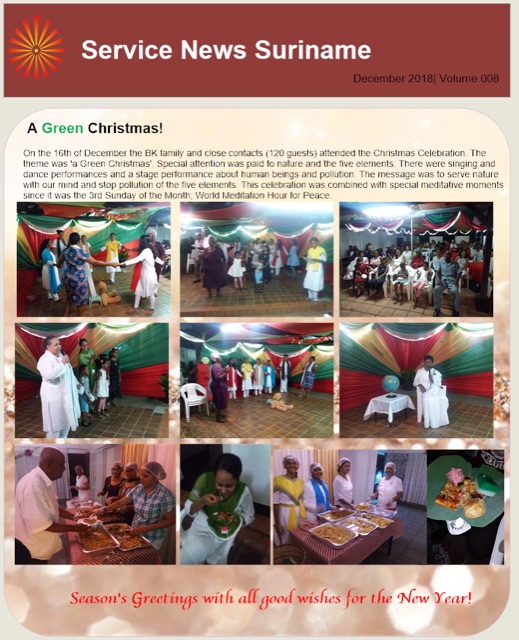 Report on the Trinidad Floods
25 October 2018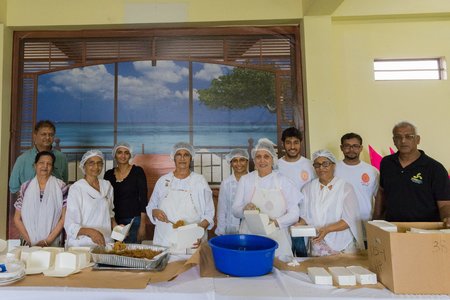 Dear Divine Family,
Om Shanti & Godly Greetings of Peace and Happiness.
I am back to Trinidad on 21st October 2018 from Madhuban.
Over this past weekend there was major flooding in various parts of Trinidad. The worst hit area was at Greenvale which had flood waters climbing to 10 feet. Some people were trapped in there ceiling and others had to seek safety on their roof.
Out of our 5 centres only Sangre Grande in the east was affected. Sister Uma said that she was resting when she had the sudden thought to pack up the stuff in the centre in anticipation for flooding. Together with the help of students they spent 2 hours in this exercise then spent the next few hours in a night vigil. Nothing happened so they went to sleep at about 1am Saturday morning. The flood waters came silently an hour later, at about 2am, and covered the ground floor to a dept of knee leval.
All the BK students felt that they were blessed by Gods protection and damage was minimal. Today they are cooking to distribute food and hampers to the surrounding areas.
The Chaguanas Raja yoga centre, central Trinidad, led by Sister Jasmine yesterday cooked and prepared 200 box lunches. They also included 25 boxes for diabetics. The distribution process was effected in cooperation with the Monroe Road Hindu Temple.
Thanks all members of the centres for their selfless service and shares her Blessings and pure feelings for the quick recover of all who were affected by this flood.
In Baba's yaad
BK Hemlata