Caribbean News
Caribbean News
BK Payal honored with "International Excellence Award 2020"
2 April 2020
"Interfaith Harmony is essential for World Peace" – BK Payal
San Fernando, Trinidad and Tobago ( America ): BK Payal was honoured by the "International Excellence Award 2020" in the World Inter-Faith Peace Conference organised by the Word Organisation for Peace (WOFP) of Madrid, Spain. This award was conferred to BK Payal for her contribution to the upliftment of global cultural and human values and the promotion and protection of World Peace and Harmony.
This Award with a citation was given to BK Payal by President of the World Organisation for Peace Mr. Carlos Peralta and Founder of the Nisha Foundation Priyanka Kothari and Bhaskar Prakash.
On this occasion, Rajyogini BK Payal said that it is necessary for world peace and harmony to work together in harmony for all religions, classes and communities. Religion should not come in the way of the development of society; for this, it is necessary that the religious leader should tell their followers that religion has always taught to live together in harmony, all religions pave the way for development. All religions and communities teach humanity. Religion is not opposed to development; development becomes a boon when the foundation is based on Spirituality. There can be no place of violence or hatred in the field of religion. Through dialogue, every problem can be solved by sitting together. For that, it is first necessary that we should respect others' existence and ideas, like one's own self existence and ideas.
BK Payal said that Indian culture is a pluralistic culture. Unity in Diversity is the fundamental feature of the country. Religious Harmony is its main mantra. When the religious leaders and the heads of different religions of society will give the message of religious harmony from one platform, then it will definitely have an impact.
World Organization for Peace President Mr. Carlos Peralta said that BK Payal has set an example in the field of World Peace Empowerment and Inter-Religious dialogue. It is a ray of hope for the world public, who is always striving to end the terrorism, violence and discrimination of the world.

News of the Fire in the Center in Guyana
8 March 2020
Dear Centre Coordinators,
A situation of 'suddenly' occurred in Georgetown, Guyana on Friday, February 28. In the early morning hours of nectar, Amritvela, there was a fire that started from the bedroom in Baba's home. The cause of the fire was an electric overload that resulted in the fire destroying the residential part of the center. Sister Usha (South Africa) and Mata Parbati were in Baba's room when this happened and managed to exit the center before the fire spread. So, they are safe and Sister Usha is staying at the home of Uncle Steve and Aunty Betty, which is also being used as the temporary space for classes.
There is an ongoing investigation as to the exact damage that was done to the overall building before decisions could be made as to the next steps.
The center has served the community very well and so many are responding with offers of help and support.
The Prime Minister and first Vice President of Guyana has sent a message of encouragement and support (see below and attached).
Please send all your loving good wishes and sakaash to all of Baba's children in Guyana.
With love,
in Baba's yaad,
RCs
Message from the Prime Minister and first Vice President of Guyana
28th February, 2020
Dear Sister Usha,
It is with deep sadness and shock that I watched early this morning at the fire that gutted the Brahma Kumari Centre, which is a short distance away from the Residence of the Prime Minister.
I notified Cabinet today of the occurrence and the destruction of the Brahma Kumari Centre building. His Excellency President David Granger and my colleague Ministers expressed our deepest sympathies at your loss, and encourage you and all other Sisters and Brothers of the Centre to keep the faith as you try to overcome this tragedy.
Kindly let me know in what ways I could be of assistance to you in the re-building efforts.
Your sincere brother,
Moses Nagamootoo
Prime Minister and First Vice-President

Sister Payal speaks at the European Union Parliament in Brussels, Belgium for the 4th Ayurveda Day
15 February 2020
An element of pride, achievement, presentations, information sharing, future hopes and mixed emotions constituted the delayed Ayurveda Day celebrations at the European Parliament recently.
The event was organised by UK based APPG Indian Traditional Sciences and Secretariat Amarjeet S Bhamra for marking the Ayurveda Day consecutively since its inception by Indian PM Narendra Modi. This historical programme, conducted just three days before the exit of Britain from the European Union, was supported by the Indian Embassy in Brussels.
The celebrations saw an imposing gathering of captains of Ayurveda community from about thirty countries. A warm welcome and opening remarks were given by parliamentary host Geoffrey Van Orden CBE MEP and Her Excellency Gaitri Issar Kumar, Ambassador of India to the Belgium, Luxembourg and the European Union.
Around 250 peoples attended and some key themes that emerged were:
the need to include, consult and key of Longevity ,

the impact of the emotions on the mind and body,

mental and physical health and making time for the self
Sister BK Payal was awarded for "Ambassador for Ayurveda" for her special services to the community and made a fitting contribution to the success of this programme.

Sr Payal from Trinidad visits to Germany
15 February 2020
On 30th January 2020 divine sister Payal from Trinidad arrived Germany and visited Frankfurt center.
First Frankfurt family warmly welcomed her. Sister Santosh gave a short class introducing herself and her personal experiences with Respected Rameshbhaiji and Beloved Baba. Next day everyone had a very powerful Amrithvela meditation. After morning murli sister gave a class revealing wonderful knowledge of Baba.
Sudeshdidi and Sister Payal shared blessings, Toli (sweets) drishti and gifts.
It was a great fortune of Frankfurt family to meet sister Payal and share all the knowledge.
The beautiful thought of having a special sustenance programme for Tearcher's Trainning was emerged in the minds of Sudeshdidi and serviceable hands of Germany.
Generally During seniors' visits these groups used to get an hour session for their personal attention. But forever in the history Baba had sent his such a valuable gem especially for the sustenance of the coming up generation in the yagya. Nationwide Kumaris and young mothers are supremely grateful for the entire Brahmin family for their support, understanding, sacrifice, compromising, well-wishing and co-operation in all the ways possible to make these events a fruitful one, especially the kitchen team in cooking and serving tirelessly.
In the evening we had group discussion on churning the Murli points. We had questions and answers session after this Didi shared her experiences.
Learnings from Didi:
Living in the centre means always remember I am living in the center of my forehead.

If either one or 1000 come for course, I should be thankful to that one, because I only benefit and learn more when I teach. One sun is enough to brighten the world rather than 100 stars!

Teachers training is all about forgetting that I am a teacher.

Baba's jewels of eyes who are helping others.

Darpan wo jisme samarpan ki bhawna ho, samarpan wo jisme char cheese- sneh, Pyaar main tapasya hai, sahyog seva.

Mirror is one who has surrender intellect, surrender is one who has four things: love, renunciation, cooperation and seva. All these 4 things are like seed and then trunk and then each branch has fruits and flowers.

Expansion is there but gist.

Nimit teachers - most important motivation is seva, it's Bhawna.

Sneh means giving and renunciation.

If there is no yog seva becomes difficult.

Sevadhari means loyalty and they become successful.

Feel fortunate that baba is using me.

More time we spend on seva more we get blessing, there is no self motive, but humbleness and yet instrument.

Time is wisely spent and feel happy, feels opportunity to create own fortune and it's not an obligation on others, does not feels renunciation.

Renunciation of what: is it really of renunciation: body consciousness, competition, ego, name and fame, comparison. The things which should not be there, renunciation of these is not a real renunciation.

Renunciation means which involves efforts.

Yog is process to remove alloy of soul so no efforts.

Yog is also no efforts but selfless aim, we have to become pure.

Yogi Sewadhari has thoughts of: determination, purity because it's seed, so they get chance for seva.

Teachers who live in family life can also go ahead only when they are centered and are focused what's my aim in life.

Aim is high and pure.

Baba's house where teachers live is a safe place, safe from bad visions, safe from family life, vices, what's seva centre is maya helps you become strong, unshakable and immovable in thoughts and also does not gets tired.

Doing dance not seva.

Centre is ocean of seva.

Who get tired: one who compares,

Stage is not shakeable when alone but tests come when we do in service.

Renunciation means name, without no desires, secret is that because we work for god so results are definitely with us.

Sevadharis do not come in effect and sanskars of others.

Intellect of faith, when we do it for humans then we are shakeable because I do not results

Why we waste time: we do not do self awareness but do think of others as if they have appointed us and because mind becomes week because we work for others, other say why u think about me did I appoint you, why are you doing efforts for me. Body is not tired but mind because it's working.

Consider that you are mahaveer and hanumaan, Ganesh is vighnavinashak, Durga is destroyer of vices.

Power of virtues is the foundation of of sevadhaari

Palm of hand and sole of foot are same - five fingers, shape, etc, hand always work and how if foot always think that I am always on ground, what if foot thinks I am like hand. The hands are held high because of foundation of foot.

One who stays in Self respect does not has ego but understands that my service is to support others.

Cooperation means cooperating with virtues.

Full of yog, self respect, renunciation- this is seva.

The kiln of iron man is not gentle and many beatings but jeweler does gentle beatings.

Sevadhaari does superficial seva if there is no depth of knowledge.

Ruhani sevadhaari is one who maintains the stage in spite of being corrected because it's machinery and each part has its own function and role.

Teacher,s first training is one who teaches first than teaching others.

We feel tired when do efforts for others.

Body is very intelligent because if mind has slept properly it's sufficient to sleep for even few hours.

Self thinking leads to support in yog.

Constant stage is when we are in one Baba's Yaad and understand secrets of knowledge, Yog, virtues and then it makes us unshakable and immovable.

Deep secrets of knowledge, all relations with baba in yog, waste thinking is not there instead self thinking and thus always fresh because do not think of others and thus our stage is stable.

Aim is not to impress or make some one depend on you.

I have to make my own personal property and also give it to others because I a, an instrument .

I should make others king not beggars.

Teacher is an instrument and learn slowly other than teaching like administration, supporting yog like three different facets of diamond .

When we try to convince that I am right it takes efforts .

Don't dirty mind as it's temple and so it should always be lit.

If situation happens with some one, it does not means that virtues are finished but they have desires / expectations at that time .

Doctors can diagnose but should not take the disease himself.

We have to do protection of self, yagya and other soul as well.

Let go of MYSELF OR EGO, so do not control but let go.

It's Godly service and not my seva.

Secrets of knowledge gives juices.

Reality of Spiritualty is introspection and honesty.
She also said hard workers and yogis are visible from their faces. And they were all ever-ready souls. Everyone in the gathering got personal encouragement as they were introduced. It was a great honor to them.
In the same evening Sudesh didiji was very light there too and entertained all those who were present with a very divine group dance.
Finally, participants shared their experiences in the Training. Many got rich and new experiences that they could not express them through words. They have experienced Baba"s love from Didi"s presence.
Finally, everyone shared their experiences that they felt lightness throughout the 2 days being around Sudesh Didi and did not feel any discomfort during their stay, some new mothers have become.
Sister Payal left Germany next day morning leaving very powerful sweet memories in many BKs minds and she was such a powerful instrument to teach us on lightness, easiness and spiritual maturity in reality.

Suman bhen from Germany visits Trinidad - Service Report
7 February 2020
On behalf of the students of the twin island Republic of Trinidad and Tobago it is a privilege to give a feedback of Suman Behin's recent visit to our country.
She contributed to Baba's service on Television, Radio. Meetings with the heads of the University of West Indies, the Minister for Transport and emergencies, the Ambassador of India and several lectures and classes in Public and all the B.K. Centers.
Please read below for details:
Courtesy call to the Indian High Commissioner was very well received and added to the very good relationship that Sister Hemlata continues to have over the years with this office.

Two visits to the Health Services Unit (HSU) of University of the West Indies, with 18,000 students has given birth to a proposed co-curriculum course (24 contact hours) which is scheduled to start in Semester One 2020. The subject will be "Meditation for Holistic Health of the Body, Heart, Relations and Environment". The university proposed that this course if received well by students, can become a permanent faculty of the university.
This all became possible purely due to Bharat Bhai having created and maintained good relationships over many years like that of a friend with the senior directors and heads of various faculties.
Several of Baba's children in Trinidad have held high posts in colleges and universities, or have gained teaching experience in Baba's university. It is they who will conduct the course. This will set an example in the whole of Brahmin family worldwide that Baba has given us the highest education which is welcomed in the public universities. Like there are faculties of Applied Sciences, we offer Applied Spirituality.
Live T.V. program for one hour on the Channel called "Namestay - Awakening the Divinity Within".
This weekly T.V. Program is run by B.K. brother Bharat (Randolf Basedo). It is the strongest tool of service in the modern age of Medias. With his tireless contribution in form of his brilliant ideas to be presented to the viewers across the country and managing the related high costs single handed, he has set a unique example of total surrender to Baba on all levels. Now also other B.K.s are coming forward with their support.
Talk on "Meditation and lived spirituality" given in the company of B.K. Brother Vijay.
Vijay Bhai heads a food company with over a hundred employees and has set an example of an ideal leadership and management. He provides free opportunities of Self Development and Stress Management to the company employees.
Vijay Bhai has created Baba's Yagia structure and atmosphere in the whole of country in true sense. He supplies food wholeheartedly to Baba's Bhandara in all Carrebian centres and even beyond.
Radio talk on "Peace through meditation" on the Prison Radio as part of the Peace week.
It was organized by B.K. Sister Kay Narinesingh who has been serving the prison inmates since several decades. She has received several honour awards and loads of public appreciation for her tireless and constant service to improve the life and mindset of those sentenced to prisons. Along with Radio talks and meditation seminars she has also given the prisoners an opportunity to express themselves through Art. Such art exhibitions have been printed in famous local magazines.
Meeting the Minister of Transport and Emergencies and suggested to him that the Brahma Kumaris can give spiritual consultation to people in time of emergencies. The Minister welcomed the suggestion. In addition the idea was born that the Brahmins will keep on sending the government their service report in the field of social services as has been directed by Baba.
Sister Hemlata maintains good relations with the Ministers of this government section. They look upon at her with great respect for her spiritual authority and her various social welfare projects. Therefore the doors of the Ministers are open for her like for a V.I.P and she can arrange a meeting with them just by a phone call ! This kind of relation with the government body carries a high service potential in it.
The many lectures and ensuing discussions both public and in house (different Centers) were very well received especially due to the deeply churned and practical approach you used. You brought "newness".
Some of Suman Behin's topics were:
a) A suffering world and a loving God ! A new understanding of God.
b) Is time linear or cyclic ? The cause and the benefits of an identical repetition of events.
c) The Soul is Point and Light . This consciousness is the seed of liberation and paradise.
d) Encounters with God – personal experiences which transform life.
Three aspects that came out profoundly in Suman Behin's BK classes as well as the public lectures are as follows:
• Clear interpretation of Baba's knowledge
• Her moving personal experiences with Baba
• Her humility touched the hearts of the many students and contacts through her 'easy access'.
• Very positive attitude, helpful hints and structured approach towards service
Suman Behin felt specially honoured to meet the priceless jewel of Baba's family, brother Ramdeo and was highly impressed at the world class quality of his personality and service.
He created a spiritual Museum Garden up on a hill. There he also hoisted the worldwide highest and strongest flag of Shiv Baba which seems to bless the whole of Trinidad when it waves elegantly at a breath taking height!!
But, even higher was his personality. He knew he had very little time left in his physical body due to an illness. Yet his spirits were exemplary and he was the host to the huge Brahmin gathering at Suman Behin's visit. He was inducing enthusiasm in all through his celebration of life as he sang songs and made gestures of dance! He was facing the toughest possible test of life and he passed it with flying colours with honour.
Just after a few weeks Baba called Brother Ramdeo to join him as an Angel, surely to give his quality support in God's work of world transformation. Suman Behin recalls meeting him as a rare gift !
Last but not least. Suman Behin had some meetings with Brother Harry, the founding seed Baba's of service in Trinidad, Guyana, Suriname and the several neighbouring islands. These were casual family meetings over a cup of coffee. It was mesmerizing to hear the uncountable great services which he has been instrument for. The many Peace Awards and recognitions which the Brahma Kumaris have received from the UNO have been initiated by him. Till today he has open doors to meet the Pope and important government ministries.
In Suman Behin's word, Baba's organisation is bound to have success with such a unique bunch of precious children in Trinidad and throughout the world !!

Newsletter from St.Kitts and Nevis
30 January 2020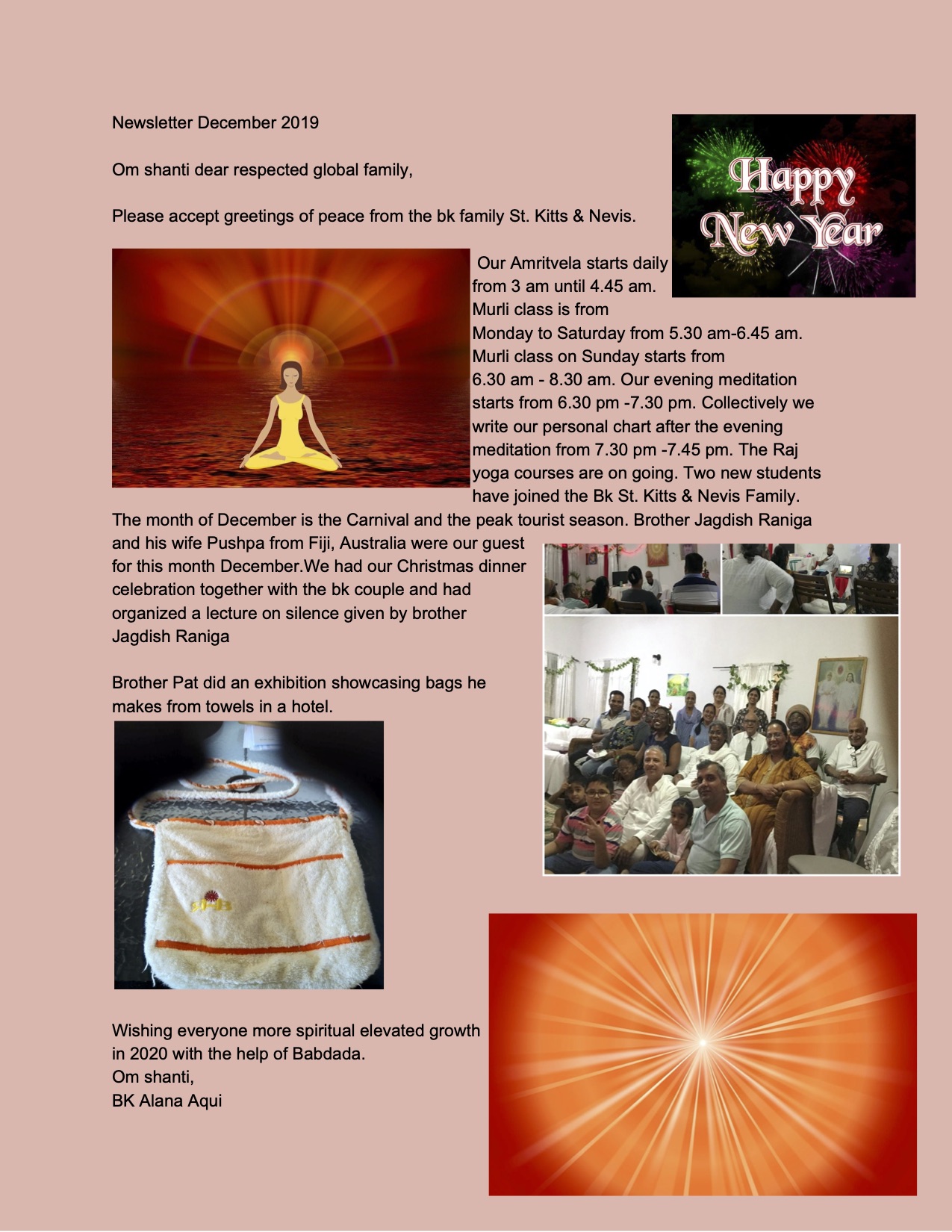 7.7 Earthquake in Jamaica
30 January 2020
Dear Sweet Dadi Janki, Jayanti Didi and all the divine Jewels around the Globe, Greetings from Jamaica.
An earthquake with a magnitude of 7.7 at a depth of 10.0 km (6.21 miles) has occurred at mainly NW of Jamaica & the whole island on 28th January, 2020 at 2.10 pm Jamaican time.
I have received many Overseas Whatsapp calls from the surrounding islands to find out about Jamaica Centres and our sisters' well-being at this time of tremor.
The analysis indicates that this is a very strong earthquake for an island and it is very shallow (shallower quakes generally tend to be more damaging than deeper quakes). It lasted long enough, for about 90 seconds. It was a high enough scale for the bathroom washbasin and toilet WC to shake quite a lot. Also too, with the loud noise of its hitting with a roaring sound, windows were rattling and shaking too. People felt dizzy and the things fell down from the shelves in the supermarkets.
Despite this happening, both the centres in Kingston & Montego Bay and the sisters in Jamaica are totally safe. Nothing even moved from its place at the centre. The centres acted as a strong fortress of Baba.
Earthquakes of this depth and magnitude are expected to result in a Tsunami. Tsunami waves of 0.3-1 meter or 3 ft above tide level warning was issued for Jamaica island for the 28th night.
We will be doing meditation and giving sakash to the elements of nature to be in control for Tsunami warning alert.
A big thanks to Baba for providing His canopy of protection to us.
This was written at 7.45 pm in Jamaica on the 28th.
Let's hope for the best tomorrow in the morning news.
Sis. Bharti Mody
Director
Brahma Kumaris World Spiritual Organization Jamaica

November Newsletter from St.Kitts & Nevis
28 December 2019
Om shanti dear,most fortunate global divine family,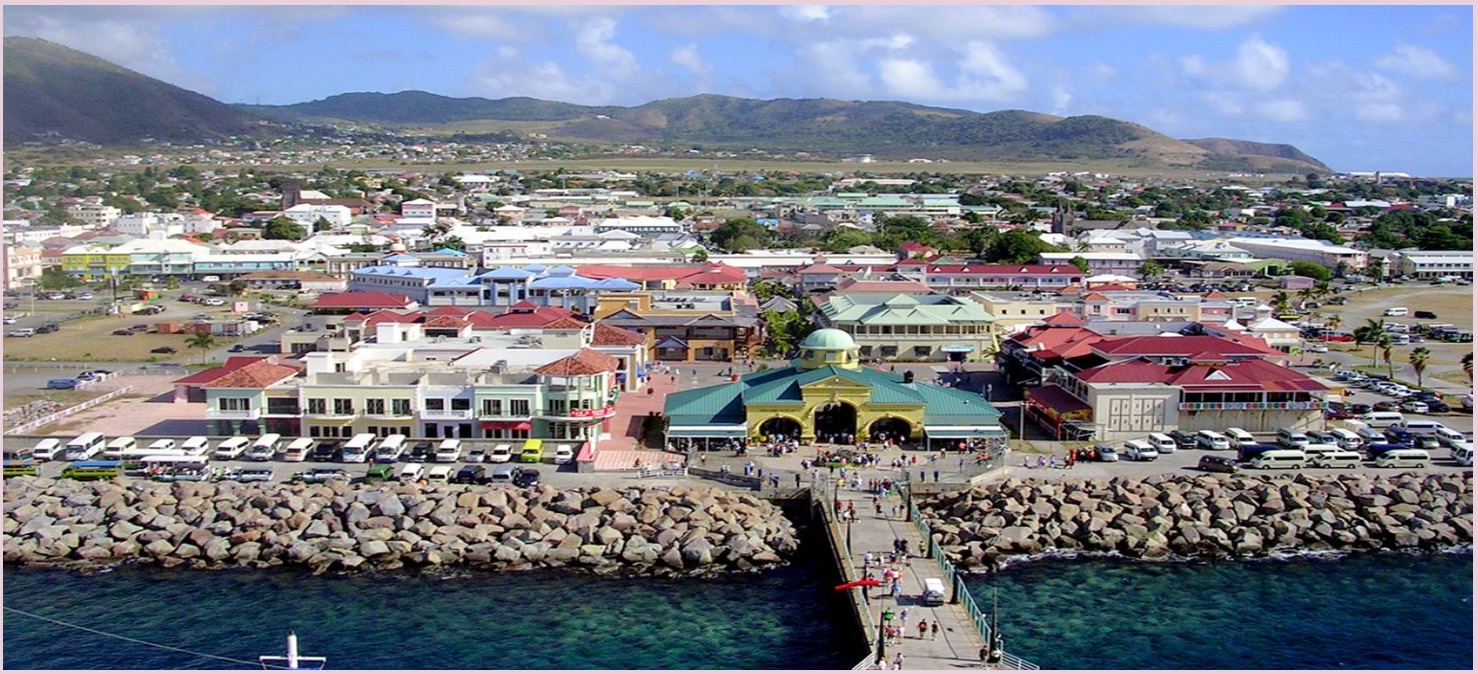 For the month of November we continued doing prison service in Nevis and St. Kitts.

6 new prisoners have joined the spiritual classes every thursday afternoon.We regularly visit the shopkeepers to serve them with Baba's jewels of Knowledge.
Collectively we sacrifice our sleep to start with Amritvela at 3am. Every evening there is an ongoing mansa seva from 6.30 pm-7.30 pm. For this month we had organized a programme for Remembrance of the Road Traffic Victims with the theme " Life is not a car part" by BK Anouschka. To serve the souls further a daily thought for the day is sent to the radio station. Souls kept coming to learn Raj Yoga.
Wishing the entire global family a blessed December month and lots of growth in your spiritual endeavour in remembrance of the Supreme Father, Supreme Teacher and Satguru, Shiv Baba.
Om shanti,
Bk Alana Aqui

Service News from Suriname - Cooking Workshops
28 December 2019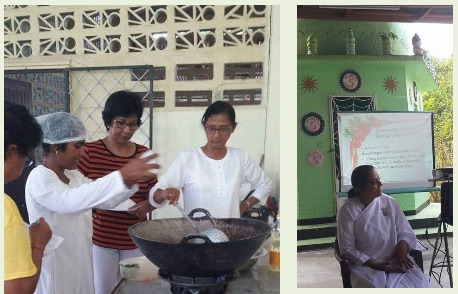 Vegetarian Cooking Workshop:Food & Soul
Seventeen enthusiastic Raja Yoga students participated in this workshop that was held at a temple inLivorno. The emphasis was on the effects of our thoughts while cooking and the benefits of first offering our food to God. Several dishes were made such as spaghetti, pizza, chocolate cake etc.
Vegetarian FoodFest: pure awareness while cooking
This Food Fest is an annual event where the BK Suriname is invited to participate. The exhibition consisted of different parts: visitors were invited to fill in a questionnaire about the effect of purity and cleanliness during the cooking process.

A display of different herbs and spices that can be used to cook delicious vegetarian meals. There were also virtues / qualities displayed, such as God's love, Lightness, Creativity; very important ingredients to make cooking spiritual. BKLoes also gave a lecture on the theme: a glimpse into the spiritual kitchen. There were several snacks that visitors could taste. It was a good moment to meet several contacts again and share God's love with them.
High Tea Party on the occasion of International Day of Peace
On the occasion of International Day of Peace a high tea party was organized in which 40 persons participated. The theme was: You are just as good as you are. By identifying a familiar object or a photo with themselves, the participants were taken into a deeper understanding and appreciation of themselves. Through practical exercises the link between feeling good or bad about the self and the choice between virtue or vice was highlighted.

In between sessions there were short speeches and powerful meditations.

Life is not a Car: World Day of Remembrance for Road Traffic Victims
28 December 2019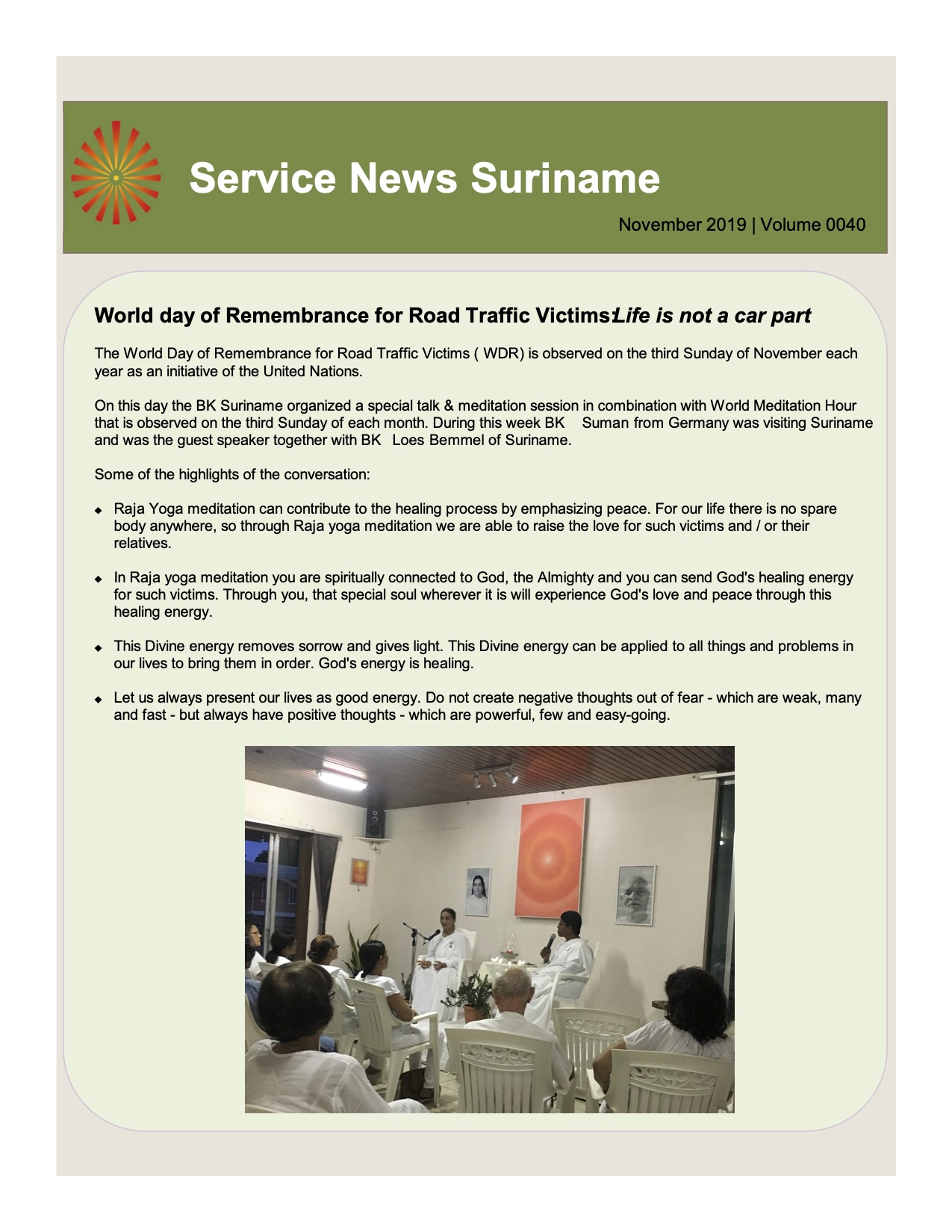 Service News from Trinidad
25 November 2019
I am pleased to inform you that I have returned to Trinidad after a very successful trip abroad and to share with you my news while I was away from Trinidad.
Upon my arrival in India on August 24th I flew to Patna Bihar, where I was bestowed with the "Indian Rising Star Award" for the year 2019 among 84 awardees from all over the World. This award function was organised by Indraprastha Educational Research & Charitable Trust of India, on Sunday 25th August 2019 at Bihar Chamber of Commerce Auditorium, Patna, and presented by Mrs. Kajal Yadav, National President of the Organisation for best services in Value Education and Spirituality.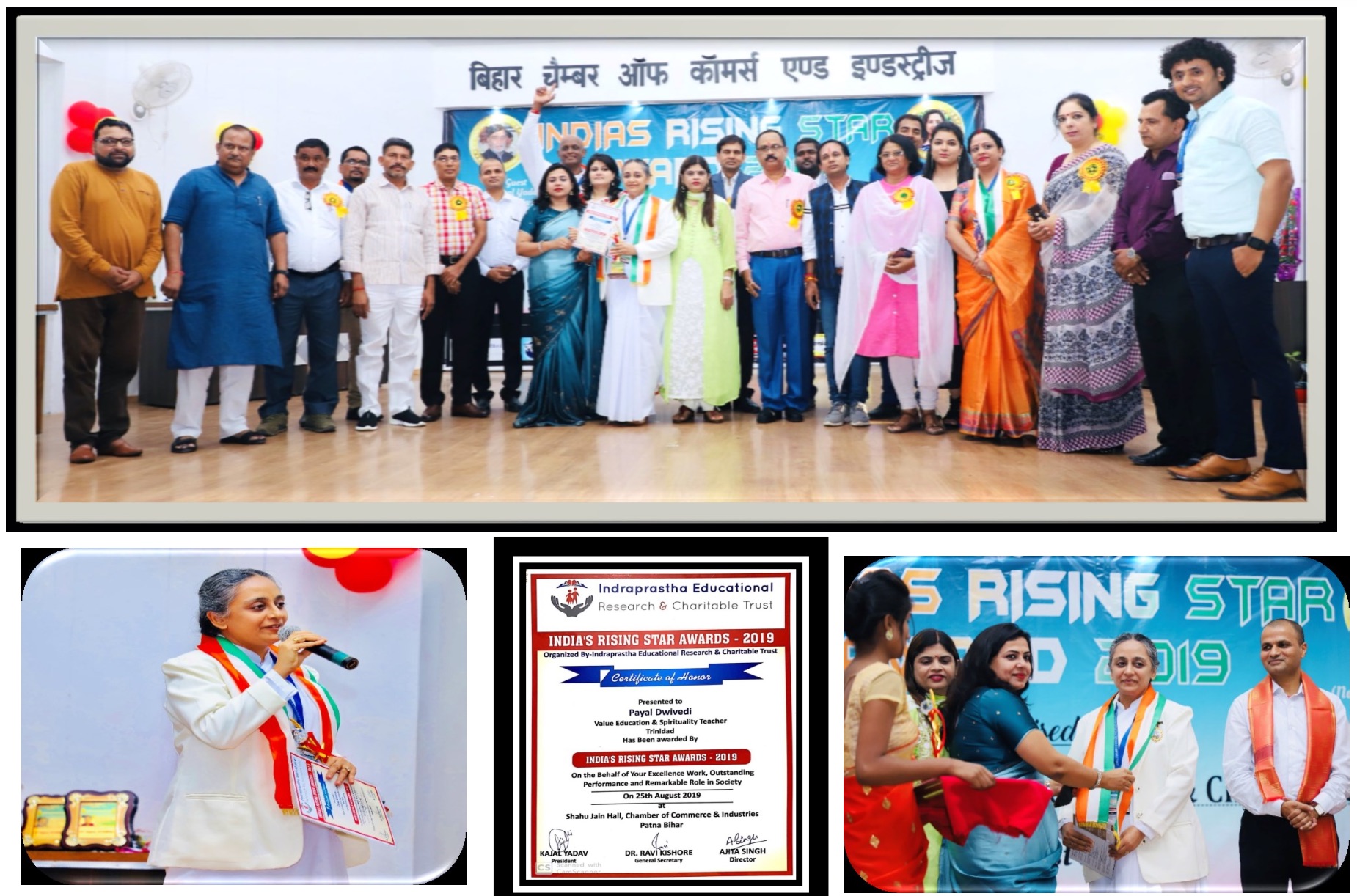 On 26th August, I was the Keynote Speaker on the topic of Stress Management and Personality Development at the Shri Krishna Memorial Hall of Patna, Bihar. Mr Amir Subhani, - IAS. Principal Secretary, Mr B. Kartikey Dhanji, - IAS Excise Commissioner cum I.G Registration,Mr Abhay Raj, IAS - Joint Secretary, Mr Ayaz Ahmad Khan - Deputy Inspector General and 28 IAS and four IPS officers, including few district magistrates and superintendents and officers actively participated in this programme. This programme was organised by the Brahma Kumaris sisters and brothers in Kankarbaug, Patna......click here for rest of the report with photos.

October News from the Caribbean Island of St Kitts
18 November 2019
Om shanti dear respected divine Family,
For the month of October we had the opportunity to serve humanity and the elements of nature. The newness for this month was a class and a radio programme by BK Alana about " What is meditation?"
We also came up with another newness to write our chart collectively right after evening meditation.
This newness is helping all the BK students to write their personal and private charts based on 5 questions to Baba. Every evening we dedicate one hour for mansa seva, serving the elements of nature and serving all the souls in the world. For the month of October we also had several Raj yoga classes by BK Alana for beginners and for the prisoners. The BK students and the contact souls co-operated very well to celebrate Diwali in Baba's home. We had a lecture by BK Anouschka about "how to give light to the world" and "the stories of Diwali". After the lecture we had a session about burning the vices in the sacrificial fire followed by candle lighting, toli and dinner.
Every Thursday and Sunday we have collective silence bhatti during amritvela. On a daily basis we are sending positive thoughts to the radio station Winn FM.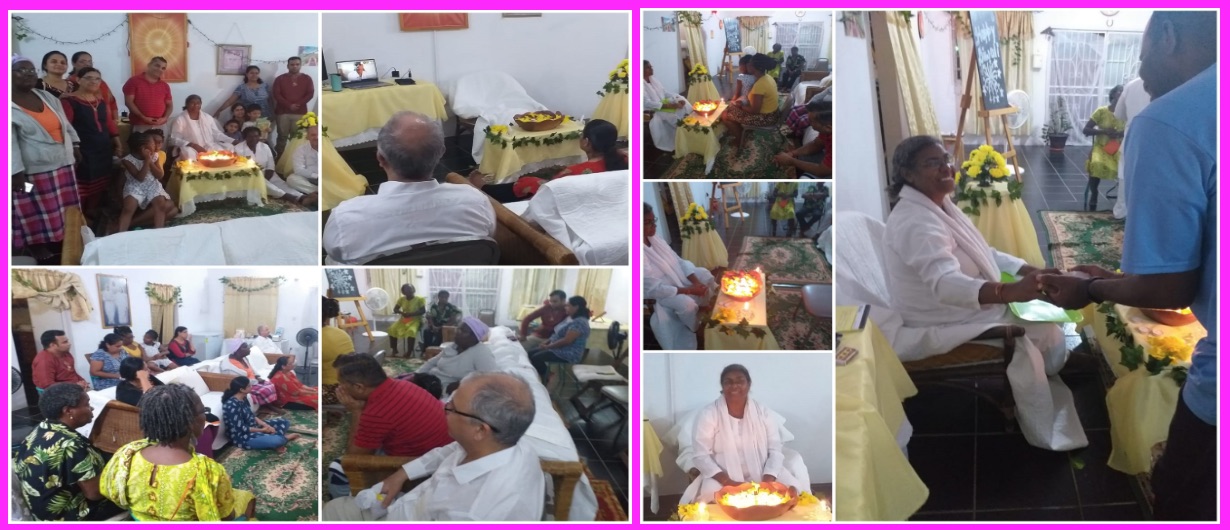 Greetings of Peace and more Service News from the BK Family St. Kitts & Nevis
14 September 2019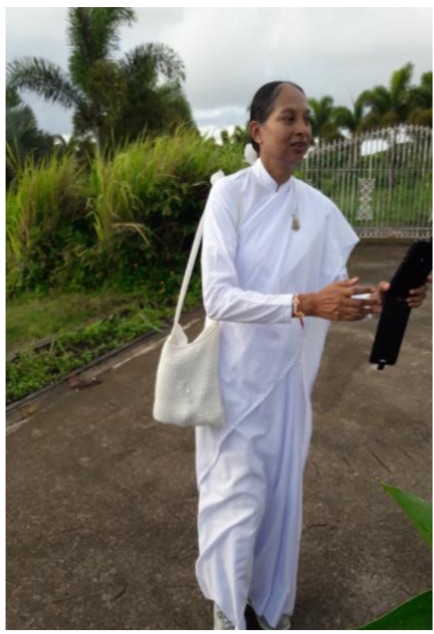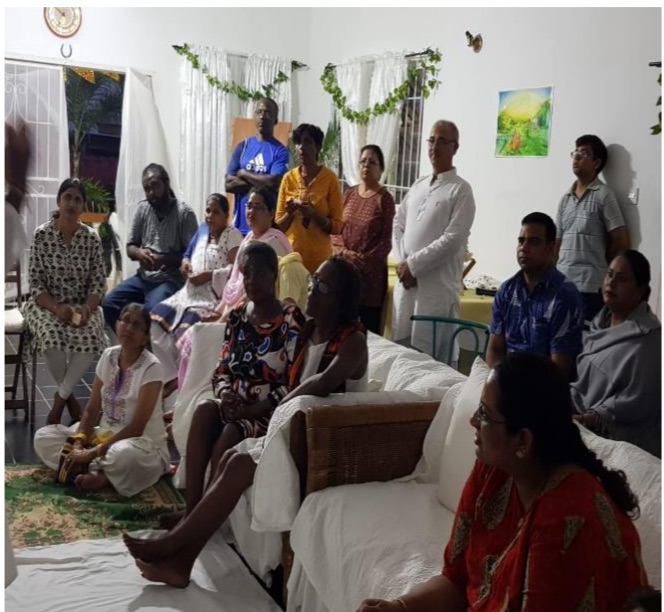 For the Month of August, we had in our midst beloved sweet sister Silvereen Mongru, coordinator of BK Centre's Venezuela. Monday 19th of August 2019, there was a small meeting at the Centre for centre students and family.
Tuesday 20th of August 2019, there was a video interview about Meditation on ZIZ Television and also a meeting with the Embassy of Venezuela. Wednesday
21th of August 2019, there was a live talk show on Ziz Radio and a meeting with students. Thursday 22th of August 2019, a visit was paid to the student's businesses at Port Zante. On the same day a visit was paid to the female and male prison. The talk was about "who is your best friend and who is your worst enemy".
Friday 23rd of August 2019, in the morning we welcomed two BK students from Sint Maarten. There was a public programme at the immaculate Conception Catholic Cathedral Basseterre. The theme was "Removing the Obstacles about you and God".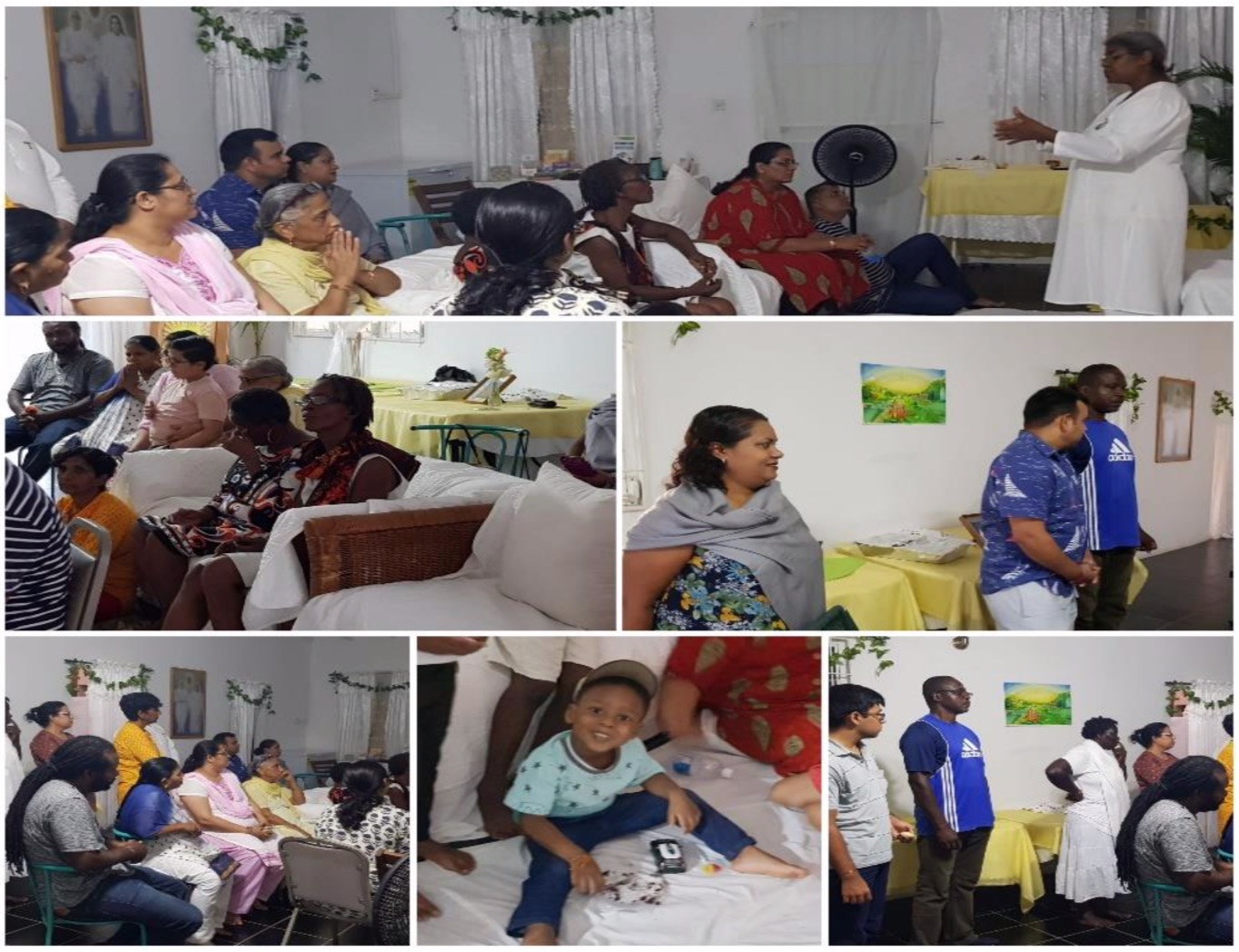 Saturday 24rd of August 2019, we had a Retreat" Return to the Source". Sunday 25th Of August 2019, we continue the Retreat "Goodwishes and pure vibrations". In the evening we celebrated Rakshabandhan, tying the Rakhi,a lecture and dinner.
Monday 26th of August 2019, we travelled to Nevis, met with the prisoners and had a talk with them about" The dangers of Anger". In the evening we visited the home of a senior member of the Temple. A lecture was given with the topic "the meaning of Rakhi for us Brahmins". Sister Silvereen shared her experiences of Rakhi in Venezuela. After that tying of the Rakhi.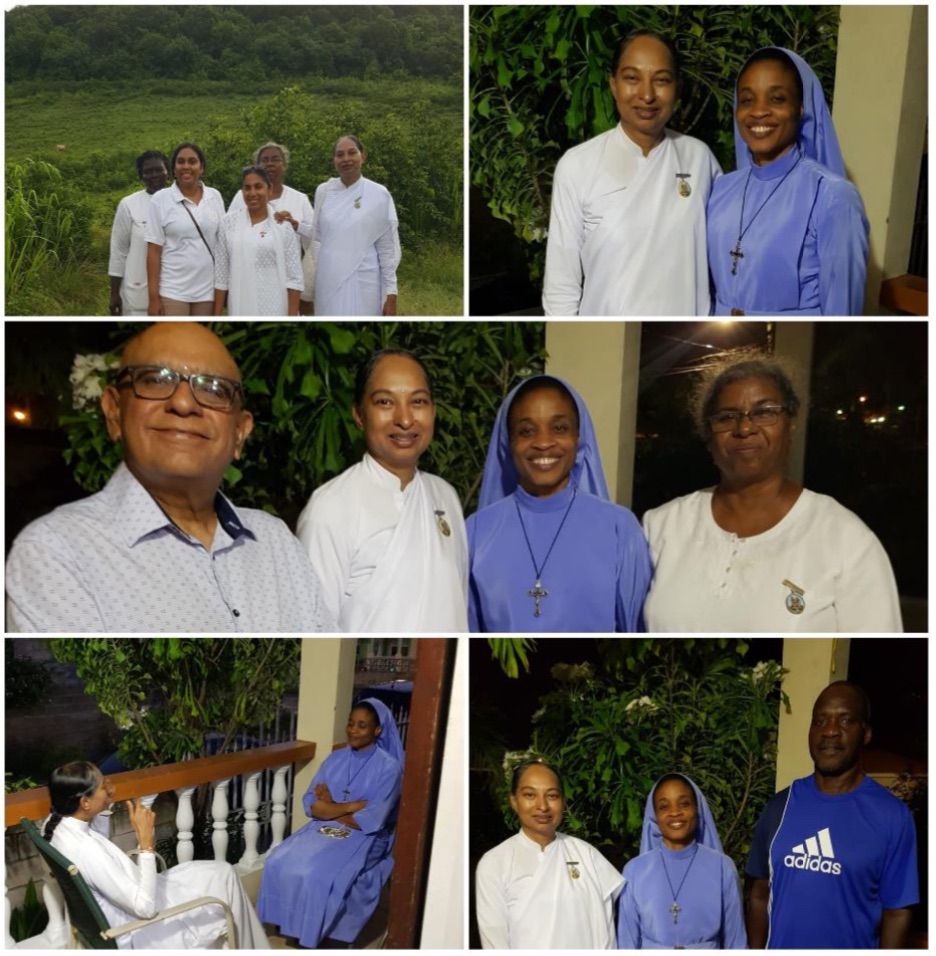 Tuesday 27th of August 2019 we had a meeting with the Minister of Social and Community Development. Wednesday 28th of August 2019, and a programme for the Nurses at the hospital with the theme" Healing yourself to be an effective caregiver". Thursday 29th of August 2019, we had a public programme "How to respond in time of Crisis".Friday 30th of August 2019, departure of sr. Silvereen left for Antigua.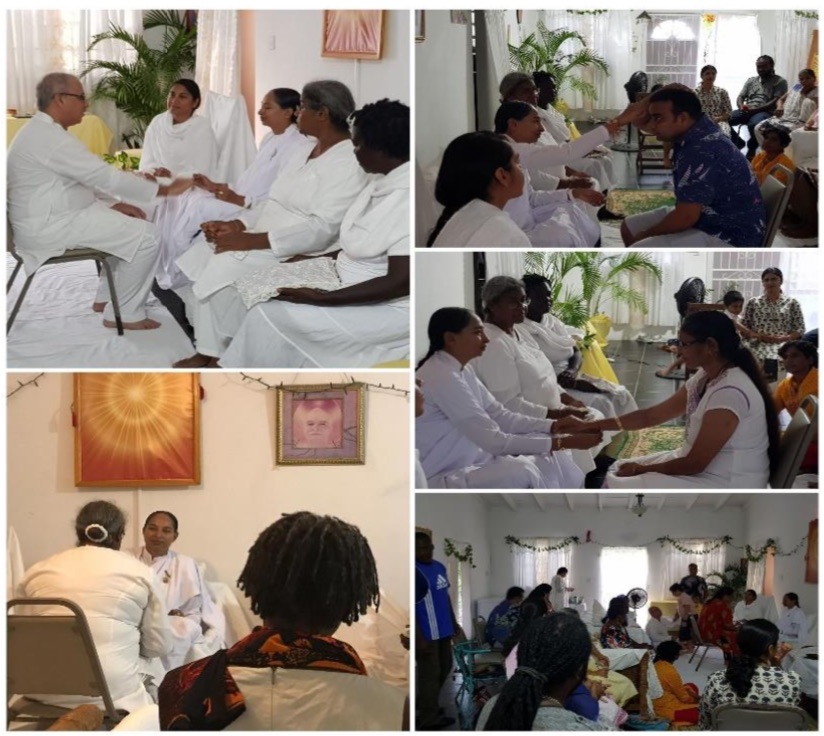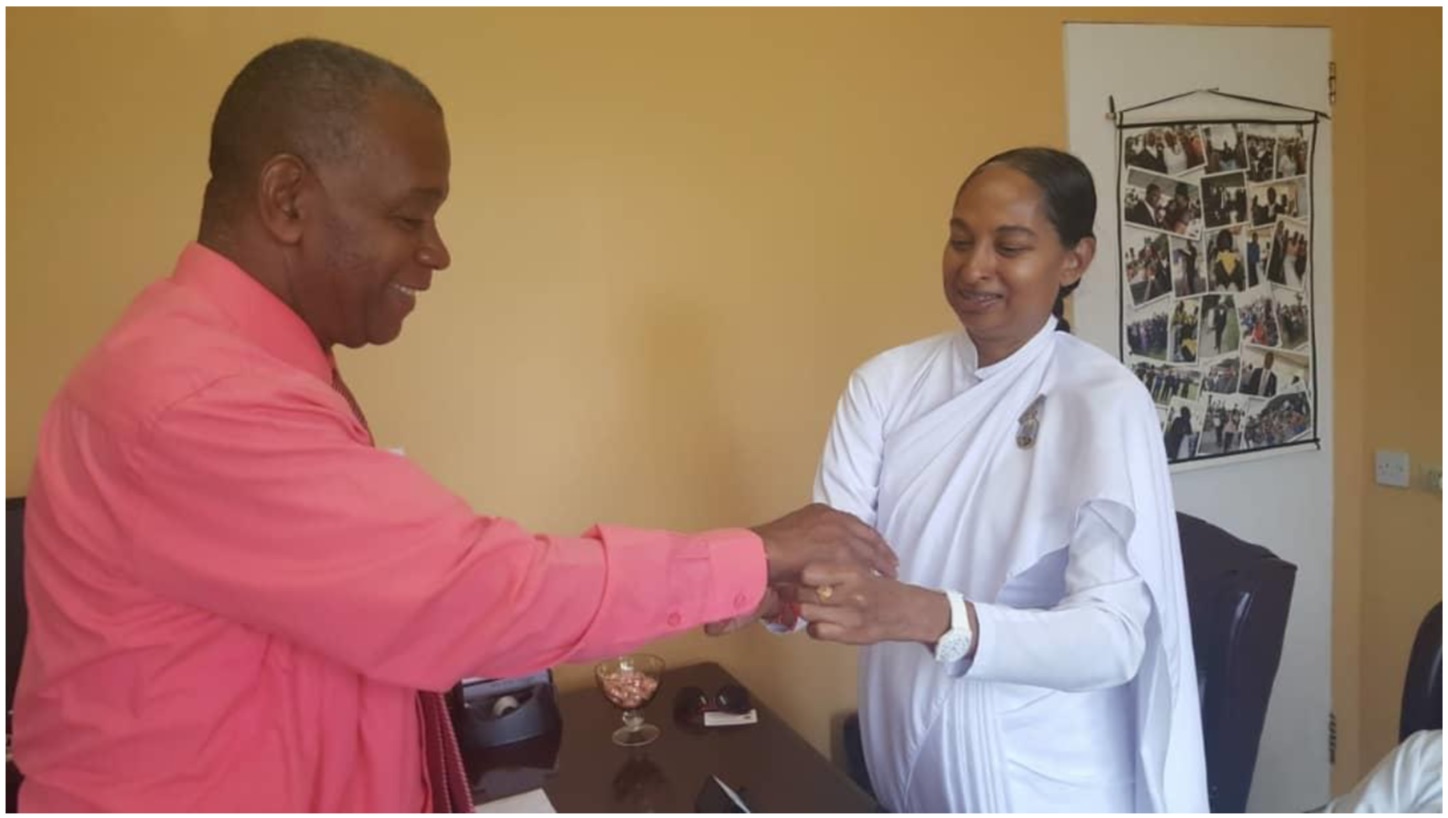 Visit by Sister Rona from New York: Rakhi and Carribean Retreat
10 September 2019
Visit BK. Sr. Rona from New York:Rakhi - Caribbean Retreat
On the occasion of Raksha bandhan and the Caribbean Retreat 2019 Sr. Rona visited Suriname from the 13th till the 20th of August.
Raksha bandhan Visits
Sr. Rona tied Rakhi for several people in the government and business community. She met the Director of Culture Mrs. Elviera Sandie, at her office, on behalf of the Minister of Education. Mrs. Sandie felt privileged and inspired to receive the message of brotherhood in this time of social imbalance.

Another special meeting was with the Vice President of Suriname Mr. Ashwien Adhin. "Only in brotherhood can equal rights and supported social responsibility become a reality. How to be proud to work and earn in favor of land and people requires a spiritual answer. Morality, values and norms require a new approach" shared Mr. Adhin.
Public Rakhi Program
A very special evening was hosted for the public and lokik families of BK's with the theme "Return to the Source of Love". Sr. Rona shared the journey of the soul coming from the home of souls to this corporeal world where we get involved in so many relationships. Because of all these relationships and activities, we forgot our true home. It's now time to make that journey back to our sweet home.
Caribbean Retreat 2019
The annual Caribbean retreat was held in Suriname from the 16th - 18th of August with 65 participants at Asewa'otono, a Catholic Retreat Venue. Baba's special jewel BK Sr. Rona was the main resource to share her spiritual wisdom with the family. The theme "Back to the Source' was experienced this weekend through workshops, classes, meditation experiments and with the highlight of tying Rakhi.
Friday afternoon started with a warm welcome for the entire family and a chit chat session after diner. At Saturday there was a special workshop on 'Purity in thoughts, words and deeds". in which the class had to explore on the
topic of Purity. The groups created a poster on the journey from the impure world to the pure world. " Don't make Drama big, but give it a small place in the bigger picture. Zoom in into the real home, soul world and zoom out from
Drama", Sr. Rona shared.
On Saturday night a special Rakhi atmosphere was created where the bond of purity was celebrated. Several new students experienced their first special Rakhi. The atmosphere was serene and powerful.
On Sunday special bhog was offered and the last workshop and yoga experiment were conducted. The group had to share their experience in one word. Some of them were: educational, family, experiment, happiness. After the gift ceremony the retreat with great contentment and joy.

Service News from Saint Lucia
14 August 2019
We had a wonderful time with Sister Payal from Trinidad in the month of 15th July to 13th August 2019.
An in depth and Heartfelt Meeting with His Excellency Emmanuel Neville Cenac. Saint Lucia's Governor General. Sister Payal and Sister Chandra meet on the occasion of Raksha Bandhan festival. Sister Payal tied Rakhi to the Governor General.
He mentioned that his mother although not having much education, has given much education of values in life.

The power of truth which everyone must imbibe at an early age which comes from the foundation of the family or home.

He defended and argued that there is a God, who is a mystery to anyone who say that there is no God.

All must respect the law of a country or the rules and stand up for democracy where everyone must stand up and speak for what they believe.

He mentioned security and safety for all because if a country is not secured, no one will be safe even to go and buy bread.

He raised the issue of sweetness using the example of making coffee. If you put some coffee and sugar in a cup and do not stir it, it will taste bitter. You needed to stir it to taste the sweetness. Similarly with God`s knowledge, you needed to churn it or put it into practice to get the sweetness or benefit from it.

He was mentioning about our founder Father and who gave up all his wealth and put women in front as leaders of the organization.

Governor General very humble, soft spoken, great memory, respectful, intelligent and resourceful.
Click here for detailed report with more photos.

Greetings of peace and Service News from the BK Family at St. Kitts & Nevis
2 August 2019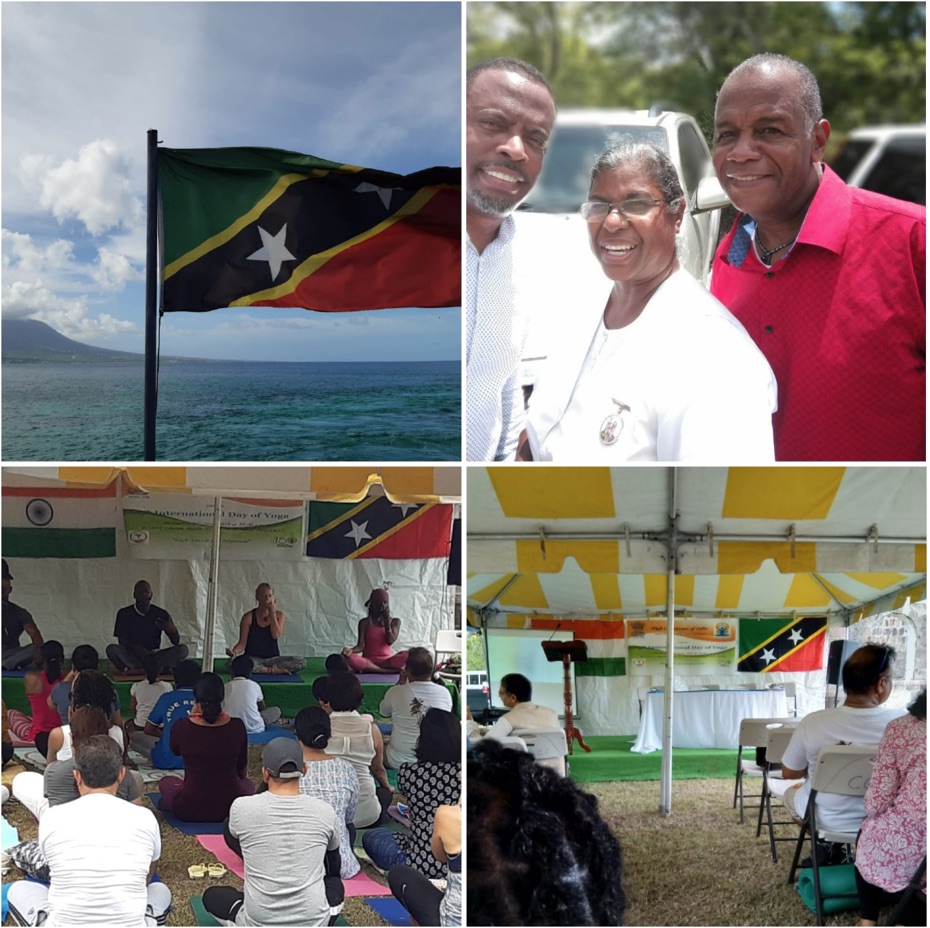 Om shanti,
Greetings of peace from the BK Family St. Kitts & Nevis,
Service news for the month June 2019
The yoga international day was celebrated this year in the twin island state of Nevis on Sunday 23 June 2019 on the grounds of the ancient remains of the Cottles Church next to Mt. Nevis. They said it was the first place in the island history that the whites and blacks had united in pray for the island.
From 2nd of June 2019 until the 8th of June 2019 we practiced with the angelic stage and shared after the evening meditation success stories and the yuktis used to maintain this angelic stage while playing our parts and roles.
From the 9th of June until the 15th of June 2019 we practiced with the deity stage and shared after the evening meditation success stories and the yuktis used to maintain this stage and the impact it has on the self and on others.
From the 16th of June until the 22nd of June 2019 we practiced with the bodiless stage.
Practice 108 times one minute. It was a challenge for everyone to practice the bodiless stage.
The experience was that everyone needs to manage their time better to create time to practice one of the most necessary stage, the bodiless stage.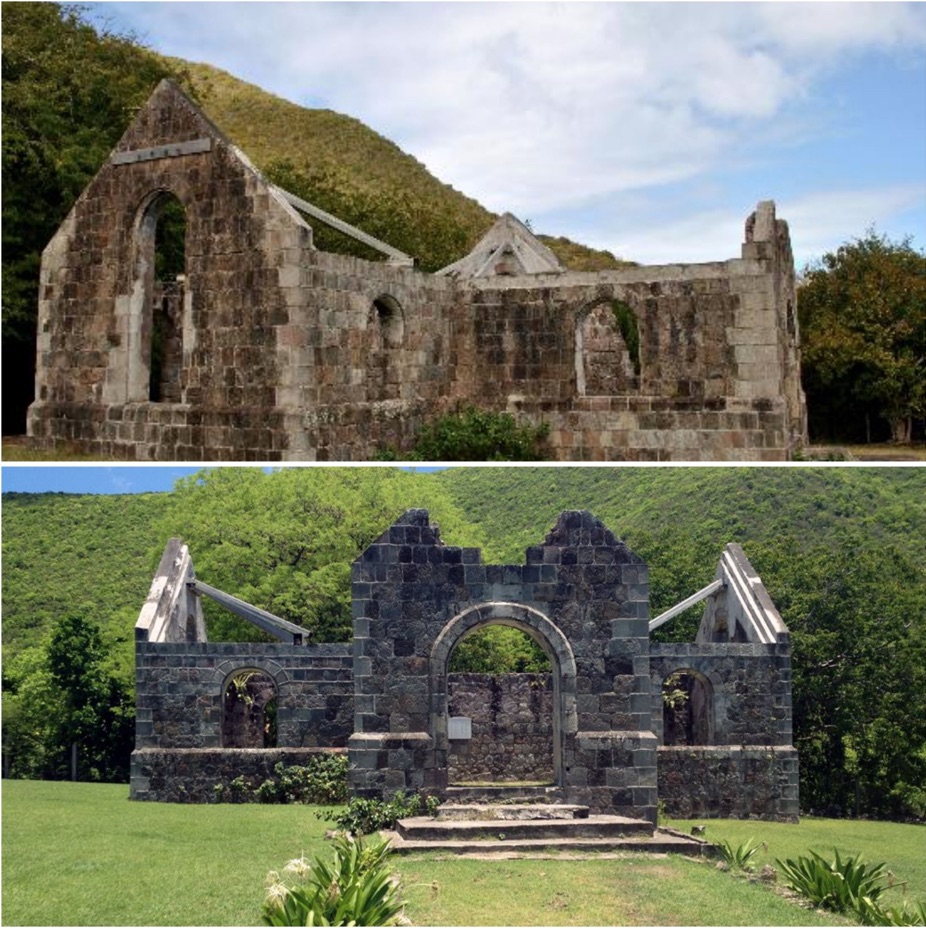 From the 23rd of June until the 29th of June 2019 we practiced with holy swan and shared after evening meditation success stories and the yuktis used. The concentration was on purity through thoughts, words and deeds, aiming to start the day with peace and end the day with peace.
On Sunday 30th of June 2019, we celebrated Mama's day in Baba's home. We started with meditation followed by Mama's story. After that everyone enjoyed the refreshments.
Babdada's blessings to everyone

Special Celebrations to mark 50 years of service of Didi Hemlata Sanghi
14 July 2019
Fifty years ago Sis Hemlata Sanghi made the decision to be an instrument for Shiv Baba's transformational work on earth. Giving up a career in the medical field she began serving at Centres in her homeland India and a few years later journeyed to the West Indies as one of the pioneers in the spreading of the Brahma Kumari knowledge throughout the Caribbean. After the establishment of the first Raja Yoga Centres in Guyana and Trinidad, she spearheaded service throughout the Caribbean in the ensuing years. She now serves the Organization as the Caribbean Area Coordinator.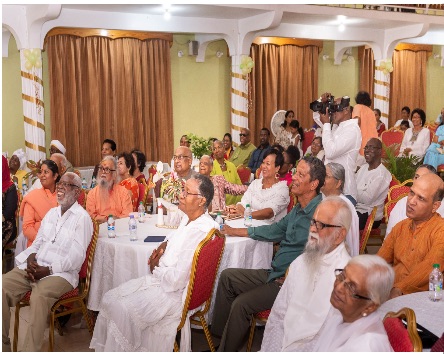 Last Sunday, June 30t,h her contribution was celebrated by the many souls who have become BKs and by other contacts whose lives have been impacted by the knowledge which she has shared. Her 70th birthday was also highlighted.
The observances were held at the spacious and beautiful hall of the BK Chaguanas Centre in Trinidad which was also commemorating its 20th year of service in the community. After a meditation by one of the first Raja Yoga students in Trinidad, Bro Vijai Sadal, a video of Sis Hemlata's life work and its impact over the years was presented.
A full programme of tributes and celebratory performances filled the evening. Speakers included government minister and former Principal of the University of the West Indies, St Augustine, Dr Bhoe Tewarie, the President of the Inter Religious Organization of T&T, Canon Dr. Knolly Clarke along with executive members, Swami Brahmadeo, and Sister Shirley Bell of Barbados who traveled to Trinidad to pay tribute on behalf of the other Caribbean countries. Several dignitaries, who were unable to speak because of time constraints, were acknowledged.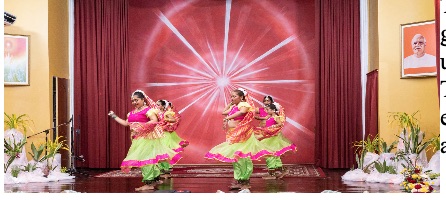 The atmosphere was charged with happiness and gratitude and this manifested in songs, dances and the uplifting sounds of musical instruments.
These gave way to Sis Hemlata's voice as she shared her experiences as BapDada's instrument and led all assembled into meditation.
Garlanding, decoration of the honoured guest, and the lighting of candles on a three tiered cake preceded the presentation of an exquisite Peacock engraved plaque to Sis Hemlata.
The BK family and community supporters delighted in honouring Sis Hemlata's 50th year of service and feel much gratitude that destiny brought her to us.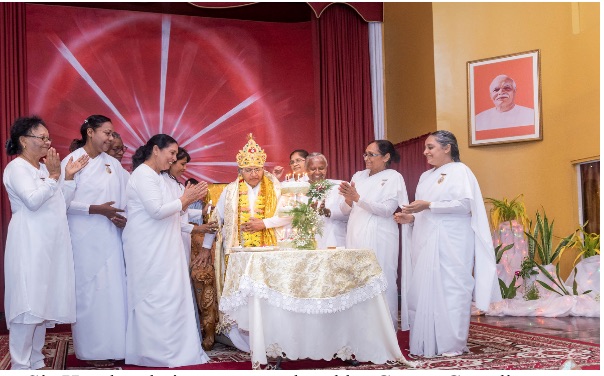 The evening concluded with music, a delicious meal and commemorative gifts for all.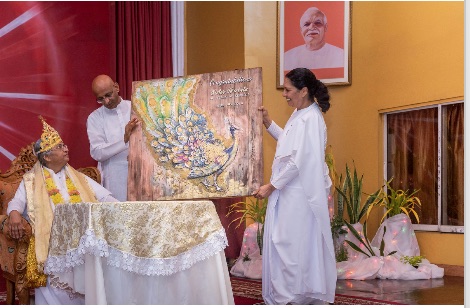 Sis Hemlata being congratulated by Centre Coordinators

News of Trinidad Mothers' Group's visit to Orlando Florida, from 16th to 22nd May 2019
19 June 2019
News of Trinidad Mother's Group visit to Florida, Orlando from 16th May to 22nd May 2019
A group of 20 Mothers from Trinidad in the West Indies went to Orlando Florida from 16th May to 22nd May 2019 on a retreat to celebrate Mother's day. They were accompanied by Sr Hemlata, Sister Vishantie and Sr Payal.
Sister Jyoti and Sister Anne welcomed all of us with beautiful flowers, blessings and toli. Sister Hemlata gave a short class and entertained the group with various stories and experiences with Baba.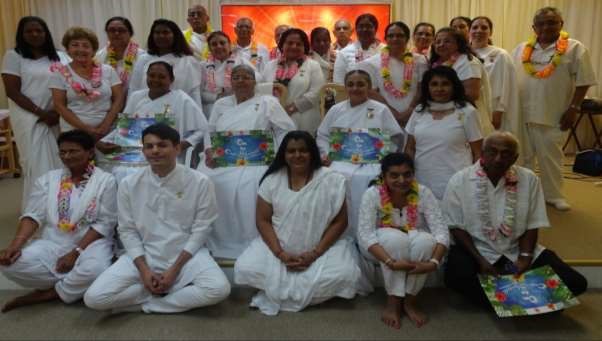 The five days retreat was full of various activities like value game, cultural programme, classes, self appreciation discussion, Baba and drama etc. Many mothers shared they felt like being in Madhuban and they had many "first time experiences". They enjoyed the powerful vibrations created in yoga experimentation.
A beautiful family atmosphere created in Orlando has made us feel we belong to one global family. Few contact souls from Orlando also joined the group for the retreat. Some of the sharing includes:
I felt a unique experience which cannot be expressed in words.
I had the same experience as when visited Madhuban for the first time.
If the same stage and vibrations are made everywhere all will become one.
We had new experiences which we will follow and forward to others.
Felt homely.
Very good management.
Time was used in a worthwhile way with newness.
If we did not come we would have missed a lot.
Compassionate feeling from all in every way.
Sister Hemlata gave a talk on Saturday 18th May afternoon at a public program, and the theme was "Happily Settling Karmic Accounts". She shared that destiny is a manifestation of our past karma, but our present karma is more powerful than past karmas, so at every moment we have the power to heavily influence and change our destiny, Ever if a relationship with someone is fragile, we have the power to settle the past account and turn the balance into positive with the help of right present karmas.
Other than gyan and yoga, the group visited the Centre in Tampa and took inspirations from the classes by Sister Shireen from Tampa.
Spirituality is all about what, how and when we should think because the energy that powers our actions and interactions is the energy of thought. When we take care of that inner energy, we are able to sustain our peace and happiness. When we are peaceful and happy, we feel comfortable. In this stage of comfort, we can feel others and love them. And when we love, we get love in return. This is what makes us into kings because when you get love, you get everything.
We also went on a day tour of Disney Land, a place which provides fun for all with more than 50 attractions spread across amazing parks.
Everyone returned feeling empowered and some expressed that this trip has brought them closer to Baba and Brahmin family.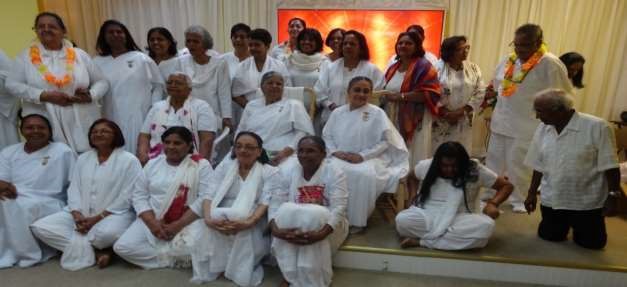 The visit in Orlando concluded with a special sustenance class and questions and answers session on the last day 22nd May 2019. We also spend one day on our route back to Trinidad in Panama where we had a tour of Panama City.

Programs in St Kitts & Nevis in May Including Visit by Sr Kiran of USA
12 June 2019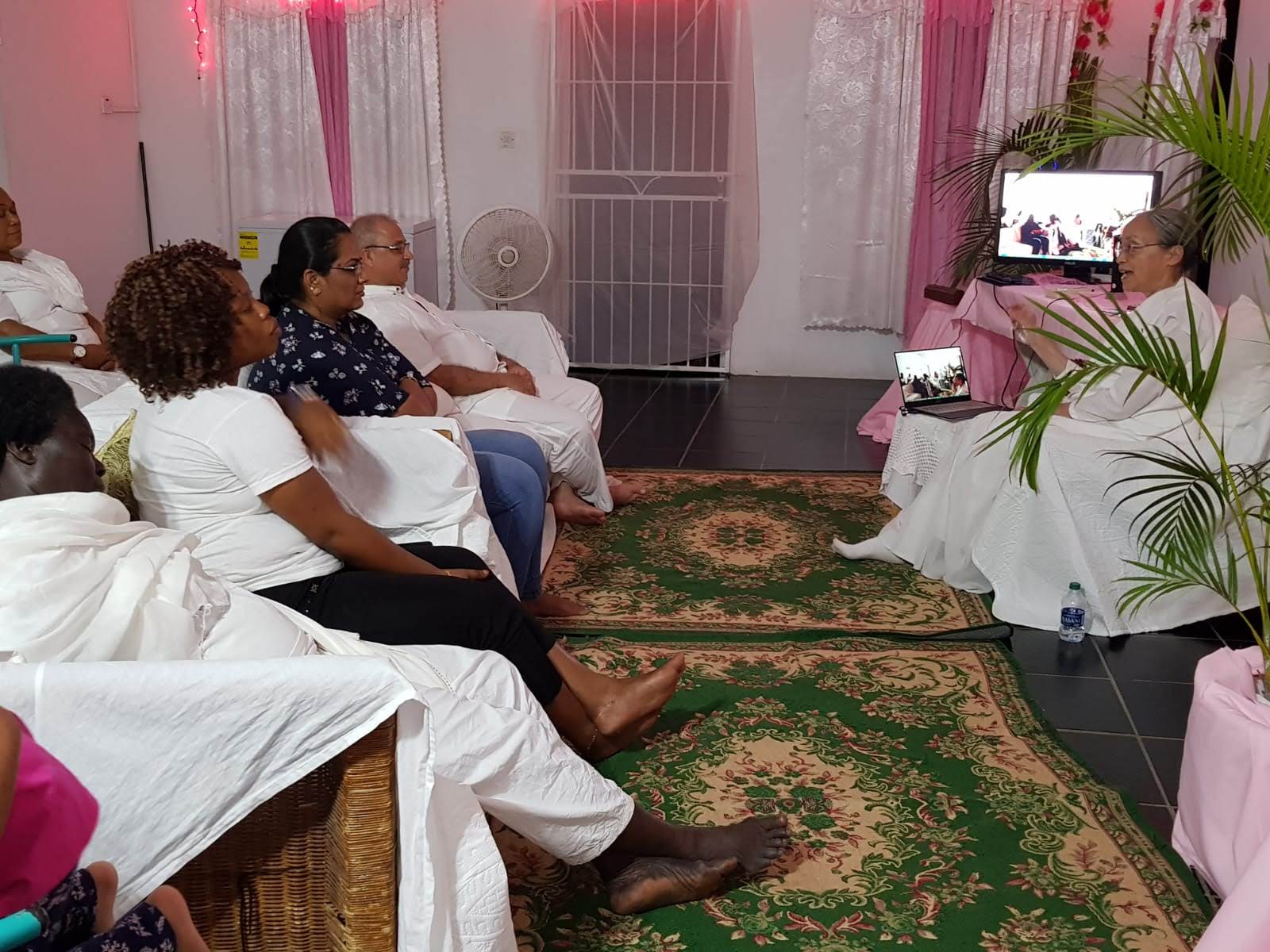 Peaceful greetings from Brahma Kumaris St Kitts & Nevis

In the month of May, we welcomed Baba's special instrument soul, dear respected senior sister BK Kiran from the West Coast State of Oregon.

Everyone who had already done the Raja yoga course was invited to do a refreshment course and to have a half day retreat. The participants (BK students from St Kitts & international BK students on Skype) were happy and pleased to have Sister Kiran doing the refreshment Raja yoga course. The session for the refreshment Raja yoga course started on Wednesday 8th of May, Thursday 9th of May and Friday 10th of May.

Sister Kiran visited the prisoners of St Kitts on Thursday 9th of May and visited the prisoners of Nevis on Saturday 11th of May and had a talk with them about spirituality.

On Sunday 12th of May 20, Mother's Day, all the mothers were decorated with a badge and a crown made out of flowers. After that Sister Kiran did a class on Spirituality for the public. There were a number of souls from St. Kitts present in Baba's home and 4 souls on Skype for this lecture.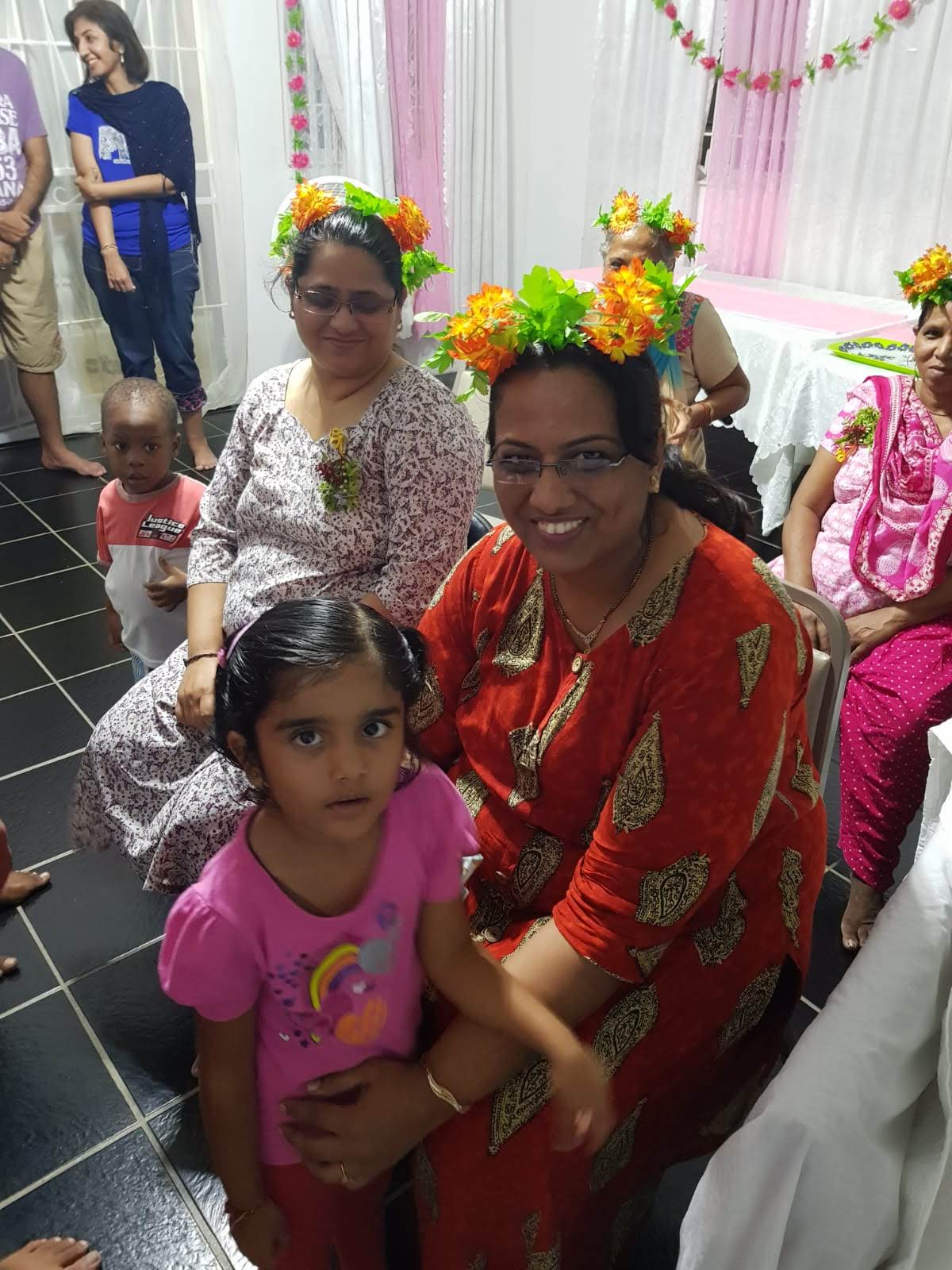 Beside the BK family of St. Kitts, the BK family of Curacao and the BK family of Aruba also enjoyed the morning Murli classes via Skype with Sister Kiran from Thursday 9th of May until Monday 13th of May.

For the UN global road safety week - May 6-12, 2019, we held an evening programme on Sunday the 19th of May. During the programme, there was world peace meditation, a talk about leadership for road safety via skype by BK student Anouschka from Saint Maarten and sharing from everyone about their contribution as a leader for road safety. In total 10 souls participated (7 in Baba's home and 3 via Skype).

On Sunday 19th of May, the BK students of St. Kitts/Skype started with one-week practice to consciously check the impact of people, nature, news, sounds, atmosphere, animals, movements, opinions, anything ...on oneself. The practice for the week (until Sunday 26th of May) was: How do I use the power of tolerance, the power to adjust to respond? (not react) How do I conquer the negative impact it has on everything within -- thoughts, speaking, attitude, behavior, emotions, feelings, mind, intellect? Am I the embodiment of the power to tolerate? What do I need to pay attention to, to be able to tolerate/ adjust? Keep a chart. After the evening meditation, everyone shared a success story.

Br Atam Prakash (Madhuban toli) visits Suriname!
12 June 2019
Suriname was blessed to have Br. Atam Prakash from Madhuban in their midst. Br. Atam Prakash was traveling in the Caribbean and visited Suriname from the 15th till the 17th of May.
There were several programs at the Raj Yoga centers for regular BK students, public programs, visits with Government officials and with TV & Radio stations.
Br. Atam emphasized on the importance of becoming an embodiment of experience. We first listen to knowledge and than practice it. The next level is to go deeper and experience all the powers & relationships with God. "This is the time to become an authority of experiences. This gives us a lift in our life, making us unshakable in unstable situations".
At the public programs Br. Atam explained the importance of Raj Yoga meditation in our life. "It charges the battery of the soul", he mentioned. The mind and the intellect are two children of the soul. Take good care of them and keep them light.

News of Shivratri Celebrations from Suriname
11 May 2019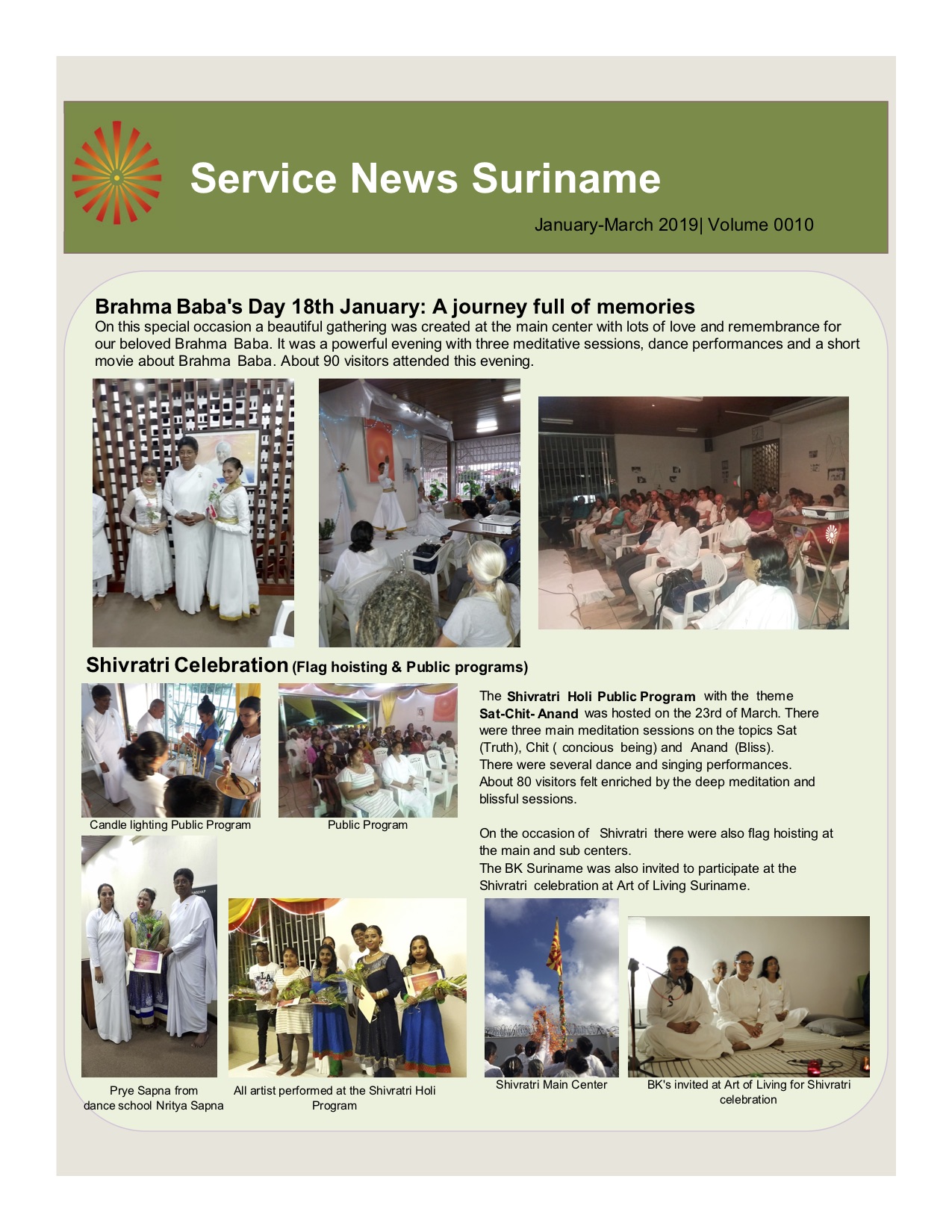 Trinidad & Tobago Celebrate the 50th Ascension Anniversary of Brahma Baba
6 February 2019
Guests were treated at this juncture to musical interludes, an Exhibition and audio visual presentations
featuring Brahma Baba.
Refreshments at Meet and Greet
As guests were seated, four BK yogis sat on the beautifully appointed stage and filled the atmosphere with spiritual vibrations.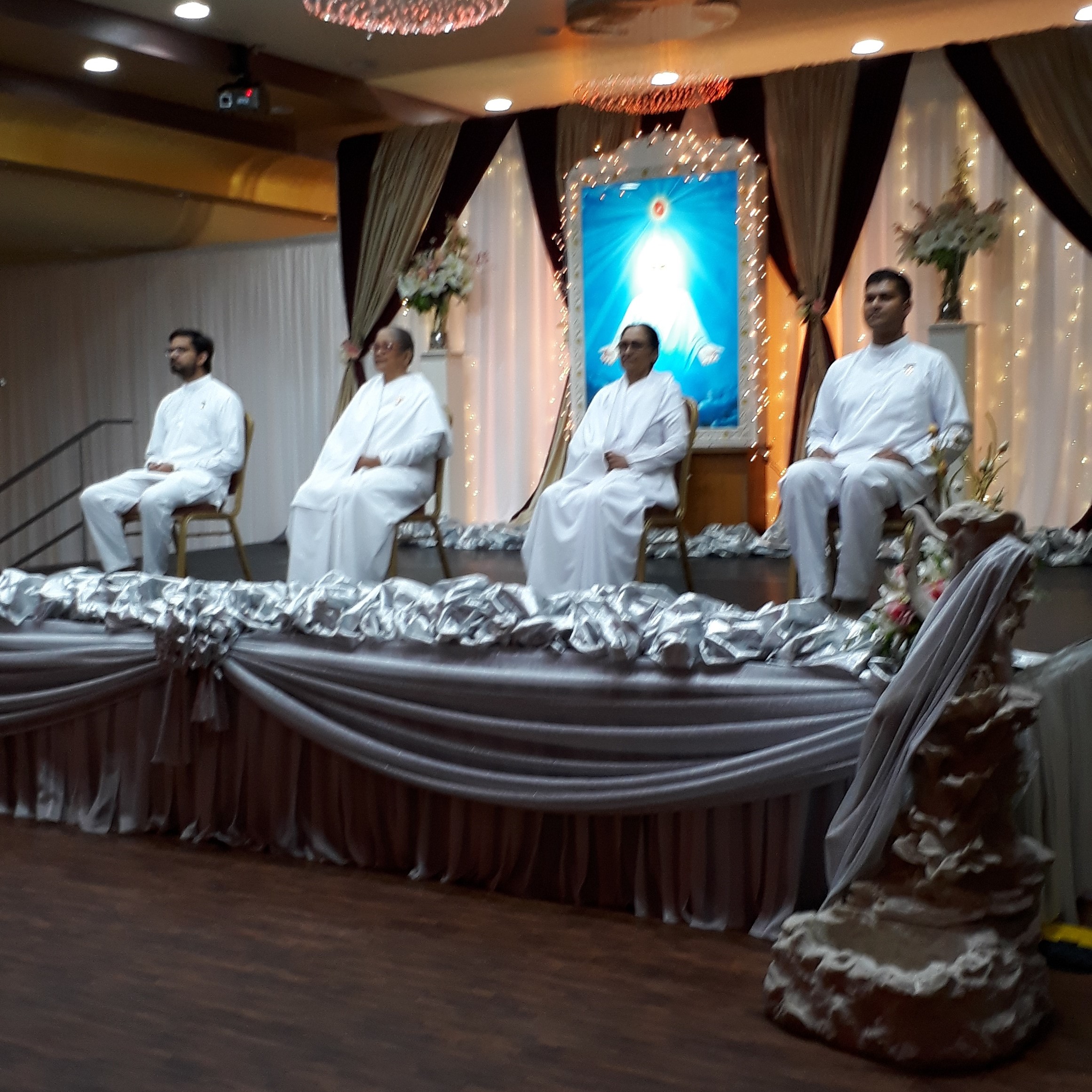 In this peaceful setting the story of Brahma Baba and his contribution and spiritual legacy unfolded. Sis Dr. Hemlata Sanghi, National Coordinator for Trinidad and the Caribbean, delivered a stirring and touching account of Brahma Baba's guidance and inspiration as the BK sisters embarked on world service under the canopy of the Almighty.
Bro Marcelo Bulk, guest speaker and BK Coordinator for Columbia, shared on the role of Brahma Baba as elder brother and father figure who gave guidance through his personal connection with God. He encouraged all present to give positive vibrations from the heart to remove any hurt and to spread peace.
Sis Jasmine of the Chaguanas Centre conducted power-filled live commentaries while Bro Anand Singh, chairperson for the evening, introduced several artistes who gave sterling performances in their areas of competence. The evening ended to the vocal strains of Sis Uma of the Sangre Grande Centre with a rendition of "Om Shanti". Guests were invited to cake and a delicious Brahma bhojan sit down dinner in Baba's honour.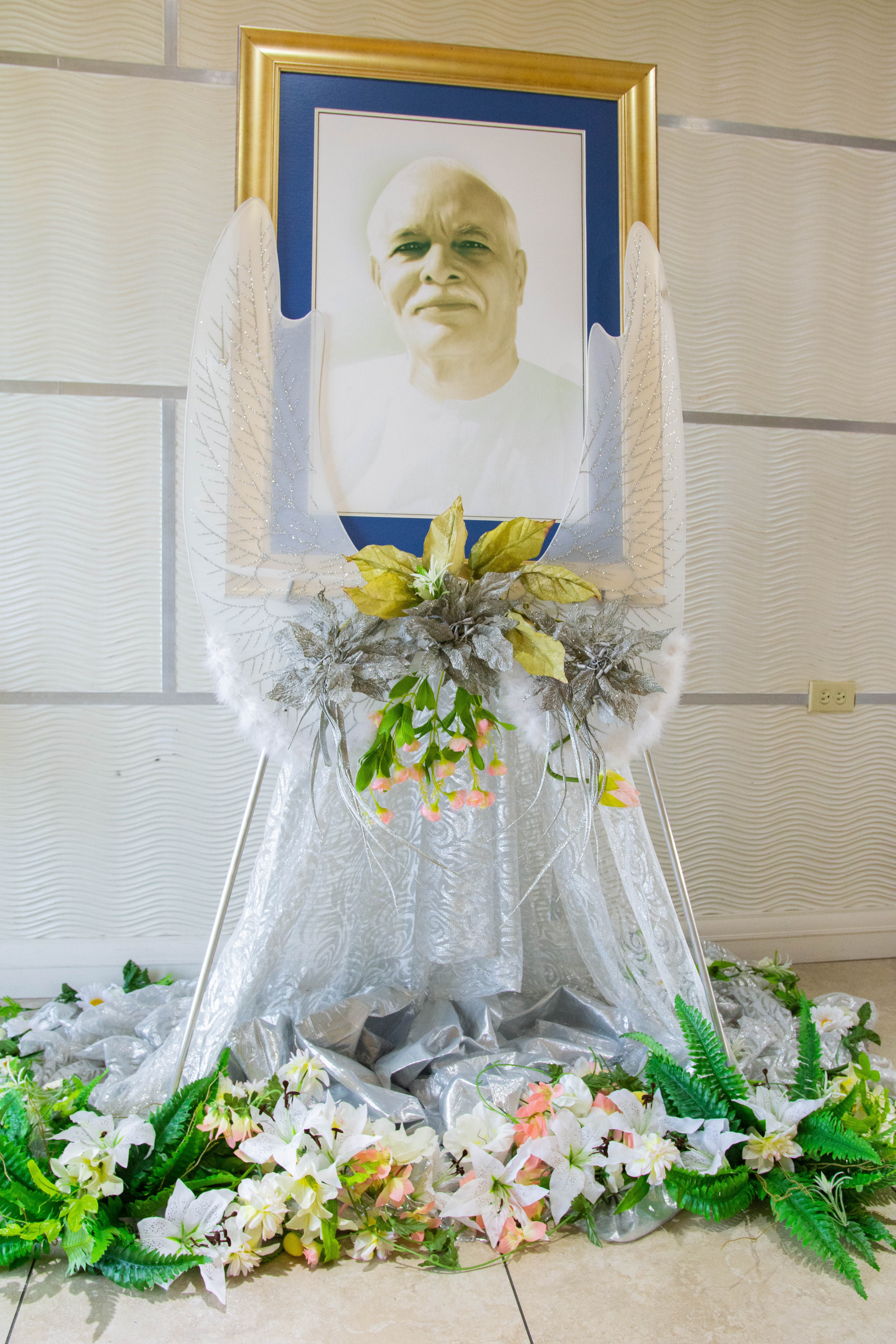 We Brahmins were delighted for the opportunity, on this auspicious anniversary, to again share with our lokik brothers love and appreciation for Brahma Baba's life and legacy.
lkik brothers love and appreciation for Brahma Baba's life and legacy.
Read full report (with more photos) here.