Caribbean News
Caribbean News
Retreat and Rakhi Celebration in Puerto Rico
9th September 2021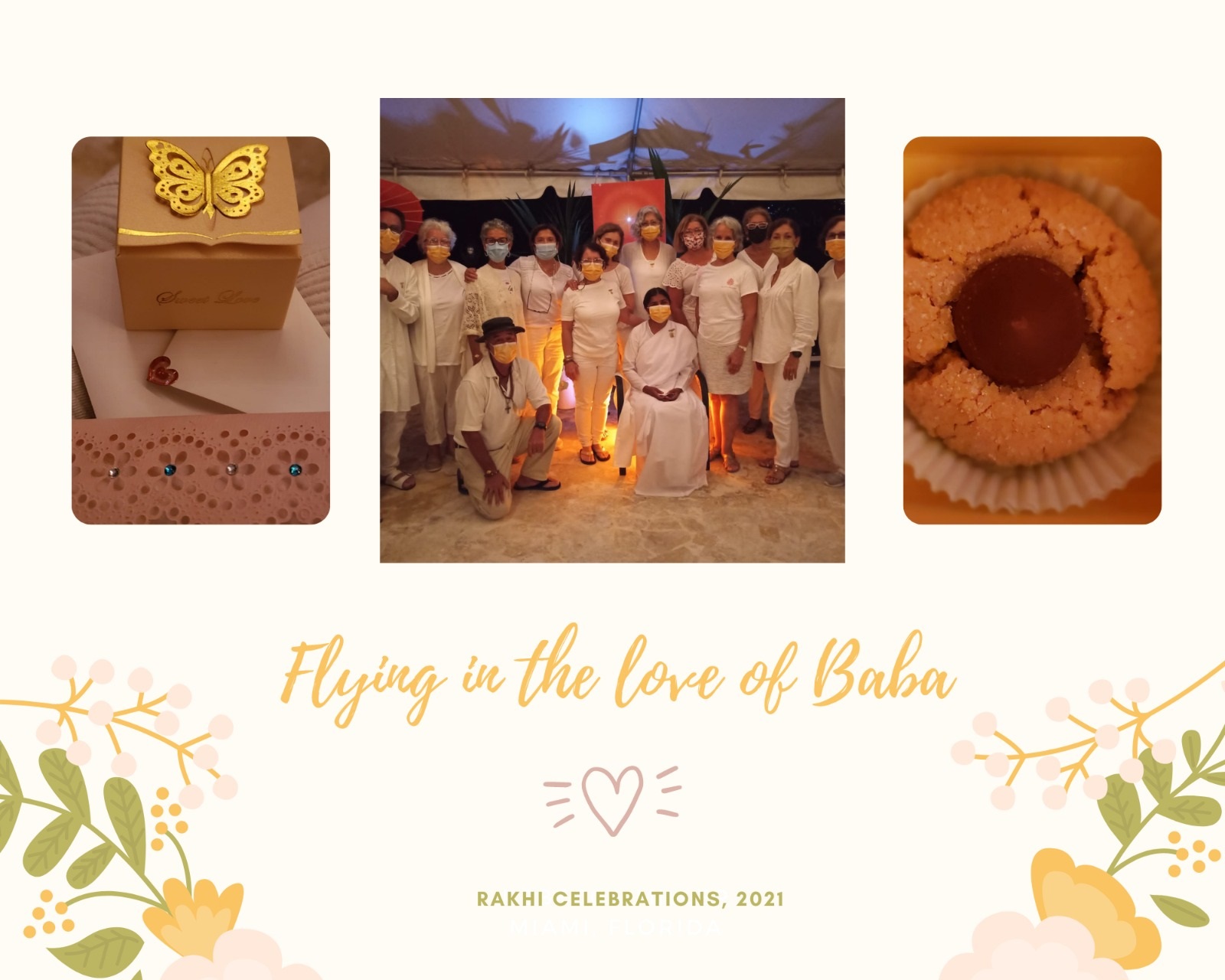 Puerto Rico (USA): The Puerto Rico BK family came together for a retreat to celebrate Rakhi festival. As part of the retreat they journeyed through the stages of cleaning the heart, filling the heart with Spiritual love from God, experiencing the soul seated in God's heart and from that space of absolute pure, unconditional love, was celebration of union of hearts. It was a special Raksha Bandhan celebration with beloved Father and family.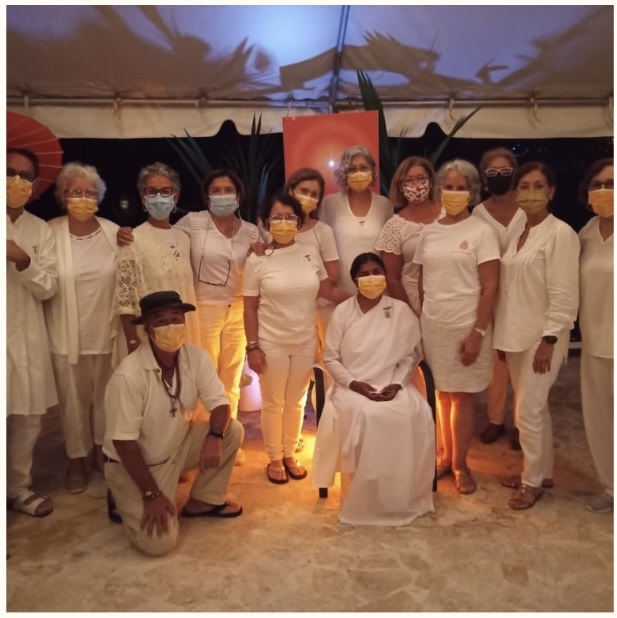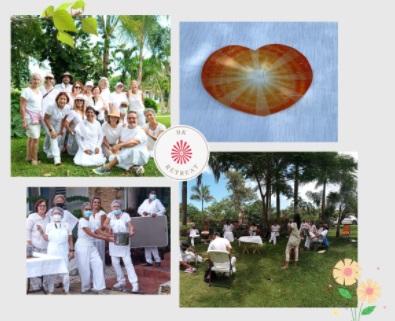 Auspicious reopening of Lighthouse in Guyana
1st September 2021
Caribbean: The auspicious reopening of the Lighthouse took place on Sunday, August 22.
On behalf of the BK family of Guyana, BK Sister Mohini, Additional Chief of Brahma Kumaris and Regional Coordinator of Brahma Kumaris in America and the Caribbean offered the following message:
Dear Divine Family:
Greetings of love in beloved Bapdada's remembrance.
I am very pleased to inform you that Baba's Guyana Center has been reopened. This auspicious reopening of the Lighthouse was on Sunday, August 22. The timing was incredible: the actual day of Rakshabandhan, Dadi Prakashmani's month, and the day of the Sun God. The auspicious reopening was celebrated in the spirit of purity, love, true brotherhood, and divine light.
On behalf of the family of Guyana, I would like to thank our most beloved Bapdada, our dearest ancestor souls, the seniors, and the divine family from all corners of the world for their elevated thoughts, pure feelings and benevolent wishes during the period of the reconstruction.
Please take a look at the video that gives glimpses of the blessings received and images of the 'Resilient Lighthouse.'
In Baba's Yaad
Sister Mohini
Regional Coordinator, Americas and Caribbean

Jamaica (West Indies) - Raksha Bandhan, August 21-28, 2021
30 August 2021
21st August – Indian High Commission, Kingston
Brahma Kumaris were invited to Indian high commission in Kingston to celebrate Raksha Bandhan with the staff members of embassy. Despite spike in Covid new variant Baba's bond of divine love and protection reached to the official members of Indian embassy to Jamaica in Kingston, the capital of island.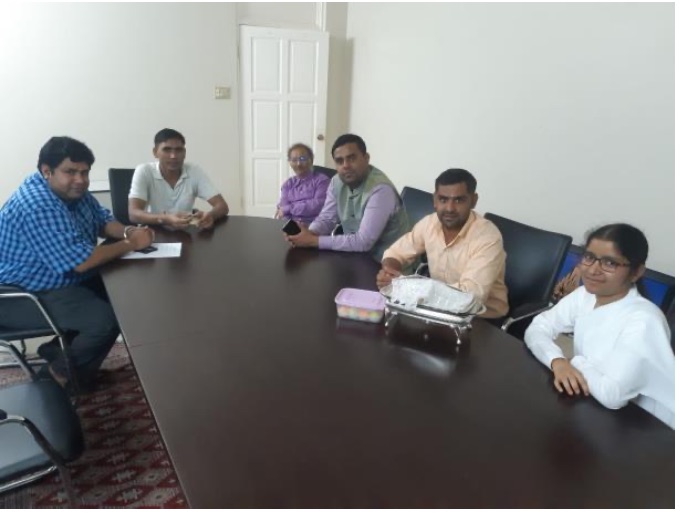 The new ambassador R. Masakui also got Rakhi tied for first time in his life. Bk sis discussed the importance of meditation in today's stressful and uncertain life. How to keep self-calm amidst adverse situation and respond with positivity, tied Rakhi and ended with 5 mins of peaceful meditation.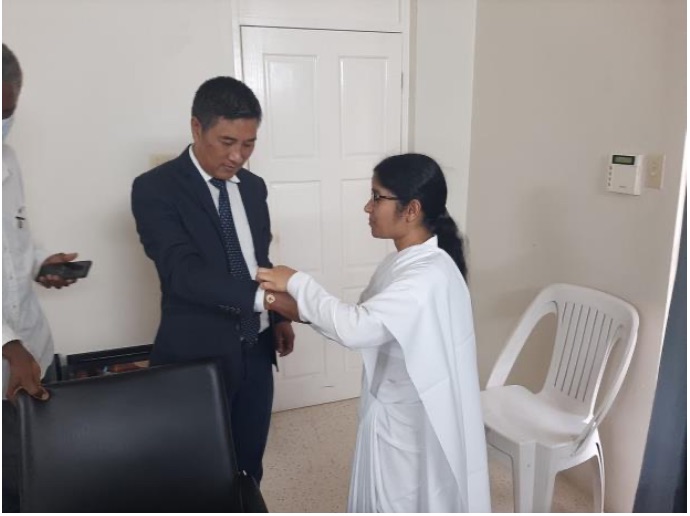 The Ambassador of India to Jamaica Mr. R. Masakui
Celebration was organized in high commission of India with all their staff members.

21st August –Kingston Centre
A few personal individual visits at the centre.
A gathering is not allowed to the Covid protocols according to the Government Instructions.
25th – 28th August - Montego Bay
A few personal visits were made too to spread the vibrations of Peace, Love and Protection.
Sis. Bharti Mody
Director,
Jamaica National Co-ordinating Centre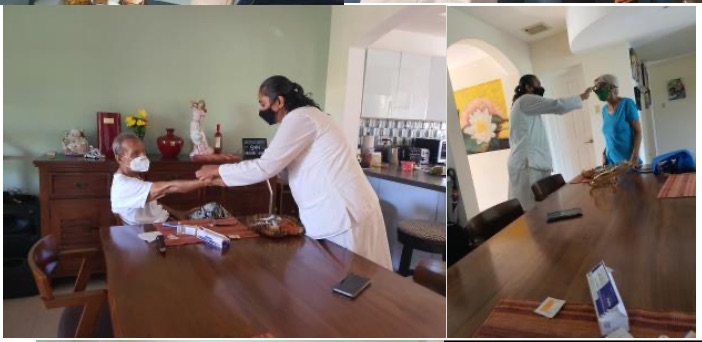 Om Shanti
Click here to download the report PDF format.

15th August: News from Haiti after the 7.2 Earthquake
15 August 2021
Dear Divine Family,
We are all well and survived Haiti's most recent calamity. As you might know the epicenter was offshore and most of the real damage and unfortunate deaths (so far upwards of 200 and counting) occurred outside the Port au Prince area, thankfully, where most of us reside, except for relatives and a few contact souls who are yet unaccounted for.
When the shaking began I was close enough to the door and stepped outside for the duration. Nothing much crumbled around here. I did replace the hammock and it stood ready in case I needed to sleep outside tonight. There were no more aftershocks however. The phone lines have been clogged and remain so. Email is best communication until all the dust settles.
Otherwise, all is well and we certainly felt Baba's guiding hand especially with the blessing he gave us in yesterday's murli. So fortunate we all are.
I continue to: Keep the Faith. Stay the Course. Remember the One.
Brother Ananta
Haiti

Montego Bay, Jamaica hosts A Get-together with Government Officials & Businessmen on 1st May
6 May 2020
There was a small get-together at Main Street, Rose Hall, Montego Bay, Jamaica on 1st of May, 2021 organized by a businessman and Justice of Peace (JP), Mr. Lachu Ramchandani by following all the Covid protocols. A few Government officials and businessmen & doctors were invited. Brahma Kumari (BK) sis. Bharti was also invited for the gathering to get introduced n meet with these officials.
A few Government Officials –
Mr. Andrew Wynter, CEO of Passport, Immigration & Citizenship Agency (PICA)
Mr. Leeroy Williams, Mayor of Montego Bay, Parish Council, St. James
Mr. Richard Vernon, Deputy Mayor of Montego Bay, Parish Council, St. James
Mr. Lennox Wallace, CEO of Western Health Authority
Mr. Winston Dear, Chairman of Urban Development Corporation (UDC)
Bishop Mr. Conrad Pitkin, Custos of St. James
Mr. Homer Edward Davis, Minister of State in Local Government and Rural Development
Mr. Karron Benjamin, General Manager of Convention Centre, Montego Bay
A Few Businessmen –
Mr. Lachu Ramchandani, Business man & the Justice of Peace
Mr. Lal Ramchandani, Business man
Mr. Manoj Ramchandani, Business man
Miss Vindu Ramchandani, Business woman
Mr. Manu Chandiramani, Business man
Mr. Manu Daswani, Business man
Mr. Kishin Samtani, Business man
Mr. Manu Manshuramani, Business man
Mr. Paul Thakurani, Business man
Mr. Deepak Mirpuri, Business man
Mr. Bhasker Reddy, Business man
A Few medical doctors –
Dr. Guna Muppuri, Physician and Pharmacist
Dr. Winston Jadusingh, ENT doctor
Dr. Wynn Zor, Burmese Dentist
Sis. Bharti Mody
Director
Brahma Kumaris Jamaica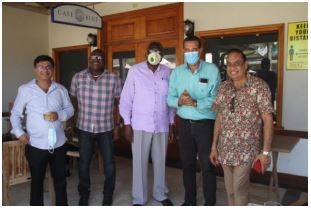 Click here to download pdf version.

Father Alphonse Jesu, a Catholic Priest from Kingston, Jamaica, Visits Abu/ Madhuban
29 December 2020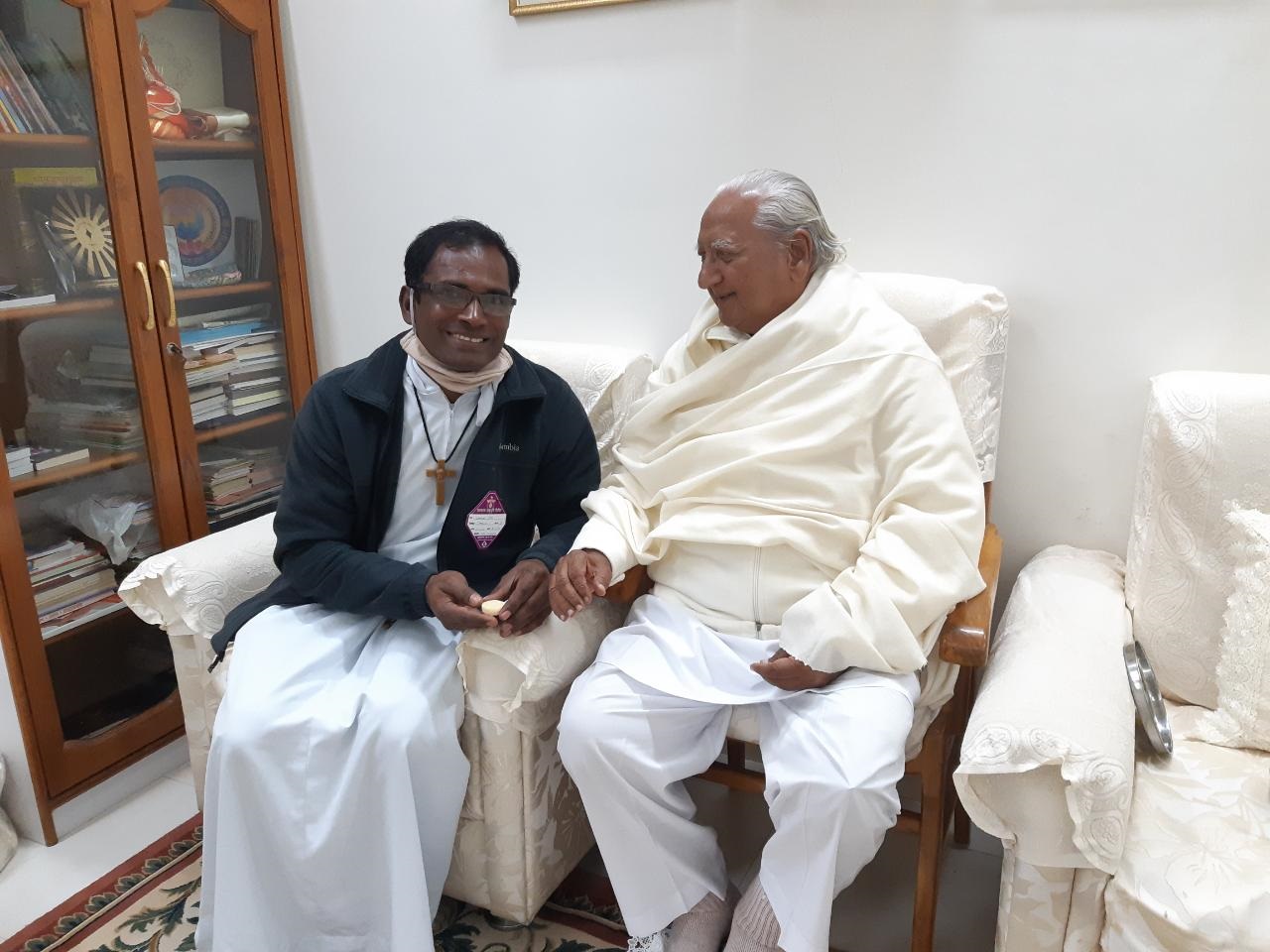 Father Alphonse Jesu has been a Catholic priest in Jamaica for the past 27 years. He works in the headquarters of Missionaries of the Poor, Downtown Kingston, Jamaica. This ministry helps abandoned, homeless, destitute, and poor people of the society regardless of religion, caste, and culture. He has been giving his valuable service in Africa, the Philippines, Canada, Jamaica, and India.
He has been in contact with Brahma Kumaris in Kingston, Jamaica for the last 2 years. He expressed his desire to visit Mt. Abu. He visited Abu for the first time with his family and experienced God's love in the Madhuban campus.
He shared his experience after the morning Murli class in Shantivan, Abu on 21st Dec. 2020 and received the blessings from Santosh Didi, Mumbai who was present in Abu, Shantivan.
He shared he was delighted and felt fortunate to be in Abu, such a divine and spiritual place. The divinity and warmth he felt in the spiritual family was his greatest experience. He felt serenity, transparency in the family and that made him experience as a part of the family. He felt the vibrations of divinity and the presence of God. He felt angelic form by seeing everyone light and also a sense of true inner purity by seeing all in white dress. The hospitality, simplicity, and cleanliness really touched him. Brother Ramlochan Bhai fed him in Baba's remembrances with spiritual love and respect.
God's light through each member of the family was visible. He shared he was very impatient and never was able to sit peacefully for a long time but he had learned how to be quiet and be positive in all circumstances. He felt motherly and fatherly love from the seniors when he met with Bro. Nirwair Bhai and Dr. Nirmala Didi personally and really experienced we are one family and God's children. God is love and he saw that love in the family and expressed deeply that this divine family will definitely make a better world.
OM SHANTI
Sis. Bharti Mody, Director
BKWSO NCO Jamaica
Montego Bay, Jamaica W. I.
Download additional photos here
Download Report here

BK Sister Payal Conferred with Honorary Doctorate Award from the University of Central America
28 september 2020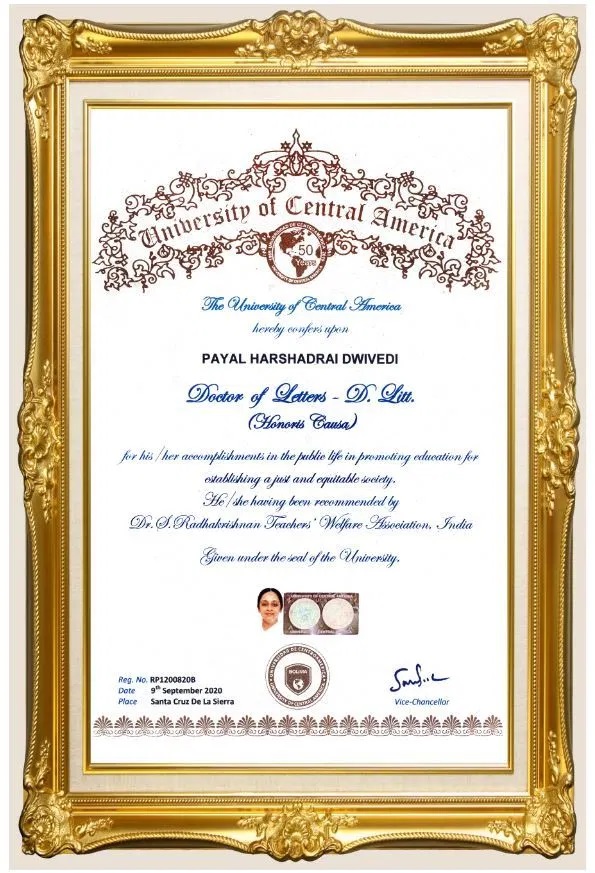 San Fernando ( America ): BK Payal was conferred with an Honorary Doctor of Letters–D.Litt from the University of Central America for her accomplishment in public life in promoting education for a just and equitable society.
Currently based at the Brahma Kumaris in San Fernando Trinidad and Tobago, BK Payal has made great strides in her life and in particular within the past two years.

News of the Fire in the Center in Guyana
8 March 2020
Dear Centre Coordinators,
A situation of 'suddenly' occurred in Georgetown, Guyana on Friday, February 28. In the early morning hours of nectar, Amritvela, there was a fire that started from the bedroom in Baba's home. The cause of the fire was an electric overload that resulted in the fire destroying the residential part of the center. Sister Usha (South Africa) and Mata Parbati were in Baba's room when this happened and managed to exit the center before the fire spread. So, they are safe and Sister Usha is staying at the home of Uncle Steve and Aunty Betty, which is also being used as the temporary space for classes.
There is an ongoing investigation as to the exact damage that was done to the overall building before decisions could be made as to the next steps.
The center has served the community very well and so many are responding with offers of help and support.
The Prime Minister and first Vice President of Guyana has sent a message of encouragement and support (see below and attached).
Please send all your loving good wishes and sakaash to all of Baba's children in Guyana.
With love,
in Baba's yaad,
RCs
Message from the Prime Minister and first Vice President of Guyana
28th February, 2020
Dear Sister Usha,
It is with deep sadness and shock that I watched early this morning at the fire that gutted the Brahma Kumari Centre, which is a short distance away from the Residence of the Prime Minister.
I notified Cabinet today of the occurrence and the destruction of the Brahma Kumari Centre building. His Excellency President David Granger and my colleague Ministers expressed our deepest sympathies at your loss, and encourage you and all other Sisters and Brothers of the Centre to keep the faith as you try to overcome this tragedy.
Kindly let me know in what ways I could be of assistance to you in the re-building efforts.
Your sincere brother,
Moses Nagamootoo
Prime Minister and First Vice-President

Suman bhen from Germany visits Trinidad - Service Report
7 February 2020
On behalf of the students of the twin island Republic of Trinidad and Tobago it is a privilege to give a feedback of Suman Behin's recent visit to our country.
She contributed to Baba's service on Television, Radio. Meetings with the heads of the University of West Indies, the Minister for Transport and emergencies, the Ambassador of India and several lectures and classes in Public and all the B.K. Centers.
Please read below for details:
Courtesy call to the Indian High Commissioner was very well received and added to the very good relationship that Sister Hemlata continues to have over the years with this office.

Two visits to the Health Services Unit (HSU) of University of the West Indies, with 18,000 students has given birth to a proposed co-curriculum course (24 contact hours) which is scheduled to start in Semester One 2020. The subject will be "Meditation for Holistic Health of the Body, Heart, Relations and Environment". The university proposed that this course if received well by students, can become a permanent faculty of the university.
This all became possible purely due to Bharat Bhai having created and maintained good relationships over many years like that of a friend with the senior directors and heads of various faculties.
Several of Baba's children in Trinidad have held high posts in colleges and universities, or have gained teaching experience in Baba's university. It is they who will conduct the course. This will set an example in the whole of Brahmin family worldwide that Baba has given us the highest education which is welcomed in the public universities. Like there are faculties of Applied Sciences, we offer Applied Spirituality.
Live T.V. program for one hour on the Channel called "Namestay - Awakening the Divinity Within".
This weekly T.V. Program is run by B.K. brother Bharat (Randolf Basedo). It is the strongest tool of service in the modern age of Medias. With his tireless contribution in form of his brilliant ideas to be presented to the viewers across the country and managing the related high costs single handed, he has set a unique example of total surrender to Baba on all levels. Now also other B.K.s are coming forward with their support.
Talk on "Meditation and lived spirituality" given in the company of B.K. Brother Vijay.
Vijay Bhai heads a food company with over a hundred employees and has set an example of an ideal leadership and management. He provides free opportunities of Self Development and Stress Management to the company employees.
Vijay Bhai has created Baba's Yagia structure and atmosphere in the whole of country in true sense. He supplies food wholeheartedly to Baba's Bhandara in all Carrebian centres and even beyond.
Radio talk on "Peace through meditation" on the Prison Radio as part of the Peace week.
It was organized by B.K. Sister Kay Narinesingh who has been serving the prison inmates since several decades. She has received several honour awards and loads of public appreciation for her tireless and constant service to improve the life and mindset of those sentenced to prisons. Along with Radio talks and meditation seminars she has also given the prisoners an opportunity to express themselves through Art. Such art exhibitions have been printed in famous local magazines.
Meeting the Minister of Transport and Emergencies and suggested to him that the Brahma Kumaris can give spiritual consultation to people in time of emergencies. The Minister welcomed the suggestion. In addition the idea was born that the Brahmins will keep on sending the government their service report in the field of social services as has been directed by Baba.
Sister Hemlata maintains good relations with the Ministers of this government section. They look upon at her with great respect for her spiritual authority and her various social welfare projects. Therefore the doors of the Ministers are open for her like for a V.I.P and she can arrange a meeting with them just by a phone call ! This kind of relation with the government body carries a high service potential in it.
The many lectures and ensuing discussions both public and in house (different Centers) were very well received especially due to the deeply churned and practical approach you used. You brought "newness".
Some of Suman Behin's topics were:
a) A suffering world and a loving God ! A new understanding of God.
b) Is time linear or cyclic ? The cause and the benefits of an identical repetition of events.
c) The Soul is Point and Light . This consciousness is the seed of liberation and paradise.
d) Encounters with God – personal experiences which transform life.
Three aspects that came out profoundly in Suman Behin's BK classes as well as the public lectures are as follows:
• Clear interpretation of Baba's knowledge
• Her moving personal experiences with Baba
• Her humility touched the hearts of the many students and contacts through her 'easy access'.
• Very positive attitude, helpful hints and structured approach towards service
Suman Behin felt specially honoured to meet the priceless jewel of Baba's family, brother Ramdeo and was highly impressed at the world class quality of his personality and service.
He created a spiritual Museum Garden up on a hill. There he also hoisted the worldwide highest and strongest flag of Shiv Baba which seems to bless the whole of Trinidad when it waves elegantly at a breath taking height!!
But, even higher was his personality. He knew he had very little time left in his physical body due to an illness. Yet his spirits were exemplary and he was the host to the huge Brahmin gathering at Suman Behin's visit. He was inducing enthusiasm in all through his celebration of life as he sang songs and made gestures of dance! He was facing the toughest possible test of life and he passed it with flying colours with honour.
Just after a few weeks Baba called Brother Ramdeo to join him as an Angel, surely to give his quality support in God's work of world transformation. Suman Behin recalls meeting him as a rare gift !
Last but not least. Suman Behin had some meetings with Brother Harry, the founding seed Baba's of service in Trinidad, Guyana, Suriname and the several neighbouring islands. These were casual family meetings over a cup of coffee. It was mesmerizing to hear the uncountable great services which he has been instrument for. The many Peace Awards and recognitions which the Brahma Kumaris have received from the UNO have been initiated by him. Till today he has open doors to meet the Pope and important government ministries.
In Suman Behin's word, Baba's organisation is bound to have success with such a unique bunch of precious children in Trinidad and throughout the world !!

Newsletter from St.Kitts and Nevis
30 January 2020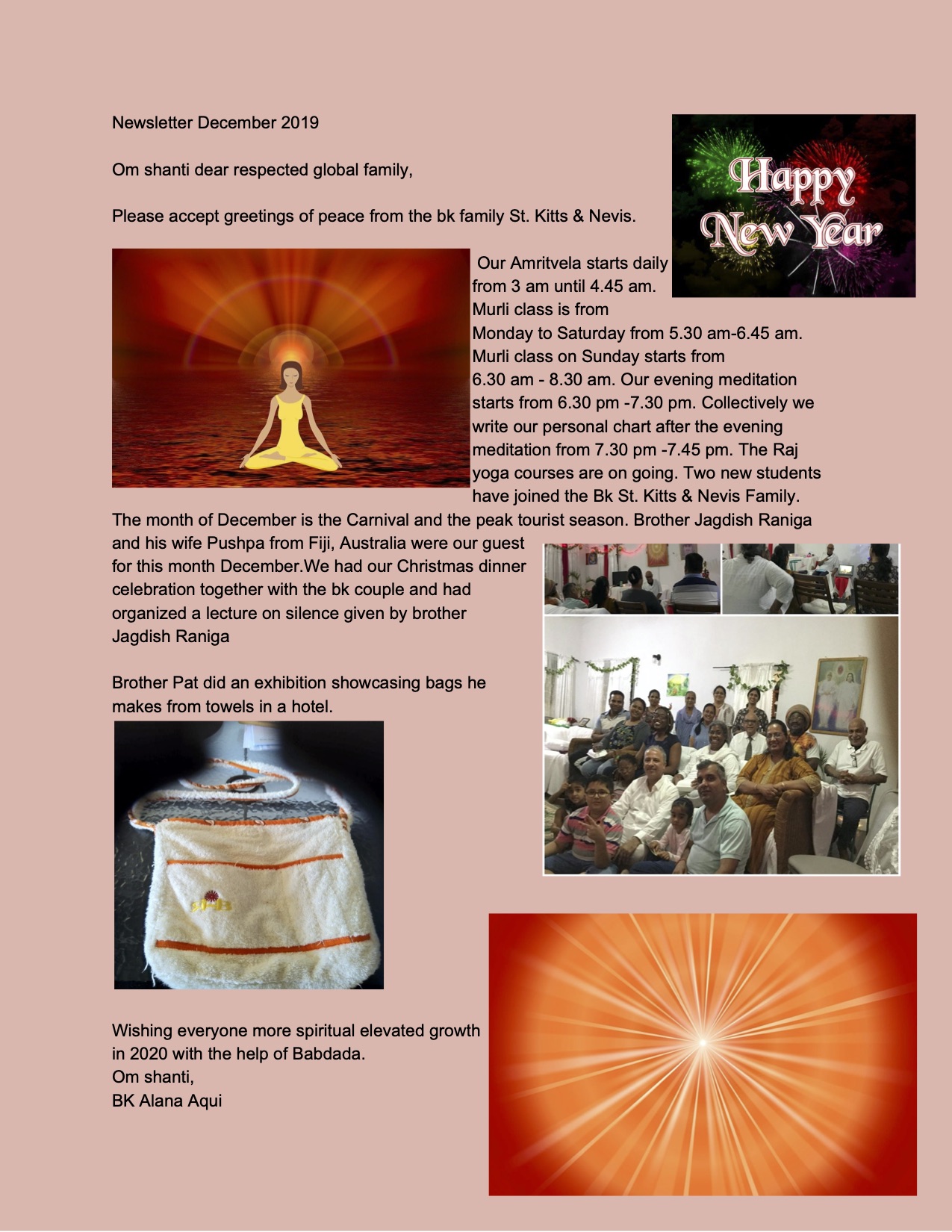 7.7 Earthquake in Jamaica
30 January 2020
Dear Sweet Dadi Janki, Jayanti Didi and all the divine Jewels around the Globe, Greetings from Jamaica.
An earthquake with a magnitude of 7.7 at a depth of 10.0 km (6.21 miles) has occurred at mainly NW of Jamaica & the whole island on 28th January, 2020 at 2.10 pm Jamaican time.
I have received many Overseas Whatsapp calls from the surrounding islands to find out about Jamaica Centres and our sisters' well-being at this time of tremor.
The analysis indicates that this is a very strong earthquake for an island and it is very shallow (shallower quakes generally tend to be more damaging than deeper quakes). It lasted long enough, for about 90 seconds. It was a high enough scale for the bathroom washbasin and toilet WC to shake quite a lot. Also too, with the loud noise of its hitting with a roaring sound, windows were rattling and shaking too. People felt dizzy and the things fell down from the shelves in the supermarkets.
Despite this happening, both the centres in Kingston & Montego Bay and the sisters in Jamaica are totally safe. Nothing even moved from its place at the centre. The centres acted as a strong fortress of Baba.
Earthquakes of this depth and magnitude are expected to result in a Tsunami. Tsunami waves of 0.3-1 meter or 3 ft above tide level warning was issued for Jamaica island for the 28th night.
We will be doing meditation and giving sakash to the elements of nature to be in control for Tsunami warning alert.
A big thanks to Baba for providing His canopy of protection to us.
This was written at 7.45 pm in Jamaica on the 28th.
Let's hope for the best tomorrow in the morning news.
Sis. Bharti Mody
Director
Brahma Kumaris World Spiritual Organization Jamaica