2015 Asia Pacific News Archive
2015 Asia Pacific News Archive
Visit of Sister Beena (from Chennai) to Australia, 18 - 30 November
1 January 2016
Despite a busy schedule as zonal coordinator of BK operations in Tamil Nadu, South India, Sr Beena came to Australia for 13 days. She visited five cities, gave nine public talks with an average audience of 30-40, recorded a radio interview, and conducted a BK Tamil retreat and various BK classes. Staying overnight in nine different places, she also managed to fit in some sightseeing with nature, native animals, the beach, city sights and met the BK family in each place. Her excellent language skills in English, Tamil and Hindi enabled her to connect with everyone and were put to good use with public and BK programs in each language.......click here to read a detailed report with photos.

Burleigh Library Talk - Gold Coast, Australia
7 December 2015
Gold Coast, Australia: The Brahma Kumaris centre was invited to give a one hour public talk at the Burleigh Heads Library (south of Gold Coast in Queensland), on Wednesday 2 December.
The title was created by the Library – "Keep Calm and carry on this Christmas. Learn some simple meditation techniques that will help you stay calm over this busy period." The Burleigh Heads Library is a small library and is open space.
8 people attended the talk, which was presented in an area near the book check out desks. As I had a mircrophone the talk was heard throughout the library. Towards the end of the talk I gave a Choose to be Calm card to each of the participants and asked them if they would read the last paragraph which says Today etc.…. . Holding the microphone they felt very important and read out their card. Afterwards the happiness on their faces was shining through as they felt the cards were so accurate!
After the talk, participants wanted to know more and were interested in cds and books and where the centre was. The participants filled in feedback forms provided by the library and marked the talk as excellent.
BK Linda – Gold Coast centre, Queensland, Australia.

Kota Kinabalu, Malaysia: Mayor's Wife Appreciates Sr Denise at Women's Leadership Forum on "Inner Leadership - An Inside - Out Approach"
2 December 2015
Source: Article entitled "Equality for women has been fairly achieved in Sabah" published in the online edition of the Daily Express on Monday, November 30th (http://www.dailyexpress.com.my/news.cfm?NewsID=104886)
Kota Kinabalu: Equality for women has been fairly achieved in Sabah.
Making this observation, wife of the Mayor, Datin Florence Malangkig said this is reflected in the number of women holding various leadership roles.
"Holding a position is important but becoming an inspirational icon who can lead, educate and empower others in society is the real achievement in becoming a champion of change for women," she said when officiating at the recent Women Leadership Forum with the theme "Inner Leadership – An Inside-Out Approach".
Florence expressed her appreciation to Sister Denise Lawrence, an international speaker from Brahma Kumaris, who is currently assigned to coordinate television productions for the Brahma Kumaris Peace of Mind TV Channel and also for foreign broadcasting.
She has also provided the meditation component in over 100 TV series entitled "The Addiction Network", a series to help people overcome various forms of addiction and addictive behaviours.
The event was organised by Brahma Kumaris Malaysia, Kota Kinabalu Branch headed by Ir. Dr Muralindran, and co-hosted by Dato' Dr Jessie Tang, a medical doctor by training, and hotelier Eliza Goh at the Zara's Boutique Hotel. In her opening speech, Dr Tang asserted that we must believe that inner power is light to the world.
"Rising up to your leadership call as a woman, empowers others. Having faith in our talents and abilities enables us to dream the impossible and more forward no matter what life throws at us.
"When women rise up as women, only then can the men rise up and become men who will compliment women's leadership," she said.
According to Dr Tang, there is no 'red ocean' in authentic leadership because just like light begets light, authentic leadership gives rise to authentic leaders.
She, meanwhile, said it could not have been more appropriate to host the forum at Zara's, being the first all-women run hotel in Malaysia which features femininity in hospitality.
"It is a unique entity with a mission to economically empower women, especially those from the rural areas, but without compromising on the quality of service in the hospitality industry."
Brahma Kumaris, an international organisation which practises and teaches a form of meditation that relaxes the mind, was established in 1937 and presently has more than 8700 network of centres in over 142 countries.
According to Dr Tang, Brahma Kumaris Malaysia is affiliated to the Brahma Kumaris World Spiritual University (BKWSU) which is a non-governmental organisation (NGO) of the United Nations accredited with General Consultative Status with the Economic and Social Council.

Malaysia, Sun News Paper Article on Dadi Janki - "A Spiritual Giant"
16 November 2015
On 20 October 2015 the attached article on Dadi Janki was published in the Sun newspaper, Malaysia. The article was written by BK Sr Bridget. The Sun has a daily circulation of 305,000 readers.

Service News from Thailand - Br Atam's Visit
16 November 2015
Click here for detailed report.

"Help Yourself To Meditation" - Meditation Talk at Elanora Library Gold Coast, Australia
13 November 2015
Gold Coast centre received an invitation from Elanora Library, Gold Coast to give a one hour Meditation talk at the Library on Thursday 22 Oct. The Library provided the room and took bookings. The title was "Help yourself to Meditation". 30 people came and BK Linda shared the many ways that Brahma Kumaris can help people to meditate, from books, cds, internet and courses at the Brahma Kumaris centre.
Speaking about meditation and how we do meditate, participants were invited to consider themselves to be peaceful, quiet and still. As participant were considering this with their eyes open, there was a very beautiful atmosphere and the vibration in the room was so silent it was a 'goose pimple, uplifting' feeling. Linda told the participants that they had just been meditating. They seemed surprised and had enjoyed the experience. Feedback forms from participants related that the talk was excellent.
The poster was created by the Library and as they were going to throw it out, it was saved and is on the wall in the BK Gold Coast centre foyer at the moment. The Centre's next talk is at Burleigh Heads Library in December 2015.

Singapore Diwali Greetings
12 November 2015

International Day of Peace, Japan
-
Madhuban Dr Savita Visits Tokyo and Fukuyama
5 October 2015
In Japan BKs celebrated the International Day of Peace, officially 21st September, with three programs in Kobe, Fukuyama and Tokyo. There were talks, songs, a peace dance, meditation and peace art work. Both children and adults all enjoyed the events and felt peaceful.
In Tokyo Dr Savita was visiting from Madhuban. She gave a talk on peace and conducted meditation at the BK centre.
In Fukuyama Dr Savita gave another talk on the topic "A Simple Lifestyle Which Makes Your Mind Healthy". She emphasized the importance of soul consciousness and meditation. At the end she guided the audience in a beautiful meditation.
In Kobe there was a program on the topic "Earth and Heart". It included a peace dance, peace poem and peace art work by children and adults. Sr Rajni conducted meditation and everyone enjoyed themselves.

Centre Residents Retreat in Japan
5 October 2015
In Japan a national BK Centre Residents retreat on the topic "Making The Spiritual Fortress Strong" was held in Kobe from 20-23 September 2015.
23 Centre residents took part. Sessions were held on;
attainments of a yogi life,
a workshop on self-progress with an action plan,
powerful Amrit vela meditation with creativity,
singing songs of happiness and
observing virtues and exchanging them with each other.
Virtue bags were prepared with each participant's name on them. Everyone wrote messages for each other and felt very happy receiving the gift of virtues from each other.

Raksha Bandhan Greetings from Singapore
28 August 2015

Dr Nirmala - Didiji's visit to Sri Lanka
28 August 2015

Health News from BK Heather, Melbourne, Australia
26 August 2015
I was recently asked to share my health recovery progress…
It started back in March 2015 with the hundreds of good wishes that I received from friends and the international BK family who selflessly shared spiritual vibrations and physical care as needed. I had major surgery for class four ovarian cancer, accompanied by a couple of troublesome DVTs, which went well, but recovery was not without complications. All of this gave me a chance to expand a sense of being unlimited and softened my independent nature...with lots of lessons learned about myself and my sense of self-worth. Sometimes the drama of life brings an opportunity like this. The local BK family cared for my needs tirelessly and I hope they felt my heartfelt gratitude. As one who has always felt independent it was quite a realisation that we are never alone, and very humbling.
I was in the care of the medical profession and rehab for five weeks and then went home, on a wheeled walker, to continuing care by local BKs and nurses in the Retirement Village where I live. It was like a constant dip in the ocean of love and compassion, so that I feel five months later a new "me" has emerged....physically and spiritually so much lighter. The obsolete wheeled walker is sitting beside a two wheel cycle I am planning to ride before Christmas....maybe.
A wonderful outcome is that I have developed a good working relationship with my General Practitioner who is very tolerant of my preference for natural therapies while not budging an inch where her orthodox medical approaches are concerned. Specialists I see regularly are a little less tolerant but I am learning to be respectful of a public health system that is bursting at the seams. I also have a great naturopath who is working with me to rebuild a shattered immune system with lots of herbs and supplements. More wondrous is the ongoing relationship I have with the physiotherapists at the Rehab Centre. There is no monopoly in the system one uses for health and healing and with Baba and the Brahmin family as my companions I have been enjoying (most of) the journey.
Physiotherapists are seeing me two to three times a week and share my aim to be fully fit to attend the IPIP retreat in India at the end of September with more and more challenges. The most recent was the suggestion from my main physical therapist to ready myself for Mt Abu by walking the 1000 steps Kokoda Trail at Ferntree Gully. I haven't done that yet but did circumnavigate a testing nature trail. I have my ticket and visa and looking forward to India and Malaysia on the return journey.
Webcast classes have been very helpful on days when I am below par and living next door to the BK Retreat Centre is an opportunity to do a little service now and then. Not a day goes by that I don't count my blessings for my part in the drama.

The Spiritual Health of Bali Today: Br Frank Speaks to Medical Practitioners
25 August 2015
BK Frank and others ventured to the northern area of Bali to hold a program at Pasraman Kidung Pemulihan Jiwa (ashram for recovery of the soul). Over 200 people attended. The information beforehand was that the group were medical practitioners who came together to do community service, but it wasn't quite like that. The topic was "The Spiritual Health of Bali Today". The previous Sunday morning class had contained helpful material and Frank also gained some useful points from watching a video of the health seminar held previously with BK Charlie from Australia. The location for the Ashram was in the forest.

First Asia Pacific BK Young Adults Retreat in Asia Retreat Center with Didi Chandrika
25 August 2015
A special retreat for BK Young Adults aged 18-35 was held at Asia Retreat Centre for the Asia-Pacific Region from 6th to 9th August 2015. This retreat was headed by five core committee members comprising three BK sisters from Malaysia and two from Australia. Some participants arrived early to help in preparing accommodation, decorate the hall and usher overseas participants. They did their task with love, zeal and enthusiasm.
The theme of the retreat was "Shield of God's Love and Protection". More than 50 young adults from Malaysia, Singapore, Indonesia, Australia, New Zealand, Dubai and the Philippines participated in the retreat.
The retreat began with a warm welcome by the seniors and an ice breaker to get to know each other better. During the inauguration, participants showed their talents through dance and songs. After inaugurating the retreat, Sister Chandrika shared her deep insight of the aim and objective of the retreat. The participants were then divided into small groups for further discussion to internalise the aim and objective. This had helped participants stayed focus throughout the retreat.
The retreat was well balanced with classes, storytelling, panel discussion, interview, games, exercise, silent walk, BBQ, video and special rakhi ceremony exclusively for this group.
The highlight of the retreat was the "Rakhi Celebration". The whole atmosphere was very subtle. There was a feeling of BapDada's presence throughout the gathering as each one walked down the path towards the senior instruments whilst hearing their special blessings being read. Some participants experienced being in subtle region with BapDada.
Didi Chandrika's class on her personal experience with Brahma Baba brought tears of love. Didi's loving yet playful and entertaining nature had won the heart of the youth.
After three full days of retreat, everyone was totally empowered, uplifted and rejuvenated.

Family News from the Peninsula: Sr Jill Shanti
12 August 2015
Sr Jill Shanti is recovering slowly after two emergency stays in hospital for complications related to a hyperthyroid condition.

Your good wishes are much appreciated.


Urban Renewal, Garden Maintenance: Gold Coast Centre, Australia participates in National Tree Day
11 August 2015
This year the Brahma Kumaris Gold Coast centre participated in National Tree Day under the activity "Urban Renewal, Garden Maintenance".
Six volunteers spent an average of four hours each on Saturday, August 1st weeding garden beds, sweeping pathways, pruning trees and plants, mulching garden beds, potting new plants and repotting older pot plants, mowing lawns, cleaning stone pathways and creating new pathways. The Centre's aim is to get the garden fully cleaned up and mulched before the hot Summer comes. There is still more work to do.
Everyone enjoyed the spending the time in nature, sharing our time together and creating a beautiful space. The next big job is purchasing mulch to cover bare earth, spreading the mulch, planting of plants that can withstand the heat and more pruning and removal of weedy trees that have grown from seed from bird droppings.
National Tree Day is in its 20th year and is promoted by Planet Ark and sponsored by Toyota Australia. The official Day was 26th July and activities were held all around Australia. More activities are planned by other community groups over the next month.
The BK Centre was inspired by the research report commissioned by Planet Ark and sponsored by Toyota Australia: "Needing Trees: The Nature of Happiness".

http://treeday.planetark.org/documents/doc-1292-needing-trees-key-findings-2015.pdf

Health & Wellness Retreat held at the Asian Retreat Centre (ARC)
11 August 2015
Health & Wellness Retreat, 31 July – 2 August 2015, ARC, Dengkil, Malaysia
A Health & Wellness Retreat was organised from Fri 31 July to Sun 2 Aug 2015 at ARC following the request of participants of the Professional Retreat with Br. Marcelo in March 2015.
It was the first such unique retreat with outside speakers who were experts in their respective fields
such as two top Cardiothoracic Surgeons in Malaysia, Dietician from a well-established hospital, certified health coach, Qigong/Tai Chi/Yoga instructor as well as our own experts in Mind Power, Spiritual Health and Raja Yoga meditation...
Participants were very happy with the holistic, wholesome package covering stimulating exercises to nutritious vegetarian meals, to enlightening and informative talks on diet, heart care, health and wellness and empowering meditation. They were so taken up that they requested for a follow-up retreat and / or more such health retreats. Many of them, realising the importance and power of meditation, made promises to practice regular meditation in the mornings and evenings before going to bed.
Read the Full report
Sister Meera presenting a gift to Dr. Arun

Meditation is for All
30 July 2015
SOURCE: Daily Express, Independent National Newspaper of East Malaysia, published Tuesday, July 28, 2015
Kota Kinabalu: Experience peace, purity and become soul-conscious through meditation, said meditation guru BK Surya.
"Meditation is for all. People from all religions and beliefs learn to meditate. You have to learn to be happy, successful and peaceful in life," said the senior Rajayogi teacher at Brahma Kumaris Academy for a Better World in Mount Abu, India who was in Malaysia and Kota Kinabalu for the first time.
The meditation expert has been teaching mediation for over 40 years and has published several books including 'Stress-free Life', 'Use of Thought Power', 'Think a Moment' and 'Elevated Thinking'.
The spiritual master was giving a talk on The Pursuit of Happiness Through the Power of Mind on Saturday at Brahma Kumaris Kota Kinabalu centre here.
"The Brahma Kumaris is an institution of spirituality.
There may be walls in between religions, however, spirituality is one for all," he said, adding that the brain and soul need to work in tandem in the quest for happiness and self-awareness.
"People are very peaceful here. But, everyone has to face many things in life. My message all of you is that you have to learn to be peaceful and connect yourself to the divine," he added.
BK Surya also addressed world peace, saying that war should be avoided, as it was an attack on humanity.

Being With The One: Retreat in Malaysia, 16 - 19 July
26 July 2015
Malaysia had the great fortune of having the 23rd Asian Retreat in ARC with Surya Bhai (Madhuban), Jyoti Bhen (Dubai) and Hema Bhen (USA). Around 700
BK brothers and sisters from Singapore, Indonesia, China, Thailand, India and all over Malaysia arrived in the evening of 16th July 2015 in ARC to participate in this retreat with the theme "Being with the One".
Grand welcome and Hari Raya Celebrations
On the 17th July there were Eid celebrations in Malaysia. It was also the day that Surya Bhai arrived in ARC for the first time. Diamond Hall was beautifully decorated in green and yellow to symbolise love and royalty respectively. The main guests were ushered with traditional "Bunga Manggar" into the Diamond Hall where 600 souls were waiting to greet them.
There were varieties of cultural items including a Hindi song, Malay song, Chinese dance, Garba dance, Fusion dance etc. Surya Bhai, Jyoti Bhen and Hema Bhen were decorated with traditional Malay royal outfits and thereafter they inaugurated 23rd Asian Retreat by beating a "gong" 23 times. The retreat had a good variety of sessions including classes, meditation sessions, interviews, a panel discussion and question and answers. The highlight of the retreat was 2 hours of volcanic yoga bhatti with Surya Bhai, Jyoti Bhen and Meera Bhen. Everyone enjoyed the company of Surya Bhai and his depth of knowledge and yoga. Some of the participants experienced themselves diving into the depth of silence and total stillness and felt they were in Madhuban. The atmosphere was charged powerfully through the power of gathering guided by three yogis with a total of more than 120 years of experience.
Surya Bhai shared some practical tips how to be constantly powerful and how to have good and powerful amrit vela.
Surya Bhai's Vision for ARC
"ARC will be a Lighthouse where many souls will come & claim their inheritance…"
"ARC will be like Madhuban. People will recommend many others who want peace & happiness to come to ARC..."

Impressions of Lucinda Drayton's Australia Tour, July 2015
22 July 2015
In seven programs from 11-19 July, Lucinda enchanted everyone with her thoughtful lyrics, ethereal melodious voice and meditation commentaries, inviting the audiences on a journey of inner spaces rarely visited. The poems she read in between rounded up the journey of walking in love, checking the heart and expanding it into the unlimited. The ultimate and intimate moments were when she walked singing through the audience addressing all directly. Without much explanation the audience were brought into a spiritual atmosphere through the art of music, with grace and dignity.
Lucinda was accompanied by BK Sam McNally, an old and gold BK of 30 years who is based in Sydney. He is one of Australia's best keyboard players and tuned in to Lucinda beautifully, harmonising with each and every song and playing with joy.
In deep appreciation of this beautiful experience and the ultimate gift of 'Me Time', following are some impressions that were shared of the various concerts…
Beginning in Melbourne at the Collingwood Town Hall on 11th July 2015, Lucinda's meditation concert attracted 500 people. "It was excellent. She really does have an amazing presence on stage. We had around 850 booked but getting 500 there with such atrocious arctic weather with rain and hail was fantastic. It was beautiful - silent, spiritual, loving, moving, sensitive and magical. On two or three occasions Lucinda left the stage and walked amongst the audience and with great sensitivity connected with everyone individually. It was still and quiet, all were spellbound."
She moved on to the retreat centre on the Peninsula the next day, which is an hour or so from Melbourne. "Over 200 people absolutely filled our hall. With the sound of heavy rain outside, throughout the whole time we felt like we were in an embrace of care. The impressions of this afternoon will still be with us for some time."
Next stop: Gold Coast where an audience of about 40 joined an intimate gathering at the BK centre, "Her presence was beautifully non-demanding and real and just being herself. We felt beautifully at ease with her. In her performance she was easy and professional. During the program a ten year girl who knew many of Lucinda's songs by heart engaged in a delightful conversation with Lucinda. Lucinda shared some stories about her meditative life, the workshops she does, where she is at now and the healing she has done. "
The four concerts in and around Sydney began with an audience of over 110 in East Sydney on Thursday 16 July. "The audience were great. They tuned in to the meditation and entered a journey of stillness and healing. The hall was decorated in an angelic elegant way, to create a meditative atmosphere and support a healing and transformative process. The audience enjoyed the atmosphere immensely, enchanted by the fragrance of Lucinda's beautiful and clear voice. Everything was in flow, even Mark who did the sound was so incognito and subtle, and all worked without any interruptions, interference, flowing smooth and nicely."
The second concert in Sydney was planned for the new centre in Five Dock, however it is still not complete and so the programme was shifted to the Leichhardt Town Hall. Within 3 weeks 350 participants registered. Of those, just over 200 came.
"In the last 30 minutes Lucinda requested the audience not to clap but to go into their own inner journey. Awakening the next morning with Lucinda's songs naturally replaying in the mind, there was the realisation of how many had been deeply touched on a very personal level … I am lifted like a poor child given a chance…. I am Light, I am me…. Infinite Love, Infinite Peace, 100,000 Angels … she sang to each and everyone in the audience with love and care. She guided meditation and read poetry."
The next day a warm and vibrant energy was created in Wilton in anticipation of Lucinda's concert. With the easiness of the BK family working together in love and co-operation the stage was set for an evening of wonder and grace. "Participants were touched by the peace, warmth, and beauty of Lucinda, Sam and Mark. They also mentioned the hospitality, "heart-warming" food served to the 200 who attended. We all say thank you for the opportunity given to share the richness of living a spiritual life. Lucinda is a humble, loving and generous soul. She reminded the participants to remember the message and not the messengers. 'If you remember myself and Sam we have failed you. Remember the messages shared.'"
The concert at the Leura retreat centre was threatened by heavy snowfall which even blocked the road to the mountains two days before. "This was the first time we had seen this kind of snow here. It was magical. However we had the full faith that all would be well and over 110 people attended. They were silent, still and very appreciative. There was not a move in the audience, not a cough nor a whisper. Lucinda spoke openly of being under the protection of God and her message for each soul was "stay in the company of the Divine".
From Lucinda: " I just wanted to send my heartfelt thanks to you all for taking such good care of me and creating such a beautiful program: wonderful food, warm welcomes, the beauty of the stage decorations, the smiling faces and the love of God … all the help and love of the family reminded me why I so love to do what I do in Brahmin settings best …there is no place like it. You have created sacred and beautiful memories, which I will carry in my heart around the cycle."
Humble thanks, Lucinda x
From Sam: "The shows with Lucinda were sublime, extraordinary, beautiful, wonderful...and quite a bit more. From the start, the shows went without a hitch, and it was just lovely. All involved, and one very large audience, very happy!"

Retreat in Auckland - News from New Zealand
22 July 2015
BK Sr Jacqui Russell from Melbourne returned from New Zealand in early July after a few days visiting Auckland, Hamilton and Wellington, having been invited to facilitate the BK retreat in Auckland. She arrived at the Auckland BK Centre on Thursday afternoon 25th June and spent some time with Jim who coordinates the Auckland Centre. On Friday she had some family time before going to the Retreat place in the afternoon. Aio Wira Centre is in the Waitakere Ranges, Auckland. Jacqui said, "The owners advertise it for people of all beliefs who seek inner peace, renewed energy and a refreshing experience, and it was all of that. It is one of those self-built retreat places established in the 70's at relatively little cost. Filled with the hand crafted look, it was very comfortable and warm. The topic for the BK Retreat, organized by local BK Paul, was 'Deepening Meditation and Relationship with Baba' and it was stimulating and fun".
There were more participants on Saturday and then those who were attending the NZ BK AGM left for the Auckland Centre. For all sessions over the weekend the majority of the participants were of Indian origin.
After the retreat Jacqui was invited to visit and talk with students at the Papakura BK class location. She then went to Hamilton where she made contact with former work colleagues of over 30 years ago from the Waikato University.
On Monday evening there was a program with Auckland BK Centre students on 'Influencing the Attitude of Others with Your Attitude'. On Tuesday Jacqui travelled with Sr Bhavana, Coordinator of BK Centres in NZ, to Wellington where there was an evening program at the Centre on 'Being an Easy Yogi In a Chaotic World'.
On Wednesday she had a look around a Wellington that is vastly different from when she lived there 20 years ago, with increasing housing developments on the hills and high rise buildings everywhere. However some lovely walks along the waterfront and the warm weather were enjoyable!

Sr Denise and Sr Chandru's visit to Korea
21 July 2015
Sister Denise and Sister Chandru visited Korea from 24th to 28th of June, 2015. The two seniors who were service companions during the initial period of service in North America decided to visit Korea together, which was a special boon for the Korean family as it would be like being powered by a double-engine. It was Denisebhen's second visit after 20 or so years' hiatus and Chandrubhen's first. The family rendered a warm welcome from their heart and it was a unique, lovely and sweet experience being sustained by two seniors at the same time.
Since we had only a few days, we planned to have all the programs at the main center in Seoul to get the maximum benefit from their short stay. Also, from the beginning of the month, there was an outbreak of MERS, the Middle East Respiratory Syndrome, which was hitting the headlines almost daily in Korea and most public meetings and conferences were being cancelled out of concern for spreading the epidemic. We decided to focus more on sustenance of the BKs but also to go ahead with the public program we arranged at an outside venue rather than cancelling it.
In terms of the BK sustenance, we had powerful amrit vela every morning guided by Denisebhen. The murlis followed by a short class were well attended by 20-30 souls daily. The BKs wanted to deepen their understanding on such topics as "How to make yoga more powerful", "Drama and my role in the drama", "Methods of churning the murli", "Spirituality in relationships", and "How to use the mind, body and wealth in a worthwhile way." These topics were covered either through a class or a chitchat with Denisebhen, and Chandrubhen shared stories of her childhood days with sakar Baba as well as her experiences during the early period of service in North America. The feelings shared by the BKs were that Baba was showering them with love through the visiting seniors and each of them received what they needed most for their present effort-making. Seniors sharing yagya stories and going into the depth of knowledge Between the sessions, Denisebhen served a few contact souls by meeting them personally, including an eco-feminist professor of theology at Union Theological Seminary and a Professor of Mythological Studies who works on myth and dreams at a Korean university.
Visiting a Buddhist temple with contact souls A sneh milan with contacts at the centre The public program was on June 27th (Saturday) at a nearby hotel. Although the alarm against the MERS was a bit subsided by then, we really didn't know what to expect in terms of the turn-out at the program. However, the hall was full with nearly a hundred participants, and the audience was very attentive to capture the wisdom and special experience from the visiting yogis. Denisebhen gave a talk on the topic "Which 'I' should I live my life as?" inspiring them to focus on their spiritual self. A Q&A session followed, then, Chandrubhen led the audience into a deep experience of the soul and the world beyond. The participants were totally captivated with the atmosphere charged with peace and pure vibrations. A few participants commented to the BKs of their contact later about how they felt like having entered another dimension.

Fifth International Ayurveda Expo in Colombo, Sri Lanka, 3 - 5 July
15 July 2015
The fifth International Ayurveda Expo in Colombo was very successful with more than 5,000 visitors to the Brahma Kumaris' stall over three days from 3-5 July 2015. The BK Centre has since received many phone enquiries and a few people have started the Introductory Course.
The Expo was organised by the National Chamber of Commerce of Sri Lanka.
The BK stall was the main attraction and the busiest of all the 150 or more stalls. At a time, five to six teachers were explaining the exhibits. Around 25 BKs participated in each session over the three days from 9am to 9pm.
On the stall there were five trans-light pictures of Soul, Three Worlds, Karma Philosophy, Complete Health and 8 Powers. Video clips about birth, death and soul world were displayed on an LED TV which attracted many visitors. Two meditation rooms were set up with commentaries through headphones in the three languages of English, Sinhala and Tamil. There were also literature and CD sales on two other stalls.
Secretary General and CEO of the National Chamber of Commerce of Sri Lanka, Mr. Bandula Dissanayake, liked the BK displays very much and sent many people to the stall.
The BK planning team consisted of Sr Mythili, Dr Mohan, Dr Viji, Dr Chelvi, Br Seker, Sr Manel, Br Seelan and Br Kohulan. Br Dinesh, Br Puwanesh, Br Wishwa, Br Umakanthan, Br Ravi and Br Saravana bhawan actively participated in setting up. Thank you Baba, Didi, Ganesh Bhai and all the instruments for this successful service.
Br. BK Kohulan & Br. BK Seelan

Sister Jayanti's Visit to Malaysia - Many Wonderful Programs
10 July 2015
Malaysia had the great fortune of having Sister Jayanti after 10 long years for 8 precious days from 18th to 26th June 2015. In just 8 days, Sr. Jayanti served and benefitted thousands of souls from a broad spectrum, ranging from VIP's. Ambassadors and celebrities to Ministers and Government officials, the general public and contact souls, international school children, and BKs from all over Malaysia and the Asia Pacific region.
Sr. Jayanti was welcomed at Asia Retreat Centre by representatives from 7 countries with song, flowers, fireworks and angels holding candles all along the pathway leading to the entrance of ARC building. Sr Jayanti met everyone briefly in the Reception.
Read full report here.

Service in Bali, Indonesia as reported by BK Tim
9 July 2015 - by BK Br Tim Whiting from Melbourne, Australia
It's Thursday evening and I am writing from Gianyar centre in Bali, Frank's home base which has served as mine for the last 2 weeks. I had a week in Malaysia before reaching Bali, which included time in Ipoh, Kuala Lumpur and a day trip to Penang before attending the retreat at Dengkil (ARC). One item worth a mention was being designated driver from Ipoh to ARC, driving a rather royal gold Mercedes. We arrived at the time they were anticipating special guest Sister Jayanti and were met by a candlelit BK guard of honour. It would have been a bit embarrassing if they had set off the evening's fireworks, but they worked out in time that our car wasn't carrying the anticipated guest of honour.
Most Australians know Bali as a favoured tourist destination, which might invite the kind of trepidation that such places may deserve. Happily, I've seen little of the touristy side of things and instead what you might call the other Bali - how the local Balinese live. I've seen most of the BK centres, either giving class, reading morning class or both. One BK has a holiday home in Bedugul, a hill station, which serves as a retreat centre. We had a retreat for married brothers with the theme 'Spiritual Survival Guide'. 12 married brothers attended. It's so much fun to be able to invite BKs to look at knowledge and yoga as they mightn't have considered, and a joy to see the results.
Frank (BK Centre Coordinator) is a local identity. It's like travelling around with the local MP. I had to chuckle when picking up some laundry for him, the parcel was marked 'Brother Prank'. Enough said. Everywhere you go there's someone he knows and the locals aren't backwards in saying hello - much service is done via connections, as the locals are easy going and it's all pretty cruisy.
The Balinese are renowned as very warm and genuine - the BKs doubly so. Particularly Gianyar and Ubud Centres have the gift of enthusiasm in an abundance due to the youth, although it's generally families that attend the centres, not just one family member.
There is a youth retreat this weekend for 25 BK youth, which through planning I can see will be something to remember - the topic is 'Gyan in modern times'.
That's just a glimpse, it's been a very enriching time and there's a few days left yet - there is so much to appreciate about the local people and culture. I can see how you could spend a lifetime here and still not get the whole picture.
That's all for now, will share more news upon my return. It will take some effort to leave this weather behind, I will as much of it as I can fit in my luggage. I'm bracing myself for the cold winter of Melbourne.

Reclaim Joy of a Fulfilling Life
9 July 2015
Source: Posted on 22 June 2015 in The Sundaily, the online companion to the print edition of theSun (Penang, Malaysia)
LIKE it or not, we live in a world that is in crisis. In the last two decades, we have witnessed war, famine, disease, natural disasters ... and the list goes on.
Sadly, it is safe to say that many of us believe we have reached a dangerous point of becoming accustomed to the endless stream of bad situations and circumstances and feel a sense of helplessness.
On a personal level, it is true that we are faced with endless challenges including disease, economic instability, marriage troubles and such. It may appear that world crisis and personal issues are separate but it is in fact one and the same.
Brahma Kumaris World Spiritual University (BKWSU) European director Sister Jayanti refers to this as the "inside out" effect. "Whatever that is going on inside ... whether it is the feeling of emptiness, confusion or chaos, is reflected in our experiences on the outside." She says that the cause of this emptiness, confusion and chaos is rooted in our detachment with our human and spiritual values.
According to Sister Jayanti, it is important to remember that there is goodness in us. However, when we act in a way that is not congruent with our goodness or our inner core values, we lose our own dignity, self respect and self worth. That leads us to delve deeper into a state of despair and chaos on a personal level. Unfortunately, this does not only affect the individual, ourselves, but the world, as every decision, action and thought that we produce from that state of being, manifests as it is.
The key is therefore to change ourselves for the better in order to see the world change. This entails investing time and effort in personal development, which includes self-evaluation facilitated by introspection and continual assessment by oneself and other like-minded individuals.
"There are two sides to personal development ... to identify and understand one's strengths and how it can be best used in life, family and also contribution to society ... and secondly, to know one's weaknesses as well.
"Once we realise these, we can then start working on those weaknesses and transform ourselves to become better and a well-rounded, complete personality."
As an example, one may have a bad temper and find that after working on it over time, that one does not react in anger as quickly as one used to.
REFLECTION AND MEDITATION
Another important practice is meditation says Sister Jayanti. "It helps one recharge, connect with our inner self and become centre." Besides offering stability, it allows one to be at peace, of a different mindset, with a fresh vision and positive attitude in dealing with life experiences. Through the course of these practices, one can expect to exude the natural qualities of one's true self which is peace, purity, truth, love and joy.
"You can expect to develop these in your own life which can also be seen through the change of the quality of words and actions and how it impacts others also."
Why should one consider personal development? "Seeing the state of the world, you want to be the master of your own emotions. You do not want to be pushed and pulled by circumstances of life or other people, nor do you want your happiness to be controlled by somebody else."
That way, whatever negativity happening on the outside does not have an impact on you. By maintaining a stable and positive attitude within, it will influence things on the outside. "On one side, you learn to be detached and on the other side, you also learn to give out good vibrations so that whatever the situation, it has a good outcome. Your contribution has to be positive and calm because that is what is going to make things better."
To learn more on how to tackle personal challenges by becoming the master of your own life and reclaim the joy of a satisfying life, join Sister Jayanti, along with guest of honour and co-speaker minister in the Prime Minister's Department Tan Sri Datuk Seri Panglima Joseph Kurup at HGH Convention Centre on June 23 at 7.45pm. Admission is FREE. For enquiries, call 012-332 5243, 012626 1893 or 012-208 0731.

BK Young Adults Retreat, Melbourne, Australia
2 July 2015
From Friday 26th – Sunday 28th June 2015, 22 BK young adults gathered at the Peninsula Retreat Centre for a very special weekend. The retreat title was "The Boat of Truth May Rock…." and by the end of the retreat participants all felt sure that the boat will not sink, and the ride had become much smoother and more stable. The sessions were filled with deep honesty, deep love and lots of lightness and laughter. There was much joking and playing but underneath it all was the recognition that this is an extremely valuable group that will lead us into the future.
The planning team was Danny (Melbourne), Sathesh (Melbourne), Sapna (Perth), and Kim (Sydney). International guests in the group included Prakash and Piyush (Dubai), Sandika (Cape Town) and Rohini (Singapore) who also facilitated sessions. Everyone enjoyed a walk, a panel discussion, small group conversations, creative expression activities and powerful morning and evening meditations. Australian National Coordinator BK Br Charlie was able to join the group for the weekend and share his thoughts. Sr Nancy from the retreat centre also shared her experiences which everyone enjoyed very much.
Br Charlie, who this year celebrates 40 years with the BKs, said the retreat "…was very special … it was full of very rich and deep discussions and yoga.....and lots of laughs!!! They are a very dynamic group and include a surgeon, a few lawyers, 3-4 accountants, a few PhDs, some IT professionals and more. It is certainly a new generation of BKs."
With a public youth retreat in the Blue Mountains near Sydney coming up and another in the Peninsula Retreat Centre, followed by the very first Asia Pacific BK young adults retreat to be held in Malaysia – the journey to complete Truth continues…
Participants were very thankful to the whole Retreat Centre team for helping to make their stay there so comfortable, to Charlie for joining them, to the Regional Coordinator Didi Nirmala for her continued support and love and to all those who participated in the retreat.

Philippines Regional Retreat News - 8 to 15 June 2015
25 June 2015

News from Sister Jayanti (18 June) - Visit to Singapore
23 June 2015
After arriving on Tuesday afternoon in Singapore, in the evening we had a BK gathering at Peace Hall which is located in 'Little India', the Indian area of Singapore where BKs have classes. The Hall is large enough for around 150 people and it was full. It was a sweet welcome, and I shared news of Dadi and chitchat.
On Wednesday, 17th, Murli was again at Peace Hall followed by Class. Then we had a programme organized in a public venue. This was essentially for women around 65 had come and the topic was 'Dealing with Reality'.
In the evening was a public programme, where we must have had about 400 people. The topic was 'Emotional Healthcare – Life Skills for Personal Well-Being'. This was held in a very beautiful new building, which has been dedicated for Lifelong Learning by the Government. It was very well-organised. Questions were written in and handed in, and we had around 20 minutes of Q&A after the talk, and then Meditation.
On 18th morning, we had Bhog and Murli at Peace Hall and about 130 BKs were present. There was then a programme at a Condominium Complex called 'The Waterside', the topic was 'Stop Worrying, Start Living'. Around 60 women had gathered. 18th evening I have a meeting with the Core Group and Centre-Niwasis, and I then leave for the airport for Kuala Lumpur.
It's been a very lovely visit. The house that they have for Baba is very beautiful one, certainly it's a place where many things can happen and they have had it for about a year. Public gatherings happen either at public venues or in Peace Hall, so everything is working out very well indeed.
Om Shanti

Visit of BK Didi Nirmala to Australia 11-26 May
1 June 2015
BK Didi Nirmala, Regional Coordinator for BK centres in Asia Pacific countries, visited four cities in Australia in May to hold retreats and classes for BKs in Melbourne, Brisbane, the Gold Coast and Sydney.
Arriving at the Melbourne retreat centre at about 10pm on Monday 11 May, Didi was met by an enthusiastic welcoming party who had waited to greet her. Tuesday 12 May was a day of meetings while about 60 BKs arrived from around the country for the annual national retreat for Centre Residents, Board Members and Class Location Coordinators due to start the next day.
The retreat went from Wednesday morning until Saturday lunchtime and included workshops, Q&A sessions, admin updates, news sharing etc. Didi gave a class each morning and during each day she shared her thoughts on the session topics. One evening there was a slideshow over a combined dinner celebration for Didi's 80th birthday, Br Charlie's 40th spiritual birthday and the 40th anniversary of BK activities in Australia.
Saturday afternoon and Sunday was time for Melbourne BK students. Some stayed overnight and enjoyed Didi's classes and the company of the gathering while others came and went with numbers swelling to 120. On Monday night Didi visited the Sunshine West centre in western Melbourne for the first time where she gave a talk for a small group of people.
On Tuesday Didi flew to Brisbane and in the evening she gave a class for 40 people at the Brisbane centre, as well as morning class on Wednesday. One BK commented that Didi left the impact of "…a focus on self care, of looking after the self and others. She was very light, relaxed, easy going and accepted everything as it was."
Then she travelled one hour south by car to the Gold Coast centre. Centre coordinator Sr Linda reported, "There was a feeling of love and stability at the Gold Coast centre when Didi stayed with us from Wednesday afternoon to Thursday morning. On Wednesday evening there was a Question and Answer program for BKs and invited close contacts. Didi shared blessings and Madhuban toli (sweets). The contact souls were really taken with Didi and had good experiences. There were about 25 people who attended."
On Thursday morning, 18 BKs enjoyed a class from Didi. Afterwards photos were taken and Didi left the centre at 9.30am for the airport to fly to Sydney.
On arrival in Sydney she went straight to the retreat centre at Wilton, one hour south of Sydney. About 50 BKs gathered there that night from Wilton, Wollongong, Liverpool, Sydney and Canberra. Didi was interviewed by Br Charlie on the story of her life in general and service in Australia, where she had spent about 30 years before moving to Gyan Sarovar in India in 2008. Since then Didi has visited Australia for about 2-3 weeks each year.
On Friday Didi went by car to the retreat centre at Leura in the Blue Mountains, one hour west of Sydney. Over the weekend there was a retreat for Sydney BKs attended by up to 180 people. It was scheduled to finish on Sunday morning but Didi extended it to lunchtime, a bonus which many enjoyed. Didi also stayed overnight at Leura on Sunday. Weather forecasts had been cold and rainy but there was sunshine and mild weather for most of the weekend.
On Monday Didi went to Sydney for many meetings and a tour of the new BK building which is still being prepared. Tuesday morning class was held at East Sydney near the CBD with about 20 BKs and after breakfast Didi went straight to the airport to catch her flight back to India.

Visit of Sister Jaya to Malaysia from 10 - 27 April
29 May 2015
Sister Jaya from Chennai, Tamil Nadu, India, arrived on Friday 10 April 2015. Her first visit to Malaysia was on a special invitation by the BKs there for a nationwide tour to conduct programs in the Tamil language. She has become known in Malaysia due to the popularity of her show on local satellite TV station ASTRO entitled "Enlightenment with Brahma Kumaris", an initiative of Brahma Kumaris Malaysia.
The tour was planned throughout the country in 16 places. Her maiden program took place in the heart of Klang city, known as "Little India", on Sat 11 April. The program was very captivating with colourful cultural items and a talk on "Karma or Destiny?" which attracted about 500 people.
On Sun 12 April she gave a talk at Asia Retreat Centre (ARC), the HQ of Brahma Kumaris Malaysia, on "Mind Power is the Key to Happiness". Though ARC is far from residential areas it managed to pull about 350 people.
Similar talks were held in 9 states in Malaysia and each program drew an average audience of 370. During this visit some 6,000 people were served. The highest attendance was in Ipoh with 1,250 people.
There was also a program for about 100 women of Hindu Sangam (NGO) at Nusajaya, Johor. The title of Sr Jaya's talk was "Respecting Feelings to Strengthen Relationships".
The final program of Sr Jaya's visit to Malaysia was a talk entitled "Fate or Faith" which she delivered to a crowd of 500 souls at Brickfields in Kuala Lumpur on Sun 26 April.
Sr Jaya also had a recording session with Radio Malaysia (Minnal FM) in a Questions and Answer format on various issues touching on relationships at various levels of society. The talk was aired for one hour as a special program in the evening of Wesak day (a Bhuddhist holiday) on 3rd May.
In the little time she had, Sr Jaya also spent time with Tamil speaking souls in the BK family.
On the whole, the responses to Sr Jaya's public talks were overwhelmingly positive and the halls were always full with audience who were very attentive, silent and enjoying every moment of the talks. It seemed that after viewing her program on TV people were ready to accept more BK knowledge. In all her talks, in the mode of conversations, she highlighted Gods presence in our life, the importance of good virtues and behaviour for lasting relationships and a happy life by giving simple examples and practical applications.
The response to her visit has enthused many people. It was a first for Malaysia and BKs there are sure more such events are to come.

South Korean & International BKs Participate in

Asian Civil Society Conference on Climate Change and Ecology (ACCE)
21 May 2015
Korea Brahma Kumaris Association participated in the Asian Civil Society Conference on Climate Change and Ecology(ACCE), which was held in South Korea, April 24-30, 2015, with the theme of "Climate Change, Sustainability and Resilience."
The Korean BK Association was part of the Korean Organizing Committee, which was made up of 13 different local organizations including 7 faith-based organizations(FBOs), 3 environment NGOs, and 3 overseas development NGOs, as well as the INEB(International Network of Engaged Buddhists) and the ICE(Inter-Religious Climate and Ecology) Network. This was the 2nd ICE conference, following the 1st one held in Anuradhapura, Sri Lanka, in September 2012.
The Korean BK Association invited BK Valeriane Bernard, a member of the international BK Environment Team and a BK representative at the UN office in Geneva, to give a higher profile to the BK participation in the conference. The BK family in Korea has just begun engaging in environmental activities starting with the UN Biodiversity Conference held in Pyeongchang, Korea, in October 2014.
The ACCE was originally planned to be held in October 2014, but was postponed to April of 2015 because more time was needed for preparation and to create common understanding among the participating organizations. This was a boon for the BKs because we were able to use the international BK team's participation in the 2014 UN Biodiversity Conference in Pyeongchang to further promote ourselves as an environmentally active international organization. The inauguration of the Korean organizing committee took place in November 2014 in Seoul.
For detailed news, please click here

Service News & Photos from Japan - Sudesh Didi Visits Kobe, Hiroshima National Retreat, Tokyo Golden Retreat
18 May 2015
Please click on below link for detailed news on Sudesh Didi's visit to Kobe, the Japan national retreat in Hiroshima and the golden retreat in Tokyo.

Governor's Multicultural Awards, Adelaide, South Australia
18 May 2015
Pictured left to right Damian Outtrim, His Excellency Governor Hieu Van Le
Group photo, left to right: Dilip Chirmuley, Rabbi Shoshana Kaminsky, Sulaiman Nouraddine, Reverend George Gatenby, Ms Jill Gallio, Uncle Lewis O'Brien, Governor's Secretary, Government House Representative, BK Damian Outtrim (speaking)
On March 17th 2015, Damian Outtrim from the BK Centre in Adelaide was invited to present at the Governor's Multicultural Awards held at Government House. There were about 450 invited guests and awards were presented to various society contributors. Damian presented a Multifaith Blessing, introduced Faith leaders and then guided the audience into a minute of prayer/meditation/silence to send good wishes to the community and the world.
After the event Damian met His Excellency Governor Hieu Van Le, the State Premier Jay Weatherill, Opposition Leader Steven Marshall and others. "It was really great that the Multifaith Community was honoured at this event", Damian said.

Neighbour Day at Mermaid Waters, Gold Coast, Australia
18 May 2015
On Sunday, 29 March 2015, the Gold Coast BK Centre participated in Neighbour Day by having a stall at Crocker Park in Mermaid Waters from 10am to 1pm. The stall had a meditation chair for One Minute Meditations using an iPod and headphones, which was quite popular, and Virtue readings. Other stalls and activities included live music and community stalls such as Neighbourhood Watch, Crime Stoppers, gardening workshop and children's activities.
Gold Coast Council's Community Safety officer and two other staff members tried the One Minute Meditation and had their Virtue readings. They were happy to see what the centre is doing and will keep in touch. BKs Linda, Jan and Peter also met Community Garden managers who expressed an interest in the centre doing meditations at garden meetings.
The event was organised by Gold Coast Council as part of the national Neighbour Day program, Australia's annual celebration of community. It was founded in Melbourne in 2003 after the remains of an elderly woman were found inside her suburban home. She had been dead for two years and gone unnoticed by anyone. It aims to enable people to get to know their neighbours and foster caring for others.

Didi Nirmala's Visit to South Korea, 17-21 April
29 April 2015
BK Didi Nirmala, Regional Coordinator of BKs for Asia Pacific, arrived in Seoul from India on the evening of 17 April 2015 for a four day visit. There was a public talk, programs for regular BK students and a radio interview.
On arrival in Seoul there was a short meditation with the welcoming party for 15 minutes, after which Didi said hello and shared Madhuban news.
On the 18th evening at the BK centre there was a public program attended by about 50 people on the topic "The Magic of Self Respect". The hall could only just seat the guests, while about 25 BKs were sitting or standing in the foyer, kitchen etc. The public was quite receptive.
On 18th, 19th & 20th at lunch time there was a retreat with 25 to 35 participants from Seoul, Pusan, Ulsan etc. The theme was "Easiness of Raja Yoga". The program included workshops and classes on individual efforts, transformation, question-answer sessions, service plans for the country and managing finances. Old BKs like Br. Kang, Maria, Peter, Jenny etc. attended every day. About 15 BKs stayed in and around the centre to attend early morning meditation and the retreat.
On Monday 20th, a doctor came for a personal meeting and there was later a radio interview on "How to Live a Happy Life".
Didi's visit was really enjoyed by all and they took lot of benefit from BK family gatherings and classes. She left Korea on 21st April after morning class.
The two photos are of the BK group and the public program.

Delicious Vegetarian Meals on the Gold Coast, Australia
29 April 2015
"Delicious Vegetarian Meals" was a four week program presented by experienced Brahma Kumari vegetarian cooks in March 2015. The aim was to present meals that were easy, nutritious and delicious and also created and used by the cooks on a regular basis. The program was a success with all participants going away very happy with what they had learnt from the program and each other. The next four week program will be in May at U3A (University of the Third Age) in North Gold Coast.
Sr Linda from the Gold Coast BK centre approached U3A in North Gold Coast, where she has been holding Meditation and Positive Thinking sessions for the past two years. U3A is for people over 50 years of age, in some cases from 40 years. (Read more about U3A at: http://www.u3anorthgoldcoast.com/about.html.)
They organised a room she could use and advertised and booked people in at their offices in the Labrador community centre. Very quickly the sessions were booked out and there was a waiting list. Actual cooking was not allowed to be done at the community centre nor could there be any food (uncovered/eaten etc.) in the rooms. The meals were cooked beforehand at the BK centre and small samples were prepared for the participants to take home. The 10 participants per session were particularly touched by this gesture. The BK team created a Power Point for each session and took along recipe books that they used. Copies of the recipes were provided for the sessions. Tutors shared tips that helped in their cooking.
Sr Linda said, "It was a lot of work (but it can be refined) and I was amazed how successful the classes were and how appreciative people were. Most of the participants said they really needed this guidance as they didn't know where to get this sort of information.
I have observed that sometimes people tend to supplement meals with dairy for meat, so recipes were chosen that could be made without or with a little dairy. The idea was to show people how to cook simple meals. We explained that we would not be able to provide professional nutritional advice, but we could share what we know with our rich experience spanning from 10 to 30 years of cooking vegetarian meals for ourselves, friends, family members, etc. We observed that some people lived busy lives, lived on their own and or were just tired, and that this encouraged them to buy too much take-away food or not have a proper meal. We decided the recipes needed to be quick to make and did not require too many ingredients. Also we noted that whenever we have a nice home cooked meal it helped us to feel good and increased our wellbeing."
'Feed-back' from participants: -
*I enjoyed learning about the ingredients, thank you for the recipes and samples. What I have learned over the past 4 weeks will support my journey to a healthier lifestyle.
*I enjoyed the Vegetarian cooking course, the presentation was interactive and fun & the recipes were creative and easy.
*I enjoyed the vegetarian cooking very much, the recipe sheets were very good and I have already made the shepherd's pie which was excellent.
*Well conducted, opened up a new way of eating and experimenting with food.
*I have really enjoyed the course, talking with the group about different methods and making of veg meals has been excellent.
*I found this class very informative and it has given me new insight into better food and sensible eating.

Tamil TV in Australia and New Zealand
26 April 2015
Melbourne, Australia; The Tamil speaking BK team of Victoria has been successful in securing a 30 minute time slot twice a week on a paid TV channel, Global TV (GTV). The station offered a 4 week trial starting in April 2015 and if this goes well the program will continue.
The times the programs will be aired are:
Saturday 8.30 - 9.00am
Thursday 5.00 - 5.30pm (reletecast)
As a preview to the event, the station started airing a trailer to the videos for 2-3 weeks starting from 8 April. The first program was aired on Saturday, 12 April at 9.00am.
Initially the content is of videos of talks given by Sr Jeya from Chennai. Sr Jeya is a popular speaker in South India. Eventually, if the program continues, the BK team hopes to offer more variety.
Global TV (GTV) has been very cooperative in giving very good rates. They also helped with editing of the videos. The station has a subscriber base of about 10,000 viewers across Australia and New Zealand. Australia and New Zealand main centres' contact details are aired at the end of every video and it is hoped that viewers will contact their local BK centres.

News of Service Programs in Hobart, Australia
26 April 2015
"Aboriginal Law and Spirituality" and other programs in Hobart, Australia
During March 2015, Hobart BK centre hosted Sr Tjanara Goreng-Goreng from Canberra and Sr Jill Shanti from Melbourne for a series of programs.
Tjanara's first program was a day workshop on 7 March, "Discovery and Recovery" which 17 people attended and really enjoyed. An evening program on 10 March, "Aboriginal Law and Spirituality" was attended by about 25 people. It was interactive and explained Aboriginal original culture in a way that people had not heard in their history lessons. They were very interested. Tjanara spoke a little about the soul and Supreme soul, but not in depth, and the whole spiritual feel of the program was uplifting. Several participants were of Aboriginal background.
Sr Jill facilitated a "Positive Parenting" workshop at the BK centre for ten people on 18 March, from 9.30am to 12.30pm. They found it uplifting to learn how to use the virtues to solve problems.
The "Four Faces of Women" program on Sat 21 March from 10.30am to 4.00pm at the University of Tasmania's Multifaith Centre for a small group of eight people was very much enjoyed by everyone, including local BKs Miriam and Alice who had the opportunity to relax and be part of this workshop.

Visit of Sister Ranjani to Hongkong, 2-6 April
26 April 2015
Over the Easter weekend Hong Kong BKs had a spiritually recharging and refreshing visit from Sr. Rajni, coordinator of BK Centres in Japan and the Philippines.
Sr. Rajni arrived on Thursday 2nd April. There was a public programme in the evening titled "Real Happiness" at the Centre. About 35 people attended and asked some questions.
On 3rd April, being Easter Friday and a public holiday, about 25 BKs including seven new students went for morning class and a picnic by the ocean at Repulse Bay. As usual everyone enjoyed the outdoors and a picnic breakfast.
There were three evenings of very special recharging and enlightening Yoga Experimentation Bhattis especially for new students on Friday, Saturday and Sunday. The main focus was to give souls a deep experience of spirituality and God's love and peace. The titles of the bhatthis were selected from the morning class of the previous day;
Friday - "True Soul Consciousness": the program started with a song and short commentary on soul. Then Sr. Rajni spoke a 10-12 minute class on the theme followed by dristhi and placing of a tilak on the forehead on each participant. Sr. Rajni spoke a short commentary in order to facilitate an experience, and a few words about brotherly vision.
Saturday - "Loving Intellect": The evening followed the same format of a short talk and longer meditation experience. The focal point was to consider the self to be a soul and connect with God.
Sunday - "Secrets of the Drama". The main aim was to create the experience of having a harmonious relationship with everything. Everyone exchanged virtues with each other.
On average 20 to 22 people participated, which was a good attendance considering that it was Easter and Chinese Ancestor worship holidays when people are usually busy with family and friends.
On Saturday and Monday, Sr. Rajni conducted morning class at the new Kowloon Centre. On Easter Sunday an impromptu Easter egg hunt was organised. Everyone enjoyed Sr Rajni's visit and felt recharged.

Symphony of Light spiritual concert in Bangkok, Thailand on 7th March 2015
23 April 2015
The first 'Symphony of Light' spiritual concert in Thailand was arranged when singer BK Sr Timmy Cruz offered herself to come to Thailand from the Philippines. The BK Shiv Ratri program that was due to take place in February was postponed to 7 March 2015 to coincide with Sr Timmy's visit.
Sr Leela, a BK Centre coordinator in the Philippines, became a bridge for bringing Sr Timmy to Thailand when Sr Leela visited Thailand for a Rotary Peace Scholarship from 5 Jan to 28 March 2015.
Sr Timmy Cruz has been a BK student for six years. She was once a Vice-President of the family bank and then became a professional singer as she has always dreamt to be. She finds happiness in living her life lightly and peacefully while sharing her talents with the world.
At the Symphony of Light concert, 200 participants were welcomed with refreshments and Virtuescopes in the foyer before the programme, which started at 5.30pm and continued until 7.30 pm.
A Parade of candles in the dark hall highlighted the significance of light. Ten special guests were invited to hold their candles and spread the light to the world collectively while Sr. La spoke a meditation commentary. Sr.Leela spoke about seven qualities of Divine Light before the opening speech of Rev. Bro. Dr.Bancha Saenghiran, President - Rector Magnificus of Assumption University
Sr.Leela also shared experience of the event:
"The Symphony of Light Radiates!
The spiritual program, "Symphony of Light" on March 7, 2015 from 4-7pm at SC Asset Auditiorium was a new experience of sound and silence as expressions of peace, love and happiness.
Sound was experienced through the songs of Ms. Timmy Cruz, singer-actress-composer-yoga practitioner from the Philippines who soulfully rendered her original compositions.
Silence was experienced through spaces of meditation in between to go into the depths of quiet bliss. The program was attended by 200 people from all walks of life. 10 different group leaders were invited to spread 'Light' at the Opening session. Tan Chan well known Buddhist monk shared his spiritual experience highlighting how the songs and dances radiated the vibrations of joy even if he did not understand the words. The language of love, happiness and peace is truly beyond words that we speak. It can be felt just like the light of the sun can be felt by everyone regardless of race, colour or creed.
In the brief interview of Ms. Timmy Cruz during the program by Sr. La, National Coordinator of Brahma Kumaris that hosted the program, Timmy shared that raja yoga has given her a different perspective in life realizing that our true essence is the soul. Knowing our identity as soul with a body makes us have deep faith in our eternal spiritual self that regardless of our life's circumstances, we will not fall or fail, having full control and understanding of who we are and what is happening around us. In contrast, attaching ourselves to the identity of the body, our worldly achievements, and physical relationships limits our life perspective to the temporary sources of happiness that come and go, hence making our lives miserable. She also shared that her deep experience of God's love gives her great inspiration to write and compose music. Her song, "My Guiding Light" tells of how God has been her Father, Mother, Teacher, Friend and Beloved.
The unique, spiritual program that evening made the minds, hearts, (and feet) dance and sing to the melody of one's Symphony of Light within."
Sister Jayanti's commentary about silence, helped everyone to understand the self, the Supreme Being and the qualities that every individual should have in their lives.
Sr.Leela and Sr.Timmy said goodbye to Thai family at Brahma Kumaris Centre, Nonthaburi. Sister Timmy had a video clip made of her Thai trip to say thanks to Thai family as soon as she reached home.

Reports on Cyclones in Northern Australia, February-March 2015
27 March 2015
At the end of February and beginning of March, northern Australia was subjected to the very rare event of a 'Cyclone Sandwich', because the Northern Territory was being battered with Category 4 Cyclone Lam and Northern Queensland was subjected to Category 5 Cyclone Marcia at the same time. A State of Emergency was declared for Cyclone Lam at the same time as a Disaster was declared for Marcia.
Fortunately there were no deaths, due to the improved weather technology and the Government policy of evacuation to 'safe' places set up beforehand. In fact, some isolated communities on outlying islands were completely evacuated to the mainland. However, there was extensive damage to property and serious loss and destruction in the north of Australia, not least from the strong winds over 100mph over an enormous area, but also from the massive flooding which followed.
This was followed up by further damage by cyclone Nathan, which followed in the middle of March, coming ashore three times over a period of two weeks, reaching the highest intensity of category 5 on more than one occasion.
Brahma Kumaris in Australia have been involved in a national project since April 2013, to inaugurate a 'new' BK program with the aim of making BK Centres here Sanctuaries of Peace during and after times of disaster. During the last months of 2014 and in January 2015, BK volunteers underwent Emergency Ministries training (similar to Red Cross Psychological First Aid training), completed our proposed program for our Sanctuaries trial (including selected music and commentaries), educational materials to explain the new program to the BK family, organised artwork and publicity for the volunteer centres and set up a communication framework to co-ordinate communications across five states.
A number of groups were involved in the creation of the program including the Working Party, the Yoga Party, the BK Health and Well-being Groups, Graphic Designers, Social Media Group and the Editorial group.
The working party is now in the process of gathering feedback from the nine centres, retreat centres and class locations who volunteered to be part of the Sanctuaries Trial so that they can refine the program and materials.
The program is 'new' because those affected by disaster or Post Traumatic Stress Disorder may be unable to learn how to meditate and the aim of the program is to serve people experiencing such circumstances.

News of the Chinese Retreat for the group from China in ARC from 4th to 9th February 2015
9 March 2015
It is with great joy the ARC team shares the news of the Retreat for China Group brought by Sis Sapna and Bro Sumeet, that took place in ARC.
189 souls arrived on the 3rd and 4th February in four batches. Special Welcome Programme was organised in Murli Hall at 9.30 am. All participants were given tilak, corsage and scarf as they entered the hall. Programme began with a beautiful Chinese Welcome Song by Sis Peng & Group, followed by Fusion Dance showing three cultures in Malaysia by professional dancers from Art of Living. The Retreat was inaugurated by all the Seniors – Asha Didi (Delhi ORC), Bro Charlie (Australia) Sis Sujata (Global Hospital), Sis Sapna & Bro Sumeet (China), Sis Meera (Malaysia) and Sis Manshu (China) . All the main guests shared their blessings for the Retreat and all participants received toli and blessings at the end of the welcome programme
The Retreat was conducted in three different groups – Adults, Young Adults and Children. The theme of the Retreat was Spiritual Solutions for Life Challenges. Each day, there were different themes for adults like Parenting – Relationships – Spirituality – Discovering the Self – self respect etc. Many seniors shared their experiences on various topics. Participants were very touched by these sessions. Every morning and in between sessions, there was exercise conducted by Sis Sujata from Global Hospital.
There was Meditation Laboratory conducted by Sis Celia in the Diamond Hall. The hall was filled with powerful vibrations, uplifting the souls enabled them to experience peaceful and calm stage using soul conscious vision.
The highlight of the retreat was another very interesting session conducted by Sis Sapna where parents and Children were grouped to create "Mandala"- a spiritual symbol in Hinduism & Buddhism representing the infinity of Universe. Nearly 82 Mandalas were createdaround Diamond Hall using colourful flower petals, leaves etc. In the end of the session, the meaning of Mandalas created by each participant was explained which is the reflection of the inner state of individuals. Through this activity, the participants experienced love, togetherness, belonging and happiness among each other. The session was concluded with a special Meditation with live music by Brother David from Gyan Sarovar, of which the participants enjoyed and truly appreciated the light moments filled with joy.
Finale of the Retreat was celebrated by having a Family Reunion Dinner specially prepared in Malaysian Chinese styles and a cultural programme jointly presented by China and Malaysia family in conjunction with Chinese New Year Celebration. Special ceremony was organised by China family to express their gratitude to all facilitators and karma yogis who served directly or indirectly to make this Retreat a success. Each karma yogi received a token of appreciation with a hug from the participants especially the young adults and children. Participants experienced peaceful vibrations in every corner of ARC. They were grateful that they were served with love and smiling face every meal. They cherished every single moment spent in ARC and determined to practise meditation regularly.
With Love from the ARC Team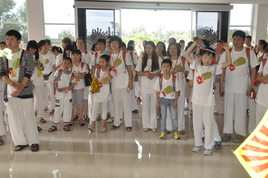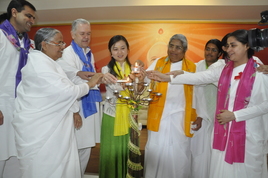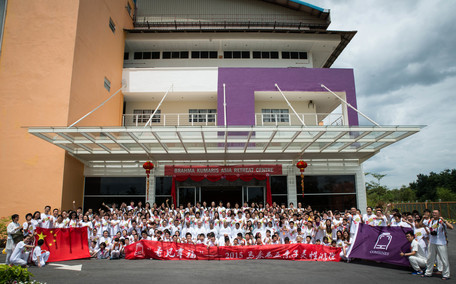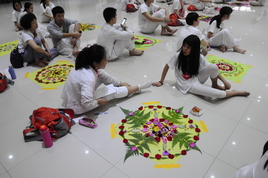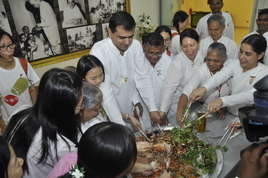 Maha Shivaratri Celebration at Huntingdale, Perth, Western Australia - 21 February 2015
7 March 2015
Approximately 66 adults and 6 children attended the celebration which included 25 Tamil speaking guests, hence the program was conducted with Tamil translation.
The evening commenced with meditation video presentation followed by a beautiful song in praise of God Shiva by Sr Aastha and Br Ajay. Sr Diana performed a contemporary Bharatnatyam dance, leaving the audience in wonder of her gracious movements in this dance of knowledge.
Br Subraa then conducted an interview with Sr Carolyn from the main BK Centre in Perth on the spiritual significance of Shivaratri. After Q&As Sr Carolyn led a live meditation commentary which created a very silent atmosphere and high energy within the gathering.
Br John narrated a story about how the help of God that comes in many different forms and it is up to us to take God's help.
With much merriment a candle lighting and cake cutting celebration was carried out by the Centre residents, Srs Carolyn and Gail, together with the Class Location teachers and other BKs who teach meditation in local community centres.
The power of cooperation and unity of the BK family was felt by the Huntingdale brothers as the preparation commenced only one week before the program. A special thanks to Br Sujesh for all his enthusiasm for the stage lighting.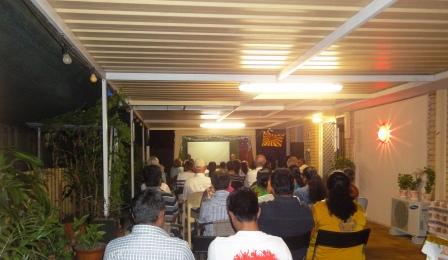 Multi-faith Australia Day celebration, Adelaide, 26 January 2015
19 Febuary 2015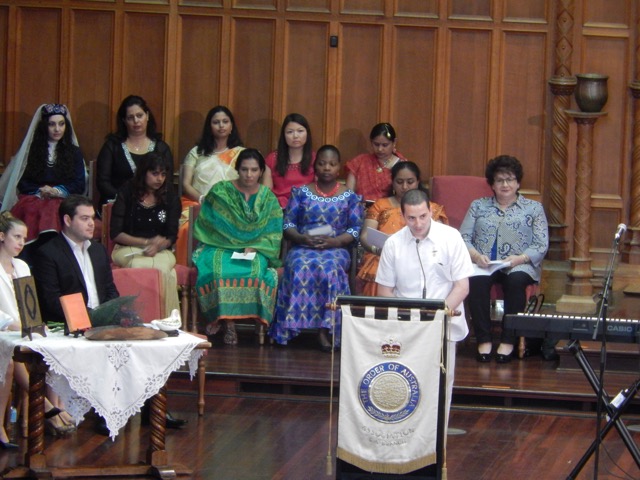 On Australia Day, Monday 26 Jan 2015, Br Damian from the BK Centre in Adelaide spoke at a multi-faith celebration in the Bonython Hall at the University of Adelaide. The event was hosted by the South Australian Branch of the Order of Australia Association, with the theme "Faith – Harmony – Healing."
Aboriginal Elder Uncle Lewis O'Brien AO gave the welcome to country with a symbol of healing made of eucalyptus leaves.
Eight different faith communities celebrated in music, song and speeches in the presence of His Excellency The Honourable Hieu Van Le AO, the new Governor of South Australia.
Approximately 200 people of all faiths, families and friends were warmly welcomed.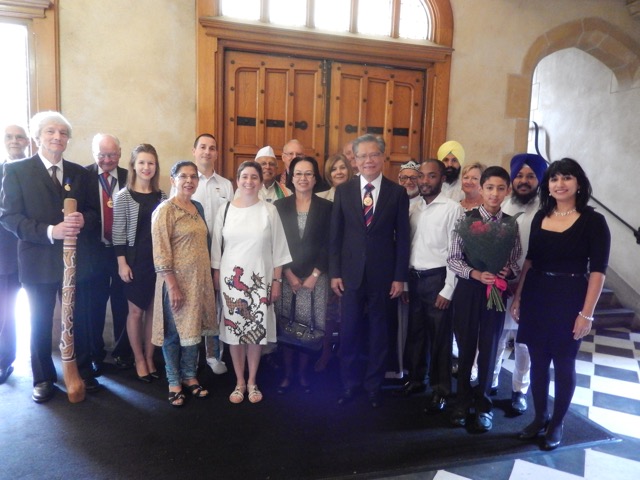 Click here for detailed report and more photos.

ShivRatri Programme in Wellington, New Zealand
11 February 2015
In Wellington there was a Shiv Darshan programme over the weekend (7th/8th February). Shiva's birthday was celebrated as a public programme in the Petone Indian Cultural Hall with a good crowd attending the Grand Opening on Saturday evening. Mr Trevor Mallard MP attended as chief guest and there were many other VIPs and IPs. The evening's programme was entertaining and inspiring and included two beautiful dances, a speech by Sister Bhavana explaining the significance of Shiv Jayanti followed by a short meditation for everyone. Both Mr Trevor Mallard and Mr Jayantibhai Patel (Vice President of the Indian Association) praised the Brahma Kumaris as an organisation and for their work in the community. After the speeches 60 VIP guests took part in a Candlelight ceremony. This was followed by a special dinner for all those attending.
On the Sunday the day started with BKs enjoying a special breakfast and flag hoisting ceremony. Many BKs spent the rest of Sunday at the Petone Indian Hall assisting at the main public programme where many devotees especially came to see the five shivlingams. One was a 6 feet tall Shivlingam decorated with diamonds. Other activities included a well situated Virtue Wheel and game of Snakes and Ladders of Life in a room just beside the stage. Many (both young and not so young) enjoyed spinning the wheel to see what special virtue was selected for them. The Virtue Wheel is a fun way to introduce the value of strengths and specialities in our daily lives. Other helpers explained the BK posters, which were placed around the hall, to groups of people.
Overall it was a wonderful experience of celebrating Shiva's birthday together with serving the wider community.
Clink on this link to see photos

Singapore Newsletter for January 2015
9th February 2015
Service news from Singapore – January 2015 With January 18th falling on a Sunday, it was full house at Peace Hall right from Amrit Vela as BKs in Singapore came to fill themselves with special love & power. The hall was beautifully decorated with 4 pillars depicting the foundation of Raja YogaKnowledge, Yoga, Inculcation & Service. Almost all the BKs capitalised on the day being a holiday & stayed till the end of the programme, immersing themselves in the magical atmosphere of powerful silence filled with deep spiritual love.
To commemorate Brahma Baba's 45th year of ascension, on Sun 25 Jan we organised Brahma Bhojan, an event which has become an annual tradition in Singapore. After a break of nearly 4 years whilst we were waiting for Baba's new house to be completed, the turnout at the rented premises, Silat Federation Hall, was indeed heart-warming!
Many of our old contacts & friends were very happy to celebrate Brahma Baba's achievements with us. About 480 invited guests took great inspiration from the energetic & entertaining sharing by Vedanti bhen (Director, BK Centres, Africa), our special guest for the occasion.
It was also wonderful to see how readily & lovingly all the BKs cooperated with their bodies, minds & wealth to make this event a huge success. It is also noteworthy that Baba's new kitchen was maximised to the fullest to prepare the elaborate dishes which were served to every guest on a banana leaf!
A big THANK YOU to Did Vedanti, Yashmita bhen and all the BKs who made this event a big success and touched the hearts of every guest who attended!
From the Singapore family Om Shanti

Didi Vedanti's Visit to Malaysia
2 February 2015

BK Br Ganesh from Sri Lanka Visits Perth, Australia - Friday 23rd to Monday 26th January S
ervice News
28 January 2015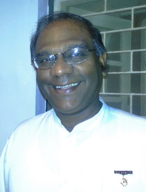 The Perth BK family were very lucky to be the first stop for Br Ganesh's first visit to Australia and very much enjoyed his pleasant spiritual company. Having known Perth BKs Subraa and Raajen from Malaysia, it was a nice opportunity for Br Ganesh to be accommodated with them at their Class Location in Huntingdale.
Sat 24 Jan
In the morning Br Ganesh conducted class at Huntingdale after which he enjoyed exploring the Fremantle area, visiting an old shipwreck and beaches etc. He was fascinated to see the "doggy" beach and enjoyed watching various breeds of dog playing together and noted how well behaved they all were!
That afternoon Br Ganesh gave a talk on "How to Remain Light and Easy in Rocky Times". He shared his experiences of the aftermath of the 2005 tsunami in Sri Lanka and the effect that such huge 'rocky' times had on people. He expressed that he had to learn to listen to others from his heart and by doing that he has learned much about himself and others. After the tsunami, he had observed that people looked at their situation in a range of ways – some felt a loss of hope and some who had lost all their family and belongings used their loss as a motivation to help others.
Sun 25 Jan
The morning was spent sharing class and breakfast with Perth BKs and advanced students, who enjoyed Br Ganesh's reading of the latest murli of 18 Jan, together with the designated class for the day on the topic "To give regard is to receive regard".
This was followed by a sharing on "How to Achieve a Deeper Quality of Yoga". Br Ganesh started his sharing by explaining going 1) inward; 2) upwards and 3) forward (out to the world). He said;
· Before connecting 'upwards' it is important to firstly spend time to step within, create silence and connect with the eternal self. This revives the original peace of the self which flows into one's being, harmonising and healing everything that's in imbalance. It brings our spiritual energy to a still point of concentration.
· Learning to listen to oneself develops openness to God which makes us receptive to the reality of God, gradually moving to absorption in one thought of God.
· Love breaks the barrier of old consciousness and through the love of God, the soul comes back to life, back to reality. To remember God is real knowing, an acknowledgement of our own eternity and the truth of our existence.
· Love creates change and inspires; peace lays the foundation for that inner change.
Br Ganesh was also taken to the iconic King's Park for a tour and a drive along the expanse of Perth's Swan River.
On Sunday evening 35 people took inspiration from a talk on the topic "Applying Spiritual Wisdom to Everyday Situations". Br Ganesh asked the audience, "What is spiritual wisdom? Does it work? Is it time tested and is it practical?" He shared that unexpected things can happen at any time at home, at work, in relationships and with nature. He also spoke about the need for preparedness, not only on the physical level, but also on the spiritual and mental level, hence the need to spend time with the self in order to build up our spiritual wisdom to know how to manage unexpected events. Based on going inwards, spending time getting to know the self deeply, we will be in touch with our own spiritual wisdom and conscience which will guide us in everyday situations.
Feedback from those who attended Br Ganesh's programs was that all took benefit from his deep sharing and enjoyed spending time in the company of an easy-going yet wise and concentrated yogi.
Br Ganesh left Perth on Monday morning to visit Melbourne, Canberra and Sydney.

Report on Sister Aruna's Visit to Malaysia, December 12-16, 2014
20 January, 2015
Sister Aruna from Kuwait paid a flying visit to Malaysia from 12th – 16th Dec 2014 on her way to Vietnam. In just 5 days, she served and benefitted a wide category of souls from BKs to contacts, to IP's & VIP's and government officials and Ministers.

Read Rest of Report here.

Sister Denise Visits Thailand - December 10-14, 2014
18 January 2015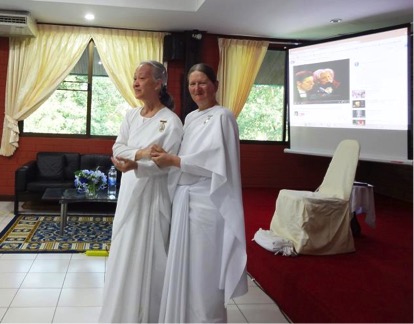 On the morning of a Public Holiday on 10th December, Sr Denise arrived from Singapore. The programs during her visit included:
Wednesday, Dec 10th: Pinthu Centre In-house program

Thursday, Dec 11th: Seagate Way Motivational Talk

Thursday night - Saturday 13th morning: BK Family retreat, "Virtues for Life"

Saturday, Dec 13th evening: Nonthaburi program, "Self-Mastery"
Subsequent to Sr Denise's visit, BKs also had a booth at Thai Rotary Day in Lumpini Park in Bangkok.
Please read the full report and see all the photos here.