2022 International Yoga Day Archive
2022 International Yoga Day Archive
Brahma Kumaris conduct Meditation Session at Kuching Waterfront, Malaysia
2 August 2022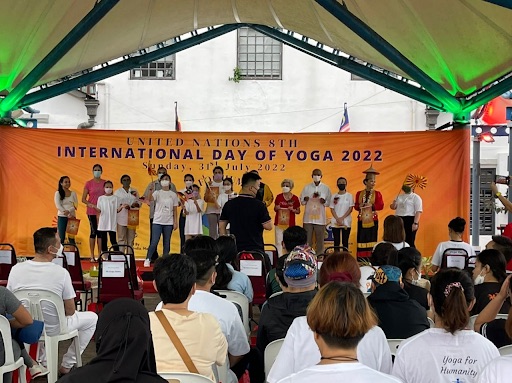 Kuching (Malaysia): About 150 people participated in the eighth United Nations International Yoga Day on Sunday. Held at Kuching Waterfront, the event was to raise worldwide awareness of the benefits of practising yoga.
Programmes included yoga demonstration from Maryam Evetovics and meditation session by the Brahma Kumaris Malaysia National Coordinator-President Dato Letchumanan Ramatha.
During the day, participants of various age groups had the opportunity to experience the whole sessions to learn about various advantages of practicing yoga.
The event was supported by the High Commissioner of India, Amrita Dash.
Other guests included Kuching South mayor Dato Wee Hong Seng.

China - Brahma Kumaris organise IDY events with the support of Consulate General of India in Shanghai, Guangzhou and other cities
27 July 2022
Dear Divine global family,
As we celebrate "Azadi ka Amrit mahotsav", there's a unique enthusiasm everywhere this year.
We are happy to share that to mark the celebration of 8th International Day of Yoga this year Brahma kumaris organised various events in different cities with the support of Indian embassy in China and Consulate general of India in Shanghai and Guangzhou and also participated in the events organised by the Indian embassy.
Video message of IDY by Sister Jayanti was circulated by the Indian embassy along with messages by other Yoga gurus , for promotion of Yoga day events in China.
# Online event by Inner Space Shanghai with the support of Consulate General of India in Shanghai. Consul General of India in Shanghai Mr. N. Nandakumar was the Chief Guest during the event. Participants from different parts of China participated in the event. (Photos attached)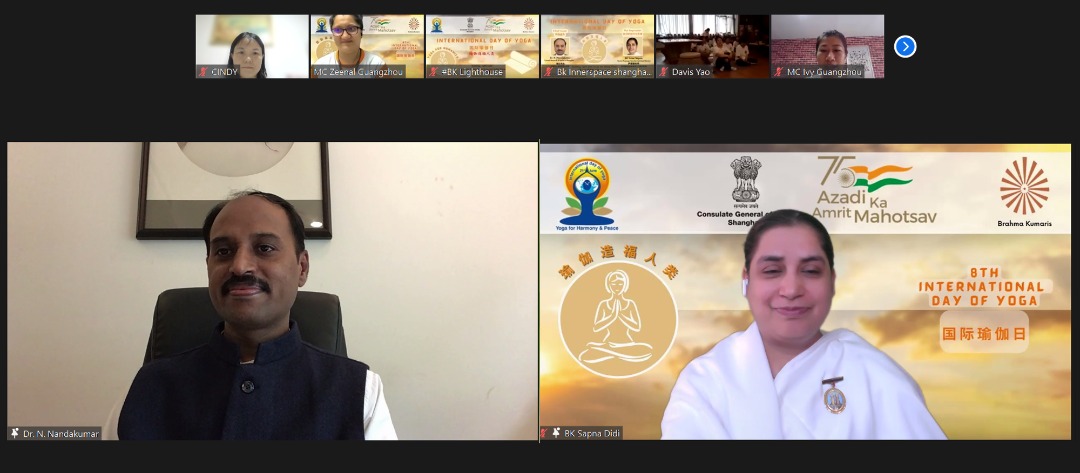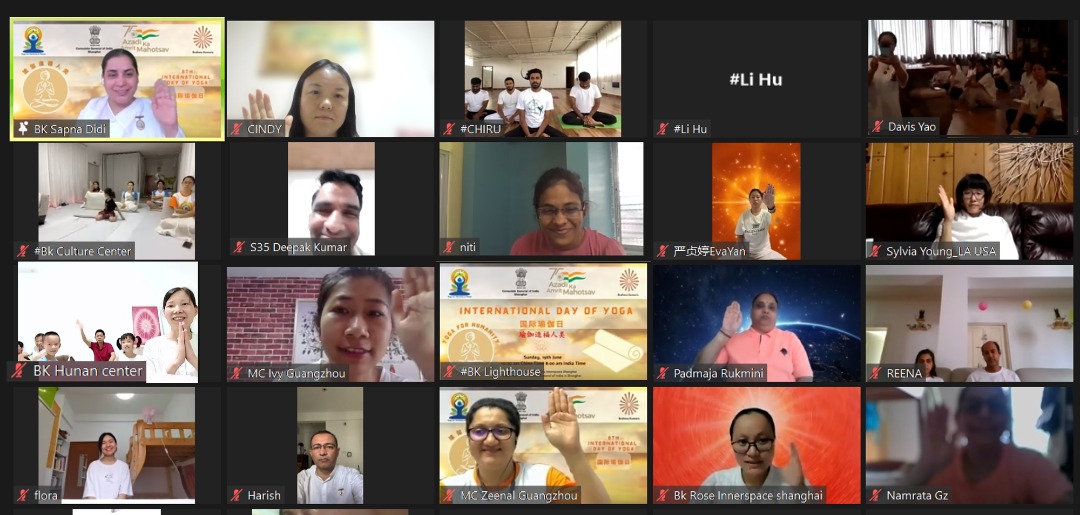 # offline events of IDY in 3 cities of south china by Brahma kumaris Guangzhou with the support of Consulate General of India in Guangzhou. Mr. Shambhu L. Hakki Consul General of India in Guangzhou shared his greetings through video message.
(Photos attached)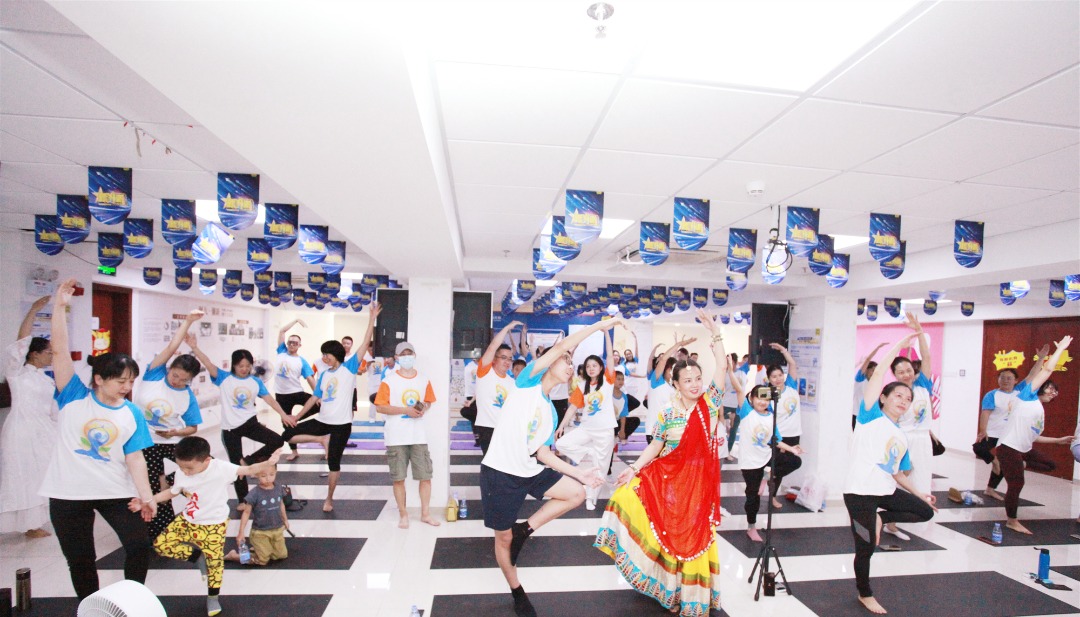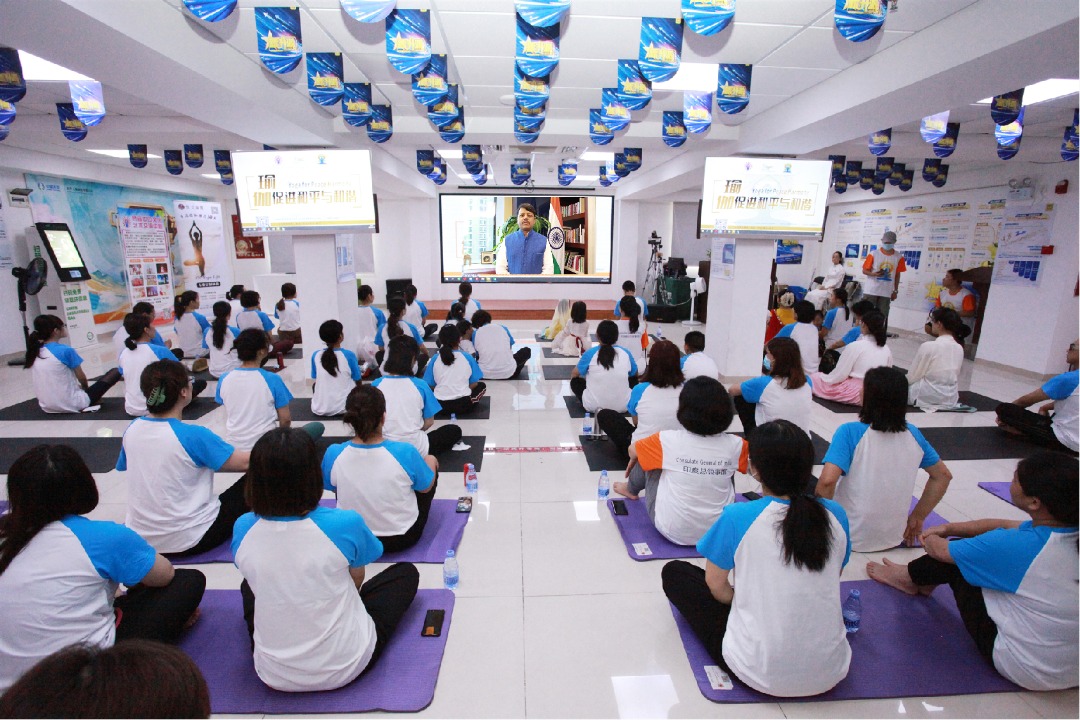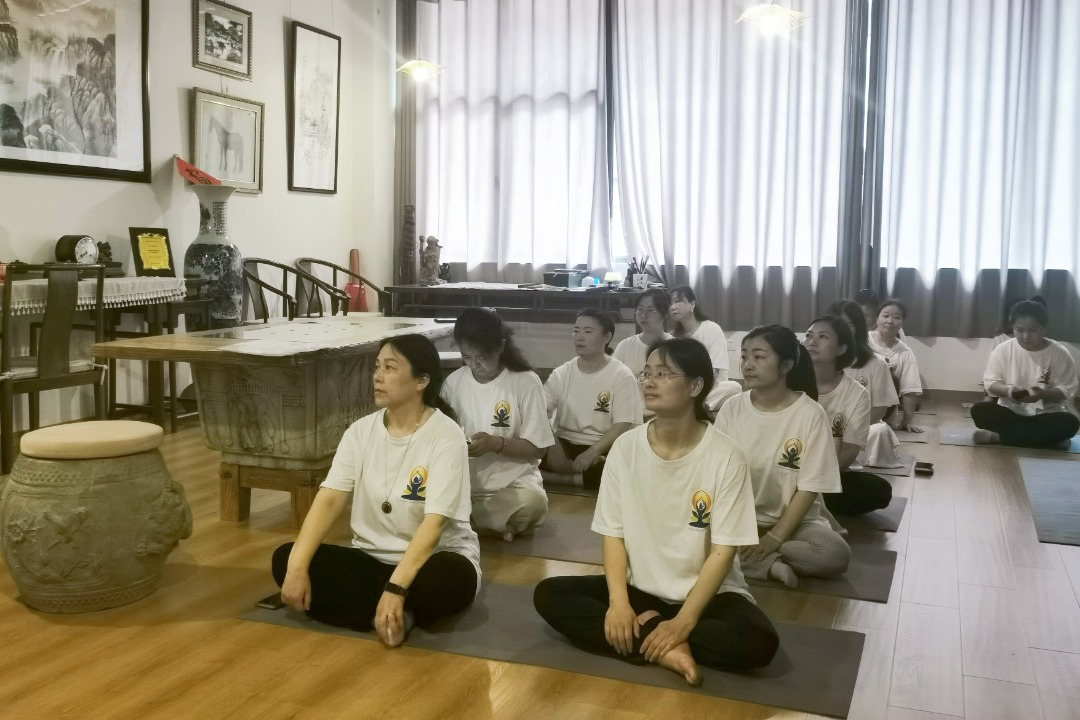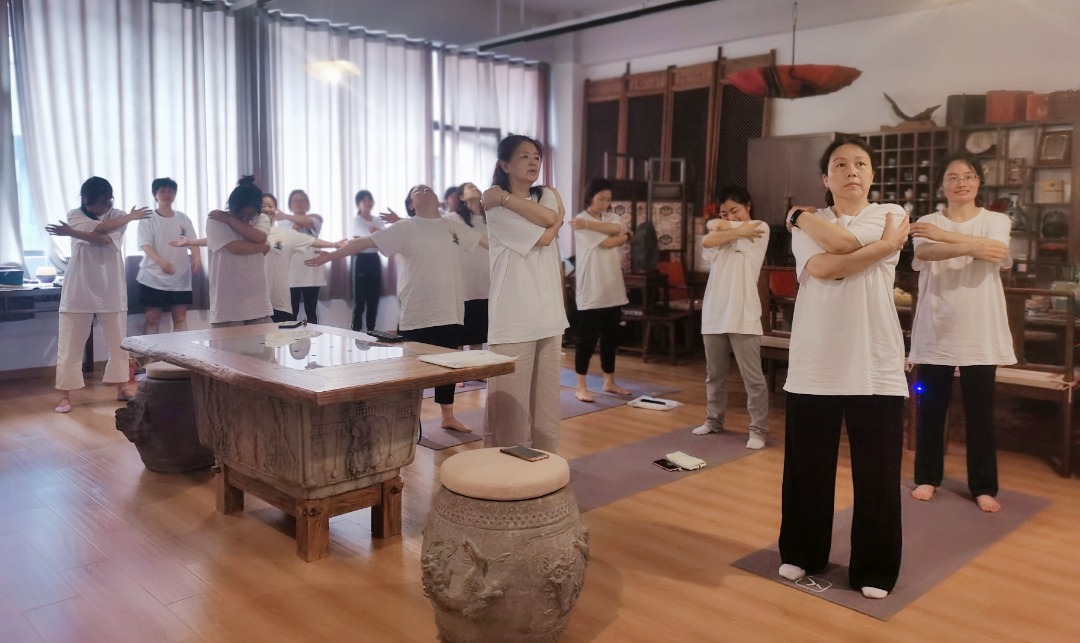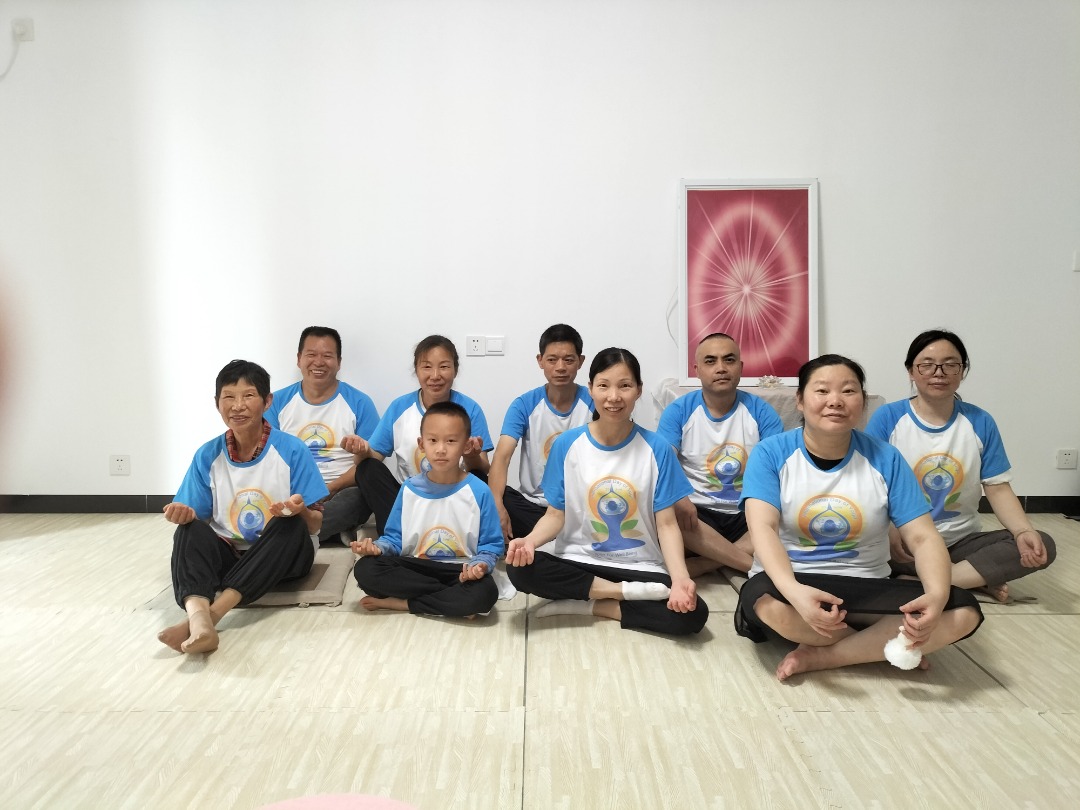 # Online participation of Bk students from various cities in the online program of IDY organised by Indian Embassy in which many yoga studios from all over china were invited to join.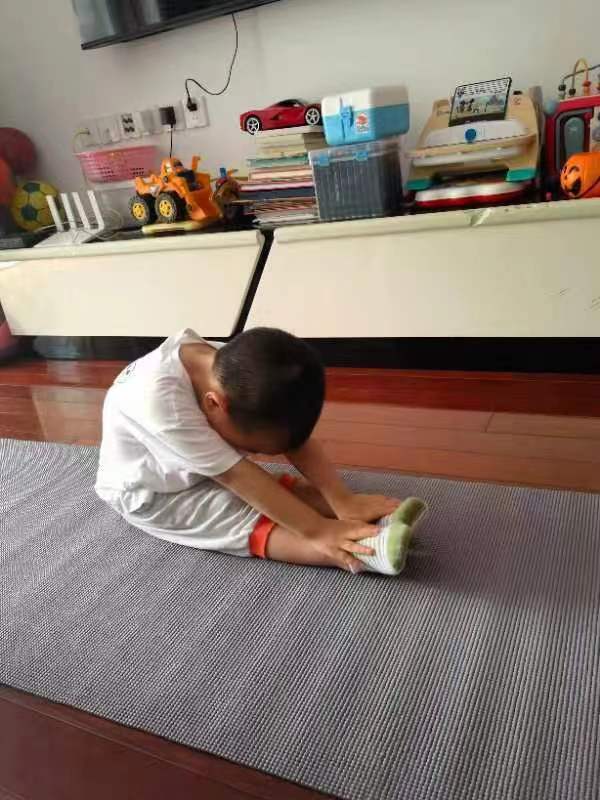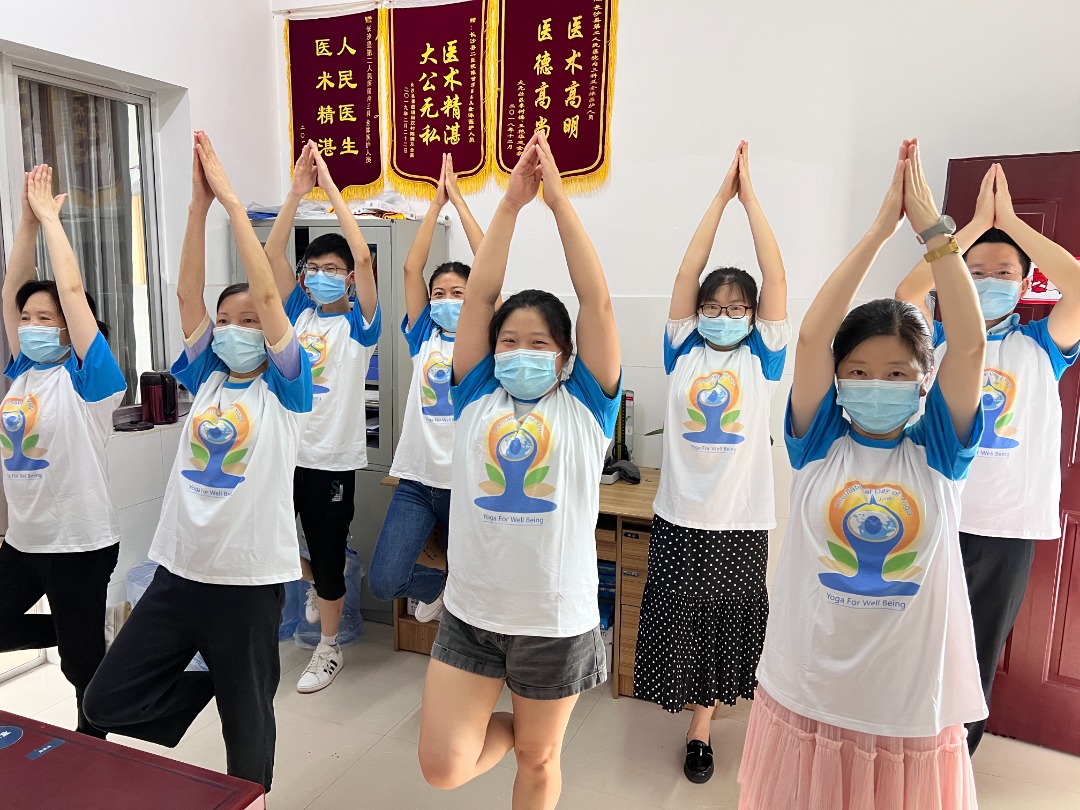 # Certificates of Appreciation given to Brahma kumaris
1. Consulate General of India in Guangzhou presented a certificate of Appreciation to Brahma kumaris for organizing IDY event in the series of events during Azadi ka Amrit mahotsav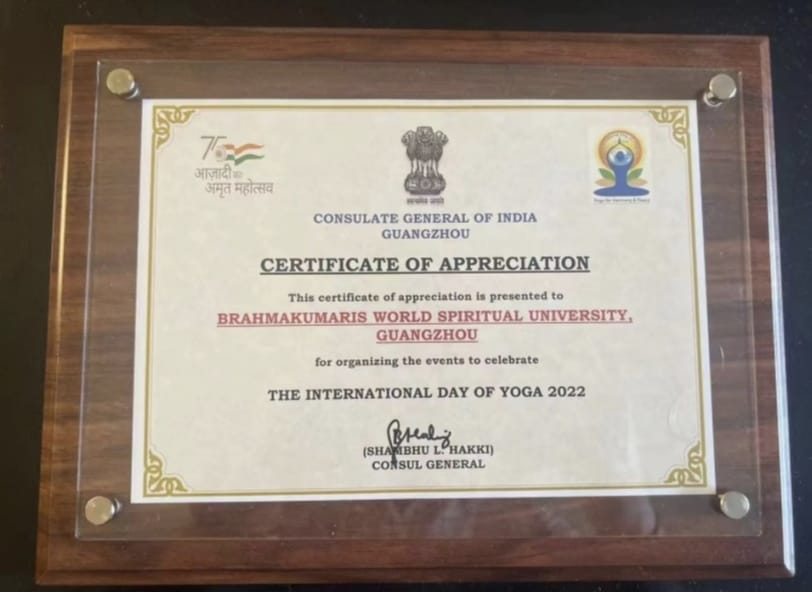 2. Consulate General of India in Shanghai presented Certificate of appreciation to Bk Sister Sapna for playing an important role in promoting the values and culture of Bharat through yoga. Along With participation of BKs in Offline event organised by the Consulate in Shanghai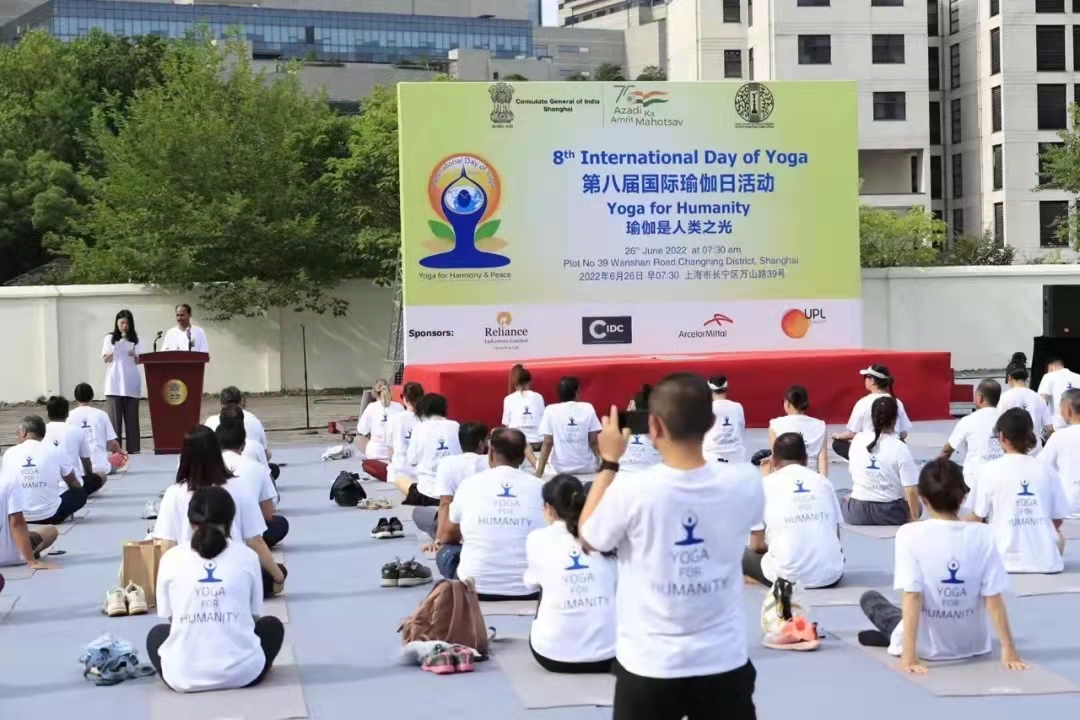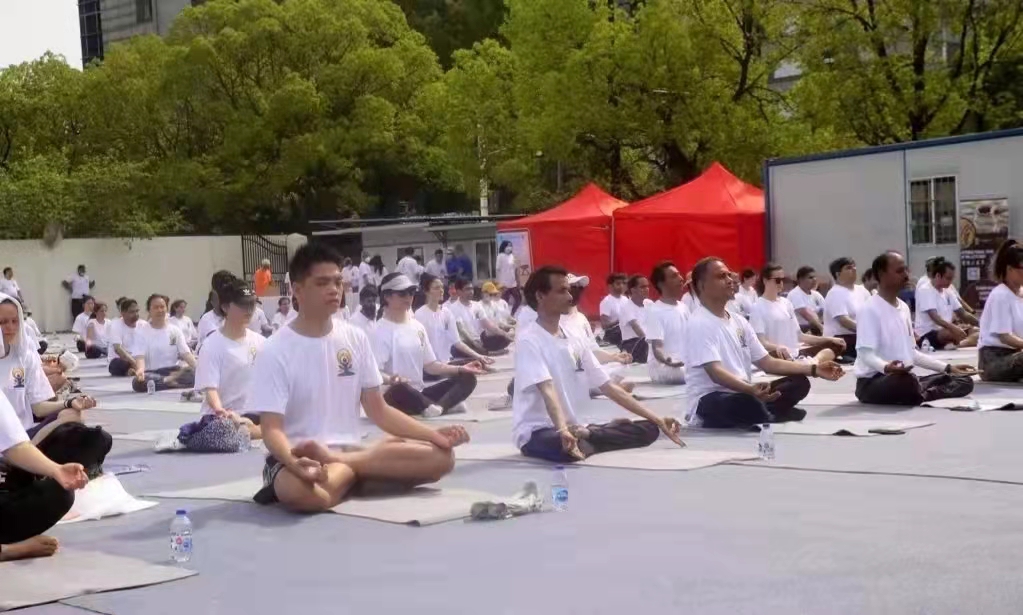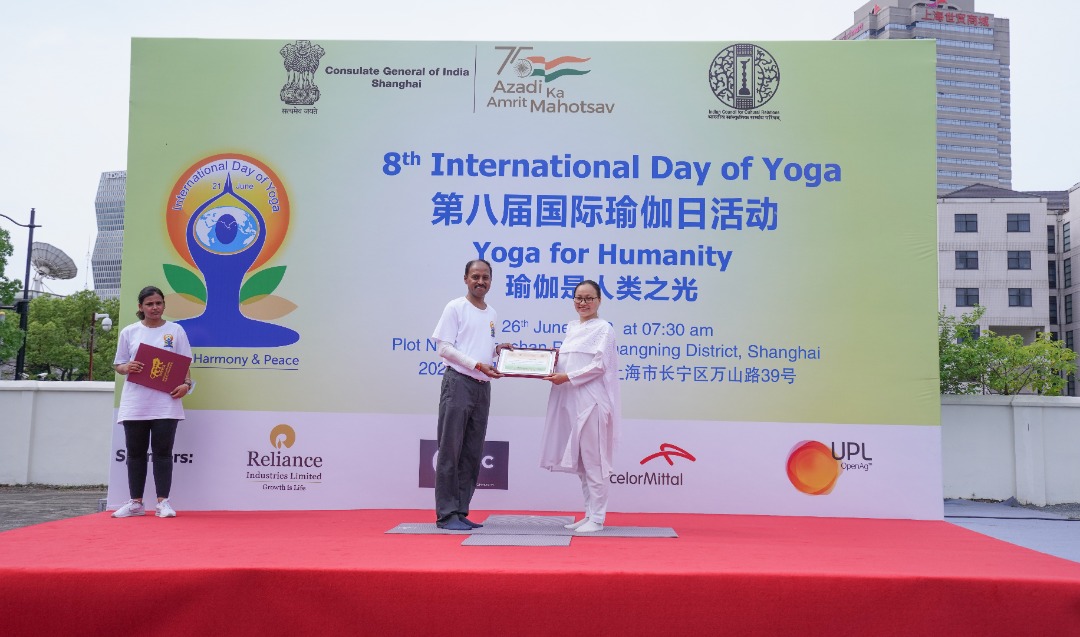 BK Sister Rose (Liu Qing) receiving certificate of appreciation on behalf of BK Sister Sapna presented by Mr. N.Nandakumar, CGI Shanghai
Youtube Links
1. https://youtu.be/Z4Oyny_FOcU
2. https://youtu.be/j0D7jtR6FIc

IDY Celebrations in Almaty, Kazakhstan
7 July 2022
Kazakhstan, being one of the first and honorary participants, had supported the international initiative to conduct the day of yoga. The eighth International Day of Yoga was celebrated in the park of the first president in Almaty city. Among organizers there were: the Embassy of India in Kazakhstan, Indian Chamber of Commerce and Culture in Almaty, Pradnya Yoga Institute, Almaty Yoga Association.

During the day, professional musicians and vocal groups performed in the territory of park, classical Indian dances were presented to the guests, collective meditation and photo shoots were held. Yoga exercises were demonstrate donthestage according to the generally accepted protocol, Meera Ainukhatova held a meditation from the Brahma Kumaris. About 3,000 people participated in the event.
There was an exhibition about the yoga centers activities organized. In the Brahma Kumaris section, the game "Dobroscope" and spiritual consultations were especially popular. The participants gladly decorated the "Tree of Good Wishes" with their good wishes written on sticker leaves.

Click HERE to download the report in PDF file format.

Mongolia - International Day of Yoga in Ulaanbaatar
7 July 2022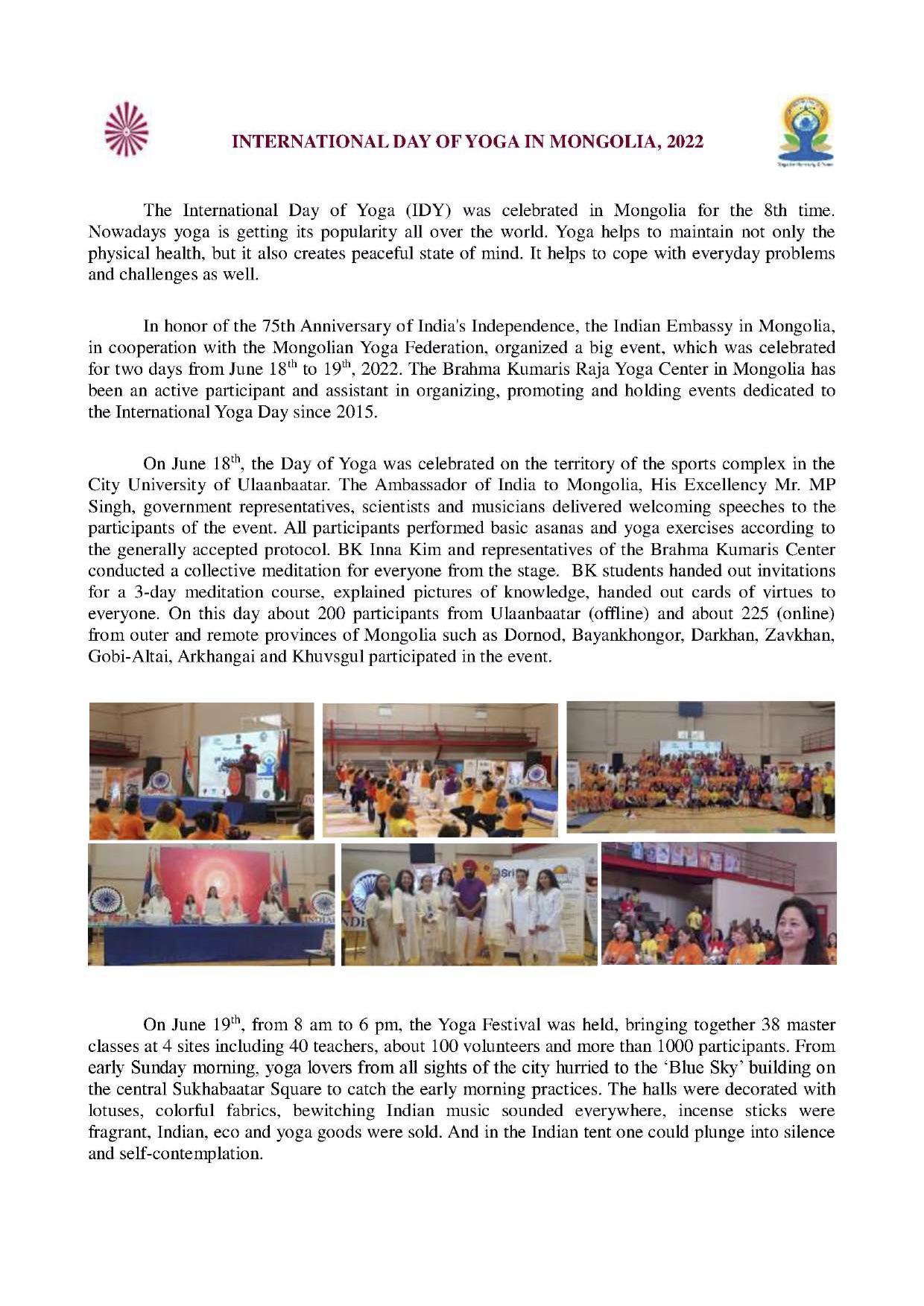 Dear Divine Family, Om Shanti and greetings of love.
Please click on the above image to view full report with photos.
Link for pictures:
https://drive.google.com/drive/folders/1H_eo4jEGGsN_LbU86edfNnEogqeMu-lZ?usp=sharing
Best regards,
BK Inna Kim
Raja Yoga Practitioner
Director

International Day of Yoga - Service Report London, 2022
6 July 2022
International Day of Yoga has been celebrated across the world on 21st June each year, since 2015. This year was the first International Day of Yoga after the pandemic, so individuals from various organisations were thrilled to be able to get together, personally, to plan and celebrate the ancient wisdom and art from Bharat.
BKs from Global Co-operation House (GCH) London participated in both outdoor events organised by the High Commission of India (HCI), London. Nature was very generous to Londoners by providing some very warm weather, full sun and a slight breeze. GCH organised their first In-House event in the auditorium after the pandemic, as well as an Amrit Vela meditation to welcome the sunrise on Summer Solstice. In addition to the physical events, reflections and practice suggestions were sent out daily for 21 days leading up to the International Day of Yoga, called : 21 Days to Make a Difference.
Holland Park – Friday 17th June
A special yoga event was organised by High Commission of India in the beautiful gardens of Holland Park in the Royal Borough of Kensington & Chelsea.
Around 30 BKs were present and participated in many of the physical yoga postures demonstrated that evening. Sushma Didi of Jaipur, who coordinates over 80 centres in the Jaipur Museum area, conducted a beautiful meditation session to the audience. The meditation was well received, as it was a great time to relax the body after several hatha yoga sessions.
Click HERE to download full report in PDF version.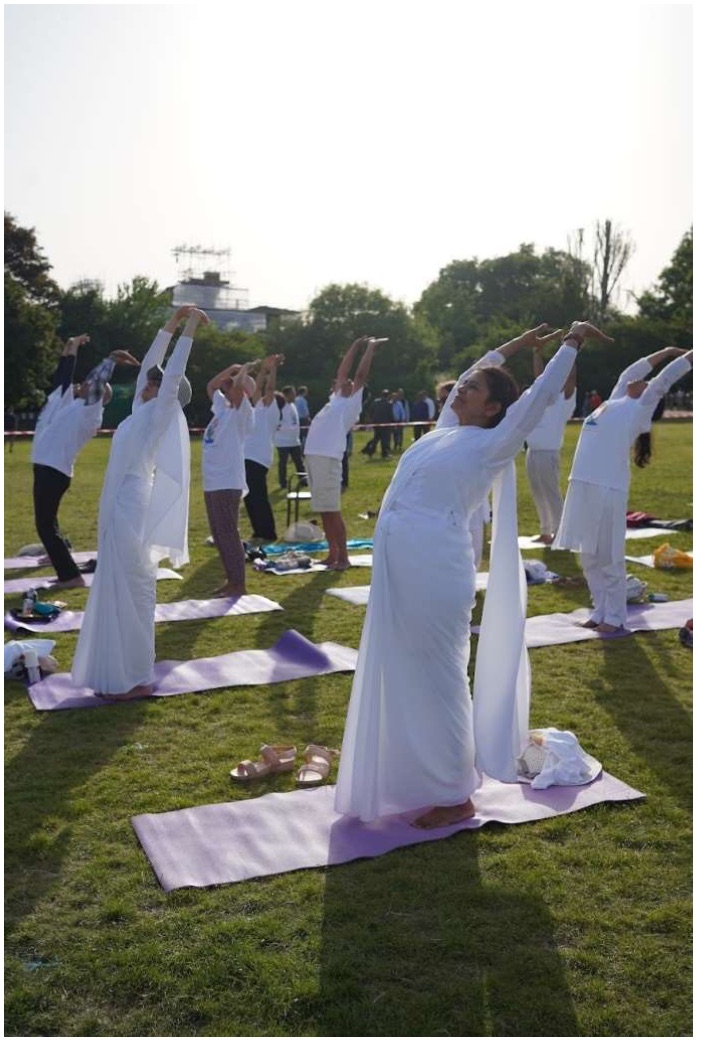 Sister Jaymini and other sisters from GCH

RECORDING AVAILABLE of the BK International Day of Yoga event at the UN: Link of Love - June 28
29 June 2022
EVENT REPLAY LINK: https://youtu.be/E8Mxg_-fkSw [1:08:58]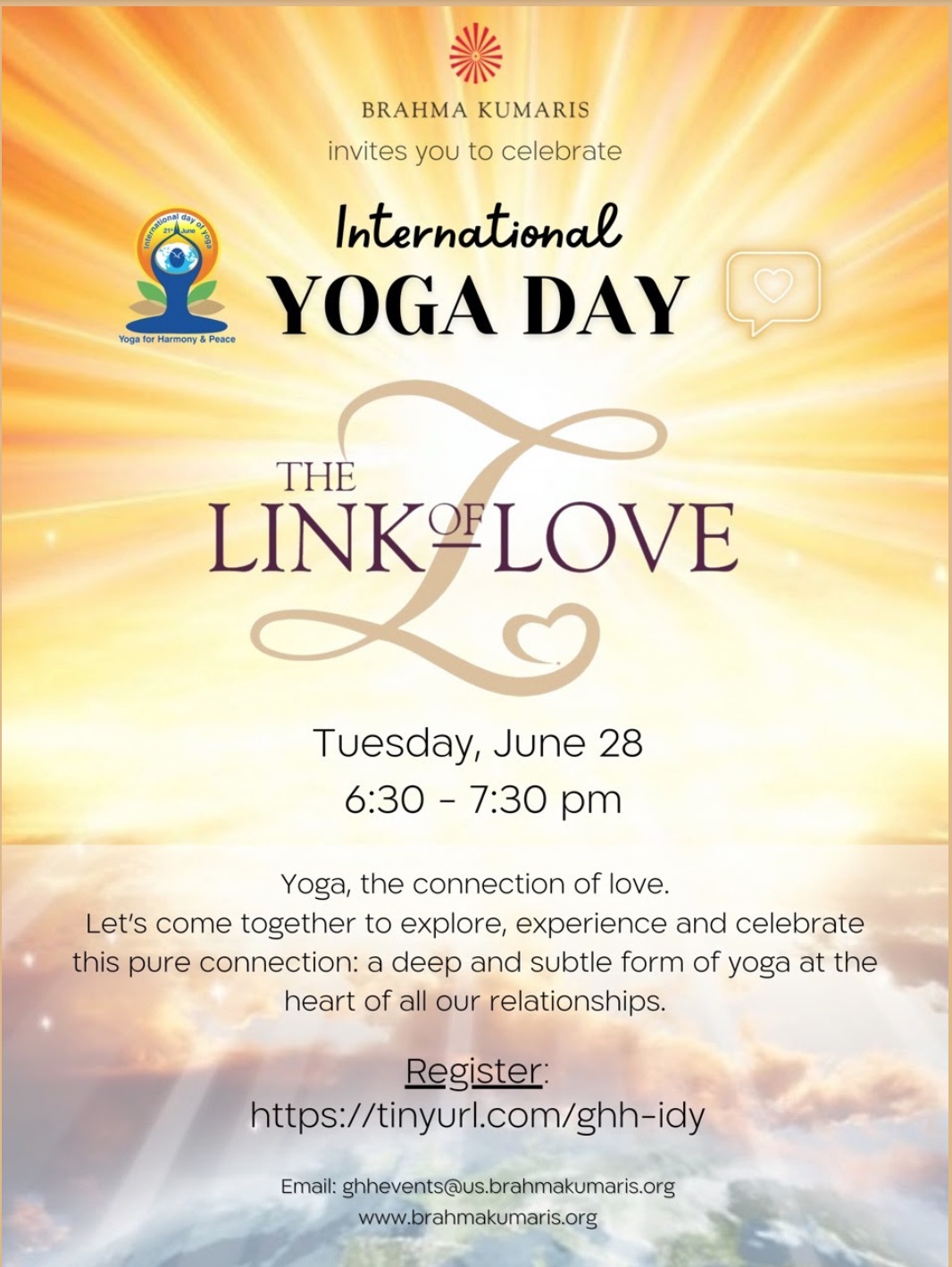 IDY Celebrations in Moscow (Russia)
28 June 2022
BK Sudha Didi, Director, Brahma Kumaris, Moscow, BK Dr Alexi, Moscow, and BK Olga Streltsova represented BKs at the IDY programmes organized by the Embassy of India, Moscow at park "Museon". The main focus was to invoke interest in the relevance of Ancient Raja Yoga for modern times.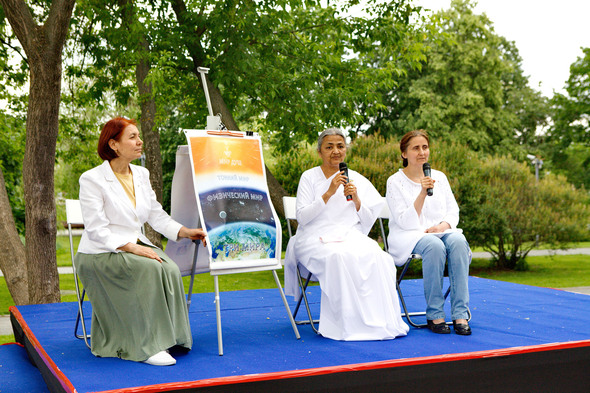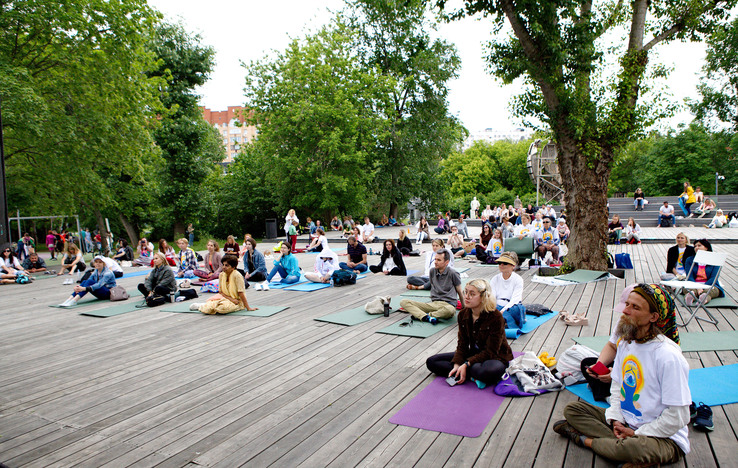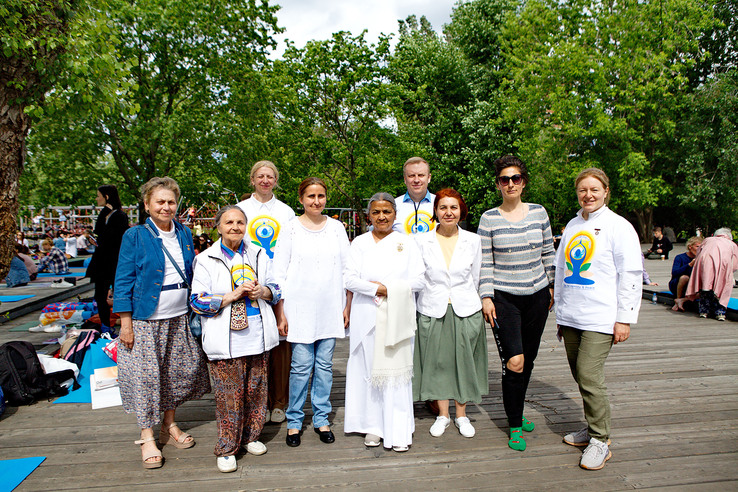 Sudha Didi conducted a meditation session on the topic 'The Ancient Raja Yoga for body and soul'. Excerpts from her speech are as follows.
Good afternoon dear Yoga lovers. Om Shanti.
Om Shanti means I am a peaceful being. I am a peaceful soul.
The practice of Raja Yoga begins with the understanding of our true self, our original self. This understanding enables one to become self-sovereign. This is the purpose of Raja Yoga. Raja means the King. By practicing Raja Yoga, one becomes the ruler of his sense organs and the mind.
My true self:
Who am I? I am a soul. Each one of us is a soul. Body is the wonderful assemblage of instruments, which I, the soul use to perform different actions. It is the soul, which gives life to the body. When the soul leaves the body, the person dies. The soul does not die. The body dies. In form, the soul is a subtle point of light. It resides in the brain near the hypothalamus at the level of the center of the forehead. The original nature of the soul is peace, purity and love.
The first step of Raja yoga is that I become aware of my true self and my original nature.
The more I am able to maintain this awareness during the day, the more my thoughts, words, actions and interaction with others become positive that is pure. There is peace, love and hence happiness. This positive energy emanating from me has an healthy effect on the atmosphere and my own body.
Raja Yoga and God
The word Yoga means connection or relation. Raja Yoga means connection and relation of me, the soul with the Highest Being, the Supreme Being whom we refer to as God. This connection empowers the soul to maintain emotional stability in different situations of life. An emotionally stable person is able to make the right de cision, which is very important for each one of us.Therefore, there is a need to have the introduction of that Supreme Being, God with whom, I, the soul want to connect.
God is Light. The tiny point of light like we souls but Supreme in Acts and Virtues. Therefore the expression – Supreme Soul.
God is always Positive, always Kind and Loving.
God is one. God belongs to all and all belong to God.
Abode of God:
God's abode is the Abode of light, beyond the physical universe, the sun, the moon, the stars, the galaxies where one can reach on the wings of thoughts of Knowledge and Love. That Abode is the Abode of Peace, the Home of sweet silence. Abode of Peace is the Home of souls too. All remember God as Father. God is the Father of all the souls. Supreme Father, the Supreme Soul.
Raja Yoga is a natural awareness:
The important thing to note is that you can remain connected with your true self and with God, the Supreme Father during actions too. Raja Yoga is not just a practice for 20 -30 minutes, it is a way of life. You need to remind yourself a few times a day – about yourself, about your Supreme Father and about your original Home: I am a soul, a point of divine light... Peace is my true nature... I am the child of Supreme Father, the Ocean of Peace...
My original Home is the Abode of Light, the Home of sweet silence, the Abode of peace...
I spread light of hope and peace all over…
With these words Sudha Didi concluded the silence meditation which helped the audience to go beyond sound...
Dr. Alexi Chudinov, talked on 'Raja Yoga and Satwik food as medicine' while BK Olga Streltsova, sports trainer, talked on the theme 'The body needs movement and the mind needs peace'. She explained about the importance of light yogic exercises to develop self awareness and also demonstrated the same.
IDY programmes were also organised by Brahma Kumaris centres in the Russian cities of Tyumen, Volgagrad, Vladivostok, etc. and in Almaty (Kazakhstan).
Tyumen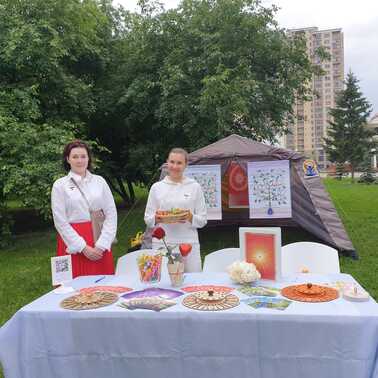 Volgograd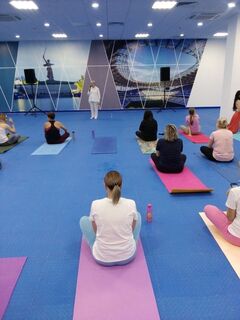 Almaty, Kazakstan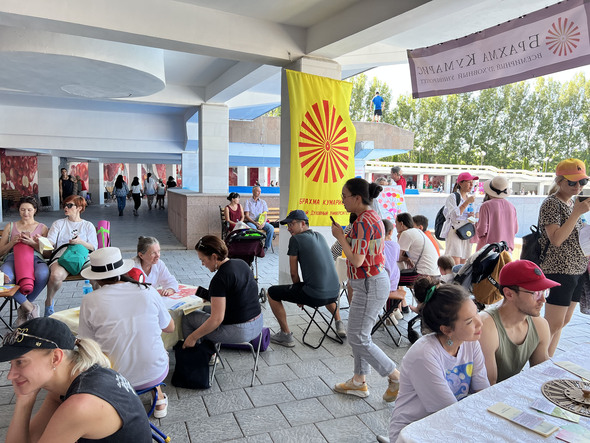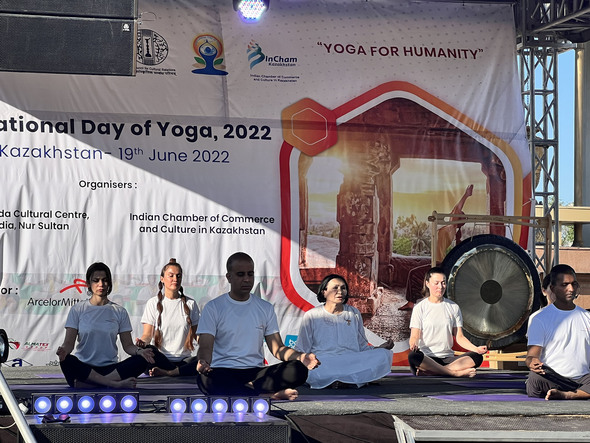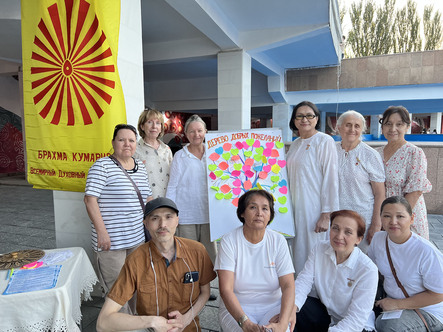 https://drive.google.com/drive/folders/1TrgMEkbnpHii8sSuF4LZZIdenVctKRq-?usp=sharing

ORC, Delhi - International Day of Yoga - 2022 celebrated at various Ministries of Govt. of India and Corporates || अंतराष्ट्रीय योग दिवस के कार्यक्रमों का भारत सर्कार के विभिन्न मंत्रालय एवं कम्पनियों में आयोजन
28 June 2022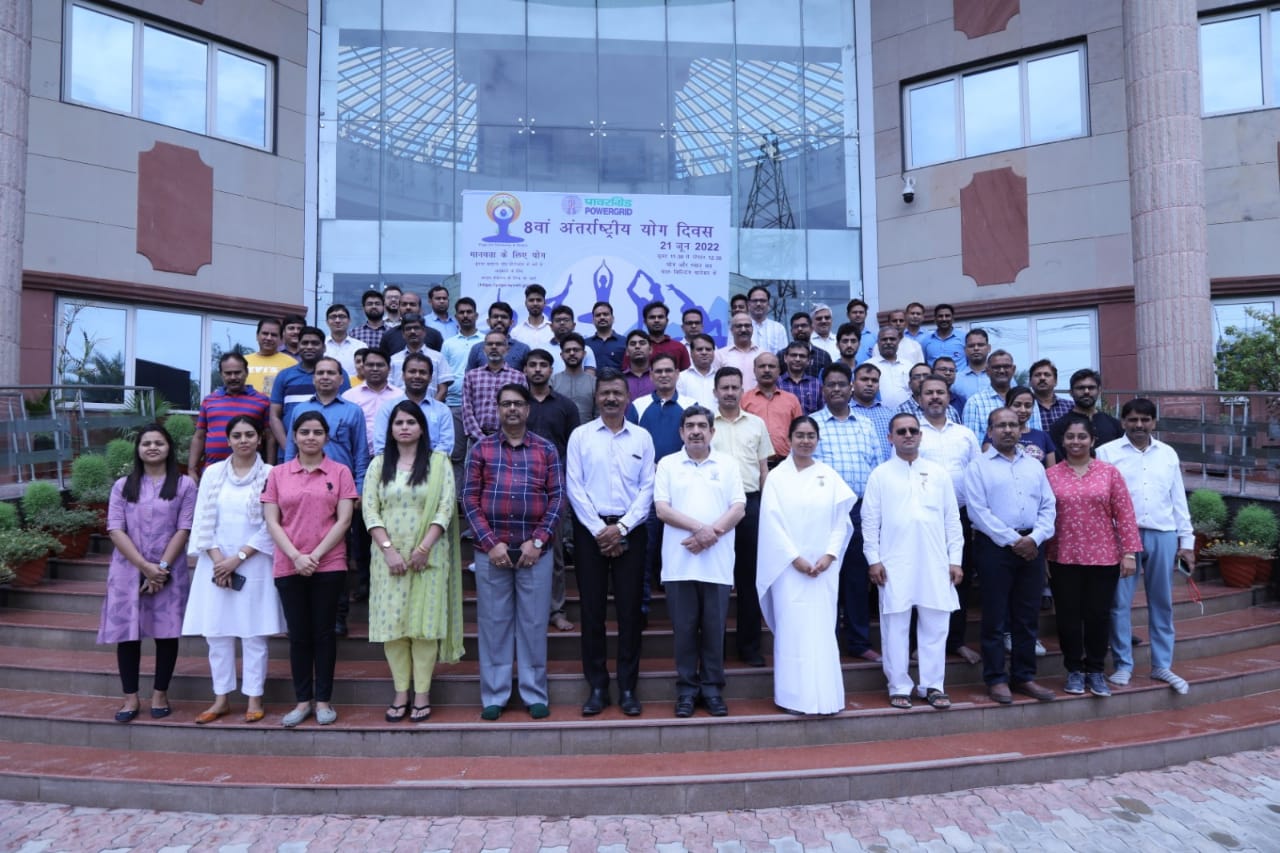 Dear Divine Family, Om Shanti.
Please find below the service news of programmes conducted by ORC on the occasion of International Day of Yoga- 2022, from 20- 22 June 2022.
The sessions of Rajyoga Meditation were conducted in various Ministries of Government of India and Corporates, including:
Organizers
Ministry of Youth Affairs & Sports, Govt. of India
Ministry of Education, Govt. of India
Department of Legal Affairs, Ministry of Law & Justice, Govt. of India
Directorate of Printing, Ministry of Housing & Urban Affairs, Govt. of India
Ministry of Tribal Affairs, Govt. of India
Publications Division
Ministry of Information and Broadcasting, Govt. of India
Ministry of Health, Govt. of India
RNI Division, Ministry of Information & Broadcasting, Govt. of India
Prasar Bharti & Doordarshan, Ministry of Information & Broadcasting, Govt. of India
Power Grid Corporation of India
Hollister
Asort
Kobelco
Hexagon
Sansera
Borgwarner
United Beverages
ICAT
Kalptaru
All the sessions were very well received by all the senior officers and participants and many of them. Attached are a few photographs of the sessions.
In Baba's Yaad
BK Asha
Delhi ORC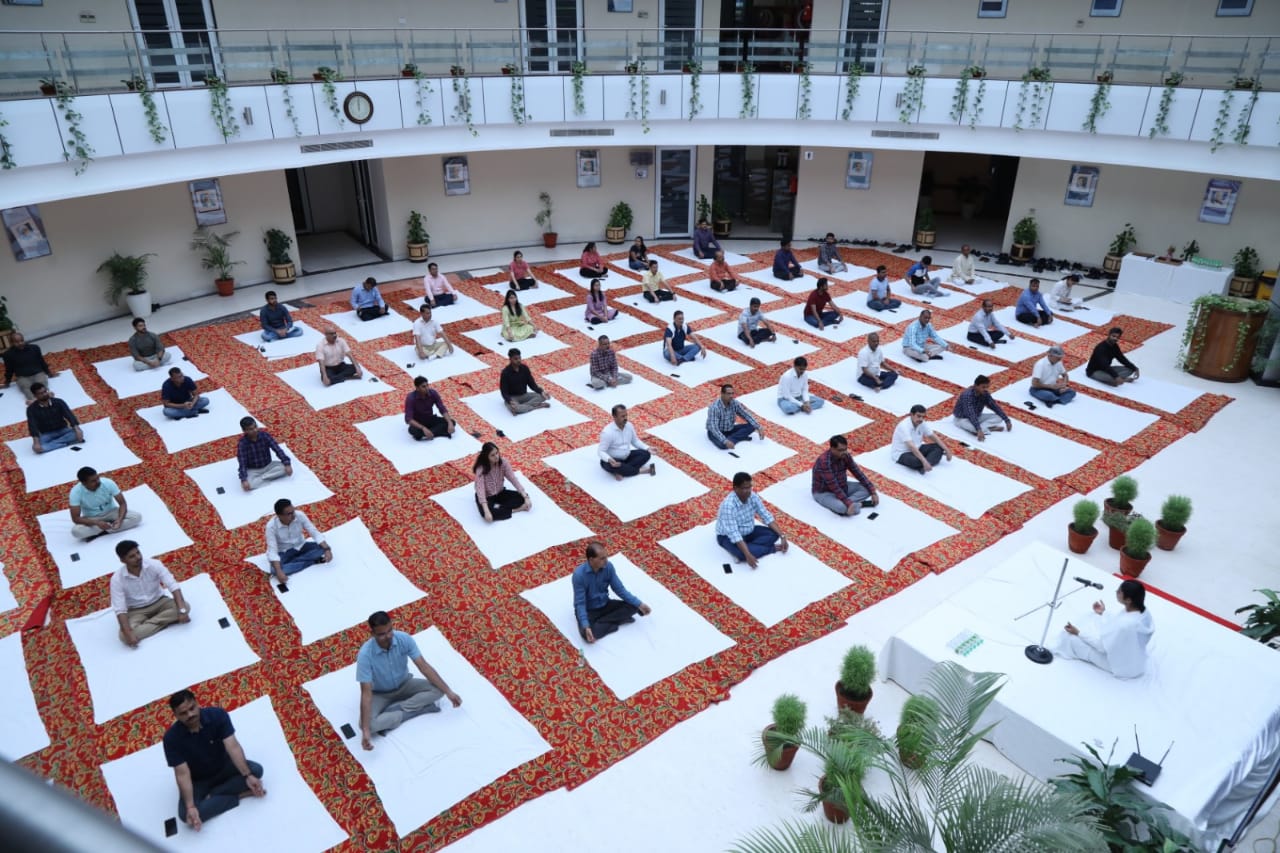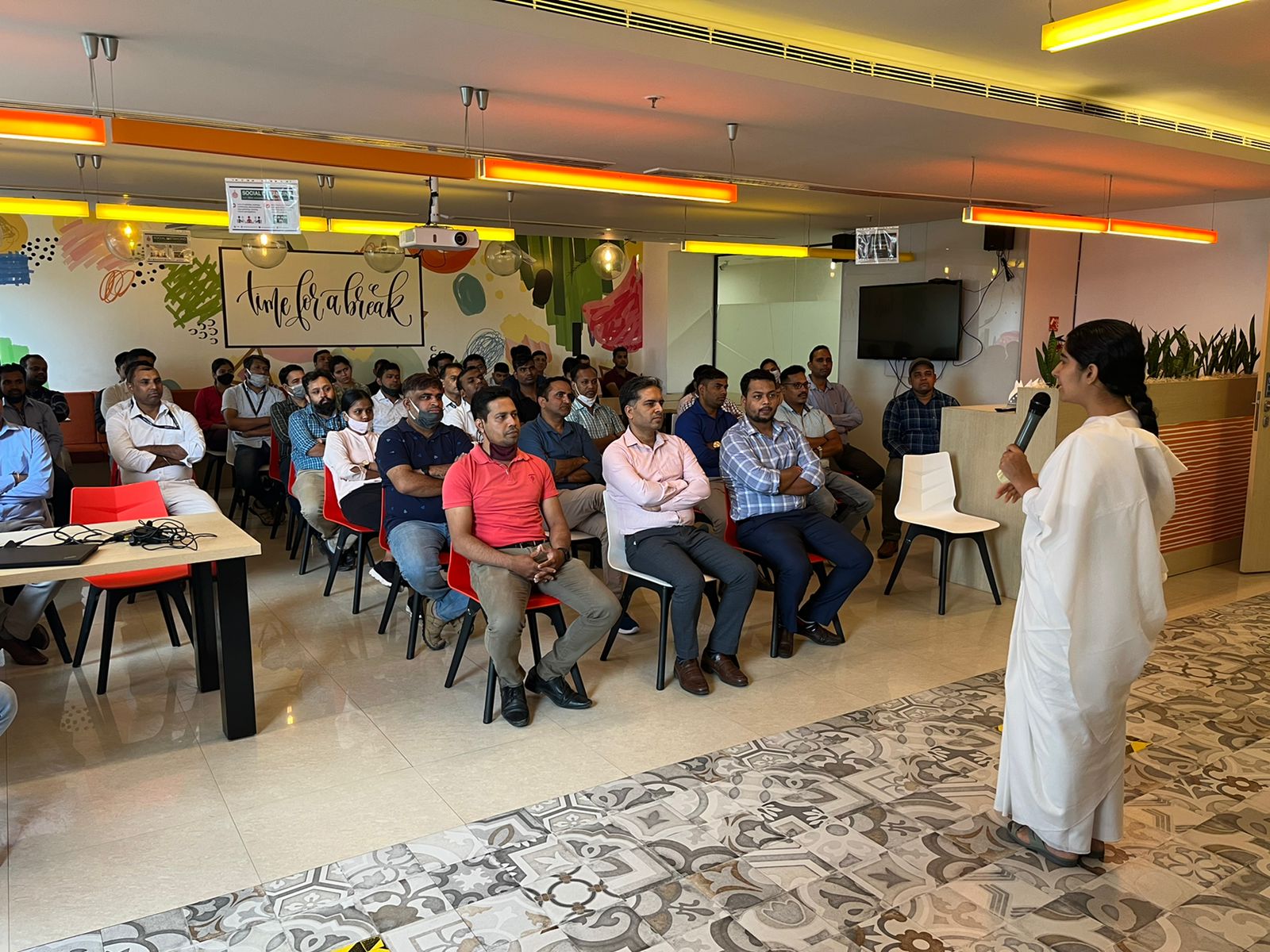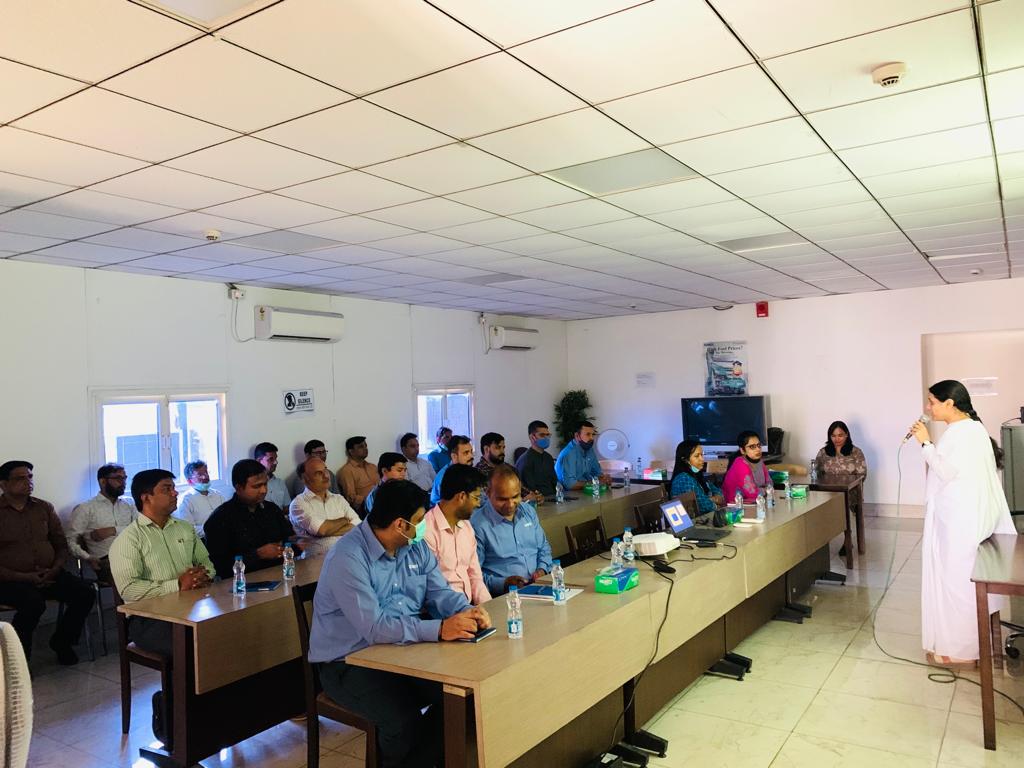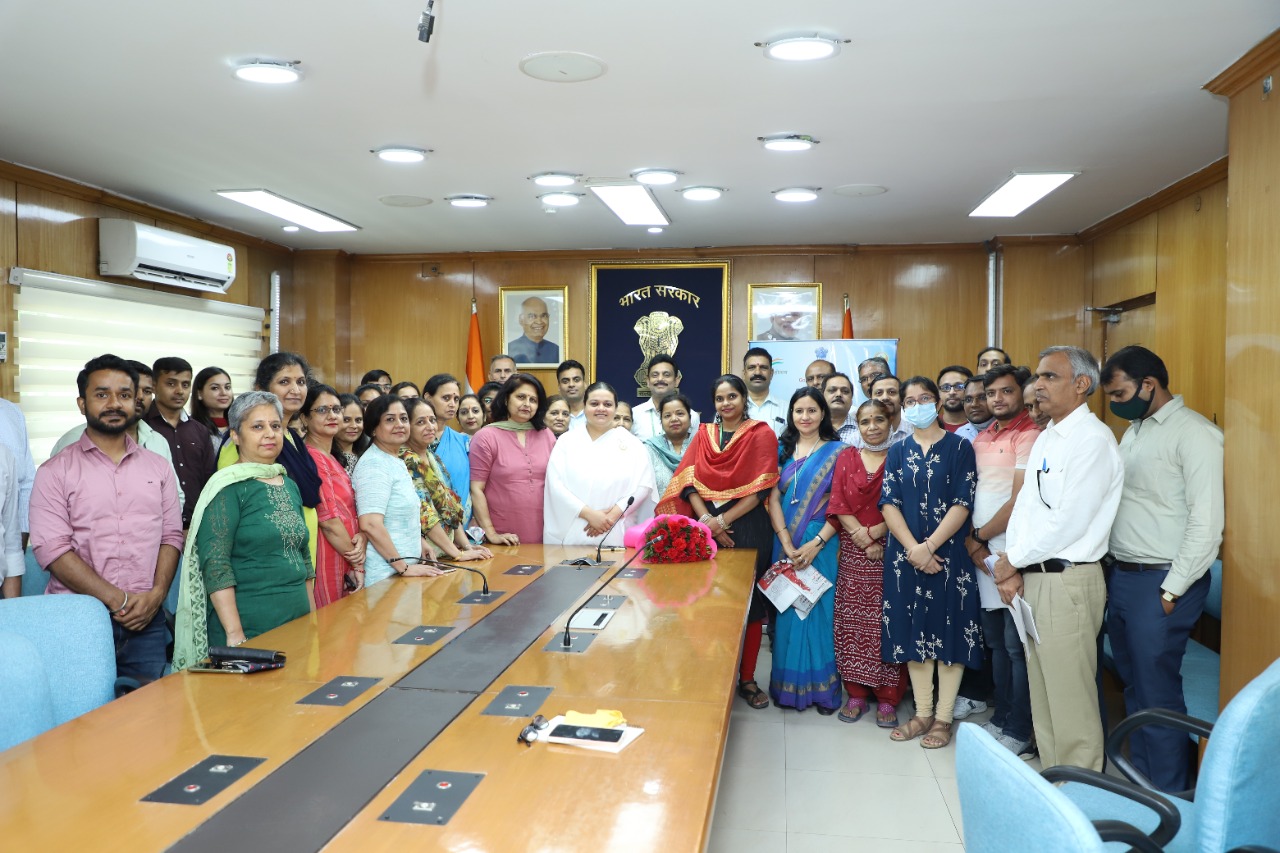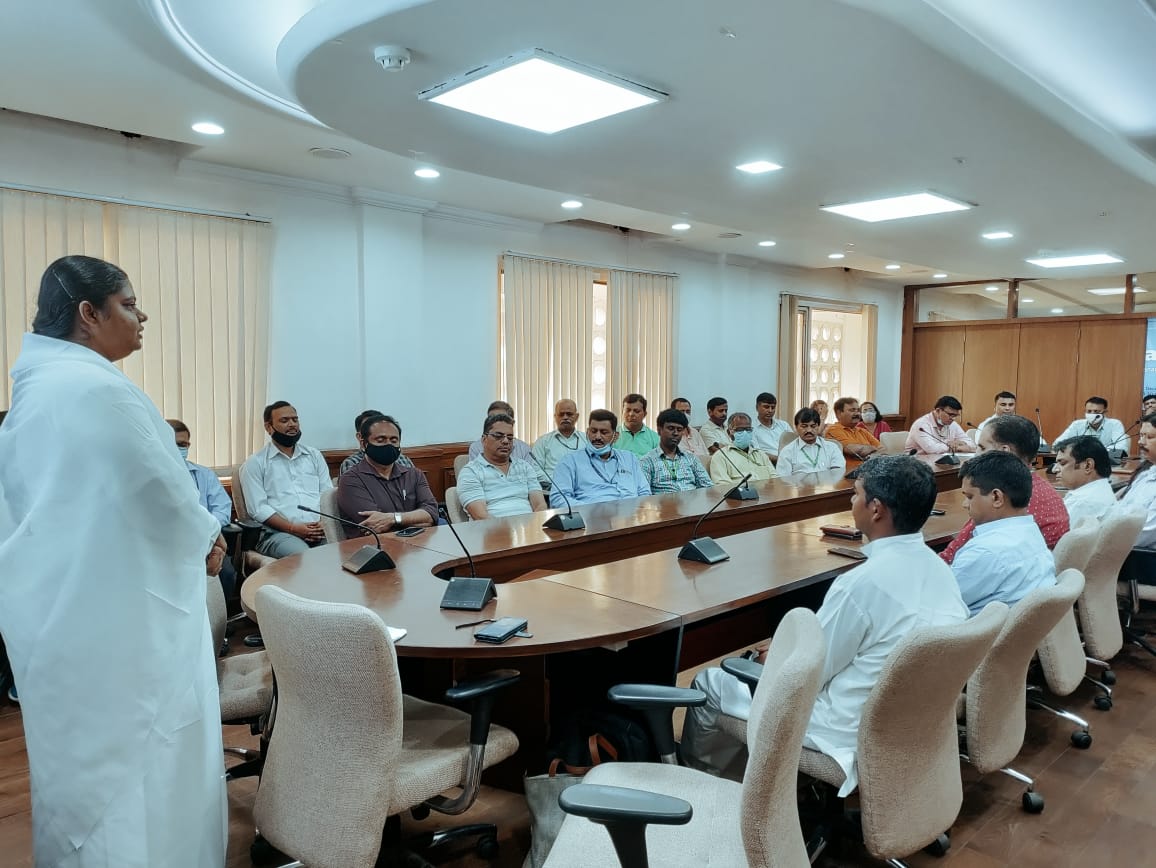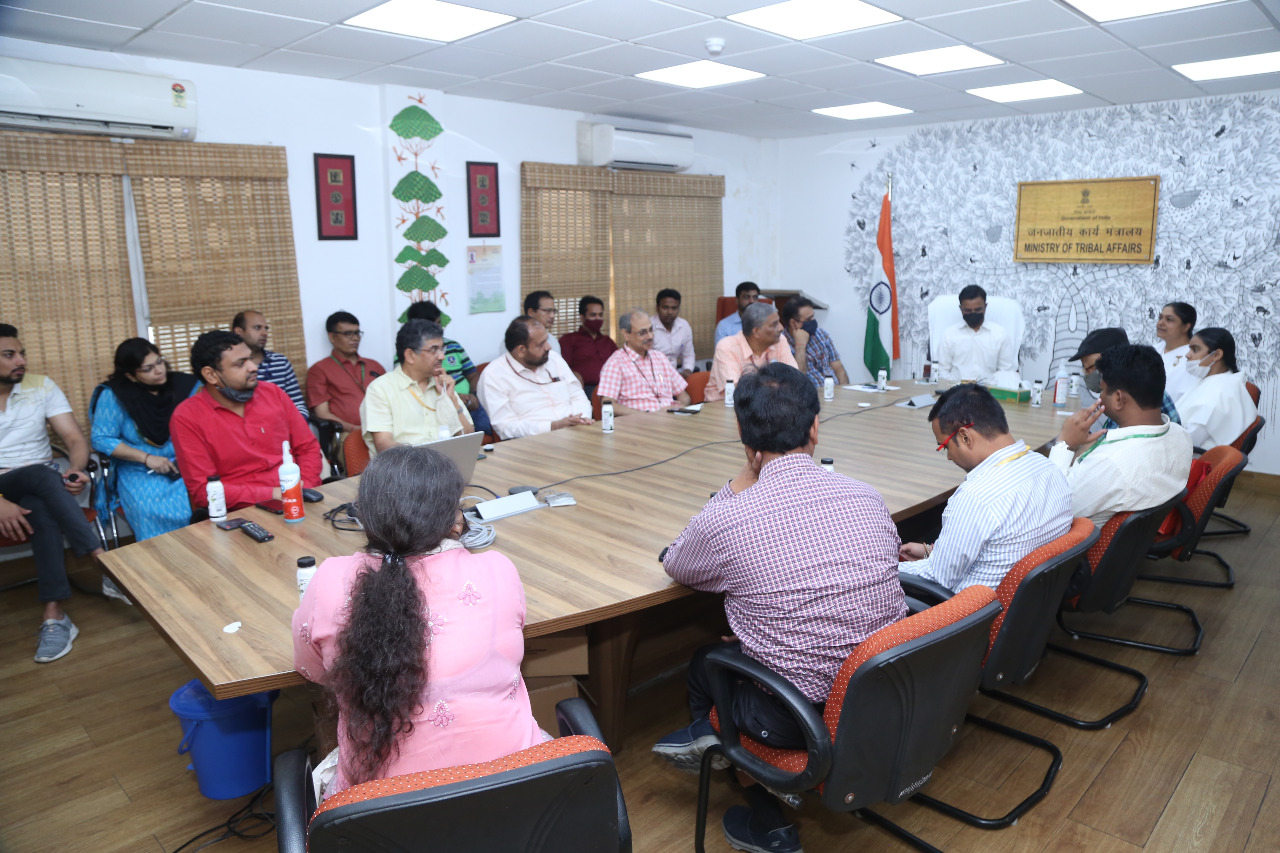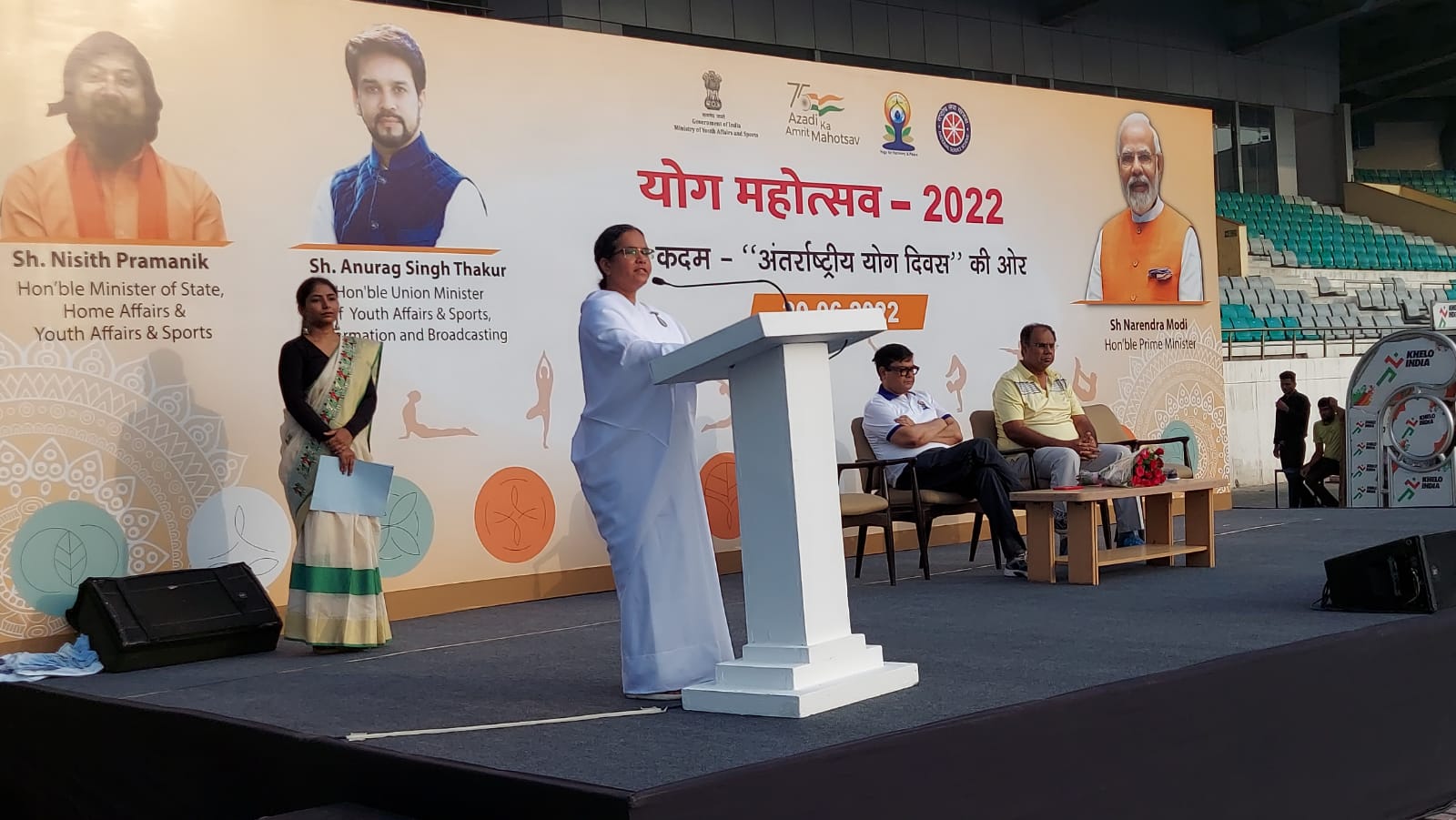 Haque/Loosduinen in Holland- International Yoga Day
28 June 2022
Dear BK family, Please accept lots of love and remembrance from the BK family from the Haque/Loosduinen in Holland.
Hereby I am sending you the news of the International Yoga Day which was sent from the Indian Embassy. It was good to participate and they have offered opportunities for more service.
Much regards and In Baba's Yaad,
BK Irene Gopie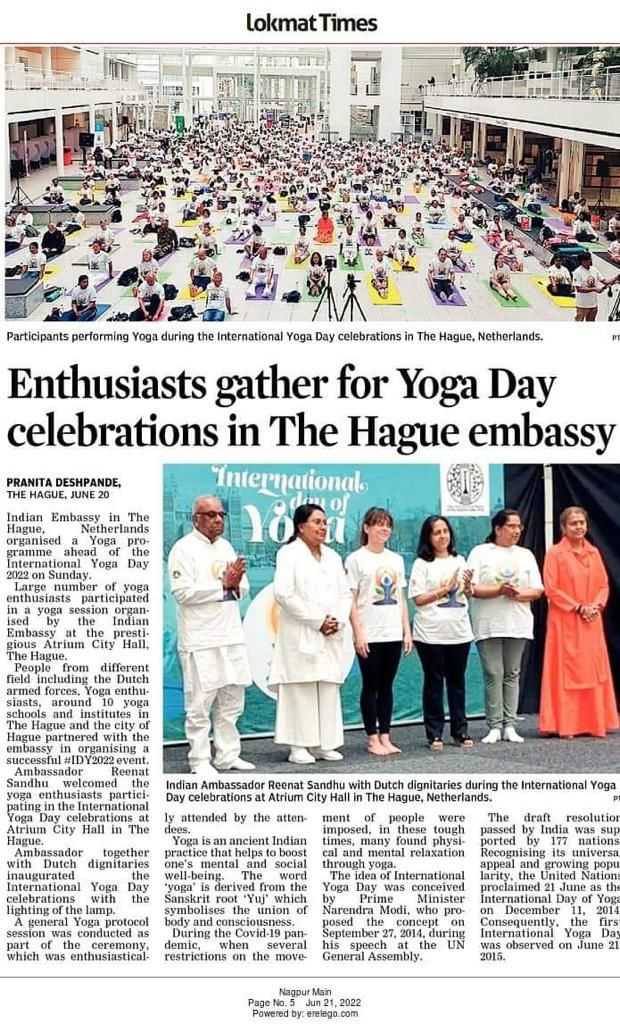 Intl. Yoga Day: The event at BK Centre in St. Petersburg, Russia becomes part of the worldwide Yoga Guardian Ring
28 June 2022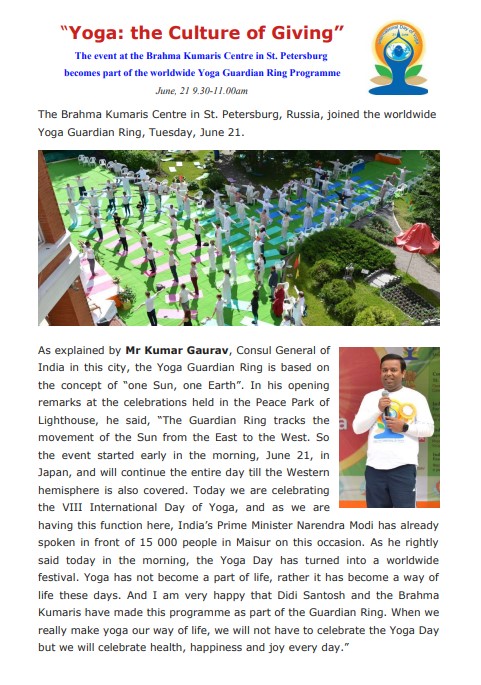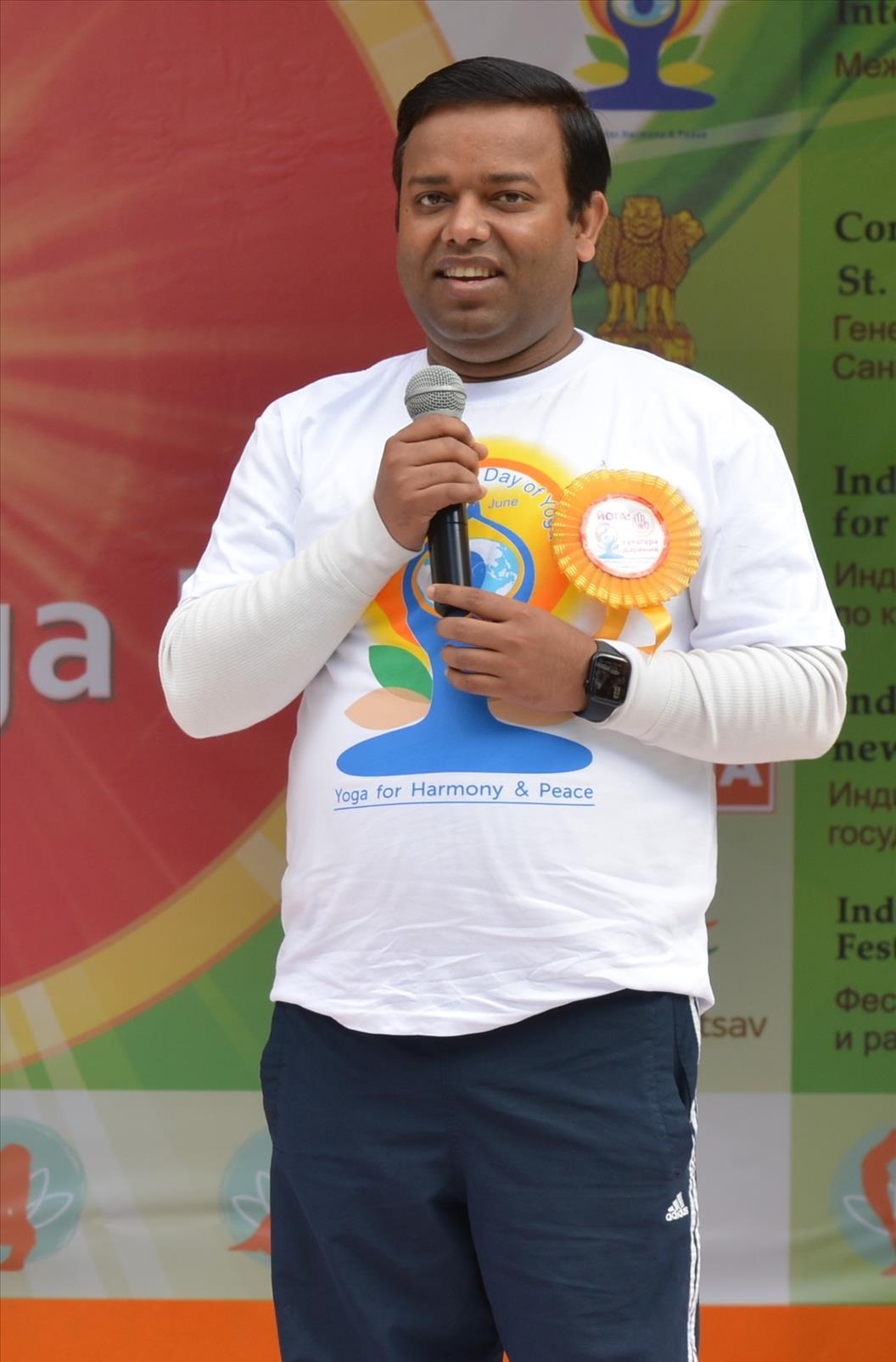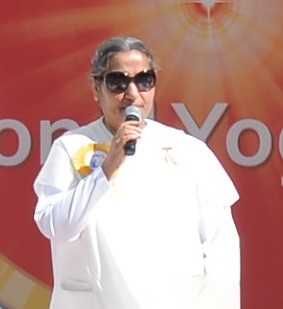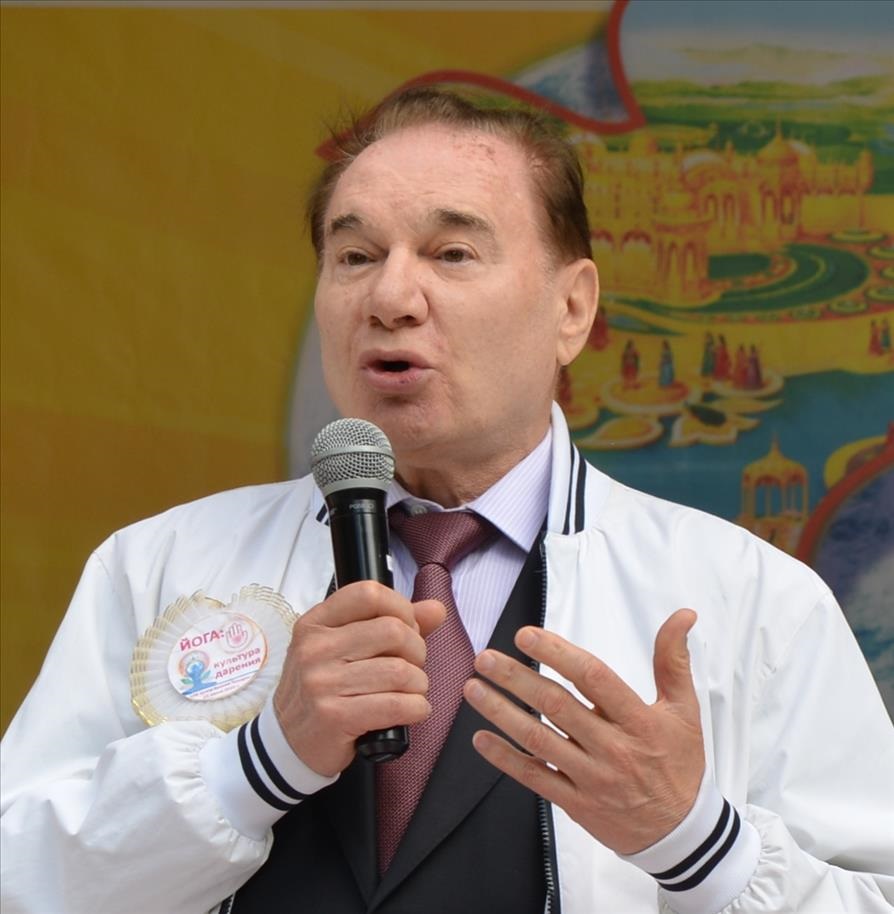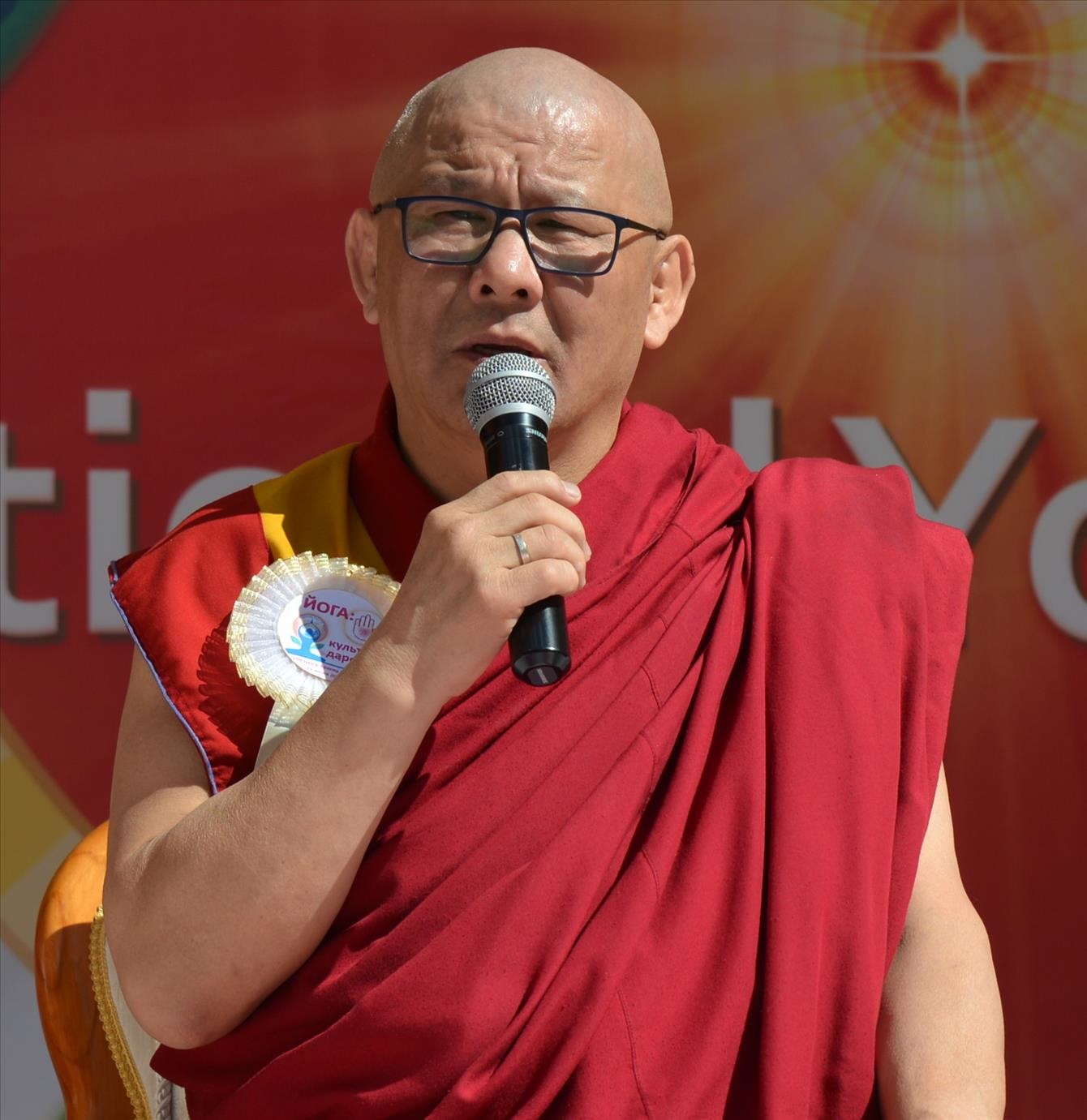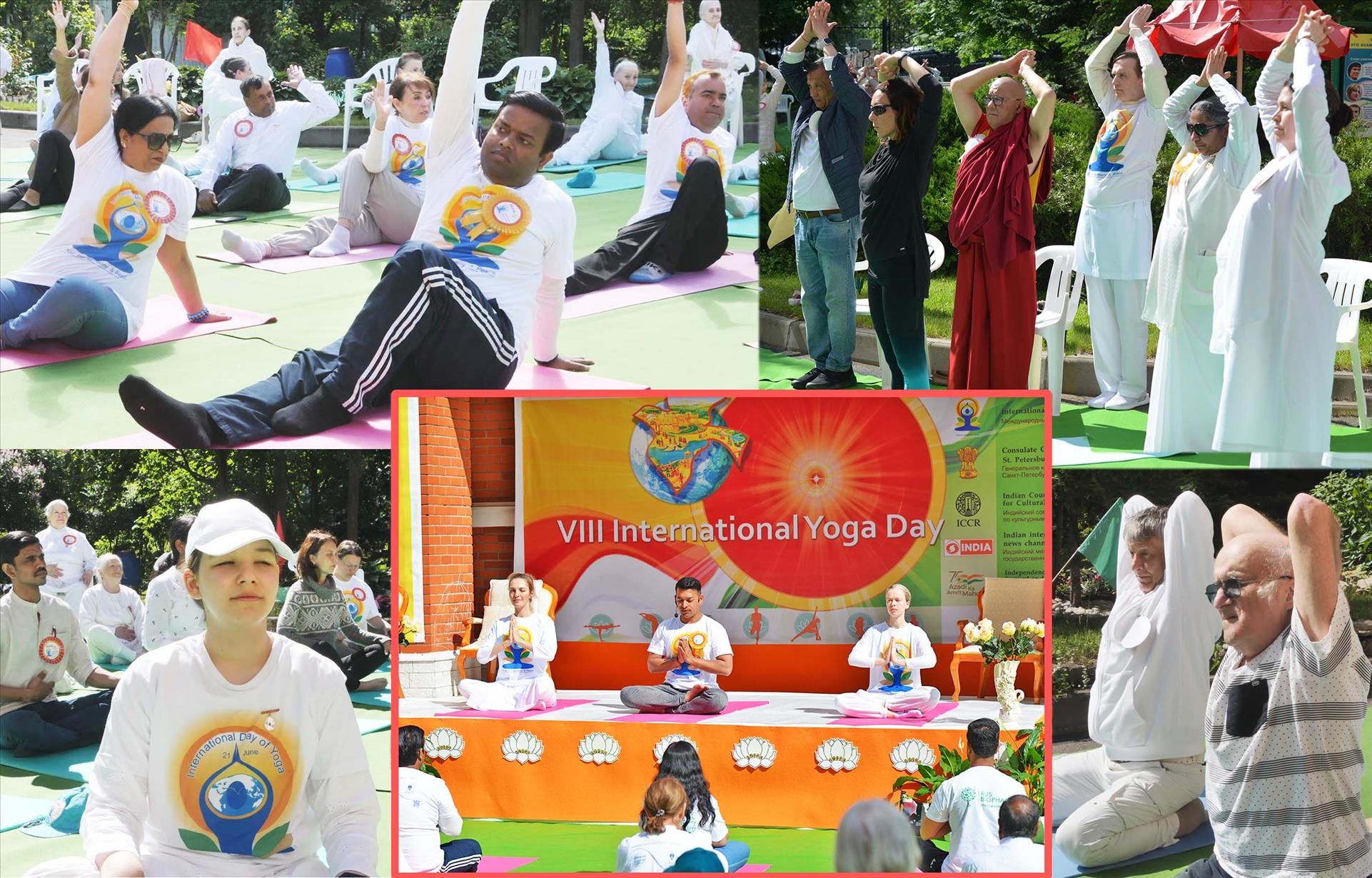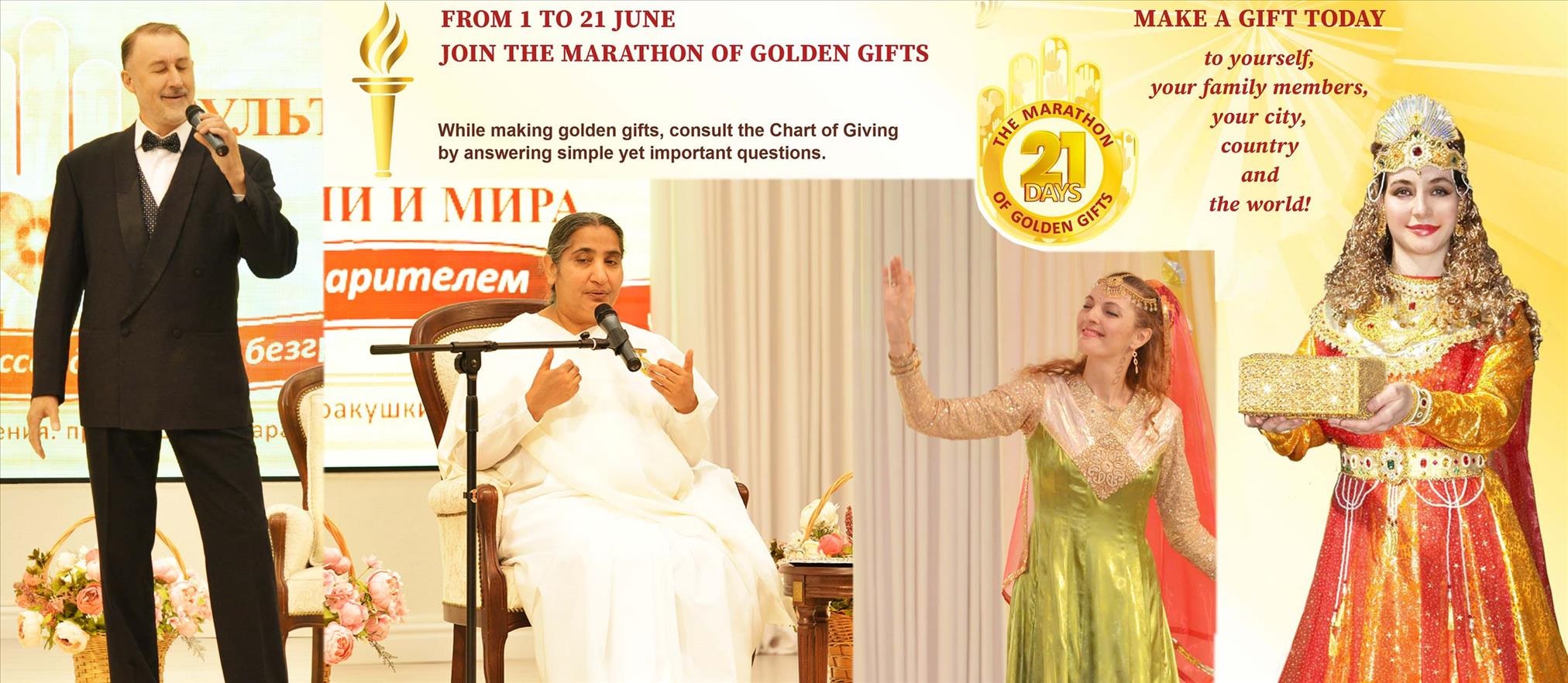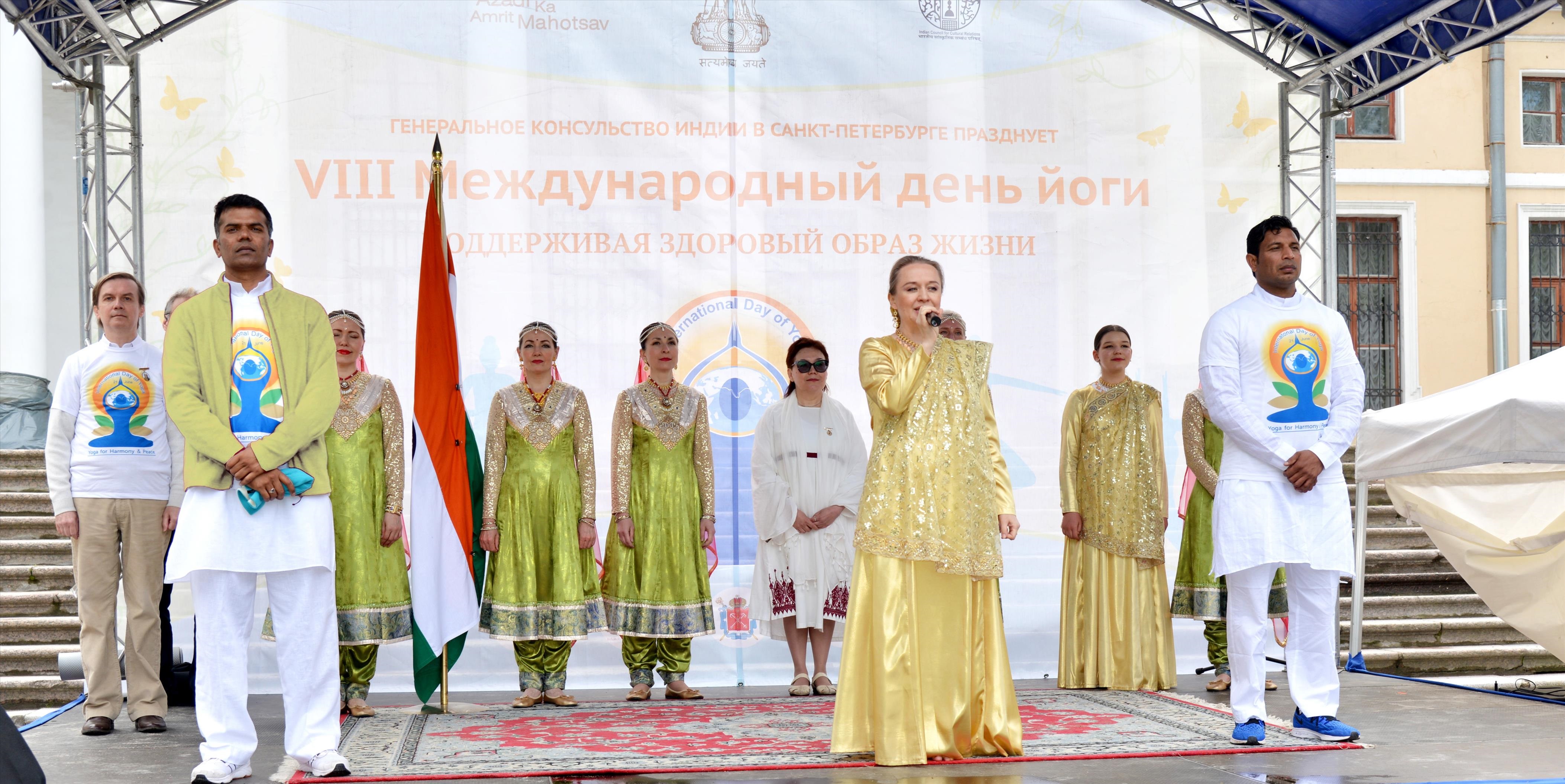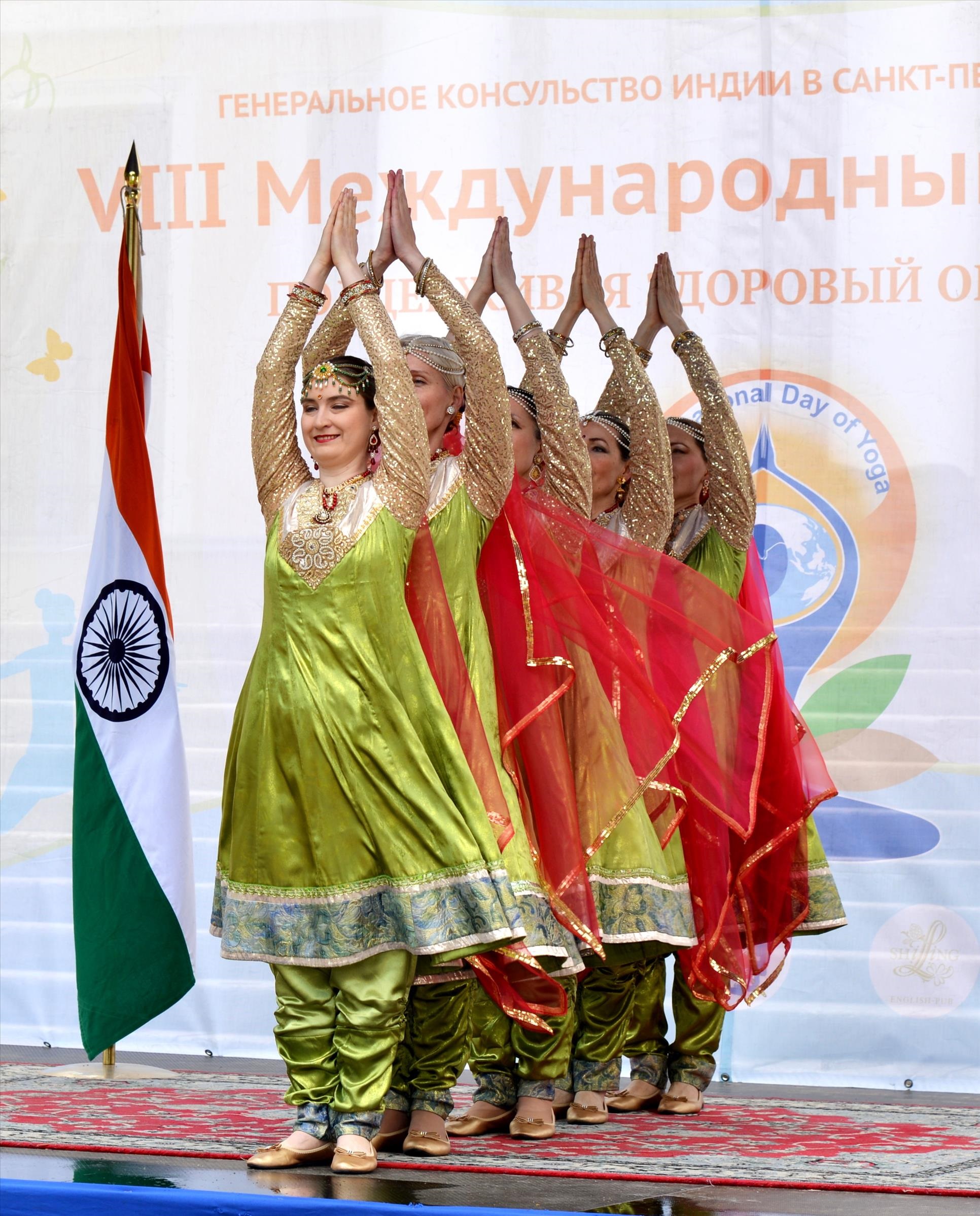 click here to download Full Report.

International Yoga Day celebrated with enthusiasm in Sydney and Melbourne
27 June 2022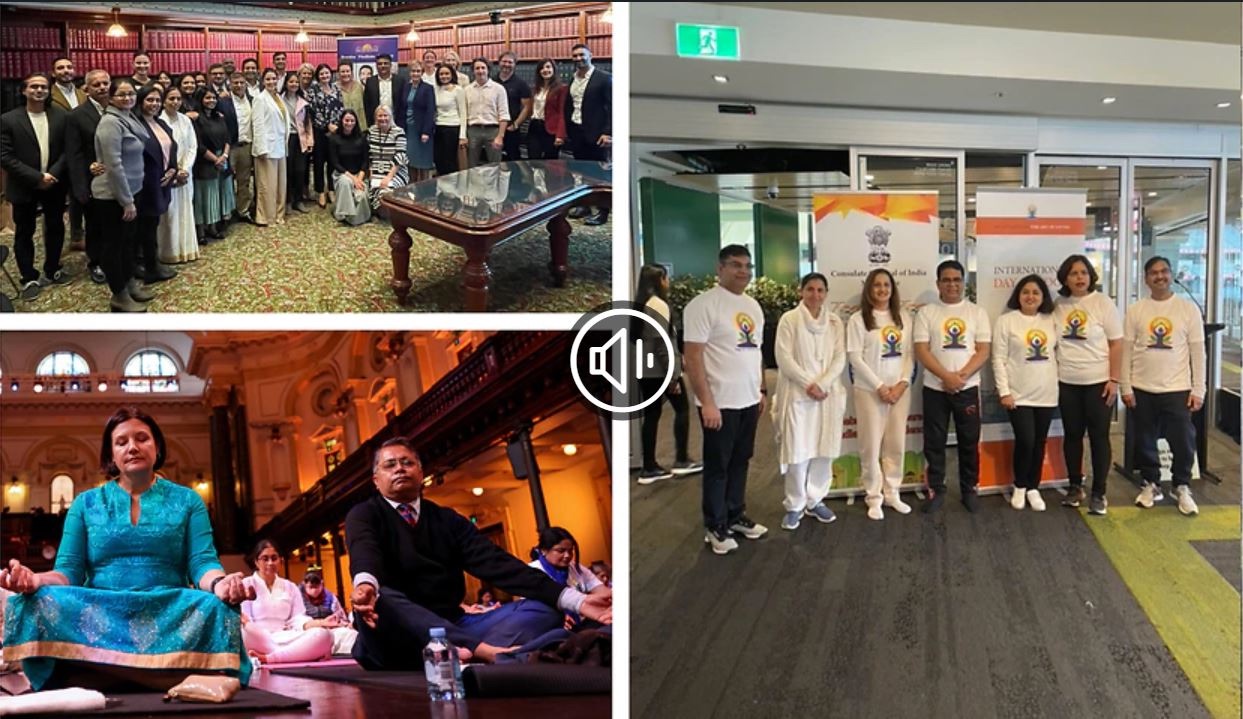 IYD celebrations were held at NSW Parliament, Sydney Town Hall and Melbourne Cricket Ground
Australia: Yoga enthusiasts in Australia celebrated the 8th International Yoga Day highlighting the benefits of this practice. The Consulate General of India in Melbourne organised a yoga event, in collaboration with Art of Living and the Brahma Kumaris.
In Sydney's iconic Town Hall, around 400 people came together to perform asana, pranayama, and meditation while ministers from the Parliament of New South Wales acknowledged the relevance and importance of yoga to unite the multicultural Australian society.
Rajayoga Meditation was conducted by Brahma Kumaris . BK Poonam Deswal, said yoga means connection. Connecting with the self as a spiritual being, a divine consciousness. To bring harmony with spirituality.

BK International Day of Yoga event at the UN: Link of Love - June 28
27 June 2022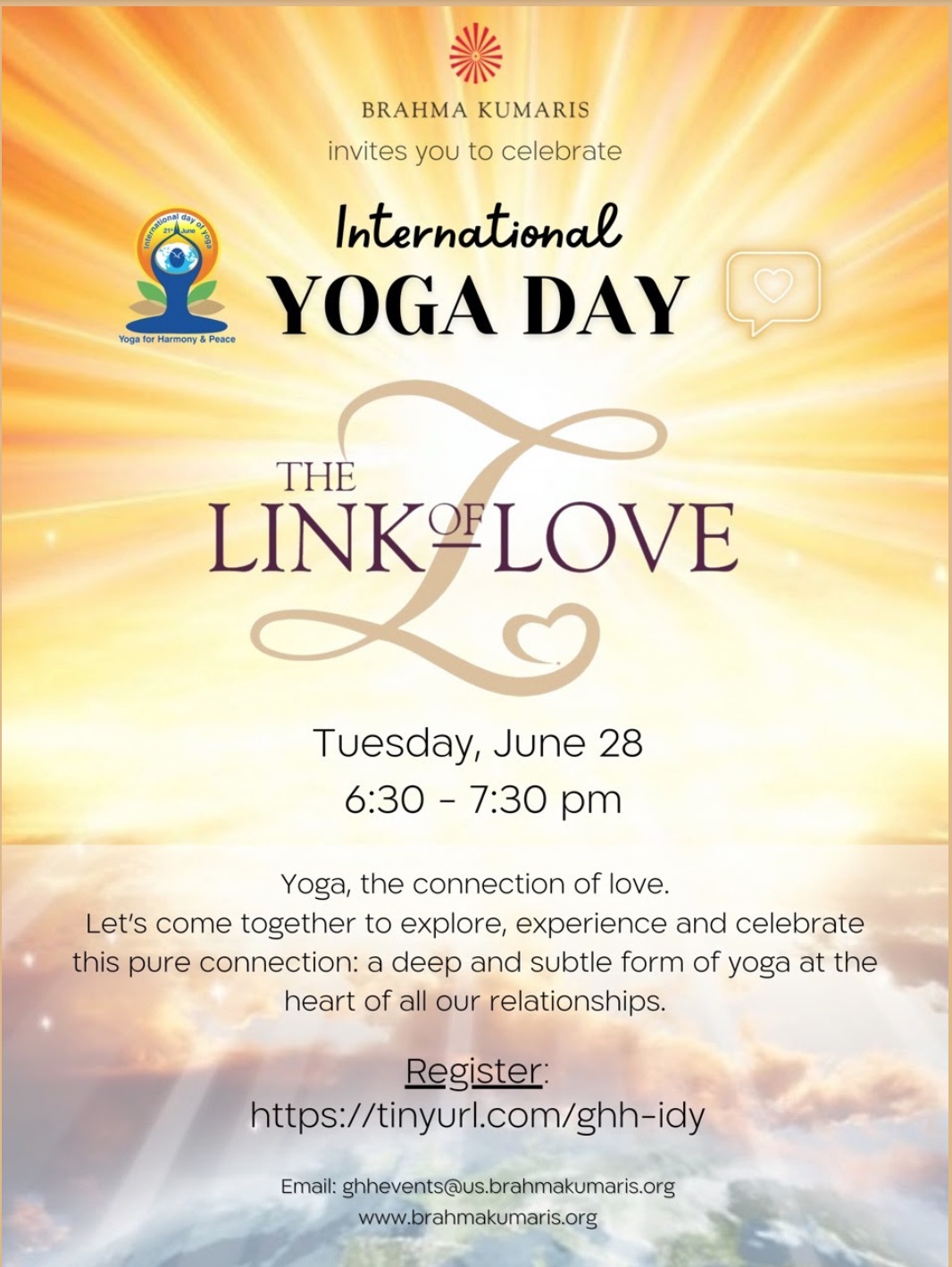 click on image to register.
Dear National and Center Coordinators,
All are warmly invited to virtually celebrate Yoga Day with us on Tuesday, June 28 at 6:30 - 7:30pm.


IDY programs in Discovery City Park, Pearland, India House and BK Center in Houston
26 June 2022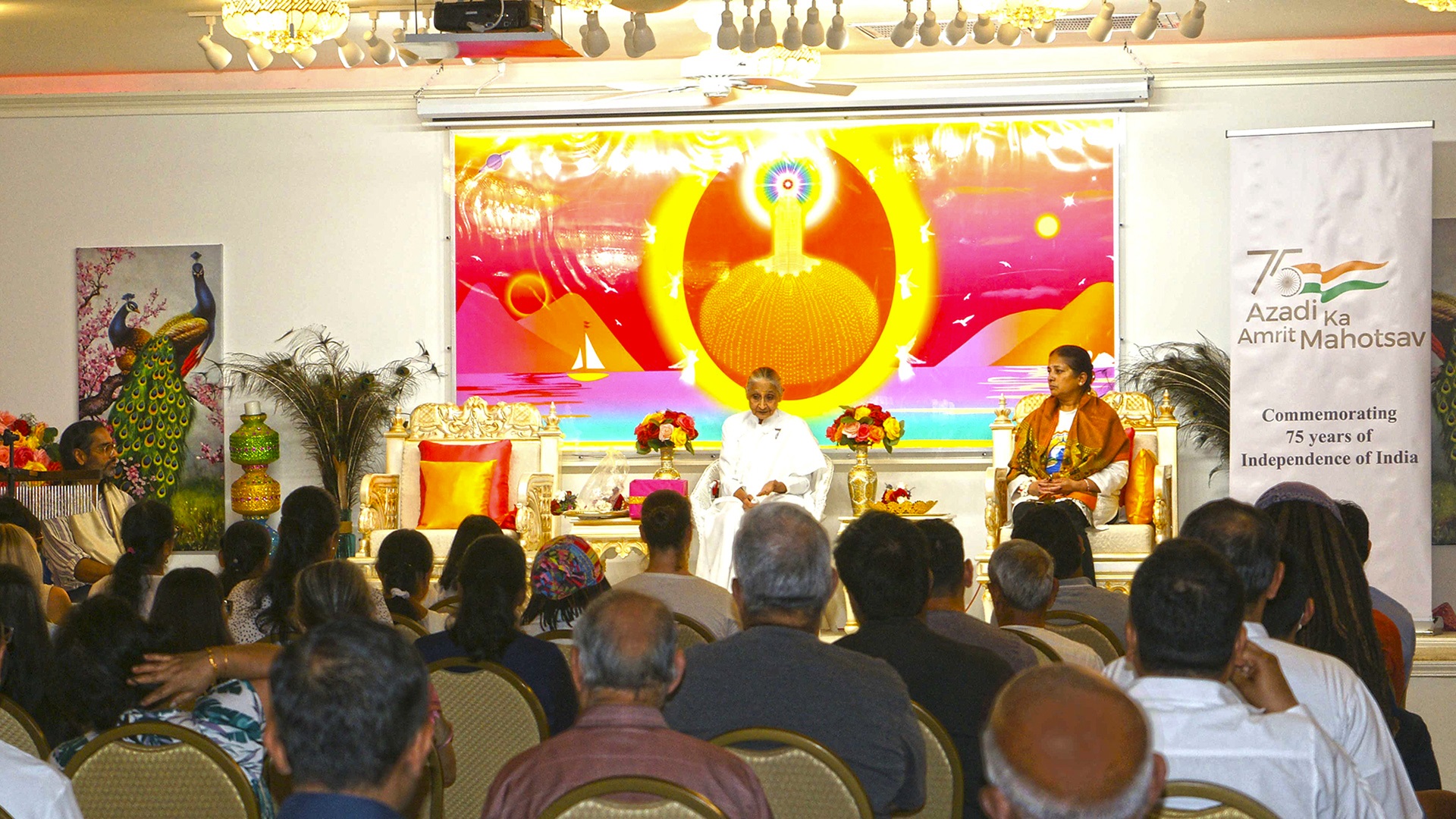 Texas (USA): Brahma Kumaris conducted Dhyāna (meditation) portion of the Common Yoga Protocol in four International Day of Yoga (IDY) programs held in Houston and surrounding cities.
After each of the programs, many participants signed up to learn Raja Yoga Meditation at Brahma Kumaris. The most common comment was, "this is exactly what I was looking for, I had a beautiful spiritual experience!"
Discovery City Park (Houston, Texas, USA):
Brahma Kumaris conducted Dhyāna (meditation) in the event which was attended by 1000 yoga practitioners, including Consulate General, Consuls and staff from Consulate General of India. BK Mark was introduced as one of five expert yoga teachers to conduct the yoga protocol. Consul Sandeep Chaudry, Consul Subbalakshmi Mohan were also present.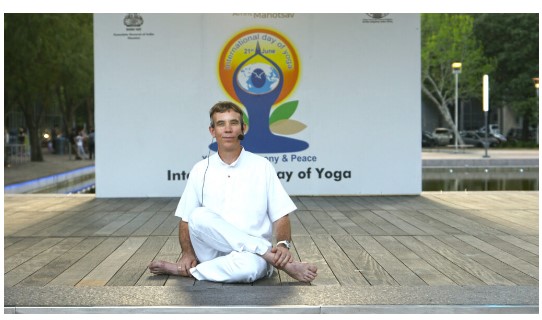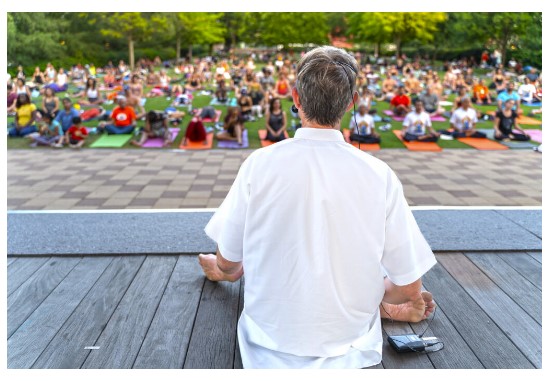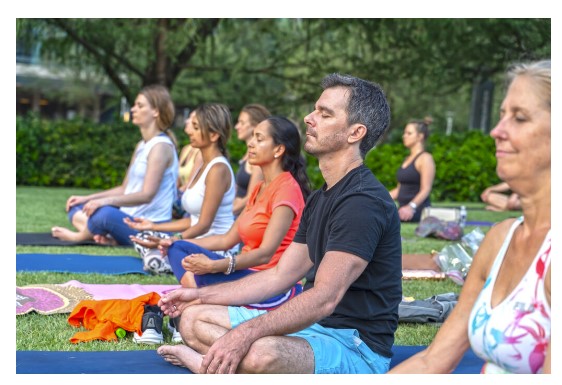 Brahma Kumaris Raja Yoga Meditation Center (Houston, Texas, USA):
Brahma Kumaris celebrated IDY 2022 and 75 Azadi Ka Amrit Mahotsav at the Brahma Kumaris center in Houston. The one hour program focused on Dhyāna (meditation). From the Consulate General of India, Consul Adesh Sudhir made opening remarks and participated in the program. BK Dr. Hansa, Texas Zone-in-charge, explained the difference between Raja Yoga and other forms of physical Yoga. Participants experienced peace through guided meditation. The event was attended by 120 yoga practitioners. After the program, Consul Sudhir learned about Brahma Kumaris, especially gyan of Atma – Paramatma(Soul – Supreme soul), and World History and Geography relating ancient Bharat. Consul Sudhir commented, "I never knew I could meditate in this way."
When IDY started in 2014, meditation was not part of the "Common Yoga Protocol", which is produced by Govt. of India. Several years later, meditation was added to the protocol. Now the Common Yoga Protocol states, "Meditation is the most important component of yoga practice."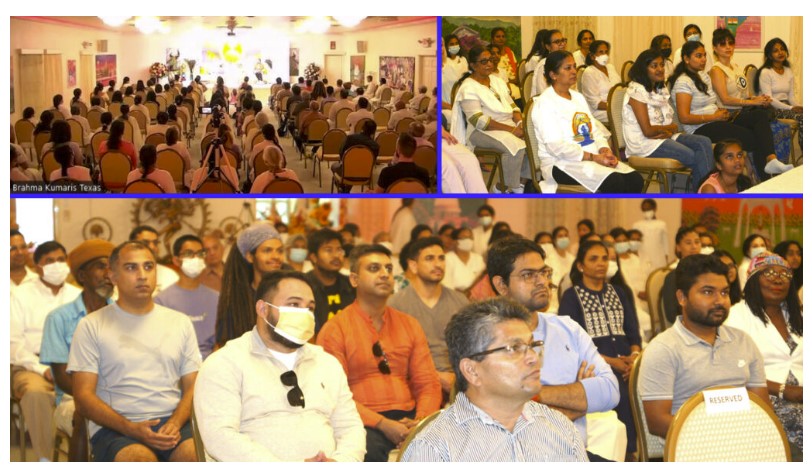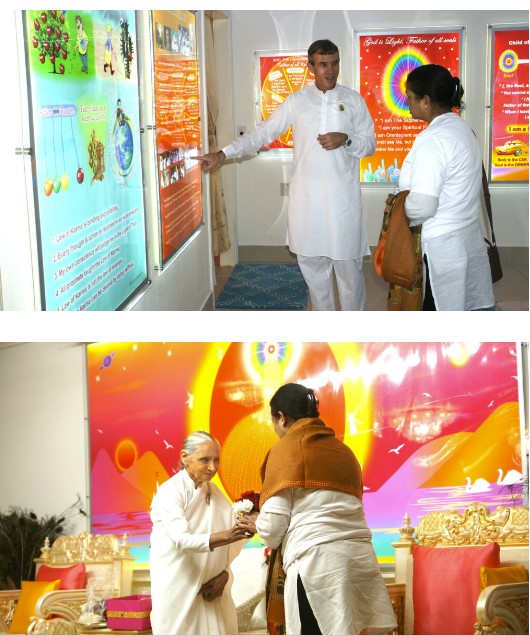 Pearland, Texas:
Event was attended by 50 yoga practitioners, including three Consuls from Consulate General of India. Brahma Kumaris conducted Dhyāna (meditation) portion of the Common Yoga Protocol.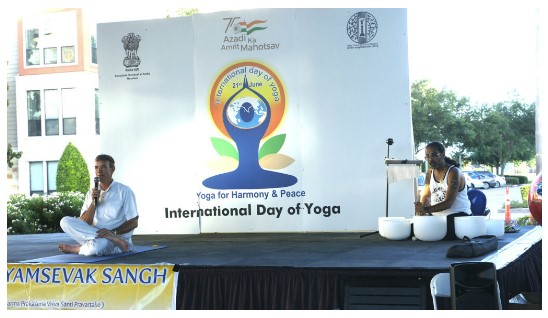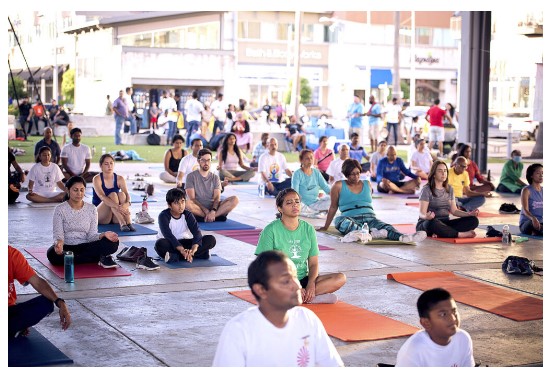 India House (Houston, Texas, USA):
Event was attended by 100 yoga practitioners, including Consulate General, Consuls and staff from Consulate General of India. Brahma Kumaris conducted meditation during the program in the presence of Consul General Aseem Mahajan, Consul Sandeep Chaudry and BK Mark.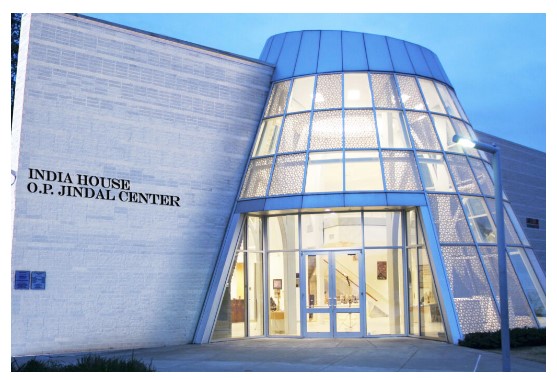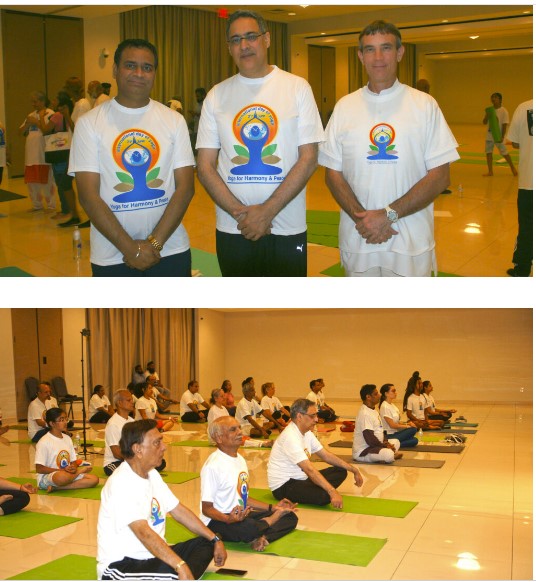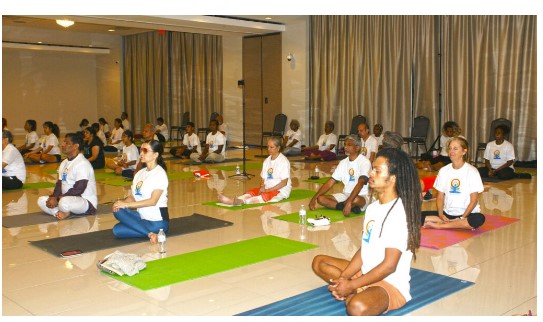 Link for pictures:
https://www.dropbox.com/sh/wm5f5mjisc5ws5u/AACnVs2_vVKDoRKnRYXgq5XCa?dl=0
1+ minute video:

Yoga Session by Consulate General of India, Vancouver in collaboration with Brahma Kumaris
25 June 2022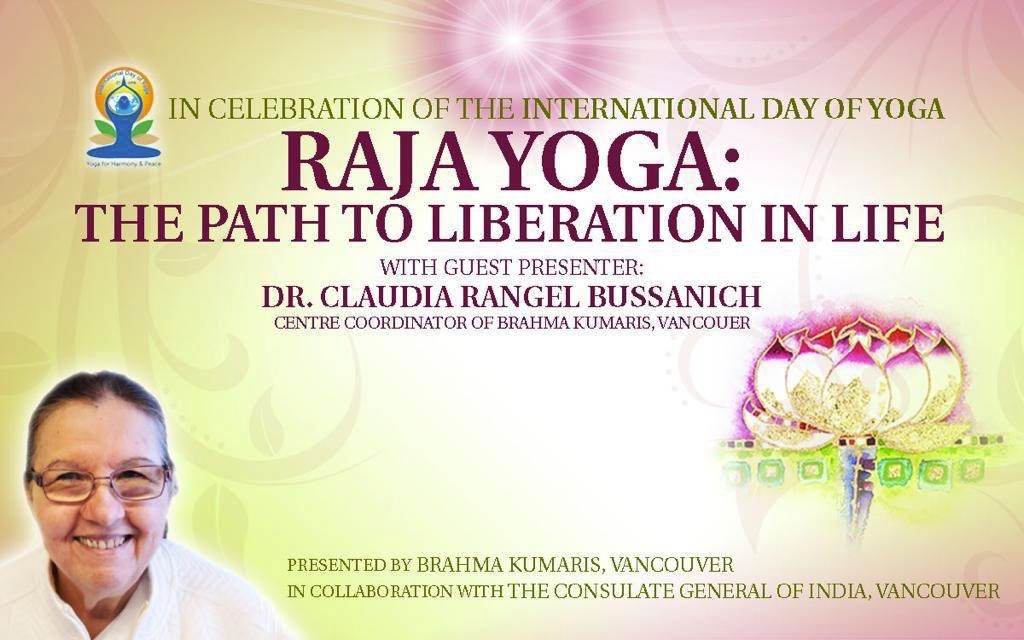 Vancouver (Canada): As part of celebration of 8th International Day of Yoga, Consulate General of India( CGI ), Vancouver organized curtain raiser program for two weeks. In the run up to celebrate IDY 2022, CGI-Vancouver was proud to collaborate with Brahma Kumaris Canada for yoga session with BK Dr. Claudia, Co-ordinator of Brahma Kumaris Meditation center in Vancouver.
BK Claudia shared on the topic "Rajayoga – The pathway to Liberation in Life".
https://m.facebook.com/story.php?story_fbid=733531654589387&id=100064780176051

Raja Yoga for the Mind With Sister Jayanti on 16th June 2022 at Global Cooperation House Honors the International Day of Yoga
22 June 2022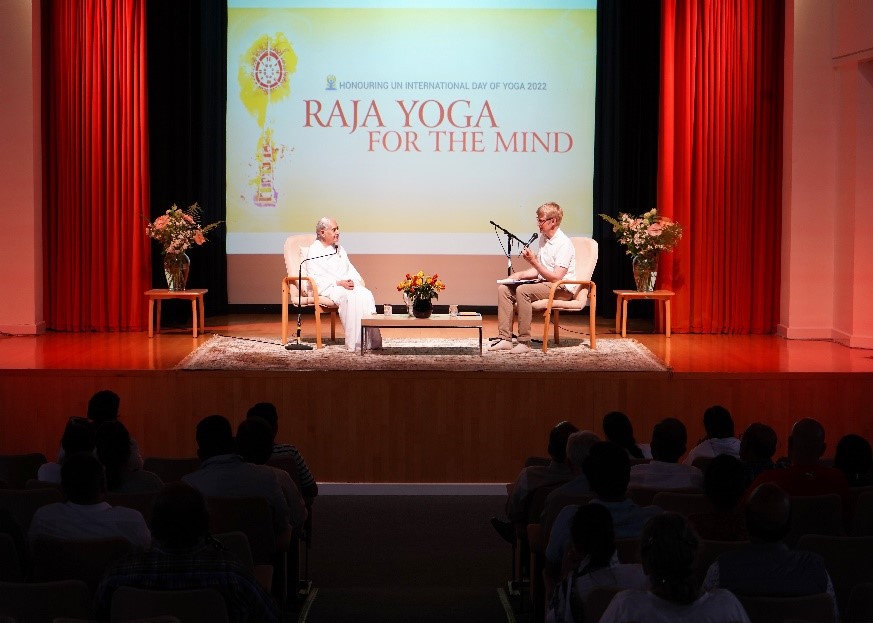 For the first time since March 2020 and the start of the Pandemic, Global Cooperation House opened its doors for a special event in the auditorium, as well as being available online. An event to honour UN International Day of Yoga 2022, with Master Yogi and Additional Administrative Head of The Brahma Kumaris, Sister Jayanti. Before the conversation, led by BK Matthew Earl, beautiful sounds and melodies of the violin from BK Gil Fernandes, invited everyone into the space as they took their seats.

150 were present, as well as over 200 watching live online

The conversation was in three parts with Matthew enquiring from Sister Jayanti a basic understanding of what Raja Yoga for the mind means and what the practitioner experiences when it is practised and applied. Sister Jayanti first explored the nature of how we are always being influenced and that with Raja Yoga, we start to firstly notice and then choose what and who we are being influenced by. Matthew noted that 'the mind is always connecting with something!'. Sister Jayanti also asked 'are we ready to reject that which isn't useful to us?' And noted that we are all used to seeking out habits that are good for us, maybe walking in nature, or a sport but Raja Yoga is about moving beyond these physical endeavours to a more subtle and spiritual exploration.
Sister Jayanti noted that many more have become aware of the spiritual side of life, especially in the past two years during and post pandemic, and now pray or meditate. 'Yet what is our sense of self, and this is explored in the basic understanding of Raja Yoga, that I am a soul, a conscious being of conscious light, and when I start looking here, we can build our inner capacity'.
Sister Jayanti led everyone into a reflection of withdrawing from the physical senses inwards into this awareness of the self as spiritual being: I had forgotten peace was inside, I had been looking outside. In this awareness of peace within, I realised that peace is always available for me. I just need to connect with the inner being that I am. In this awareness I return to that. To that natural state of peace. In this awareness of peace, the vibrations of peace reach out and the collective power of our vibrations reach out to the city and world.
In the next passage of conversation Matthew initially asked Sister Jayanti 'What do you think about patience as we learn to meditate? They say 'patience is a virtue'…… and switching sense of identity is not an easy thing is it as we are habitually connected with the 5 senses. Maybe there needs to be a realistic expectation of putting time in and developing Raja Yoga as a discipline to start?' Sister Jayanti agreed that Raja Yoga is not just for Sundays and that with daily practise it is 'easy', and that can be pausing for moments throughout the day, wherever anyone is, and just directing the mind to turn in and sit in the point of light, connect with the quiet within. Sister Jayanti also explored how the early morning is the optimum time to meditate as it is quiet and we can focus and touch our inner peace more easily…also before sleeping at night is very useful to clear the mind from all that has happened that day.
Sister Jayanti introduced everyone to the second tenet of Raja Yoga, 'connecting to a higher energy of consciousness, of spiritual light, so that through this connection we gain spiritual strength and also then this vibration can enter the world'.
Sister Jayanti led everyone into a silent reflection to connect with The Supreme Soul before the final passage which explored more deeply the connection between the soul and Supreme Soul and how we all have access to this and can develop relationships with the Supreme, who is there and available now to support and guide us, if we can listen in and trust the Yoga. Sister Jayanti also noted 'it is this connection that can release us from all sorrows and forms of emotional and mental pain when we regularly practise and make this One our influence'.
Sister Jayanti gave tips for study and practise and mentioned the importance of studying something spiritually uplifting each day: 'could be poetry for instance, or whatever creates lightness and introspection that will help with connection with the self and use as aa basis for experiencing as you meditate on it'. She noted the Raja Yoga Course is a solid basis for study and learning about the soul, God and the cycle of time.
Sister Jayanti finally spoke of the importance of creating a sacred space, even if a small corner, at home to practice and build up spiritual energy in that space.
The conversation closed with another meditation reflection by Sister Jayanti and Matthew then gave thanks to all. The event was completed with silence and a song 'If I had one Wish' by Bliss, to absorb what they had listened to, before toli and blessings were shared with everyone in the auditorium from Sister Jayanti and Sister Maureen Goodman.
Click here to download Full Report in PDF.

International Day of Yoga 2022, Sri Lanka
23 June 2022
International Day of Yoga 2022, Sri Lanka Brahma Kumaris, Raja Yoga Centres in Sri Lanka organized variety of events in their respective centres and in different venues in collaboration with different organizations, partnering with High Commission of India, and Swami Vivekananda Cultural Centre, Colombo to commemorate and celebrate IDY 2022.
01.06.2022 - 'Blessings through Yoga'
The 1 day, curtain raiser event held on June 1 , under the theme of 'Blessings through Yoga' at Brahma Kumaris head office, Harmony House in Dehiwala. Director of SVCC Dr.Rewant Vikram Singh, inaugurated the event. Ms.Viji from Ashtanga Yoga Mandhir conducted a yoga session and the talk was given by BK. Ambiga. 30 participants benefitted by attending and joining through Zoom.....click here to view full report with photos.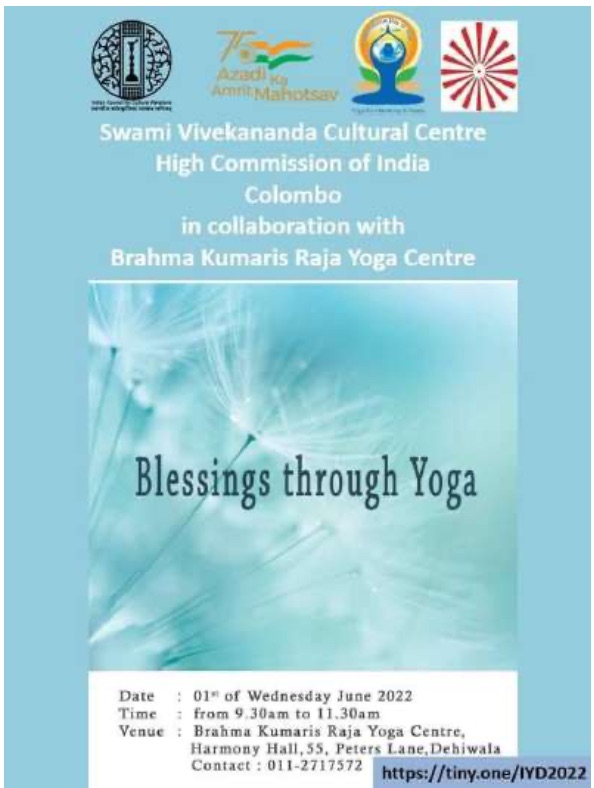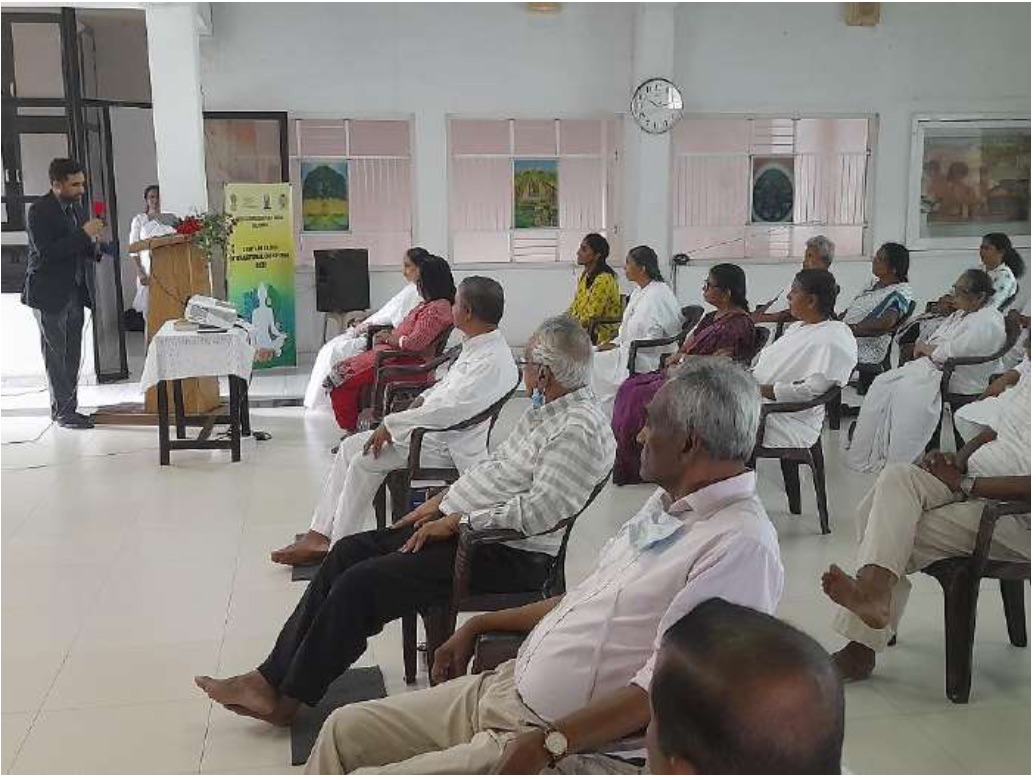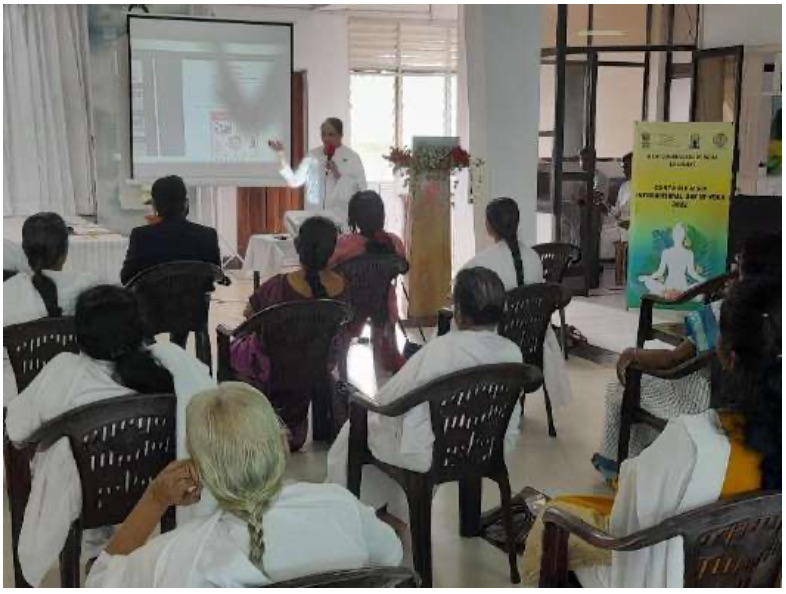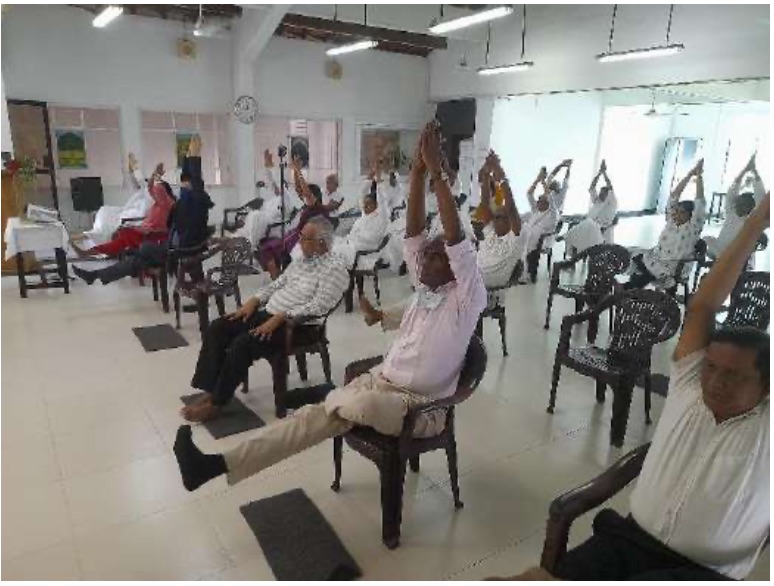 New Video Song on Yoga Day
22 June 2022
Dear Brothers and Sisters, Om Shanti
On the occasion of Yoga Day, Godlywood Studio is pleased to release a new video song by famous International Versatile Award winning Musician S.J. Jananiy, Composer, Music Producer, Arranger and Singer of the song along with famous Bollywood Playback Folk Singer Ravindra Upadhaya, Singer of the Song "Aao Yog Divas Manaye" beautifully written by BK Sapna (ORC).
As per the request of our Global Family, we have subtitled it in English and are forwarding it to you.
Sharing the YouTube link of the song:
You can also Watch this Song on Peace of Mind Channel.
Please enjoy the video and share it with your near, dear, and loved ones.
With Warm Regards,
BK Harilal
Executive Director
Godlywood Studio

Invitation from Global Harmony House New York to join on - June28 - Celebrating The Link of Love - IDY
20 June 2022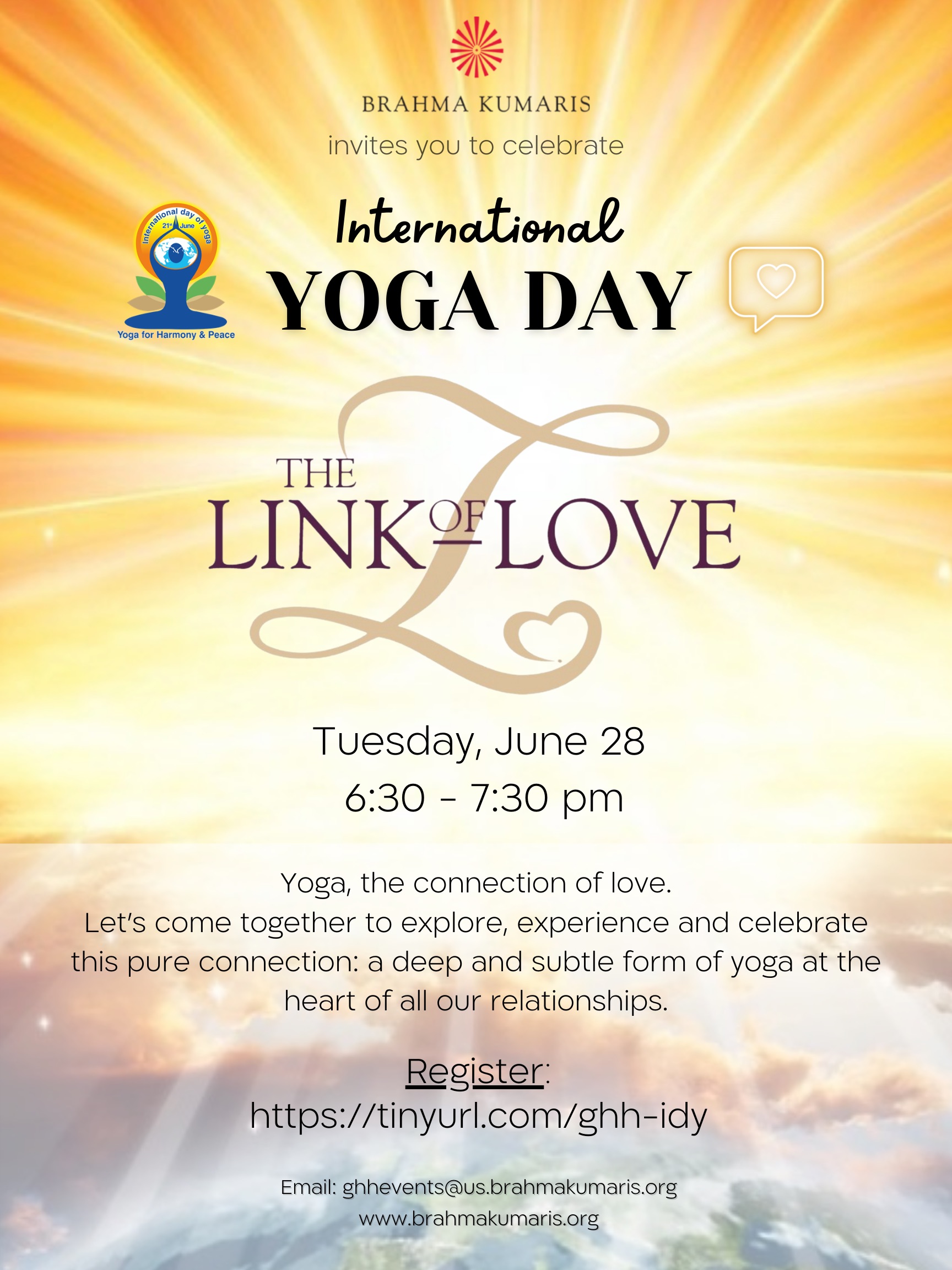 Dear Bapdada's Serviceable Instruments, Greetings of love.
We are inviting you to be part of our celebration for the International Day of Yoga. The event is on zoom and will be held on Tuesday, June 28, 2022 from 6:30 pm to 7:30 pm Eastern time.
We are featuring the theme of The Link of Love and are inviting BK family and friends to offer creative expressions on Yoga, a connection of love.
Please download the flyer pdf HERE and disseminate it to the BK family and your friends.
We look forward to your being with us as part of The Link of Love. Here is the registration link: https://tinyurl.com/ghh-idy
Sisters Gayatri and Anjani
On behalf of the planning team
P.S. In the pdf. file, you can click the reg-link directly. You can also download a png. file HERE that can be used to send via whatsapp, facebook, email, etc.

Invitation: 8th International Day of Yoga event: June 21
17 June 2022
Dear Sister,
Greetings of peace.

You are warmly invited to join us as we celebrate the 8th. International Day of Yoga hybrid event on Tuesday, June 21, 2022 from 12noon - 3:00pm at the Tillman Chapel, United Nations Church Center, 777 United Nations Plaza.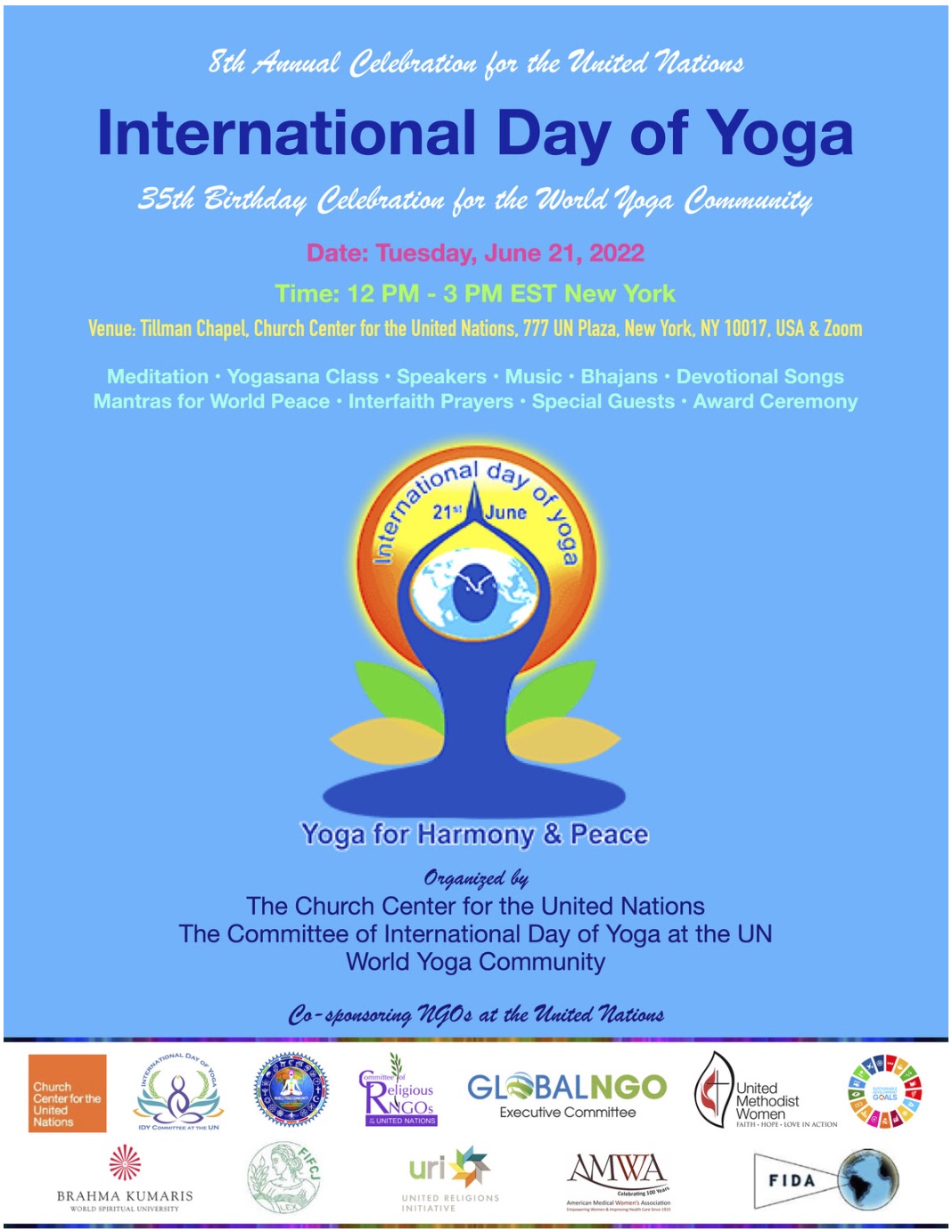 Meditation for World Peace with Sudesh Didi - Hindi Event Sunday 19th June, 2022
16 June 2022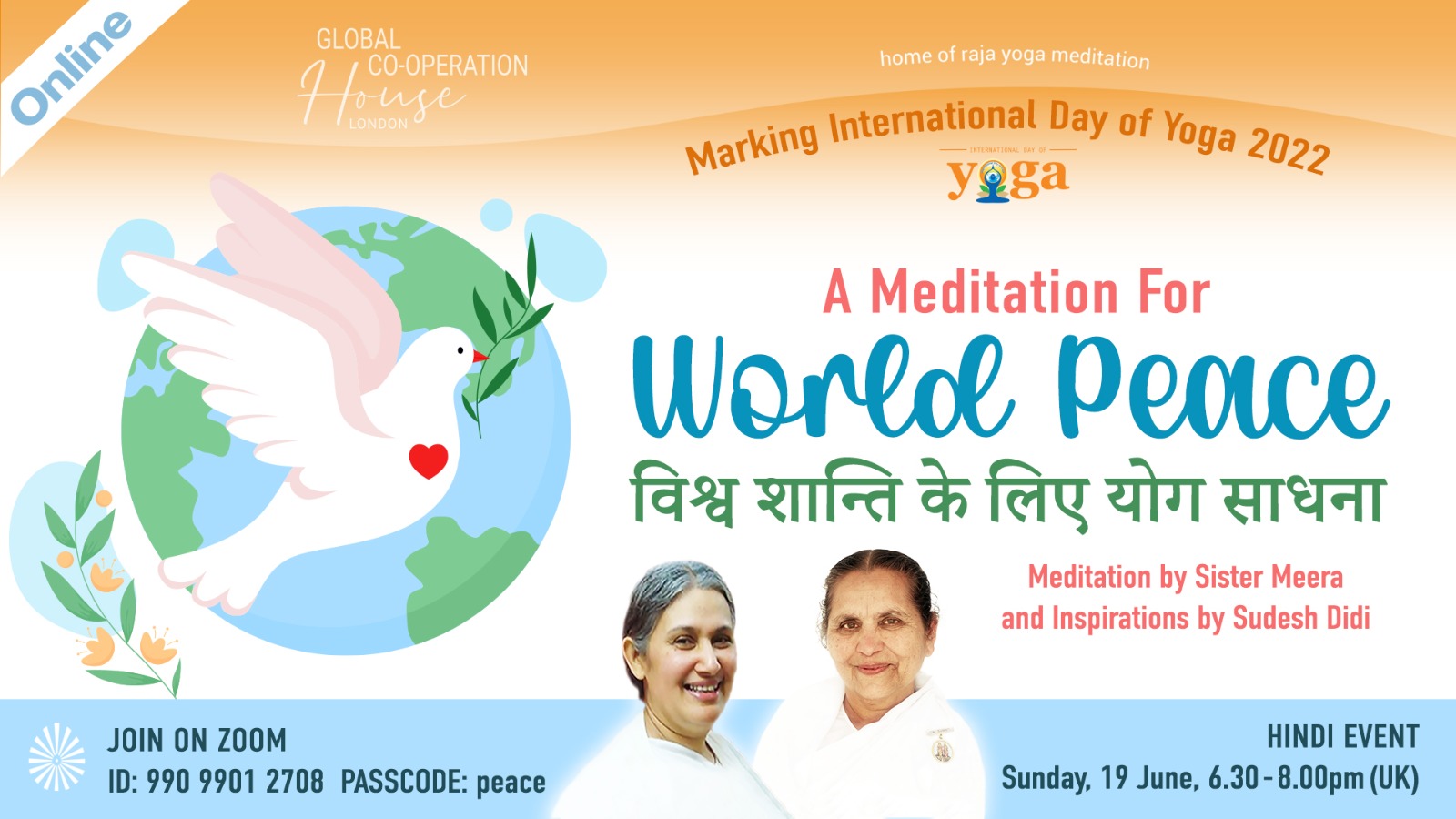 ```SPECIAL MEDITATION ON INTERNATIONAL DAY OF YOGA```
*विश्व शान्ति के लिए योग साधना*
*A Meditation For World Peace*
वसुधैव कुटुम्बकम्: कहा जाता है सारा विश्‍व ही कुटुंब है, तो आईये हम सभी मिलकर विश्‍व शांति के लिए 1 घंटा योग साधना करें।
=========================================
*Sunday 19th June, 6:30 pm - 8:00 pm*
Meditation by *Sister Meera* and Inspirations by *Sudesh Didi*
=========================================
Join on Zoom:
https://brahmakumaris-uk.zoom.us/j/99099012708?pwd=YTNuMzRobTRCa3RzdGUzb3NYRFRiUT09
Meeting ID: 990 9901 2708
Passcode: peace
For more info:
https://globalcooperationhouse.org/whatson-full/singleevent/4006002