2020 May through 29 Jly Madhuban News Archive
2020 May through 29 Jly Madhuban News Archive
Medical Wing Online Programme Series for Medical & Paramedical Fraternity (Hindi)
29 July 2020
Dear Divine brothers/sisters, Accept greetings of peace and love.
I am glad to share that Brahma kumaris Medical Wing (RERF) is conducting a program "Awakening to a New Way of Healing 2020 online series for Medical and paramedical fraternity" every Sunday morning from 11:30 am to 1:00 pm. & "Empowering Medical Minds 2020" online series for Medical and paramedical students" on every Saturday evening from 5:00 pm to 6:00 pm.
This program will be conducted in three phases starting from 1st August 2020 (Saturday).
You are requested to contact medical Faculty of Medical colleges near your centre and ask them to register for this program at our website www.bkmedicalwing.org
Detailed programs are downloadable below.
Awakening to a New Way of Healing 2020
Copies of the invitation letter that can be used for inviting the Doctors / Students of medical colleges / Nursing Staff and Nursing Students are available by emailing medicalwing@bkivv.org.
These programs will be shown live on our awakening channel as well as on Brahma Kumaris YouTube channel also.
Please give wide publicity to these programs and contact the Faculty of Medical colleges and motivate them to register themselves and get their students also registered for it.
With warm regards,
Dr. Banarsilal Sah
Secretary, Medical Wing of Rajyoga Education & Research Foundation
Brahma Kumaris Shantivan, Abu Road
Mob: 9414153942, 8619937031
Email: medicalwing@bkivv.org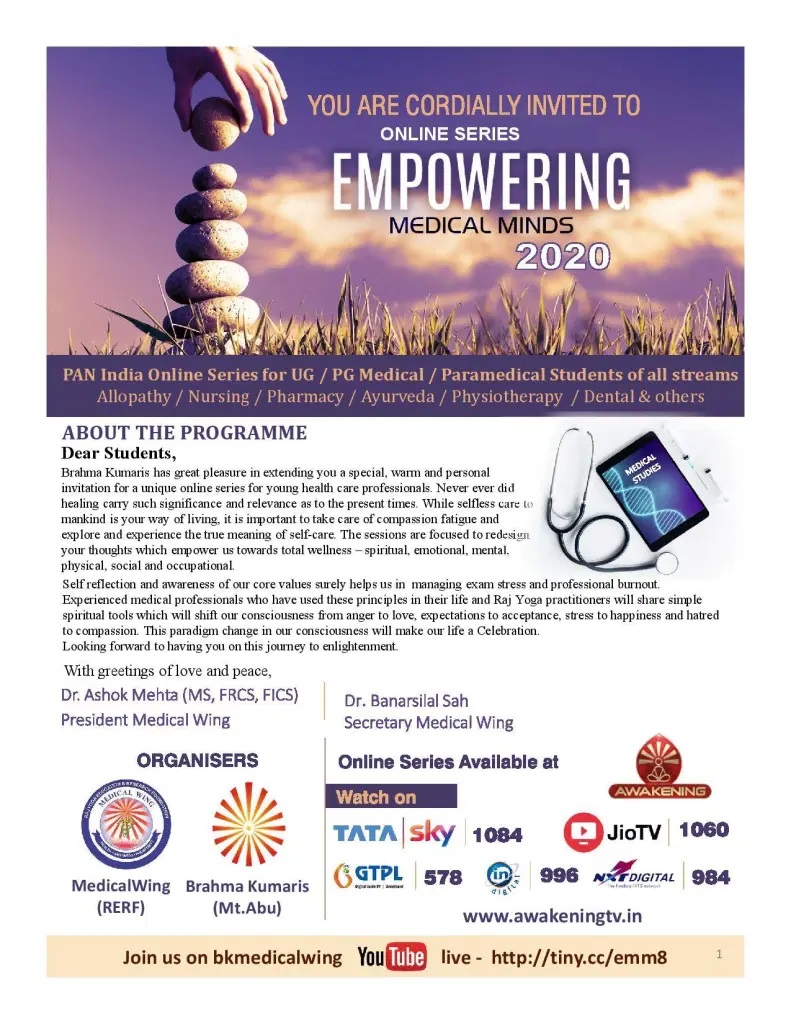 Recent Madhuban Classes (20th to 26th July) with English Translation
28 July 2020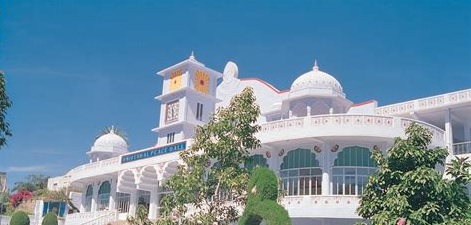 26 July - Asha Bhen - Topic [1:30:00] https://youtu.be/vwIJmT1EmOk

25 July - Ramnath Bhai - Fortune of Godly Study and Sustenance at the Sangamyug [30:44] https://youtu.be/8Aec8eyLEU

24 July - Amirchand Bhai - Receiving Blessings at the Sangamyug [29:54] https://youtu.be/22tqQKzAx74

23 July - Dr Savita Bhen - Inheritance of 'Mukti' and 'Jeevan Mukti' at the Sangamyug [29:53] https://youtu.be/gGHIXf1SavI

22 July - Suraj Bhai - Importance of Godly Family at the Sangamyug [29:46] https://youtu.be/mYgU-2NfPd8

21 July - Raju Bhai - Godly Attainment [31:48] https://youtu.be/EYzoi6UyS-A

20 July - Atam Prakash Bhai - Power to Pack-up [33:39] https://youtu.be/L5hiEDe8MQ4

News from BK Media: Brahma Kumaris Columns in more than 35 Newspapers Across India
27 July 2020
Click on the link below to see the impressive range of papers and topics:
http://bkdailynews.org/brahma-kumaris-columns-in-various-newspapers-across-india/

Free Online Rajyoga Course in Hindi – Starts 1st and 15th of Every Month
24 July 2020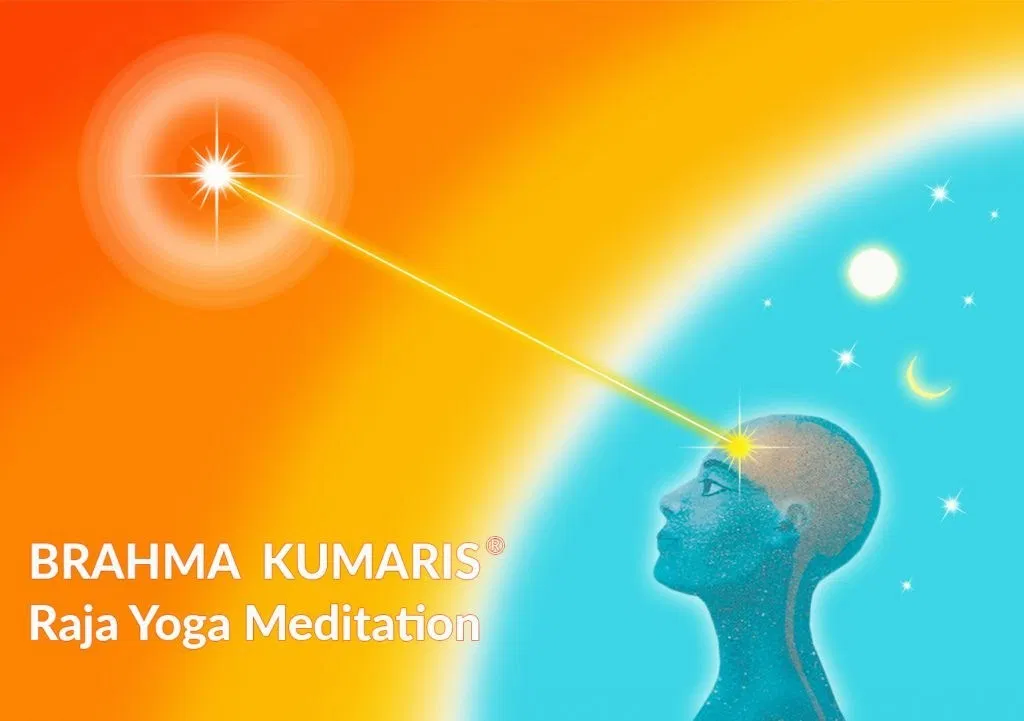 Mount Abu (Rajasthan): The yearly Rajayoga Camp held in Mount Abu, the International Headquarters of the Brahma Kumaris, has been converted into an online 7-day Rajayoga Course, due to the coronavirus pandemic. With this, everyone everywhere will be able to benefit without any risk of going out.
For this Rajayoga Course, a link (@rajyoga7days) can be used for free. Rajayoga is an effective way to maintain happiness in every situation of life, create beautiful relationships, live a stress-free life, connect with the Supreme Soul, be positive, remain ever-energized and progressive.
On the successful completion of the first two batches (groups), new batches will start on the first and fifteenth of every month. New participants can join through the link provided below.
Every day at a specified time, senior Rajayoga teachers, Usha Didi, Shielu Didi, Geeta Didi, and Sister Shivani's small videos and clips will be added along with photographs and songs. Participants can view these at their own convenience and practice. Notifications will be sent to the participants via the Telegram App.
For more information, contact can be established at 9414022176, on WhatsApp or Telegram. The course is in Hindi for now.

Raksha Bandhan (Rakhi) Greetings from Sister BK Sheilu of Madhuban
24 July 2020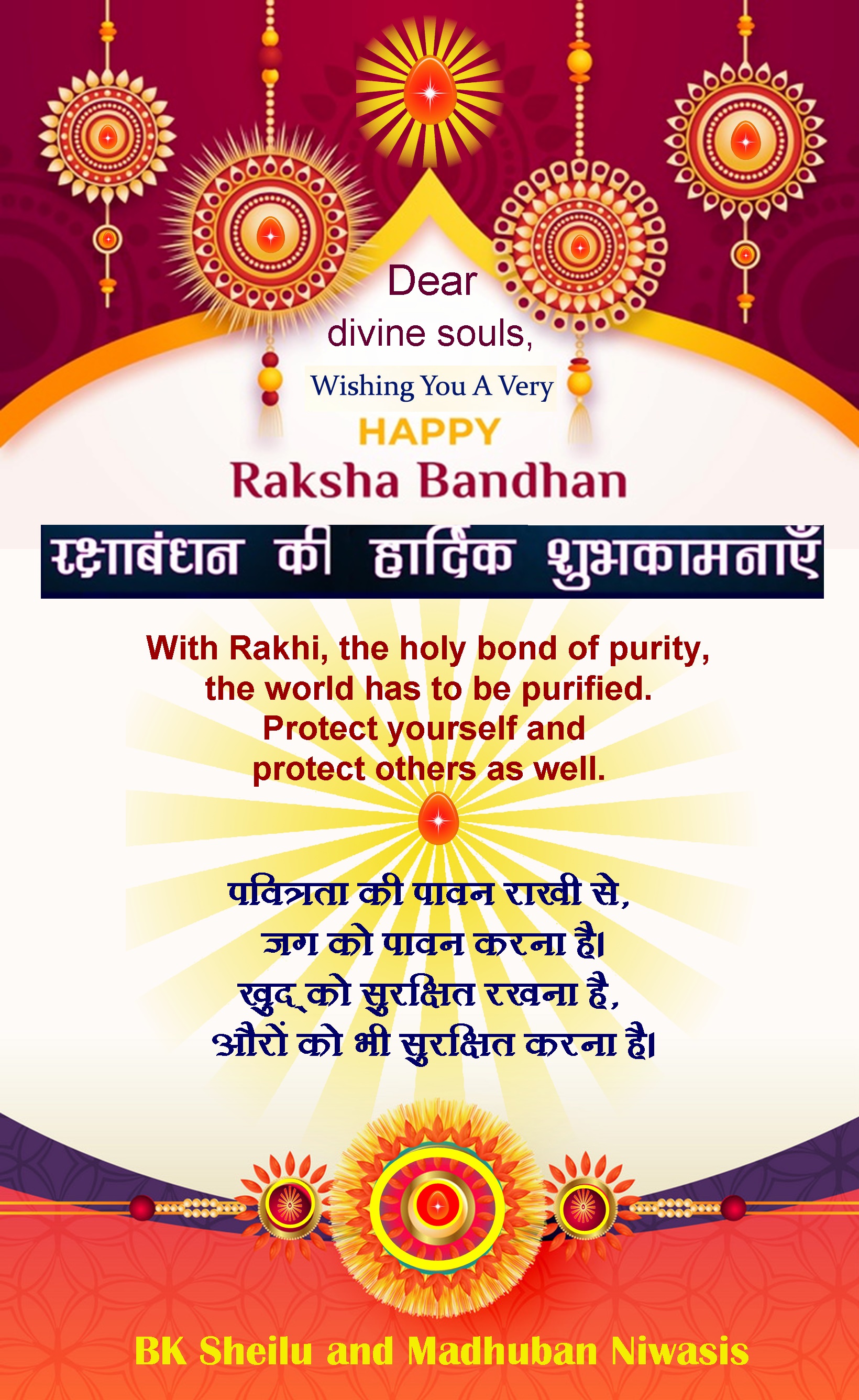 Rakhi Letter from Dadi Ratan Mohini, Madhuban in English and Hindi
23 July 2020
Recent Madhuban Classes with English Translation from 13 to 19 July
20 July 2020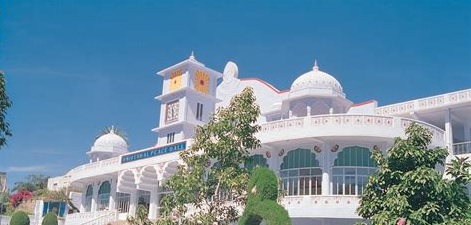 Haryana CM Addresses Concluding Session of Social Wing E-Conference
Lok Sabha Speaker Addresses Social Leaders E-Conference by Brahma Kumaris
The IT Wing, Madhuban Announces a Downloadable Perpetual Desk Calendar
Youth Wing E-Newsletter - July-August 2020
REPLAYS from the Two-day Online Conference "Understanding The Transition" from July 18 to 19
Announcing A Social Wing E-Conference 17-19 July

Covid Patients Make Recovery at Mansarovar Isolation Ward of Brahma Kumaris

Recent Madhuban Classes with English Translation (July 5-12)

News from Jayantiben in Shantivan: 8 and 10 July

Telecast Details of the GREATEST LOVE STORY on Peace of Mind Channel

Jurists Wing E-Conference on 11th & 12th July at 6:00 pm to 7:30 pm (IST) (Conducted in Hindi)

News from Jayantiben in Shantivan: 7 July

News from Jayantiben in Shantivan: 6 July

Recent Madhuban Classes with English Translation (June 30 - July 4)

News from Jayantiben in Shantivan: 4 July
4 July 2020
News from Jayantiben in Shantivan: 3 July
Invitation to ITWing's Online Conference : 3 - 5 July : Awakening to the Call of Time
News from Jayantiben in Shantivan: 1 July
REPLAY Videos of Rajyog Shivir By Senior Rajyoga Teachers (Hindi)
News from Jayantiben in Shantivan: 30 June
Report and Session Replays: Administrators' Wing E-Conference, 26- 28 June
New Online Meditation Course conducted by Sr Shivika, with Animations for Godly Service
Administrators' E-conference (26 - 28 June 2020)- Watch online on PMTV, Youtube & Facebook
Recent Madhuban Classes with English Translation
News from Jayantiben in Shantivan: 26 June 2020
News from Jayantiben in Shantivan: 27 June 2020
Medical Wing: Online Mind-Body Medicine Conference to be held from 26th June to 28th June (in Hindi)
"Peace Of Mind TV" Channel listed as one of the most viewed Spiritual Channel
55th Ascension Anniversary of Jagadamba Saraswati Observed by Brahma Kumaris HQ
News from Jayantiben in Shantivan: 24 June
Mamma's New Documentary "OHH MERI MITHI MAMMA" on YouTube
Watch "Mamma's Murli on Effort and Destiny in Mamma's Own Voice (Hindi only)
Watch "Top 10 Mamma Hindi Songs-2 at Brahma Kumaris Om Shanti Music" on YouTube
The Idol of Virtues - Memories of Mama by Didi Nirmala and Sudesh Didi (Hindi only)
New BK Hindi Song on Zee Music Devotional!
News from Jayantiben in Shantivan: 23 June
Yog Se Siddhi - LIVE Event, 21 June 5pm to 10pm, Awakening Channel
News from Jayantiben in Shantivan: 21 June
Special Meditation Course for Security Forces for Stress-Free Life being held June 21 to 27, 6 am
News from Jayantiben in Shantivan: 14 June
News from Jayantiben in Shantivan: 10 June
News from Jayantiben in Shantivan: 9 June
News from Jayantiben in Shantivan: 8 June
News from Jayantiben in Shantivan: 5 June
News from Jayantiben in Shantivan: 4 June
News from Jayantiben in Shantivan: 3 June
Om Shanti Music Brahma Kumaris Official Audio App Release
News from Sr Jayanti in Shantivan, 1st June
"Digital Wellness – Need of 2020 !" – Live Webinar on May 30 at 6 pm
E-launching of Music Godlywood - 24X7 music channel
31 May 2020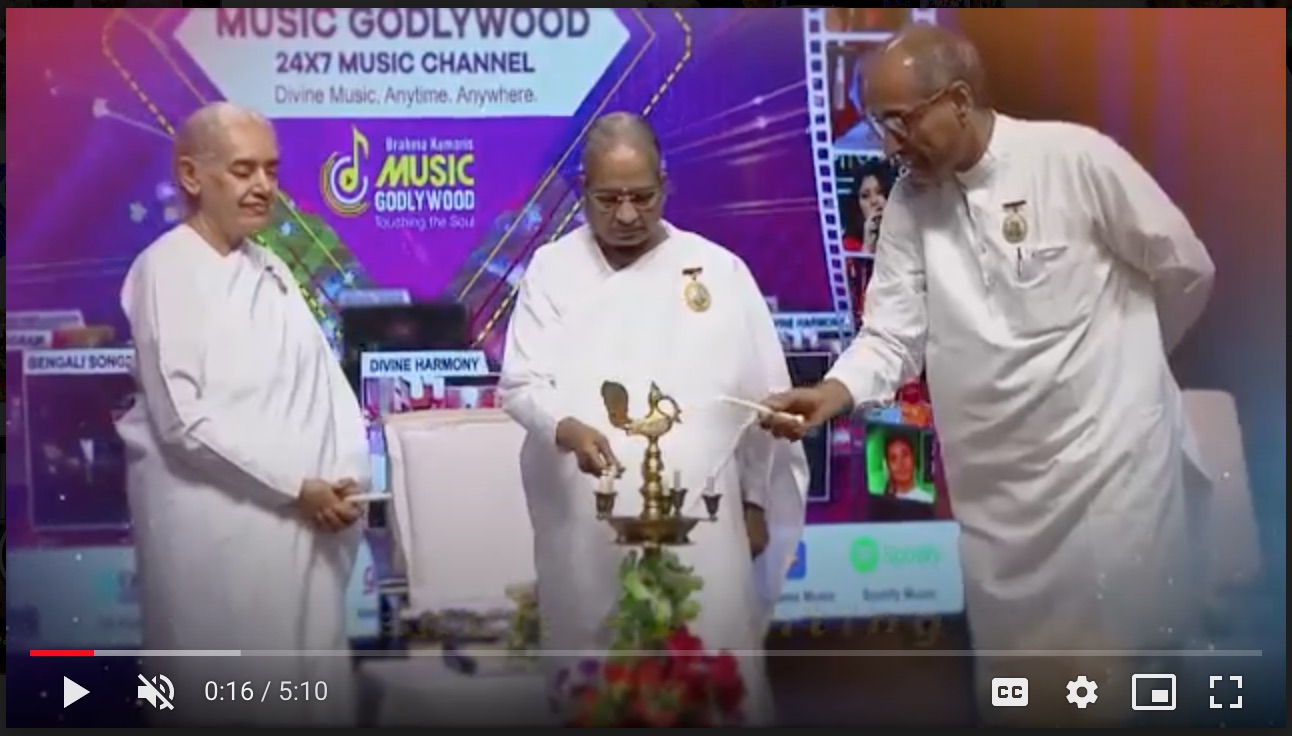 Click on above image
Dear Brothers and Sisters, Om Shanti.
The language of music is universal which binds all of us together. And what better way is there to serve the world than providing divine music 24X7! Music Godlywood - A 24 Hr Online Music Channel have been launched - which is aimed at divinising and purifying our inner world through songs and music from all popular music genres, focusing on the regional diversity of India and the world. Let us connect to our core and feel the love of God filling in!
Please find some glimpses of the e-launching of the event in the attached video and photos.
Apart from Youtube, you can watch the channel in your smartphone on JioSaavn, iTunes, gaana, ZeeMusic, AmazonMusic, Spotify, Hungama etc.
Do watch and share with all. Let's tune into beautiful music, align our vibrations and serve the world during these times of worldwide lockdown due to corona pandemic.
Follow the YouTube Link
youtube.com/musicgodlywood/live
With Warm Regards,
BK Harilal
Executive Director
Godlywood Studio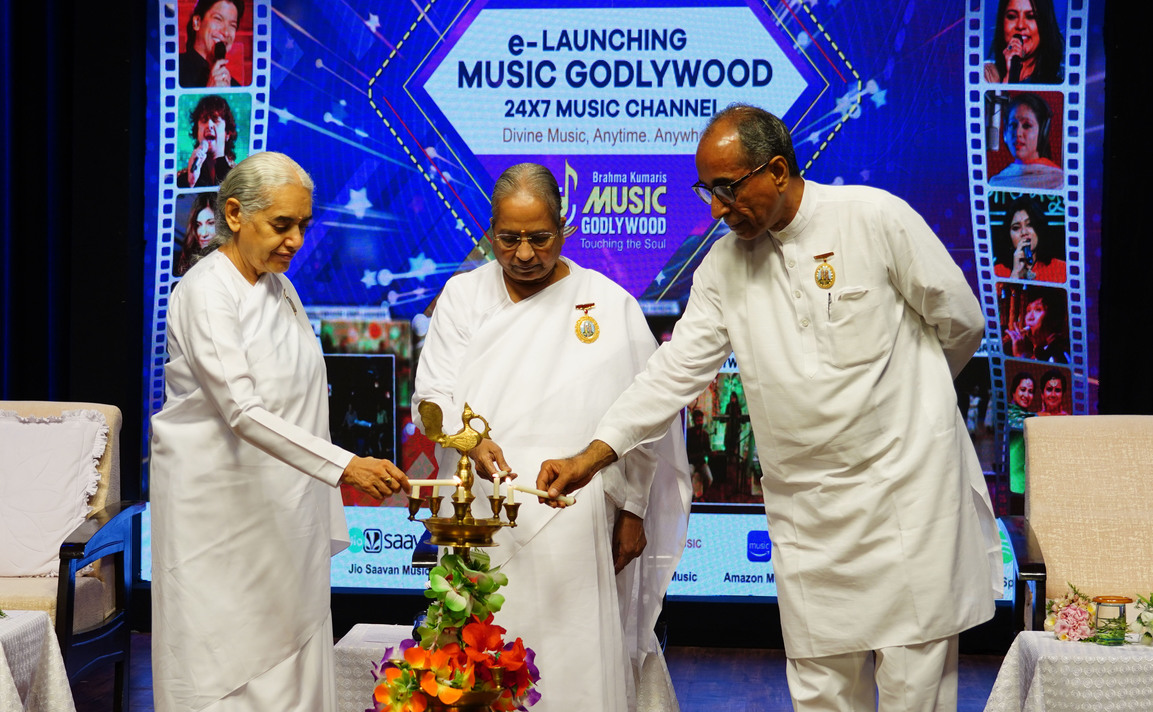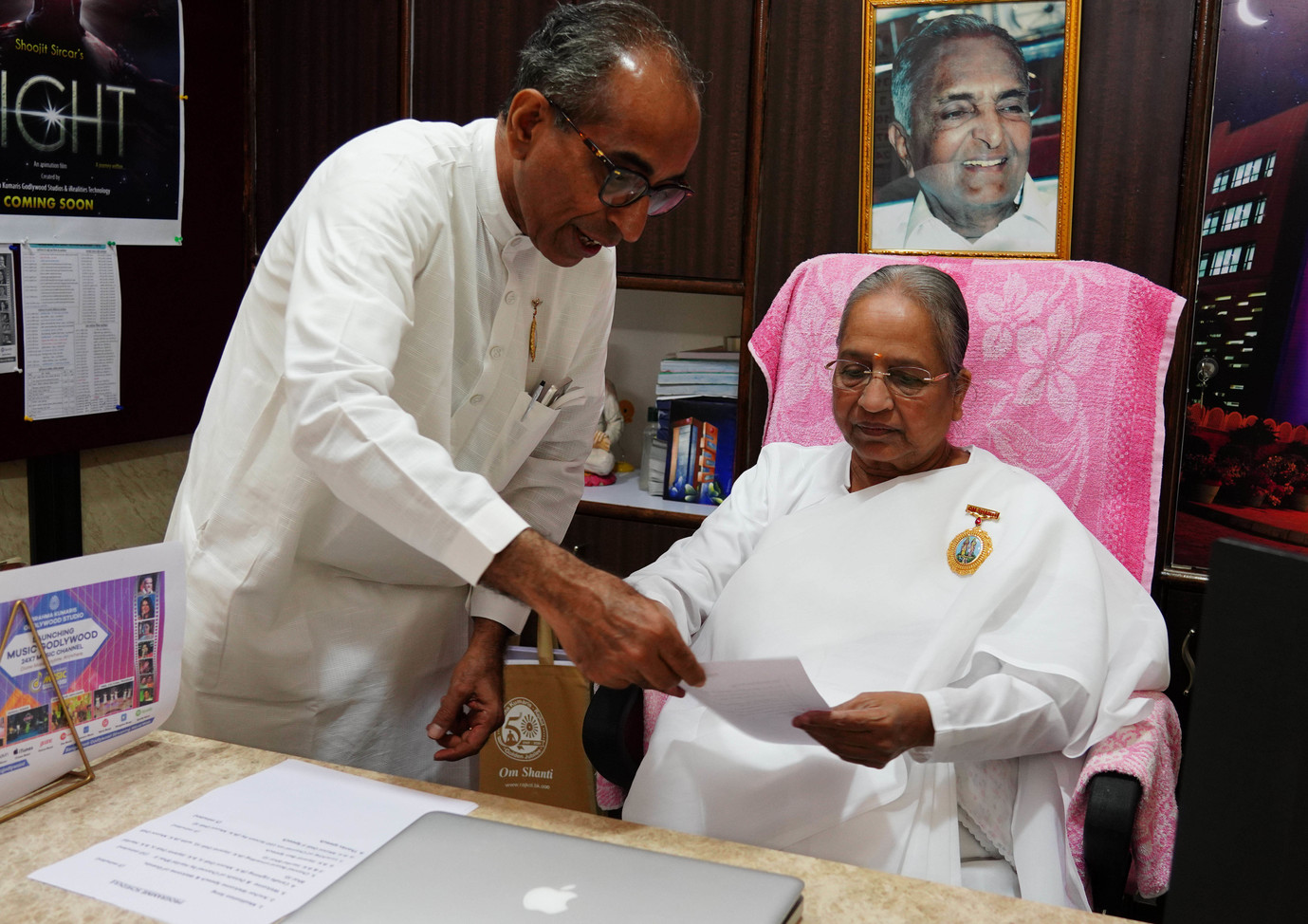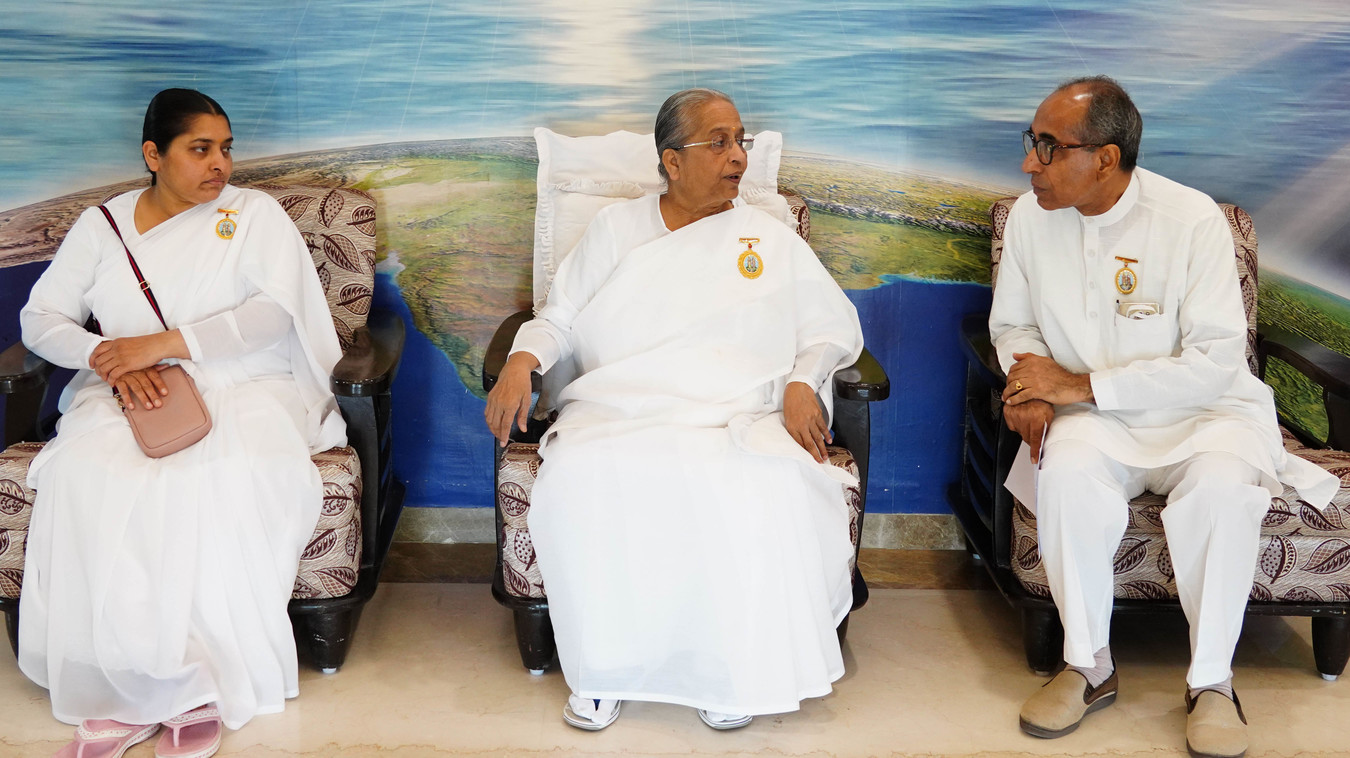 News from Jayantiben in Shantivan: 27 May
International Films Festivals and 'God of Gods' Movie of Brahma Kumaris
Hearty Invitation to join the International Education E-conference on ' New Education for New Era' from 28th to 31st May
News from Jayantiben in Shantivan: 26 May
News from Jayantiben in Shantivan: 25 May 2020
26 May 2020
There are non-stop Classes going on Zoom. India has thousands of Centres, and so now I am getting many, many requests from different Centres in India. Gyan Sarovar usually hosts different Conferences of the different Wings from April onwards, but they are of course online this year, and I am being asked to do recordings for those also! So it's been extra busy.
Every year, the surrendered sisters and brothers of all four complexes receive cloth material and other essential items from the Yagya for the coming year. This usually happens in Shantivan, which isn't possible this year due to lockdown. We saw 2000 packages being prepared and then on Wednesday, Thursday and Friday Hansaben and myself had a chance to be part of that distribution ceremony.
On 20 May, the packages were given to the Niwasis in the Conference Hall of Shantivan. The Conference Hall has received permission to be used for gatherings of a limited number, for Gyan and Yoga. The chairs have been put out to comply with social distancing, and it's been working very well. Ishu Dadi, Dadi Ratan Mohini, Munniben all gave drishti; I handed out a package which was a gift from Madhuban in remembrance of Dadi Janki, and Hansaben gave beautiful mangoes and toli to everyone. So we had two groups on Wednesday (of 200 each). There was also the chance of Short Class with both the groups.
On Thursday, we had one more group which was a bit less than 200, and it included about 50 of the Shantivan Niwasi Sisters.
On Friday morning, we had the same ceremony in Pandav Bhawan. On arrival, we went to Baba's Room, which was very, very moving, because of so many beautiful memories of Dadi Janki being there. We then had a short visit to the Baba's Hut, and few minutes at Shanti Sthamb too. In PB, the line-up was Shashiben and Sheiluben together with Hansaben and myself, and it was done in the open-air space in front of Tower of Peace, opposite the History Hall, so that social distancing could be maintained.
We then passed by Nakki Lake, which is looking really beautiful. It's clean and sparkling, and we were able to see all the additions that Harishbhai has made to the amenities around the lake. In particular, at the spot where they used to burn effigy of Ravan every year – it was known as Ravan Ghat then – there is a lovely park laid out, with the Indian flag hoisted very high up, and steps that take you down to the lake as well.
We came to Gyan Sarovar for the same ceremony for the GS Niwasis, with Dr Nirmalaben and Sudeshben plus of course a short class before the ceremony.
We then went to Global Hospital. Hansaben and I visited the room where Dadi Janki had taken her last breathe, and it was quite moving to be there after all these weeks. We then met the sisters and brothers who are part of the dedicated team of Madhuban. This was followed by a lovely lunch with Dr Pratapbhai and others, and we returned to Shantivan late afternoon.
On Friday afternoon, I was able to have a class with the team that looks after Ever-Healthy Clinic of Shantivan. This took place in one of Classrooms that they have in Vishram Bhawan.
So different things continue and meanwhile, we are safe and protected by Baba in Baba's home.
Balwantbhai, Urvashiben and Minaben (Oxford) all returned to London safely on 21 May evening, and are in self-quarantine at GCH.
OM SHANTI

"Spiritual Intelligence" – Special Webinar – May 23, 4 pm
How to Join 3-Day Online Media Conference | Media Ethics & Social Responsibility | 22 to 24 May
24X7 Music Channel from Godlywood
Special Session on "Power of the Mind" – May 24, 11 am with Madhuban Br Suraj
2nd Webinar of Jurists Wing
Madhuban Sister Usha - Secrets of Gita for Challenging Times" – Live Webinar on 20th May
Media Wing E-Conference from 22nd to 24th May on Awakening TV & YouTube Channels
SUGGESTIONS FOR RE-OPENING INDIAN CENTRES (If your state permits)
News from Jayantiben in Shantivan: 18 May
Lockdown #4 - Lockdown extended to 31st May - Guidelines attached
News from Jayantiben in Shantivan: 16 May
News from Jayantiben in Shantivan: 15 May
'God of Gods' Movie World Premiere in English on YouTube 17th May, 8.00 PM (IST)
Life-changing Webinar on World Hypertension Day with Sister Shivani, Sunday, 17th May, 6 pm- 7:30 pm IST
Shantivan - Hundreds of Stranded BKs Leave Abu Road for Andhra Pradesh by Special Train
News from Jayantiben in Shantivan: 12 May
E-Meditation Course on "Art of Joyful Living" to Provide Continuation of the Scientists and Engineers Wing (SEW) E-Conference
13 May 2020
Dear Divine Brother/Sister,
Please accept Greetings of Health, Happiness, and Harmony on behalf of the Scientists and Engineers Wing(SEW), Mount Abu.
At the very outset, I must offer my heartfelt thanks to all of you for your contribution in creating tremendous awareness, which was reflected in the wide participation in our E-Conference on "Enhancing Quality of Life" which got started on 8th May 2020. The program during inauguration was graced by Dadi Ratanmohini Ji and other respected seniors. The concluding day was 11th May.
Heartening to share that all the sessions were telecast on Awakening TV Youtube Channel, Facebook, etc. and received wide acclaim. Various reputed dignitaries including the Secretary, Govt of India, and the Chairmen & CEOs of reputed industries also addressed the conference through online platforms. The data obtained shows that, on average, 14-15000 people attended each session.
On the concluding day, participants were enquiring about a further course of action. Accordingly, we are conducting an online Meditation Course on "Art of Joyful Living" through the Youtube platform. https://youtu.be/qtqKkirIVLw. All the lectures of this meditation course will be conducted in Hindi.
You are requested to circulate all the guests who have taken the advantage of E-Conference.
Thanking You,
In Godly Service,
BK Mohan Singhal
Chairperson,
Scientists & Engineers Wing (SEW),
Mount Abu.
Email: bksew@bkivv.org

News from Jayantiben in Shantivan: 10 May
11 May 2020
The good news is that most of the BKs who had been stranded in Shantivan/Mt Abu since mid-March have all been able to leave and return to their lokik homes. Just a few remain from West Bengal, and that again is a very long journey so the attempt is to try and organise a train for them.
But the down side is that the virus has now reached Abu Road. Let's see how things go, but it just means that there are strong restrictions in terms of movement around Abu Road/Shantivan and going up the mountain.
Those who are in the Mount say that it's beautiful spring weather and though it's around 30 degrees in the day time, it's pleasant in the nights and early mornings. Of course, it's very, very different in Shantivan, where on average it's about 40-42 degrees Celsius in the afternoons, and just a few degrees lesser in the evenings and early mornings!

But it's fine; we have good company with Baba and the family, and enough space to be able to move around so no one feels locked in, even though we are under lockdown.
12 May is Jagdishbhai's anniversary day, and so on the 10th there was a chance to hear from Sudhaben of Moscow of her experiences with him, and know further about his Yoga Practices.
OM SHANTI

News from Jayantiben in Shantivan: 8 May
11 May 2020
7 May evening, Sudeshben was able to take Class with those in Shantivan, and I believe this was broadcast everywhere.
8 May morning, Hansaben and the Shakti Bhawan team went up the mountain after 6 weeks to visit Baba's Rooms in Pandav Bhawan and Gyan Sarovar especially. They will return to Shantivan in the afternoon.
Unfortunately, we have received information that Sirohi District is now Orange Zone. With the migration of workers from other places back to their homes in Rajasthan, they found one COVID-19 positive case but it could be even more. It means we are back to more restrictions rather than the lifting of restrictions. But Baba is with us and all will be well, as we continue to take precautions.
OM SHANTI

E-Conference on "Enhancing Quality of Life" from 8th to 11th May
7 May 2020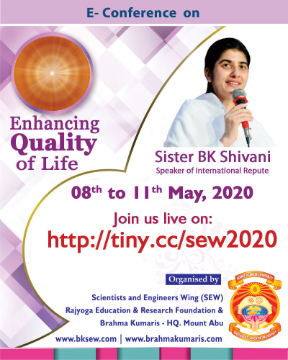 Dear Divine Brother / Sister,
Please accept Greetings of Health, Happiness and Harmony on behalf of Scientists and Engineers Wing, Mount Abu,

Needless to say, in the current scenario, our proposed Conference scheduled to be held from 8th May has been cancelled. Accordingly we are now conducting an E-conference on "Enhancing Quality of Life" from Friday 8th to Monday 11th May, 2020 in which participants from different professions can participate. Moreover, the topic assumes great significance and accordingly the detailed structure has been finalized. Heartening to share that Sister Shivani will deliver a Lecture on Coping with Uncertainty. on 09-05-20 at 10 am.

The detailed E- Conference Brochure is also attached.

Join us live on for all sessions from the link below.

It is an opportunity for great service. You are requested to circulate among others (Share all WhatsApp Groups) and encourage all for participation.

Thanking You,
In Godly Service,
BK Mohan Singhal,
Chairperson, Scientists & Engineers Wing (SEW),
Mount Abu.
Email: bksew@bkivv.org

News from Jayantiben in Shantivan: 5 May
5 May 2020
Trains have been organised by the Government to take stranded people back home, and so probably now 99% of all the BKs who have been stranded here since end of March will have gone back to their homes by tomorrow. Those further afield from Maharashtra like Andhra Pradesh and Telangana have also been able to leave.
Sirohi District is fortunate because it's a Green Zone, and we haven't had a single case so far, so the restrictions are gradually been lifted and many local shops and businesses are opening. But there are still rules to follow, and strict checks on the comings and goings, especially up and down the mountain.
OM SHANTI

News from Jayantiben in Shantivan: 4 May
5 May 2020
It's been a busy time in Shantivan. There have been several programmes for public online:
On Thursday, there was an event with a group that organised the 'Mindful Joy Online Summit', which was recorded and will be webcast at some point.
On Friday, there was a connection with Prabhu Upvan, Borivali (Mumbai) for their 16th anniversary.
On Saturday, there was a webcast with Richard Baret, formally of the World Bank and now the Founder of the Baret Institute for Values, and a good conversation on the subject of Values.
There was also a public programme on 'The Healing Power of God' for the Middle East on webcast.
On Sunday, there was an hour's Session on 'Ask the Spiritual Masters', which I believe was being broadcast on Doordarshan, the Public Service Broadcaster of the Govt of India.
On Monday, there was a Closing Session with Br Stephen Berkeley for a programme in Australia called 'The Super-Human Summit'.
Apart from BK Classes and Connections, it seems there is also a huge interest in outreach by many organisations.
OM SHANTI

Nirwairbhai Ji Shares His Experiences with Dadi Janki, 20th April
5 May 2020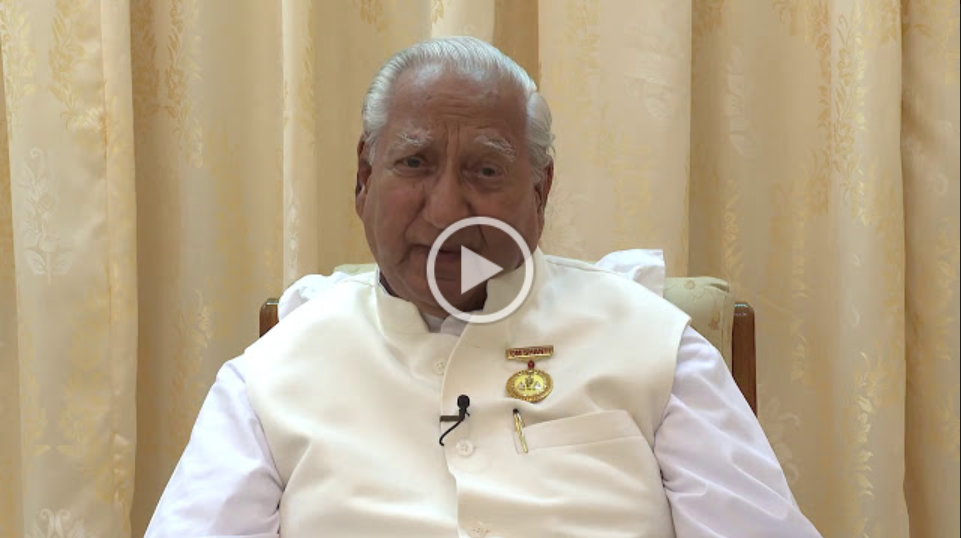 Click on above image to play [50:40 minutes]

3rd May - 3 Hours LIVE Event with 30 Celebrities on Awakening TV Channel
2 May 2020
Click on image above to play promo video
Divine Sisters and Brothers, Om Shanti
With Baba's blessings and your pure wishes, a special 3 hours event called "SANKALP Se SRISHTI" has been created for Awakening TV Channel, to be aired on Sunday, May 3rd, from 5 pm to 8 pm.
The program has BK Shivani in conversation with Suresh Oberoi. The conversation is about - emotional protection from coronavirus, creating pure and powerful thoughts, Sankalp se Siddhi, Sankalp se Srishti, simple lifestyle changes, spiritual study, and meditation to make it a reality.
The conversation will be punctuated by devotional and inspirational songs, experiences, and performances from over 30 people from the fields of music, film, sports, and politics. Each of them will be performing and speaking from their homes, especially for this program.
Politics - Governor Kiran Bedi and Rajyavardhan Singh Rathore
Film Directors and Actors - Vivek Oberoi, Sushmita Sen, Subhash Ghai, Shoojit Sircar, Umesh Shukla, Pooja Bedi, Bhagyashree, Sachin & Supriya Pilgaonkar, Ankita Lokhande, Sidharth Shukla, Vishal Jethwa, Mickey Mehta
Playback Singers - Kavita Krishnamurthy, Suresh Wadkar, Anup Jalota, Usha Uthup, Hariharan, Penaz Masani, Kavita Seth, Daler Mehndi, Jaswinder Singh, Sanjeevani Bhelande, Bela Sulakhe, Preetha Majumdar, Raghav Sachar, Albert Asadullin, Harish Moyal.
Sports - Kapil Dev, Shikhar Dhawan, Vijender Singh, Gagan Narang, Pankaj Advani, Deepa Malik.
BK sisters and brothers - BK Elizabeth (SanFrancisco), BK Asmita, BK David, BK Damini, Irina Larishkina, Ayako, Laetitia, Alisa Romashko., dance by sisters from Russia.

This is the first time that so many are coming together on Baba's channel to inspire and motivate people towards spirituality and the right way of living.
Please share this programme with the divine family and all contact souls.
Trailer/Promo link:
https://www.youtube.com/watch?v=p0mVAIx0JLY
Main event link: (English subtitles will be available in the recorded version of the event)
https://www.youtube.com/watch?v=BYAegPyoCfU
In Baba's Yaad
Awakening TV
Mount Abu

News from Jayantiben in Shantivan: 30 April
1 May 2020
At the moment, it's the exodus of the Maharashtra BK group that had come for service at the 20 March 2020 Avyakt Meeting, and then got stranded with lockdown. Over a thousand have left for their home places in buses. The journey is taking a long time because there are many, many checks along the way, especially at the borders of each State: Rajasthan, Gujarat, and then Maharashtra, but at least they will soon be back with their families. Another thousand are due to leave over the next few days.
The Central Government has now issued general permission, not just to this group but to anyone who has been stranded over the past 5 weeks (migrant workers, students etc), to return to their homes, while following all the rules. But it's interesting that we received this permission on the 27th, Dadi Janki's one-month anniversary, some days before the general permission was granted.
OM SHANTI

Message from Karuna Dada Ji - When will it be SAFE to end the lockdown?
1 May 2020
Dear All,
This is an important message for all Indians & the world as well! For those who are arguing on both sides that we must open now or it is too soon to open, this is the most important thing you need to know.
Here's the most asked question to answer: When will it be SAFE to end the lockdown, to *re-emerge*?
May 1st? Or May 15th? Or June end? Or July end? Or August?
Here's the real answer: Never. It will never be "SAFE."
Why ?
Social distancing, staying at home, all of these measures - were these not meant to "cure" Covid-19 ?
No at all! These were measures to slow it down, so as to not overwhelm our healthcare system.
For the most part, so far we've done that.
However it should be clearly understood that this does not change the virality of Covid-19; or how it spreads from one person to another.
Nor does it have any effect on the mortality rate.
It was intended to just delay it until we find a PERMANENT CURE .
A very important point to note here is that -
As soon as we re-emerge, the virus will spread again, & the people with weak immune systems will still succumb to it in large nos.
This is a harsh fact which all of us have to realise.
The people who missed it this time, may eventually get it - regardless of whether we re-emerge on May 1st or September 30th ......
*What is it , that we need to do now ? *
We need to protect our healthcare system in every possible way to handle the load, but we don't need to mislead ourselves over the outcome of this quarantine.
Hard Truth of life now is - It is slowing it down, but not curing it.
Eg : If you're driving to Pune from Mumbai at 50 miles an hour or 100 miles an hour, the distance doesn't change, isn't it ???
Therefore the need of the hour now is -
if our lifestyle is causing you to have a weakened immune system, use this lockdown time to correct that. This should be one of our major resolutions / actionables now without any doubt! Otherwise, you've placed a "heavy target " on your own back which will be very difficult to carry ... Youngsters as well as older people should understand & make sure that this is not the time for indulging in comfort food - but it's a time to give ourselves the healthiest, most robust immune system our body is capable of.
*How can this be achieved *?
By Having healthy , nutritious food ,
Compulsory, 8-hour, night sleep.
Drink lime water ( warm water ) daily morning without fail ;
Not having refrigerated or aerated drinks ;
Detox yourself everyday & - maintain social distancing for next couple of weeks/ even months until we have a vaccine or definite, standardized, proven medicine that ensures rapid cure.
It's as simple as this !!!
Hope you all understand that this is just the beginning & not the end .
We need to be careful about ourselves by maintaining real good healthly & hygienic habits in this lockdown period!
Stay Home! Stay Safe!!!