2018 Jan through Jly Madhuban News Archive
2018 Jan through Jly Madhuban News Archive
Conference on Women Empowerment Begins at Gyan Sarovar
10 Jul 2018
"Spiritually Empowered Women Key to Value Based Society – Kalyani Sharan"
A 4-day All India Conference on "Women as Torch Bearers of a Value-Based Society" convened by the Women ' s Wing of Brahma Kumaris Organization , was inaugurated at its Gyan Sarovar Academy.
​
Over six hundred women delegates and dignitaries representing different professions, sections and segments of society from all over India and Nepal have assembled at Brahma Kumaris Academy for a Better World.
Smt. Kalyani Sharan, Chairperson, Jharkhand Women Commission, in addressing the inaugural session as Chief Guest said that there is an urgent need for the spiritual empowerment of women to enable them not only to revive and restore their inner powers and potentialities of peace, patience, love, tolerance, sacrifice and selfless service, but also to become the torch bearers for making their children, family and society value based.

Stressing on the need to stop exploitation of women especially from tribal and backward states like Jharkhand, she urged the congregation to be a part of campaign for maximum moral and spiritual education and training of women at grass root level, apart from best possible material education.
Highlighting her day to day visit to the door steps of all aggrieved women in 24 districts of Jharkhand in last one year, she pledged to save the simple and innocent females of Jharkhand from domestic violence, superstitious blind faith and sexual exploitation, by sending the affected women and girls to Brahma Kumaris Centres and headquarters for spiritual empowerment training.

Rajyogini Chakradhari, Chairperson of Brahma Kumaris Women's Wing, delivering the key note address said that womanhood has always been glorified by motherhood. Citing examples of women as mothers have remained the source of inspiration for great heroes like Pandavas, Shivaji and Gandhi, she urged the gathering to become role models of values, character and spiritual culture enabling for their children, family and society to become value based and developed. For this, as well as for keeping the family, people and society together, women need more of moral and soft skill development education than worldly education.

Dr.(Mrs.) Shweta Dagar, Mrs. World 1st Runner Up winner in 2017, as a guest speaker said that while a weaker person seeks to change the outside world, a stronger person seeks to change the self first. She said that women needed to have more inner strength and power through the practice of spirituality and mediation so that they can better balance and sustain their cultural tradition along with modern lifestyle.
Rajyogi BK Nirwair, Secretary General of the Brahma Kumaris, in his video message in the conference said that in today's atmosphere of fear and insecurity for women, there is an urgent need to value our core moral and spiritual values which can make their life truly peaceful, powerful, safe, fearless and beautiful.
Mrs. Anita Makhijani, Advisor, Union Ministry of Women & Child Development said that science and technology had made utmost outward development but had rendered our inner world vacuum without values of peace, love, harmony and happiness which spiritual education alone can provide.
Rajyogini Sharda, National Coordinator of the Women 's W ing , said that women being endowed by nature with greater inner powers, rights and values than those of men, need to awaken and restore those powers and values in self and others in society, by connecting their inner being with the Supreme Soul, God through Rajyoga Mediation.

Rajogini Dr. Nirmala, Director, Gyan Sarovar Academy, in her presidential address urged the participants to receive God's powers to revive their inner values and powers through practice of spirituality and meditation that would enable them, not only to end their own stress and suffering but would also to end problems, pain and suffering of others in society.

Senior Rajyoga Teacher Sheela from Navi Mumbai conducted Rajyoga Meditation, enabling the audience to experience deep inner peace and power . Dr. Savita Behn, Headquarters Coordinator of the Women's Wing, conducted the inaugural session smoothly and effectively as the Stage Coordinator.

BK Chakradhari
Chairperson (Women's Wing)

Bhog message on Mama's day - 24th June
27 June 2018
Bhog message brought by Shashiben on bhog being offered in Madhuban to Mateshwari on Mama's day
Om Shanti. Today, carrying the loving remembrances of all of you, as I reached the subtle region carrying remembrance for our beloved Baba and our lovely Mama, the decoration of the subtle region looked very beautiful. There were many different decorations – some heart shapes, some garlands and many other different beautiful maps. For some time I continued to look at all of these and at the same time, I had the thought, "Where is Baba?" Just then I saw Baba coming from far away. Baba said: Child, today, whose love are all the children lost in? Baba is seeing and Baba knows that children have so much love for Maa. I asked: Baba, where is Mama? Baba smiled. I saw a very beautiful golden mountain in the distance and Mama was standing on top of it, in front of her was a globe of the world spinning at a very slow speed. Mama was looking at the globe and many beautiful changes were taking place very slowly on the globe. I was just seeing that and thinking it is such a beautiful scene. Then, Baba said: Look who is coming? From the scene of the globe, angels appeared around he globe, gradually moving forward. In between was a very beautifully decorated chariot and the form of our beloved Maa was visible in that chariot. Many different forms of Mama – sometimes as the mother, sometimes, Lakshmi, Durga, etc. were visible. So, the angels came close to Baba and as soon as they came near Baba, Mama's form of Maa was visible in front of Baba. She was standing in front of Baba as Maa and taking drishti with a lot of love. I said: Today, so many brothers and sisters are lost in the remembrance of our beloved mother. Baba said: Tell Mama about this. I said: Baba, You know about all this anyway. Mama was just smiling, not saying anything.
Baba said: Today is Mama's day. All the angels took on the form of the advanced party and all of them stood in a semi-circle with Mama in the middle. Quietly, Baba hid Himself behind all of them. Dadi, Didi and others were having a very sweet heart-to-heart conversation with Mama and asking Mama: Mama, what are you doing nowadays? Mama replied: All of you companions know that, and it is only with the co-operation of all of you companions that the task of world transformation will be carried out. Baba is inspiring us, and all of us as instruments want to carry out that task at a fast speed. We were seeing that scene that today, how transformation is taking place in the world and the task of establishment is also taking place. Mama said: The task of transformation is a little fast, but the task of the establishment goes a little fast, but then slows down again. So, we want the task of establishment to go faster than the task of transformation. They were having such a sweet conversation and then Dadi and Didi asked Mama: Mama, today, you toured around the world and all the centres, so what did you see? Mama just smiled and did not say anything. They were just having this conversation and then they saw Baba appearing in front of them. Baba said to Mama: Tell them what you saw today. Mama still continued to smile. Baba said: Today, it is your day and the children want to hear what you saw. Mama looked around in all directions and then said: All children have love for the Father, and keeping the mother in front of them, were having sweet conversations of love. Then Mama said: Each child – whether young, old or new – wants to make very good effort and are doing so. But what happens is that even in their effort, children are copying many things and because of trying to copy, they become diverted to many other things. Their mind wanders here and there and so they are not able to experience the real stage of their effort so much.
Secondly, Mama said: At present, science is moving forward at a fast speed, with great subtlety. They are making all small things very powerful. The children who have the power of silence are lacking that practice because of being diverted. Mama said: With silence, experience your original form. Be introverted and experience the Father's company, and with this experience you will easily be able to carry out the task of world transformation. Mama was saying: All are specially beloved and running around a lot for service. Each one's aim is elevated. However, when they are diverted, they become a little slack in reaching their goal. Mama was saying: Seeing the time, transformation has to take place quickly and before that, whatever is still remaining in the task of establishment has to be accomplished quickly especially with the power of silence. Have such subtle experiences with the power of silence that transformation and establishment take place automatically very fast and very well. Baba continued to smile and then those of the advance party asked Mama to share more. Mama replied that everything has already been revealed. Children listen to everything, and they relate it very well too, but their stage of renunciation fluctuates a lot. So, make your stage of renunciation powerful and according to the time, make your stage strong. As you move forward, time will show you many scenes. So, in order to overcome those scenes, practise being in the constant and stable stage. Then I placed the bhog in front of Baba and Mama and Baba said: Today, Baba will make Mama accept the bhog. Mama said: No Baba, I will not accept it first. Children have to accept it first, because a mother always feeds the children first. Baba said: Ok, that is fine. What did Baba do then? Baba made many brothers and sisters emerge in the subtle region. Baba had bhog in one hand which was for Mama and in the other hand was bhog which Baba gave to Mama in her hand, and as Mama placed it in the front, it was as though this bhog plate reached everyone and they were all very happy. Mama was seeing this and saying, "you first". Mama's slogan was: "you first, first the children, then Baba and then I. Baba said: Look, what is Mama teaching everyone even now? By placing everyone in the front, you will move ahead yourself.

Those of the advanced party who were there stood there in a circle. Bhog was given to them too. They were surrounding Mama. All the children said: Give lots of love and remembrances to Mama on our behalf. Mama said: All children, come. All the children came running as little children do and climb into their mothers lap and cling to her. Mama said: Children are saying, "Maa, take us in your lap. However, the lovely lap is that in which every thought of yours is in Baba's remembrance and with Baba. Then you will continue to swing in the lap of beloved Baba and Maa and you will have many experiences, easily be able to overcome all types of adverse situations, be a flying bird and give this experience to others too.
Then Baba gave special remembrances to all the service companions of the present time, Dadi Janki, Dadi Ratanmohini, Dadi Gulzar and all other service companions, those of the advance party, Mama continued to look at all the children, smiled and said: All Baba's right hand children are doing so much service making everyone move forward and celebrating a meeting with Baba. She gave remembrances to everyone, and I then came back here.
* * * O M S H A N T I * * *

In Photos: Dadi Janki visits Different Departments in Pandav Bhawan
20 June 2018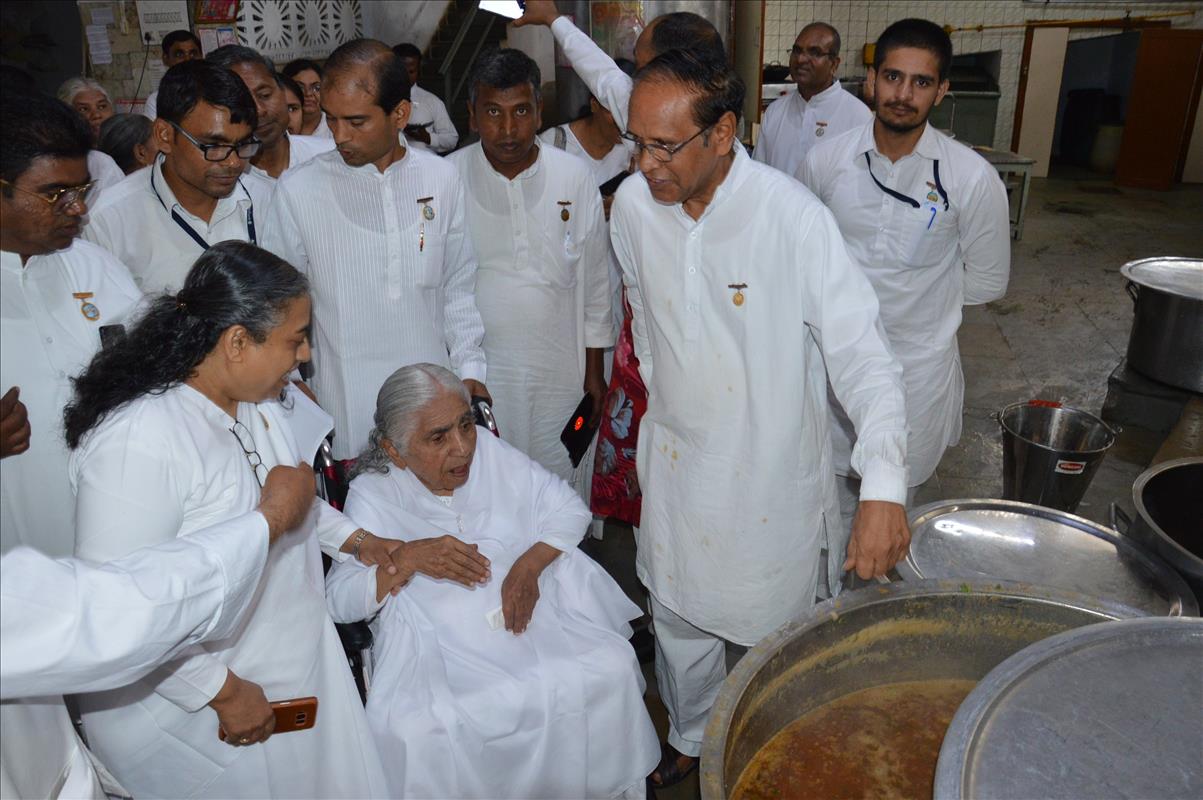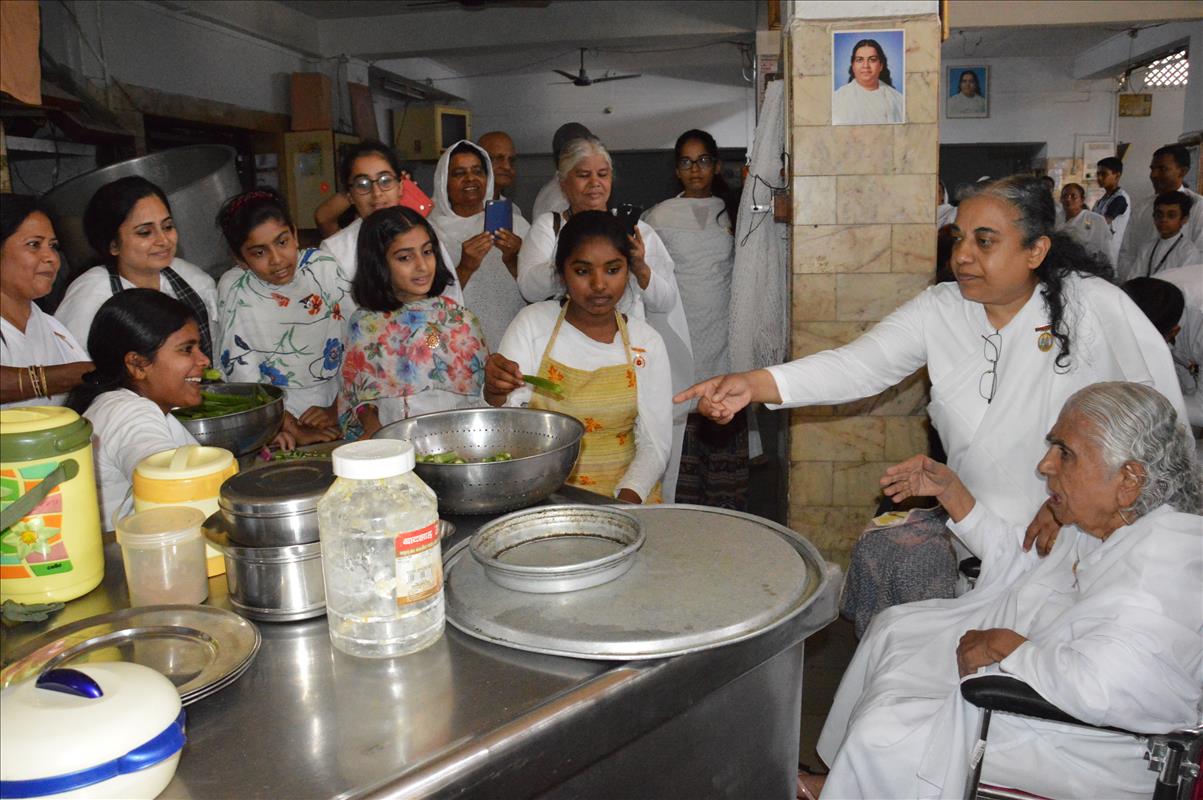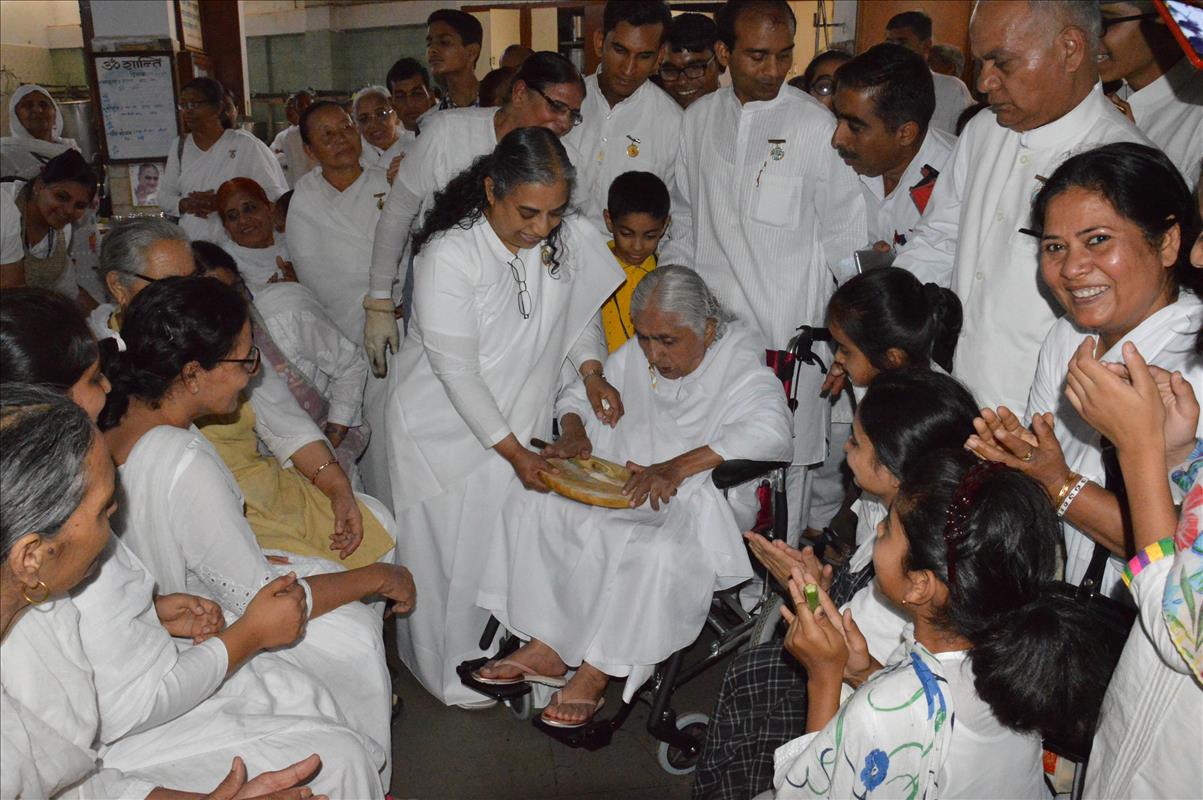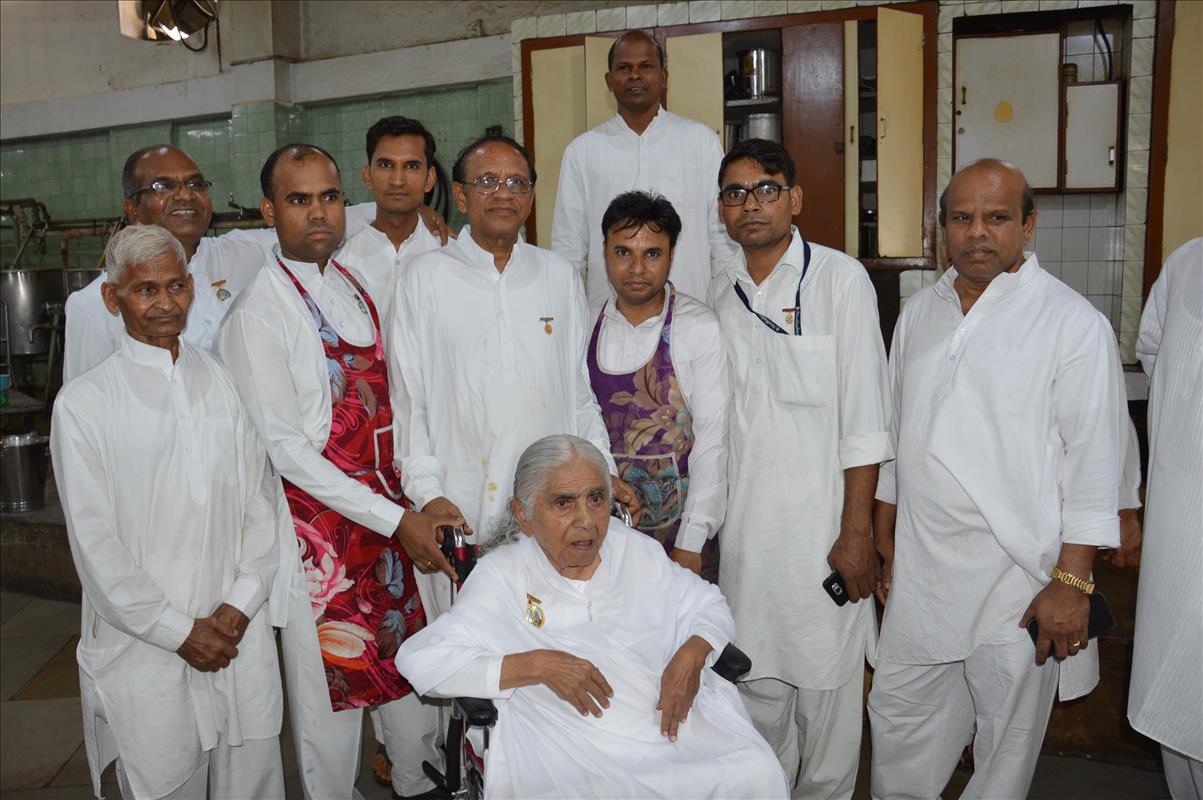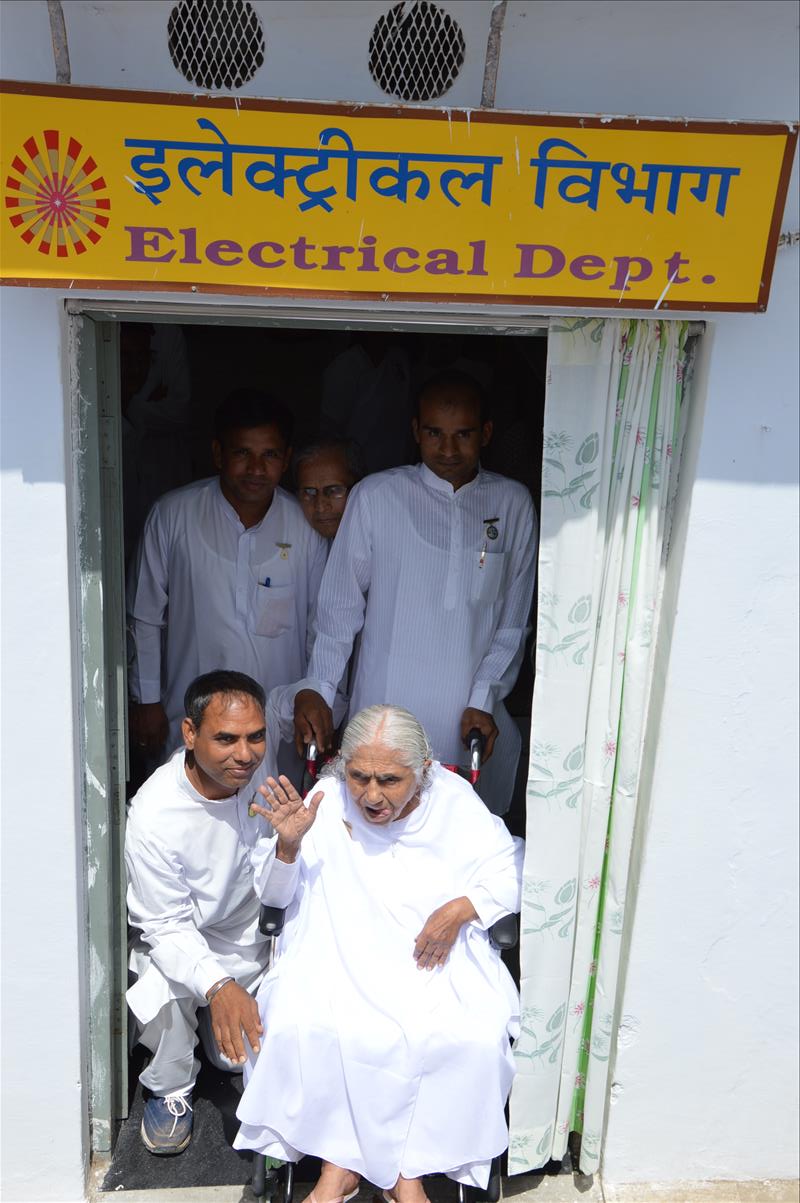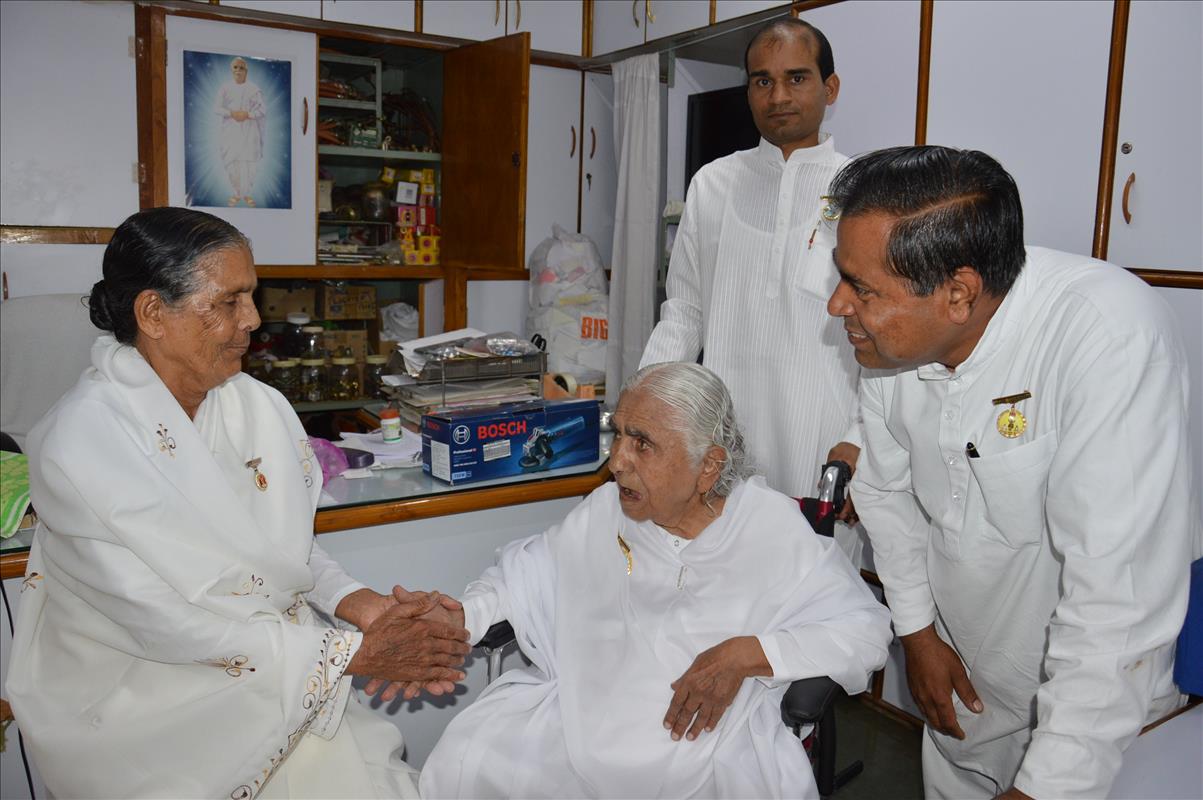 Educators' Conference on 'Values and Spirituality for Empowering the Self', Gyan Sarovar, May 18

th

-22

nd
08 June 2018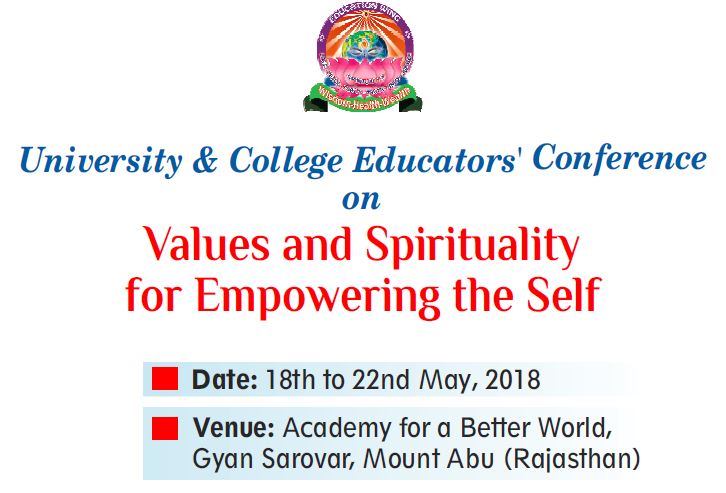 Divine Family,
BapDada's Most Serviceable and Loved Instruments of all the centers,
Please accept multi-million times of Godly love remembrance and good wishes for your elevated and successful life.
University & College Educators' Conference on
'Values and Spirituality for Empowering the Self' from 18th to 22nd May, 2018 is being held at Gyan Sarovar Campus, Mount Abu. Only 400 University Educators' have been invited for this program because of limited accommodation.
Click here to download the Program Booklet having details of the program.
This Conference was enthusiastically attended by the intellectuals and elite academecians like Chancellors, Vice-Chancellors, Ministers, Educational Administrators, College Principals, Deans, HODs, Professors, Associate Professors etc.

Br. Surya of Madhuban Dining Celebrates 68th birthday, as reported by Br Harilal of Godlywood Studio
08 June 2018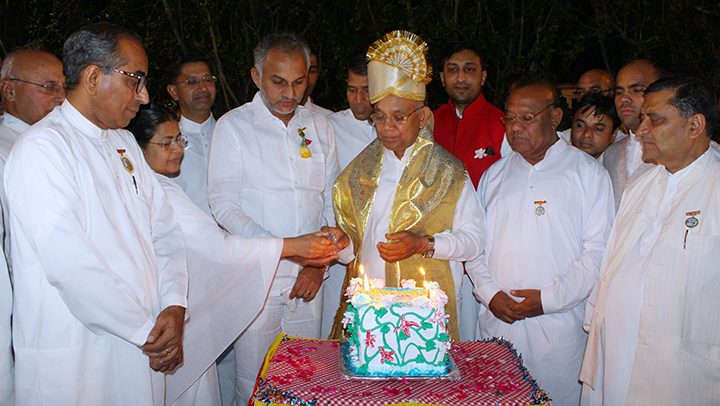 Dear Divine brothers and sisters, Om Shanti.
Yet another occasion to celebrate: The unique child of Baba, versatile orator, crusader of Godlywood Studios world famous TV show "SAMADHAN" and my divine friend from last 4 decades Rajyogi Suraj bhai celebrated his 68th birthday at peace park in presence of BK brothers & sisters of the Headquarters campus. Felt extremely happy for the opportunity to be present at the occasion.
I remember the beginning of our association which started during the first international peace conference at Mt. Abu in 1983, where Dadi & Didi entrusted me with the supervision of Bhandara (where I also had the good fortune to introduce the concept of VIP Kitchen for the first time in Yagya) which allowed me to come into contact with Suraj Bhai - the Rajyogi par excellence.
Let me take this opportunity to wish him well on behalf of Godlywood TEAM to continue the great work of making a positive change in the society. May Baba shower His blessings on him for a long and healthy spell of selfless service.
IBY, With Warm12px;">

Holi Greetings from Nirwair Bhai
1 March 2018
Dear Divine Sisters and Brothers all over the globe,
Please accept hearty Godly love and remembrances from Madhuban-Shantivan.
We in Bharat are celebrating the Festival of Colours, well known as 'Holi' today and tomorrow, 1st and 2nd March. It's always celebrated in two parts: one signifying the burning of Holika (negativity) and then the second, celebration with colours, laughter and games, symbolising the expression of joy and happiness.
It marks new beginnings where life becomes more colourful and radiant. For Baba's BK children, it's another occasion that inspires us to ward off our subtle weaknesses and emerge as the embodiment of all love, while maintaining divinity in our relationships.
Let us continue to colour each other with virtues, as symbolised by the colouring of each other with multi-colours!
Wishing all of you a very, very healthy and happy Holi as we welcome the beautiful Spring season when flowers are in full bloom, trees are covered with new leaves, and the mango trees are especially laden with raw mangoes!
With Godly greetings,
On Spiritual Seva,
B.K. Nirwair

Scientists & Engineers Wing(SEW) Conference from 25

th

- 29

th

May' 2018 to be held at Gyan Sarovar
28 February 2018
Scientists & Engineers Wing (SEW)
Conference-cum-Meditation Retreat on
Unlocking Secrets of Life Management
Friday, 25th May to Tuesday, 29th May' 2018 at Gyan Sarovar, Mount Abu.
We are Pleased to inform you that Scientists & Engineers Wing is organizing a Conference-cum-Meditation Retreat from Friday, 25th May to Tuesday, 29th May' 2018 at Academy for a Better World, Gyan Sarovar, Mount Abu (Raj.).
Who can Participate :- Only high category Engineers as Superintending Engineer & above, Senior Scientists, Technocrats, Principals & Head of the Departments of Engineering Colleges, Scientists – E & above, Sr. officers of Scientific Organizations etc. IT Professionals need not apply as there is a separate conference of IT Wing at Gyan Sarovar in the month of August 2018.
After receiving confirmation from this office, then only reserve the tickets of participants. No replacement please. Family member and children not allowed.
Click here to download the registration form. Kindly send the Registration form duly filled and signed by BK Centre In-charge through Post/Fax/E-mail (Scanned Copy) to the following address.
Address:
Academy Office,
Academy for a Better World,
Gyan Sarovar,
Mount Abu - 307501(RAJ)
E-mail: bksew@bkivv.org
Fax No. 02974 – 238951
Phone: 02974 – 238788 to 238790, Extn.7609;
02974 – 228101 to 228108, Extn.7119
Note:- BK'S & SEW Members are requested to give the chance of attending the Conference to the new delegates. Under only pressing circumstances, they should accompany the delegates.
Thanking You,
In Godly Service,
BK Mohan Singhal,
National Co-ordinator,
Scientists & Engineers Wing (SEW),
Mount Abu.

Programme Booklet of Shantivan International Conference-cum-Cultural Festival
28 February 2018
BapDada's most loving, serviceable Instruments around the Globe,
Multi-Million times greetings of Peace, Health and Happiness.
May BapDada shower upon you His blessings of love, light, might, peace, bliss, divine wisdom, knowledge, sweet nature and good wishes.
The divine family of Prajapita Brahma Kumaris Ishwariya Vishwa Vidyalaya is proud to hold an International Conference-cum-Cultural Festival on "God's Plan: Rajyoga for World Peace, Health & Happiness" from 23rd to 27th February, 2018 at our Shantivan Campus, Abu Road, Rajasthan.
Many prominent personalities from different fields such as science, technology, politics, religions, spirituality, judiciary, media, industry, art & culture, sports, medicine, education, economics, administration, etc. from all over India and different parts of the world will participate in this event.
Click here to download the programme booklet.
We are happy to inform you that special website (www.bkiccf.org) has been created for International Conference 2018.
With love and Regards,
Your Spiritual Brother
BK Mruthyunjaya
Vice-Chairperson, Education Wing
Brahma Kumaris, HQ, Mount Abu
http://bkvalueeducation.in

In Photos: Shiv Jayanti Mela Programme
28 February 2018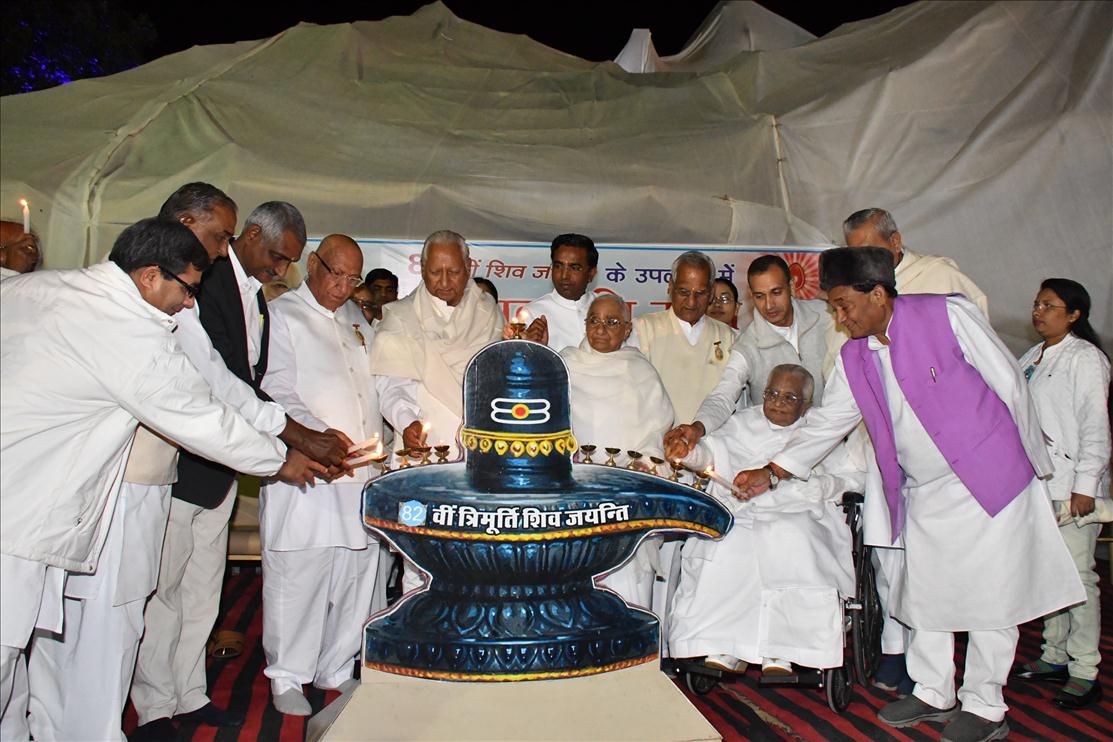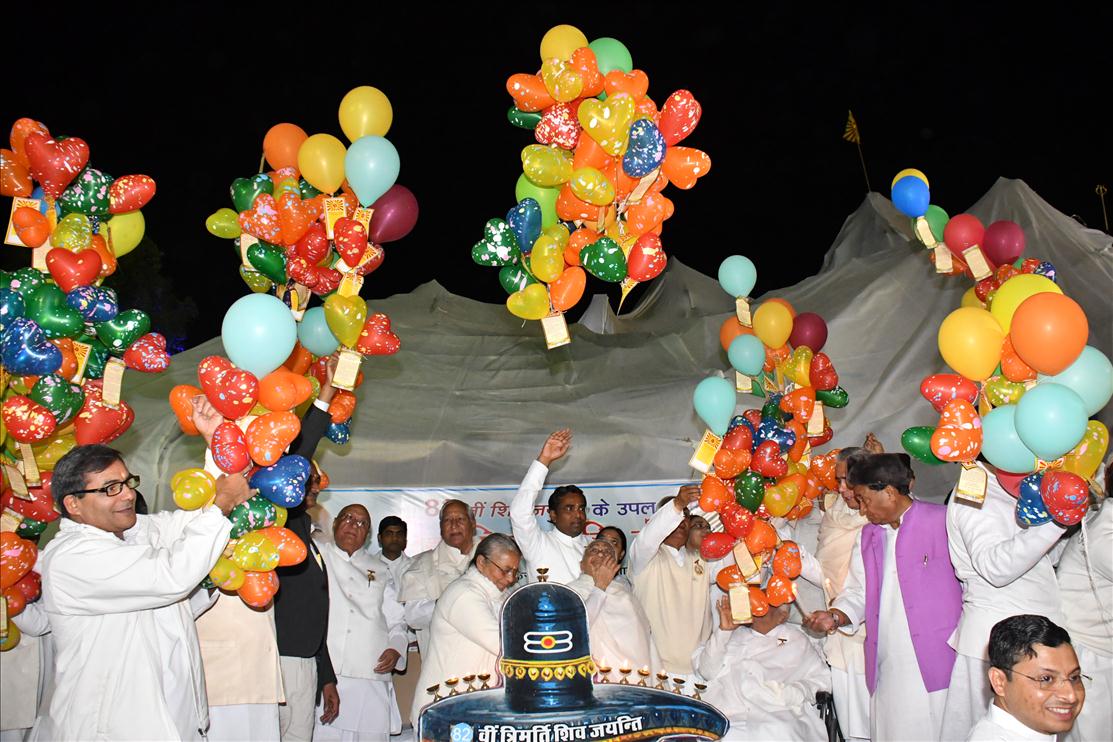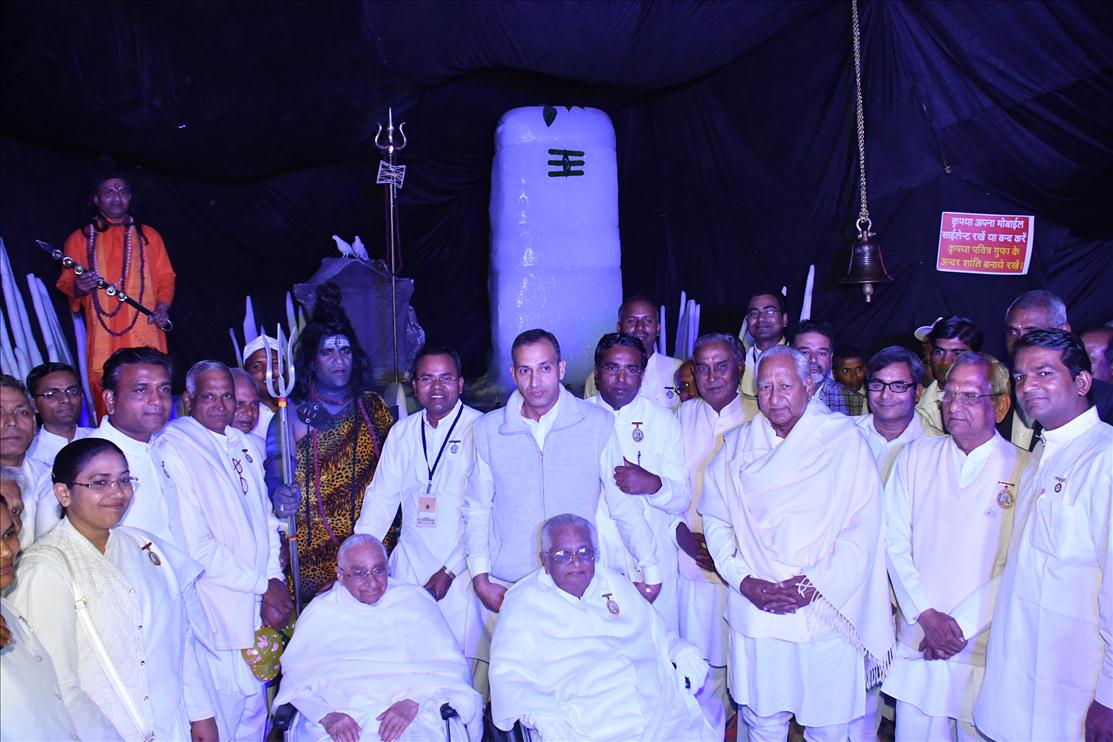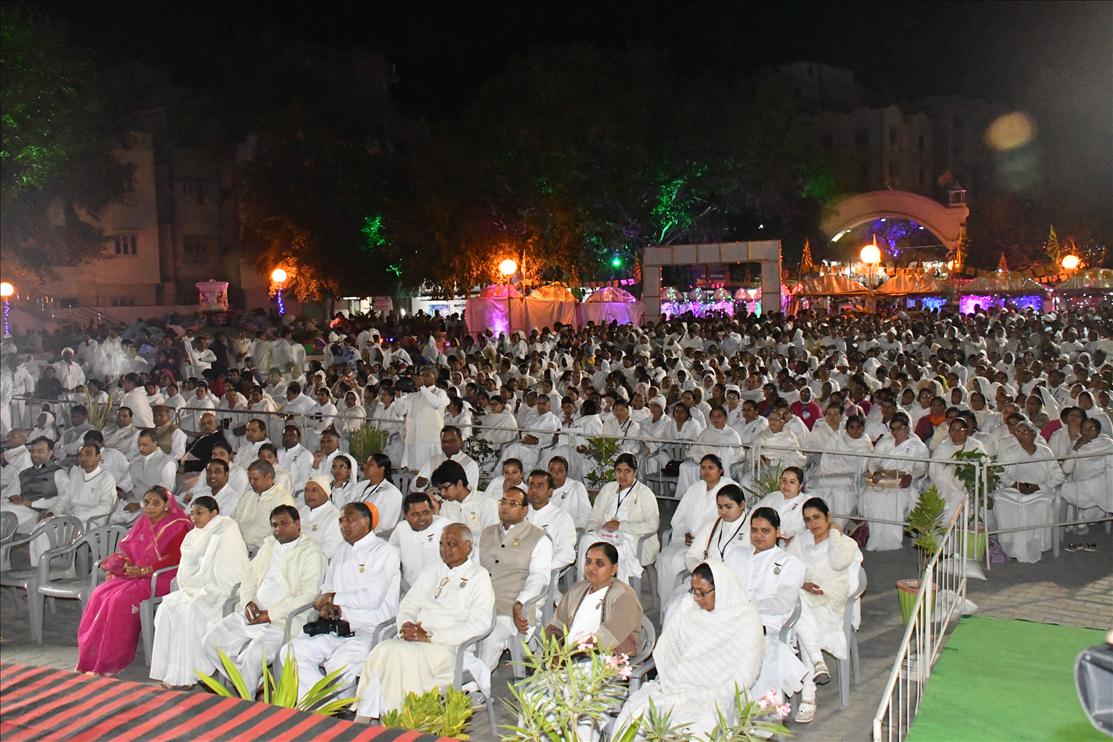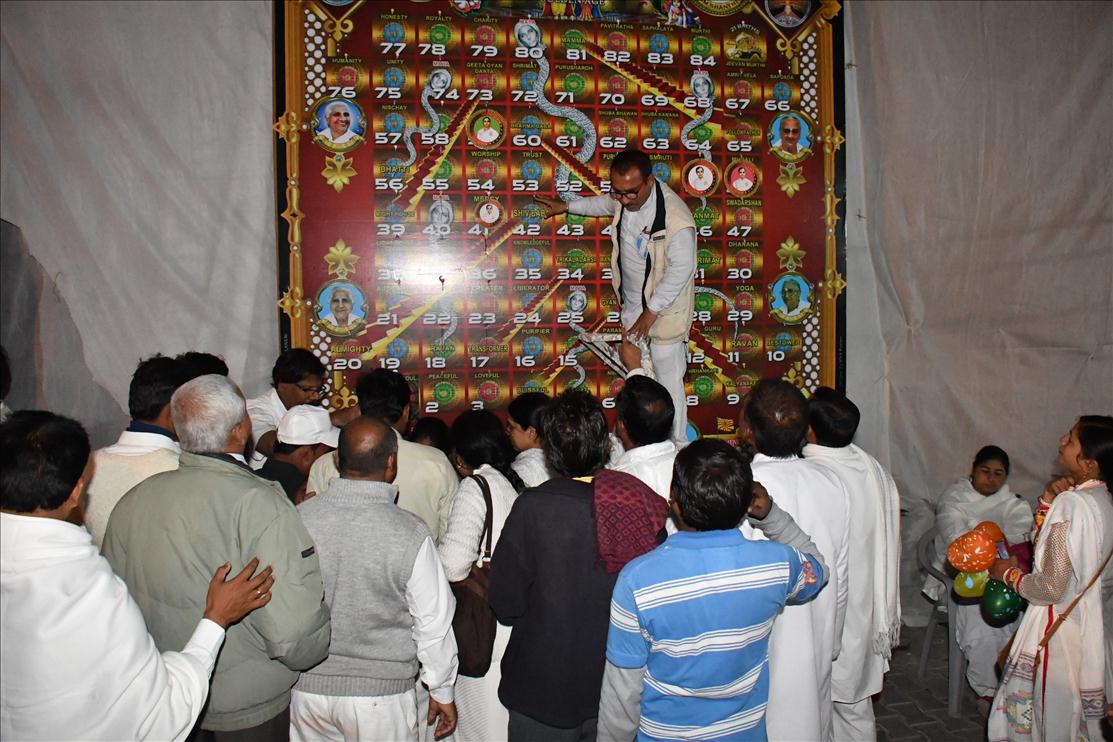 In Photos: Shiv Jayanti Flag Hoisting in Shantivan
28 February 2018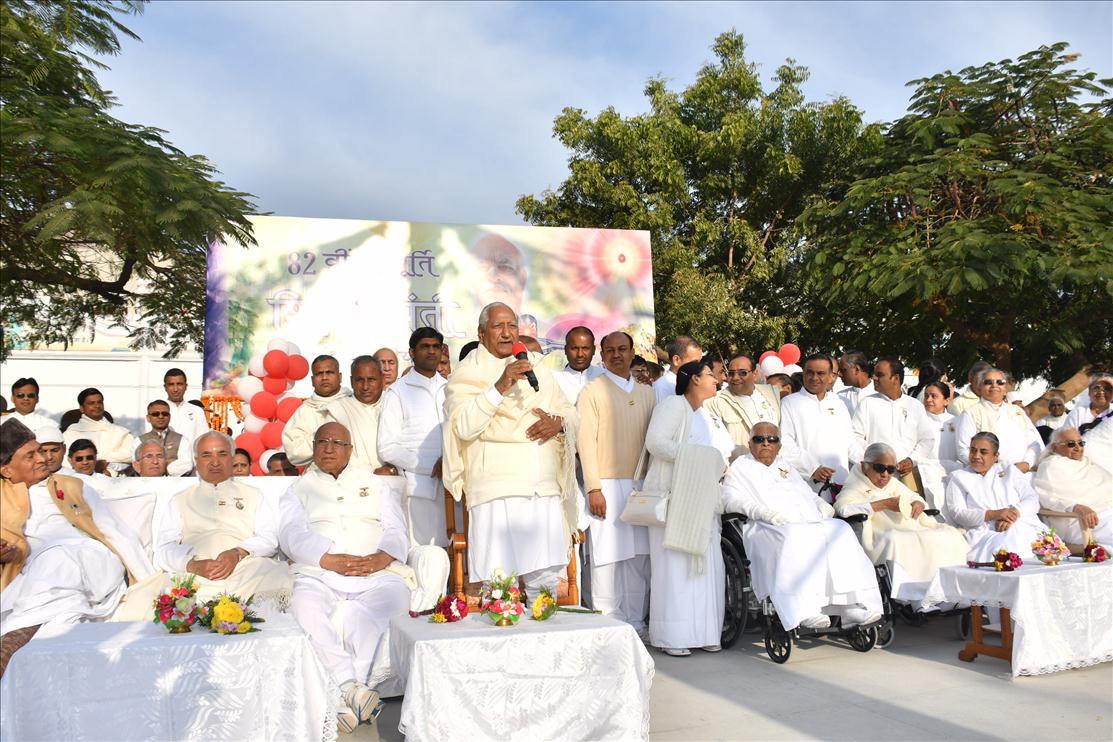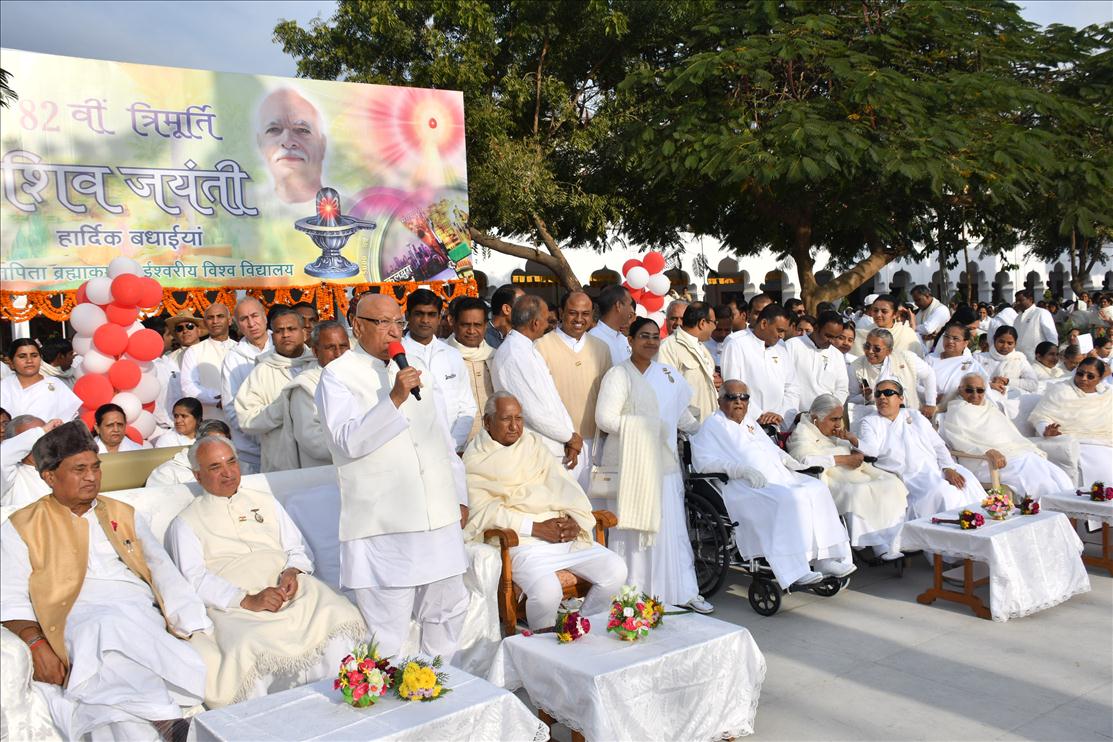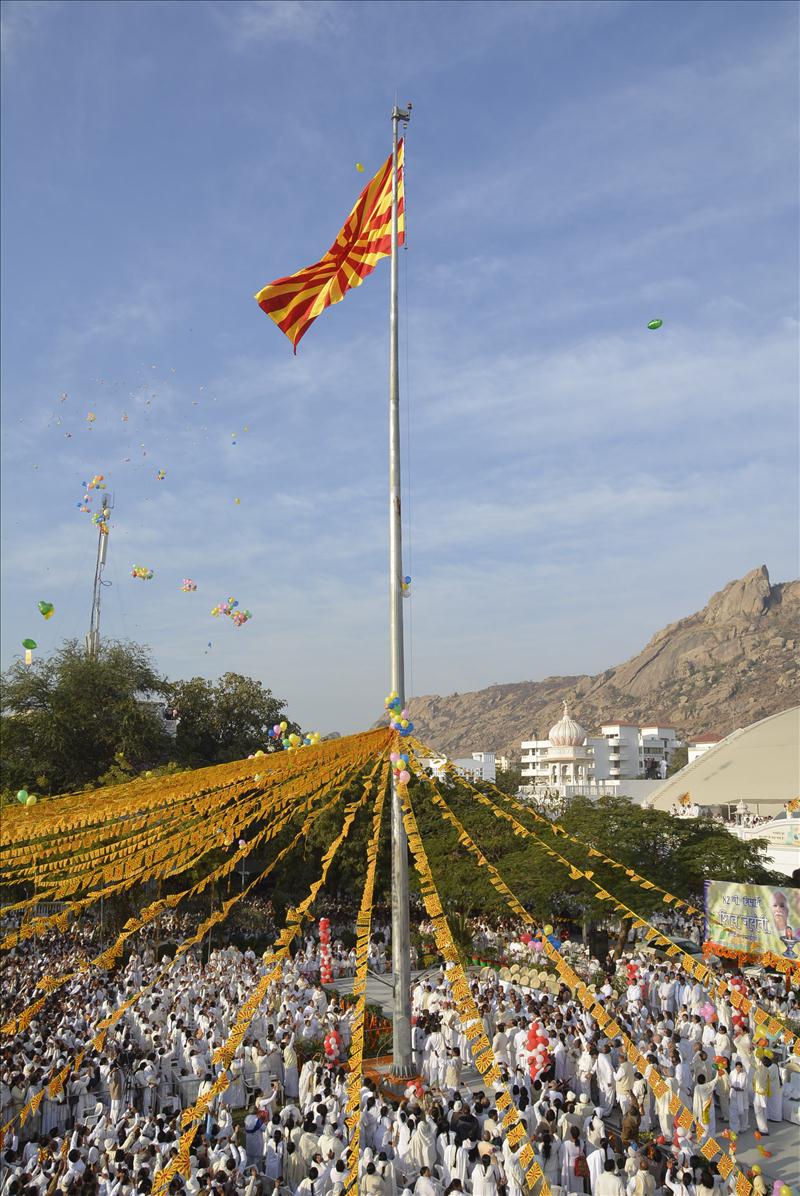 Expansion of Godlywood Digital Media Services in 7 Sister States of North-East India
11 February 2018
Dear Divine Sisters & Brothers,
Om Shanti.
Greetings from Godlywood Studio.
It gives me immense happiness to share with you the success of the expansion spree of Digital media service initiated by Godlywood Studio.

On a mission to touch every human soul on the country, Godlywood Studio is spreading its wings in the seven sister states of North-East with the help of our programs designed to blend with their regional language, culture folklore & tradition. We are glad to announce that we are one more step closer to our aim as we add 5 more channels in Cachar, Hailakandi and Karimganj in Assam as our content partners which is a significant step in reaching out to the 50 million population of Arunachal Pradesh, Assam, Meghalaya, Manipur, Mizoram, Nagaland and Tripura - The seven sister states of North East India.
All the credit of this expansion goes to the tireless efforts of Bengali Dept. of Godlywood Studio who have been focusing their attention on the North-East for a while and as a result has added 18 channels in the past 6 months in the growing list of our content partners.
Please find the details of the channels and programs and kindly inform and inspire your dear and near and all of your contacts connected to these languages/states to watch our programs on these channels. Let us work together towards the fulfillment of our common aim - glorification of Baba with the help of Digital Media.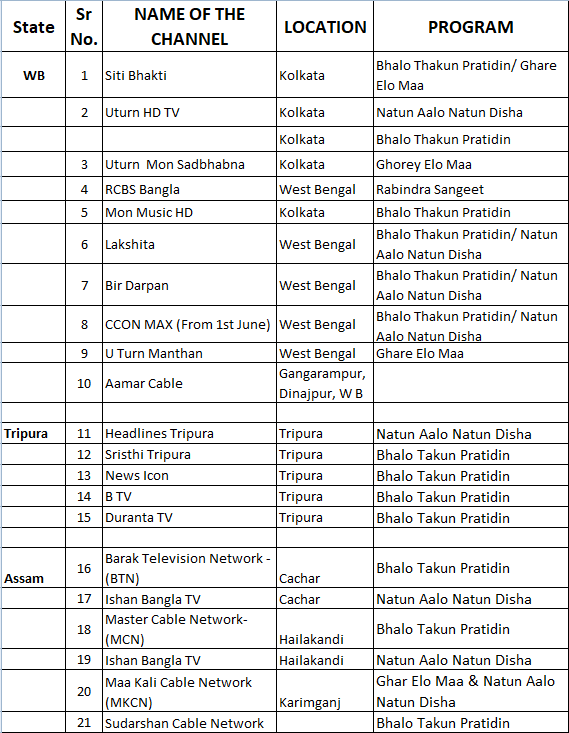 Thanks to Baba, Dadiji's and all Seniors for their utmost support and blessings.
IBY, With Warm Regards,
BK Harilal
Executive Director
Godlywood Studio
World Renewal Spiritual Trust
Youtube: youtube.com/omshantichannelgws
Website: www.godlywoodstudio.org

BK Value Education Courses at Annamalai University add Personal Contact Program (PCP)
11 February 2018
The inauguration of Personal Contact Programme (PCP) of Value Education & Spirituality Courses of Annamalai University in collaboration with the Prajapita Brahma Kumaris Ishwariya Vishwa Vidyalaya (PBKIVV) commenced in Training Centre (Hall No. 3) of Shantivan Campus at 10.00 a.m. on January 24, 2018 with enthusiastic participation of candidates from various parts of India.
The respected guests and speakers were welcomed with bouquets and badges by Brahma Kumaris sisters and a heart-touching rendering of value-based welcome song by B.K. Satish and B.K. Bhanu of Madhurvani Group.
Sister B.K. Shivika, Executive Member, Education Wing, Shantivan, welcomed the guests and speakers on the dais and the participating candidates of the personal contact programme. Dr. R.P. Gupta, HQs. Co-ordinator, Value Education Programmes, elaborated about the personal contact programme (PCP) highlighting its significance and importance. Dr. B.K. Pandiamani, Director, Value Education Programmes, detailed about the success story of the life-changing Value Education & Spirituality (VES) Courses, which are running in 14 universities in the country and abroad in 11 languages. Dr. Harish Shukla, National Co-ordinator, Education Wing, Ahmedabad, while offering his good wishes, said, "The world is turning to hell due to rapid deterioration in values and spirituality. This VES degree is not a paper degree but is meant to help the candidates inculcate values and spirituality in their practical life and transform them into deities."
The respected guests and speakers lighted the candles to formally inaugurate the Personal Contact Programme (PCP) with the candidates expressing their keen and overwhelming interest, zeal and enthusiasm with their curious clapping. B.K. Mruthyunjaya, Vice Chairperson, Education Wing, Mount Abu, said, "This Value Education Programme is a missing link in our education system. Now, universities are coming forward to collaborate with the Brahma Kumaris Organization (BKO) in order to link this course in formal college and university education both in general and technical education as well. Unlike the other educational degrees, it is a unique degree of truth and purity, which is meant to make human beings divine and worship-worthy." B.K. Nirwair, Chairperson, Education Wing, Mount Abu, while offering his blessings, said, "I hope this Value Education Programme will reach the whole mass in due course of time. With its practical application, when every human being will become a deity, then the whole world will turn to a kingdom of deities. Annamalai University earlier recognized this spiritual knowledge and agreed to offer this in formal courses. I hope that after undergoing these yogic and spiritual experiences, you will not only demonstrate yourselves but also the Incorporeal God Father as well.
Sister B. K. Supriya, Executive Member, Education Wing, Shantivan, co-ordinated the stage activities very successfully.