2018 Aug - Dec Europe News Archive
2018 Aug - Dec Europe News Archive
Celebrating National Inter-faith on 17th November at GCH London: The Character of Love
27 December 2018
Global Co-operation House has been honouring National Interfaith Week for over 10 years, welcomed and introduced by Georgina Long, Brahma Kumaris Inter Faith Coordinator UK. This special programme offered a seamless, meditative and creative exploration on the Character of Love, from personal and faith perspectives. It focused on three aspects: Love of the World: Devotional Love and Pure Love. There was a wonderful flow of contributions and it took everyone into a beautifully reflective space. Musician Ann Malone played throughout the afternoon, filling the spaces between contributions with sounds of beauty and silence using bells and other instruments, creating a weave of contemplative sound.

MC Sharon O'Regan began with the challenge to everyone to stay curious, playful and journey...she opened with a poem to open the heart: Everyman by John Wood...'open drawers that mainly stay closed'...
An audio visual of the rousing version of Stand by Me, by Ben E King, performed by The Kingdom Gospel Choir at the wedding of Prince Happy and Meghan Markle, extolling the supportive nature of human love: No, I won't be afraid... just as long as you stand by me.
Ann Malone created the shift into devotional love with a haunting song calling: I bow to you...We are coming home...oh my beloved...
Mary Hale, from the Buddhist tradition emphasized that 'what lonely people need is love...to feel cared for...the Buddha reminded everyone of the interconnectedness of everything' and that we may not like someone but we can still love them and show loving kindness. She read a piece from the Buddha which included 'may all beings be at peace...whatever living beings may be, strong or weak; ...the seen and unseen...those near and those far...those born and those yet to be born...may all beings be at ease...'
Jon Dal Din from Westminister Interfaith offered extracts from St Paul's letter to the Corinthians on the gift of love, which is popular amongst Christians: If I have the gift of prophecy, understanding all mysteries and knowing everything and faith in all its fullness to move mountains... but without love...I am nothing at all...Love is always patient...love is always kind...it delights in the truth...ready to excuse, to trust and to hope and to endure whatever comes...it does not come to an end...
Reverend Rob Harrison complemented this with playing the saxophone to the tune of Nature Boy by Nat King Cole...'the greatest thing you will ever learn, is just to love and be loved in return...
Zara Touzani, introduced the wisdom of Rumi on behalf of the Muslim community: 'I am bewildered by the magnificence of your duty...Your fragrant breath like the morning breeze has come into the garden of my mind...every fibre of my being is in love with you...the arrow of love has arrived at the heart...I am a house of mercy and my heart a place of prayer...
Download full report here.

Seasons Greetings from the Austrian Family
23 December 2018

London Service: Diwali Celebration & National Interfaith Week
28 November 2018
Diwali Celebrations in GCH, London
Diwali was celebrated 4th November 2018 in GCH, London. There were spiritual insights from Dadi Janki and Sister Jayanti, dances and candle lighting with numerous VIPs. Sister Jaymini was the co-ordinator on stage. A beautiful atmosphere was created.
See the report (Click here)
****************************
Celebrating National Inter-faith Week at GCH
This programme "The Character of Love" was celebrated recently and was a beautiful sharing of ideas of faith from many religions. There were contributions from many talented people who entertained everyone.
See the report and photos (Click here)

Diwali Celebration - A Return to the Kingdom, GCH, 4th November
9 November 2018
Diwali was celebrated 4th November 2018 in GCH, London. There were spiritual insights from Dadi Janki and Sister Jayanti, dances and candle lighting with numerous VIPs. Sister Jaymini was the co-ordinator on stage. A beautiful atmosphere was created.
Sister Jaymini welcomed over 450 people to Brahma Kumaris and reminded everyone how this year there are Diwali celebrations happening throughout London, including Trafalgar Square, the Palace of Westminster and Downing Street and also in many communities and cities across the UK. Diwali is the time to revisit the light within our being and a time to remember the spiritual aspect of life. She shared that we BK's are learning to integrate spiritual teachings into our daily life, so we experience clarity in life and decision making.
Ragasuda Vinjamuri performed a dance demonstrating the power of light within and all about. Dadi Janki shared an audio-visual message, showering many Diwali blessings from Mount Abu, where she is based. 'May you all be happy and prosperous. Whatever has happened, let it go, leave it and really experience a happy Diwali ... When we see one another ... light lights up within us ... When there is sweetness, humility and patience, there is real happiness and your voice will have a smile in it... Where does true happiness come from? The Divine One up above. This One is a Guide and Friend and let's celebrate this connection, so our life brings light into the darkness of the world. Let's celebrate Diwali all over'.
See the full report (click here)

Diwali Greetings from Austrian Family
9 November 2018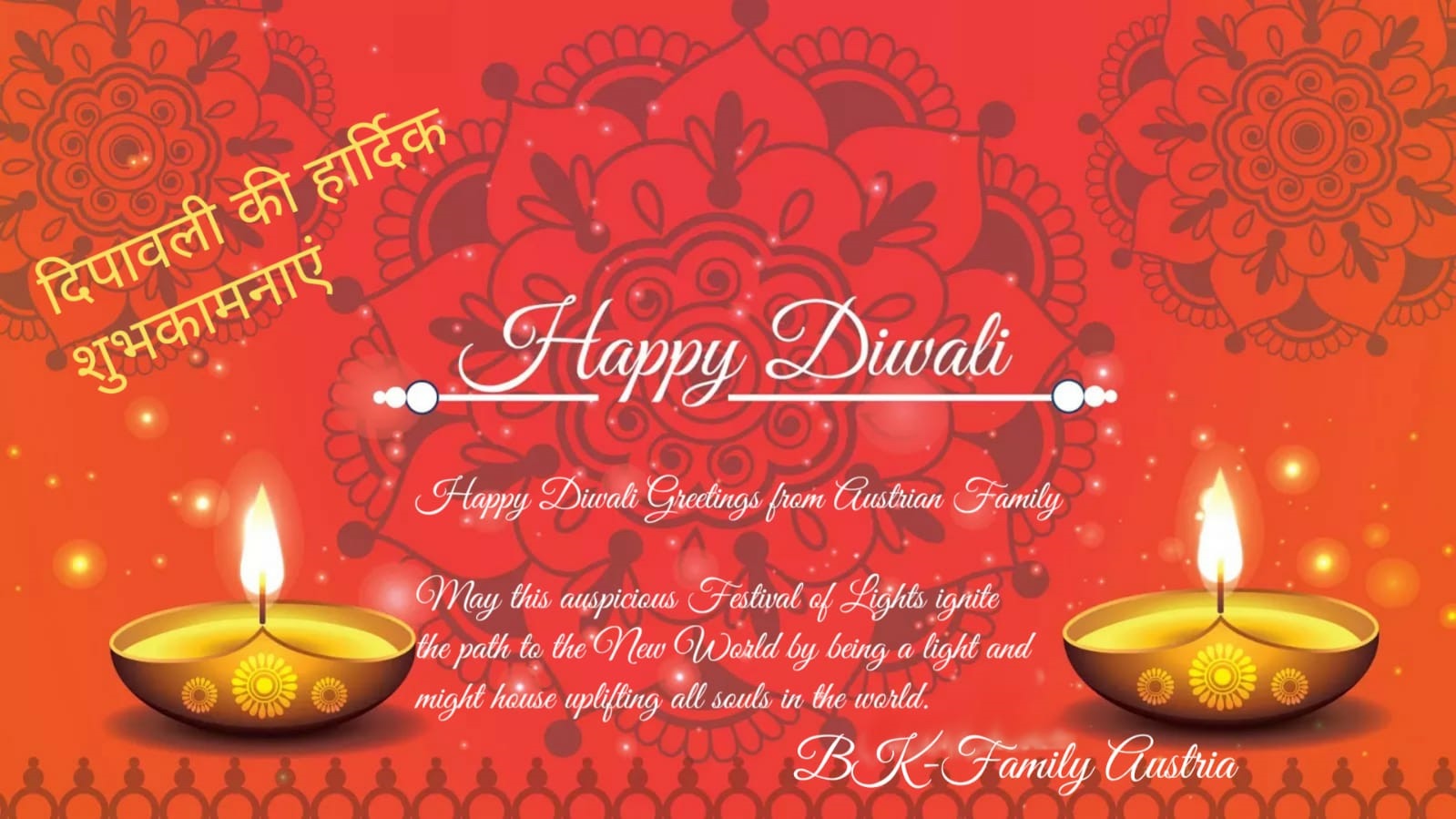 Diwali Greetings from Sudesh Didi
9 November 2018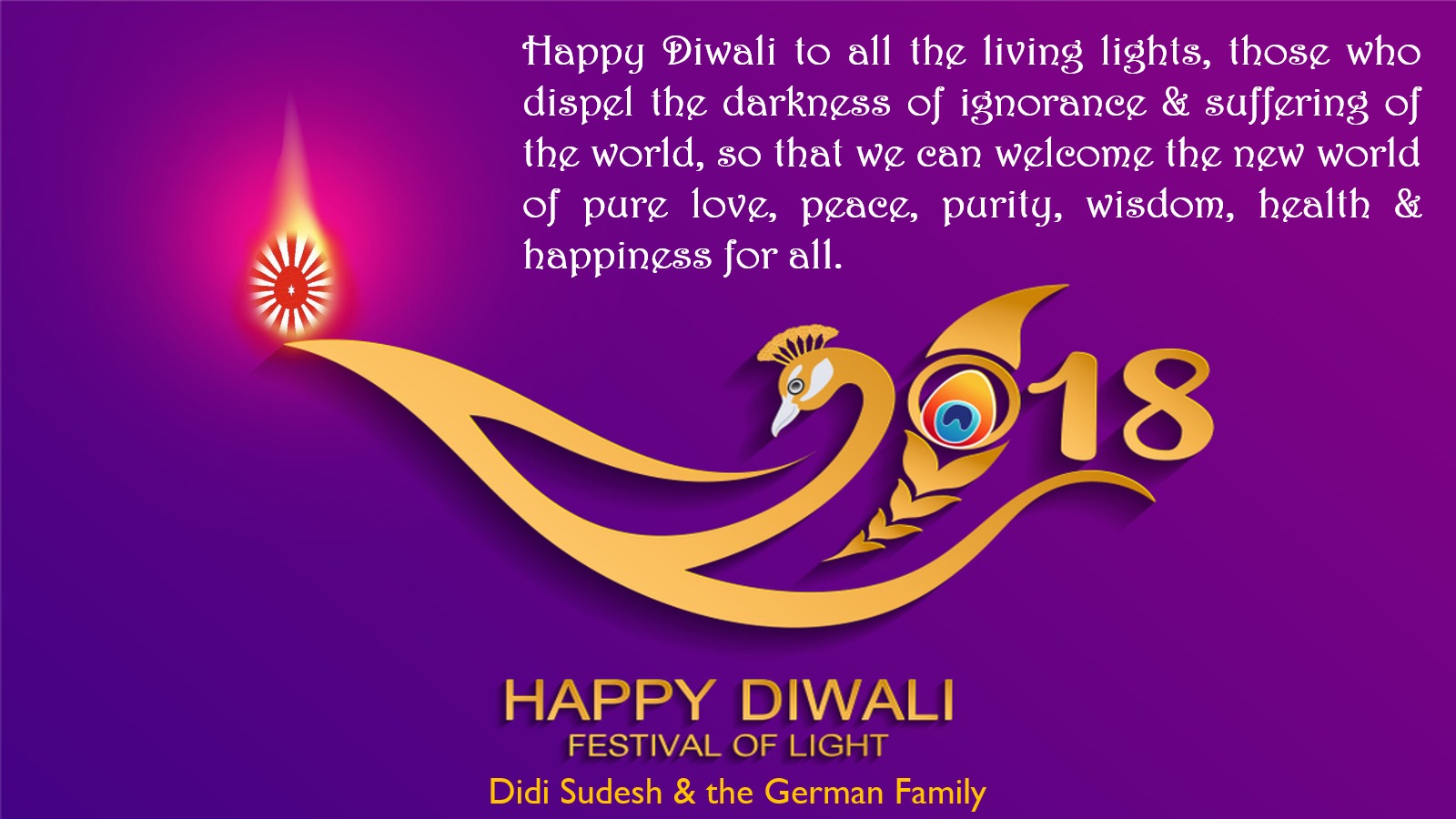 Diwali on Trafalgar Square 2018 London, UK BK Service Report
9 November 2018
'Londoners celebrated Diwali, the Hindu, Sikh and Jain Festival of Lights, in Trafalgar Square today. The event saw the public and performers dancing in the Square, amongst other festivities. Even an unexpected heavy hailstorm didn't dampen the spirit!' Newsflare
'Trafalgar Square looks amazing lit up for Diwali 2018, celebrating in the heart of London. With an exciting line-up of music and dance, plus workshops, foods and crafts for the whole family, it was a fantastic day out for everyone'. Visitor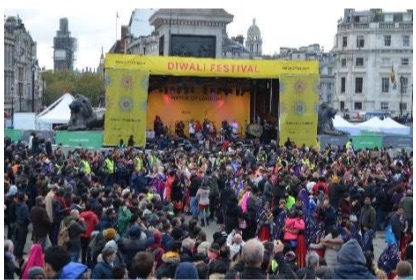 For the first time celebrations began on the Square with a traditional Rajasthani Ghoomar dance, involving over 150 dancers. It was a spectacular performance and the square was transformed for 20 mins into a beautiful swirl of harmony and colour, followed by an energetic Garba dance involving the developing crowd as the afternoon's Diwali celebrations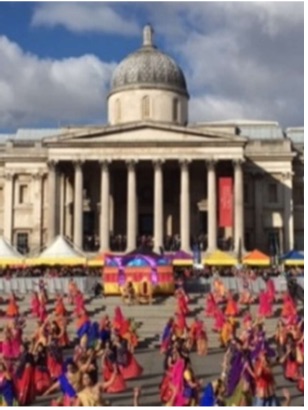 In collaboration with 12 other Hindu organisations, known as the Diwali in London Committee, Brahma Kumaris have been working with the Mayor of London's office to deliver Diwali celebrations at Trafalgar Square for 17 years. Each year it attracts thousands of people from many backgrounds and this year was broadcast live by Aastha TV to a global audience. The BK representation was once again led by Sister Jaymini Patel. This year there was an atmosphere of real tranquillity and the event ran seamlessly......even in the biting cold
On the large video screen before the opening ceremony Dadi Janki's video message wished everyone a Happy Diwali, and reminded everyone to remember 'I am a soul, and God is mine... and it doesn't matter what other language we speak. She also reminded everyone 'to remain ever happy is to be fortunate'.Two conch shell players sounded everyone to the official opening of the main stage programme. They also heralded a hailstorm, which was taken as a very auspicious start1 With Nil Kumar MC'ing, Nitin Palan opened proceedings with a Gyatri Mantra, as Chair of the Diwali in London Committee for 2018. He is also a founding member and driver of Diwali in Trafalgar Square since its inception in London in 2001. Sister Jaymini, representing Brahma Kumaris UK and also a founding member, invited Dr Mayank, Trustee of BAPS Swaminarayan Mandir, Neasden; along with fellow Diwali in London committee members Harsha Trivedi, representing BSNL, inviting Jatinder Birdi, Vice Chair of Interfaith Network UK and Ranu Mehta, representing Sai School, inviting Varshaben Shah from Oshwal Association UK to give greetings......click here for full report with photos.

Updated News re major refurbishment at GRC, Oxford
9 November 2018
Greetings of love from Madhuban,
It is so good that Ratanbhai is sending news about the work at Baba's Global Retreat Centre so far. I know that all of you have so much love and are supporting the project to the best of your ability. As you know the project is big and more than anything else we need everyone's love, good wishes and yoga power. With that in mind I would like to humbly request that you hold GRC in your vision and also specifically do ten minutes of yoga for this project after Murli each day and also at any other time you feel works better for you.
We are always happy to hear any special thoughts your experiences that you may have with this.
In Baba's loving remembrance
BK Jayanti
Updated News re major refurbishment at GRC, Oxford
Dear Family,
Om shanti. You will be pleased to note that following the emptying of GRC at the end of March 2018, the works have been progressing with total commitment from the project team. Dadi Janki had said that GRC is the best historical place for BKs and we must keep it at all costs.
With Baba's blessings, we have to ensure that the GRC refurbishment works can be completed as soon as possible in the most economical way. From April 2018 onwards we have completed the following phases:
Phase 1 - Asbestos survey for the intrusive plumbing and heating work. Some areas have been completed and work continues with intrusive investigation and removal.
Phase 2 - Removal of Asbestos under the floor boards is underway. Intrusive investigation will continue behind the walls to prepare for the re-wire.
Phase 3 – All Asbestos removal has been in conjunction with The Health and Safety Executive.
Phase 4 - There are 60 bathrooms and 11 public toilets, all the old sanitary ware, including pipe work, flooring, wall tiles and ceilings are being removed. This is also a major task as we are removing all the bathtubs and replacing with showers. All the old pipe work throughout the building has to be replaced.
These works are ongoing and hopefully shall be completed by end of November, early December 2018.
We are pleased to advise you that we have obtained Listed Building consent for all the major works that we intend to carry out. We have received these approvals from South Oxfordshire District Council over the last 8 months. From January 2019 onwards we intend to start the main works throughout the building and this may take up to 2 years.
At present in a number of areas we are removing floor boards at all levels and this is a major health and safety risk. So once again I am requesting that you do not send anyone there during the major refurbishment works and you continue to give co-operation by not entering the Building. The Building is now very dangerous and a health and safety hazard to walk around.
Please be aware this is to protect the family and we do not wish anyone to be hurt in any way due to entering the Building without prior consent.
I shall keep everyone informed on how the job is progressing.
Many thanks,
Ratanbha

Mind Body Soul and Yoga Show - Alexandra Palace, UK
2 November 2018
For the fourth year at Alexandra Palace this 'Two in One' Show attracted many people from London and beyond to all things esoteric and yogi! This year the word 'experience' was again to be heard all around the many stands, many 'retreats' were offered: both appeared to reflect the need of the time to experience something more, to be able to deal with the stresses of these times and to live holistic well-being.
The BK presence and offerings were appreciated by many and a large BK team, who came to serve from many centres, engaged people with a variety of activities. There were two BK areas The Human Soul Connection and Raja Yoga Exhibition area and for the first time Glimpse of Goddesses in the Mind Body Spirit Show hall and a large BK stand in the Om Yoga Show hall. The main area offered a Meditation Space and three popular activities: Tree of Good Wishes, Emergency Optimist and Virtue Wheel as well as the BK Publications outlet.
The Glimpse of Goddess area featured two live Devis adorned with various ornaments symbolising their inherent virtues and powers. Visitors were invited to pick a card with various virtues/powers attributed to a certain Goddess and engaged in a conversation about their equally inherent virtues and powers which can be experienced through Raja Yoga.
Many enjoyed participating in each of the activities and many more browsed our areas and chatted with BK's. 'Really enjoyed the connection. In the chaos of the show this experience brought me peace'.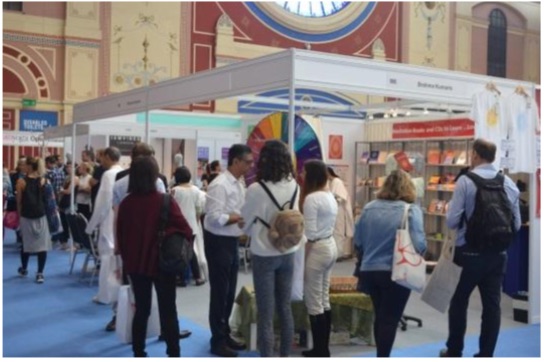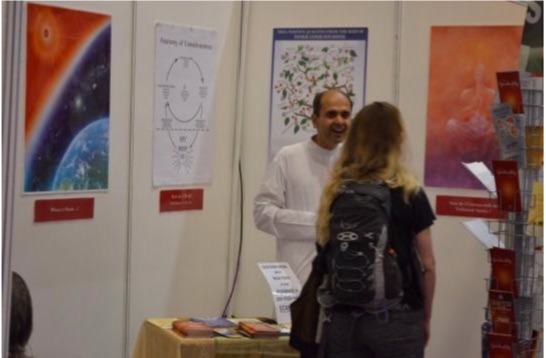 By the end of the third day there were thousands of good wishes written on 'leaves' and tied up on the Tree of Good Wishes:
Love more, stay blessed
Less judgment, more understanding and compassion
Click here for detailed report with photos.

Video of Non Violence in Today's World with Lord Bikhu Parekh, Sister Jayanti and Emily Buchanan at GCH on 6th September
18 September 2018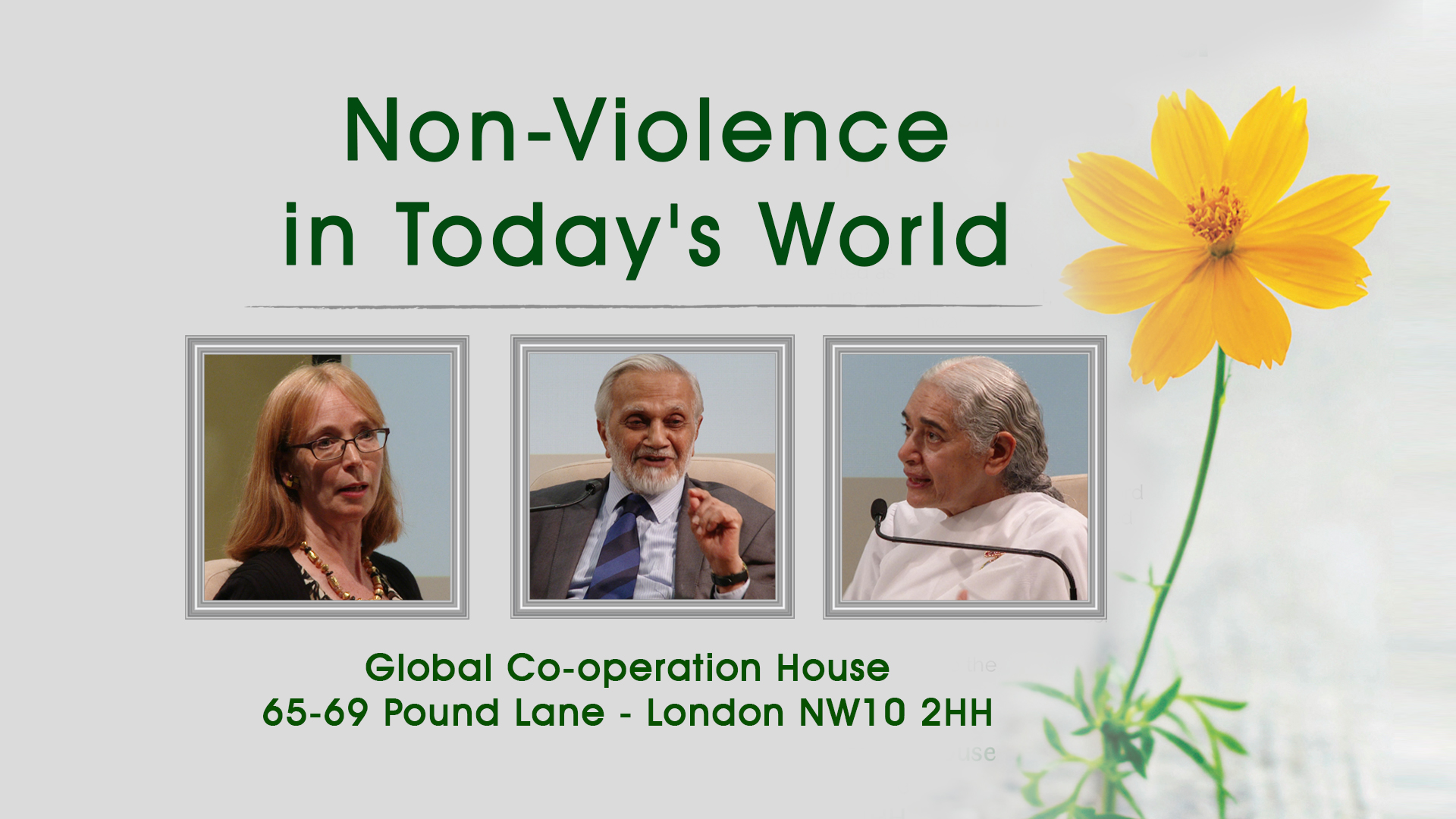 Click on above image to play the video.

Video of Janmashtami at Global Co-operation House, London on September 1st
18 September 2018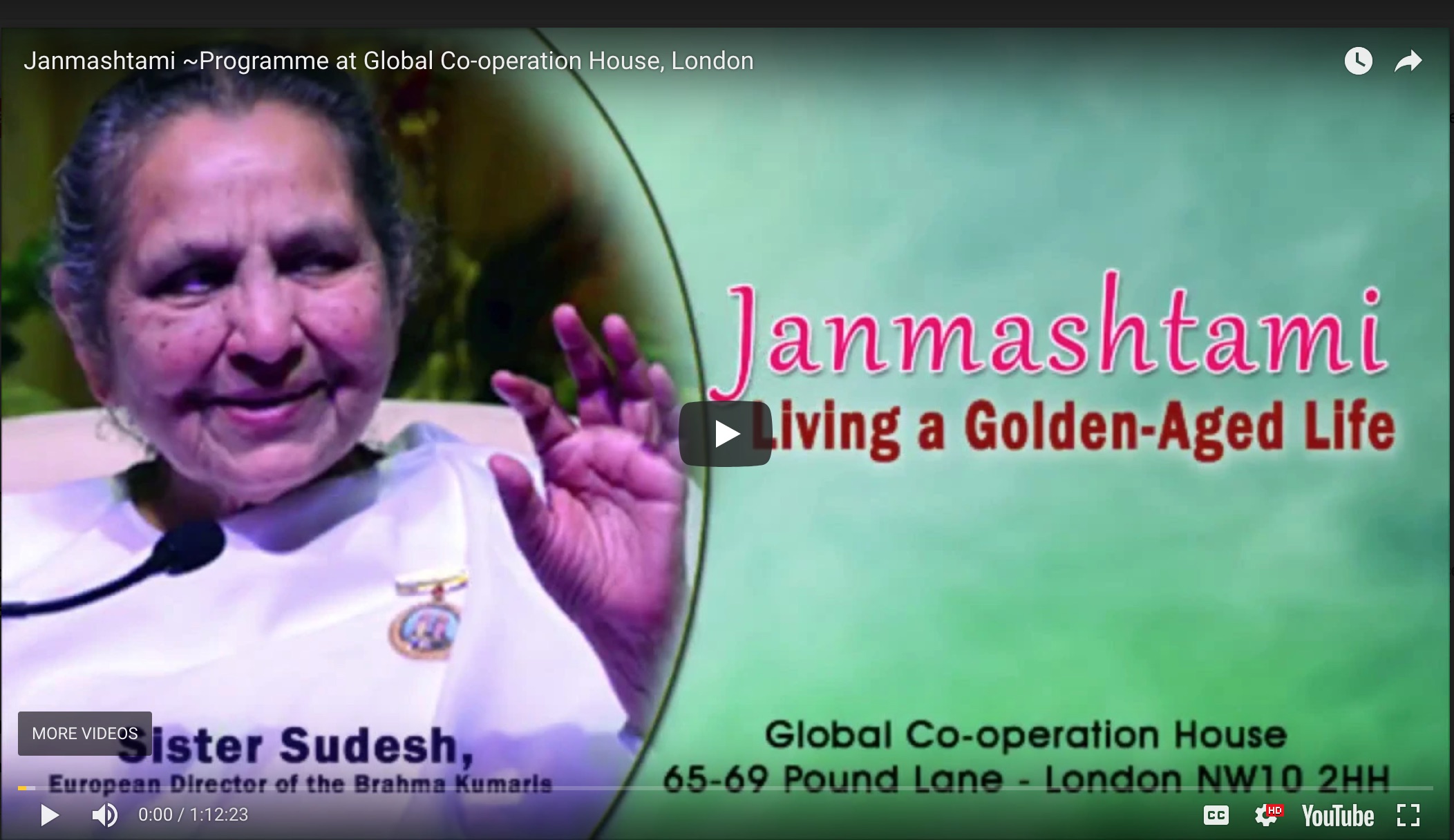 Click on above image to play the video.

Non Violence in Today's World - GCH Event on 6th September
16 September 2016
"At the centre of non-violence stands the principle of love". Swami Vivekananda.
"When there is patience there is peace, when there is peace there is love. This makes everything possible." Dadi Janki
This evening event with Lord Bhikhu Parekh, Sister Jayanti and Emily Buchanan (previously BBC) was held at Global Co-operation House, in September. The interesting discussion included the broader definition of non-violence and its potential to change individuals and the world. Sr Jayanti described spiritual insights into non-violence.
Over 100 people attended this event, with 120 logged on to the webcast. After a beautiful slide show of people over the ages associated with non-violence and their words on the topic, Arnold Desser welcomed everyone to the event and to the Brahma Kumaris. He shared how, "Each time I meditate it contributes to my growth and development and sense of peace" and how the BK's support non-violence through the deepest topic of peace. He commented how, as a child, his vision of non-violence was the "hear no evil, speak no evil and see no evil" phrase – "and so I connected evil to the senses". Non-violence, he said, is a wonderful concept. Yet the more we investigate it, the more complex and paradoxical it appears. He hoped the speakers would make clear some of the ideas on this topic. He introduced them all: Lord Bhikhu Parekh, an eminent academic, political theorist, Emeritus Professor of University of Westminster and former Chair of the Committee on Multi-ethnic Britain; Sister Jayanti, European Director of the BK's and interviewing them former BBC journalist and presenter, Emily Buchanan.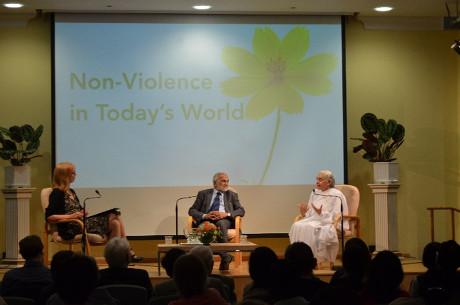 See the full report (click here)

Janmashtami Celebration at GCH, London with Sudesh Didi - Many Interesting Points from Her Talk
15 September 2018
The auditorium stage was transformed into a magical setting for the activities of Sri Krishna. Everyone was welcomed with lightness and jokes by MC's Minal Patel and Jagruti Patel: 'the harder we laugh the more true jokes are'. They also shared the beautiful message at the core of the celebration of Janmashtami, the birth of Krishna, and that it is about us and how we can learn to live a life of happiness and how this then connects with what the future of our world could look like. 'When we look at Krishna we think of happiness and his purity'. 'The one who has true happiness from within is simple, beautiful, mature and enthusiastic.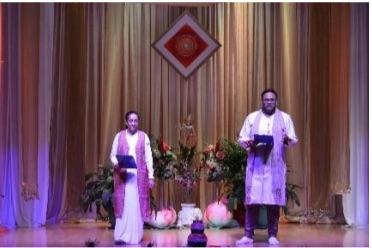 A dance then drew everyone into scenes of the golden age, as 'Sri Krishna' from the back of the auditorium and joined the dancing on stage.
This was followed with a drama whereby a 'dreamer' was shown beautiful scenes of elegant human inter action where everyone was overflowing with virtues and power as well as peace of mind. 'How can I be part of this world' requested the dreamer.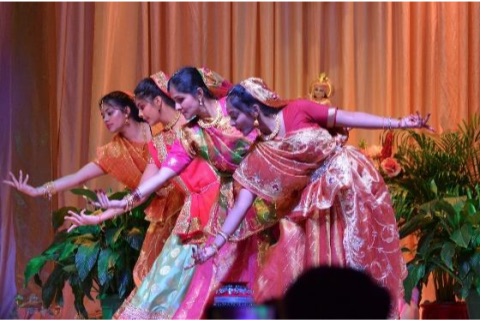 Sudesh Didi was invited on stage to share a response to this question. BK Minal introduced her as someone who has a great speciality of story telling, especially from the scriptures; going deep into the significance to glean and share the wisdom that lies at the heart of them.
Here are some spiritual points from her sharing:
➢ Undisturbed and unlimited inner happiness are celebrated at Krisha's Janmasthami.
➢ Can we dare to dream of this beautiful time. It was the past but could it be the future too?
➢ There is this wonderful character remembered from the past...charming, beautiful, pure, entertaining and yet
beyond. With no type of bondage.
➢ His heart is free, intellect is free, and there is complete happiness.
➢ The flute symbolizes the heart. There can be hurting or happiness in the heart. Hatred or kindness.
➢ Yet what makes the flute sing, it is not the wood but the flow, the energy, (the air).
➢ We would like to be happy all the time and yet when when we lose hope we have dissatisfaction in ourselves.
➢ When I am happy automatically others become happy.
➢ To regain our happiness we have to 'drink tea': Spirituality, royality, dignity, purity...What cup of tea do I enjoy?
➢ Where can I buy it? Where is it manufactured? Where is the garden that grows it? It is here in each of us, but it
has been closed for a long time.
➢ There is the desire to open the heart and be filled with these qualities. The first quality is purity. This begins with
positivity. Positive attracts positive.
➢ Inside this physical body is the living energy.. the energy that experiences and expresses itself.
➢ When we have the natural feeling of the truth within the self, there is joy and power. That is what attracts.
➢ Where there is cleanliness and honesty we shine.
➢ Our natural personality is like beautiful music playing from the inside.
➢ The wisdom revealed in the Gita is called the elevated direction....as it helps our thoughts and communication with each other.
➢ At the present time what is needed is this light within to shine from us and between us. Weaknesses and defects
developed over time. They are not part of our true state.
➢ When Krishna was here on the planet it was the age of truth, the golden age. Human beings were naturally pure
and in harmony. We remember this from the stories we hear in the scriptures.
➢ There is also the language of the artist in the scriptures, of metaphor and symbolism. Such as the 'stealing of the
butter'...could Krishna, who is a royal prince also be a thief? This is not possible. It is a metaphor for doing
something in a incognito way (without telling anyone), having internal attention and the intention to develop the
qualities within and see virtue in each one.
➢ 'butter' is often used as a metaphor for 'essence' that is created when milk is churned.
➢ 'Yog art' is created when we create virtues from our qualities.
➢ When we are operating from virtue we exude a fragrance. There is no competition when we are operating from this inner place, just the feeling of appreciation and experiencing the essence of everything.
➢ With spirituality we can create an inner garden.
➢ The sun is beyond respect or disrespect. Flowers don't feel insulted if someone is allergic to them. Nature doesn't discriminate. We human beings can do this too. In Vaikunth there are zero reactivity or negativity in human
relationships. Just open hearts that empower others.
➢ There is natural curiosity which is attractive and charming, yet also detachment from everything. Being, seeing and giving everything, but no possessiveness.
➢ When we start to make incognito effort and appreciate others this energy multiplies.
➢ We are at the moment of time when there is the need to bring the qualities again within us.
➢ Each one of us symbolizes our society. Arjuna represents us. The confused one and the seeker.
➢ How much trouble is in the family and the world and how do we bring transformation?
➢ How does an ordinary human being become a divine human being?
➢ The focus in the Gita is understanding Yoga and spiritual knowledge to help Arjuna. Once again connecting
ourselves and exercising these qualities. The Gita also reveals who gives the knowledge that transforms the
ordinary into the divine.
➢ As this happens we become self sovereigns and ones who sustain others. It is purification which transforms and
this happens when we connect with the Supreme.
➢ In the Gita the Supreme Soul gives His own introduction as the creator of new consciousness and the new world. I am beyond: I am blissful, and benevolent, yet bodiless.
➢ Greed, lust and anger are finished when we become companions of God. To get the spiritual knowledge we need to go into an incognito place...Krishna is born in the dark night, at new moon, yet it will increase and become full.
➢ The Supreme Soul enables us all to become doubly non-violent and benevolent. If we were all like this we would all be generous with natural joy and fearlessness.
➢ This state continues on earth for 8 generations, with long life spans. After that there is Ramraj...still a time of
equality and beauty, the time that Mahatma Gandhi often referred to. A kingdom where there is harmony and love
and respect for each other.
➢ We need to make this lost dream a reality. In order to do this we need to bring benevolent qualities into our
personality.
➢ Perfection means free from defects and being affected by others.
➢ Knowledge and yoga with The Divine is needed to bring this into our personality. It begins with thinking and
changing our feelings....feelings change and heal and joy and happiness develop.
➢ We can sing and study together.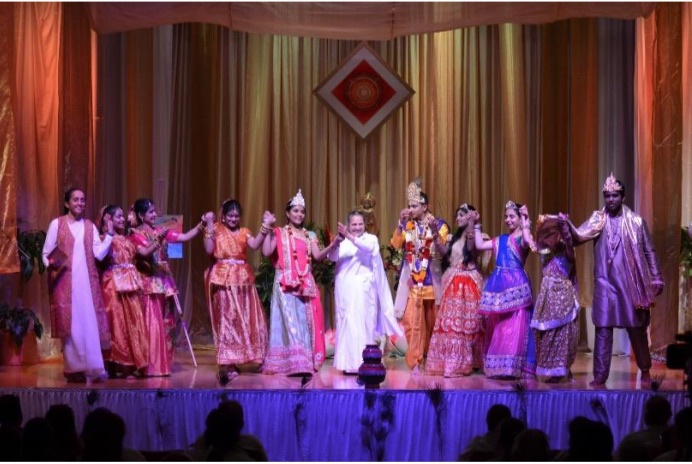 Sister Sudesh led a meditation commentary into experiencing the living seed of divine elevated and pure consciousness, the soul.
Sister Jagruti and Brother Minal expressed deep gratitude to the dancers and Sister Sudesh, for sharing the flavour and taste of the new world.. Toli and blessings were shared with all.

BKs Participation in the Watford Big Beach Event 4th - 19th August
15 September 2018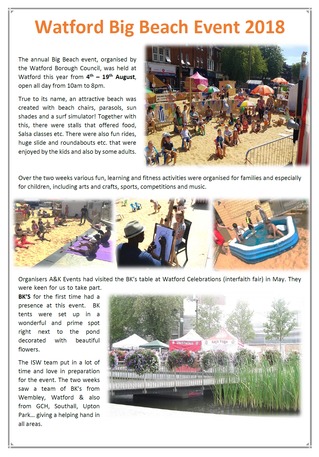 Click below image to watch the video.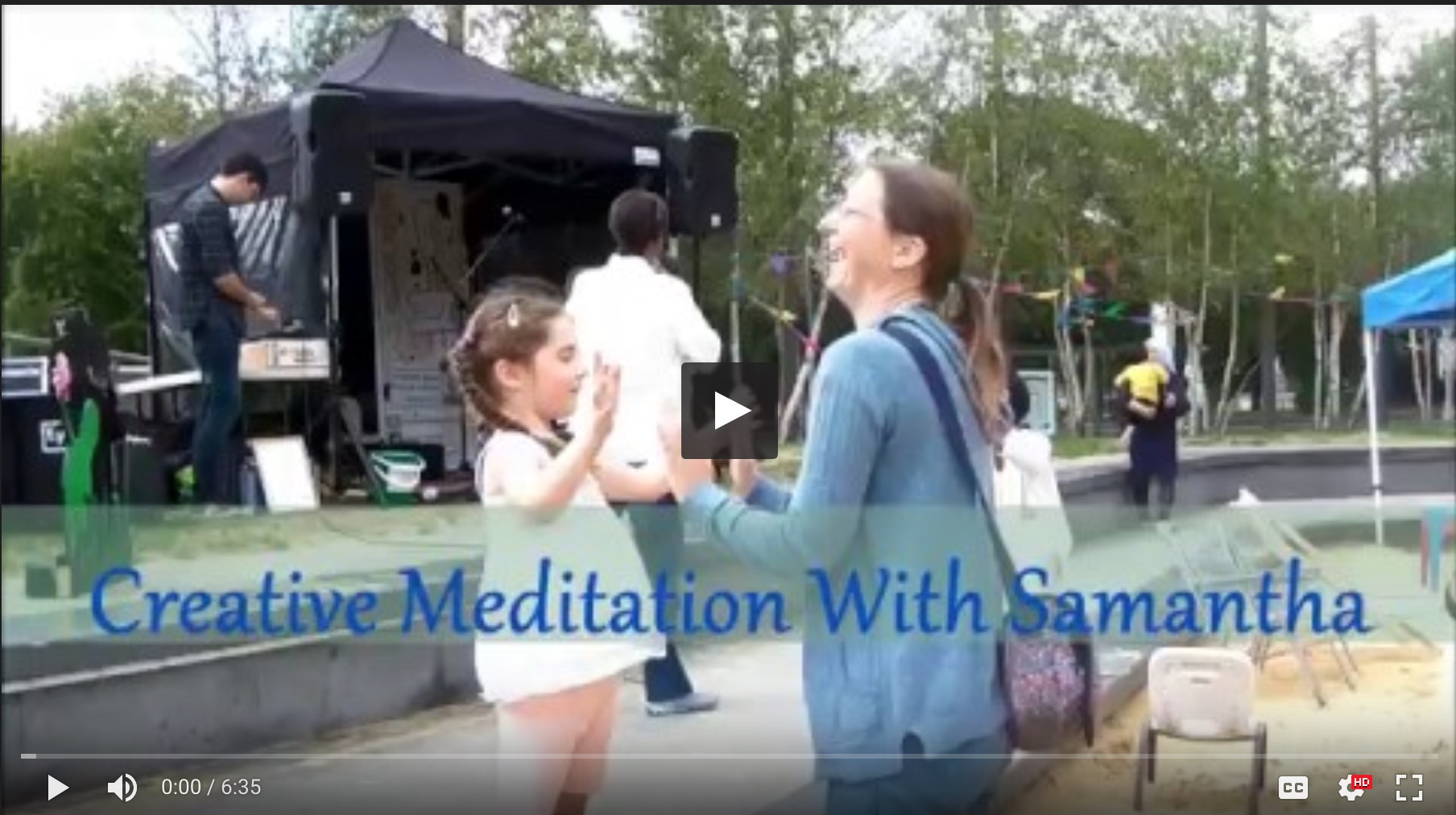 Rakhi News from Frankfurt
15 September 2018
Sister representatives of Brahma Kumaris centre, went to Consul Generals office, Frankfurt, Germany on the auspicious occasion of Raksha Bandhan with great zeal and enthusiasm.
BK Sister Elke Rants with divine joy tied pure thread of Rakhi to Consul General of India Mrs. Pratibha Parker in Frankfurt along with others with the organization. The spiritual significance of Rakhi and global activities of Brahmakumaris (environment initiatives like solar power generation and yogic farming) were also shared during this meeting. More than a dozen other members at CG's office received rakhi, blessings and sweets (toll) and were asked to take a pledge to give up at least one of their weakness.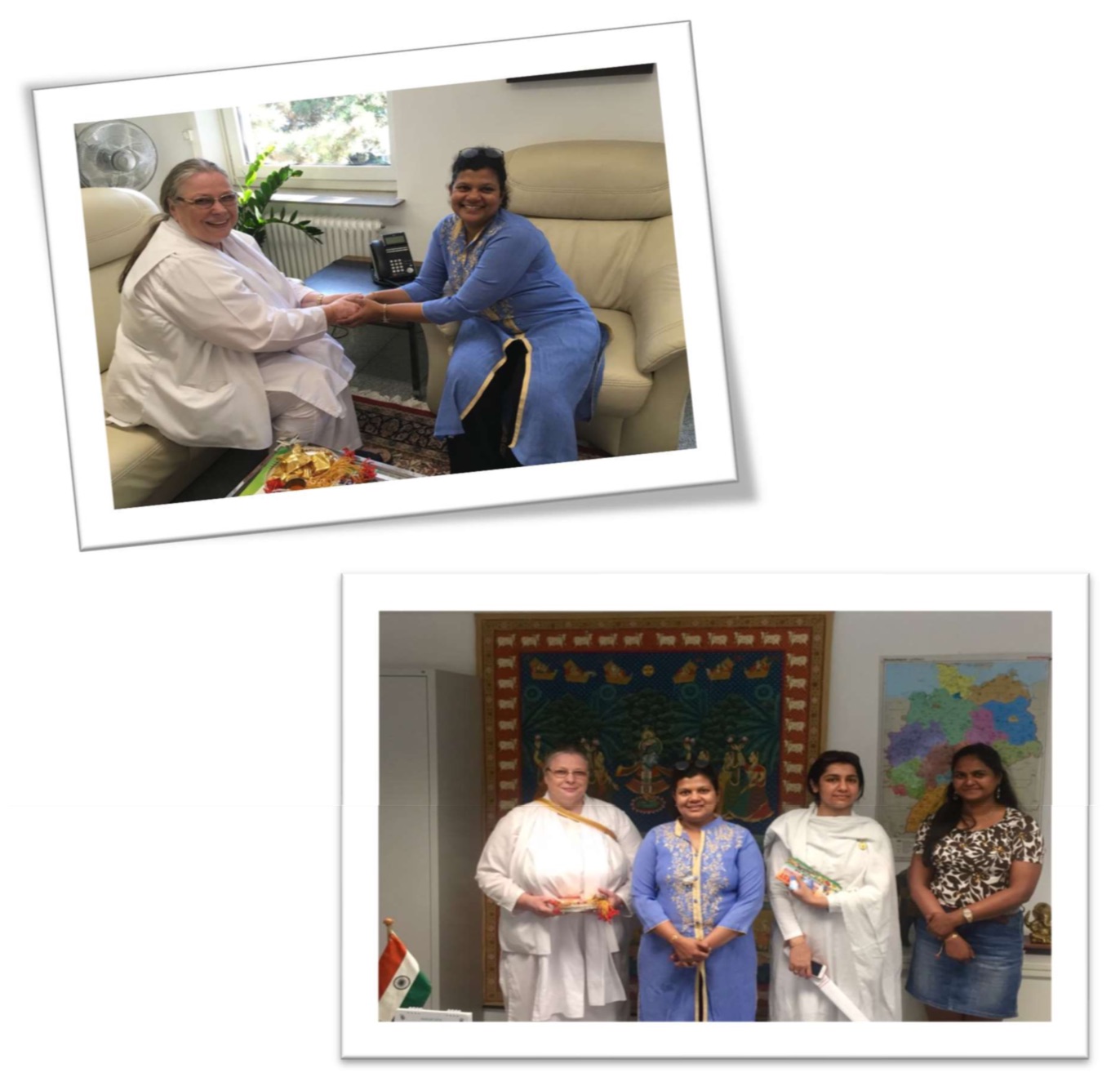 Happy Raksha Bandhan Greetings from Austria
14 September 2018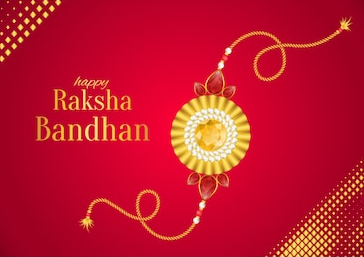 Sister Jayanti's Visit to Spain (6 - 9 August)
3 September 2018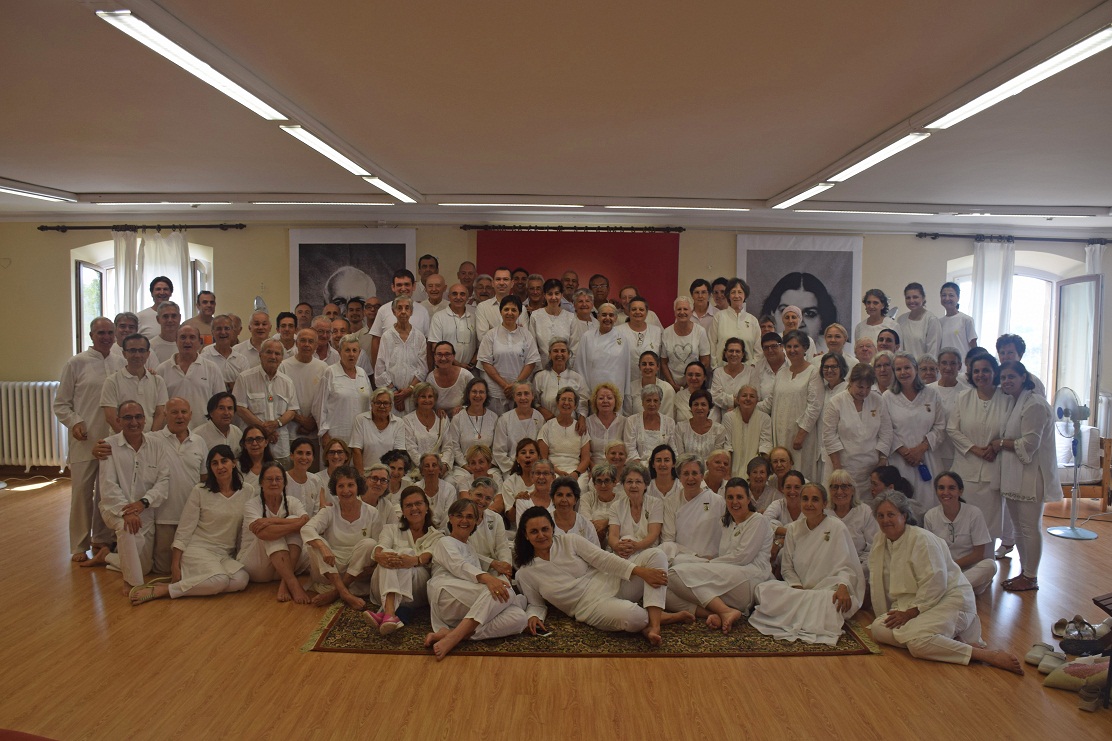 We have had the fortune of having Sister Jayanti with us in Spain from the 6th August evening till the 9th August morning. Sister Jayanti came to visit us as our special guest for our Spanish National Retreat, under the topic of "The expression of true love". The retreat gathered 126 BKs from Spain (also 2 sisters from Ukraine) and was held at a retreat place near Barcelona, it is a Christian monastery which we have been using for twenty years.
Sister Jayanti with grace and tirelessness shared with us her clarity and depth of knowledge through classes, interviews and different meetings. On the 8th evening we also had our Rakhi celebration with her. She was very available and present during her short but fruitful visit.
We have enjoyed very much the privilege of having Sister Jayanti with us and the family took a lot of benefit of her visit.
Here are some jewels extracted of her classes:
· If I see that my sanskars don't change is because I don't follow the subtle shrimat: for instance, not to have wasteful thoughts.
· Do I do things with the right intention? My intention creates my feelings, and the feelings determine the result.
· The stronger becomes an addiction, the lower becomes my self-respect.
· We need to take care properly of our body. Once Baba said to Dadi Janki: Don't be simply the driver of the body but be also the mechanic.
· In the future, test will take the form of people coming to check if we are what we say.
· A shrewd intellect is like a knife that cuts falsehood and allows us to see the genuine truth. But it can also hurt you!
· Awareness creates my attitude. Mansa seva is service through the mind, I have to make my mind so clean so that Baba can use my mind as an instrument to serve the world.
· If I still keep sorrow inside and I justify it, what kind of feelings am I going to generate? With such feelings I can't serve.
Finally she gave a blessing for Spain: Spain has a good record of harmony and being free from conflicts, very few incidents of relevance. For sure, Spain will have a good role in revelation.
Of course, we were all delighted hearing this!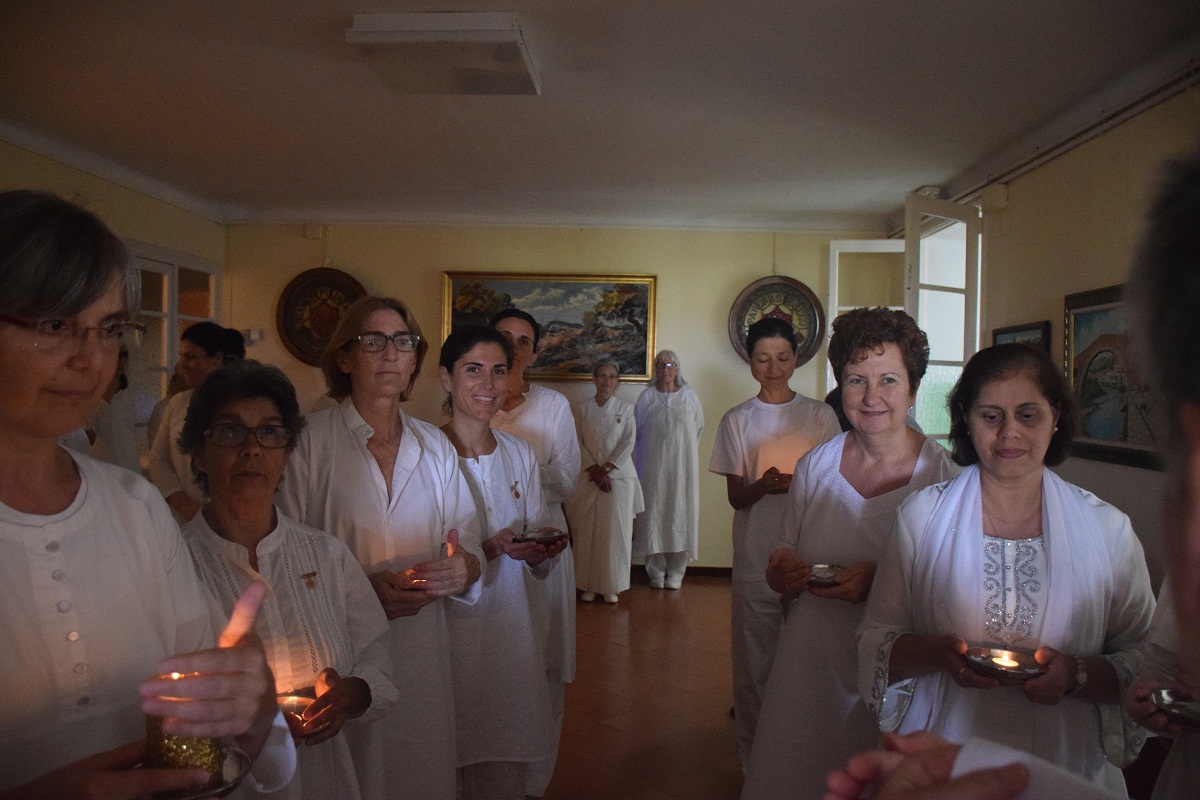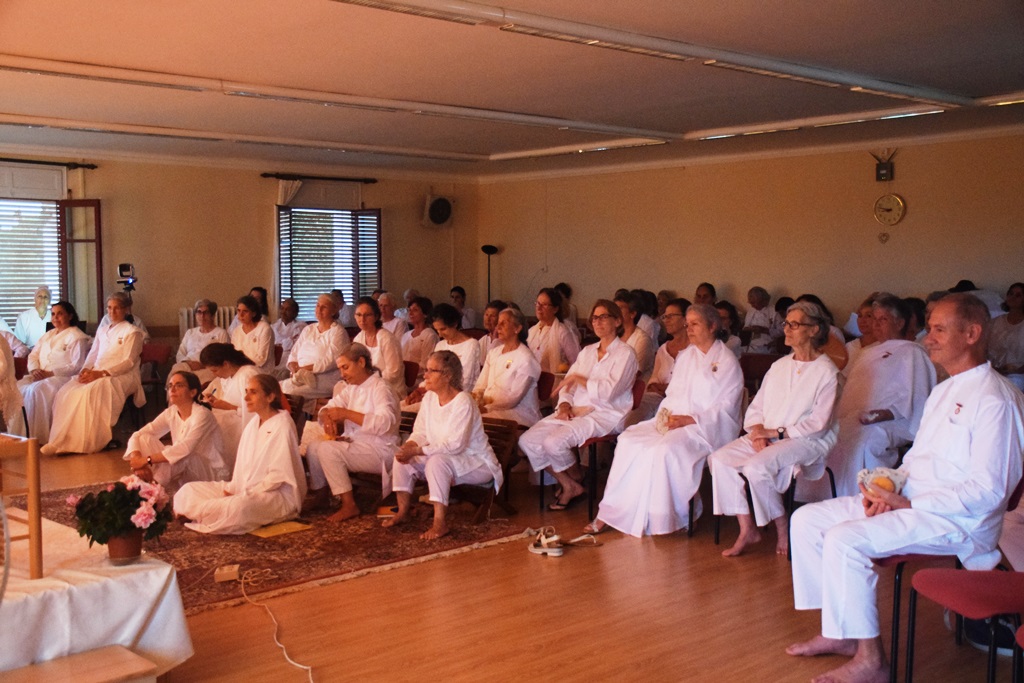 Live Well with Happier Cooking and Eating
27 August 2018
*All recipes used can be found on: www.inspiredstillness.com\blog
After a video of Amazing Nature, BK Sharon welcomed the 150 participants to the cooking demonstration saying that 'Wellness is the new must-have in today's modern world' and this would also be the focus of this afternoon's recipes.
The afternoon continued with the first 3 cooks presenting their topics addressing Mental and Emotional Health.
Cook 1 – BK Rajesh : Mental Health - Detoxing Mind and Body
Watermelon and Fresh Mint Juice
Ingredients
Chilled Watermelon chopped into large pieces, some with rind, some without.

Fresh Mint with large stems removed
As Rajesh prepared the watermelon, he reminded that of all the facilities we use in the kitchen, our body is the best machine of all and that it is necessary for us to maintain it well. He shared: 'In fact, if I choose plant-based food – that is, food that is alive – no matter my age, I can constantly feel as good as I did in my 20s. If the food I have eaten does not leave me feeling energized, then it is not good for my body.'
Method for Juicing
Place the watermelon bits without the rind into the processor to create the necessary juice, then add the bits with the rind and add mint to taste.
Cooks 2 – BK Amirah, Hannah and Sami: Emotional Health – Managing our Cravings
Healthy Vegan Banana Cake (sugar free)
Amirah, her daughter Hannah and her son Sami who are often cooking together, shared that cravings are a powerful desire for something that may be lacking in the body eg. a lack of certain nutrients. The most common cravings are:
#Sugar is the number one common craving as it gives quick energy. The paradox is that the more sugar I eat the more I'll crave sugar. The craving could indicate a lack of minerals so eating more vegetables and fruit is a good place to start. 'Good nutrition' shared Amirah, 'is about making good choices of food as part of everyday life and finding what works for my body.'
#Chocolate is the second most common craving, and could indicate a magnesium deficiency.
#Carbohydrate cravings often indicate emotional distress, lack of comfort or lack of sleep.
#Salty food longings could indicate a lack of sodium, which can be found eg. in olives. When using salt, Amirah prefers pink Himalayan salt for her cooking.
#Caffeine cravings could indicate a lack of phosphorus which can be found in nuts. It may as well indicate that the body/mind needs more rest.
Cook 3 – BK Ranjan: Mental Health - Detoxing Mind and Body and Uplifting Thoughts
Buckwheat Detox Kitchedi
Ranjan was sharing her practical experience of the impact of her awareness on food while cooking: 'Before cooking, I can take a few moments to sit in silence and connect with what I am going to cook and who I am cooking for, and to create thoughts of peace, calm and kindness so that the fragrance of those thoughts can be absorbed by the food as I prepare it. Then the food that I cook will be enjoyed by all who eat it. Along with the coconut oil, most of the spices used in this Kitchedi are good for digestion, so this food detoxes the stomach and my peaceful thoughts while I cook detoxes the mind. It is good for every meal to include all 6 tastes just as this recipe does. These tastes are: sweet, sour, salty, bitter, pungent and astringent.
In the following part of the program BK Ramita presented a Vision Board Exercise. The audience was invited to reflect on two questions, to get in touch with the inner self, connect with the heart and intuition and think about which newness/change I would like to create regarding my lifestyle. What is my inspiration? What would I like to create in my own life?
Step 1: Create an intention - The seed to create anything I want in my life
What feeling do I want to bring into my everyday life to increase my overall sense of well-being?
Some examples are: energized, relaxed, light, positive, stable, refreshed, strong, happy, peaceful
Choose one and write it down on my sheet of paper.
Step 2: Make lifestyle choices
Holding that intention in my mind and allowing my intuition to guide me, I look through the lifestyle cards projected on the screen and choose 3 I am most drawn to
The Lifestyle Cards are: 1 Journal Space; 2 Just a Minute; 3 Sleep Well; 4 Positive Thoughts;
5 Inner Sanctuary; 6 Wake Up well; 7 Expression and Sharing; 8 Fresh Air; 9 Lots of Water;
10 Meditation Space; 11 Changing Habits; 12 Pause. Think. Act; 13 Conscious Eating; 14 Digital Detox
Step 3: Set a S.M.A.R.T. goal on how I can apply these 3 cards in my life to make my intention a reality
Set one goal for each card: Specific; Measurable; Achievable; Relevant; Timely
Write down each goal under the title of each card and complete your vision board.
Reflect 'This is something I am doing for myself. Think about how to make these goals real.'
After a sweet video of a little girl choosing to be a vegetarian because it is not kind to cook and eat animals, BK Sharon welcomed everyone back and shared her personal story on becoming a vegetarian.
BK Nicole lead us in a guided meditation on creating a sense of calm and peace and love, allowing that love to emerge, reach out to all of humanity, animals and nature.
Cook 4 – BK Egils: Physical Health – Boosting the Immune System
Carrot & See Loaf with Beetroot Sauce
Egils talked about the importance of choosing How-not-to-die food, because choosing the wrong food causes us to be sick and to die prematurely. He shared that for him 'The basis of health is to stick to fruit, vegetables and legumes. Choosing and eating the right food is like taking medicine on a daily basis. Most of the food in the supermarket is not food and causes disease in the body. Eating the right food can be enjoyable, it does not need to be a sacrifice.'
The Carrot & Seed Loaf is tasty and good for special occasions. The beetroot sauce with its bright pink color has a pleasant tang from the limes and can be eaten with any other dish.
Cook 5 – BK Jasuben: Spiritual Health – Positivity in my Thinking while Cooking
Cashew and Pistachio Treat
Jasuben talked about being creative when cooking and making it fun, which causes the food to take on joy and delight. She further shared 'Even if I need to rush with my cooking, I can still hold a mental state that is positive with that special ingredient of the love and joy of sharing. When I put happiness into the food I take happiness into my body and so my output is happiness. To positively charge the food I then offer it to Baba, invoke His love and power and have him fill the food with His love and power.'
The audience then offered the food that had been prepared at the program together with Jasuben and everyone had a taste of the afternoon's demonstrations.
The event finished with sharing of blessing cards and a chance for the audience to meet, mingle and chat.
*** Om Shanti ***
Click here for report in PDF format and with more photos.

Dadi Janki in Germany (10th - 17th August)
27 August 2018
Dear Jewels,
Om shanti and greetings.
After filling everyone with yeal and enthusiasm in London, having been there for 12 twelve, Dadi and team left for Germany early morning on 10th August and arrived in Moringen around lunch time. The ride from the airport was a beautiful scenic ride.
Dadi specially came to Moringen to meet the teachers for their Regional Meeting.
Initially there was the core group meetings, followed by the first group (about 50 teachers) of the Regional meeting who were here from 9th to 13th. The topic of the retreat was Nimit (instrument) - Partnering with God. Dadi took up a few classes covering this topic and also sharing other gems, which have already been circulated.
Majority left on the 13th and more left on the 14th.
Yesterday, Dadi was interviewed by one woman who was interested in how women can stand up in a position of leadership without becoming arrogant. Dadi loves to take up the subject of how Brahma Baba has always placed women in the front, but all she has done is to follow his footsteps and that is how she has attained the stage that she has.
Dadi then went on a short ride to see the neighbouring town Einbeck - even at this age, Dadi has a keen interest to see the different flavours each country has to offer.
Today, the local BK family have arrived (around 75) from many places in Germany including Koln, Frankfurt, Stuttgart, and other places. The weather is cool at present, and expected to be very hot later today and tomorrow. It is a quiet time here for all, at present.
Dadi has very much been focusing on the 5 virtues and 8 powers and specially underlining patience. When there is patience, there can be peace, love and happiness.
Tomorrow, the second group of the Regional Teachers meeting arrive and they will have one session with Dadi in the evening, and following morning, Dadi will be leaving early morning for Frankfurt and straight to Ahmedabad.
It has been a very restful, fulfilling and nourishing retreat for all who have come and met Dadi. Dadi was also talking a lot about happiness and how you have to carry away happiness in your hearts and keep it within yourself for all time, so it can be with you for the whole cycle.
With lots of love
In Baba´s yaad
Jasu

Hindi Only - Video of Sister Jayanti at Midlands Gathering, Harmony House Leicester on 8th July
4 August 2018
Click on image of video to play.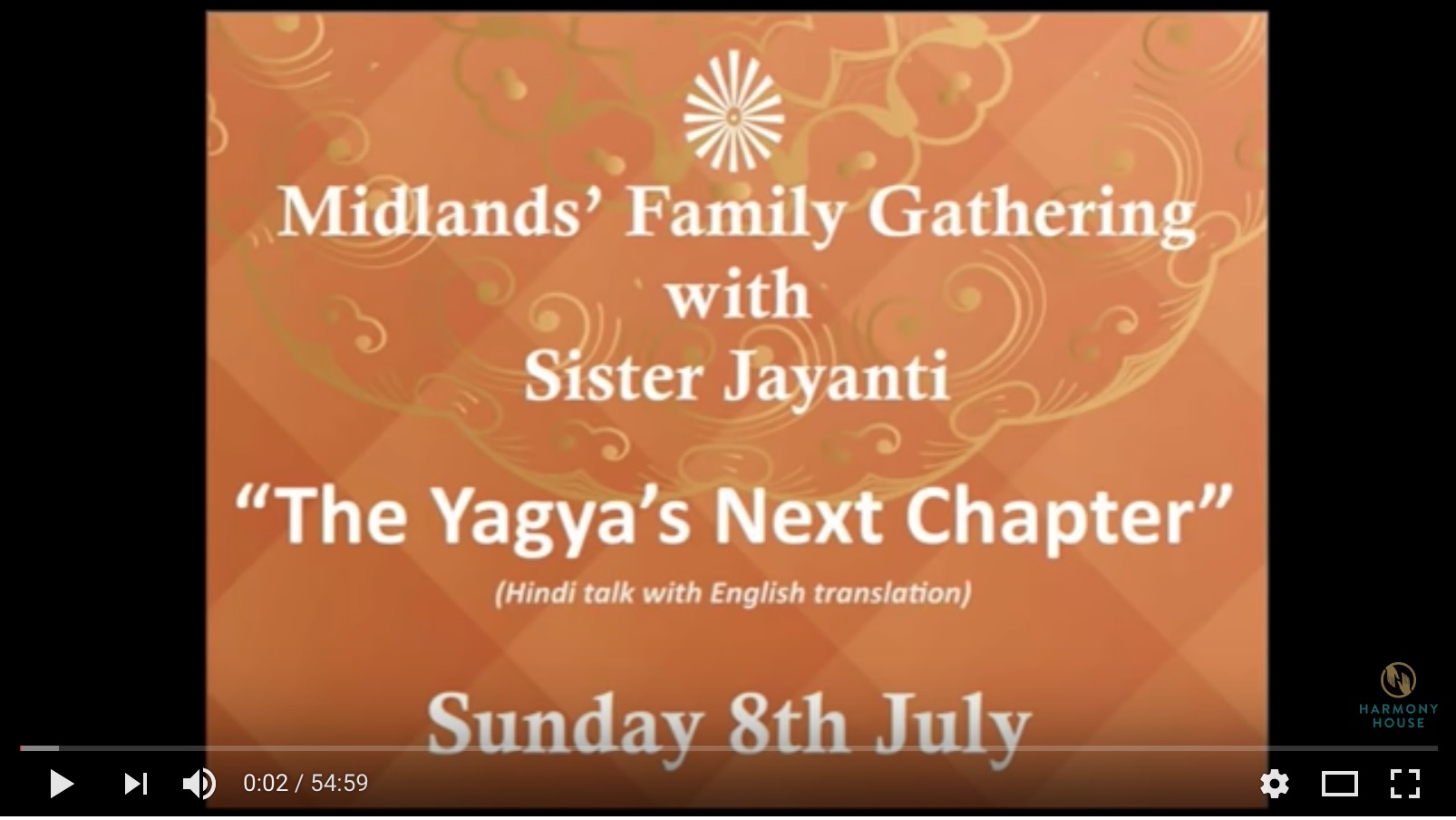 Sister Jayanti: Public Talk on "Bhagwad Gita - Your Satnav on the Road of Life" at Harmony House Leicester on July 8
4 August 2018
Click on image of video to play.