2018 Jan through July International News Archive
2018 Jan through July International News Archive
Dadi, Hansaben, Jayminiben, Deviben and Govindbhai Welcomed in London
30 July 2018
Dear divine jewels of the Brahmin family
Om shanti and greetings from London. (Dadi specially wanted the news of her arrival in London to be sent to everyone, conveying her love and remembrances to all.)
London is the meeting place at the moment with all rivers coming together.
Sister Jayanti, Sister Maureen, Sister Kim, Brother Neville and Mariam (from Kuwait) all returned to London after a few days in Russia.
So, truly it was a meeting of the Ganges with Jayantiben coming back to London in time to welcome Dadi Janki and the whole group.
Dadi was welcomed at the airport by the Hounslow family with a beautiful banner "Dadi Janki - A Soul for our Century".
It was the honour and privilege of the London family to welcome Dadi back to her home in less than two months. In today's world, everything needs more and more care and attention, and so as Hansaben rightly said when she was asked why she is going back to London so soon, she replied: I am taking Dadi to London again for servicing the chariot.
Dadi Janki and the entourage of Hansaben, Jayminiben, Deviben, and Govindbhai from Pandav Bhawan all arrived in Global Co-operation House at about 11.15 am.
As is Dadi's ritual, first she went to Baba's room to say Hello to Baba, and then met the family in the auditorium as there were many brothers and sisters waiting to welcome Dadi. Dadi also met the Deputy Mayor of London for Business, Mr Rajesh Agrawal and his family briefly, who had come specially to meet Dadi.
Dadi came upstairs and went to her room, as though she had never been away. After freshening up and having a light lunch, Dadi is now resting.
This time, Dadi is in London for a short visit and truly for rest and servicing the chariot. No programmes have been planned for Dadi except evening meditations.
The jewels that Dadi and the group shared on arrival are shared below.
With lots of love from the London family.
In Baba's yaad
Jasu
On behalf of Dadi
Dadi Janki – 29.7.18 - On Arrival in London - Global Co-operation House
Returning home to the door of the Bestower
The song was played: An angel has come…
Jayantiben: Welcome to your home, welcome to your creation. We are very, very happy you could be here. Thank you to Hansa and Baba for bringing you here.
Hansaben: The One above is making us do, making us move, and we keep doing it. That's the line of the song we just heard.
Dadi Janki: The One above is doing it. We just have to pay attention and have no tension.
Hansaben: I don't have any tension, even though we are doing so much. Everything seems so easy. Baba is making my path so clear and is making me so light that I don't feel I am doing anything. I don't get tired because I don't feel as if I am doing anything; everything is happening so naturally. The service that is taking place – so much of it - is so wonderful and light. Dadi does so much in one day: she reads murli to the class, takes 11am class, then meets thousands of people and then in the evening again Dadi conducts yoga and class.
Govindbhai (Pandav Bhavan) shared how it really was a case of 'Wah drama wah!' He'd never thought he would ever go abroad and has never travelled by plane but according to drama everything happened easily.
Jayminiben praised the wonderful care she had received in Global Hospital having two knee operations unexpectedly. She shared, although she was very ready to return, being back in London, she was feeling detached and at a distance. My mind is still in Madhuban. Baba is definitely running the show.
Dadi Janki: Dadi is still in a dream. It's really a wonder. How Baba put me on the plane and brought me here. The mind being completely still, the intellect then remains completely quiet – connected to the One.
The knowledge of the drama is very valuable. Everything is fixed in the drama. Having a vision of all of you here, all of you are happy and I am also very happy. Are you happy and content? No one is upset?
I said: Let's go home to Baba's home, to the door of the Bestower. Baba is the One who does everything and then hides Himself away but Dadi cannot remain hidden, Dadi cannot hide anything.
All of you have met Dadi with a wonderful feeling of welcoming Dadi home. You are those who remember Baba every day, every moment. Baba remembers you and you remember Baba. I am seeing how Baba is remembering all the children. Not just in London - the yoga of the intellect is being pulled everywhere.
Another song was played: No one is going to give you as much love as the mother does…
Om shanti.

Rakhi Letter from Dadi Janki in English and Hindi
30 July 2018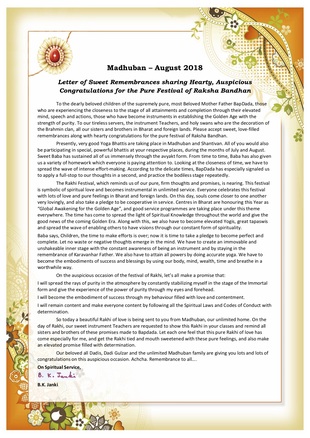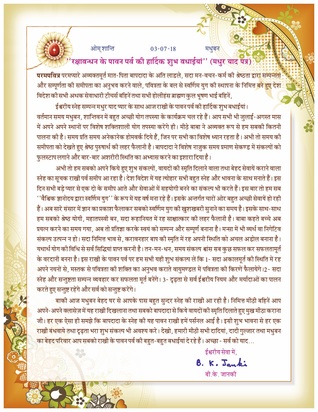 Download English here and Hindi here.

Video of Daily Murli points is now available in Spanish and Mandarin
2 July 2018
Om shanti.
We wish to inform the Divine Family that all BKs can access the Daily Murli Point in video format from the following link, and we have now added the points in Spanish and Mandarin.
https://www.youtube.com/arcchannel
The Daily Murli Revision points are available in four languages currently that is:
a) English
b) Hindi
c) Mandarin
d) Spanish
e) Tamil
Please do share this valuable resource with all students.
In Baba's yaad,
BK Meera
ARC, Malaysia

Bhog Message of Mamma on Mama's Day - 24th June - By Sashiben, Madhuban
29 June 2018
Om shanti.
Today, carrying the loving remembrances of all of you, as I reached the subtle region. carrying remembrance for our beloved Baba and our lovely Mama, the decoration of the subtle region looked very beautiful. There were many different decorations – some heart shapes, some garlands and many other different beautiful maps.
For some time I continued to look at all of these and at the same time, I had the thought, "Where is Baba?" Just then I saw Baba coming from far away. Baba said: Child, today, whose love are all the children lost in?
Baba is seeing and Baba knows that children have so much love for Maa. I asked: Baba, where is Mama? Baba smiled. I saw a very beautiful golden mountain in the distance and Mama was standing on top of it, in front of her was a globe of the world spinning at a very slow speed.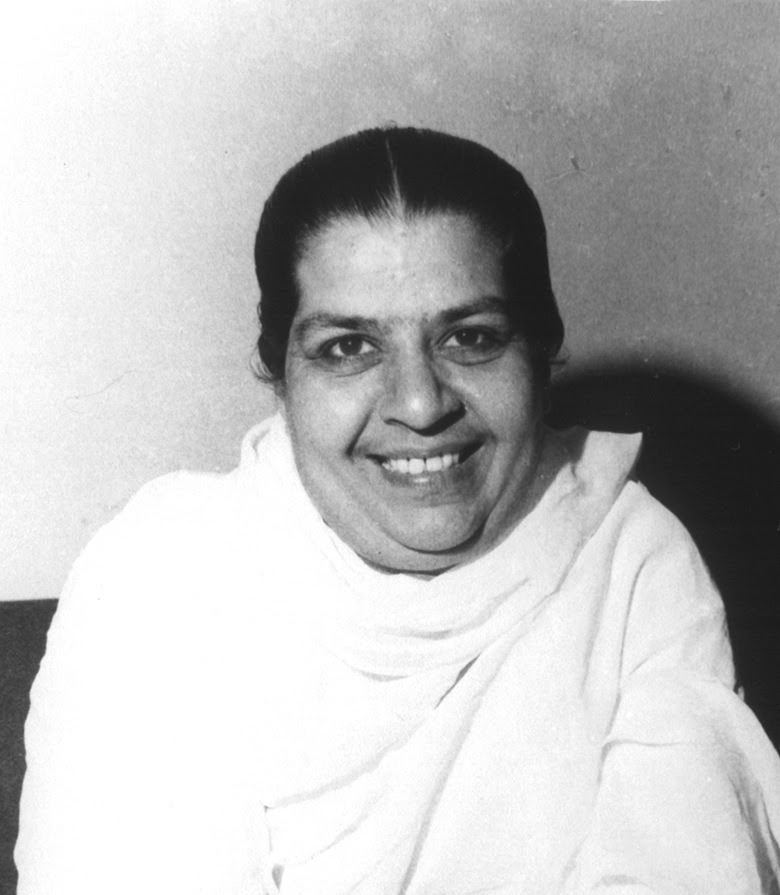 Mama was looking at the globe and many beautiful changes were taking place very slowly on the globe. I was just seeing that and thinking it is such a beautiful scene. Then, Baba said: Look who is coming? From the scene of the globe, angels appeared around the globe, gradually moving forward. In between was a very beautifully decorated chariot and the form of our beloved Maa was visible in that chariot. Many different forms of Mama – sometimes as the mother, sometimes, Lakshmi, Durga, etc. were visible. So, the angels came close to Baba and as soon as they came near Baba, Mama's form of Maa was visible in front of Baba. She was standing in front of Baba as Maa and taking drishti with a lot of love.
I said: Today, so many brothers and sisters are lost in the remembrance of our beloved mother. Baba said:Tell Mama about this. I said: Baba, You know about all this anyway. Mama was just smiling, not saying anything.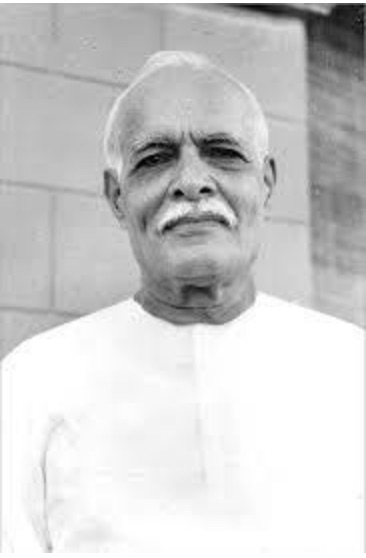 Baba said: Today is Mama's day. All the angels took on the form of the advanced party and all of them stood in a semi-circle with Mama in the middle. Quietly, Baba hid Himself behind all of them. Dadi, Didi and others were having a very sweet heart-to-heart conversation with Mama and asking Mama: Mama, what are you doing nowadays? Mama replied: All of you companions know that, and it is only with the co-operation of all of you companions that the task of world transformation will be carried out. Baba is inspiring us, and all of us as instruments want to carry out that task at a fast speed. We were seeing that scene that today, how transformation is taking place in the world and the task of establishment is also taking place.
Mama said: The task of transformation is a little fast, but the task of the establishment goes a little fast, but then slows down again. So, we want the task of establishment to go faster than the task of transformation. They were having such a sweet conversation and then Dadi and Didi asked Mama: Mama, today, you toured around the world and all the centres, so what did you see? Mama just smiled and did not say anything. They were just having this conversation and then they saw Baba appearing in front of them. Baba said to Mama: Tell them what you saw today. Mama still continued to smile.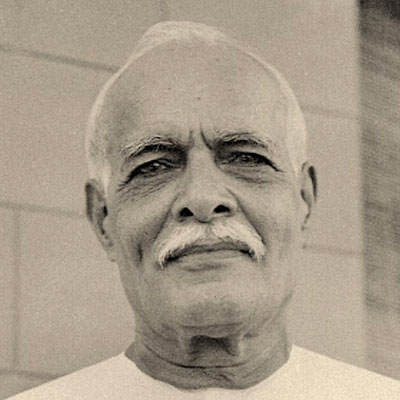 Baba said: Today, it is your day and the children want to hear what you saw. Mama looked around in all directions and then said: All children have love for the Father, and keeping the mother in front of them, were having sweet conversations of love. Then Mama said: Each child – whether young, old or new – wants to make very good effort and are doing so. But what happens is that even in their effort, children are copying many things and because of trying to copy, they become diverted to many other things. Their mind wanders here and there and so they are not able to experience the real stage of their effort so much.
Secondly, Mama said: At present, science is moving forward at a fast speed, with great subtlety. They are making all small things very powerful. The children who have the power of silence are lacking that practice because of being diverted.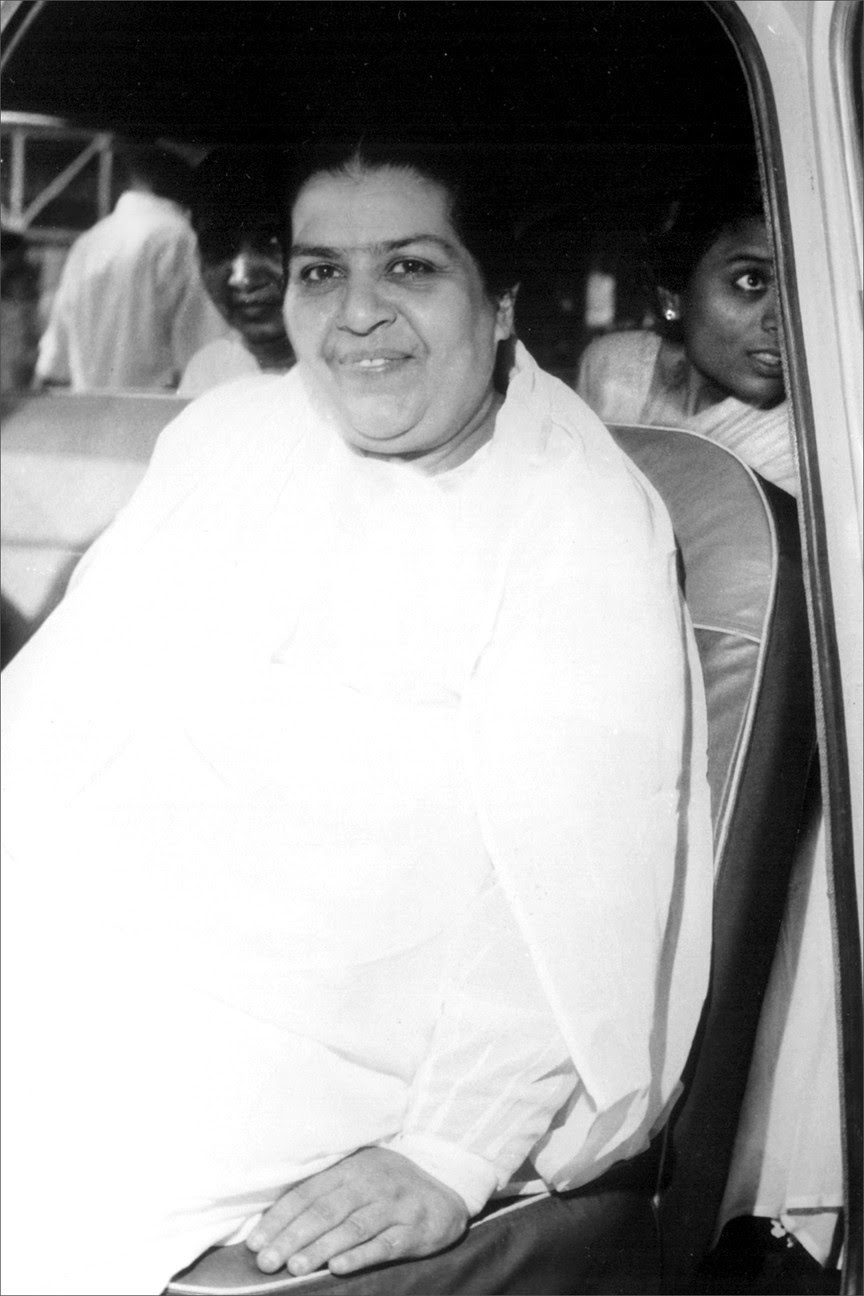 Mama said: With silence, experience your original form. Be introverted and experience the Father's company, and with this experience you will easily be able to carry out the task of world transformation.
Mama was saying: All are specially beloved and running around a lot for service. Each one's aim is elevated. However, when they are diverted, they become a little slack in reaching their goal.
Mama was saying: Seeing the time, transformation has to take place quickly and before that, whatever is still remaining in the task of establishment has to be accomplished quickly especially with the power of silence. Have such subtle experiences with the power of silence that transformation and establishment take place automatically very fast and very well. Baba continued to smile and then those of the advance party asked Mama to share more. Mama replied that everything has already been revealed. Children listen to everything, and they relate it very well too, but their stage of renunciation fluctuates a lot. So, make your stage of renunciation powerful and according to the time, make your stage strong. As you move forward, time will show you many scenes. So, in order to overcome those scenes, practise being in the constant and stable stage.
Then I placed the bhog in front of Baba and Mama and Baba said: Today, Baba will make Mama accept the bhog. Mama said: No Baba, I will not accept it first. Children have to accept it first, because a mother always feeds the children first.
Baba said: Ok, that is fine. What did Baba do then? Baba made many brothers and sisters emerge in the subtle region. Baba had bhog in one hand which was for Mama and in the other hand was bhog which Baba gave to Mama in her hand, and as Mama placed it in the front, it was as though this bhog plate reached everyone and they were all very happy. Mama was seeing this and saying, "you first". Mama's slogan was: "you first, first the children, then Baba and then I.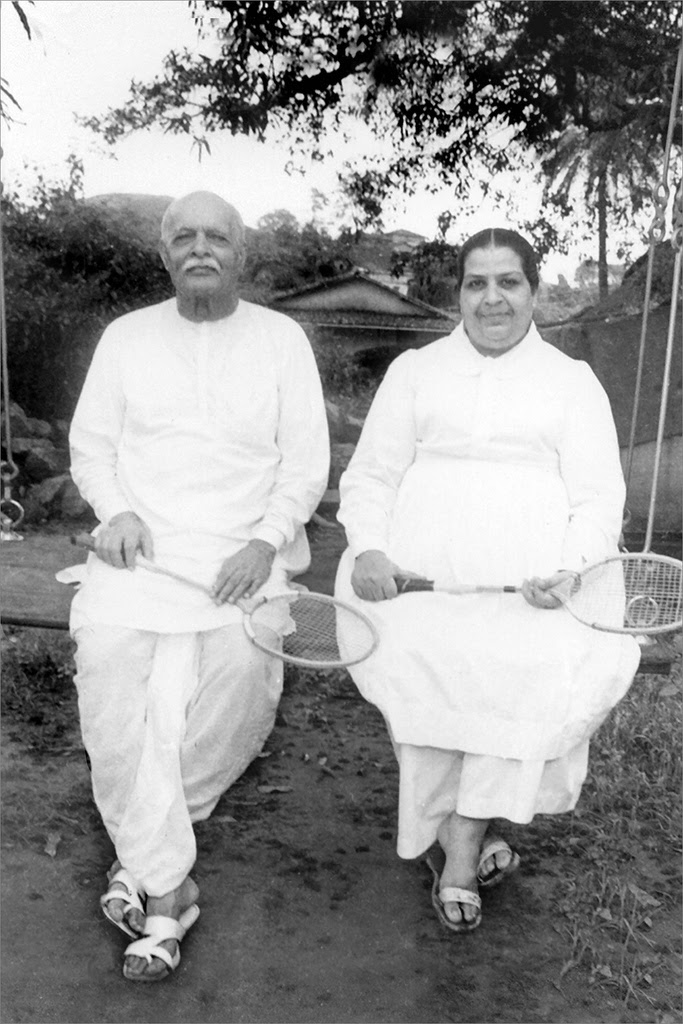 Baba said: Look, what is Mama teaching everyone even now? By placing everyone in the front, you will move ahead yourself. Those of the advanced party who were there stood there in a circle. Bhog was given to them too. They were surrounding Mama. All the children said: Give lots of love and remembrances to Mama on our behalf. Mama said: All children, come. All the children came running as little children do and climb into their mothers lap and cling to her.
Mama said: Children are saying, "Maa, take us in your lap. However, the lovely lap is that in which every thought of yours is in Baba's remembrance and with Baba. Then you will continue to swing in the lap of beloved Baba and Maa and you will have many experiences, easily be able to overcome all types of adverse situations, be a flying bird and give this experience to others too.
Then Baba gave special remembrances to all the service companions of the present time, Dadi Janki, Dadi Ratanmohini, Dadi Gulzar and all other service companions, those of the advance party, Mama continued to look at all the children, smiled and said: All Baba's right hand children are doing so much service making everyone move forward and celebrating a meeting with Baba. She gave remembrances to everyone, and I then came back here.
Omshanti

New BK Songs Album available for download: Dhanyavaad Tera Prabhu
29 June 2018
Dear Divine Family,
Loving Greetings!
With heart filled with gratitude for BapDada, a new album of Baba's songs is ready for the BK family: Dhanyavaad Tera Prabhu. Renowned playback singers have rendered the meditation songs in their divine voices, Bro. Hemant Acharya is the music director and the lyrics are by BK Satish Bhai. This album has been produced from Borivali, Mumbai, and has been supported by Bro. Ashok Mohanani, Chairman & MD - Ekta World.
Please find below links to download the songs:
01 Tumko Niharne Ko - Alka Yagnik - download here
02 Hum Jab se Aaye - Suresh Wadkar & Sadhana Sargam - download here
03 Tumhe Saunpkar - Sonu Nigam - download here
04 Jab Naye Din Ki - Sadhana Sargam - download here
05 Aapke Vardaanon Se - Suresh Wadkar - download here
06 Thaher Ja E Manav - Abhijeet Bhattacharya - download here
07 Dhanyavaad Tera Prabhu - Anvesha - download here
08 Duniya ka Shor - Hemant Acharya - download here
09 Sapne Mere Janam Janam Ke - Ashok Mohanani - download here
Trust the songs will help in better yaad & stable connection with Baba.
Loving Regards,
BK Divya,
Borivali, Mumbai

Message from Dadi Janki on arrival in Madhuban
16 June 2018
Dear Jewels,
Om shanti and greetings. After leaving Russia on 4th June, Hansaben, Dadi and their team arrived in Delhi and went onto Muzaffarpur for "Bhumi Poojan" – laying the foundation stone at Shanti Shakti Sarovar in the district of Bihar. Dadi and team all arrived in Shantivan on 7th afternoon and immediately, Dadi then went to attend the couples' programme which was taking place in Shantivan.
Since leaving London, Dadi has been serving endlessly and tirelessly and still going strong.
Dadi Janki's message on reaching Madhuban on 7th
Om shanti. Om shanti. I have been out of Madhuban for two months and Hansa made me dance so much, from here to there and there to here, telling me, "You have to go". Hansa herself can share. Baba tells me: Forget whatever has happened and whatever you did was good. Whatever Baba made me do, it was my name, but Baba's work. Baba has instilled in us the habit of being a trustee and being bodiless. He says: This habit is essential. Which habit? To be a trustee and remain bodiless. I returned to Madhuban after two months and as soon as I came, I saw that there was a programme of the couples. I was requested to attend the programme, and taking support of the wheelchair, I was present there – it made everyone happy. Baba also gives power. It is Baba's wonder how He enables us to do service so that His name is glorified. It is also a wonder of our Hansa. She sits me where she wants and gets me to do service wherever there is a need. Now, it is night time – what do we have to do now? Just give me leave. The five fingers are not the same, but we have to take service from all five fingers.
The Lord is pleased with an honest heart.
When children have courage, the Father helps.
When your intentions are pure, all your desires will be fulfilled.
The little finger is the finger of co-operation.
The ring finger – Baba has said – the wonderful star shines in the middle of the forehead.
The middle finger is to remain incorporeal and egoless.
The forefinger is full of determination.
Baba enables and inspires many tasks to be accomplished with this.
There just has to be determination in your thoughts and such elevated tasks can be accomplished. Baba does all this – it is wonderful. Whatever it is, I just say: I have become 102 years old and soon I will be 103. All is fine.
Om shanti.

Speaking Tree on Enlightment - Article published in Times of India
18 May 2018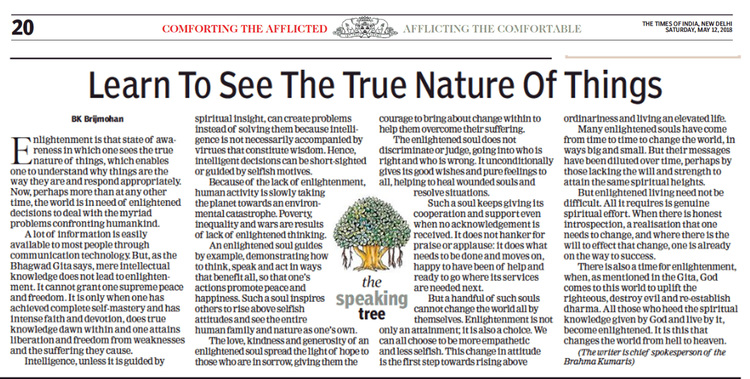 Dear Divine Family, Sweet Godly remembrances.
I am enclosing press clipping of article published in Times of India Speaking Tree today on Enlightenment.
On Godly Service
BK Brij Mohan
Addl. Secretary-General
Brahma Kumaris, Mount Abu

Good News re Dadi Gulzarji's health from BK Nirwair on 7 May
16 May 2018
Our dear divine sisters and brothers: Centre Coordinators and Brahmins around the globe,
Please accept hearty Godly love and remembrances.
Respected Dadi Gulzarji's health is improving steadily, with Baba's sakash, and the loving good wishes of the Brahmin family.
Neeluben shared with us, and later Yoginiben also informed that Dadiji has been discharged from Saifee Hospital on Monday, 7 May, and shifted to Baba's Gamdevi Centre in the late afternoon.
Dadiji needs to stay in Gamdevi Centre for a while, so that her health improves completely, and gets stabilised. Apart from Neeluben and her Team, Nihaben, Ashaben and sisters from Gamdevi Centre have also provided a very caring atmosphere for Dadiji's recuperation over the last few weeks, and will continue to do so.
Dadiji's Doctors are accessible in Mumbai to monitor progress, and so she may spend some more time there before returning to her residence in Shantivan. Dadiji will continue to receive physiotherapy as well.
All of you deserve multi-million fold thanks, on behalf of Dadiji and her team of Doctors and Carers, for your good wishes and yoga vibrations.
Kindly note it has been advised that Dadiji should not be having Visitors at present.
Many, many thanks to the divine family for your beautiful get-well-soon messages and pure love for Dadiji.
With Godly remembrances,
B.K. Nirwair

"WAKE-UP CALL for A World in Transition" By Sr Shivani
1 May 2018
"The last month had us wake up to disturbing news reports of abuse, rape and brutalization of victims. They have invoked intense feelings of outrage and raised fundamental questions about where we are headed as a civilization. Who is responsible for what is happening? Who should protect and heal the world? Sharing a perspective, as featured in today's [Sunday, April 29, 2018] Times Of India - The Speaking Tree."
https://www.speakingtree.in/article/wake-up-call-for-a-world-in-transition
Download a pdf of the article here.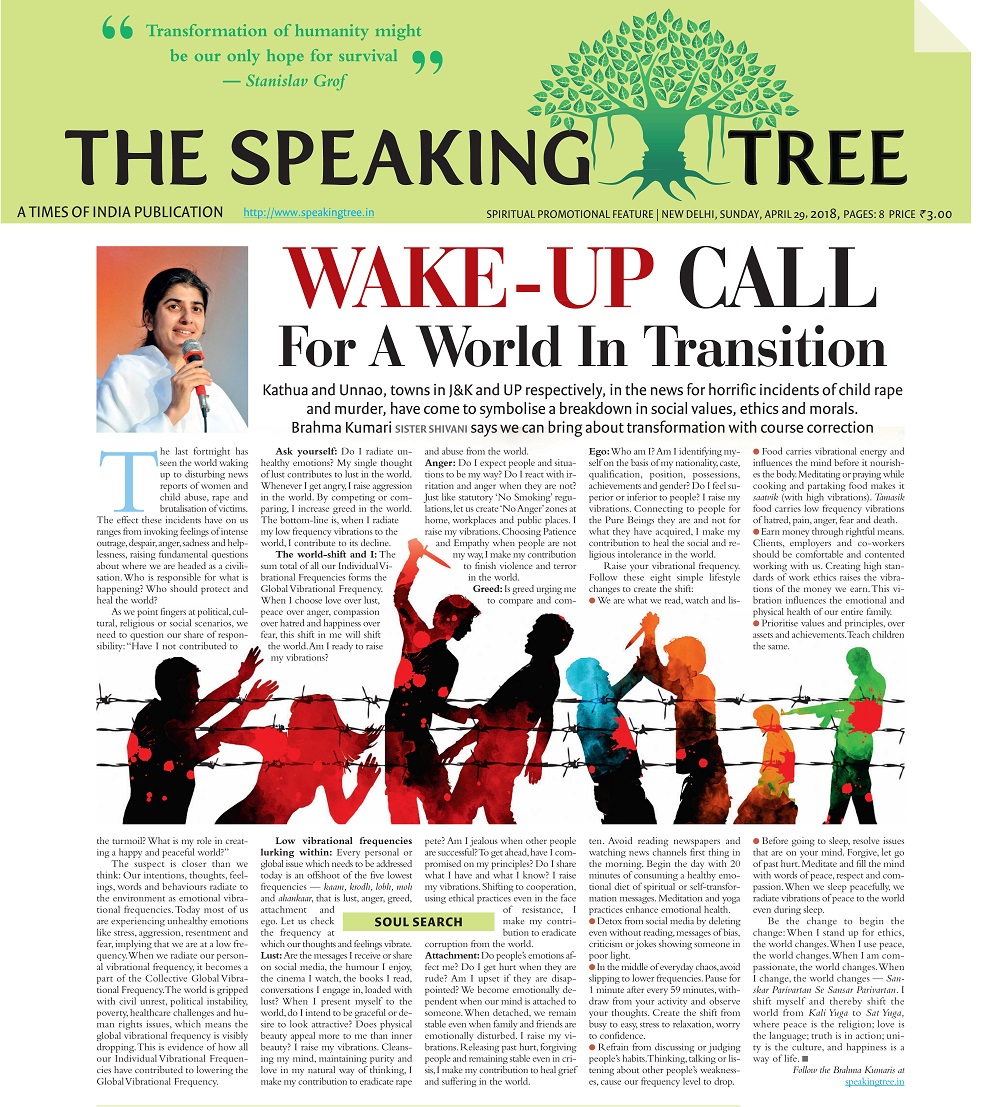 Dadi Janki in London!! On arrival - Wednesday 25th April: Who is my Baba? Look into my eyes!
25 April 2018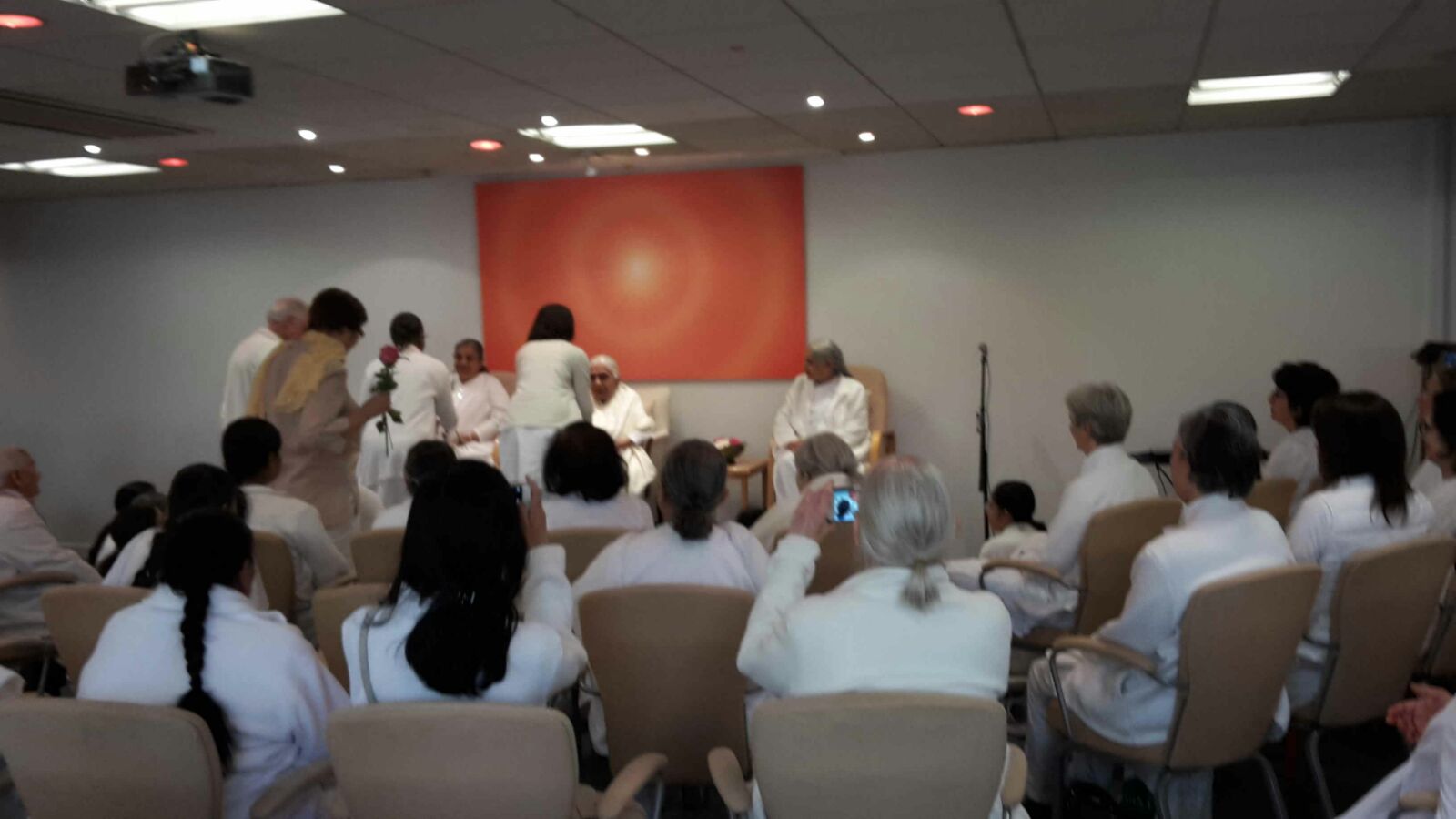 NOTE: From the London Webcast Team
There will be a welcome programme this evening.
7.00pm - Meditation 11:00 am Pacific Time
7.30pm - Welcome and class 11:30 am Pacific Time
We will keep you informed of further events.
Below are some useful links:
Best wishes,
Webcast Team
(Dadi Janki and Hansaben arrived at Global Co-operation House 11.30am to a joyful gathering of extremely fortunate souls. Dadi went to Baba's room and then met whoever was in the House in the Seminar Room. Deviben and Kumarbhai, who also accompanied Dadi, joined the gathering later.
Jayantiben: Should we welcome Dadi or is Dadi welcoming all of us?
I have come to my own home! Baba's home – the door of the Bestower. This is the wonder, this is the drama. Is it a dream or is it a drama? Are you happy? Everything was finalised last night. Dadi loved the aeroplane.
There is toli, there will be words…
Jayantiben: It is God's miracle, Hansaben's determination and Dadi's powerful thought that Dadi is here now. It's amazing, really a miracle. When I last saw Dadi in Madhuban it wan'st possible to imagine that Dadi could come. It's God's miractl and eeryone's love that pulls her here. London makes Dadi very strong and when it's time to go back,
Where will I go back to? I'm here! Baba says: Come with Me back to My home, It's time to go home. Before we go to the Golden Age we go with Baba for a few days. When people come to meet me I meet them with drishti and all of them dance.
Hansaben: I have just one word to say: We are home and that is all that matters. We don't need to know the detail and Dadi doesn't need to know the detail. Dadi is just a wonder in herself. We hear of the seven wonders of the world. Have you ever seen a wonder like this one – a living wonder?
Om shanti. Om shanti. Om shanti.
Who am I? Who is mine? It's a wonder. Seeing all the brothers and sisters, what's the feeling you have as you sit here comfortably. I've come flying to meet you all. Drama is very good. Drama was fixed. Seeing each one of Baba's children: Who am I and who is mine? As a detached observer, see everyone. This is the Seminar Room and all brothers and sisters are here. Shall I hug you all? (Dadi acted massaging everyone's faces). It's a wonder seeing everyone's image. The feeling of my heart is of good wishes for all of you, so accept that. You are all Baba's beloved children.
So, peacefully, for a few days there's been a very good experience. Baba will make us an image. What is the image of experience: Who am I and who is mine? Who is the One who created this game, did evertying and then hid Himself away? It's Baba's wonder. Maybe Baba is going to pull me to the Subtle Region. Why? The last few days, whoever comes to meet me has the experience: We are souls, we also live in Paramdhaam and have to back home there. That atmosphere is very powerful. Hansa tells me: Go to sleep, go to sleep. All night long Dadi remembers Baba. I don't anyone else except Baba.
Each one of you is a jewel of Baba's eyes. Baba adopted us children and sat us in His lap, gave us a hug, made us a garland around His neck, made us the light of His eyes and is taking us across the world. Wherever you go across the world: Who is my Baba? Look into my eyes...
Om shanti.

About Brahma Kumaris HQ Daily eNewspaper
15 April 2018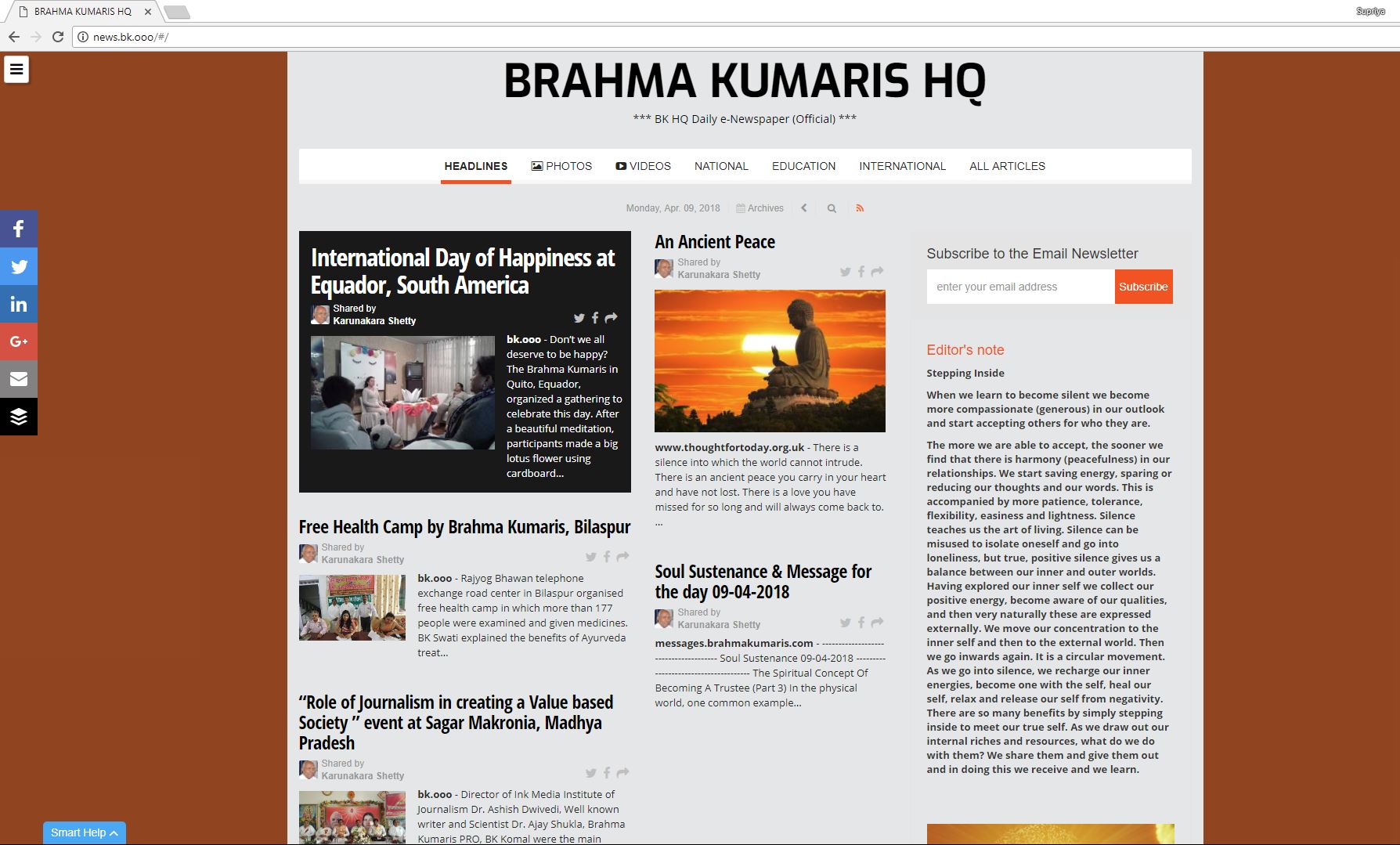 Brahma Kumaris HQ' Daily eNewspaper is an official Daily BK e-Newspaper containing Global Godly Service News from across the world. It also contains National News, International News, Photos, Videos, Daily Thought for Today messages etc.
The eNewspaper is published every day and is available on the internet, via social media (website, email, WhatsApp, Facebook, Twitter, Linkedin, etc.)
What centres can do :
Send service news to

enewspaper@bkivv.org

or WhatsApp: +91 9414008982. A few photographs, a short paragraph with highlights of the event and/or a video clip will serve the purpose.

Subscribe to the Daily e-Newspaper and spread its awareness among BK Students and contact souls at your center. Subscription can be made either through the website or by email or WhatsApp.
Website: www.news.bk.ooo
Email: enewspaper@bkivv.org
Phone/ WhatsApp: +91 9414008982
In a short span of two months, this eNewspaper has subscribers from more than 40 countries and is receiving a great deal of very positive feedback.
Below is a short, two-minute video. Click on the image to download and play.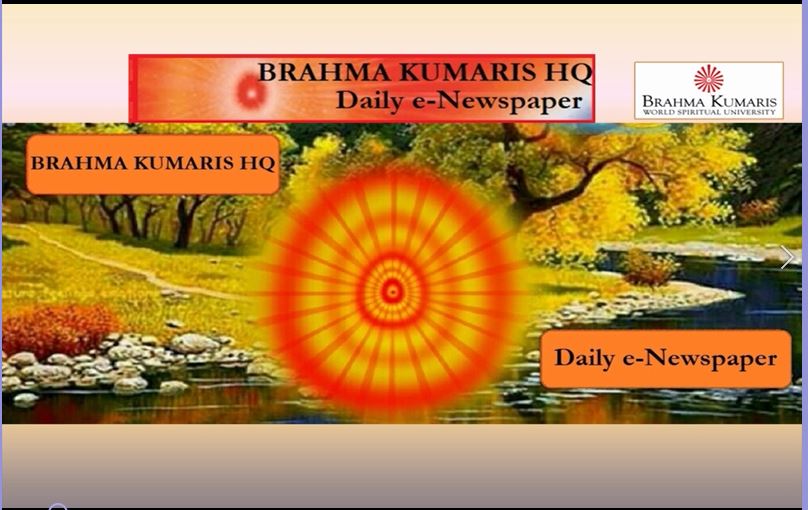 For more information feel free to contact us at +91 9414008982 or enewspaper@bkivv.org
With Loving regards to Global Divine Family,
Rajayogi Karuna Dadaji

Interesting Article about BK History: "How a small feminist group led by Hindu women in pre-Partition Sindh went on to get global renown"
20 March 2018
SOURCE: DAWN (Pakistani online news from the DAWN Media Group), 28 February, 2018. Author: Zahida Rehman Jatt.
Hyderabad, Sindh is famed for a number of things, including The Bombay Bakery's legendary cakes, the city's windy and cool afternoons, and the beautiful wind catchers that used to be a hallmark of its distinctive architecture.
However, only very few people would know that Hyderabad was once home to an indigenous feminist movement, first called Om Mandli and later renamed Brahma Kumaris.
Brahma Kumaris is a spiritual organisation predominantly led and managed by women, and presently has its headquarters in Mount Abu Rajasthan, India.
Interestingly, this mainly female-based organisation was not founded by a woman but by a man, Lekhraj Khubchand Kriplani (1876-1969), also known as Dada Lekhraj of Hyderabad, in the 1930's.
In the beginning, it was a gathering, headed by Dada Lekhraj, of a small number of devotees, which gradually grew larger, and eventually transformed into a worldwide organisation with offices in 110 countries.
To explore how this obscure group went on to become a global spiritual organisation, we must go back to pre-Partition Hyderabad.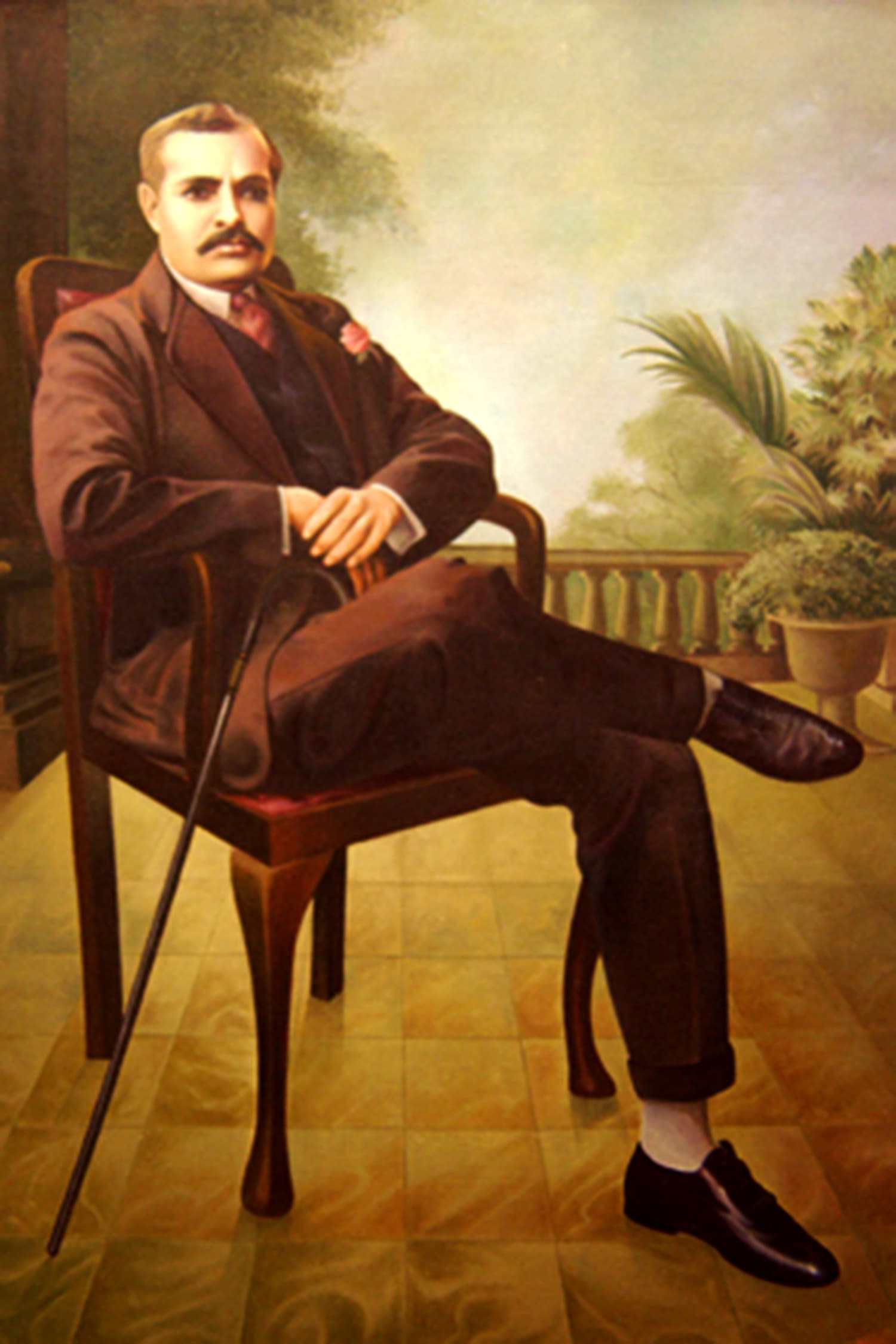 Lekhraj Kripalani. —Photos from Wikipedia
During the British rule, Hyderabad's Hindu merchants, Bhaibands, had an international network of firms and were known as Sindworkies (one who works in goods from Sindh).
Many of these men joined the Sindwork firms that were working across the globe and would spend several years in foreign countries, leaving their womenfolk behind.
Lawrence Babb, in his article Indigenous Feminism in a Modern Hindu Sect, writes:
"But if the world was wide for Sind Worki men, for their wives and daughters matters were very different. The world of women was the household, within which most of them were secluded."
Perhaps it was the isolation and sense of being left behind, stranded in a house without men, which prompted women to explore avenues that would enable them to live more purposeful and spiritually meaningful lives.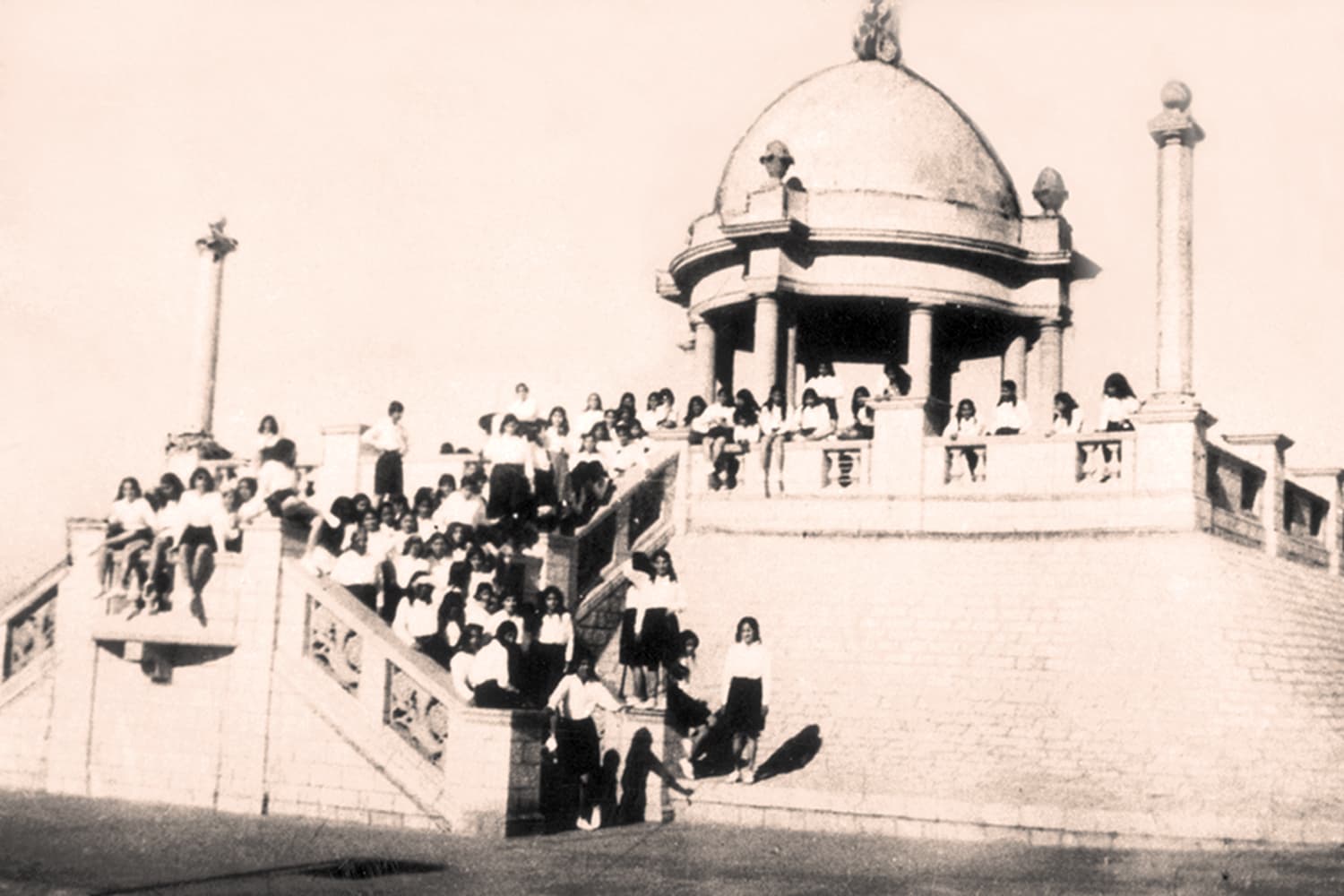 Om Mandli group on an outing at Clifton beach, Karachi.
Dada Lekhraj was a follower of Vallabhcharya Vaishnavism (a Hindu sect) and was a jeweller by profession. As part of his trade, he met many women and observed their far-from-healthy social conditions.
He eventually proclaimed that he was having visions and was receiving instructions from deities. He began organising a small gathering in his home where the attendees would participate in satsang (devotional singing) and would read the Bhagavad Gita.
Most of the attendees were women and children and the gathering especially attracted Bhaiband women whose menfolk were away on business and who found spiritual contentment in religious activities.
Dada's followers called him Om Baba and the group that he formed was known as Om Mandli. The Om Mandli gradually expanded its activities and its membership also increased.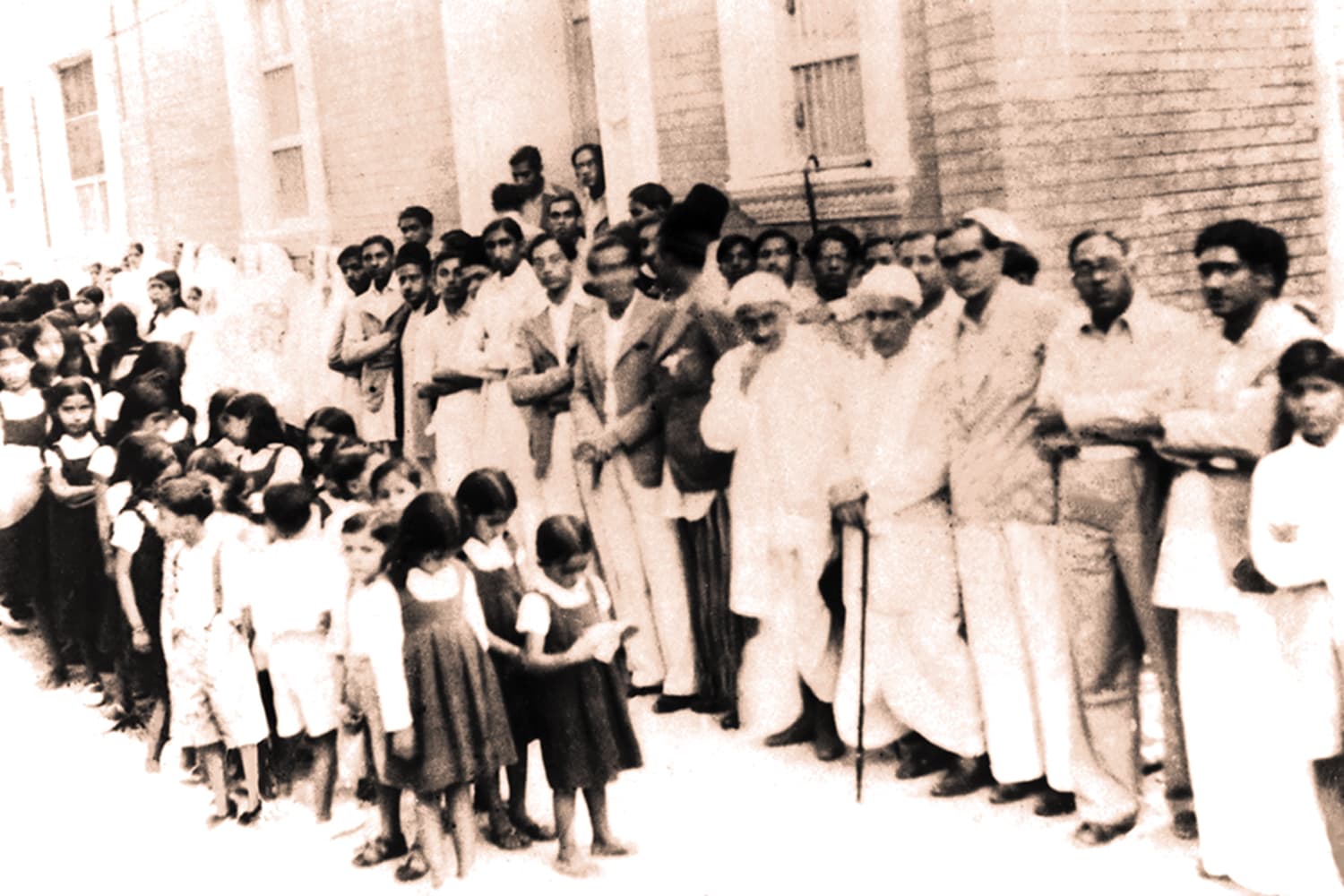 Om Mandli committee picketing in Hyderabad.
Because the Om Mandli's teachings stressed religious devotion, celibacy and chastity, it was perceived as a threat to family life and patriarchy, and soon the Bhaiband community rose in protest.
Resultantly, a committee known as Anti-Om Mandli Committee was formulated by Bhaiband men. The female members of the Om Mandli were abused and threatened in their homes.
In 1938, an angry mob set one of Om Mandli's buildings on fire. The situation got worse and the organisation was forced to move its headquarters to Karachi.
By then, the reigns of the Om Mandli had been handed over to a young woman, Radhe Pokardas Rajwani (1915-1965), also known as Om Radhe.
In March, 1939 the government appointed a tribunal to inquire into the activities of the Om Mandli. Shortly afterwards, it was declared that the group was an 'unlawful organisation.' Yet, the movement continued its activities secretly.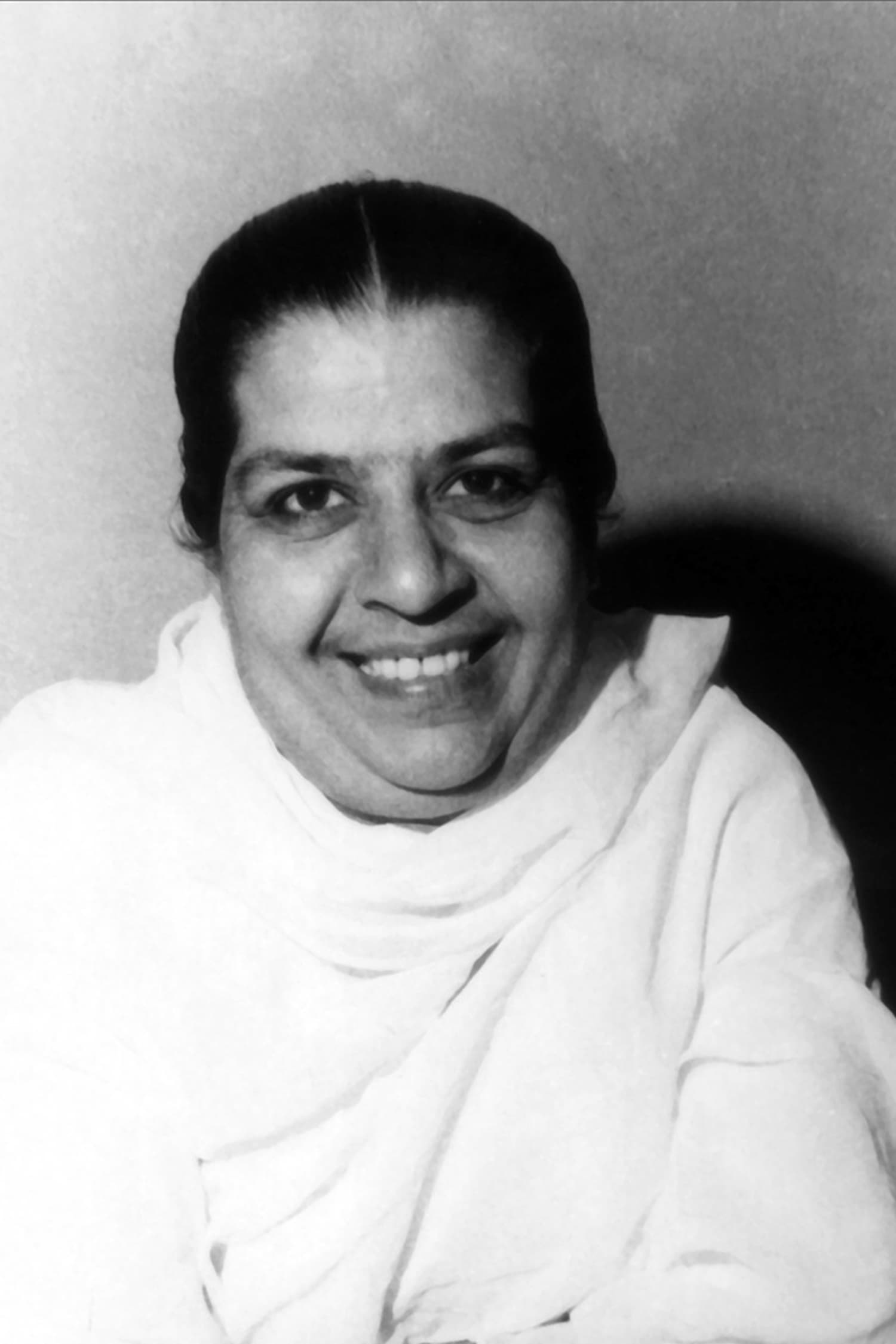 Om Radhe
After Partition, the entire organisation moved to Mount Abu in Rajasthan in 1950. It was renamed as the Brahma Kumaris World Spiritual University and the network started expanding internationally.
From the 1970's onwards, the Brahma Kumaris set up centres in other countries, the first of which was established in London.
Afterwards, they spread to other European countries and continued teaching Raja Yoga, meditation, and other forms of spiritual knowledge.
In the 1980's, the Brahma Kumaris got affiliated with UN agencies like UNICEF and Economic and Social Council.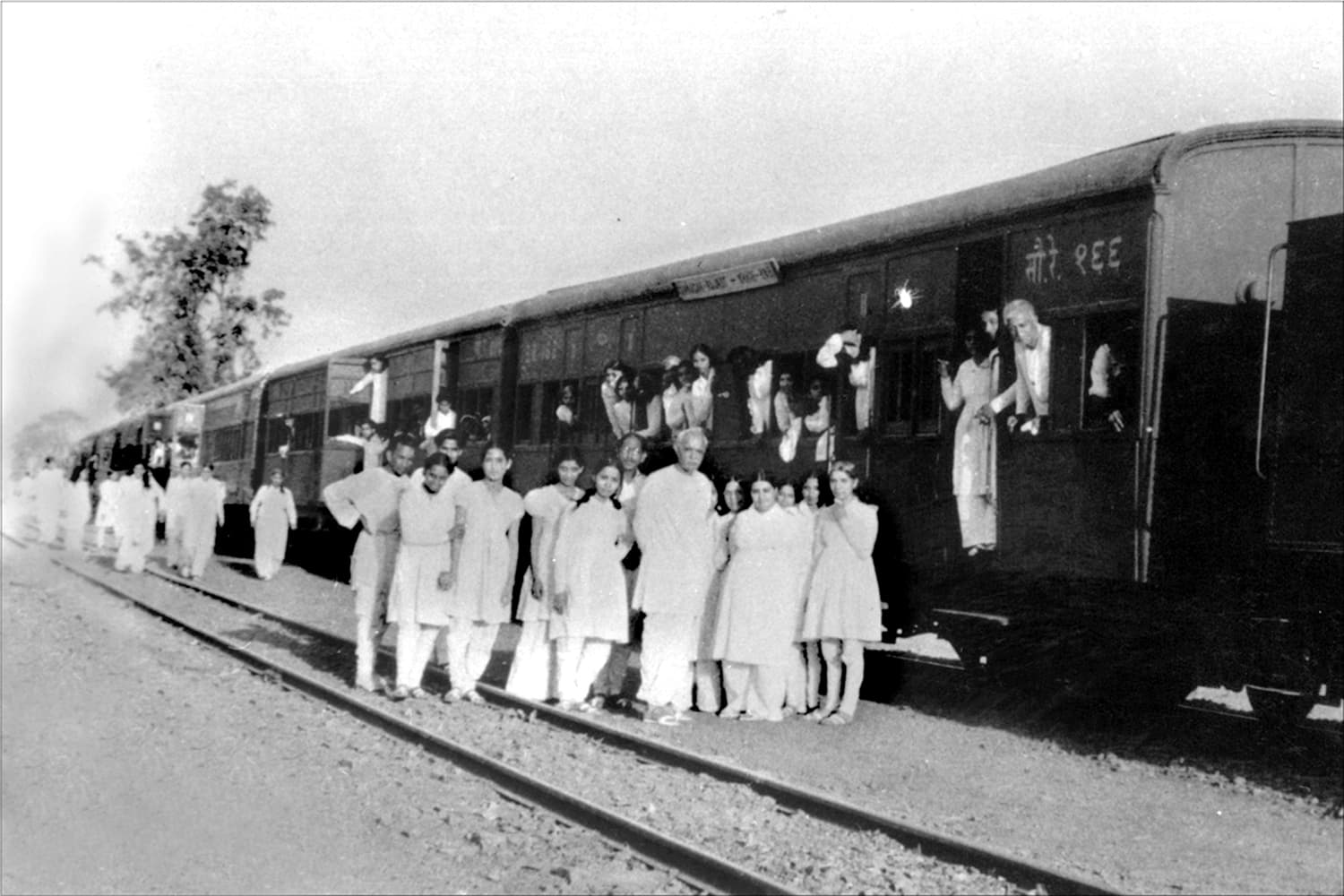 Train to Mount Abu, India in May 1950
In today's Hyderabad, there would hardly be anyone who would know that a tiny group of women who formed a religious circle in this very city, have reached such renown.
What is remarkable is that, in pre-Partition Hyderabad, where patriarchal norms and misogyny was at its heights, some of its courageous women powerfully resisted the yoke of men and subjugation.
Though many of them had to face trials and tribulations, they persevered and are now acknowledged across the globe for their spiritual teachings and philanthropic work.
Following Partition, Pakistan's entire focus shifted towards the majoritarian religious aspects of our history and culture, and consequently our younger generation is completely unaware of a colourful and beautiful heritage of Hindus, Sikhs and other minorities that once lived in what now constitutes the Land of the Pure.
Perhaps rather than projecting a selective historical narrative, we should revisit our history and be proud of its plurality.
About the author: Zahida Rehman Jatt is an anthropologist and social science researcher. She is a lecturer at the department of Anthropology and Archaeology at the University of Sindh in Jamshoro.

Holi Greetings from Sister Jayanti and London Brahma Kumaris Family
2 March 2018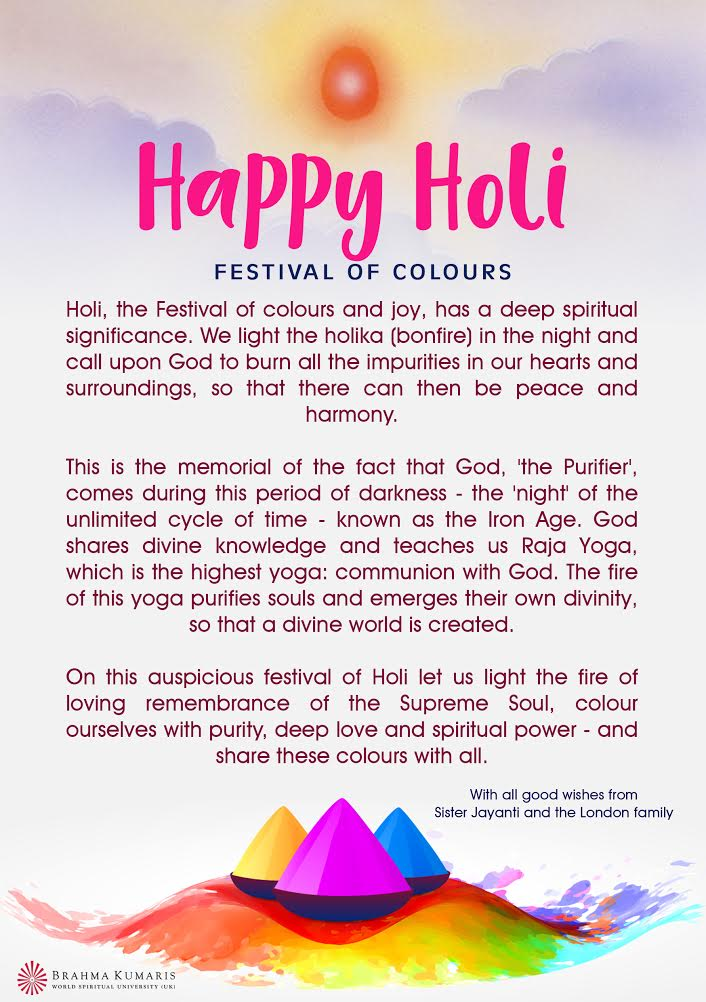 Sister Jayanti Message on Shiv Ratri (Shiv Jayanti)
16 Febuary 2018
Om Shanti
Today uploaded a beautiful video of Jayanti Didi Shivratri massage on facebook as shared by Prashant bhai.
https://www.facebook.com/brahmakumaris/videos/1779714465405933/
we can share it everywhere, its too good.

Special Yoga for Dadi Gulzarji - Request from Madhuban
14th March 2018
BapDada's light of the eyes, all sisters and brothers who are Zone-in-charge, sub zone-in-charge, instruments in charge of the service places, all brothers and sisters who are decoration of the Brahmin clan, please accept sweet Godly love and remembrance from Brother Nirwairji and your unlimited home, Madhuban.
Yesterday, at the time of the avyakt meeting with Avyakt BapDada, all were requested to have 5 minutes yoga for the good health of our most respected Dadi Gulzarji.
Today, I am once again requesting that the whole Brahmin family gives their co-operation to have 10 minutes of yoga in the morning class and 10 minutes of yoga in the evening meditation for our Gulzar Dadiji to get well quickly and return to Madhuban.
Achcha, lots and lots of love-filled Godly remembrance.
In Godly service,
B.K. Nirwair

Yogis in a Danish Castle
2 March 2018
Many of you will remember the beautiful photos of yogis in the Exhibition SOULS the Danish Søren Solkær has taken in Madhuban. Our yogis have given drishti in exhibitions and programs all over the world. Not to mention the beautiful coffee table book with 100 yogis that was printed in recent years.
Our yogis have now been revived in Denmark in the famous Renaissance Castle of Frederiksborg. Together with kings, queens, nobles and the bourgeois the yogis are now giving drishti to the visitors in the portrait exhibition at the National History Museum. The yogis are part of a retrospective exhibition with over 200 photos and portraits of many prominent people, that Søren has photographed over the last 25 years.
The BK's in Copenhagen were invited to the vernissage. It was a surprise to us that 14 of the Yogi portraits was part of the exhibition itself! They got their own room in the princess chamber and will give dristhi to the visitors until 15th April 2018. Madhuban and Raja Yoga meditation is mentioned in the description.
You can see pictures in attached pdf file. The last picture Søren giving the introduction to his work to the press and invited guests in the golden decorated renaissance hall.

Br Nirwair Regarding Dadi Gulzar's Health - 31st January
1 March 2018
Dear divine sisters and brothers of all Brahma Kumaris Centres of in Bharat and overseas Centres, raj
Please accept hearty Godly love and remembrances from Respected Dadi Jankiji, Respected Dadi Gulzarji and Respected Dadi Ratan Mohiniji and all Madhuban Niwasis.
As you all know our beloved Dadi Gulzarji, BapDada's invaluable chariot of 49 years, has been in Mumbai since early January 2018 and admitted into Brahma Kumaris' BSES Hospital, for around a week now. Her doctors have been very kind to give her medical support, even though she has been having a few complications in breathing.
With medication, Dadi's health is improving slightly, and we hope that the power of your good wishes, and vibrations of Almighty Shiv Baba's yaad, would help her to regain her strength very soon.
With Godly love and remembrances,
B.K. Nirwair

Sr Jayanti at the World Economic Forum in Davos
26 February 2018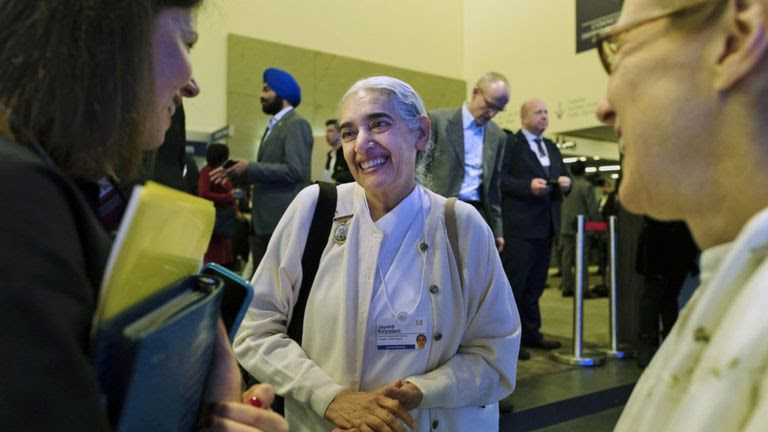 Dear friends
We are pleased to share with you this link to the
BBC website
featuring Sister Jayanti
at the World Economic Forum in Davos.
Earn, and breathe: Meditating your way to profit - BBC News article features photo and quotes Sr Jayanti
This article reported by By Katie Hope, BBC News, Davos, can be seen here: http://www.bbc.com/news/business-42808322.