2018 Africa News Archive
2018 Africa News Archive
6th International Gujarati Retreat 'Appreciating My Life' held at Nairobi, Kenya
6 August 2018
The 6th International BK Gujarati Retreat attracted 53 enthusiastic participants from Doha, Dubai, Muscat, New Zealand, India (Ahmedabad, Poona, Mt Abu etc) and Uganda to the Serve Africa Retreat Centre in Nairobi, Kenya.

The participants were welcomed with a local kikoy shawl and a rose flower. A live band played Jambo Jambo, a local Kiswali welcome song. Vedantiben and Hasubhai, the trustee officially warmly welcomed all.
The retreat started with a Silent Experiment Laboratory. There was one subject each hour from 9.30am -12.30pm and 4.00pm-7.00pm to go into deep silence. Chairs were placed around the room facing the wall so they could detach themselves from everything around. Brahmababa's variety images were put up as inspiration.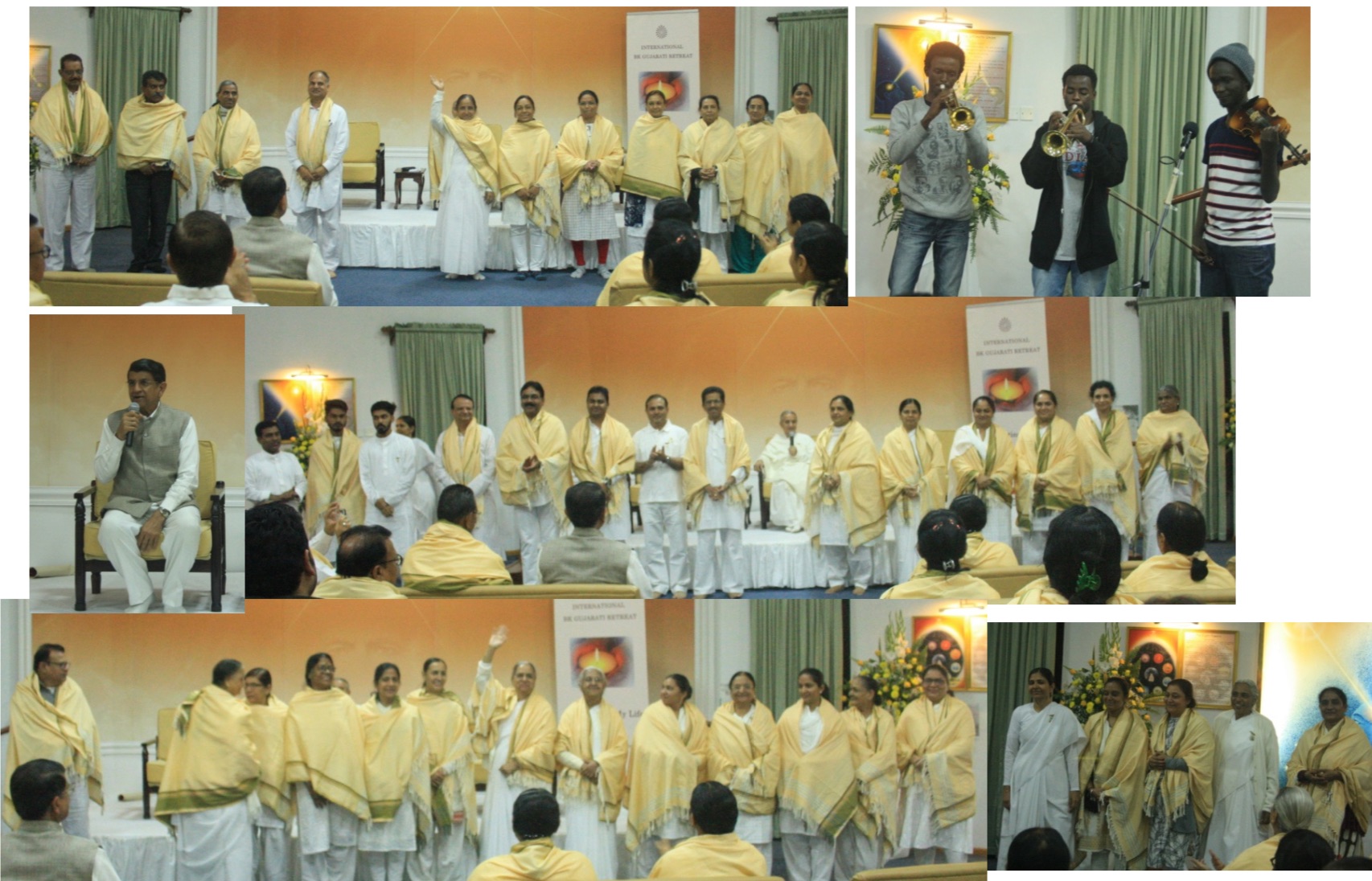 Being Introvert - a chance to going within withdrawing from all the scenes around and preparing a stage to be with the self.
Self Cleaning - Was a time to check the self and cleanse the defects and weaknesses and decorate the self with self respect.
Devotees - Worship worthy Image - A wonderful exercise of devotee soul doing worshiping in front of worship worthy deity and the deity responding to the devotees.
Destruction - An experience was created with the various sounds and scenes of destruction with volcano eruption, tsunami, bombs blasting, machine guns being fired, natural calamities etc. All gave powerful dristi to all to create powerful vibrations.
5 elements - An exercise was conducted to healing the physical body connected to the 5 elements and going out in the open to connect to the elements.
Golden Age - All were transported to the Golden age experiencing the meeting with prince and princes, going to school to learn art, music, dancing etc, flying in their vimans, enjoying the 56 varieties of food, etc

The next day was variety classes:
Bhavnaben from New Zealand shared on Appreciating the Self.
• Never compare: Value and appreciate your part because Baba chose you. No two people's life is same.
• Through churning our self-respect will be strong-rooted and we will find lots of valuables within.
• Remember the blessings we get from Bapdada and trust the truth of it.
• Positive Thinking yields a lot of power. Its give us the hope to move
forward.

Vedantiben shared on Appreciating Baba
Love Baba from deep inside and experience that it in daily life.

Experience what we get from Baba and then it becomes a realisation.

The shrimat of Baba should not be diluted or ignored.

Lightness in life helps us move forward.

importance of writing to God which should be done from deep inside
Pratibhaben shared on Appreciating Drama on how each and every step in Drama is beneficial in long run.
Nizarbhai shared his experience of becoming Baba's child and how he maintains the life in a real and true way as well as that Baba is the Boss and he is taking care of everything.
The whole group continued with the retreat in the great wilderness of Masai Mara in 8 mini vans connecting with the nature and simplicity. This was a chance to share experiences in small groups and also as a whole.
Click here for full report with photos.


Br Yogesh from Turkey on Visit to South Africa
4 August 2018
Brother Yogesh from Turkey arrived in Johannesburg for a two week, national tour, visiting many of the BK centres, in various cities in South Africa. His programme of engagements began that evening in a new area of service where classes have started recently at a wellness centre, where approximately 80 souls gathered for an informative talk on how meditation helps to overcome daily challenges. The audience was very receptive and enjoyed the simple exercises Br Yogesh conducted, which offered insights on how, by changing our vision we can change our responses, and hence, our experiences. His message could be summarized in the following statement: "Elevate your vision and your attitude rather than fighting the problem."
June 16, is celebrated in South Africa as Youth Day, so that morning the BKs hosted a lively workshop with young people in Soweto, entitled, You 2.0: How do we upgrade ourselves? Young local artists offered a variety of activities including inspiring poetry, songs, and kickboxing to engage the youth. Br Yogesh offered interactive exercises through which he helped them understand the value of meditation as a means of building self-esteem and a positive self-image. "Success is dependent more on focus than on intelligence." After the program Br Yogesh was taken for a quick tour of the Hector Petersen Museum in Soweto, which is the memorial to the student uprising of 1976.... click here for full report with photos.

Bharat Bhushan Bhaiji's (Panipat, India) visit to Nairobi
21 July 2018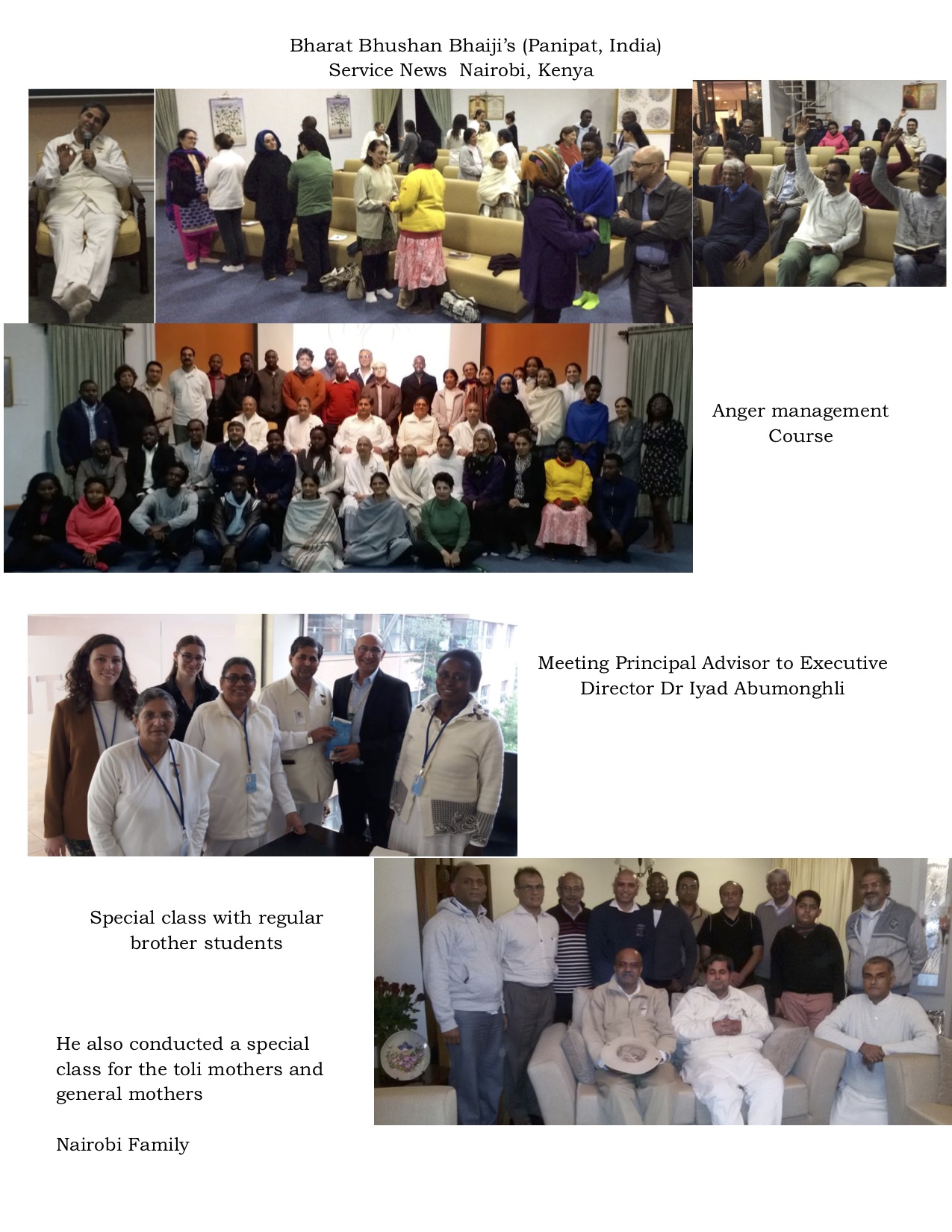 Godly Service in Mautirius - by Bro BK Shaktiraj of Shantivan
15 February 2018
Program 1st at Flacq centre
Topic:- 'Super Mind Super Future' at Flacq Centre
On Monday 11th December 2017, Bro Shaktiraj from Mount Abu, had a presentation on the theme "Supermind, Super future" at Harmony House, Central Flacq. An audience of around 50-60 souls participated with great interest in the interactive session. He really moved them with his activities.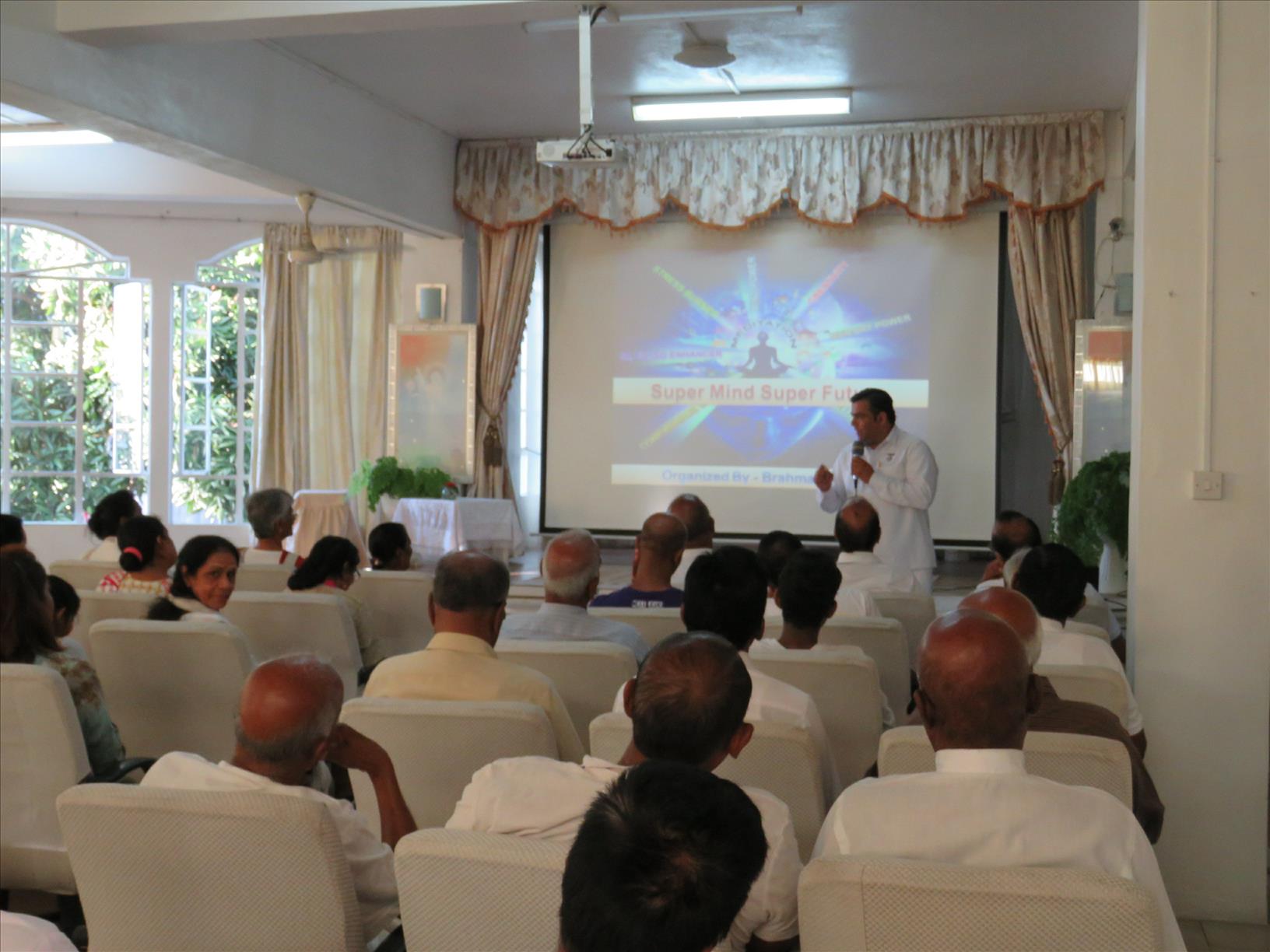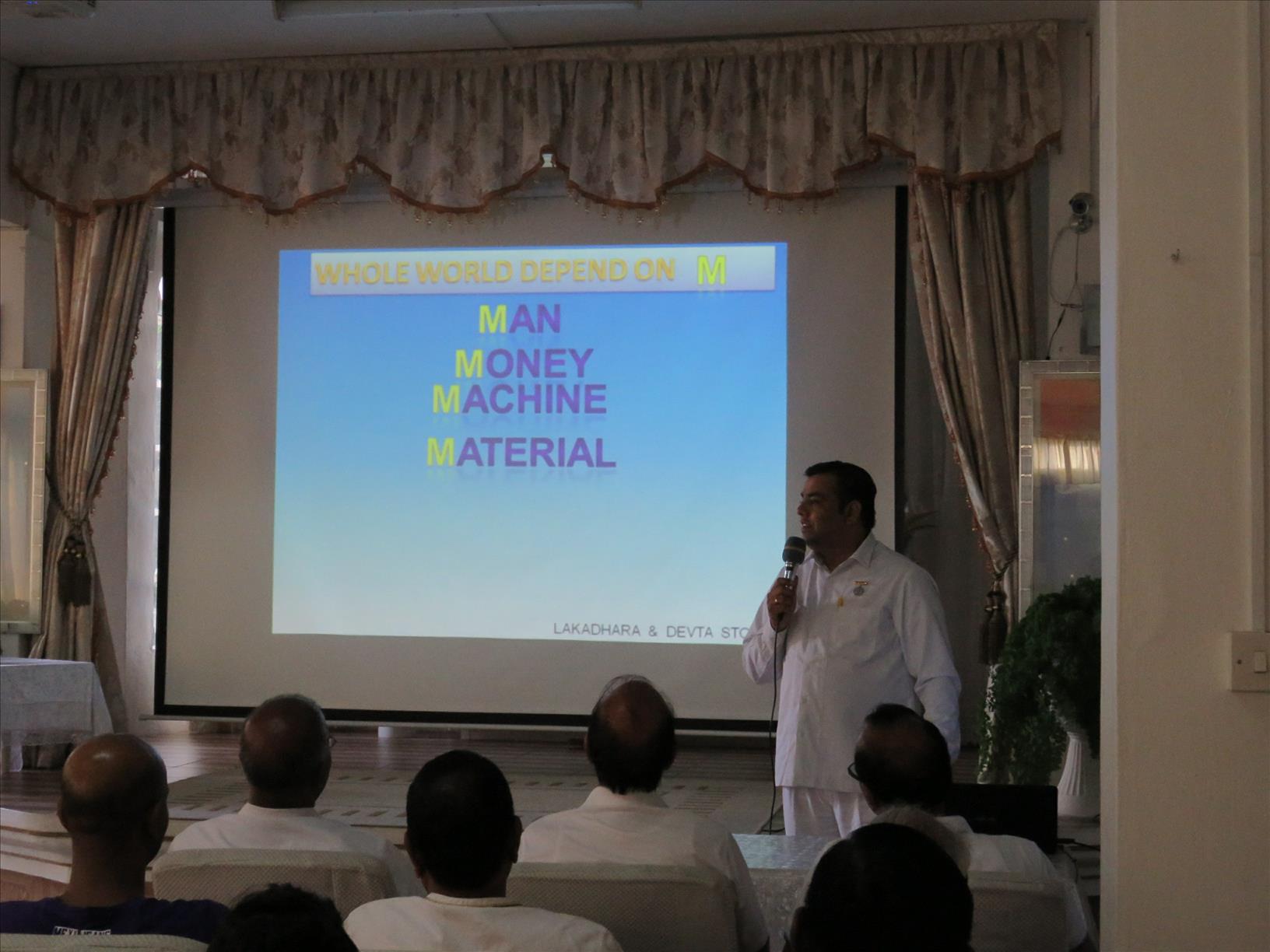 Program 2nd at Inner Space Meditation centre, Port Louis
Topic:- Unleash Your Mind Power, Be the Hero of your life
On the same day Brother Shakti Raj proceeded to Inner Space meditation centre situated in the capital city of Port-Louis for a dynamic lecture on "Unleash Your Mind Power." His talk, interspersed with video clips and practical moments, focused on tips to enhance one's mind power. He made the audience practise smile for one minute, thus initiating happiness in each one's life which keeps away stress and diseases. Various practical tips on concentration and memorising techniques were shared. Visualisations and Affirmations are two powerful tools. In fact, thinking before thinking is the key to have positive thoughts and giving the right command to the mind. Therefore, the regular practice of meditation recharges our mind which enables everyone to lead a happy life, be it just for one minute. The program was attended by around 100 professionals from private and public organisations.it was an amazing program.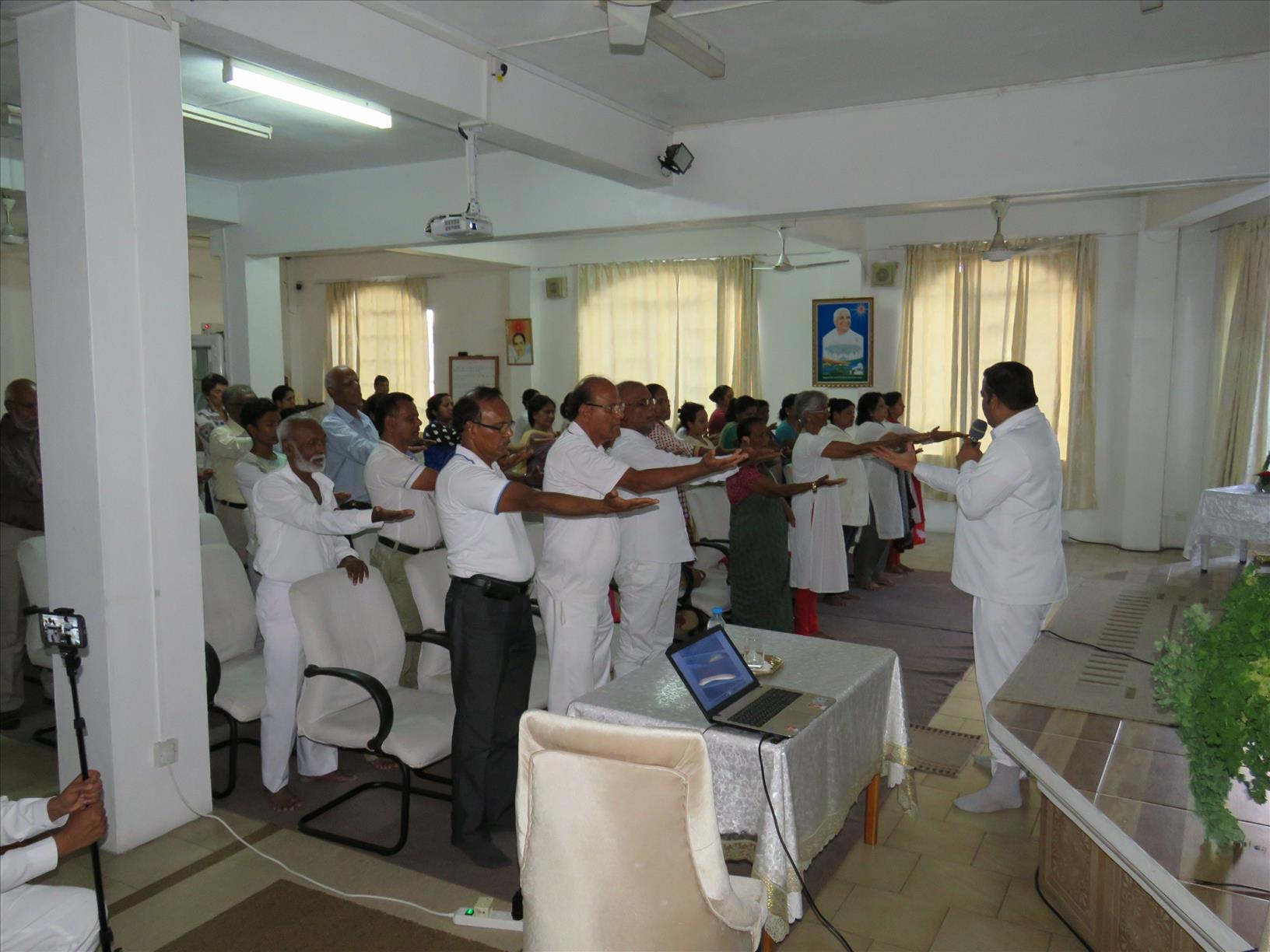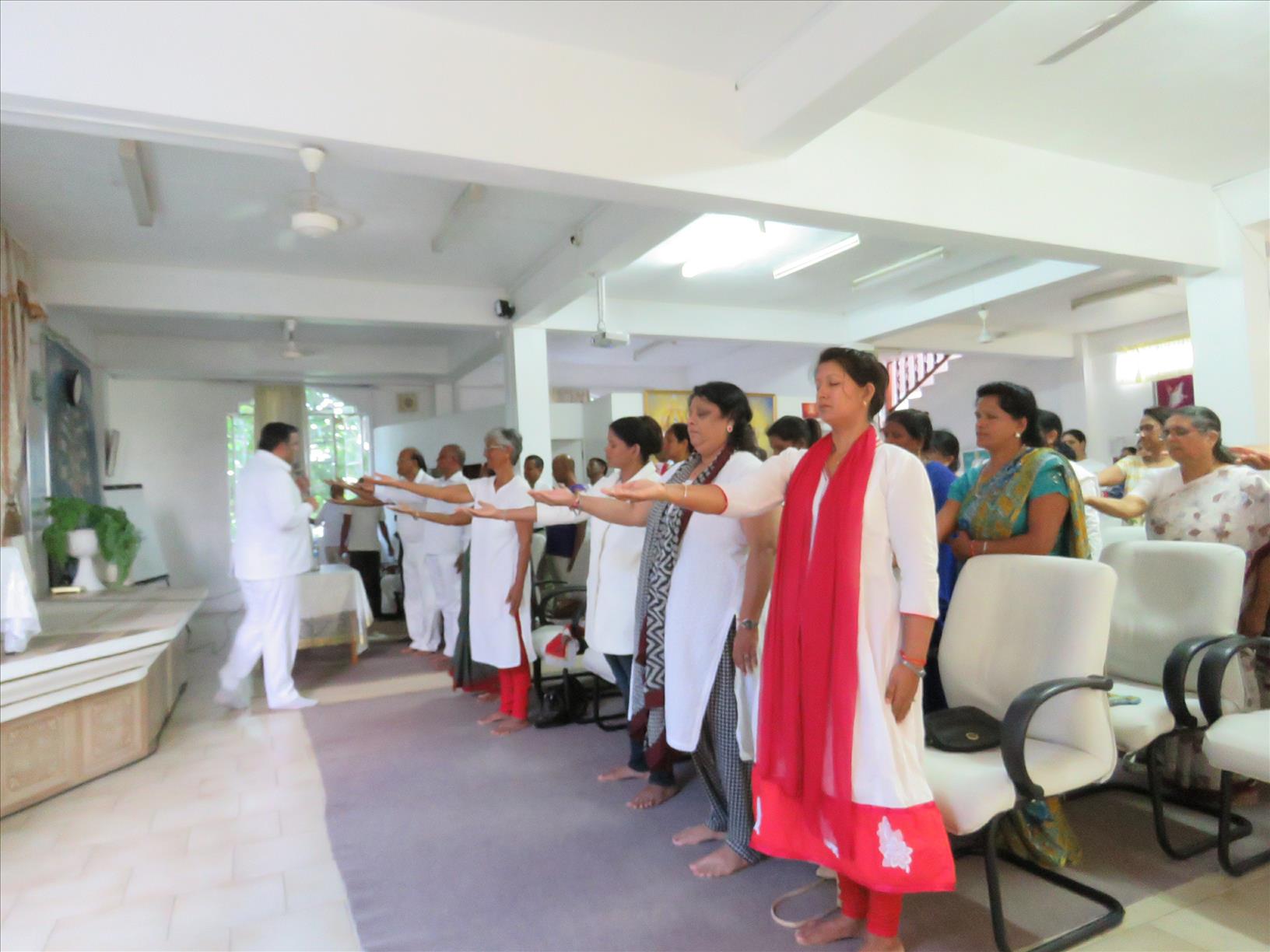 Program 3rd at Khoyratty Meditation centre,
Topic:- Bk Family Class Different Drill Practise
Global Peace House at Khoyratty, had the honour to receive five Brothers from Shantivan after murli class at 7 am. One among them, Brother Shaktiraj, trainer in memory management, shared some insightful thoughts on how to make efforts in B.K life creative and entertaining. He demonstrated, for example, how to connect to none but one – 'Ek Baap dusra na koi'. Next knowing our goal and working to achieve it is fundamental. To enhance a soul-conscious state, we need to avoid leakages, live in the present while concentrating and improving the quality of thoughts. Just as we practise traffic control on the road to avoid accidents, similarly, by avoiding the traffic jam of thoughts, with the practice of one minute of meditation each our, we can considerably improve our chart of remembrance. Besides, a smile for one minute keeps one healthy-away from psychosomatic diseases. He added that the types of thoughts we have, determine the treatment that we receive from others. Brahmins should bear in mind that the recording is being done on the world stage now and at the last moment the justice of God as Dharamraj will take place. We are presently in Baba's CCTV.
Thanks & Best Regards
Mauritius Bk Family