2015 Health Field News Archive
2015 Health Field News Archive
Seasons Greetings & A Happy New Year From the Janki Foundation
24 December 2015

Brahma Kumaris, Bhubaneswar Sub Zone Organises "Good Bye Diabetes"
25 November 2015
Source: Disha News Insight (online edition) http://www.odishanewsinsight.com/events/brahma-kumaris-bhubaneswar-sub-zone-organises-goodbye-diabetes/
Bhubaneswar, Nov 10: On the eve of the World Diabetes Day, "Goodbye Diabetes" – a two days diabetes awareness campaign – has been arranged by Bhubaneswar Sub-Zone of Prajapita Brahma Kumaris Ishwariya Vishwa Vidyalaya at the playground of Boys' High School, Unit I, Bhubaneswar, on the 14th & 15th of November 2015 from 8.30 am to 1.00 pm and again from 4.00 pm to 8.00 pm on both days. There is no entry fee for participation in the function.
In fact, in response to the fast growing number of people suffering from diabetes across the world (India is no exception where nearly 10 lakh people die every year because of diabetes, and which is more pronounced in Urban areas due to the sedentary lifestyle therein), the International Diabetes Federation (IDF) and the World Health Organisation (WHO) have started a campaign against diabetes and have been observing the 14th November every year as the World Diabetes Day.
Although Brahma Kumaris is a spiritual organization and widely recognized as messenger of peace promoting core human values, as part of its social responsibility, it has thought it fit to organize a programme to spread awareness amongst people about the causes and risk factors involved in diabetes – the ailment known as a 'silent killer' – and the ways and means to control and prevent it from spreading further.
Dr. Shrimant Kumar, Consultant Diabetologist and Holistic care Pysician , Global Hospital & Research Centre of Brahma Kumaris, Mount Abu, will explain procedures for prevention and control of diabetes through Rajayoga and other inexpensive methods. The emphasis will be given on the importance of healthy living and prevention of diabetes.
HEALTH is not only an important aspect for oneself but also for the well-being of the nation. The last few decades have seen a changing global scenario, particularly in developing countries like India, where non-communicable diseases, such as diabetes, high blood pressure, stroke, heart attack and cancer have grown to become major killers.
Nearly 10 lakh Indians are dying every year due to diabetes. Nearly 50% of people with diabetes die of cardiovascular disease (primarily heart disease and stroke). Diabetes is among the leading causes of kidney failure. Every 6 seconds, one diabetes patient dies of diabetes complications. 1 percent of blindness is caused by diabetes. Every 20 seconds a lower limb is amputated due to diabetes.
Diabetes is a life-style disorder. Unless we change our life-style, not only diabetes but other killers such as hypertension, stroke, heart attack or cancer will take their toll in our country.
The International Diabetes Federation has been stressing the importance of "EDUCATION" in their literature for more than five years. There is a need to educate the public on how to prevent diabetes and its complications and live a healthy life. This year, the theme of World Diabetes Day is: "Healthy Living and Diabetes."
Rajyogini BK Leena, Director, Bhubaneswar Sub-Zone of Brahma Kumaris has invited the esteemed public to attend the programme focused on spreading awareness about the causes and remedies of diabetes and the need for greater initiatives for prevention and control of diabetes and its complications. She has wished peace and good health to all the mankind.

'Alvida Diabetes' Program Held on 9th October at Shanti Sarovar - Raipur (CG)
20 October 2015
Dear Divine Family, Om Shanti.
I am sending herewith some photos and news of the Alvida Diabetes programme organised at Shanti Sarovar, Raipur (Chhattisgarh) under the guidance of Dr. ?BK ?Shrimant Sahu of Global Hospital, Mount Abu.
The programme was inaugurated by the Agriculture & Water Resources Minister of the Chhattisgarh Govt., Mr. Brijmohan Agrawal Ji, along with Sisters Savita, Kiran and Uma Didi. The programme was open to the public and was well attended.
B. K. Savita
Raipur (C.G.)

Unique Conference on Mind-Body Medicine Held in Alkapuri, Baroda
20 October 2015
Dear Divine Family,
BrahmaKuma?ris of Alkapuri Baroda organised a unique Conference on Mind-Body Medicine in which Sr Shivani was a featured speaker. Next day she also gave a talk on The Balance Sheet of Life for all BK Family of Baroda. Please enjoy the photos.
Thanking You,
With Sweet Baba's Yaad,
BK Dr Niranjana

Report on a Health Care Facilitators Training (VIHASA) in Gyan Sarovar
8 October 2015
Brahma Kumaris Global Hospital Mumbai and GHRC Mt Abu jointly organised a pan-India 4-days facilitators' training programme in Gyan Sarovar, Mt Abu. 74 participants from 12 states across India included a judicious mix of doctors, nurses and non-medical professionals.
Bro. Stephen Berkeley, Manager Organisational Development GHRC Mt Abu conducted a facilitated session for all the trainers prior to the training. All trainers shared their experiences on various topics like challenges faced while facilitating, difference between facilitation and teaching etc…
Dr Partap Midha, Director of GHRC Mt Abu, launched the training with a talk on VIHASA. Mathilde Sargeant, Infection Control Nurse, GHRC Mt Abu gave a presentation on VIHASA to all the participants and Bro. Stephen, spoke about facilitation skills.
After 2-days facilitation by trainers on the Values and Cooperation Modules, the participants got a hands-on experience in facilitating the Positivity module on 3rd day. The experience was enriching, not only for the participants but also for the trainers.

Health Check-Ups at Global Hospital
3 September 2015
Dear Divine Sister / Brother,
Greetings from Global Hospital!
Baba's season is about to begin, and you must be looking forward to your annual pilgrimage to Abu.
We believe it will be a full house in Mt Abu this October. Many of you get your annual health check-up during your stay here.
We have redesigned our popular preventive healthcare packages, adding a few tests that are essential health indicators. Click here for details of these five profiles:
Standard Profile (for people aged 30-45 yrs) - Rs 1800
Special Profile (for those who are 45 yrs and above) - Rs 3200
Youth Profile (young adults aged 20-30 yrs) - Rs 1000
Standard for Women - Rs 3000 (standard plus a few extra tests for women)
Standard for Men - Rs 2400 (standard plus a few extra tests for men)
May we suggest that you book in advance for a health check up. Email Sister Shivali at purghrc.108@gmail.com or call her on +919461348073 with your preferred date.
Our Ayurveda Panchkarma team is also looking forward to serving you. In addition to popular therapies Shirodhara, body massage and steam and acupressure, you can enjoy a Japanese bath this season!
We look forward to hearing from you.

Health & Wellness Retreat held at the Asian Retreat Centre (ARC)
11 August 2015
Health & Wellness Retreat, 31 July – 2 August 2015, ARC, Dengkil, Malaysia
A Health & Wellness Retreat was organised from Fri 31 July to Sun 2 Aug 2015 at ARC following the request of participants of the Professional Retreat with Br. Marcelo in March 2015.
It was the first such unique retreat with outside speakers who were experts in their respective fields
such as two top Cardiothoracic Surgeons in Malaysia, Dietician from a well-established hospital, certified health coach, Qigong/Tai Chi/Yoga instructor as well as our own experts in Mind Power, Spiritual Health and Raja Yoga meditation...
Participants were very happy with the holistic, wholesome package covering stimulating exercises to nutritious vegetarian meals, to enlightening and informative talks on diet, heart care, health and wellness and empowering meditation. They were so taken up that they requested for a follow-up retreat and / or more such health retreats. Many of them, realising the importance and power of meditation, made promises to practice regular meditation in the mornings and evenings before going to bed.
Read the Full report here.
Sister Meera presenting a gift to Dr. Arun

Fifth International Ayurveda Expo in Colombo, Sri Lanka, 3 - 5 July
15 July 2015
The fifth International Ayurveda Expo in Colombo was very successful with more than 5,000 visitors to the Brahma Kumaris' stall over three days from 3-5 July 2015. The BK Centre has since received many phone enquiries and a few people have started the Introductory Course.
The Expo was organised by the National Chamber of Commerce of Sri Lanka.
The BK stall was the main attraction and the busiest of all the 150 or more stalls. At a time, five to six teachers were explaining the exhibits. Around 25 BKs participated in each session over the three days from 9am to 9pm.
On the stall there were five trans-light pictures of Soul, Three Worlds, Karma Philosophy, Complete Health and 8 Powers. Video clips about birth, death and soul world were displayed on an LED TV which attracted many visitors. Two meditation rooms were set up with commentaries through headphones in the three languages of English, Sinhala and Tamil. There were also literature and CD sales on two other stalls.
Secretary General and CEO of the National Chamber of Commerce of Sri Lanka, Mr. Bandula Dissanayake, liked the BK displays very much and sent many people to the stall.
The BK planning team consisted of Sr Mythili, Dr Mohan, Dr Viji, Dr Chelvi, Br Seker, Sr Manel, Br Seelan and Br Kohulan. Br Dinesh, Br Puwanesh, Br Wishwa, Br Umakanthan, Br Ravi and Br Saravana bhawan actively participated in setting up. Thank you Baba, Didi, Ganesh Bhai and all the instruments for this successful service.
Br. BK Kohulan & Br. BK Seelan

Brahma Kumaris Award for Educational Excellence on Coimbatore Physician Makes Media Headlines
7 July 2015
City Doctor Honoured by Brahma Kumaris
Source: Published in Business Standard by Press Trust of India | Coimbatore May 26, 2015 (http://www.business-standard.com/article/pti-stories/city-doctor-honoured-by-brahma-kumaris-115052601492_1.html)
Dr G Bhakthavatsalam, Chairman of K G Hospital here was conferred with the prestigious 'Shiksha Vibhusan' Educational Excellence award by Brahmakumaris Iswariya Vishwa Vidhayalaya.
The award, carrying a citation, was presented by Dadi Ratan Mohini, Vice-chancellor of World Spiritual University, during an All India Educationists Conference last week, held at Mount Abu, a hospital release said today.
Nearly 6,000 teachers from all over India participated in the conference, tiltled 'Rebuilding clean and great India through Value Education and Spirituality,' it said.
The award was in recognition for Dr Bhakthavatsalam's great service to the society both through the medium of medicine and education and being an inspirational leader in value education, the release said.
KG Hospital Chairman Honoured
Source: Published in The Hindu | Coimbatore May 28, 2015 (http://www.thehindu.com/news/cities/Coimbatore/kg-hospital-chairman-honoured/article7253424.ece?ref=tpnews)
The Brahma Kumaris World Spiritual University has conferred Shiksha Vibhusan Educational Excellence award on G. Bakthavathsalam, Chairman of K.G. Hospital here. Dadi Ratan Mohini, Vice Chancellor of World Spiritual University presented the award during the All India Educationists' Conference organised at Brahma Kumaris Iswariya Vishwa Vidhyalaya Headquarters in Mount Abu from May 19 to 22, according to a press release.
The award was given in recognition of his service to the society. Around 6,000 teachers from all over the country participated in the conference which was titled 'Rebuilding Clean and Great India through Value Education and Spirituality.'

NMC's Preventive Programme on Malaria and Filariasis Held in Brahma Kumaris Vishwavidyalaya, Chhapru Nagar
6 July 2015
Source: Nagpur Today (Nagpur's Daily e-Newspaper), published on Wed, Jul 1st, 2015
Nagpur: Nagpur Municipal Corporation (NMC) on July 1, Wednesday, held a programme at Prajapita Brahma Kumaris Vishwavidyalaya, Chhapru Nagar Unit on preventive measures against malaria and filariasis.
Leader of Ruling Party in NMC Dayashankar Tiwari was chief guest of the function. In his address he explained, if Guppy fish is introduced in water, the mosquito menace can be controlled. He informed, the Nag River in the city has become so popular that because of the Guppy fish found in abundance in the river its picture is being displayed at National Malaria Research Institute, Delhi.
Speaking on the occasion, senior health inspector, health department, NMC, Dr Rajesh Rajurkar explained in detail the diseases caused by various types of mosquitoes, and how the mosquitoes flourish in clean water as well as in the garbage. He said, the mosquitoes lay eggs wherever there is still water. According to him, the mosquitoes which bite during day time are different from those bite during night time, and the diseases cause by them are also different.
On this occasion, the pamphlets brought out by NMC on preventive measures against malaria and filariasis were distributed.
Chhapru Nagar centre in-charge Didi got the 'sahaj yog' performed by all present over there. About 90-100 members of Brahma Kumaris derived benefit from the programme, said a press note issued by Brahma Kumari Pushpa Rani.

Relief Supplies Being Rushed to Nepal
30 April 2015
Relief Supplies Rushed to Quake Victims in Nepal
Abu Road: Everyone in India has been constantly raising their hands to help fight the natural disaster in the neighboring country of Nepal. Our Brahmakumaris organization has also sent a truck loaded with disaster relief supplies including drinking water, blankets, food, medicines and other necessary relief items. In addition, many BK centers in India have also been rushing relief supplies to Nepal.
Information and Public Relations Director, Br Karuna, together with Br Bhopal, Br Mohan and many other senior brothers shown waving off with a green flag the relief truck loaded with supplies.

News in Photos of a Values in Healthcare, A Spiritual Approach (VIHASA) Faculty Development Program held in Palakkad, Tamilnadu
30 March 2015
Respected Sister/ Brother,
Please accept Greetings of Peace and Harmony!
This is to inform you that a VIHASA Faculty Development Program was held at Shivajyoti Bhawan, Palakkad from 28th February to 2nd March, 2015. The training was conducted by BK Nirmala Ragbir Day, UK while BK Swathy and BK Sivaraman Bhai, Chennai were the Co-facilitators.

Values in Health Care Programme Conducted in Bopodi, Pune
29 January 2015
An all-day, Values in Health Care programme was arranged by Sister Sunita of Bopodi Center, Pune on 25th January. Conduted by BK Dr. Manoj Bhai and Dr. Jayashri Patil, several peace modules were explored in the different workshops and experiential games were enjoyed by all the doctors participating. The programme was inaugurated by MLA Brother Laxman Jagtap and Brother Douryodhan Bhapkar, Corporator of KCB (Khadki Cantonment Board) Pune.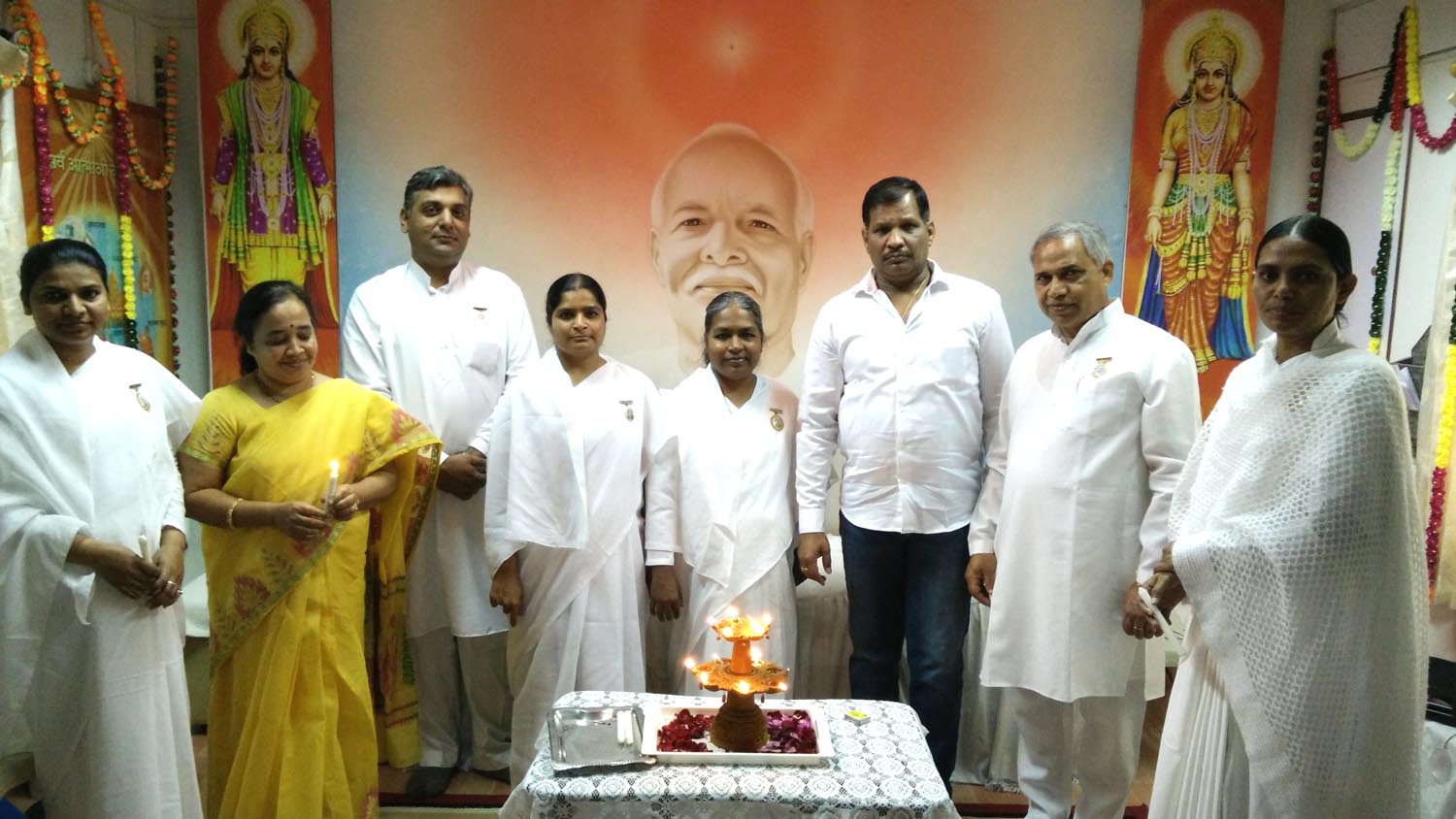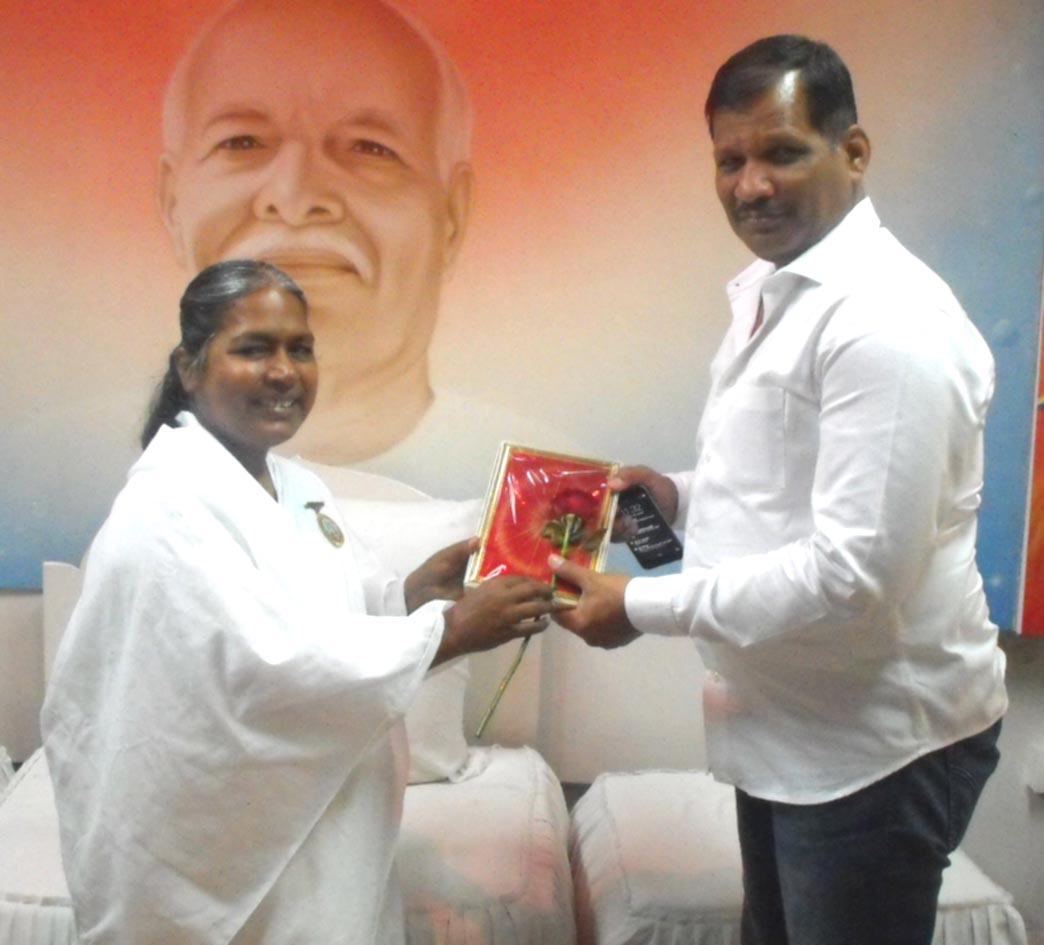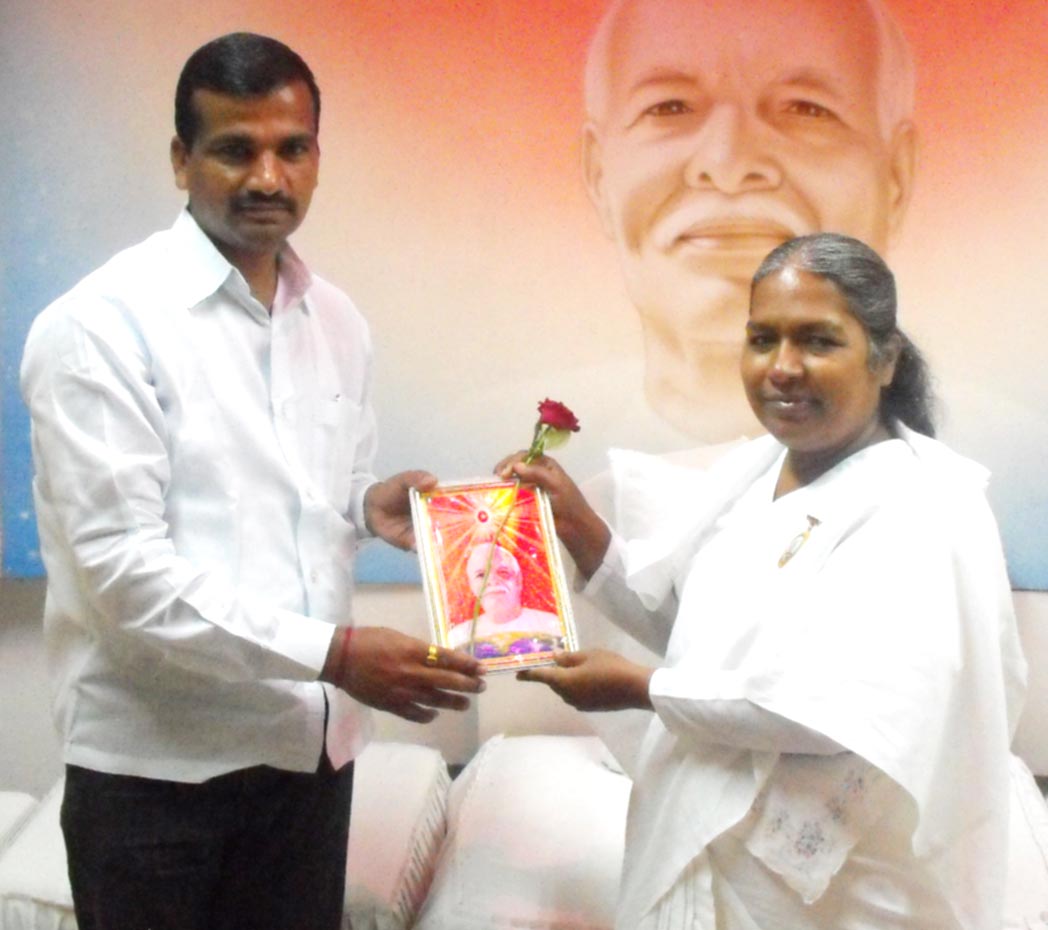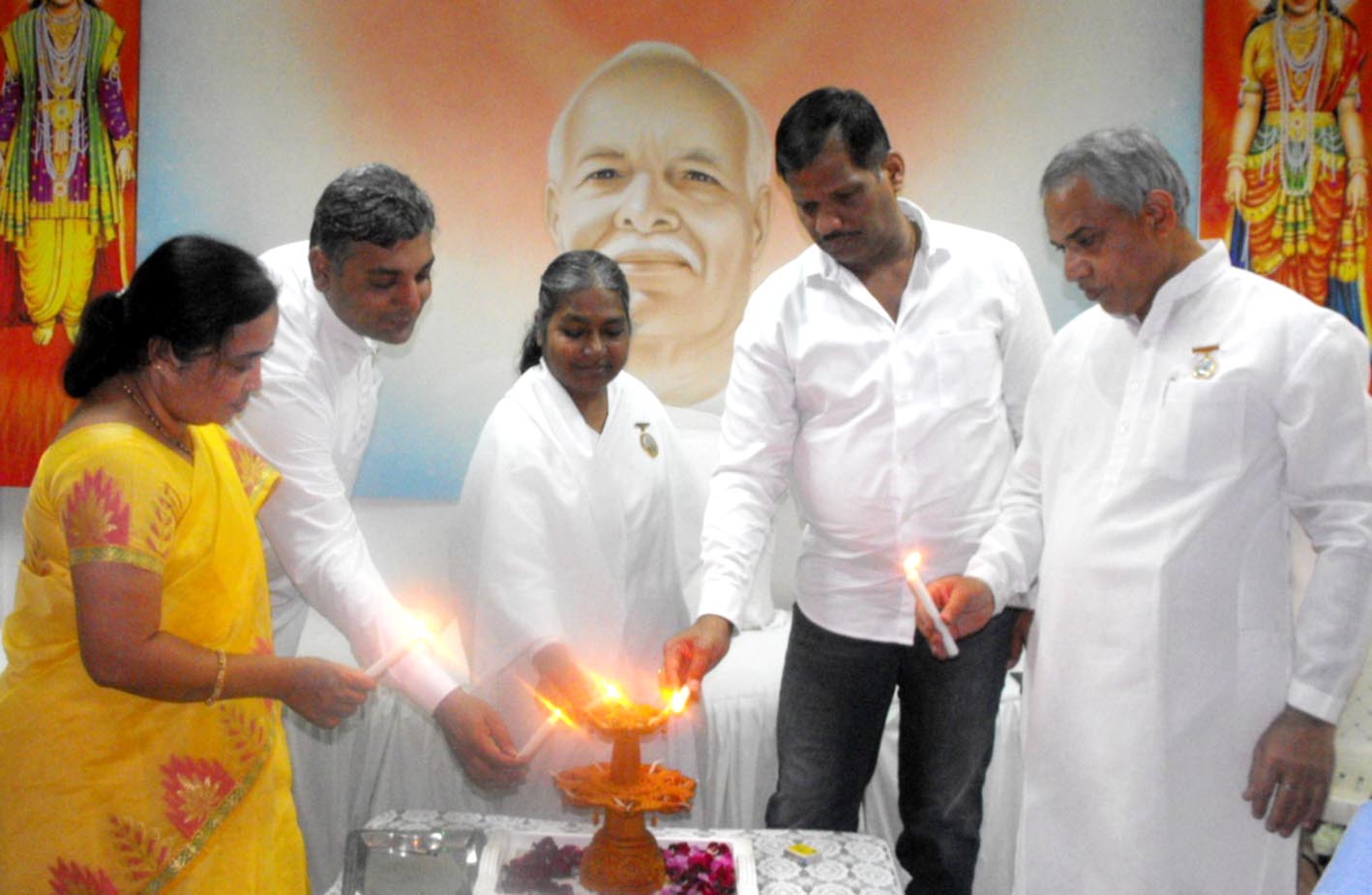 Daily TV Program, "Holistic Approaches to Diabetes" with Dr Shrimant, Debuts on Satsang Channel
18 January 2015
To the decoration of the Brahmin Clan, Our divine instrument Teachers and all sisters and brothers,
Please accept loving remembrances from Dr Shrimant of Global Hospital, Mt Abu.
We would like to inform you that, with your good wishes, the service of diabetic patients is increasing day by day, and the results are very satisfying.
Almost every Saturday and Sunday, programmes on Diabetes Awareness are being organised in various cities. It is wonderful to see gatherings of 500-5000 people from all religious faiths participating in these programmes. Along with making people aware of the disease, they are also introduced to the health benefits of Rajyoga Meditation.
As a followup, we have seen that, in many places, groups of 50,100, 200, 500 and up to 1000 people have been interested to attend the Meditation Course. Till date, 150 such Camps have completed successfully.
At Global Hospital too, patients are admitted on Saturdays and Sundays to attend a Camp where they receive full information on the disease, learn the art of living an elevated lifestyle, and benefit immensely.
The special news that we wish to share is that, as a positive result of the various programmes conducted at various places, Satsang Channel has offered us a daily half-an-hour slot from 9.40p.m.-10.10p.m. to present information on becoming free from Diabetes. A wide number of patients are already taking benefit from this Show.
We request you to kindly inform BK students, especially those who are diabetic patients, to watch this show on Satsang Channel and improve their health.
We are also attaching a Poster that may be displayed on your Notice Board at the Centre.
For more details you may contact Br. Rishiraj GHRC.
With deepest gratitude for your commendable cooperation,
On Spiritual Service,
B.K. Dr Shrimat Sahu Global Hospital, Mt Abu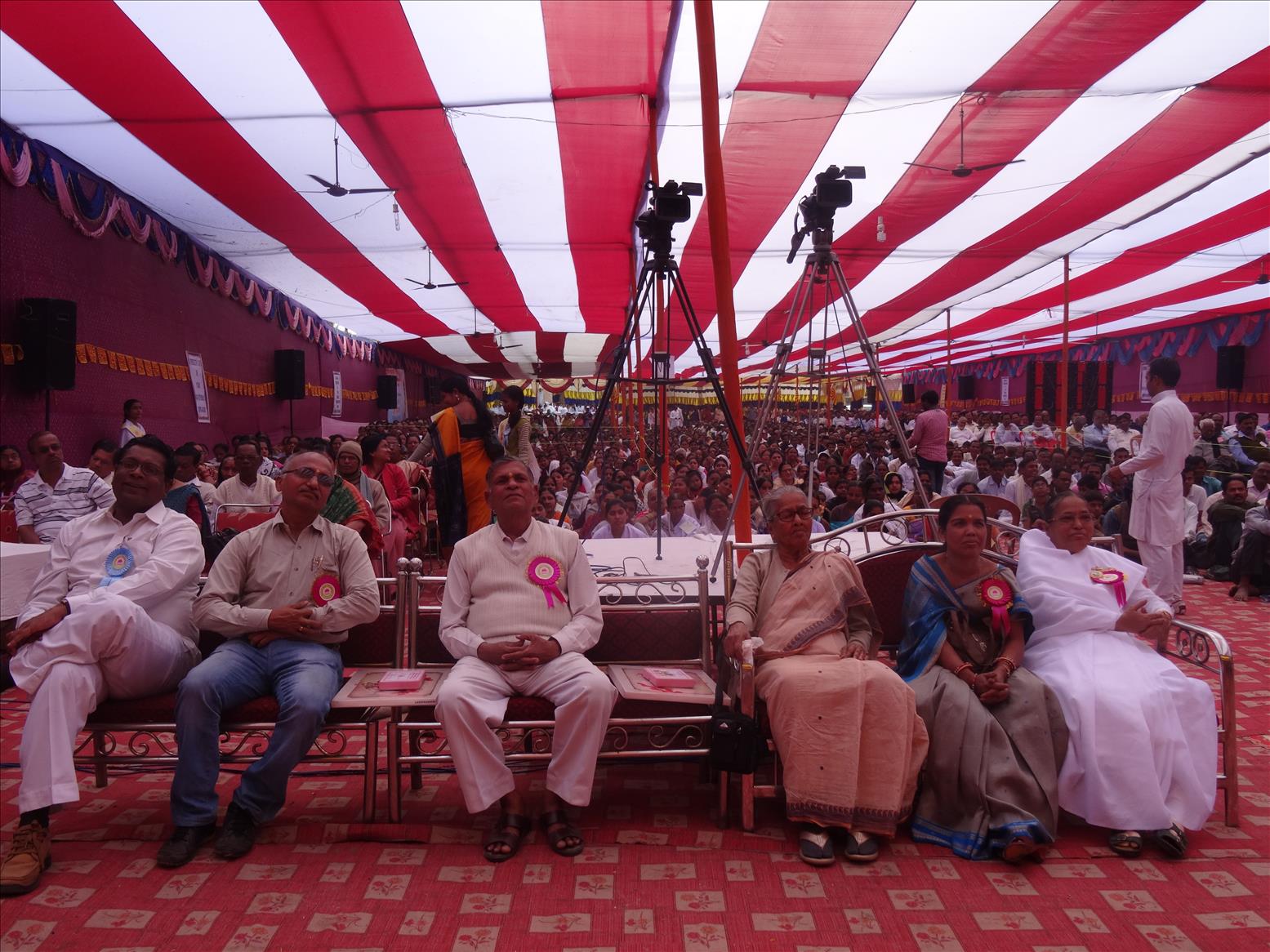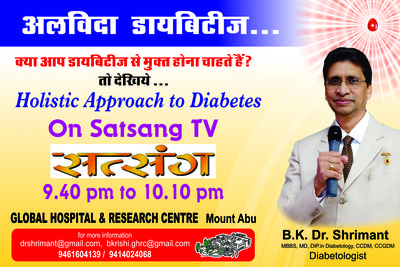 Click here for letter in Hindi language.