2015 North America News Archive
2015 North America News Archive
Los Angeles Br Dennis Hiebert's book "Time to Tell the Truth" is available now
16 November 2015
Dear Brothers and Sisters of my BK World Family, Happy Diwali!
The darkness is gone and we are now living in the light. Our lives are the real celebration!
Some of you are aware that I have been writing a book about my spiritual journey. My journey started in a church parking lot in Elkhart, Indiana when I was twenty-one years old. In 1985, at the age of forty, I met the Brahma Kumaris when I moved to Los Angeles. I have been to Madhuban thirty times and have the great fortune of three personal meetings sitting in front of BapDada.
I am sure you all remember Baba's Murli of January 31, 2014 when He repeatedly told us to make sure no one in our area can complain that we knew that God is here and we didn't tell them. He told us that it doesn't matter how they respond but do not let them complain. He said, "You can do this in whatever way you want, but let there be no complaints left that they didn't even know. This is your duty because circumstances can suddenly come at any time. Fulfill your duty." That morning, I felt as if Baba was personally talking to me. That Murli is the inspiration for my book.
I am now sending a similar email message as below to all my family, friends, BKs and personal and professional contacts that the book is available on Amazon. In a few weeks, it should also be available on Kindle.
"Time to Tell the Truth: What I know about myself, life, God and other important things" is now available to order on Amazon. Be prepared to experience surprise, and maybe shock and disbelief, as I share the most personal experiences of my fifty-year spiritual journey. I feel compelled to share the truth about myself, my life, and, most importantly, my personal relationship with God and why I have been going to India every year since 1985. These are my true experiences. It took courage to be honest and write this book, but by the end you will know exactly why I had to write it and why I am now free.
If you would like to order a copy, just go to Amazon and type in the title. I will be donating all income from the book directly to the Brahma Kumaris Raja Yoga Meditation Center in Los Angeles to support their free classes, events and continuing service to the greater Los Angeles community.
Comments from some who've read the book so far:
"Dennis Hiebert is one of the founding students of the Brahma Kumaris Center in Los Angeles. This book is the culmination of many years of reflection on his life and spiritual practice. Dennis gives us a candid and honest review of the events that led to his participation in the Brahma Kumaris work and his relationship with Incorporeal God. This is one person's successful journey to find himself, and his relationship with God and with life, presented in an easy to read narrative illustrated with photographs as well as explanations and diagrams of the spiritual knowledge of Raja Yoga." - Sister Denise Lawrence, Director, Rajayoga TV, Brahma Kumaris, London, UK
"Time to Tell the Truth is insightful, honest, courageous, and admirable. Many of us have similarly struggled to find our spiritual path—especially longing for certainty, conviction, and commitment about God, creation, and a 'proven path.' Dennis' anguish related to his search for God and answers to his spiritual questions, and his determination and persistence, have resulted in a true flowering of love, beauty, and freedom of expression in his describing and sharing the truths of the Brahma Kumaris World Spiritual Organization. I applaud his efforts and thank him for sharing his incredible journey." - Camille Goldsmith, MN, RN, BA/BSN, ACHE, Nursing Consultant, Mental Health and Long Term Care
"This is a poignant and revealing story of a life transformed by spirit. Dennis takes us through critical periods of his life and shares his difficult but necessary journey of going from pain to peace. He offers lessons learned in the spiritual realm that can enlighten even those who question the nature of the divine." - Connie Corley, PhD, Professor, Fielding Graduate University and host, "Experience Talks," KPFK-FM
"This book is a touching, heartfelt, insightful story of Dennis' life journey. As he shared his personal struggle from youth to adulthood, I couldn't help but identify with some of his experiences. While sharing the breakdowns he endured and survived, he credits the loving support of his family, friends, and God. As he discovers what his life's purpose and spiritual path is, he experiences an abundance of love for himself, joy, and happiness as a true humanitarian. We are all here for a reason and a purpose. Dennis is living proof." - Joan M. Flannigan, Board Certified Activity Consultant/Educator currently a board member of these professional associations: SCAAP, ADGSD, SDHCA, and NAAPCC
"Dennis has peeled back the many layers of a life-long search for life, for relationship, for God. Many portions of this quest were not voluntary; they were necessary for his survival. That is what makes his story so compelling. Truth, honesty, pain, adventure, gratitude, contentment, celebration—they all have their place in this portrait of a life characterized by an intensity and authenticity that was both necessary and admirable. I thank him for letting us in on the whole picture." - John Kampen, Van Bogard Dunn Professor of Biblical Interpretation Methodist Theological School in Ohio
"Dennis shares his life story—the hopes and the dreams, the disappointment and the pain—it's all there, told with disarming honesty and uncommon courage. What makes this book so special is that Dennis specifically shares how each one of us can achieve the profound happiness that he's worked hard to earn...and so richly deserves. Time to Tell the Truth is truly inspiring!" - John Levoff, Writer and Producer, President of New Frontier Entertainment
"In Time to Tell the Truth, the open and honest story of his life and spiritual beliefs, Dennis' unique voice is candid and compelling. I've learned so much more about my friend. Thank you, Dennis." - Anne Merrifield, a life-long friend
"These pages contain a genuine story of one person's search for wholeness, meaning, and connectedness. The reader will encounter a candid narrative that flows from one significant insight to another that leaves the reader fully engaged. Along the way, Dennis provides vital insights into family, religion, loss of faith, and the "awe" of renewal. The journey is unique and the voice is authentic. Dennis' in-depth examination of his quest provides a vital narrative for our time." - Lauren Friesen, PhD, David M. French Professor Emeritus, University of Michigan
In Baba's Love and Remembrance,
Brother Dennis, Los Angeles

Diwali Greetings from Peace Village in a Smilebox
13 November 2015
Om Shanti Living Lights,
On Behalf of Sr Mohini, Sr Gayatri and Sr Kala, special loving greetings for celebrating the true Diwali, the memorial of the Father, Dilaram, the Comforter of Hearts, reigniting the light of the beloved children, the deepaks (lamps). Congratulations from BapDada, "You are the 'deep' children of Deepraj and you children remain constantly lit." Turn on your speakers, enlarge the screen and enjoy the true story of Diwali.
With love and light to all of you merged in Baba's heart.
Click on the image below to play the Smilebox.

Diwali Greetings from Los Angeles
12 November 2015

Diwali Greetings from Sister Mohini
8 November 2015

Toronto Service News from August to Present
27 October 2015
There has been a variety of service carried out since August and a lot of buzz has been created as a result of which there has been a constant flow of souls at the centre coming to take the course. Toronto has the fortune of visits by Senior Sisters from all over the globe. Baba keeps showering blessings upon his children while the visiting seniors fill their aprons with love and enthusiasm.
Sister Mani of London was with us from August to September. She had a very full schedule and as always, she felt at home and overly extended herself for service. There were a variety of programs conducted including Rakhi, Janmashtami and New Students' Day Retreat. Sister Mani tied Rakhi to over 500 souls in two days. The Janmashtami Program was attended by nearly 200 souls who enjoyed listening to the true significance of the celebration and had a wonderful meditation experience.
Sister Mani also sustained the Brahmin Family through daily Murli classes, special lectures for various groups (i.e. Mothers, Brothers, Youth, Kumars and Kumaris). She also did the inaugurations of many new Brahmin homes and gave Baba's message to many souls at programs organized at Brahmins' homes.
India's Independence Day was celebrated with a lot of pomp and splendour by the Indian Consulate Sister Mani and Sister Savi attended the VIP Program on August 15th where they had the opportunity of meeting the Consul General of India, Mr. Akhilesh Mishra and his wife, various Members of Parliament and other dignitaries. The following day there was a Public Event organized by the Panorama Organization again attended by Consul General of India, Minister of Immigration, & Citizenship, Mr. Chris Alexander, Members of Parliament and businessmen. We took part in the cultural program where sisters from the youth group performed a beautiful dance. We also had a booth where we had literature and our exhibition on display. Hundreds of souls stopped at the booth and got an introduction to the Brahma Kumaris and many registered for the course. We also took part in the parade and were presented a Medal for having the largest representation in the Parade.
We invited the Board Members of Panorama to the Centre for Dinner and this gave them an opportunity to know more about the Brahma Kumaris and they very much enjoyed the presentation, meditation and the food.
We also had the opportunity of participating in an Exhibition at the Albion Square, a shopping centre near the Centre. This was a good exposure for us as mainly people living in the area near the Centre attended. There was also an interview with Rogers Television.
It was overall a very powerful and uplifting experience with Sister Mani.
Sisters Vijya and Dhanwanti were in Toronto from Ahmedabad visiting their lokik parents (Devrajbhai and Kamlaben) and they too contributed their time for service whenever possible.
On the occasion of the celebration of 20 years of service in Scarborough (a suburb of Toronto where a lot of Tamil speaking Brahmins attend), a special program was organized and Sister Kala of Peace Village attended on Sister Mohini's behalf. She arrived on Friday, September 25th evening and started serving immediately. She read the Murli on Saturday morning followed by a powerful class where she drew everyone's attention on the significance of the power of Yoga. She also mentioned about the importance of Karma Yoga emphasizing that in the lokik world people also perform actions (Karma) but they are not having Yoga with the One.
In the evening, Sister Kala graced the 20 years of Service in Scarborough celebration where nearly 200 people witnessed a powerful program with dance and music, which took them to the world of the golden future. Sister Kala mentioned that to bring this world of golden opportunities, we have to create such a world within. The program ended with a powerful meditative experience.
After Sunday morning murli and class, Sister Kala celebrated the September Birthdays with the family. In the evening she inaugurated the new Scarborough Centre and celebrated with the Scarborough BK family. She left for Peace Village on Monday morning after murli class. It was a short but very fulfilling visit. The souls truly had an amazing experience.

Washington D.C. "Belief" Program Highlights
26 October 2015
To All the Family:
Greetings of love as we approach Diwali and end Dushera. Many are leaving for Madhuban next week and am sure it will be a very special BK season. The scenes of the drama have continued to be intense and full of being Baba's instruments. Baba said, "there will come a time when you won't get sleep, your throat will get dry from speaking too much, and souls will come thirsting for a drop". It is true. For the past few months, having the centers from the US for the first time to come together like they did around BELIEF was magical. We have been on non stop creating of fortune from construction, to UN, the Mall, to a beautiful grand opening, to BELIEF screenings, lectures, then there is always karma yoga.
I have been traveling so much that I have not been able to spend a lot of time with our BK family in DC. Due to this, ?I wanted to let you all know, I might not be there as much as before however, know I am. And, as we observe the drama moving us at GodSpeed, I sincerely invite all of you in the family to come together even more than you are already, understanding the drama deeply, where we are seeing the future becoming more fragile and we are being called to be strong enough to hold ourselves up and each other.
I share this after my amrit vela with love and appreciation for each of you.
From the heart,
Sister Jenna

Report on Days Three to Day Five of the Parliament of World Religions in Salt Lake City, Utah
22 October 2015
Dear Sweet Family,

Double Light Rainbows for Double Light Angels
19 October 2015
Om Shanti,
Another double light day with a double light rainbow for all you ?double light angels.
With double love and blessings from Peace Village
Sr Chirya

Are You Ready for Belief? Join Us Today, October 18
18 October 2015
At Last The Day Has Come - Belief!
Dear Friend:
Greetings of love and Om Shanti. I will not attempt to even try to feel what the OWN team, Oprah, Values Partnerships, and all those who have been on the journey to BELIEF's upcoming TV series for October 18th must be like.
After I took a call from a trusted friend a few months ago to support BELIEF, we are pleased to share there will be 34 screenings of BELIEF by the Brahma Kumaris in the US; many friends from the America Meditating Radio Show are doing screenings, they have also garnered wonderful new relations and other friends from across the country are participating in BELIEF.
As we approach showtime, I invite you to be in that space of divinity, balanced with a sweet sigh, with a touch of anticipation of the unfolding for these next seven days as we view Belief TV series on OWN, exploring the lives of people from around the world and learn more about our own lives.
I have witnessed calls of incredible service and pure intent, dinner at the Promise Land, Oprah's home in California. The leadership of the DC committee team led by Lyndia Grant with so much energy to make October 21st at the National Mall screening of BELIEF, an event to remember! I have been awed by BELIEF reaching the United Nations where I witnessed thought raising content in the walls of the UN by Oprah and so much more! The time has come my friends, I call you to fully find the time to attend a watch party, make one yourself, tune in on #belief @own @oprah @americameditate @meditmuseum and let us raise the vibration of our collective consciousness of love, compassion, service, and purity.
I care for you very much and only wish the best for you inside and out. Keep me posted on what you are doing or what you have done and let #belief know.
Enjoy my question to Oprah, What Does God Feel Like? I love how our youths can put these videos together! CLICK HERE
Love,
Sister Jenna
Ps. We also opened Meditation Museum 2 in Tyson's on October 14! We thank Congressman Connolly for his support and award. Join us at the Meditation Museum in MD or VA for BELIEF!

Report on the First Two Days of the Parliament of World Religions in Salt Lake City, Utah
18 October 2015
Dear Sweet Family,
We are pleased to send you the report of Day 1 and Day 2 of the Parliament of World Religions, Salt Lake City, USA.
There are about 15 Baba's children from different parts of the world attending the PWR right now. The BK's are spreading their light through their very presence and smiling faces as Baba is doing His magic here.
We will keep updating you the service news of each day.
In Baba's yaad
Sister Chandru
Brahma Kumaris
2015 Parliament of World Religions

Photos of the New Meditation Museum that opened in DC on Day of BapDada's Meeting
18 October 2015

Peace Village Golden Age Sunrise on the day of BapDada's Meeting (Oct 14)
15 October 2015
Om Shanti Special Souls,
Family Globally were preparing to tune into BapDada's first transmission of the season.
Loving Greetings of Happiness from Peace Village. . .
?BK Sr Chirya?

Peace in the Park in Augusta, Georgia
13 October 2015

Peace in the (Golden Gate) Park, San Francisco!
13 October 2015

LiveStreaming of the Parliament of the World's Religions
13 October 2015

Invitation to Join Oprah on a LIVE Call Monday, 12 October 7pm EST
13 October 2015

Peace Village Niwassis Do Service at Ahimsa Yoga Music Festival, Windham Ski Area, NY - in Pictures
8 October 2015
Wonderful service was done on Sat-Sun. October 3-4, at a nearly ski area ... and the day turned out beautifully, externally and internally.

Indian Prime Minister Narendra Modi meets BKs in California
4 October 2015
Om shanti! Karankaravanhaar Baba gave us a glimpse of His magic this weekend when Indian Prime Minister Narendra Modi visited California for the first time. It was also the first visit by an Indian head-of-state to this part of the world in 33 years. The Indian Ambassador in Washington DC hosted a reception for community leaders at the prestigious Fairmont Hotel in San Jose and Baba gave his children a personal meeting with the PM.
One sister and four brothers got the invitation to this high security event: Sr Lavanya Reddy (Seattle), Prof Sudarshan Kapoor (Fresno), Bro Atma Dayal (Milpitas), Br Sanjay Kadaveru (Washington DC/Delhi) and Br Janardhan Chodagam (San Francisco). Sister Lavanya went separately and tied a rakhi to His Excellency. Br Janardhan led the group of four brothers onto the stage. We greeted Modiji with 'Om shanti' and he instantly recognized us. He met with each of us with much love and we felt we were all BK brothers reuniting. BK volunteers had also been given the key role of ushering and security, so everyone felt the presence of Baba's children in the hall.
?The official photos taken by the media have not yet been received. The photos shown were taken by other delegates in the audience.
PM Modi's Full Speech at SAP Center in San Jose (Hindi only). Click on image to play.

India Day Celebration in Sacramento, CA USA
28 September 2015
After giving godly message, Sister Hansa and other BK sisters with Dr. Ami Bera and Ken Cooley.
Second Annual Peace Walk and First Peace in the Park Festival, Santa Monica, California
23 September 2015
On a cool Saturday morning in the middle of the hot days of September, peace walkers of all ages gathered at Tongva Park for the Second Annual Walk for World Peace.

Brahma Kumaris Meet Oprah Winfrey as Partners in her Upcoming Belief TV Series
22 September 2015
Sr Jenna with Oprah

Healing the Self Requires Letting Go
14 September 2015

What Do You Believe In?
8 September 2015
Source:The Huffington Post Blog page of Sr Jenna (http://www.huffingtonpost.com/sister-jenna/post_9878_b_7975572.html) Posted on 08/12/2015 3:27 pm EDT
I would like to briefly share with you the moment that I was introduced to Belief, and the journey I have been on since.
32 hours of bliss with Madhuban Sister Shielu in Washington DC
8 September 2015

Madhuban Sr Sheilu's Visit to Seattle USA
31 August 2015

Article in The Fresno Bee: "Brotherhood, sisterhood celebrated in Fresno with Raksha Bandhan"
26 August 2015
Source: Article by Carmen George in the Religion section of the Fresno Bee, published on 7th August (http://www.fresnobee.com/living/religion/article30404502.html)
At the Fresno home of Dr. Sudarshan Kapoor and his wife, Veena Kapoor, the location for a Raksha Bandhan gathering on Sunday, Aug. 9. Raksha Bandhan is a festival for strengthening the spiritual relationship as well as the ties between each other. Photo by Eric Paul Zamora
Sudarshan Kapoor spends a lot of time thinking about world peace.

The 81-year-old, a professor at Fresno State for nearly half a century, still teaches one class at the university: "peace building." And for the past 18 years, the northeast Fresno home he shares with his wife, Veena, has doubled as a meditation center — a central San Joaquin Valley satellite for the Brahma Kumaris World Spiritual Organization.

The latest in peace building for this peaceful couple is promoting a day that celebrates brotherhood and sisterhood, "Raksha Bandhan."

"If we were to focus on what is the inner love and peace within us, that's universal. So that's really brotherhood and sisterhood." Veena Kapoor

The Kapoors say while this ancient, annual celebration will be observed by many Hindu and Sikh people on Aug. 29, they hope people of all cultures and faiths will partake in the tradition.

"Just like we have a Father's Day and a Mother's Day, why don't we have a brother and sister day in this country, also?" Sudarshan Kapoor asks.

He says such a day is badly needed.

"People are so alienated, people are so isolated, people are so insulated. We need to break those barriers. How to do that? I think this is one of the vehicles to promote that brotherhood and sisterhood — real love and harmony amongst us as brothers and sisters. That's my dream."

"I consider it a very powerful vehicle to promote peace — real divine love that we all need, the real divine protection that we all need, regardless of whatever faith traditions or cultures or ethnic backgrounds that we come from." Sudarshan Kapoor

There are a number of historic and mythological stories linked to the origins of Raksha Bandhan, the Kapoors say, where once a year, a sister ties a "rakhi" — a kind of bracelet — around her brother's wrist, meant to represent a "bond of love and protection." She also gives him a dessert, meant to "promote sweetness in the relationship," Veena Kapoor says, and the brother presents his sister with a small gift.

"The traditional thinking was the brothers are supposed to protect the sisters, the sisters give them love and blessing, but, you know, who can live up to that?" Veena Kapoor says with a laugh. "It was the 18th century. Not now."

These days, she says, both brothers and sisters can share in the protecting and blessing.

Traditionally, Raksha Bandhan is only observed by siblings, but the Kapoors want to see the spirit of brotherhood and sisterhood extended to all.

Sudarshan Kapoor, who doesn't have a biological sister, receives rakhis from friends, and each August, Veena Kapoor also ties a rakhi for friend Imam Seyed Ali Ghazvini, the spiritual leader of the Islamic Cultural Center of Fresno.

The Kapoors are inviting the public to celebrate Raksha Bandhan at their home center on Sunday, Aug. 9, with meditation, a talk and rakhi-tying ceremony by Sister Gita Patel, coordinator of the Brahma Kumaris Meditation Center in Los Angeles who has taught meditation for more than 35 years. Like all meditation, talks and classes at the Kapoors' northeast Fresno home, the event is free.

The Kapoors say they find more meaning in Raksha Bandhan than its original cultural significance.

"The deeper meaning that we understand is that the real protection and love is between a human being and God," Veena Kapoor says. "We really tie the bond of protection and love with the Supreme Being."

"The love and protection of the divine is for everyone." Veena Kapoor

While Raksha Bandhan is traditionally a Hindu observance, the Kapoor's Fresno center is not affiliated with any religion.

"Spirituality comes first, organized religion comes later," Veena Kapoor says. "Neither Buddha nor Christ started out forming an organized religion. They just spoke from their heart, from their understanding, so that's spirituality."

Before rakhis are tied during Sunday's gathering, there will be meditation to promote connection with the self.

"We get so caught up with our own imperfections and putting ourselves down for what we are not doing right, but we are not really looking at the goodness that is underneath, so the attempt is to enable each one to look at the goodness inside," Veena Kapoor says of meditation.

"The peace and love that we want is inside us, and the ritual enables people to really feel and experience that for themselves first. So that then, when they connect with others, that will radiate. They will be able to give naturally."
Veena Kapoor ties a rakhi, a kind of bracelet meant to represent a "bond of love and protection" between brothers and sisters, to friend Imam Seyed Ali Ghazvini, the spiritual leader of the Islamic Cultural Center of Fresno, during a gathering last year. Photo by Sudarshan Kapoor (Special to The Bee)
Rakhis, a type of bracelet, will be presented and used by a spiritual leader during a Raksha Bandhan gathering Sunday, Aug. 9. Raksha Bandhan is a festival for strengthening the spiritual relationship as well as the ties between each other. Photo by Eric Paul Zamora

Didi Sheilu Touches The Heart of Canada
25 August 2015
Om Shanti.
Please find attached, as well as at links provided, a sharing of the precious time we had with dear Shielu Didi. She traveled the vastness of this land with great royalty, lightness and kindness - celebrating Rakshabandhan, bringing the beauty of Madhuban, and creating a wave of good wishes that unite.

Sheilubhen became the Living Rakhi for all of us, uniting the whole country with her pure vision of appreciating every moment and every soul. Didi is a wonderful example of a life dedicated to God; she is not just Baba's Voice to the Double Foreigners...she also brings the feelings of His Heart.

With much thanks and appreciation to Baba, Dadi, and our Seniors for making this possible,

Br Eric and the Canadian Family

Downloadable pdf of full report with pictures
Ebook: http://www.calameo.com/read/000846806751c13a75f06

Upcoming at Peace Village: Retreat for New Murli Students
12 August 2015

Silence as Fasting: Sr Mohini at the Call-of-the-Time, Experiment in Silence Retreat on 6th August
8 August 2015

Sudesh Didi's Smile Does Magic in

Sacramento, California
7 August 2015
It was our great fortune in the drama to have the opportunity to spend short but sweet and quality time with Sudesh Didi. She arrived on July 5th afternoon and was welcomed by Baba's children with flowers, sweet drishti, and 4th of July colored balloons.
An event had been organized for contact souls. The topic for the program was " Discovering the Magic of a Smile." The president of the Interfaith Council of Greater Sacramento, John Fish, was present to welcome Didi and attend the program.
Didi gave very good examples of the magic that smiling can bring in life. One of them was, "A flower does not lose its fragrance or beauty, regardless of people's comments to it." Didi's talk was filled with cheerful feelings and the motivation to become like the fragrant and beautiful flower.
The program ended with a meditation , questions and answers, toli and blessings. Didi presented our honored guest, John Fish, with Shiv Baba's golden picture. In appreciation of Didi's world service, Mr Fish then presented Didi with a special plaque depicting the globe of the world.
After the event, we enjoyed a loving gathering of Baba's children with Didi and joyously celebrated the 75th birthdays of three of Baba's children. Didi gifted them with special plaques of Baba's blessings.
Next day morning, Didi conducted Amrit Vela and shared stories of Baba and Mama. While driving to the airport, Didi conducted tMurli class via a conference call with all Baba's children. Didi is like Ganges of Knowledge, constantly flowing...
Thank you Baba, thank you Drama for these memorable scenes...

"Coming Home: The Path to the Light" - Sudesh Didi uplifts and inspires at a BK retreat at Anhubhuti over July 4th weekend
4 August 2015
West Coast Instruments with Didi
https://goo.gl/photos/5x312j2C9ouv3Zrw8

Br Mohan Singhal Visits Dayton Ohio
30 July 2015

Toronto Enjoys Visits from Sudesh Didi and Shashi bhen (London)
24 July 2015
Sudesh DIdi's visit from July 6 to 9
It was truly a blessing to have Sudesh Didi with us in Toronto. It was a short visit but Didi filled each and every soul to the brim. It was as though she was reading each soul and knew exactly what to share and how to empower them. Brahmins always look for a boost of spiritual power and Didi was able to bring about instant transformation in many and the scene was of smiling and happy faces.
Read about the rest of Sudesh Didi's visit here.
Shashiben's visit for the month of June

Be Happy No Matter What - Didi Sudesh Leaves Souls in Southern California Smiling
17 July 2015

Inclusion Revolution At Meditation Museum(video)
17 July 2015

Invitation to the Green Retreat at Peace Village, NY
17 July 2015

IMPORTANT - Guidelines for travel to Peace Village
9 July 2015

BK Retreat with Sudesh Didi at Anubhuti - web links
9 July 2015

Invitation to Peace in the Park in Central Park, New York City
8 July 2015

Media Creators Attend 15th Annual "Images & Voices of Hope" (IVOH) Summit at Peace Village
6 July 2015

As the secular practice explodes, some want focus on the spiritual side
By Michelle Boorstein, The Washington Post
25 June 2015
Source: The Daily Herald (http://www.dailyherald.com/article/20150615/entlife/150619610/)
Sister Jenna Mahraj plays with a dog at the at the Meditation Museum in Silver Spring, Md. Promoting the religious component of meditation is part of the purpose of the center, which is more about spiritual advocacy than a museum in the classic sense.
SILVER SPRING, MD -- Inside the newly opened Meditation Museum, exhibits refer to the pursuit of "God," the "Supreme Soul" and often "The One." A constant visual theme is orangeish-reddish light emanating from a vague, otherworldly source. The message is clear: Meditation is about connecting with the divine.

Dadi Janki's Departure from PV in Photos
11 June 2015

Highlights of Dadi Janki's Program at Peace Village on Saturday, 6th June - A Photo Summary
11 June 2015
Download full Photo-Summary here.

Dadi Gulzarji's letter for those gathered in Peace Village - 6 June
8 June 2015

Celebration of Dadi's Centennial year in Peace Village, New York on Tuesday, June 2nd
8 June 2015
Click above image to view and turn on your speakers

Hundreds of BKs Travel Hundreds of Miles to be with Dadi in PV
7 June 2015
In late April word went out that Dadi Janki would be at Peace Village in early June. Within days requests began pouring in from all over the US and Canada to come to see her --- even just for a few minutes. So Peace Village accommodated. They called for cooks and servers, for air mattresses and trucks full of chairs to make room for those who wanted to make the pilgrimage to Hunter Mountain in the Catskill Mountains of New York.
By Friday, June 5, most of the 200 Regional Retreat participants had left, and by Saturday morning, the kitchen had turned out 1000 pokharas, vats of rice and two multilayered cakes to feed the incoming BK's who had been waiting patiently for a chance to be with Dadi. When she entered the hall at 11 am, there wasn't a seat left in the house and almost a thousand people were sitting in pin-drop silence. She stood at the front of the stage and gave drishti to all of those who had come. Then she took her seat and asked for everyone to join her in saying "om shanti" three times. The response was thunderous, and she was pleased.
Her remarks were in answer to three questions. First, "What is the meaning, the experience and the spiritual effort one must make to conquer the vices of the world (to become vikarmajeet)?"
She thought for a moment, "First commit no mistakes. Baba has given us a good understanding of the five vices. Before we were under the influence of the five vices. Even the elements were under the influences of the vices. You have seen this. Suddenly a fire will spark or an earthquake will erupt somewhere. Now we have to do such elevated actions that we move beyond this influence. What are elevated actions? All of the sevadharis making food for you in the kitchen, all of those who cleaned rooms so that you could stay…this is elevated action. Some are washing pots. Some are cooking. Some are sweeping. These are elevated actions. And the five elements are not only 'out there'. This body is made of the five elements – sky, wind, fire, water and skin is the earth. So now I treat all of them with a lot of love."
Second question, " What is the inner experience of becoming a conqueror of actions (being karmateet), and what is the secret of becoming karmateet whilst living in this fast-paced world?"
Dadi responded, "God has taught us to do elevated actions. We are not becoming renunciates of action. We are raj yogis. To be karmateet means to become free from all bondages of karma, to be liberated in life. There should be no shadow of anyone else's nature or sanskar in me.
"When you do seva in the unlimited stage, your seva is unlimited. So many have become instruments for service. Such instruments receive a lot of power. They have five qualities: First they have complete, true and real purity. Within purity is truth. With purity and truth you will have patience. Through patience comes humility. And through humility comes sweetness. This is the karmateet stage."
The third and final question: "Dadi, you are 1 of the very few who have seen Brahma Baba from the early sakar days and then seen avyakt BapDada for 46 years. Does this avyakt transition come over time or suddenly, and is it possible to have these three stages while living in the body, or is it only when we leave the body that we can experience these stages?"
"Avyakt," Dadi said, "begins with an internal attitude of renunciation, then tapasya and then that of a sevadhari. There can be no remembrance of any kind of body consciousness. No voice should come inside about what I did. Whatever is ordained in the drama, that's what's happening. Starting from this morning I have been experiencing the avyakt stage – totally beyond the body. The body is here, and I am up above. To create such a stage you have to forgive and forget. If I have made a mistake or others have made a mistake, let me fly to the One. In the avyakt stage the soul is totally beyond awareness of the body and is just in the awareness of One. The mind is calm. The heart is true and the intellect is linked with One. See yourself like this and create such a stage. It is we have to create such a stage for ourselves. We have to become avyakt like this.
Then cakes were cut, photos taken and Dadi left to give drishti and to share her bhavna with those who were cooking and serving the crowd.

Report on Dadi Janki's arrival in Peace Village
1 June 2015
On Thursday, May 29, Dadi Janki arrived in Peace Village from London. Over 200 Brahmins from the Americas had gathered to welcome her with music playing and an archway of roses held over her head. Mohiniben met her with tears of joy – so grateful that Dadi had made the long trip, since Mohiniben had not been able to be in Madhuban this season. Dadi went first to Baba's room and then addressed the group briefly, asking for 3 om shantis.
She, Hansaben and Jasuben were moved into their newly remodeled quarters where Dadi went to sleep. Though everyone had planned to let her recover on Friday, she was up and ready to speak to the room by 11 am. "Have a strong awareness of the confluence age," she told them. "There is a strong pull to solitude. Baba is present in front of you. You have called Him, and He has come. Don't ask for blessings, but let your thoughts be such that there's not one waste thought."
She continued to meet the group twice each day. On Saturday morning she shared: How do we see Baba and Baba's children? Dadi has had many tests performed on her brain. But human beings are tested in 3 ways: (1) the heart, (2) the brain and (3) your nature. The heart should be clean, honest and generous. The intellect should work such that we are able to catch things through signals. The test for your nature is – can you live together harmoniously? If, because of someone's nature, I don't remain stable, then I have not passed the test of my nature.
Baba tells us that every thought of a charitable soul does service. When you have clean, pure and elevated thoughts, you are able to draw God's love. These days we can see that service is done through vibrations and through the atmosphere.
Saturday evening was electric. By this time there were close to 300 at Peace Village and they all had gathered in the Inspiration Hall to celebrate Dadi's birthday. Each one wore a garland and tilak and they gathered to create an entryway into the hall. Mickey and Minnie Mouse led Dadi into the hall and to her seat of honor on the stage—next to the statue of liberty. A native American Indian chief and princess were masters of ceremony for the evening. For the next two hours there were joyous dances and songs from virtually every tradition in the Americas: the Latin Americans, the Caribbeans, the indigenous people, the USA and even the kitchen sevadharis. Dadi allowed herself to be serenaded, decorated with hats and hugged over and over by the double foreigners --- all of whom consider her to be the mother who brought them to Baba.
Sunday morning, she was present in the hall again, sharing her thoughts: Class is all about getting power from the murli. We read the murli, but then we have to churn and contemplate the murli…this churning is how we get the butter. And this is what gives us our strength.
Keep your intellect in the unlimited, and keep such a quality of mind that we can all be together. The power of the ancestor souls is now working internally.
Whatever you want to do, do it now, because no one has seen tomorrow.
If you have an honest heart, this will show on your face. If your intention is clean, you just have to have one thought and it gets accomplished in a practical way. I have nothing inside but this bhavna. You can open me up and look inside.
Shiv Baba, the Supreme Soul, the Father has given sustenance to us souls. What does Baba want from us? Ask yourself: whatever Baba wants from me, am I doing that? Or do I still have the influence of manmat or parmat? We are not influenced by anyone. Make this deep effort for yourself, and also spread it in the atmosphere. Nothing more should be in your mind. One minute, you are together in the dining room and the next minute you are here meditating. It's as if your seats in this hall are reserved. And you also have a reserved seat up there (points to her forehead). Sit there and allow yourself to be pulled to paramdham. Go to the subtle region.
She asked: Are you sitting in amrit vela having yoga? Or are you doing seva? It's our power of yoga that makes our service reach so far. And there is also the power of silence. We have to be in such silence that there is silence up there. Baba says, you have to be like big clouds and shower peace. People will say, "Where did this peace come from"?
There are hundreds waiting to come see Dadi on the weekend --- many have bought tickets and are planning to arrive starting on Friday. There will not be one square foot of floor space left as Peace Village stretches to accommodate all of those who want to come.

Dadi Janki's Arrival in Peace Village on May 28th
1 June 2015
Click on the image above to watch 4:44 minute video.

Re: Flooding in Texas and Oaklahoma
26 May 2015

April Service Highlights from Florida
21 May 2015

Improve Wellness Without Getting Off the Couch
19 May 2015 - Blog article by a PV retreat participant

Sr Jenna Interviews Singer Snatam Kaur on the America Meditating Blogtalkradio show
23 April 2015

Seva at Vaisakhi 2015, Surrey, BC Canada
22 April 2015
Greetings of love from Vancouver!
This year we we have Baba`s presence again in the 2 Vaisakhi parade one in Vancouver and another one in Surrey.
The parade in Surrey this year it was the busiest parade.Souls with their families came as far as Seattle. They estimate 300.000 was present only in this parade in Surrey.
Many registered for classes and many flyers over 500 was delivered.
Some pictures of the brahmins but many others were involved including new students who had just finished the courses.
Class in Surrey are very busy just to have an idea 4 beginners class are going on with 20 students in each class plus murli early in the morning and some evenings. Dimple with the help of Anu, Mohinder and Jasvanti are taking care of that area.
Class in Vancouver are with small numbers but going on 3 times a week in the evening plus some during the day as well.
Palma started giving class in a Seniors facility in Delta/ Surrey to the staff,families and seniors and Manisha was invited to give class in a Hindu temple in Vancouver and is starting coming week..
In Abotsford class are going on as well with Sr.Taran looking after and in Victoria BC Sr. Seema is gradually increasing the students numbers.
With love and thanks to Baba and to all of you.
Claudia and the Vancouver family

Florida Service News - March
14 April 2015

Fans, Leaders, Authors, & Politicians Flock to the Meditation Museum Grand Opening
14 April 2015
Mindful Parenting Retreat to be Held at Anubhuti,
July 10-12
26 March 2015


Florida Service News - February 2015
8 March 2015
Summary of News from Florida Meditation Centers.
Ocala: Veterans Health Fair Service, and courses in the Villages

Hollywood: Programs at the local library, the ArtsPark and a unique USA-Wide Phone Meditation program at 8pm EST on Sundays.

Naples: Library and radio/TV station programs

Margate: Sr Hansa's visit to London and Rakhi on Valentine's Day, classes in Hindi, Bhatti at students' homes and prison service

Orlando: Thursday evening programs and special program in North Port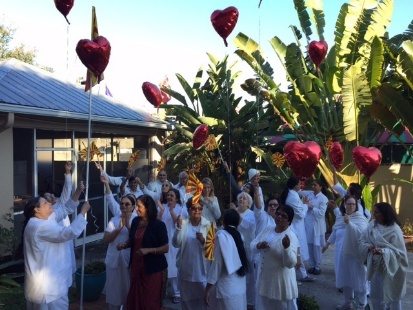 Tampa: Combo Shivratri & Valentine's Day Public Program, Spanish program, new service in St Petersburg, approval granted for programs at all county libraries

Miami: Comings and goings to and from the Land of Honey, Sr Shireen's special programs

Click here for detailed report with photos.

Sr. Mohini's Update
3 March 2015
Dear Divine Family,
Om shanti and auspicious greetings. We would like to inform you that Sr.Mohini has returned home from the hospital on Wednesday.
She is now settling down to a new routine of therapy and care in the midst of quietly being with Baba and engaged in mansa seva.
She sends much love and appreciation for all your sakaash during this time and wishes all of you a powerful time of easy and intense efforts.
In Baba's yaad,
New York family

Sister Mohini's Surgery Update
23 Febuary 2015
Om shanti and greetings from New York.
This is briefly to say that Sr.Mohini's surgery was successful and she is recovering well.
We will keep you informed on further progress during the next several weeks of healing and therapy.
Thanks again for your continued yoga power and loving vibrations and messages she has been receiving.
In remembrance of One,
New York family

Peace Village Silence Retreat, May 20 - 25
20 Febuary 2015
Save the Date
Silent Magic is in the Atmosphere
You are invited to a special Silence retreat and the first of it's kind,
Sr Mohini had this special thought of a Silence Retreat
Deepening our Brahmin Experience
From Silence to Purity
This retreat is for those are seriously interested the the 'Silent Experience'
Quotas for this retreat may be needed
Peace Village Learning & Retreat Center
Sr. Mohini and Br. Ken will be our spiritual resources
Arrivals: Wednesday, May 20th, First session 5:30pm
Concludes: Monday, 25th, after Lunch

Service News from Sacramento, CA
10 Febuary 2015
Sister Hansa with Interfaith Leaders on Tuesday, 13th January
Sister Hansa and other faith leaders welcomed California legislators to Sacramento at the start of the new legislative session. Prayers and readings were offered by several faith leaders and patriotic songs were sung in the beautiful Cathedral of the Blessed Sacrament.
Sister Hansa with Interfaith leaders Archbishop Jose Gomez from the Archdiocese of Los Angeles and President Jon Fish of the Interfaith Council of Greater Sacramento.
Sister Dorothy of Peace Village Visits Sacramento January 22nd to 26th
Sister Dorothy arrived on Thursday 22nd January late evening. On Friday morning, she met with small group of BK friends and shared her thoughts on Newness in 2015 and Harnessing the Power of Intention.
Sister Dorothy and Sister Hansa with Jessica S. Braverman Birch, Director of the Jewish Community Relations Council, Sacramento region, and other BK friends.
Retreat: Beyond Sound - Harness the Power of Solitude /Silence
From Friday 23rd evening until Sunday 25th noon, Sister Dorothy conducted a very special retreat on the theme Beyond Sound - Harnessing the Power of Solitude /Silence.
Thirty of Baba's children took good benefit from this retreat, which was organized at Christ the King Retreat Center, just 20 miles from Baba's house. The property was a beautiful, natural setting featuring a water fountain, a brick babyrinth and a residential facility. It is a sacred place for Christians, who gather there every weekend for spiritual empowerment. The Directors of the retreat center are our good friends and have offered us the facility for additional meditation retreats.
The retreat began with gentle, sweet loving music and a meditative atmosphere in which Sr Dorothy applied till and Sr Hansa shared blessings with the participants.
On Saturday, Sr Dorothy took everyone on an incredible day-long journey of the bodiless stage, utilizing simple and profound exercises and activities and powerpoint presentations. Everyone experienced a very deep sense of soul consciousness.
On Sunday, the retreat closed with Sr Dorothy's class and personal story, everyone sharing experiences of inner newness, a candle-lighting, drishti meditation and an angelic dance.
We all are so thankful to Sister Mohini and Kalaben for sending Sister Dorothy to Sacramento and we all are very appreciative of her valuable time, expertise and skillful ways of leading us on step-by-step process.
Baba's children with Sister Dorothy and sister Hansa
Sister Dorothy being honored by the BK Family

Sr Gita of Los Angeles Participates in
World Peace Ceremony
9th February 2015

More Service News from Florida - January 2015
5 Febuary 2015
Ocala
1. January 29 : Gainesville Service
A one and half hour session on 'managing stress through meditation' was conducted by Dr. Krishna from Orlando Center at the University of Florida College of Dentistry. The session was offered to the students, faculty and staff at the College of Dentistry and the participants received free continuing education credit for attending. It was sponsored by the College's cultural climate committee. Approximately 70 people attended the session. It was very well received and many people gave positive feedback.
2. January 21: Ongoing Villages Service Class Site Obtained
Br. Hanuman and Sr. Anne visited Unity Church in the Villages spoke with the Reverand about starting meditation classes at the church. We will start BK Meditation classses at Unity Church on the 2nd and 4th Thursday of the month starting on Febraury 12th. Class will be from 4:30-6pm. We have advertized on Facebook, Meetup, and within the villages contacts including Nancie Lono and the Villages Energy Meditation Group.
Margate
Avyakt Programs
The avyakt month of January was focused on bhattis, classes and activities designed to empower us and give us the boost we need to embark on our journey for the new year.
Activities included small group discussions, classes and sharings with new souls as well as a series of bhattis and collective amritvela sessions during the month.
Several videos were used to recapture the earlier yagya days and to enlighten new souls on the importance and significance of this precious period (see attached images)
Continuous Meditation programs were held throughout the week of January 18th. The power of the gathering was truly uplifting.
Foundation course in Hindi
For the first time in the coming months, the foundation course will be given in Hindi to a group of Hindi speaking souls. Preparations are on the way to launch these classes around the last week of February.
Prison service
Two welfare officers at the Broward prisons have competed the foundation course. These souls have expressed interest in service at the prisons and have already attained approval from the relevant authorities. Prison service should be starting soon.
Sister Hansa will be going to London to take benefit of Dadi's programs in London.

Shivratri letter to the Region
2 Febuary 2015
Dear Bapdada's Serviceable Instruments:
We are at the end of January, the avyakt month where we paid a lot of attention of creating the avyakt stage, and reinforcing our commitment to Amritvela. We are also privileged to have the presence of our dearly beloved Dadi Janki with us in London. Her classes given in London have not only transmitted the wonder of her amazing spiritual journey, but the wonder of her pure and clean intellect and her ever-flowing bhavna take us into the very depths of Baba's love leaves us in awe of who really Dadi is.
Now we are moving into the celebration of Shivratri and we are lucky to have been blessed with such love from Bapdada, the Dadi's, and the family. I am sure that you are all preparing to celebrate this very auspicious festival with the will to reveal Shiv Baba.
As promised we have uploaded the Shivratri materials created in English on the following website:
http://onelink.brahmakumaris.org/shiv-jayanti
No log-in is required to access these materials. They are available to one and all.
The materials available are as below with name followed by a description:
In God's Heart Flyer Template - Customizable Flyer

In God's Heart Blessings Template (12Up) - Add your own blessing text to this template. There are 12 to a page.

In God's Heart Blessings Template (8Up) - Add your own blessing text to this template. There are 8 to a page.

In God's Heart Customizable Press Release - This Press Release is from Harmony House, but it can be customized to announce your local program.

Maha Shivratri: Ancient Festival Has Relevance Today - 500 word Article in pdf format by Sister Kiran

Shivratri: The Dawn Confluence of Light and Darkness - 1000 word Article in pdf format by Sister Kanishta Agarwal, PhD

79th Shiv Jayanti Folio in Hindi p1, 79th Shiv Jayanti Folio in Hindi p2 - Colorful Hindi double-sided folio. Pages 1 and 2 are meant to be printed back-to-back.
I would like to wish you all a very, very happy Shiv Jayanti and as we celebrate Baba's birthday, we will also celebrate the newness that is being born in us every moment spent in Baba's remembrance.
With love in Baba's remembrance
Sister Mohini

January News from Florida: Delray, Hollywood, Miami, Tampa and Orlando Florida
2 February 2015
Orlando
We had day of peace public program on Jan/18/2015.

Stress management seminar conducted by Dr. Krishna at Shand's hospital in Gainesville, Florida

As usual daily PM classes.




Meditation Museum Wins Best Education/ Non-Profit Award for 3rd Year in a Row
1 Febuary 2015
The BK Meditation Museum has been selected as the Best Education/Non-Profit for the 3rd year in a row in the Best of Fenton Village 2014 annual survey.

Sister Jenna Interviews Acclaimed Travel Writer, Pico Iyer on "The Art of Stillness" on Blog Talk Radio
28 January 2015
Acclaimed travel writer Pico Iyer joins Sister Jenna on the America Meditating Radio Show! Why might a lifelong traveler like Pico Iyer who has journeyed from Easter Island to Ethiopia, Cuba to Kathmandu, think that sitting quietly in a room might be the ultimate adventure? Because in our madly accelerating world, our lives are crowded, chaotic and noisy. There's never been a greater need to slow down, tune out and give ourselves permission to be still.
Listen to the rest of the interview here.

Sister Mohini's Inspirations for Celebrating Shivratri
22 January 2014

Video Thank-you note to Kalaben for Baba's Service in Washington, DC
22 January 2014

Service News: Los Angeles - Sisters Gita and Hema Join Interfaith Leaders at the Consulate of Pakistan
20 January 2015
The Pakistani American community held a candlelight vigil outside the Pakistani Consulate in Los Angeles. The event was organized by the Consul General of Pakistan, the Rt Hon Hamid Asghar Khan, and was attended by US Congresswoman Maxine Waters, several city officials, and representatives of different faiths. In an emotional and somber ceremony, the over seven hundred people present expressed their sorrow at the horrific murder of innocent children at an army school in Peshawar, Pakistan.
Leading faith leaders from the Muslim, Christian, Jewish, Sikh, Hindu Mormon and Bahai communities condoled with the Consul General of Pakistan Los Angeles at the Pakistan Consulate General.
In an extraordinary gesture of empathy, the participants were joined on this solemn occasion by Dr. & Mrs. Pearl, the parents of Daniel Pearl who was murdered by Terrorists in Pakistan twelve years ago.
Leading Religious leaders attending concurred with the statement and signed the condolences book.
Sis. Gita and Sis. Hema signing the book of condolences. Seen in photo is Consul General of Pakistan, the Rt. Hon. Hamid Asghar Khan.
Sis. Gita and Sis. Hema with leading faith leaders and Consul General of Pakistan, the Rt. Hon. Hamid Asghar Khan.

Peace Village Submits a Smilebox for Dadi's 100th Year Celebration
11 January 2014

Happy New Year Smilebox from Peace Village
7 January 2015
Om Shanti, Special Souls,
Happy Scenes from Christmas Day festivities at Peace Village Retreat Center as the angelic Brahmin family gathered together to meet BapDada, happily greet each other, open our presents (that Santa had delivered during the night!!) and eat delicious Brahma Bhojan.
"Therefore, claim pass marks in every subject by having newness in your thoughts."
With Loving best wishes,
on behalf of Sr Mohini, Sr Gayatri and Sr Kala
and the Peace Village Retreat Center Family.

Florida Service News December 2014
6 January 2015
Read rest of report here.

40th Anniversary of Service in Canada and a Shower of Good Wishes
1 January 2015
The Canadian family celebrated 40 years of service in Canada and this was marked by a huge three-day celebration at the Toronto Centre. We had the fortune of having Sister Mohini and Bro. Eric of Montreal grace this celebration and Brahmins flew in from all the Centres in Canada to join in the celebration. Brother Arvind and Sister Savi were instrumental in working with Bro. Eric and the the team in Toronto to host these celebrations. Sister Chandru of San Francisco and Sister Denise, who served in Canada at the start of service joined in through a conference call and shared their blessings.
Each day of the celebration was special and unique and it was a wonderful experience taking a walk down memory lane. Special moments in service throughout the years were captured in a slide show and we could not thank Baba enough for having given us such a great fortune. Sister Mohini was the first Brahmin to set foot on Canadian soil 40 years ago when she was hosted in Halifax and today she continues to sustain us and oversee the service being carried out.
The public program was also a huge success bringing together VIPs and IPs who have known the Brahma Kumaris from the very early years of service. Most of them are now our well wishers and they acknowledged the contribution that the Brahma Kumaris have made to the society. The Prime Minister of Canada, The Rt. Hon. Mr. Stephen Harper, was also made aware of this celebration in a personal meeting and he sent a message for this occasion. The program was presided over by Consul General of India, Hon.Mr. Akhilesh Mishra, Senator Asha Seth, Kirsty Duncan, MP – Etobicoke North, Dipika Damerla MPP – Mississauga East – Cooksville. A message was also sent by Judy Sgro, MP for York West.
Some photos of the event
Consul General of India in Toronto, Hon. Mr. Akhilesh Sister Mohini with Hon. Kristy Duncan, MP for Etobicoke North

Sister Shobna with The Rt. Hon. Stephen Harper, Sister Mohini with Senator Asha Seth
Prime Minister of Canada