Madhuban Double Foreign Program

2023 - 2024 Season
The Third Avyakt BapDada's Milan of the Season:
Thursday, November 30th, 2023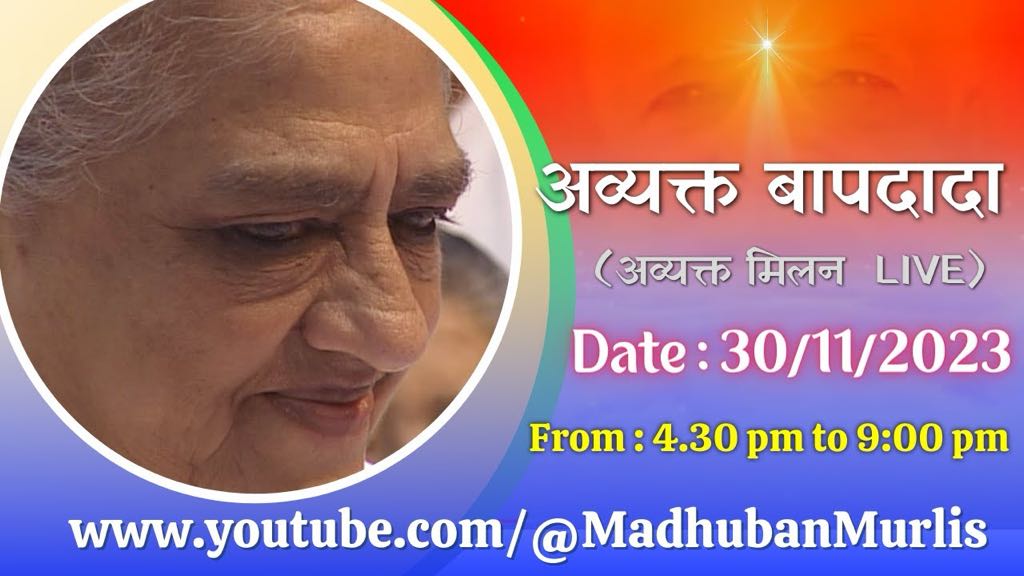 BOL Arrangements for 30 Nov 2023
Dear Divine Family,
Please find below links for BOL on Nov 30, 2023.
Evening Live transmission will start from 4:30pm Madhuban Time.
Find out your local time here
(3) YouTube link for Hindi (Mono)
select the LIVE tab
*
In the Stereo link, you can adjust LEFT (Hindi) and RIGHT (English)
sound levels as per the requirement of your class. You can also send instant feedback to the team for adjustments
using the chat facility.
*
Archived recording of the milan is also available later on using the same Stereo link
Program Schedule for the evening: (Madhuban/India Time)
5:00pm-6:00pm Class by seniors
6:00pm-6:30pm Yog & Bhog Offering
6:30pm-8:00pm Avyakt BapDada's Revised Avyakt Murli
8:00pm- Messages from Dadi Ratanmohiniji and Seniors

If you need any help or support, please email bolsup@bkseva.net
In Baba's loving yaad,
*******************
Madhuban DF Program - Group 3 - November - December 2023
Dear Divine Family,
Greetings of Love!
Above is the online schedule of classes which will be broadcast from Gyan Sarovar during the DF Program for Group 3. All timings shown are IST on the DF Madhuban Program YouTube Channel: https://df-madhuban.in/2023-2024.
For those coming to Madhuban, we look forward to welcoming you soon, where there will be opportunities for more special on the ground sessions.
Vegan and Gluten Free Options
The Gyan Sarovar Kitchen and Dining team have kindly arranged a counter for those wishing to have vegan and gluten free meals. You may register for these options on arrival in Global Office in Gyan Sarovar. (These will not be available in Pandav Bhavan).
Wifi Translation System Rajesh bhai and translation team have arranged a wonderful new system for translation in Gyan Sarovar. Connect to "GS Translation" wifi and then go to your browser and put in the url "start.bkconnect.net". Select your language from the dropdown menu and click on start button, then you will start receiving audio of the selected language. Please remember to bring your earphones with you.

Children to Madhuban
If you are travelling with children, please do read and follow fully the guidelines for bringing children to Madhuban sent to you at the beginning of the season.
Travel Information
Please remember to have your Travel Coordinators book your details in the DF Madhuban Travel Database at least two to three weeks in advance of your arrival.
Please note that on Thursday, 30 November, there will be the Avyakt meeting, and all the details for the transmission and links will come via the usual BOL channel team. If you have any questions please contact dfseason@brahmakumaris.org.
In Baba's yaad,
DF Madhuban Program Team
*******************
Archived 2nd Murli - November 2nd 2023 Milan (English) is here. [3:58:58]
Archived 2nd Murli - November 2nd 2023 Milan (Hindi) is here. [4:14:37]
Archived 1st Murli - October 15th 2023 Milan (English) is here. [4:05:25]
Archived 1st Murli - October 15th 2023 Milan (Hindi) is here. [4:06:51]
2022-2023 DF Madhuban Season Archive
2021-2022 DF Madhuban Season Archive
2020-2021 DF Madhuban Season Archive
*******************