Asia Pacific News
Asia Pacific News
Sister Ranjani's Visit to Malaysia 26 March to 2 April
21 April 2019
Sis.Ranjani, a Zonal Co-ordinator of Youth wing of Brahma Kumaris for Tamilnadu , was in Malaysia from 26th March till 2nd April 2019. During her visit, Sis.Ranjani participated in various godly services displaying her divine spiritual wisdom, teachers training skills and as a good orator.

National Tamil Teachers Retreat My Baba, My Family & My Responsibility
Sis.Ranjani was invited as the main speaker for the National Tamil Teachers Retreat attended by 130 BKs. The participants were teachers and right-hand instruments that have a crucial role in the center's services. Sis.Ranjani along with Br.Letchu & Br.Pure sustained all the participants with their divine insight and powerful vibrations that have left an everlasting caring feeling in the heart of participants.
The retreat was well-planned by young organizing team with high zeal & enthusiasm. The participants were kept well focused with various contemplative sessions. Sis.Ranjani's sharing on application of spirituality applied spiritual, her clarity of gyan and her shrewd sense of humor affectionately empowered all the participants. She is an exemplary instrument with training skills. Indeed, she is a special gift by Bestower for the retreat.
Click here for full report.

Doctors and Teachers Learn How to Improve Concentration in Bali
15 April 2019
POWER OF CONCENTRATION FOR DOCTORS
Denpasar, Bali, Indonesia - 29th March 2019: 31 doctors and 20 Bks gathered in the Gita Patshala on Himalaya Road to listen a talk on the topic "Power Of Concentration". The talk was given by Sister Janaki of Denpasar centre. She talked about the benefits of concentration and how to have quality thoughts. There was a question answer session followed by dinner for all. Talks like this which last for one and a half hours will be held once every two months, so that doctors also become spiritually enthusiastic. Dr Putu Yasa, who arranges such programs at the Himalaya Gita Patshala, said that he would continue to give cooperation for this kind of service in the future.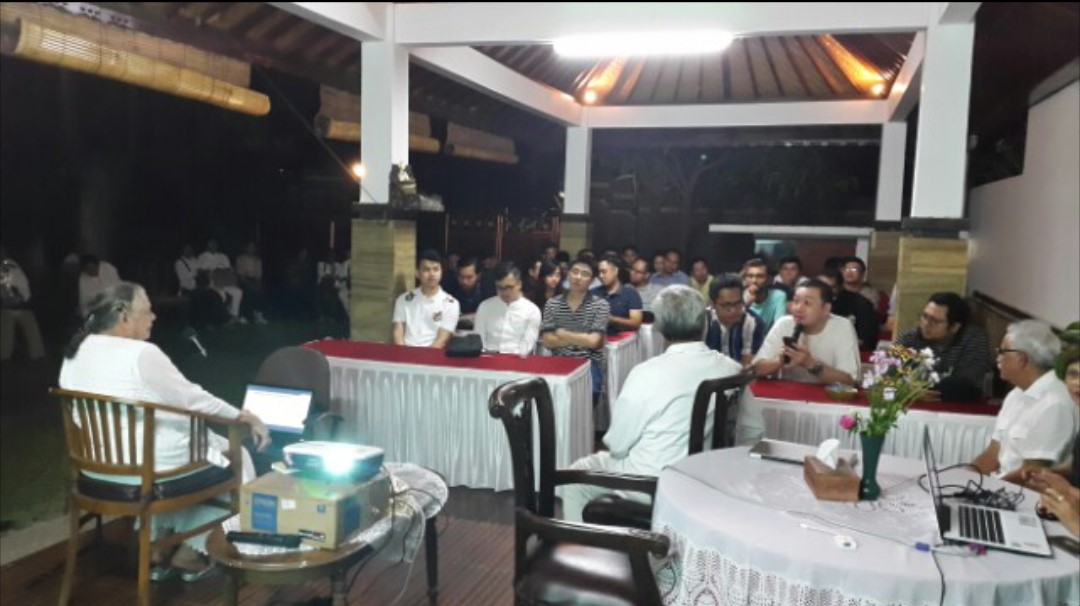 A section of those who participated.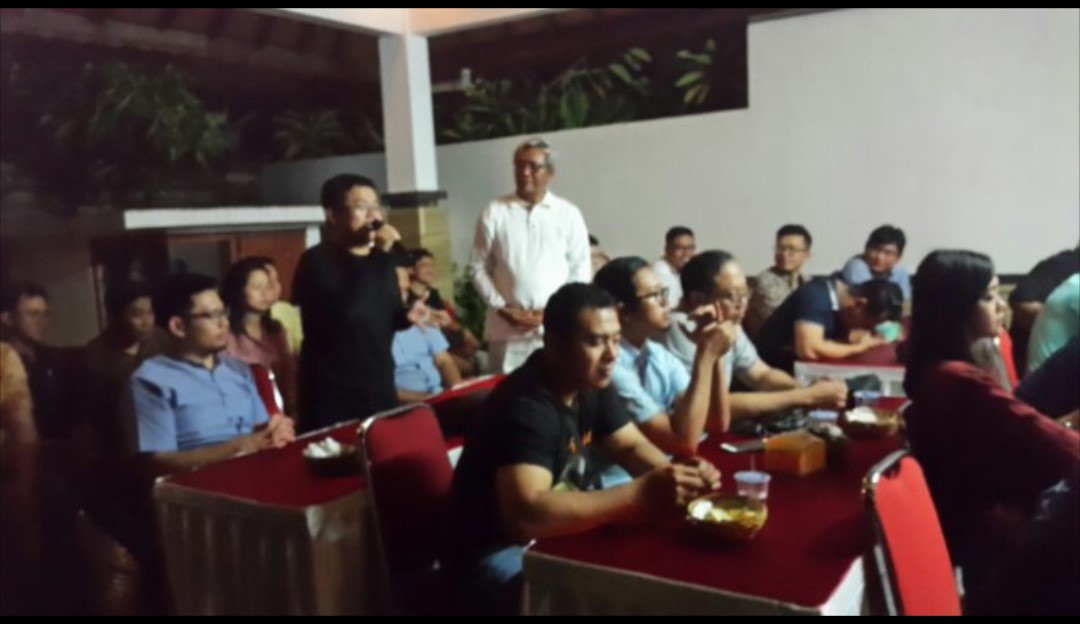 A section of those who participated.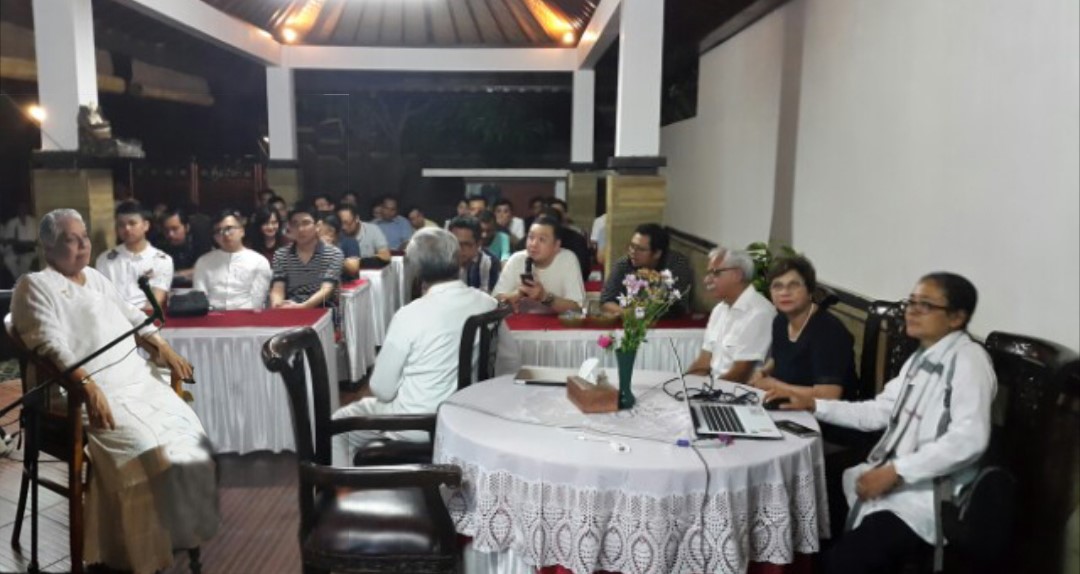 Sister Janaki seen delivering her talk during the session
ENCOURAGING WRITING SKILLS AMONG TEACHERS
Denpasar, Bali, Indonesia - 30th March 2019: About 50 teachers from various schools in Denpasar participated in a seminar to encourage teachers to write. The event was organized by Pilar Printers. Among the different items for the seminar was an inspirational talk on "The Benefits of Writing" by Bk Sister Janaki of Denpasar centre.
She talked on the importance of concentration and of experiencing happiness seeing the details and the beauty of every act.
The talk was followed by a question answer session and breakfast. More seminars on this line will be held from time to time by Pilar Printers, Denpasar
Warmest Regards
In Baba's Yaad
Bk. Janaki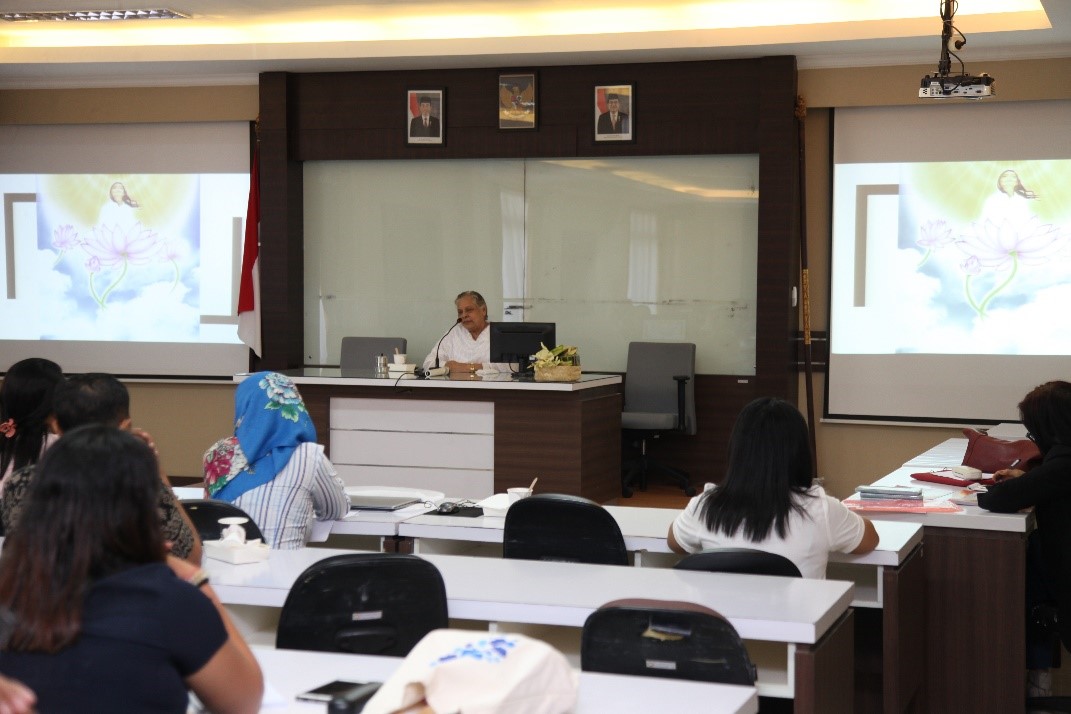 Sister Janaki seen delivering her talk during the session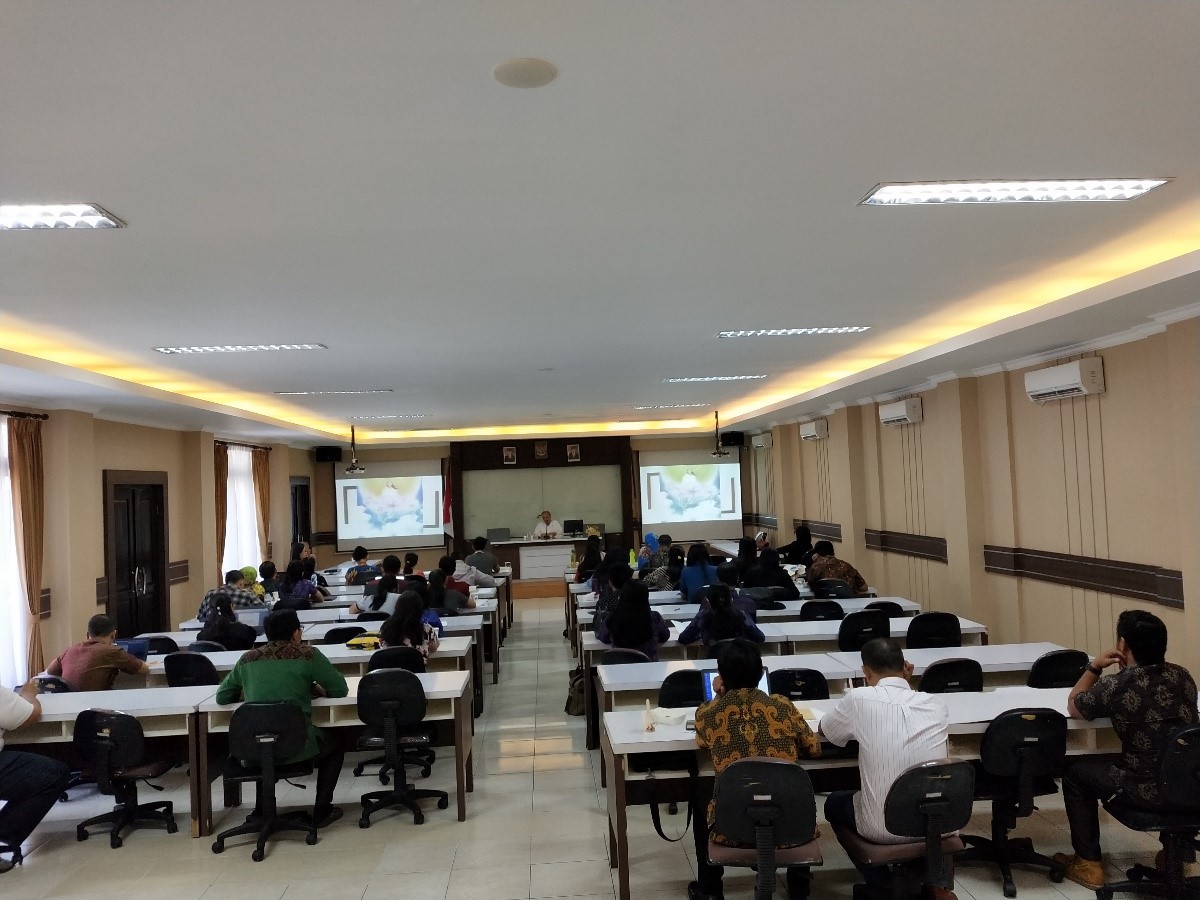 A section of those who participated.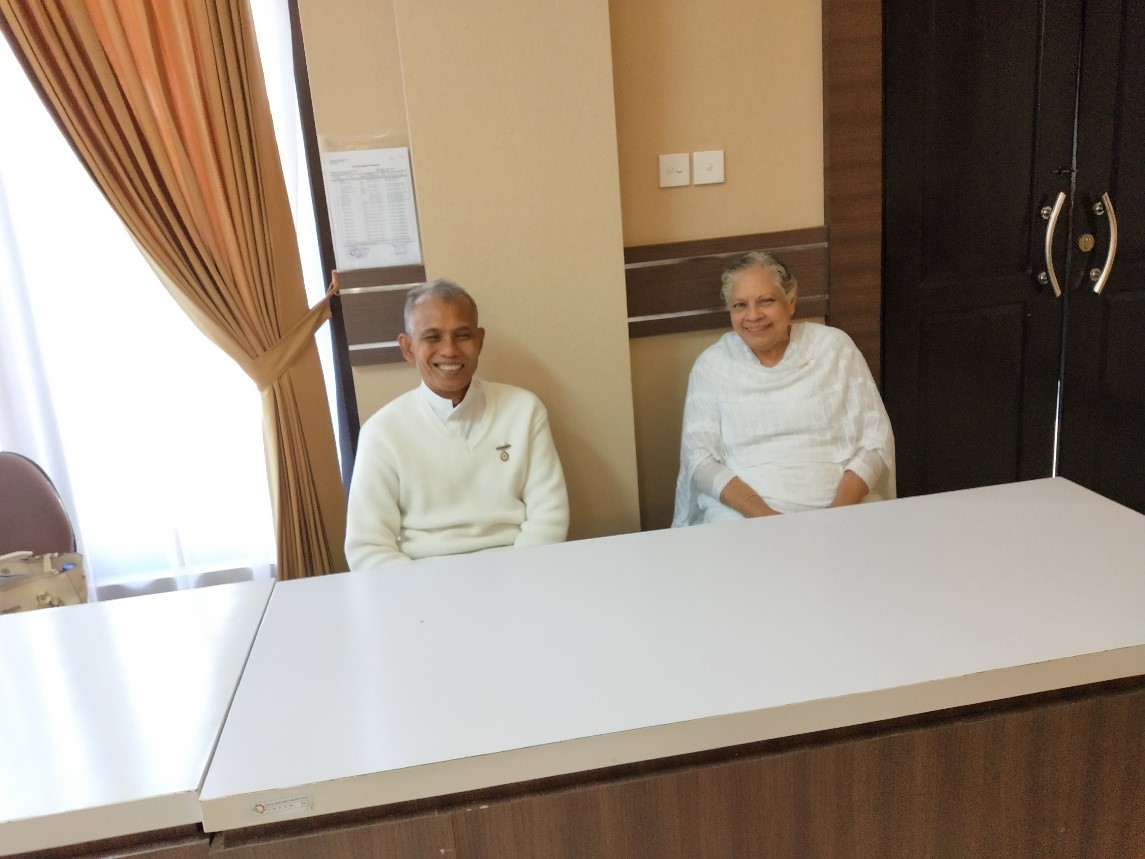 Bk. Sister Janaki with BK Brother I Made Jana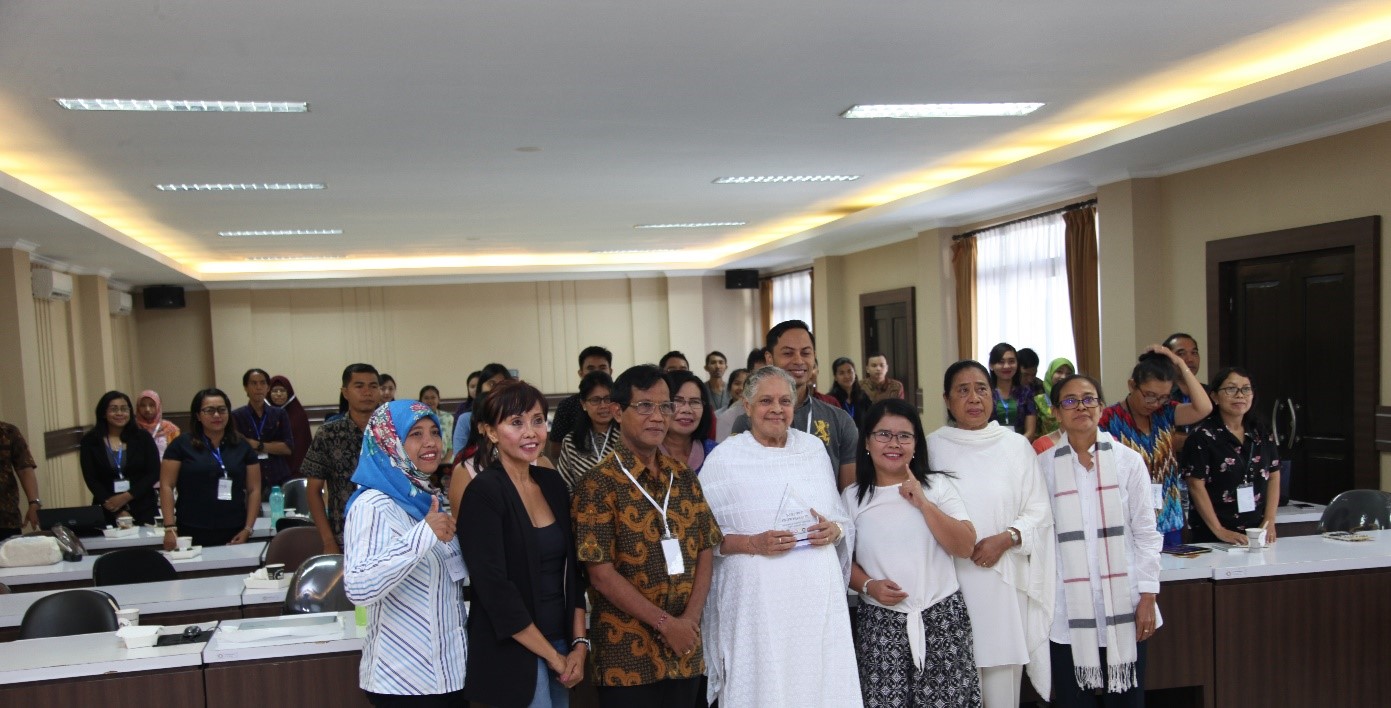 A section of those who participated. In the middle is Sister Janaki and to her right is the Head of Pilar Print, Ms. Thiolina FM.

IN PICTURES: Chinese New Year Celebration at the Asia Retreat Centre Malaysia and at Harmony House, Bangsar
10 February 2019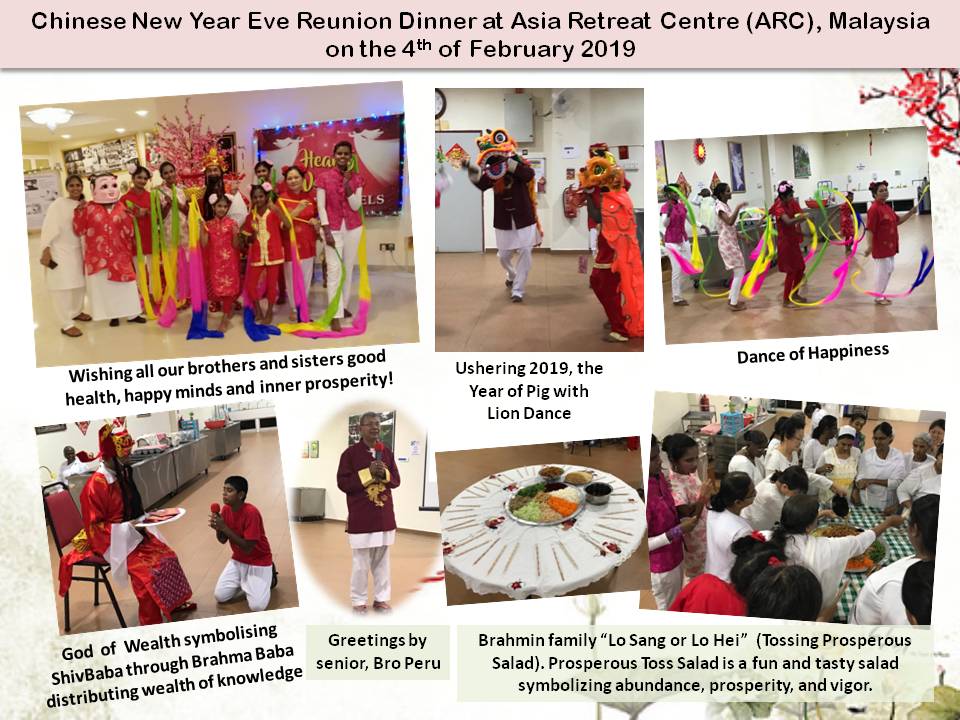 Pictorial Presentation: 50 Years On Retreat at the Blue Mountains Retreat, 17-20 January
4 February 2019
Dear BKs, Warm greetings.
We hope you like this presentation of the beautiful 50 Years On retreat at the Blue Mountains, 17-20 January 2019.
Loving wishes,
in Baba's sweetest remembrance,
Sally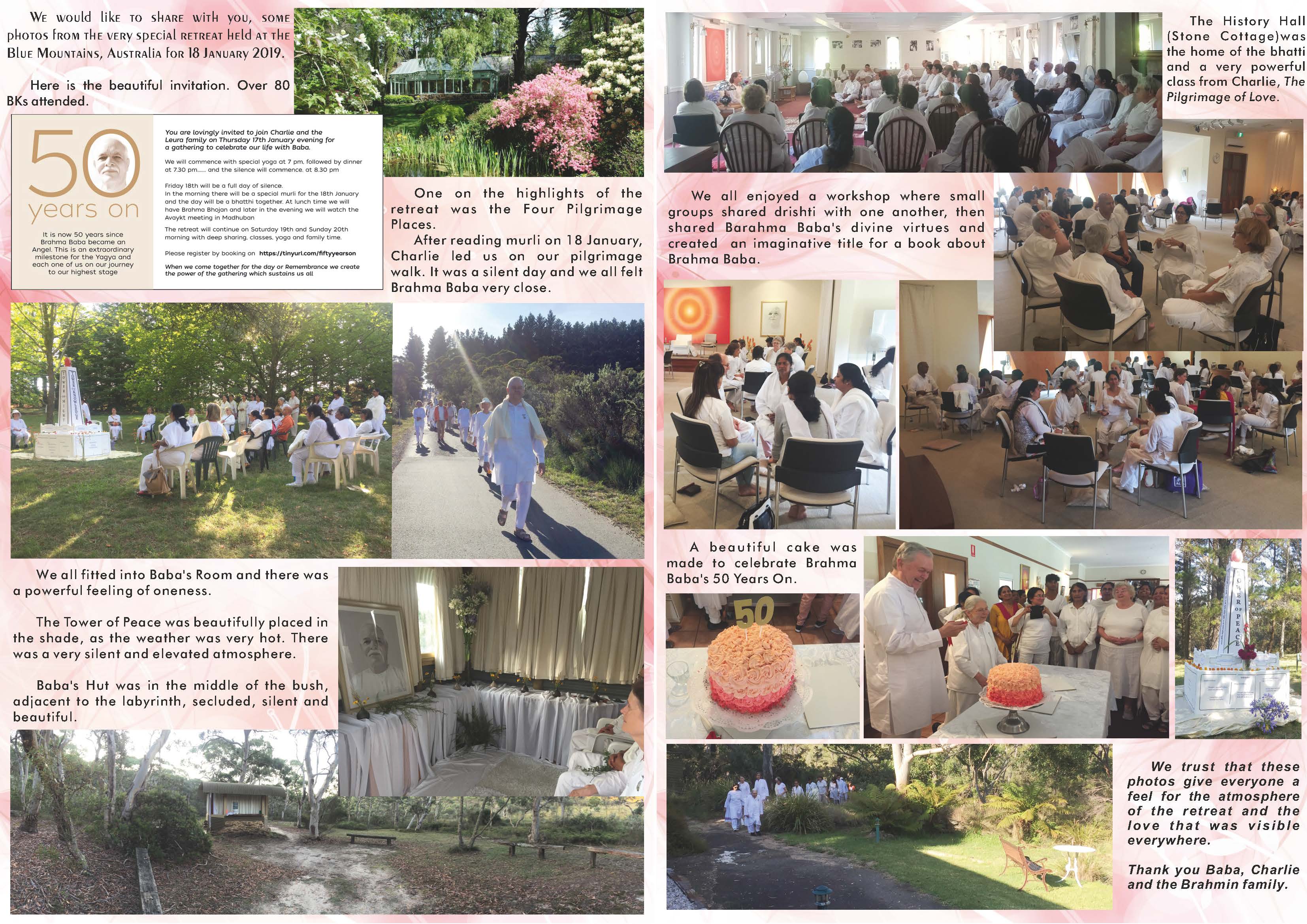 Presentation can be downloaded here

Chinese New Year Greetings 2019 from Sister Meera, Malaysia
4 February 2019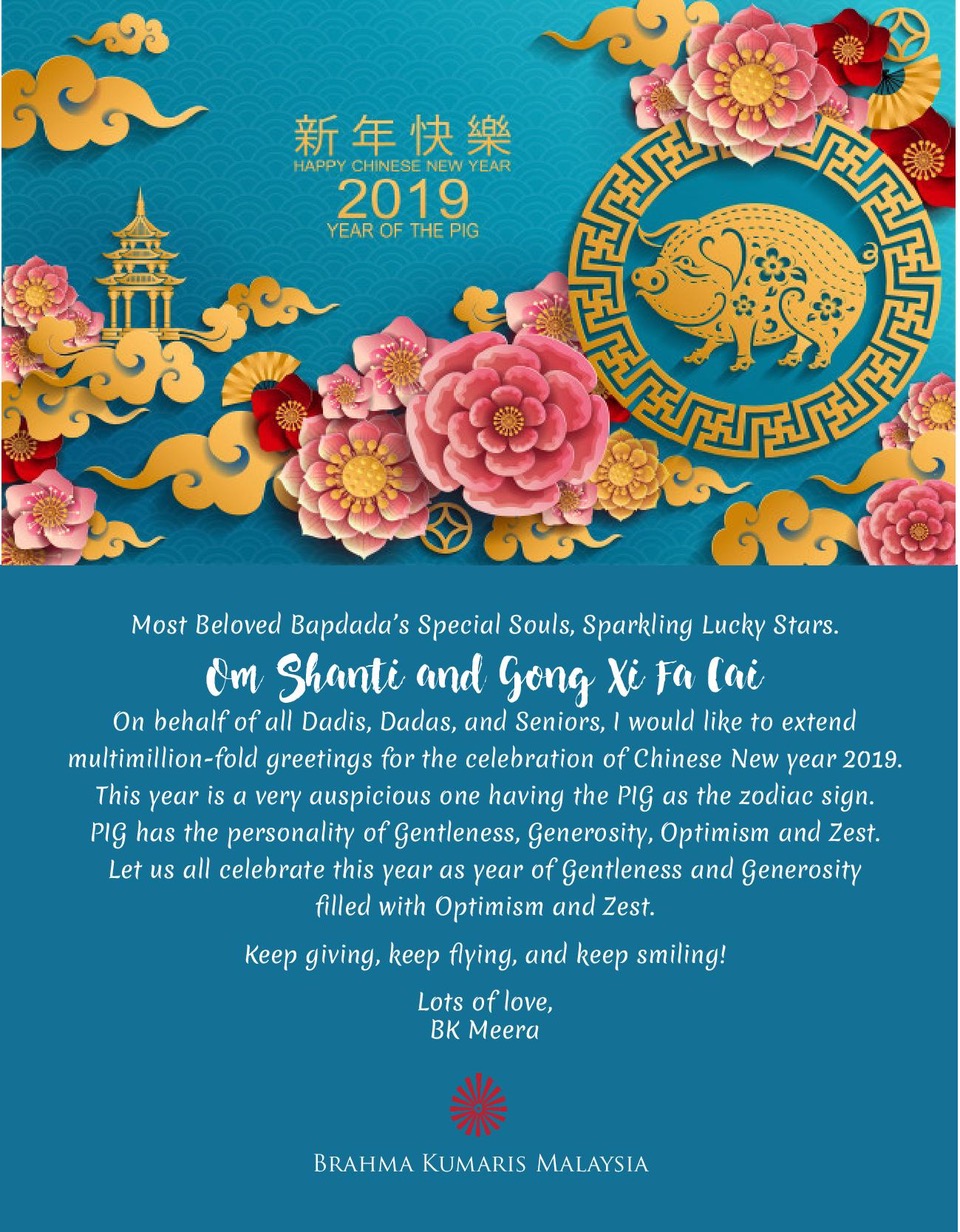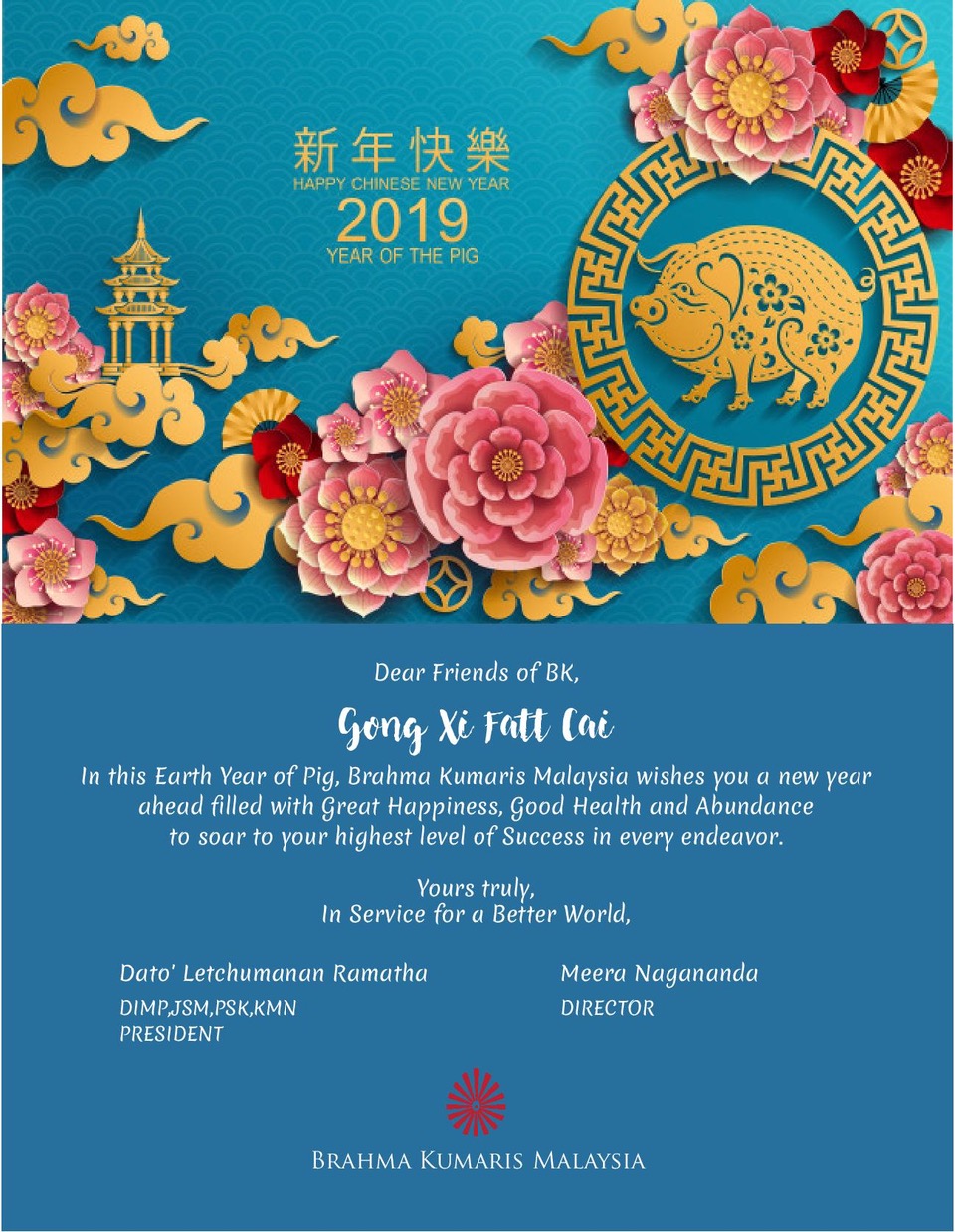 Xmas Greetings from Sister Bhavana of NewZealand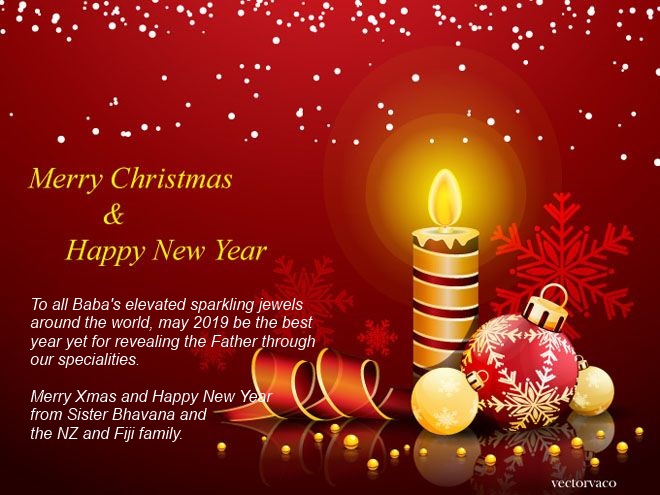 Christmas Greetings from Gianyar - Indonesia Family
25 December 2018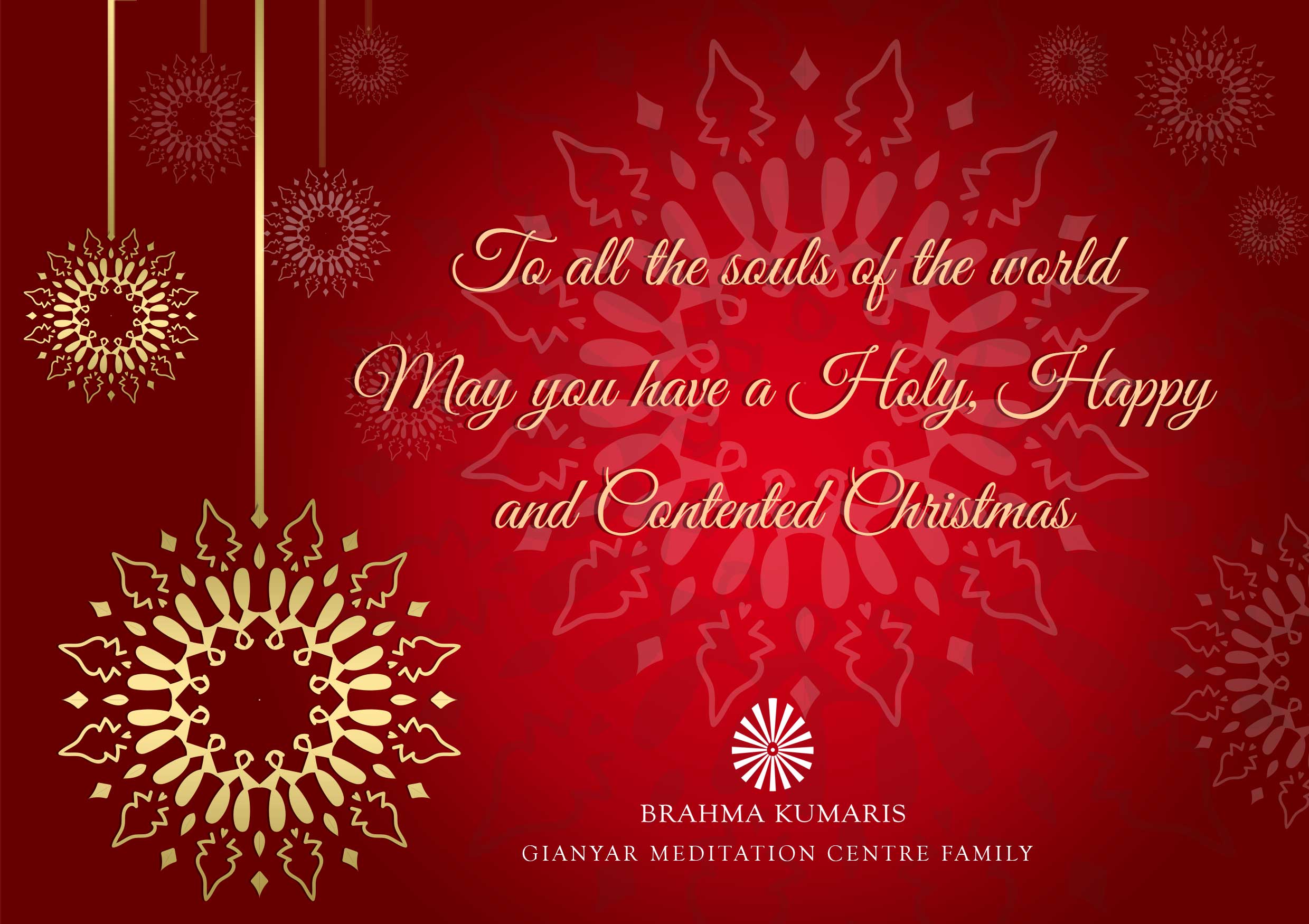 Merry Christmas and Happy New Year Greetings 2019 from Sis BK Meera, Malaysia
23 December 2018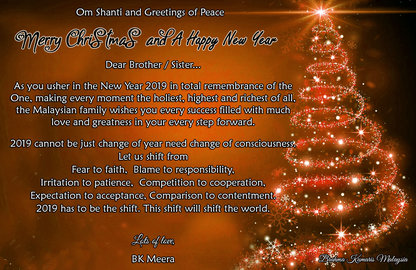 Brahma Kumaris at 15th Annual Yoga Workshop, Sri Lanka
17 December 2018
Dear divine Bro. Ganesh,
Dr. Chamin Warnakula the renowned yoga master in Sri Lanka had his 15th annual yoga workshop last Sunday 2nd Dec. at the National Youth Centre stadium in Maharagama.
The full day pgm was attended by 1700 - 2000 public from many areas of the island covering a very good cross section of individuals.
The former Commander of SL Army Lft. Genaral Daya Rathnayaka was the chief guest. Officers from the Presidents security unit, leading business personals, educationists, prominent media personals were guest of honours along with we BKs. Sr. Sreema took part on your behalf for the welcoming procession, lighting of traditional oil lamp and the opening ceremony of the event.
Dr. Chamin was very much interested in introducing Raja Yoga at this event since his visit to ARC last September. So as his plan we got a chance to do a presentation on Raja Yoga for Stress free living followed by a meditation session to all 2000 crowd. He had all the arrangements made for us with all facilities, whatever he used for his presentation. So that the presentation became very professional and unique to the participants. He also gave a good introduction of Brahma Kumaris and Raja yoga sharing his personal experience before handing over the stage to us.
We also had a very good sales of CDs and BK publications at the lobby. Nearly 1500 notices were distributed which carried the message of Raja Yoga and tips for Stress free living.
Thanks to Dr. Chamin, so many were fortunate to receive Baba's message.
Some photos are attached herewith.
Brother, Hope you will like to share this news with Bro. Charlie and POM group, Sr. Meera, Bro. Letchu, Bro. Pure, Sr. Ceilia, Bro. Peru , Sr. Susan and whole ARC family who were special instruments in sustaining this soul at his visit to POM in Gyan Sarowar and ARC, Malaysia.
Thank you.
In Baba;s yaad,
BK Rammi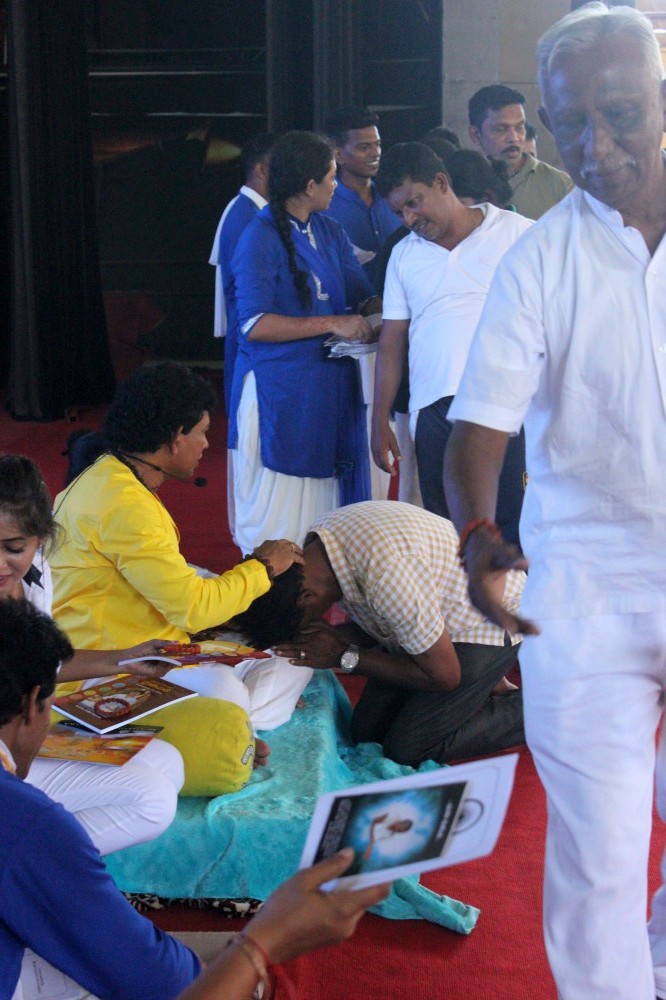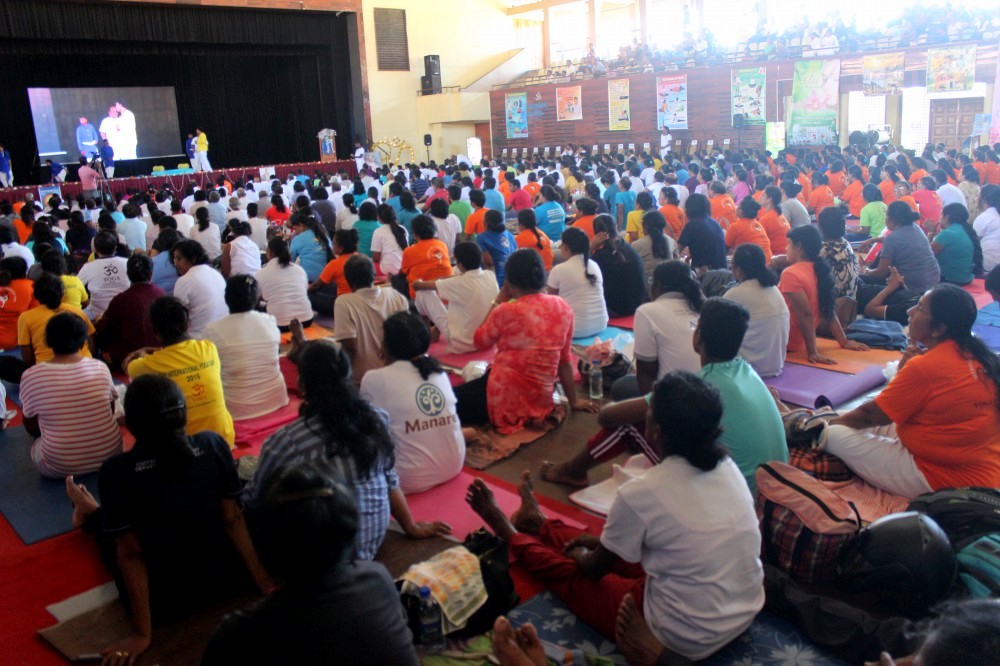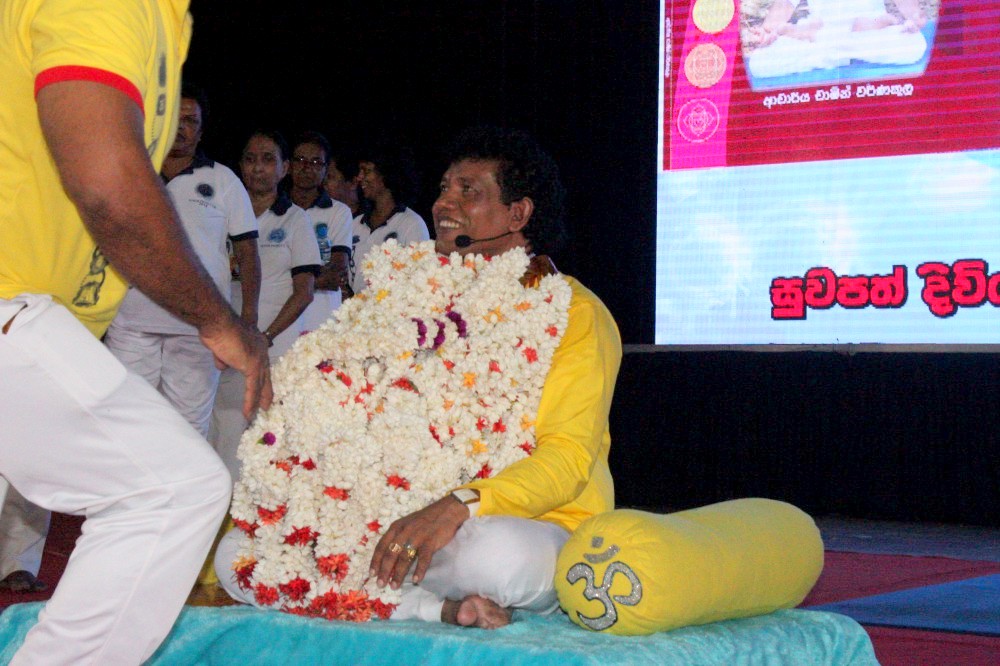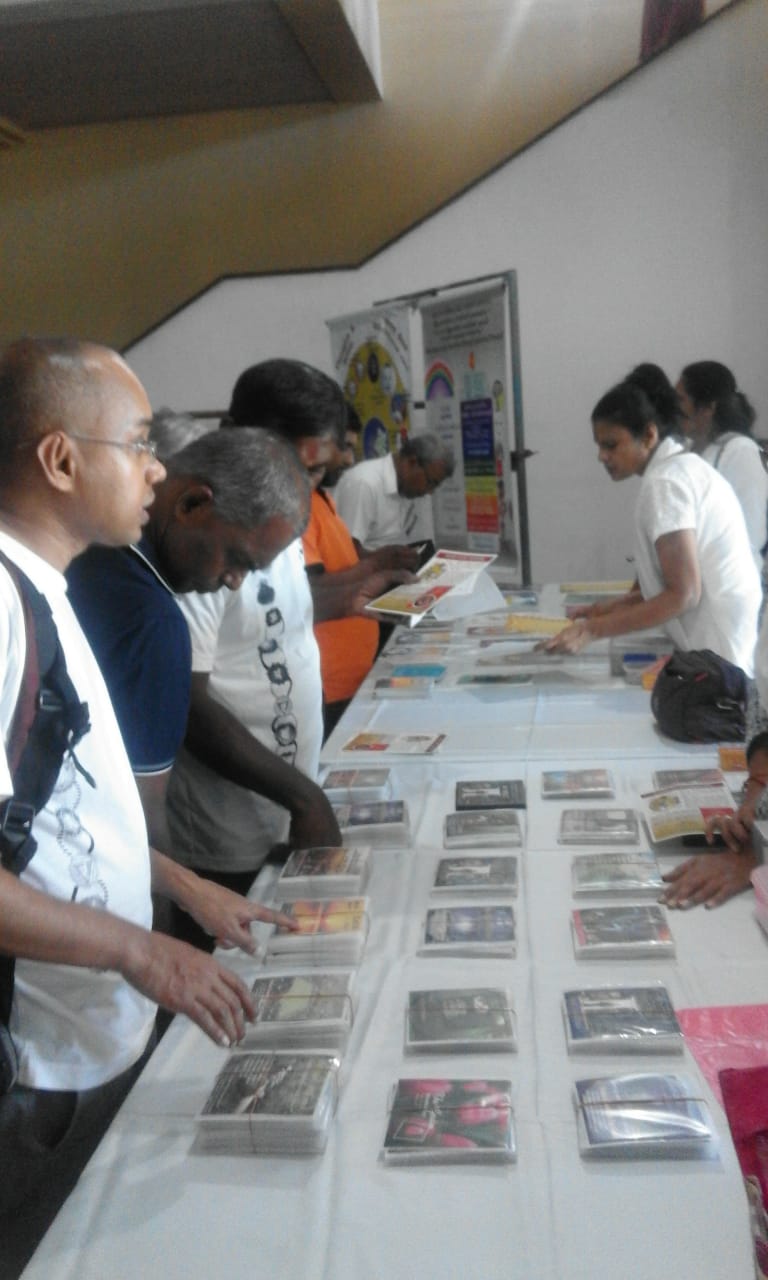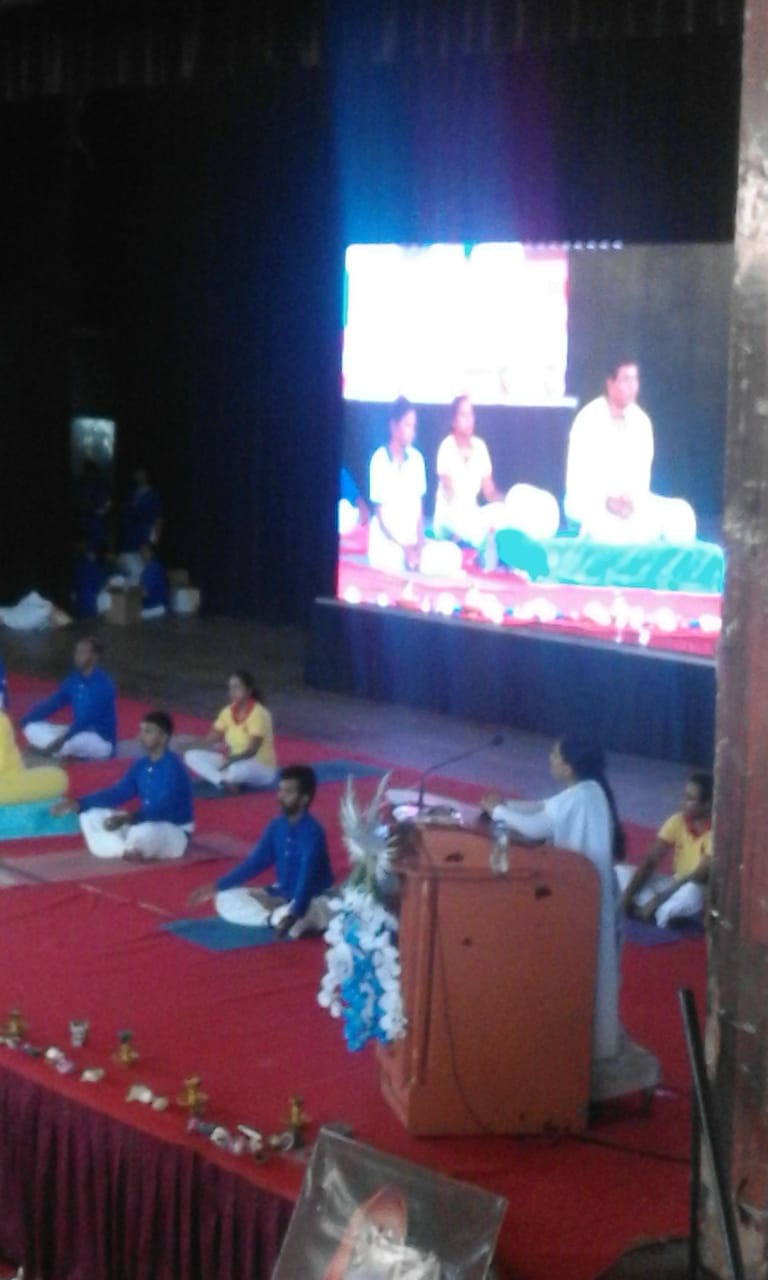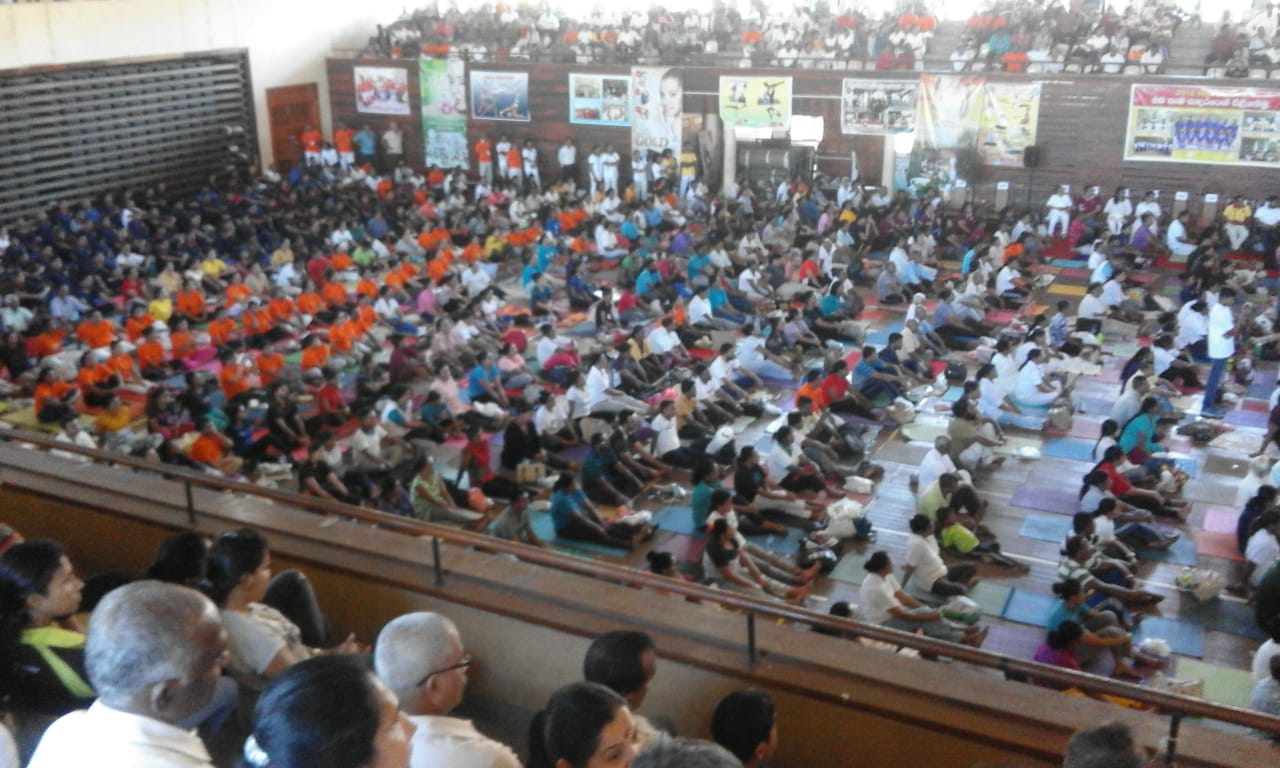 Sr Judy Johnson Visits Thailand, 15-25 October 2018
15 December 2018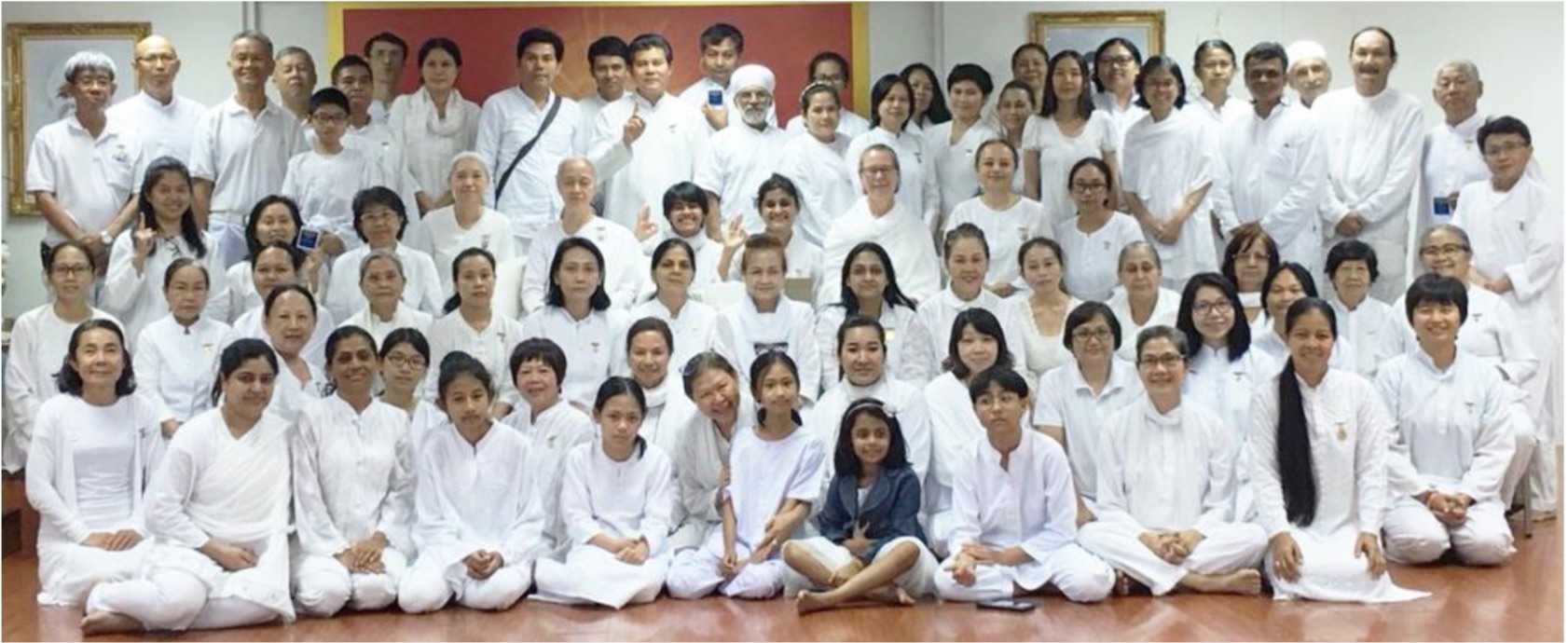 From Madhuban, Mt.Abu, Sister Judy flew directly to Thailand to spend time with the family engaging hearts and souls in sharing the Arts of living practically.
Beautiful experience was shared in English from two programmes, beside deep impact expressed in Thai for full Thai service news.
17 October, 18, The work-shop on "Engaging Hearts and Minds" by Sr. Judy Johnson at Aditya Birla Chemicals (Thailand) Limited, Samrong was well received and appreciated by all audience. About 30 officers from middle & senior management team (mix of Thai & other nationalities) of the company attended the program. CEO of the company also attends the program.
It was not just a lecture but mix of presentation, exercise and meditation which made it very interesting. She beautifully explained why in current world of chaos & complexity, engaging hearts and minds of people is very important for leaders. Current engagement in corporates is at IQ & EQ level mainly and why this need to be extended at SQ level. It is very important to discover core to increase productivity of the people. All people heartily participated in the exercise of story-telling and reflection process and understood relevance for leadership. The program ended with meditation in very creative way. People were touched by blessing cards they received with powerful vibrations from Sr. La. On the whole it was an excellent program appreciated by the team including CEO. (Br.Kailash).... click here for detailed report with photos.

Special Program 'In Other Worlds' held at the Museum of World Religions in Taiwan on 4th November
16 November 2018
It was with delight that we came to know from Brother Kim Cunio, a BK of nearly 30 years, that he had been invited to judge the music scores for the International Animation Festival in Taipei. Dr Cunio is Associate Professor at the Department of Music at the Australian National University in Canberra. He also specialises in spiritual music from all traditions.
The program, 'In Other Worlds', was held at the atmospheric Museum of World Religions on Sunday afternoon on 4th November. Although the audience was small and many of Kim's instruments had been damaged in the flight, the program was extremely successful.
Previously Kim had researched how to run a Laptop Orchestra and was able to do the concert using his laptop! With his amazing voice, a laptop and a few little instruments, Kim created a magical atmosphere with everyone participating. His son Samarai delighted everyone with his tabla playing, showing the audience the art behind it.
The program was concluded with guided meditation from Sister Morni, as well as an interactive discussion between Kim, Morni and the fabulous bilingual MC, Jane Lewis. By the end of the meditation everyone floated 'in other worlds', and a new type of service was shown in Taiwan.
BK Sister Morni
BK Spiritual Study Center, Taipei, Taiwan

Happy Diwali Greetings from the Indonesia family
9 November 2018

UN International Day of Peace Celebrated in Sydney
11 October 2018
Sr. Margaret Parker represented the Brahma Kumaris at an Interfaith Prayer Service at the Uniting Church in Parramatta on Friday 21 September to mark the United Nations International Day of Peace. The Uniting Church pastor, Rev. Dr. Manas Ghosh has been conducting this Interfaith service for the past fifteen years. The service started with the lighting of the Peace Candle by Dr Zeny Edwards from the UN Association of Australia while the congregation recited the international prayer for peace. This year, the Armenian Apostolic Church, the Coptic Orthodox and the Sufis joined for the first time. After the prayers, there was an address from the Moderator of the Uniting Church, Rev. Simon Hansford, followed by the lighting of the candles by each member of the congregation. Along with Sr. Margaret, Sr. Vijaya Padayachy, Bharat bhai, Br. Graham Mooney, Br. Josh and Sr. Ranjula attended.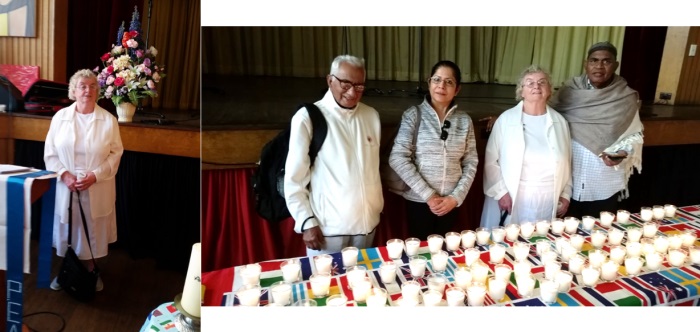 Another Interfaith Prayer Service on Friday September 21 was attended by BK Helen Chapman at the Lindfield Uniting Church, in northern Sydney. About 120 people were present when the service started at 11.00 am. Twelve representatives from different faiths were present to participate in the leading of a prayer or reading of their particular faith. Helen presented a meditation for peace.
The service started by the payment of respect to the Elders and Leaders of the Kuringgai and Terramerragal peoples whose care, respect for and connection to this land has been nurtured for countless generations. This was followed by the lighting of the Peace Candle by a local high school student. A lovely touch to the service were 12 local primary school children who each read a short, thoughtful description of their hope for our world. Concluding the service another high school student rang the peace bell 12 times, then all present were asked by the Presider: Rev. Mary Pearson, to come forward and light a peace candle representing the light within each of us. A final prayer and delightful refreshments were ready for all to enjoy while meeting and greeting each other.
On Sat 22 Sep, Sr Priti, Br Dan and Bharatbhai from Five Dock, attended the World Inner Peace Celebration. Along with representatives of many other faiths, BK Sr Priti spoke briefly on inner peace, introduced the BKs and gave a meditation commentary for the audience of about 200. There was also an exhibition outside the Prymont Theatre Foyer about loving kindness, compassion, inner peace and sustainable development goals (SDGs) where BKs also had a table to give out pamphlets.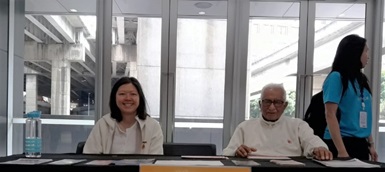 Below is the flyer for the World Inner Peace Celebration. This was the second year BKs had been invited to participate this event.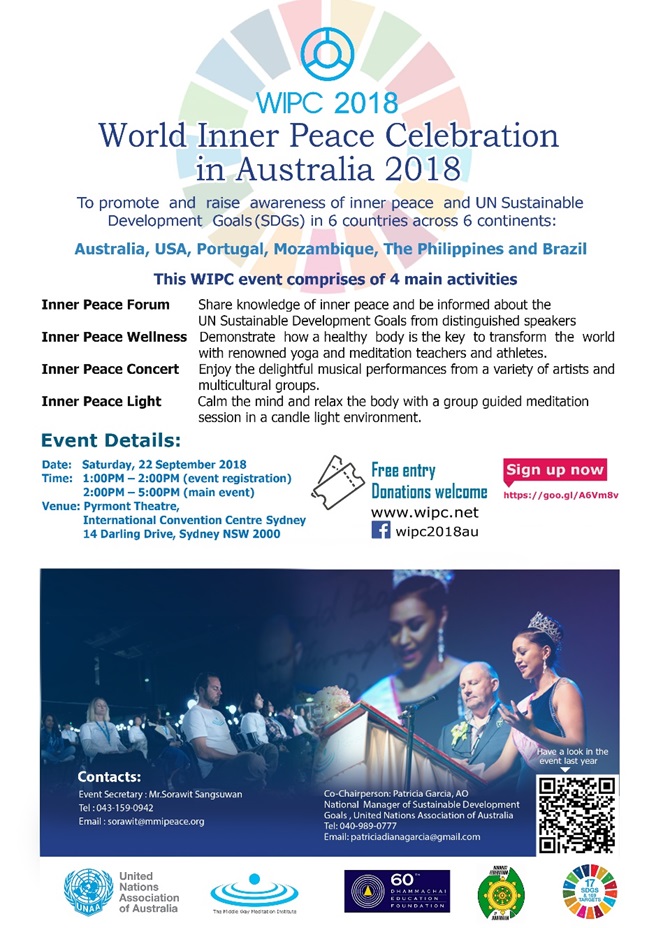 2018 International Day of Youth - Service News from Bali, Indonesia
15 September 2018
2018 International Day of Youth was celebrated in Bali Indonesia with a workshop by the Youth wing of the Brahma Kumaris. The 78 Youth included those from the Brahma Kumaris Youth group, Campuhan College students, Bumi Sehat Youth Centre students and Rotaract Bali-Ubud members. The two-hour theme for the workshop was Fortune of the Future: From Waste to Best where youths were asked to recognize their specialties so that they can use them in worthwhile way and as an agent of change that brings benefit to themselves and others.
Sister Mona
Coordinator Ubud Centre Bali - Indonesia
See additional photos @ www.brahmakumaris.id/index.php?page=eventsubudinternationaldayofyouth

Sister Shivani in Perth, Australia!
9 September 2018
Om Shanti, Greetings of love from Perth, Australia.
Baba's instrument, Shivaniben visited Perth, Australia from 7th to 9th August as part of her 'Awakening' Australia Tour.
We have compiled the attached report with a lot of bhavana to express the wonders that Baba has done through His children. It has been a golden opportunity in Drama.
Thank you Baba, Drama and meethe parivaar.
In Baba's sweet yaad
Sapna Ruparelia
Service Representative of WA
Download report here.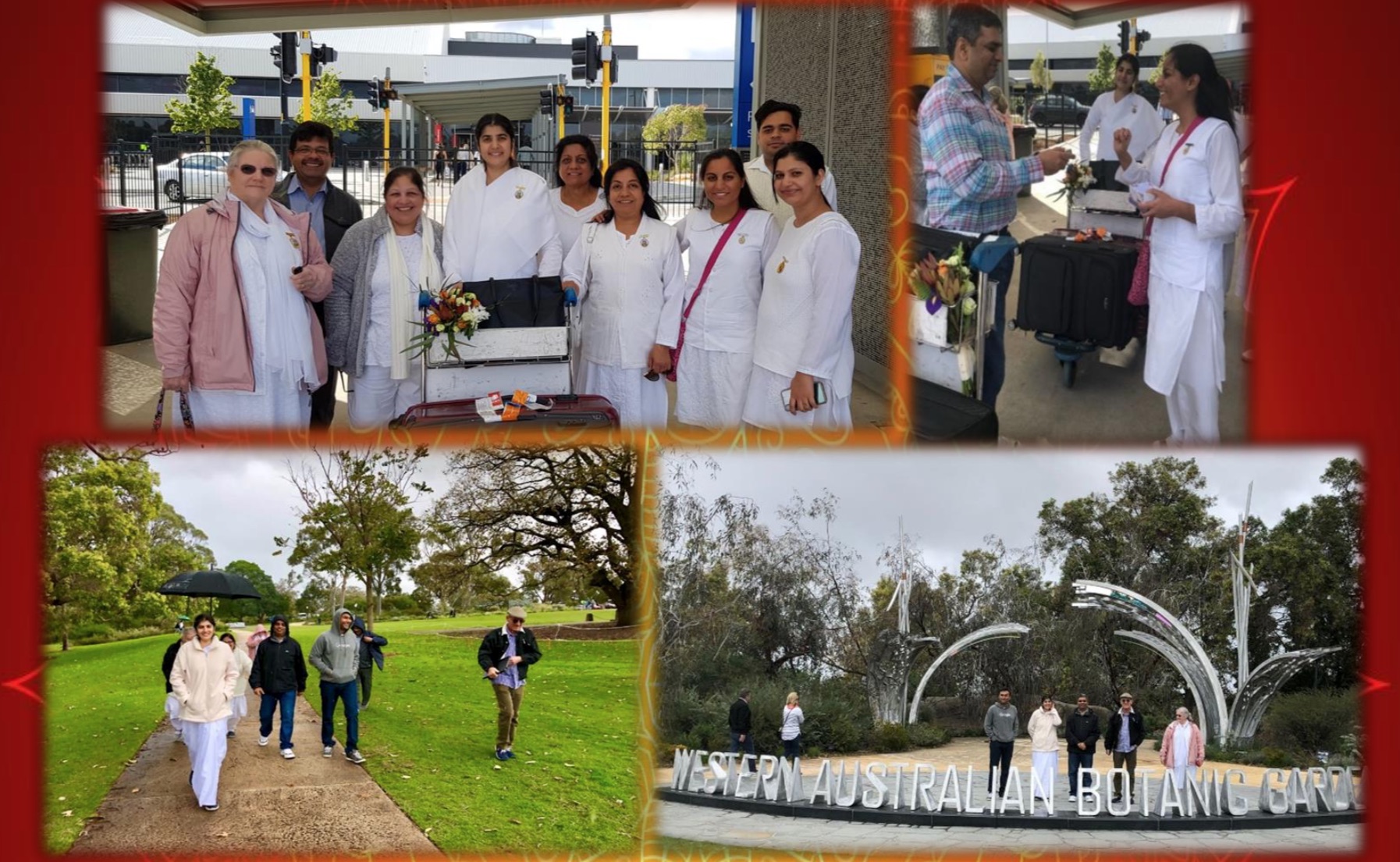 2014 Asia Pacific News Archive
2013 Asia Pacific News Archive