2021 Middle East News Archive
2021 Middle East News Archive
Understanding Spiritual Love - Webinar with Gayatri Naraine - Saturday, 24th July, 7:30 pm Bahrain Time | 5:30 pm UK time | 6:30 pm CET Time | 12:30 pm EST | 9:30 am PST
23 July 2021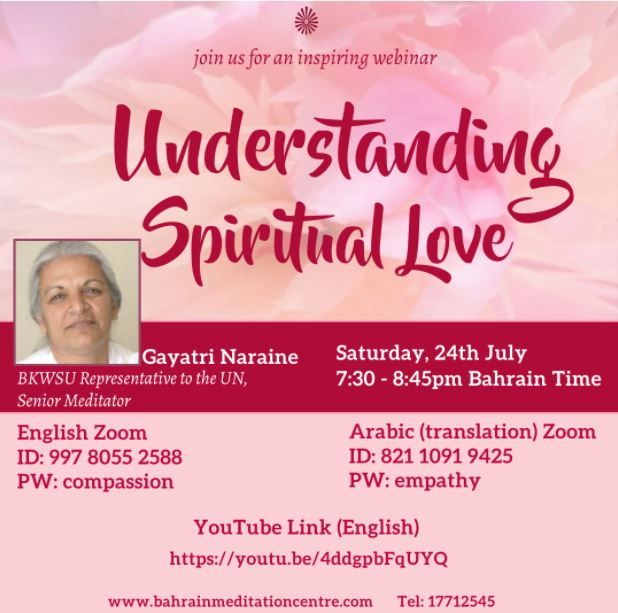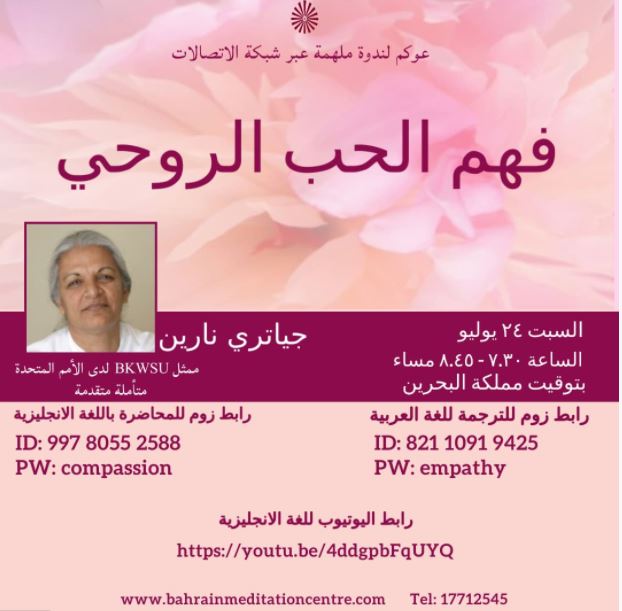 Coping with Stress Through Humor - A Webinar with Jagruti Patel, Tuesday, July 13th, 7:30 pm Bahrain Time
12 July 2021

Kuwait: Invitation to IDY 2021 Celebrations 21st June - Raja Yoga Meditation
19 June 2021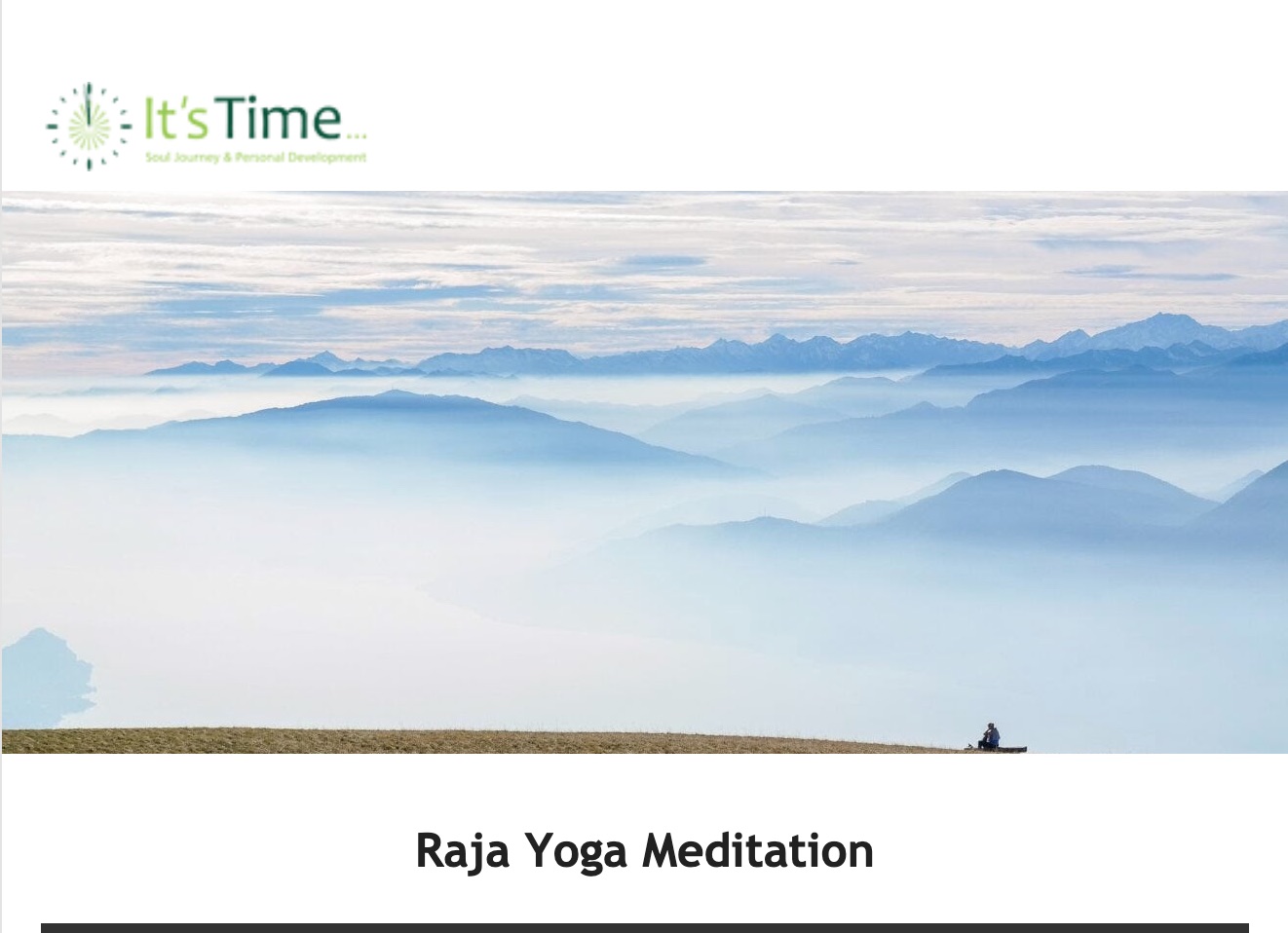 I am sending you all a big Om Shanti (greetings of peace) as we look forward to the International Day of Yoga on 21st June, 2021.
Yoga and meditation have many principles in common. Yoga, tends to deal with exercises that stretch and strengthen the body, and meditation focuses more on the spiritual aspects of life, and strengthening the soul. For each modality to be successful, one has to learn how to control the mind.
Taking the Breath
We talk about the breath of life… and yes, this works on a physical level… without breathing there is no life! But what is the breath of mind? At a spiritual level the breath of mind relates to the quality of our thoughts and therefore our experience of life. Inhale positive and powerful energy, and breathe in love and peace. As we generate those higher vibrational thoughts, then we are more easily able to exhale and expel those negative and stressful thoughts and emotions. We definitely don't want those toxins to linger in our body or mind in any form.
Click here to continue reading...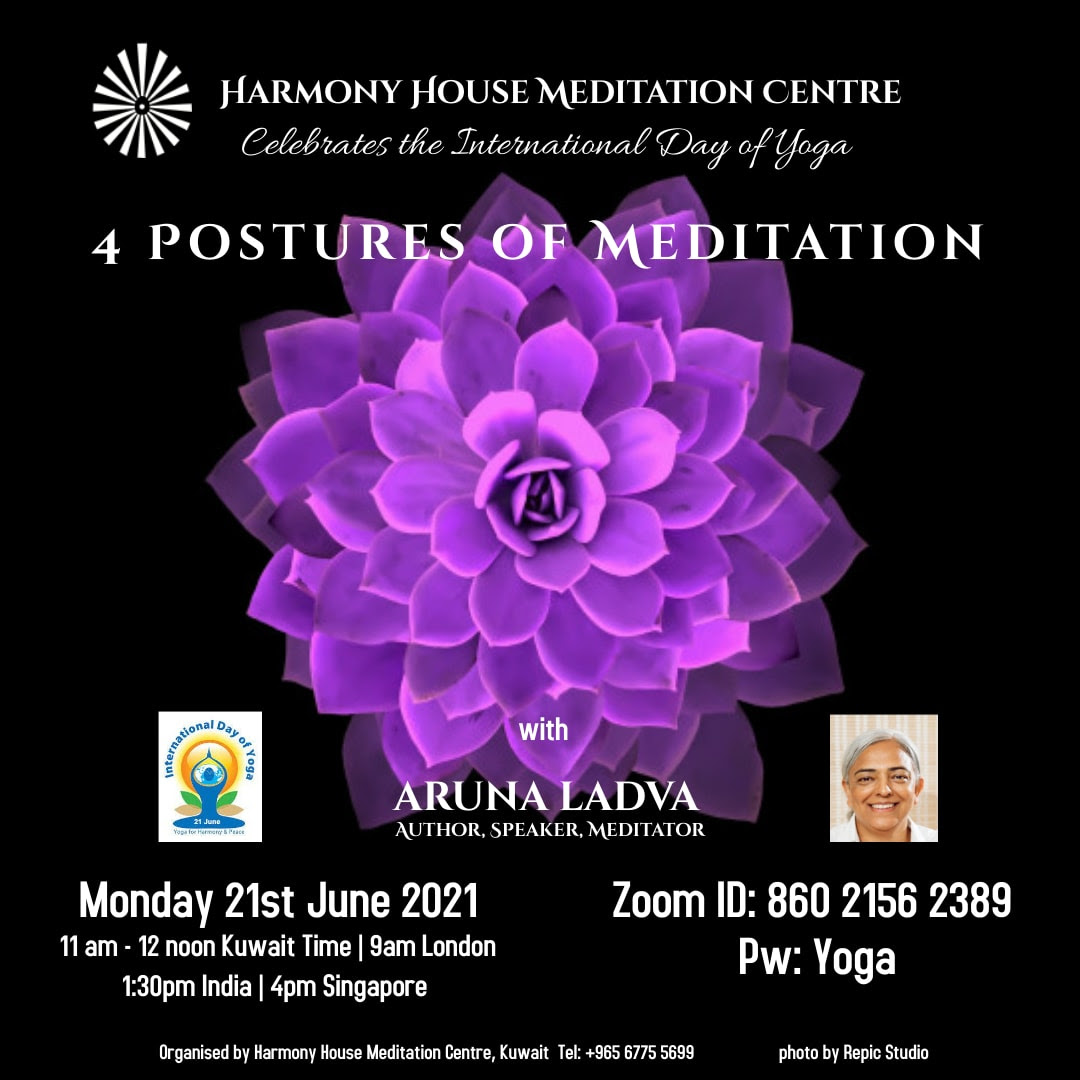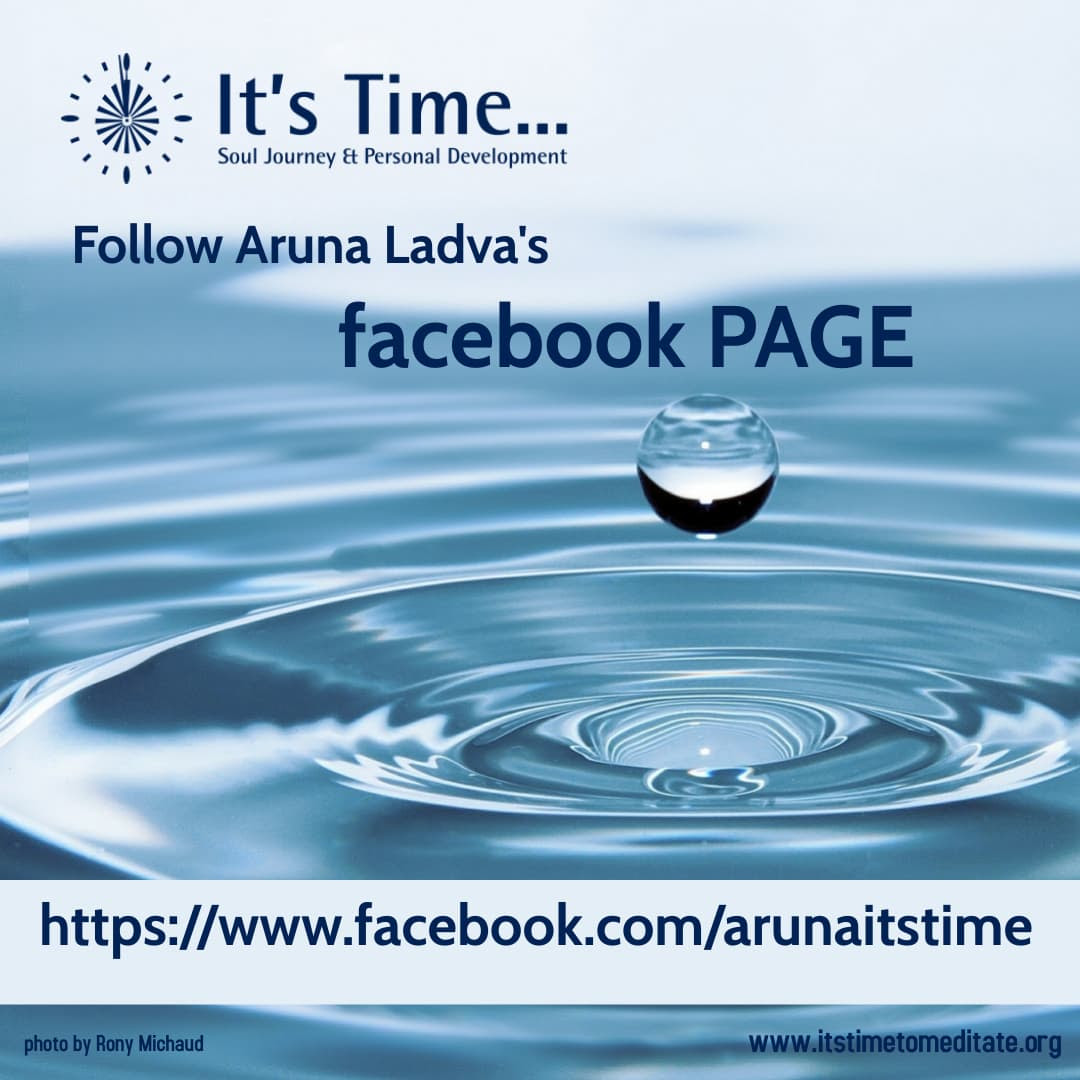 "Economy": Join Experiential Values Workshop on 20th June
19 June 2021
Experiential Values Worskshop on "Economy" with BK Aruna from Kuwait sharing her spiritual insights.
Value : Economy ( कम खर्च – बालानशीन )
Date / Time: Sunday, 20th June, 9 am to 11 am (India Time)
( Kuwait time: Sunday, 20th June, 6:30 am to 8:30 am)
(Westcoast US/Canada time: Saturday, 19th June, 8:30 pm – 10:30 pm )
Direct joining Zoom link at:
https://us02web.zoom.us/j/86973985023?pwd=dUpMcVB0NjdXb3RSR2dKMElheG9VUT09
Or, (Zoom ID – 869 7398 5023; Passcode – values)
invite your friends and relatives who may greatly benefit from this workshop.
To view the earlier episodes on other values, please click on below links:
https://omshanti.tk/playlist/english
https://omshanti.tk/playlist/hindi
For more information please visit website at – www.vihasa.in
Calendar of upcoming events for the month of June.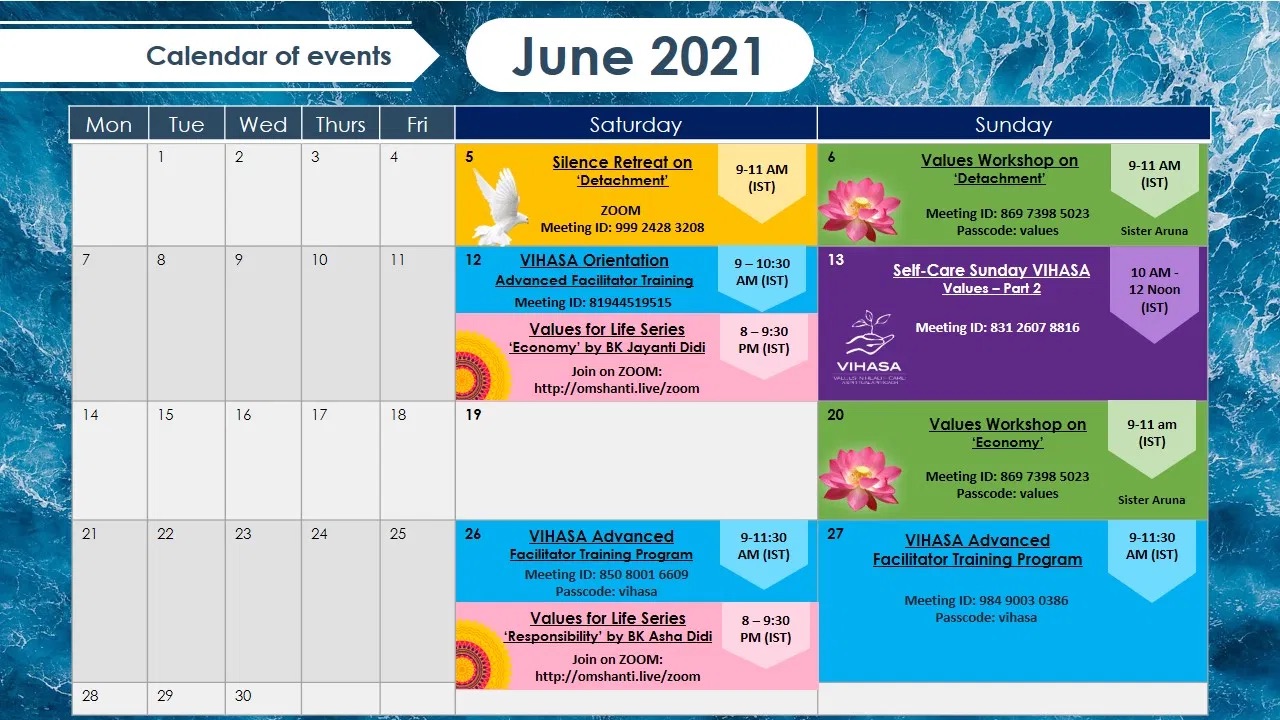 Managing Mind, Time and Power with Prakash Chugani
21 May 2021

Eid Greetings
13 May 2021

Ramadan Special: Join the 4AM PEACE EXPERIENCE Hosted by It's Time...
8 April 2021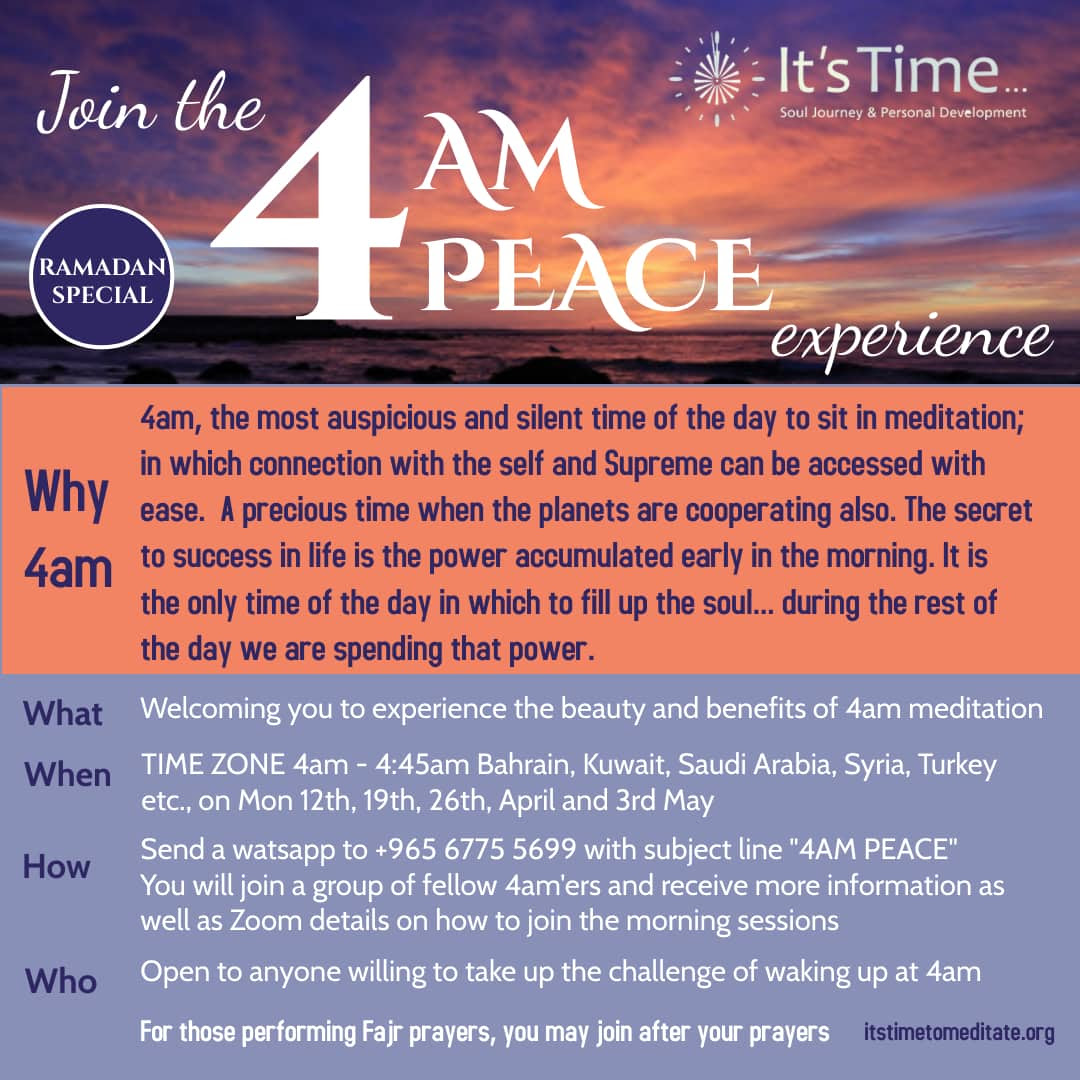 Join the 4AM PEACE EXPERIENCE
The benefits of 4am meditation are endless, and the practice is not as difficult as some may think. Yet some people's immediate response when asked to try out this daily practice is one of shock and panic, especially those who go to bed at this hour! In response, I would say, try it and give it a chance. Don't look to see what you are losing, but look to see what you are gaining!
For More Information- Click here
-------------------------------------------------------------------------------
Quote of the week
MEDITATION
causes the pituitary gland in your brain to secrete endorphins - the happy hormones!
------------------------------------------------------------------------------

An Introduction to Meditation - Course in English
30 March 2021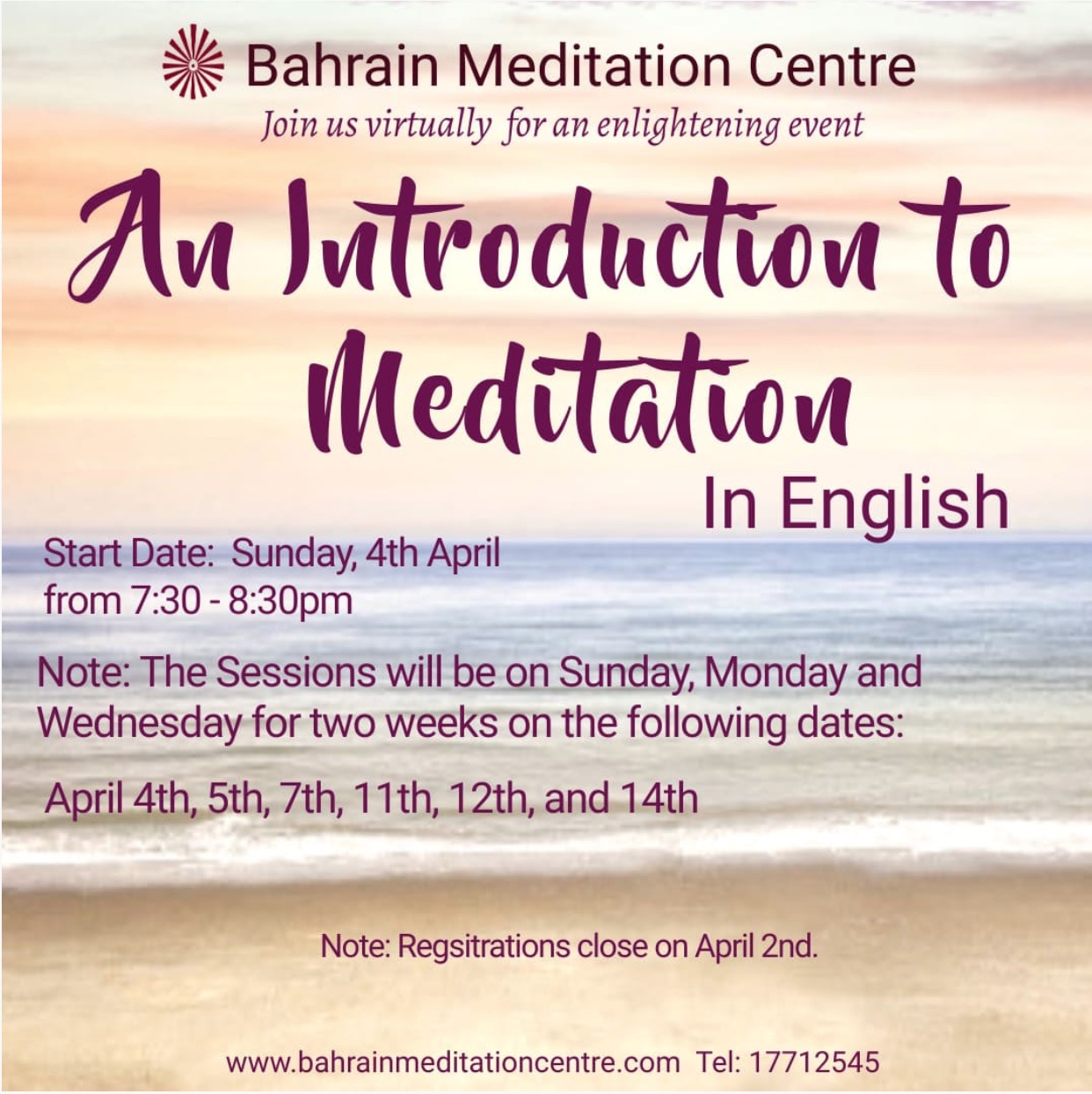 TO REGISTER click here

Abundance Mindset - by Luciana Ferraz
25 March 2021

How to Make Your Life Meaningful - by Yogesh Sharda
13 March 2021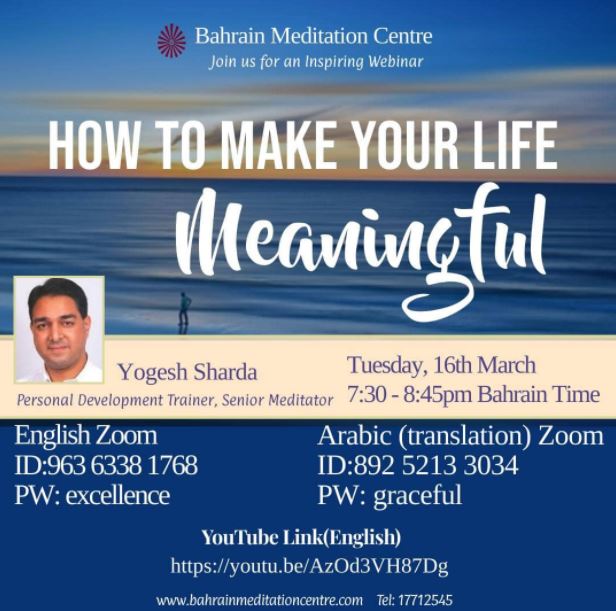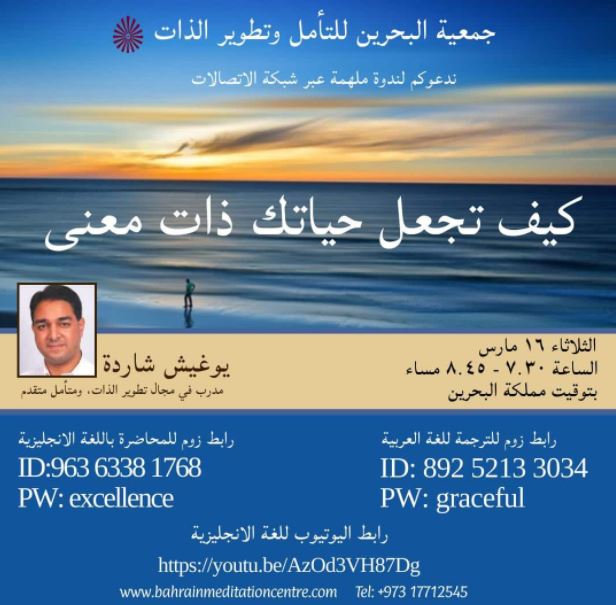 REPLAY of Your Specialty is Your Magic Power with Mathias Steffen
10 March 2021
This program was streamed live on 27th February. To listen to the replay [1:21:28], please click here: https://youtu.be/dCvAchs2vI8 or simply click on the image of the flyer.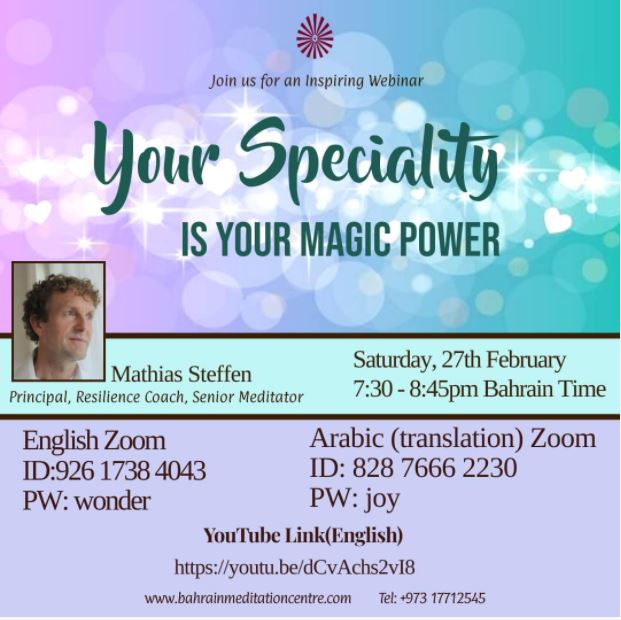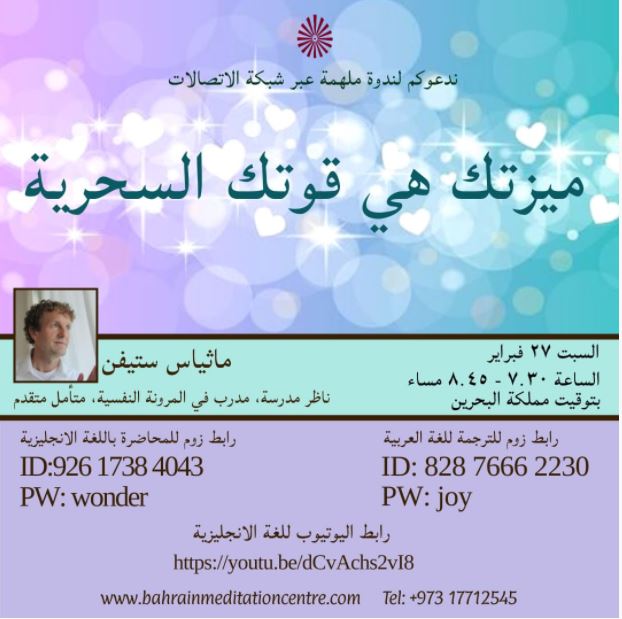 The Healing Power of Love - A Free Webinar by Aruna Ladva, Tuesday, 16th February
15 February 2021

It's Time... Follow the 7 Day Love Challenge with Sr Aruna
8 February 2021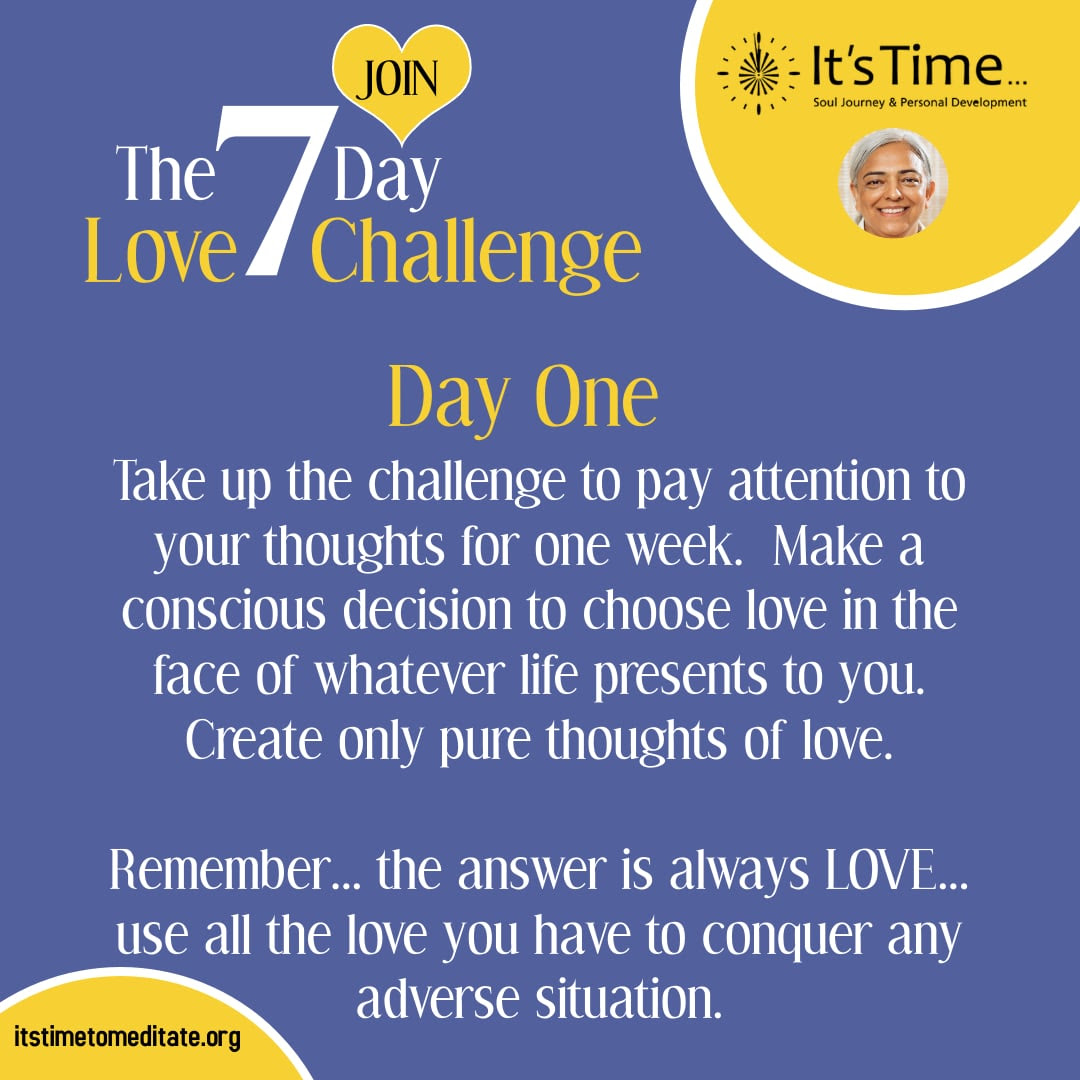 Follow the 7 Day Love Challenge starting today. Challenge yourself to practice these daily thoughts that are centred around experiencing and emanating PURE LOVE...
Follow on:
Aruna Ladva Facebook Page
or
arunaladva instragram
Quote of the week
falling in love is falling for the illusion of love

Please subscribe here: https://www.itstimetomeditate.org/?utm_source=mailpoet&utm_medium=email&utm_campaign=happy-thanksgiving_1

Meditate on Divine Protection with Sr Aruna
7 February 2021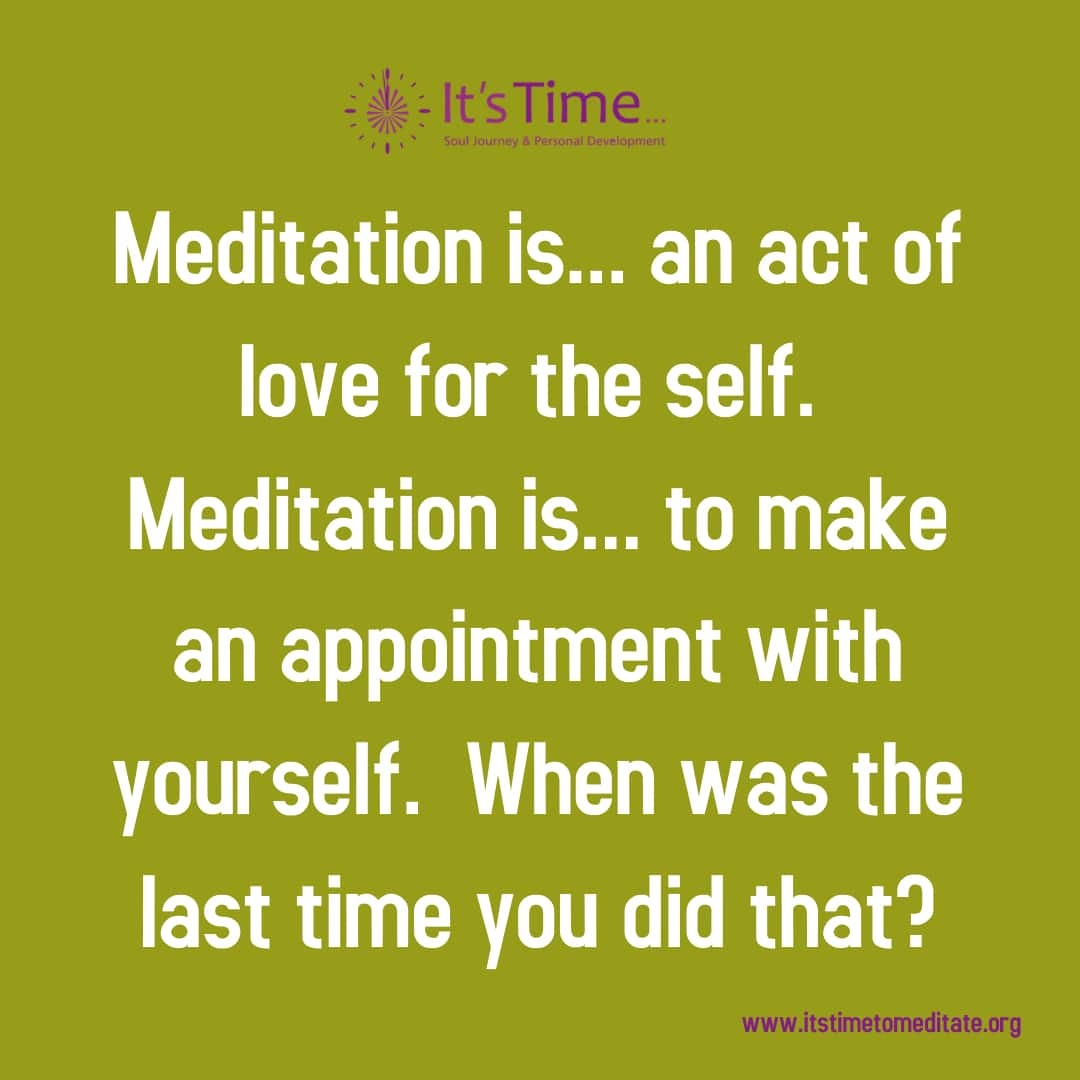 Meditation – An Act of Self Love
Meditation commentaries to help you on your soul journey:
Divine Protection Part One [12:47]
Divine Protection Part Two [30:29]
Visit Sr Aruna's blog-site here: https://www.itstimetomeditate.org/meditation-an-act-of-self-love/

Revisit: The Art of Self Management - A Webinar by Marcelo Bulk
31 January 2021
Replay of the session in English is availble here [1:19:32] https://youtu.be/pUsLwM09Uz8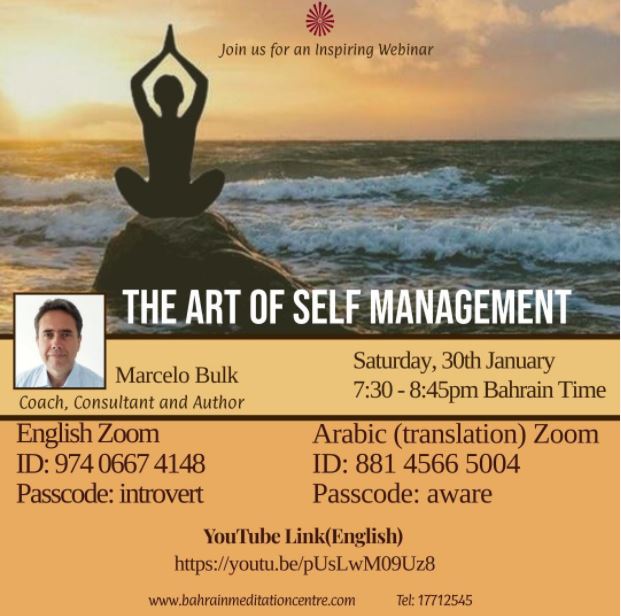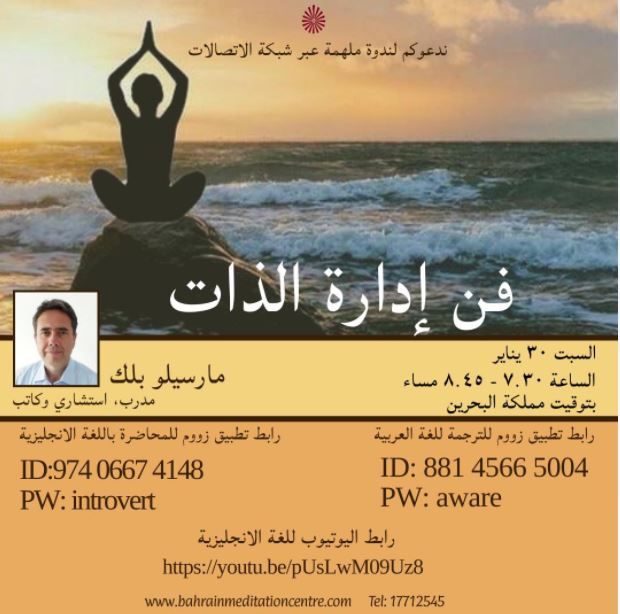 In case you missed it, here's the Replay: The Magic of New Beginnings - A Webinar by Prakash Chugani
23 January 2021
Click on the image below to play in English.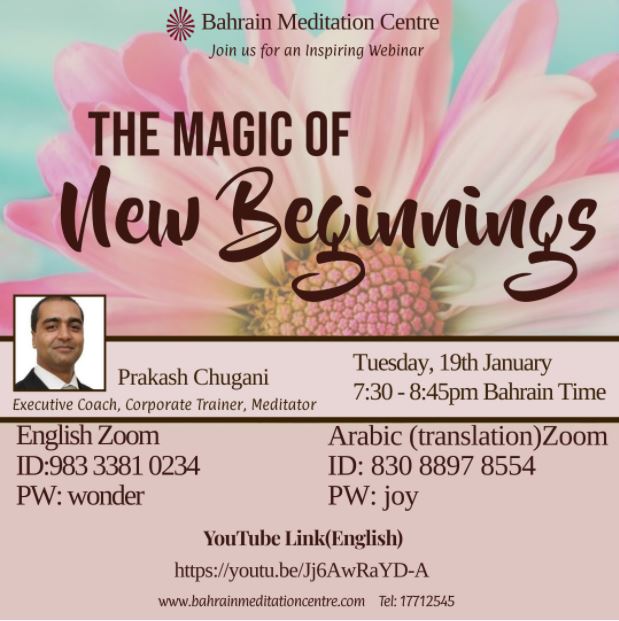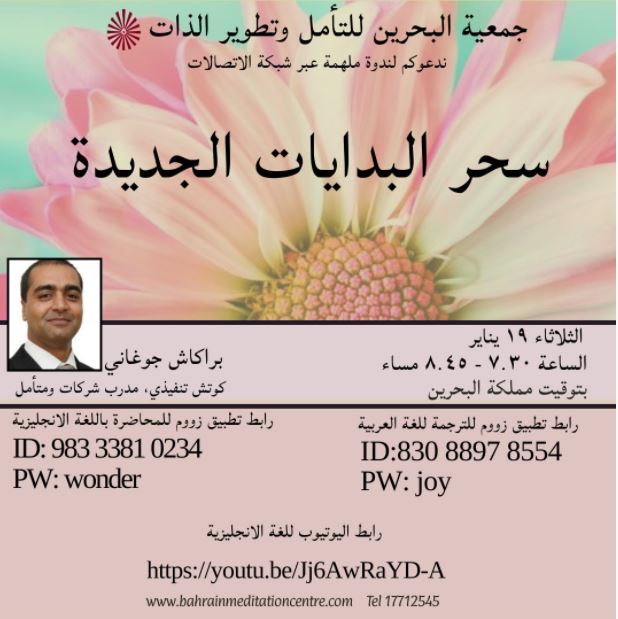 REPLAYS of online programs at the Bahrain Meditation Centre from December 21 to 3rd January
22 January 2021
03 January – Packing Up the Past, Creating the Future with Judy Rodgers (Arabic Translation) [1:14:25] https://youtu.be/LKVkS01H7dw
03 January – Tips for Self Care with Moira Lowe (Arabic translation) [1:15:32] https://youtu.be/Ejos9FbrO8Q
29 December – Topic: Packing up the Past, Creating Future with Judy Rodgers (English) [1:15:44] https://youtu.be/4SaMaFH0DLY
21 December – Tips for Self Care with Moira Lowe (English) [1:17:33] https://youtu.be/ChO3WPaWBlk

It's Time: A Truly Happy New Year
1 January 2021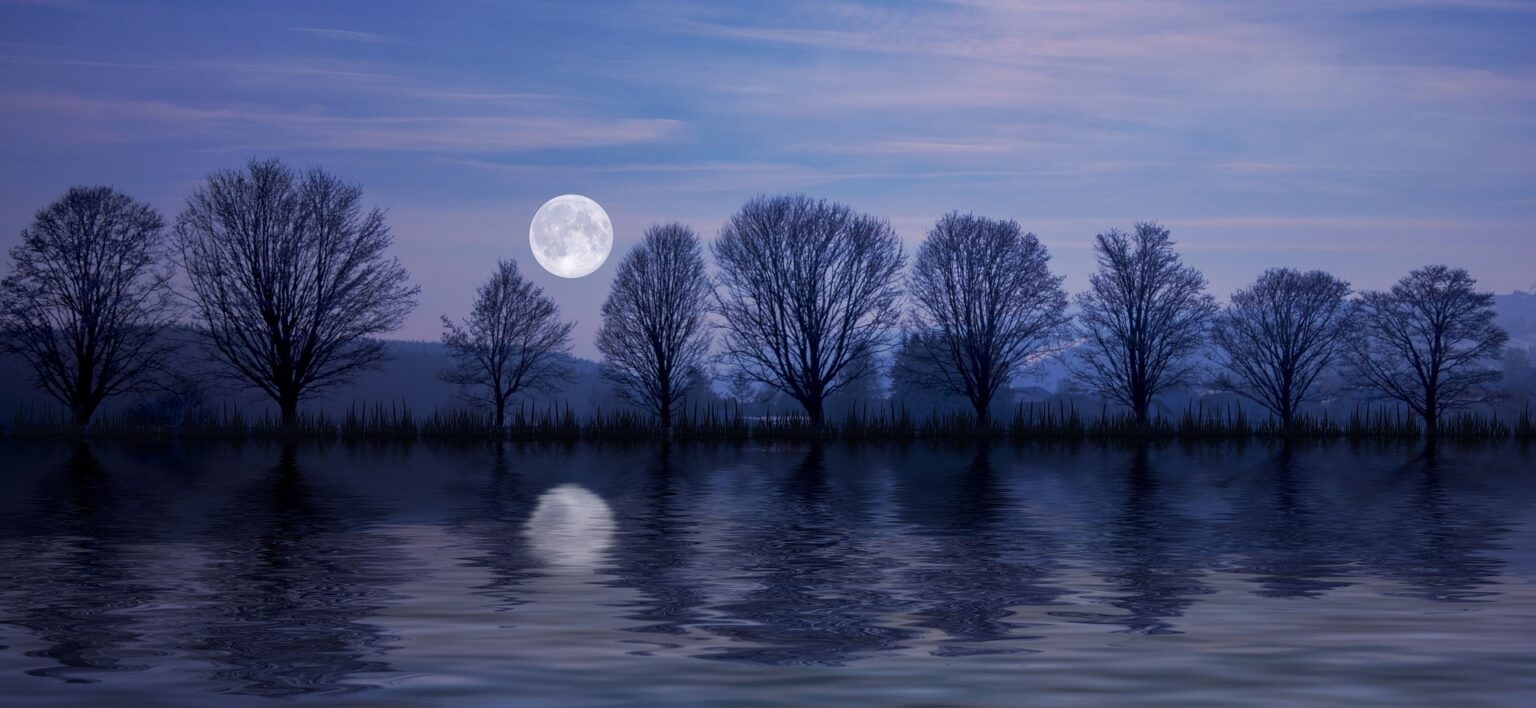 Hello Everyone,
Season's Greetings and all best wishes for the coming new year. It will be what we make of it… what will you make of it? Be proactive? Choose and decide before it decides for you.
The three words for me for the early part of the year will be to simplify, focus, and be grateful… how about you?
This year I have voiced some of my thoughts in a video… Enjoy
Visit Fb: Click here
Or for Download
Much Divine Love and Light to all,
Aruna and the It's Time Team