2020 October through December UN News Archive
2020 October through December UN News Archive
E-notice: The new BKUN instagram account
13 December 2020
Announcing BKUN Instagram
Dear National and Center Coordinators,
Greetings of peace.

The BKUN team is pleased to inform you of a new addition to social media - the instagram account. We invite you to follow us: @brahmakumaris.un

We also request if you can provide us with your facebook and instagram profile name.
Thank you.
with love,

The BKUN team

Shaping our Future Together : 75th Anniversary of the United Nations
13 December 2020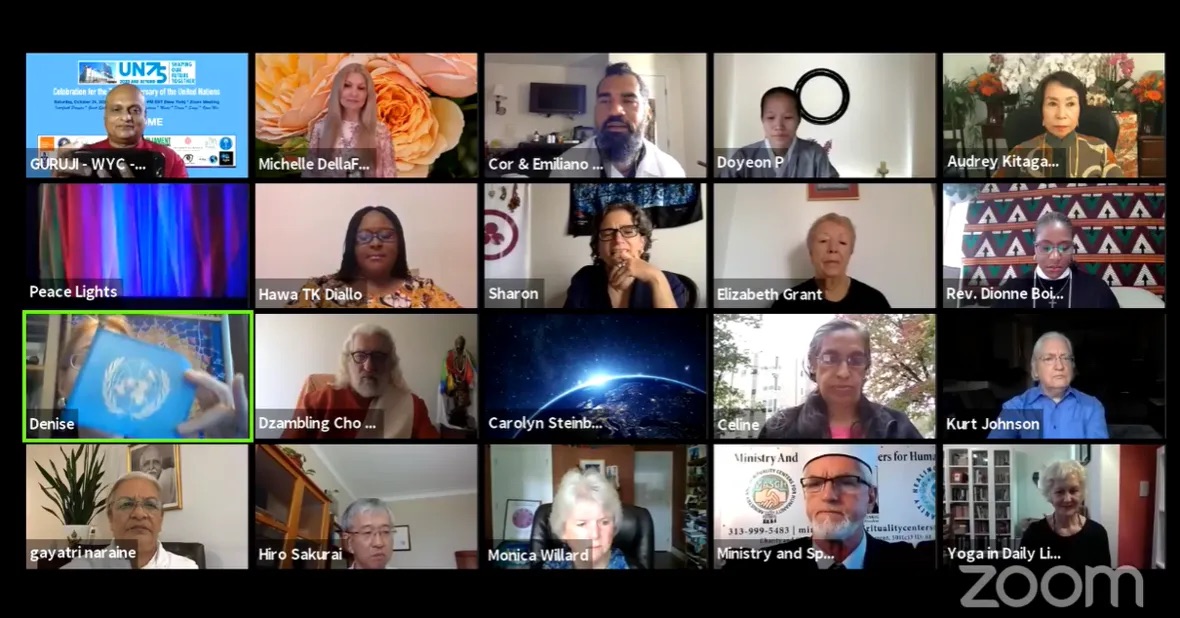 New York (USA): This year, the United Nations is celebrating 75 years since its formation. The Brahma Kumaris co-sponsored and participated in two main events organized by the UN Church Center and World Yoga Community. BK Gayatri Naraine, Representative of the Brahma Kumaris to the United Nations, did an opening invocation, and BK Sabita Geer, Representative of the Brahma Kumaris to the United Nations did a closing meditation. These events were attended by many UN officials and NGO friends.
For more details, watch facebook.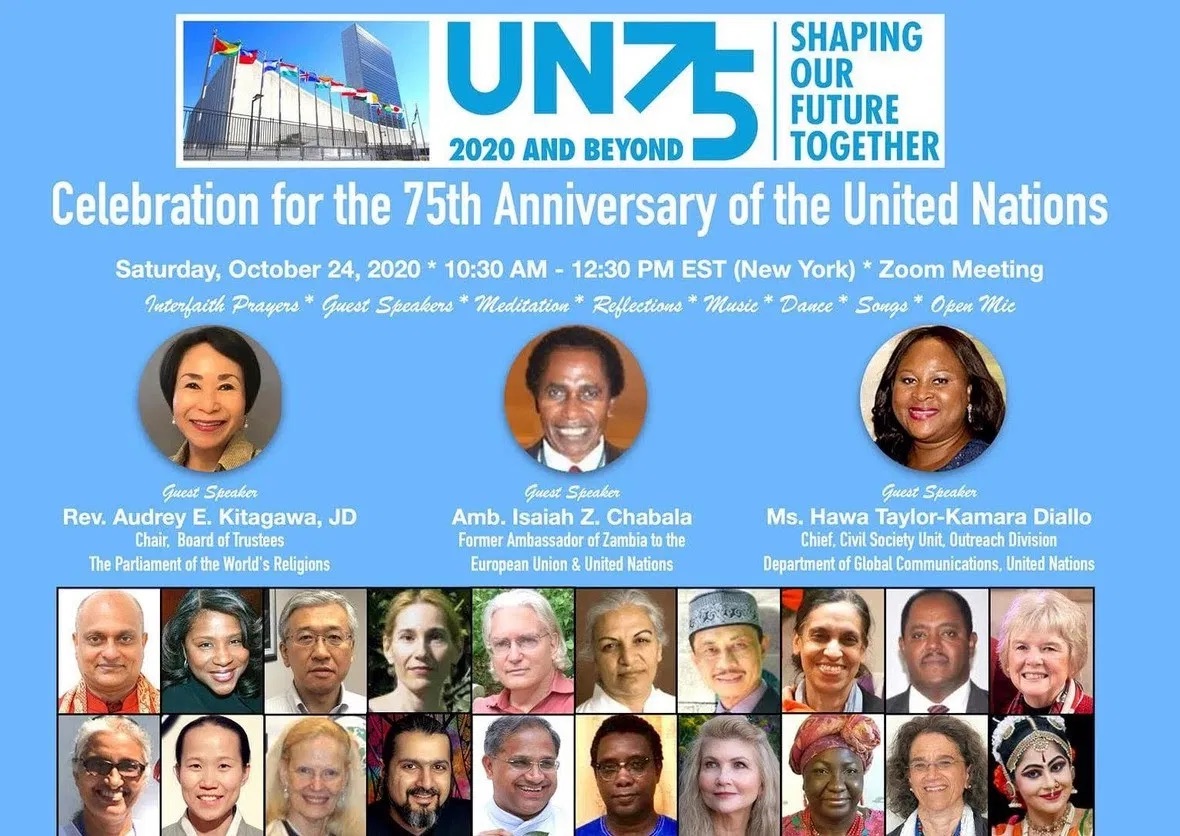 Brahma Kumaris at the United Nations Observe UN International Day for Tolerance
6 December 2020
New York (USA): In observance of the UN International Day for Tolerance, BK Sister Waddy, Area Co-ordinator of the Brahma Kumaris in Florida, joined Cannon Lloyd Casson, an Episcopal priest from Delaware, for a lively conversation about Tolerance. This was not a typical lecture, but rather a conversation among friends.
Lloyd and Waddy shared stories, their personal journeys and spiritual roots, insights, and deep truths. Both agreed that Tolerance was more than "putting up with" or "grinning and bearing it." Lloyd emphasized the element of compassion and Waddy spoke of having a higher vision. Several hundred people attended this program which also featured artistic expressions from around the globe as well as an opportunity for reflection accompanied by the music of Denzal Sinclaire from Canada.
The conversation was moderated by BK Kathy and there was an opportunity for participants to respond to what they heard.
BK Sister Gayatri, Representative of the Brahma Kumaris to the United Nations, noted that the program was called the "Torch of Tolerance" and suggested that we can use this consciousness of the Torch of Tolerance in a transformative way.

Dec. 3 Debut of "Compassionate Forgiveness": 5th in the series of 15-minute meditations in a virtual UN Meditation Room
4 December 2020
Dear Friends,
Join us tomorrow, Thursday, December 3, at 6:45pm EST, for the fifth in a series of 6 15-minute meditation in a virtual UN Meditation Room on a Karuna (compassion) Response to Corona (virus). The focus is on Forgiveness.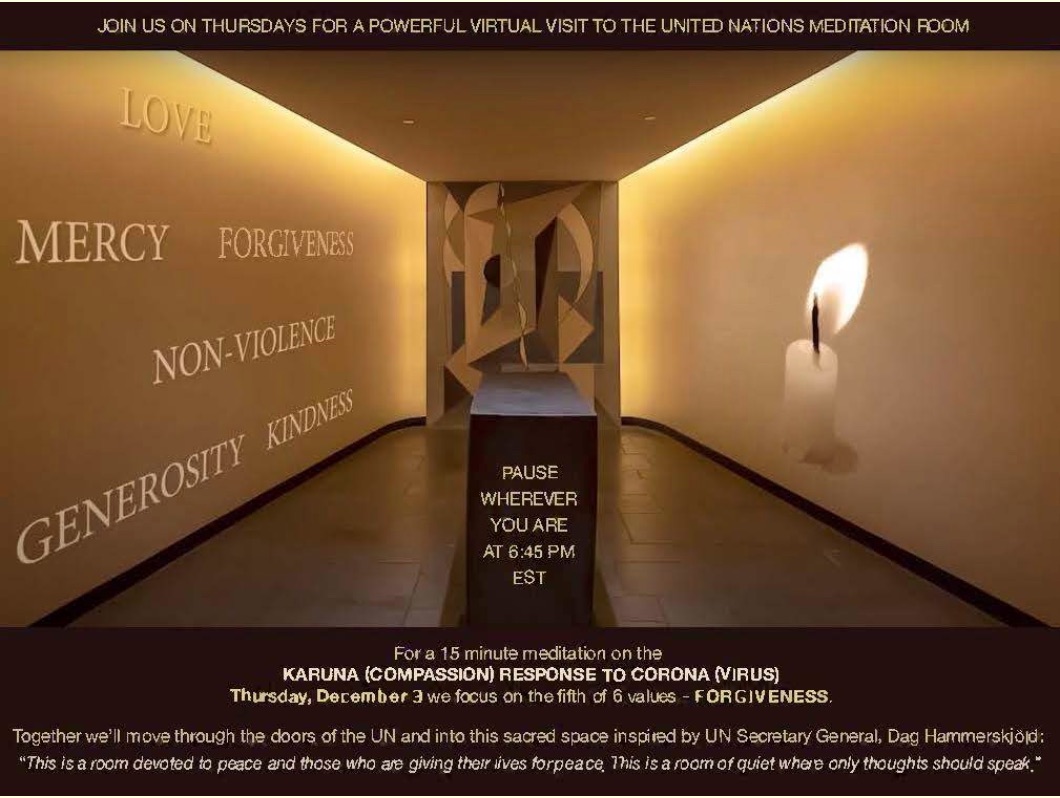 Click image to join
Please subscribe to the channel to receive notifications of upcoming meditations.
For more information on the Brahma Kumaris at the United Nations, please visit the website
To subscribe to receive these announcements, please click here

October 2020 UN Newsletter
27 November 2020
Dear Friends,
Seasons are changing and we still find ourselves continuing to host and participate in online events, as the UNHQ, NY remains closed to NGOs and visitors. This has allowed for greater learning in the field of technology, and more collaboration among NGOs and the wider BK networks.

We invite you to read reports of events for the International Day of Peace, International Day of Nonviolence, UN Day events, Pledge2Pause campaign, and more.

Peace in the Park: Breathe Peace
The annual Peace in the Park was a virtual event held in honor of the International Days of Peace and Nonviolence on Friday, October 2. The aim of the event was to offer support during the global pandemic and the ongoing social injustices that have suddenly been brought to the limelight. Read more.

In case you missed it, you are welcome to watch on YouTube or Facebook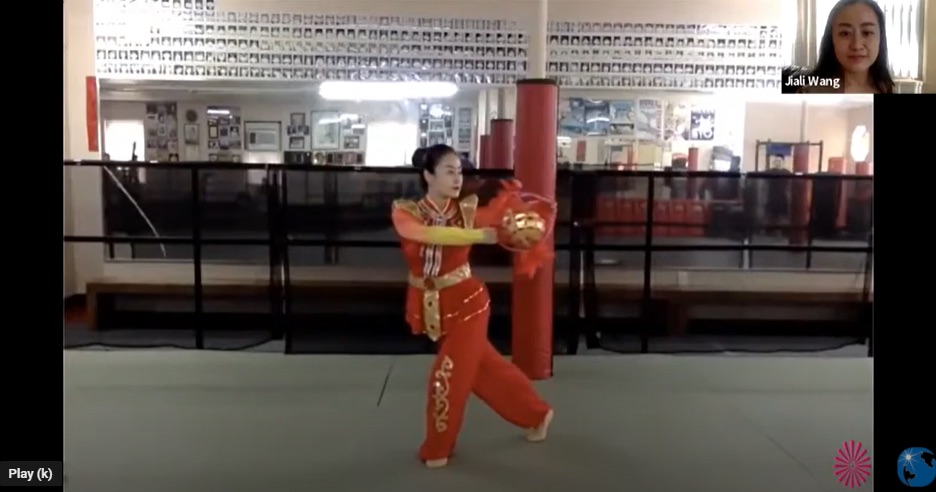 Jiali Wang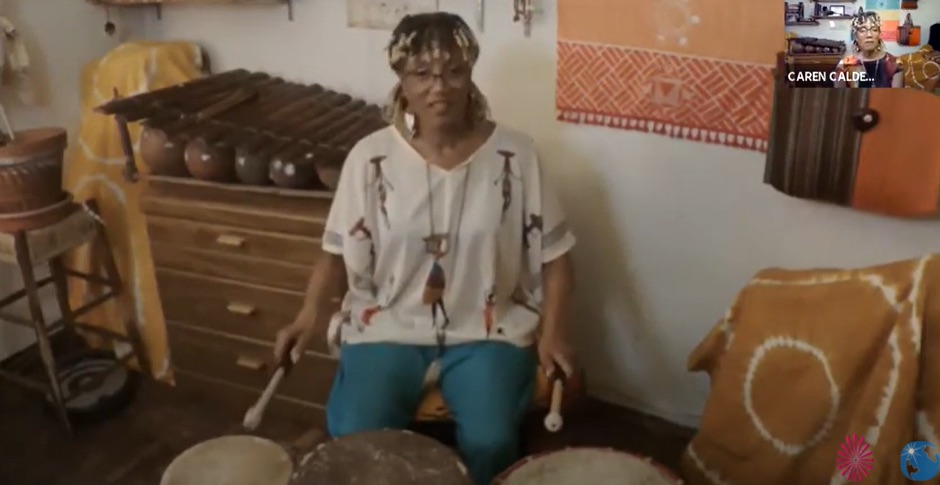 Caren Calder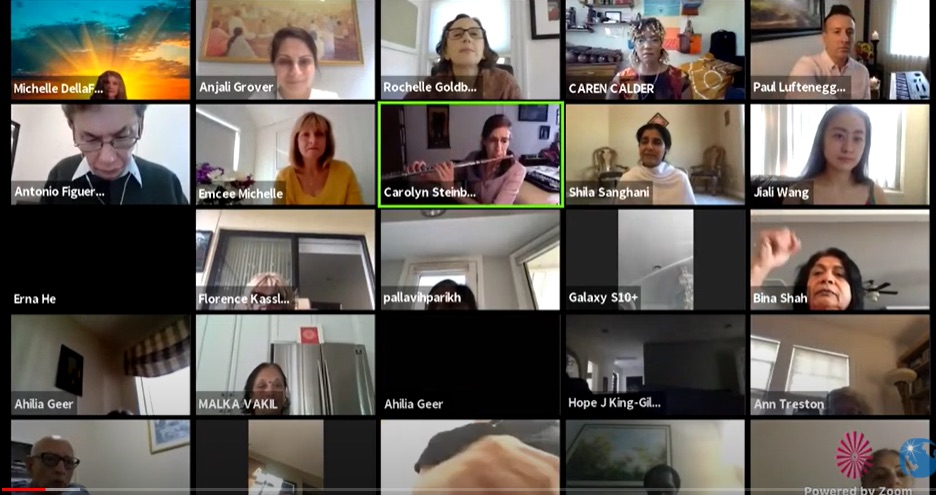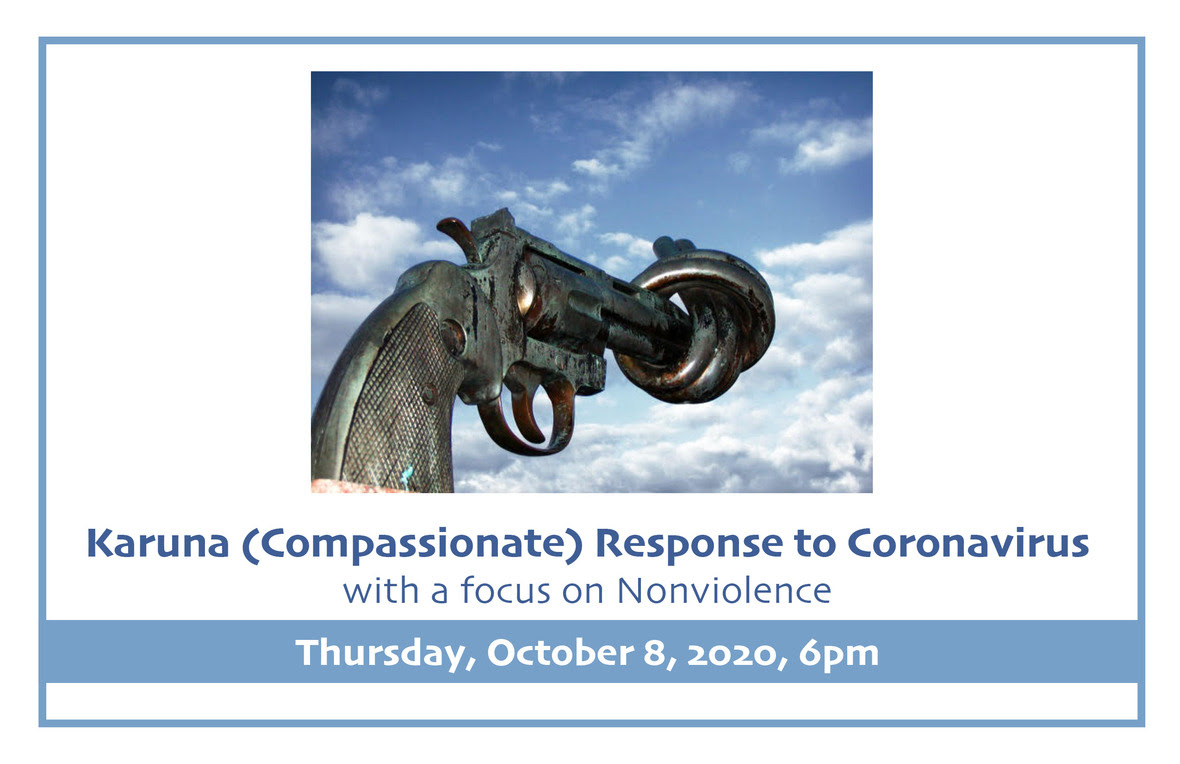 Compassionate Nonviolence: A Karuna Response to Coronavirus
Thursday, October 8
To nurture and empower people during these challenging times, the series of Karuna Response to Coronavirus meditations is continuing. The fourth on Compassionate Nonviolence, was launched in honor of the International Day of Nonviolence. Denise Scotto, ESQ. and BK Gayatri Naraine shed light on nonviolence and the compassionate response to coronavirus.
Read more.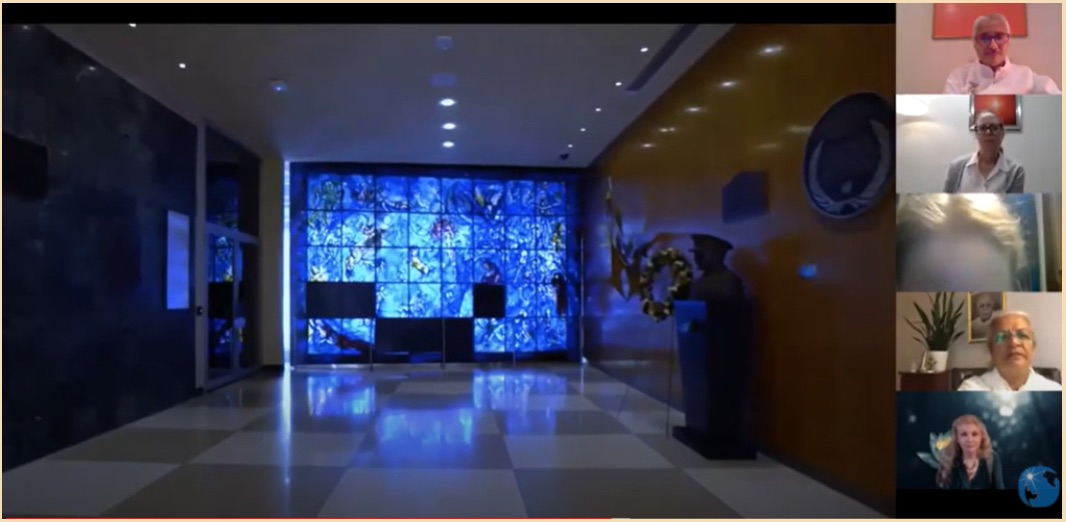 UN Meditation Room entrance, the Chagall window, UNHQ. click to watch video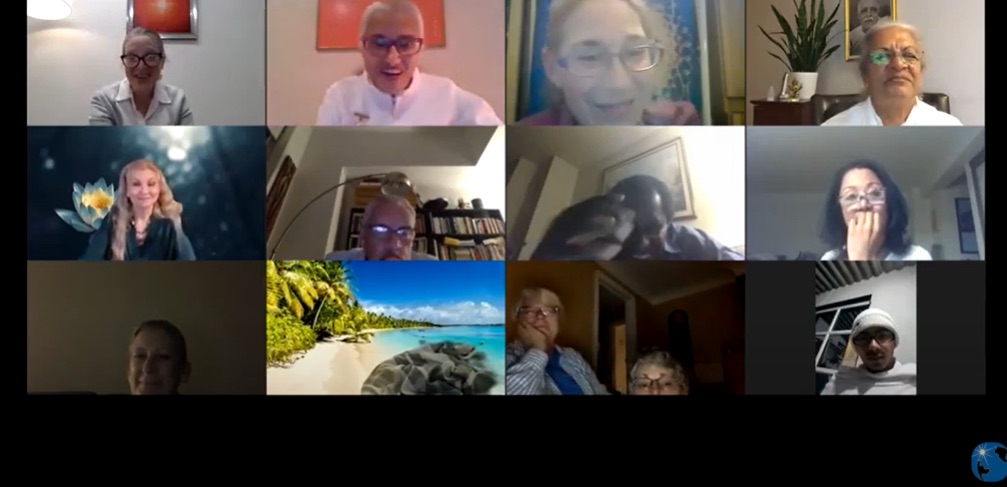 Section of the audience.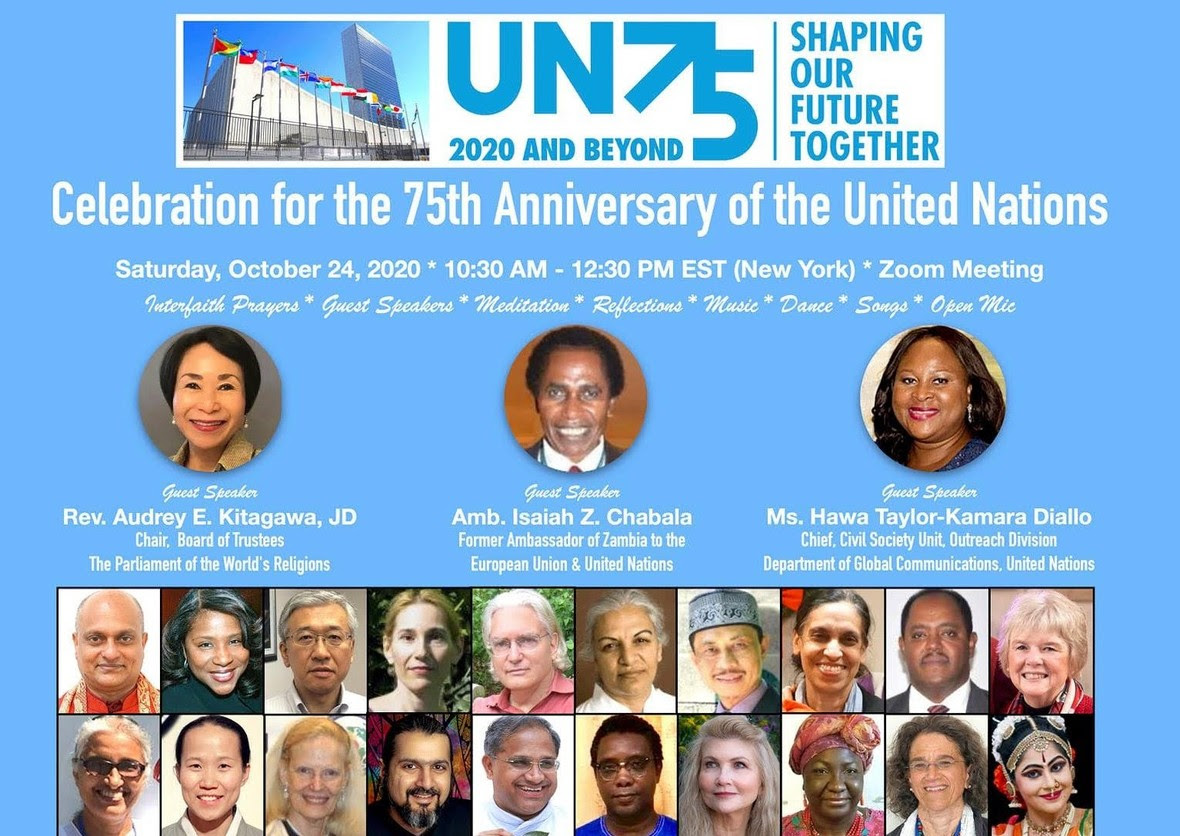 UN Day @75
Shaping our future together
October 24
This year, the United Nations is celebrating 75 years since its formation. The Brahma Kumaris co-sponsored and participated in two main events organized by the UN Church Center and World Yoga Community. BK Gayatri Naraine did an opening invocation and BK Sabita Geer did a closing meditation. These events were attended by many UN officials and NGO friends.

For more details, watch facebook.
Rev. Dionne, Tillman Chapel, UN Church Center.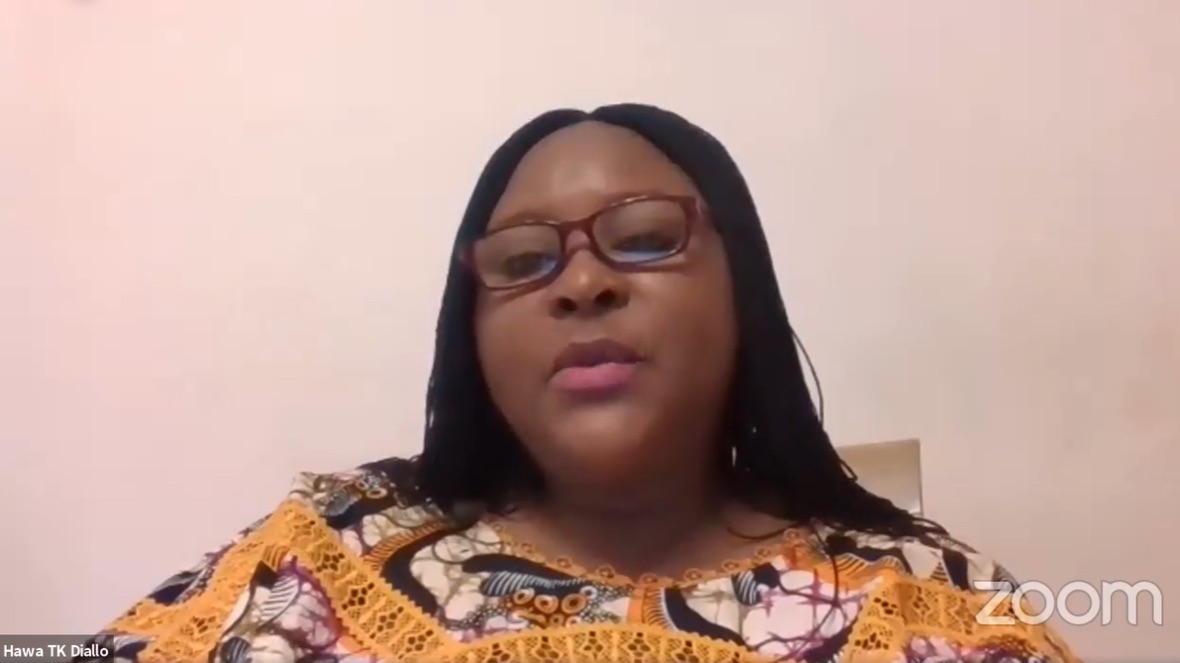 Hawa Diallo, UN Department of Global Communications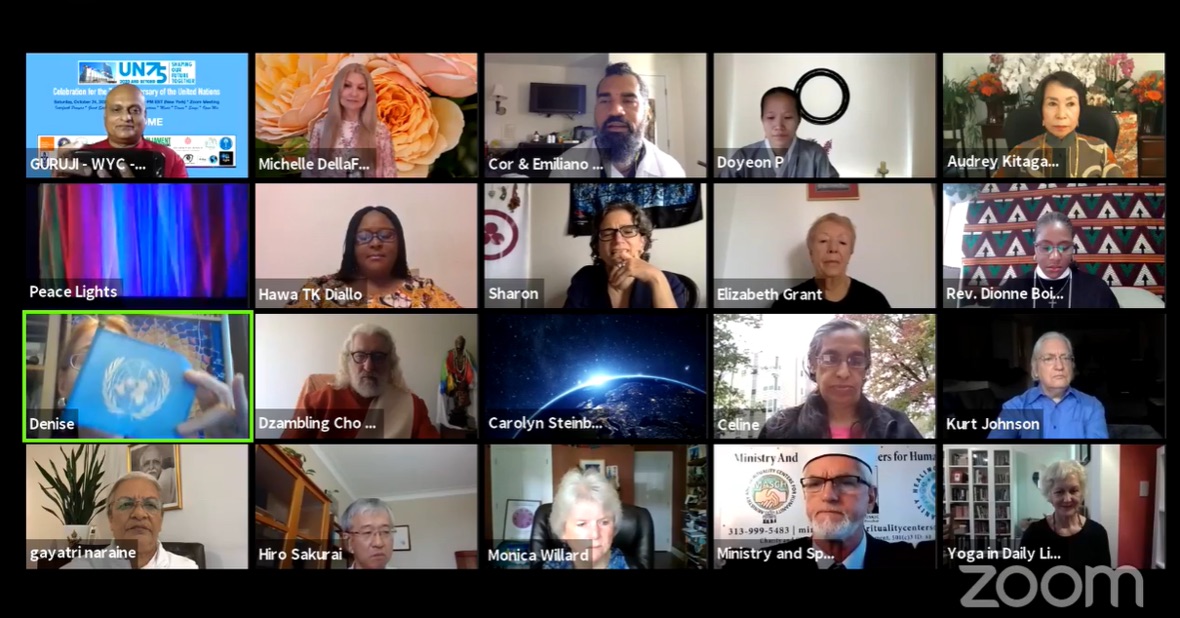 Section of Audience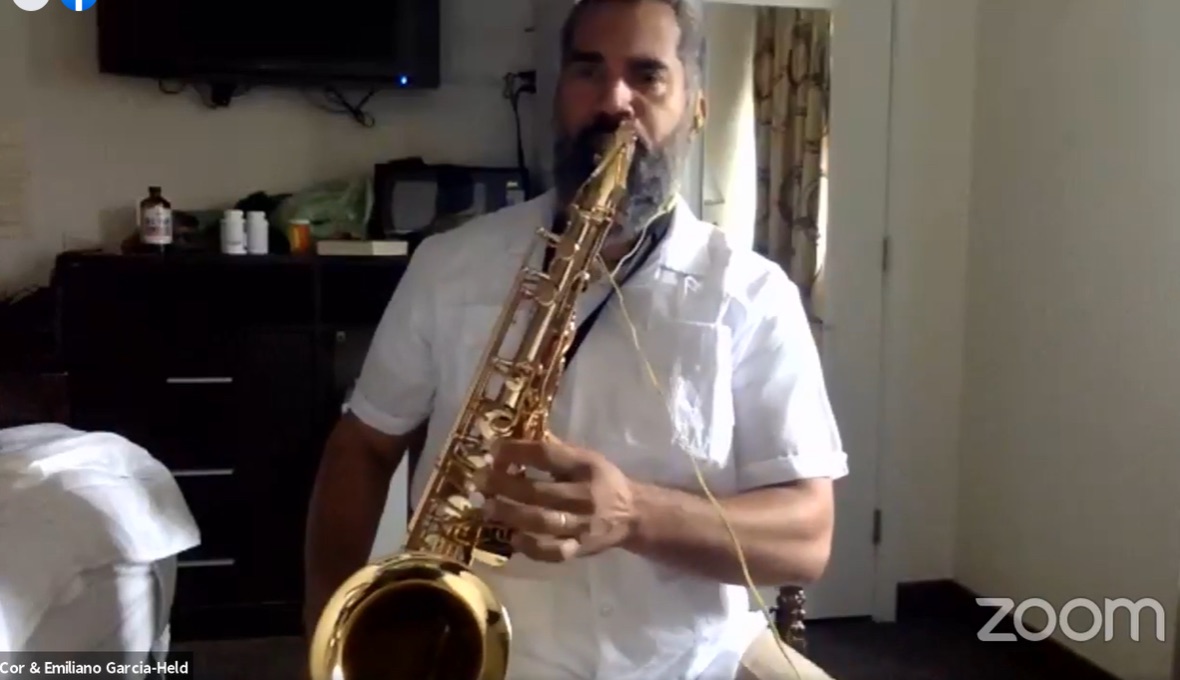 Creative expression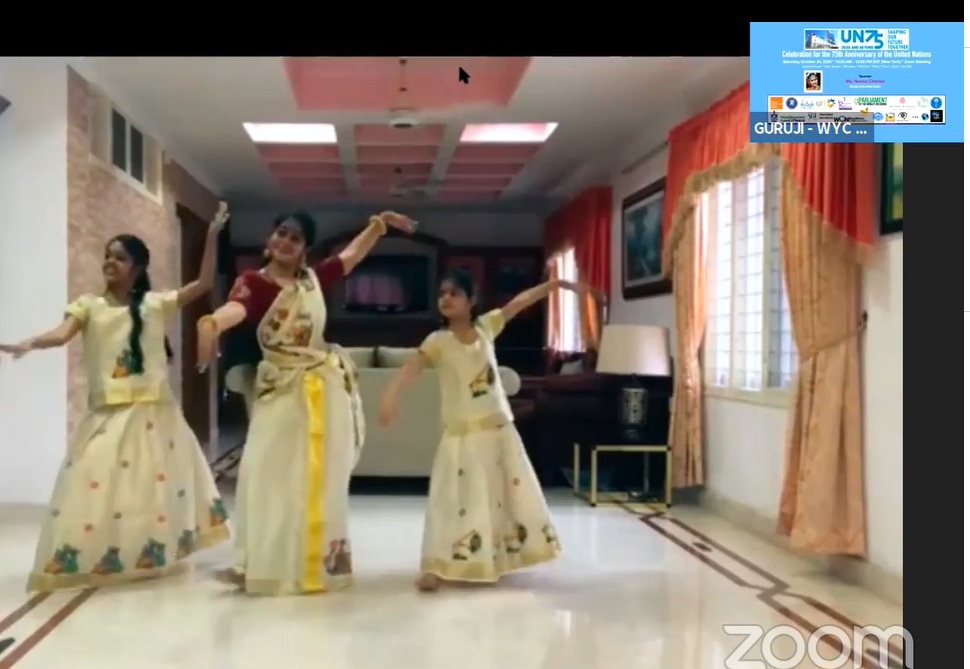 Creative expression
Youth Participation
Pledge 2 Pause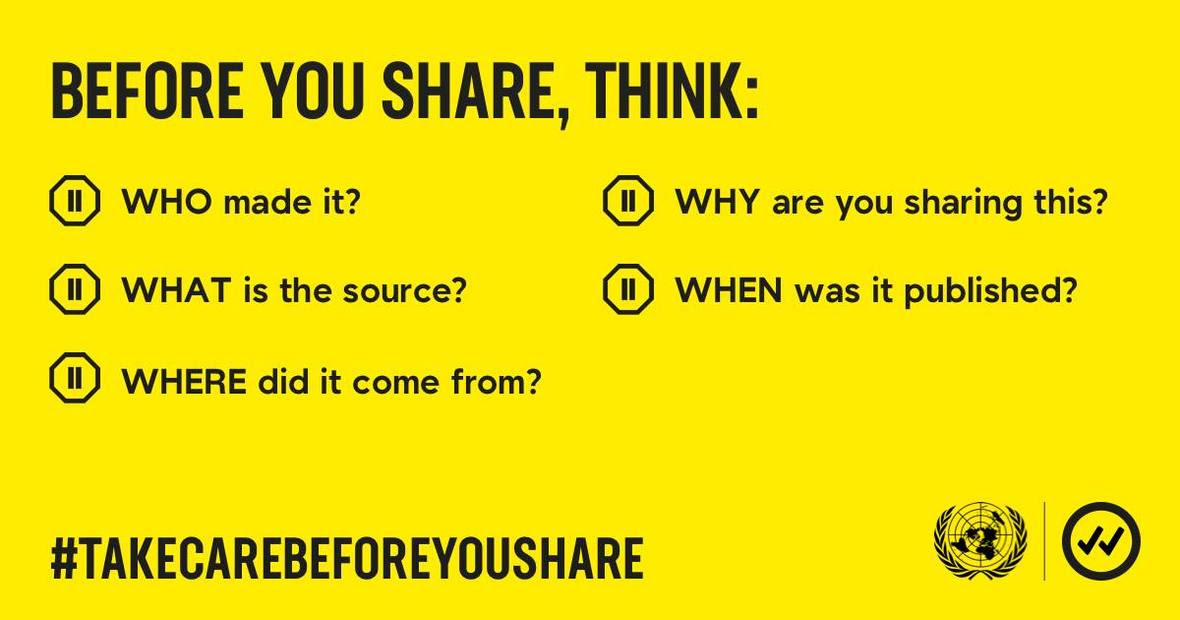 As a result of the large amount of misinformation being circulated regarding COVID-19 and other global issues, the UN Secretary General launched a campaign called, Pledge2Pause. Youth wing, Brahma Kumaris, Delhi, has adopted this campaign and hosted a number of events to raise awareness in people worldwide. One such event was an interview with BK Gayatri Naraine and BK Julia Grindon-Welch. Watch on: brahmakumaris.un.

Cinninaminson, NJ has joined the campaign and hosted an event to raise awareness. We encourage you to do the same. It is so important that we first Pledge 2 Pause, center ourselves and then hit click!!

Watch video.
Please share with us what you've planned as we would love to hear your stories.
Ongoing at BKUN
A dedication to the UN International Days
To mark various international days of the United Nations, the Brahma Kumaris have created videos of spiritual messages presented by colleagues qualified in their respective fields. Videos by BK Jayanti Kirpalani on the UN Day and Dr. Heidi Spitz on Mental Health, and more, are available for you to watch on the BK UN YouTube channel.
Weekly Meditation
The BKUN Office in New York is still opened three days a week as of now, with limited visitors. The weekly Thursday evening meditation continues virtually with a small group of UN contacts and friends.
Karuna Response to Coronavirus meditation
This series continues to empower friends and contacts. The next on Compassionate Forgiveness will be launched next week. A notice will be sent out with details.
You may watch all videos on BK UN Youtube channel
UN International Observances Celebrated by the Brahma Kumaris
International Days
Kindly make a special note of these dates so that events can be organized to celebrate or honor them. As usual, we appreciate a brief report and photos for the facebook page and the blog.

You are welcome to browse this website for updates on themes and other information and international days you may wish to observe.
August 19 World Humanitarian Day
September 21 International Day of Peace
October 1 International Day of Older Persons
October 2 International Day of Non-violence
October 10 World Mental Health Day
November 15 World Day of Remembrance for Road Traffic Victims
November 16 International Day of Tolerance
December 3 International Day of Persons with Disabilities
December 10 Human Rights Day
International Weeks:
February 1 - 7 World Interfaith Harmony Week

2nd episode: Breathe Peace: Are you still breathing? Dec. 4 @ 5pm- hosted by BKs at the UN
27 November 2020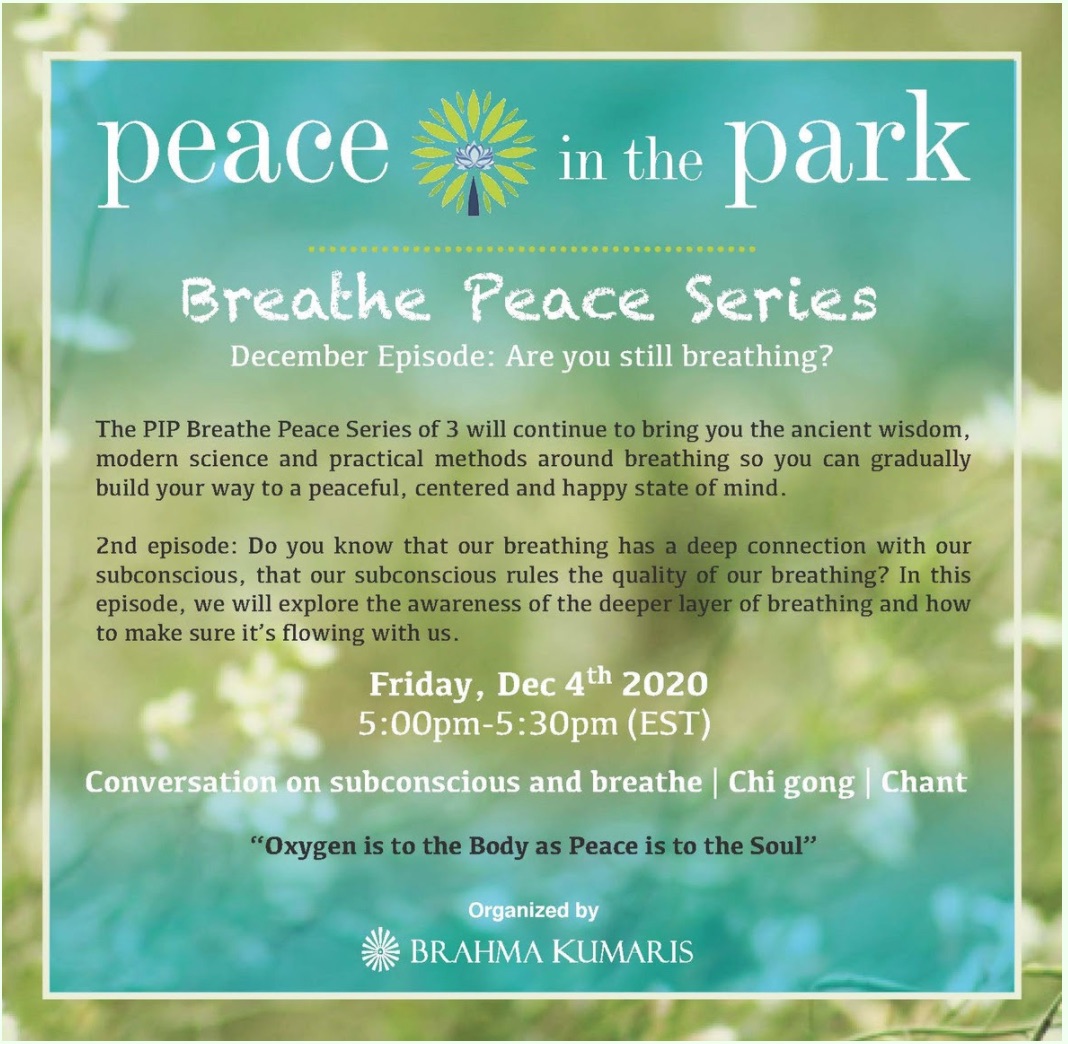 Click flier to register
Dear Friends,

Greetings of peace. We sincerely hope this notice finds you well.
With great pleasure, we invite you to the 2nd episode in the series of 3 follow up events: Are you still breathing?

Friday, December 4 @ 5:00 - 5:30pm.
"do you know that our breathing has a deep connection with our subconscious, that our subconscious rules the quality of our breathing? In this episode, we will explore the awareness of the deeper layer of breathing and how to make sure it's flowing with us."
conversation on subconscious and breathe | chi gong | Om chant
"Oxygen is to the Body as Peace is to the Soul"
Event will also be live streamed on facebook and YouTube
Looking forward to being together again.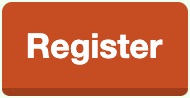 Brahma Kumaris Give Message of Peace on United Nations Day: REPLAY
27 October 2020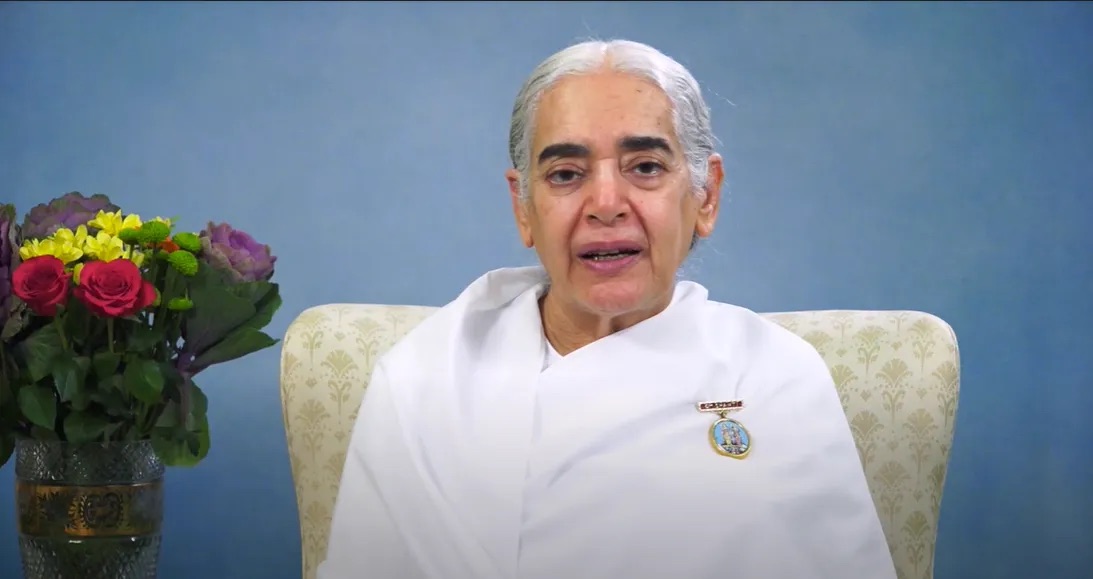 New York (USA): BK Jayanti Kriplani, European Director of the Brahma Kumaris and NGO Representative to the United Nations shared a message on the occasion of the 75th Anniversary of the United Nations. October 24th has been celebrated as UN Day since 1948. Brahma Kumaris is an internationally recognized NGO by the United Nations.
BK Sister Jayanti congratulated the UNO for maintaining a state of balance and togetherness in the world, which has given us a relatively peaceful world by and large. She addressed the twin questions of what kind of world and UN do we need? She envisioned a world where people's voices are heard, where there is equality, the planet is green and healthy, where people are at peace within themselves and there is peace in the world outside. The UN is one such incredible body through which this can be achieved. She highlighted the words in the Preamble of the UN and UNESCO, which state that the dignity of individuals is of paramount importance. It states that wars begin in the minds of men and chances of peace lie in there too. She said that this foundation is a deeply spiritual one. The intention of the UN -- to make peace, human dignity, and individual flourishing possible everywhere -- is very spiritual.
BK Jayanti further said that despite technological and material progress, we have not been able to attain the Sustainable Development Goals or the SDGs. It is time to bring Spiritual Principles to the forefront of life and in key governmental policies and decisions. The vision of a better world is possible. The change that happens within can definitely be realized outside too.
To watch the video [7:14]: https://youtu.be/54YWZI-gHMc

PledgetoPause: a civil society campaign to change behavior
9 October 2020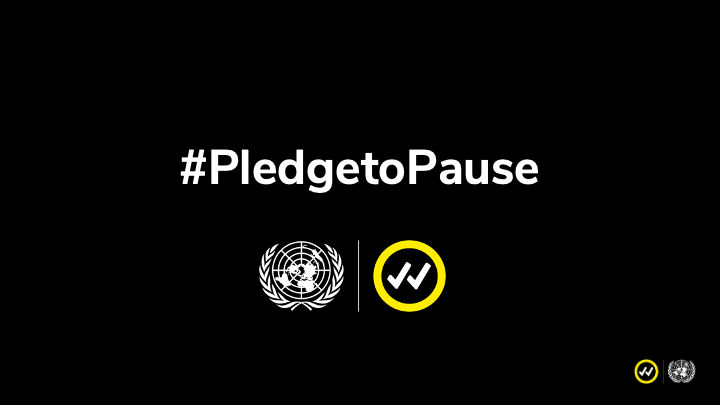 Dear National and Center Coordinators,
Kindly see below information about a campaign initiated by the Civil Society Unit of the UN Department Of Global Communications. We recommend that you participate in it as much as possible. We encourage you to share it with your contacts and students to arouse interest in organizing an event to promote the campaign, as we know that behavioral change can only happen if it starts from within.
_________________________________
Dear Civil Society Colleagues,
As you may recall, and as part of the Verified Initiative, we had a major drive to encourage people to pause before they share misinformation / disinformation in June around the hash tag #TakeCareBeforeYouShare*. We are working closely with Purpose on a second phase of the campaign that aims to change people's behaviour in sharing information. The new campaign is called "Pledge to Pause".
What Is Pledge To Pause?
The world can only contain the coronavirus and its impacts if every person has access to accurate, reliable information. Pledge to Pause is a behaviour change initiative designed to tackle misinformation and create a new social norm for the way people share information online.
What Is Misinformation And Why Do We Need This Campaign?
Now, more than ever we need to think carefully about news and information that we share online. Where has it come from? Is it fact-checked? We've all shared things that turn out not to be true but with the COVID-19 pandemic, misinformation can be deadly.
Like the virus itself, misinformation - fake news, false or inaccurate information - spreads from person-to-person, heightening the risk to health and spreading fear and division. It hijacks our emotions, taps into our weaknesses, tricks us into contributing to a chain of events that can harm us all. Its pervasive nature means we've all seen it and shared it, and now we must all try to break the chain by making a commitment to pause and take care before we share.
What Can You Do To Get Involved?
Globally, through United Nation's networks and our collaborators, we're encouraging civil society and activists, businesses and policy makers, thought leaders, celebrities and influential voices to participate in the campaign. Very simply, on 21st October 2020 we are asking the world to 'Pledge to Pause' before sharing information online, and we'd love you to join us.
Please see our Brief Deck for ideas for sharing your #PledgeToPause.
Thank you for your continuous involvement.
Kind regards,
Civil Society Unit