2020 31st Jly through 31st August Madhuban News Archive
2020 31st Jly through 31st August Madhuban News Archive
Upcoming Art & Culture Wing Online E-Conference-on 1st & 2nd Aug.(Hindi)
31 July 2020
Dear Divine Family, Om Shanti
Please accept Divine Greetings of Peace.

We are very happy to share about our upcoming Art & Culture Wing Online E-Conference.
Join us for a 2-day Online Event on "Role of Artist in present challenges" on 1st & 2nd Aug.

Sessions will be telecast on Awakening Channel.
1st Aug. 10:00 am Session-1
06:30 pm Session-2

2nd Aug. 10:00 am Session-1
06:30 pm Session-2

Please circulate in your areas, centre, and to your contacts so all can take the benefit of this E-conference.
Thanks for your kind cooperation and help to glorify Baba.

You can watch E-Conference on Awakening Satellite TV Channel
(Session on telecast on Awakening Channel. Tata Sky: 1084 / Jio TV: 1060 / GTPL: 578 / inDigital: 996 / NXTDigital: 984)
and you can also watch it Online on the following link: https://tiny.cc/artnculture2020
On God Fatherly Service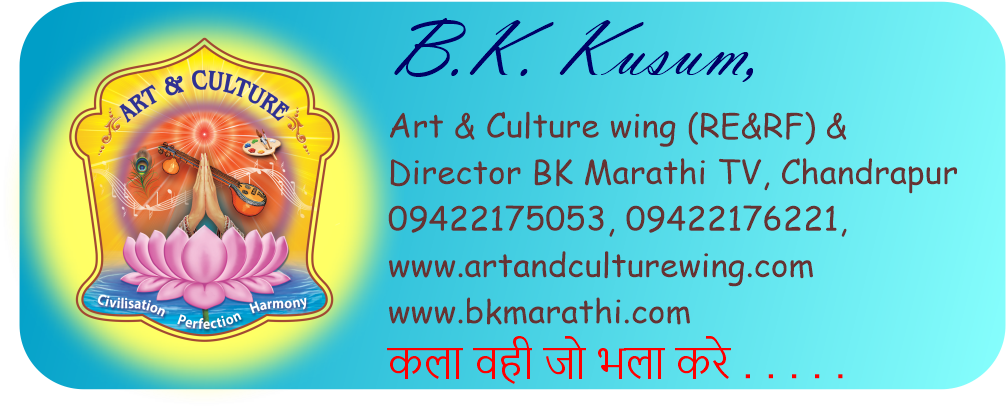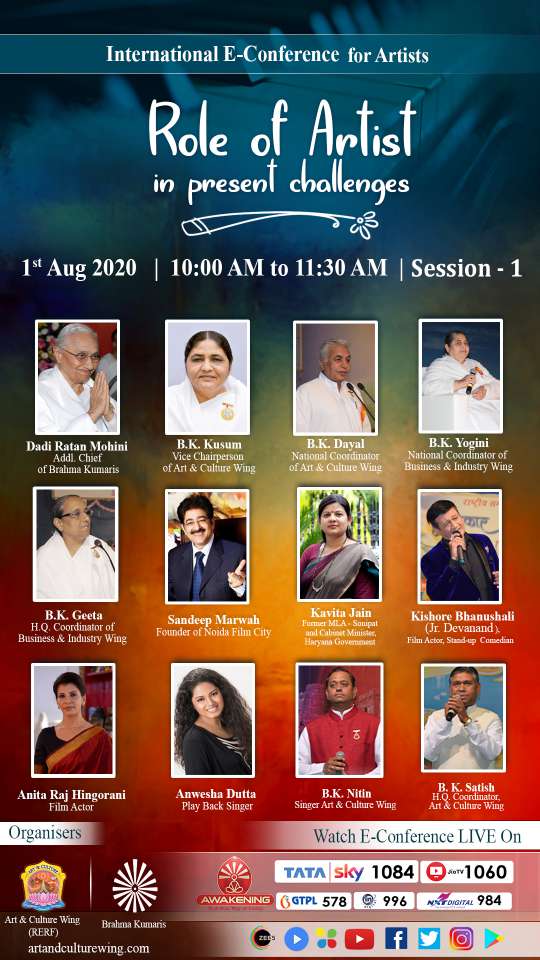 Cick here to full version.

Hindi Rakhi Songs 2020
31 July 2020
Please download by clicking on the titles:
Pavitrata ke Dhage...Rakhi.mp3
Ye Bhai Behn ka Rishta...mp3
Pawan Pawan...mp3
Savan ka Mahina...Rakhi Song.mp3

Wishing You a Happy Raksha Bandhan: The Eternal Bond of Love, Peace and Protection
31 July 2020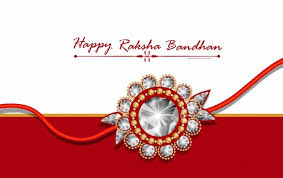 RAKSHA BANDHAN - The Eternal Bond of love, peace, and protection
The Festival of Raksha Bandhan, the most sacred festival in the history of humanity, speaks of an unlimited spiritual, loving relationship that nurtures, protects, and uplifts humanity. Although the present era has modernized and limited this festival to relationships within the nuclear family, its simple and significant meaning, previously incognito, is now revealed as the eternal memorial of us united together in the love of One.
Having forgotten our true eternal identity of being an infinitesimal point of divine energy, soul, atma, a being of light, we became entangled in the bondage of physical matter, 'body consciousness'. The web of the vices (lust, anger, greed, attachment, and ego) overpowered and influenced us to perform negative actions, which in turn caused sorrow.
Now with Godly knowledge of 'soul consciousness', the soul awakens and remembers how to regain its lost sovereignty. When I am tied with the sacred thread, the rakhi, I take the pledge to stay in my original nature of peace, love, purity, wisdom, mercy. My every thought, word and action becomes elevated and divine. I see every other being as a child of God and part of my spiritual family. This unlimited vision of universal brotherhood breaks all barriers of caste, creed, age, gender, religion, socio-economic status, sanskars (personality traits).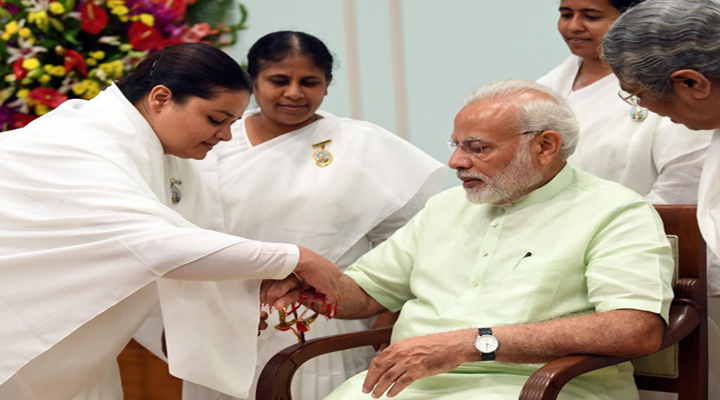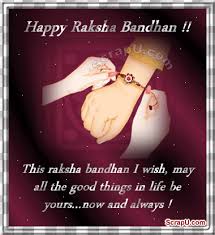 The more I purify my consciousness, the stronger is my connection with the Supreme who is then bound to look after me. My positive actions ensure that I receive His blessings and good wishes from all souls, my brothers, my global family, and these work as my protection and stay with me forever.
All branches of the BRAHMA KUMARIS organization world-wide, conduct programs.
The official day of Rakhi this year is August 4
World Spiritual University BKWSU.org

Raksha Bandhan Greetings from Bro. BK Mruthyunjaya, Madhuban
31 July 2020
Dear Divine Family, Greetings of Peace and Love on this auspicious occasion of Rakhi.
Let us have a determined thought to return to the original peaceful nature of the soul by connecting with the Supreme Father and have the experience of God's protection & love.
Thanking you and with thoughts divine.
Dr. BK Mruthyunjaya
Chairman, Education Wing
Brahma Kumaris, HQ, Mount Abu, India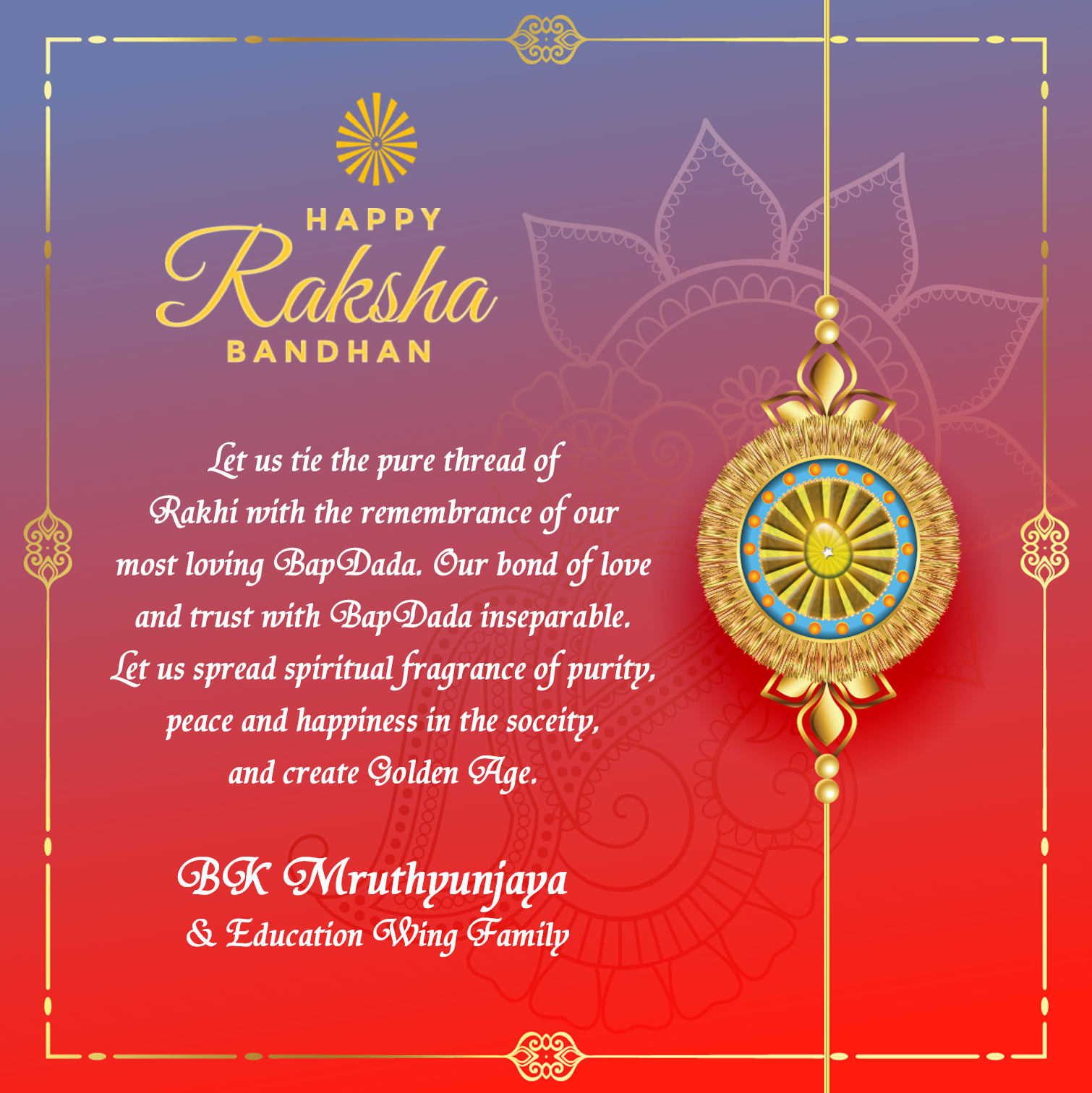 Greetings for Raksha Bandhan from BK Nirwair, Madhuban
31 July 2020
My dear divine sisters and brothers, Brahma Kumaris and Brahma Kumars from all the Centres around the world,
Please accept hearty Godly love and remembrances, along with very special greetings for the most sacred festival in the history of humanity: Raksha Bandhan.
Perhaps this is the most difficult time for the entire human race due to the onslaught of the unseen opponent, who has achieved notoriety as COVID-19.
Our routine for early morning Spiritual Empowerment Practices, clean lifestyle, and pure diet are helping protect us along with the light and might of our Supreme Parents. Most of our sisters and brothers around the globe have been very obedient in following the rules of the local Governments in each country. This has further helped us in safeguarding our precious lives, and that of our near and dear ones.
The storm is still raging having affected the economy of many countries and instilled fear and loneliness everywhere. The efforts of the Governments and Healthcare Systems have been noteworthy. We hope that a proper vaccine for this global pandemic is developed very soon. May the spirit of Raksha Bandhan shower blessings from the Highest on High for protection of all humanity!!
With multi-million fold greetings for a very, very sweet and loving experience at Raksha Bandhan,
On Behalf of our Respected Dadis and Madhuban Family,
With BapDada's love,
BK Nirwair
Madhuban