2020-2021 DF Madhuban Season Archive
2020-2021 DF Madhuban Season Archive
Madhuban Double Foreign Program

2020 - 2021 Season
Global Silence Retreat




The Sanctuary Within:




In the SILENCE of the ONE
Replays of the Sessions are available here: https://tinyurl.com/silence-of-one
*******************
APRIL DF MADHUBAN RETREAT
Note Dates & Details:
Saturday 17 & Sunday 18 April!

Dear Divine Family, Warmest greetings of love.
We warmly welcome you to join the final online DF Madhuban Program of the season on the 17 and 18 April. This "Silence of the Home" Retreat will be based in our dear home of Pandav Bhawan, Madhuban.
The registration link is: https://brahmakumaris.org/r/silence-home
Registrations close on Saturday 10th April.
Please note:
Retreat Morning Murli on 17th & 18th April
As the retreat will take place in your local time zones we have included both Amrit Vela and the Murli of the day within the retreat. We would like to share with you that our seniors Didi Sudesh and Didi Nirmala will read the morning Murlis of the 17th and 18th of April to us from the beautiful gardens outside Baba's Hut in Pandav Bhavan and Dadi's Cottage in Gyan Sarovar.

The Retreat is designed as a 'Madhuban Day' and includes morning sessions and also evening sessions with the full schedule being sent shortly to all those who register. There is also a journal with reflective exercises which will be guided by a local MC. (This journal along with other materials have already been sent to the language coordinators for translation.)

We will use a Retreat Portal which will contain all the zoom links, the English journal along with translated versions, etc.
The link for this portal will be sent out early next week to all those who register.
If you have any questions please email dfseason@brahmakumaris.org
Much love,
In Baba's yaad,
Double Foreigner Madhuban Program Team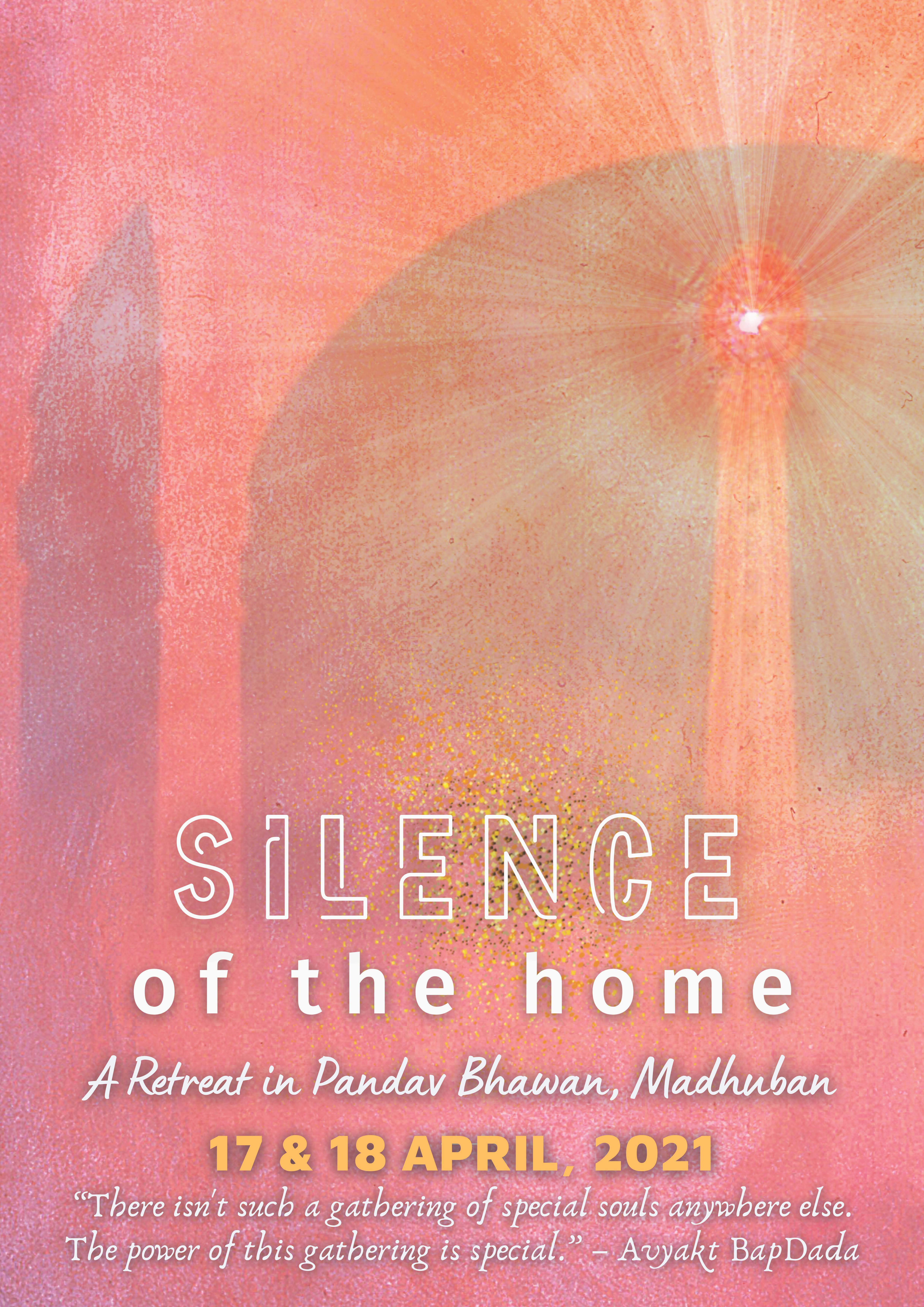 *******************
Dadi Janki 1st Anniversary
27th March 2021
Replay Links
Dadi Janki Memorial (English Link): http://tiny.cc/DadiJankiMemorial
Dadi Janki Shakti Stambh (Hindi Link): http://tiny.cc/DadiJankiShaktiStambh
Dear Divine Family,

Loving greetings. It is one year since Dadi Janki reached her angelic stage. Since then, many of us have felt Dadi's presence working in our lives. In marking Dadi Janki's first anniversary, we wish to celebrate Dadi's presence as a real experience, here and now.
On this day there will be the inauguration of Shakti Stambh (Tower of Power) and also the launch of the commemorative stamp for Dadi, issued by the Government of India. We wish to celebrate her life for the Brahmin Family and also for the many contacts and friends who came close to Dadi and benefited so much from what she shared with them.
We also invite you to participate in a Global Tribute: IN THE PRESENCE OF DADI JANKI To be broadcast on the 27th or 28th March according to your time zone. This event would be for all who came into contact with Dadi or knew of her. So it is aimed at non-BKs but of course BKs would also greatly benefit. The whole programme would be for about one hour.

For the BK Family

Live Streaming from Madhuban
On the 27th March the inauguration of Shakti Stambh will be streamed live from Madhuban. The time table is as follows:
8:30 am IST Inauguration of Shakti Stambh
10 - 12 noon IST Sharing of Personal Experiences of DadiJi
12 noon IST Offering of Bhog and Baba's message
(Please work out the timing according to your time zone)
Details of how to tune in will follow from Madhuban.

Offering of bhog
Centres are invited to offer special bhog for Dadi on Saturday the 27th March, in the morning class. Usually we would have many people come on such an occasion to share bhog, but due to Covid restrictions everywhere, centres are asked to please share bhog with everyone according to the system in your country.

Your centre may also like to hold a special evening where BKs remember Dadi and share their special experiences of how Dadi has transformed their lives.

For Contacts and Dadi's Friends
A Global & National Tribute: IN THE PRESENCE OF DADI JANKI to Dadi Janki will be aired on Saturday 27th or Sunday 28th March.
With all good wishes for unlimited service,
In Baba's yaad,
RCs
*******************
REPLAY LINKS of the Inauguration
of Dadi Janki Shakti Stambh from Shantivan
Divine Sisters and Brothers
*******************
REPLAYS are Available!
FEBRUARY DF Madhuban Experience
Weekend of 27th/28th February
(26th/27th February in some time zones)
All replays here:
https://youtube.com/playlist?list=PLHxKCh3fB2BZ1zjYFF3wMRmnmvQUZuwof
*******************
Replays Available! Online Global Silence Retreat
for the Global BK family
from Fri 29th to Sun, 31st January 2021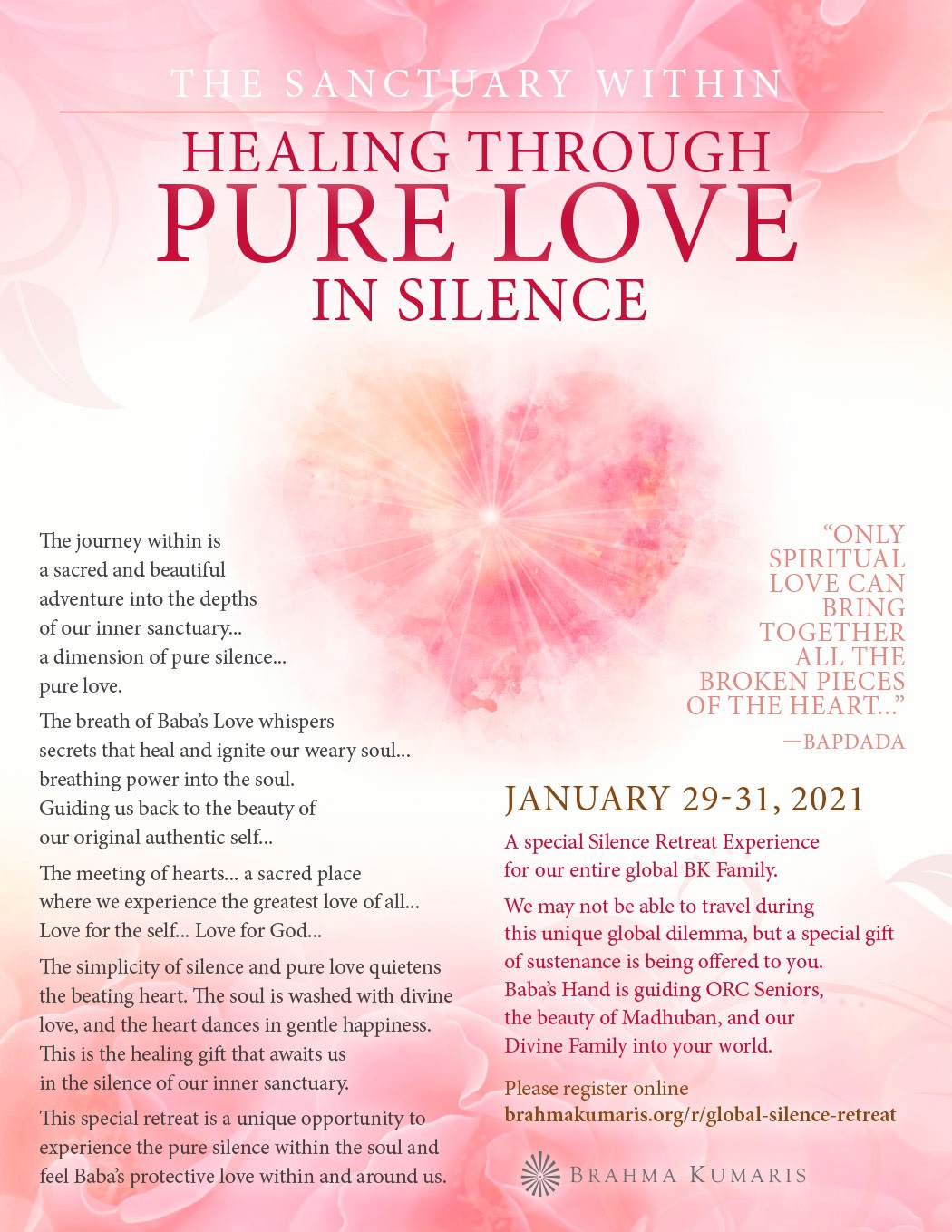 *******************
Replays Available! JANUARY DF Madhuban Program
Catch the replays here: DF Madhuban Program
https://www.youtube.com/channel/UCcguQ_XHq1DXGsDbbjZkPzw