2018 Health Field News Archive
2018 Health Field News Archive
Global Hospital Honored with "Rajasthan Energy Conservation Award 2018"
27 December 2018
Divine Family,
The Global Hospital and Research Center (GHRC), Mount Abu, has been honored with the"Rajasthan Energy Conservation Award 2018" at the award distribution ceremony held on the occasion of National Energy Conservation Day by the Energy Department of the Government of Rajasthan, at Indralok Auditorium, Jaipur. This prestigious award has been received by BK Kedar, Energy Auditor of GHRC BKENCON (Brahma Kumaris Energy Conservation) Project, on behalf of GHRC in the gracious presence of Sanjay Malhotra, Principal Secretary of Energy in the Government of Rajasthan, and RG Gupta, Chairman and Managing Director of the Discoms.
On this occasion, Dr. Partap Midha, Medical Director of GHRC, congratulated the staff of Global Hospital and said that they will maintain its continuity in Renewable Energy-based products and services, by giving importance to the conservation of energy for social and economical development of rural masses.
The objective of the energy conservation award plan is to give special state-level recognition for the conscious and systematic efforts put in by the industries/establishments/individuals for efficient utilisation and measurable conservation of energy during the years 2017-18.
The J Watumull Global Hospital and Research Centre (GHRC or Global Hospital, for short) was commissioned in October 1991. A hospital in the green hilly Mount Abu, it helps to meet the emergency health needs of the millions of people visiting the hill town. Global Hospital stands out from other hospitals, as it is committed to deliver healthcare to all, irrespective of the patient's economic or social standing.
GHRC had been given this award by RRECL, Ministry of Energy, Government of Rajasthan for its efficient energy management practices.
BKENCON
Brahma Kumaris Energy Conservation Project
"Save Multi Million Units of Power "
With Best Wishes,
B.K. Kedar
-Energy Auditor
(BEE Ministry of Power Govt. of India)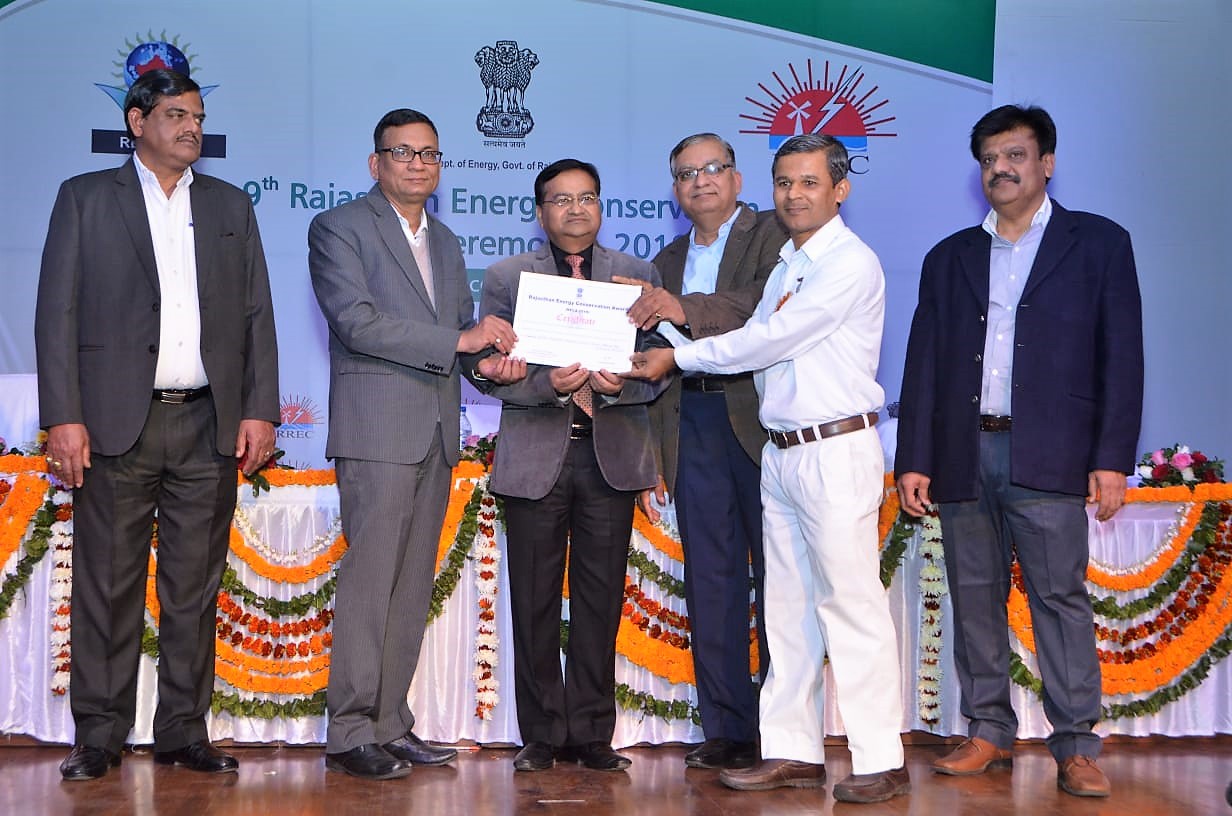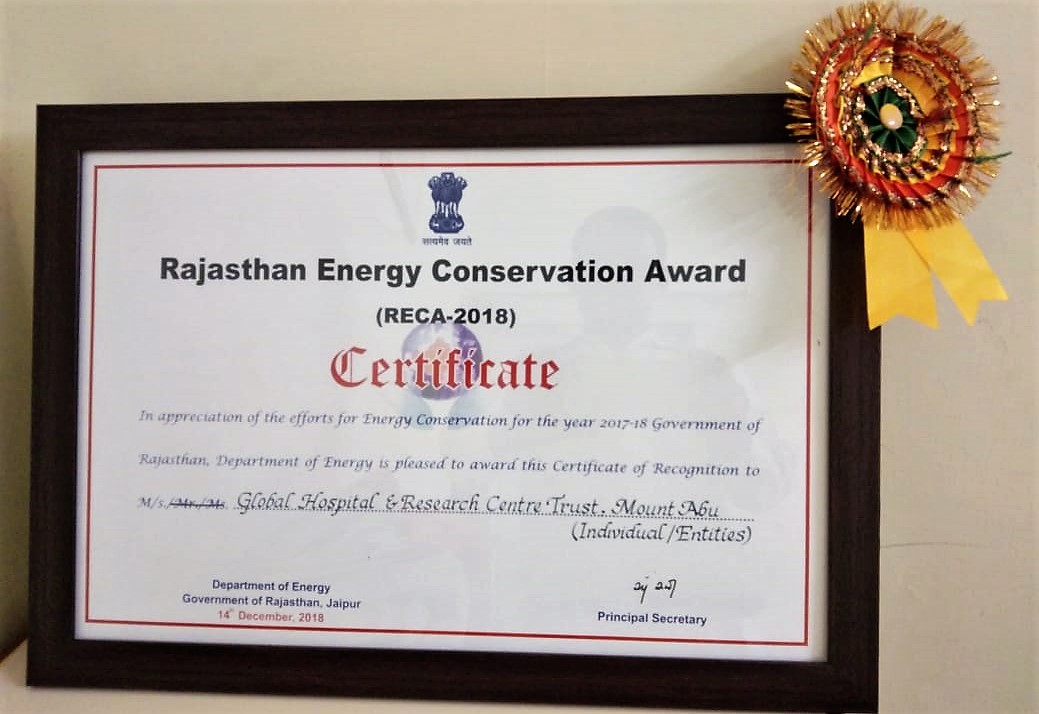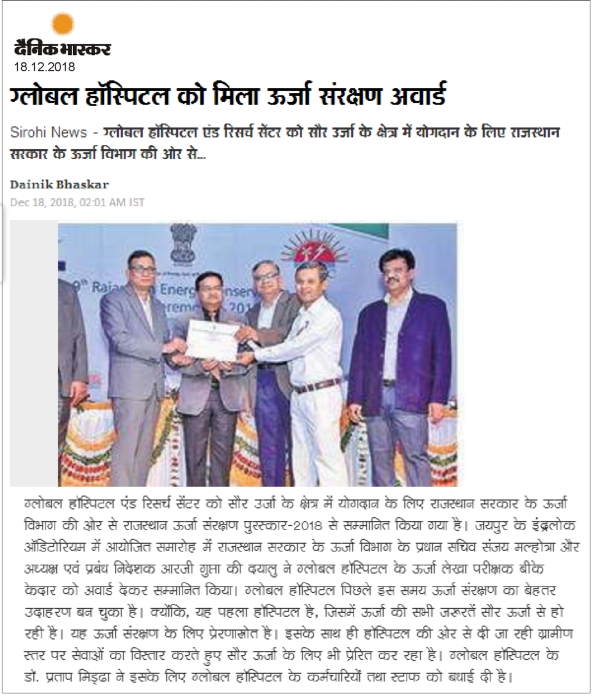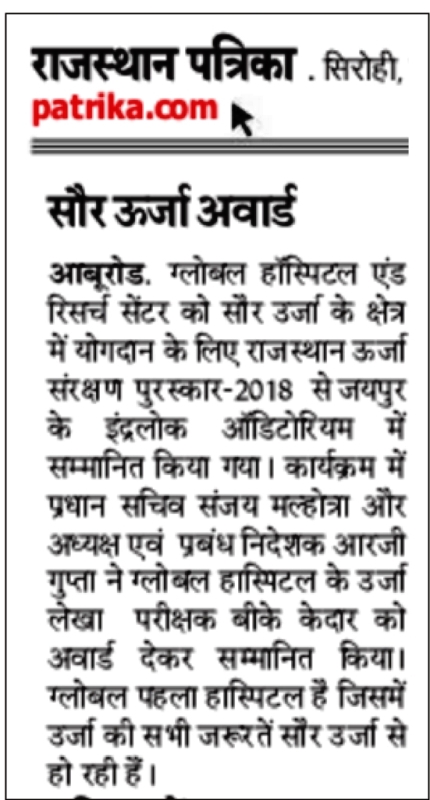 Seasons Greetings form Janki Foundation
25 December 2018

'Shining Light on Death' - Janki Foundation One Day Event on 14 July
15 September 2018
Dear Friends,
Greetings of peace. Please find below news reports, video links and other helpful information for 'Shining Light on Death' event held by the Janki Foundation on 14th July 2018. The one-day seminar was organised for the caring professions and anyone interested to create a greater understanding of the spiritual aspects of dying, death and bereavement. Guest speakers were Dr Peter Fenwick, a neuropsychiatrist, Ann Yeomans, a Soul Midwife, and Sister Jayanti, European Head of the Brahma Kumaris.
Dr Sarah Eagger, MC, explained that '…death is clearly something we all have in common. It is absolutely part of the cycle of life and yet we are quite afraid and have anxiety about dying. Most of us don't know when and how we are going to die. So what role does death play in our lives and how do we feel about it? Maybe it is going to be painful. We also observe the grief of those left behind. It is clear how we have taken death out of our lives and we are a death denying society. We wish to take the sting out of this and today we are going to look at how we can make it more acceptable and a part of life.'
We received excellent feedback from the programme and many people have requested the information given below. Thank you so much to everyone who contributed to make the event so memorable and beneficial for so many.
The news and other resources will also be put up on www.jankifoundation.org by end of next week.
News Reports - Short (also shown below) and long reports attached - both include some inspirational feedback.
Photos of the event: https://photos.app.goo.gl/JBfiPduWA8BGtznZ
Leaflet of the event: Attached
Video links in 3 parts:
Part 1 - Dr Peter Fenwick's presentation on 'What happens when you die?'
https://www.jankifoundation.org/lecture/shining-light-on-death-july-2018/
Part 2 - Ann Yeomans, sharing about the 'Role of a friend – care, compassion and companion'
https://www.jankifoundation.org/lecture/shining-light-on-death-july-2018-part-2-the-role-of-a-friend-ann-yeomans/
Part 3 - Sister Jayanti, speaking on 'Facing our Fear of Death – Spiritual aspects of Dying'
https://www.jankifoundation.org/lecture/shining-light-on-death-july-2018-part-3-facing-our-fear-of-death-sister-jayanti/
Handouts by Ann Yeomans: Attached
Ann Yeomans gave out 3 handouts on: Notes & Meditation Template; Role of Soul Midwife & Four Stages of Dying; Therapeutic presence & keeping vigil
Handout given at workshops: Attached
Bridget Haley: Shining Light on Death: Being with the Dying
Songs by Lucinda:
1 'I will rise' https://www.youtube.com/watch?v=o0LHz8j9o3Y Also available on CD - Road Least Travelled by Lucinda Drayton
2 'Thank You' from CD Bliss http://www.lucindadrayton.com/product-tag/bliss/
3 'You've got a friend' by James Taylor
Recommended Books & Papers by Dr Peter Fenwick:
Books
'Dying : A Transition (End of Life Care: A Series) by Monica Renz'
'Nearing the end of life: A Guide for Relatives and Friends of the Dying' by Sue Brayne and Dr Peter Fenwick
Papers
Fenwick P, Brayne S. End-of-life experiences: reaching out for compassion, communication, and connection: meaning of deathbed visions and coincidences. Am J Hosp Hosp Palliat Care. 2011;28(1):7-15.
Renz M, Reichmuth O, Bueche D, Traichel B, Schuett Mao M, Cerny T, Strasser F. Fear, Pain, Denial, and Spiritual Experiences in Dying Processes. Am J Hosp Hosp Palliat Care. 2018;35(3): 478-491.
Please feel free to share this news and resources with family, friends and colleagues who may be interested.
Thank you.
With warmest regards
Bhavna
"Use your voice for kindness, your ears for compassion, your hands for charity, your mind for truth, and your heart for love."
One Day Event by Janki Foundation or Spirituality in Healthcare
'Shining Light on Death' – 14th July 2018
Global Co-operation House, London
With Dr Peter Fenwick, Ann Yeomans and Sister Jayanti
SHORT REPORT
Over 200 people attended the one-day seminar Shining Light on Death at Global Co-operation House (London) on 14thJuly. There were also 30-40 people who joined the seminar online. Guest speakers were Dr Peter Fenwick, a London neuropsychiatrist, Ann Yeomans, a Soul Midwife who works in Sussex, and Sister Jayanti, European Head of the Brahma Kumaris. Threaded throughout the day were songs by Lucinda Drayton and poetry read by Dr Craig Brown, Dr Rachna Chowla and Suja Chandran. Dr Sarah Eagger, Chair of the Janki Foundation, extended a warm welcome to the speakers and guests.
The seminar was planned to create greater understanding of the spiritual aspects of dying, death and bereavement and to make it less of a taboo subject.
Dr Eagger explained that '…death is clearly something we all have in common. It is absolutely part of the cycle of life and yet we are quite afraid and have anxiety about dying. Most of us don't know when and how we are going to die. So what role does death play in our lives and how do we feel about it? Maybe it is going to be painful. We also observe the grief of those left behind. It is clear how we have taken death out of our lives and we are a death denying society. We wish to take the sting out of this and today we are going to look at how we can make it more acceptable and a part of life.'
What are we afraid of?
Dr Fenwick posed the question, 'what happens when you die? 'As a clinician he was fully aware of how, as a culture, we are primarily concerned with pain control and physical comfort. Yet we know so little about the dying process, and so it seems to be the same for those who care for us at the end. It is as if, understandably, we are so attached to life we can't (or won't) face the prospect of death. Few people wish to die and the rest of us for the most part are subject to feelings of fear, sadness, loss, anger and rejection; immeasurably so when hooked up to the technology of the 21stcentury hospital death bed, tended by healthcare professionals who have little training in end-of-life care.
As a specialist in human consciousness, however, Dr Fenwick himself saw death as a 'great adventure', a process signposted with many fascinating phenomena including (for those who die consciously) visions, feelings of unity, wholeness and healing, love and compassion and, towards the very end, the peaceful experience of a new reality. He emphasised the importance of holding an attitude of curiosity with the willingness to explore and develop feelings of acceptance and an understanding that everything must be given up. These experiences, often described as a spiritual awakening, can and do exist independent of religious attitudes.
Dr Fenwick reminded everyone to plan for the kind of environment they would like to have at the end of their life whether at home, in a hospice or in a special hospital unit that offers a supportive environment.
He concluded that 'we are never born and will never die… love, light, consciousness streams through us and this is what creation is. So what are we afraid of?'
Earth, Water, Fire, Air
Ann Yeomans who as a Soul Midwife spoke about taking on the role of a compassionate and caring friend with the skill of 'being present' with someone who is dying and with their family.
(Refer to Ann's handouts)
Whereas as Dr Fenwick outlined three phases of dying—pre-transition, transition and post-transition, Ann Yeomans informed us of the dying person's gradual withdrawal in terms of elemental energy. The first stage, represented by the energy of Earth, depicts physical withdrawal (e.g. loss of appetite, strength, changes in the senses and in appetite). The second stage of withdrawal, Water, is characterised by the emergence of old traumas and the need to come to terms with letting go of the illusion of power and control over one's life and having to give up everything. Fire, the next stage, could be heralded by irritability and is particularly difficult for family members to witness. It is also the time when the dying may sense visitations of people from the past coming to meet and accompany them. The last element to withdraw is Air, characterised by drifting into unconsciousness – a time for all stimuli to be removed from the room and a corresponding need for family to let go. Ann Yeomans ended by highlighting the importance of 'whole-body' listening with posture, eyes and heart, therapeutic touch and presence.
Smaller groups
After lunch participants went into 8 parallel workshops with two facilitators in each group of 15-20 to discuss 'Exploring a compassionate presence with dying people' and addressed the following three questions:
· What qualities of presence would you like in someone who is with you when you are dying?
· What would you like them to say or do that would be comforting?
· How could you use what we've done today to help you be with a person who is dying?
Experiencing contentment and gratitude
The afternoon ended with a response by Sister Jayanti to the questions put to her by Dr Sarah Eagger about soul consciousness and about preparing for death by the way we live. Sister Jayanti spoke about the awareness of the difference between material consciousness (awareness of the physical self) and spiritual consciousness. So much more is now known about the latter through the scientific work being done by researchers such as Dr Peter Fenwick on the phenomenon of Near Death Experience (NDE), where consciousness appears to reside outside the body as well as in the brain. She drew a parallel with experiences we can have in Raja Yoga meditation where we experience our inner being as having a separate identity from the brain and the body. The more she meditates, Sister Jayanti said, the more she is able to transcend time and space, go beyond the physical dimension, and connect and identify with 'soul'…the being that she truly is.
She then quoted Dadi Janki, the spiritual head of the Brahma Kumaris, who said 'consider every moment to be your last moment and prepare for that.' She has never postponed anything. 'Do it now, for who has seen what tomorrow can bring….not even later today…now!' Our actions, our 'karma', Sister Jayanti went on to say, become the giving of love, wisdom and compassion, and these all impact on our final moments. We don't want to be caught up with karmic accounts we have with people. We want to go into the experience of a better place, and become merged in God's love. At this moment could I be ready to leave or are there things that are still pulling me? Attachments will pull me. Attachment brings suffering. Ego brings suffering and we all have layers of ego.
Can I detach from skin, colour, family, education etc.? If so then I can be just pure consciousness and soul conscious. The more I practise this the more I am able to deal with my ego and unfulfilled desires. Can I simplify and be content with what I have, or do I chase after what I don't have? Can I experience contentment and gratitude? Can I forgive?
Why wait until later, why not experience this freedom now? This will also support a smooth transition. Transition is a very spiritual expression, as it signifies there is not an end, there is continuity. The phase when I leave one costume and move into a different one is a transition. I let go of what I need to let go of and, being prepared through meditation, I can experience peace and joy in this movement. When I understand and practise the stage of pure consciousness as a soul there is no more fear. Fear just dissolves. I know that I existed before I took this physical form.
The day closed with a reflective commentary by Sister Jayanti, and ended with Lucinda inviting everyone to join her as she sang a cappella, the final song 'You've got a friend' by James Taylor.
*****************************************************************************************
Excerpts of feedback from participants:
This was one of the most enlightening and informative study days that I have attended in my career. I left at the end of the day having learnt so much and now have a very different outlook on certain aspects of my care giving and interaction with patients and families.
- Greta Barnard, Senior Staff Nurse, Haven House Children's Hospice
Many nurses have historically shared divine experiences with their patients at the point of death but the subject is rarely discussed, for fear of ridicule. Special days like this one will help to open the dialogue, which is greatly needed.
- Anne Richardson, Registered Nurse (since 1973), NHS
The thing I was left with overall was how beautifully the Janki Foundation cared for us with your lovely staff, great organisation and the delicious meal at lunchtime. To me that mirrored the way we should be caring for our dying and their families and so it felt very right in that way. We must model what we want to teach people in my view and you did that so wonderfully.
- Katrina Taee, End of Life Doula
An enjoyable day coming to terms with the inevitable; there is no escape.
I enjoyed the talks and presentations and the time we had to share our thoughts in small groups. I came away with greater understanding and know I will have to put my own house in order... ready.
- Revd John Merrill, Multi-faith minister and Funeral Celebrant
The event allowed me to understand experiences and happenings surrounding death, a common path we will all take and that we may have witnessed ourselves, sharing hope, trust and an understanding of our common humanity. A chance to embrace the deeper connection we have on a spiritual level with ourselves, those whom we love, the wider world and relax in the knowing that all is 'safe and well'.
- Dr Astrid Bendomir, Occupational Physician, Assured Occupational Health, Aberdeen
I welcome events such as this which boldly yet sensitively considers the otherwise closed and avoided topic of death. Opportunity to talk, share and learn about it and perhaps how to prepare for it. Ironically, it is the only issue all of us face and no one can avoid. It was refreshing to have the matter out in the open and to be given the opportunity to bring curiosity to it's shores.
- Suzan Hackett, Counsellor & Group Facilitator, Penny Brohn, UK
What I remembered is that there is a sacred place within us where everyone could find love and comfort. We can also have access to a clear light inside which can spread around and attract others. At the time of death the Ego is crumbling and there is the feeling of letting go.
- Dr Herve Foulot, Surgeon in Gynaecology, Cochin Hospital, Paris, France

The day made me think about Death, and learnt that if I develop curiosity and acceptance, the process of dying becomes easier and peaceful. The day has given me strength to talk about Death with my parents and I actually spoke at a length with my mother, and was pleased with our discussion, that she is preparing to give up to be ready for death. As a Doctor, 'I learnt things which I can use, for e.g. Soul Midwifery, use of Green colour, music, pebbles, being in person's reality etc... to make my patients death process beautiful.
- Dr Mina Bobdey, Psychiatrist
Click here for report in PDF format.
Click on below image to view the video.

'Live Well with Happier Cooking and Eating' 29th July at GCH - Report and link to Recipes
3 Septermber 2018
*All recipes used can be found on: www.inspiredstillness.com\blog
After a video of Amazing Nature, BK Sharon welcomed the 150 participants to the cooking demonstration saying that 'Wellness is the new must-have in today's modern world' and this would also be the focus of this afternoon's recipes.
The afternoon continued with the first 3 cooks presenting their topics addressing Mental and Emotional Health.
Cook 1 – BK Rajesh : Mental Health - Detoxing Mind and Body
Watermelon and Fresh Mint Juice
Ingredients
Chilled Watermelon chopped into large pieces, some with rind, some without.
Fresh Mint with large stems removed
As Rajesh prepared the watermelon, he reminded that of all the facilities we use in the kitchen, our body is the best machine of all and that it is necessary for us to maintain it well. He shared: 'In fact, if I choose plant-based food – that is, food that is alive – no matter my age, I can constantly feel as good as I did in my 20s. If the food I have eaten does not leave me feeling energized, then it is not good for my body.'
Method for Juicing
Place the watermelon bits without the rind into the processor to create the necessary juice, then add the bits with the rind and add mint to taste.
Cooks 2 – BK Amirah, Hannah and Sami: Emotional Health – Managing our Cravings Healthy Vegan Banana Cake (sugar free)
Amirah, her daughter Hannah and her son Sami who are often cooking together, shared that cravings are a powerful desire for something that may be lacking in the body eg. a lack of certain nutrients. The most common cravings are:
#Sugar is the number one common craving as it gives quick energy. The paradox is that the more sugar I eat the more I'll crave sugar. The craving could indicate a lack of minerals so eating more vegetables and fruit is a good place to start. 'Good nutrition' shared Amirah, 'is about making good choices of food as part of everyday life and finding what works for my body.'
#Chocolate is the second most common craving, and could indicate a magnesium deficiency.
#Carbohydrate cravings often indicate emotional distress, lack of comfort or lack of sleep.
#Salty food longings could indicate a lack of sodium, which can be found eg. in olives. When using salt, Amirah prefers pink Himalayan salt for her cooking.
#Caffeine cravings could indicate a lack of phosphorus which can be found in nuts. It may as well indicate that the body/mind needs more rest.
Cook 3 – BK Ranjan: Mental Health - Detoxing Mind and Body and Uplifting Thoughts
Buckwheat Detox Kitchedi
Ranjan was sharing her practical experience of the impact of her awareness on food while cooking: 'Before cooking, I can take a few moments to sit in silence and connect with what I am going to cook and who I am cooking for, and to create thoughts of peace, calm and kindness so that the fragrance of those thoughts can be absorbed by the food as I prepare it. Then the food that I cook will be enjoyed by all who eat it. Along with the coconut oil, most of the spices used in this Kitchedi are good for digestion, so this food detoxes the stomach and my peaceful thoughts while I cook detoxes the mind. It is good for every meal to include all 6 tastes just as this recipe does. These tastes are: sweet, sour, salty, bitter, pungent and astringent.'
In the following part of the program BK Ramita presented a Vision Board Exercise. The audience was invited to reflect on two questions, to get in touch with the inner self, connect with the heart and intuition and think about which newness/change I would like to create regarding my lifestyle. What is my inspiration? What would I like to create in my own life?
Step 1: Create an intention - The seed to create anything I want in my life
What feeling do I want to bring into my everyday life to increase my overall sense of well-being?
Some examples are: energized, relaxed, light, positive, stable, refreshed, strong, happy, peaceful
Choose one and write it down on my sheet of paper.
Step 2: Make lifestyle choices
Holding that intention in my mind and allowing my intuition to guide me, I look through the lifestyle cards projected on the screen and choose 3 I am most drawn to
The Lifestyle Cards are: 1 Journal Space; 2 Just a Minute; 3 Sleep Well; 4 Positive Thoughts;
5 Inner Sanctuary; 6 Wake Up well; 7 Expression and Sharing; 8 Fresh Air; 9 Lots of Water;
10 Meditation Space; 11 Changing Habits; 12 Pause. Think. Act; 13 Conscious Eating; 14 Digital Detox
Step 3: Set a S.M.A.R.T. goal on how I can apply these 3 cards in my life to make my intention a reality
Set one goal for each card: Specific; Measurable; Achievable; Relevant; Timely
Write down each goal under the title of each card and complete your vision board.
Reflect 'This is something I am doing for myself. Think about how to make these goals real.'
After a sweet video of a little girl choosing to be a vegetarian because it is not kind to cook and eat animals, BK Sharon welcomed everyone back and shared her personal story on becoming a vegetarian.
BK Nicole lead us in a guided meditation on creating a sense of calm and peace and love, allowing that love to emerge, reach out to all of humanity, animals and nature.
Cook 4 – BK Egils: Physical Health – Boosting the Immune System
Carrot & Seed Loaf with Beetroot Sauce
Egils talked about the importance of choosing How-not-to-die food, because choosing the wrong food causes us to be sick and to die prematurely. He shared that for him 'The basis of health is to stick to fruit, vegetables and legumes. Choosing and eating the right food is like taking medicine on a daily basis. Most of the food in the supermarket is not food and causes disease in the body. Eating the right food can be enjoyable, it does not need to be a sacrifice.'
The Carrot & Seed Loaf is tasty and good for special occasions. The beetroot sauce with its bright pink color has a pleasant tang from the limes and can be eaten with any other dish.
Cook 5 – BK Jasuben:Spiritual Health – Positivity in my Thinking while Cooking
Cashew and Pistachio Treat
Jasuben talked about being creative when cooking and making it fun, which causes the food to take on joy and delight. She further shared 'Even if I need to rush with my cooking, I can still hold a mental state that is positive with that special ingredient of the love and joy of sharing. When I put happiness into the food I take happiness into my body and so my output is happiness. To positively charge the food I then offer it to Baba, invoke His love and power and have him fill the food with His love and power.'
The audience then offered the food that had been prepared at the program together with Jasuben and everyone had a taste of the afternoon's demonstrations.
The event finished with sharing of blessing cards and a chance for the audience to meet, mingle and chat.
*** Om Shanti ***
Click here for report in PDF format with photos.

Sister Rupa, Chief of Nursing Services of Global Hospital, Honoured with Florence Nightingale Award
28 May 2018
Delhi: J. P. Nadda, Minister of Health and Family Welfare, Govt. of India conferred the Florence Nightingale Awards to B K Rupa Upadhye, Chief of Nursing Services, J.W Global Hospital, Mount Abu.
Sister Rupa was instrumental in developing a clinical skill lab in the hospital. She is the first female nurse in India for High Altitude Medical Rescues Operations and had special training by Indo-Tibetan Border Police Force.She had rescued 5600 victims in hazardous conditions in hilly areas. She has participated in many health rallies and health awareness programmes. Her passion and selfless service in nursing and people of India are highly commendable. After leaving voluntarily the government service from Mumbai, she works as nursing officer for the past 26 years on honorary basis in the J.W Global Hospital, managed by Brahma Kumaris, for the past 26 years, in Mount Abu.
The President of India, Ram Nath Kovind, was the Chief Guest at the International Nurses Day Celebrations organized by the Ministry of Health and Family Welfare at Rashtrapati Bhawan, here today. At the function, Shri J P Nadda, Union Minister of Health and Family Welfare conferred the Florence Nightingale Awards to 35 nurses from across the country in presence of Shri Ashwini Kumar Choubey, Minister of State for Health and Family Welfare and Smt Preeti Sudan, Secretary (Health).
The President congratulated the award winners and said that the awardees display India's unity in diversity. He further stated that nursing plays a very vital role in keeping the country healthy. "Any nurse, in a remote village, who is helping a person fight a serious illness, is a nation builder," the President said.
Minister for Health and Family Welfare, Shri J P Nadda congratulated the award winners and appreciated their exemplary services. Acknowledging the strong caring and compassionate attitude of the nursing community, the Health Minister said that we are proud of all the winners and wish that they will be an inspiration for all the nursing personnel in the country and motivate them to provide quality nursing services and standards.
Florence Nightingale awards were instituted in the year 1973 by the Government as a mark of recognition for the meritorious services rendered by nurses to the society. These awards are given on 12th May every year. A total of 35 awards i.e. 20 for Nurses, 12 for Auxiliary Nurse Mid-wives and 3 for Lady Health Visitors are being awarded to outstanding Nursing Personnel. The award carries a medal, a certificate, a citation certificate and Rs. 50,000/-in cash to each of the awardees.
Also present at the award ceremony were, Shri Arun Singhal, Additional Secretary (Health), Shri Sanjeeva Kumar, Additional Secretary (Health) and Dr RK Vats, AS & DG (CGHS) along with other senior officers and invitees.

Janki Foundation Annual Lecture 'Cultural Depression - A help or hindrance?' - Photos & Video Links
6 February 2018
Dear Friends,
Please find below the report (also attached), photo and video links of the Janki Foundation Annual Lecture held on 27 November 2017, 'Cultural Depression: A help or hindrance?' – With Prof Dinesh Bhugra and Sister Jayanti chaired by Neville Hodgkinson. Song by Karishma Patel and poem by Dr Sarah Eagger.
Photos of the event: https://photos.app.goo.gl/hZUlUIKsmh1fpwNi2
Video of the event: www.jankifoundation.org
We received great feedback from the programme and many people requested the video link. Apologies for the delay in sending this out, we had some technical issues!
Please feel free to share this news with colleagues and friends who may be interested.
Thank you.
With best wishes
Janki Foundation
Janki Foundation for Spirituality in Healthcare
Celebrating 20 years of Service
Cultural Identity and Depression: A help or hindrance?
The Janki Foundation Annual Lecture, 27th November 2017, GCH, LONDON
REPORT
The Annual General Meeting (AGM) for The Janki Foundation was held earlier in the evening with around 60 people attending. The Foundation is celebrating its 20th anniversary this year and so the Chairman's report included a presentation of the key milestones and achievements over the 20 years. Everyone who had contributed to the Foundation's success over the years was thanked by name, and a set of Compassion Blessings was given to everyone attending.
Annual Lecture: With more than 160 present and over 100 joining online, Neville Hodgkinson opened the evening by informing everyone that Dr Sarah Eagger had now taken on the role of Chair for the Janki Foundation. Neville also gave thanks to the contributions of many to The Janki Foundation and the inspirations of Dadi Janki: The foundation continues to fund Global Hospital, and continues to educate many who work in the health care profession across the world, in understanding healthcare from a spiritual perspective as well as helping people understand a deeper perspective of illness.
Neville introduced the annual lecture special guest and speaker for the evening: Professor Dinesh Bhugra, CBE. He has recently stepped down as president of World Psychiatric Association after a three-year term and has been elected as next president of the British Medical Association. 'He is very charming and humorous and we are going to enjoy his presentation tonight': Neville concluded with the question: Are there cultural influences in the way we understand depression?
Professor Bhugra gave a fascinating lecture using a presentation to pace through many aspects and symptoms of various levels of depressive illness as well as highlighting studies pointing to cultural factors affecting vulnerability. He emphasised the importance of seeing the patient holistically and asked, what are the circumstances that trigger depressive episodes and cause ill health to develop?
'One major challenge with depression is there are many languages with no word for depression. This word only emerged when we saw the body as a machine. Up until then it was called melancholia. I am going to illustrate how symptoms of depression appear, how people respond and how people seek help.'
He also defined the term 'culture': as a common heritage or set of beliefs, norms and values. This in turn creates a system of shared meanings and cultural dynamic and identity. Yet he remarked that 'cultures change and we change with culture and cultures change with us…it is a dynamic dialogue between the individual and collective.'
He also noted that depression has become prevalent across many cultures at this time, and yet people deal with it in many different ways. He explained how one common cause is when people experience 'a sense of entrapment and defeat, and we suppress our natural explorative nature. It is the 'arrested flight' experience.'
He said there is a need now to educate patients to understand what is happening. And that these days mental health is too important to be left just to the 'experts'. That we all need to get involved, understand and support. He passionately expressed how essential it is to give people more information so they can recognize depression and understand where to seek help, in their cultural context.
He also noted that depression is a universal experience, yet the language about it can differ and the meanings and symptoms can be very different according to individuals, culture and religious inclination. So management strategies need to be appropriate. There is also a wide spectrum of physical symptoms. Cognitive Behavioral Therapy (CBT) is used widely but we should not expect one size to fit all.
Neville thanked Professor Bhugra for his 'wonderful review of the subject'. 'I can understand why he has been given such high office' Neville said. 'He is very practical in seeing how to improve the care of patients through his research, and in helping both doctors and patients to understand the condition better, and to see what patients can do for themselves.'
Before entering into conversation with Professor Bhugra, Sister Jayanti noted how the development of the nuclear family and the breakdown of neighbourhoods has led many to feel isolated, creating situations that lead to depression. Culture, in this aspect, can make a major difference. Conditions in the world are also highly stressful for many, with much negativity, especially in societies that are very competitive. Both stress and depression are relatively new ailments of the human spirit, she said; there was not a term for either before the 20th century: the term 'stress' used to be applied to metal, not human beings.
While recognizing the need for psychiatry and other forms of professional support, she emphasised that spirituality can be a big factor in helping people with this condition. Understanding our own inner identity, coming to terms with that, and seeing what we are capable of, can lift people out of depression. She also noted that sometimes culture can be a hindrance…when through a strong cultural identity, there is a refusal to acknowledge mental illness.
Points arising from the conversation that followed:
· Part of the acculturation process is to learn to hide parts of ourselves so that we feel accepted.
· In today's world 'social capital' is highly regarded: how we are perceived by peers and the social group we identify with. We can see this in the use of social media and the obsessions people have with their profiles.
· Spirituality can contribute to this social capital….where there is a sense of purpose, belonging and being, such that even when we are living with uncomfortable thoughts, we are able to carry on.
· Cultures across the world are in transition…and human nature has a great capacity for adjustment.
· Spirituality can play a major role in helping people get out of the sense of 'entrapment' and the anguish associated with it. For example, a sense of entrapment 'as a woman' in a male-dominated society can be overcome when we realise we impose barriers on ourselves by identifying with the gender we inhabit. With spirituality, we look at our inner identity.
· In terms of society and culture there is often a dichotomy between the egocentric self and the collective self. In the west, it is egocentric dominance, while historically in the east the collective has been more dominant.
Egocentric societies tend to have higher rates of crime and other forms of social breakdown.
· The notion of social capital is important. Belonging to a group that has common values can protect us from depression and anxiety. Social rituals such as gathering and eating together as families reduce egocentric drives, and promote wellbeing. Many of these rituals are in dramatic decline, as more people move away from traditional religious practices, and adopt faster work schedules.
· There is however a rise in interest in spiritual ideas, as people feel an increasing sense of 'emptiness', and a disillusionment with globalization and the increased disparity it has brought between rich and poor. There is a need to find a balance between science and spirituality.
· We need a sense of belonging, to enjoy wellbeing. We need something to ground us, to be part of a community. Where this is absent, severe loneliness and depression are likely to result.
· The highest sense of belonging is to feel connected to the entire human family. When we are in touch with our spiritual identity and belong to a community of higher values and ideals, we recognize that we are not just part of one race or religion.
· Neediness often shows up in a depressive illness and we have to recognize where a patient is coming from – for example, what are the immediate contexts of kinship and social capital.
· Part of the tragedy of medicine has been to over-focus on diseased organs, rather than on people.
· Both spirituality and psychiatry can help by bringing social functioning back into focus. Spirituality, through its emphasis on identifying with the inner being, enables us to learn how to discipline and channel the mind in very useful ways.
· Within certain religious cultures it has been thought that depression is the 'wrath of God', yet guilt and shame put a big barrier to transforming thoughts and feelings and recovering from mental illnesses.
· Society is changing rapidly and we still don't quite understand the huge impact this is having on people's lives and our ability to function within this context.
· People are feeling less and less valued and as a consequence have lost touch with their innate worth.
· Many feel left behind in today's fast-moving technological world.
· There is also concern about an over-dependency on the drug industry. More work needs to be done on patient- focused interventions, as one size doesn't fit all.
· Housing problems and dietary deficiencies contribute to people's vulnerability to depression.
· It is time now to respect the contributions made by professionals to our wellbeing, and at the same time patients need to become professionals in helping themselves – and spirituality helps in this.
Sister Jayanti closed with a powerful meditation:
Reflecting on the evening, I watch what is going on in my mind….I realise that I have a choice….I can let my mind go into avenues of negativity ….things are difficult….so many challenges come our way every day and we meet difficult people every day…is that what I want to dwell on…..let me explore another path….to explore the original beauty of the self…..every soul has goodness…..every soul in its original pure state is filled with beauty, truth and love….and for a few minutes this is what I wish to explore….I allow myself to connect with that inner beauty in which I the soul truly reflect on the qualities of the Creator…I was created as the image of the Divine….peace….compassion…truth….belong to the soul….deep down within myself… I know that these exist and as I journey inwards, this is what I connect to. Becoming aware of who I truly am restores my value and confidence in myself….without ego…but with true dignity, keeping in my awareness my own original qualities….I come back to the awareness of here and now…and the things I need to do here, while connected with the inner being and the beauty and truth within.
Neville gave thanks for an evening full of insight and clarifications, with much wisdom shared by both speakers. Thanks were also given to Brahma Kumaris for hosting the event and the Janki Foundation team, who coordinated it.