2018- Aug through Dec Madhuban News Archive
2018- Aug through Dec Madhuban News Archive
In Photos - Newly Rennovated Indraprasth Building Inaugurated in Shantivan
29 December 2018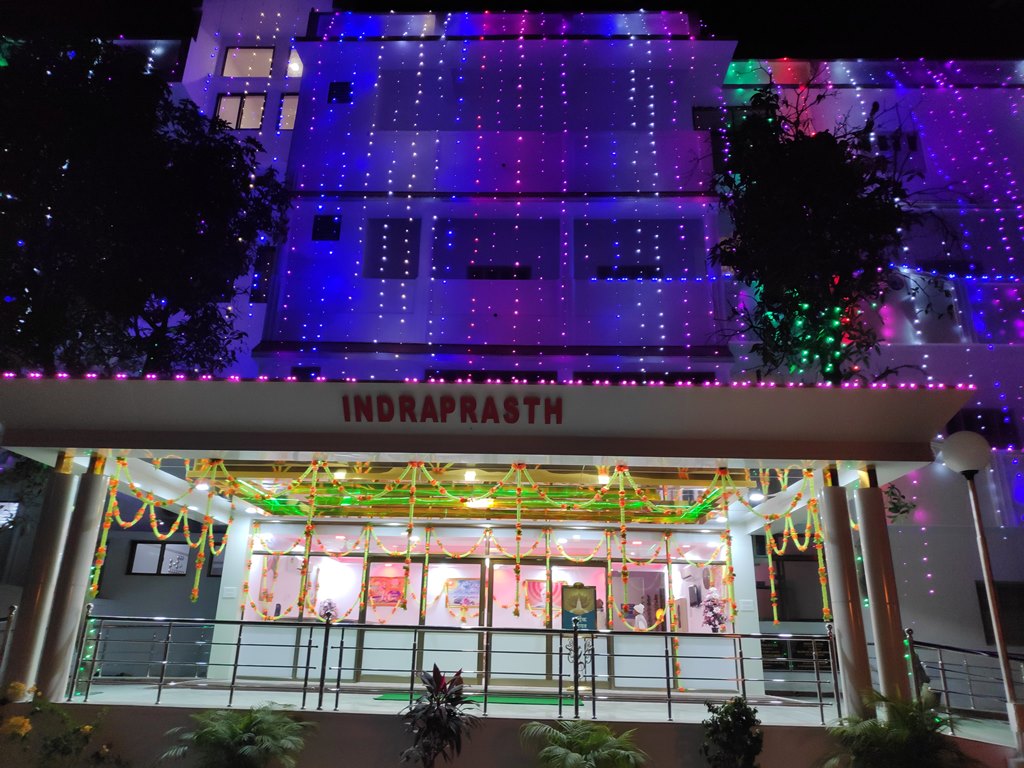 Divine Family,
Respected Dadi Janki ji, Dadi Ratanmohini ji, Dadi Ishu ji, BK Munni Didi, BK Nirwair Bhai, BK Karuna Bhai, and BK Bharat Bhai have inaugurated the renovated Indraprasth Building at Shantivan today, 26th December.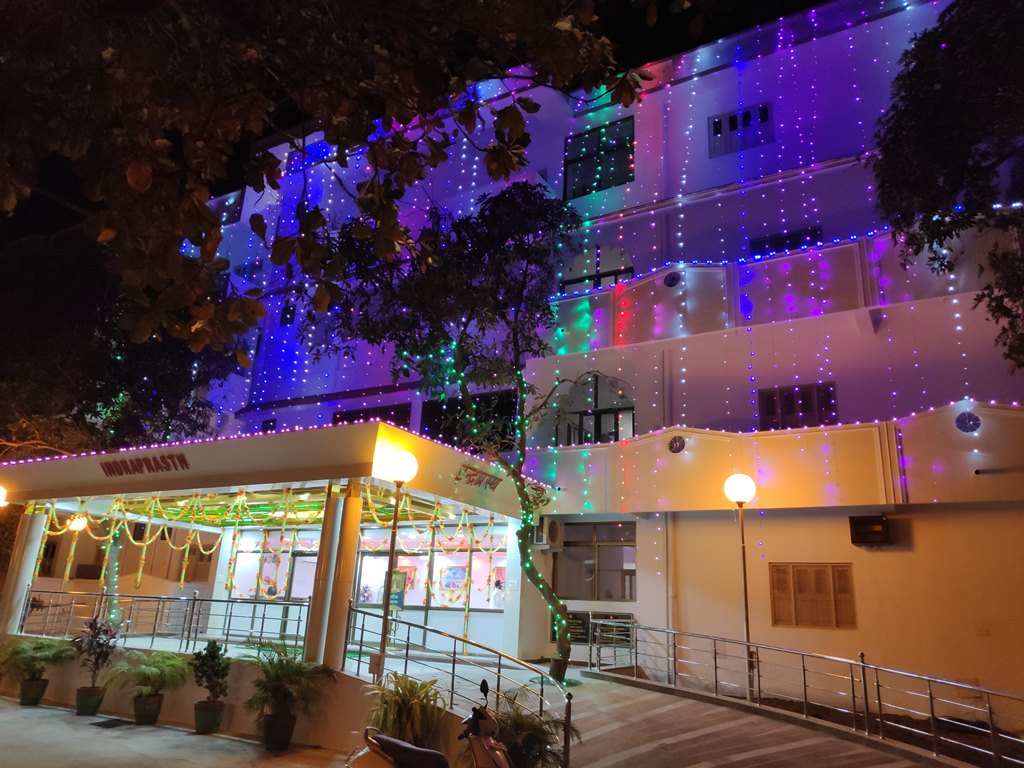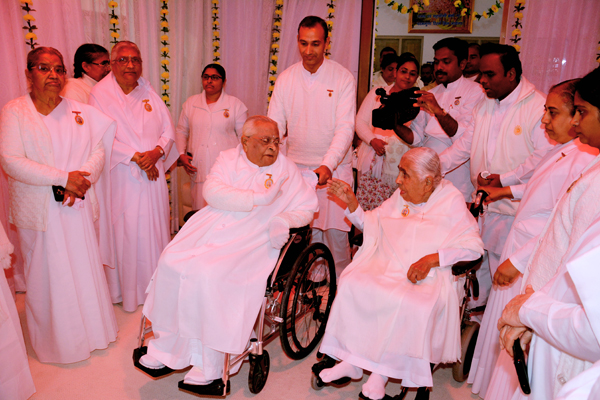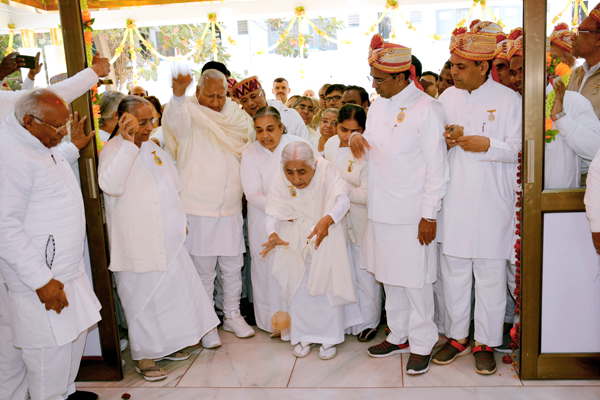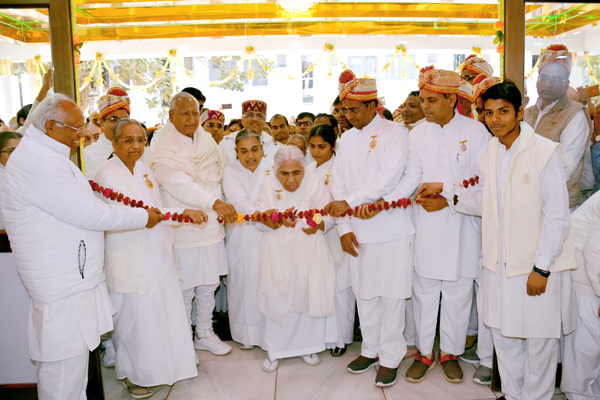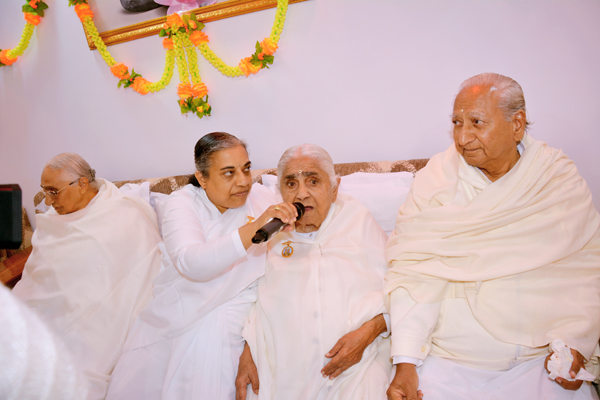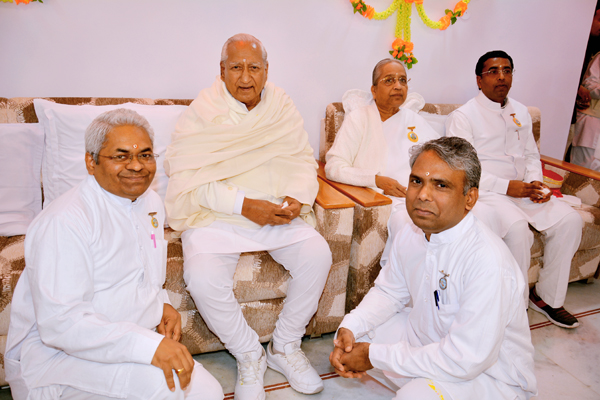 Christmas Celebrations at Shantivan and Gyan Sarovar
29 December 2018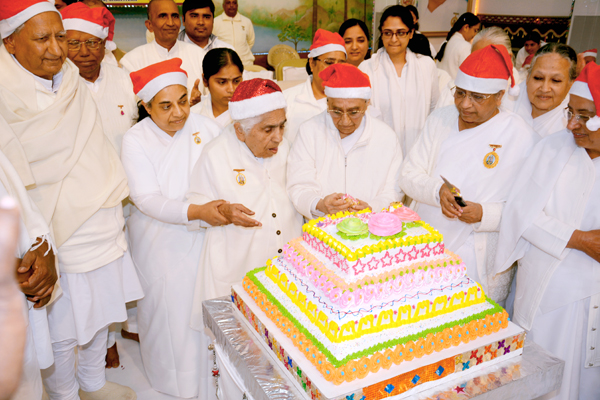 Mount Abu / Abu Road (Raj.): The Christmas festival was celebrated with great rejoicing at the Brahma Kumaris Head Quarters, Mount Abu and Abu Road. Dadi Janki, Chief of Brahma Kumaris; Dadi Ratanmohini, Addl Administrative Head, Brahma Kumaris, BK Nirwair, Secretary General of Brahma Kumaris, BK Karuna, Chairperson of Media Wing, BK Munni Didi, Director (Programmes), Dr. BK Nirmala, Director, Gyan Sarovar Academy, BK Sheilu, Senior Rajyoga Teacher, BK Meera from Malaysia, BK Jyoti from Dubai and senior Rajayogis from India and abroad participated in this programme at Shantivan. Dadi Janki and Seniors shared the real message of Christmas. The celebration started with dance performances by the artists from India and abroad. There was a cake cutting ceremony and Santa Claus distributed sweets.
Gyan Sarovar: The Christmas Day was celebrated with Dadi Janki, Chief of Brahma Kumaris at Gyan Sarovar, Mt Abu. Large numbers of BKs from foreign countries have participated in these celebrations. Dadijee also addressed the gatherings and gave a blessing to all. There was a grand cultural programme by foreign artists.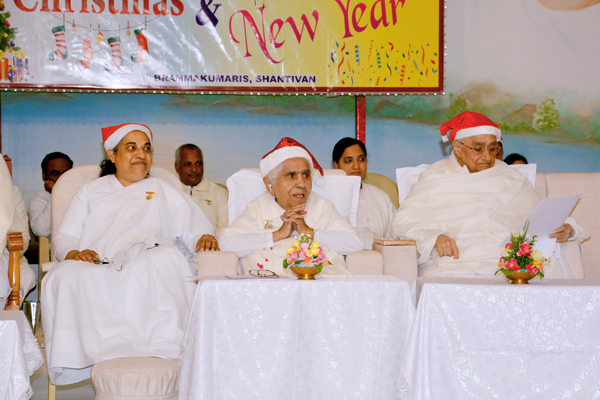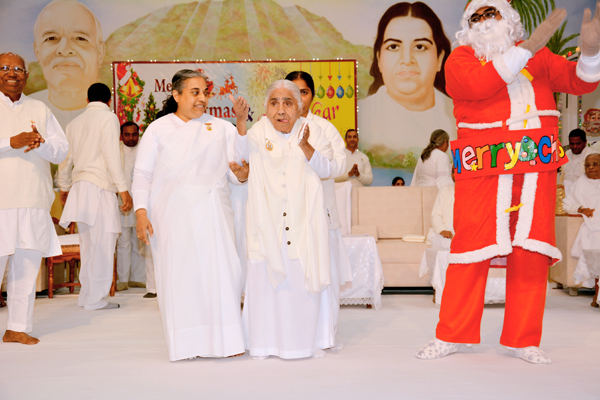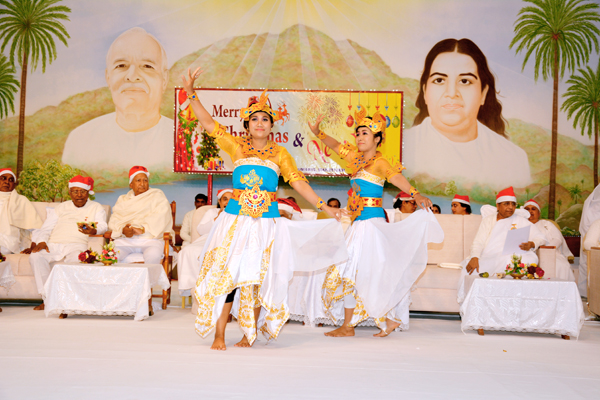 Christmas Greetings from Brahma Kumaris Godlywood Studio
29 December 2018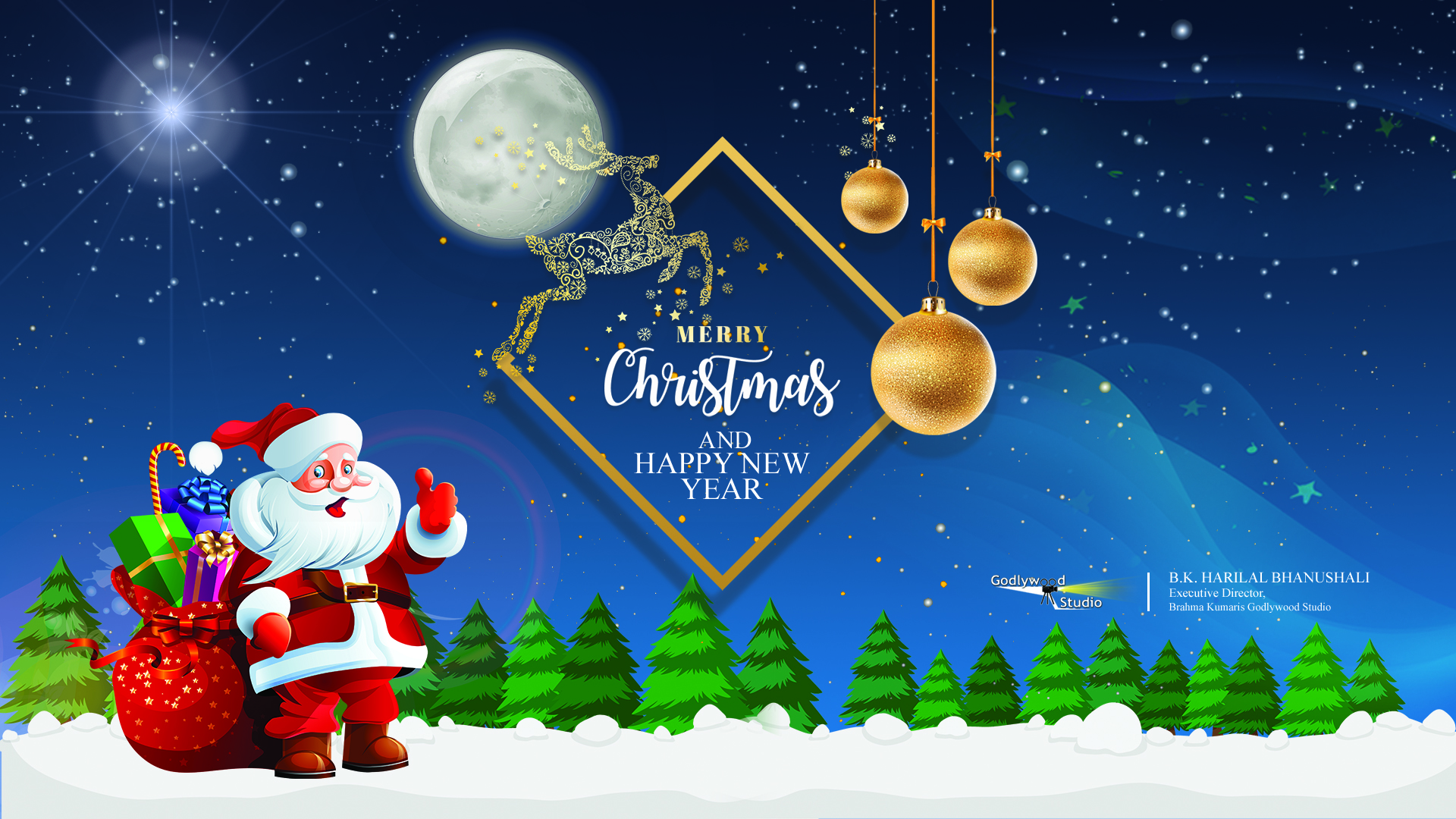 Dear Brothers and Sisters, Om Shanti.
Christmas and New Year is on the doorstep and we are in the festive mood again!
Christmas teaches sacrifice and New Year is the Harbinger of new hope! The best way to celebrate Christmas and New Year together is by taking a positive step towards sacrificing those inner weaknesses which constantly pulls us back and step into a new life full of hope and dreams!
On behalf of Godlywood Studio, I wish a very happy Christmas and a prosperous New Year to all our dear and near and all our viewers who has been our support and strength.
With Warm Regards,
BK Harilal
Executive Director
Godlywood Studio
World Renewal Spiritual Trust
Youtube: youtube.com/omshantichannelgws
Website: www.godlywoodstudio.org

Christmas Greetings from Brahma Kumaris Awakening Channel
27 December 2018
Dear Divine Family, Merry Christmas and a Happy New Year
Accept Divine love from all of us. Christmas brings lots of joy, bliss and happiness.
It's time to come together and share the Divine Magic with the world.
This new year, lets bring the newness in our spiritual efforts and in Godly Service, so that we can exhibit what we have been receiving from the Divine through our divine natural form.
This New Year we are bringing you a brand new HD Channel "Awakening - to a new way of living". Which is a 'free to air' TV Channel, ask your cable operator today to avail it. Available also on JIO TV, login in to other apps like WINGO for "AWAKENING" Channel.
Technical details :-
Satellite-GSAT-17-93.5
D/L Frequency-4085 MHz
Symbol Rate-30.0 MSPS
FEC-5/6
Roll of 20%
D/L Polarization-Vertica
Once again wish you all a Merry Christmas and a Happy New Year.

Merry Christmas and Happy New Year 2019- Greetings from Sister Sheilu of Madhuban
27 December 2018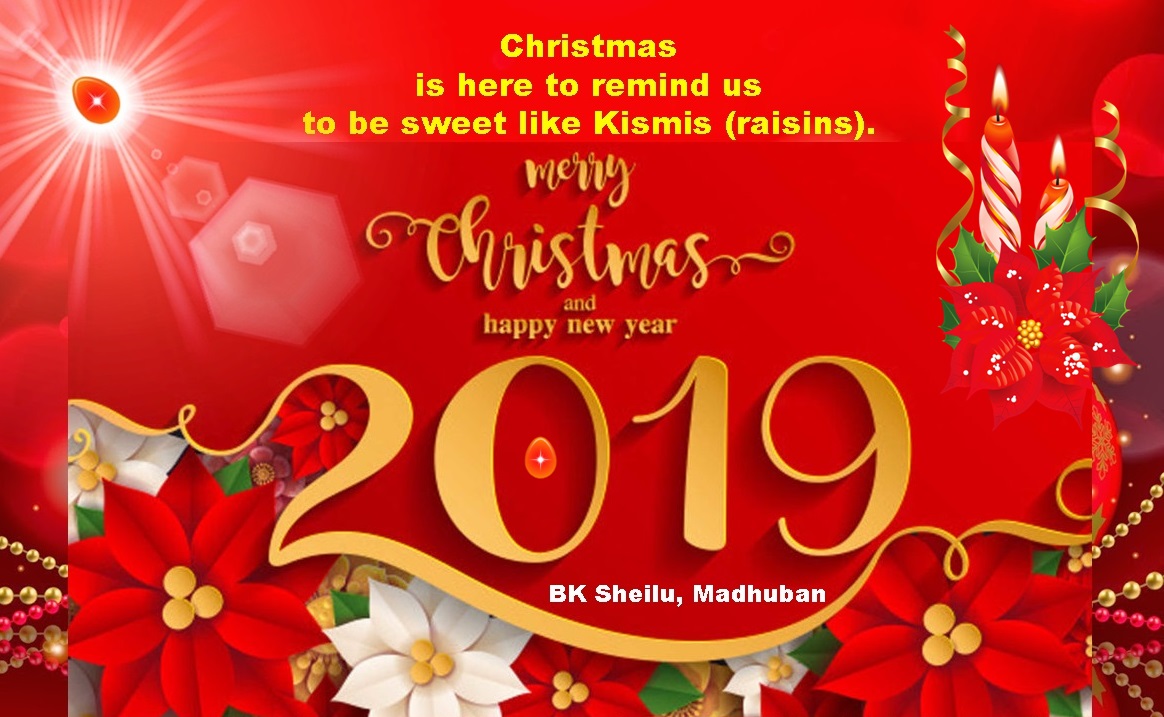 Season Greetings from BK Nirwair, Madhuban: 24 December
27 December 2018
Om Shanti to our dear BK sisters and brothers across the world,

Please accept hearty Godly love and remembrances from Shantivan-Madhuban.
I am sure all of you must be enjoying your spiritual life while going about your daily routine. As we approach the end of the year, please accept hearty greetings for a Merry Christmas, and a very Happy & Prosperous New Year!!
Christmas is symbolic of creating new consciousness, and the New Year encourages us to have new resolutions in life. I am very happy that many BKs are following a special spiritual endeavour on how to be a Mahadani, that is a Great Bestower or Spiritual Philanthropist. To be a Mahadani we have to practise the stage of being Nirvikari (Viceless). These two aspects of spiritual consciousness are very important in our day-to-day life. A person who has inculcated the virtues of purity, peace, love, and spiritual wisdom is a great soul, and further becomes a Great Bestower since they act as a living light-house of spiritual values. They are able to guide the ship of another's life in the right direction, and inspire others to live with pure and positive consciousness.
The Prince of Peace, Jesus Christ, was a Messenger of God to bring us the message of love, peace, and service onto others. It is our duty to first become full of these virtues and attributes, and then become philanthropists to share the same with others. We human souls are children of God, and as Christ shared, "God created human beings in His own image..." so let us live our lives accordingly.
May all of you become ever-healthy, ever-wealthy and ever-happy! You are examples for others, so continue to bestow much love, share your happiness, and sustain those in need. Christmas is a great occasion and we can celebrate it by celebrating our own lives.
With loving good wishes from our Respected Dadis and all Madhuban Niwasis,
With Baba's love,
BK Nirwair
Madhubanr

Certification Programme for Spiritual Counsellor Held at Shantivan, Abu Road
27 December 2018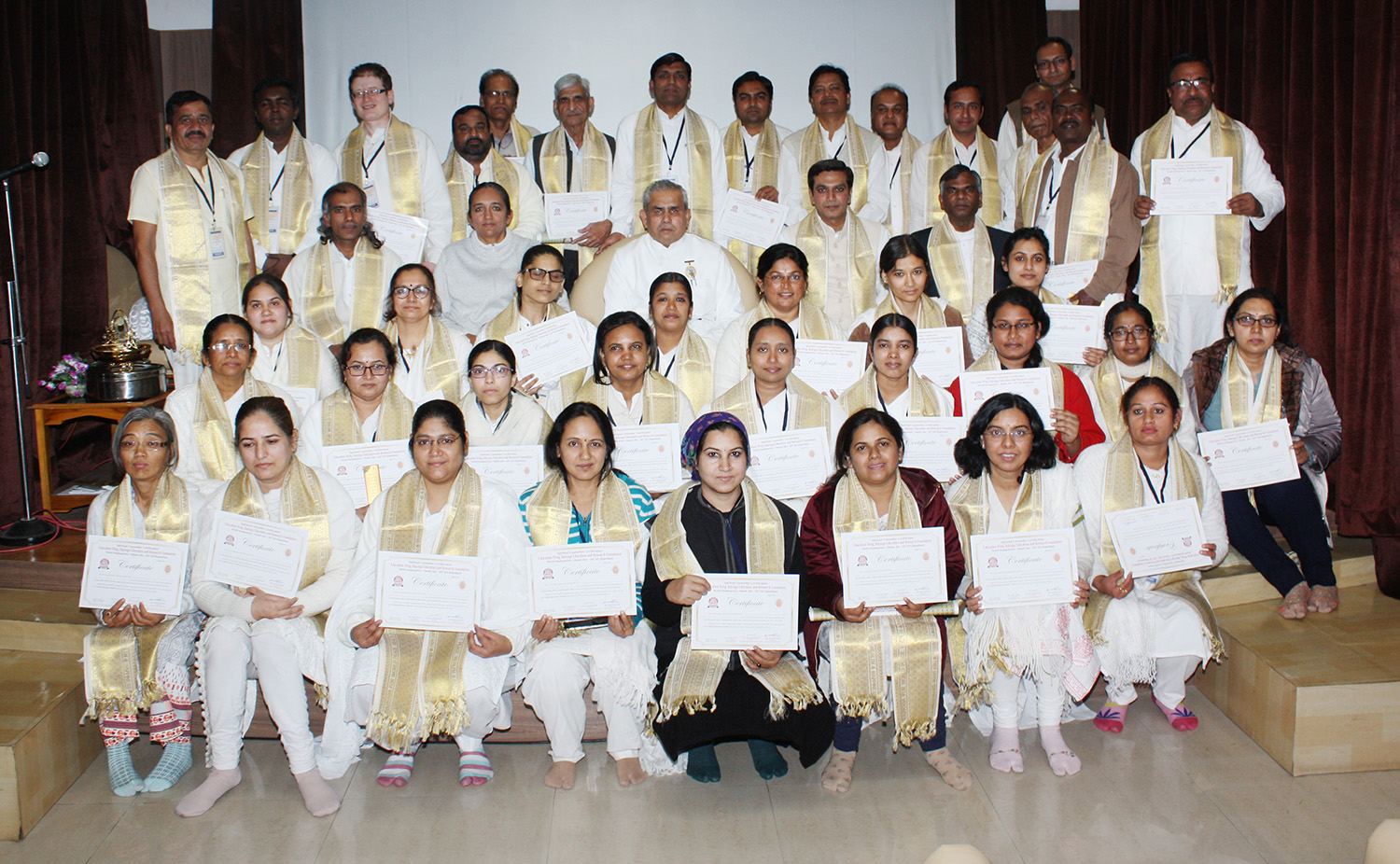 Dear Divine Family,
Greetings of Peace,
We are pleased to inform you that the Certification Programme for Spiritual Counsellor was held from 21st to 23rd December 2018 at Brahma Kumaris Shantivan, Abu Road, Rajasthan.
More than 60 participants have attended this programme.

BK Mruthyunjaya
Chairman, Education Wing
Brahma Kumaris, HQ, Mount Abu
http://bkvalueeducation.in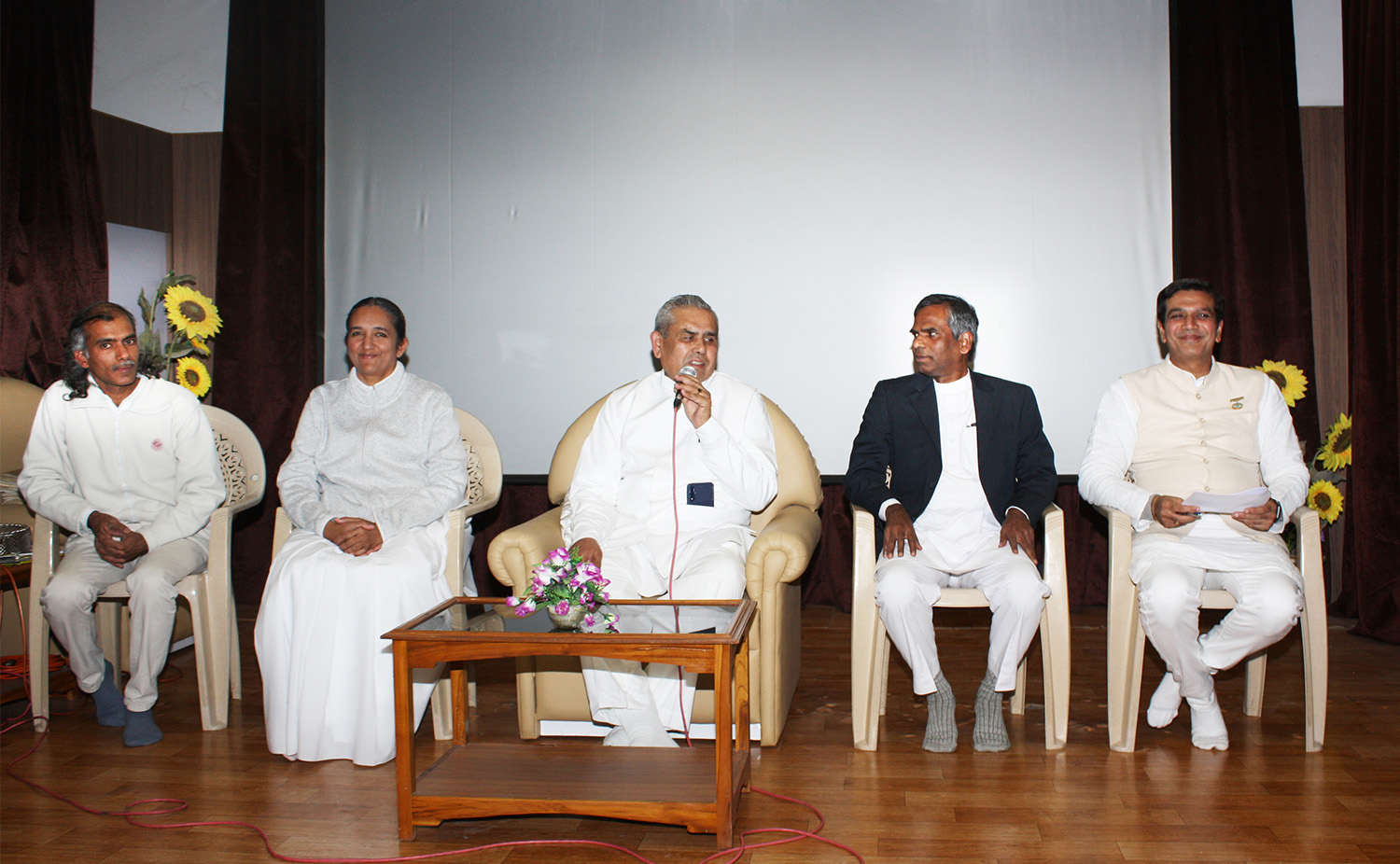 Launch of IT Wing Brochure and Digital Awareness Campaign (DAC)
27 December 2018
BapDada's Most Respectful Instruments of all the Centers,
Please accept the greetings of peace from Madhuban.
Please find the Brochure of IT Wing, RERF, Brahma Kumaris and Digital Awareness Campaign. For more information, kindly visit
itwing.brahmakumaris.com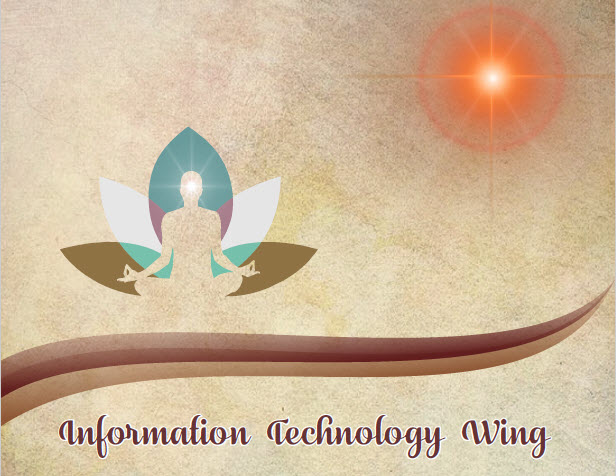 Click here to download brochure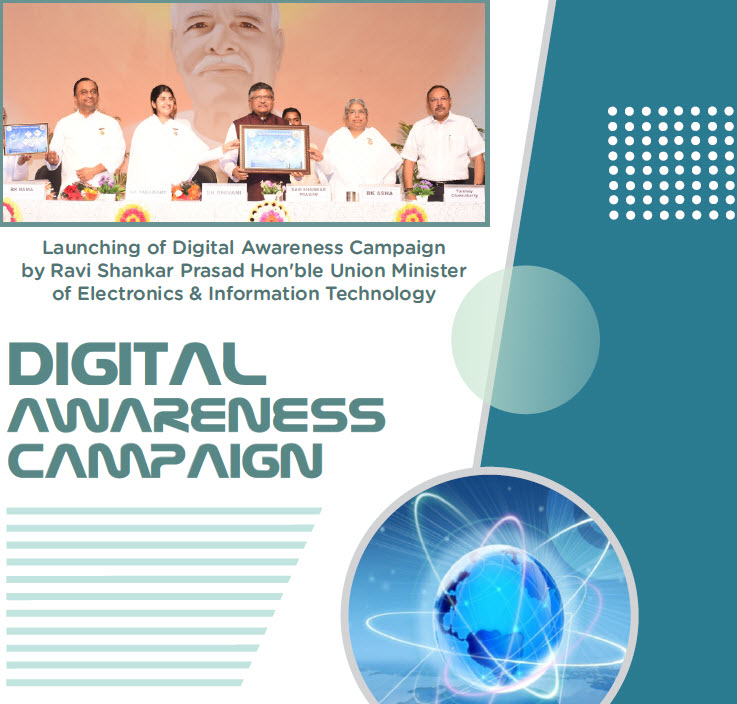 Click here to download the DAC

Another Godlywood Studio Milestone: One Lakh (100,000) Subscribers!
7 December 2018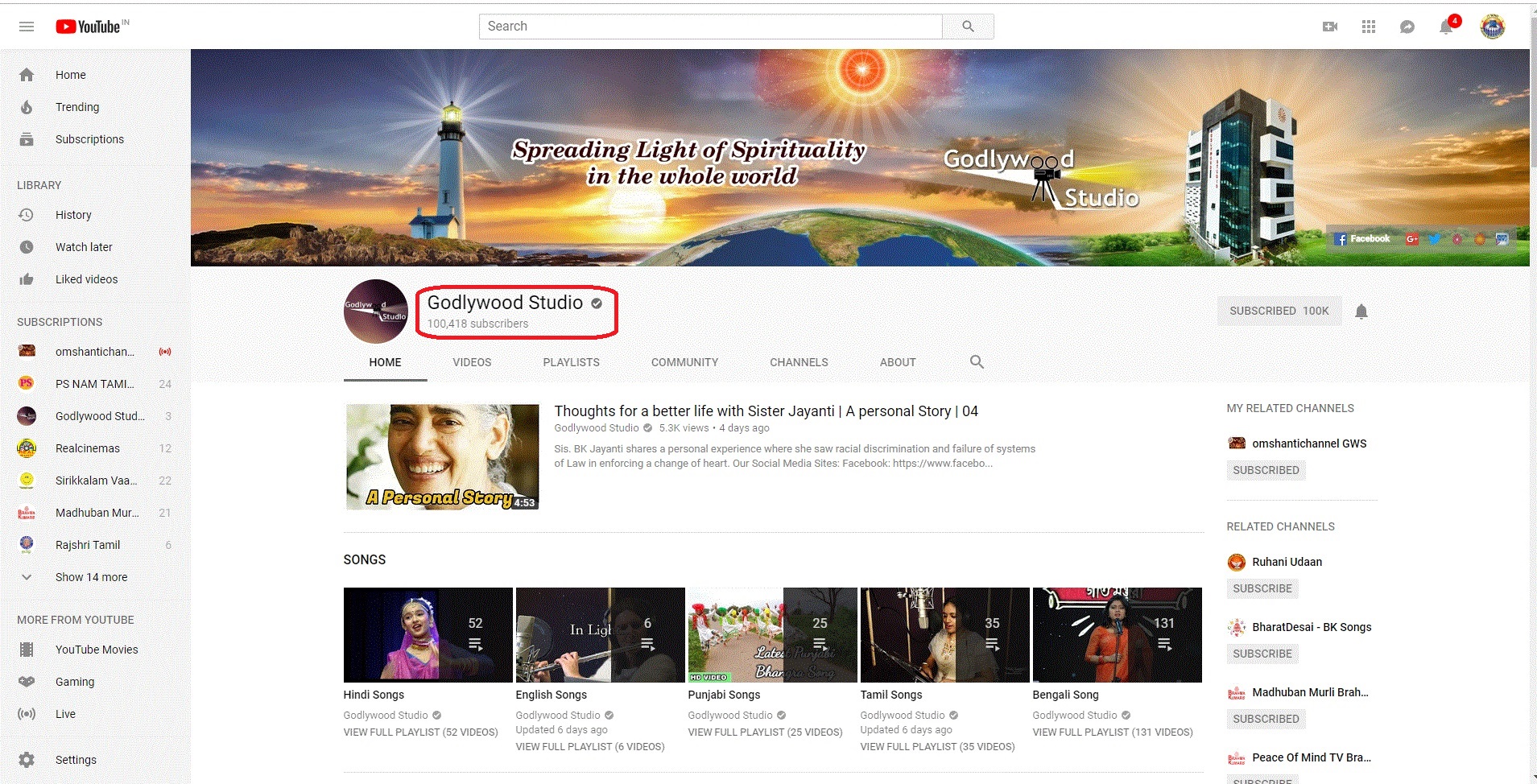 Dear brothers and sisters, Om Shanti,
Godlywood Studio has achieved the first milestone in becoming a successful content creator on the most popular video platform on the planet - Youtube - by crossing the One Lakh Subscriber mark. We have received the official Tick Mark from the Youtube Team! Verifying a channel which crosses one lakh subscribers with a 'Tick Mark' is an important step which is part of the routine procedure of YouTube to safeguard the Brand, Channel and content from misuse. Being a Production House, it is essential for us to protect the creativity of the creator.
Our Youtube offline Link
https://www.youtube.com/user/godlywoodstudio
You can watch any spiritual/educational content that we stream LIVE in 'Om Shanti Channel' and it can also be watched at your leisure on our offline YouTube Channel. Please note that 'Godlywood Studio' with the verified 'Tick Mark' is our only official offline Channel (see image above) and beware of any other channel with a name similar to Godlywood Studio.
Thanks for your consistent good wishes and encouragement which inspires us to contribute to the society in more diversified ways.
With Warm Regards,
BK Harilal
Executive Director
Godlywood Studio
World Renewal Spiritual Trust

Godlywood Celebrates Milestone of Producing Its Ten Thousandth Episode
6 December 2018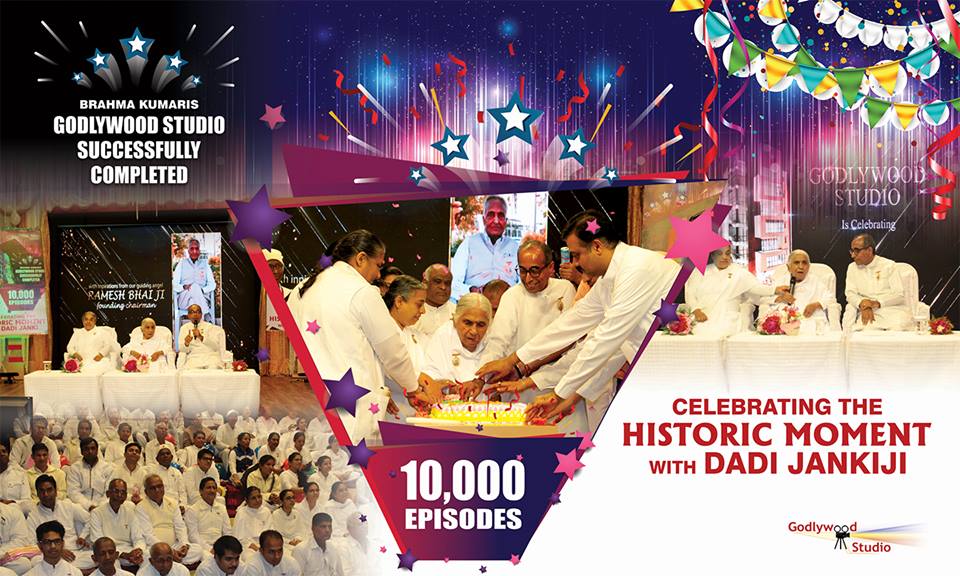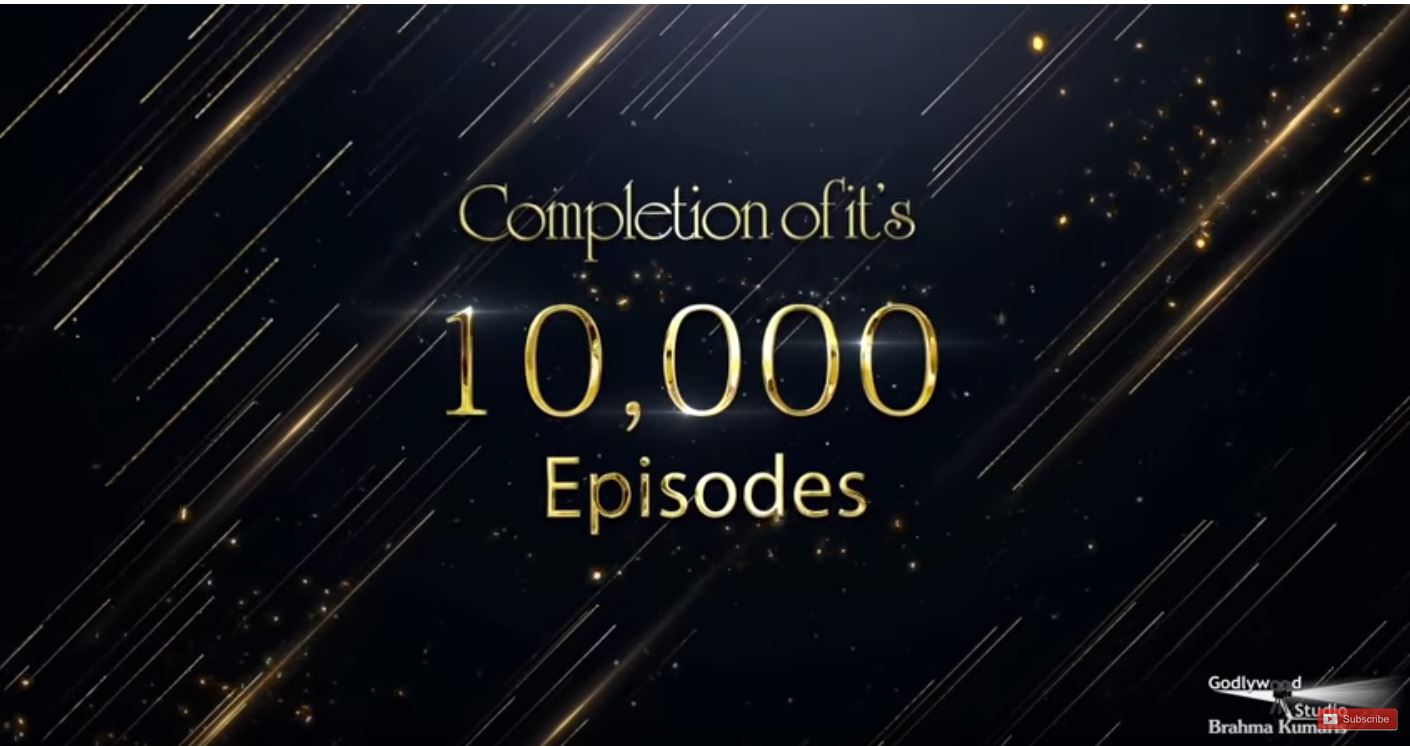 Click on the above image to watch the completion of 10,000 Episodes by Godlywood Studio
Dear Brothers and Sisters, Om Shanti.
Godlywood Studio has celebrated a historic achievement – another glorious feather in the cap – in serving the world through value-oriented media by creating 10,000+ episodes on spiritual topics that add immense value to the life of viewers which is our commitment and responsibility to the society. By reaching this milestone Godlywood has entered into the elite group of production houses (Studios) in the world.
Apart from episodes in Hindi & English which takes care of the National & International outreach, the bulk of these episodes are made in 9 Indian Regional Languages - Serving the nook and corner of India means serving and promoting the regional culture!
TEAM Godlywood celebrated the milestone with the living legend Centurion Dadi Jankiji, who inspired, installed and sustained Studio for all these years. Following the vision and legacy of the Founding Chairman Respected Ramesh Bhaiji, TEAM Godlywood is all set to make even greater achievements in serving the world in the coming years.
The whole celebration was streamed LIVE in Om Shanti Channel for the first time and thousands of viewers joined us in the celebration from the comfort of their homes. Thanks to our Production and IT Dept., for making the LIVE streaming possible. My sincere thanks to all the 100+ inmates cum Sevadharis of Baba's Godlywood Studio who are the real sculptors of this achievement.
At this juncture how can I forget my amazing speakers and Anchors who are the backbone of this whole achievement!
Thanks a lot to Almighty Godfather Shivbaba, Dadi's, Senior brothers and all of you for your support without which this achievement would be an impossible one.
With Warm Regards,
BK Harilal
Executive Director
Godlywood Studio
World Renewal Spiritual Trust

Gift from Godlywood Studio on Children's day
6 December 2018
Dear Brothers and Sisters,
Om Shanti.
Greetings from Godlywood.
November 14th is celebrated in India Nationwide as Children's day in the remembrance of Chacha Nehru. Godlywood Studio also joins the celebration by stepping into the amazing world of children by making an exclusive show for children - "Hum Honge Kamyaab" (We will be victorious). The promo with Title Song of the Show will be released on 14th November on Om Shanti Channel. India being an amazingly young Nation with more than half of the population consisting of children and youth, "Hum Honge Kamyaab" will help them explore life fearlessly and with passion. The show is steered by experts in the field of Youth Empowerment and Rajyoga Education and will be aired from every Saturday and Sunday at 9.30 PM.
Watch the show along with your Kids and get back to us with your feedback. Let's together build our dream world of the future!
Click on above image to play the title song.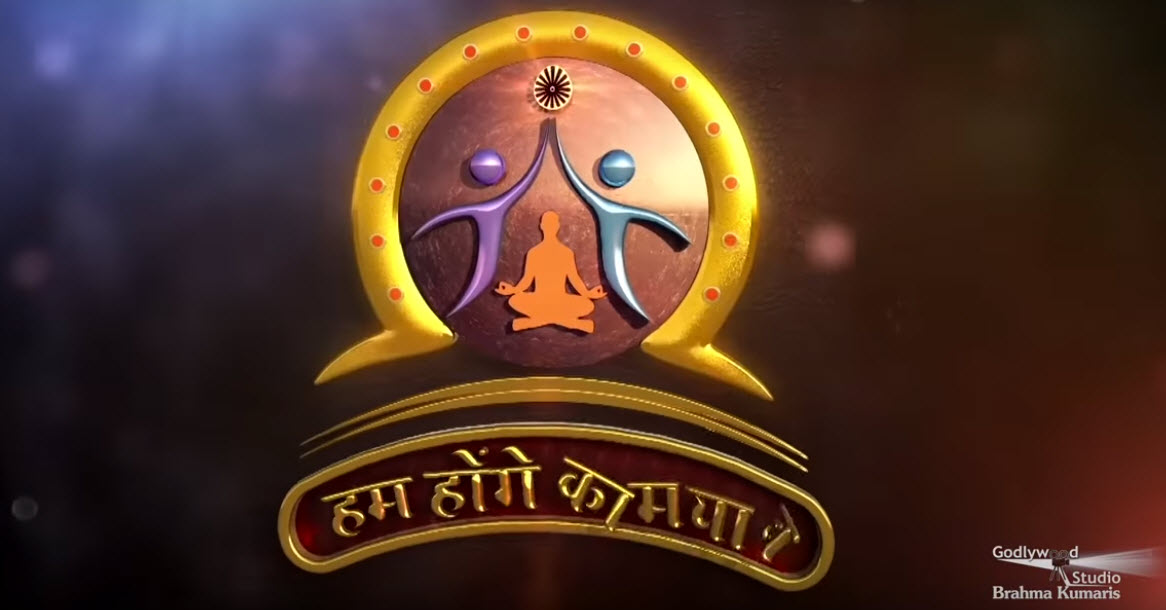 Click on above image to play the promo.
With Warm Regards,
BK Harilal
Executive Director
Godlywood Studio
World Renewal Spiritual Trust

International version of Talk Show 'Ek Mulakat' Debuts 'Merging East & West' Version
10 November 2018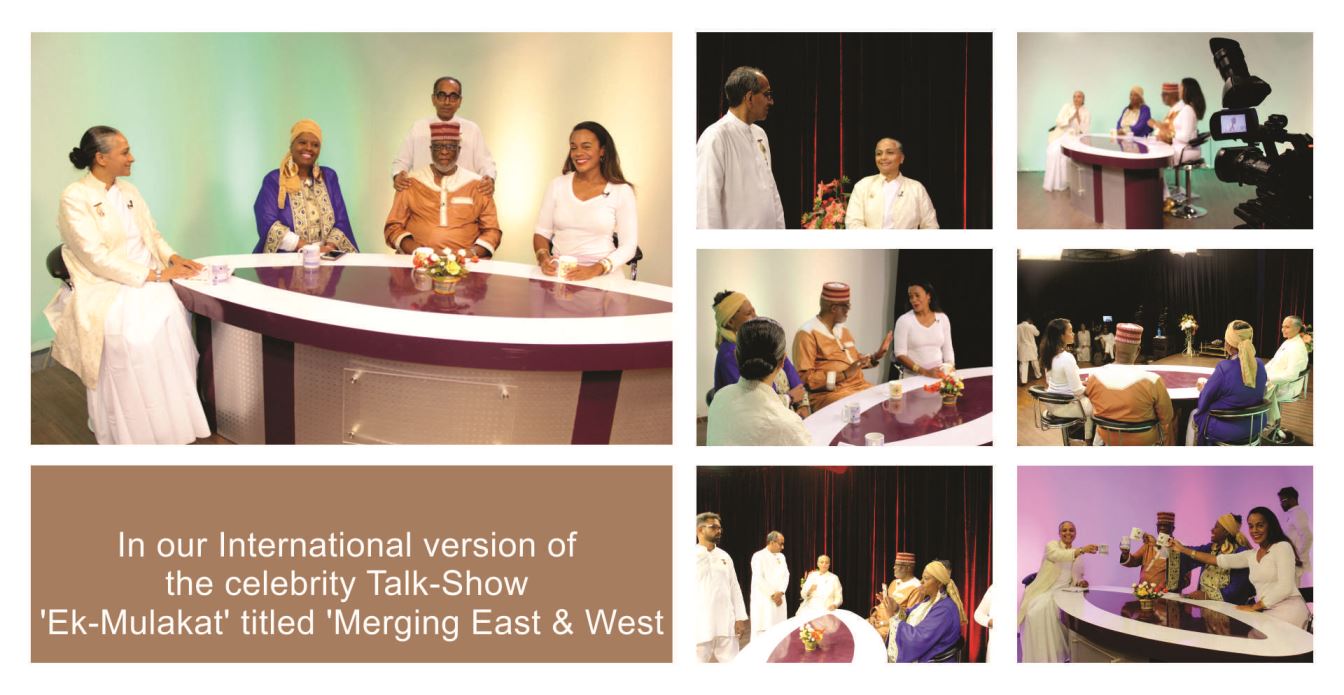 In Photos - Happy Diwali in Pandav Bhawan
08 November 2018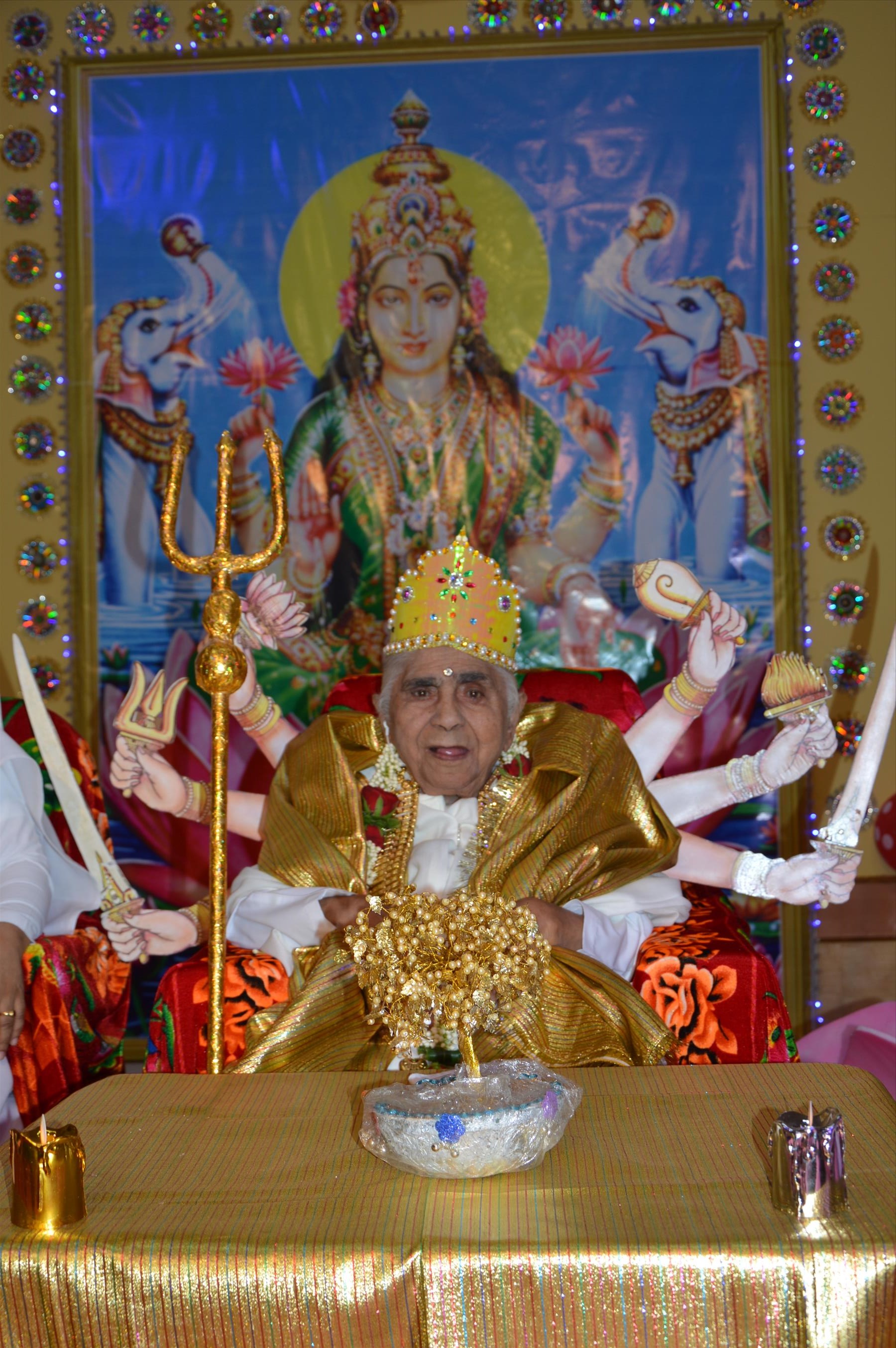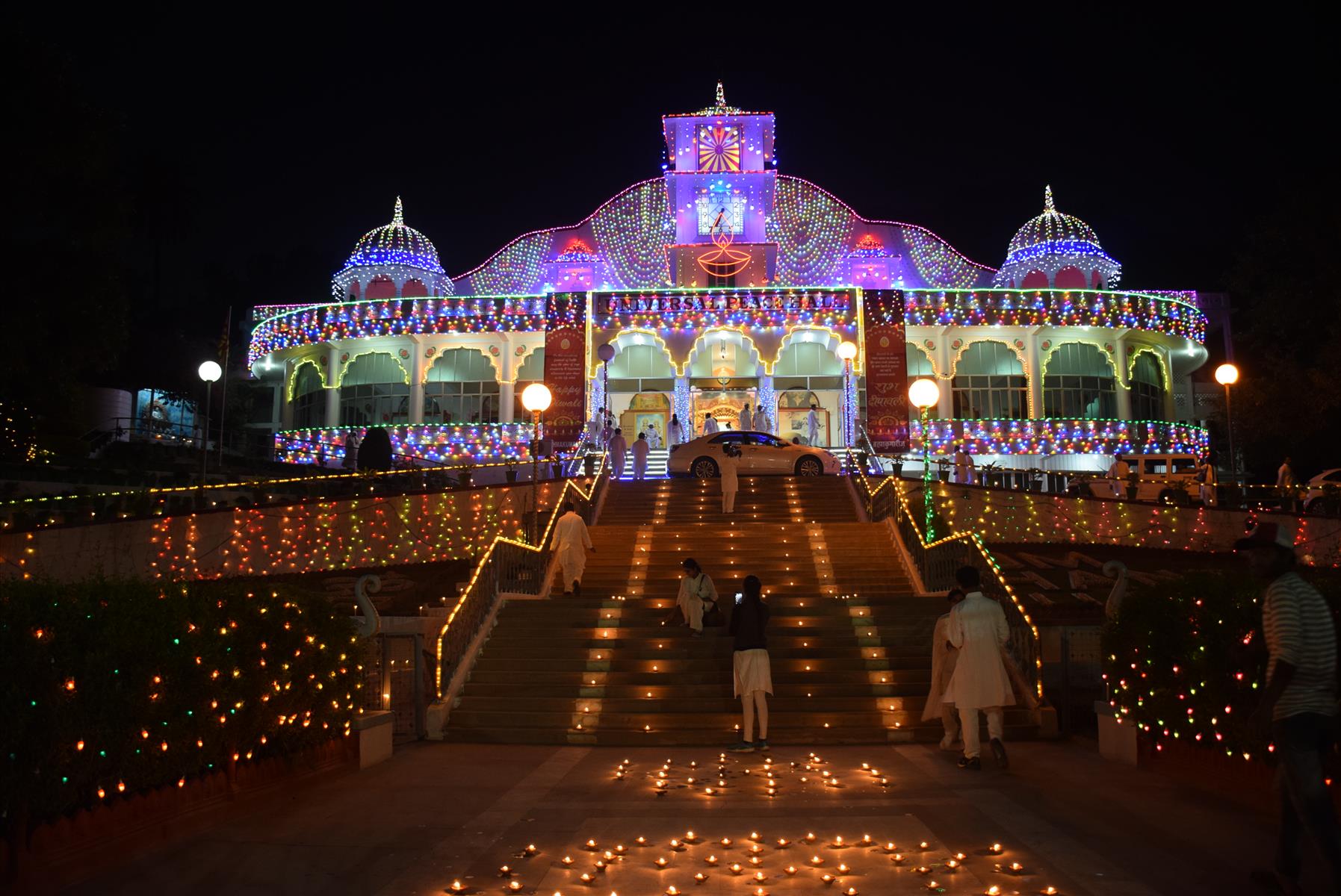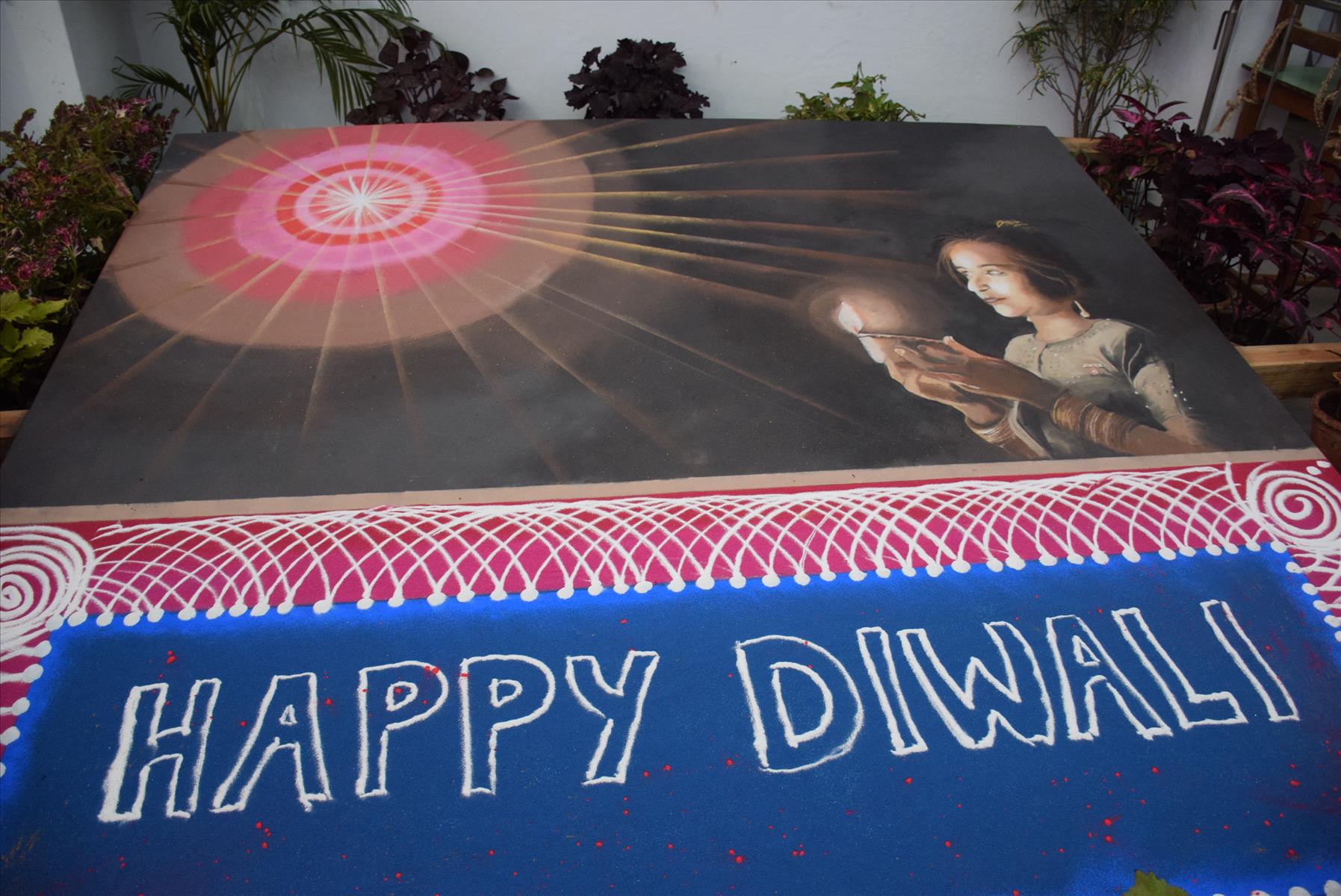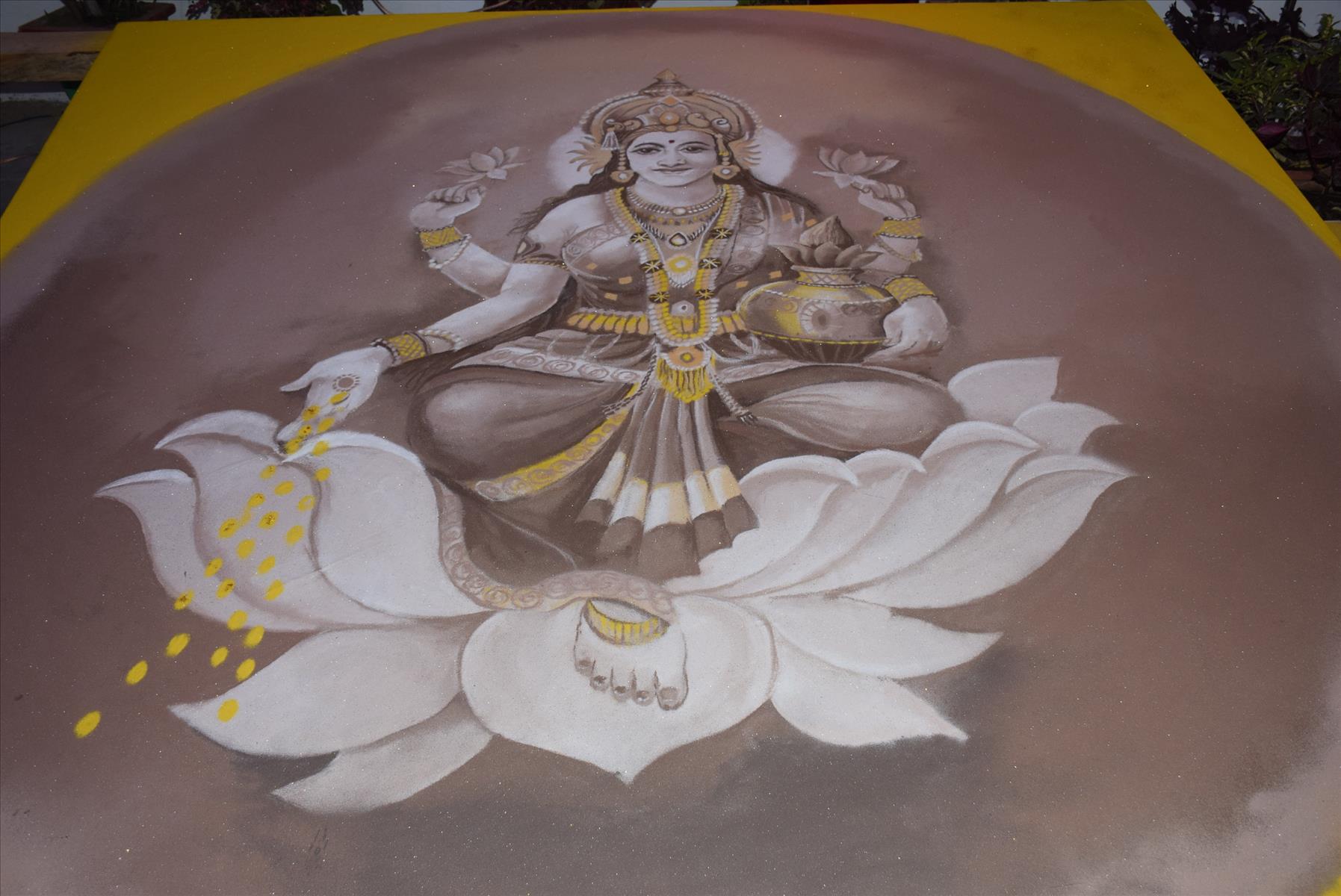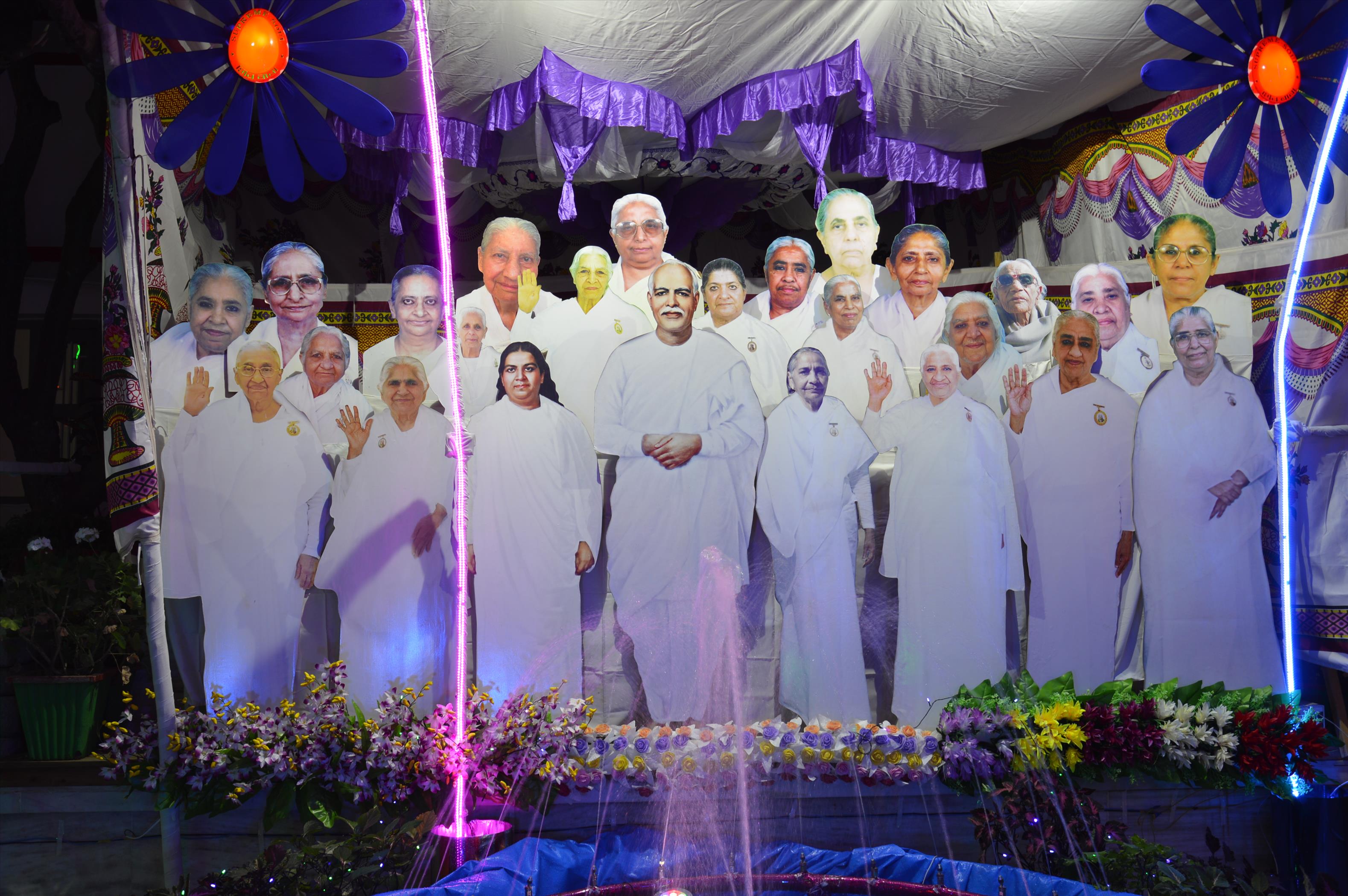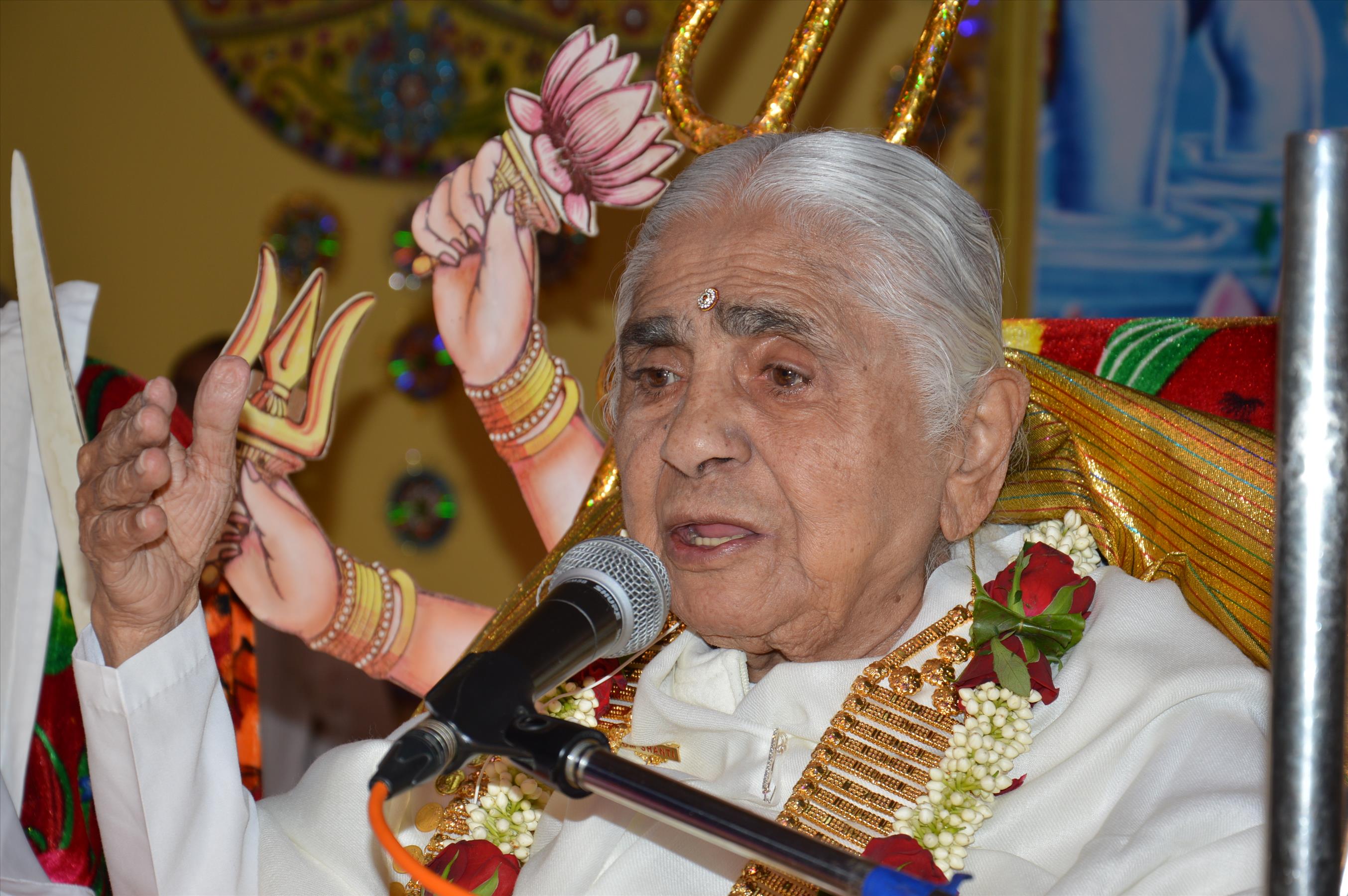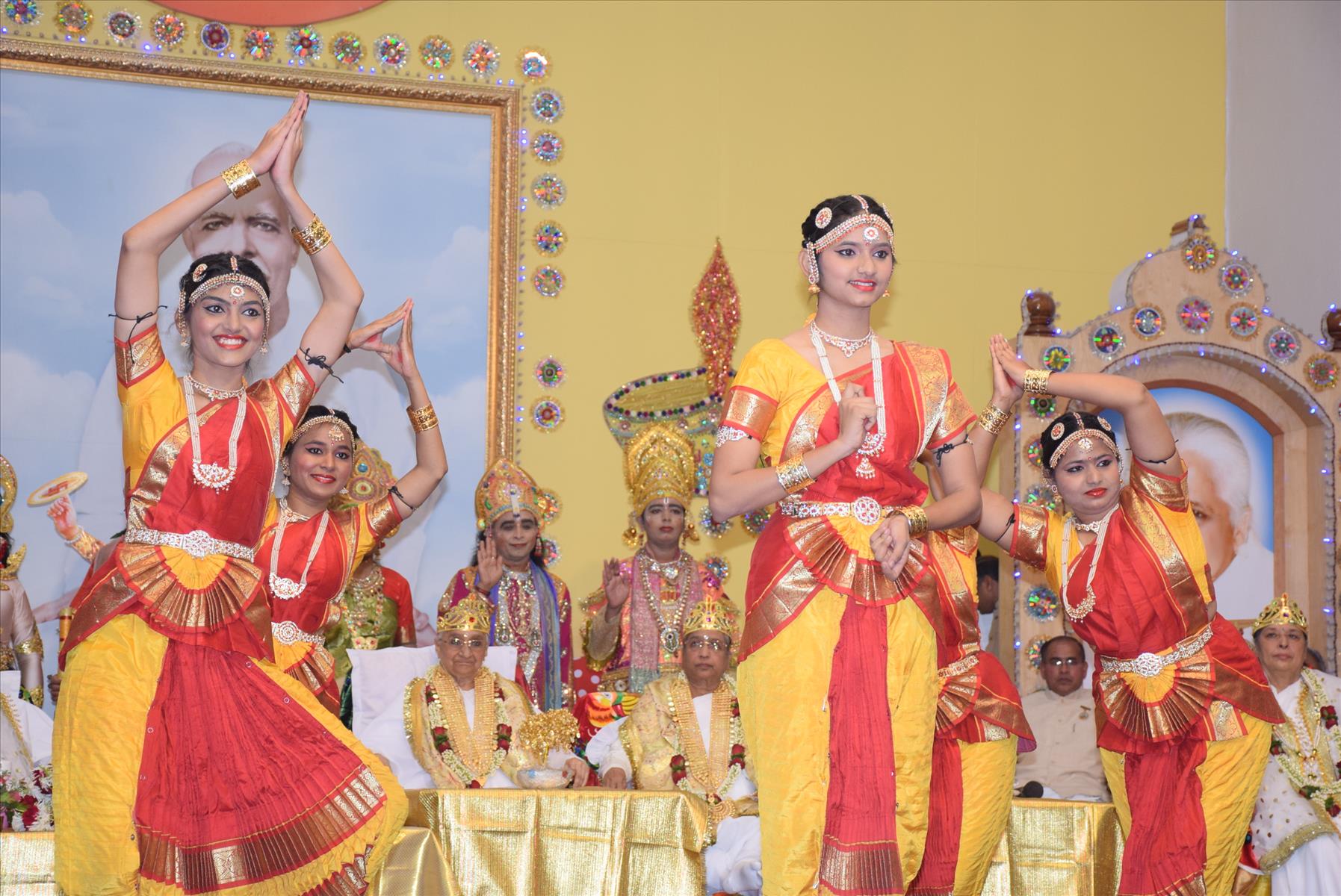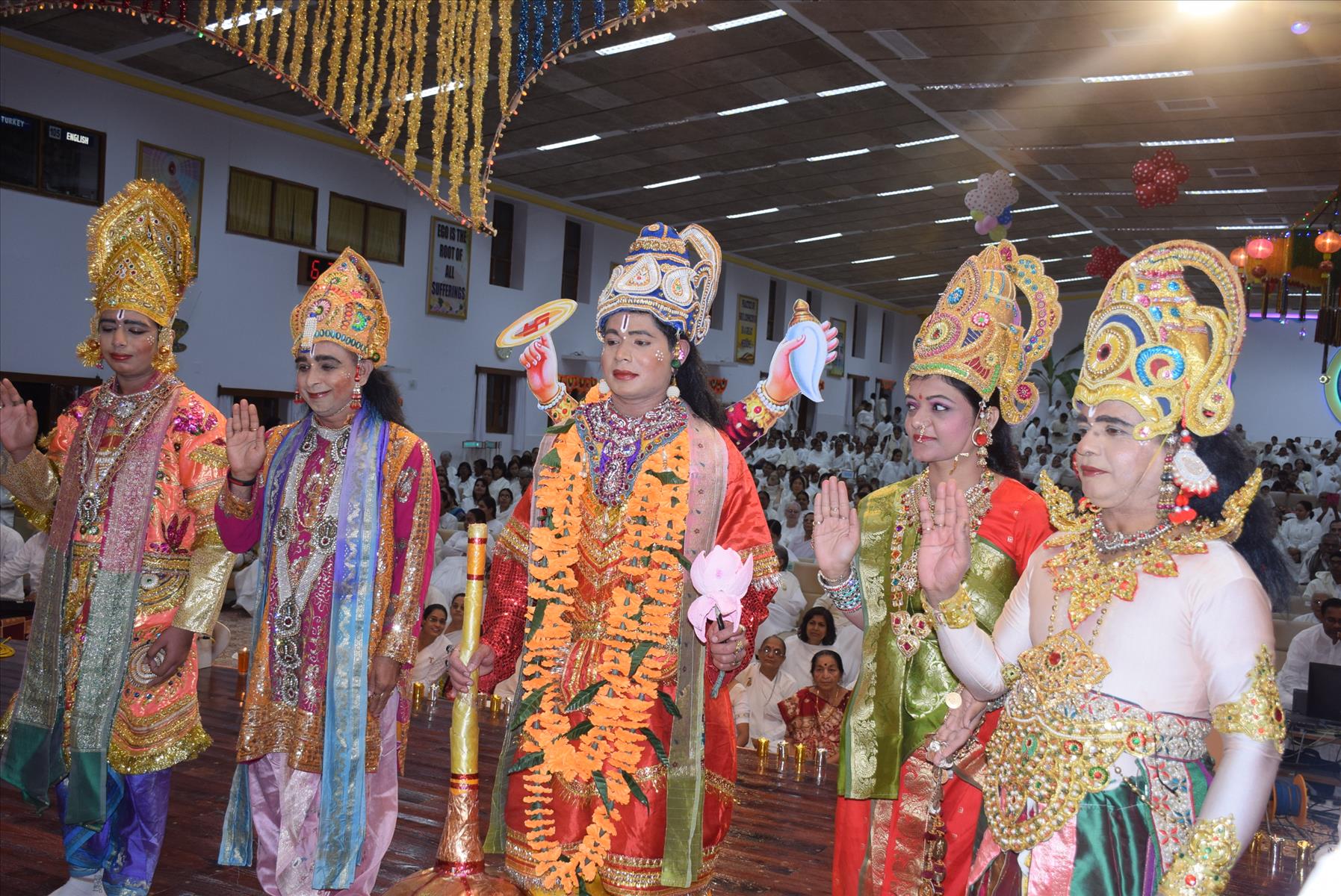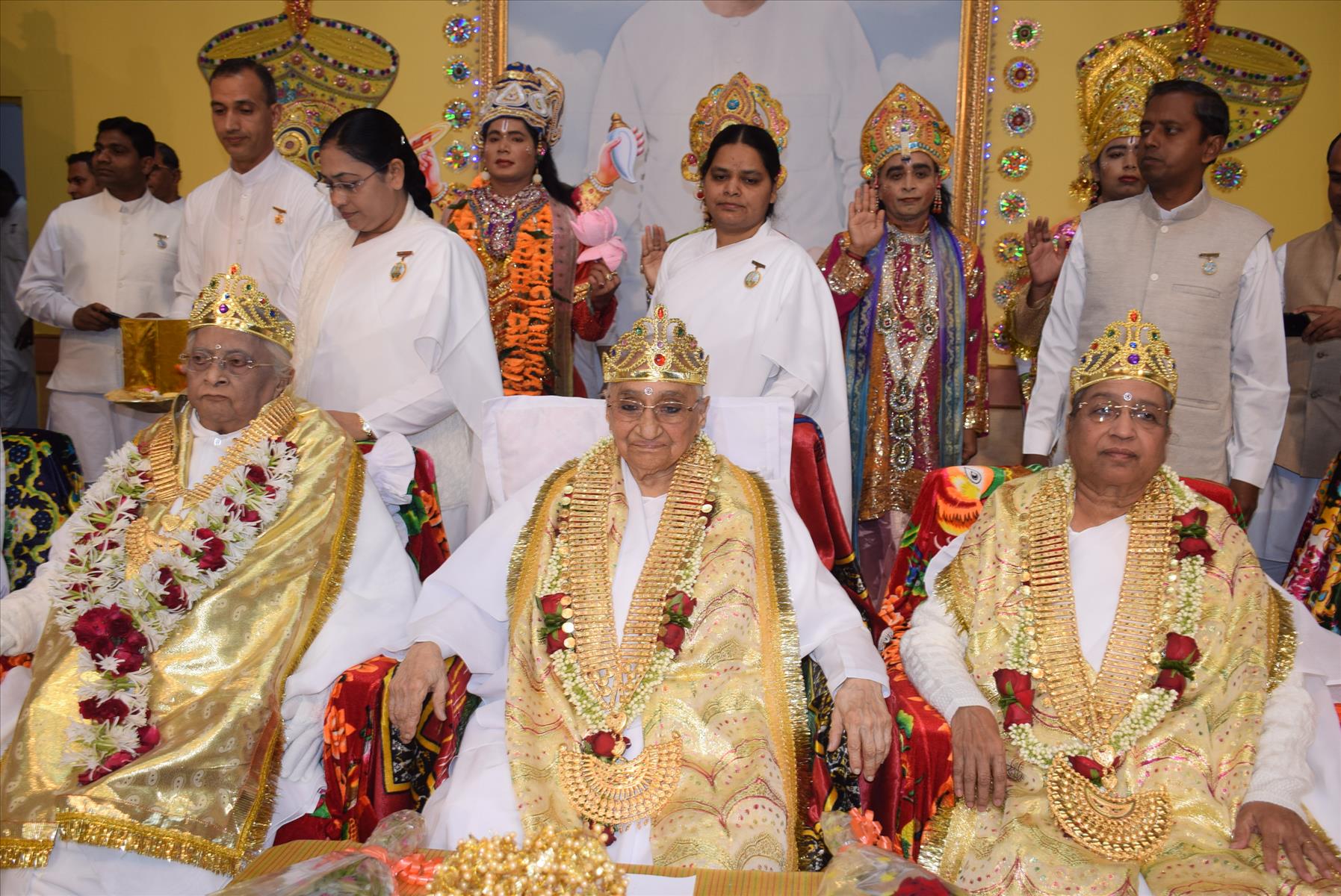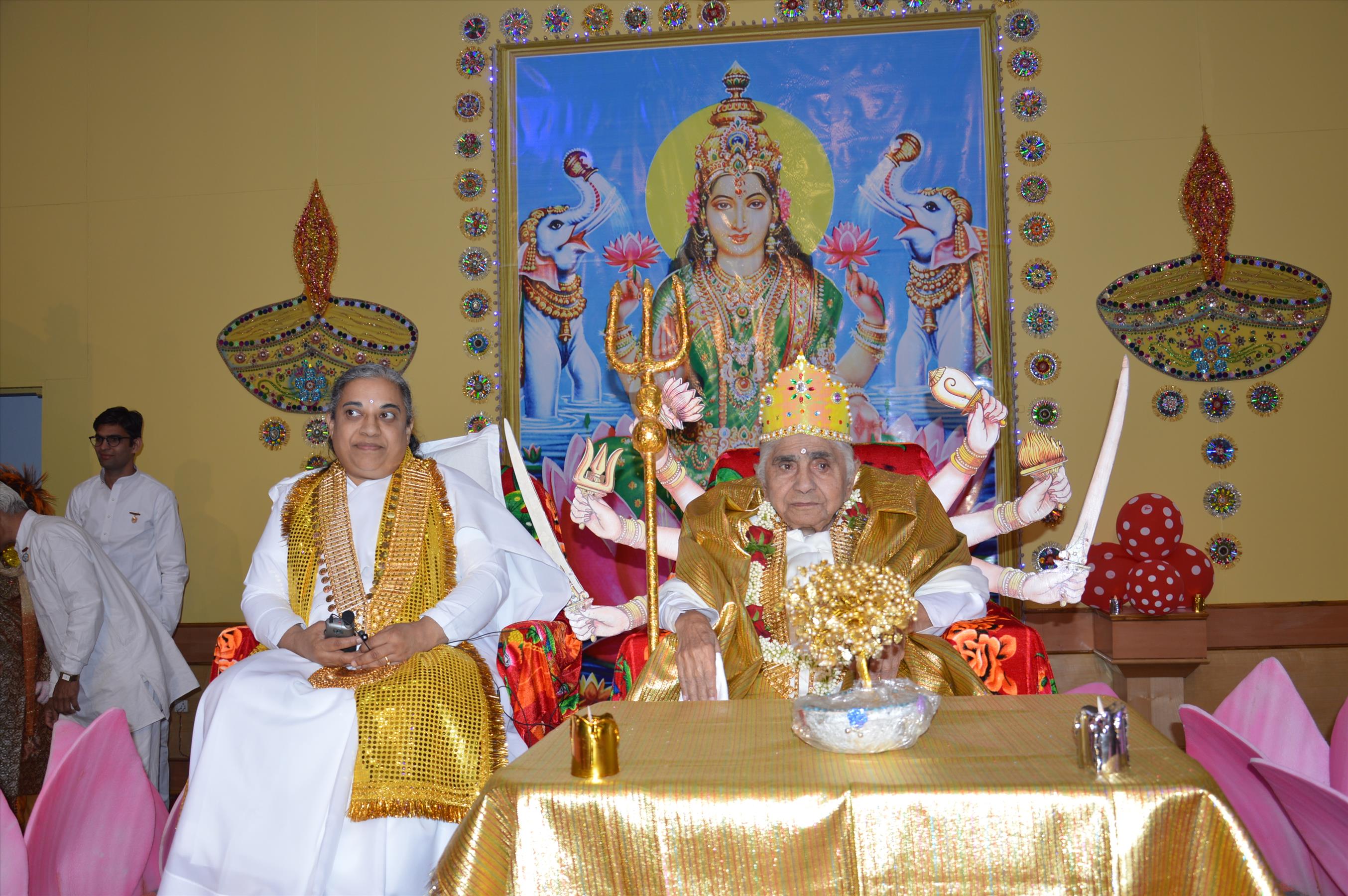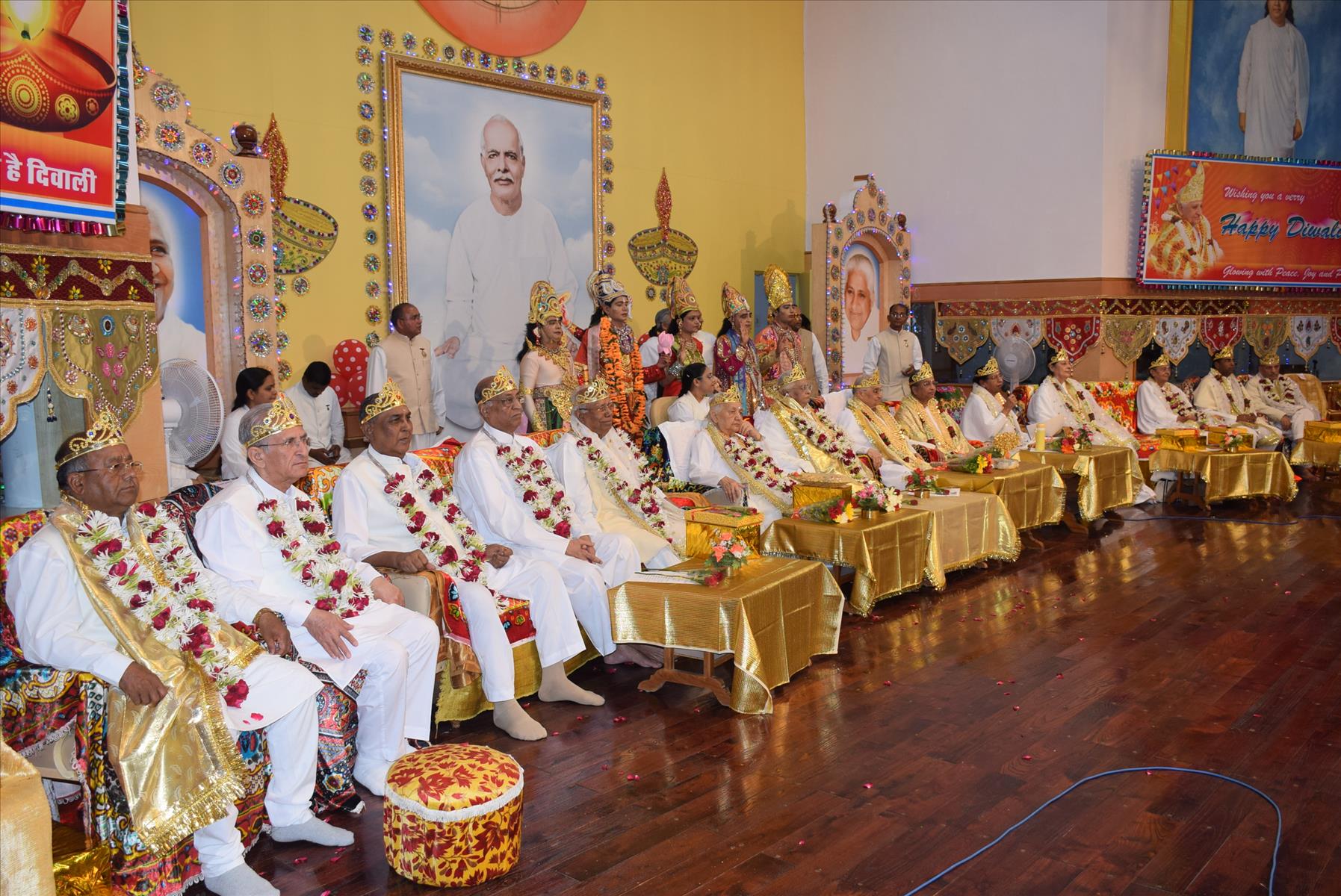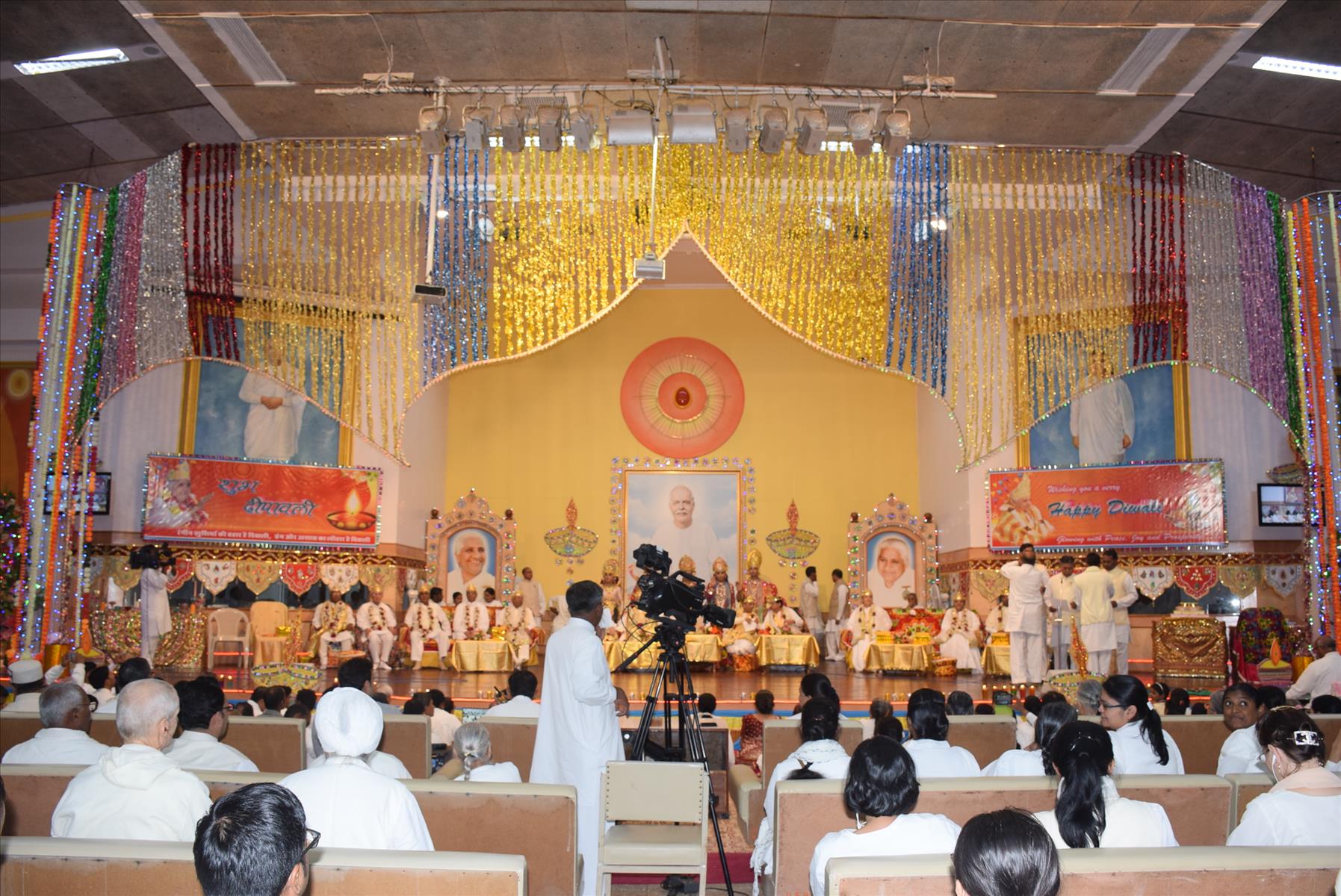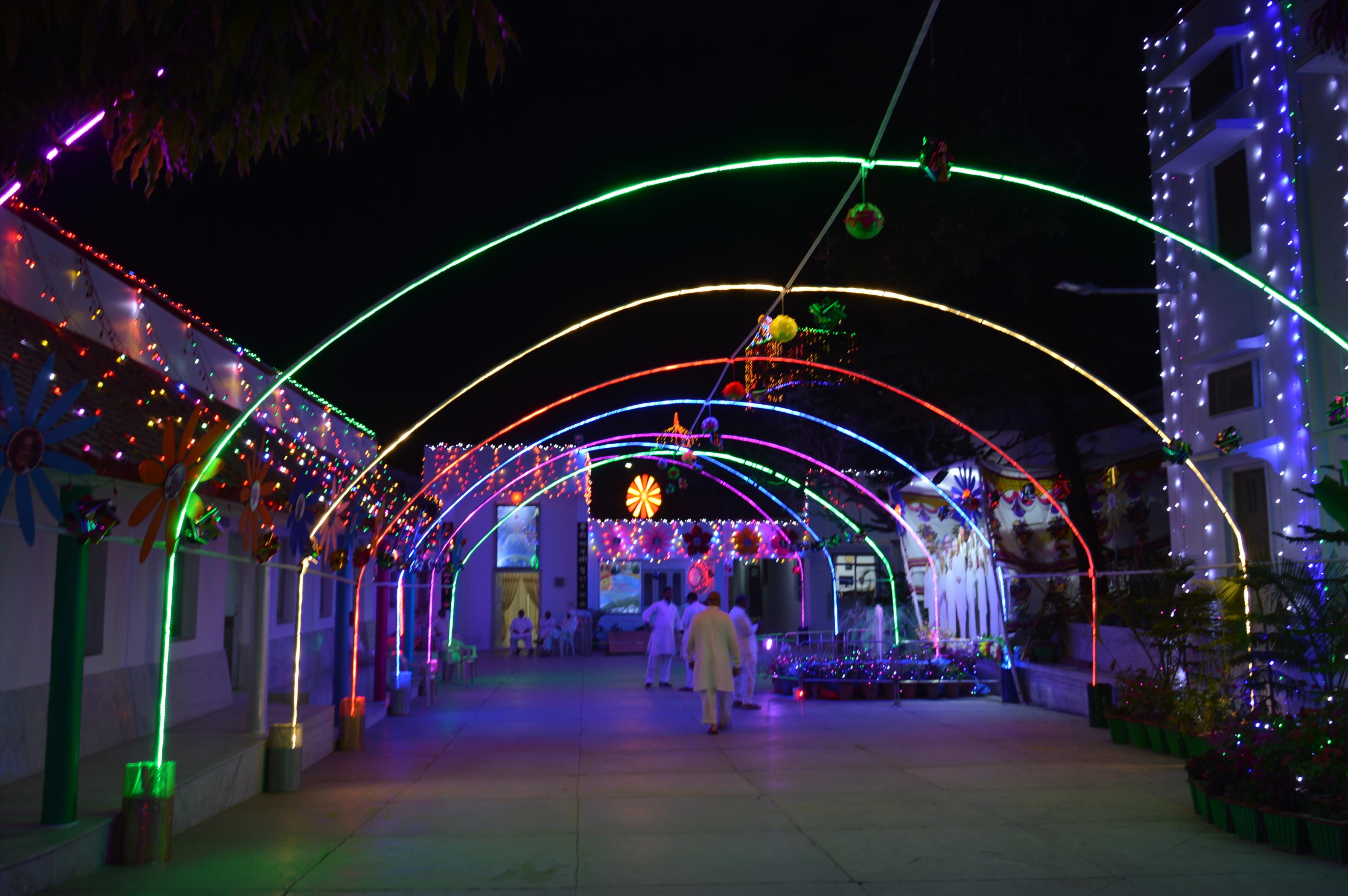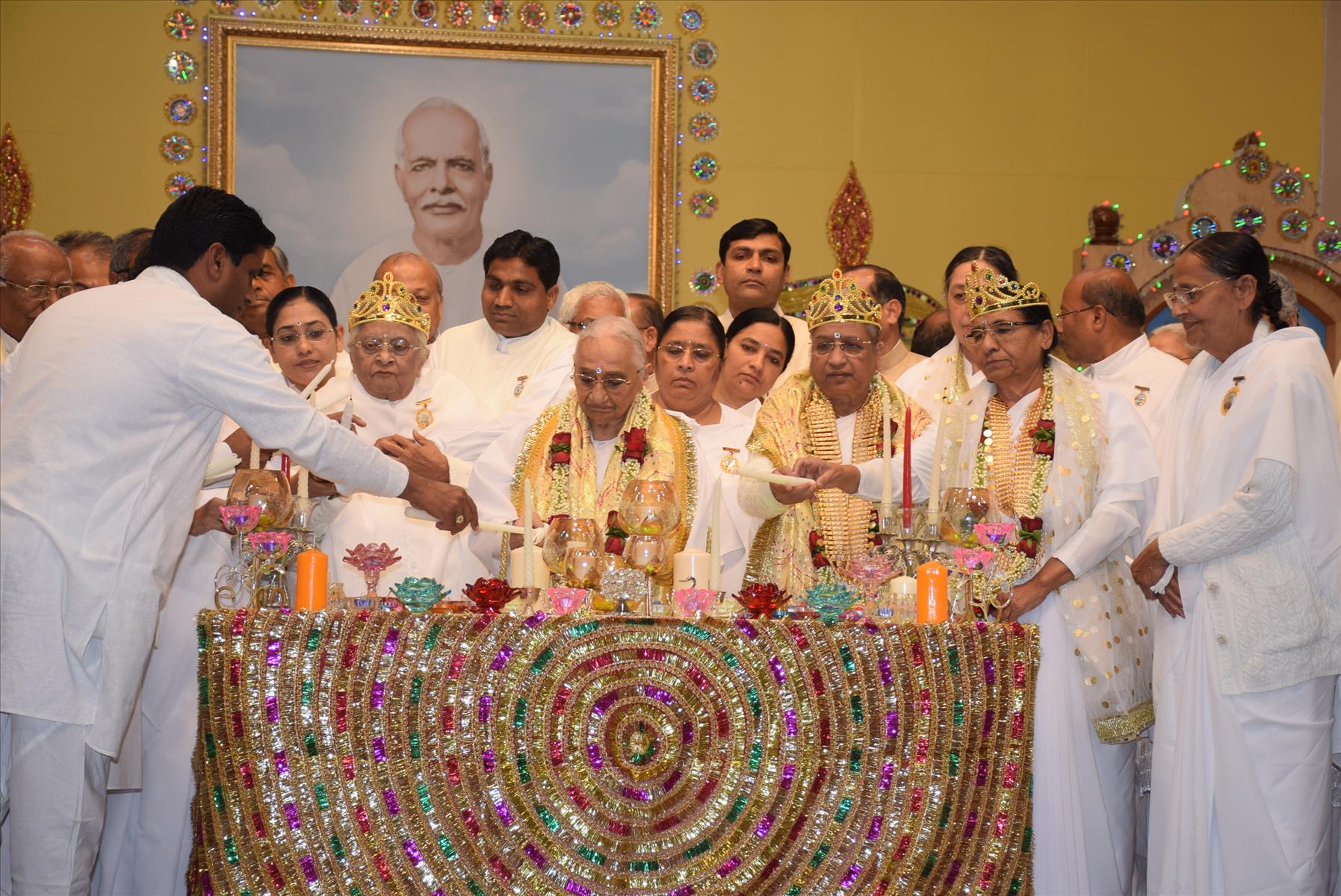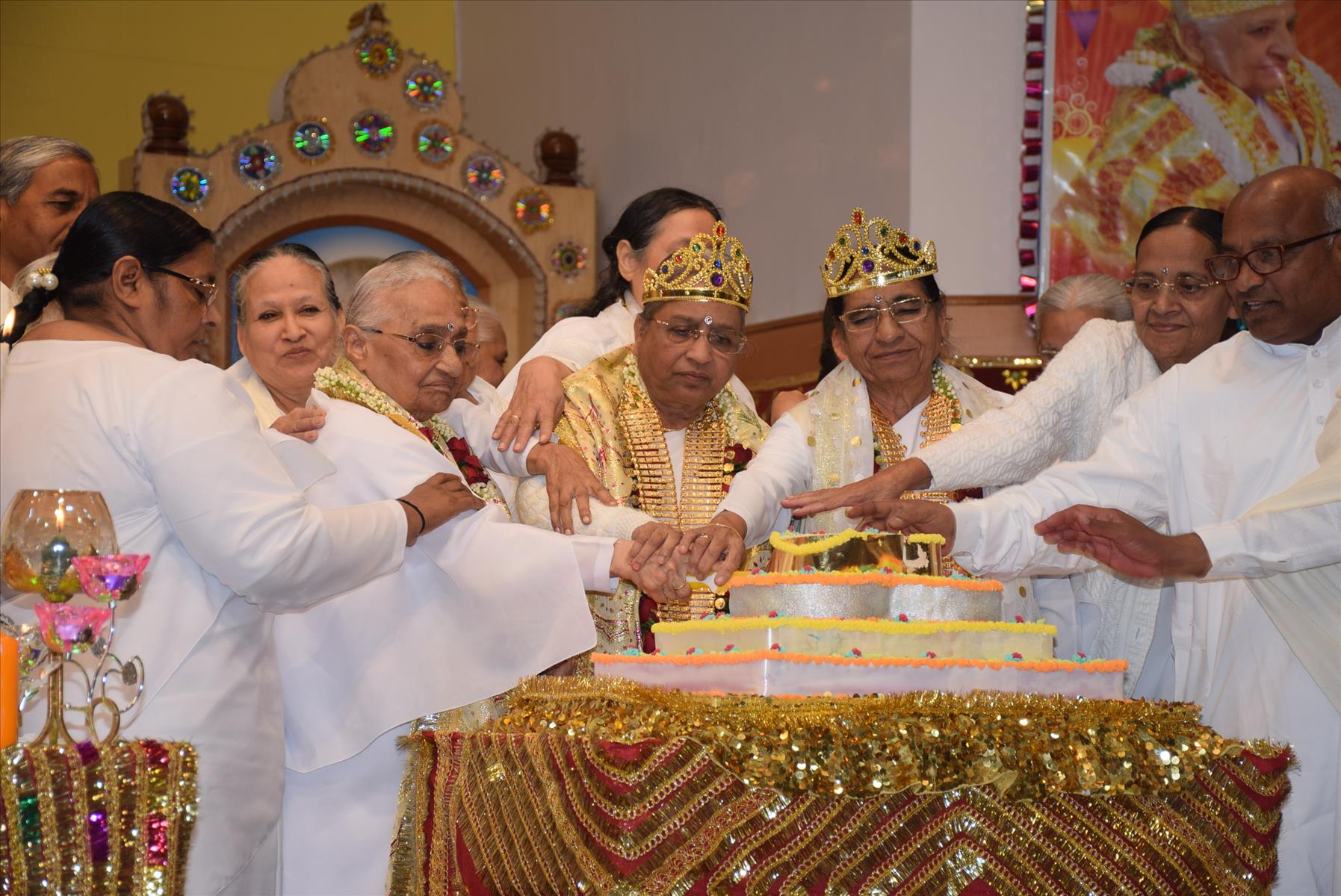 In Photos: Diwali in Gyan Sarovar
08 November 2018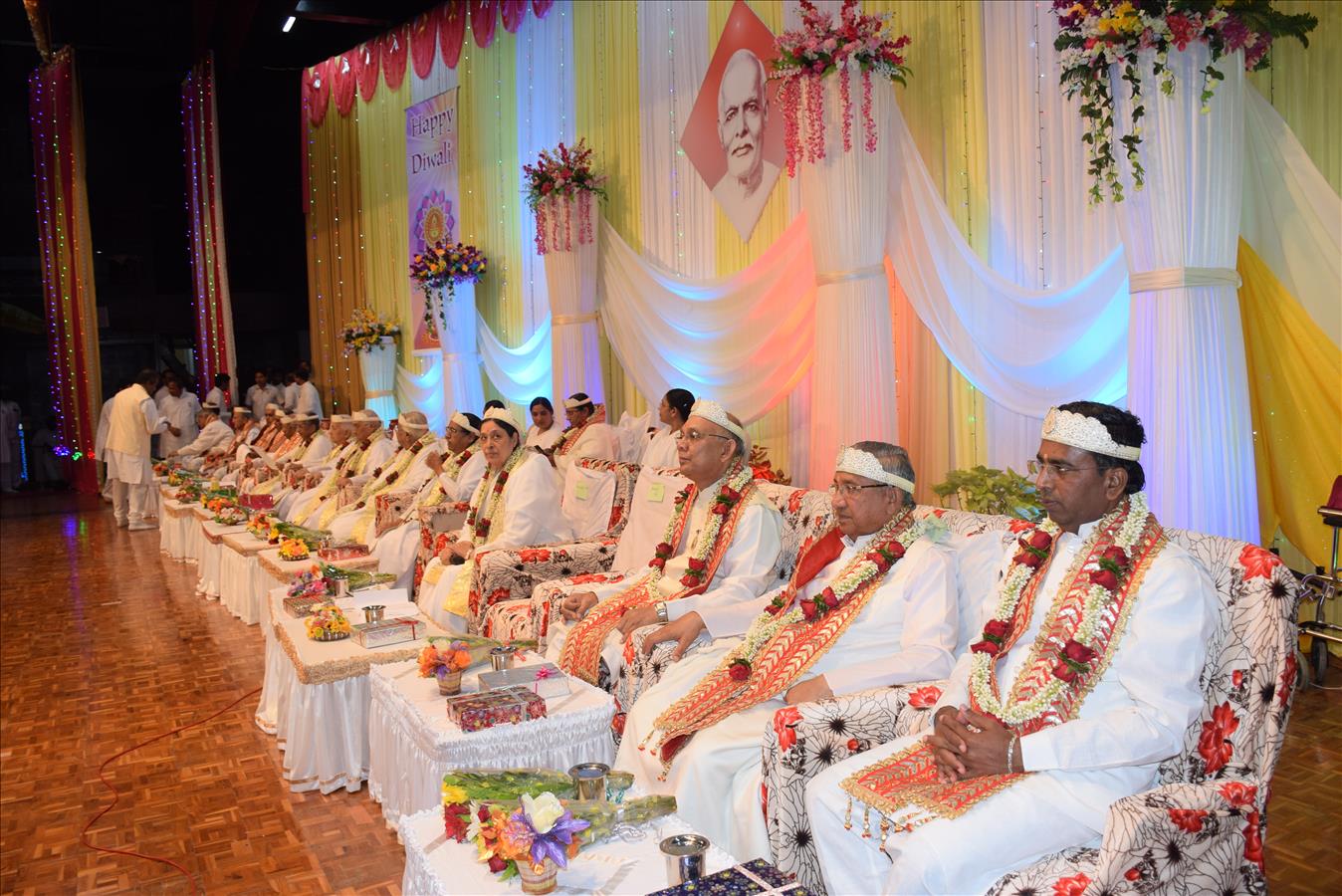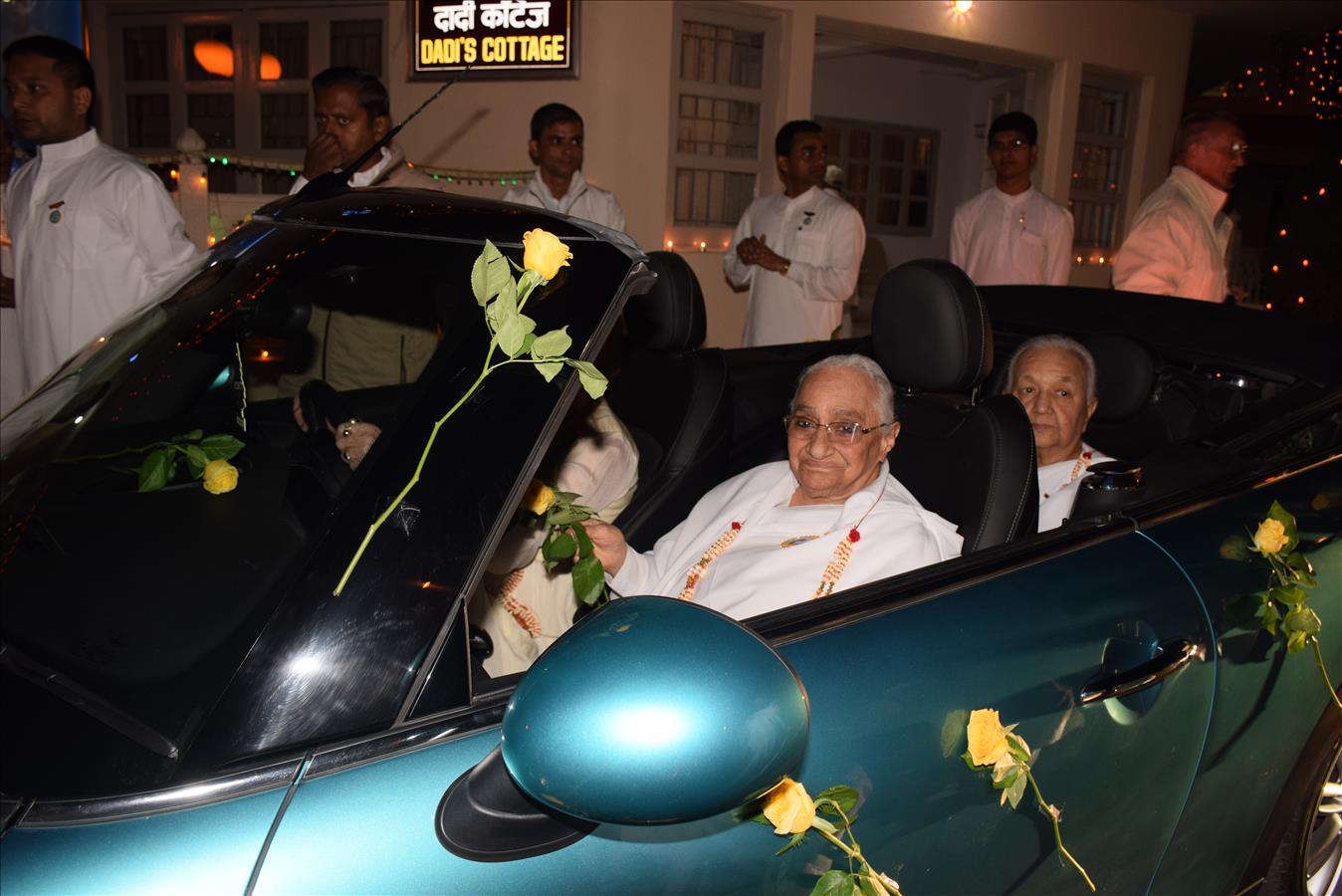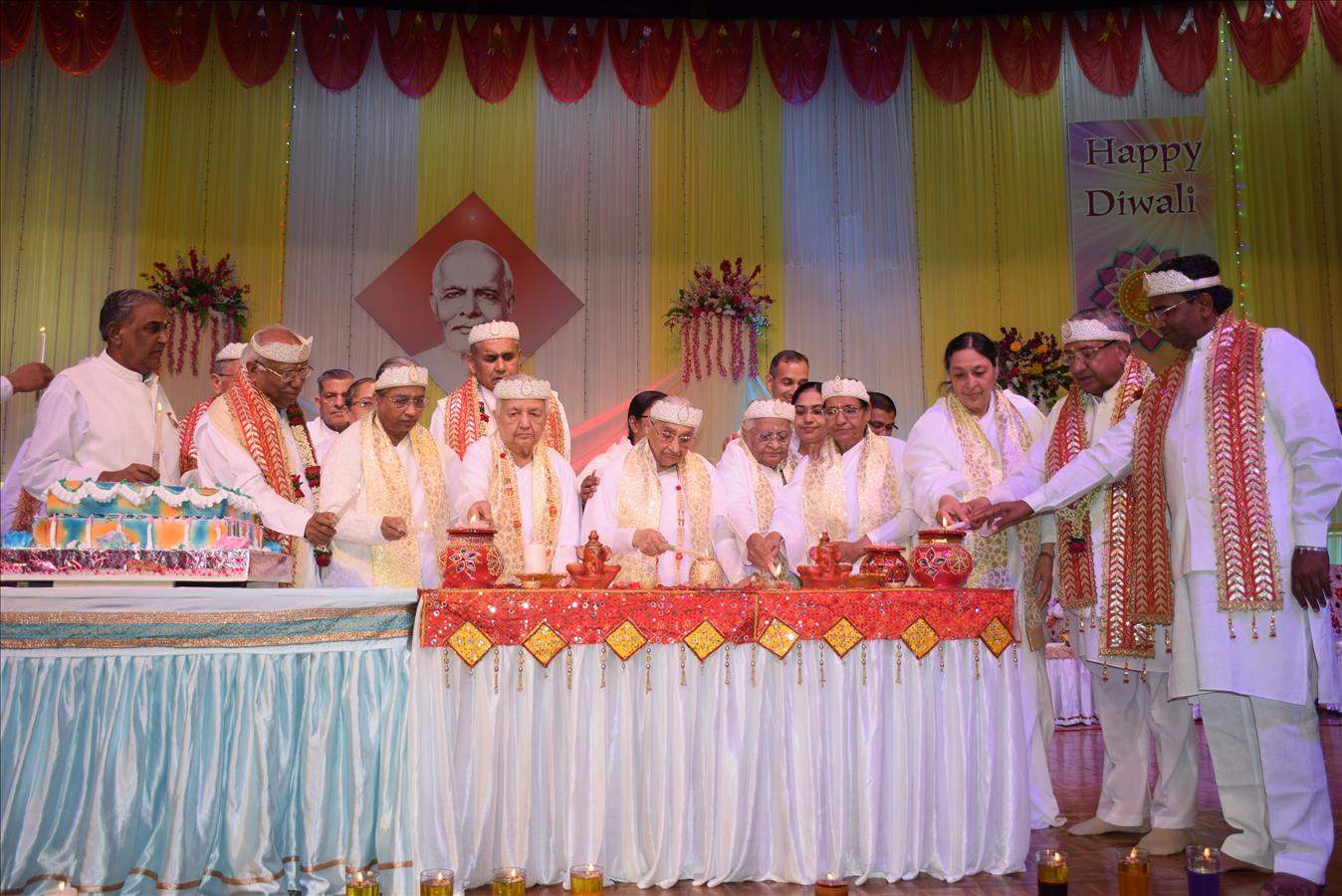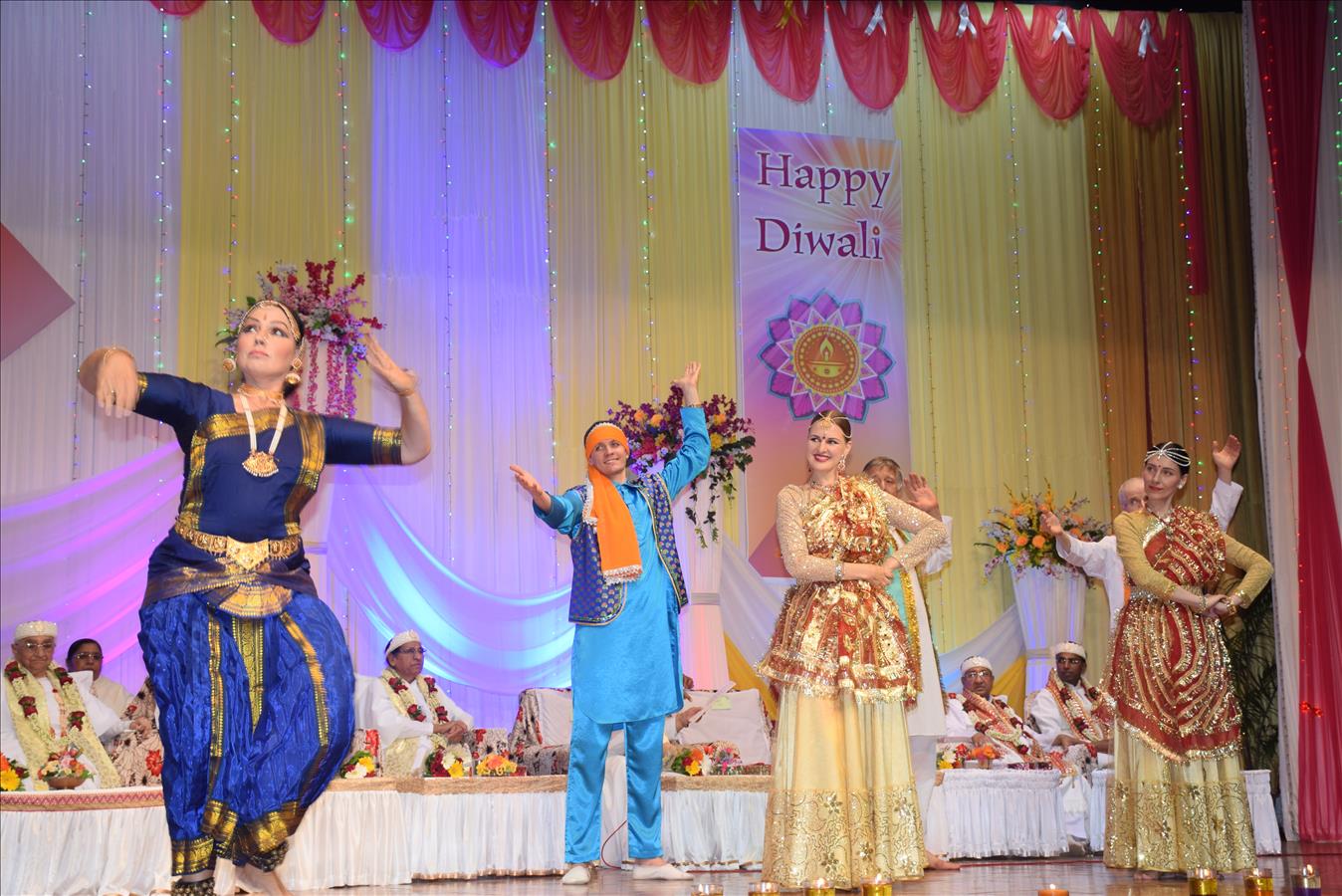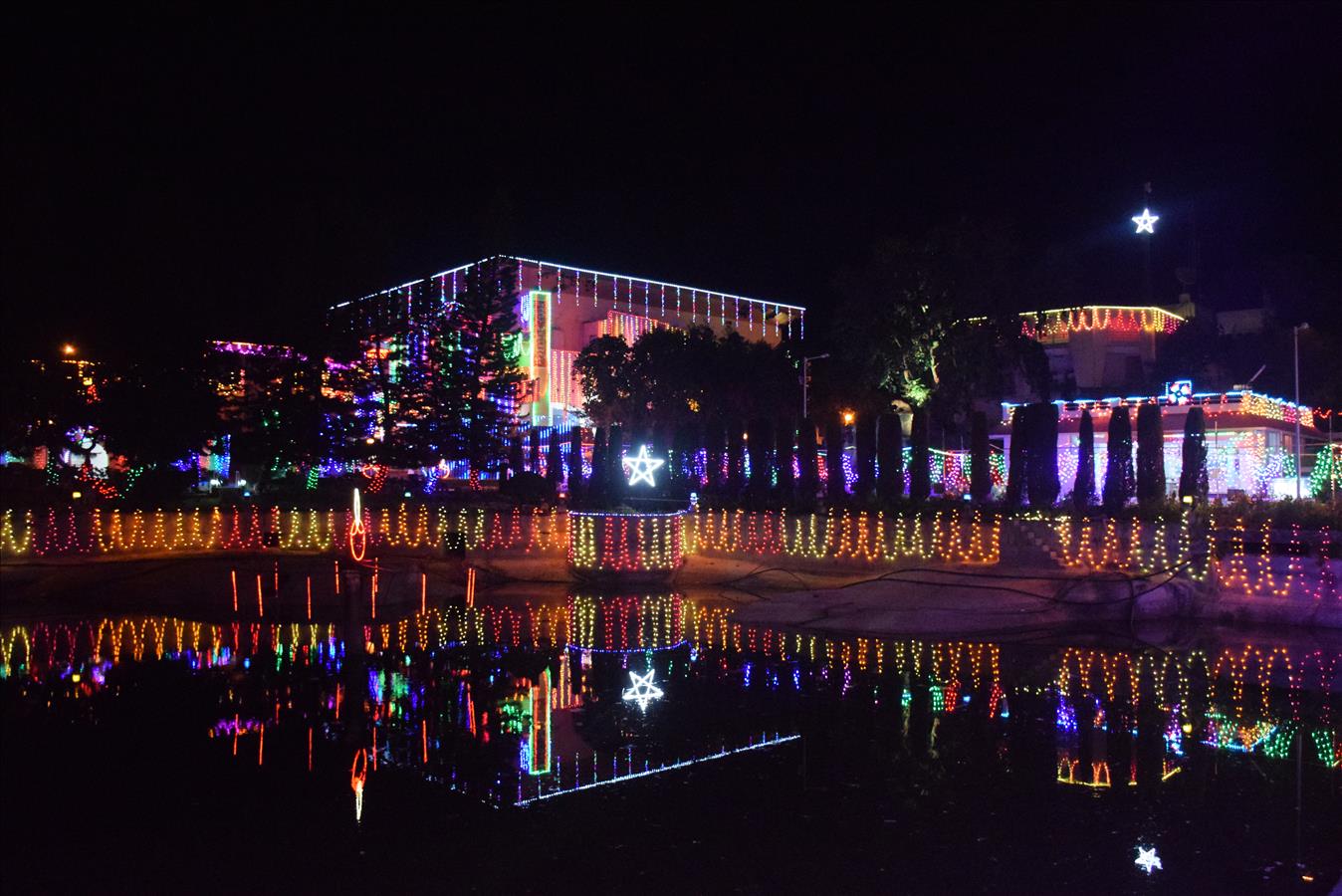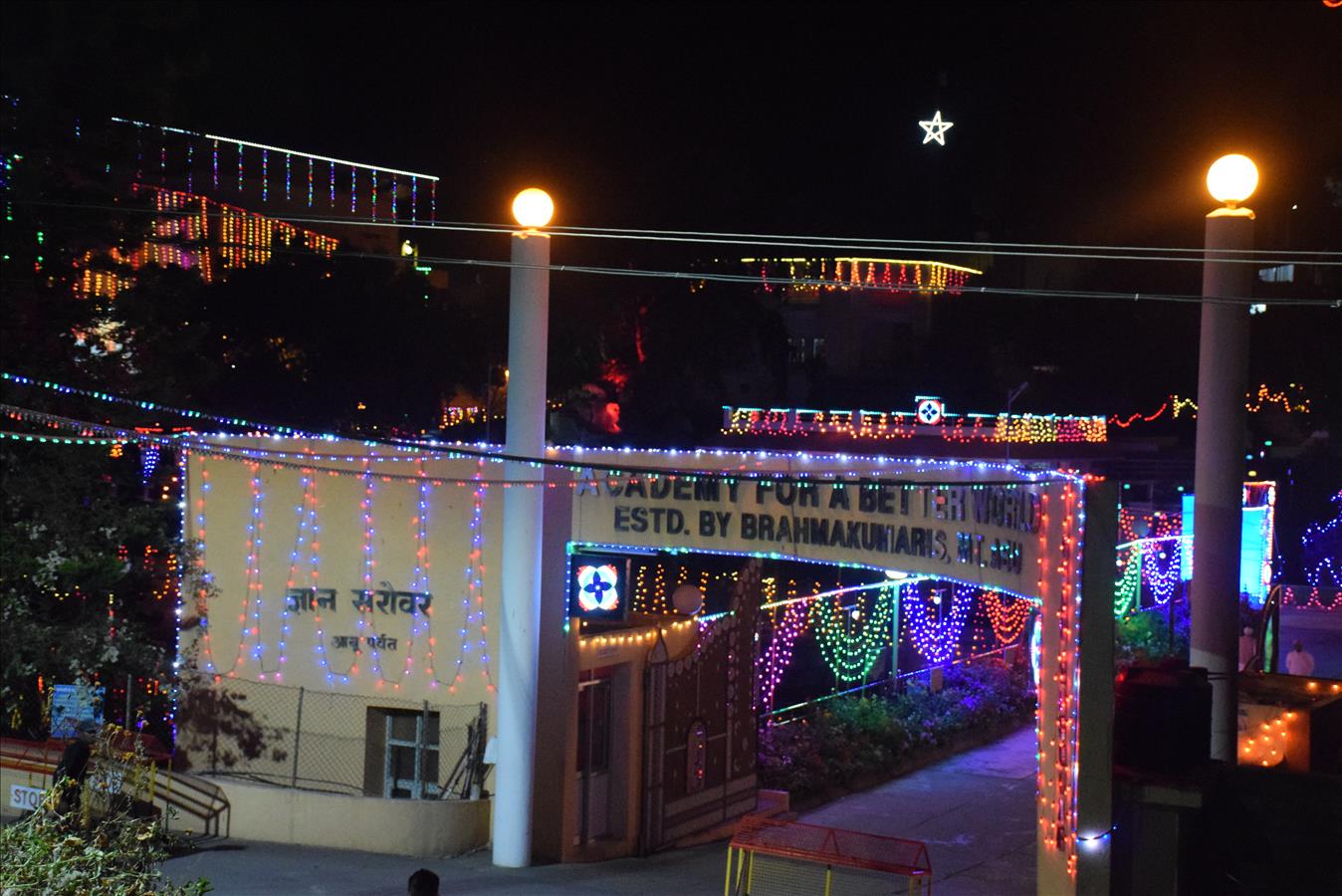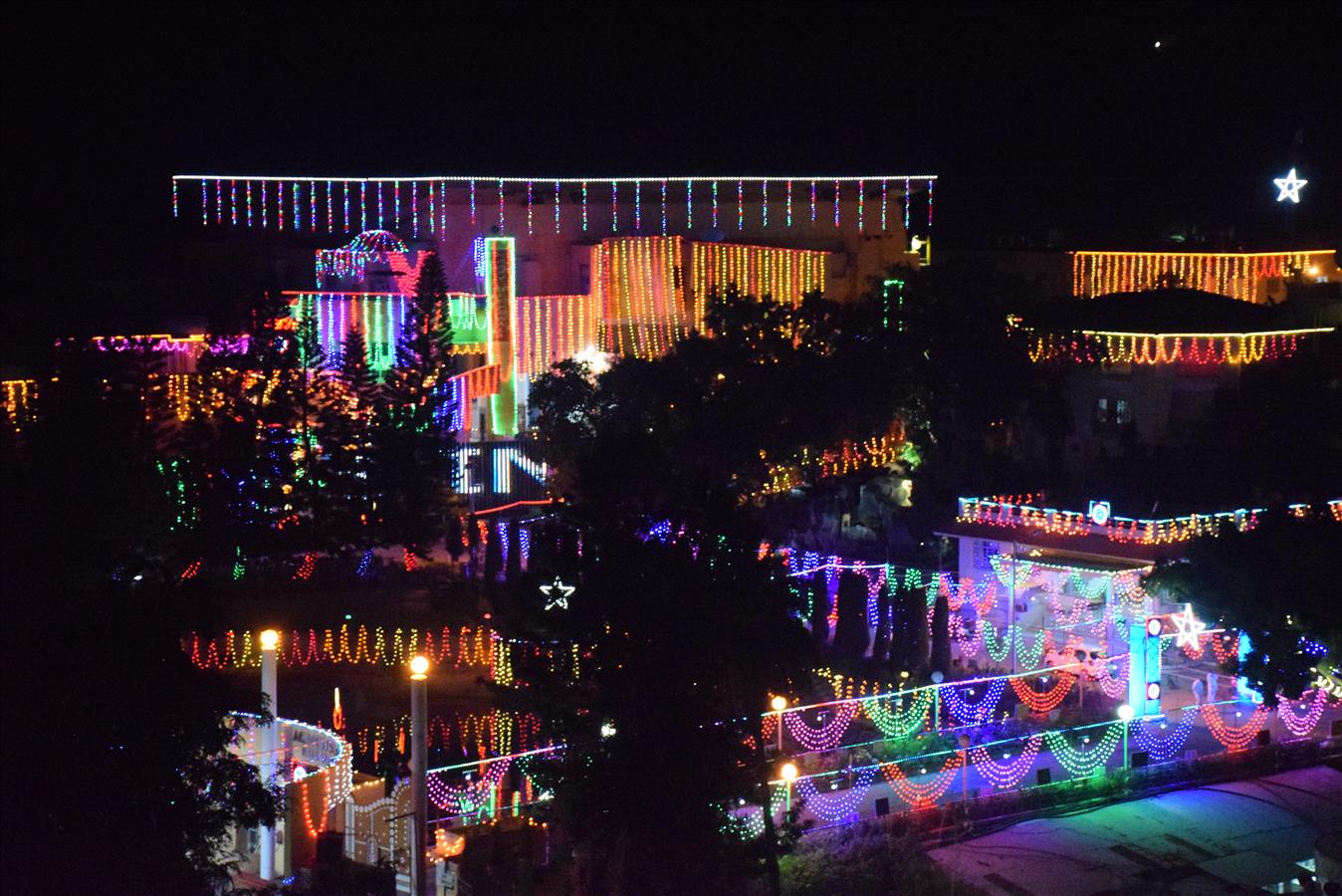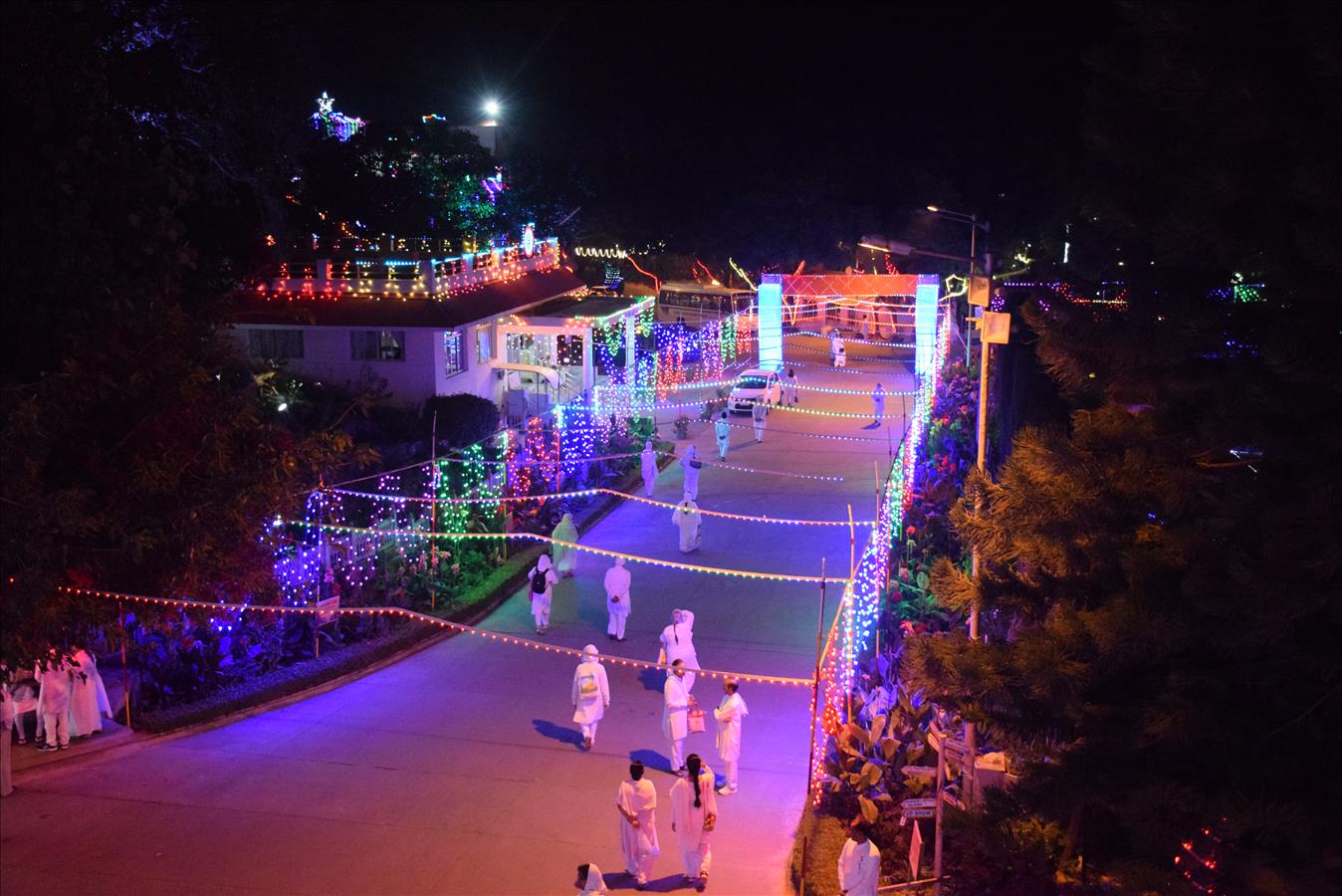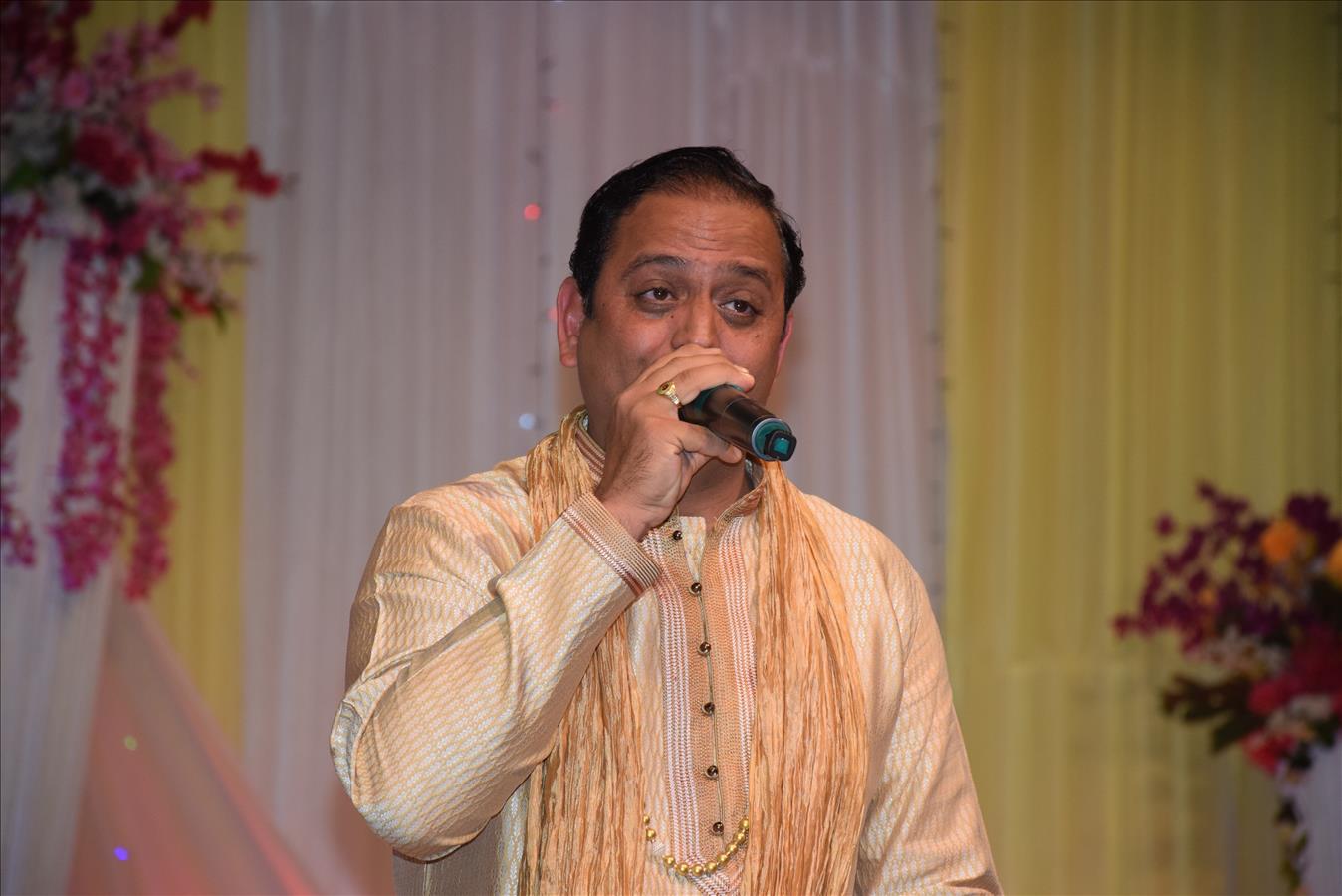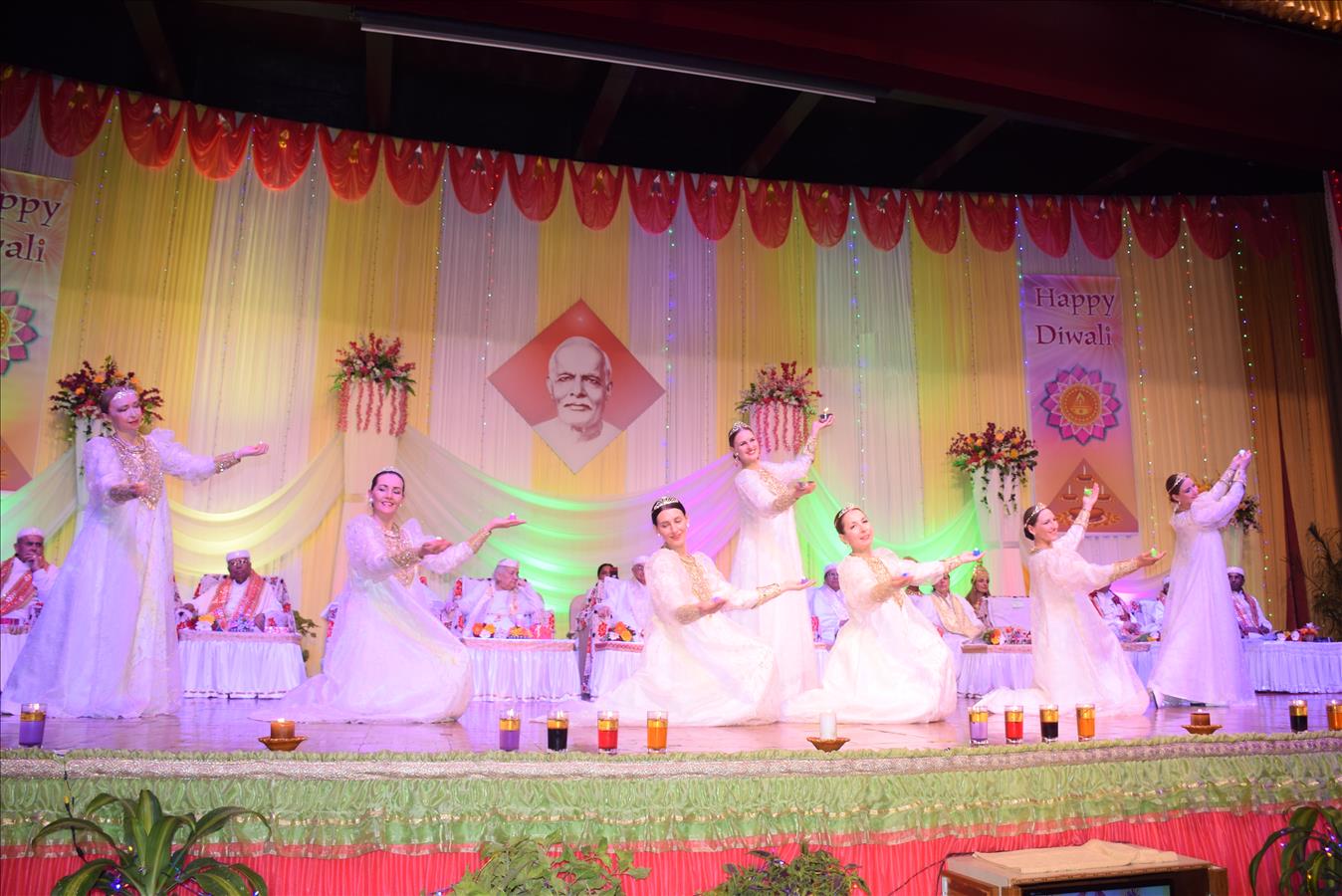 In Photos: Diwali Celebration Diamond hall Shantivan on 7th November
08 November 2018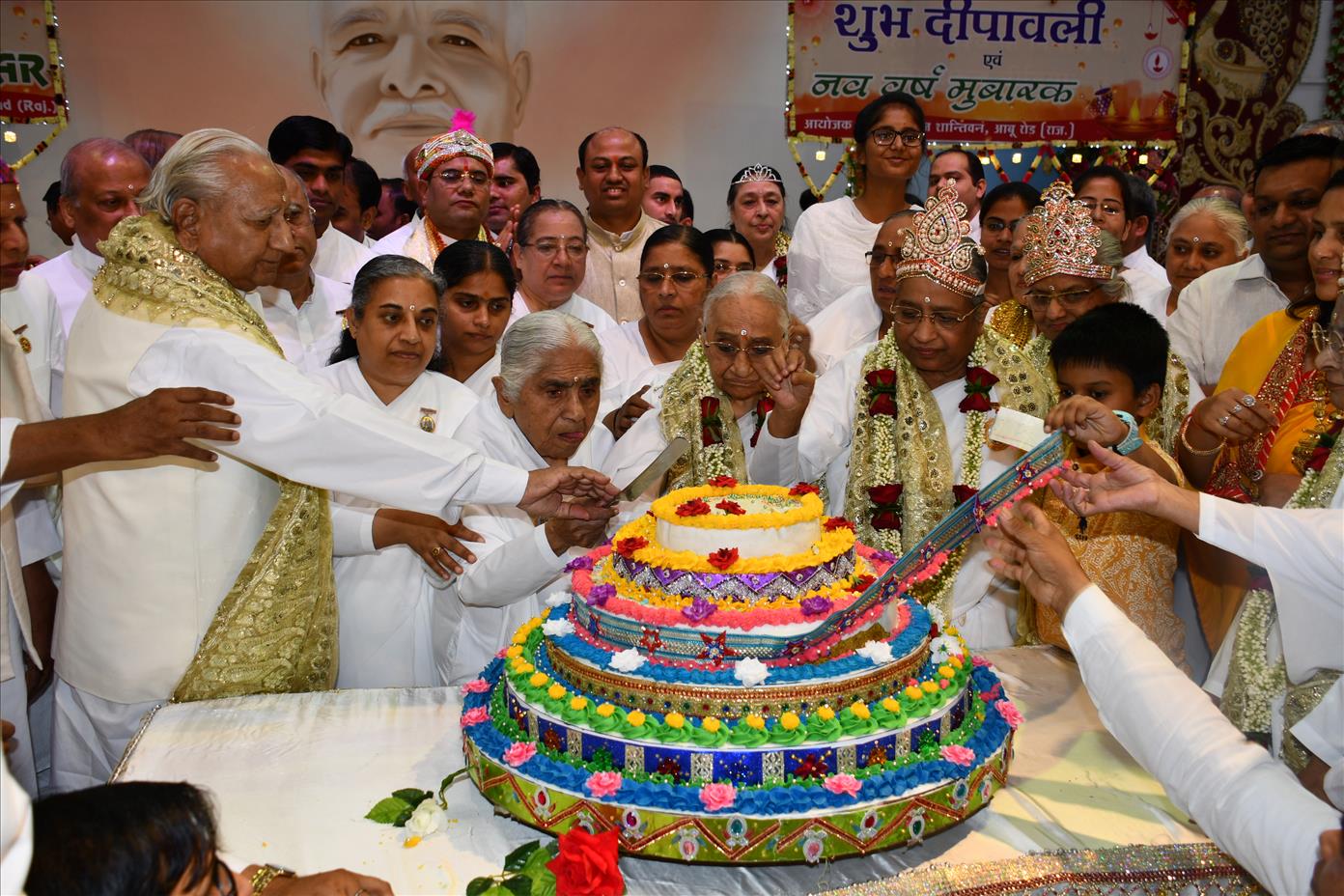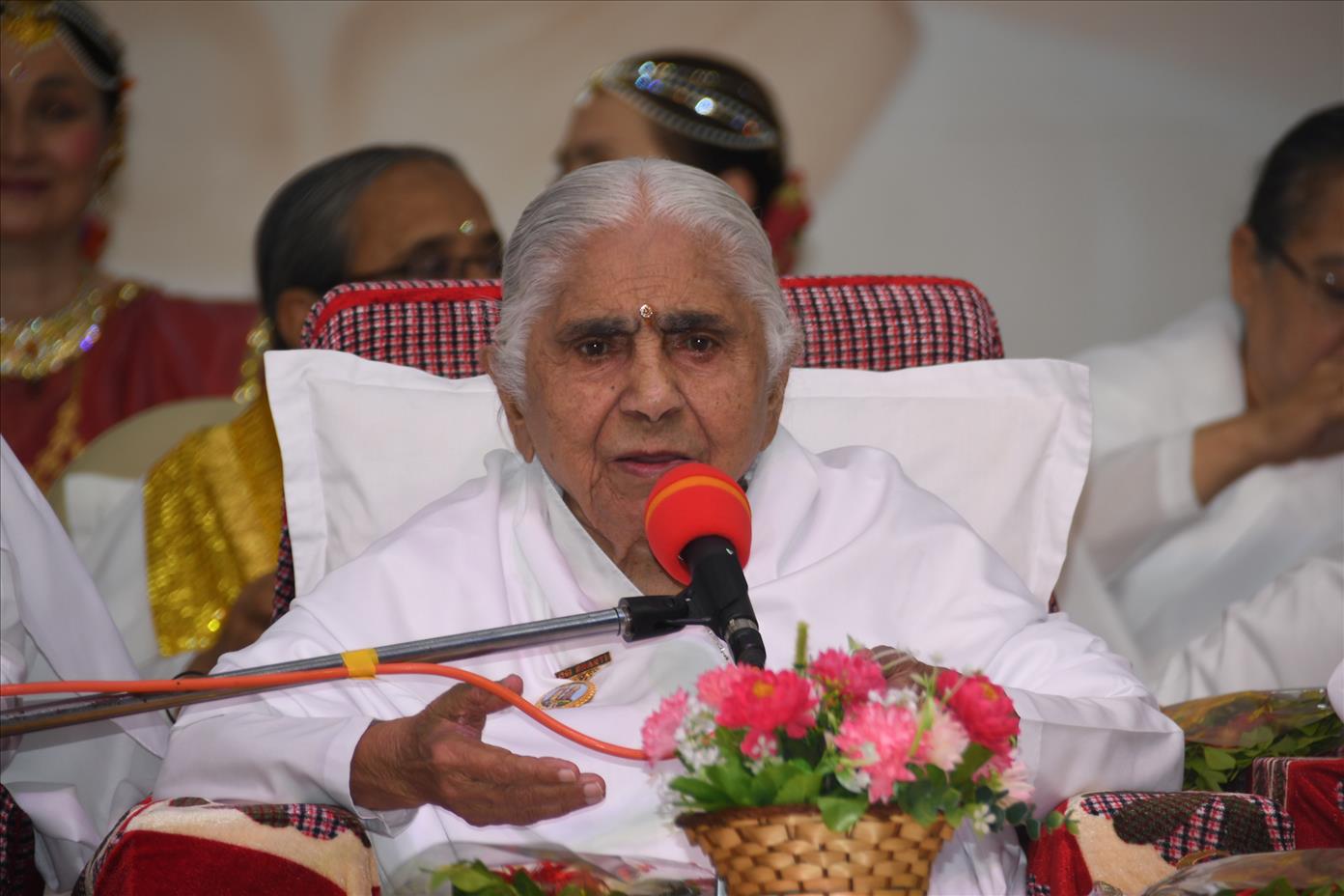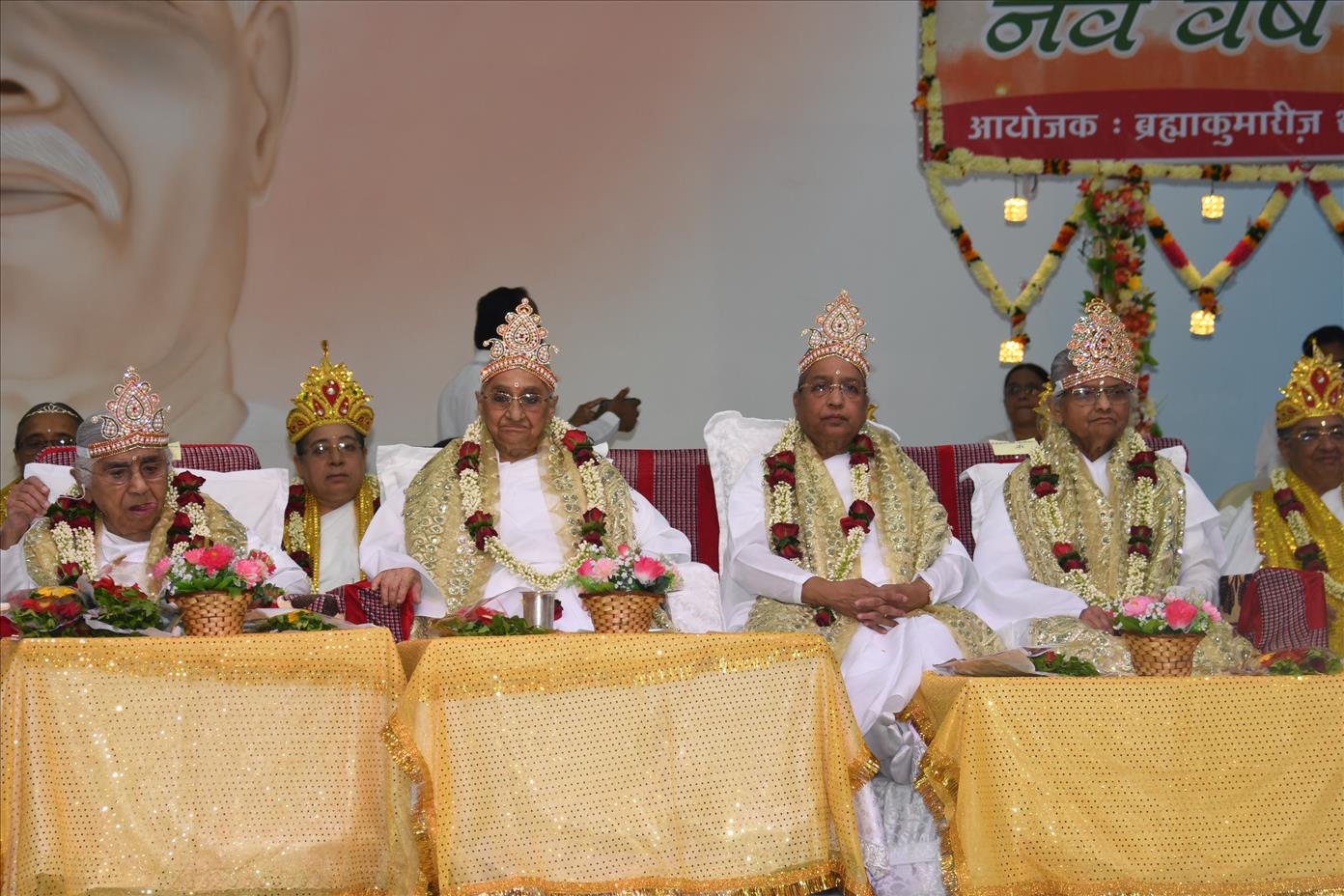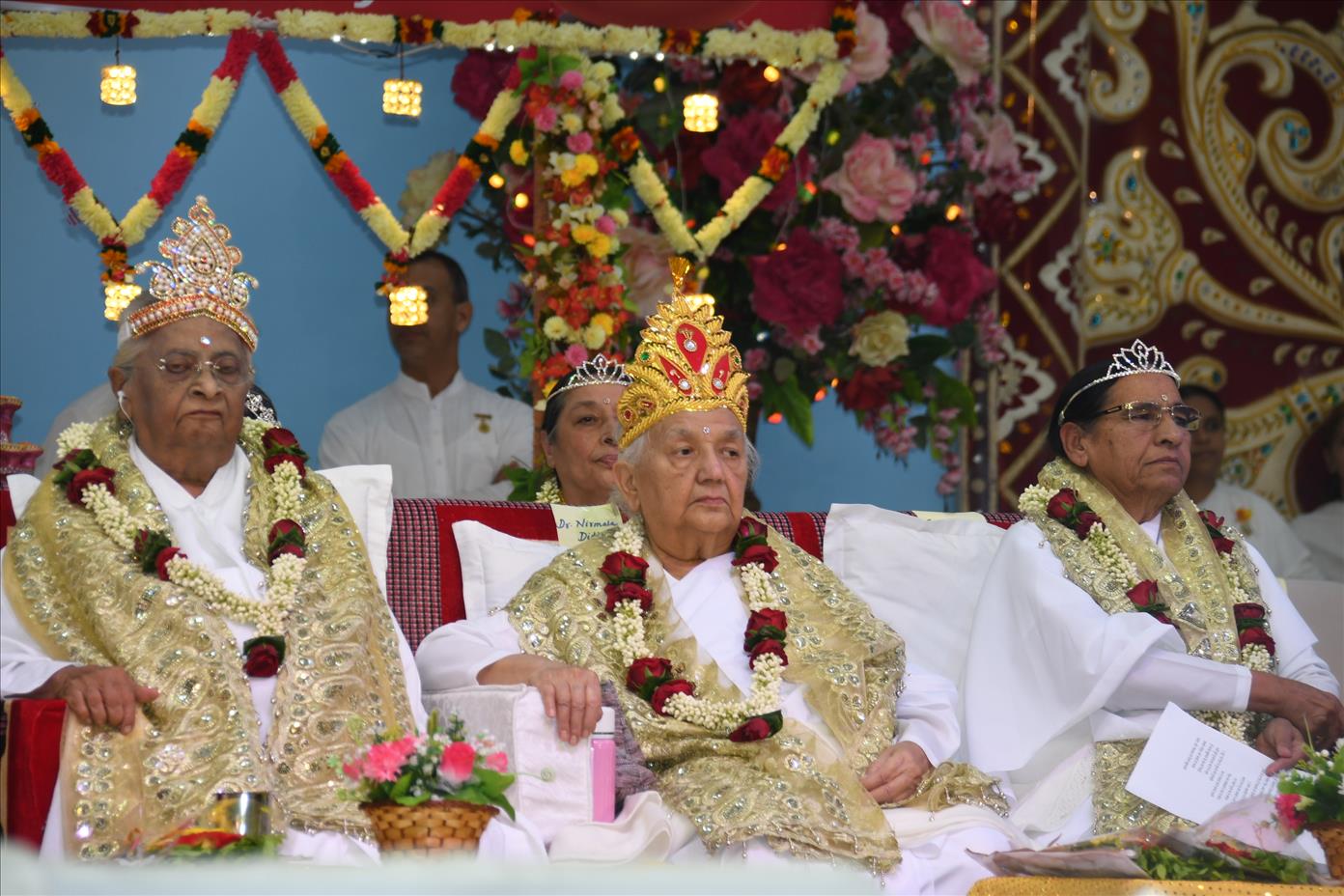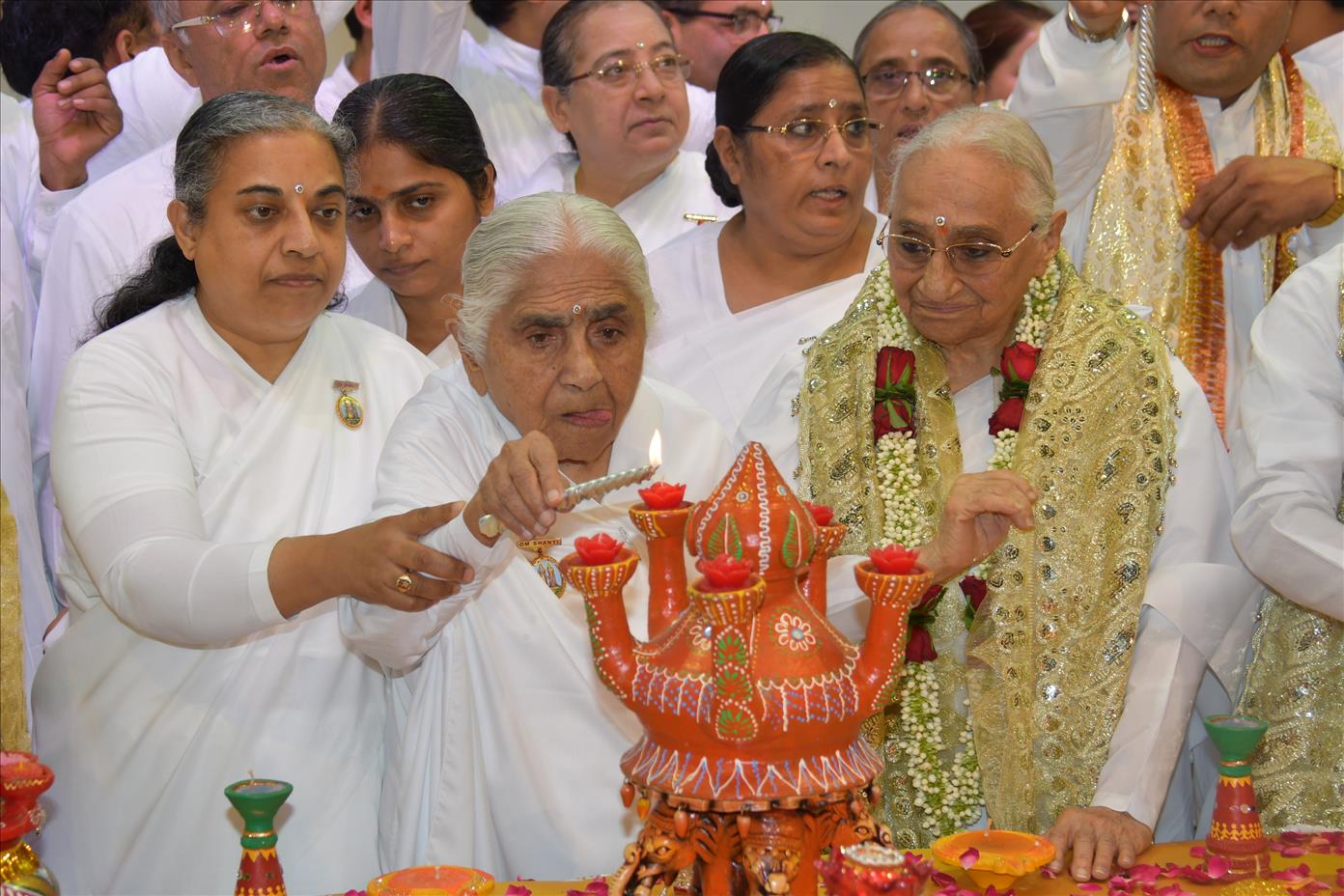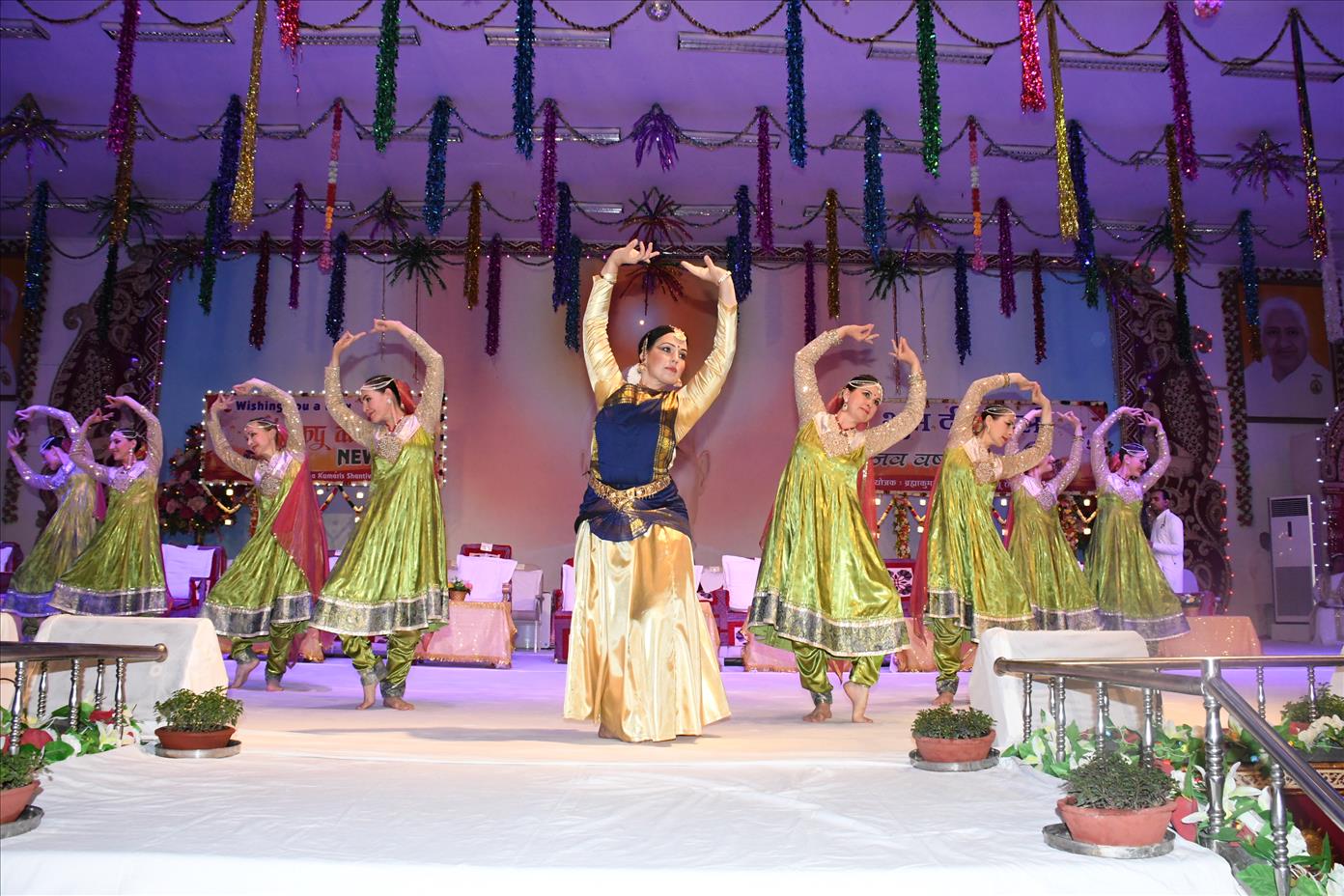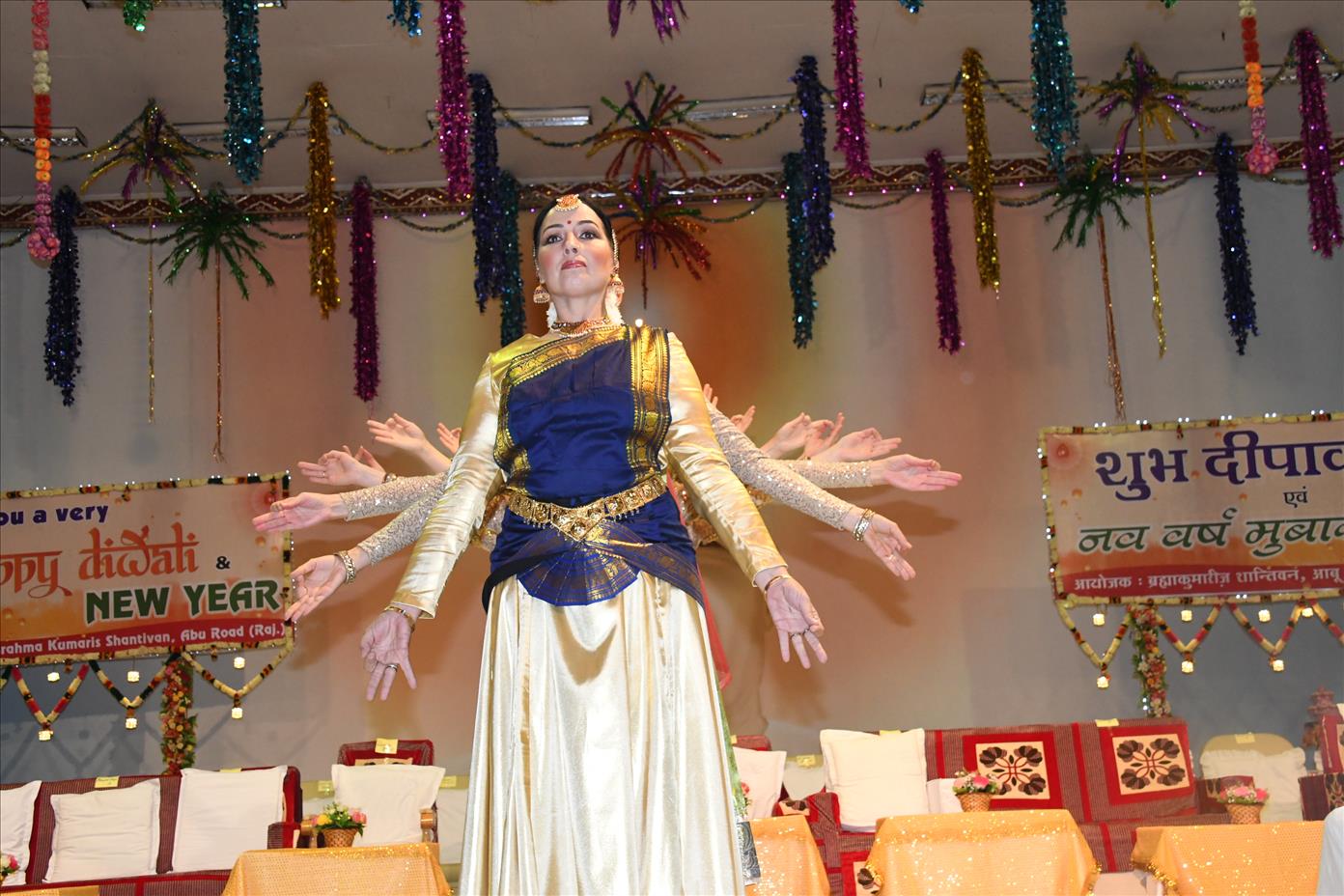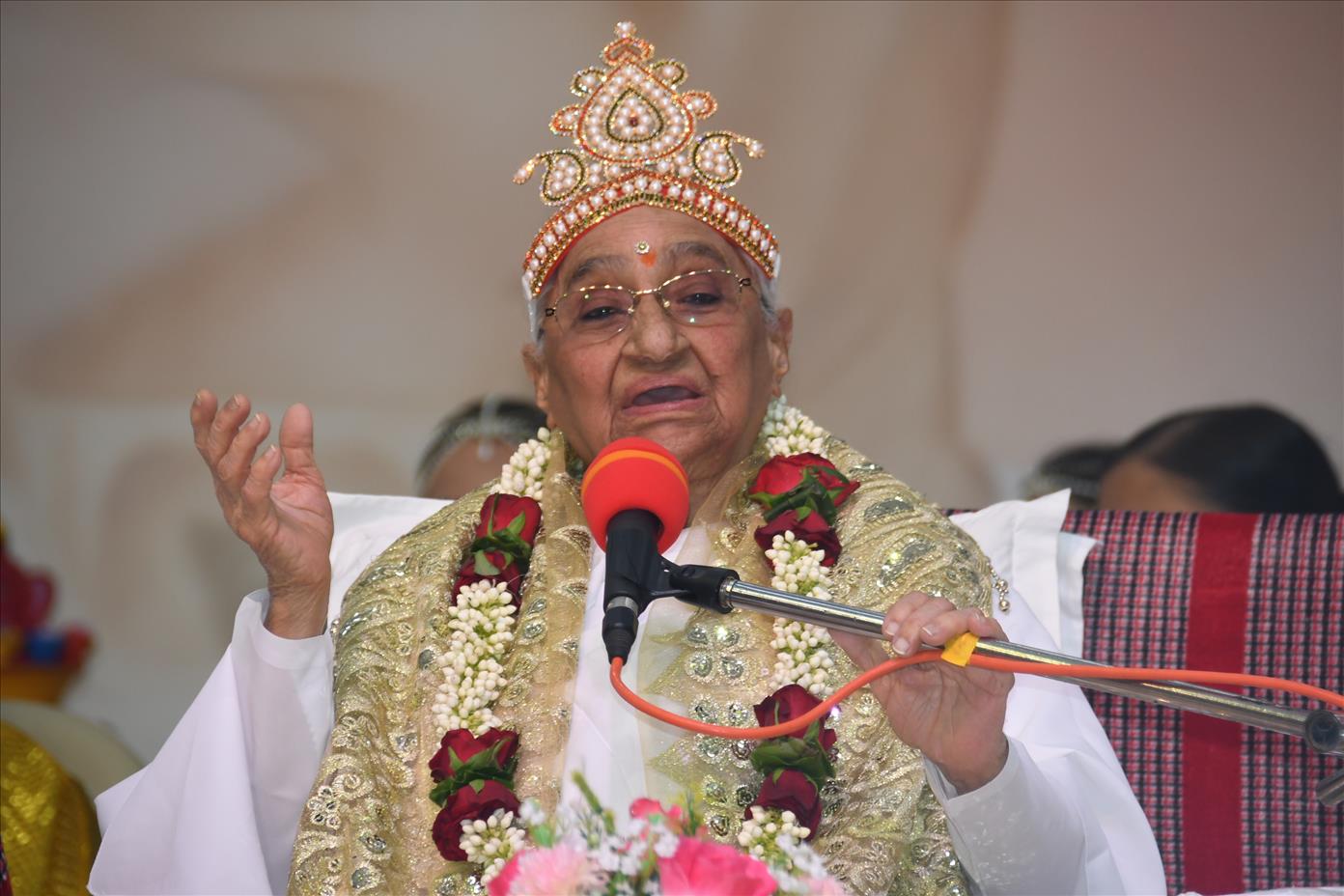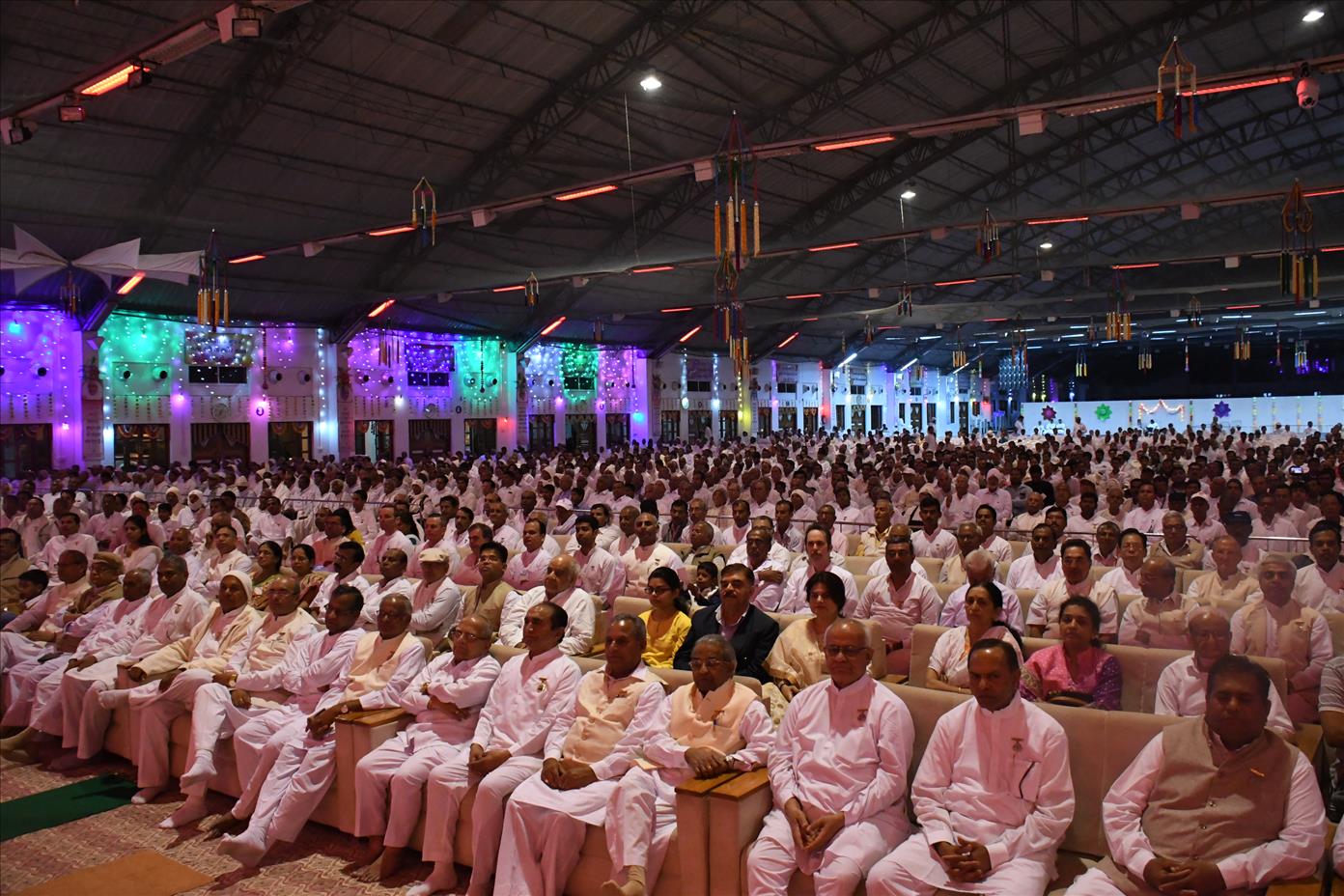 Diwali Greetings to the Brahmin Family from Brother Mruthyunjyaya
07 November 2018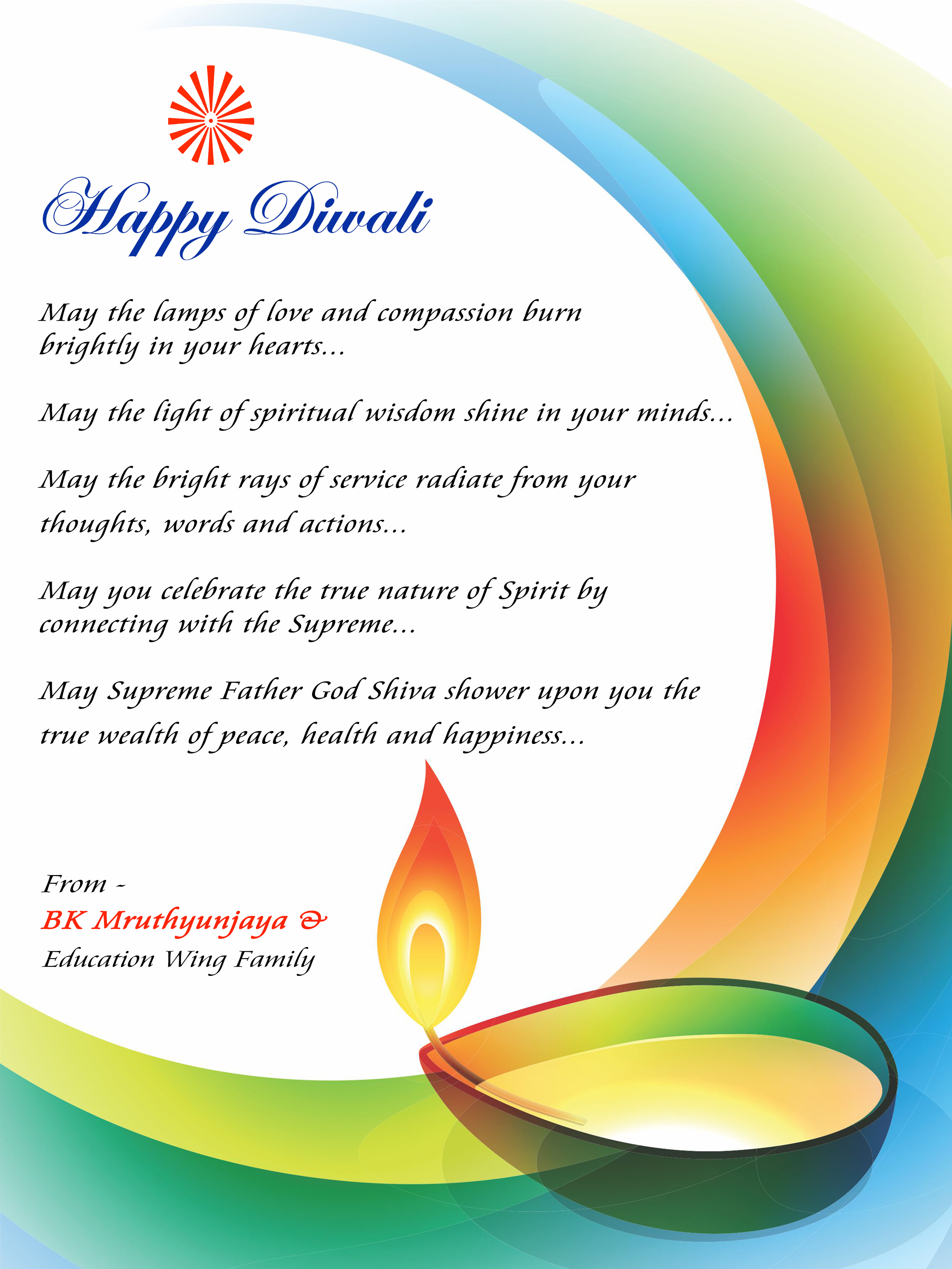 Diwali Greetings from Sis. BK Sheilu of Madhuban
07 November 2018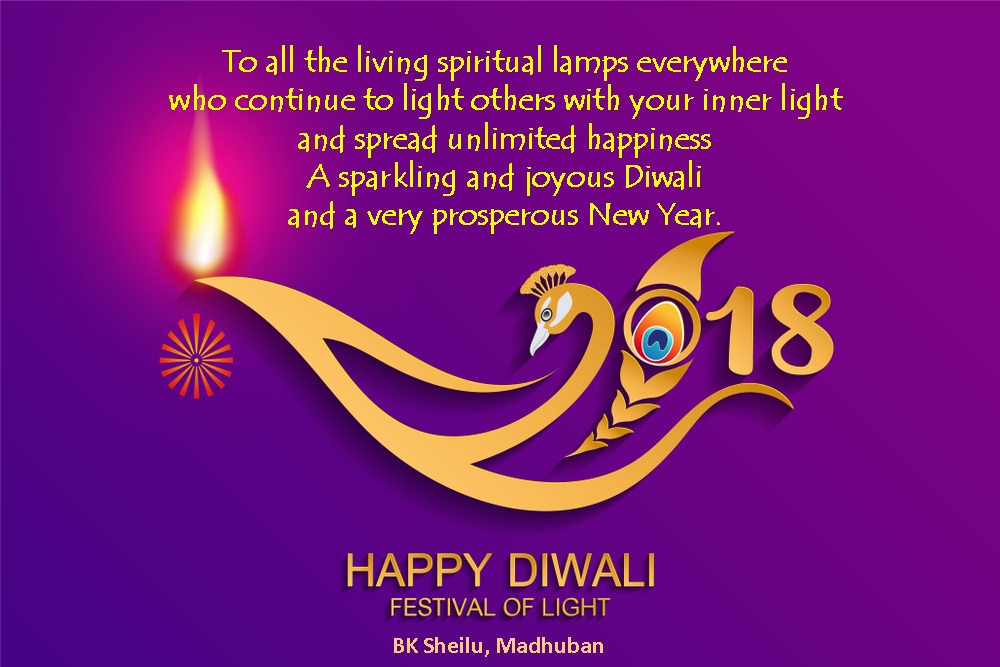 Debut of Godlywood's International segment of 'Light of Knowledge' English Talk Show Features Senior Teachers & VIPs from Abroad
05 November 2018
BK Harilal

New Happy Diwali Video Song - Composer and Singer BK Dr Damini, Ahmedabad
31 October 2018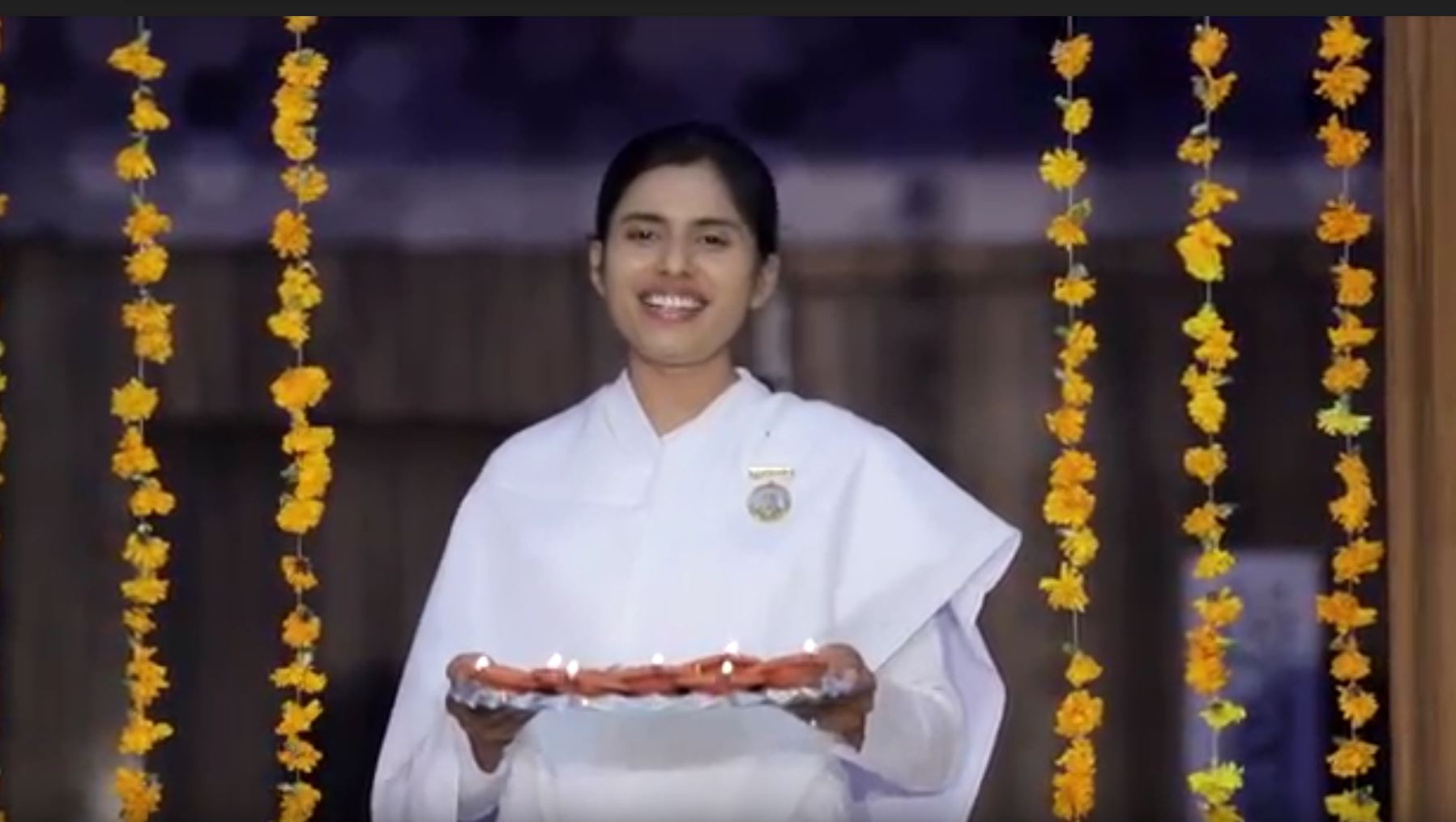 Click on above image to play

Abu Road: Inauguration of 1 MW Solar PV Power Plant by Dadi Janki, Chief of Brahma Kumaris
17 October 2018

Video of Memories & Moments of Peace of Mind Retreat 2018!
17 October 2018

Visit of Mohini Didi to Godlywood Studio
16 October 2018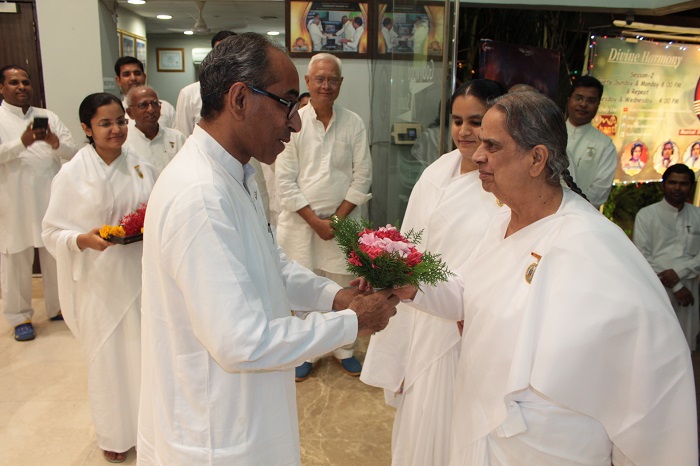 BK Harilal

Letter of thanks for the Global Summit-cum-Expo at Shantivan Plus Downloadable pdf of Souvenir
16 October 2018

Watch Videos of National Media Conference - 2018 at Shantivan (21 -25 Sept)
03 October 2018
Omshanti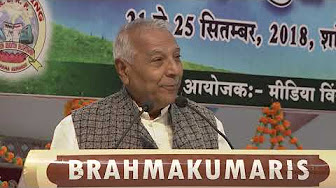 Grand Inauguration of Global Summit-Cum-Expo on "Science, Spirituality and Environment" in Shantivan
02 October 2018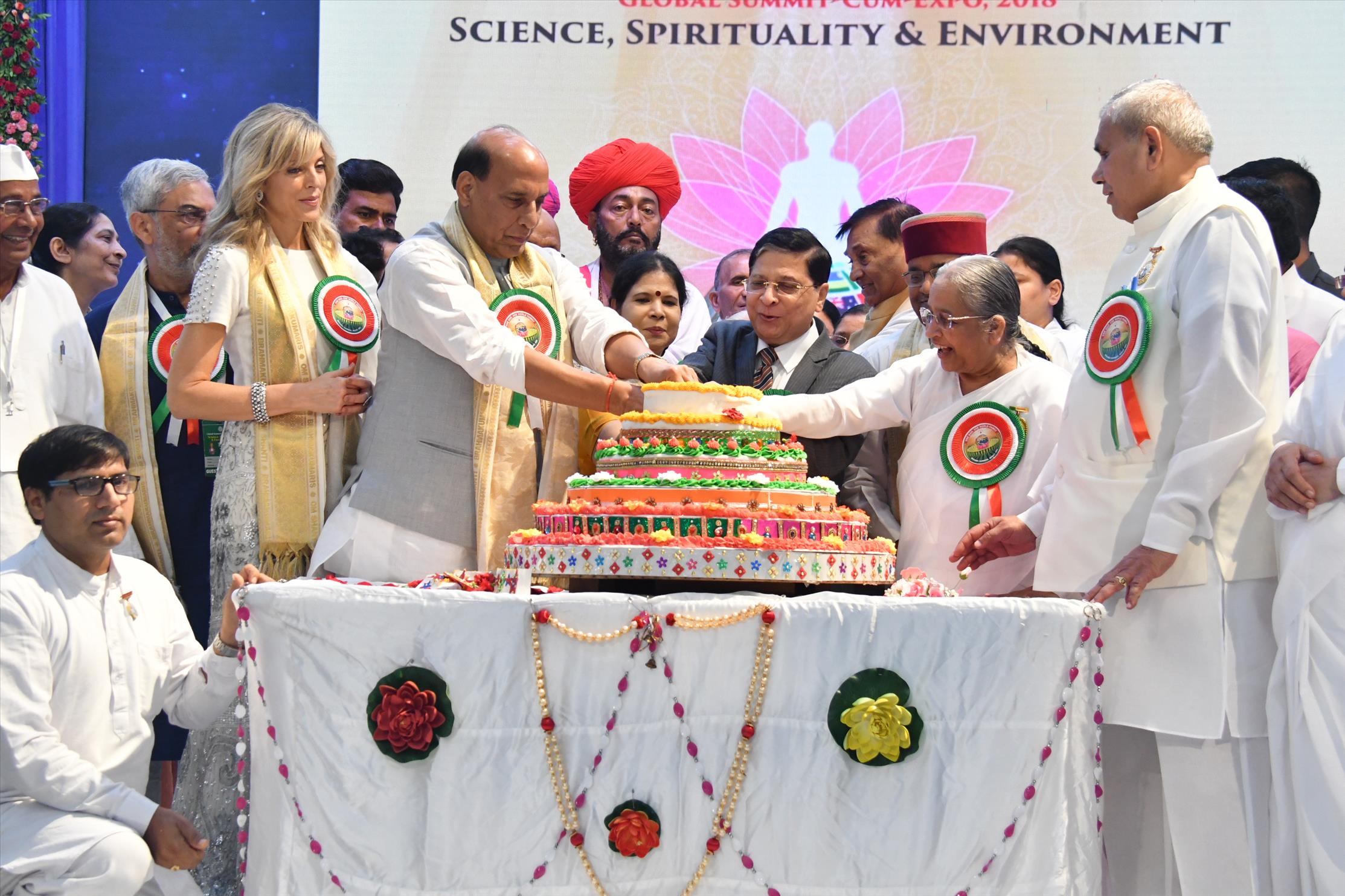 Abu Road (Raj): The Global Summit-Cum-Expo on "Science, Spirituality and Environment" was inaugurated at Brahma Kumaris Headquarters, Abu Road (near Mt Abu), Rajasthan, by Honorable Chief Justice of India, Justice Dipak Mishra; Honorable Home Minister of India, Mr. Rajnath Singh; Joint Chief of Brahma Kumaris, Rajyogini Dadi Ratan Mohini; with the august presence of eminent personalities and more than 10,000 delegates from 140 countries.
A Message was sent by Honorable President of India, Mr. Ramnath Kovind, and the Honorable Prime Minister of India, Mr. Narendra Modi, for the success of the summit.
Mr Rajnath Singh, Hon. Home Minister of India, talked about mind, spirituality, science and Indian Culture in his 15-minute address. He said that Circumference of mind is directly proportional to the magnitude of happiness, the magnitude of bliss. In order to carry out a big task, one needs to have a big heart. A man with a small heart cannot do a big task. The bigger the heart, the more joy shall be in your life. A person does not become spiritual by merely praying in the church. As a person goes on doing big things, he continues to achieve the spiritual heights in his life. Along with offering prayers in temples or mosques, one needs to grow his heart. The bigger the heart, the more one would be spiritual. The Brahma Kumaris teach how to have a bigger heart. How big a heart would the Chief Administrator Dadi Janki and Dadi Ratan Mohini be having that they are taking care of such a big family. They have expanded the organization to 146 countries with the support of so many sisters. What a government is unable to do, the Brahma Kumaris are doing.
The Home Minister said that the United Nations has expressed concern over even small things. The organization is working on Cleanliness, Organic Farming, Solar Energy, Woman Empowerment. The organization is not only concerned about humans but also about humanity and living beings. On the 80th Annual celebration, the organization planted 80 lakh trees, sending a message of saving the environment.
The Home Minister Rajnath Singh said that the sages of our country discovered the zero and spirituality. Science, Spirituality and religion are contrary to each other; this is a belief of the western world. Bharat believes science and spirituality to be complements of each other and that they are one. Charak, Arohak, Sushupt, Aryabhatt were great sages as well as great scientists.
Justice Dipak Mishra, Hon. Chief Justice of India, said, "I feel the sense of peace here. We want universal peace and each of you are a great ambassador of peace. Science tells you about what is happening in the universe. Physical morality matters the most, if we intend to have a clean, clear, unpolluted universe. If everyone in the world believes and practices physical morality, there will be prevalence of environmental morality. 80 lakh plants were planted by the organization; if you are planting a seed of morality, that is spiritual morality. Once peace is with yourself, there will be peace in the world. We want peace in the world, a good environment in the world and a scientific research-oriented spirituality which is going to advance the world on the path of peace. The effort of the Brahma Kumars is to make the world a place of belonging. All of us belong to this world, universe, so we need to be partners of construction, rather than destruction. You are Constructive in creating a peaceful world."
"Desire gets into necessity, necessity gets into need. Need gets a Ph.D. when it is said 'I want it.' The moment I say I want it, peace of mind is gone and the sense of spirituality is lost. Science is absolutely relevant to conscious of mind, soul and heart. When Science and spirituality travel together with a philosophical approach, man can create wonders by transforming himself from ordinary man, by finding his true self with God. Science can grow with the aid of spirituality. God or Almighty loves all of us, looks after us. God never scares anyyone. When you surrender Ego, you can connect to God. Purity of this organisation is helping everyone move forward in spirituality," he added.
Marla Maples, Television Personality and Actress, USA, said that America is facing many challenges these days, but the wonderful people and friends around us fill our lives with joy. That has happened because she has included Kundalini Yog, meditation of the Brahma Kumaris, and a vegetarian diet in her routine. While addressing the Global Summit, Marla said that all of us can progress, move ahead, stay together, many thanks to God for this. Marla said that she has tasted many types of food, but vegetarian food is the best among all. A non-vegetarian diet harms the environment too.
Padamshri Kartikeya Sarabhai, Founder and Director of Center for Environment Education, said that we need to follow our old traditions and go with the new technologies simultaneously in order to save the environment. A man feels that nature is at his disposal. This thought pattern is not right. Mahatma Gandhi said that we need to use nature as a trustee. Remembering the Founder of the Brahma Kumaris, Brahma Baba, he said that many decades ago, Brahma Baba saw the devastation caused by atomic bombs, nature and human conflicts by his divine vision; we are witnessing them practically now. In order to save the environment, we will have to take only that much from nature as is required.
Rajyogini Dadi Ratan Mohini, Joint Chief Administrator of the Brahma Kumaris, Mt Abu said that "all of us are children of God and hence brothers. Hence, we must co-operate with each other and make each other happy. We must never hold revenge, envy or jealousy for others. There was a golden age in Bharat where there was joy, peace and bliss everywhere. There was no trace of unrighteousness. We can again create a Golden world by making our actions divine."
Executive Secretary of the Brahma Kumaris and Program Co-ordinator BK Mrutyunjaya said the organization is running a Cleanliness Drive all over the country between September 15 and October 2.
Mr. Thawar Chand Gehlot, Hon. Minister of Social Justice and Empowerment, Govt. of India said that the organization is making efforts towards materializing the visualization of Global peace, Vasudhev Kutumbakam, Live and Let live and motivating the masses to follow the righteous path. The reason behind an increase in anxiety and problems in the present world is due to our distancing from spirituality. Without adopting spirituality, the vision of Global peace, 'Sarve Santu Niramaya,' cannot be realized.
Dr. Sindhutai Sapkal, the Mother of Orphans, Pune who is looking after 1,050 children in Bangalore, said that we need to always learn to move ahead in life, not to stop. We need to listen to our heart, a shroud does not have pockets, no one ever recommends death. One needs to learn to renounce.
Sister BK Munni, the General Manager of the Brahma Kumaris, said, "I have learned from life to respect all, old or young. Take oneself to be an instrument. We need to have an attitude of benefit for all."
Brother BK Brij Mohan, Additional Secretary General of the Brahma Kumaris, Delhi said that Raja Yoga meditation teaches us life skills. Thousands of brothers and sisters have experienced this.
Candle Lighting (Deep Prajavalan), Cake Cutting, Flag Hoisting, Release of Souvenir of Journey of Brahma Kumaris, Distribution of Prizes to the Top Artists of the National Painting Contest-cum-Workshop, Inauguration of a Beautiful exhibition on "Science, Spirituality and Environment," and the presence of Justice Dipak Mishra, Chief Justice of India, were other highlights of the summit. Along with paintings made by more than 500 renowned artists from all over India, the history of the Brahma Kumaris and the services extended to society over the last 82 years have been very beautifully displayed in the exhibition on Science and Spirituality. Renowned actress Gracy Singh staged a marvelous dance with her team, and Diamond Hall echoed with the applause.
The stage was well co-ordinated by BK Asha, Director of ORC, Gurugram. Mr Otaram Dewasi, Minister- Gopalan Department, Government of Rajasthan; Mr Jagasi Ram Koli, MLA; Mrs. Payal Parasrampuria, District President, Sirohi; Ms. Anupama Jorwal, Collector, and other eminent personalities were present on this occasion.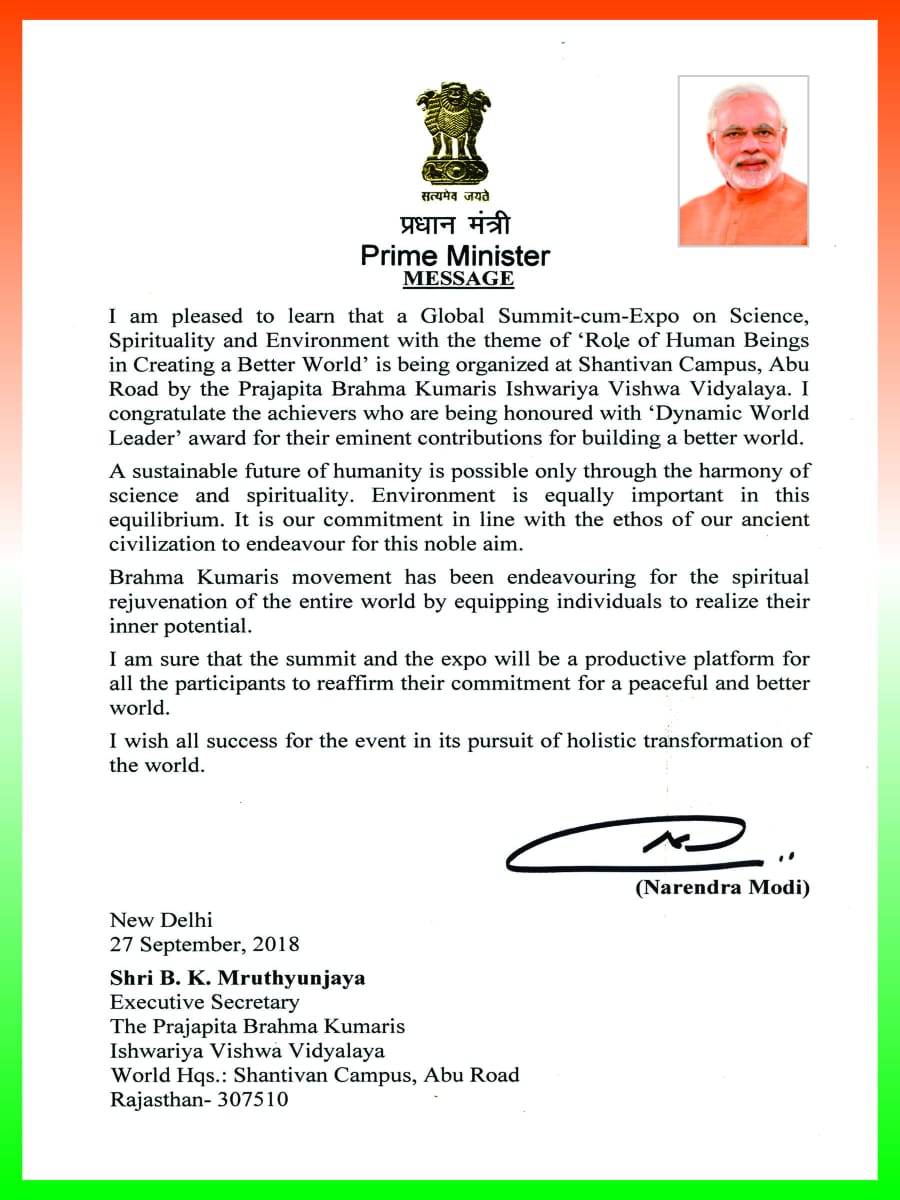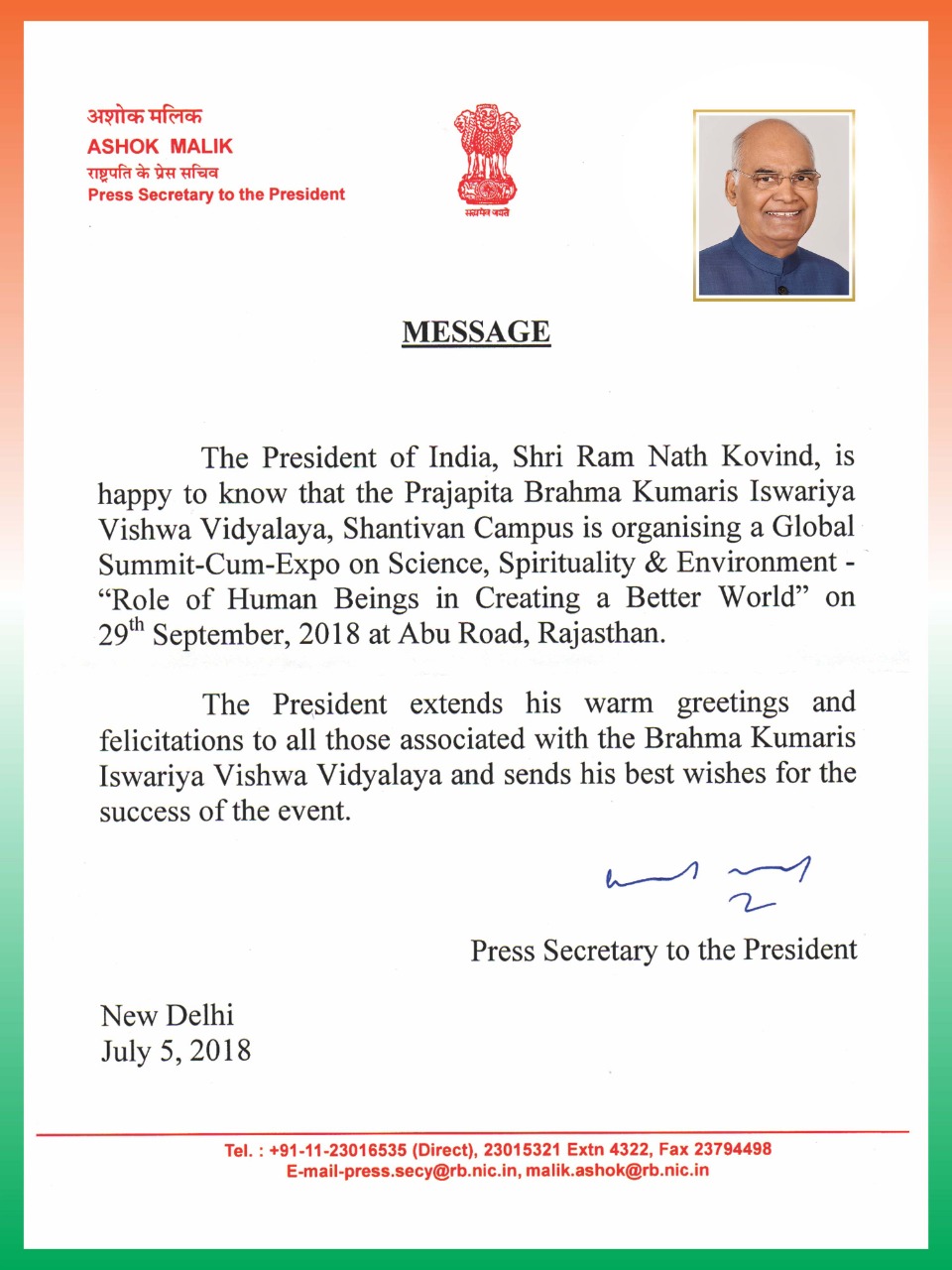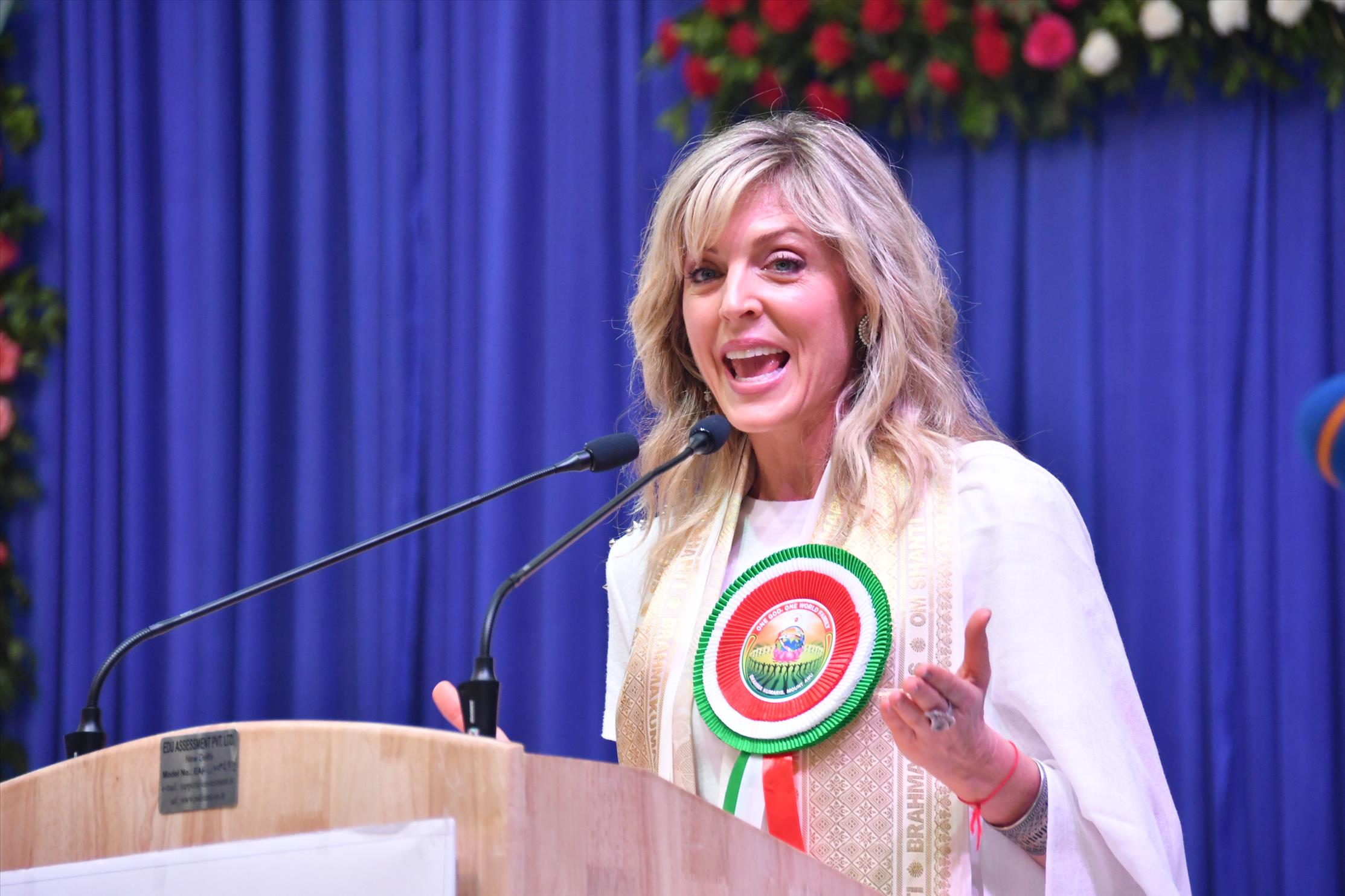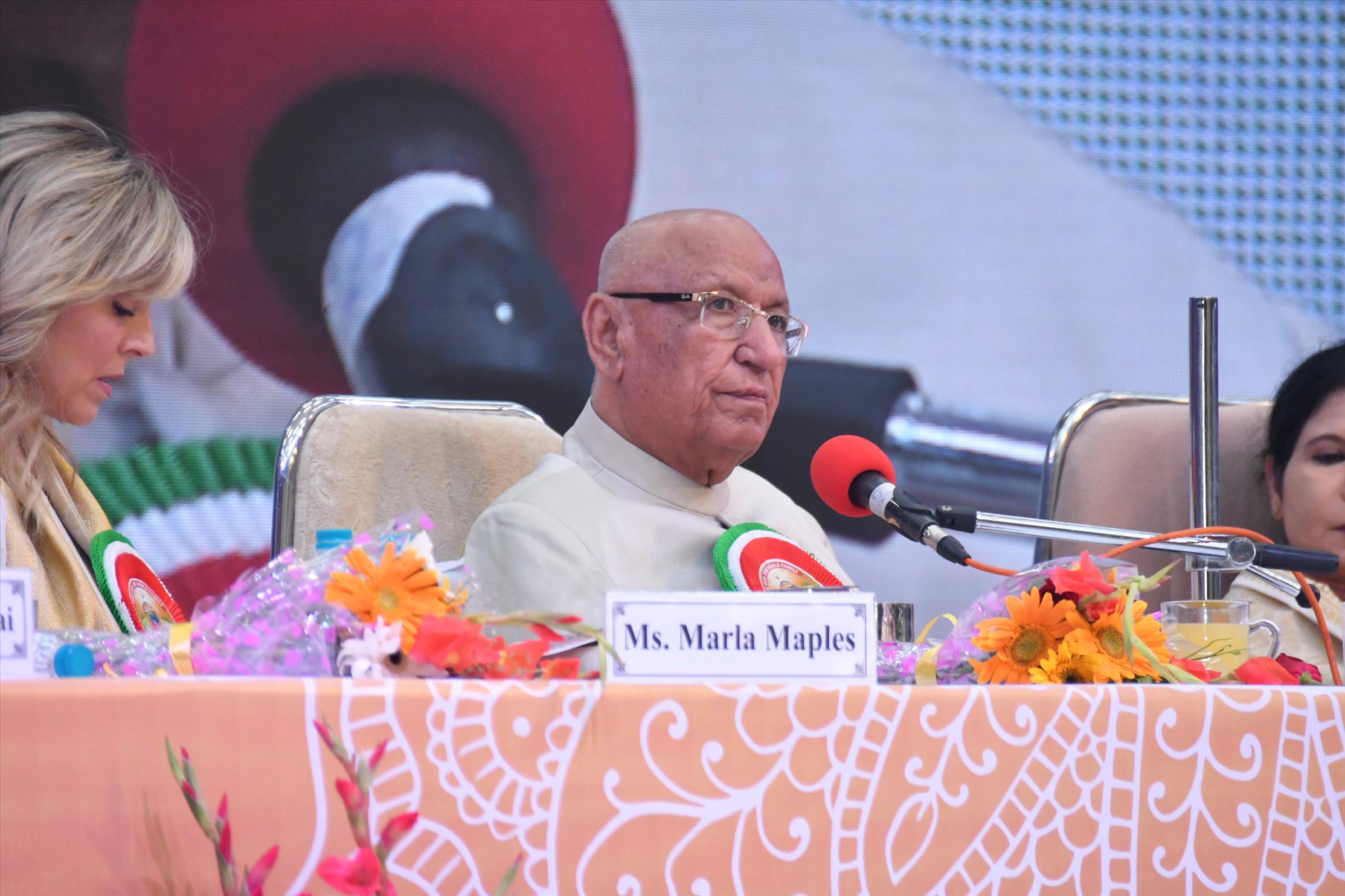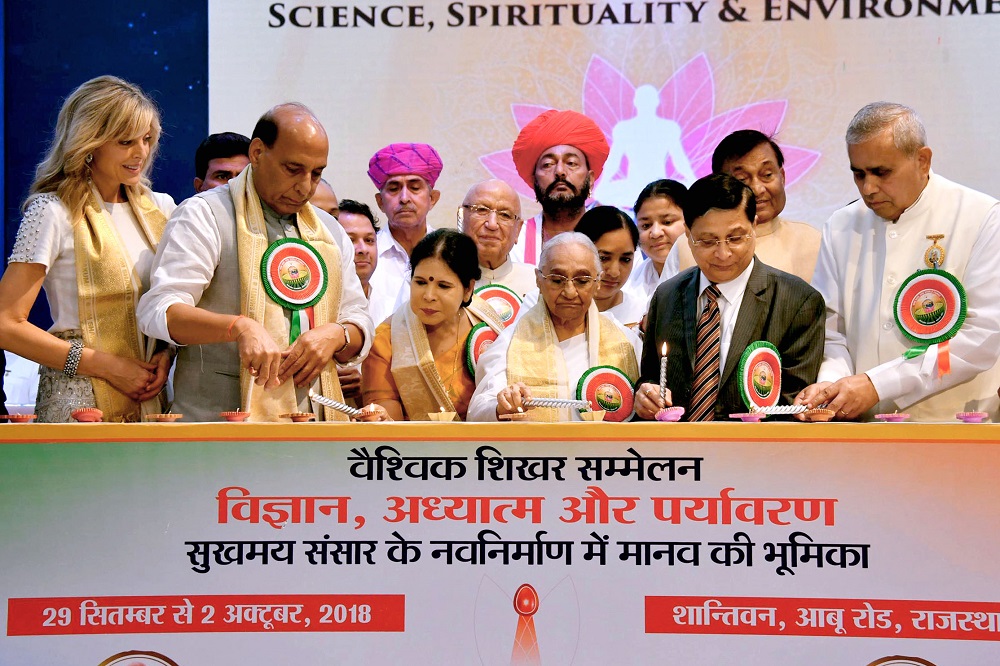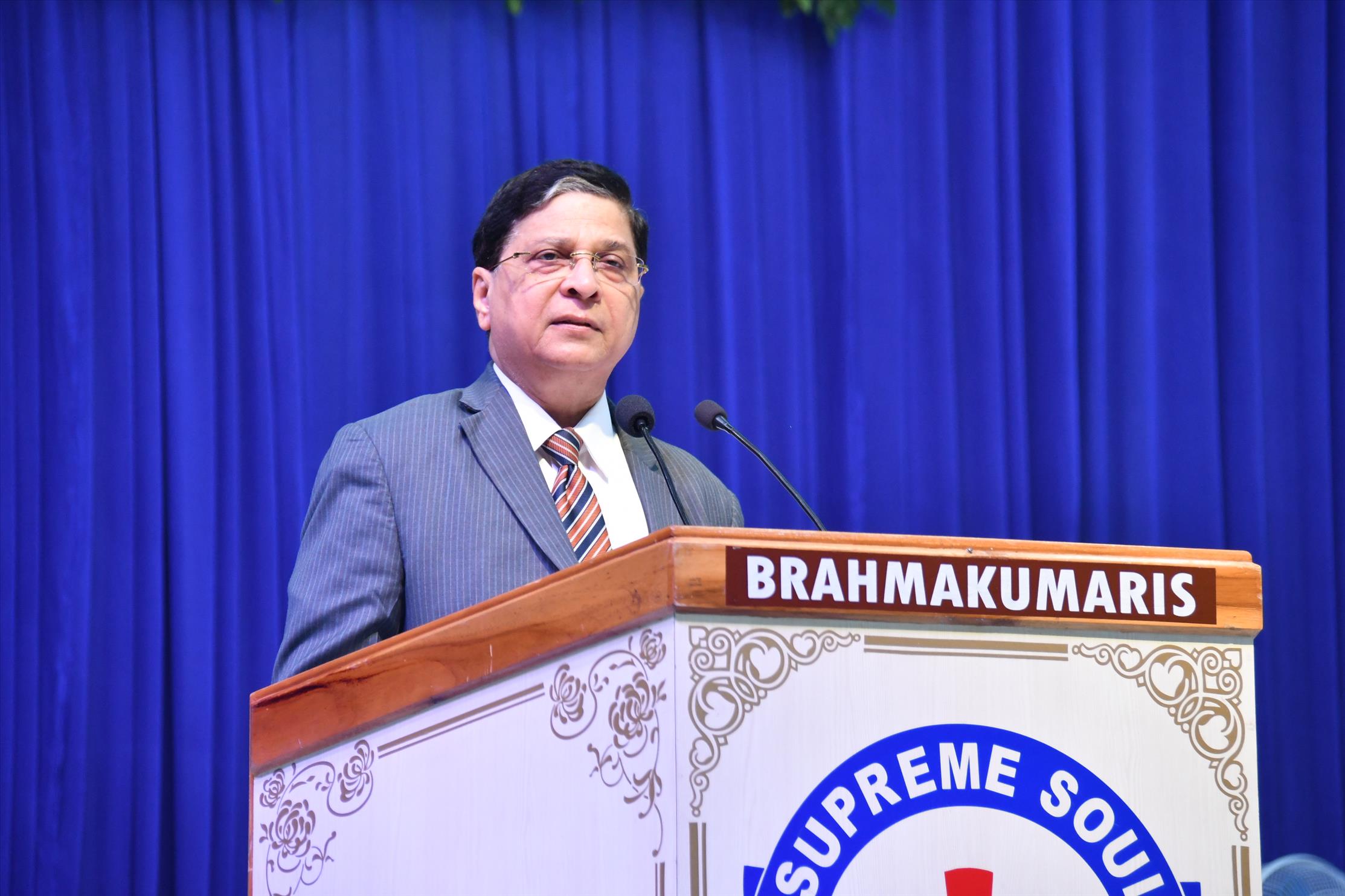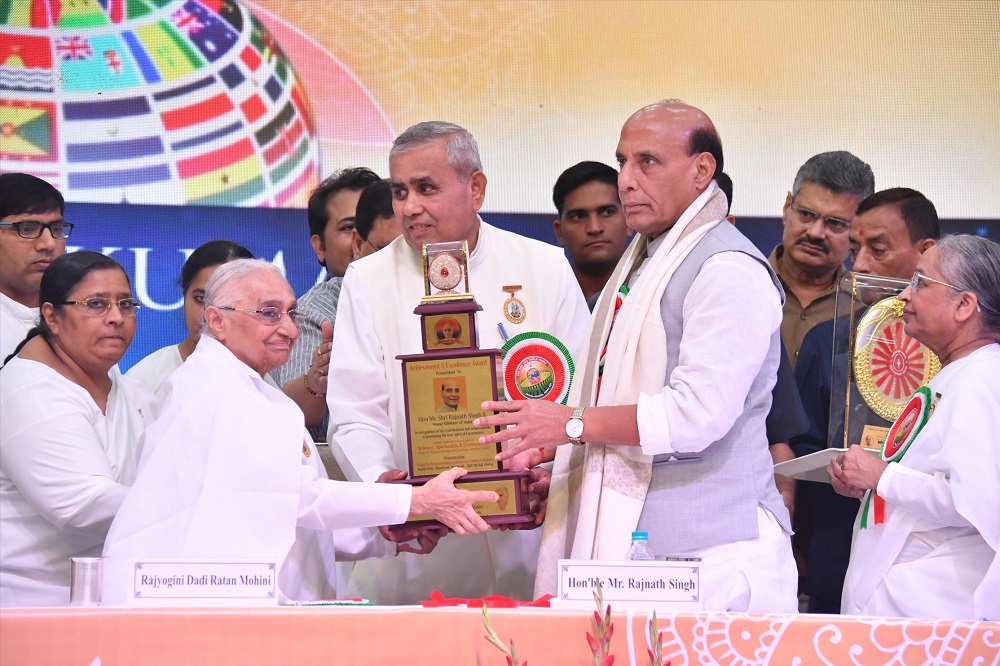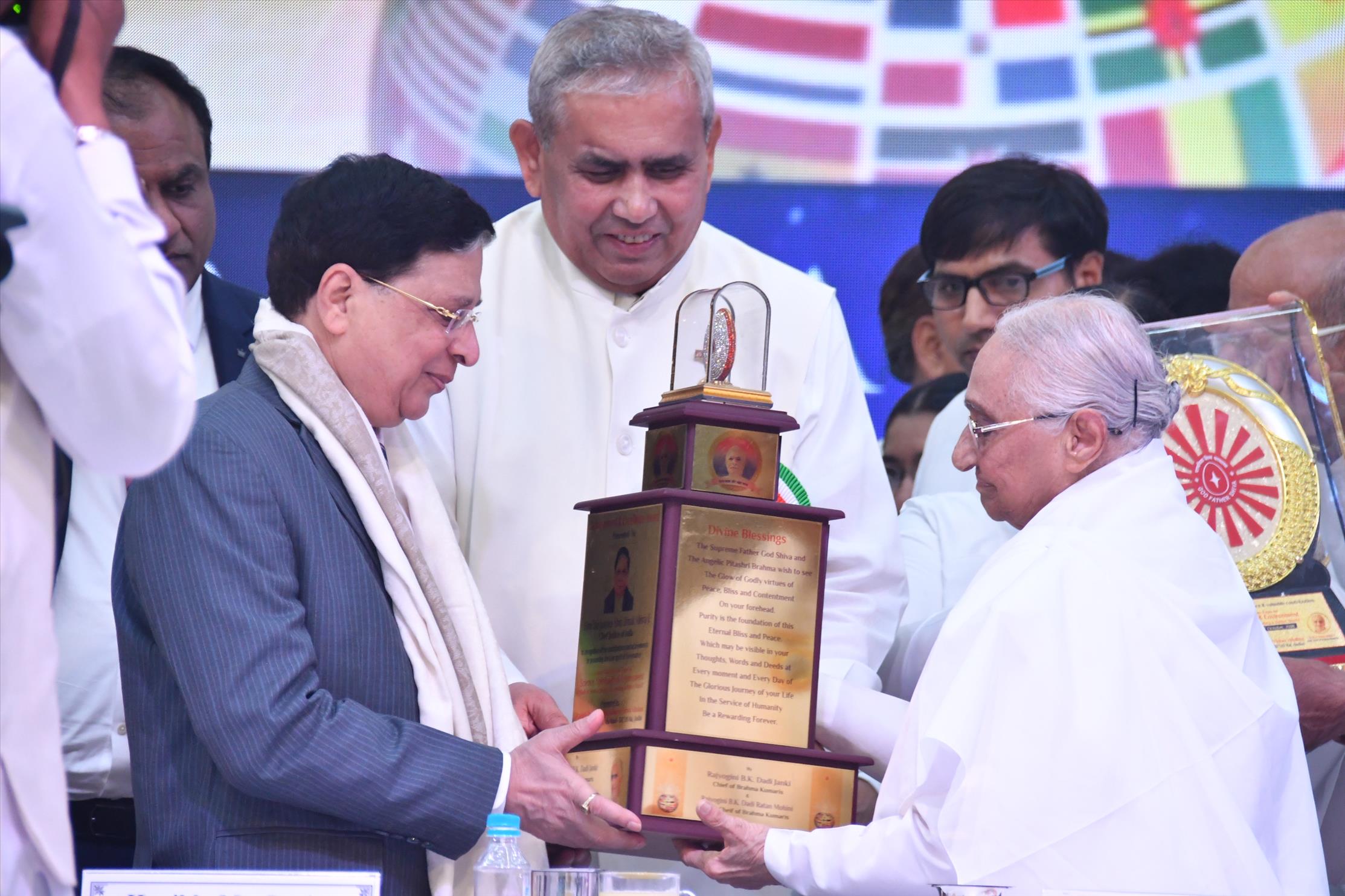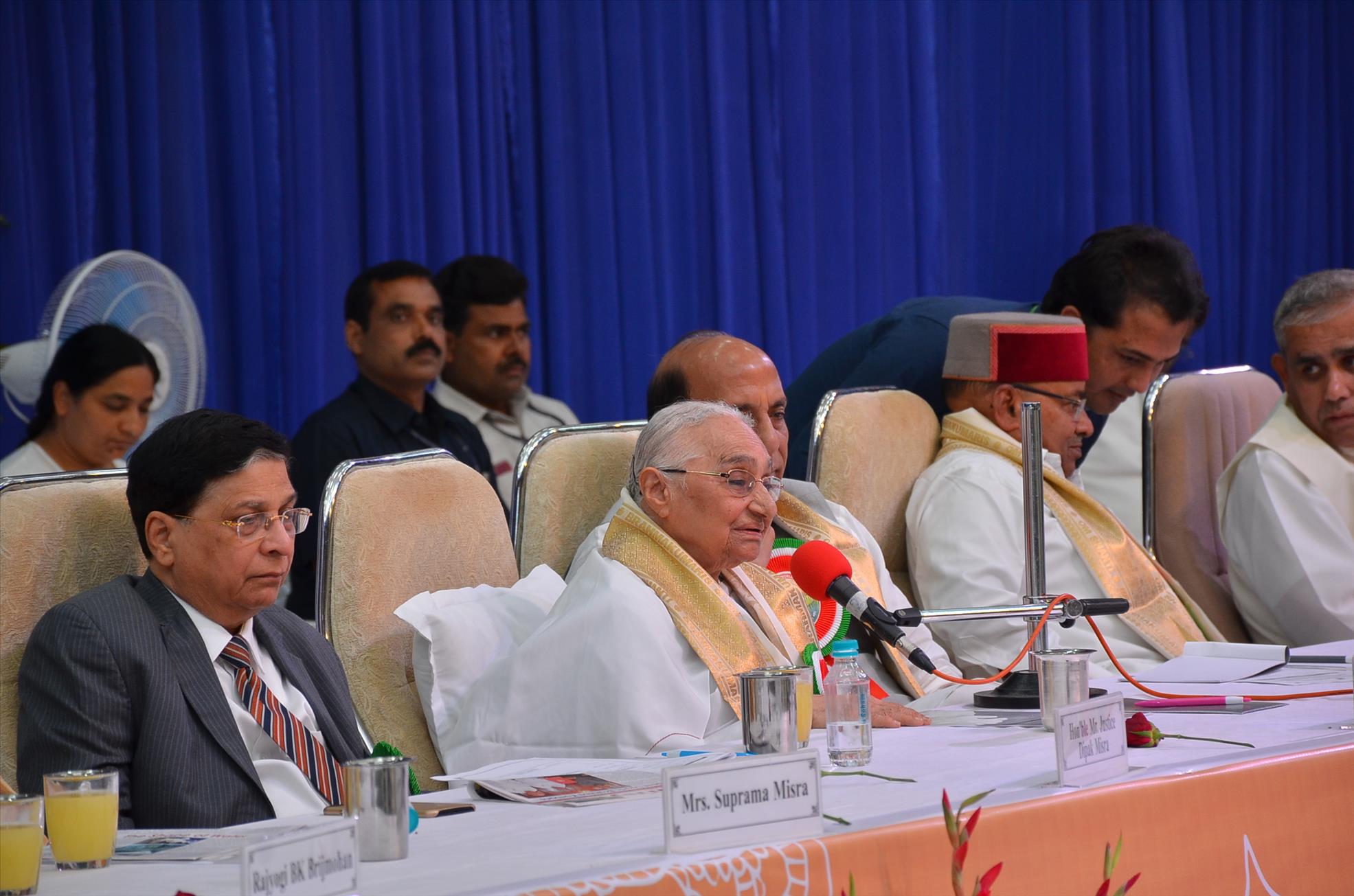 Media Conference 2018 at Brahma Kumaris HQ Concludes
26 September 2018
(SOURCE : http://bk.ooo/media-conference-2018-at-brahma-kumaris-hq-concludes/)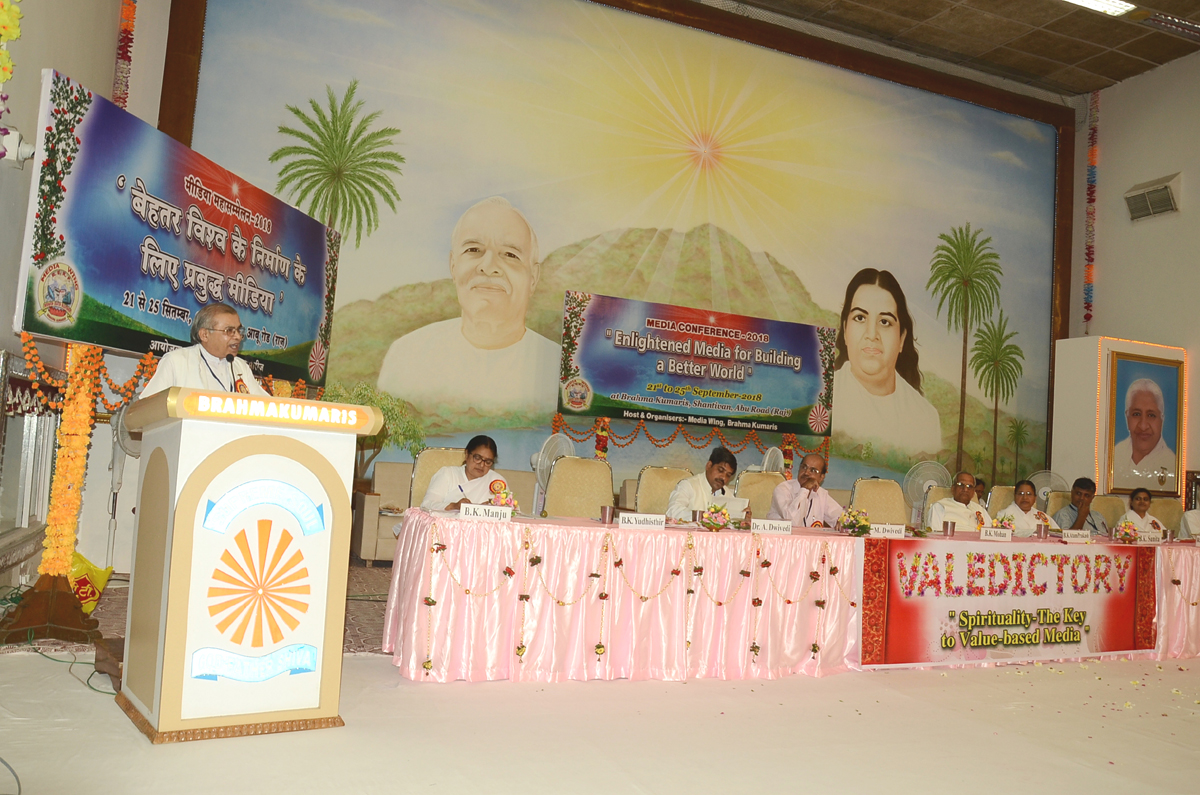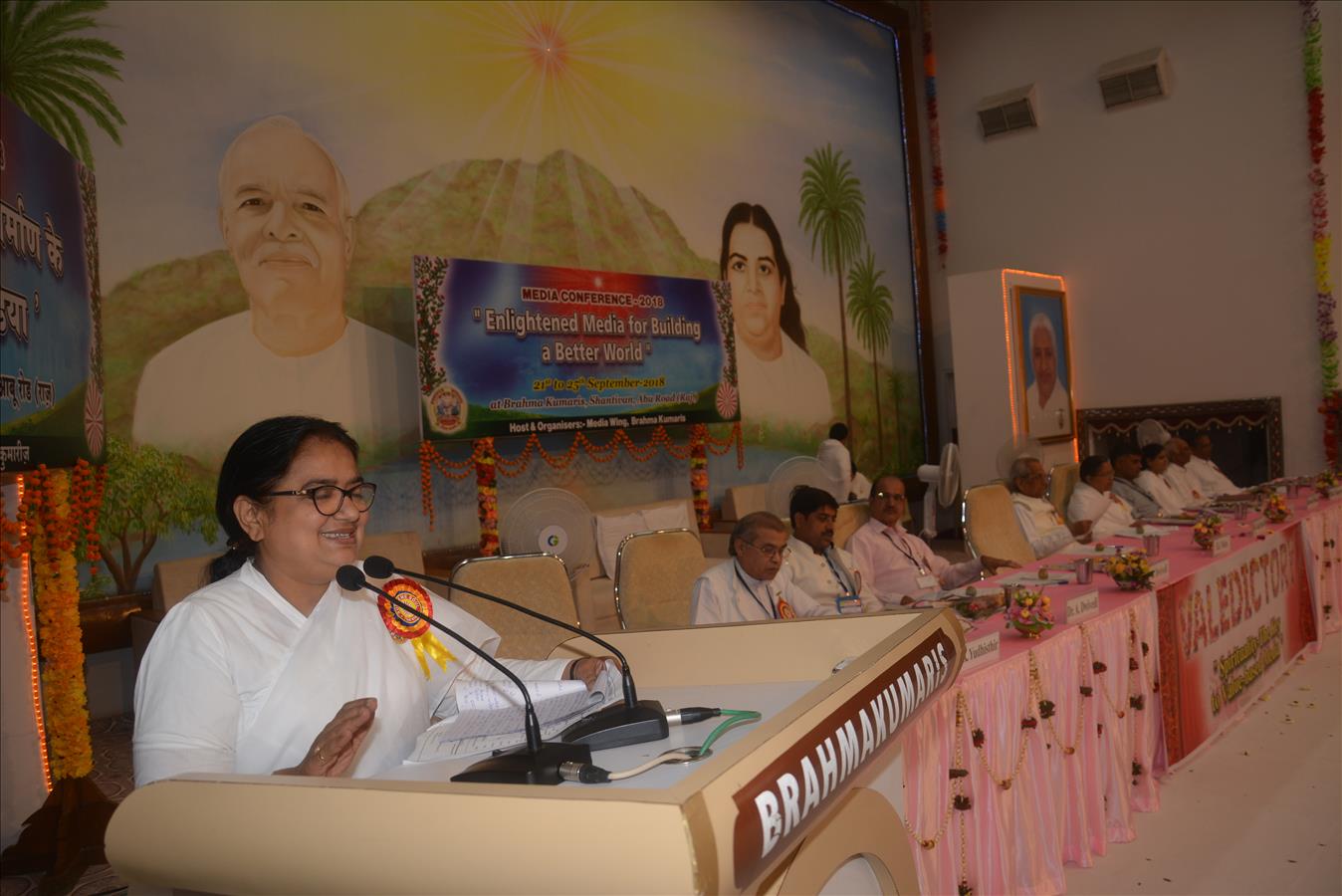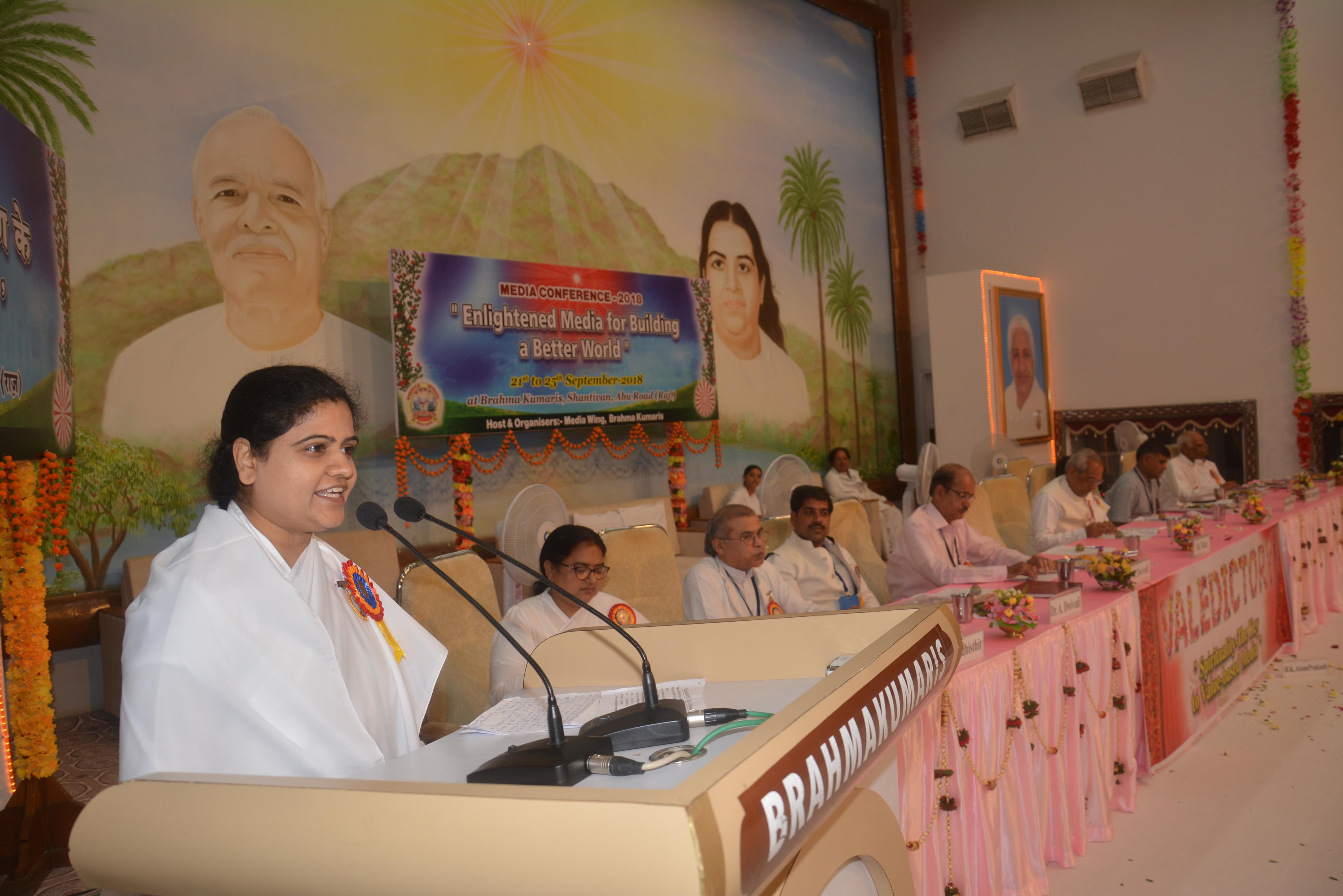 Godlywood Launches new TV series - "Gita in present context"
25 September 2018

Newly Released Hindi Songs ACD-285 "Ab Ghar Jana Hai"
25 September 2018

Om Shanti
You will be glad to know that New Audio Songs from Madhuban have been released. Details are as follows:
ACD-285 - "Ab Ghar Jana Hai" (Hindi Songs)
Music- Sudhir Pal
Singers - BK Ramesh, Sadhana Sargam, Dr Dilip Nalge
To download the songs, Click on below link:-
(for 128 Kbps MP3 Download)
http://omshantimusic.net/ab-ghar-jana-hai
Songs can be listened on Jio Music app also:-
http://share.media.jio.com/MTQxMTAyM15hbGJ1bQ==
For More Details : audiovisual@bkivv.org, www.omshantimusic.net
Thanks

In Photos: Divine Felicitation of Brothers & Sisters of Annual Meeting, 14 -17 Sept
25 September 2018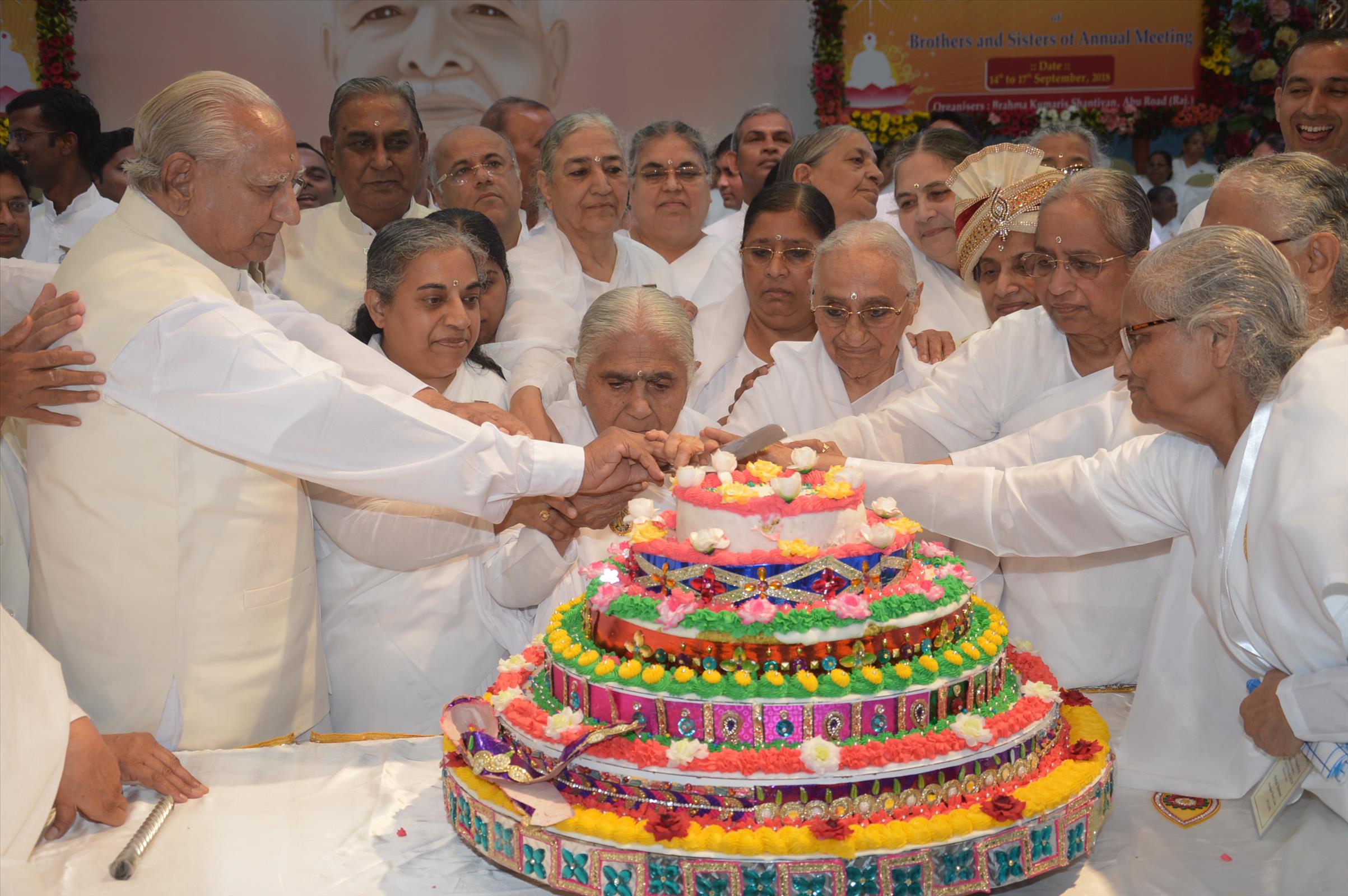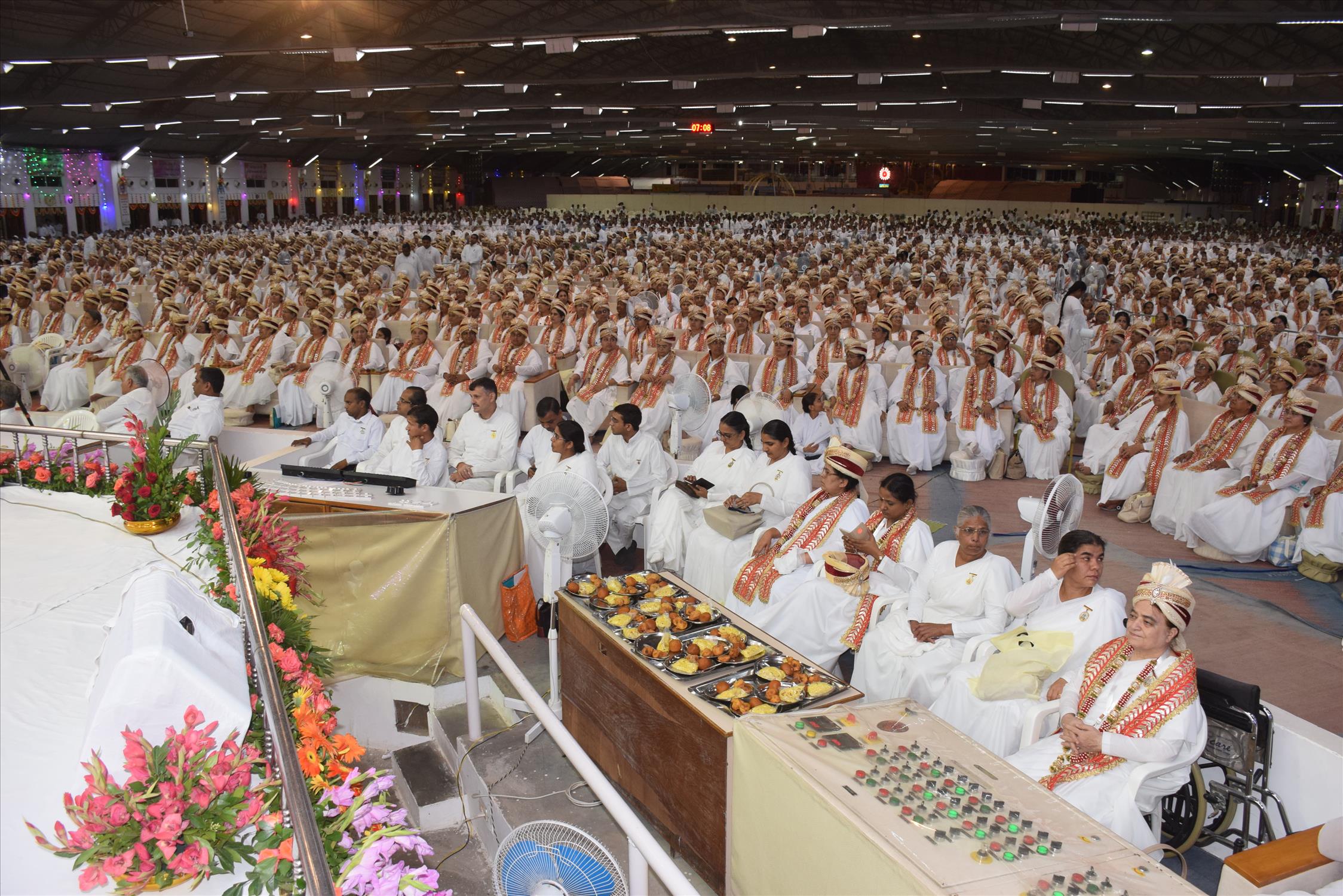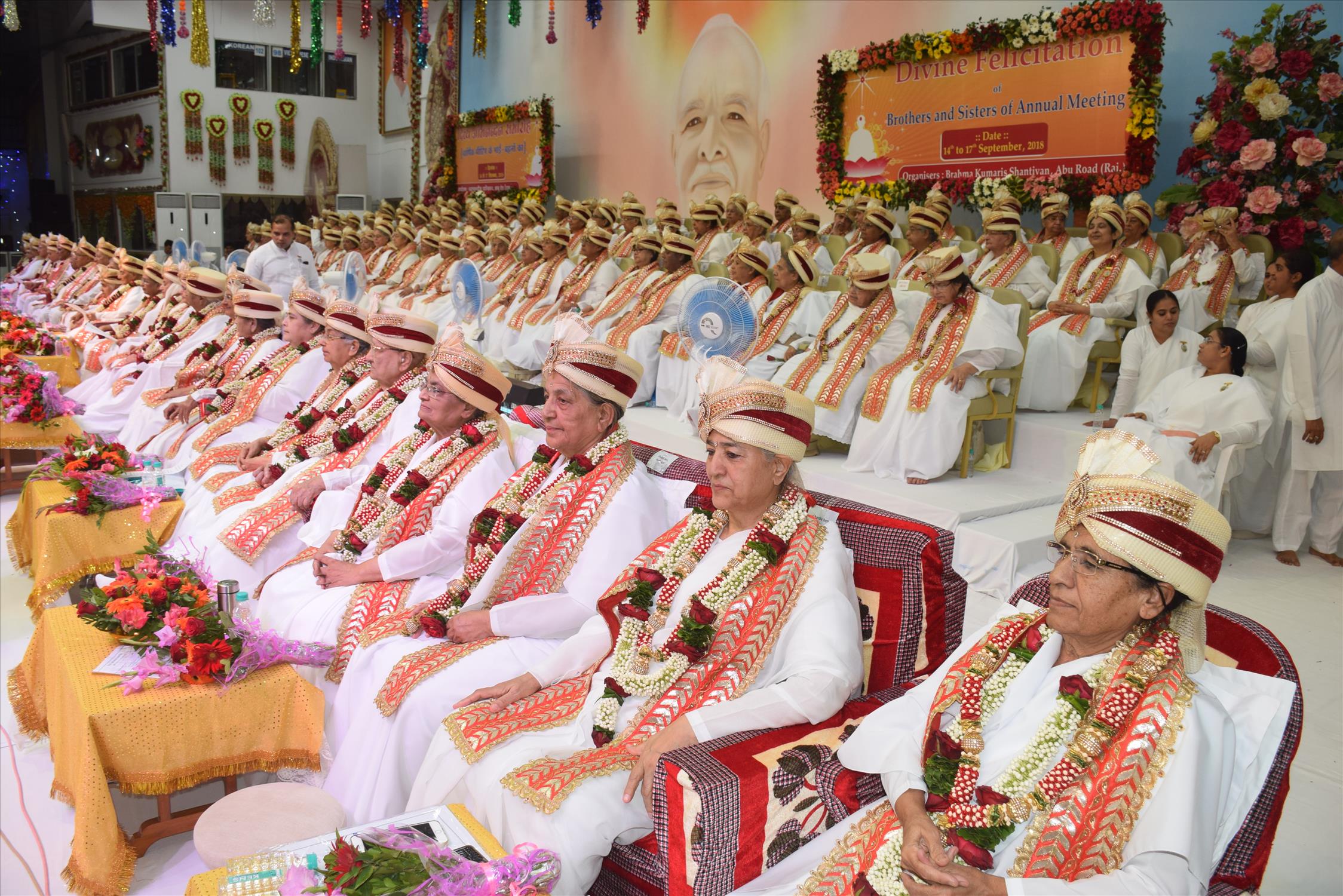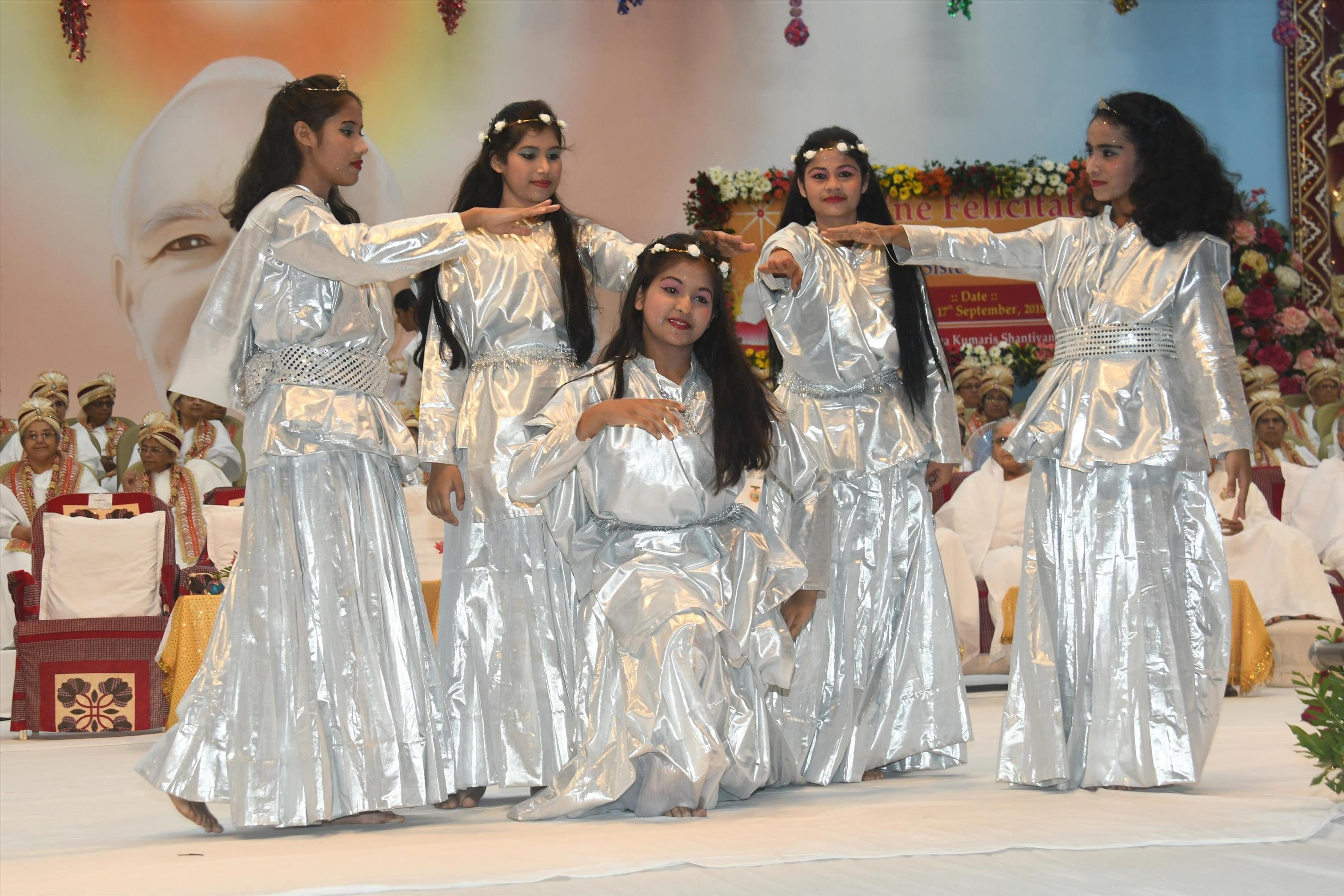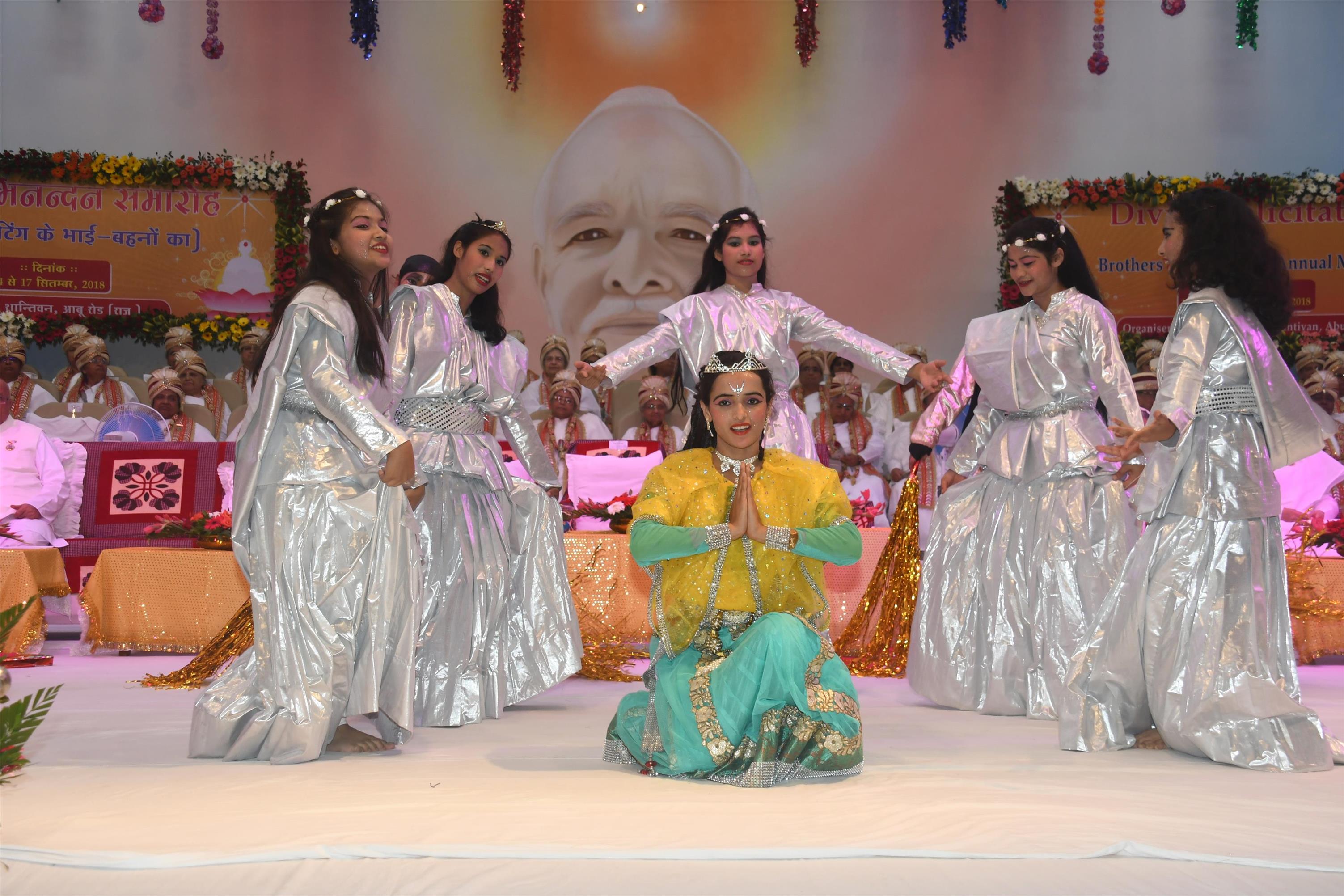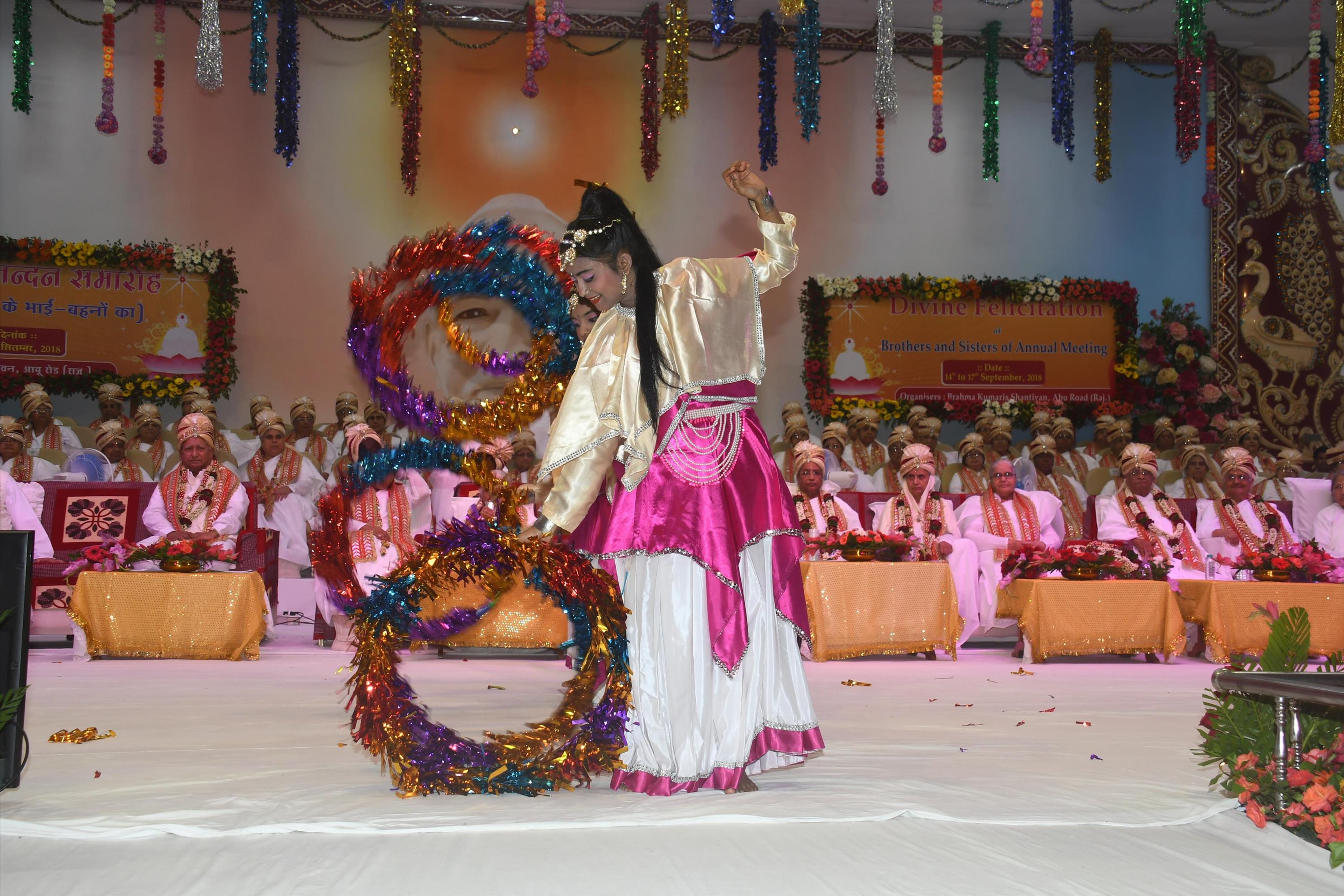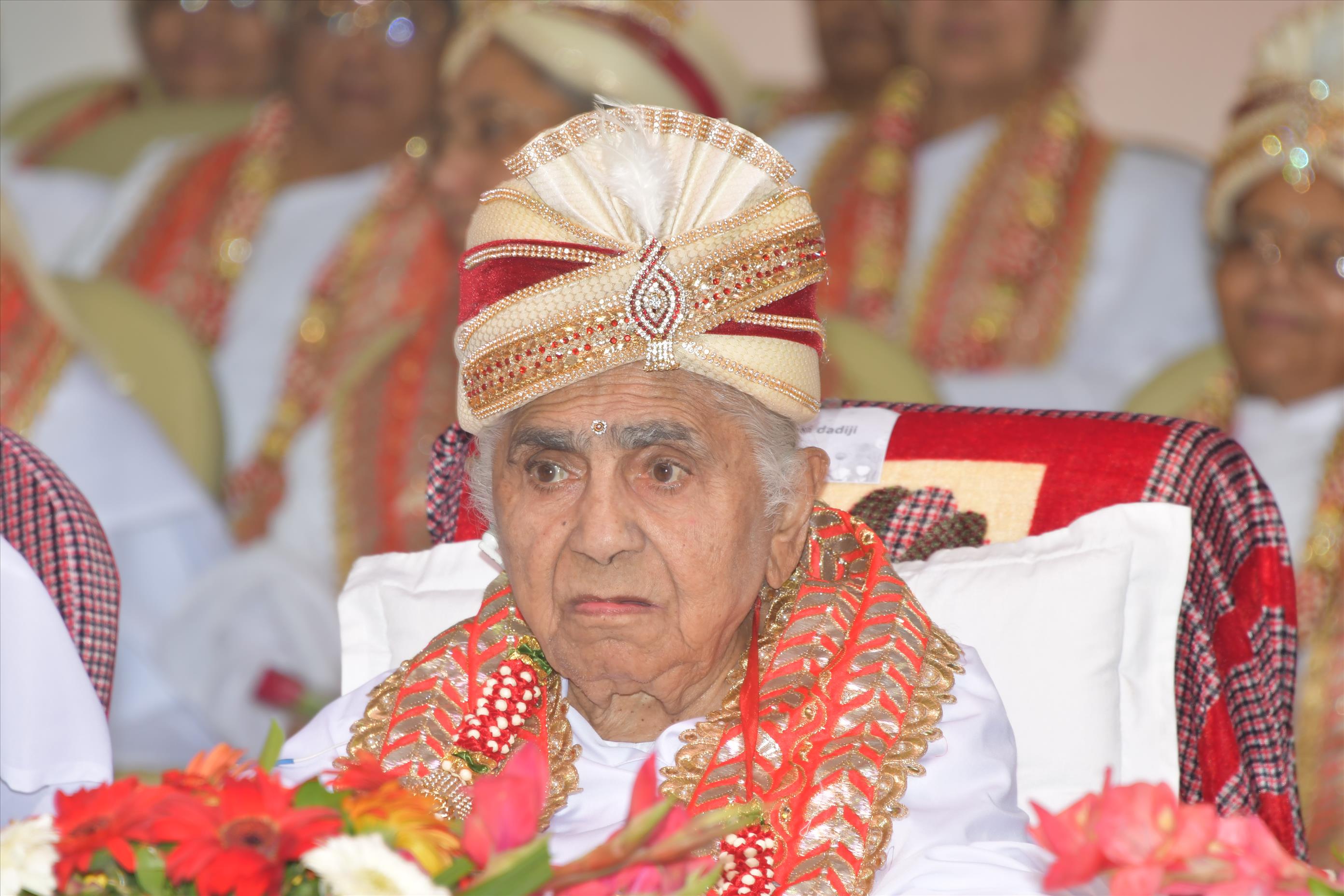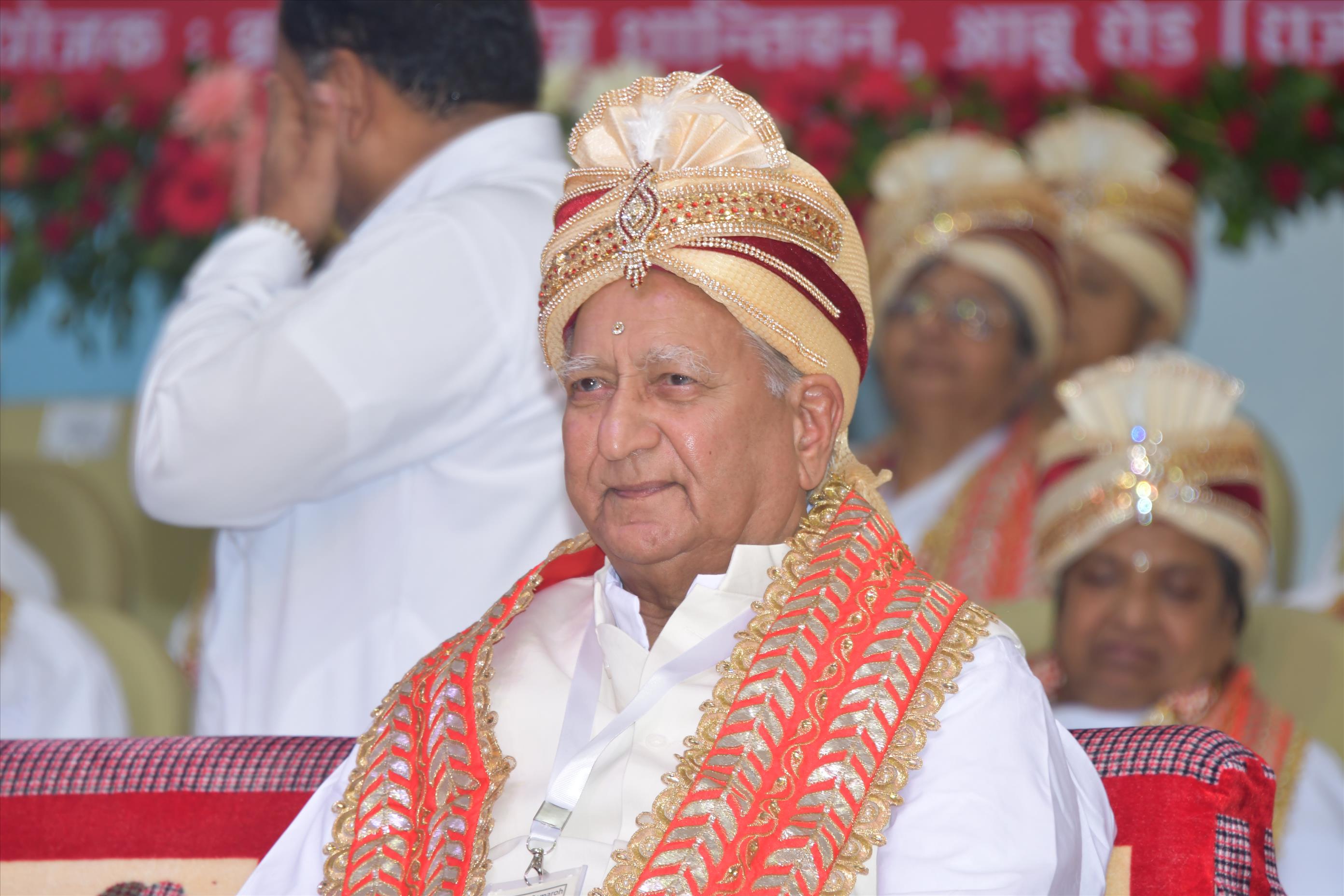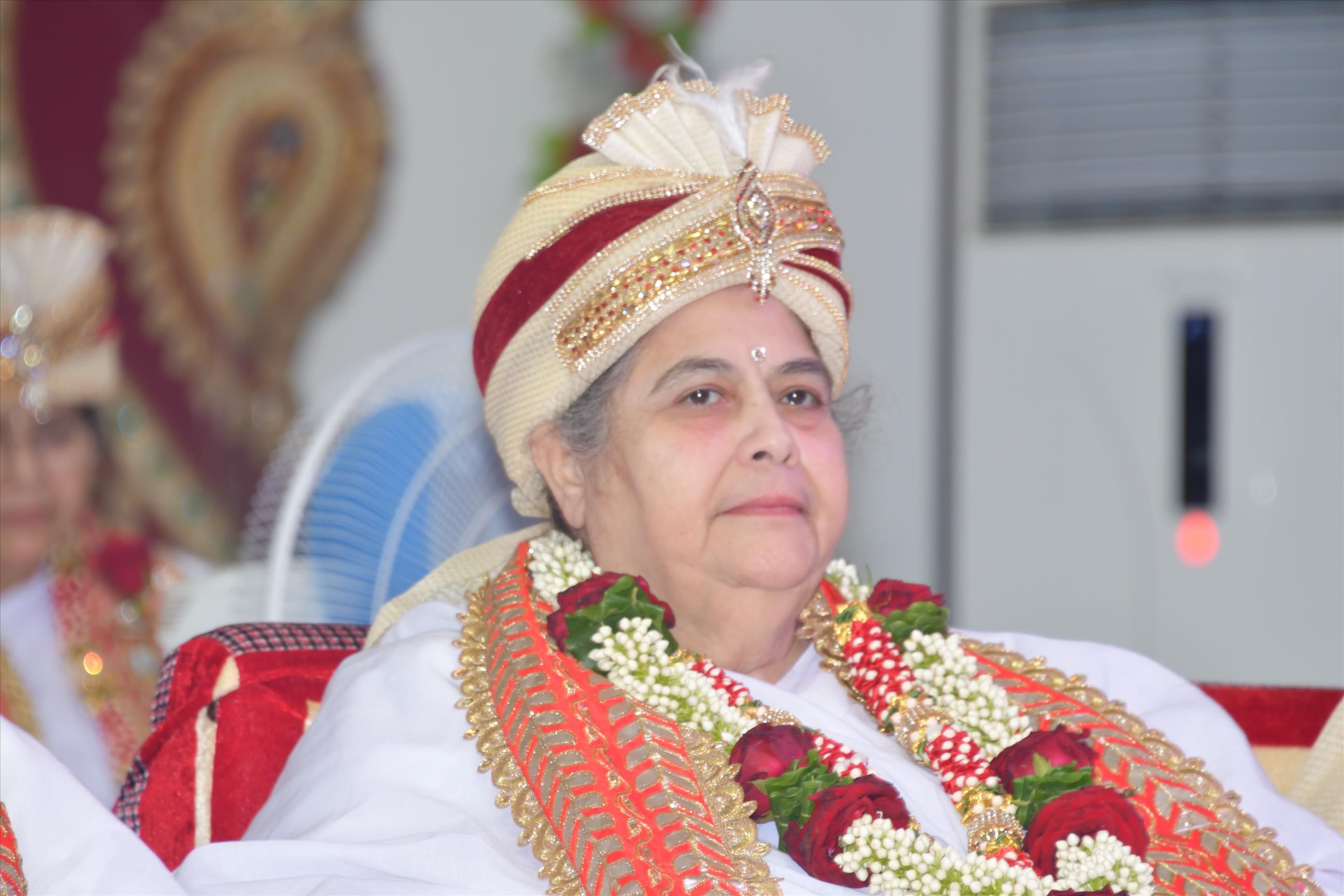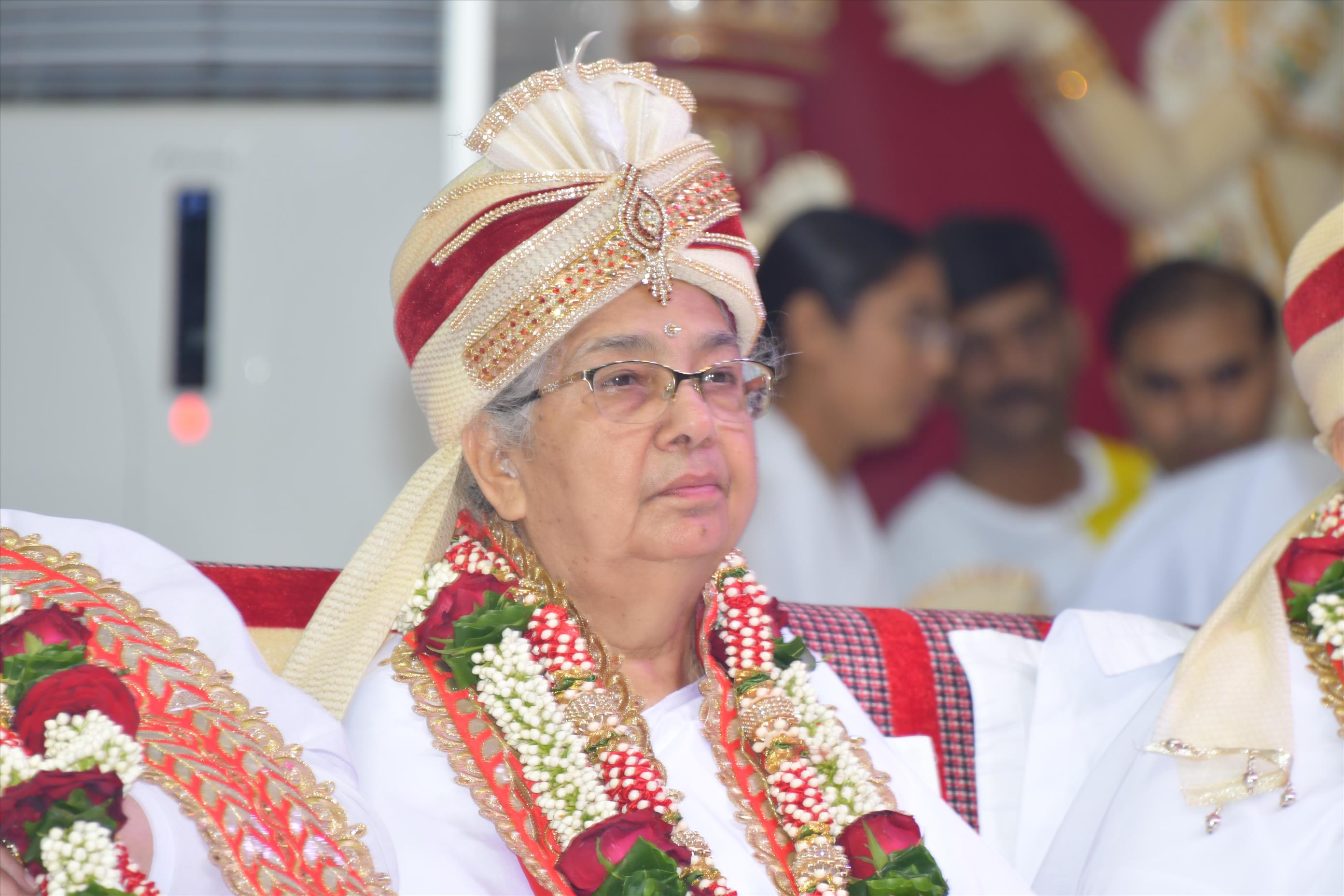 IT Wing Holds National Conference on "Rejuvenate With Peace" at Manmohinivan, 7 - 10 September
25 September 2018
Dear Divine Angels,
The IT Wing of Brahma Kumaris organized a national-level conference at the Global Auditorium in the Manmohinivan complex from 7th Sept 2018 to 10th Sept 2018 on "Rejuvenate with Peace". It is our fortune, to have had the presence of Rajyogini Dadi Janaki Ji, who gave a special address to all participants and redefined IT as Internal Transformation, which is the key to bringing the world a better future. The program was designed to work through the flow of 3 aspects: Reflect, Rethink and Rejuvenate. Accordingly, there were about 9 sessions organized on various topics and facilitated by eminent senior BK facilitators.
The participants were given exposure to the some of following, to list a few, through various sessions:
Simple techniques to help channelize the power of our thoughts as a means of Leading the mind
How spirituality can help to make our lives better through Q&A sessions with queries around current problems what the IT fraternity facing in general as well as how to improve on the work-life balance.
The significance of self-empowerment according to the present time to prepare oneself in the current world of uncertainty
Meditation Lab - a novel approach to experience the effect of meditation by directing the mind with kind thoughts generated at different situations
Leaders from industry sharing their authentic experience as an example to bring positivism in their personal/ professional life
Immunity power of the soul and how to tackle the psychosomatic effects using the soul power
The significance of having the right consciousness for the better future
How we can create a new lifestyle that is simple, satvik and well-refined, which can also influence other souls to follow it
The conference was attended by more than 550 participants, covering about 100+ organizations at the national level, including IBM, Oracle, McAfee, TCS, Cognizant, etc. to name a few and also financial institutions and government bodies like NIC etc.
Apart from this, there was an exclusive by-invitation-only session organized for about 20 leaders at the CXO level. In this session, a special discussion was held on how to create healthy minds in the organization through value-based meditations, with some examples given. The focus was to improve the happiness index and organization productivity while reducing the attrition rate. Active participation by the CXOs has encouraged us to take this aspect further with follow-up plans. The conference was glorified with the dedicated service offered by more than 100 sevadharis at the national level, who tirelessly served through more than 30 departments and truly made this event a grand success.
Once again, Bapdada's constant and continuous support has accomplished the goal of the conference. Every participants has given excellent feedback reflecting a sense of fulfillment.
Note: Please find the Videos of the program in the link: https://www.youtube.com/user/SpiritualityInIT/videos%20
Thanks & Regards
Dr. Nirmala Didi,
Chairperson, IT Wing
and
BK Yashwant Bhai
HQ Co-ordinator, IT Wing

Theme Song for 'Cleanliness Campaign' Now Available
25 September 2018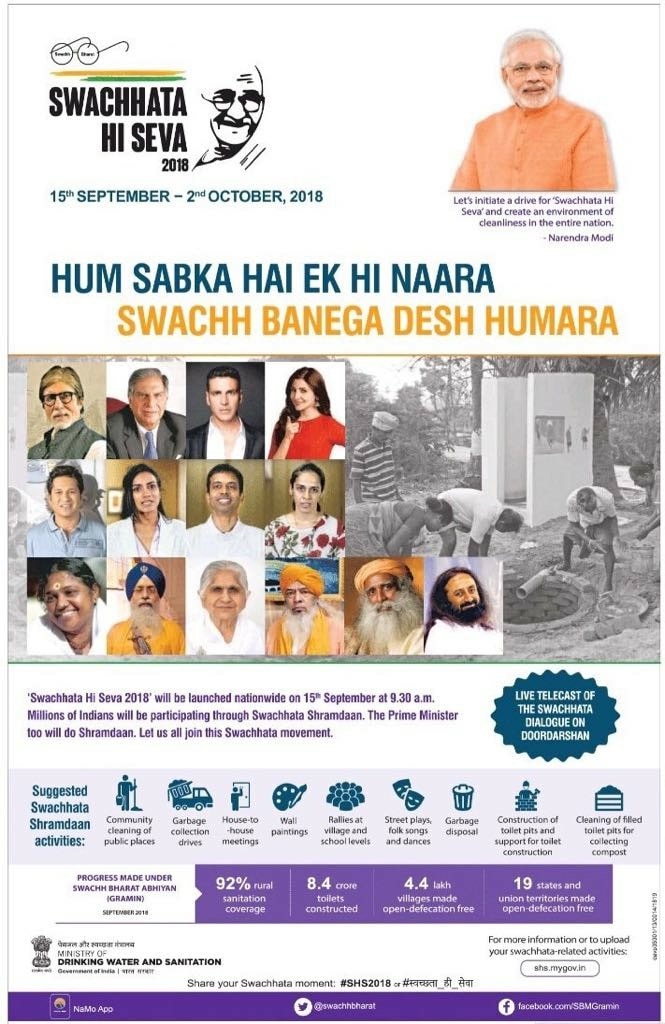 Divine Brothers and Sisters, Om Shanti.
The cleanliness campaign is here!
Prime minister is re-launching 'Swachch Bharat Abhiyan' in 17 selected places in India, directly communicating with 17 eminent personalities – one of them being our beloved Dadi Janki in Shantivan Campus of Brahma kumaris HQ.
A conversation of Prime Minister Narendra Modiji with Dadi Jankiji took place on 15/09/2018 morning 9.30 to 11.30 and was telecast LIVE in many channels.
You are also invited to be part of this mission – Let us make India Clean – by cleaning ourselves. Please find the poster of the campaign made by the Govt. of India attached.
Please follow the youtube link to the Theme song for the project made in Godlywood Studio upon instructions from Mrityunjay Bhai, sung by B.K.Bhanu bhai. You are free to use this song in campaigns in your respective centers. Let us make use of this opportunity to the world the urgent need of cleanliness - both internal and external!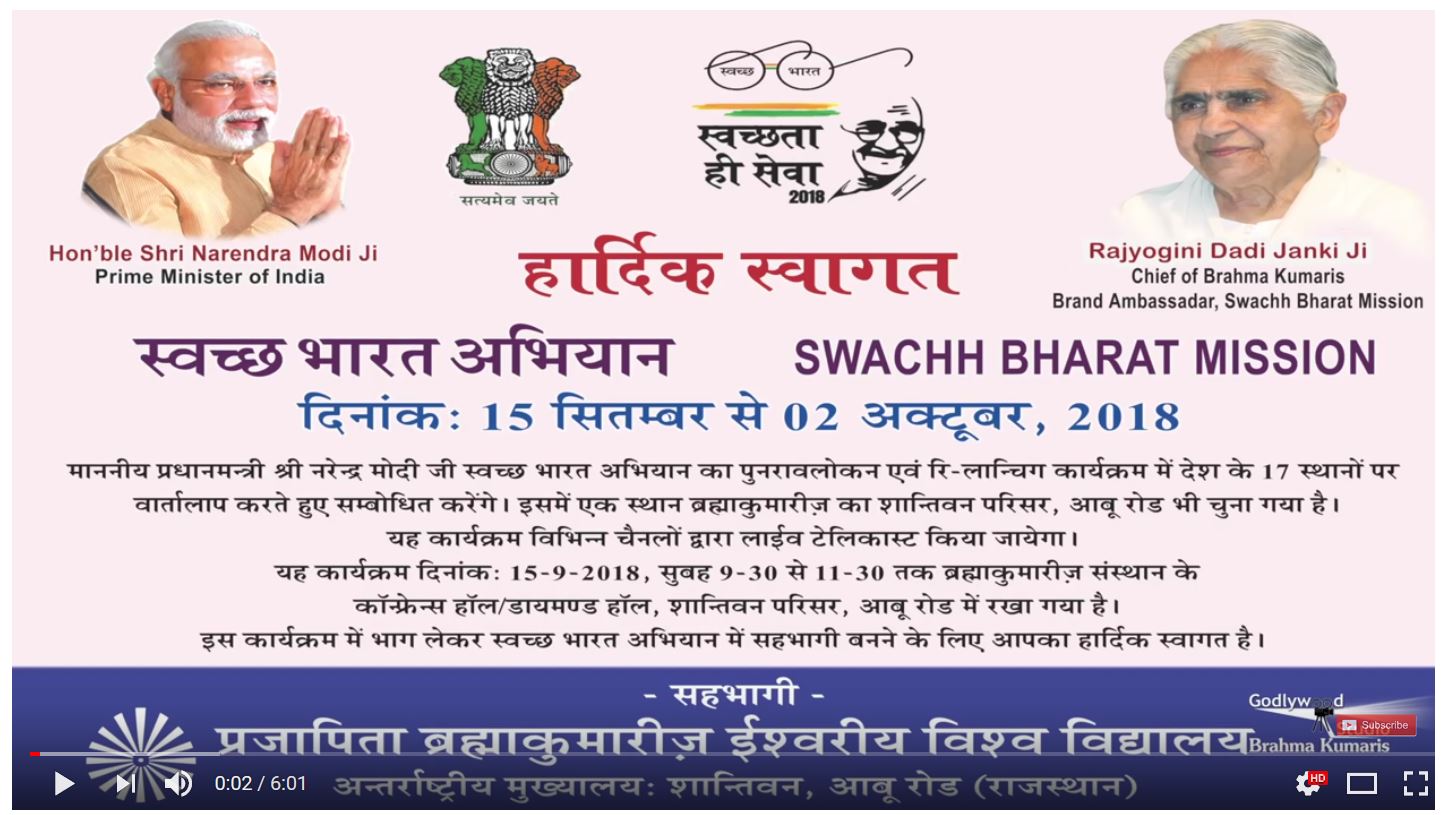 Click on above image to play.

IBY, With Warm Regards,
BK Harilal
Executive Director
Godlywood Studio
World Renewal Spiritual Trust

New Raksha Bandhan Song from Godlywood Studio
13 September 2018
Dear Brothers and sisters,
Om Shanti
The auspicious occasion of Raksha Bandhan is here!
Raksha Bandhan not only highlights the brother and sister relationship but symbolises our eternal connection with GOD which once established, ensures our complete protection.
Let us celebrate this Raksha bandhan as usual with Baba and remind everyone the urgent need for turning to spirituality.
Please enjoy a beautiful Rakhi Song made in Godlywood Studio to celebrate Raksha Bandhan.
Youtube link to the song:-
Click on above image to play

IBY, With Warm Regards,
BK Harilal
Executive Director
Godlywood Studio
World Renewal Spiritual Trust
Youtube: youtube.com/omshantichannelgws
Website: www.godlywoodstudio.org

Bhog Message for Dadi Prakashmaniji's 11th Anniversary - Shantivan - 25 August
27 Aug 2018
Beloved Avyakt BapDada's specially beloved instrument teachers who are always engaged in the unlimited service of world benefit, all brothers and sisters who are the decoration of the Brahmin clan, please accept God's sweet love-filled remembrance.
Dadi Prakashmaniji, specially loved by all of us, who placed her steps on the footsteps of sakar mother and father, one who sustained the whole Brahmin family while keeping a balance of love and law, one who ruled everyone's hearts – the 11th Anniversary of Dadiji was celebrated as "World Brotherhood Day". From Manmohini complex in Shantivan to Om Shanti Bhawan in Mount Abu, an international half-marathon had begun on 19th August in memory of the Day of Remembrance of Dadi Prakashmaniji. 1500 brothers and sisters from all over the world took part in this with a lot of zeal and enthusiasm and three winners were specially awarded. Various other programmes were held for VIPs and journalists from Abu and Abu Road. Everyone gathered at Prakash Stambh in Shantivan to offer their tributes. Everyone had Brahma bhojan and all were given a gift from the yagya.
On this occasion, 15,000 couples from all over Bharat who were 3 to 19 years in knowledge took part in a special yoga-bhatthi for couples titled "Nastamoha Smriti Labdha" (The Conqueror of Attachment and the Embodiment of Remembrance). On 24th August brothers and sisters who took sustenance from Dadiji shared their memories of being in close company with Dadiji. On 25th, after the special murli and class, all senior brothers and sisters and teachers went to Prakash Stambh and offered their tributes with garlands of flowers. Then all the mothers and brothers went around the Prakash Stambh offering their flowers while lost in love for Dadiji. At 10.30am, respected Nirwairbhai shared his experiences with Dadiji on her skilled leadership. At 12.00 noon, Shashiben offered special bhog to BapDada for Dadiji, and the message from the subtle regions is as below:
Today, when I reached Baba in the subtle regions, I saw that along with beloved Baba, our sweet Dadiji was also standing there and opposite them were many brothers and sisters who had arrived there with garlands in their hands. They were garlanding Dadji and offering their tributes to her. Dadiji smiled and said: Now, we don't need this tribute, but each one now has to become complete and perfect. Now, let each one keep their perfect form in front of them and make such effort. Now, at the confluence age, let there be a gathering of angels and only then will there be a gathering of those who have a right to the kingdom.
After some time, along with Dadiji, the whole advance party also appeared and each one's face was sparkling with light as though they were stable in their complete and perfect form. In the midst of them all, Dadiji was visible beautifully decorated and standing like a goddess on the stage. Below the specially beloved deity form of Dadiji there was very beautiful wording "An embodiment of all success". After that, this scene became merged. I could then see four to five gates just ahead and through them I could see people from different professions. In the middle of that was a very simple gate and there were many people at that gate. As Dadiji looked at them, light began to fall on all of them. I asked: Dadiji who are these particular people? Dadiji said: All of these are helpers in God's task, the ones with honesty and cleanliness, Baba's children who have only thoughts of God in their heart. Those who were at the other gates also came in front and they also formed a beautiful garland, and it was as though all of them were making a promise that all of them together would be co-operative in the task of world transformation.
Baba then said: This child has created such a gathering. Every thought of this child has become practical and this is why she is an embodiment of success. Dadiji said: Baba, I didn't do anything, but You were the One who inspired it all. Hearing such a sweet heart to heart conversation, I then asked Dadiji: Dadiji, what are you doing now? You are now ten to eleven years old. Dadiji began to smile and said: Baba takes all of us on a tour all over the world every day at amrit vela and enables us to give sakaash to everyone. All my companions of the advance party check the plans for world transformation and also make corrections on them. I go on a tour with the group. Now, all of you also have to get yourselves ready quickly and then go into your new world. Every now and then, Baba sends me in the midst of all of you too and I see everything.
Dadiji was speaking in this way with a lot of love. Then I gave her remembrances from all of you. I especially gave remembrance of all of those who have come for the couple's bhatthi, and Dadiji said: Now, all of you have to make intense effort and move forward. You have to make yourselves complete. Giving remembrance to the Madhuban residents Dadiji said: Madhuban is the centre of attraction for the world. Baba has created a beautiful place and everyone looks at the Madhuban residents with an elevated vision – they have to become an example in front of everyone.
Then I said: Dadiji, tomorrow is the Festival of Rakhi and you used to tie rakhi on everyone with a lot of love. Today, Munniben has sent a rakhi for you. Dadiji took the rakhi in her hand and began to tie it on Baba, and just then the thread of the rakhi began to get bigger and bigger so that everyone became tied in that rakhi. Then Baba said: Baba and the children can never be separated. A very beautiful light was emerging from that rakhi and a blessing was written in that light saying "An image of success and an embodiment of total result" (sidhi swaroop, safalta murat bhav). Baba said: Children, in order to achieve success, belong to One, always be co-operative in the task of the One, and be united in one direction in the gathering. Now, according to the time, each one has to be stable in their complete and perfect form and give everyone a vision of Baba collectively. Now there is a need for this service.
Then I said Dadiji, I have specially brought bhog of the yagya for you. When I placed the plate in front of her, Dadiji gave it drishti and then took something in her hand and fed Baba, and then Baba fed Dadiji. Then seeing all of us there Baba said: Open your mouths, and it was as though Dadiji was feeding everyone bhog. Our Dadi Janki, Dadi Gulzar and all senior brothers and sisters were emerged in the subtle region. Then Dadiji said: Just as all of you are co-operative companions and are enabling service to move forward, continue to do so. Baba is always with you anyway. Saying this, Baba and sweet Dadiji gave everyone a lot of love and remembrance.
In the evening, the children from Ghatkopar presented a beautiful drama and dance performance highlighting Dadiji's life. Some brothers and sisters shared their experiences of living closely with Dadiji.
Today is the pure festival of Raksha bandhan. Everyone has their rakhi tied with a lot of love and they make a promise of a determined thought within themselves. In today's avyakt murli, sweet Baba has gifted all of us a garland of blessings. Definitely, all of you must be wearing (imbibing) this garland of blessings.
1) With contentment, constantly remain content and make everyone content.
2) Always have a simple and easy nature, speak simple words and perform actions with simplicity.
3) Always follow the directions of One, receive all attainments from the One and belonging to One, practise constantly being stable.
4) Always remain happy and continue to share happiness and spread the wave of happiness.
5) Let there always be a smile of happiness on your face and constantly continue to progress in remembrance.

Let this garland of blessings always be around your neck. Achcha.
Lots and lots of remembrance and hearty greetings for Raksha Bandhan.

Download Program and Bhog message in English

Download Program and Bhog message in Hindi

Hindi Only: Audio Classes of Different Madhuban Bhattis from 17th to 22nd July
26 Aug 2018
Omshanti, Accept Love & Remembrance from Shantivan (Madhuban).
Please find herewith links of Audio Classes of Different Bhatthi from 17th to 30th July 2018
Kumaris Bhatti ( 3 Years & Above) 17 to 22-7-2018 (Only for BKIVV User)
https://drive.google.com/drive/folders/1zLftbP8QPTW12_OzbQt-KzIaFdpjrJmf?usp=sharing

Teachers Bhatti ( 21 to 30 Years ) 17 to 22-7-2018 (Only for BKIVV User)
https://drive.google.com/drive/folders/17dGZK-9n6Asjh0oNQ6NsYVo1OKK29Yhx?usp=sharing

Youth Wing (Kal Ka Shilpkar) 20 to 24-7-2018
https://drive.google.com/drive/folders/1qtjEJa9rrTIn_ob7HAckkmQyYQ-acVsJ?usp=sharing

Amantrit Bhai Bhatti 25-07-2018
https://drive.google.com/drive/folders/1ou0wXSQrGer4dpoBmLfjli04CLmKrlW4?usp=sharing

Teachers Bhatti (2 to 10 Years ) 25 to 30-7-2018
https://drive.google.com/drive/folders/1KGbgmGdnfayBWQ1CoRZE0ENxQCAdI92y?usp=sharing

BK Ravi Bhai
Sound Dept.
Brahma Kumaris,
Shantivan,Abu Road(Raj)

IT Leadership 2.0 Retreat in Gyan Sarovar Draws 400 IT Professionals
25 Aug 2018
The IT Retreat held at Gyan Sarovar from Aug 17 to 20, drew 400 IT professionals from 34 cities. One hundred IT organizations participated.
The event comprised sessions such as: Digital Detoxification, Sleep in the Digital Age, Meditation in Action, and Mind Over Matter.
Recordings of the sessions and the slide decks used in the sessions are at this link:
https://drive.google.com/open?id=1lEoUMPb5QMmvEzo8suawxWy4bQkAnGF1

Bala Kishore